Feedback always appreciated.
Trip Report: 082
Flight Category: Y-ILR (See Report End)
Date: 10 Aug-09 (See Report End)
SDT/SAT/Dur/Delay: 2015/1140+1/09:25 hrs
Flight:
Air China CA 932
, 4853 miles
Routing: FRA-PEK
Aircraft: 74E
Seat: Economy Class, 43A
I > Background:
I was in Frankfurt doing a network integration study and had a 5 day break from the client. Seeing Air China's uber-low round trip fares to PEK, I decided to take a mini-break to China and see Beijing. Besides, I would get to fly the 74E which I had only done once before (KL: AMS-ORD).
There has been an absolute dearth of Air China reports on A.Net. This is especially surprising as they are now a Star Alliance member. In fact, I could not find another Air China intercontinental report; also, I believe this is the first on the FRA-PEK segment.
II > Pre-Flight:
a) Before Airport:
Air China is the flag carrier and operates 5,090 flights each week worldwide, making it the 18th largest airline in the world by fleet size. Air China's route network extends throughout Asia to the Middle East, Western Europe, and North America. The majority of the routes operate from its Beijing hub.
Air China's website (www.airchina.com) is an absolute disgrace. Despite choosing English several times, the website would revert to Chinese and/or have no content on several sections. The booking engine is appalling and choked on me every time I tried to make a booking. After having spent 90 minutes trying to generate an e-ticket, I finally gave up and called their German offices. Here too, the agents were curt and barely understood German or English. Since I could only book a ticket and had to physically go to the airport to ticket, I finally gave up and decided to wait until the airport. The airport office was reasonably pleasant and I soon had my round trip FRA-PEK-FRA ticket. Overall, a disgrace of an experience in 2009 … and one especially from an airline based in the fastest growing large economy. One more thing, forget about the site having any features to pull up a PNR, change seats, etc.
b) At Airport:
I find Frankfurt's Main Airport an absolute horror to transfer and usually try to use München whenever I can. This is despite having spent more time transiting at FRA than in my own flat in Caracas (I have probably done CCS-FRA near 50 times this year alone). Having said that, FRA is a relatively calm experience when being an O&D passenger and this time was no exception.
Air China departs from Terminal 1 and I soon found their desk. The check-in agent displayed typical German traits of efficiency and nothing more. However, this German agent clearly did not understand CA's seat map. I requested an exit aisle and she said "no problem". Of course, when I got on the aircraft this was not the case. Very disappointing.
After a quick immigration and security (why can't more European countries learn from the Germans here?), I made myself to the extremely busy LH lounge. What is up with these poorly planned LH lounges around the world? It seems EVERY LH lounge I have been to (MUC, BOS, DXB, FRA, etc.) virtually have NO space to even sit down! It was a little too crowded for my liking and quick aperó later, I was off exploring the architectural nightmare of FRA. Amazing how a world-leading hub that provides consulting services to others (Fraport) could have such a dingy home terminal.
Boarding was called 45 minutes prior and was relatively fast and while there was some pushing and shoving, it was still a gentle version of "ILBST". Prior to entering the aircraft, I got a glimpse of the beautiful 74E – seriously people, the 747 is still the queen of the skies. I don't care what advancements the 380 has accomplished. The grace of the 747 is timeless! Entering the 74E, I was transported to the 1980s and the dingy Air China cabin. It was as if the aircraft was selected to match the dinginess of FRA! While the crew displayed no signs of welcome, I was grateful that they were pro-active in storing bags, etc. J load of 40%; Y load was 85%.
Airport - External:
(Frankfurt Airport – Terminal 1)
Check-in:
(Check-in)
Airport - Internal:
(Internal)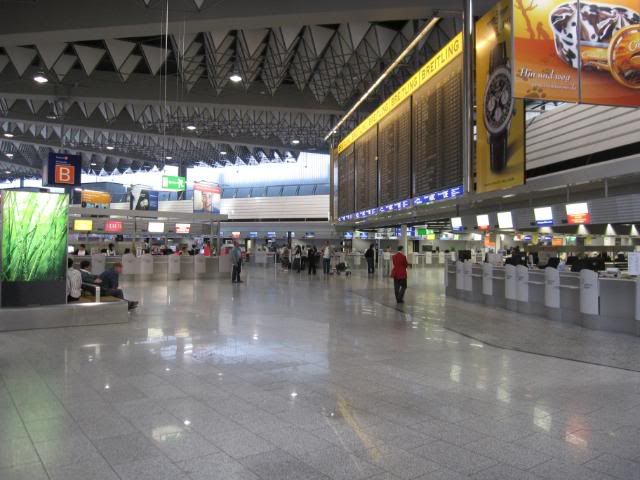 (FIDS – as always, the display impresses me at FRA)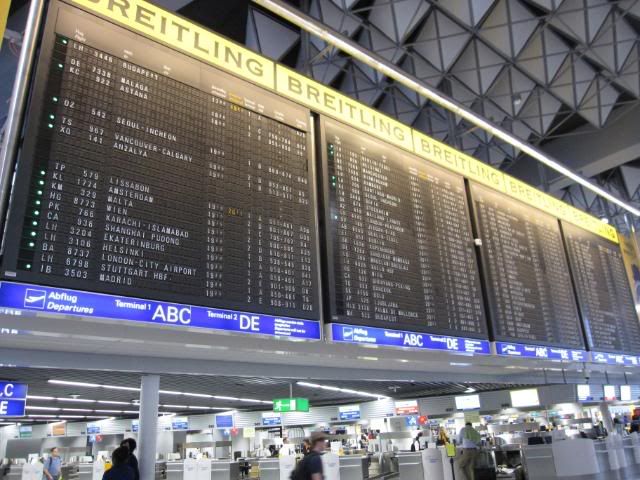 (Post Security @ FRA)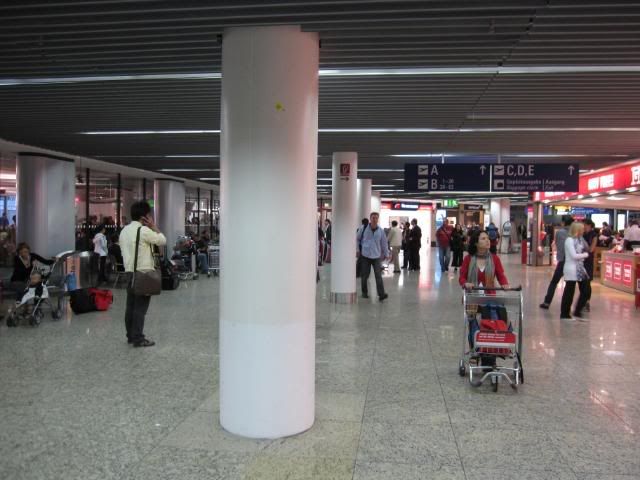 Scenes of the tarmac:
(Taken from the lounge)
Lounge
NONE
Boarding:
(Gate area)
III> In-Flight:
a) Service Schedule + Impressions:
Air China service for this trans-continental flight includes drinks and dinner after take-off; breakfast 90 minutes prior to arrival.
The flight was relatively uneventful – except making me realize how loud the Chinese are (seriously, Mandarin is not an attractive language); and how annoying it can get to hear western expats (the French dude in the middle seat) bitch about their living conditions. I was very close to telling him to move back to dear old France if things were so bad. I refrained out of my new commitment to be nice to the French in general … I mean, I have decided that you can't blame them individually for delusion
.
b) Aircraft + Seats:
Air China's 74E are stuck in the 1980's. The interiors are dingy and need a complete overhaul. The lighting reminds me of a bus station in Siberia and the white walls depresses you as you countdown the hours to arrival. The bathrooms were equally "BLAH" and were nasty for most of the flight.
The 3-4-3 seating on Air China is cramped. With a constrained legroom and an overzealous Chinese man in the window seat, all I could think of is when the flight would end. The fabric of the seat was OK, but dirty. The one saving grace would have to be the above-average recline. Otherwise, an abysmal seating experience more reminiscent of a no-frills carrier.
Aircraft:
(Monstrous 747-400 Combi)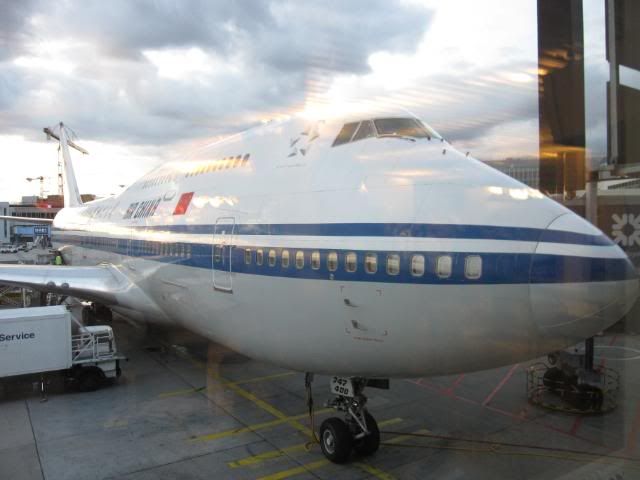 Views from Aircraft:
NONE
General Seat Views + Seat Legroom
(Controls – notice how its all held together)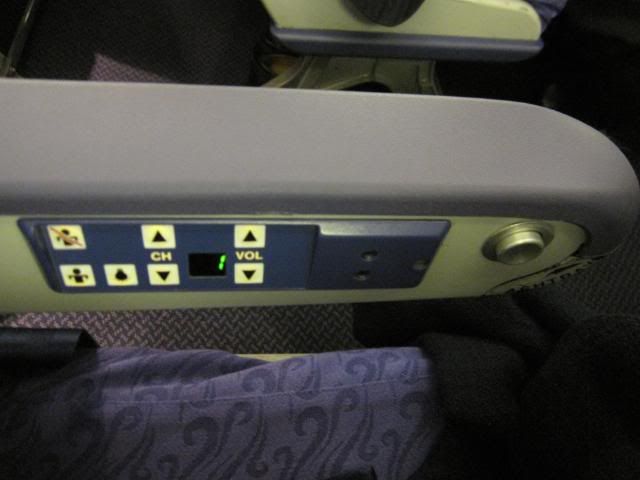 (Legroom)
Seat Recline + Angle View:
Cabin: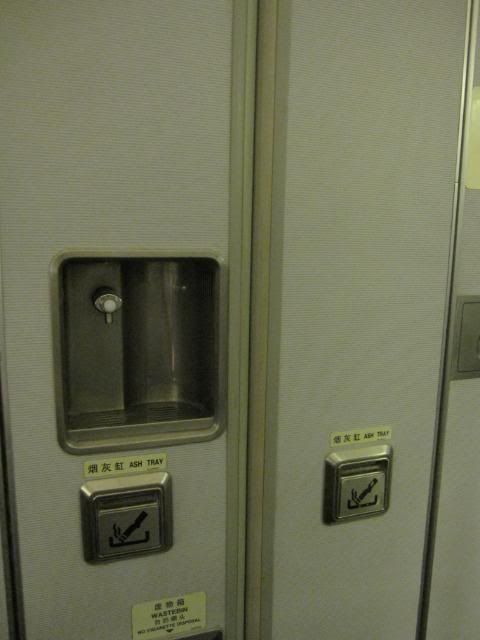 (How the cabin ends)
(Bathroom Amenities)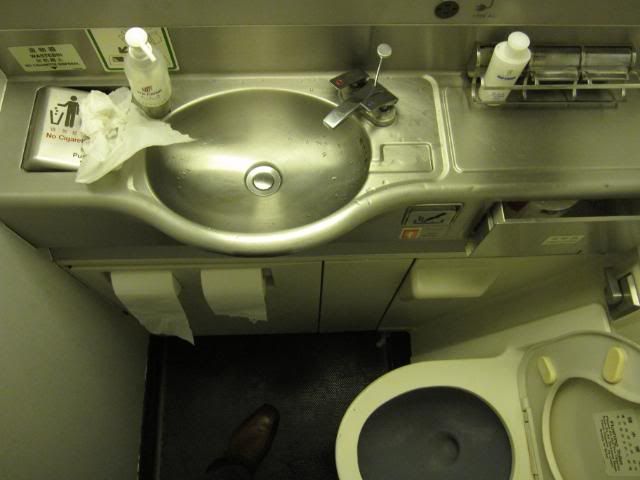 (Should I be worried that there was duck-tape holding several parts of the floor?)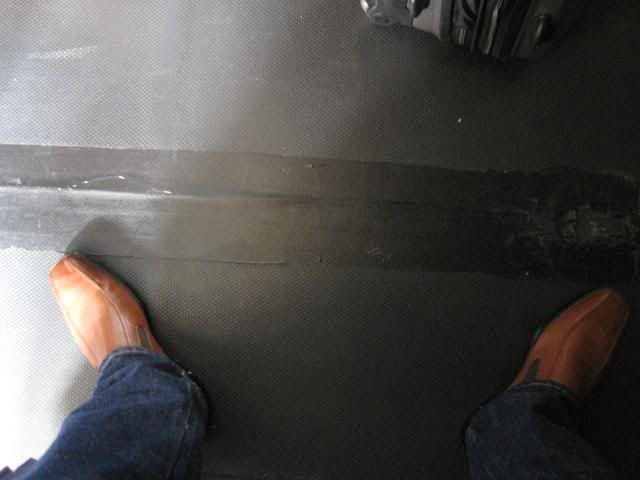 c) Meal + Beverage:
Drinks service consisted of alcoholic and non-alcoholic beverages. It was interesting to see how much beer the Chinese ordered, and even more fascinating to see the flight attendants have absolutely no idea about cocktails and liquor. I stuck with Diet Coke throughout the flight (my new commitment to regaining my 6-pack, but I digress).
Dinner service had two options – a Chinese chicken dish and a Western pork dish. I chose the chicken dish which consisted of rice and chicken curry accompanied by salad, a bread roll, and a cake. The main chicken and rice was actually pretty nice; the salad disgusting; the bread roll was cold and like a stone; the cake just disgusting blob of sugar. Well, the main was nice … and I guess that is what mattered?
Between dinner and breakfast, I was surprised that there were no water runs. Not acceptable for a flight of this length. Given the cramped conditions, I failed to sleep and there were definitely no water runs.
Breakfast was served 90 minutes prior to arrival at PEK, and options included the Western omelette and the Chinese noodle. It was interesting that I was the only white person in the nearby vicinity to choose the later. The shrimp noodle was actually rather nasty and I could feel the MSG (?) in my tongue. Oh well. It was at least filling …
(Dinner)
(Café afterwords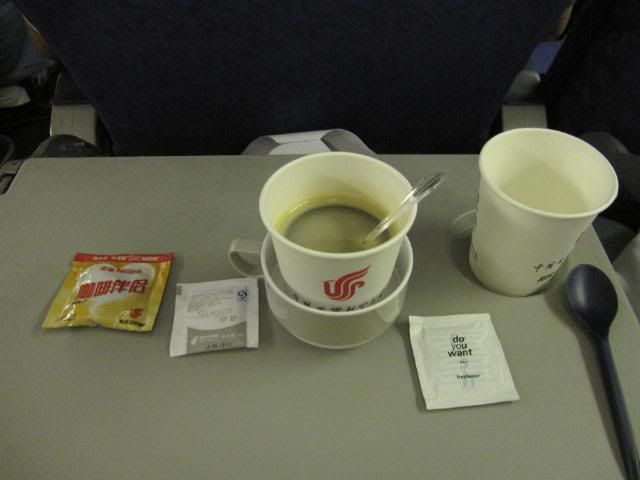 (Breakfast)
d) Inflight Entertainment:
Aah. IFE consisted of an EXTREMELY dirty central screen which played cheesy China promotional videos (made in 1990s?) and had the moving map for the entire duration of the flight. I mean, I had never seen a screen so dirty in my life … it was far dirtier than my laptop screen and that is saying a LOT! And, what is up with no movies in a 9 hour 25 minute flight? Additionally, no English language in-flight magazine found throughout the flight. I know Air China has one … it was just missing entirely from this aircraft.
(Dirty screens – nothing played)
("In-flight magazines", Boarding Passes, etc.)
 Of course, there was no English language in-flight magazine
e) Crew:
The male crew member serving my section was nice and helpful. He smiled and was willing to be a service industry professional. The rest of the Air China crew left much to be desired. I don't think I saw a single smile during the entire flight from the rest, and they were probably had received Communist army training as they were experts in barking orders. True, some of the passengers left much to be desired, but … I still maintain that firm kindness goes a much longer way than stern disciplinary behaviour. The lack of pro-active water runs, and significant delays in responding to call buttons added to them being overall sub-par.
IV> Post-Flight:
Landing at PEK was remarkably smooth. PEK is the story of the two China's – the crappy airline followed by the brand new spanking airport. PEK's T3 is a delight and an architectural gem. It took few minutes before cleaning immigration and taking the shuttle back to the main T2 terminal. One thing, the Chinese could do better with explaining the different forms needed for immigration. Worse, no one seemed to know! Only the Colombians with their Spanish only forms at many US gateways provide more confusion to guests in their country
.
(Beautiful PEK airport T3)
V> Impressions + Scores:
Air China has a long way to go before it can truly be a global competitor. I thought that the Star Alliance moniker would have inspired the airline to become better. Alas, like Egypt Air, I was totally wrong. In short, Air China sucked. Poor hardware (cabin, IFE, etc.), and poor software (dining, crew, etc.) made for a rather shoddy experience.
Currently, Air China competes on price. I probably would never fly them unless the price differential was huge. Two thumps down.
(Lowest score in a medium/long haul international Y product)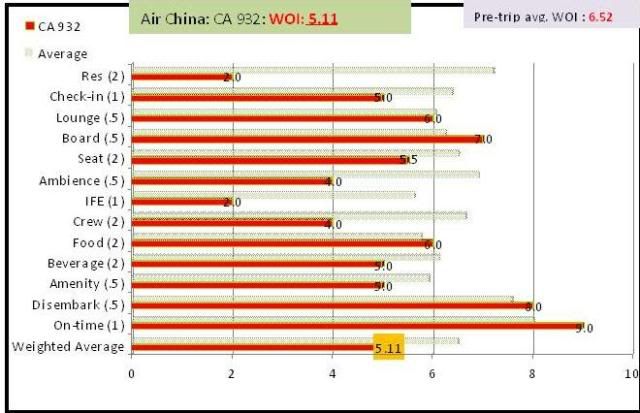 VI> Other Trip Reports:
PREMIUM:
8.64:
Turkish Airlines (59): JFK-IST: 11/2008
8.61:
Air Canada (49): YYZ-SCL: 06/2008
8.54:
Turkish Airlines (77): GRU-DKR-IST: 04/2009
8.30:
Jet Airways (74): KWI-BOM: 04/2009
8.23:
United Airlines (72): SFO-SYD: 03/2009
8.11:
Aeroflot (33): MOW-DEL: 09/2007
8.05:
Air India (80): CCU-JFK: 06/2009
8.04:
Korean Air (40): NRT-ICN: 10/2007
8.02:
Delta Airlines (24): JFK-CDG: 08/2007
7.46:
LAN (55): YYZ-JFK: 09/2008
7.82:
Singapore Airlines (06): EWR-SIN: 09/2006
7.23:
Virgin Atlantic (81): BOS-LHR: 07/2009
7.14:
Swiss (52): SCL-GRU: 06/2008
7.11:
Austrian (79): VIE-JFK: 06/2009
7.02:
Qatar (68): DOH-JFK: 01/2009
6.96:
Etihad (61): JFK-AUH: 12/2008
6.93:
Delta Airlines (18): SEA-JFK: 11/2006
6.84:
ConViasa (65): CCS-DAM: 01/2009
6.81:
Air Canada (17): ICN-YYZ: 10/2006
6.70:
KLM (32): EBB-AMS: 08/2007
6.36:
Privatair (60): MUC-BOS: 12/2008
6.25:
Korean Air (45): NAN-ICN: 10/2007
6.11:
TAP Portugal (53): GRU-OPO: 06/2008
6.00:
Gulf Air (75): BOM-BAH: 04/2009
5.75:
Singapore Airlines (16): CCU-SIN: 10/2006
5.64:
NorthWest (46): ICN-NRT-SEA: 10/2007
5.39:
LOT (54): WAW-JFK: 06/2008
5.21:
Egypt Air (73): CAI-IST: 02/2009
5.07:
TACA (66): JFK-SAP: 01/2009
4.42:
Air France: CDG-JNB (25): 08/2007
ECONOMY: Long + Medium:
9.26:
Air India (48): JFK-DEL: 02/2008
7.38:
Avianca (01): BOG-LIM: 07/2006
7.07:
Sri Lankan (62): KWI-CMB: 12/2008
6.41:
American Airlines (58): LHR-BOS: 11/2008
6.41:
Avianca (78): JFK-BOG: 05/2009
6.26:
Jet Blue (21): CUN-JFK: 02/2007
6.06:
Air Canada (04): YYZ-YVR: 09/2006
5.89:
USA 3000 (19): PUJ-BDL: 01/2007
5.85:
Spanair (69): MAD-LPA: 02/2009
5.79:
Air New Zealand (42): RAR-NAN: 10/2007
5.46:
TAP Air Portugal (23): OSL-LIS: 05/2007
5.19:
Air Europa (70): LPA-MAD: 02/2009
5.16:
Iberia (71): MAD-BOS: 02/2009
5.11: Air China (82): FRA-PEK: 08/2009
ECONOMY: Short
8.56:
Paramount Airways (38): BLR-MAA: 09/2007
8.56:
Kingfisher (64): HYD-CCU: 12/2008
8.24:
Kingfisher (14): IXA-GAU: 10/2006
7.87:
Indian (34): BOM-MAA: 09/2007
7.72:
Alliance Air (13): CCU-IXA: 10/2006
7.57:
Indian Airlines (10): DEL-CCU: 09/2006
7.23:
West Jet (03): YYC-YVR: 09/2006
7.15:
JetLite (37): BOM-GOI: 09/2007
6.70:
Spice Jet (09): CCU-DEL: 09/2006
6.63:
Air Fiji (44): NAN-SUV: 10/2007
6.63:
Jazeera (67): DAM-KWI: 01/2009
6.58:
Air Tran (02): EWR-MDW: 08/2006
6.48:
Air India Express (63): CMB-MAA: 12/2008
6.44:
CO Micronesia (39): ROR-YAP: 10/2007
6.41:
Pacific Sun (43): NAN-SUV: 10/2007
6.37:
Skybus (47): SWF-CMH: 02/2008
6.33:
Kenya Airways (29): NBO-BJM: 08/2007
6.33:
Sky Europe (56): LTN-BTS: 10/2008
6.31:
Indigo (15): GAU-CCU: 10/2006
6.31:
easyJet (57): BUD-LTN: 11/2008
6.22:
Air Link Swazi (28): MTS-JNB: 08/2007
6.22:
Air India (36): HYD-BOM: 09/2007
6.13:
Adam Air (07): SIN-CGK: 09/2006
6.13:
Air Rarotonga (41): RAR-AIT: 10/2007
6.00:
Transairways (27): INH-MPM: 08/2007
5.95:
Air Canada (05): ALB-YYZ: 09/2006
5.85:
SAS Norge (22): OSL-AES: 05/2007
5.81:
LAM Mozambique (26): JNB-MPM: 08/2007
5.69:
Air Deccan (12): IXZ-CCU: 10/2006
5.67:
Rwanda Air Exp (30): KGL-NBO: 08/2007
5.11:
Aero Republica (76): BOG-CCS: 04/2009
5.07:
Go Air (35): MAA-HYD: 09/2007
5.00:
Sky Airline (51): IQQ-SCL: 06/2008
4.96:
Valuair (08): CGK-SIN: 09/2006
4.78:
Air Comet Chile (50): SCL-IQQ: 06/2008
4.74:
Fly 540 (31): MYD-LAU: 08/2007
4.33:
Viva Aerobus (20): ELP-MTY: 02/2007
4.11:
Air Sahara (11): CCU-BOM: 09/2006
(Note on Codes: Y – Economy, J – Business, F – First :: I/D – International/Domestic :: SR/MR/LR – Short/Medium/Long Haul)
(Note on Date: Dates are modified to be +/- 3 days from actual flight date to not reveal actual flight pattern)
VII> Other Pictures:
NONE