London Heathrow - Zurich - Venice on Swiss Business for the weekend
Since I moved back to the UK in August, I've been investigating easy weekend trips from London. I found that Swiss had some good offers flying Business Class to various points in Europe. Of the cities on offer, two looked interesting, Venice and Istanbul. After a bit of evaluating, I went with Venice. To maximise my time in Venice, minimise the time I took off work, I organised spending Friday and Sunday nights in the transit hotel in Zurich Airport, which turned out to be a pretty good idea, as it enabled me to leave after work on Friday, and get back (almost) in time on Monday morning.
Heathrow Terminal One was very peaceful on this Friday night. There was just one person ahead of me to check in, and the queue for security was one about ten minutes. This was the first time I'd gone though T1 departures in about 4 years (last time was flying BMI to Paris, a route they've long since stopped) – the place is far nicer now that it's nearly exclusively Star Alliance.
I was advised to use the Star Alliance Gold lounge, but decided to go to the BMI Number One lounge instead, which was a good decision. Whilst much smaller than I thought, the lounge was really nice, with some very comfortable chaise-longues overlooking the runway. The bar was unstaffed, so I just helped myself. The food selection wasn't amazing, but they did have scones and clotted cream, which I thought was a nice touch for a British lounge!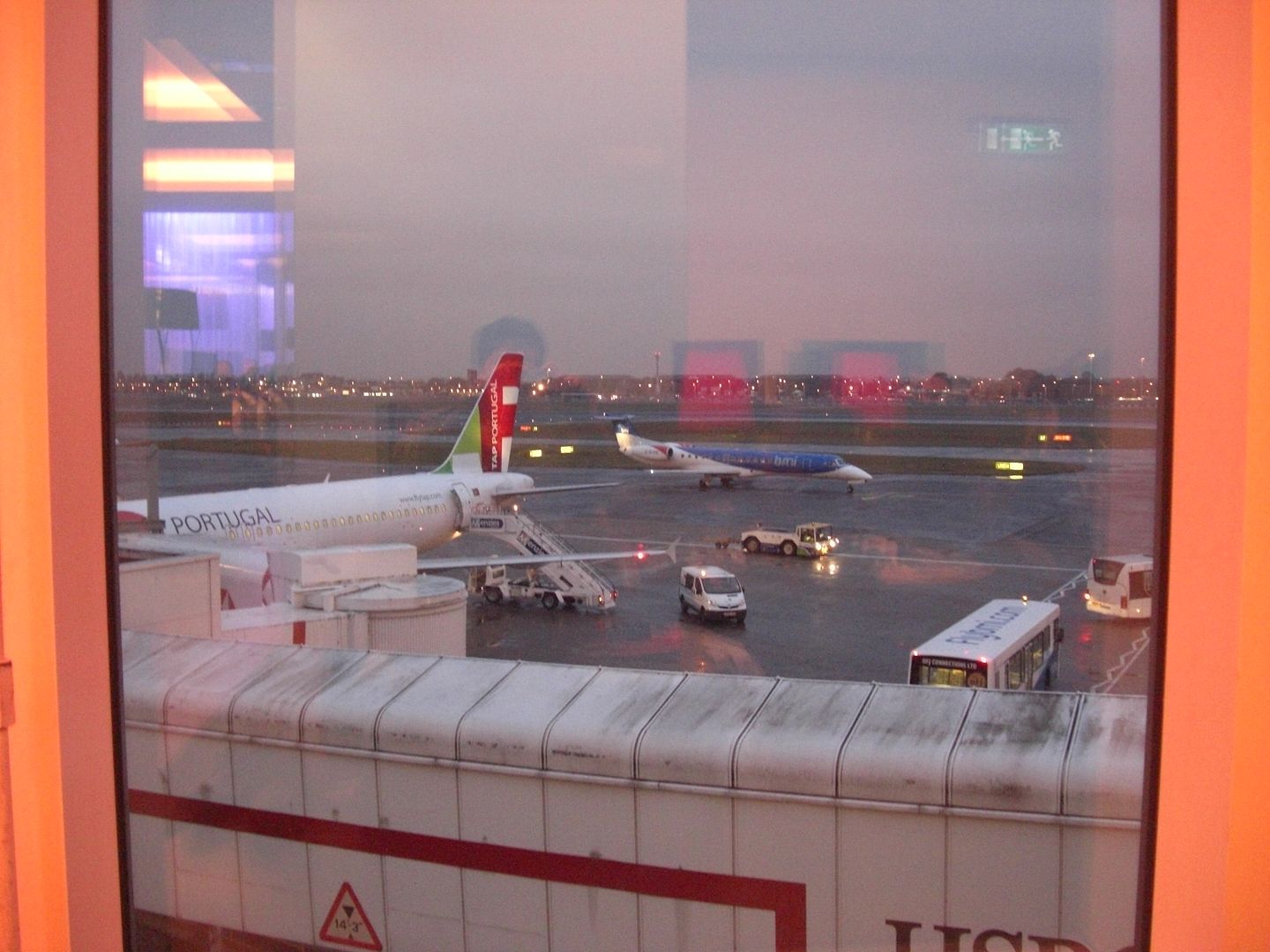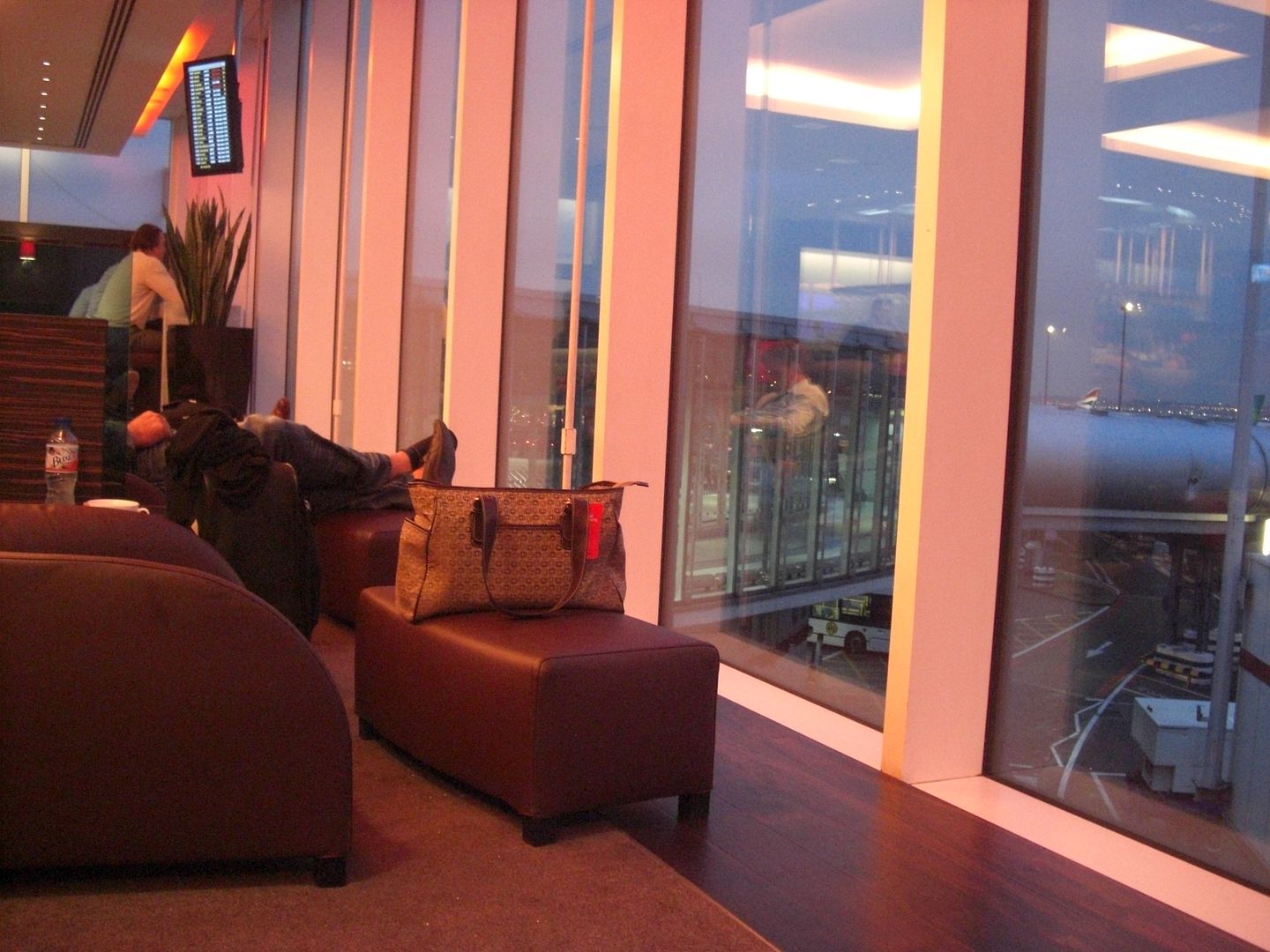 As I had some spare time, I also went down to the Star Gold lounge, which in comparison was horrible. It was packed, and had no views, although the food selection was (marginally) better. Boarding was announced as being delayed, so I thought as I'd nothing better to do, to have a quick shower, which was a nice thing to do after spending all day in work. I headed down to the gate felling much better
October 2009
London Heathrow – Zurich
Swiss LX 339
Scheduled: 1950-2230 (1h40)
Actual: 2043-2257 (1h14)
A319 HB-IPR
There was no reason given for the late boarding, ad not much of an apology either. This was my first flight in Swiss Business, so wasn't particularly sure what to expect from the service. Upon boarding I was slightly surprised to see that business was just two rows (6 pax) – I was expecting more for a Friday night. The staff were friendly though, and came around with a basket with bottles of water, and a wet wipe. After nearly an hour's delay we headed off. Dinner was a big disappointment – no choice, just a plate of cold meat. Not impressed. I was hoping for something hot (especially as I could smell the crew's meals!). At least the food tasted good.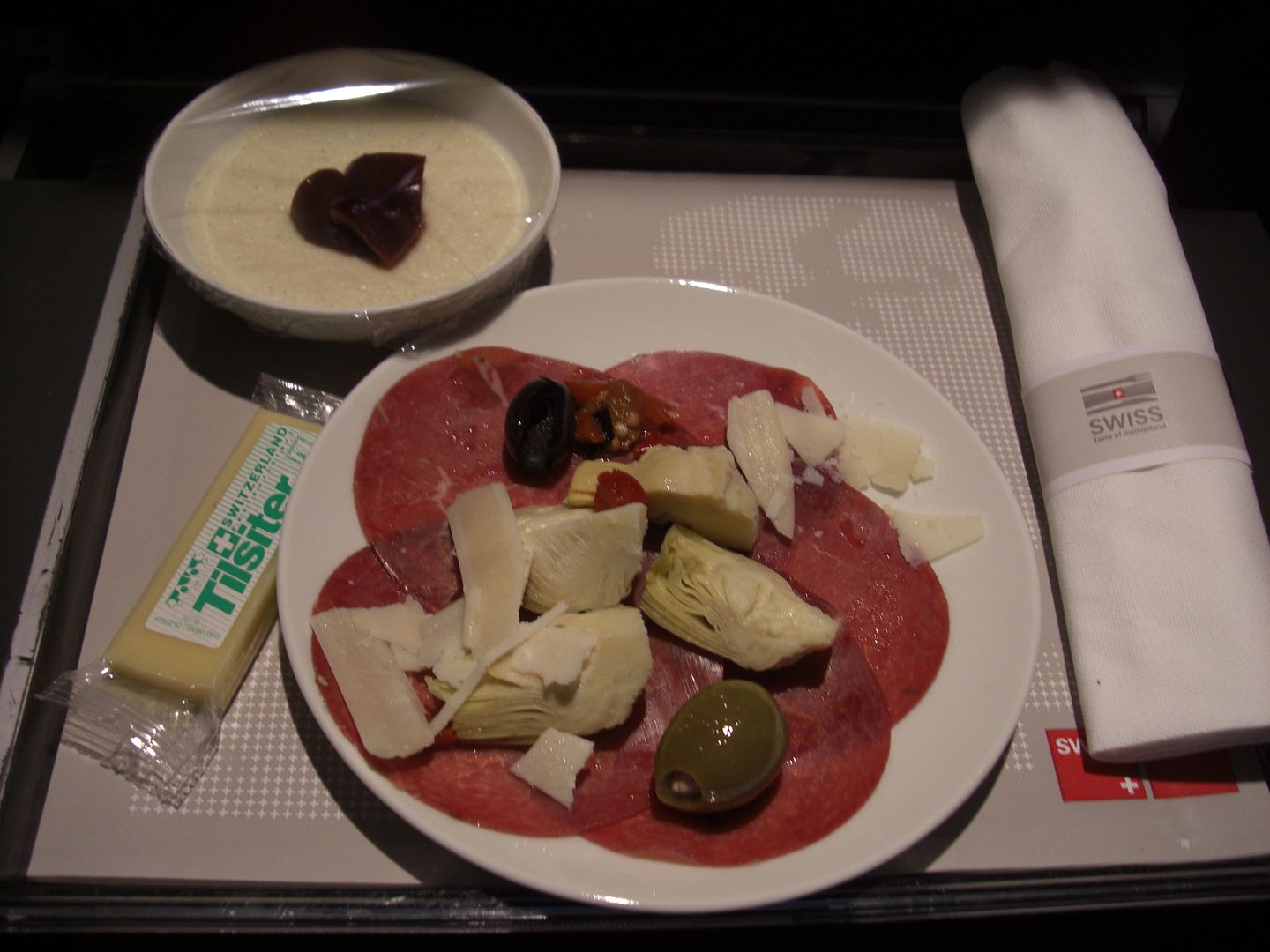 Disembarking in Zurich
We arrived just under half an hour late into Zurich, and were bussed to the terminal which was actually quite lucky as it dropped us off on the far side of the terminal, right underneath the transit hotel. I was in my very minimalistic, but clean and comfortable room in a matter of minutes. Unfortunately for this (and my next stay), despite having a tarmac-side view, my stay in the room was always in the dark, so views were very limited.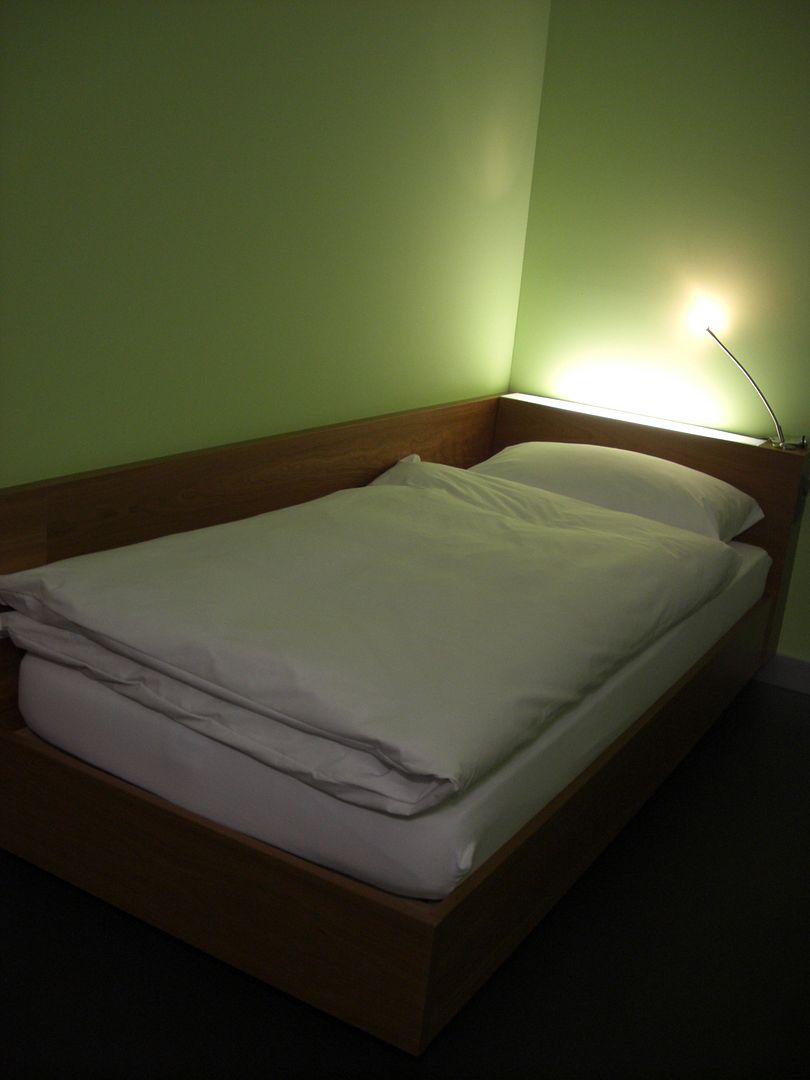 After an all too short sleep in the transit hotel, I headed to the Swiss lounge in the Schengen part of the terminal. Breakfast options were a bit sparse, but I managed to get a croissant and some Swiss chocolates before heading down to the gate (another bus gate!).
October 2009
Zurich – Venice
Swiss LX 1660 (Operated by Contact Air)
Scheduled: 0735-0840 (1h05)
Actual: 0752-0841 (0h49)
F100 D-AGPK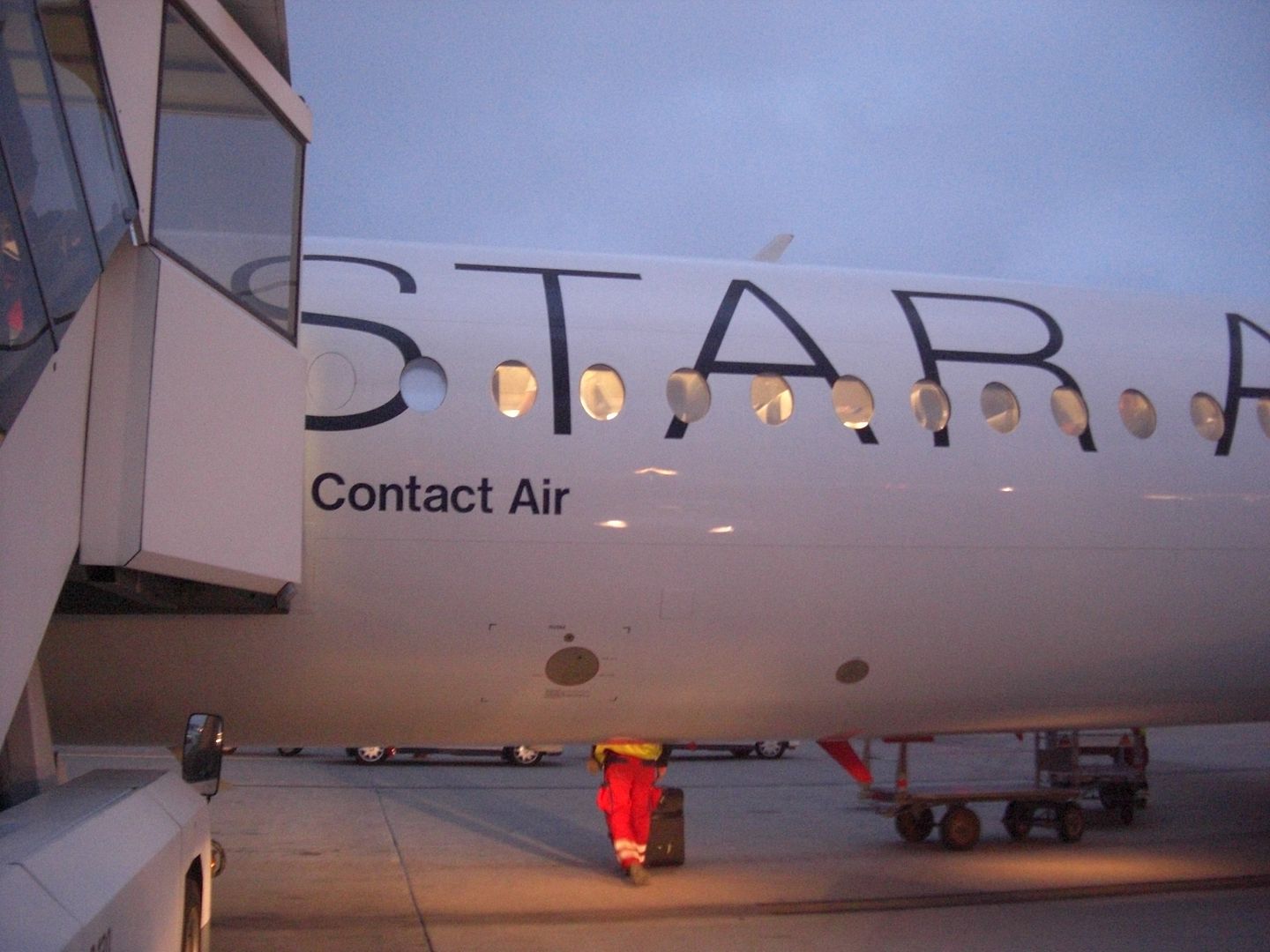 Once again business was just two rows, although this time without a divider, which I found a bit awkward. The crew, who were very friendly, came around with water, towels and newspapers again, before we pushed back. I found the seats on the Fokker quite comfortable – reports on the web seemed to imply that they're really uncomfortable.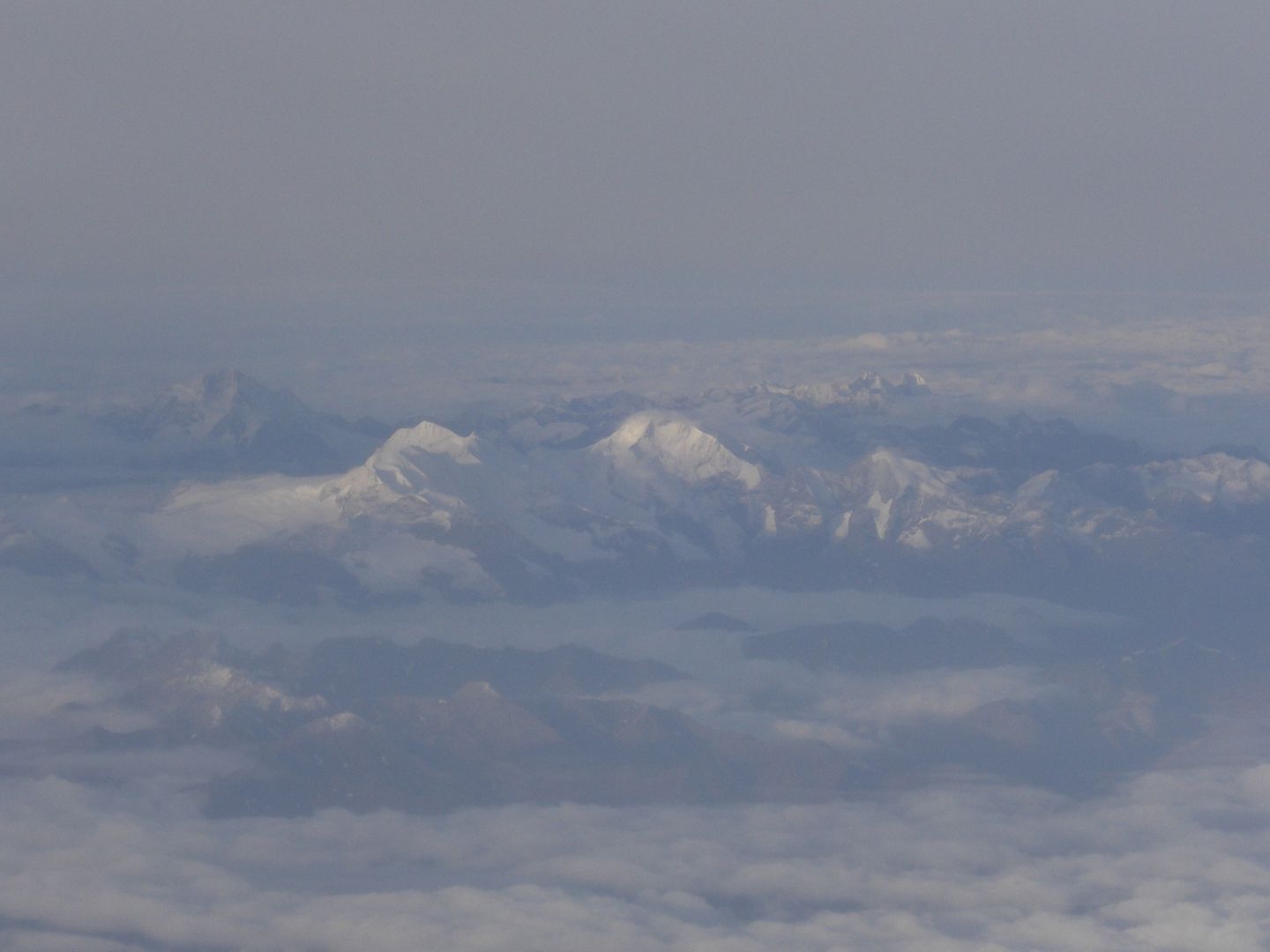 Breakfast was rather small (a yoghurt and croissant), but the flight was barely an hour. I did enjoy having a hot chocolate though whilst watching the Alps move by.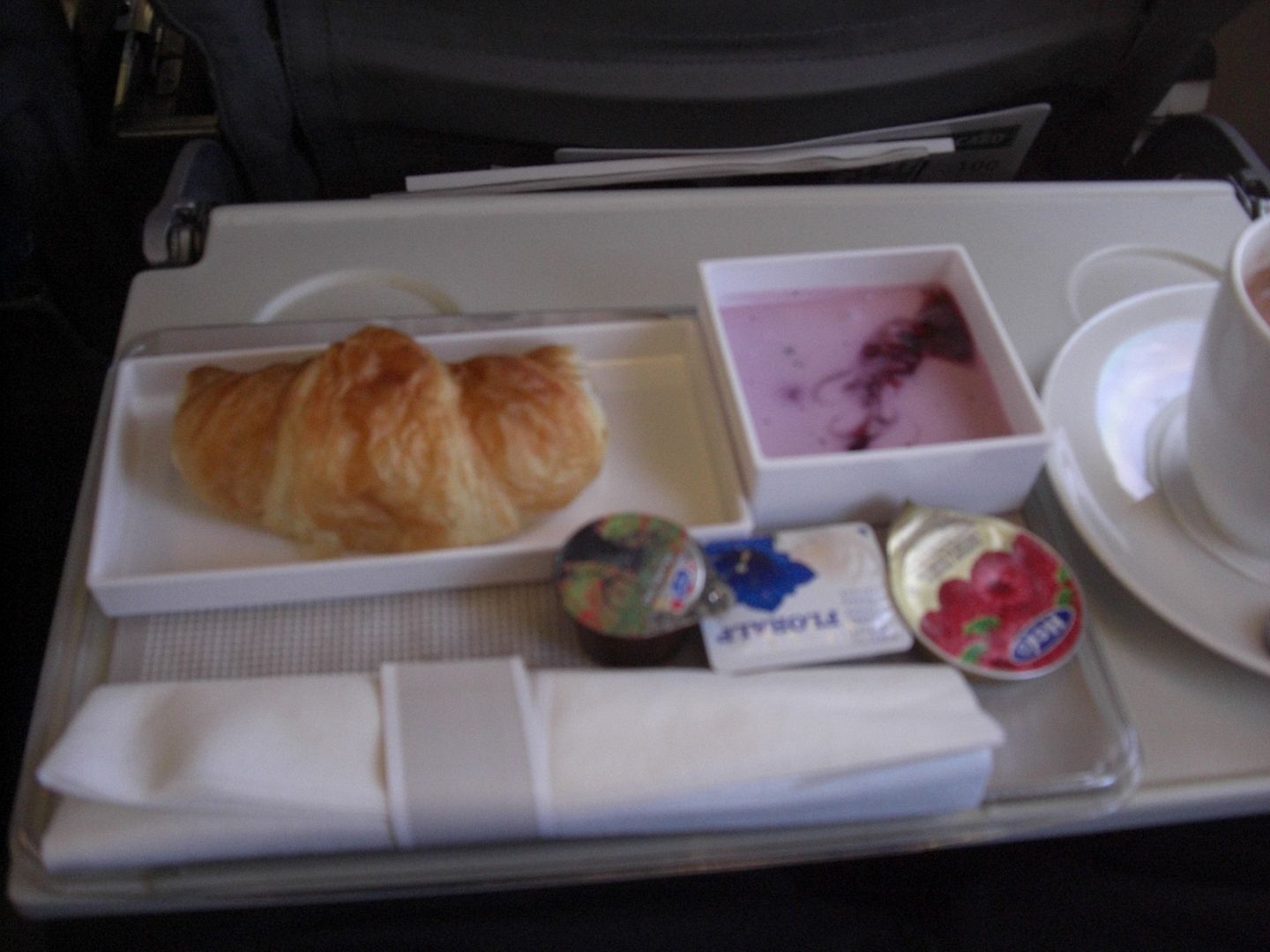 Amazing views of Venice before arrival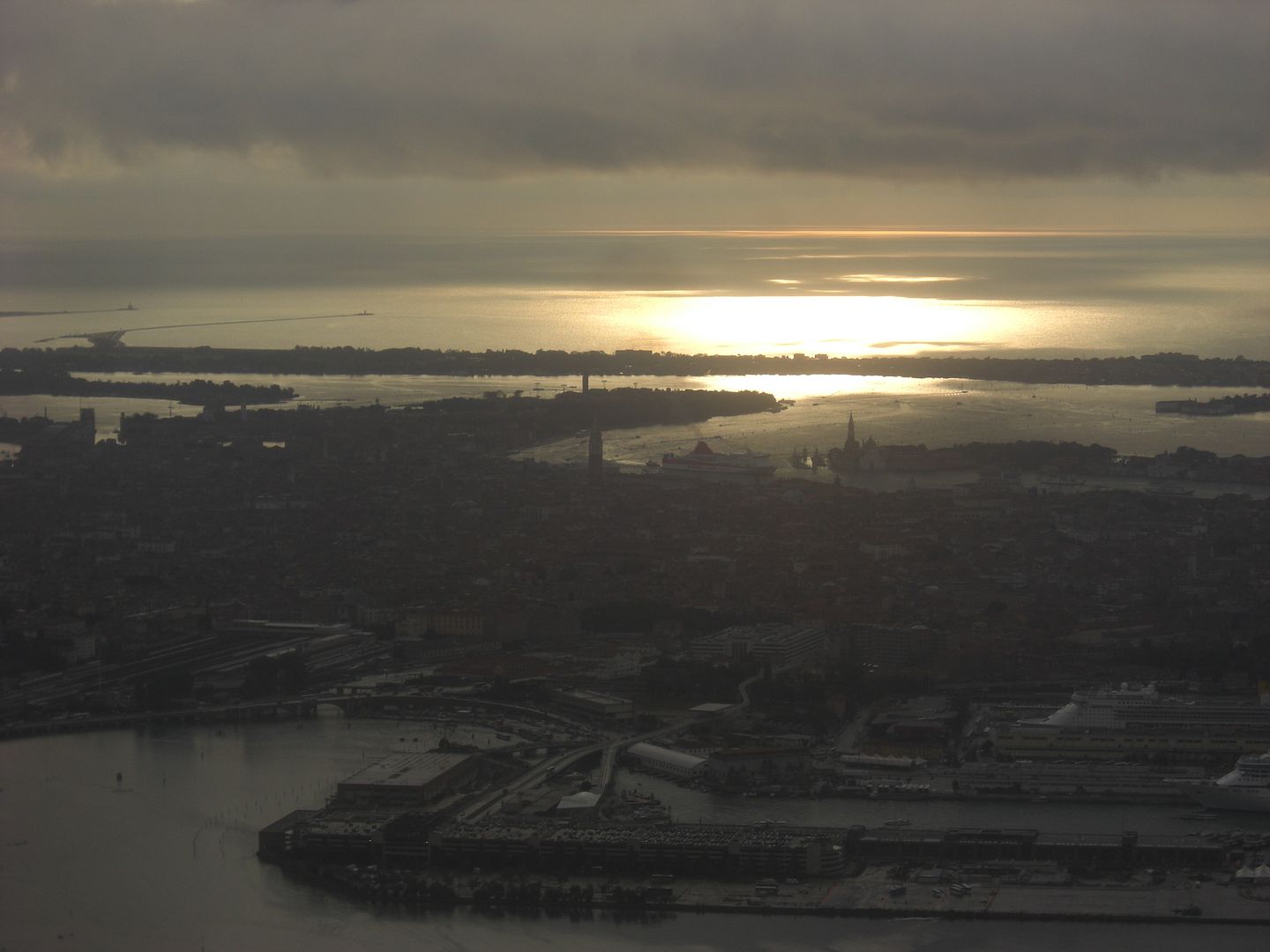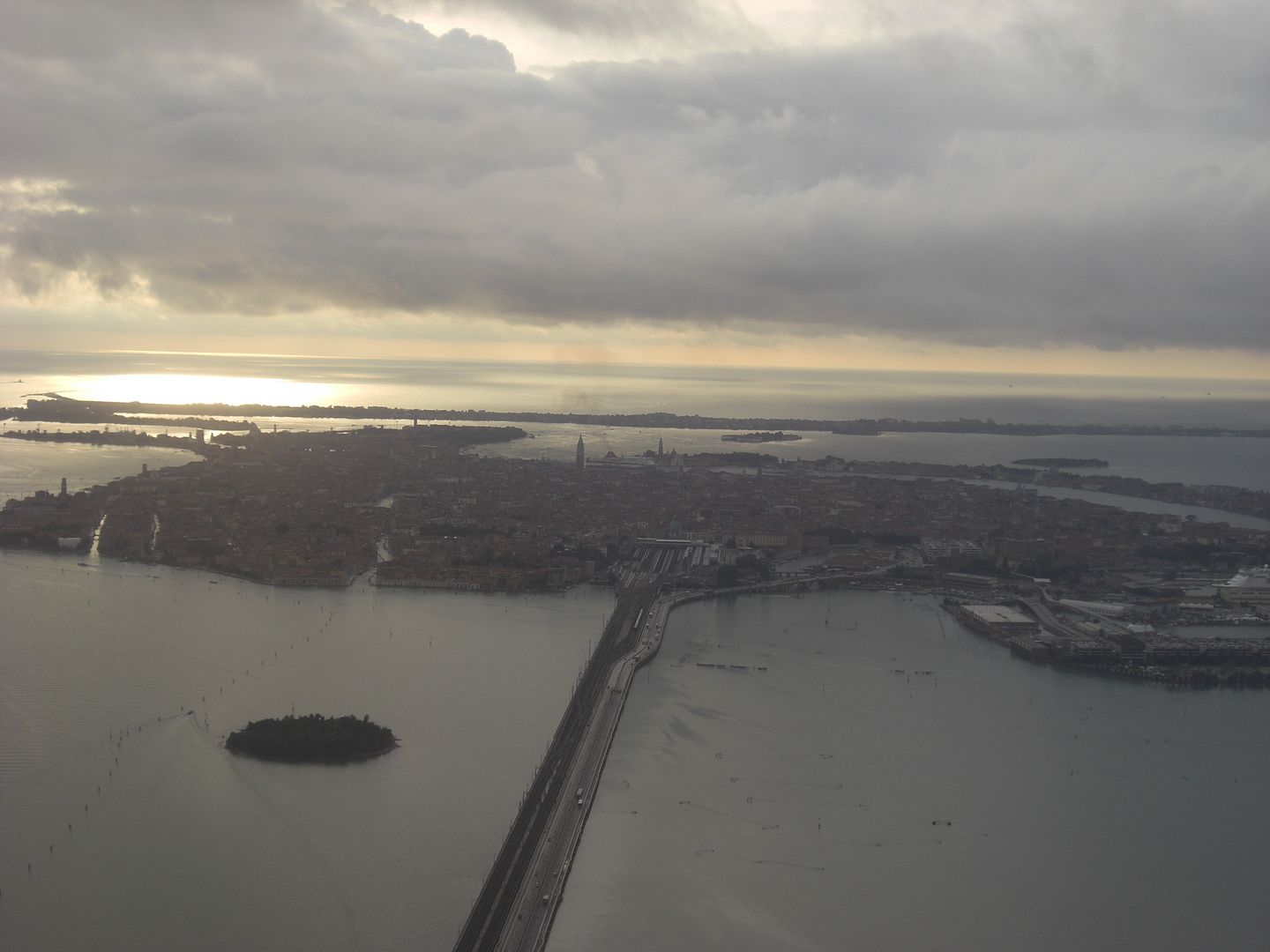 Views of Venice Airport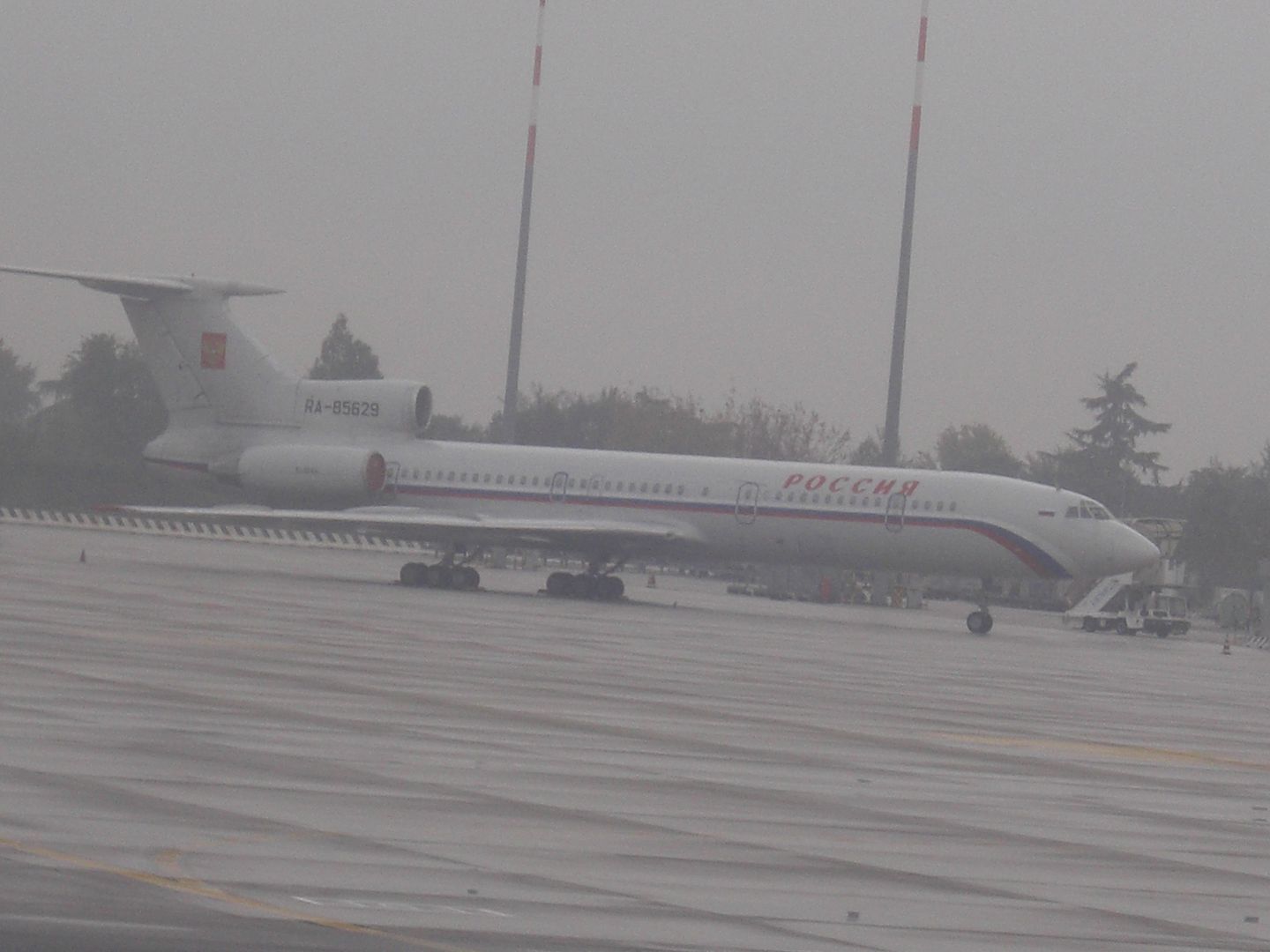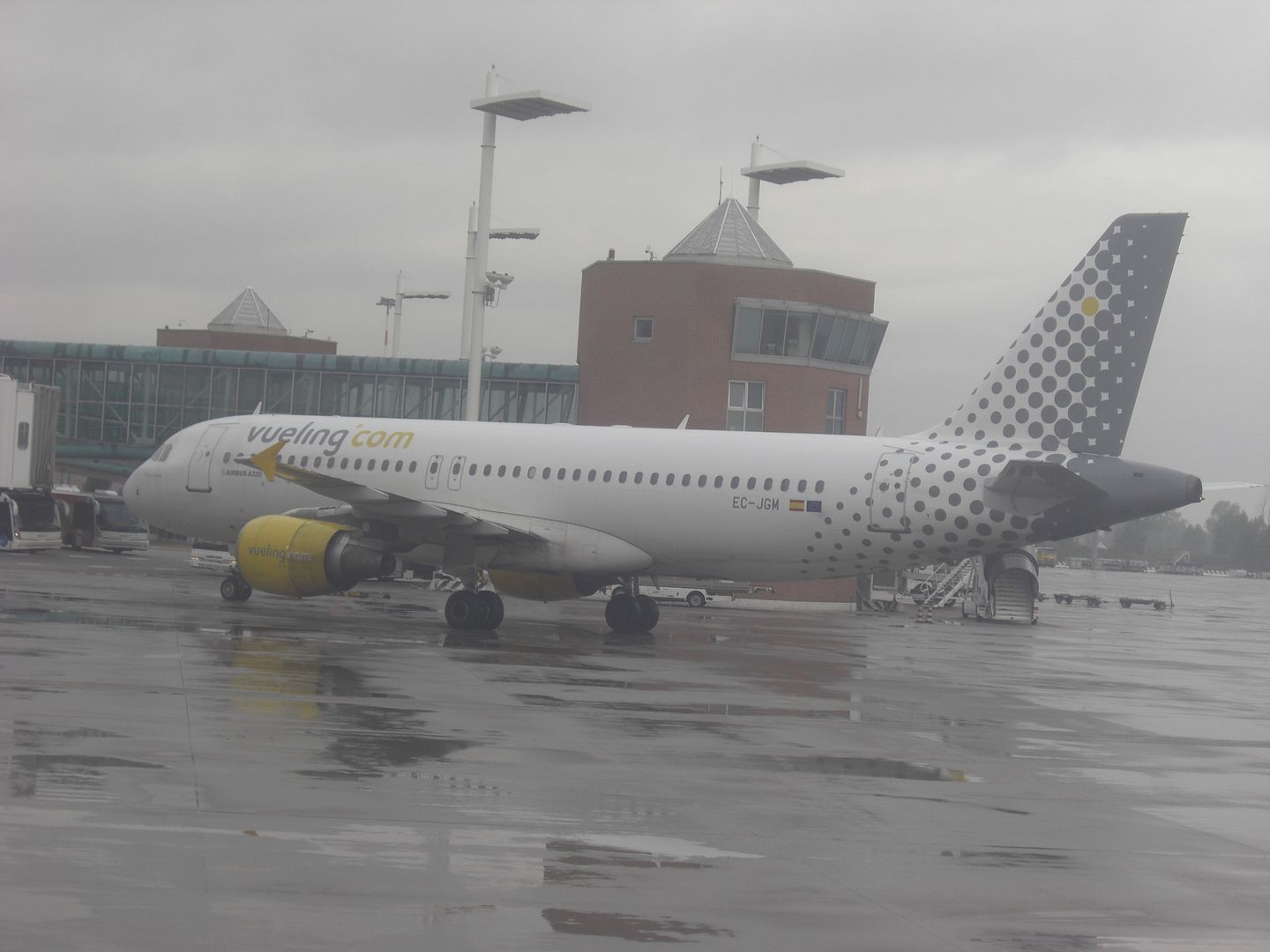 My little Fokker from Zurich
The weather in Venice was quite erratic. Initial reports said it would be wet all weekend. In fact Saturday morning had some of the most torrential downpours I've ever seem, along with some pretty impressive lightening.
The rain stopped mid afternoon, though, and Sunday was a beautifully sunny day (with an amazing sunset).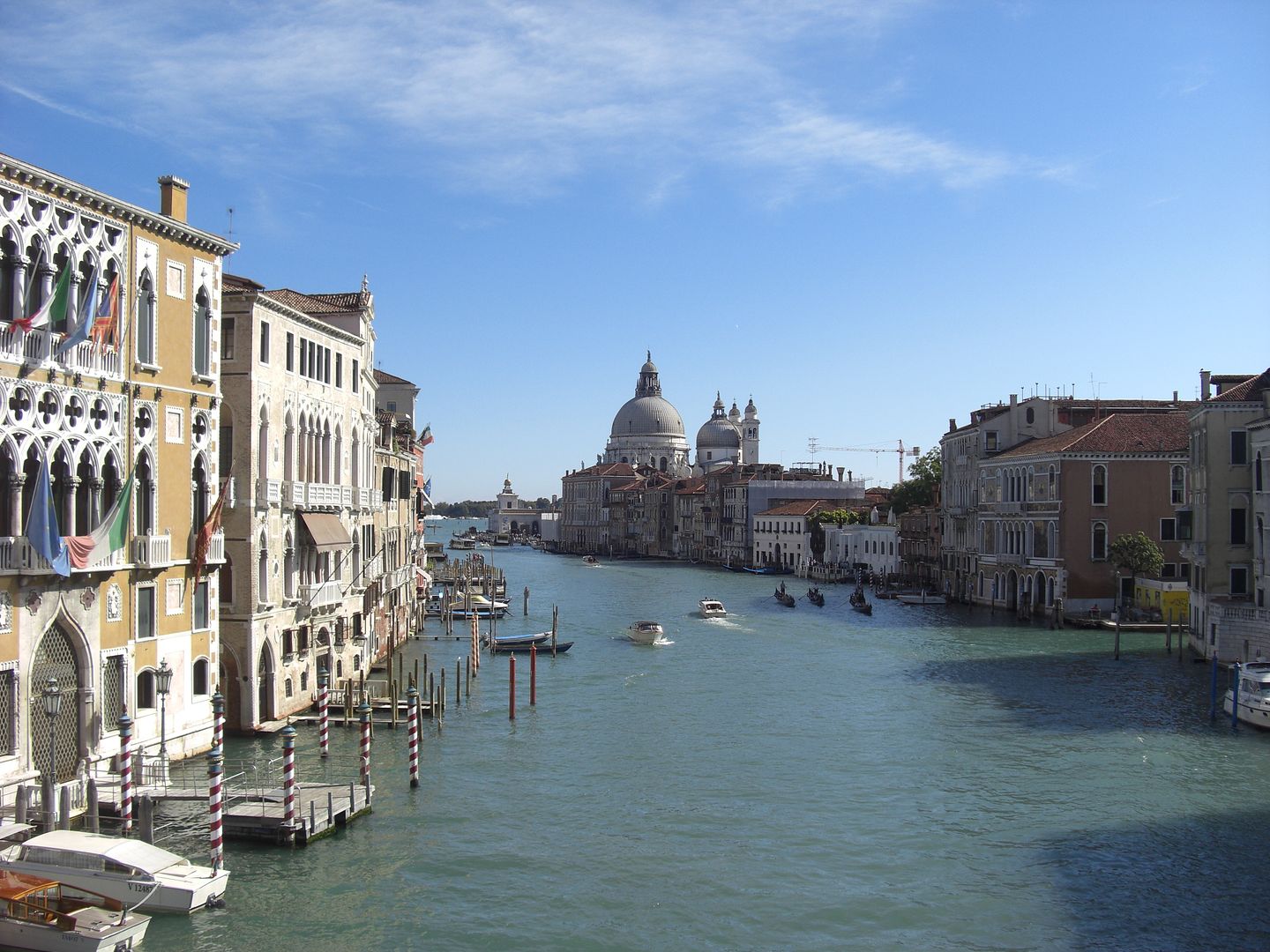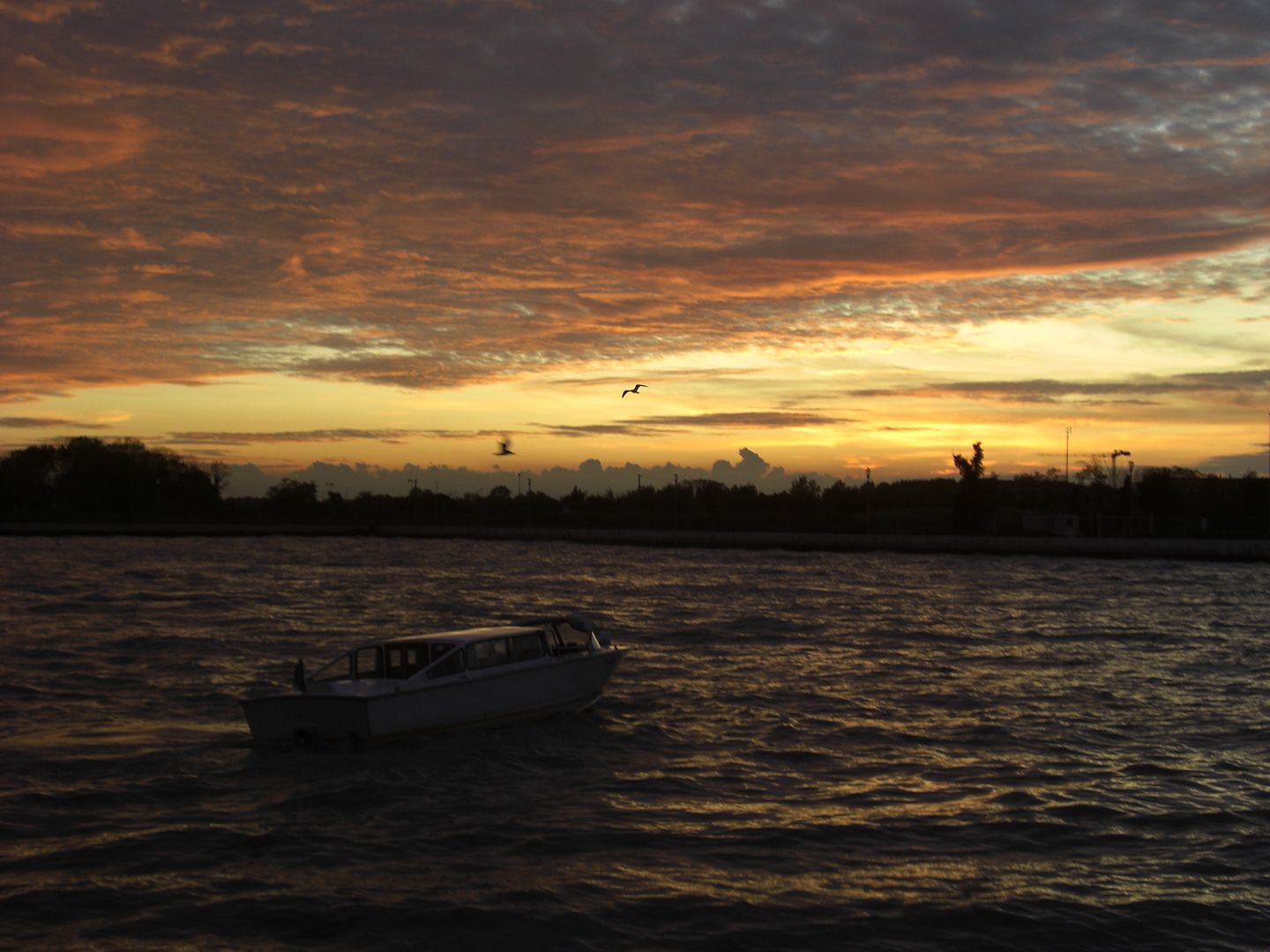 I took the ferry back from St.Marks Square to Marco Polo Airport just over three hours before my flight (the boat can take an hour an a half). There were some good views of the general aviation area as we neared the airport.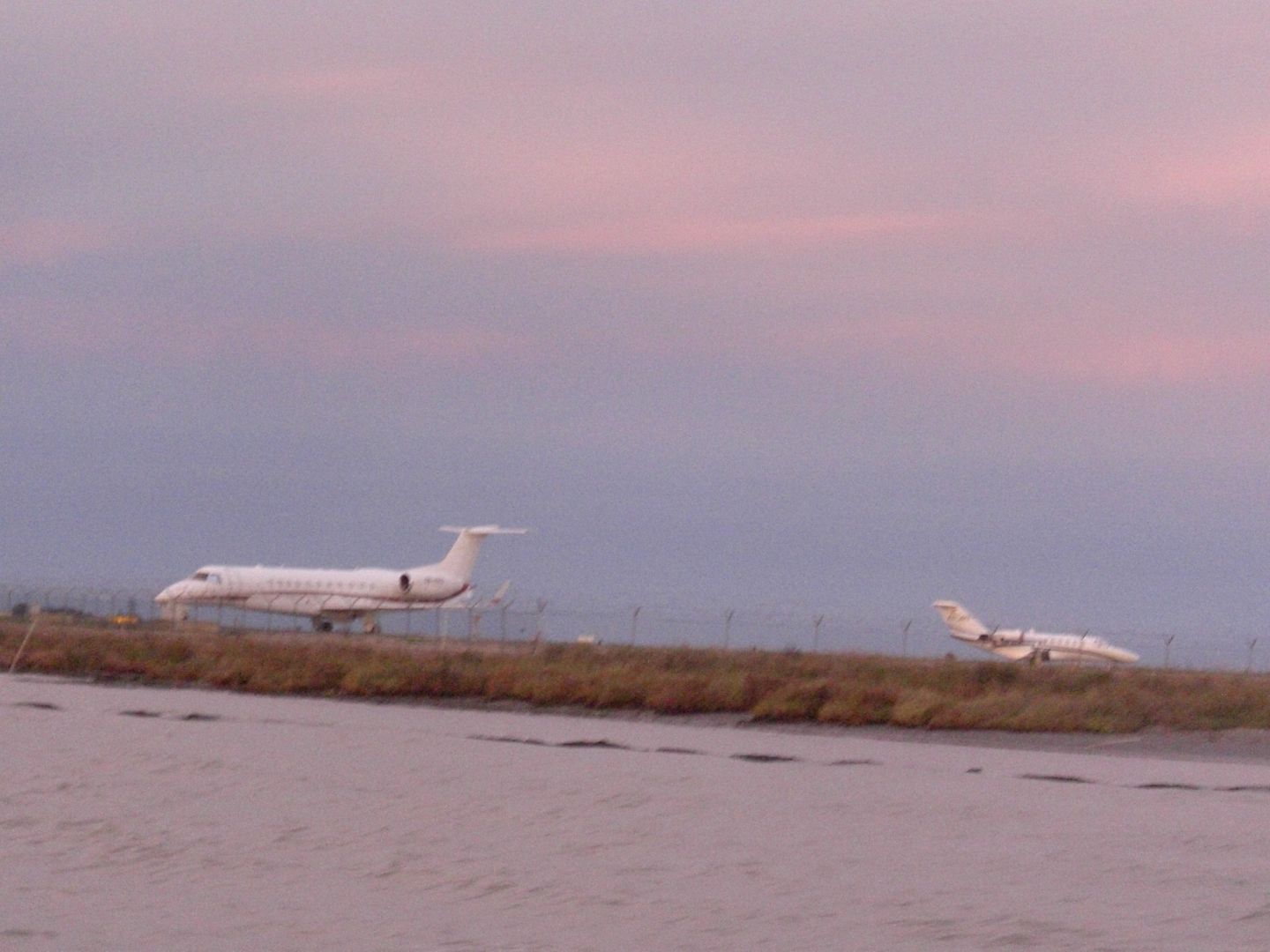 From the boat pier it was a short walk to the terminal.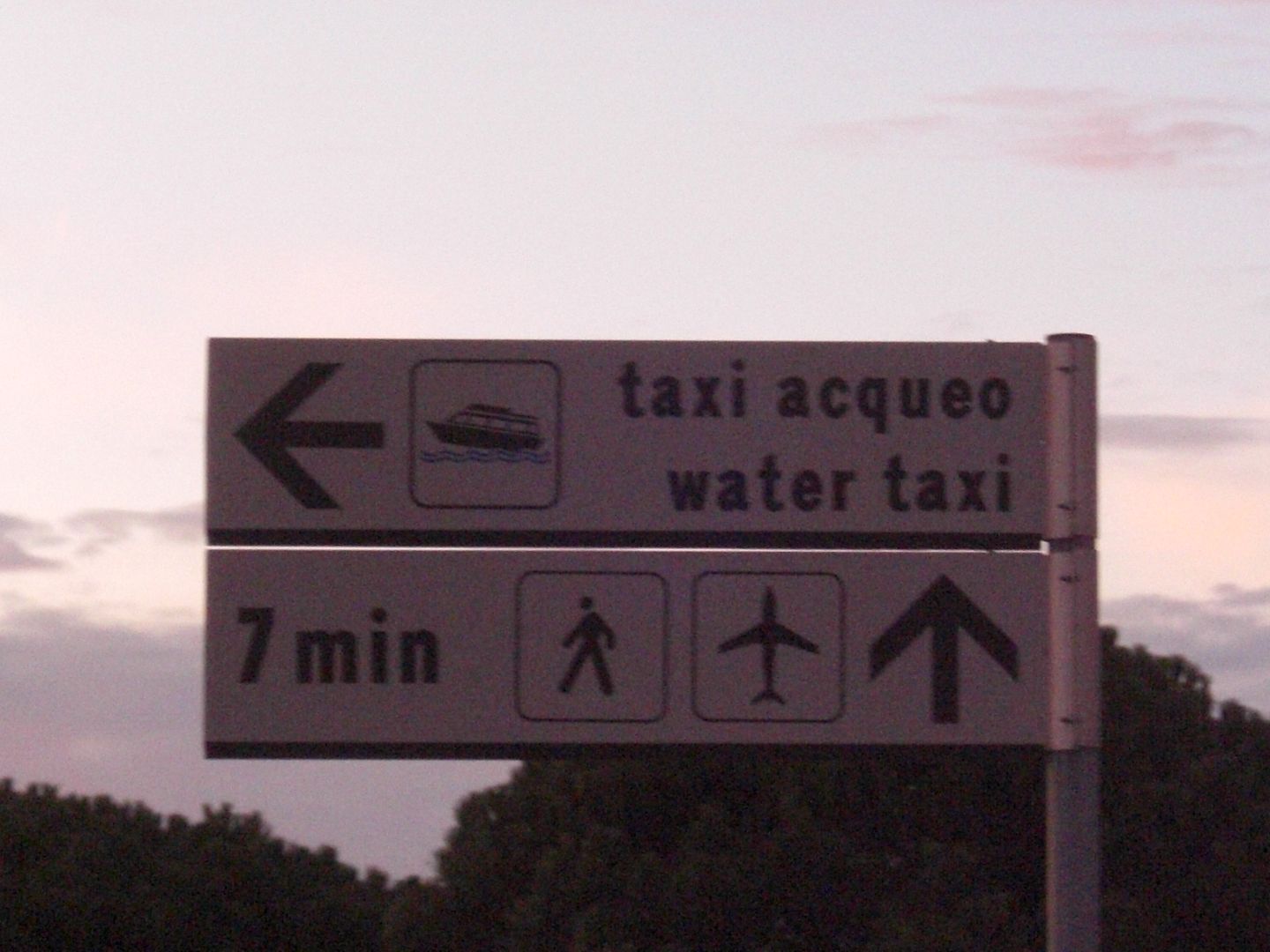 The lady at check in was particularly slow (I had no luggage), and it took her a good five minutes to print out my boarding cards, to the annoyance of the people in the queue behind. Thankfully there was a fast track to security, and I was in the contract lounge pretty quickly. This was also the first lounge it'd been in where you had to ask staff for drinks (instead of help yourself). This would be ok, except the staff were rarely at the counter, and seemed unhappy to serve you when they were there. Luckily the views from the lounge were pretty good despite the increasing darkness.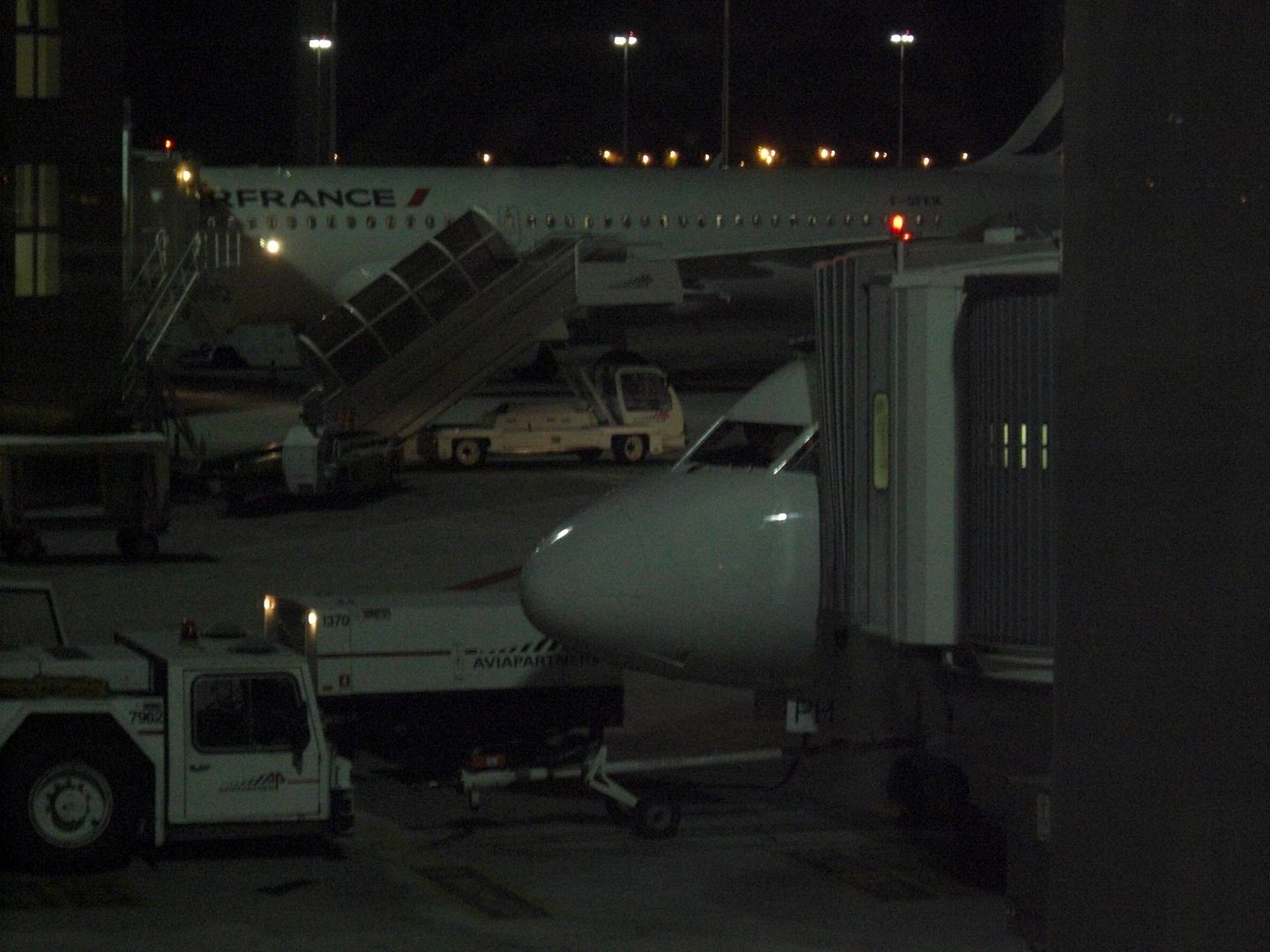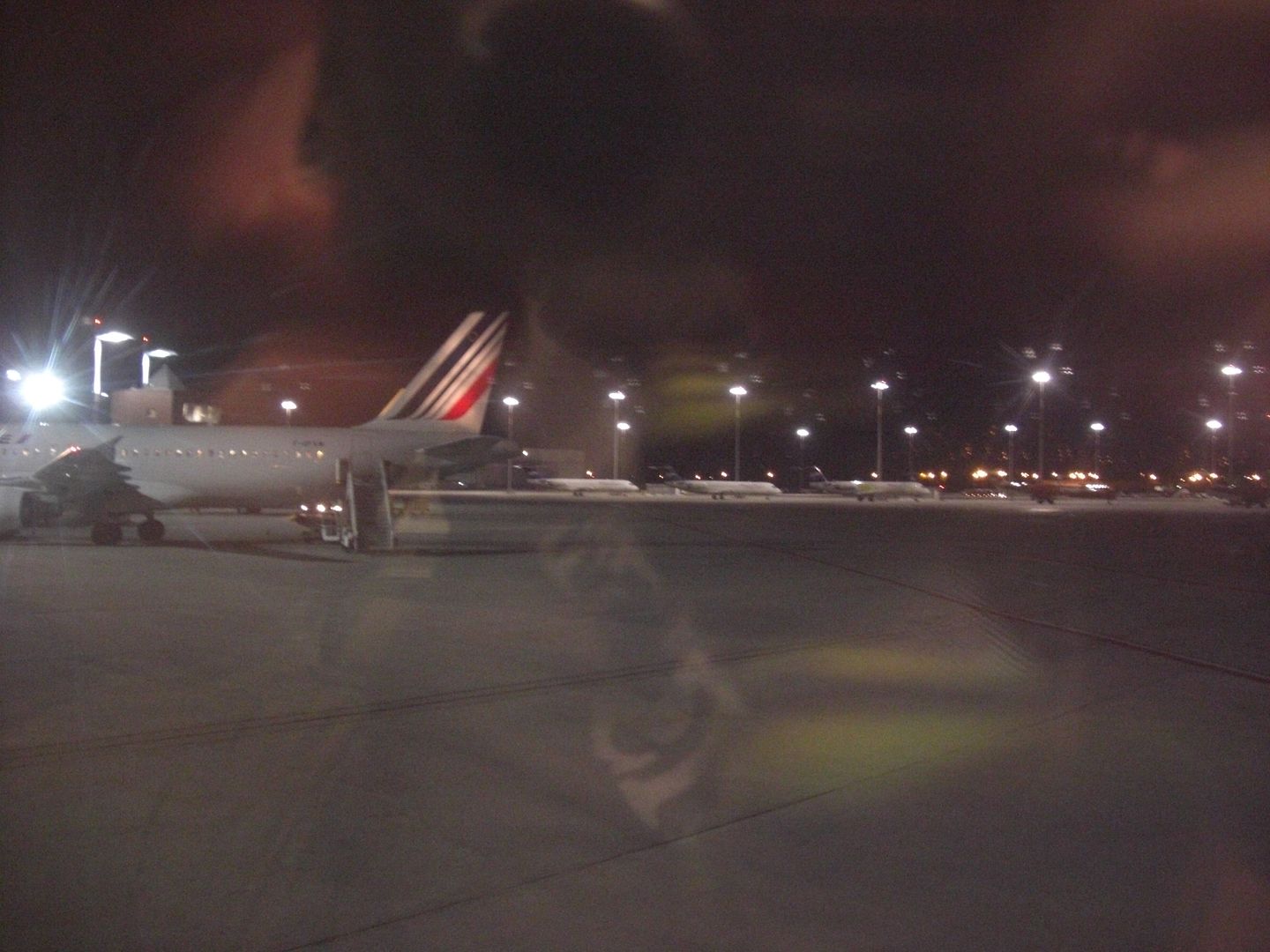 October 2009
Zurich – Venice
Swiss LX 1665 (Operated by Contact Air)
Scheduled: 2025-2130 (1h05)
Actual: 2029-2124 (0h55)
F100 D-AGPH
Yet again, only two rows of business class, and also no curtain on this one.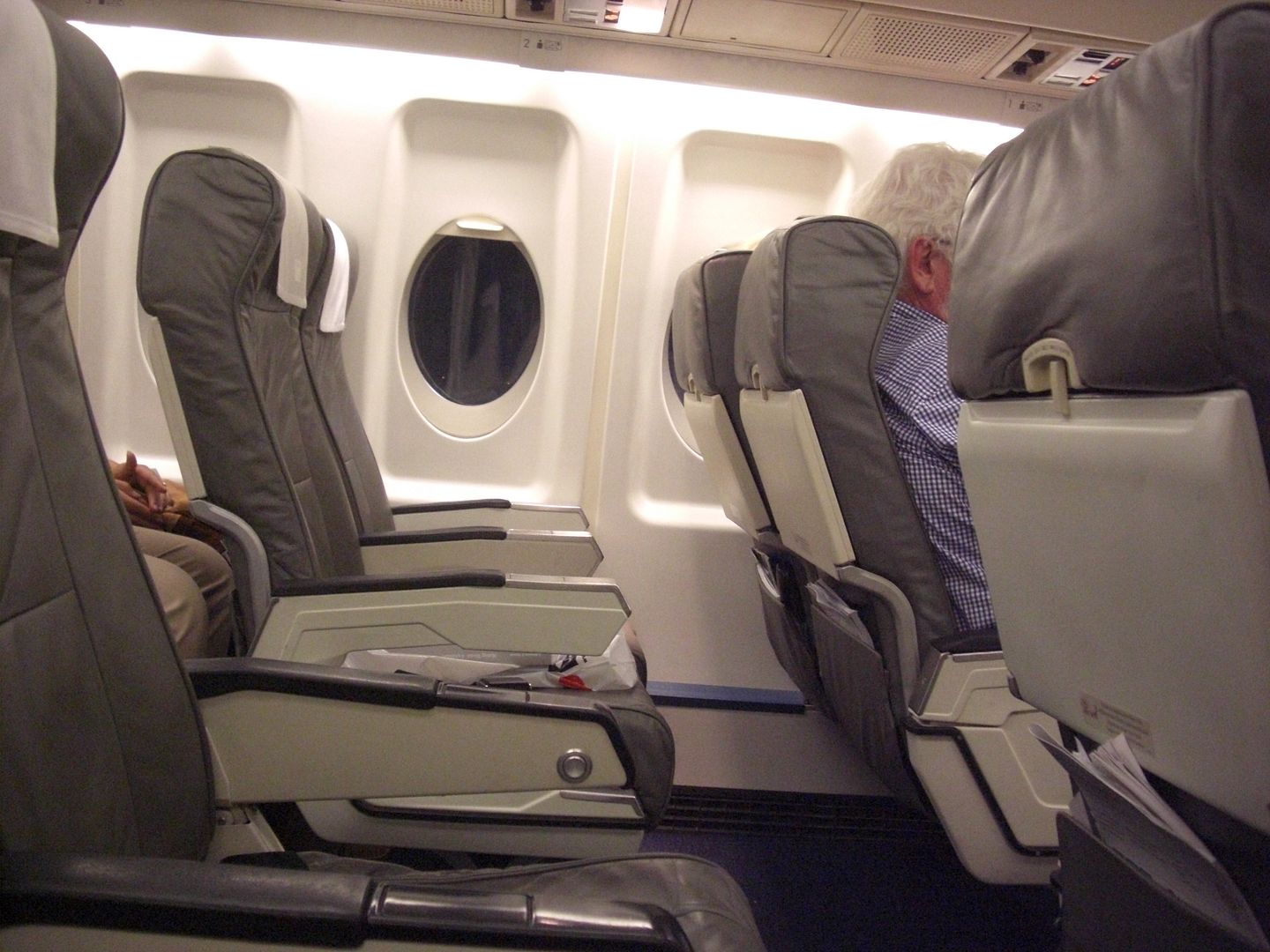 Venice from the air at night
Crew were a bit more standoffish, but still delivered a fairly good service. Food options (first flight with an option) was either a vegetarian or meat sandwich. I went with the veg but a glass (or two) of champagne.
Just right for a short flight. We got a airbridge this time, which was handy for accessing the lunge, which was very quiet at this time of night. I made my way up to the long bar overlooking the tarmac for a few glasses of prosecco (no champagne) whilst I read caught up on my book. The lounge closed at eleven, so I headed down to the transit hotel.
After another distressingly early start, I went into the non-Schengen lounge for a quick breakfast before going down to the gate (another bus gate, along with flights to Manchester, London City and Birmingham).
October 2009
Zurich – London Heathrow
Swiss LX 316
Scheduled: 0705-0755 (1h50)
Actual: 0729-0759 (1h30)
A320 HB-IJH
For the first time, business class was three rows, although there were only seven of us in business. Again no choice of meal, just a bowl of fruit, and a couple of rounds of the break basket. The FA working the business class cabin was really good, making jokes, and constantly going around asking if anyone wanted anything else. Despite only landing a few minutes late (we held forever waiting to land) it took us about twenty minutes to get a gate, then there was a good ten minute walk to immigration which was packed. I only got onto a tube at ten to nine, which was quite annoying.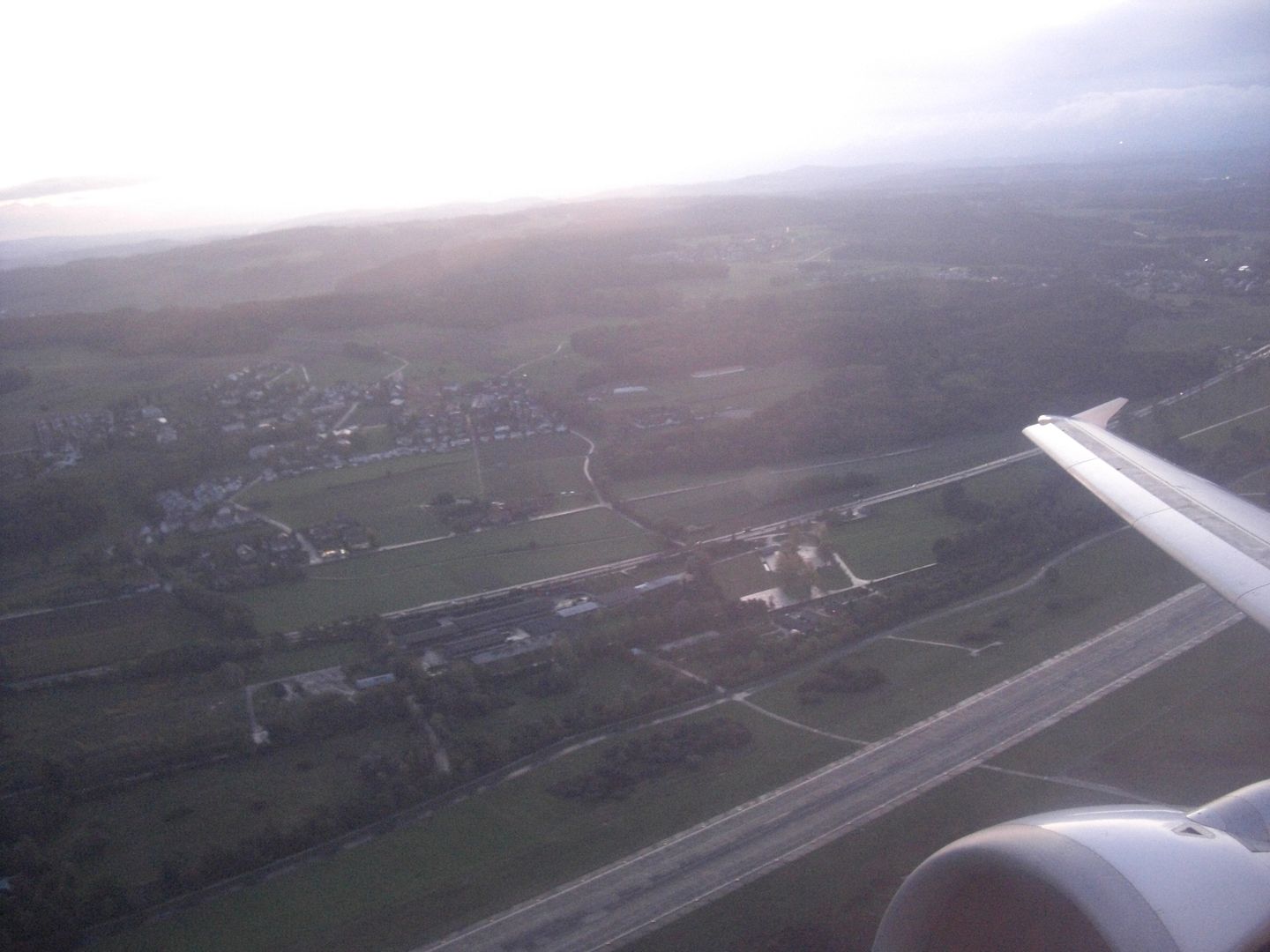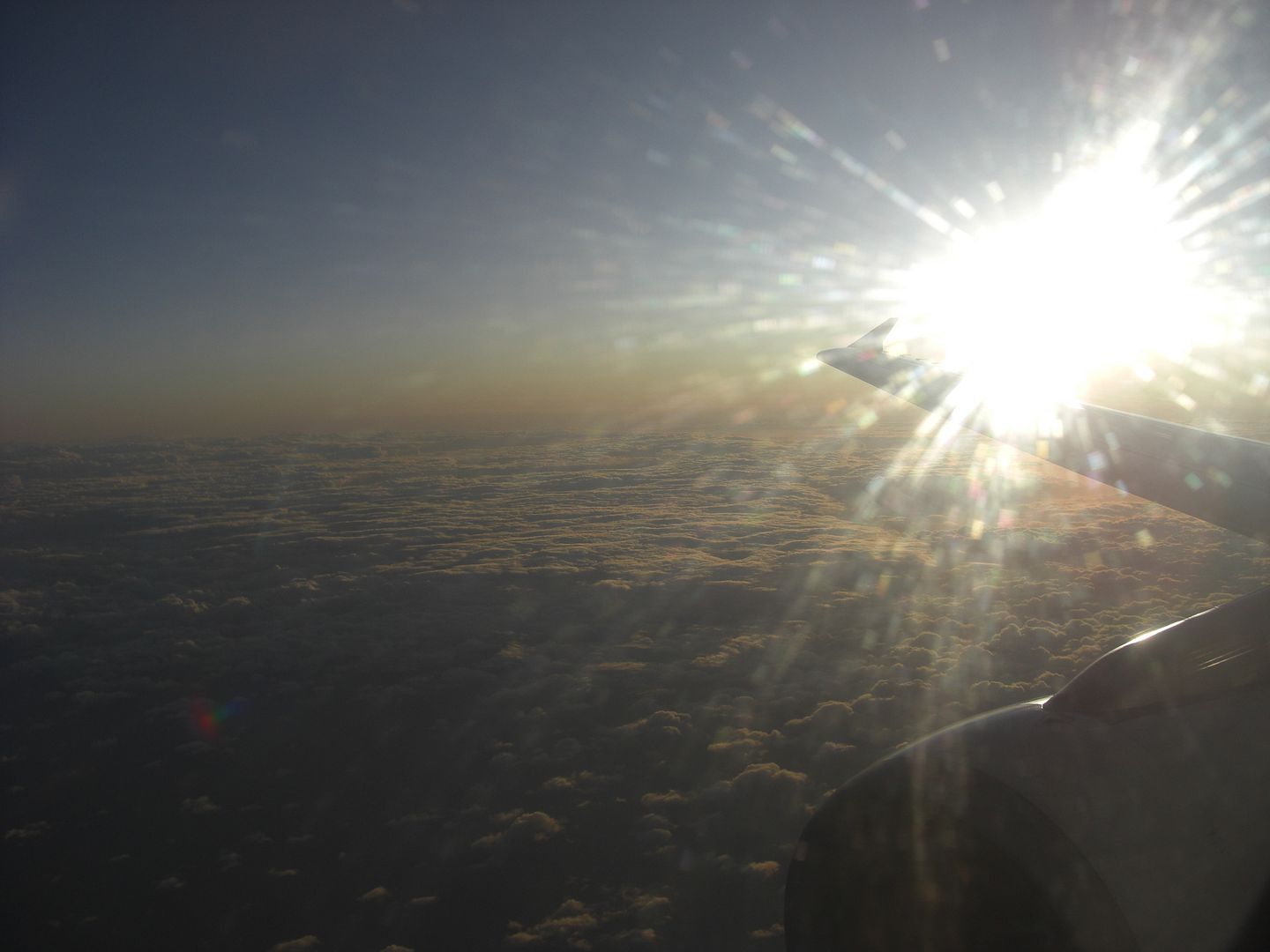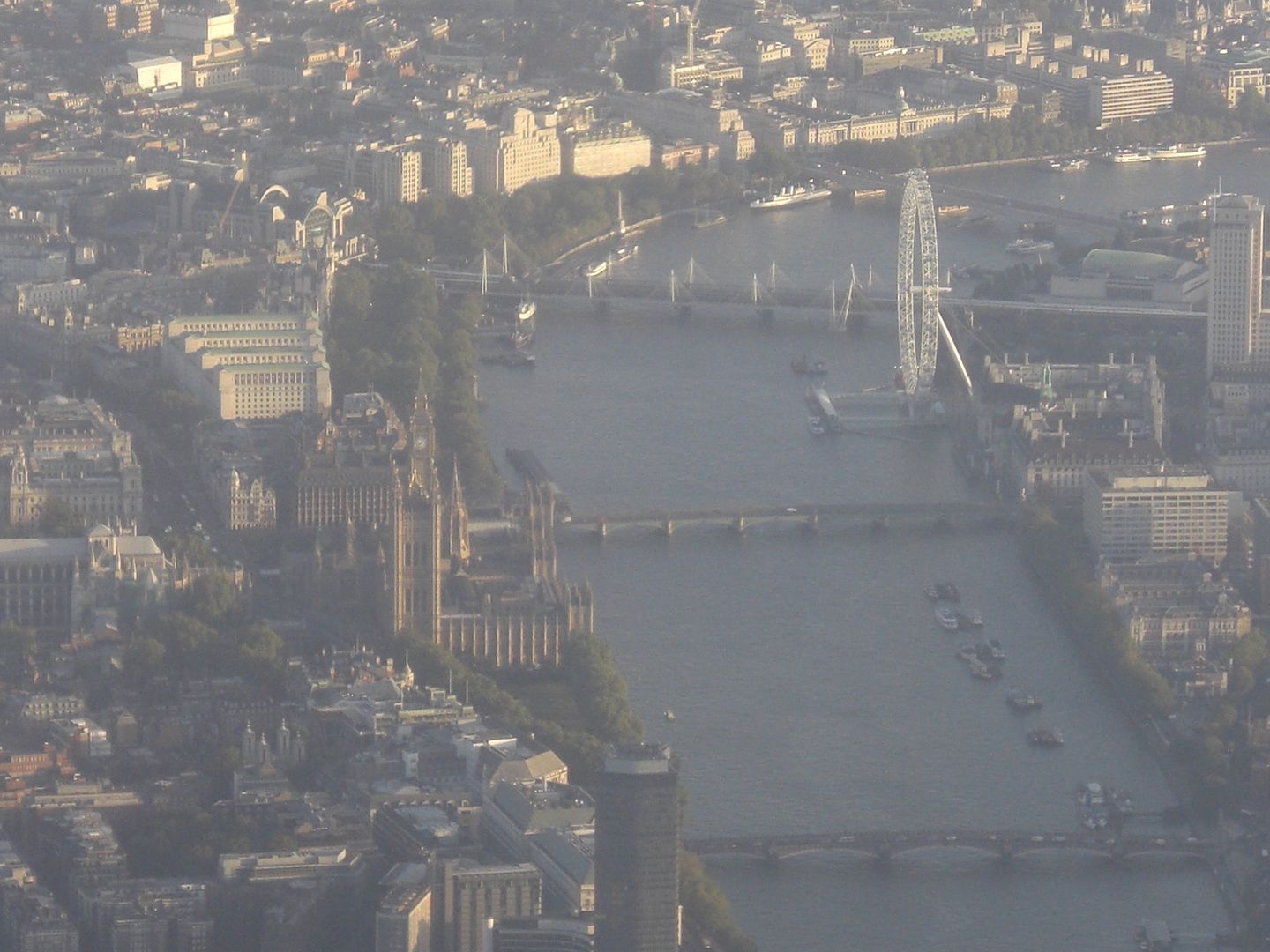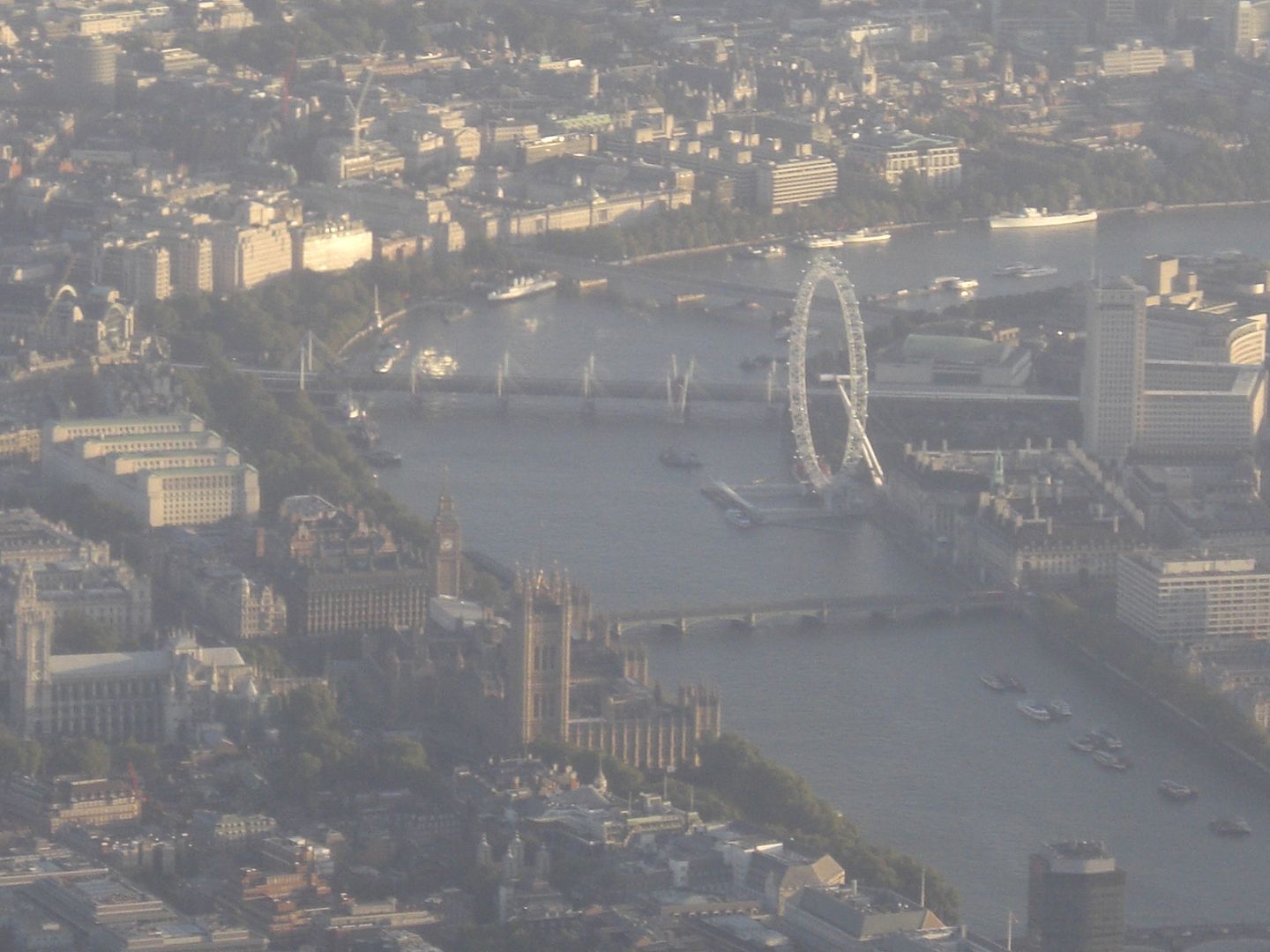 Overall, a good weekend. Swiss wasn't quite as good as I though it could have been. It's been a few years since I was in business in Europe, and I remember in-flight offerings being much more substantial on SAS, Lufthansa and Austrian – perhaps they're all the same now? Having said that, I'm sure that the BA flight leaving Zurich at the same time as us would have had a full English breakfast served…? Venice was nice, although the enormous number of tourists really detracts from the beauty of the city.