BCN´s new terminal 1 and the MD87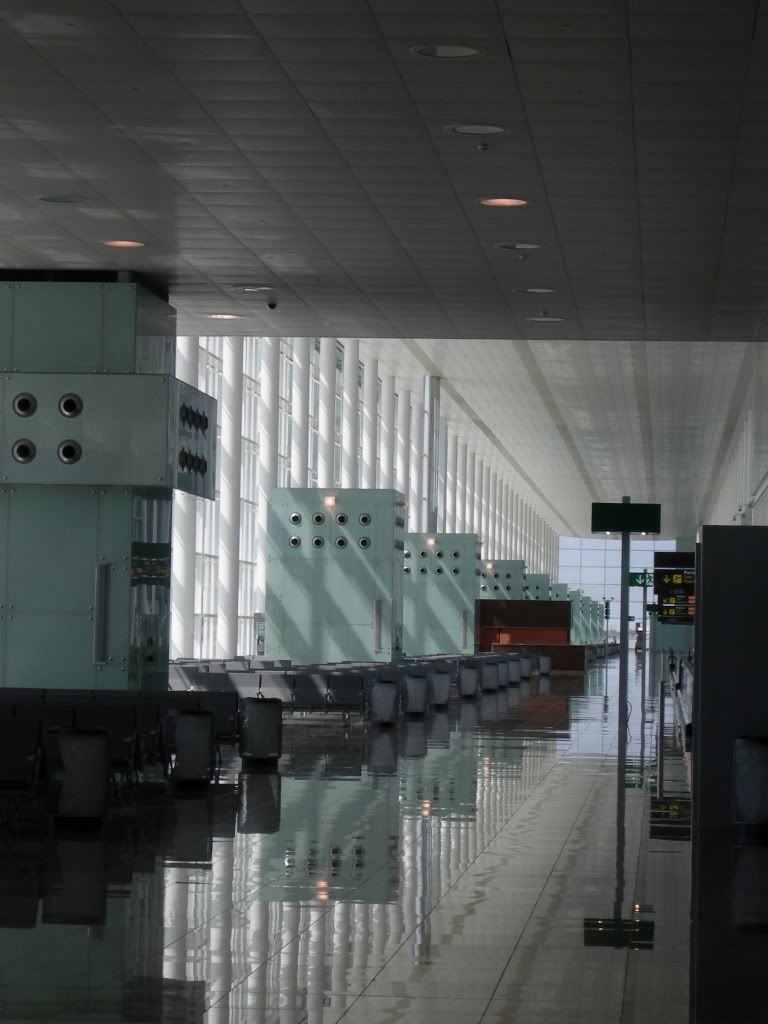 Hola, dear readers,
and welcome to the third part of my summer vacation series in Spain.
The other parts are covered here:
Europe Or Africa?: Melilla On Denim Air
(by
FLIEGER67
Oct 9 2009 in Trip Reports)
Melilla-Malaga And Vueling/Clickair GRX-BCN
(by
FLIEGER67
Oct 13 2009 in Trip Reports)
Now, I was in Barcelona, ready for my first experience with BCN´s new terminal 1 and another interesting bird to fly on schedule.
Thursday, 20.08.2009
BCN (Barcelona-El Prat) Sunny, Temperature 28 degrees
MAD (Madrid-Barajas) Sunny, Temperature 33 degrees
Duration: 50 minutes announced
1 hour, 10 minutes actual

Service JK 407 operated by Spanair
Scheduled: 13.00 // 14.20
Actual: 13.00 // 14.10
Gate: C 72 Seat: 22A
Load factor: Around 60%
A free and frequent bus service connects BCN´s terminal´s, departing from the arrivals level.
Some ten minutes to go for Terminal 1. A huge and impressive building, so huge and spacious, it seems BCN awaiting much more traffic.
Road side: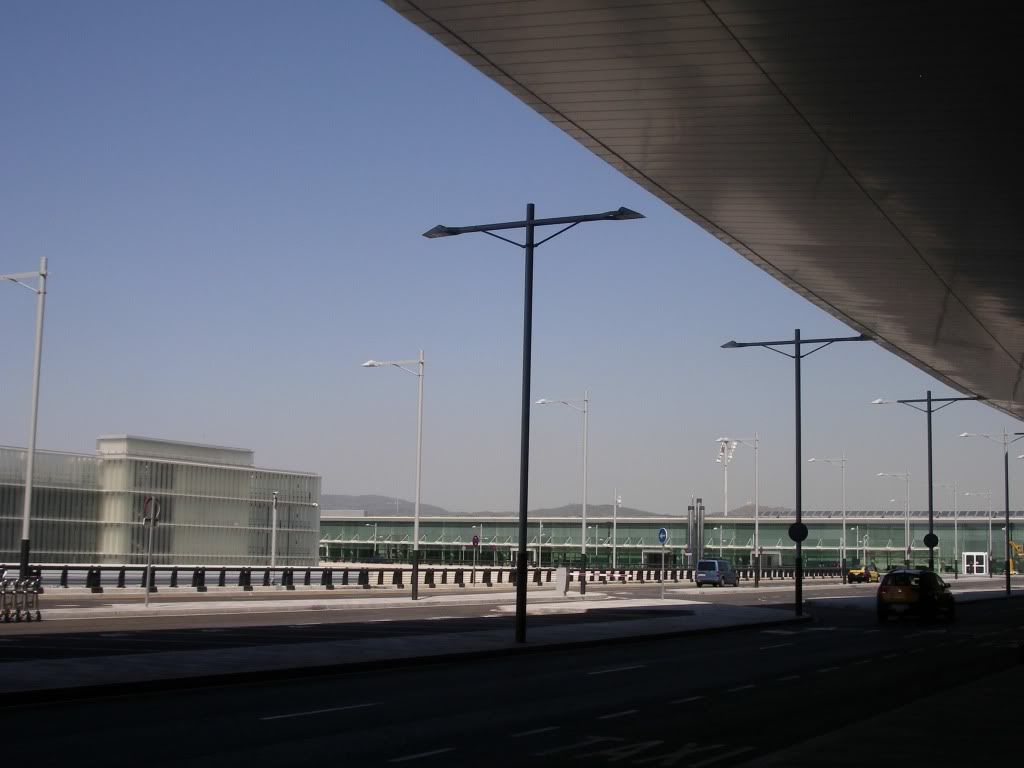 And a smoky AZ MD80 departure: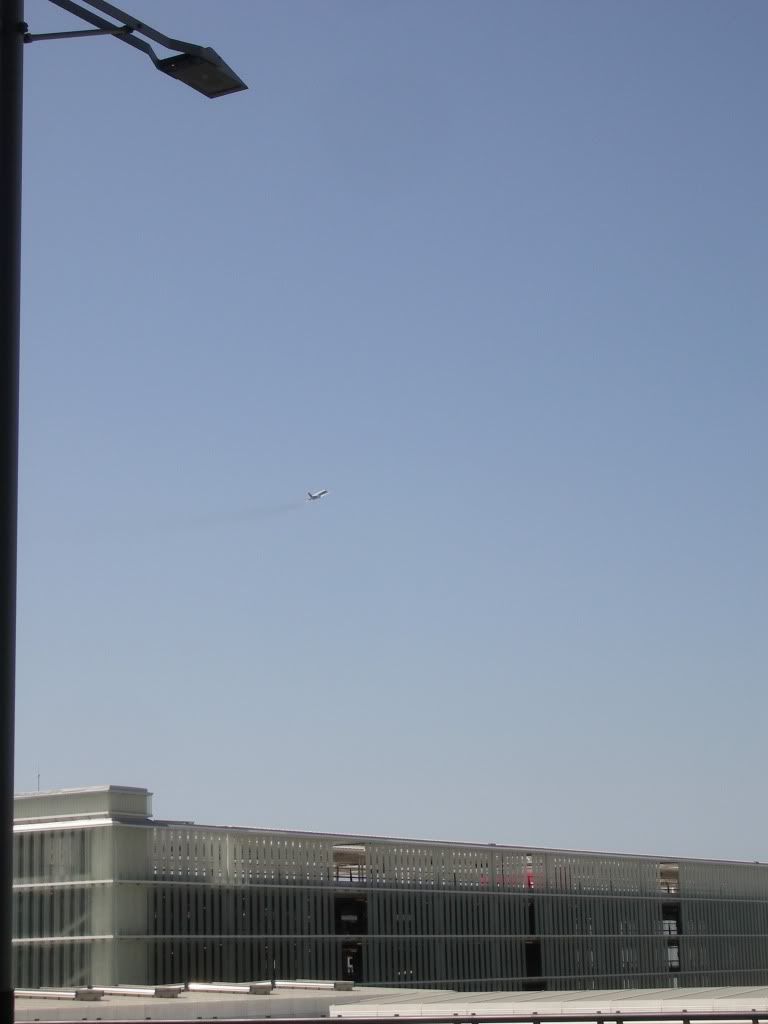 The board: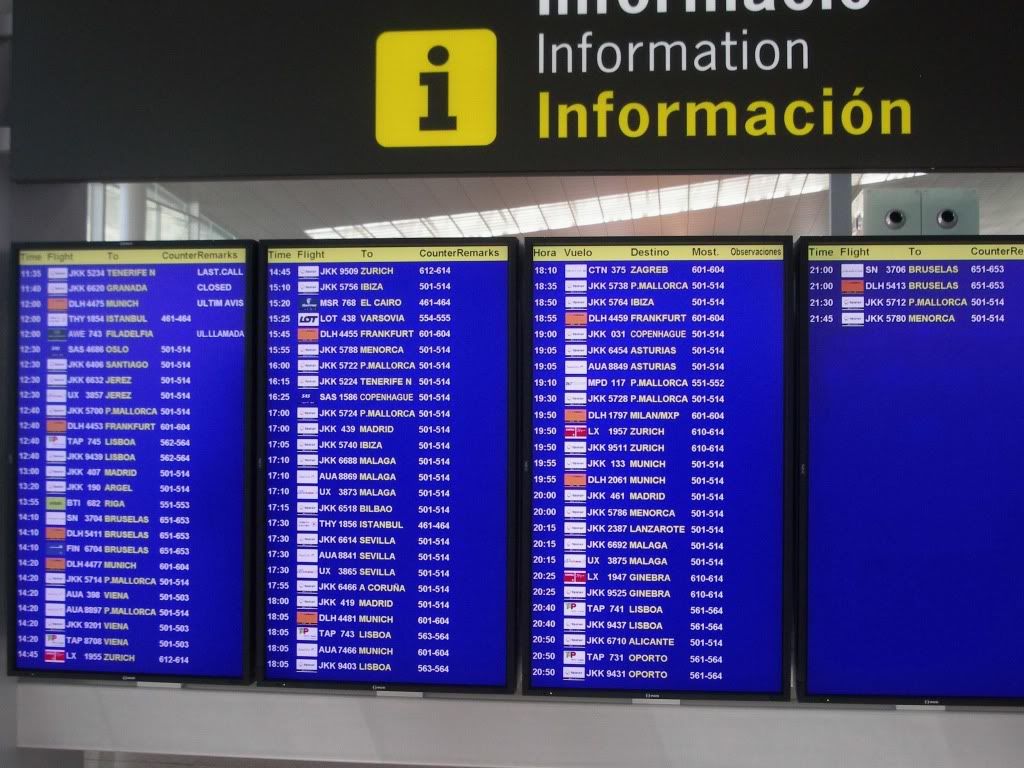 A lot of Spanair self service terminals there, not a minute to select a seat and take my boarding pass from the machine.
Inside:
Also no time to wait at security and ready to check the gate area.
Not that much people around for all that shops and bars and when you think you´ve reached the final part of the terminal,
walk around the corner and see the next long corridor with gates ahead.
Well done here at BCN.
In the main area: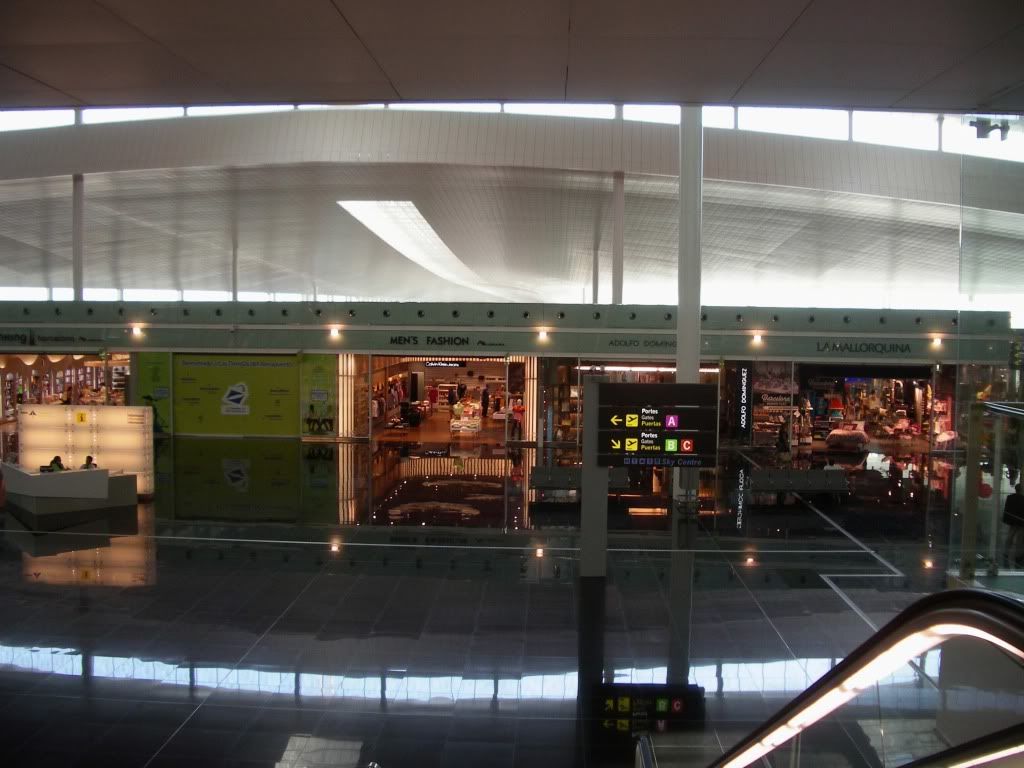 To the gate: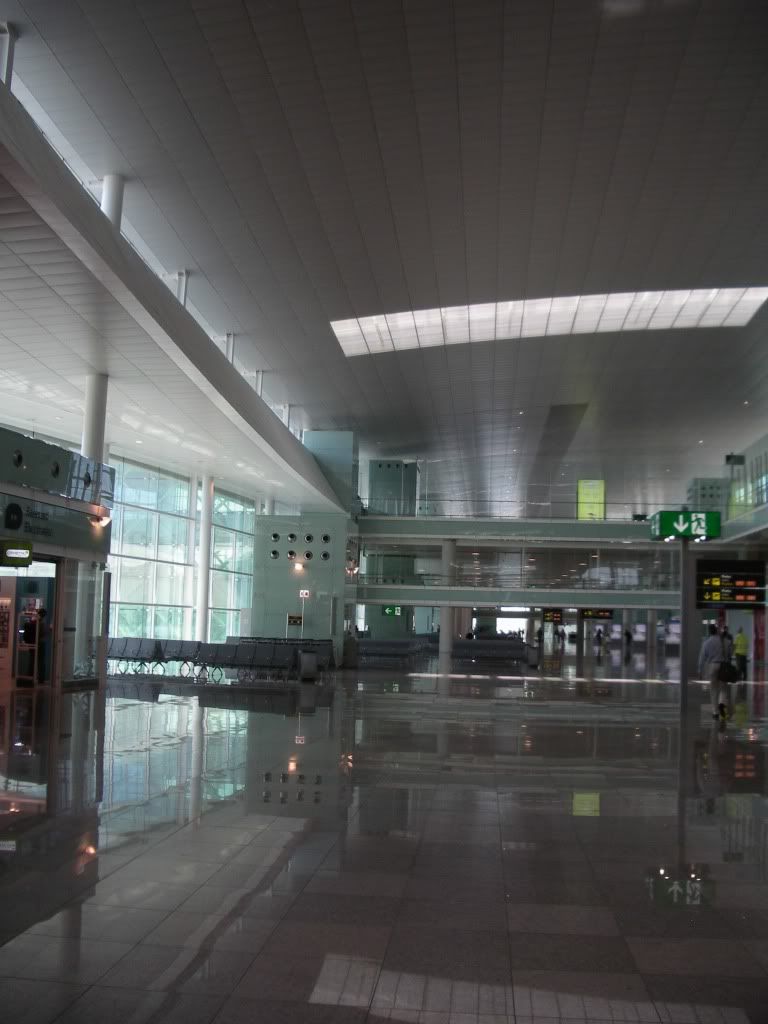 Around the corner: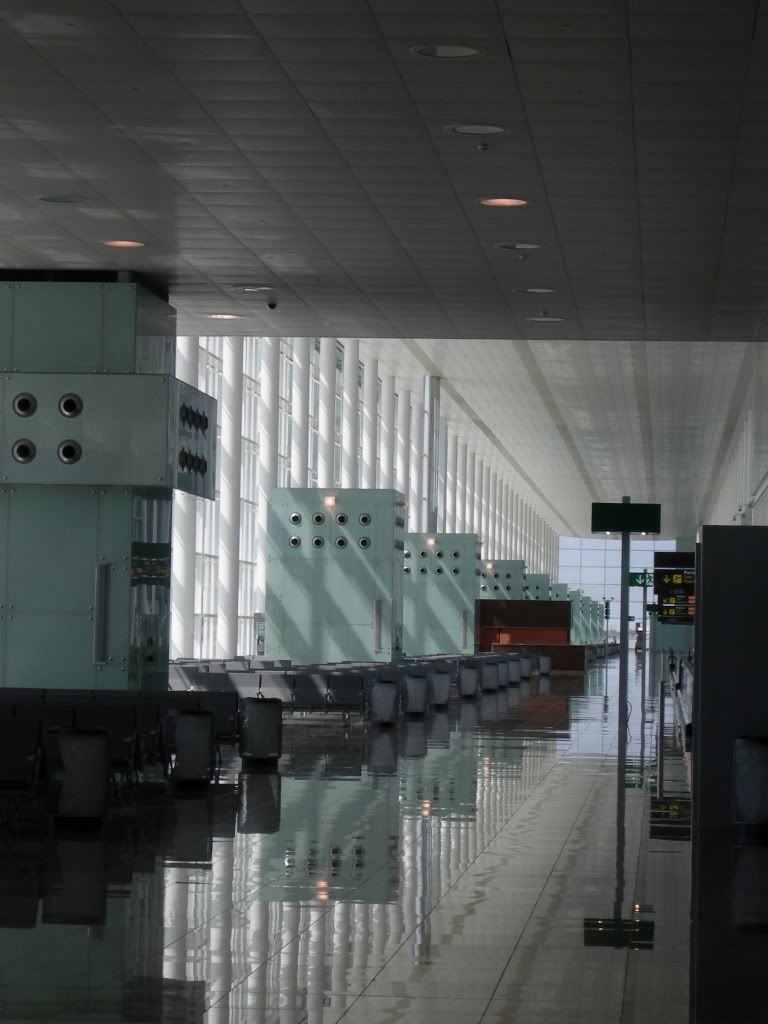 Flights from my area: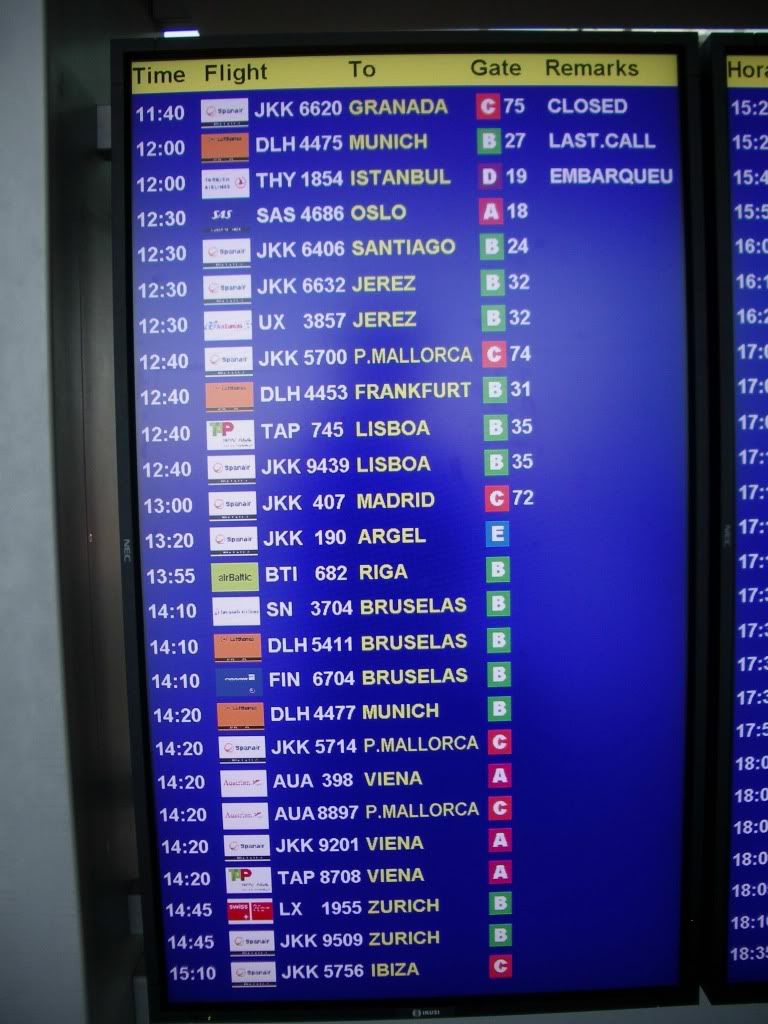 My machine:
Closer:
Once more: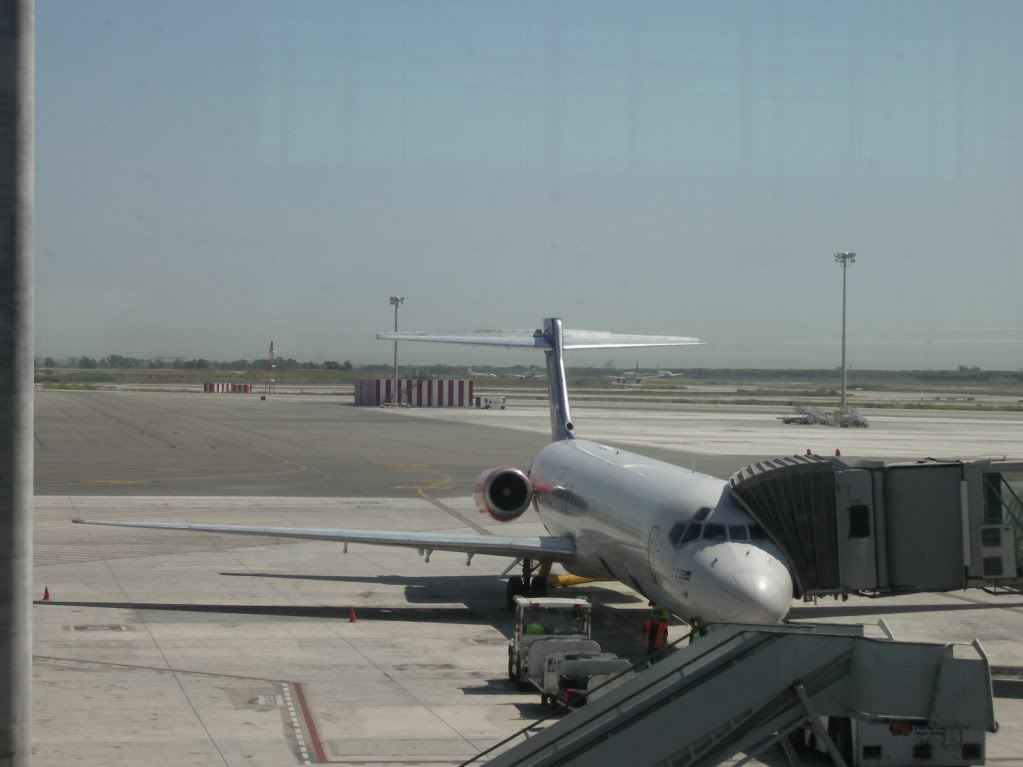 Departures good to follow: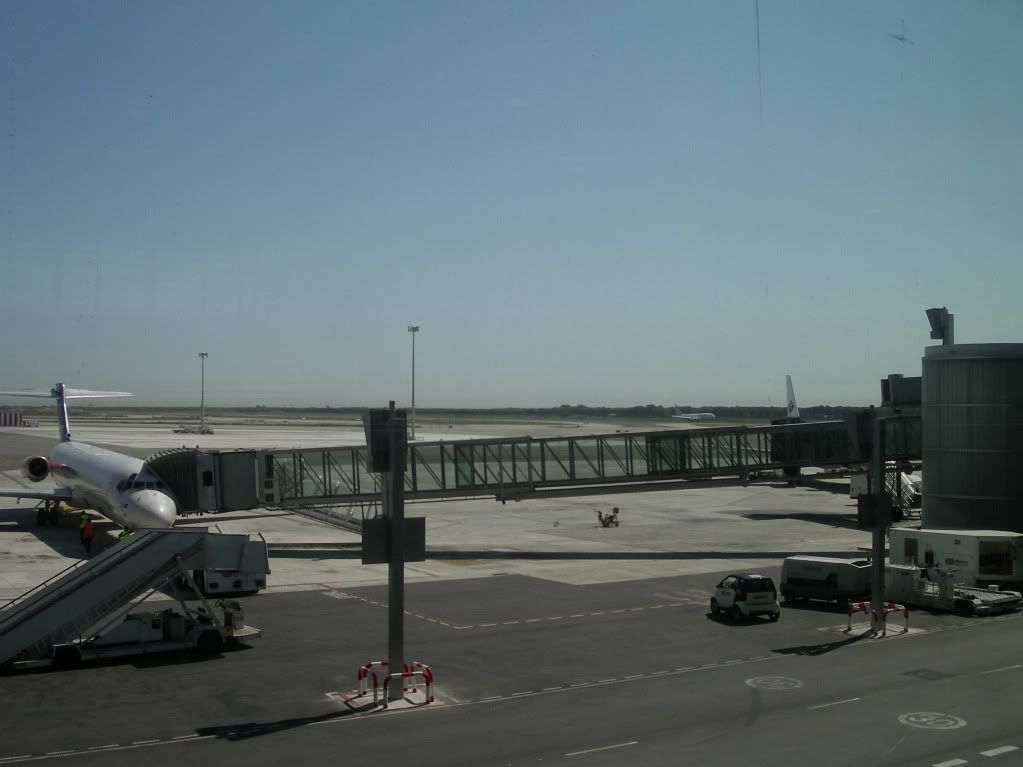 Close up: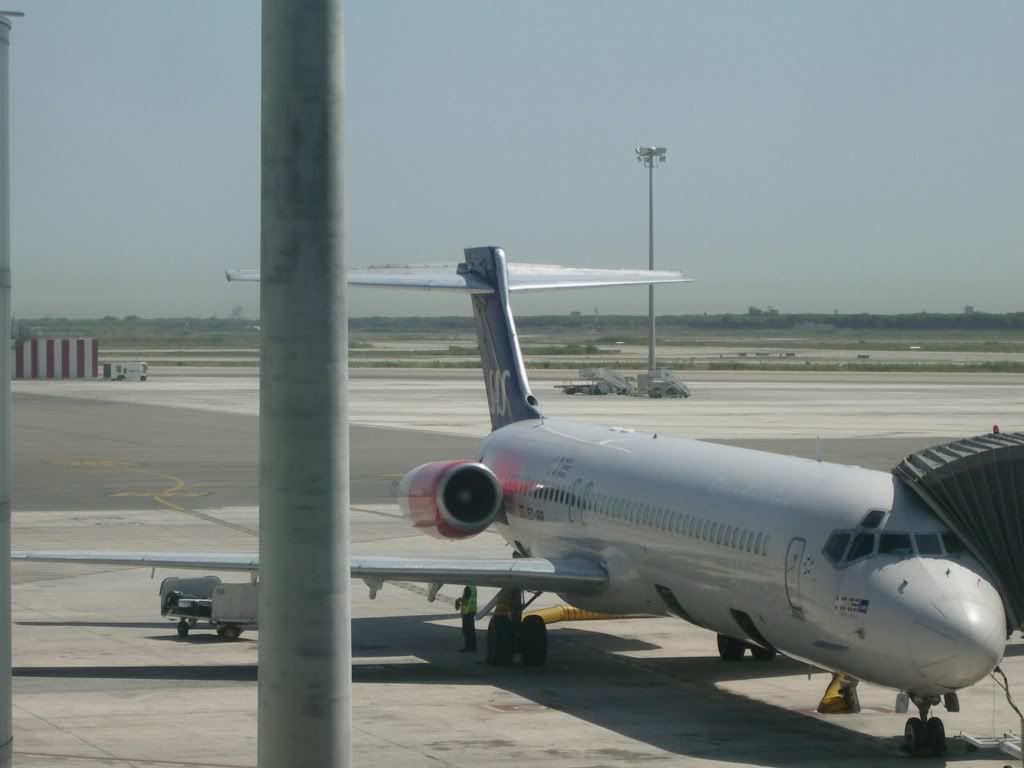 And again:
Departure KLM:
Clickair: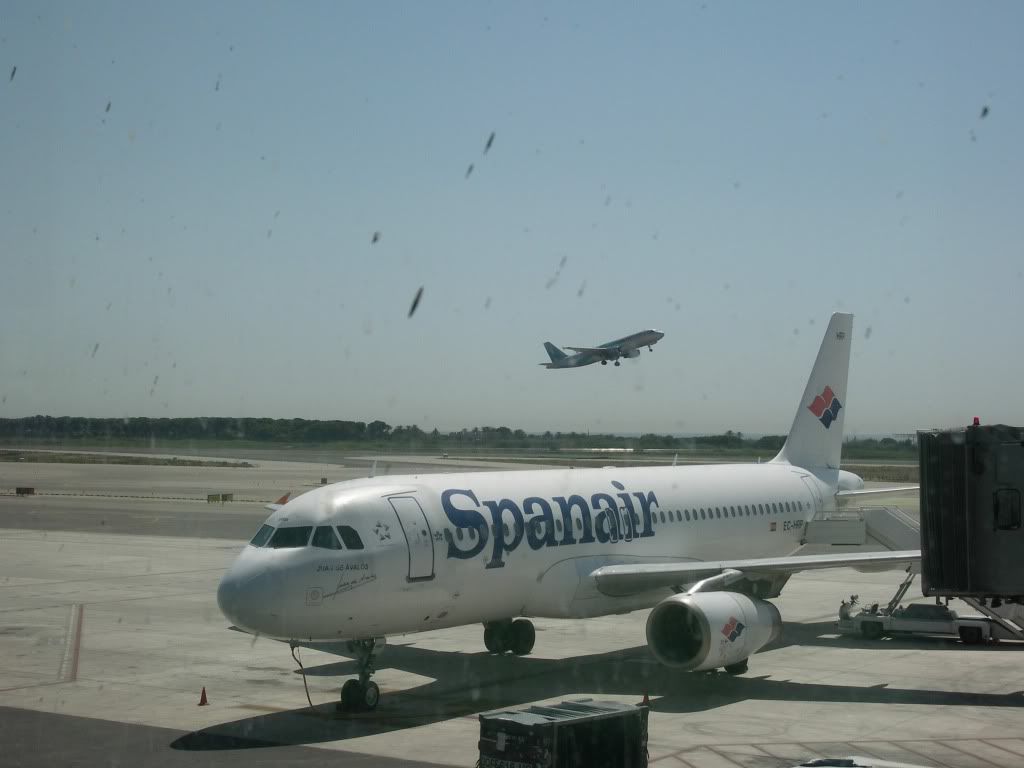 Or Vueling: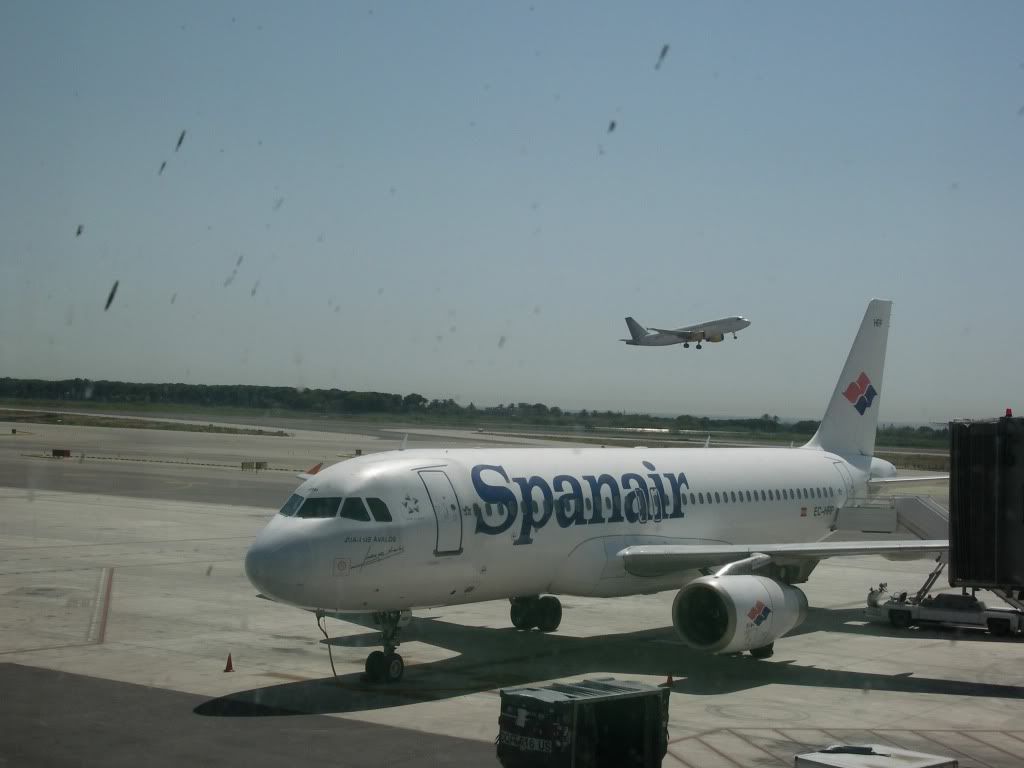 TK A321: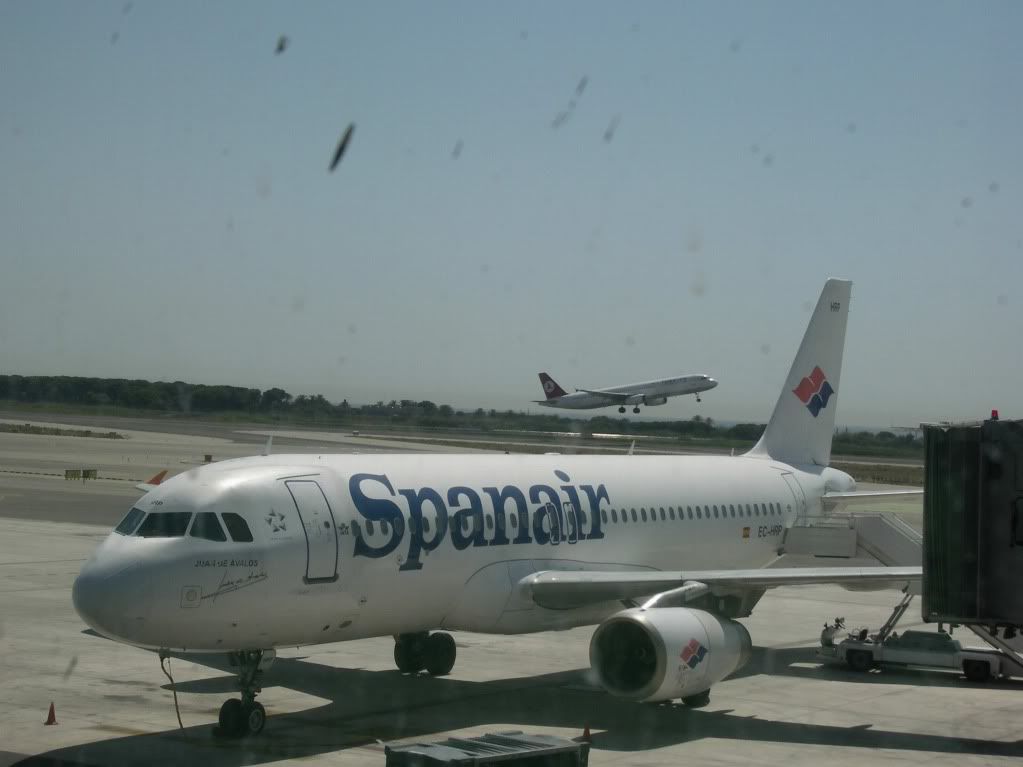 Not the only spanish registered SK machine here: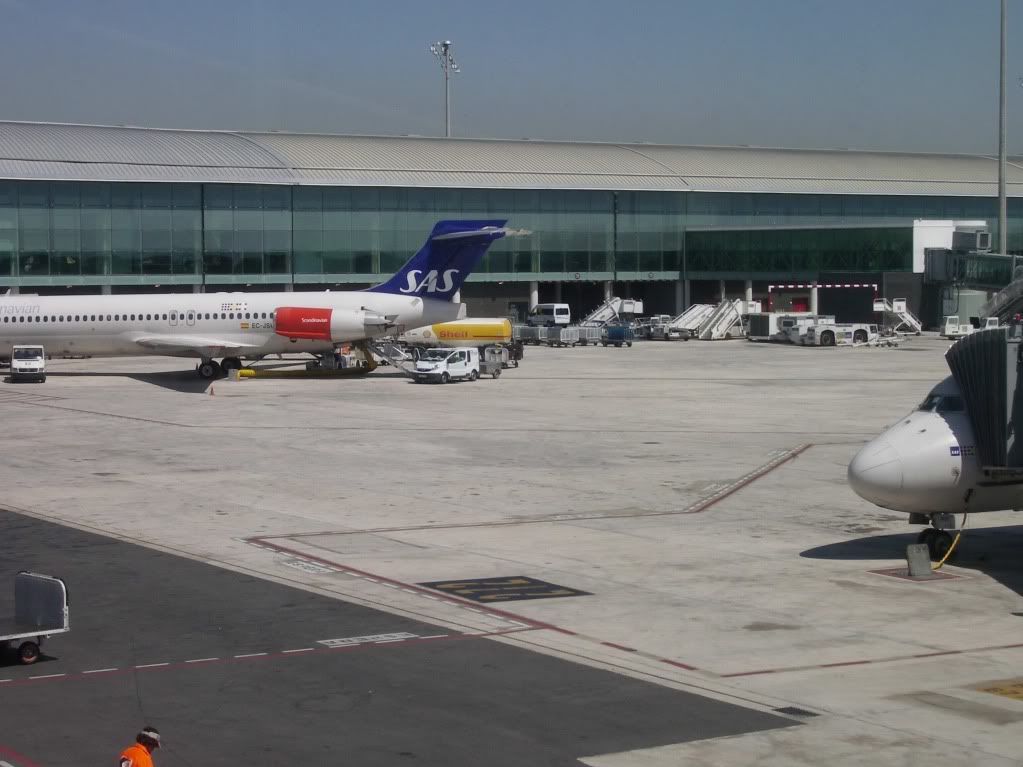 My plane was at the gate. The warm welcomed MD87, still painted in SK livery, only the reg. shows that it is in service with Spanair.
EC-JRR delivered at 01.03.1991 to SK and in service since 19.04.2006 with Spanair, more than three years and no time to paint,
not the best impression from my point of view. Spanair operates in total 14 MD87´s.
Only leg. no 2 for me on type and the first flight on that machine.
The crew arrived and boarding was called some minutes thereafter, three friendly females on that service in the cabin.
Boarding: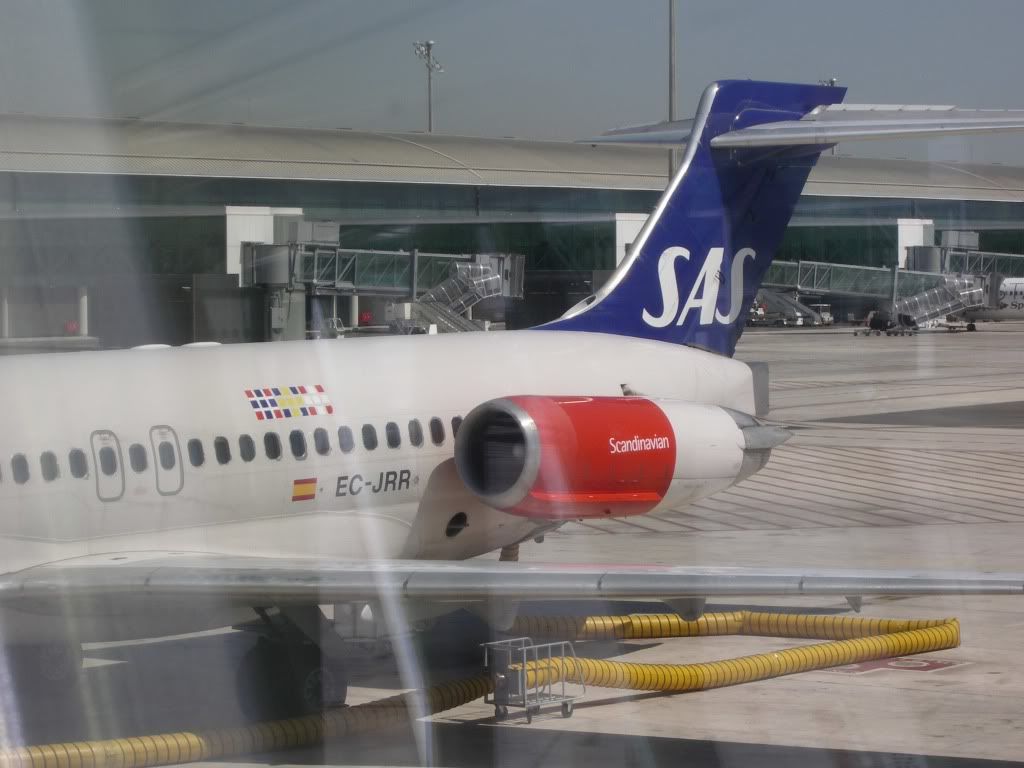 Down the bridge:
JK special colours beside:
No comments during the whole flight from the spanish cockpit crew.
The cabin fitted with dark blue oldfashioned fabric seats. Somewhat worn out, low legroom and really noisy.
Cabin:
Seats: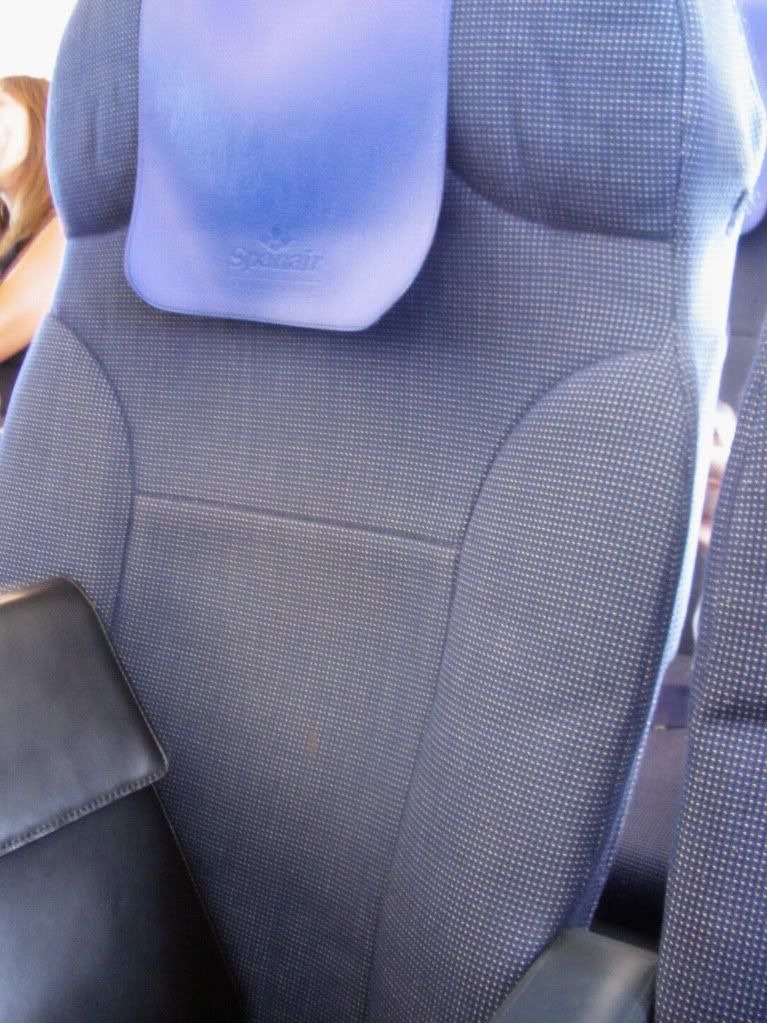 Taxi: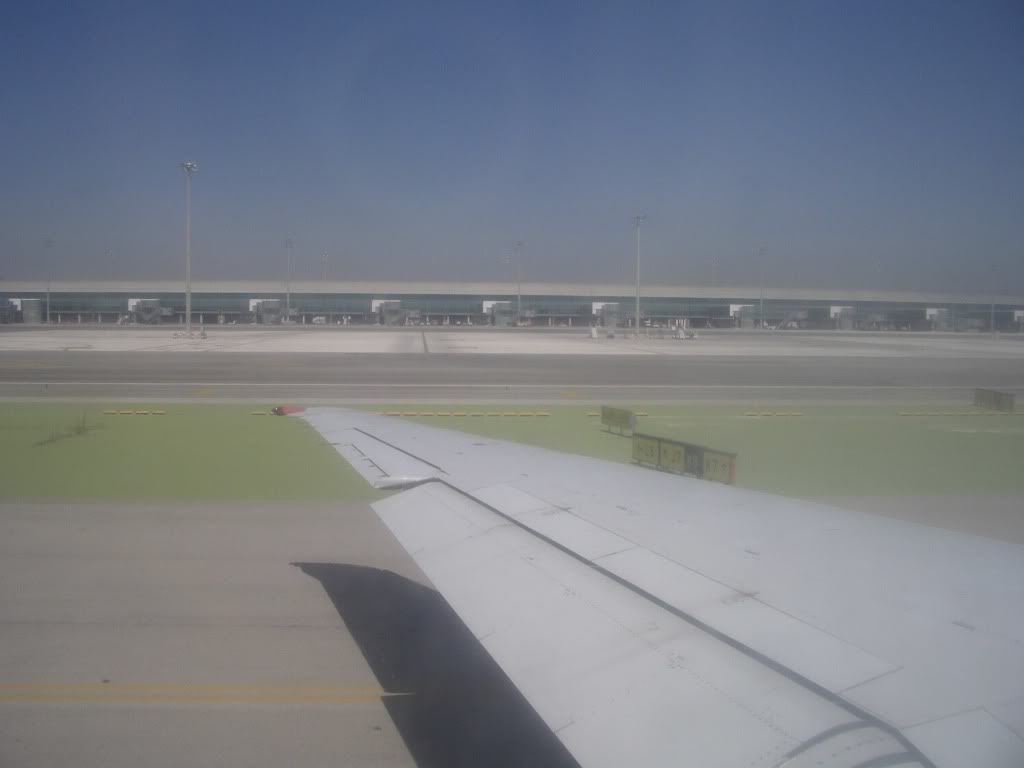 Further: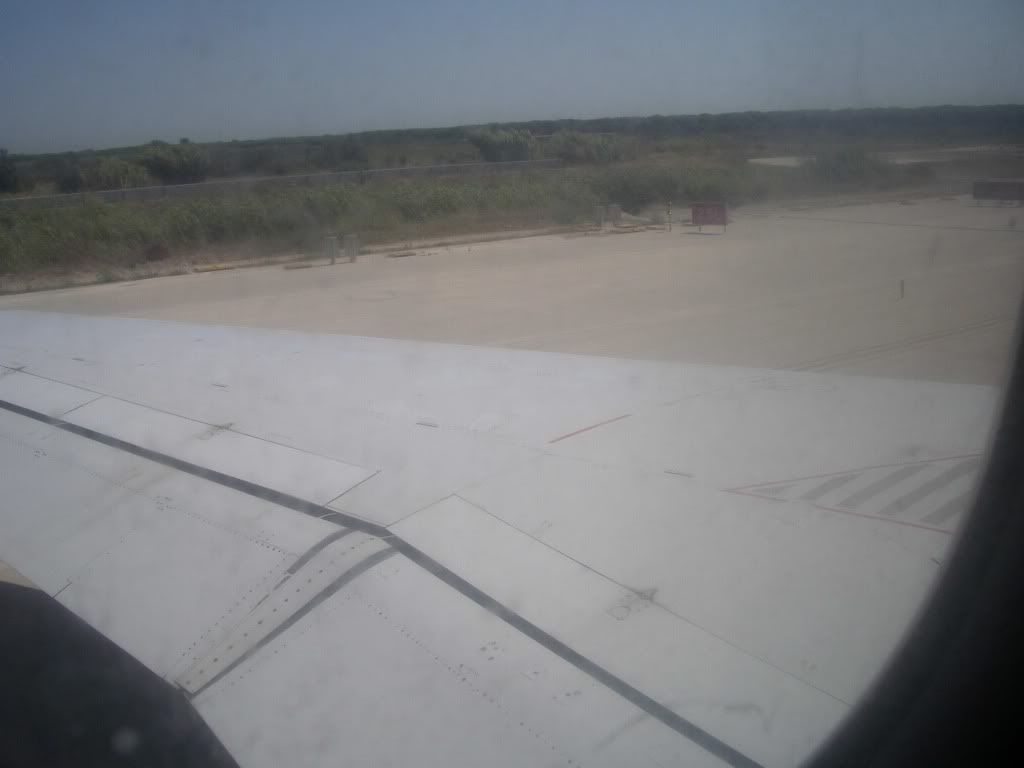 Departure from the 2660 meters runway 25L , no route or flightlevel informations.
Take off: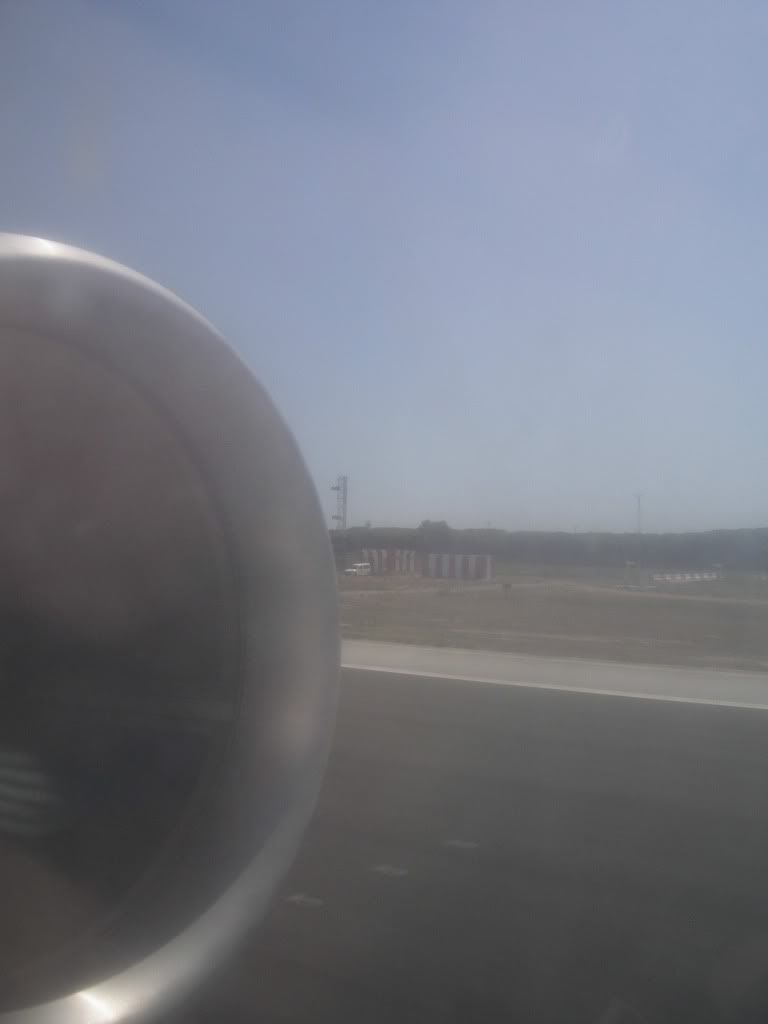 Above the coastline: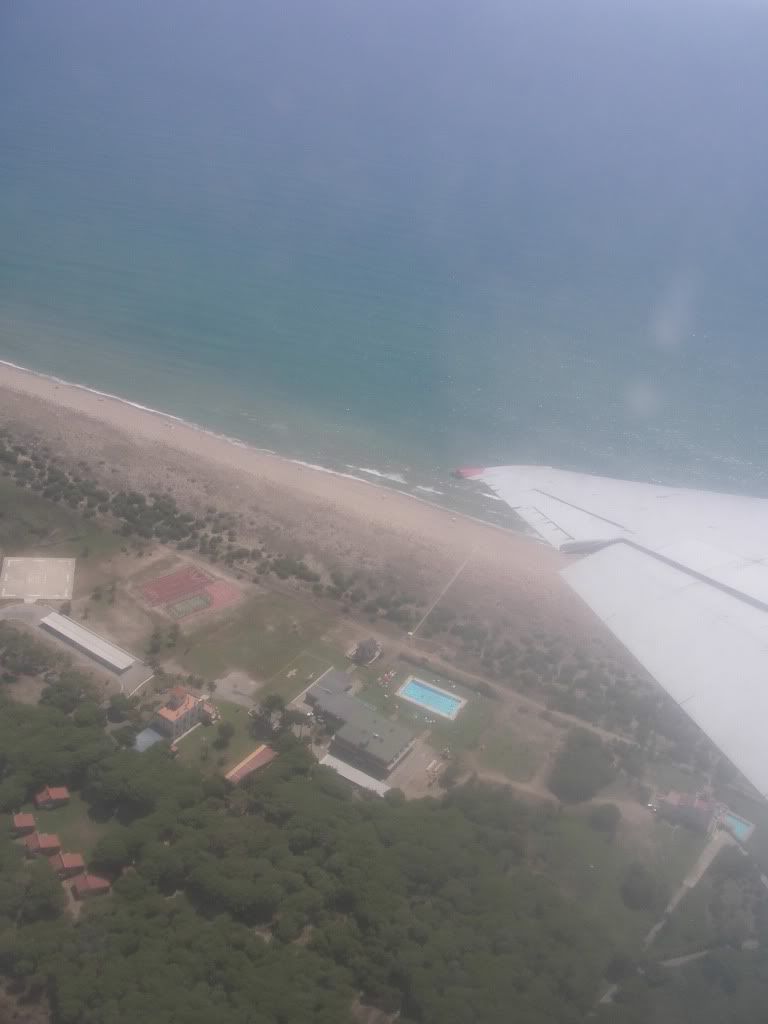 And the engine: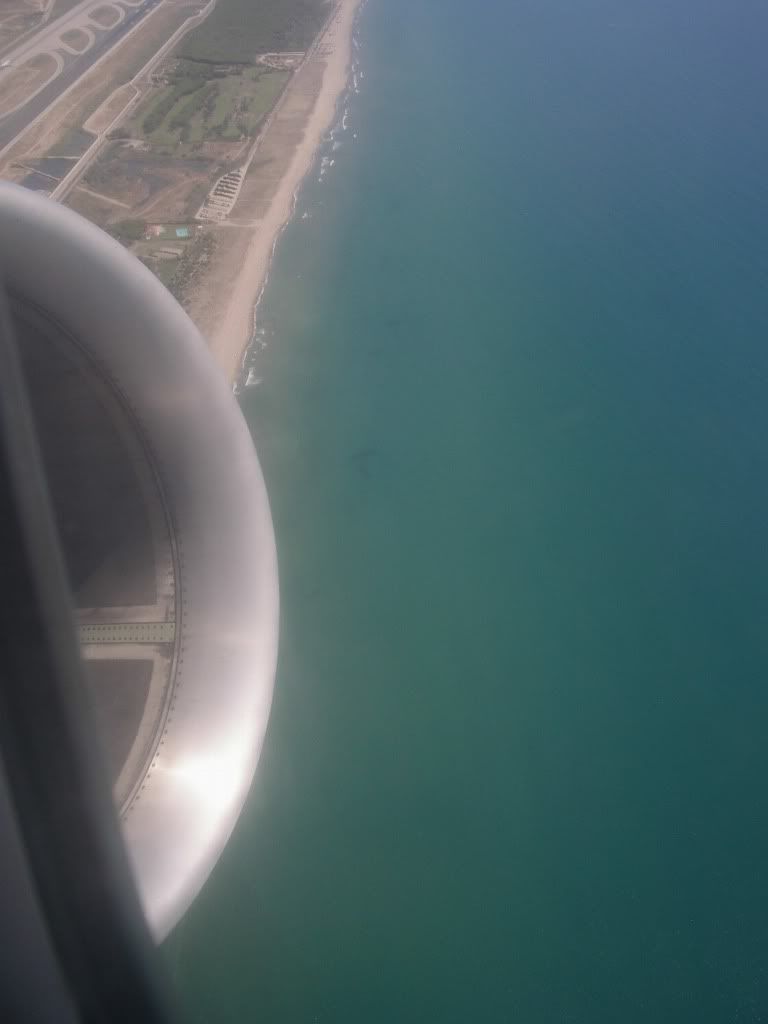 Further above the sea: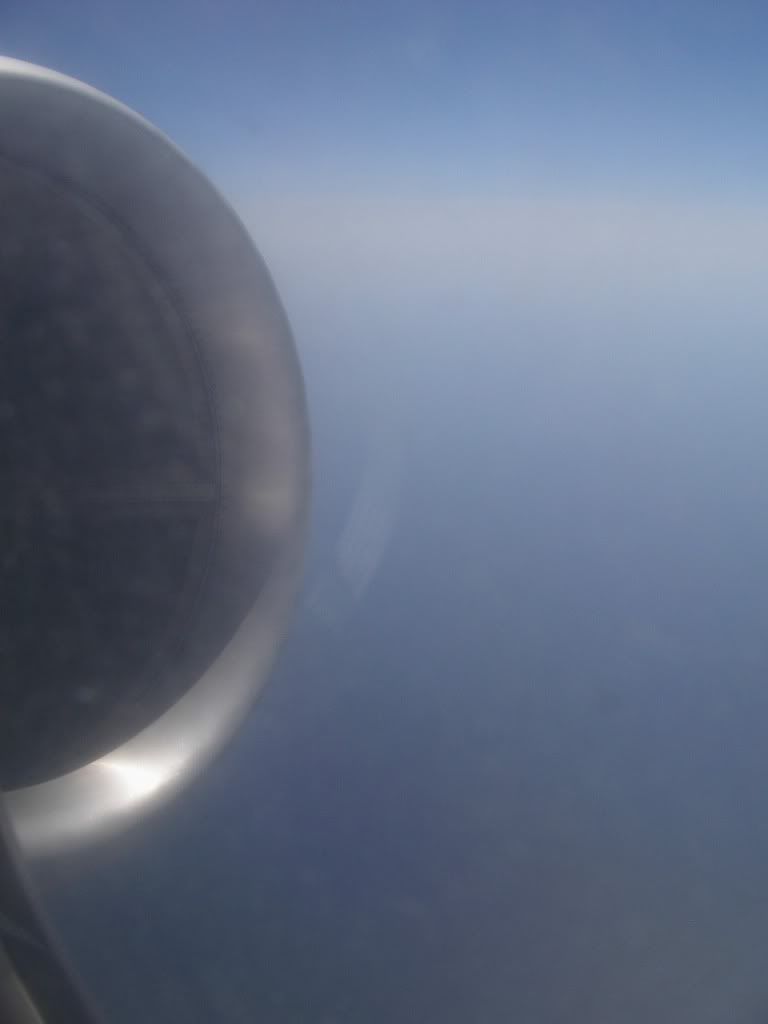 The shore again: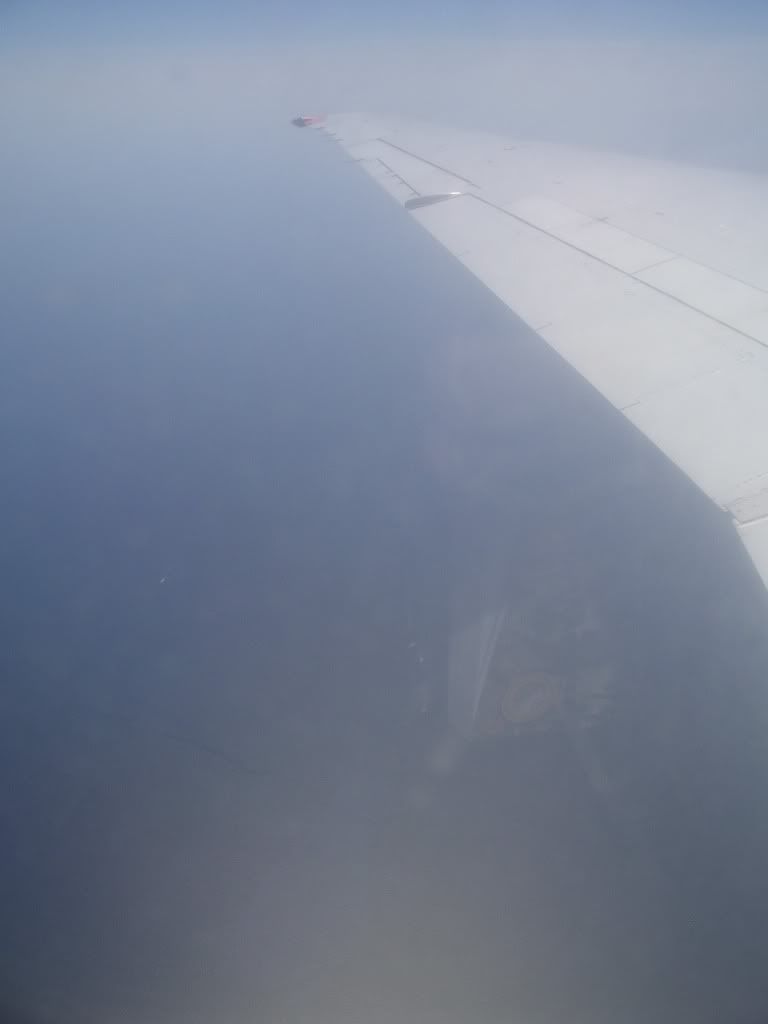 Once more:
Leaving the med:
Service was between some sweets, buy-on-board.
Near MAD:
Approach: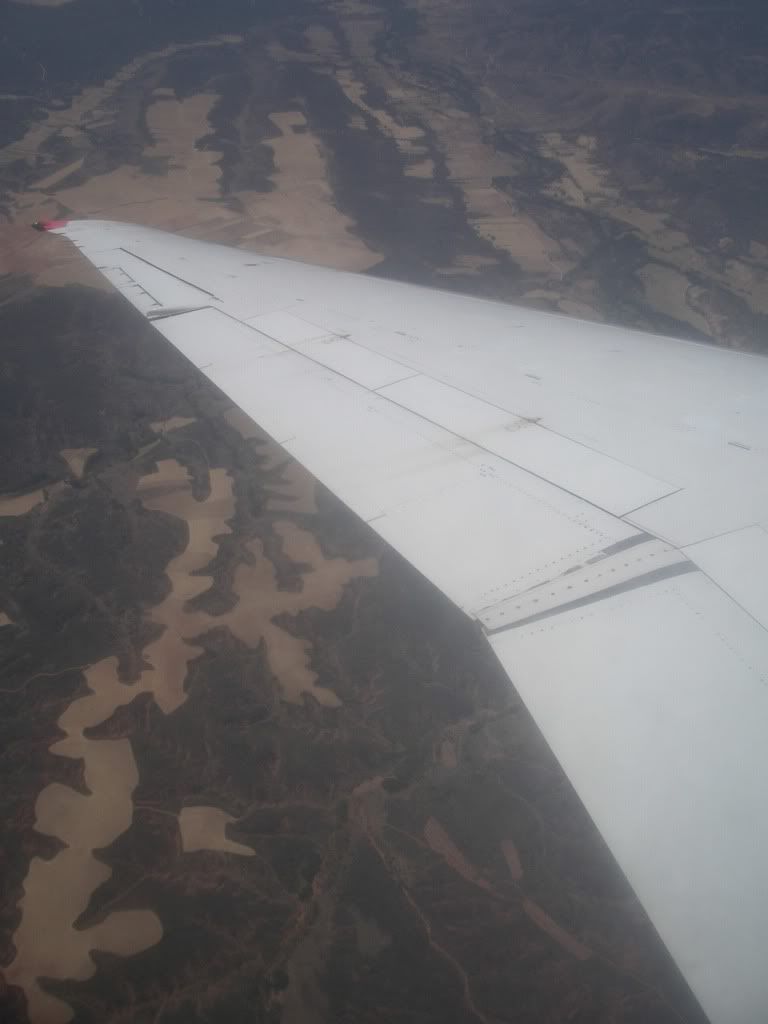 Some water reservoirs: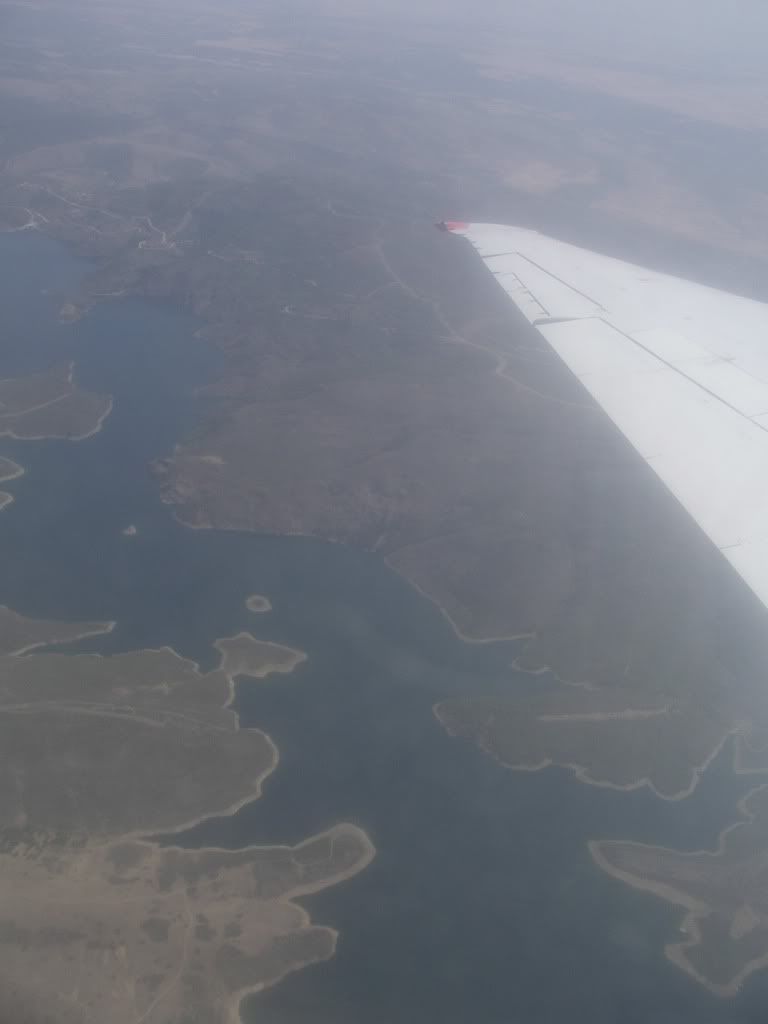 Finals:
Touchdown: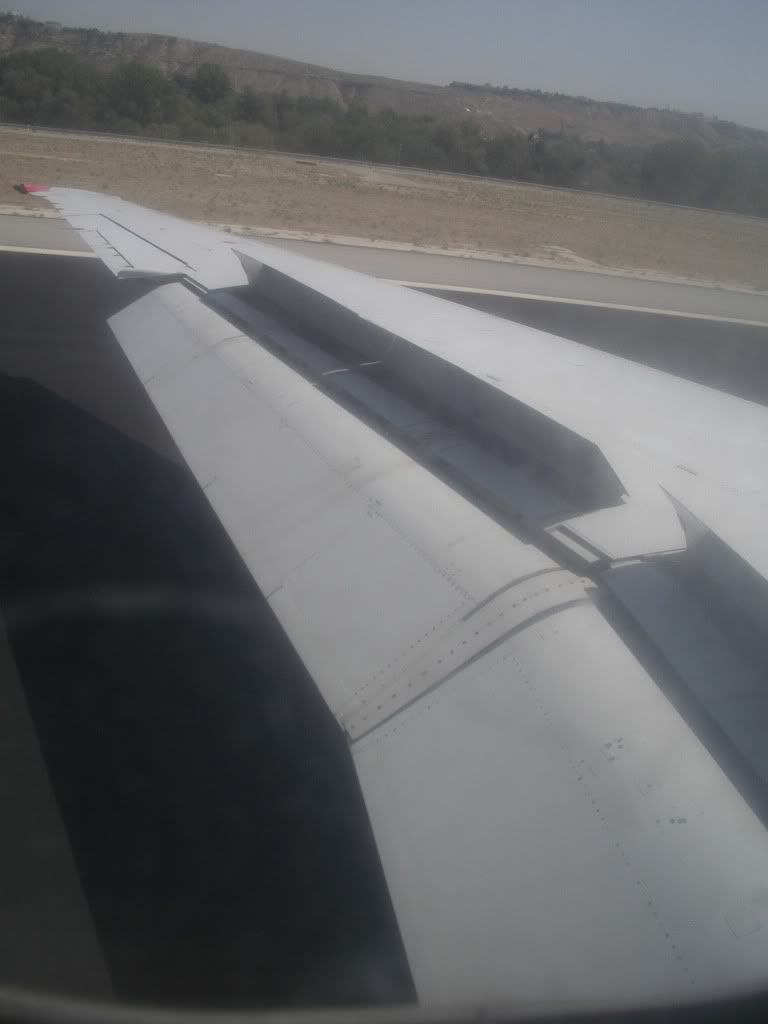 The flight was uneventful. Approach into MAD´s 3620 meters runway 18L and a long taxi to the old terminal part, where we parked and disembarked at a finger gate.
Taxi:
Near the oder terminal area:
Air Comet, more later: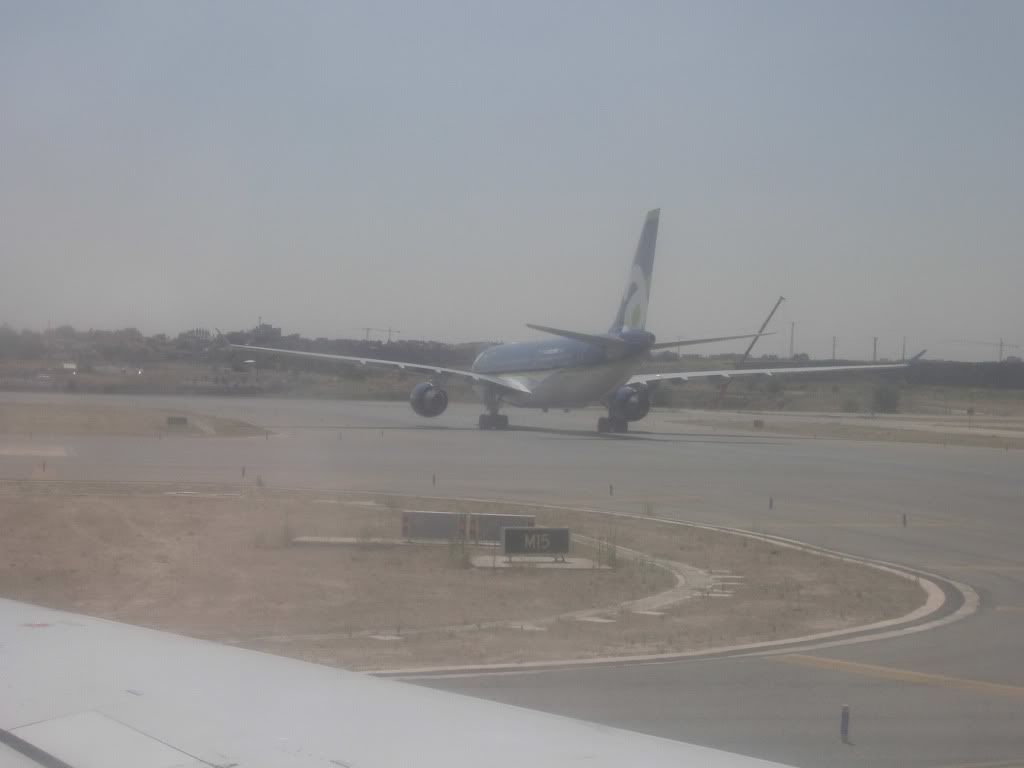 Swiftair: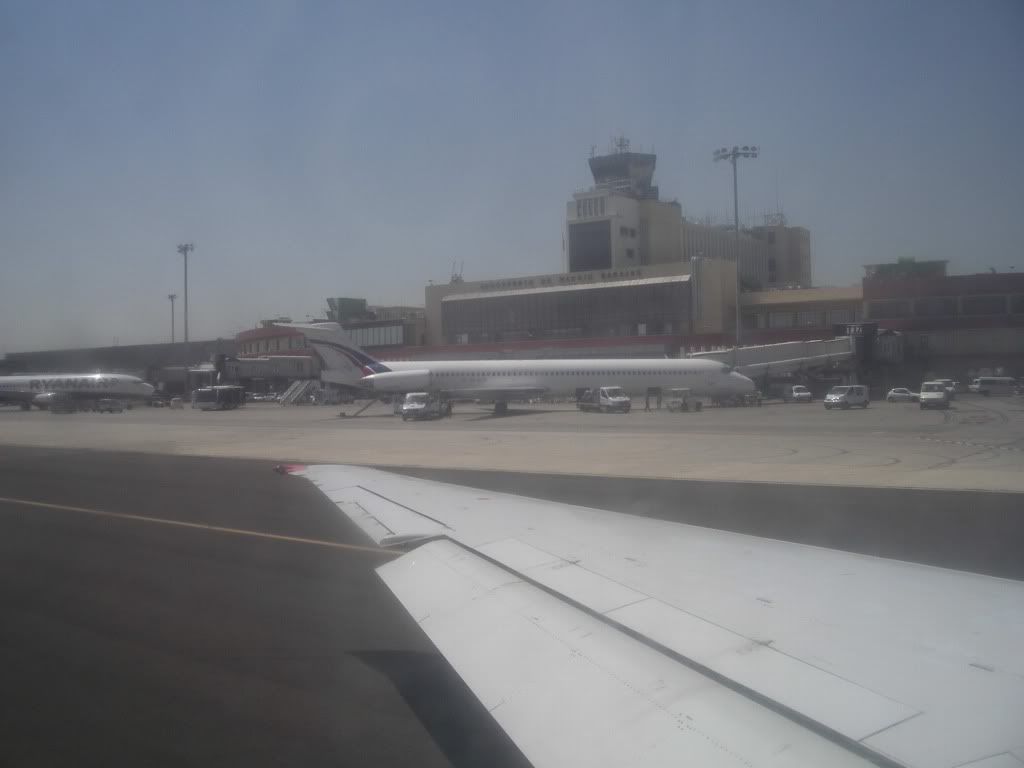 At the gate: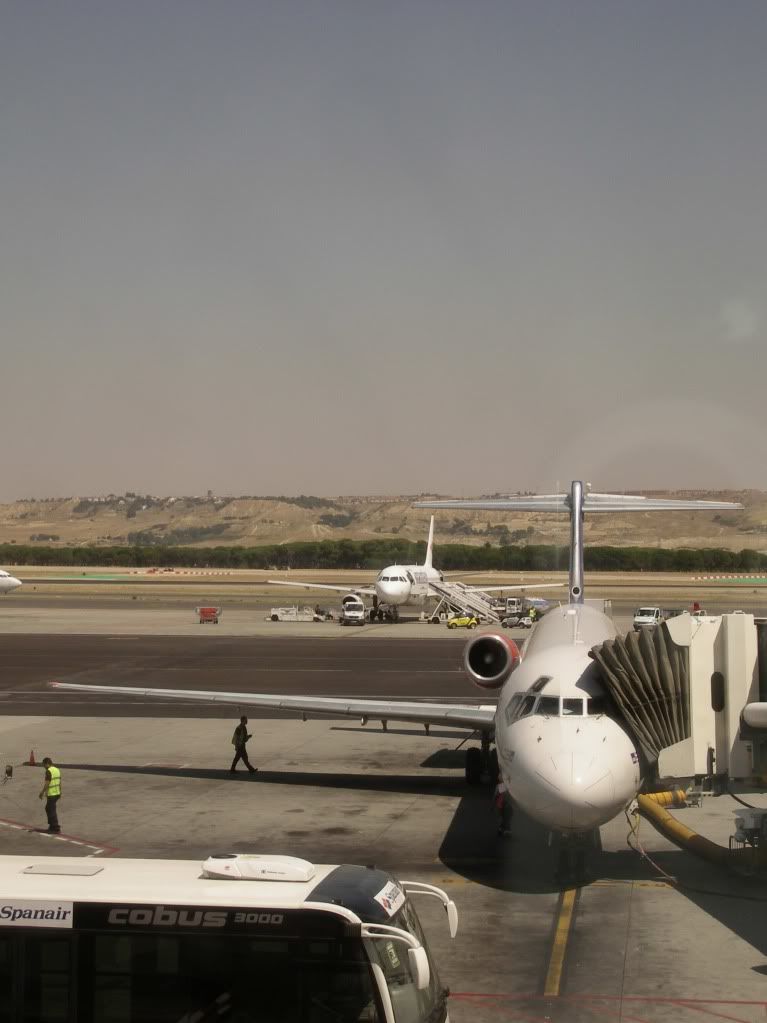 Again: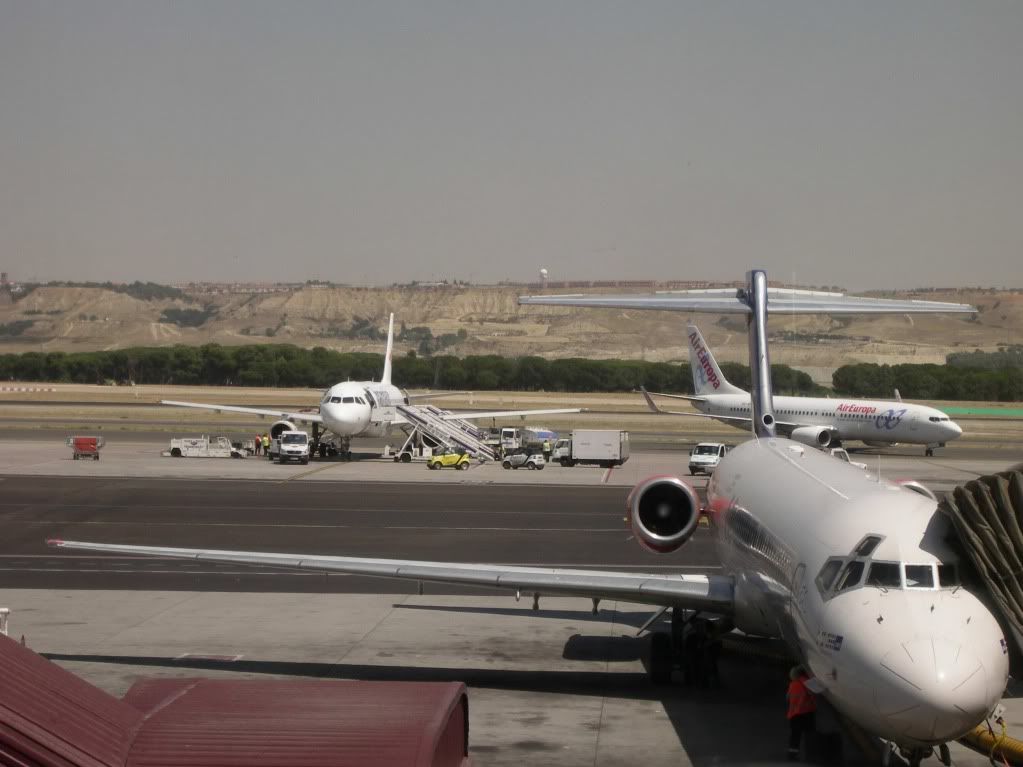 Gate close up:
Friendly cabin staff, a special plane, at least for me and ontime service, fare around 40.-- euros, three weeks prior to departure, ok so far Spanair.
And the MD87?: Noisy and oldfashioned, but everytime warm welcomed!.
With check-in done for the next flight online, also departing from this terminal area, no need to go out in the public.
Thursday, 20.08.2009
MAD (Madrid-Barajas) Sunny, Temperature 34 degrees
GRX (Federico-Garcia-Lorca-Granada-Jaen) Sunny, Temperature 34 degrees
Duration: 50 minutes announced and also actual

Service FR 5376 operated by Ryanair
Scheduled: 16.20 // 17.15
Actual: 16.30 // 17.20
Gate: C 43 Seat: 29F
Load factor: Around 90 %
As usual, I´am staying away from that company in every possible way. But this time the only alternative was IB with more than 100.-- Euros fare difference.
FR was booked for around 50.-- Euros.
IB seems worth it, when there is a special plane on that route, but scheduled was the A319, absolutely no need for me to catch that machine.
So eyes shut and pressed the booking button for that flight.
While checking the gate I´ve passed the area for Air Comets around 8 hours delayed service to PMI.
No Comet to PMI: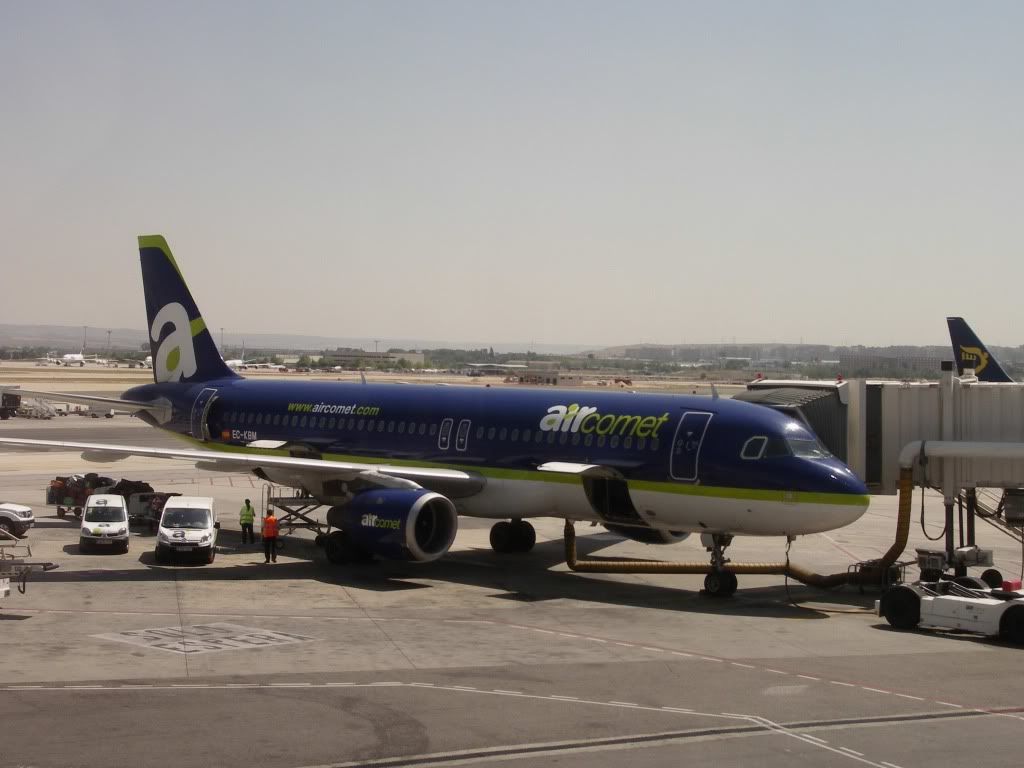 That was like a riot, the gate agent does an announcement, it seems nothing positive and some pax yelling loud and throwing boarding passes at him.
Well not easy to accept with several flights to PMI coming and going. Mechanics worked at the plane outside.
Comet hit the top:
Followed by UX:
Time enough for some spotting here at MAD.
Nice apron scene:
AM departed: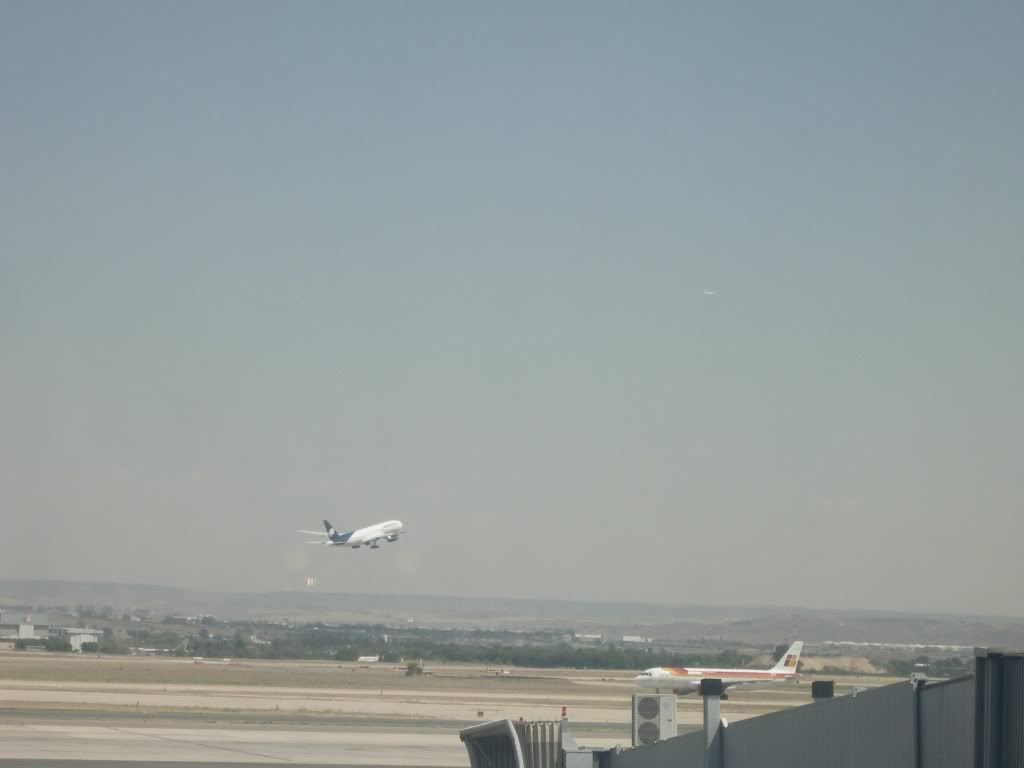 Egypt from CAI: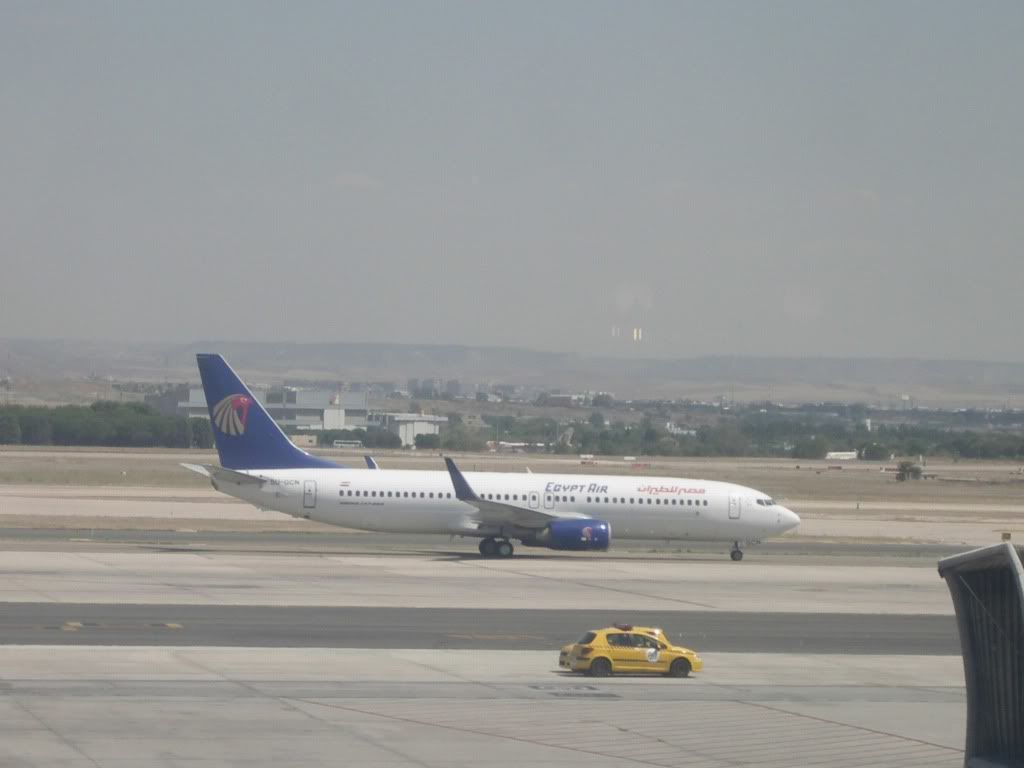 Takeoff Mexicana: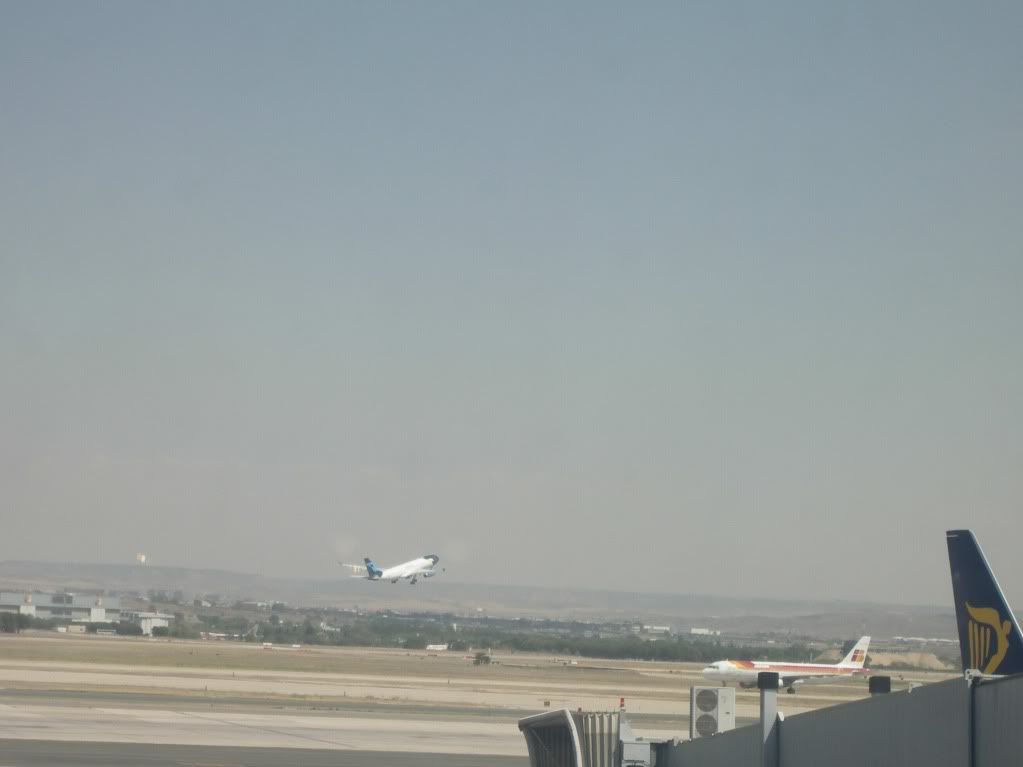 LAN A343 bound for FRA: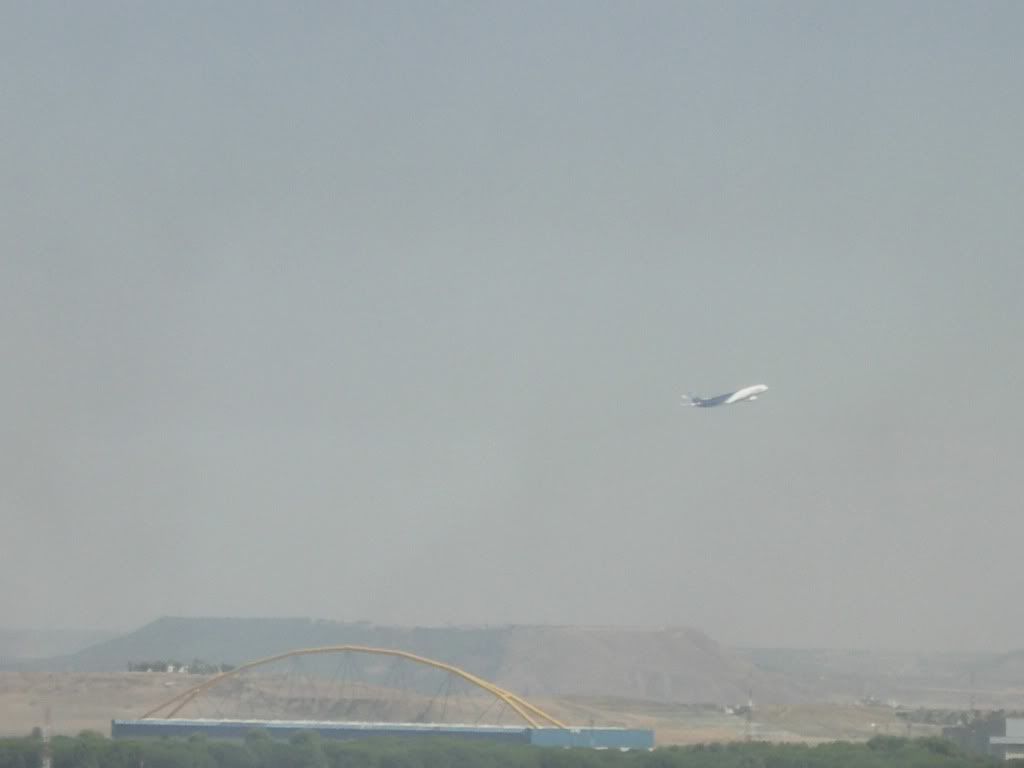 The new UX E90:
Bound for South Amercia:
Argentina Jumbo: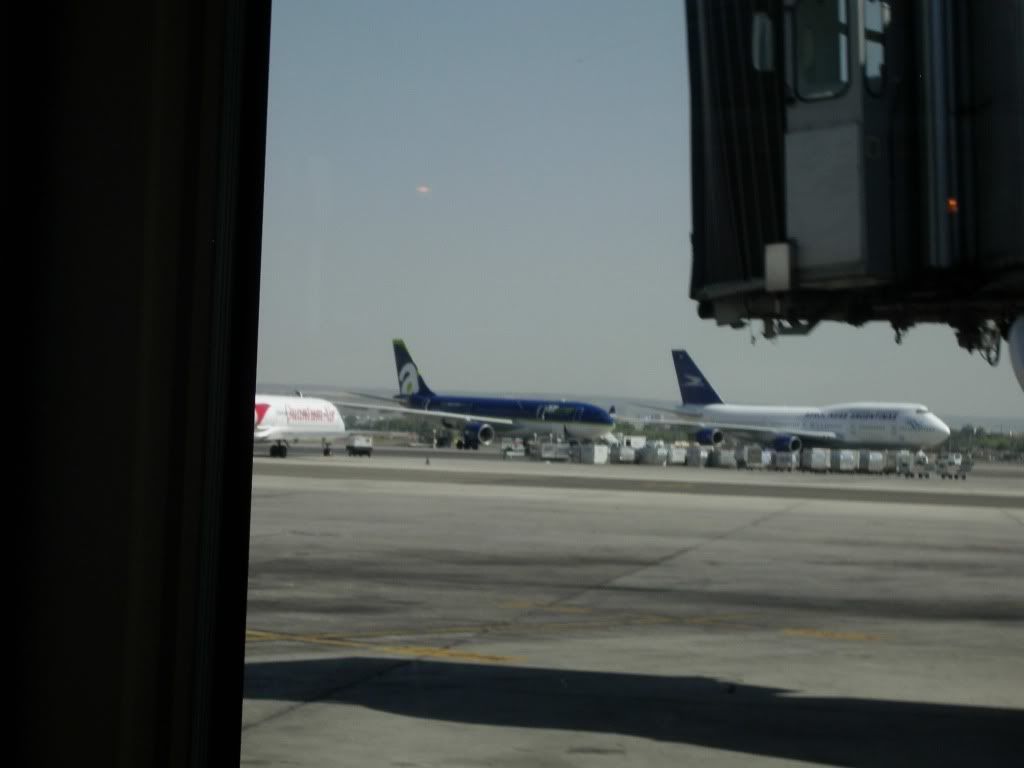 My gate was a finger one, but no plane to see yet. As usual, immediatelly after a girl staffed the desk a long line was formed.
With me and the only luxury when going on FR to pay for priority in the background.
Boarding started, but no pirority call, not usual here in Spain?. Me and two or three other priority pax approached the gate followed by not that friendly
views from the pax in line. Something what I really dislike, but it´s FR, we know.
Down the stairs to the waiting bus and further to the parked plane on the apron.
Pullmantur 747´s: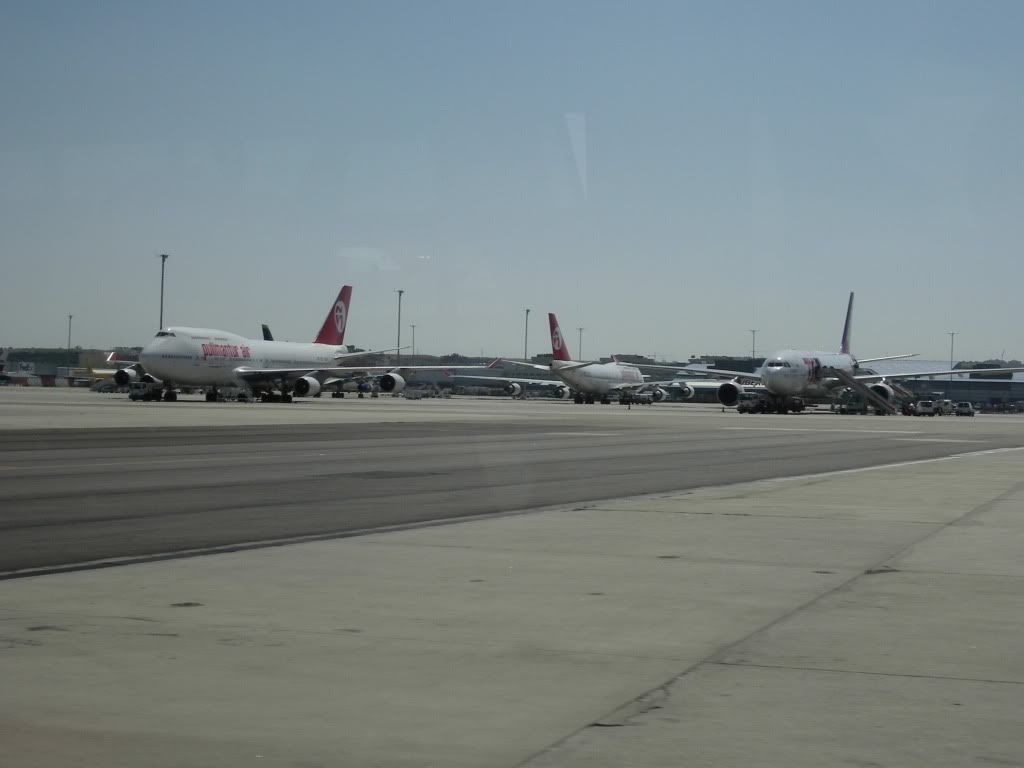 Boarding: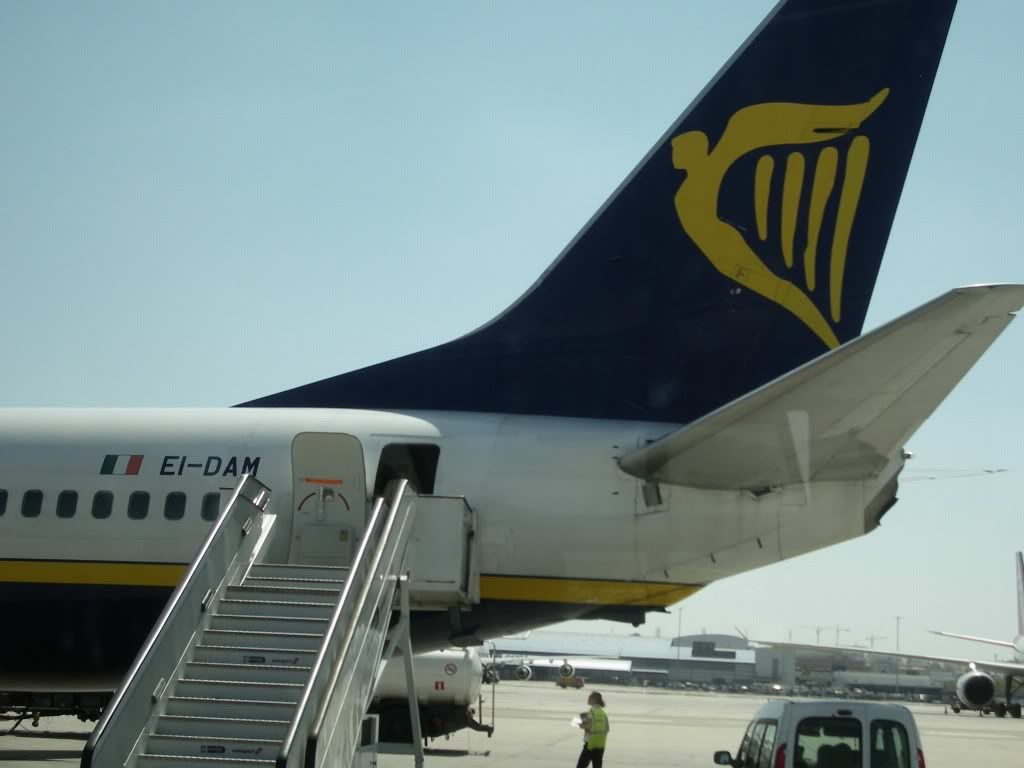 Close up: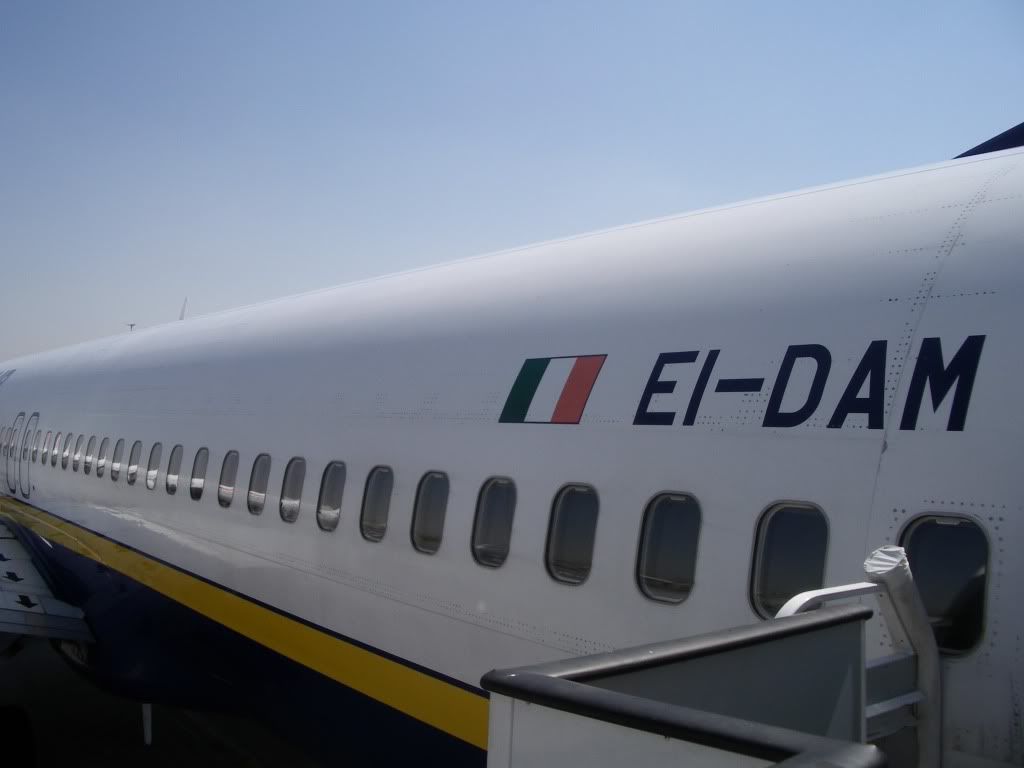 Tail shot: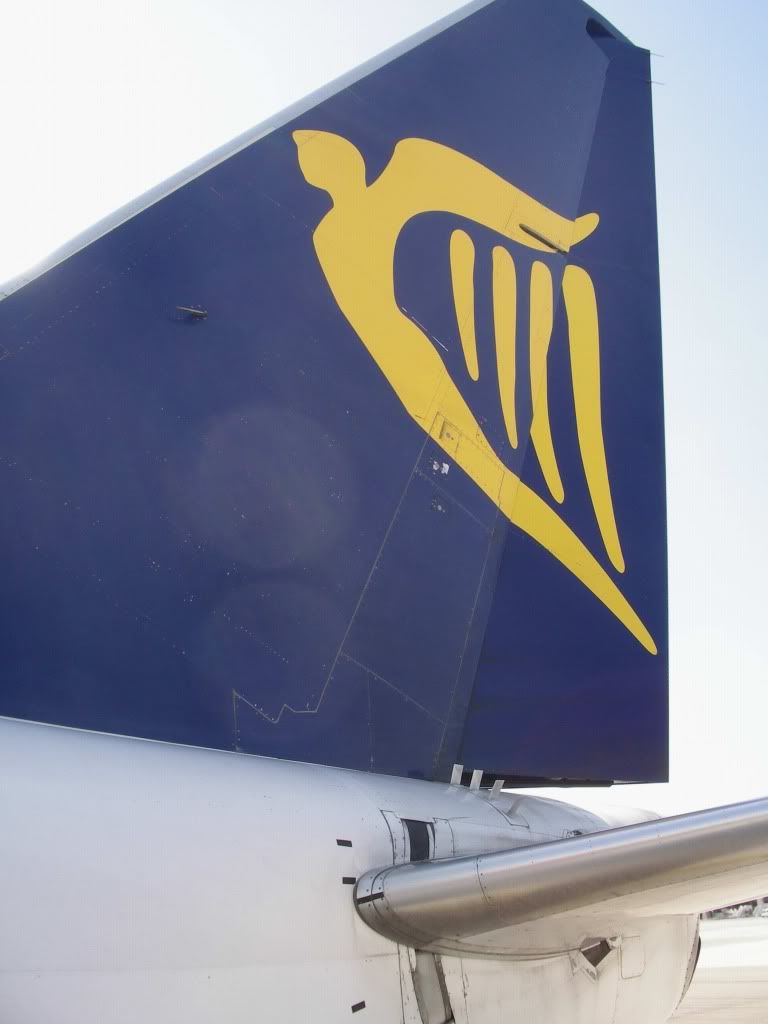 Window view: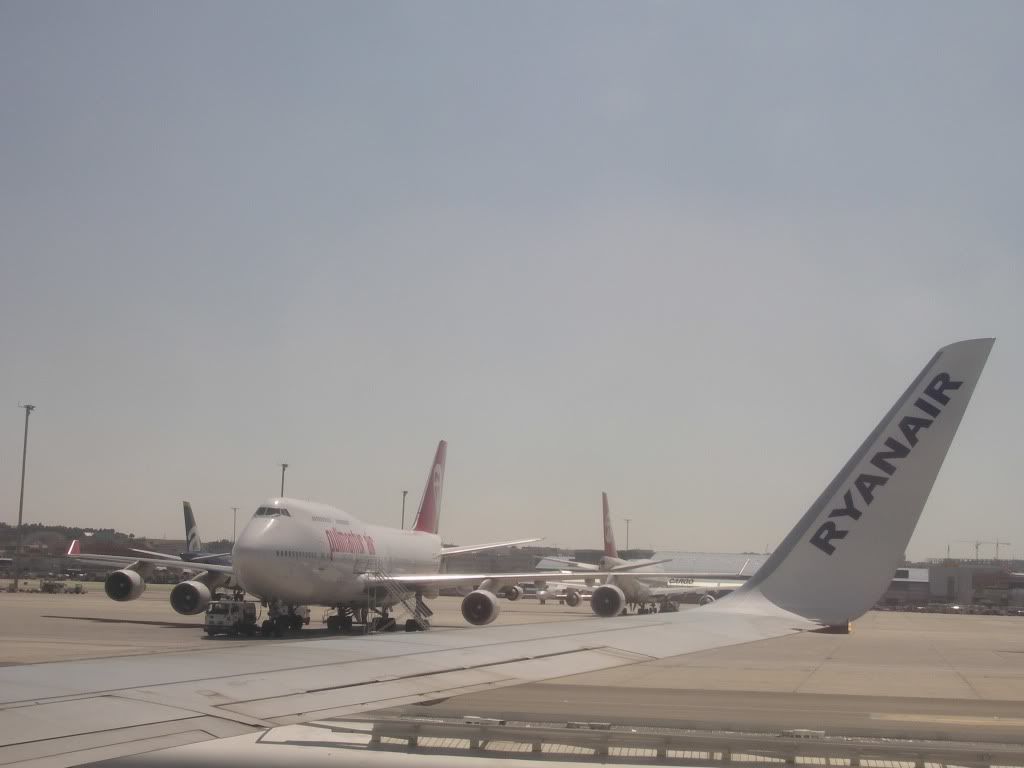 TAM A332: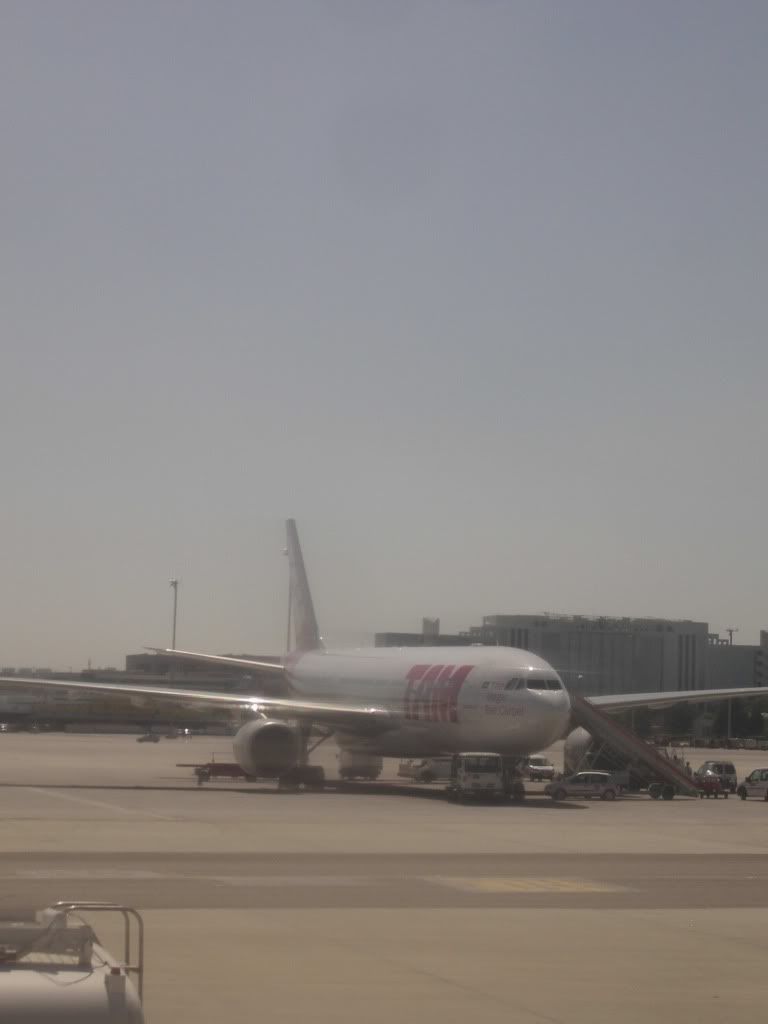 EI-DAM, the usual 737-800, what else to expect, was parked . Delivered at 23.04.2003 to FR, one of the 202 examples strong fleet and also one of the oldest nowadays.
Leg no. 42 for me on type and thankfully a new registration.
Two male, two female FA´s, two friendly, two neutral here.
Load was around 90% and it needs some time till all pax found seats.
Cockpit crew was from Spain. The captain with a friendly welcome during boarding and some departure informations.
We had to wait some minutes due to heavy traffic and therefore restrictions till we´re allowed to start up the engines.
Taxi:
Line up: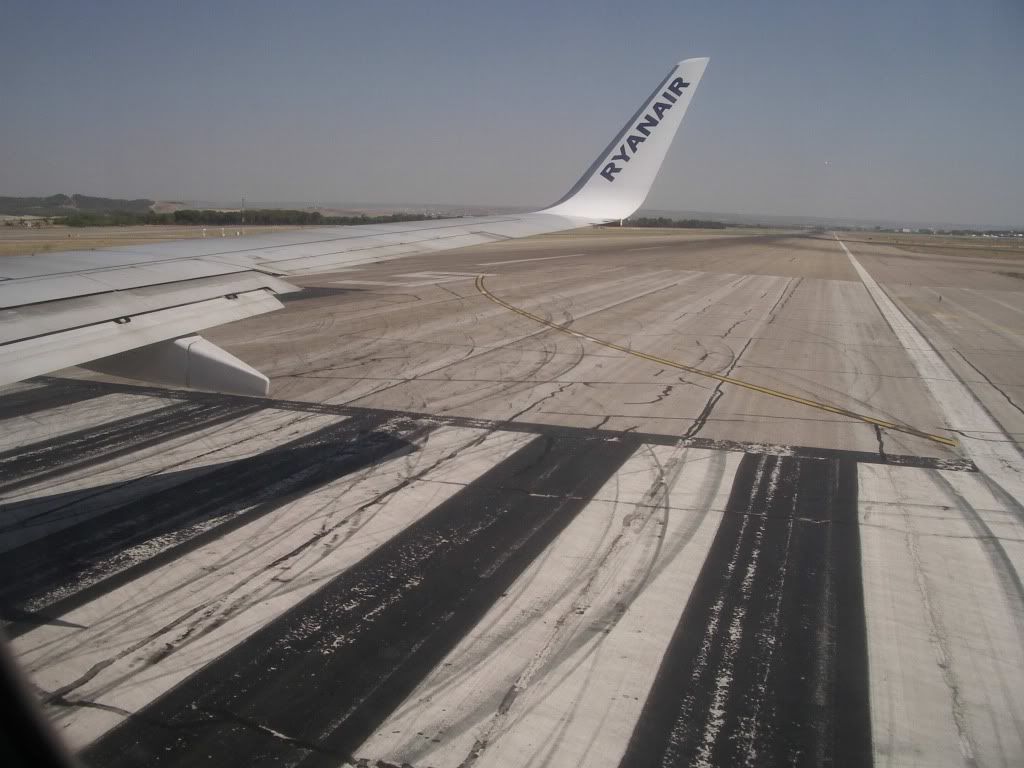 Finally departure from the 4220 meters runway 15R, no flightelvel or route informations.
And departed:
Service was buy-on-board as usual with FR. No comment to the commercial informations, also something what I really dislike.
The cabin fitted with the oldfashioned blue fabric seats, low legroom and somewhat dirty.
Classic FR cabin:
Near GRX:
Some water and mountains:
Finals:
Just arrived: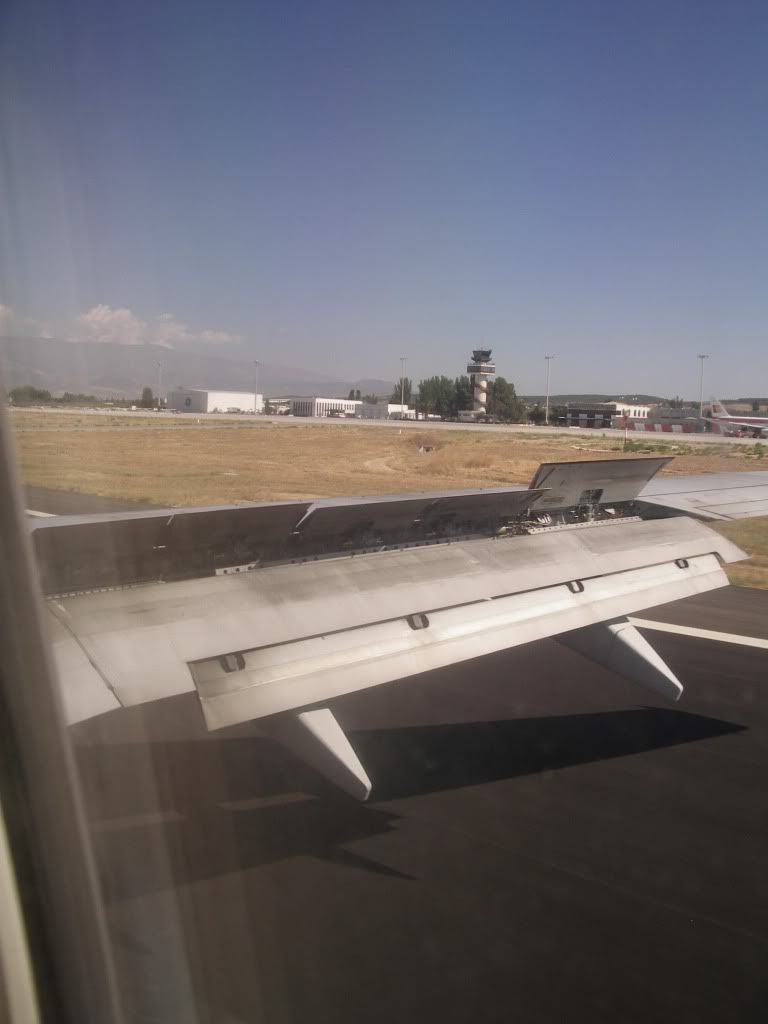 Another uneventful flight and followed by touchdown on GRX´s 2900 meters runway 09, the other direction this time.
At GRX: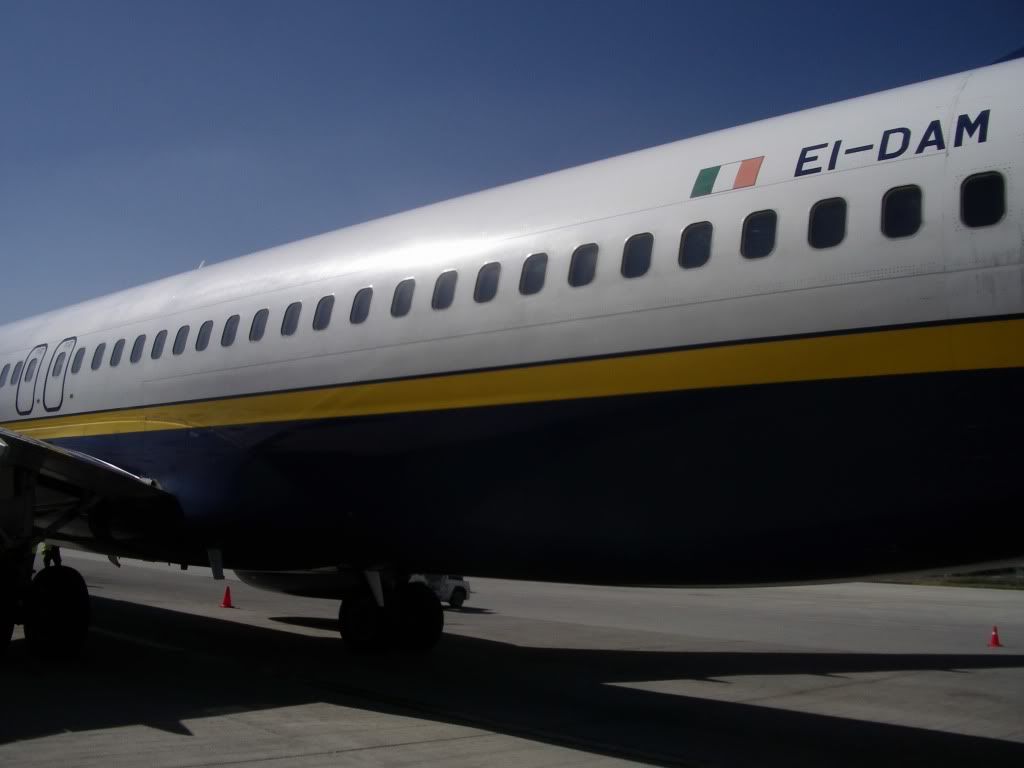 Under the wing: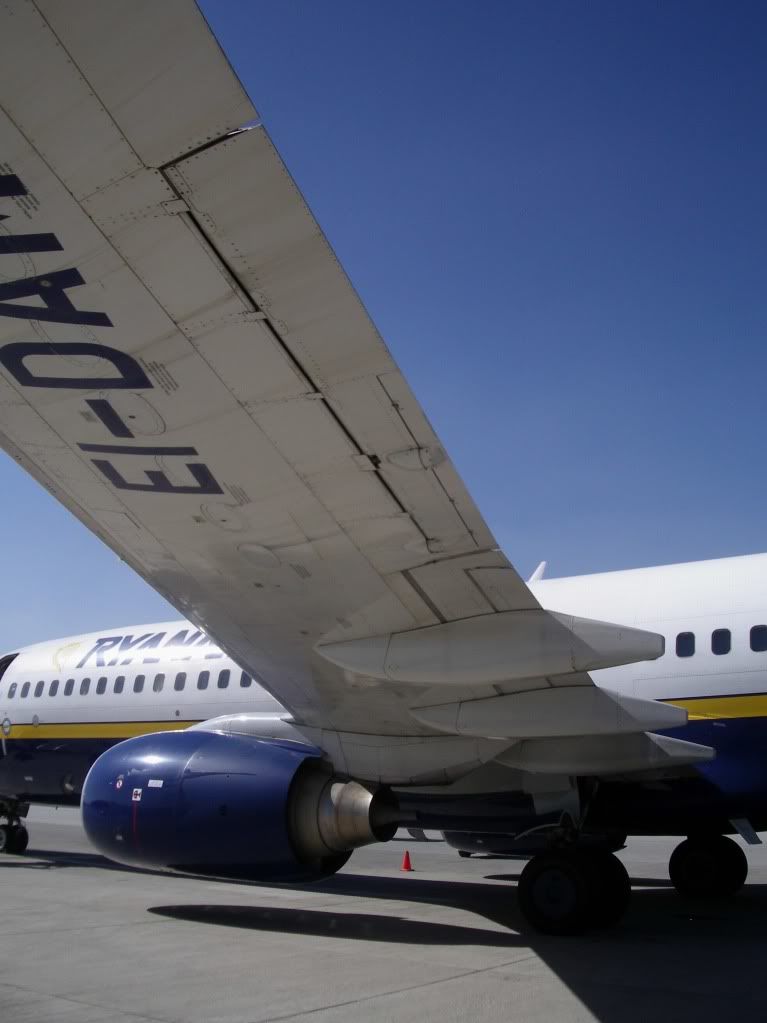 On the apron: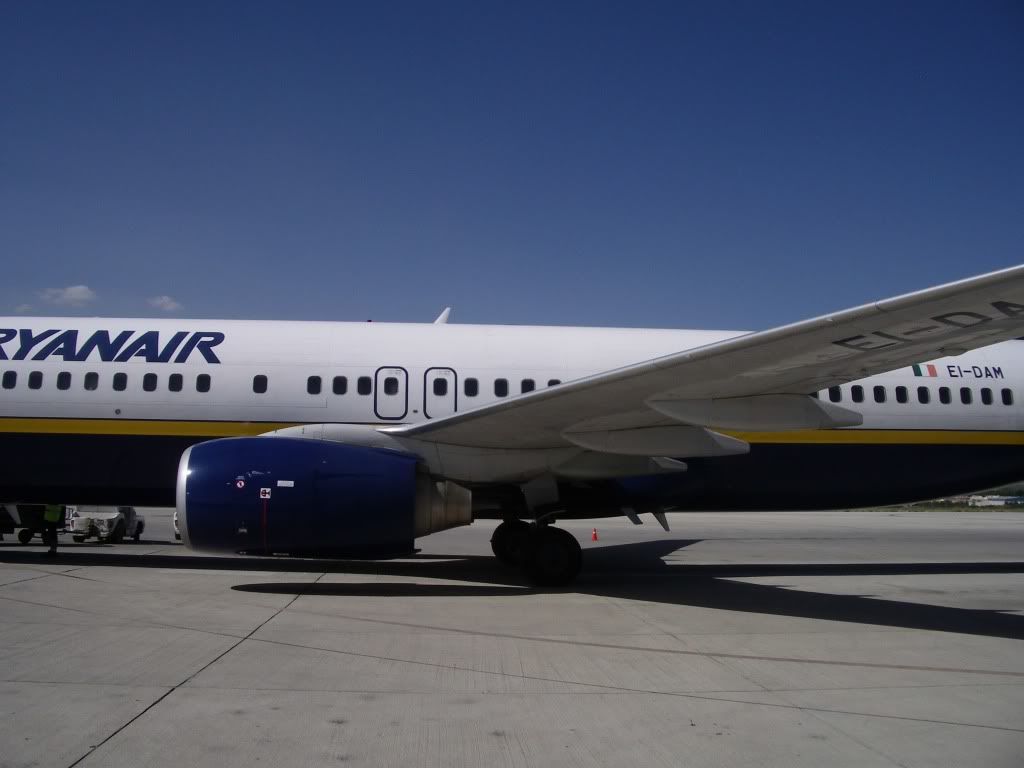 IB nearby: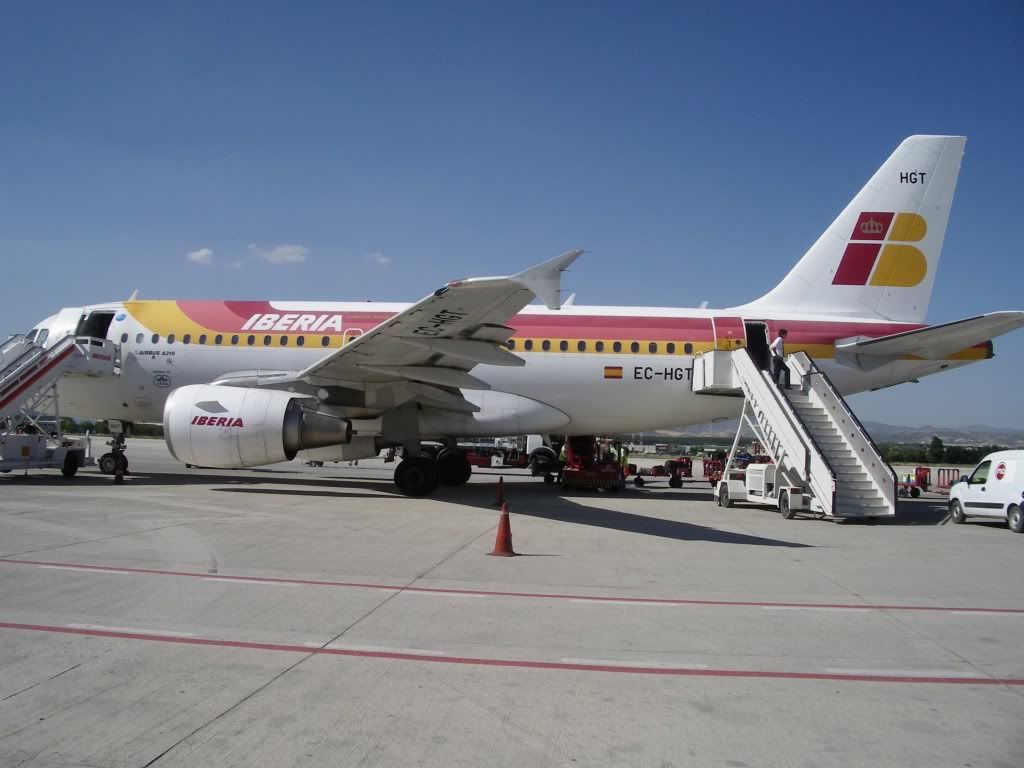 Both beside:
Once more quickly out in the public and soon thereafter back at the hotel.
FR was ok, significantly cheaper than IB on that route, mixed impressions from the staff and not well organized at the gate at MAD,
reasons enough to stay away as far as its possible.
Some more Granada city pix:
Sunshades: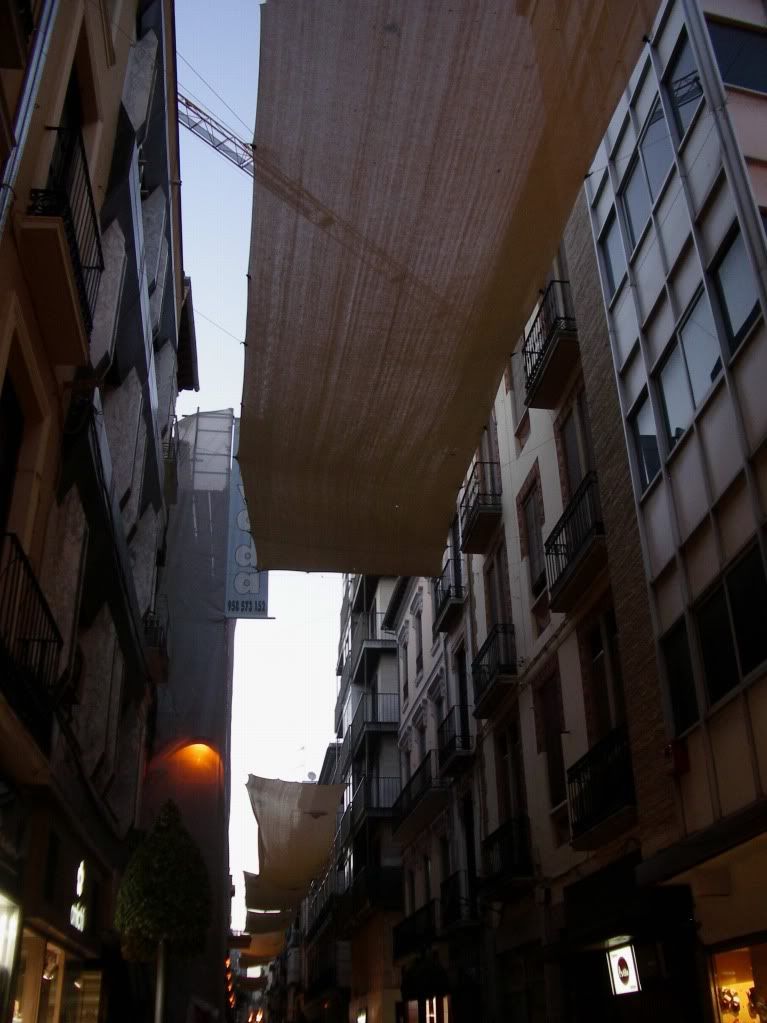 The next day we explored Calahorra and its fascinating castle and also Europes largest Solar energy power station and also the second largest around the world
and the Guadix caves.
And what´s that?:
Calahorra castle en detail: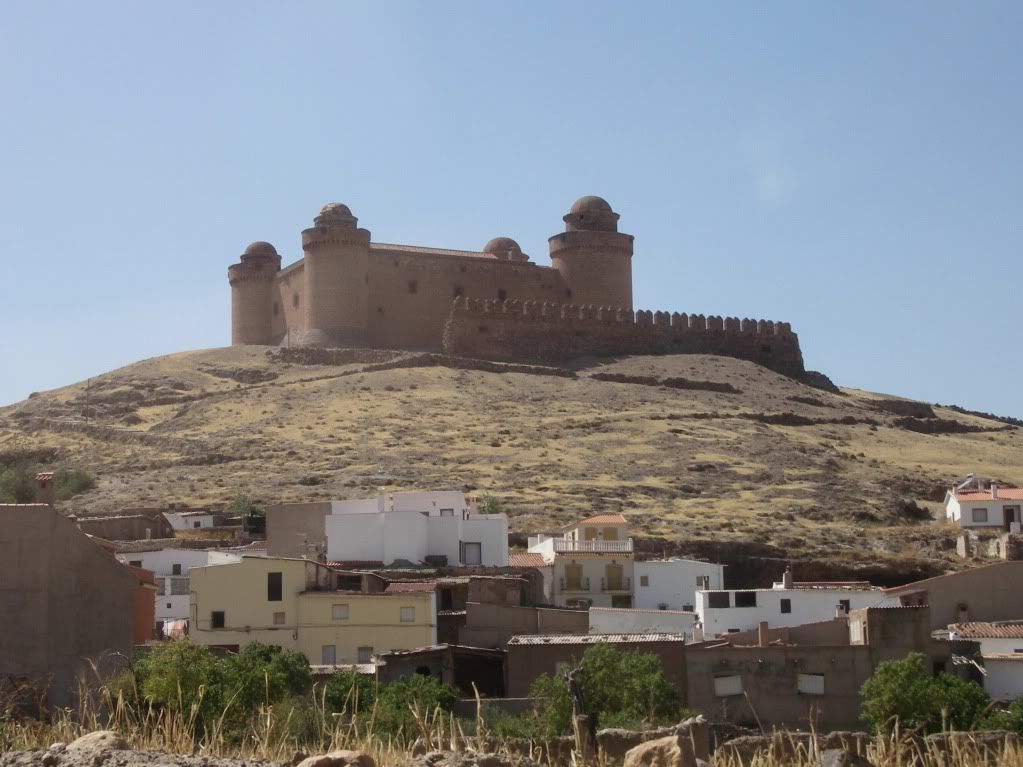 Solar energy: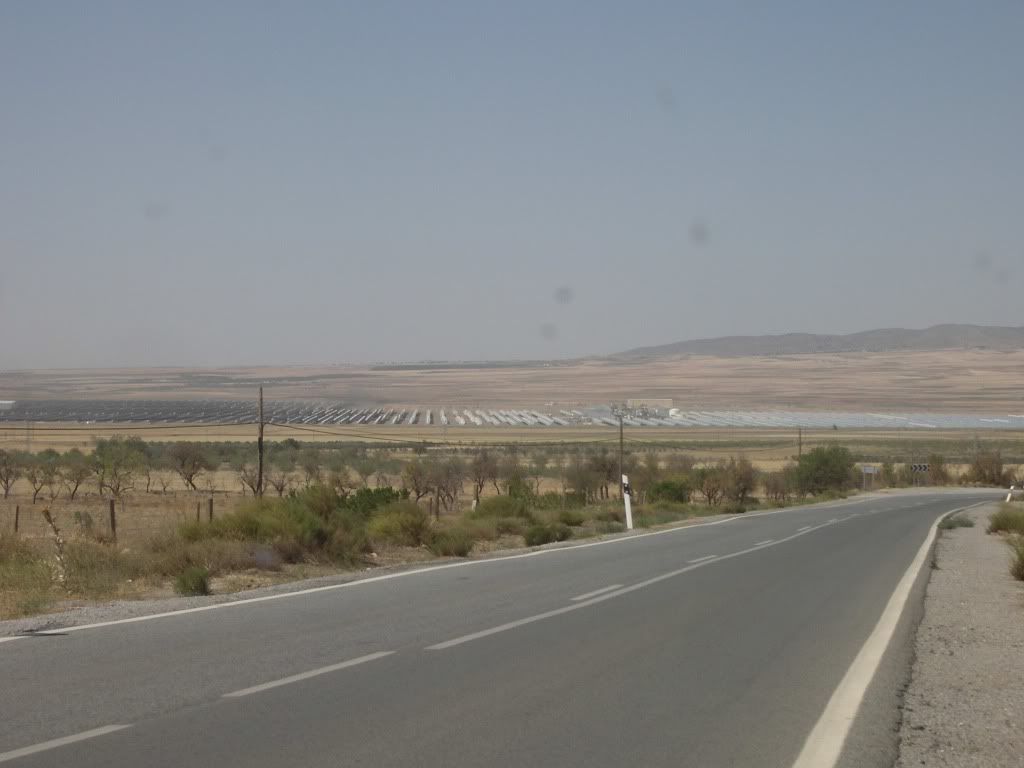 Interesting appartments: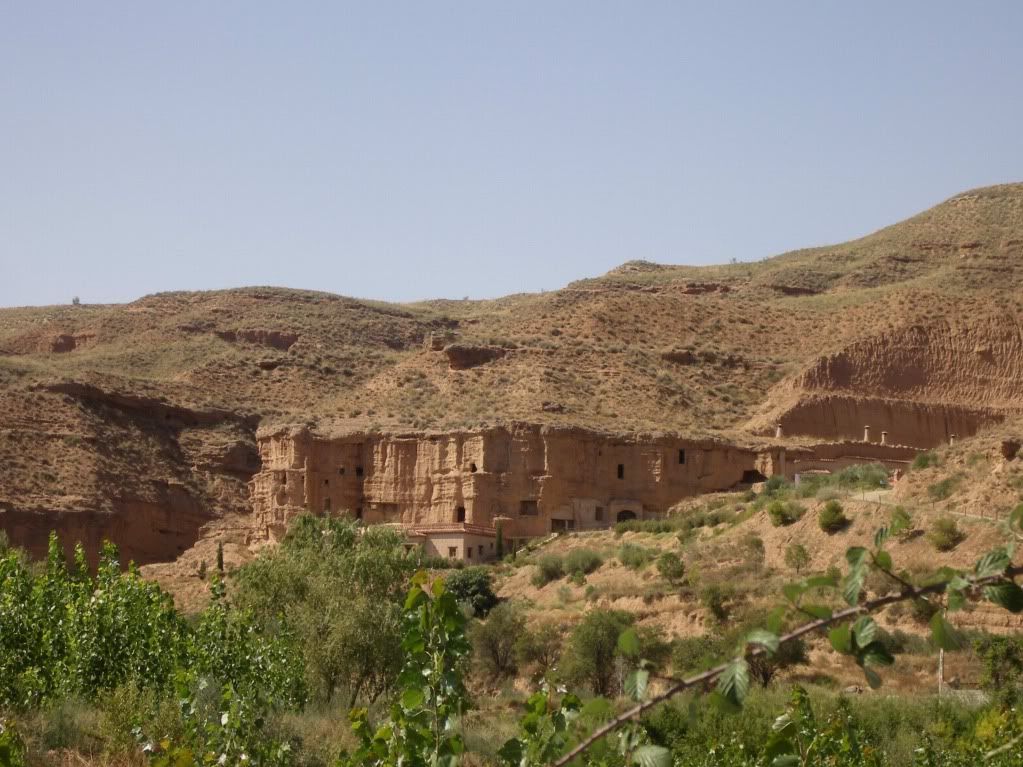 A visit to Granada isnt a visit to Granada without the Alhambra. During booking, two weeks prior, the only available timeslot was Saturday morning.
It seems there is a huge demand for that thing.
And it´s really worth it, spectacular.
Some pix:
Indoor: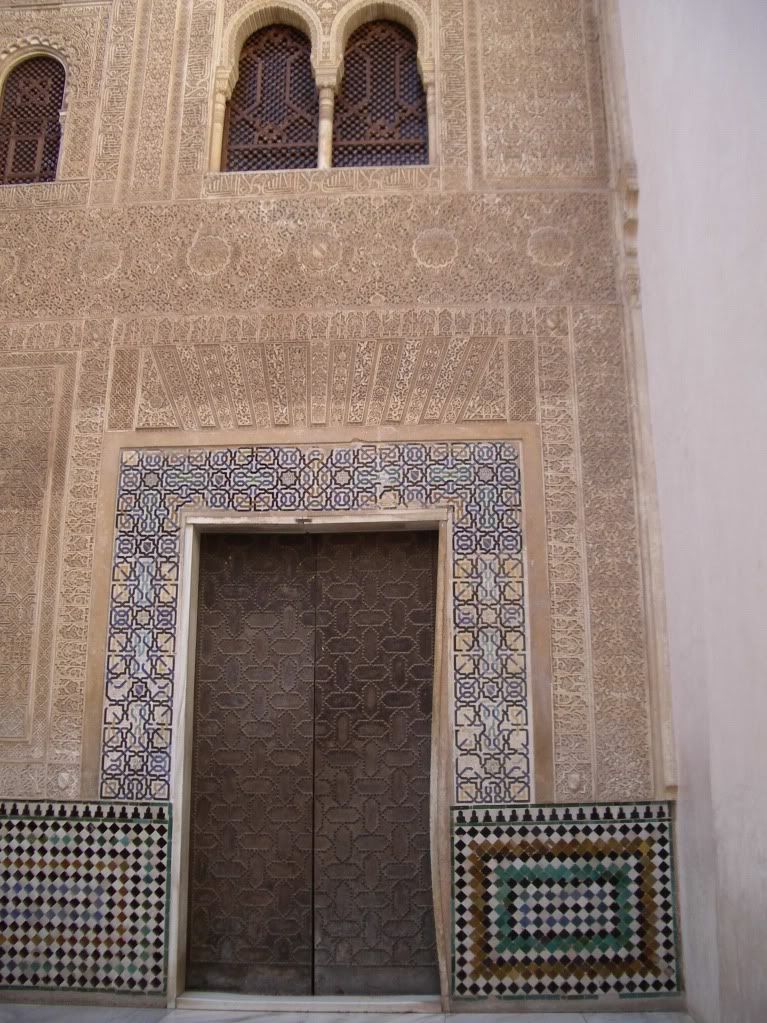 Detail:
Green water:
Indoor again: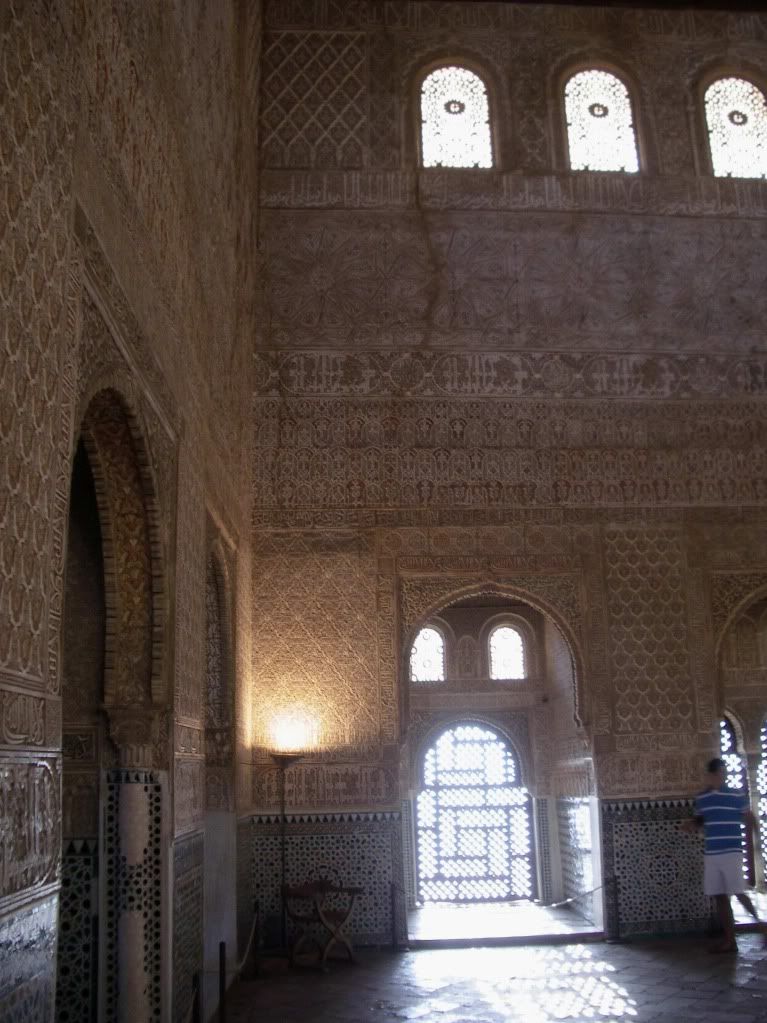 My son and the Alhambra: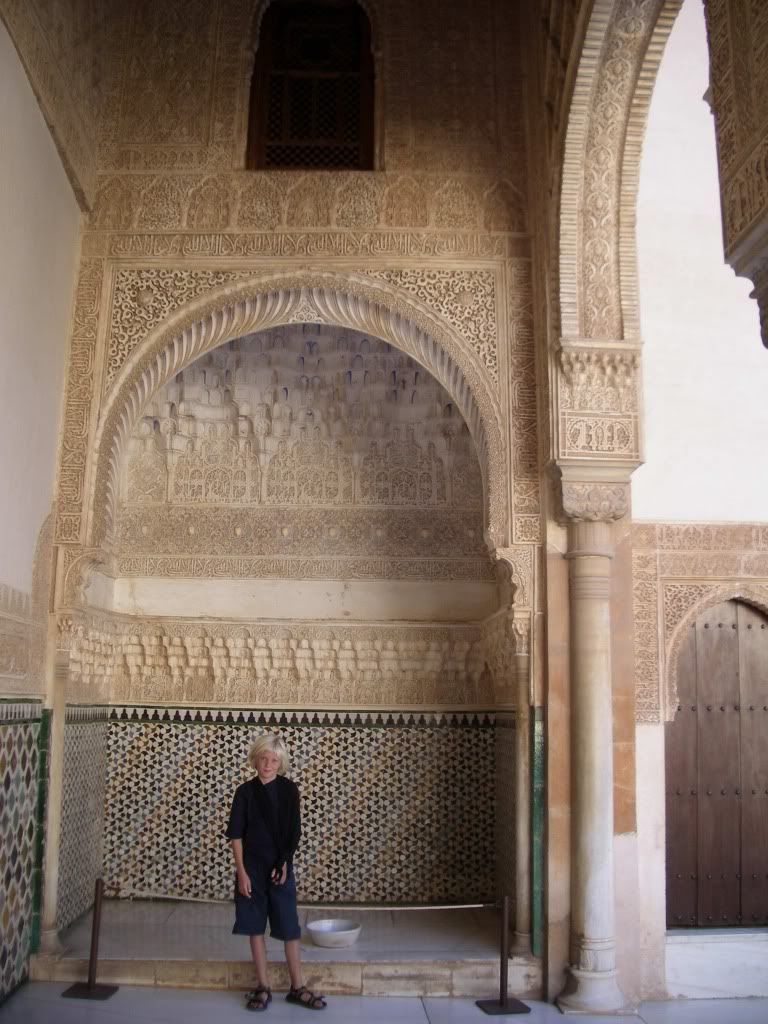 Pillars:
And again:
City view: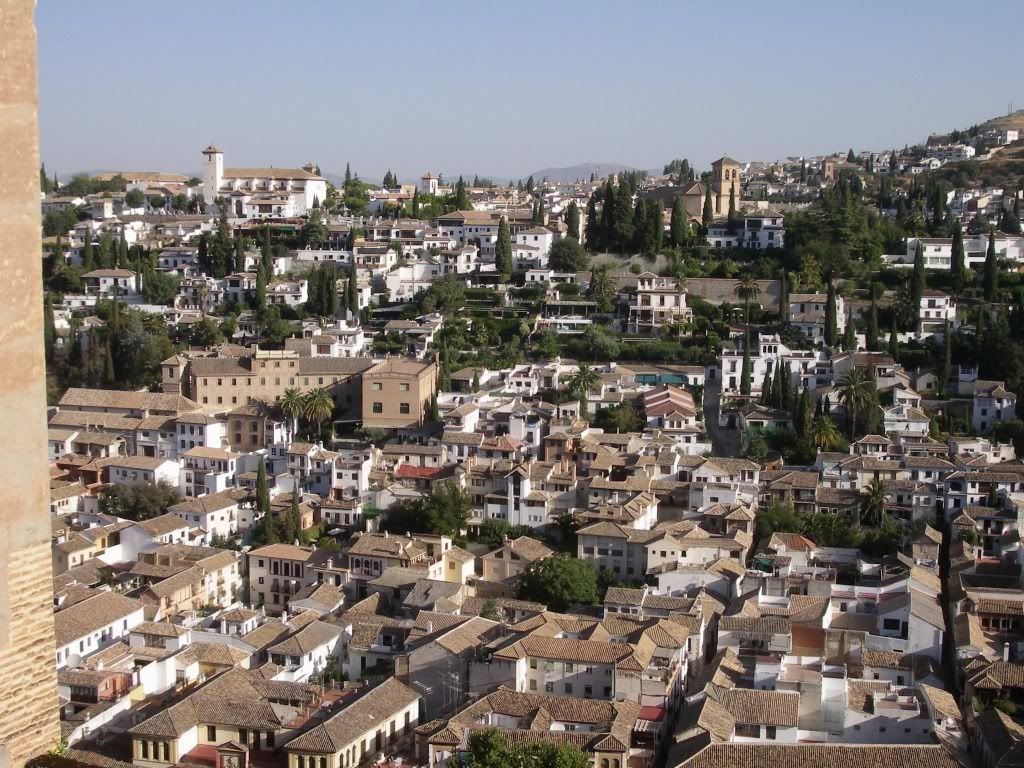 In the gardens: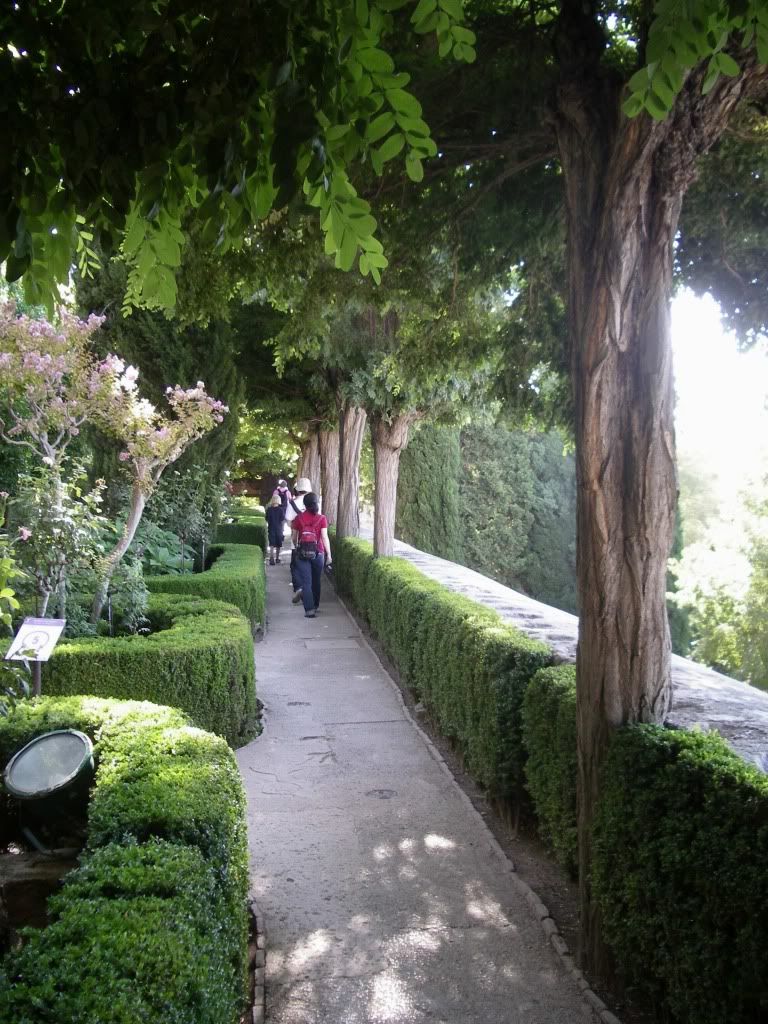 Sunday, 23.08.2009
MAD (Madrid-Barajas) Sunny, Temperature 32 degrees
FRA (Frankfurt-Rhein-Main) Sunny, Temperature, 26 degrees
Duration: 2 hours, 10 minutes announced and actual

Service LH 4413 operated by Lufthansa
Scheduled: 16.35 // 19.10
Actual: 16.55 // 19.05
Gate: C 42 Seat: 21C
Load factor: Near 100%
Another four sunday morning hours on the spanish motorways during low traffic and returned the car perfectly ontime.
Seat selection and check-in was done in the usual style.
Online from the hotel internet station to print out the boarding passes at the airport.
A 737-500 was scheduled and the very last row was free for us.
Pax waiting at the standard check-in desks for all LH flights, no one in front at the kiosks and also at bag drop off,
something what me once more surprised. Why dont use the kiosks?. Who knows?.
No time to wait at security and back in the well known gate area where also my last flight at Thursday departed.
No more riots at the Air Comet gate, but nevertheless Comet was also today the airline with the most delays on the screen.
Good time now for some spotting with all that interesting planes here at MAD.
The board:
And Comet leads again: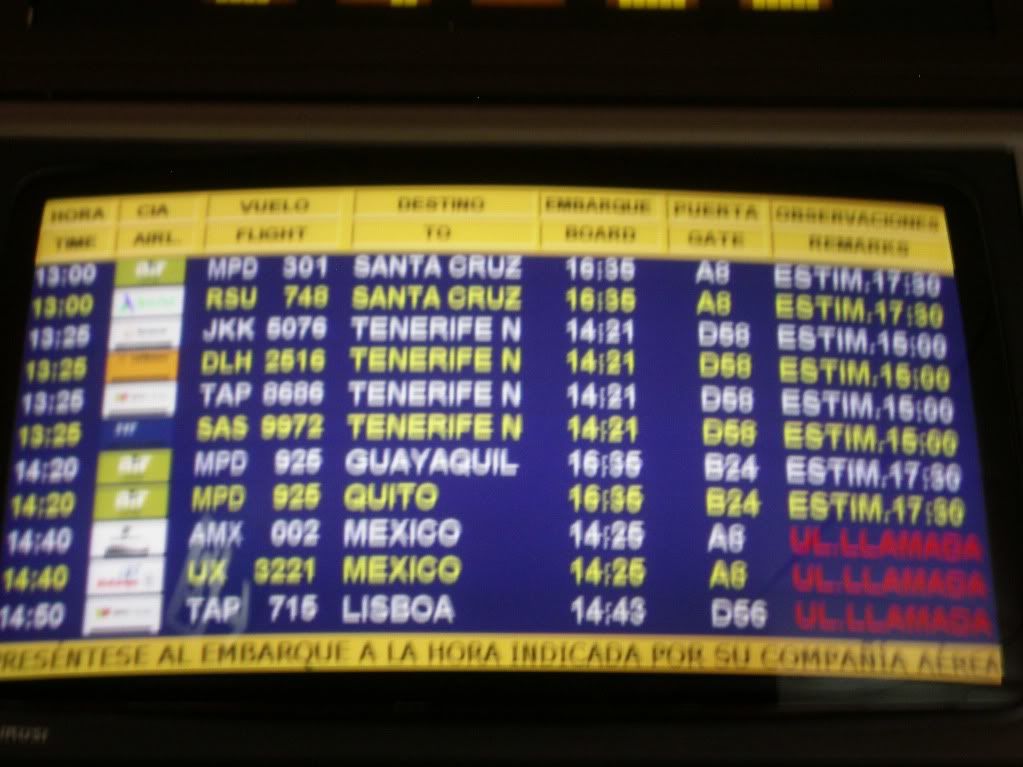 Comet A343: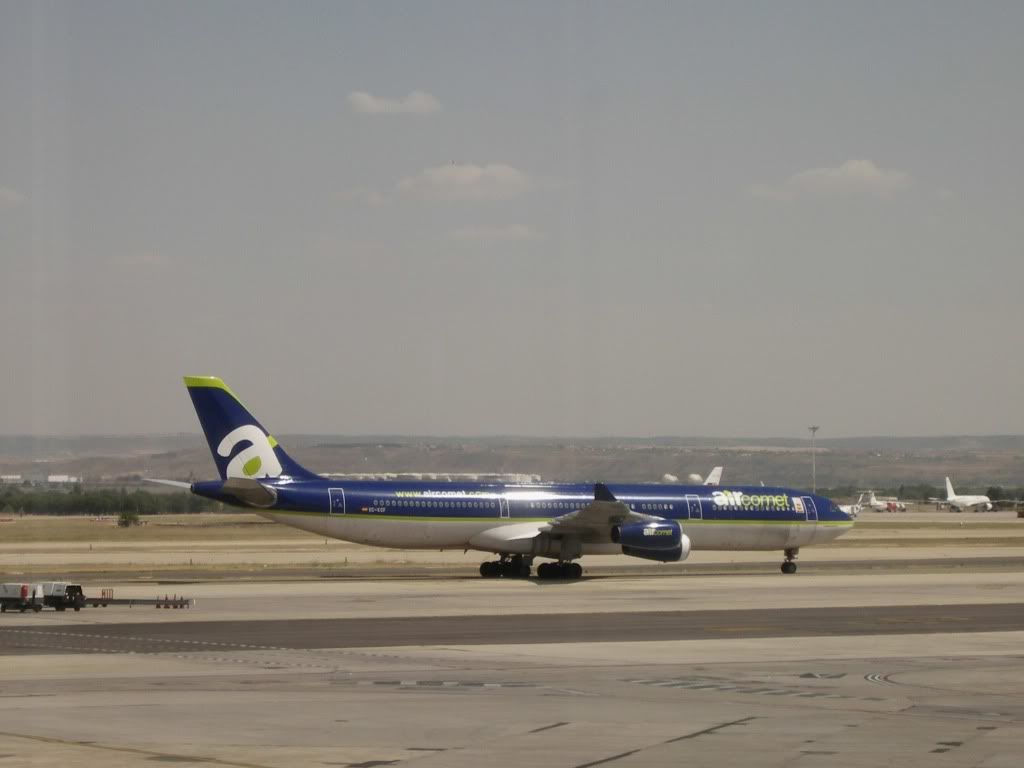 Quantum B717: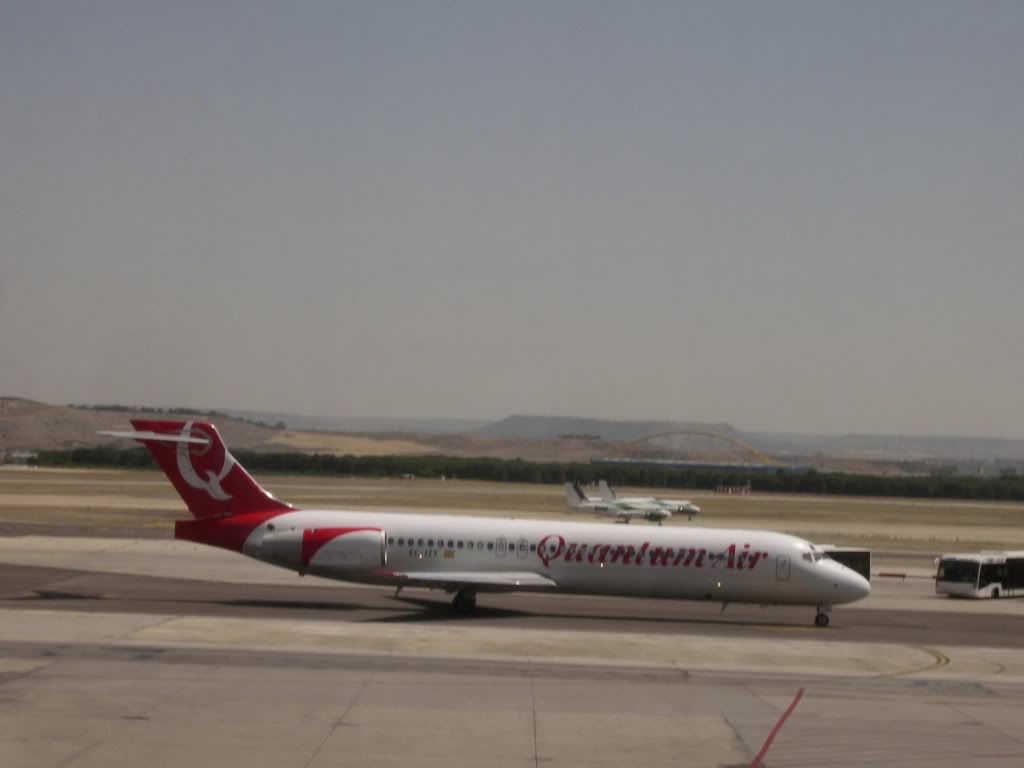 China and Quantum: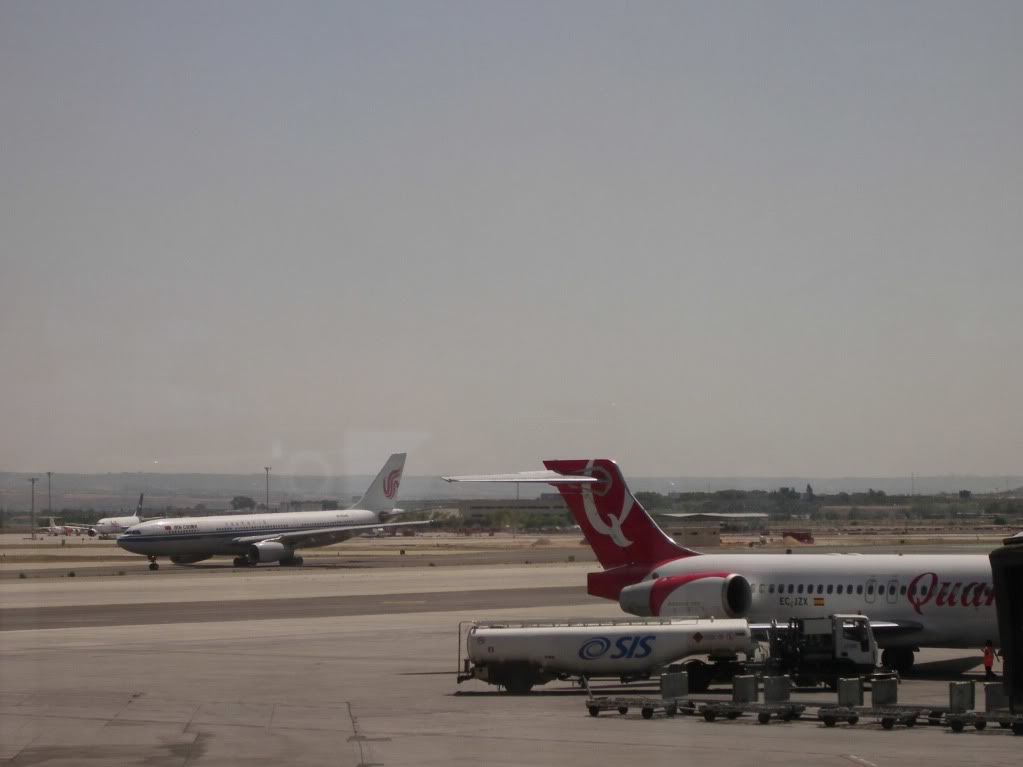 Air Europa heavy: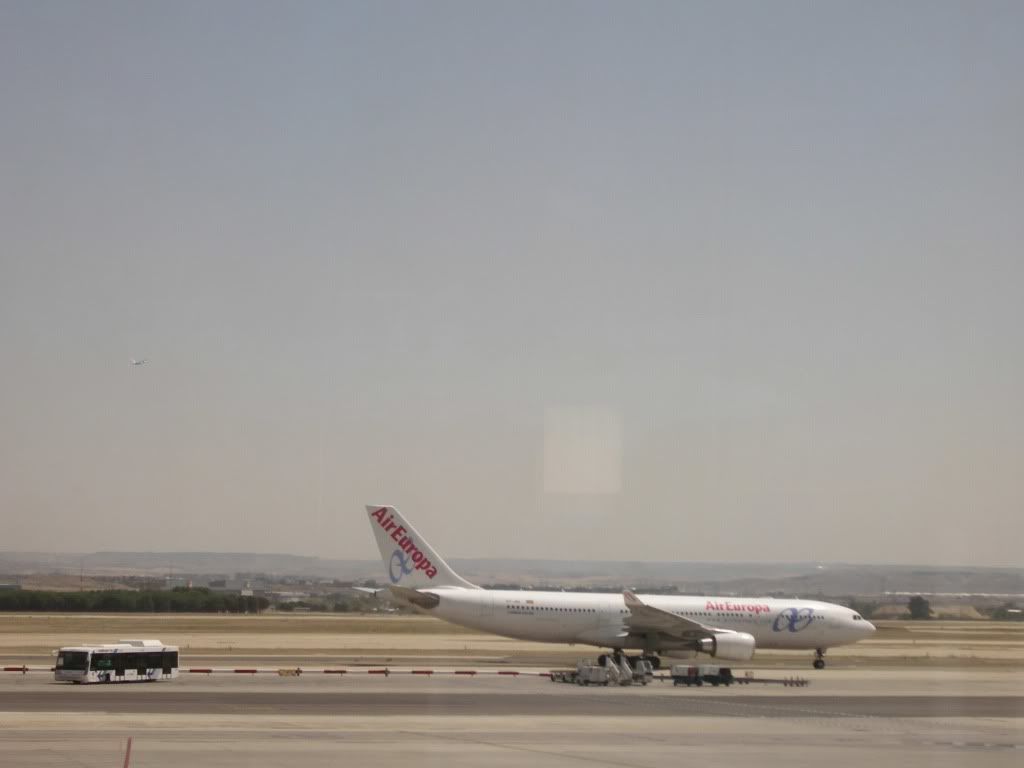 IB A343 and a parked A320: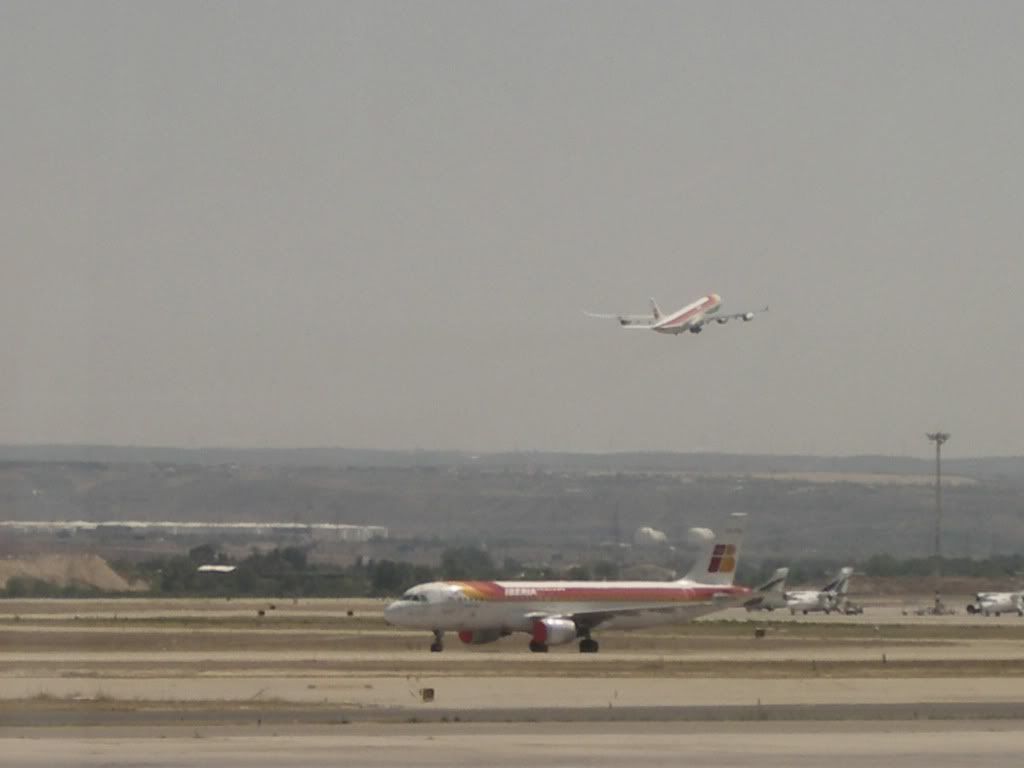 The UX E90 once more:
Avianca bound for Bogota: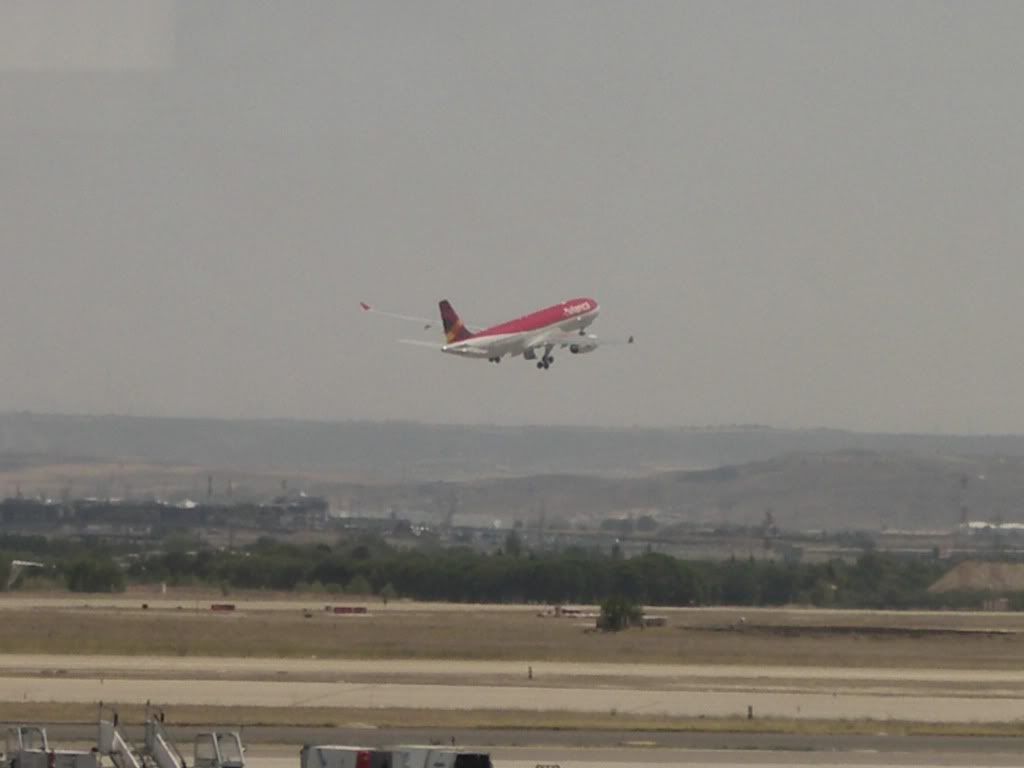 Top of the day, at least for me: Santa Barbara from Venezuela operated by Lithuanian SmartLynx: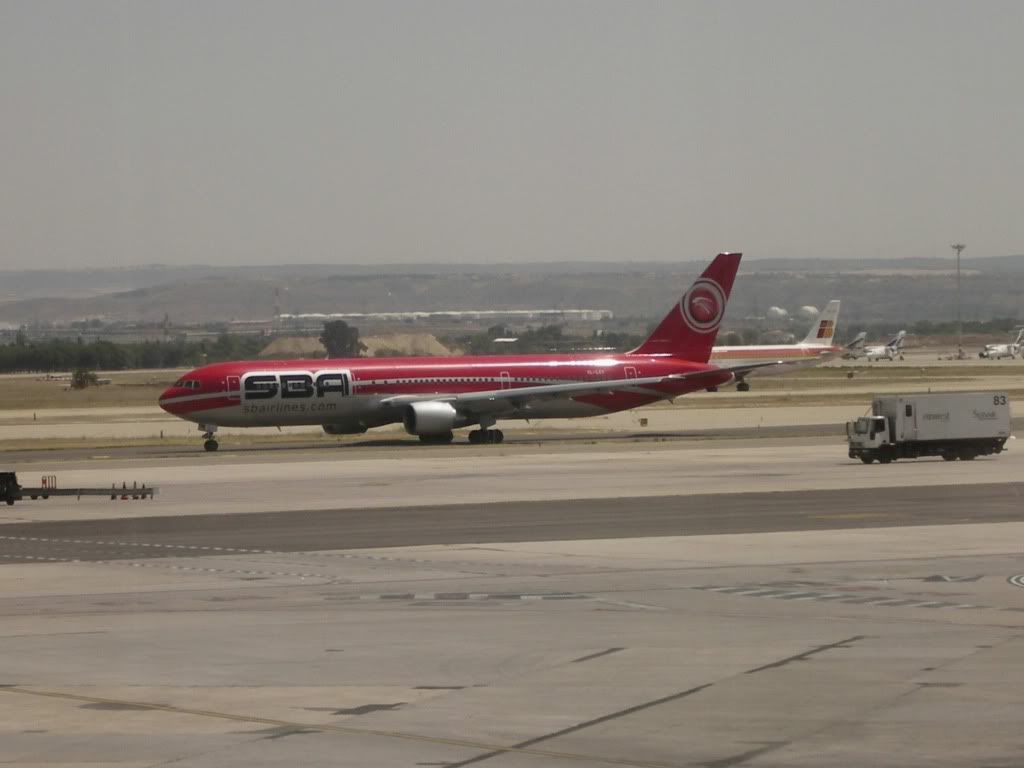 And departed:
Quantum again:
LOT at the gate beside: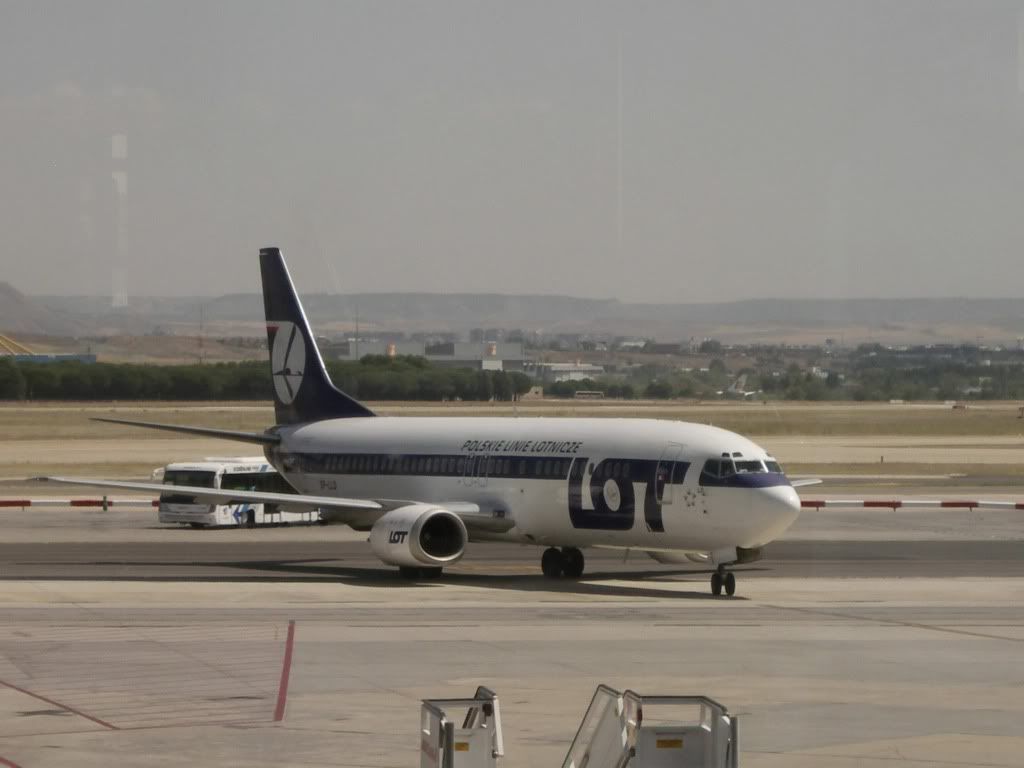 My machine?: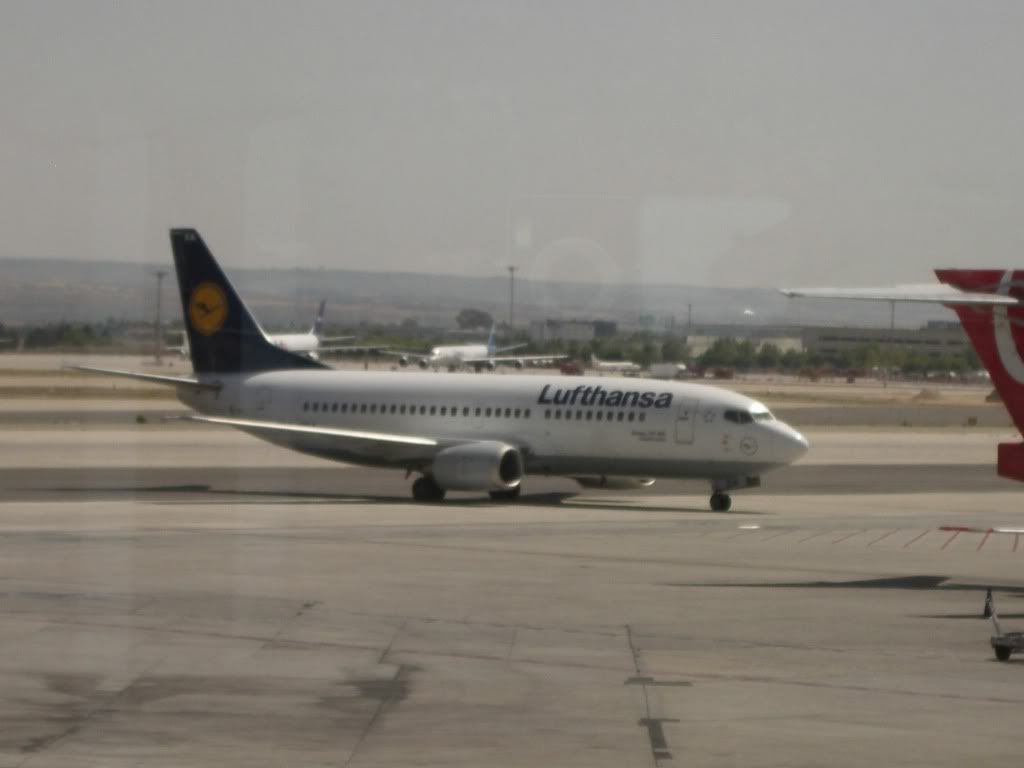 LOT and the cargo apron: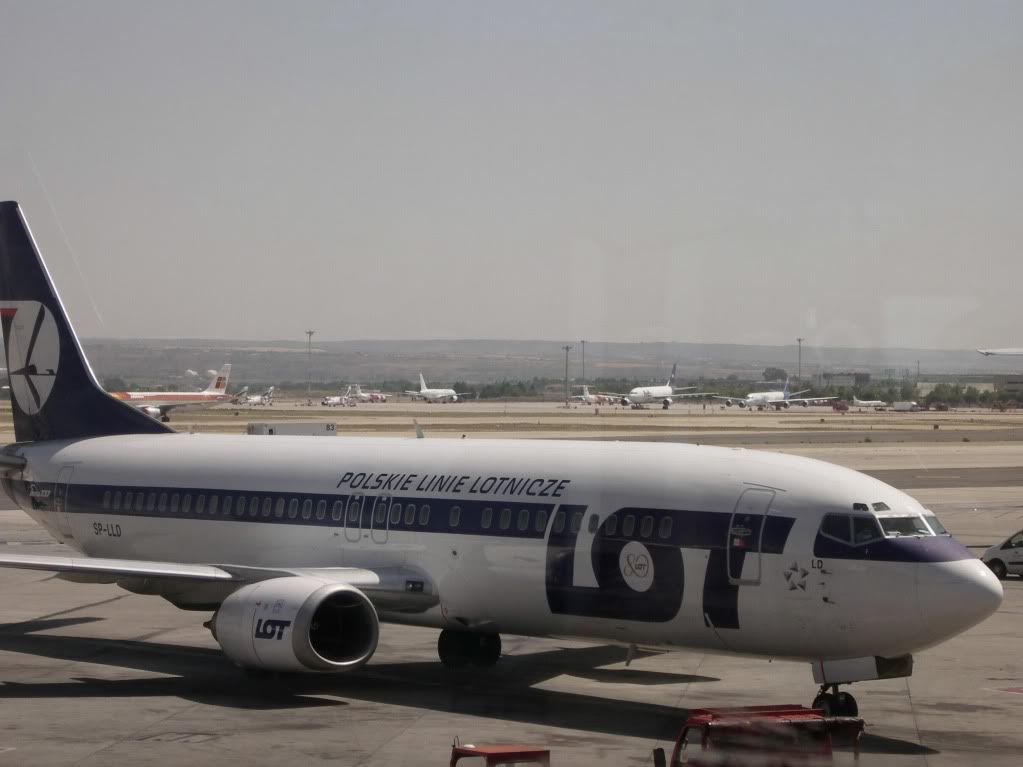 Quantum ready to go: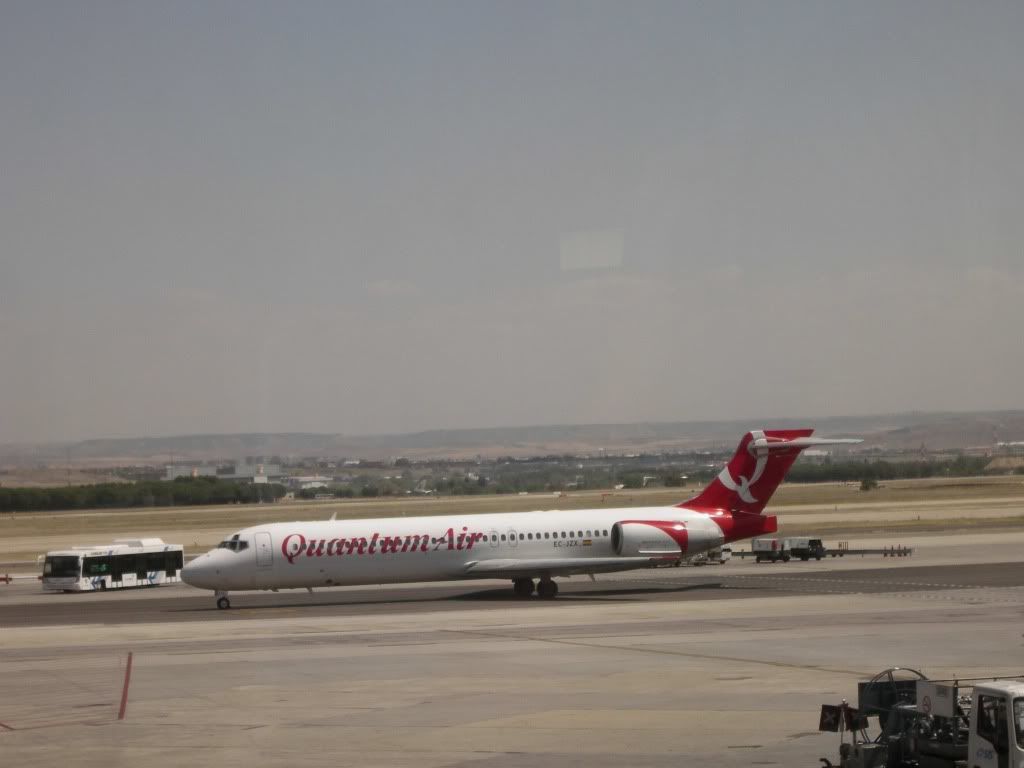 CO B752W: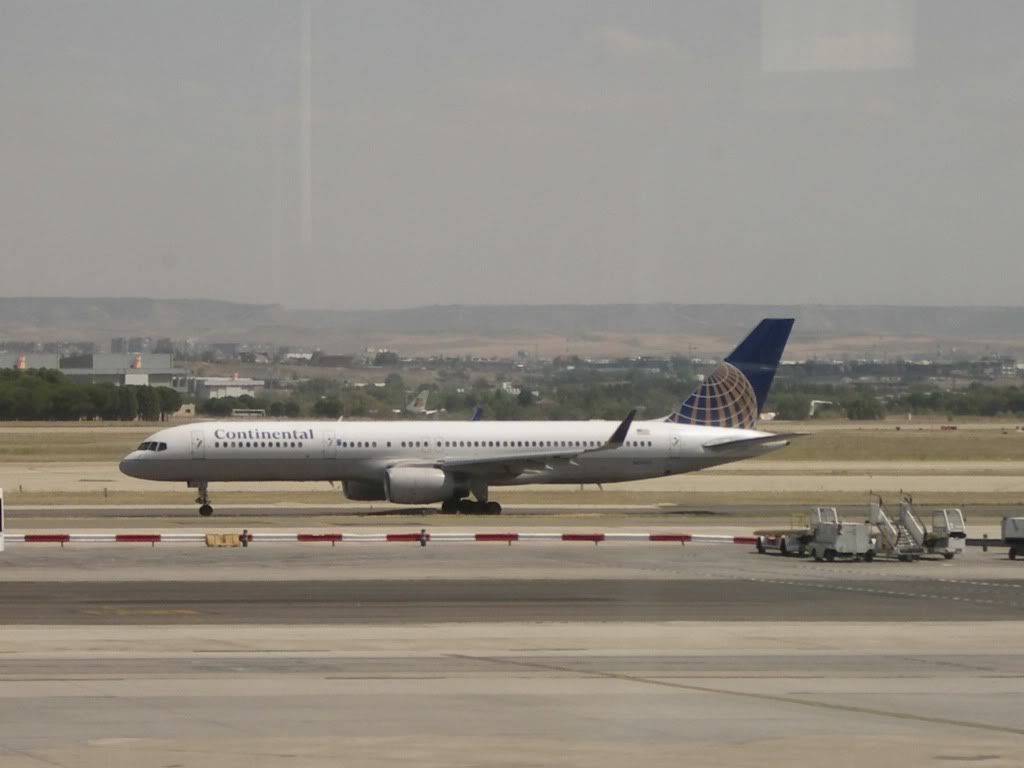 Another IB A343 departure: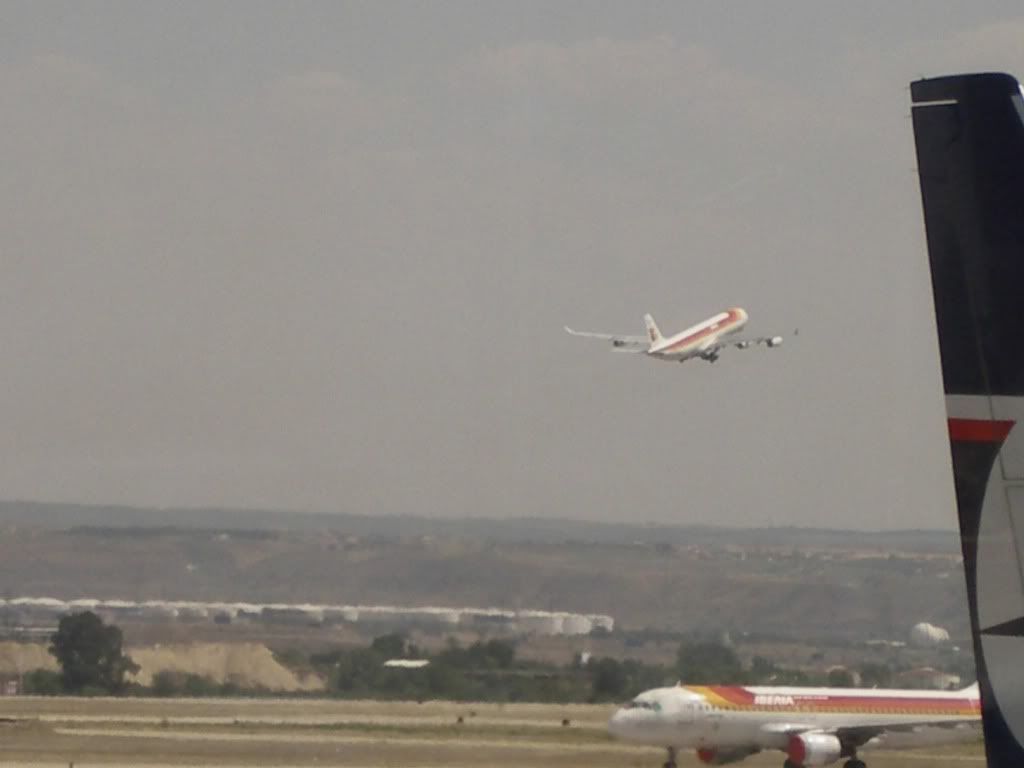 LOT and Aeromexico:
Departed:
UX twice:
TK A310 cargo taxi: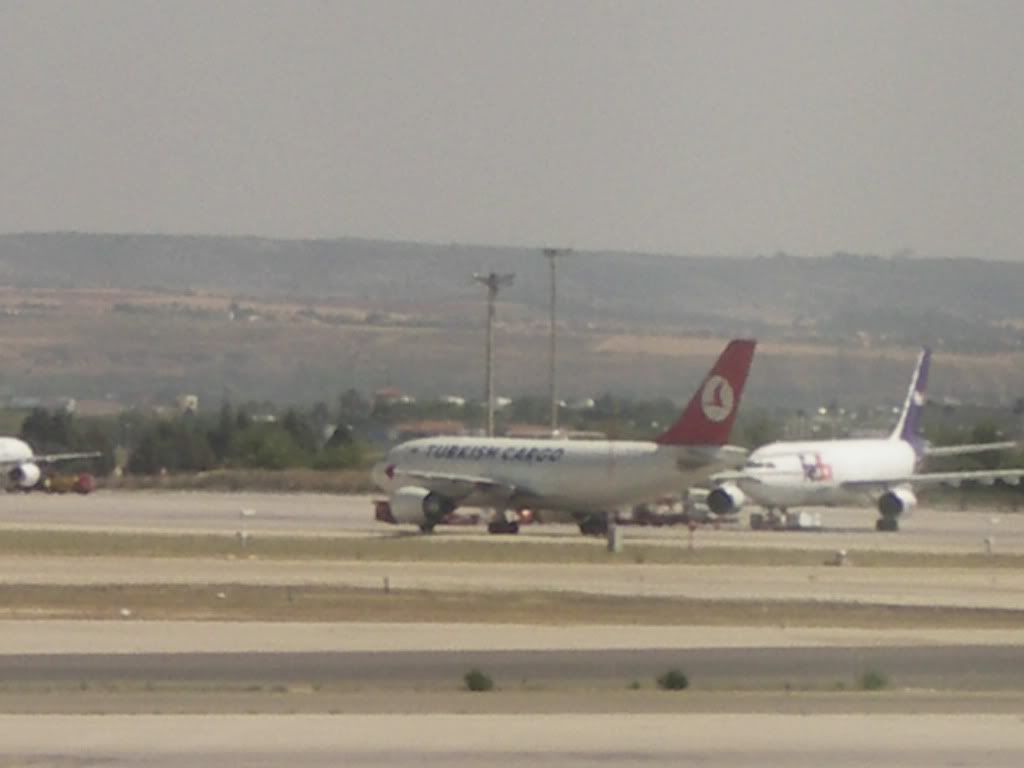 So close?: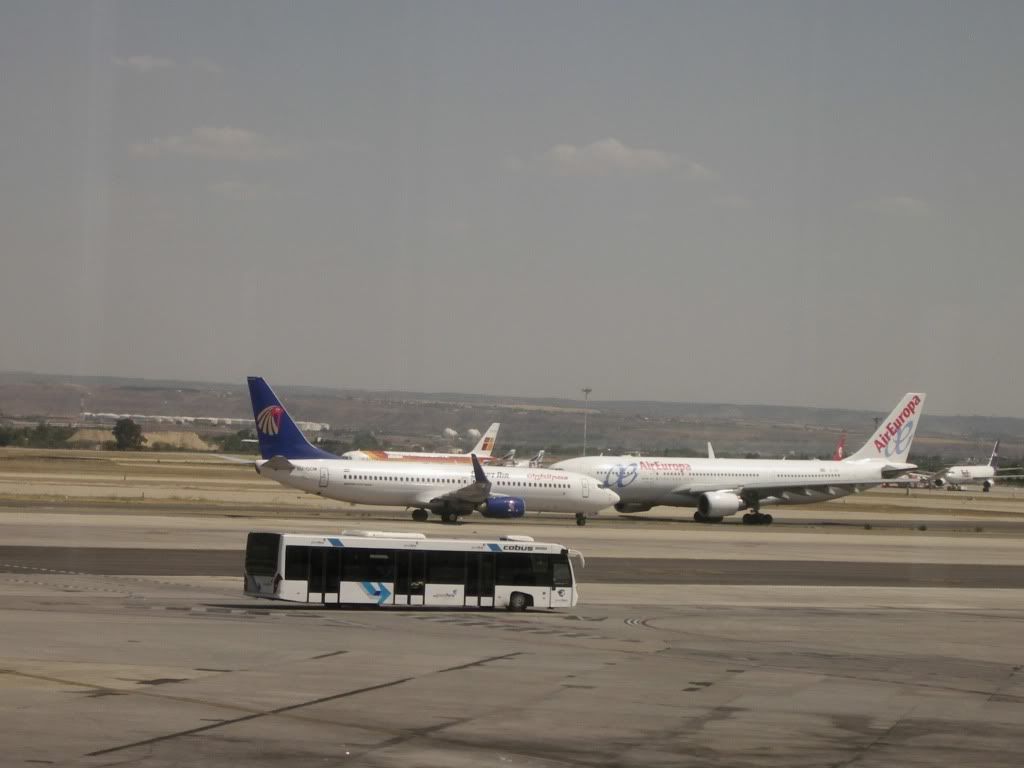 LH planes comng and going, but no 737-500, instead a 737-300 approached our gate. A plane change?.
So it seems. Parked was D-ABEA, a 737-300 delivered at 20.02.1990 to LH, named Saarbrücken. .
One of 33 operated by LH. Leg no. 39 for me on type and again a new registration.
My machine at the gate:
Another shot at the gate: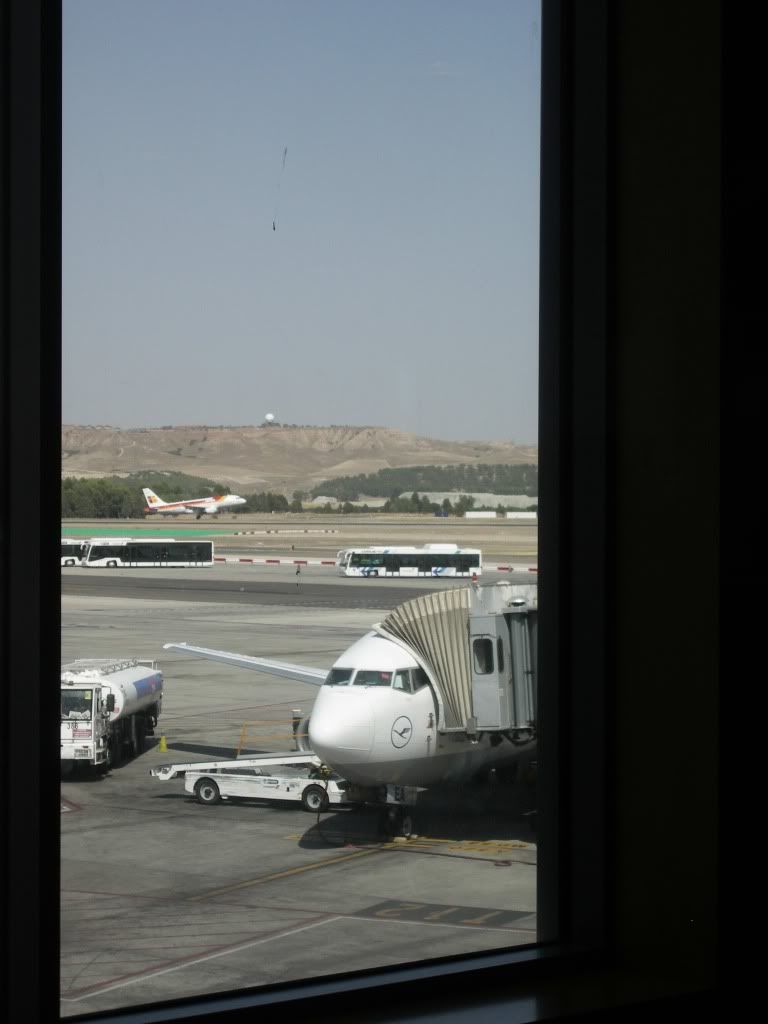 Boarding: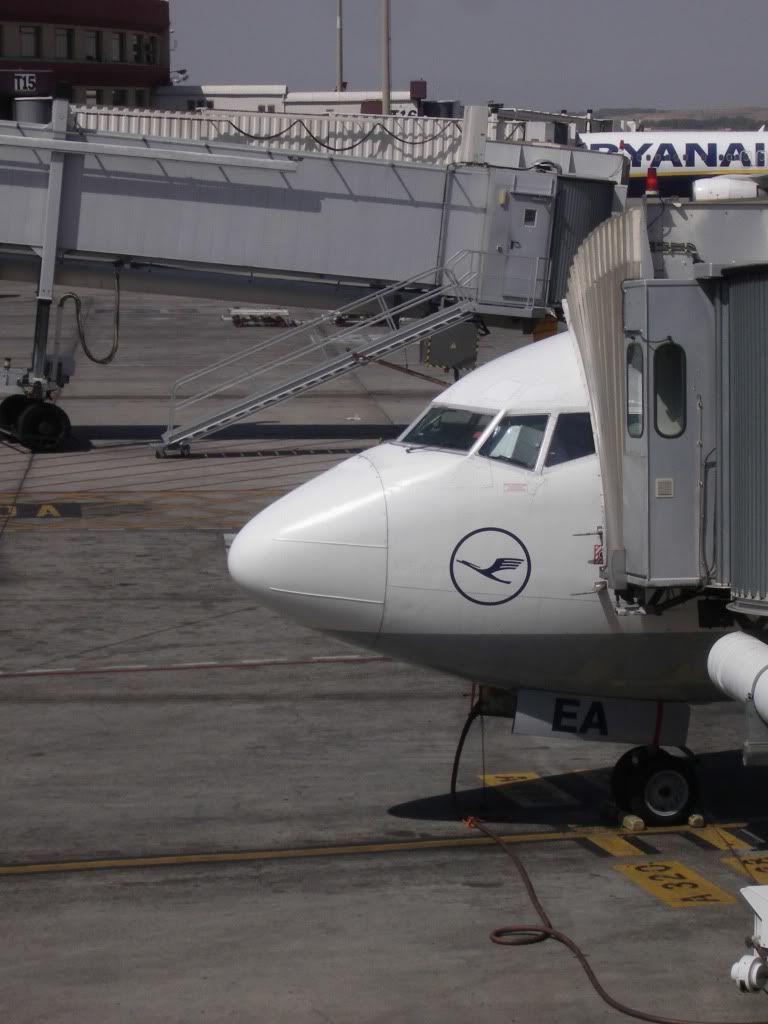 Boarding was called a little late and the reason was explained by the german captain during boarding.
Well, exactly the same like at Thursday, heavy afternoon traffic and a slot delay for us.
Three friendly female FA´s on that machine.
The cabin clean, good legroom and the dark grey leather seats in real good conditions.
Cabin: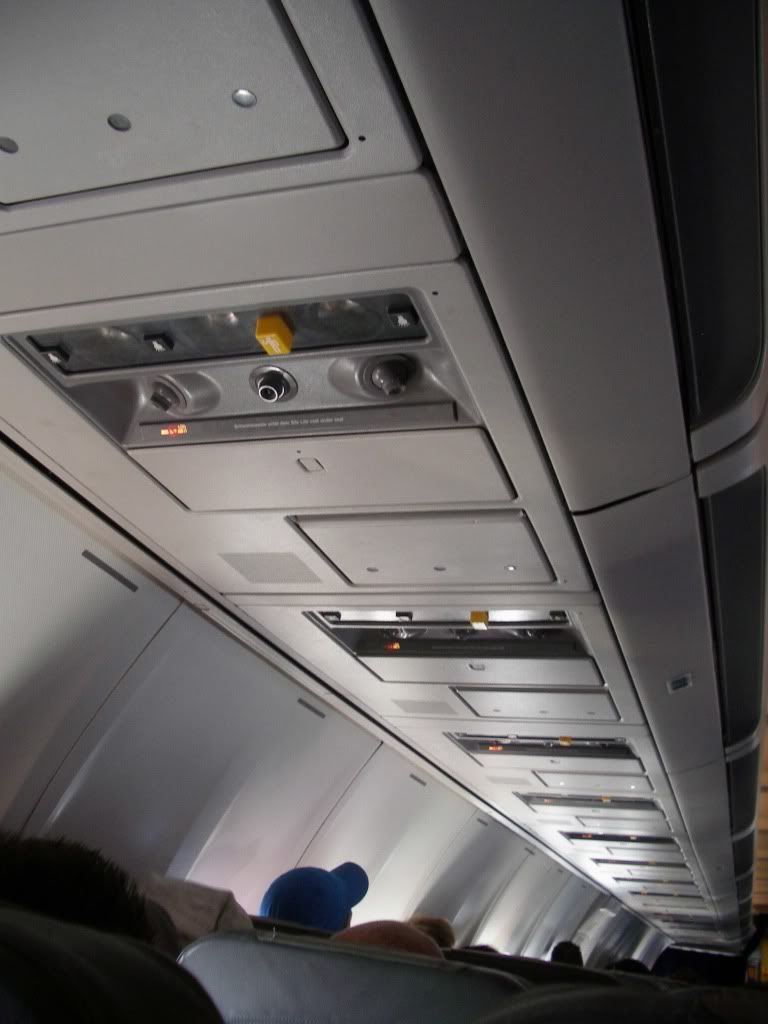 Load was near 100%, it seems the reason to change from the smaller 735 to the 733 here.
Departure from the 3620 meters runway 15L in direction San Sebastian and Biarritz, above france to FRA. Flightlevel 30.000 feet.
Near Biarritz: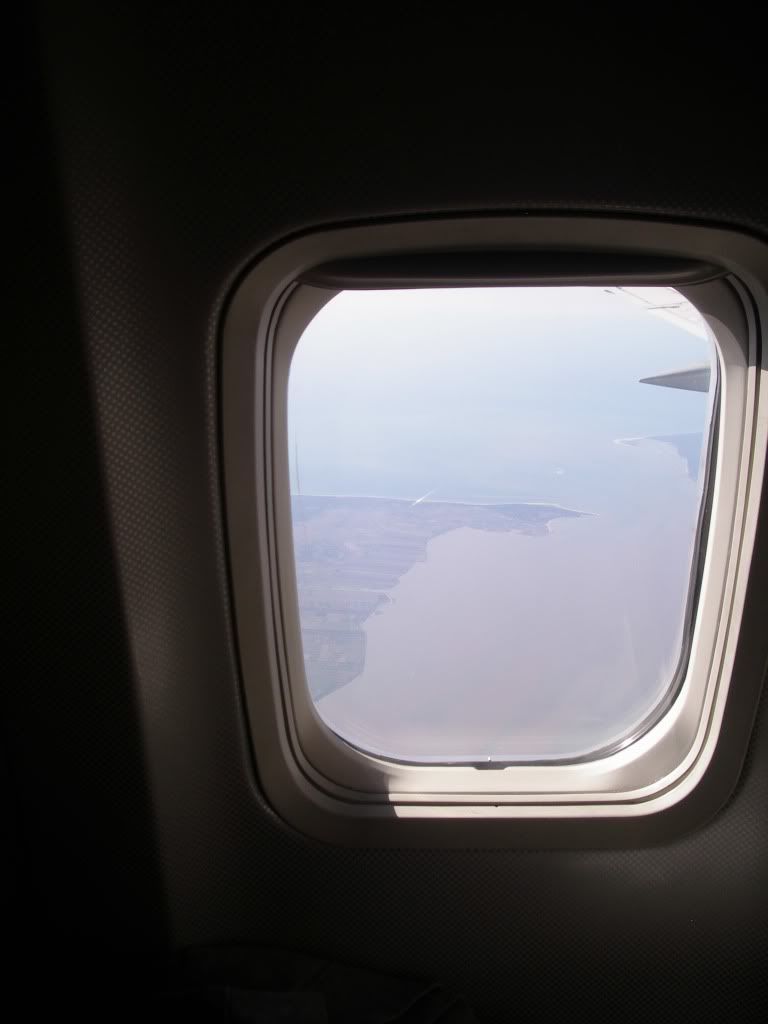 Reaching France: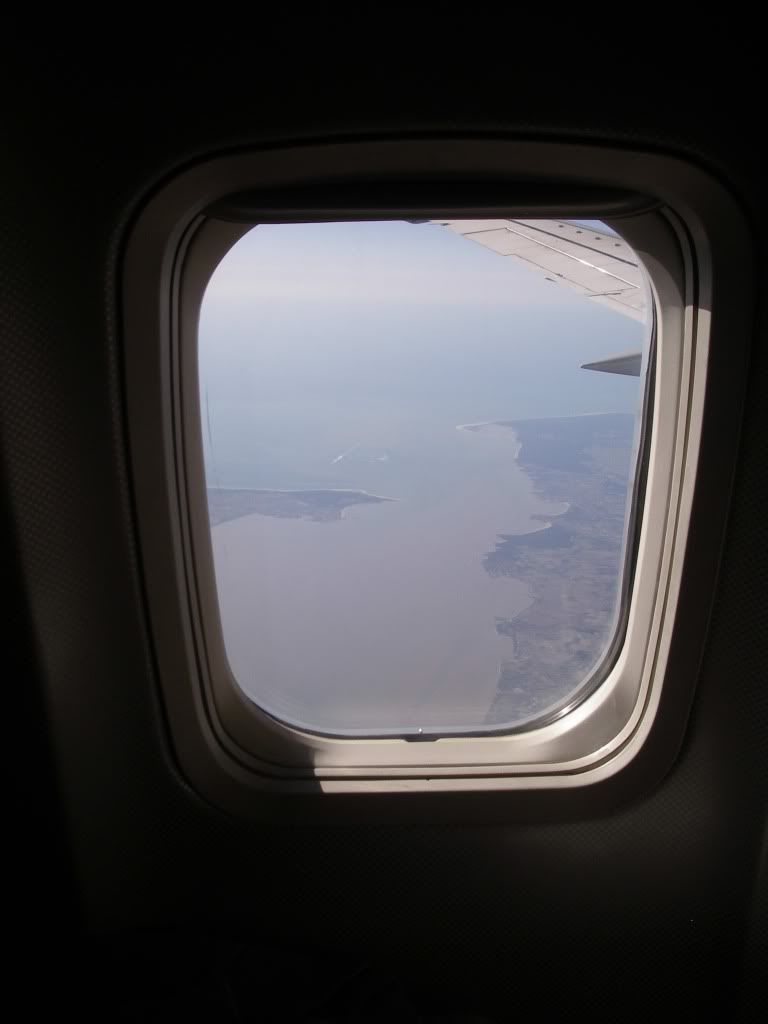 Just departed: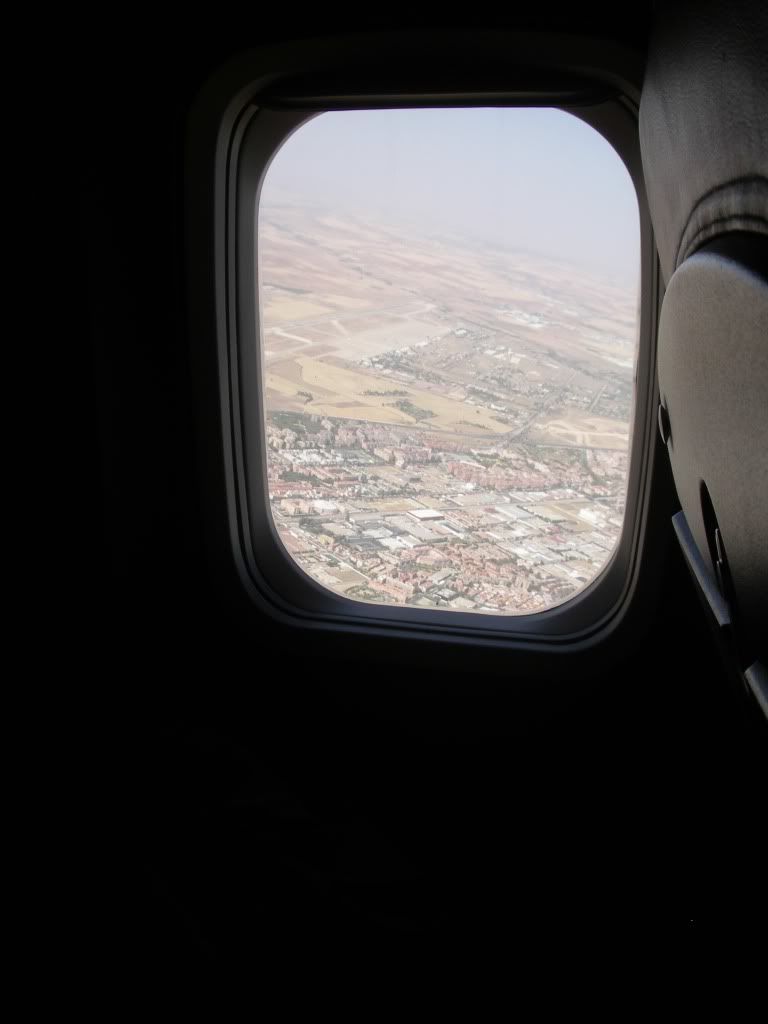 Aiport view:
Small door window:
On the way: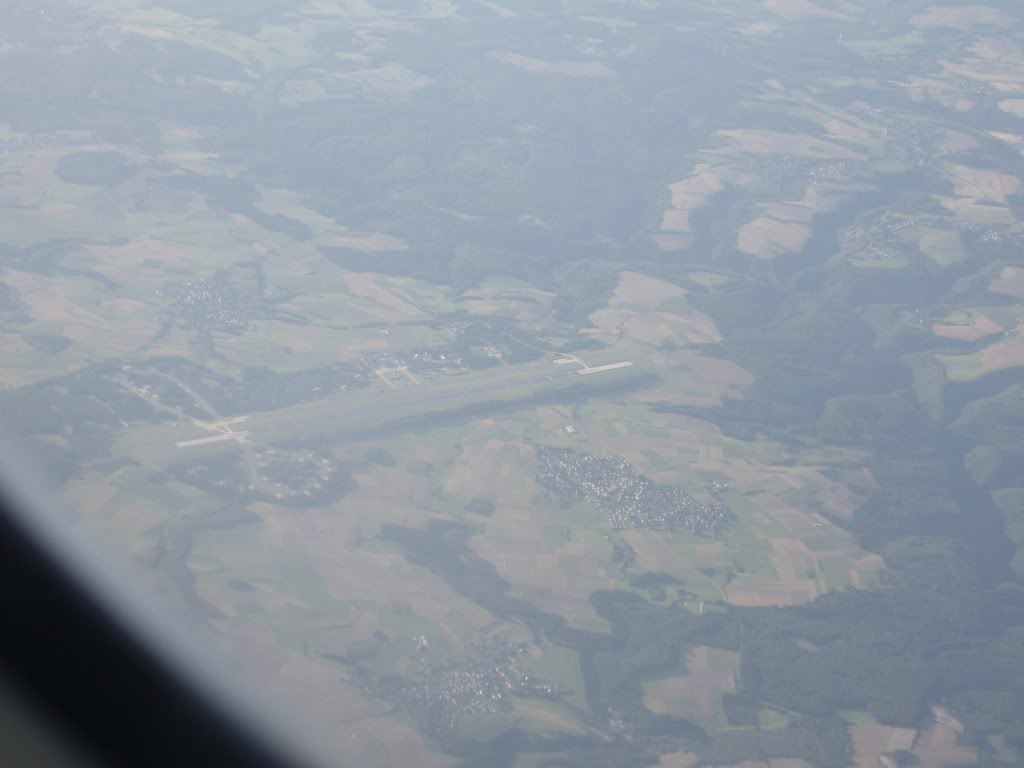 Service was a hot meal and two times free drinks, also wine and else for free, real good.
Service: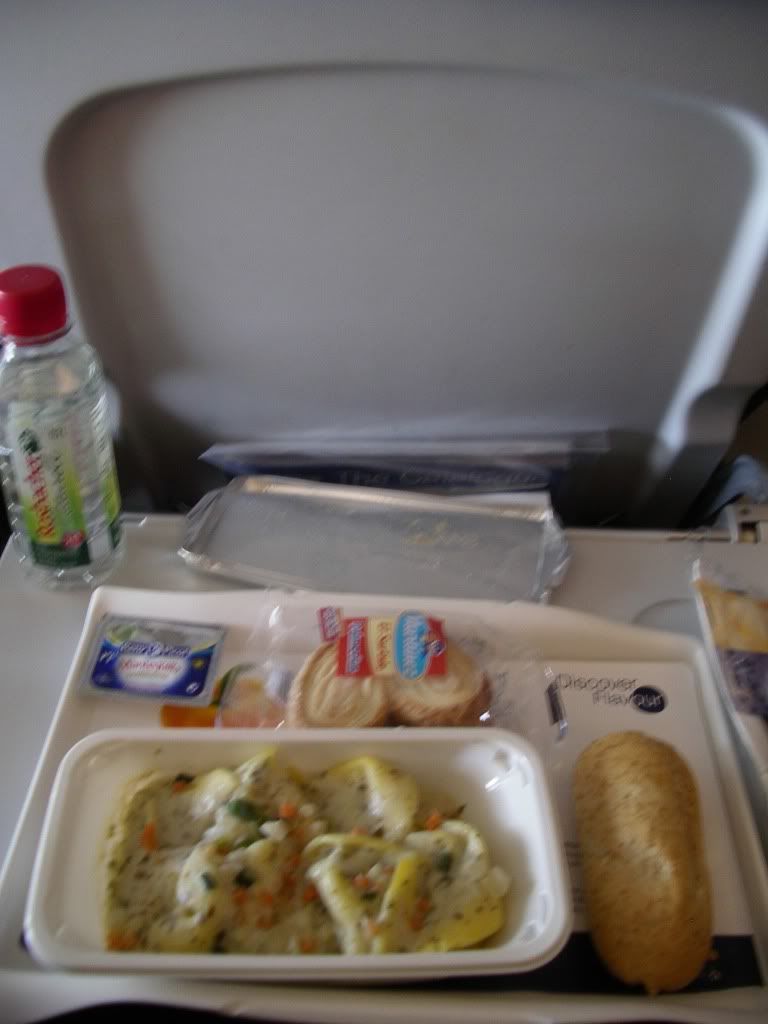 Approaching FRA:
Again: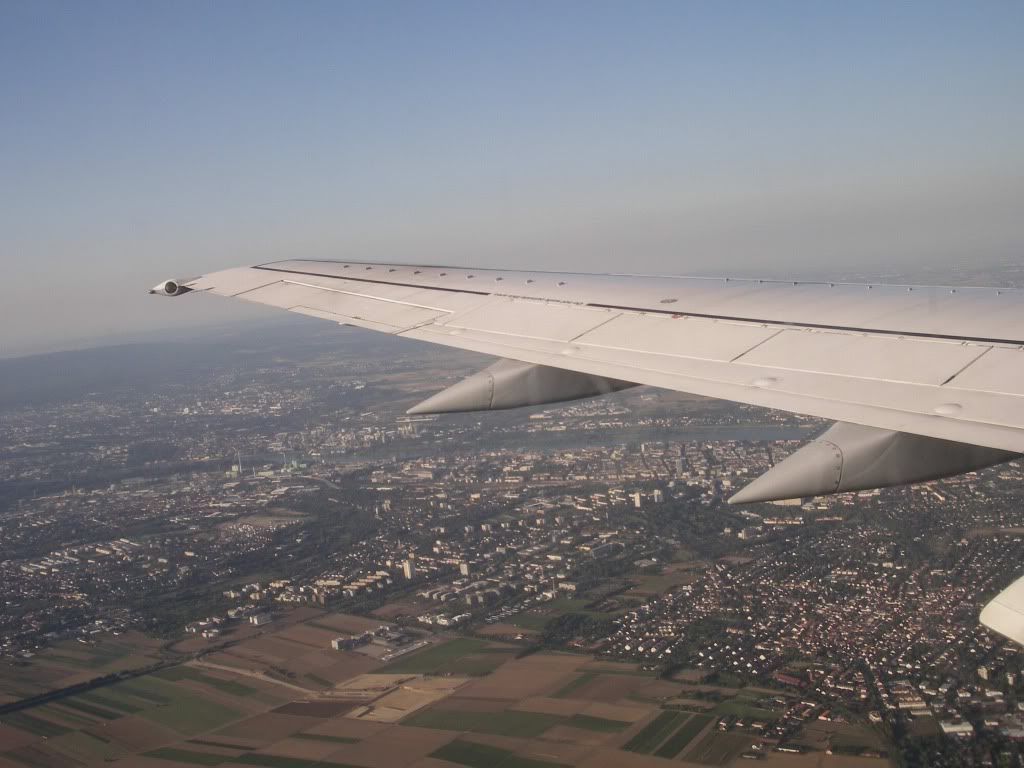 Taxi: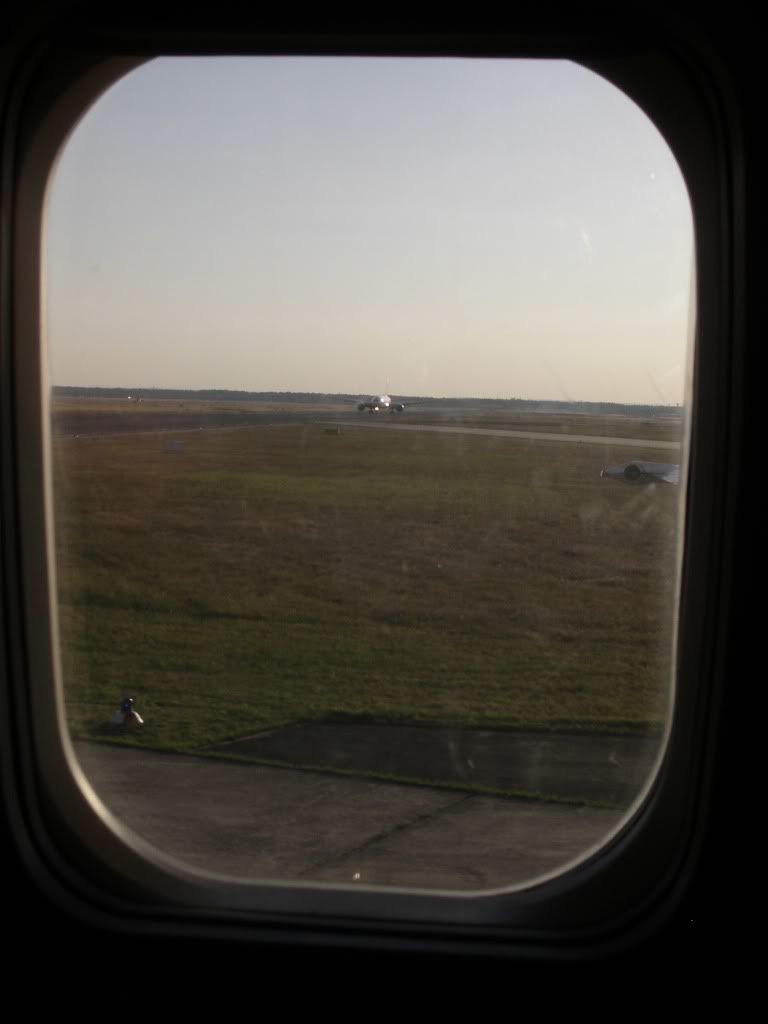 Touchdown on the 4000 meters runway 07R and by bus to the terminal.
EK on the way:
Again: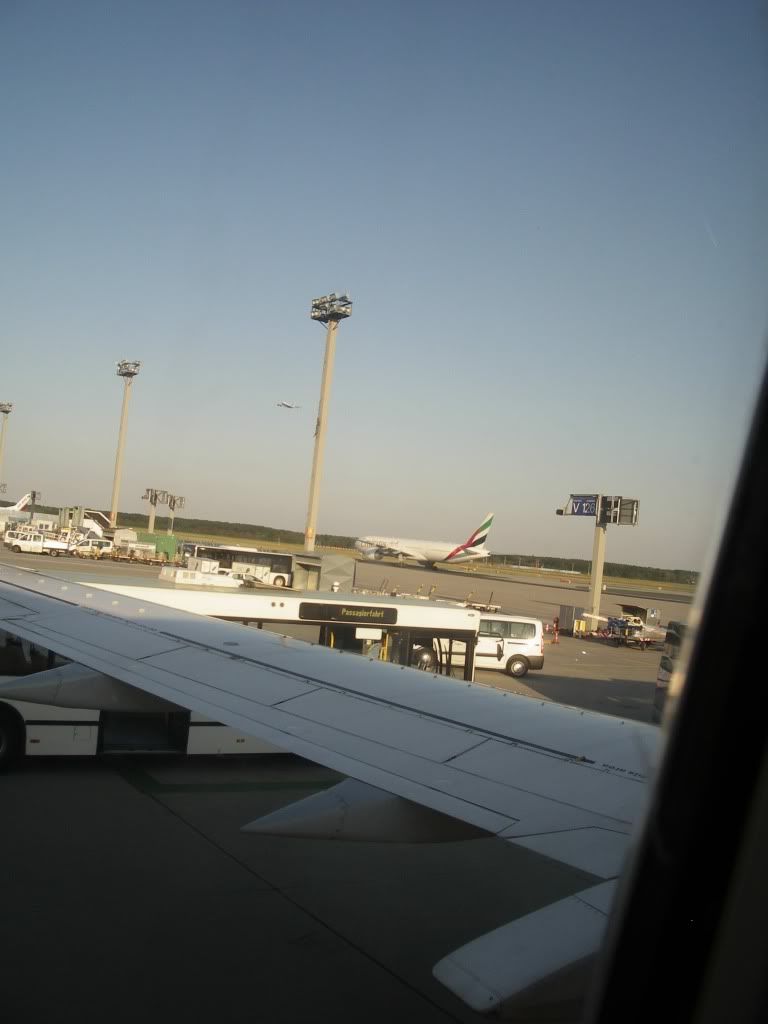 Apron action:
TS A332: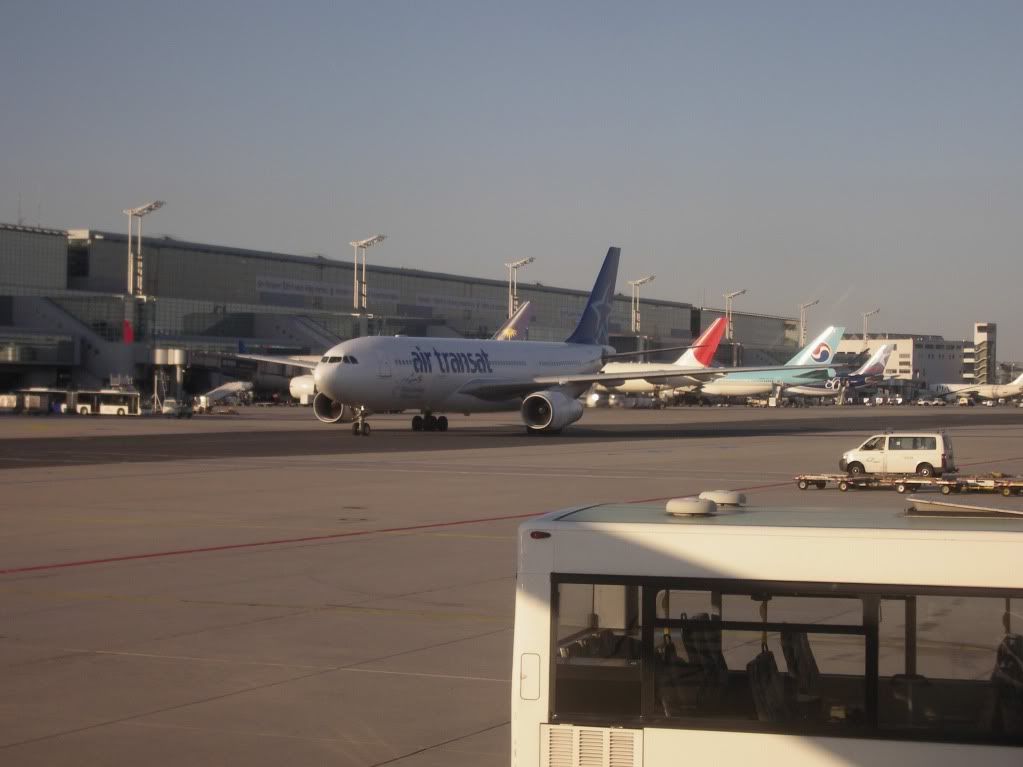 Passing by: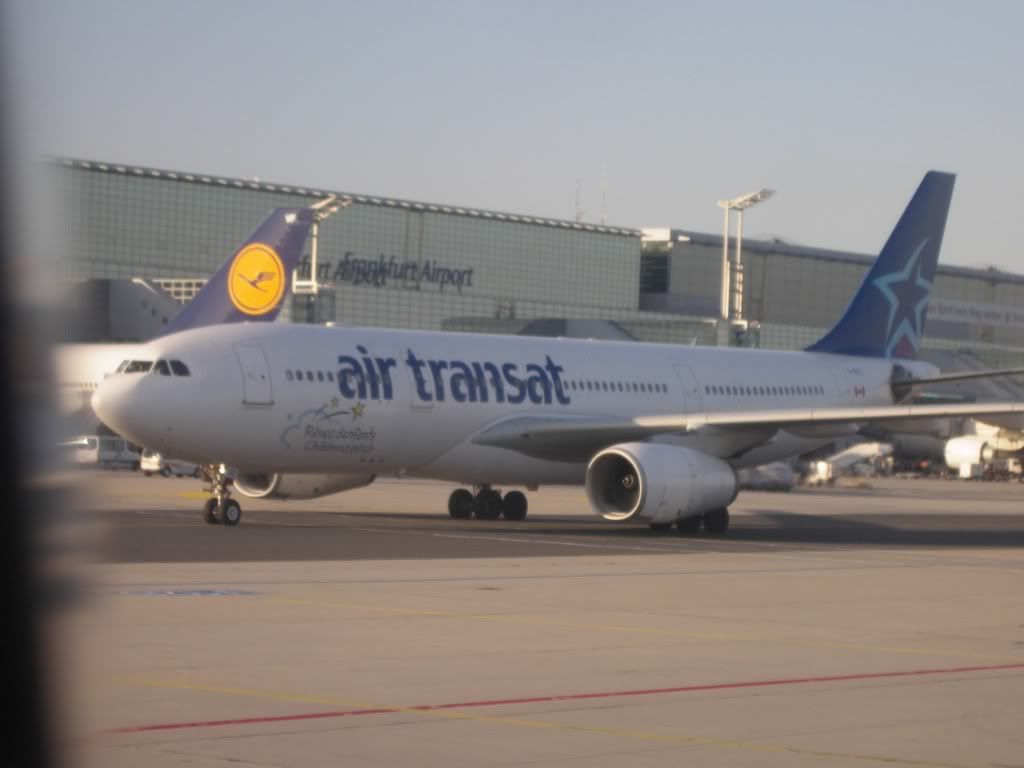 My machine at FRA: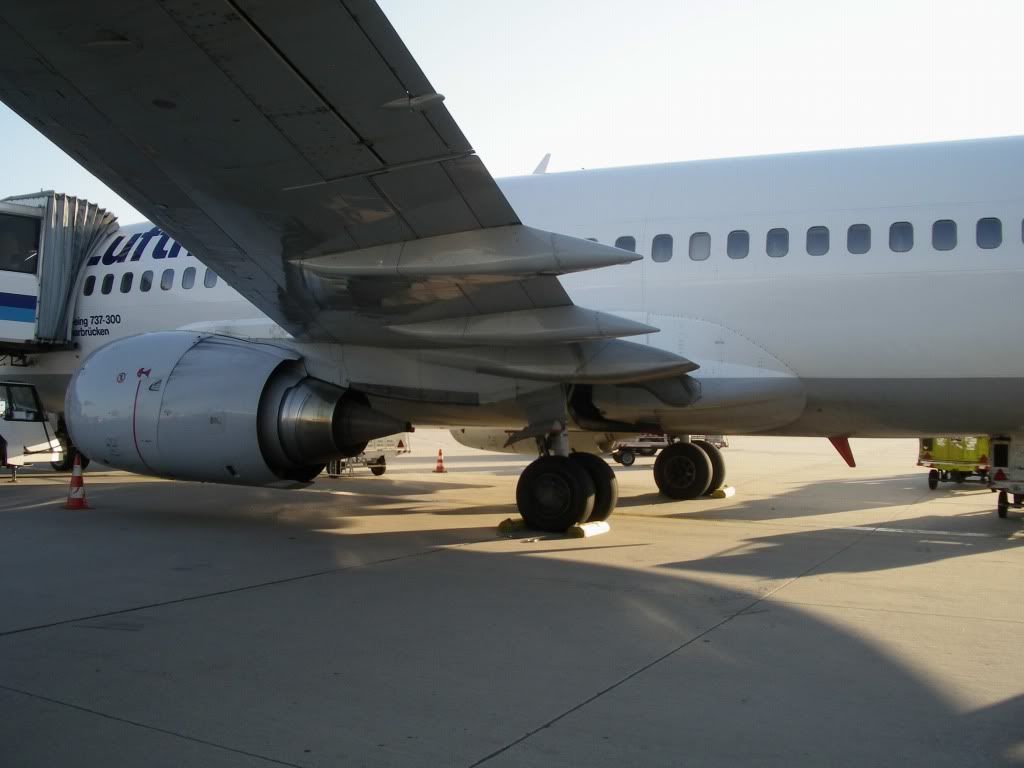 Again: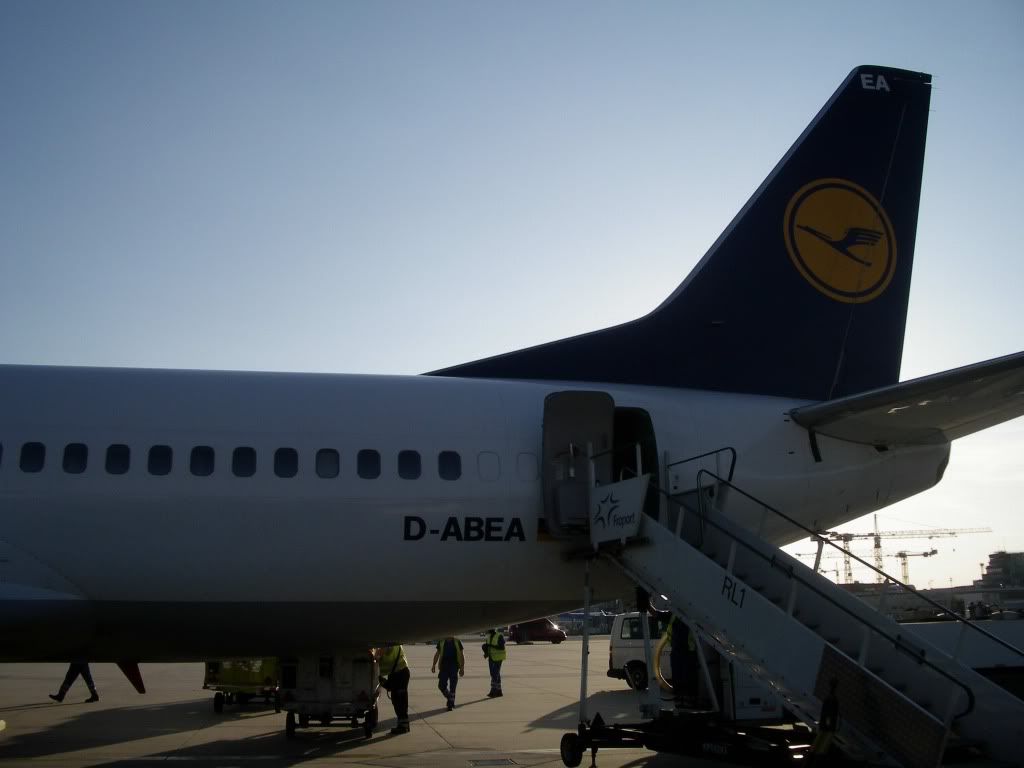 The final apron view:
Well done here LH, friendly staff and good service.
Germany welcomed us back with afternoon sun and 26 degrees, real nice.
Not that long to wait for the bags, shuttled to Tourcare and on the way back home with some 400 pics and lots of new impressions.
And further: Via Switzerland on the Cisalpino to Milano and back by plane from LIN.
Comments welcome,
Markus (FLIEGER67)