Introduction
AirBaltic - one of my favorite airlines - keeps on expanding its route network. This year has seen quite a lot of effort being put into expansion in Finland - introducing new destinations (TKU, LPP in November), increased frequencies and even domestic connections within Finland as continuation of its RIX-originating services. Flights to TKU from RIX started in July 2009 (I have a few trip reports of these
here
and
here
) and sometime later also a TLL-TKU route was announced for October. In practice this was implemented by extending one of the RIX-TLL flights to TKU and back as BT doesn't have any based aircaft outside RIX any more.
I like these regional international routes ex-Finland a lot, so I try to make a point of flying each connection at least once. After playing around the BT booking engine for a while it once again become apparent that flying RIX-(TLL)-TKU (same flight number all along) was actually a few euros cheaper than straight TLL-TKU (or vice versa) - mainly due to the higher airport fees in TLL, so that was the way to go. The schedule matched perfectly with the early bird 5.25 HEL-RIX flight so that was quickly booked for less than 40 EUR per flight total for a Saturday morning mid-October. This would get me to Turku by 9 in the morning, and allowed plenty of time to catch a train back home.
17.10.2009
A 5.25 departure means a very early wake up - but even after only a few hours of not very deep sleep I feel surprisingly refreshed when the alarm wakes me up at 3.30, making it to the 4.08 bus to the airport together with a few drunk late night party people. The temperature is not too cold at +1 degree Celcius - a nice change from the last week or so which has seen freezing sub-zero temperatures even during the day. A quick drive, and at exactly T-1 I'm at Terminal 1 of HEL. There appears to be a quite a bunch of travelers in front of the check in counters, but luckily they are still getting their bearings so I manage to sneak my way around them to the short queue. A few minutes later I get my boarding pass from the surprisingly chirpy (given the time of day) girl.
The security checkpoint upstairs has one lane open, only two girls before me, but they are clearly very inexperienced travelers as it still takes a long time, the security people needing to ask them to take off everything (belts, jackets, liquids, laptop etc.). My turn goes much more smoothly - after all I've done this several hundreds of times before and pretty much know the drill by heart. I make a joke with the screener who doesn't understand it at all, but his colleagues get a good chuckle out of it.
The T1 is pretty deserted at this early hour - just a few people sleeping on the benches here and there. I take a quick look around - the renovation has progressed further in the two weeks that I've been absent from here - now there's a new passport control point for non-Schengen flights: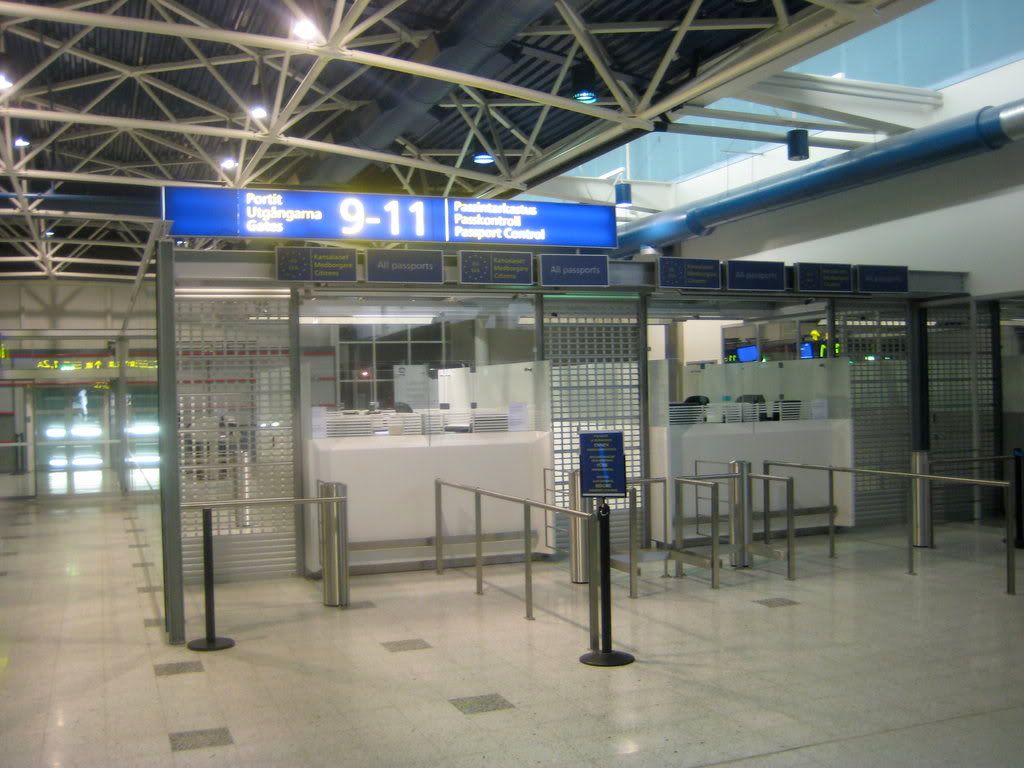 There are still plenty of plywood walls left here, so the place is by no means finished yet.
To kill the time I hump it all the way to T2 to grab a bottle of water and some caffeine, before hiking it back to our assigned gate 15A. On the way I pass this funny display: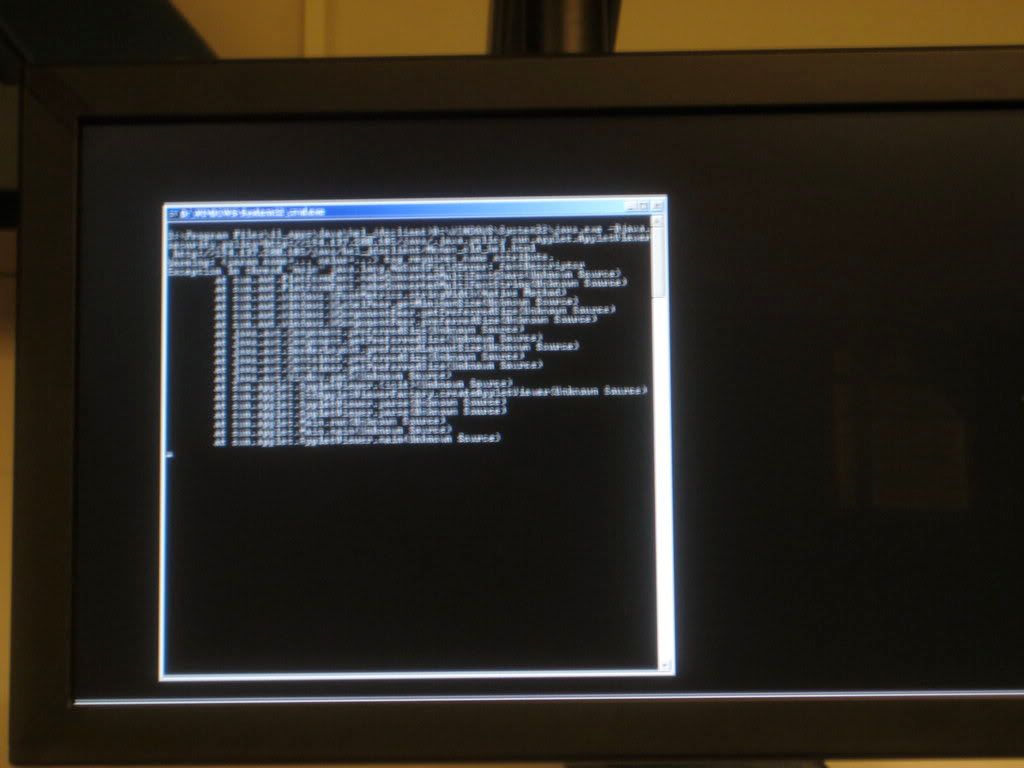 Yes, the gate displays at HEL appear to be running Java - that's a stacktrace
I manage to finish my coffee while waiting for boarding which starts a few minutes past 5. I'm the first to board the bus, and everybody follows surprisingly quickly - everybody is in the bus in less than five minutes. We then drive to the main apron, stopping in front of the expected Fokker 50, YL-BAS - another old friend for me, this will become my fifth flight with her.
HEL-RIX
BT328
F50 YL-BAS
Seat 7A
5.25 - 6.25
Resupplying and refueling is still in progress so we have to wait in the bus for around five minutes until they have finished the chores and the purser gives the thumbs up sign. Boarding is done very quickly - we seem to have around 50% load with nobody in business class. The trademark BT Fokker smell greets me as I enter the plane - these things are in dire need of new, fresh interiors like the BT 737s have, but I guess with the expected introduction of the Dash-8 to the fleet starting next year there's not much point in doing so. The floor next to my seat has a nasty stain: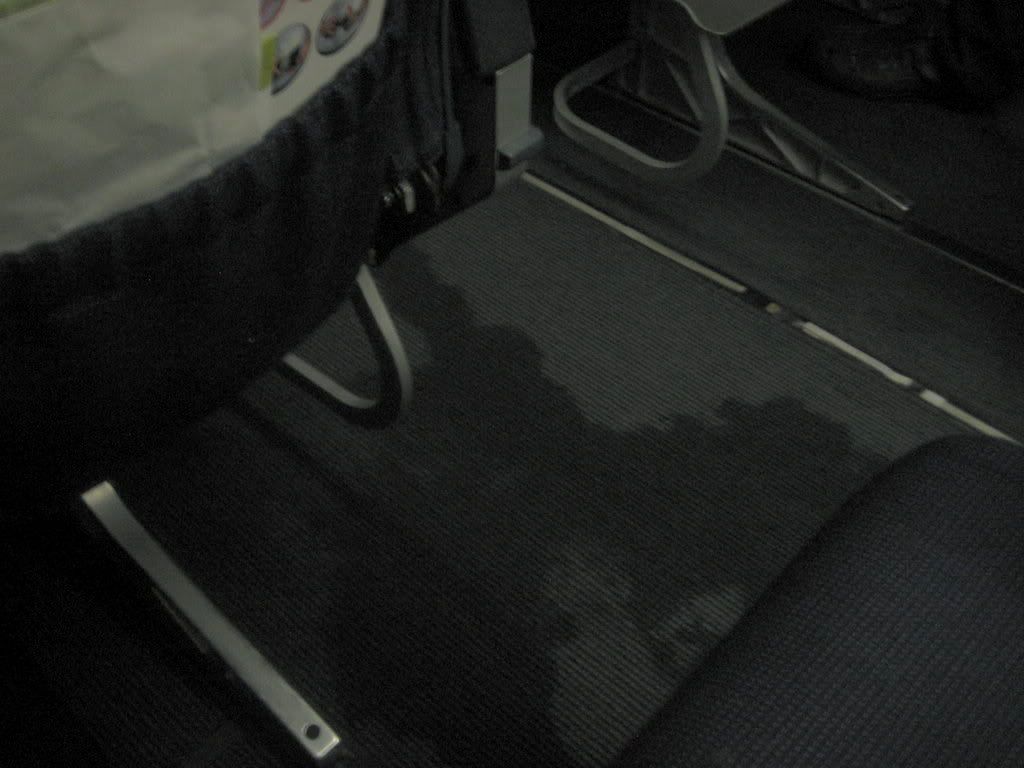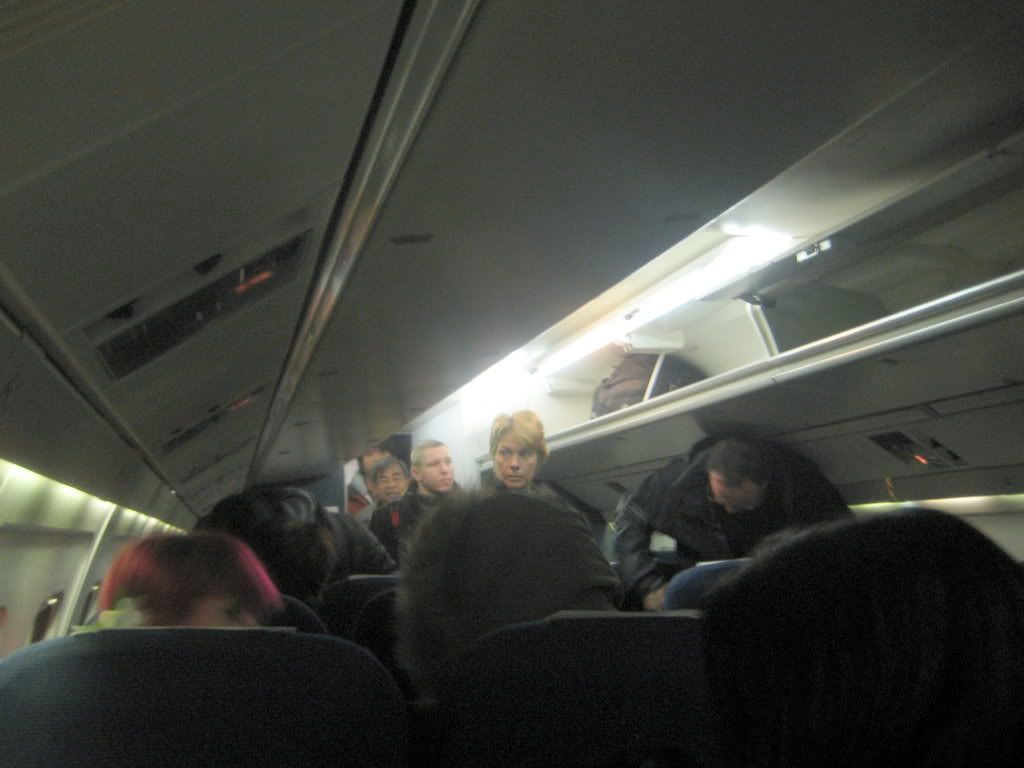 Despite the boarding delay we still leave exactly at the scheduled time, with a flight time of 55 minutes announced by the male purser. There is also a cute, youngish female FA. This being the first departure of the day there's no queue to worry about, so we taxi fast to runway 04R, the captain applies full power while holding on the brakes before releasing them and we spring forward in an impressive display of acceleration by the trusty old Fokker, rotating after using barely a third of the available runway.
It is of course still pitch black outside, but as there are no clouds on the Finnish side of the gulf there are some nice views of the surrounding communities - first of Tuusula, Kerava and Järvenpää, then after a right turn towards the south of the huge Kilpilahti oil refinery and the new port facilities at Vuosaari. Sorry, there are no photos because of the lack of light. Midway over the Gulf of Finland the skies below us get covered in very thick cloud layer which will last until Riga, so all views of the ground lights are obstructed.
This flight is my first chance to test my new noise-canceling headsets and boy, what a difference do these make. Despite being seated right next to the engine putting these on most of the background noise simply disappears. Obviously it cannot do anything about the cabin vibration, so my senses are getting a bit confused by the vibration, but lack of the usual sounds from the engine and the resonance
. All in all, a very recommendable accessory to have while flying, especially if one wants to sleep. I try doing so for a while, but it doesn't really work out, so I revert to reading my book and ignoring the BOB service cart.
After half an hour in the air the captain comes on, giving our location as "cruising over Estonia", with an altitude of 7000 meters and groundspeed of 500 km/h. Descent is expected to begin in ten minutes, with landing in 25. Riga is reporting cloudy skies, minus one degree and snowfall. The estimations prove to be rather accurate - and we touch down silky smooth (yes, this is definitely one of the smoothest landings I've had for a very long time) on runway 18 after exactly one hour after getting off blocks. The weather is indeed very bad - the first time I saw ground we were already at an altitude of 150 meters or so. It is foggy, dark, very wet and sleeting.
For once we actually taxi to one of the two parking positions in front of the A gates and the arrival facilities - which means that we don't have to put up with a bus ride and can instead walk to arrivals. Well, because of the crap weather I actually run instead of walking.
Riga Airport
In most airports, a 30 minute connection on separate tickets would be considered insane. Well, not in Riga. The official MCT is 25 minutes, and with OLCI available for all BT flights ex-RIX the process is very smooth. I stop to buy another carton of nails for the mother-in-law's coffin and then make my way downstairs to the A gates where the next flight is departing from.
In front of our gate I see a familiar plane: TF-JMN, the Air Iceland Fokker 50 leased for BT. So these flights will become my third and fourth one on her. Behind her is the plane I just left ten minutes ago.
Boarding starts after around five minutes. The first people in the line are connecting from somewhere in Central Asia - their passports have a weird kind of script resembling Arabic but Arabic it ain't - speaking Russian with the game agent. They have some problems with showing the proper visas and return tickets (paper tickets - I thought these nasty little buggers are extinct in the modern age of today?!) so one of the two agents takes the whole group to the side to be sorted out while the other one proceeds with the rest of us - which means that I'm yet again the first one to board.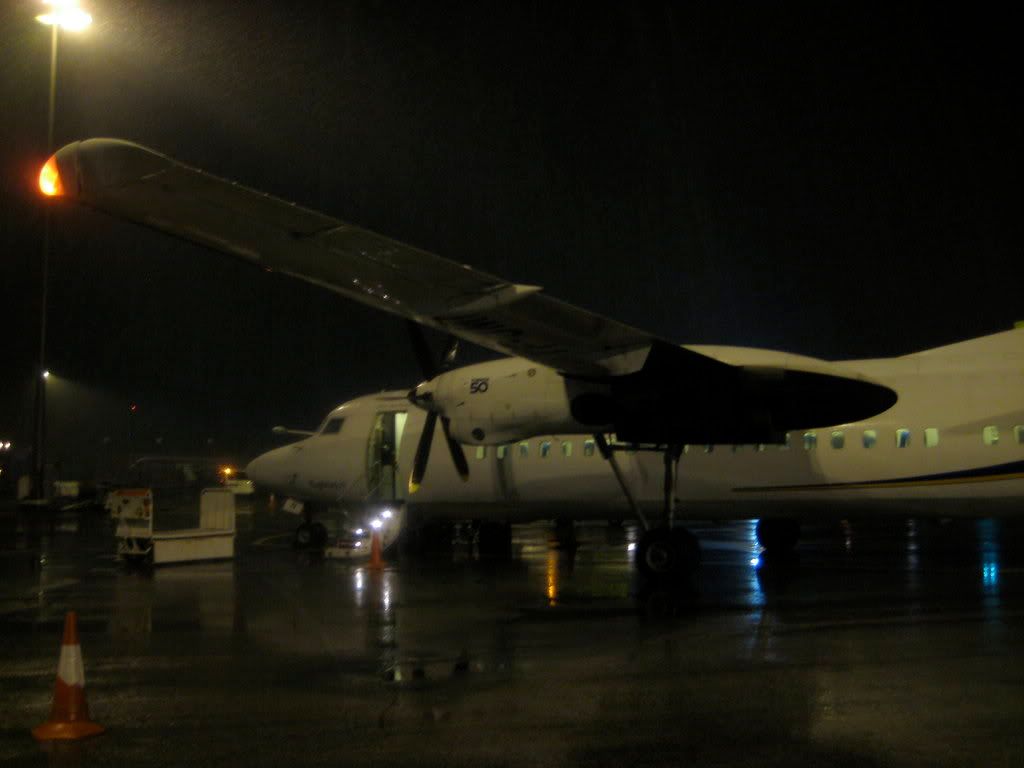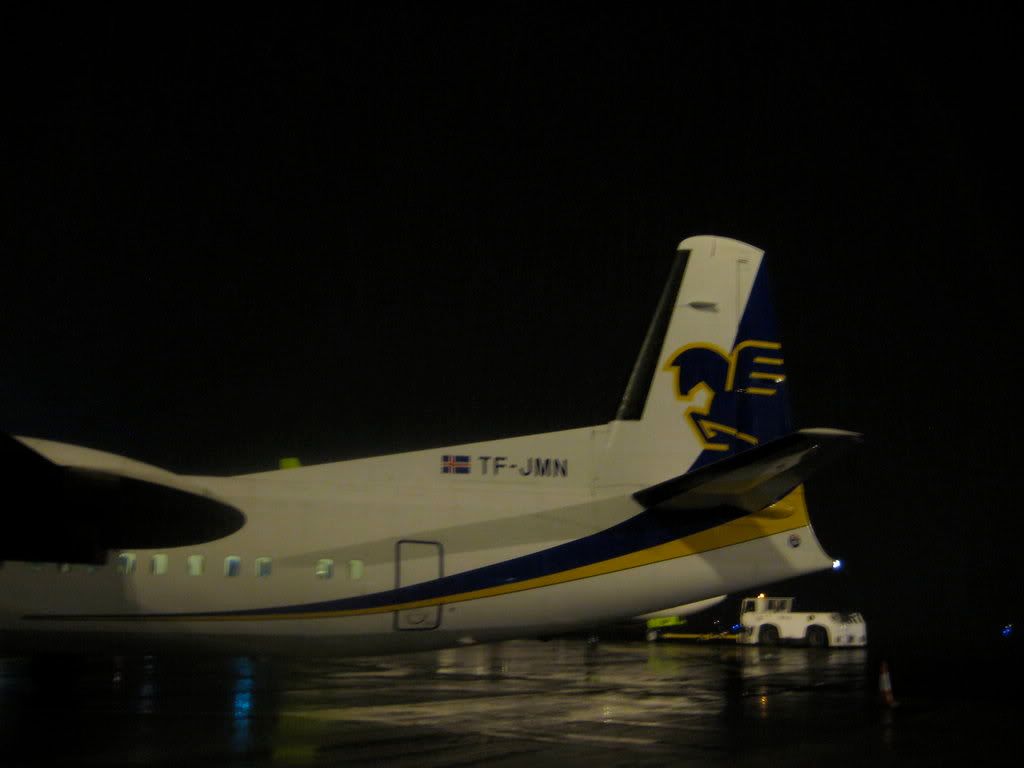 RIX-TLL
BT1311
F50 TF-JMN
Seat 10D
7.20 - 8.15
First thing I see is a familiar face - we seem to have the same cabin crew as the previous flight - so at least I'm not the only one doing this crazy connection today. The girl doesn't seem to remember me, though - but the male now working in the back galley definitely does and smiles at me.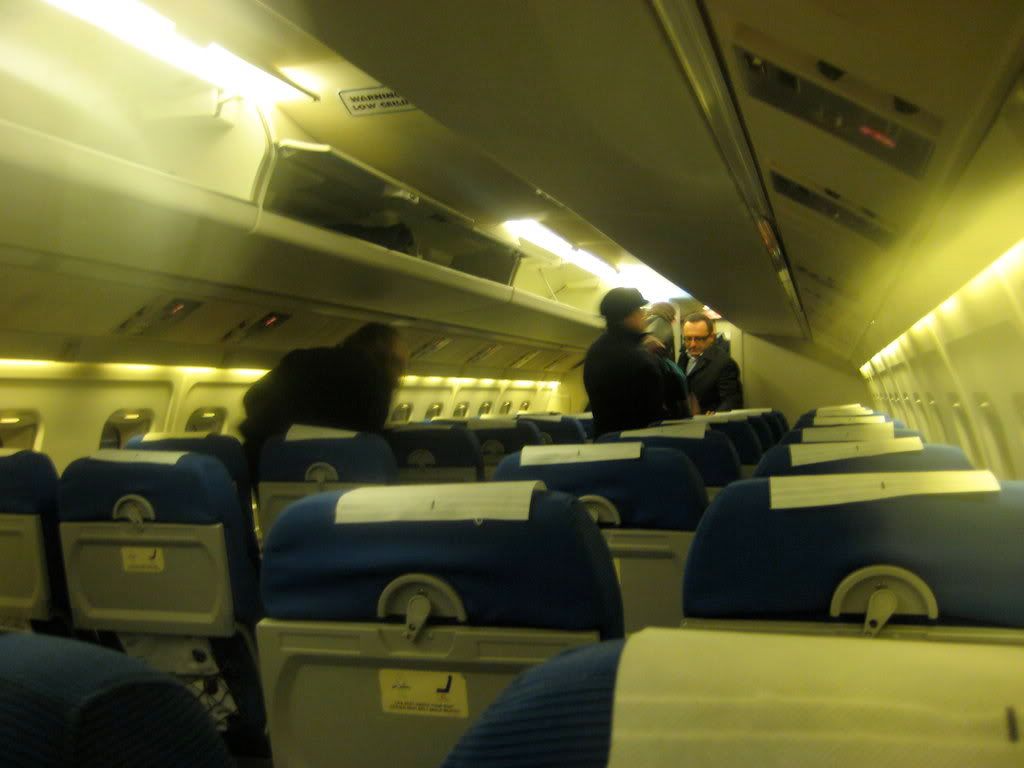 Boarding is a rather quick affair, load is a little better than the last flight, maybe around 60%. I still get an empty seat next to me, which is always nice. Five minutes before the scheduled departure time the doors are closed, but then we just sit tight. At 7, the captain welcomes us on board and tells us that we are waiting for deicing and as it is a bit busy at the moment it will take 10-15 minutes. He apologizes for this small delay, concluding with "but safety always comes first.". Sure enough, after exactly 15 minutes the deicing truck pulls next to us and proceeds to spray us with steaming hot glycol. This process takes less than five minutes, after which we promptly start our engines around 20 minutes after the scheduled departure time, taxi to runway 18 and perform a rolling take off towards the south.
The weather being what it is there are no views of the ground whatsoever until on final approach to Tallinn. Sunrise: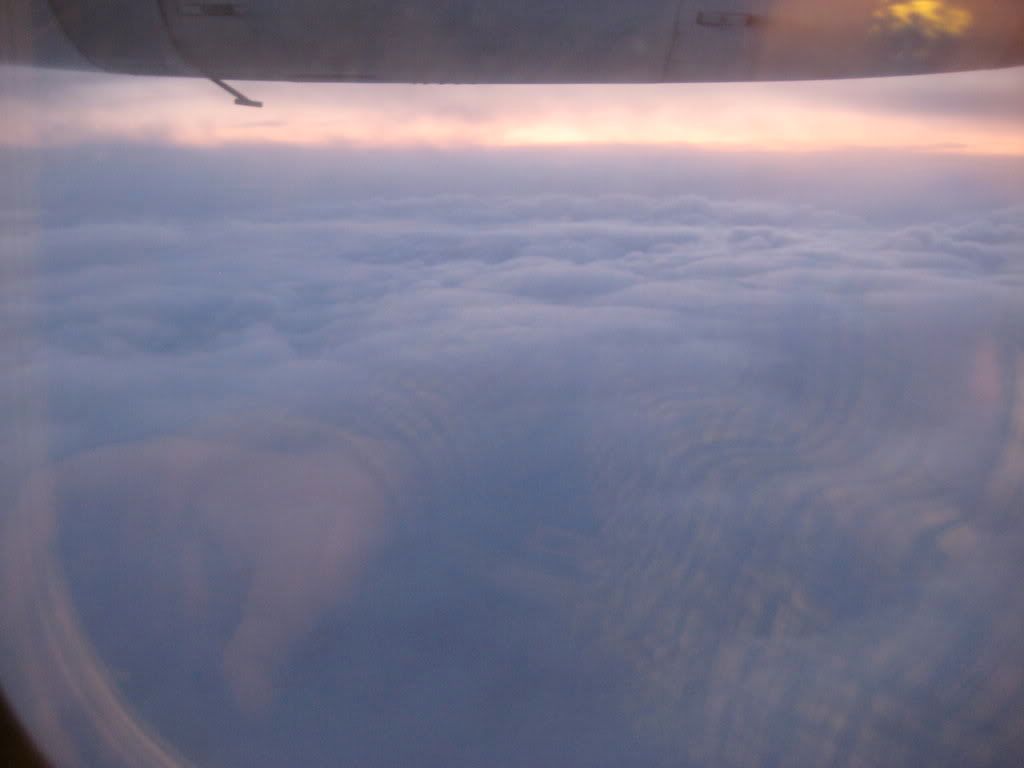 Service is the BT regional drinks run - a coffee will do nicely, thank you: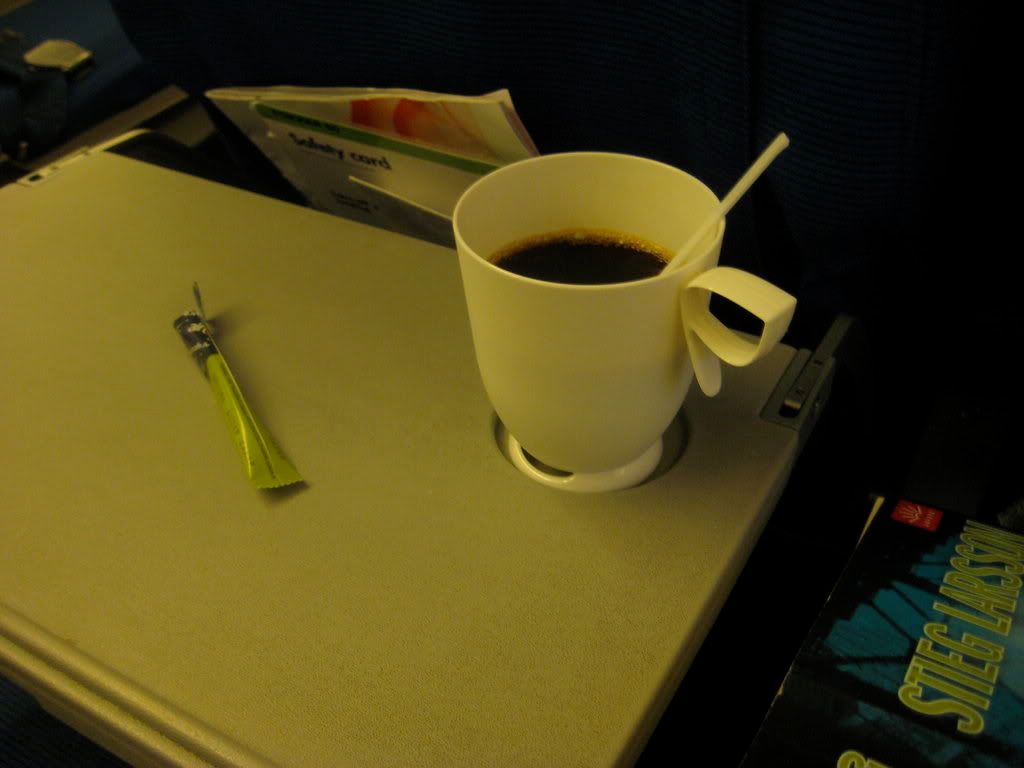 Half an hour after take off the captain announces that we will start descending in five minutes for a wet (rain, not snow) Tallinn and expected to land in 20 minutes. From the phrases he use ("Temperature outside 20 degrees chill") I recognize that he is actually the same captain who flew us down from HEL, so the whole flight crew seems to be the same.
After 55 minutes of flight we touch down on runway 26 in rainy Tallinn airport: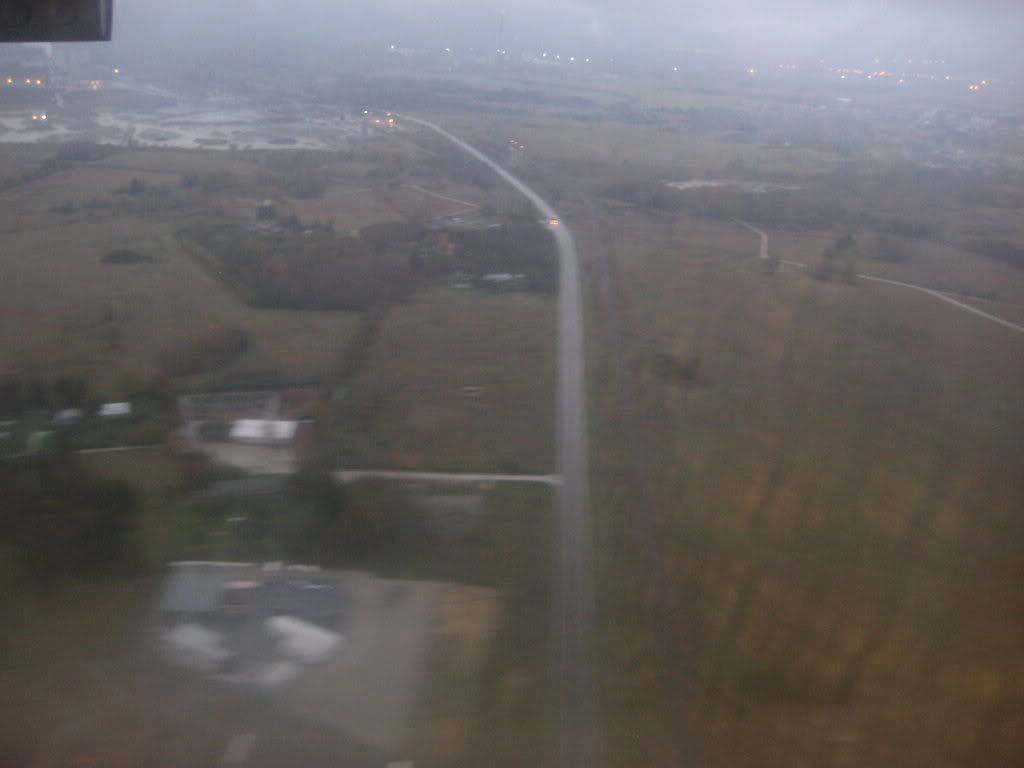 Five minutes later we pull off in front of the terminal and stop our engines.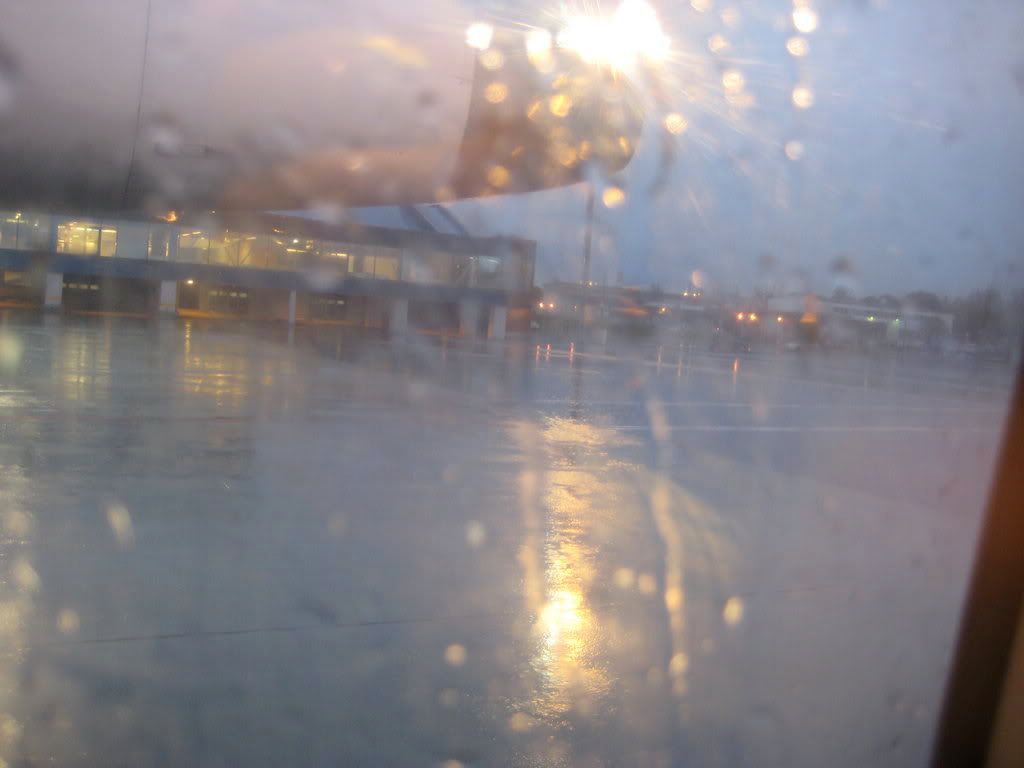 Around half of the passengers disembark here - the rest of us continuing to Turku are asked to stay put. The FAs go through the cabin luggage, asking everybody to identify their belongings in the overhead bins. Right after this the ex-TLL passengers board - I count 12 pax in total.
TLL-TKU
BT1311
F50 TF-JMN
Seat 10D
8.37 - 9.14
Seventeen minutes after stopping we start our engines again, push back under our own engine power (always nice going backwards!) and taxi fast to runway 08, where we take off to the opposite direction and disappear into the clouds.
Bulgaria Air Airbus and Estonian Air Regional Saab: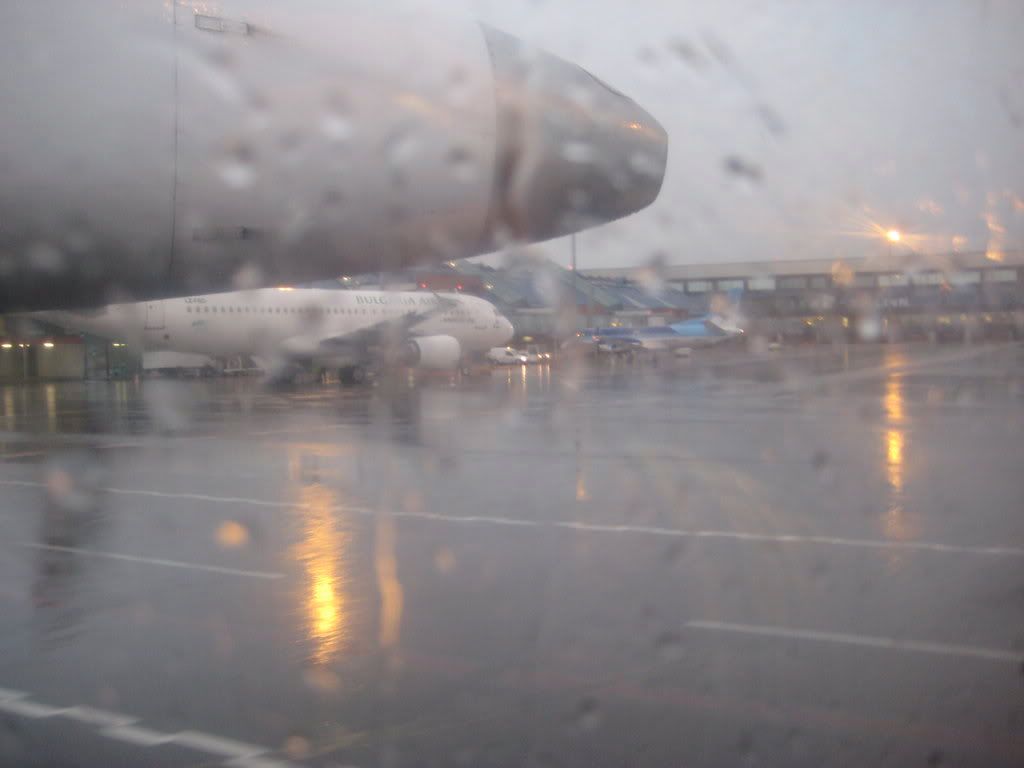 Company and Estonian Air 737 classics: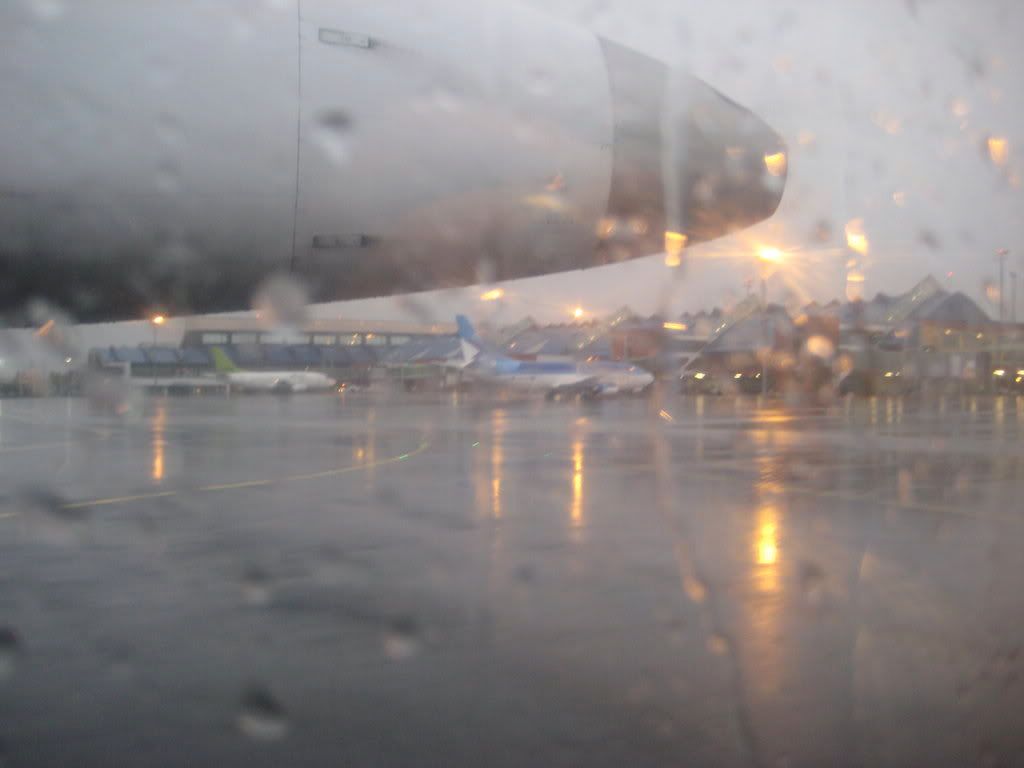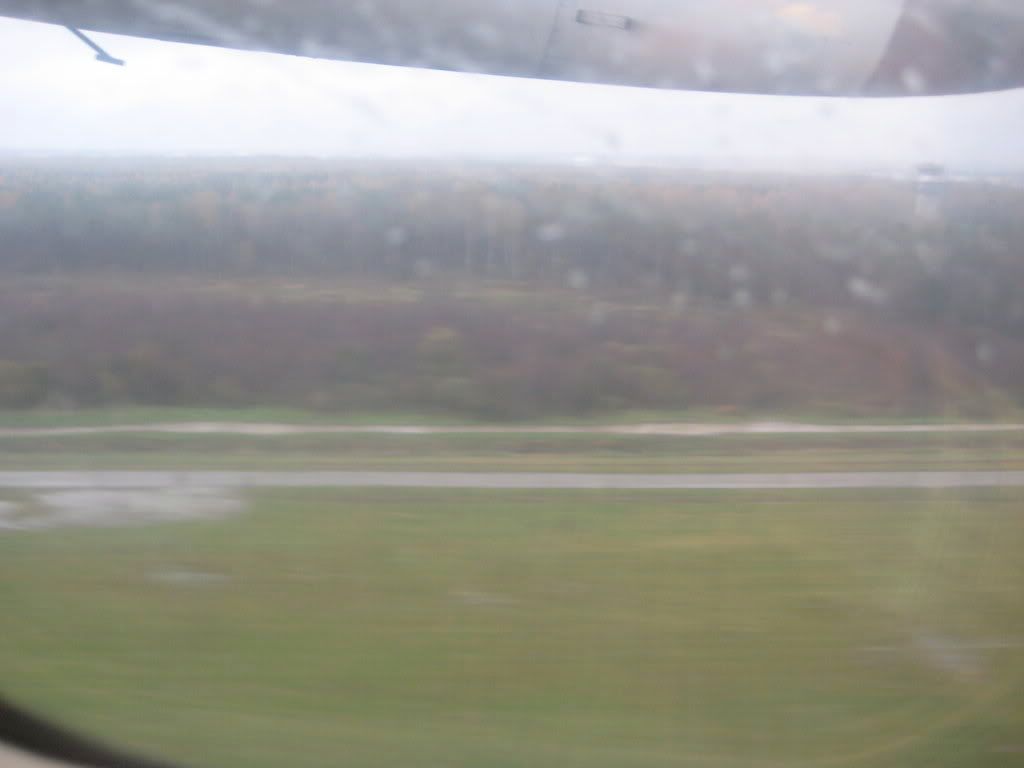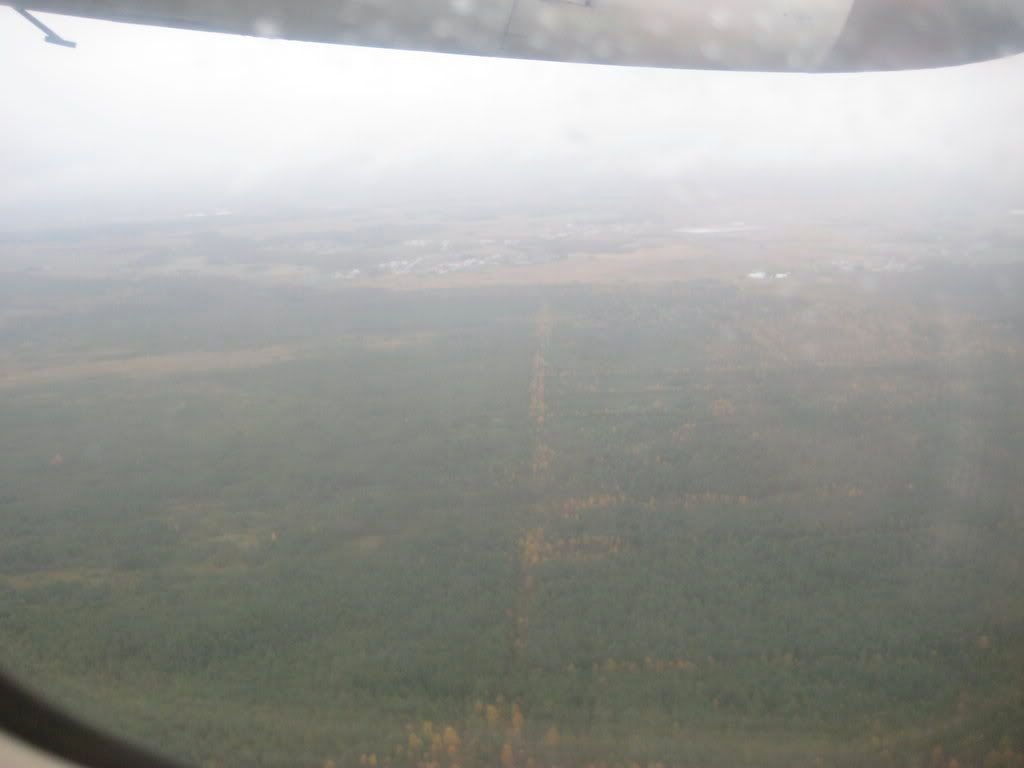 Service is another regional drinks run.
Close to the Finnish coastline the clouds give way and there are actually some views of the ground to be seen.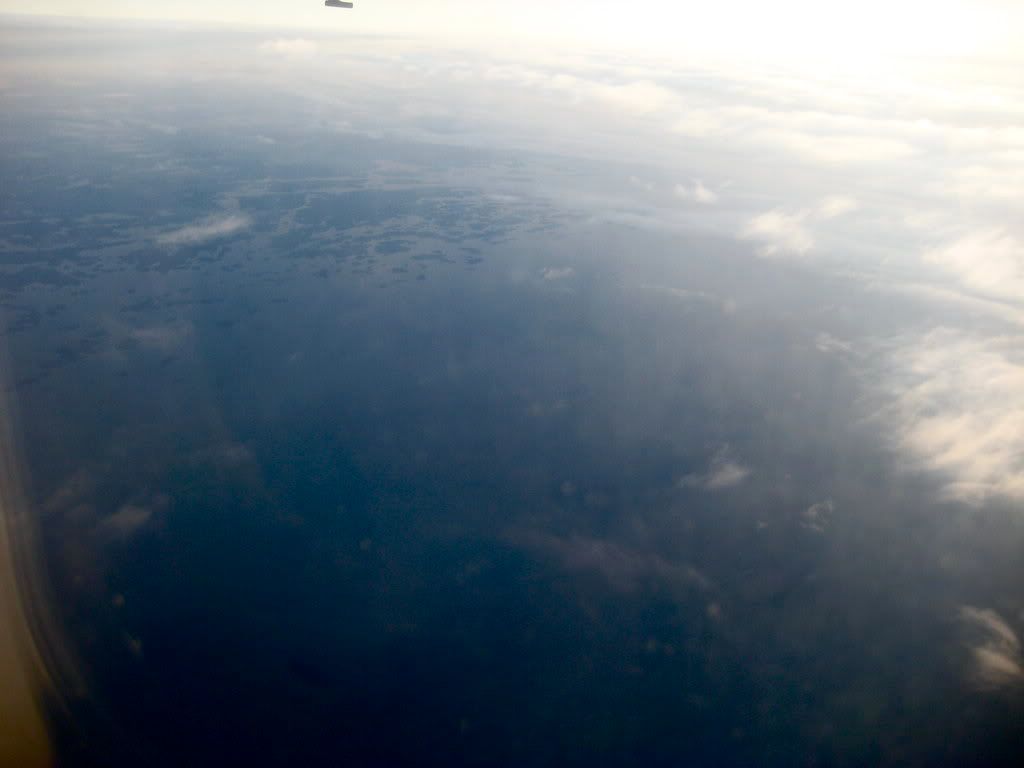 This is a quick flight of around 30 minutes, and in no time at all we are descending to the east of Turku towards the north: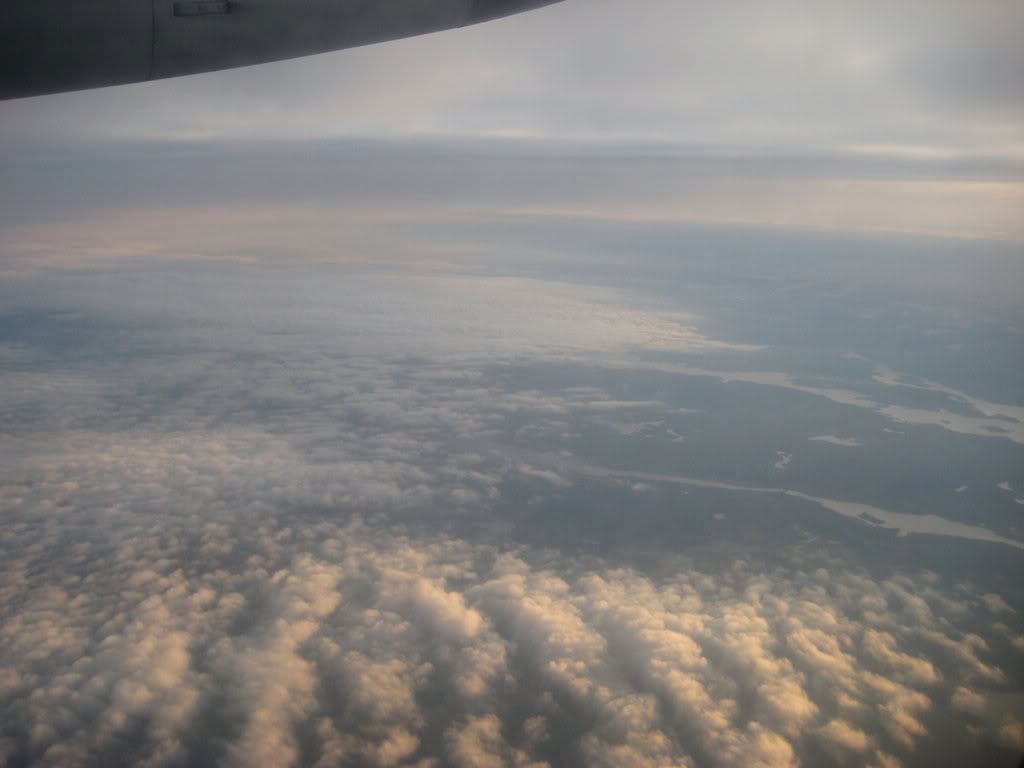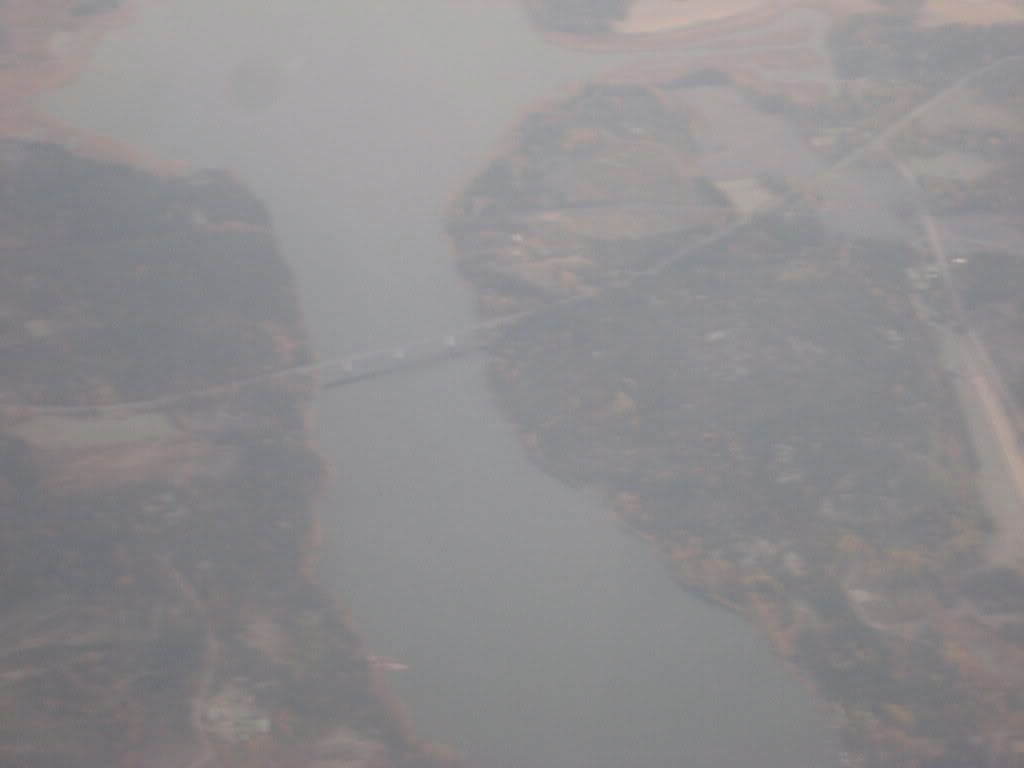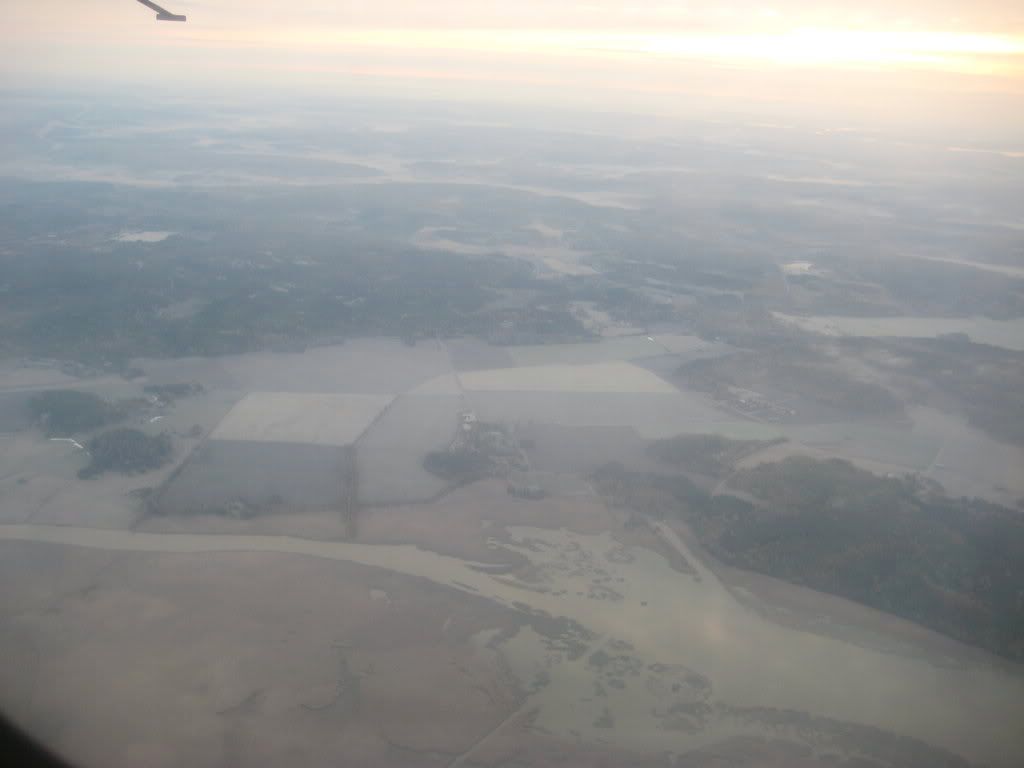 The recently completed Turku-Helsinki motorway: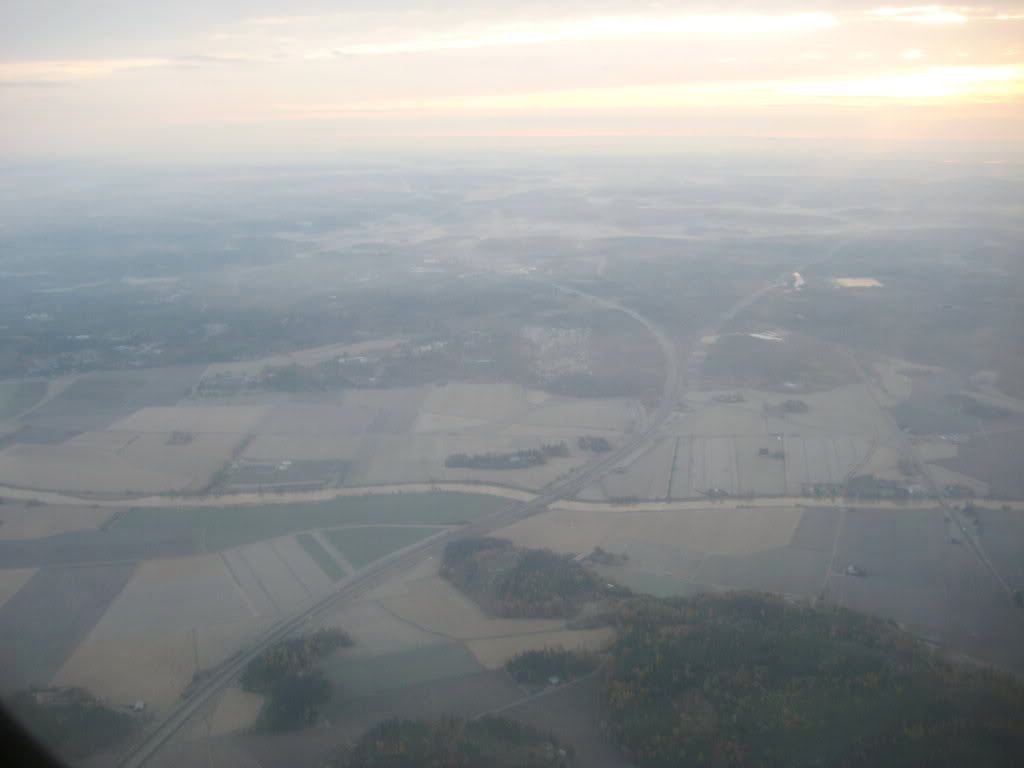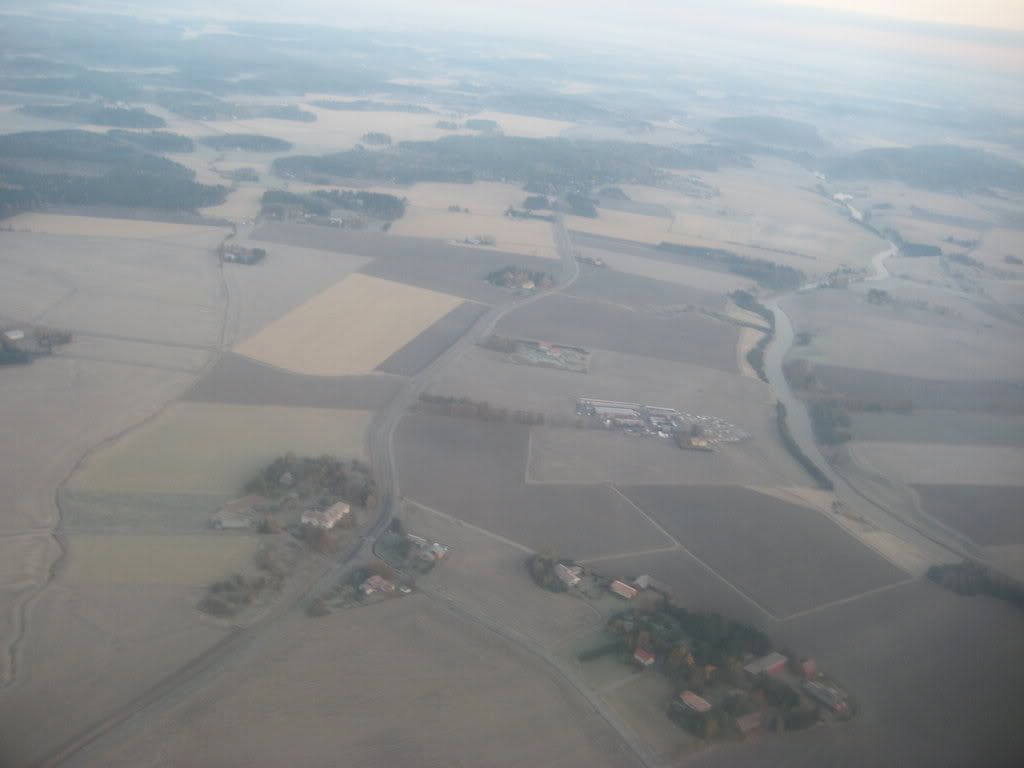 We make a last minute left turn to line us up with runway 26 where we land just nine minutes after the scheduled arrival time.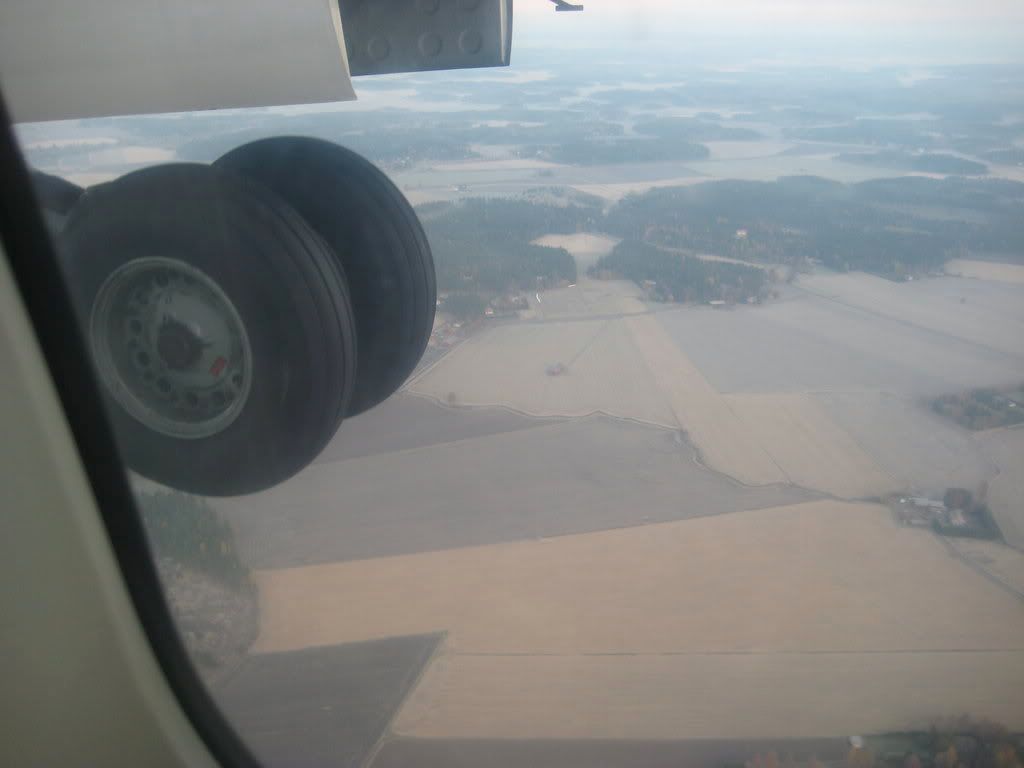 The railway line I'll be riding along in an hour: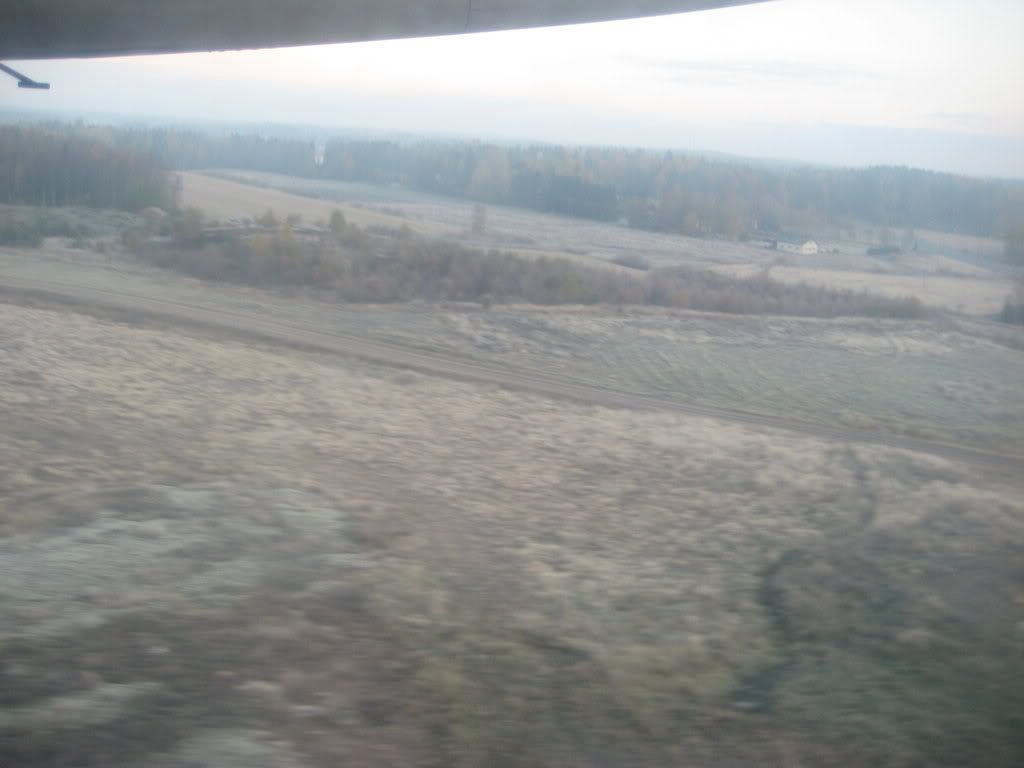 A few minutes of taxi past the so-called Low cost terminal (all the action it sees are a couple of flights per week to GDN on W6):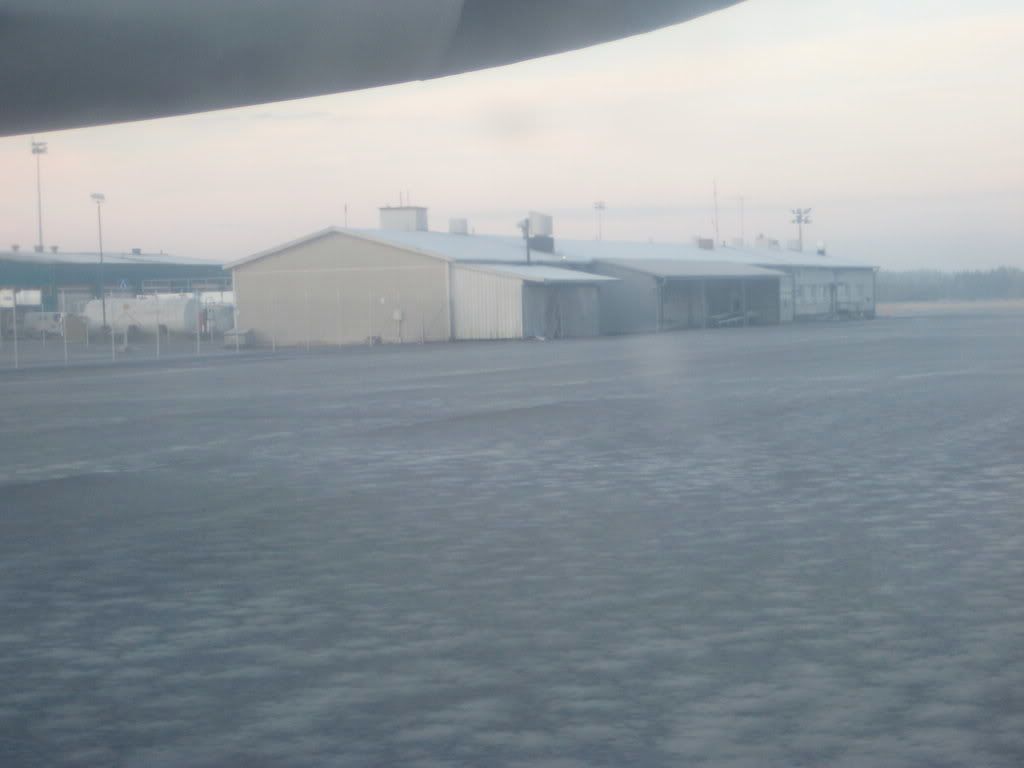 to the apron in front of the terminal. Looks like an overnighting plane was deiced at this very same spot before us (must've been either a BT F50 or a KF/DAT ATR-72):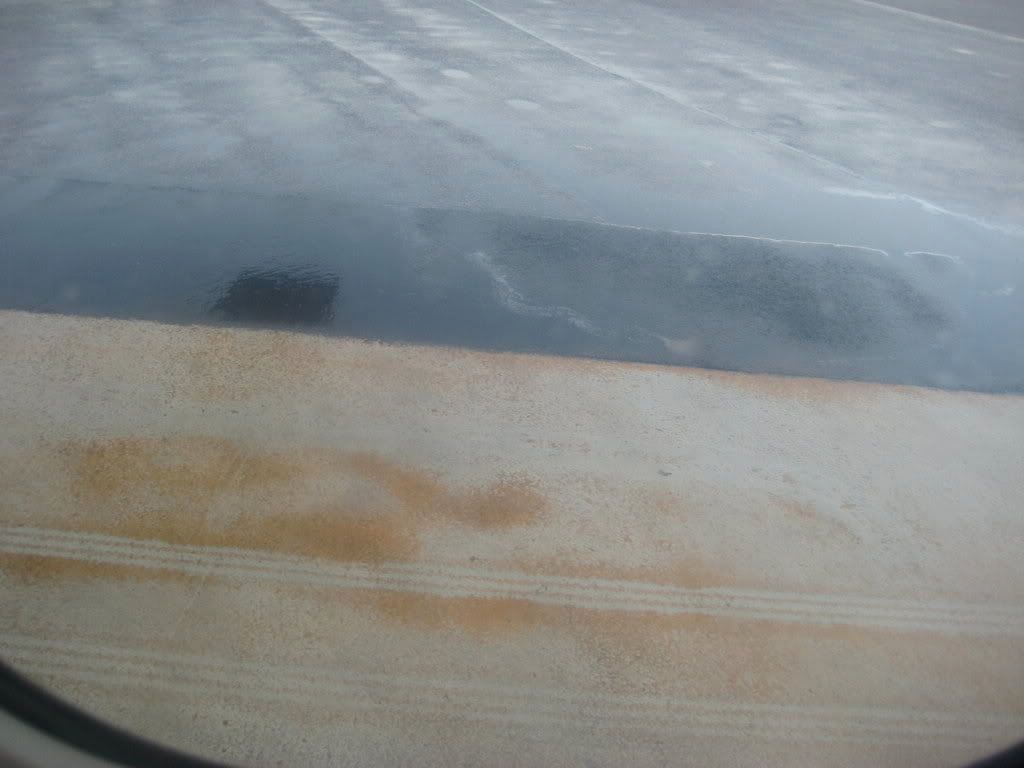 The next bus to the city is scheduled to depart at 9.20 and wishing to make it I run to the terminal, but still having time to shoot a photo of TF-JMN in daylight:
Unfortunately I miss the bus by one minute - luckily the next one leaves just ten minutes later so the wait isn't too bad. Still I just barely make it to the ugly railway station of Turku (how come all other cities seem to have such nice grand stations?):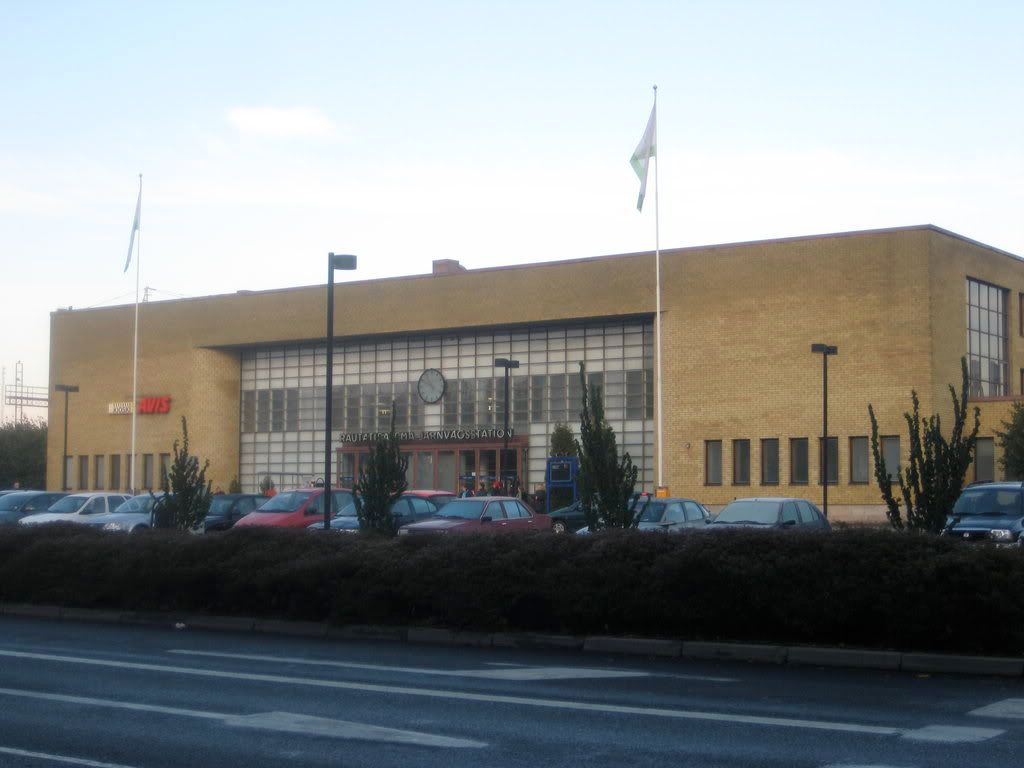 for my intended 10.05 train to Toijala: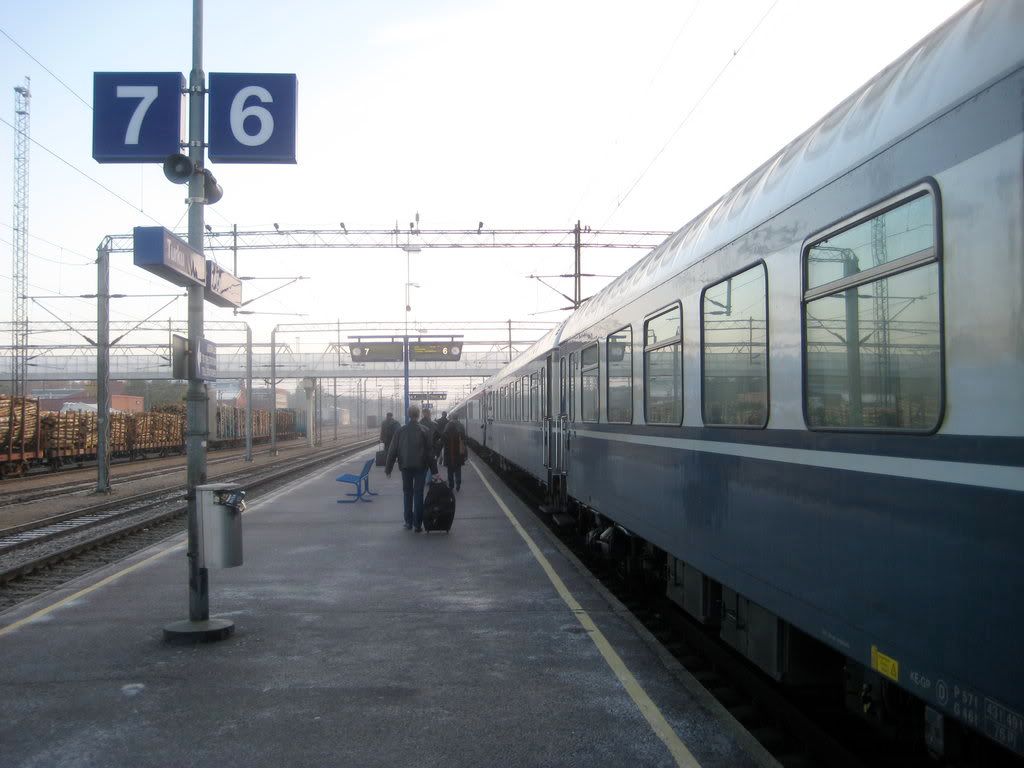 Connecting to an Intercity train down to Tikkurila: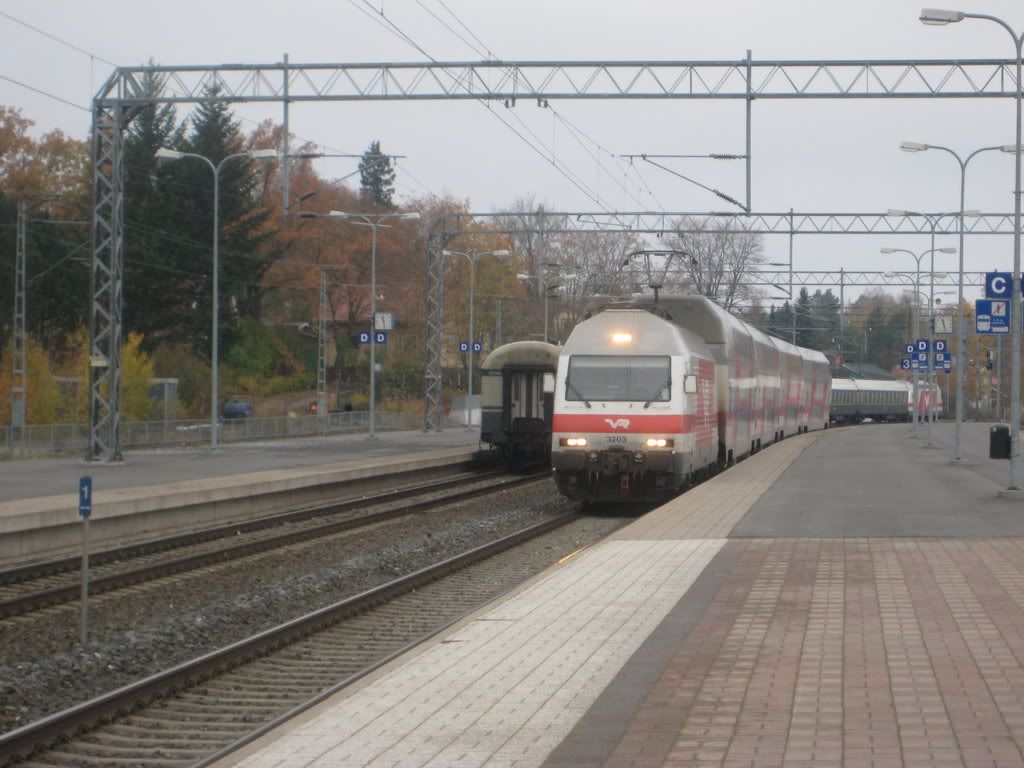 Finally I'm back home just past one in the afternoon.
Conclusion
In a country like Finland where air traffic is very heavily centered in Helsinki it's always nice to have these regional alternatives. A number of airlines have tried them, but apart from a few routes by SK/KF they haven't been very successful. BT has definitely brought some fresh air to many Finnish regional airports with their decent inflight product, good flight network and usually very low fares. I sure hope they will be around for a long time despite the rumors about their insolvency and keep expanding their network. I for one will keep on supporting them to the fullest whenever I can - I actually booked a ticket for the inaugural RIX-TLL-LPP flight in November as well.
Next trip is another HEL-DUS-HEL daytrip next week, but I'm not quite sure yet if I can make it due to work commitments.