I was asked to write a trip report about my flight on Icelandair to Reykjavik from Seattle. Icelandair recently started 4x weekly flights to Seattle after the pullout of SAS. They have had quite an advertising bliss. One day in June, I was driving behind a city bus fully painted with an Icelandair 757 on the whole side. I started thinking about it and later looked into flights, fares and options. After a few weeks, I went ahead and booked a trip including 3 nights in Reykjavik and 2 nights in Paris.
Scheduled departure time is 4:30, so I thought leaving work at 2:30 for the ten minute drive would leave plenty of time. We get to the airport after being dropped off around 3pm. There was a short line. Little did I realize that we were almost last to get to the airport. Only one couple checked in after us. When we got to the ticket counter, I heard the gate agents telling everyone that they had to be at the gate at 3:30 and if we weren't there, they might leave without us. The check in agent also asked everyone if they knew where gate S1 was. They were extremely serious about being on time.
The south terminal security line was long, so we went to the central terminal to find a shorter line. That allowed a quick stop to grab some food at the central terminal marketplace in SEA. Since its remodel, SEA has to be one of the nicest airports in the country. It feels like an upscale shopping mall in the central terminal. We then head over to get on the subway. I see the same strict check in agent waiting for the crew. She escorted them on the train with us to the gate. Even though it was already 3:35, I wasn't worrying any more since the crew was just getting to the gate.
[img]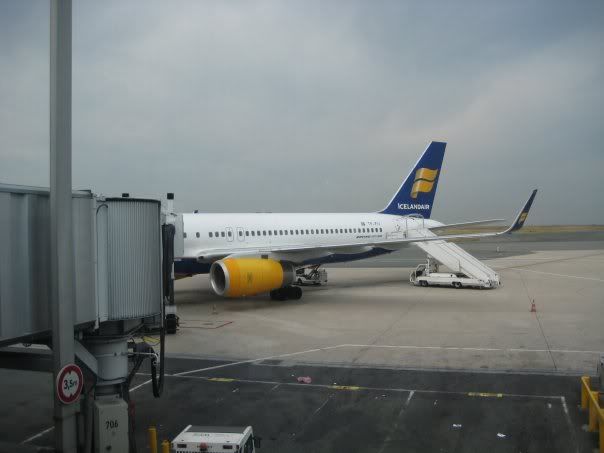 [/img]
Boarding began all at once. There were no rows called or anything. Everyone got in line. It moved fairly quickly and we were greeted on board by an older tall blond flight attendant in Icelandic. We were in the exit row. We had prebooked seats D and F with hopes of the middle seat staying empty. The flight ended up full and offered the passenger in the middle seat the aisle. Boarding was complete and the door was shut at 4:25pm. It looks like they were successful in their on time departure. I assume that this flight has had some delays early in the operation which can be extremely painful for Icelandair since connection times for the European bank are very tight.
A few passengers had to switch around in the exit row since an elderly couple was sitting apart and would absolutely not accept not sitting next to each other. Eventually the experienced flight attendants sorted everything out. We were ready to go at 4:40pm. We started pushing back five minutes early. I'm sure the Seattle station manager was happy with that. No delays today!
The safety video was played. I was confused as I was in the middle seat, where the tv screen was. It was under the seat. The flight attendant pulled it out and all of us in DEF watched it from a single screen. After the safety demo, the flight attendant bullishly shoved it back under my feet. We taxied to the north end of the airport for a South Departure. Eventually after a long 2 mile taxi, we made our turn around for takeoff. The 757 made an apparently full thrust takeoff and off we went. We climbed into the late summer sky.
There was little turbulence today out of Seattle. At 10,000 ft the seat belt sign went off and everyone began settling in for the 6hr 40min flight to Iceland. It was still quite steep to be up, but as is usual with airlines that are not based in the United States, they trusted the passengers to be up. I always find it different when international airlines are far more free to the passengers than the US counterparts who wait until cruising altitude before letting passengers up.
I started the move Die Hard 4 on the On Demand system. Icelandair has renovated their planes with a high quality on demand IFE system. Everything is free, which is a welcome addition. I enjoyed the movie as we climbed out over Canada. After about 50 minutes, the flight attendants finally made it to our row. I ordered a glass of wine and some water. I had to pay for the wine since Icelandair makes you pay for anything. I was also the horrible passenger in that I smuggled a small personal bottle of my own as well so that I could have a couple glasses. I decided to bring a bottle (under 300ml) of my own wine so that I would be able to easily fall asleep earlier than usual on this flight. One of my really good friends who is in management at Alaska Airlines was also on today's flight. After the full meal in front, he was kind enough to ask the flight attendant to offer me and my companion a drink. The purser looked confused and uncomfortable coming back to economy, but offered us a drink as she said someone in business class wanted to buy us a drink. We both asked for red wine and it was excellent. She served it in a plastic cup, but at least she was nice enough to give it some. Our friend up front worked for an airline so got benefits. I since have started working for United Airlines and hope to enjoy the benefits of travel. It was nice to get to enjoy a friend's requests and an airline being generous to another person of the club who works for airlines. I have only taken a few nonrev flights myself and am always excited to meet the crews. Once you are in the club, it seems like you are very welcome. Although the pay not be great, airlines take care of their own which I find very respectful and I am very appreciative of. Icelandair charges for food and drinks. It is the only transatlantic airline with buy on board. They are cheap, but still it is inappropriate in my book. Regardless, I did buy food.
[img]
,[/img]
After enjoying the wine and relaxing during the move, it was only 7pm Seattle Time. Since I knew we would be arriving at daybreak in five hours even though it was 7pm local time, I decided to try to go to sleep. The alcohol helped and I was able to doze off. I did not worry about finishing the movie since I would be flying to Paris and back with Icelandair. I knew I would be able to finish the IFE, so sleep was the priority.
I slept incredibly well. I woke up when the seat belt sign went on. My partner was awake as he had not slept much. Unfortunately for him, there was only one beverage service during the entire flight. There was a severe lack of water and beverages. Drinking enough water is crucial on long haul flights and unfortunately Icelandair was not adequate. The flight attendants did not serve much after the very slow meal service. Also the flight attendants were not that great. It felt like it was no better than the typical senior US Airline flight crews that you see on international flights.
We descended into Iceland. The cabin crew did their job preparing everyone. Despite the fact that it was morning about 6am, there was no breakfast service. I assume that they expect that if you are continuing to Europe that you will get breakfast on the connecting flight.
[img]
[/img]
We made a straight in approach into the early morning Icelandic countryside. We landed in a crosswind as is usual in Keflavik. After a full stop, we taxied to the terminal. We were the last North American flight to arrive. Everyone headed to security. I found it usual since I was connecting. Apparently everyone needed to go through security before going into the international terminal. Do not buy duty free liquor in the US since it will be taken away! We then said goodbye to our friend who is continuing to Heathrow. We go through immigration which is not too difficult.
[img]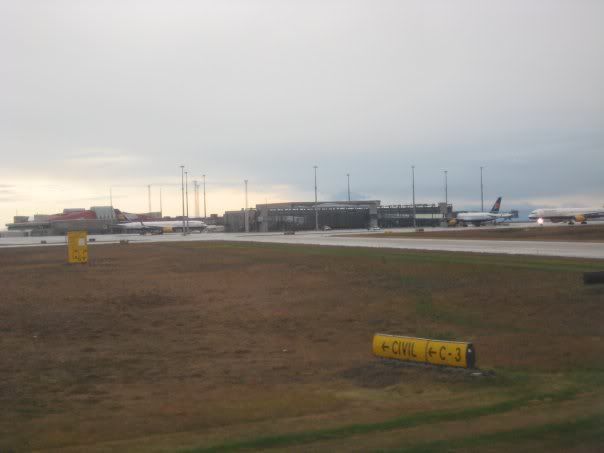 [/img]
After immigration, we collect our luggage at baggage claim. It is rather simple and we get it before too long. We then head to the counter to get the bus reservation at our hotel. We would be staying at the Hotel Centrum Reykjavik (which I highly recommend). Make sure you get a roundtrip ticket as we mad the mistake of getting a one way ticket. I think the language barrier caused a problem. It was one of the only times we had trouble speaking English in Iceland. The country is very diverse and English is widely spoken.
We took a large coach on the 40 minute ride to the central bus terminal. We got on a connector and got to our hotel in the center of Reykjavik. It is an annoying bus trip, but it is doable. The airport is about 40 miles from the city. We were fortunate and were able to get a hotel room immediately. Often people have to wait until the afternoon to get a room which would be a challenge. Fortunately, September is not peak season. We got the room and I slept for a couple hours before going out and exploring the incredible city of Reykjavik.
[img]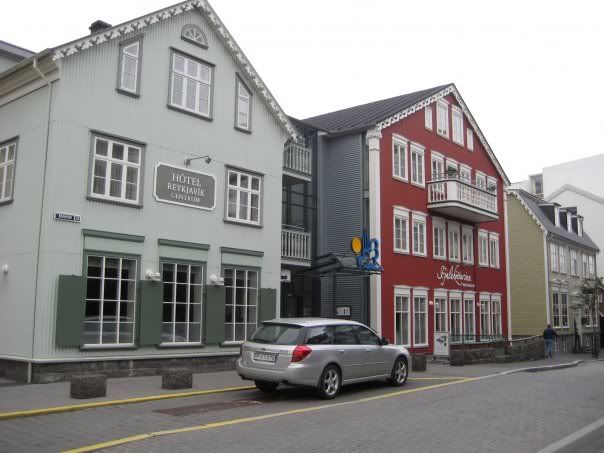 [/img]
At this point I must comment on how Reykjavik was one of the most interesting places I have been. Despite being a small city, there is so much culture. From the hot water storage tanks, to the museums to the retail center, the city was amazing. Also the tours through the country to the rivers, geothermal powerplants, waterfalls, geysirs and midcontinental divide were amazing. Iceland is probably in the top 5 of my favorite countries that I have seen. I have been to many countries and Iceland is incredible. My partner and I continued our journey to Paris 3 days later and flew back through Iceland. If you want more trip reports, let me know. Icelandair is a low fair carrier, but is still a quality airline.
[img]
[/img]
[img]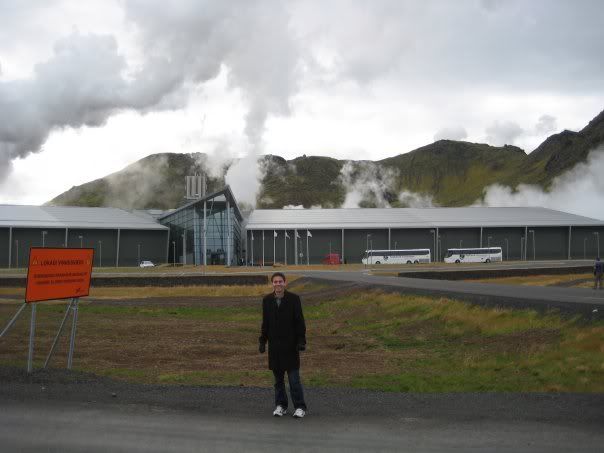 [/img]
I look forward to any comments. Good luck flying a very unique airline!
Rankings
Check In: 7/10
Boarding 5/10
Seats: 8/10
IFE: 9/10
Service: 4/10
I think in general, Iceland is an incredible country. It is one of the most interesting places that I have ever been. If you'd like, I can post more pictures.
Icleandair is a good airline. Everything is buy on board. Nothing other than soft drinks is free. It is quite annoying when flying transatlantic. Also at 6am, half the people will be drinking because Iceland certainly is a country where people drink. I wish they served free food. Also, I wish the flight attendants served more during the flights. There was a lack of water which caused me to be dehydrated. Also business class is lacking compared to international service. In general Icelandair offers about the service you would expect on a premium US carrier. They are not top notch, however they offer good prices and a free iceland stopover. Iceland is amazing. It is totally worth it. I recommend them to everyone eve though there are some downfalls/
[Edited 2009-10-19 21:46:22]