After having read some recent TRs here on airliners, I decided that it was time to take a trip myself. There are only so many times you can cover a given route (in my case ZRH-MAN) so I decided to plan something I'd been thinking of doing for a while.
Switzerland being such a small country, there are very few inland flights. In the case of Zurich-Basel / Geneva / Lugano, these are all routes where it makes sense to book them as part of a connecting flight on LX. So, the only other thing left for me to do was to fly Geneva-Lugano. Of all the inland routes, this one makes the most sense to fly, as the same journey by road or rail is long and somewhat tedious.
Darwin Airlines (operating carrier with Saab 2000, who also fly ZRH-LUG) and Fly Baboo codeshare on this route. There are currently 3 flights a day during the week. Early morning, late afternoon and evening. Due to the fact that I live at the opposite end of the country, only the afternoon one was feasible for me. My fare-searching online came up with some interesting results. A week before departure it was still possible to get the lowest fare (note the word low and not cheap!) and this was booking through Fly Baboo. The exact same ticket booked through Darwin would have cost 80CHF more!
I didn't have much choice of dates due to work, and was keen to get the flight in before it got too dark in the evenings. So I settled for October 12th and booked a single ticket via the Baboo website for 170CHF – that's as cheap as it seems to get. After booking I got a message saying there had been a problem issuing the ticket and I should phone the call centre. The next morning I did that, no waiting in a queue for 15 minutes – choose your language, get connected, a very efficient agent pressed the necessary buttons on the computer and the ticket was in my inbox a couple of minutes later. Other airlines take note.
To go with my air ticket I needed a train ticket to get me to Geneva and back from Lugano. Public transport is so easy here and I obtained a special daycard from our neighbouring village. For just 40CHF you can travel as much as you want in one day. The only catch is each card is valid for a specific day only and you have to book them in advance. So I'd get nearly 7 hours on the train for a bargain price and 40 minutes in the air for, well, a bit more.
One of the attractions of taking a flight like this is the hope of some stunning views of the Alps, but you can't plan the weather in advance. Sure enough, the forecast was pretty lousy. Cloud, rain, strong winds, certainly not what I wanted to hear. The only glimmer of hope was that the Lugano area should be better due to the strong northerly Föhn wind.
The worst of the storm passed over in the night, but the conditions were still less than perfect. I nevertheless set off optimistic that it would be better in the French part.
Monday 12th October 2009
After taking a bus to my local railway station just before 12pm I took a short train ride to Aarau, where I changed onto the direct train to Geneva airport, a 3hour ride in total.
Regioexpress to Aarau
My train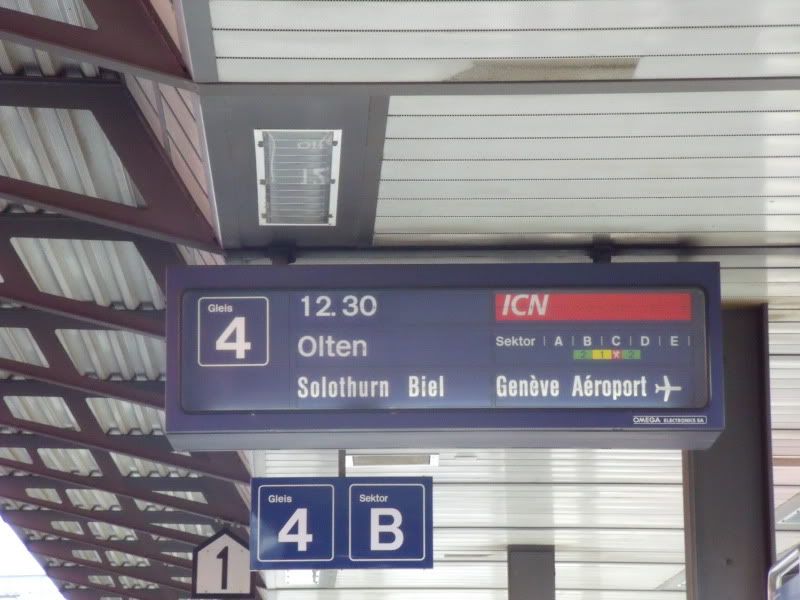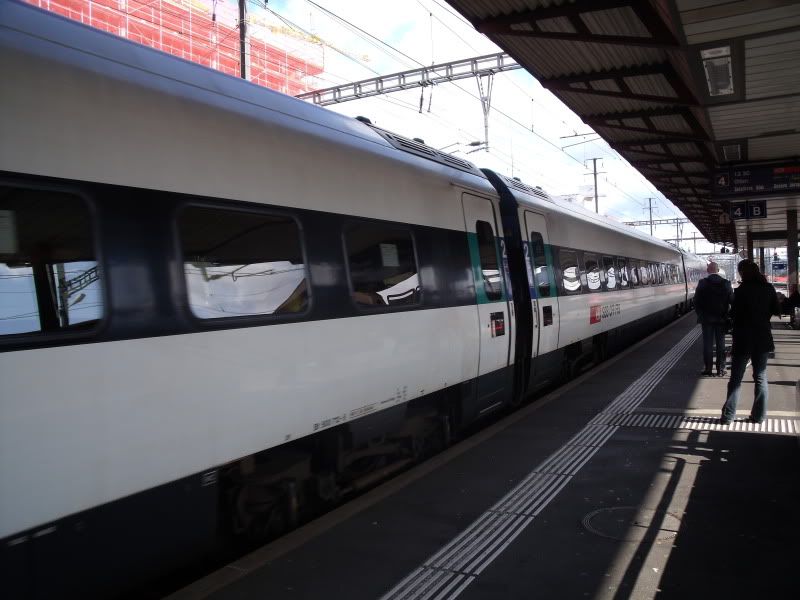 The ICN is a tilting train and a very smart one at that. However, they nearly always make me feel sick on long journeys. Today was no exception. After eating my lunch I thought it would be nice to read a magazine but I soon gave up as reading only made it worse. So there was nothing else for it than to listen to some music and enjoy the Swiss scenery. The train went via Olten, Solothurn, Biel/Bienne, Neuchatel, Yverdon-les-Bains, Nyon, arriving at the airport just before 3pm.
I haven't used Geneva airport since 2004 and coming up from the station my first thought was how dated everything looked – like Zurich 15 years ago. The main escalator to the check-in area was broken and as there was no lift in sight people were forced to carry their cases. Unsurprisingly there were a few unhappy faces.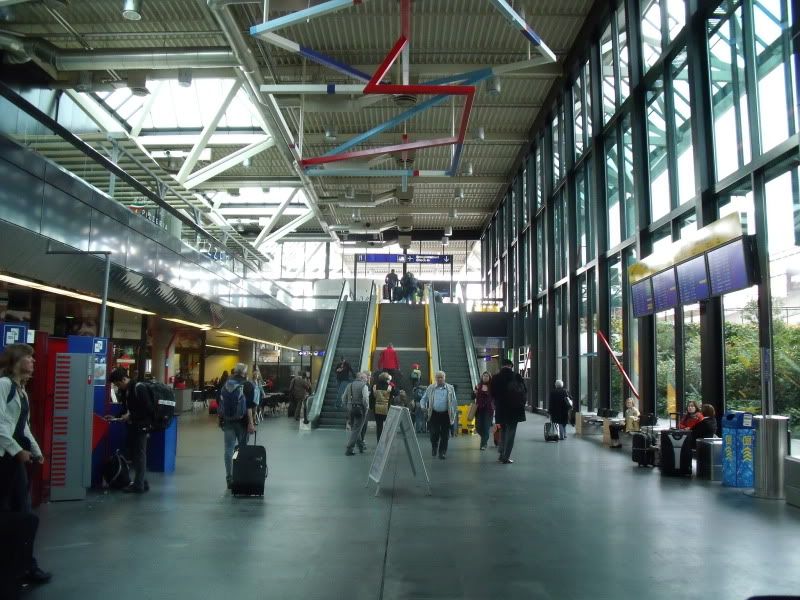 I found departures to be clear and well signposted at Geneva. There were 5 main entrances and check-in for my flight was done at the Star Alliance desks.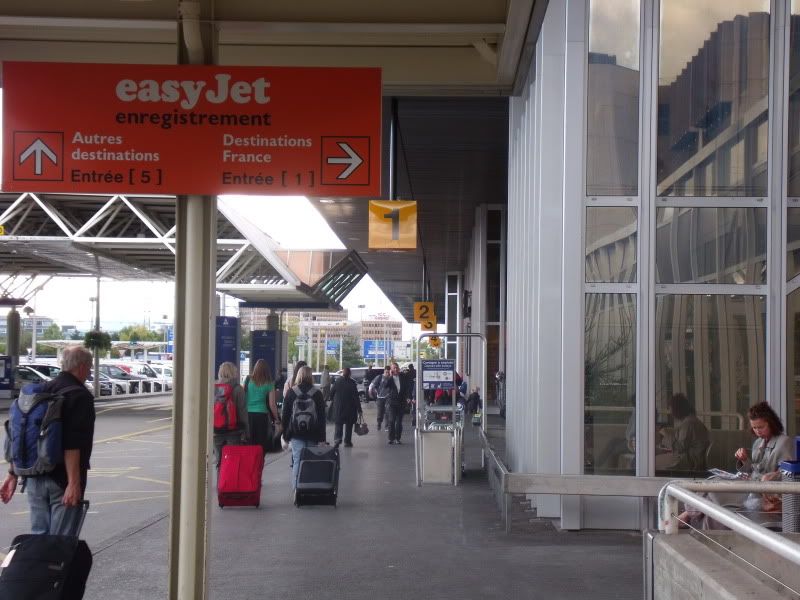 A quiet Monday afternoon at Geneva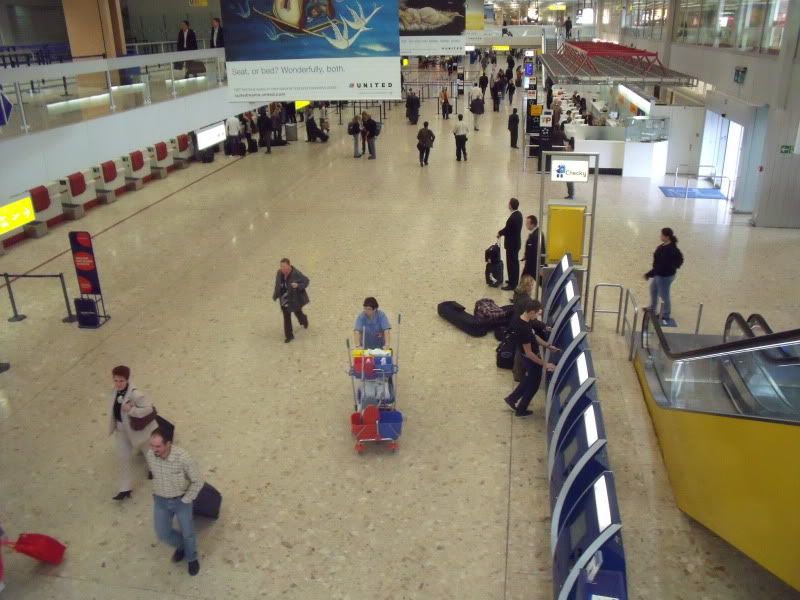 For those who book the flexible fares there is an option to choose your seat online. Being at check-in so early I had no problems though and the friendly check-in agent gave me 7A. I chose this side in the hope of some views of the Alps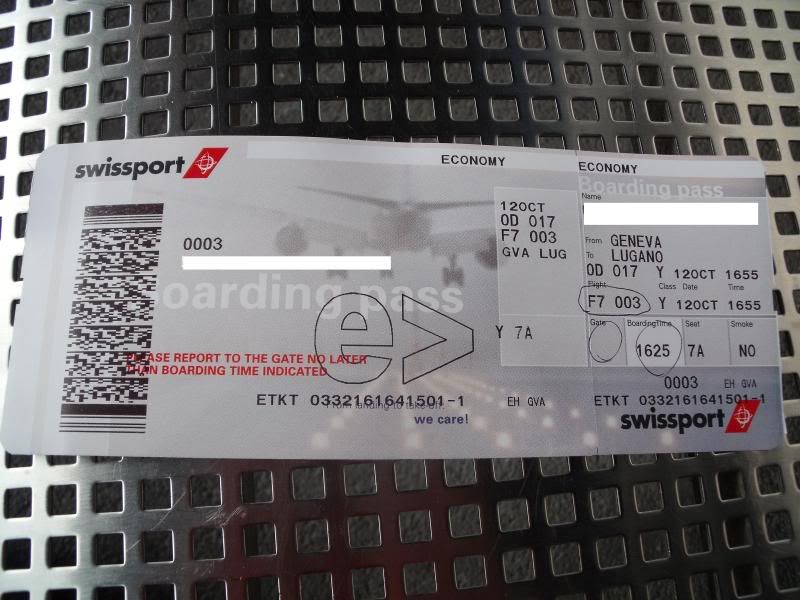 I spent some time wandering in and out and checking out the various shops and restaurants. About an hour before departure I went through security where there was quite a queue, mainly easyJet passengers. You forget just how big they are here. Funnily enough, you didn't have to show your boarding pass. Anybody could have passed through and got all the way to the gate.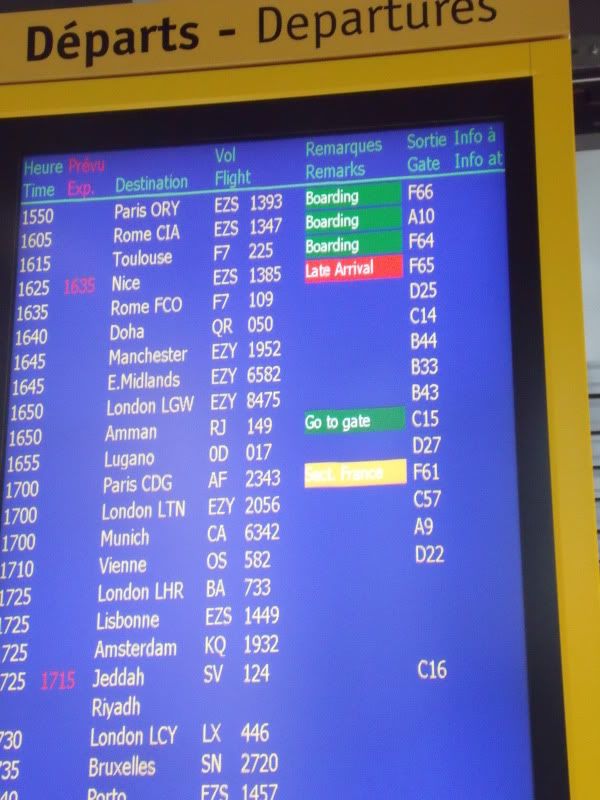 On my way to the gate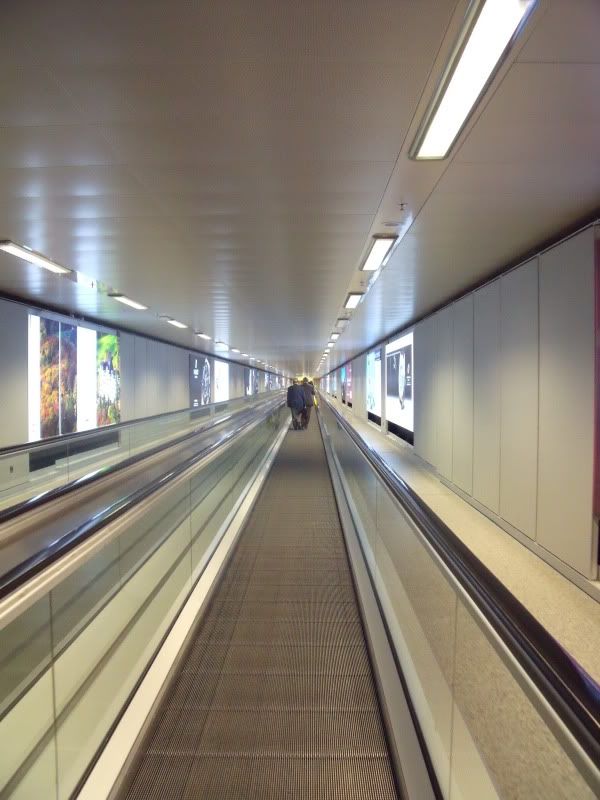 My flight was due to depart from D27. This area is where most of the Baboo flights leave from, as they've set up a special seating area advertising the airline. It all looked very smart.
Baboo Dash 8-Q400 ready for the off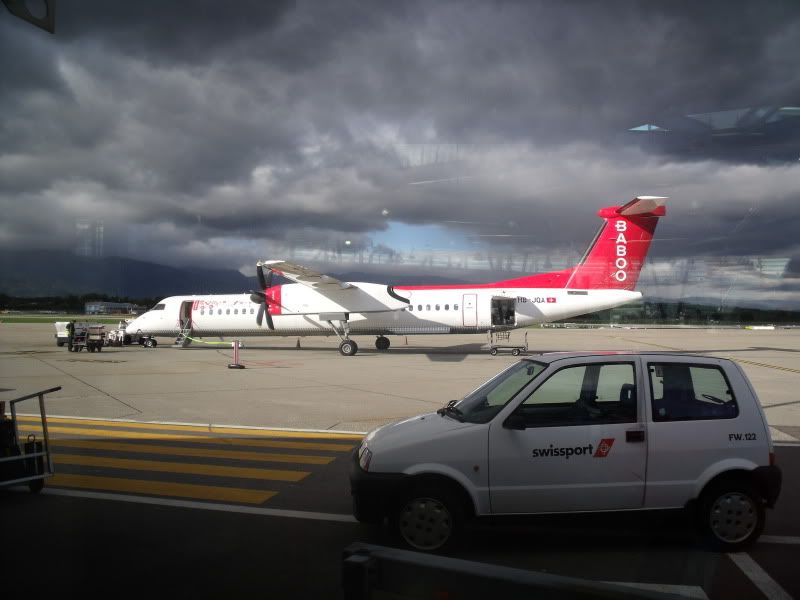 easyJet are in charge here. Note the rather threatening looking clouds
GVA-LUG
OD17 / F7003
Saab 2000 HB-IYD
STD 1655 / STA 1745
ATD 1707 / ATA 1747
The boarding announcement was made at 1630 yet there was no aircraft in sight. We got on the bus. And waited….and waited…..The doors were wide open, the cold wind was blasting in and it was not much fun. The missing passenger turned up after a good 10 minutes, got a few glares from the others (me included)and then the bus set off. I counted just 22 pax, not a terribly good load on a 50 seater plane. Most were unsurprisingly business men & women. There was also a family with a young girl and a couple of other travellers who didn't fit in with the rest (again me included
)
On alighting from the bus I was rather puzzled by the aircraft waiting. A Saab 2000 it was, but Darwin it wasn't. Only after some research was the mystery solved – Darwin had taken delivery of it only 2 weeks previously from Polet Airlines, a Russian airline that was new to me, and hadn't got round to giving it a respray.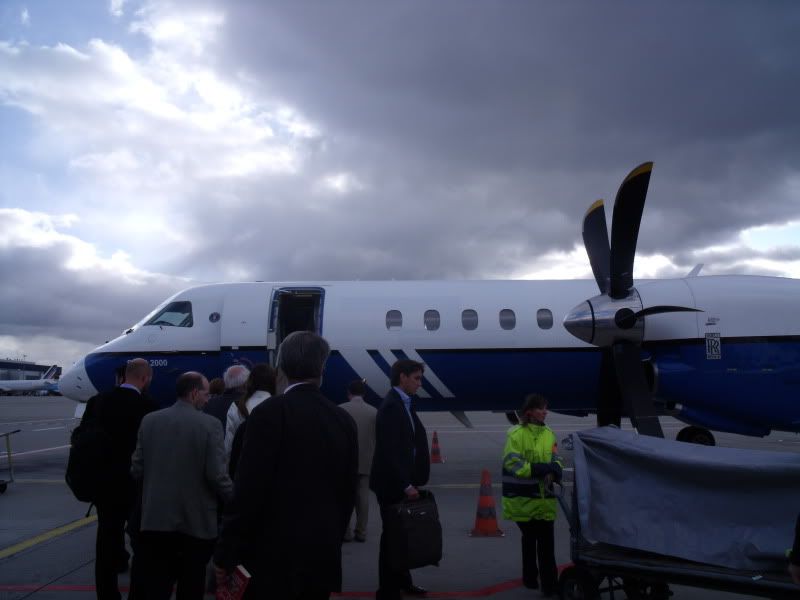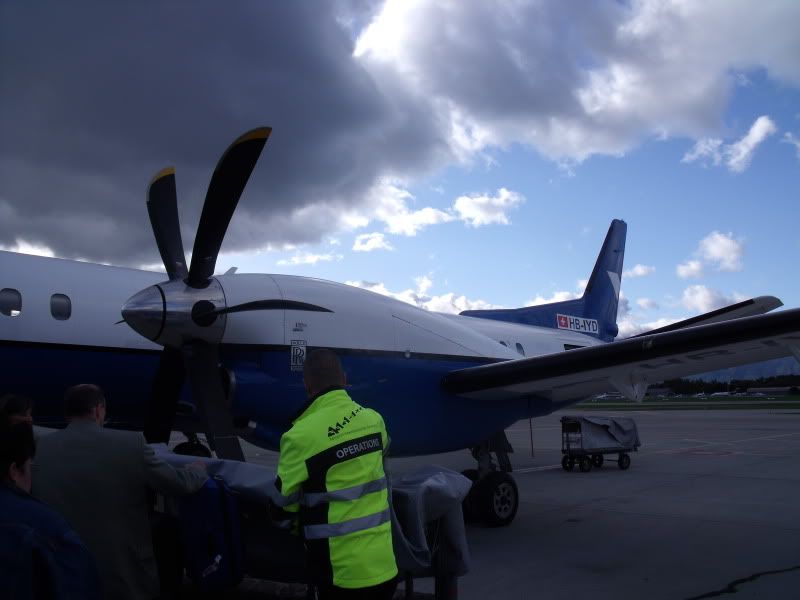 QR A330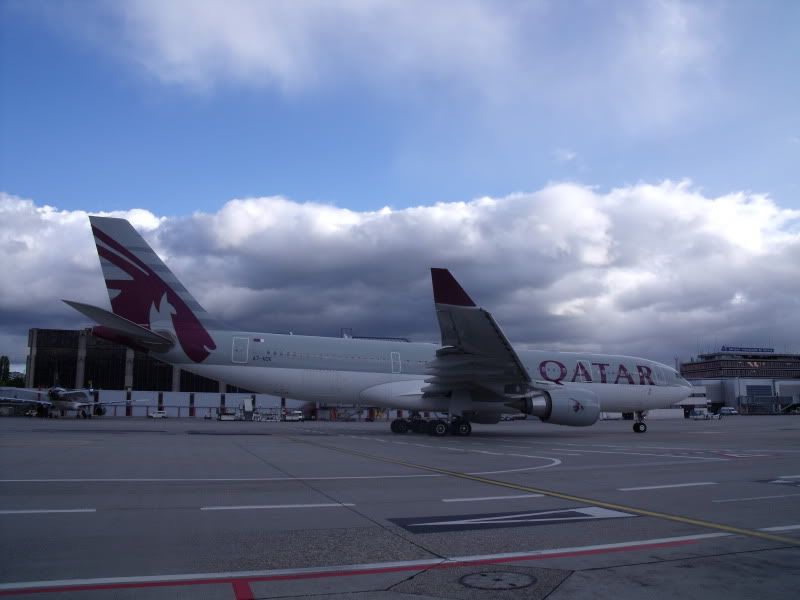 This was to be my flight flight on a turboprop and I actually surprised at how spacious it felt inside. The legroom was excellent. The one member of cabin crew was friendly and did all the announcements in French, Italian and English. Safety demo was done in English & flying time estimated at 40 mins.
At 1700 we pushed back and taxied along to runway 05, where we took off at 1707. I'm not used to the noise on these aircraft! I then realised I was on the wrong side for the views of Geneva – all I got on the left was the motorway……
Ready for pushback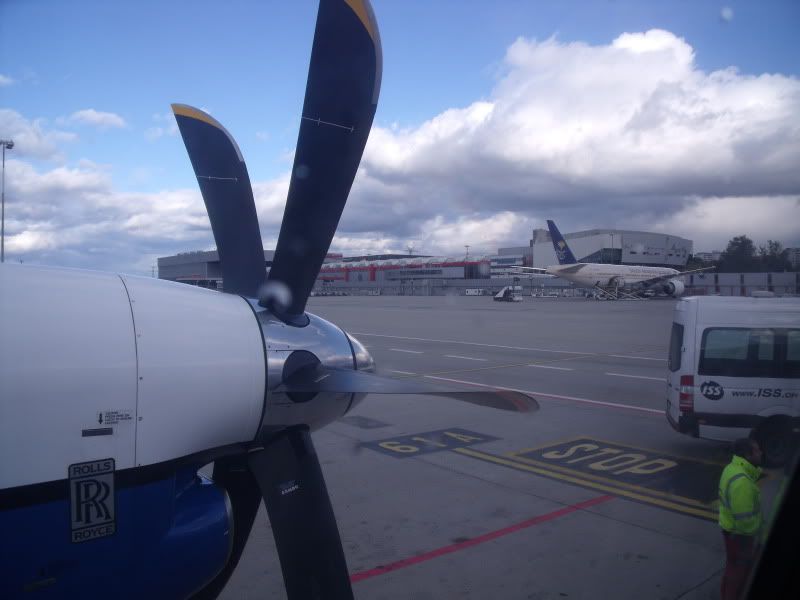 Cabin shot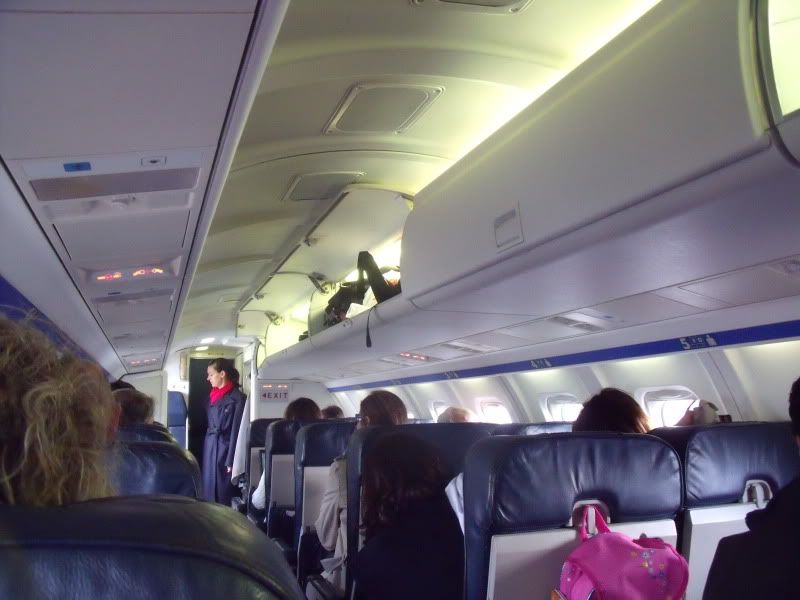 Taxiing to runway, Privatair in the background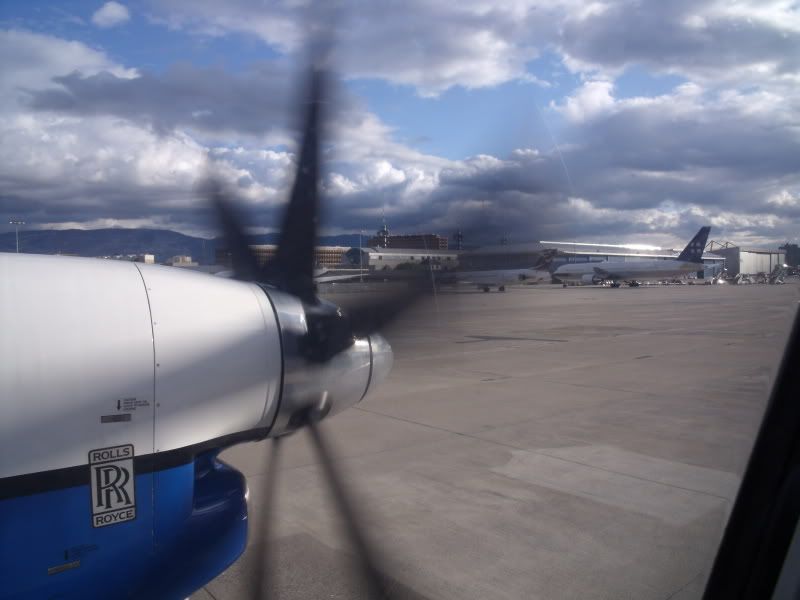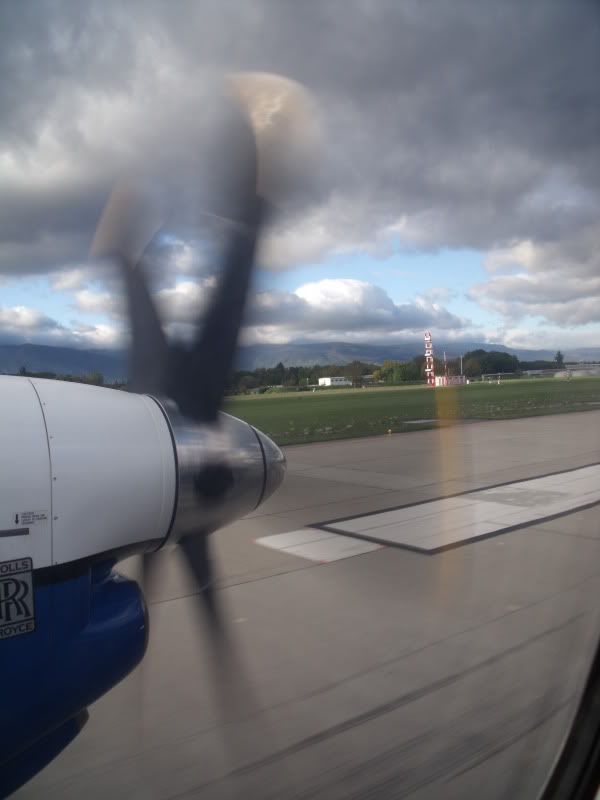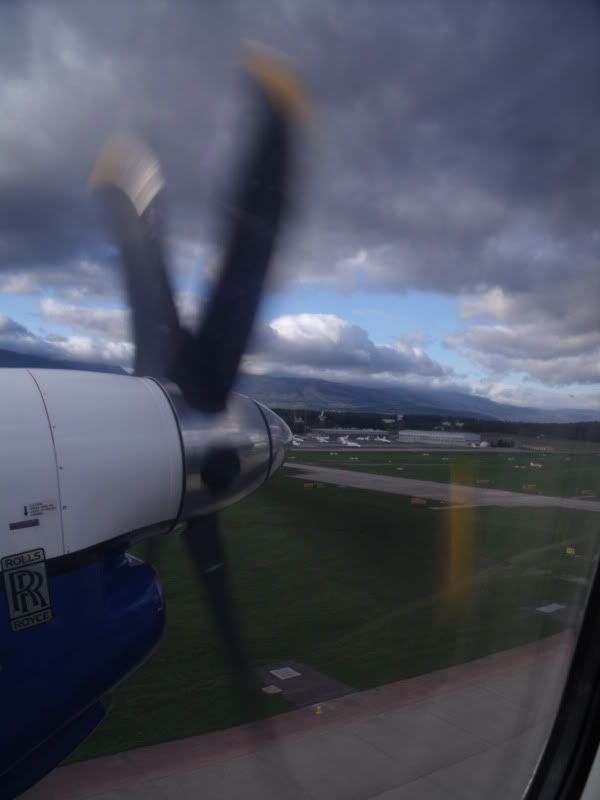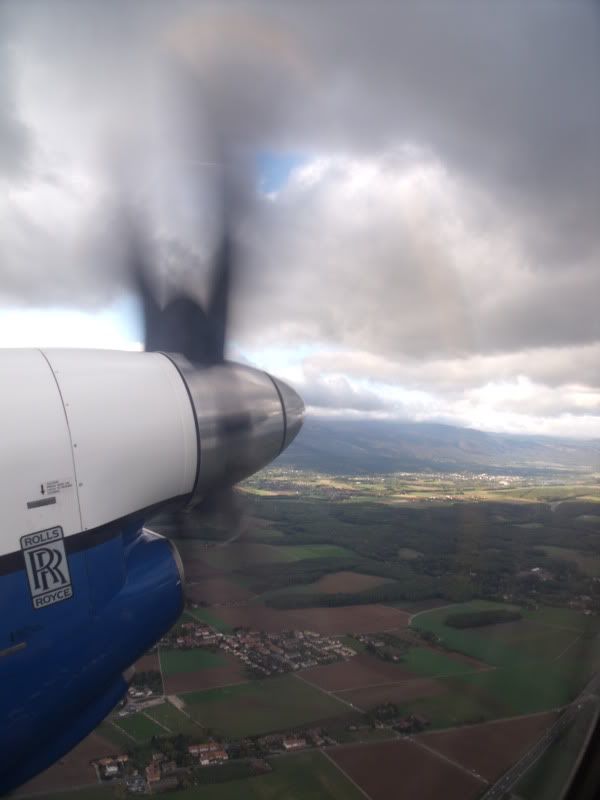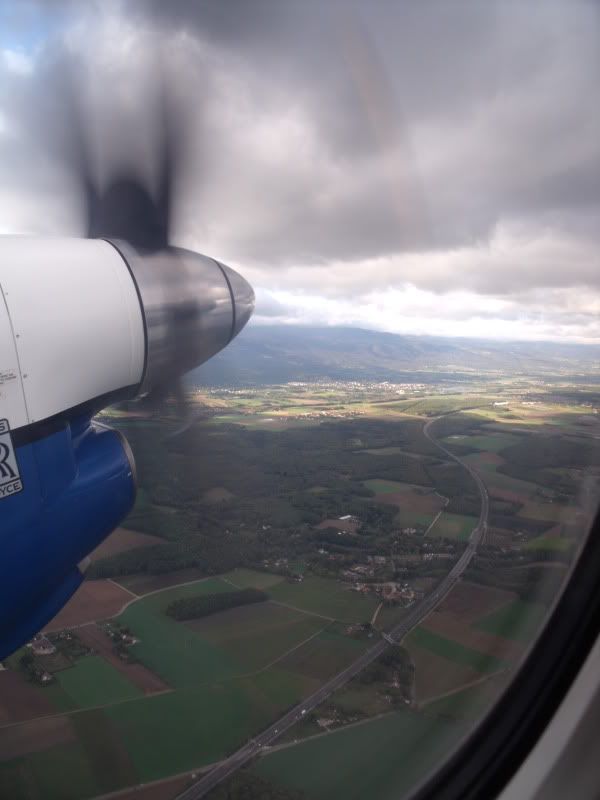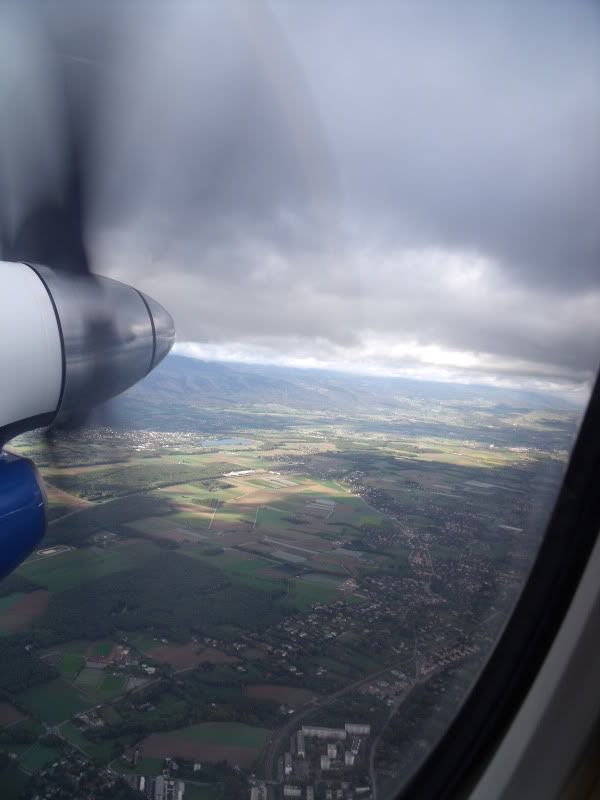 Last view of lake Geneva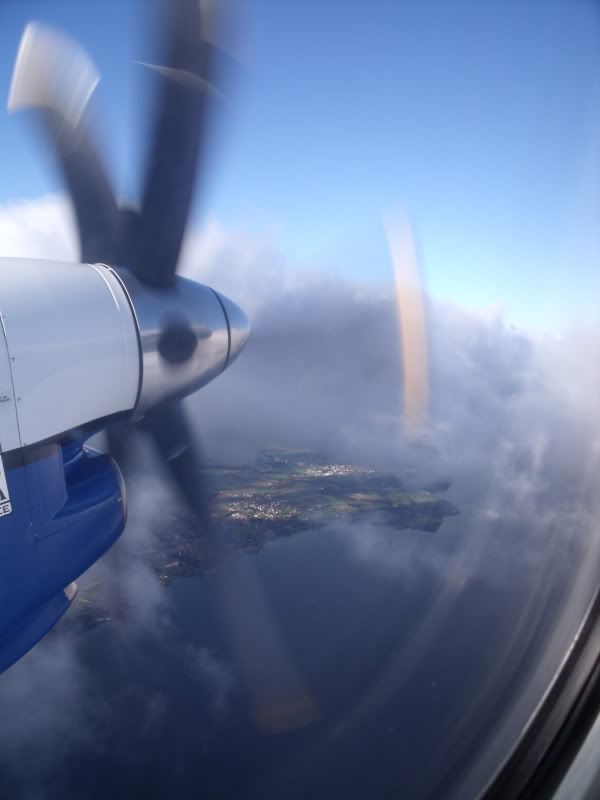 We were above the clouds......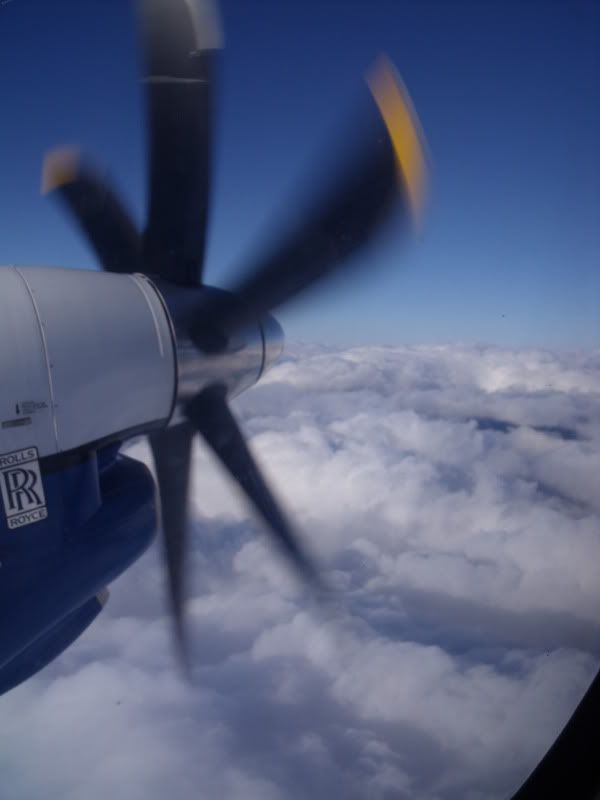 I spotted this beauty peeking out on the other side. If you had a clear day for this route though it would be just breathtaking. The flight was remarkably smooth considering the forecast.
The pilot did give us some brief information although the only bit I understood was cruising altitude of 6100m.
Seat pitch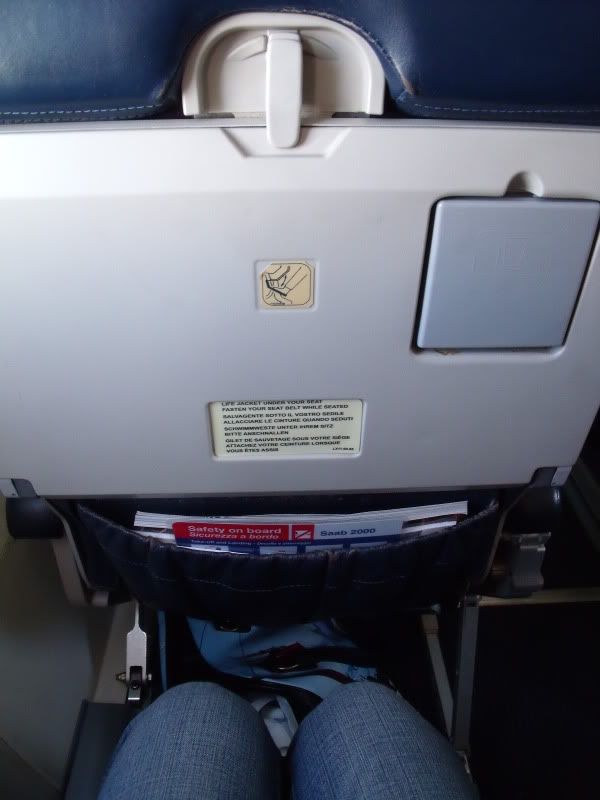 Everyone was offered a drink although many didn't bother to take one. A few years ago fellow member Rootsair covered this leg and was given a Proscuito sandwich….no such luck these days. At least the drink was served in a glass and the trolley was an old Crossair one, ah nostalgia.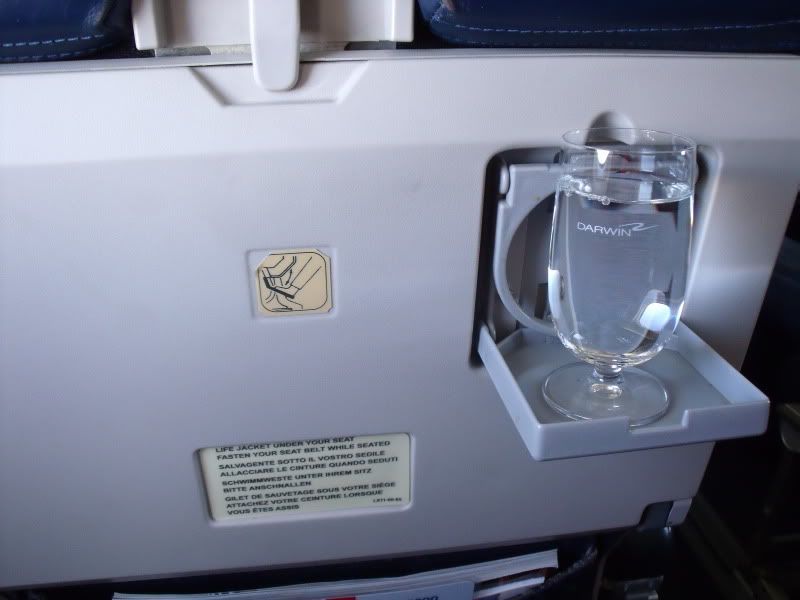 I felt the aircraft slowly begin to descend just as the cloud cover broke. By this point we were over Lake Maggiore and some very impressive views were beginning to unfold.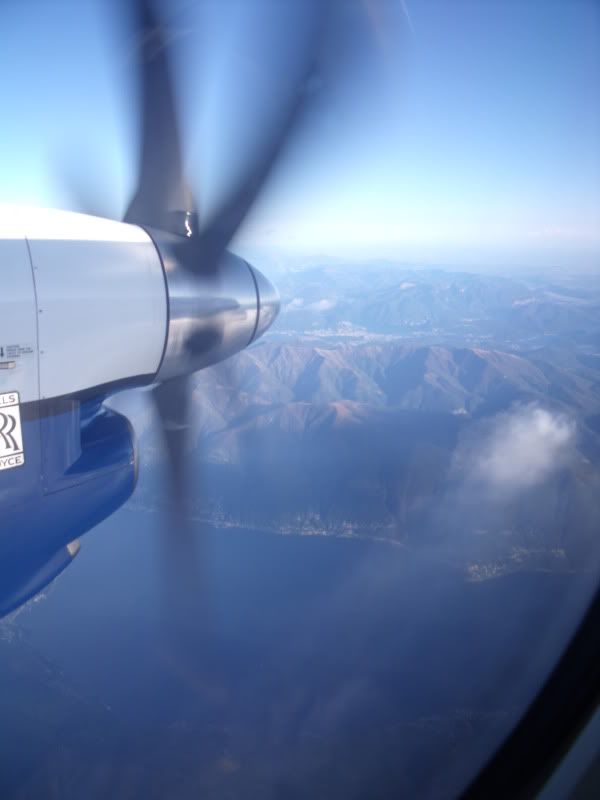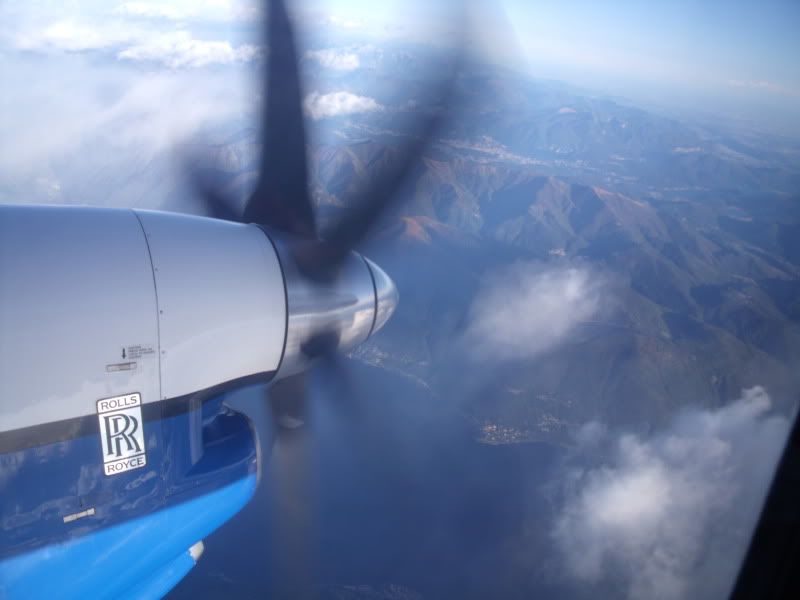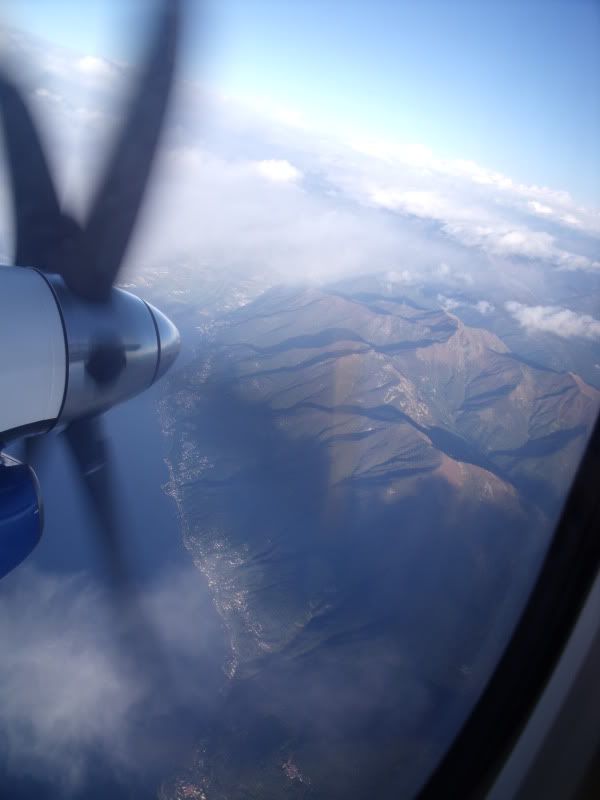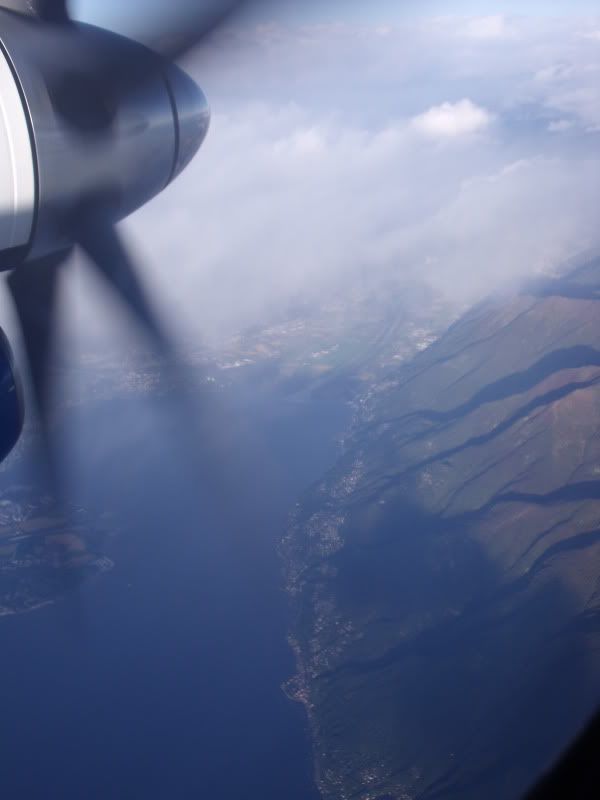 We flew over Monte Tamaro and soon I could see the bridge across Lake Lugano at Melide. It was only at this point that I realised just how much height we had to lose before we could land. We circled over the lake before flying south for a short time then turning north again for the final approach. The pictures speak for themselves.
Monte Tamaro region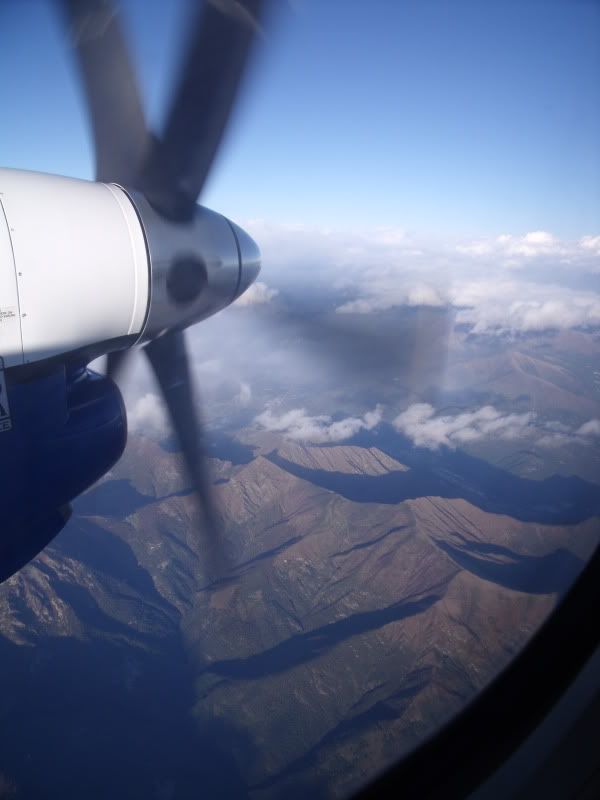 Melide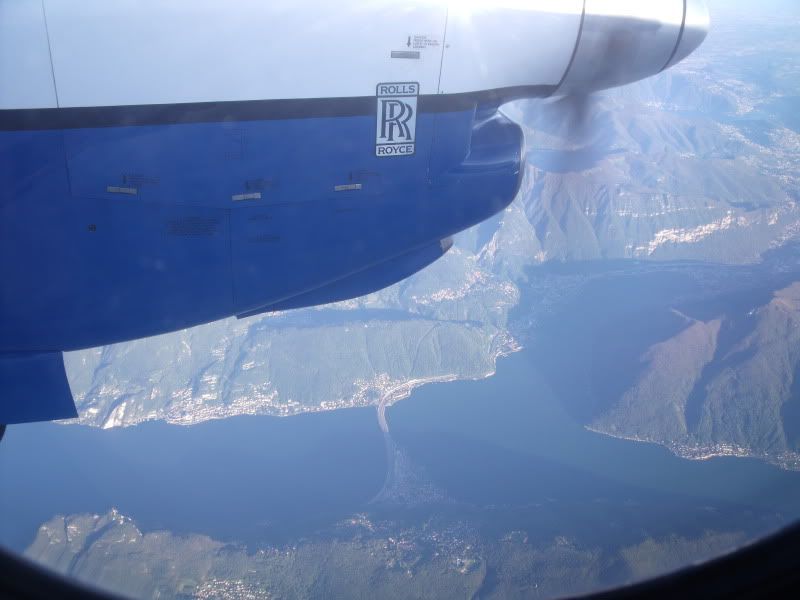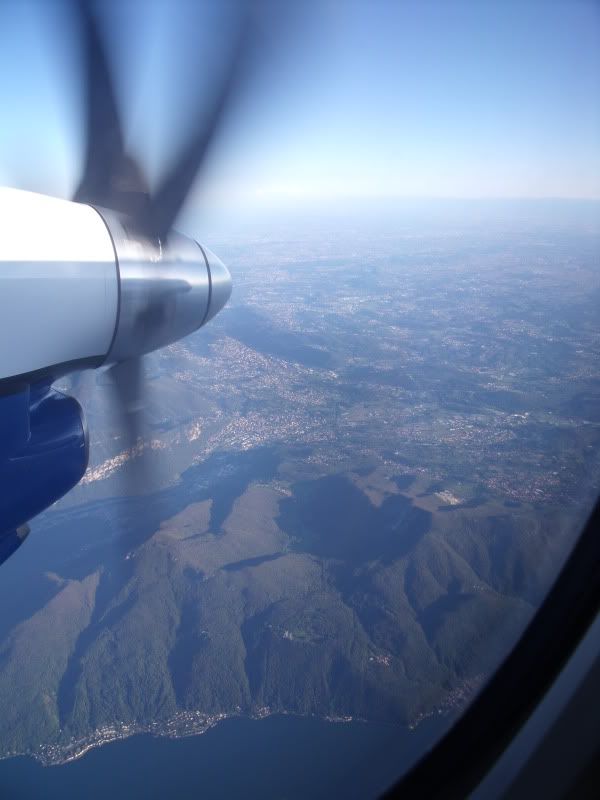 Lugano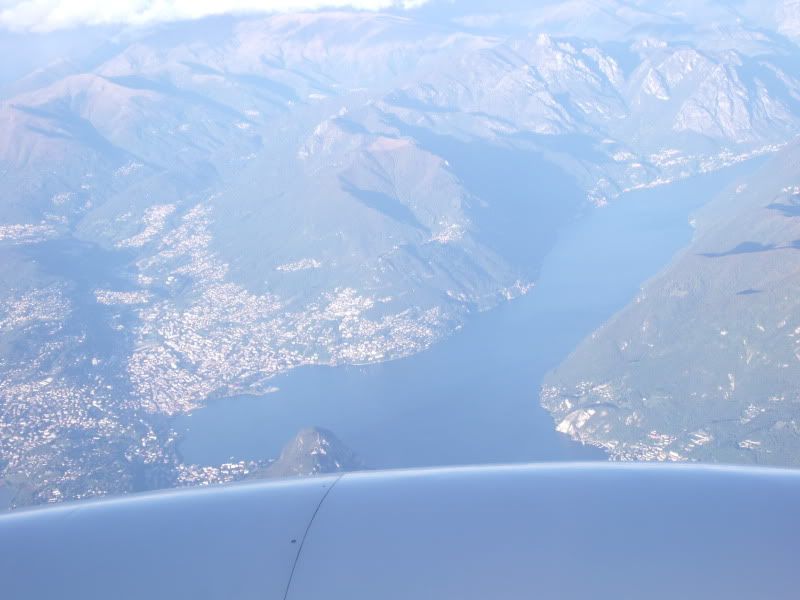 There's the runway!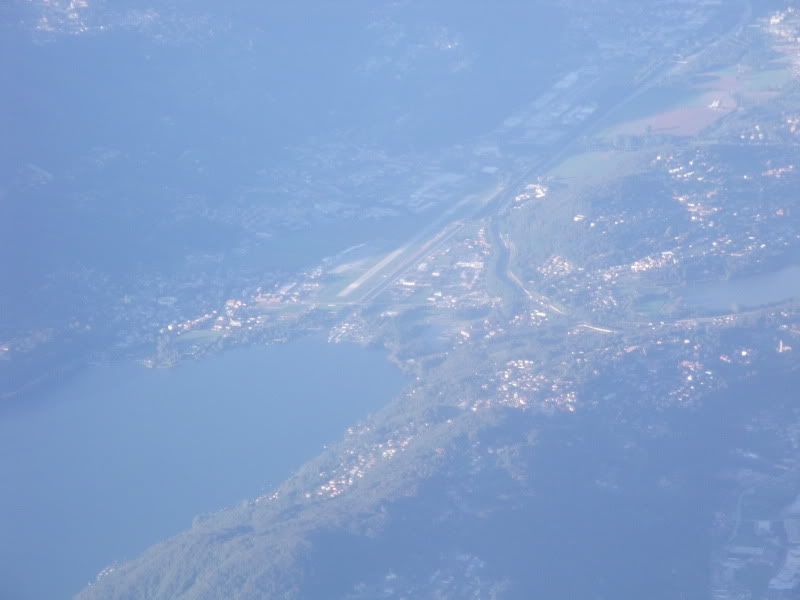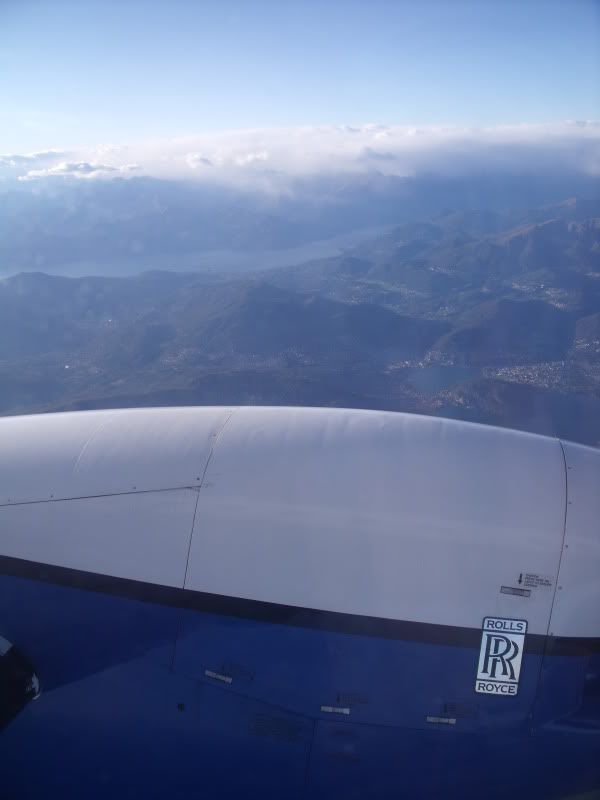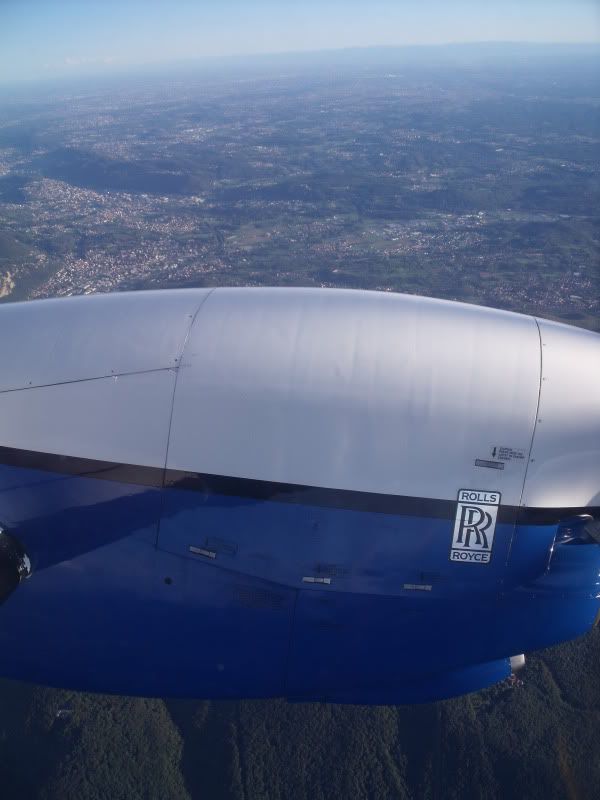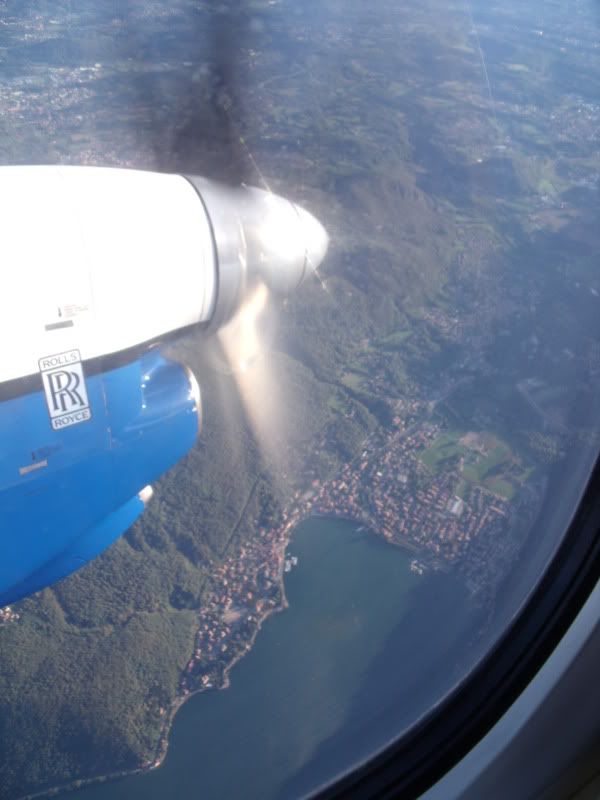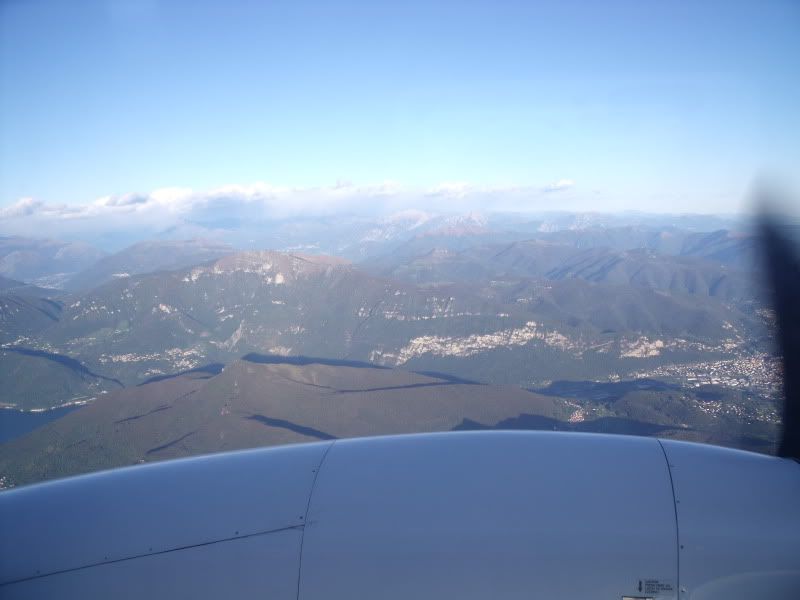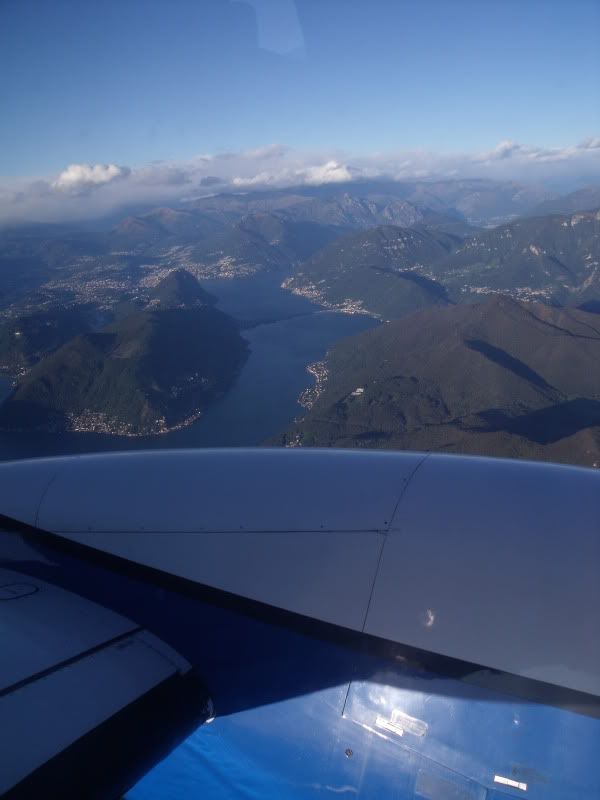 This is my favourite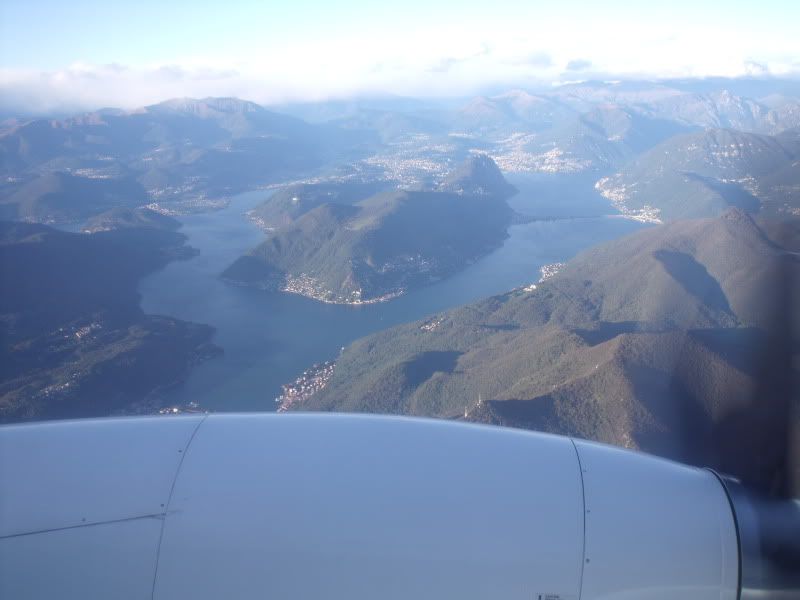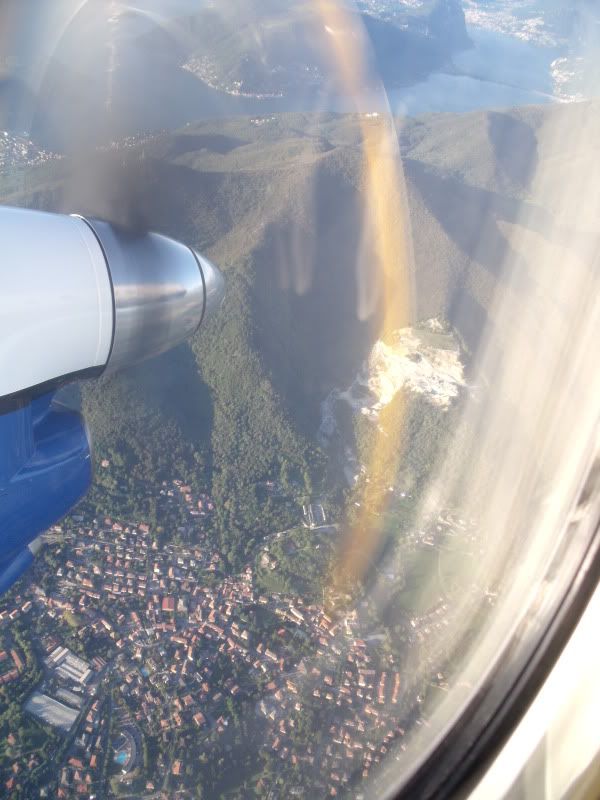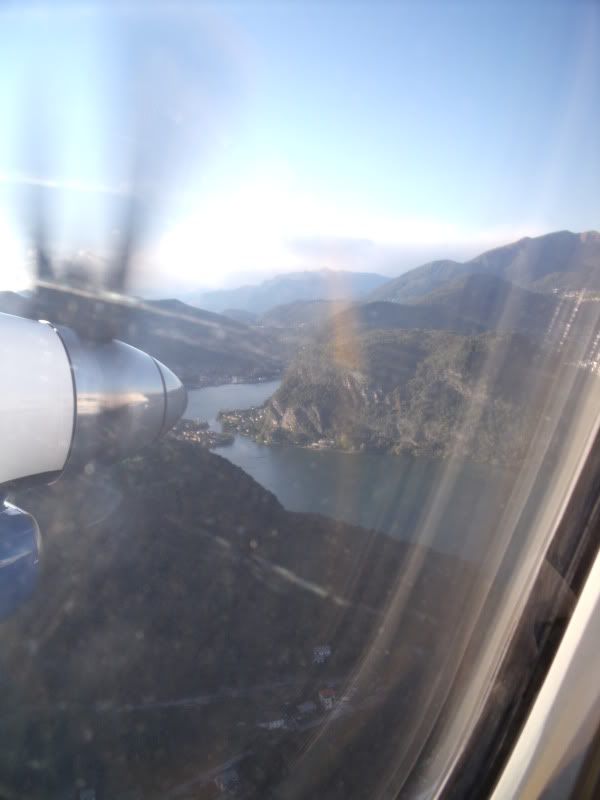 Final approach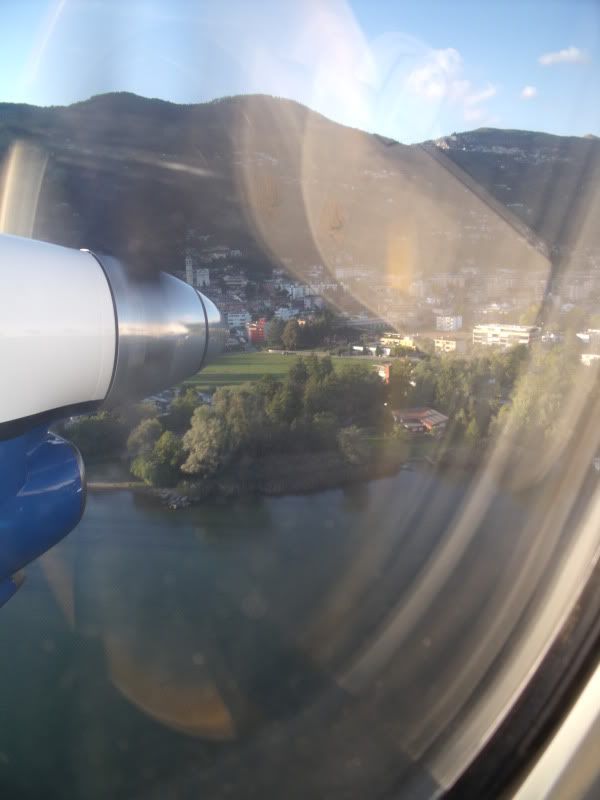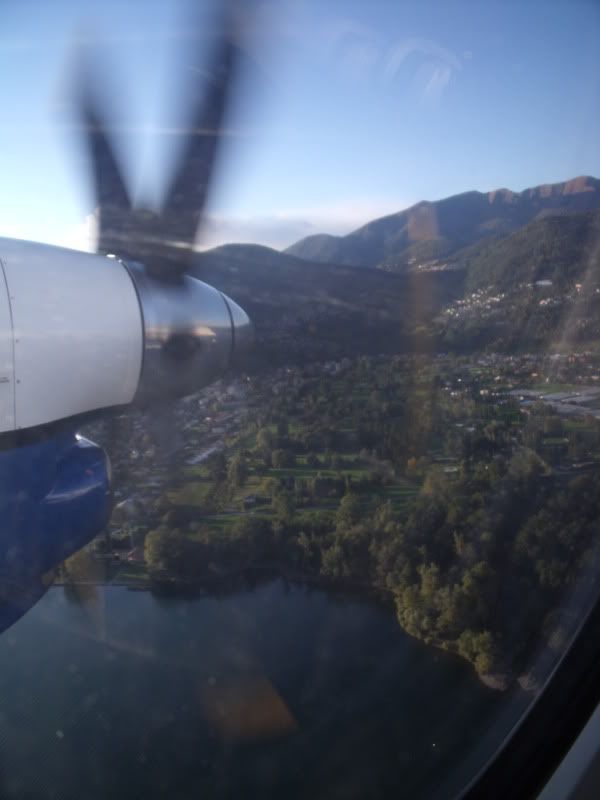 A fast and powerful landing which was really very impressive. And I was in Lugano! This journey takes an incredible 6 hours by train and I'd done it in 40 minutes!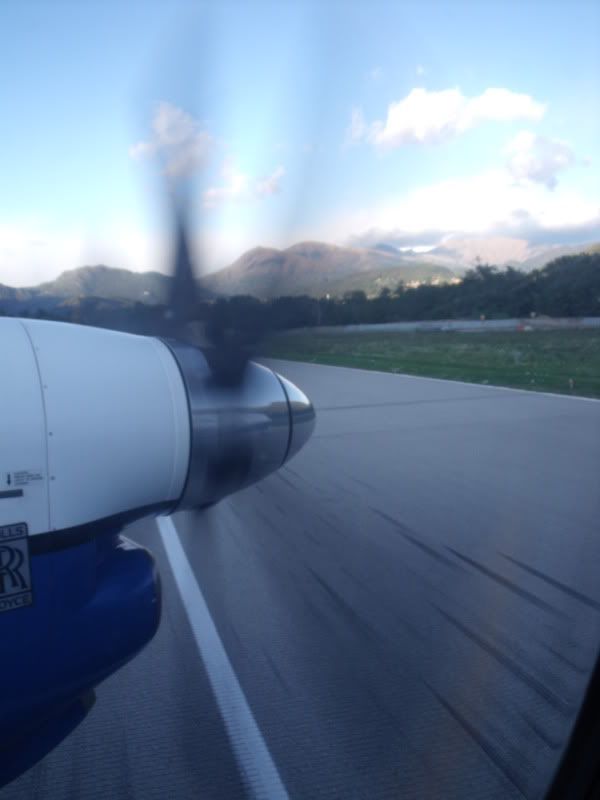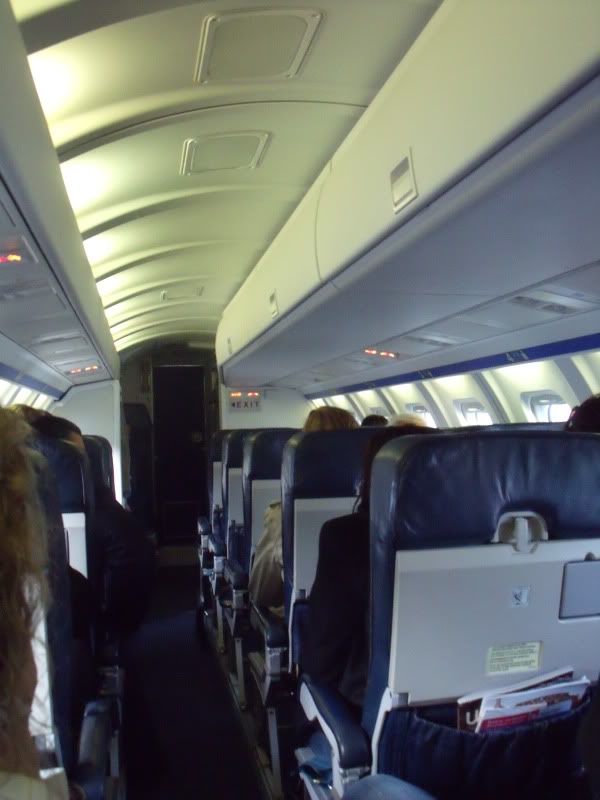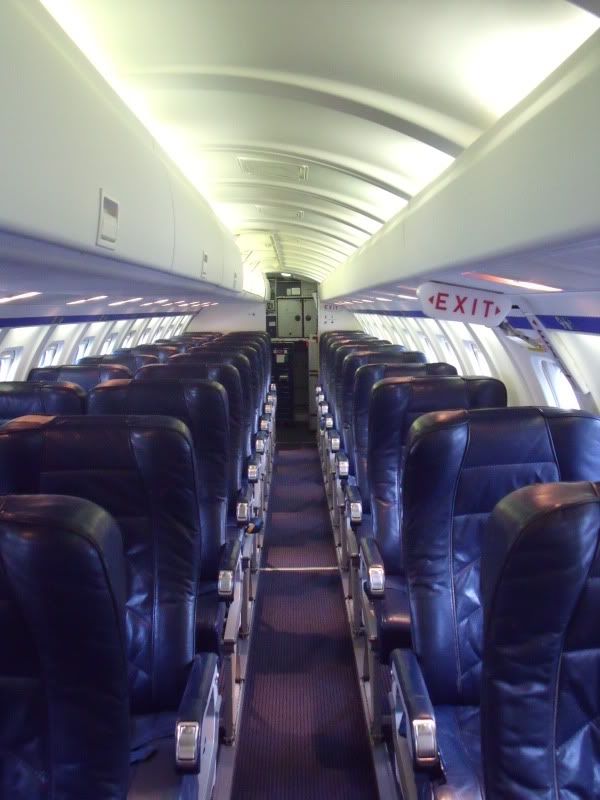 It was a short walk across the tarmac to the terminal building. The airport really is sweet. Departures & arrivals all in 1 hall, ticket desks for LX and OD, a small information desk and that's it.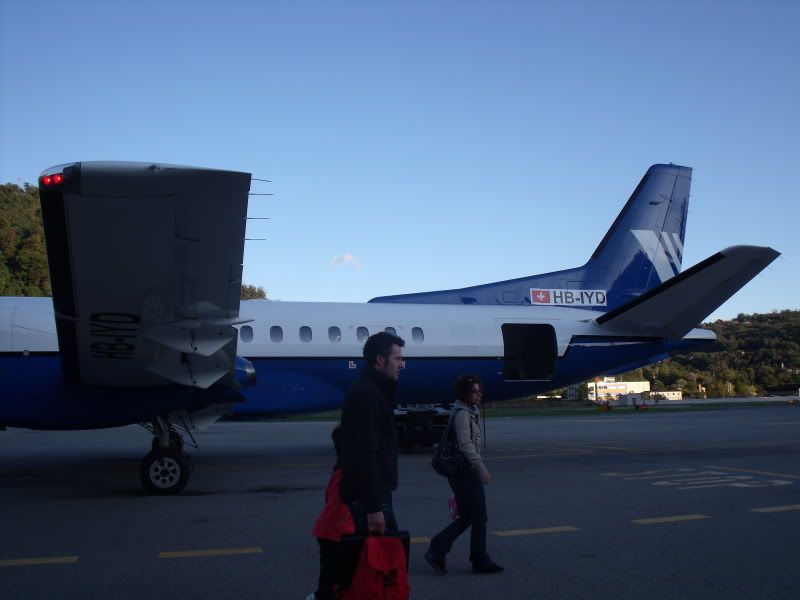 That what's my aircraft should have looked like!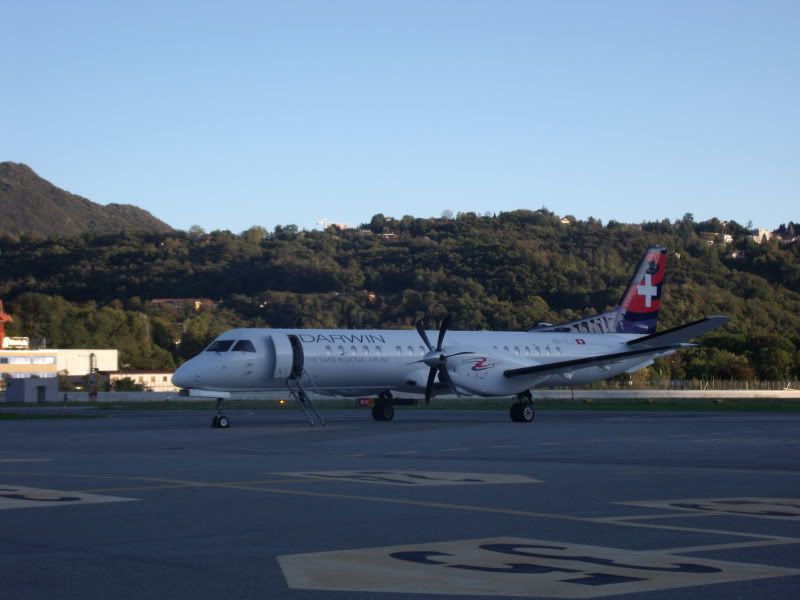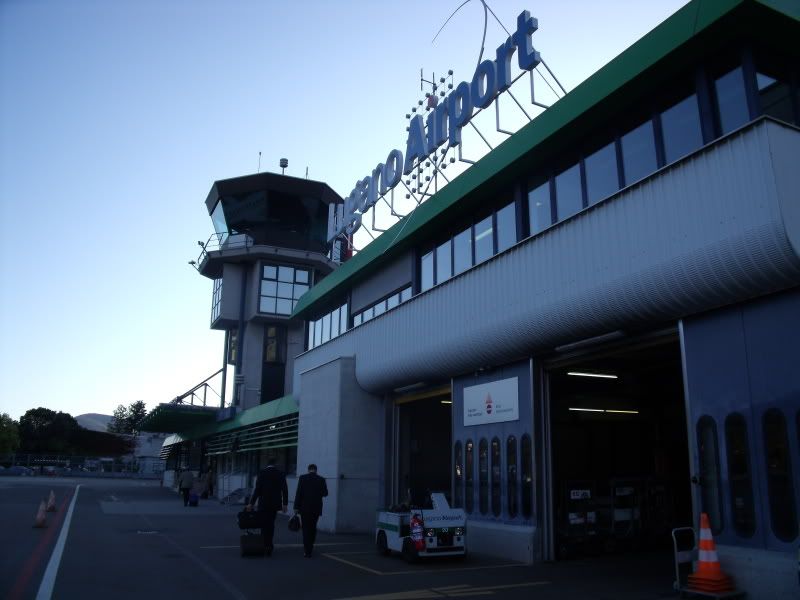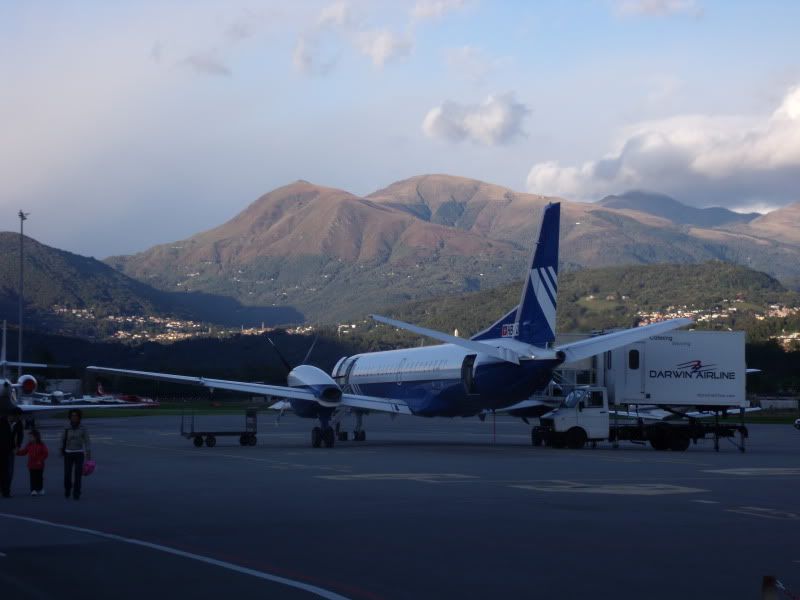 Baggage claim
Check-in & arrivals all in one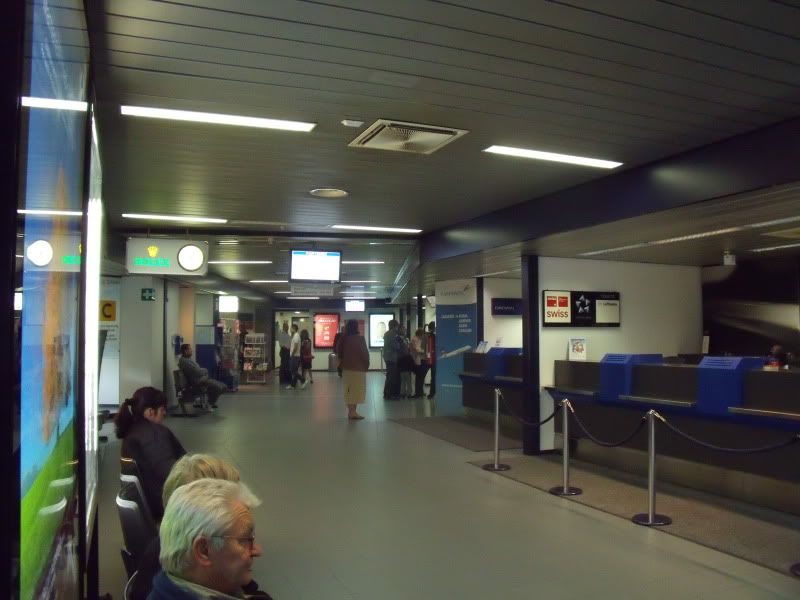 A shuttle bus meets every arrival and takes you into central Lugano. My ride to the railway station cost 8chf, the driver had just 4 passengers. The other 3 had arrived from ZRH on a flight 15minutes after the GVA one. This is as busy as it gets here.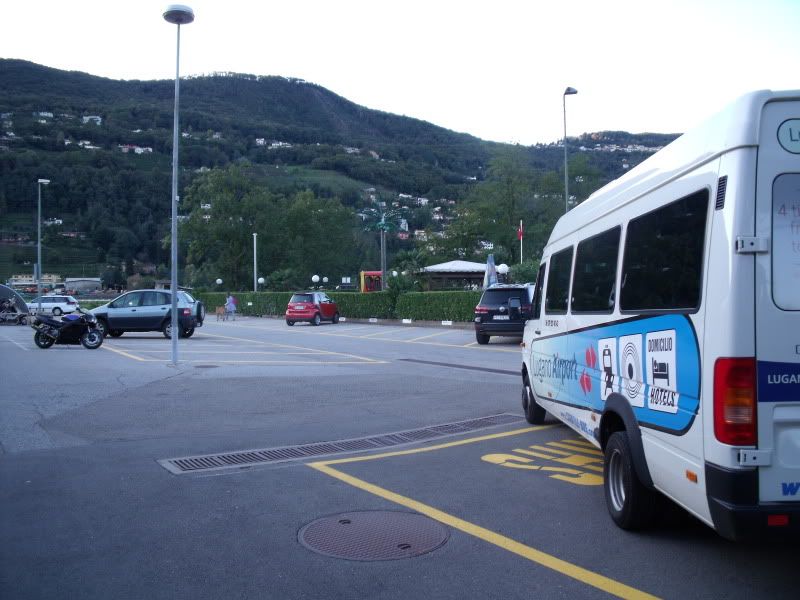 View from Lugano station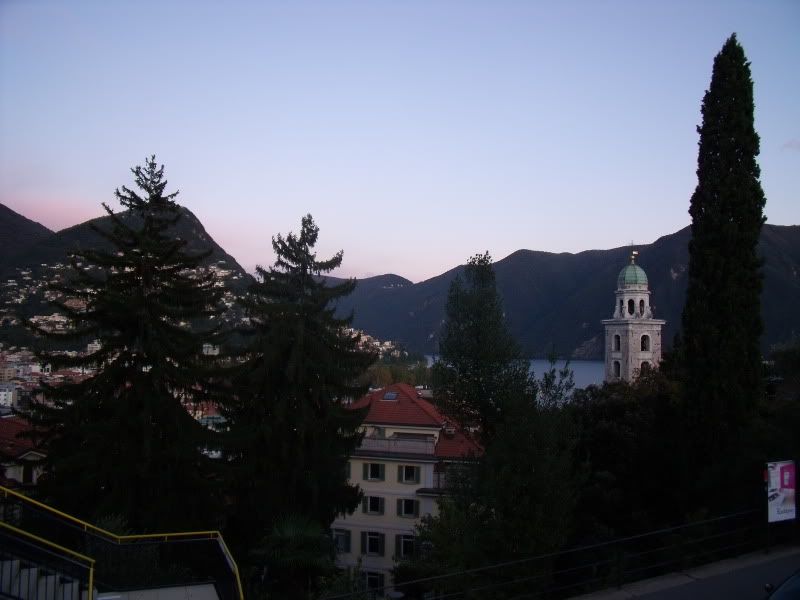 My train back up north was at 19.12. It should have been a CISalpino, but with all the problems they're having is currently operated by an ICN. So no reading for me on the way back either. It was dark anyway and I fell asleep, only waking when we'd long emerged from the Gotthard tunnel.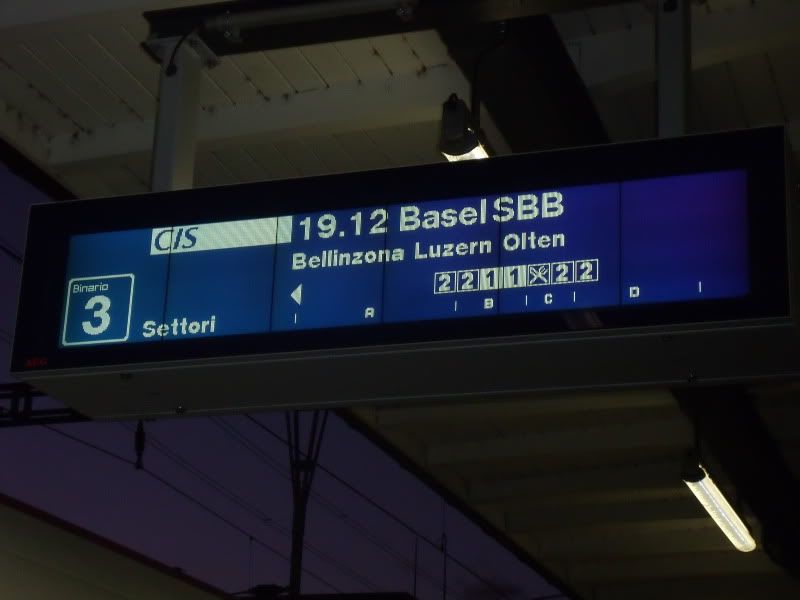 I was back in the flat 11 hours after leaving having travelled a few hundred kilometres! All in all it was a very successful day: new airport, new airline, new aircraft type and an unusal livery. It's a trip I'd repeat in the hope of getting even better views next time.
Thanks for reading and as always questions & comments are welcome.
Happy flying!
Infodesk