Sin City Gloss & Chic First Class:
Las Vegas - San Francisco on Virgin America A320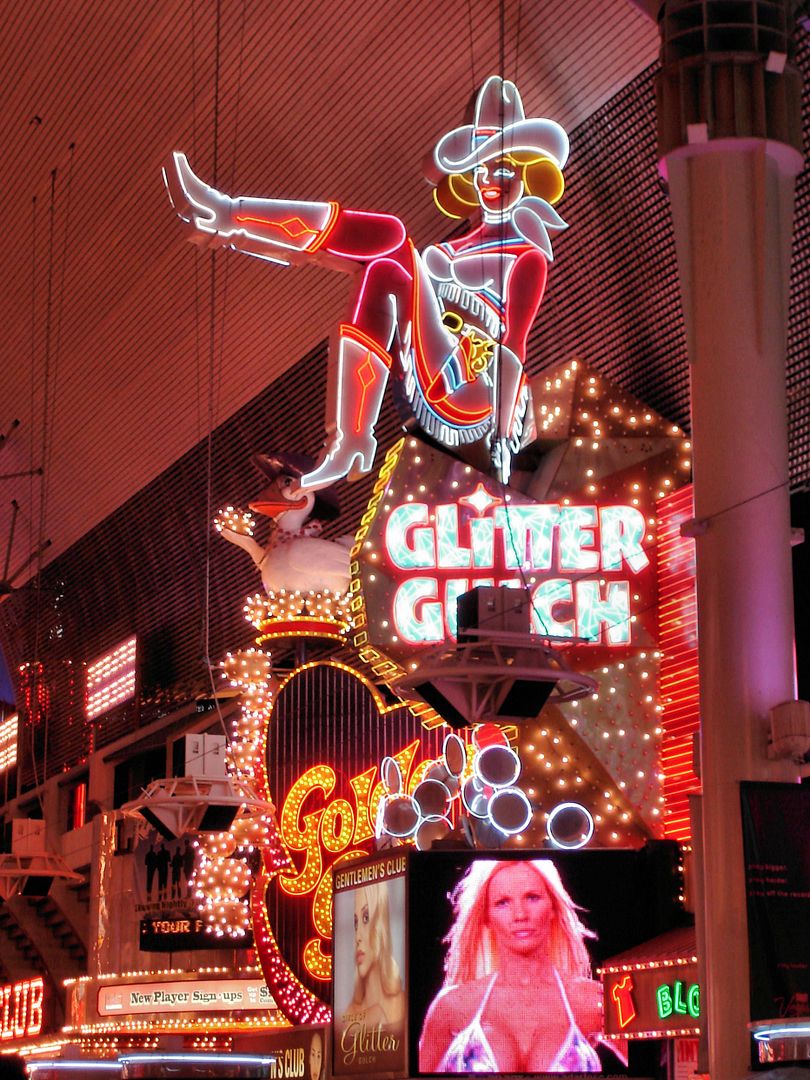 Intro
Virgin America's First Class
is thematized in Part 2 of my latest trip report series. The original plan had been to try the carrier's Main Cabin product on an
A319
on the
Las Vegas-San Francisco
route, but we ultimately ended up in the First Class cabin of an
A320
. In addition to the flight report I have also included numerous pictures of a two-day visit to Las Vegas.
All those who have missed Part 1 simply need to click here:
Seat Dilemma & Canyon Glamour: FRA To LAX, AC 763
Background
In spring my girlfriend and I decided to spend a two-week holiday in the United States in May. Our plan was to visit some good friends in the Los Angeles area and to go on a tour including major sights in California, Arizona, Utah and Nevada. After finding an attractive tour we had to add suitable flights. Of course I wanted to get one or two new airlines and interesting planes - which wasn't an easy task considering that I have already flown on numerous transatlantic carriers. So I concentrated on searching Air Canada and Continental Airlines flights and picked the former in the end: We booked NUE-FRA-YYC-LAX and SFO-YUL-FRA-NUE flights, operated by Lufthansa 737-300 & A319 as well as Air Canada A319, E190, 767-300ER and 777-300ER. Originally I had planned to get the LH A340-600 (via Toronto) on the outbound trip, but the fare jumped up and I had to pick an alternative including Air Canada's 767-300ER (via Calgary). We had decided to go back from San Francisco so that we could also include a LAS-SFO flight on Virgin America (to be operated by an A319).
The Luxor Disappointment
After an enjoyable tour which included major sights such as the
Grand Canyon
, the
Bryce Canyon
and the
Zion Canyon
we arrived in Las Vegas. We spent the first night in the excellent
Hampton Inn
and switched to the
Luxor Las Vegas
on the next day.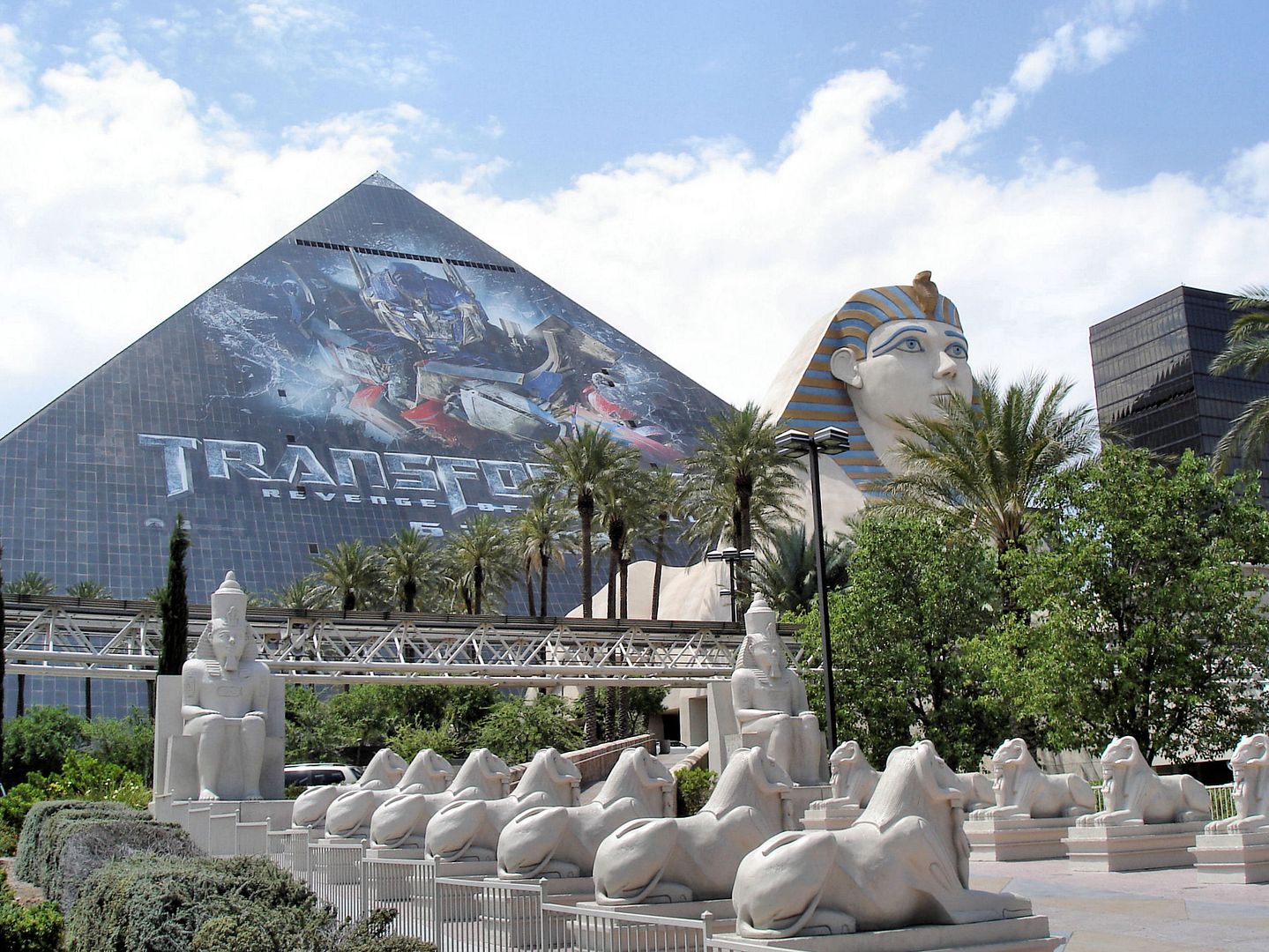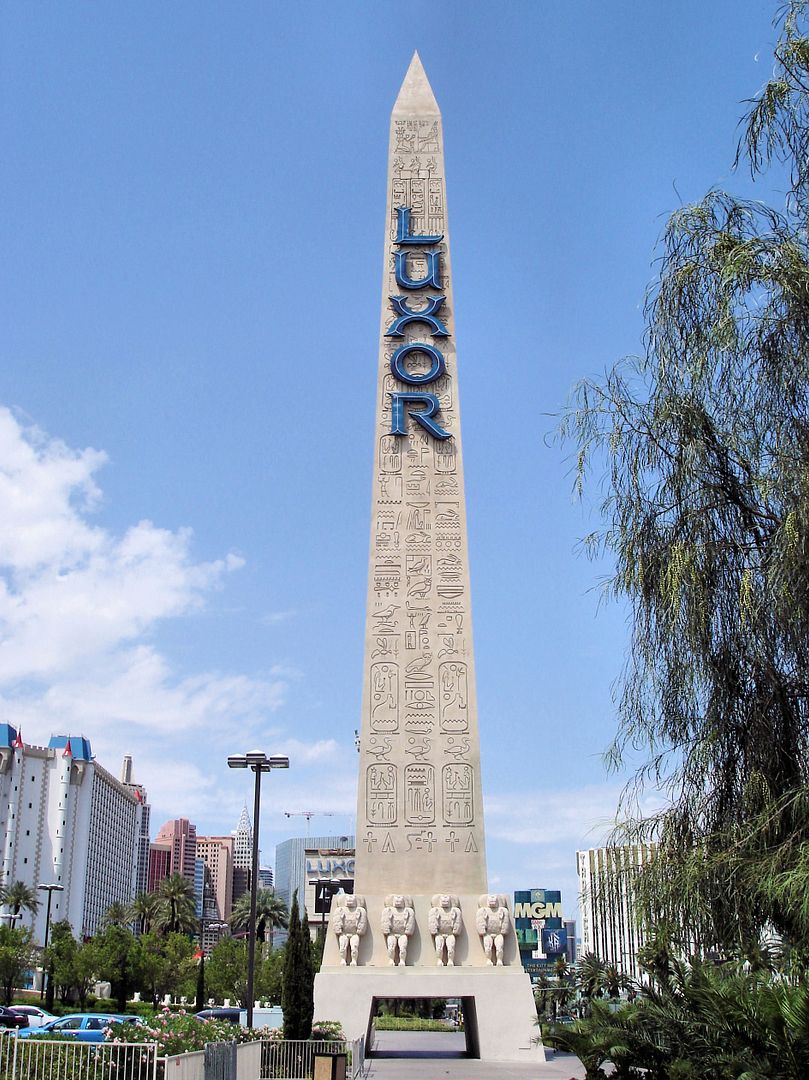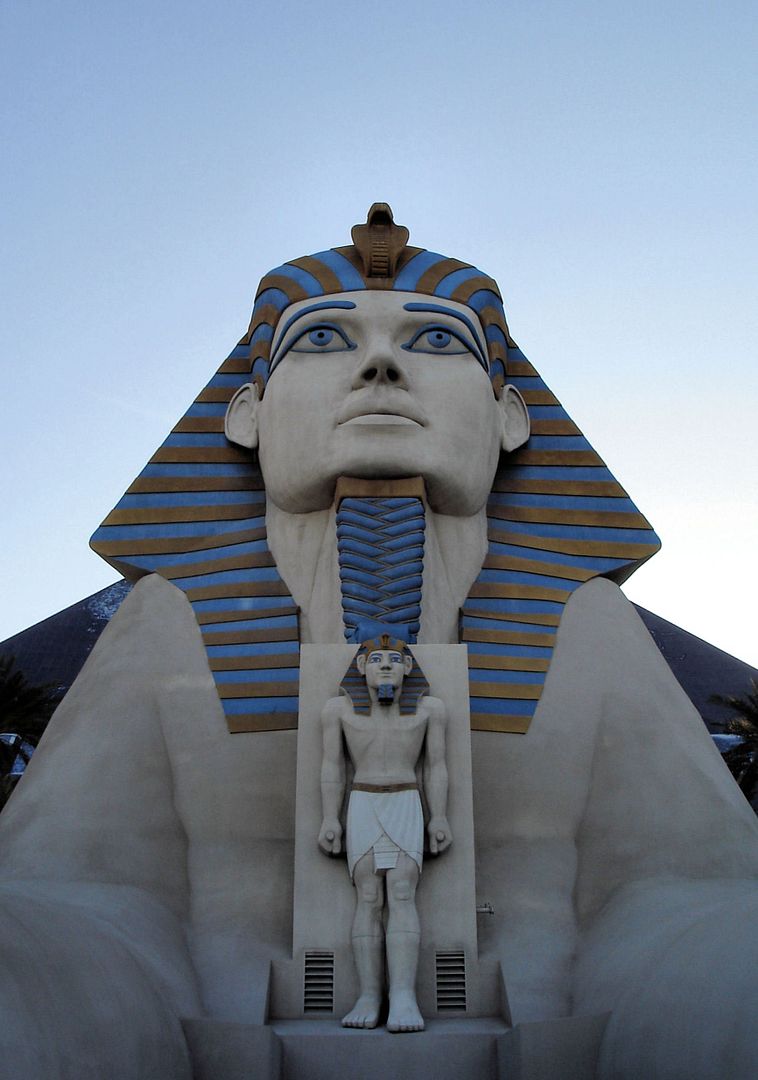 The atrium measures 29 million cubic feet (820,000 cubic meters) and is the largest in the world: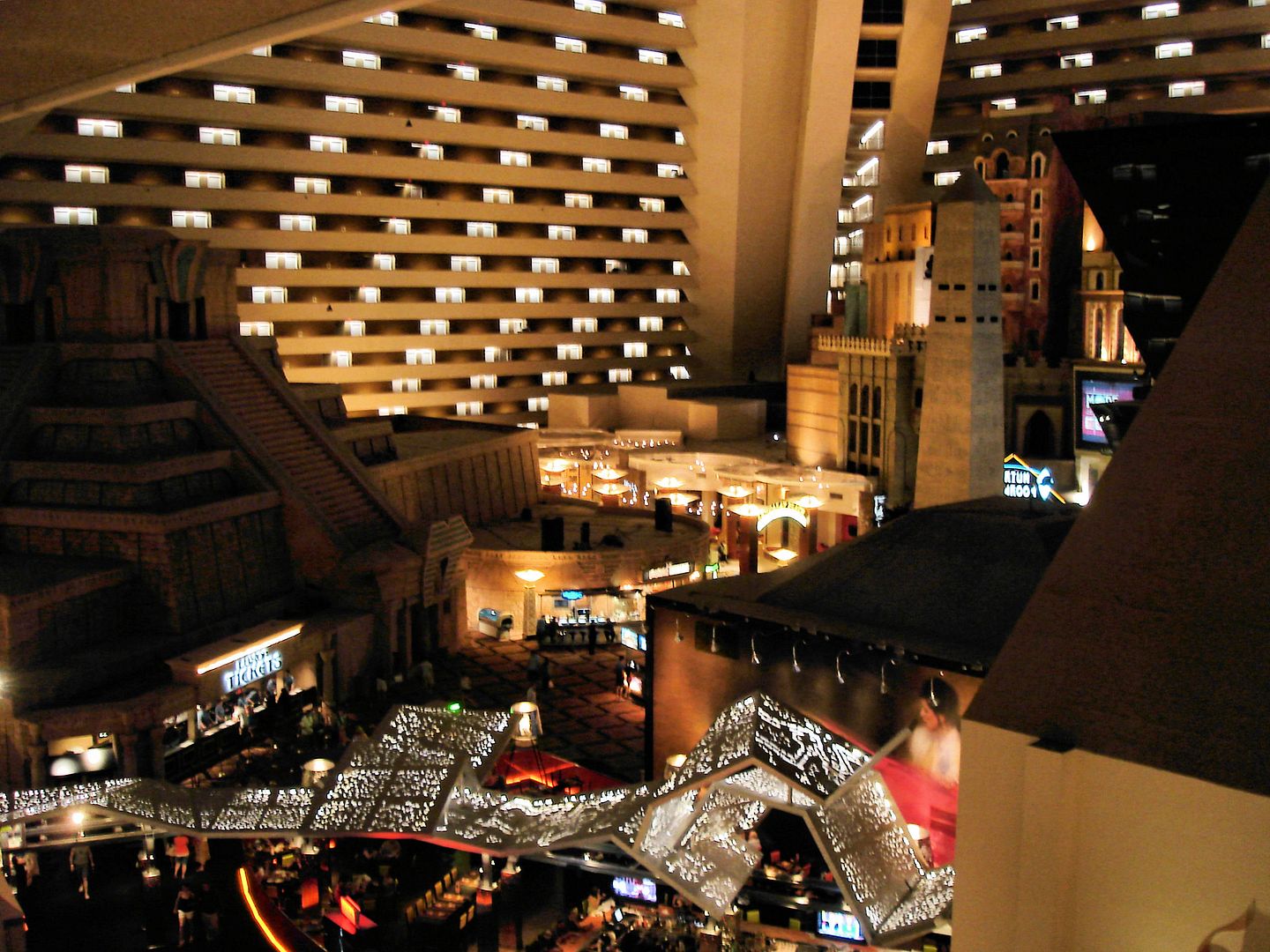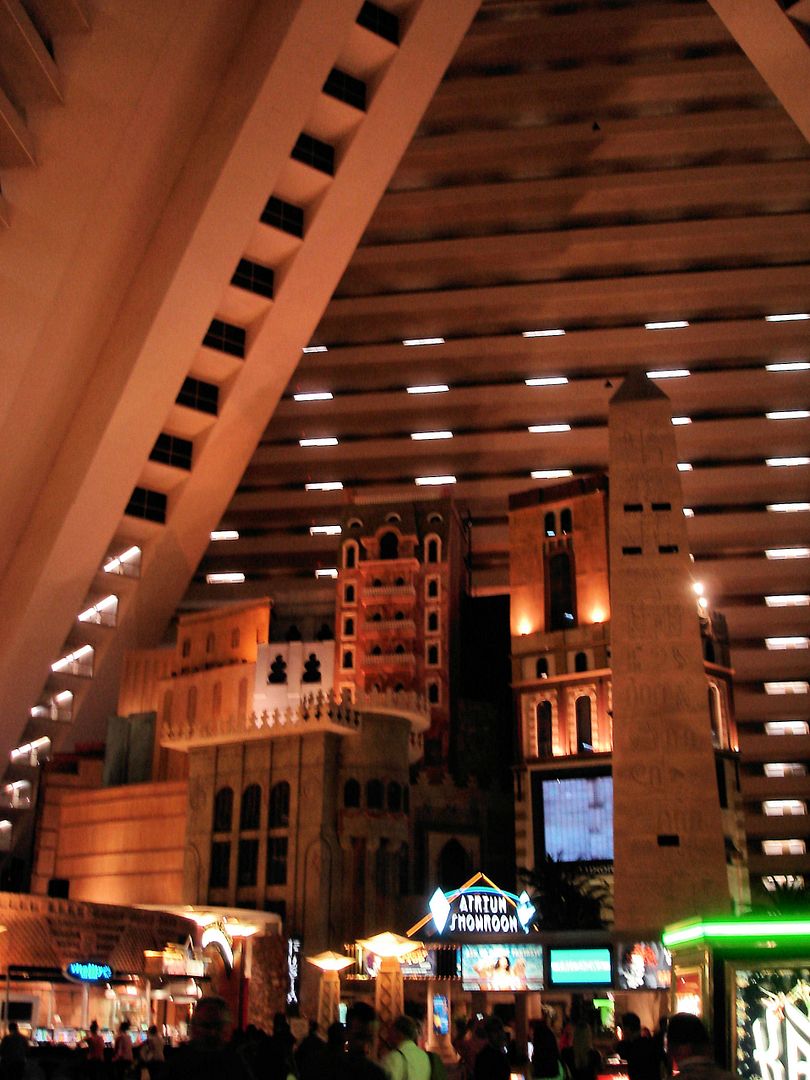 While the hotel design is still striking and most of the public areas still look nice, we were shocked by the condition of our room, the floors and the elevator areas. We had booked a Pyramid Spa Suite and hadn't expected to find filthy walls, filthy furniture, filthy carpets, a filthy spa and dirty windows. The room lighting wasn't working properly either. It seems the room hasn't been maintained since the opening of the hotel. We considered complaining shortly after checking in, but decided to spend our precious time for sightseeing instead. We would spend only one night at the Luxor and it wasn't worth it to ruin the whole day by a potentially senseless discussion with potentially unkind staff.
Of course we had been aware of numerous negative reports about the hotel in advance, but we really had wanted to stay at the Luxor once. Now we know it was a big mistake and we can only warn against choosing that hotel. I wrote a letter of complaint after returning home, but it has remained unanswered, as expected.
Las Vegas Glitter
We walked down the
Las Vegas Strip
and passed many famous hotels and structures such as the
New York-New York
:
The
MGM Grand Las Vegas
is the second largest hotel resort complex in the world behind
The Venetian
complex: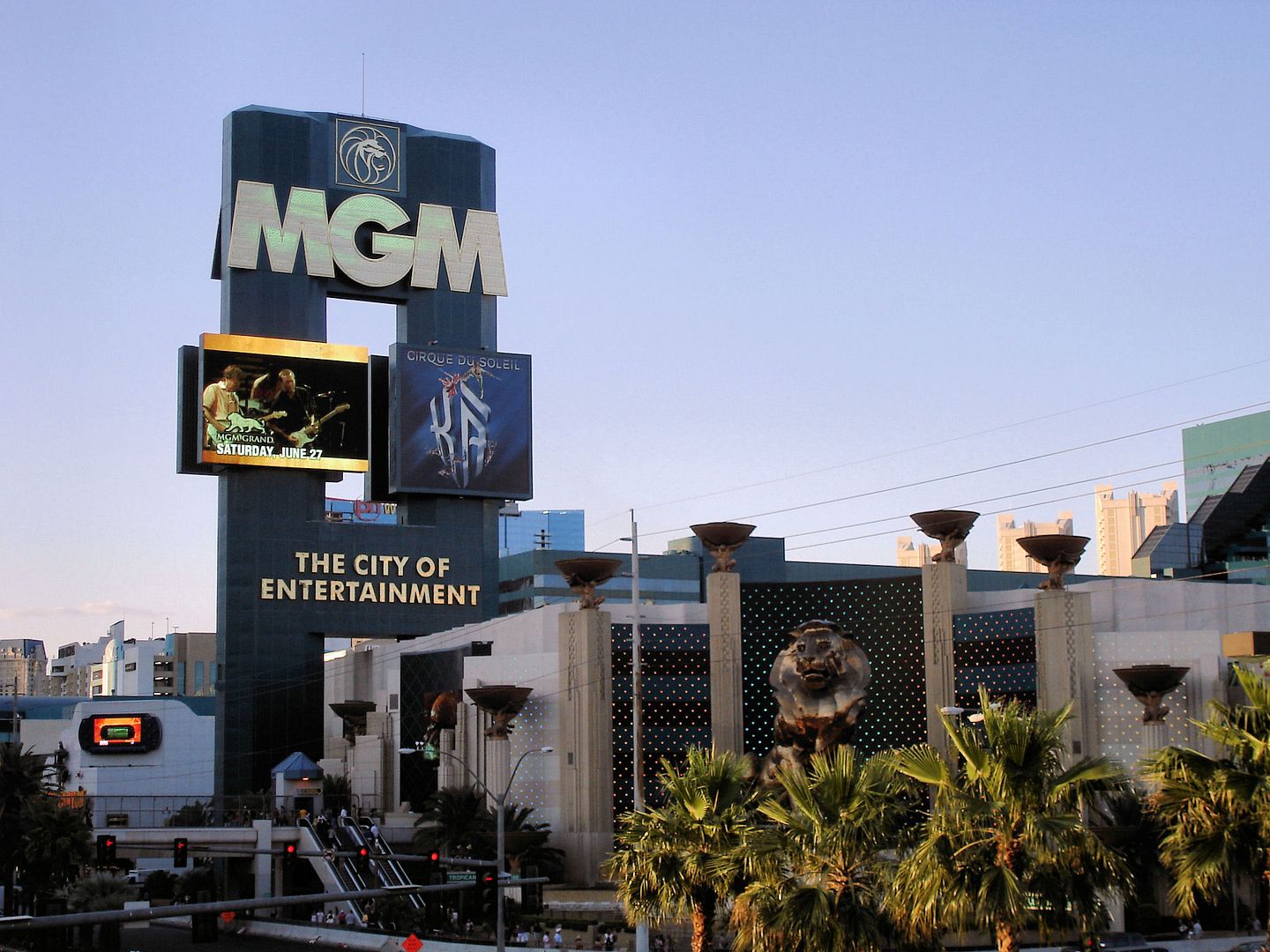 The
Excalibur
: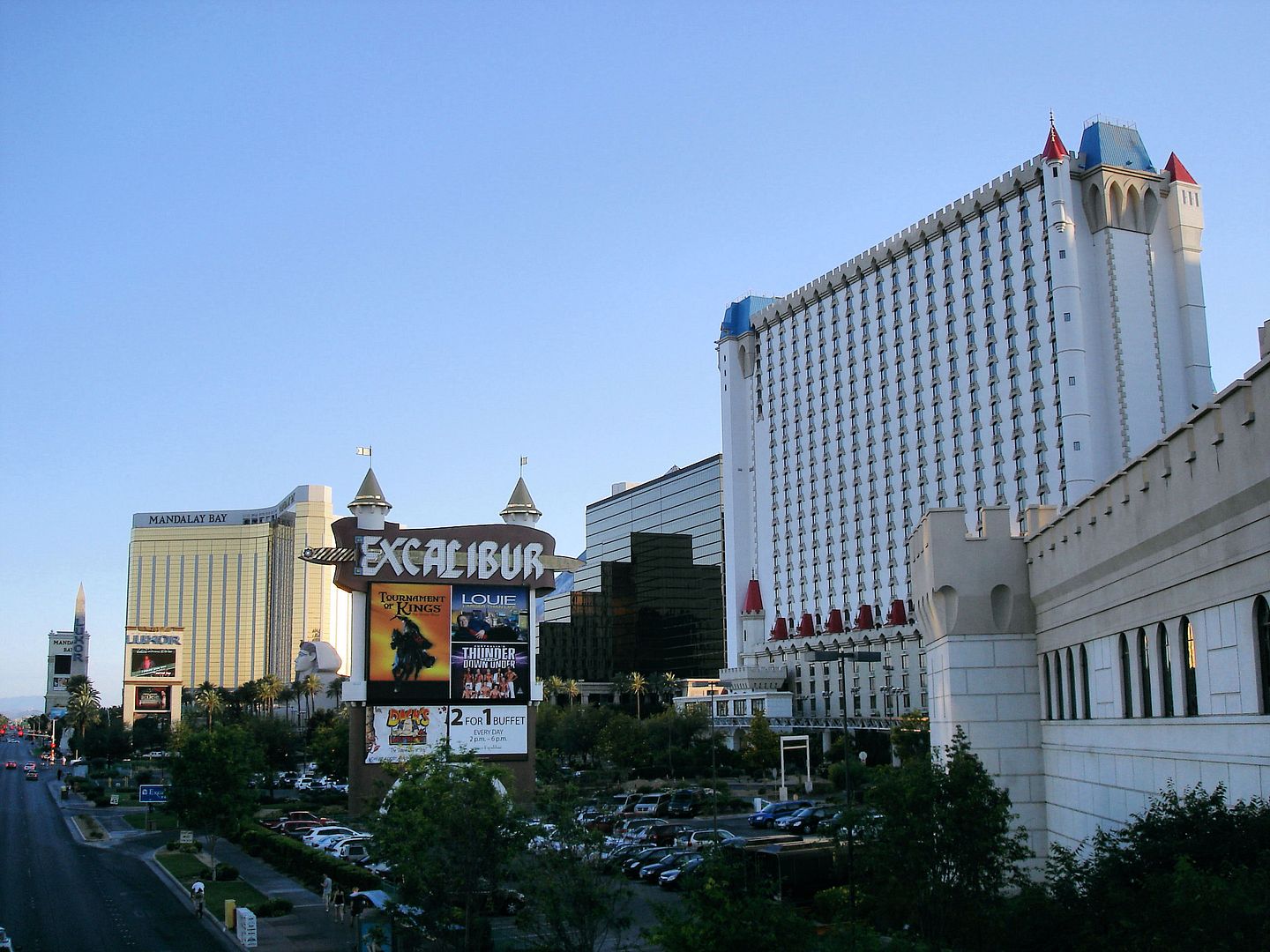 Motorcycle fans can make a stop at the
Harley Davidson Cafe
:
One of the most notable features of the
Bellagio
(on the right) is an 8-acre (32,000 square meter) lake between the building and the Strip, which houses the
Fountains of Bellagio
, a large dancing water fountain synchronized to music: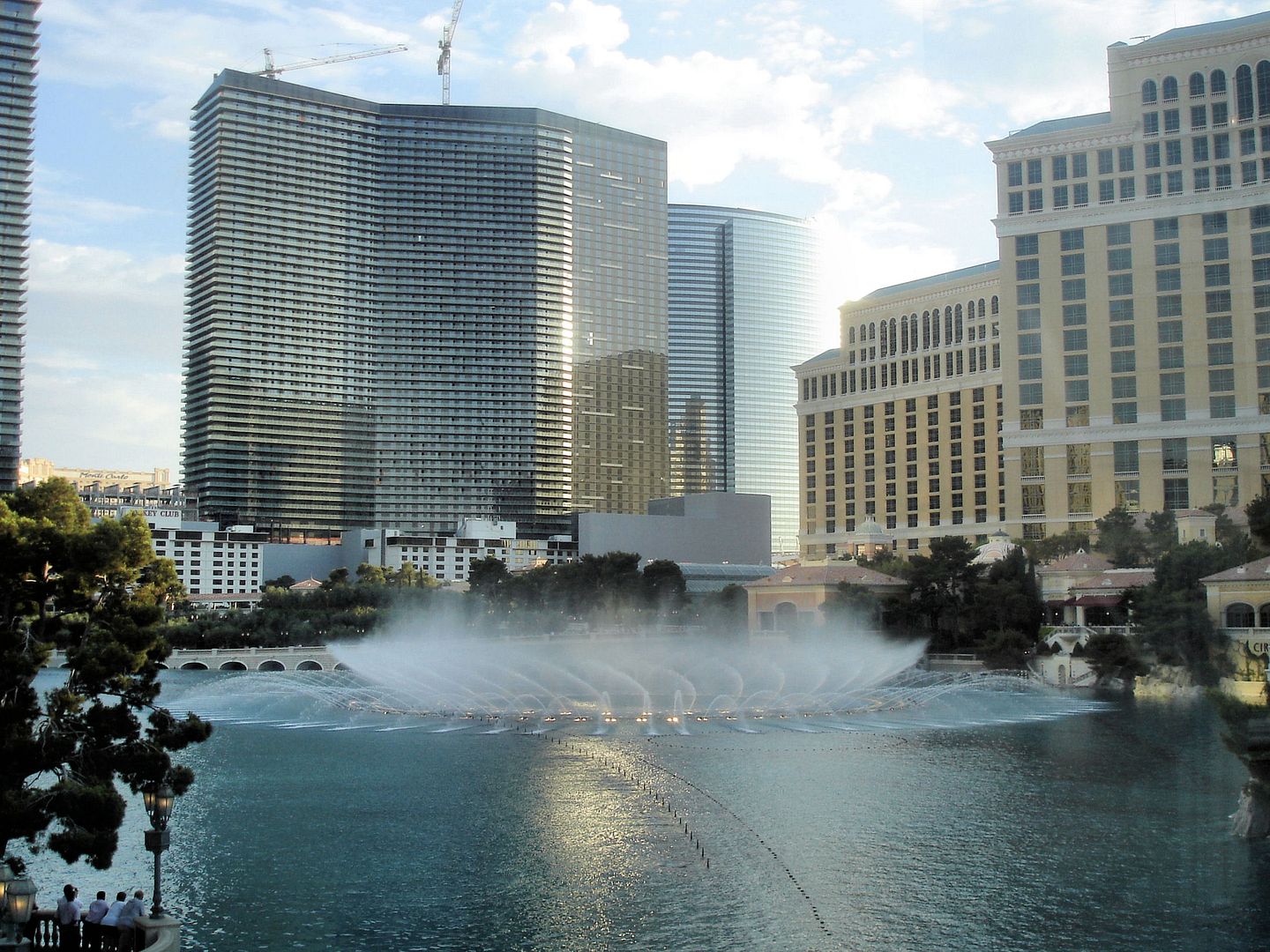 The
Paris Las Vegas
complex includes a 541-foot-tall (164.6 m) replica of the Eiffel Tower: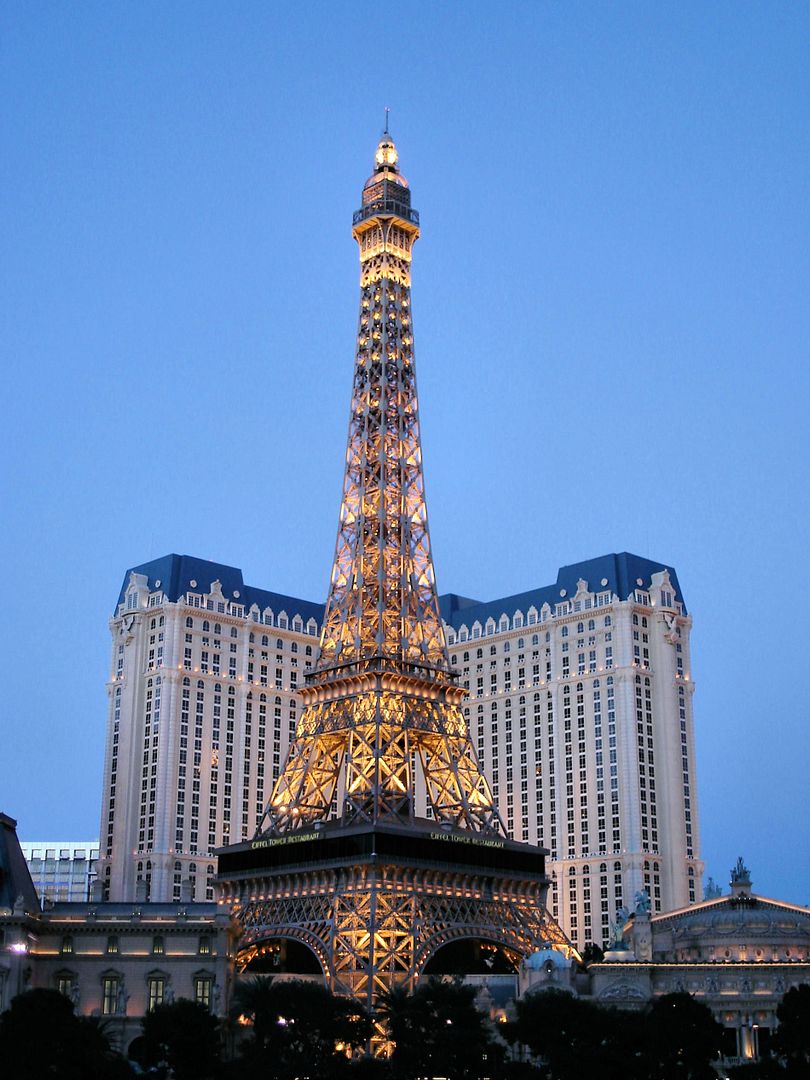 Crossing the
Strip
: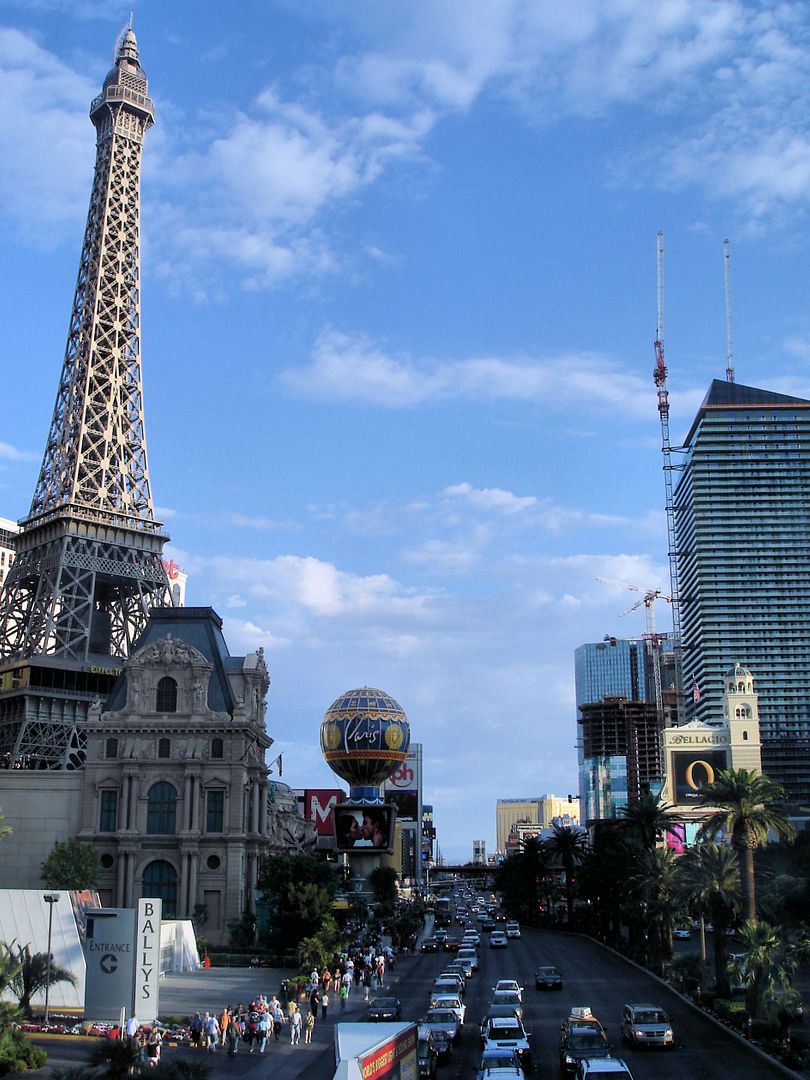 The
Caesars Palace
: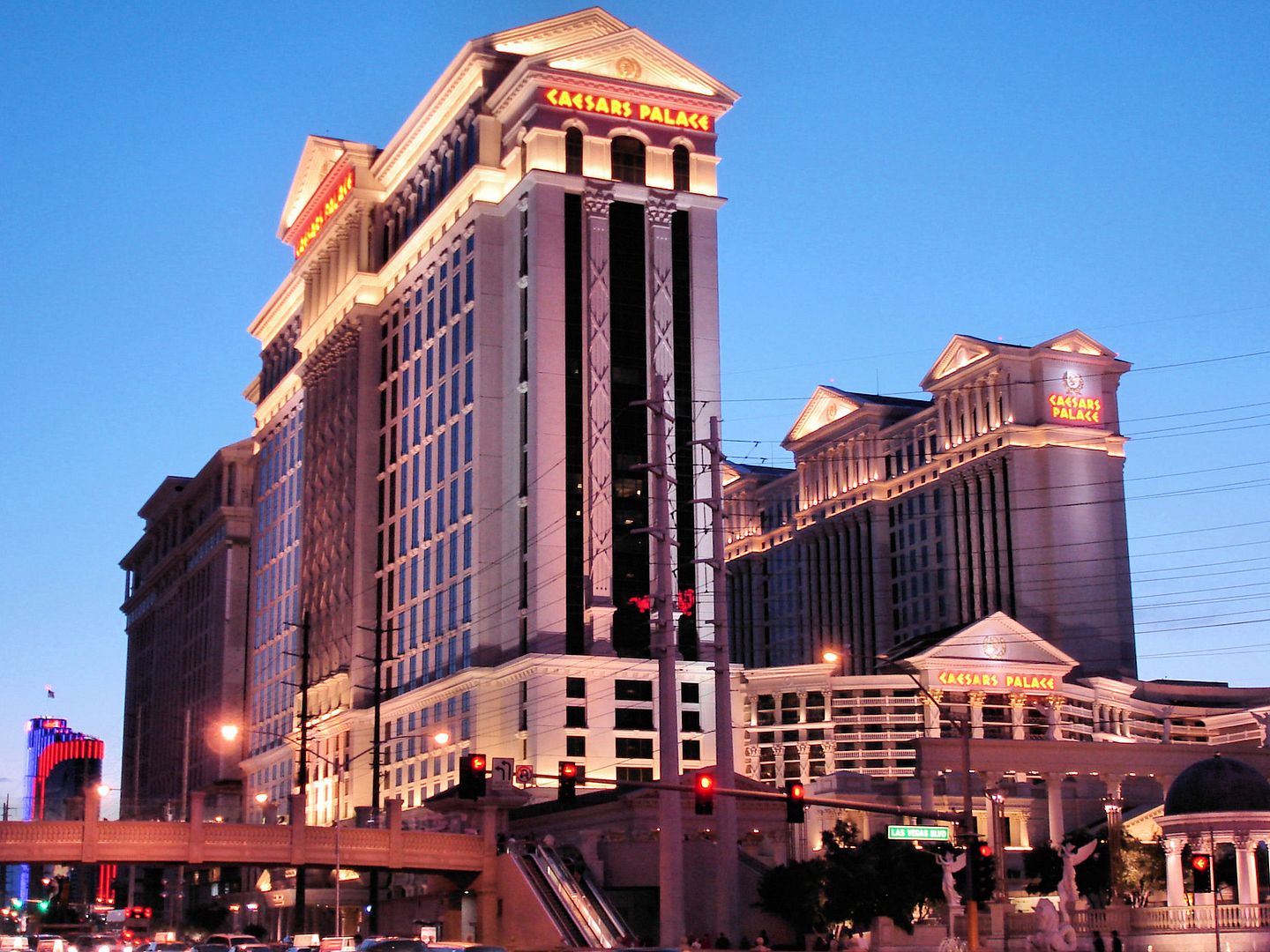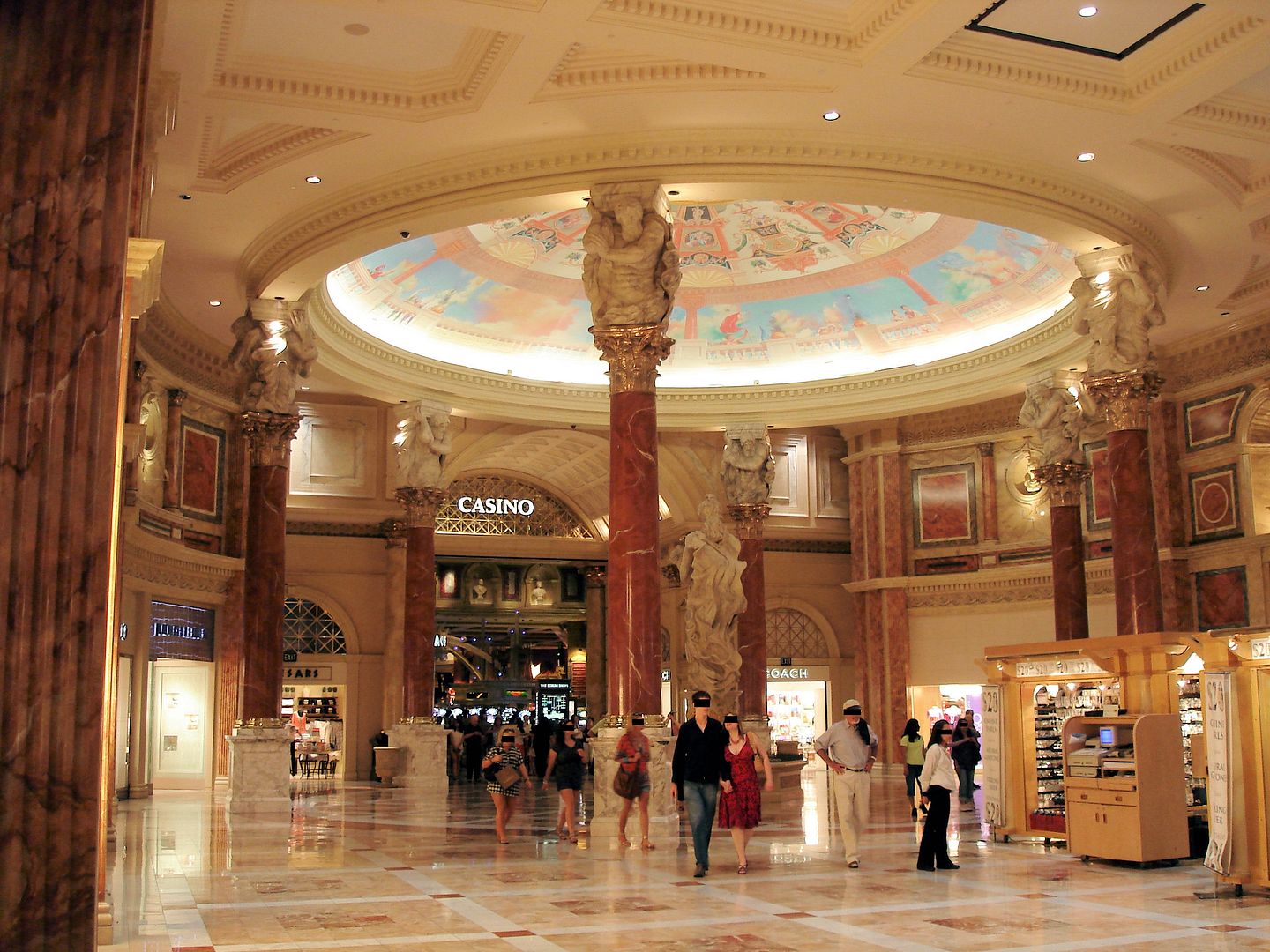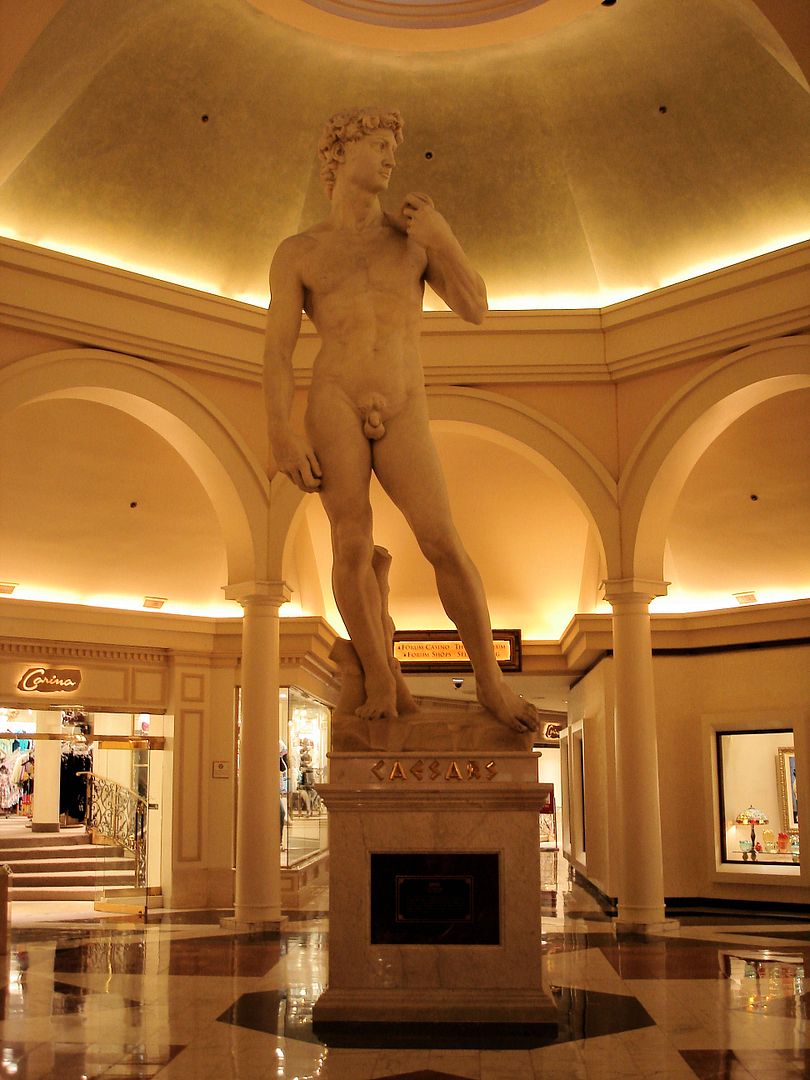 The
Bellagio
, inspired by the Lake Como resort of Bellagio in Italy: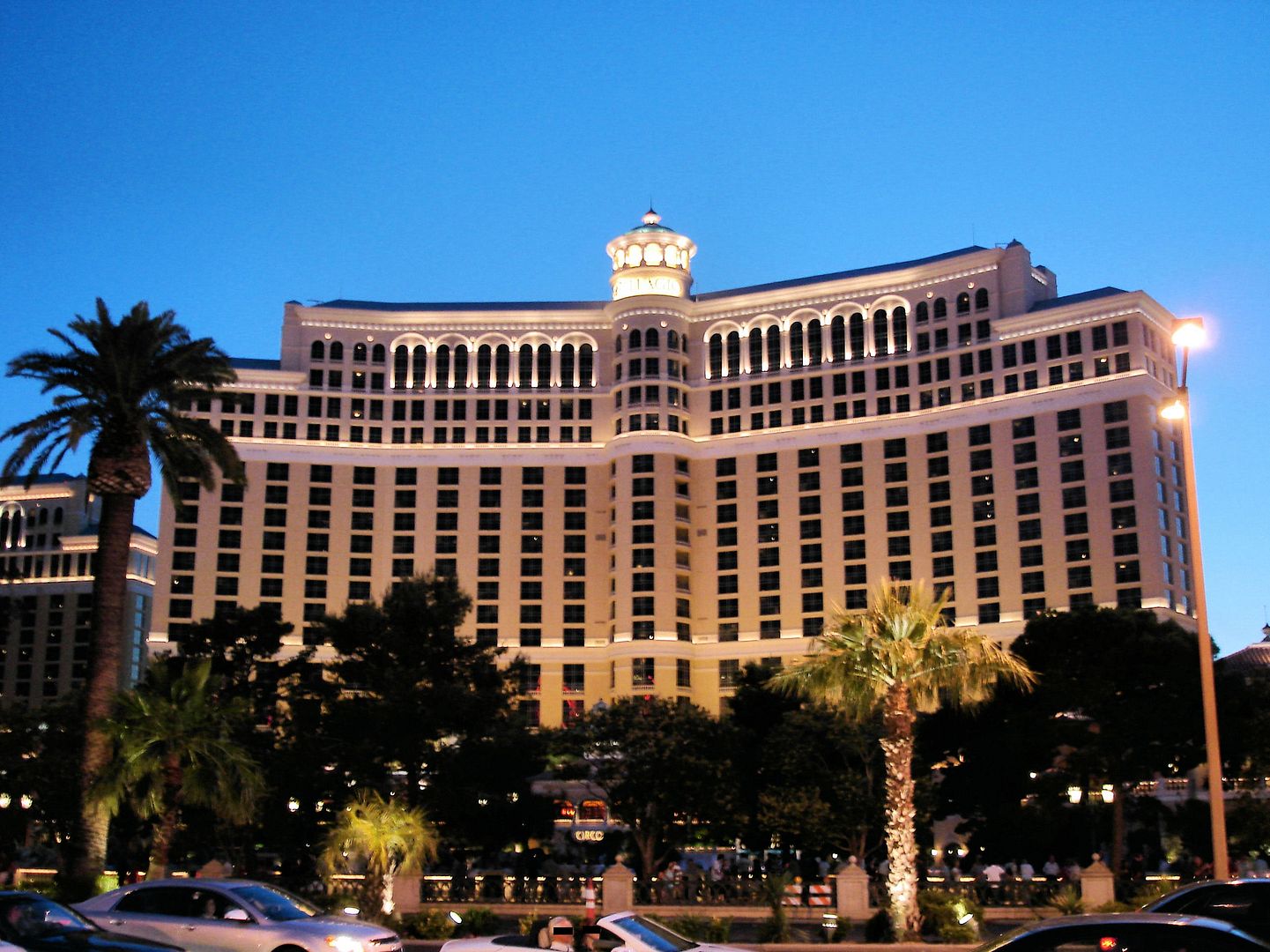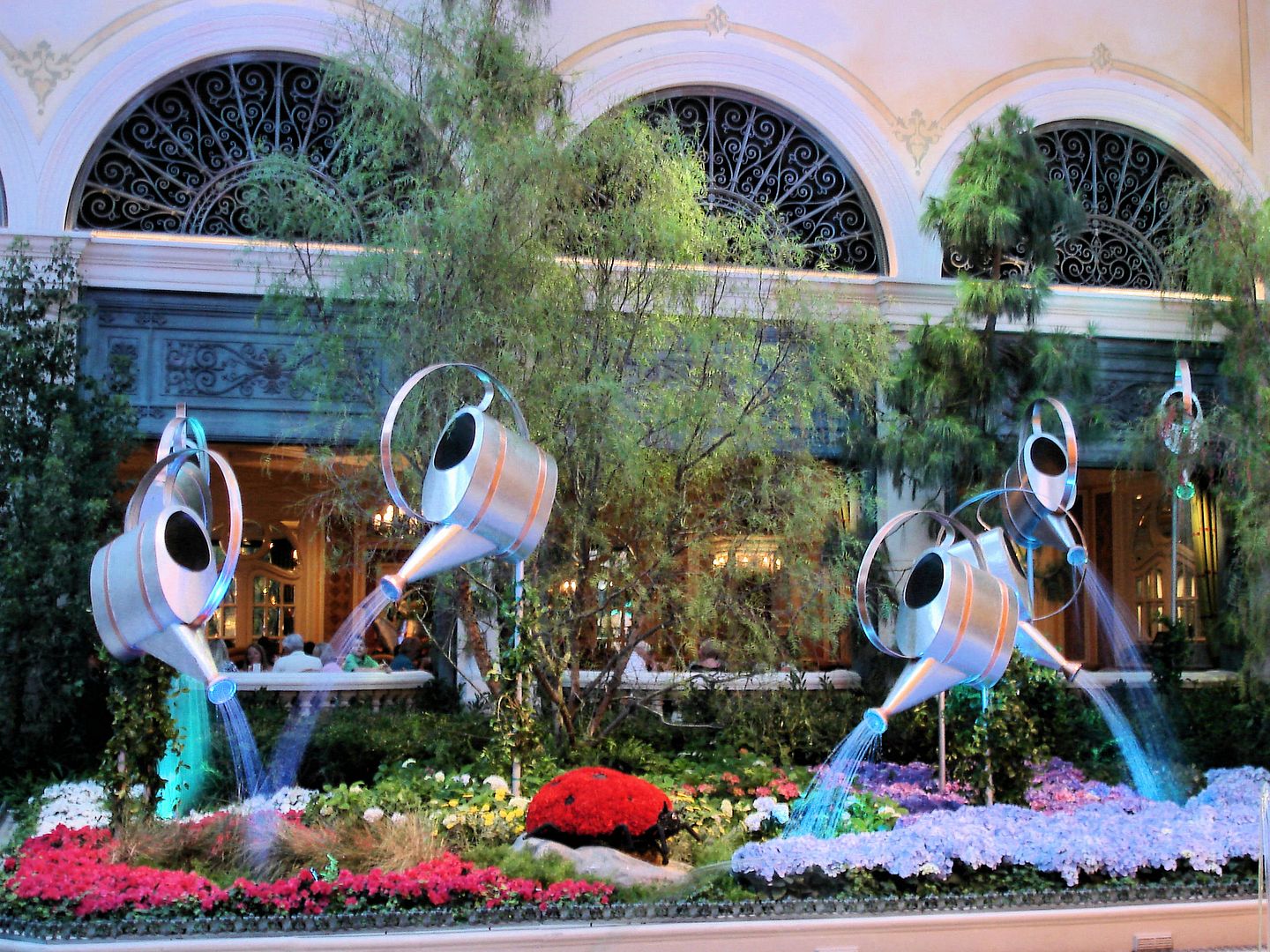 4,049 suites and a 120,000 square feet (11,000 square meter) casino can be found in
The Venetian
. Combined with the adjacent
Sands Expo Convention Center
and
The Palazzo
,
The Venetian
is a part of the largest hotel and resort complex in the world, featuring 8,108 hotel rooms and suites.
The Venetian
complex is equipped with replicas of the
St Mark's Campanile
...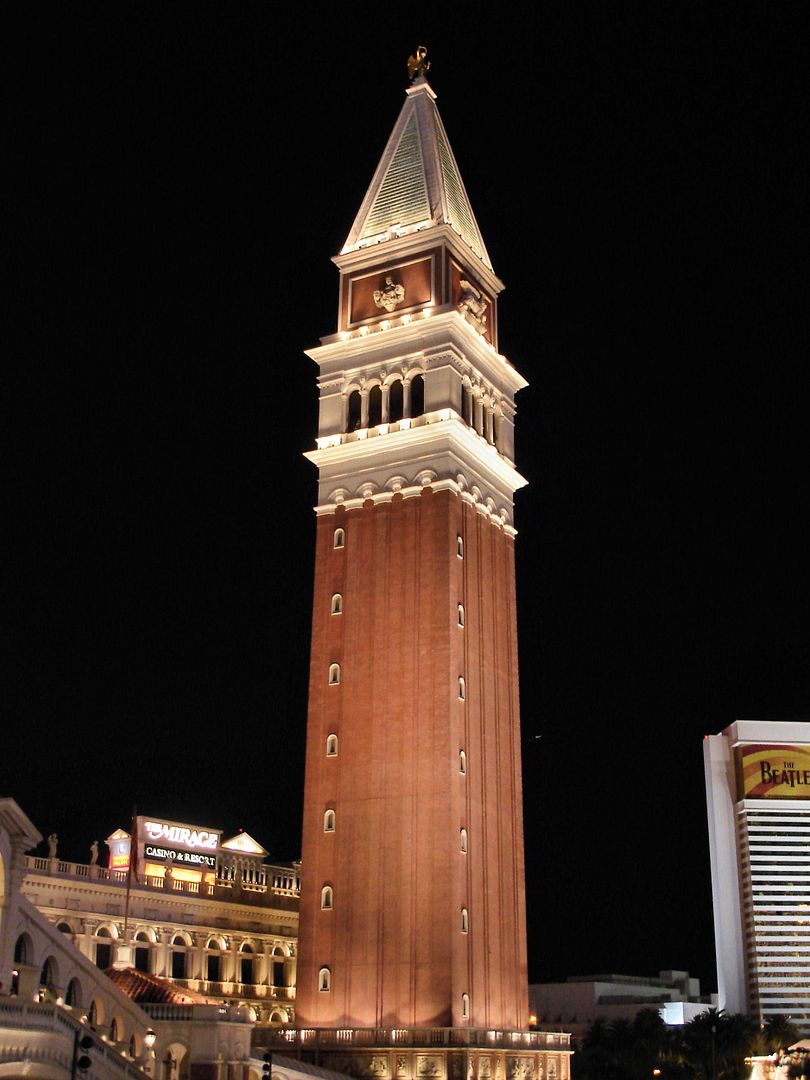 ...and the
Rialto Bridge
: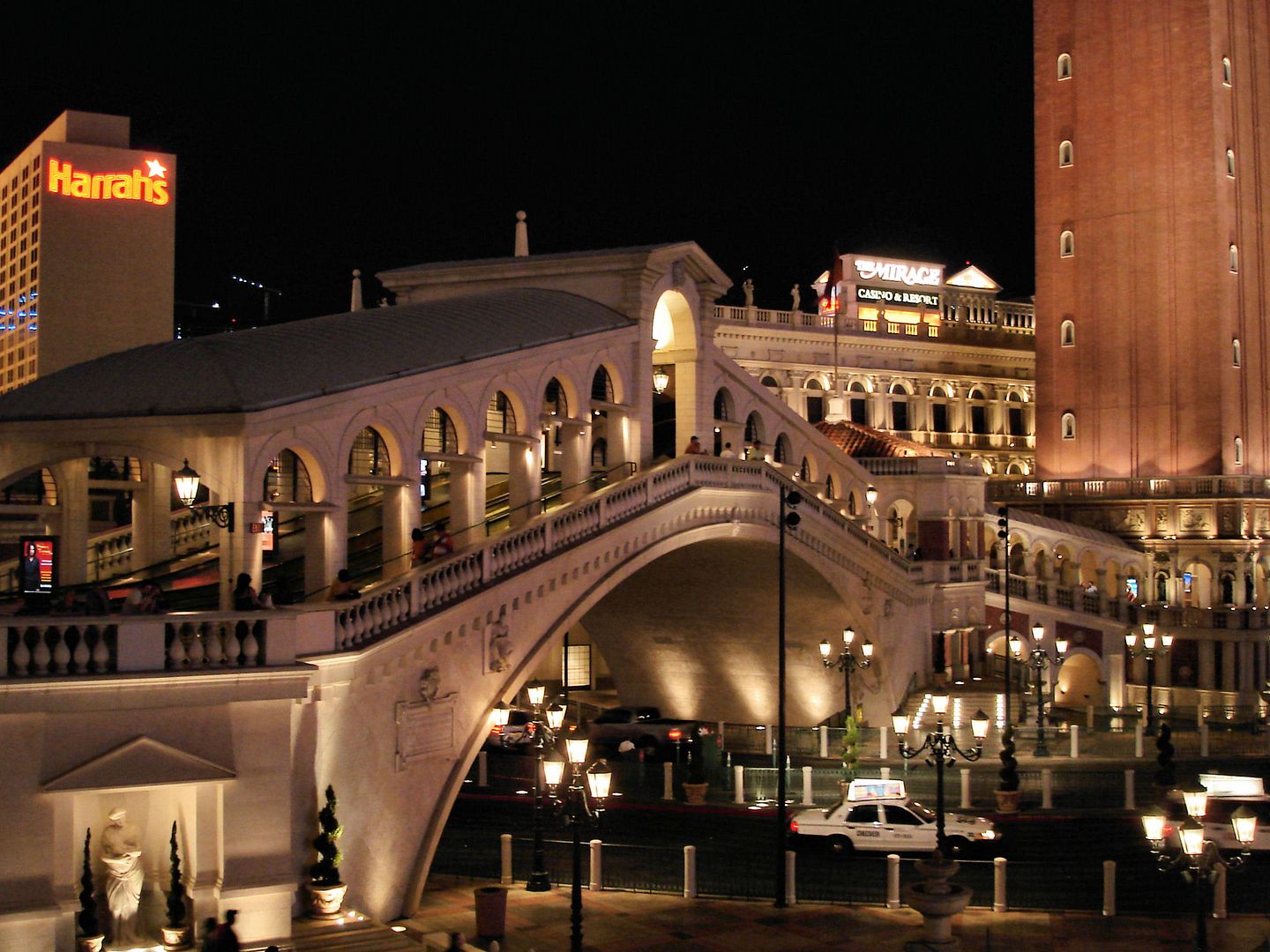 The
Grand Canal Shoppes
is an 500,000 square feet (46,000 square meter) upscale shopping mall adjacent to
The Venetian
and
The Palazzo
: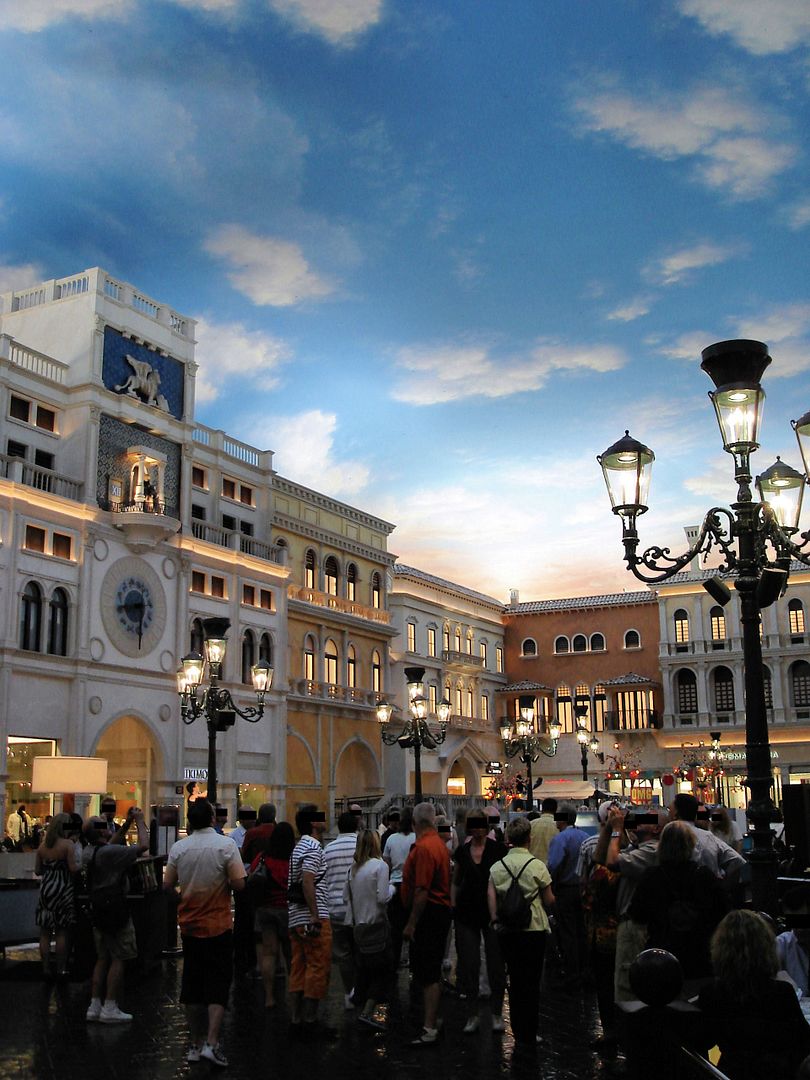 The mall which was opened in 1999 looks similar to the
Villagio
in Doha. If you want to compare, just have a look at this report:
Delights Of Doha, 773 & 77W: DOH-DXB-LHR On EK
Artificial volcano eruption outside
The Mirage
: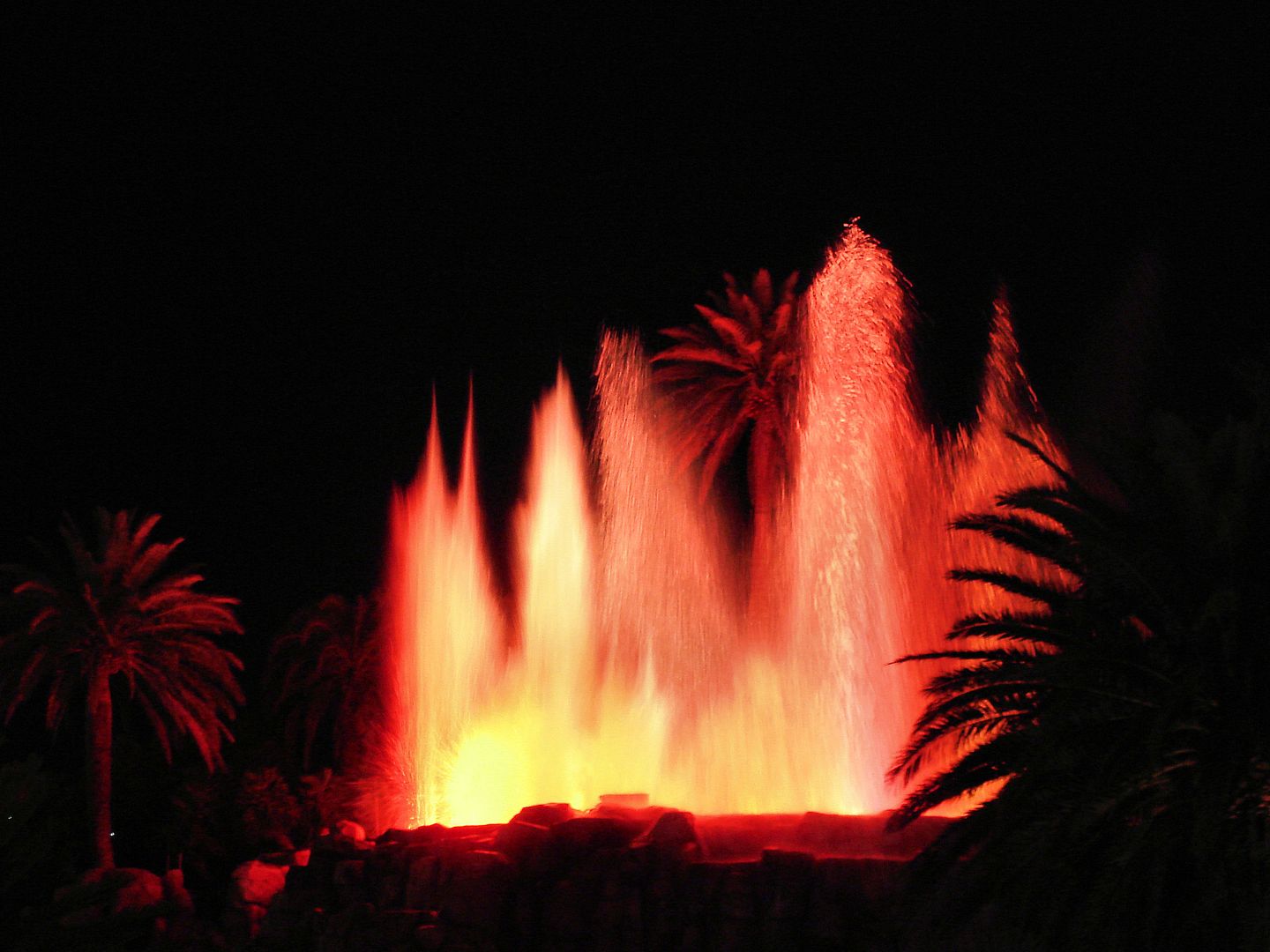 The
Fremont Street
in Downtown Las Vegas with its abundance of neon lights is the second most famous street after the Strip: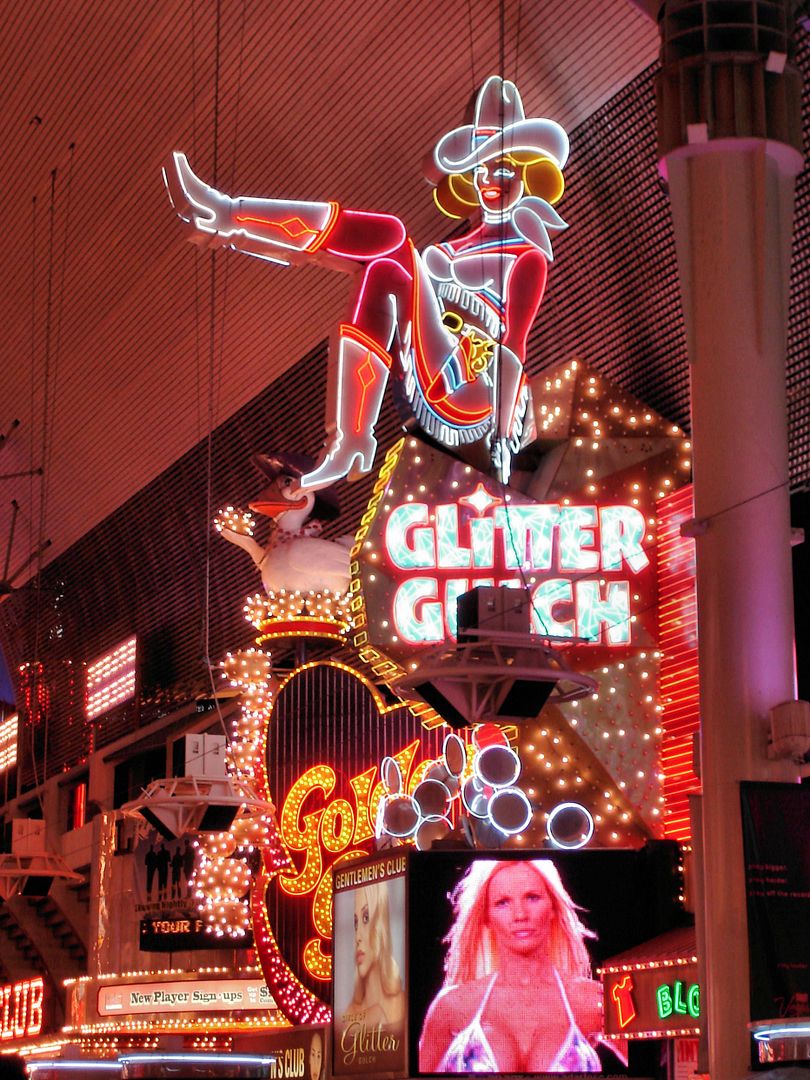 The
Fremont Street Experience
(FSE) is a pedestrian mall and attraction in Downtown Las Vegas. The attraction is a barrel vault canopy, 90 feet (27 m) high at the peak and approximately 1,500 feet (460 m) in length. Each show begins by turning off the lights on all of the buildings, including the casinos, under the canopy. The
Queen
-themed light and sound show was very impressive: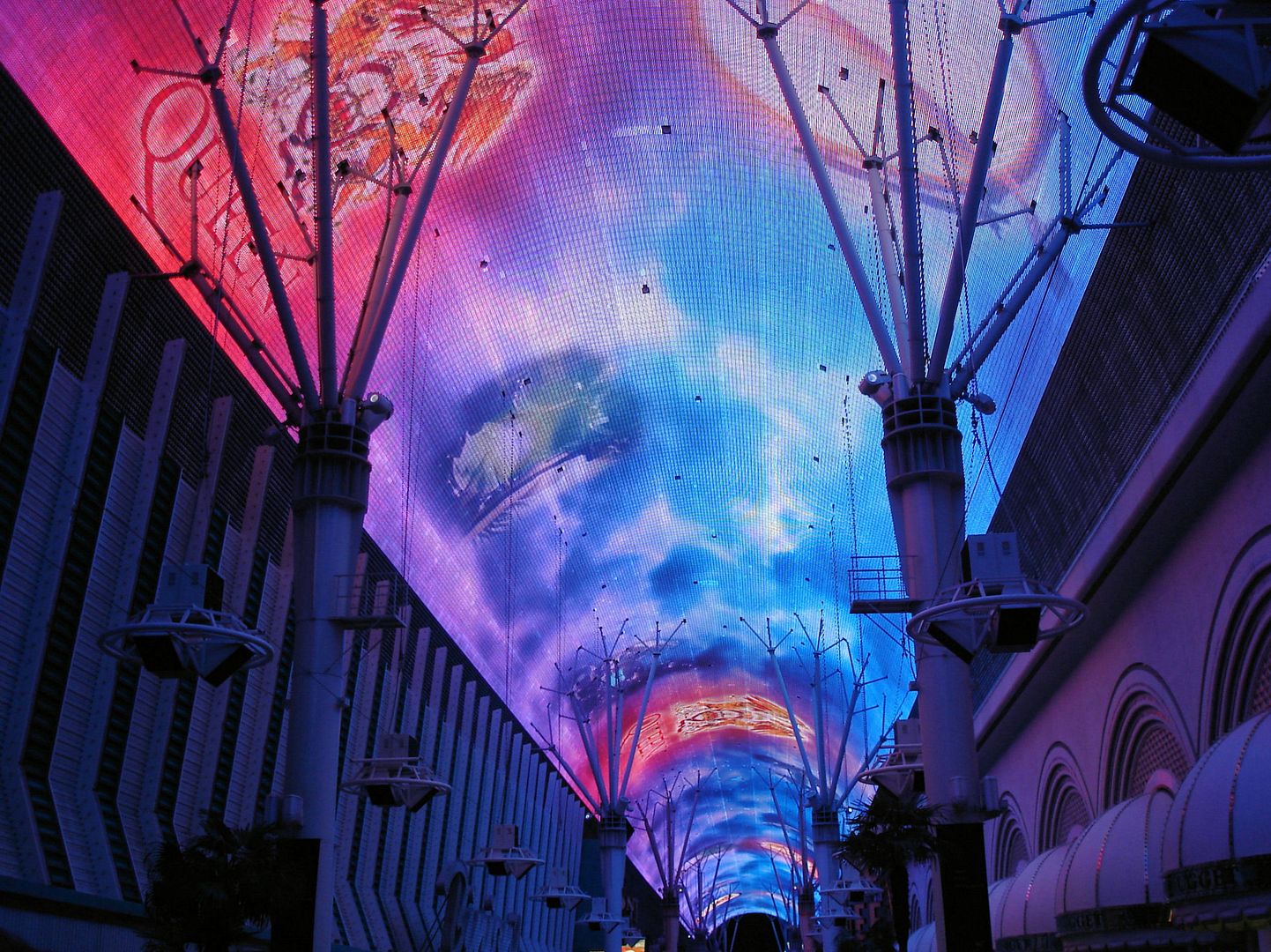 Night views of the
Excalibur
...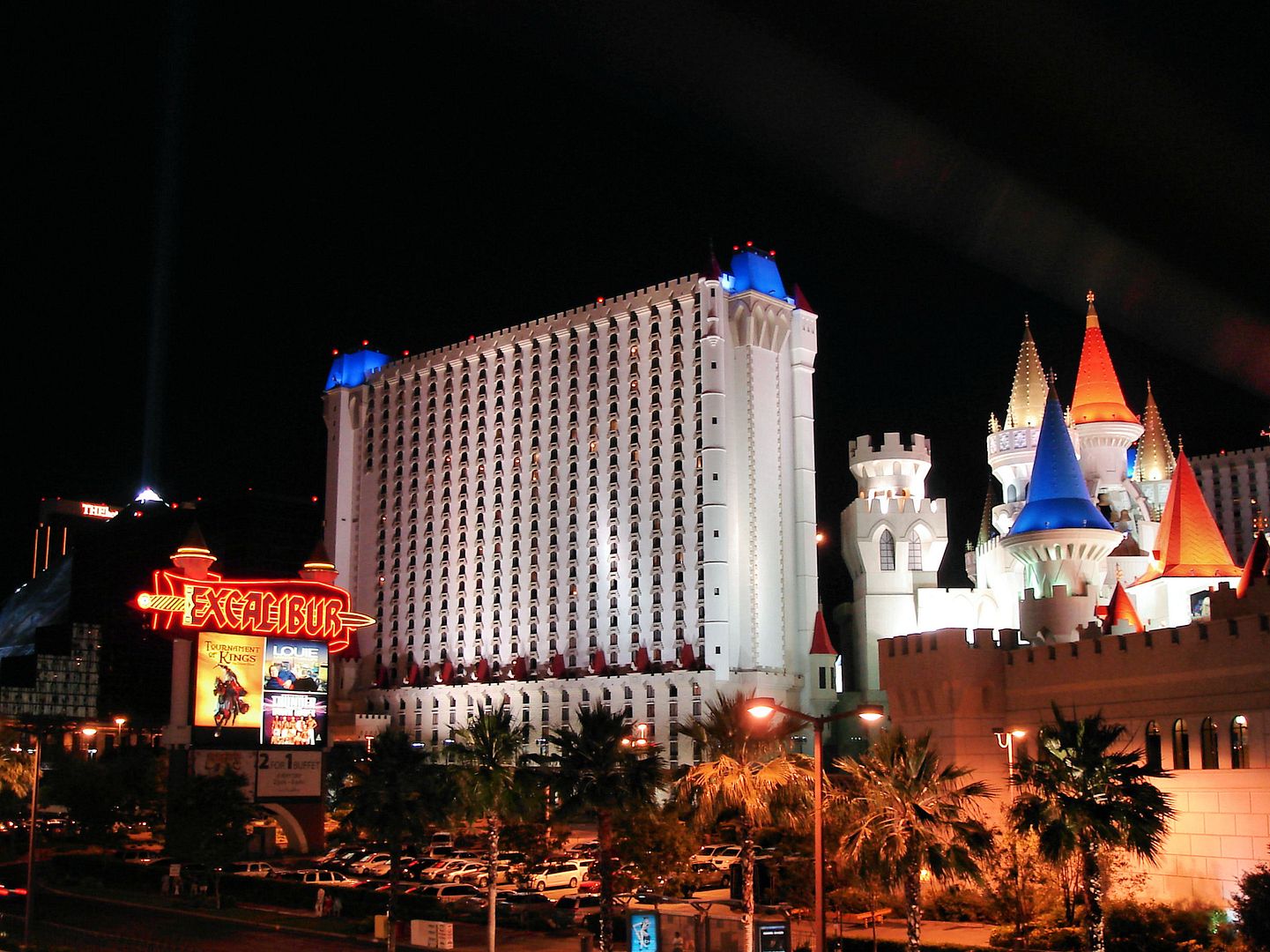 ...the
New York-New York
...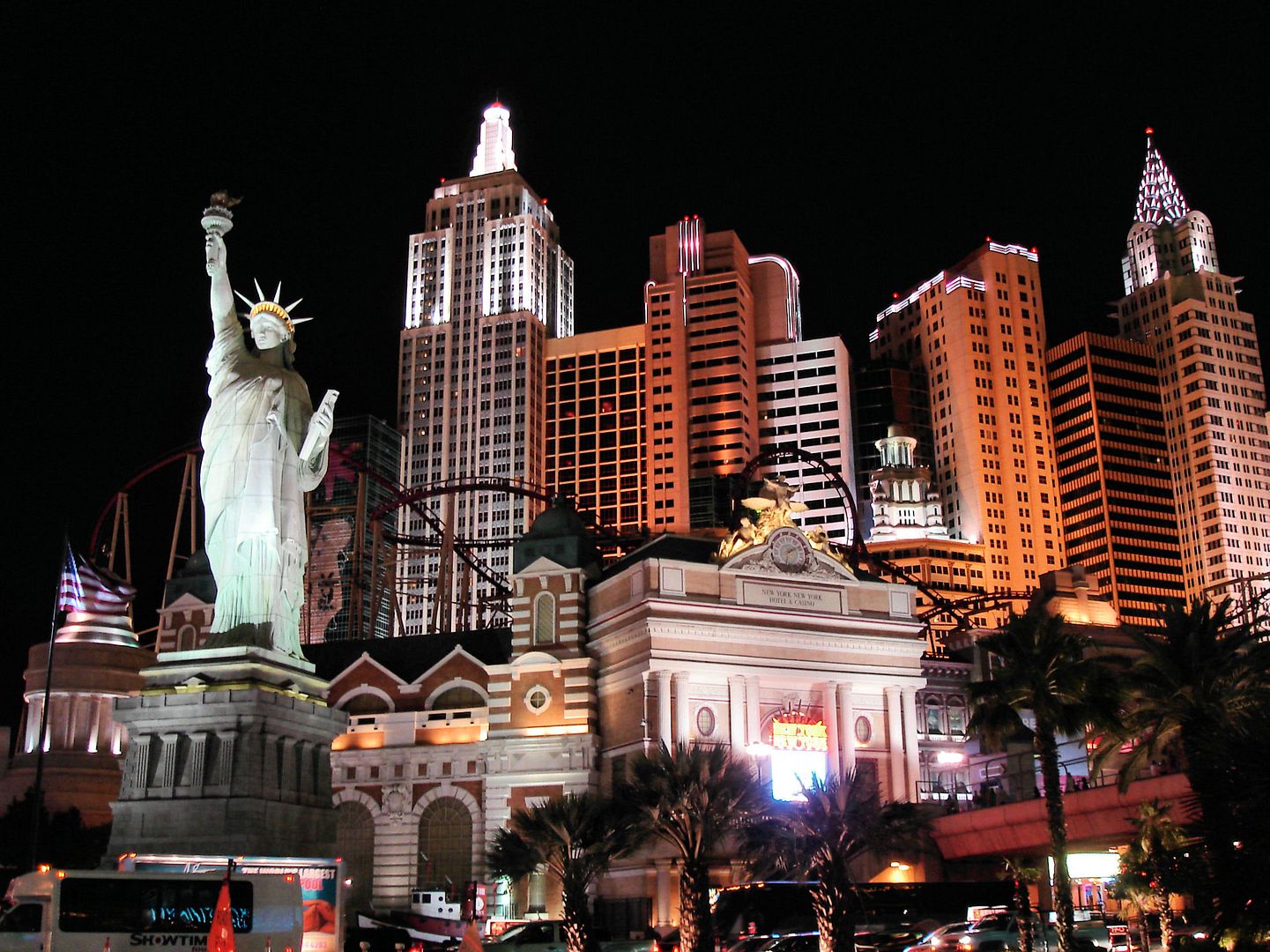 ...and the
Strip
: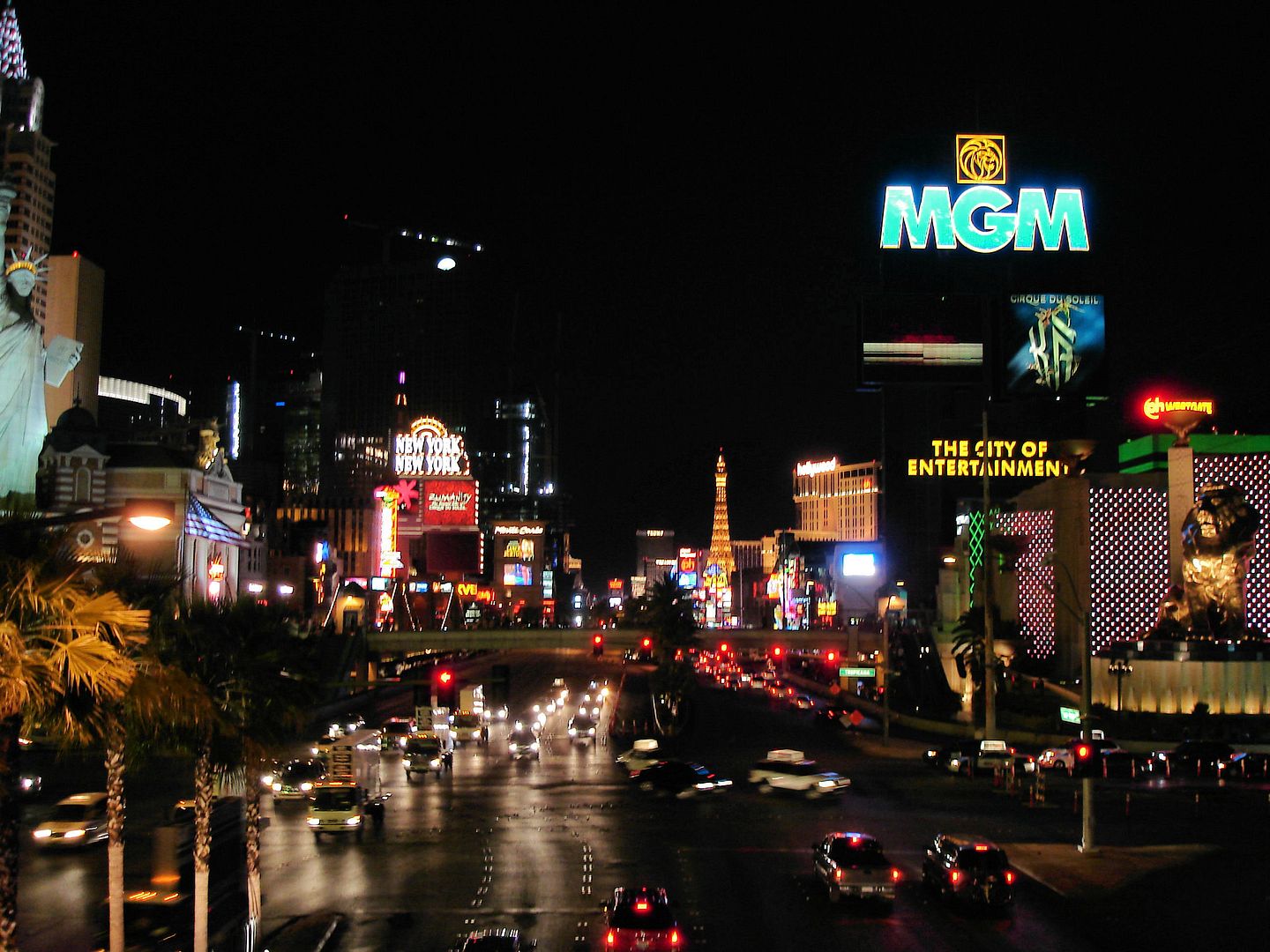 Friday, 22 May 2009
Las Vegas (LAS) - San Francisco (SFO)
Virgin America VX901
11:30-13:05 (12:27-13:53)
Flying time: 01:05 (hrs)

Airbus A320-214
N628VA (MSN 2993), named
entourage air
, delivered in 01/2007
First Class, Seat 1D
Warm Welcome
After two days in Las Vegas it was time to say goodbye. We took a shuttle to the airport and went straight to the Virgin America check-in area. A very friendly female agent welcomed us and I asked whether it's possible to check in more than two hours prior to departure, referring to negative experiences with other carriers.
"We are better than other airlines"
, the agent replied with a smile and entered our data.
At the time of booking Virgin America still hadn't introduced a fee for the first checked bag and the free baggage allowance of 32 kg (70 lbs) was more than enough for us. However, we wanted to find out whether our bags were still below Air Canada's free baggage allowance of 23 kg (50 lbs). So I asked the agent whether she could tell us the exact weight which she immediately did.
Upgrade for 50 Bucks
Before we arrived at the airport I had noticed that aircraft had been departing from runways 25L or 25R - which meant we wouldn't see the Strip and the hotels from our pre-reserved seats (19A and 19B). So I asked the agent whether it's possible to switch to the right side. She confirmed and then asked:
"Would you be interested in an upgrade to First Class? It's $50 per person."
We were quite surprised by that offer considering that the upgrade would only cost some 35 Euro per person. Of course we accepted and two minutes later we got our boarding passes with seat numbers 1D and 1F. So in the end we had paid a total of $119,60 (some 90 Euro) per person including all taxes and fees for a Virgin America First Class flight.
Delay & Aircraft Change
We used the security priority lane and soon walked to our gate which was still deserted. Partly facing the sun, taking pictures through the glass windows was not easy: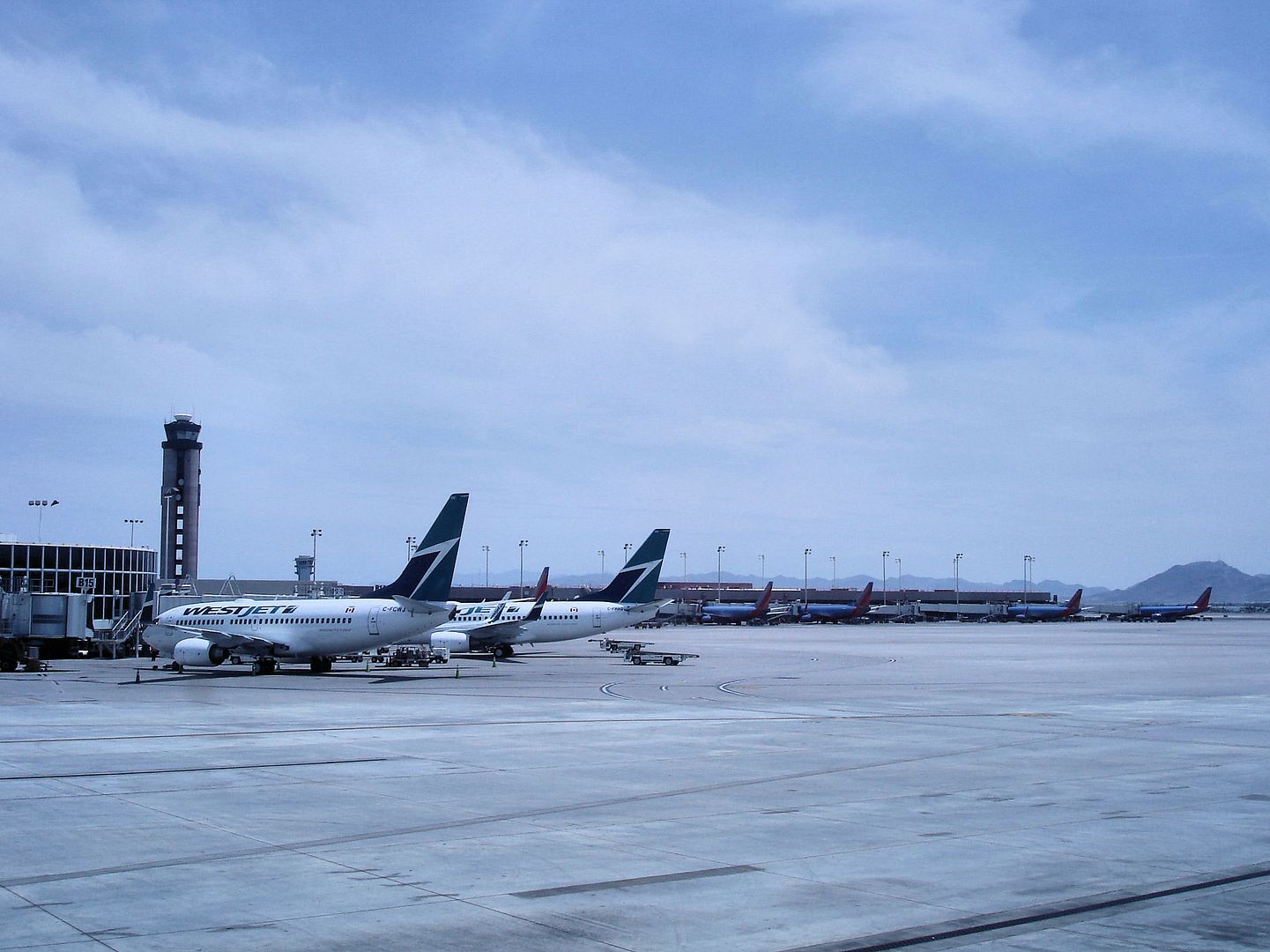 While I was walking around a bit I partly missed an announcement - which informed about a delay of our flight and an aircraft change.
"Airlines do that all the time"
, the agent added. I wasn't annoyed at all because the delay of about an hour would give me more time for spotting. Then the agent mentioned that certain passengers could switch to the next scheduled service to San Francisco, but withdrew the offer only some minutes later: meanwhile it had become clear that our plane was in the air and would leave Las Vegas roughly at the same time as the later LAS-SFO flight. Finally our aircraft arrived - which was an A320 and not an A319 as originally scheduled:
N628VA
was built in 12/2006 and delivered in 01/2007.
The plane, named
entourage air
, was used to launch Virgin America's New York-Las Vegas flights and season 5 of HBO's "Entourage" as well as HBO television content fleetwide in September 2008. For several weeks
N628VA
was operating in special colors:
View Large
View Medium


Photo © Dave Budd - Photorecon
Boarding & Cabin Comfort
As soon as boarding was started we entered the cabin and were welcomed by a male flight attendant in the 30s. He was polite, but somehow reserved and he wouldn't smile at all during the whole flight - not the best choice for First Class.
Anyway, the 21-inch wide leather seats are very comfortable. You can enjoy a personal reading light, a massage function, an electronically-controlled lumbar support, 13 inches of recline with independently adjustable leg and footrests as well as headrests with adjustable wings and height adjustment.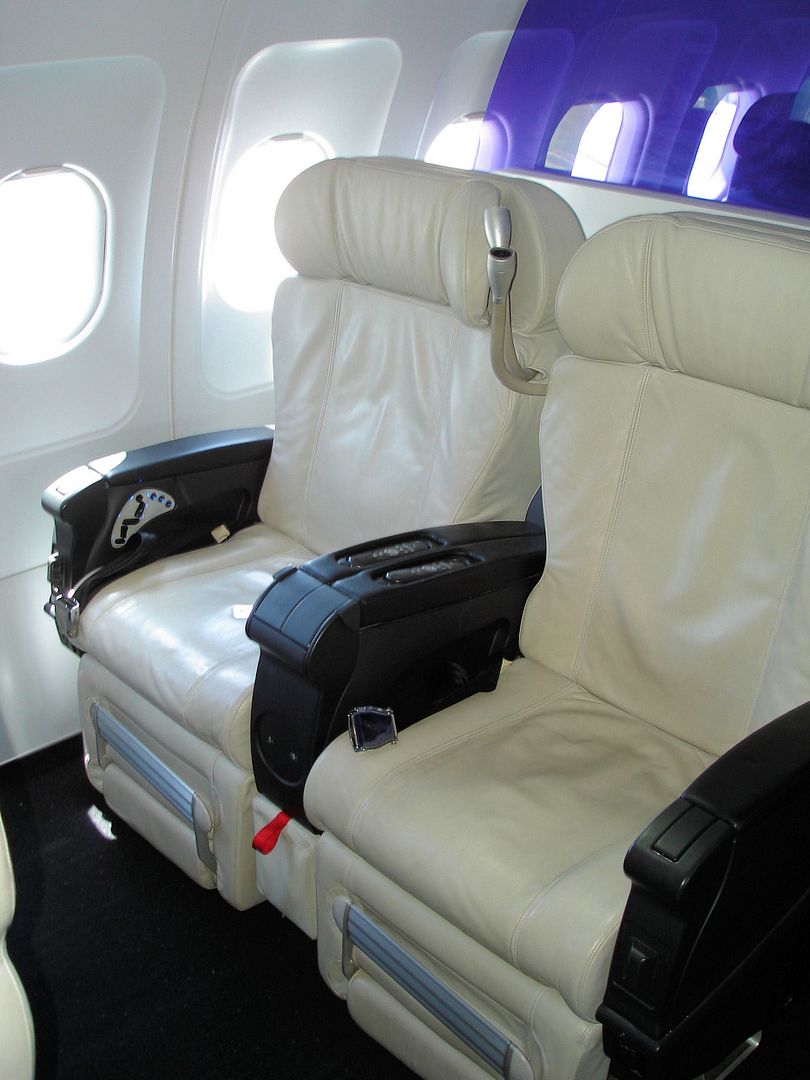 The 55-inch seat pitch is very generous: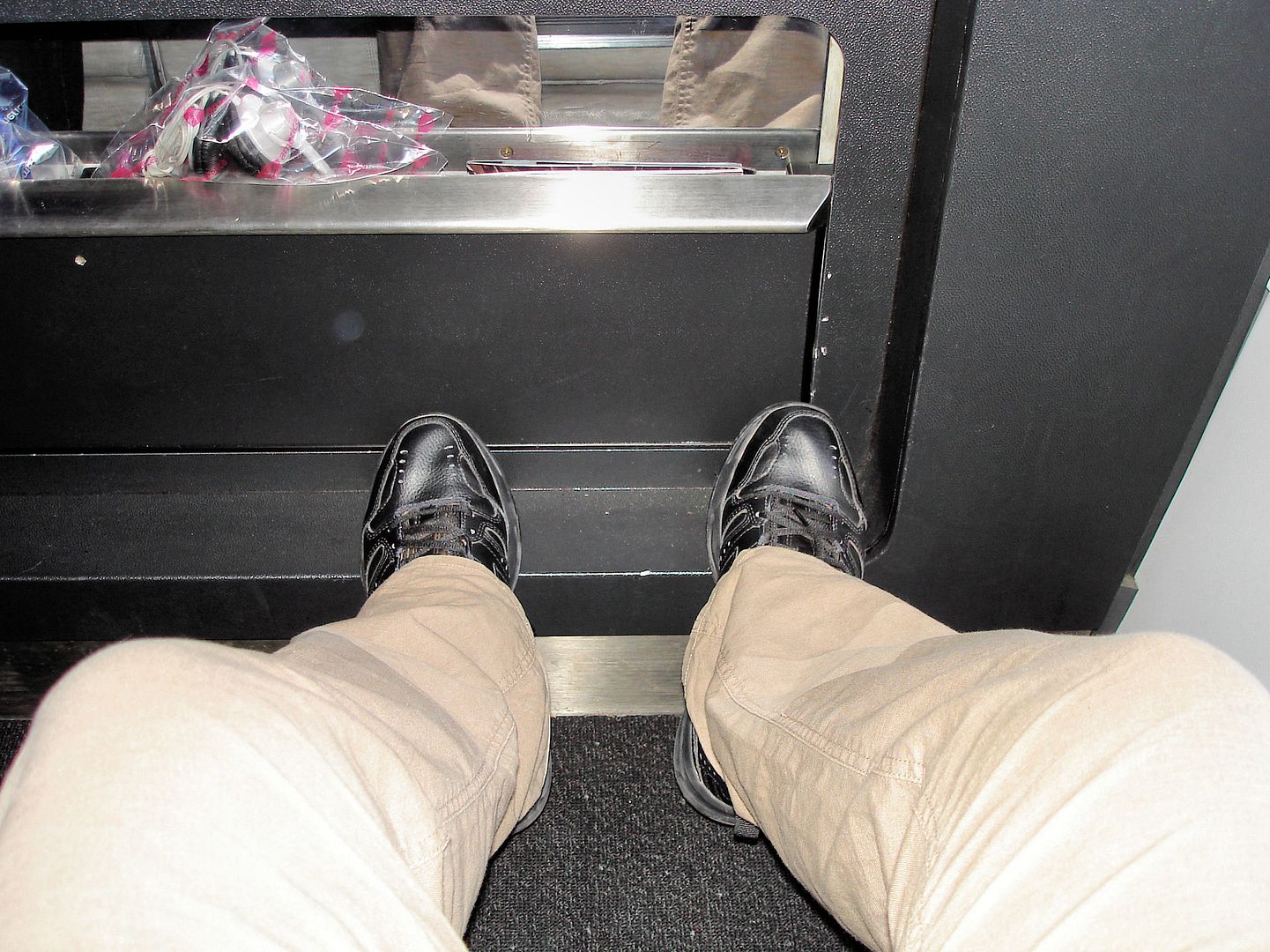 Mood lighting can be found throughout the whole cabin. Entrance and front galley area: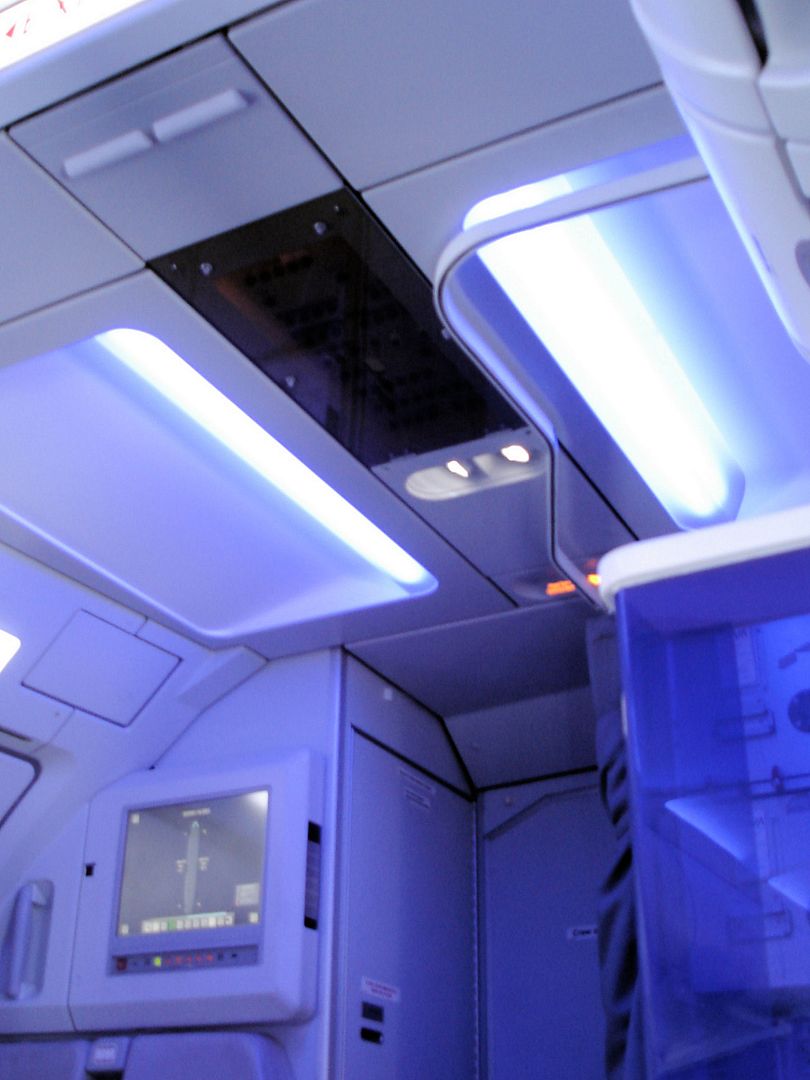 Drinks & Departure
Water bottles had already been placed at a table...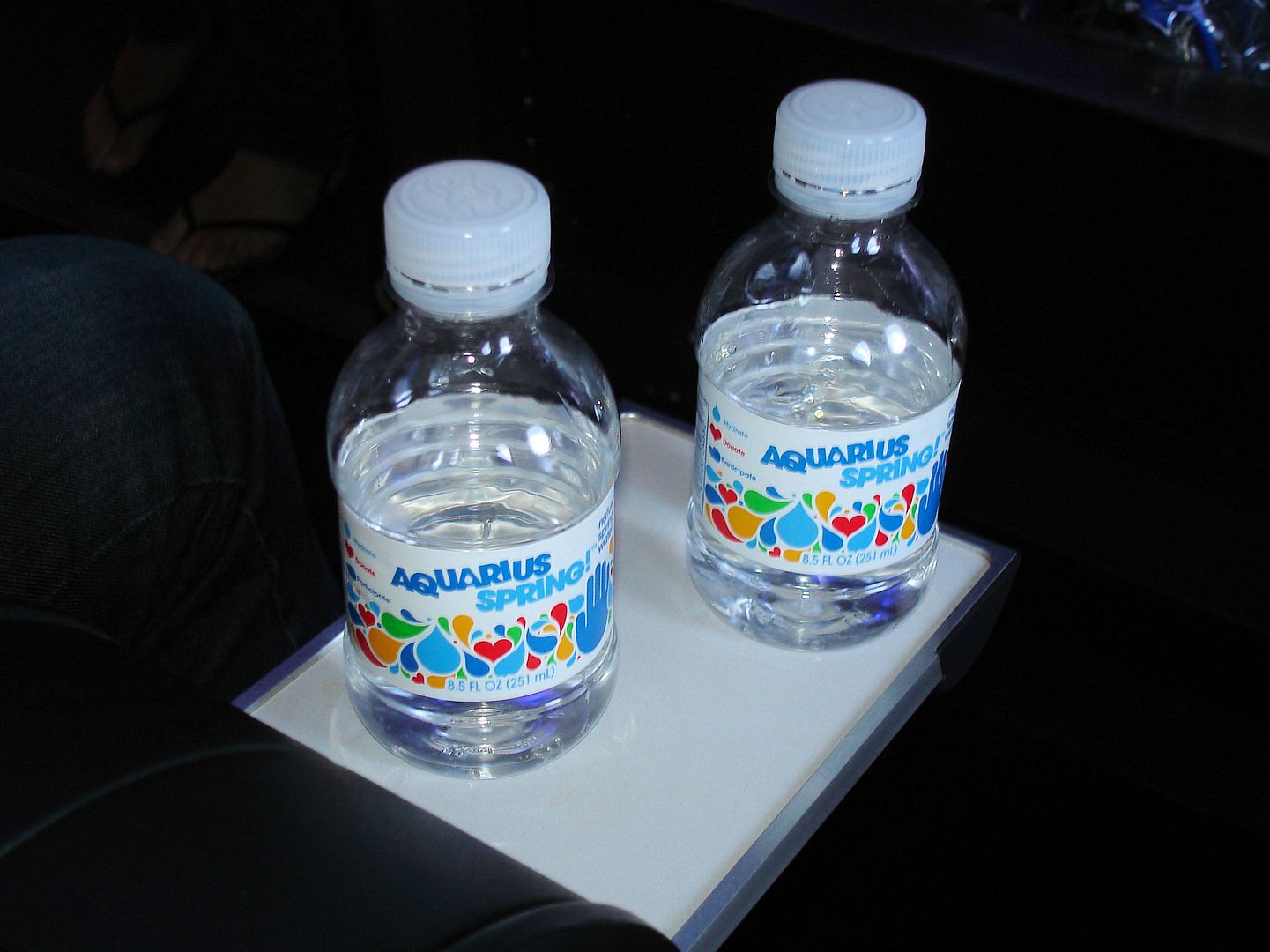 ...and the flight attendant also offered other pre-departure drinks. We ordered orange juice: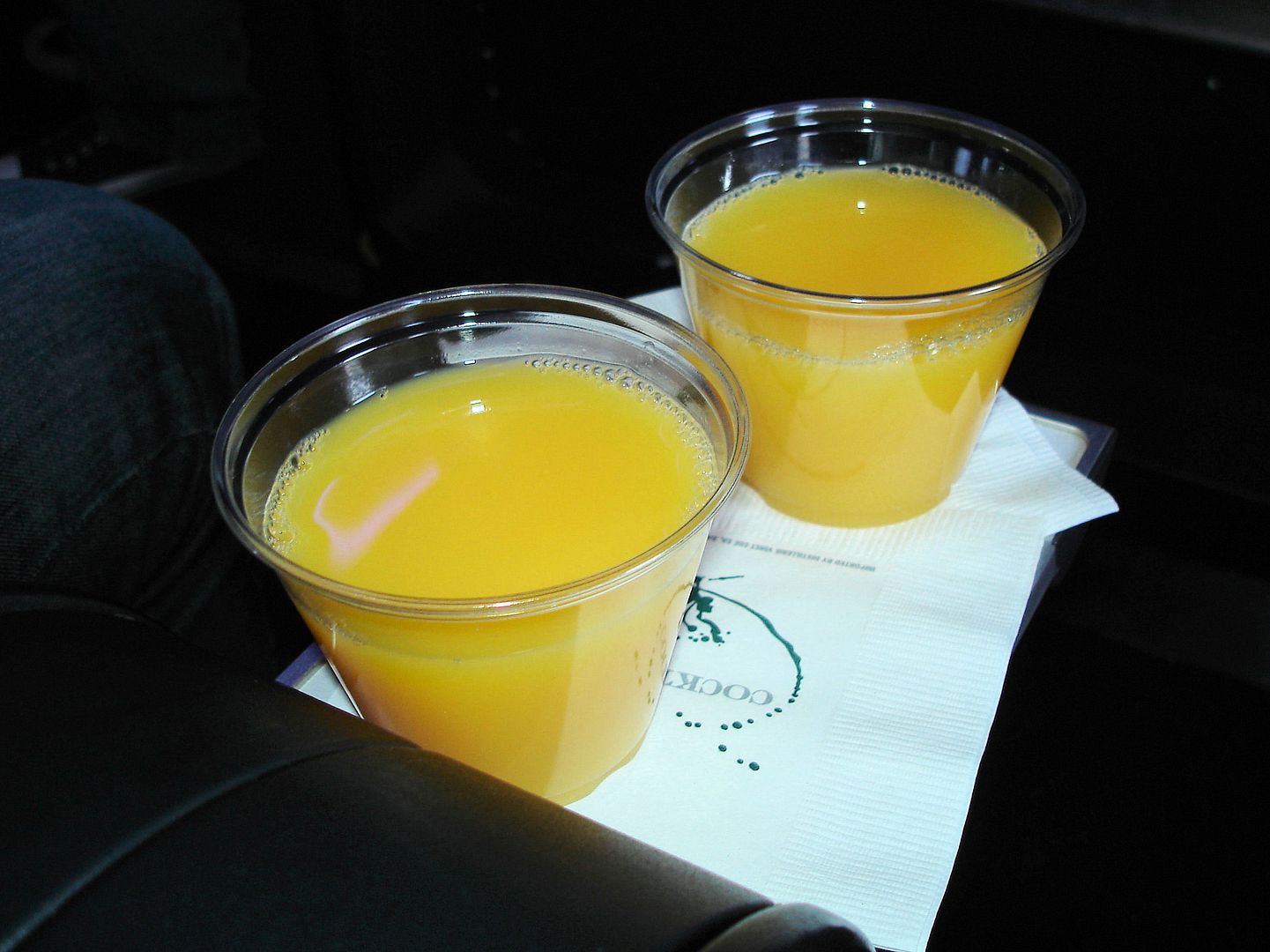 Virgin America pilots wear black uniforms, similar to the flight attendants' uniforms, so it took a while to realize that there was actually a pilot standing next to the cockpit door giving a welcome speech and making other pre-departure announcements. After the pilot disappeared in the cockpit I noticed that the flight attendant would see me taking pictures during take-off from his seat. Therefore I decided to ask in advance whether it's allowed to use the camera during that phase - and he declined, as expected. So I could not make any shots of the Strip from the air, but I got over it.
We left the gate 57 minutes late and took off a few minutes later. It took a while until I could take pictures again. Red engine and Stars 'n' Stripes on the winglet: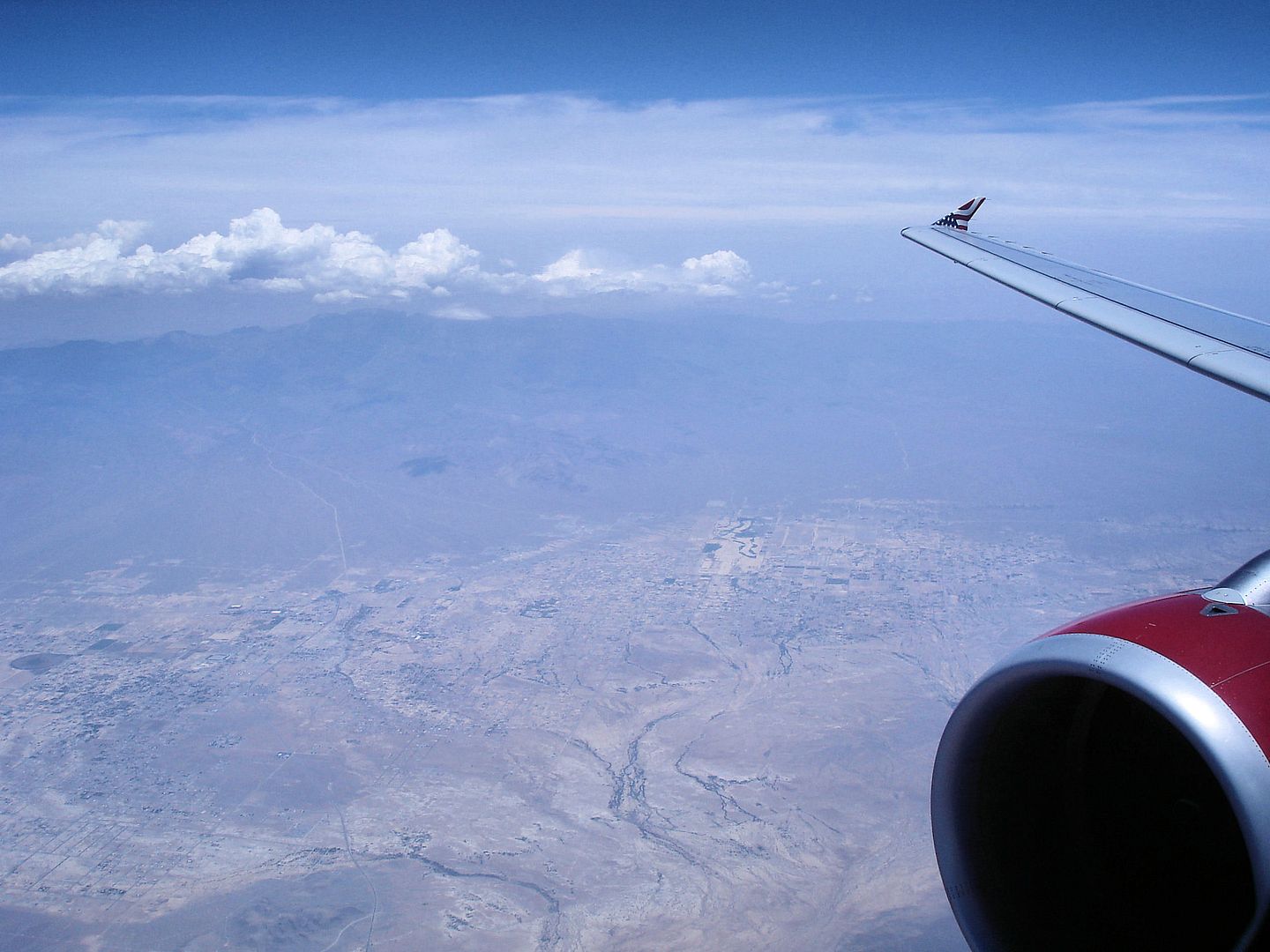 In-flight Entertainment
Virgin America has become famous for a number of innovations, one of them is the stunning Linux-based AVOD IFE system called
Red
. The system features 9-inch screens and offers both touch-screen and remote control interactivity and a wealth of content and options:


-

Watch

: live satellite TV, cached specialty channels, 30+ on-demand films, premium TV and an on-demand music video library (films and premium TV free of charge in Main Cabin Select and First Class)

-

Play

: a variety of videogames (including "DOOM"), navigated by a qwerty keyboard handset

-

Talk

: seat-to-seat chat feature

-

Journey

: interactive Google maps that zoom at 8 levels and track the aircraft

-

Eat

: on-demand menu system that allows guests to order what they want and when they want

-

Shop

: on-demand shopping section

-

Listen

: library with 3,000 MP3s and platform to create playlists

Main menu:
Map:
The legendary "DOOM":
In addition to the mentioned features, customers can enjoy power outlets near every seat and fleetwide WiFi. The wide range of entertainment options really keeps you busy - too bad the flight was so short.
Snack
Of course drinks and food are complimentary in First Class, including alcoholic beverages. I ordered a ginger ale and got an LCC-style snack box: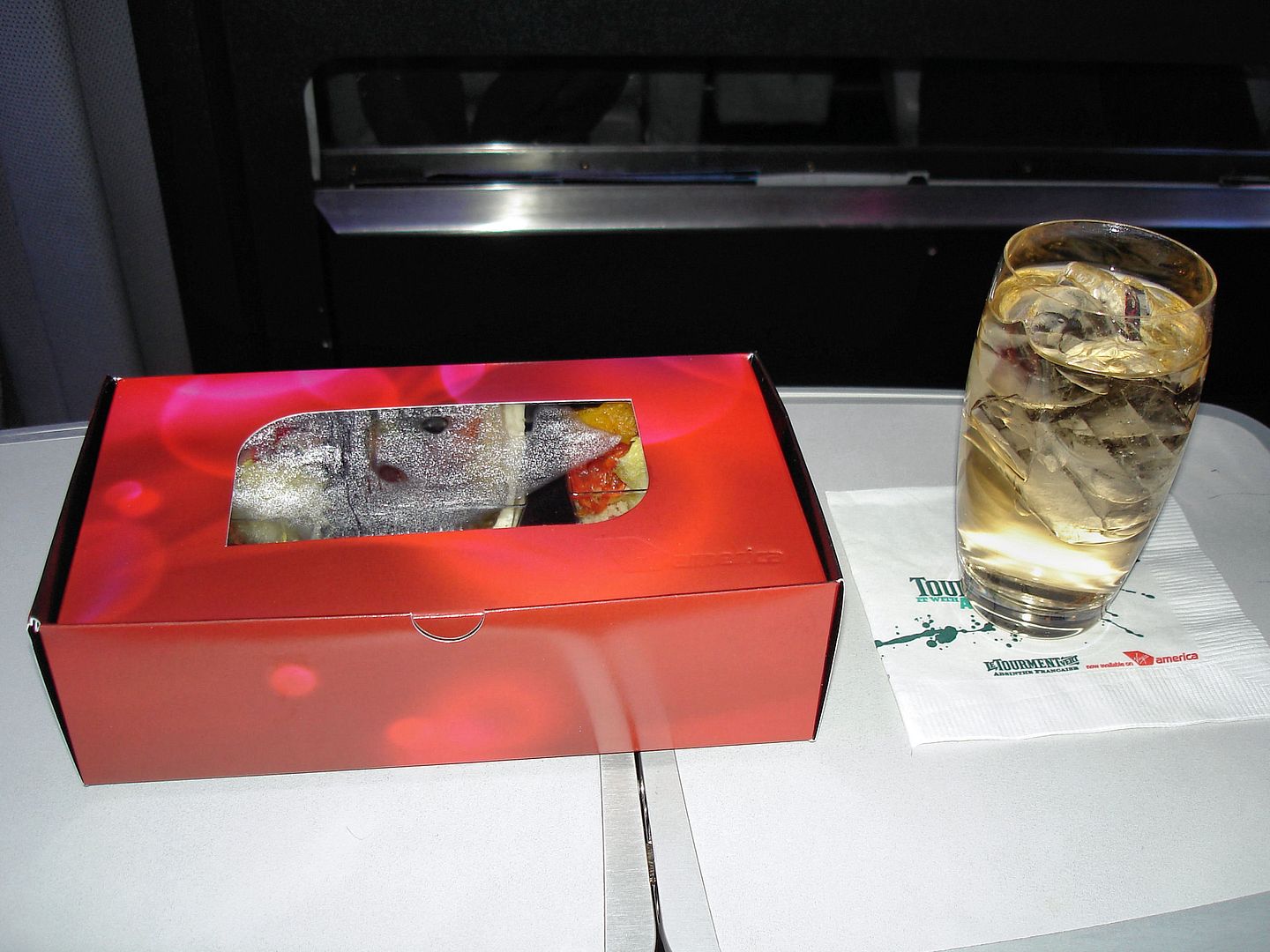 However, the diverse canapés looked very appealing and tasted excellent:
While eating we could enjoy great views of the scenery: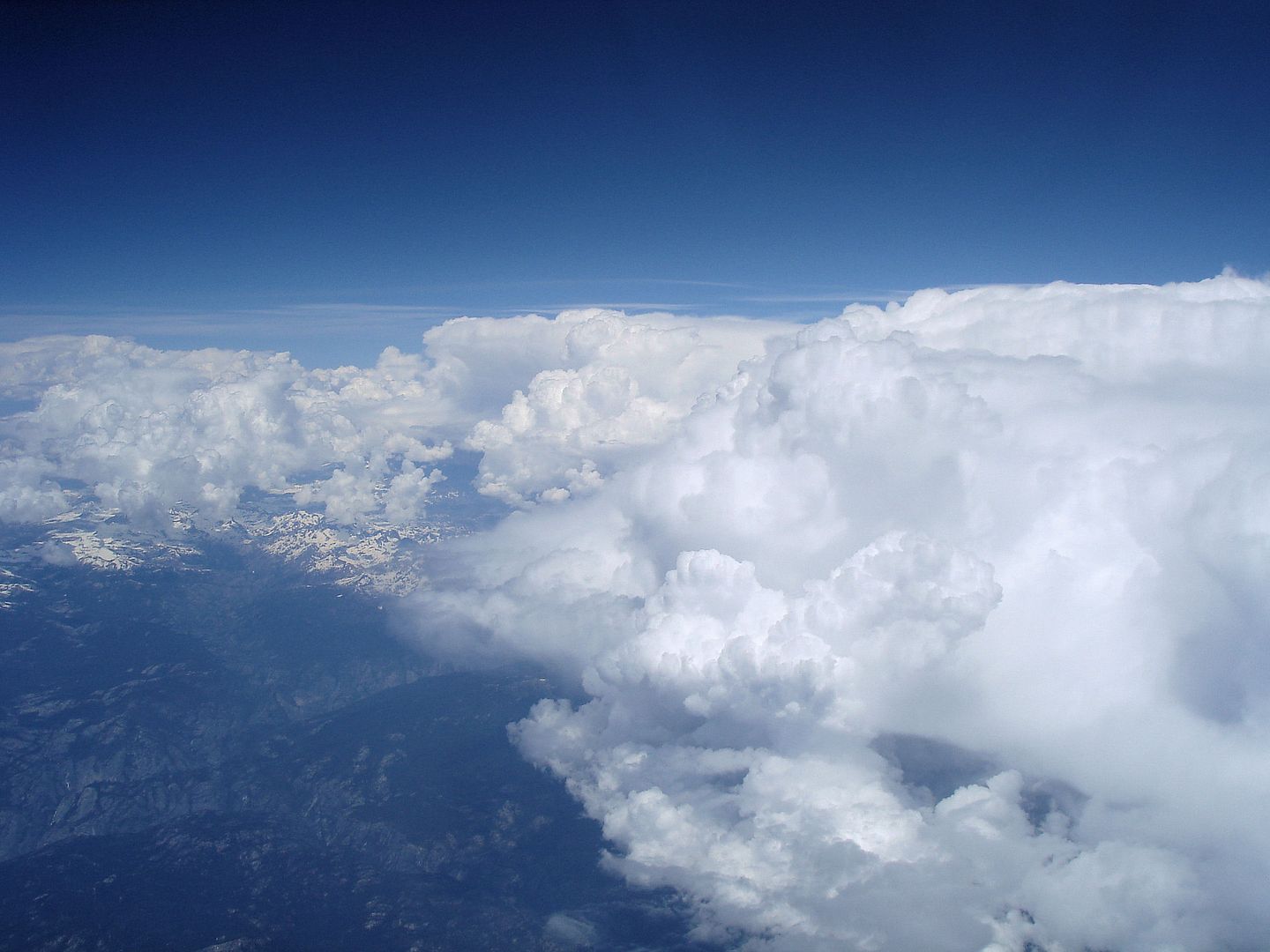 Approach & Arrival
We soon left the cruising altitude and started the descent into San Francisco Airport which meant I had to shut off my camera again. We touched down after only one hour and five minutes in the air and arrived at the gate 48 minutes late. Parked next to us was Cathay Pacific 747-400 B-HUF: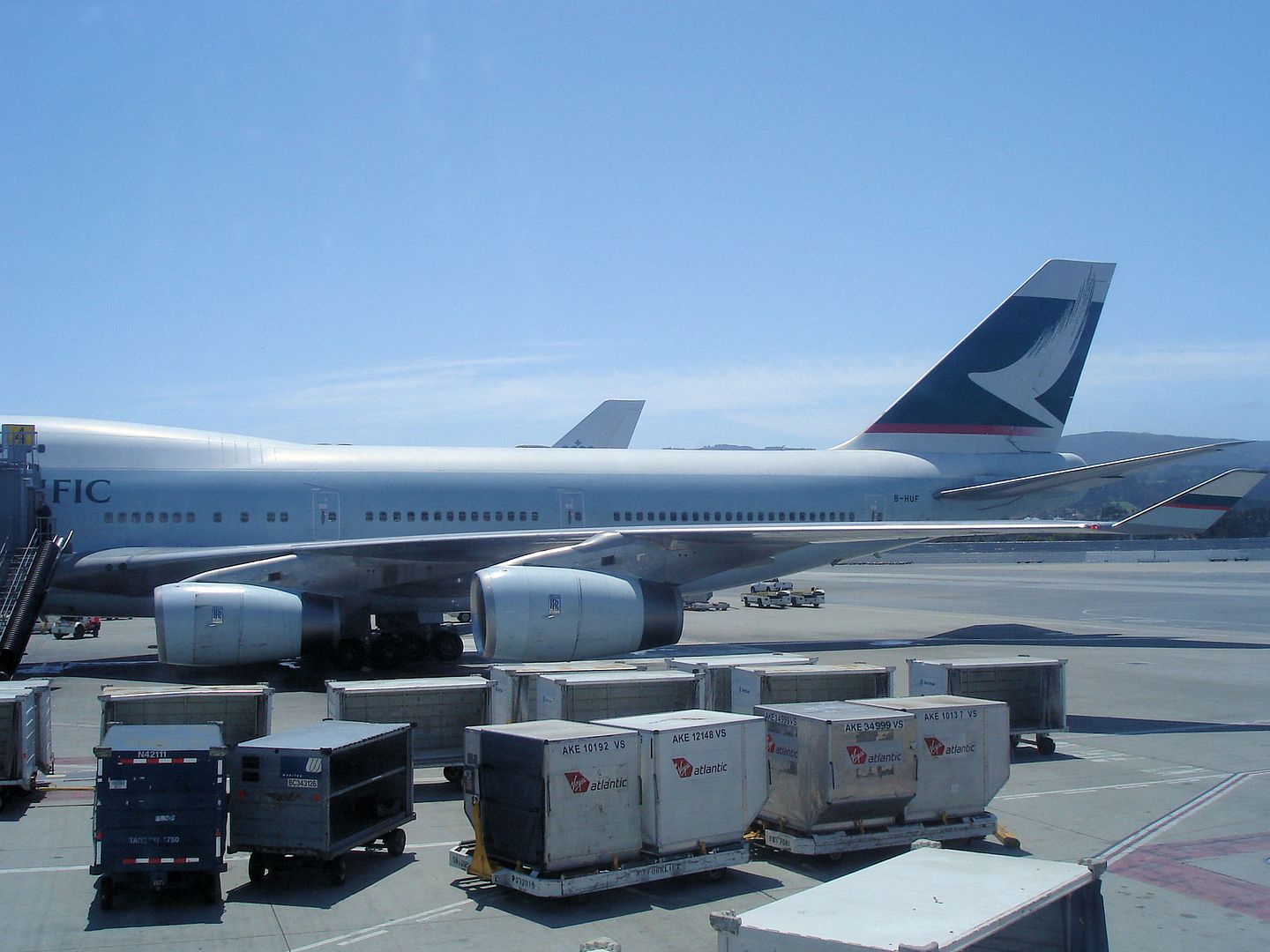 I wanted to take some more cabin pictures and therefore remained seated until all other passengers had left. Main cabin, equipped with black leather seats: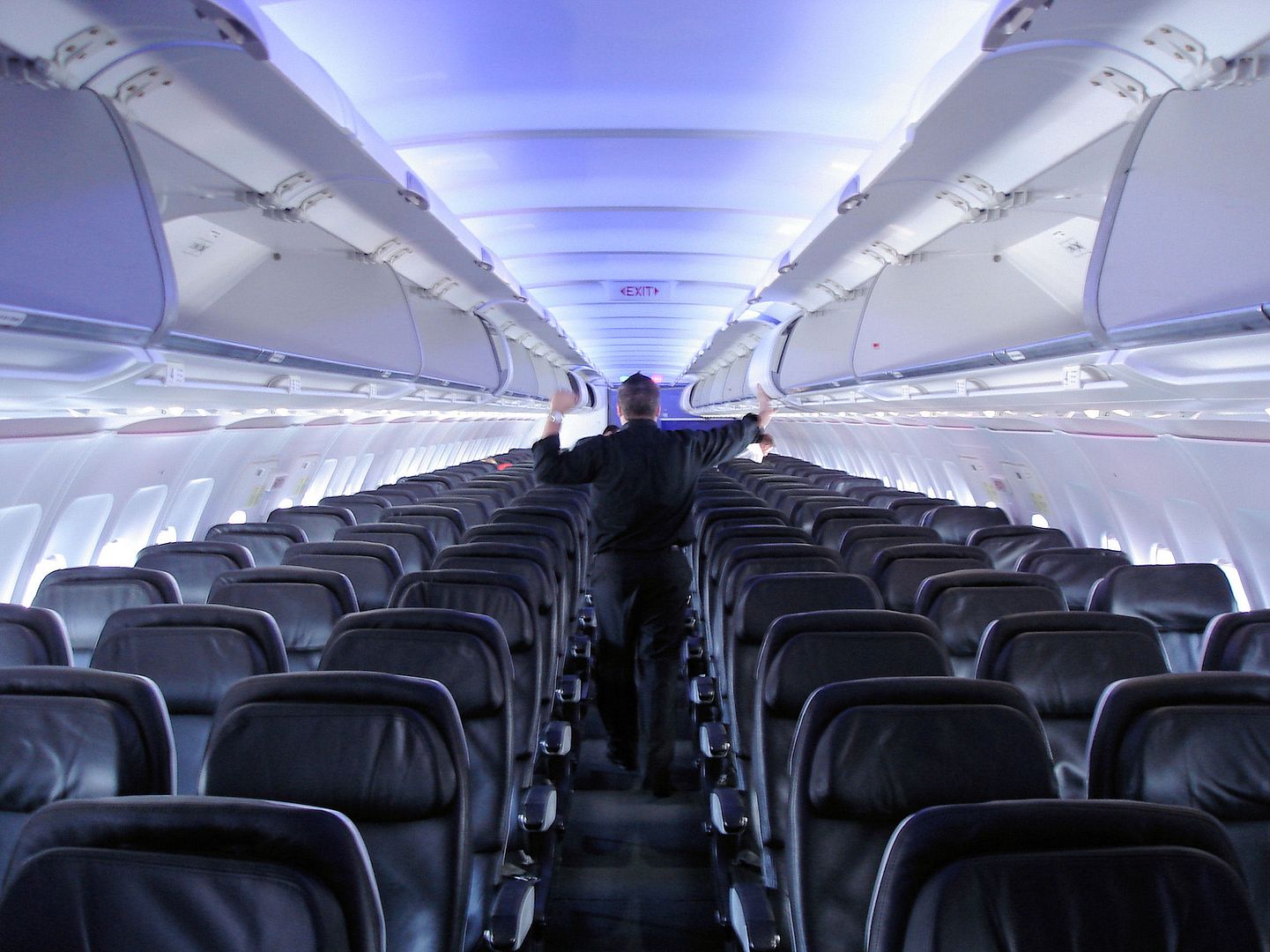 The captain had meanwhile noticed that I was taking pictures and he asked whether I wanted to have a look at the flightdeck, too.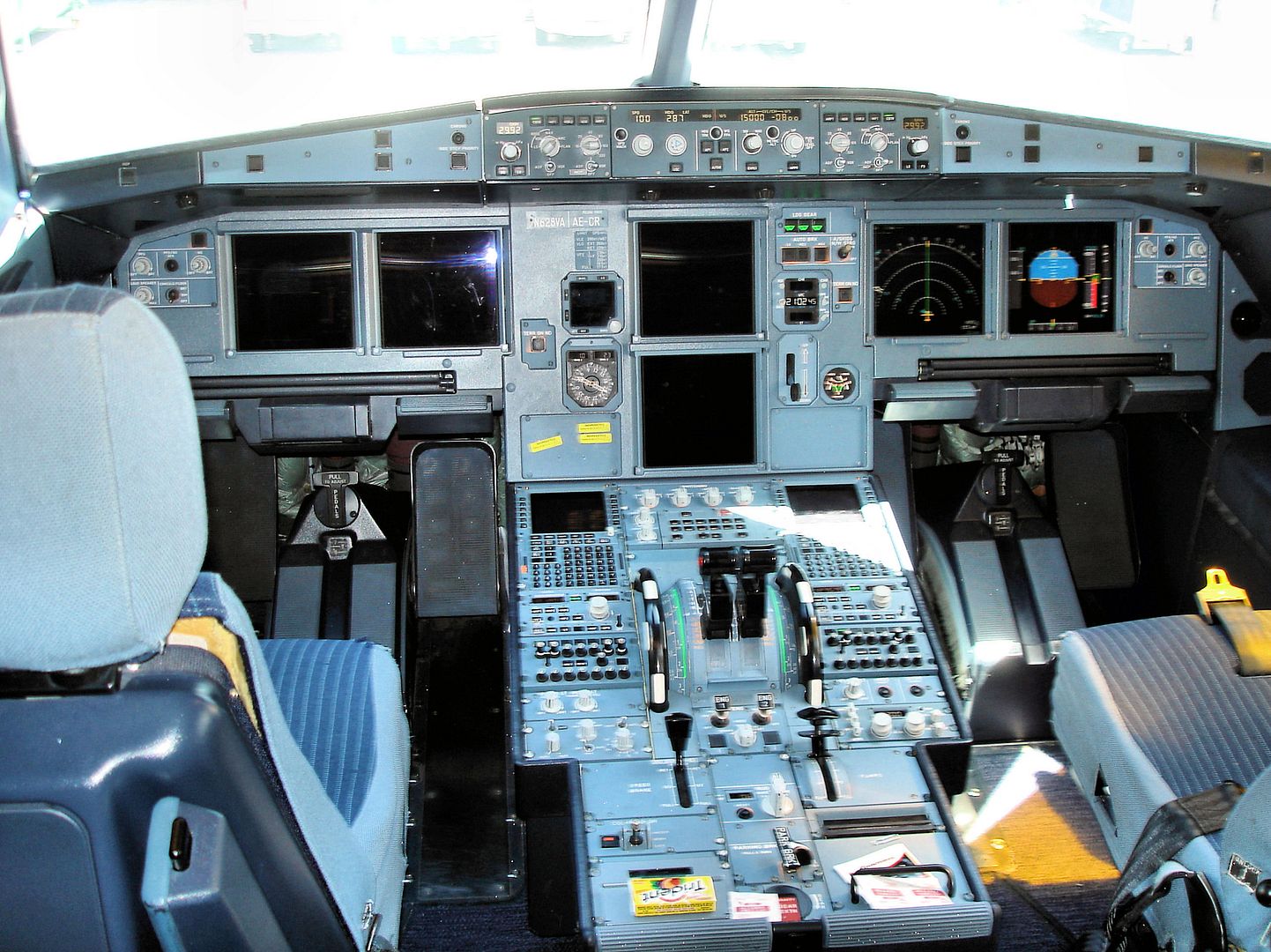 Not only did he encourage me to take pictures there - he even offered to take pictures of us sitting on his and the first officer's seat. Of course we agreed. That's what I call great service for enthusiasts!
Conclusion
Flying
Virgin America
was a true pleasure. The seating comfort in the carrier's First Class is great and the IFE system (available in all classes) is excellent. Catering was fine, too - absolutely sufficient on such short flights. While I can only praise the friendly and motivated ground staff member and pilots, I was disappointed by the flight attendant serving in First Class.
I had wanted to make a general comparison to jetBlue, but of course that's impossible due to the upgrade. What I can tell for sure is that I have only met kind and motivated flight attendants on jetBlue - while B6 and VX ground staff members have been on par. However, jetBlue's IFE system cannot match Virgin America's
Red
.
It was nice to get an upgrade to First Class for a relatively small amount of money - so I could easily get an impression of the product. But I would probably reject such an offer next time - one hour is simply not enough to fully enjoy all features. However, I would love to try Virgin America's First Class again on a longer flight.
Next report: SFO-YUL-FRA on Air Canada
Best Regards,
PlaneHunter
P.S.: Just in case you missed them - other recent reports:
Seat Dilemma & Canyon Glamour: FRA To LAX, AC 763
On Par With Air France? DTW-AMS-MUC, KLM A330
Goodbye, Red Tails! DC-9-40/50 & Chicago Tour
Champagne & World Of Coke: Air France A340 To ATL
"Mission A380": Disappointing Legs On BA/BD/EI
Delights Of Doha, 773 & 77W: DOH-DXB-LHR On EK
A380 Really a Step Forward? LHR-DXB-DOH On EK
Quality & Style: HKG-LHR On Air New Zealand 744
Taiwan Trio: TransAsia, UNI Air And The Taipei 101
"The Wings Of Taiwan": EVA Air A332, 744 Combi
SHA-SZX, Shanghai 757: Delayed By The Military
PEK-SHA, China Eastern A330 & Shanghai At Night
Striking Newcomer: Berlin-Beijing On Hainan A330
[Edited 2009-10-30 03:47:22]