"This is not a question of fare reductions; it's a question of the mix changing in a fairly dramatic manner. Premium business has just fizzled out. It has vaporized."
– Emirates Airline CEO Tim Clark (Orient Aviation, June 2009)
"Our industry is in survival mode."
– IATA director general Giovanni Bisignani at the grouping's Annual Meeting in Kuala Lumpur, June 2009
when crisis becomes opportunity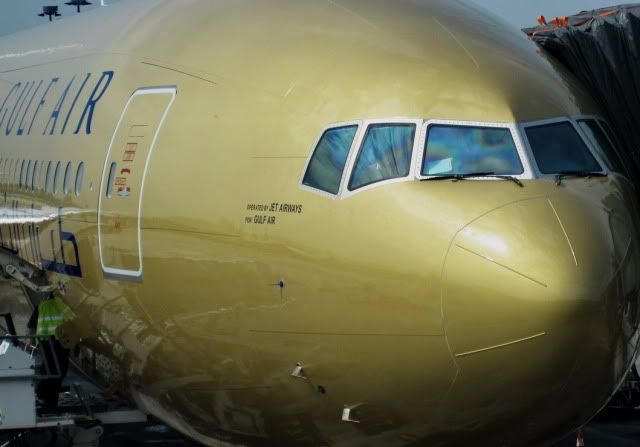 These are strange times. If they weren't quite so strange, this trip would not have existed. Let me explain. This is May 2009, and I'm making the usual calls to my travel agent exploring year-end travel options. My conversation with A.nutter-friendly Miss Ho takes on the predictable path of me looking for unique routings at the lowest possible price. I am told that this year, even quality airlines are offering never-seen-before cheap fares for J class travel, but not for the Christmas period I am looking for.
(At least not yet, I think…)
Our conversation invariably strays to Gulf Air, and how the struggling Bahrain-based airline still offers some of the best bargains for premium travel out of KUL. Having flown GF only last December, I am not especially keen to repeat the experience so soon, even if the last time was a very pleasant ride. Apparently, according to Miss Ho, the airline (or at least its KUL-based staff) had seen my
TR
and were "ok" with it – well, apart from the references to how cheap the ticket was.
Anyhow, I tell Miss Ho how I wouldn't mind flying the leased 77Ws just to experience the plush 9W First Class cabin (at a bargain, of course), and how it's such a shame they're going back to the lessors in October. Jokingly, I propose a ridiculous price for a roundtrip to Bahrain as an example of how much I would be prepared to pay. My travel agent laughs it off: some airlines are charging that for economy! Still, she promises to inform Gulf Air about my offer: "well, you just never know."
A day later, an excited Miss Ho calls back to inform me that GF has not accepted my offer, but has instead made a counter-offer. Assuming I am flying before the summer peak season, the airline is willing to sell First Class at this fare, she says. The GF price is a higher than what I had proposed, but it's still insanely low!
I am sorely tempted to accept, but this being the East, we haggle. With Miss Ho acting as conduit, I cut down GF's counter offer; and a day later – to my surprise (and frankly, slight horror) – GF reverts to accept my fresh offer (with the proviso I don't mention the price should this become the subject of a report posted on the net).
The recession must be cutting deep: since when have airlines haggled fares with individual passengers? Although I find this rather refreshing, I'm now left with a dilemma: what starts out as wishful thinking is quickly turning into reality. Never mind that I have no business at all to be traveling to Bahrain, I don't even have the time off work to make a trip like this. I really,
really,
shouldn't be doing it.
And believe me, I try my best to resist. The saner parts of me are wishing hard the schedules don't work out. But alas, a quick check with the timetable reveals I can indeed comfortably make the trip in a weekend, and be back home by Sunday morning. The travel gods are surely advocating decadence, indulgence and madness.
Who am I to disobey?
outbound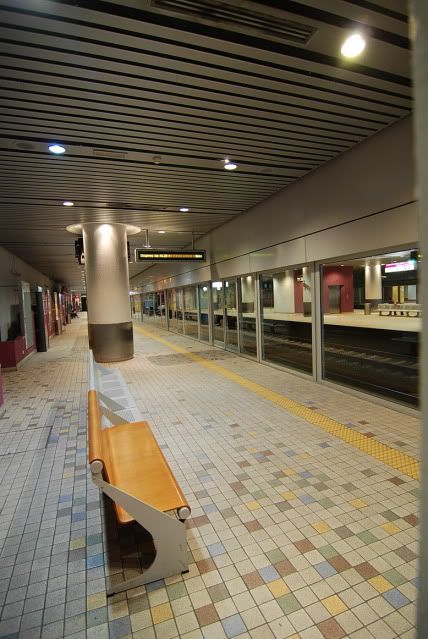 Is nobody traveling anymore? The KLIA Ekspres train platforms at Kuala Lumpur Sentral Station are not usually the most crowded places but this Saturday morning in May, they are deserted. Trains run between the city and Kuala Lumpur International Airport's main terminal, which may partially explain for the poor loads. Scan the monthly air traffic statistics and you'll find budget carrier group AirAsia grabbing an increasing slice of the business out of KUL (it is already largest by passenger movement) – and it flies from the Low Cost Carrier Terminal (LCCT), reachable by road only. Such is the anomaly that is Malaysia's transport policy.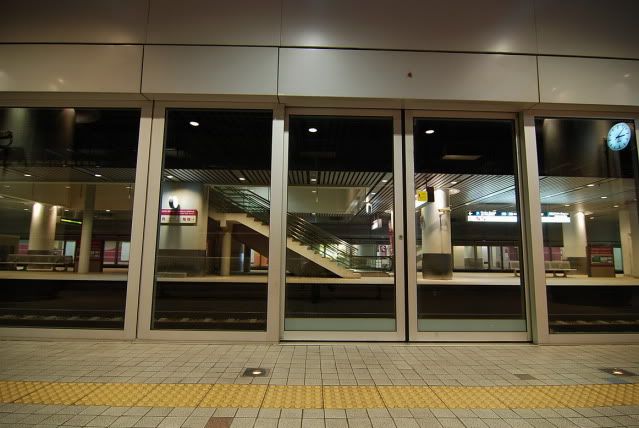 I don't wait long for the next train. The intervals between trains are a decent 15-20 minutes. The Siemens-built trains can accommodate more than 150 passengers, but this one's carrying not more than a dozen. These loads are not uncommon.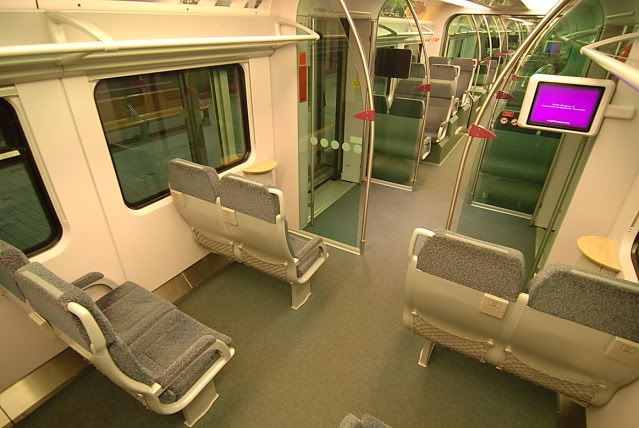 At KLIA, I report at the GF check-in desks a couple of minutes short of two hours before departure. There are tolerable queues for the four Y class desks, but those for F and J class are totally free. At the F class desk, a friendly-enough Malaysia Airlines staff conducts the entire check-in procedure in Malay – which really should not come as a surprise seeing this is Malaysia, but it's still a first for me after years of flying out of KUL. Probably noticing my really short stay in Bahrain, the agent asks for the purpose of the visit. My generic reply "
bisnes
" seemed to satisfy her.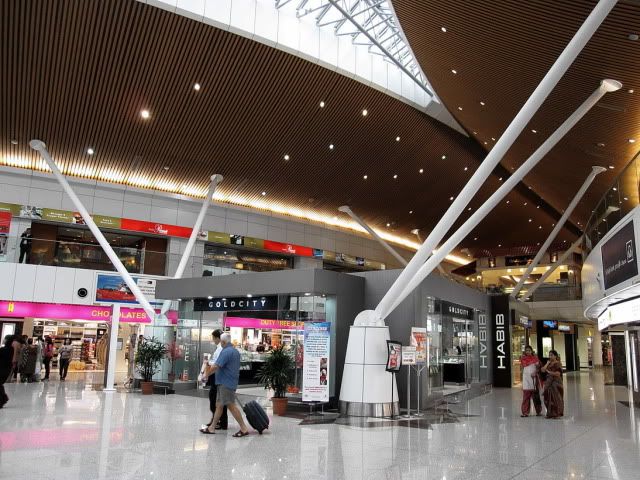 Immigration is a breeze at KLIA, and within minutes, I am at the satellite building of the main terminal which is undergoing renovation work to add more shops and food outlets. The end result will transform the place from an architectural icon of sorts to the shopping mall that all airports now aspire to be.
The departure screens show the usual regional morning flights plus a sprinkling of long-hauls from KUL at this time. The only notable departure is an MH service to Christmas Island (XCH) in the Indian Ocean. MH doesn't acknowledge XCH as a scheduled destination but according to the island's tourism authority website, the once weekly service is operated on behalf of an airline I hadn't heard of before: Australian Indian Ocean Territories Airlines or AIOTA. The website shows the schedule of MH8484 as operating via SIN.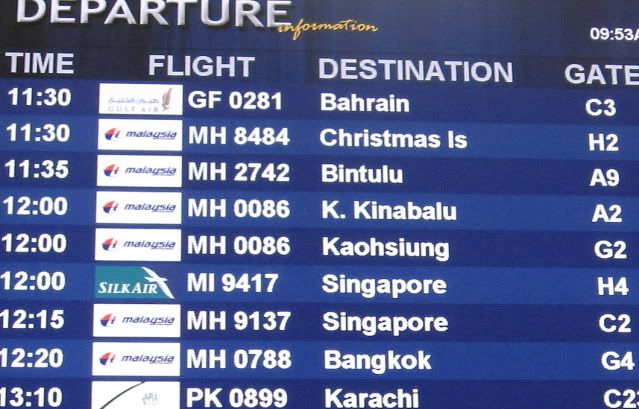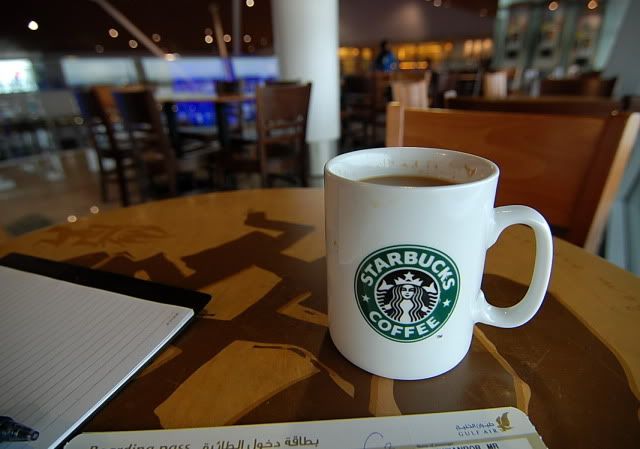 Knowing the rather bland offerings there, I pass on the invite to the Plaza Premium lounge and instead patronize the quiet coffee shop outside MH's Golden Lounge as its sole customer. If space is a luxury, then I should be thankful I suppose that my home airport has lots of it. Outside, a sole Silk Air A320 from Singapore is being turned around. LCC competition is changing the landscape dramatically on the KUL-SIN route: this SQ unit is rapidly taking over most of the services previously operated by its parent's B772s to the point that SQ has become a rarity at KLIA.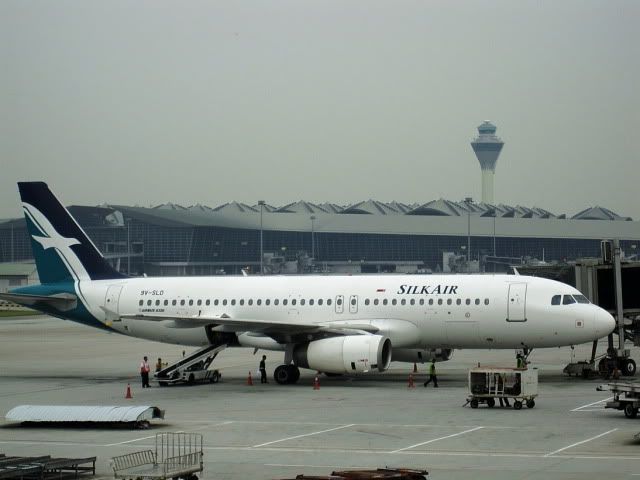 A Malaysian B744 bound for LHR as MH004 is parked at gate C1, while I spot the golden falcon of my ride at adjacent C3. (These are the gates closest to MH's premium lounges and C3 seems to be in the process of being converted into an A380 gate with what looks like direct boarding from the lounge for the upper deck.)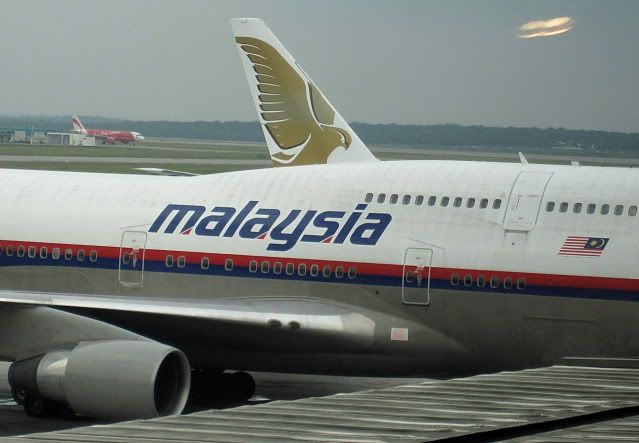 I make my way to the gate early, but the security check queue at C3 is already forming. I join a cheerful group of elderly tourists from Malaysia's northeastern Kelantan state headed for nine-day holiday in Turkey. The extent to which the AirAsia BOB-style has become synonymous with flying for the traveling public in this country becomes apparent when a
pakcik
turns to me, asking if food will be sold on this flight. Assuring him food and drinks will be served
for free
on Gulf Air, I get a laugh of disbelief: "really?"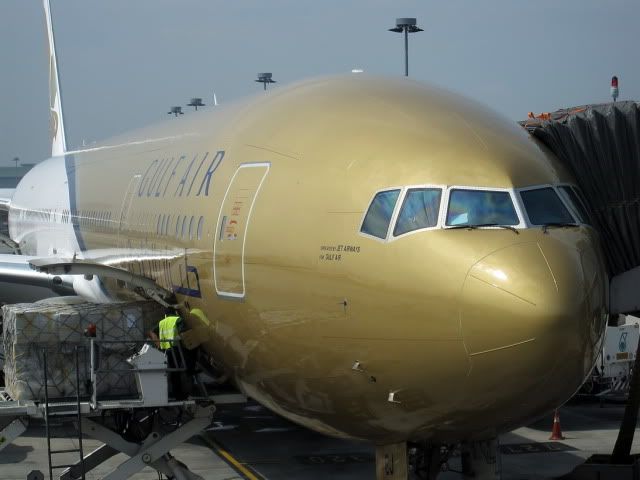 Once at the holding area, I get to see for the first time Jet's B77W fully painted in Gulf Air colors. What a gorgeous looking plane!
This is probably one of – if not The – best looking livery applied to the B777-300ER. But alas, it's such a short-lived experiment: by the end of October, the last of the leased triple-sevens returns to Jet and by the looks of it, we're not likely to see another GF B777 again. And what a shame too, the airline is now apparently in the process of changing this classy livery into something far less attractive.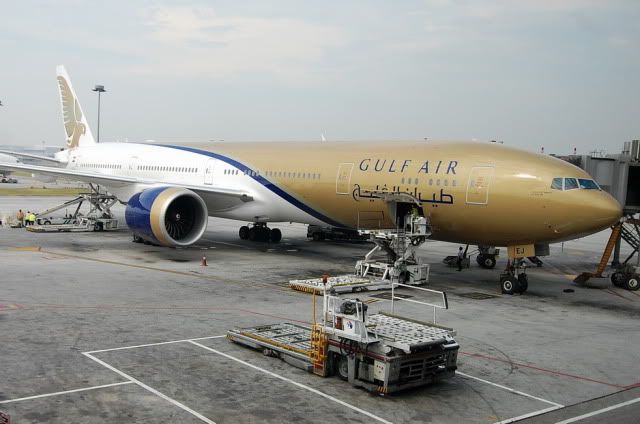 from Kuala Lumpur to Bahrain
Gulf Air flight GF 281
Boeing 777-35RER VT-JEJ leased from Jet Airways
Dept: 11.35 Arrv: 13.48 (8 minutes late)
It is 30 minutes before departure and I am the first passenger to board First. Jean, attired in a Gulf Air Skychef uniform, is at door 1L: he greets me amicably, and directs me down the aisle to window seat 2A. But of course, it's not just any seat.
There's no doubt the lavishness of this space: the front cabin accommodates a maximum of eight passengers in an area that can comfortably fit 36 if configured for economy. With no overhead bins fitted, the headroom is massive, while the 1-2-1 configuration ensures everyone gets direct aisle access. Meanwhile, every seat is a so-called private "suite", separated from its neighbor by sturdy high partitions and individual double doors – the center seat pair also has a movable divider between them. Emirates pioneered private First compartments with doors on its A340-500s in 2003, and this was copied by Singapore Airlines for its A380 Suites in 2007. Jet Airways is only the third airline to have such facilities.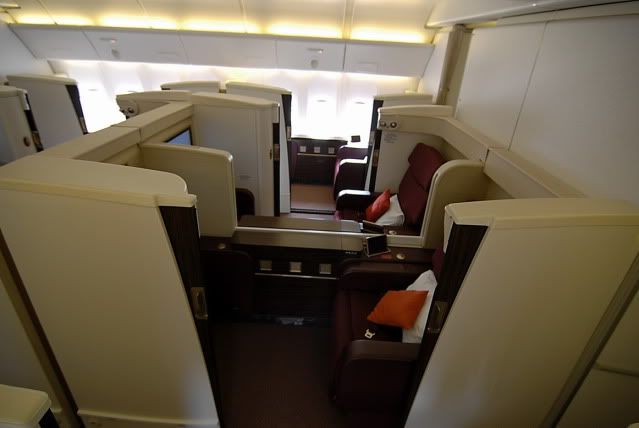 Row 2 is the second and last one of the cabin, ahead a sizable galley and toilet complex that separates the F and J classes. Here's my seat – a 30 inch-wide dark maroon armchair that is exceedingly comfortable, but is simpler than I imagined. The fancy gadgets and amenities or shiny edges that accompany and accessorize such premium class seats on some other airlines are conspicuously missing here. Instead, what's on offer is a very decent, comfy seat with easy-to-use seat controls that my parents would probably appreciate most – makes sense if that's the passenger demographic you're likely to attract most in F.
Those more in tune with their environment could probably say something about zen simplicity here. But to me, the legroom is ample and generous, while the side wood paneling adds a sober and classy feel. The 23-inch screen is large but is far enough away as not to impose. The good-sized visitor's seat is also a nice touch, making a face-to-face conversation or meal with a fellow passenger more than just advertising fantasy. Yup, it's not too shabby at all.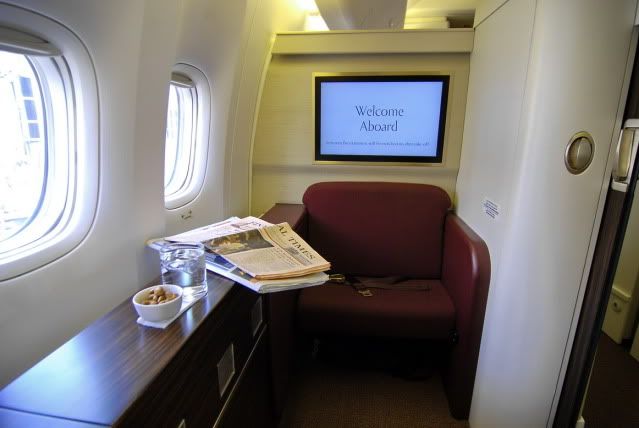 Jean stops by with the menu, takes drink orders and gives me a 2-minute crash course in my environmental well-being. The LCD handset cannot be more conveniently located, and contains the controls for the seat recline, reading lights, crew call button and in-seat massage. It would have been nice if the PTV controls could have been incorporated here as well, but that's a separate contraption hidden under the armrest with a fiddly latch. The double doors are manually operated.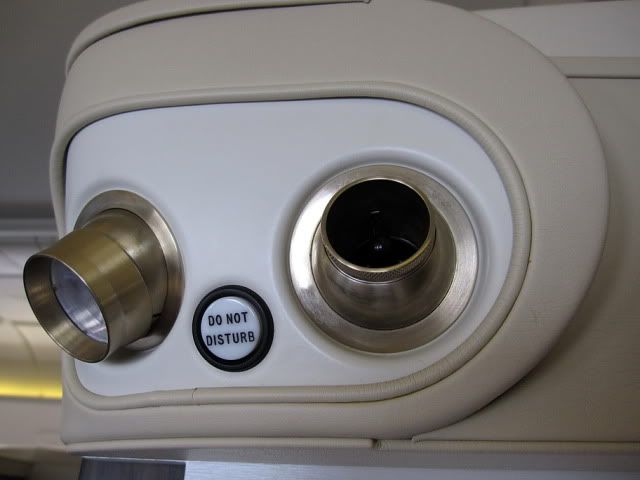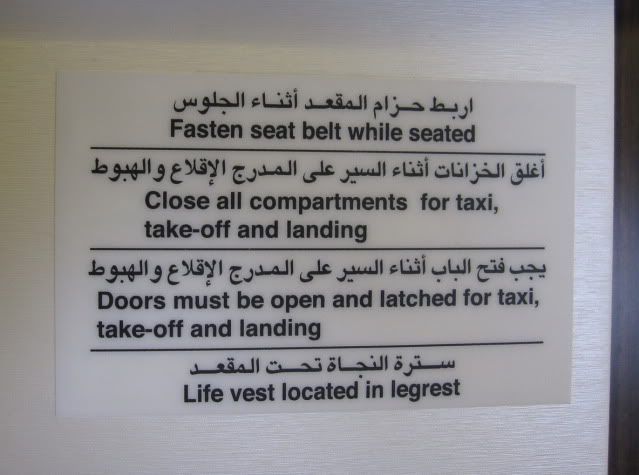 In lieu of overhead storage bins, there are a number of storage options around the suite. There's some room under the buddy seat and another compartment under its armrest. (The laptop power point can also strangely be found hidden here.) A slim but tall coat compartment is located by the door. For someone with a small backpack, all this space is a bit of an extravagance, but what I soon realize is that none of these storage spaces is large enough to store a cabin-sized trolley bag – and this can't please many travelers.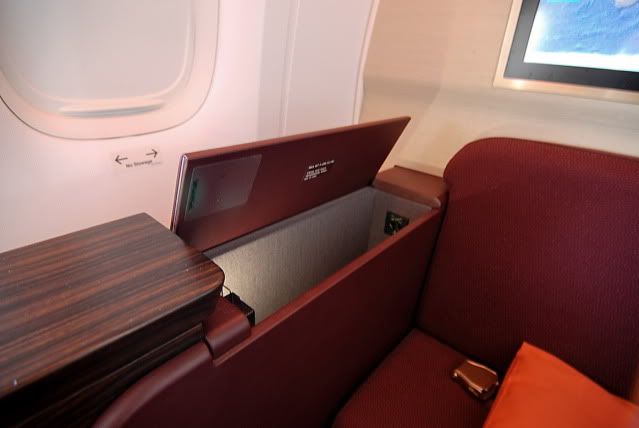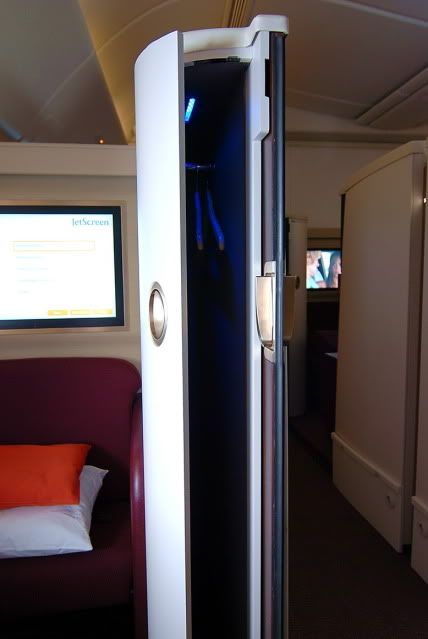 The boarding process is completed quickly. And a load factor of 50% in First today is not so bad, all things considered – two business travelers share the mid-cabin suites in the front row, while another solo passenger sits across from me at 2K. The obligatory Arabic coffee and dates are offered as we push back a couple of minutes behind schedule. I spot a male Jet Airways flight attendant in the galley, but unlike my flights last year on the leased 9W machines, the Indian crew member stays predominantly behind the scenes for much of the 7 hour flight. It's a Gulf Air show today.
Safety demos are manual which presents peculiar challenges in a configuration such as this. For sure, the height of partition ensures privacy, but it also obscures the depth of one's vision when seated: a crew member standing at 1A is all but invisible to someone seated at 2A. Two crew members perform the demo in F today: one stationed at the starboard aisle of row 1 (for the two businessmen seated in the middle seats) and another – an extremely polite stewardess from Japan serving J class – right in front of my suite door for what feels like a private demonstration. I am not sure how much of the demo the guy at 2K caught in his periphery vision, but my attention span was 100%: anything less would have seemed rude. At the end of the demo, the stewardess bows deeply – pleasant flashbacks for me from a previous NH flight – and says: "thank you very much for your attention," bowing a second time.

It is late morning and a quiet time of day for KLIA when we taxi out. Apart from a couple of MH widebodies, the tarmac is largely devoid of planes. This is the scene that makes me smile when I read AirAsia's increasingly flamboyant boss Tony Fernandes trying to explain away his airline's decision to defer delivery of 16 A320s over the next two years due to "insufficient aircraft parking bays".
With no others lining up, we roll onto 32R – the two GE90s powering up loudly – and in almost no time at all, we're off the ground and heading over the Straits of Malacca.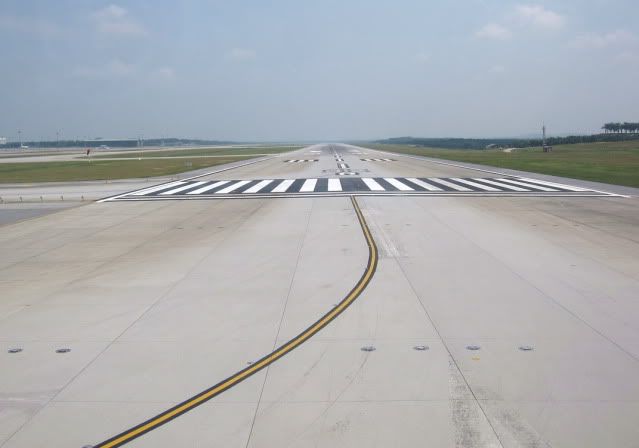 After take-off, inflight manager Mohamed shows up at my suite, greets me by name and shakes my hand to welcome me aboard. It's a rather nice gesture, I thought. It may just be midday but almost immediately the seat belt signs are off, the mood lighting is switched on and the crew goes around fanatically shutting window shades. (The passenger at 2A manages to stay defiant for a little while though!) Many Asian airlines are a tad obsessive in insisting on keeping the shades down during longer daytime flights, but I've never seen it happen so rapidly after take-off…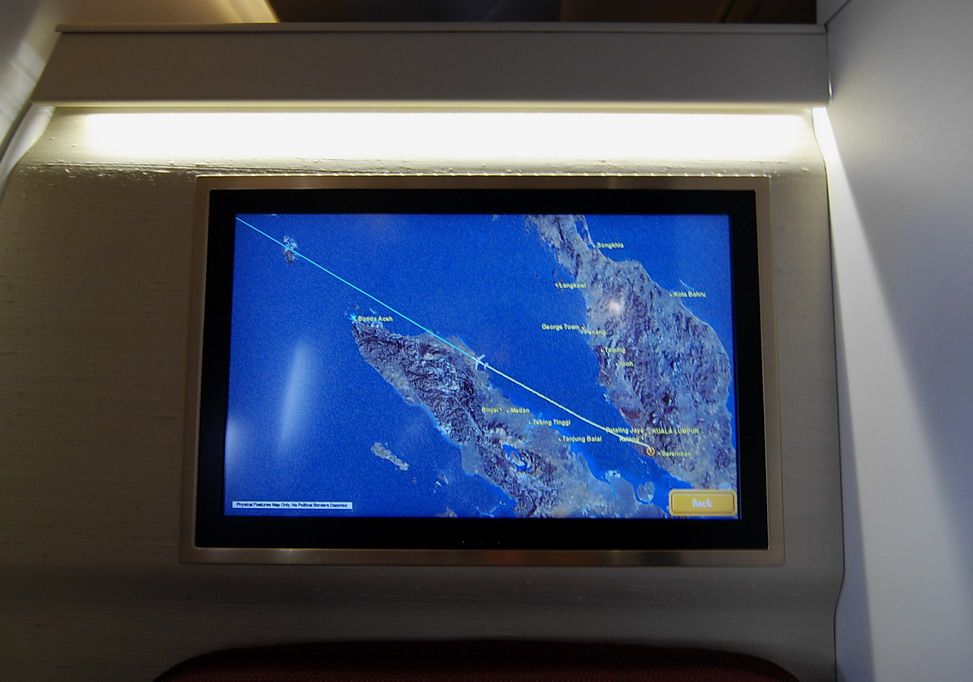 In the meantime, inflight chef Jean comes round offering lunch, which I immediately accept. The meal starts off with what the menu grandly terms
amuse-bouche
and what I'd call a rather mediocre stick of chicken satay. Still, I'm famished and will eat anything.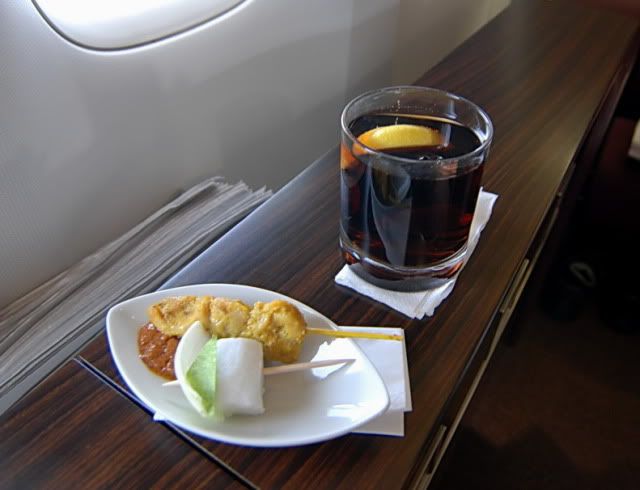 The only meal during this flight is called dinner, but it's more an a la carte menu from which you can pick what you like, and dine at a time of your choosing. The offerings are not especially fancy for First (compared to some of the truly premium carriers) but for the price that I – and probably others – are paying, it's perfectly adequate.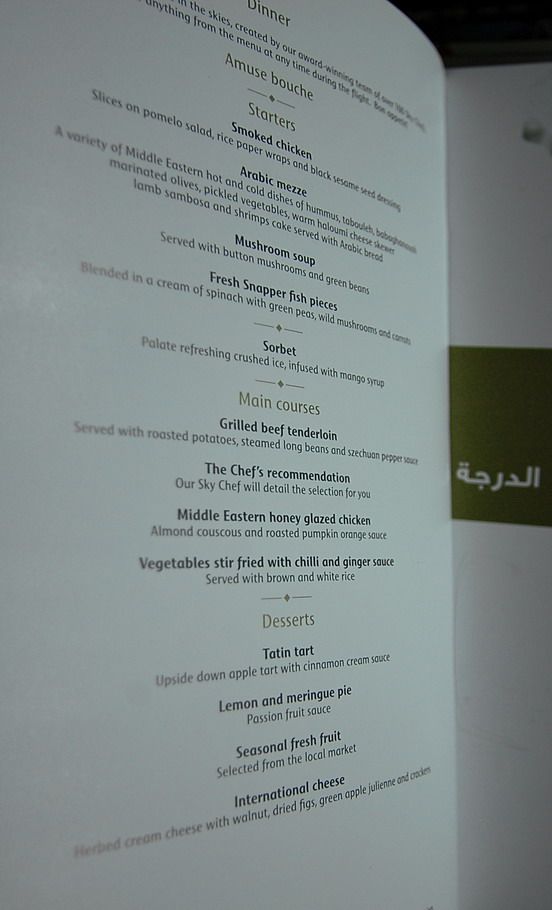 The tray table is a heavy, sturdy contraption and bigger than you know what to do with. In comparison, the GF table settings look small and a little out of place. I opt for the fresh snapper for my starter, which isn't bad at all.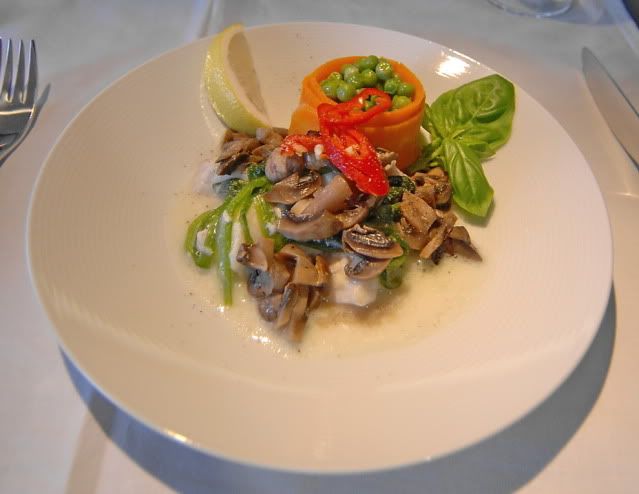 Outside, we are just passing the top end of Aceh province on Sumatra Island. This is about an hour or so after take-off with us cruising along at 34,000 feet. The weather seems to holding up well so far but a thicker blanket of clouds ahead suggests the going could get a lot choppier over the Bay of Bengal, as it often does.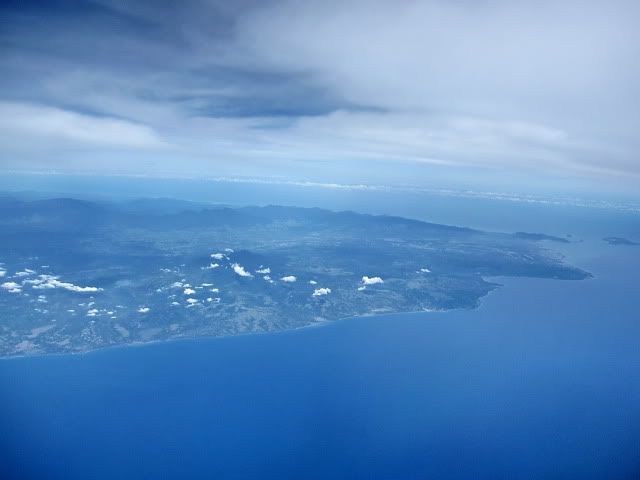 A sprinkling of what appear to be idyllic tropical islands, fringed by coral reefs, stretch beyond the northern Sumatra coastline. These exposed islands must have taken the full brunt of the tsunami that devastated a good part of Aceh on Boxing Day 2004.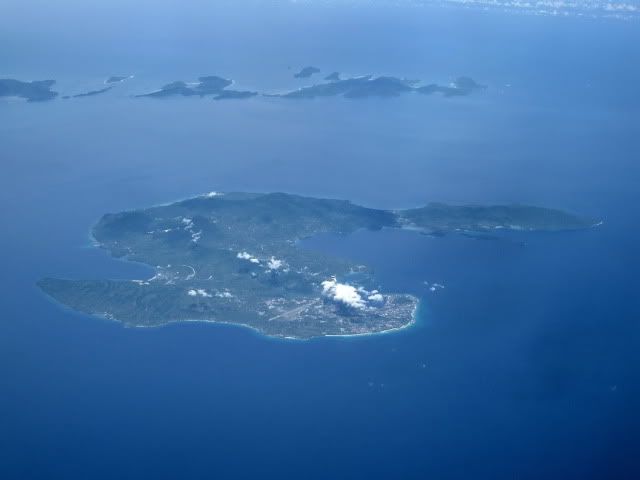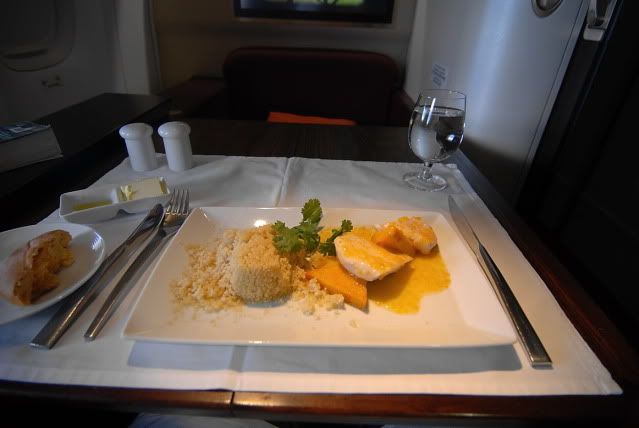 Meanwhile aboard GF281, the lunch service continues. I like relaxed daytime flights when traveling in the premium classes long haul – the service is often unrushed and one fully appreciates the flying experience. With a great view outside, there's no need to even crank up the IFE, which on this plane is essentially Jet Airways' AVOD offering, and quite decent enough. Jean delivers the honey-glazed chicken next, but the main course is a tad too sweet for my liking. And the desert following in succession is enough to give me a mild sugar rush!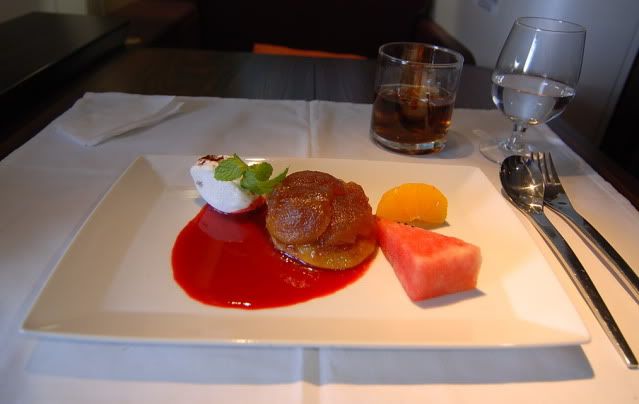 With the meal service completed less than two hours out of KUL, the cabin ambience moves into the next moody phase by pretending it's a starlit dusk over a slightly bumpy Bay of Bengal. In reality of course, it is early afternoon but with the monsoon obscuring outside views, I finally give in to the on-board illusion and shut close the window shades.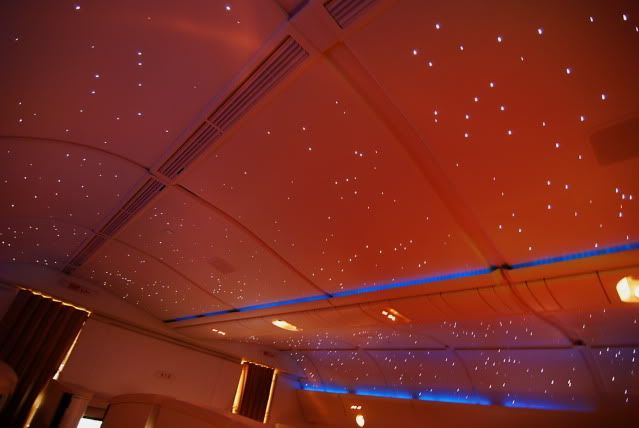 The service aboard this flight has been decent so far; the crews are courteous but a little by-the-book. Perhaps expecting the warmth I enjoyed on my previous flights on GF over Christmas made me feel a tad disappointed with this one, but then, that's how it is with expectations: it invariably colors one's perceptions and sets the tone for the trip. It's more my problem than GF's.
Still, what I do find a little worrying though is the absence of certain amenities up until this stage. Like some airlines these days, toilet kits are not offered on GF. But neither are basics like hot (or cold) towels offered, nor blankets made available – instinctively, I decide to look for the blankets overhead, then realize the bins don't exist! My request for a cappuccino from a passing stewardess is met with a "we don't do cappuccino" but Jean, who delivers my regular coffee later, is surprised: "but of course, we can do cappuccino," he says, and to his credit, immediately offers to change my order. Admittedly, these are details (and they're readily rectified on request) but for many passengers traveling First, these are not
just
details, and a steadfast attention to them is one of the key reasons why they pay the substantial premium over J. No wonder then some GF regulars talk about service inconsistency. I am seeing a little of it today.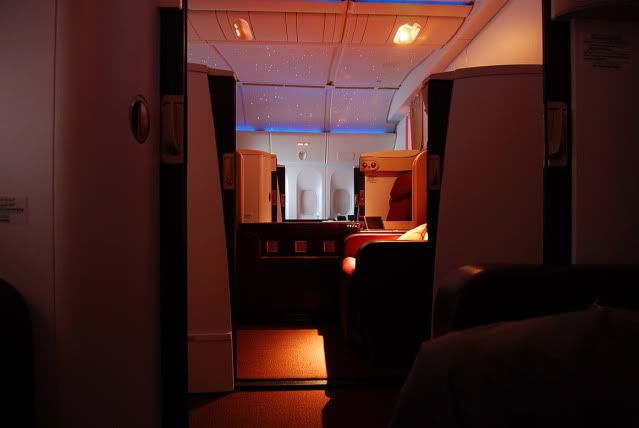 The flight settles into a routine with most of my fellow passengers already asleep. Even with the doors open, the "suites" offer a high level privacy. To be frank, I am not so sure about these doors, and the way the high partitions transform what should have been a spacious 77W cabin into the maze of a sleeper train compartment. Perhaps I am not a fan because it's making photography for this TR too damn tricky – though granted that's not what the typical F class passenger worries about…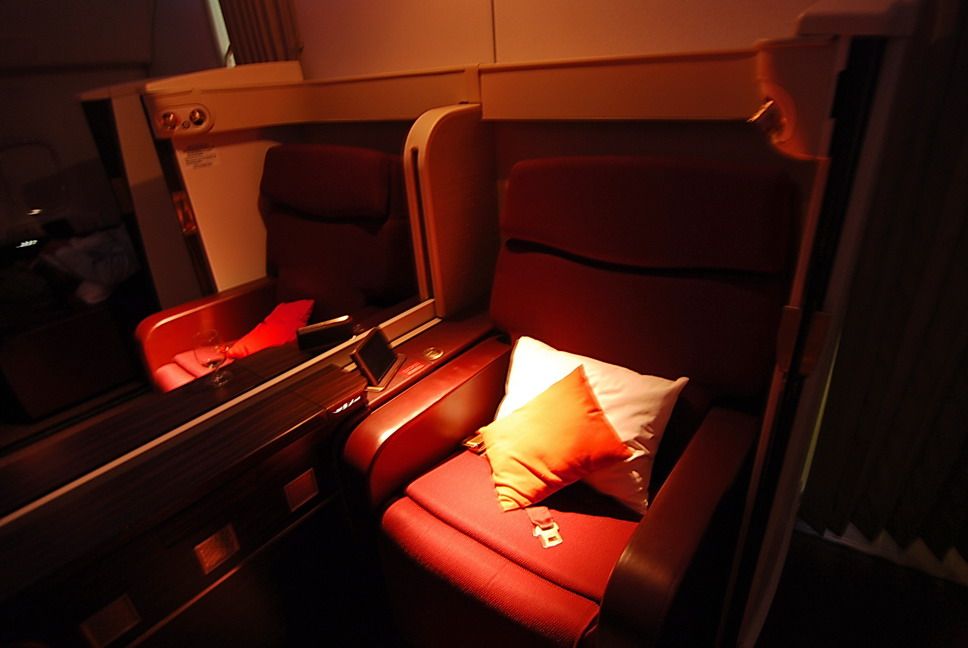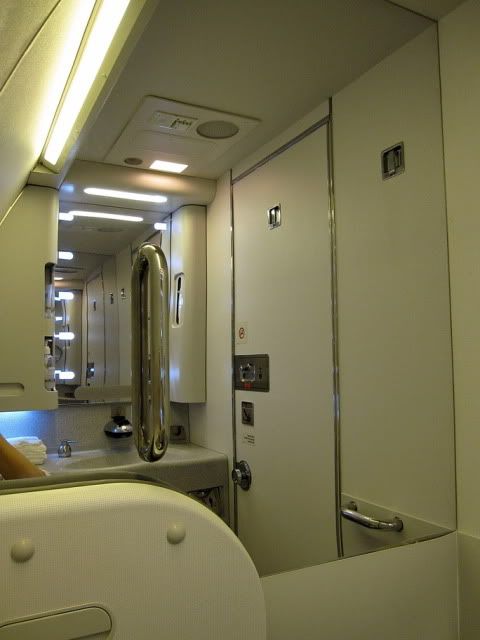 A typical F class passenger also doesn't visit the loo with a camera in hand. The amenities are pretty basic for a First washroom, although I have to admit some facilities are rather unique.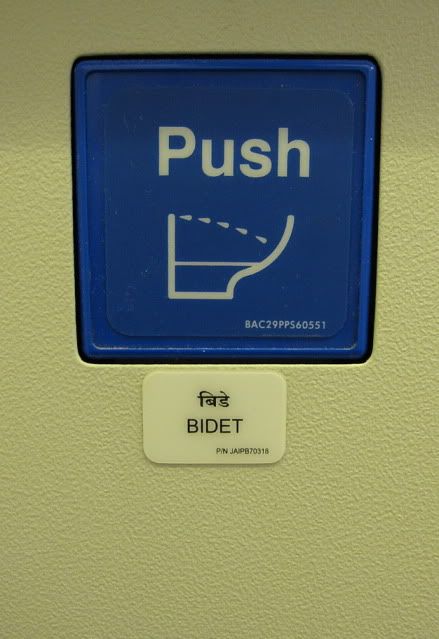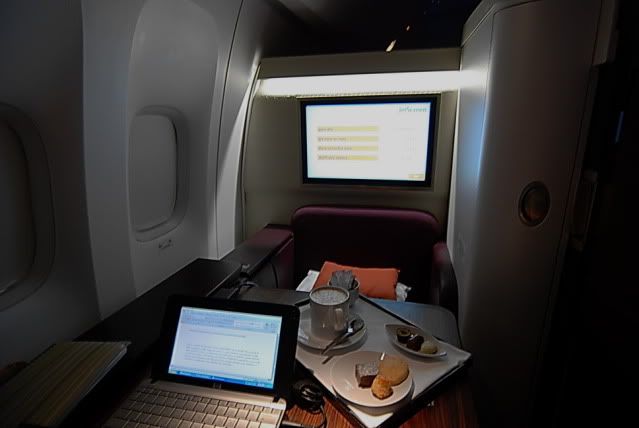 I spend a good part of the flight catching up on some work with coffee refilled on a regular basis. And I begin to appreciate the need for an over-sized table. Outside, the Indian subcontinent passes pretty much invisibly below us, under a thick blanket of cloud. By the time I lift the window shades again, we're speeding over the United Arab Emirates towards Abu Dhabi, where we overfly an airfield just outside the city.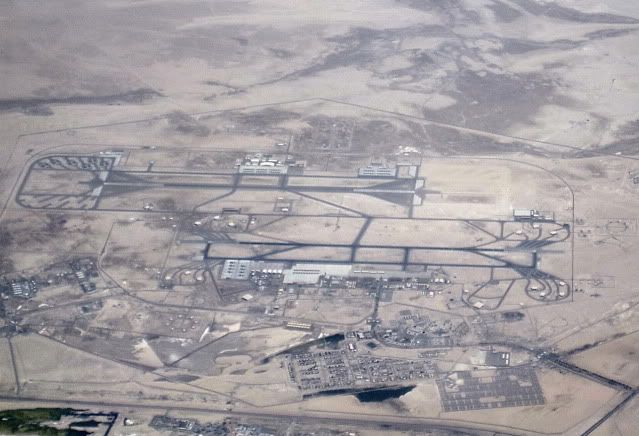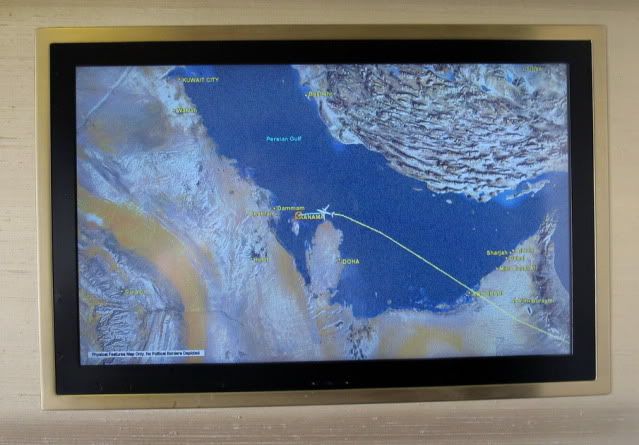 The cabin starts coming to life in the final legs to Bahrain. A snack is offered an hour out, but I decline, for there are many more airline meals ahead of me in the next half day! We skirt resource-rich Qatar, the oil fields dotting the desert landscape visible as we make a left turn at the northern tip of the peninsula heading for Manama, Bahrain's capital.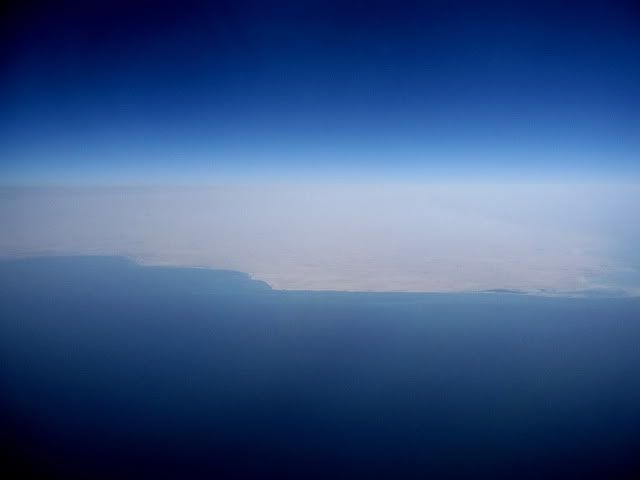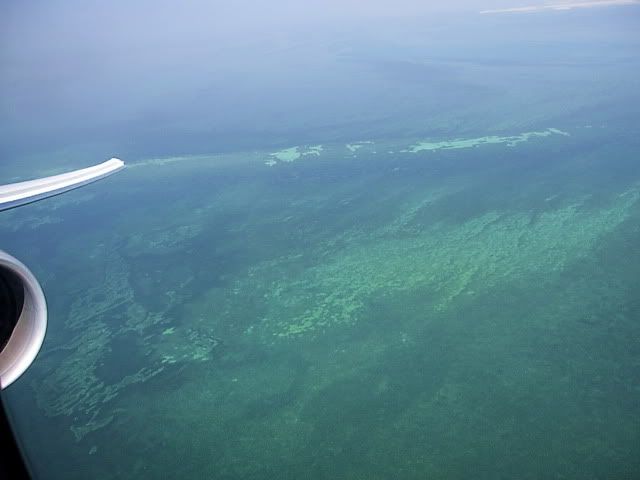 A five hour time difference between KUL and BAH means that it's only early afternoon when we are making our finals into the island state's international airport. The Arabian Gulf here is an extremely attractive turquoise as we chase our shadow on descent towards 30R (I think), the longer of the two parallel runways at Muharraq.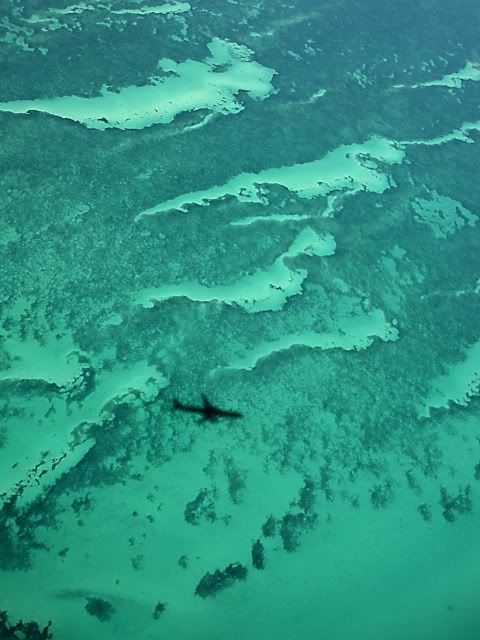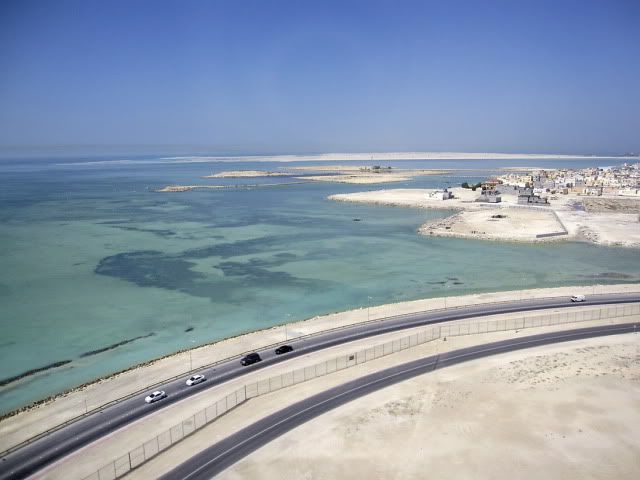 This is the Bahrain scene just before touchdown: looks like a lovely day. But I suppose everyday is a 'lovely' day here. It's only the start of summer but the captain informs us it's 40 degrees centigrade out there – a scorcher!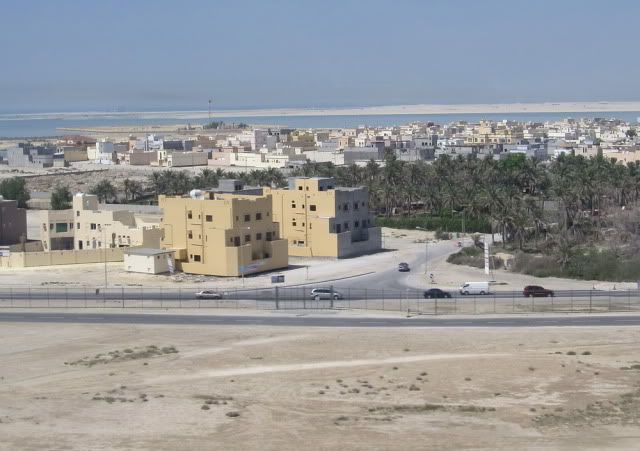 There's no mistaking where we are. Bahrain International Airport's control tower has the red and white of the national flag permanently wrapped around it.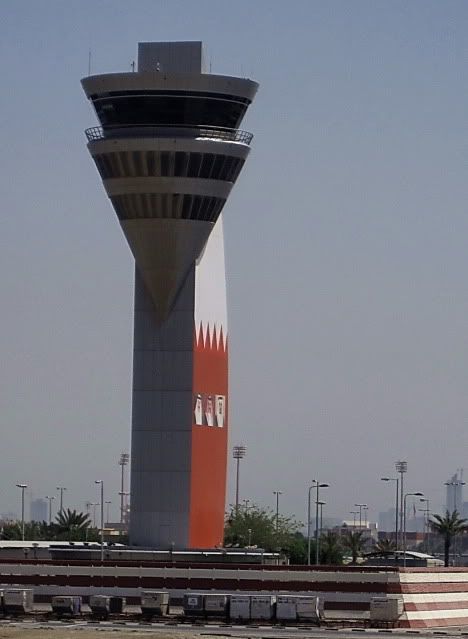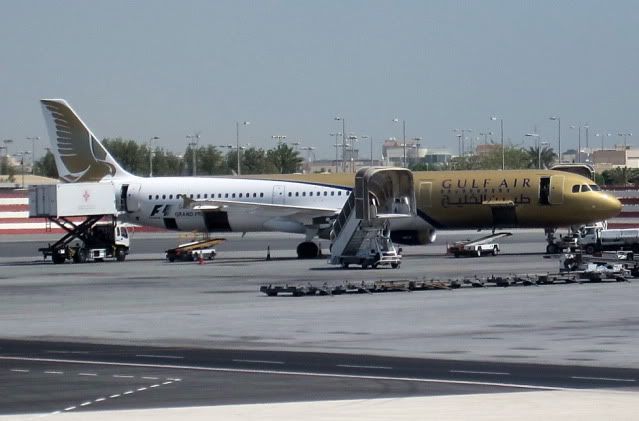 There was a time when the entire Gulf region 'belonged' to Gulf Air. Today, the airline can only make that territorial claim at Bahrain. Above, a relatively rare A321 (one of only two in the fleet) operates regional sectors for GF while below, sister ship VT-JEG, another leased 77W from 9W, is parked at an adjacent gate having recently arrived from Bangkok. I have to say it again: she's just
so gorgeous
!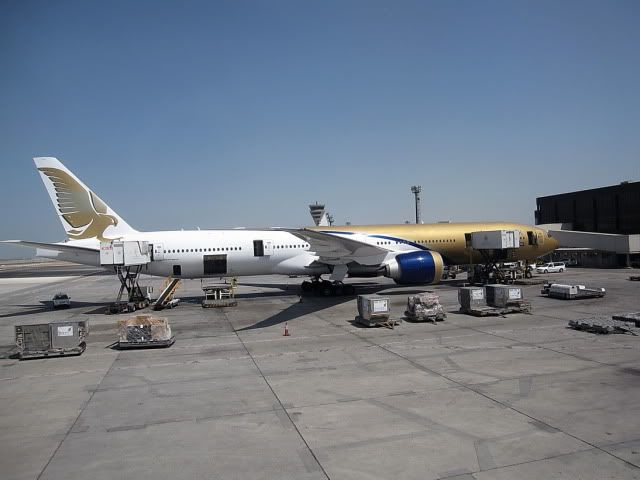 We dock at gate 16, some eight minutes behind schedule – not that its makes much of a difference to me. I have a seven hour 'transit' before my return flight to KUL tonight.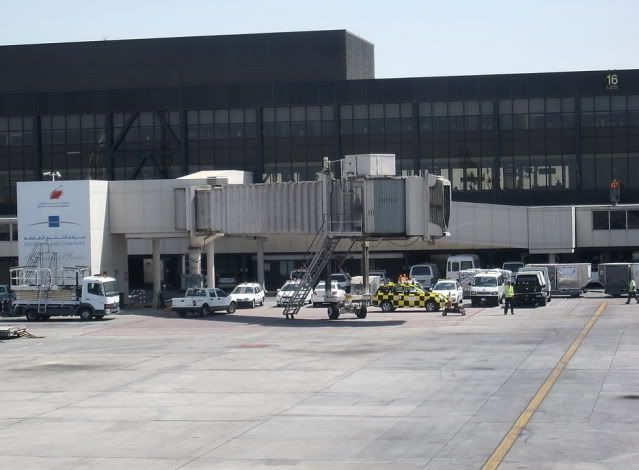 bahrain express
A payment of 5 Bahraini dinars (about $13) for a tourist visa gets me into the country – for up to two weeks, if I so choose. Looking out from the air conditioned terminal, I take a while to contemplate if I should launch myself into the 40 degree heat outside, but as I'm already here, I might as well see a little of the place…
Manama is not a particularly large city – about 15 minutes by taxi from the airport, and we're already approaching the King Fahd causeway linking the island with Saudi Arabia. If my taxi driver is to be believed, the highlight of a trip to Bahrain in this heat would be shopping at one of the huge malls. "It will be much nicer for you today. The Saudis have all gone back after the weekend," says the driver, who's obviously not a fan of the rich neighbors from across the water.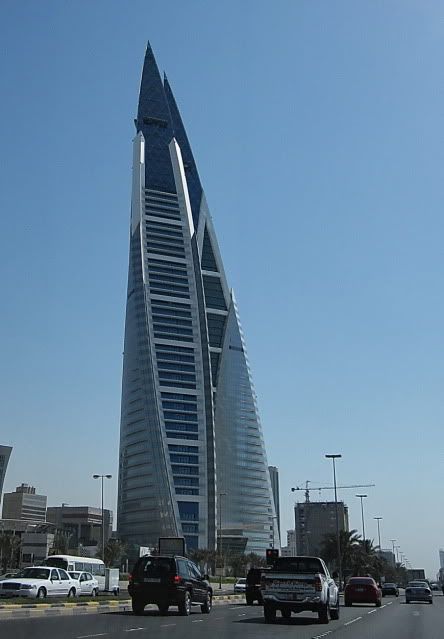 The 240 meter-tall Bahrain World Trade Centre above is one of the most prominent landmarks in town. Apologies, for this is not the best angle to capture of the two towers which are connected by three bridges, that each support a massive wind-powered turbine. Together, the turbines are supposed to generate up to 15% of the buildings' power consumption.
Below, the Bahrain Financial Harbour building is another key landmark of Manama, and is expected to be the centerpiece of an ambitious harbor-side commercial and residential development.
I do eventually end up at a mall, whose name escapes me. Although it is mid-afternoon in Bahrain, my body clock says it's now dinner time and I'm in search of food. It doesn't take me long to find a place to eat: this shop in the food court just demanded to be tried...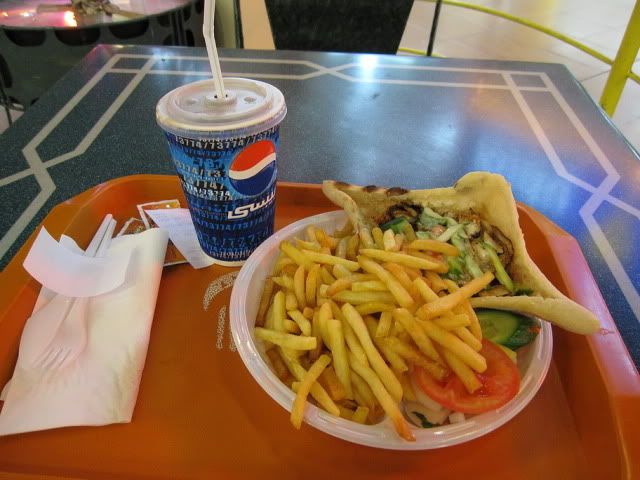 An amicable guy from Manila serves me. "Yes, everything comes with fries," he says. I may not have been to Baghdad but I think it's safe to say the food isn't overly indigenous to Iraq…
return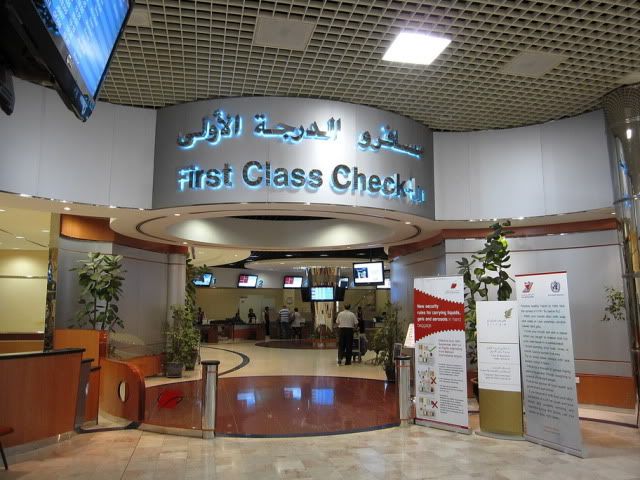 With the express tour of the city over, I am back at the airport early. As Middle East hubs go, Bahrain International is not an especially large airfield, although events like being the first Concorde destination for BA, for instance, do make it a historically significant aviation landmark for this region. To cater to today's premium passengers, the airport has a special entrance and zone housing First and Business class check-in desks. It is quiet here this afternoon and my boarding pass for the return flight to KUL is issued in a jiffy. A fast track immigration and security channel leads directly to the busy shopping bazaar that is the departures concourse.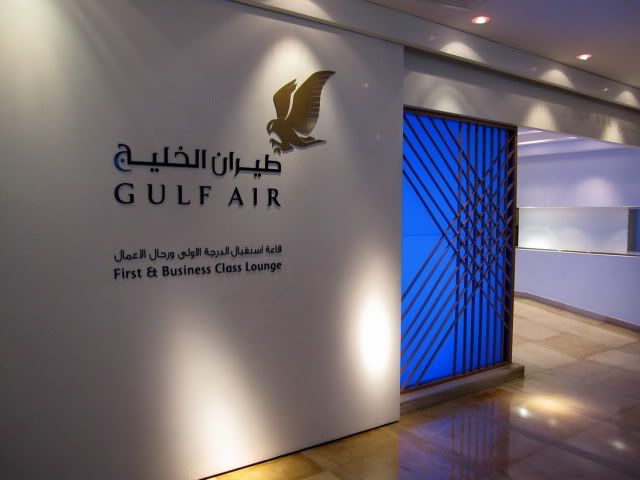 With no wish to browse through another mall, I make a beeline for Gulf Air's premium facilities upstairs. Its First Class Lounge is really a lounge within a lounge. As a passenger, you enter the main lounge area that houses Business Class passengers and another lounge dragon controls the glass doors into the F class section.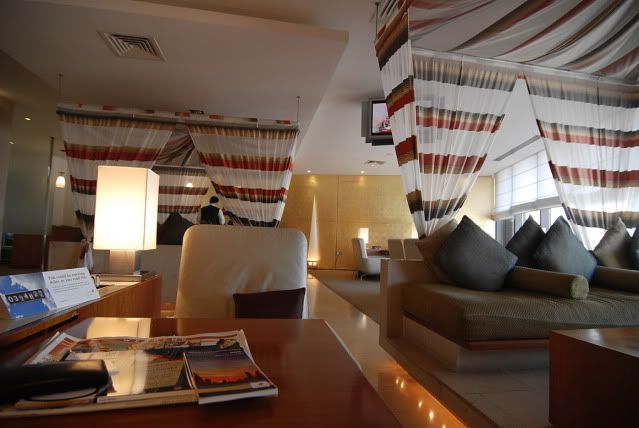 The Bedouin tent theme is heavy in this handsome and otherwise classically understated lounge. It is generally quiet and I find myself a comfortable corner where I happily spend the next hour or two continuing my work, with intermittent escapes to A.net. The waiter service here cannot be faulted and it continues to keep me injected with caffeine as I try to kid my body clock into believing it isn't nearly bedtime.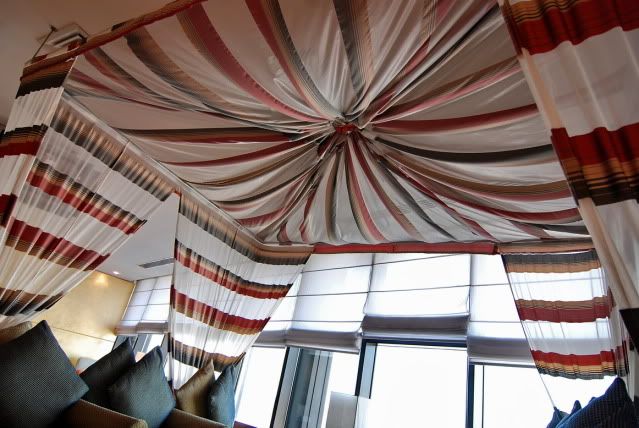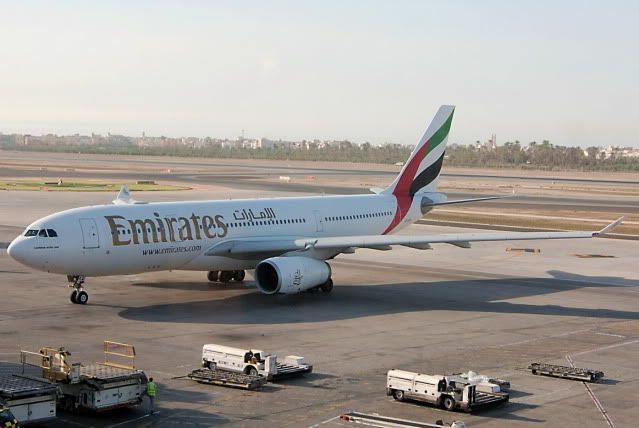 Luckily, there are diversions too. The views of the tarmac are excellent. An early evening Emirates A332 has just arrived from DXB, while a Saudi Arabian MD90 is being prepared for departure. By dusk, the lounge starts to get a tad crowded as transit passengers off GF flights from Europe start arriving. And it's time for me to hightail it out of here.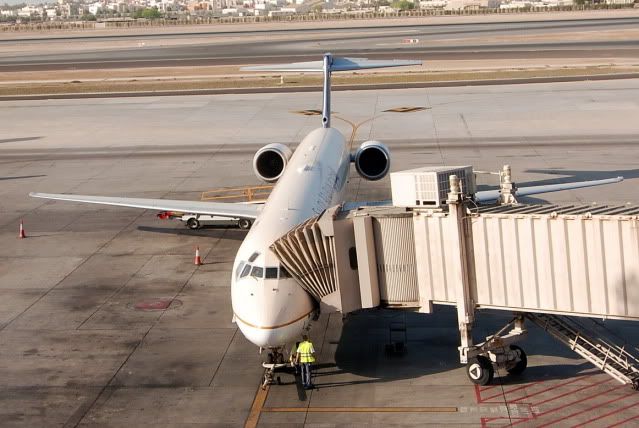 The airport is a hive of activity in the early evening. Unless I am very much mistaken, I count all four of the leased 77Ws as being back at base tonight and are being prepared for departure within a short time window just after 8 p.m. One machine is departing for BKK as GF150, another is headed for MNL as GF154, while a third is off on the short DXB hop as GF508 (before presumably returning to operate the after-midnight GF007 service to LHR). My flight, boarding from a remote gate, is the fourth triple-seven departure tonight – VT-JEK was the last leased 77W to join the fleet, and the only one not repainted in GF colors after the decision not to extend the leases beyond 6 months was made.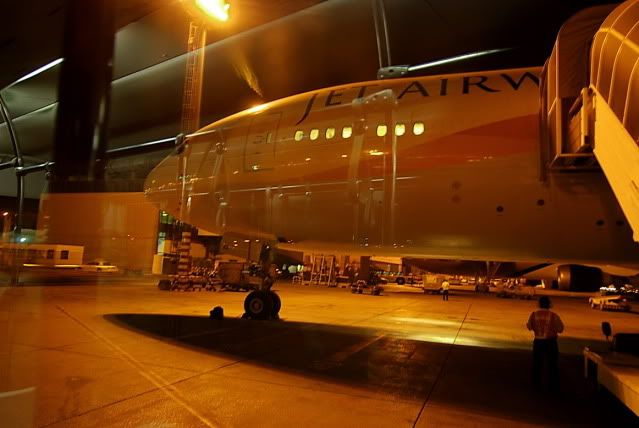 from Bahrain to Kuala Lumpur
Gulf Air flight GF 280
Boeing 777-35RER VT-JEK leased from Jet Airways
Dept: 20.38 Arrv: 09.17 (next day, on time)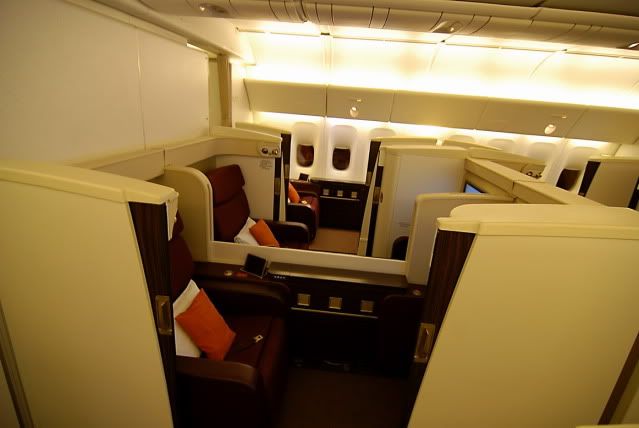 The cabin looks familiar but on this flight, English accents abound making it feel like another airline. Sky chef Austin and flight attendant Kathy both come round to welcome me aboard as I settle into seat 2K while a printed satellite copy of London's Daily Mail newspaper is offered. It's a lighter load tonight too – the only other passenger is on transit from LHR and seated across from me at 2A. He changes into pyjamas (the airline supplies them on this night flight) before push-back, passes on the meal service, and goes straight to bed immediately we reach cruise.
Suraj, a steward dressed in a smart Jet Airways uniform, notices my photo taking and comes over to promise to put on "the mood lighting show" later, which I might like. Suraj introduces himself as "The Trouble Shooter from Jet". The role of 9W's crews has certainly dwindled since the early A332 leases last year – at that time, apart from the token two or three GF crew members, everyone else was 9W staff.
Having stayed awake for the whole of the extended Saturday, the lack of sleep is rapidly catching up on me. I follow my fellow F passenger by changing into the comfy pyjamas and suddenly feel like I should be tucked up in bed under a soft duvet. Still, the menu does look a rather interesting diversion: on this flight to KUL, an impressive two hot meals are served on demand, more than most airlines these days on a 6 hour plus red-eye sector.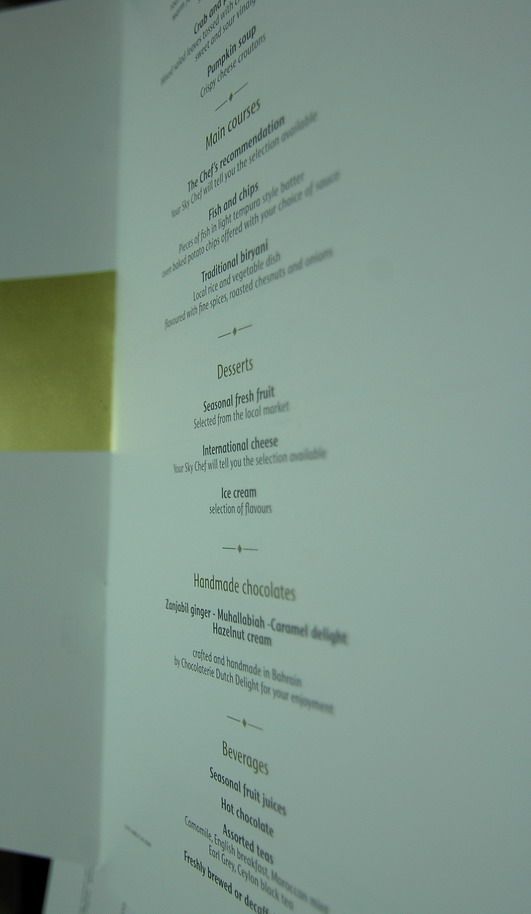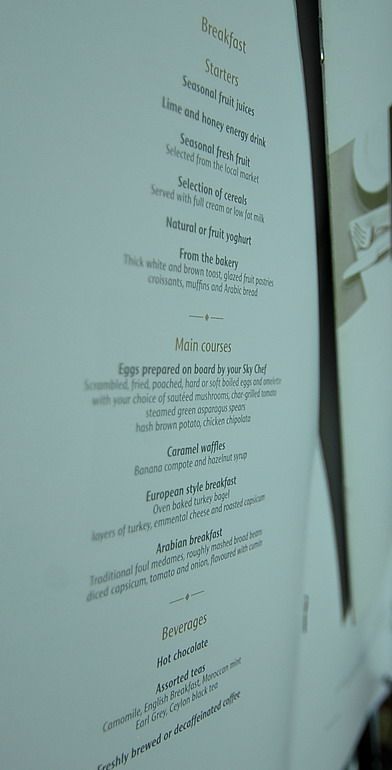 We push back on-time and before long, are retracing the route I had taken earlier today. We'll be skirting Qatar, heading over Dubai and onwards across India. When Suraj cranks up the mood lighting as promised at cruise, I notice 2A is already closed shut and probably fast asleep.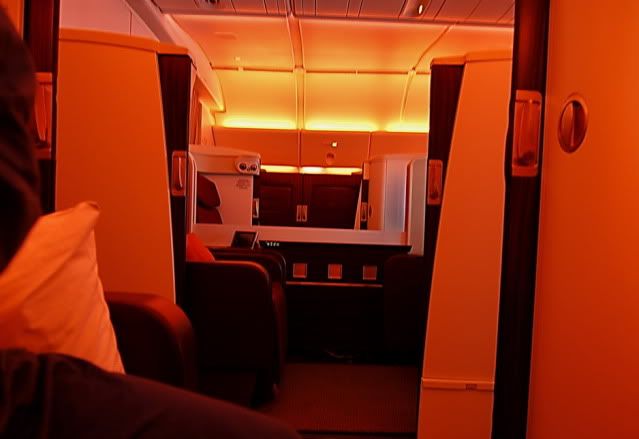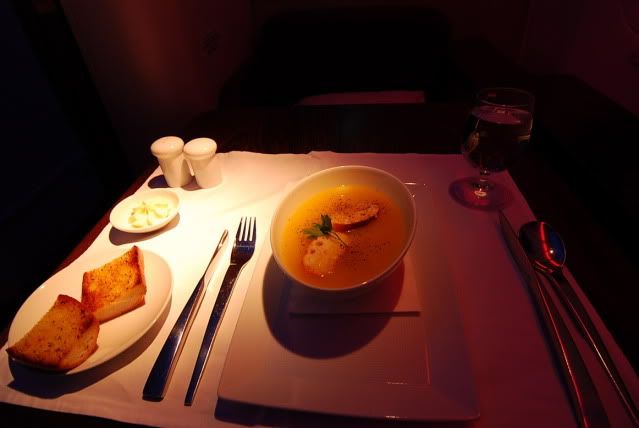 I decide to order something light from the menu: a pumpkin soup at first, but then couldn't resist the traditional biryani as well! The meal is far tastier than on the outbound sector. On the AVOD,
Slumdog Millionaire
provides the perfect accompaniment.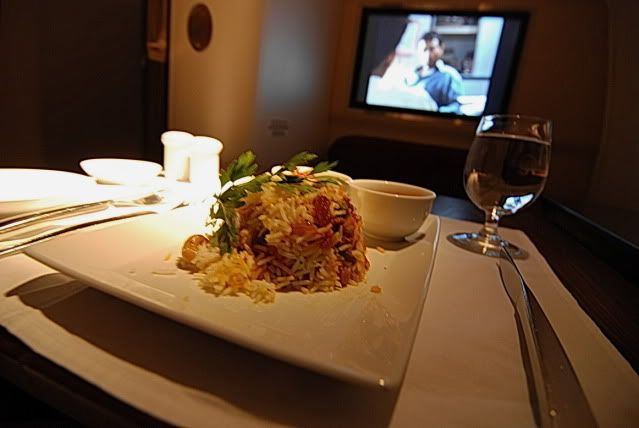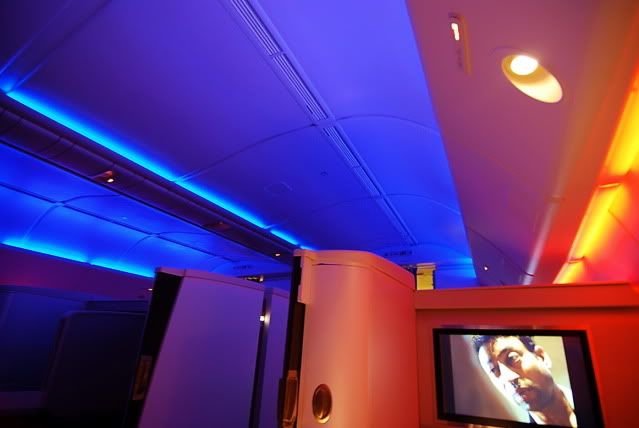 Meanwhile, the lighting show continues: at first in dramatic red and blue hues, and then later, a starlit night as the flight progresses. Like on the previous flight, the crews are courteous without being overly friendly but like before, there are no blankets unless requested – how very odd.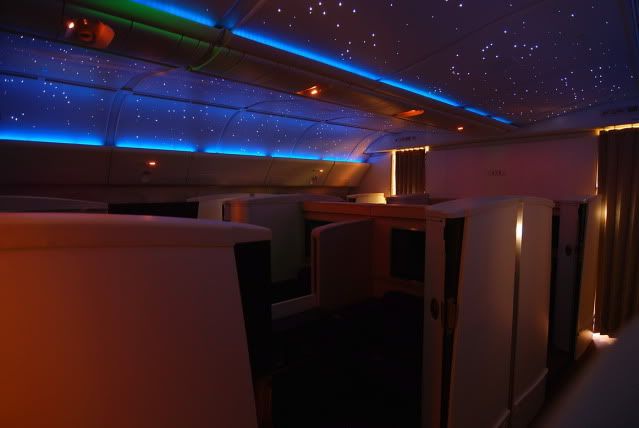 With my seat reclined into a bed – it's not like some of the premium Asian carriers where they make your bed while you change – I push the double doors together easily, and find myself in a private cubicle that's not overly claustrophobic. It's not so bad after all.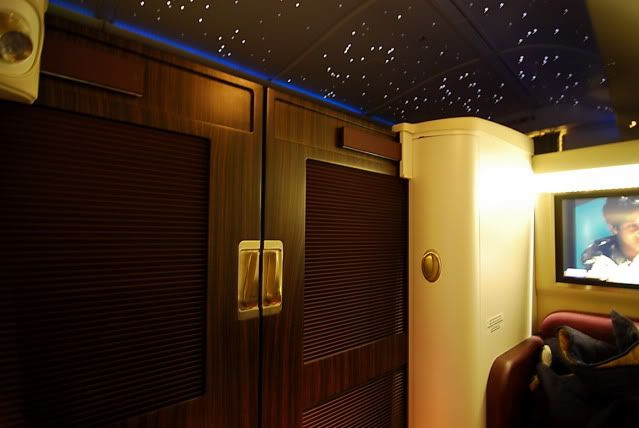 Maybe I am tired, but the bed feels supremely comfortable and the duvet, when it was finally delivered, is comfy. The only things missing perhaps are a couple of full sized pillows. Still, tonight, I am out like a light. I only vaguely sense some turbulence half way through the flight, and hear an announcement for cabin crew to be strapped in, but otherwise I sleep through most of four and a half hours.
It's Sunday morning back in tropical Southeast Asia. Kathy has to knock on the door to wake me up, offering breakfast: we're about half an hour ahead of schedule, she says, and will be starting our decent in 20 minutes. I freshen up, change into my Saturday clothes and when I get back, my ordered light breakfast is already waiting. Ah, the luxury of First – over too soon.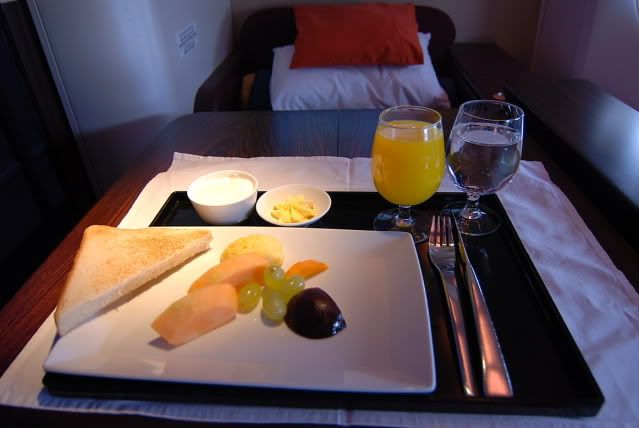 Before long, the distant mountains from the Malay peninsula's central range come into view. It's still overcast and rain is promised for the afternoon. Indeed, it's as if I never left at all!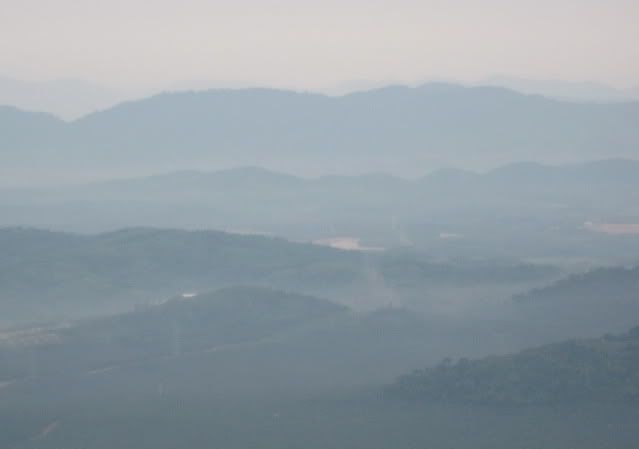 The final descent into KLIA is over rows and rows of oil palm plantations, Malaysia's most important commercial crop by far.
final words
This trip came about as a result of a crisis. The crisis led Jet to lease its 77Ws to GF, which then had to sell their seats cheaply to someone who would not have otherwise flown. At the end of October, the last of these planes return to Jet, and their eventual fates are as yet unknown. Airlines are facing some enormous challenges and perhaps what eventually emerges from this crisis could well be something very different. That saga, unfortunately, still continues, but my trip report ends here. Thanks so much for reading.