If you've read part one of this trip report, welcome back!
If you've just joined us here, you can read Part 1 (LHR-SIN)
here
Sunday, September 20th 2009
I woke up at 8am to find that Trent was already in the shower, getting ready to head down to the restaurant for breakfast. I opted to get ready afterwards as I take a rather long time sometimes.
We arrived in the restaurant just before 8:30 and sat ourselves down, before going to the self service bar to decide what we would eat. If any of you visit Singapore, I would recommend this hotel in a heartbeat, the food and service is exquisite.
Soon enough though it was time to head back upstairs to get showered, dressed and packed for the flight to Bangkok. As I beautified myself, Trent called the front desk to get the porters up to collect the bags as our car would be there very shortly.
As Trent and I walked out, we were surprised and pleased to see Mr Kong waiting to take us to the airport. Once again, he filled us in with information about Singapore for the entire drive and gave us the best times to go back. June/July is the best time for me it would seem, as every shop has massive sales on, and I like my designer gear.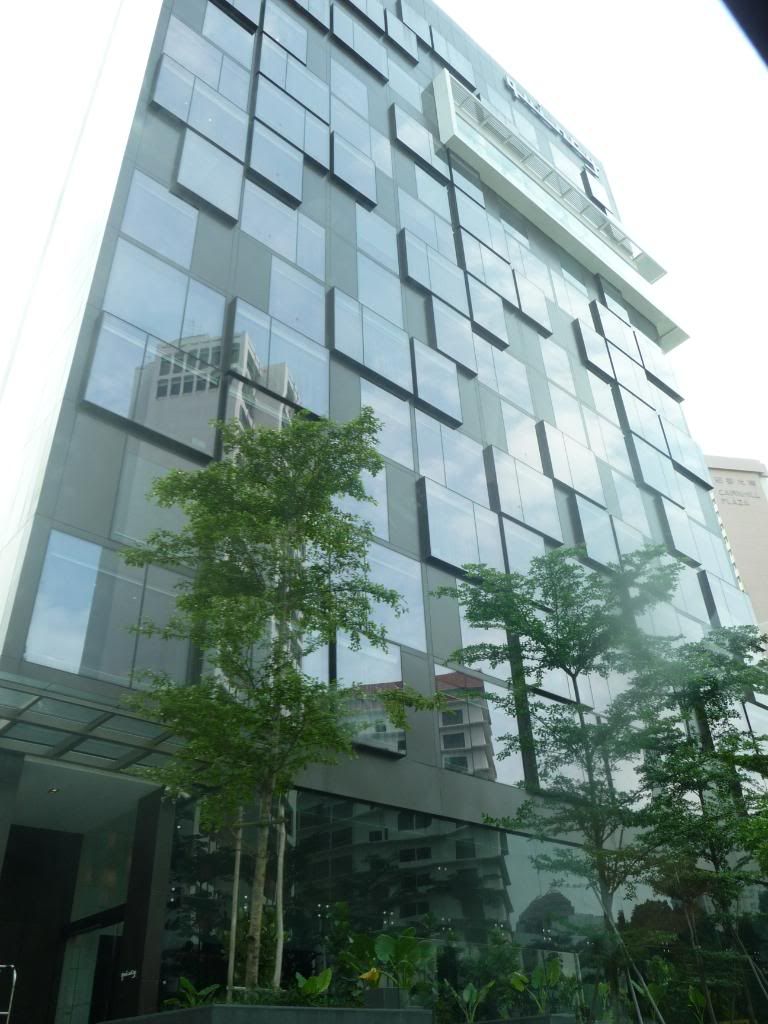 Saying Good Bye to the Hotel until next year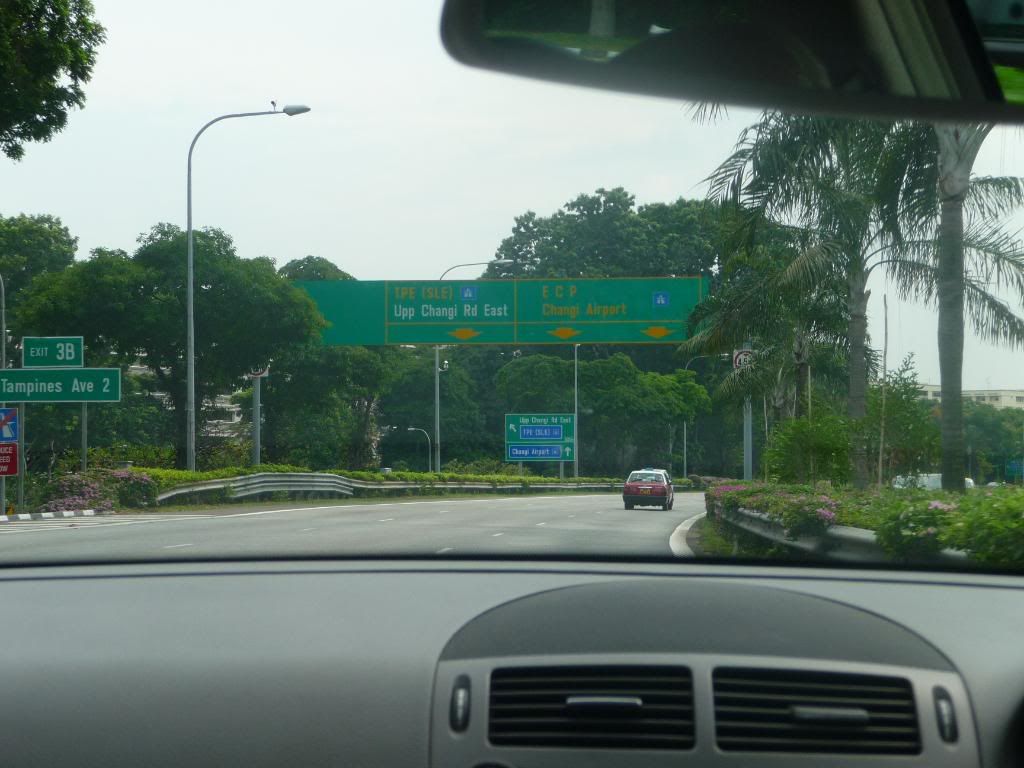 On The Road To Changi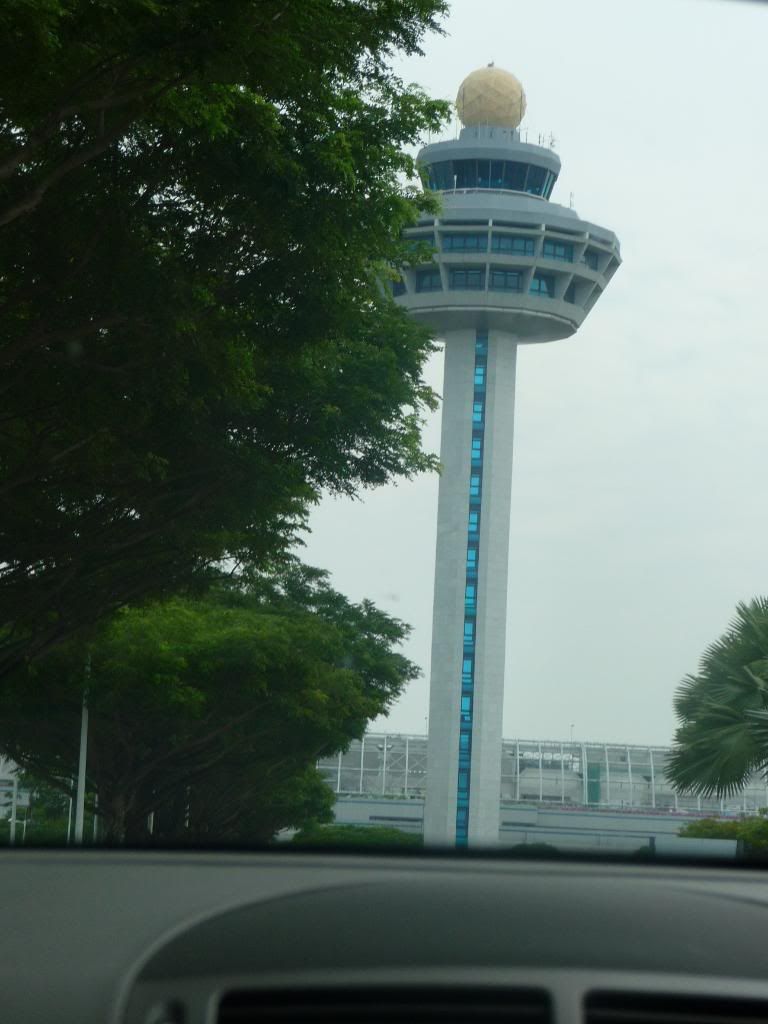 Changi ATC Tower as viewed from our car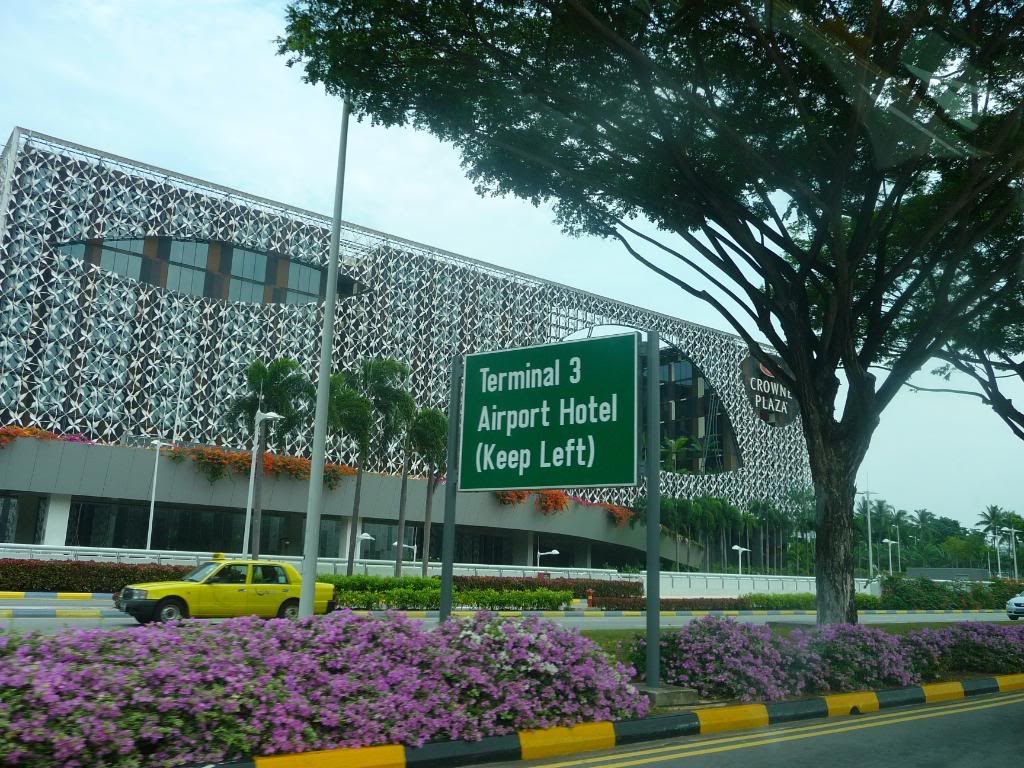 The Interesting and Unique architecture of the Crowne Plaza Changi is shown off here as we pass by en route to Terminal One
We arrived at the airport not long after 11am, perfect amounts of time to visit the Lounge, Shops and get in some spotting before boarding the flight to Bangkok. Mr Kong fetched us a trolley and took our cases from the boot, and I tipped him before we bid adieu and headed into the Terminal to check in.
The Cathay Pacific check in area was slightly crowded, but as we approached we could see it was all a huddle around the Economy class Lines. Two lovely ladies sat at the Business Class check in desks and we walked straight up. Trent spoke with them about checking the bags straight through to Phuket, which they were happy to do. It only took them ten minutes to figure out how to do it.
Finally it was time to say good bye to our bags once more as we headed off to departures.
Our passports were stamped to say we had departed and from there we made our way to the Cathay Pacific Skyview Lounge.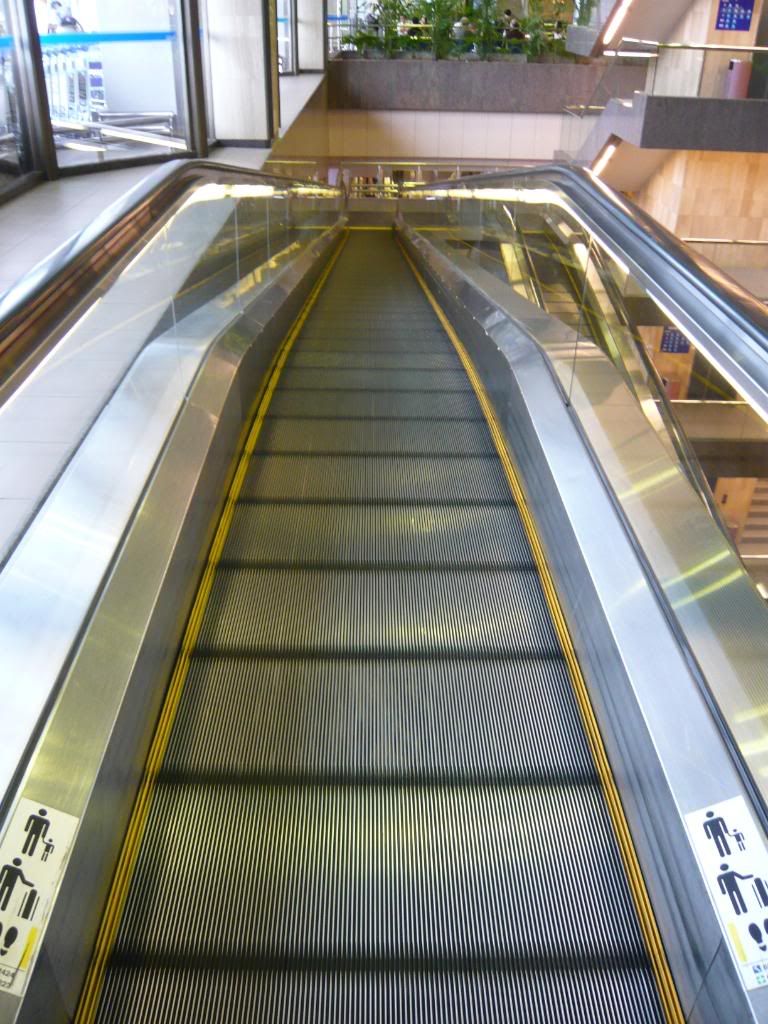 Travelator between levels
Awesome fountain
Departures and Arrivals Signs
Another Nice fountain on the Arrivals level
No Matter where I go I can't get rid of the crappy RBS
Old Style Departures Board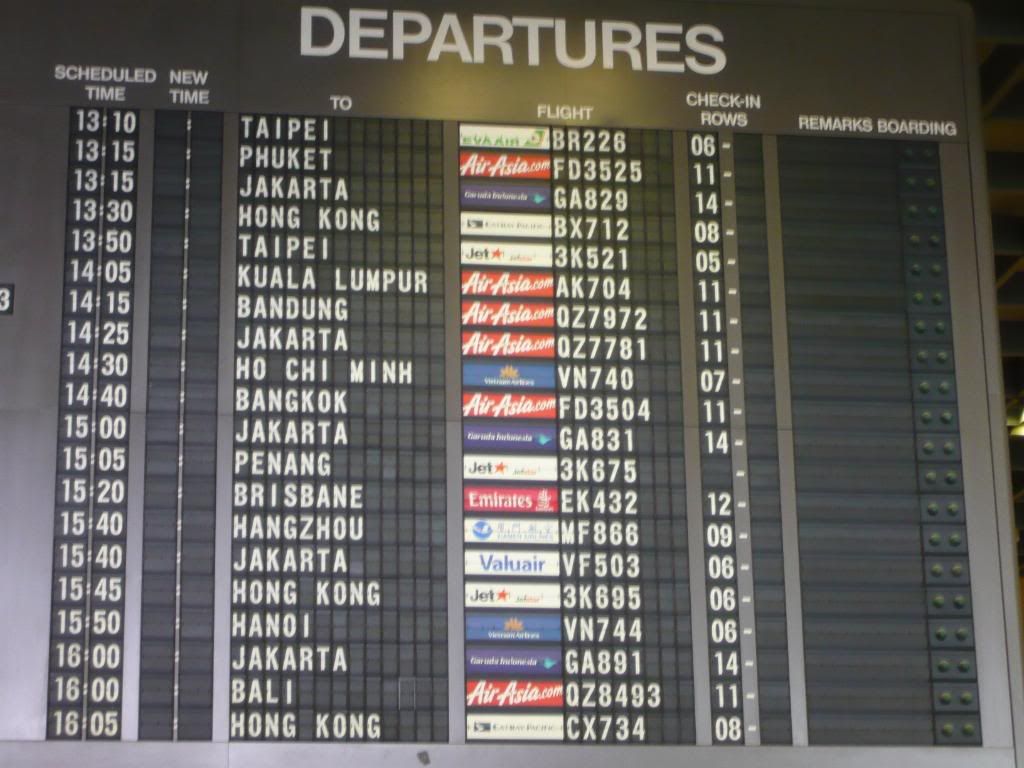 As You can see, our 1330 CX712 had now become the BX712 to Bangkok and Hong Kong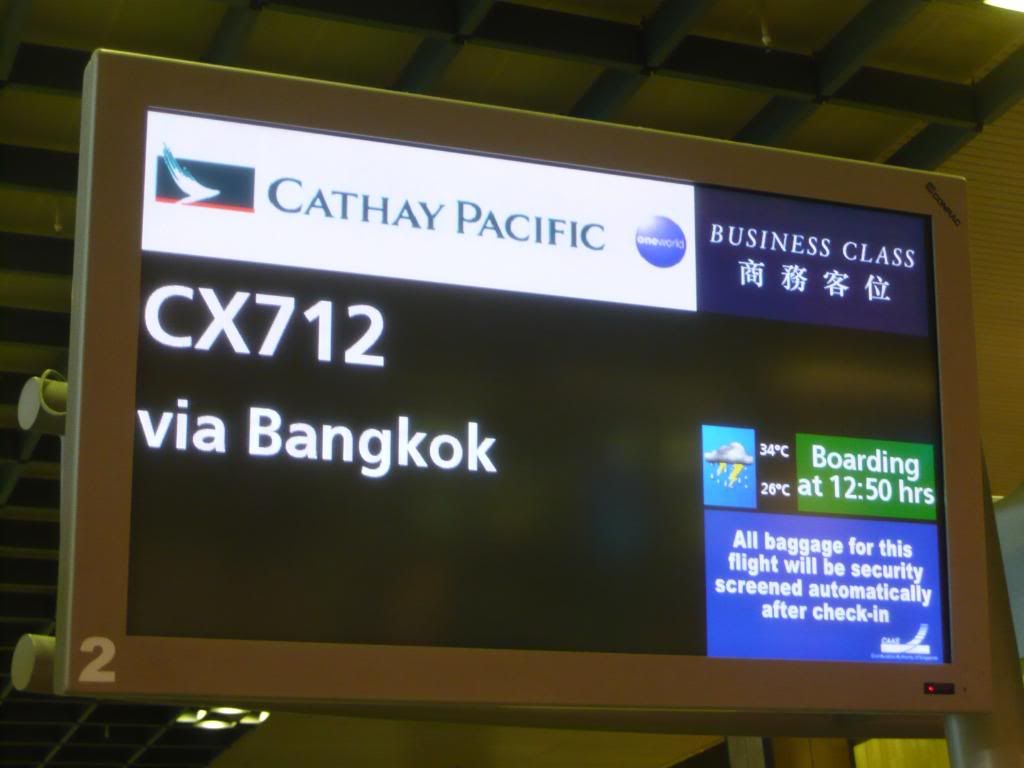 Check In Desk Sign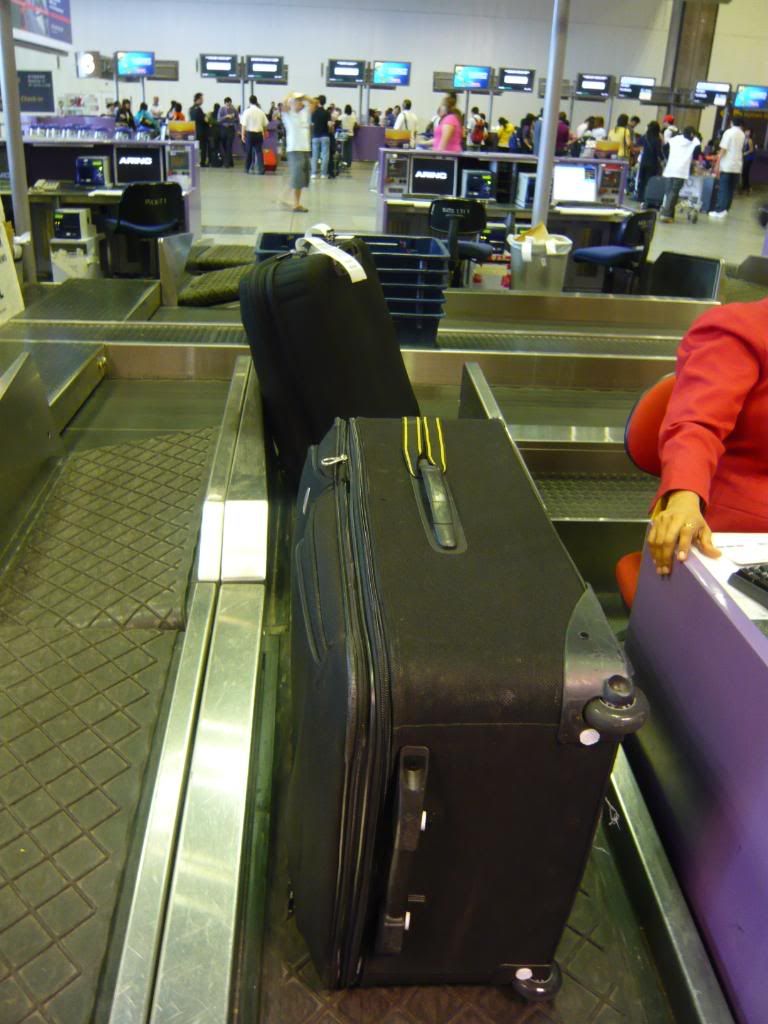 Adios Bags
The Skyview Lounge at Changi Airport is nothing to scream about, but it was a nice enough area to sit and relax in; at least it was away from the hustle and bustle of the main terminal area.
As Trent and I sat and had some munchies and drinks, I talked to some friends on msn – including fellow a.netter TupolevTu154 who was in Denver, a whole 14 hours behind me – and watched the rare (for me) movements on the Singapore tarmac.
At the entrance to the lounge
The seating area we sat in
Offerings in the lounge
More seating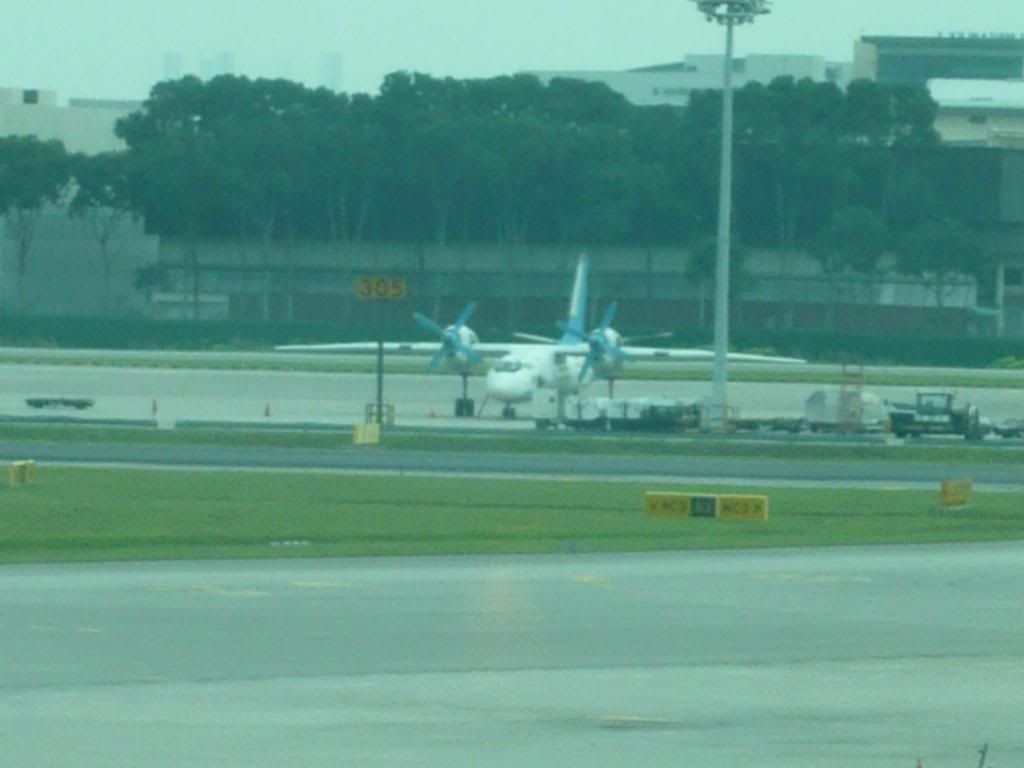 A never before seen type for me
Qantas A330-300, never seen one before
Garuda Indonesia A330-300. A carrier I had never seen
Surabaya Air; a carrier I had never even heard of
JetStar Asia A320
The Lockheed Hercules that I somehow mistook for an Ilyushin
Soon enough it was time to leave and explore some more of the Terminal. We noticed it was twenty minutes until boarding so decided to take a little look in the Qantas/BA lounge. It was completely empty. As Trent informed me, it fills up to the brim when the BA and Qantas flights to LHR and SYD come through with people seeking refuge in the lounge between flights.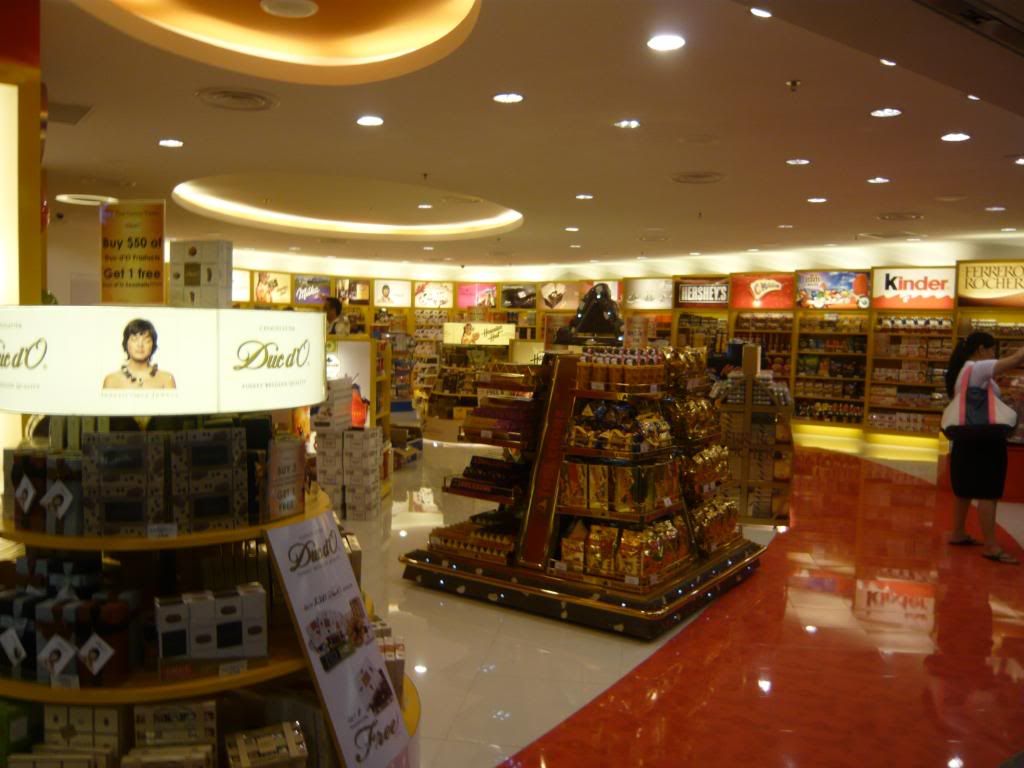 CHOCOLATE! En route to the QF/BA lounge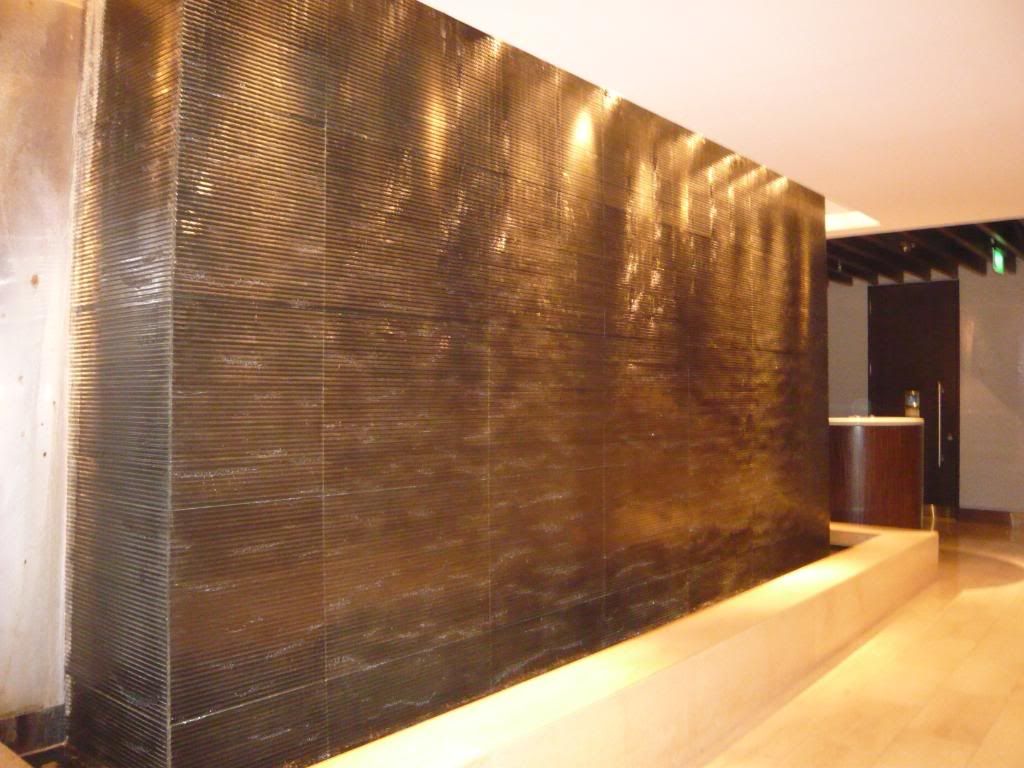 Fountain in Lounge
Seating Area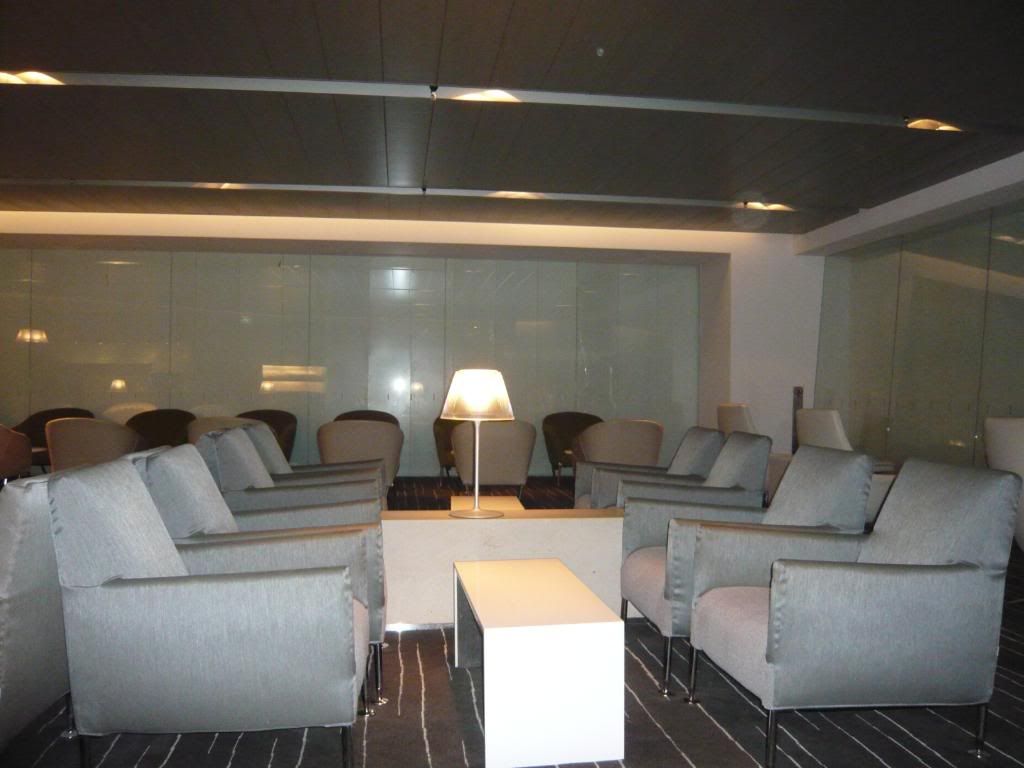 Seating Area 2
Bar
Bar 2
From the lounge it was time to head off to the gate, or so we thought, as only two minutes later we saw the signs to the Cactus Garden/Smoking Area. It was a must see.
As soon as we walked outside we were hit by an immense heat. We'd completely forgotten about the Air Conditioning and had taken it for granted. It was a nice heat, but unexpected.
Trent next to the Cactus Garden Sign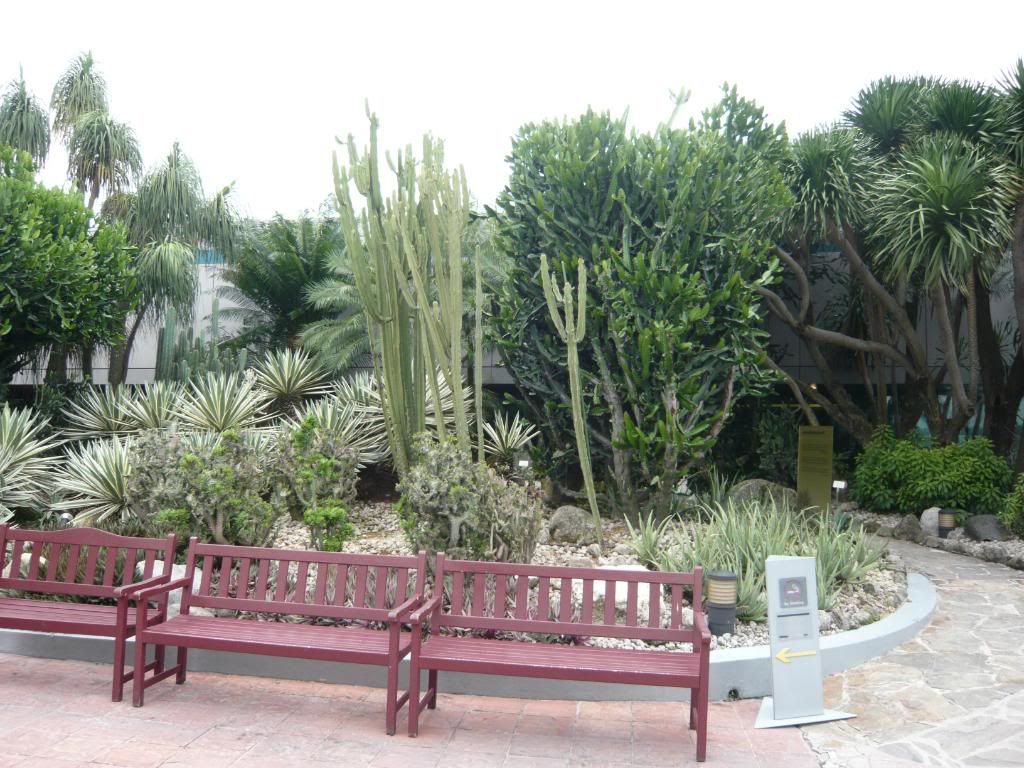 Cacti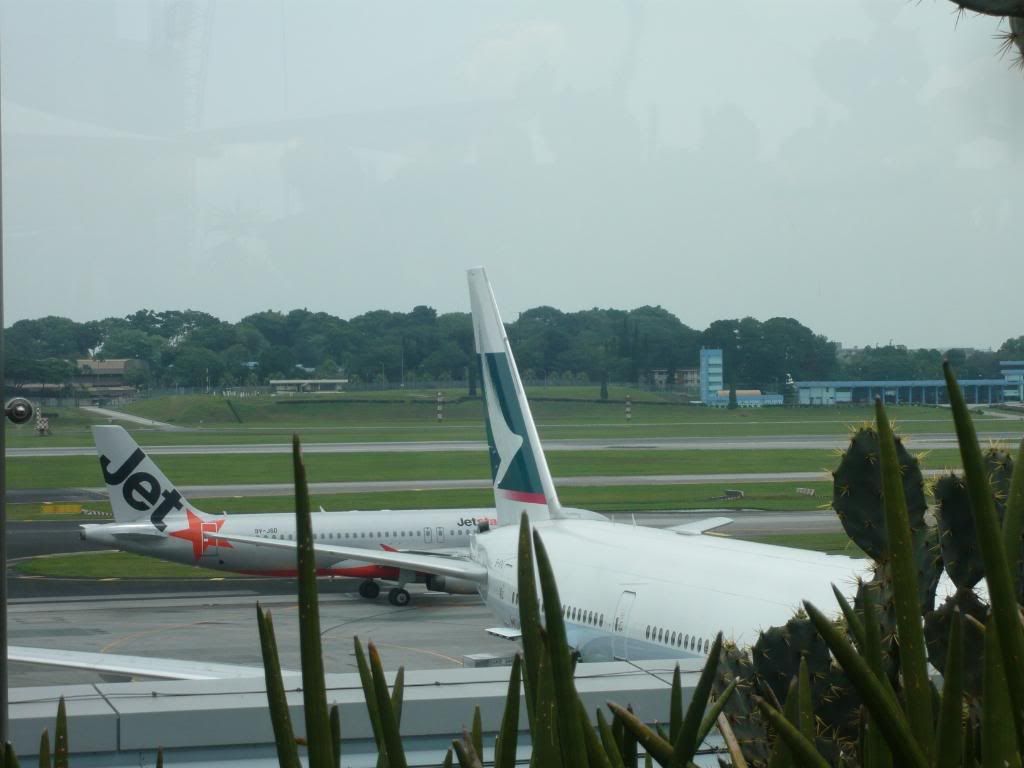 Our Cathay 777-300ER with a JetStar Asia A320 taxiing behind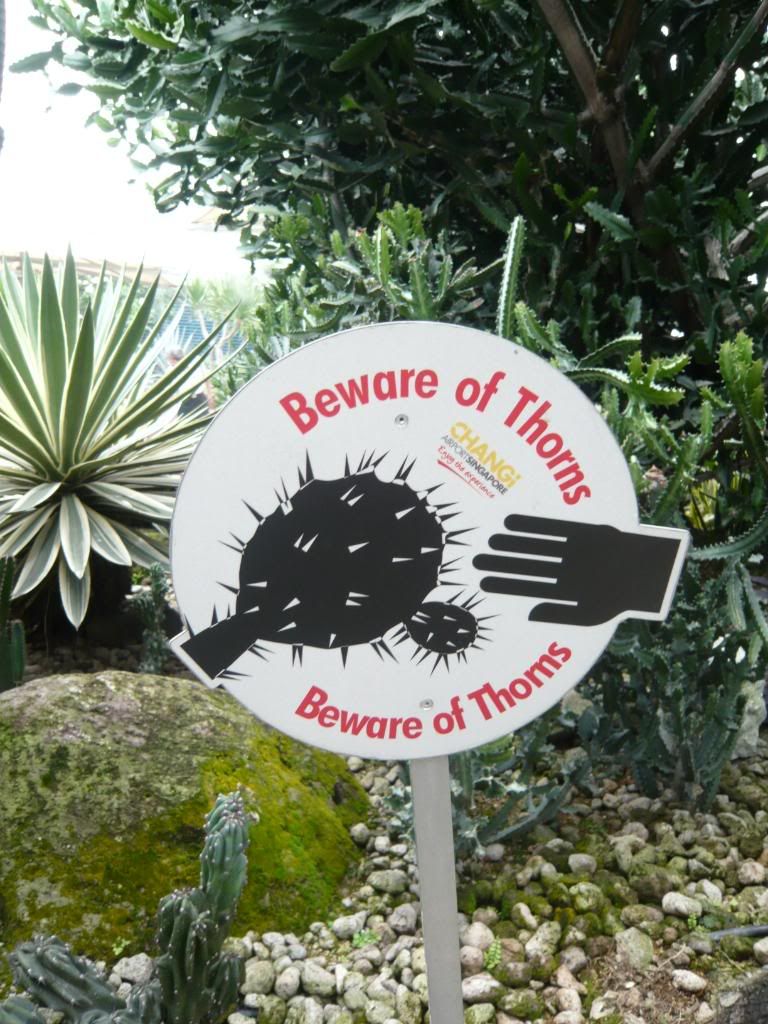 I Laughed At This
Purple
We eventually reached the gate at 13:05 and proceeded through the metal detectors/security before joining the rabble that was the crowd awaiting their flight.
20-09-2009
CX712
Singapore Changi, Singapore (SIN) - Bangkok Suvarnabhumi, Thailand (BKK)
STD: 1330
ATD: 1346
STA: 1455
ATA: 1445
Departure Runway: 20R
Arrival Runway: 19R
Aircraft: Boeing 777-300ER
Registration: B-KPD
Seat: 12K
Boarding was called just after 1pm, with two lanes for First/Business Class Passengers, and the other for Economy Passengers. Over the tannoy, the young man who'd checked our boarding cards upon entry to the gate lounge announced that all passengers in F and J were free to board at will, and any passengers who had small children or needed extra assistance should come forward. Trent and I were first in the queue for our lane, and once our boarding cards had been checked, headed down the jetty and took the first corridor to the left, shortly emerging at door L1 of my very first Boeing 777; and this variant which just happened to be my favourite aircraft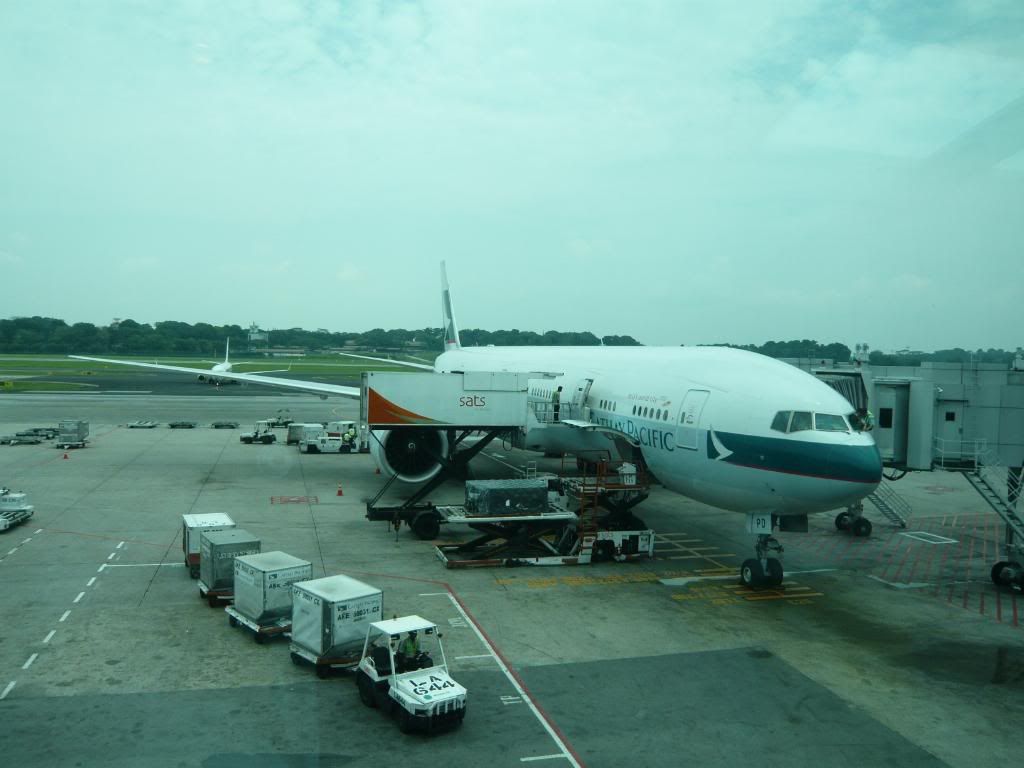 B-KPD sitting on the ramp
Something was wrong with the window wiper, but it was fixed before we boarded
Cleaners sitting in the shade underneath the jetbridge
Reaching the big door, Heavy Door – for any Pam Ann Fans
We were shown to our seats by the lovely Thai air hostess who's name I've totally forgotten. We were sat in 11 and 12K, the starboard window seats in the mini cabin ahead of doors L2 and R2. I pulled Toffee out of my bag and sat him on the seat while I put my Louis bag and laptop bag up in the [u]massive[/i] overhead lockers. What I loved about the mini cabin is that every passenger had their own locker, 8 in total. I sat down and began to play around with the seat, the PTV and had my pre takeoff Champagne. I'd heard a lot of people talking about these seats and saying that they felt they were too narrow. In my honest opinion, they're not narrow at all and provide a great level of comfort. My only gripe is the fact one has to strain their neck to look out of the window, although in the fully flat position one could lie on their front and look out of the window at ease. I did this quite often throughout the flight just listening to music.
The 'private' Business class cabin aboard B-KPD
Welcome Aboard Champagne. YUM!
Leg Room
Looking up into First Class. Those suites are awesome
Myself in the fully flat position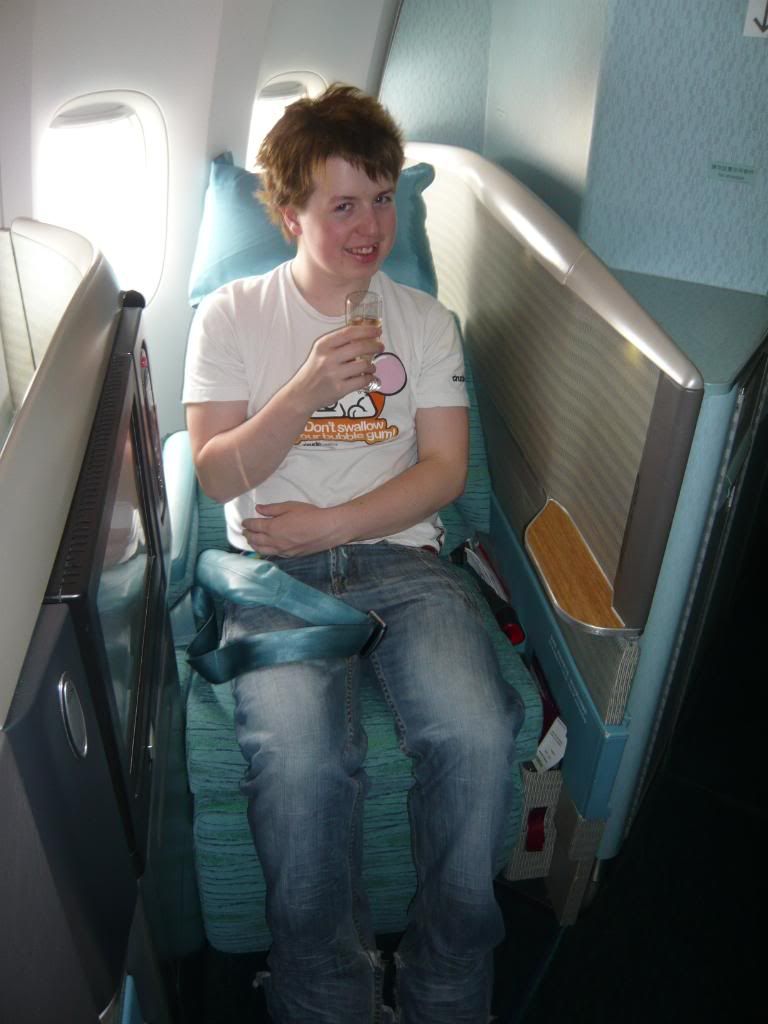 And in the seated position, with my champers
Looking Back At The MASSIVE GE-90s
Pushback occurred at 1335 and the Safety Demonstration was shown. Despite signs saying "Stow during Taxi, Take Off And Landing" on the PTVs, the cabin crew had no problem with us all watching them during the taxi to runway 20R. The soft whine of the engines was bliss as we taxied.
Soon enough, we were on the active runway and paused for about forty five seconds before the engines whined and roared as the throttles were advanced, and we quickly picked up speed, shooting down the runway. I watched as the wings began to flex and the raked wingtips eventually showed themselves as we rotated and soared quickly into the sky. I could only imagine how awesome our take off looked from the ground as I love to watch the Emirates 777-300ER at Glasgow and thought it may look something very much like that. The gear were retracted, followed by some flap retraction a minute or two later and then we turned to the left to take us up to Bangkok. The ground quickly became obscured by haze and so I settled back and waited for the seatbelt sign to be switched off.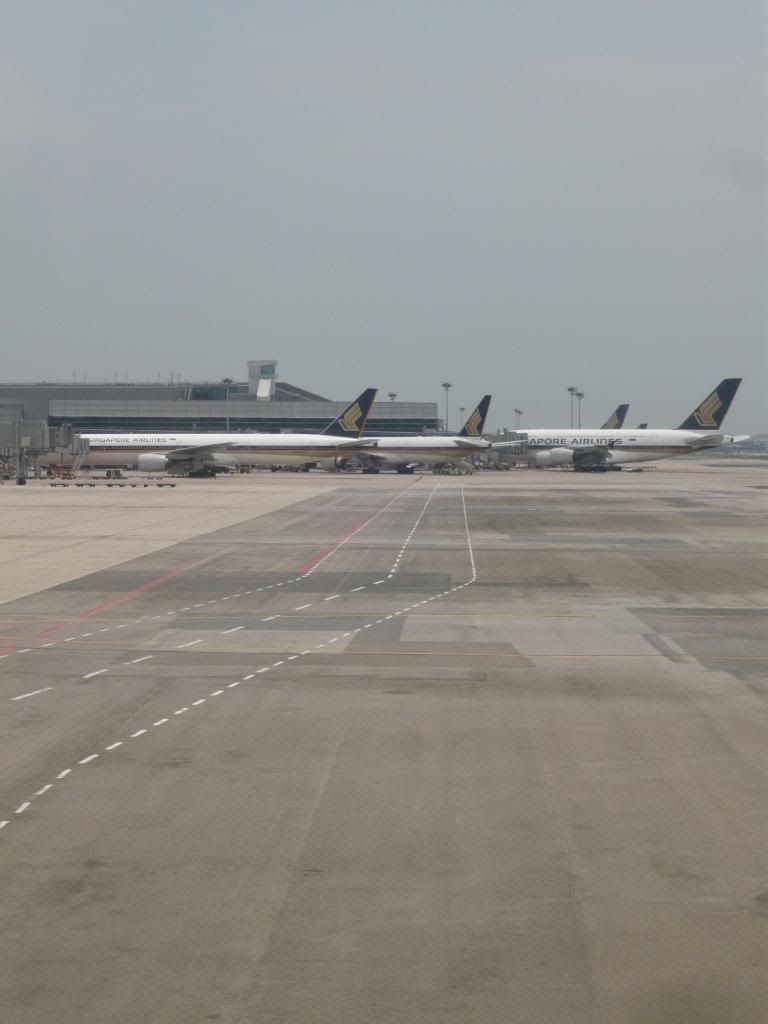 Pushing back, you can see who's top dog here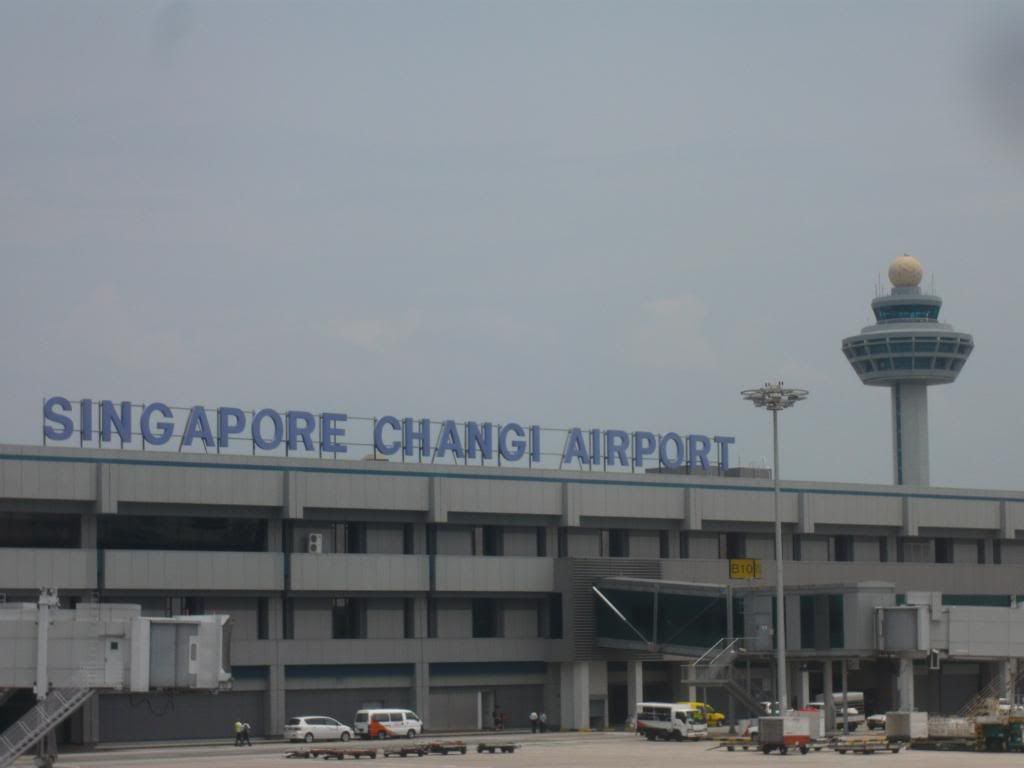 No prizes for guessing where this was taken
Safety Video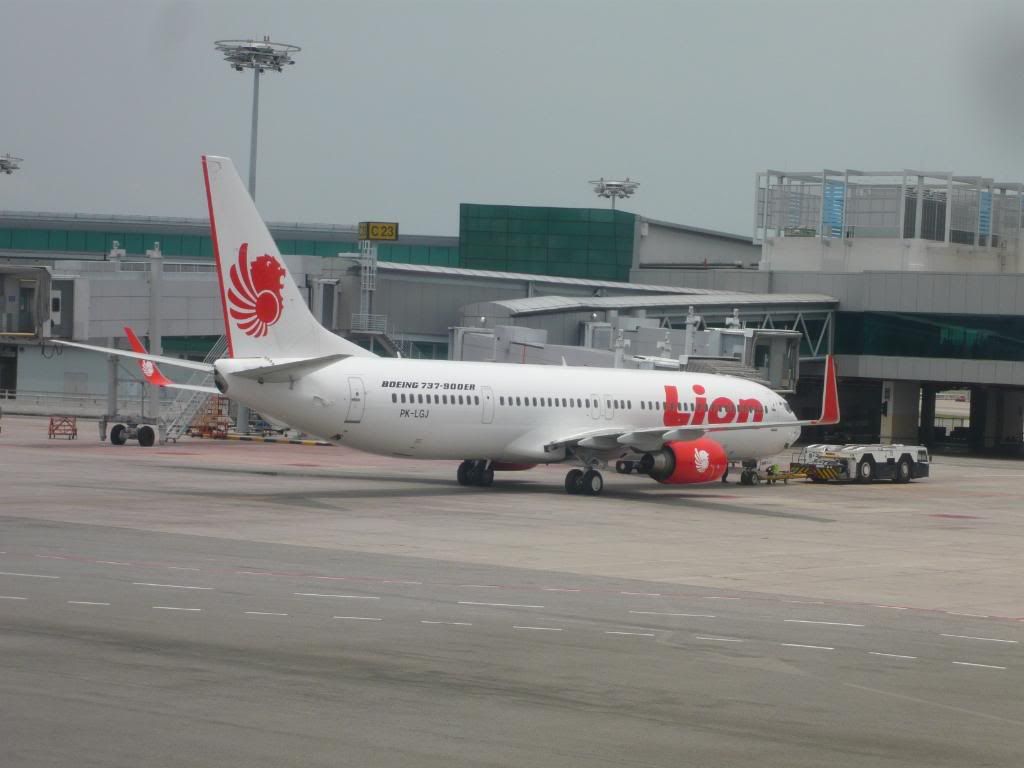 The Yummiest version of the 737; the 900/ER
And a video of the take off, courtesy of YouTube;
http://www.youtube.com/watch?v=M6_98otEH8w
Singapore from the air
And Again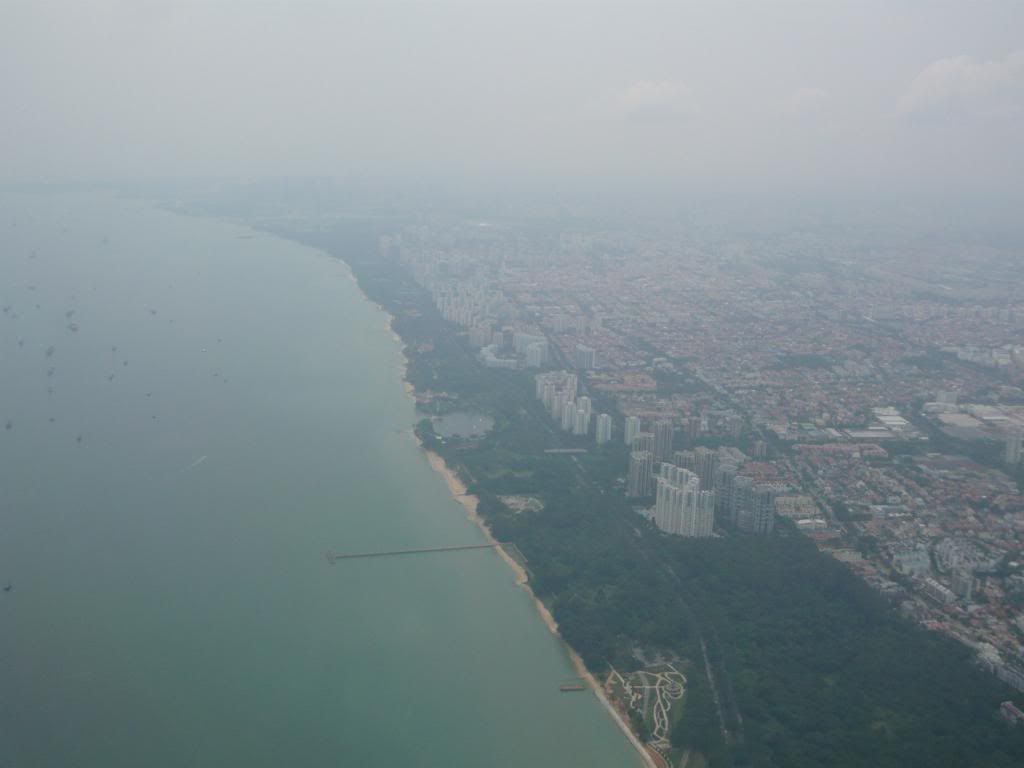 Coastline as we began the turn
Lots and Lots of container ships in the water
As the ground got further and further away, I settled in to watch some TV when the seatbelt signs went off. As the aircraft turns, one feels like they're being pushed forward out of their seat due to the angle. I reclined a little more and this stopped, and we continued on to our cruising altitude of 37000ft.
Shortly after the seatbelt signs were switched off, cabin crew came round and distributed the menus for the lunch on board today. I was presented with the menus to make my selection, and then the starter, which was some Prosciutto with Grilled Zucchini. I found the ham to be a little dry, but pleasant none the less. Next up was the main course, I opted for the Roast Chicken with Sautéed Mixed Mushrooms and Tomato, Garlic Mashed Potatoes, Asparagus and Carrots. And Champagne and Orange Juice to Drink. The meal was just divine and cooked to perfection. The presentation too was outstanding. 11 out of 10 to Cathay Pacific!
Oh, and for desert was a lovely Mississippi Mud Pie, although it was rather too rich for myself.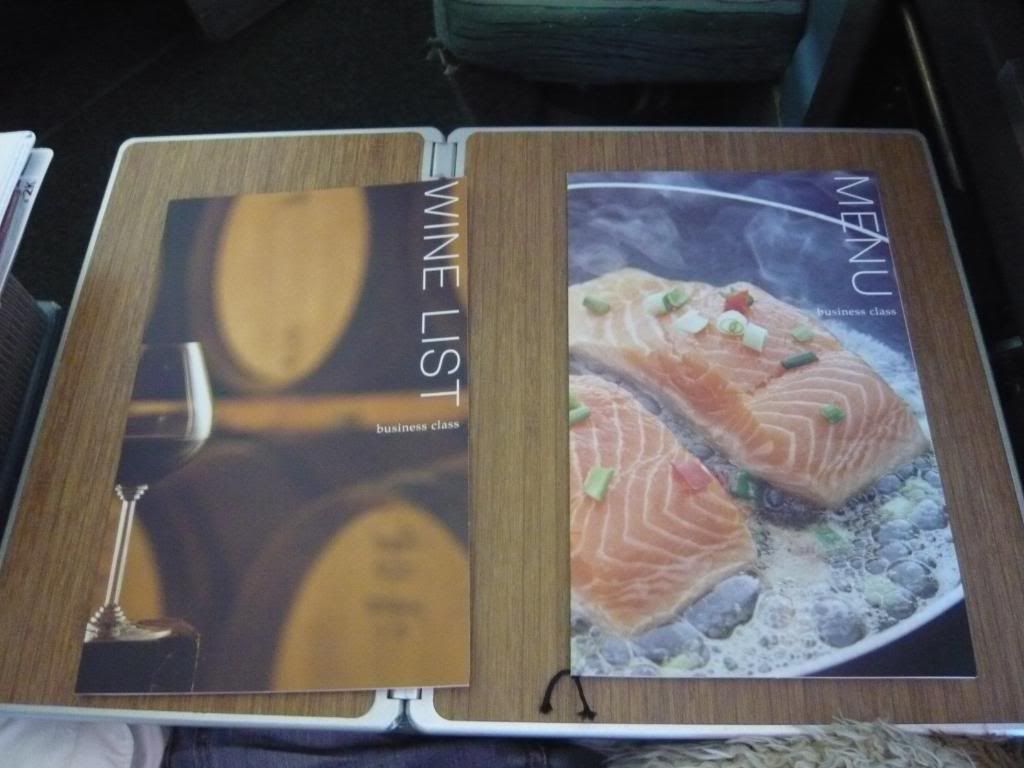 Menus, which I now have on my wall in my bedroom
Food Menu 1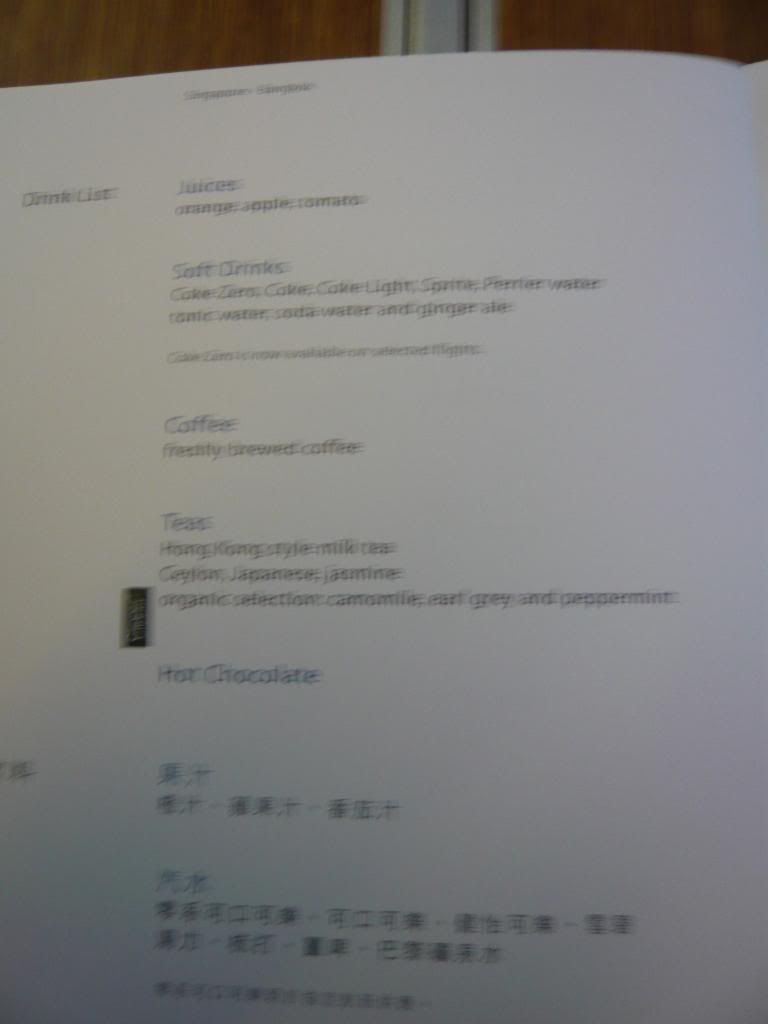 Food Menu 2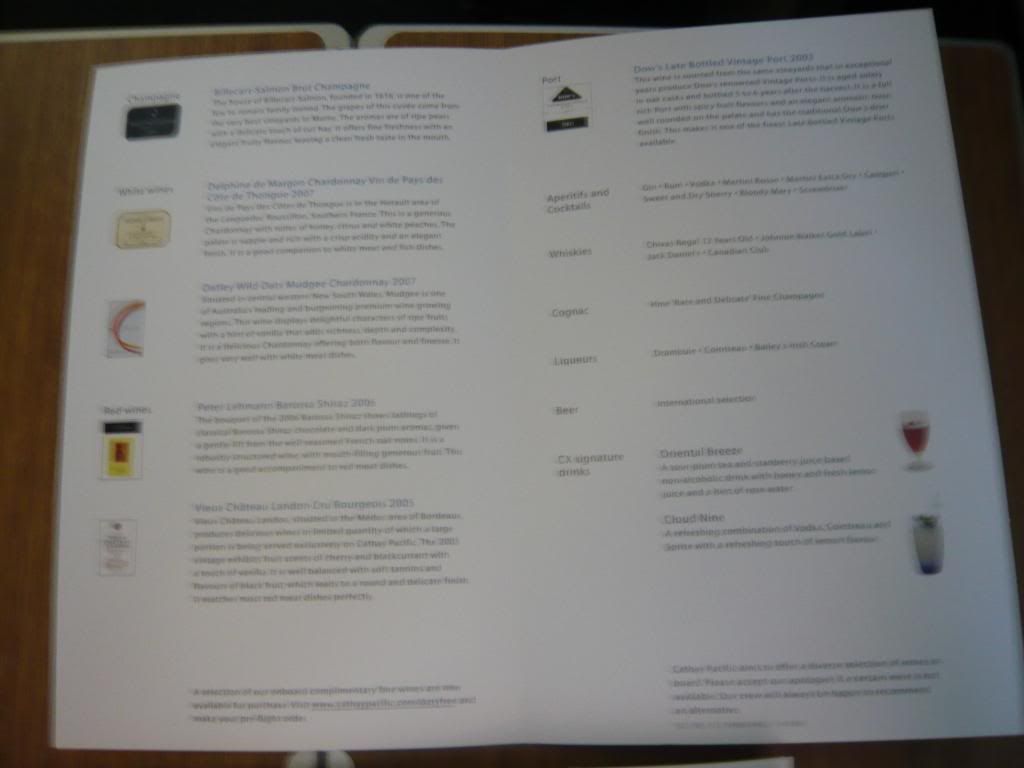 Wine Menu 1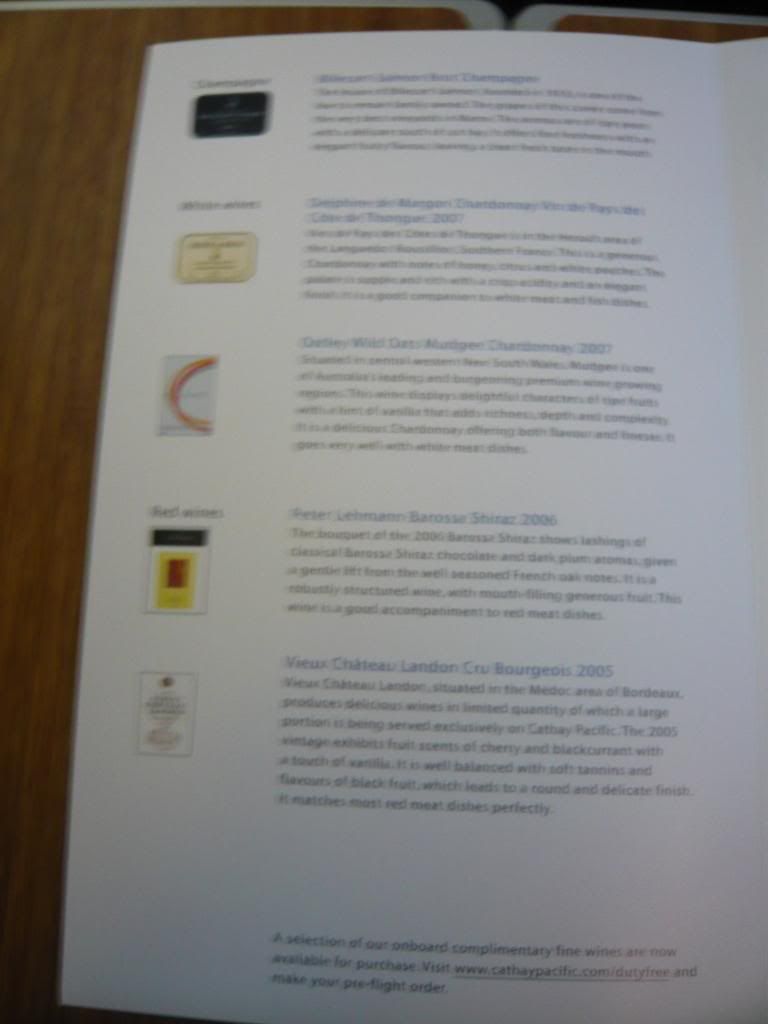 Wine Menu 2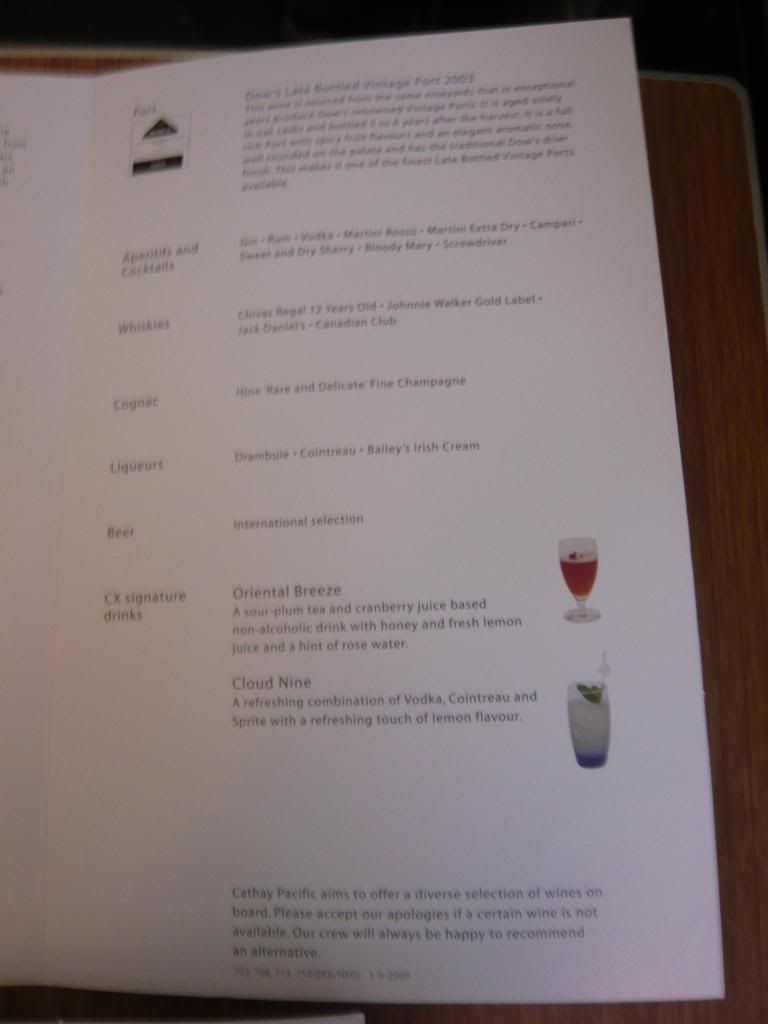 Wine Menu 3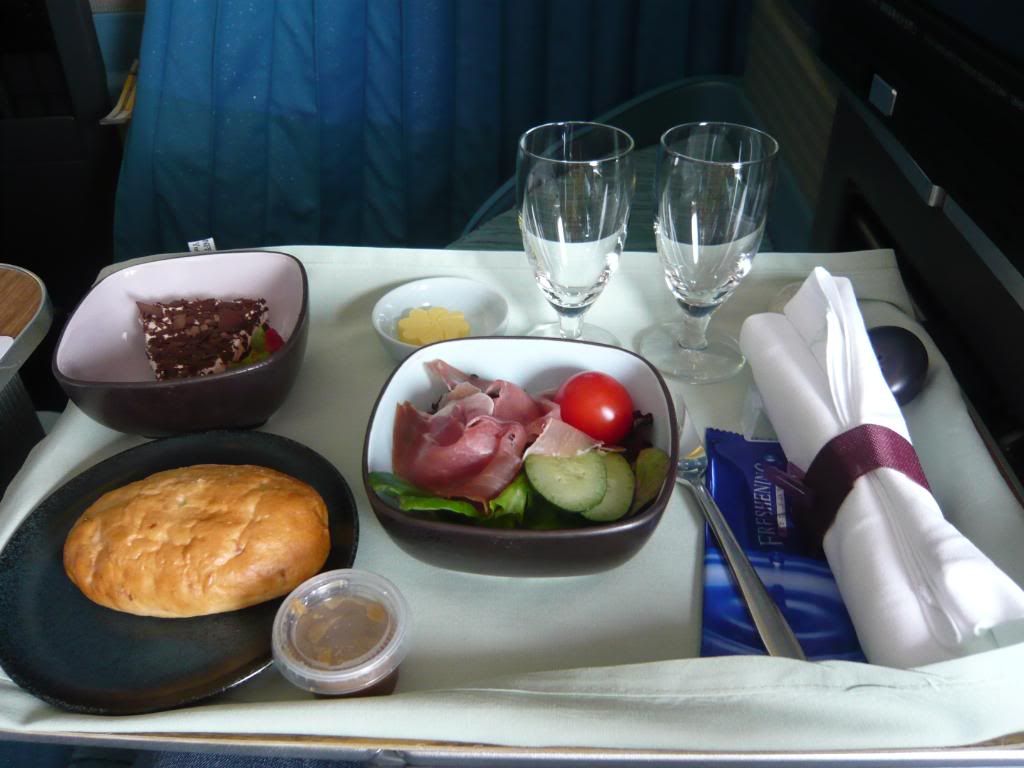 Starter
Main Course – with desert in the top left hand corner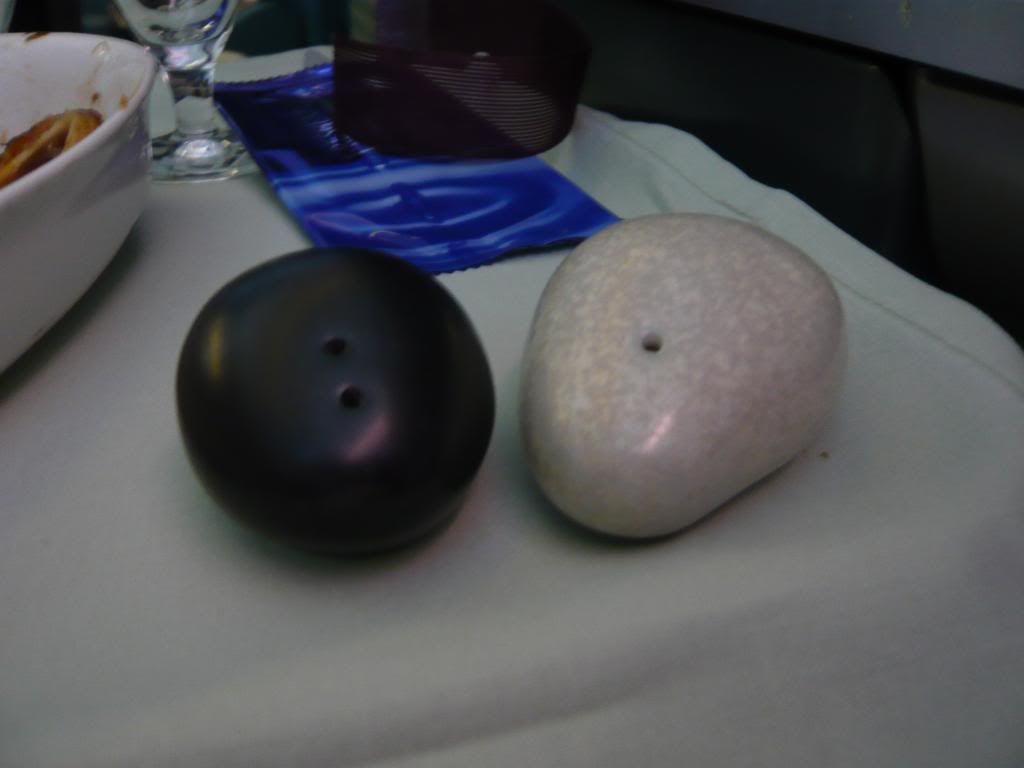 The World's cutest salt and pepper shakers
After lunch, Pralines were handed out. I love chocolate so this was a nice treat. Once I'd munched it down I went for a wander down to Economy class to get a shot of the wing from door R4 and have a general nose around. I noticed that these were the new Economy seats that don't recline, but instead slide within the seat. I'd heard reports that these weren't particularly comfortable to recline in, and I looked for a free seat to test. Unfortunately, the only free seat was in the centre column of seats, one in from the aisle. I decided I wasn't going to disturb someone just to test a seat and then bugger off back to Business. So after my wing shot, I went to use the facilities, which were very clean and spacious. I think this is the first toilet I've not used portable handwash before and after touching the door. (If you know me, or have met me, you'll know I have an OCD when it comes to handwash)
Inflight Phone/TV Remote showing you flight number, route and time to go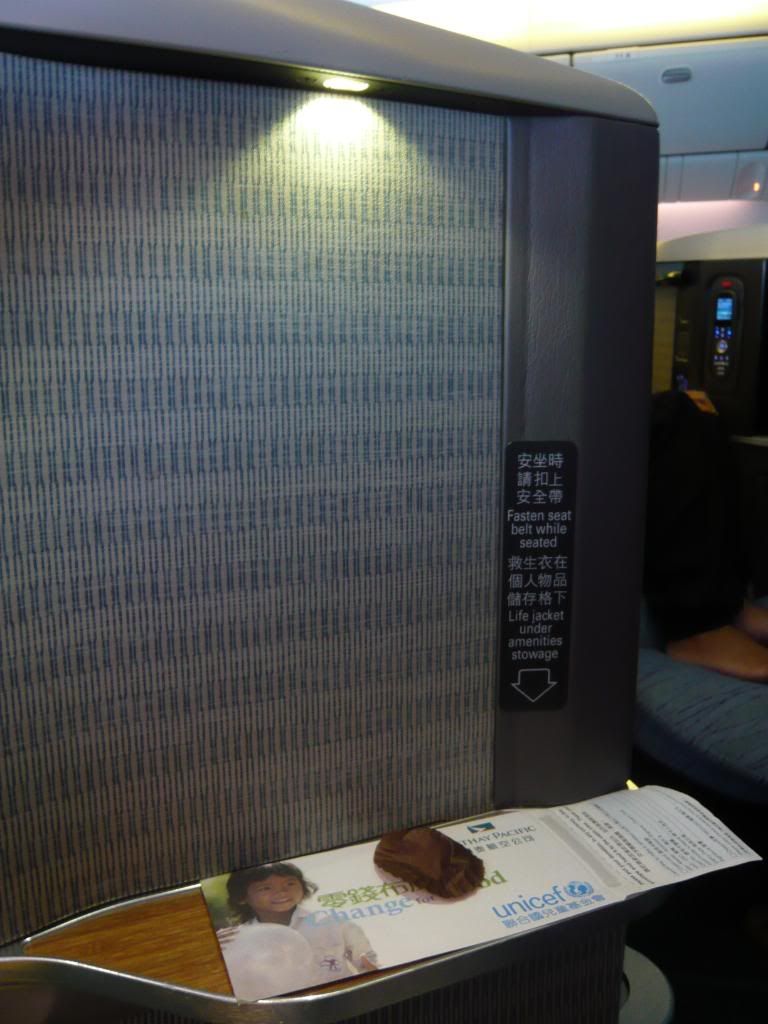 CHOCOLATE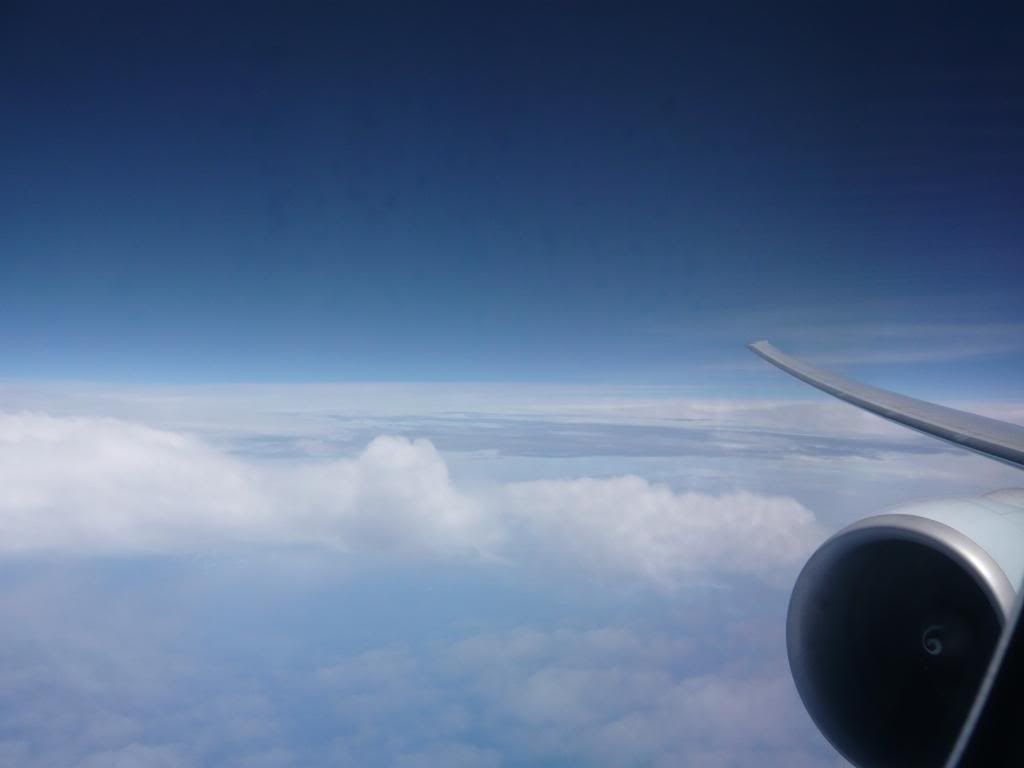 Some sexy wingflex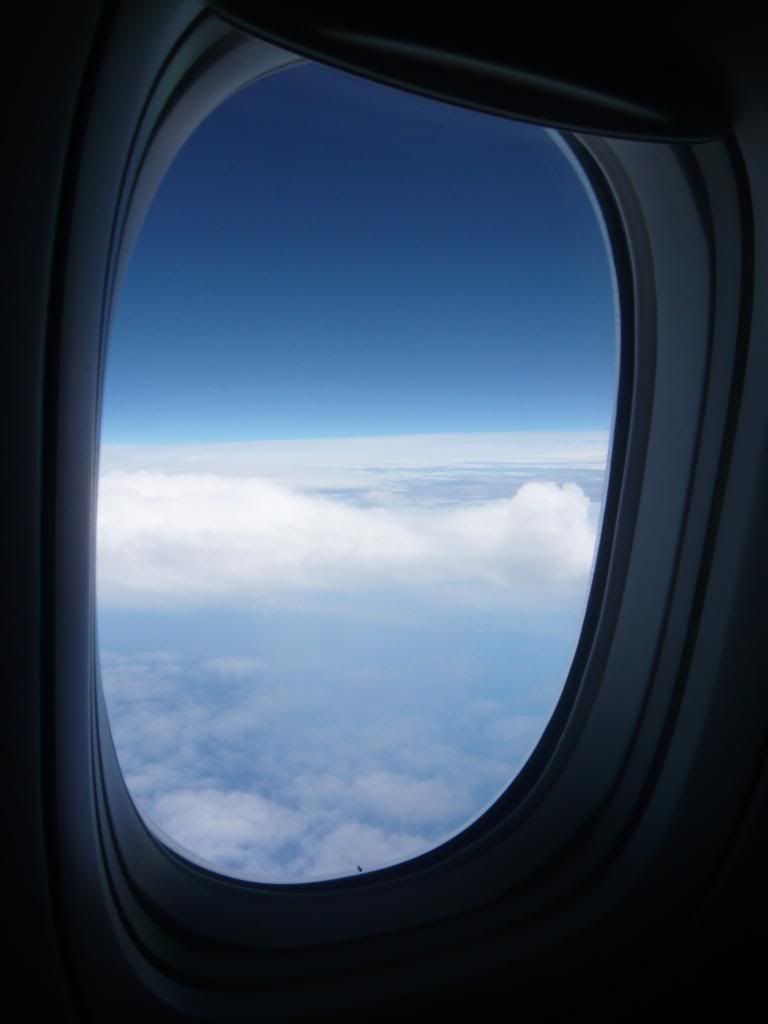 Window and clouds
Raked Wingtips
Blue as can be water far below
Amenities in the Loo
Soap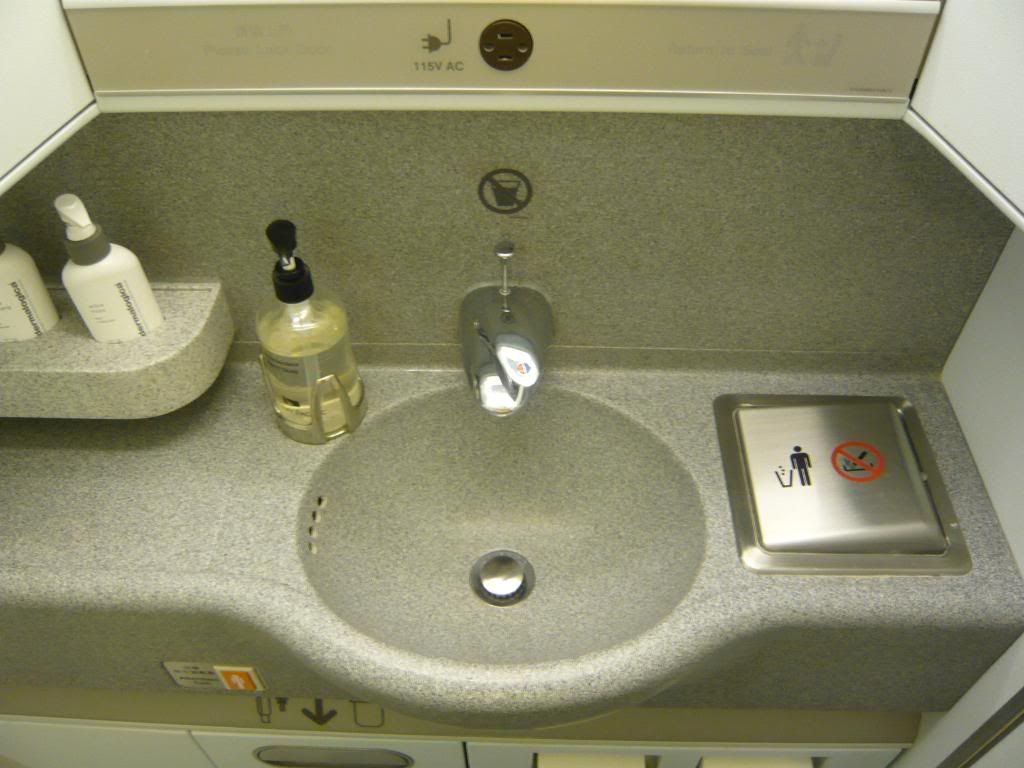 Dinky Sink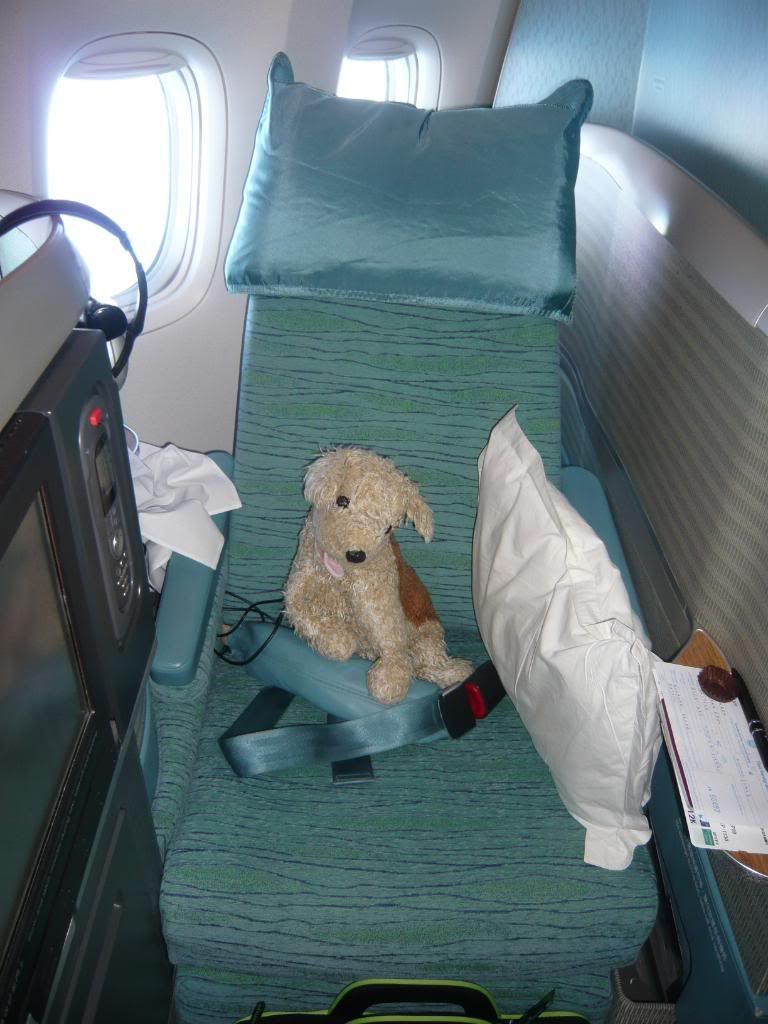 Look Who Stole My Seat While I Was Away!!
I finally settled back in my seat to watch two Simpsons episodes before landing and ordered a Hot Chocolate.
There's that word again
.
As the second Simpsons' episode finished, I noticed we were about half way through the descent and switched my PTV to the Map Page, we were about 37 miles South East of Bangkok. The captain came over the loud speaker to inform us of our arrival in Suvarnabhumi Airport, about 10 minutes ahead of schedule. The rest of the descent was smooth and simple, with a few turns here and there to route us in between the CBs that often surround BKK.
Touch down was on runway 19R at 14:45 (10 minutes ahead of schedule) and then turned off to head up to Gate G2, next to a Royal Jordanian A310.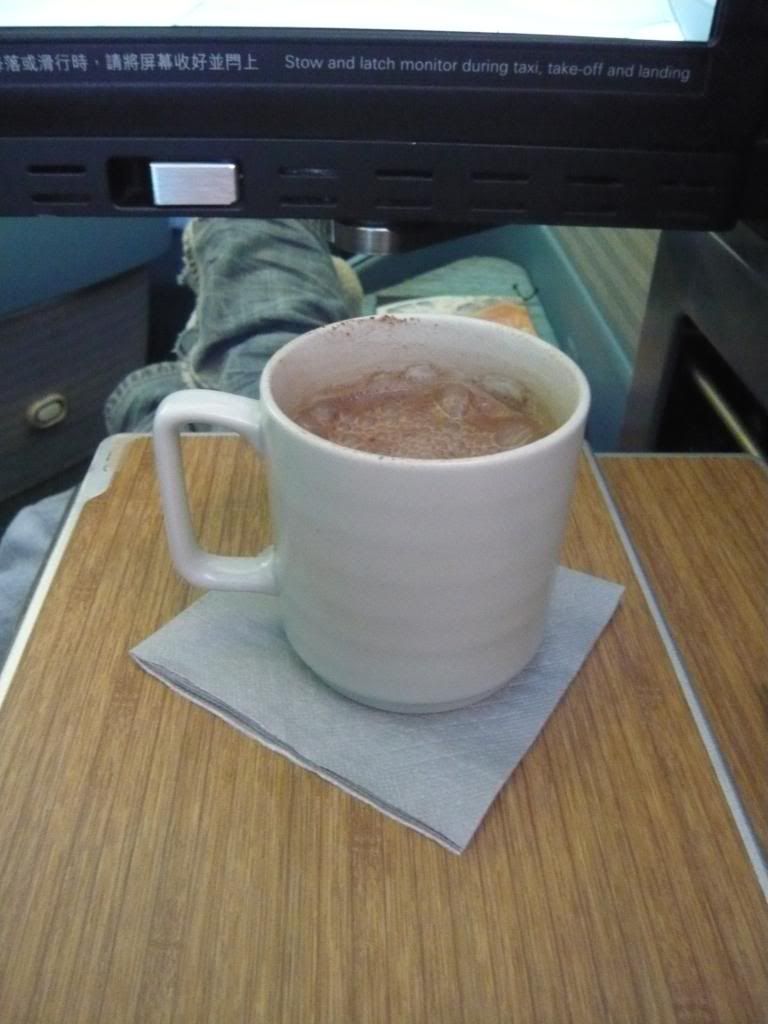 My Delicious Hot Chocolate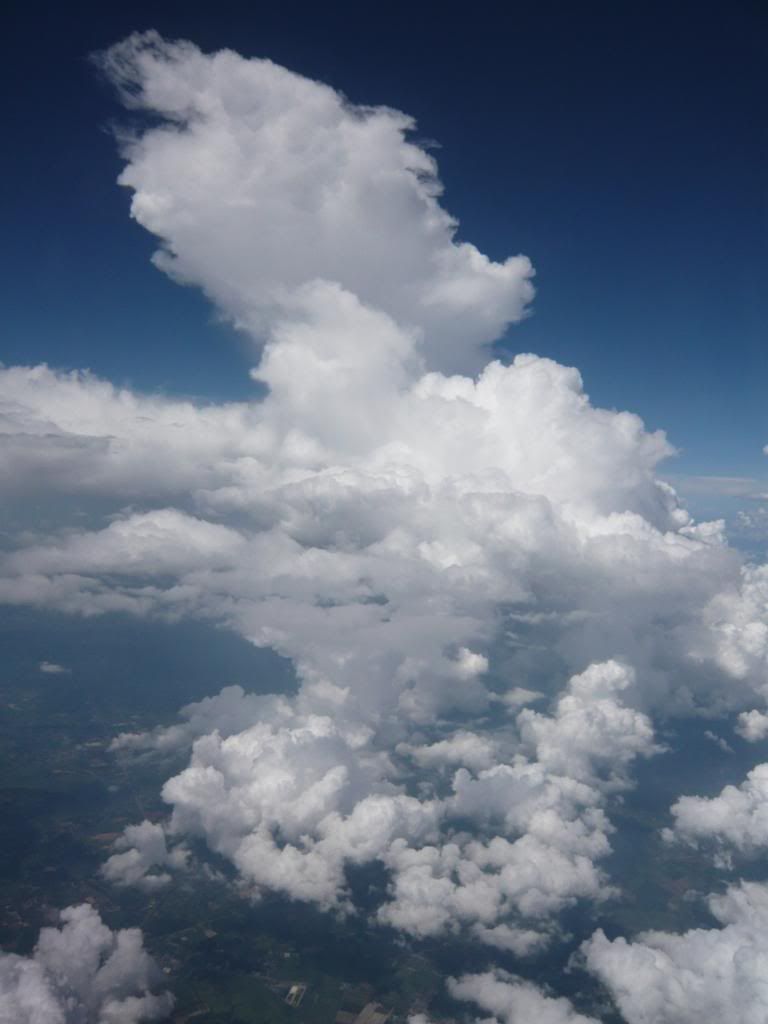 Big Clouds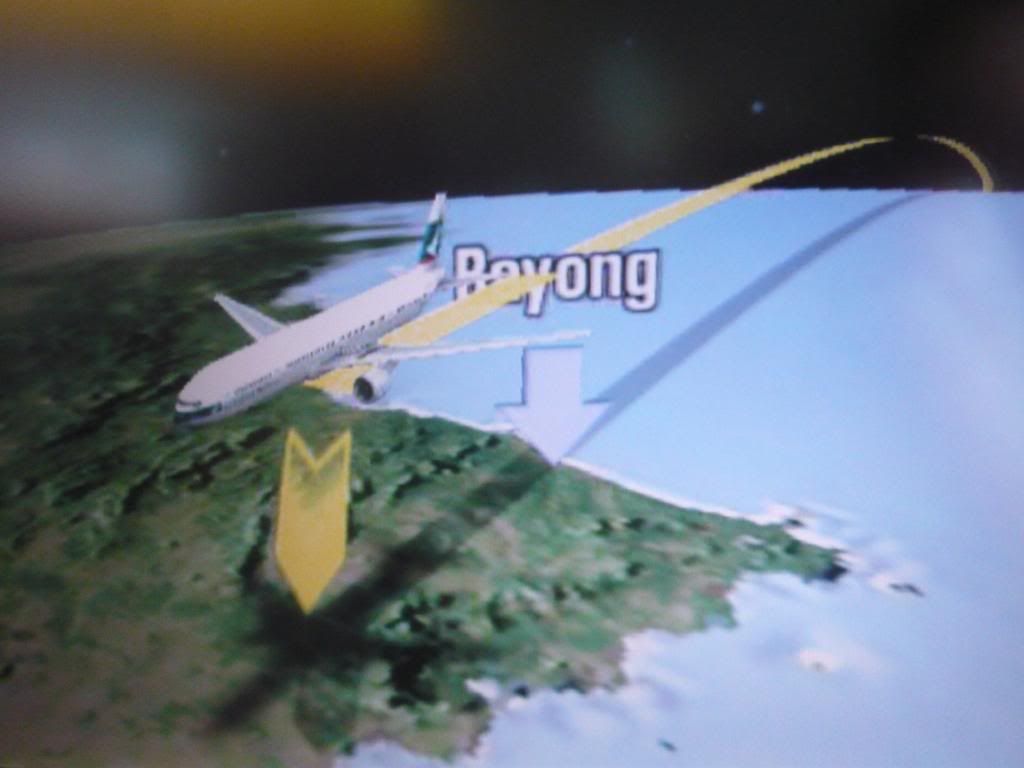 In flight Map
See the Rainbow?
10 Minutes To Landing
Short Final Into BKK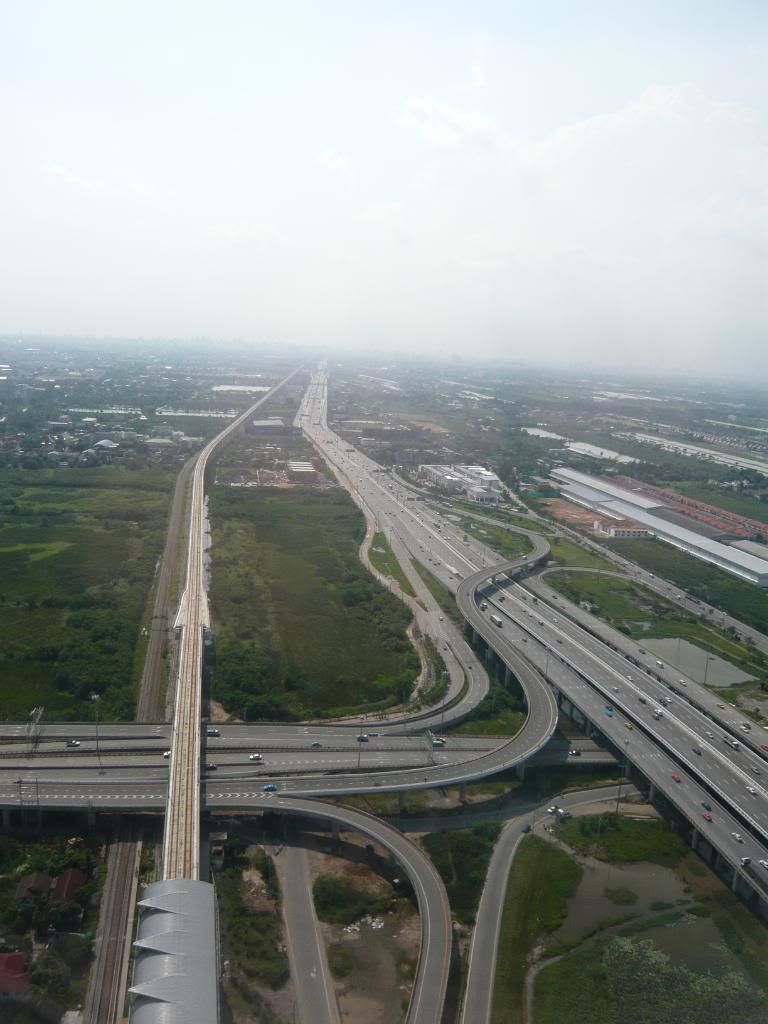 Motorway from Suvarnabhumi to Bangkok City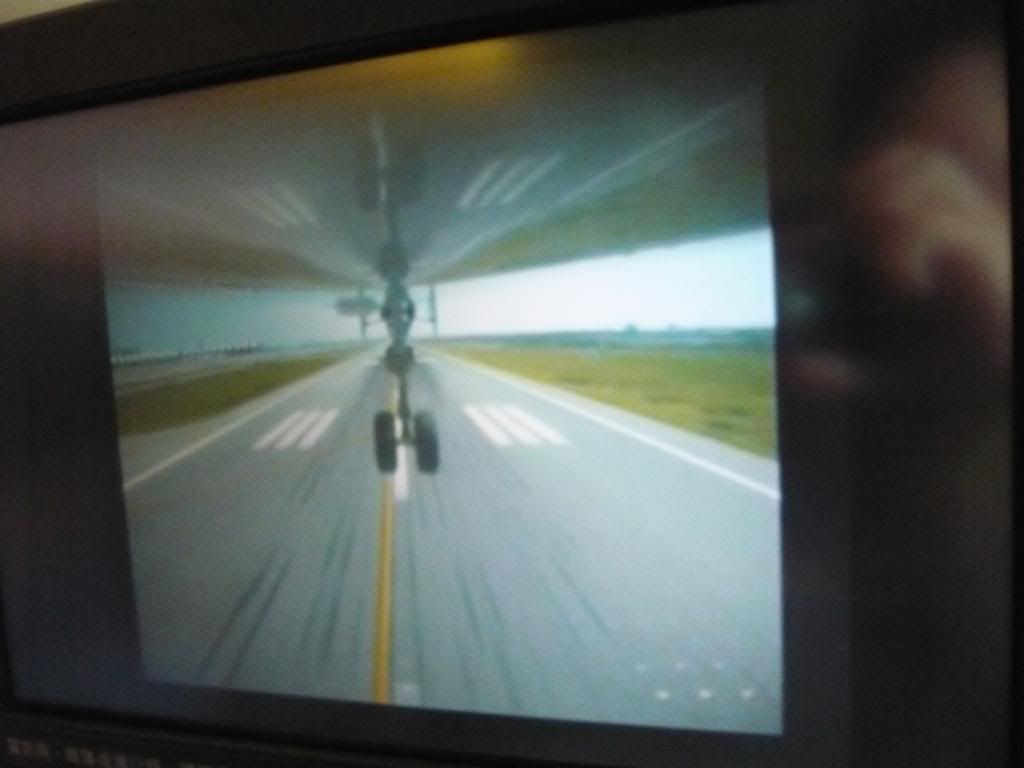 Underbelly Cam on 777; a nice touch
Reversers and Speed Brakes open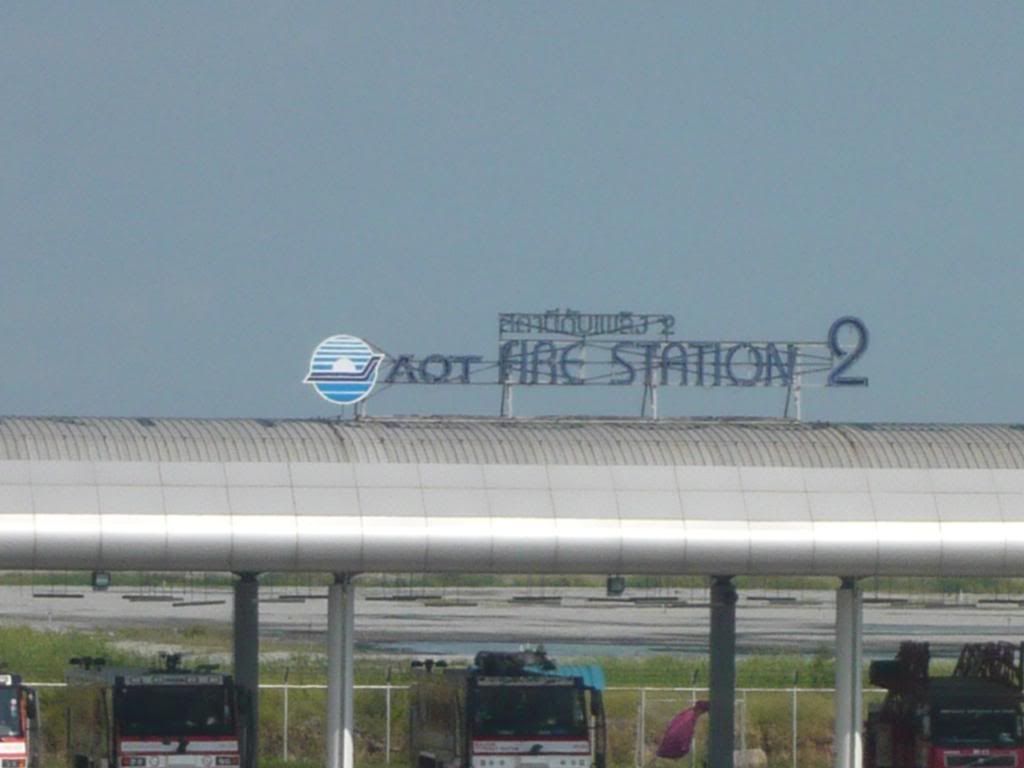 Airport Fire Station (One Of Two)
Oman Air A330-300
Finnair MD-11. Maybe I'll fly on one of these before they go out of service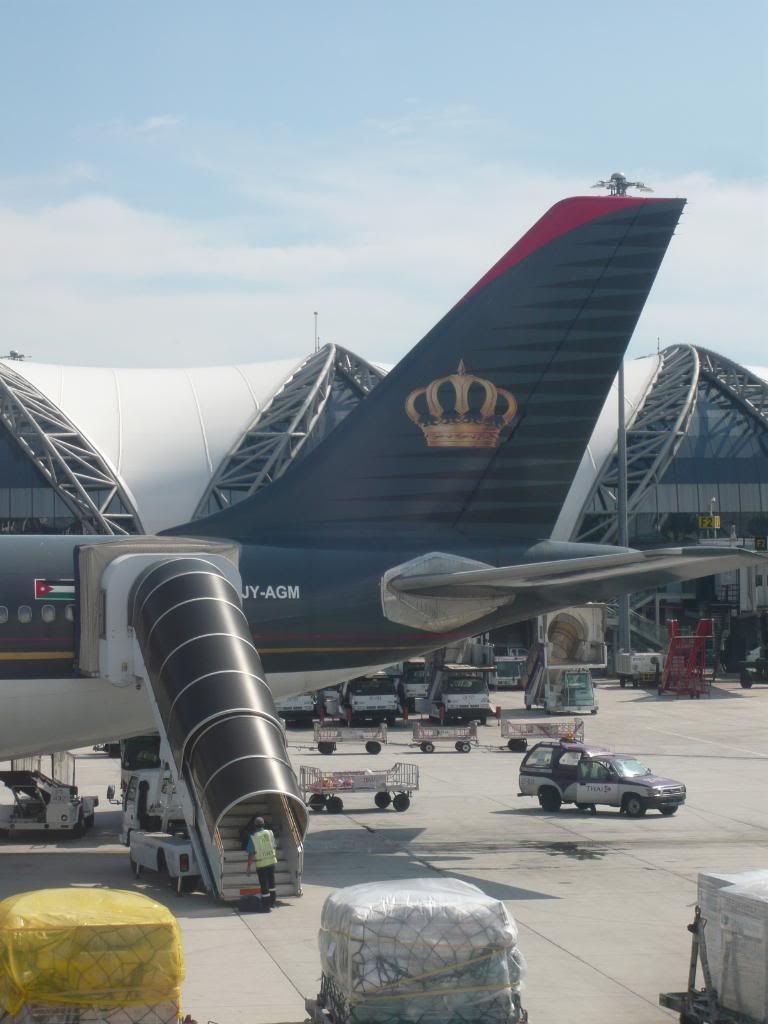 Royal Jordanian A310. They have one of the most amazing colour schemes
After we pulled up on stand, and the engines shut down, the jet bridges connected to the aircraft and we walked forward to door L1. As there was only two people in First Class and 8 in the mini Business cabin, disembarkation was not very long through the front door as most people went through door L2. Due to the lack of crowdedness, I asked the friendly air hostess if I could test out the First Class suite, to which she smiled and said "Of Course, here you go".
Trent sat down in it with me, on the footrest which also doubles as a seat. The thing is massive, I wouldn't mind spending a good 12 hours in that from, say, London to Hong Kong.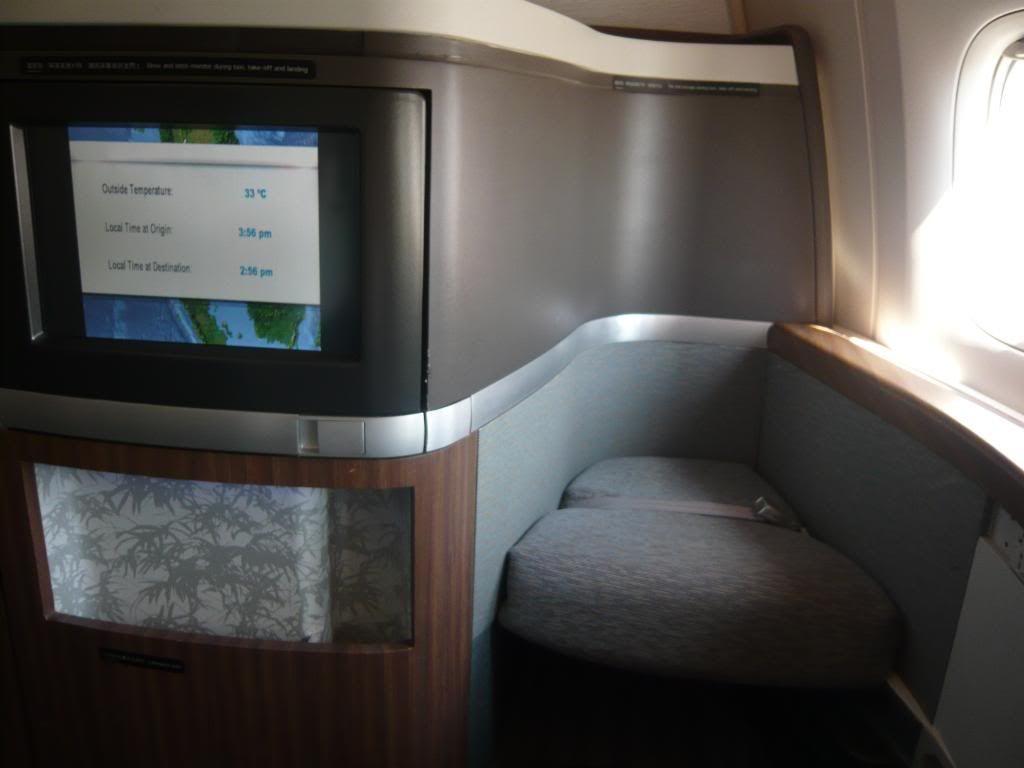 First Suite 1K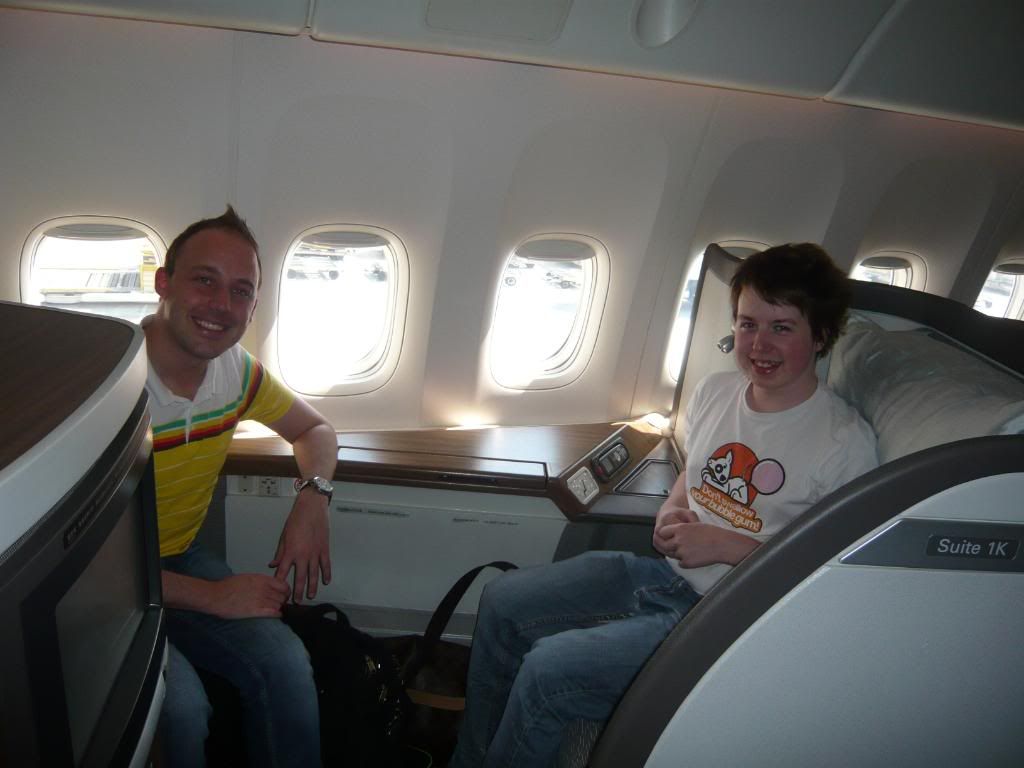 Trent and Me In Suite 1K
From there, we said goodbye to the crew of CX712 and headed for Flight Connections, an 800m walk from our gate. I'd heard people who'd visited Suvarnabhumi that the place was absolutely huge, and they were right. In the searing heat and high humidity it was quite a slog, but we made it!
The transit process took quite a while, but it was worth it because as soon as we were through, it was off to the Thai Domestic Lounge, which had the most awesome Air Conditioning.
20-09-2009
TG221
Bangkok Suvarnabhumi, Thailand (BKK) – Phuket International, Thailand (HKT)
STD: 1820
ATD: 1846
STA: 1940
ATA: 1939
Departure Runway: 19L
Arrival Runway: 27
Aircraft: Boeing 747-400
Registration: HS-TGH " Chaiprakarn"
Seat: 2K
We had just under 4 hours' connecting time in Bangkok, and spent around 3 in the lounge. The Thai Domestic lounge at BKK is lovely, there's lots of fresh fruit and fantastic cold drinks. It was very busy but every hour or so a group of people would leave for their flight, only to be replaced by a group of new travellers. I mainly sat on the internet talking to people at home on MSN, and also a friend (and fellow a.nutter) James, who was in Australia. Even when I'm in a foreign land, thousands of miles from home, I'm still inseparable from my laptop.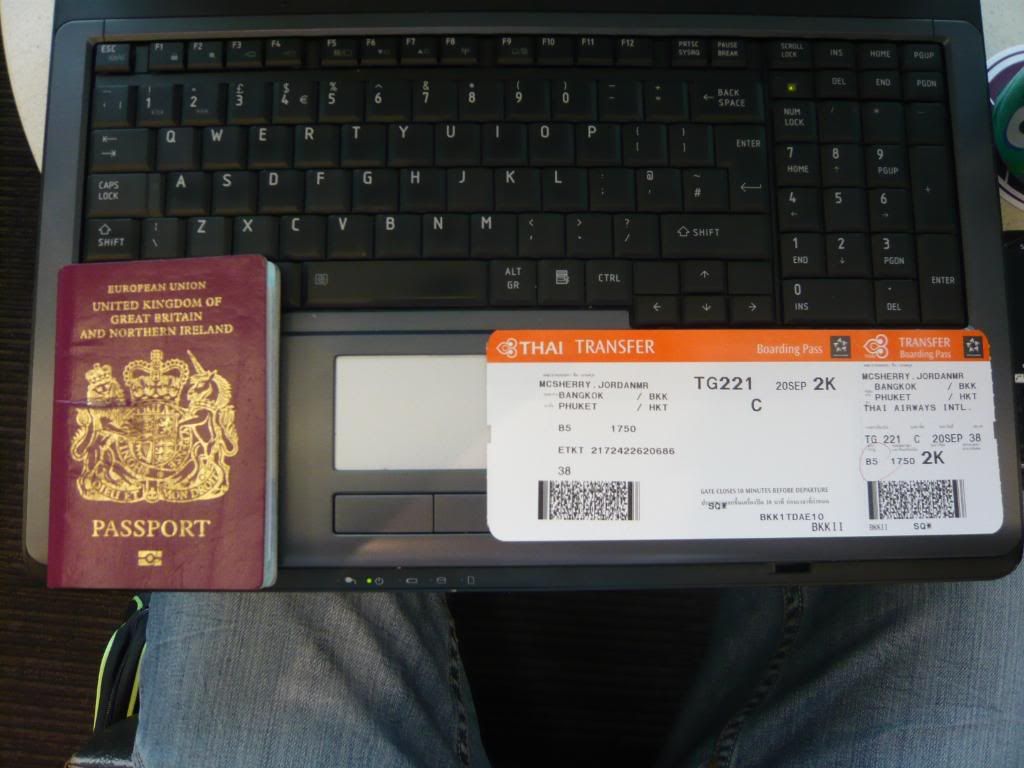 Passport and Orange Transit Boarding Card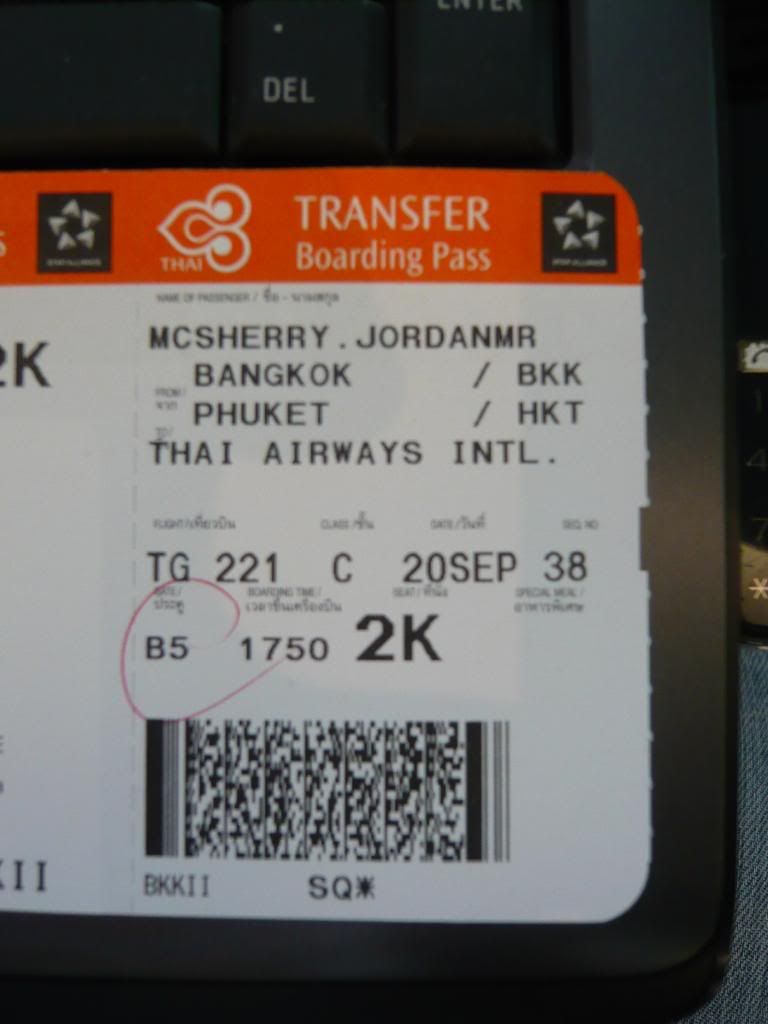 Up Close and Personal with my boarding card. We'd checked in the night before at the Quincy and I nearly freaked when I saw First Class was available. I'd heard it was just for Thai and Star high-class frequent fliers on the domestic routes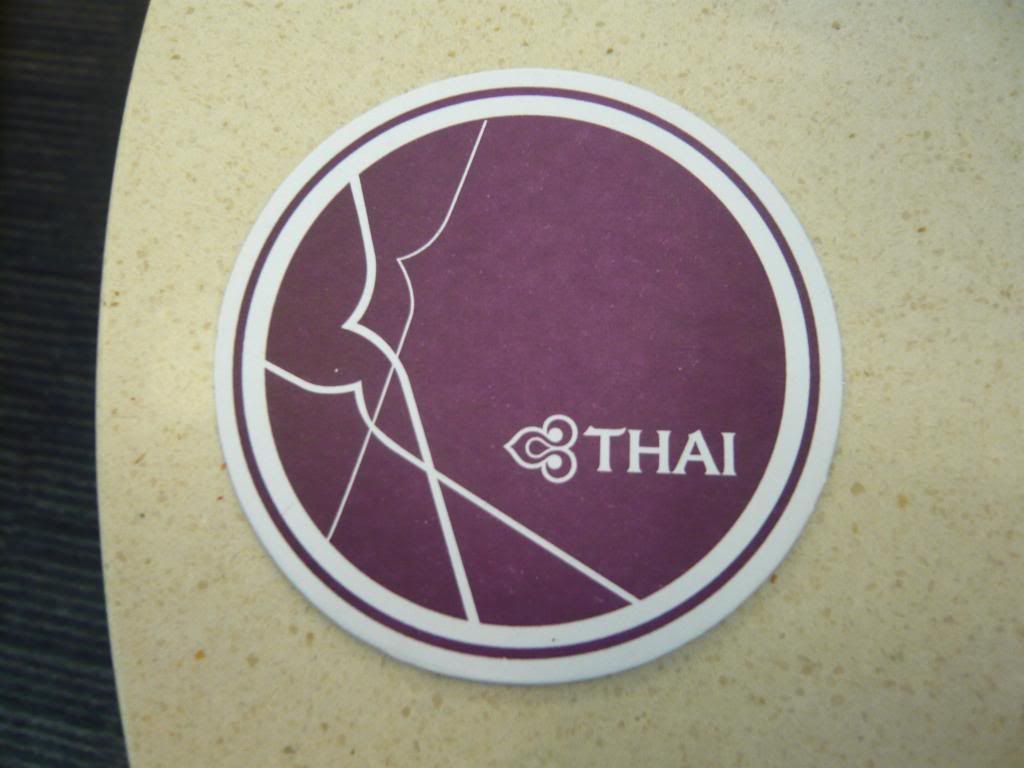 The awesome paper drinks' coasters in the Thai Lounge. We stole like 12 of these
Soon enough though, it was time to head off to the boarding gate, B5, which was at the very end of the B section of the airport.
BKK.jpg" target=_blank>
BKK.jpg" width=650 height=362 alt="http://i653.photobucket.com/albums/uu254/SuperstarGayboy/BKK.jpg" border=0>
This is roughly the route we walked, from G2 at the left hand side of the picture, to the lounge, and then onto B5 at the right hand side. A ~1.65km walk
When we reached the gate, the gate agents were just finishing up with paperwork and such, and moments later announced boarding of TG flight 221 to Phuket. All business class passengers should make their way to the dedicated lane and down the dedicated jet bridge. Economy class passengers were waiting until we'd been processed and were en route to the aircraft doors.
I boarded through door L1 and turned left. That could only mean one thing, I was flying in the nose section of a 747! Another first for me on this trip. I was so excited.
I sat around playing with the seat and all the features as boarding was finished. The seat was comfy but it took forever to get into the lie flat position. Again, we were welcomed aboard with a choice of juices, I went for Apple.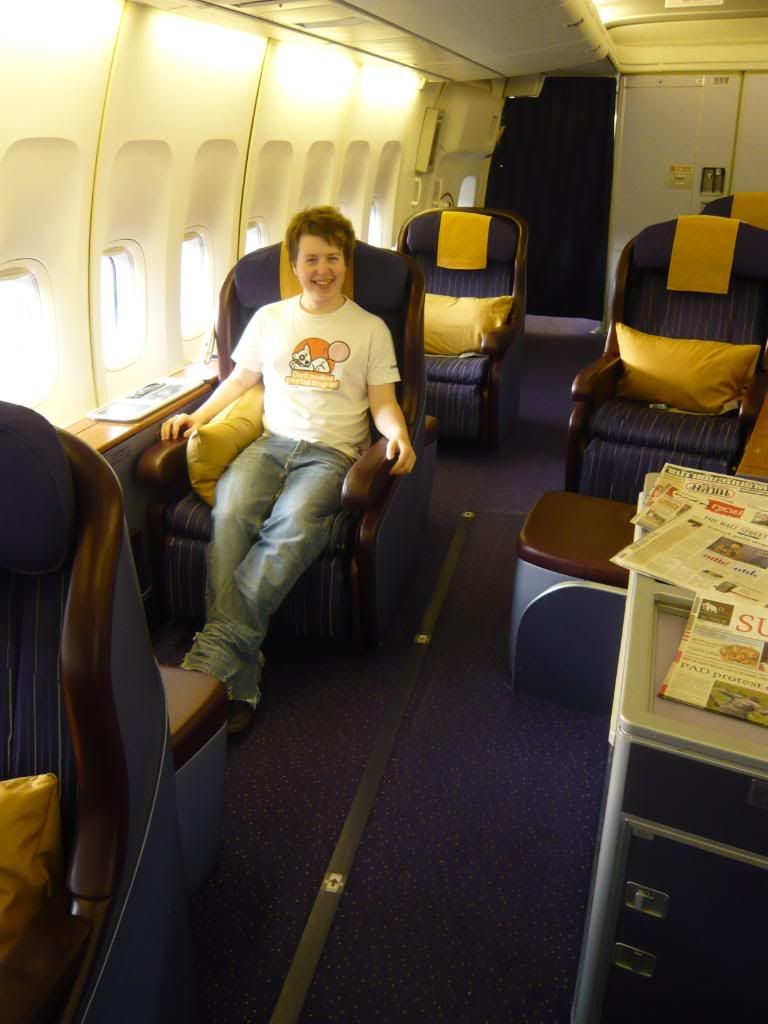 Myself in Seat 2K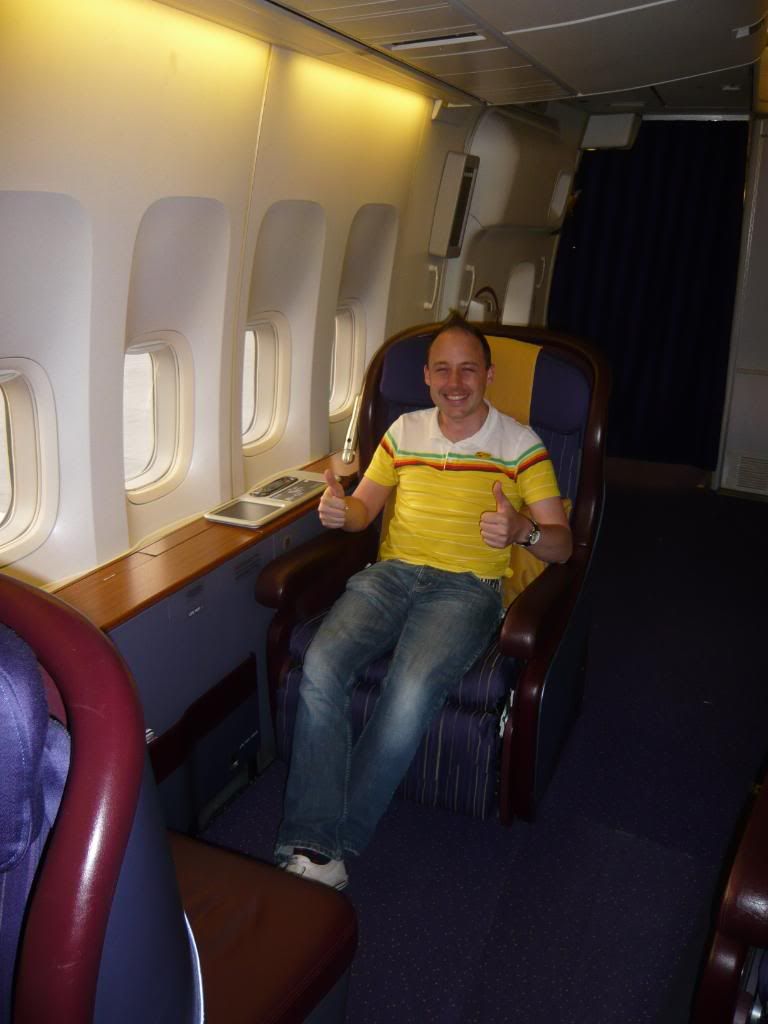 Trent, right behind me in Seat 3K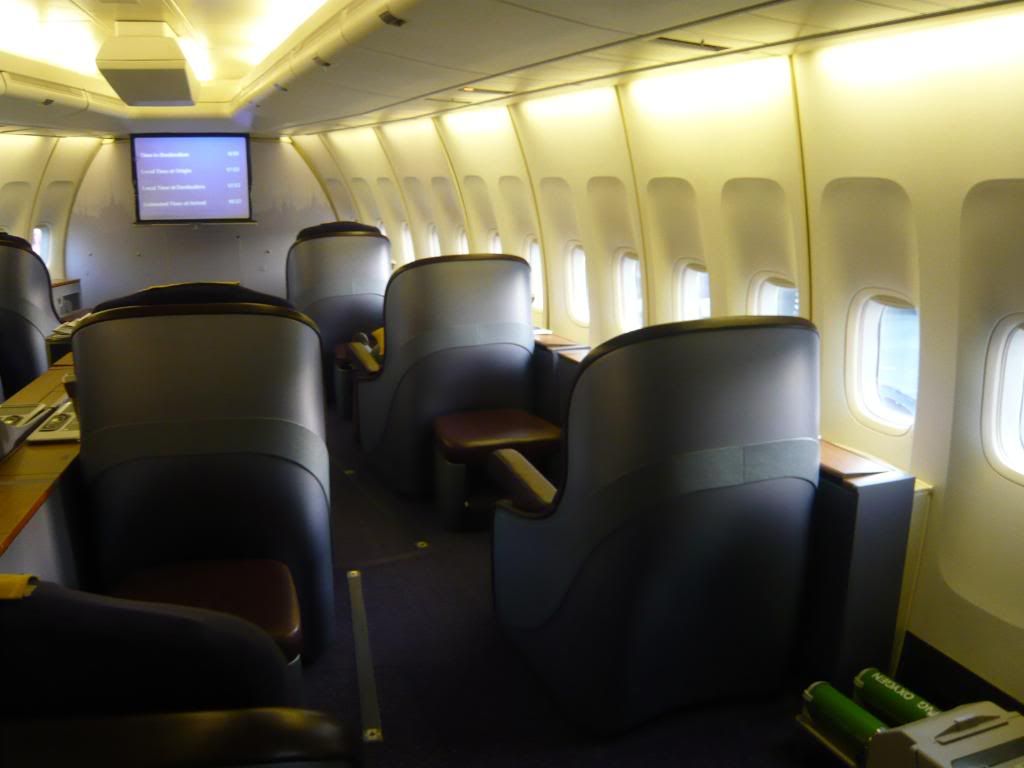 Half a First Class section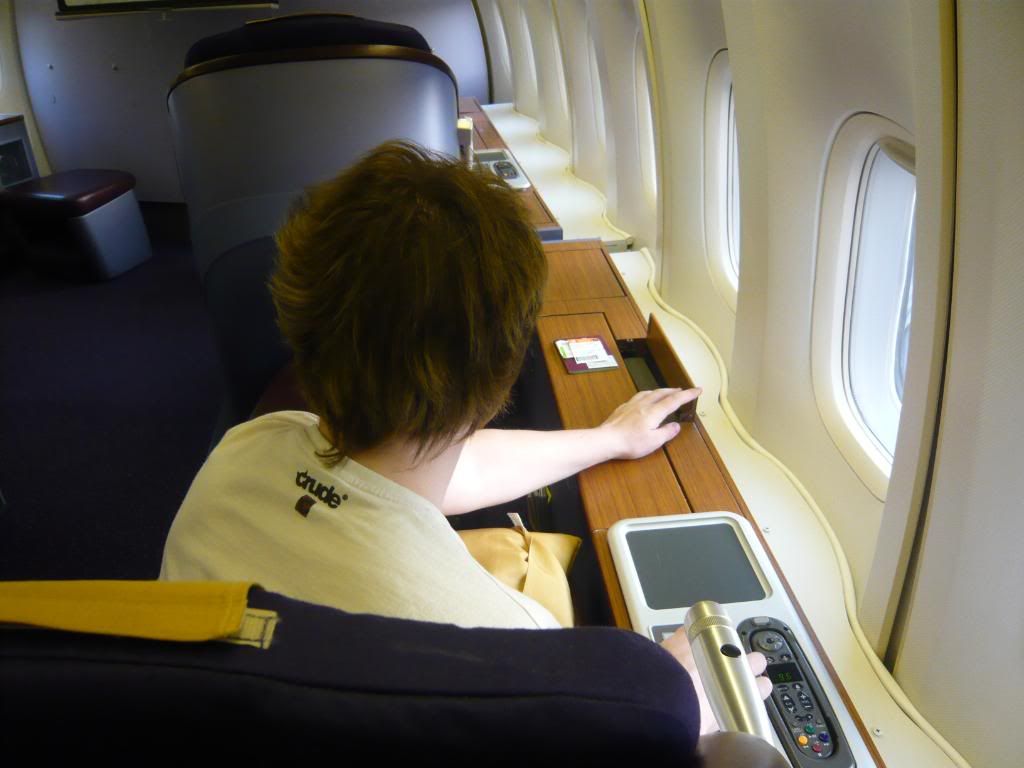 From behind, playing with the features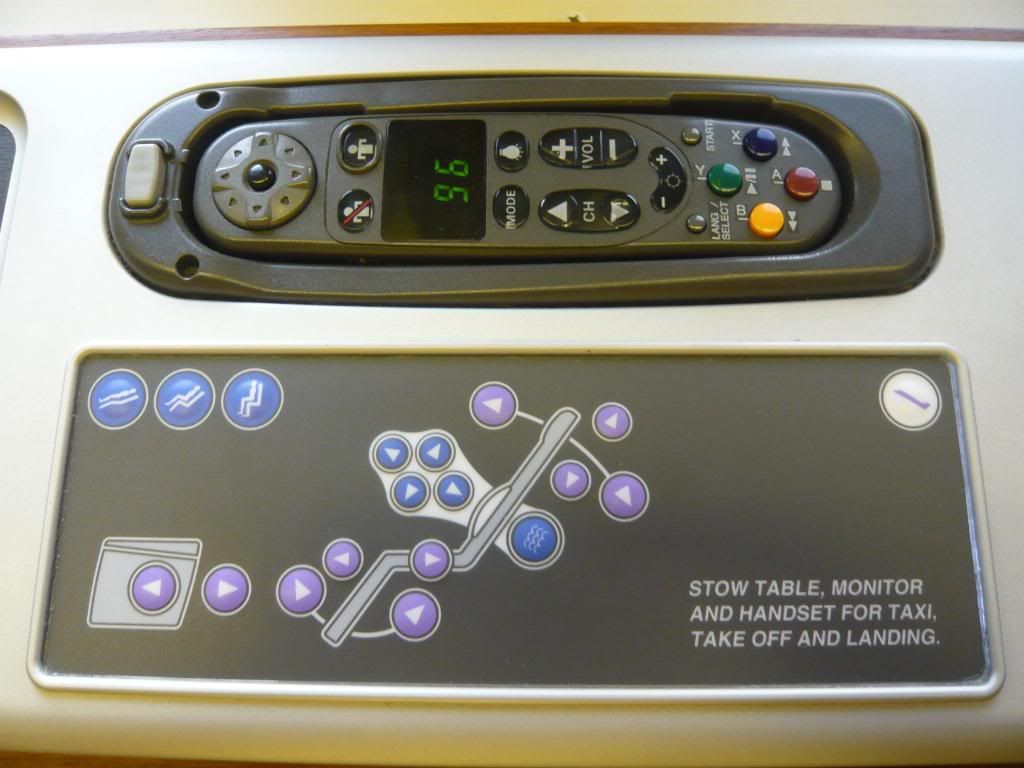 Seat Controls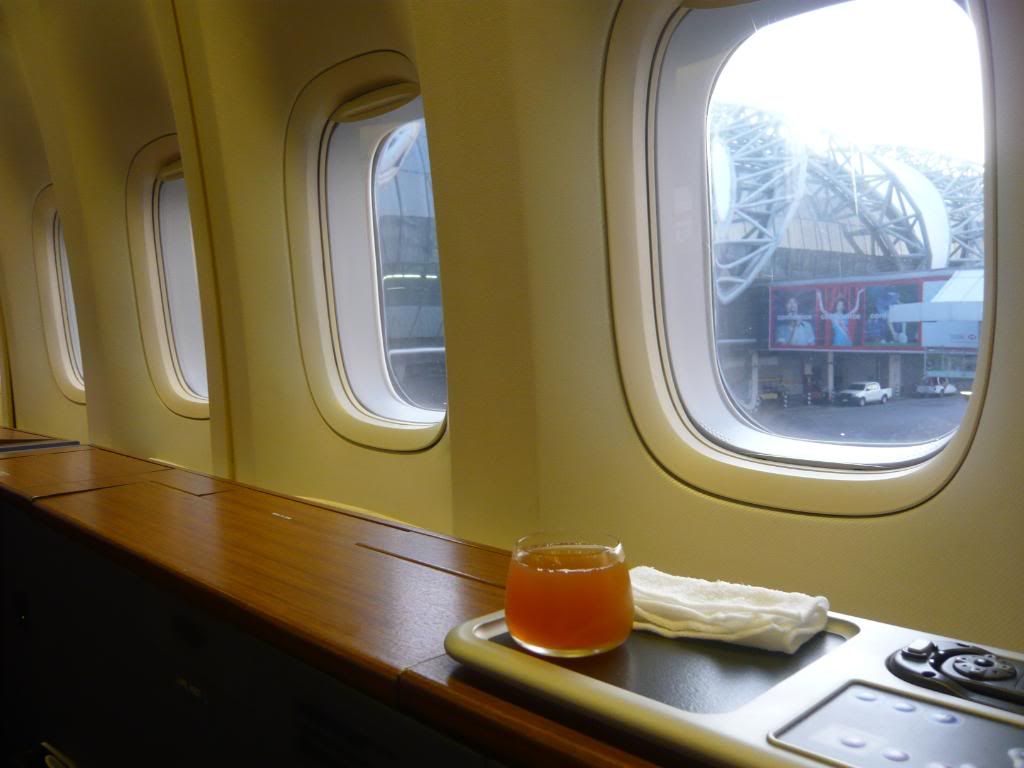 Four Windows, all to myself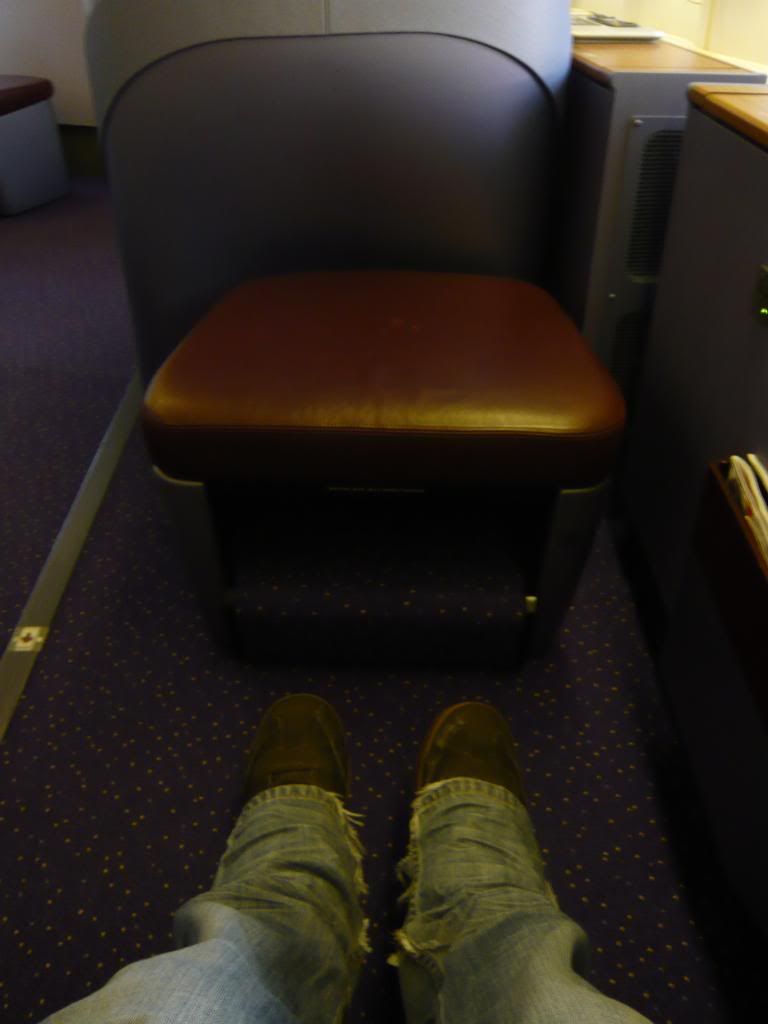 Electronic Footrest, in both the furthest away position for when the bed is fully flat, and the nearest position, perfect for the way I like to sit
Gorgeous Sunset over Suvarnabhumi
After a short delay, we pushed back at 1830 and were soon underway to runway 19L, with the safety demonstration being shown on the drop down screen at the front of the First Class section.
Takeoff was powerful, I could barely hear the engines, but within 15 seconds or so, we'd rotated and were quickly climbing away from Bangkok. Next stop was Phuket and time for sun, sea, sand and most importantly, relaxation.... a million miles away from home and all of its stresses.
For some reason, whenever I get on a plane, as soon as the engines are started and the seatbelt sign is on, I have the burning need to go for a pee. As soon as the seatbelt signs were off, I darted up and headed to the loo. The lovely purser saw that I was heading and opened the door for me. What a lovely touch!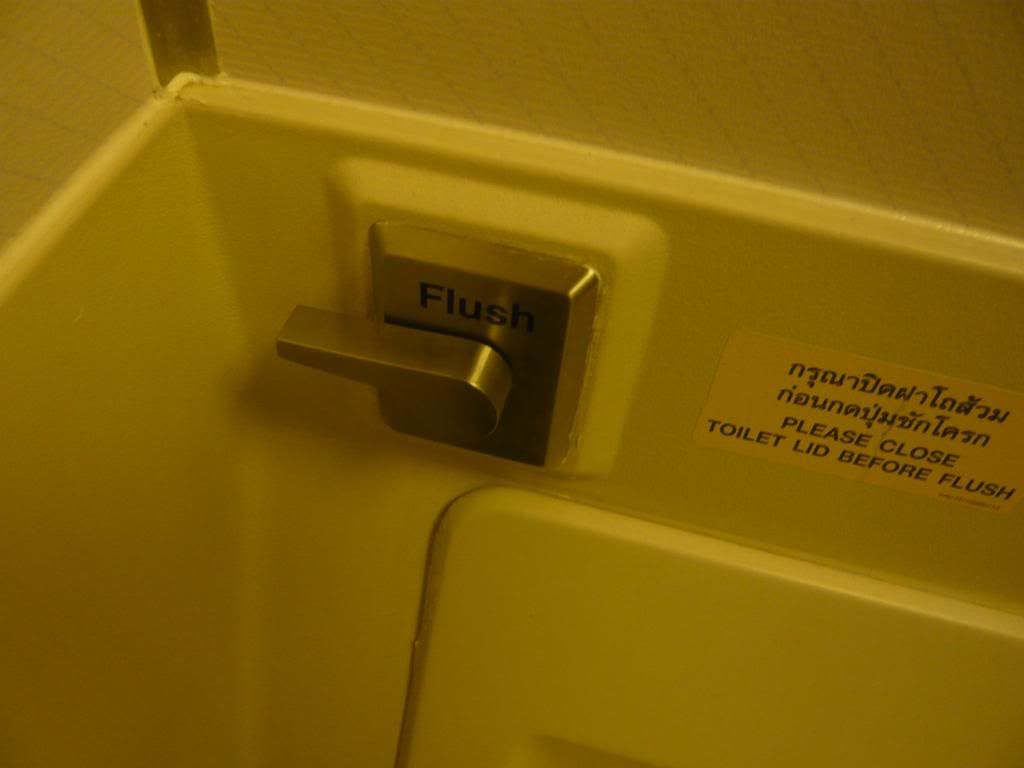 Old Style Lavatory
By the time I got back, dinner had been served. Trent had asked for both of our meals to be put down on his tray table, so that we could have dinner together.
It was a spicy noodle dish with mushrooms and little bits of chicken. I should have found out the proper name as it was fantastic and I'd like to make it here at home.
Me, with dinner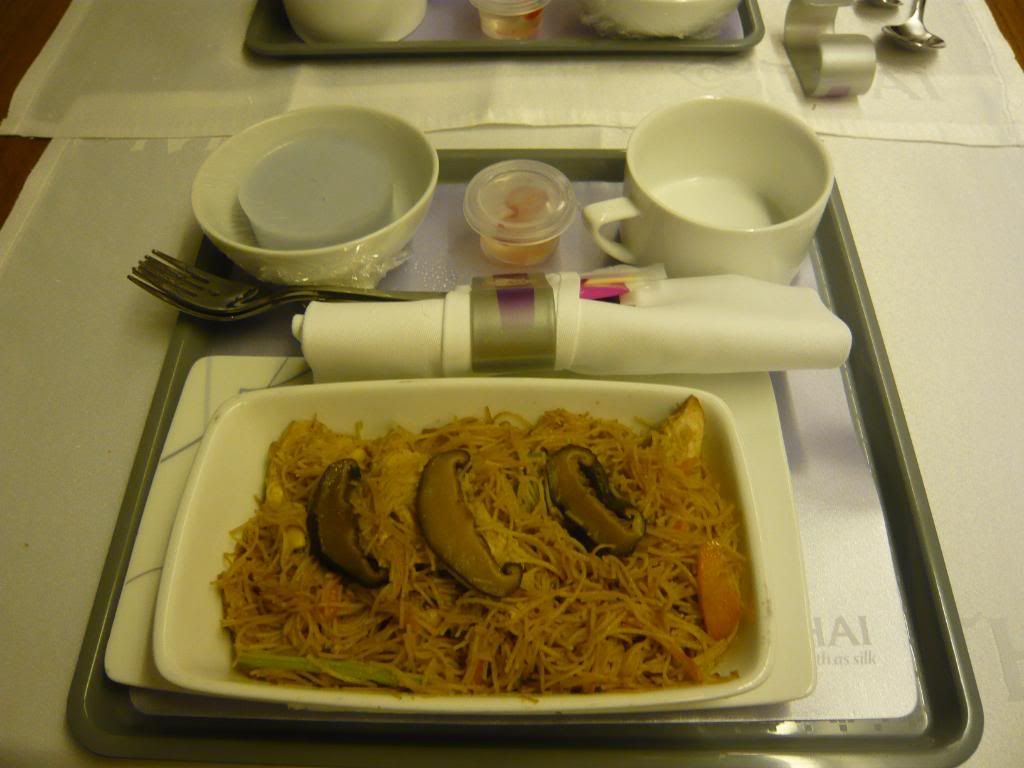 Close Up of Dinner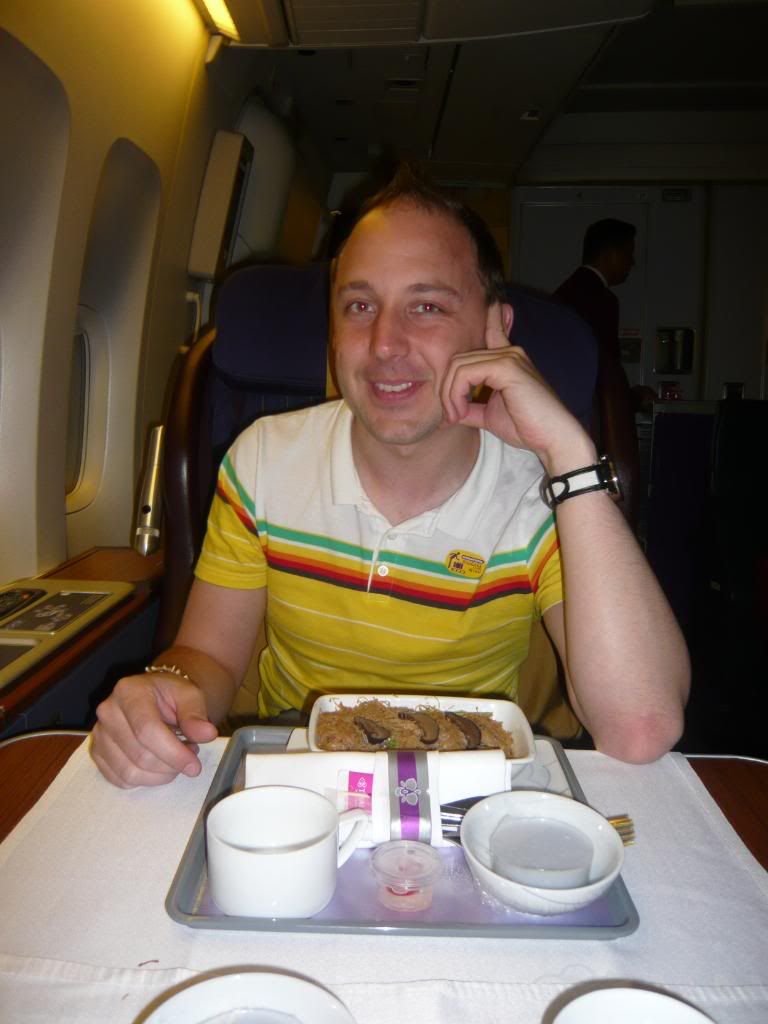 Trent and Dinner
The Happy Couple after dinner; taken by the most amazing Stewardess ever!
After dinner I went back to my seat and reclined a little, reading a little bit of Airliner World.
I hadn't even had time to finish one article by the time we were descending. I finished the article on Arik Air and went for a wander around the plane. Business class was only down one side of the aircraft as the starboard side between doors R1 and R2 is a galley and a walkway. It kind of reminded me of a promenade deck on a ship. Economy class was very colourful, but very packed. The seats were the old style type, bulky and very square. I found that despite both Thai and Qantas 747s (which we'd fly home to London) are configured in a 10 abreast seating, the Qantas felt less crowded as the seats are less bulky.
We landed on runway 27 at 1939, only 53 minutes after leaving Bangkok. A short taxi to the terminal awaited us and we were soon disembarking via the single jetbridge through door L2.
Half way up the jetbridge I realised I'd forgotten my passport onboard, in one of the many cubby holes that the Thai First seat has to offer. A stern look from Trent (who clearly never forgets anything
) was flashed my way and I went to get it.
Our bags took some time to come out; obviously OneWorld priority stickers (attached in SIN) aren't looked at on Star Alliance carriers
After they arrived we walked outside into the heat of the night and found our driver, who took us to the hotel in Patong Beach. Time to start my holiday in Paradise!
Destination Paradise! Part 3; The Holiday Ends. Thai Airways to BKK
JG