Feedback always appreciated.
Trip Report: 084
Flight Category: J-ILR (See Report End)
Date: 30 Aug-09 (See Report End)
SDT/SAT/Dur/Delay: 0040/0555/08:35 hrs
Flight:
Lufthansa/Privatair LH 765
, 3926 miles
Routing: BOM-MUC
Aircraft: 73H
Seat: Business Class, 11F
I > Background:
After a difficult work week where I jetted from the U.S. to client site in Karachi, I decided to spend a weekend in Bombay for some fun. I have always considered it one of my top 10 cities in the world and a weekend there is exactly what the doctor prescribed. After much debauchery, it was time to go home. I could have flown BOM-FRA-CCS, but the new Privatair schedule was far too tempting and I routed myself on BOM-MUC-FRA-CCS.
I believe this is the first Privatair trip report since my MUC-BOS routing, and the first (and last?) on the BOM-MUC segment.
II > Pre-Flight:
a) Before Airport:
PrivatAir is an airline based in Geneva, Switzerland, specializing in scheduled and charter flights. One of the services it provides, is operating exclusively business class flights for Lufthansa, Swiss, and KLM using a mix of 73H and 319 aircraft. It's MUC-BOM flight is done on part of Lufthansa. Since this route has leisure demand, it is done using a 340 during peak times and 2009 saw it revert to a J operation during summer. It will be interesting to see if this is also true next year as LH has had difficulty with this flight. However, I do commend LH to be able to think "outside-the-box" and be able to adjust the flight quickly. It has also done the same with the FRA-BAH operation. If other airlines (*cough* BA *cough*) could be nimble in markets such as India, perhaps they would not have seen so much blood bath?
Ticketing for the flight was done through an online site as I always remain confused by Lufthansa's own site and its inability to have lower fares. By going through an external site, I saved almost 1,000 Euros … pretty substantial amount I must say! Anyways, I find
www.lufthansa.com
extremely annoying. The inability for a paid business class passenger to chose their own seat, add FF details, and do other modifications is absolutely absurd and inadequate.
b) At Airport:
Lufthansa uses Gate C @ terminal 2A at BOM. After showing my passport and e-ticket, I walked to the counter for the MUC flight. There were separate check-in counters for the FRA flight happening as well. I recognized some of the LH agents at BOM and we chatted about the new flight. They mentioned loads were picking up, but it seemed that clientele were not too pleased with the 73H. Weird as usually Privatair flights are better than LH mainline. Anyways, the agents were very polite and nice, and I was soon given by boarding card and embarkation card. I found it amusing when the agent said the following:
Agent: "Mr. M, I recognize you fly with us a lot and are aware of Privatair, but we have been mandated to mention that this is a Privatair operated flight".
Interesting disclaimer. Anyways, boarding card and departure card in hand, I made it past security and immigration. BOM's terminal has improved tremendously and I was impressed by the amount of food and duty-free options that had cropped up. I made my way to the busy Lufthansa/Star Gold lounge which had also gone through significant improvements and helped myself to the rather impressive array of food and beverages. If LH lounges at their hubs in MUC and FRA could only be 10% as good!
It was strange for me to board an intercontinental flight from BOM and have boarding be called only 35 minutes prior. It was from bus-gate 13 and we were bused to the 737 parked right next to the 737 of ANA making their nonstop to NRT. Upon boarding, I was greeted by a rather cheery female Belgian FA and her male counterpart. Along with another male Belgian pursar (seriously, am I fly SN ?) , they were to take care of me. All of them were in excellent spirits and were apparently happy not to be doing the same U.S. routine.
One of the best things about the Privatair flight is boarding … as very soon, all the 41 passengers were on board. Very calm, collected, and efficient. What was interesting about the entire process was how engaged and helpful the crew were. A pleasant departure from the cold LH crew I get on my CCS-FRA commute or even my own experience in December 2008 on Privatair. J load was a shocking 90%. Surprising, as I know from a revenue management guy that the flight the day before had 1 outbound passenger.
Airport - External:
(Bombay – Terminal 2A – Door "C")
Check-in:
(Check-in)
Airport - Internal:
(Internal)
(FIDS)
(Post Security @ BOM)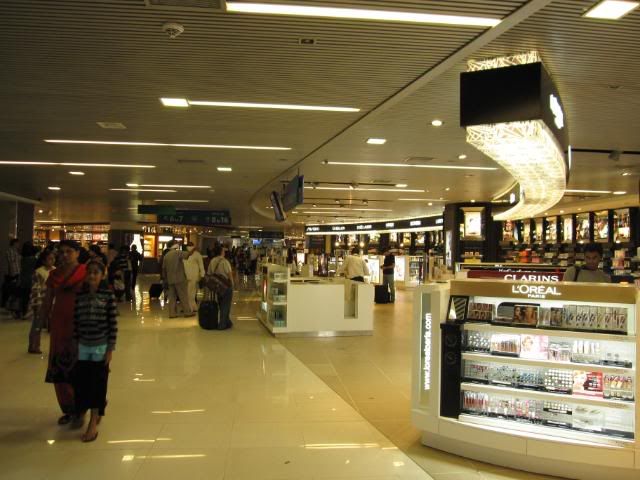 Scenes of the tarmac:
NONE
Lounge
(Lufthansa Lounge – 2 sections; F and J/Star Gold)
(Meal Options)
(Excellent snacks and Kingfisher beer)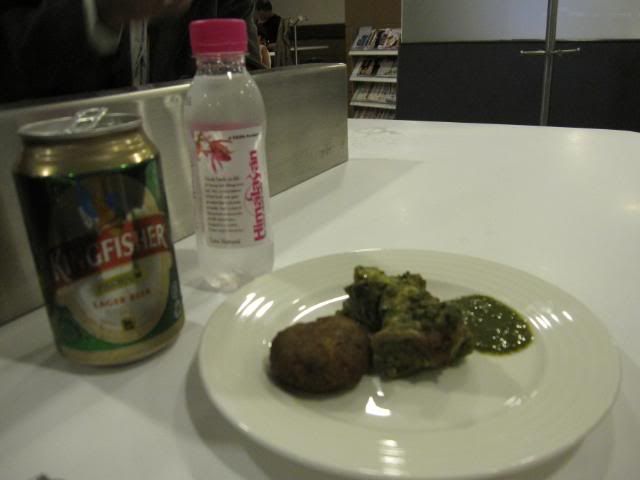 Boarding:
(Painless, efficient, quick)
III> In-Flight:
a) Service Schedule + Impressions:
Upon boarding, newspapers and magazines were distributed. This became the FIRST flight in over 50 this year on Lufthansa where I was offered English magazines and newspapers. This is one of my pet peeves of LH and I always have found it imperialistic. There is no excuse for a global airline to have only German newspapers. Perhaps I got lucky today? Or, perhaps, my constant whining to some senior LH management folks paid off  
? I would like to believe so. Hehe. Anyways, welcome drinks (champagne or water) and hot towel service prior to take-off. After take-off, DVD players were distributed along with menu, then drink service, then meal service, and 90 minutes prior to boarding, another meal service. Amenity kits and hangars were already at our seat when we arrived.
b) Aircraft + Seats:
Privatair 73H was immaculately maintained, including the lavs. The entire J layout definitely gave a relaxed private jet feel to the aircraft. It is hard to describe, but the cabin felt "private" and intimate.
Ok. Let us talk about the seats. The pseudo-lie-flat was NOT comfortable. These are super old generation seats and I really do wonder when Lufthansa will upgrade these. Like many of its peers, it is extremely comfortable during seat mode, and you can get a nice cradle like position while watching IFE or reading a book. However, in the "lie-flat" mode, it is not comfortable at all. Like many of its peers, too many pronounced "breaks" and 3 different angles of recline ensure that there isn't one seat … but 3 different ones at 3 different angles, making a sleep extremely difficult. Perhaps it's only saving grace was the additional legroom over the standard Lufthansa J product. Else, give me a traditional cushioned J "arm-chair" anyday!
Aircraft:
(73H @ MUC)
Views from Aircraft:
(Sunrise over Europe)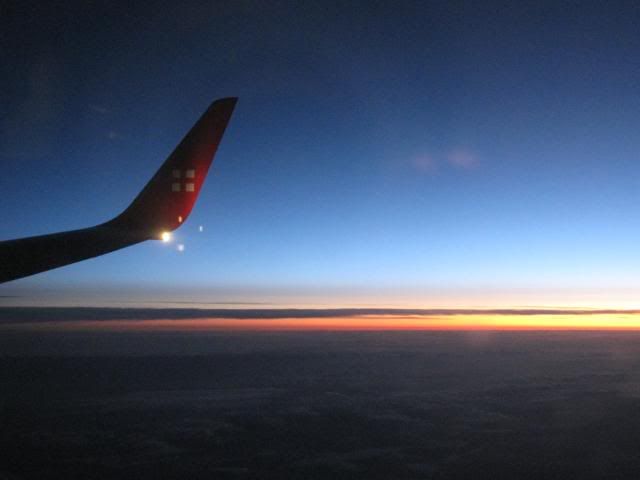 General Seat Views + Seat Legroom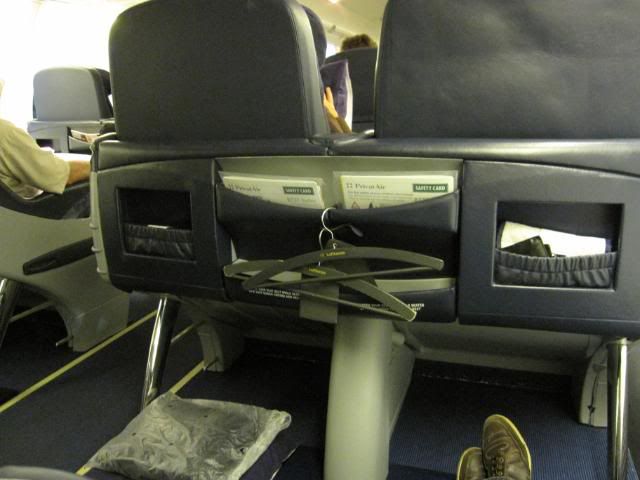 (Controls)
Seat Recline + Angle View: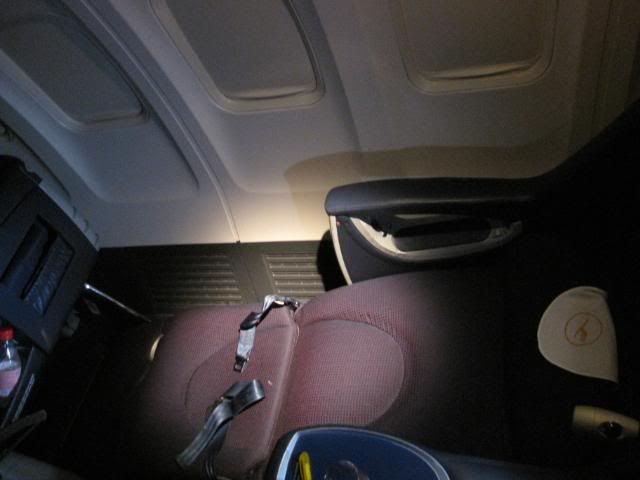 Cabin: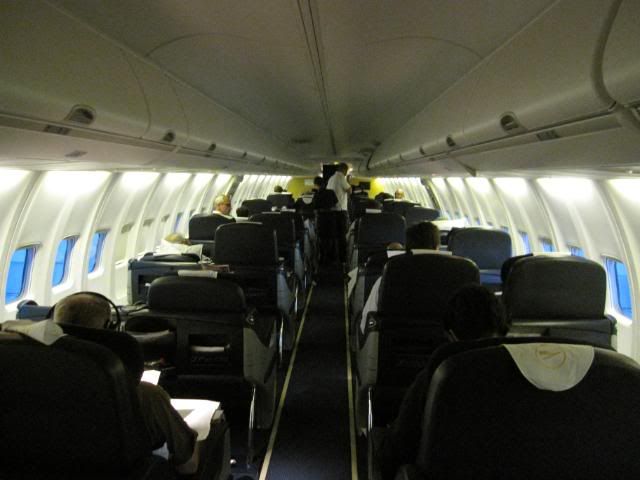 (Bathroom Amenities)
c) Meal + Beverage:
While on the ground, a beverage service is done where you can chose between champagne and water.
Menus were distributed soon after take-off and meal service commenced thereafter. I recognize that a lot of people want to sleep on this flight and I usually skip dinner on late night flights as well. So I do understand the need to rush through service … and I do recognize (and ignore) the lack of an elaborate presentation.
However, it still does not excuse the recent horrid catering I have had on LH J class. This flight was no exception. Not only is the quality of meals poor (see below for the burnt fish curry), the quantity is a joke. Increasingly, J class meals on LH are as generous as Y class offerings on most Asian carriers. Interestingly, as I re-read my report on the last Privatair flight, I had the same comments: poor presentation, over-burnt main, and an extremely poor dessert offering. I spoke to the crew who were extremely apologetic and acknowledged that they have had significant cutbacks on J flights – hence the poor meal, and the choice between only 2 mains?! I mean, what a Y class experience! Thankfully, there was a decent choice of wines … and an extremely nice port to drown the crappy dessert!
90 minutes prior to landing, a breakfast service commenced. While nothing to write home about, it was significantly better than dinner. Though, how can they not have any cereal on board? Apparently, they had the same problem on the flight to BOM.
BTW, in between the meals, one could go to the galley and help oneself to beverages and other small nibblers.
Overall, an extremely disappointing dining option.
(Menu)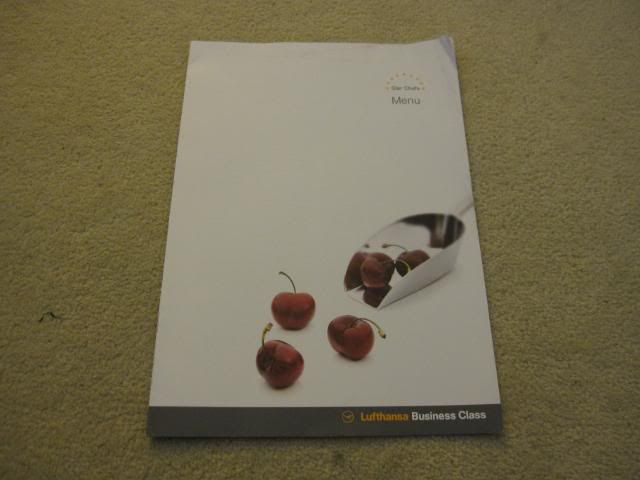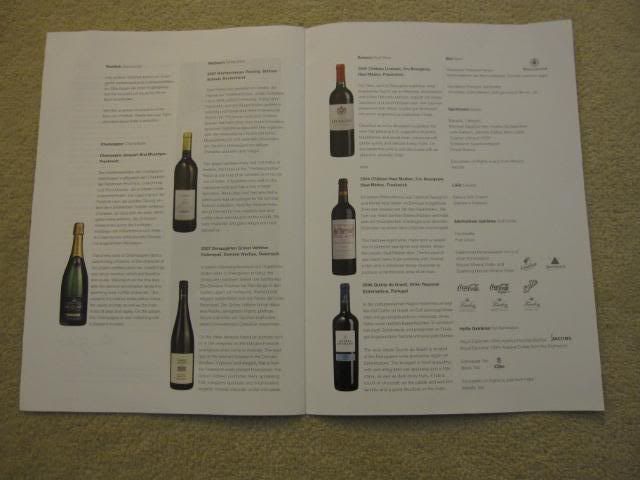 (Pre take-off drink)
(Dinner: another burnt tiny LH meal)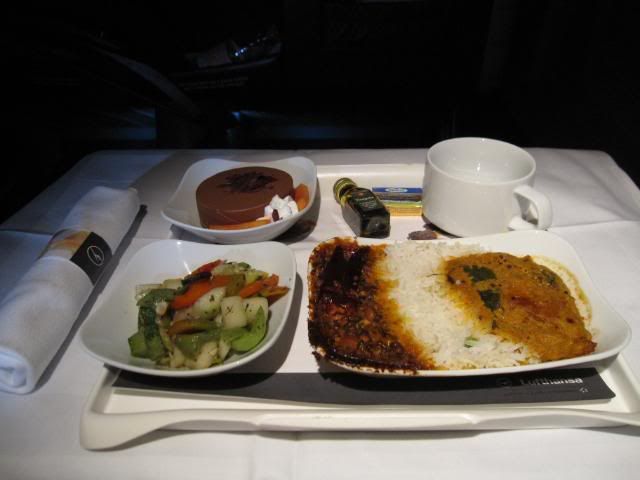 (Breakfast)
d) Inflight Entertainment:
Lufthansa/Privatair planes do not come with inbuilt AVOD. Instead you get this little personal movie player loaded with an abysmal choice of 12 pretty crappy and obscure movies. For those of us who fly often, you are out of movie choices pretty soon. Moreover, the headphones were sub-standard and more fitting for Y class than J. In fact, they were so bad that I had to give up using them! The only saving grace is the above average in-flight magazine.
(Old system; poor headphones)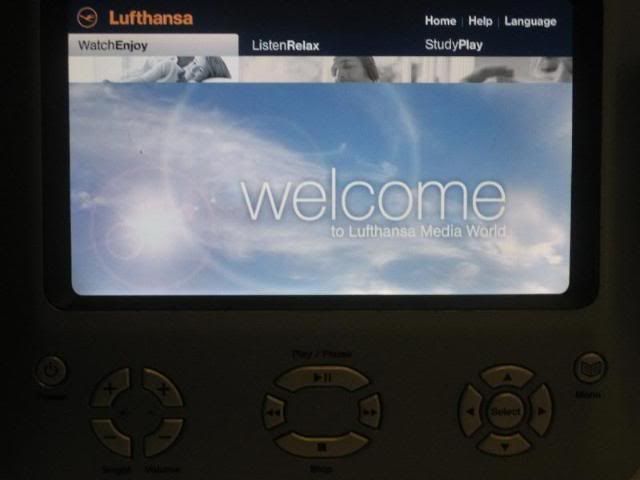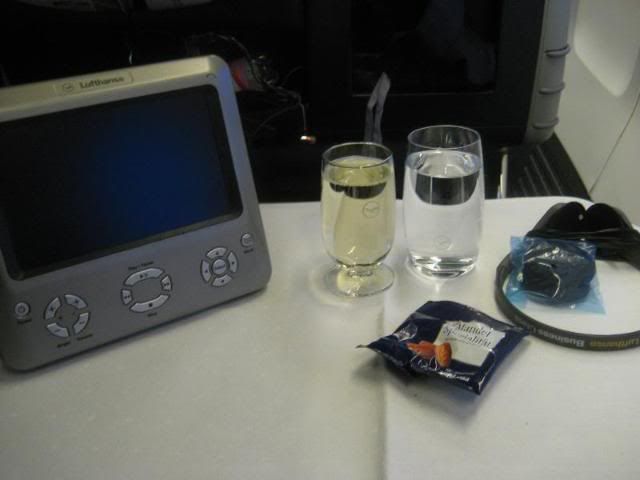 ("In-flight magazines", Boarding Passes, etc.)
(How come I don't feel like her after a night in the LH seats? Refund?)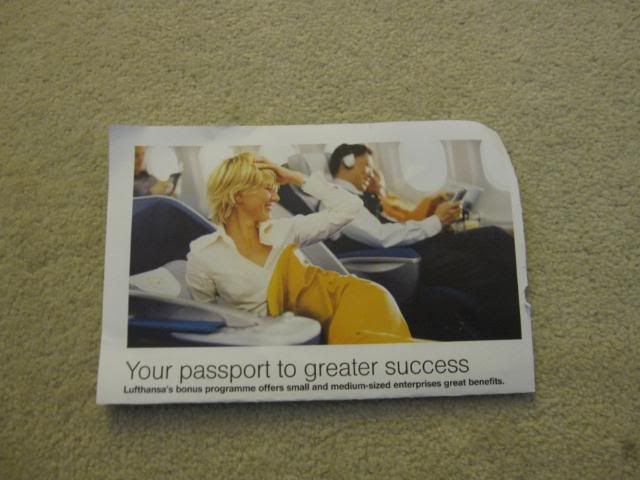 e) Crew:
As I mentioned on my recent Icelandair report, poor product issues can almost always be redeemed (or, at least, reduced) by a good set of crew. In the case of Icelandair, this just was not the case. However, in the case of Privatair, it was absolutely the case!
Without a doubt, I probably had the best crew from an European airline in a long while. The Privatair crew were just fantastic and a complete contrast from the last time I flew them. They were friendly, genuinely helpful, knowledgeable, and understanding. The perfect ingredients for a great crew and flight!
Their service delivery was pro-active (greetings at check-in, help with bags, drink orders, responding to call button, etc.), warmth (always checking in on passengers), genuine (after over 2 million miles, I can tell), and most important knowledge and understanding. I had a very nice conversation with several of them on the poor meal presentation and of the airline industry. They were just so nice. Most of them were ex-Sabena and had flown extensively in the region. They spoke of their experience; how great Privatair is (and, how Lufthansa treats them); the new Bombay flight; etc. I strongly believe that you do well in a job if you love it. It was clear that these crew members loved their job, and it showed in their delivery. Two thumps way up for them. Perhaps, Lufthansa mainline can send the J class attendants on my weekly CCS-FRA and beyond flights to them for some training!
IV> Post-Flight:
Landing at MUC was remarkably smooth, and unlike FRA, I was out kerbside in 10 minutes flat. Great job!
V> Impressions + Scores:
This is as mixed of a review as one can get. Lufthansa excelled in ground handling in Bombay and in München. They were efficient, smooth, and painless. However, the "hardware" onboard was antiquated … the IFE was poor and the seat was way behind industry benchmarks. Usually, poor "hardware" can be saved by good "software". Here, the pathetic meal service was saved by an excellent crew. Really good crew.
Lufthansa will continue to do well and be garner benefits due to its sheer size and its ability to capitalize on the economies of scale. However, for the first time, I am having doubts on whether LH can maintain its business clientele in the long term. As airlines (primarily in Asia), develop better hubs with superior products, is LH going to miss out on the emerging markets. Of course, LH will always have its German and European base. And, if I lived in Europe, I would strongly want anti-competitive authorities to scrutinize LH take-over deals. If LH standards become the European benchmark, God save us all. Lufthansa succeeds because it consistently and reliably gets one from point A to B. This is even more appealing when it serves markets where the local carrier is far from reliable. However, service standards on LH are average at best. Its J product is severely outdated and in need of a complete refurbishment. There are far better carriers out there. Hey, it could even learn a lot from its owned Swiss – which still provides a far more pleasant experience than LH.
I will fly Privatair again – especially because the crew on this particular BOM-MUC flight highlighted that European crews can be amongst the best in the world. Perhaps we just need to go and find those ex-Sabena people  
. A thump-down for the product; two-thumps up for the crew. However, a product is a sum of its parts … and LH still has a long way to go!
VI> Other Trip Reports:
PREMIUM:
8.64:
Turkish Airlines (59): JFK-IST: 11/2008
8.61:
Air Canada (49): YYZ-SCL: 06/2008
8.54:
Turkish Airlines (77): GRU-DKR-IST: 04/2009
8.30:
Jet Airways (74): KWI-BOM: 04/2009
8.23:
United Airlines (72): SFO-SYD: 03/2009
8.11:
Aeroflot (33): MOW-DEL: 09/2007
8.05:
Air India (80): CCU-JFK: 06/2009
8.04:
Korean Air (40): NRT-ICN: 10/2007
8.02:
Delta Airlines (24): JFK-CDG: 08/2007
7.46:
LAN (55): YYZ-JFK: 09/2008
7.82:
Singapore Airlines (06): EWR-SIN: 09/2006
7.23:
Virgin Atlantic (81): BOS-LHR: 07/2009
7.14:
Swiss (52): SCL-GRU: 06/2008
7.11:
Austrian (79): VIE-JFK: 06/2009
7.07: Privatair (84): BOM-MUC: 08/2009
7.02:
Qatar (68): DOH-JFK: 01/2009
6.96:
Etihad (61): JFK-AUH: 12/2008
6.93:
Delta Airlines (18): SEA-JFK: 11/2006
6.84:
ConViasa (65): CCS-DAM: 01/2009
6.81:
Air Canada (17): ICN-YYZ: 10/2006
6.70:
KLM (32): EBB-AMS: 08/2007
6.36:
Privatair (60): MUC-BOS: 12/2008
6.25:
Korean Air (45): NAN-ICN: 10/2007
6.11:
TAP Portugal (53): GRU-OPO: 06/2008
6.00:
Gulf Air (75): BOM-BAH: 04/2009
5.75:
Singapore Airlines (16): CCU-SIN: 10/2006
5.64:
NorthWest (46): ICN-NRT-SEA: 10/2007
5.46:
Icelandair (83): KEF-BOS: 08/2009
5.39:
LOT (54): WAW-JFK: 06/2008
5.21:
Egypt Air (73): CAI-IST: 02/2009
5.07:
TACA (66): JFK-SAP: 01/2009
4.42:
Air France: CDG-JNB (25): 08/2007
ECONOMY: Long + Medium:
9.26:
Air India (48): JFK-DEL: 02/2008
7.38:
Avianca (01): BOG-LIM: 07/2006
7.07:
Sri Lankan (62): KWI-CMB: 12/2008
6.41:
American Airlines (58): LHR-BOS: 11/2008
6.41:
Avianca (78): JFK-BOG: 05/2009
6.26:
Jet Blue (21): CUN-JFK: 02/2007
6.06:
Air Canada (04): YYZ-YVR: 09/2006
5.89:
USA 3000 (19): PUJ-BDL: 01/2007
5.85:
Spanair (69): MAD-LPA: 02/2009
5.79:
Air New Zealand (42): RAR-NAN: 10/2007
5.46:
TAP Air Portugal (23): OSL-LIS: 05/2007
5.19:
Air Europa (70): LPA-MAD: 02/2009
5.16:
Iberia (71): MAD-BOS: 02/2009
5.11:
Air China (82): FRA-PEK: 08/2009
ECONOMY: Short
8.56:
Paramount Airways (38): BLR-MAA: 09/2007
8.56:
Kingfisher (64): HYD-CCU: 12/2008
8.24:
Kingfisher (14): IXA-GAU: 10/2006
7.87:
Indian (34): BOM-MAA: 09/2007
7.72:
Alliance Air (13): CCU-IXA: 10/2006
7.57:
Indian Airlines (10): DEL-CCU: 09/2006
7.23:
West Jet (03): YYC-YVR: 09/2006
7.15:
JetLite (37): BOM-GOI: 09/2007
6.70:
Spice Jet (09): CCU-DEL: 09/2006
6.63:
Air Fiji (44): NAN-SUV: 10/2007
6.63:
Jazeera (67): DAM-KWI: 01/2009
6.58:
Air Tran (02): EWR-MDW: 08/2006
6.48:
Air India Express (63): CMB-MAA: 12/2008
6.44:
CO Micronesia (39): ROR-YAP: 10/2007
6.41:
Pacific Sun (43): NAN-SUV: 10/2007
6.37:
Skybus (47): SWF-CMH: 02/2008
6.33:
Kenya Airways (29): NBO-BJM: 08/2007
6.33:
Sky Europe (56): LTN-BTS: 10/2008
6.31:
Indigo (15): GAU-CCU: 10/2006
6.31:
easyJet (57): BUD-LTN: 11/2008
6.22:
Air Link Swazi (28): MTS-JNB: 08/2007
6.22:
Air India (36): HYD-BOM: 09/2007
6.13:
Adam Air (07): SIN-CGK: 09/2006
6.13:
Air Rarotonga (41): RAR-AIT: 10/2007
6.00:
Transairways (27): INH-MPM: 08/2007
5.95:
Air Canada (05): ALB-YYZ: 09/2006
5.85:
SAS Norge (22): OSL-AES: 05/2007
5.81:
LAM Mozambique (26): JNB-MPM: 08/2007
5.69:
Air Deccan (12): IXZ-CCU: 10/2006
5.67:
Rwanda Air Exp (30): KGL-NBO: 08/2007
5.11:
Aero Republica (76): BOG-CCS: 04/2009
5.07:
Go Air (35): MAA-HYD: 09/2007
5.00:
Sky Airline (51): IQQ-SCL: 06/2008
4.96:
Valuair (08): CGK-SIN: 09/2006
4.78:
Air Comet Chile (50): SCL-IQQ: 06/2008
4.74:
Fly 540 (31): MYD-LAU: 08/2007
4.33:
Viva Aerobus (20): ELP-MTY: 02/2007
4.11:
Air Sahara (11): CCU-BOM: 09/2006
(Note on Codes: Y – Economy, J – Business, F – First :: I/D – International/Domestic :: SR/MR/LR – Short/Medium/Long Haul)
(Note on Date: Dates are modified to be +/- 3 days from actual flight date to not reveal actual flight pattern)
VII> Other Pictures:
(Amenity kit)
(LH had a 747 fly for some strange reason on FRA-CCS that time; here is a J seat. Note how filthy it is?!)
(Random India airplane shots)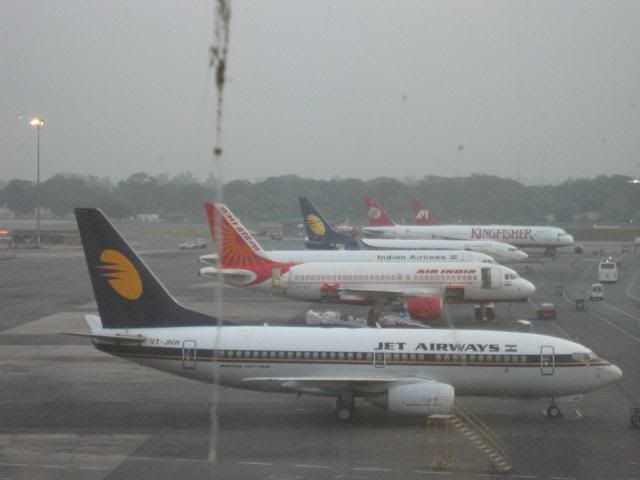 [Edited 2009-11-07 12:23:14 by abrelosojos]