Link to part 2:
Part2: ATW On NZ DUS-LHR-LAX-HNL-AKL-HKG-LHR-STR
(by
LH748i
Nov 9 2009 in Trip Reports)
Link to part 3:
(by
Dec 31 1969 in Trip Reports)
This Thread covers: DUS-LHR-LAX
Hi there,
so here is my first Trip report. Having been reading trip reports for over two years now, I decided to post one myself. I moved to Stuttgart (originally I am from the "Ruhrgebiet", close to Duesseldorf) for studying aersospace engineering, since the University of Stuttgart is the only one offering this engineer-discipline with a diploma degree.
I actually failed to become a LH Pilot so this is basically my second option/ way that I am going now.
I made new friends and pretty quick a fellow student (Max) and I figured out that we share the passion of flying long haul. So in the early time of 2009 we were looking for some far-away destination to fly to during vacation in October and - if it would be payable, to even go around the world! We were planning with the *Alliance atw mileage calculator which is an amazing tool to plan great trips. But the trips we were dreaming of, they would have charged us a s*** load of money! Then at some point, basically out of nothing, one of us found a tool on airnewzealand.com to plan trips with NZ to a limited number of destinations (http://www.airnewzealand.com/ -->multistop). Soon we were clear about the following route: LHR-HKG-AKL-some pacific island-LAX-LHR plus some feeder flight from and to Germany. Since we then figured out that the route was cheaper on the westbound flight we added Hawai HNL as the pacific island and finally booked this trip on the 9th of June.
So here is the Trip report from my DUS-LHR-LAX-HNL-AKL-HKG-LHR-STR journey.
Map hanging in my room with the rount painted on. The numbers above the lines are the a/c-types
Since I had vacation from the University, I spent the week before the journey at home, at my parents place. I was really excited, because Max and I were looking forward to this trip since June and had an actually very hard period of exams behind us. The booked trip would alwas cheer us up and keep us mentally alife while we were studying. Well October 2nd came, I started packing and went out with a couple of friends for a few beers (not too many). Since the flight was scheduled to take off at 1.30pm on 4th of october (saturday), I slept until like 9.30, showered, dressed and finished packing (I always finish packing the day the flight takes place, doesn't matter what time the flight is). I had breakfast with my parents and it was only 11 when we finished. Since Heathrow is still in Europe and I already checked in online, even an hour prior to departure at the airport would have been too early. Well, I was sitting on the couch, watching the clock very excited 11.05, 11.06, 11.07.... At 11.20 I said to my dad: "Let's roll, I can't wait anymore". We got in the car and drove to the airport. We arrived there at approx. 11.35 and it was time to say goodbye to mum and dad. They hugged me and they wished me a great time and some nice flights  
DUS Departure hall saturday noon
I went into Terminal B to the BA check-in desks. There were maybe two or three people in line so I had to wait for a minute or so. The check-in agent was an old man, who was not really friendly and asked me in a mumbeling quiet english, whether I had checked in online already. I replied "Yes, I did", handed him my passport and he started typing on his keyboard. After a minute the tag with LHR on it came out of the printer, he attached it to my bagpack, gave me my passport and boarding pass, did not tell me where to go for security and said goodbye. I stepped back, took a few pictures and went to security.
BA check-in area
I went through security and was airside at about 10 to 12.
Security Terminal B. Very dark spot
I experienced security at Terminal B to be quiet dark and depressing, grey walls, not much light, a lot of shadow... I often fly LH from Terminal A and security there is quiete friendly (not talking about the people but the actual area), bright and open. I guess the reason for that is that sec. at Terminal A is more or less located in the actural departure hall, covered by a glass front, whereas at Terminal B it is somewhere behind the check-in desks between little stores. Anyways, I was airside and had to kill about one hour until boarding. There were two or three duty free shops, where I got a shampoo, cause I forgot one to pack. I then walked around to view some a/c. There was some AB metal standing at the gates, nothing interesting for me.
[img]http://i794.photobucket.com/albums/yy221/vaddaabraham/1_05.jpg
DUS departures. My flight: left screen, bottom
Being airside at DUS
I went to the Gate because boarding was announced. From the boarding area I could see what was going on at the LH Terminal. Not much either. Only an A343 almost ready for departure to MIA
A343 getting ready for MIA
I watched her a long time, since the screen already showed her to depart soon. Finally she got pushed back. At the same moment the last person in queue boarded our A319 to LHR. But I wanted to see the LH Airbus taking off cause I had quite a good view over the runway. So I asked the very nice Gate-Agent:
me:"Hey, how much time do I have left until the gate closes because I want to spot this aircraft taking off"
her:"You're all allright you got 20 minutes left"
me:"Great, so I'm just going to wait here"
her:" Yeah, we can see you, we'll tell you when it is time"
She was really nice, they all were (There were about three or four BA staff standing at the desk, talking laughing and joking aorund). I liked that.
I went back to the window and watched the truck pushing. I thought the 20 minutes would be more than enough but it took forever until she began to make her way to 23L
Push back
Then the ramp agent kindly asked me in a laughing way whether I wanted to be called out or if I would like to come over to board now. Since the Airbus was still taxiing, and I had a seat on the left, I decided to board and watch from my seat.
1st leg


DUS-LHR

Airline/ Flight: British Airways/ BA939

Aircraft/ Type: G-EUPS/ A319-100

Distance: 325nm

Date: 10/03/2009

Departure Terminal/ Gate: Terminal B, Gate 37

Scheduled Departure Time/ Actual Departure time/ Push back: 1.30pm/ 1.40pm/ 1.20pm

Take-off Rwy: 23L

Scheduled Arrival Time/ Actual Arrival Time/ at Gate: 2pm/ 1.50pm/ 2.05pm

Touch-down Rwy: 27R

Arrival Terminal/ Gate: Terminal 5

Scheduled Duration/ Actual Duration: 1hr, 30 min/ 1hr, 10min

Seat/ Class/ Load: 6A/ Y/~75% in Y

Sorry, there is no Picture of our ship to London, becaus the Gangway was in the way. No chance. Same in Heathrow...
I was pretty much the last passenger to enter the aircraft, I had a seat on 6A right behind C-Class, waited a couple of minutes for LH .
View towards the back, while LH343 to MIA takes off
Not much going on at Terminal A. I could see our engine. I always like to see them in reverse. Still had to wait 1,5 hours until touch down in London for that
While taxiing to 23L
Legroom, a little tight, if you want to sit in a relaxing position, but for the next 70 minutes I didn't care
Take off is the green, Touchdown the red arrow:
http://www.youtube.com/watch?v=L6B2buJ3jQk
Take off DUS-LHR
I used BA short haul a couple of times in the last years and the interior appears to look sort of not very well maintained. The table had some sticky coke-sprinkles on it and the back of the seat just looked a little bit run-down. Also what I don't like about BA is the dark blue color. It darkens the aircraft's interior, what makes me sleepy and just doesn't look nice to me. I prefer a bright interior. I have to compare to LH domestic here because besides BA, that is the only Airline I flew on in the last years. I think the LH domestic interior is great. It is clean, well maintained, bright and if I remember well enough, they have a little more seat pitch, but I'm not sure about that.
I wanted to shoot some pictures but when I took the first one, the F/A came around and asked me to delete it. I was quite surprised, I have to say. I didn't expect that at all, I even took it from the rear and not from the front. I asked her for the reason. And she said, I wasn't allowed to take cabin pictures at all, except out of the window. Okay, so I deleted it. She was nice about it though.
I went on to check out the lavatories.
Clean, a few springles on the mirror
As I went back to my seat, two F/A followed me with a trolly of drinks and food.
Snack was a coconut-apricot-biscuit, which tasted very nice (I am a fan of coconut anyway) Plus a whole can of sprite, which turned out to fill the cup only once
After the meal service, shortly befor beginning our descent into LHR the F/A came past and told me that she had talked to the captain. I would now be allowed to take pictures from the cabin. I thought "Why didn't you just ask him while I was still standing"... I decided not to get up once again. I think it was nice though that she came by. Showed that she cared about her passengers.
touch down
Touchdown in heathrow:
http://www.youtube.com/watch?v=N5LJRzTmFjo
Virgin A346 on apron
American Triple 7 Take off from 27L
After taxiing and waiting on the taxiway we finally made it to our gate
Bevore leaving the Airbus I went to the cockpit to ask the captain for the nautical miles distance. He gave me the information, I said thank you to him, he wished me a nice stay and I got off.
Since I met my friends who arrived from FRA and LEJ, I had to walk/ take the train over to Terminal one, where we met at the "Skylark"-bar/ restaurant
Max was already waiting for about 2 hours, Julia had just arrived at the bar 10 minutes prior to my arrival. I let them finish their drinks and we headed towards our friend in London, where we would spend the night.
That was the first leg. To be honest, I am more kean on flying long-haul, so this little hop to Heathrow was kind of an allright start of the journey, a little warm up for the heavy on the next day, which would bring us into LAX
Some London pics:
Millenium bridge over the thames
The London Eye
The parliament
After sleeping very well in Doris' (our friend in london) bed (she was so nice, to sleep on the floor so that we could use her bed) Thanks again
 , we headed towards Heathrow.
A typical red mailbox where I dumped some postcards for friends and family
Using the Underground to heathrow
I have been waiting for this day for almost 4 months now. As I already mentioned, the short hop to LHR didn't really count into the ATW journey, here the acutal Around the World flights begin!
We arrived at LHR exactly two hours early. Having reserved seats already online we would only need to check the bags and get the boarding passes. So we did.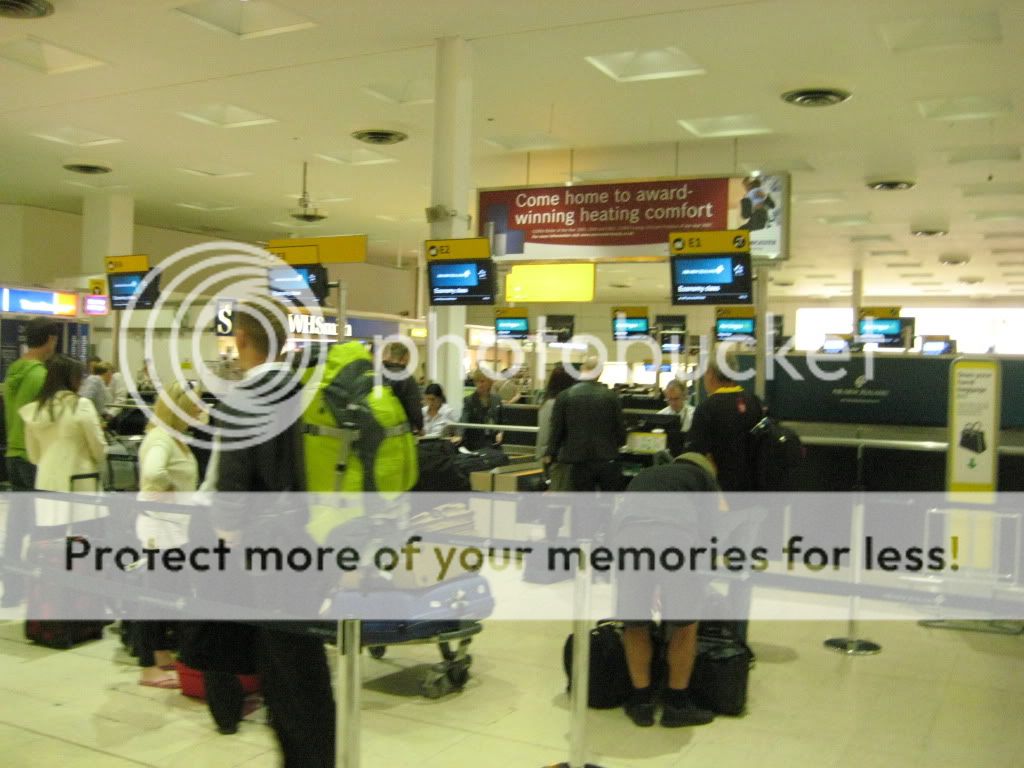 Check in - not really full. We stood in line for about 10 minutes
For some reason it took one passenger very long at the check-in desk so there were in fact only two check-in counters left, that's why we had to wait a little bit longer, considering the short line. Check in was efficient and quick. The agent was friendly. I asked for an upgrade to premium eco but it wasn't available for free, so I didn't do it. My bag was light enough, so no extra charge and then I was good to go towards security.
Since the terror warnings - police with heavy guns were all over the Check-in area
Overview over NZ check in after I dropped my bag. It actually started to fill up
I have to say, I don't really think that Terminal one looks bad or something. It does look a little bit old and used, definetely that but not dirty (I have to think about the American Eagle domestic terminal at JFK, was there two years ago - nasty). It was clearly arranged, we could see where we had to go, every airline-counter was viewable, but I thought the check-in area was quite small, but it seems to work out.
We wanted to get airside so we made our way over to security, which was only a few meters away from Air New Zealand's check-in.
Security area at Heathrow Terminal 1. Not much going on either, we were airside within a few minutes
Being airside, we saw a lot of duty free stores, bars, cafés.
Waiting areas located between stores and bars
Bentley Continental GT to win. Looks stunning, doesn't it?
I actually liked it. Max and Julia went to some store to get post stamps, I walked all across T1 to look for some airliners. Either the aircrafts I saw didn't interest me or they were interesting but totally covered by walls and gangways. I could only see the Gate-screens with the Flight information on it. Disappointing! No pics. Sorry. Anyway. I walked and walked
and wished I'd have a *Alliance status so that I could have waited in there
After walking for a good half hour I was at the gate. Actually NZ39 from AKL via HKG had just arrived and was getting ready for deboarding
NZ Triple 7 just arrived from Hong Kong. I would arrive on this flight in excactly two weeks
Our 747 Jumbo Jet was parked next to the Triple, getting ready for departure. Boarding wasn't announced yet
on the opposite side of gate 50 a lot of construction was going on. What are they going to build there?
Waiting area, not too full yet
I really love the atmosphere of departure at longhaul gates. I was just sitting/ walking around, soaked it all up.
I actually think that there is a difference between the atmosphere at a longhaul gate and a domestic gate (I know, domestic doesn't necessary mean short-haul but most likely).
People just behave different. Kids with their Mums and Dads, all excited to go on vacation, same as the business man who is thinking about some good deals, he is going to sign at the other end of the flight. There is grandma and grandpa who are happy to visit their family or a fresh married couple beginning their honeymoon. Whereas at a domestic gate, people are just sitting around, waiting to finally get on the flight, sit there for an hour, knowing they will arrive in the same country under the same weather and cultural conditions. You know what I mean?
After sitting around for maybe 20 minutes boarding was announced. I decided to wait until the queue became shorter.
Passengers of NZ 001 waiting to get on the plane
2nd leg


LHR-LAX

Airline/ Flight: Air New Zealand/ NZ001heavy

Aircraft/ Type: ZK-NBW/ B 747-400

Distance: 4998nm

Date: 10/04/2009

Departure Terminal/ Gate: Terminal 1/ Gate 50

Scheduled Departure Time/ Actual Departure time/ Push back: 4.15pm/ 4.25pm/ 4.15pm

Take-off Rwy: 27R

Scheduled Arrival Time/ Actual Arrival Time: 7.30pm/ 7.35pm

Touch-down Rwy: 24R

Arrival Terminal/ Gate: Terminal 2/ Gate 21

Scheduled Duration/ Actual Duration: 11hr, 15min/ 11hrs, 10min

Seat/ Class/ Load: 57K/ Y/ 100% in Y

After a while I lined up and finally boarded the plane. Welcomed by a nice crew, the journey could begin. I showed my ticket and the nice stewardess asked me to walk up the right aisle towards my Seat 57K. As I arrived at the seat, my first impression of the aircraft was that it was in good condition. It was clean and bright. A pillow, blanket and headphones were provided on the seat. I took some things like ipod, cell phone, passport out of my backpack, lifted it into the overhead bins and sat down.
very nice legroom. My mum once accidentally put one of my sox into the washer while she was bleaching something else :D
The legroom in fact amazed me. There was so much space. I could stretch out, and didn't touch the seat in front of me. That was cool.
View out of my window. I opted for that seat because I had a clear view towards the right and could overview what was going on with the wing. NZ39 Boeing 777 parked next to us
The view over the apron and the tarmac wasn't so good, so there wasn't much to see for me.
Pushback was at 4.15, after a short taxi to 27R we took off at 4.25
takeoff
Take off video:
http://www.youtube.com/watch?v=UuZ8sai4ed4
I don't want to talk much about the Take-off run. It is the most special moment of a flight for me, and I always enjoy each milli second of it. I just LOVED it!!
After about 20 minutes into the flight, crew came around with a small snack and drink service. I did not get a whole can, just a full cup. Fine with me since I wasn't really thirsty, just hungry.
(The crisps weren't good. Not tasty at all. No salt no nothing. But I ate them)
About 75 minutes into the flight, shortly after the first snack first meal service began. There was the choice of lamb and potato&chicken.
Since the lamb was gone when the trolley arrived at my row, I had to take the chicken (I would have opted for it anyway, since I don't like lamb).
I am going to evaluate the food with the ++,+,~,-,-- system, ++ being very good + good....
salad+, crackers with some strange butter/cream ~,bun with butter and cheddar+, the chicken potato bean carrot combination +, chocolate cake ++
It took the F/As very long to start clearing. I and everybody else were done eating. Sitting around with the tray in front of us we couldn't get up or sit back properly.
Somewhere over iceland
leaving iceland
showing the map, approaching greenland
a cool thing to keep an overview of the flight
Well, I got up after some out off the window watching. Walked arround a little bit and talked to somebody from New zealand. I got some first hand information about bungee jumping. Too bad I was going to go to the northern part of New zealand. The guy told me I had to go to the south for bungee... Next time
lavatories, clean and alright
Being back on my seat, it was time to explore the IFE-game-part. I sucked at minigolf)
over Baffin sea, approaching AC's Home country
View outside the window. Engine number 4 on duty
Canadian Ice landscape
I got up once again, got myself a drink from the Kitchen in the middle section, where always some F/A was on duty to be there for the passengers. Since I was sure that there wouldn't be an opportunity to talk to the Captain after the flight, I asked our Concierge about the nautical mile-distance. That's a nice thing about NZ. They had a concierge on board who was concerned with the passengers that would either have to get off at LAX, continue to AKL or had to connect at LAX. I thought that she was not really neccessary. I didn't get what differed her from a normal F/A. Anyway. I asked her about the distance and she took the phone that was sitting next to us and called the captain. I wished I could have done that. Our nm distance today: 4998, first hand information from the cockpit.
still over canada
It was time now to serve the second meal. There were only two hours left of this flight, so the crew came around with dinner. A choice of a chicken sandwich or a mushroom quiche were offered. For me it was the chicken sandwich
salad~, chicken sandwich+, raisin-bun with jam and clotted cream-
The chicken sandwich was nicely spiced with curry. Tasted different than expected but good though.
almost forgot to take a picture of the sandwich. salad~, chicken sandwich +, rosin-bun with cream and jam -
I must say that this meal wasn't filling at all. There was no food service for the last 8 hours or so and now only this? Not enough for me... I know, I could have organized some snack from the kitchen... but I was to lazy at this point :D
Again it took the crew very long to start clearing. And they forgot our row. There was one cart beginning at the rear and one at the front. They both finished one row away from us and never came back. Since all F/As were busy cleaning up in the kitchens, nobody responded the call-button
I am not kidding, we were sitting there for 15 minutes until somebody noticed. They were sorry about it. I forgave them
some nice colors outside while sun was setting. I only have a digi cam... So no deep colors here (sorry)
sun is almost behind the clouds
people prepare themselves for descent. Soon the light will be switched off
sun is pretty much gone
we were going towards the pacific, so we would fly past LAX, I was already happy to see LAX from above
LAX at night. Beatiful
I must say, I really enjoyed this flight. Approach and touchdown were great. Since we still had to fly a couple of miles before a 180 degree turn for the 24R line-up, I could see the planes on short final approaching 24R and 25R. Stunning. It was just amazing what was going on at this massiv airport. Too bad these moments only last for a few minutes. But I caught them on a video:
touchdown
LAX Touchdown video:
http://www.youtube.com/watch?v=feHL0O_EeiY
First time in my life that I saw the famous in'n out burger, where I planned to spot a day.
While taxiing, I could see a QF A380 sitting on the tarmac, waiting for flying back to Australia.
Customs went quick and our bags were already circeling.
Was nice to be back in the USA. I enjoyed the warm air outside the terminal.
Using the flyaway bus which brought us to Union station, from where we continued on the metro towards hollywood, where our hostel was
Some exclusive pictures from Los Angeles and one day of spotting at In-n-out burger at 24R
overview over hollywood with the sign in the background
My priority destination while I was in Los Angeles. A dream came true! (Actually I am talking about the spotting spot in front of the restaurant, not the In-n-Out itself.)  
Tasted awesome while a/cs were approaching above me and my burger
I love those three letters. They stand for one of the largest Major airports in the world
[img]http://i794.photobucket.com/albums/yy221/vaddaabraham/2_42.jpg[img]
Korean Air 744 inbound from ICN
Eva Air 773 on short final, inbound from TPE<
That was it so far. I hope you enjoyed the report. Continuing with the LAX-HNL-AKL legs in another thread
Link to part 2:
Part2: ATW On NZ DUS-LHR-LAX-HNL-AKL-HKG-LHR-STR
(by
LH748i
Nov 9 2009 in Trip Reports)
Link to part 3:
(by
Dec 31 1969 in Trip Reports)
[Edited 2009-11-09 14:42:50 by srbmod]