Introduction
EasyJet started flying to HEL from LGW in October 2008. I flew this route a few weeks after its initiation in November 2008 (and have flown it one other time since). While looking for some interesting trips in July of this year I figured out I should celebrate U2's 1-year anniversary at HEL by booking another flight with them - and picked the very same weekend as last year. Fares were obviously very affordable booking more than three months in advance, around 40 EUR all-in. I didn't really want to stay in London either, so looked for some additional flights to take. I've always liked Aer Lingus and since they were now running a number of European flights ex-LGW didn't hesitate at all when I found a zero base fare (well, it still came out to around 35 EUR in total) for LGW-AGP. Besides Andalucia sounded like a very good break in the usually very depressing Finnish November.
AGP is the main airport serving the (in)famous Costa del Sol tourist area, and offers tons of flights to various European destinations - most of these on LCCs and charter carriers. So opportunities for flying something new for my log were great - in the end I settled for Monarch - the British charter carrier that the LCC competition has forced to turn into a sort of a scheduled carrier as well. There were a number of destinations available, but for the onward connection back home MAN was the best choice, so I booked AGP-MAN for the next day. Price was around 90 EUR after the various fees were added (Monarch seemed to be very bad in this regard!).
Finally to close the gap I decided to book the direct MAN-HEL AY flight, which was not very cheap at 140 EUR but at least would get me home in decent time. To make it more interesting I decided to burn 10K AY Plus points to upgrade this segment to business. I know the business class on the E-jets (which this flight would be on) leaves a lot to be desired - it's 2-2 seating and no seats are blocked so it's not very comfortable if the cabin is packed - but decided to take my chances anyway. I assumed the late Sunday evening flight wouldn't be too busy - most business class traffic on this route are connecting to the Asian fights (thanks to AY's very aggressive pricing campaigns in UK) and would be traveling on the morning flight.
7.11.2009
EasyJet's web check-in was not working for me for some reason - I wasn't sure if they even offered the possibility ex-HEL since the previous time I took this flight it was not possible - so I have no choice but the head to the airport uncomfortably early. I arrive around two hours and five minutes before the scheduled departure time only to find the check-in desks still closed, but already a long queue in front of them. Oh well - no choice but to join the end of the queue which keeps on growing. Some ten minutes later a sole agent arrives and starts checking people in.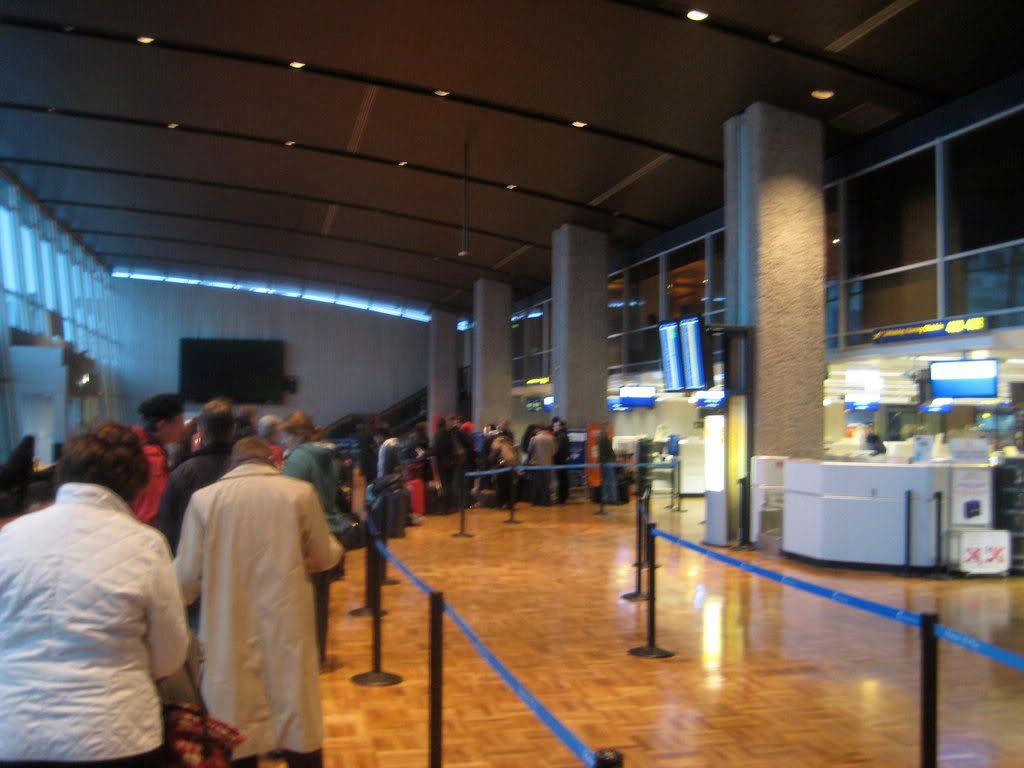 There are a lot of people with tons of luggage, and it looks like some of them haven't even paid the baggage fees, so it takes some considerable time to process people. The agent is also giving hard time to people with large or multiple carryons, asking them to fit them inside each other and into the metal frame thingy for the "one bag" rule. Fortunately after 10 minutes or so another two agents arrive and the pace picks up. When it finally is my turn I get a boarding pass in group B - the very thing I tried to avoid by getting here early enough! Oh well, there's nothing I can do about it. The whole check-in process took almost 40 minutes, not a very good experience.
Security is rather quick, even though they want to take my IPod out of my bag and screen them separately. I ask if it is because my taste in music is bad but apparently this is not the case. Airside I grab my obligatory bottle of water from Stockmann (whoa, the price has gone down thanks to the VAT reduction!), dodge the mass of humanity boarding their AY "Leisure flight" (I'm not sure how much leisure it is to sit tight in a 227-seat 757-200 for six hours?) to LPA and pass the immigration controls to the non-Schengen side.
This is the first time I've in this part of the airport since the new longhaul terminal extension was opened, so it is time to explore. The place is very empty, even the new much advertised restaurant complex is still closed. The only flight in the new area is a heavily delayed FB charter to HRG and LXR - the next flight from here will be AY5 to JFK more than three hours away.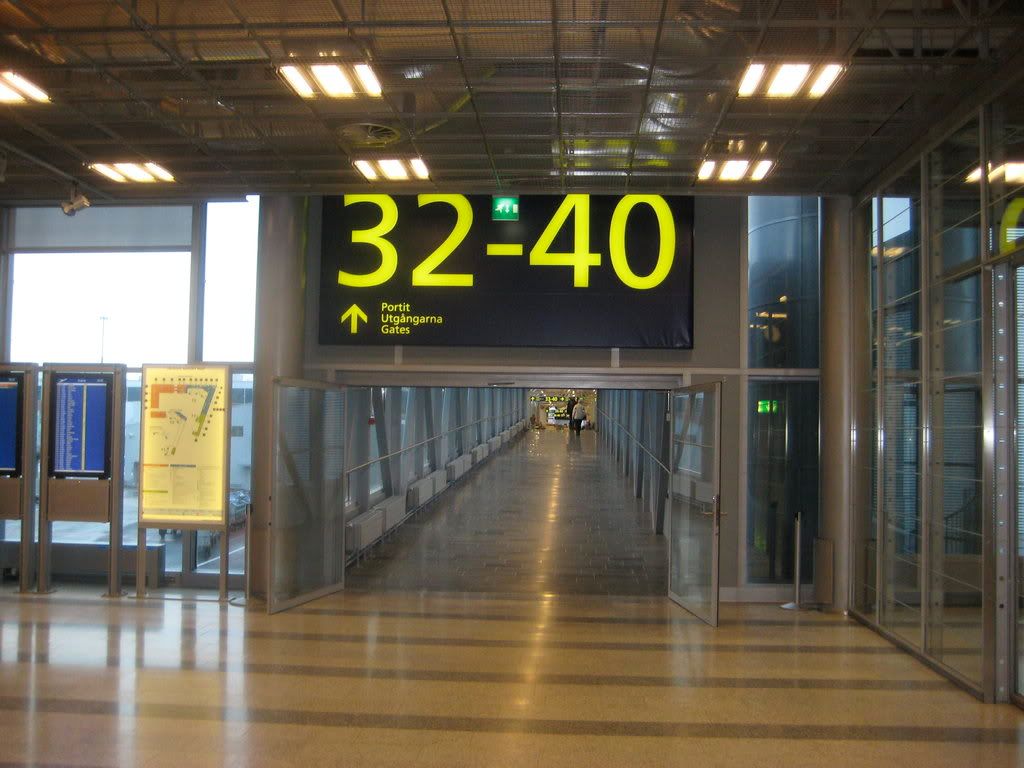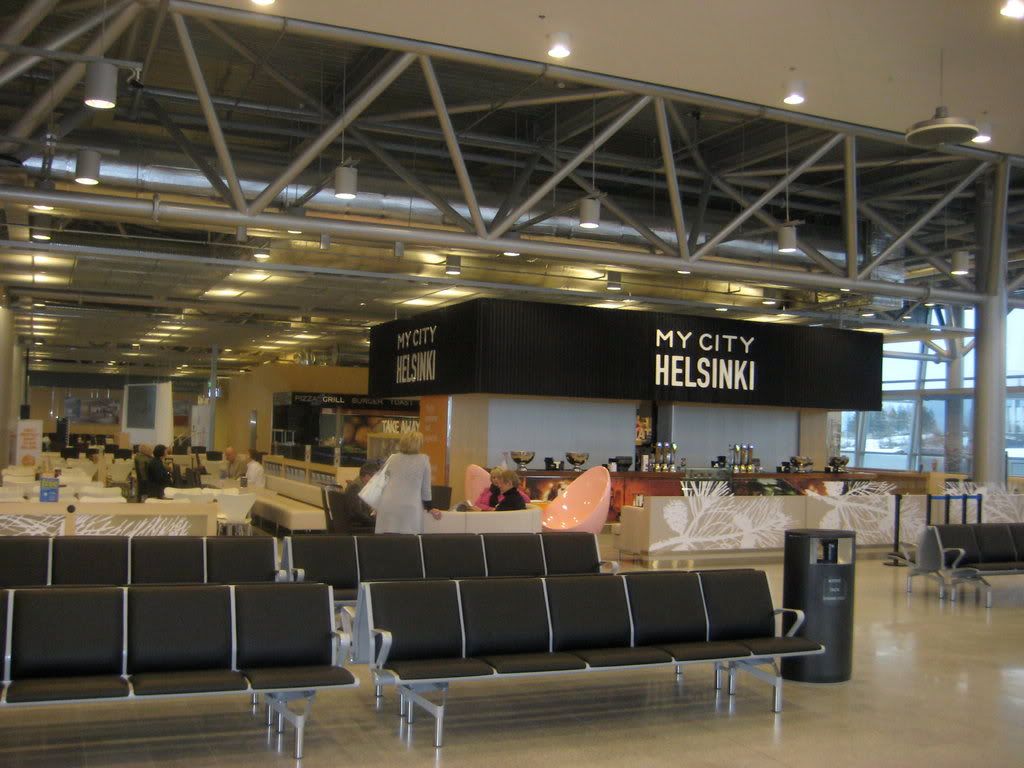 This is where the new lounge and spa complex will open in December: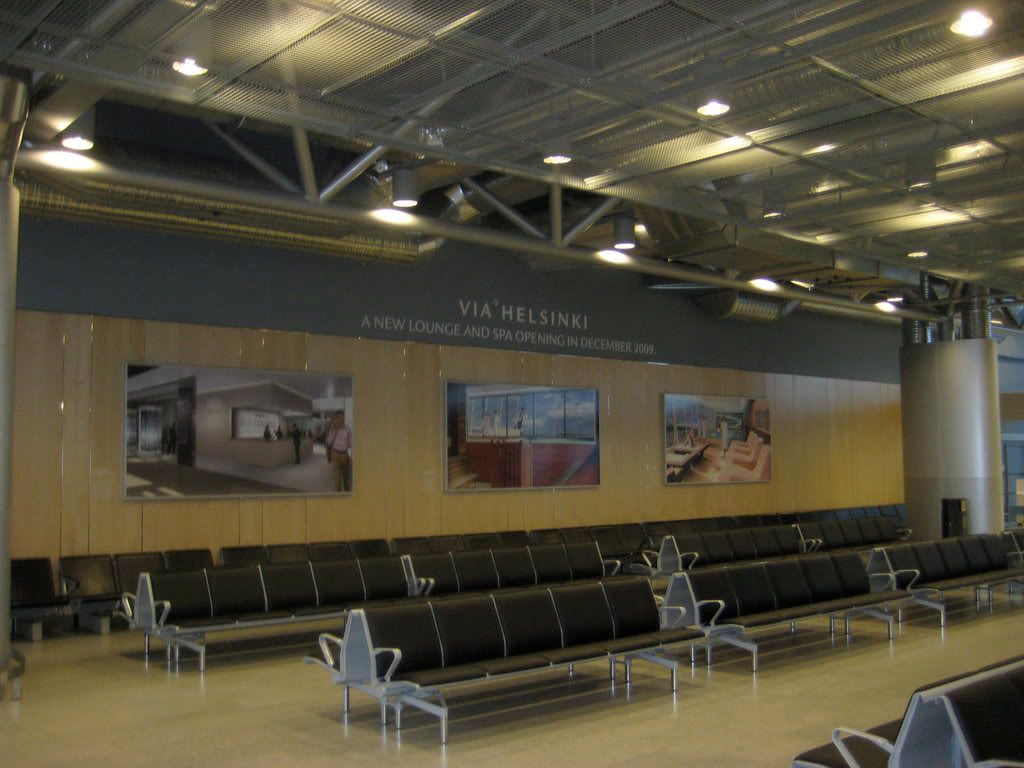 The beautiful A333 OH-LTN is already sitting at the gate waiting for the JFK flight: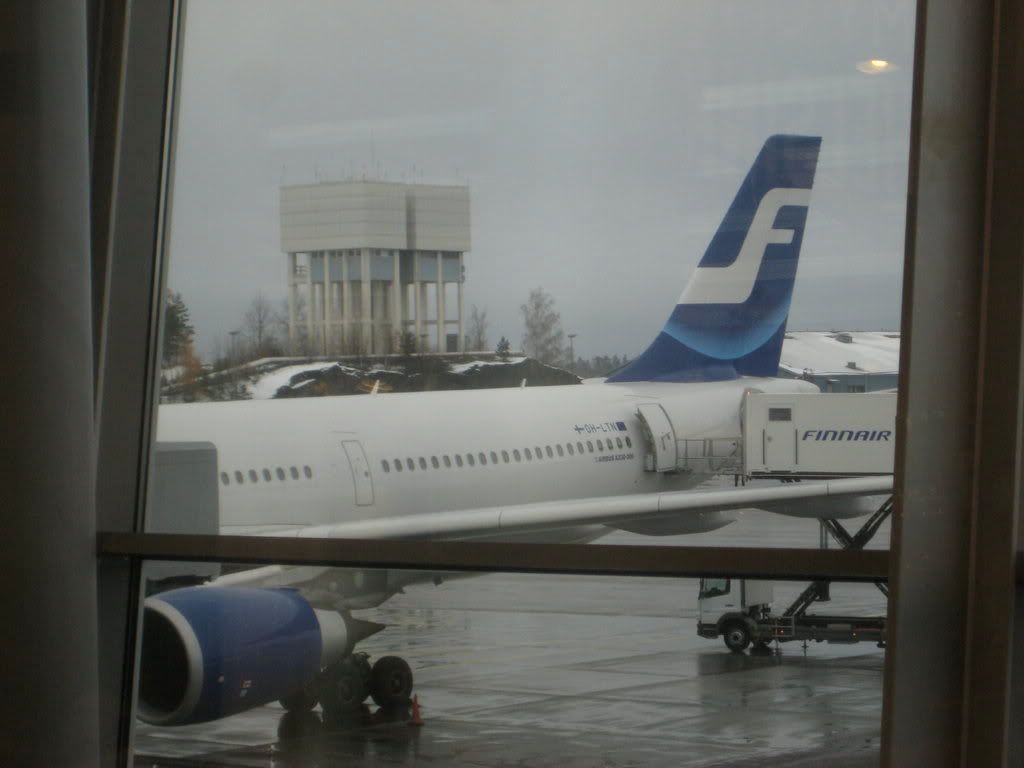 The aforementioned AY 757 to LPA: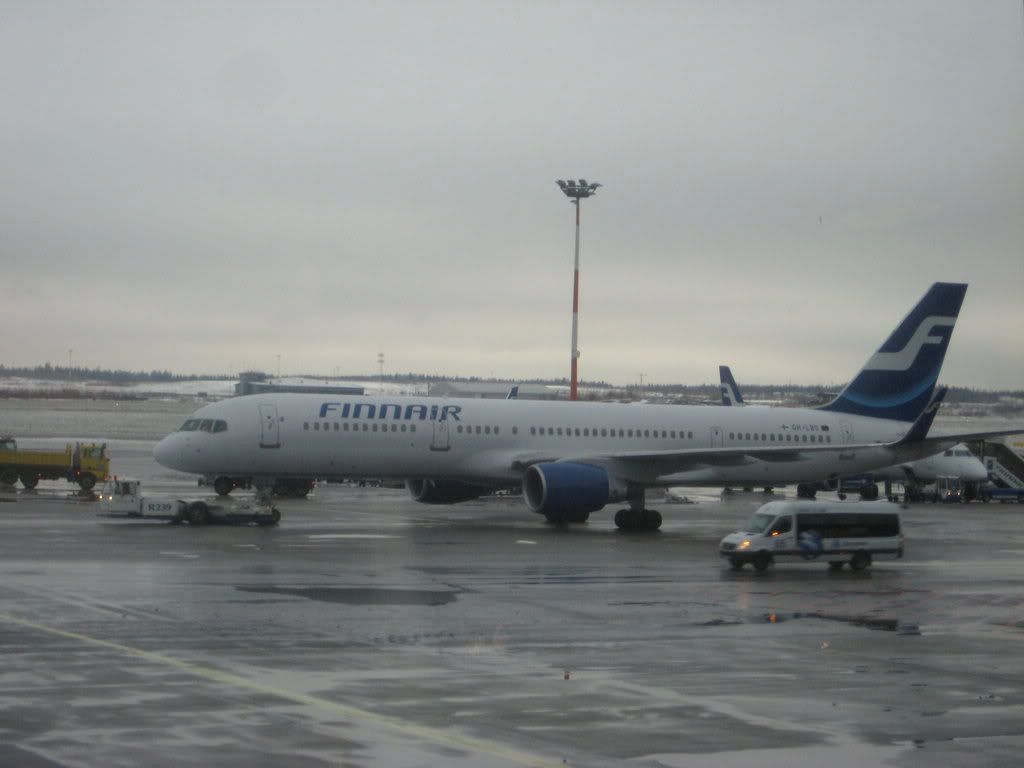 Since our gate is in the older part of the non-Schengen terminal I retire back there, grab a sandwich and a coffee from the coffee shop and sit down to take full advantage of the free wifi. The inbound arrives some 20 minutes early, so I head to the gate rather early. I notice a good number of people are carrying the print outs from the OLCI in their hands, so it must've worked for some people. D'oh. Gate 31 is one of the few gates in HEL to have a "holding pen" area, so after boarding starts priority boarders (there are two), families with small children (there are quite a few) and group A are all crammed together into the area while us B-class citizens patiently wait at the other side of the gate agents, gazing at the promised land a few meters away. The jetway to the plane is still cordoned off and nobody wants to spread out or take a seat so all the 50 or so pax are in one large, tight queue. A very funny sight actually and tells something about the human nature.
Soon enough the jetway is opened and the mass moves forward and the rest of us are allowed to join the queue as well. It takes a while to get to the door of the plane, where I'm greeted by an older female FA - for a while I think she's a drag queen or something as her voice is so low and masculine - it definitely sounds like she enjoys whiskey and lots of cigarettes! Amazingly there are still vacant seats on the exit rows by the time I reach them, despite a half of the passengers having already boarded. I tell the cute young FA in the forward exit row "That window seat has my written on it, don't you see it?". She's a bit confused so I add "You need a big guy to open the emergency door", after which she gets the point and lets me there, giving me a small chuckle as well. A few minutes later a youngish woman asks me if the aisle seat is free - I answer that "Yes, all the seats with nobody on them are free", and tell her that this is the exit row so she needs to put her bag in the overhead locker. This seems to scare her and she mutters something like "Well, then I won't" and moves on. What's wrong with people - these ARE the best seats in the house (well, 1 ABC are probably a bit better yet but then you'd be facing the drag queen and her wrath!) and people are not using the opportunity. A guy in his late twenties finally sits in the aisle seat and the middle seat stays empty - despite a load factor that looks like to be around 90%, nice.
HEL-LGW
U28966
A319 G-EZII
Seat 11F
11.49 - 12.42
Today's ride is G-EZII, your bog standard Ezy A319 instead of the A320s they've been sometimes using on the Helsinki route due to increased demand (please, give us a second daily instead - maybe to LTN!). The plane is four and half years old, but is already showing some signs of aging - Ezy definitely puts these babies to work hard. Oh yeah, another new registration for me. Decent legroom on the exit row: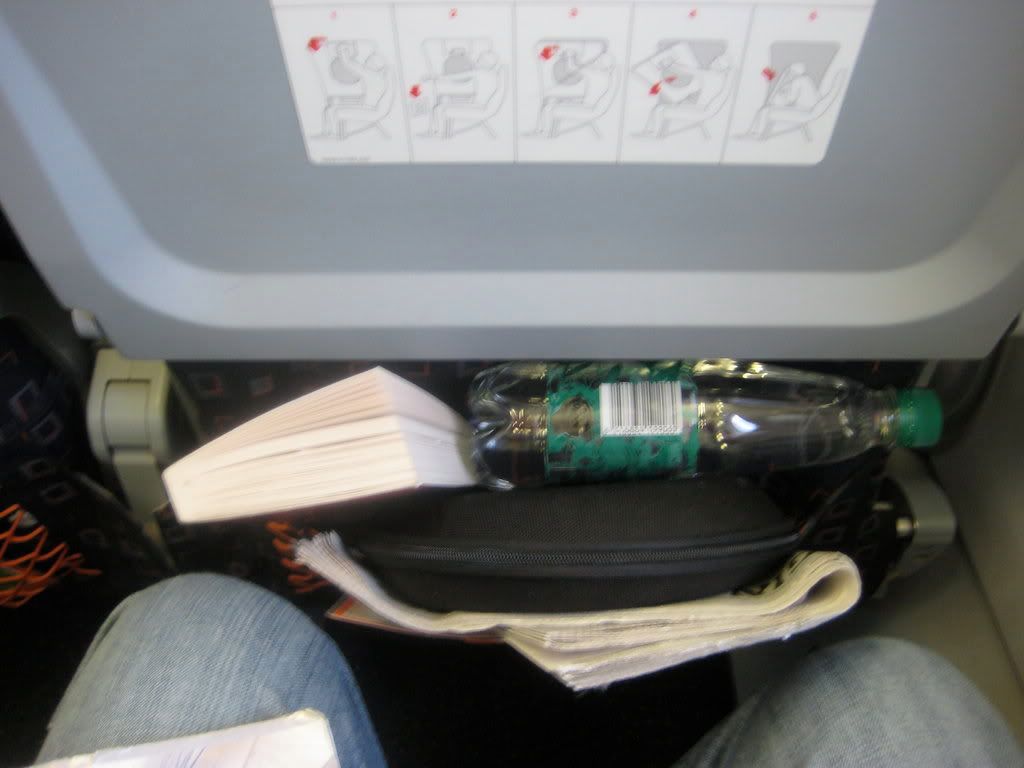 Our British captain (come to think of it the whole flight crew is British - unlike your usual FR staff who makes you feel like you are flying on some Eastern European carrier!) welcomes us onboard, advises us of a flight time of 2h45mins and a flight route of "Sweden, Denmark, across the North Sea to Gatwick". We push back one minute before the scheduled departure time, race an AY Embraer to the far runway 22R and perform a rolling take off.
Air Åland Saab 340 landing on runway 15 in the distance: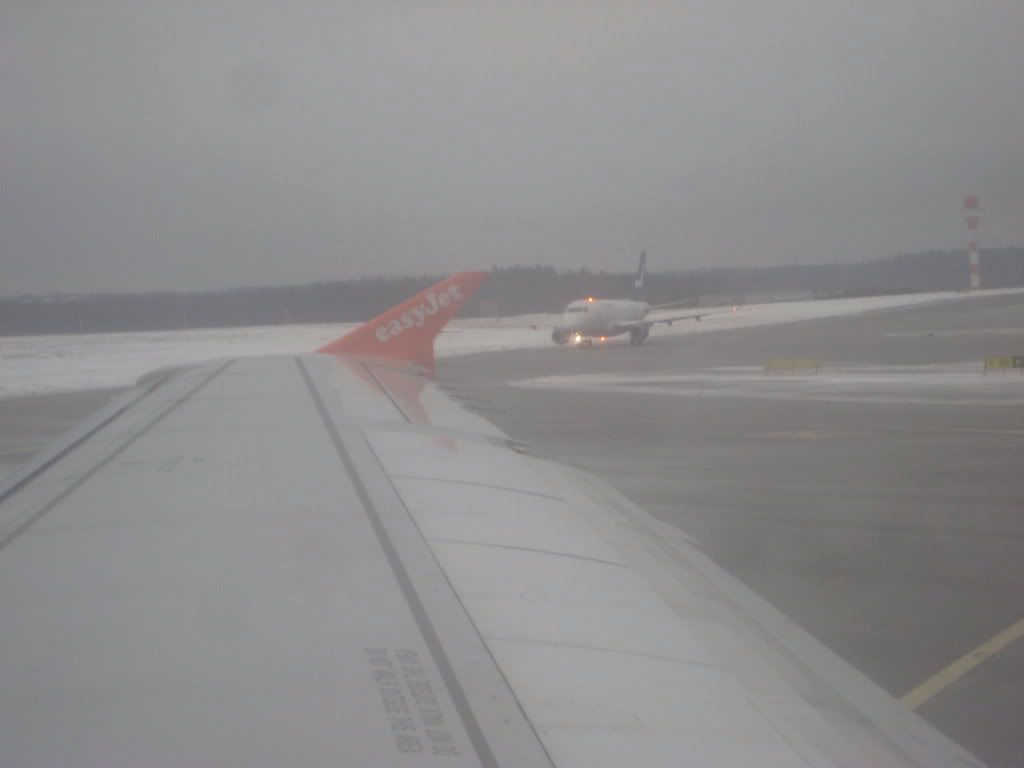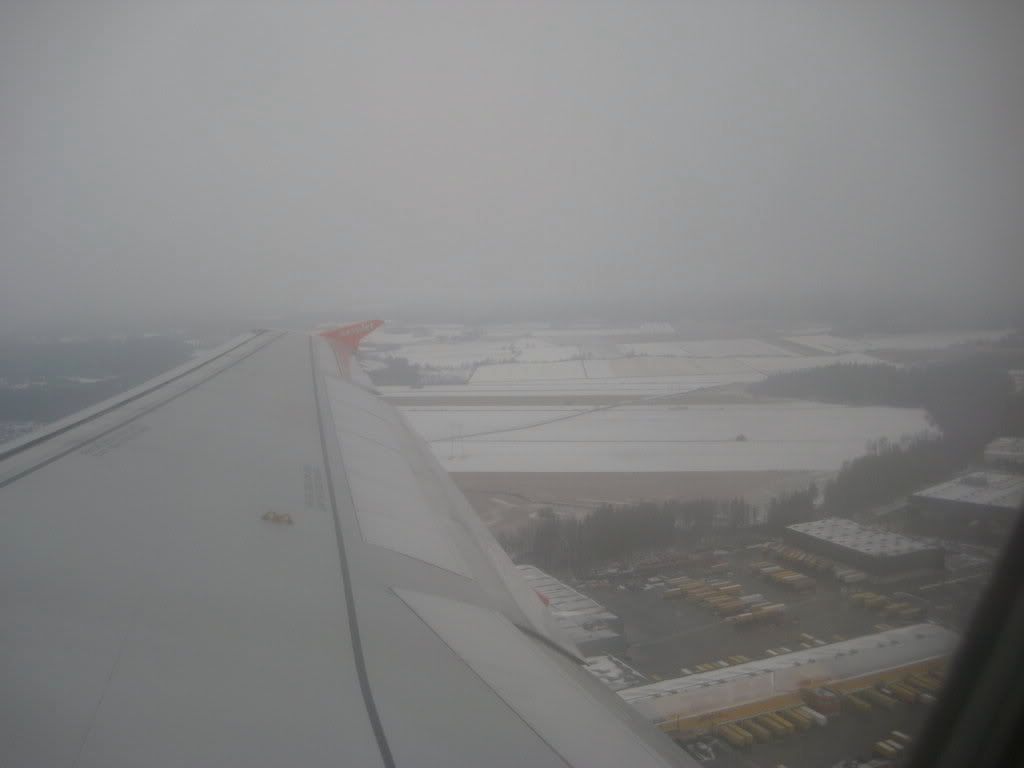 The weather being what it is - we got the first snow this week - we disappear into the clouds approximately three seconds after rotation, and it stays mostly this way until we reach the British coast - apart from a few openings along the way. I buy a couple of overpriced cans of Stella from the raspy voiced FA and spend most of the flight reading the newspaper.
Some 1h20mins after departure the captain comes on advising us that we have just passed to the north of Copenhagen, will be landing a few minutes early in Gatwick where the weather is very nice, nine degrees (plus, obviously) and partly cloudy. Through an opening in the clouds I spot the impressive Great Belt Bridge. Unfortunately my pictures come out bad.
Cabin view while doing a visit to the forward lav: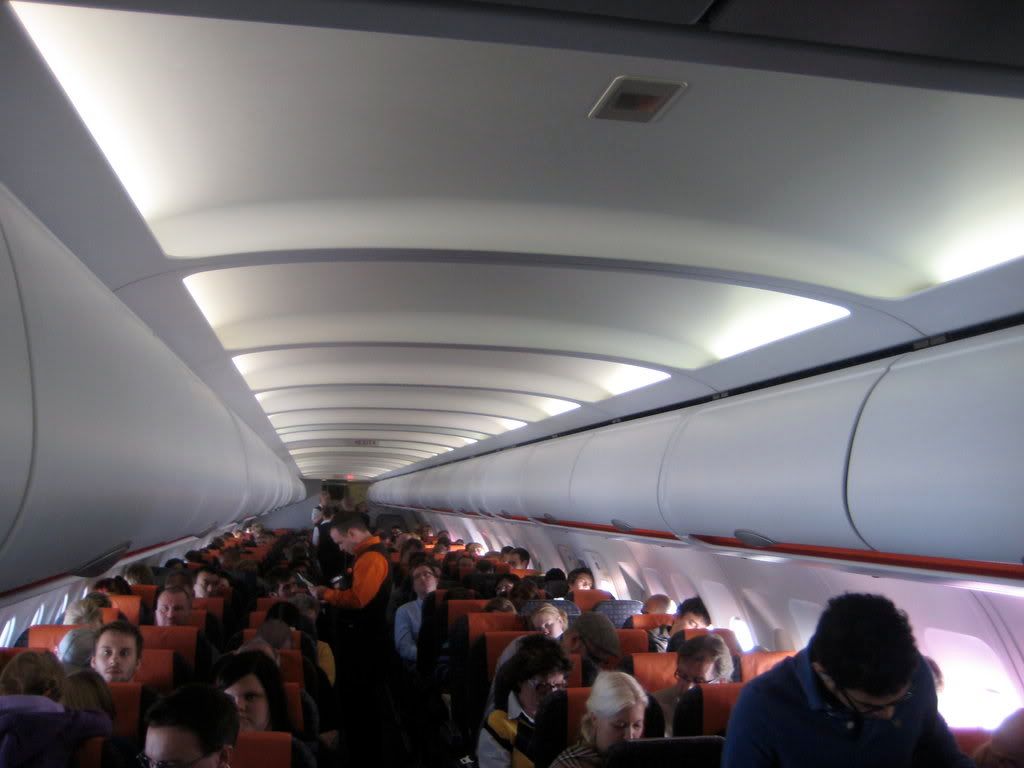 Some time later we pass the Dutch coast, with one of the entrances to the IJsselmeer clearly visible. The clouds give way as we get closer to the coastline, there are some nice views of the Kentish Flats Offshore Wind Farm:
Gentle descent starts around the same time. Afterwards we pass the Thames Estuary from the south and turn southwest towards Gatwick.
Southend-on-Sea: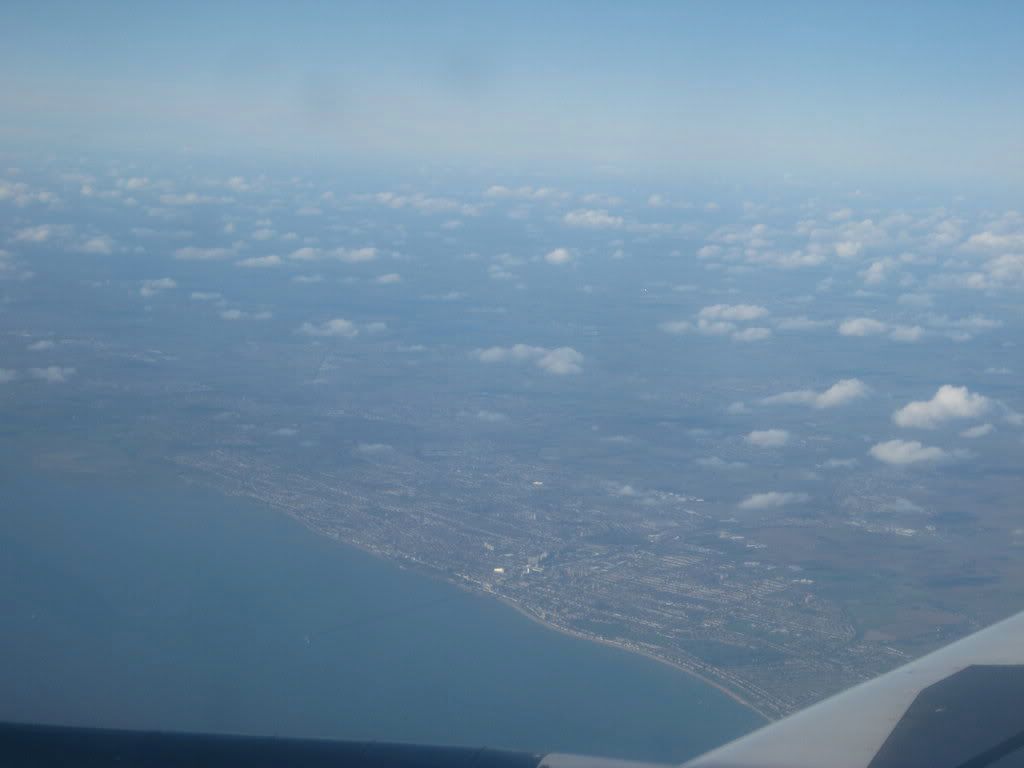 Chatham, famous for the historical dockyard: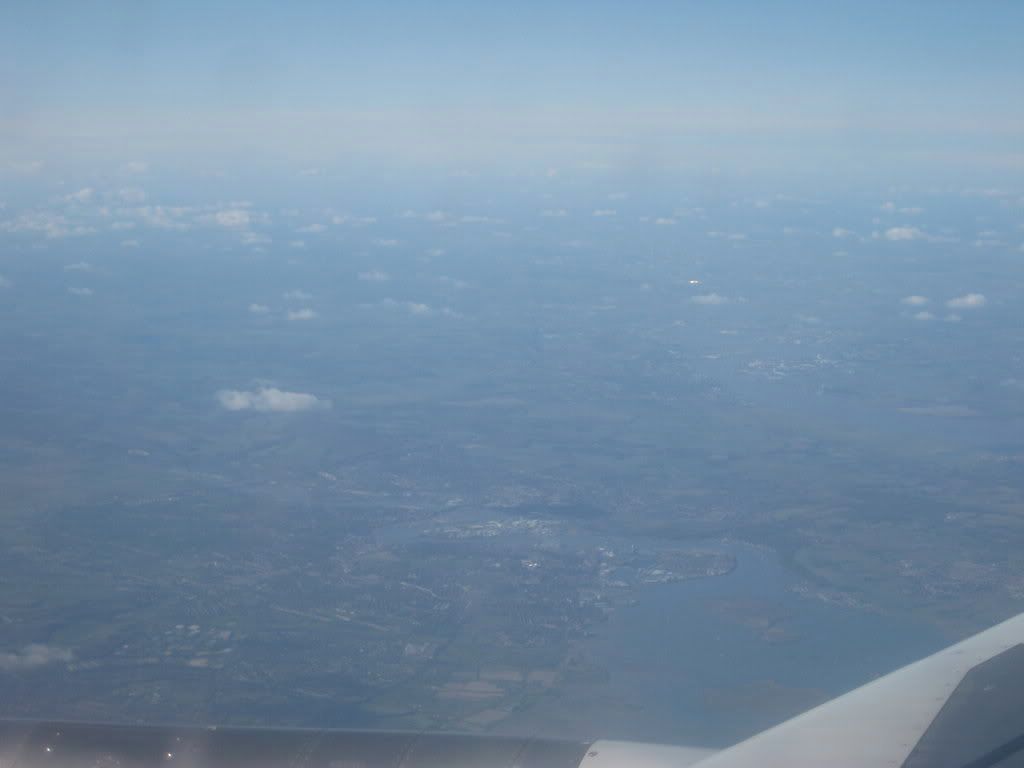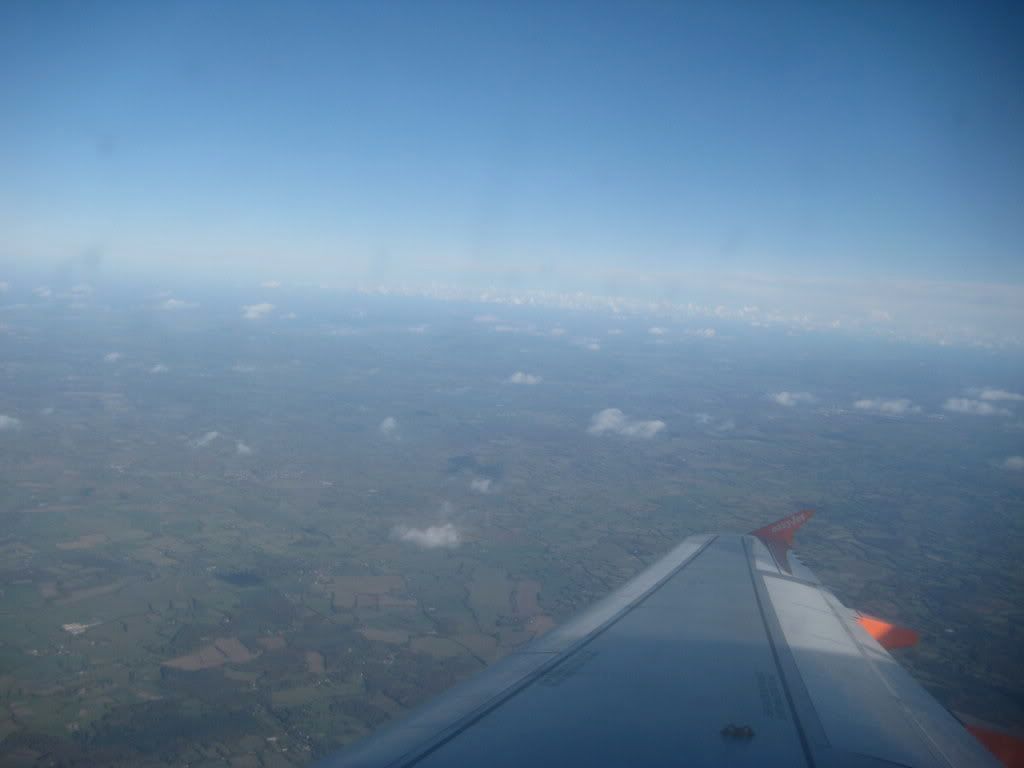 Or approach seems to take forever and we make quite a few S-turns to fit into our slot in the traffic flow. The weather is very clear, so I get a very nice view of central London from my window, apart from being obscured by clouds at times: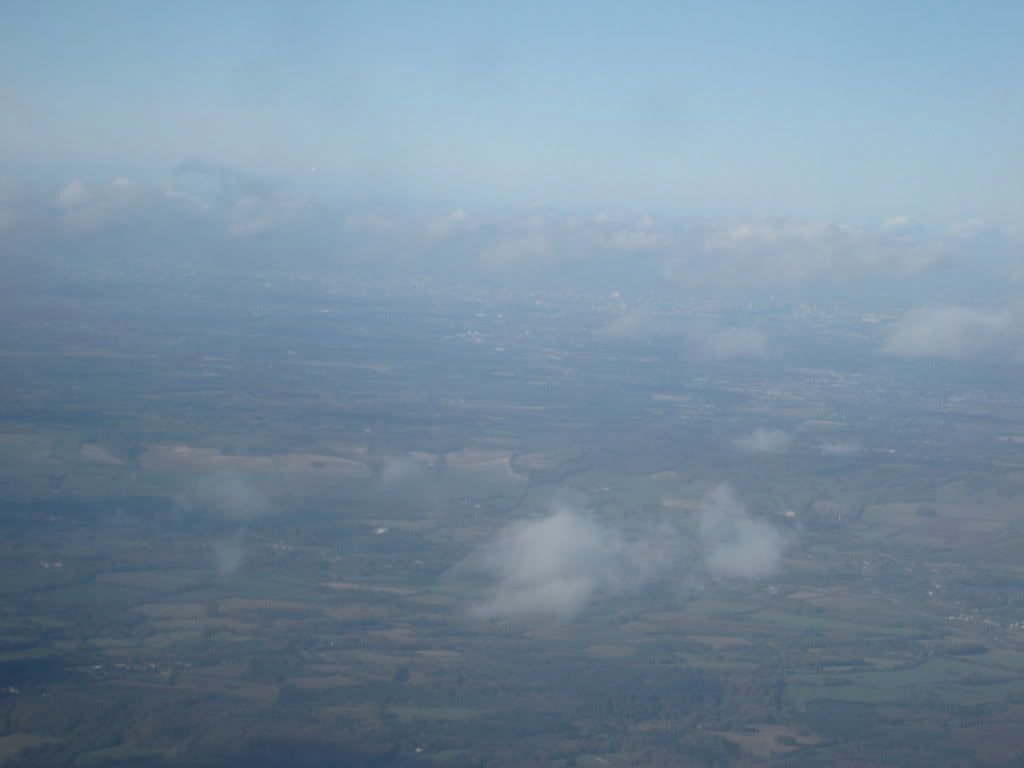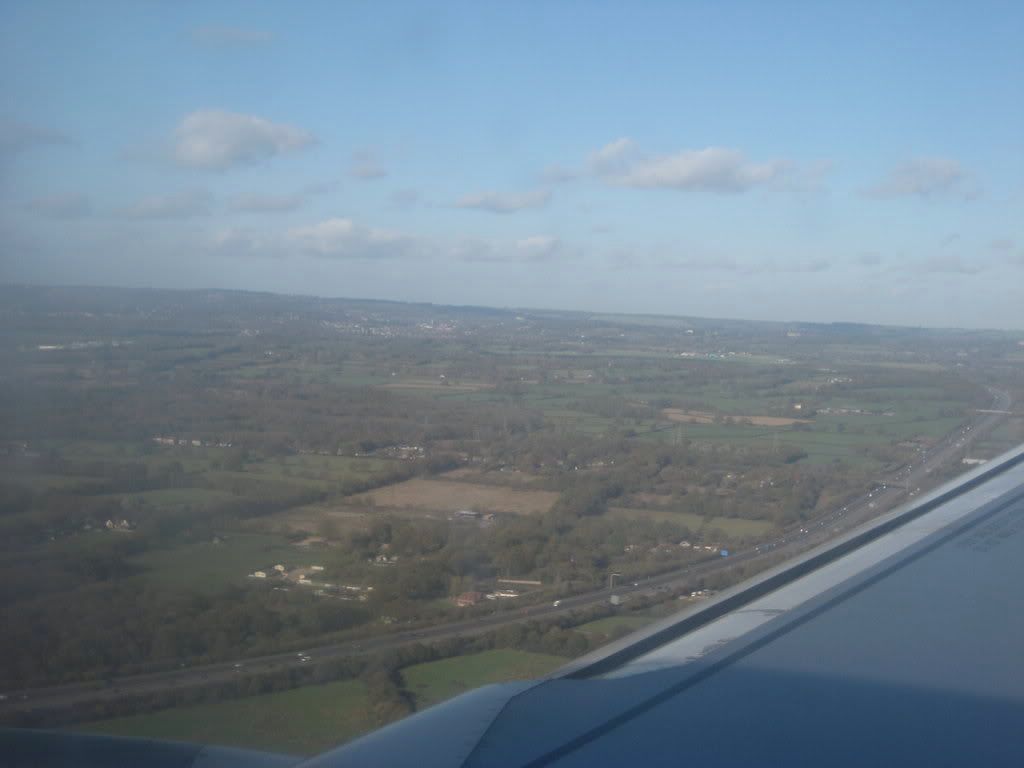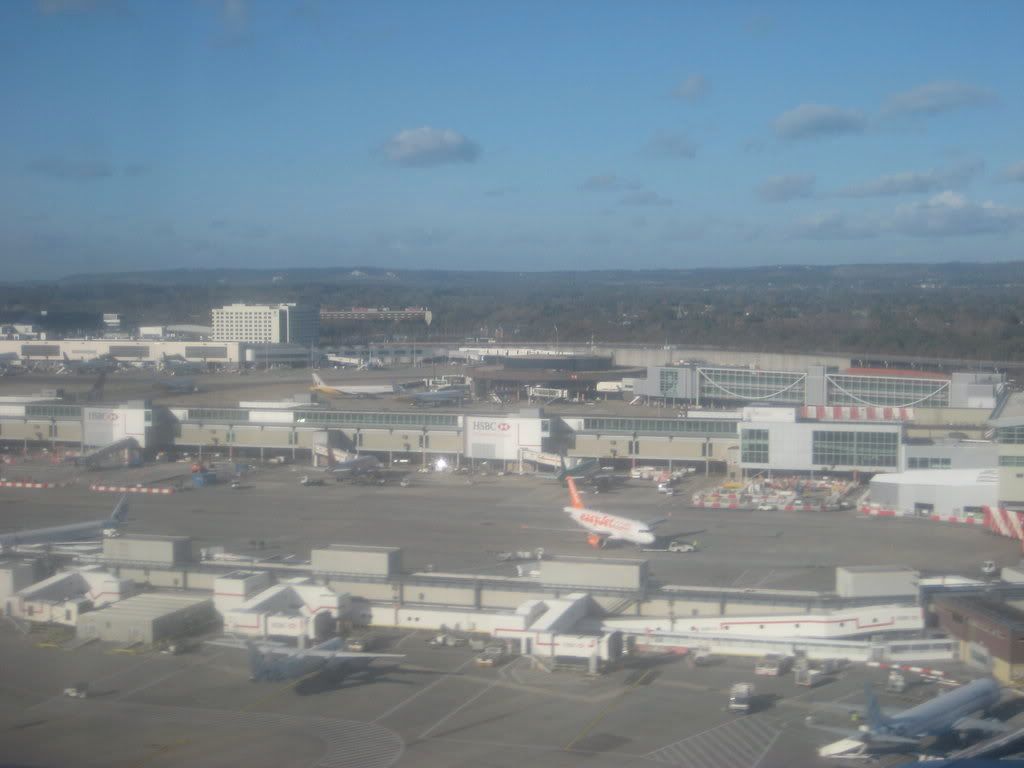 We finally land on runway 26L after almost three hours of flight, and the cabin crew chirpily announces that "We have landed at Gatwick North terminal (I though we landed on the runway) 15 minutes early!". Taxiing to the actual North terminal takes some time, and we dock next to another company A319 in the satellite building.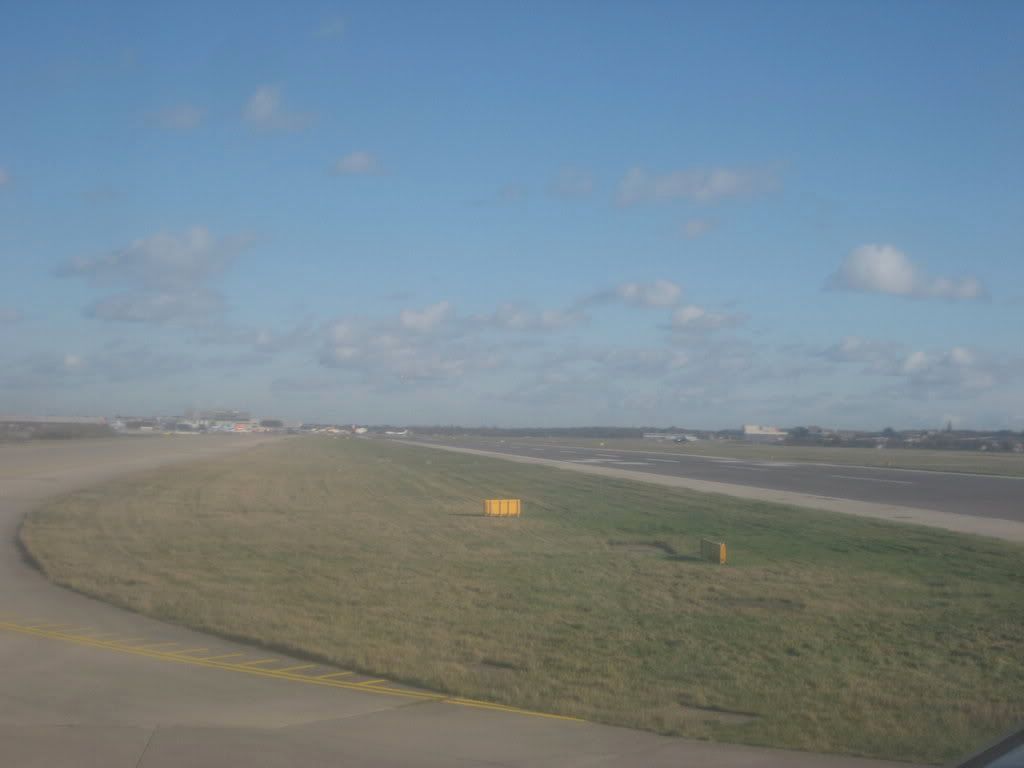 VS 744 departing for somewhere warm, undoubtedly: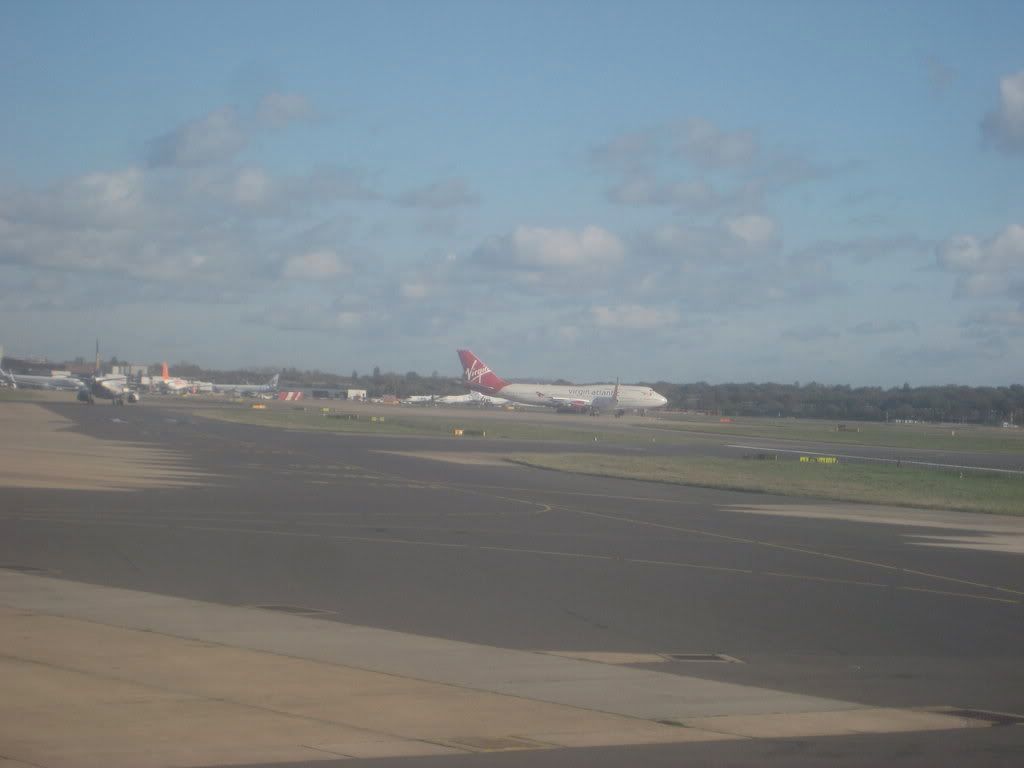 That's a nice lineup of tails: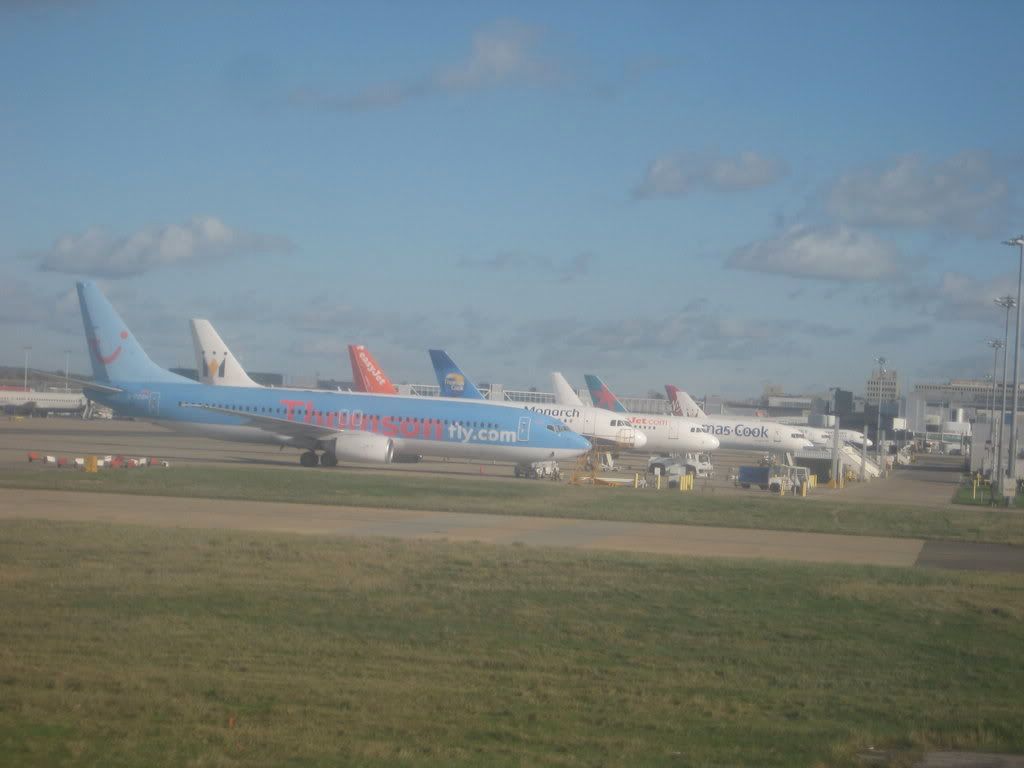 From here it's a looooooong walk towards immigration, fortunately the way crosses the famous bridge from where there are some nice photo opportunities: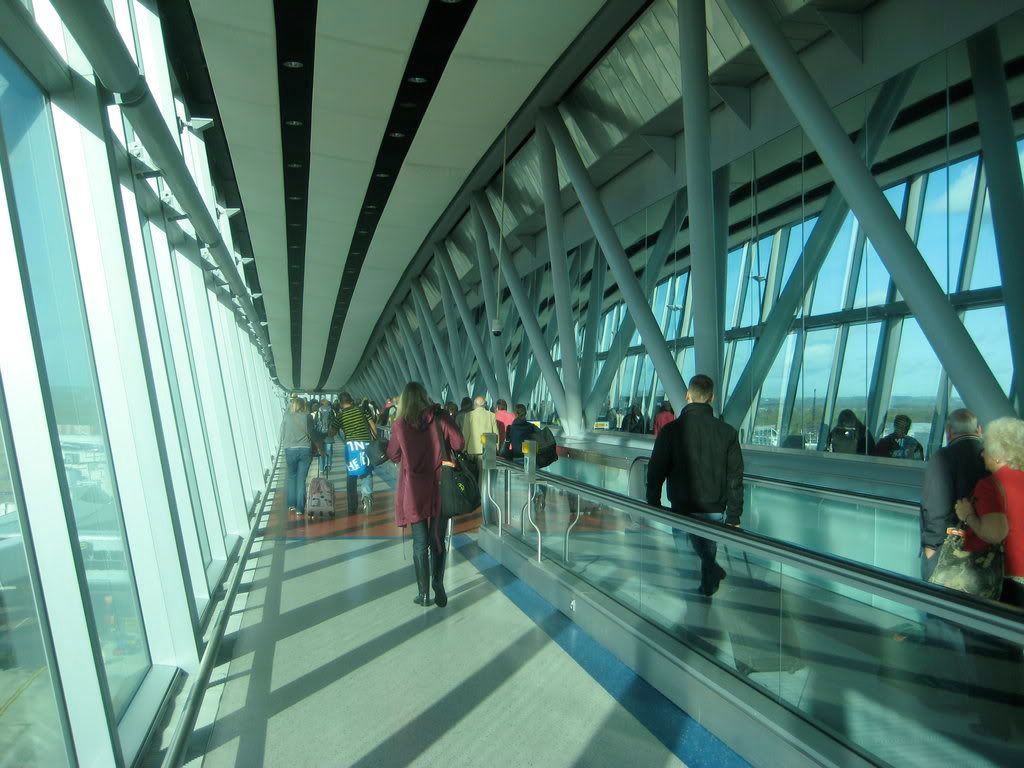 An Emirates flight has arrived from DXB at the same time so there are quite a few people here, so I do a bit of powerwalking, determined to beat most of the folks and manage to do just that. There's almost no queue in immigration, and rather friendly young chap admits me in after a cursory glance at my ID card.
Gatwick Airport
EI departs from the south terminal, so the first thing is to drag myself there. The automatic people mover between the two terminals is out for maintenance (and will be for a long time!), replaced by frequent shuttle buses. This wouldn't be much of a problem if one could actually reach the driveway where they depart from - there doesn't appear to be any stairs, three of the four lifts going there seem to be out of order and the fourth one is slow and packed with people and tons of luggage. Ahh, nothing like Britain for top notch infrastructure. Finally I get onboard and luckily it's a quick ride (but still slower than the people mover would've been!) as it is very packed and not very comfortable.
I still have almost four hours at my disposal, so I head upstairs to Frankie & Benny's for lunch. I have some communication problems with the Polish staff, but eventually get sorted out. I then head outside to enjoy the sun (yes, it is November, it is Britain and the sun is shining!) for a while, but a very annoying British middle-aged man who tries to offer me free accommodation at his vacation house in Alicante if I join him (gee, I wonder what I'd need to do to him to pay for the "free" house) gets on my nerves and I head back inside and through security to avoid having to inflict bodily harm to this sleazebag.
The holiday season appears to be over or maybe the economic hardships have taken their toll - the South terminal is not as packed as I remember it to usually be. I retire to the upstairs pub for a few pints, and there are more (mostly Polish) staff than customers. 45 minutes before departure a gate is announced and having nothing better to do I head there.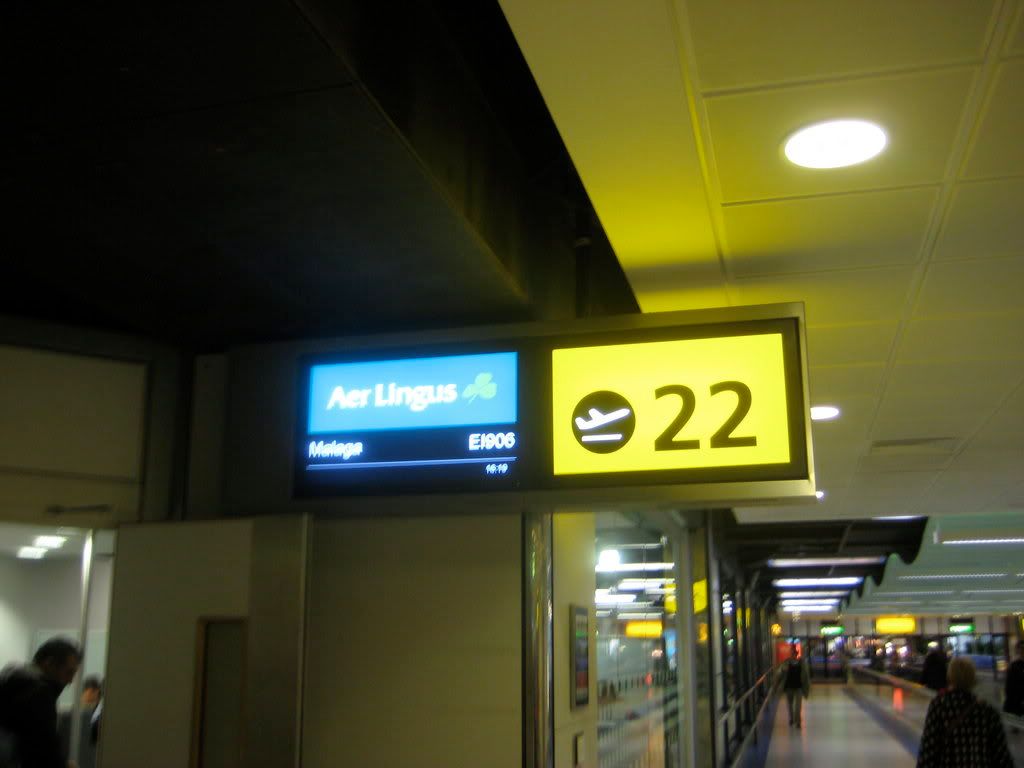 Boarding passes are checked - I did OLCI 30 hours prior to departure - and we all are herded into another holding pen. At least the plane is already here.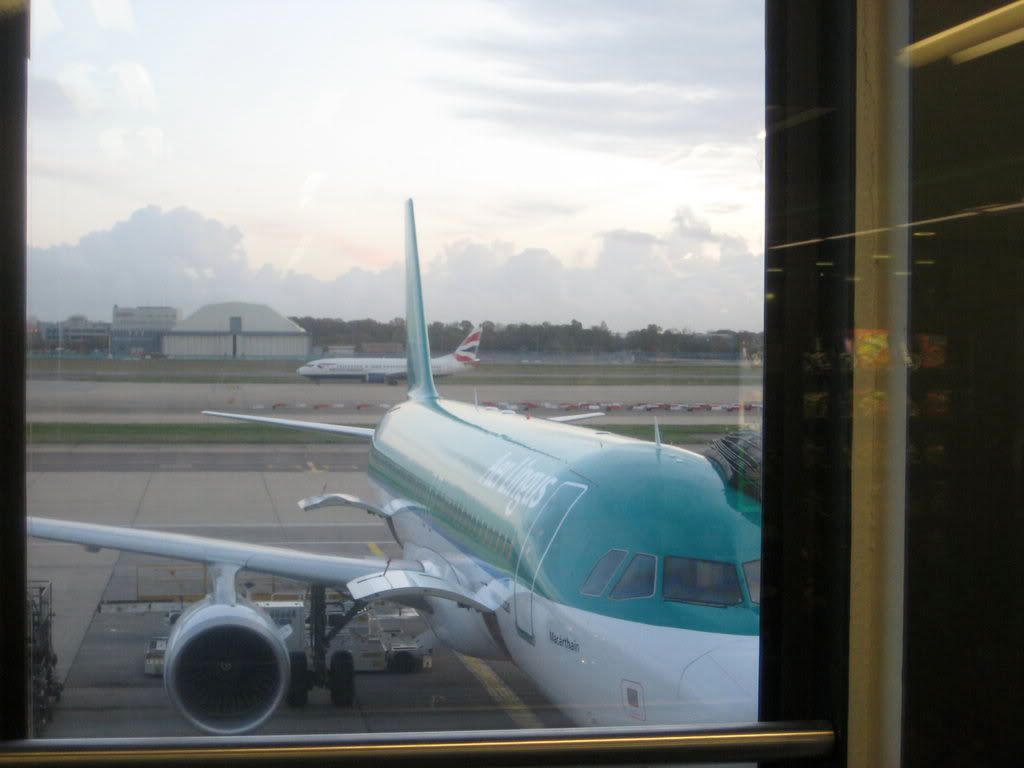 After 15 minutes of sitting boarding is announced, first special assitance passengers and families with children - there are both groups present, but somehow the system is not really enforced at all and I end up being the first to board.
LGW-AGP
EI906
A320 EI-DVJ "Macarthain"
Seat 28F
17.01 - 20.23
This plane still has the new plane smell and looks very fresh - it turns out to be "Macarthain", the newest A320 in EI's fleet, having been delivered in April of this year. Since there's been more time than that from my last flight with EI, this is a new registration for my log. The Irish girls greet me happily, most of the cabin crew appear to be quite young.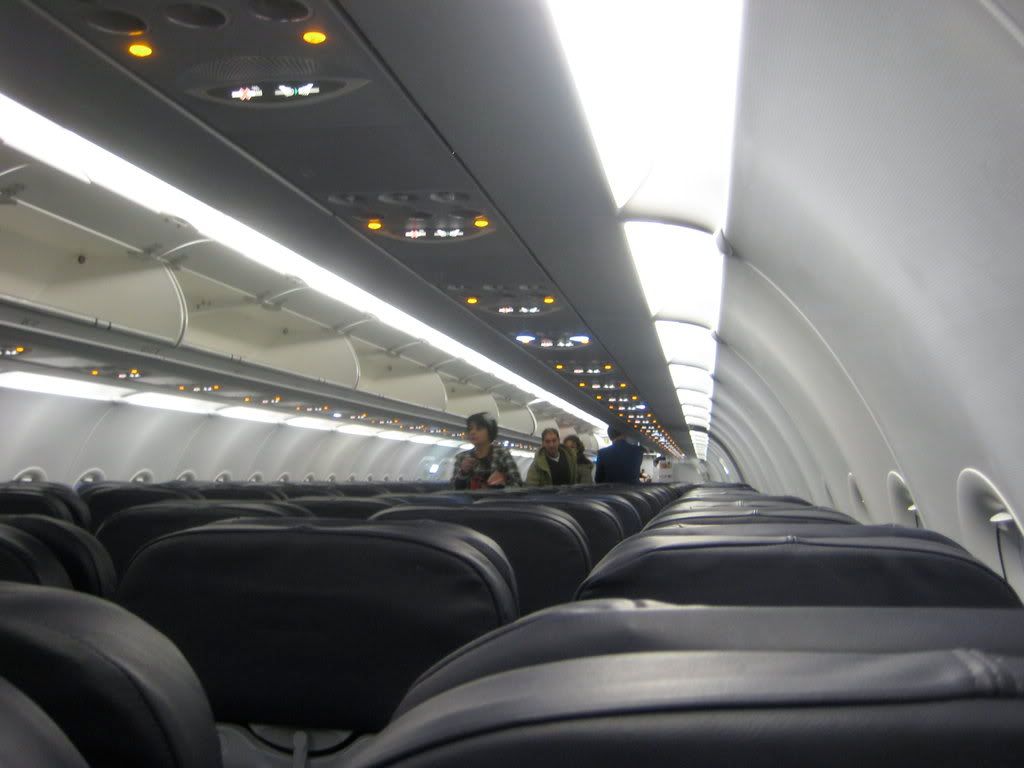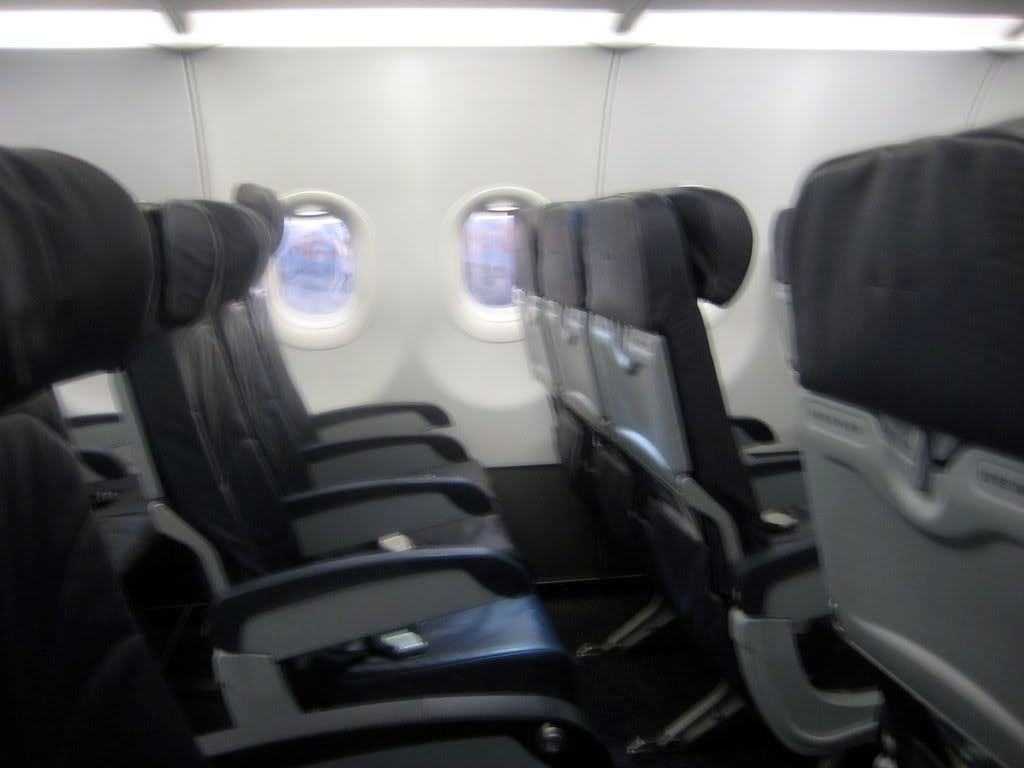 I picked a seat towards to back thanks to the common knowledge in this board to increase my chances of an empty seat next to me. A middle-aged lady sits in the aisle seat, but luckily the middle seat stays empty. Despite the gate holding pen not looking very crowded we seem to have quite a decent load of around 80%.
Just before pushback our Irish captain comes on, expecting a flight time of 2h45mins, and describes our route as "First 40 miles, no make that 80 miles, straight to the west before turning straight towards Malaga". Some turbulence is to be expected halfway through the flight and also on landing as it is very windy in Malaga. We push back one minute after the scheduled departure time, make a quick taxi to the runway 26R threshold and take off.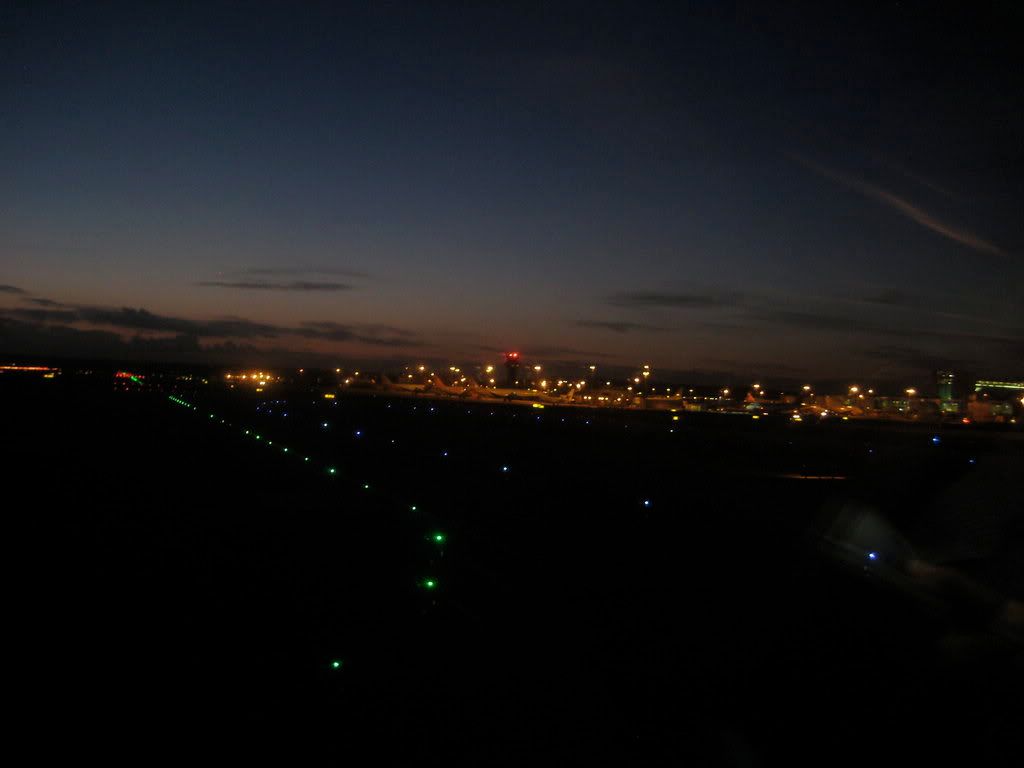 As the weather is so clear there are great views of the Greater London area, all lit-up. A while later we turn left, and soon enough pass directly over Southampton - the port looks very nice in its nightly flood lighting. Over the channel and further the Bay of Biscay it gets overcast (and besides there's not much to see anyway).
Just as the captain promised, around one hour into the flight there are some bumps, but nothing too bad - we'll save that for the next day
. After passing the Spanish north coast the clouds give way, there are lots and lots of lights to be seen in the darkness. I don't recognize any of the cities, unfortunately.
I buy some red wine from the service cart and spend most of the flight finishing my book and enjoying music - I'm getting very fond of my noise-canceling headsets! Around 1h45mins into the flight the first officer comes on, announcing the remaining flight time to be 45 minutes and that we will arrive some 20 minutes before schedule due to some nice tailwinds. He describes our routing as "Gatwick-Southampton-Jersey-Bay of Biscay-Spain". Half an hour aftewards we start descending. Our approach takes us over the Mediterranean, followed by a very tight left turn. While we're turning there are some considerable bumps, a few people actually scream. During the final approach I see the lights of the city centre on our right hand side.
We touch down after 2h20mins of flight on runway 31, some 25 minutes early (which is also announced by the crew), short taxi to terminal 2 where we dock to a jetway next to a departing FR 738. I count four or five RyanAir birds, some other nice airlines including both Finnair and Air Finland 757s.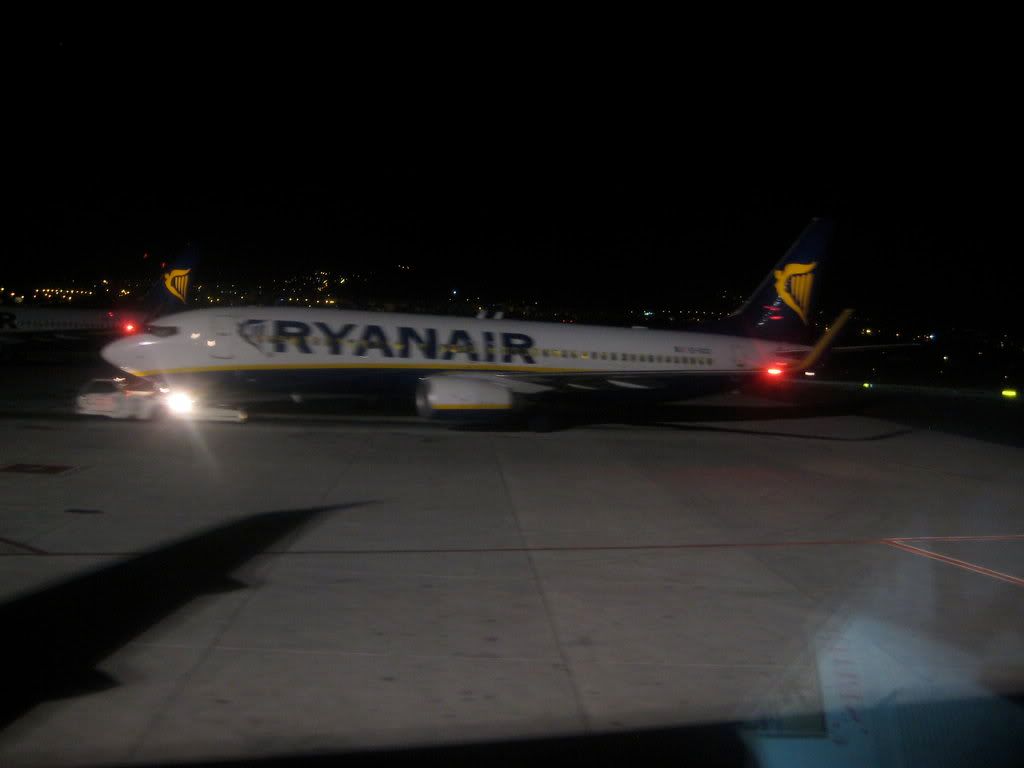 Deboarding takes a while since I'm sitting all the way in the back, but eventually I enter the stuffy terminal. I again powerwalk to the immigration, bypassing most of the people where the girl admits me to the country with a smile. It's five minutes to the departure of the next train to Malaga city, so I try to be as fast as possible, but unfortunately the signs are very confusing and to access the train station one has to navigate through the parking garage complex. I make a few wrong turns and see the train pulling off at the same moment I finally spot the walkway over the airport road that one has to cross to access the station. Oh well, the next one is only half an hour away. I realize that it indeed is very windy here, but the wind is warm and rather nice, unlike the horrible weather I left in Finland this morning...
Eventually I catch the train for the short 15 minute ride to the new Malaga station. Luckily I booked a hotel right next to the station, the reception desk is less than two hundred meter's walk from where I step off the train - very convenient. The hotel is Barcelo Malaga - a pretty standard property if you ask me. The biggest advantage are the excellent location and some funky design elements in the public spaces.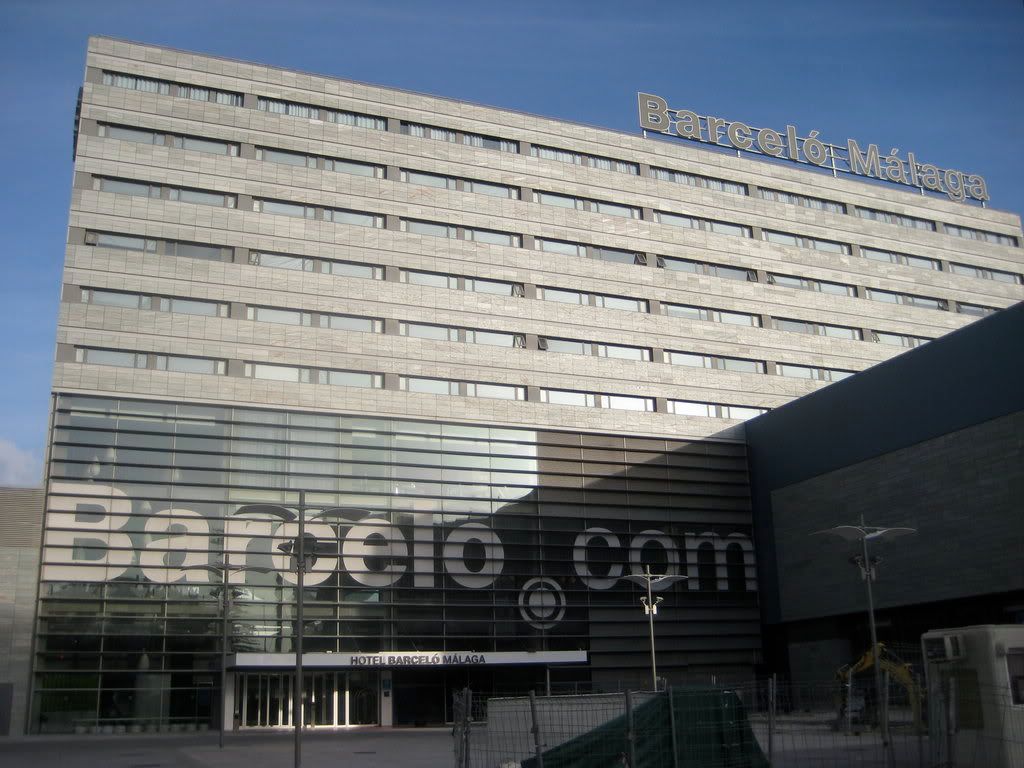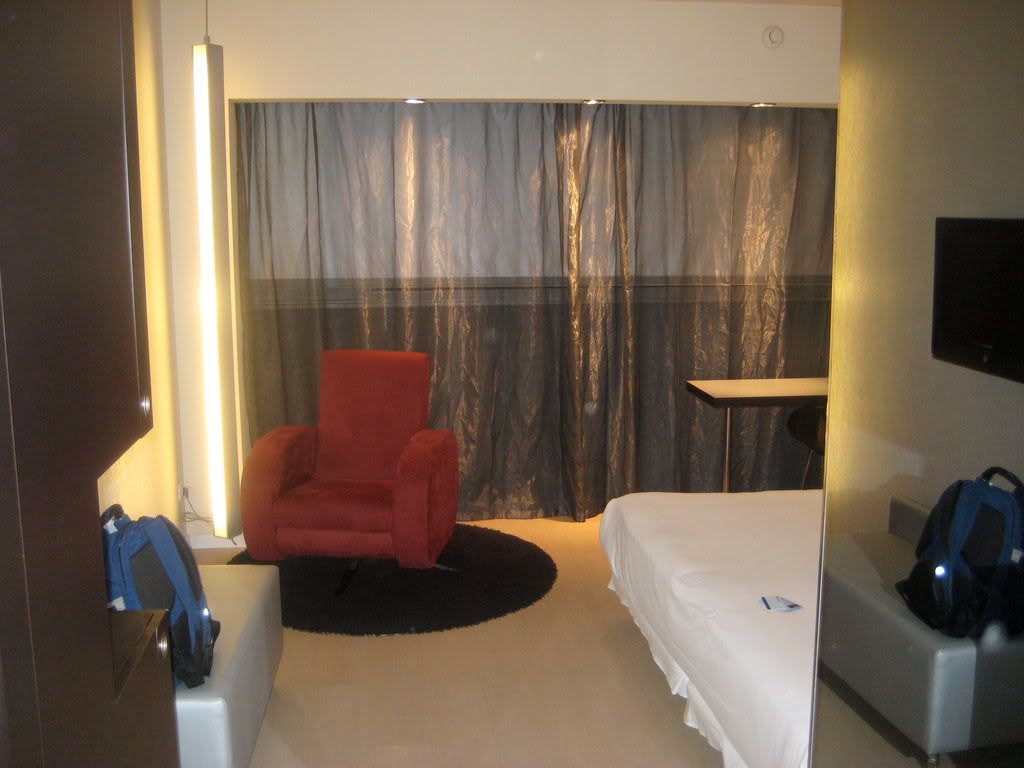 8.11.2009
The next morning after a quick breakfast at the deserted hotel restaurant it's time for a walk around in the nice, if still very windy sunshine. Some pictures:
Where's the water in this river?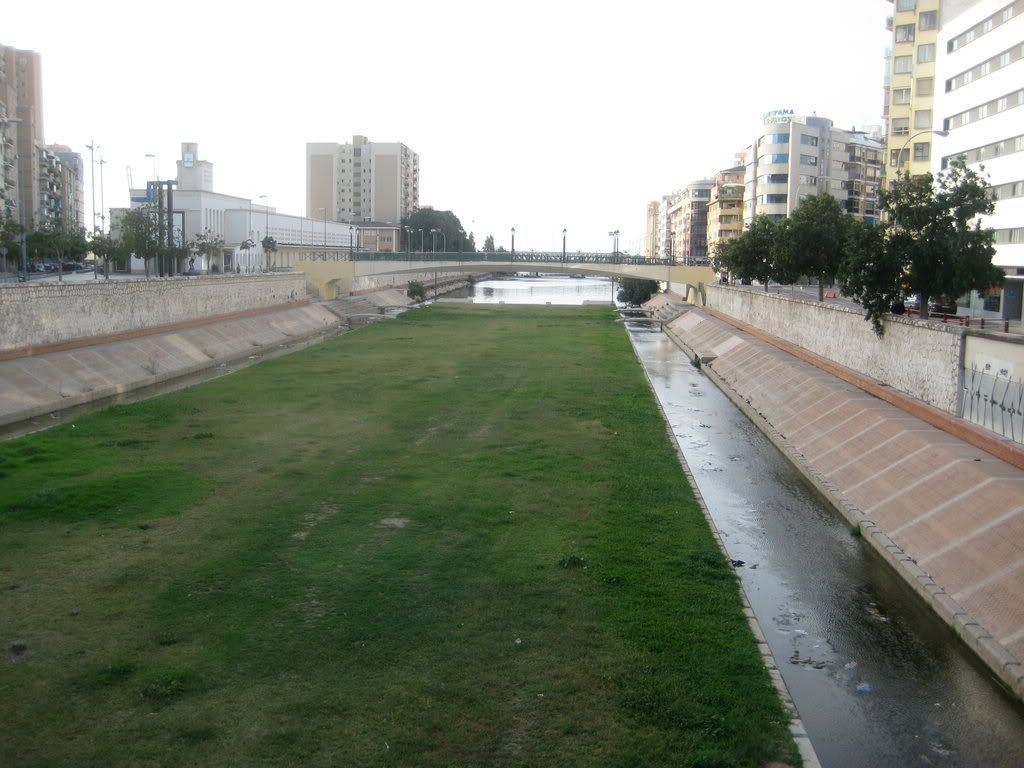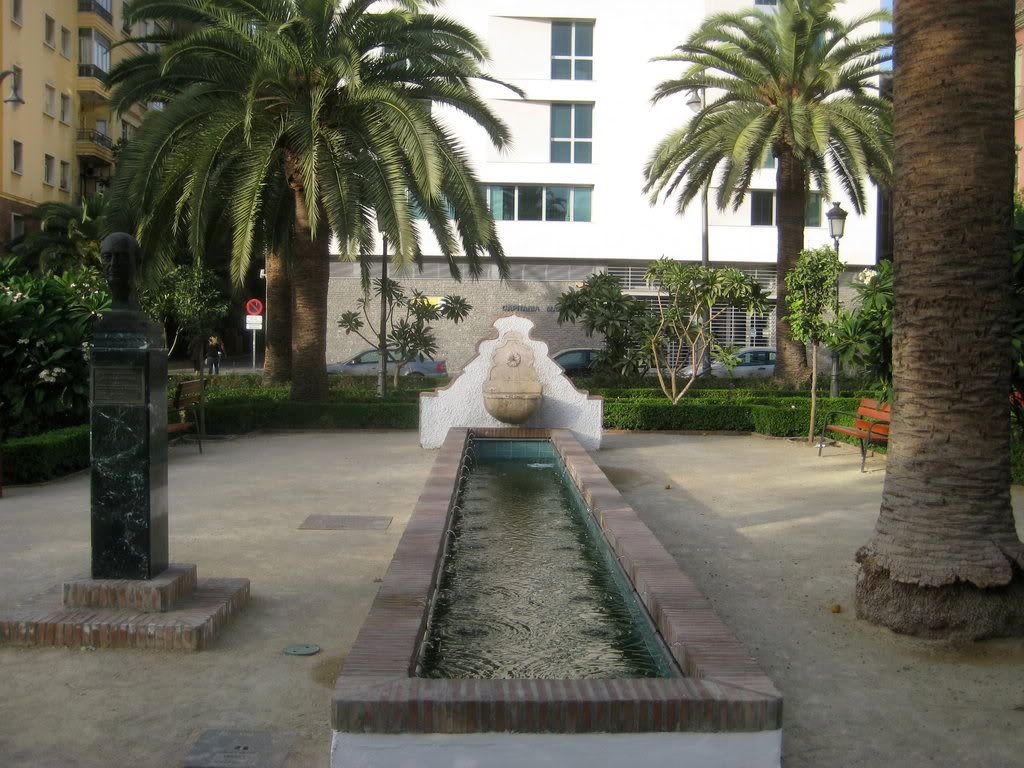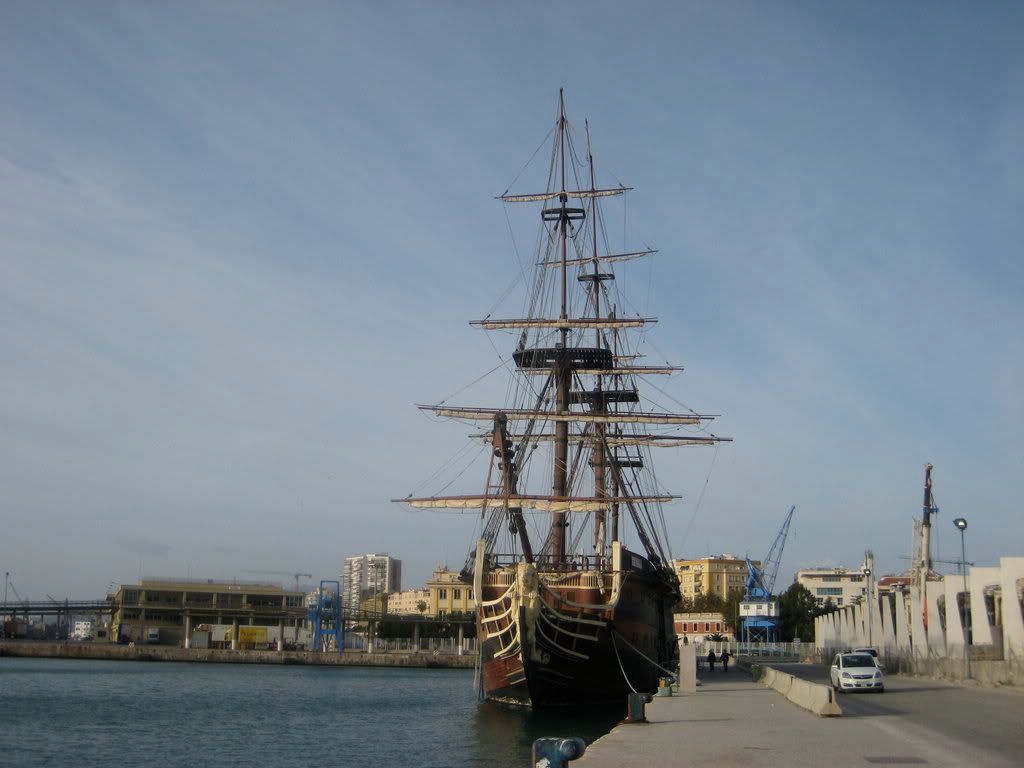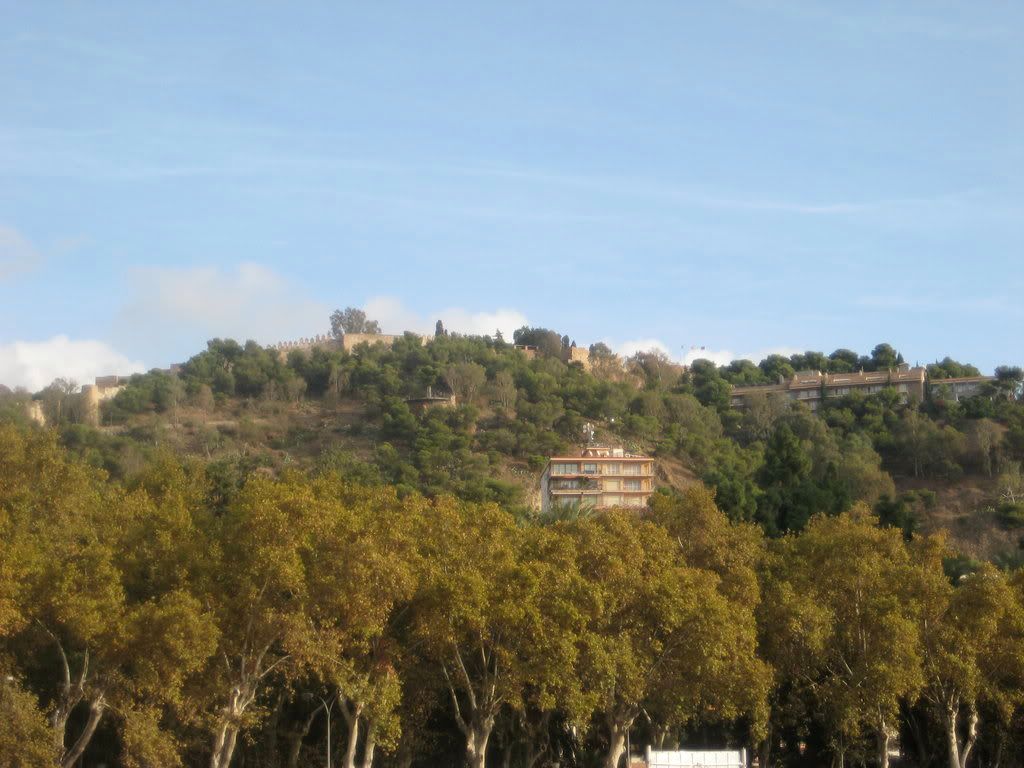 Some big money yachts here:
Don't ask: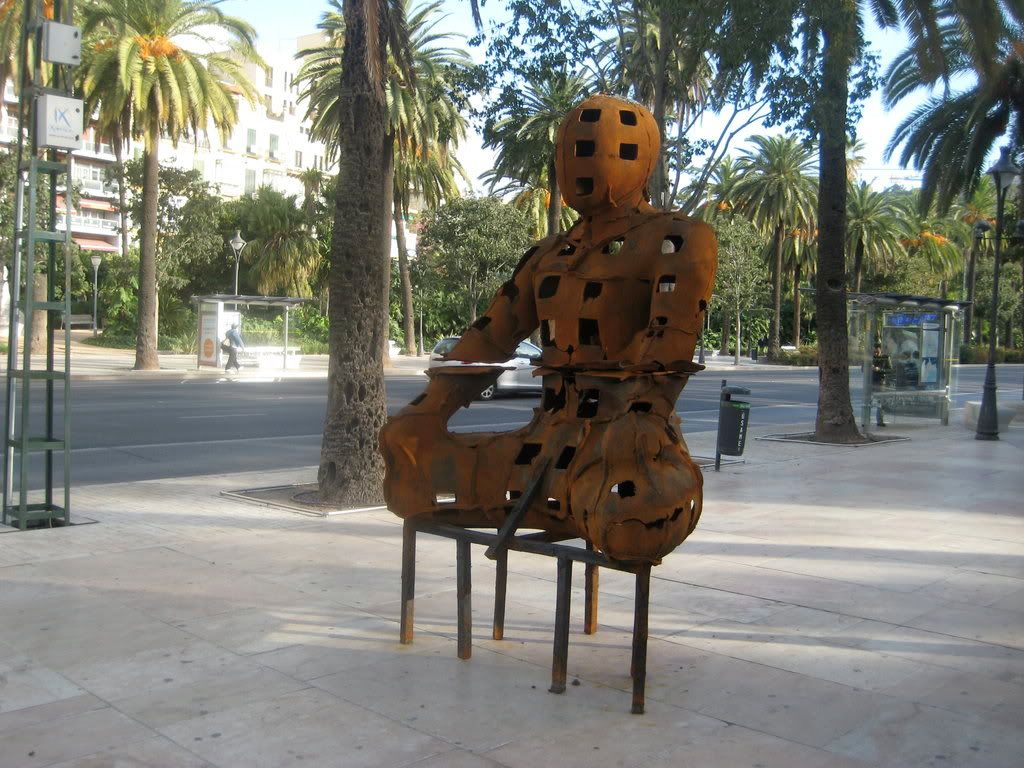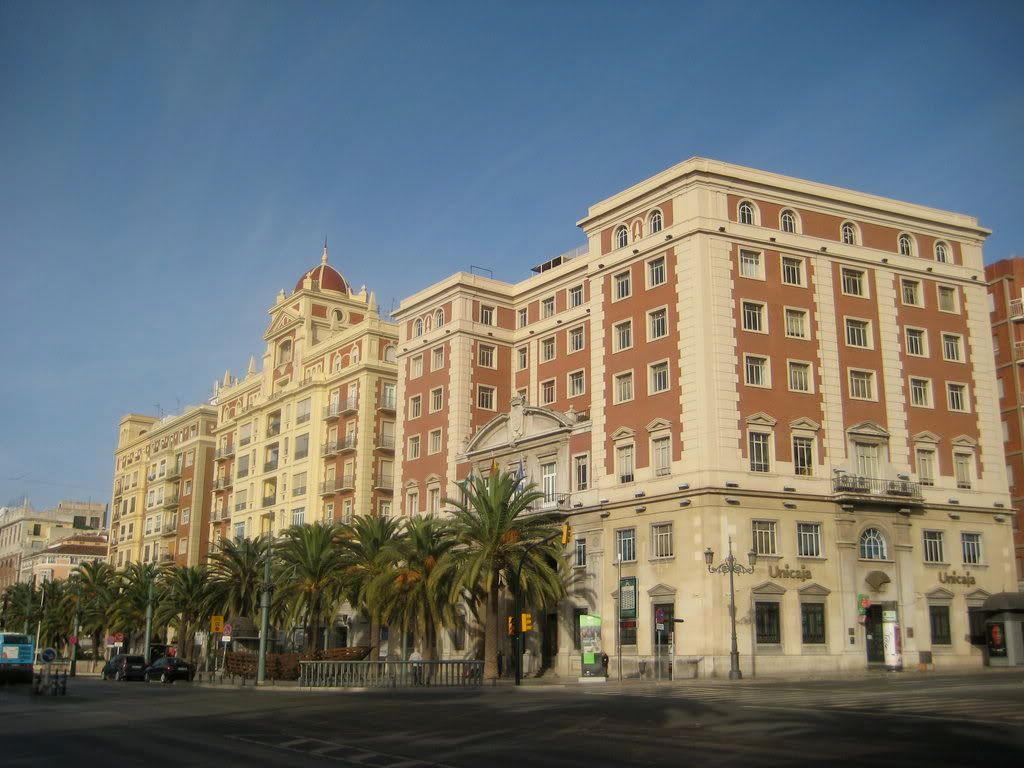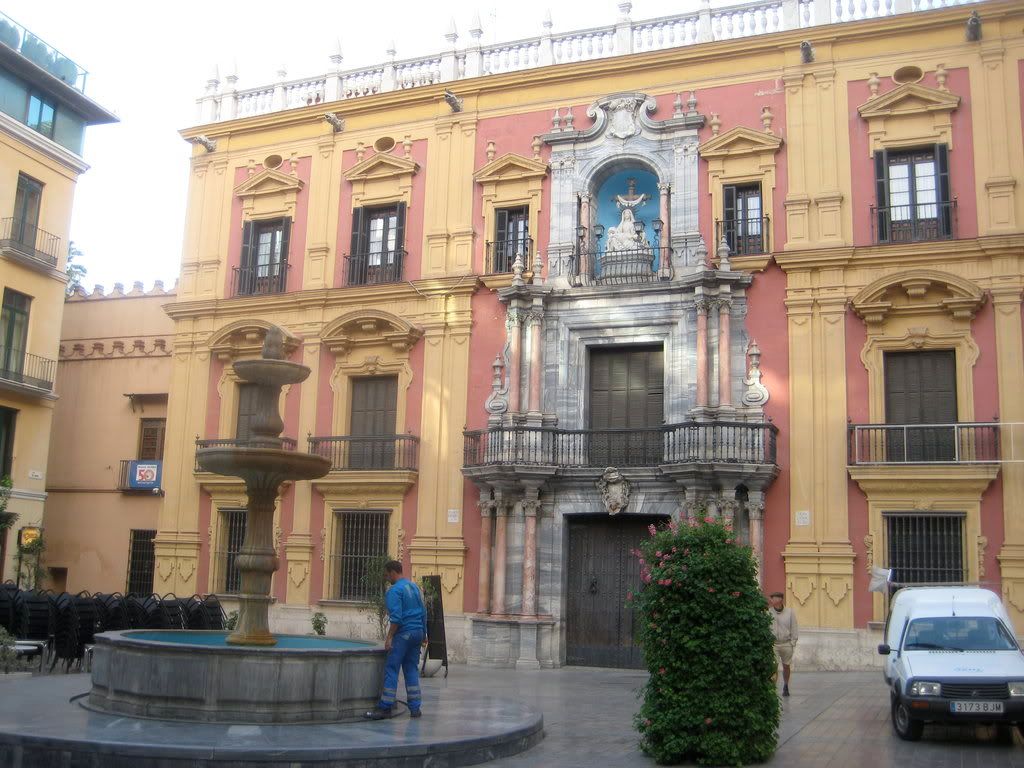 Just as it starts getting warm I need to leave for the airport, so I head back to the hotel, pack everything up and check out. The commuter train platforms are shared with the high speed AVE trains, so everybody has to pass two (cursory) ticket inspections and have all their luggage x-rayed. At least there is no metal detector.
Is is just me or does the AVE train look exactly like a dolphin: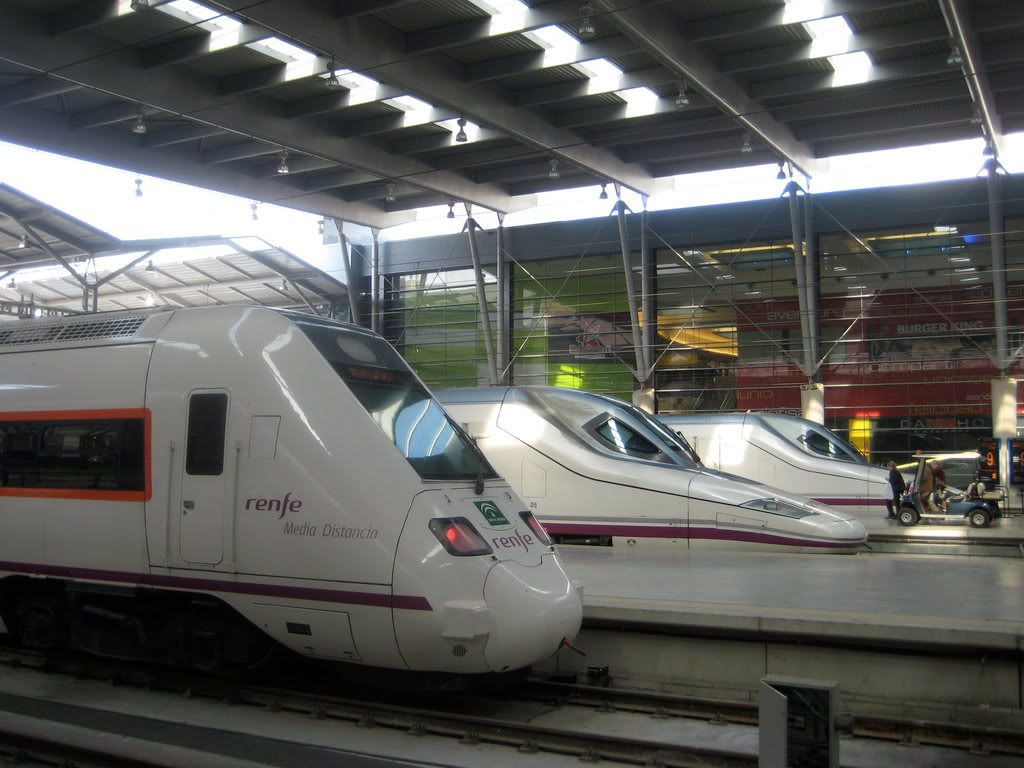 The commuter train is a bit delayed along the way as there are lots of infrastructure construction projects (stimulus package money well spent!) going on with some tracks closed etc. Closer to the airport the train tracks bisect something which will eventually turn into a new runway, taxiways and apron positions - I guess the train will be routed underneath the tarmac then.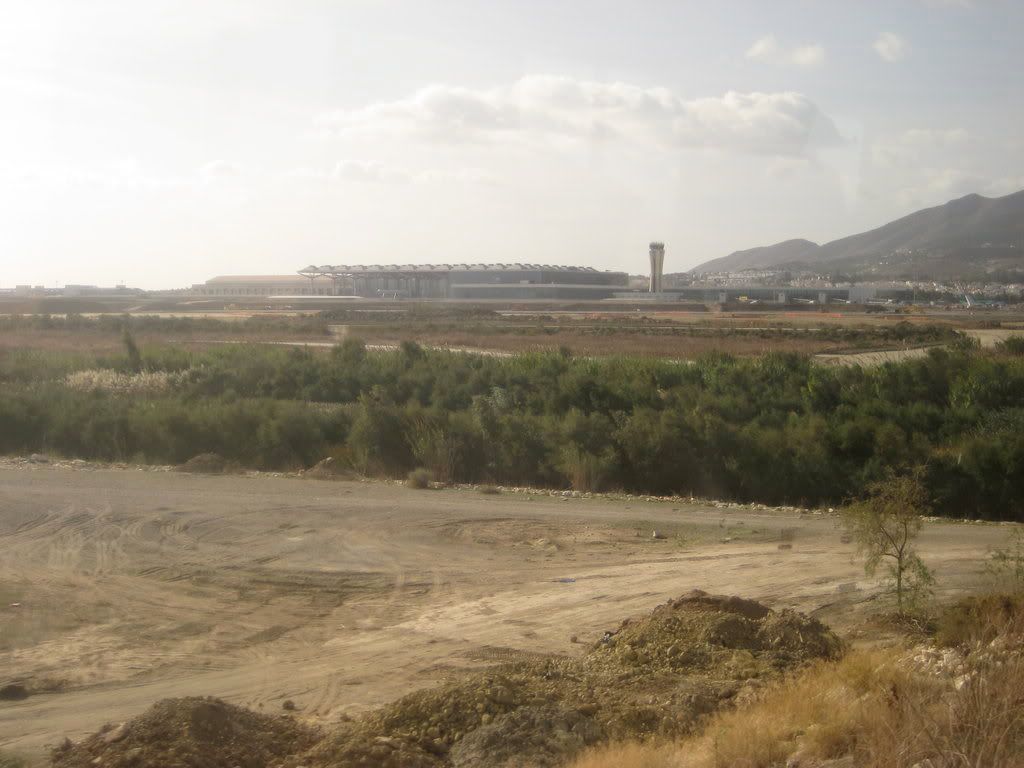 The way from the train to the terminal is almost as confusing as last night, but at least it's bright daylight. Eventually I make my way to terminal 2, arriving some 1h30mins before the scheduled departure time.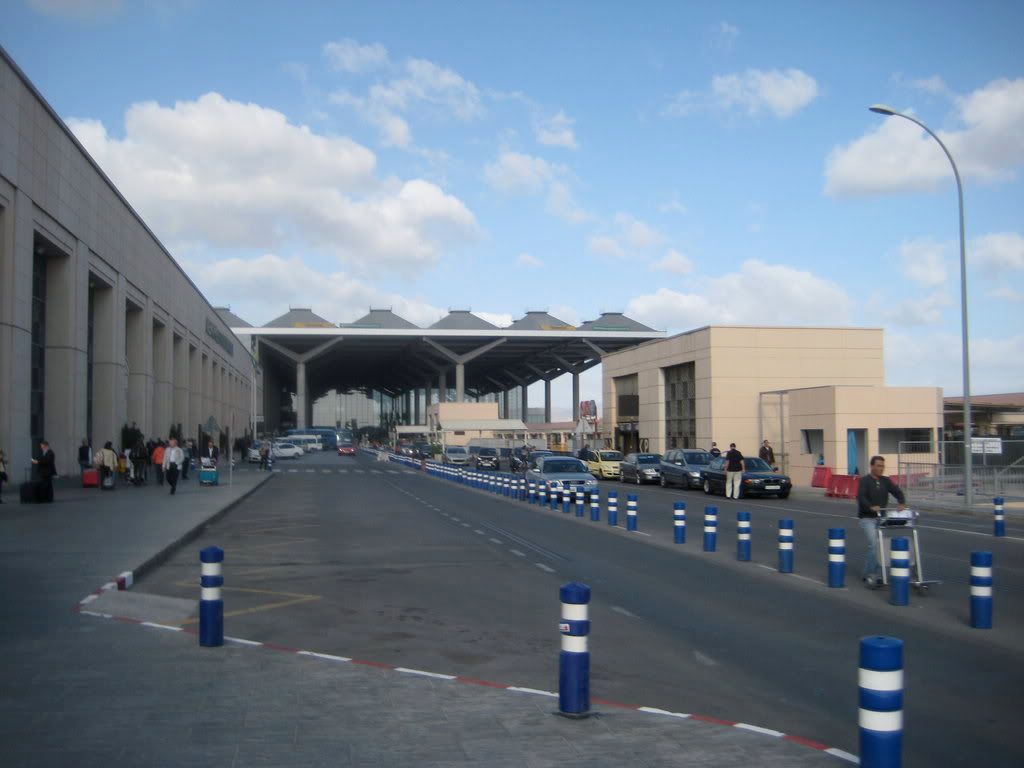 Inside the airy terminal building is packed with people - there really are masses and masses of people swarming the check-in queues.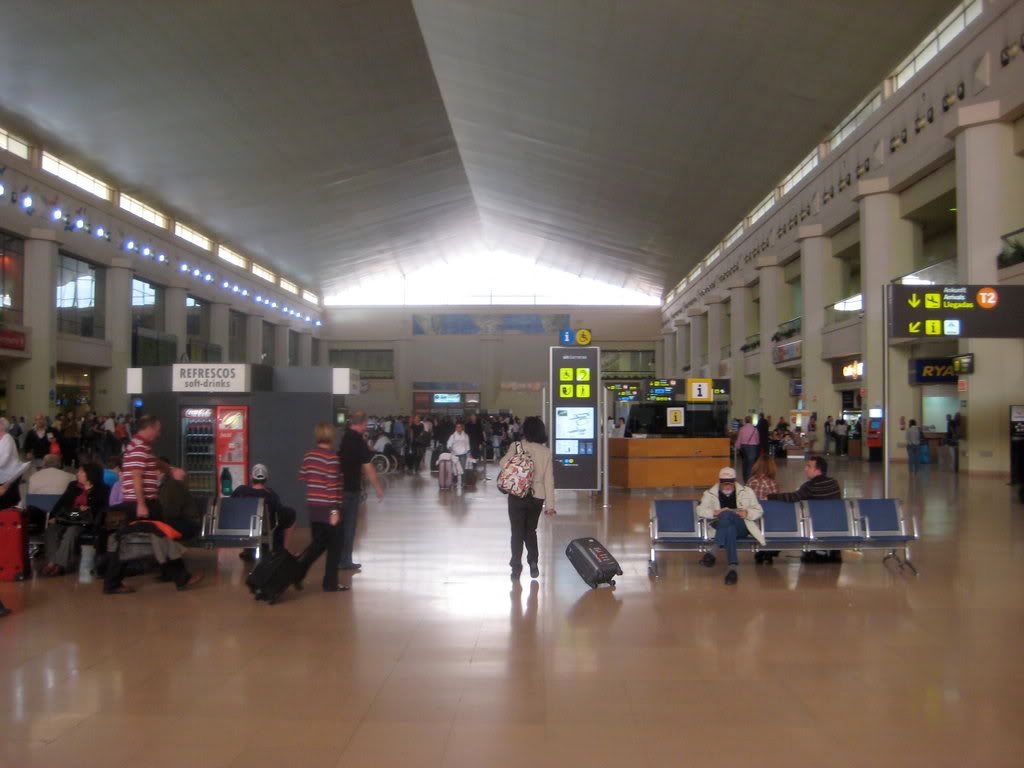 Departures board: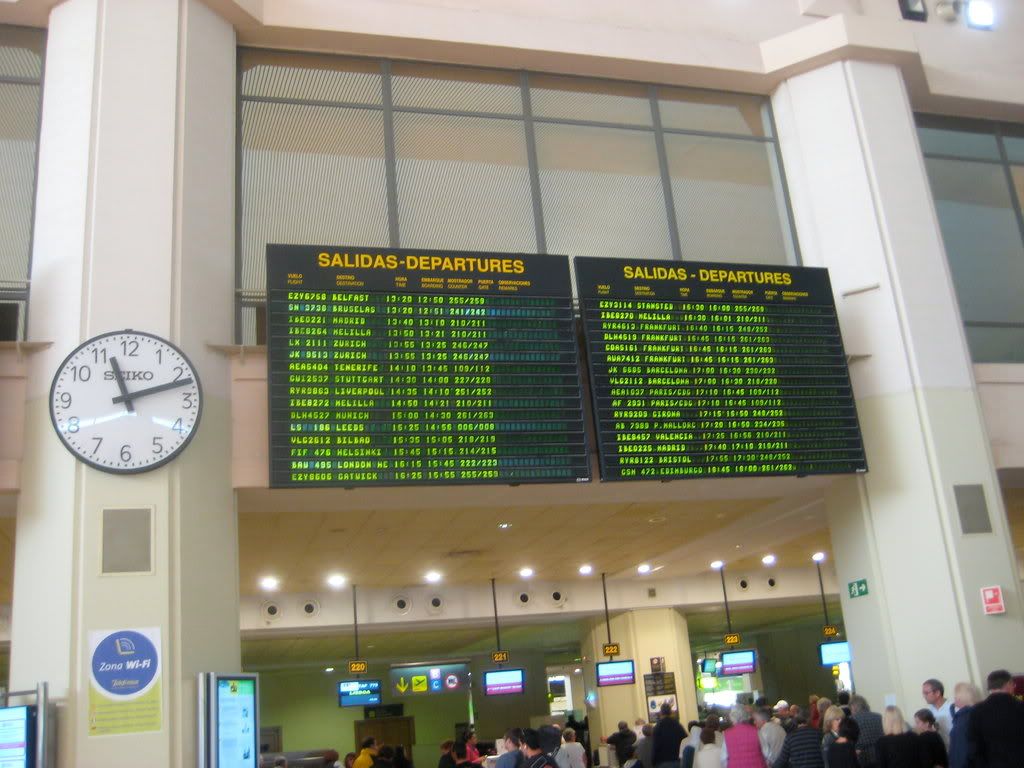 Having done OLCI already 7 days prior (way to go, Monarch!) I head directly to the security checkpoint. There are tons of people here as well, but at least they have a good number of checkpoints open so it doesn't actually take more than 10 minutes to get through, despite getting stuck in a line with lots of British pensioners (contrary to what George Clooney teaches at the "Up in the Air" movie trailer
). Most of the folks here seem to be German, British and Irish - there being multitude of flights to all of these countries.
The airport feels a bit old fashioned and stuffy, and the many people cluttering especially the shopping and restaurant area upstairs don't help the feeling. Oh well, they are building a completely new terminal as part of the new runway and apron works, so this problem is only temporary. What annoys me to no end is the constant stream of automated announcements about various flights boarding and closing - all first in Spanish, then in English and finally in German if the flight happens to be to Germany. Most modern airports nowadays do not announce boarding over the PA any more, Malaga airport should learn from this. Oh well, with the average age of the travelers looking to be around 60 it might still be a good idea to keep the flights on time...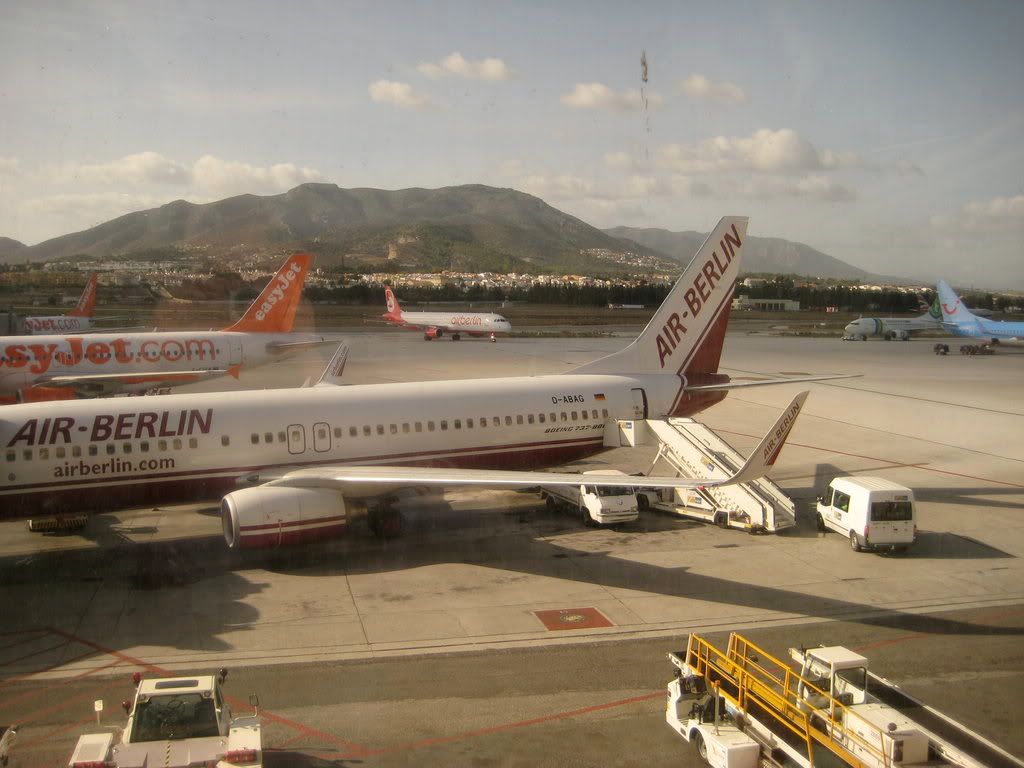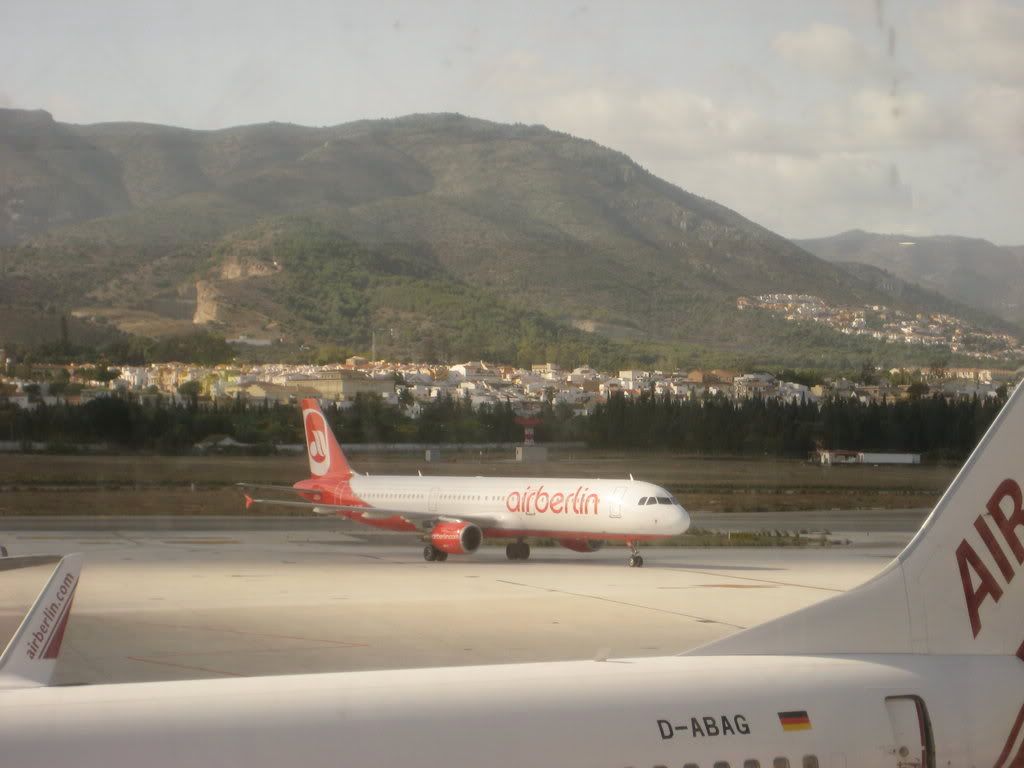 There's a constant stream of traffic outside, today looks definitely like British and German day here. I retire upstairs to the food court to grab a rather nice sandwich and a ridiculously overpriced beer and buy some Spanish wine from the travel value shop. Then it's off to the non-Schengen B-gate area, which turns out to be the lower level of the Schengen B-pier, quite a dump actually with no services apart from a few vending machines and a sorry attempt at a last minute travel value shop. At least the end of the pier offers a great view towards the runway.
I thought Ezy had already retired all the Boeings?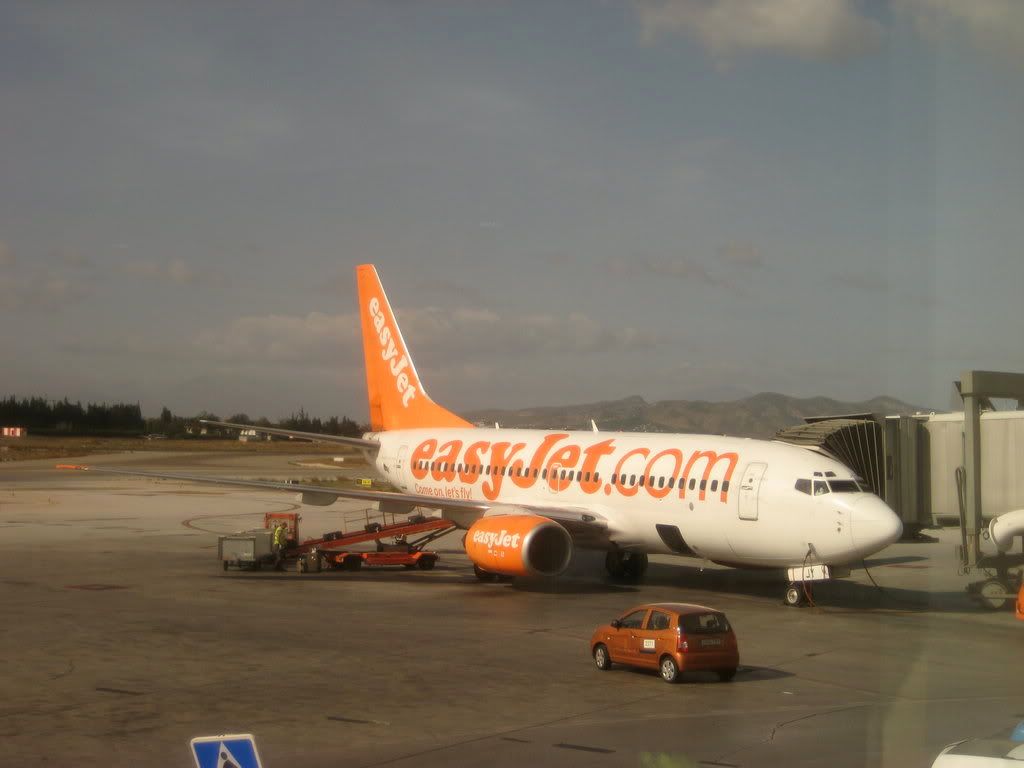 DY arriving: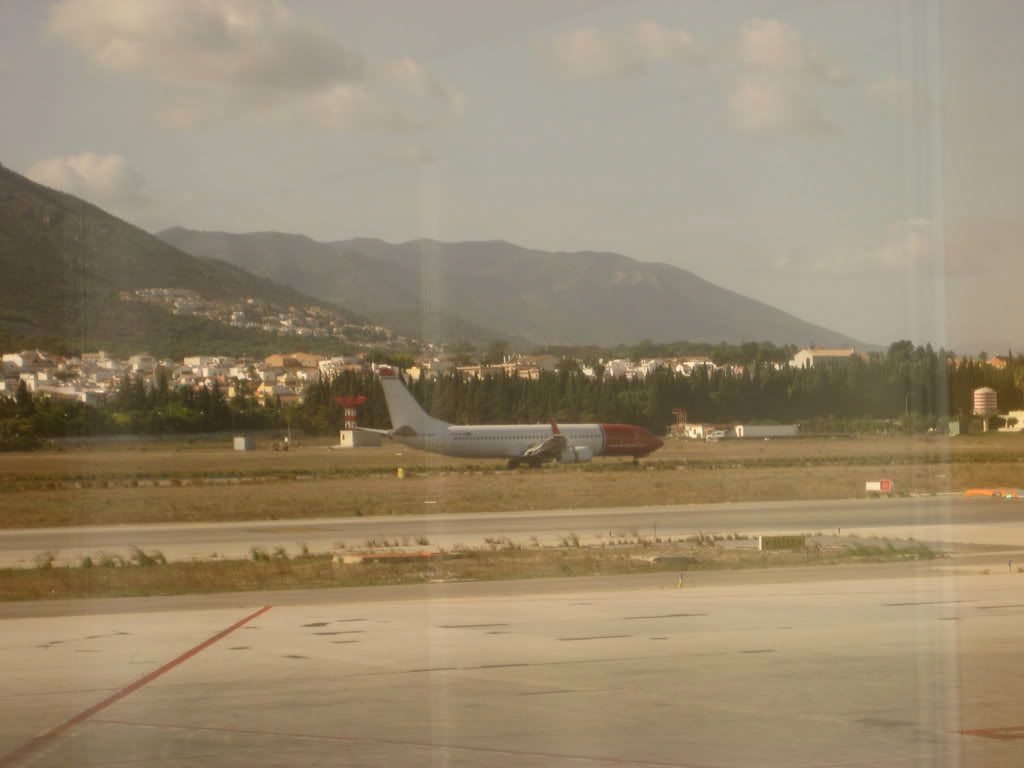 I didn't get a good shot of our bird due reflection and a jetway blocking it, but here's a twin sister: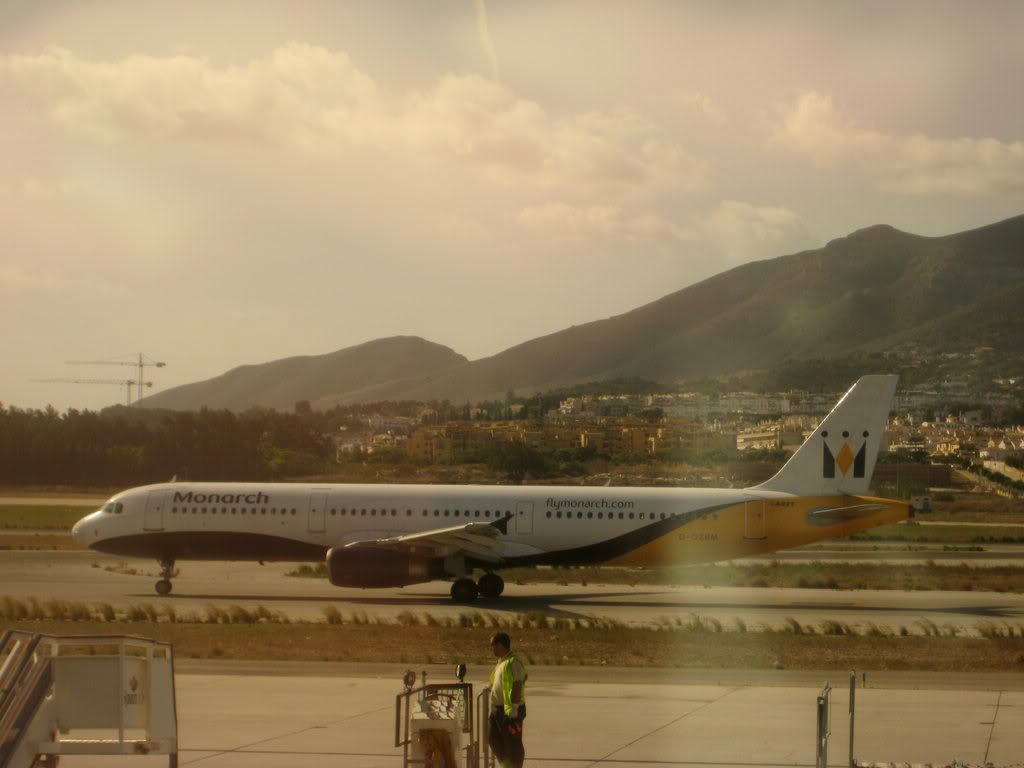 The Monarch A321 is already here, actually there are 2-3 other company planes at the apron as well. Boarding starts 35 minutes before the scheduled departure time at 12.10, and there is already a considerable queue at the gate. The passengers on this flight look to be quite senior, there are at least 5 wheelchair passengers and sorting them out takes some time. When I reach the podium, the Iberia agent has to enter my ID card information to the computer - I comment that I did fill it in advance through the Monarch website as they required before checking in, but apparently this has no effect and she has to do it again. Yay, great systems integration work.
AGP-MAN
ZB655
A321 G-OZBP
Seat 35F
12.40 - 15.00
A disinterested FA greets me at the door, the ones standing by the exit rows are a bit more friendlier and the two or three gossiping about their latest drinking activities in the back galley couldn't care less about anything. It takes quite a while to reach my seat in the back of the plane as the wheelchair passengers are getting settled and everybody seems to be taking their time to get on their seat. As soon as I sit down I noticed how uncomfortable the thick, cloth seat is. Legroom is not very good, the seat pocket is broken and the armrest sticks very painfully to my elbow and side. Not a good first impression. In general the cabin feels very stuffy, worn and old-fashioned, despite the plane being delivered to GB Airways only in 2001 and in Monarch service since February 2008.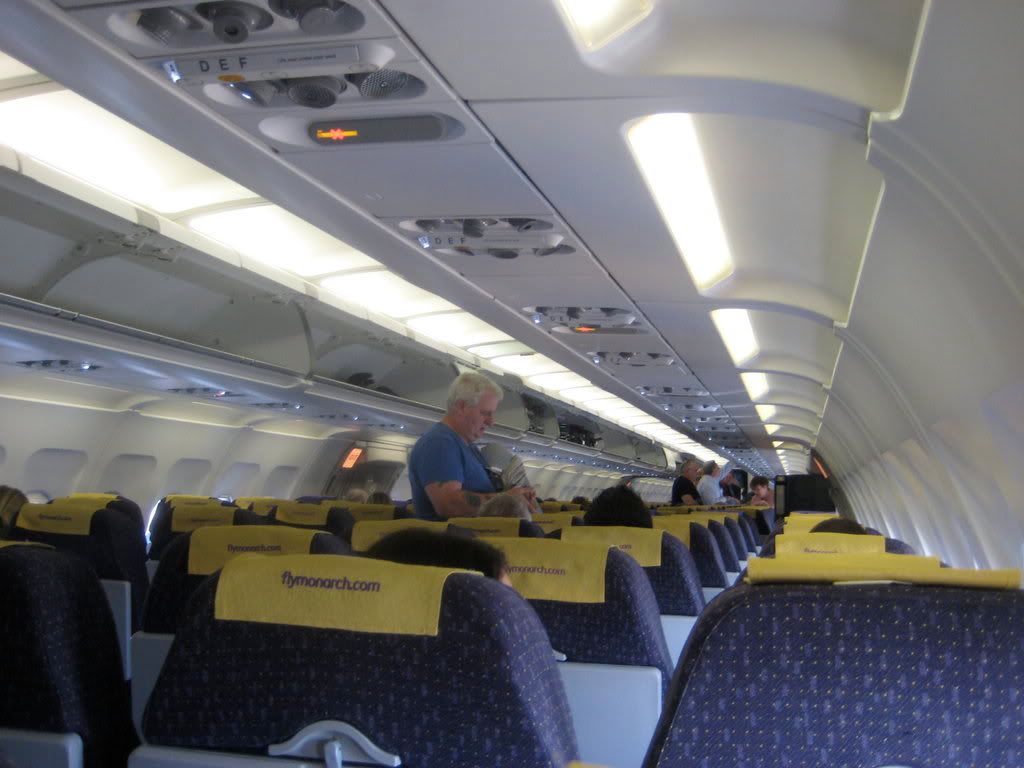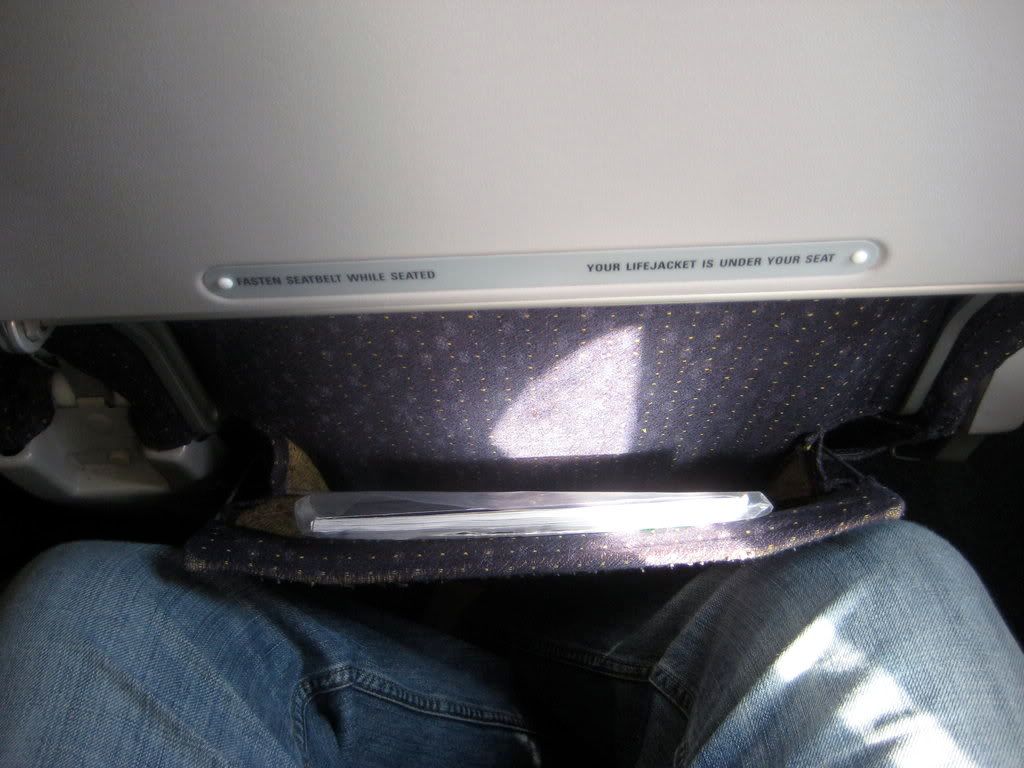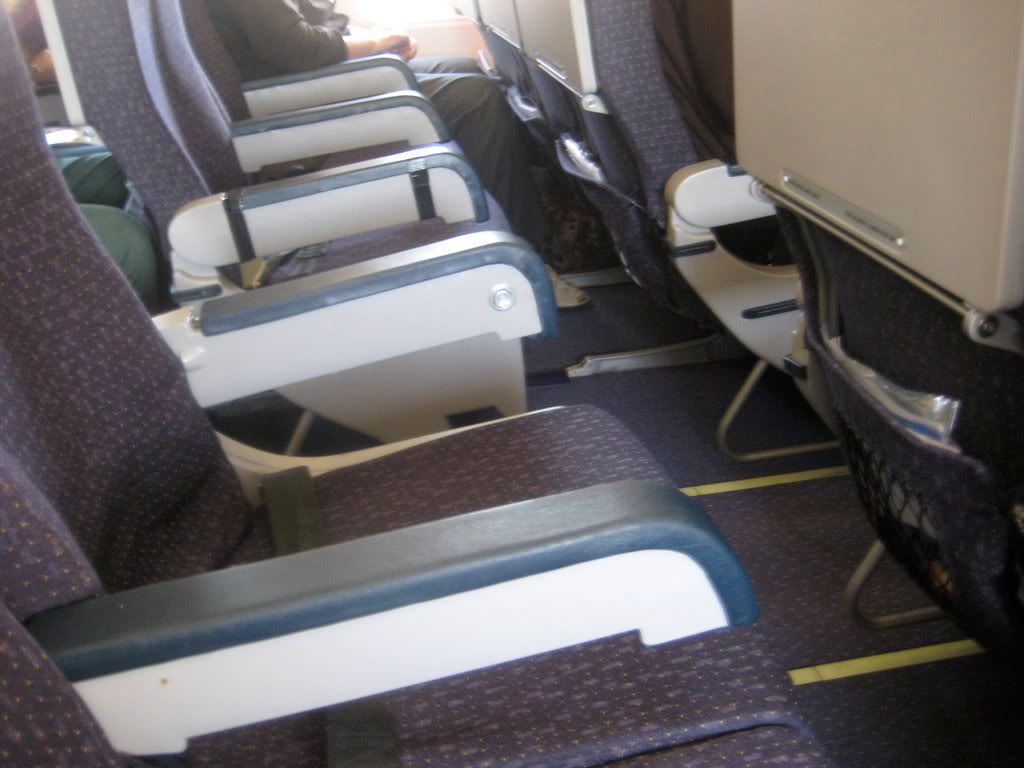 Boarding takes again a long time, but after almost half an hour we are finally good to go. Luckily the middle seat stays empty, I don't know how I would survive if I had to stuff my large enough backbag under the seat in front of me. Load is maybe around 80% with some empty seats scattered around. I think I'm the only non-British person on this flight. The captain welcomes us onboard and advices of a long flight time of 3h5mins today due to very strong headwinds. The chav-looking guy with half of his teeth missing on the aisle seat asks me does that mean that there will be turbulence - at least I think that's what he's saying as his Mancunian accent is so thick that you could cut it with a knife. I reply that yes, it most probably means it - little do I know at this point how bad it will be.
There are actually drop down LCD screens on this plane, so they are used for the safety demonstration right after we pushback five minutes prior the schedule. Well, after the demo they are retracted, never to be seen again for the duration of the flight. I comment to the guy in the aisle seat "They shouldn't have bothered at all."
QI: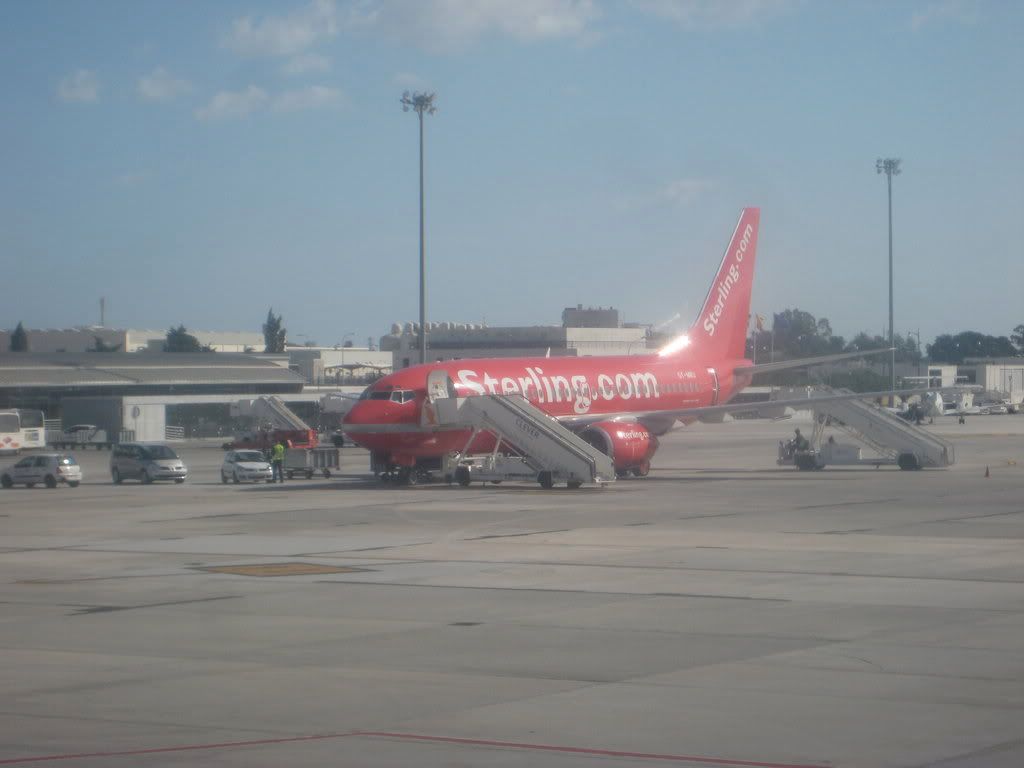 There's a bit of a queue to the single runway, so it takes another 15 minutes before we reach runway 31. Before us there is a Thomsonfly 737, U2 A319, a couple of landing IB and Air Nostrum planes and a small private prop plane: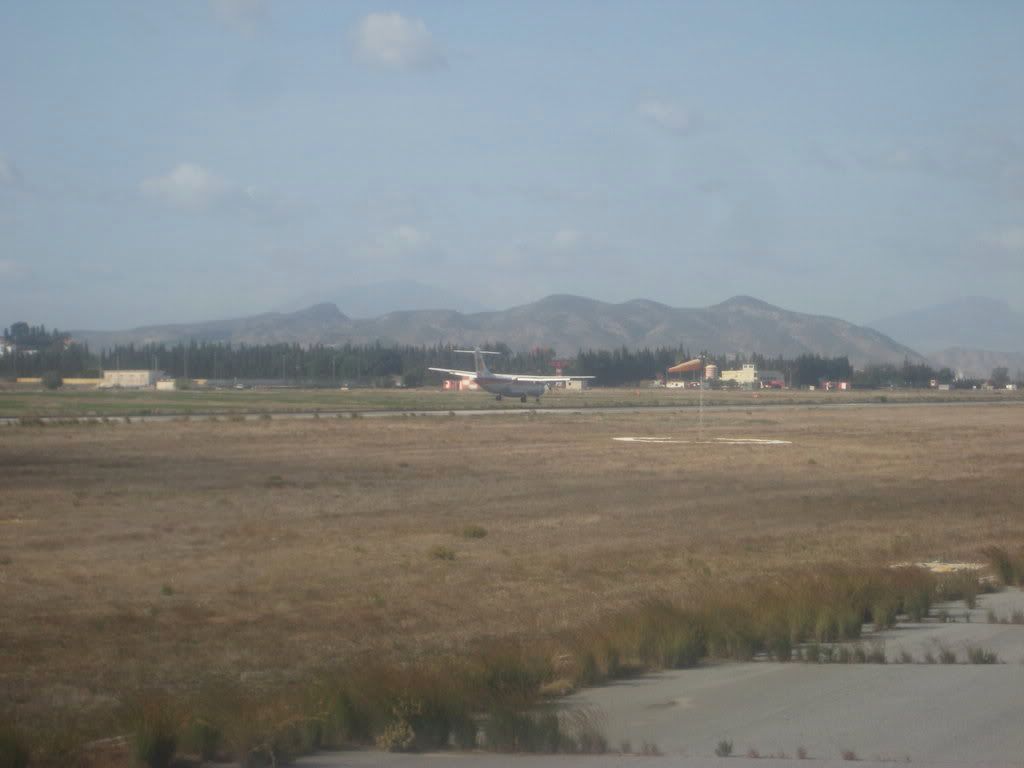 Tailing us are BE E195 to EXT and BA 757 to LHR: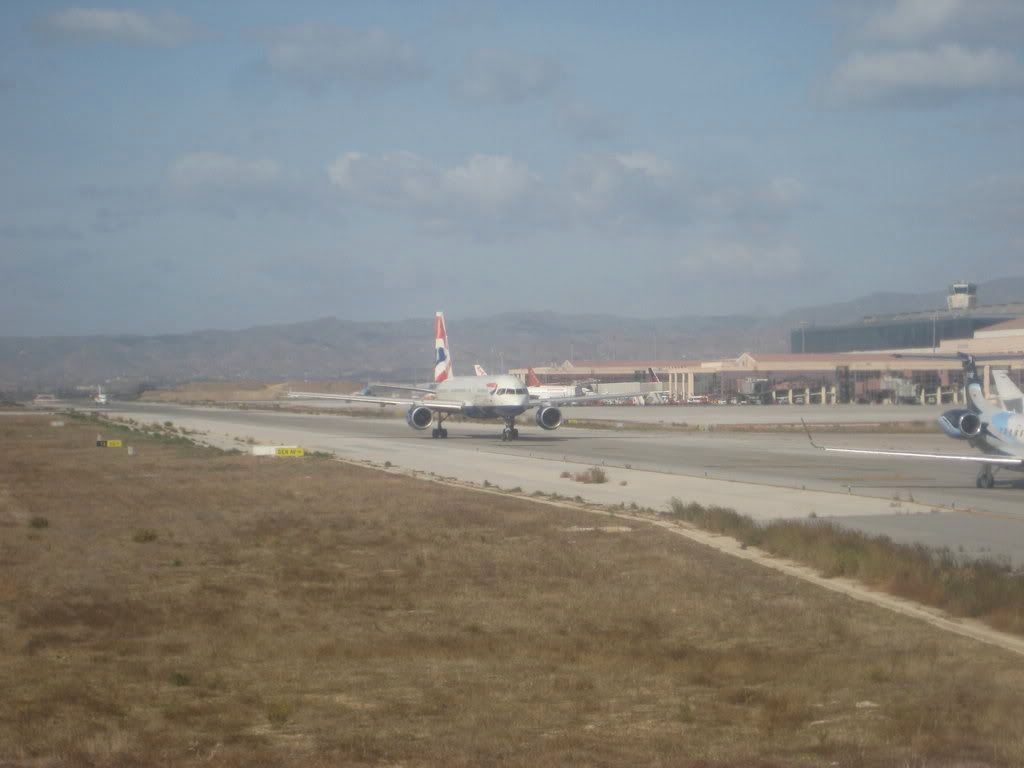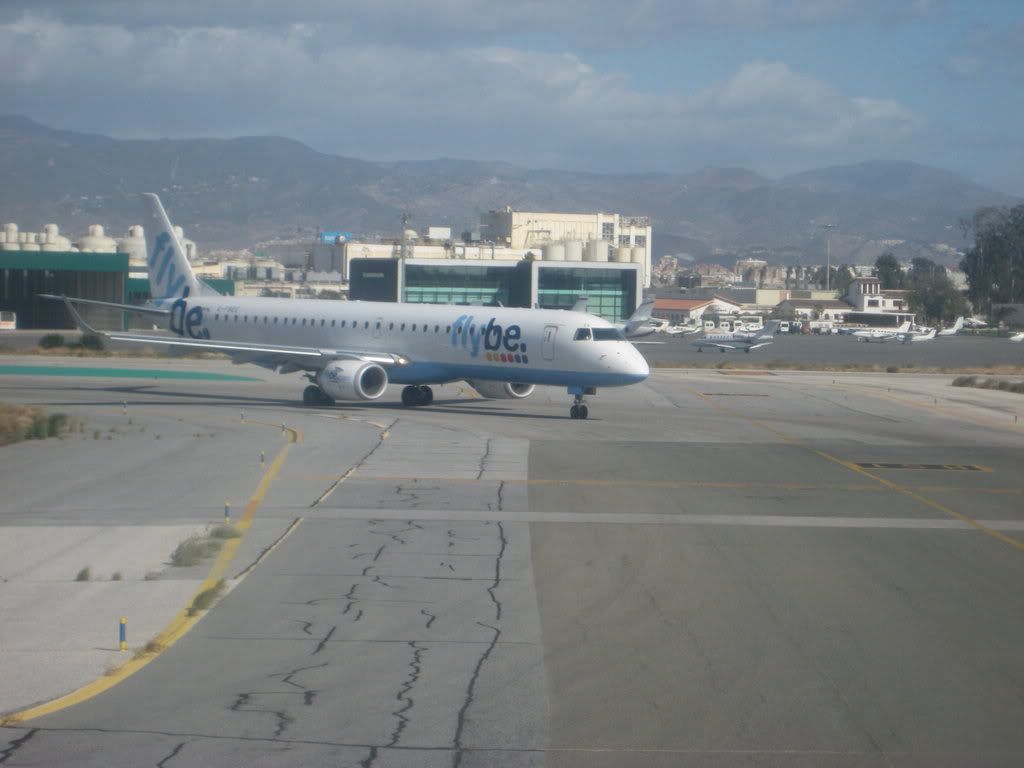 Finally we reach the active, and perform a very powerful and quite long take-off roll. Halfway through the roll I realize that I never actually fastened my seat belt - now this must be the first time for me this happens - fortunately we didn't have to abort the take off or something very nasty could've happened to me. The crew assigned to the back of the plane stayed in the galley gossiping for the whole duration of the boarding and pre-departure procedures - so they didn't spot the unfastened seat belt either. Oh well, would've made for a good lawsuit...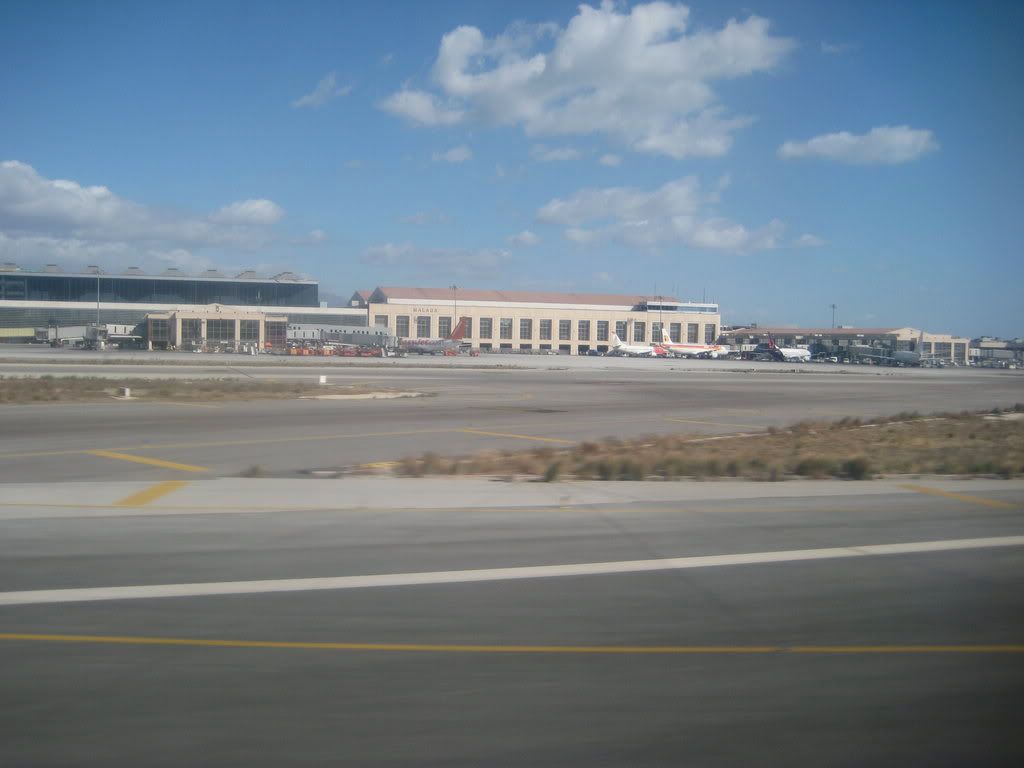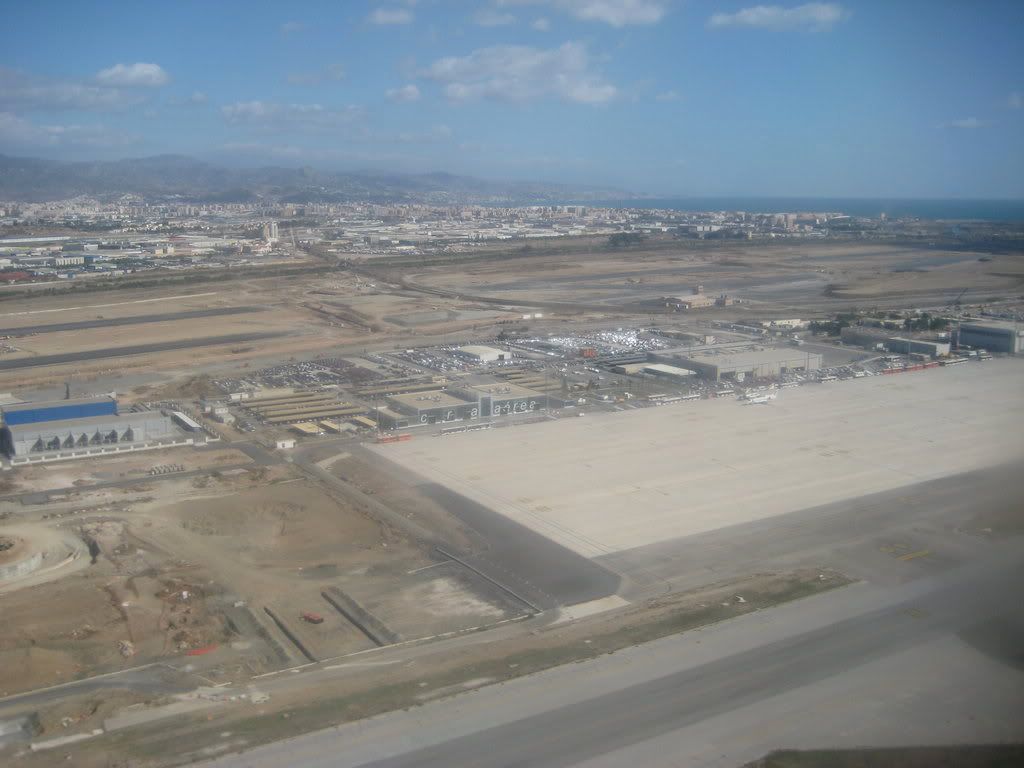 A section of the new runway: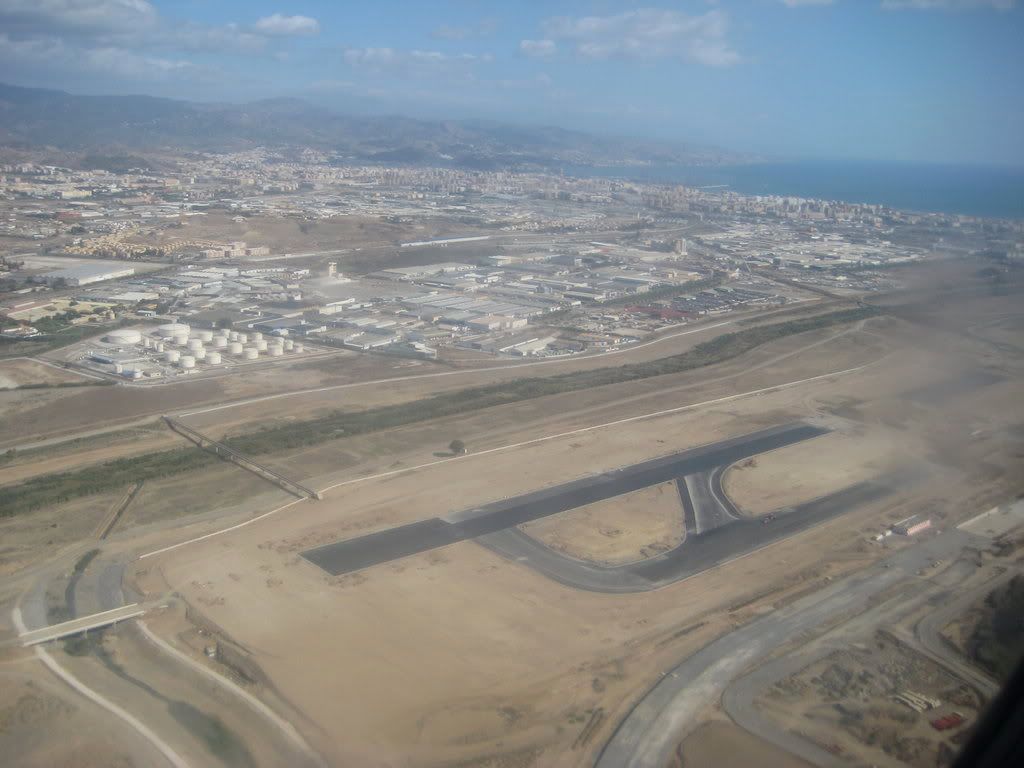 After take off we turn slightly to the right to pick up a northernly heading.
Bye bye Malaga and the Med: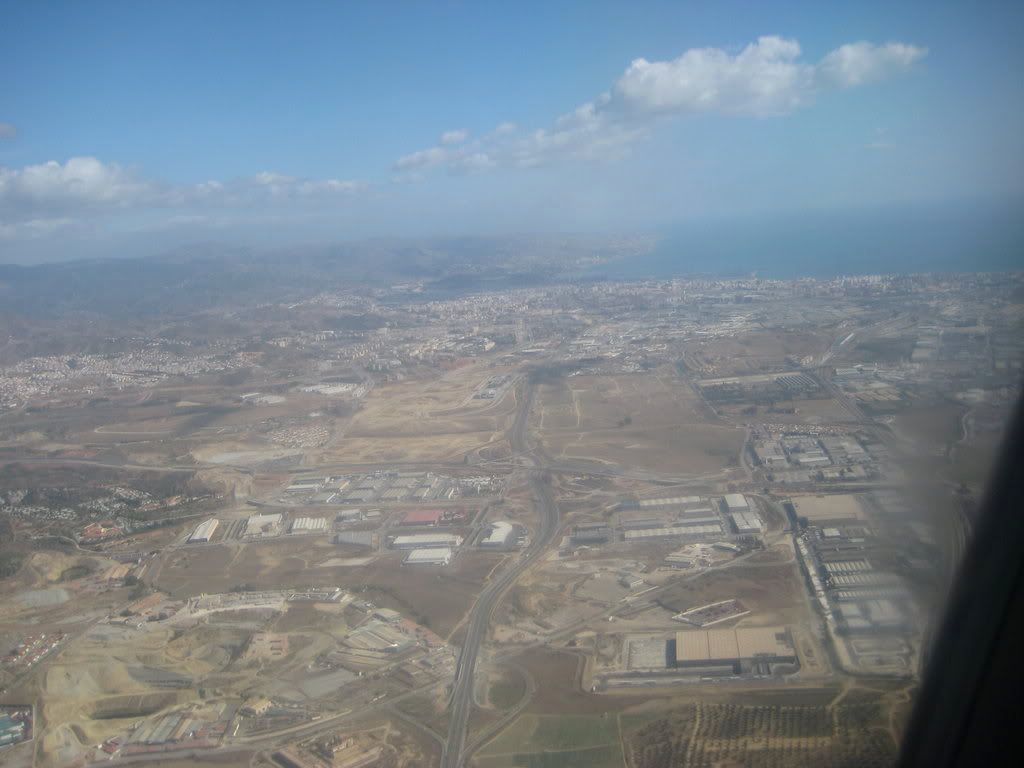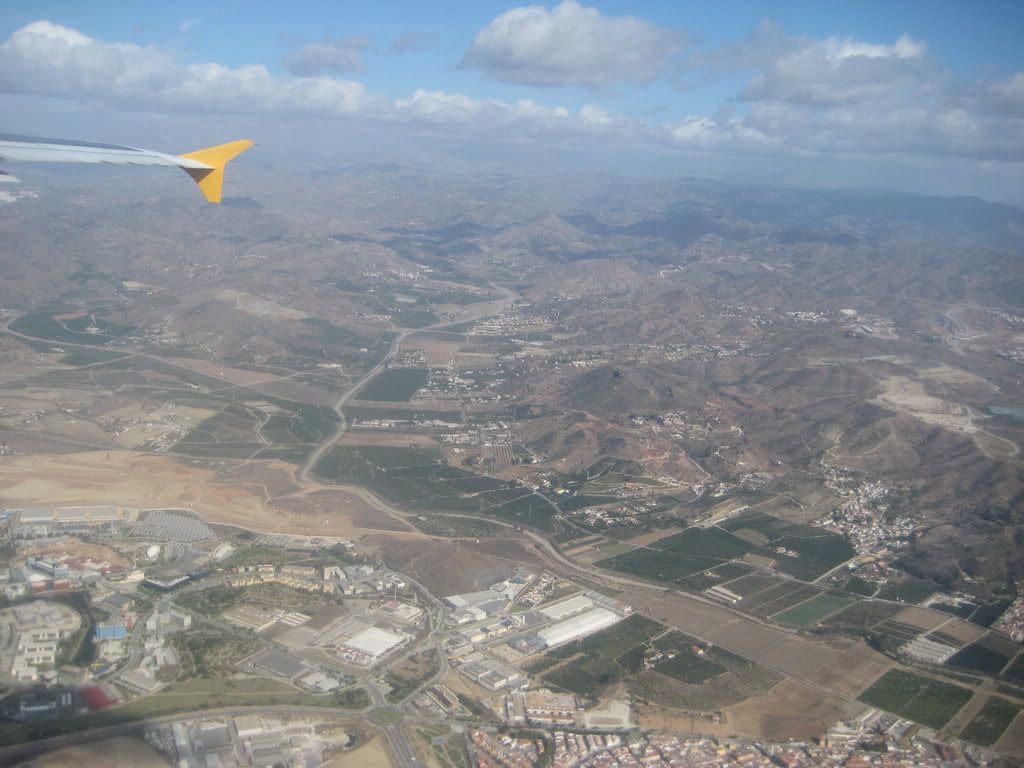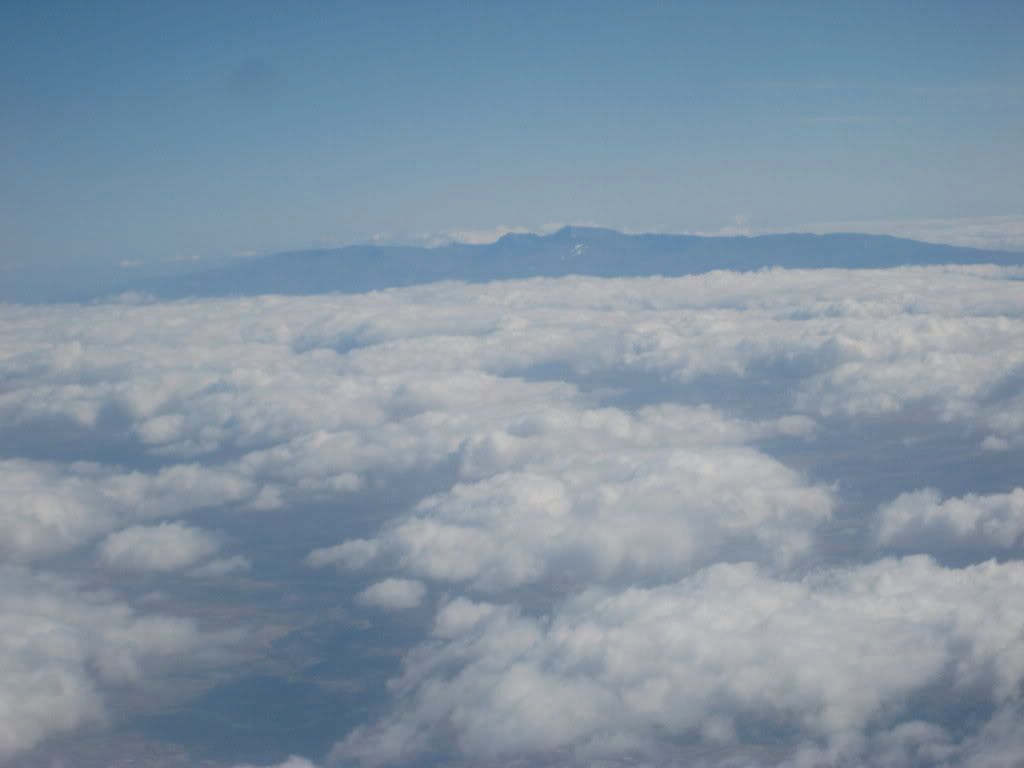 It is a bit bumpy at this moment, but not too bad. After half an hour in the air the captain comes on again, advising us that we are 10 minutes out of Madrid, where we will continue to Bilbao, over the Bay of Biscay to Brest, then the Channel Islands, Isle of Wight, passing west of London towards Milton Keynes (yes, he really mentions this!) and finally to Manchester. The headwind is very heavy at the moment, giving us a ground speed of only 400 mph with another two and half hours of flight time remaining. The next 30 minutes will be very bumpy as we are about to encounter some very uneven air.
Sure enough, some five minutes after this the turbulence starts and we spend the next half an hour bumping up and down, left and right. This is the worst case of turbulence for me for quite some time, probably ever since my flight on a MH 777 back in April 2006. That KUL-FRA flight featured almost two hours of nonstop bumpiness while crossing the Andaman Sea and the Bay of Bengal - not a very nice memory even after three and half years. The uncomfortable seat makes the bumps even worse and I feel quite miserable for a while. Some time later it eases a bit, the captain advising us that they found a smoother altitude for us, it is worse both above and below us but it will stop after we leave the Spanish mainland in 20 minutes.
Things ease after 20 minutes as promised, and for the first time on this flight the seat belt sign is actually switched off and the crew commence the onboard sales, after a good 1h15mins of flight. I buy some drinks and concentrate on watching a movie on my Ipod. Some time later the crew comes again with some hot food for sale (or are these something you could preorder?) - all of these seem to go as an empty cart is rolled back.
The weather is overcast most of the time, there are some views of the Brittany and the French Atlantic coast through openings. The resort town of Les Sables-d'Olonne:
Nantes:
Hello EMA, see you in three weeks: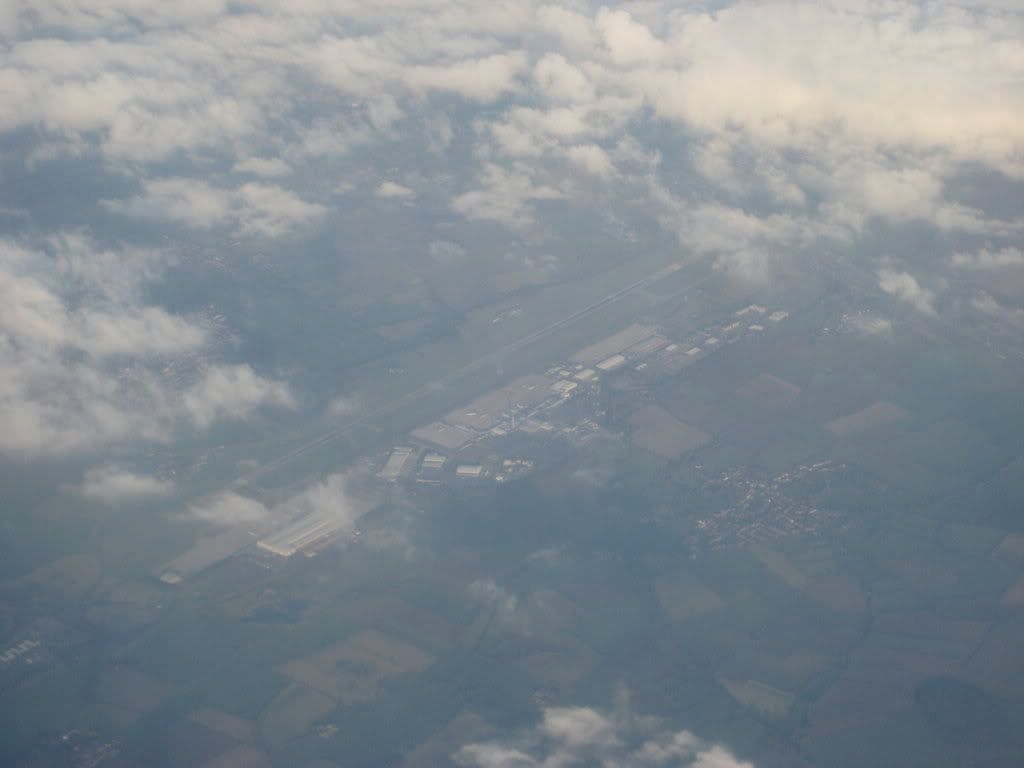 Just after passing the London the captain comes on the final time, announcing the start of descent and landing in 20 minutes or so. Over EMA airport the seat belt signs come on and we disappear into a very heavy cloud base for quite a long time, after emerging lined up with the runway 05L or MAN.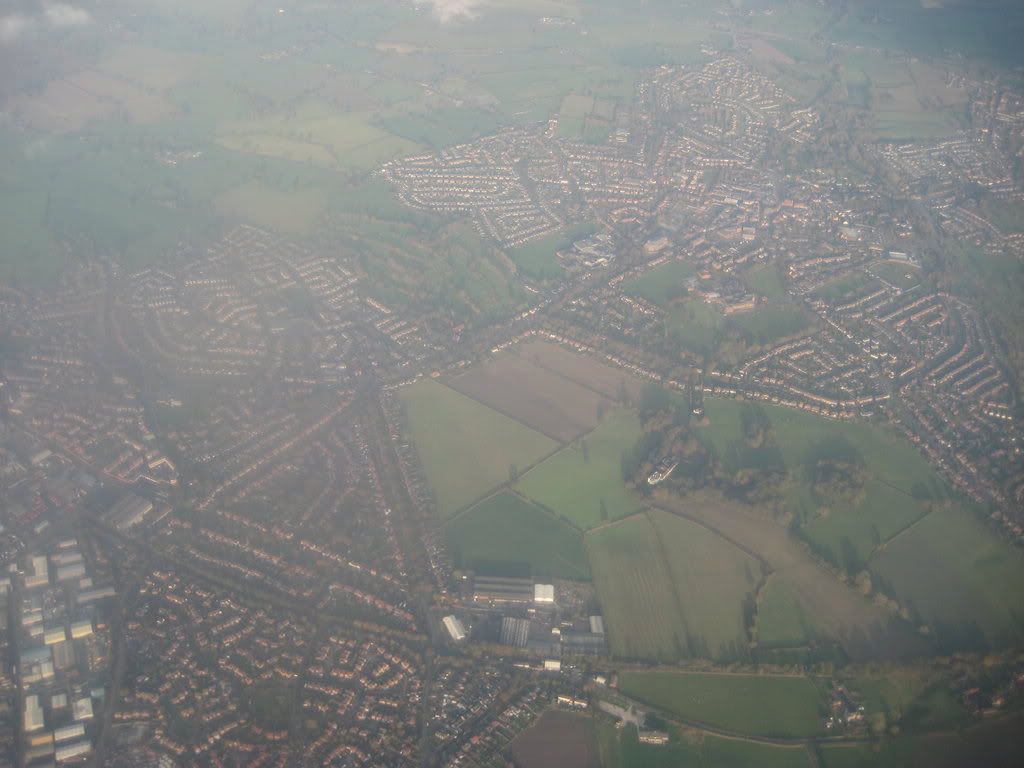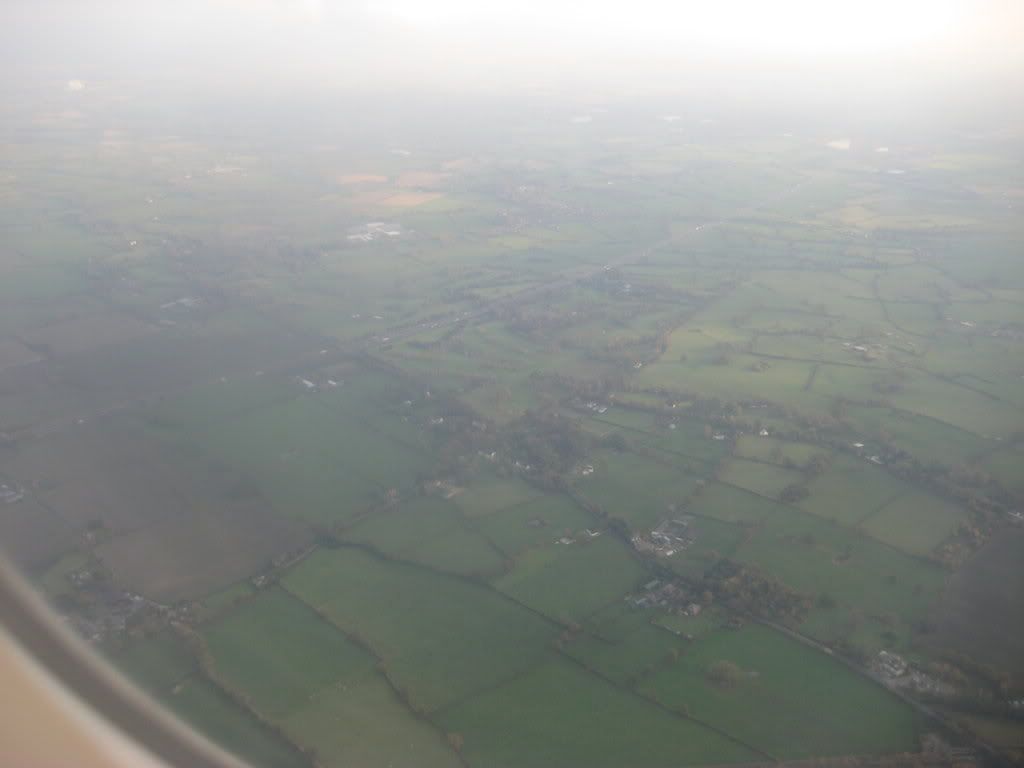 The huge Lovell Telescope at Jodrell Bank Observatory: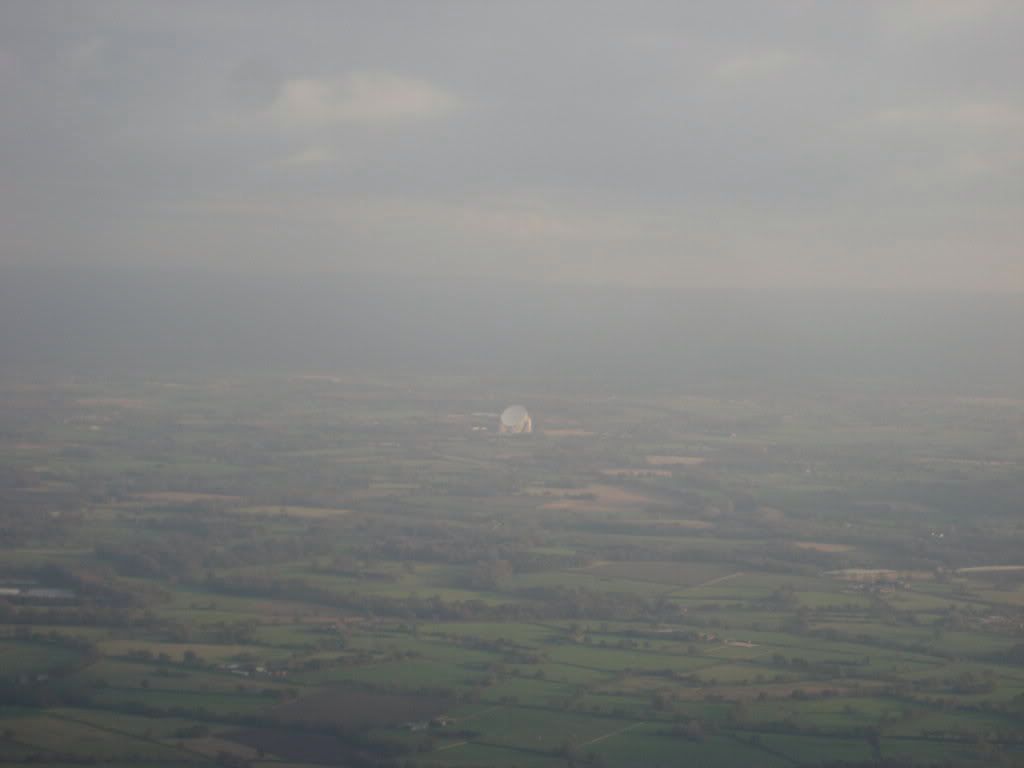 I never realized the two runways at MAN were so disaligned: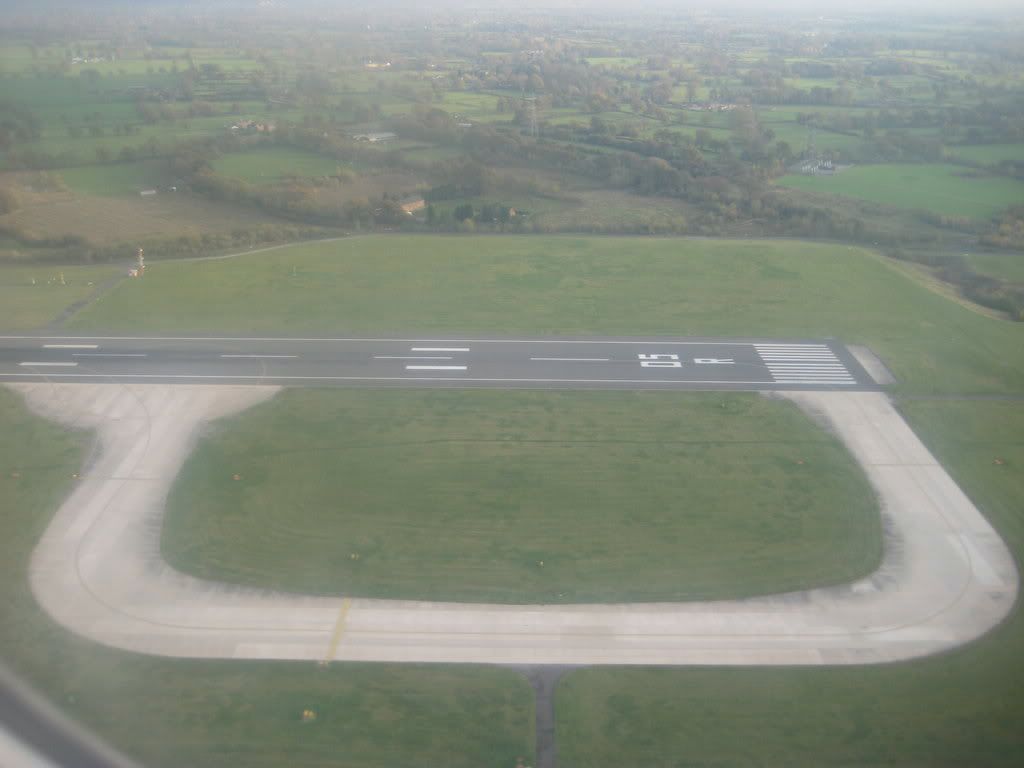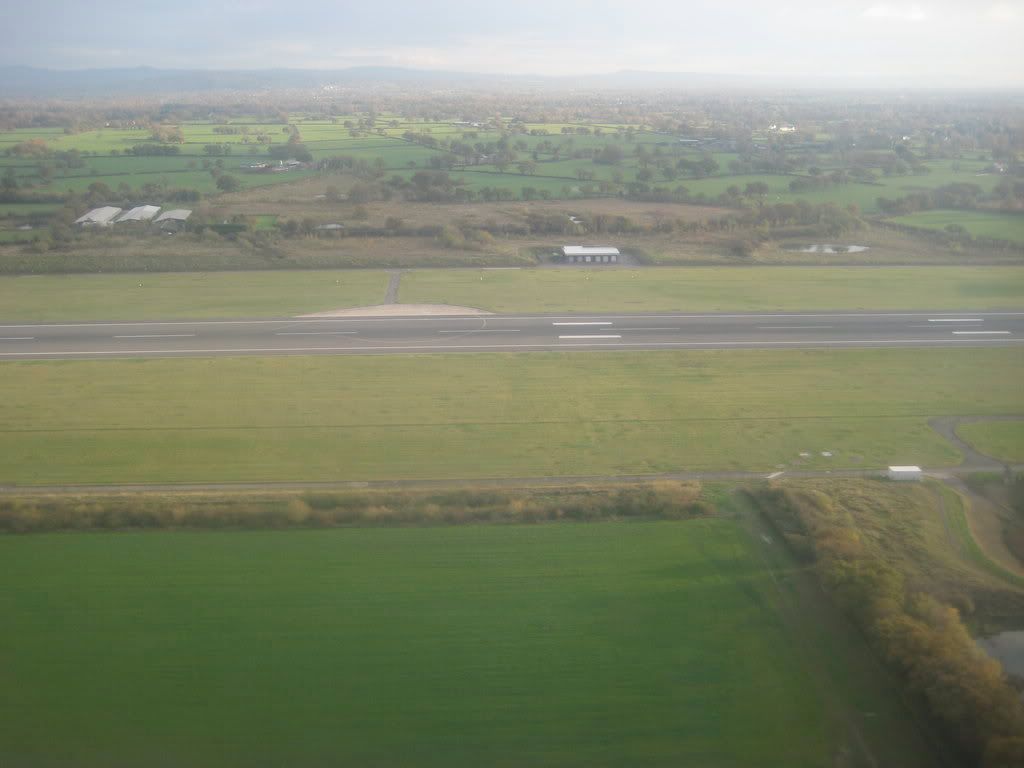 We touch down exactly at 15.00 and taxi only for a few minutes to a stand in front of T1.
Nice spread of planes: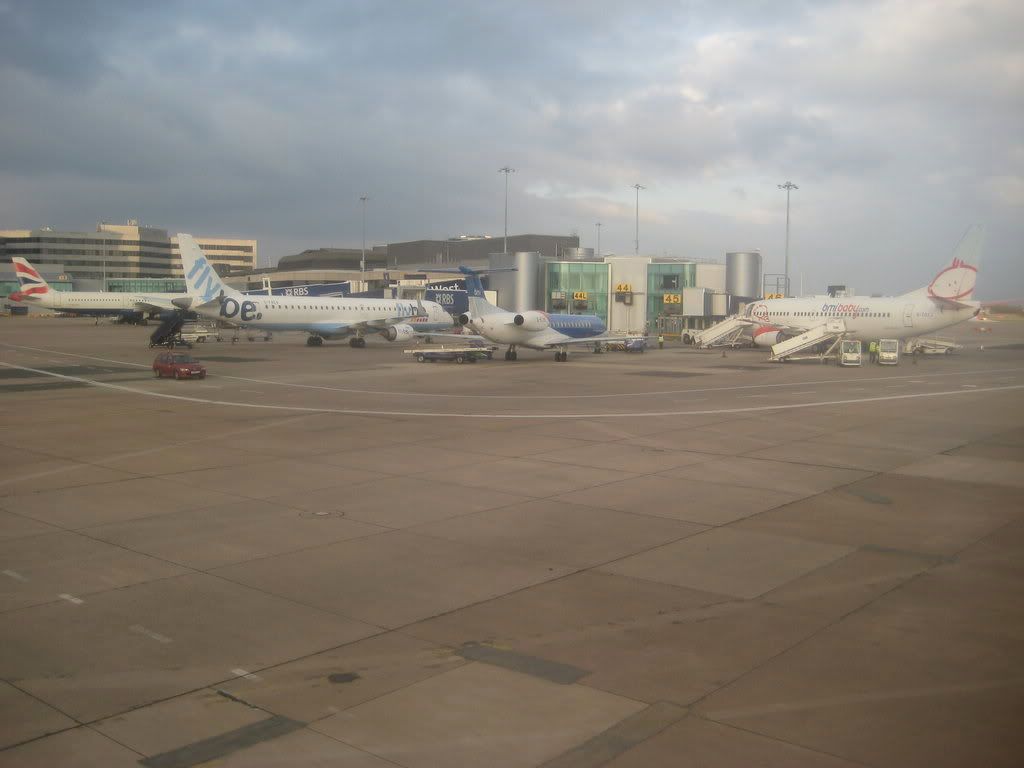 For whatever reason they are not using the back door of the airplane for deboarding so it takes a good while before I'm out of there.
Hmm, not something you really want to see on a plane you just flew in: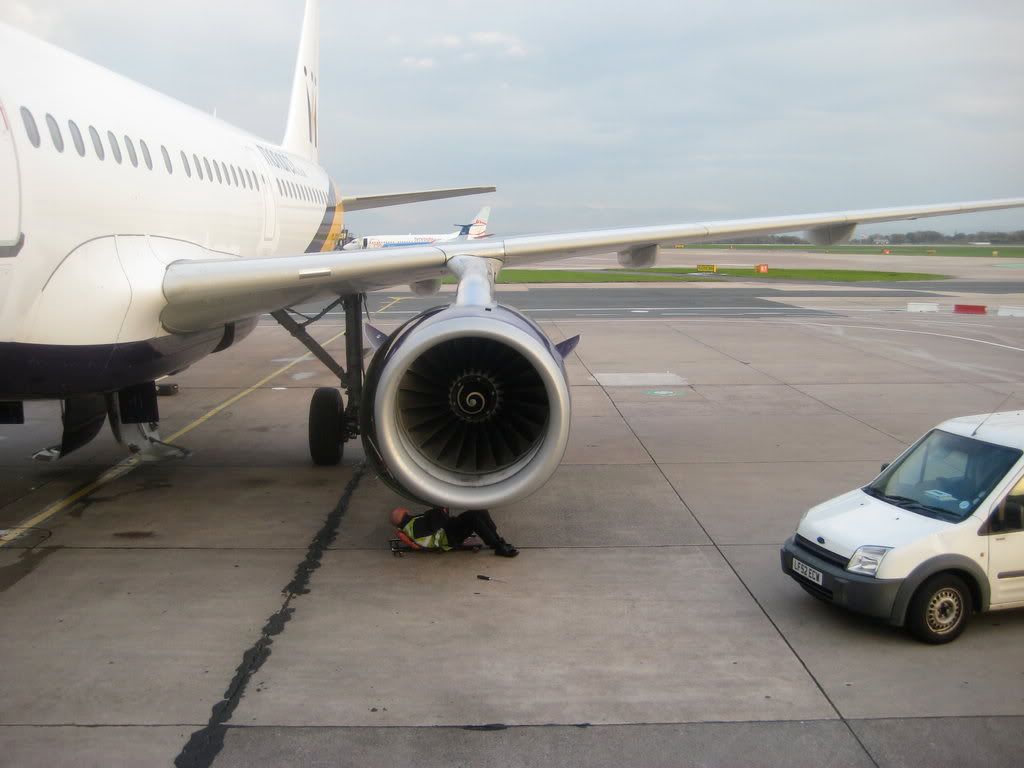 Bye Monarch, I don't think we will see again: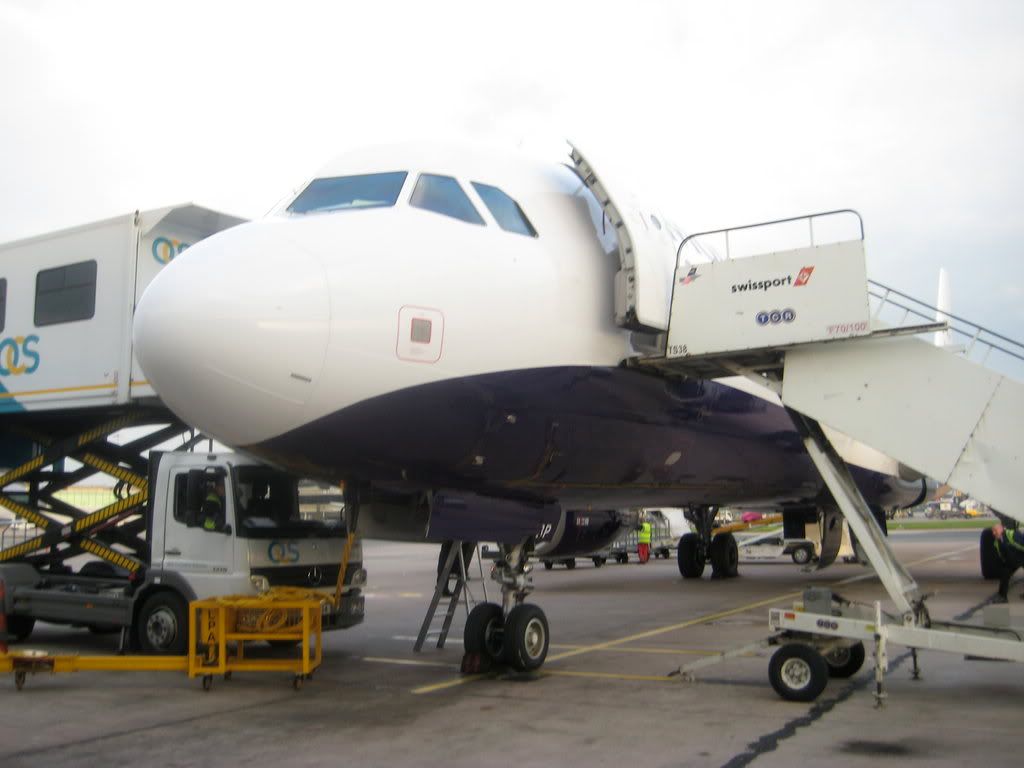 Inside it's another long trek to the flight connections centre - I decide to forgo immigration as I have no real desire going landside so I do the flight connections route. I just hate the UK obsession on separating arriving and departing passengers and rescreening everybody - it's just a lot of hassle and completely pointless if you ask me. Oh well, at least AY is departing from the same terminal so there's no hassle with the connection buses and the connections centre is completely deserted, giving me some time to joke with the security screeners there. The young ginger-haired guy who decides whether you should see the UK immigration officer at the next booth has some trouble looking up my flight on his screen so I kindly point it out for him. Satisfied, he points me to a mysterious door that turns out to open into T1 airside. The best part is that it dumps you after the duty free shop, saving one the tedious hassle of fighting through it.
Manchester Airport
Not really in the shopping mood I just grab a bottle of water and the Sunday paper from WHSmith's and make a beeline to the lounge.
Next to the toilets in T1 there are two doors labeled this: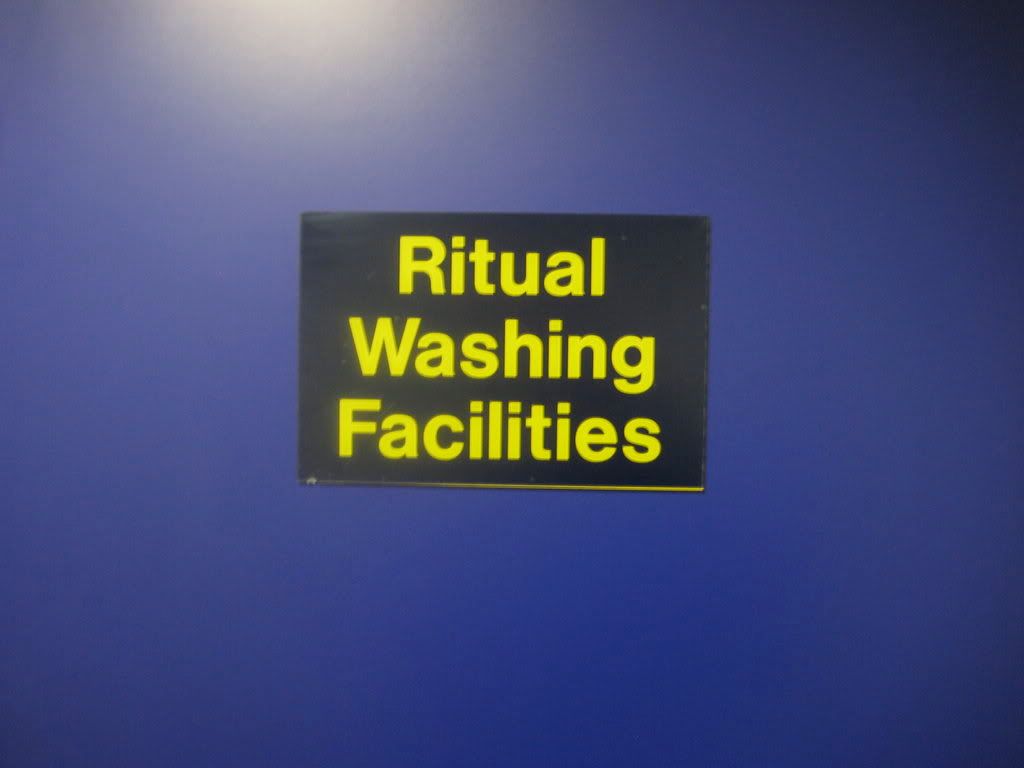 What an earth are these!?
All the T1 lounges are now in their own floor, right next to each other. The Servisair lounge used by AY, SK, LH, LX and many others is actually quite a decent place, everything feels new and fresh. Food options are limited to prepackaged junk food and other nibbles, but at least there is a great selection of drinks.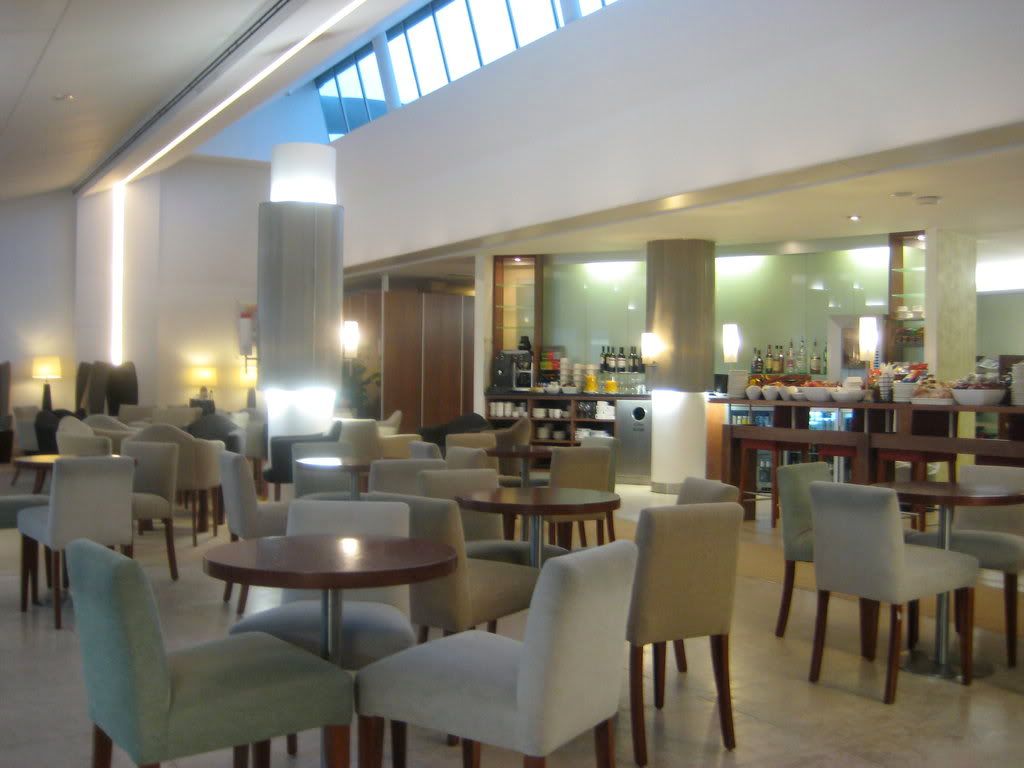 I spend the next two hours taking full advantage of the free wifi, helping myself with some drinks in the process. The lounge has nice big windows towards the apron between T1 and T3, so it's great for plane watching as well. There's a constant stream of departing and arriving FlyBe machines, mostly Dashes but also some E195s - I never knew they were so big in MAN.
At some point I check the inbound flight from acarsd - OH-LEG will be operating today's leg (pun intended) to HEL. Oh well - I knew already from the OLCI (AY's opens 36 hours before departure so I checked in before leaving home on Saturday morning) that the scheduled E190 was downgraded to a E170 - bummer for me as I've flown almost all the AY E170s but only a few of the 190s. Sure enough, today's flight will be my seventh on this bird, and actually third time on this flight number. I see the plane landing 15 minutes ahead of schedule, so I start getting ready. At 17.15, 35 minutes before the scheduled departure time we get a gate number and "go to gate" is displayed, so I head out of the lounge - not before nicking a copy of every inflight magazine in their selection (hey, it says "Yours to take home" in it!) for my collections.
One again I'm pissed at the passenger separation as the B pier has the arriving passenger lane running down the middle of the pier - forcing one to access the gates on the other side using some steep stairs to go below the lane - our gate B22 is no exception. At the gate there are only a handful of people - it looks like a rather empty flight - probably the reason for the downgrade.
MAN-HEL
AY938
E170 OH-LEG
Seat 3F
17.45 - 22.24
After waiting for a few minutes boarding starts. Inside a middle-aged friendly female FA welcomes me in. There is only one other passenger in business class, after the speedy boarding is completed economy seems to have a 50% load factor. No wonder AY is in financial problems.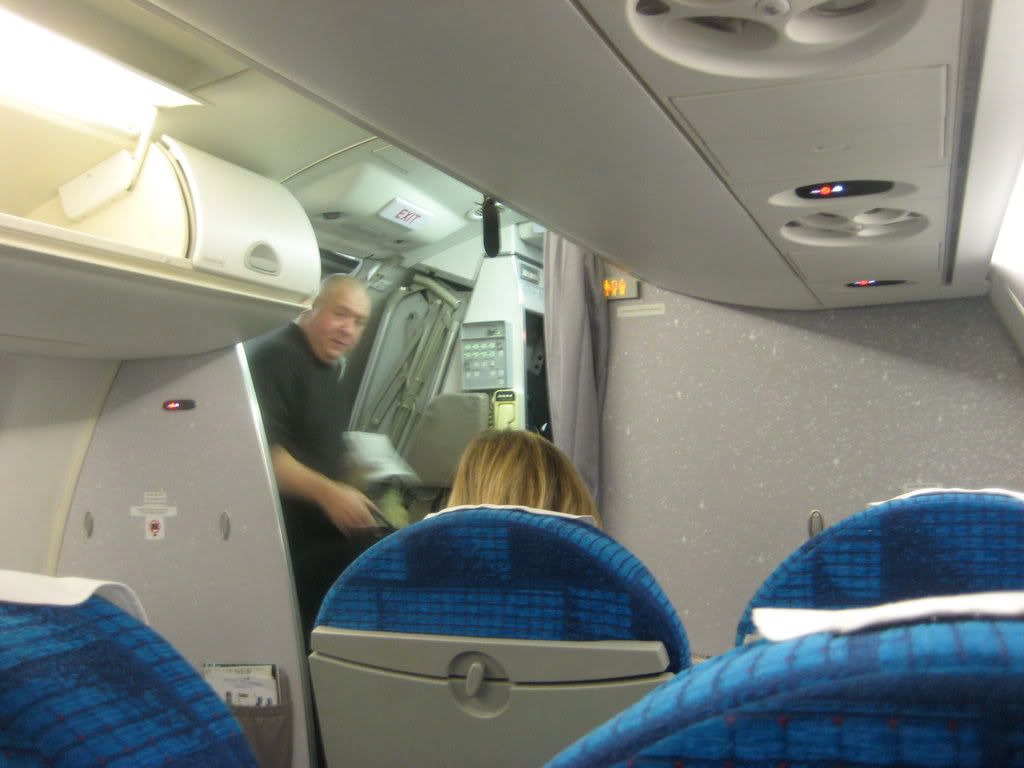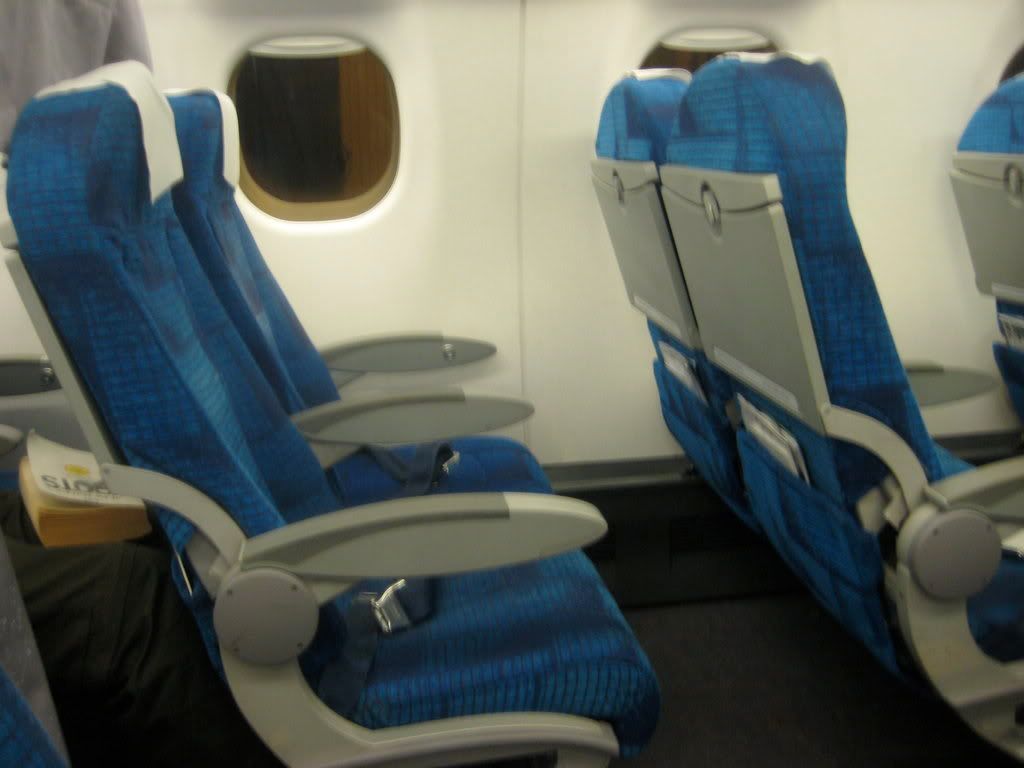 Our captain welcomes us onboard, expecting a short flight time of 2h30mins due to some favorable tailwinds and an early departure since we are all set to go. Sure enough, we push back five minutes early, but this advantage is eaten up by the taxi time to runway 05L where we start our take off roll right at the scheduled departure time.
After being released by the captain the very senior FA from the back galley joins her colleague in the front one. Service starts w