Map- and Sleepless on Air Canada:
SFO-YUL-FRA on Airbus A319 & Boeing 777-300ER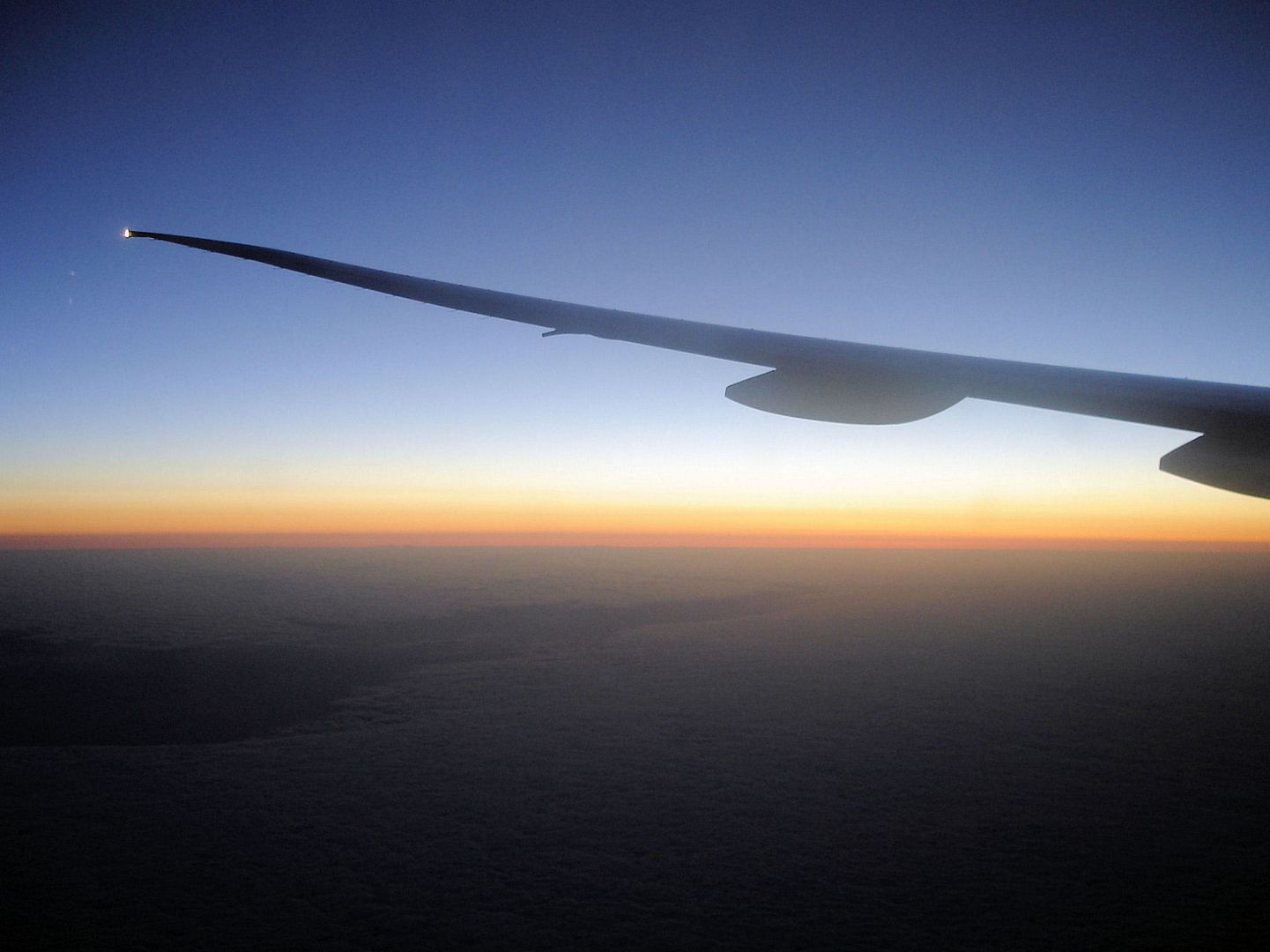 Intro
The focus is on
Air Canada's Airbus A319
and
Boeing 777-300ER
in the third and final part of my latest trip report series. These types were used on the
San Francisco-Montreal
and
Montreal-Frankfurt
sectors of our journey. I have also added some pictures of a short visit to the
Fisherman's Wharf
in San Francisco.
All those who have missed Parts 1 & 2 simply need to click here:
Seat Dilemma & Canyon Glamour: FRA To LAX, AC 763
Sin City Gloss & Virgin America's Chic First Class
Background
In spring my girlfriend and I decided to spend a two week holiday in the United States in May. Our plan was to visit some good friends in the Los Angeles area and to go on a tour including major sights in California, Arizona, Utah and Nevada. After finding an attractive tour we had to add suitable flights. Of course I wanted to get one or two new airlines and interesting planes - which wasn't an easy task considering that I have already flown on numerous transatlantic carriers. So I concentrated on searching Air Canada and Continental Airlines flights and picked the former in the end: We booked NUE-FRA-YYC-LAX and SFO-YUL-FRA-NUE flights, operated by Lufthansa 737-300 & A319 as well as Air Canada A319, E190, 767-300ER and 777-300ER. Originally I had planned to get the LH A340-600 (via Toronto) on the outbound trip, but the fare jumped up and I had to pick an alternative including Air Canada's 767-300ER (via Calgary). We had decided to go back from San Francisco so that we could also include a LAS-SFO flight on Virgin America (to be operated by an A319).
Cable Cars & Fisherman's Wharf
After our arrival from Las Vegas on VX901 we stored our luggage in the hotel, took the
BART
(Bay Area Rapid Transit) to Powell Street station and switched to the Powell-Mason cable car line. The cable car on the picture was operating on the Powell-Hyde line: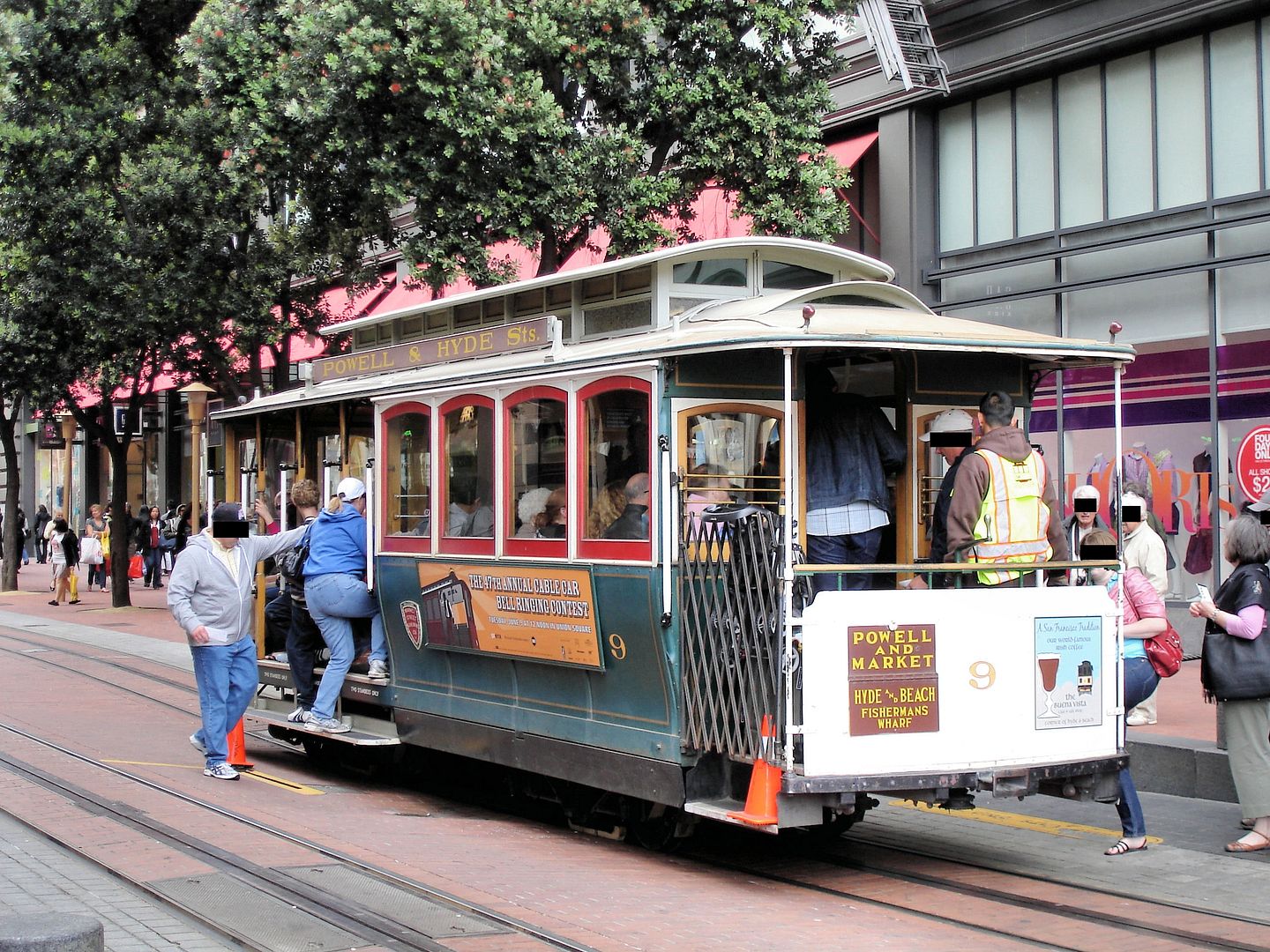 Cable car turntable:
Welcome to the famous
Fisherman's Wharf
: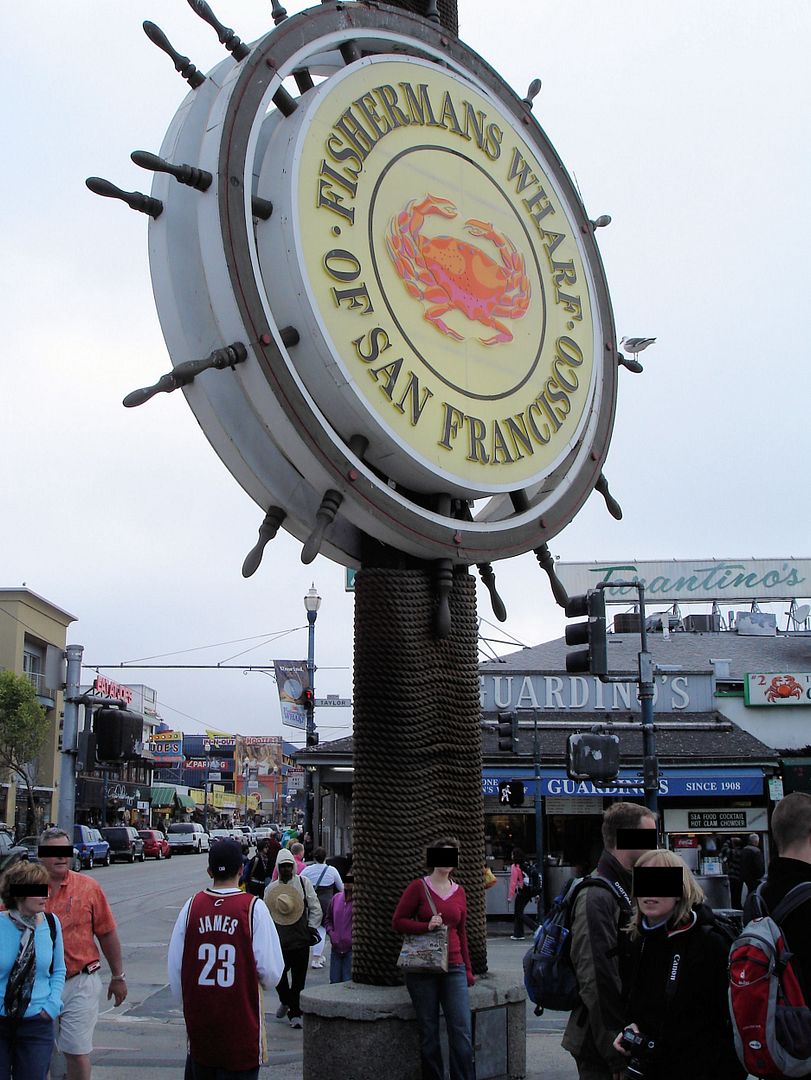 As you can see on the pictures, the weather was awful - cool and windy. Since we had left our jackets in the hotel (it was much warmer in the airport area!) we decided to buy sweatshirts.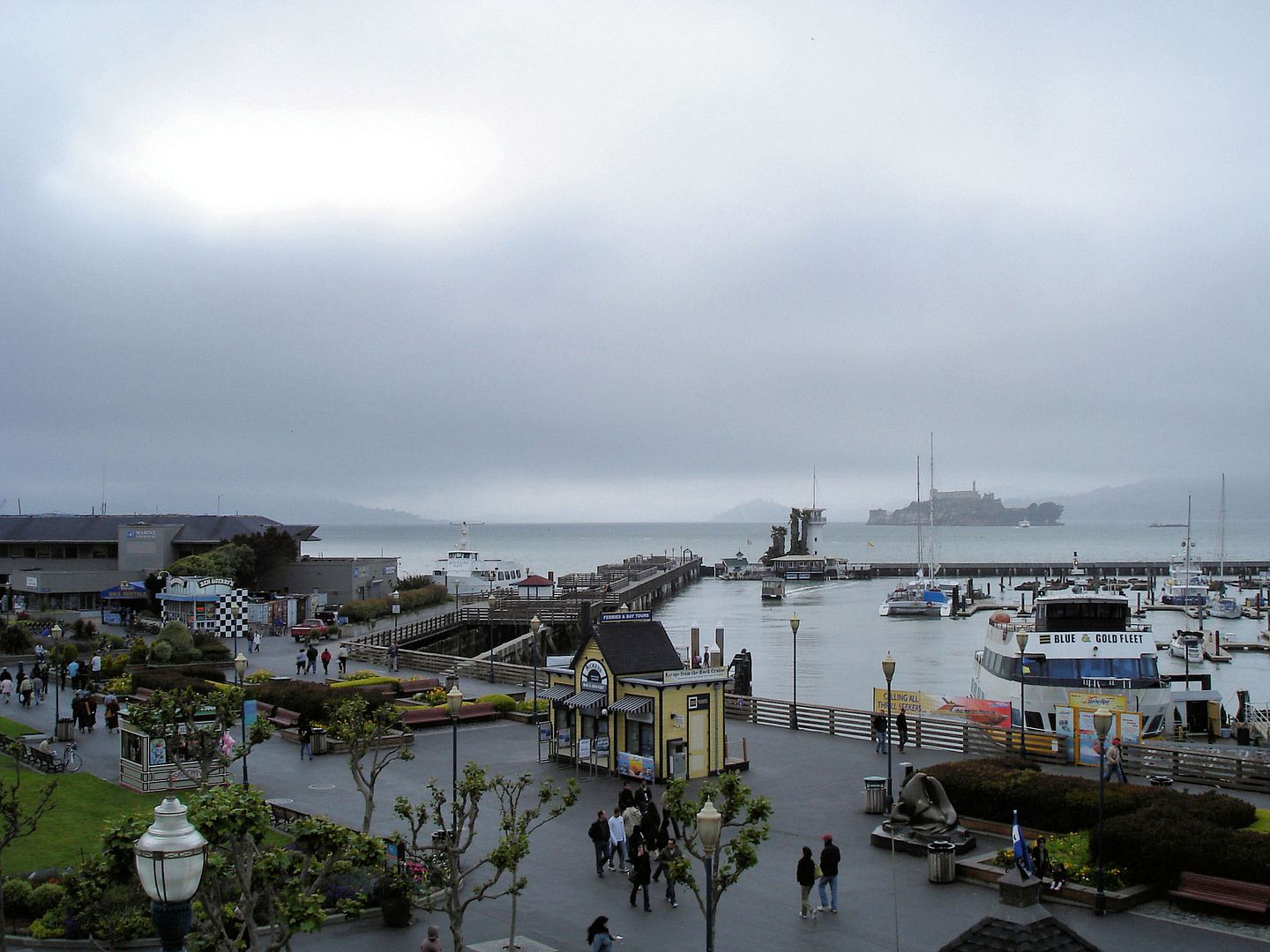 The
Bay Bridge
in sunlight...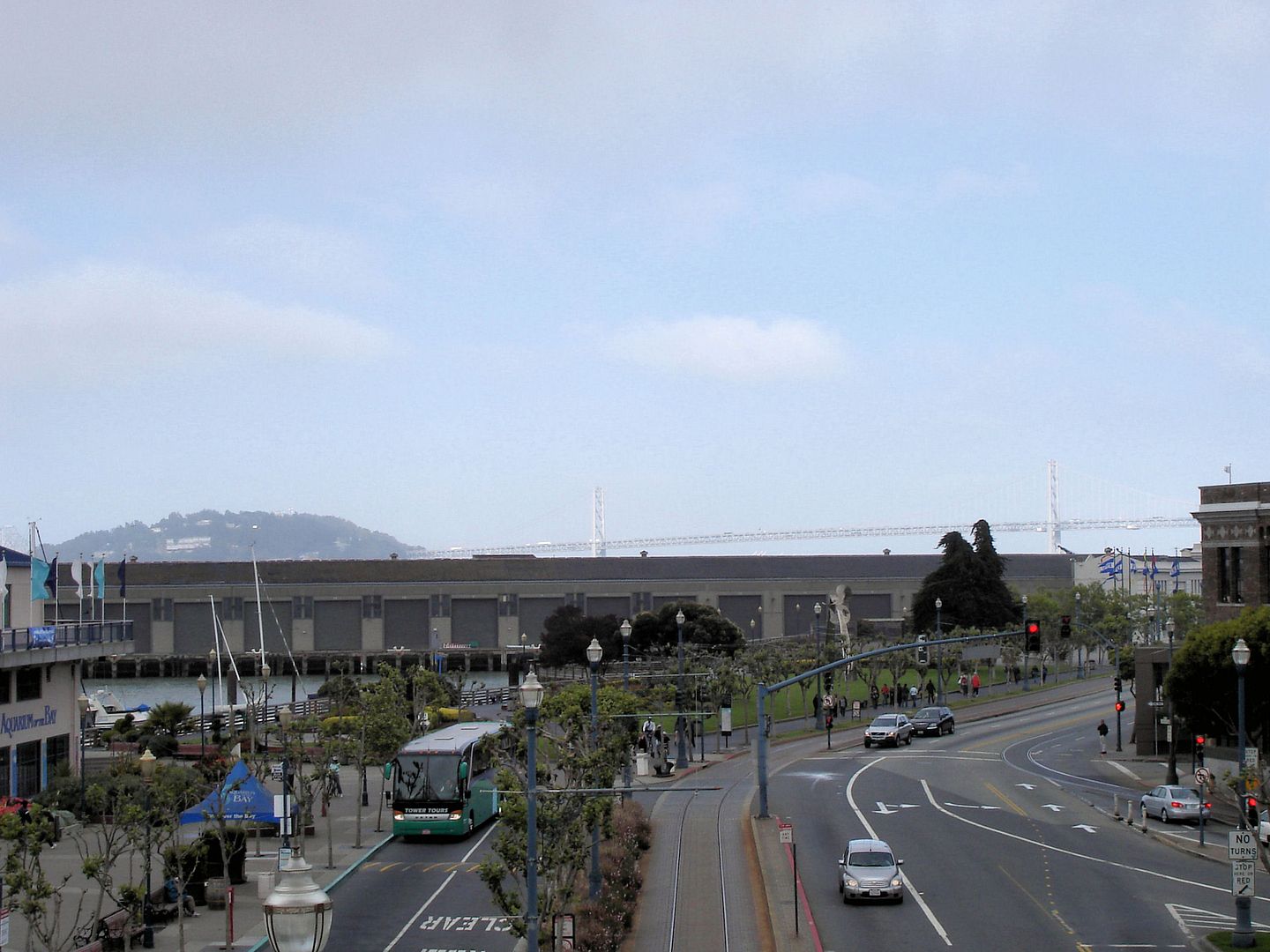 ...while the
Golden Gate Bridge
was hardly visible: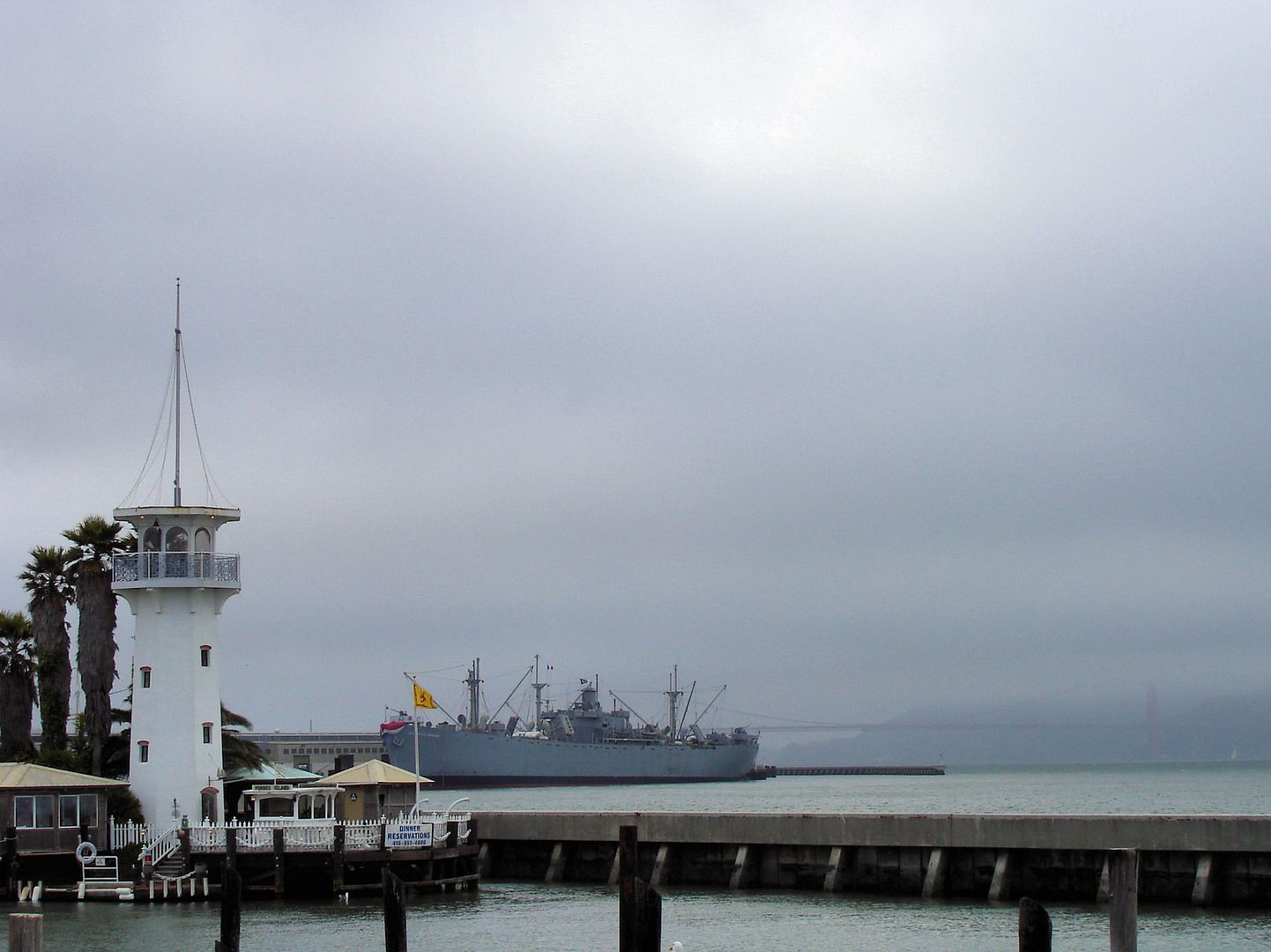 The
USS Pampanito
, a Balao-class submarine, has been a memorial and a museum ship at
Pier 45
since 1975:
Alcatraz Island
: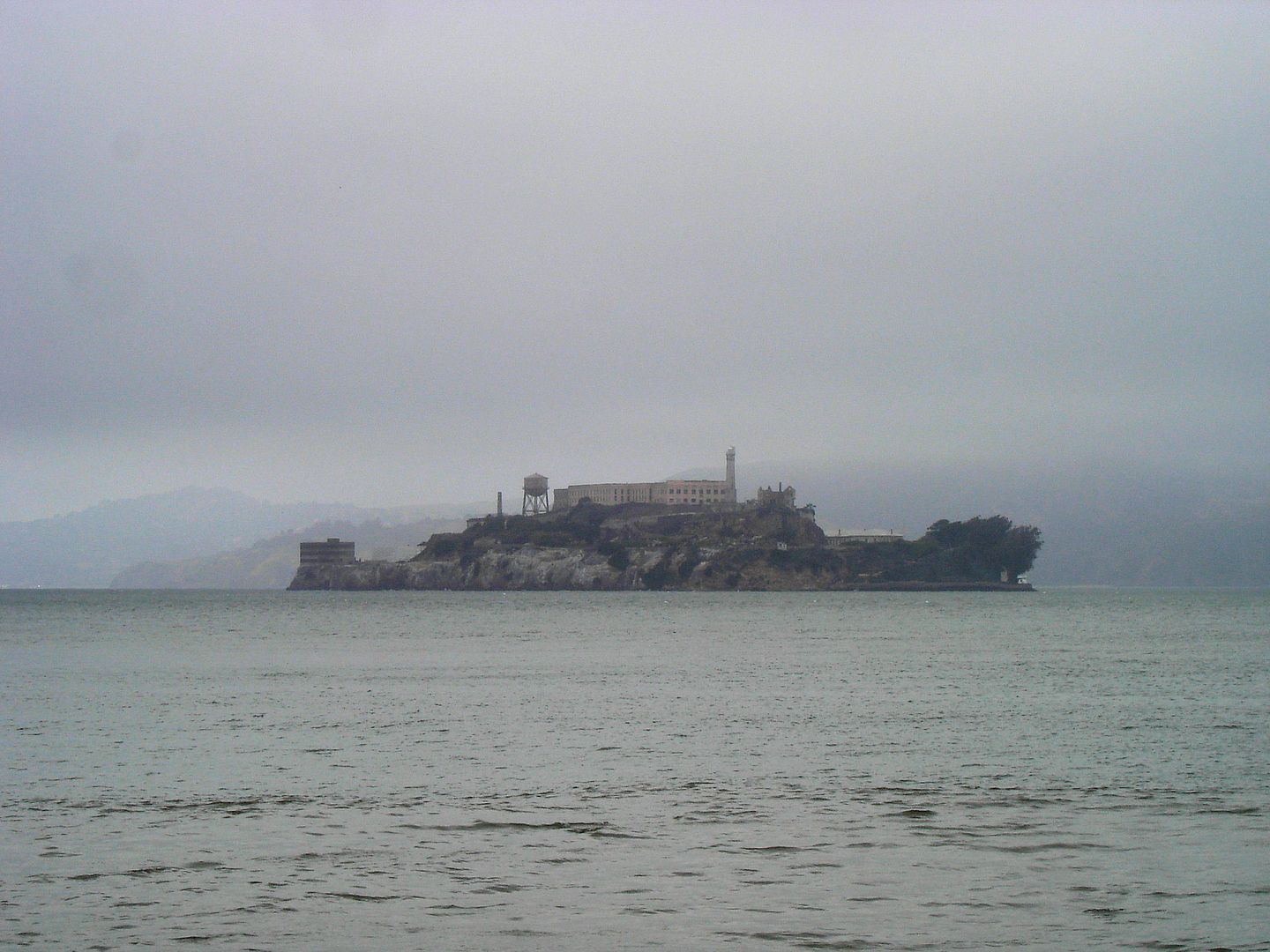 Dozens of California Sea Lions on the docks of
Pier 39
: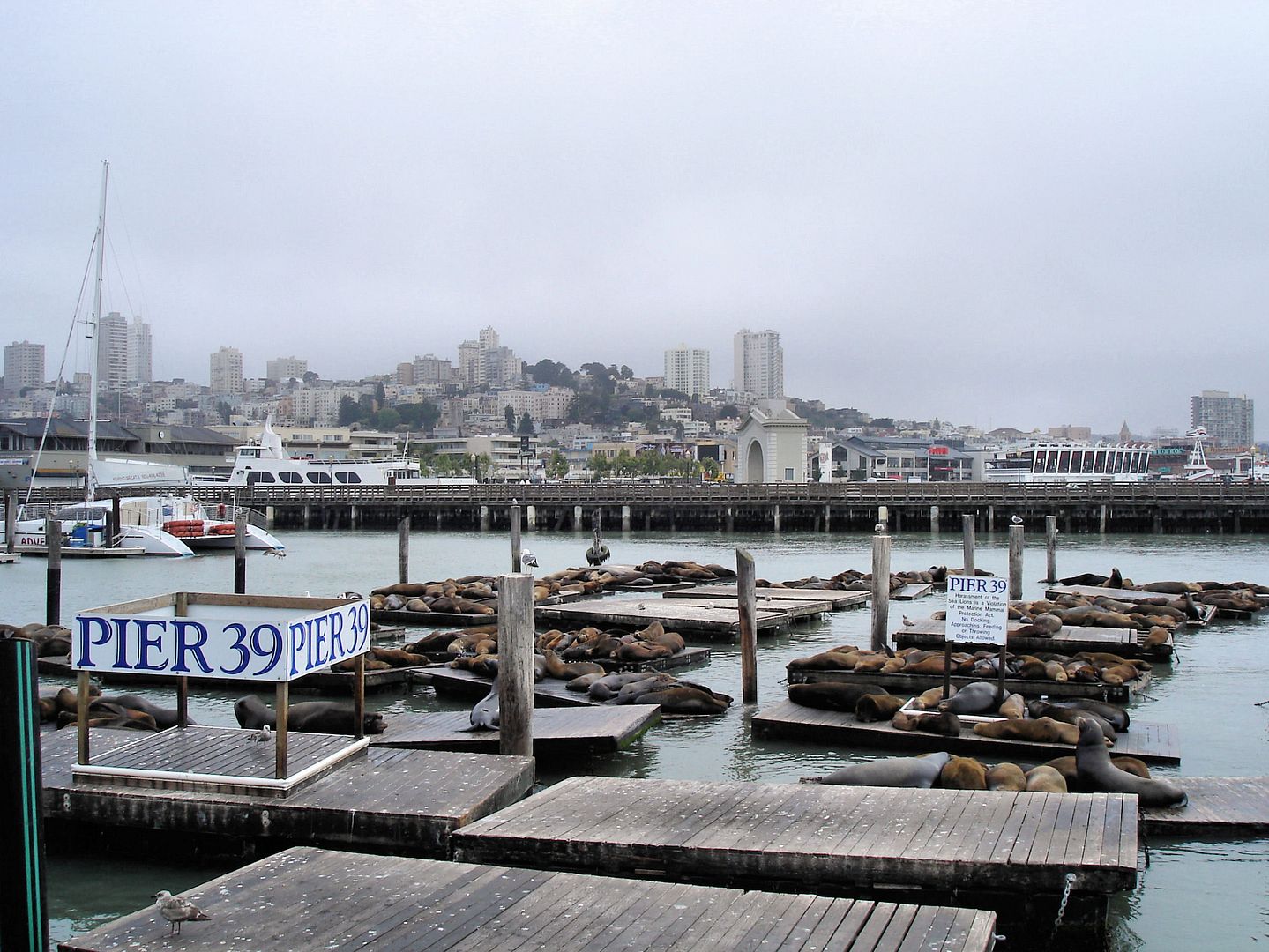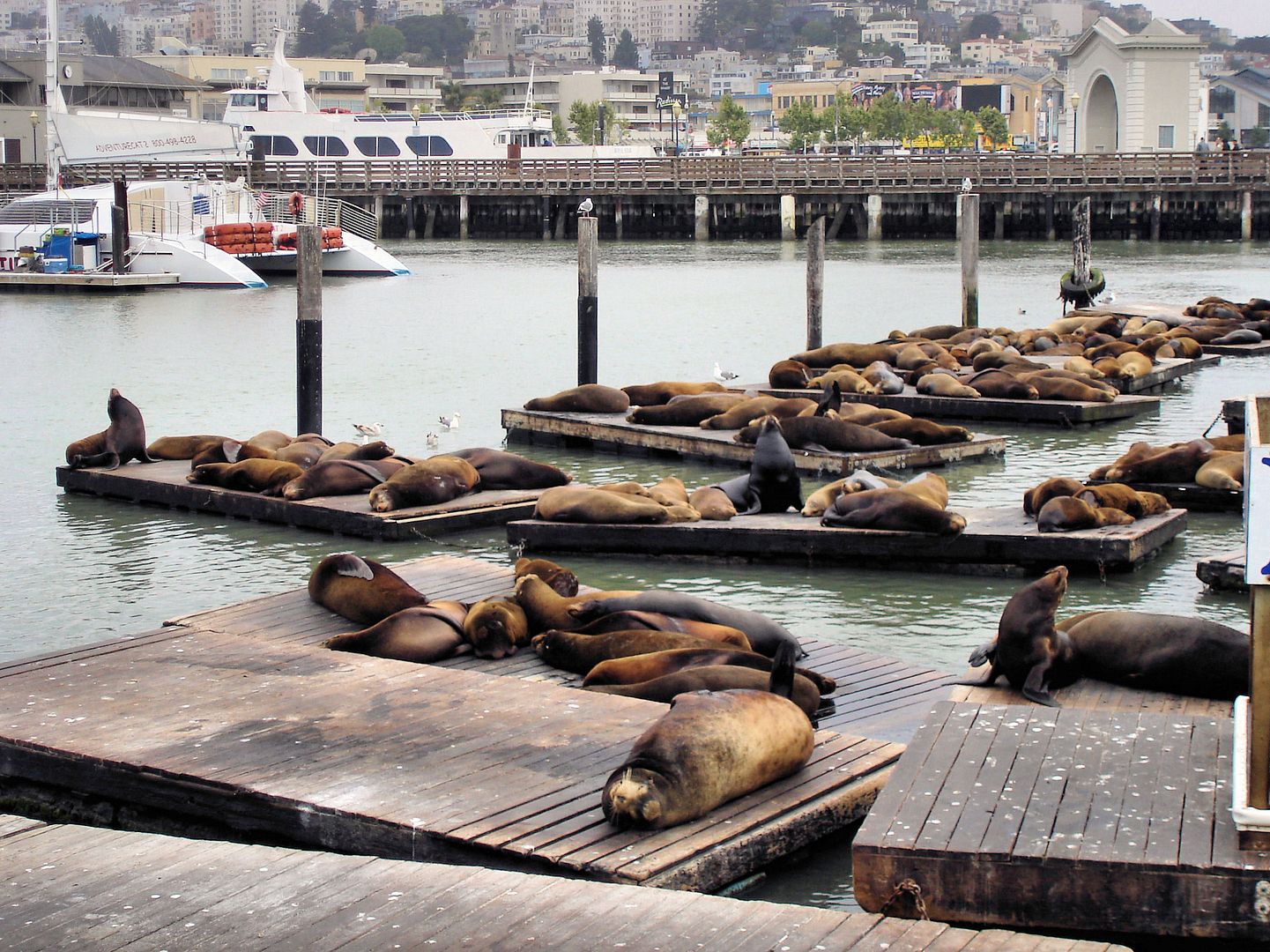 Some hours later we returned to the Powell Street BART station. Early evening mood in the streets of San Francisco:
Saturday, 23 May 2009
San Francisco (SFO) - Montreal (YUL)
Air Canada AC778
08:20-16:40 (08:37-16:54)
Flying time: 04:48 (hrs)

Airbus A319-114
C-GAQZ (MSN 740), delivered in 11/1997
Economy Class, Seat 26B
Boarding & Cabin Comfort
Early the next morning we checked in quickly and walked to our still deserted gate area. This time we hadn't faced any problems during check-in and got the pre-reserved seats. So the gate agent at Frankfurt had removed the "exit row preference"-entry from our reservation, as requested
(see details about the "seat dilemma" in Part 1)
. Our flight to Montreal would be operated by
C-GAQZ
, one of Air Canada's 35 A319s, delivered in November 1997: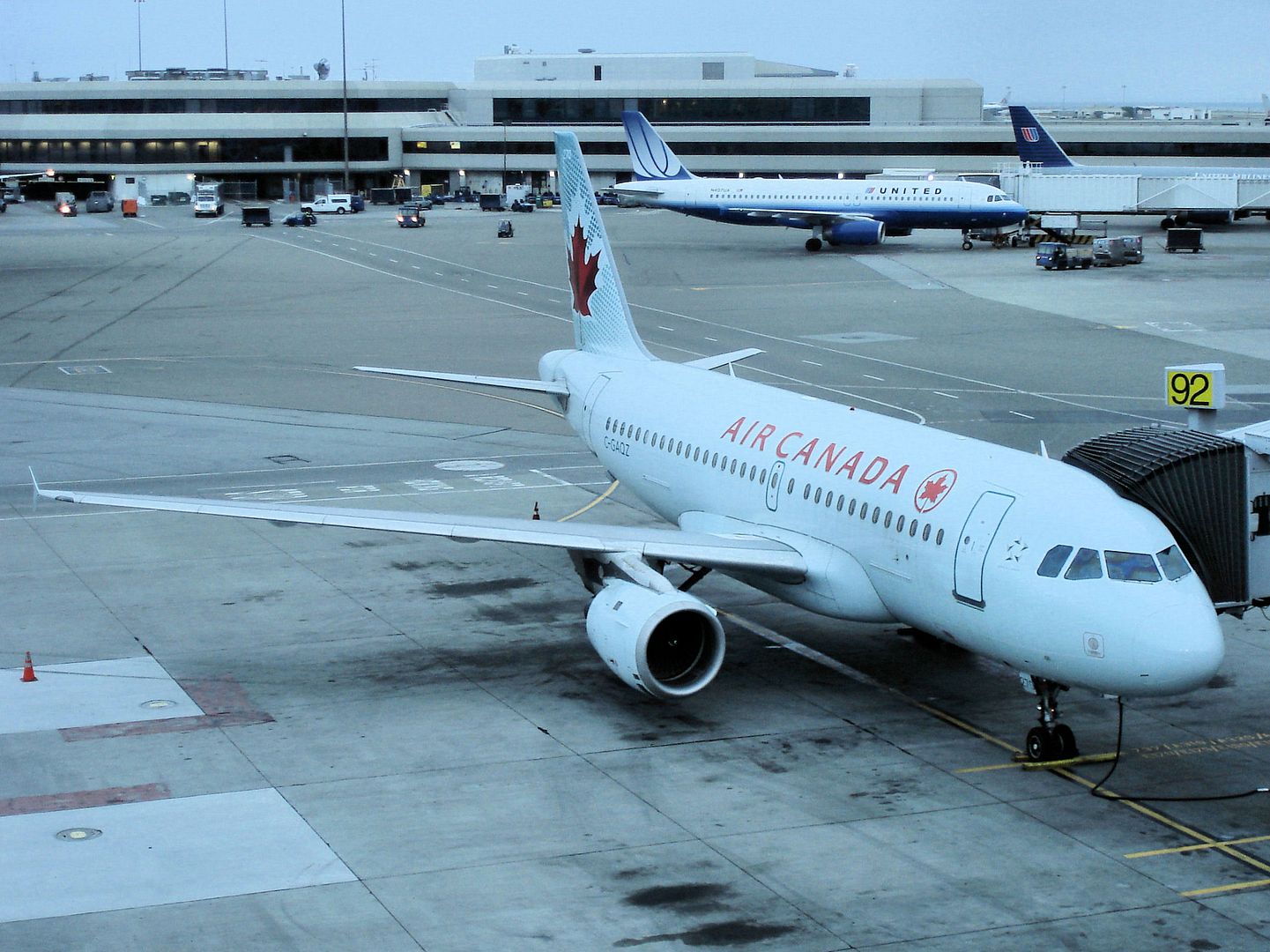 Some time later, a pre-boarding announcement disturbed the peace in the meanwhile filled gate area:
"This is Air Canada flight 778 to Toronto",
the agent said and caused muttering among some passengers. Only a minute later the agent corrected herself:
"Sorry, flight 778 to Montreal",
she ensured. Boarding was finally started and we went to our seats in row 26.
The relatively new seats were quite comfortable again...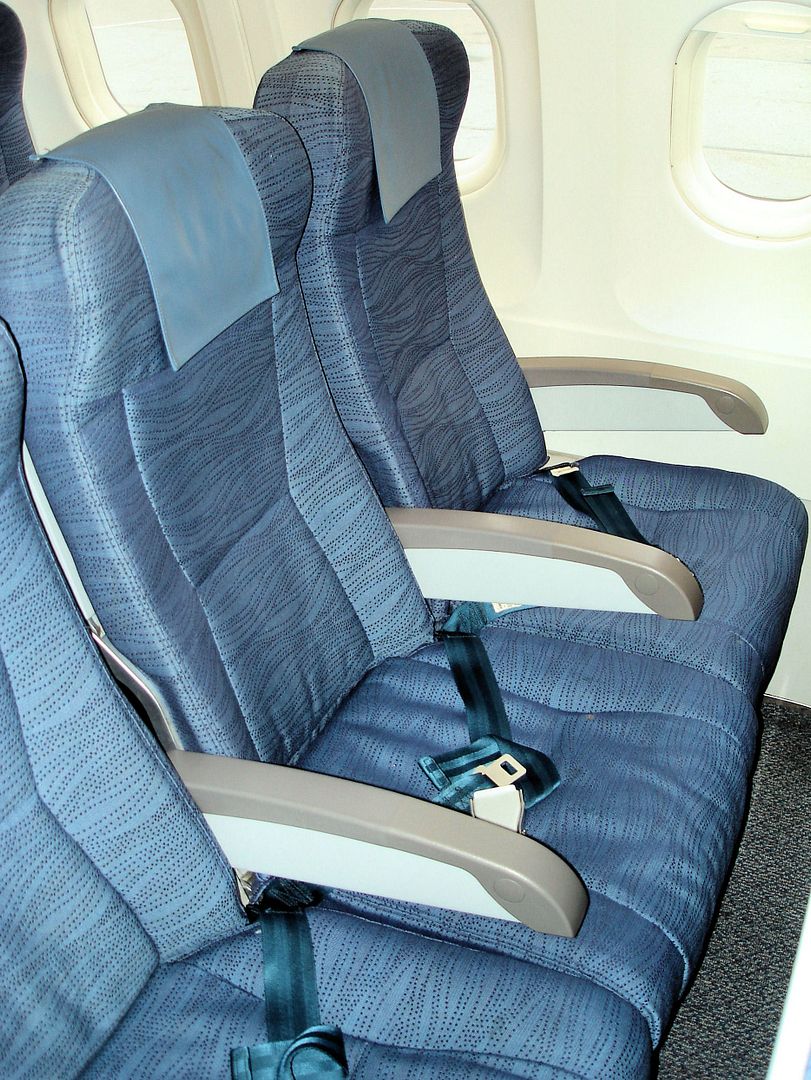 ...and the pitch was sufficient, too.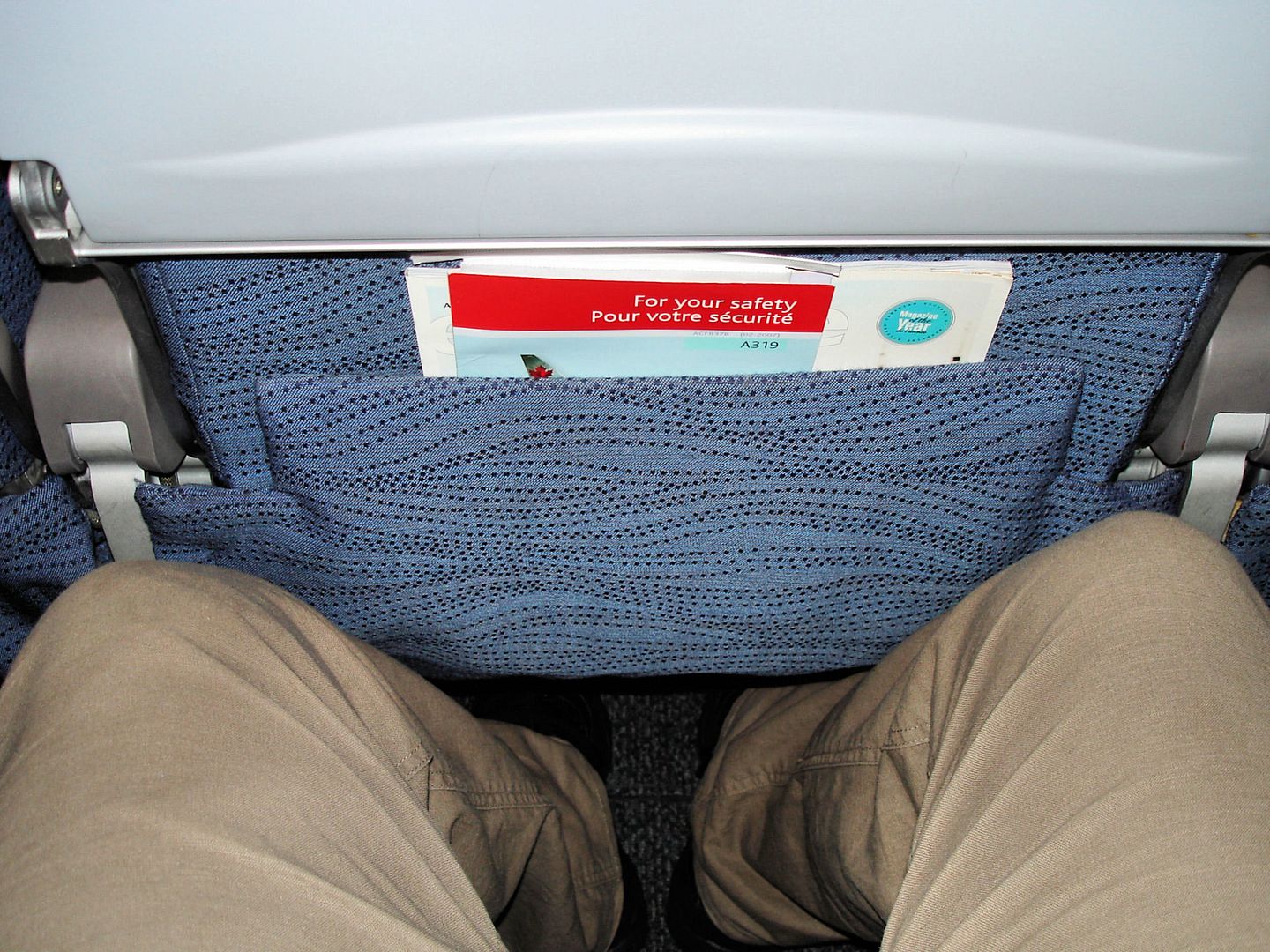 Like all other Air Canada jets (except for three 767-300ERs) the A319 was equipped with in-seat power ports, USB ports, 8.9-inch touch-screen monitors and the
enRoute
IFE system: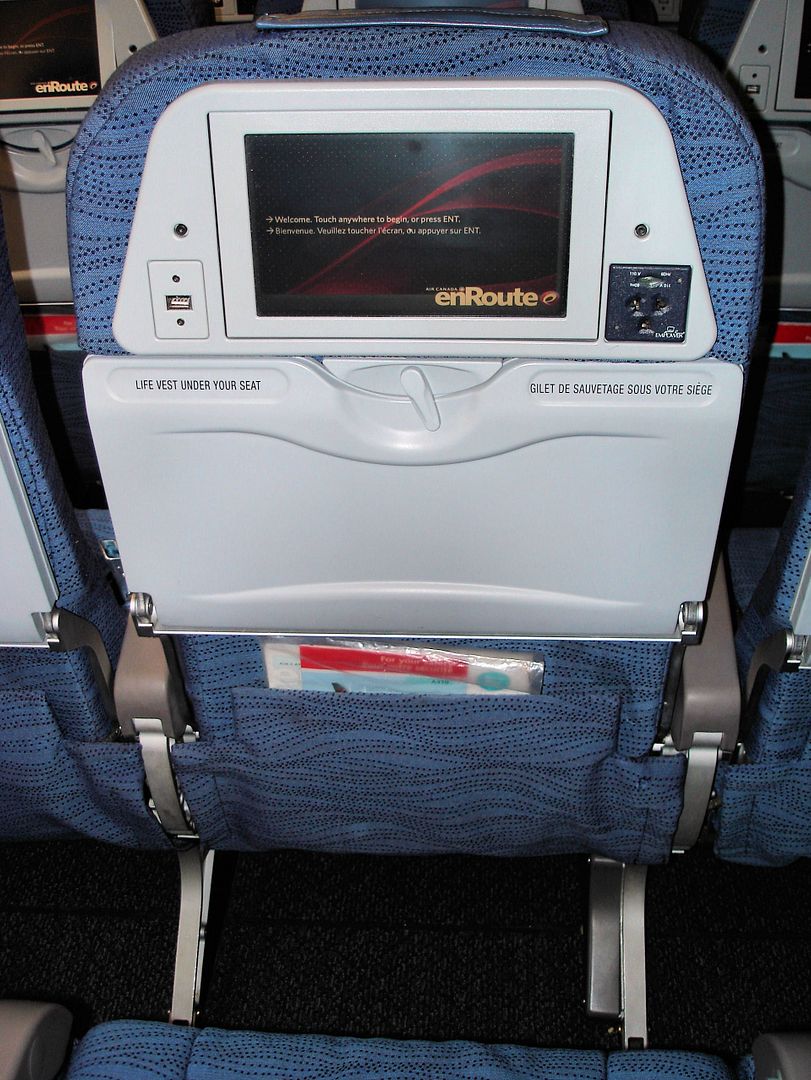 Cabin view
(picture taken later in the flight)
- well-filled Economy Class:
Departure
After boarding had been completed the captain announced a flying time of 4 hours and 48 minutes - so it would be my longest flight so far on an A32X series aircraft. Some minutes later he informed us that some bags had to be offloaded again due to a few no-shows. We finally left the gate 17 minutes late. United's N218UA in Star Alliance colors was bound for London-Heathrow: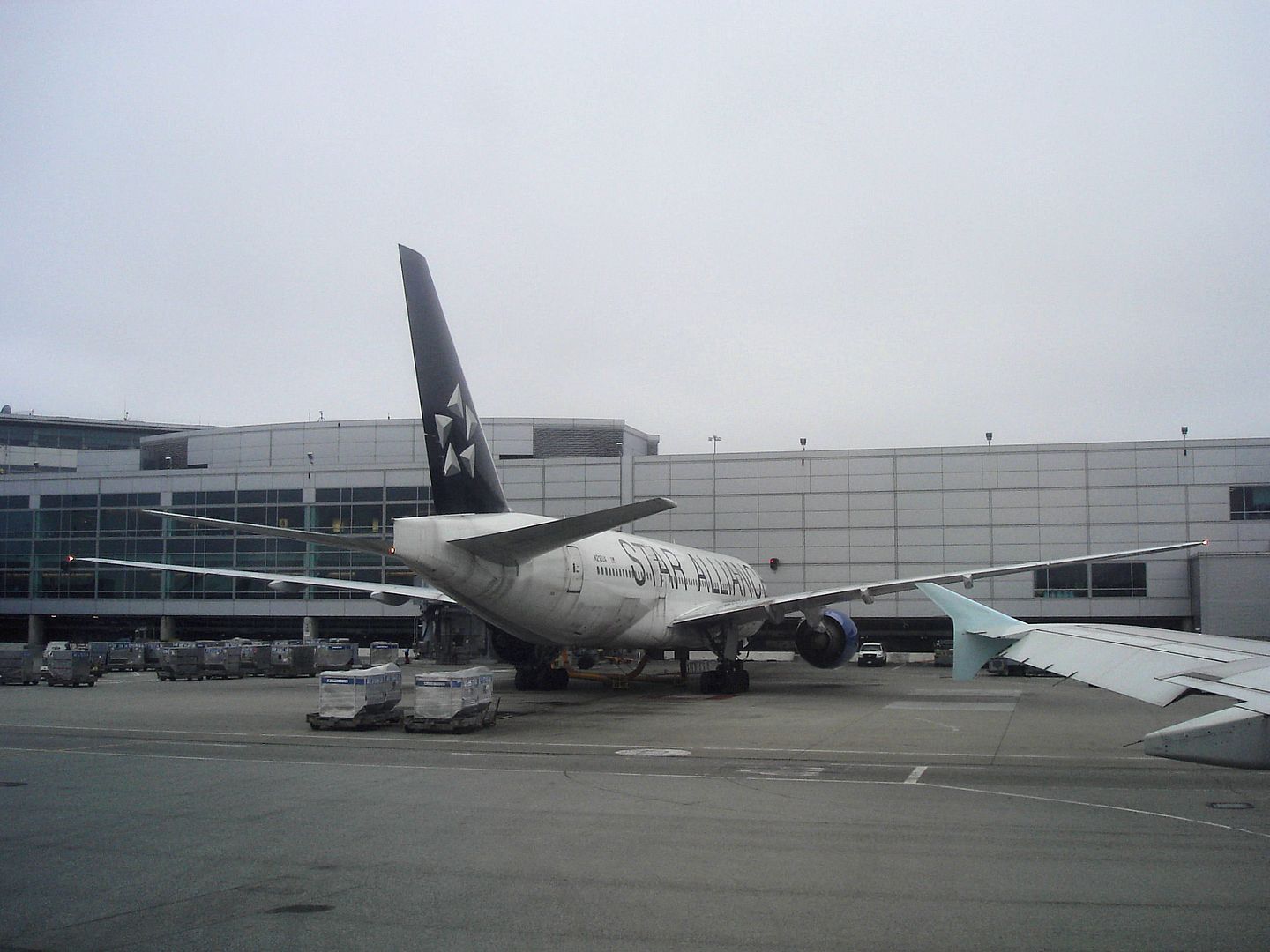 It took another 22 minutes until
C-GAQZ
could enter the runway for takeoff. The weather had become worse in the past 12 hours: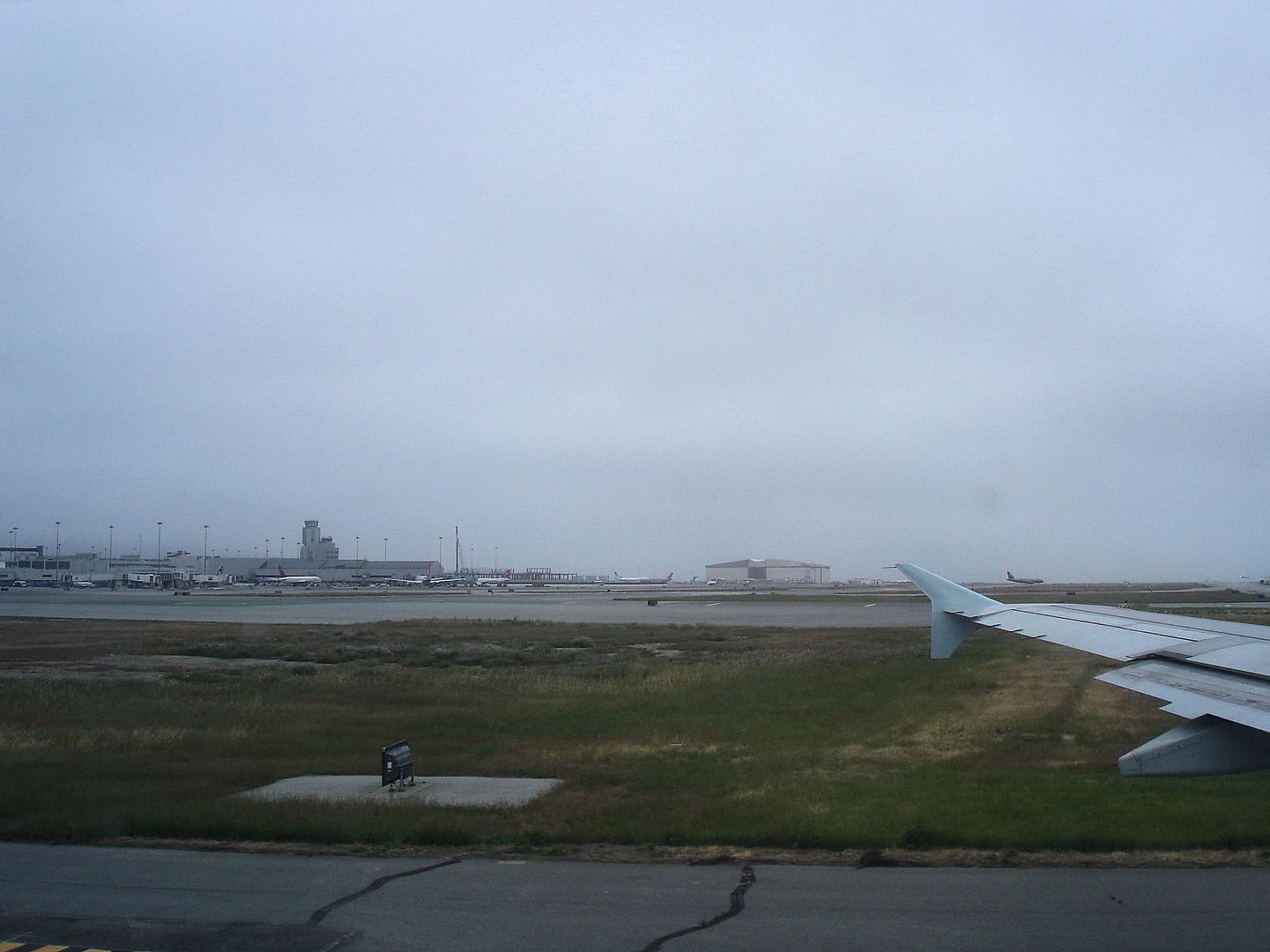 In-flight Entertainment
Immediately after take-off I had a look at the IFE system. Well, it worked throughout the whole flight, but many options weren't available, just like on the Embraer 190 before. Among the features which didn't work were the airshow and the maps, as expected. The remark
"This feature is currently unavailable"
was all you could see after clicking on numerous items. Movies, TV features, music albums and XM satellite radio were available - but I counted only 34 movies, 22 less than on the 763. Ear-phones were sold for $3.
All those who want to read a more detailed review of the
enRoute
IFE system only need to click here
(AC845 section, IFE
):
Seat Dilemma & Canyon Glamour: FRA To LAX, AC 763
Breakfast
Only non-alcoholic drinks are complimentary on routes between the United States and Canada, so I had a look at the
OnBoard Café
menu. In addition to several snacks which are sold on all sectors, various sandwiches and breakfast items were available due to the duration of the flight (more than two hours). However, hot items are only available on Airbus and Boeing aircraft, not on the Embraer jets.
It's also interesting to note that you can save 20 percent when you purchase a voucher in advance - and that meals or snacks are complimentary when you purchase a so-called Latitude fare. Here's more about the
OnBoard Café
:
http://www.aircanada.com/en/travelin...d/dining/na/onboard/pop_index.html
We decided to try
Harvey's Ultra Breakfast Sandwich
for $5. When you pay for your purchase of $10 or more with a major credit card, you get 10 percent off. So we paid $9 in the end which is quite reasonable. The hot muffin with eggs, bacon and cheddar cheese tasted very good: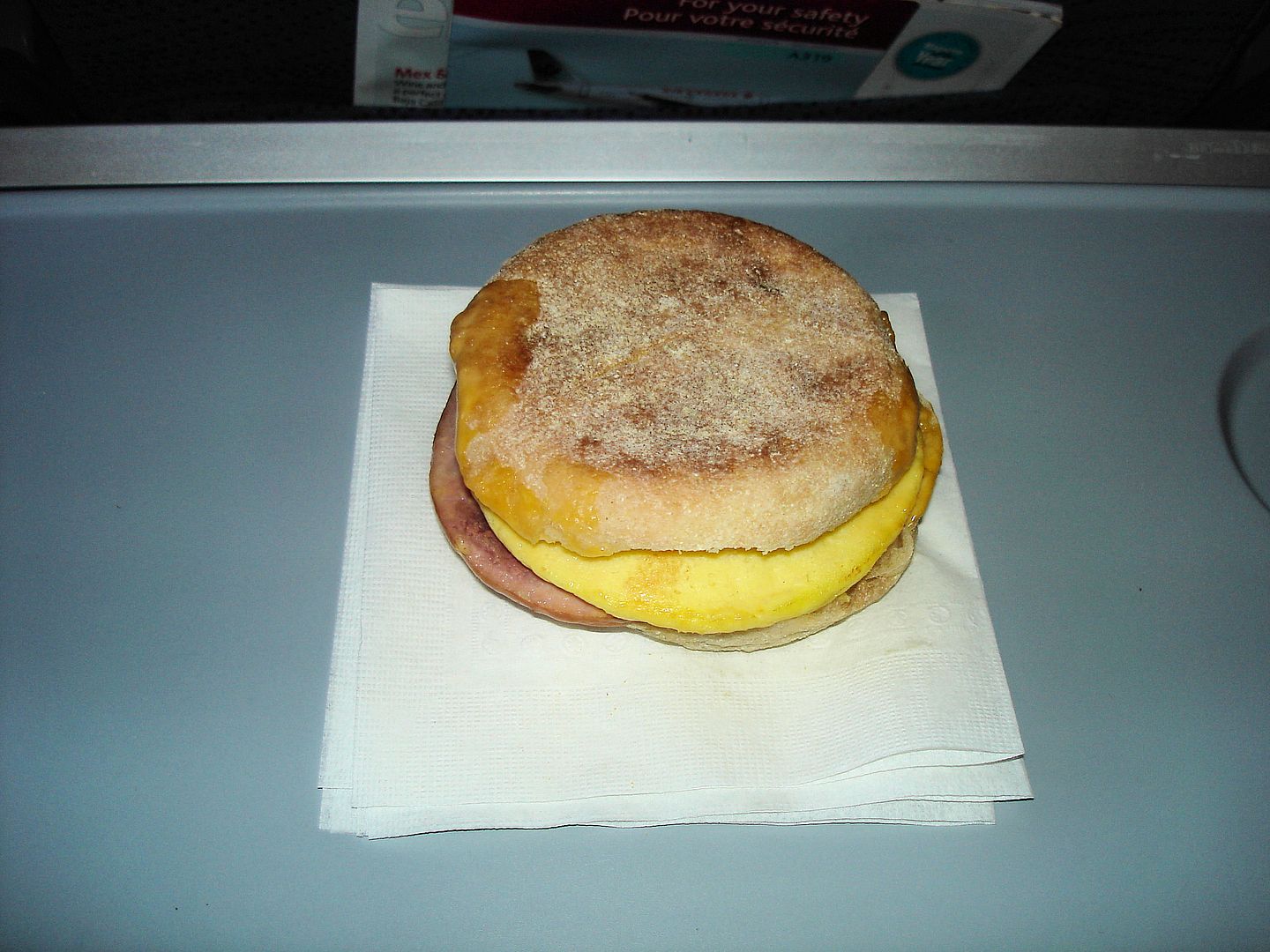 While eating we enjoyed the scenery, as so often: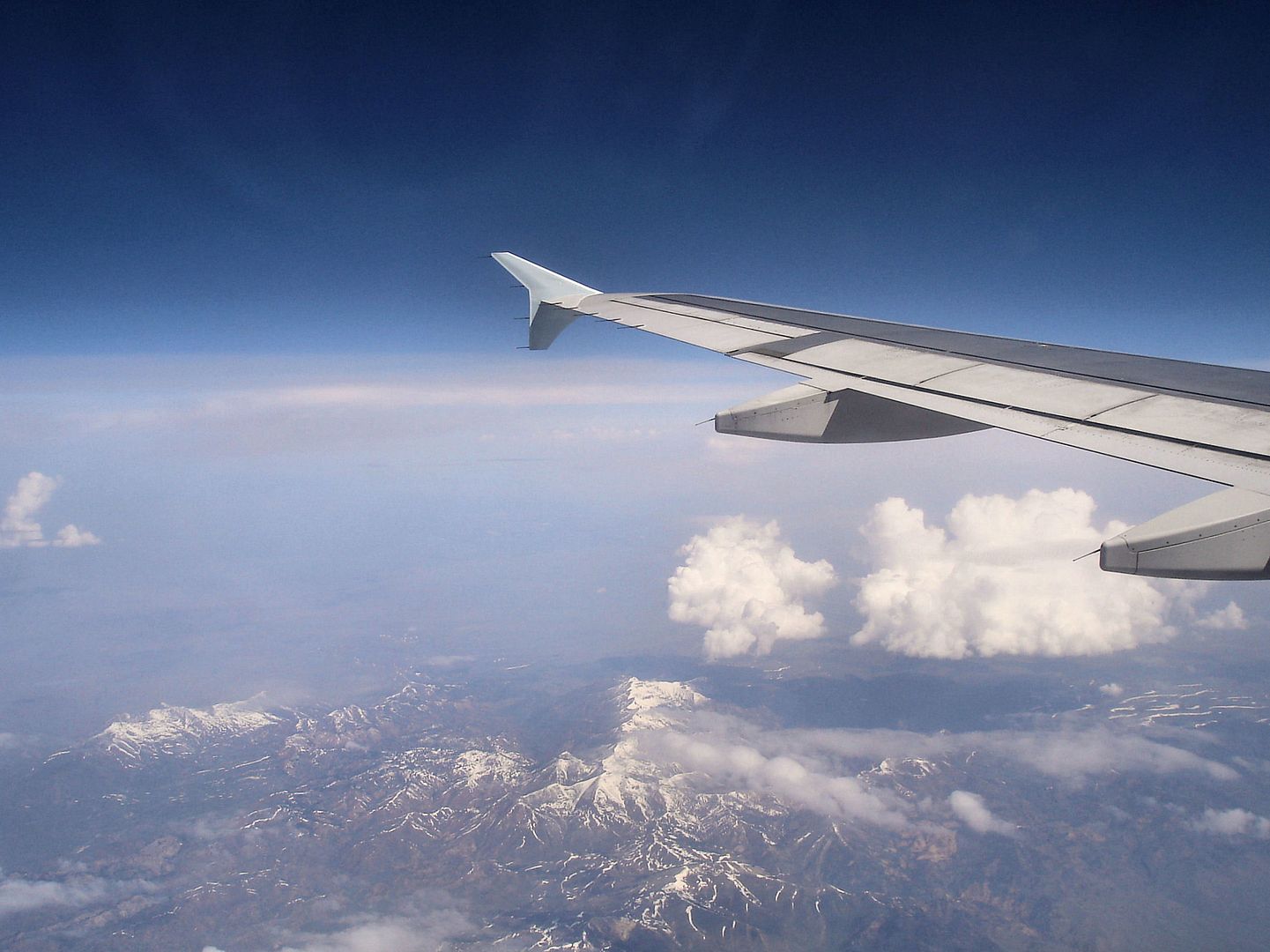 Btw - there were only two rounds of drinks on that long flight, definitely not sufficient. At least they served ginger ale.
Approach & Arrival
After a few more uneventful hours we started the approach into Montreal-Trudeau Airport...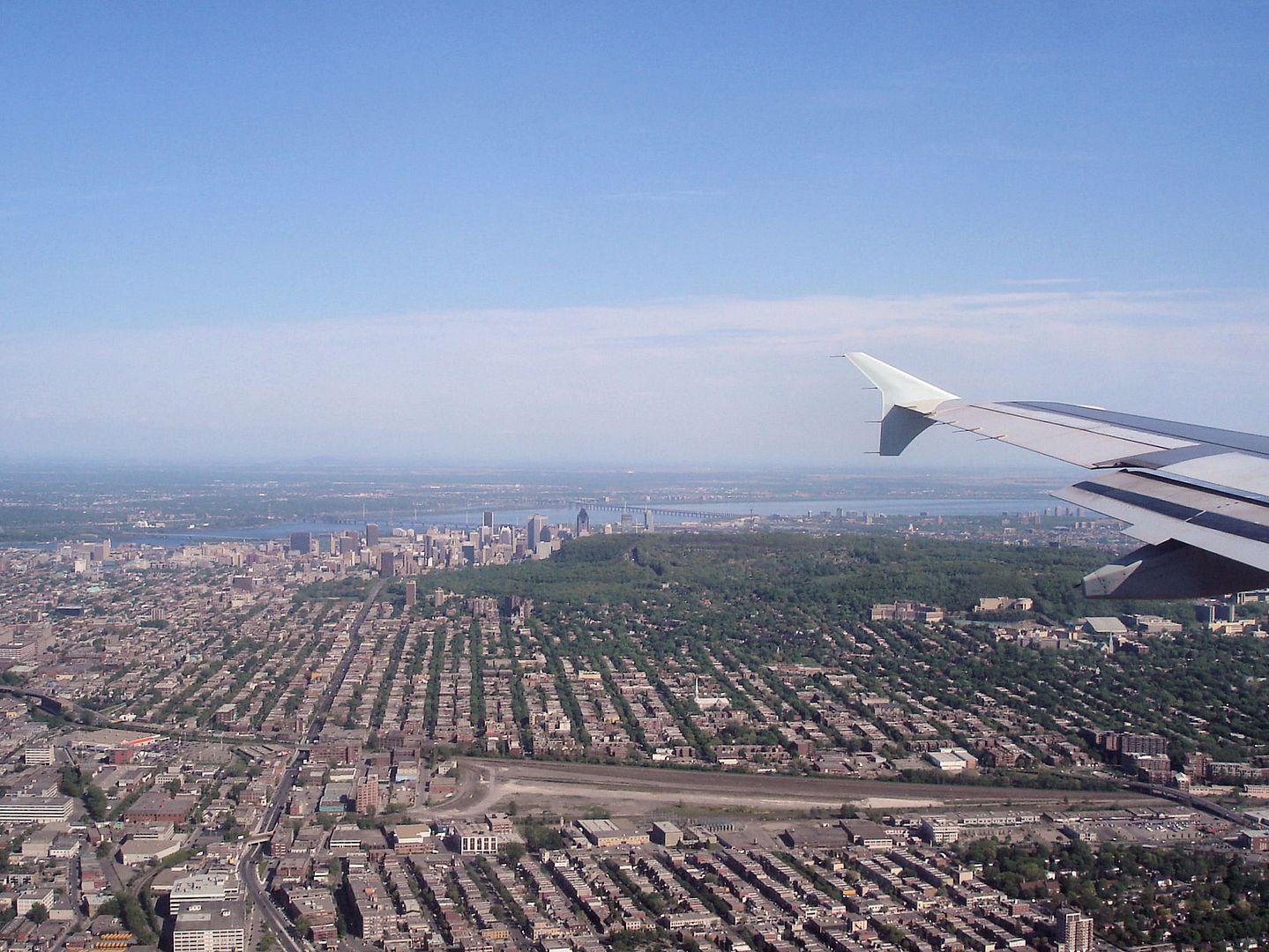 ...and touched down exactly 4 hours and 48 minutes after take-off, as predicted by the captain. We were among the last passengers to leave the aircraft and I took the chance to get two registrations from the jetway. While I was standing there and using my binoculars the two pilots passed - and stared at me with a strange facial expression. Have they never seen a spotter?
Transfer at Montreal-Trudeau Airport
Transferring at YUL was not a pleasure. Even though we didn't have to pick up our luggage again for customs, we had to pass immigration. While Canada-bound passengers could line up behind numerous counters, we had to queue in front of a single counter. One single officer had to check landing cards, passports and boarding passes of all passengers who were transferring from an international flight to another international flight - some 30 people were in front of us and the queue behind us was getting longer and longer. I guess we were waiting there for 30 minutes. One problem was that numerous passengers didn't have all required documents ready when it was their turn - is it so difficult to take out the stuff for the check in advance?
Saturday, 23 May 2009
Montreal (YUL) - Frankfurt (FRA)
Air Canada AC874
19:55-08:55 (20:04-08:54)
Flying time: 06:20 (hrs)

Boeing 777-333ER
C-FITU (s/n 626), delivered in 04/2007
Economy Class, Seat 59A
Aircraft & Cabin Comfort
After passing the immigration and security checkpoints we went straight to our gate where a magnificent Boeing 777-300ER was already being prepared for flight AC874 to Frankfurt.
C-FITU
, delivered in April 2007, is one of 12 77Ws in the fleet: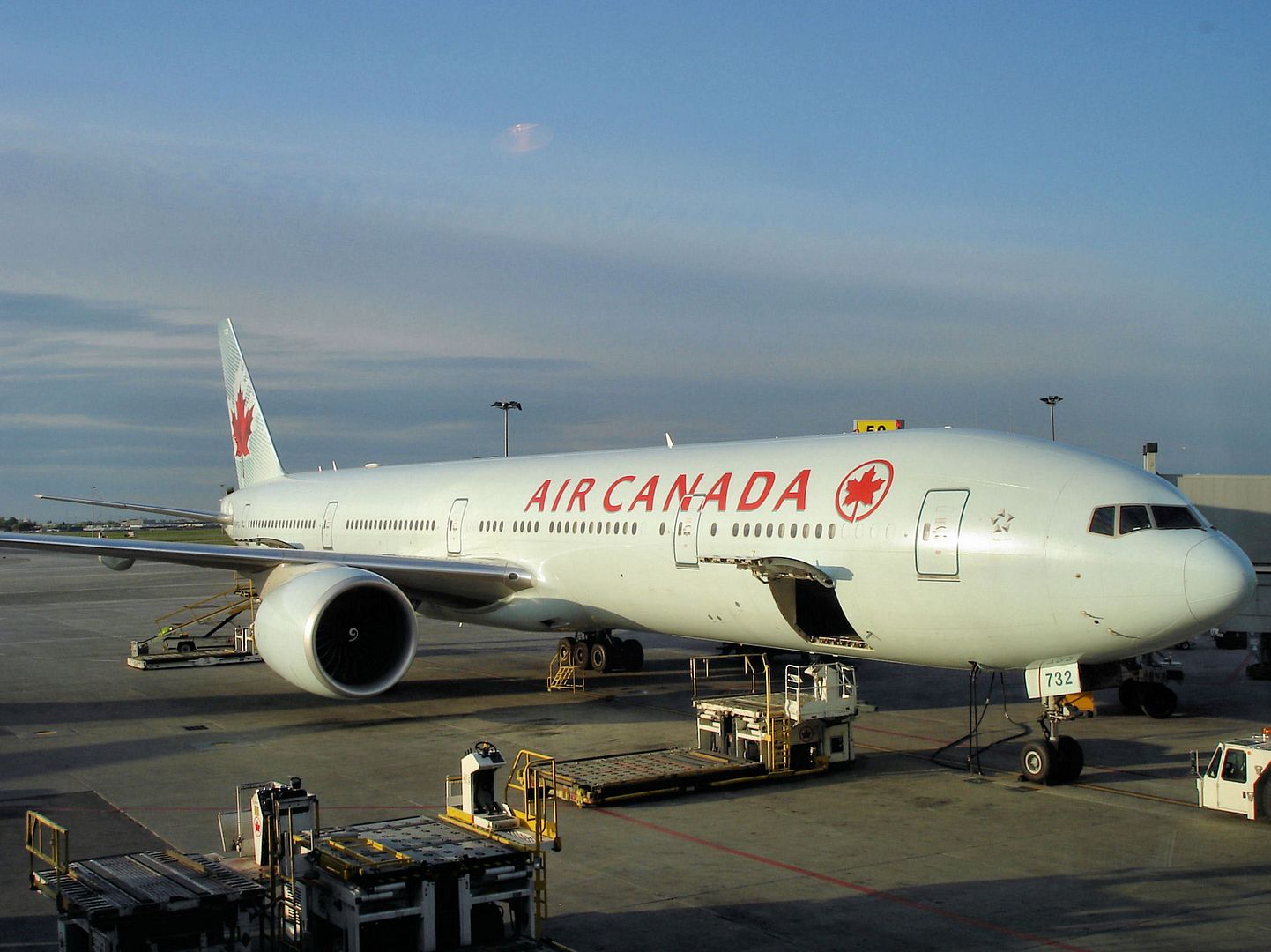 We still had plenty of time left and took seats close to a window. The gate areas were quite cramped in the busy evening hours, but at least I could enjoy good views through the large windows. In about two hours I got a total of 27 new registrations (mostly Air Canada and Air Canada Jazz).
Boarding was finally started and friendly flight attendants welcomed us on board. The seats were quite comfortable again...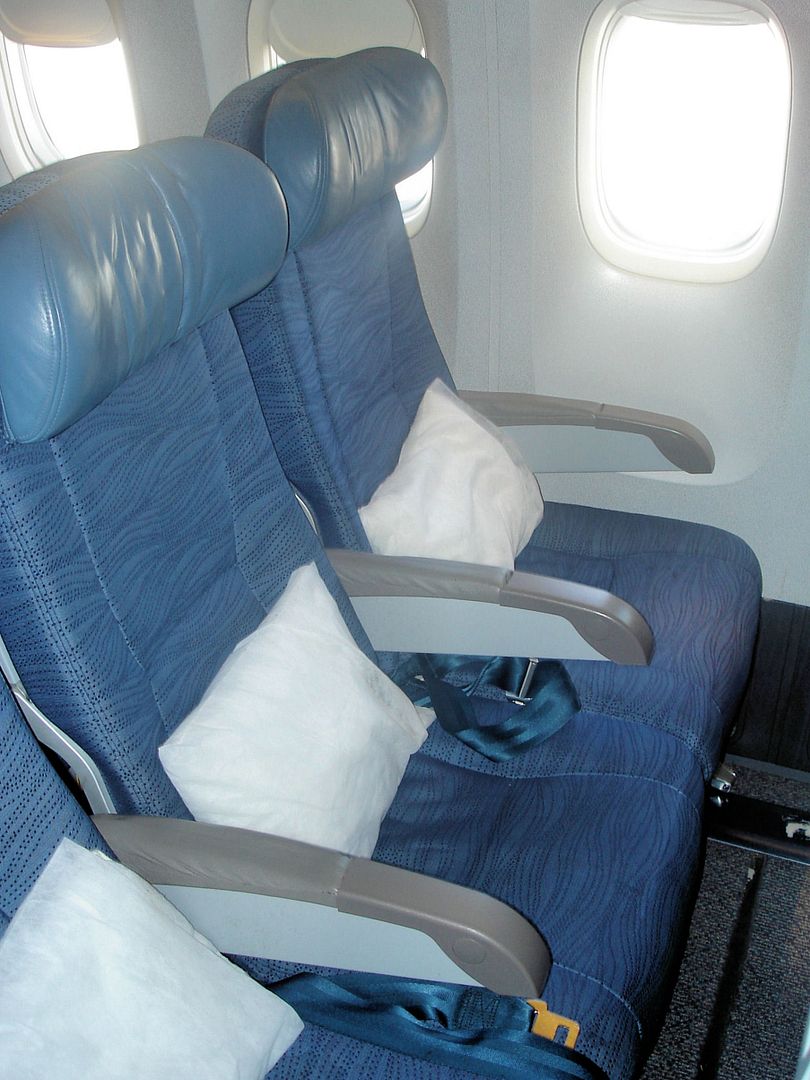 ...and legroom was generous - at least in the window and the middle seats.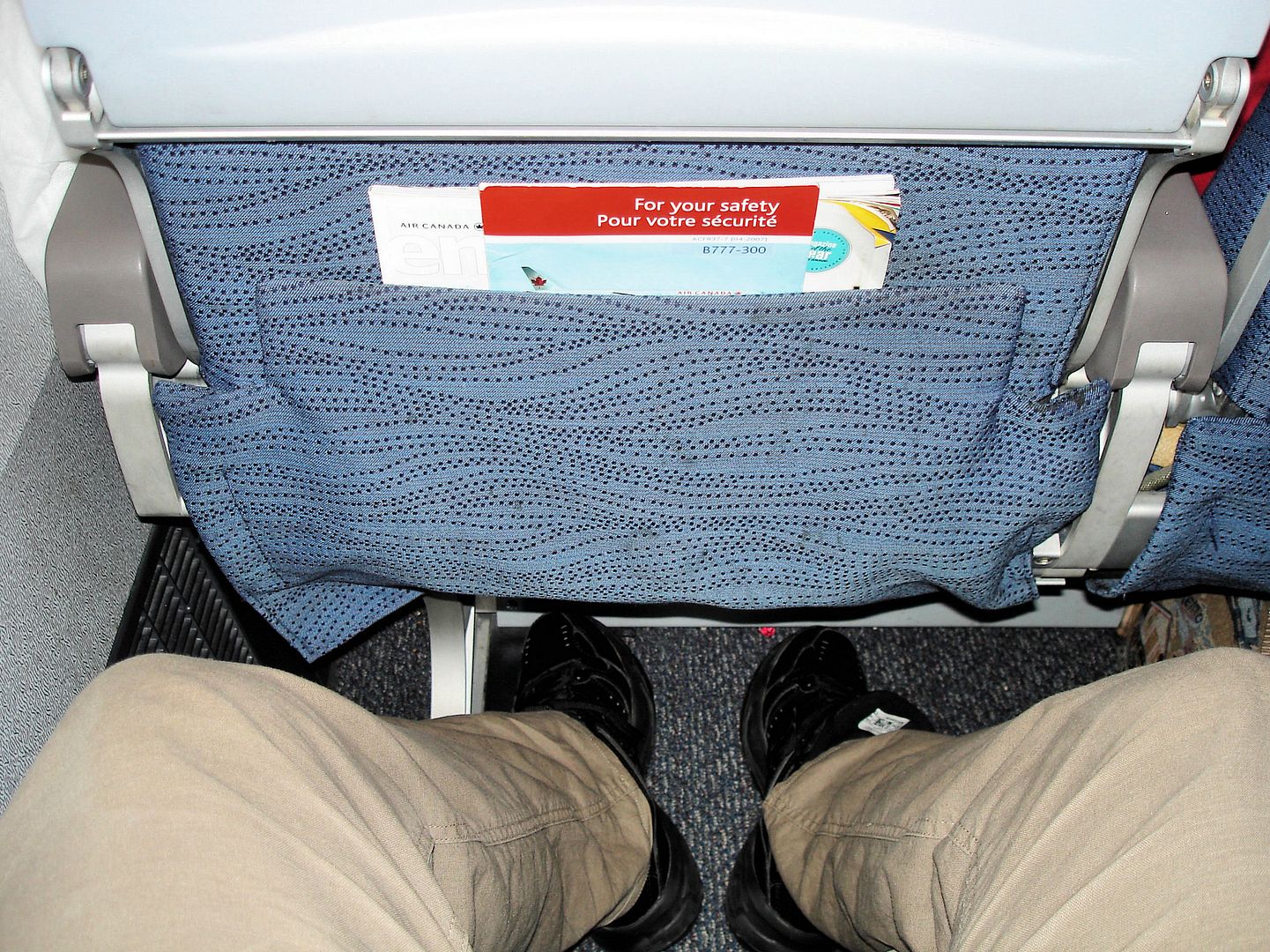 Due to the narrowing of the cabin the aisle seat in row 56 is installed in inclined position which reduces legroom. The tall lady in the aisle seat next to us didn't like that at all.
Departure
The flight seemed to be fully booked in Y Class so it took a while until all the luggage was stored somewhere and everybody was seated. I could add some more registrations: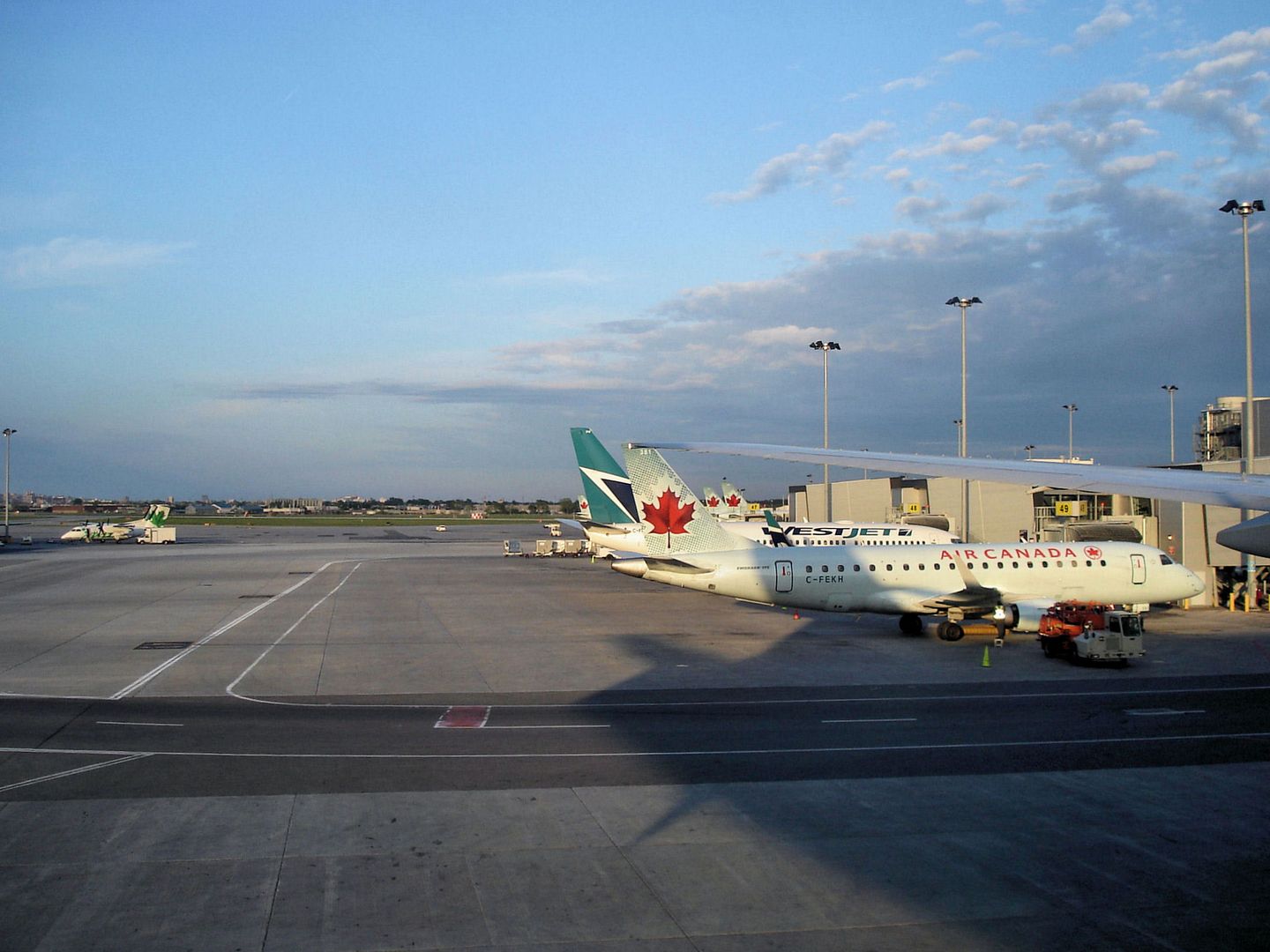 We left the gate slightly late and started taxiing while the sun was slowly disappearing: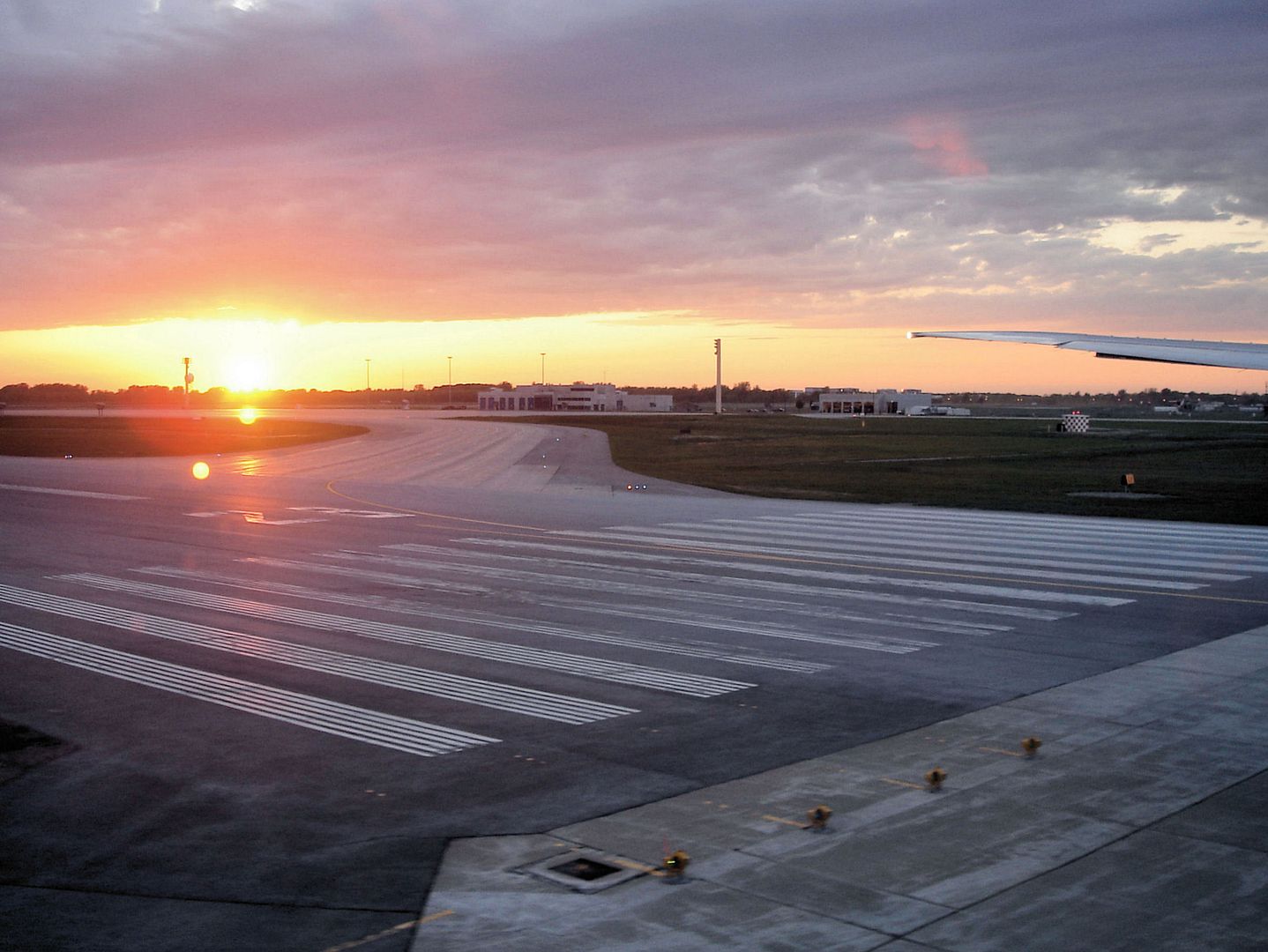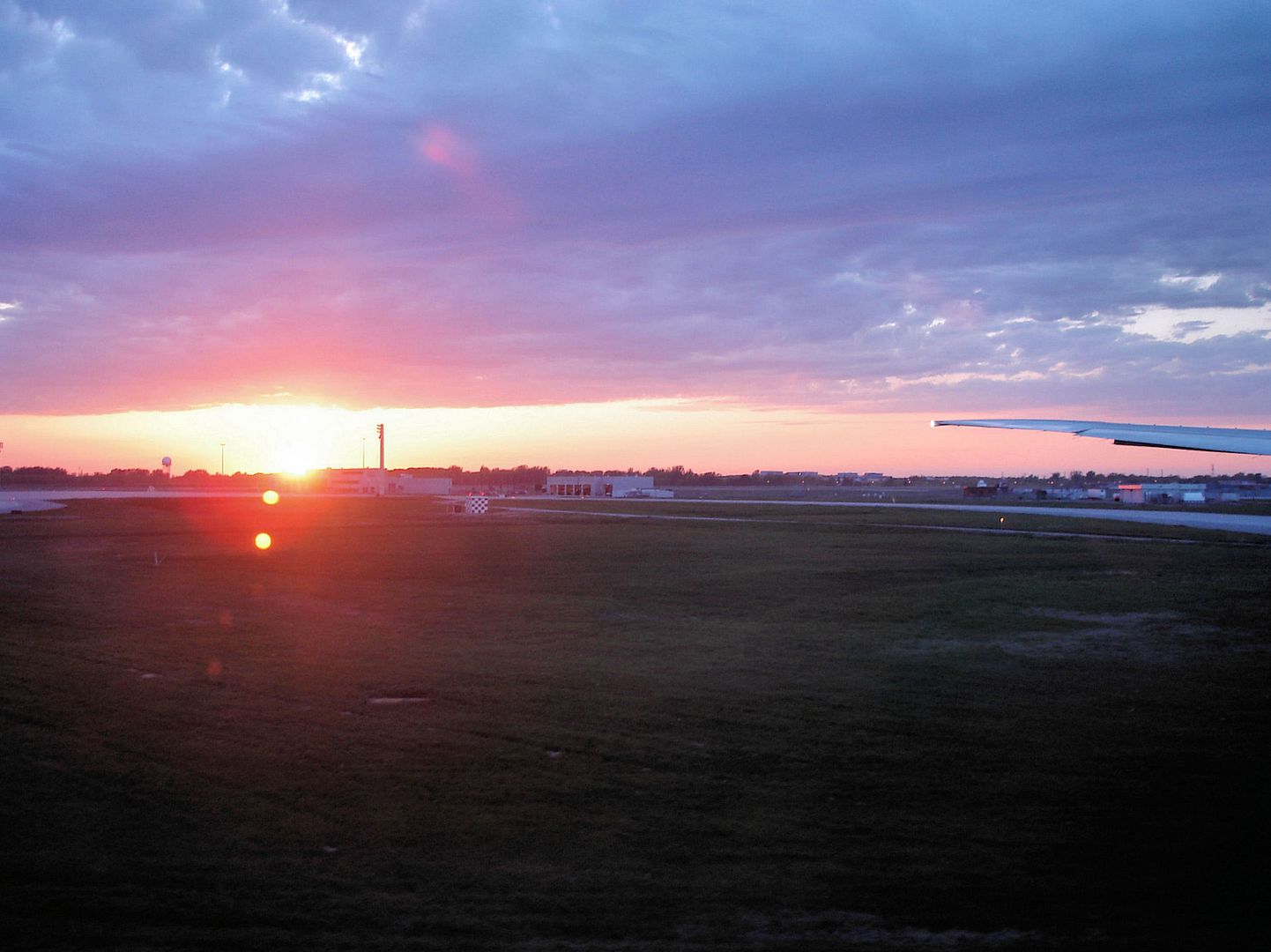 Some minutes later the giant twinjet entered the runway and lifted off after a powerful and noisy take-off roll: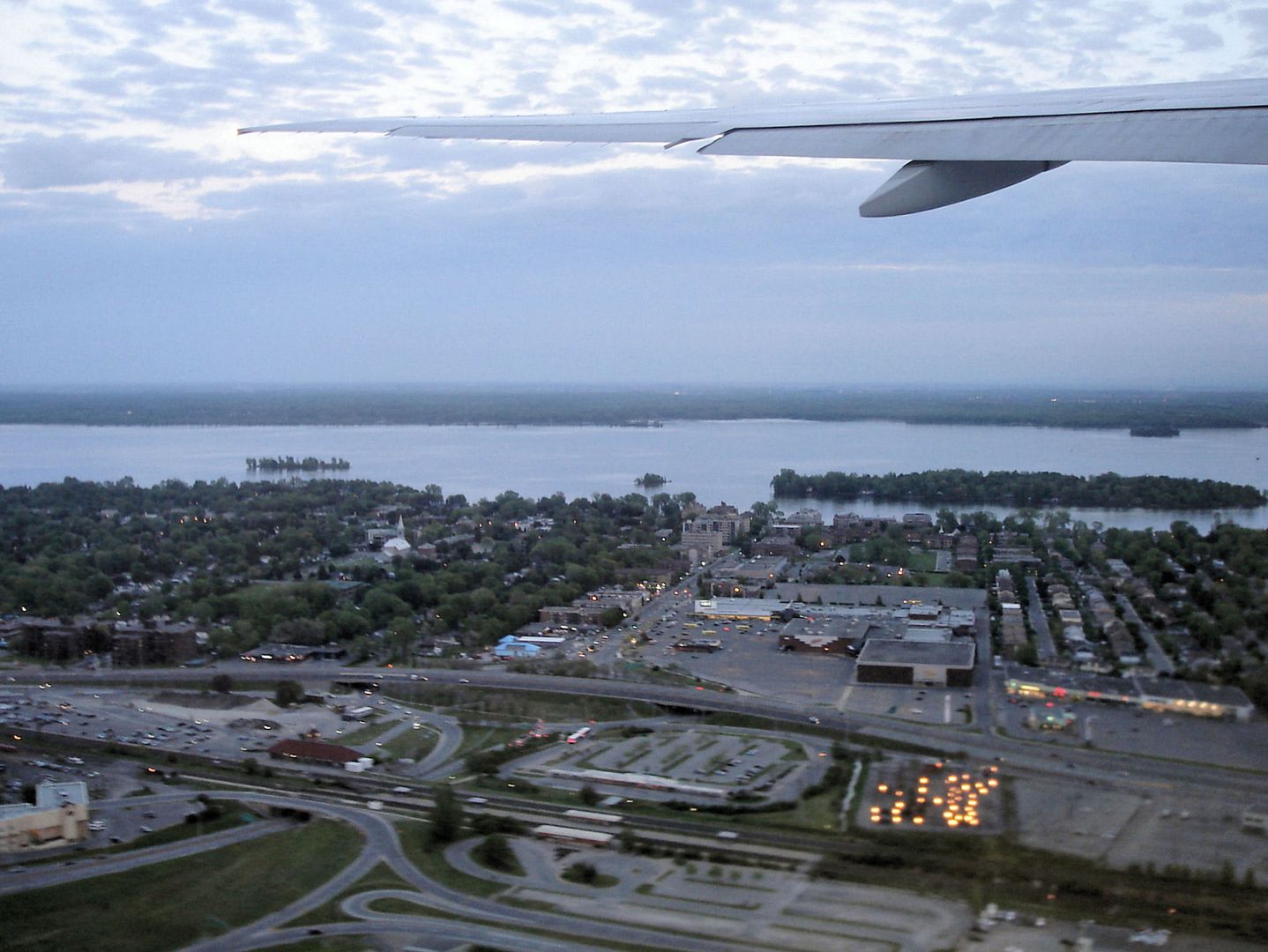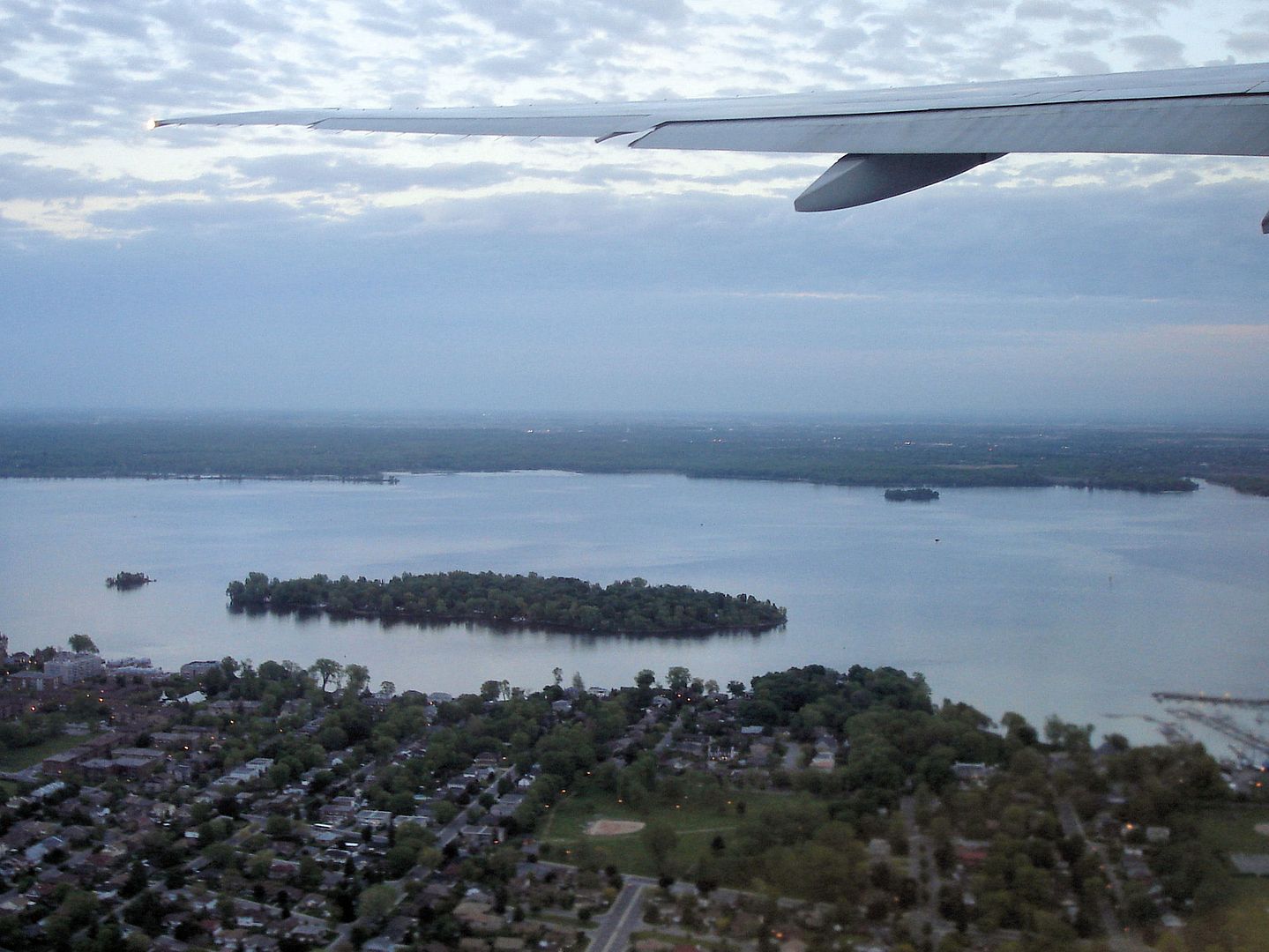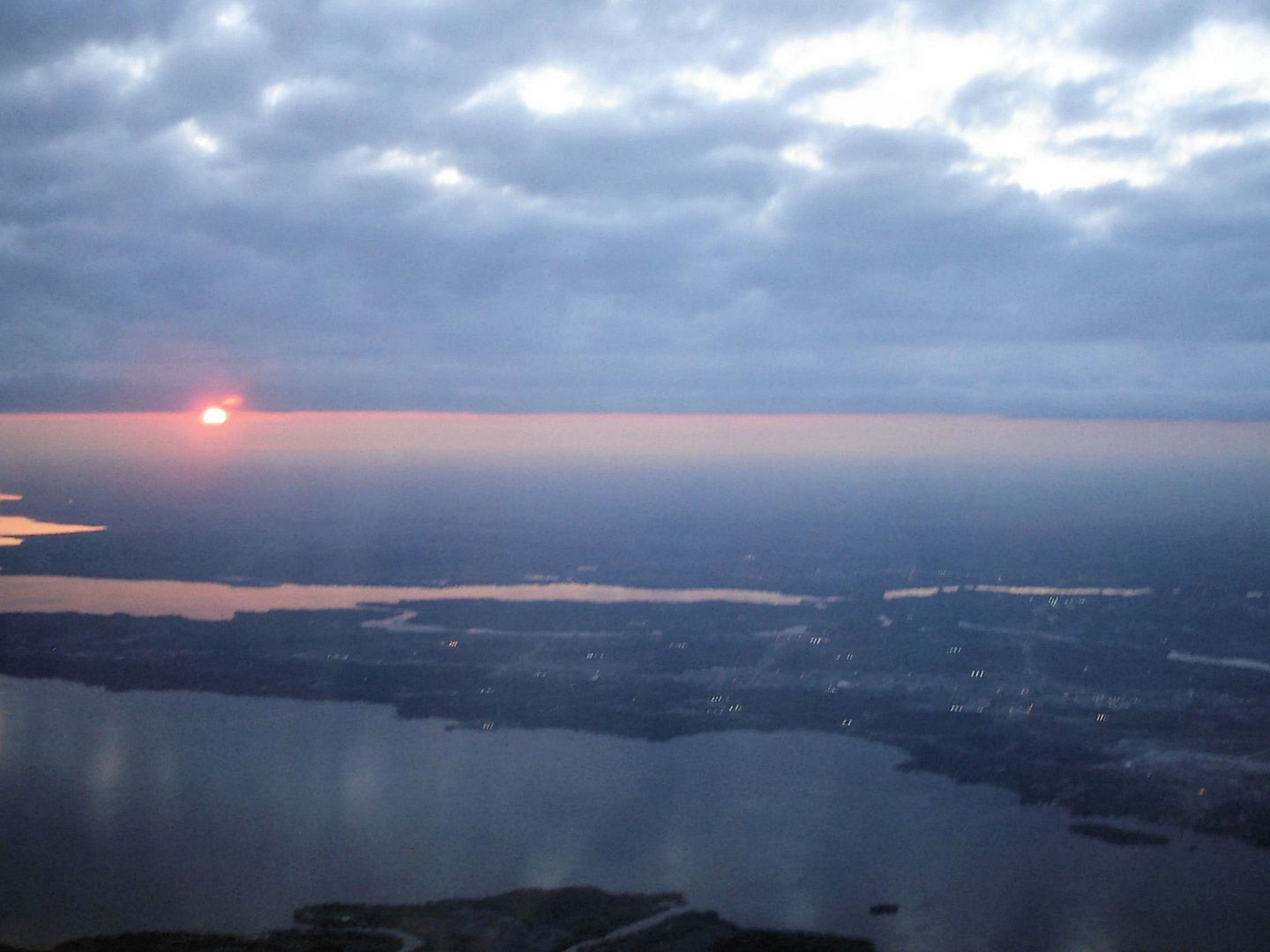 In-flight Entertainment & Mood Lighting
Of course I was curious about the IFE on this flight - meanwhile I almost felt like playing the lottery.
"Look for more exciting programs and features in the near future"
, it said on the welcome screen. Well, I'd be already satisfied if the existing features worked properly...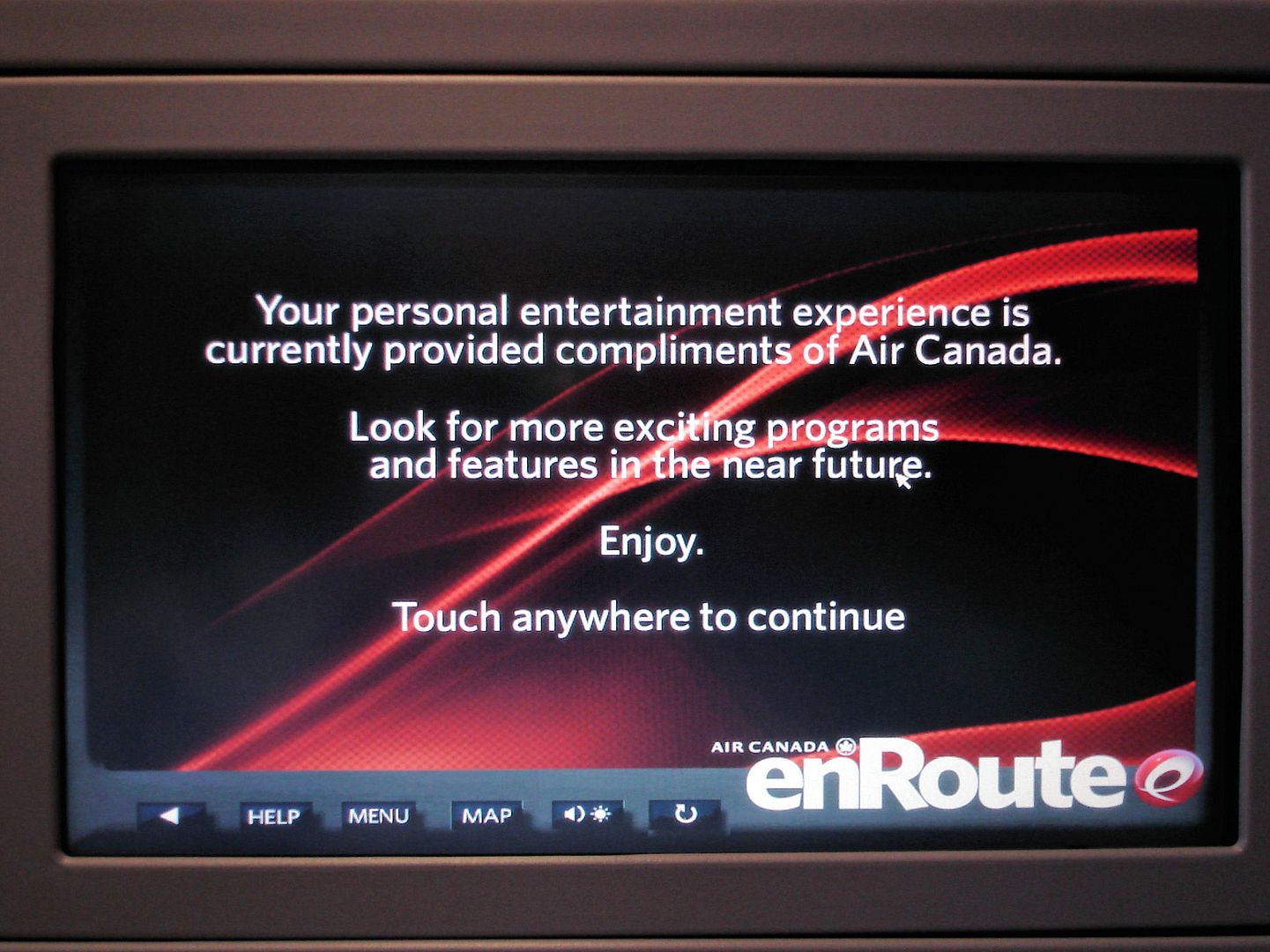 Main menu: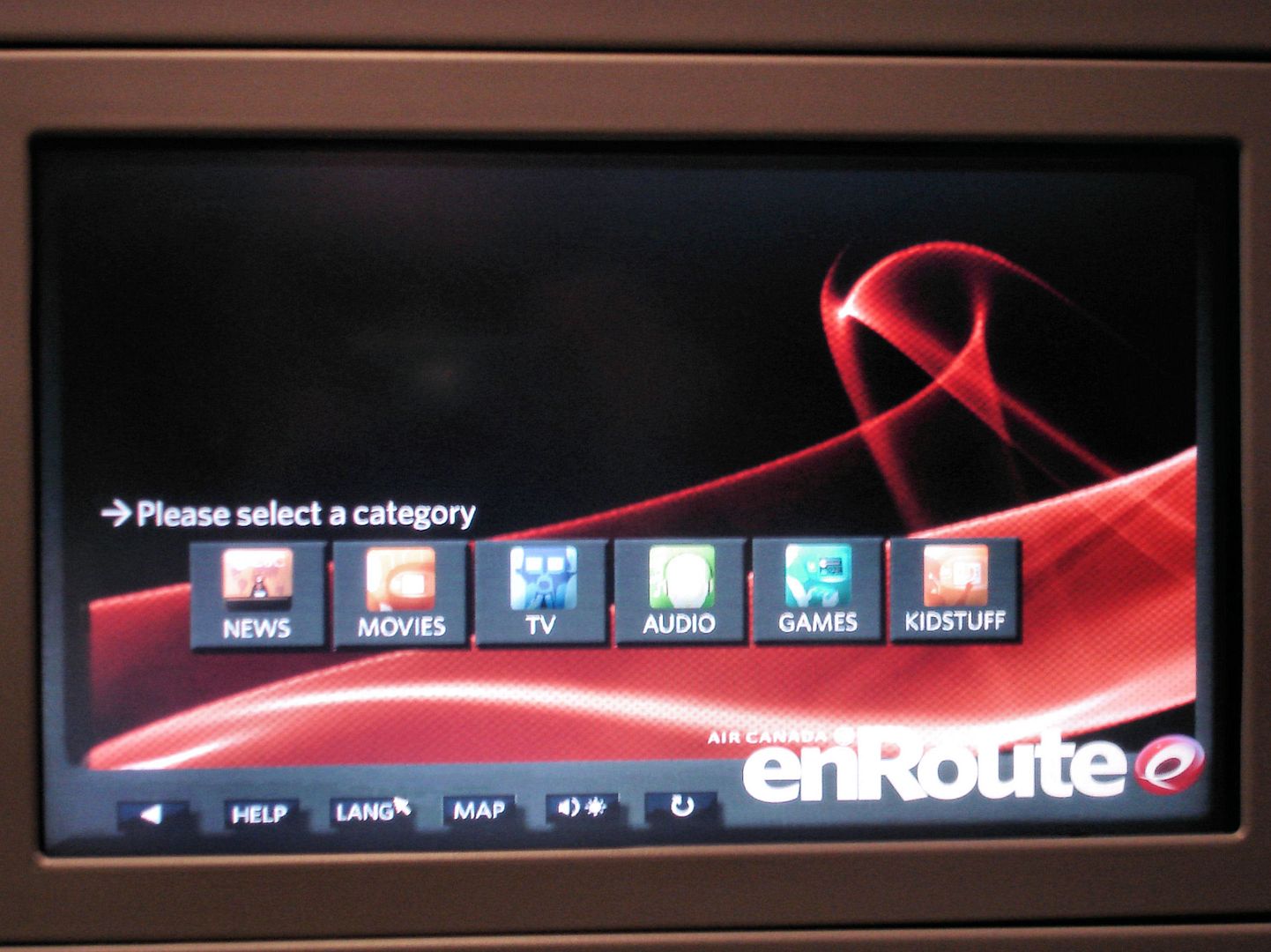 First of all I clicked at the map button - and all I got instead of my favorite IFE feature was this:
It was very disappointing that the maps weren't available on Air Canada's flagship - I had really enjoyed that feature on the 763. At least the other options available on the 763 were also available on the 77W.
All those who want to read a more detailed review of the
enRoute
IFE system only need to click here
(AC845 section, IFE)
:
Seat Dilemma & Canyon Glamour: FRA To LAX, AC 763
The lack of the map feature was painful, but I soon noticed that at least the mood lighting system's color tones weren't changing all the time (which was happening on the 763):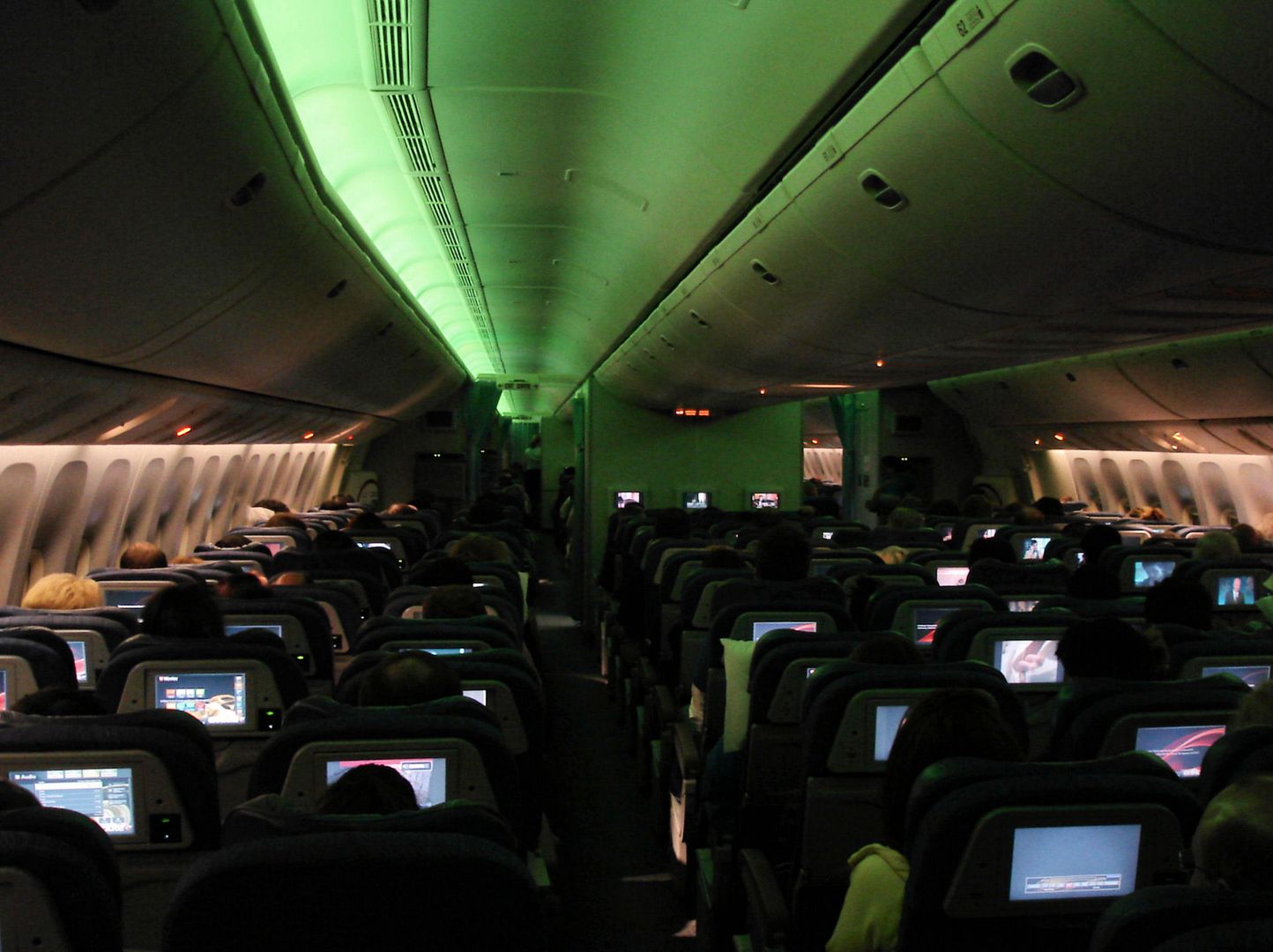 Dinner
Roughly 40 minutes after take-off the flight attendants started serving dinner. This time different meals had been loaded and there was a choice between beef and chicken. I hadn't expected anything special after the disappointing lunch on the FRA-YYC flight and ordered the beef option - which wasn't bad at all: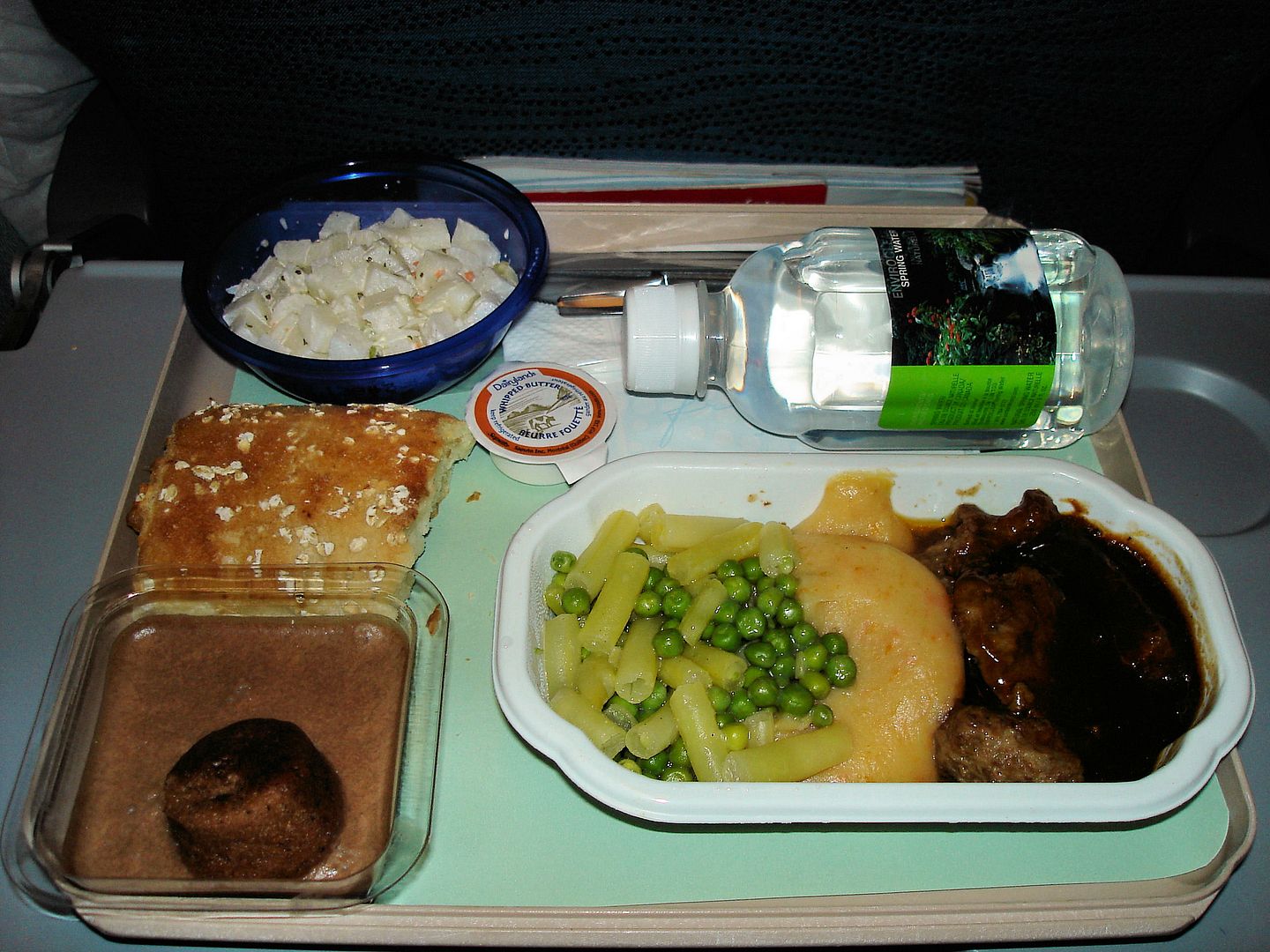 The beef tasted quite good and the vegetables and the mashed potatoes weren't bad either. Again we weren't able to identify the salad ingredients, but it was ok, just like the chocolate cream. The portions could have been a bit larger, though. My girlfriend tried the chicken again and also confirmed that it tasted better this time.
The Lighting Problem
After dinner trays had been collected I had a look at the IFE system again for a while, but finally decided to try to get some sleep. I was hoping that the bright overhead light would be switched off soon...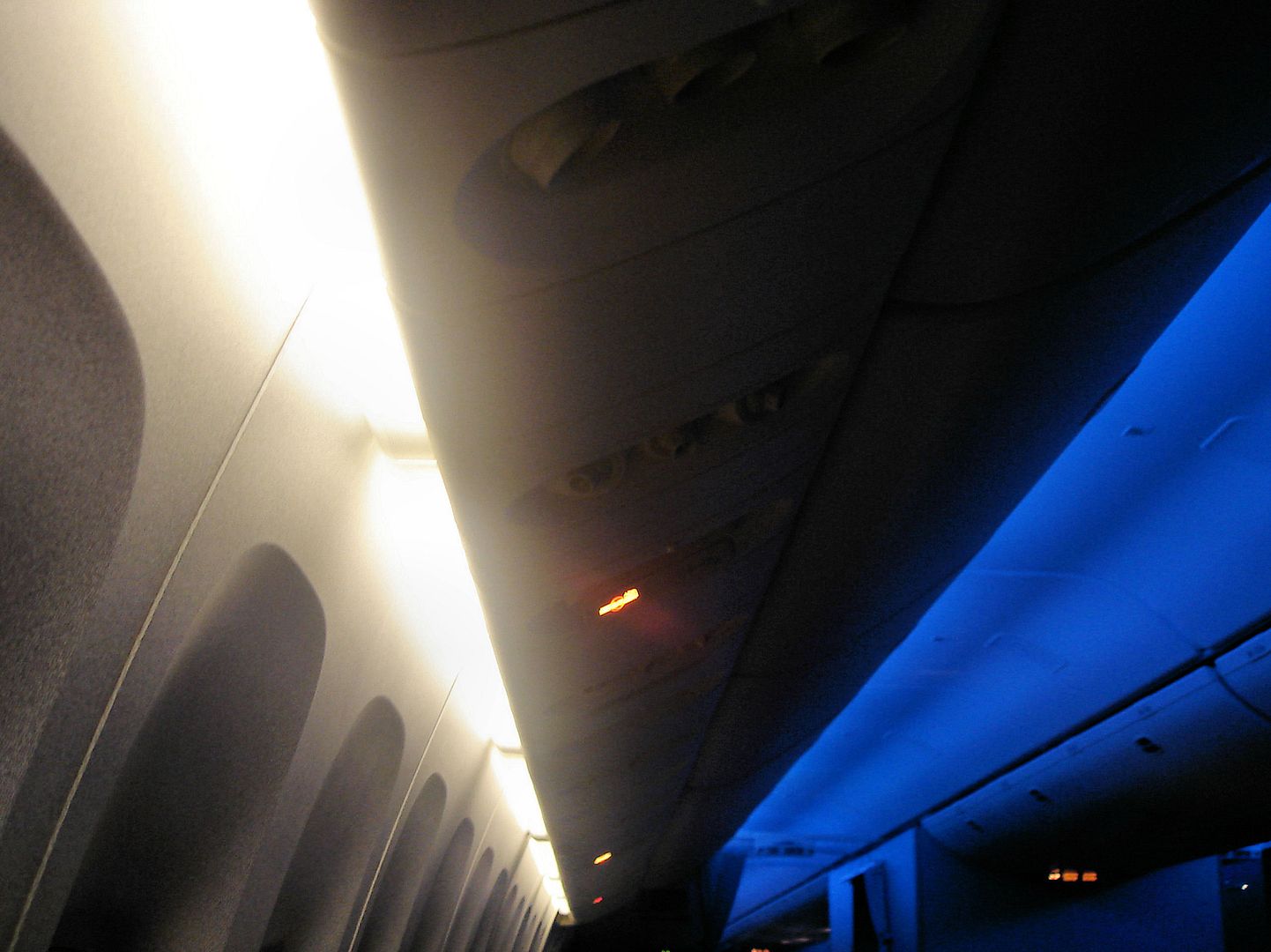 ...but nothing happened. I tried to ignore the light, but of course that didn't work. Amenity kits with eyeshades hadn't been distributed either, so there weren't many options. After some 30 more minutes of waiting I decided to ask and pressed the call button. And again nothing happened. Several flight attendants passed, but they weren't interested at all in the call button light over my head. Several other requests in the rear section were ignored, too - and about 25 minutes later all the call button lights were simply switched off!
Then I verbally stopped the next flight attendant passing and asked her when the bright light would be switched off.
"It will be switched off after the duty free sale"
, she said. If you believe it or not, only a few moments later the light turned even brighter: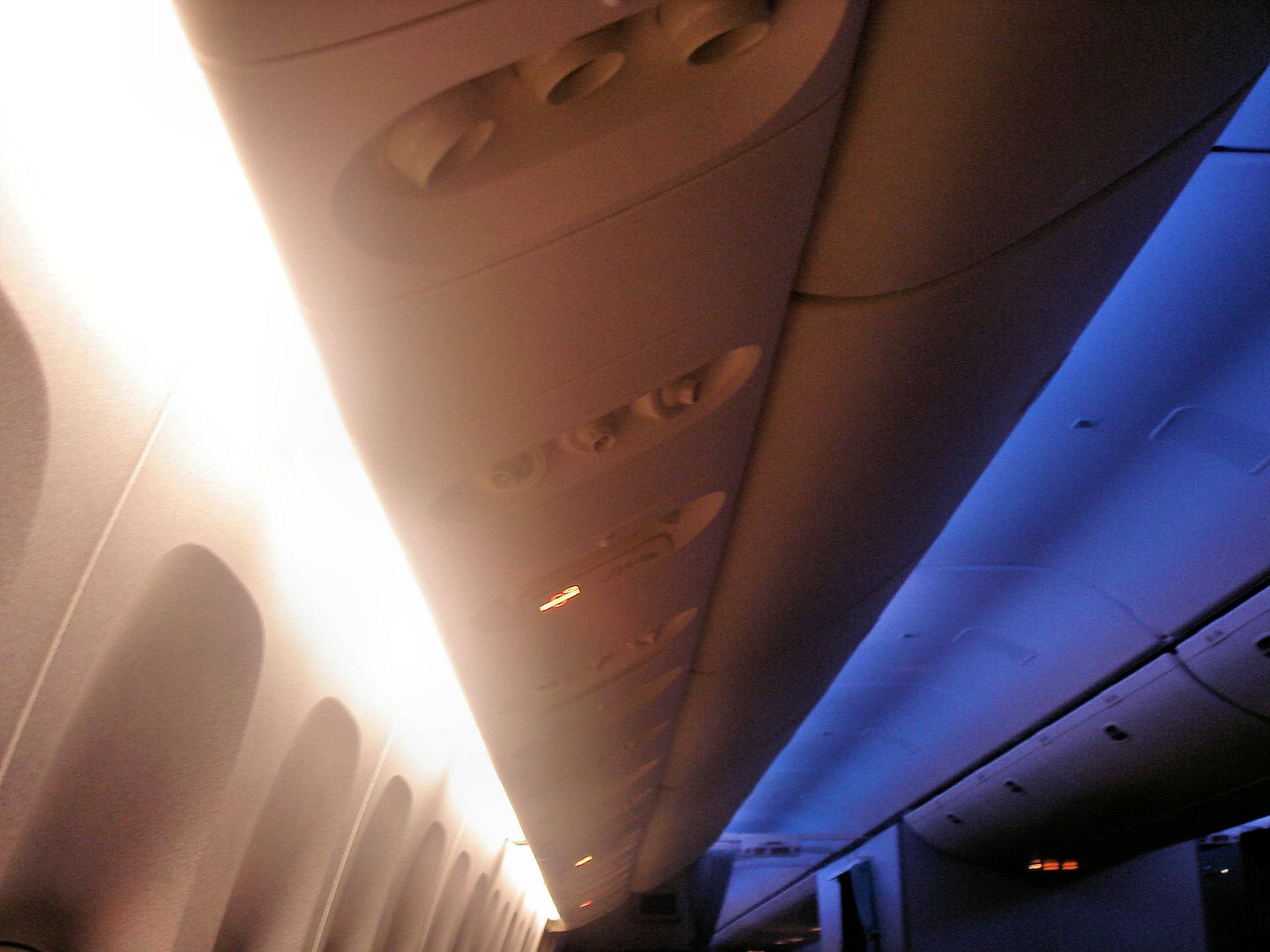 I was hoping that the sale would be over soon, but it took at least 30 minutes. One or two passengers on the right cabin side had apparently loved the idea of midnight in-flight shopping, considering how long the cart had remained parked next to them...
Meanwhile I was desperately trying to somehow cover my eyes: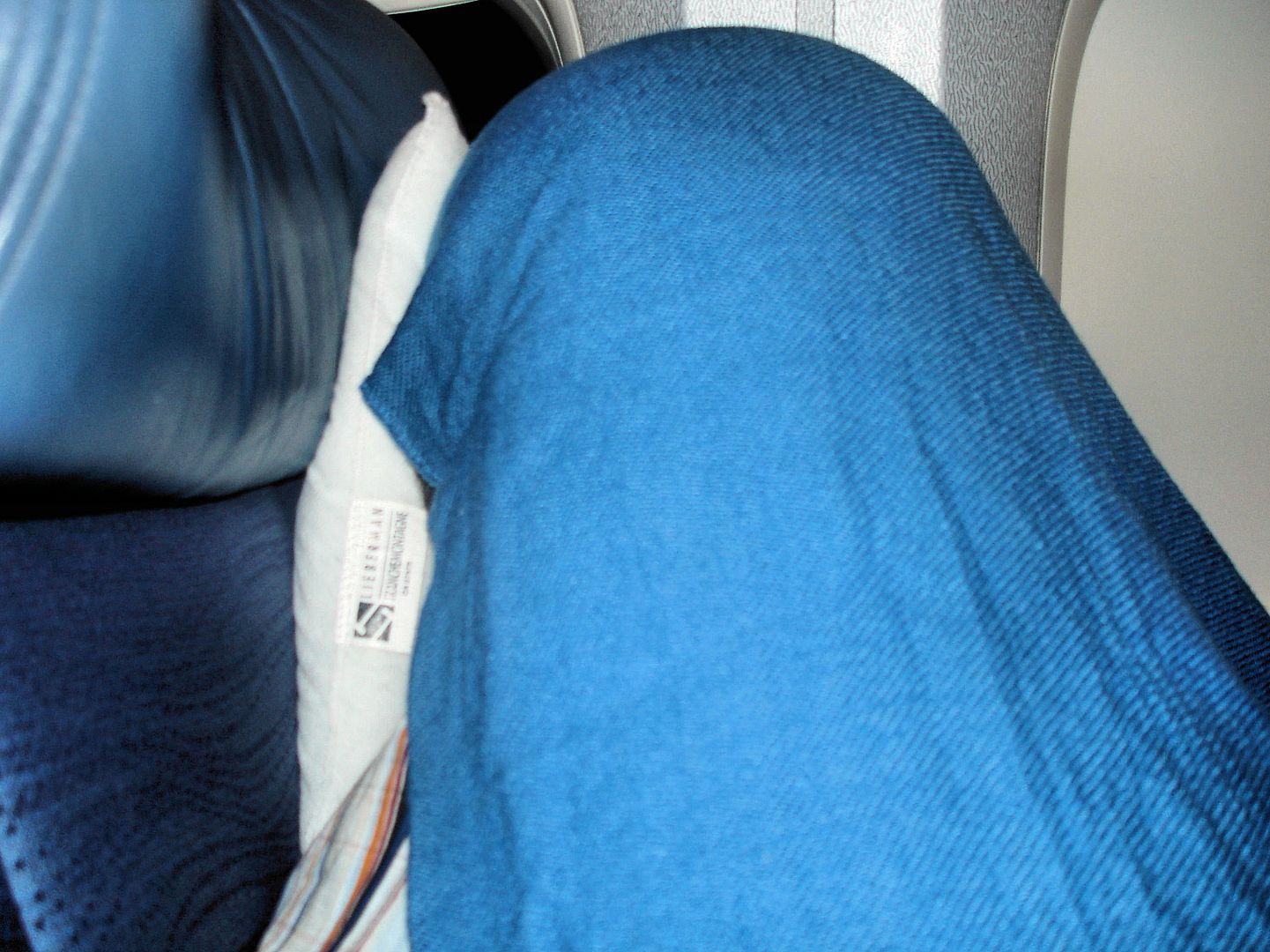 Finally, yes finally, the bright light was switched off and I could find some sleep. However, I woke up again after only an hour. Considering that breakfast would be served soon I gave up and took some pictures instead: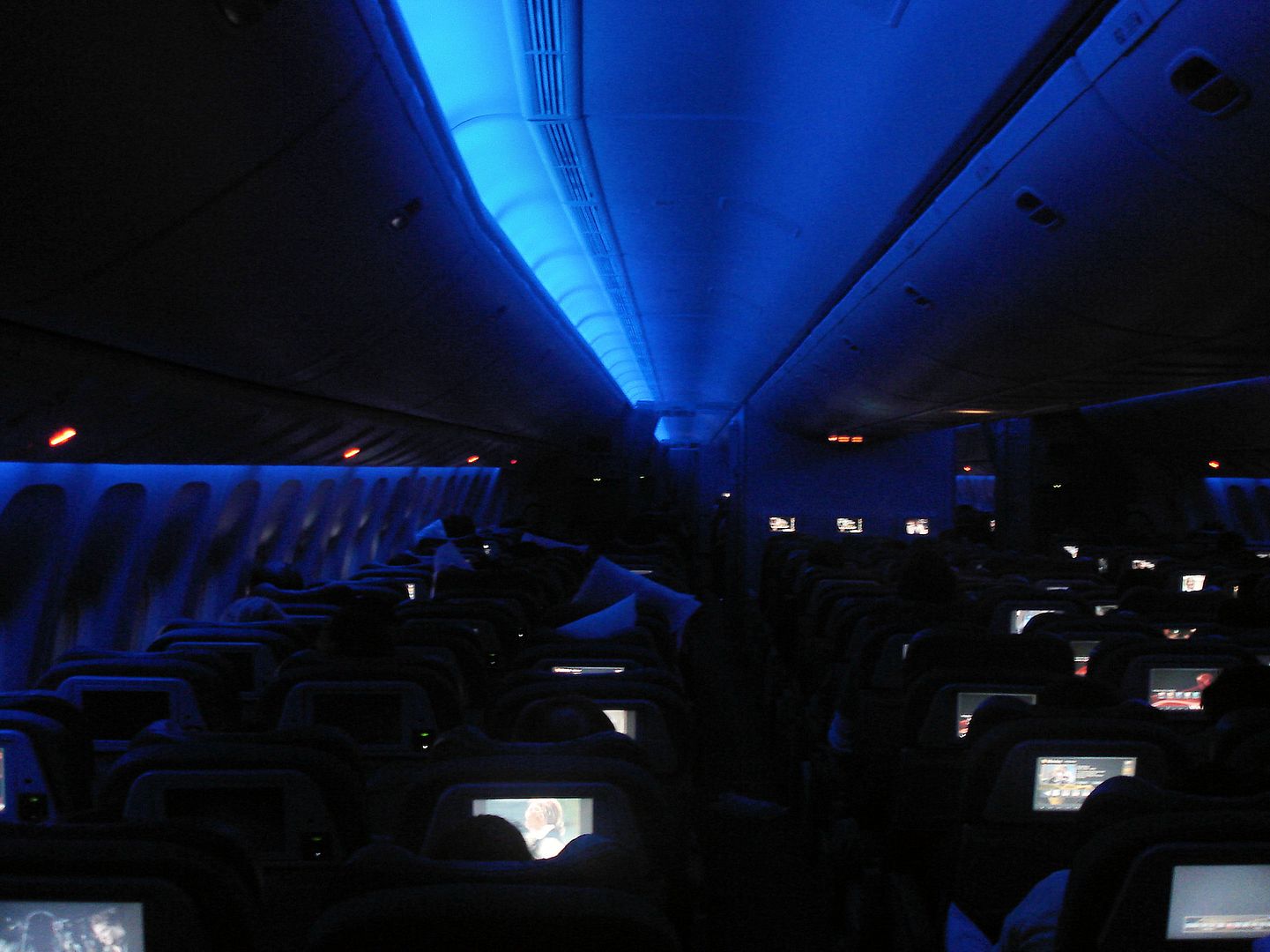 Beautiful sunrise: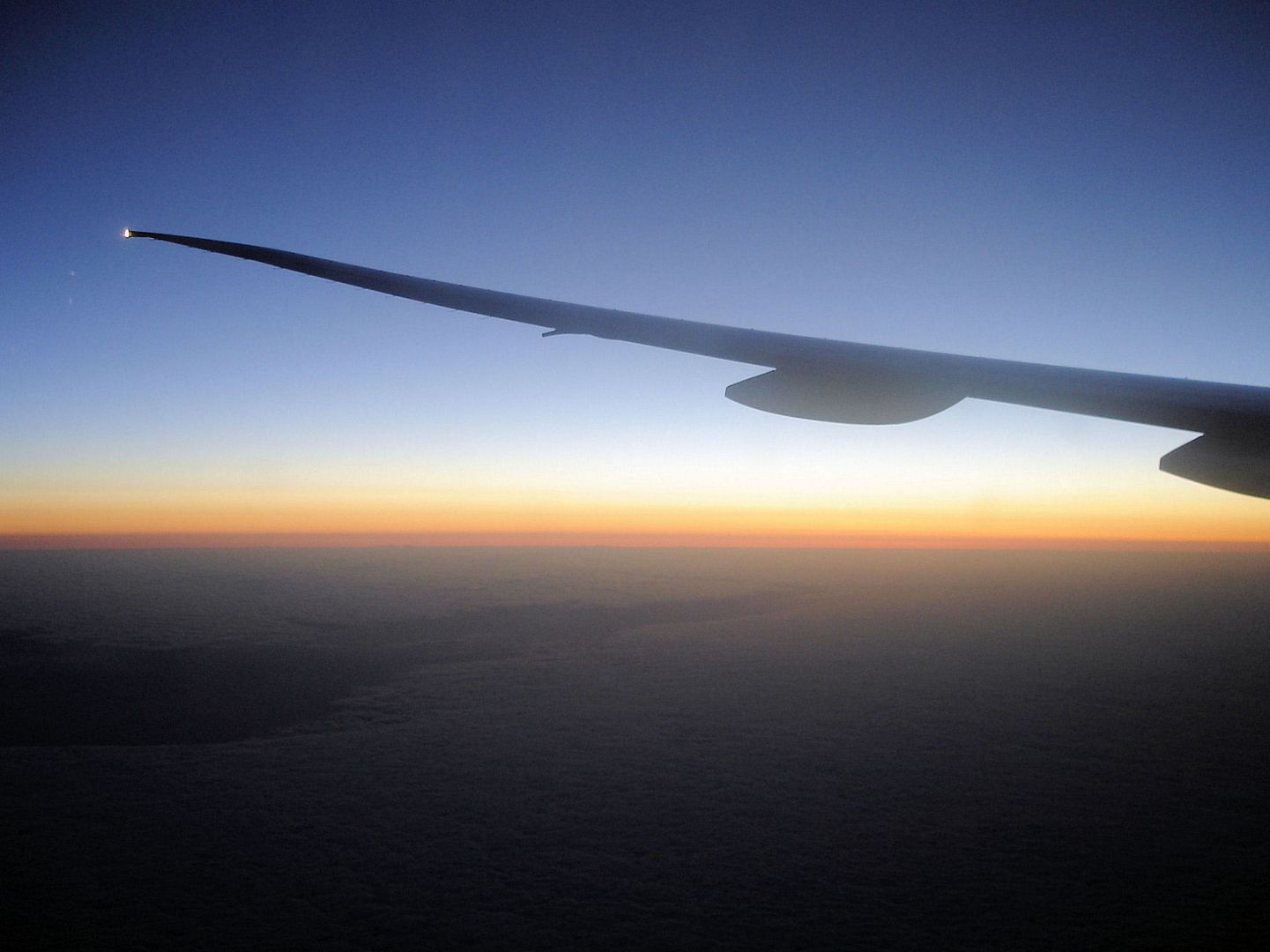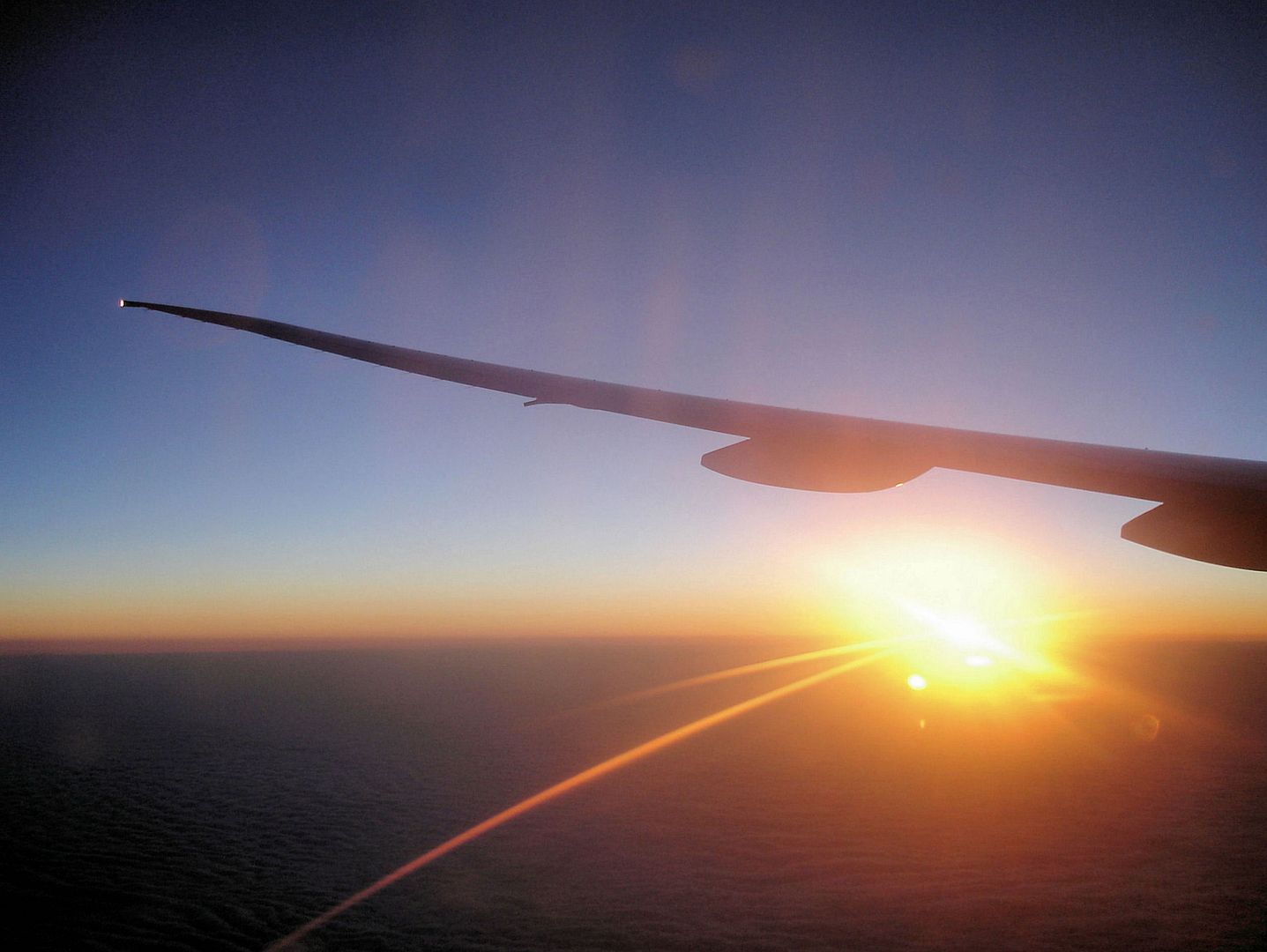 Breakfast
Breakfast service started more than 1,5 hours prior to landing which is a bit early considering that is was only a light meal. The snack box was wrapped in a nice tablecloth: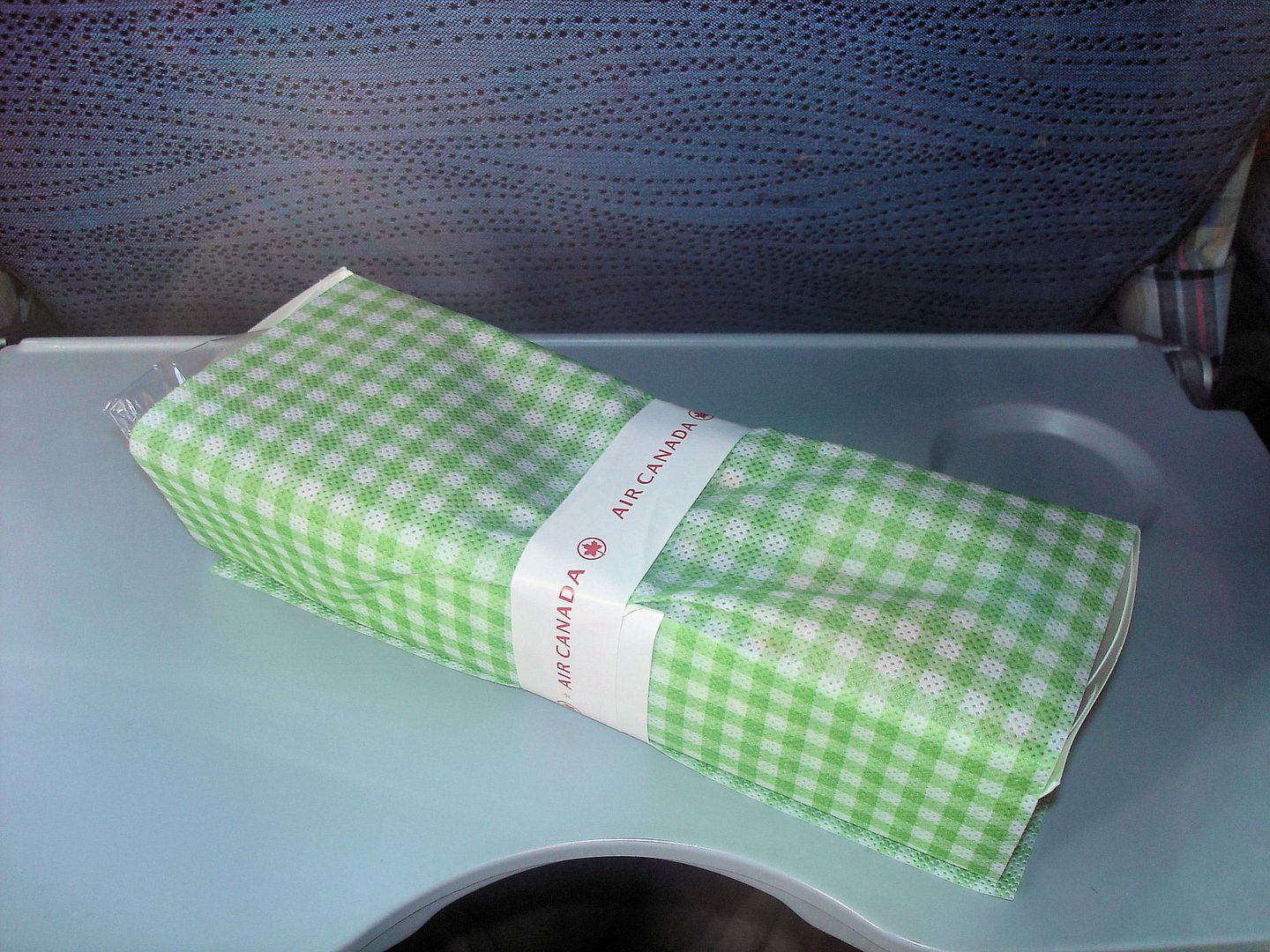 Both the yogurt and the muffin tasted quite good - but there could have been one more item: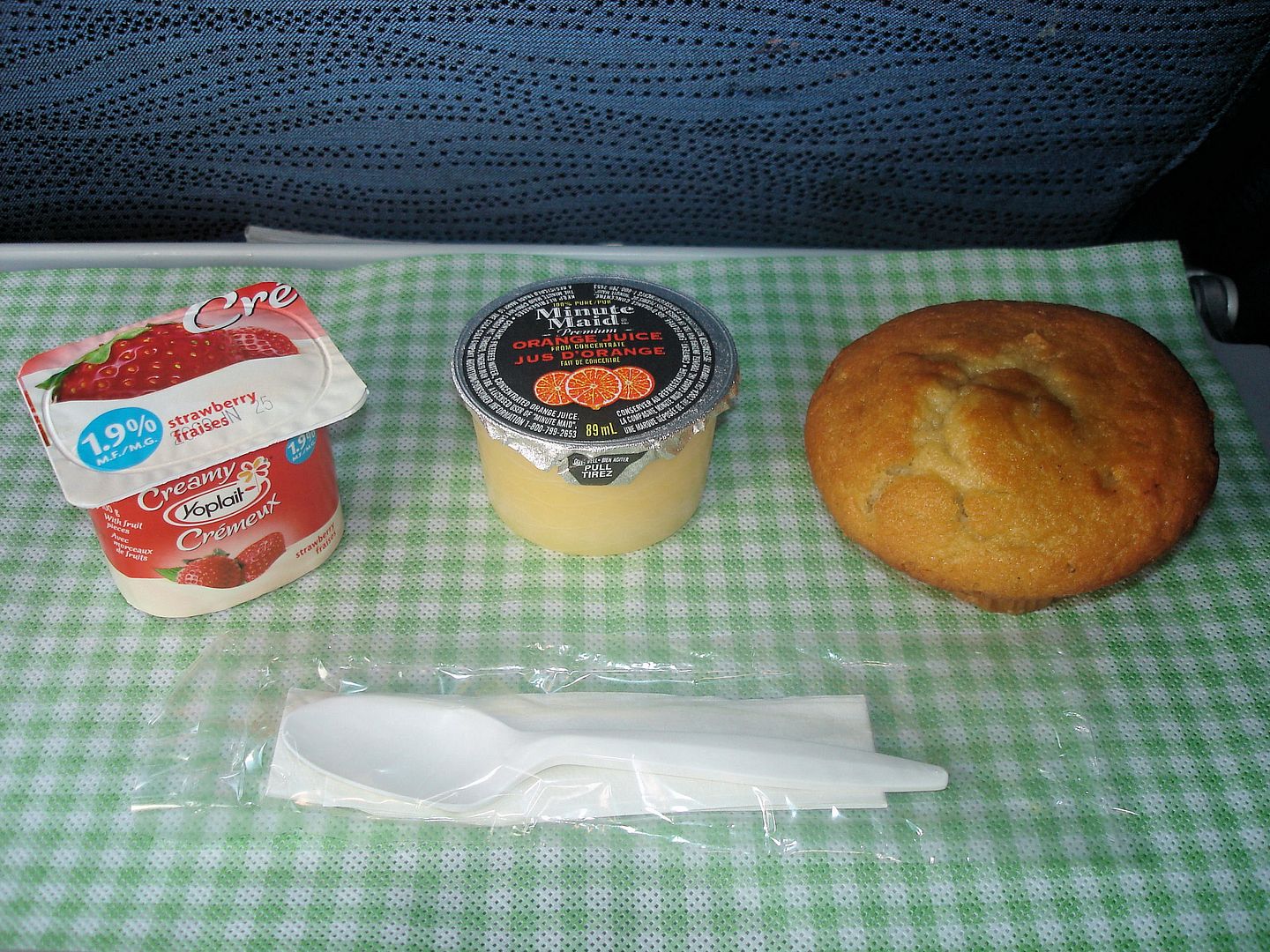 Approach & Arrival
One hour after breakfast we started the final approach to runway 25L: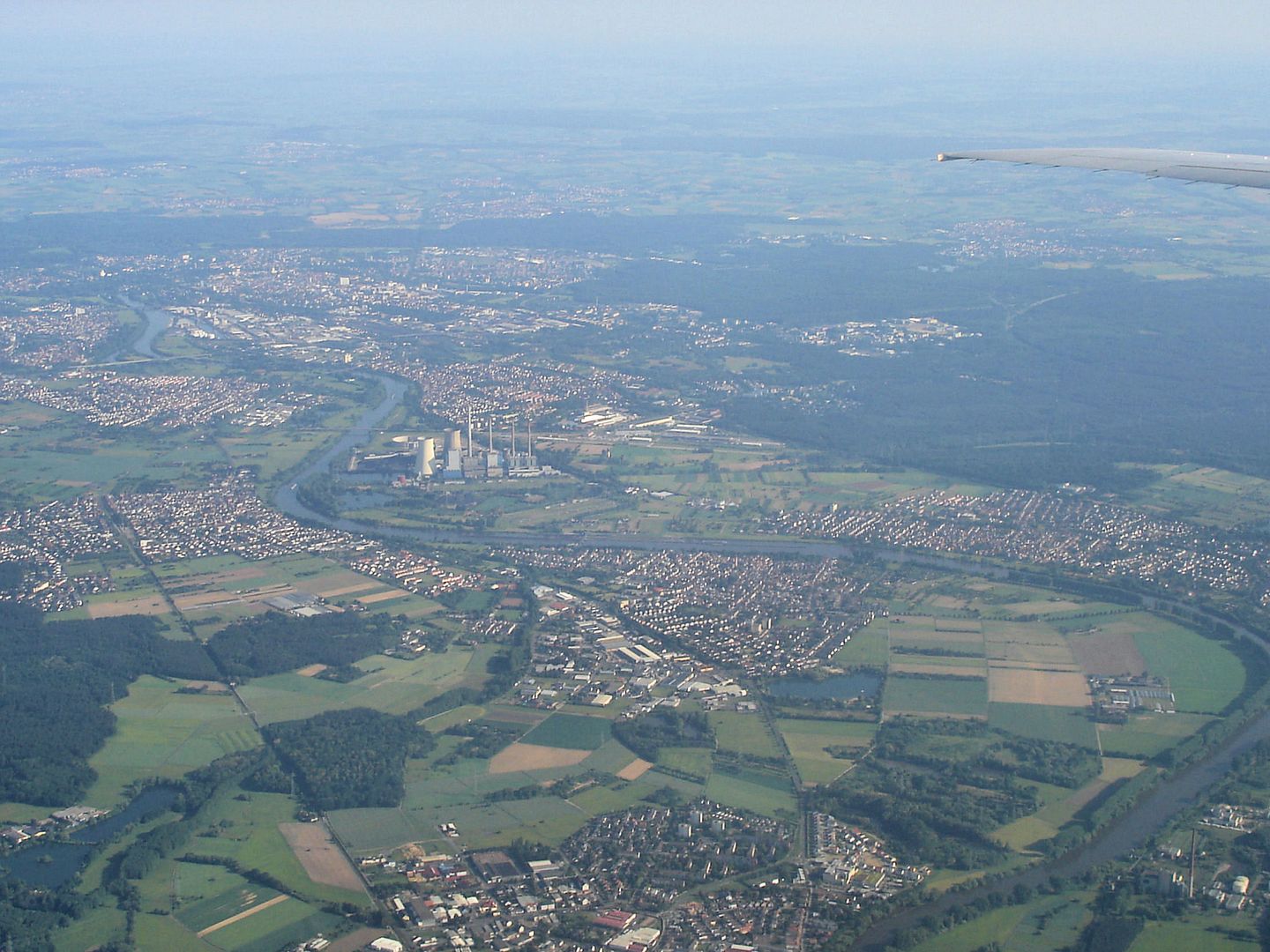 Eurowings BAe 146 on the way to runway 18: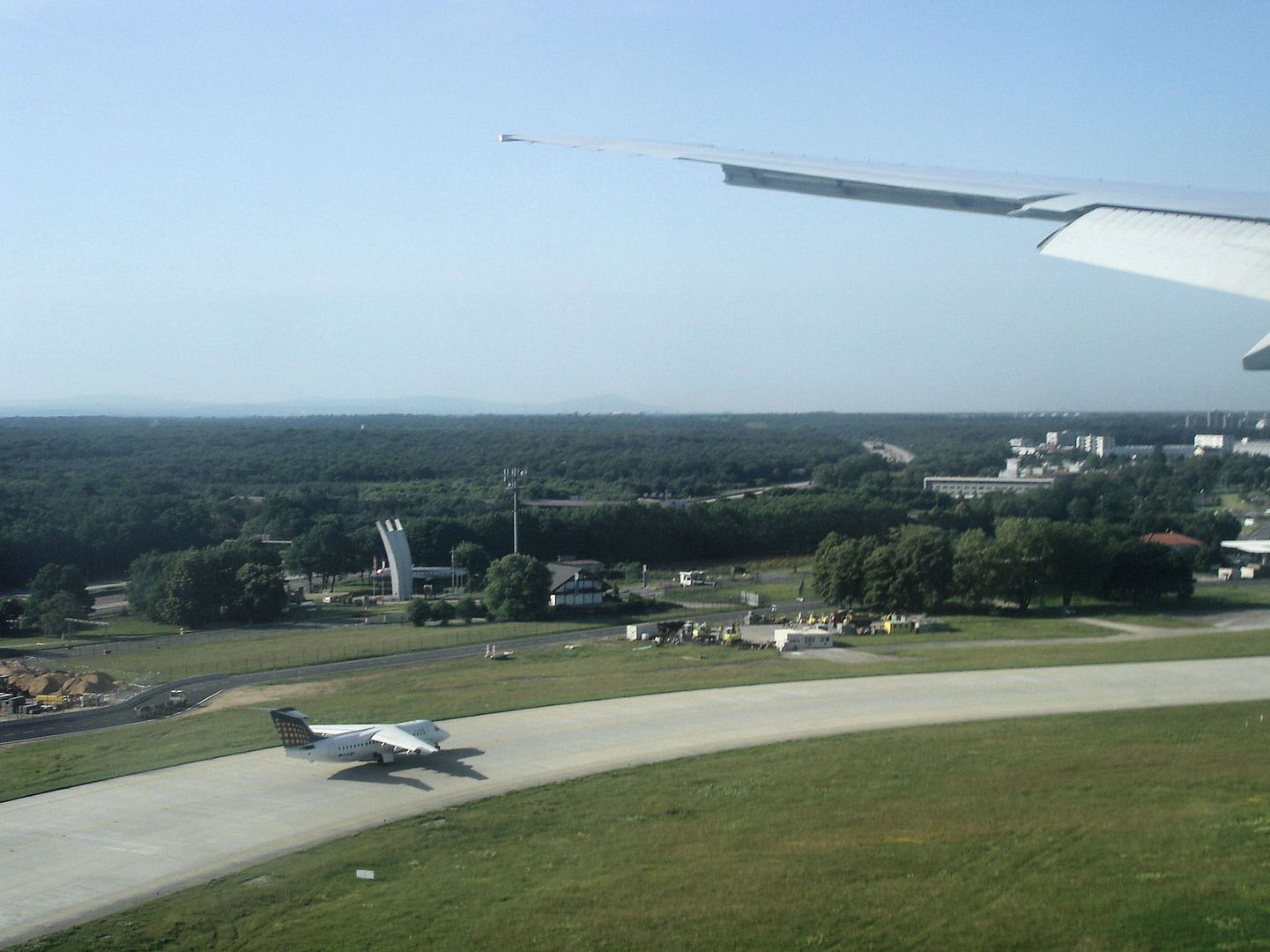 Vietnam Airlines 777-200ER: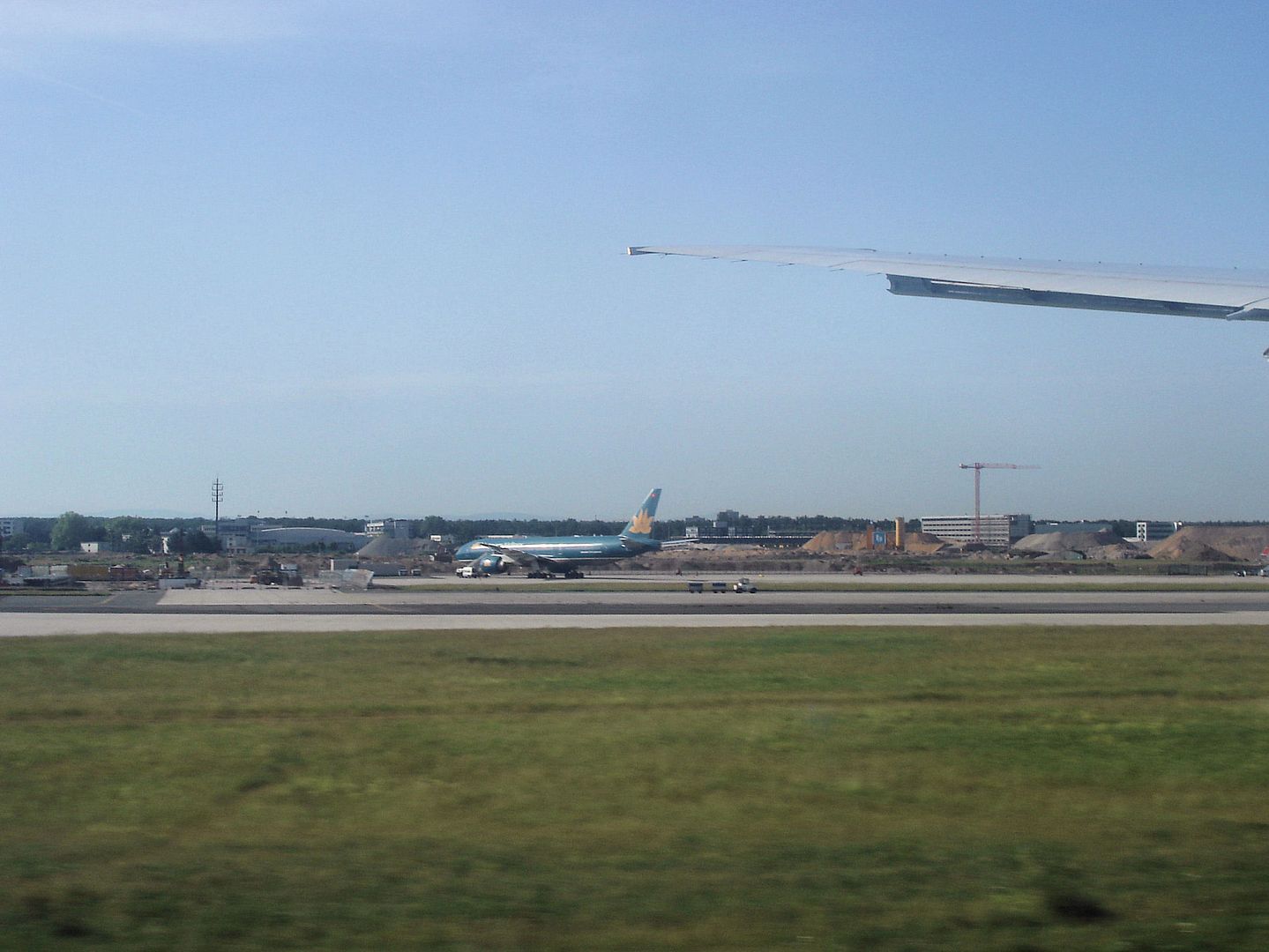 C-FITU
arrived at the gate almost exactly on time. Sistership C-FIVR from Toronto was parked next to us: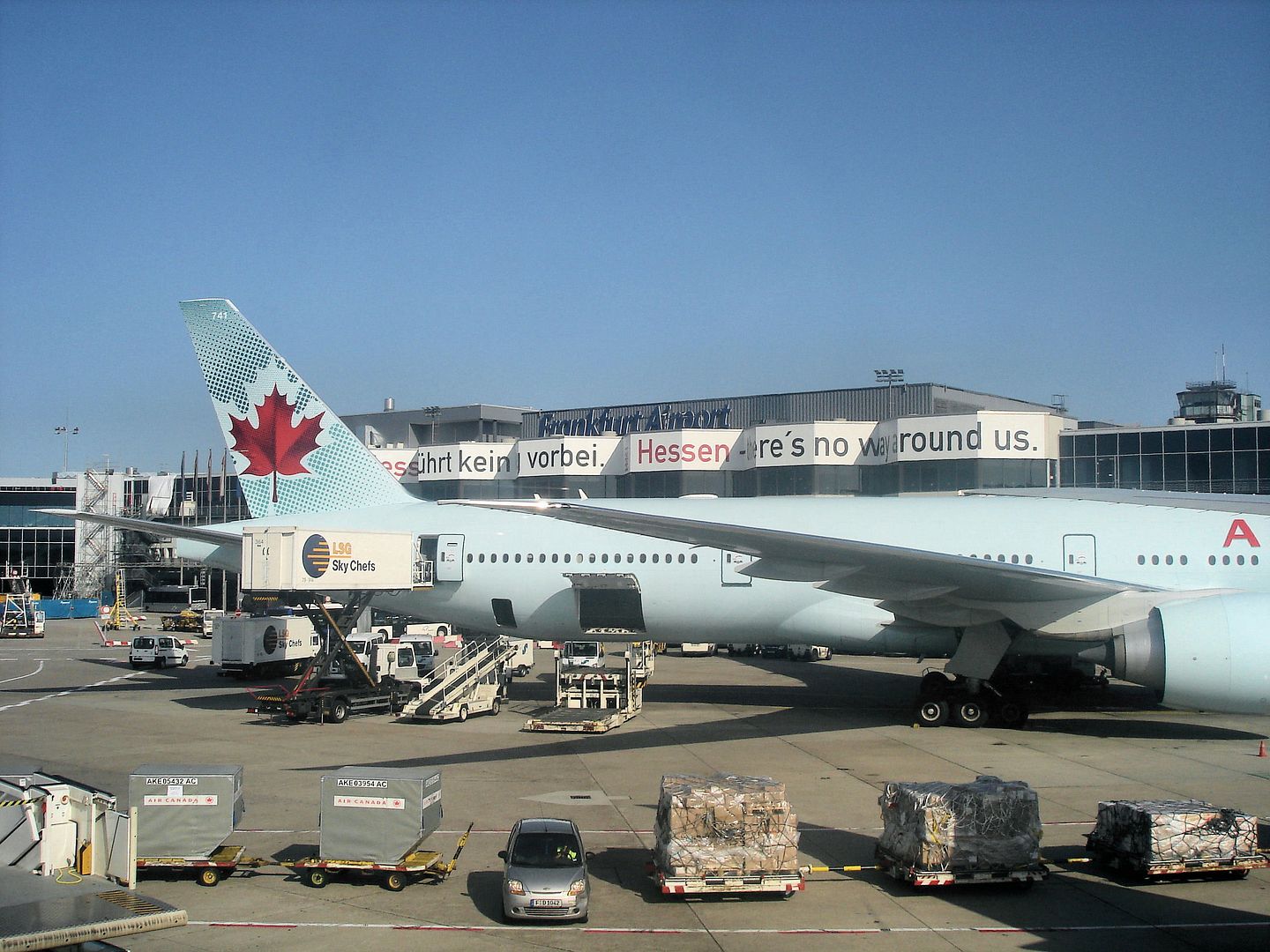 1,5 hours later we boarded Lufthansa's A319-114
D-AILY
which operated the final leg of our journey, flight LH922 to Nuremberg.
Conclusion
Once again, flying
Air Canada
was an average experience. I was satisfied with the seating comfort and the cabin conditions, but the ongoing IFE problems are simply annoying. The catering on the long-haul flight was better this time, but the quantity was disappointing again. And Air Canada should bring back complimentary food – at least a snack – on longer flights in North America. Cabin crews and the ground staff members were friendly and helpful in general - but it's a major annoyance that the flight attendants did not respond to the calls. I also have to wonder why the duty free sale wasn't started shortly after dinner. So the bright white light could have been switched off much earlier.
Yes, I would fly Air Canada again, but I'd prefer one of the numerous better alternatives.
Best Regards,
PlaneHunter
P.S.: Just in case you missed them - other recent reports:
Sin City Gloss & Virgin America's Chic First Class
Seat Dilemma & Canyon Glamour: FRA To LAX, AC 763
On Par With Air France? DTW-AMS-MUC, KLM A330
Goodbye, Red Tails! DC-9-40/50 & Chicago Tour
Champagne & World Of Coke: Air France A340 To ATL
"Mission A380": Disappointing Legs On BA/BD/EI
Delights Of Doha, 773 & 77W: DOH-DXB-LHR On EK
A380 Really a Step Forward? LHR-DXB-DOH On EK
Quality & Style: HKG-LHR On Air New Zealand 744
Taiwan Trio: TransAsia, UNI Air And The Taipei 101
"The Wings Of Taiwan": EVA Air A332, 744 Combi
SHA-SZX, Shanghai 757: Delayed By The Military
PEK-SHA, China Eastern A330 & Shanghai At Night
Striking Newcomer: Berlin-Beijing On Hainan A330
[Edited 2009-11-10 09:54:32]