Exploring the Emirates: Dubai and Al-Ain on Qatar A333/B773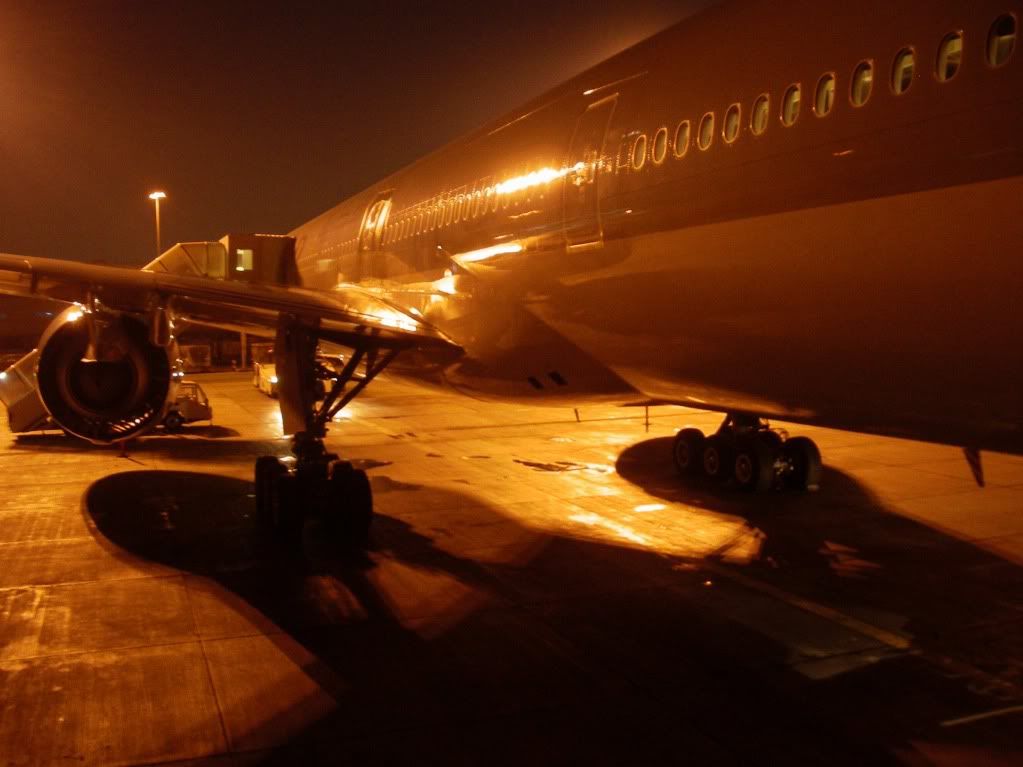 Salaam aleikum, dear readers,
my son and me decided to do a trip together during the autumns vacation week.
At first LAS was on the list, KL offers a good fare from Germany.
But some days later a superb good offer by Qatar popped up, around 60.-- Euros per pax per leg,
collecting three different widebodie airplanes and perfectly fitting in my biz calendar.
More reasons to book needed?.
A good week only after arriving back home from Italy
The One And Only Lav Inop: VCE On The E135
(by
FLIEGER67
Nov 11 2009 in Trip Reports)
the bags are prepared.
Saturday, 24.10.2009
Fog and light rain, Temperature 11 degrees
Clear sky, Temperature 29 degrees
Duration: 5 hours, 50 minutes announced
6 hours, 15 minutes actual

Service QR 28 operated by Qatar Airways
Scheduled: 11.55 // 19.00 1 hour time distance
Actual: 12.00 // 19.15
Gate: C 6 Seat: 43B
Load factor: Near 100%
Qatar´s website is easy to navigate and quick. It also offers free seat selection during booking,
but it´s not possible to change seats after the booking process.
So, seat selection done, as usual in the rear cabin, was a real good thing this time.
Also online check-in worked properly the day prior to our departure.
Boarding was printed for 10.55 am. We secured parking at Tourcare, but heavy traffic and not the best weather conditions let us stay more time than expected on the motorway. So, arrived at around 10.00 am
at the parking and finally at around 10.30 am in FRA´s terminal 1.
The big board showed QR handling at LH´s desks. No way, the lady at the entrance send us to another area
where there are separate counters for Qatar. The board there showed "go-to-gate".
With only some five pax infront and simply no one behind us, it seems we´re somewhat late.
The nice guy there accepted our bags quickly, printed real paper boarding passes and stated that we need to go directly through security and to the gate.
No time to wait at security and after several diversions, it seems as usual at FRA nowadays, we´re arrived at the gate where boarding started only minutes later.
Our machine at the gate:
AA behind:
And the LH A343 beside: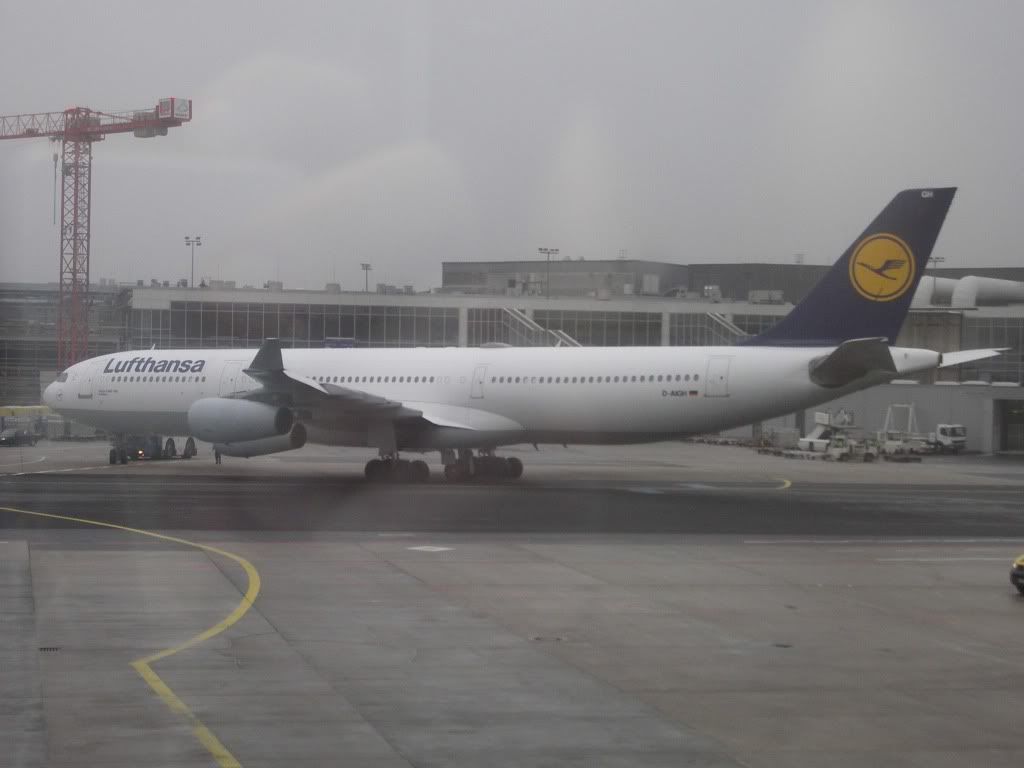 Qatar and US Air:
Boarding:
A7-AEA waited at the finger, the scheduled A333 delivered at 26.10.2004 to QR, one of 13 in the fleet and also the first A333 at all delivered to QR.
Leg no. 3 for me on type and a new entry to my log.
First impression was real good, dark red fabric seats, a clean and comfortable cabin, good legroom.
The staff above average friendly, especially that Indonesian lady which called my son everytime "sweetheart" and taking good care of us.
Comfortable seating: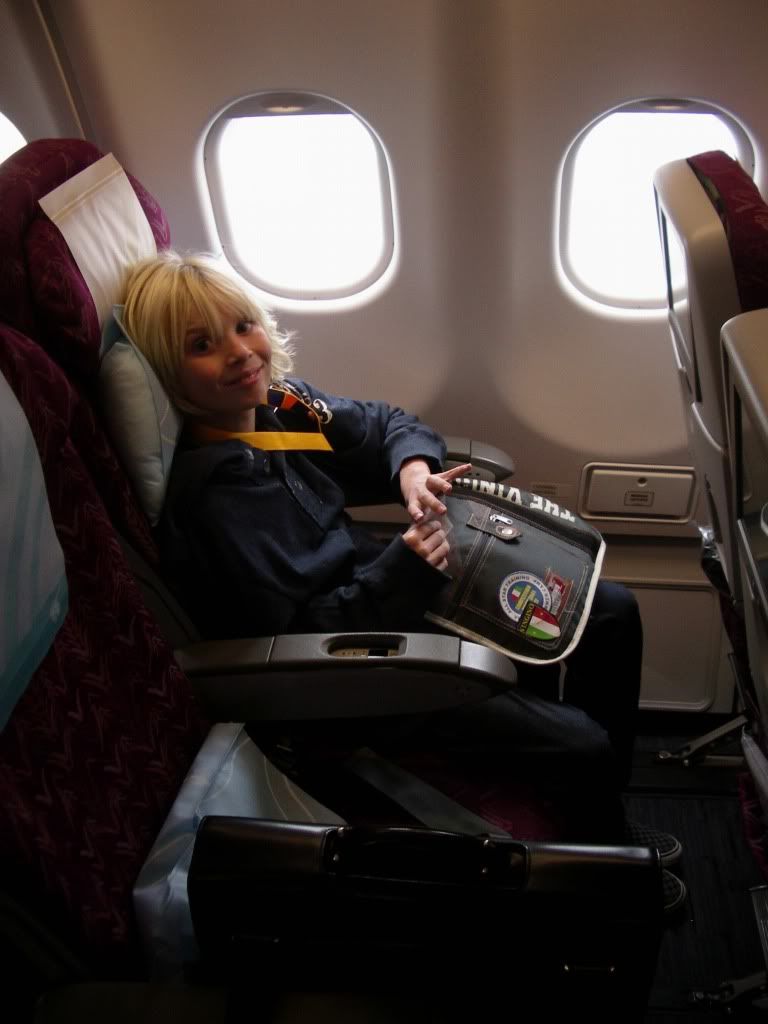 Screen and window view: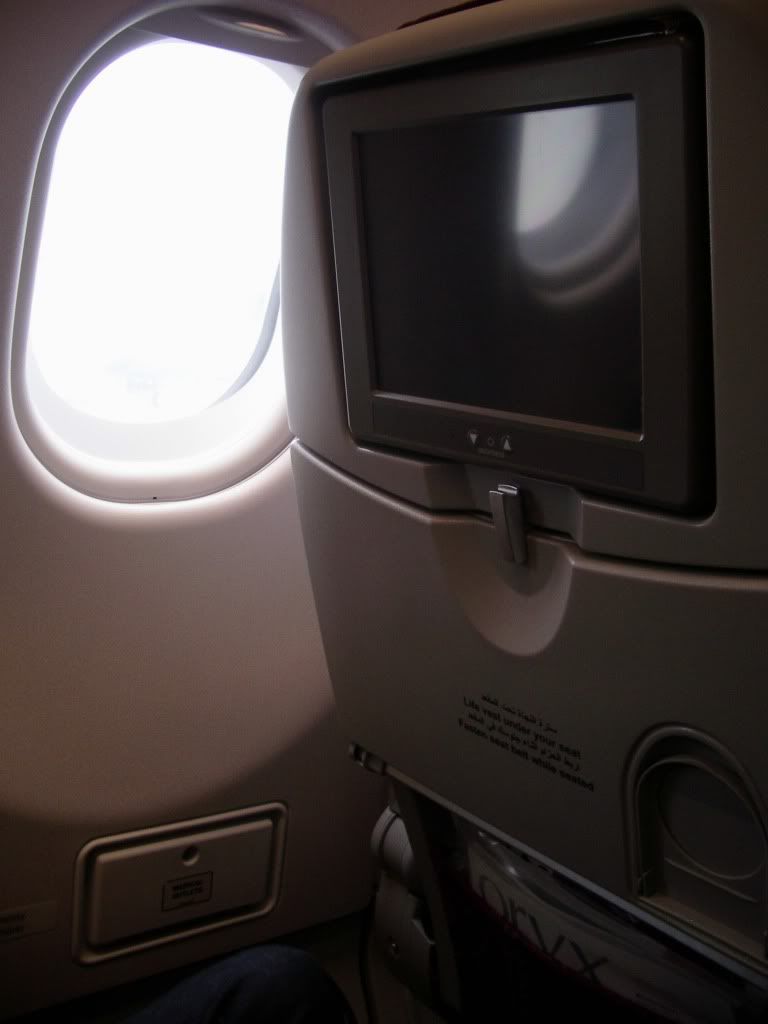 Cabin: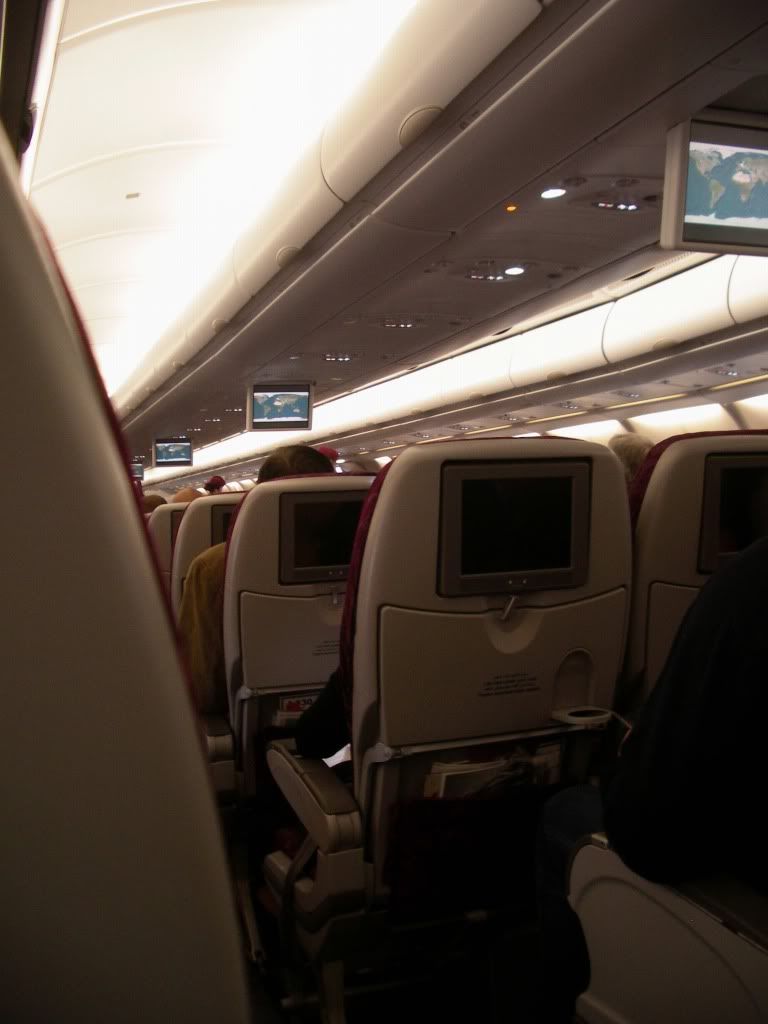 Full view:
Croatia nearby:
The cabin crew was very international, no european staff but arabian, indian, australian, african and also asian crew members.
The italian captain performed a very friendly welcome during boarding.
The US FO also with some more detailed and friendly informations later in the flight.
LX taking over:
Turning: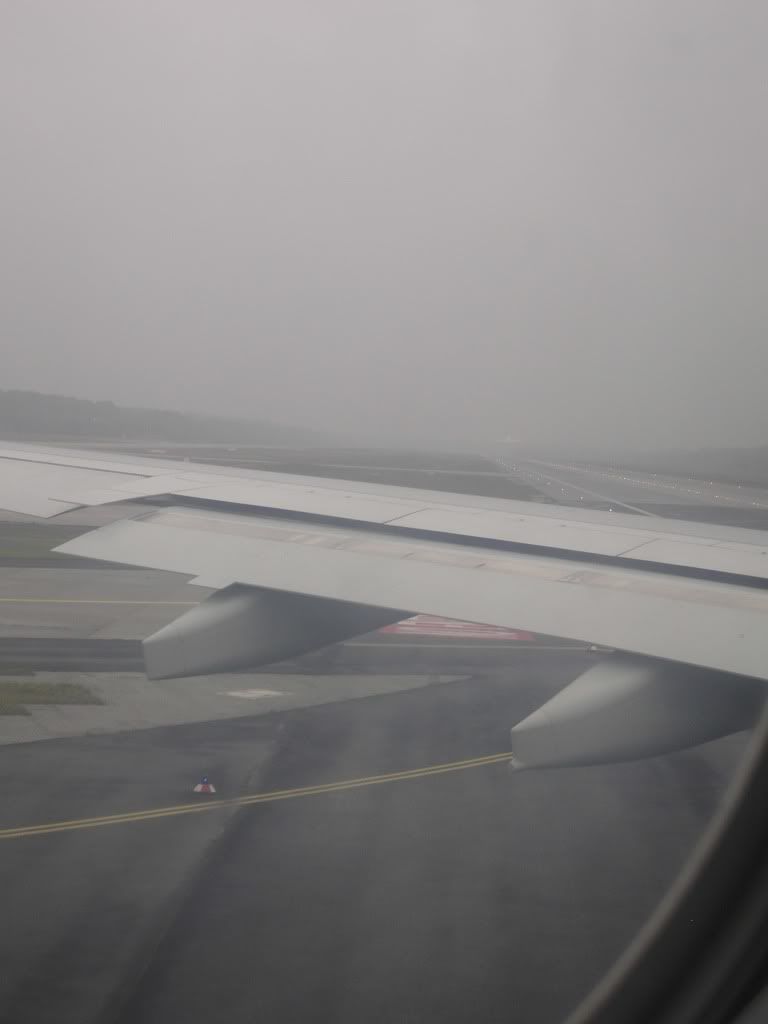 The queue: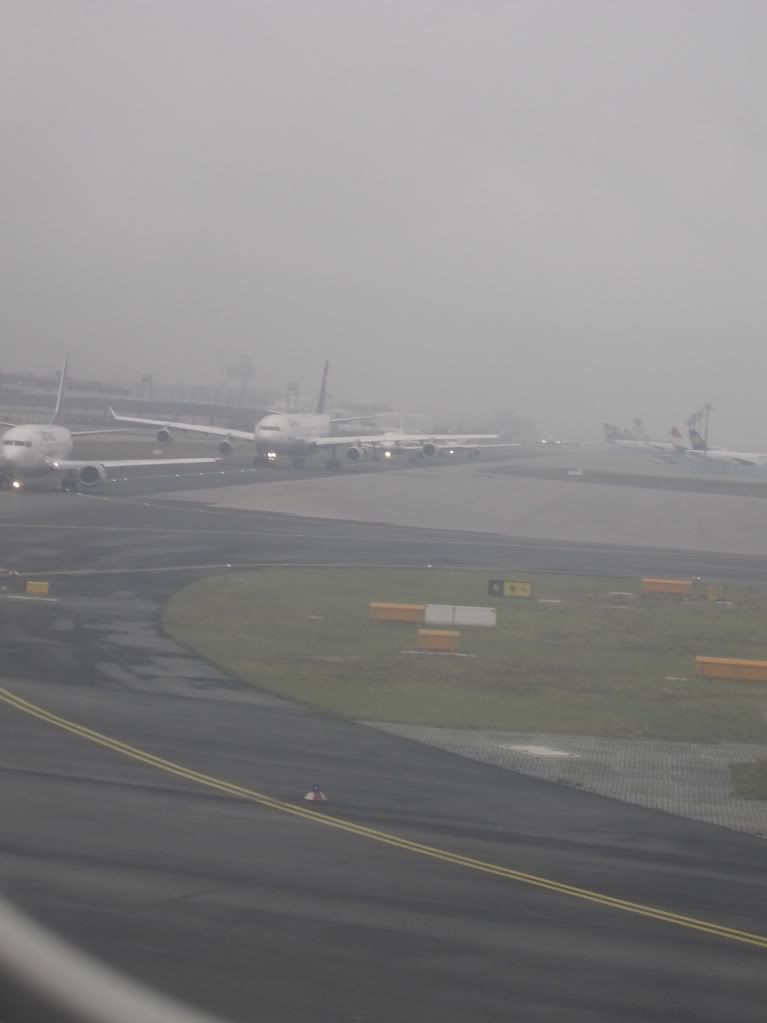 Departure was from the 4000 meters runway 18 today.
The route was Nuremberg-Prague-Ostrava-Krakow-Ivano Frankiwsk-Kishinev-South of Odessa-South of Simferopol-Samsun- Mosul-East of Bagdad-Basra-Kuwait and Bahrain. More eastern than expected.
Flight level 39000 feet.
Reaching Turkey:
Nive view:
Above Turkey:
Snacks and drinks: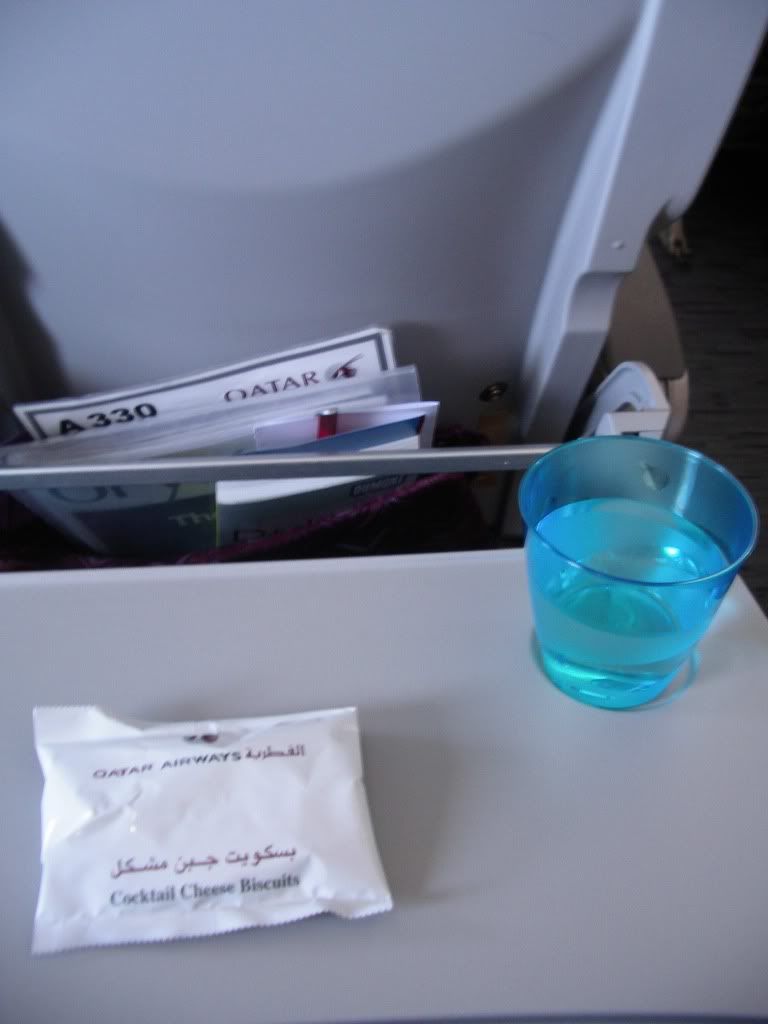 Screen and menue: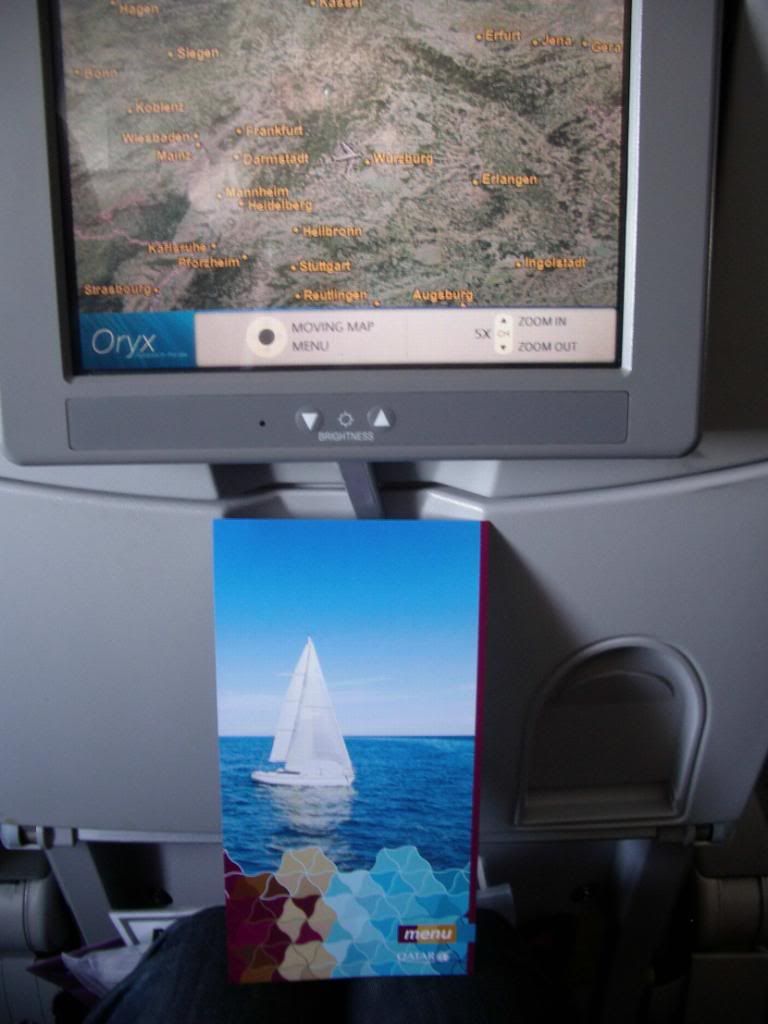 En detail:
Service was also not bad. At first hot towels short after departure, followed by a snack and drinks. Further with the hot meal, several times free drinks and another snack prior to arrivals.
What about lamb rolls:
Or seafood Paella: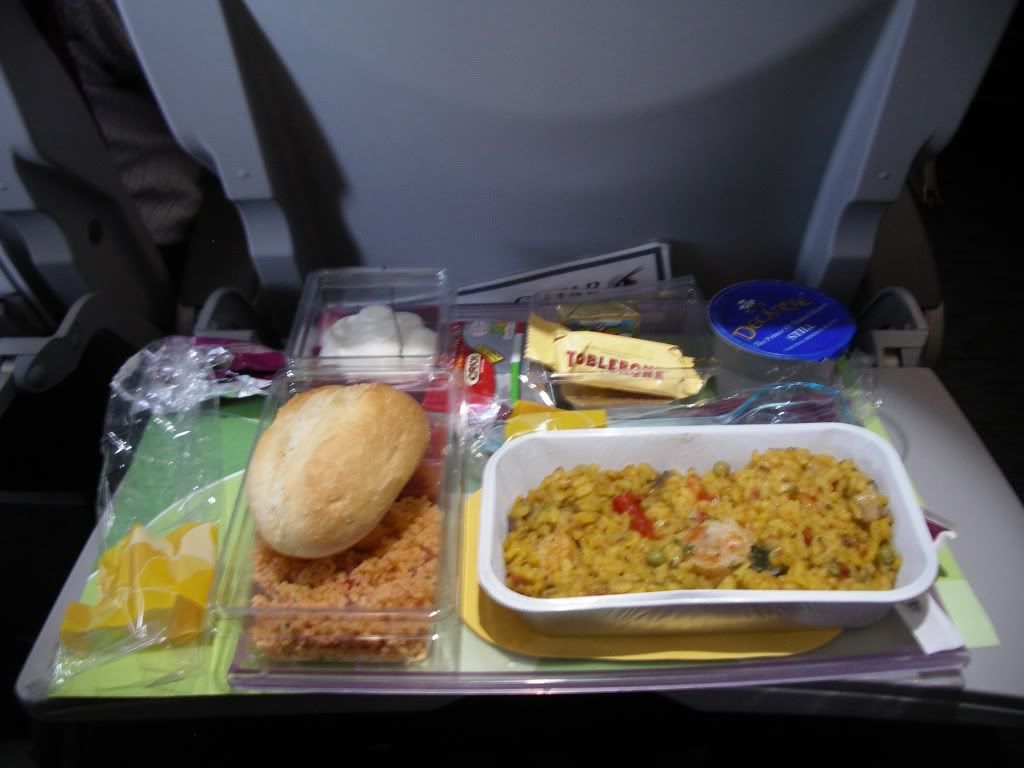 Let me say, we dont eat the hot meal and also the arrival snack. But the bread roll´s, brezels and chocolates
are ok.
The cabin temperature was to low from my personal impression, but my son stated it was ok.
IFE was working properly and my son was not amused when we approached DOH with a lot of movies more to follow!. Time goes by rather quick.
Approach to DOH started early and we finally touched down on the 4572 meters runway 16 in nightly conditions.
No airbridges here at DOH, so apron deboarding and by bus to the oldfashioned terminal.
We departed FRA with some minutes delay and also arrived here with the same delay.
Nightly logo shot at DOH: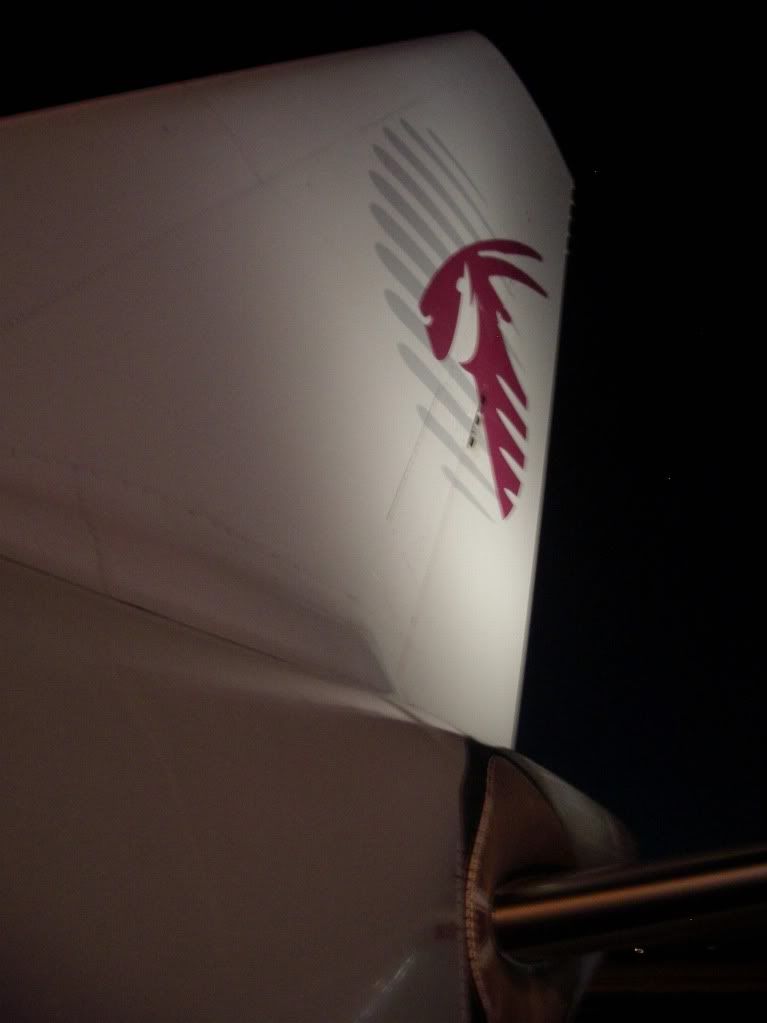 And the reg.: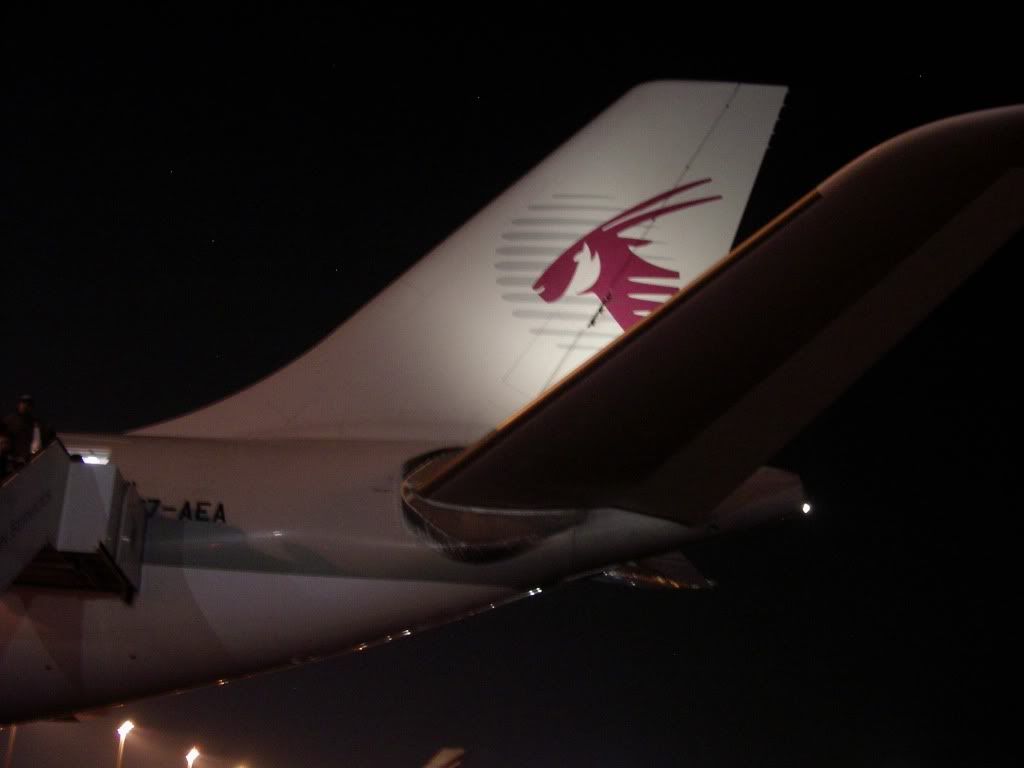 Bye-Bye:
Connecting time was rather limited, but the flight was offered and with the annouced aircraft type not to thinking about the later one,
scheduled on the A321.
Cabin crew announced earlier that all pax with less than 60 minutes connecting time had to go to the ground staff for a quick process.
Well, beside some shouting airport staff at the entrance to the next security check there was no QR staff seen at all.
The board shows "last call" for our onward flight and the airport guy had no need to direct us to the fast line,
despite a lot of pax from our flight asked about it. So, some ten minutes at security while our flight shows "closed", till we´re in the gate area. Thankfully the gate was directly beside the entrance. We rushed in,
boarding passes checked, joined the bus and left DOH terminal again.
That was a rather short connection here, not a minute to long.
Saturday, 24.10.2009
Clear sky, Temperature 29 degrees


[b]Clear sky, Temperature 29 degrees
Duration: 45 minutes announced
55 minutes actual

Service QR 118 operated by Qatar Airways
Scheduled: 20.10 // 22.15 1 hour time distance
Actual: 20.20 // 22.15
Gate: 5 Seat: 43 B
Load factor: Around 50%
Only a very low number of pax in the bus, so it seems, that most of them had boarded the flight earlier.
Sorry about the low number of pix according to the short time at DOH and also to the nightly conditions.
The bus approached the next machine and thankfully, it was the scheduled equipment.
Boarding: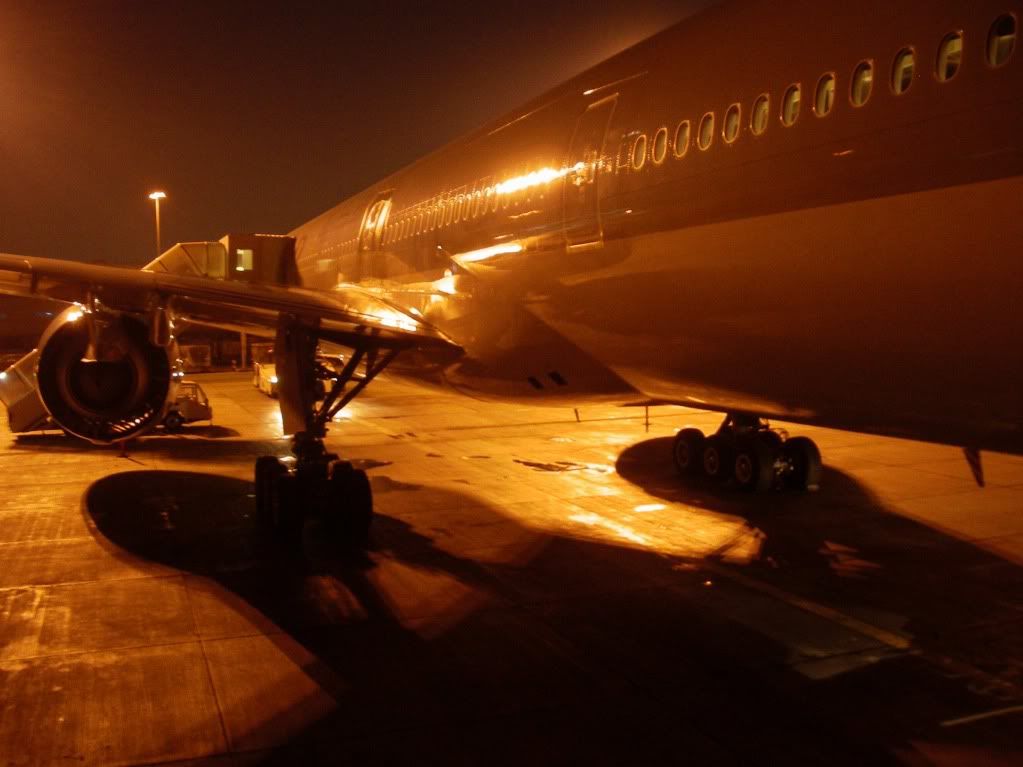 A7-BAE waited on the apron, a 777-300 delivered only at 04.03.2009 to QR.
QR operates in total 7 773´s.
Premiere, leg no. 1 for me on type.
Also here a international cabin crew, this time mostly asian, but also european and arabic members.
First impression was again real good, dark red fabric seats, spotless clean and real comfortable.
Larger inseat screens and better to navigate. Also the later used restroom larger than on the A333.
Seats:
Again:
Cabin: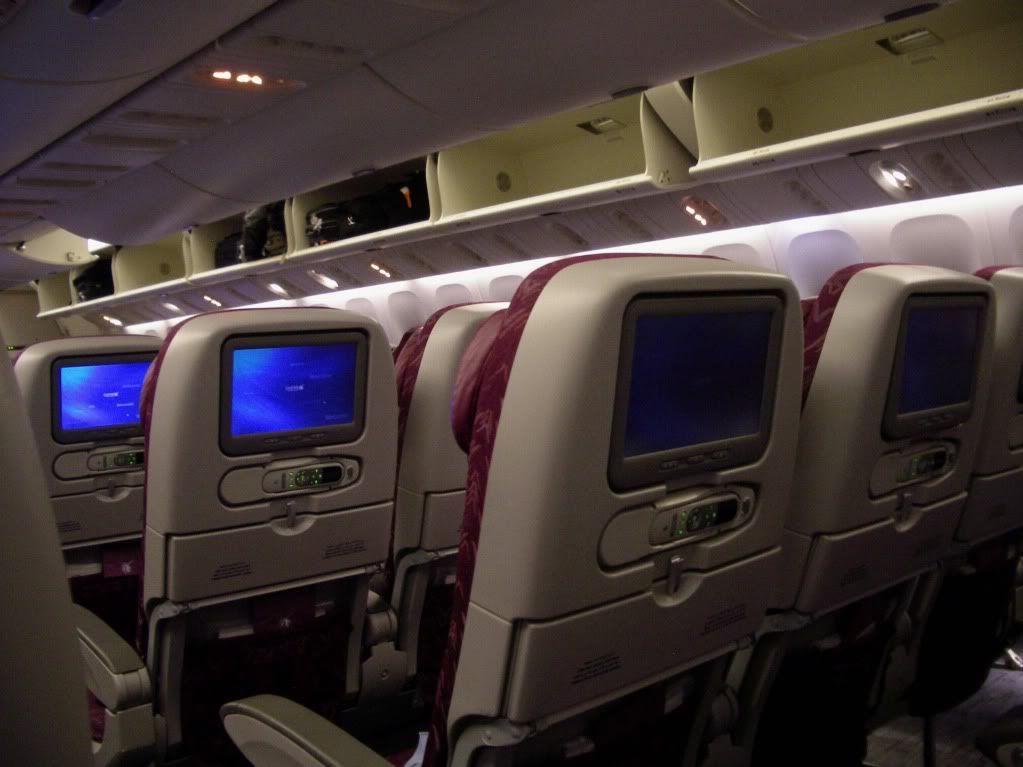 Nice lighting: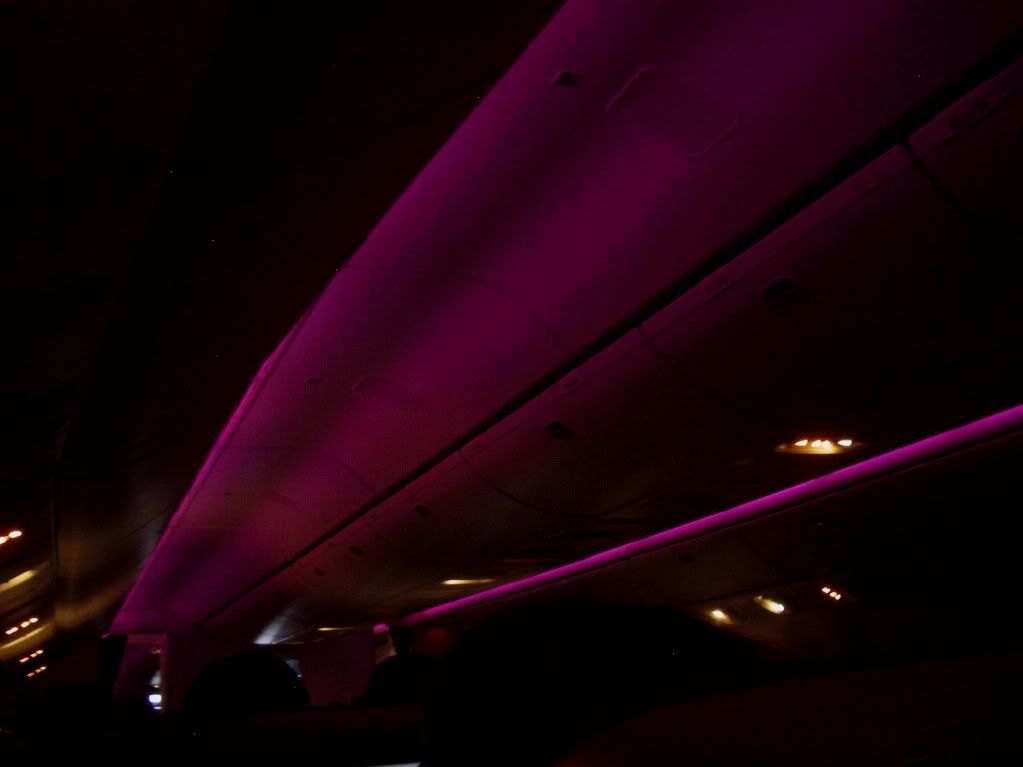 Our seats again: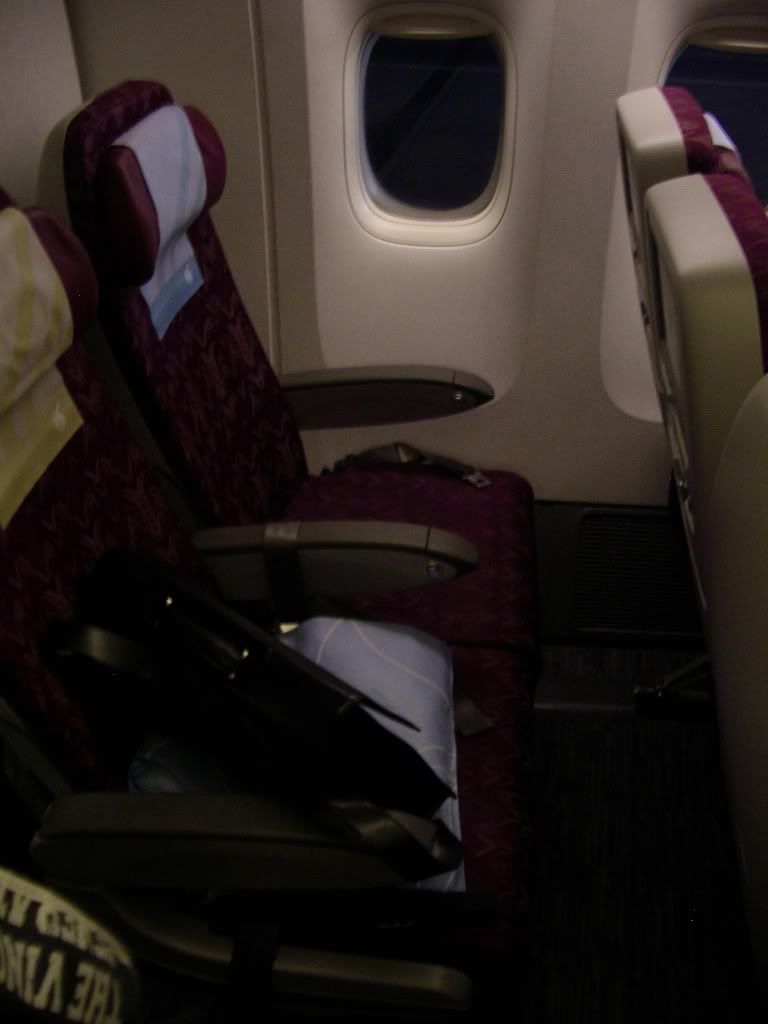 And the cabin again: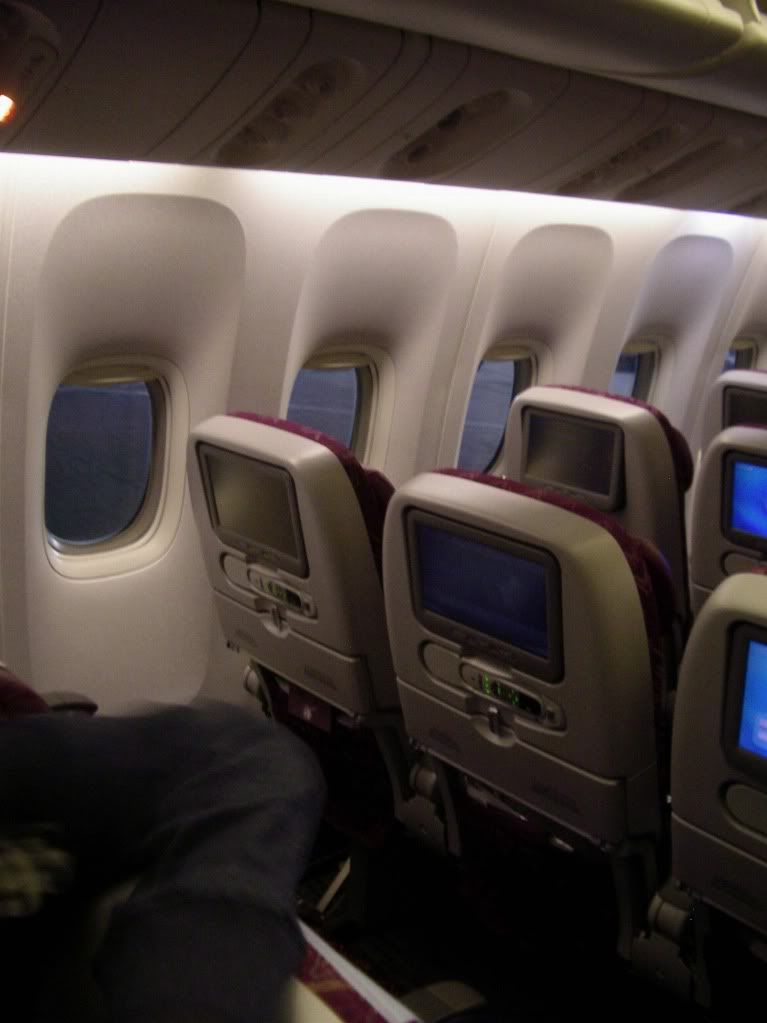 The captain was from the UK this time. He welcomed us in a friendly style during boarding.
No comment from the FO on this flight.
Departure from runway 34 in opposite direction to arrivals, over water at 21000 feet to DXB.
The route:
Service was some cookies and also orange juice. The crew rushed around and really had hard work to serve
all the pax during that short time till we approached the final target today.
Service:
Arrival on the 4000 meters runway 12L ontime.
Just arrived at DXB: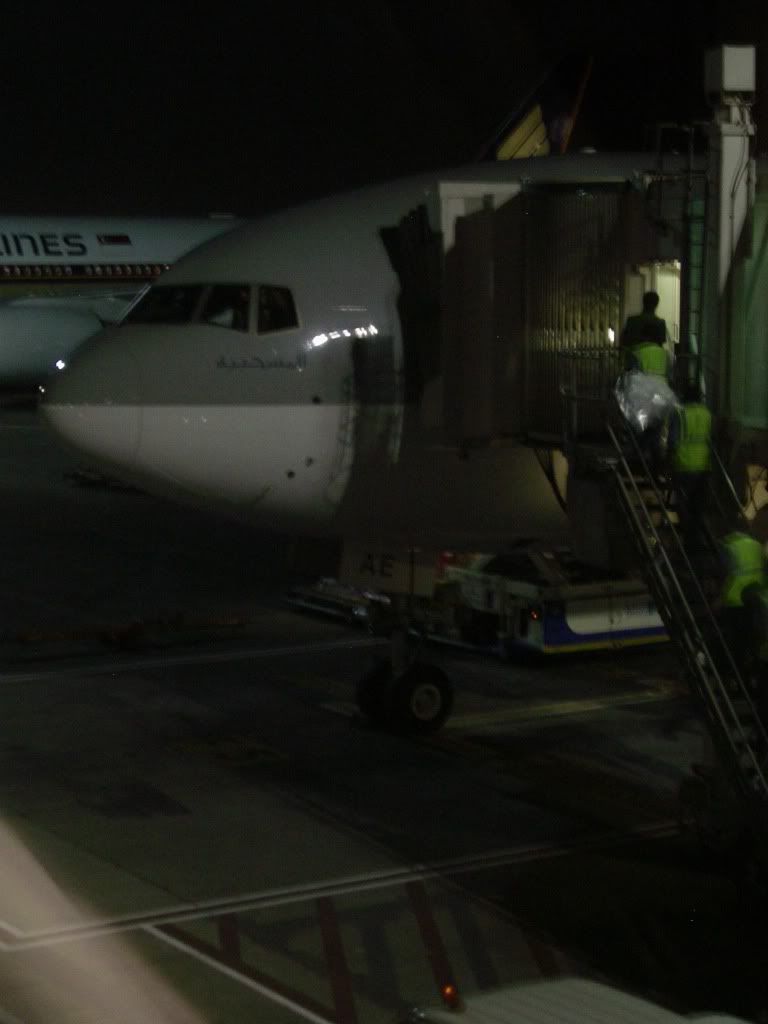 The reg. secured: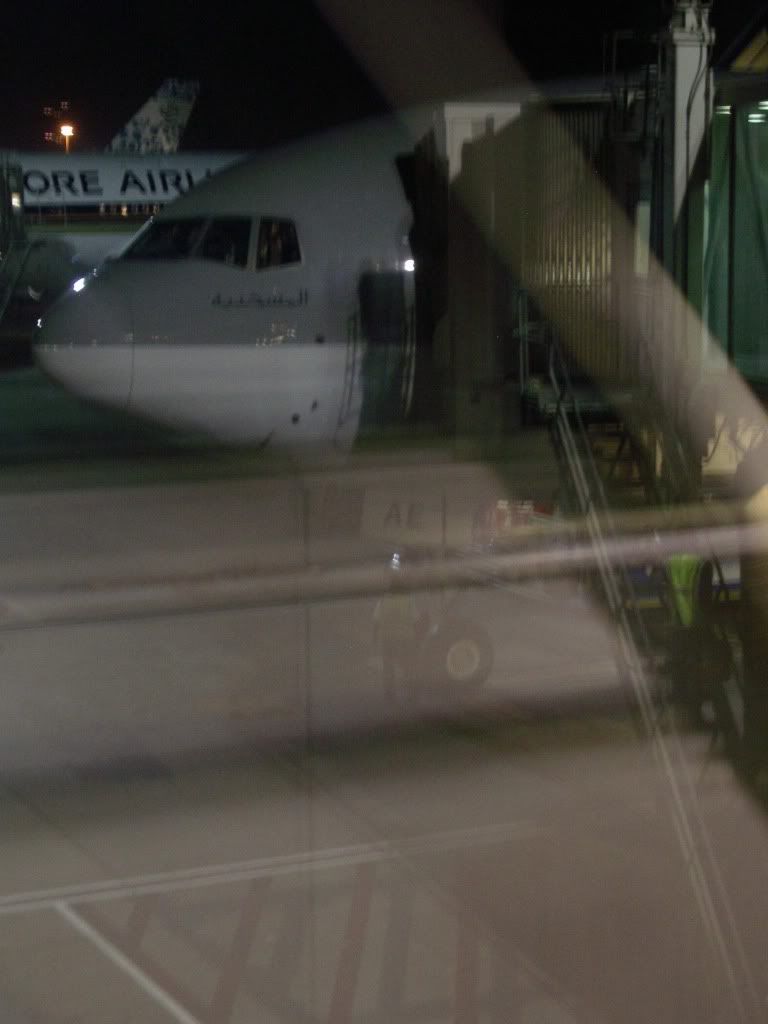 Finger deboarding and thankfully no lines at passport control.
The guy there was real friendly and in less than 2 minutes we´re welcomed to the Emirates.
Further on to bag collection. With that rather short time at DOH I hoped that everything worked out well.
Delivery started and my suitcase was with the first bags on the belt.
But my son´s bag doesn´t showed up. Airport staff walked around and after some ten minutes a guy send us to the desks the write a report together with some 20 other pax.
But, thankfully he called us immediatelly back, it seems the loaders forgot to open one container
and the belt started again with also ours on the way soon thereafter.
QR operates from the older terminal 1, as soon as you leave the secured area, arabia welcomes us with
lots of people from all nations hanging around, shouting , looking for parties of relatives and else.
By taxi to our accomodation, only some minutes from the airport.
The Ibis Deira City center, newly opened and for sure the place to go on a budget.
Ibis room: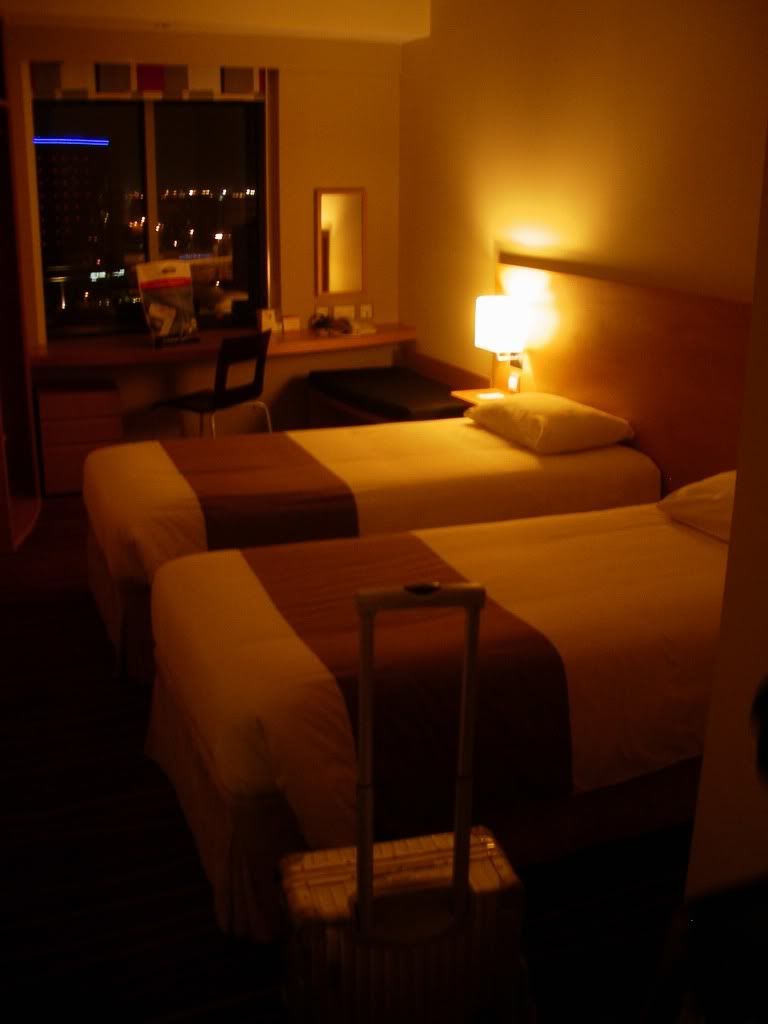 And lobby:
Close to the airport, EK in the background:
No wake up call needed here:
Let me show you some explore the Emirates pics here.
Especially from a real recommendable ride on the newly opened, fully automatic Dubai Metro, which runs mostly above the main highway along the coastline. Thats like a scenic rollercoaster with a perfect view to all that skyscrapers.
Lots of also locals doing pix, it seems its a nice attraction for the people here.
Metro entrance:
Ride the rollercoaster: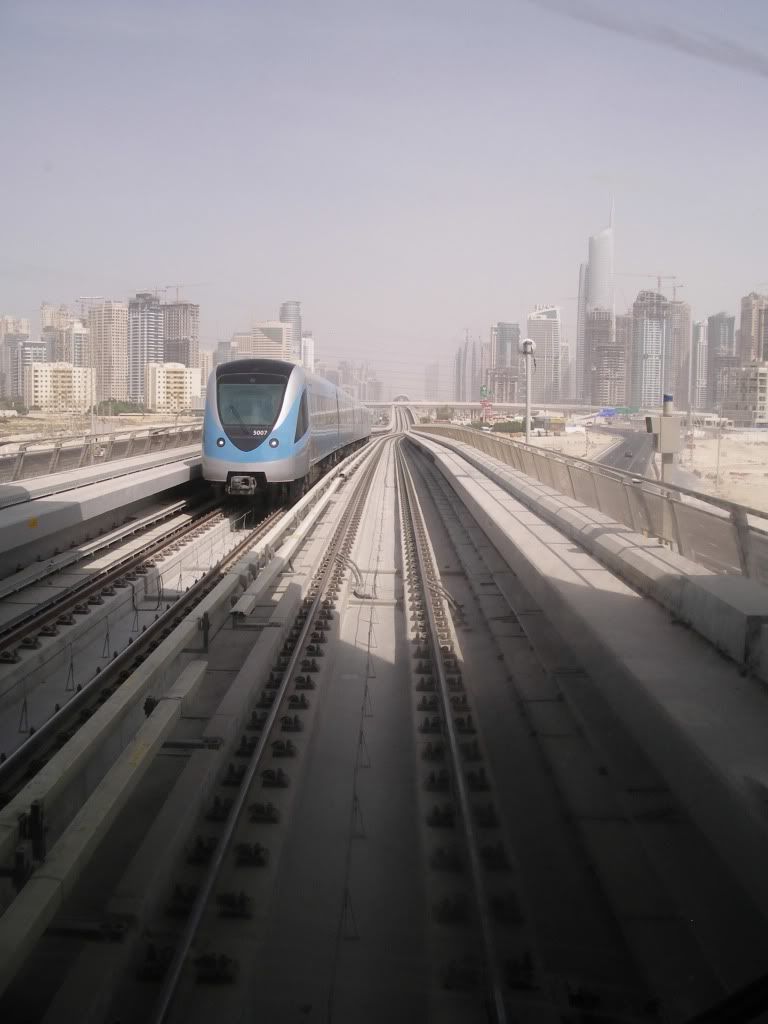 No driver here: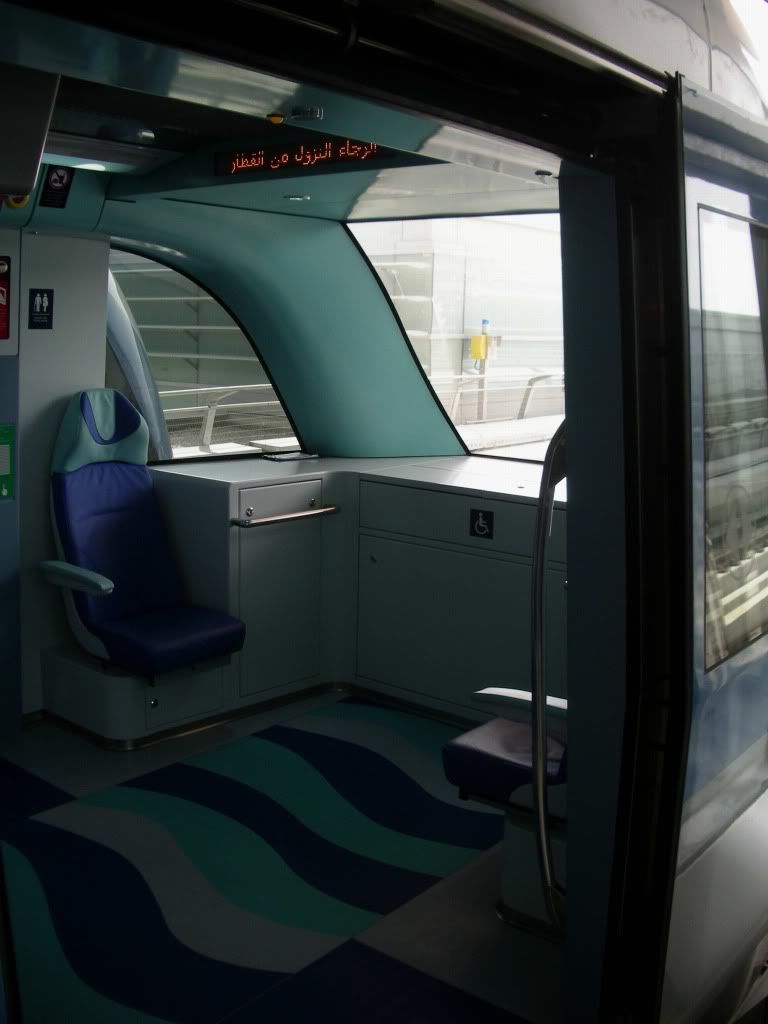 Lets go:
Burj al Arab:
Further:
Around the corner: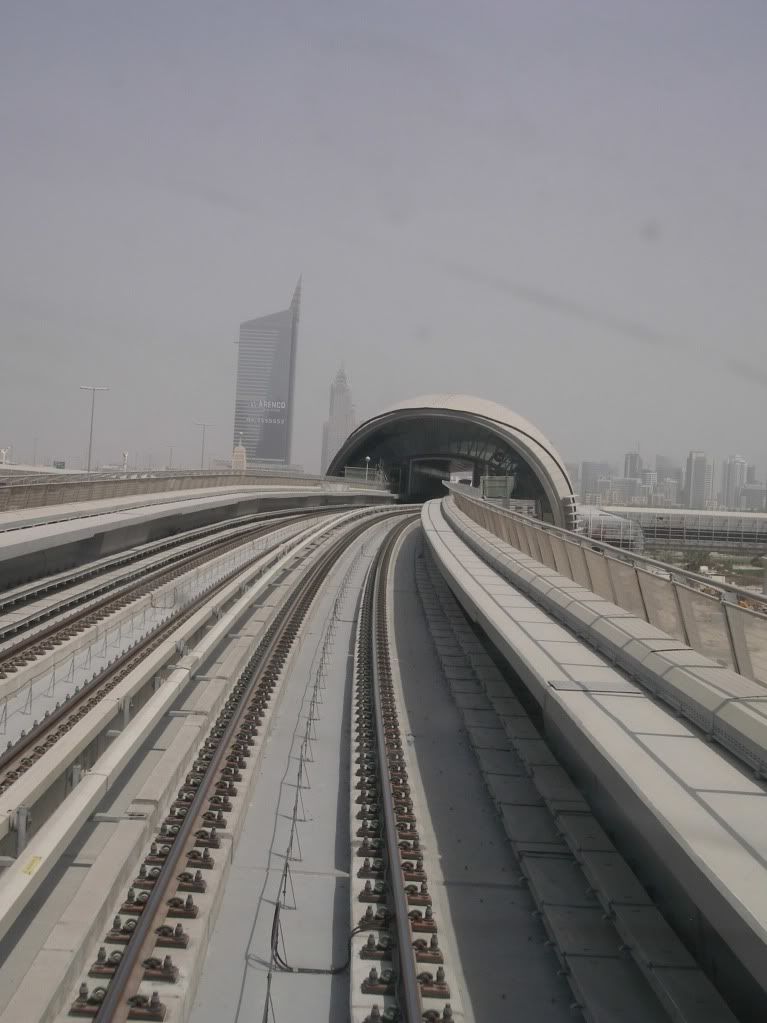 Some skyscrapers ahead:
Burj Dubai: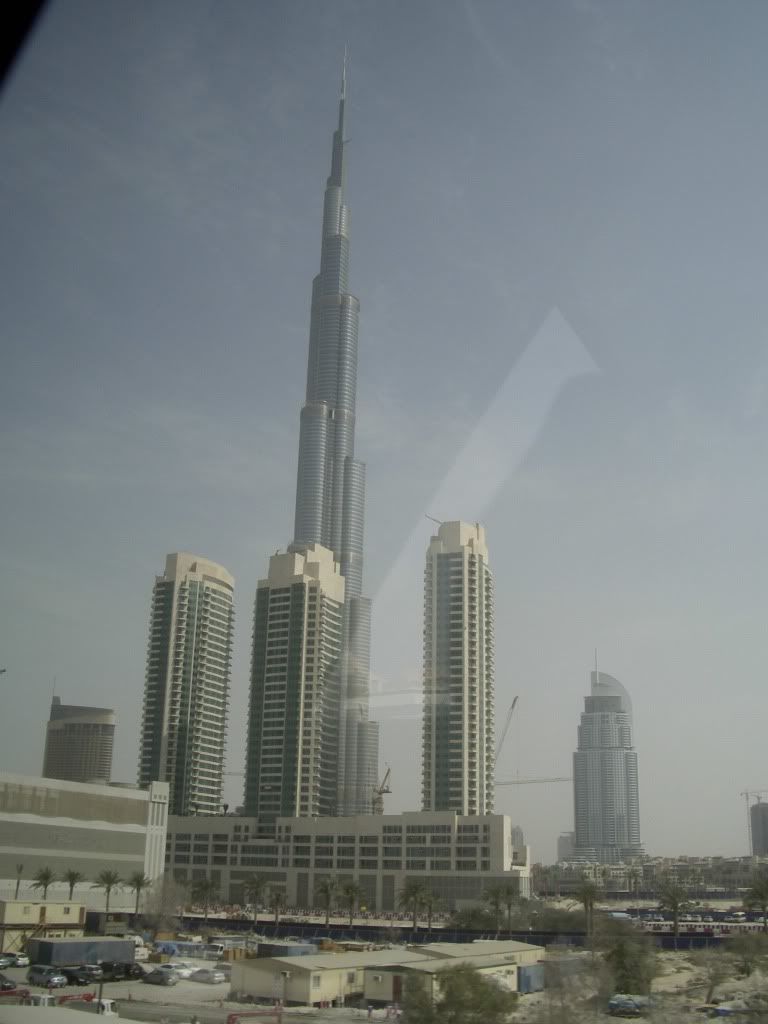 And further on with our next day through the desert to the oasis city of Al-Ain close to the Omani borderline.
Rental car agreement was done via a special offer code by Avis. The guy at the desk was ok, he offered us
a striking new Chevrolet, absolutely ok for us.
Driving was, let me say, like for example in Italy. Rules, well there are rules, but only for all the others,
not for me, so my impression from driving around here.
The hotel was not that easy to find, we saw it on the mountain, but its Omani land between, so you had to drive around
in direction Abu Dhabi and further back to reach the street to the mountain, finally fixed and reached the Mercure Jebel Hafeet.
The second highest mountain in the Emirates, the Jebel Hafeet with our hotel on top: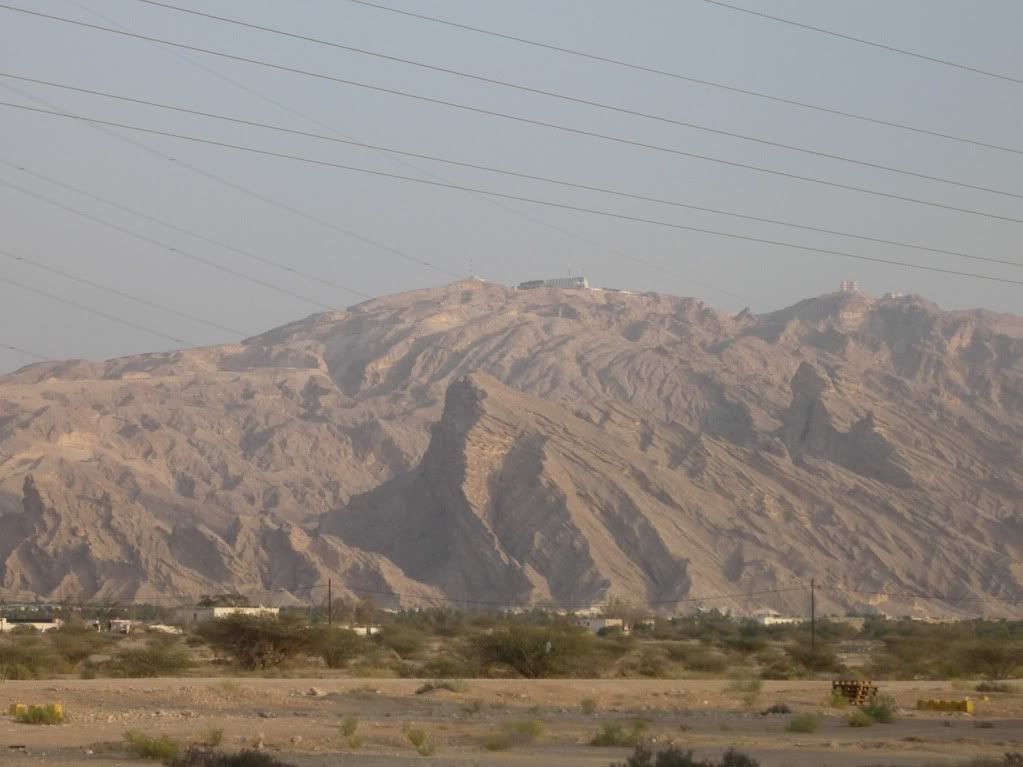 The hotel garden:
Dunes from above:
Endless dunes:
View into Oman: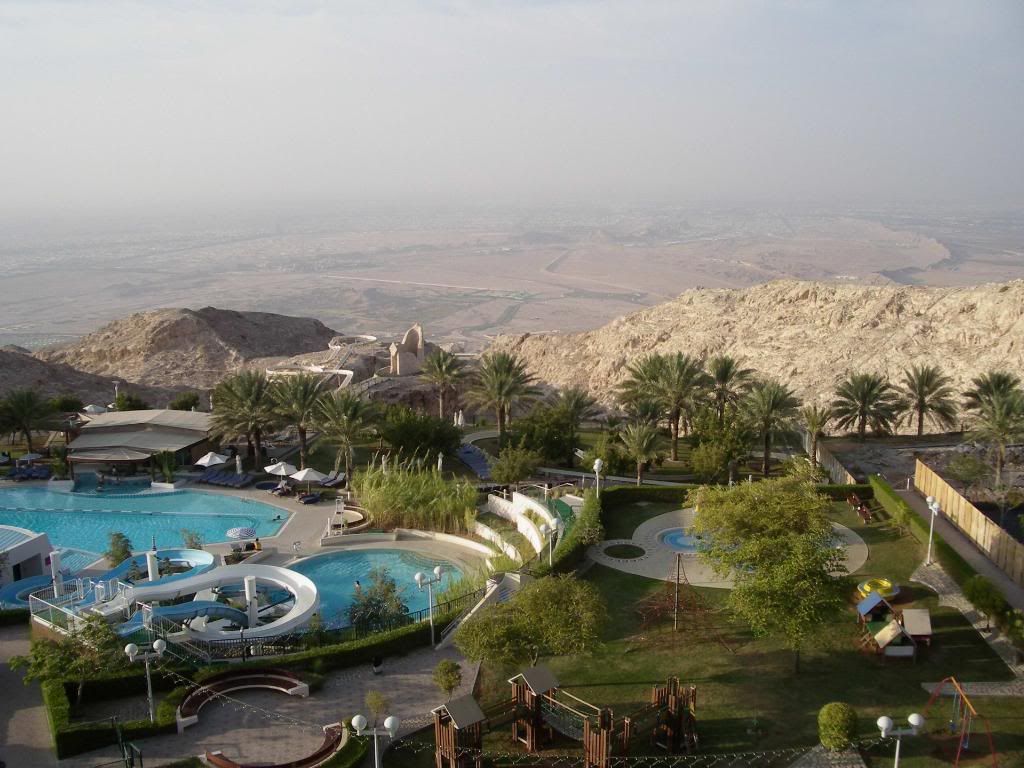 And also at night: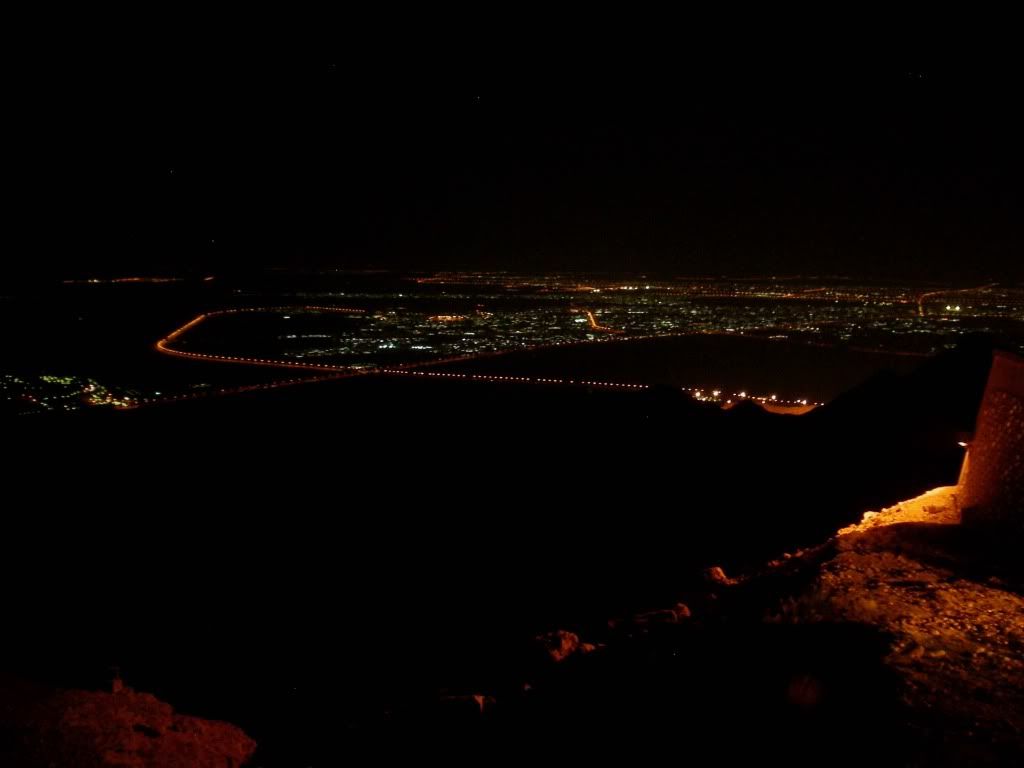 Nice houses here in Al-Ain:
Afternoon in the city:
Good fare, up-to-date aircraft and real friendly staff. We had two good legs here on QR.
And also here I prefer the Boeing product between the Airbus widebodie machine.
No problem to go on QR again, but what else to do with the return legs also booked!.
People in the Emirates tend also to be real friendly, no problem to do pics also at the Metro.
Some more pics from Fujairah at the Indian Ocean, together with some close encounters during our ride through the desert and also the next two legs on a non expected machine coming soon.
Comments welcome,
Markus (FLIEGER67)