Following on my previous trip report from LHR.
Here is a 'shorter' report on the onward and return flights.
SIN-HKG
SQ 856
Seat 1F
Dep:- 09.45
Arr:-13.30
Aircraft :- 9V-SKI
Back at Changi airport for my onward trip to HKG.
Checked in at the Suites/First Class section, which had desks and chairs/sofas instead on the normal check-in counters. Then went through the dedicated immigration lanes.
Straight to the SQ lounge area...and the lounge ' beyond" the First Class Lounge, called the 'Private Room'. More about this later, in my return trip report.
The Private Room.
Boarding their planes very early, as usual.
Went down to the gate and through security. ( Changi has security checks at the gate).
Boarding had already started.
I was escorted to my seat, 1F.
Again the SQ goodies were handed out.
But..NO amenity kit or sleep-suit
.
The aircraft was the same as the one from LHR; 9V-SKI.
View of the door to the cockpit, from my seat 1F.
.
A SQ sister ship .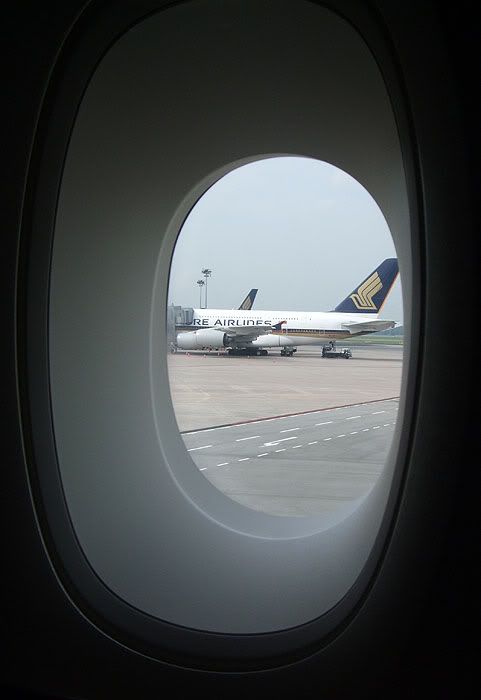 A refreshing Singapore Sling .
.
Detail of the IFE console and pull-down blind.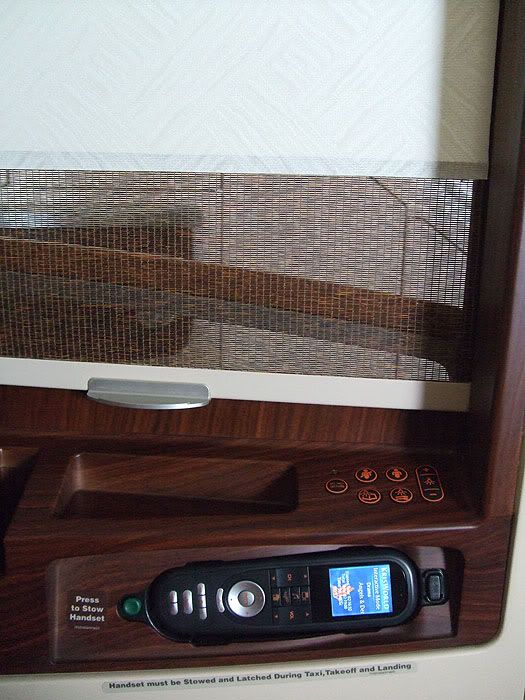 Jett Cargo 747.
.
Flight position.
.
Brunch.
Fresh Fruit plate with cottage cheese.
.
Singapore radish cake
Fried rice pudding in sweet soya sauce with prawns, egg and preserved radish.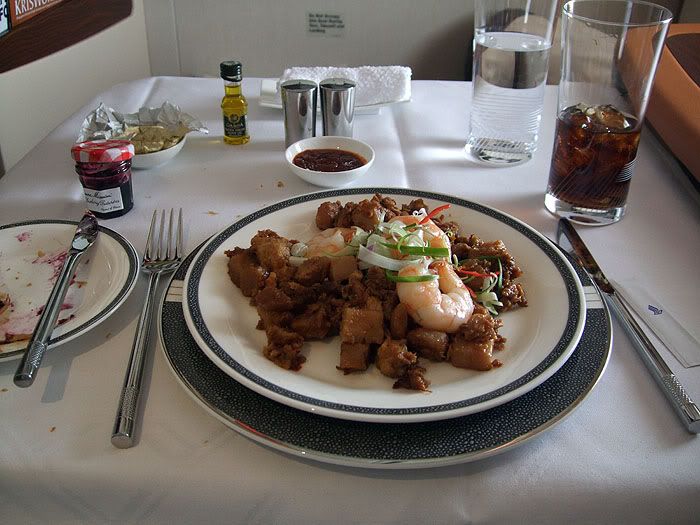 .
Warm chocolate fondant with strawberry salad and macadamia ice cream.
.
Landing in HKG was on time .
Took the terminal train; as the 380 gates are far from the immigration/baggage/arrival area.
I went through the automated immigration gates for passengers with HKG residential ID cards, in one minute.
Straight to baggage reclaim, with a short wait for my bags.
Then out and onto the train to Central.
HKG-SIN
SQ 861
Seat 2A
Dep:- 16.00
Arr:- 19.50
Aircraft :- 9V-SKF
The newly renovated SQ SKL at HKG.
.
.
Larger with a better food selection than before.
However, still rather dull, no natural light .....and NO toilets or showers????!!!!
One has to go outside to the public toilets!!
The First Class/Suites section is too far from the food bars and felt really stuffy( due to lack of air-con?).
In the end, I just relaxed and snacked by the food bar area.
Once again I quickly got bored and decided to slowly walk to the 380 gates.
Its a long, long walk from the lounge; if I was in a hurry I would have taken the terminal train.
View of HKG airport.
.
.
Views of my ride to SIN
.
.
.
Due to SQ always boarding their planes very early, in this case, a good 50 minutes before departure. There was no queue and I walk straight on board.
I was escorted to my seat, 2A.
The ever consistent smiling SQ service then sprung into action; drinks, nuts, newspapers, menus , earphones, slippers & socks.
But...again, NO amenity kit or sleep-suit on this sector:-(
.
View from seat 2A, across the cabin.
.
My usual glass of Krug.
.
An Eva Combi, seen out of one of the windows.
.
A slightly late push back.
With an AirBus technician on hand.....Just in case!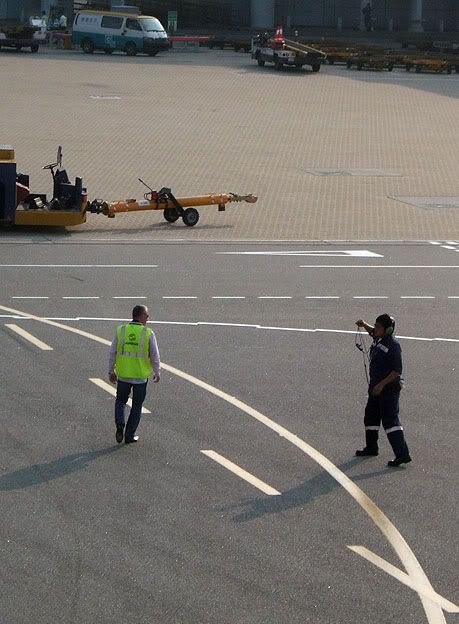 .
The reflection of the plane. About to taxi.
.
The engines were powered up and we began to move forward. Then suddenly, the pilot braked really hard. This caused a few things( newspapers and magazines) to fly forward! The whole plane wobbled !
It transpired that a CX 330 sneaked up in front of our plane.
Anyway, after a longish taxi , we were up and away.
Again the SQ service started like clockwork.
Drinks.
Then the dinner service.
I chose the Chinese Menu option; Shi Quan Shi Mei .
" A complete and perfect chinese culinary experience"; as the menu blurb states.
Marinated lobster with melon salad.
Shredded pork with snow cabbage.
Bamboo pith with vegetables.
Steamed bread.
.
Marrow melon with assorted mushroom soup.
.
Baked crabmeat with abalone and dried scallop.
Steamed garoupa with "mui choy" in soya sauce.
Stir fried chicken with lily bud and cloud ear fungus.
Kai lan with black mushroom.
Choice of steamed rice or rice porridge.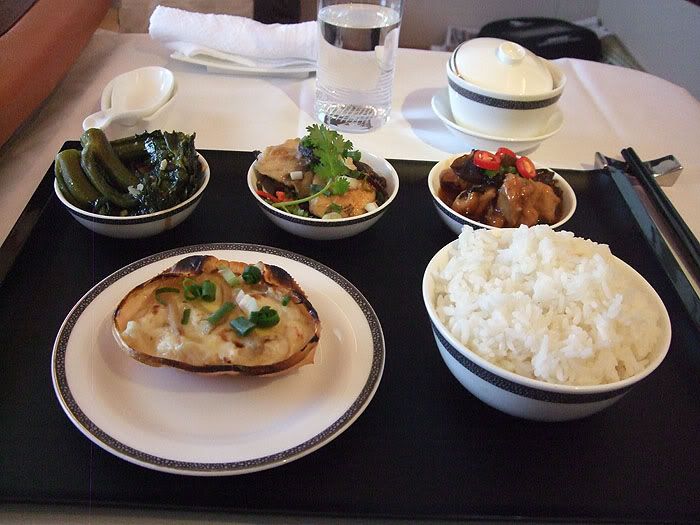 .
Warm pancake filled with red bean paste, green tea ice cream and raspberry sauce.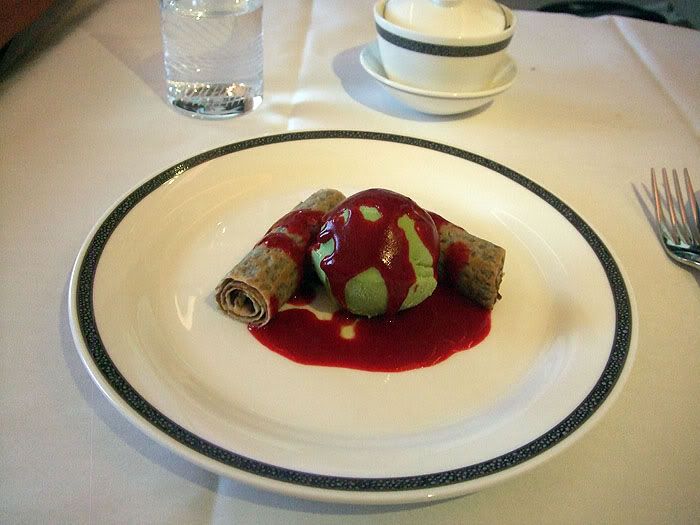 .
More jasmine tea with a few pralines while watching 'Julie and Julia'.
.
This whole meal was an absolute delight !!
Landing in SIN was in the dark; so, no pics.
A vicious thunder storm was passing over Changi.
Lighting and heavy tropical rain.
The approach was slightly bumpy. However, the landing was really smooth.
Taxied to the gate and I was first off; headed to the shops for a bit of shopping therapy.
Then to the SQ Lounge 'Private Room' to wait for my connection to LHR.
Once again, when one of the lounge' dragons' saw my boarding pass. She immediately escorted me through the First Class section and introduced me the another lounge 'dragon' guarding the entrance to the 'Private Room'. I was then escorted by this other woman to a quiet corner of the PR. Then asked if I wanted anything to eat at the dinning area by one of the waiters.
Decided I wanted to eat something lite.
Lobster with 3 cheeses.
.
view of the dinning area.
.
View of the sitting area of the Private Room.
.
Coffee, some fruit and pralines by my seat.
.
Went to the toilet /shower area to freshen up.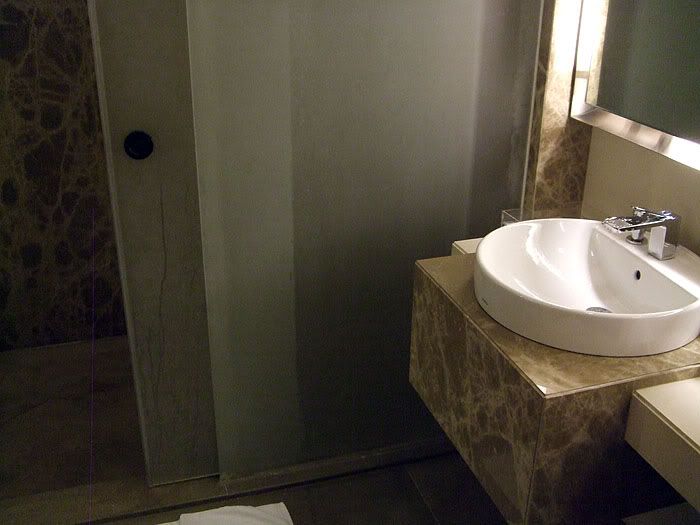 .
Then it was time to walk over to the SQ 322 gate.
SIN-LHR
SQ 322
Seat 2F
Dep:- 23.45
Arr:- 05.45
Aircraft :- 9V-SK?
The Suites section was about 80% full; with a compliment of 24 cabin crew on the plane.
I was starting to get rather tired; so, didn't take too many photos on this sector.
However, I must say, that this sector was a big disappointment. ..or was I getting a bit jaded!
The lead FA lacked any smiles..and this time, the service did seem very robotic.
The female Suites cabin crew just felt as if they were going through the motions. While the male cabin crew seemed a lot better.
Dinner
Chilled malossol caviar.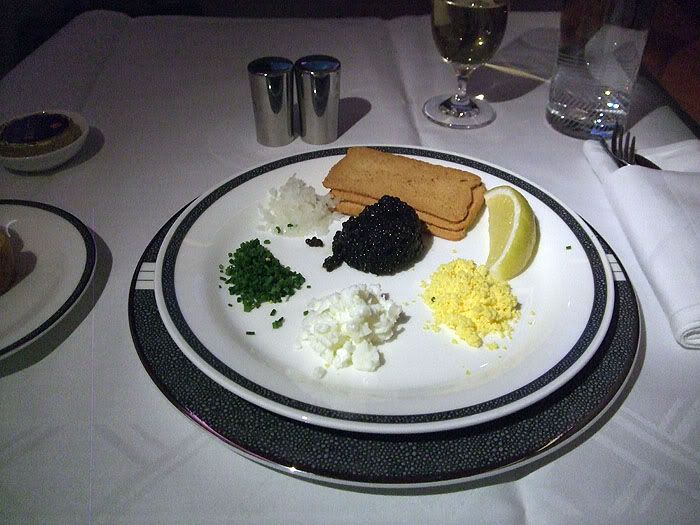 .
Double-boikled chicken soup with American ginseng.
.
Lobster thermidor.
This was not on the menu. But ordered through SQ's "Book the Cook" service. Where one can order many other specific meals via the Internet before one flies.
.
Provence style peach tart, almond icing.
Rosemary ice cream with orange salad.
.
Cheeses
(skipped , for max sleep time)
.
Fruits
(skipped).
.Tea.
Slept well.
Breakfast began about 2 hours out of LHR.
Orange Juice.
Fresh Fruit Plate.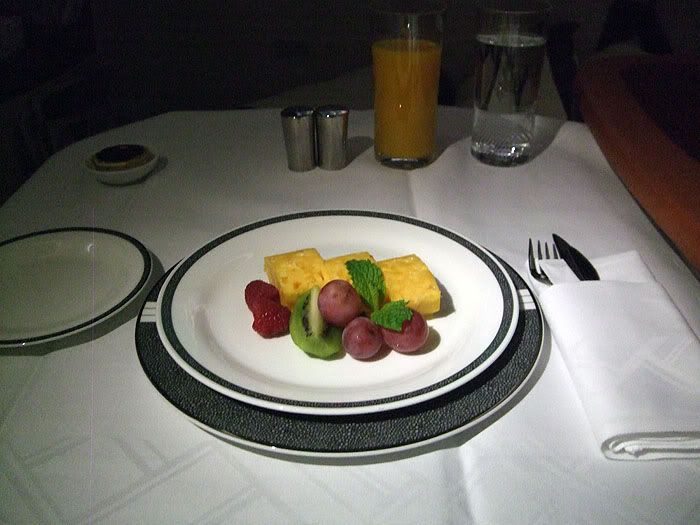 .
Place setting with pastries and my favourite blue mountain coffee.
.
Cereal or yoghurt
(skipped this)
.
Singapore style yu pian mi fen.
Thick rice vermicelli in a creamy fish soup garnished with sliced fish and vegetables.
.
We landed in a still dark LHR.
As always; in LHR, it took forever for the piers to be connected to the plane.
The walk was to immigration was long and windy; through shabby corridors.
When I arrived at baggage reclaim; the baggage belt still had not been started.
Is it just me?
The minute one arrives into LHR. Everything starts to go wrong and nothing works!!!!