The Eire trip (part 1): AMS-WAT-GWY-DUB on Aer Arann
Welcome at the first part of this trip report, featuring a two day trip to Ireland on 6 flights. Enjoy!
We left my house at ten o'clock in the morning and drove in my car to the staff parking lot. The parking lot was very full with only some space left at the end, which resulted in quite a long walk to the bus stop. Soon a bus showed up and drove us to the terminal. Because I worked the evening before and my company is the handling agent for Aer Arann, I checked us in already and reserved some good seats. 2F and 3F with 2DE and 3DE blocked. 
After a stop at the shops to buy batteries for my camera we went to the H-pier. When we reached the pier our aircraft, a BAe 146-200, was just taxiing in at gate H2.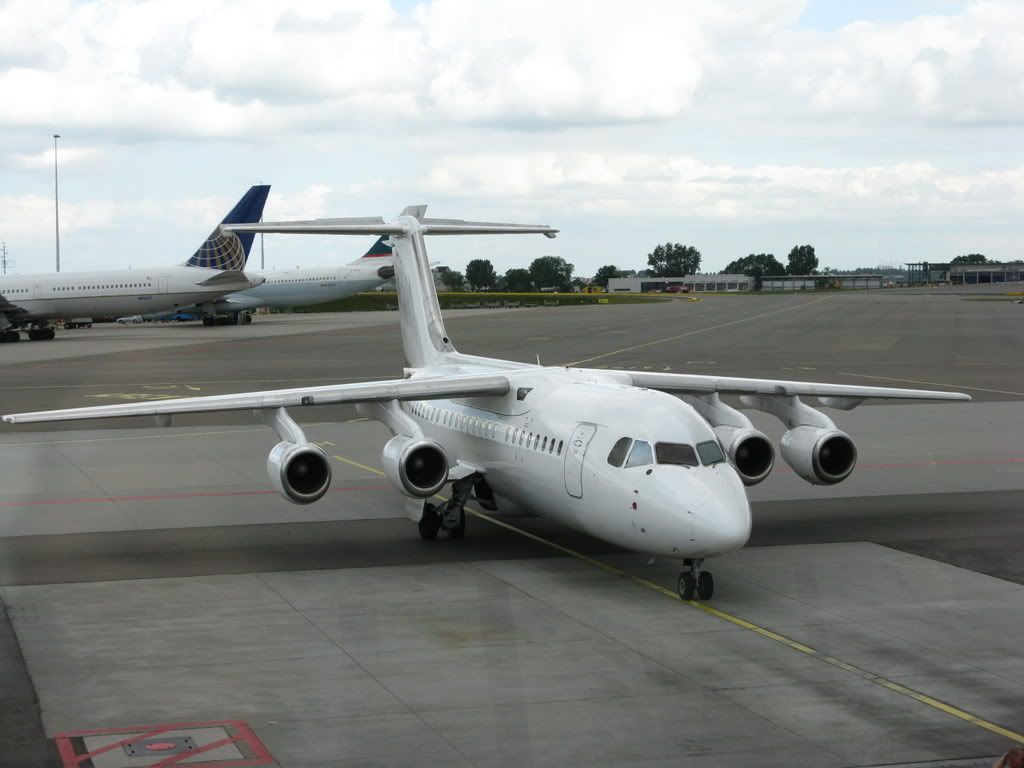 Date:
Monday, 19May08
Flight:
Aer Arann // RE 3912
From:
Amsterdam // AMS
To:
Waterford // WAT
Duration:
1h30m
STD:
11.45 //
ATD:
11.40
STA:
12.15 //
ATA:
12.14
Aircraft:
BAe 146-200 // G-TBIC
Seat:
Economy // 2F
Load factor:
45% // 42 passengers
G-TBIC is owned by Flightline. The Irish company Nex Aviation is leasing the aircraft and is operating the flights for Aer Arann, together with sistership EI-CNQ. After refueling boarding was announced and all 42 passengers boarded the aircraft. Soon the door was closed and pushback began. Runway 36C was in use so a relatively short taxi route today. With not much other traffic we got take-off clearance soon and took off at 11.50.
Take-off movie:
http://www.youtube.com/watch?v=VHaidEqb8no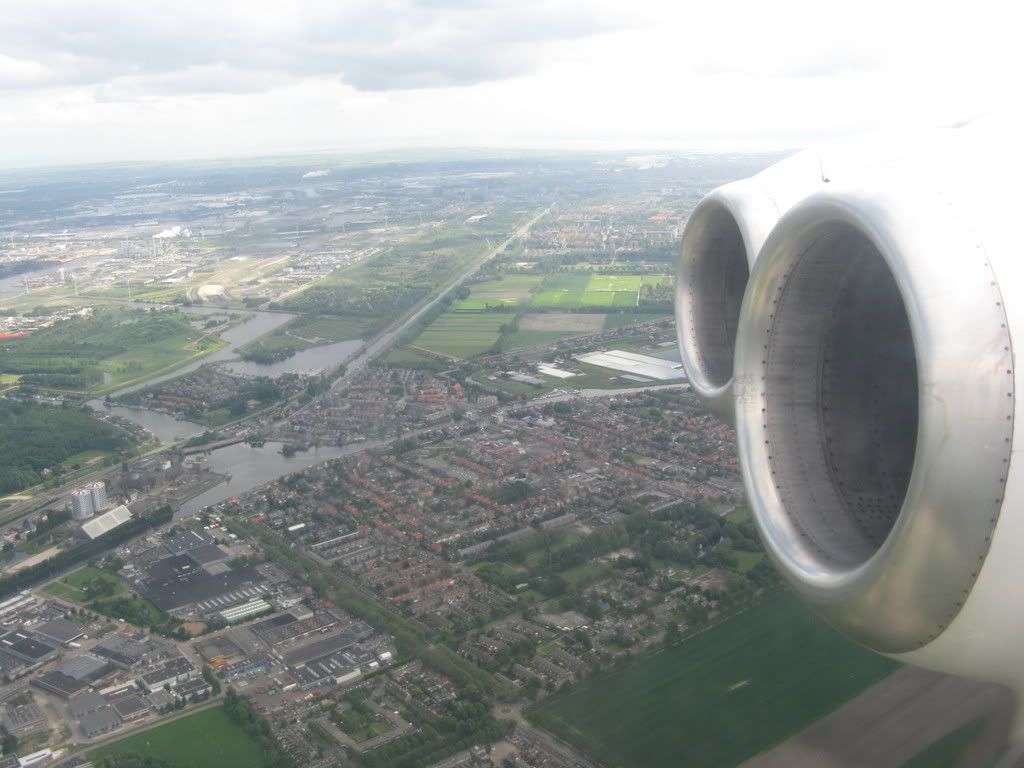 My village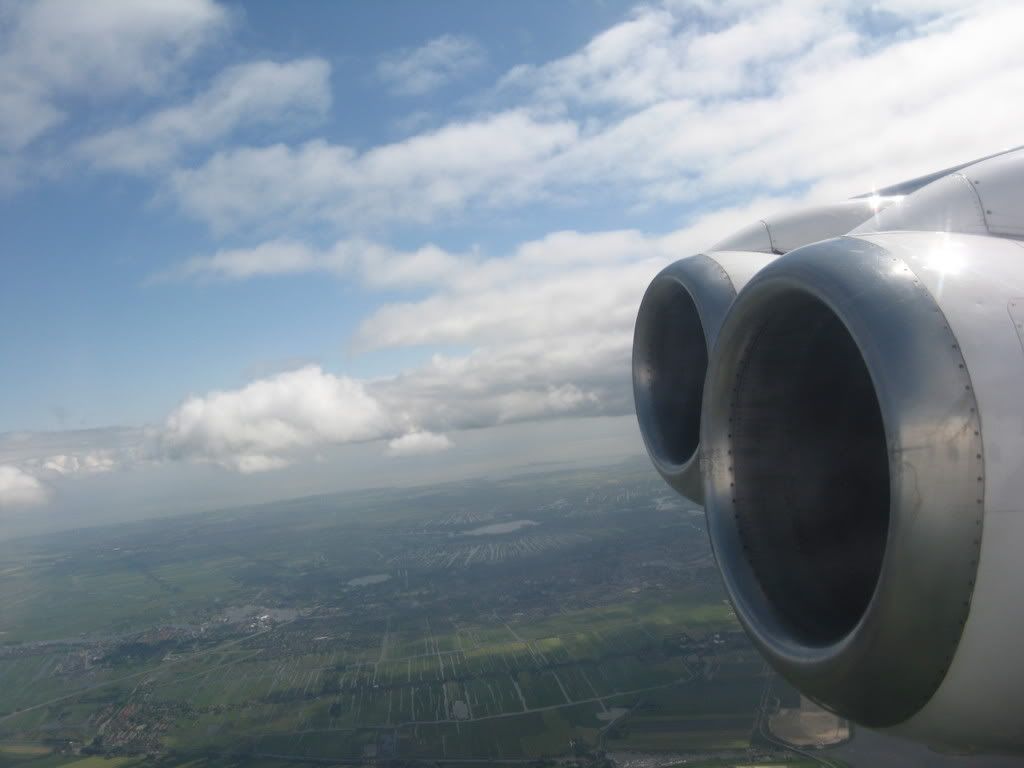 Byebye Dutch landscape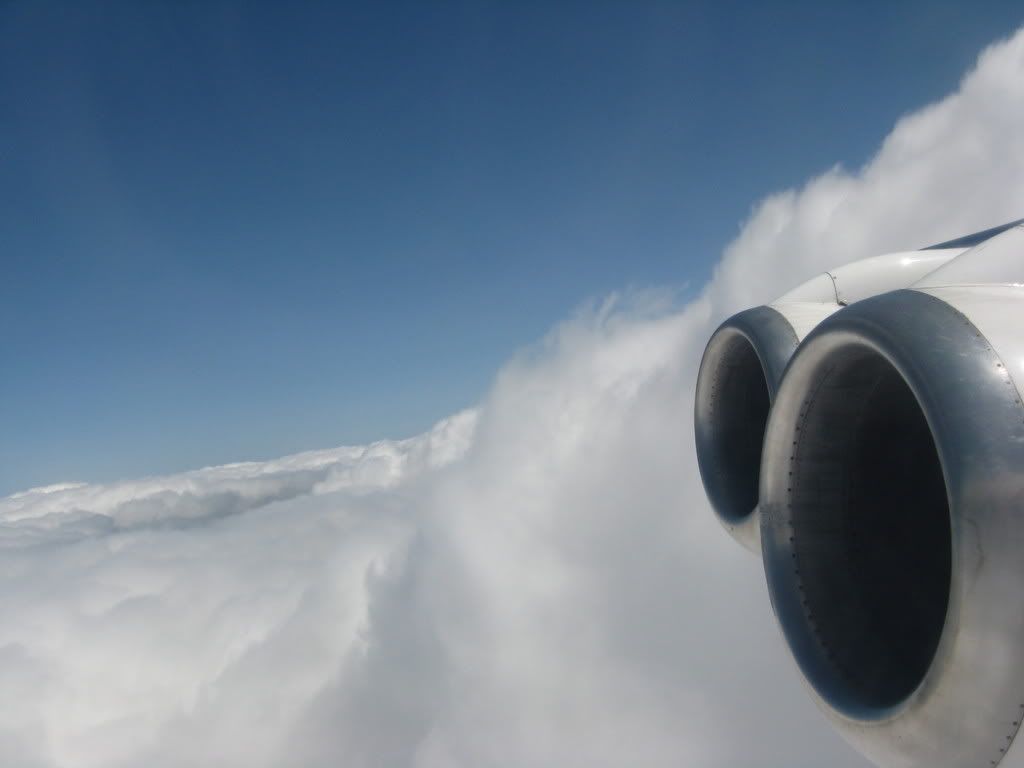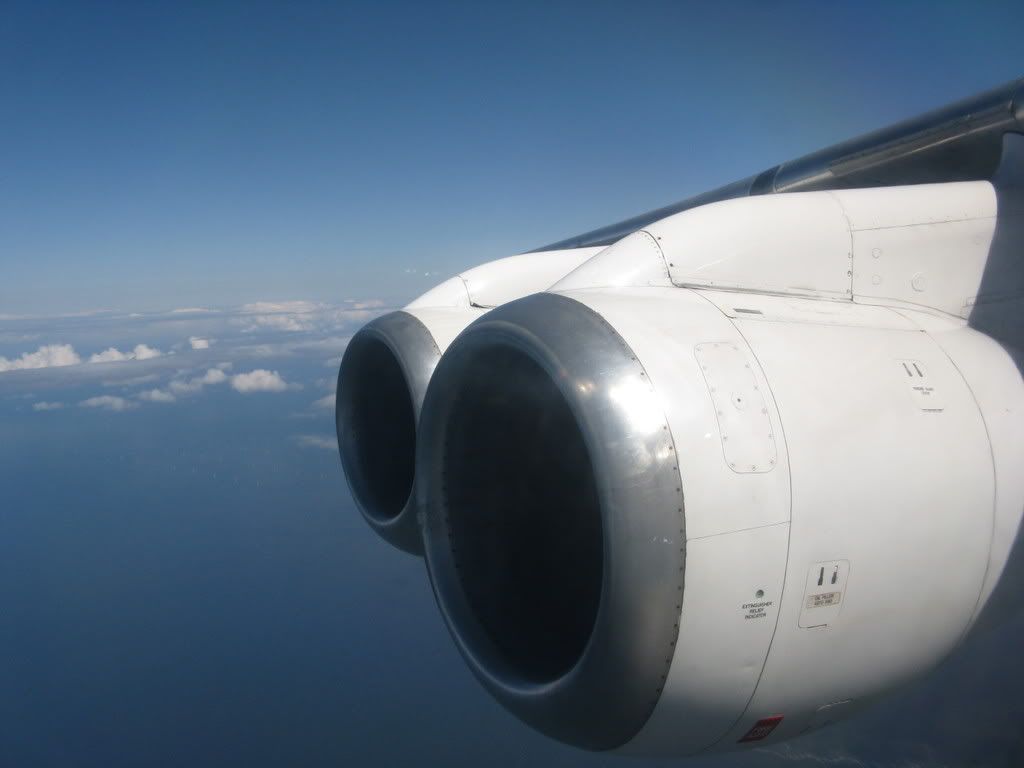 Welcome at cruise altitude
The cabin
The crew announced that the flight time to Waterford today was approximately 1 hour and 25 minutes. After an hour in the air the captain announced descending and passed on the latest weather update.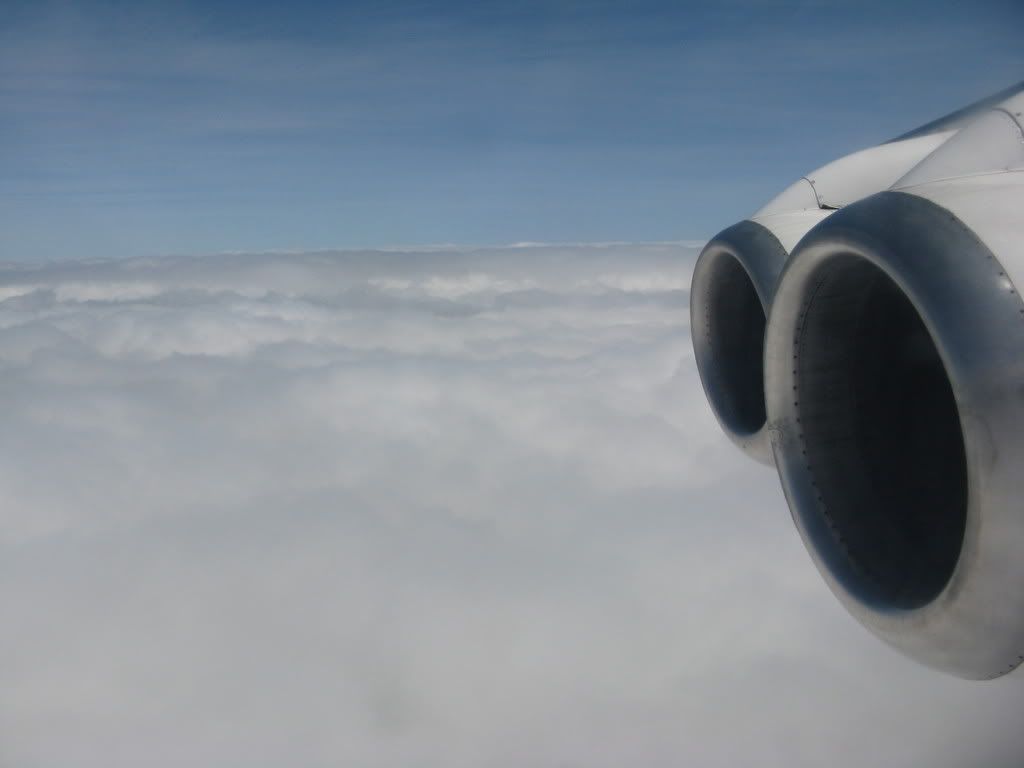 Descending
On the left the city of Waterford and the River Suir
We touched down at runway 21, which is only 4700ft, so a lot of brake power was used. Immediately a u-turn was made and we taxied to the apron where we parked directly in front of Waterford's small terminal building.  
Landing movie:
http://www.youtube.com/watch?v=kfWo9P5mEB4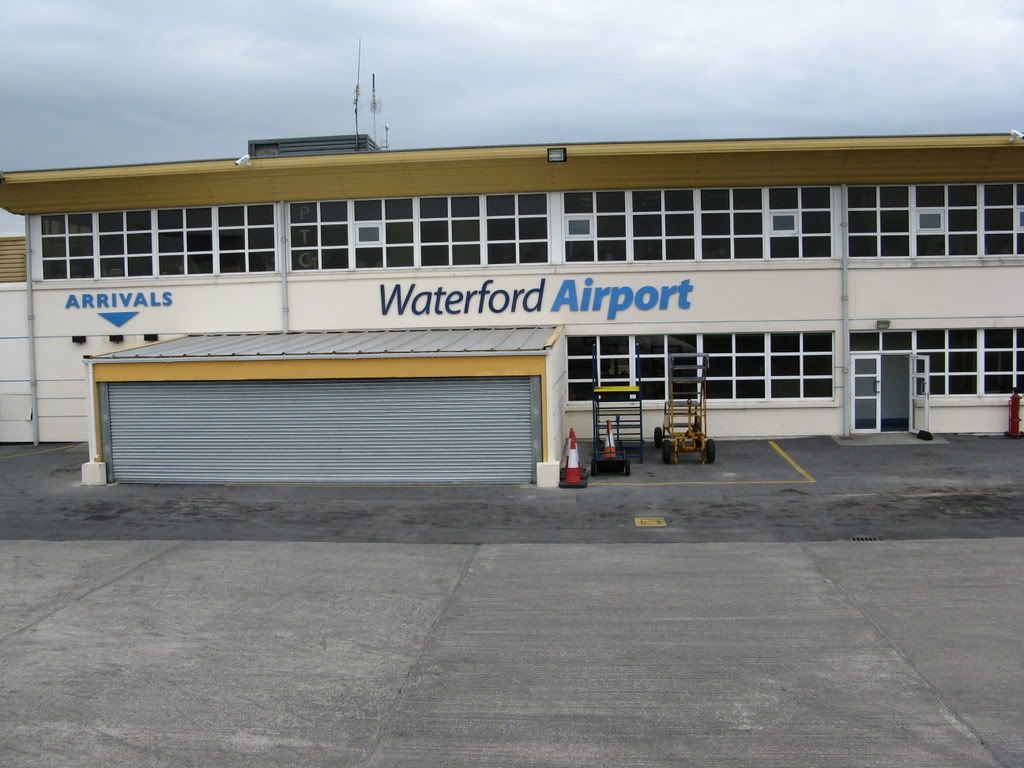 Terminal building

Date:
Monday, 19May08
Flight:
Aer Arann // RE 3912
From:
Waterford // WAT
To:
Galway // GWY
Duration:
0h30m
STD:
12.45 //
ATD:
12.37
STA:
13.15 //
ATA:
13.08
Aircraft:
BAe 146-200 // G-TBIC
Seat:
Economy // 2F
Load factor:
29% // 27 passengers
15 passengers disembarked in Waterford and the rest continued with us to Galway. No local passengers today who joined the flight so after only 20 minutes the flight crew started the 4 engines again. After a few minutes of waiting for an inbound Mooney we started taxiing to runway 21. With the brakes on and maximum thrust the flight crew released the brakes and we accelerated like a rocket and climbed in to the skies in no time. Soon the cruise altitude of 12000ft was reached for the short 25 minute flight to Galway.
Taxiing to runway 21
Take-off movie:
http://www.youtube.com/watch?v=WcDE1MZ7zho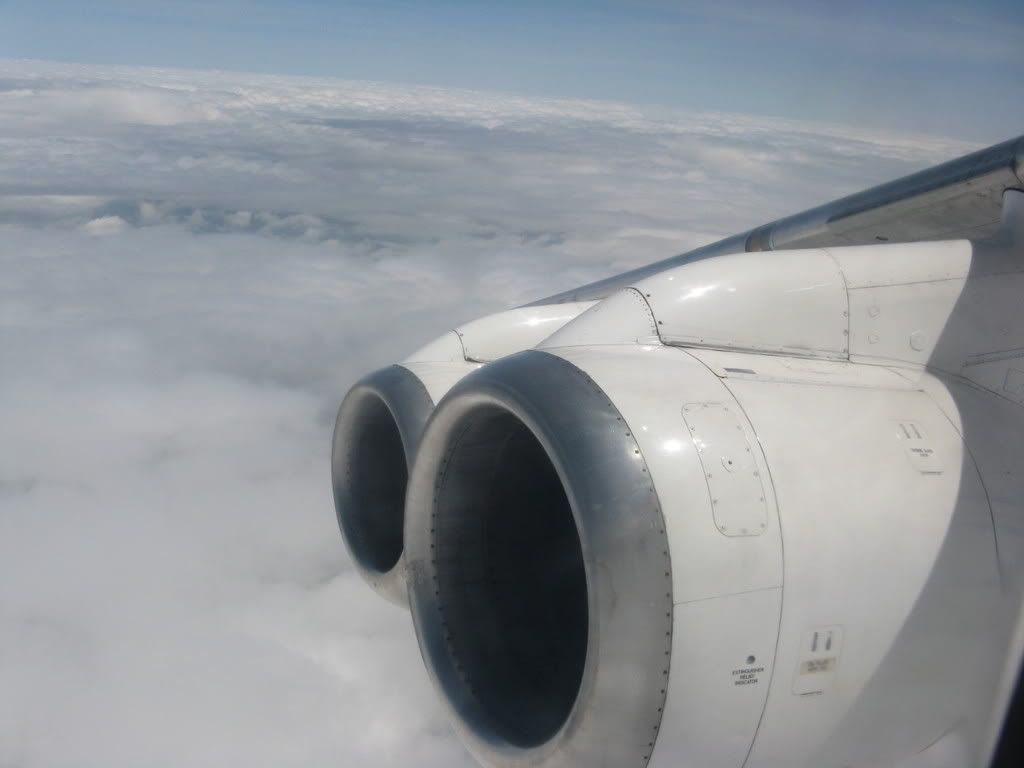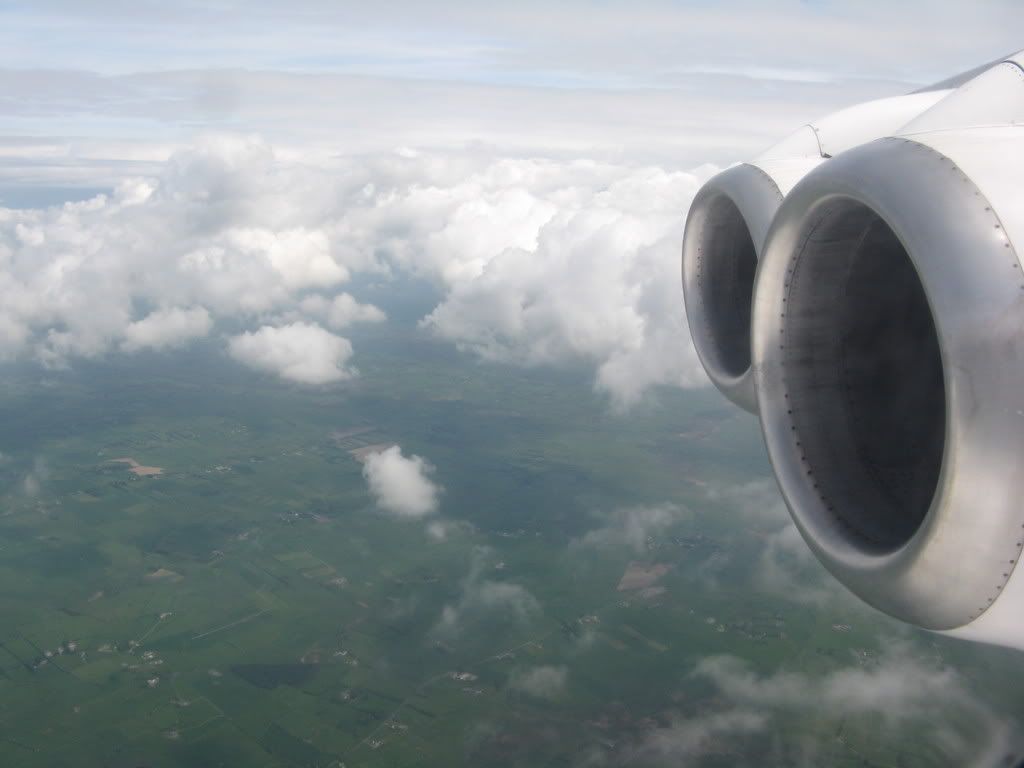 Cruising at 12000ft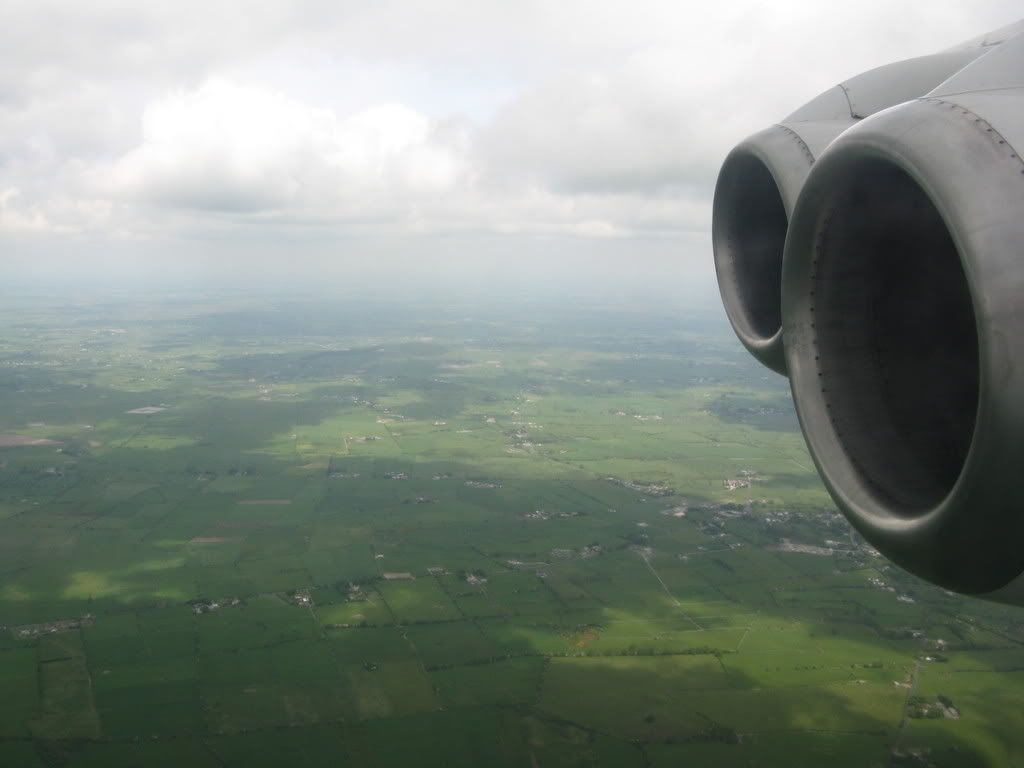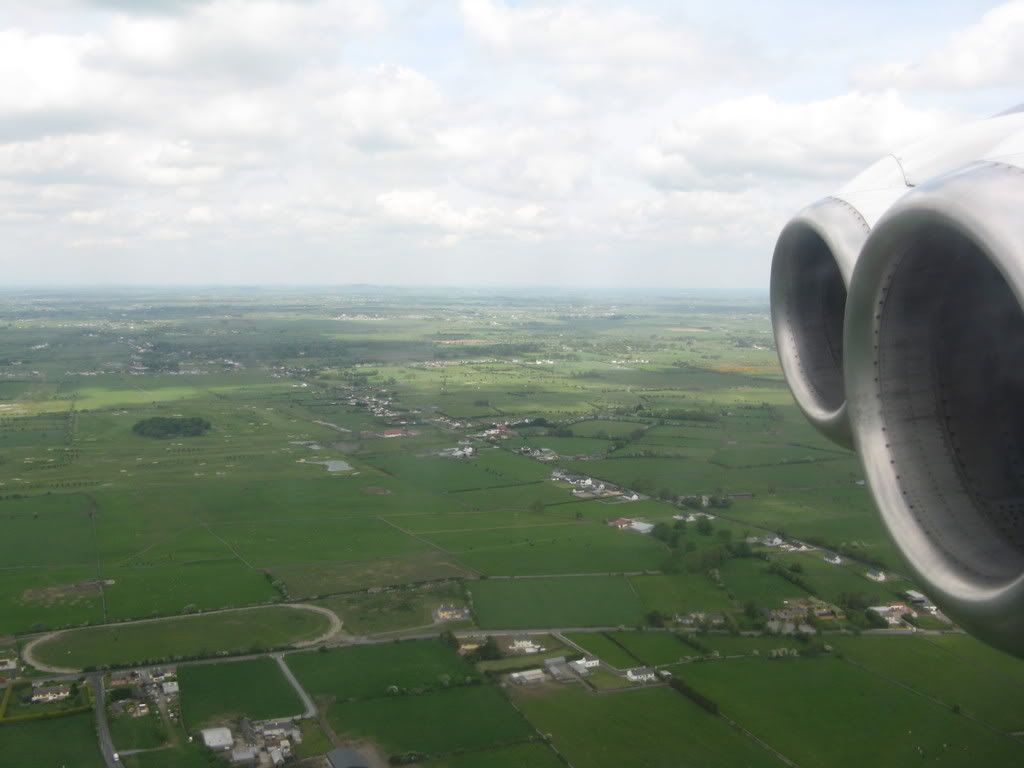 Approaching Galway
Only 15 minutes later descending was started already and the approach went over the beautiful hills in the Galway area. At 13.05, 10 minutes early, we landed at Galway Carnmore Airport. The runway at this airport is even shorter, only 4000ft, the shortest one in my logbook where I have landed on a jet aircraft.  
Landing movie:
http://www.youtube.com/watch?v=R-vOMgoIlRw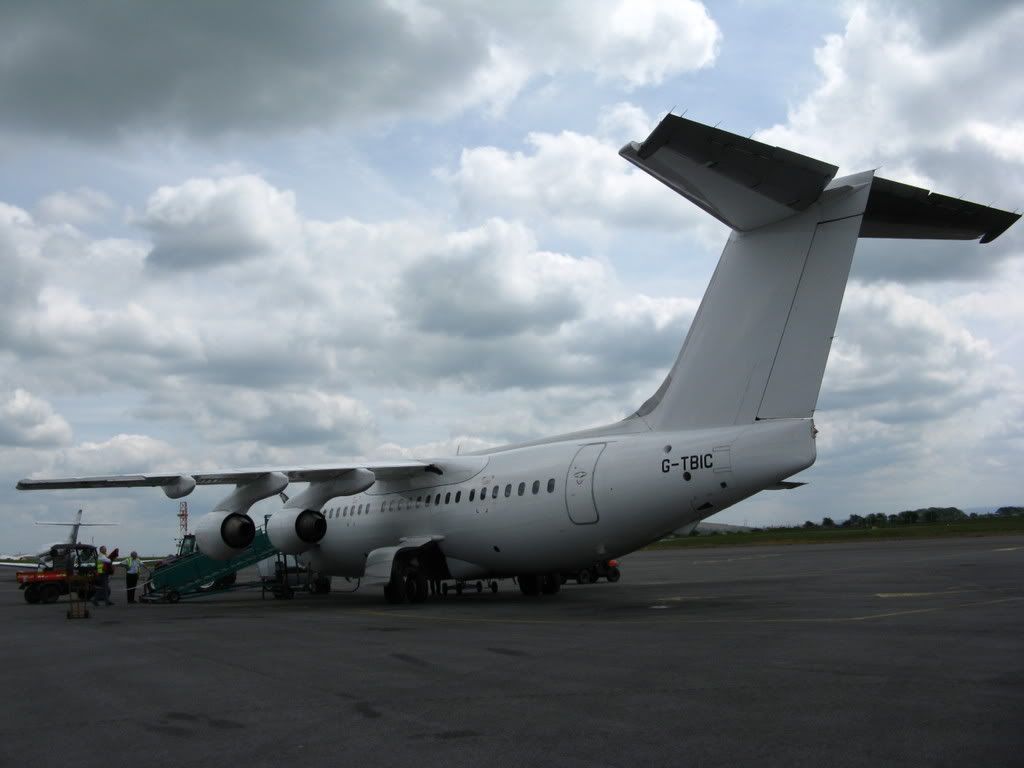 Byebye!
Terminal building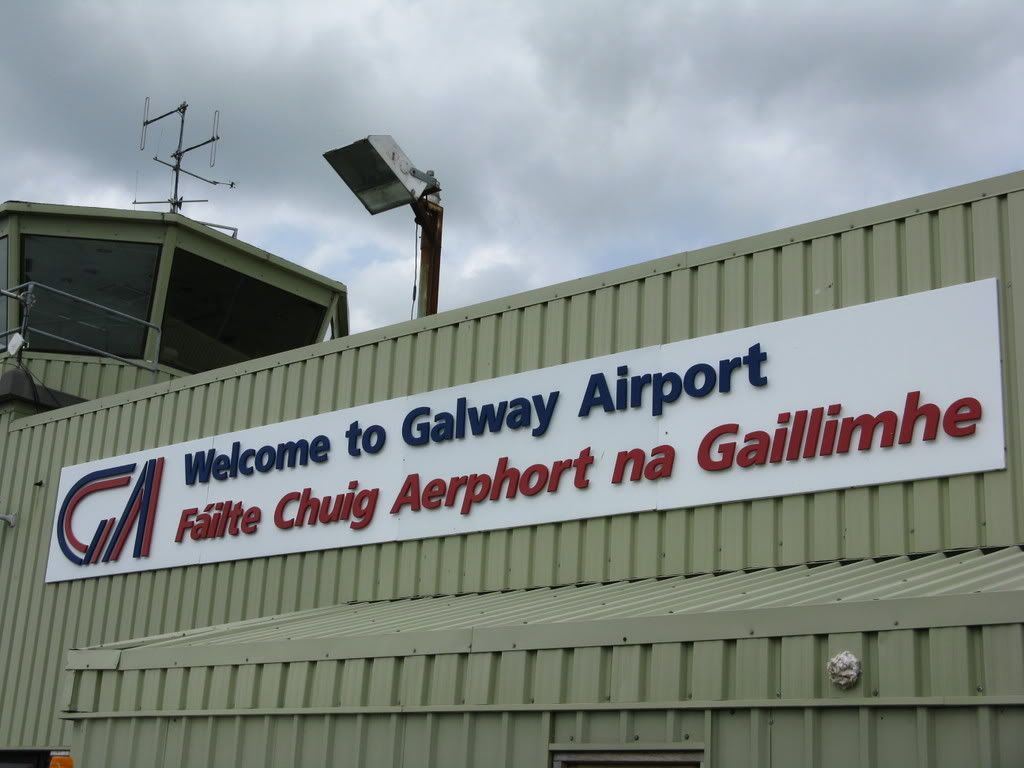 Welcome!
Landside view of the terminal entrance
Galway Airport is very small, with Aer Arann being the only operator. The small terminal has 1 baggage carrousel, 4 check-in desks, a few car rental desks and a small departure lounge.
We decided to take the bus to the city of Galway, which took about 20-25 minutes. After arrival in town we discovered that this was the only bus service of the day and we have to take a taxi back to the airport.
Hotel Meyrick at Eyre Square
Eyre Square
Shop St.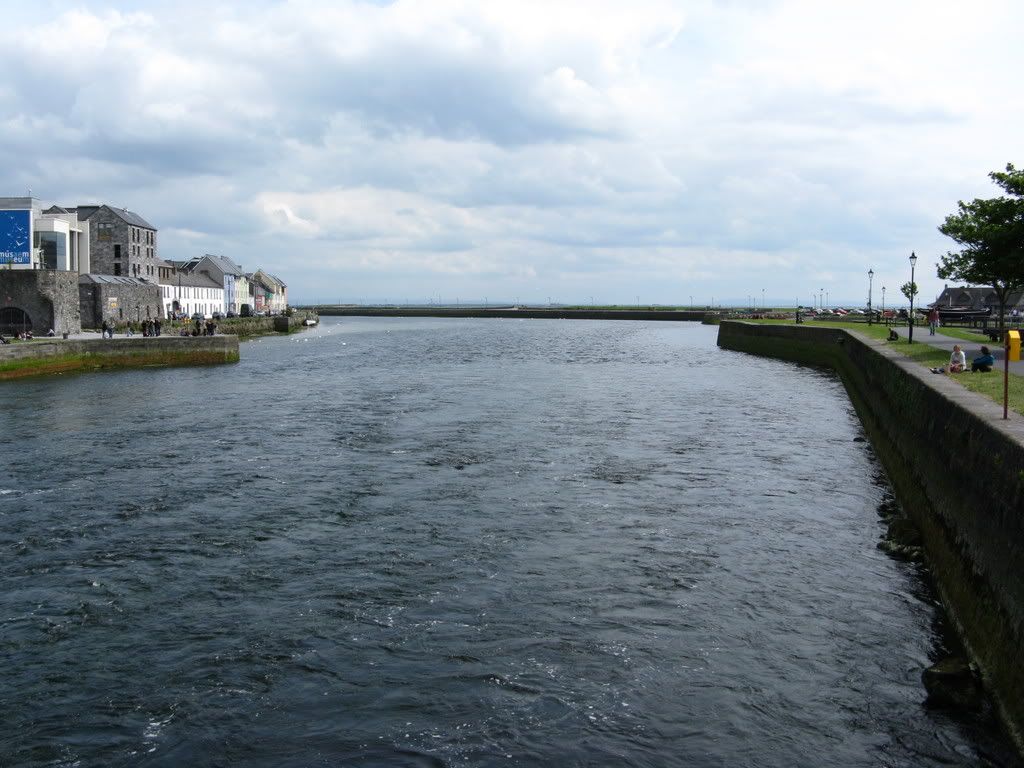 River Corrib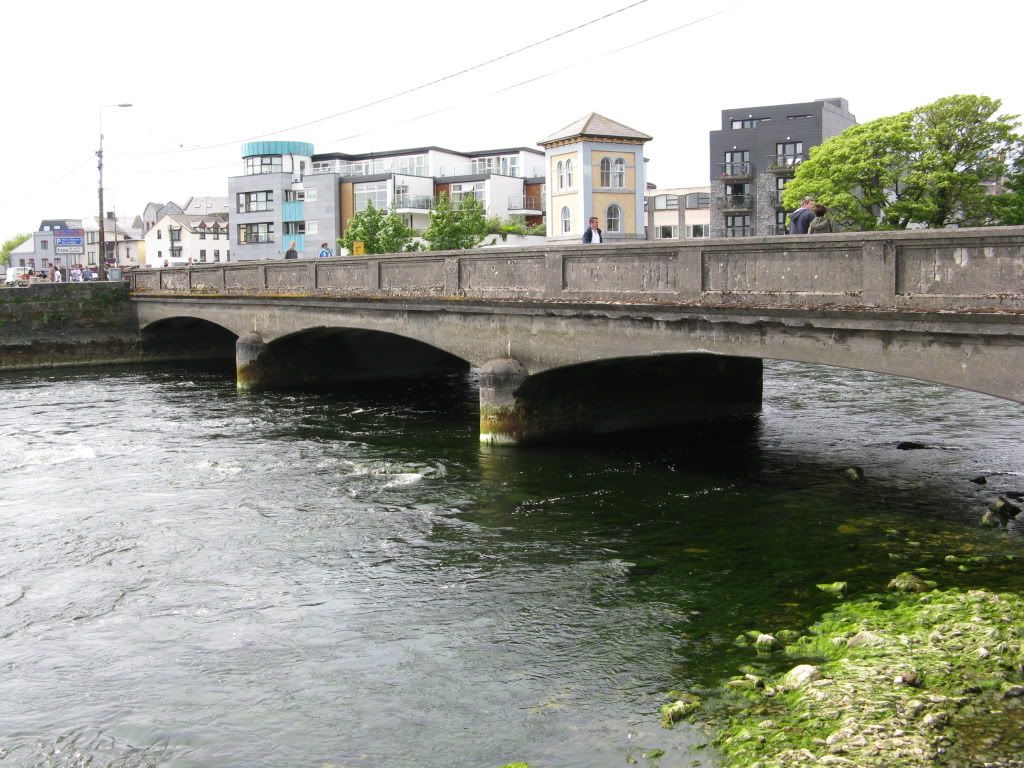 Wolf Tone Bridge
River Corrib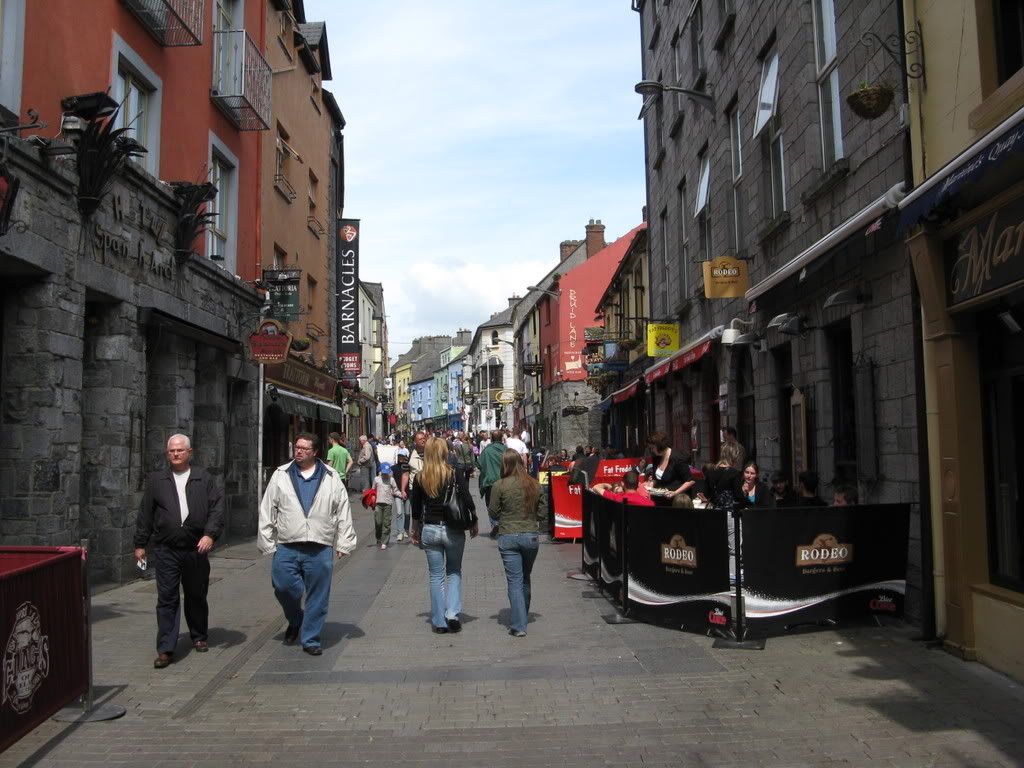 High St.
Inside the Eyre Square Shopping Centre
Back at Eyre Square
About one and a half hours later we arranged a taxi to drive us back to the airport. The ride took about 15-20 minutes, again through the nice scenery in the Galway area. The price was 15 euro's including a tip, which is very reasonable compared to the prices in The Netherlands.
Back at the airport the check-in for our flight to Dublin was open. A friendly lady allocated us 2A and 3A. We headed to the departure lounge and bought some drinks and watched a helicopter doing some circuits around the airport. Shortly after 16.00 our aircraft landed, an ATR 72-212A in the new color scheme.
Some local residents
Check-in
Departures/Arrivals hall
FIDS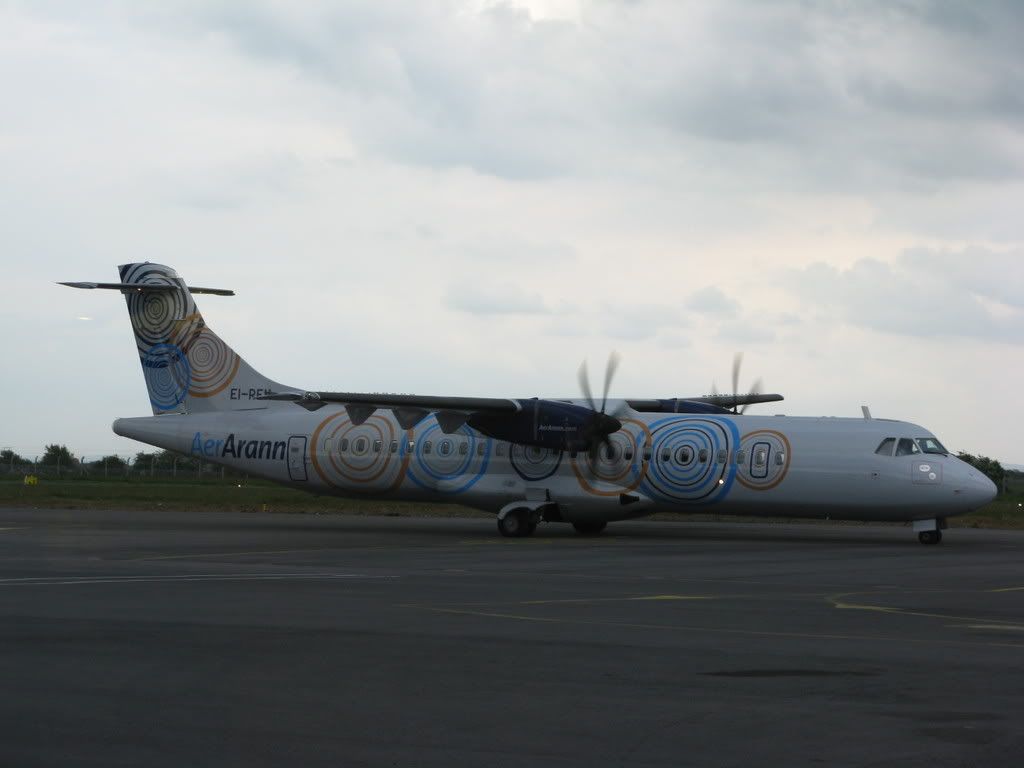 Our aircraft!

Date:
Monday, 19May08
Flight:
Aer Arann // RE 236
From:
Galway // GWY
To:
Dublin // DUB
Duration:
0h45m
STD:
17.15 //
ATD:
17.10
STA:
18.00 //
ATA:
17.57
Aircraft:
ATR 72-212A // EI-REM
Seat:
Economy // 3A
Load factor:
~33%
Boarding was announced at 16.55 and with a light load today the boarding process was completed 5 minutes after the announcement. We departed ahead of schedule and taxied to runway 08.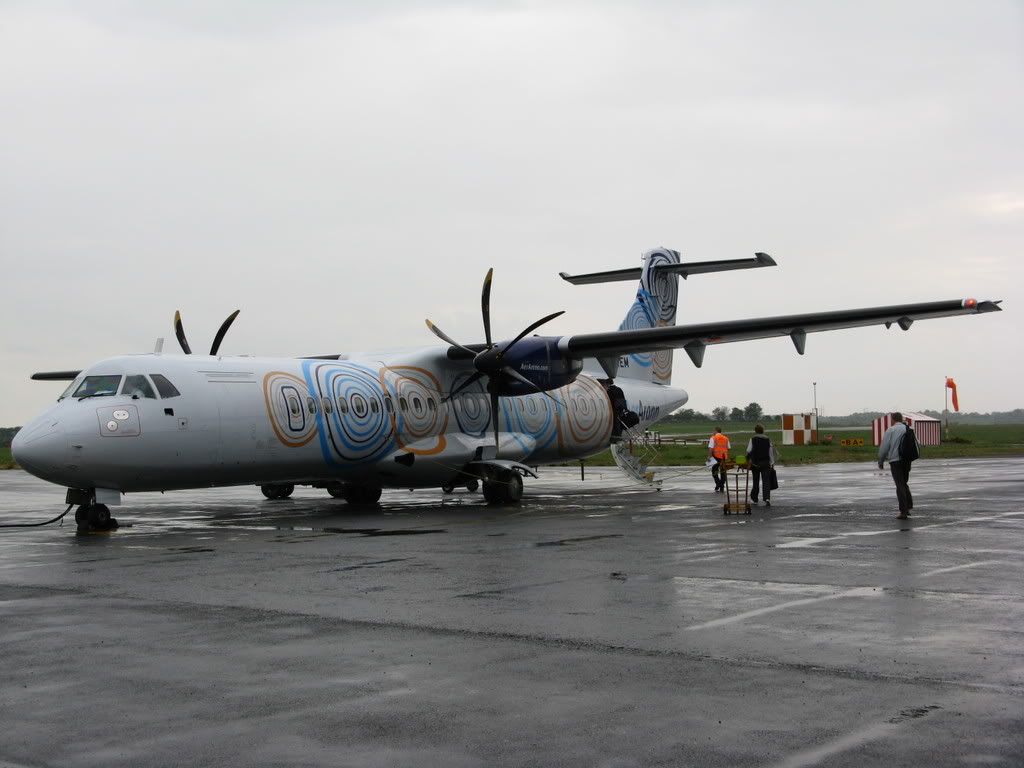 Boarding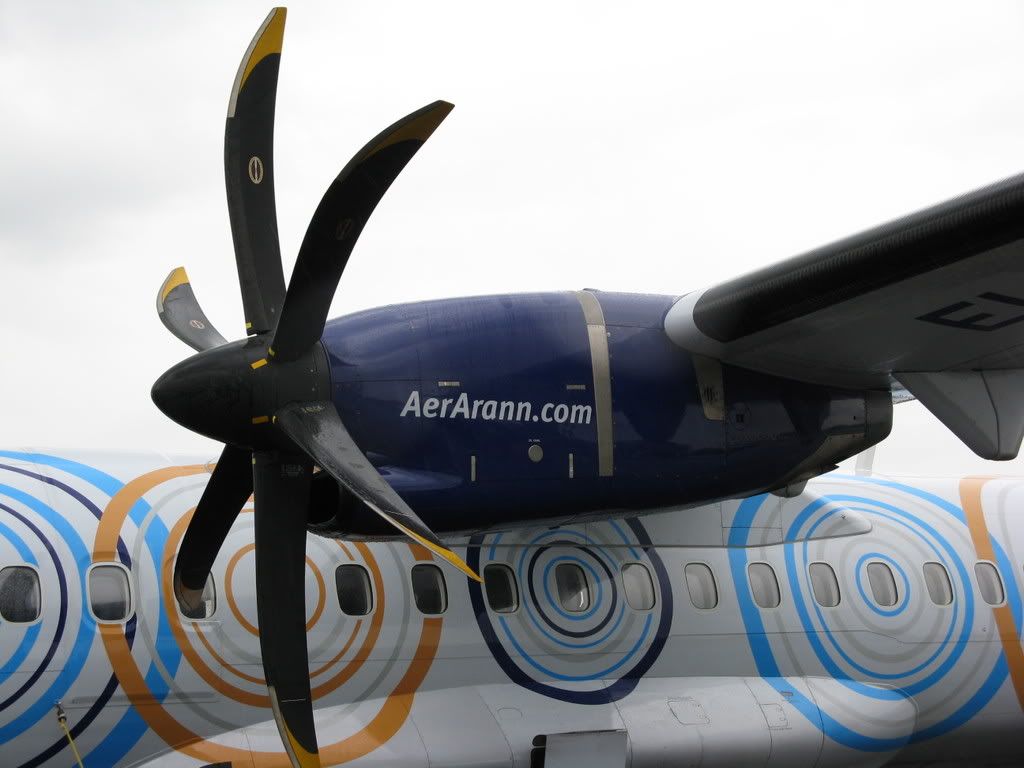 Take-off movie:
http://www.youtube.com/watch?v=YRKLmcJZwWQ
Climbing out of Galway
At cruise altitude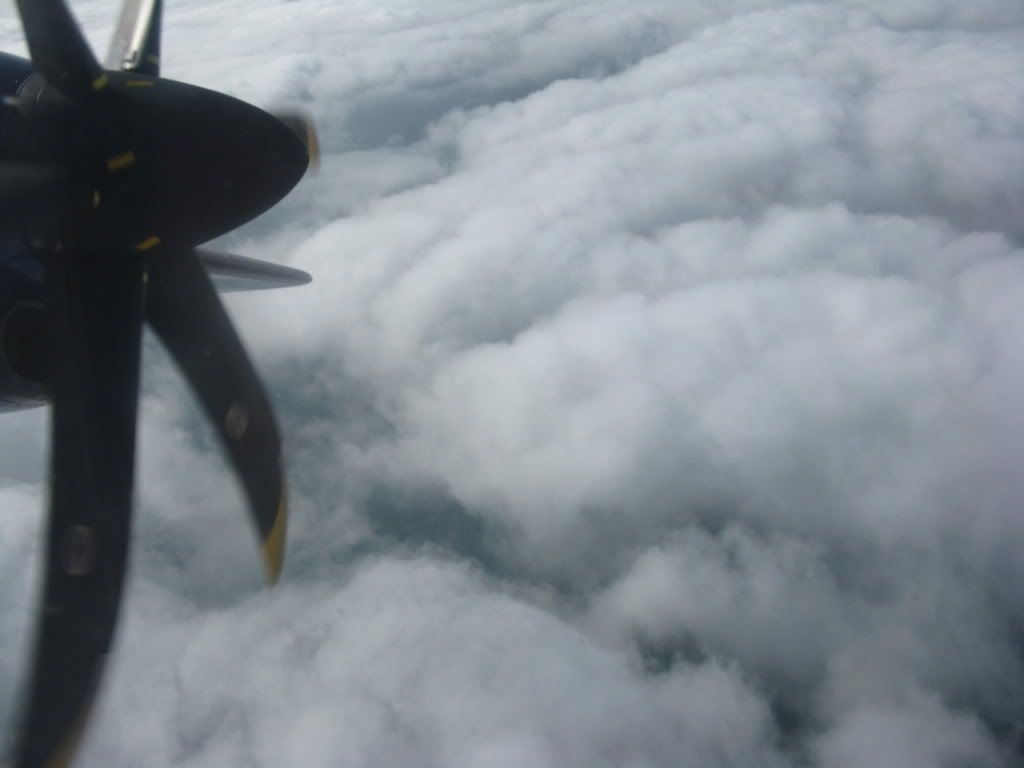 Once in the air we left the rainy Galway behind us. In about 40 minutes the ATR-72 flew us to Dublin, where the weather was a lot better. At ten to six we landed at Dublin's runway 10.
Descending
Landing movie:
http://www.youtube.com/watch?v=HnoZ10IFxZ0
The cabin
Loganair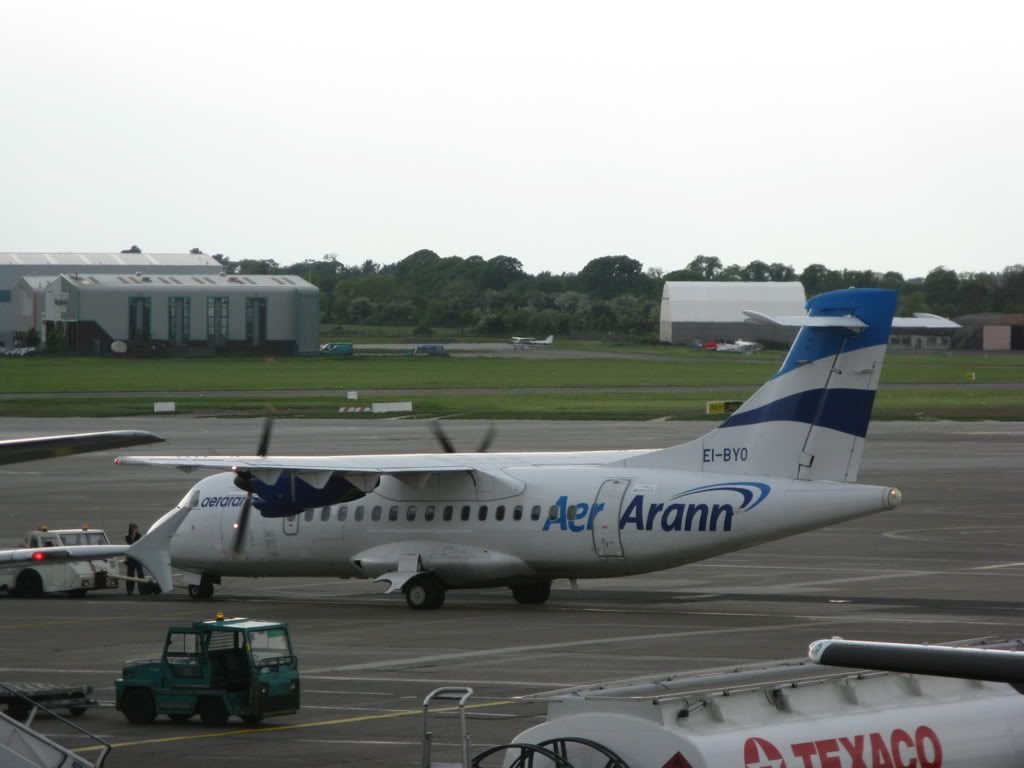 An ATR-42 in the previous colors
In the arrivals hall we called our hotel to pick us up and went outside to wait for the shuttle bus. After a short ride of about 5 minutes we arrived at the hotel, the Premier Inn Dublin Airport Hotel. For 90 euro per night per room it's very good value for money. The room was spotless, with 2 comfy double beds, airconditiong, TV, tea and coffee making equipment and a very nice bathroom. After hanging around, dinner and watching some TV we went to bed at 01.00.
Our hotel
Reception
Lobby
And the other side of the lobby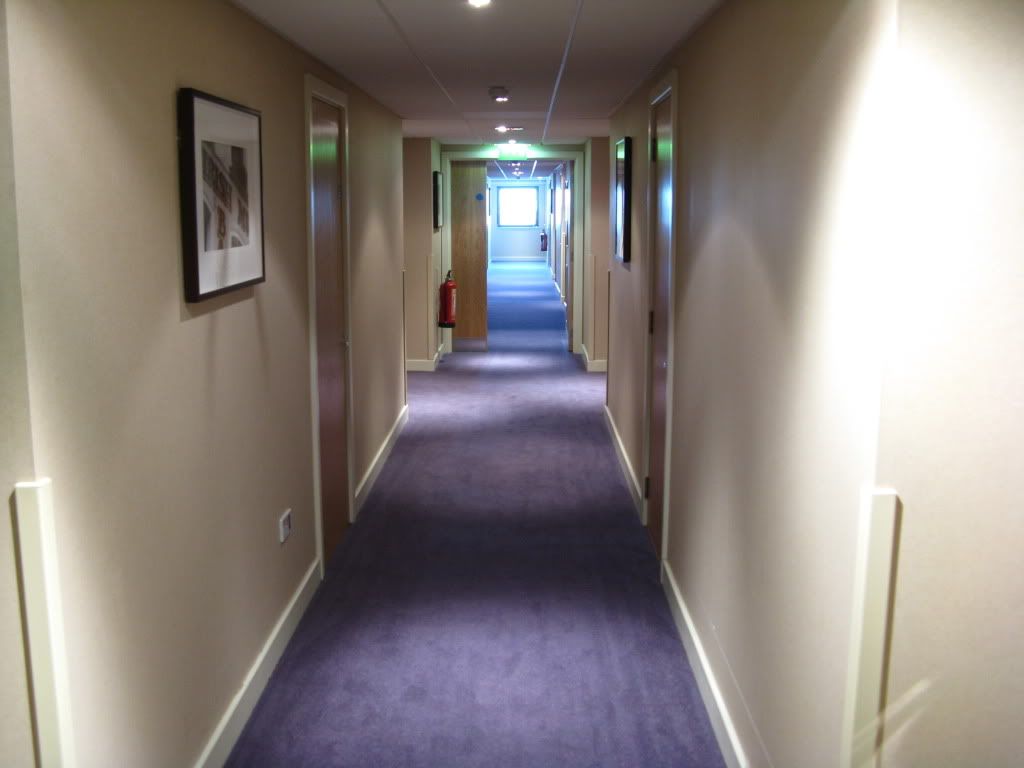 Our room
The view
The story will continue in part two:
The Eire trip (part 2): DUB-SNN-LGW-AMS on EI, FR and EZY // 20May08
Thank you for reading!
Best regards,
Jeroen
*Please feel free to comment or ask your questions.
Other trip reports:
AMS-LBA-LGW-AMS on LS, BE and BA // 20Jul09
Flying Norwegian, from Denmark!: AMS-STN-CPH-AMS on EZY and DY // 13May09
Flying The T7: AMS-MAN-GVA-AMS on WW, SV and EZS // 20Apr09
AMS-BHX-DUB-AMS on WW, FR and EI // 26Mar09
Destinazione Bergamo! AMS-EMA-BGY-AMS on WW, FR and HV // 21Jan09
A tribute to SkyEurope Airlines! AMS-PRG-AMS // 09Sep08
[Edited 2009-11-15 10:51:16]