Here's a small report about the recent airBaltic inaugural flight RIX-TLL-LPP. Sorry for too few and bad pictures - it gets dark early this time of year at these latitudes.
Introduction
Lappeenranta, Finland is a city of 60 000 people, located some 230 kilometers northeast of Helsinki but just 25 kilometers from the Russian border. The city is known for the declining wood industry centered in the nearby region, a large technical university and an emerging high tech industry mainly based around the university. It lies at the southern end of the beautiful Saimaa lake region, at the mouth of the Saimaa Canal - a Finnish-Russian (or Soviet at the time when it was built) joint venture that connects the inland waterways of Finland to the Gulf of Finland via Russian territory. Air service to this community has been on the decline for a long time - improvements to the railways and highways have decreased travel times significantly making flying more unattractive. Finnair has already long ago handed over their route to HEL to other regional partners, the last of which was Finncomm Airlines. In late 2007 even FC pulled out of the route, leaving the city without any scheduled air links for a while.
The local chamber of commerce, the city of Lappeenranta and some local businessmen deemed air service to HEL to be so vital that in early 2008 they set up their own airline - calling it Fly Lappeenranta and using the marketing name of "Tango". It was a purely virtual airline with just a small sales and support staff - the actual flying was outsourced, initially to Central Connet Airlines (3B) from Ostrava, Czech Republic using a Saab 340. I naturally flew this service, actually doing a roundtrip on Valentine's day 2008 (I still remember the chocolate hearts they handed out to be very tasty!). Towards the end of that year they realized the same thing as other commercial operators on the route - despite significantly cutting down frequencies on the route it still couldn't be operated profitably. The Saab was deemed to be too large for this route, so a new operator was selected for the route - since the beginning of 2009 all flying was done by Highland Airways of Scotland (8H), on a Jetstream-31 - obviously another operator which I had to try out and did so back in January.
Due to this history it was quite a surprise when airBaltic announced that it was planning to start flights from RIX to LPP. This actually happened rather quickly, so November 12th 2009 was set as the launch date - technically the service would be implementing by extending one of the overnighting planes from TLL to LPP, thus the actual routing would be RIX-TLL-LPP and back the next morning. Even more surprising was the announcement that the plane used would be a 737 - I bet it has been a couple of decades or so since the LPP airport has seen scheduled jet service! BT said that it had been approached by some Central European tour operators who wanted to fly tourists to the lake region to justify the service - oh well, why did they start it on the brink of winter, hardly a good time to visit this region, then?
Of course I had to fly this route, one way or another. The flight timings were not very good, forcing an overnight in LPP - thus I might as well do it in the middle of the week without missing too much work - and I selected the inaugural day, 12th of November, and flight, from RIX via TLL to LPP. I got the cheapest BT fare, a bit under 40 EUR for the whole thing. To get to RIX I booked AY for a change, as BT was sold out for the cheapest fare bucket and AY was only 20 or so EUR more expensive (as long as one doesn't book it on the AY website with the ridiculous 20 EUR booking fee!), the flight time was slightly better and an E170 would be a nice change from the usual BT Fokkers I fly on this route.
Finally to get home, I booked the morning flight at 6.00 from Fly Lappeenranta - it's not like I had any choice and I like supporting these kind of small enterprises and especially airlines. The price wasn't too bad at 65 EUR either.
Well, fast forward to the first week of November, and I get an email from Fly Lappeenranta saying that my flight had been canceled and they would call me a few days later, discussing alternatives. The next day a chirpy girl does, and offers three alternatives: a full refund, take the only flight that will be operated on that particular day which is at 13.30 or thereabouts or take a shared taxi at their expense to Helsinki-Vantaa airport, getting there about the same time the flight would arrive, 6.40. Apparently there is only one other passenger booked on the morning flight apart from me - I do ask if they're superstitious and are afraid of flying on Friday the 13th, but she doesn't admit this. The taxi ride would leave Lappeenranta around 4AM, which just doesn't sound very appealing to me, so I request a refund and book a ticket on the morning train instead, for half the price of the flight.
12.11.2009
I sneak out of the office in the middle of a very hectic day - the way this project is going it is going to a hectic few years I think - and take the painfully slow bus that takes 50 minutes to reach Terminal 2. Should've taken the far speedier Finnair Express bus, but that thing costs money and this one's covered by my monthly travel card.
It's the beginning of the afternoon/early evening rush hour at HEL, so the place is packed. Looks like people are really picking up the self-service concept as the queues to the baggage drop desks are at least as long as the queues to regular check in. Having done OLCI the previous morning and with no luggage to check I don't need to worry. Security is not too bad as they have all the lanes open, but unfortunately I get the full wanding treatment thanks to wearing my metal-heavy winter boots.
Then it's upstairs to the AY Silver Wings lounge which is packed - luckily turnaround is quite heavy so in no time at all I get a seat.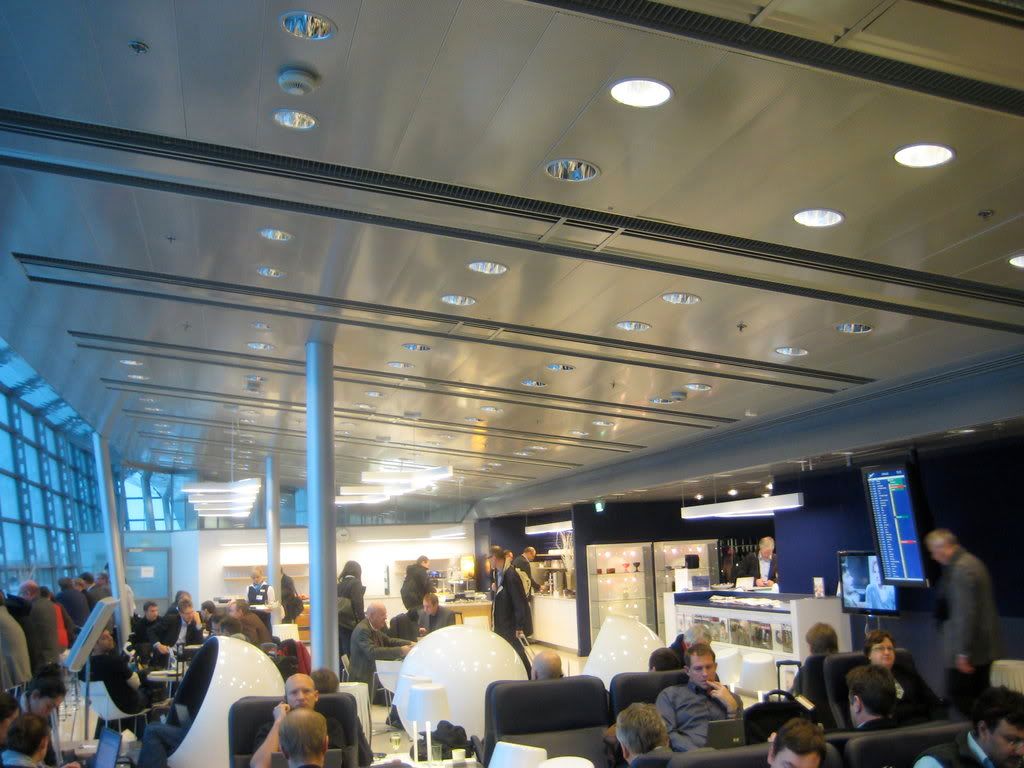 I grab some decent game potato salad and some not very good tuna salad and a glass of wine - they seem to have replaced the wine bottles with tap wine - only one brand of white and red, each. Not very premium if you ask me. The best part of this lounge is the location and the windows that offer very good apron views.
The closely missed Fly Lappeenranta JetStream sitting lonely: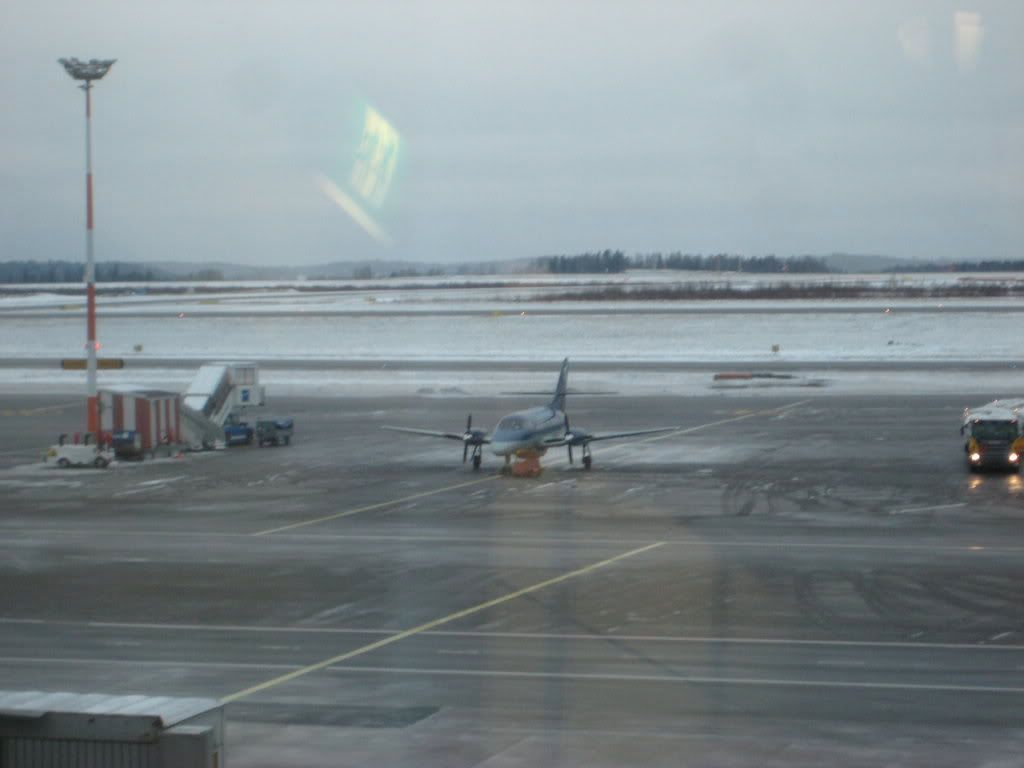 Passengers boarding the BT F50 to RIX departing 15 minutes before my flight: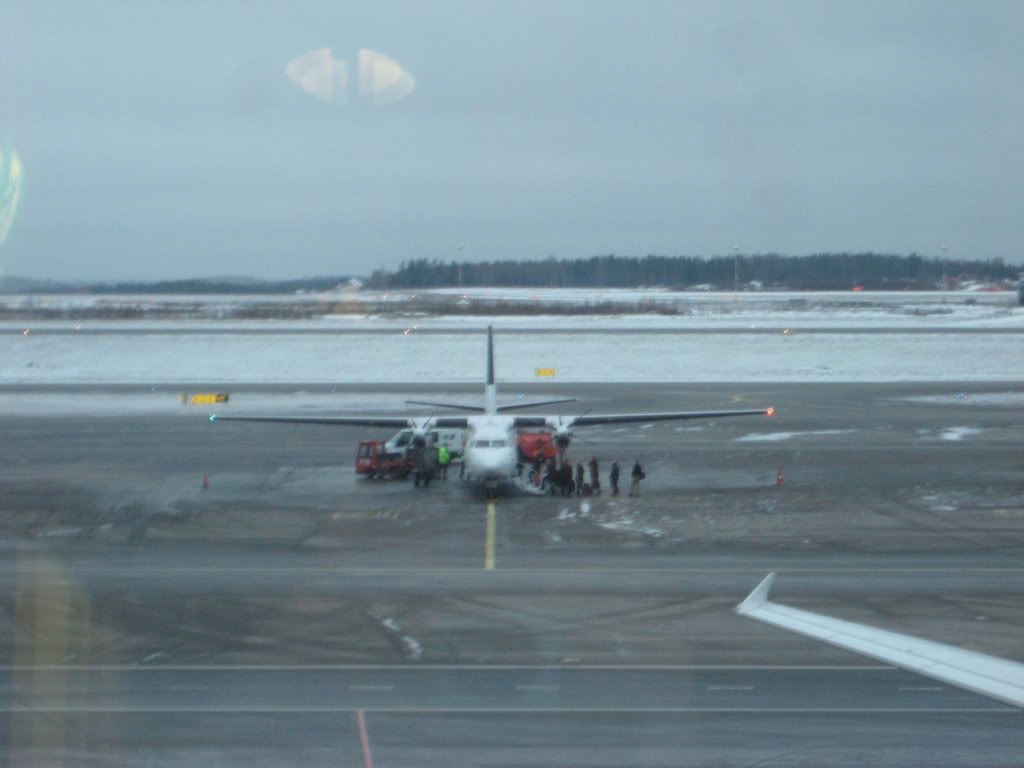 I barely have time for two glasses of the passable Chardonnay and getting started on this report when boarding starts, changing to "Last call" in no time at all. We get a bus gate this time, luckily 22A is very close to the lounge. A small wait in the bus for any strugglers, and then a long ride to the other end of the airport. I don't mind as there's some interesting traffic, we pass the BA/SunAir FRJ (I will catch a ride on this, I will!), very close to a departing TK 738 towards the long-haul terminal. The main departure bank of AY's Asian traffic starts around 17.00, so there are five Airbus widebodies occupying the jetways of the new terminal extension. Unfortunately we pull in front of the expected Embraer 170 OH-LEN instead - it looks tiny sandwiched between an A340 and MD-11. Only my second flight on this one, last one was almost exactly two and half years ago.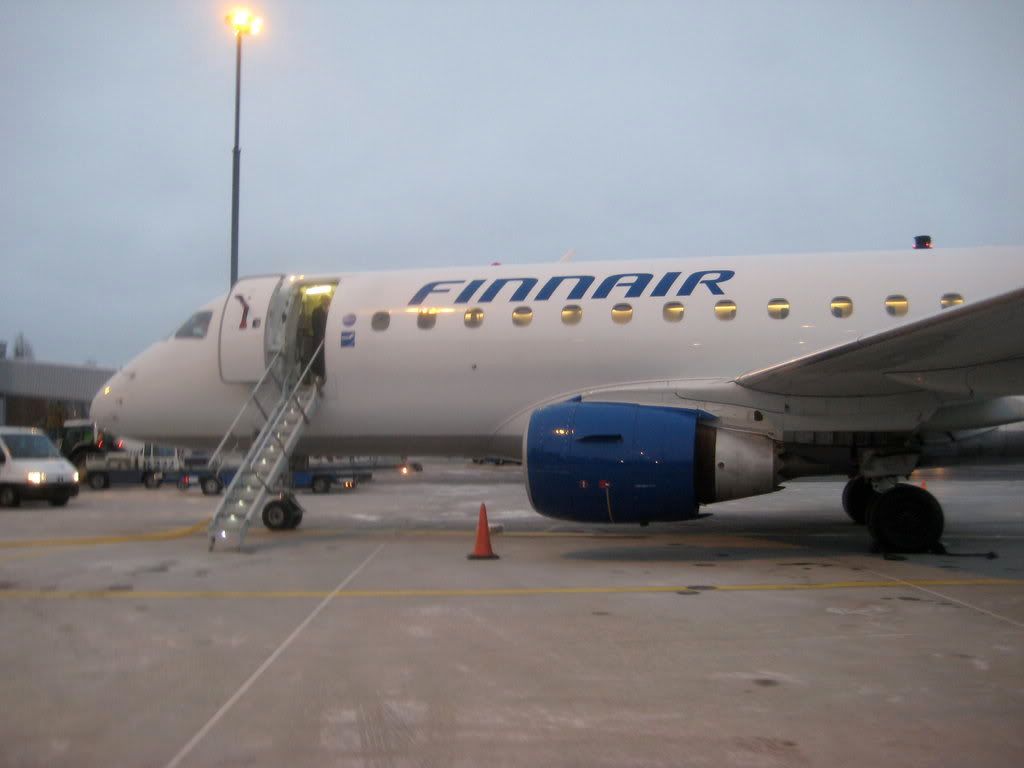 Neighboring widebody:
HEL-RIX
AY125
ERJ-170 OH-LEN
Seat 3A
16.10 - 17.00
I grab a newspaper from the cart and plop down on my seat. Boarding doesn't take much time - load looks like around 60% in economy with one passenger in business class. Our flight time is announced as 45 minutes by the lead FA. At the scheduled departure time of 16.05 our captain welcomes us onboard and breaks the first set of bad news: apparently there was some sort of short industrial action by the baggage handlers (gee, and the AY pilots are threatening to start their strike next Monday!), which means that the baggage loading has not been finished yet and we need to wait for 15-20 minutes for the remaining bags.
Legroom is decent:
Well, just five minutes later I hear the baggage doors being closed and we start our engines. Today we would be taking off from 04R, so taxi time is very quick. Our takeoff is rather powerful, and we barely use up a third of the runway. We disappear into the clouds in a few seconds, and make a right turn towards the south soon afterwards.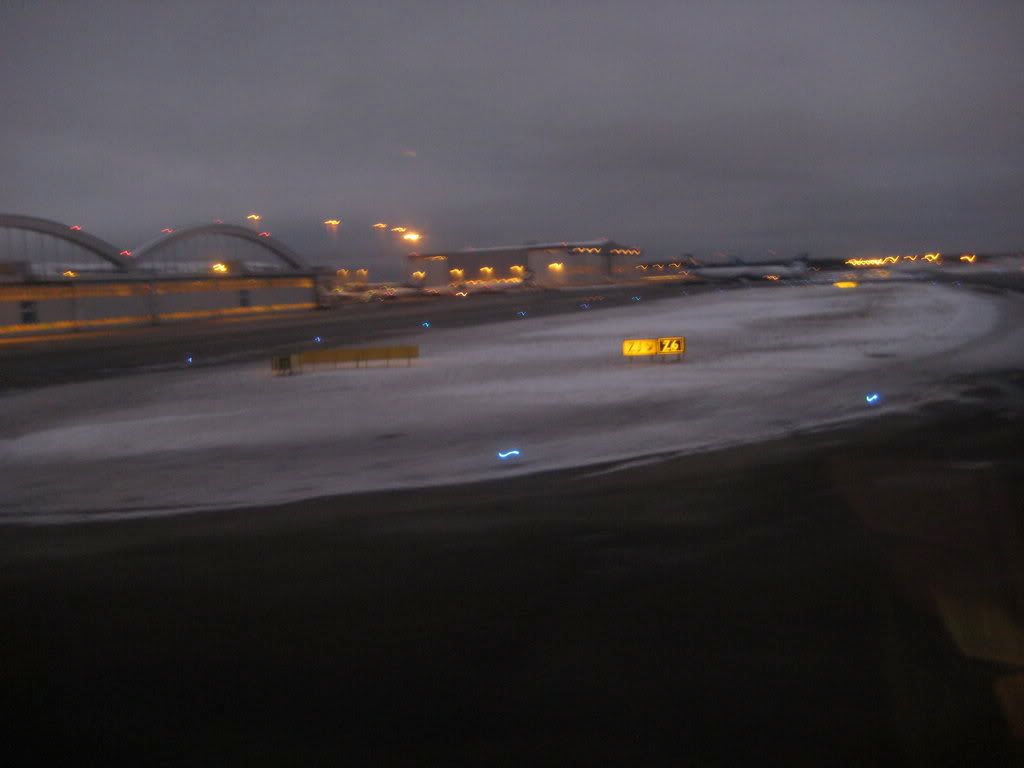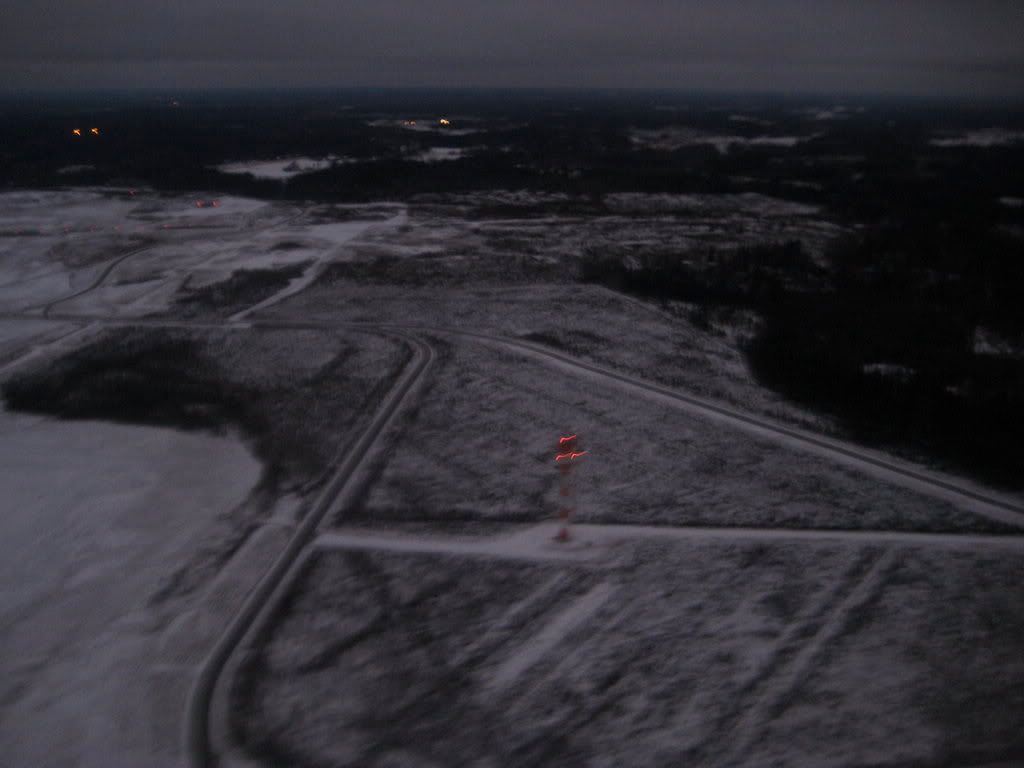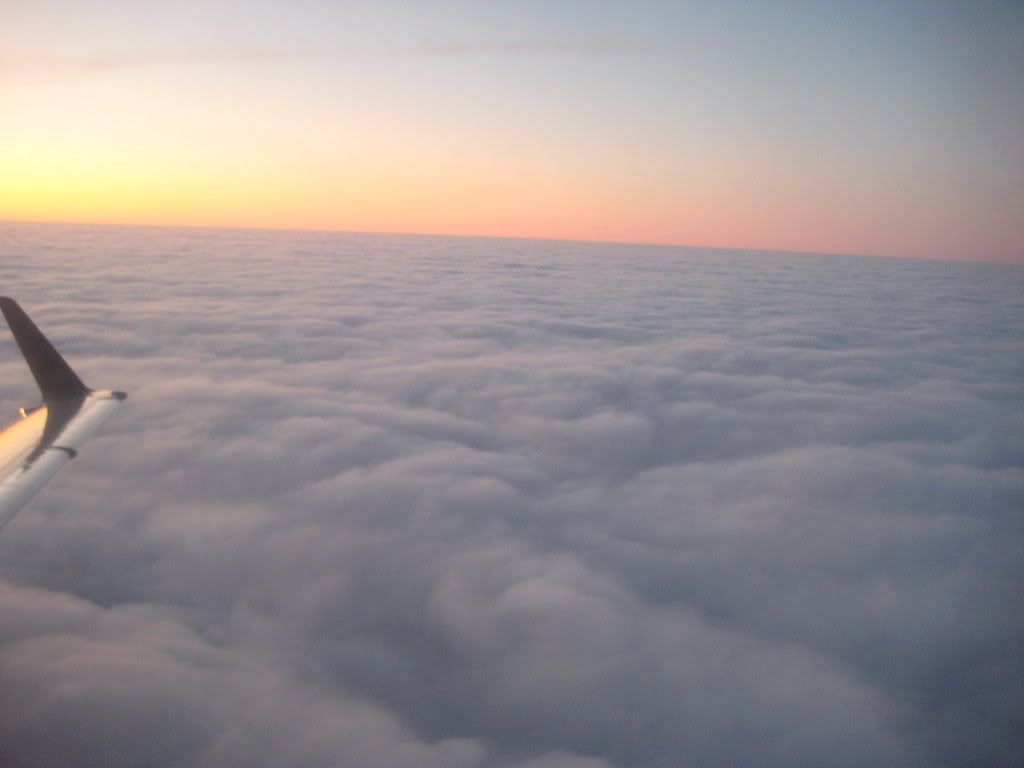 As soon as the seat belt sign is switched off the male FA working in economy class distributes the snack bags, consisting of a decent cheese roll, a cup or apple juice and a chocolate candy. No additional drink run is done. This service is the same to what is nowadays offered on the ARN route, which is pretty much the same distance as well. Some years ago you did get a drink run as well - shame this has been dropped.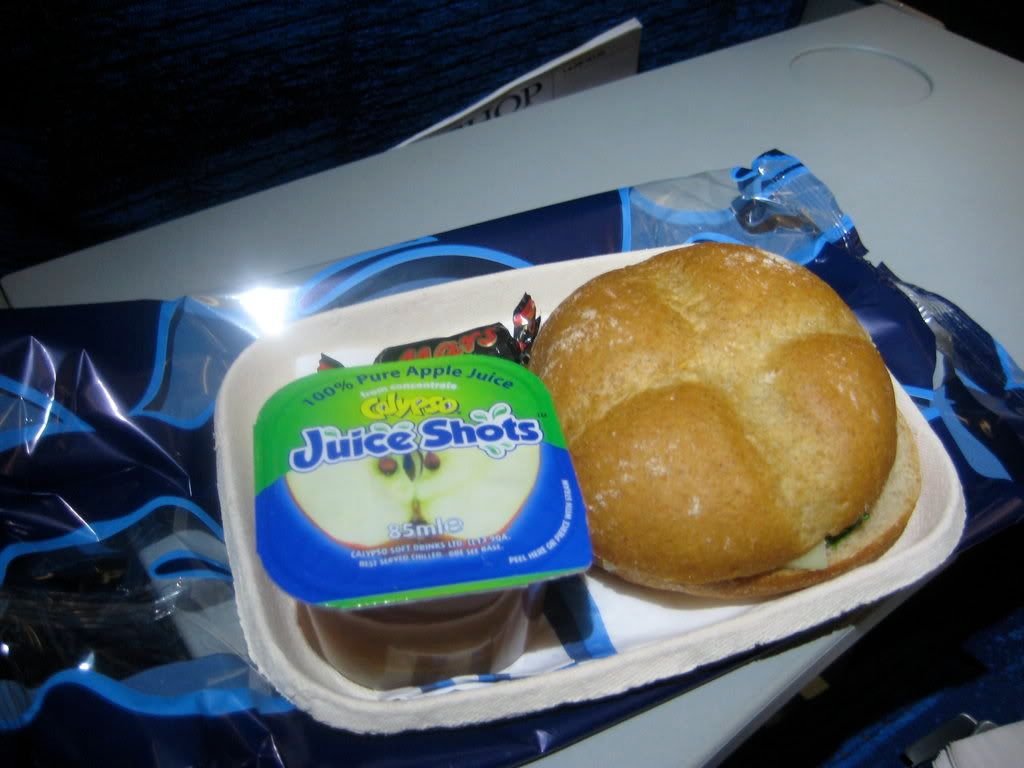 Otherwise it is an uneventful flight with no views to the ground. 25 minutes after departure the captain is back on, sheepisly announcing that our swift departure from HEL was made possible because they left 13 bags behind us in Helsinki, asking anybody missing one to contact the arrival service in Riga. He does apologise for this - there are a few cheers in the cabin.. After this he continues by announcing our descent and landing in 20 minutes in Riga, where the weather is similar to Helsinki - 1 degree and overcast.
From the longish flight time and our turns during the approach I'm pretty certain we will land on runway 36, and after breaking the cloudbase just a minute or so before touchdown the lack of Riga's city centre lights from my window confirms this. We touch down very hard on 36 exactly 45 minutes after departure, followed by heavy reverse thrust and a short taxi to the usual AY gate at the end of the B pier.
Bad cabin shot at deboarding: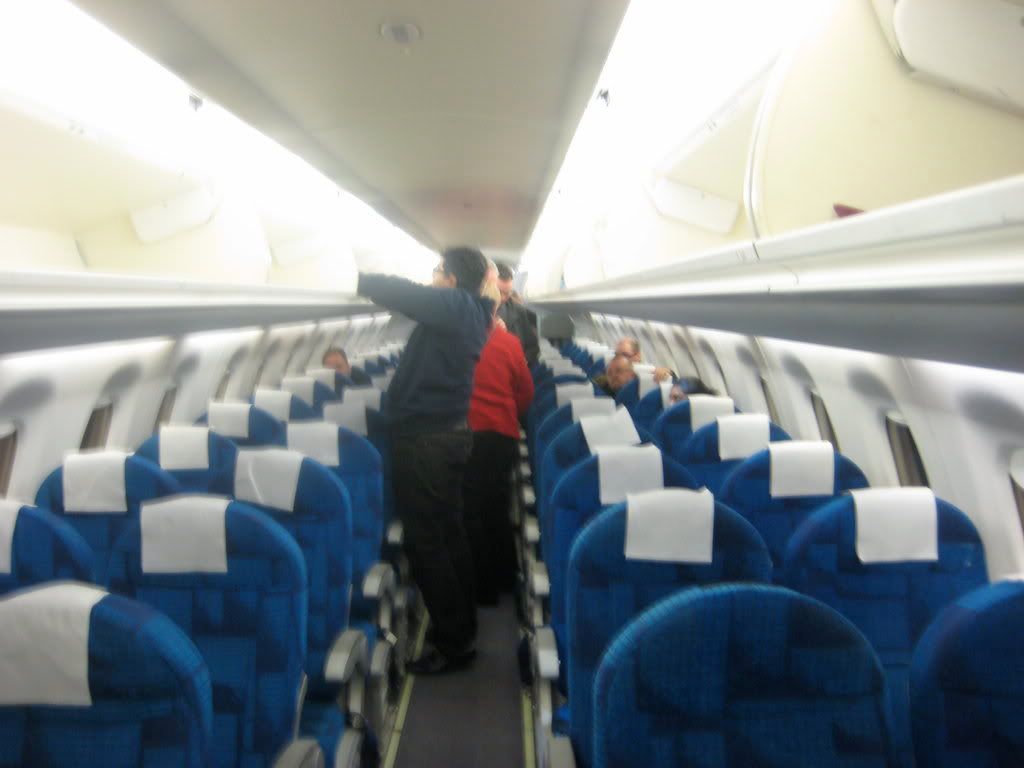 This sign at the jetway is very helpful, who knows where I might've ended if I took a wrong turn: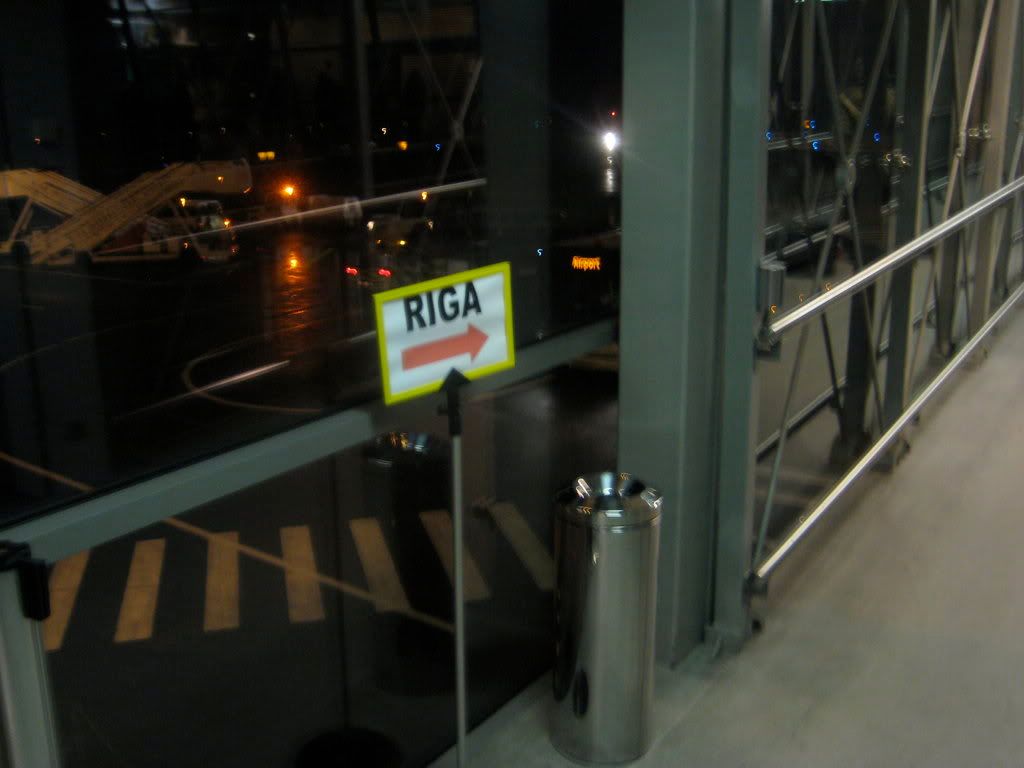 Riga Airport
I have a bit over 2 hours to spare, so I sit down at my favorite bar, grab a beer and put some work on this report. Later on I do some walking around and a bit of shopping as well. Time passes, and soon I go spy at the gate if there are any celebrations taking place - the gate is packed with people but at T-45 devoid of any officials. At least the 737 is already sitting at the jetway - the OLCI seatmap the previous day was showing a F50, but this wouldn't be the first time it was wrong. I wander away, and when I return some time later the are some festivities - a cake is being offered to all the passengers and an official photographer is taking pictures. There are also some FlyLappeenranta -branded candies on offer. I ask the agent to take a look at my seat assignment since it is based on the F50 one - he offers me an exit row window which I gladly accept. Then boarding starts, and while queuing a young guy offers pax a slice of the cake. Too bad there are no plates or spoons, so eating is a bit messy business.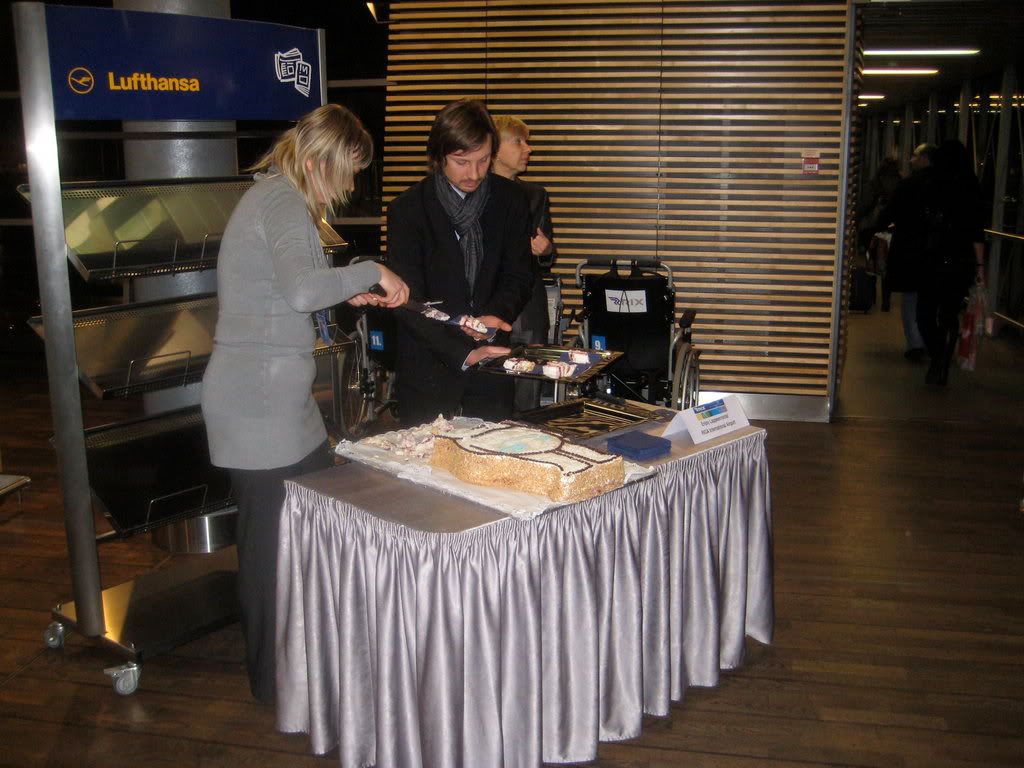 I didn't really realize until later that the young guy was actually the vice president of airBaltic - he was flying with us all the way to LPP, and deboarded in TLL to host the celebrations there. Oh, and he sat in business class, of course.
Today's ride is a new reg for me, YL-BBD: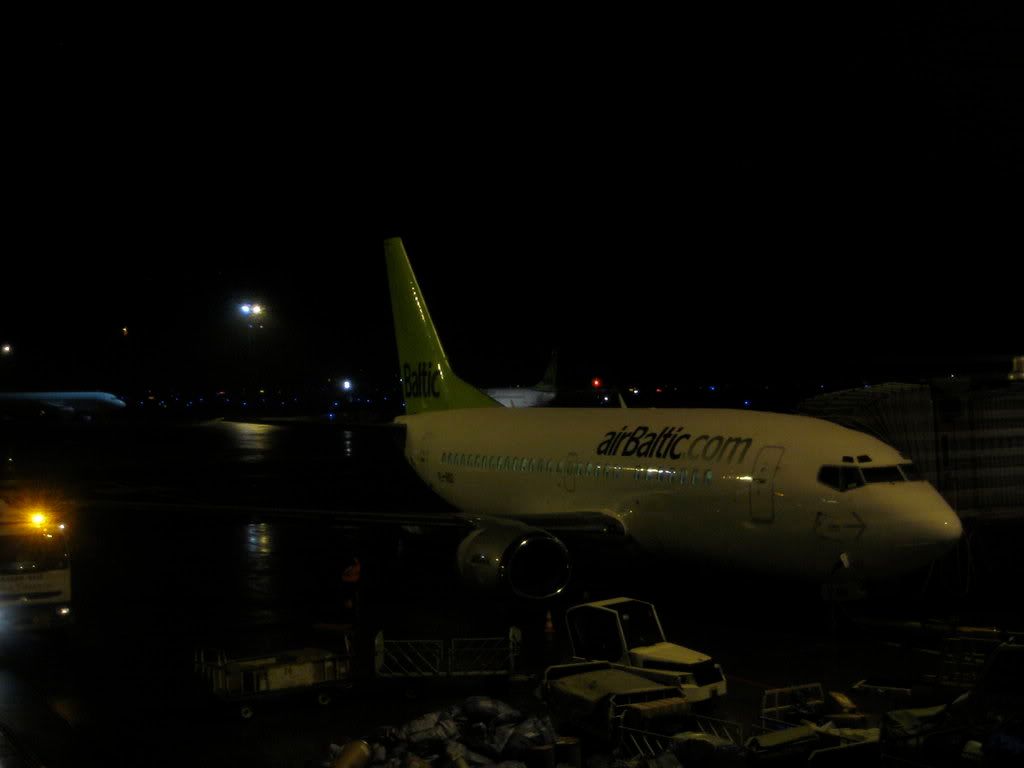 RIX-TLL
BT1363
B737-500 YL-BBD
Seat 9F
19.20 - 20.02
The plane is almost full, most of the people seem to be Estonians.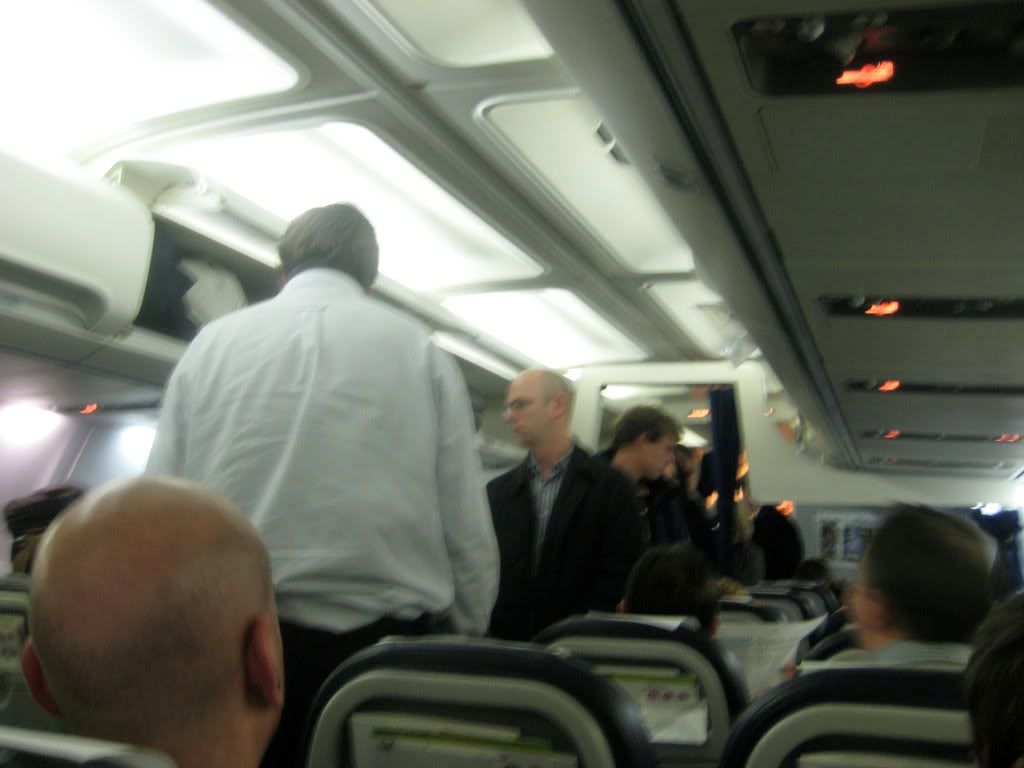 Unfortunately my seat 9F is on the front exit row - theoretically a window seat but as there are only two seats on this row it is very far from the window. Oh well, the weather is crap and the sun has set anyway so there are no good photography opportunities anyway. Flight time is announced as 35 minutes. We depart in time and take off from runway 36, disappearing right away into the murk. Service is now BOB instead of the regional beverage service I got on this route less than a month ago - later I read from the inflight magazine that this was "introduced due to demand from our passengers" - year right. I can imagine a lot of people are writing them feedback in the form of "Please, my flight would be so much more enjoyable if I could pay for my refreshments instead of getting them for free!".
It's a short flight, and less than 20 minutes after take off we are already descending towards Tallinn. Coming in from the southwest there's a bit of turbulence during final approach over the Lake Ülemiste, but nothing too bad. Touch down on runway 08 is hard and we use up a considerable distance to stop. The weather here is even more miserable - it is sleeting outside. The airport is pretty much deserted, and we dock to a jetway a few gates away from an FlyLAL Charter 737 - I thought they stopped all operations with the bankruptcy in the beginning of the year. This one's in Estonian register, though: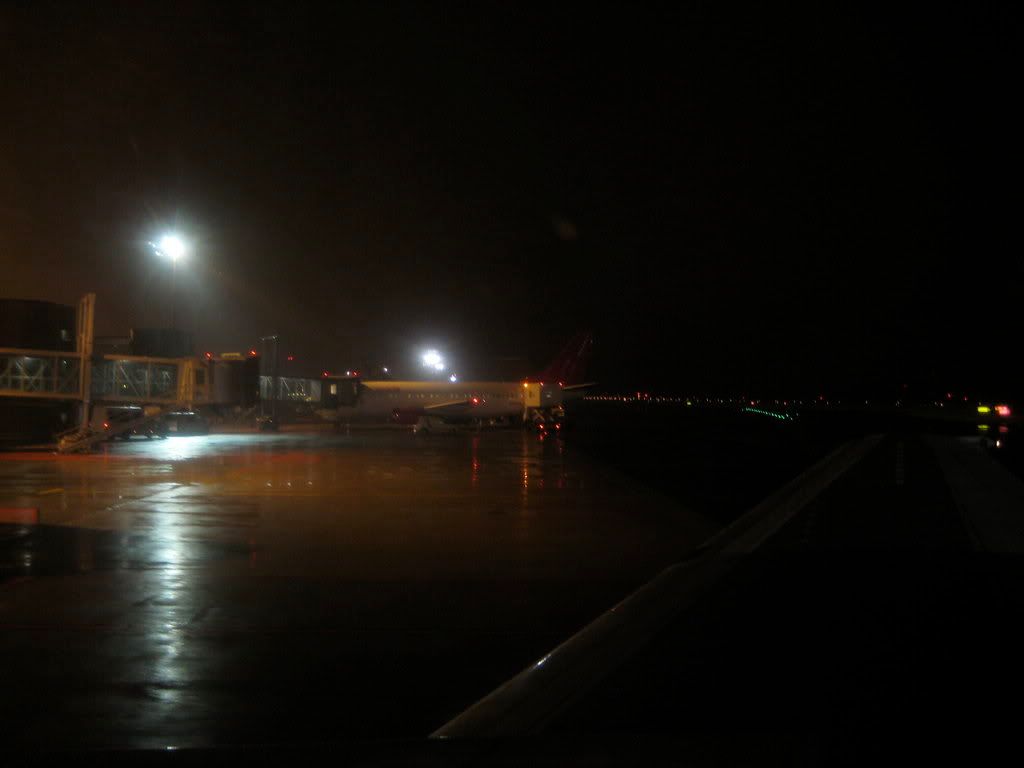 Almost all the people deboard here, while taking a few cabin photos I ask one of the flight attendants how many people are continuing to LPP - six is the answer. I take a couple of photos of the deserted cabin: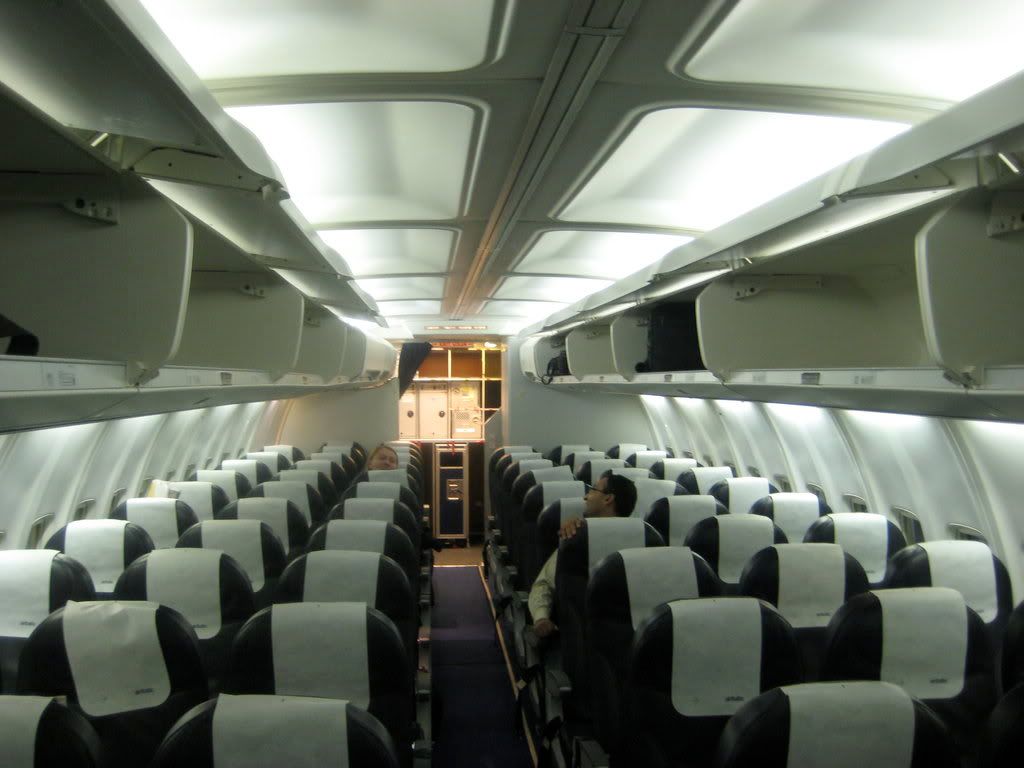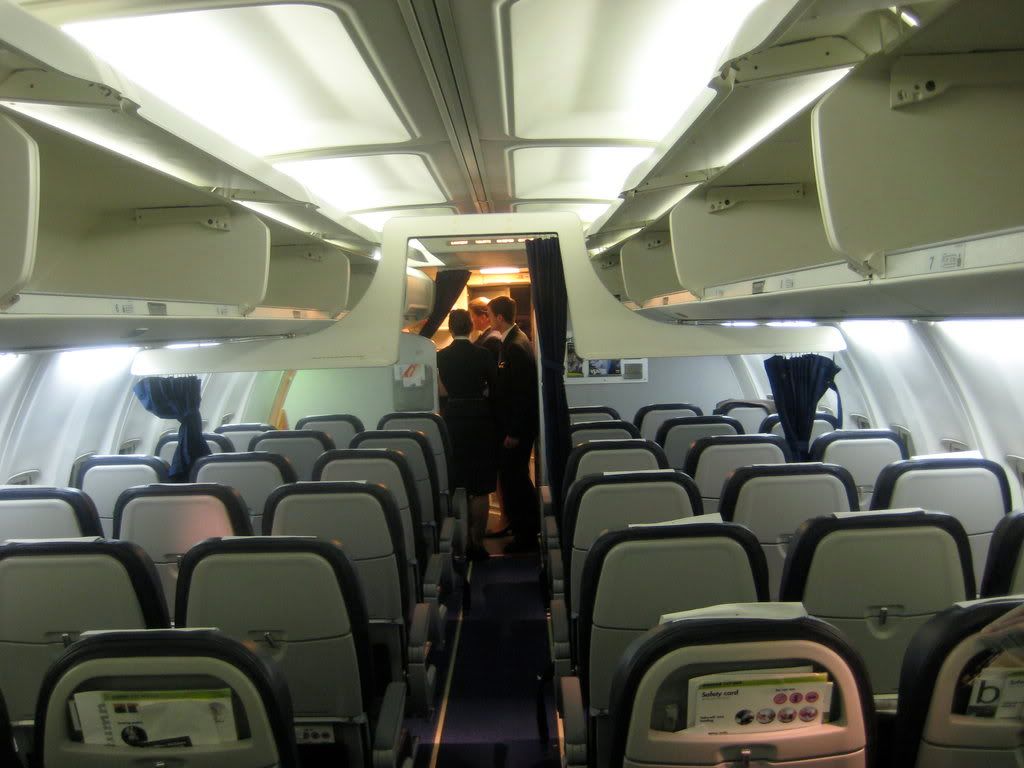 TLL-LPP
BT1363
B737-500 YL-BBD
Seat 8F
20.57 - 21.33
We spend quite a long time just sitting there before the few (5 + the returning vice president) passengers originating from TLL board. I later have a few words with one of them and apparently they had a similar kind of cake ceremony as well which took some time. In the mean time I switch to the window seat on the row before me to have at least some view and chat about aviation, the crazy runs I do etc. with a rather nice bloke returning from quite a business tour of Spain and France a few rows over.
After boarding is completed we still need to be deiced, so it isn't until almost an hour at the ground before we start moving. The lead FA welcomes us aboard "this historical first international scheduled flight to Lappeenranta" (whoa!), and announces the flight time as 30 minutes. Take off from 08 isn't as powerful as I expect for such a low load, must've been heavily derated to save the engines some wear and tear.
Another BOB round is done, the Estonians in front of me seem to buy some beer but apart from that not much business is done. According to the captain we are cruising only at 6000 meters - and spend ten minutes or so up there anyway. Very soon the long descent towards LPP begins - it's not like there's much other traffic to avoid or anything... After half an hour we touch down hard on runway 06, and taxi soon in front of the small terminal building.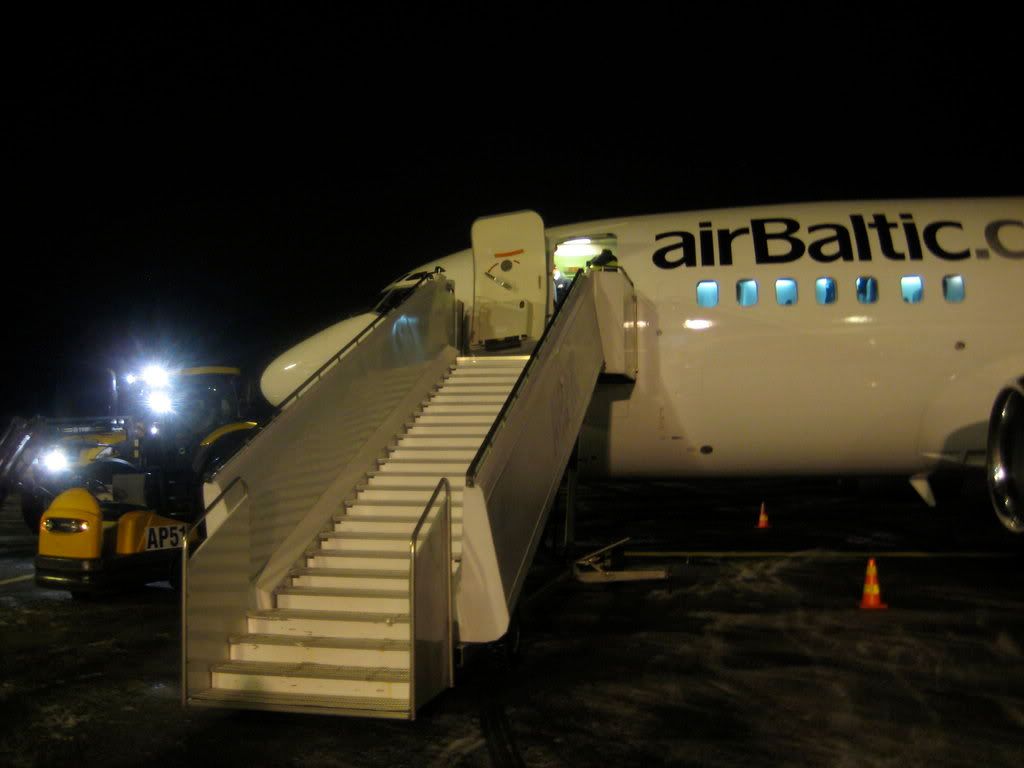 There's quite a welcome committee waiting on the apron with Finnish, Latvian and Estonian flags on the poles. There are a couple of professional photographers and even a TV-camera. I try to wave when deboarding but I don't think I made it to national TV - I did get my picture on a local paper though
. Passengers are handed roses (I refuse) and the manager of the airport shakes everybody's hands. Inside the baggage hall the welcome is a bit less festive as Finnish customs is there with at least four uniformed officers and even a sniffer dog - gee, this is a really nice way to welcome the new service.
I call a taxi - I intended to walk to my accommodation (this is one of the few airports where you can actually walk to the city, the centre being around 3 kilometers away), but it is freezing outside and I'm feeling too lazy anyway - and go wait inside the main check in hall (ok, room) to see if there are any festivities there. A number of guys in suits and FlyLappeenranta check in staff (they do the ground handling for BT here and also will start operating the Finnish call centre for them) dressed in full BT ground staff uniforms are here, and soon the BT Vice President and the flight staff follows and they move over to the departure lounge for some sort of celebration - the plane will depart back to TLL and RIX the next morning. I have a few words with some local guy who's taking photos - amazingly he recognizes me from a Finnish aviation board - it's such a small world after all...
Then it's off to the taxi for the ride to my el cheapo but surprisingly passable hotel, a few hours too short night, another taxi to the railway station way early in the morning, a couple of hours of sleep on the train and back to the office by 9 in the morning.
Conclusion
I wish all the good for BT operating these obscure niche routes. The 12 passengers on the inbound flight weren't too much, but from an initial flight in the middle of the week that can be expected. The outbound flight the next morning departed with around 50 passengers, so that's already better. Hopefully the traffic will grow with the summer season. I don't really like the introduction of BOB on these short routes as well - at least on the inaugural flight they should've provided something to celebrate with.
Shame with the Fly Lappeenranta thing, I wouldn't have minded another JetStream ride.
Lappeenranta airport seems to be looking towards the future as well - there have been some rumors about RyanAir eyeing to start services from Central Europe (NRN has been often quoted), mainly due to the catchment area of the airport extending all the way to St. Petersburg. It wouldn't be the first time FR's airport is in a different country that the city it claims to serve - but I bet it would be the first time you actually needed a visa to transfer between the two!
Next trip for me is HEL-RIX-EMA, BHX-AMS-CPH-HEL in one and half weeks from now. Happy contrails!