Photo Trip Report: SJU-IAH-SAT on Continental
This is the return portion of our vacation this past summer. Part one can be found here:
Photo Trip Report: SAT-IAH-SJU on Continental (with DirecTV)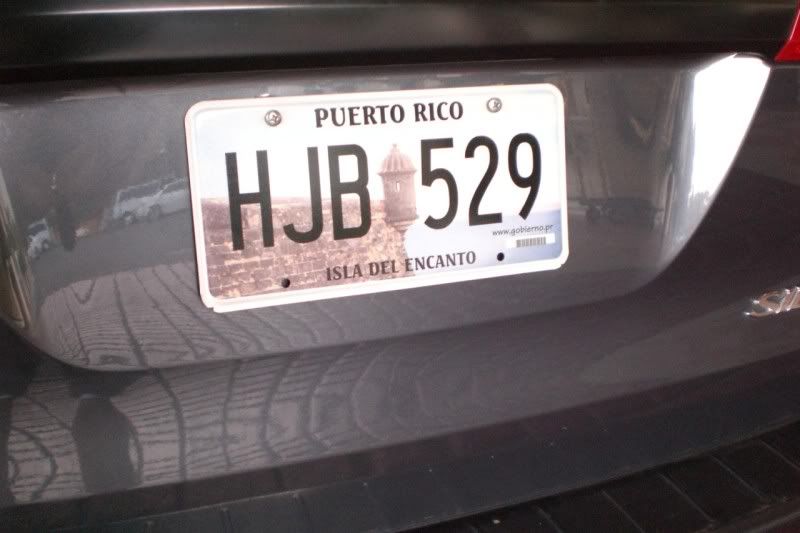 Our rental van
I think it is safe to say that Puerto Rico offers more activities than your garden variety Caribbean island. Five days were not nearly enough time to explore PR's many treasures. But we did the best we could, despite some poor planning for one aspect (Vieques/Culebra).
Let the following photos guide you through our vacation: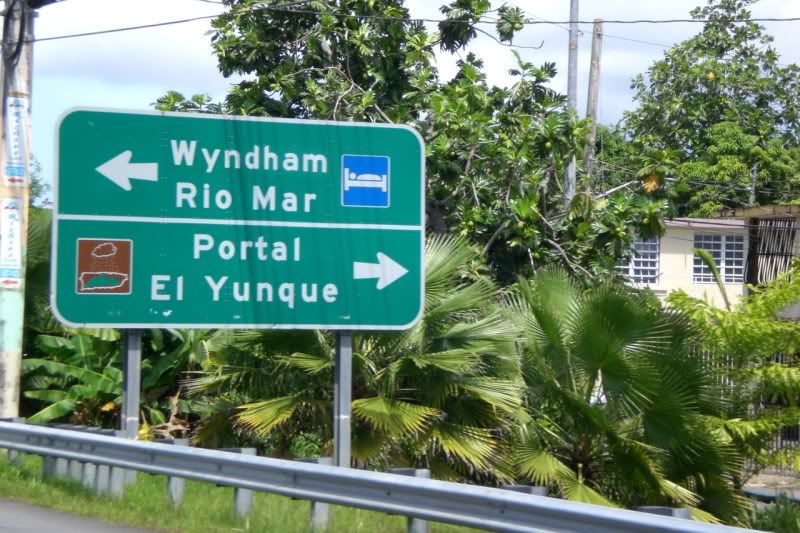 Heading to our hotel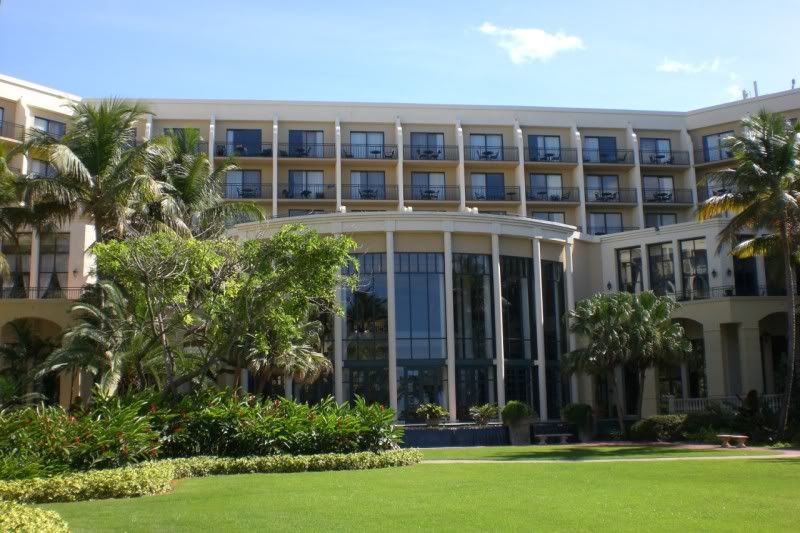 Welcome to the Wyndham Rio Mar Resort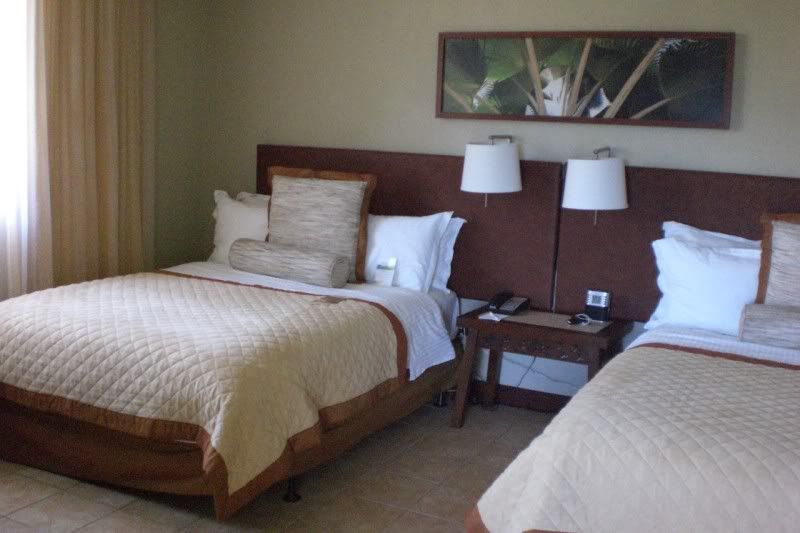 Our room…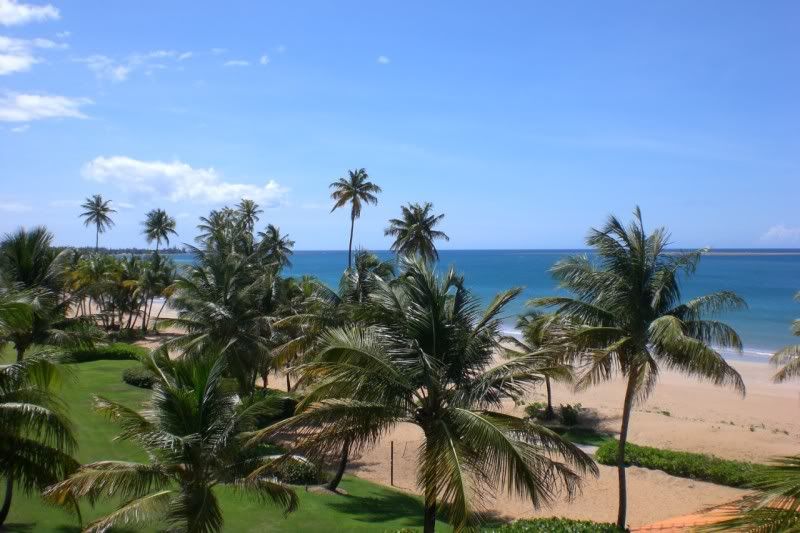 …with an ocean view
Some of the resort's residents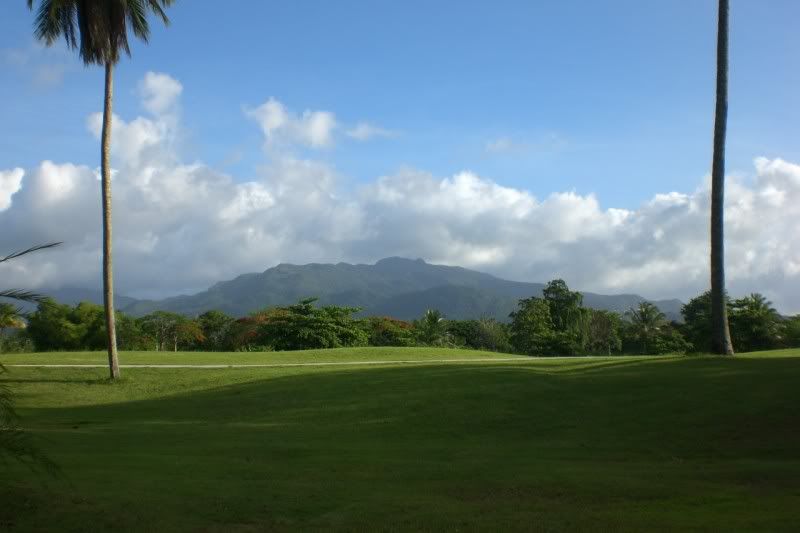 The River Course, with a view of El Yunque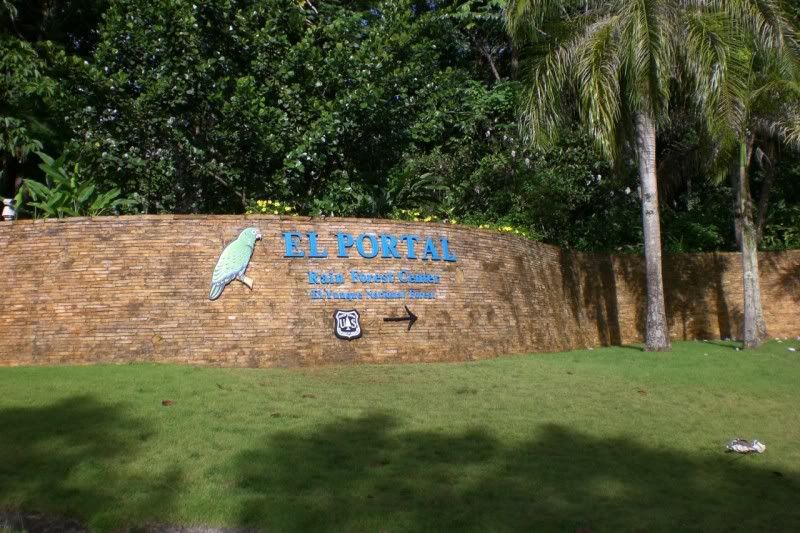 El Portal Visitor's Center at El Yunque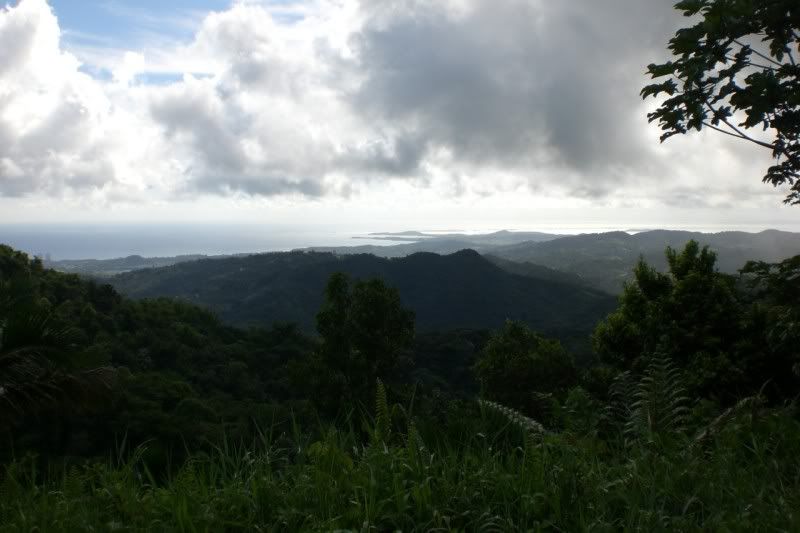 View of the Atlantic on our way to the top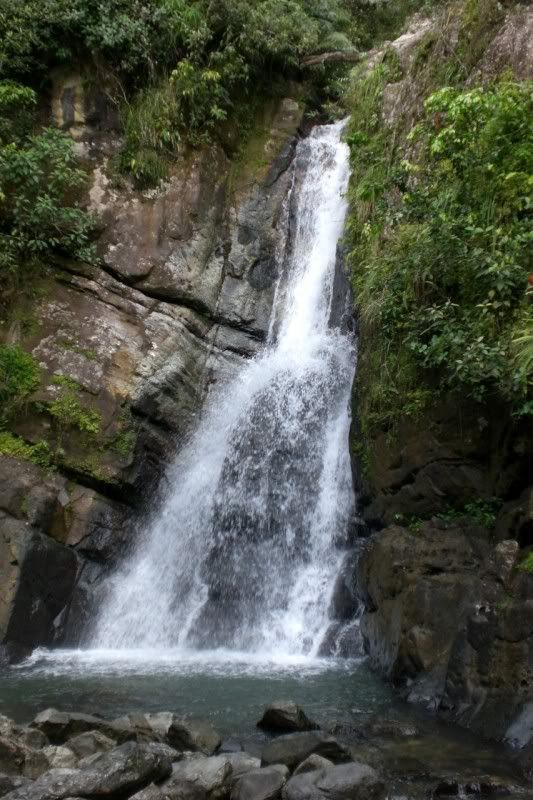 La Mina Falls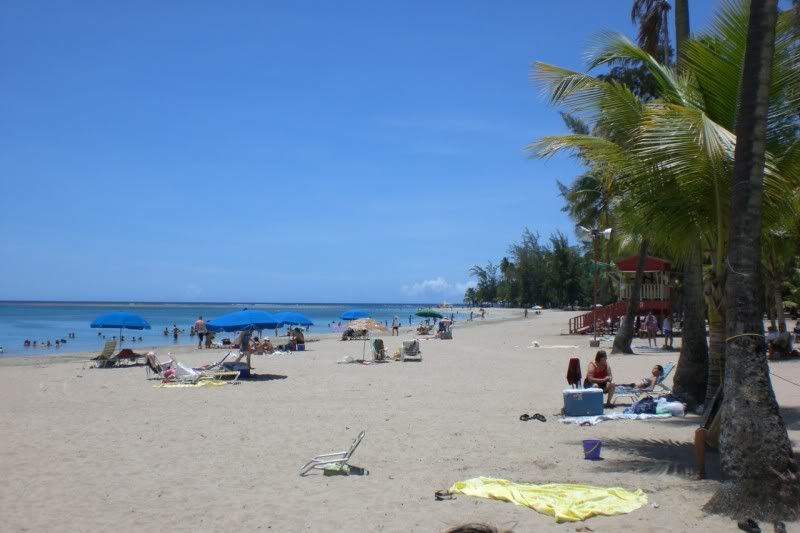 Luquillo Beach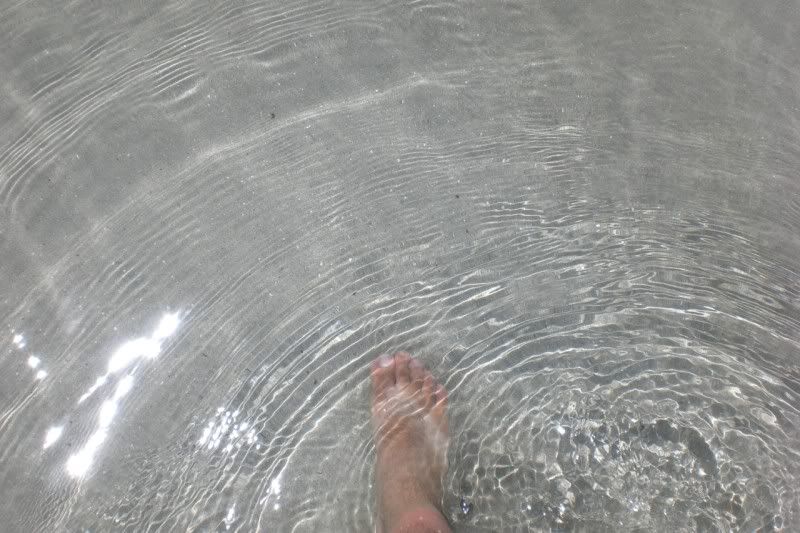 No offense, Galveston, but your beaches suck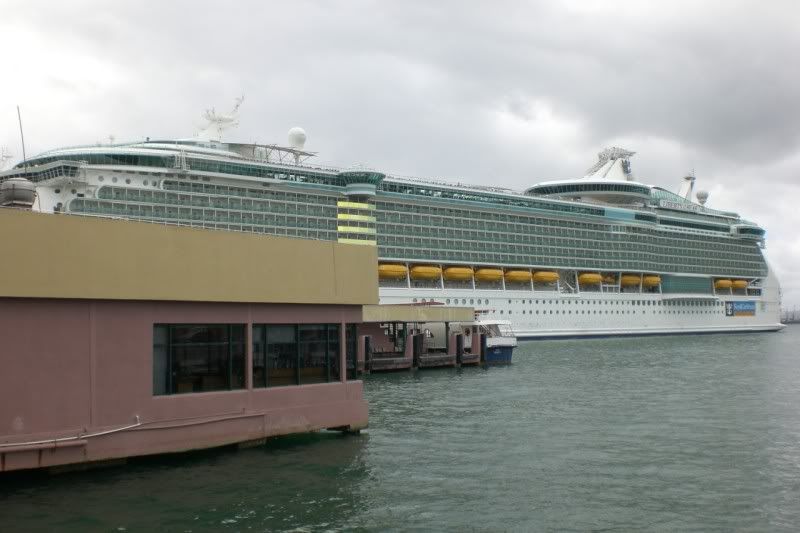 Royal Caribbean docked at Pier 3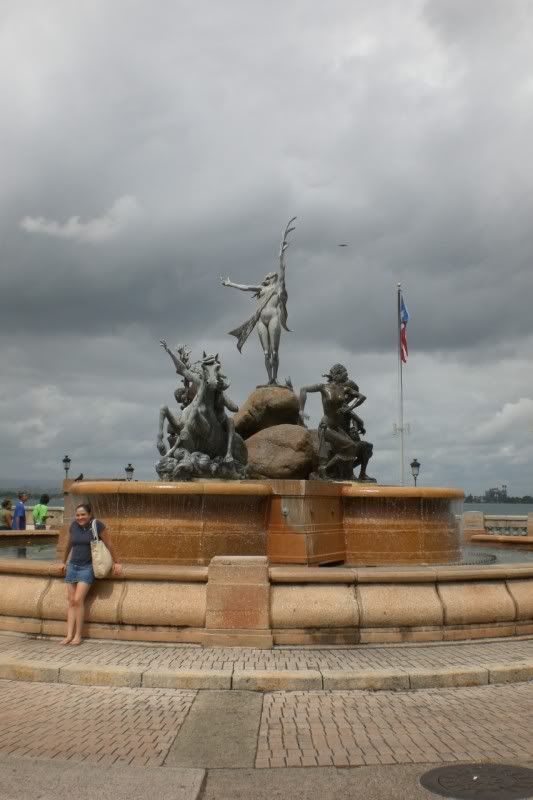 Raices Fountain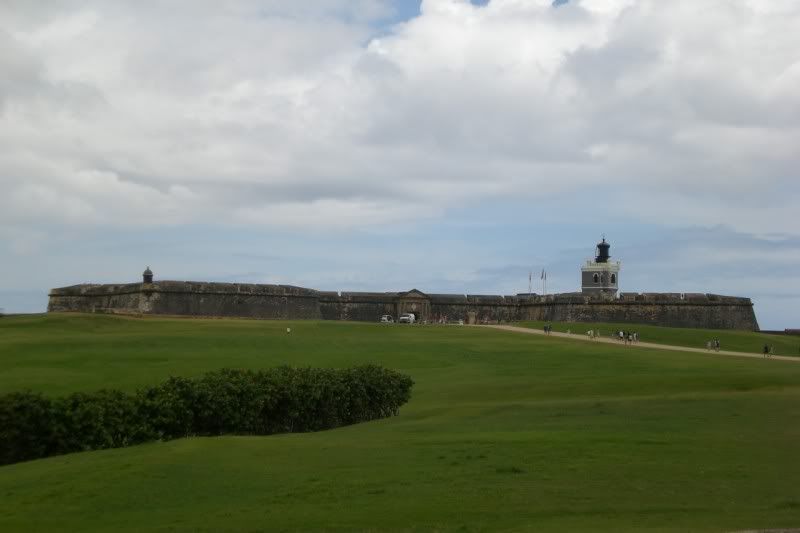 Starting our long amble towards El Morro
View from El Morro to the southeast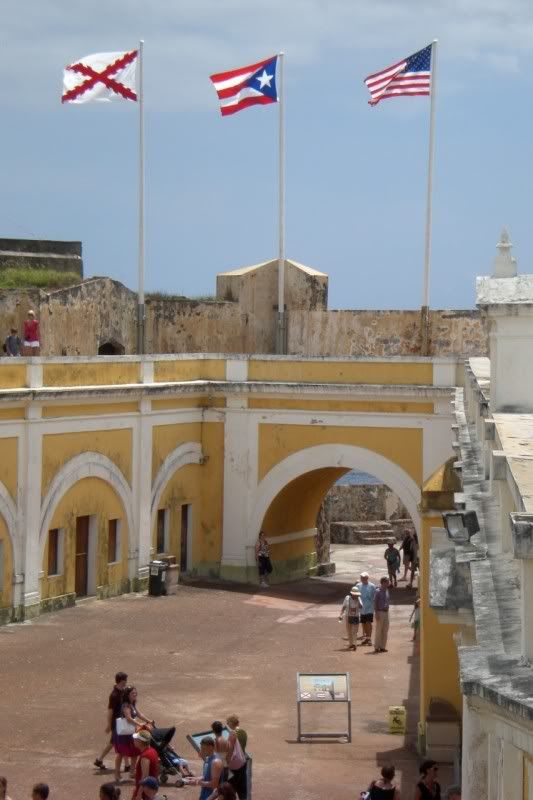 View into El Morro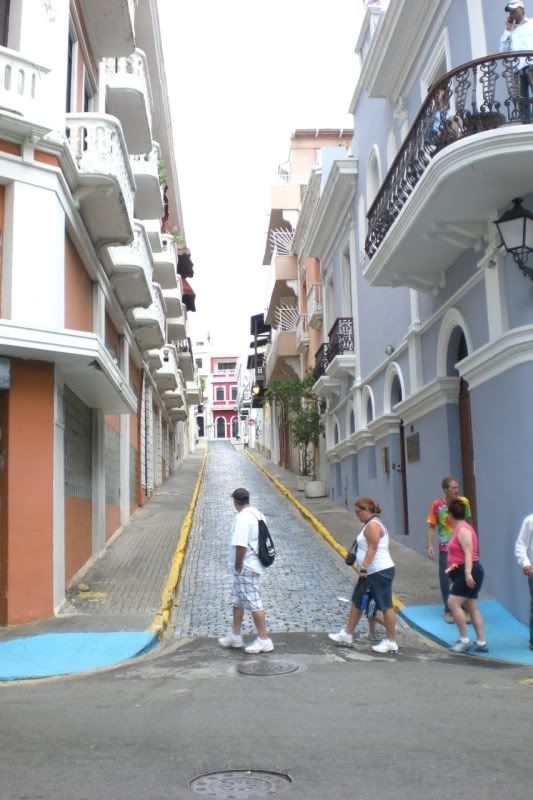 Old San Juan (Calle Abbey?)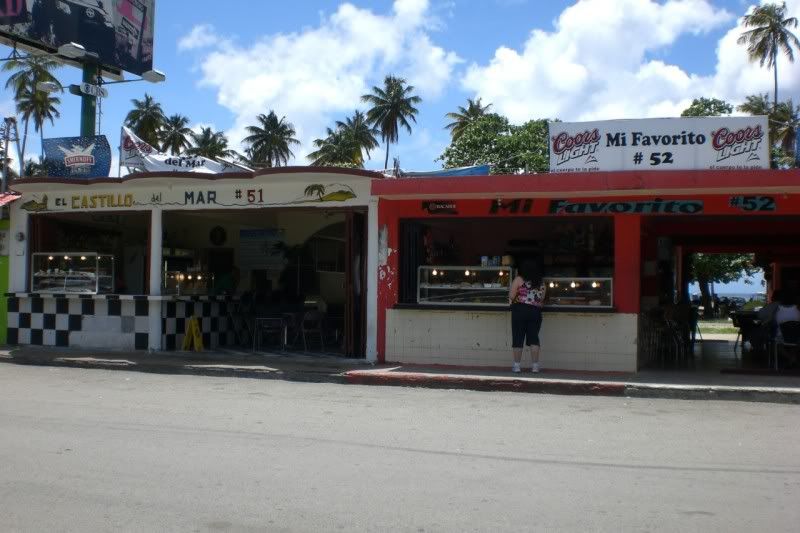 The kiosks near Luquillo Beach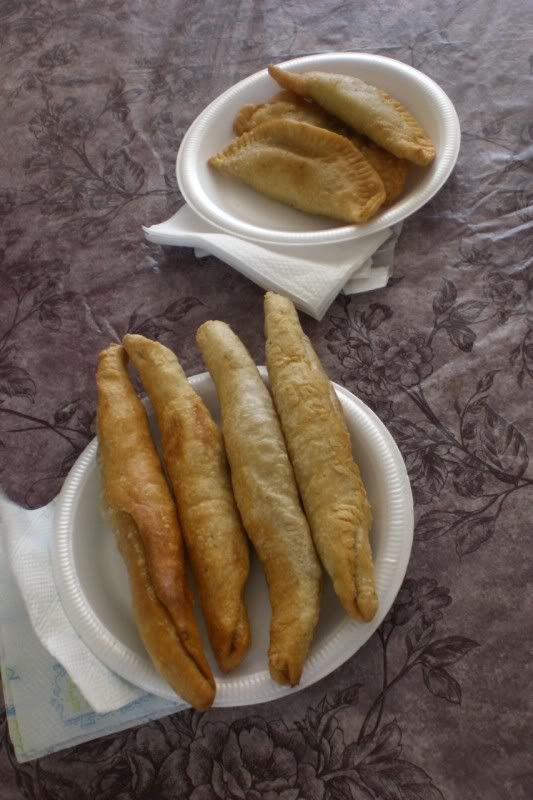 Top: Acaburia (for those of you from Texas it's basically a carne empanada)
Bottom: Pastilillo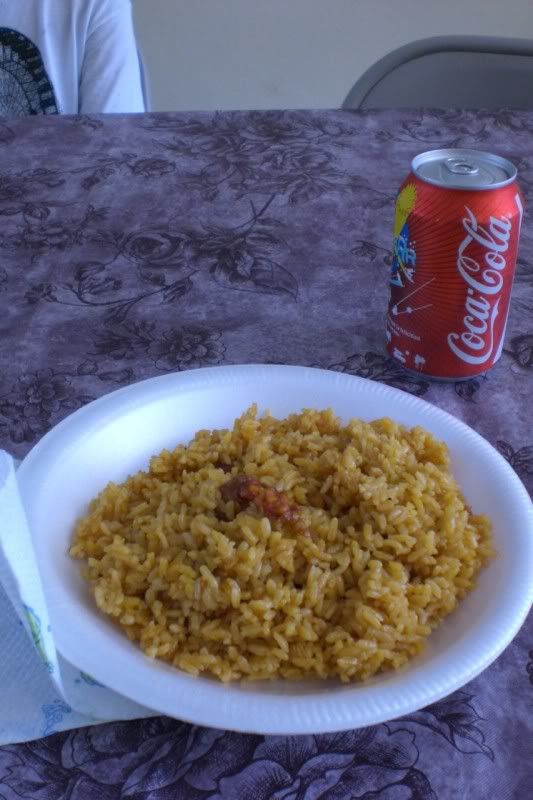 Chorizo y aroz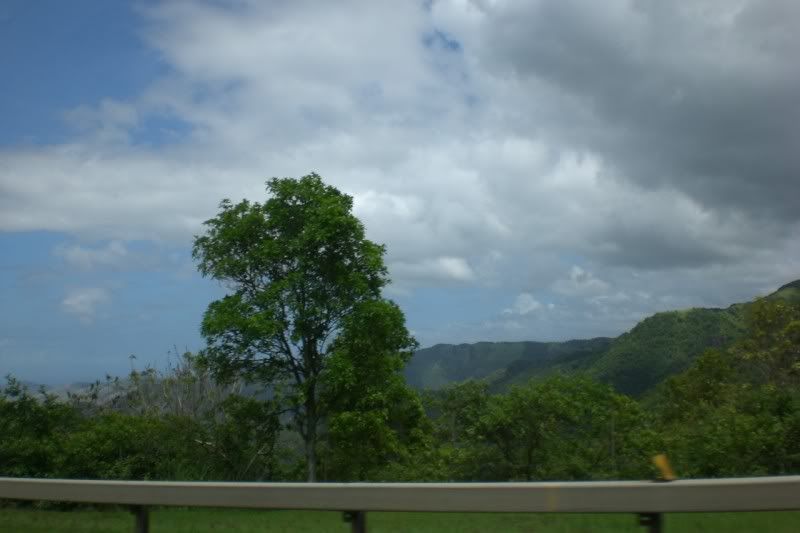 In the center of the island, on our way to Ponce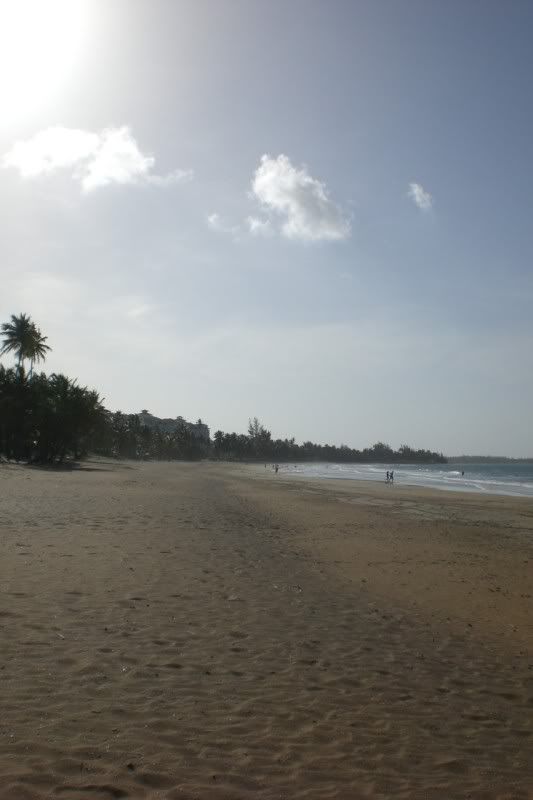 Our beach at Rio Mar
Unfortunately, we did not anticipate the crowds and pandemonium at Fajardo ferry terminal, so we were not able to make an excursion to either Vieques or Culebra. Fortunately, there was a nice lady at the parking lot that felt sorry for us and refunded the $5 parking fee. With that, it's back to the beach…
Before we know it, the time came to head back to the mainland. We booked a room at the Courtyard by Marriott adjacent to SJU for the last night. While the boys enjoyed the waves at Isla Verde beach, I didn't care for the urban setting (there was nothing wrong with it, it was just not my cup of tea), although it was nice watching the planes appear above the trees as they rotate off of runway 8.
My youngest son (the little aviation nut) and I took a quick trip to SJU to do some spotting and turn in the rental car. We drove in front of what it looks like a brand new terminal. It looked completed and I didn't spot any construction equipment nearby so I assumed it set to open at any time. After returning home, I found out the new terminal is actually going to be Terminal A (or Concourse A, I heard both designations), which will be occupied by DL and US. It was originally supposed to be opened in April 2009, for some reason it has been delayed until early 2010.
New Terminal/Concourse A, to be opened in 2010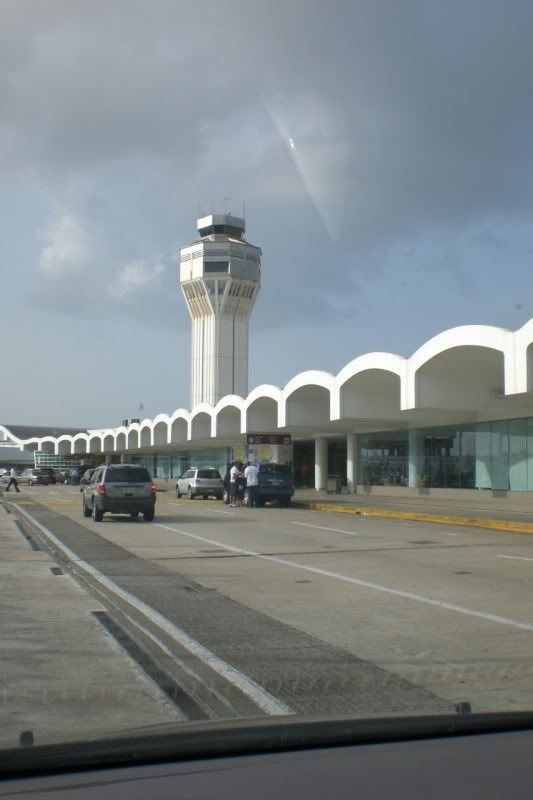 Old Terminal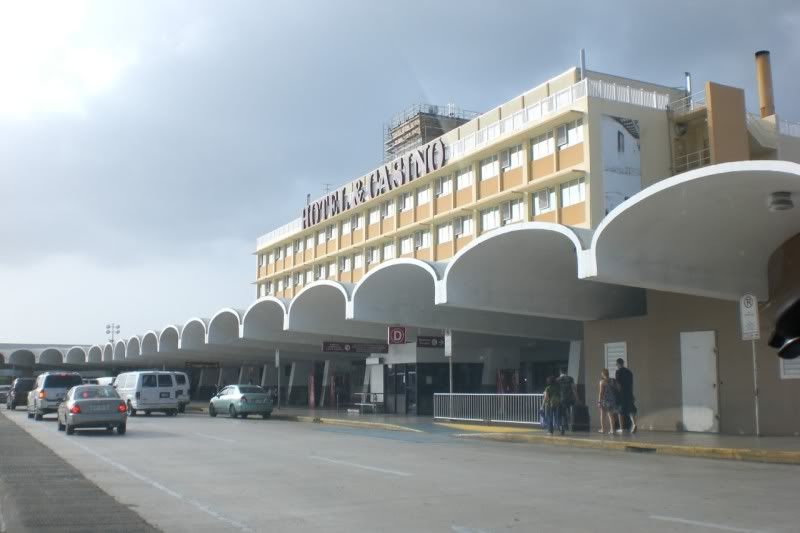 Best Western Hotel/Casino (under renovation?)
We headed to the Aeroparque to see some action along runway 8. Unfortunately, it was closed. Can anyone tell me if it was a normal closure or if it was shut down? It was a Friday at around 530pm. Anyway, we circled around again and found a little parking lot along the fence just east of the viewing area.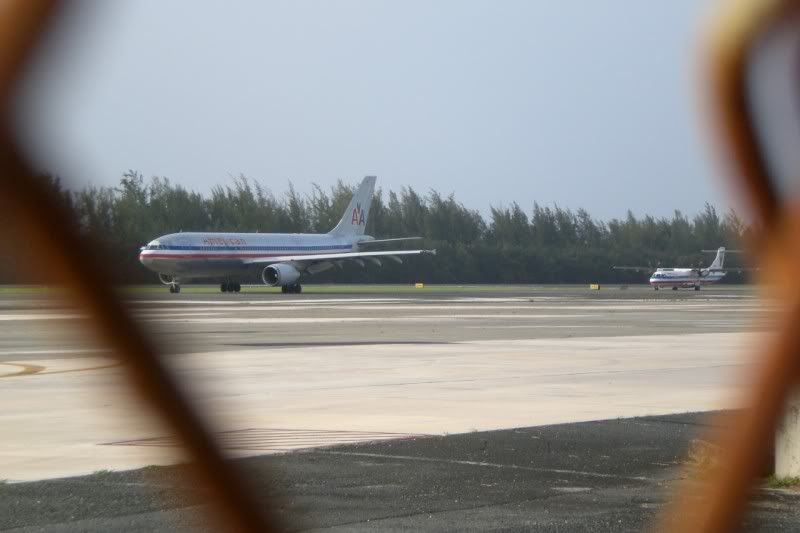 AA AB3 and ATR ready for departure
After a nice dinner at the hotel and a good night's sleep, we were ready, but reluctant, to head home. There was a taxi waiting for us outside the lobby and we were at SJU shortly. There were no problems with checking-in or with security, so we had to time to kill to get some breakfast and explore the concourses.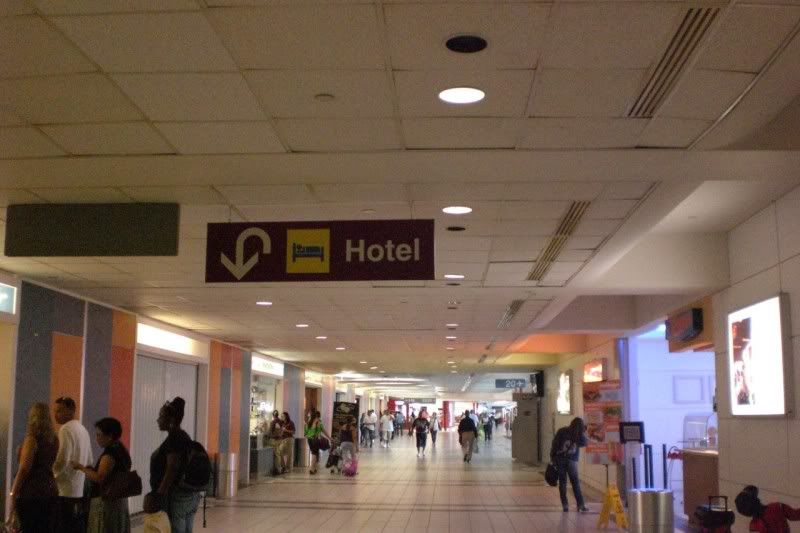 Post-security at SJU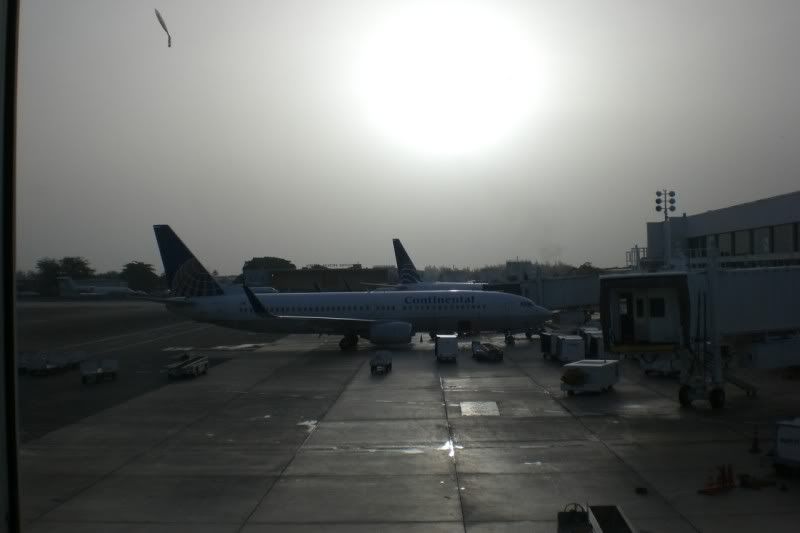 Sunrise over Concourse C with CO and CM ready to start their day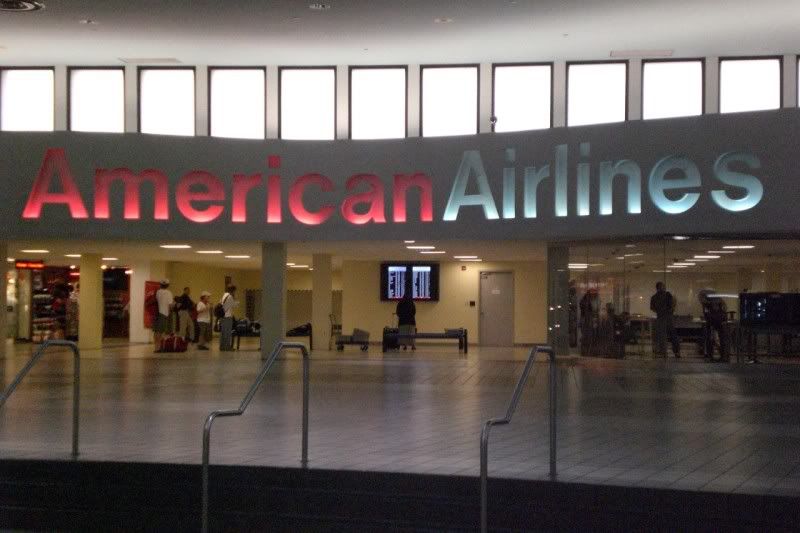 Entrance to AA's stronghold at Concourse D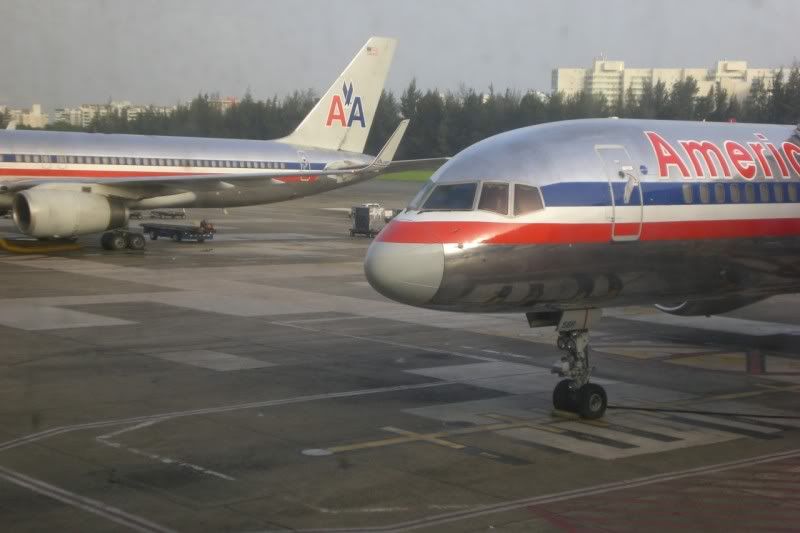 Two AA 752s sitting patiently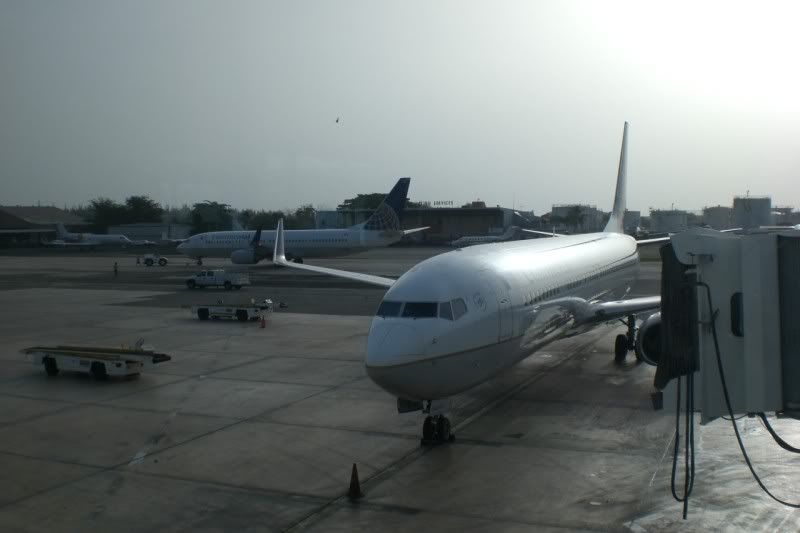 Our ship (#409) RONing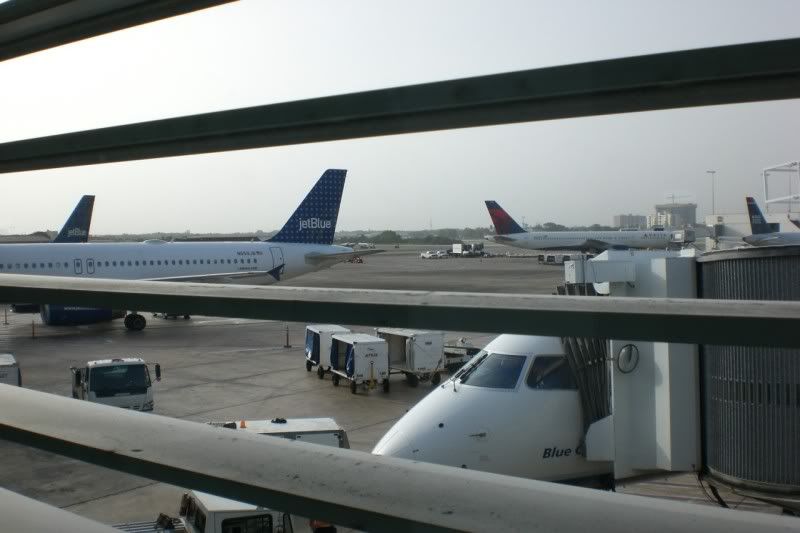 Action at Concourse B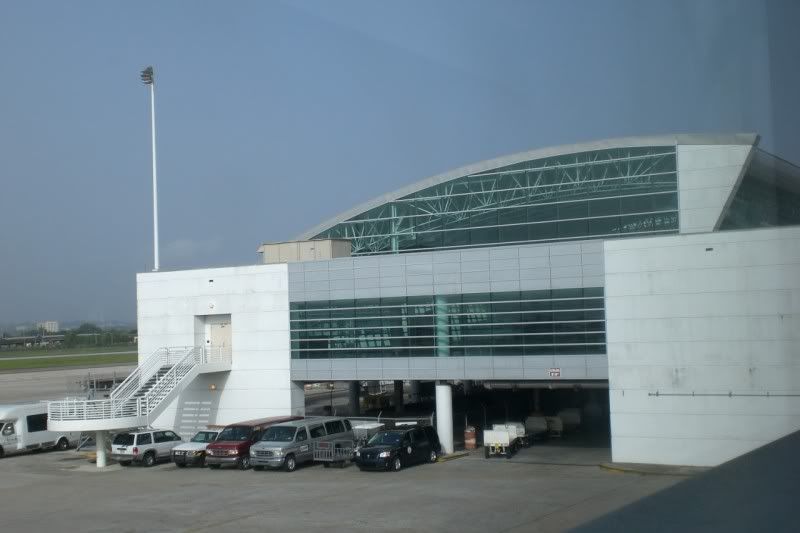 Yet-to-be-opened Concourse A
27 June 2009 (Saturday)

San Juan – Luis Munoz Marin Int. (SJU) to Houston – George Bush Intercontinental (IAH)
flight / equip / reg
CO1751 / 739 / N37409
(delivered 11/19/01)
scheduled / actual departure (gate)
0845 / 0848 (29)
scheduled / actual arrival (gate)
1215 / 1204 (E16)
seat
14D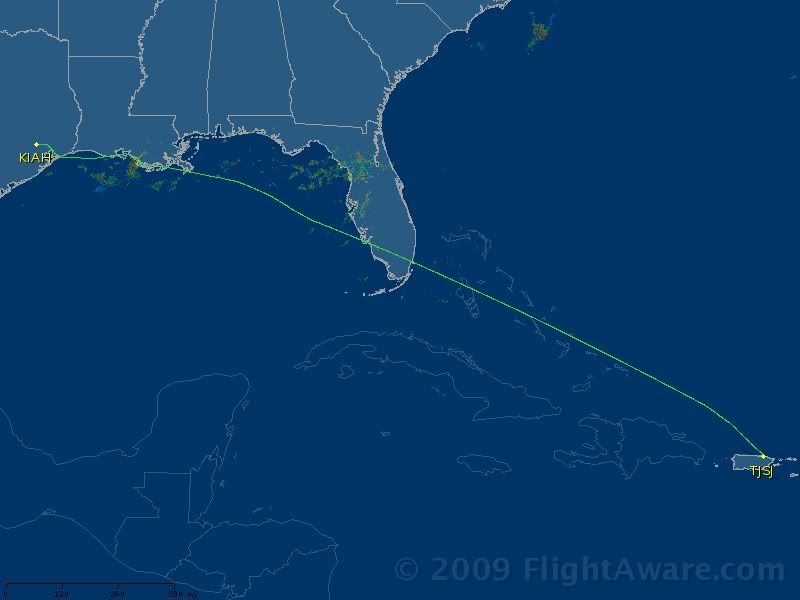 Despite the full flight, boarding was completed without any problems. We took off from runway 8, and, before you know it, sadly, we were on our way back to the mainland.
We were served breakfast shortly after takeoff. It consisted of a sort-of egg pita pocket, served with a bran muffin and fruit cup. If it wasn't for a queasy stomach, I might have enjoyed the egg, but I settled for the fruit and juice.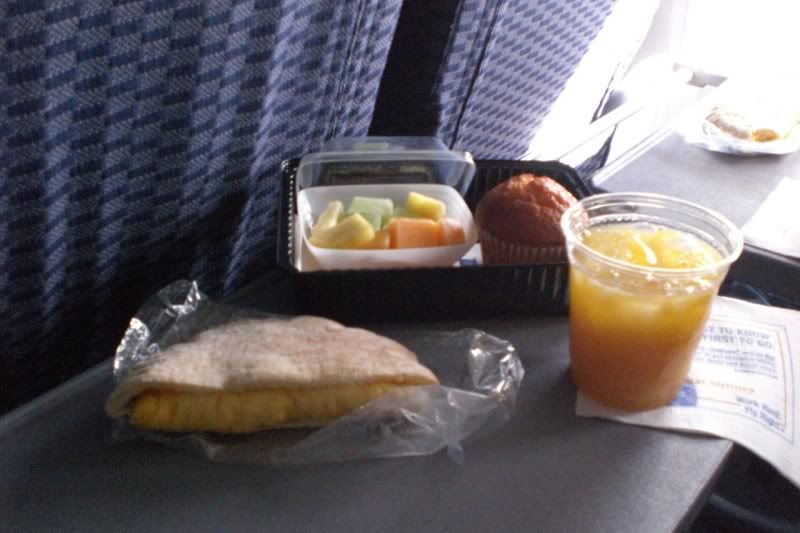 Morning grub
There were two movies shown on the 4+ hour flight:
Inkheart
, starring Brendan Fraser and
New in Town
, starring Renee Zellweger. My sons summed up their feelings for the first movie with a "meh" while my wife responded to the chick flick with an equally indifferent "meh." I had no interest in either movie, so I passed the time with
Staring Out the Window
starring cumulus clouds and the Atlantic Ocean.
The flight has its share of chop here and there; in fact, the captain has the "fasten seatbelt" light illuminated for the whole second half of the trip, even when the ride smoothed itself out. We were assigned to FL340. Service was good; it might have been great if any of the FAs actually flirted with me…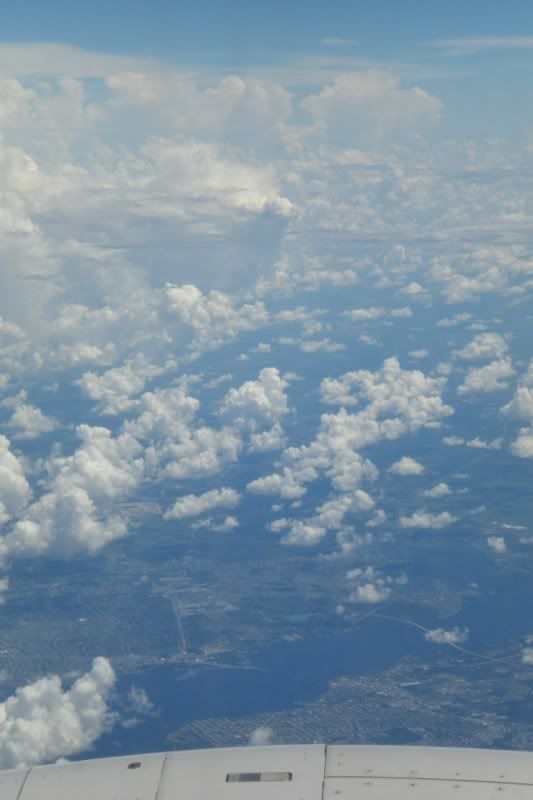 At the time, I thought this was Fort Myers/Cape Coral, but I think it is actually Port Charlotte/Punta Gorda, right?
We eventually made it to IAH, landing on runway 27. We had a good 2 ½ hours to kill. Since we lived in Houston, my wife and kids (except the youngest one – the airliner fanatic) were tempted to walk out the terminal and catch a ride home, leaving me to fly to SAT, collect the luggage and make the 3-hour drive home. I know, we live in Houston, but we flew out of San Antonio because…never mind, long story. I warned them that if CO found out their little stunt, they might be subjected to being banned from flying Continental, ala Sheila Jackson Lee (D-TX). So, they sat quietly at the gate while my youngest son and I headed out to check out the Euros at Terminal D.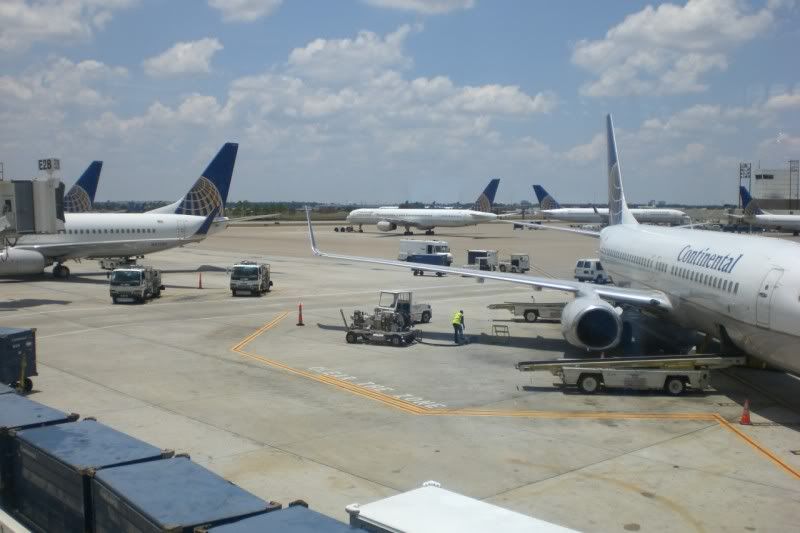 CO action at Terminal E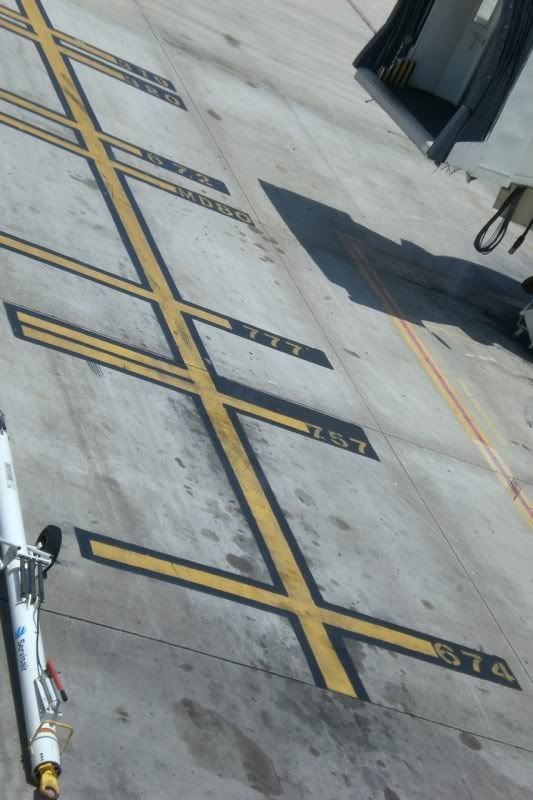 Okay, silly question: what aircraft is a 674? What about 672?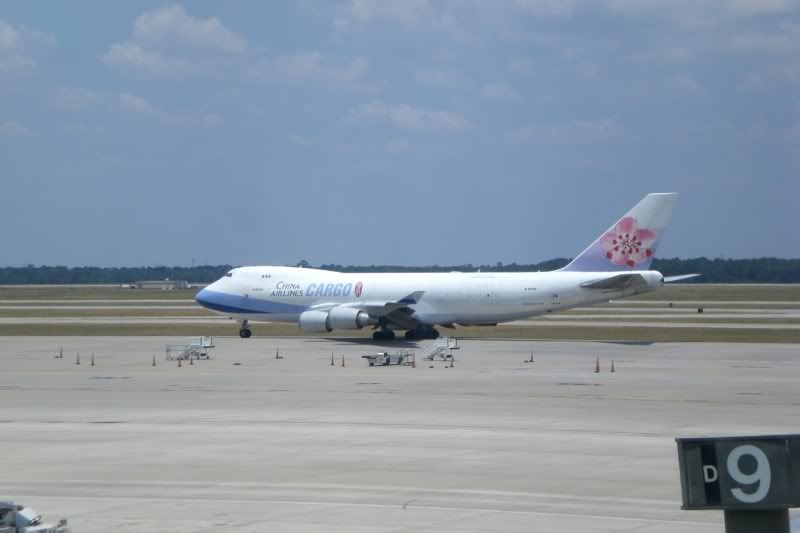 CI 74F heading to the 15s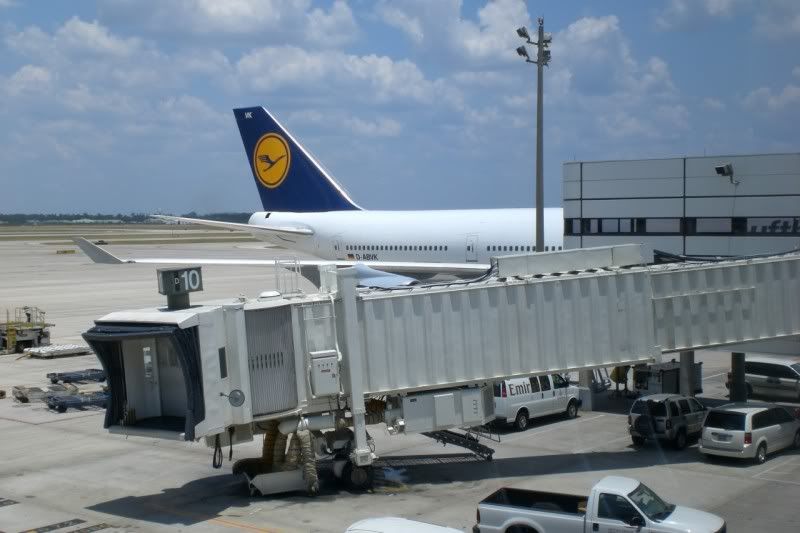 LH 744 at Terminal D
TA 190 on its way to BZE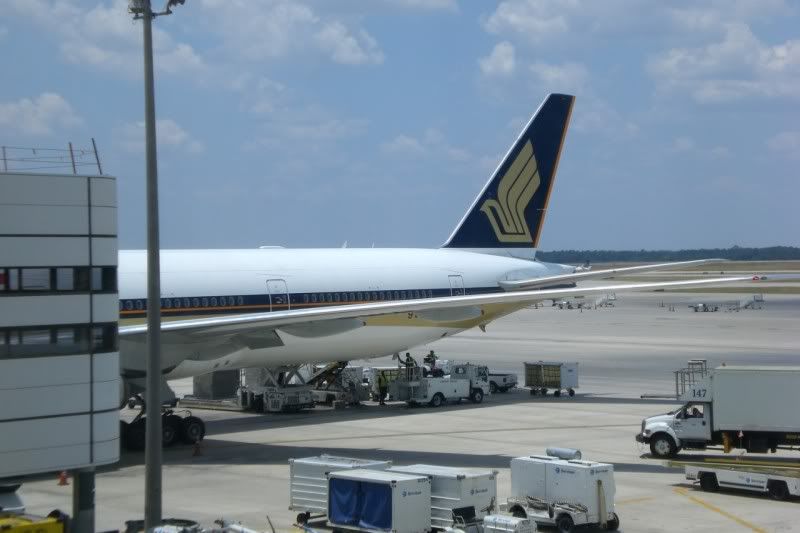 SQ sitting pretty…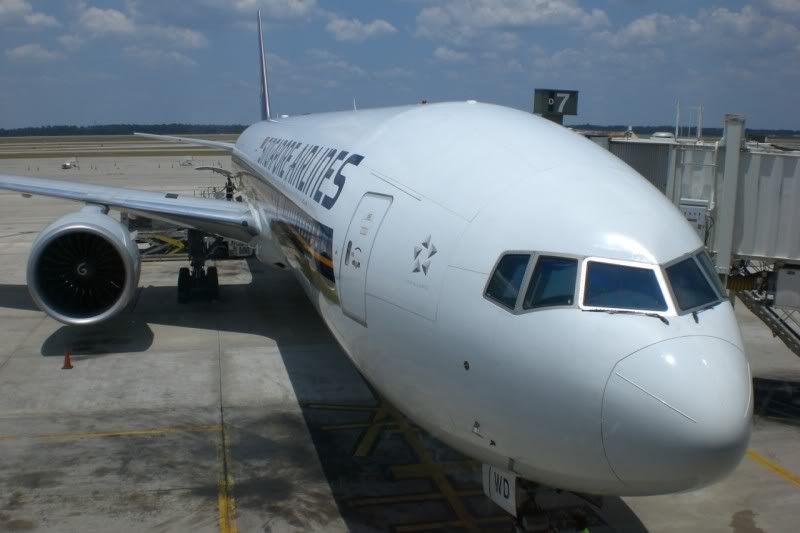 …SQ sitting pretty close!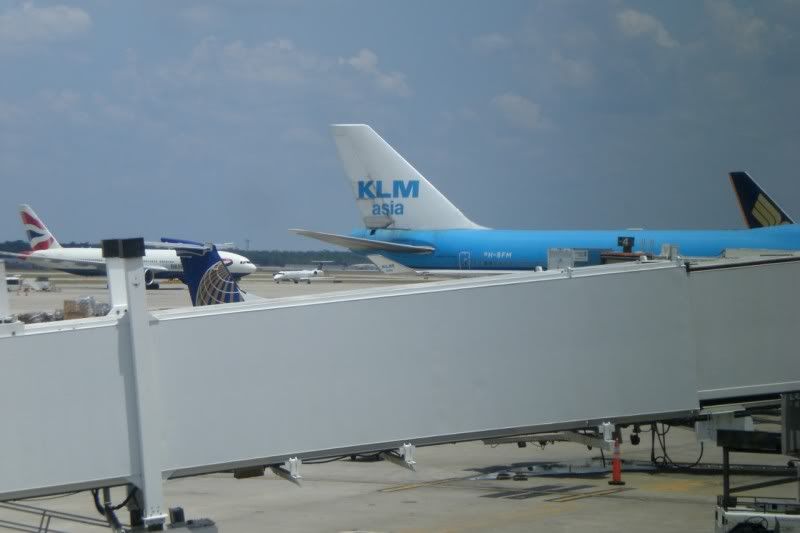 KL adjacent to SQ with BA arriving from LHR (throw in some pissant CoEx for good measure
Houston – George Bush Intercontinental (IAH) to San Antonio – Int. (SAT)
flight / equip / reg
CO1079 / 73G / N24706
(delivered 5/26/98)
scheduled / actual departure (gate)
1445 / 1448 (C35)
scheduled / actual arrival (gate)
1542 / 1534 (32)
seat
25E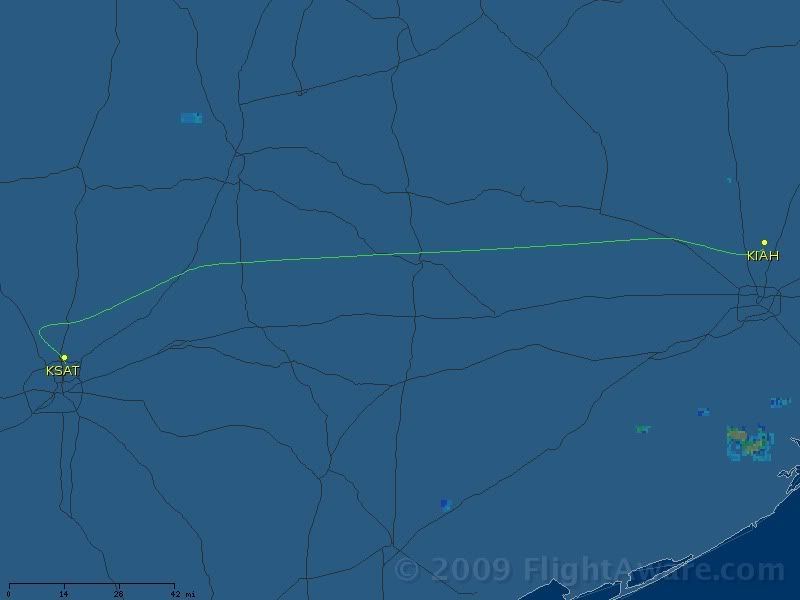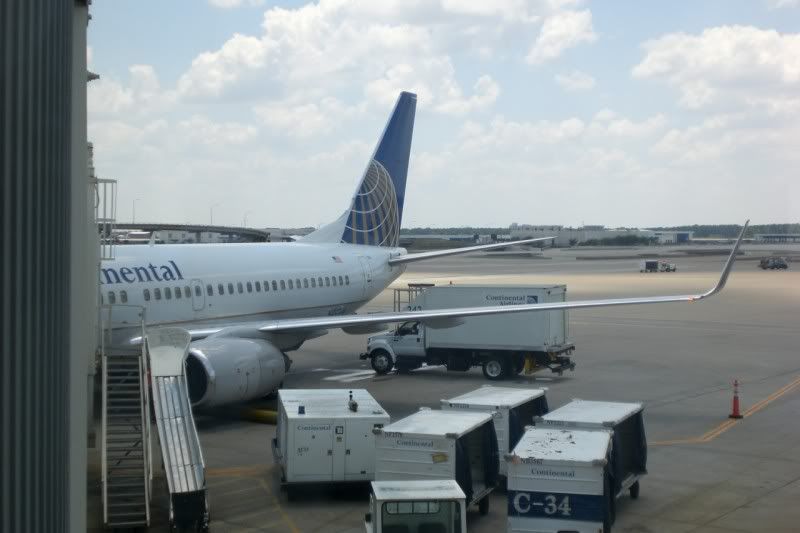 Our ride getting ready for the short hop
Not much can be said about this leg, other than we took off from runway 15L, flew at FL220, landed at runway 12R in SAT, and it was bumpy as hell.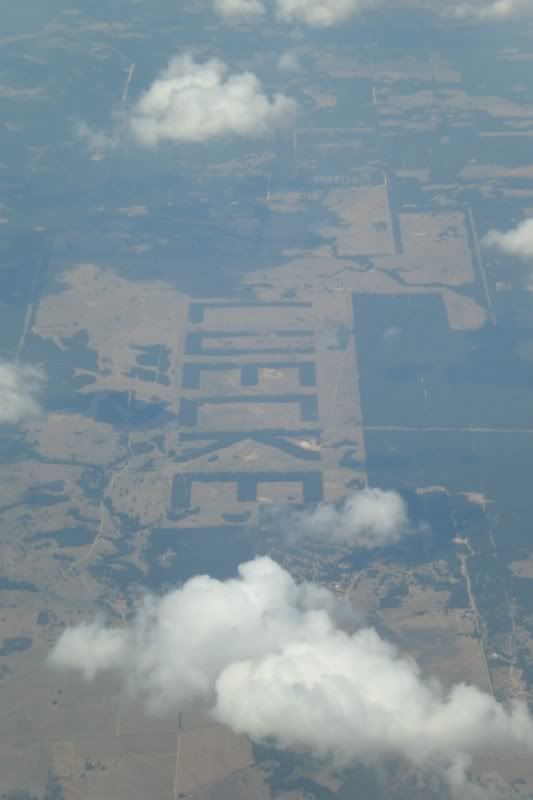 Graffiti on a regional scale: Mr. Luecke fights big government…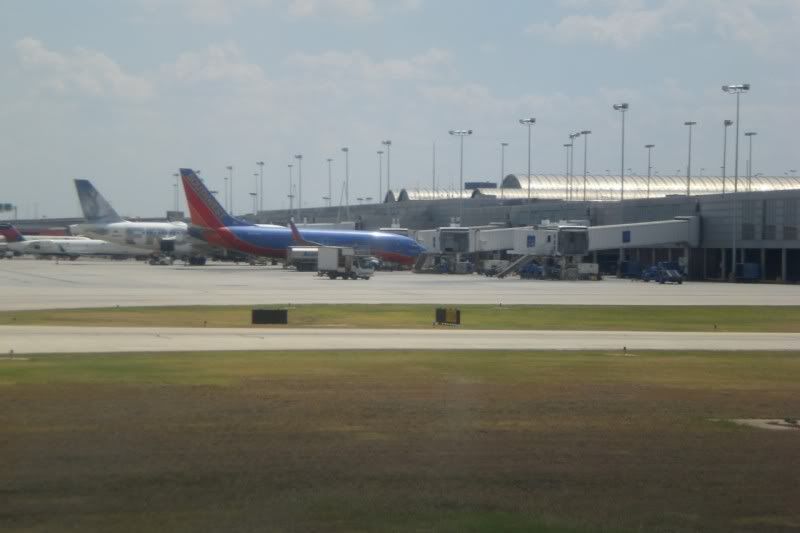 Back in the Alamo City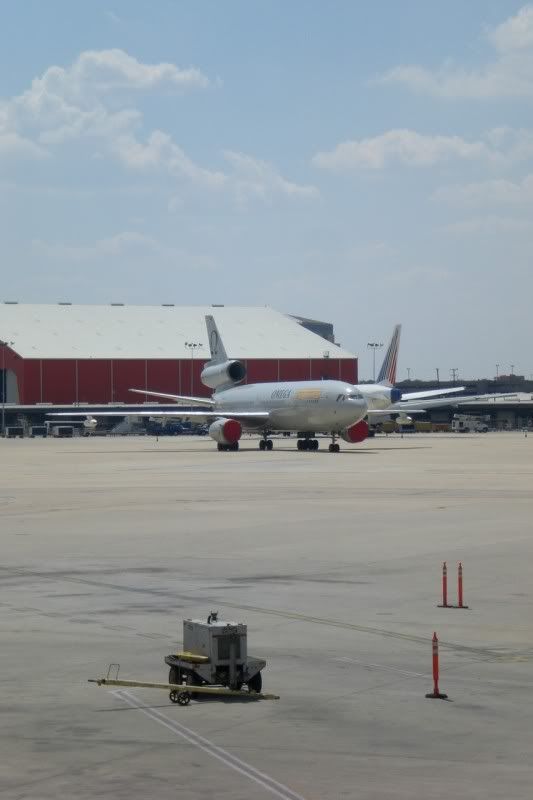 Omega Air KDC10 catatonically immobile, with Transaero 772 behind it
Although tired, we were deliriously happy with our vacation in the tropics. It was a relaxing respite in our otherwise hectic lives.
The only other thing that can be said and can appropriately end this trip report is my youngest son's latest revelation:
"An MD-11 is just a DC-10 with winglets."
Thanks for reading, and, as always, any questions/comments are appreciated (maybe not accepted, though
).