The Sun Express B752W to Antalya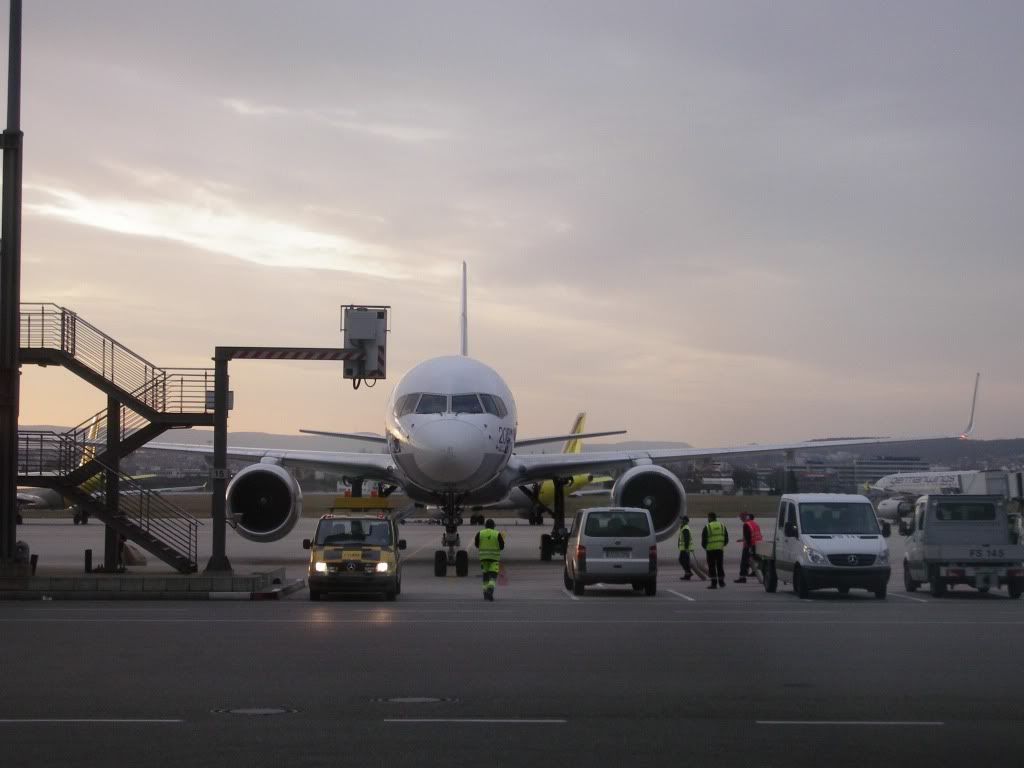 Merhaba, dear readers
and welcome to my "catch the last sunray´s" trip.
It´s years ago since I was for the last time in Turkey and several reasons forced me to go now again.
One of them was the announced phase out of XQ´s good looking, winglet fitted B752´s.
Originally they planned to operate an all B738 fleet from the winter timetable on, but decided to fly these birds
a little longer.
The fare jumped around from close to 70,-- Euros up to more than 150.-- Euros, I´ve booked it finally for less than 100.-- Euros,
acceptable from my point of view.
And collecting one of Antalya´s leading five star hotels during a special promotion from one of our big tour operators
for unbelievable cheap 37.-- Euros halfboard makes it even easier to do that decision!.
Arrived back home from Italy some three weeks ago
Security Issues And Lufthansa Italia BRI-MXP
(by
FLIEGER67
Nov 25 2009 in Trip Reports)
it was time to go again.
Sunday, 22.11.2009
Light clouds, Temperature 3 degrees


Antalya-Havalimani, Sunny, Temperature 23 degrees
Duration: 2 hours, 45 minutes announced
3 hours, 5 minutes actual

Service XQ 151 operated by Sun Express
Scheduled: 09.35 // 13.50 + 1 hour time difference
Actual: 09.35 // 13.40
Gate: 343 Seat: 39A
Load factor: Around 90 %
No OLCI available at XQ´s website.
They sell seat-only tickets, but also lots of tour-operator packages, maybe the reason for that situation.
No traffic on the streets that sunday morning, parked at P2 and very good ontime in STR´s terminal 3, where I found some
20 pax waiting at three assigned desks. But finally only one was staffed around 2 hours prior to departure.
Some ten minutes to wait till it was my turn, the lady was somewhat stressed with people to check-in bags far above the weight limit, golf stuff, bike´s and else.
But me, with the small Rimowa alu case and the clearly announced seat question, window last row, brought a smile on here face.
"Window last row, ok, we will check it", was the answer. Secured, printed and some seconds later I was on the way trough security.
I was really shocked airside, the pax decrease clearly visible, parts of terminal 3 on the ground level closed for travellers and also the whole Terminal 4 area deserted, only some very few flights on the screen that sunday morning.
Arrivals: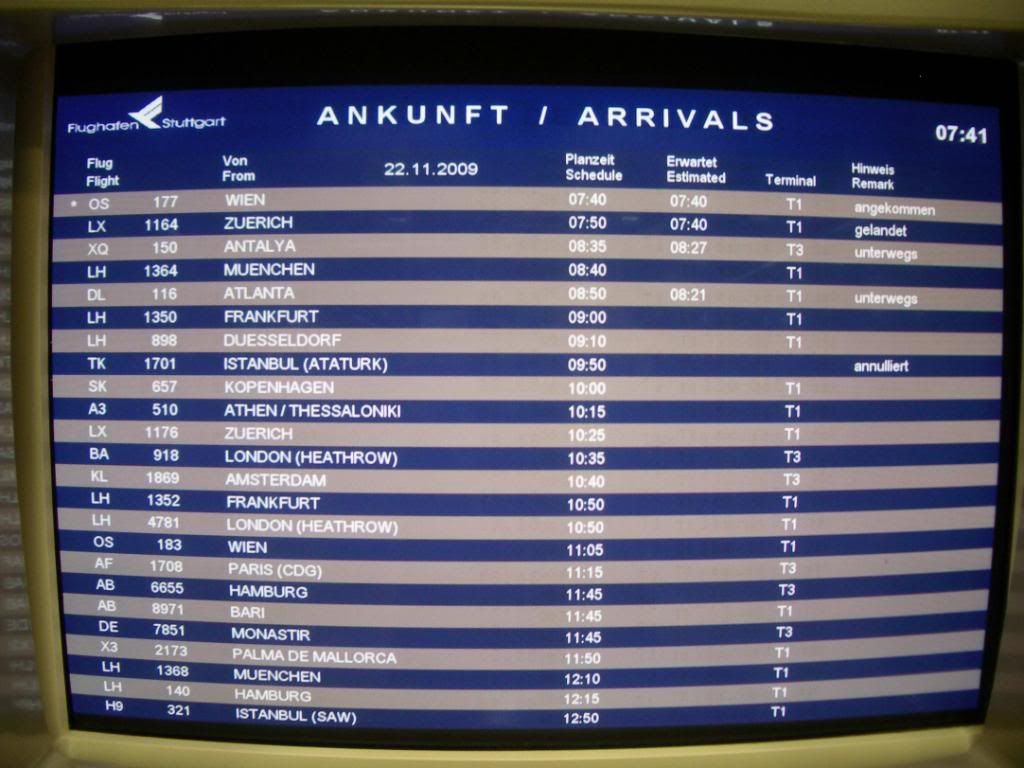 Departures: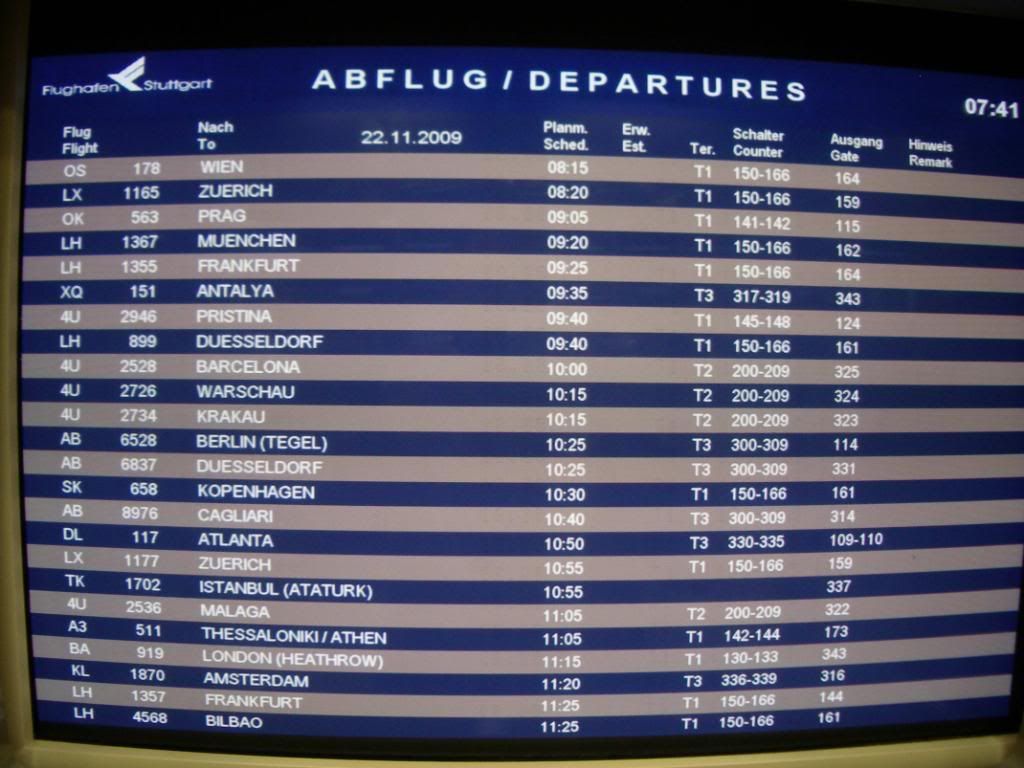 Sunrise: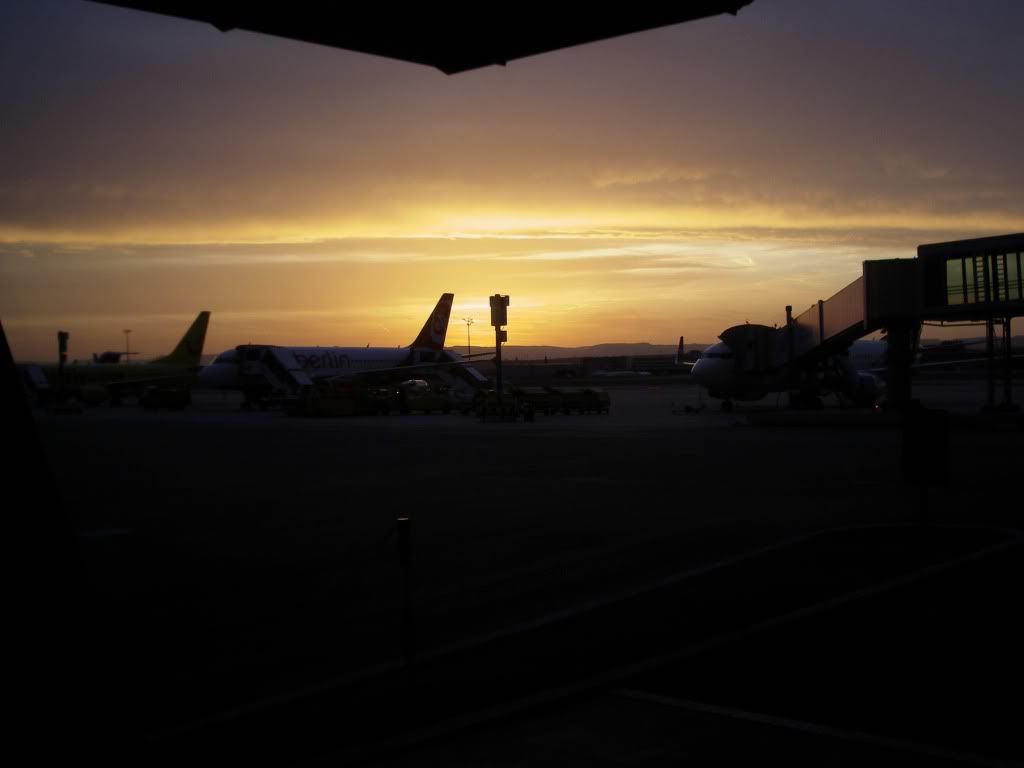 Delta on winglets: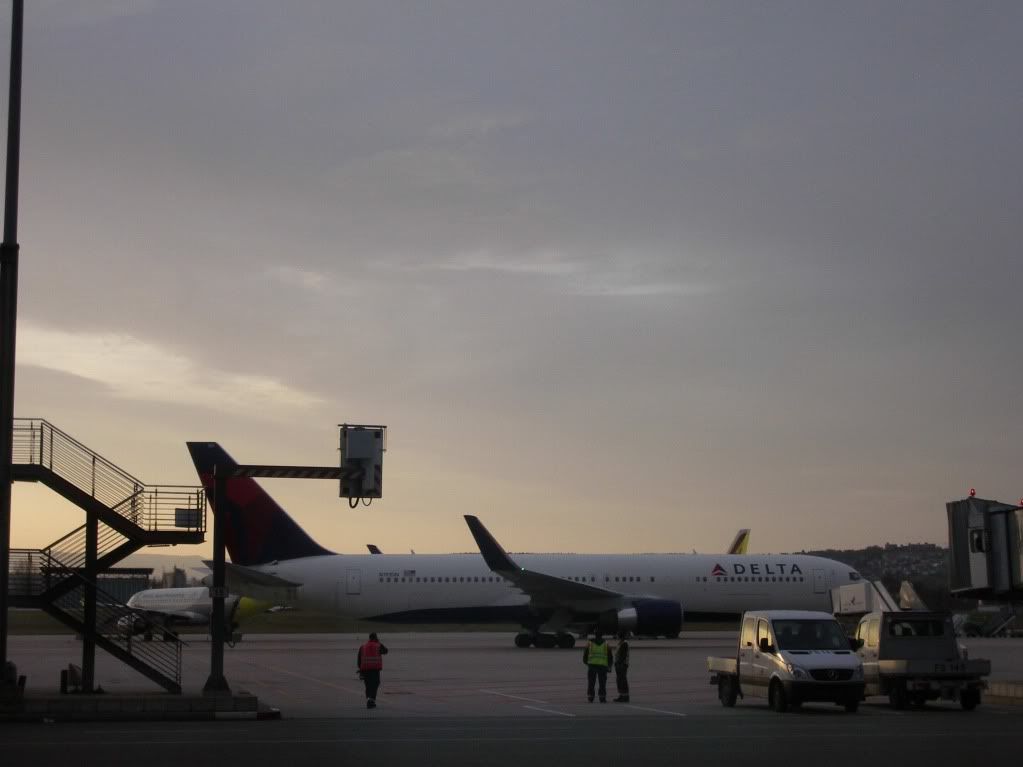 And finally my machine: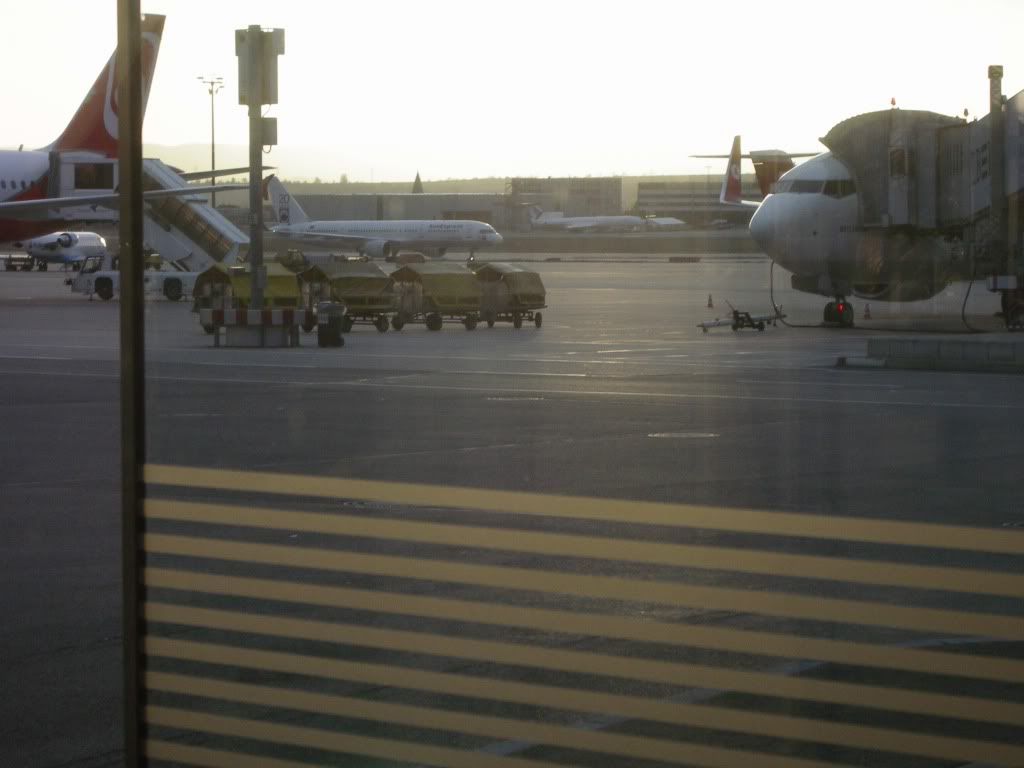 Closer: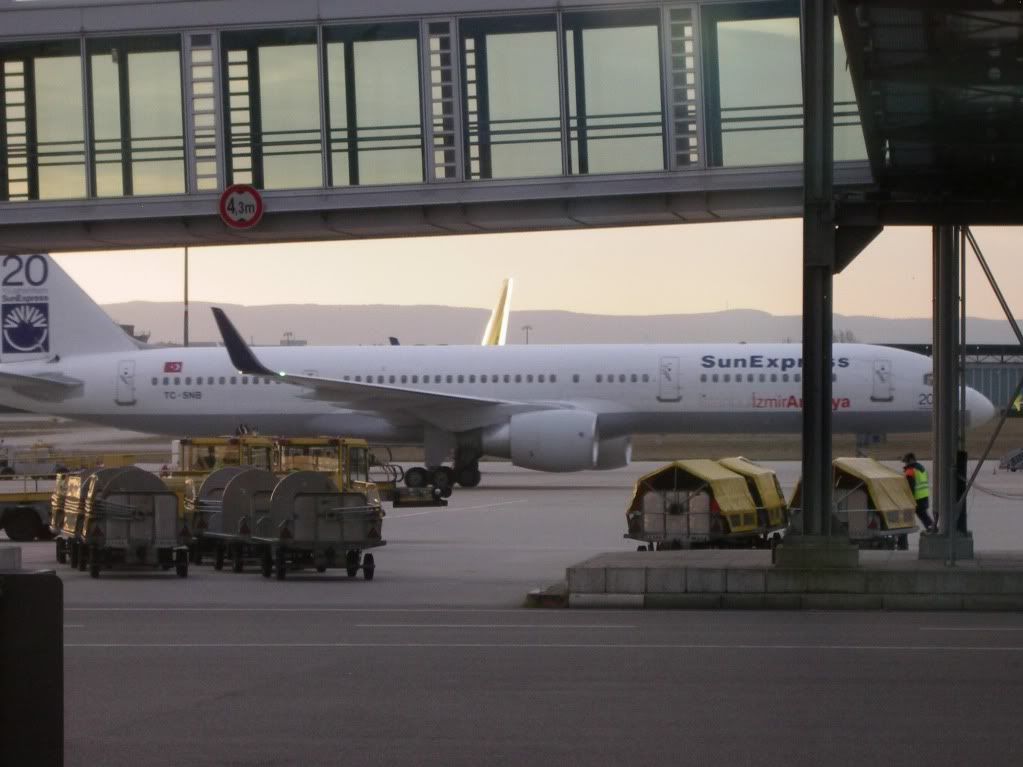 To the gate:
And parked: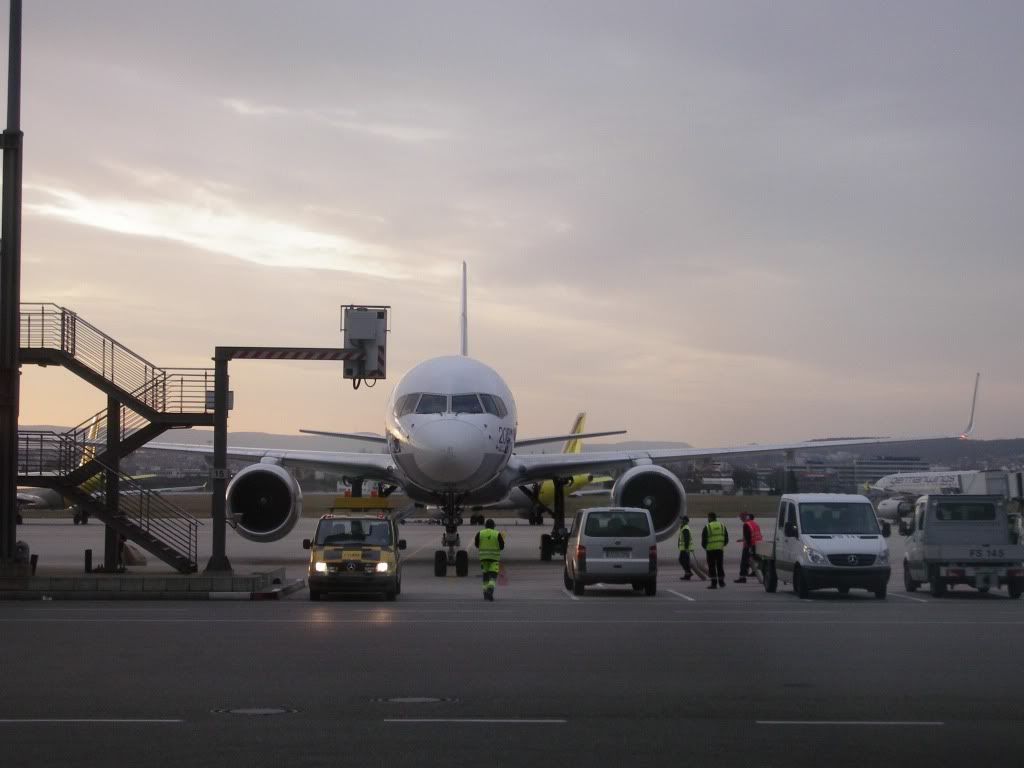 Another view:
My plane was announced early inbound from AYT and parked finally at a finger gate.
Its only a small waiting area with no service at all, so lots of pax decided to stay away and proceed to passport control late, me too.
The result was, as soon as boarding was called, a long line formed at the single checkpoint, last call was on the screen with lots of people waiting. An announcement was to hear that the flight will be closed and finally me as one of the last pax boarded the plane.
Boarding: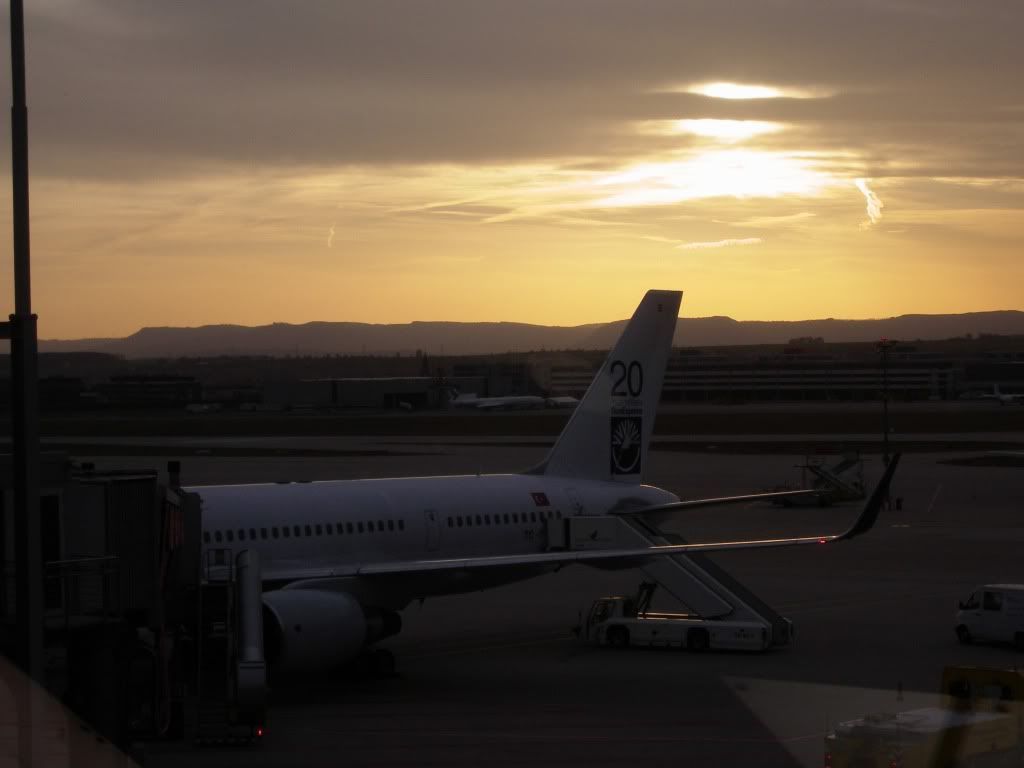 Again: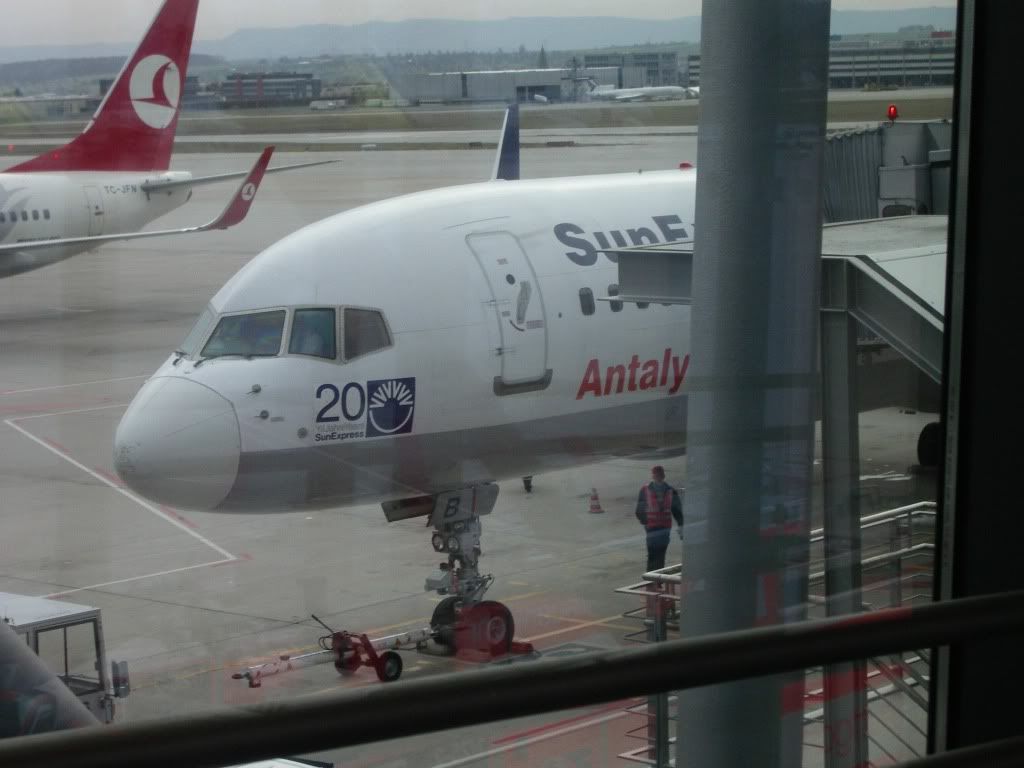 TC-SNB was the registration, the welcomed B752 fitted with good looking winglets.
XQ operates three machines on type actually.
Delivered at 27.01.1994 to Aeromexico and further to Sun Express at 28.03.2006.
Leg no. 13 for me on the 752 and a new registration.
Some issues with a turkish family, at first sitting in 39D/E/F, the assigned seats for a young german couple and changed to 39A/B/C
which made me also not happy.
Some shouting to the FA in the rear cabin when they noticed that they had 39 B/C/D and can´t seat togehter.
The FA´s found another solution with me alone in 39 A/B/C, warm welcomed from my point of view.
Well, the FA´s, two female, three male´s, not that really friendly and interested during boarding and also later on.
Cabin impression was also not that good, dark blue slimline and very hard leather seats, good legroom but worn out cabin.
The purser announced later that the coffee machines gone out of order, also the mid-cabin-screens seemed only as a decoration there.
Cabin: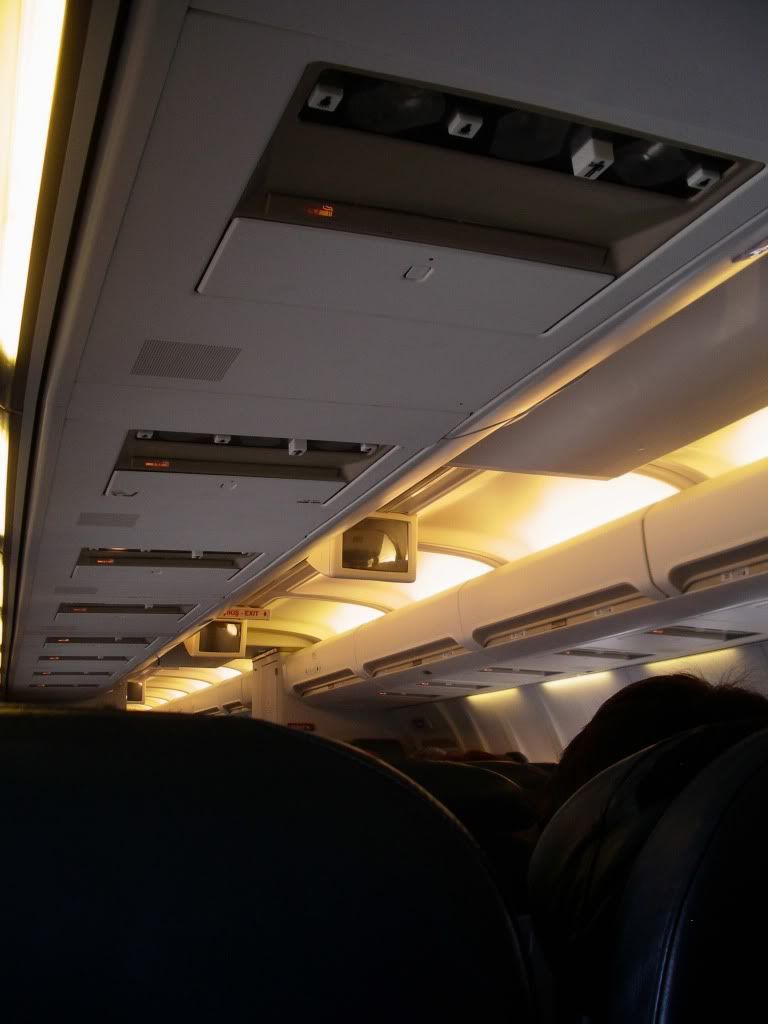 Legroom:
Seats: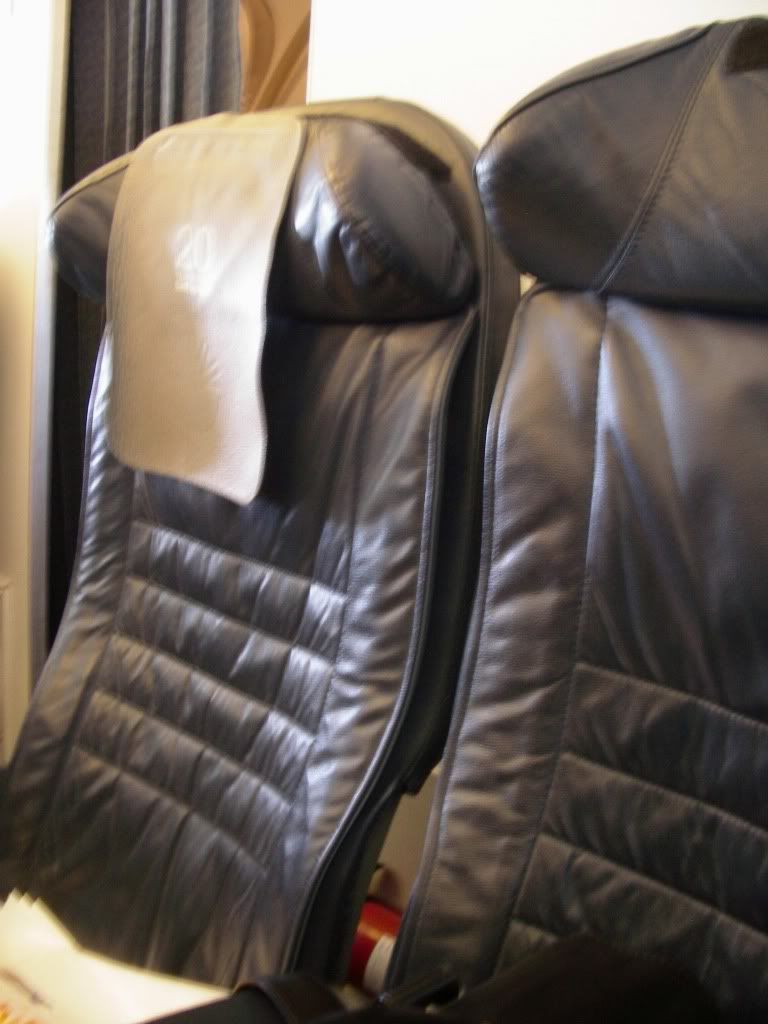 My seat:
Seats again: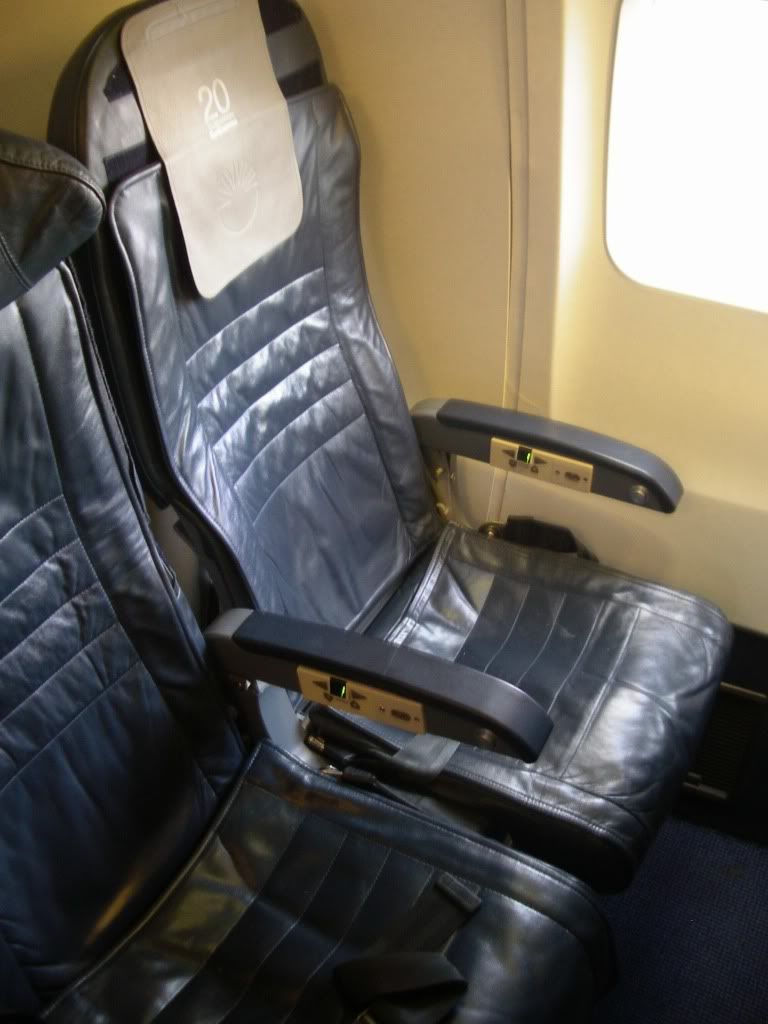 Departure from the 3345 meters runway 25 in direction MUC-BUD-BEG-SOF and entering asia at Canakkale.
Flight level 37000 feet according to the very detailed information during cruise from the turkish FO, also the captain was from turkey. The FO does the annoucement in turkish and english, followed by the purser in german.
A view backwards: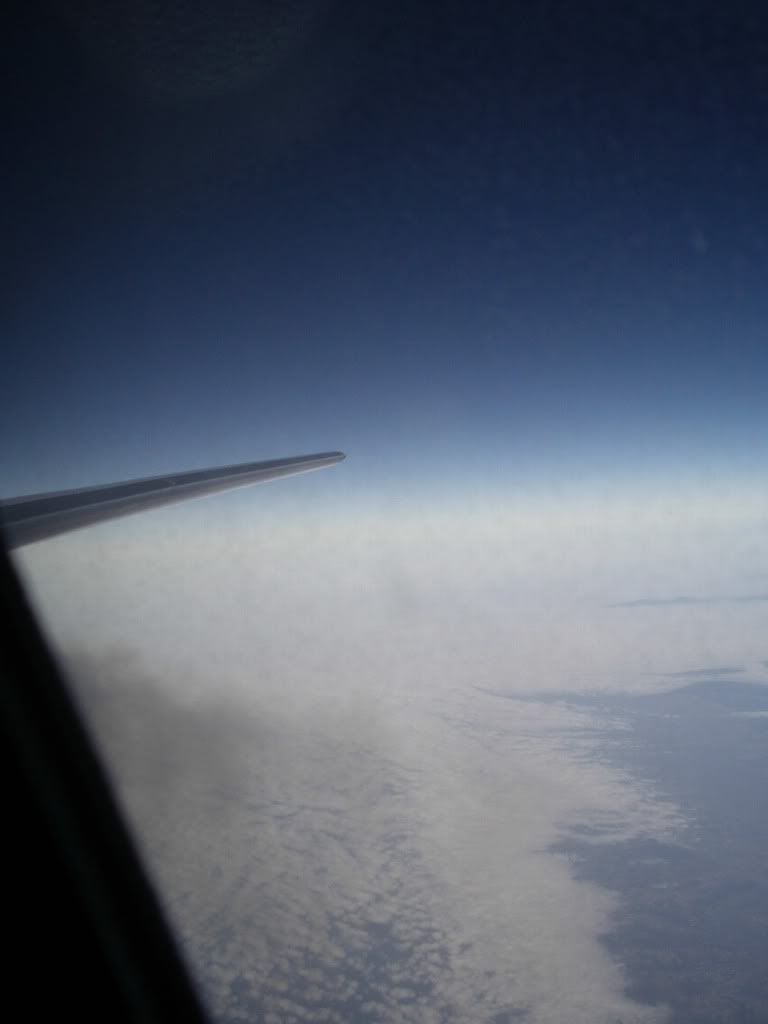 Along the way: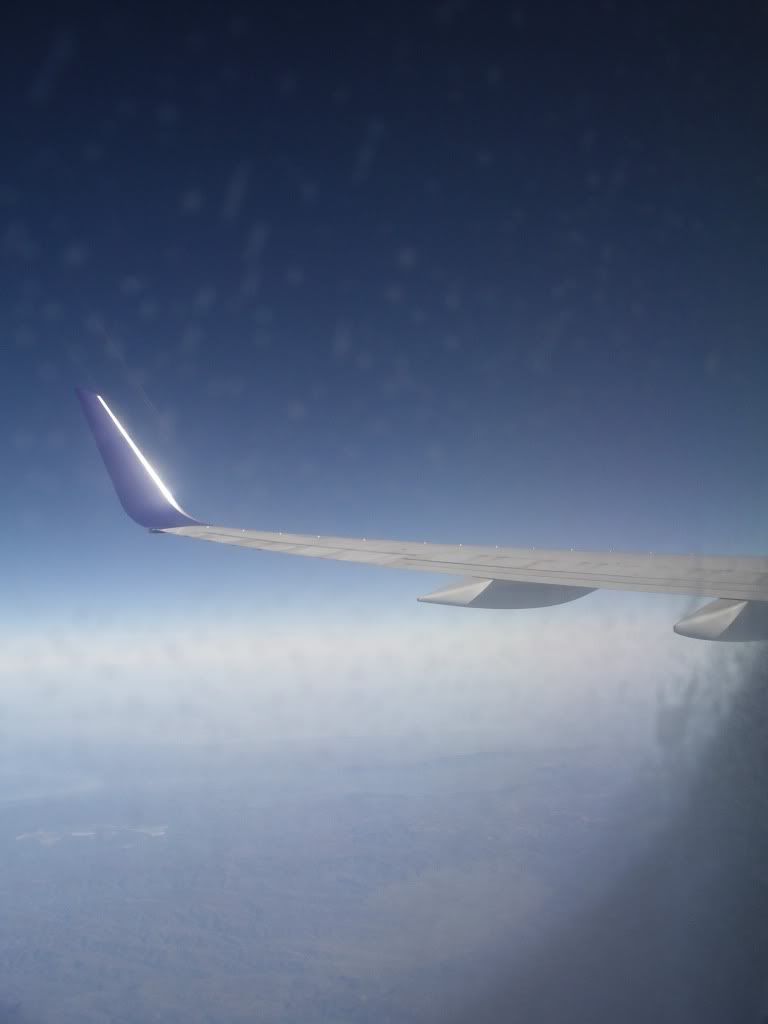 SOF: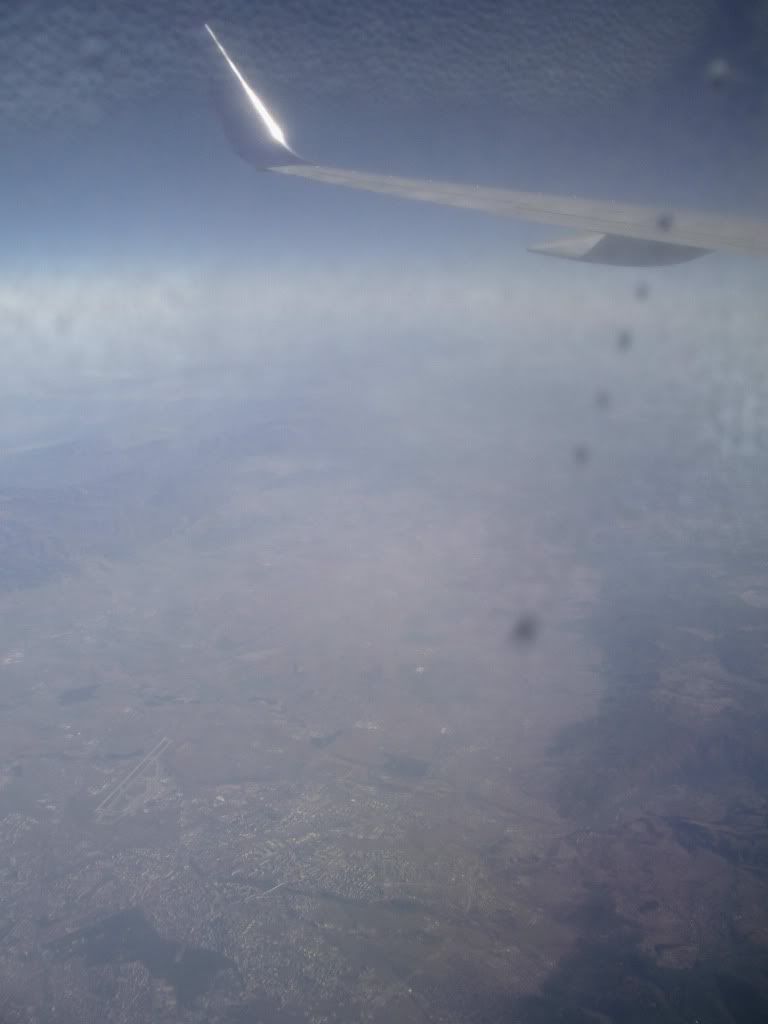 Leaving Europe: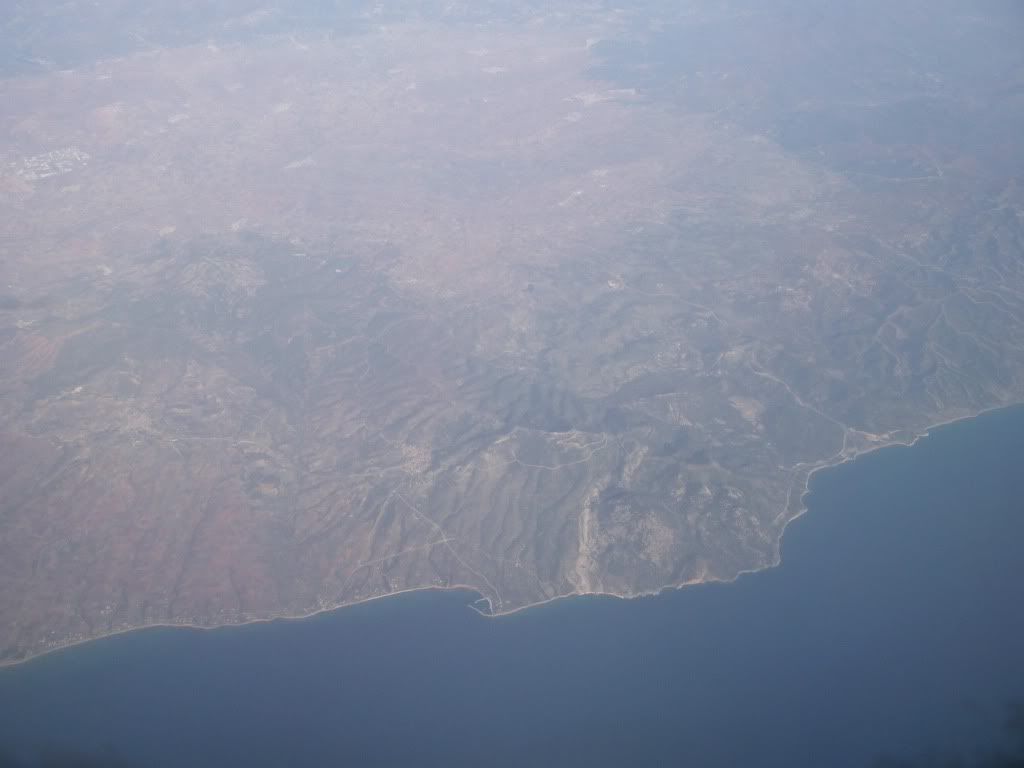 And welcome to Asia: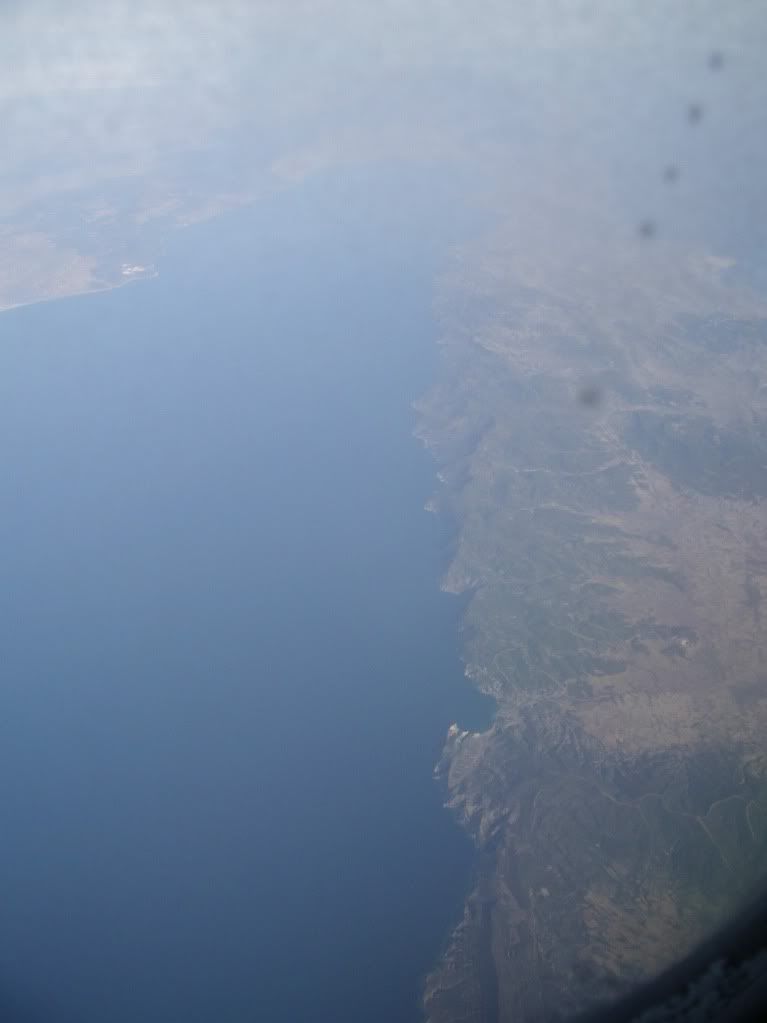 South of IST: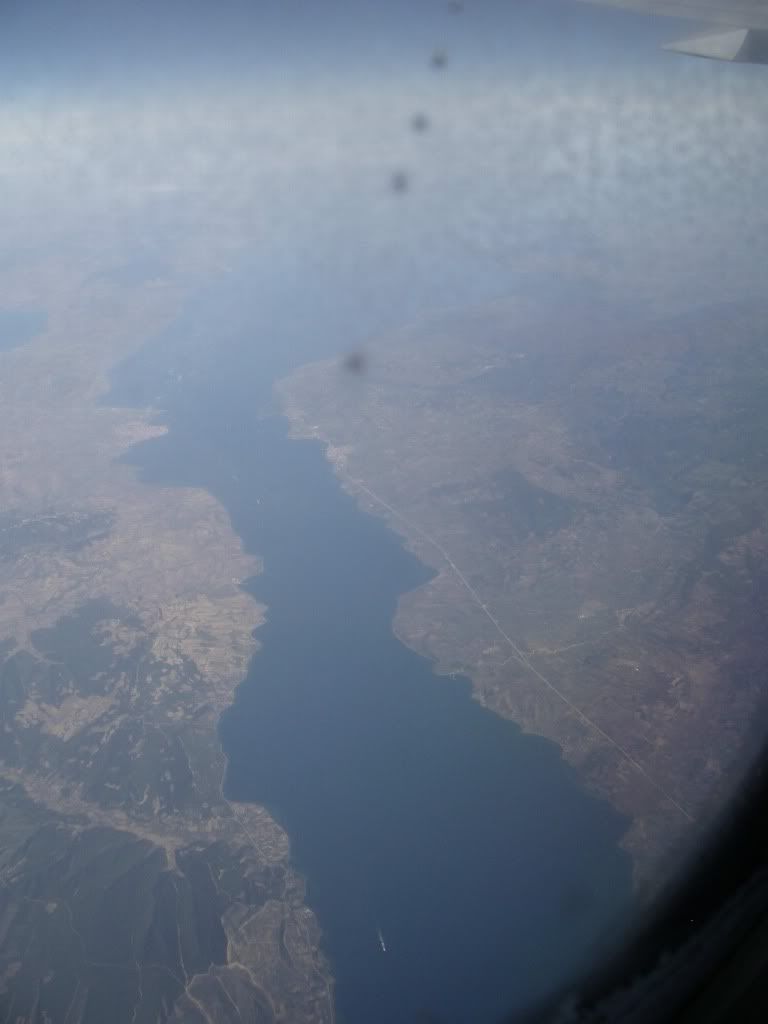 Service was a cold plate and free beverages.
The magazine:
Service:
The whole flight was calm, no seatbelt sign till we approached AYT.
The FO was once more on the speakers short prior to approach.
Nearly dry lakes:
Approach: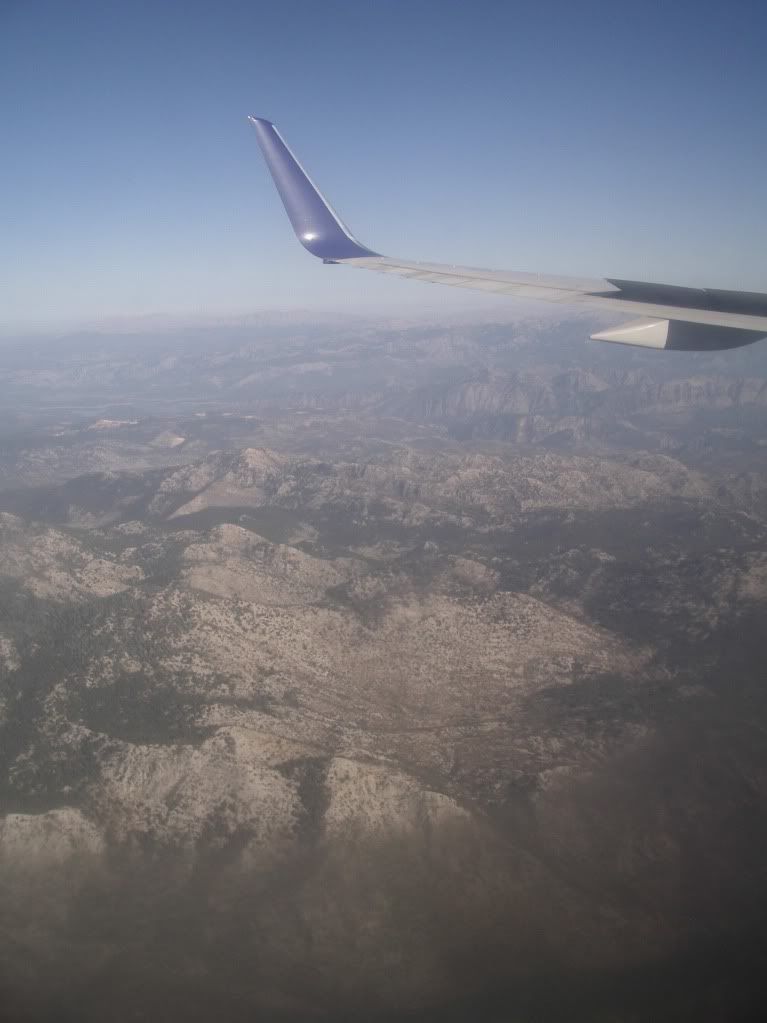 Finals: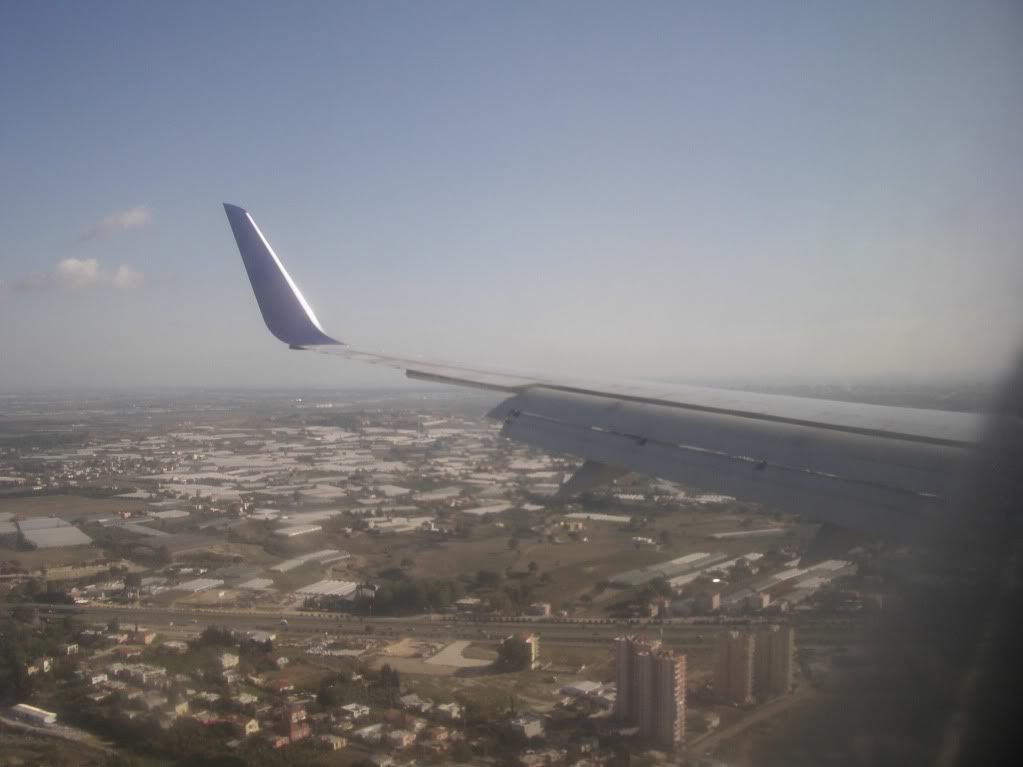 Finally touchdown on AYTs 3400 meter runway 18L in perfectly warm and sunny weather conditions.
Finger disembarking into another deserted building, terminal 1 with my flight the one and only plane around.
Deserted terminal 1: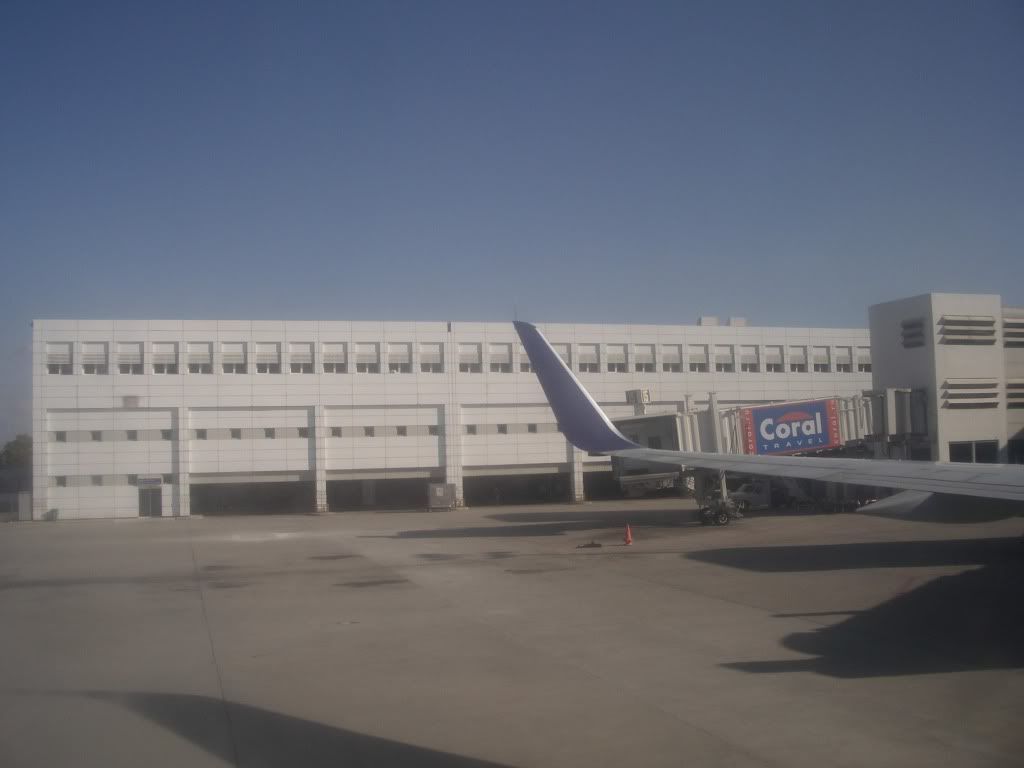 Just arrived: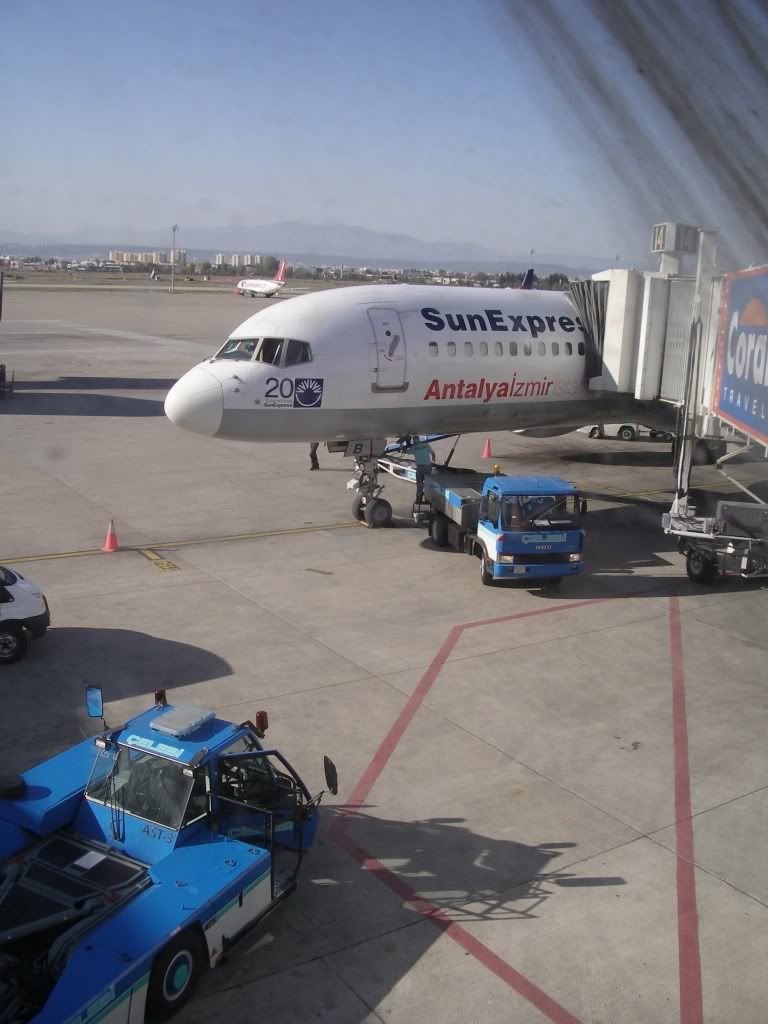 Ground handling: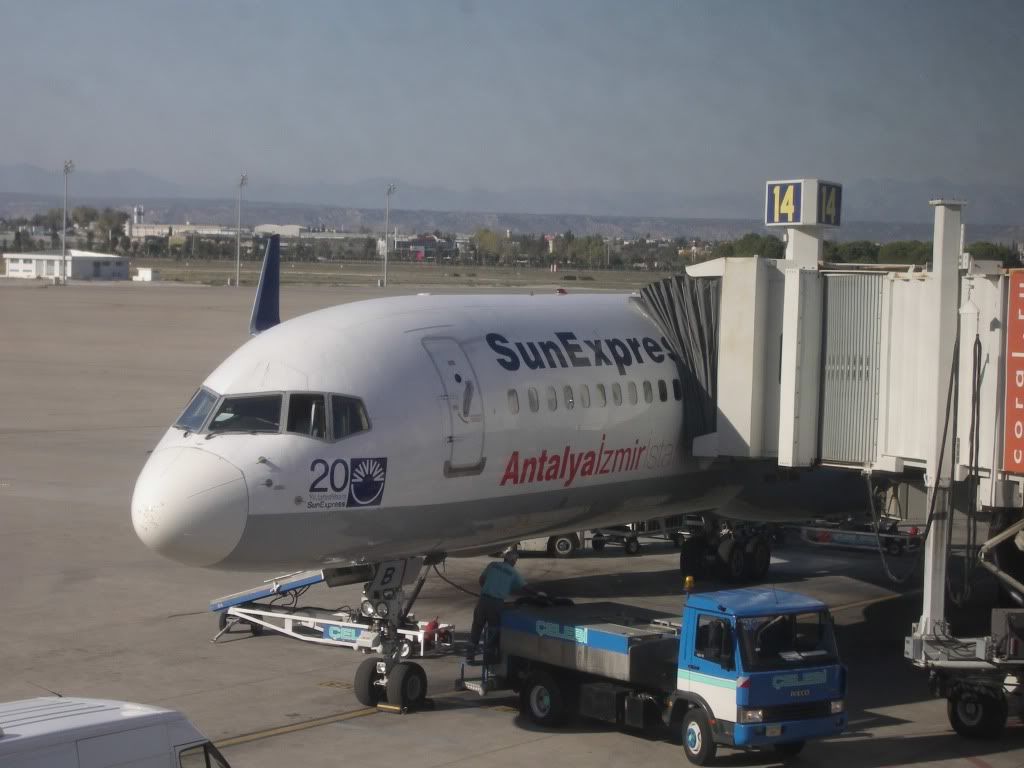 No time to wait at passport control and also only some minutes for my bag.
By, according to the drivers style, an express "taksi" to my hotel, some ten minutes from the airport in Lara.
"The Marmara Antalya" which offered me an upgrade to a larger room, real recommendable.
Some pics from the hotel and my short city break in the afternoon.
The hotel: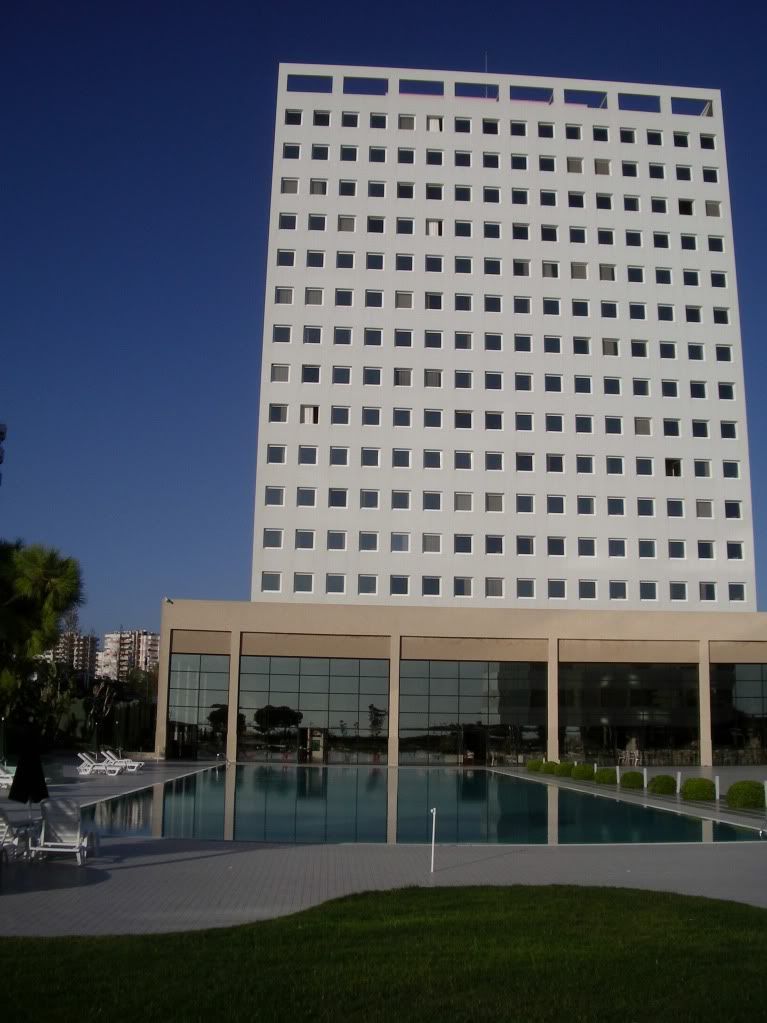 These part of the building sits on a turning disk: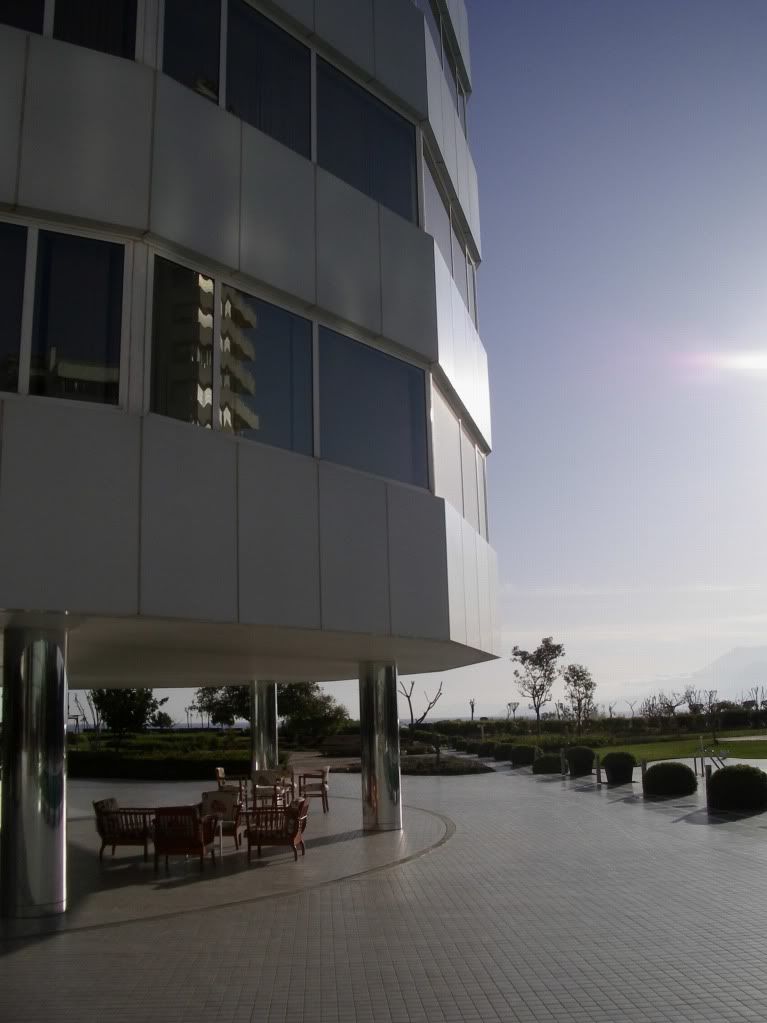 The hotel lobby: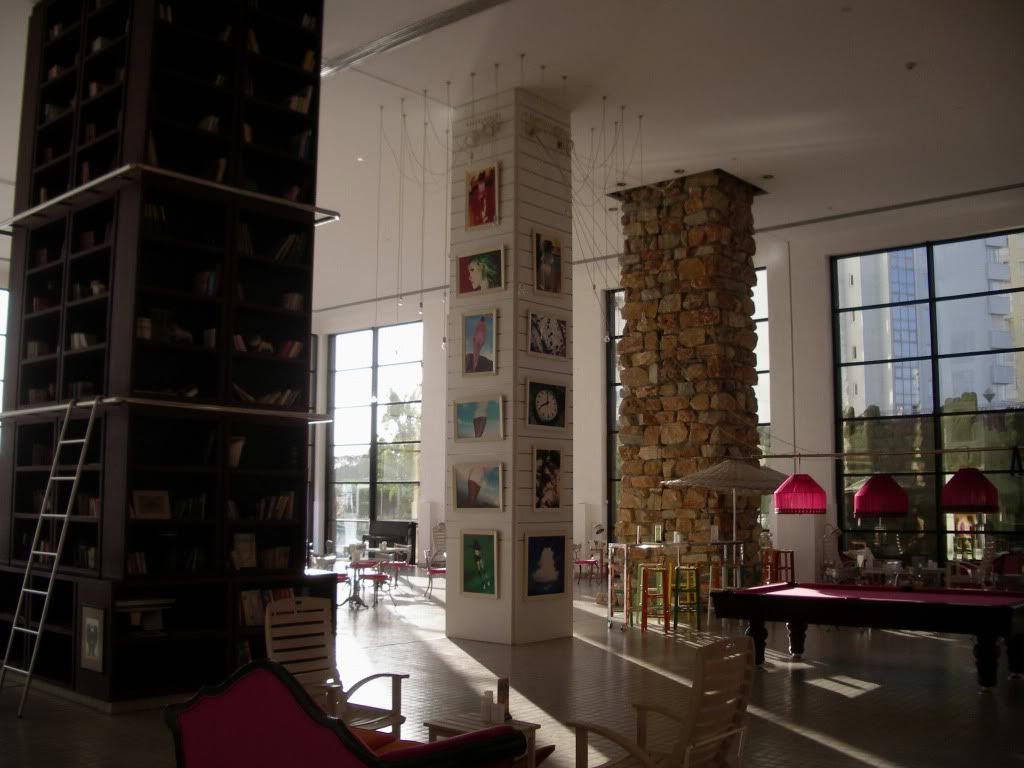 Again: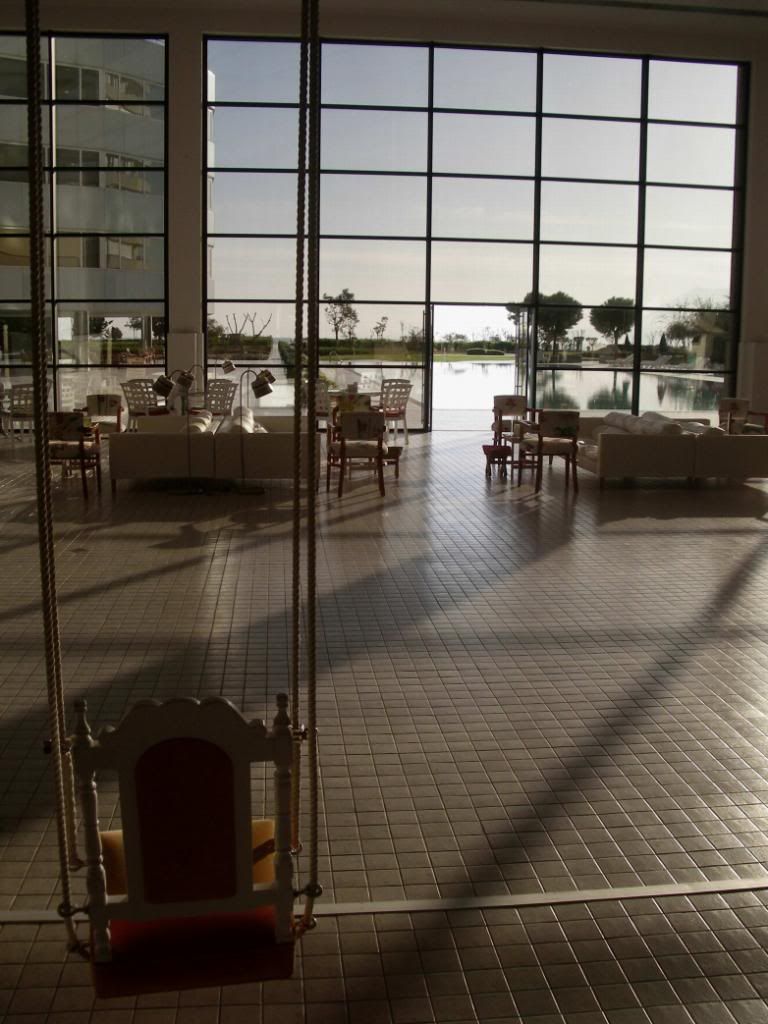 My room: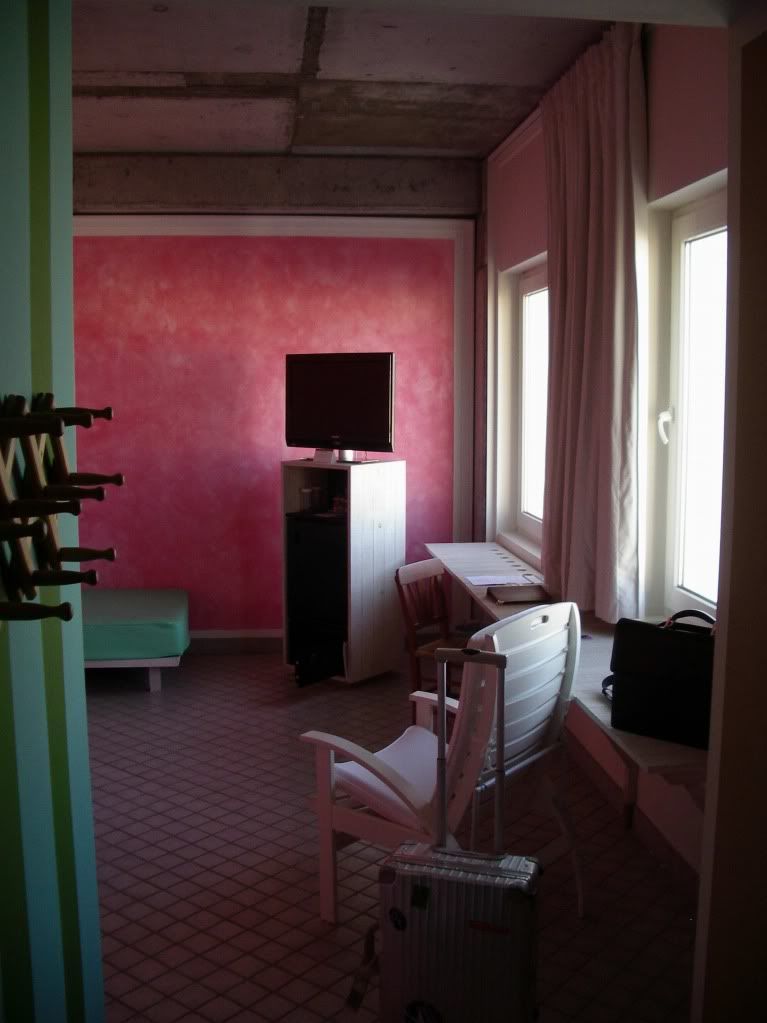 Beach view: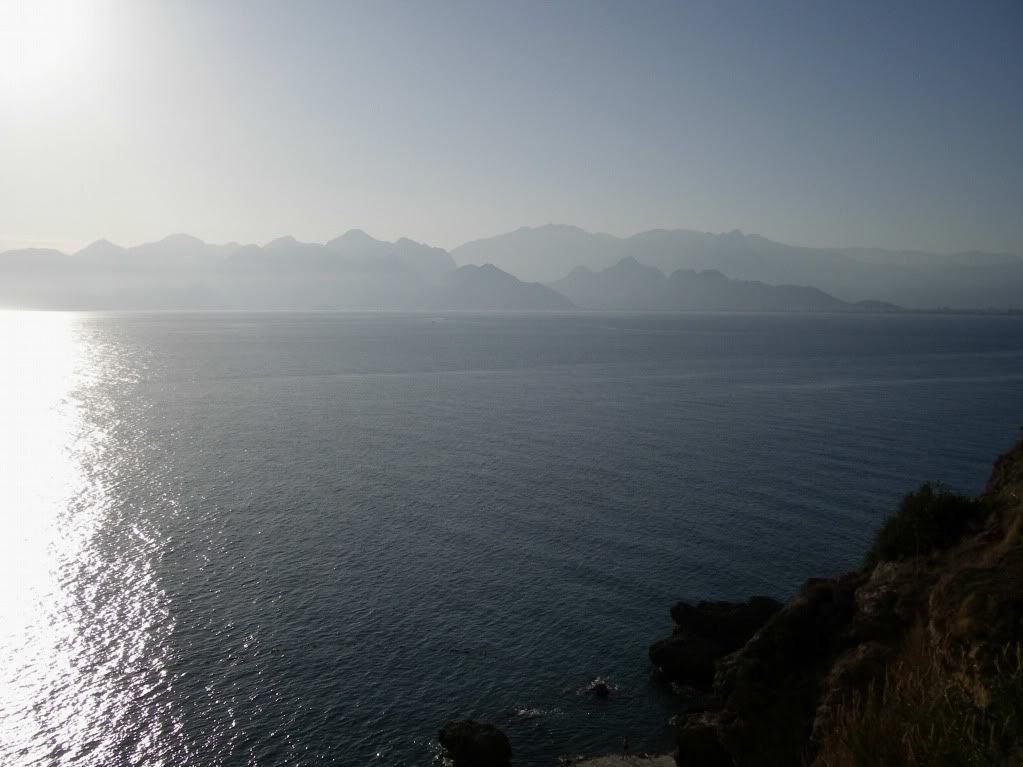 Antalya: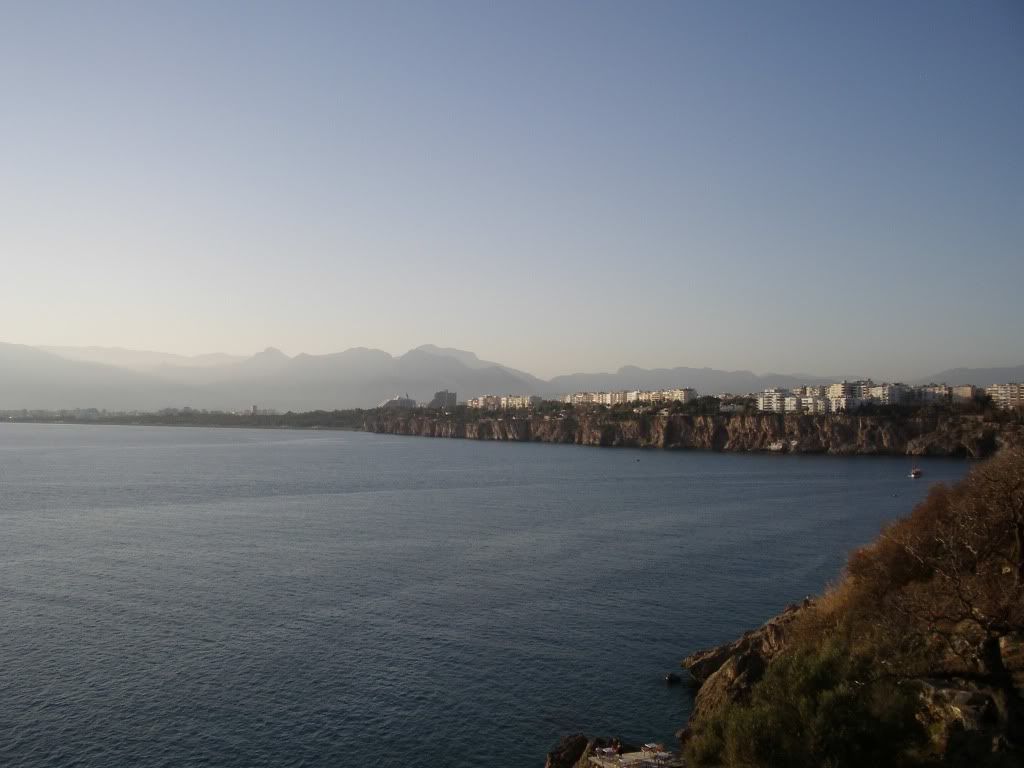 Sailing away: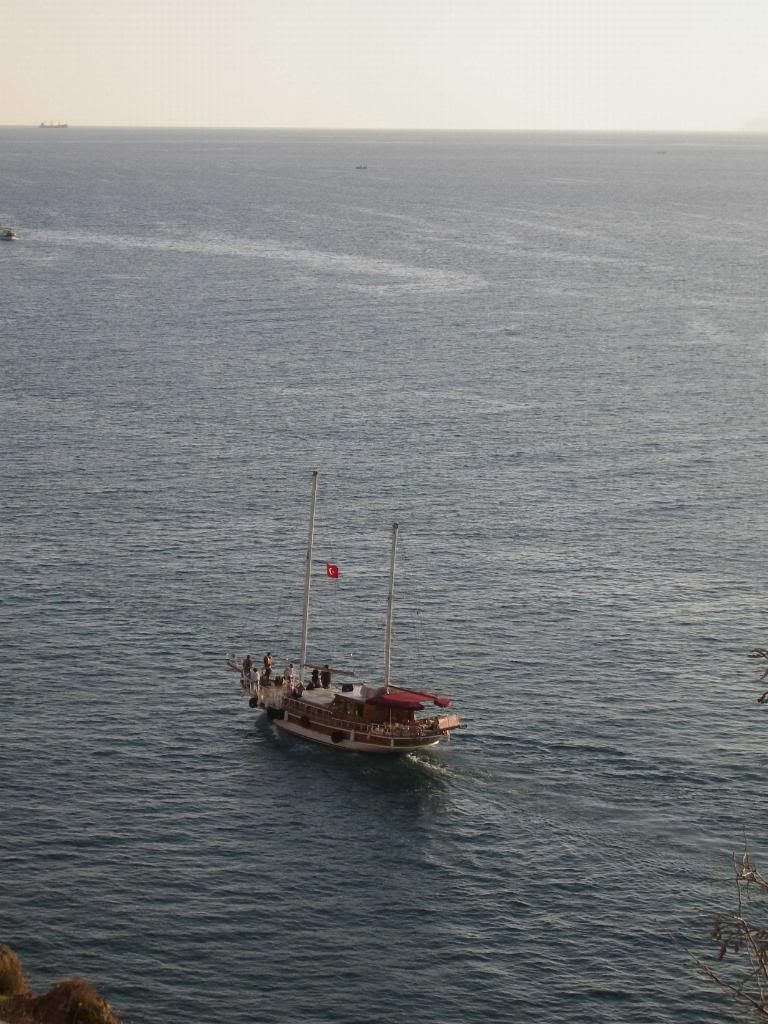 Old town view: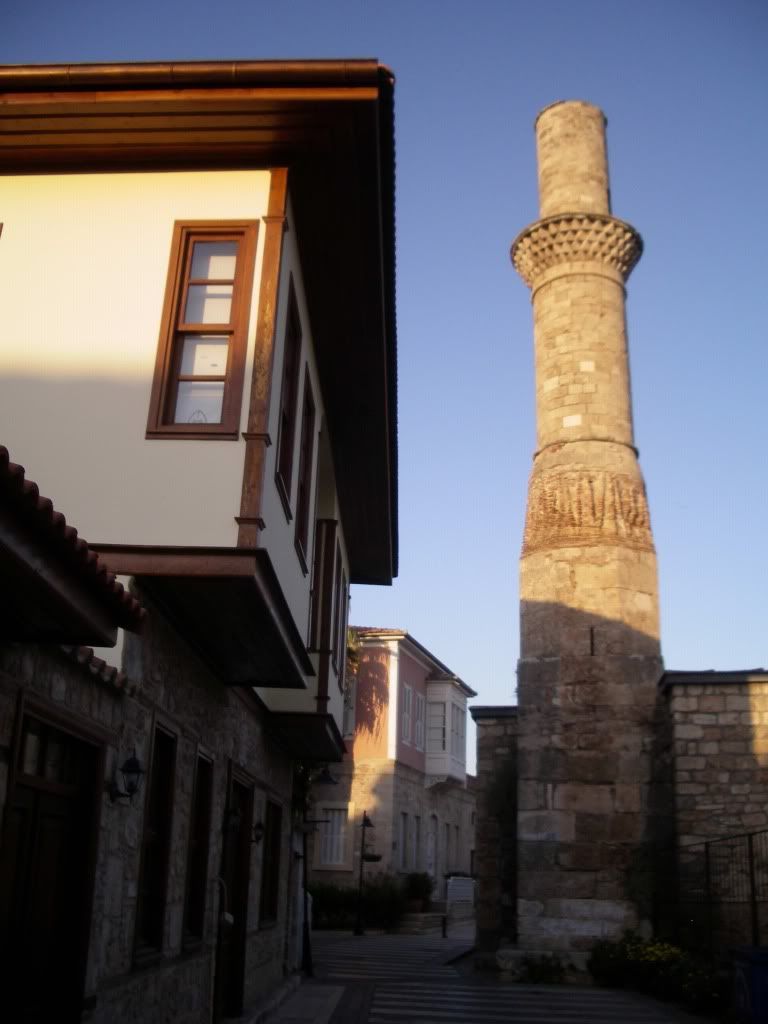 And again: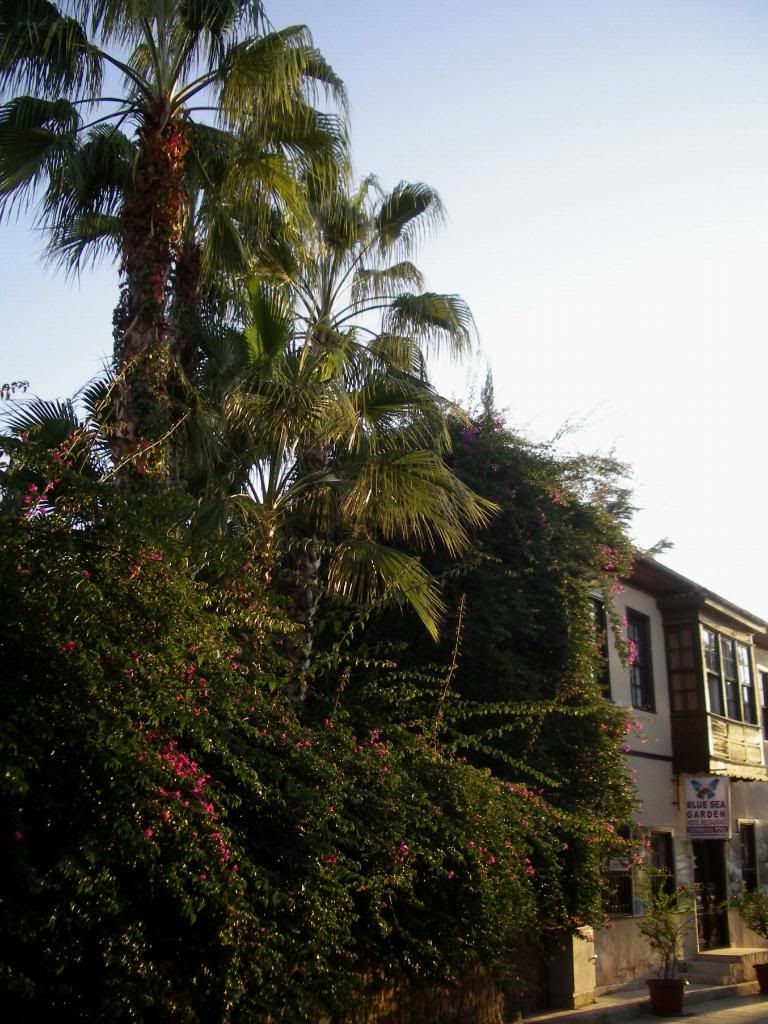 So, will I go on XQ again?. Sure, absolutely, or is there any airline which I will don´t fly again, not till now!.
The next story will show you some pics from a only some days prior to my flights opened terminal
and another not that well covered turkish airline here.
Comments welcome
Markus (FLIEGER67)