Hi all. This is my first trip report, and subsequent first opening post on airliners.net. Long time viewer, I decided to take the plunge and join all you aviation buffs in this wonderful wealth of information that airliners.net constitutes for all of us.
Background:
I moved to Vancouver BC last year in November in hopes to land a job with Air Canada, that didn't happen and I struggled to find a decent career path in the region, so I decided to take a break and return home to Paris for the holidays. I first considered Air Transat as a cheap alternative but that plan fell through for 2 reasons, A. The last flight out was in early October and B. Baggage limitations. Then I came across Icelandair and their new route launch to Sea-Tac Airport from Keflavik.appeared quite attractive as Keflavik really wasn't out of the way to get to CDG... So I looked at fares and I came across a bargain fare on a famous travel site and booked a one way ticket for $370... I felt that wasn't bad considering the likes of Air Canada and Air France were asking well over $1,000... So there I was booked for November 29th from SEA to CDG via KEF.
Departure/Check-In:
I was alittle nervous about being at the airport early because of RoseFlyers former report on the service, so I got to the airport 2:15 before scheduled departure. There was absolutely noone in line and so I proceeded to a smiling outsourced American agent who helped me with my bags and boarding passes. She was extremely friendly and the Icelandic agent standing next to her on the other booth seemed pretty friendly as well. The Icelandair check-in counter at Sea-Tac is located at door number 7 on the departures level.
I had been able to preselect my seats on the travel agent's website and so I didn't have to worry about risking not getting a window seat. After dropping off my bags I proceeded to security which took about 5 minutes and then took the underground train to Gate S1 in the South Terminal.
The terminal was relatively empty. The only aircraft docked were a Boeing 757-300 from Delta going to Minneapolis, and our Icelandair 757-200 going to Keflavik. Here are a few pictures:
Delta 753 going to MSP
Boarding will take place via door L2. I still find it amazing that such a small plane has so many exits, compared to a 762 for instance... Or an A310
Delta Airbus 330-300 chilling by the south end of the airport
Jetblue ERJ-190 parked gate A10
Icelandair flight 680
SEA - KEF
Scheduled departure: 3:30 PM PST
Actual departure: 3:14 PM
Actual takeoff time: 3:25 PM
Distance: 3,617 miles
Scheduled arrival: 06:45 AM UTC
Actual touch down: 06:19 AM
Arrival at gate: 06:26 AM
Total flight time: 06:54
Seat: 17A
I booked the emergency exit row for this flight knowing there was not going to be much action outside in the dark, and hoping the extra legroom would make it easier to sleep... Well the extra legroom was superb! See for yourself in the following pics, I would say easily 38" seat pitch.
Cabin shot
Shot of the whole 17th row
Plenty of room to spare
Sexy winglet!
We taxied to the north for takeoff on Runway 16L
Nice retro scheme for Alaska Airlines! 737-800 I believe?
The takeoff was smooth and medium length I would say. Payload was rather light, my guess? Around 75% maybe. I saw few middle seats occupied.
Here is a video of the flight from push back to takeoff that I made. I hope you enjoy:
http://www.youtube.com/watch?v=_mf0MGn5GIA
The In Flight Entertainment on board Icelandair is definitely one of the highlights of the experience. In the exit row the screen pulls out of under your seat. The flight attendant came and pulled out one TV for me and my neighbour in the aisle seat with a smile (the middle seat was not occupied to our great satisfaction). She came back later to stow it, again with a smile. They also came by to ask us if we had read the emergency exit procedures, this time with a more serious attitude, you could tell they were very keen on getting things done in an efficient manner.
Here are some shots of the wonderful IFE which I had on airshow whenever I wasn't watching a movie. I would say the screen is at least 7 inches wide, maybe 8?
Interesting sunset under the clouds
Just can't get enough of them winglets, the 757 truly shines in the Icelandair livery
As we settled in for the flight, the FA's came by with some drinks and asked if we wanted to buy something from the menu. I had eaten a quick bite back in the South Terminal of SEA so I politely declined and asked if I could possibly request to buy soething alittle later in the flight. The FA smiled and said "of course". I thought that was cool.
Same complaint from previous Icelandair reports however, the drink service needs to be increased. They came around twice. Once 45 minutes after takeoff and an hour before landing.
I watched a movie called Shallow Hal during the first half of the flight, with Jack Black... Kind of a weird movie but entertaining I guess...
More shots of the IFE
Then I watched a second movie called "The Proposal" with Sandra Bullock. Very good movie! I highly recommend it.
Before I knew it, it was time to land in KEF, pitch black outside obviously, the flight really flew by. I tried to sleep but to my great surprise, the exit row was MCUH colder than I thougt. I came prepared (so I believed) with a thick Canadian sweater and jeans and I wrapped my feet in the blanket they provided... But my feet were FREEZING the whole time... So next time I know to wear several layers of socks and pants if I want to truly enjoy the exit row...:-P
Here's a video of the cruise and landing in KEF
http://www.youtube.com/watch?v=MrBAVIcyJRM
It was snowy in Iceland but the sky was pretty clear, -2 Celcius.
The Keflavik airport is pretty small and yet efficient. As we deplaned we had to go through security immediately before passport control. The whole process from deplaning to entering the Schengen area took less than 15 minutes. I was able to relax and grab some breakfast. Food is pretty cheap there. For like 11 euros I got a bottle of water, a large cup of delicious hot cocoa, a ham panini, a ham and cheese croissant and a chocolate croissant... I wasn't able to eat everything so I saved some for the next flight to Paris.
The restrooms in KEF were OK... I've always felt that European restrooms lacked in comparison to north American airports but that could be a personal opinion. Also there were wifi networks available but none that I could successfully connect to. So I didn't really bother as my next flight left within the hour anyway.
Here are some pictures of inside the terminal:
Before entering the Schengen area
My ride to Paris: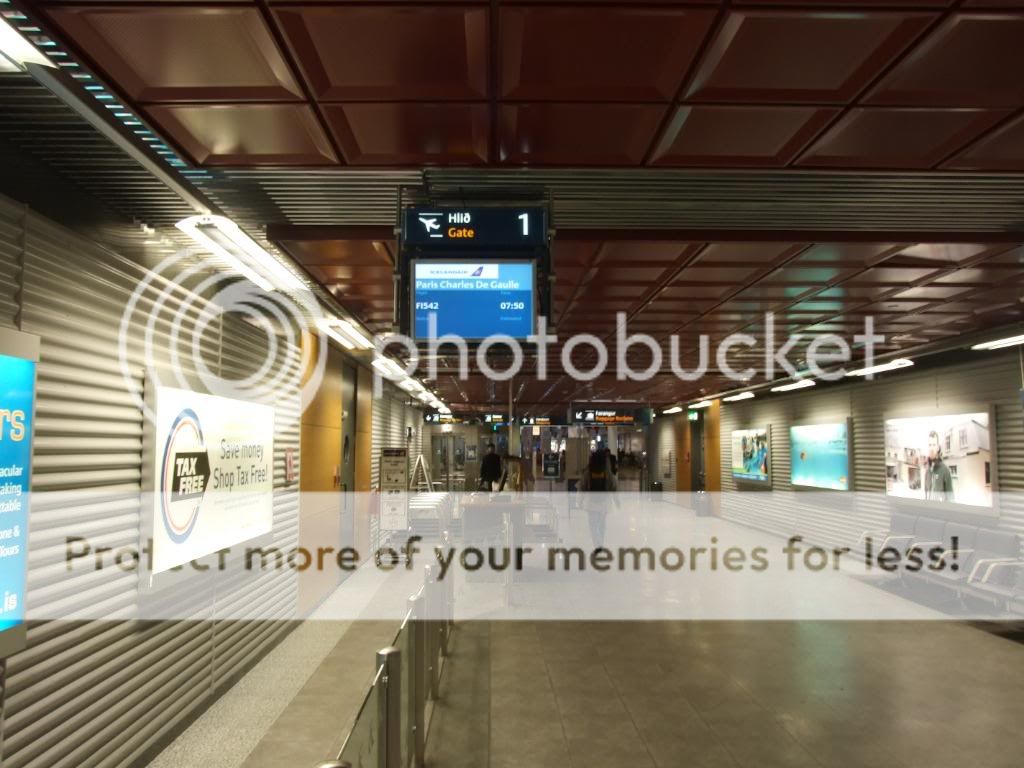 That's all foks. I will try to post the flight to Paris tomorrow. The Seattle-Keflavik leg was definitely the best one. Overall I give Icelandair an 8 out of 10 for quality of service to price ratio. There really isn't anything I would do different except for free meals and more beverage services! I did fill out their questionnaire for improvement.
Would I recommend Icelandair to anyone? Definitely yes
Would I fly them again? In a heart beat
The mid Atlantic break is welcomed in my opinion and is a fun and interesting way to fly across the ocean. More to come!
Comments and feedback welcome
William