I commented in my last TR that there were only so many times I could write a report on LX's ZRH-MAN route. So you may wonder why I'm posting yet another one. Let me explain……..
Like many of you here on airliners, I followed fellow member SandroZRH's progress with his pilot training with great interest. When he started his new job back in September I asked him to let me know of any Manchester rotations he might have, as I would like to be on board as his passenger. Sure enough, he was given such a flight at the end of November.
At first it looked as though I wouldn't be able to make it. A combination of prior commitments and the horrendous fares LX were demanding for the flights told me to forget about the idea. Anyway, when I mentioned the situation to a colleague at work, he kindly offered me one of his Swiss "Friend" tickets, as he had no use for them and they were due to expire soon. So after a few clicks on the computer and after swopping my shift, I was the proud owner of a standby ticket, now all I had to worry about was getting a seat on the plane.
Although the numbers steadily rose, it became clear that there should be room for me on both legs (A319), barring a last minute aircraft change to an Avro or F100 (this happened to me two weeks previously on the same route, where I had the joy of free seating
). And so, less than 12 hours after finishing my late shift, I was back at Zurich airport, this time as a passenger.
As the outbound flight was uneventful, I won't mention it in any detail. There were exactly 100 Pax and I had no problems getting a window seat. Flight was punctual with a friendly crew and only 6 days after my last trip, I was in Manchester again.
Although my parents only live about 40 minutes from the airport, we decided to book a hotel nearby feeling it would be less hectic. After some online searching we settled on the Bewleys, just a couple of minutes from T1 and offering a triple room at the very reasonable rate of £59. Fellow Anetter Flieger67 stayed here recently and seemed impressed, so I was hoping for an equally successful experience.
Bewleys is a large place with well over 300 rooms. No complaints from us and we had a nice snack in the lounge for dinner.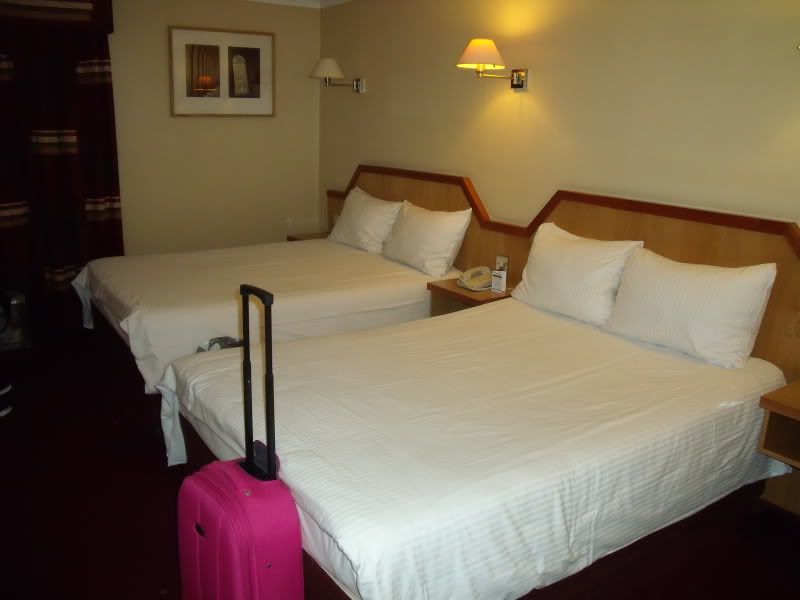 Saturday 28th November 2009
MAN-ZRH
LX391
A319-112 HB-IPS
STD 0840 / STA 1140
ATD 0850 / ATA 1125
Seat 33A
Pax 104
I'd asked Sandro to inform me if there were any major last minute changes. A smaller aircraft would have meant no seat for me, having to wait for the lunchtime flight and would have ruined my weekend plans. Yes, it was risky and as a result I didn't sleep too well that night. But hey, that's the fun of flying standby!
We left the hotel at about 6.45 and headed over to T1. I had no problems checking-in and even got given a choice of window or aisle, which was an unexpected bonus. From there I popped down to arrivals to see when the inbound was due and the screens showed 8am, early! As it happened, the plane landed at 0745 and so by the time I got to gate 23, it had already docked.
I'd planned to take some more pics of the newly revamped departure lounge, but as I'm so used to walking though without getting my camera out , I forgot! Sorry!
Entrance to security, T1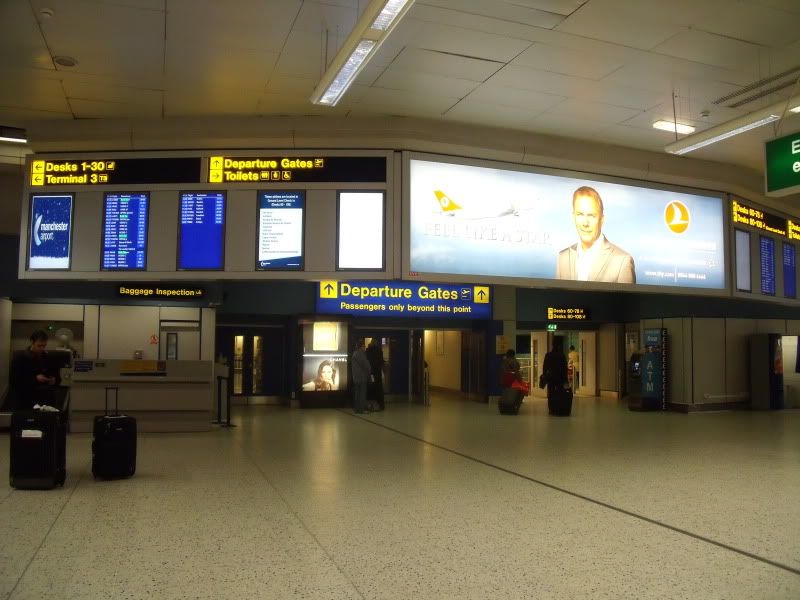 Not so impressive christmas lights at MAN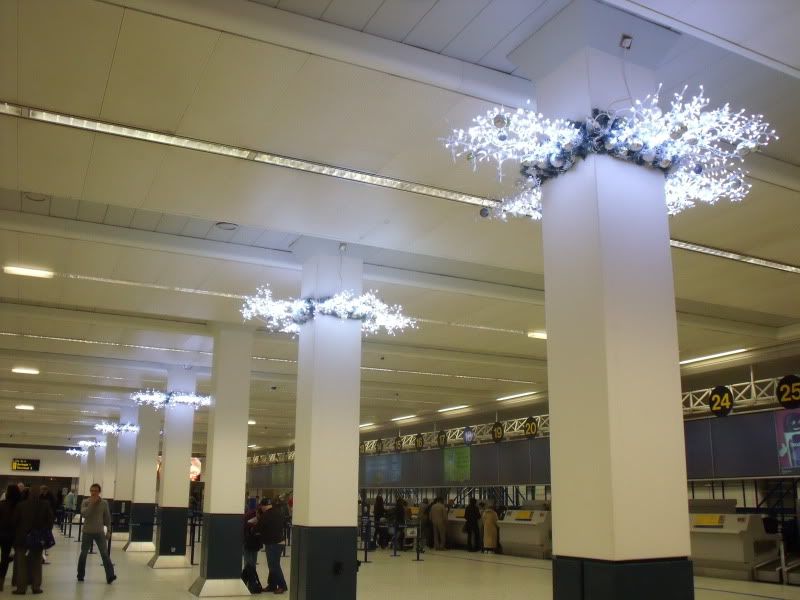 Gate 23 has to have one of the worst views. You could see nothing. Only by walking further down the corridor did I get my first glimpse of the plane. It was the same aircraft that had brought me over the day before!
As you can see it was an absolutely foul day in Manchester. Dark, wet, low cloud, typical really!
IPS waiting at the gate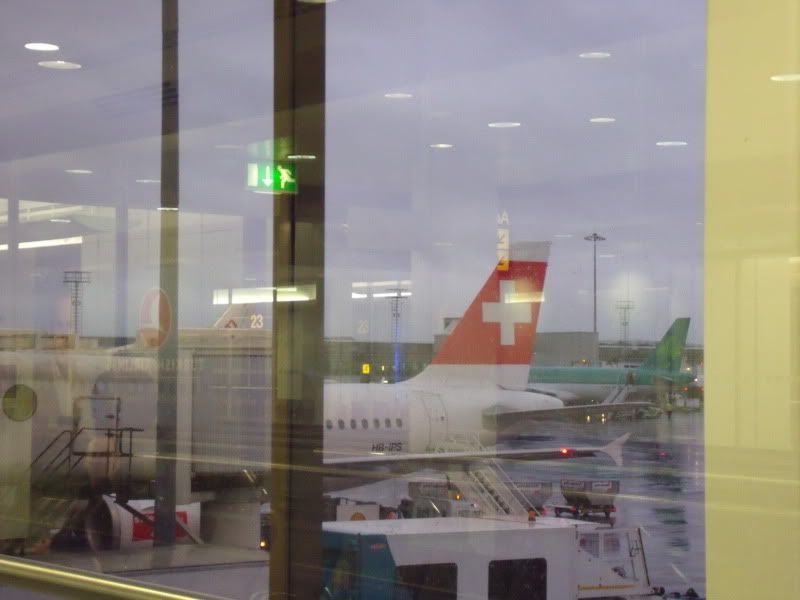 The first boarding call was made at 0815.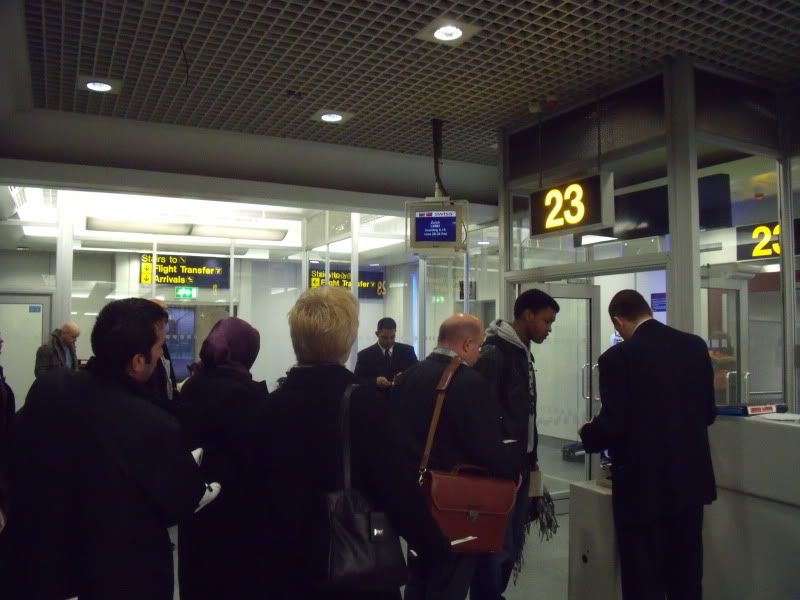 Sandro had informed me that the Maitre on the flight had the same surname as me. I knew immediately that I'd been on one of his flights before – the name is not that common and my husband had had quite a long conversation with him about their family history last year. So it was set to be a rather special flight and I was very excited walking down the air bridge. There was a warm welcome from the cabin crew on boarding and I made my way down to the back of the aircraft. Before long I heard the "boarding completed" announcement and soon we were ready for the off.
Nice day at Manchester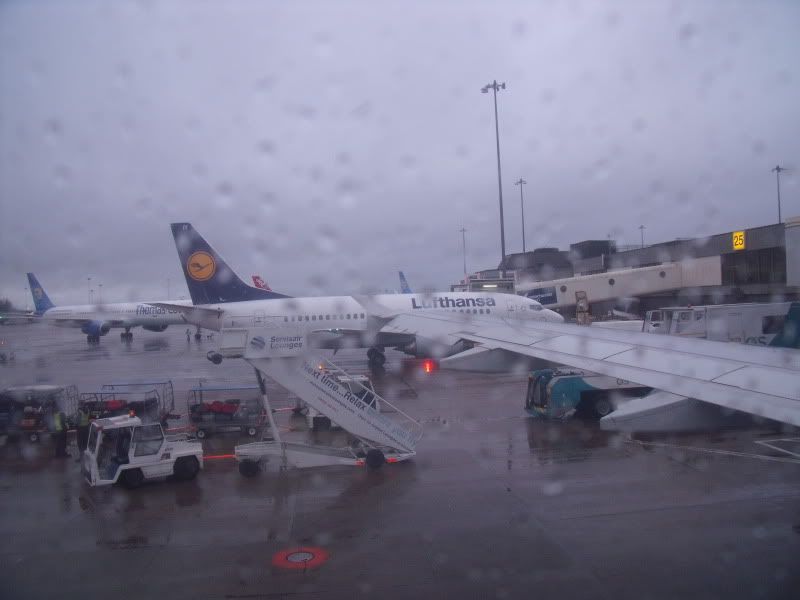 Pushback was at 0840 and as we were taxiing to the runway the Captain made an announcement welcoming us on board and told us "Our First Officer Sandro ------- will be flying us back to Zurich today". It was so unreal to hear that! The flying time was to be 1hr20, which would have been a record, but in actual fact it took a bit longer. To add to all the coincidences the Captain's name was Martin, same as my brother-in-law!
Here's the aircraft taxiing to the runway (taken from the multi-storey car park roof, hence the plane being a bit far away)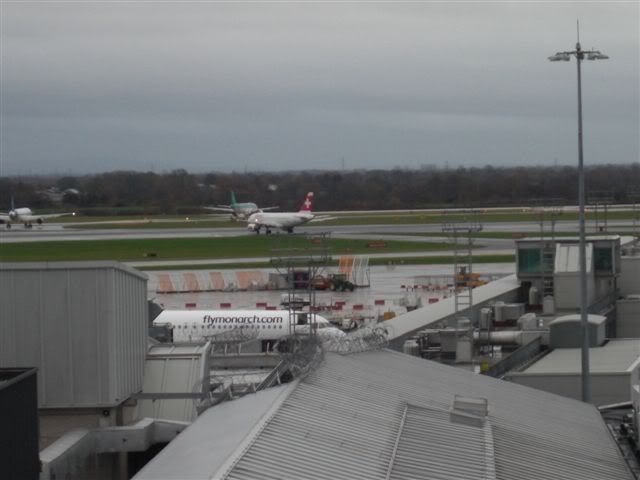 We lined up on runway 24L, got clearance and at 0850 Sandro started off down the runway. It was a very nice take off indeed! Unfortunately the cloud was very low, there were no views to be had so I watched the flaps being retracted and followed the big bank we did.
Take off!
And up…!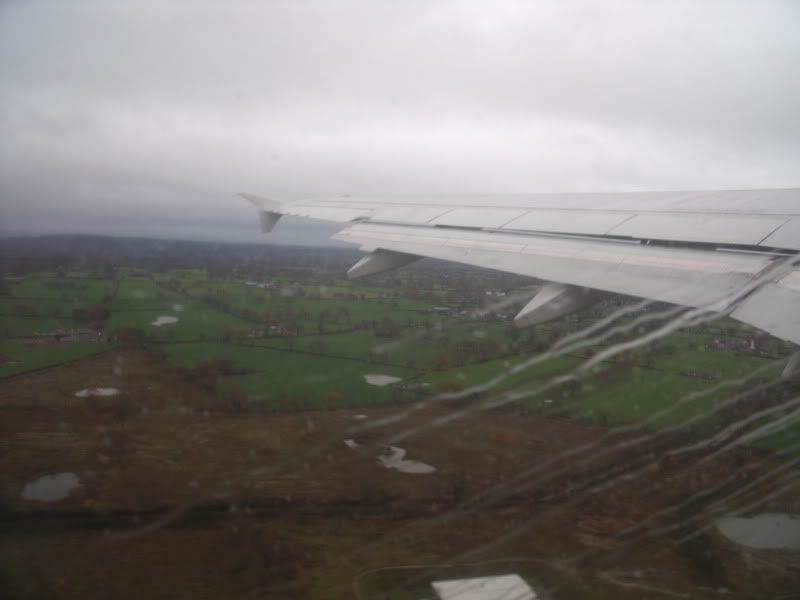 Not much time for the views….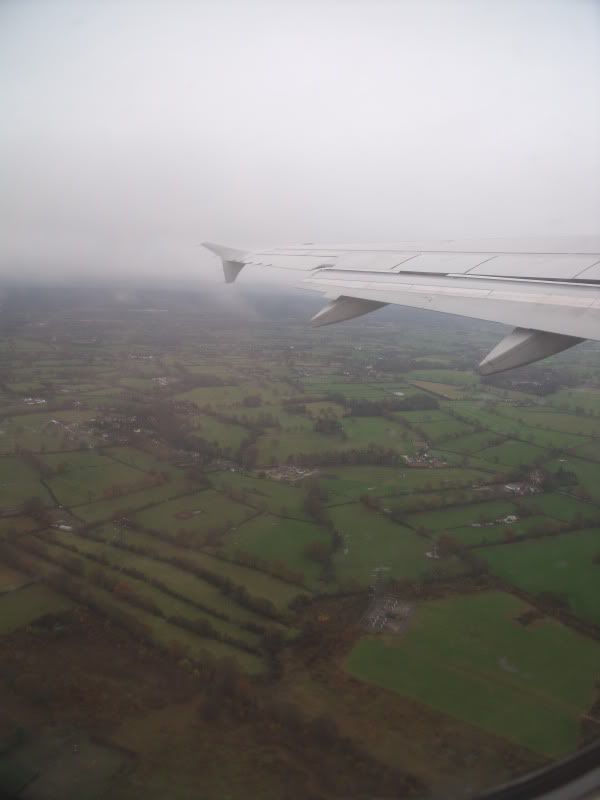 Into the clouds…..
And banking…..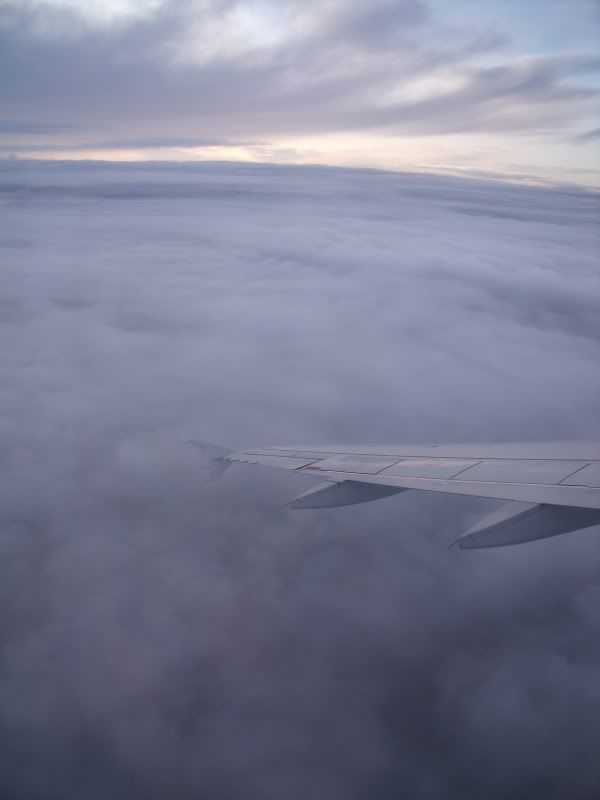 The seatbelt sign was turned off very quickly, so I settled down with my ipod. The inflight service started promptly too. Here's the Maitre working the front part of Y-class.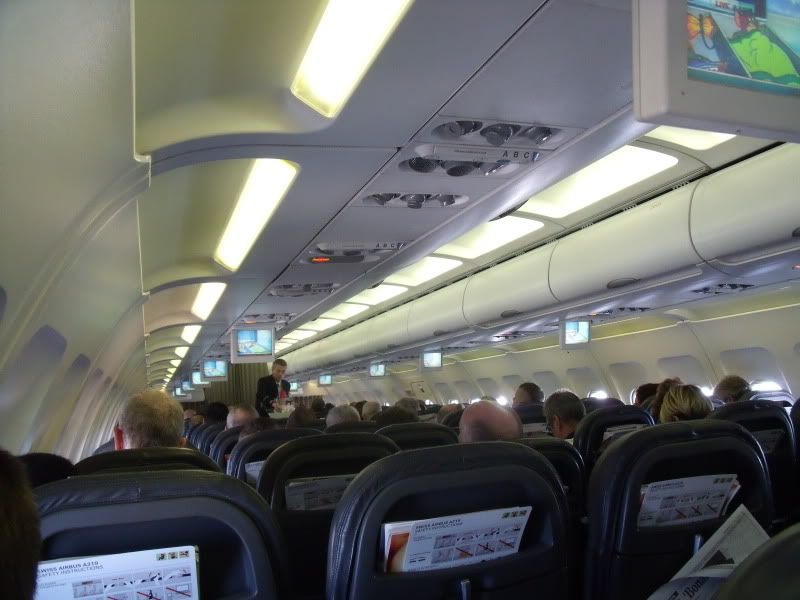 My breakfast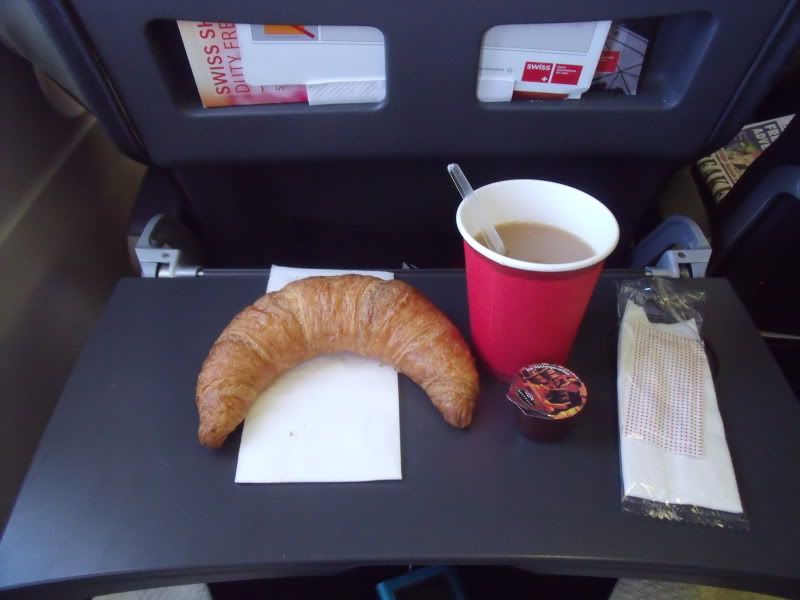 As we crossed the Channel the Captain gave us some more information. Our route had taken us over London and were now heading for the Belgian coast. Either I missed our flight level or it wasn't announced – I haven't got a note of it anyway. It was quite hazy and so my photos didn't come out too well.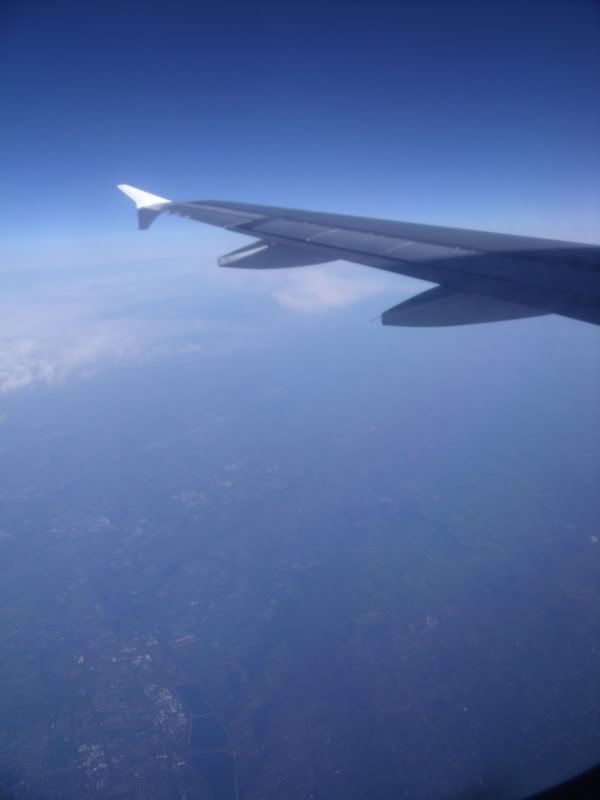 Leaving England
Only just caught this one: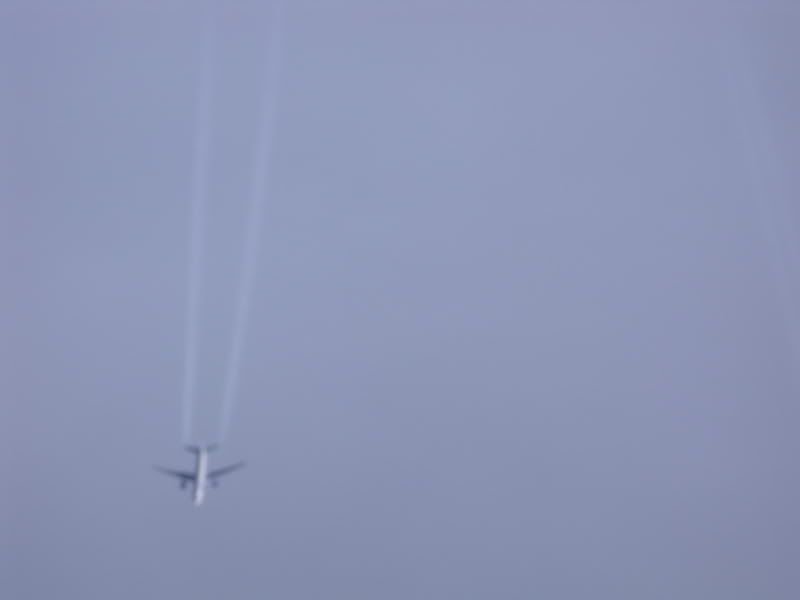 When the duty free trolley was brought round one of the cabin crew looked at my seat number, then at me and said "You're Mrs B, is that correct? When we've landed please come up to the cockpit. Oh, and hello from the flight deck"! I wasn't going to miss the opportunity of a visit!
Before long we started our descent and the cabin was secured for landing. As we approached the Swiss border at Basel I was able to enjoy some great views as there was little cloud about.
The Rhine along the German/French border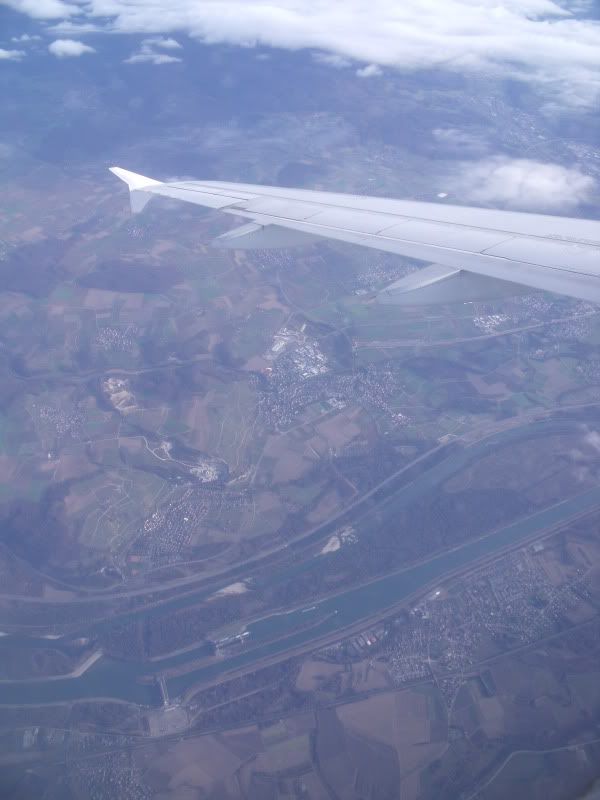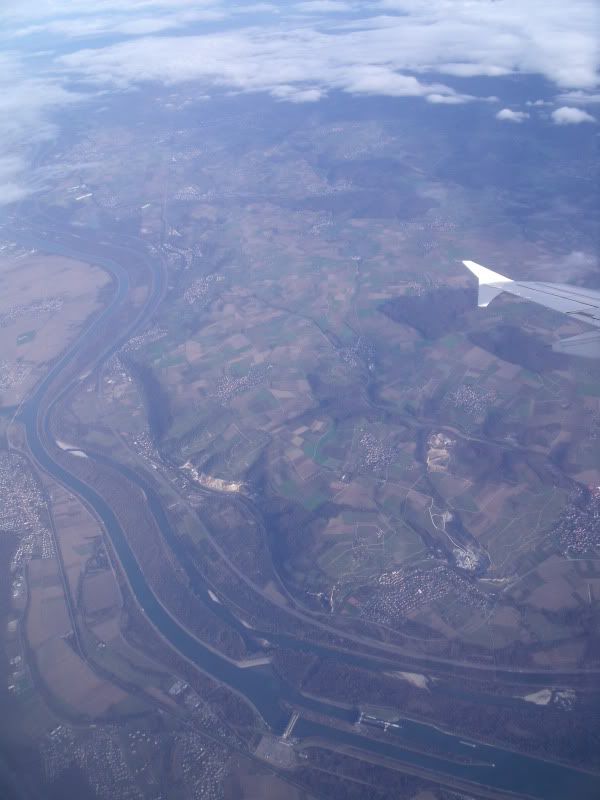 Still following the Rhine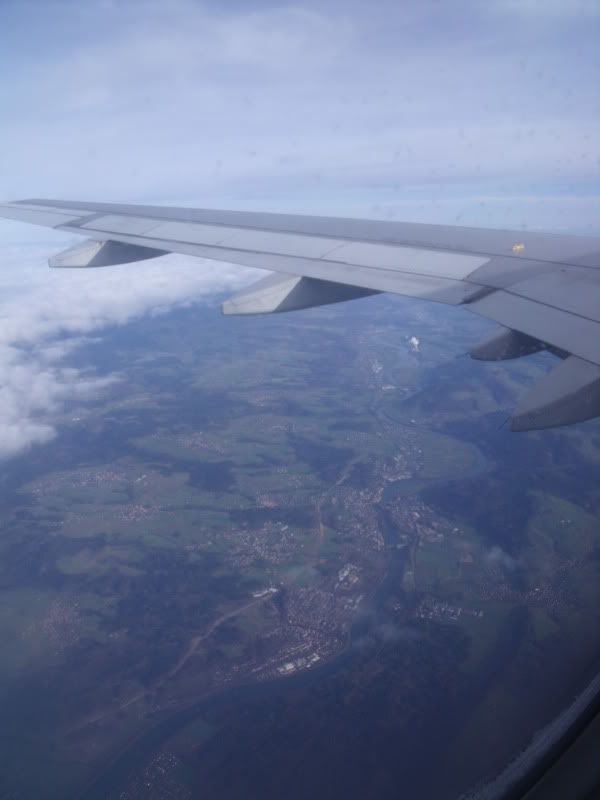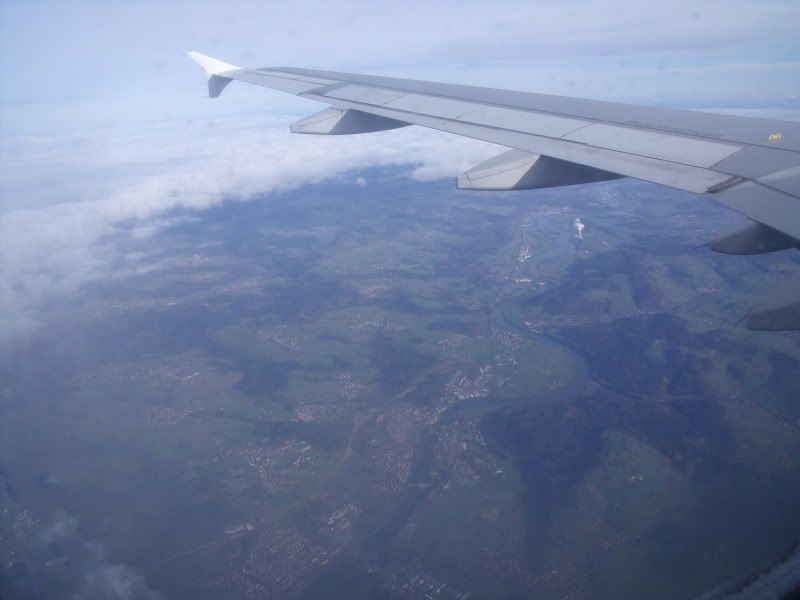 Power station at Leibstadt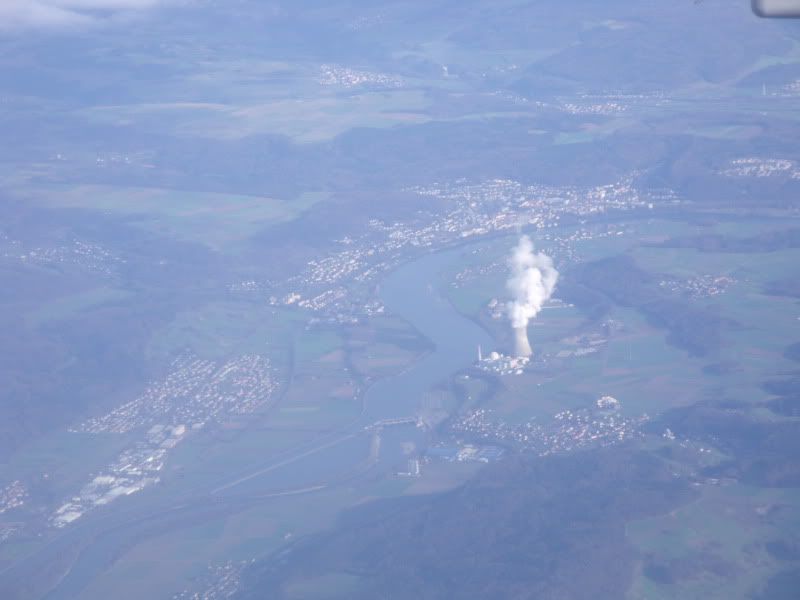 The "Wasserschloss" at Vogelsang where Reuss, Aare and Limmat meet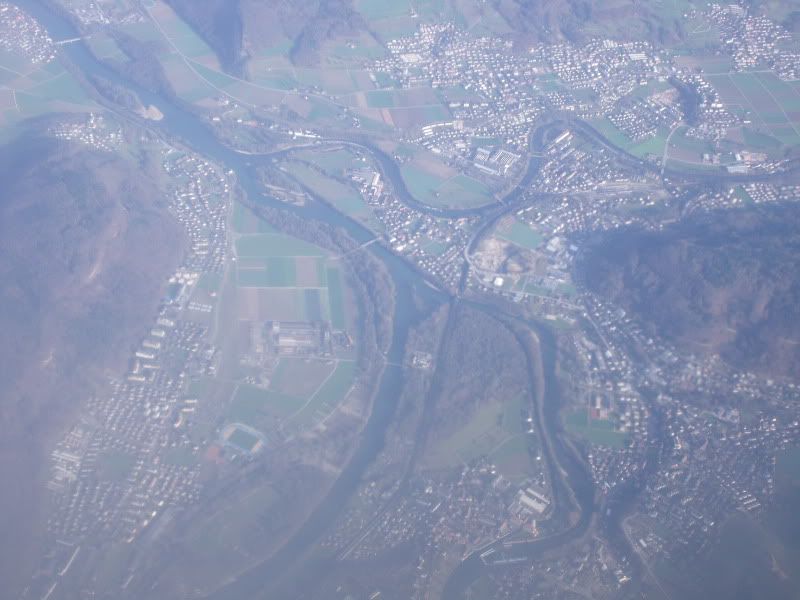 The flight path on this route usually takes us over canton Aargau before heading over the border the Germany and then back towards Zurich. I've been trying to get a decent shot of the village where we live for some while now, without much success. Either it's been cloudy, too dark, or I've been on the wrong side etc. But how could it go wrong on today's flight?! Sure enough our flight path was just perfect and I got the following snap (thanks Sandro!):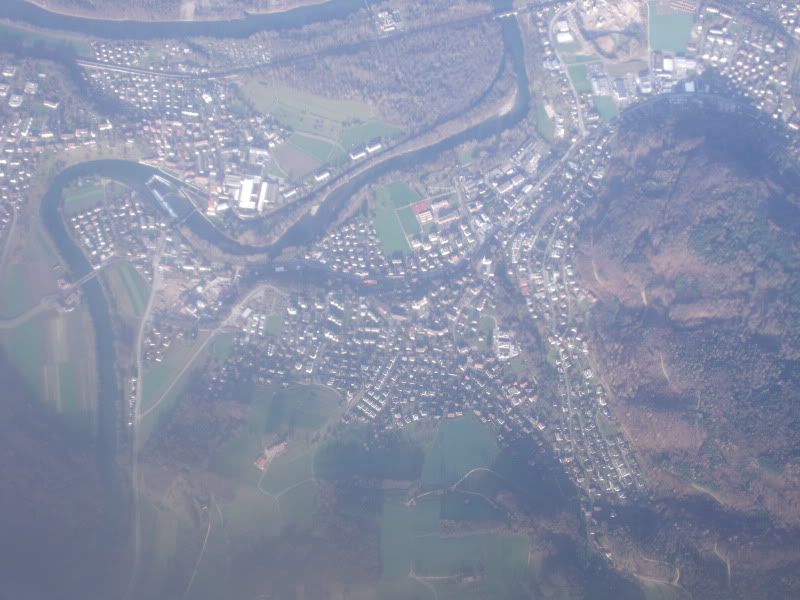 Wasserschloss, more northerly view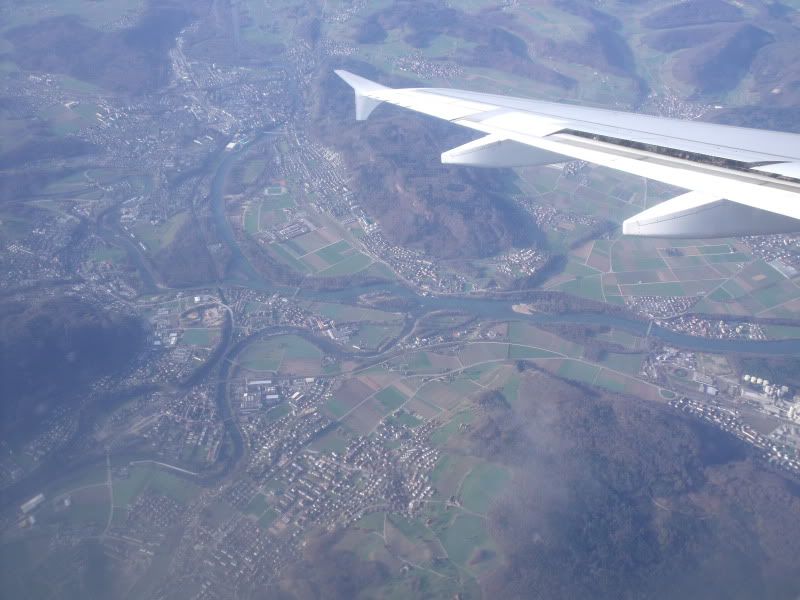 Flying back over the quarry at Villigen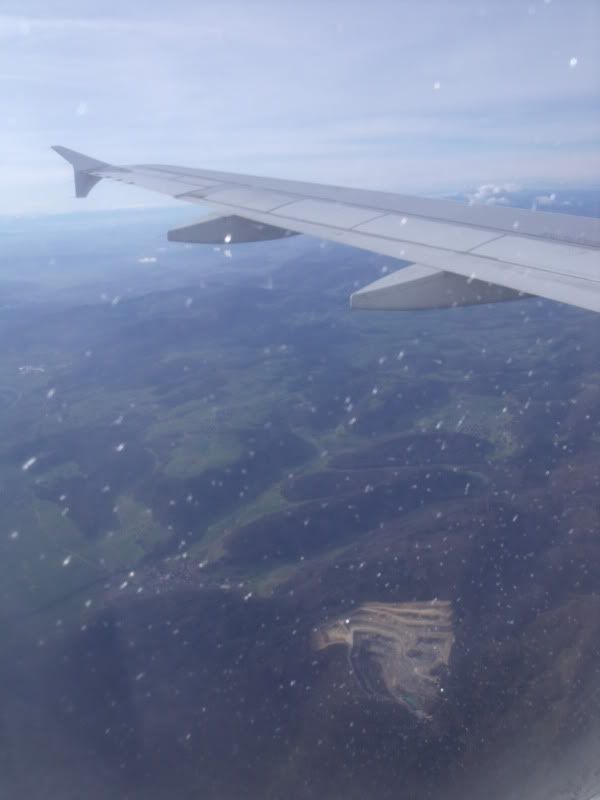 Rhine again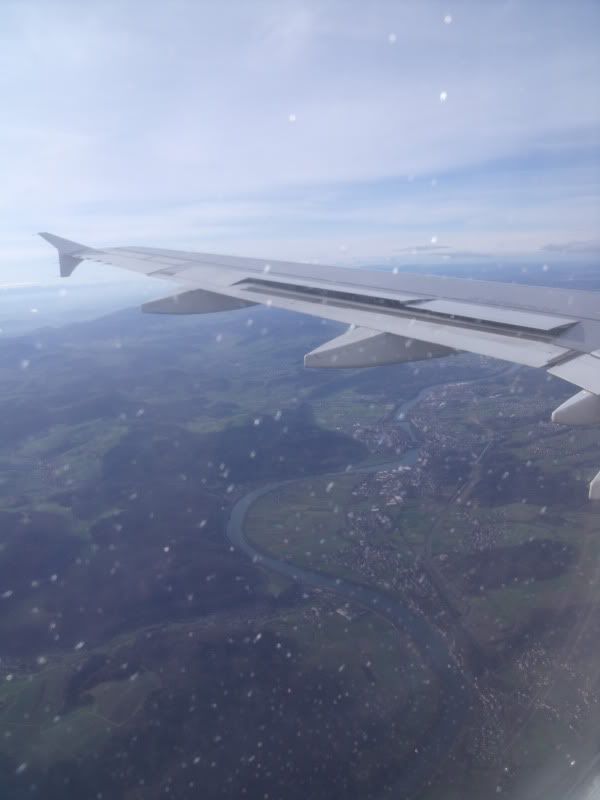 As we headed slightly north, we had some nice views of the Black Forest, where I could clearly see the snow covered Feldberg and the village of Höchenschwand. The window was a bit misty at this stage so my photo didn't come out.
There was a bit of light chop on the final approach and we touched down on runway 14 at 1125 – nice and early!
On finals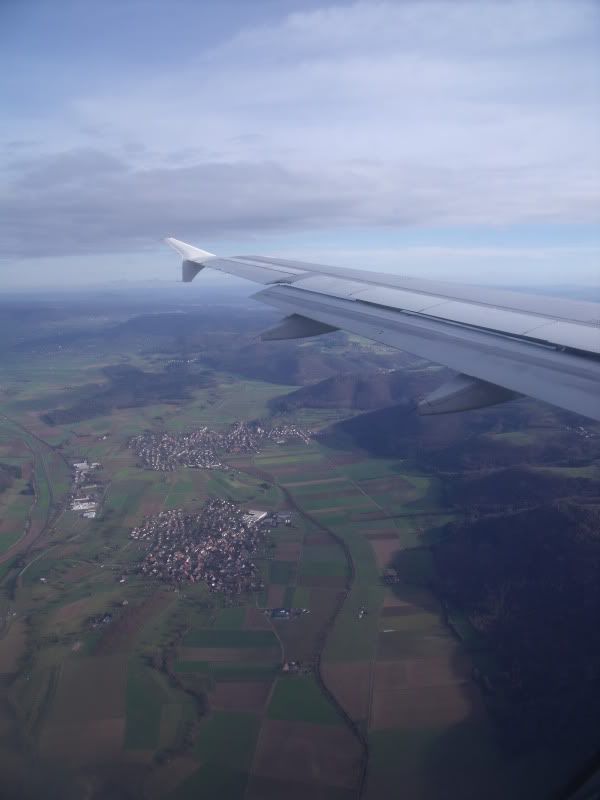 Hohentengen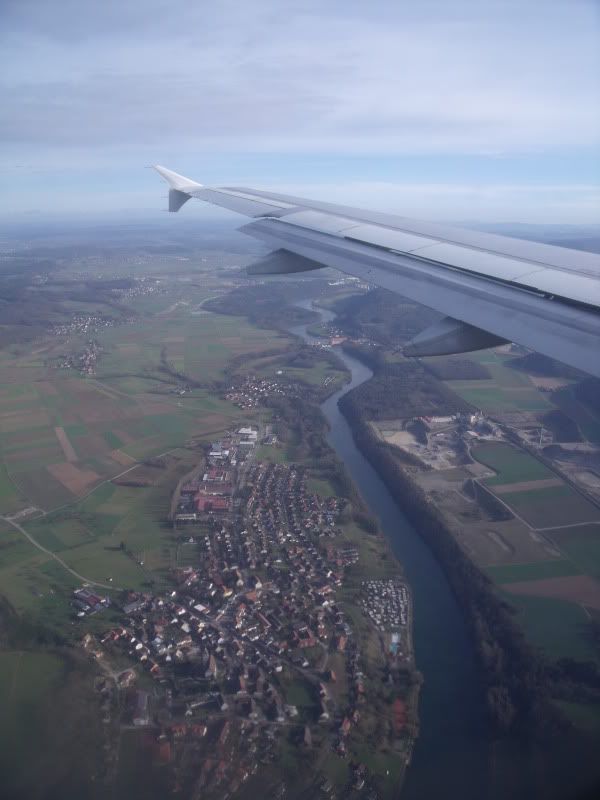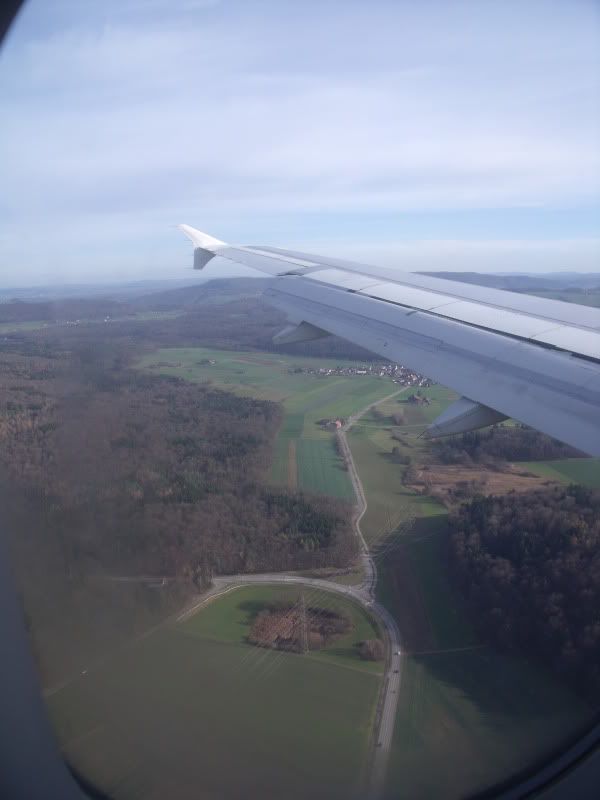 Village of Höri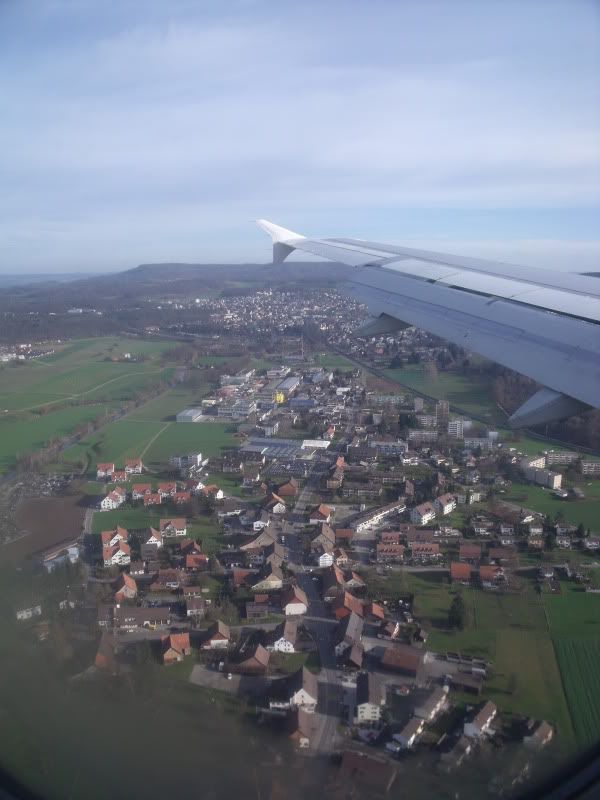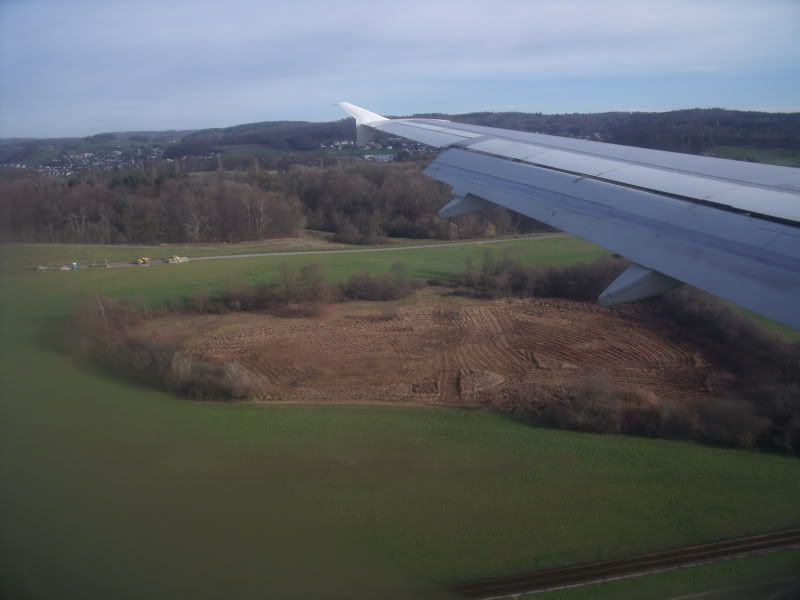 Touchdown!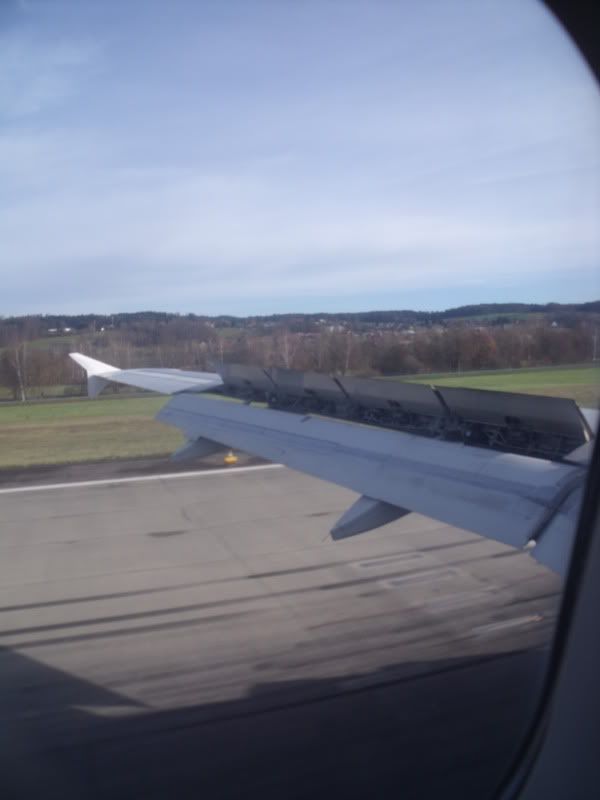 Hello BA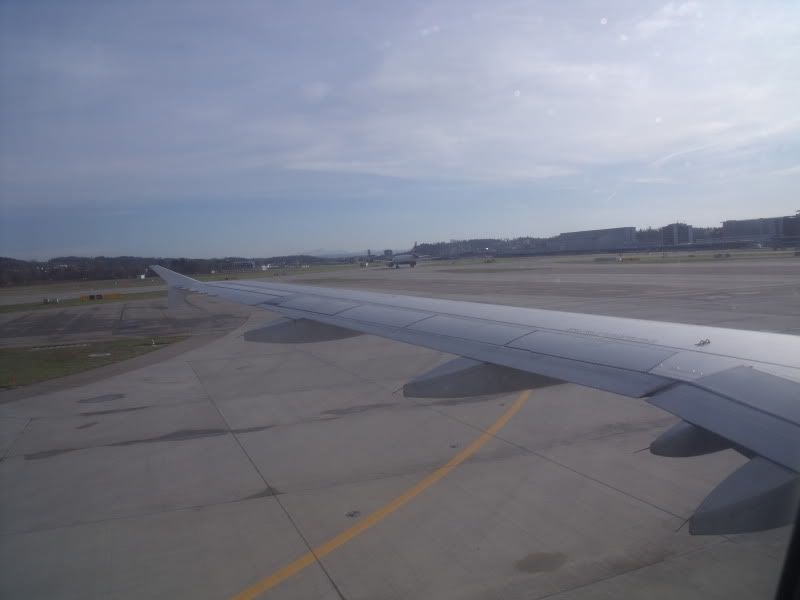 Crossing runway 28
My last flight on one of these was only a week earlier
Dock A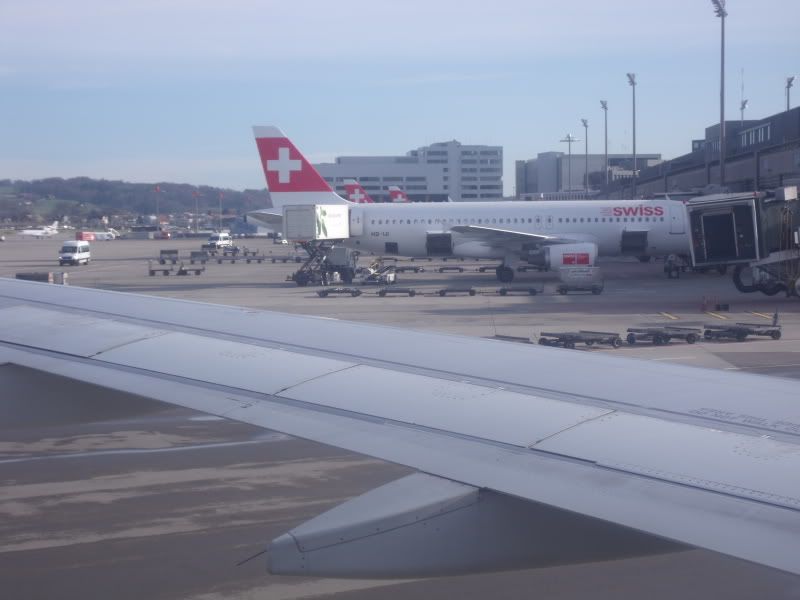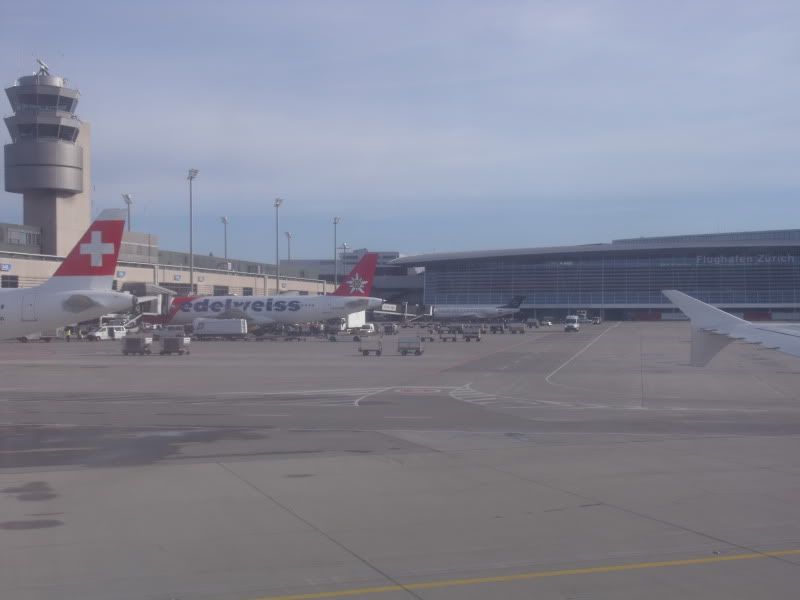 The old dock B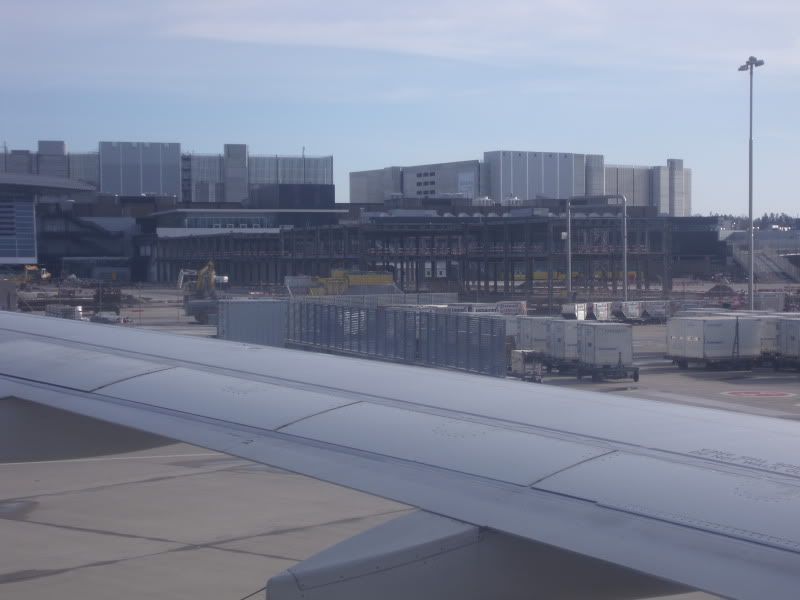 Sad isn't it?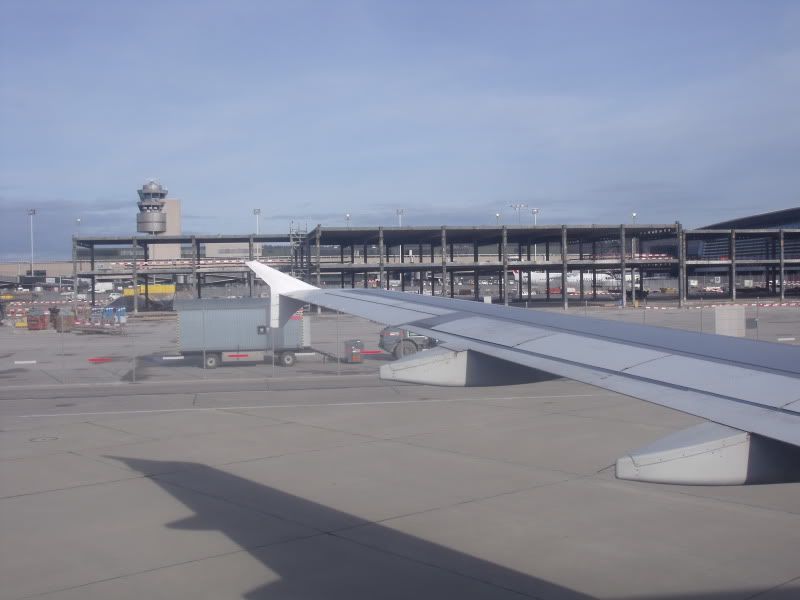 After we'd come to a standstill the usual hurry to de-board began. Being at the back, I realised I was losing valuable cockpit time, so had to make my way to the front as best I could. I greeted the M/C again and he showed me to the flight deck. There I was able to have a quick chat with our F/O.
As I thought very soon I was told the bus was waiting for me (wretched bus gates!) and I had to go. I didn't even have time to take a proper picture of the plane - these two are from the day before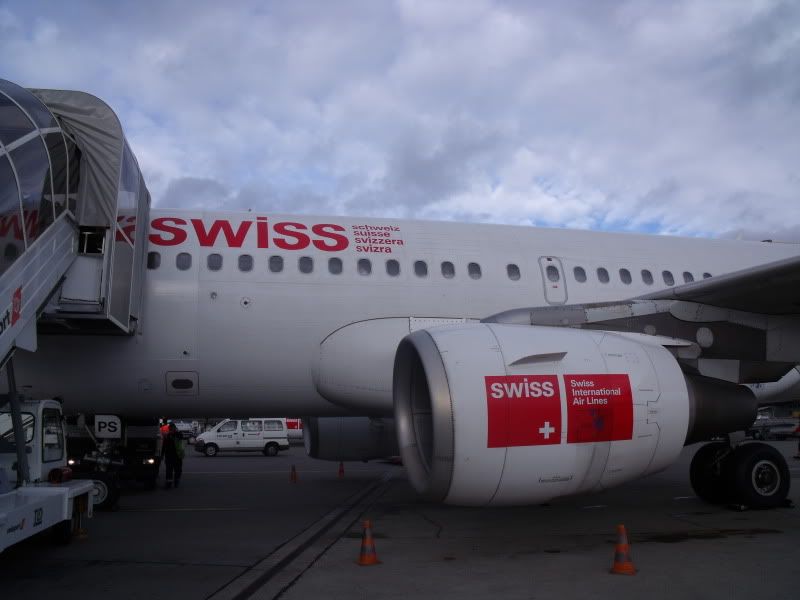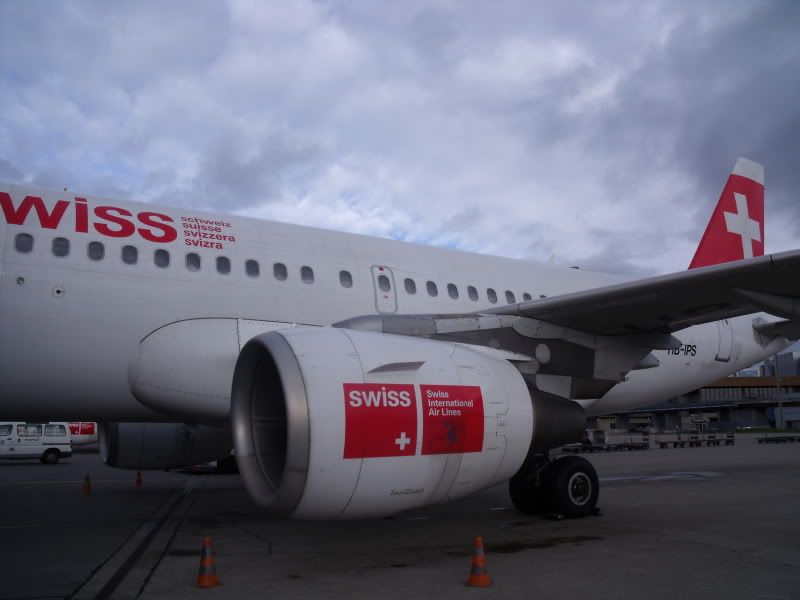 By the time I reached baggage claim my little case was already waiting for me (I might have only been away one night but would never miss the opportunity to bring back some supermarket essentials
)
Just for interest, this is what the new Christmas lights at Zurich look like: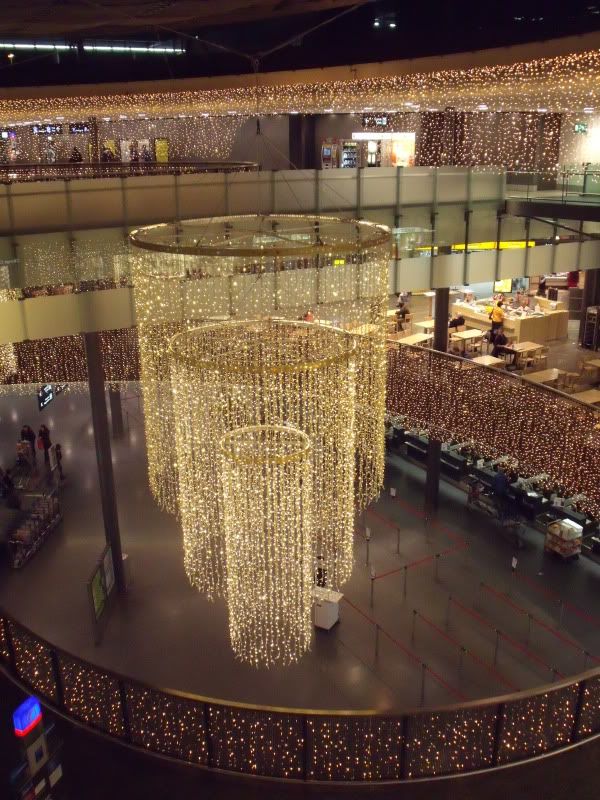 Less than one hour after landing, I was back in the flat, that has to be a record.
So my verdict? I rarely have a bad experience on Swiss, but this was definitely one of the best. Many thanks to Sandro and all the crew for their good work and I hope to be your passenger again soon!
Questions and comments welcome as always
Happy flying!
Infodesk