Istanbul Sabiha´s new terminal and Pegasus Arlines
Merhaba again, dear readers,
these story continues my experience in Turkey,
part one covered the outbound flight and hotel/area pics
The Sun Express B752W To Antalya
(by
FLIEGER67
Dec 2 2009 in Trip Reports)
TK and also XQ offered connections from AYT to STR,
but Pegasus seems the most interesting one, aircraft wise.
The fare was ok with around 50.-- Euro´s per leg, so quickly booked.
Monday, 23.11.2009


Antalya-Havalimani, Sunny, Temperature 14 degrees


Sunny, Temperature 12 degrees
Duration: No info announced
1 hour, 5 minutes actual

Service H9 141 operated by Pegasus Airlines
Scheduled: 08.20 // 09.25
Actual: 08.45 // 09.50
Gate: 3 Seat: 4A
Load factor: Near 100%
My cellphone called me pretty early that monday morning, 5.00 am in turkey, 4.00 am in germany.
The hotel prepared a snack bag for me and around 6.00 am I´ve checked out and take another
"taksi" express back to the airport.
AYT operates three terminals, two international used, always good for some confusion around the pax
and these two buildings are not in walking distance and also not connected by a bus shuttle.
Good work by the taxi lobby here.
And finally AYT is nowadays the 30th busiest airport around the world in terms of international pax numbers, I´am impressed.
There is a third terminal for domestic flights only.
It seems that was the original terminal here, pretty oldfashioned, building work all around and much to small for all that domestic flights nowadays.
Check-in on the ground level, thankfully only some pax in front, two desks open, the male agent not very helpfull here.
OLCI is only for domestic flights available on Pegasus´s website.
I´ve asked for window last row, as usual and was proudly presented with seats 4A and 2A and much better, the agent told me
that he can´t do any seat changes, the choice between window and aisle was my only decision. True ?, who knows.
Two small security checkpoints prior to the upper level stairs, crowded, but only some five minutes to wait. Four gates only, all shops closed and only two small coffee bars open.
Worn out fake leather seaters, but thankfully nice views to the apron.
Inside:
Departures: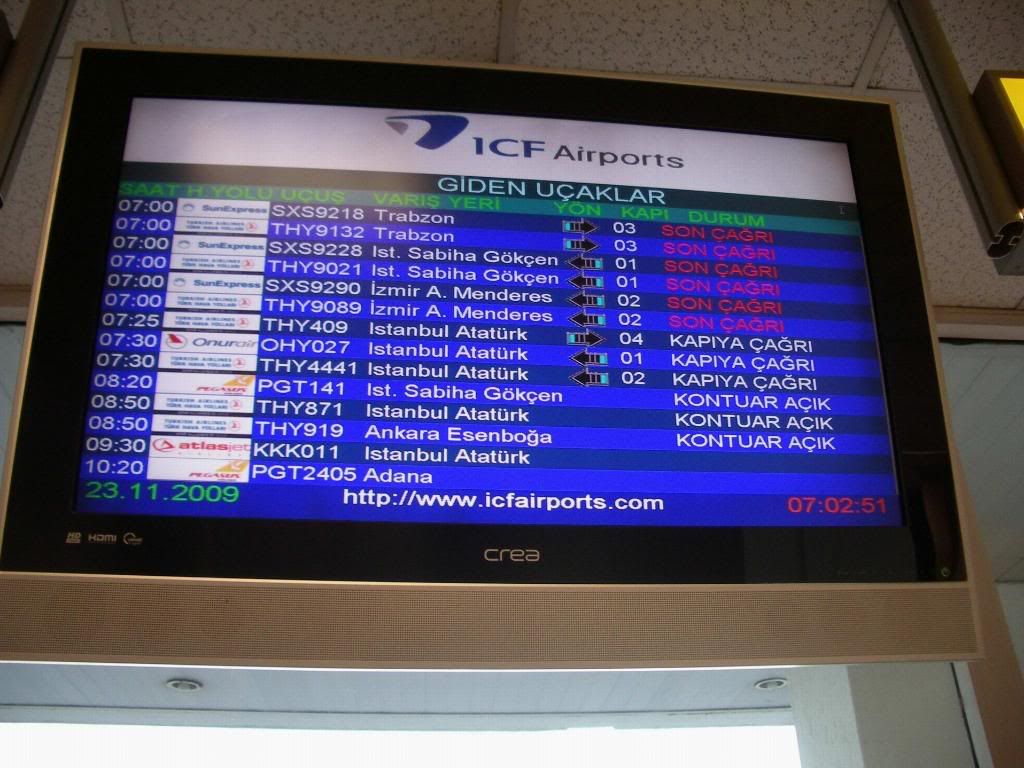 Domestic apron: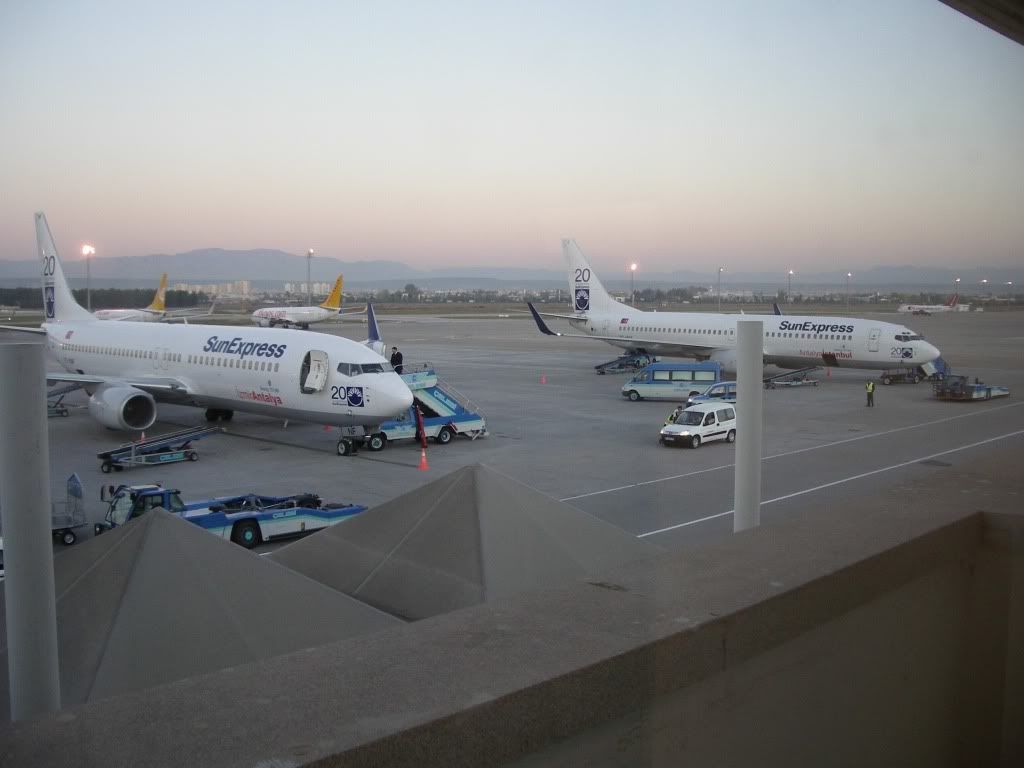 The other side: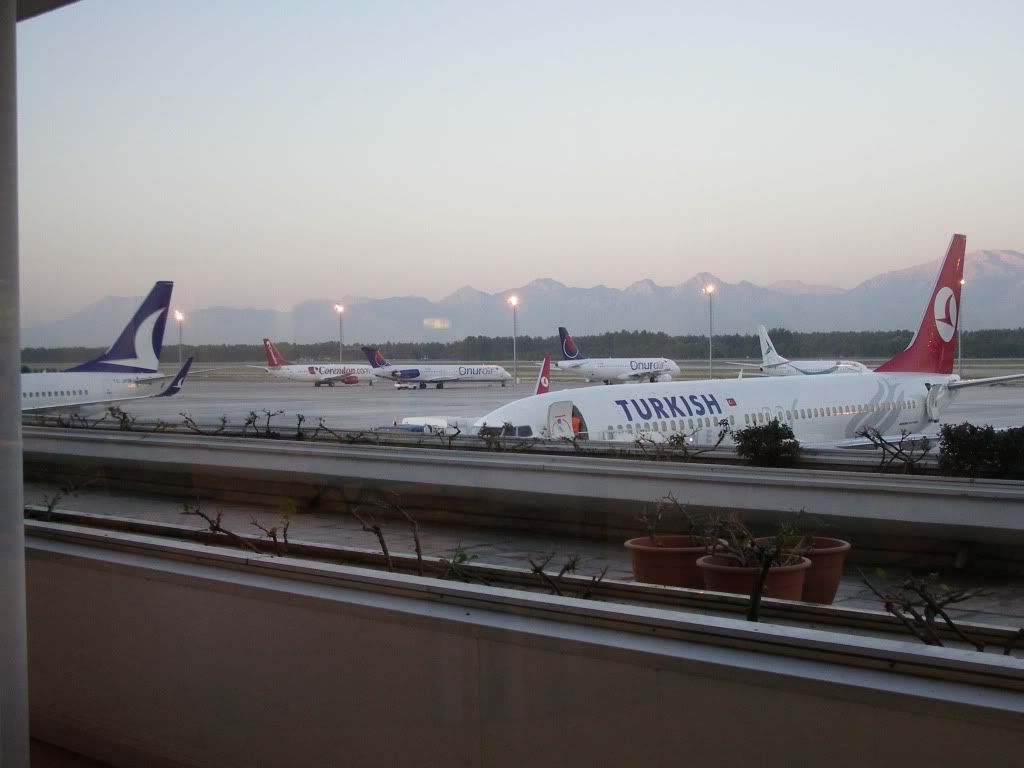 Anadolu Jet bound for Ankara:
Onur MD, rear stairs open:
Another view:
Pegasus departure: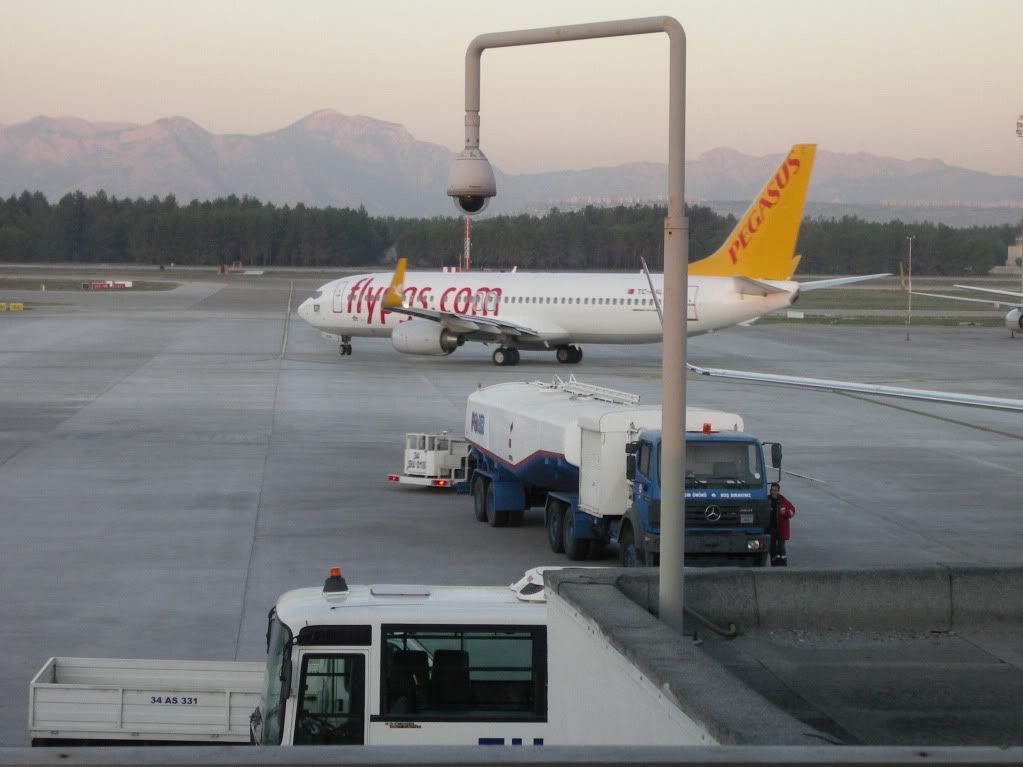 To the runway: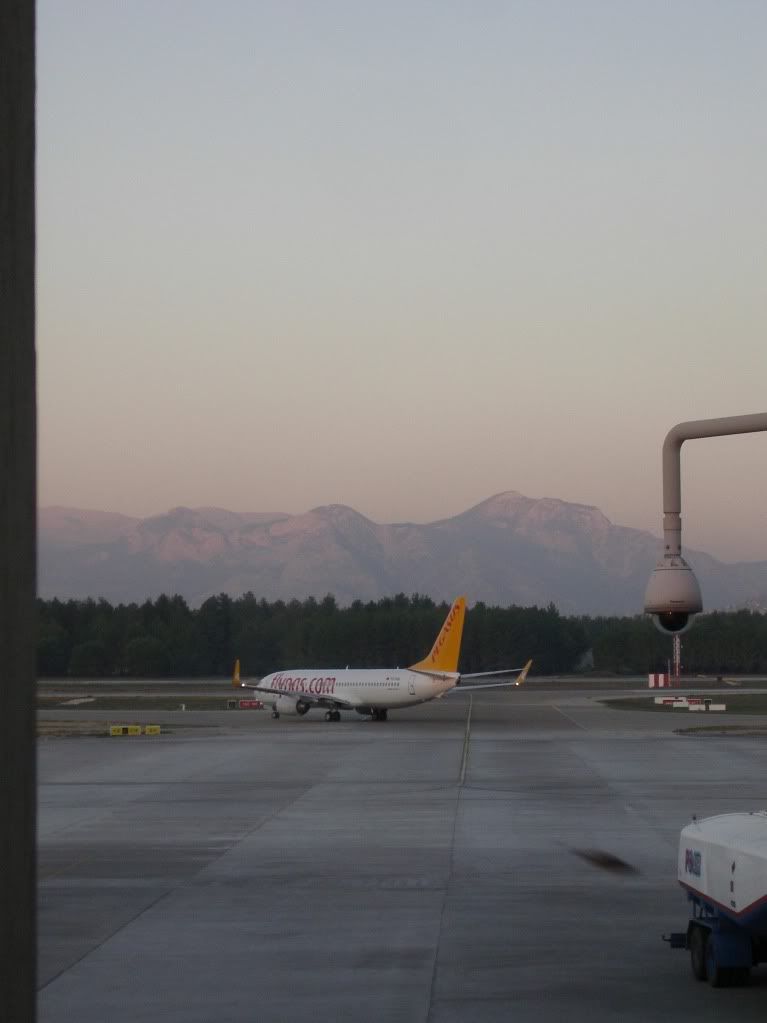 Tailwind B734: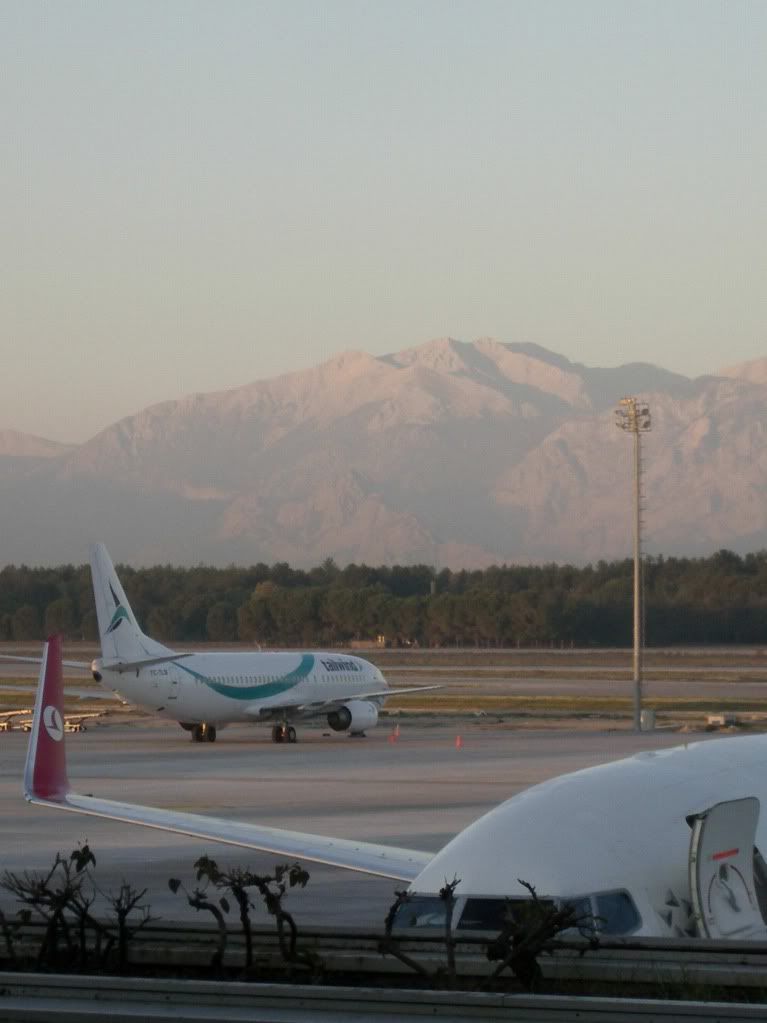 Another angle:
I should try OHY to IST: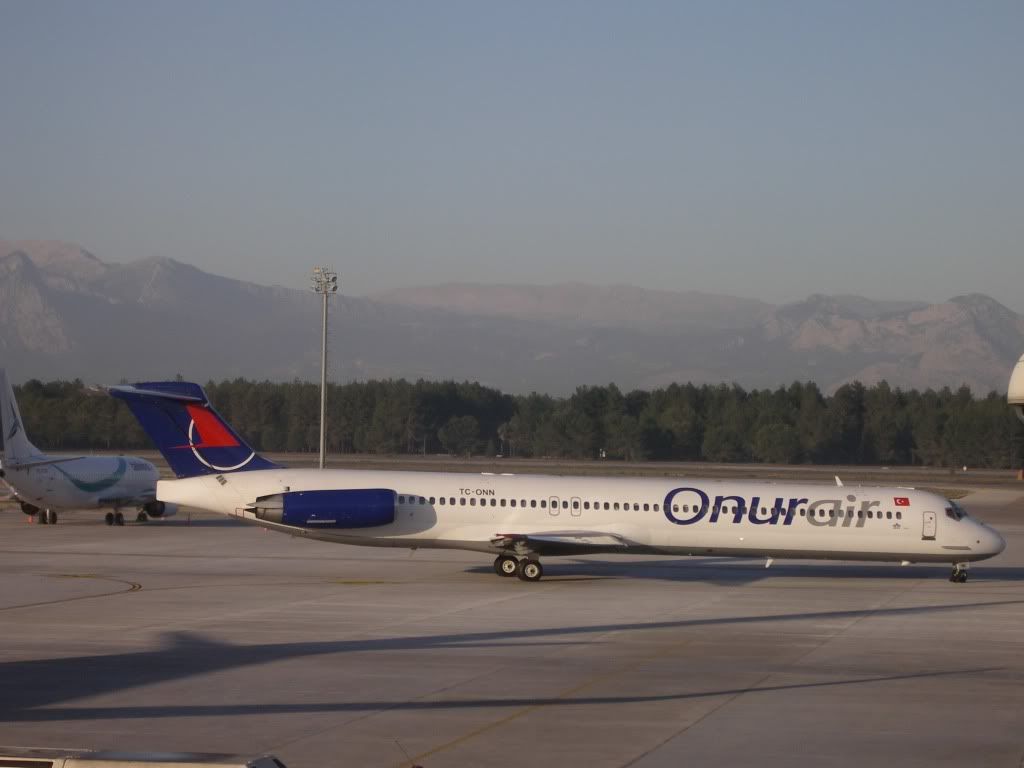 Istanbul, both Ataturk and Sabiha dominates on the screen, operated by Turkish, Sun Express, Onur, Atlasjet and finally Pegasus.
Real good for some confusion around the non-frequent-flyers, I saw an elderly turkish couple during my time there, which joined three queues for Istanbul and was finally on my flight.
The days prior to my travel dates saw long delays especially at IST due to weather reasons, fog and also at SAW.
My later flight to STR had two to three hours delay Friday and Saturday.
What do you mean with that information and no gate on the screen for the service to SAW at the announced boarding time?.
People going nervous, but no staff seen or information at all.
My machine:
Nicely painted: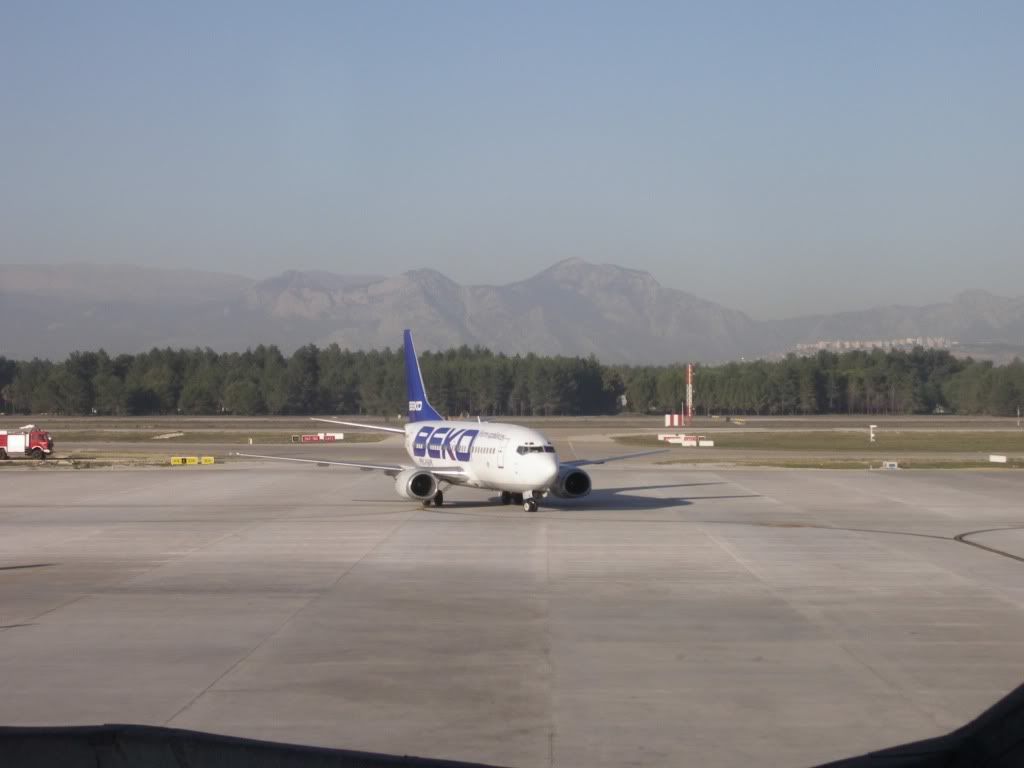 Well, BEKO, who knows this company?: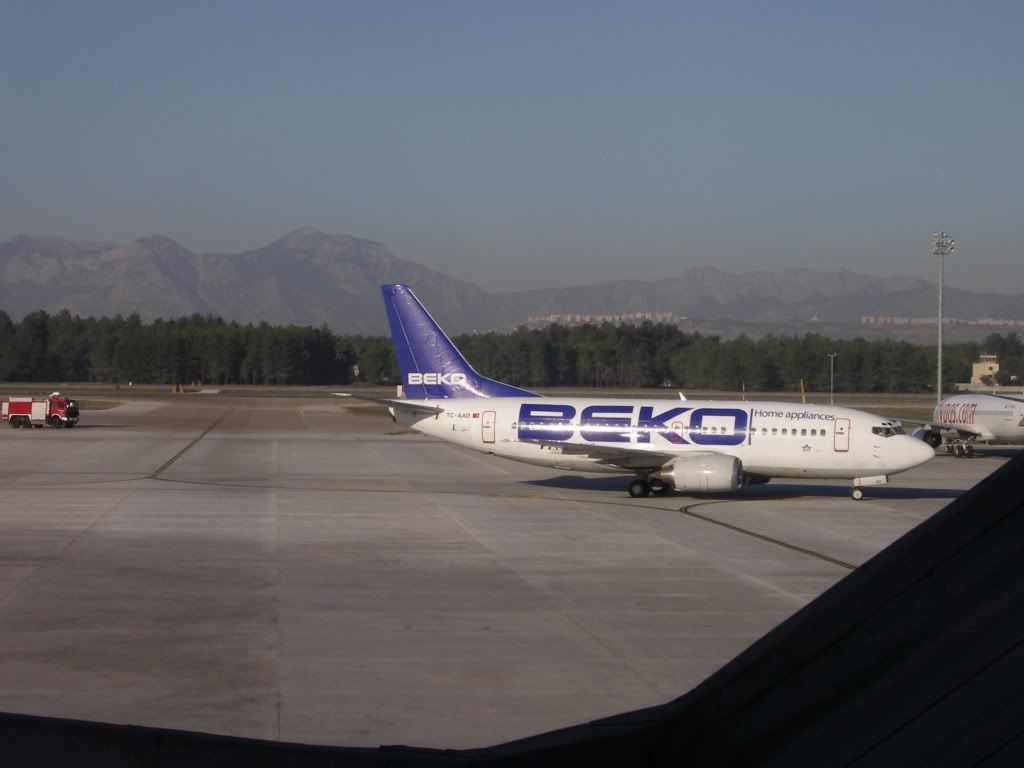 Departures again: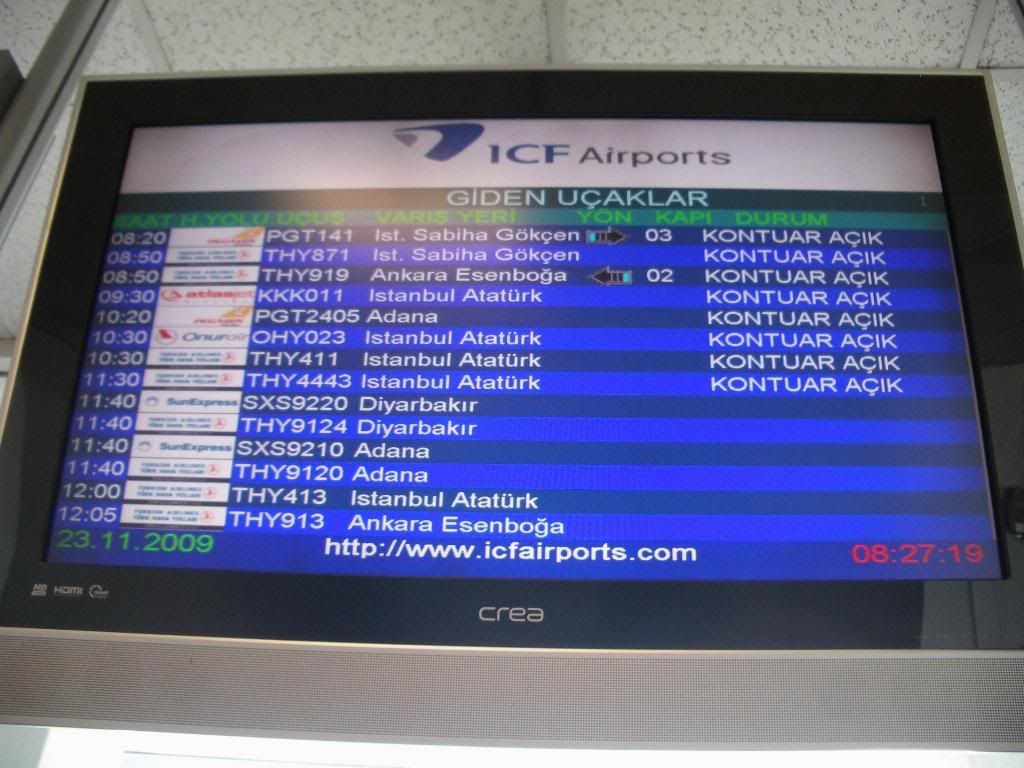 Around the original departure time the gate showed up, followed by the usual rush and soon thereafter the BEKO logojet arrived.
My service was operated during booking some four weeks ago with an leased Tailwind Airlines B737-400.
But these plane was also acceptable.
TC-AAD a 737-500 delivered at 20.02.1998 to Rio Sul from Brazil and joined the Pegasus fleet at 04.07.2006.
Pegasus operates three machines on type.
Leg no. 28 for me on the 735 and a new registration for my log.
At the gate:
Ground handling: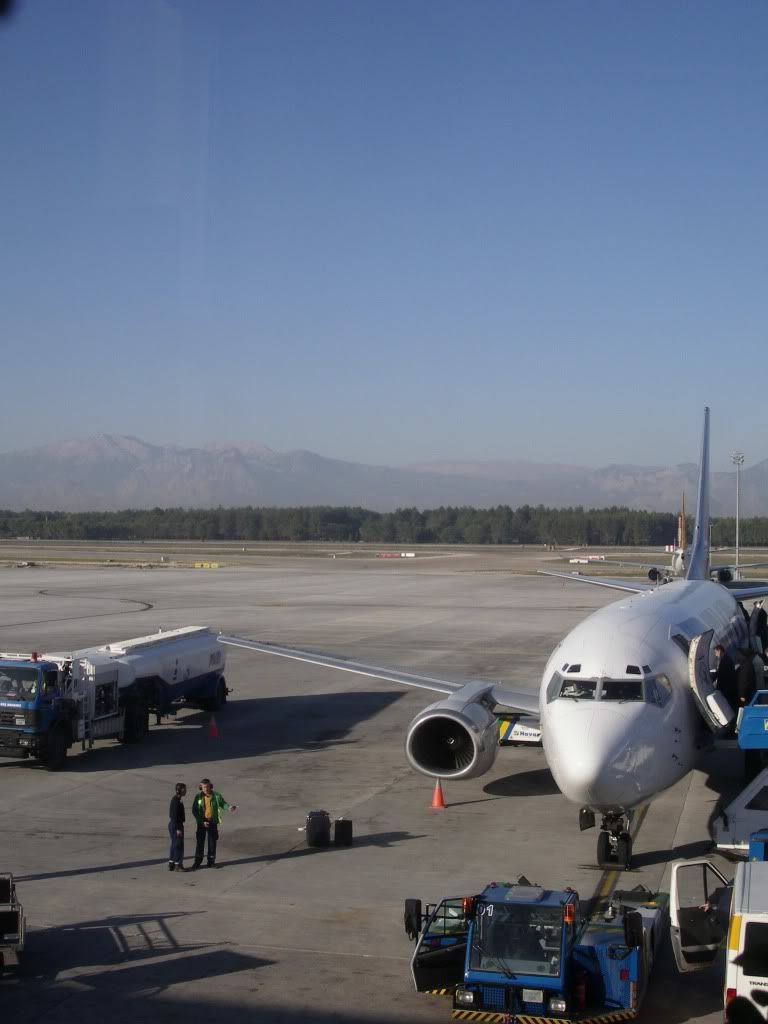 Engine view: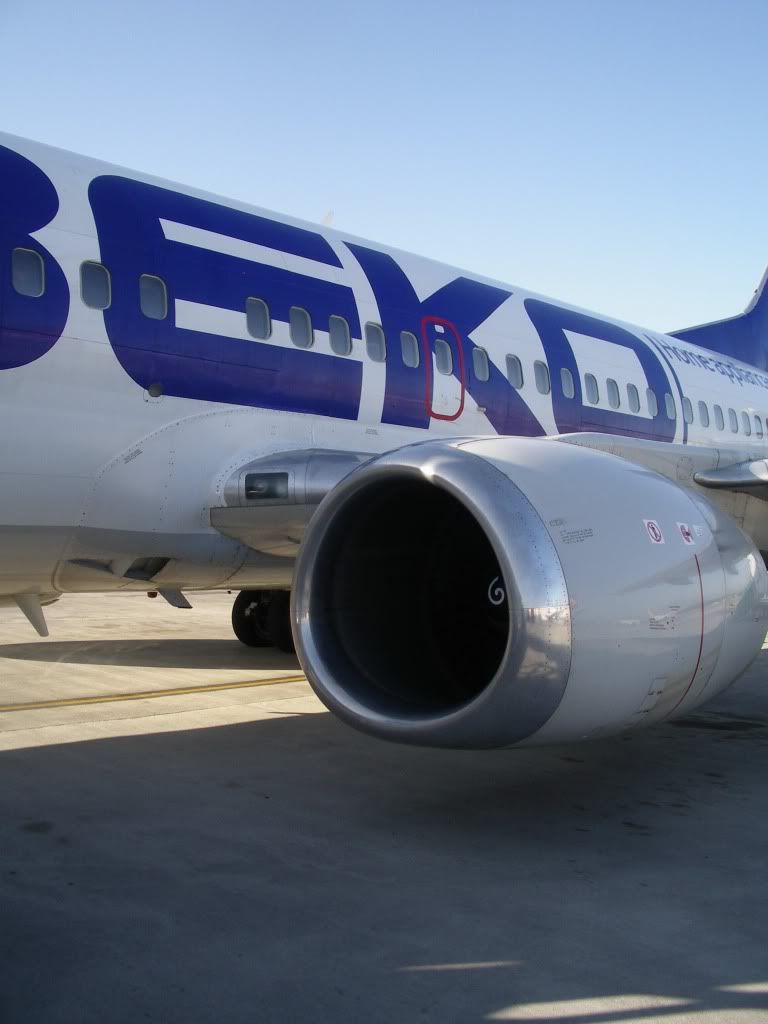 Boarding: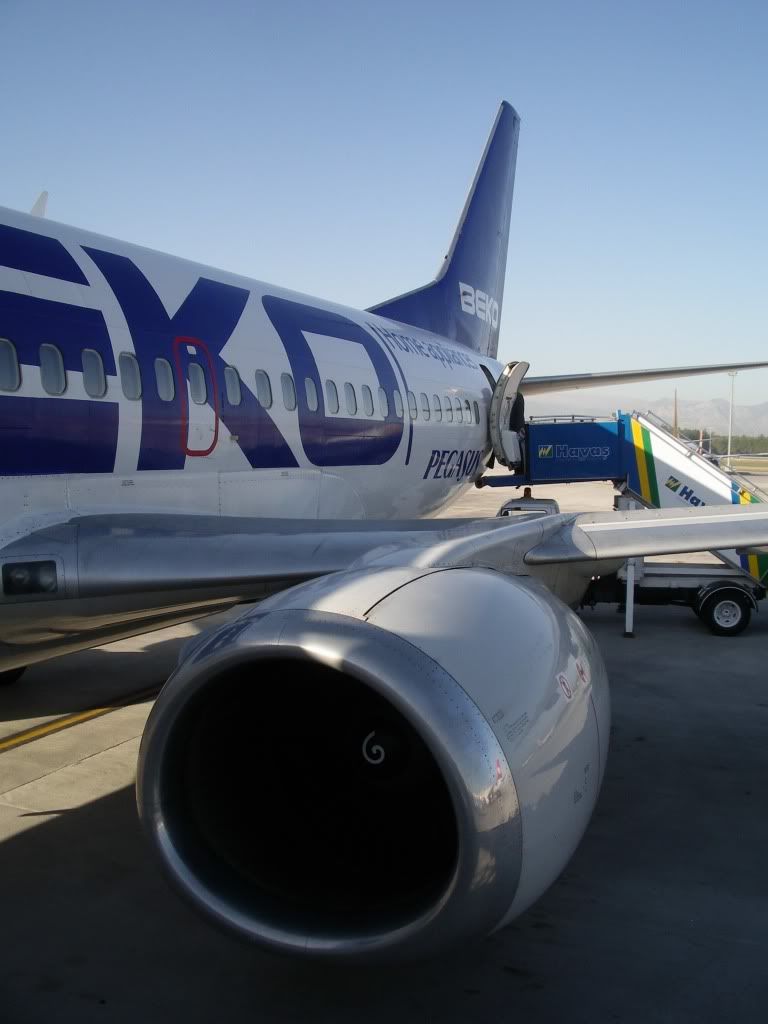 No airbridges here at AYT domestic, the plane parked in front off the gate and all the pax had to go downstairs and above the apron.
Boarding was called very quickly after arrival.
Boarding again: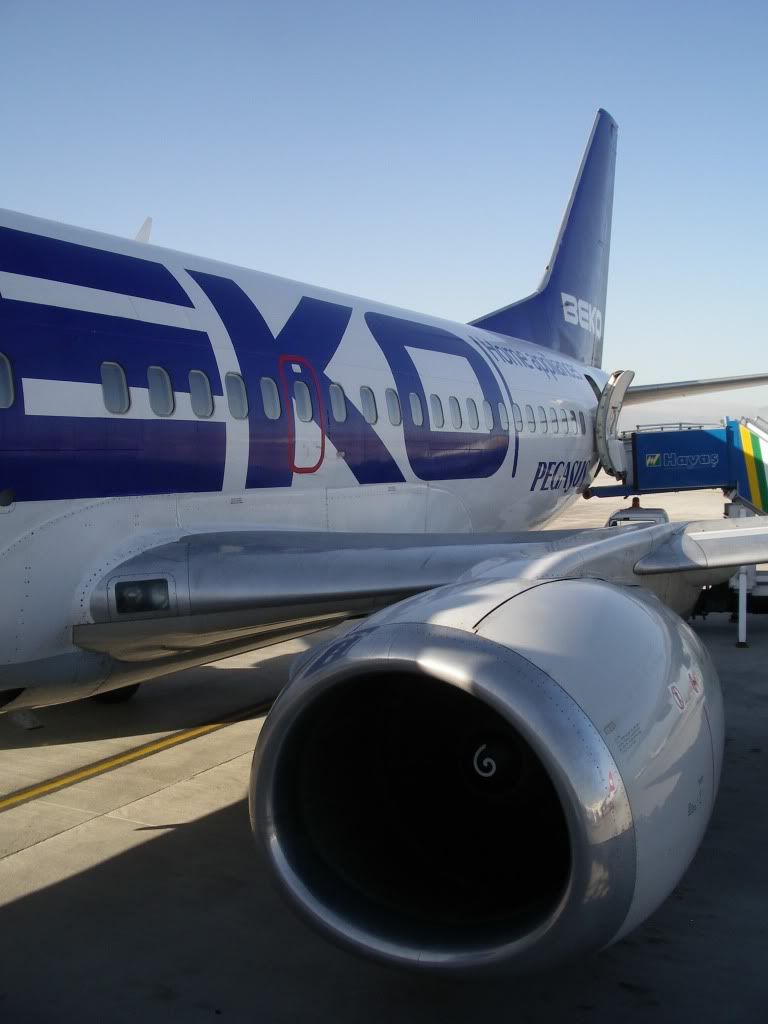 And once more:
Three friendly females on that service, a much nicer cabin crew than on Sun Express yesterday.
The cabin fitted with dark blue leather seats, legroom ok and let me say, really well used.
Cabin: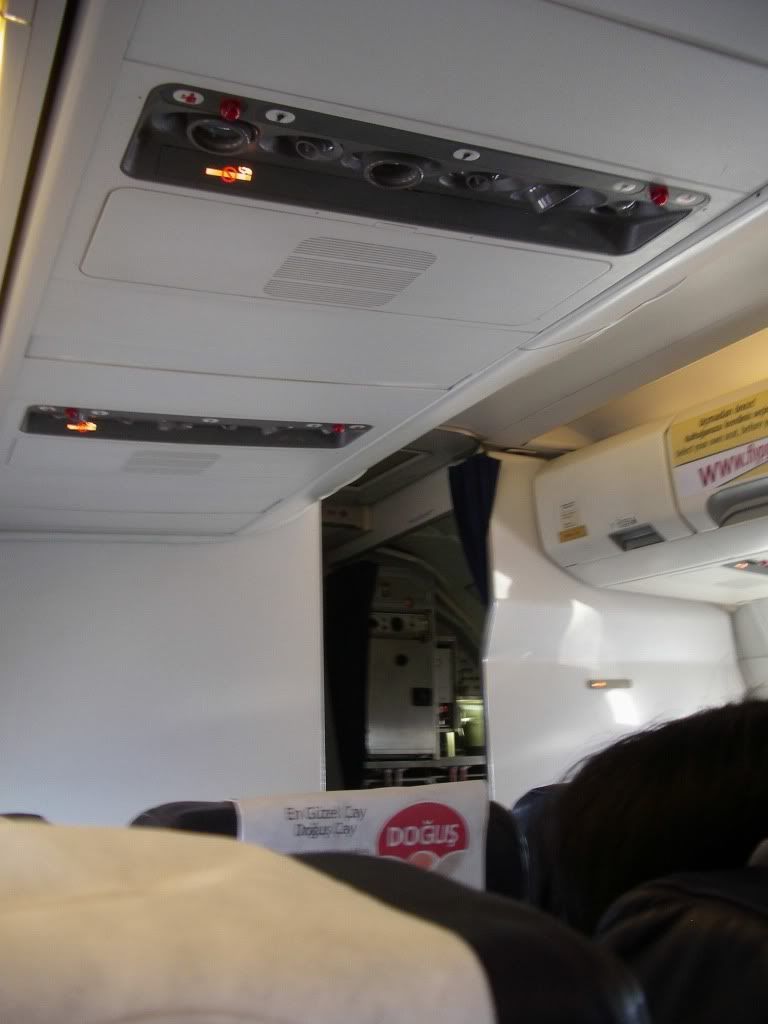 My seat: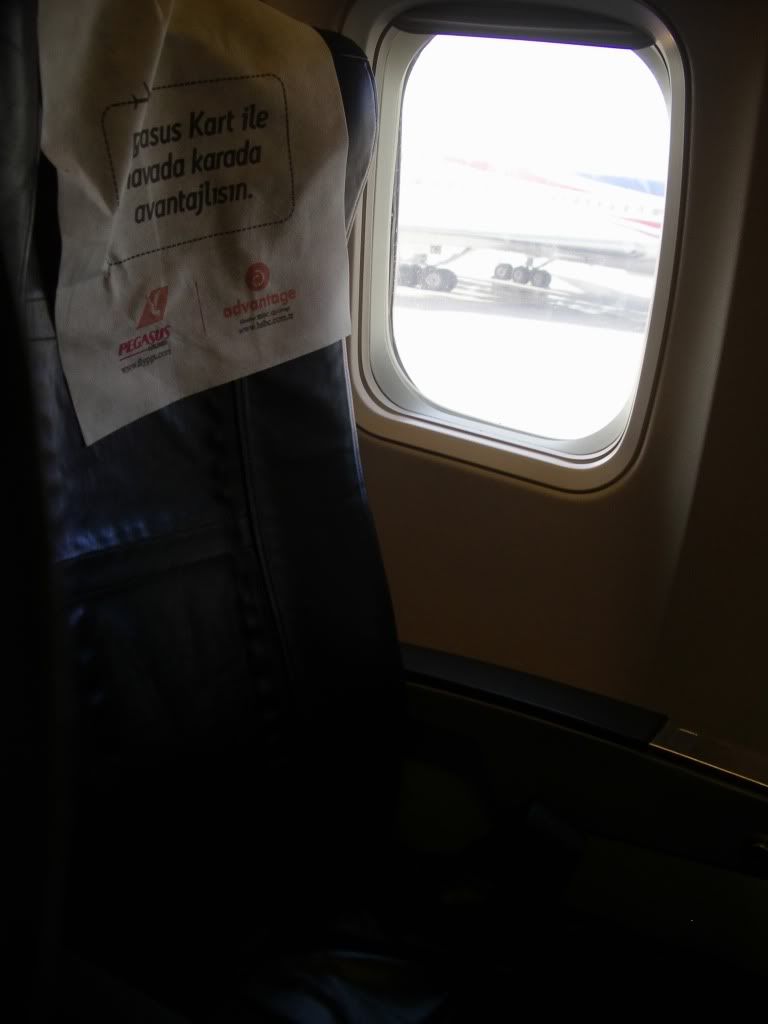 Again:
More details:
Domestic terminal:
Terminal 2: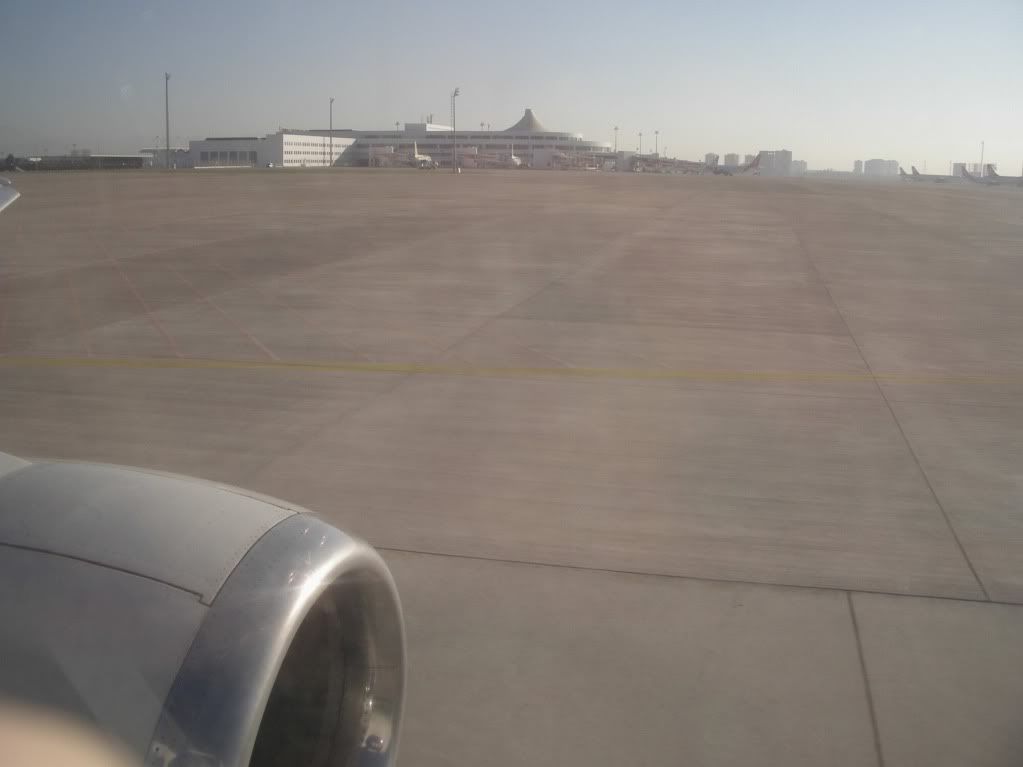 Taxi around terminal 2: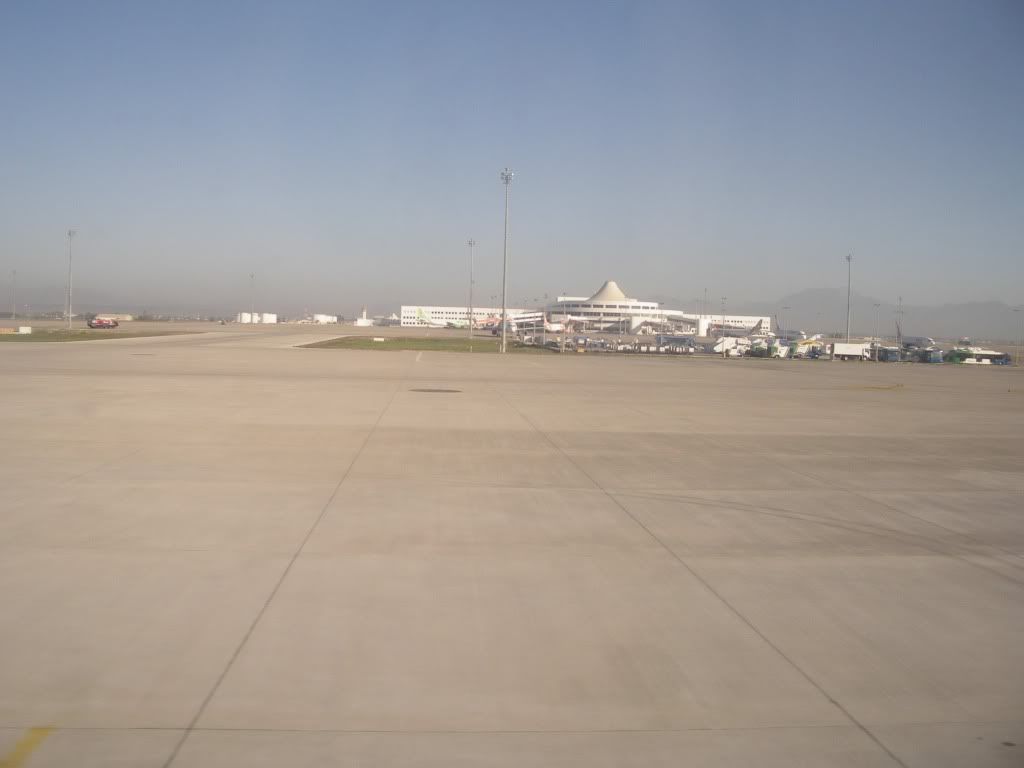 Departure from the 3400 meters runway 36R, no route info, cruise level 24000 feet only.
And from above: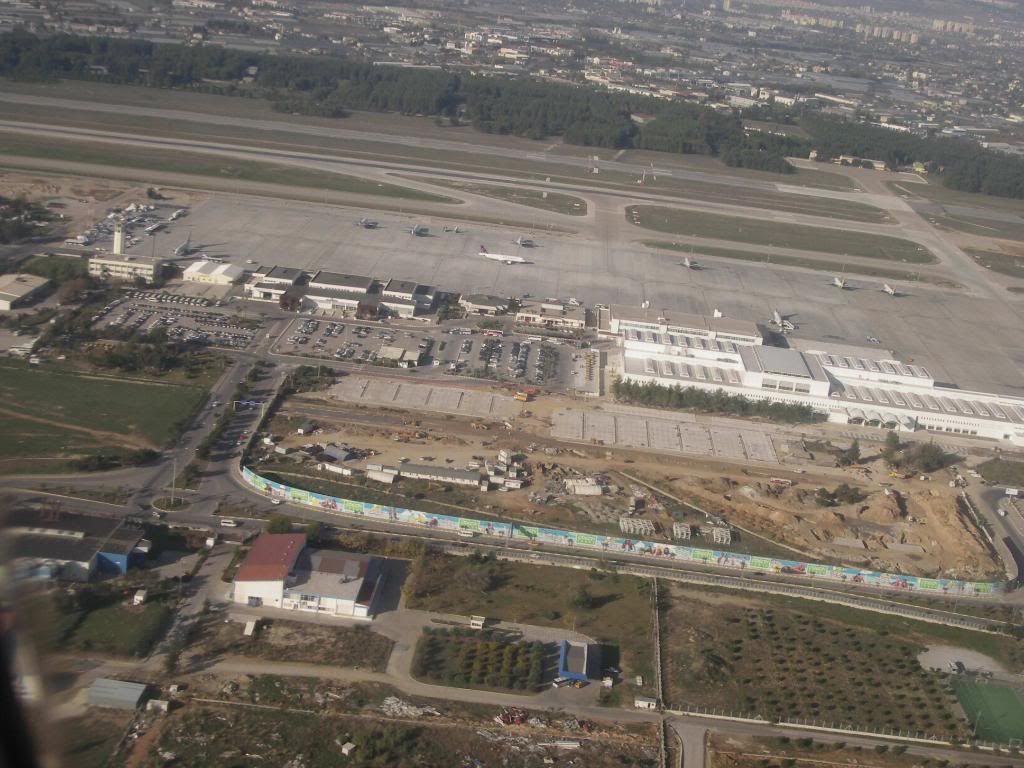 Terminal 1:
Service was buy on board, nothing for free.
Above Anatolia: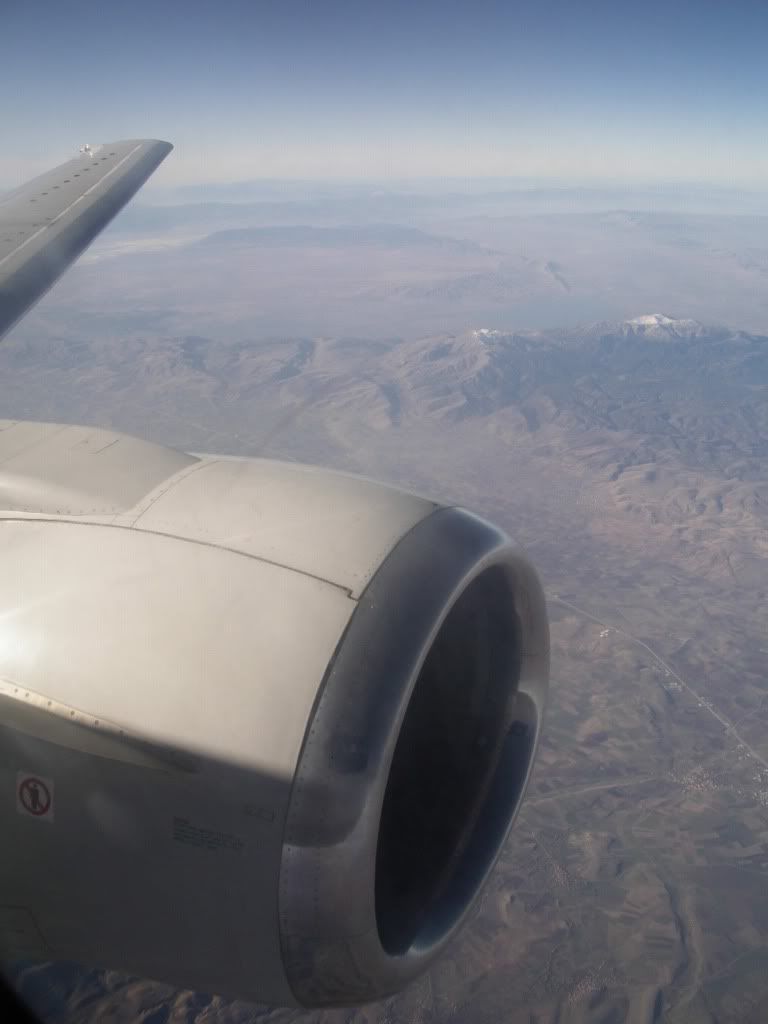 Dry country: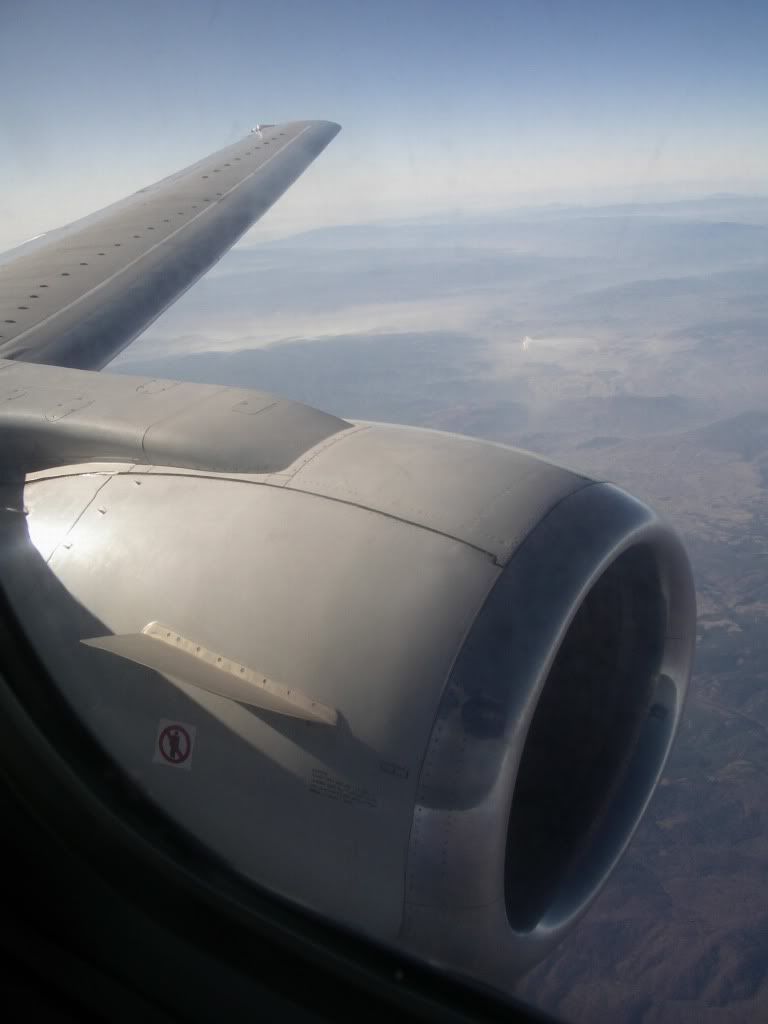 Cockpit crew was turkish, no comment from the FO, but detailed informations from the pilot inflight and once again short prior to appraoch. SAW had again fog in the morning and therefore the earlier inbound flight was late.
Experienced LHR travellers know what´s going on when the plane doing some curves not that high during the approach.
The captain announced some ten minutes holding prior finals into SAW.
Holding near SAW: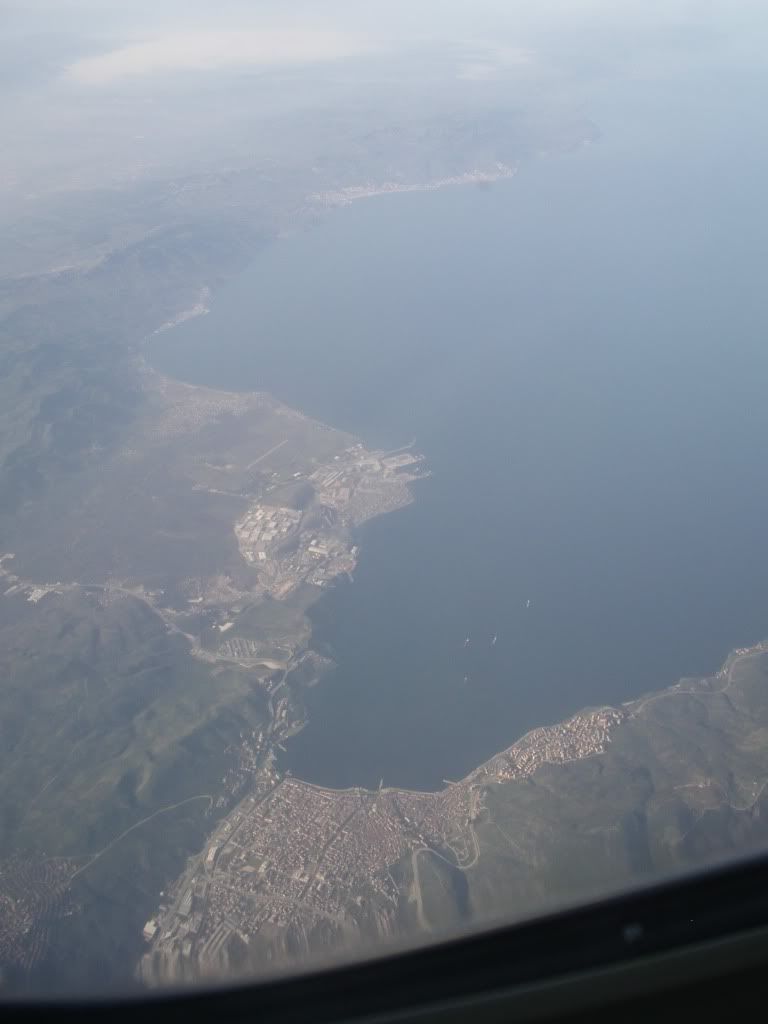 Once more:
And once again:
Touchdown finally on the 3000 meters runway 24 with lots of interesting metal on the apron.
ACT A300 and Meridian DC8: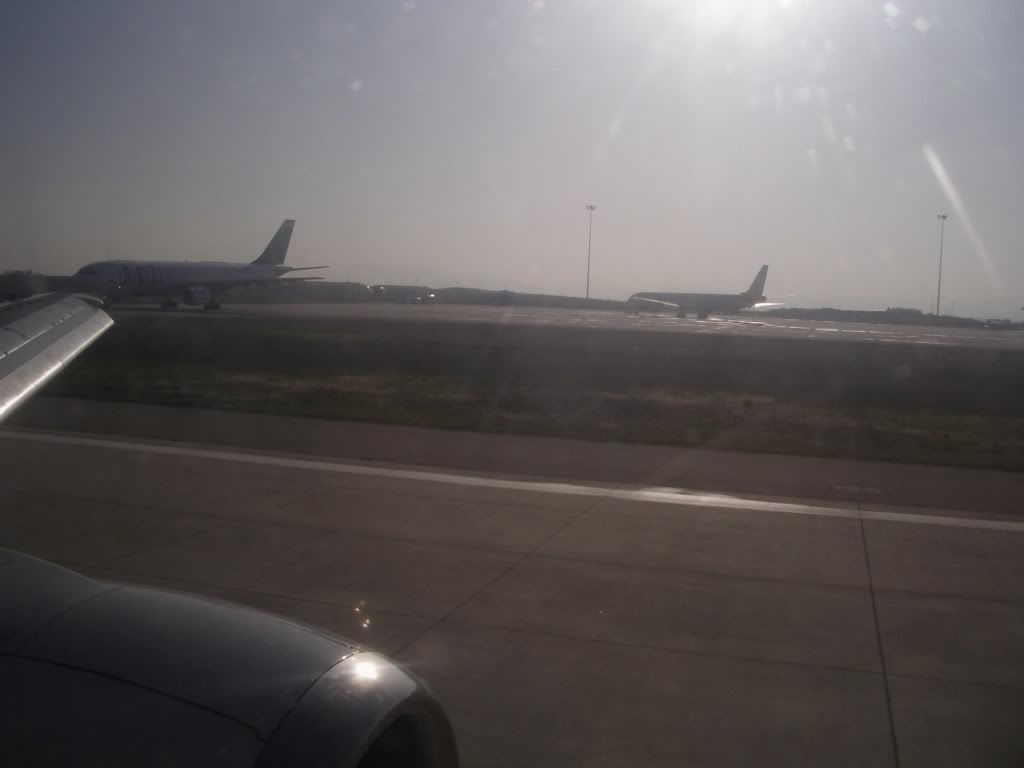 Four holes at the rear?:
Nice colours: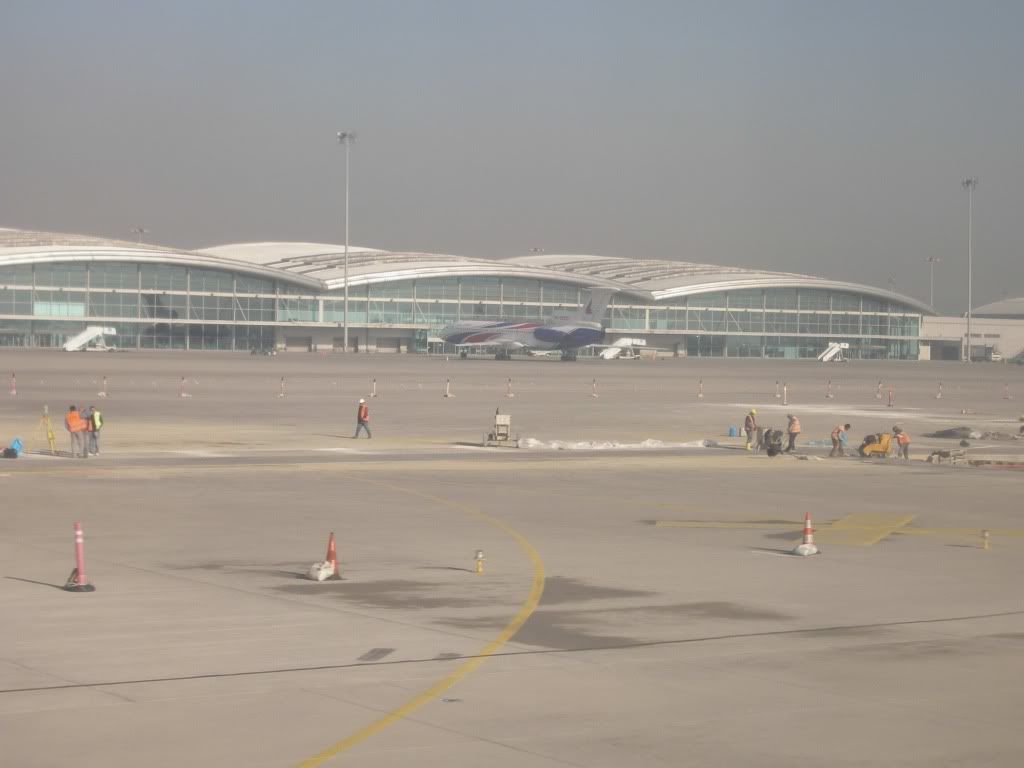 The new terminal: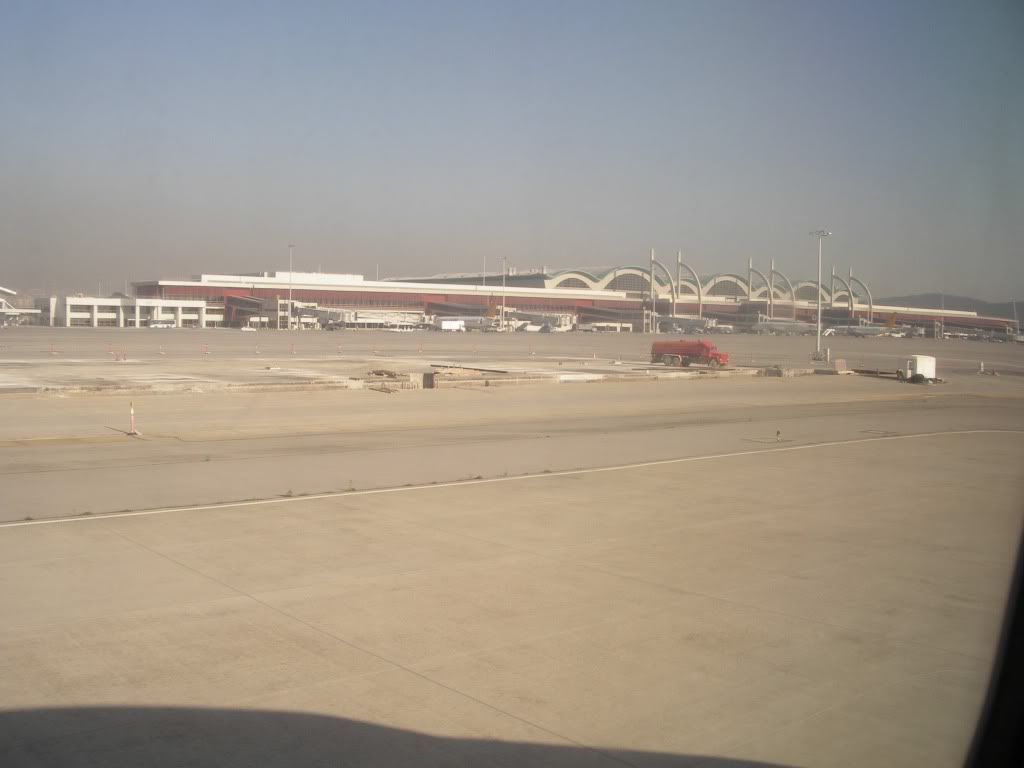 Deta Air IL62: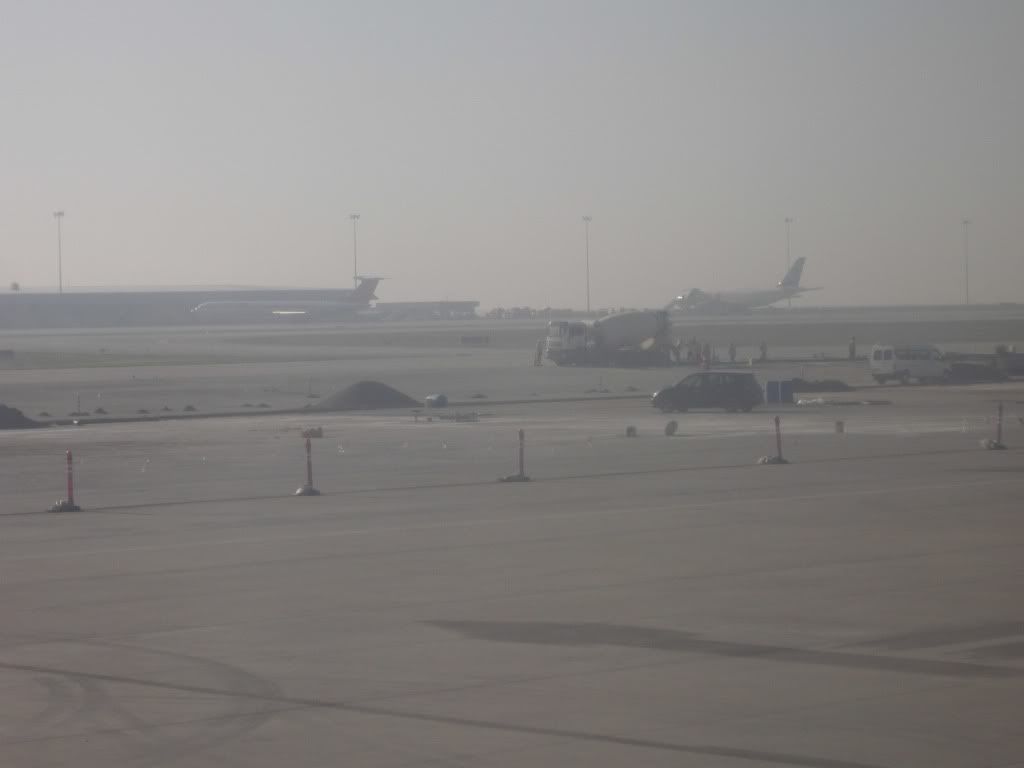 Aerorent Tu154B2: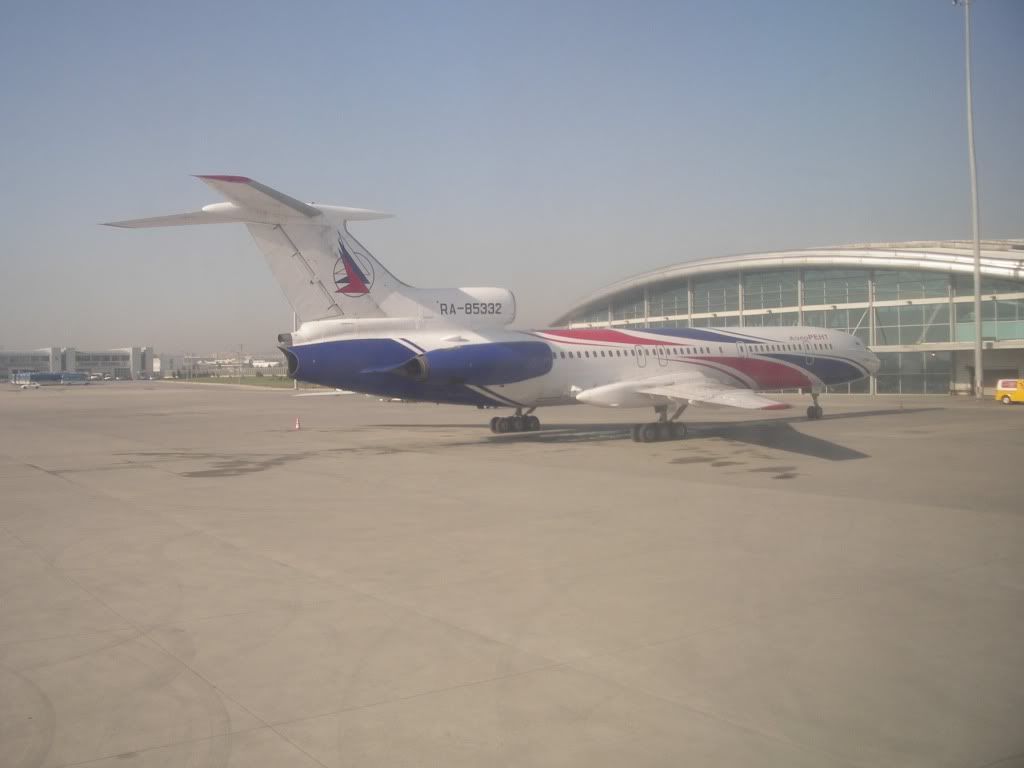 Parked beside:
Disembarking: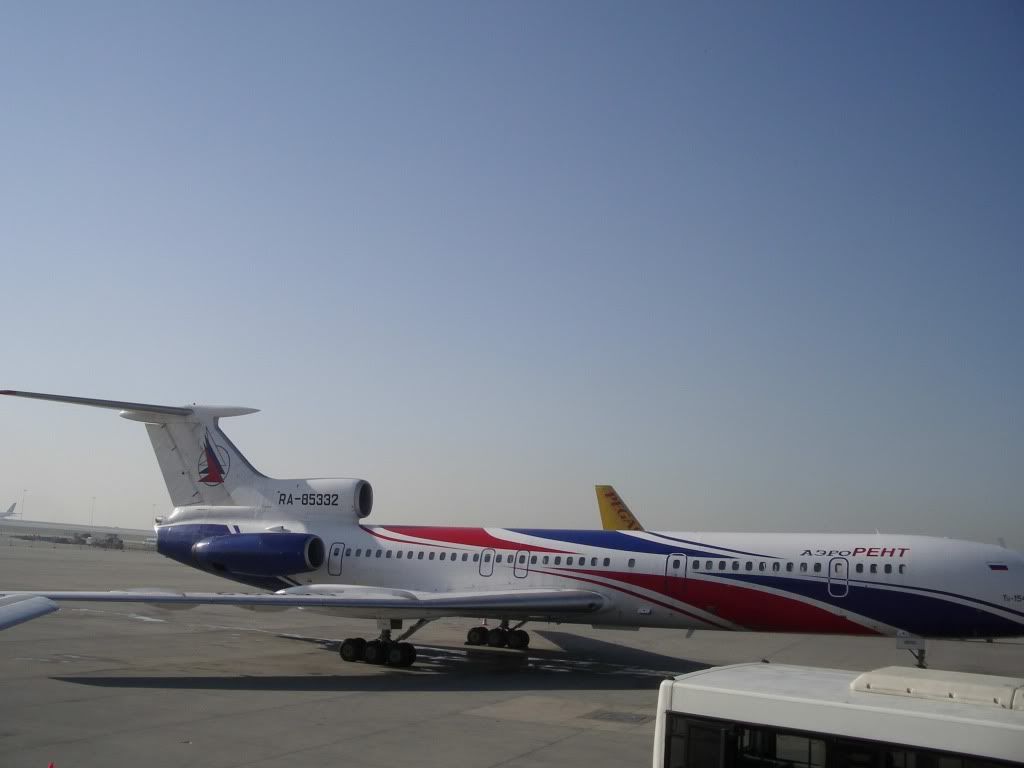 My machine at SAW: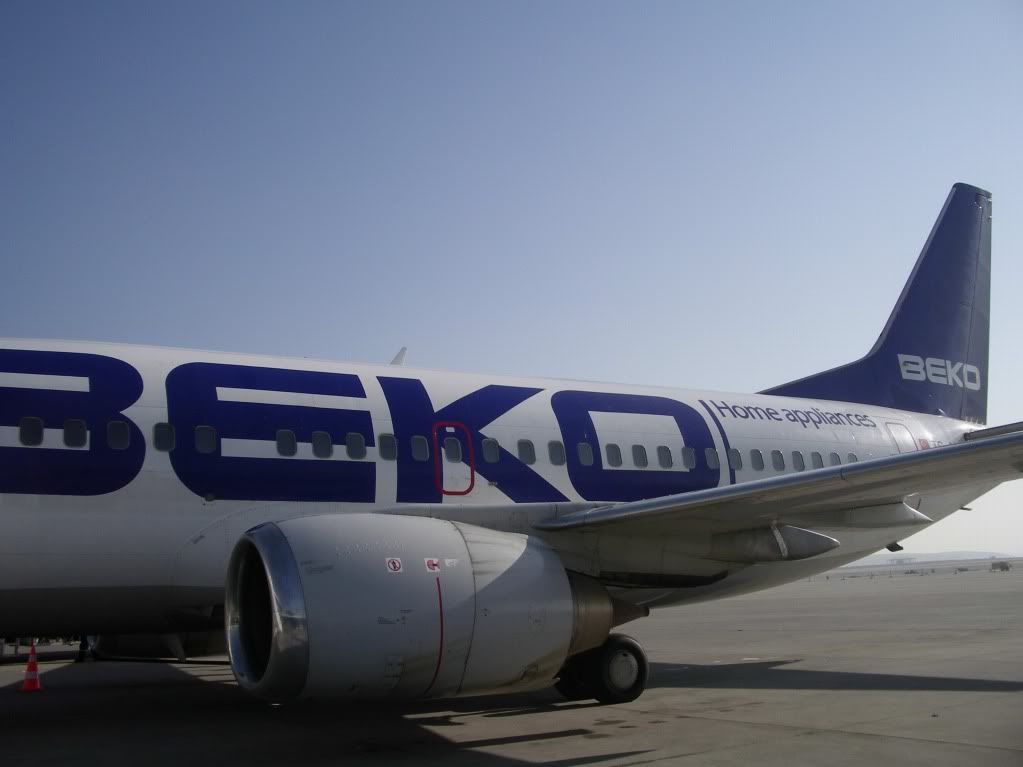 Close up:
And again:
Well, anyone remember the issues at LHR T4, SAW opened its new terminal only some days ago.
Bus deboarding, but sorry, no bus available according to the purser, we had to wait some ten minutes in the plane till it was our turn.
Monday, 23.11.2009


Sunny, Temperature 19 degrees


Partly cloudy, Temperature 8 degrees
Duration: 2 hours, 45 minutes announced
2 hours, 40 minutes actual

Service H9 321 operated by Pegasus Airlines
Scheduled: 10.55 // 12.50 1 hour time difference
Actual: 12.00 // 13.40
Gate: 304A Seat: 2A
Load factor: Around 60%
The transfer desk in the secured area was not staffed, some pax going upstairs following a sign "Transfer", but I´ve waited till
airport staff walked by and told me that I was in the domestic area. No way to go in the secured area from domestic arrivals to international departures.
SAW new terminal: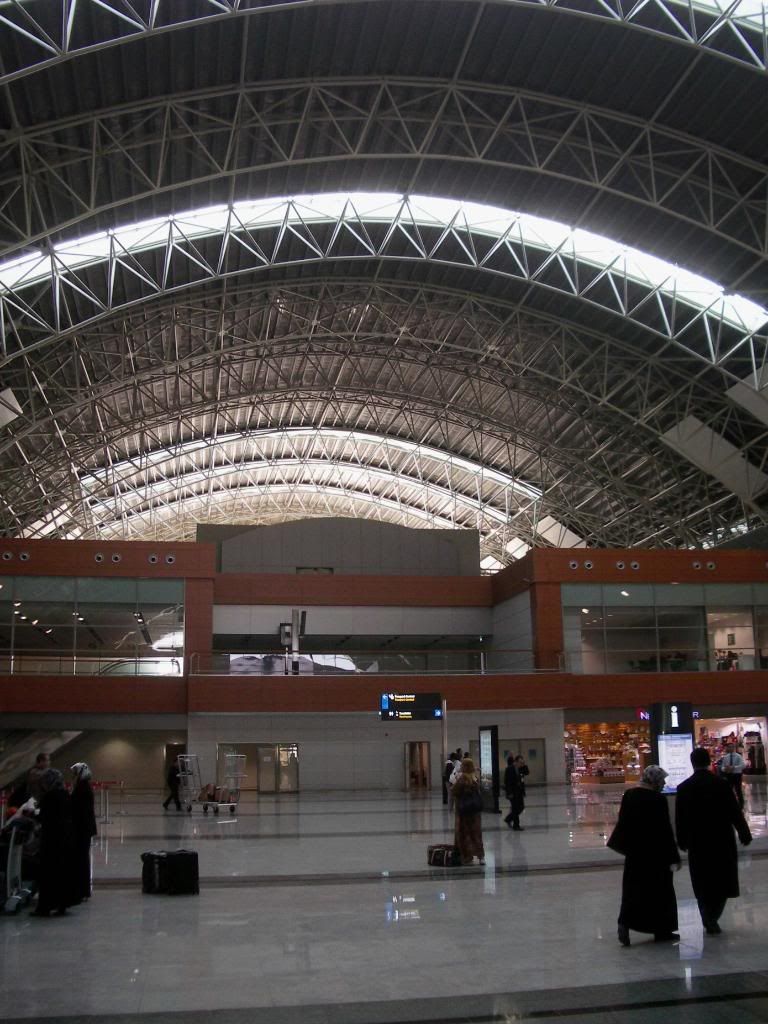 Impressive: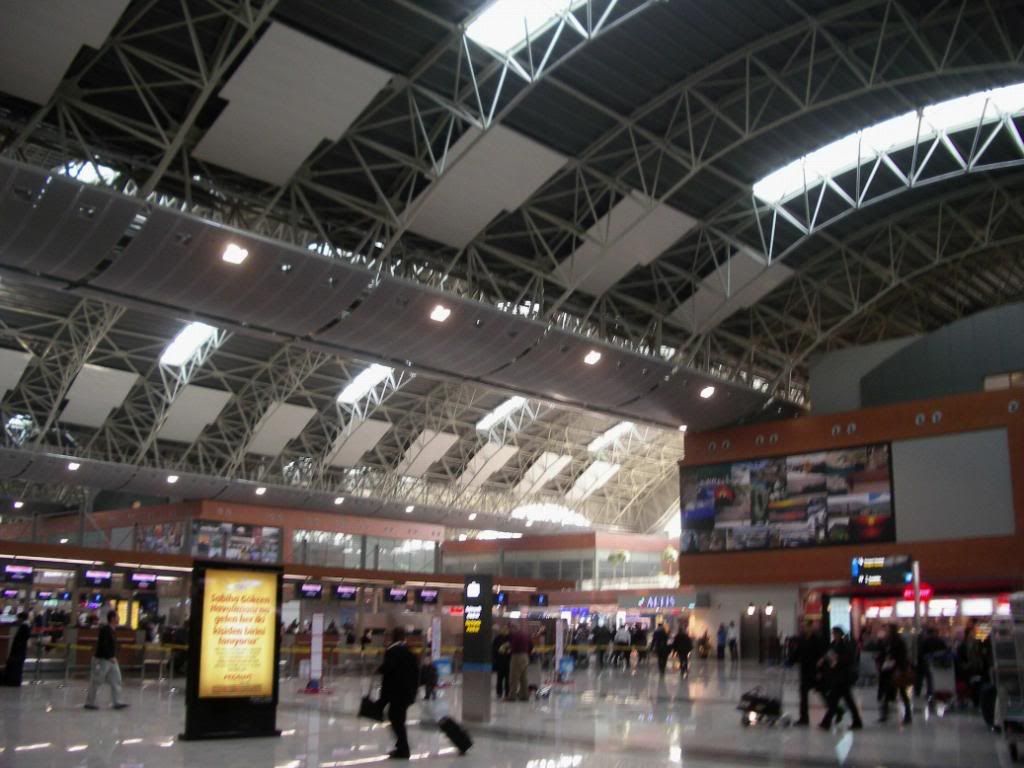 Departures:
And again: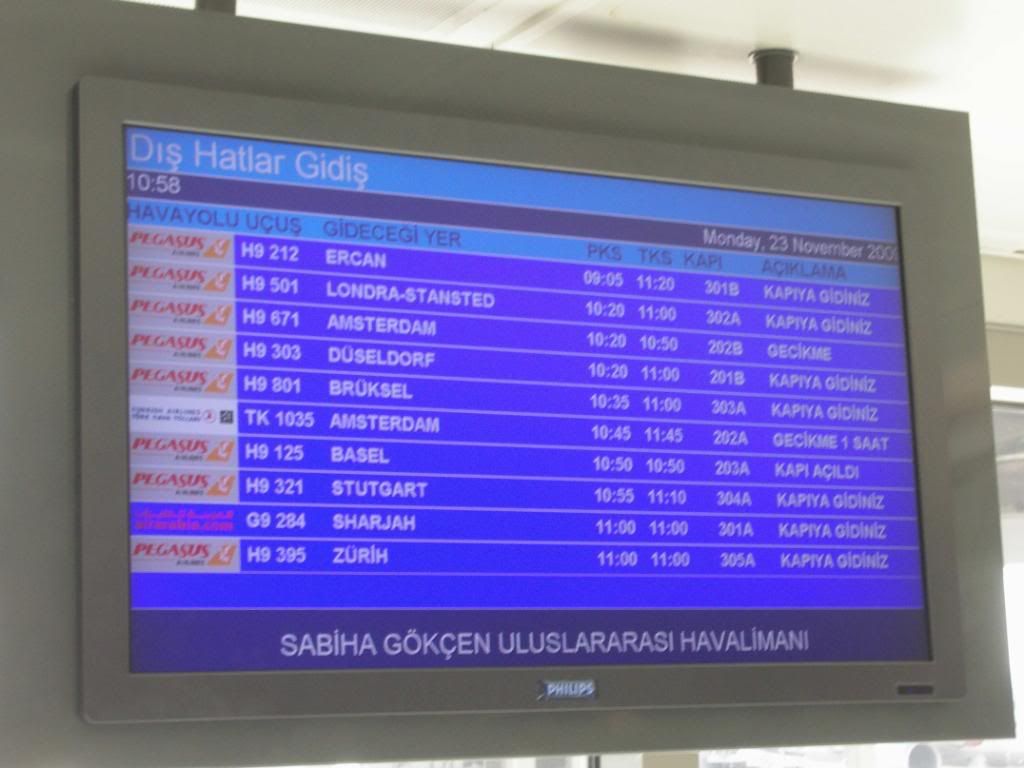 That means out in the public, ok so far to catch some pics and joining the long queue at passport control.
Two queues there, turkish citizens and all others, the turkish queue longer than the other, some 15 minutes to wait with police checking the visas and else in every detail.
The guy infront hold a turkish passport and as far as I followed the conversation, the police officer send him back all the way to the end of the turkish queue while he had no list with visa requirements for turkish citizens at his desk.
Not a minute for me, bording time was gone and downstairs to, so it seems, the bus gates.
Have you ever experienced going down the escalator with lots of people at the end which cant walk away?. A somewhat strange situation.
At the end of the escalator was the security check for the bus gates, masses of people around, orderly queues?, not here at SAW. And the whole process going really slowly foreward with the staff absolutely overtaxed.
Lots of delays on the screen, my flight shows boarding as long as I´ve waited there.
Finally through and at the gate, but no boarding at all. The waiting area crowded with lots of delayed flights,
for example Pegasus to Ercan running two and a half hour late and continuing calling for lost pax.
Also Air Arabia to Sharjah was served here.
More interesting planes: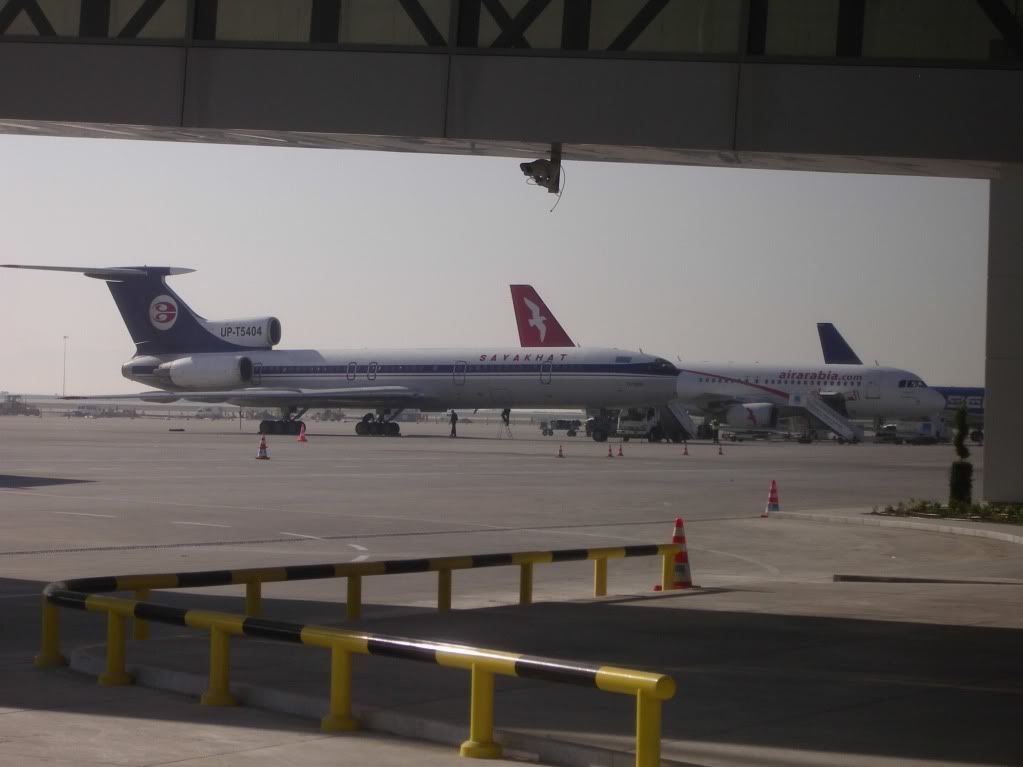 And some more: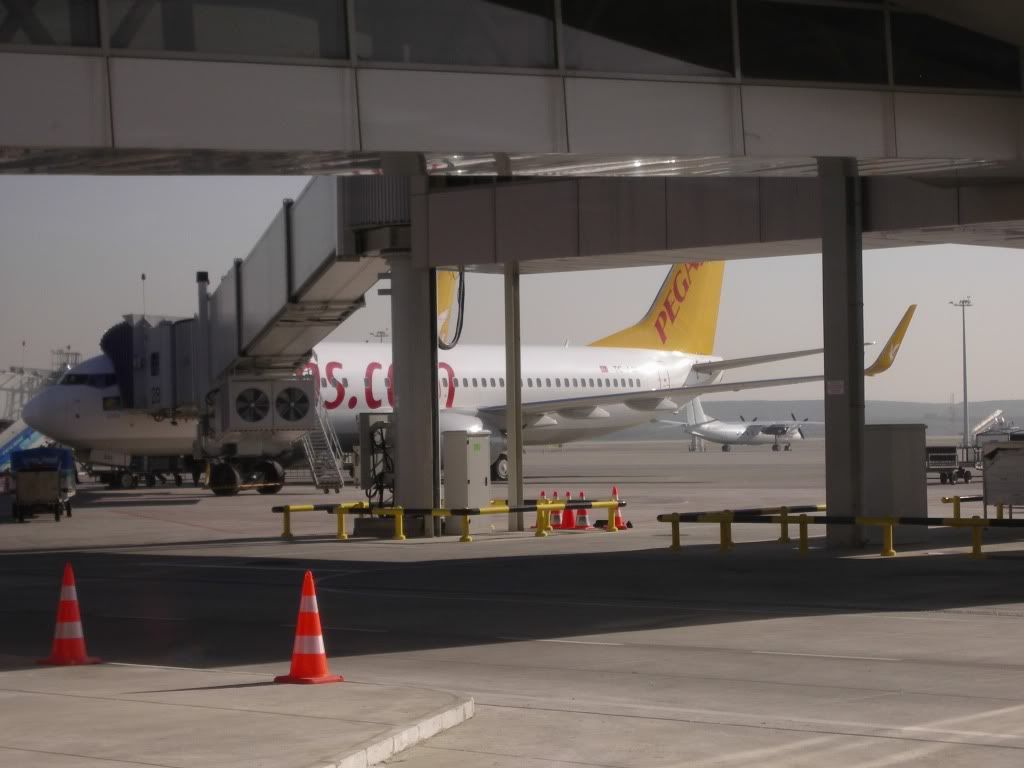 Another PGT machine:
Apron view:
Departures again: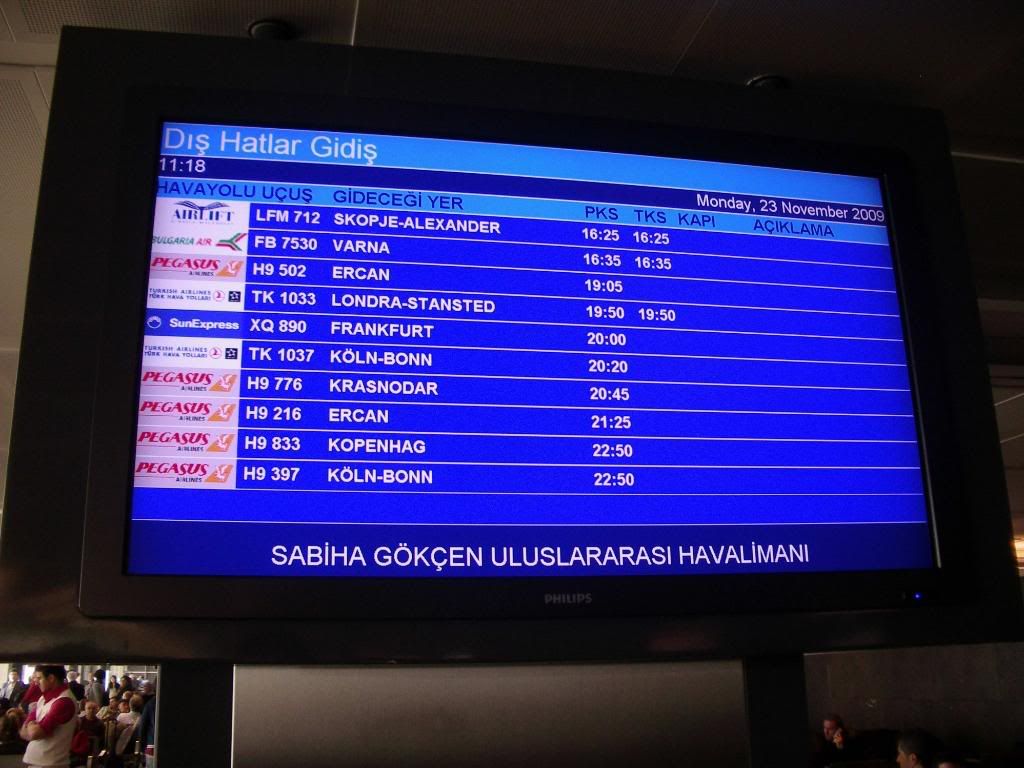 And with my flight:
More delays: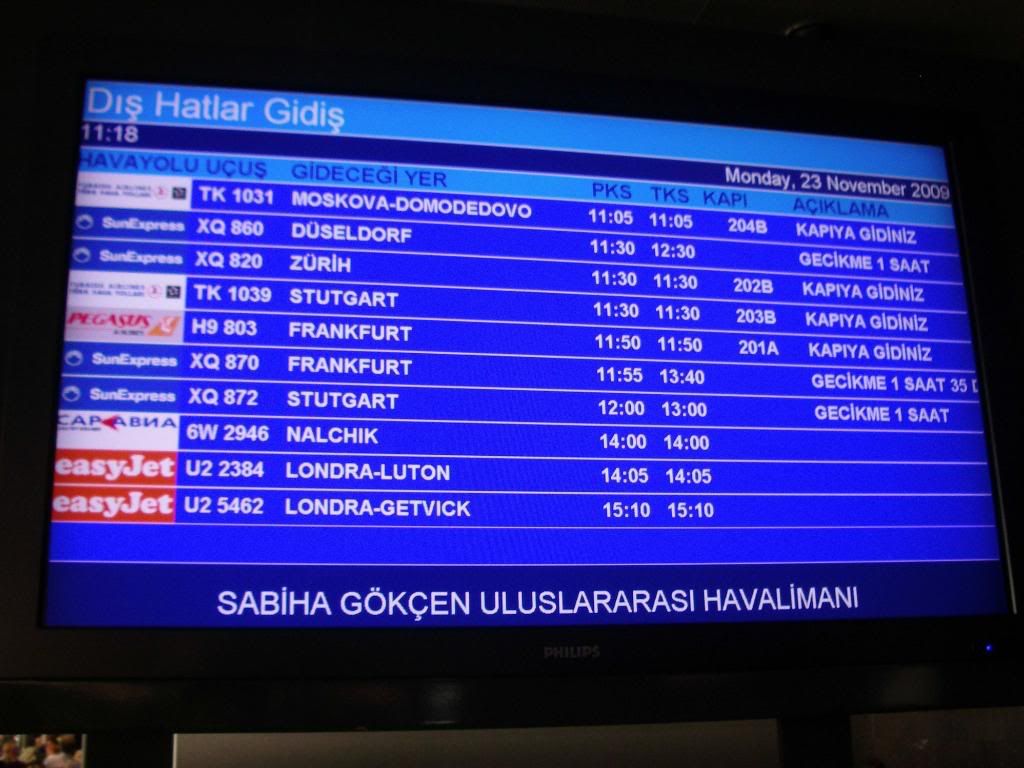 The friendly girl at the gate told me, that we will wait some more minutes till boarding.
Finally the gate opened, but remember the arrival, no bus available for some ten minutes more.
The bus goes in direction TC-AAD, hopefully not another flight on this machine.
I´ve checked STR´s homepage from the free hotel internet stations and saw an A319 scheduled.
During booking was also the Izair A319 mostly on this route.
TC-AAD pushed back and we approached TC-APR, definitely not the Izair A319.
A classic 737-400, delivered at 19.05.1990 to Futura, going to South America with Transbrasil at 12.11.1997, back to Futura at
29.05.1998 and with Pegasus since 20.04.2004.
Pegasus operates only two 734´s.
Leg no. 13 for me on type and another new registration.
Well, that machine shows its age, several patches, missing paint and else.
My machine:
Close up: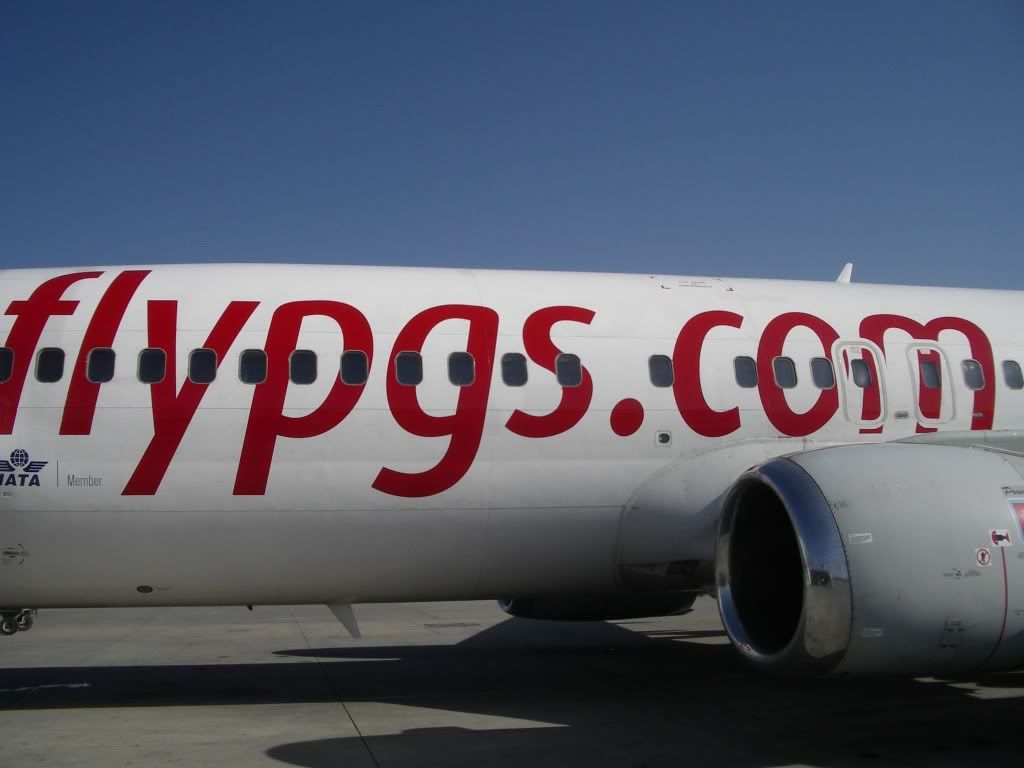 The tail:
Boarding:
Deta once more: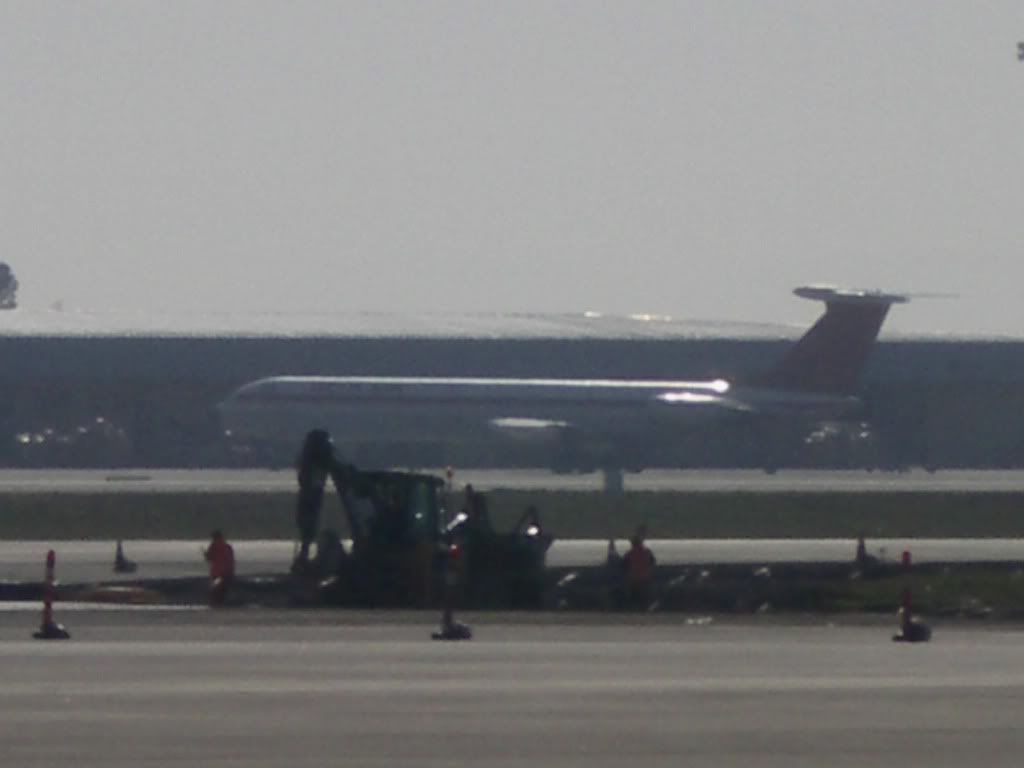 Apron view: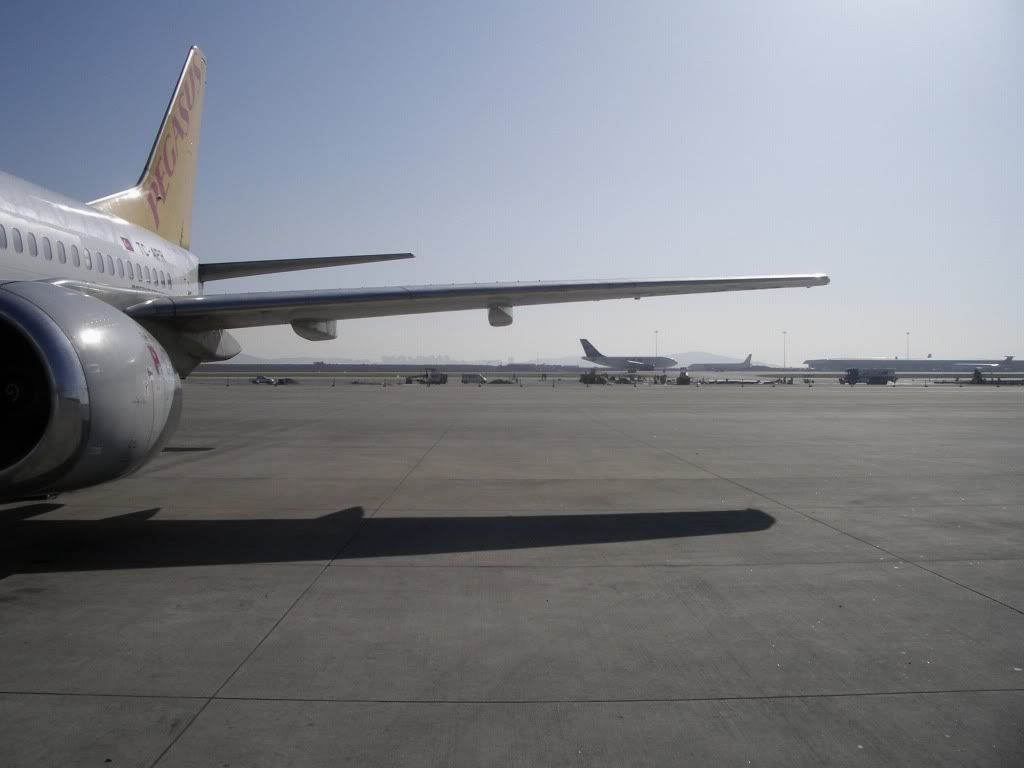 Engine closeup:
The nose:
And now boarding: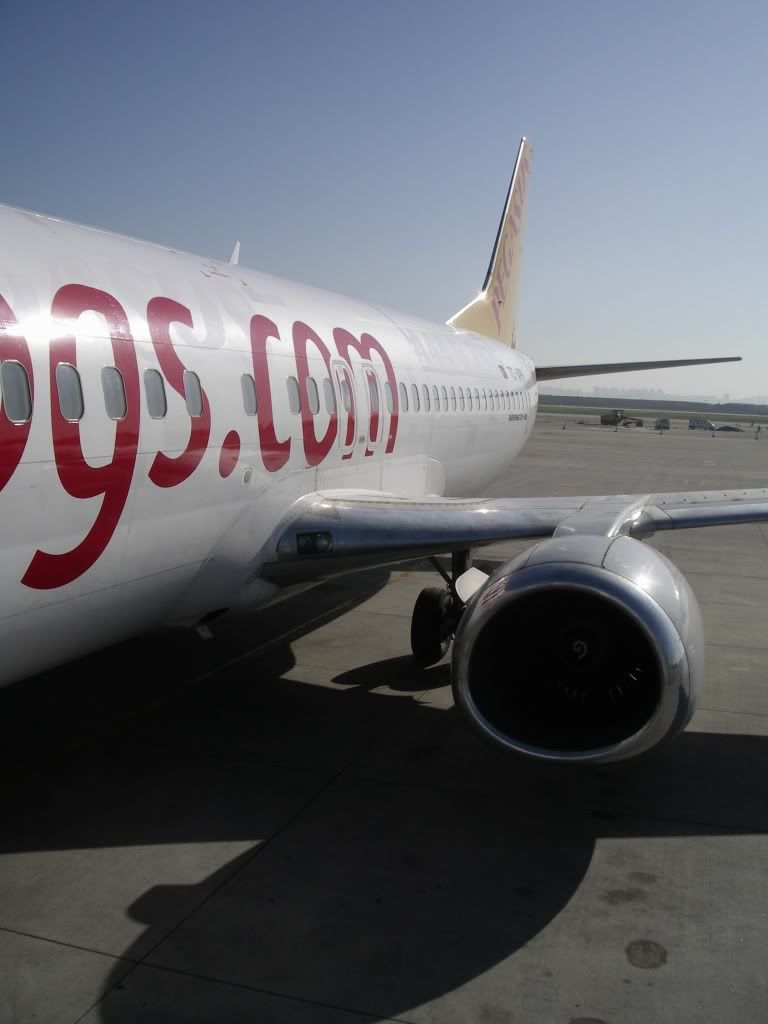 A real friendly welcome from the FA´s, in total four females on that machine.
Let me say, I was not unhappy with that seat, 1A gone missing and so I had no seat in front, perfect legroom here.
Should I change my choice with the seats?.
Legroom: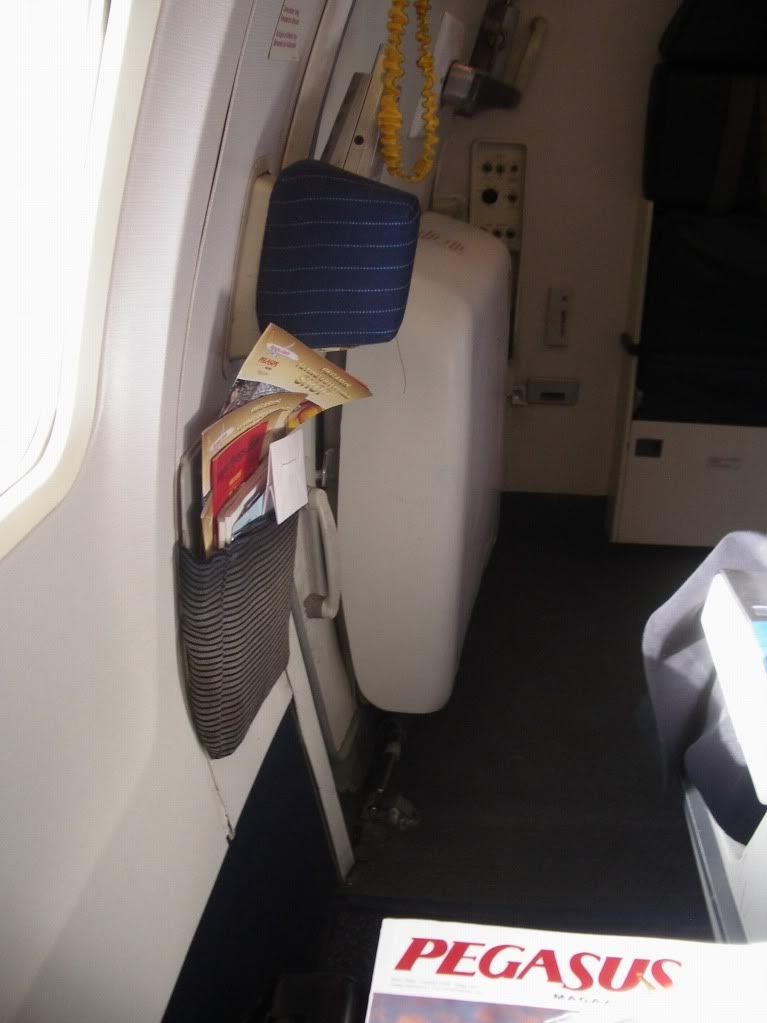 Cabin view: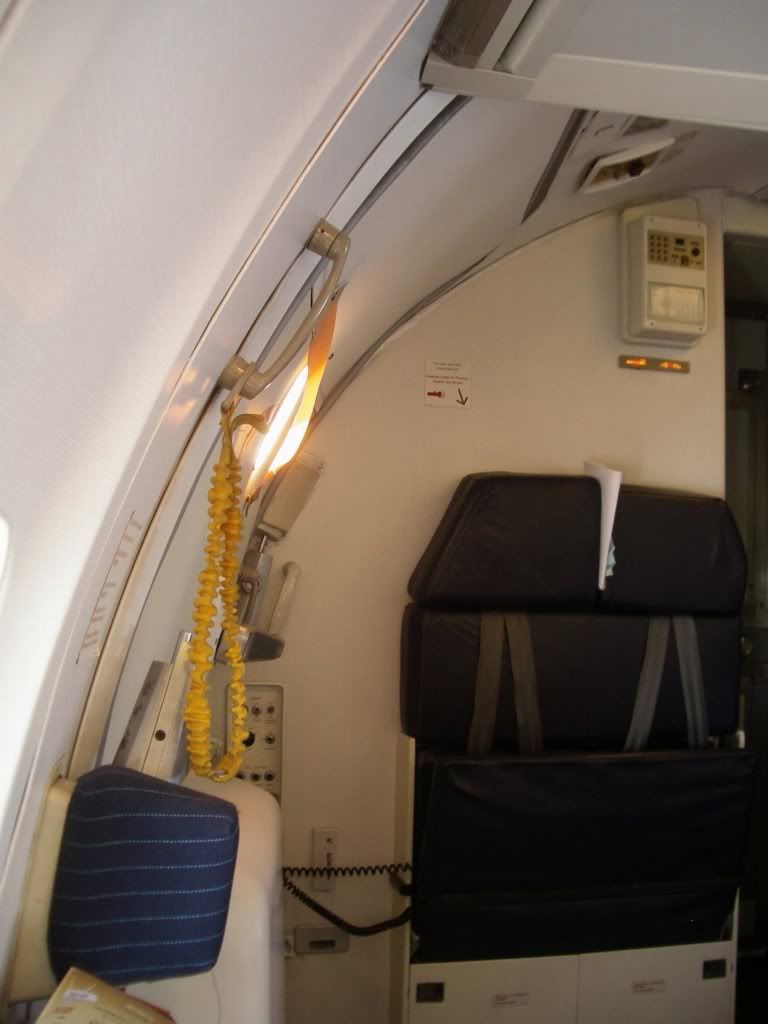 My seat: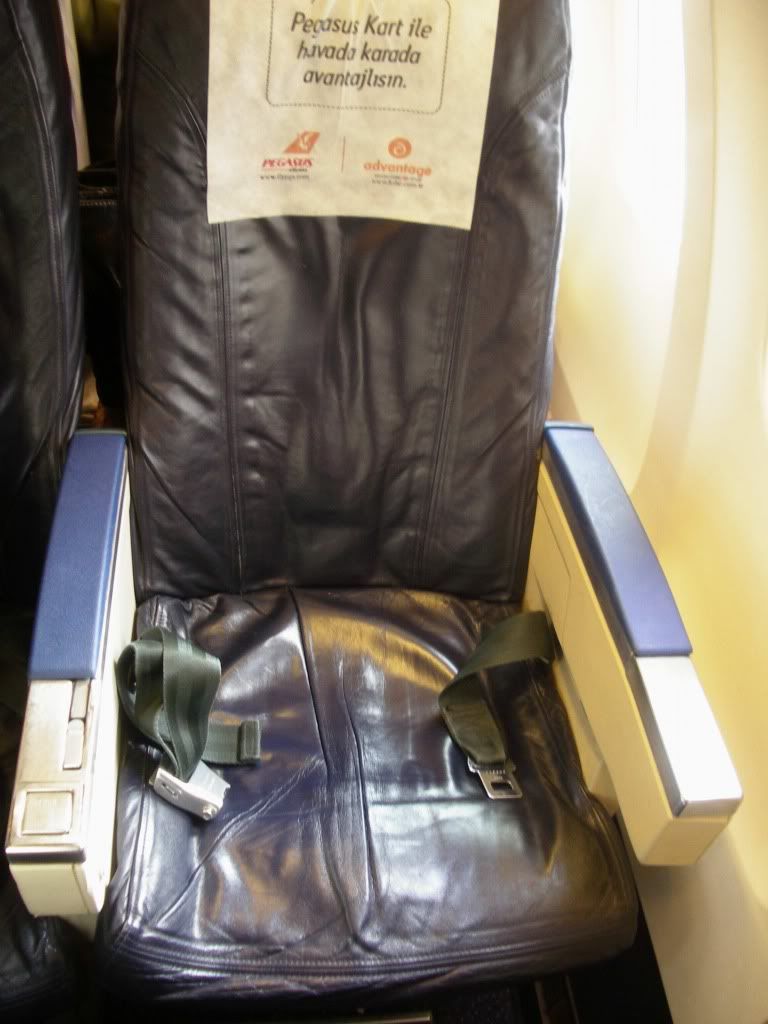 The cabin shows all signs of a heavy used one, somewhat dirty, people with thousands of bags in the cabin, unbelievable.
A real friendly welcome from the well experienced captain while taxi, I saw him during late boarding, he´s doing the walkaround. He told us about airport operational reasons for the delay.
Aerorent still there:
The three holer: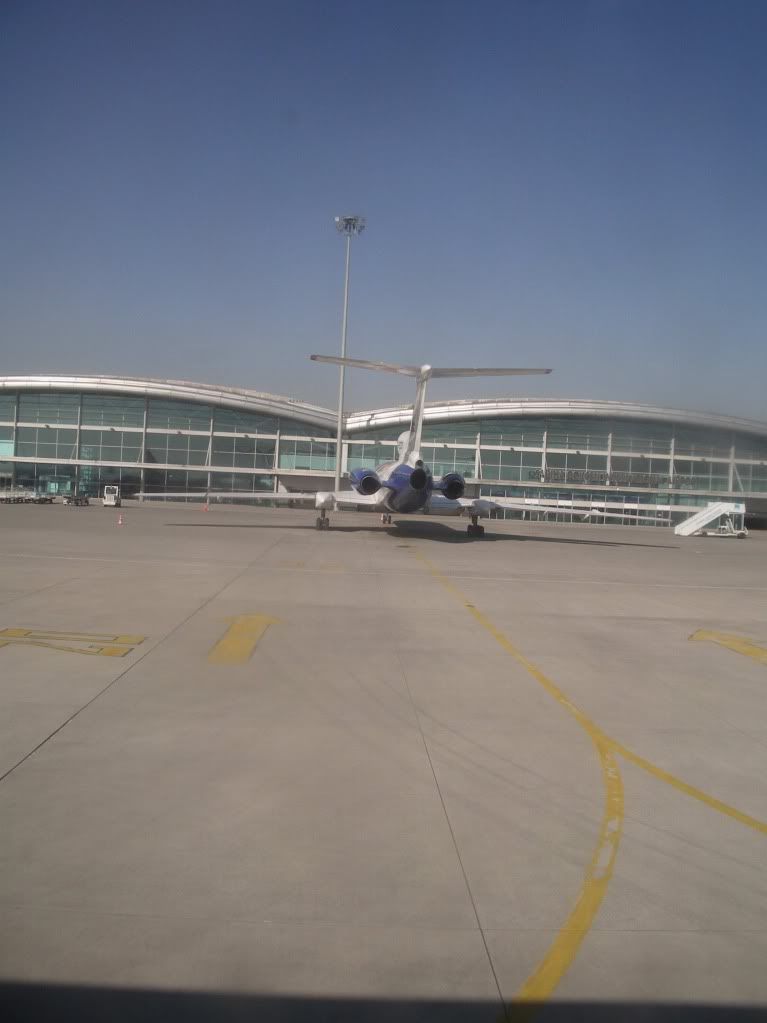 Once more:
Departure from runway 24 like arrivals, rattling and shaking, real flying here.
Just departed: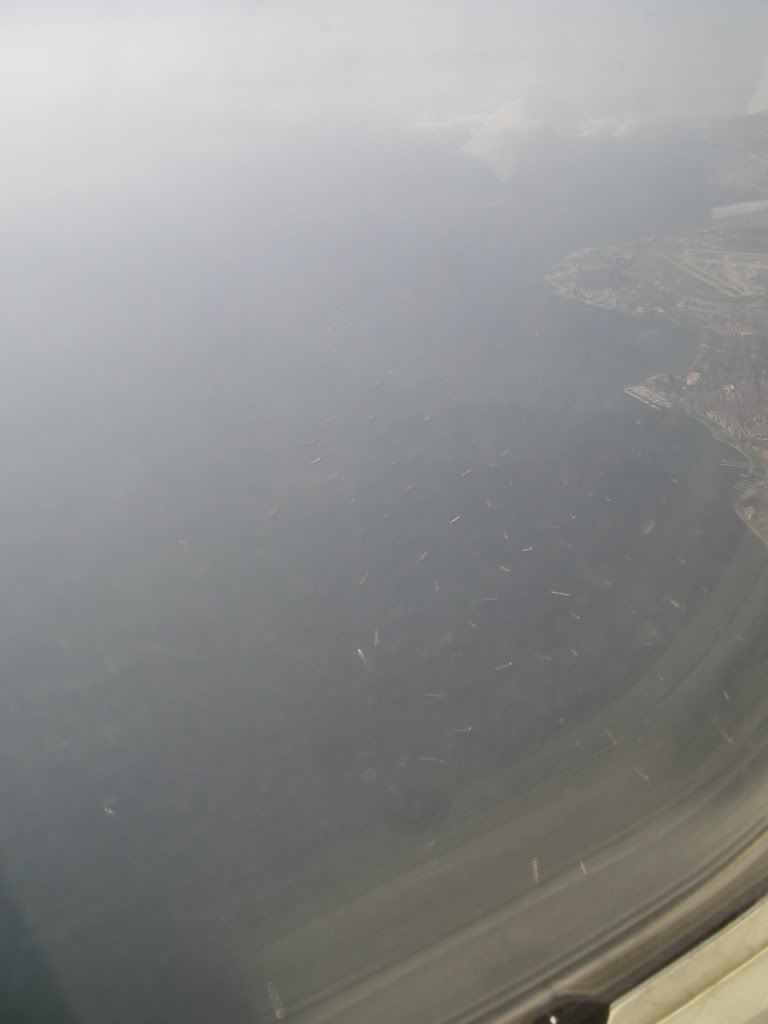 No fog at IST:
IST details:
Once more: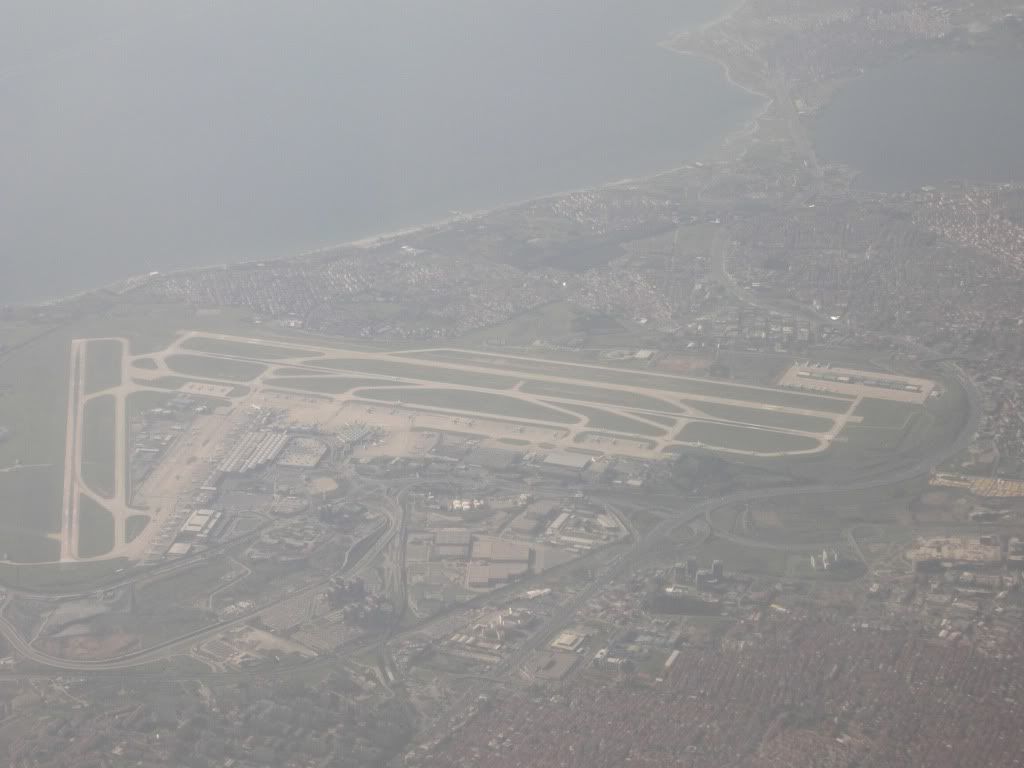 Directly above: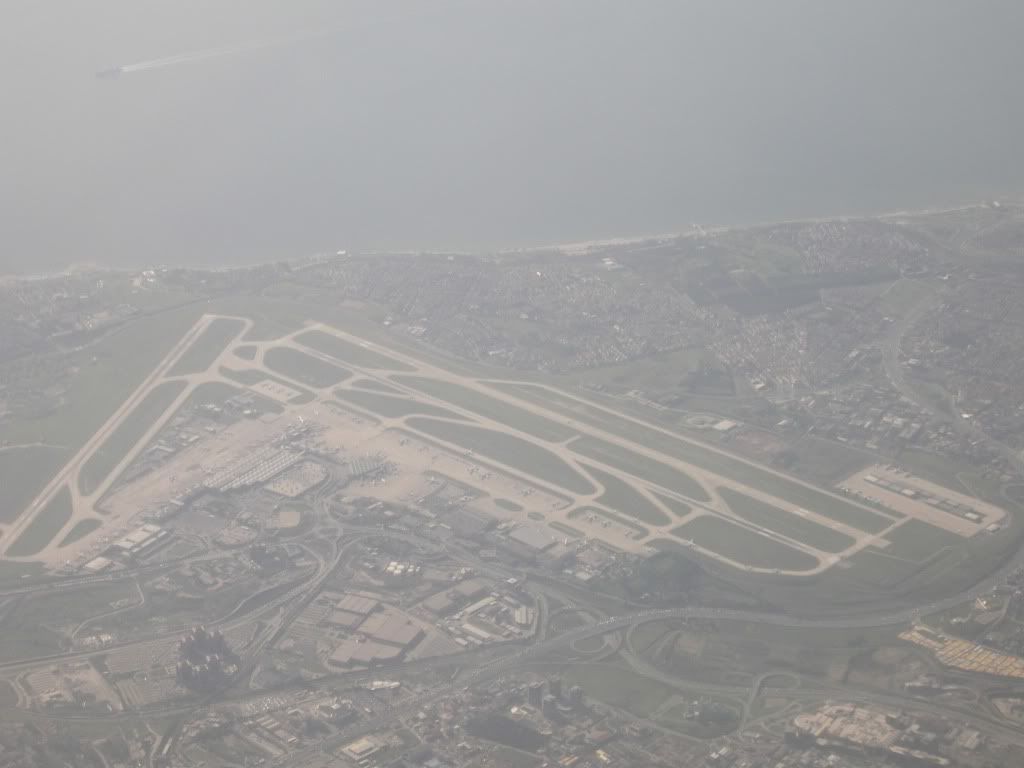 Leaving IST: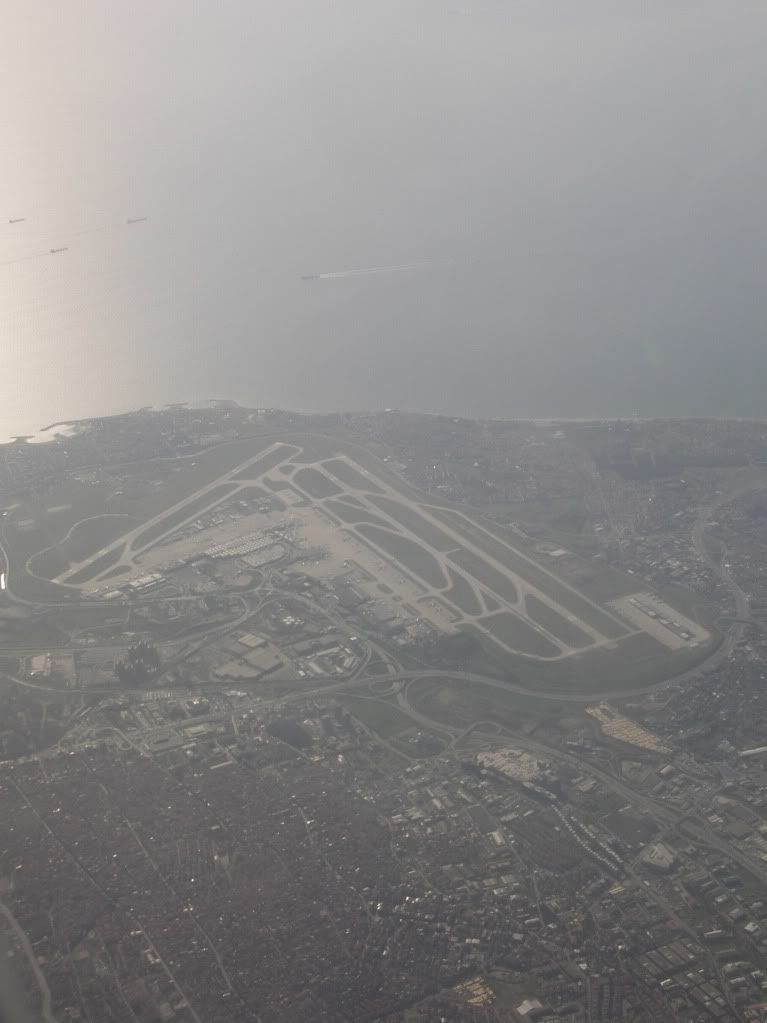 No route info, flight level 31000 feet.
Inflight: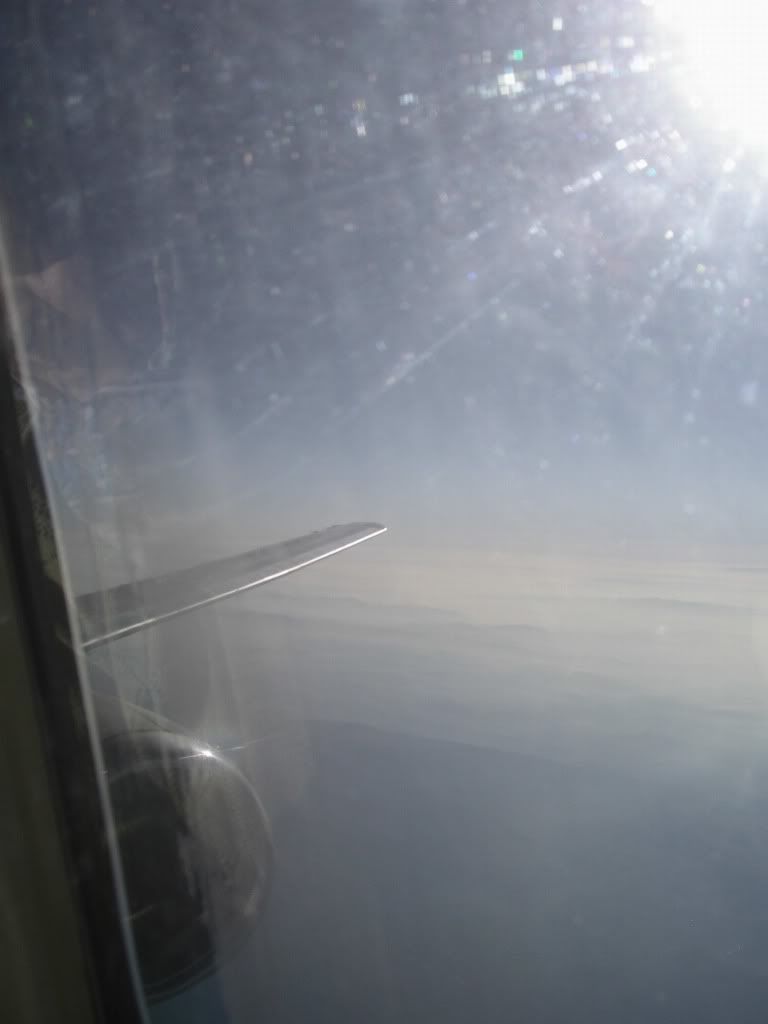 Leaving the alps: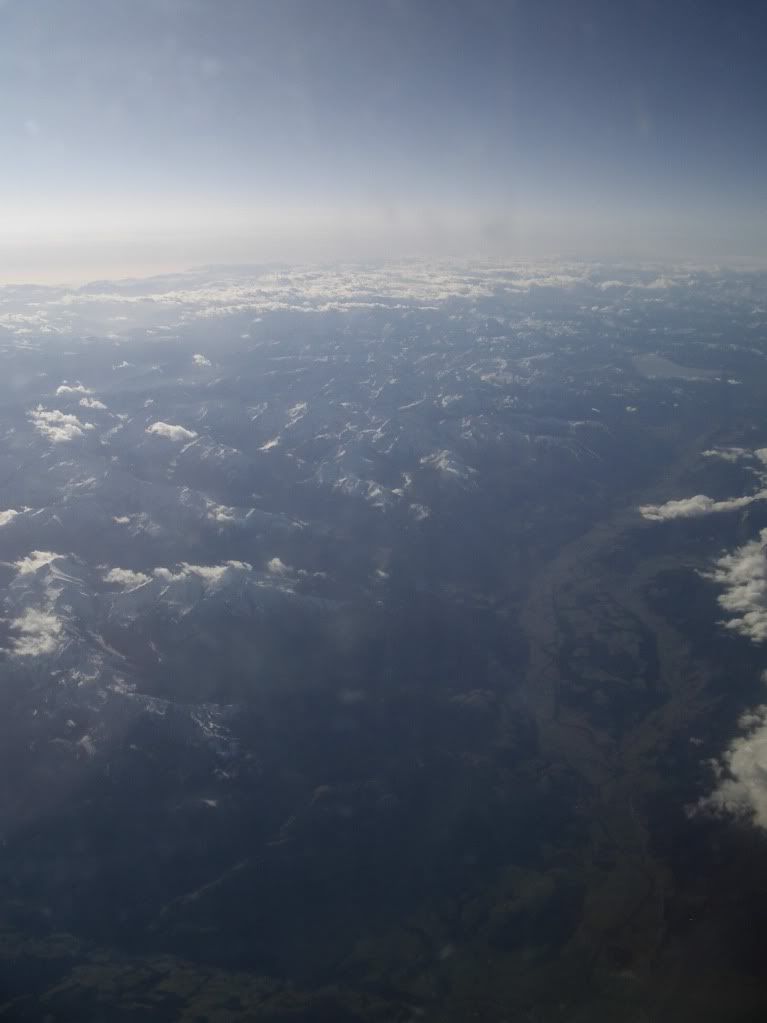 Service was buy on board.
The magazine: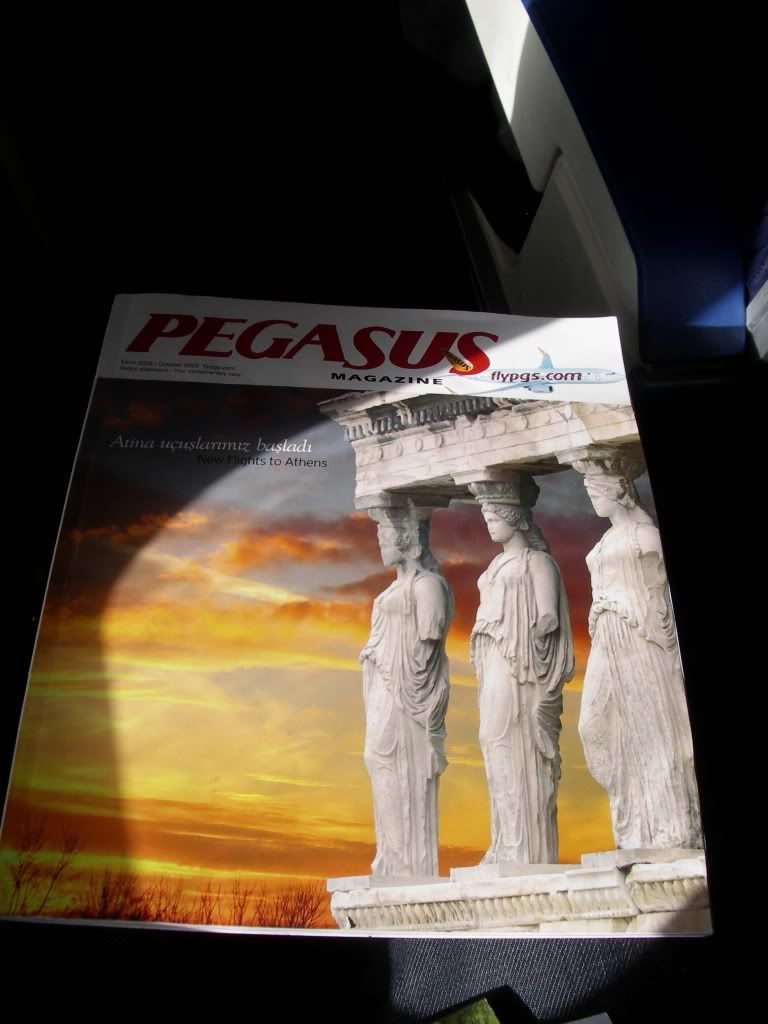 The flight was calm for the first hour, than we experienced a heavy shake and the seatbelt sign was on for some 30 minutes.
STR weather forecast shows me gusting winds up to 60 km/h. The flight was shaking for the whole time and the seatbelt sign was
off for some 15 minutes only and later on again till arrival into STR.
Approach for STR´s 3345 meter runway 25 started pretty early and was despite the announced wind situation nothing special.
My machine at STR: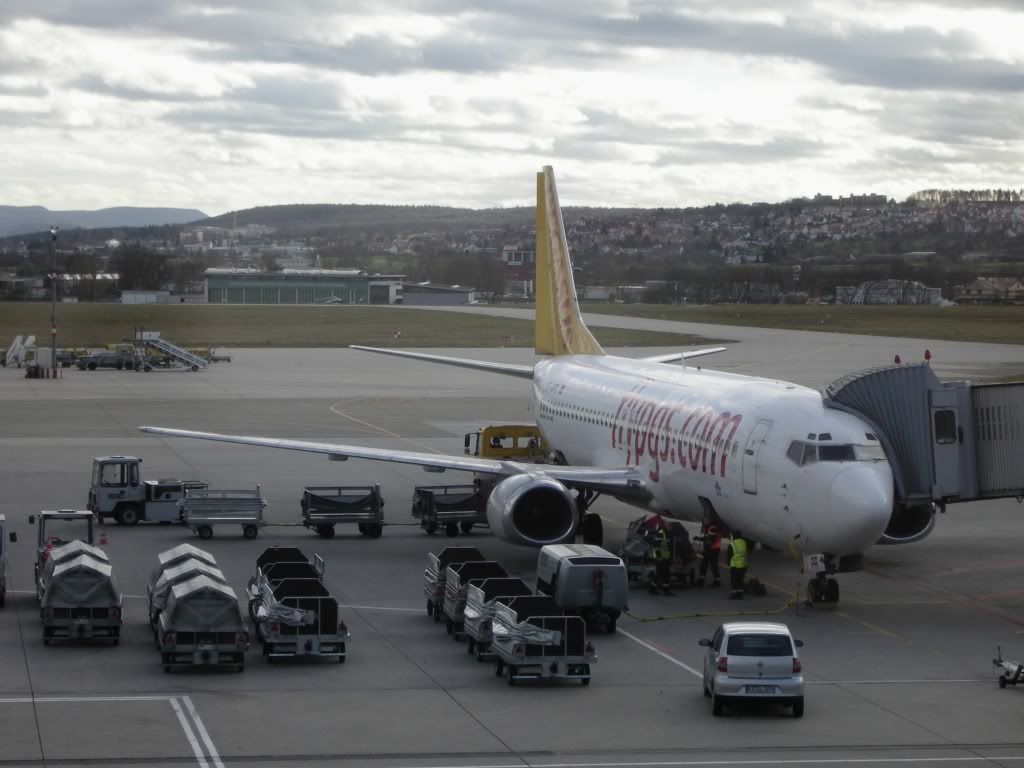 Touchdown nearly an hour late, a real friendly bye-bye from the lead FA, finger deboarding, not that long to wait for my bag
and on the way back home.
So, SAW, nice from a design point of view and overall good looking, in details and operational still a lot of things to do there.
Pegasus, good fare, friendly pilots and also cabin staff, relaxed atmosphere.
Interesting metal here and no problem to go again with Pegasus, always good for some last minute aircraft changes.
And further, some aviation wise calm weeks around christmas and early next year bound to try another North African airline
and some classic metal on the way back to Europe.
Comments welcome,
Markus (FLIEGER67)