Indonesia Air Asia
Singapore Changi Terminal One (SIN) – Jakarta Soekarno-Hatta Terminal 2D (CGK)
QZ 7785
Airbus A320 (PK-AXA)
ETD: 1745H (retimed 1825H, retimed 1925H)
ATD: 1950H
ETA: 1815H
ATA: 2030H (Local time)
Flight time: I hr 40 min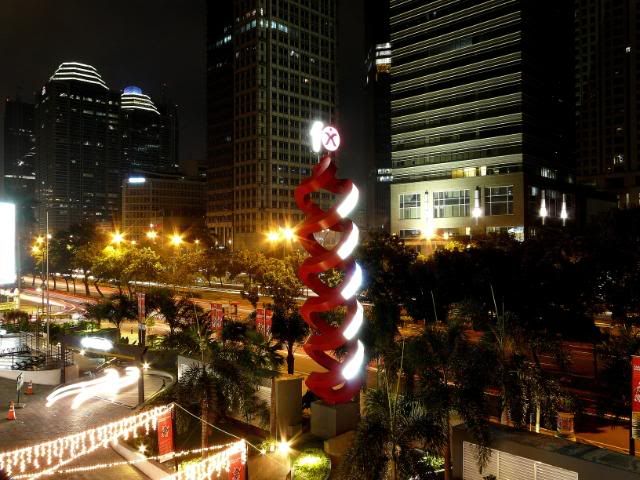 Indeed it is the final piece of the puzzle. I have flown numerous times on Air Asia (AK), Thai Air Asia (FD) and Air Asia X (D7). Somehow Indonesia Air Asia (QZ) always managed to elude my clutches until now. Is the product as consistent as the rest of her siblings? Is the cabin crew just as seductive? Slightly parted come-get-me lips laden with pink gloss included? And what about the famous tight… so-tight-I-can-hardly-breathe blood red outfit the Air Asia hosties have become synonymous with? Would any buttons pop? Why is the VPL always strangely absent? Would someone faint from being too hot under the collar? Is the A320 really made out of recycled plastic?
I aim to find out…
Every trip my previous company sent me on, I always had the privilege of enjoying an SQ-only policy my office had. Somehow they were vehemently against "other" carriers and they were only to be used as a last resort. Airlines like Garuda, Lion, and Biman etc were to be avoided at all cost and there was no arguing with Human Resource. This was a fair requirement, I guess – seeing how SQ's base is Changi, frequency flexibility and a perceived safer passage to a nearby destination was of upmost importance.
Unfortunately, when you are running your own business on the side and travel becomes a must, cost is everything and you just have to watch every dime like a diva over her jewels. This was such a trip. Other full serviced carriers (LH, QR, SV, etc…) plying between Singapore and Jakarta all had "cheap" fares in excess of USD180.00 before taxes. SQ was now totally out of the question for obvious reasons (ahem… $$$$$$!!!) – or should I say out of my league. Damn, who do I have to prostitute myself to in order to get my SQ privileges back?! Any takers? Anyone?
Air Asia in this instance had the best fares and timing amongst the other LCCs so I managed to snag a pair of tickets (my other half came along for the ride) for an all inclusive USD75.00 per pax with assigned seating, check in bags and food taken care of. Despite all franchises carrying different airline codes, they utilize one common webpage which was an ease to use.
27th November 2009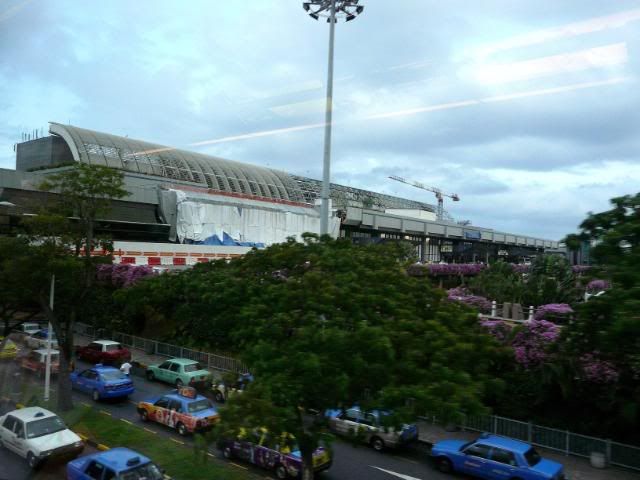 Exterior of Changi's Terminal One, all bandaged and skeletal.
Even before I left home, the journey's omen was telling – a sms the day before that my flight has been retimed. No big deal because we planned all our meetings to occur the next day. At least the airline had the ability to inform me. Thumbs up! I prefer to see the glass half full rather than otherwise…
Mum and dad were also heading to BKK that evening. So they offered to give us a ride to the airport, where they would leave their car for the weekend. How could you not love parents like that? However, they could not wait to get rid of us at Terminal One (their flight departed from Budget Terminal) because a "dirty weekend" awaited them in the city of Bangkok.
"OK Bye bye… Hurry, hurry get your bags out. Ok, take care! Don't be naughty! Bye!!!"… Suddenly my dad's car was just a cloud of dust.
Never have I felt so unwanted by my own parents who could not wait to "get their groove on". Just as well they got food poisoning from roadside food while they were there. Just kidding, I love them to bits.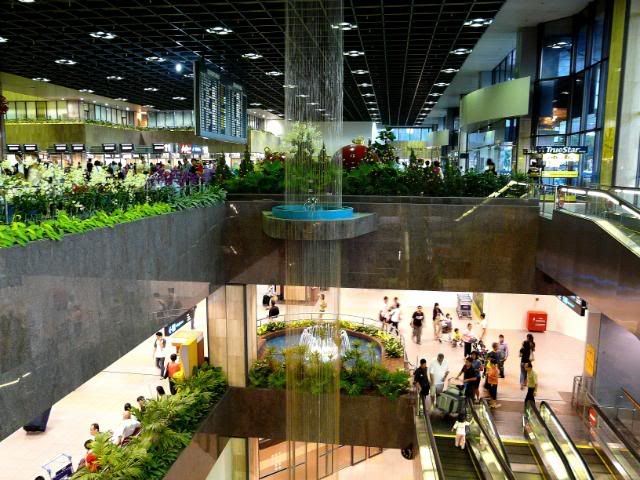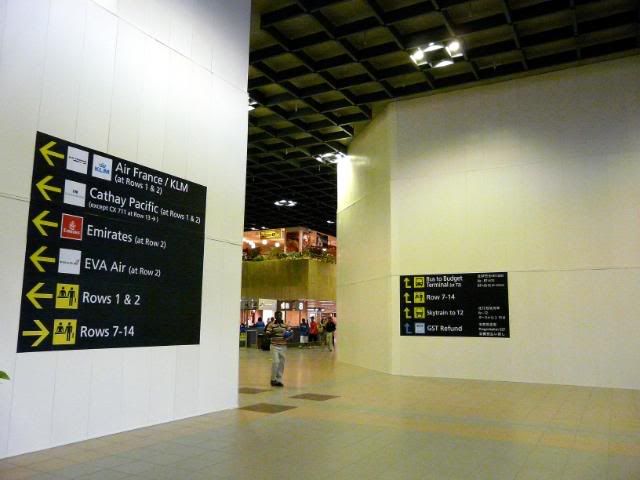 Where are we heading to?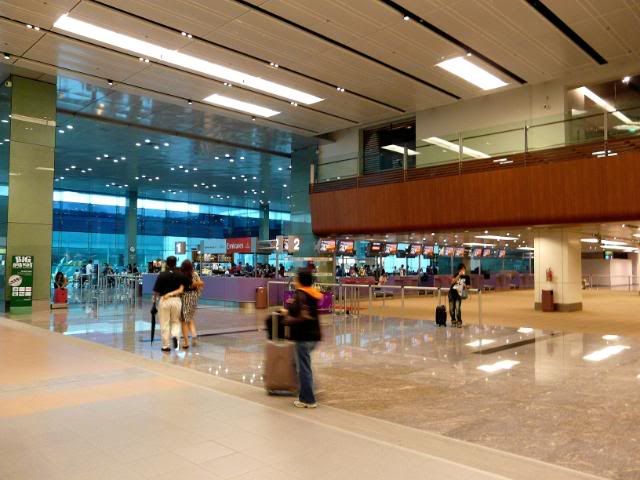 Ah yes, the finished product after the bandages are removed. All perky and fresh, eventually the whole terminal would look like this.
Moving on, the "uglification" of Changi Terminal One has begun to manifest. While previously I was pedestalling the virtues of them being able to hide the renovations of the interior, the same cannot be said on the outside. I cannot wait for this makeover to be completed. We all love to compare the before and after, but don't want to see the bloody surgery and painful recovery period. Sorry, I must have been watching too much Dr 90210 on "E!".
It all began with 4 flights a day into Changi by Thai Air Asia, now (with the exception of Air Asia X) the rest of the franchises fly here bringing their daily combined flights to a whopping 25! A common check in area was very simply set up with 6 counters – two each for flights heading to Malaysia, Indonesia and Thailand. Besides all their established hubs for respective franchises, Singapore has been labeled a "focus city" (or virtual hub, or peanut plantation, or meat market … or whatever other terms some smart aleck will come up with) for this airline which explains the traffic volume.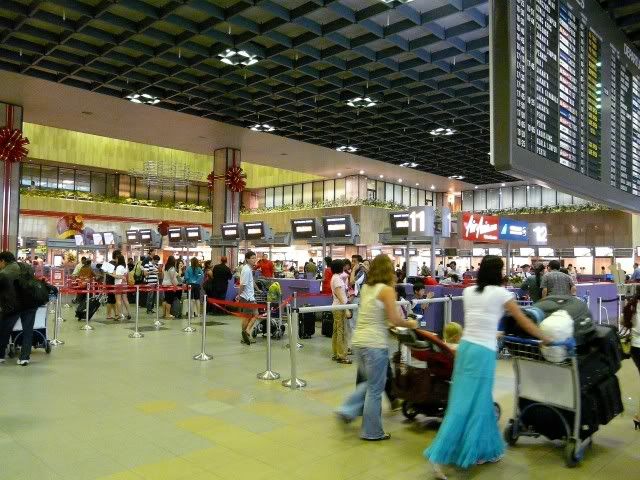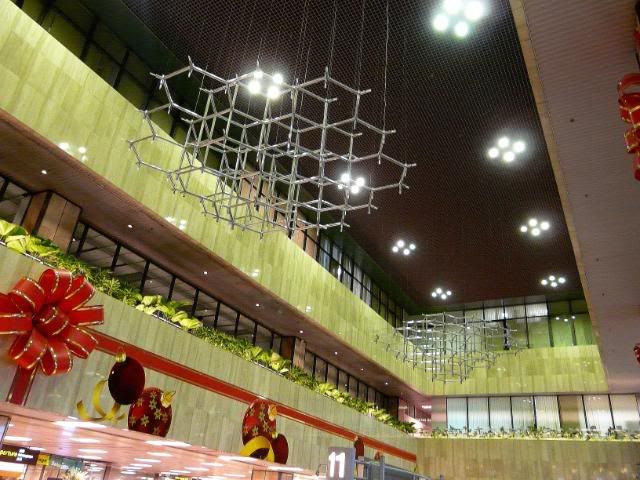 The theme for this year is "A BIG CHRISTMAS" which explains the giant ribbons and… err… Santa's big balls.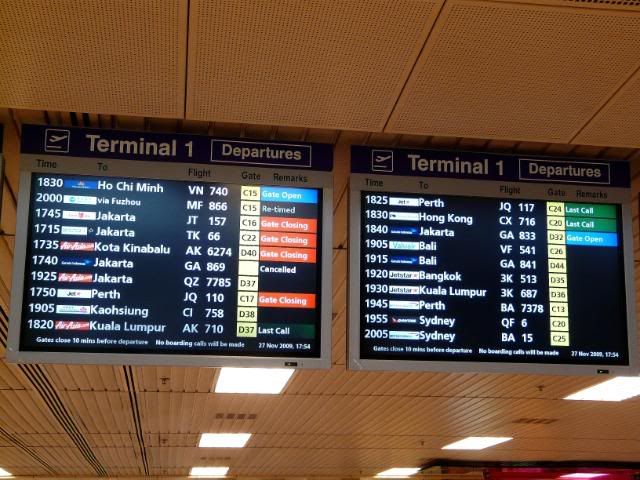 The Singapore Low Cost Carrier war has been followed with much interest. Stroke-ridden Jetstar is forever re-learning how to walk with her cancerous Valuair tumour attached. Tiger Airways' crouching and hidden operations from the Budget Terminal seems to be chugging along but God only knows what is going on there. No one seems to fly them much unless there is a "pay tax only" sale. The Air Asia gang is meanwhile smirking along as they attack Singapore via their MUCH lower cost base overseas.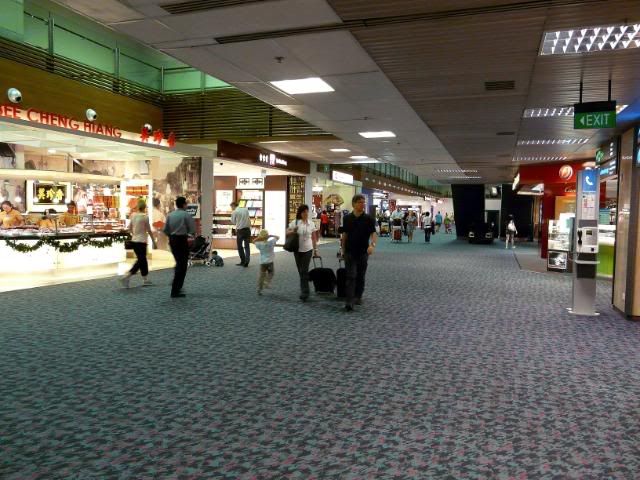 Airside – where there once were windows, are now either filled up by retail use or boarded up by renovation works.
Let's go airside… The windowless airside. Gosh I REALLY hope for the renovations to be completed soon because one thing I cannot stand is the lack of a common viewing area. Airport retail therapy does nothing for me because if I needed one, a weekend market bazaar works heaps better, not airport duty free. Little wonder why I can never wait to get out of Australian airports! No, I do not want to sample another freaking cologne… *eyes nametag* Oooh… Francois… That is a nice name…Very nice name…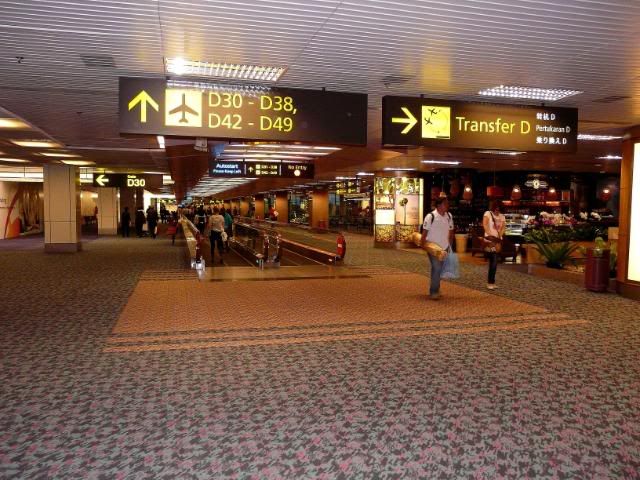 You would be upset too if your flight was re-timed. I was trying very hard to contain my displeasure because I didn't want any wrinkles to form. But in the end, perhaps I did let out a tiny squeak…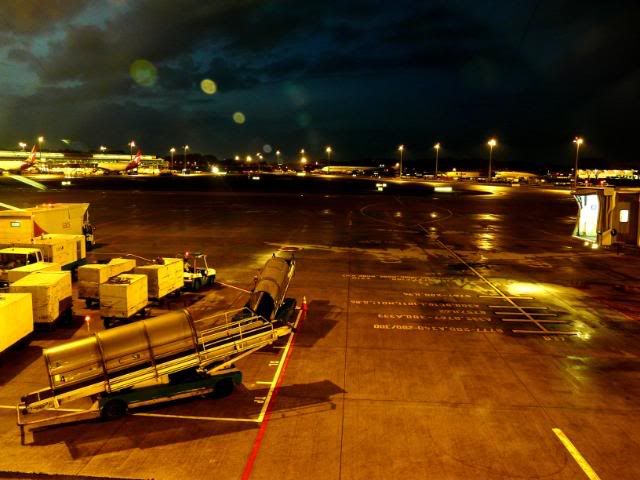 Hello… I am on time but my plane isn't. The empty Gate D37 devoid of my ride.
We headed to the gate at 1900H only to be turned away like stupid people because another Air Asia flight bound for Kuala Lumpur has not even begun boarding. Moments later, the boarding lounge emptied and we Jakarta-bound hobbits were finally granted permission by the dungeon guardians to enter. Hmm… It is getting close to 1925H (our scheduled departure time) but the gate was without a plane. It later dawned on me that 1925H meant the arrival time of our plane at the gate, not the actual departure time. Air Asia should really print this properly on their supermarket-like receipts and not cause any misunderstandings.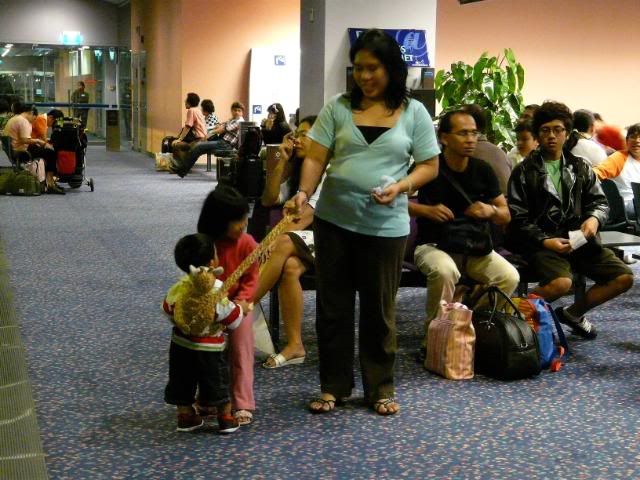 Some passengers got impatient and had to be leashed.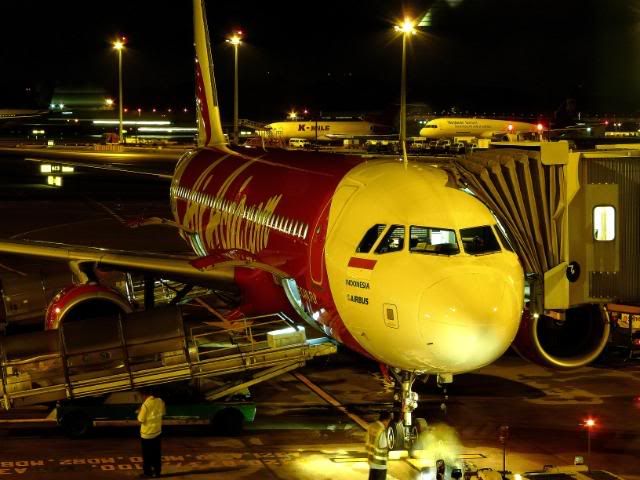 Finally!
Bang on the dot… Brand new looking PK-AXA pulled into the gate and was on-chox at 1925H. Who said the timing is off? It is "on time", isn't it? Since we were occupying the boarding lounge, passengers on a later Indonesia Air Asia flight (another re-timed one) bound for Bali could not come in. I wonder if the re-timing of flights was due to this usage of the boarding gate. Still, there were some on the later flight who got through security only to be recalled by the frazzled gate agents after consolidating the boarding stubs. The potential for a "Home Alone moment" boarding the wrong flight was very high that evening in the mounting stress the agents were obviously facing. Dry lips and perspiration in 20+ degree air conditioning was an obvious indication.
1940H: Boarding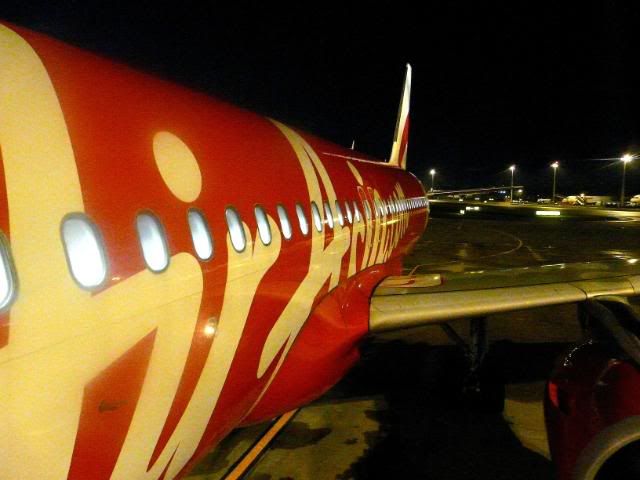 Before a riotous pandemonium could erupt, we were told to board by row numbers and strangely, they started with the passengers sitting in the front rows. X-press privileges, perhaps? The load ensured that the boarding process was completed quickly and we pushed back 10 minutes later. A quick apology was offered by the captain and he justified the delay was caused by "operational reasons" - an overused and generic excuse AFAIK. It was a nice gesture, nevertheless. I didn't envy the employees in dispatch and operations though as they must have had one hell of a blood vessel bursting work day. Just another run-on-mill event at Air Asia, I guess.
We taxied an unimaginable speed towards Runway 20C, only to slow down abruptly halfway to a wheelchair crawl. When I was in ATC, I did at times cautioned planes to watch their taxi speeds and would imagine something similar happened here.
2010H: Take off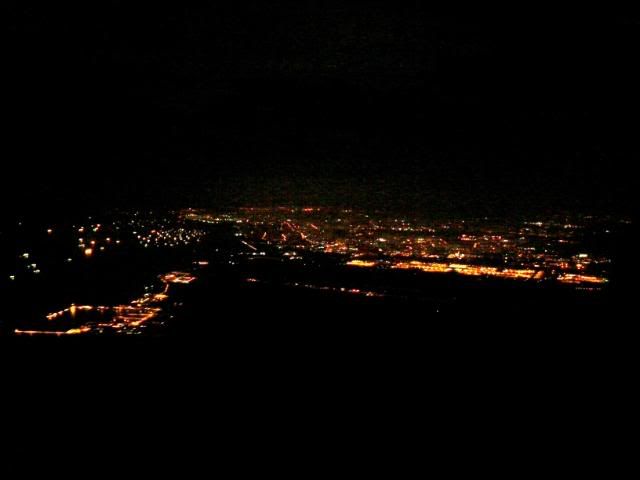 Leaving the island of Singapore.
The northerly take off towards Malaysia was smooth but we soon turned south and had our heading set towards Jakarta flying over Batu Ampar in Batam Island. Less than a minute after takeoff, we were already in Indonesian airspace. Singapore is THAT small. I believe if Malaysia ever attacks us, we would all just line ourselves along the shoreline to row the island away, rowing ourselves away to annoy another territory elsewhere. Hahahaha… But I digress.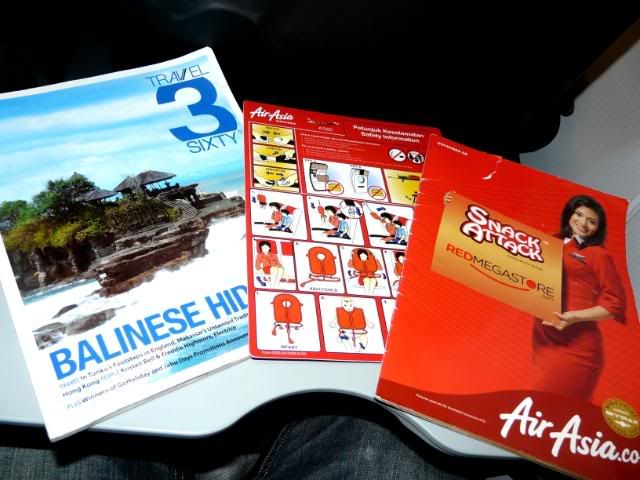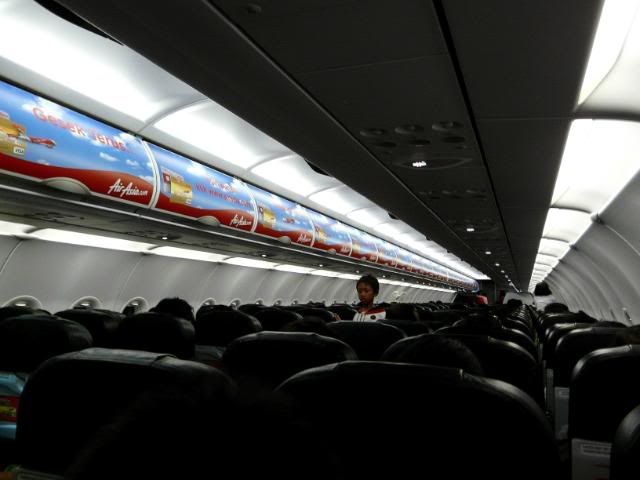 Cabin crew seems to be getting younger and younger. Or am I getting older?
Just kidding, here's the entire set of crew commencing the meal service.
At half past the hour, the meal carts made an appearance manned by the entire complement of 4 cabin crew. One thing I have to admit, Air Asia's uniform looks smart. The ladies are "smoking" with their tight red outfit while some daring ones would deliberately show a bit of porn-esque cleavage (picture Pam Ann's "nuts… salty nuts" Vanity). The guys look somewhat erotically Communist with their Mao-inspired Chinese-collar tops and the black/red trimming combo does go very well together.
Peanuts and cupped water was handed out free of charge while a passenger manifest allowed the cabin crew to know who pre-ordered their meals. After a quick verification with the boarding slips, we were good to go and chomped down our nasi lemak, with extra packets of peanuts and water. As much as I have complained about the menu on the CGK sector, I suddenly missed SQ's potato/fish and chicken rendang rice. But still, I have to say Air Asia's nasi lemak is always of palatable quality.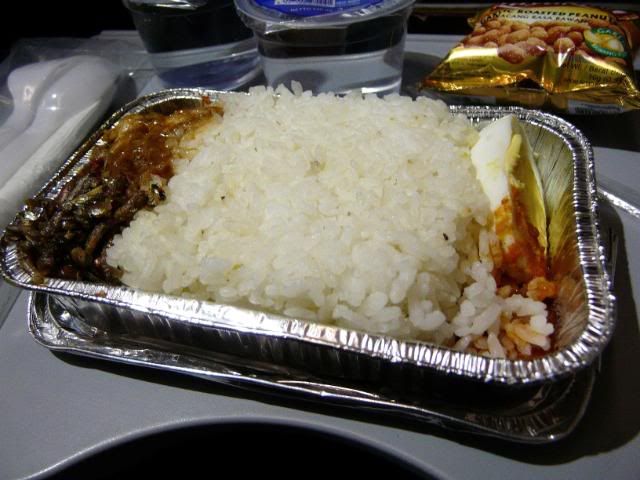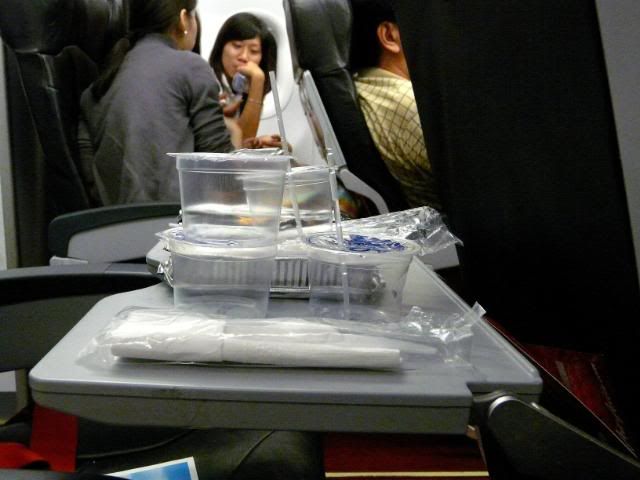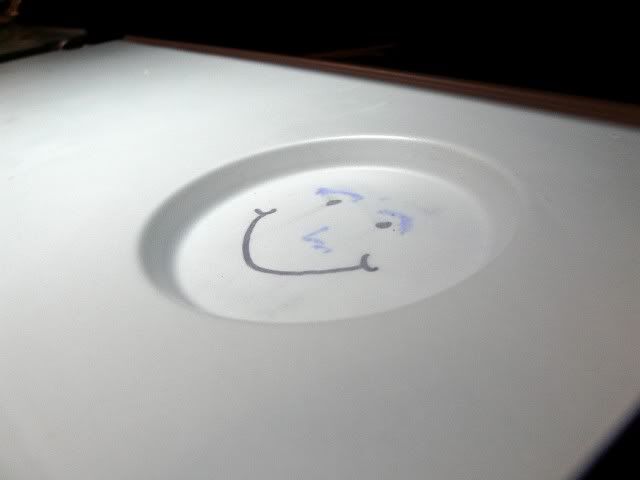 Without IFE, we tend to create our own entertainment.
The meal service was completed in a jiffy 30 minutes before the female crew came about in a black trashbag to collect the unwanted rubbish.
"Rubbish to throw? Sampah mauh buang? Rubbish? Sampah?"
By now we were approaching the top of descend and the flight deck came on the PA to announce our arrival. Approaching Java from the north, passengers on the port side of the aircraft had a fantastic view of the giant metropolis Jakarta all lit up in her orange glory right up to the coast. On my side, all I saw were sporadic spots of lights on the water amongst the vast darkness.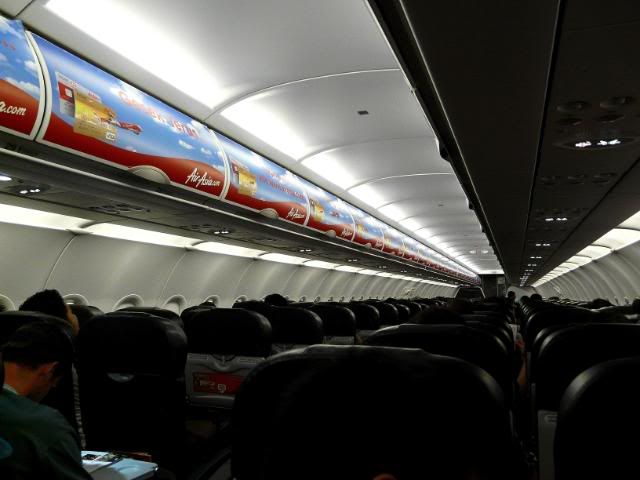 Just before lights out after cabin was secured.
Approach was carried out towards the perennial 25R as with all international flights, they seem to be only using this runway.
No matter how seasoned I am as a flier, de-boarding a plane via the stairs never fails to get my heart pumping with excitement. Perhaps it is the sound of an APU whining? Or is it the smell of Jet A1 wafting into my nostrils? Whatever it is, when our aircraft pulled up to a remote stand (my first time happening in CGK!), all these feelings came flooding back into my chest cavity and the blood gushed just that little faster around my body, giving my groin that arousing quiver.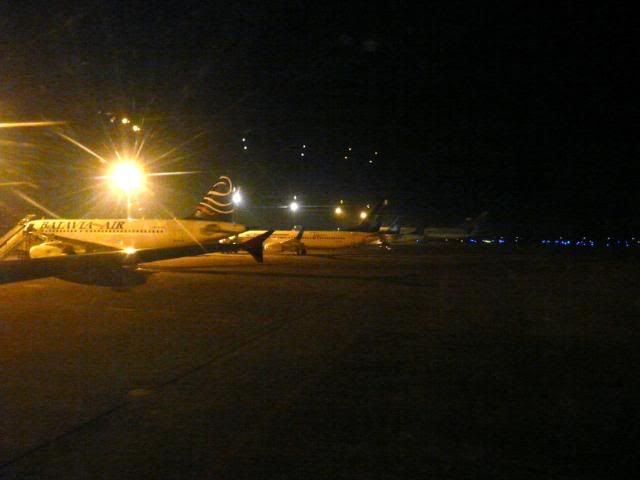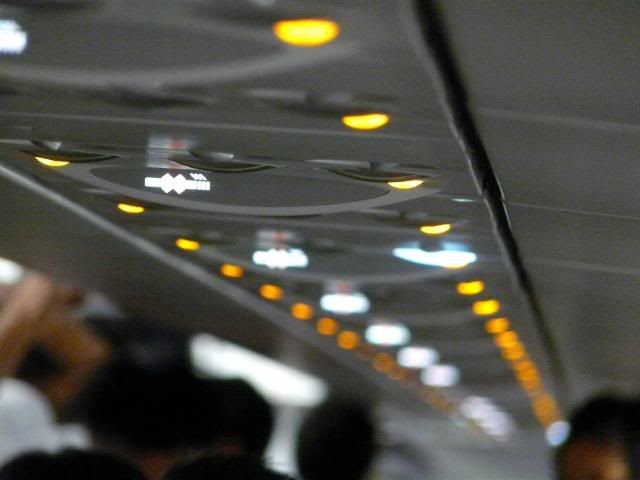 Seatbelt sign pings off, time to grab your bags run and for your lives… Some things I will never understand. What's the freaking rush?
2140H (local time 2040H): On chox…
One final glance at the pouty team of cabin crew clasping their palms together in a Thai-styled "wai", our feet clunked awkwardly down the stairs towards a waiting bus and the air was heavy with humidity accompanied by a choking haze. I guess the rain didn't manage to wash out the forest fires just yet? The stark bare concrete walls of CGK welcomed me back with flickering fluorescent lights as we made headway towards immigration.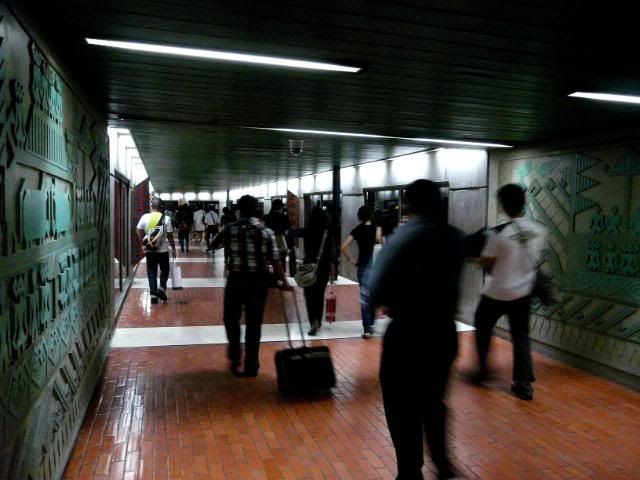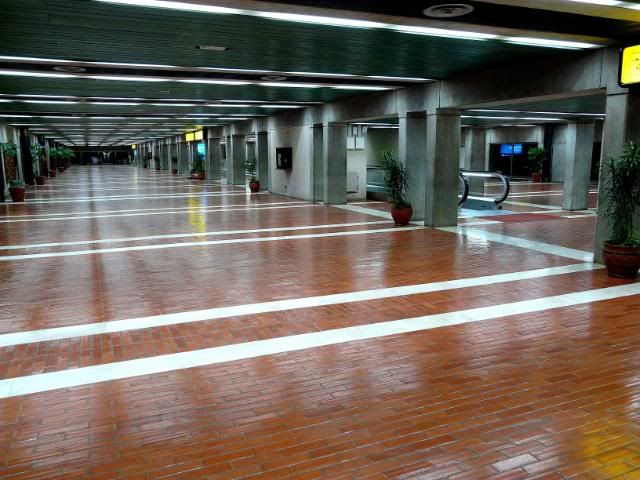 While there, I strangely saw a counter specifically meant for Indonesian labourers returning from overseas aptly named Tenaga Kerja Indonesia (TKI). Perhaps this form of local discrimination is necessary as these poor workers needed special re-entry clearance protocols. However, there have been cases of darker skinned Indonesians who were regular passengers being plucked out of the line by over-zealous immigration officers to be roughly shooed over to the TKI counter much to the chagrin of the one involved in the misunderstanding. This is Indonesia, if you are a person with no status expecting an apology from these officers is as good as asking Joan Rivers to go Botox-free.
Who said physical profiling only happens at UK, Australian and American airports?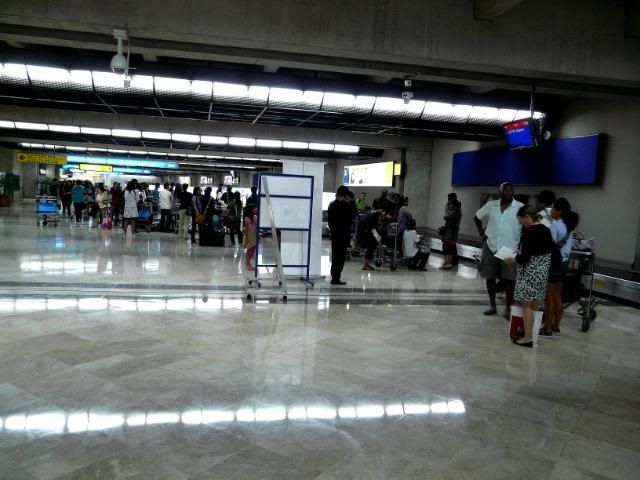 Baggage claim and customs were later a non-event and like clockwork, our driver was already waiting outside to whisk us away from the chaotic madhouse that is Jakarta's Soekarno-Hatta International Airport. Although I have to say the taxi touts were strangely absent on this trip! Have they all been gathered and hung out to dry?