-Sorry about the weird formatting. I had originally written this trip report in Notepad, and pasted it here, but for some reason, the paragraphs were all broken up.-
After weeks of planning and anticipation, it was finally time to begin my trip to England.
Since I had some luggage with me, I decided to use the Airport Express bus from
downtown to travel to the airport, instead of using the TTC, the public transit agency in
Toronto. After circling around various downtown hotels, the bus finally made its way
onto the Gardiner Expressway and Highway 427, arriving at the airport some 40-50
minutes after I had boarded the bus.
As soon as I arrived at the airport, I proceeded directly to the self-serve check-in kiosk,
where a friendly lady assisted me with printing my boarding pass. Since I was travelling
with my new laptop, I decided that it was wise to declare it at the customs desk (all the
way on the other side of the terminal!), to avoid potential trouble upon my return. After
I sorted that out, I proceeded directly to the U.S. preclearance checkpoint, which was a
breeze, and then through security.
I still had a couple of hours before my flight left. Knowing how boring Terminal 3 is on
the U.S. preclerance side, I just sat there patiently waiting for my flight to board. At my
gate, another Northwest Airlink CRJ was boarding for Minneapolis. It was quite
disheartening to see that all flights to DTW and MSP have been replaced by CRJs. I'm
sure YYZ spotters will miss the DC-9s.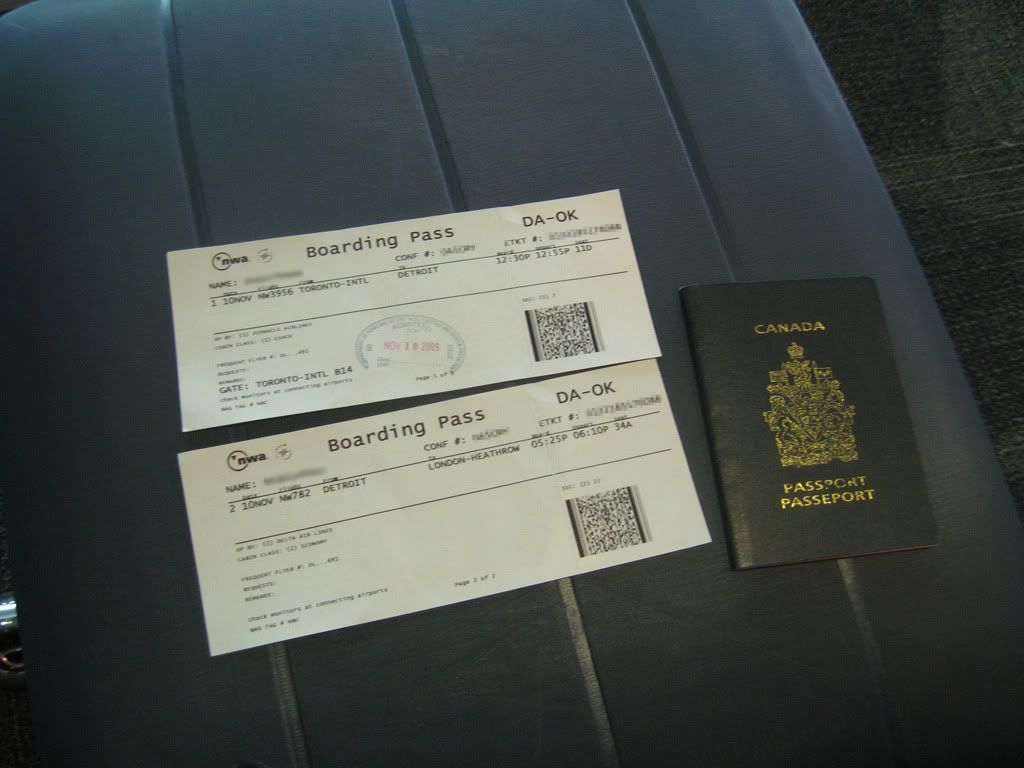 My boarding passes and passport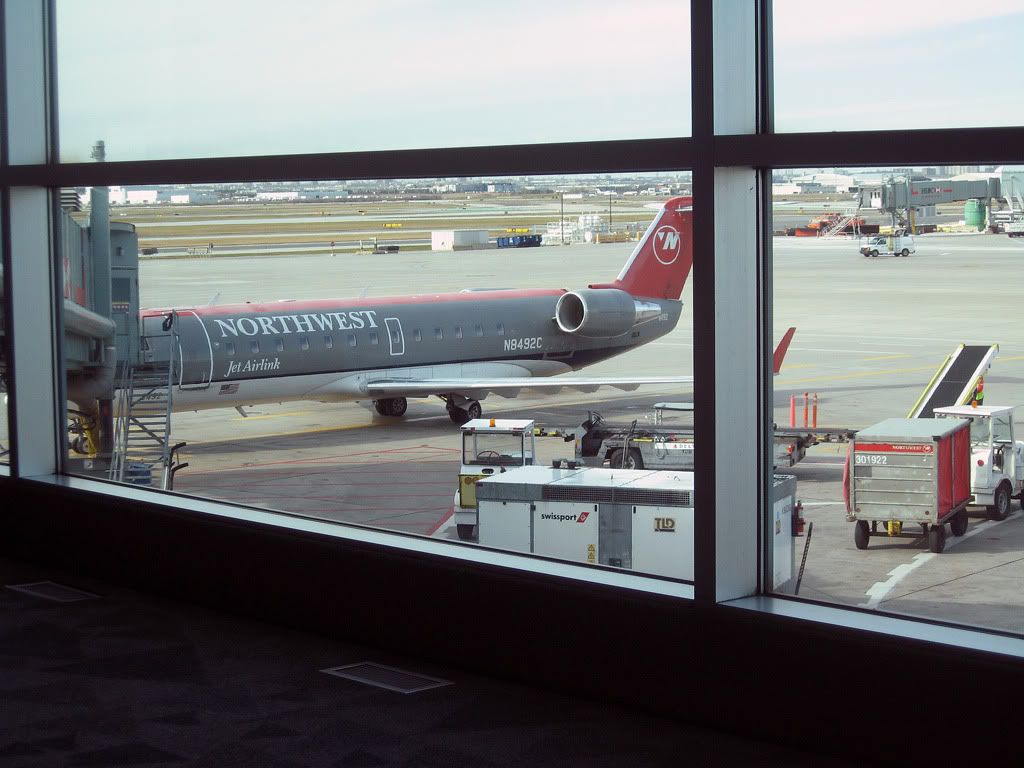 My NW Airlink CRJ to DTW, still in the Bowling Shoe livery
Surprised to see Air Canada at this side of the airport...
After a rather long wait, it was finally time to board my flight. As expected, my carry-on
had to be "gate-checked", since it won't fit in the overhead compartments.
Date: November 10th, 2009
Airline: Pinnacle Airlines dba Northwest Airlink/Delta Connection
Flight: 3956
Origin: Toronto - Lester B. Pearson International Airport (YYZ/CYYZ)
Destination: Detroit - Metropolitan/Wayne County International (DTW/KDTW)
Aircraft Type: CRJ-200
This was my first flight on the CRJ-200, and to be honest, I wasn't really looking forward
to it, as I had the impression that the CRJ-200 wasn't an aircraft particularly liked by
many flyers. Upon boarding the aircraft, I exchanged greetings with the sole flight
attendant on board the flight. After I got to my seat, I was disappointed at how low the
windows were positioned. I figured that I would get a sore neck after looking out of the
window for a while...
Pushback, taxi and takeoff was typical and uneventful. Not much to write about.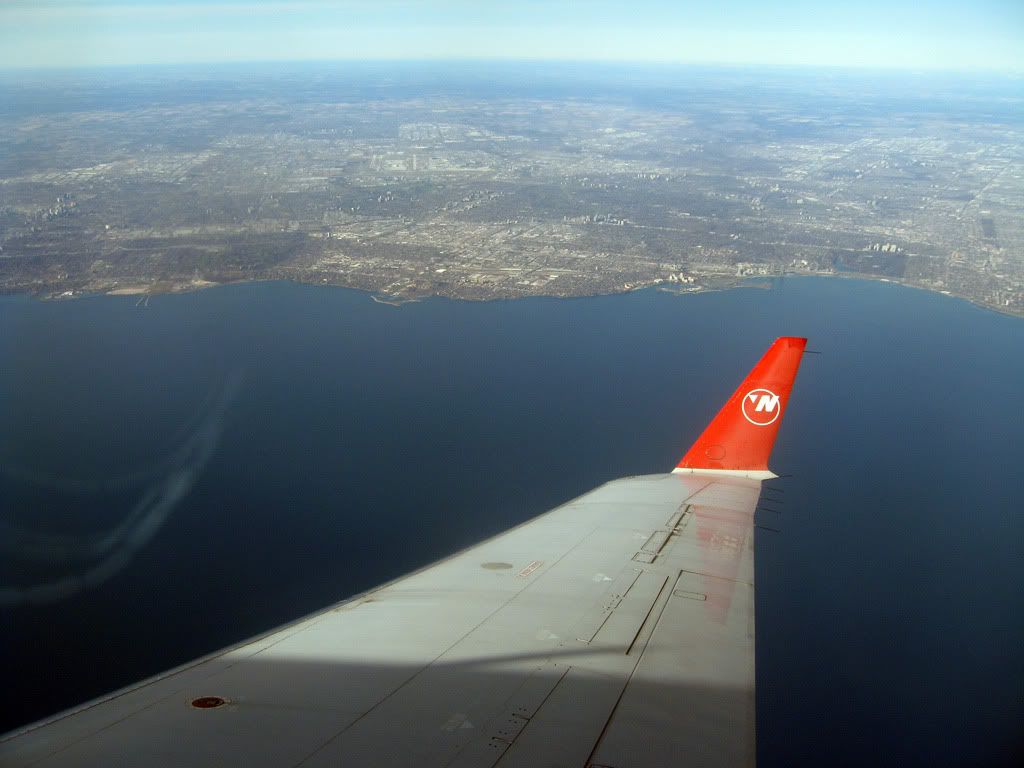 Over Lake Ontario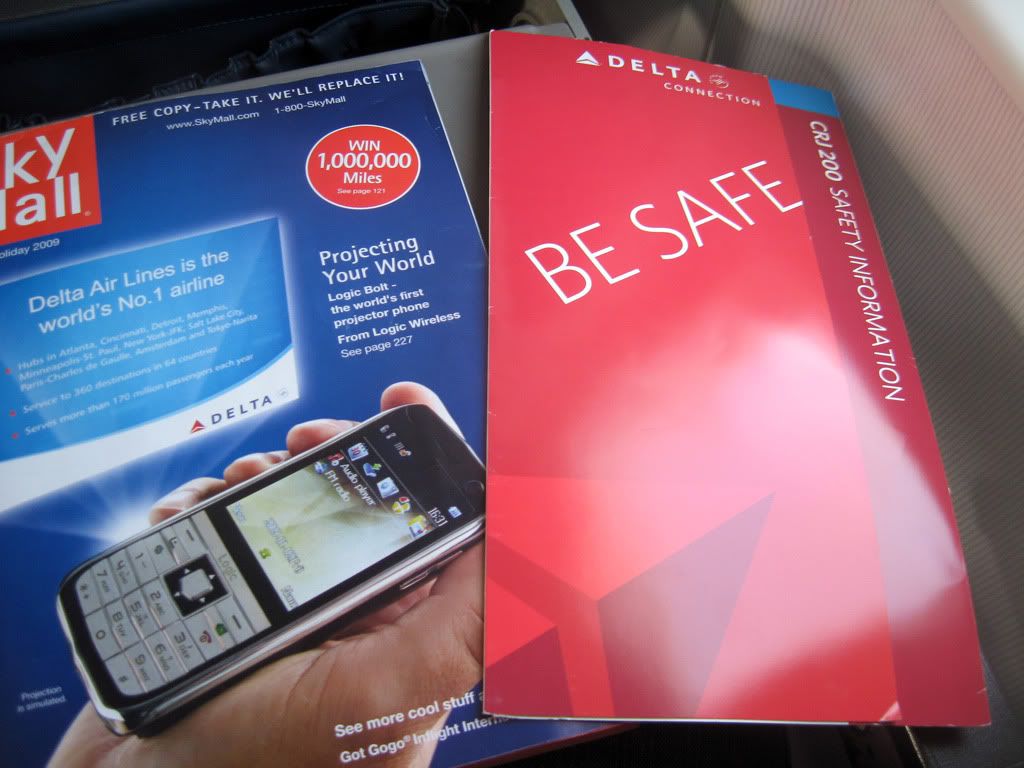 In-Flight Literature
Light Snacks and Ginger Ale
Soon enough, the short hop to DTW was nearing its end. I must say that the CRJ was
more than tolerable for this flight, although I would have certainly appreciated a DC-9
or even an A319, both of which I have yet to fly on.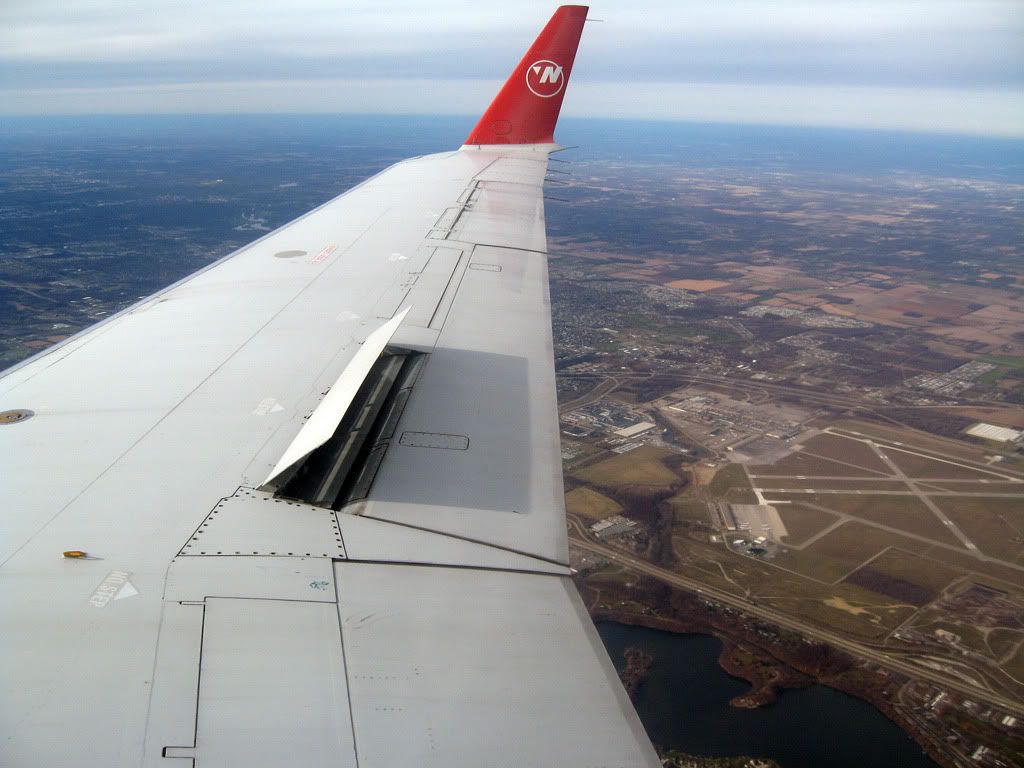 Descending. Not sure which airport that is.
We arrived at DTW and parked at the smaller concourse that seemed to be dominated
by RJs, except for a Continental 737. It was clear who was the dominant airline at the
airport.
After exiting the plane, I went to the terminal map/directory to figure out how I should
spend my 4 hour layover at this magnificent airport. Since I was hungry, I decided to go
to Fuddruckers for a Hamburger and some Fries.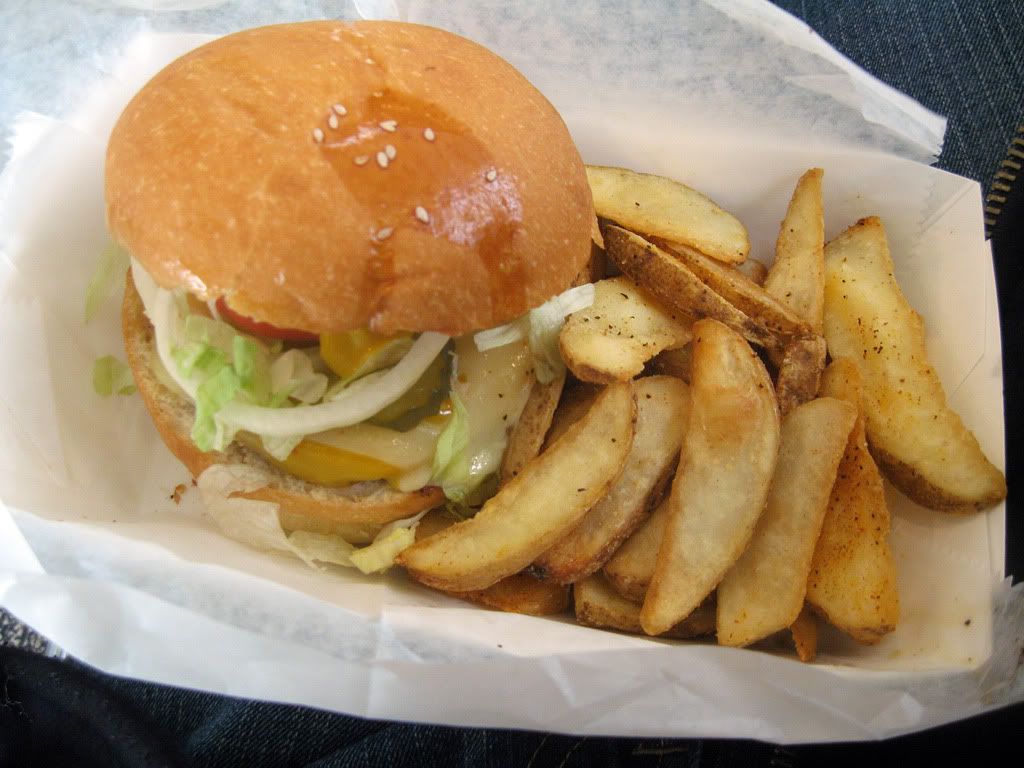 MMMmmm...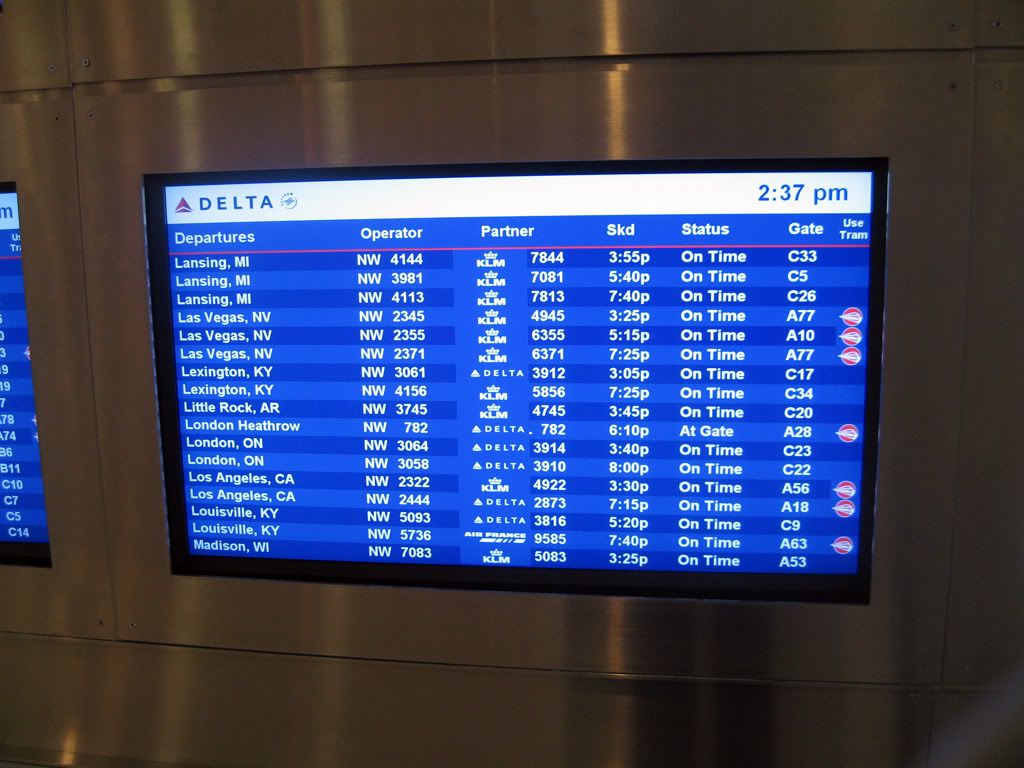 Flight Information-- shows my next flight, NW782
Underground passage between the two concourses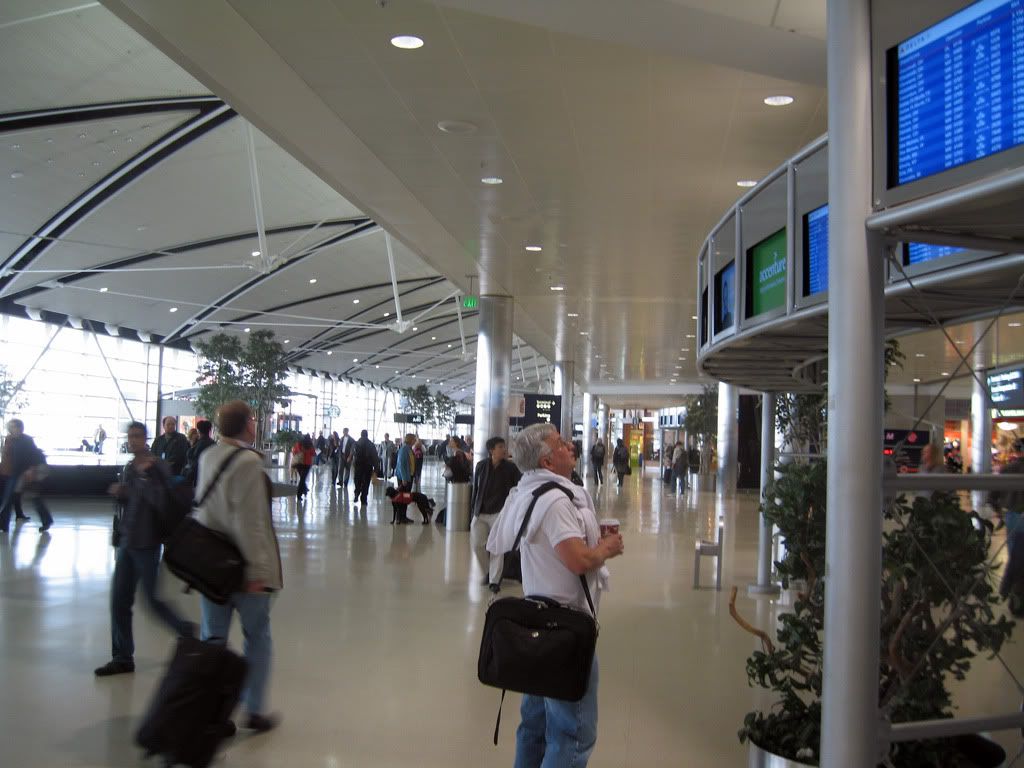 Amazing Terminal
I thoroughly enjoyed my 4 hour layover at DTW. Its modern, airy architecture and
plentiful facilities easily convinced me that this was my favorite airport in North
America. The people mover inside the terminal was brilliant. My only gripe would be the
window meshes that make photography of planes difficult.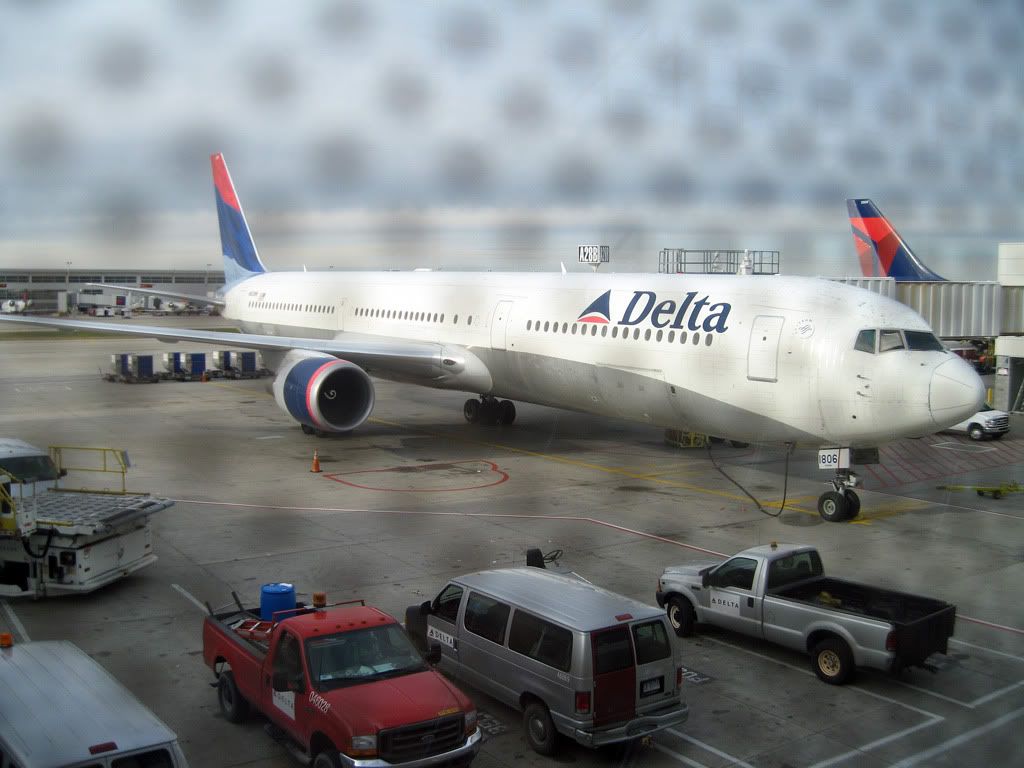 The plane that will be used for my flight to LHR
As the skies got darker, the time to board my flight was approaching. After calling
some family members, I made my way to the boarding gate. By the time I boarded, it
was already very dark outside.
Date: November 10th, 2009
Airline: Delta Air Lines/Northwest Airlines
Flight: 782
Origin: Detroit - Metropolitan/Wayne County International (DTW/KDTW)
Destination: London - Heathrow International Airport (LHR/EGLL)
Aircraft Type: 767-400ER - Ship 1806 - N830MH
The flight had a relatively light load, and most people, including me, had an empty seat
next to them.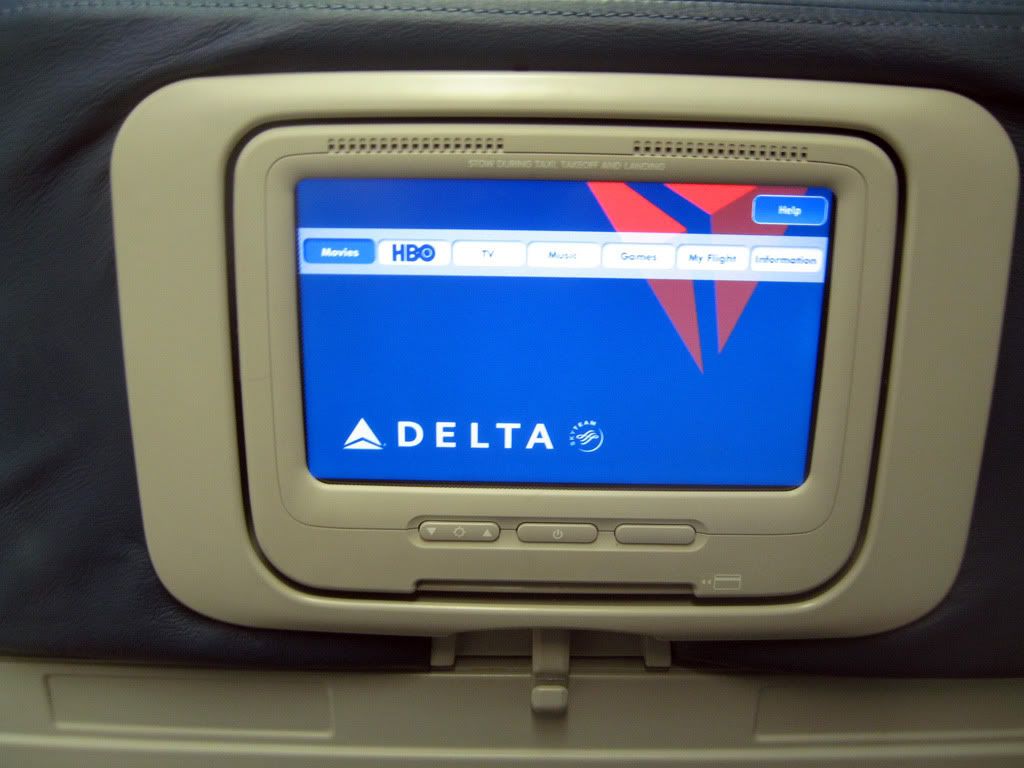 IFE Interface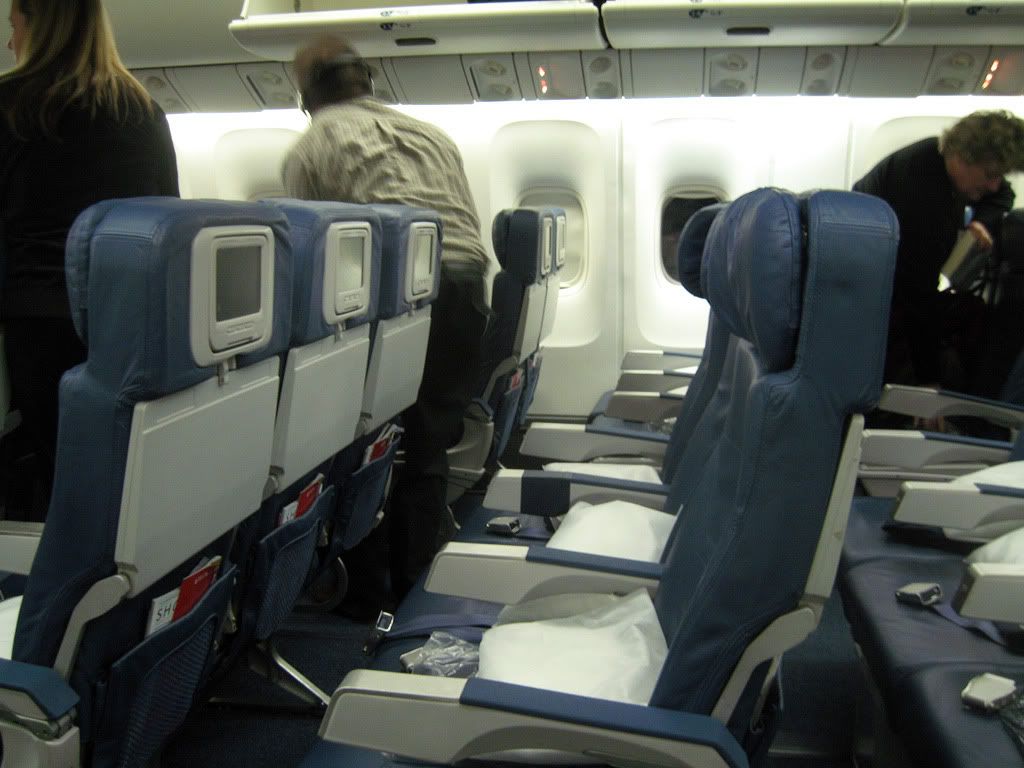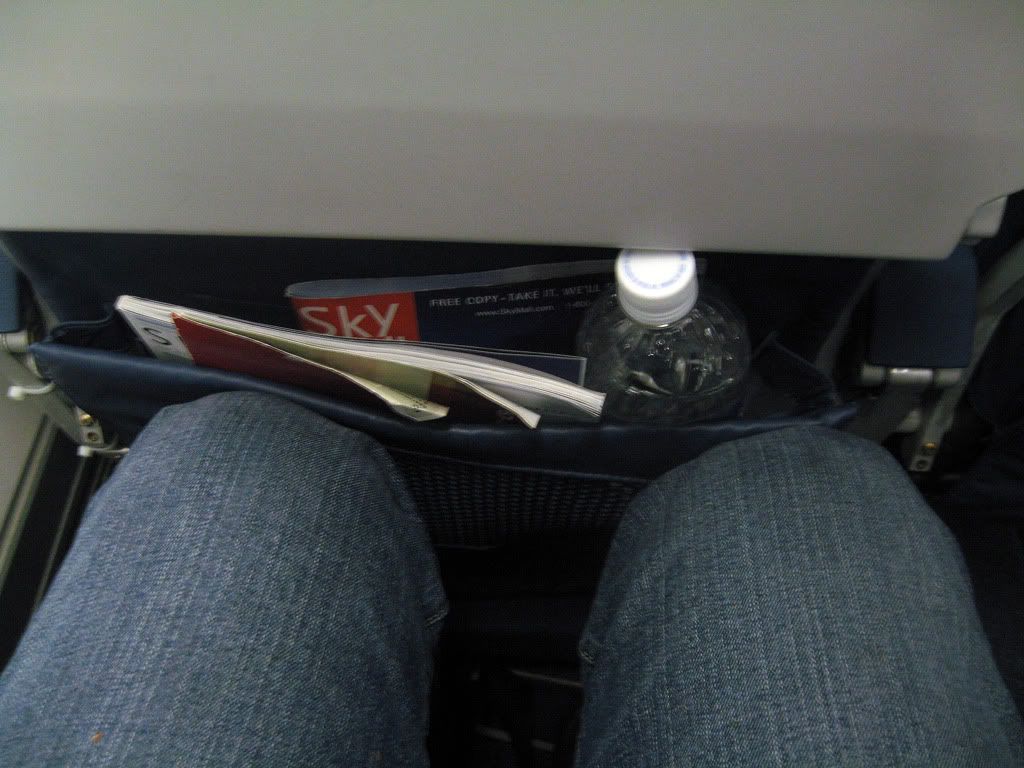 Tolerable seat pitch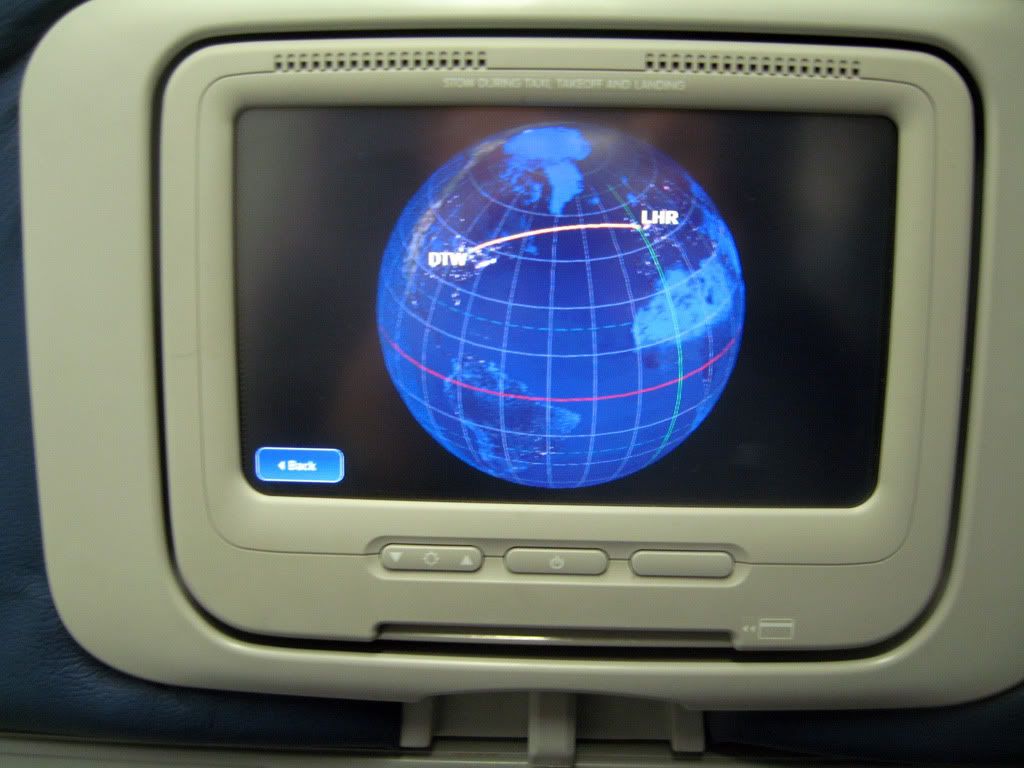 The safety demonstration was played, but it did not show on the PTVs. Only the audio
could be heard, and the flight attendants made a manual demonstration.
After a quick taxi to the runway, we left the ground and were on our way to LHR. After
a while, in-flight services commenced, first with a drink service: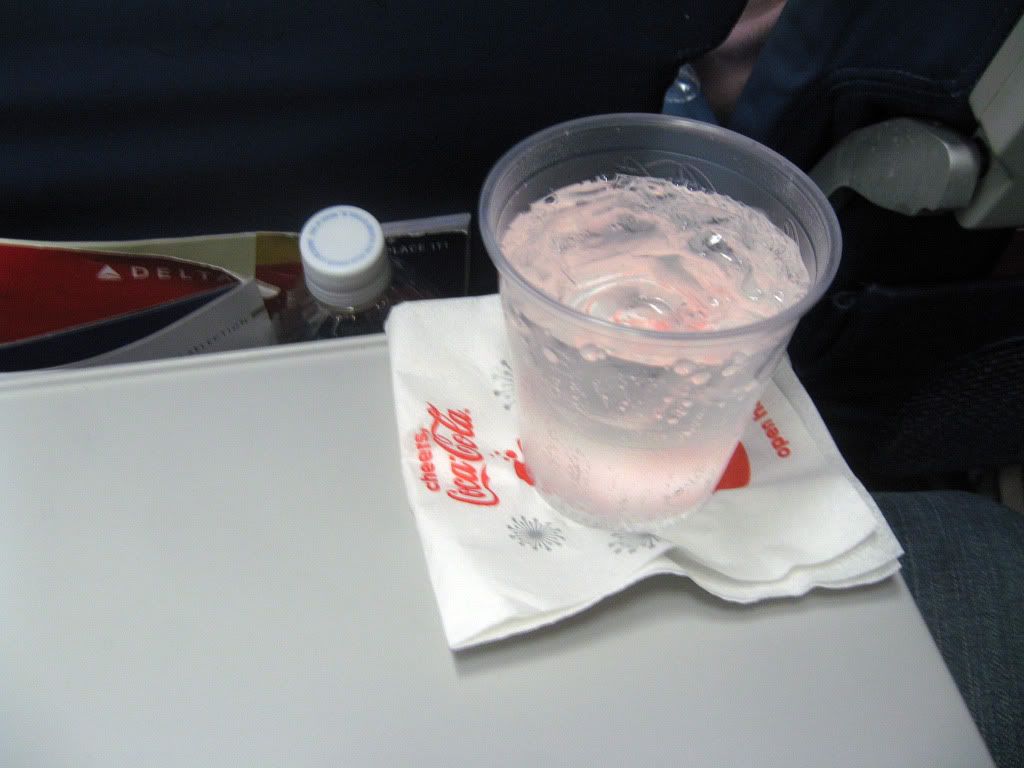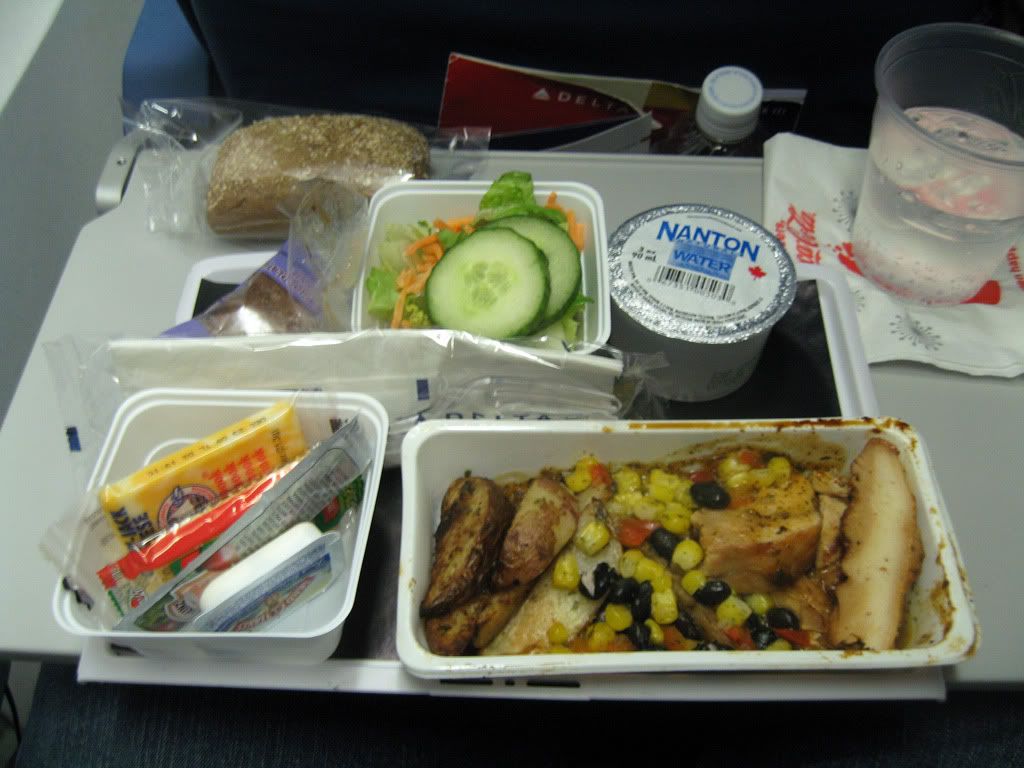 In-Flight meal- Chicken
The main dish, although rather small, tasted right. Unfortunately, the same cannot be
said about the salad or rough bun.
Oops... got carried away with the milk and sugar in my tea...
After the tray tables were cleared of trays, the cabin lights were dimmed, and I
watched an episode of 30 Rock, followed by The Hangover (very entertaining film) on
Delta's excellent AVOD system.
Had this happen on a lot of flights. Thankfully, the seat next to me was empty, and the
PTV for that seat was working. The friendly flight attendant offered to reset the IFE if
the problem persisted, but it eventually fixed itself.
After getting some shut-eye for a couple of hours, we were already approaching the
coast of Ireland. We had a very fast flight, and tailwinds were strong, going up to
270km/h at one point.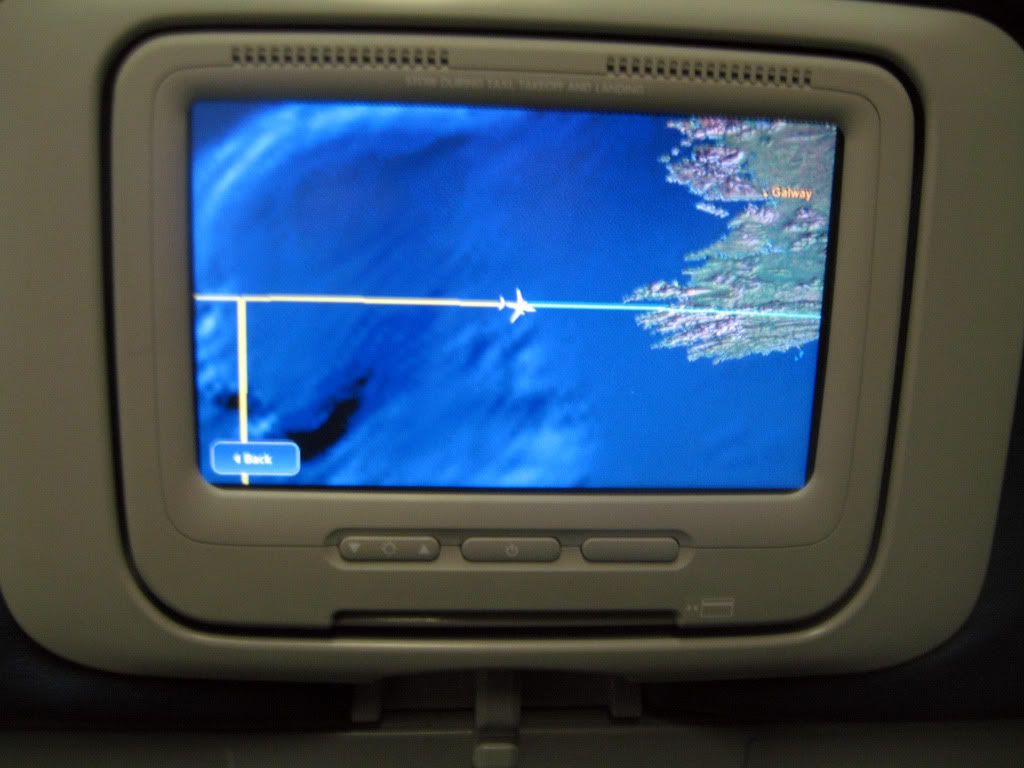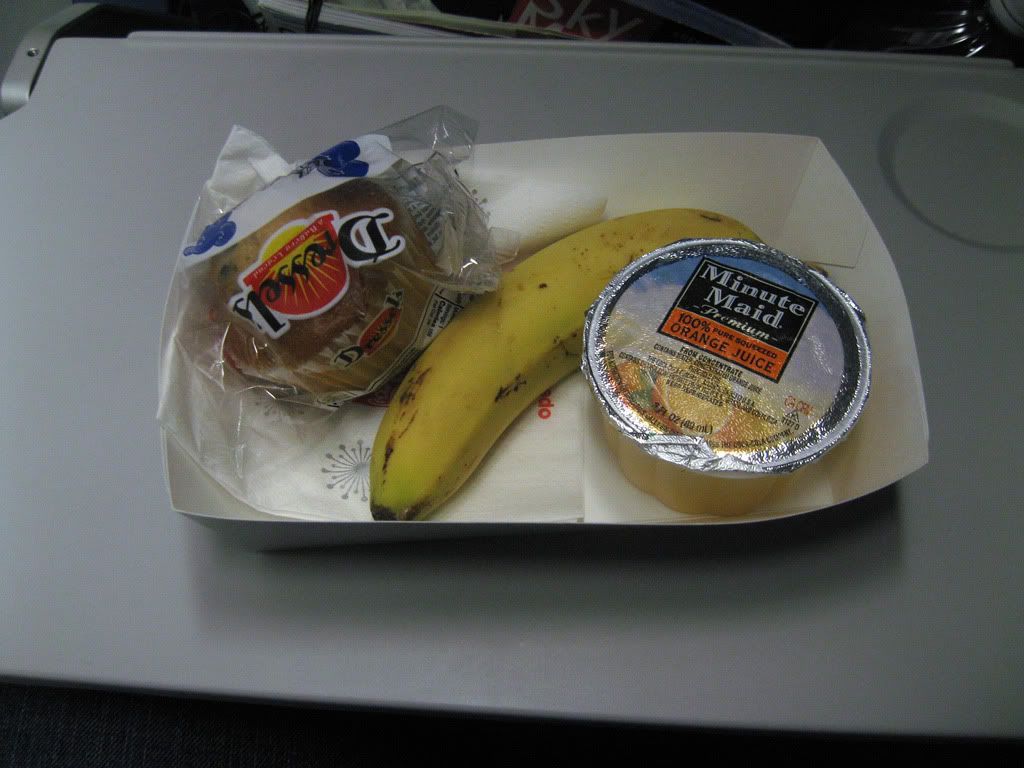 Light breakfast prior to arrival
I was very impressed with the service on this flight. All of the flight attendants I have
encountered on the flight were very courteous and attentive. At least two of them kept
walking throughout the cabin with a large bottle of water and some cups, so that
passengers were kept hydrated. They were almost never out of sight. Thumbs up to
Delta!
Although Delta's IFE system was very nice, there were some faults with the moving
map.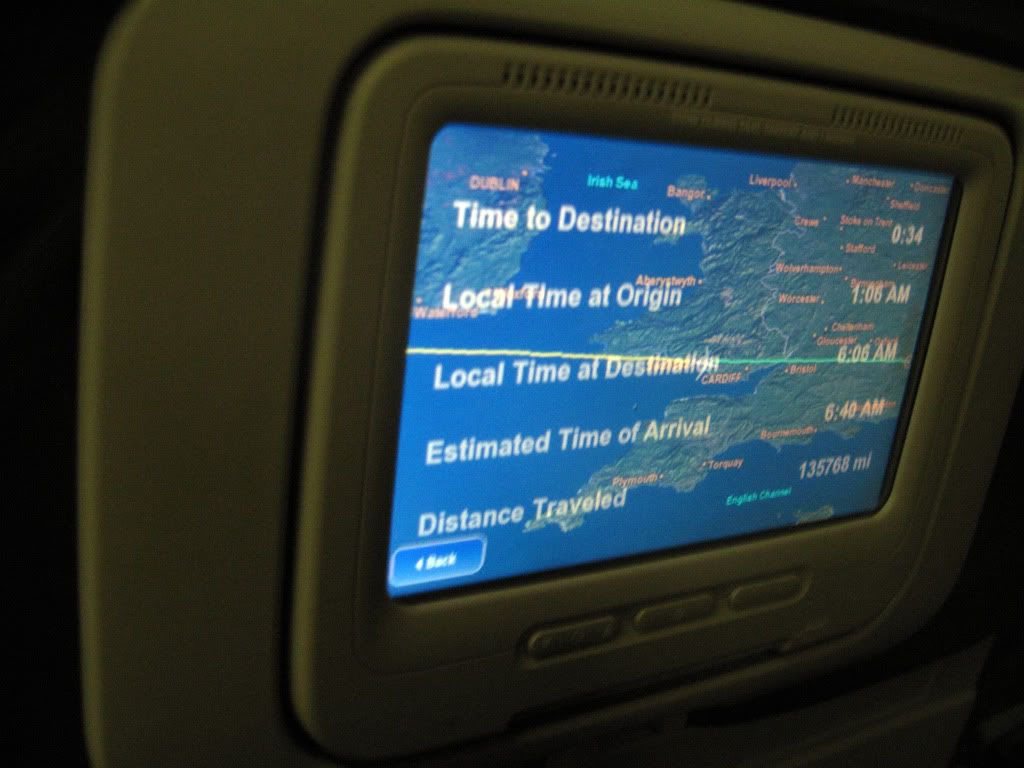 Something's definitely wrong here... (check the "Distance Traveled" part)
We were approaching into a foggy LHR, and hardly saw anything until the last couple of
minutes from touchdown. As we touched down, I already saw an impressive variety of
airlines there, including some exotic ones such as Cyprus Airways, which I never get to
see at my home airport. The SQ A380 was also there as well.
After our plane pulled into T4, I remained on the aircraft hoping for a chance to visit the
cockpit, and indeed, that chance came, thanks to the friendly crew on this flight.
Unfortunately, the visit was a rather short one as I was rushed out of the aircraft by
the ground crew.
My first impression of T4 at LHR wasn't that impressive... Narrow, poorly lit hallways
with inadequate signage ensured that I and some other passengers got lost, and we
had to ask for directions to the passport control/immigration area. The area looked like
it was under construction, and the ceiling revealed a lot of ductwork...
Overall, I was very impressed by Delta. I can't really think of anything to fault them on,
other than that the meal portions could be a bit bigger. IFE was a bit buggy, but then
again, when isn't it?
---
View from my hotel room at the Renaissance Heathrow: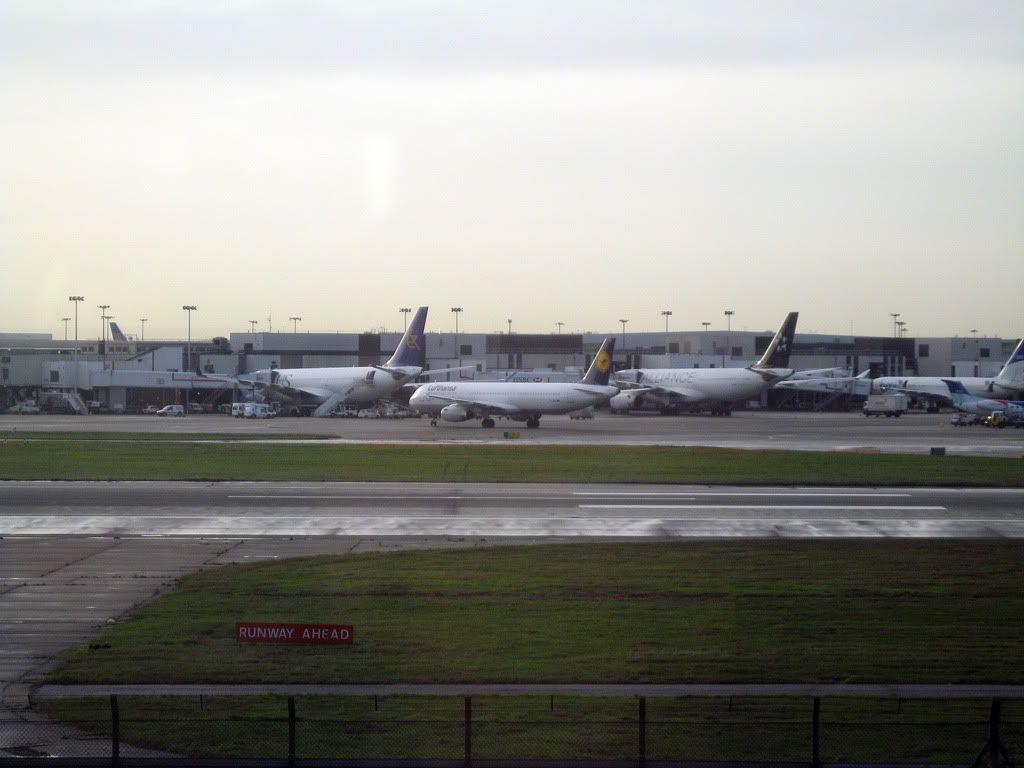 On my third day in England, I went to the Brooklands museum to see the Concorde and
meet fellow a.netter BlackProjects, who was very kind and showed me around the museum.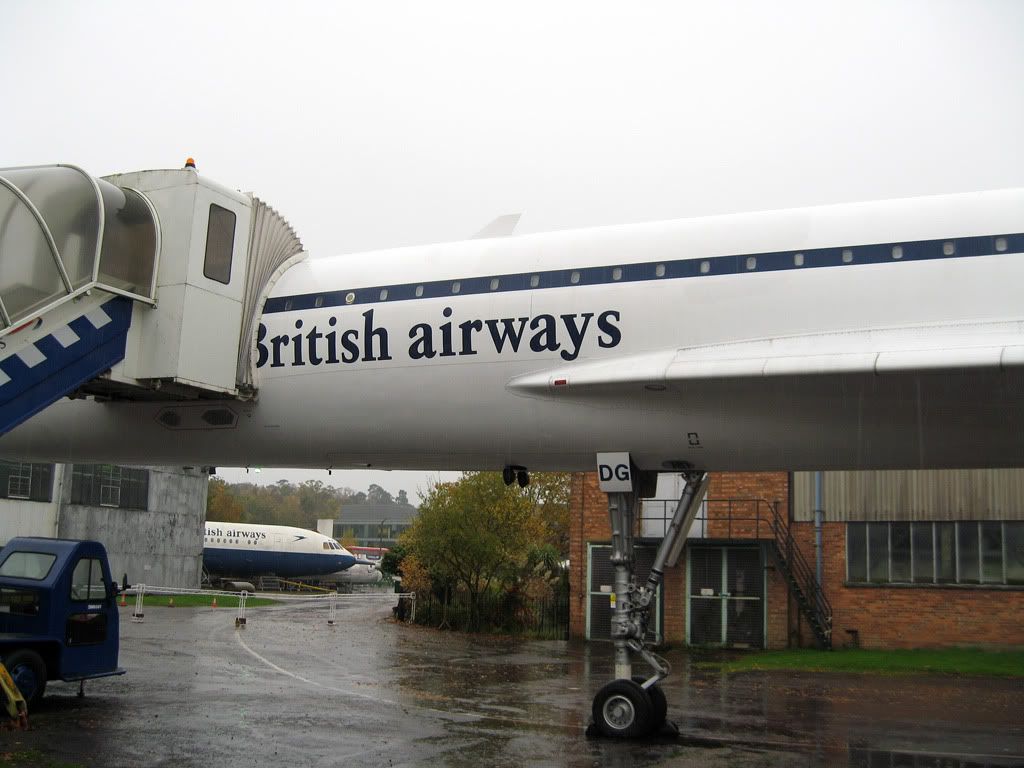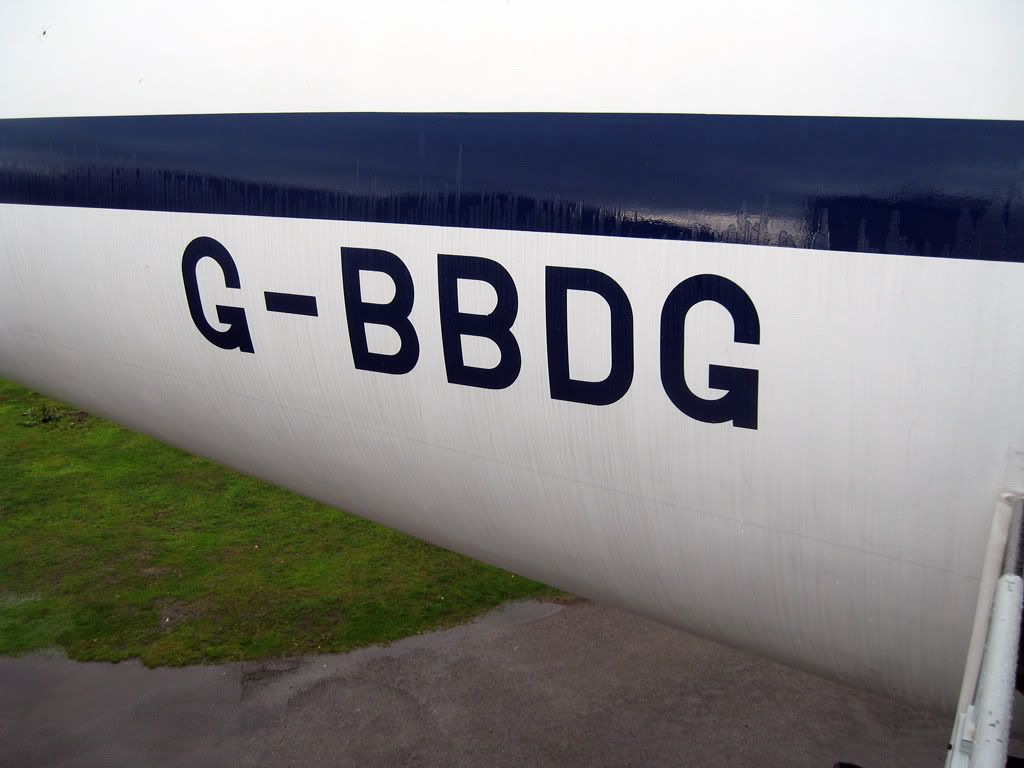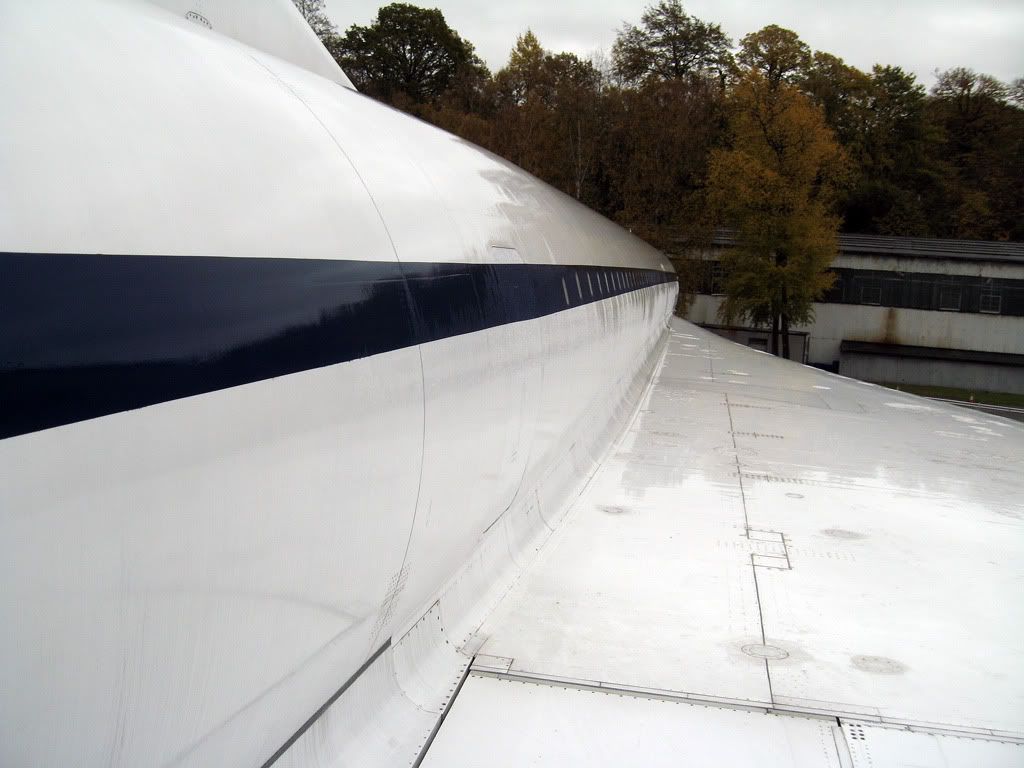 Boarding Delta Golf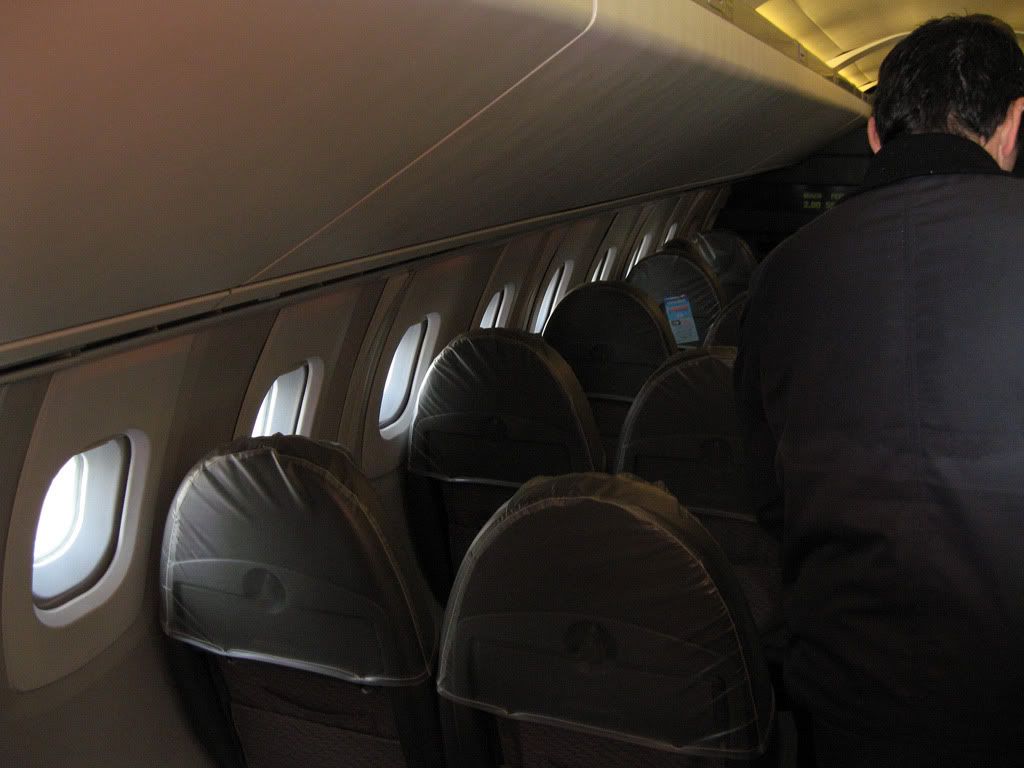 Cabin of The Concorde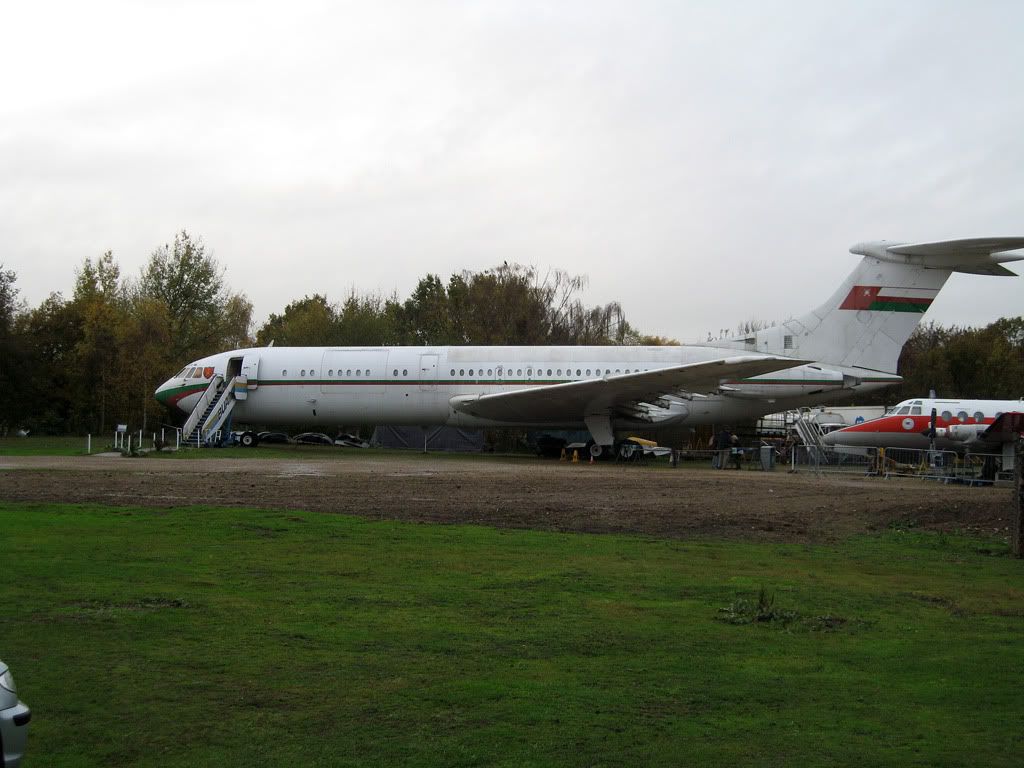 Sultan of Oman's VC-10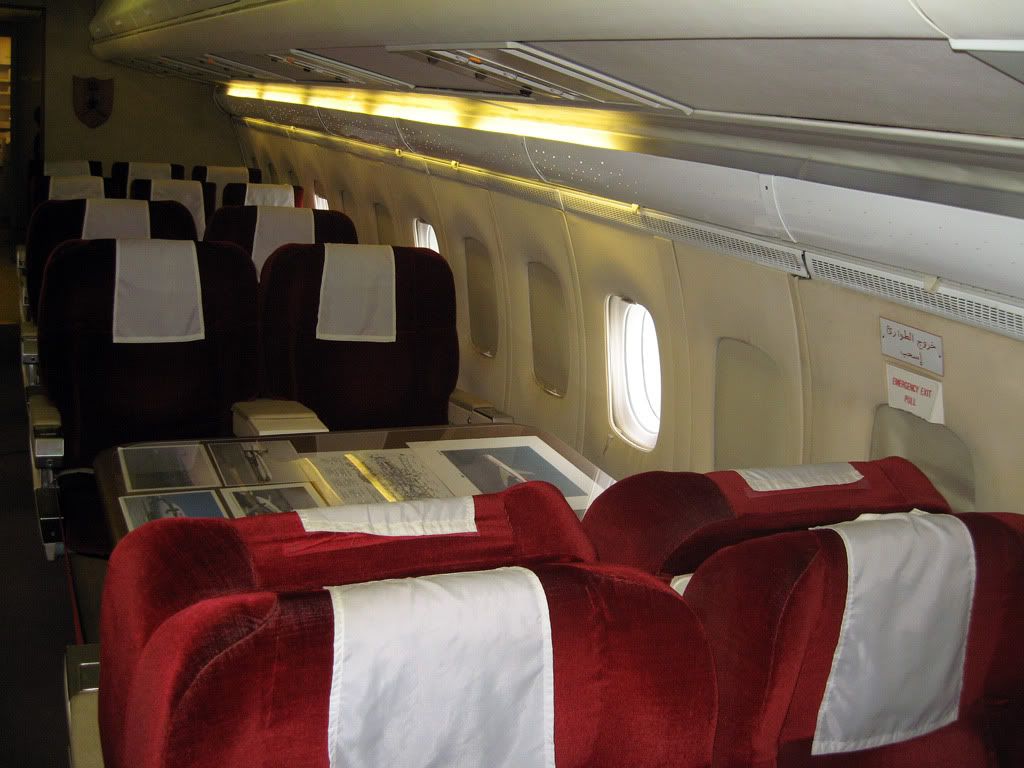 Interior of VC-10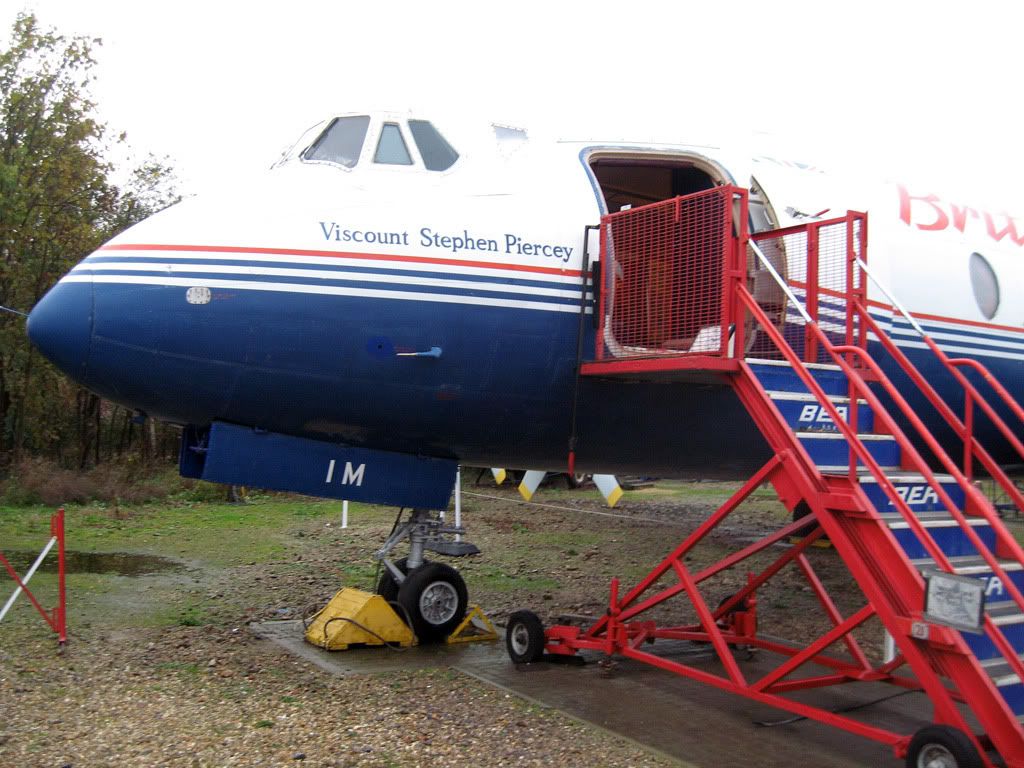 Viscount
Viscount's cockpit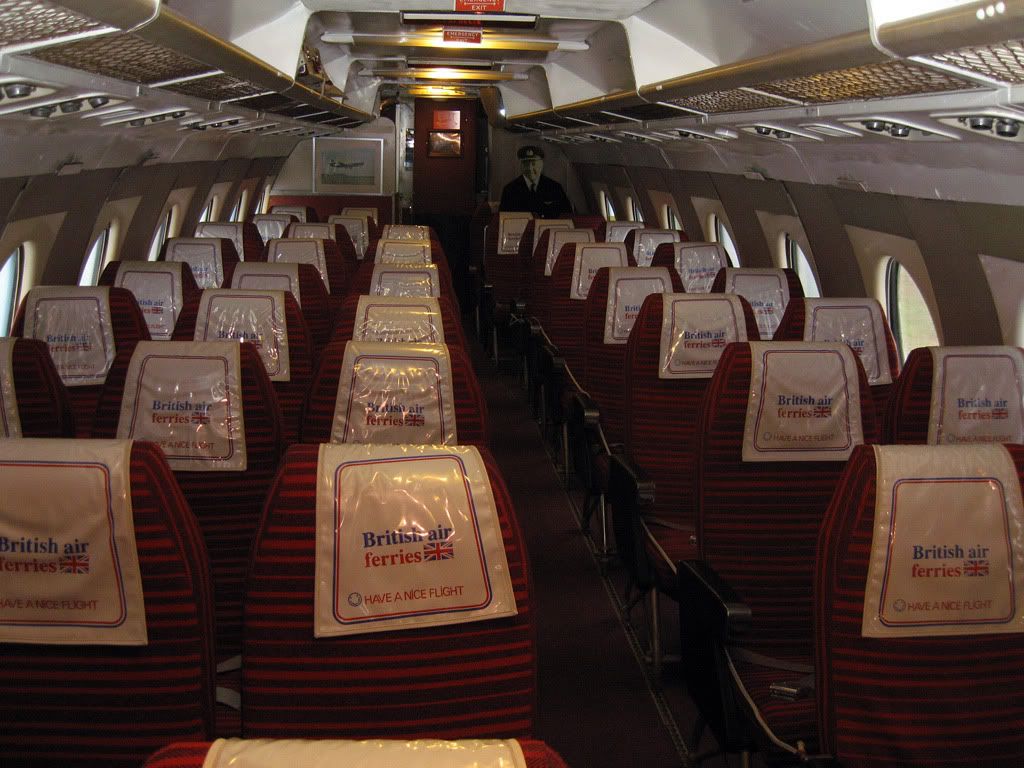 Cabin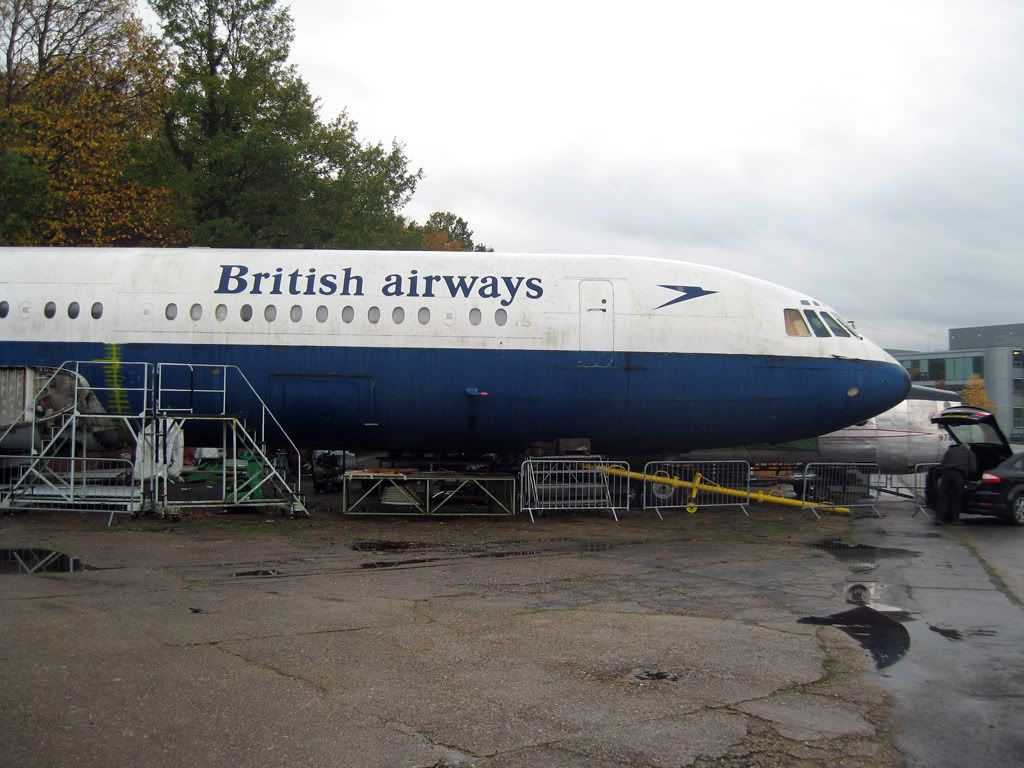 Fuselage of G-ARVM, another VC-10
After spending a fantastic week in England, visiting London, Liverpool and Southport,
and seeing my dad for the first time in 3 years, it was time to head back to Toronto, this
time on KLM via Amsterdam.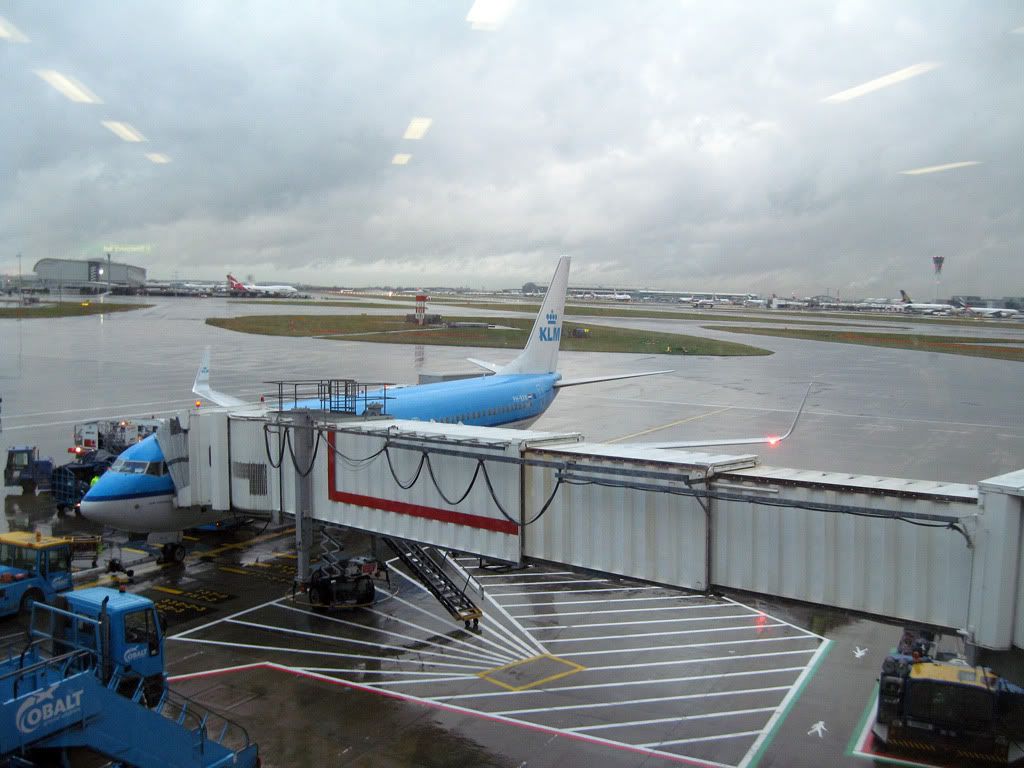 The KLM 737-800 that would take me to AMS.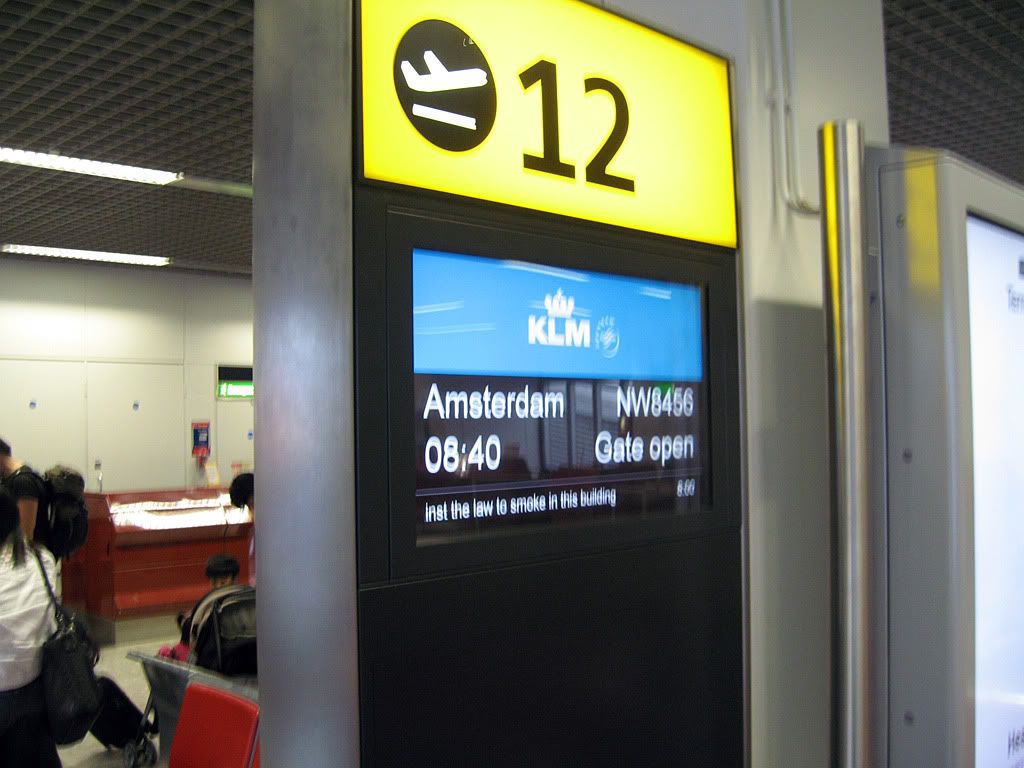 Date: November 16th, 2009
Airline: KLM Royal Dutch Airlines
Flight: 1002
Origin: London - Heathrow International Airport (LHR/EGLL)
Destination: Amsterdam Airport Schiphol (AMS/EHAM)
Aircraft Type: 737-800 - PH-BXN "Merel"
After I settled onto my seat, I had the pleasure of realizing that the seat next to me
would be empty. Having good luck so far with empty seats...
We pushed back and made a rather lengthy taxi to Runway 27R.
Flight video:
http://www.youtube.com/watch?v=80CpL2K-Fc8
My dad was at his hotel room at the Renaissance Hotel watching my plane take off, but
unfortunately he didn't film it.
Some very interesting cloud formations after takeoff: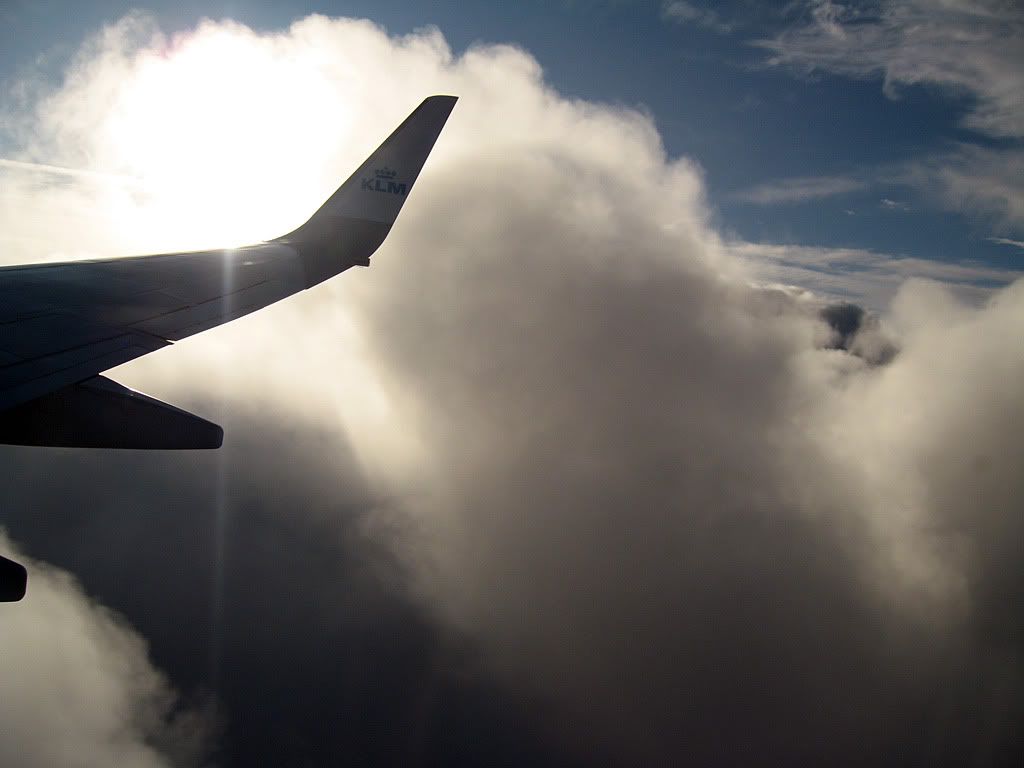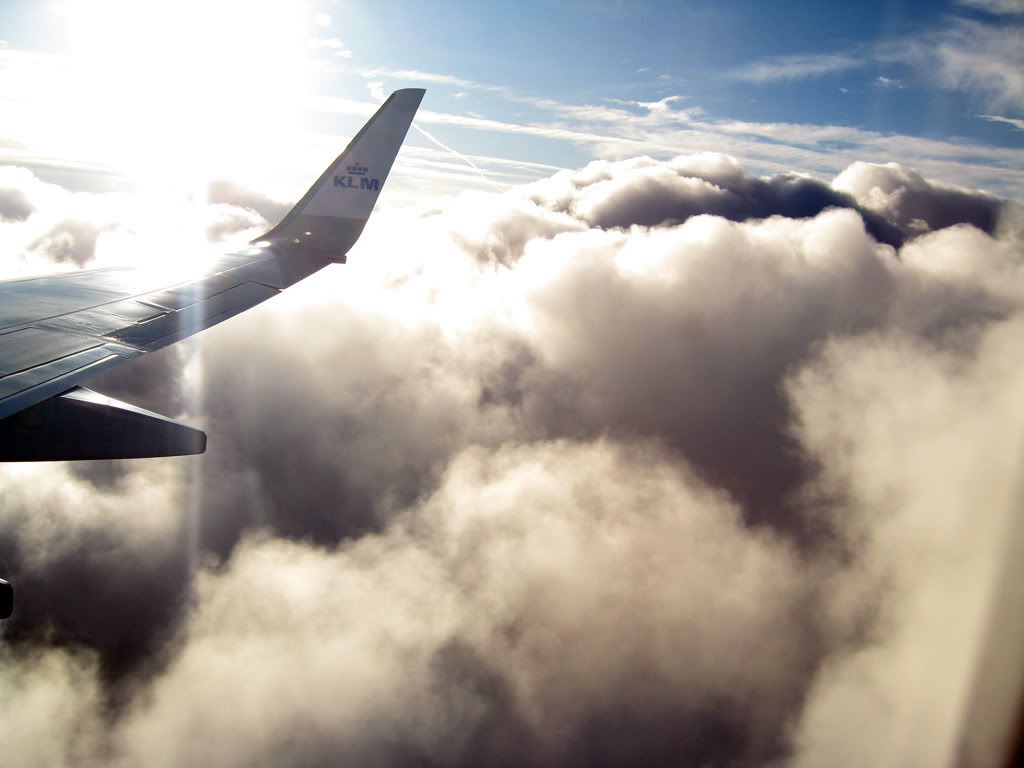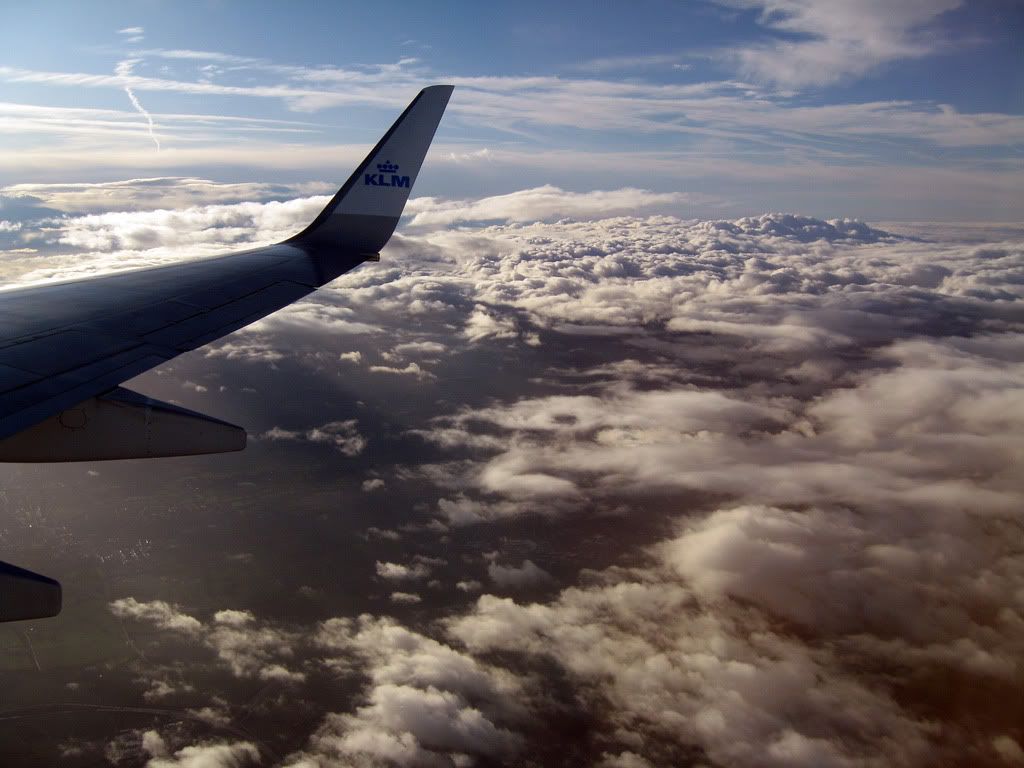 Breakfast: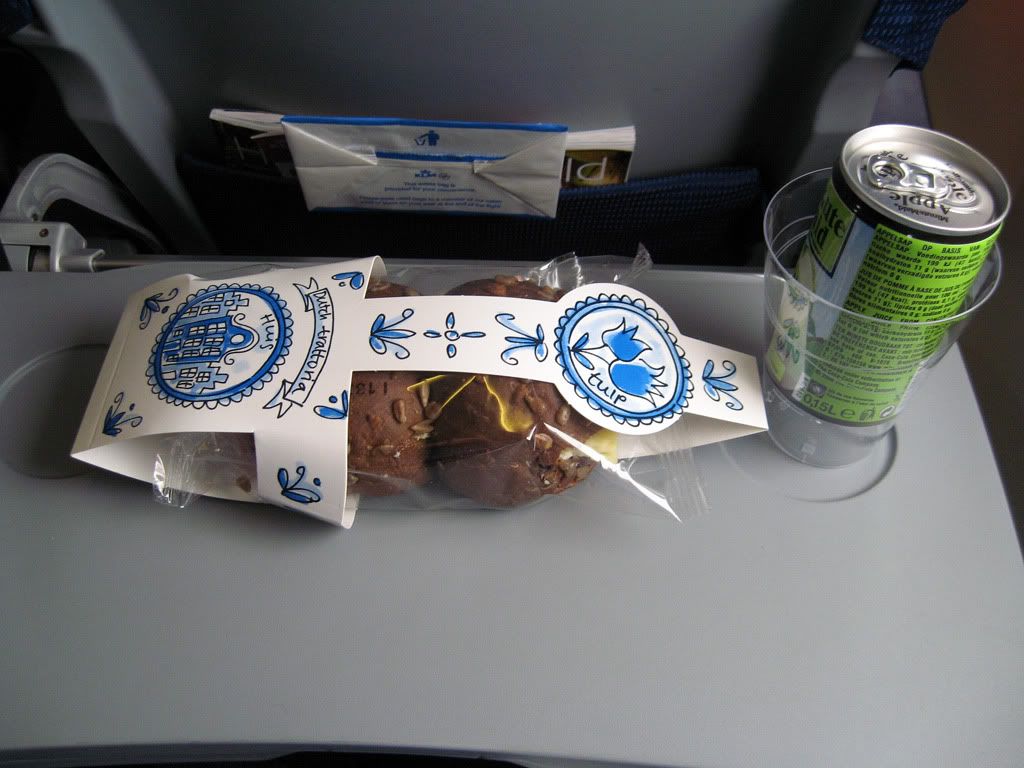 Service on this short flight was efficient, and some buns filled with cheese were served
along with juices.
After a quick hop across the channel, we were already on final approach to the
Polderbaan. Visibility seemed rather poor, and we didn't see the ground until the last
moments of the flight.
After landing, we had a VERY lengthy taxi to our gate. This was my second time visiting
AMS, and it was nice to see numerous planes wearing one of my favorite liveries. You
can probably figure out which one that is.
Upon disembarkation, I realized that I had enough time to visit the observation deck at
the airport, which is located beyond passport control, landside. Entering the country
was a swift process (unlike getting out of the country, which I will explain later...)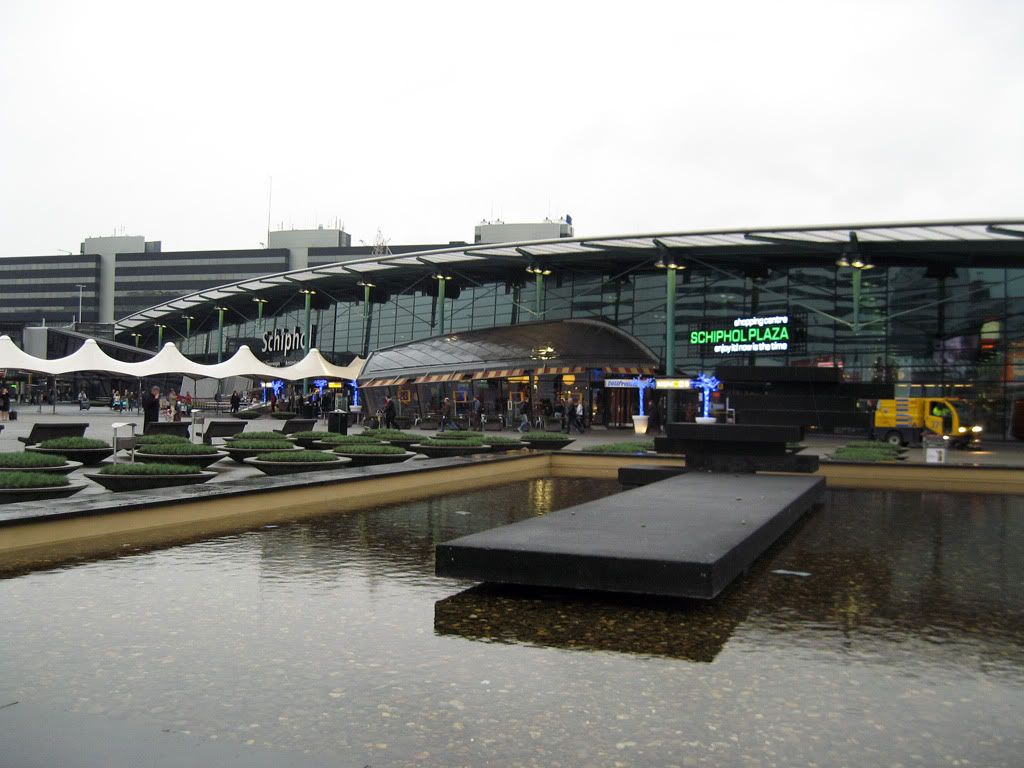 Schiphol Plaza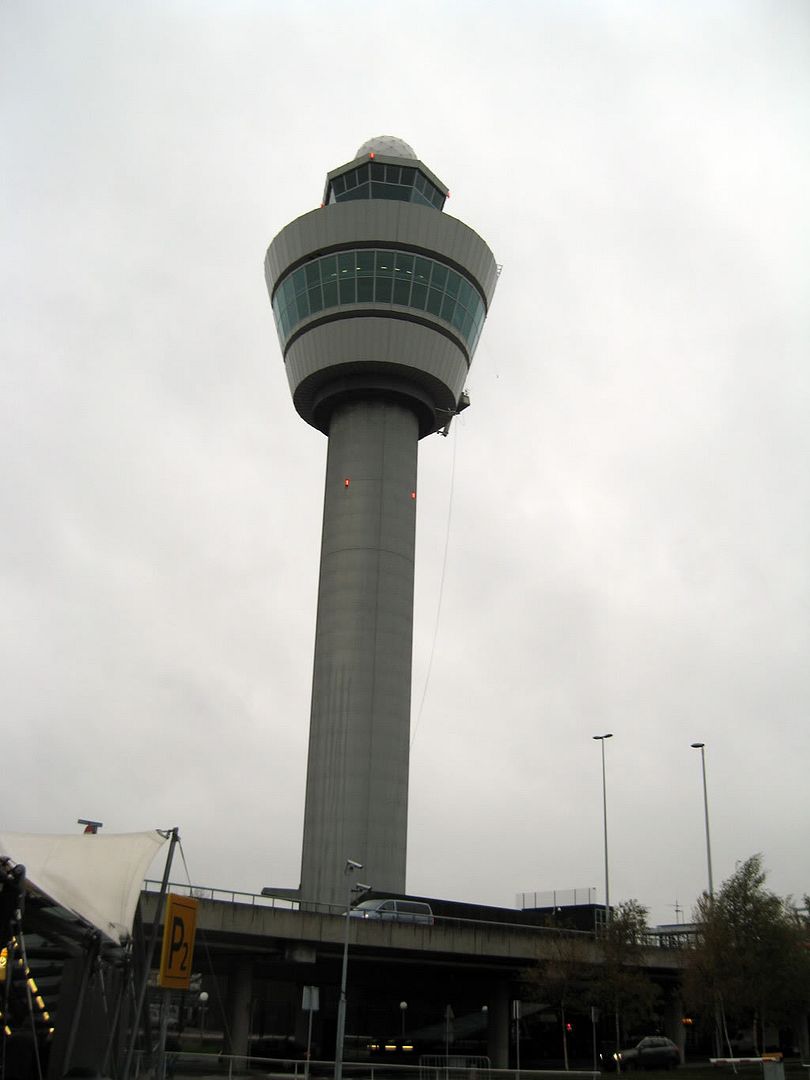 Control Tower
Views from the Observation deck:
A330 in Delta colors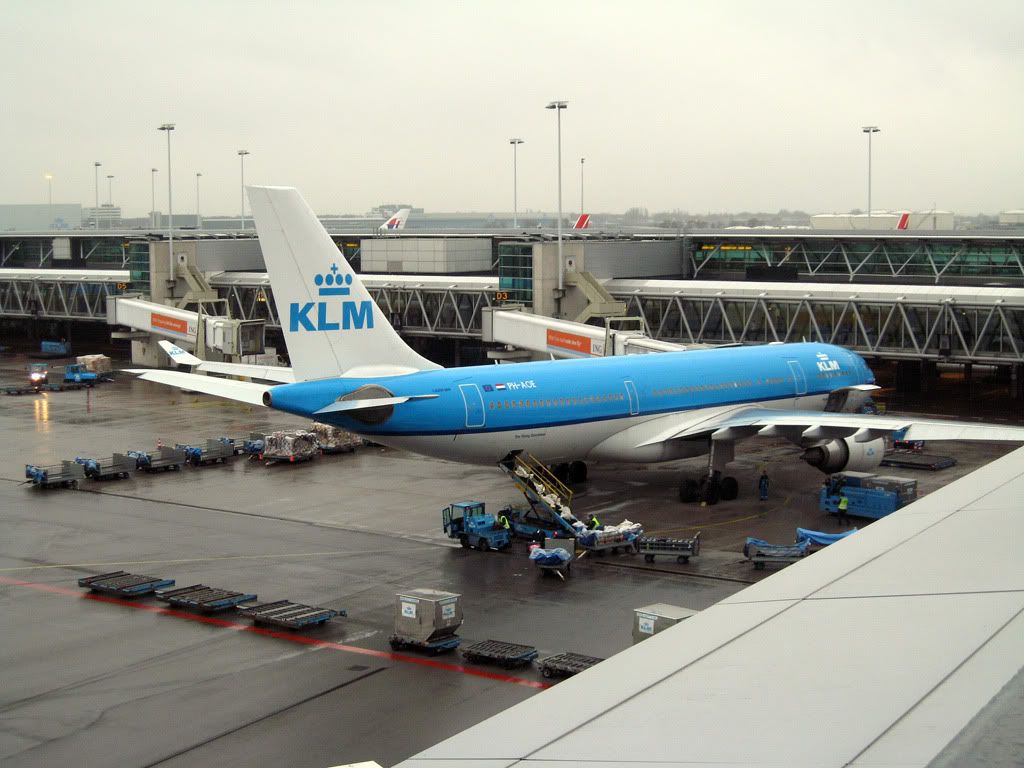 KLM A330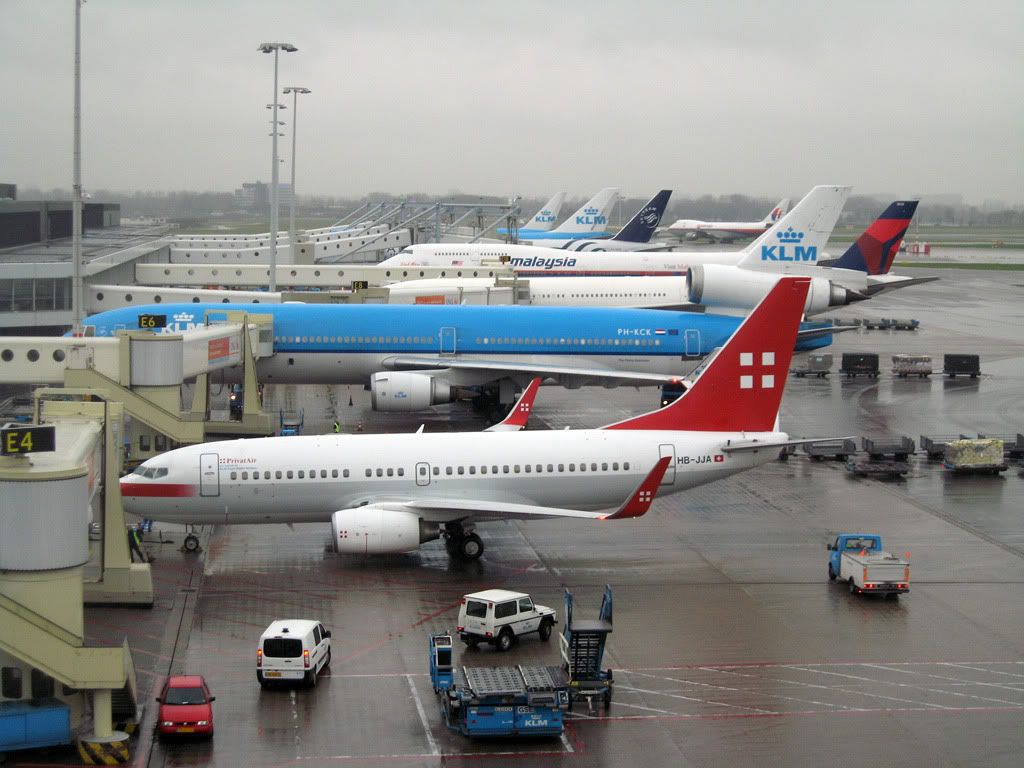 Privatair 737 arriving from IAH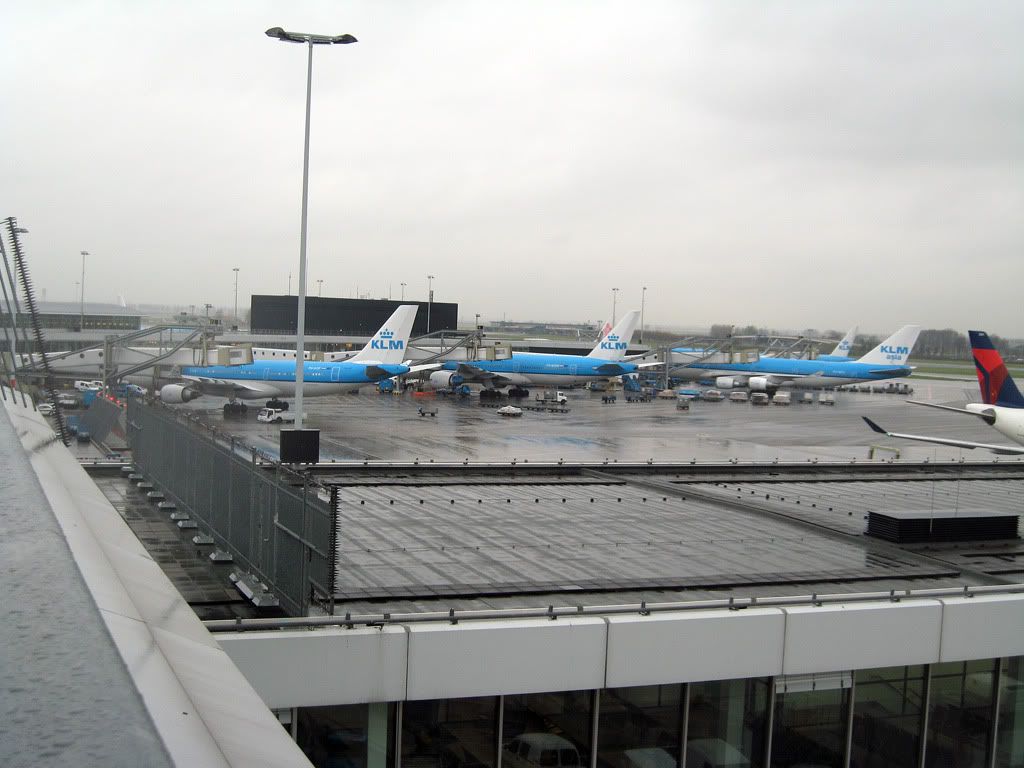 In case you didn't realize what livery I was referring to earlier as one of my favorites...
After spending around 30 minutes at the observation deck, I went back to the terminal
and headed to passport control (AMS has exit controls), where I was scrutinized by the
agent and put aside so that I could retrieve my e-ticket for the agent to see. Despite
seeing my Canadian passport, he wanted to know why I was headed for Toronto. He
took a long time closely examining my passport. Not that I mind, but it was interesting
that getting INTO the country was a much easier process than getting OUT of the
country, bound for my home country...
After that was sorted, I took advantage of the excellent shopping opportunities at the
airport, called "See Buy Fly", and bought a bottle of Johnny Walker Black Label for my
frat brother.
AMS is a rather unique airport, and so far the only airport I've been to that has
individual security checkpoints at each gate. Not really sure what the advantages of
that setup was.
Date: November 16th, 2009
Airline: KLM Royal Dutch Airlines
Flight: 691
Origin: Amsterdam Airport Schiphol (AMS/EHAM)
Destination: Toronto - Pearson International Airport (YYZ/CYYZ)
Aircraft Type: 747-400M - PH-BFH "City of Hong Kong"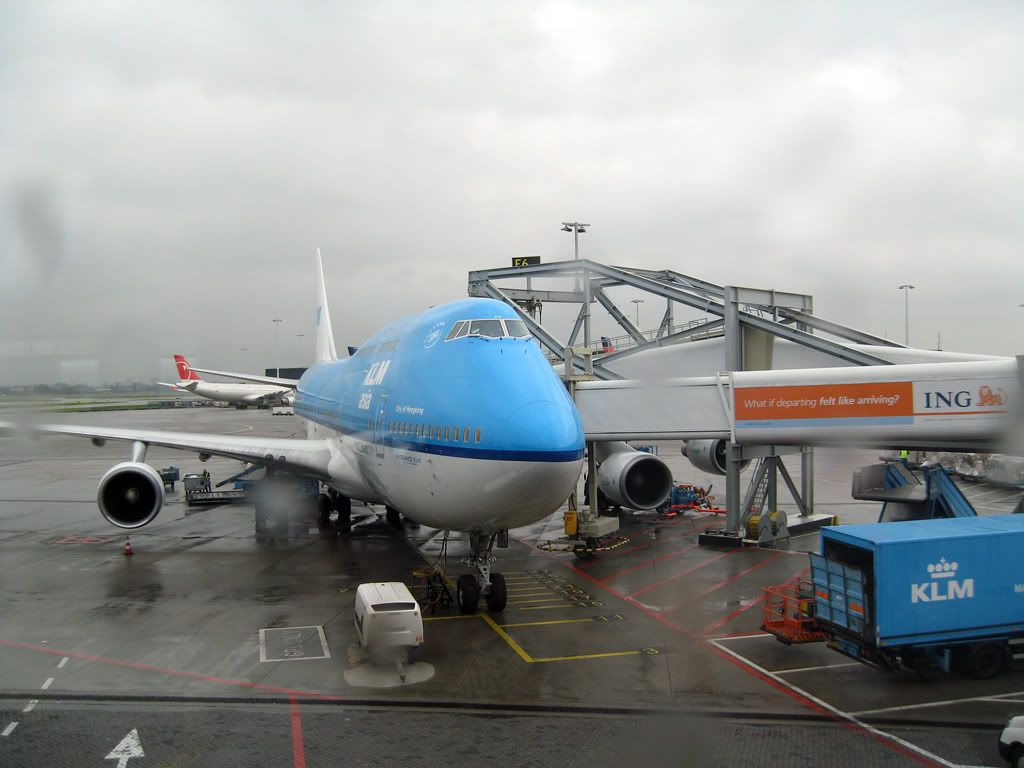 KLM 747-400M (converted to full passenger configuration last year) PH-BFH "City of
Hong Kong" - taking me back home to Toronto. Notice the cool jetway... one of them
goes over the wing and is linked to door 4L!
Video:
http://www.youtube.com/watch?v=QeiV9Yc6N5M
I boarded the plane through the second jetway, linked to Door 4L. I have never boarded
this way before. I settled into my seat, 55K, again having an empty seat next to me.
View out of the window
The flight was rather full, and I was very fortunate to have an empty seat next to me.
Our flight was delayed due to some no-shows, as their luggage had to be removed.
There was also a minor technical problem that was promptly fixed.
After an 1hr delay or so, we made our way to the Kaagbaan, and didn't wait long until
we were airborne.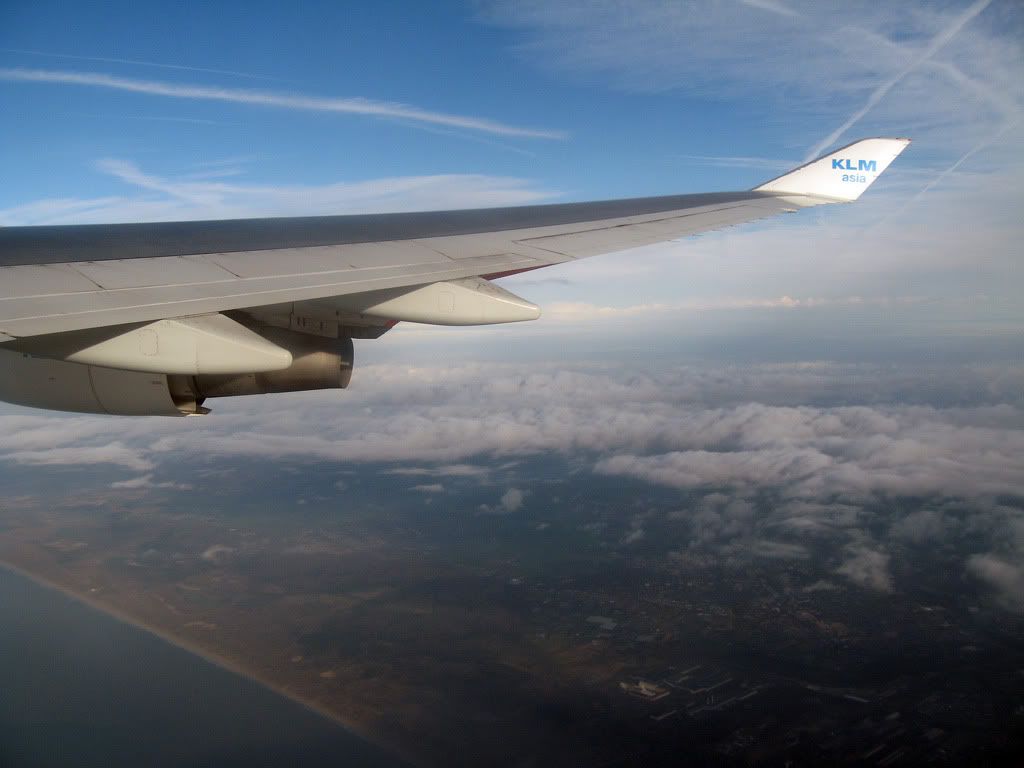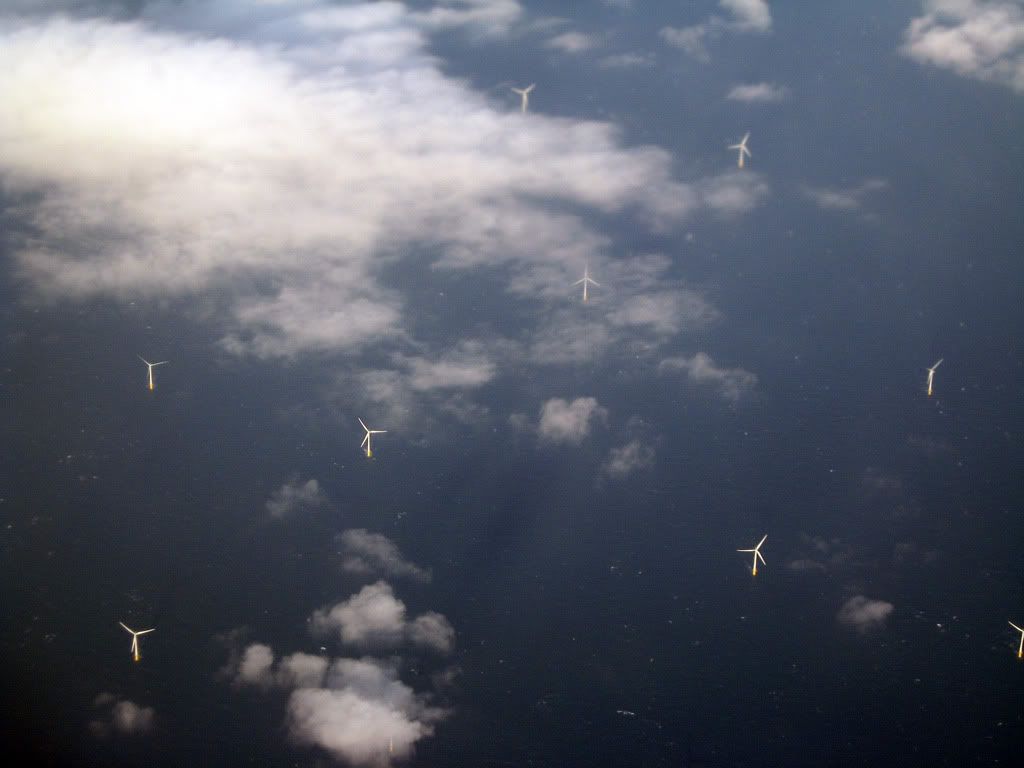 Eco-friendly Netherlands
Feeling very tired, I fell asleep and missed the initial drink service, but woke up right
before the meal service.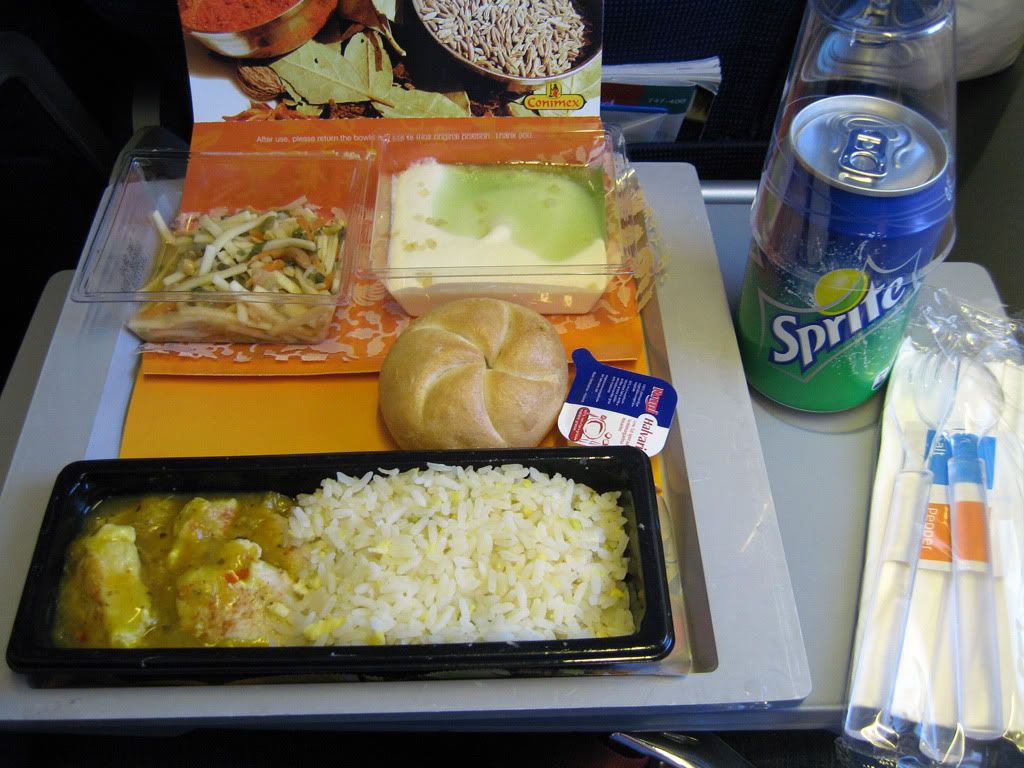 Tasty meal: Chicken curry, rice, salad and lime(?) mousse.
Service was exemplary on this flight. I have never seen such a motivated and
enthusiastic bunch working as cabin crew before. I was so impressed that, upon my
arrival, I sent an e-mail to KLM praising the crew on board this flight. Like the Delta
crew on my previous flight, they were hardly out of sight throughout the entire flight.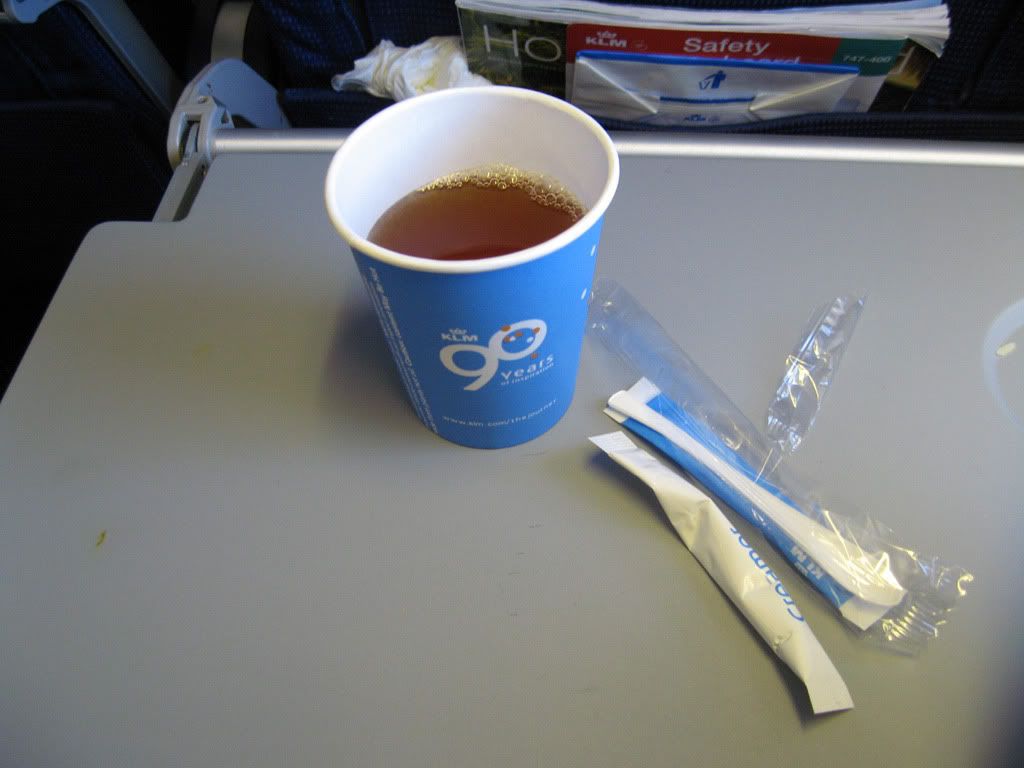 Tea
Ice-cream, rock hard like any other in-flight ice cream
Second drink service
There were no PTVs onboard this aircraft, but I was too tired to care, so it hardly made
any difference. I also had a mid-term examination to study for.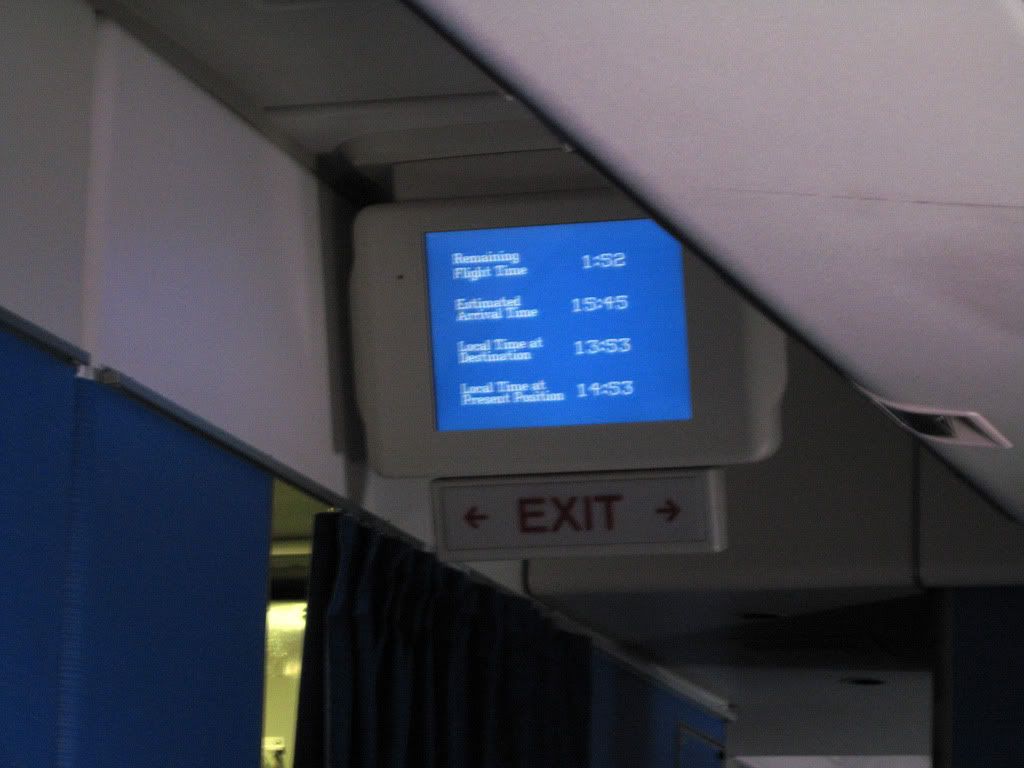 Time goes by pretty fast on such an enjoyable flight, and we are already only 2 hours
away from arrival
There was another, albeit lighter, meal service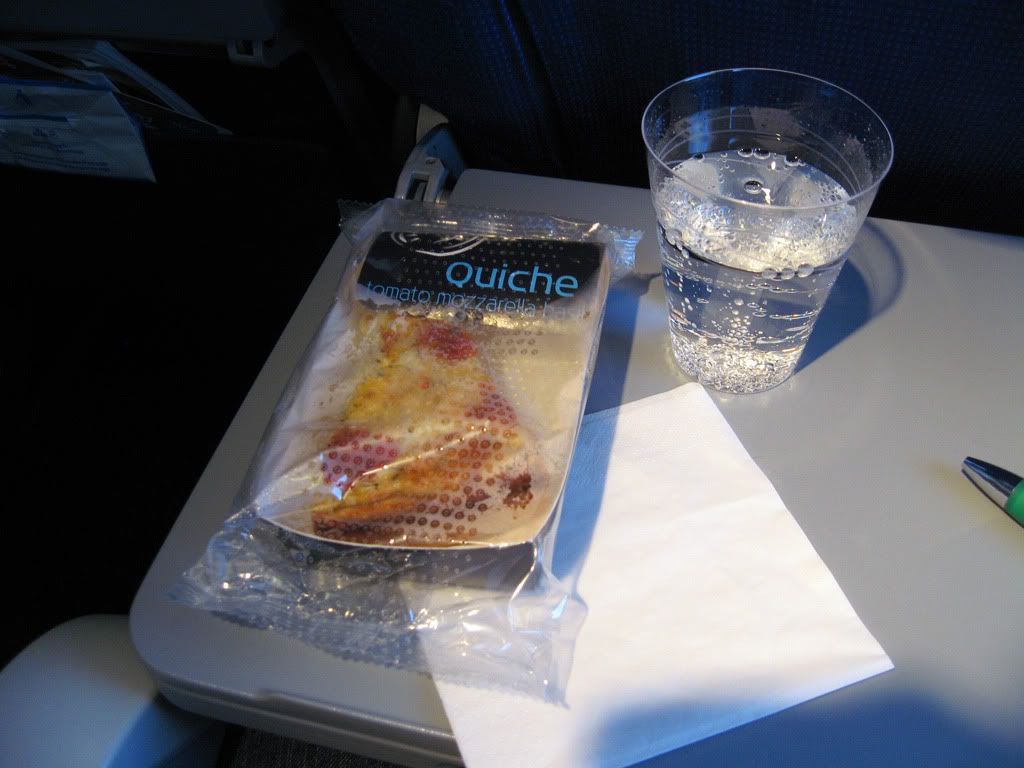 Delicious Quiche - the other option was a sweet pie
We made our final descent into YYZ, and I experienced an unusually higher degree of
ear pain during our descent. We flew past YYZ from the South, circled over the city of
Mississauga and landed on runway 6L.
While disembarking, I had some short conversations with the amazing cabin crew, and
wished them a great layover in my home town. I also had the opportunity to visit the
cockpit upstairs.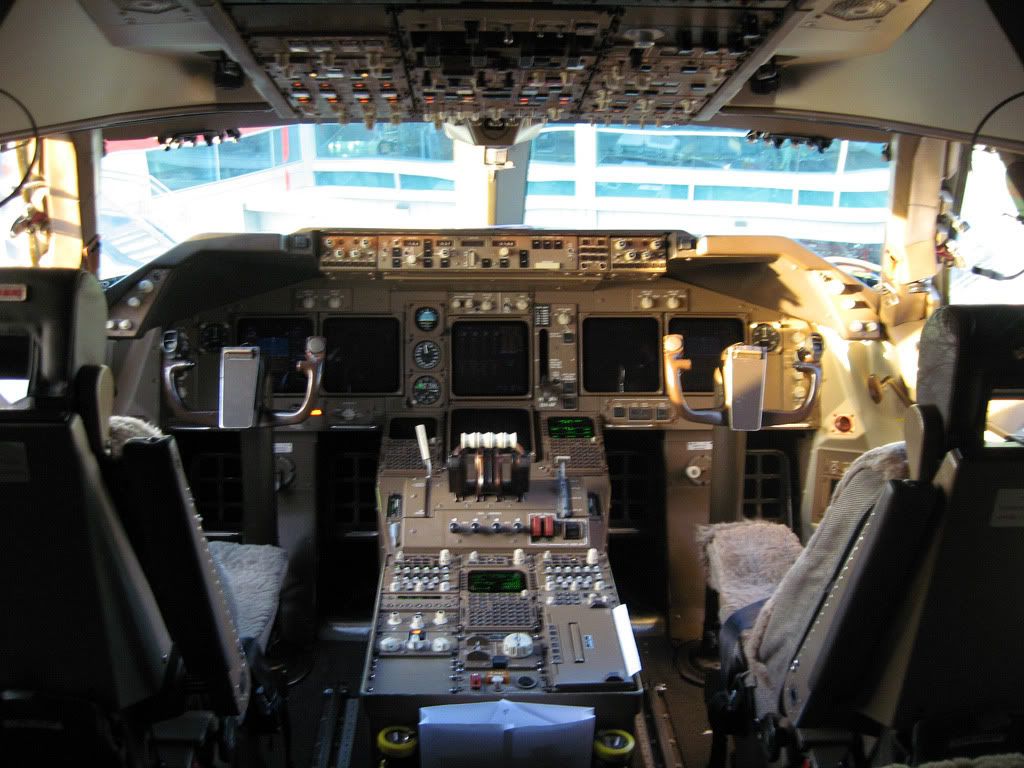 PH-BFH after taking me across the Atlantic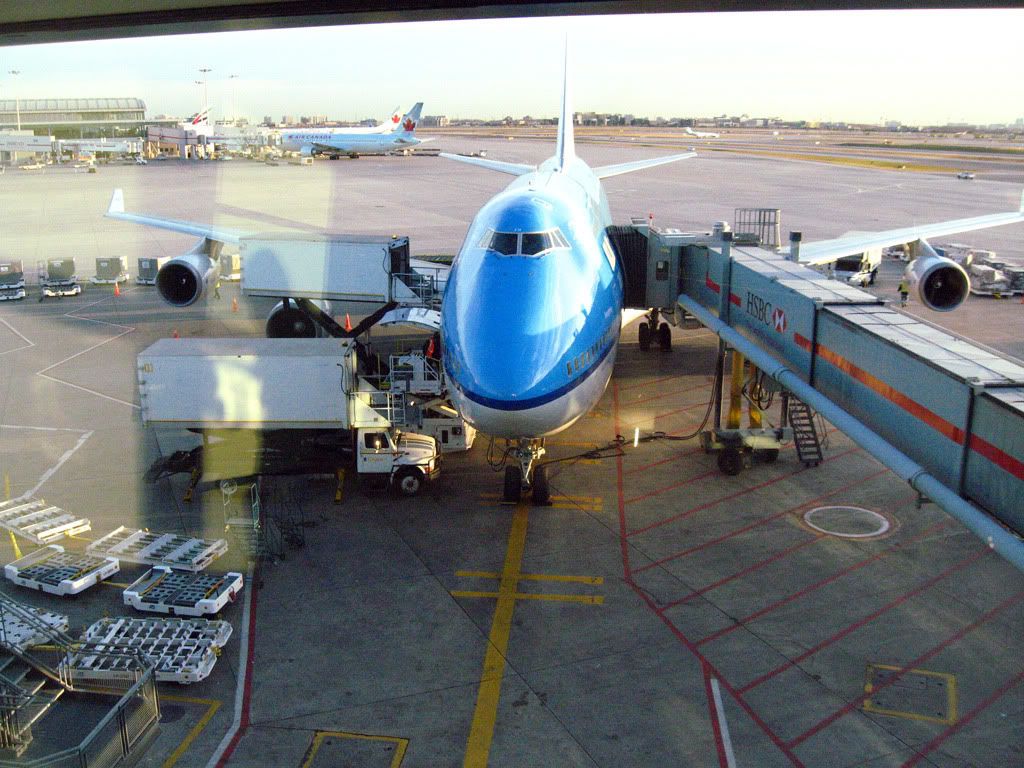 Going through customs was extremely fast, and I took the Airport Express bus back
home.
Conclusion: I have to give both Delta and KLM credit for providing an excellent journey
across the Atlantic, and I will certainly not hesitate to use them again. After 19+ years
and over 220,000kms of flying, this was (from what I can remember) the first time I've ever sent a compliment in written form to an airline, and that definitely says something about KLM.
Thanks for reading!