Hello folks!
After my last set of reports from Thailand were such a hit, I decided that I'd write a report on my most travelled route; Edinburgh to Dublin.
Trent decided to book this trip for me as a) he saw cheap flights with Ryanair flying EDI-DUB-PIK, b) didn't want to wait a whole month to see me again after our escapade to London in October and c) because it was a present for starting work, which I'd do two days after getting home.
So after the booking was done, it was time to wait for a couple of weeks as the days ticked past and it got closer and closer to the departure date.
I awoke early on Wednesday, November 11th. It was cold outside and I could see that by a light dusting of frost on the grass illuminated by my bedroom light. I showered, dressed and beautified myself as Rona got up and had her 'I can't wake up without it' cup of tea.
Soon enough though, we were in the car and leaving the driveway at 0630, for the quick twenty minute trip to the airport. Settling in to listen to 'Taking Back My Love' I curled underneath the blanket we keep on the back seat. It was freakin' cold, even with the heating on =(
We arrived at the drop off zone at Edinburgh Airport just before 7am. There had been a slight traffic jam on the approach road to the Airport.
Bidding adieu to Rona, and grabbing my Armani travel bag, I walked into the terminal and headed straight for security. My boarding card was scanned and I proceeded to join the busy queue snaking its way round the barriers leading to the metal detectors.
Twenty minutes later, I found myself standing in the Priority Boarding Queue for Ryanair flight FR813 to Dublin.
11-11-2009
FR813
Edinburgh, Scotland, UK (EDI) – Dublin, Ireland (DUB)
STD: 0800
ATD: 0807
STA: 0905
ATA: 0840
Departure Runway: 24
Arrival Runway: 10
Aircraft: Boeing 737-800
Registration: EI-EBX
Seat: 18A
"Ladies and Gentlemen, Boys and Girls. Good Morning and Welcome to Ryanair flight FR813 to Dublin"
, rang the announcement through the terminal,
"This is a boarding call for all Priority Boarding customers to please make their way to the gate, as the aircraft is ready for boarding"
Slowly but surely, the queue began moving forward. It was soon my turn to have my boarding card ripped in half, before I turned to the right and down the jetway, before once again turning right to join the small huddle of passengers standing on the stairs, waiting on the doors being opened so that we could run out to the awaiting aircraft.
I love boarding on Ryanair sometimes. There was 8 passengers in front of me, who all headed for the front set of steps. I decided a quick dart to the rear of the aircraft would get me a much better option of seat since I was on the aircraft before some of the people who had initially been in front of me in the queue. Score!!
I headed straight for the emergency exit, where I met a lovely little blonde Irish stewardess blocking the row.
Me: "Excuse me, can I pop in there please?"
Her: "How old are you?"
Me: "Ehh, Eighteen"
Her: "Are You Sure?"
Me: "No"
Her: "Well, for safety regulations you have to be eighteen to sit in the emergency exit rows"
Me: "Okay"
I then took a seat in row 18, at the window. Which actually turned out to be a fantastic idea, as you'll find out soon enough. I stowed my bag in the overhead locker and took out my book - which I ended up not reading - and settled down in my seat.
Again, as I do on most flights, I watched the other passengers as they boarded. It's particularly fun watching non-travellers boarding on Ryanair. They seem to be completely lost looking for their seats, when they're then told that it's free seating, most of the good ones have gone.
Pushback was early, with the wheels rolling at 0757. I realised that not sitting in the exit row was the right idea as no one sat down in either 18B or 18C, my own little Ryanair-esque first class seat.
The automatic safety demonstration was played out in the cabin and two of the cabin crew joined in with the actions. By the time it was finished, the engines were running and the flaps began moving into place for take off.
It took us 7 minutes to taxi to the runway, where we were given a rolling take off and a few seconds later, shot into the cold, early morning Scottish skies!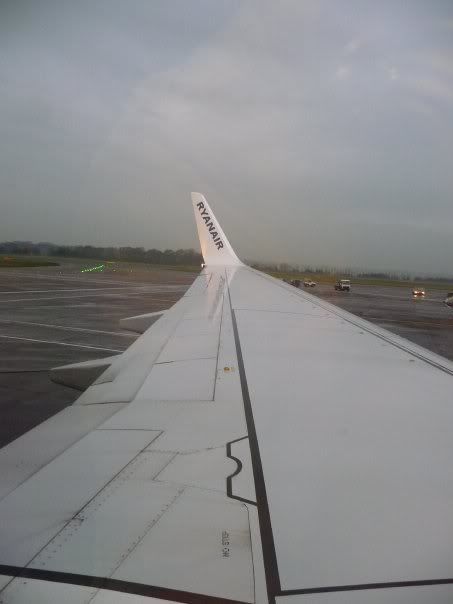 Winglet
Looking across the cabin to the empty row 18
Safety card stuck to the seat in front
http://www.youtube.com/watch?v=lSKzkIUpFP8
As we climbed out of Edinburgh and over west Lothian, we were engulfed in cloud for about 10 seconds. Some light chop was felt throughout the cabin, but no sooner had we entered them, were we shooting out over the top and gaining more and more height.
Due to the extremely short length of this flight, the minute the flaps were retracted (about one minute after rotation), the cabin crew hopped to life and began running around the cabin getting things sorted.
The seat belt sign was switched off and I started listening to some music. Cheryl Cole's 'Fight For This Love' pumped through my ears as some more turbulence affected the aircraft. I put my feet up on the empty seats until the cabin crew had cleared out of the aisle. I really needed the toilet, but I just had to wait until the path was clear.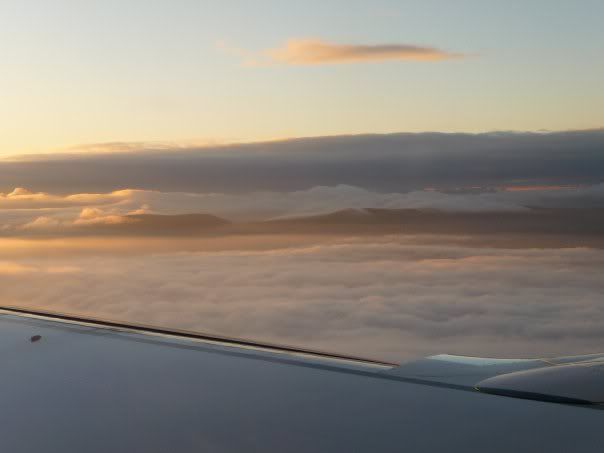 Gorgeous shot of the Pentland Hills in the early morning light
Resting my feet on empty 18B and C next to me
About 15 minutes into the flight, I made my way to the facilities, trying to walk down the aisle to the beat of both 'Fight For This Love' (I was listening to a different remix of the song, not the same one, haha) and also to counteract the turbulence, which is surprisingly fun and easy.
I noticed that the washroom was very clean and was of the new type seen on aircraft. Although I nearly broke it, because as I was standing washing my hands, the plane bounced violently and I was thrown into the back wall. I didn't hurt myself, I just got a bit of a shock and hadn't braced for it.
Having made my way back to my seat, I watched the clouds clearing over Northern Ireland and soon afterwards we began our descent for Dublin.
Cruising at 24000 feet over the North Sea
Turning in the descent into Dublin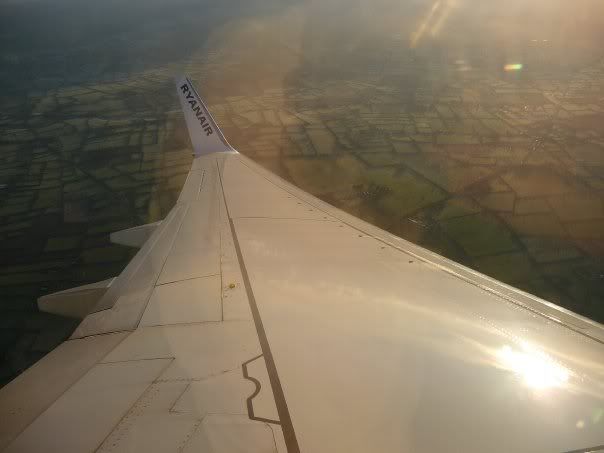 Soon enough, the green pastures of the Emerald Isle were visible from the windows
The remainder of the descent was very smooth, with the cabin crew and flight crew giving out announcements every few minutes to update us of the arrival into DUB. I continued watching out of the window as we got lower and slower, watching the spoilers opening and closing, and also as the flaps extended the closer we got to the runway.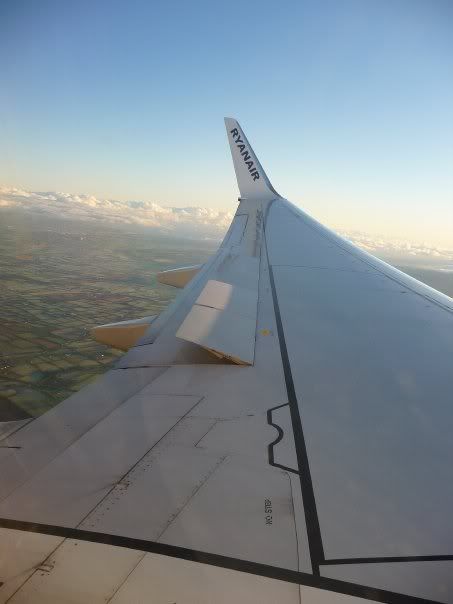 Speed brakes in operation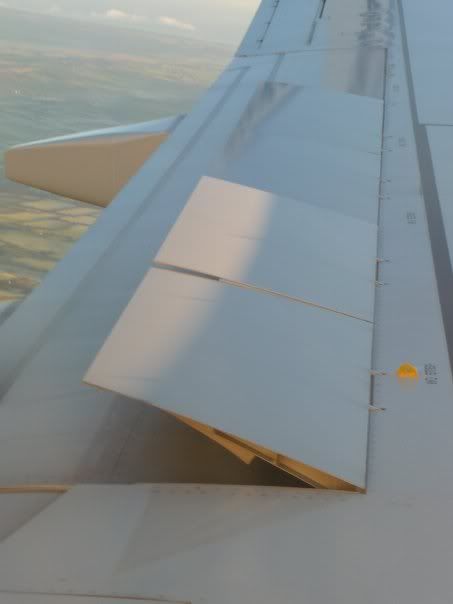 Close up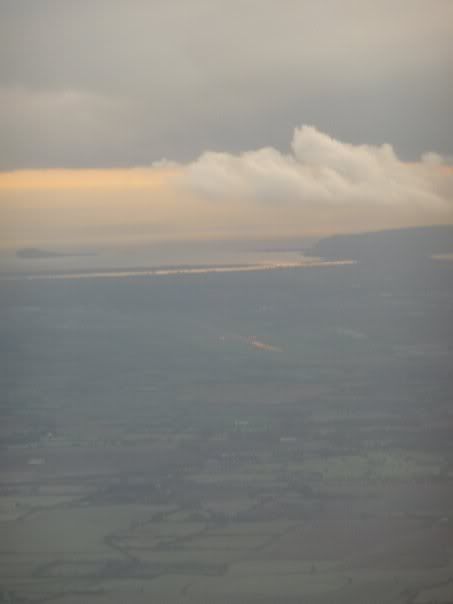 In the centre of the photo, you can see the runway lights, we'd land there about 3 minutes later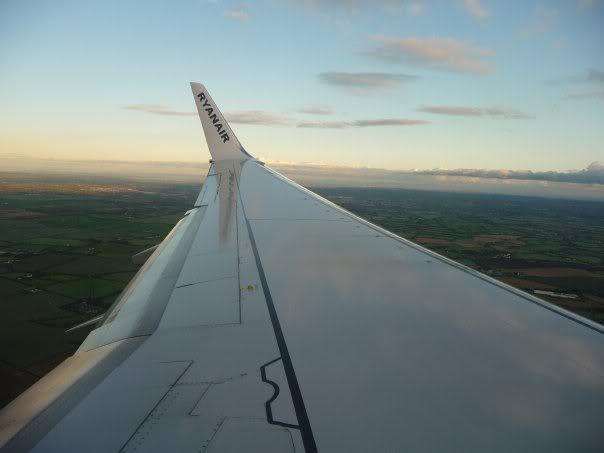 Fully configured for landing
On our very final approach, the bumps picked up again, and the aircraft dipped from side to side, but to my amazement, about 40 seconds from landing (you'll here it at 30 seconds in the landing video below), the passenger in 12D stood up and began rummaging through the overhead bin! The Purser called out to him on the tannoy to take his seat IMMEDIATELY, which he ignored. I honestly thought he was going to be met by police or something upon arrival at the gate, but there was nothing.
Touch down was incredibly rough, and since I was sitting directly over the MLG, I felt the worst of the impact. We slammed onto the runway, and then I felt the aircraft leave it again. I heard rather a few swear words emanating from passengers around me, but when we made contact with terra firma once again, the speed brakes opened and the reversers screamed as they brought the plane to a slow enough speed to taxi off of the runway. The typical long taxi to the D Pier followed, which was then itself followed by an even longer walk to customs and arrivals. Oh well, you get what you pay for with Ryanair.
http://www.youtube.com/watch?v=OBS6Ka5cq2s
After I left the airport, I made my way to Trent's house courtesy of the Blue AirCoach bus, which is so much more comfortable than the 747 bus and well worth the extra €1 (both for the comfort and the fact it's a quicker transfer to O'Connoll Street).
I actually found myself at the airport later that day to do some spotting while Trent went for an interview with Ryanair. He unfortunately did not pass, but does have a job now =)
Here's some photos from my second trip to DUB that day;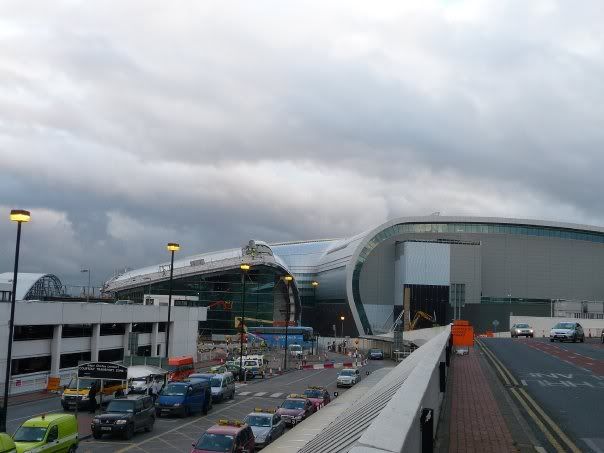 Terminal 2; en route (you'll get that if you've passed through Dublin lately)
Aer Lingus A330-200 blasting away as EI109 to New York JFK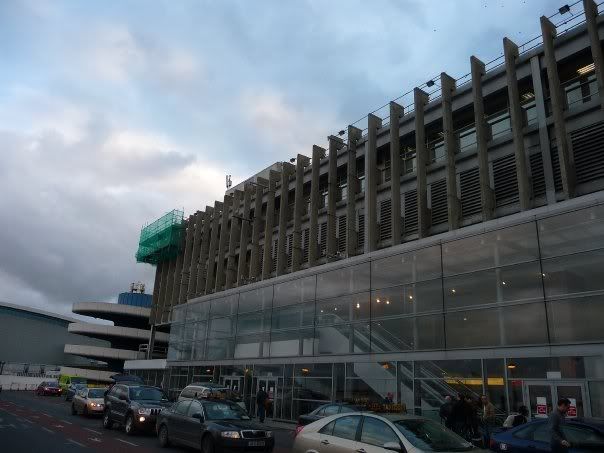 Old Terminal 1
Departures Hall of T1
My trip to Dublin was fun - as always. I no longer feel like a visitor to the city, I actually feel quite at home there, because I've now been fifteen times in just over a year and a half. Although, Trent had something fun planned for this trip; a visit to the Georgian House Museum near Merrion Square. For only €6, I highly recommend it (if anyone is interested in knowing more, just PM me and I'll send you the address and link to the website).
Unfortunately though, one is not allowed to take photos in the museum, so you'll all have to do with just a small collection of different ones from this trip.
Trent's front door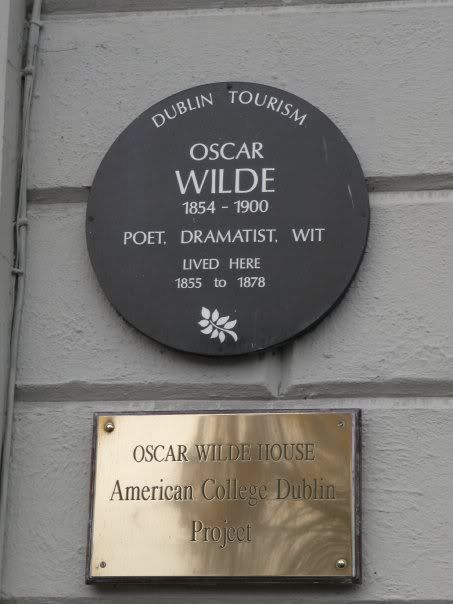 The house that Oscar Wilde lived in. My favourite author ever!
And the man - or the statue even - himself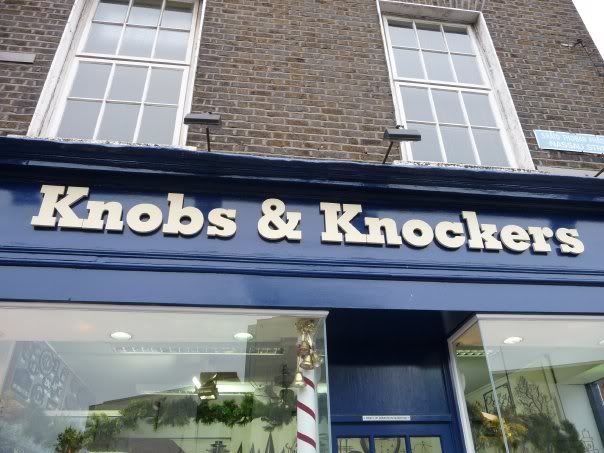 Awesomely named Interior decorating shop
And what's a visit to Dublin without a visit to Brown Thomas, and what's a visit to BeeTee's without a photo of oneself in a gorgeous D&G jacket?
Soon enough though, my time in Dublin was over and it was time to head home. I wasn't overly thrilled about the fact I was flying back to Prestwick, but it had been the cheapest return option. I packed my bags and made my way to the airport with Trent around 1830 for dinner at McDonalds before heading through security and onwards to gate D69 (best gate at DUB
) for the flight to PIK.
11-11-2009
FR778
Dublin, Ireland (DUB) - Glasgow Prestwick, Scotland, UK (PIK)
STD: 2110
ATD: 2135
STA: 2200
ATA: 2205
Departure Runway: 28
Arrival Runway: 31
Aircraft: Boeing 737-800
Registration: EI-DLV
Seat: 18A
I stood at gate D69 with 180 other passengers (I counted nine empty seats once onboard the aircraft) as the clock ticked past 2040. Which I assumed would be the arrival time of the inbound aircraft. However, it took until 2100 for the aircraft to pull up on the apron. At that point, the gate staff called passengers forward and everyone moved toward the doors as one.
Again, just like the flight from Edinburgh, everyone was herded at the bottom of the stairs and told to wait until the last passengers had disembarked and entered the terminal. Finally, at around ten past nine, the doors were opened for us and everyone moved forward. Again, I went for the back steps with another couple of people and once again took seat in 18A. It wasn't intentional, I just happened to move to that area of the cabin. But as the doors shut, I realised that I was once again alone in 18A; B and C remained empty. Seriously folk, do I smell or something? (I put on some extra Armani 'He' just in case)
Pushback finally occurred at 2125 and we made our way quickly to the runway. The safety demo this time was manual and was over quicker than usual, with a distinct Eastern European twist, instead of that phoney Americanised accent on the recording.
We took off into the dark night and soon after turned right to face north, where we'd stay until passing over Belfast, at which point we'd begin the descent for Prestwick, approaching from the East.
Flight was uneventful, some light chop as we passed over the Northern Irish coast but other than that nothing. I read 180 pages of Cheryl Cole's autobiography before we landed on runway 31 at PIK, just five minutes behind schedule.
Pulling up on stand, I saw an Antonov something or other out of the window, but it was too dark to take a photo. It was a nice surprise though.
I was planning on making the 2221 train to Glasgow Central, in order to catch the bus home to Whitburn at 2330. Unfortunately, due to a malfunctioning front stair, we couldn't get off the plane until they found two sets of steps for us to deplane on. These weren't found until 2217, by which point it was pretty much clear I was missing my train. So, it was then a 50 minute wait until a bus for Glasgow came and picked me up.
Thanks for reading folks, and I hope you enjoyed this mini trip report, which is actually my first one done covering Dublin. And this one was only done due to the high demand for another from one certain person!
Keep tuned for more…
JG