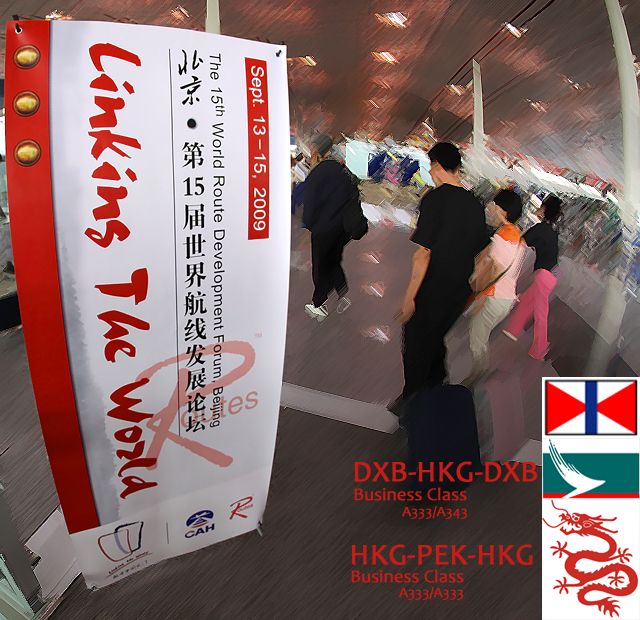 I N T R O D U C T I O N
Cathay Pacific and Dragonair are natural partners. Cathay Pacific part-owned and managed Dragonair between 1990 and 1996 before its current ownership structure came into effect. Economic and aviation circumstances have since changed dramatically, particularly in Mainland China, and so too has the world in which Cathay Pacific, Dragonair, and Hong Kong must now compete in.

Hong Kong's future prosperity hinges to a large extent on its development as a gateway to the Chinese Mainland and as a hub for the movement of people and goods around the globe. As Hong Kong's home carrier, Cathay Pacific has a shared interest in and commitment to the welfare of Hong Kong and its people.

Yet neither Cathay Pacific nor Dragonair separately can serve all Hong Kong's needs adequately. Dragonair lacks an international network. Cathay Pacific has a comprehensive international network hub is not yet able to offer the access consumers want to the Chinese Mainland, the world's fastest growing economy and Hong Kong's natural hinterland.

Given the urgency of competition Hong Kong faces from other regional hubs, there is not enough time for either carrier to evolve organically in order to fill these gaps. This agreement meets this pressing need.

Cathay Pacific and Dragonair are, in effect, like two separated halves of a whole: their networks and capabilities complement each other. Reunited, the whole will be greater than the sum of the parts...
Cathay Pacific Press Release – June 9th 2006
China is going to be huge
Tony Tyler – Airliner World December 2009
WELCOME TO MY 19th TRIP REPORT
This TR will cover the following flights on my trip to China:


A) Dubai – Hong Kong – Dubai on Cathay Pacific in Business Class

B) Hong Kong – Beijing – Hong Kong on Dragonair in Business Class

B A C K G R O U N D
This was an annual business trip that took place in Beijing this year.
Flight selection was purely based on my most favored 'pick n choose' methodology. There were several flight options that could transport me to Beijing. The most logical one was Etihad's non-stop service. Choosing this option would have allowed me one extra day to do sightseeing at the end of the trip due to the lack of a daily frequency. A second option could have been Qatar Airways; but they are an airline I am not ready to try yet, if I did not have to.
Then there was Cathay Pacific. If you know me well enough, you will guess that if this airline was even half of an option, then it would be my choice in a heartbeat.
So the moment I was asked to go on this trip, I immediately put in my request to fly Cathay Pacific (and subsequently Dragonair); a no-brainer indeed!
While a Cathay flight on the new highly-controversial herringbone Business Class was a first for me, I was also looking forward to my first flight on Dragonair. Being overshadowed by its bigger step-sister, Dragonair was definitely an airline that wasn't on my radar. Apart from the big CX/KA merger in 2006, I ignored any current happenings relating to Dragonair for no reason. Now having the chance to try them, things have slightly changed.
O U T B O U N D
I arrived at Dubai International Airport Terminal 1 at 10pm, where I proceeded straight to the departures area leading to the Cathay Pacific check-in counters. There was a short queue for the routine pre-check-in security check, but that progressed fairly quickly and within minutes I was already at the Cathay check-in counters. Judging by the lack of any queue, tonight's flight was to be wide open.
Cathay Pacific Check-In Desks at DXB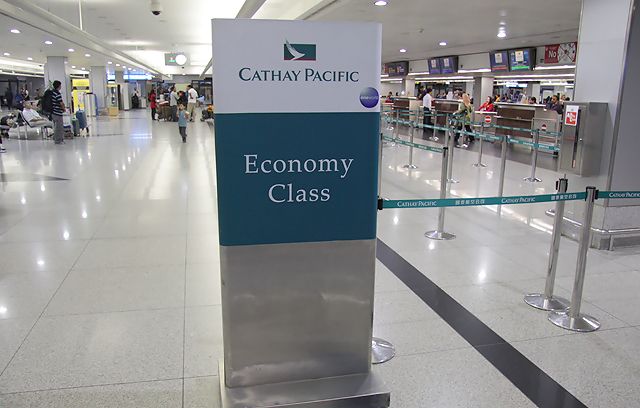 Approaching the Filipina agent at the check-in counter who was dressed in the red version of Cathay's uniform, I handed her my documents for check-in. Apart from one suitcase that had my personal belongings, I also had three big boxes and a second suitcase that I had to take with me for work purposes. All in all I was carrying approximately 43kg of
extra
weight that I had to be charged for.
Furthermore, one of the boxes weighed over 30kg, which exceeded the maximum limit per each checked baggage set by Dubai International Airport. So the agent along with the station manager, advised that I reshuffle the contents of my cargo in order to meet this requirement. Luckily I had a porter with me, who helped me rip open the box and take its contents out and pack them in the other luggage.
After all this was done, I returned to the agent, who immediately processed my way through the system, handed me my lounge cards for Dubai and for Hong Kong, and requested that I proceed to the excess baggage counter to pay the hefty fees and receive my boarding passes for the flights. By 10:30pm I received my boarding passes and was checked-in.
Boarding Pass to Hong Kong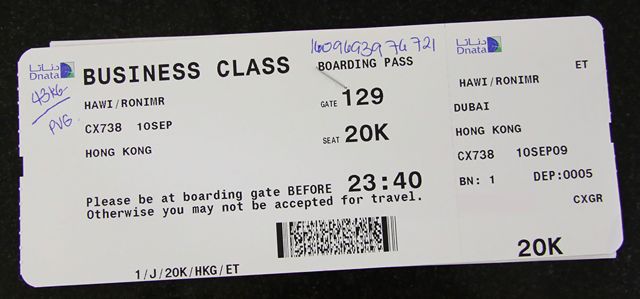 Lounge Card Ex DXB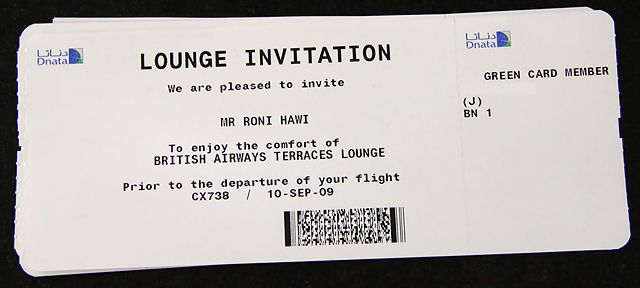 I proceeded through immigration and security, and was airside and eventually at the Duty Free area of the main terminal building at 11pm. I decided to skip the lounge altogether this time and instead walk around the terminal before heading to the gate.
Airside at DXB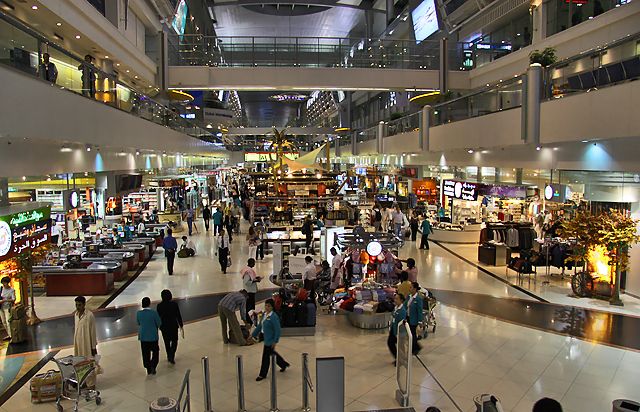 At 11:30pm, I proceeded towards Gate 129, which isn't a contact gate. Being the 'flagship' non-stop flight to Hong Kong out of all the Cathay flights at Dubai, I do not understand why this flight does not get an aerobridge. However for me, this is always an advantage, but I am obviously not the typical profile that the airlines seek to provide for.
Gate 129
Approaching the podium, my boarding pass was handed to the agent, who tore of the larger portion and handed me back the smaller stub. By the time I reached the holding area, I discovered that the flight was already boarding.
Proceeding towards the staircase leading downstairs to the bus, I saw the station manager who was assisting me with my excess baggage during check-in. He shook my hand and said "Good to see you again Mr. Hawi, have a good flight, and thank you for flying with us again".
Inside the Bus at 11:40pm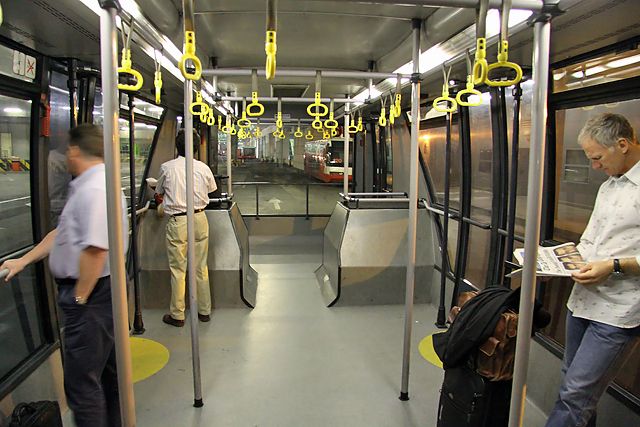 As the bus drove towards the location of the aircraft, the beautiful A333 began to gradually appear in sight. This was the perfect opportunity to hunt for the registration number for the sake of this TR. Last year on this very same flight, I was lucky enough to be on B-LAC which was the latest bird of its type in the fleet at the time. Which one out of the 30 or so 330's will I get tonight? I kept asking as I continued my rego-hunt during the very short time envelope I had. Driving past the tail of the aircraft, I spot B-LAC again, and for some reason I felt so utterly disappointed. I normally like to ride the same aircraft more than once, but this time I could feel Mr. PlaneHunter's agony of getting the same registration twice!
Same Airline, Same Flight Number, Same Remote Stand, Same Aircraft, Same Registration
As the bus stopped by the aircraft, the doors opened and we were released. I walked up the steps leading to door 1L where Irene, tonight's Inflight Services Manager was standing to welcome all premium passengers on board.
"Welcome on board Mr. Hawi, please proceed past the galley and turn right to your seat"
By 11:45pm I was on board.
CONTINUED BELOW