The Return from Hell:
TRD-OSL-TXL-NUE on Norwegian, Air Berlin & LGW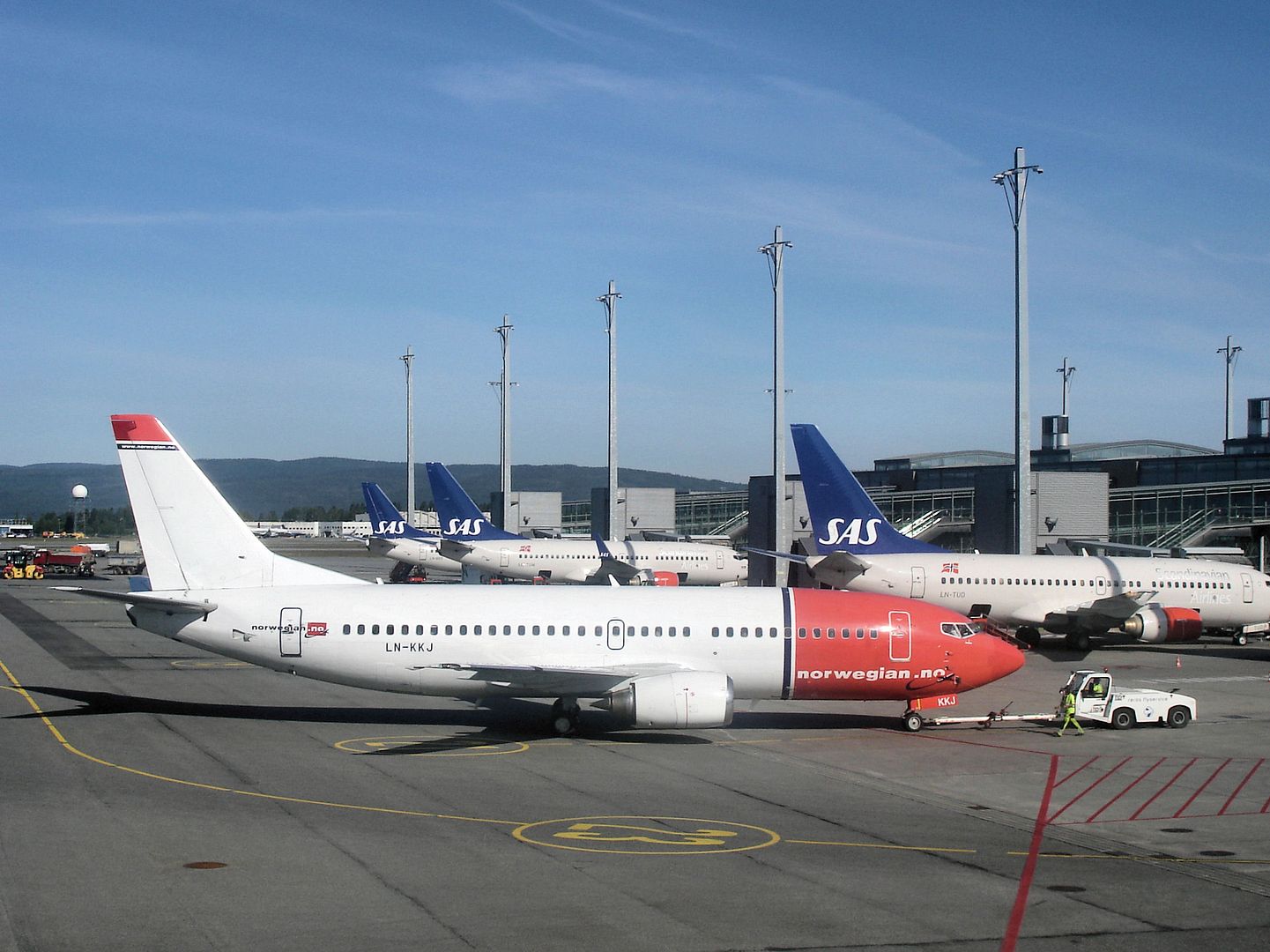 Intro
The second and last part of my latest trip report series will give an impression of
Norwegian's 737-300, Air Berlin's A320
and
LGW's DHC-8-400
(operating for Air Berlin). Those planes were used on my return trip from Norway on the
Trondheim-Oslo
,
Oslo-Berlin/Tegel
and
Berlin/Tegel-Nuremberg
sectors.
All those who have missed Part 1 simply need to click here:
My Trip To Hell: NUE-CPH-OSL-TRD On Cimber & SAS
Background
Shortly after returning from my US trip in May I realized that most of my Air Berlin miles would expire by the end of June. So I started searching for interesting flight options and soon focused on Oslo because I had never been to Norway. Of course I tried to include as many new carriers as possible and so I spent many hours on the computer. In the end I booked OSL-TXL-NUE on Air Berlin, NUE-CPH-OSL-TRD on SAS and OSL-TRD on Norwegian.
Cimber Air, SAS Norge, Norwegian and LGW - Luftfahrtgesellschaft Walter (operating DHC-8-400s for Air Berlin) were still missing in my log. As for Trondheim - I simply picked that particular destination due to flying times, a reasonable TRD-OSL fare by Norwegian and the existence of an inexpensive airport hotel (595 NOK = 66,87 Euro for a room). I had also checked Bergen and other cities, but Trondheim seemed to be best suited for a short two-day trip.
Tuesday, 23 June 2009
Trondheim (TRD) - Oslo (OSL)
Norwegian Air Shuttle DY743
07:30-08:25 (07:27-08:16)
Flying time: 00:39 (hrs)

Boeing 737-36N
LN-KKJ (s/n 2936)
First delivered to Transbrasil as PT-TEP in 11/1997

Economy Class
Seat 23F
Former appearances:
View Large
View Medium


Photo © Robson Galloulckydio
MyAviation.net photo:


Photo © Marcelo de S.F.Affonso
After spending a short night in the comfortable
Rica Hell
suite I left early and walked to the terminal building. Many people were already checking in for various morning flights, but several Norwegian check-in kiosks were still deserted. Two minutes later I got my boarding pass and went to my gate located in the (old) Terminal B. View of Terminal A: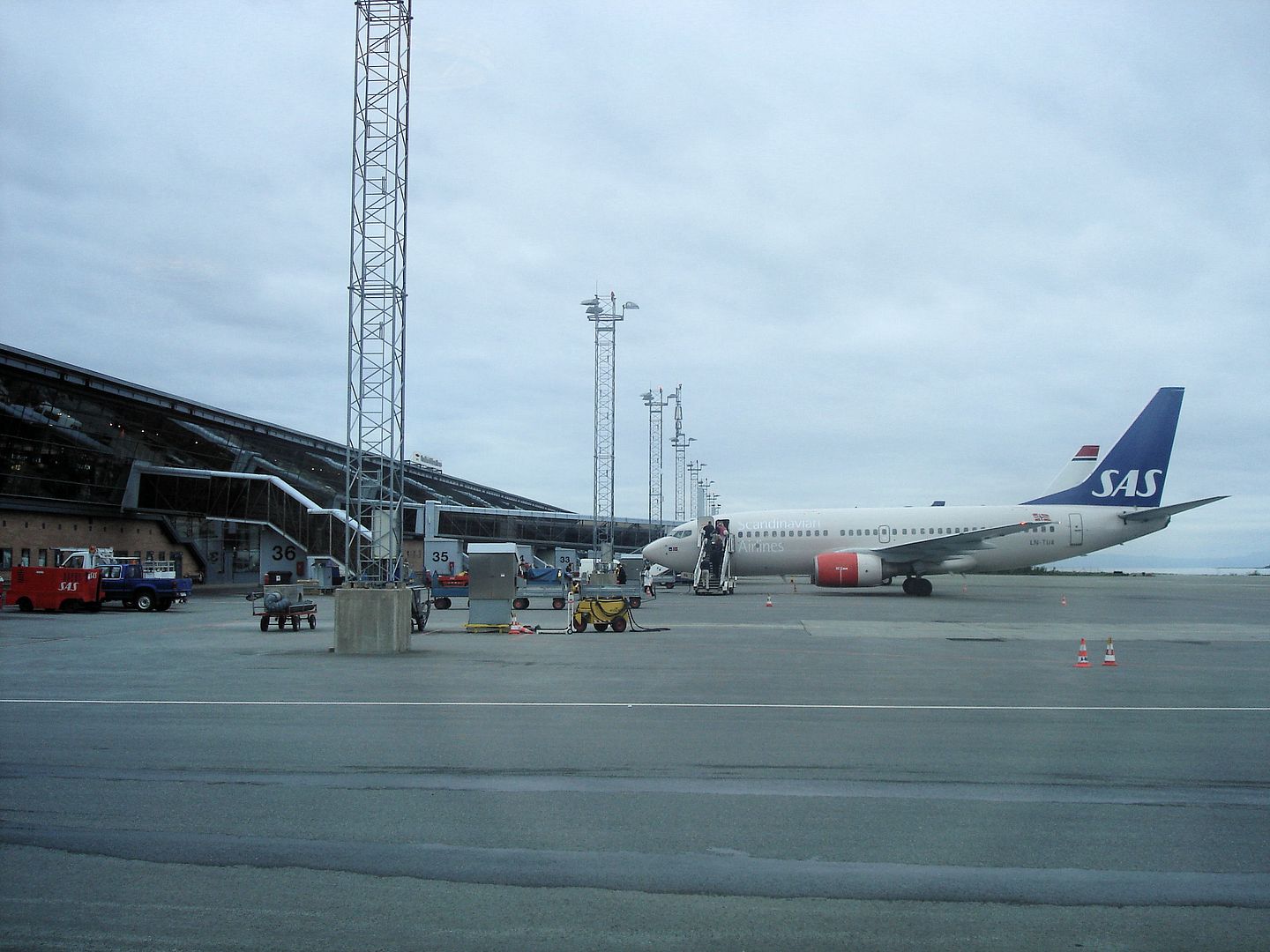 The gate was getting crowded after a while and it was clear that the flight would be full.
LN-KKJ
- a 737-300 built in 1997 and once operating for Transbrasil and Varig - had spent the night at the airport: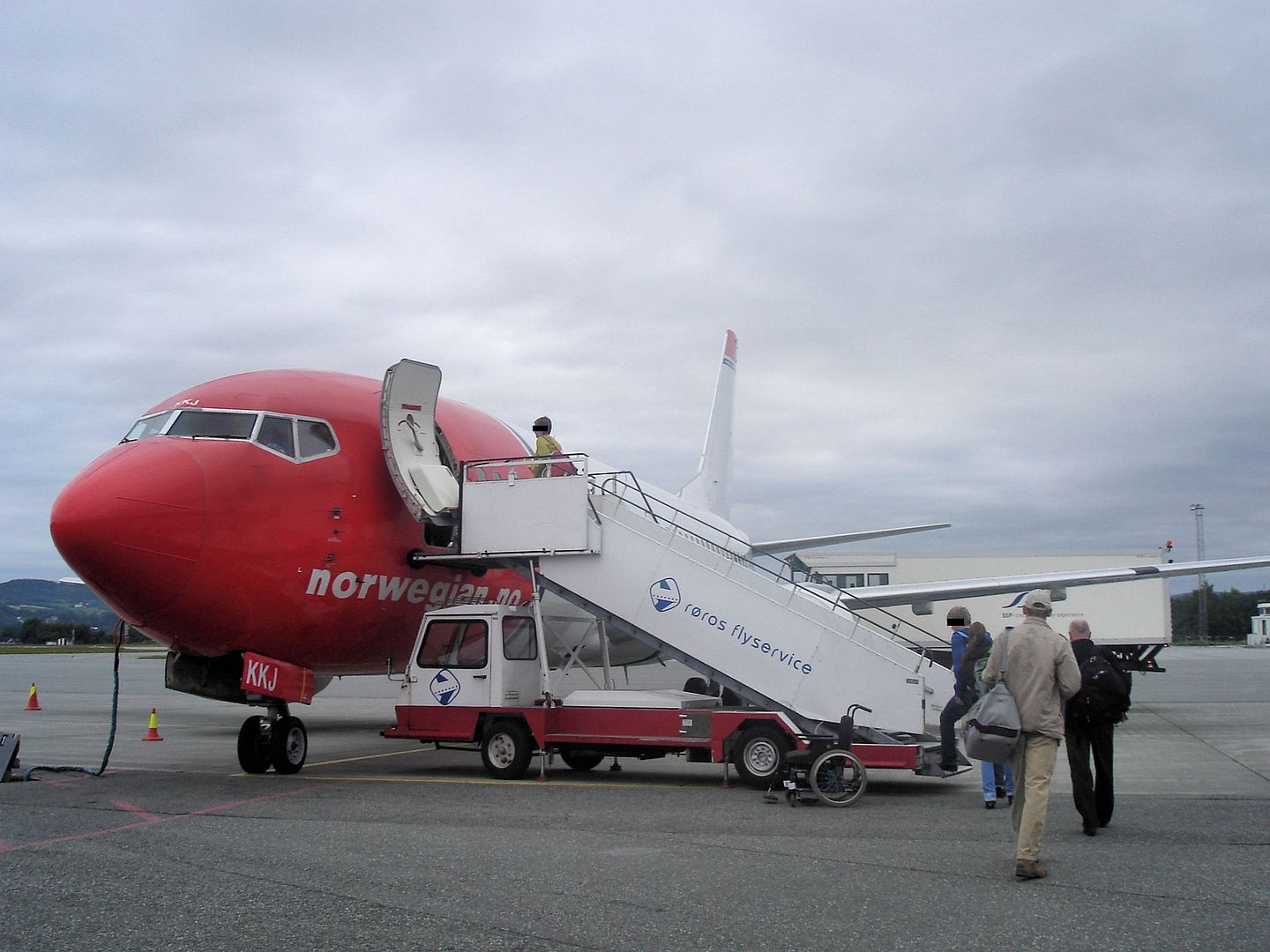 Unfortunately, the plane didn't have its original
"Real Norwegian Sonja Henie"
tail any more (transferred to a 737-800). The plain white tail is plain ugly: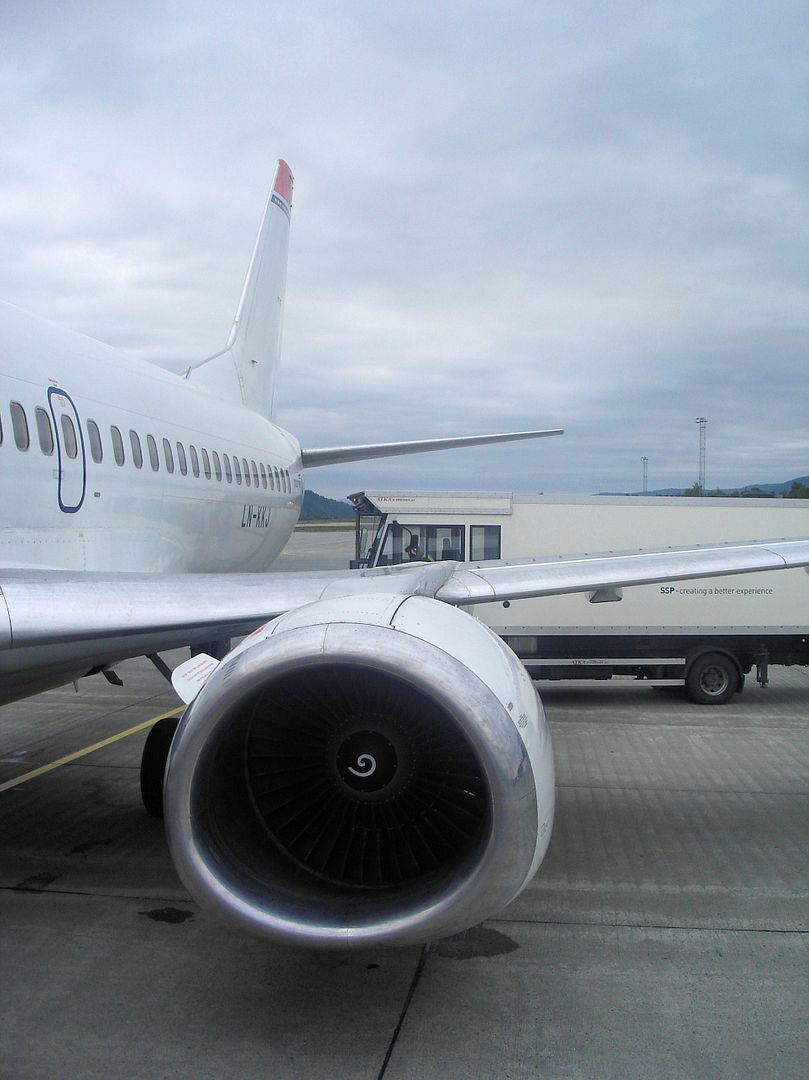 The black leather seats were not as comfortable as the fabric seats on the SAS Norge 737-400 and 737-700...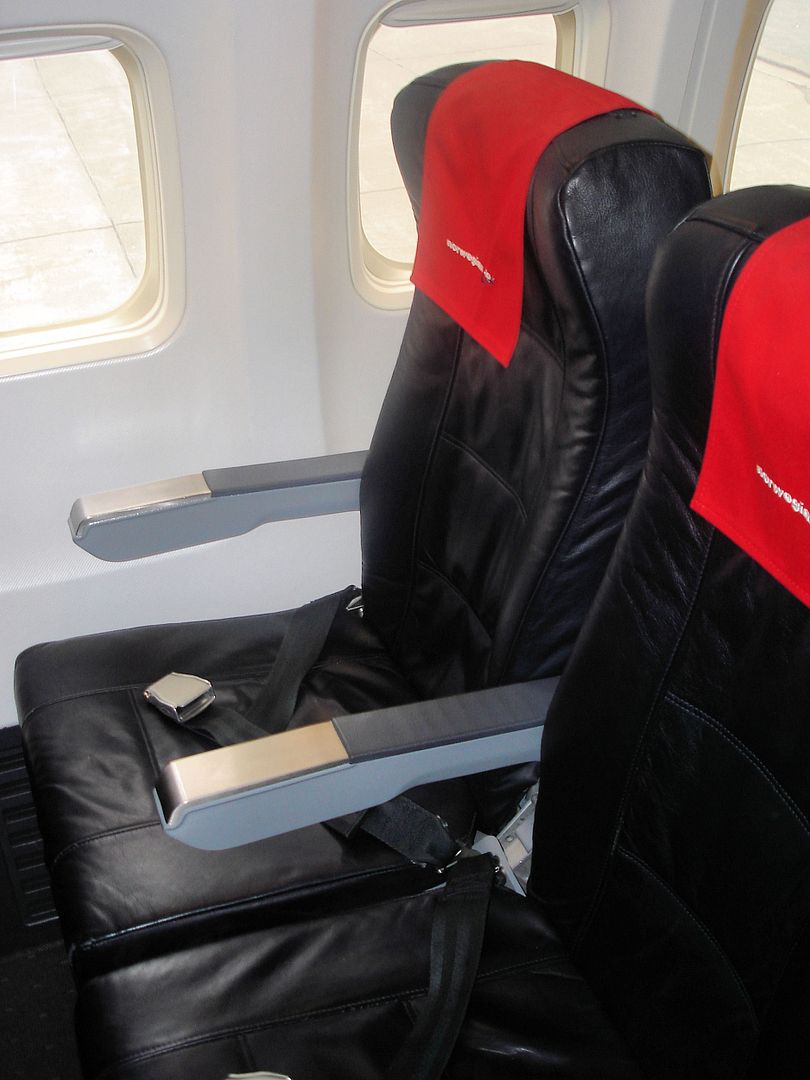 ...and the legroom was quite limited, not as good as on SAS either: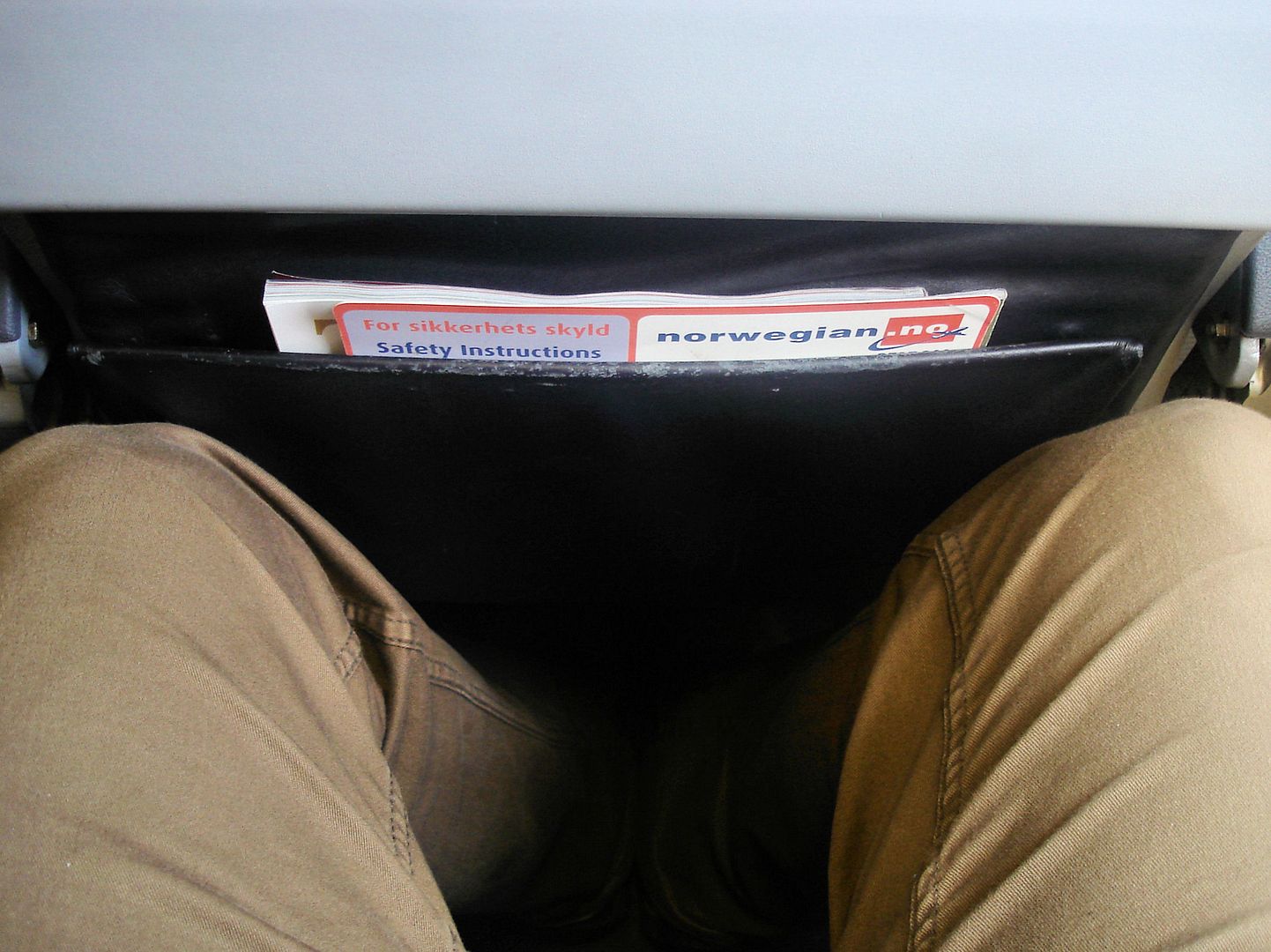 After most - if not all - seats had been taken, we left the gate early and I spotted a C-130 Hercules...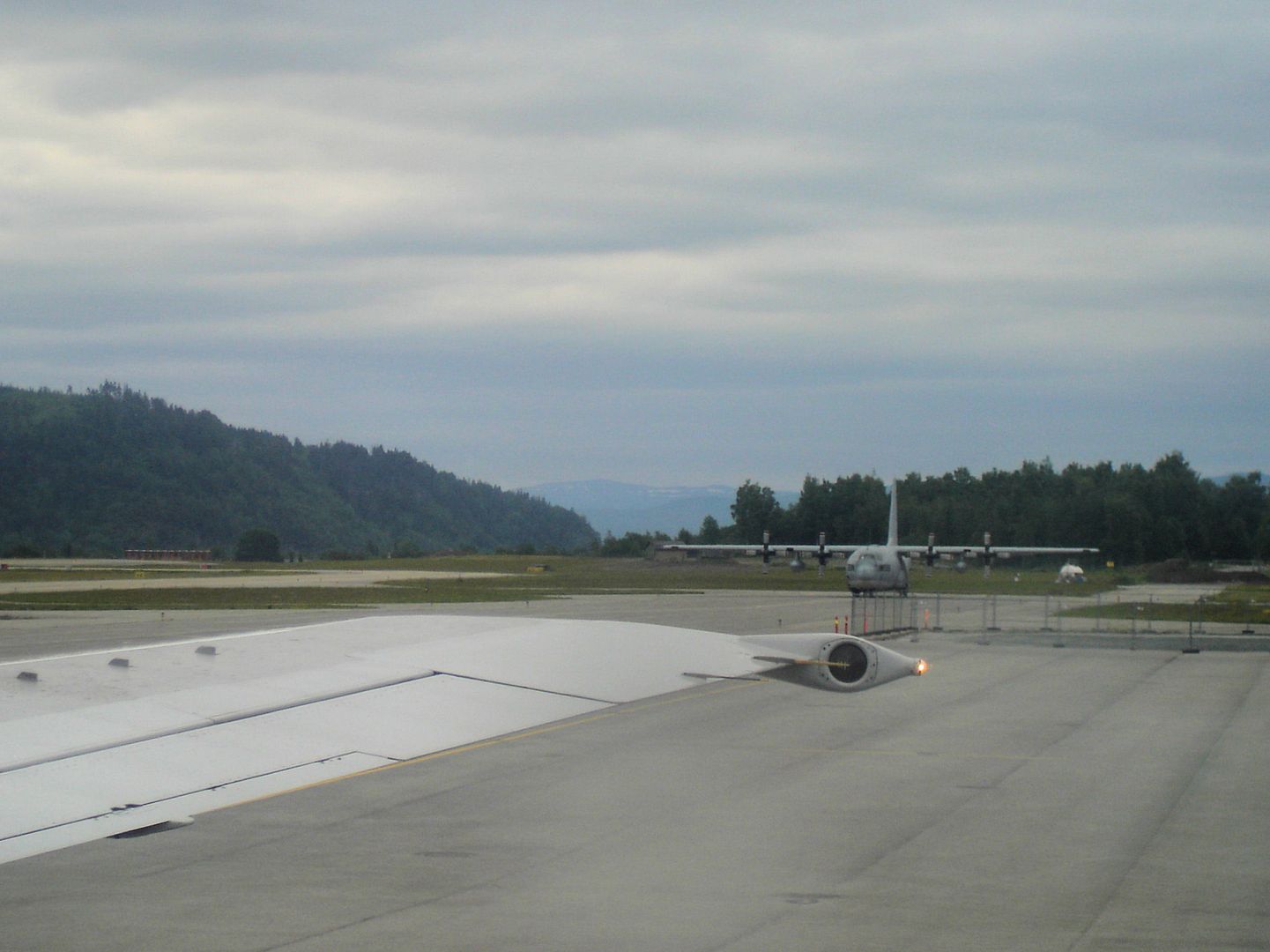 ...operated by the US Air Force: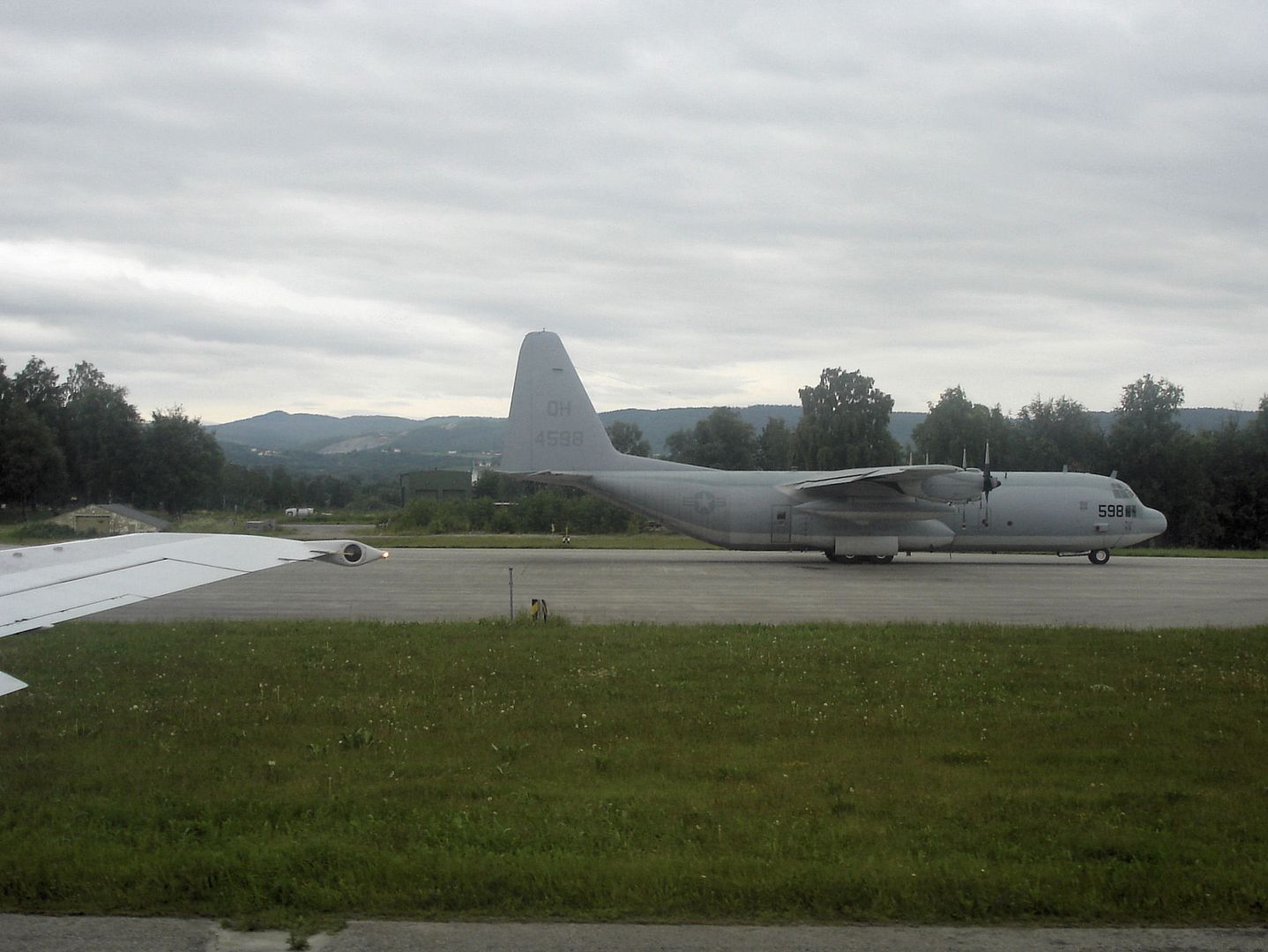 Six minutes later
LN-KKJ
lifted off and I could enjoy the beautiful scenery until we broke through the clouds: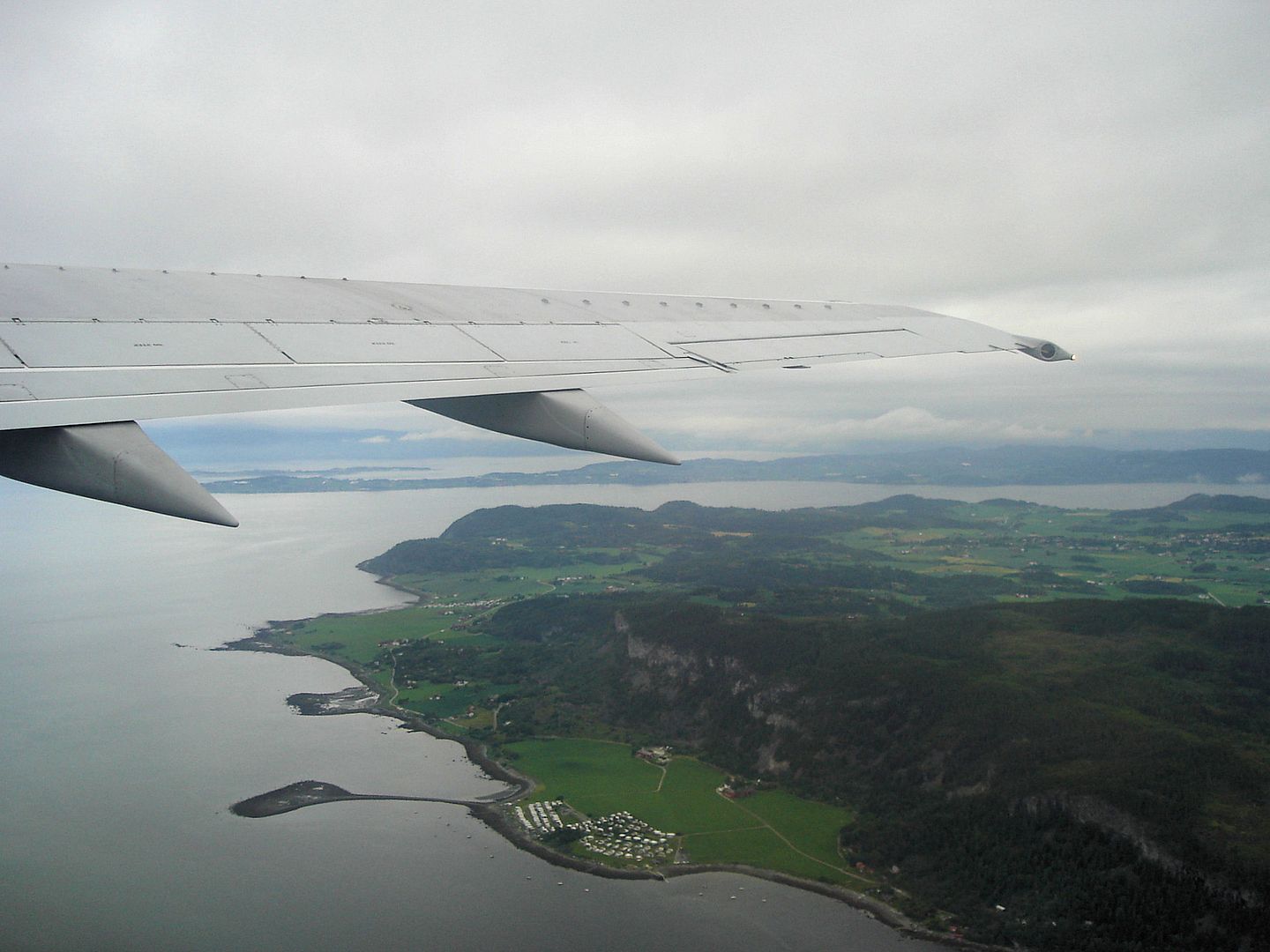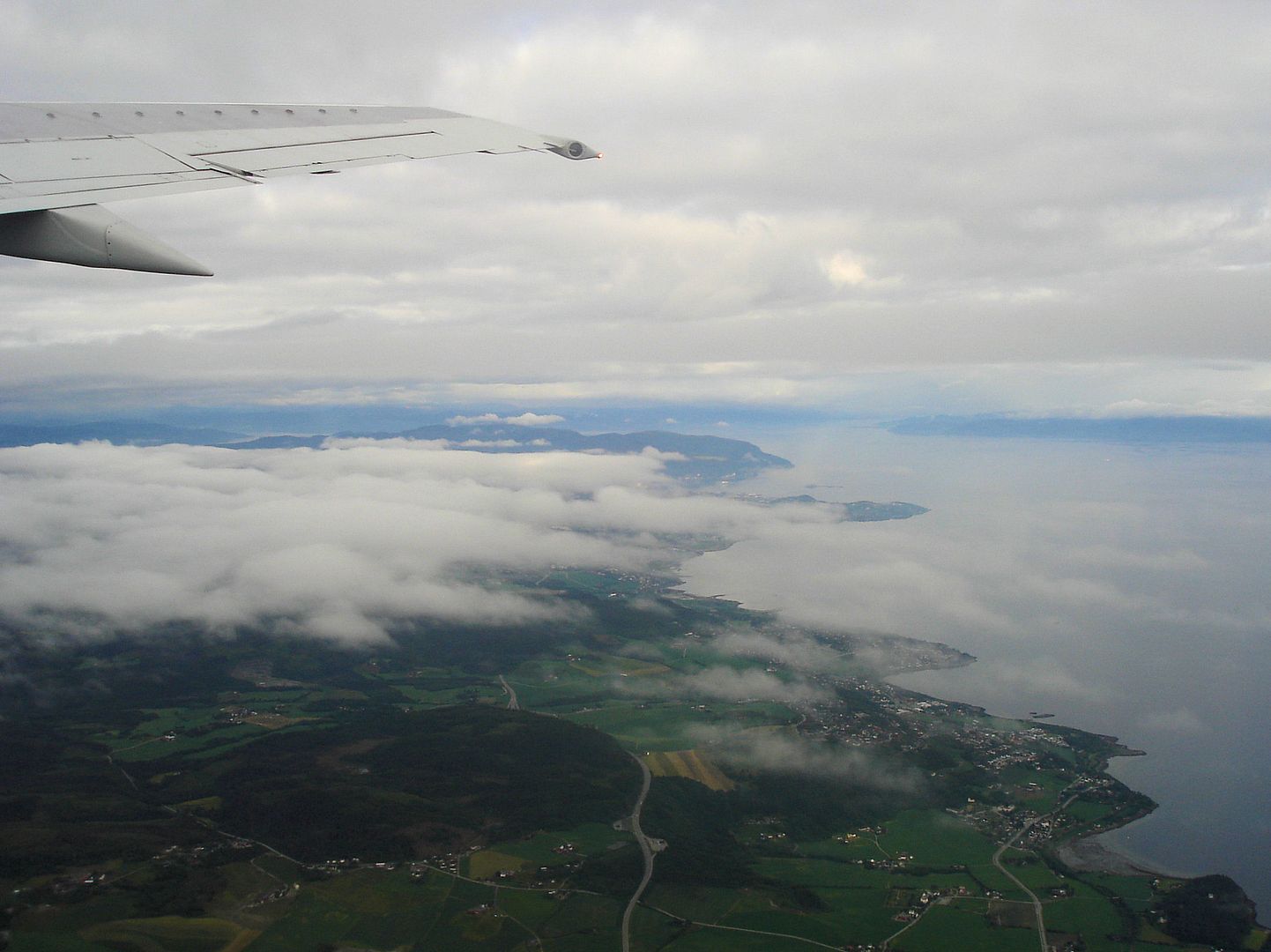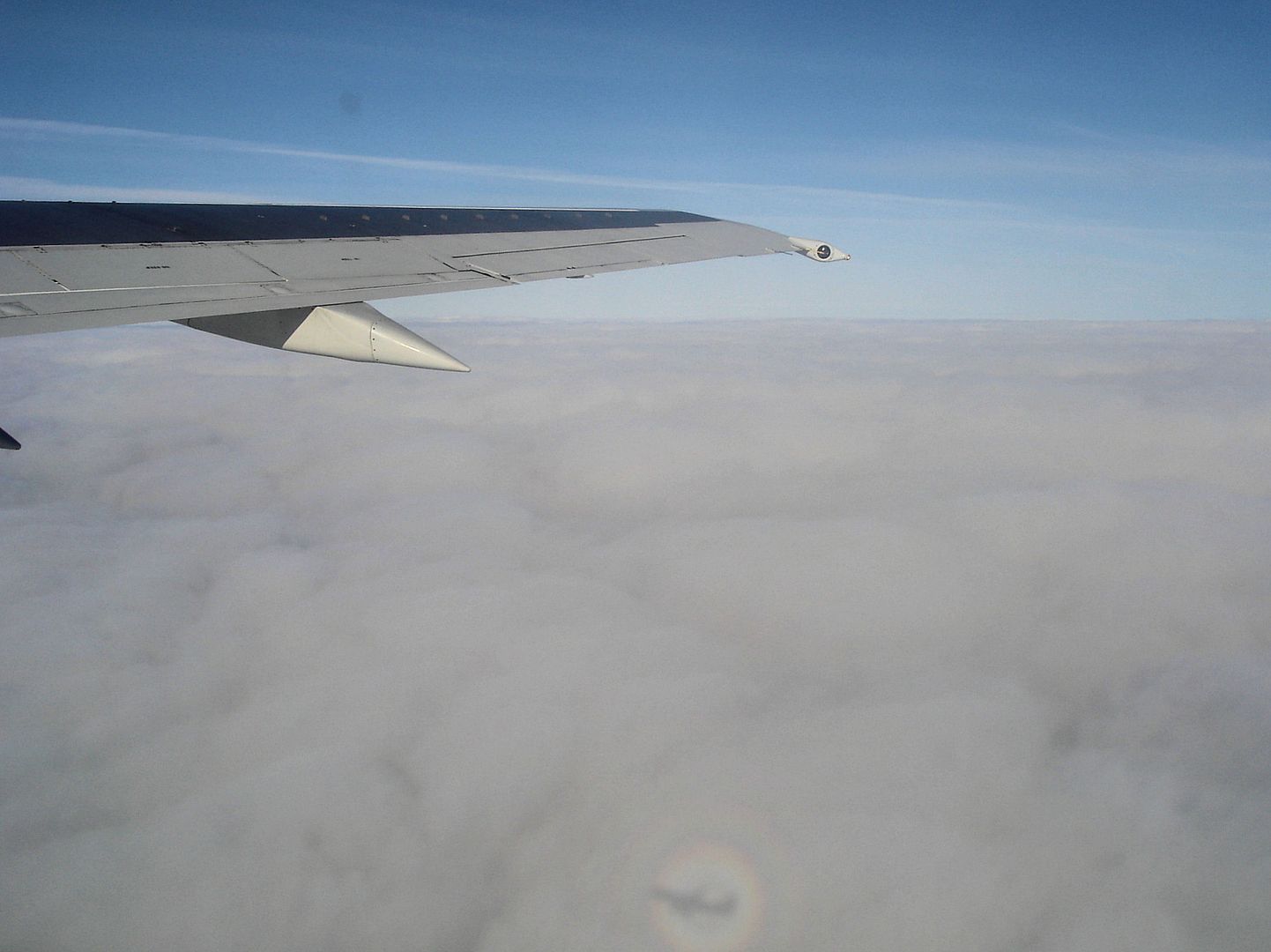 Norwegian didn't sell anything on board which was not surprising considering the flying time of only 39 minutes. Shortly after reaching the cruise altitude
LN-KKJ
already started the approach to Oslo. I was glad the weather was great on that morning: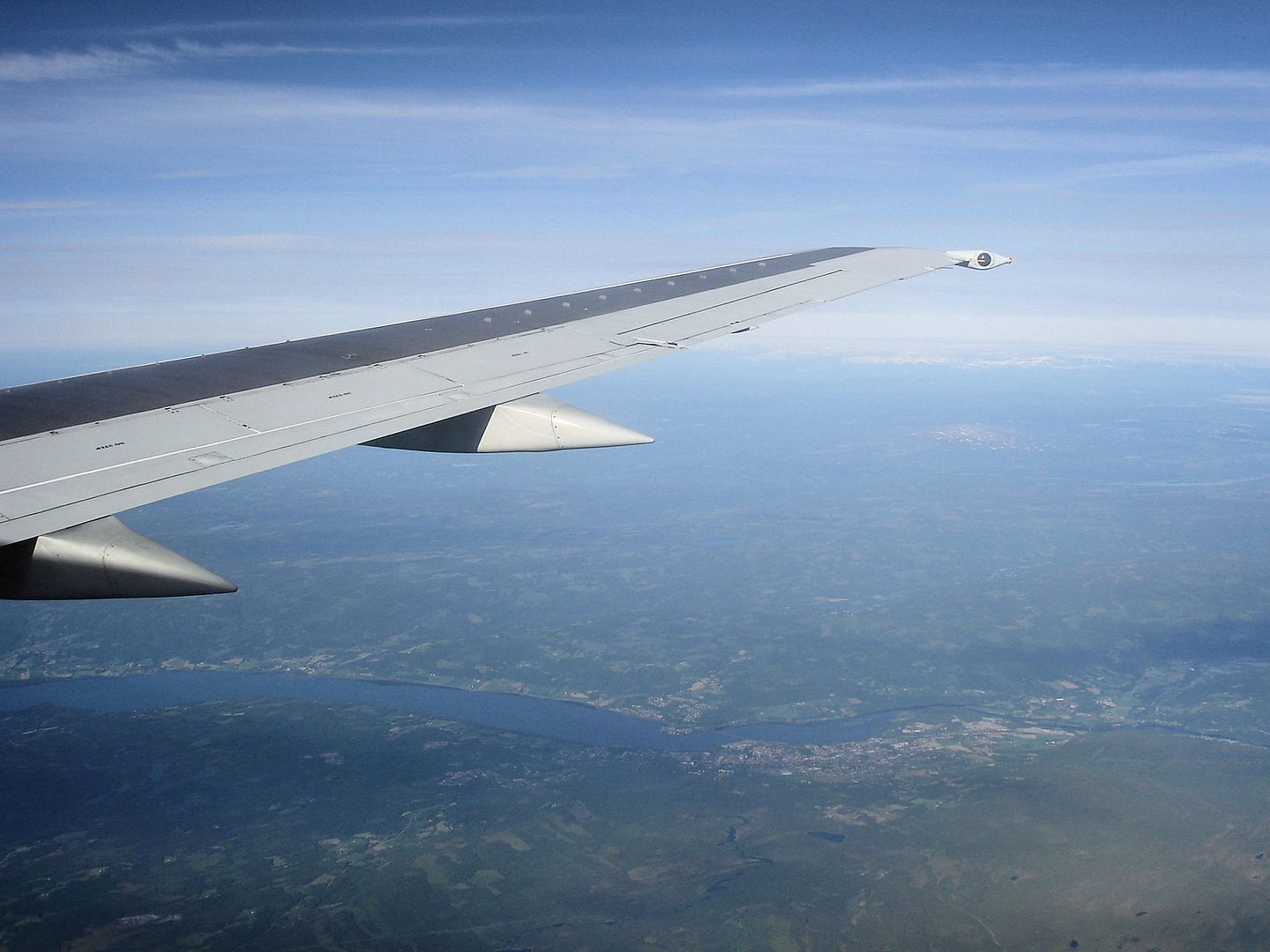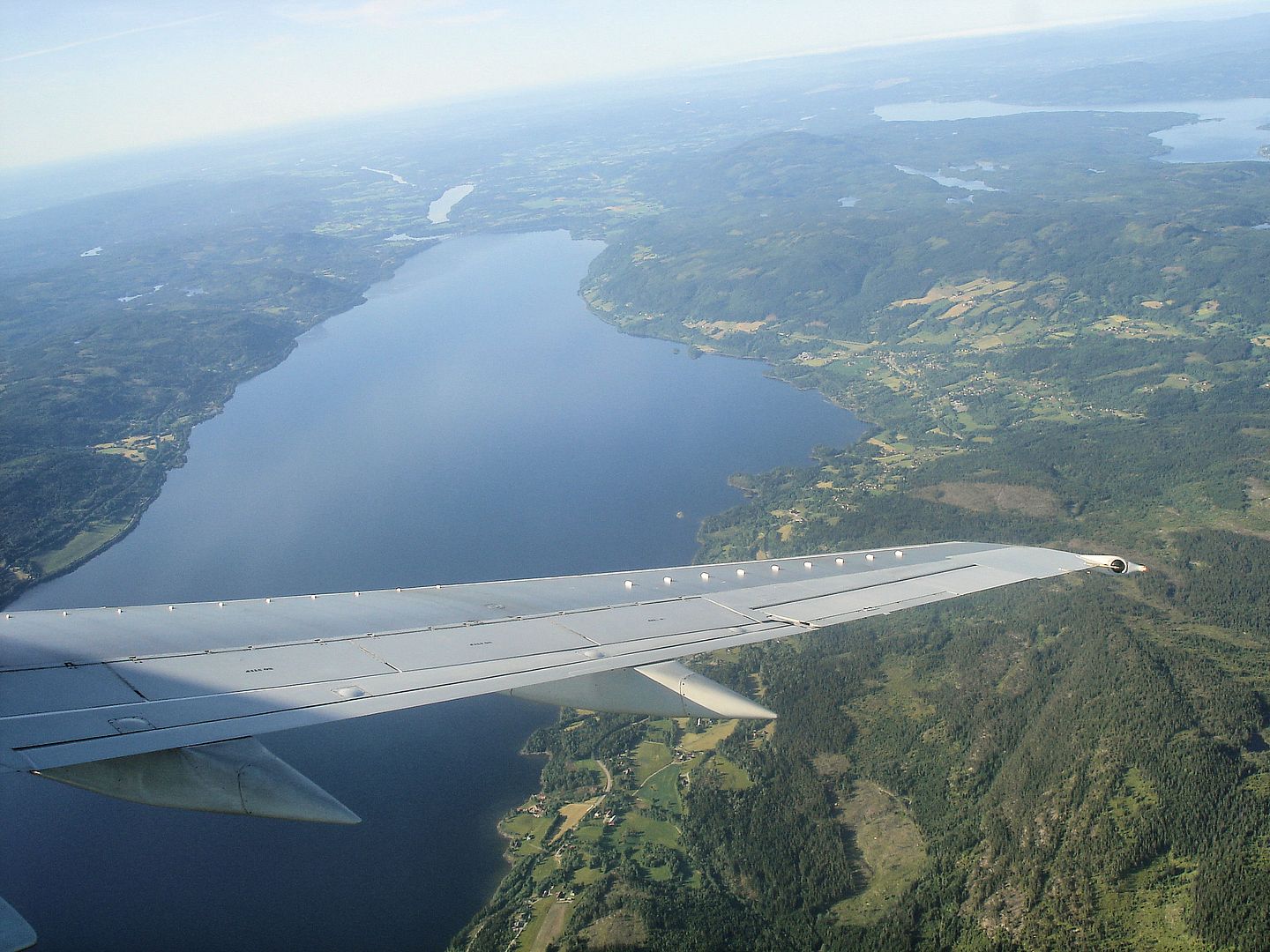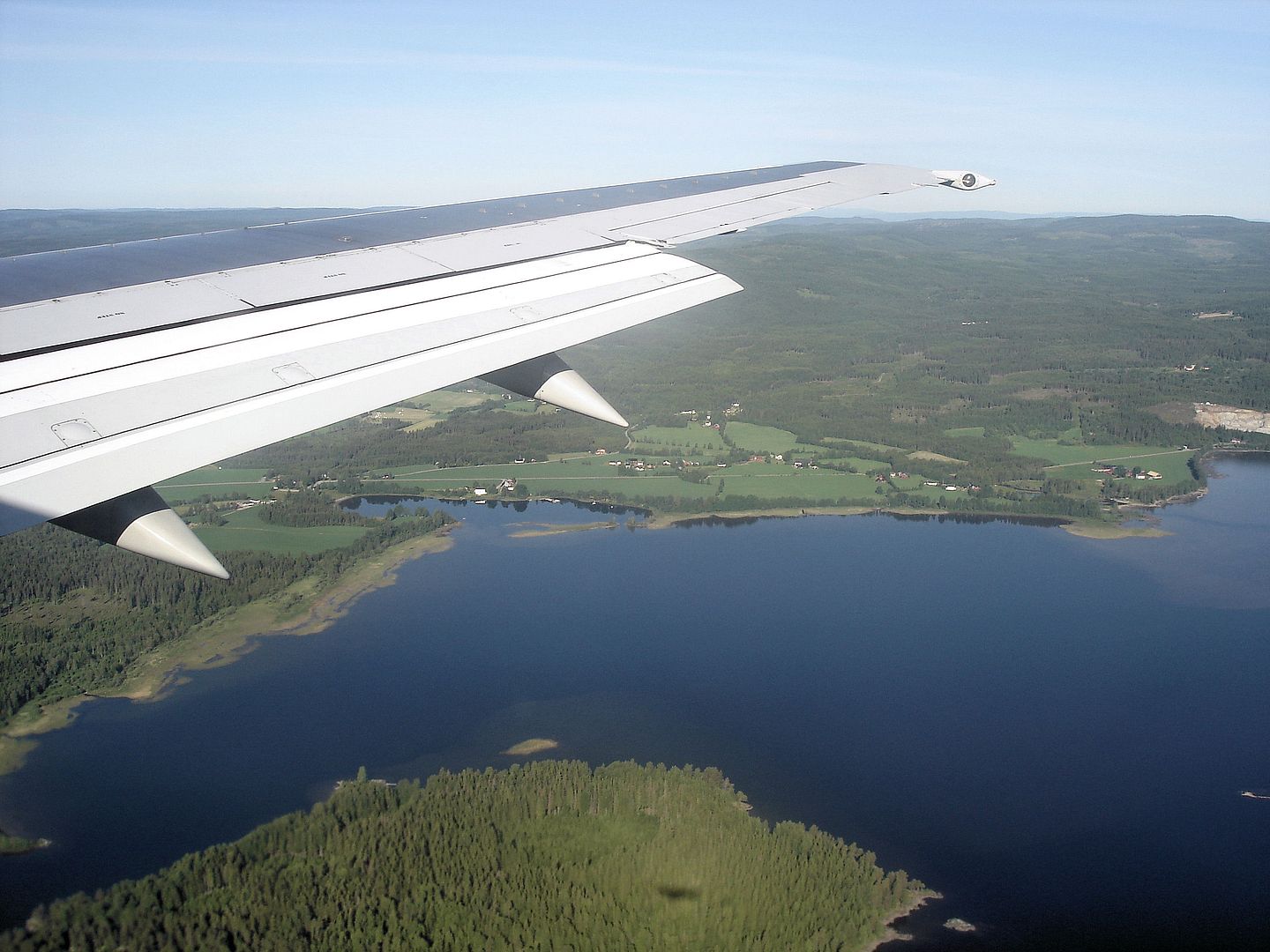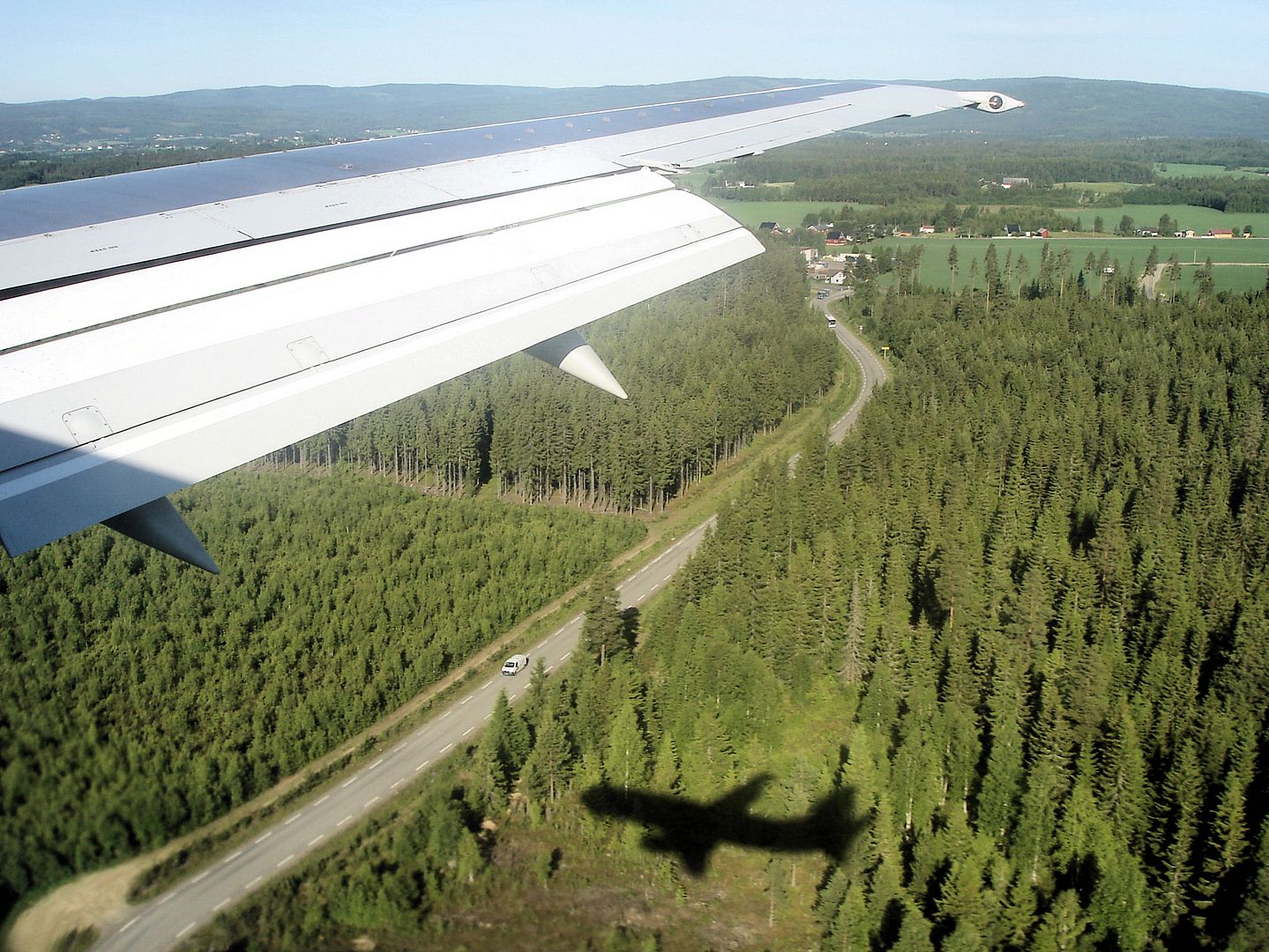 We arrived nine minutes early and I walked straight to the departure hall to find out whether it would already be possible to check in for the Air Berlin flights. However, I couldn't find any kiosks and so I had to wait until 10:50 for check-in (two hours prior to departure).
Oslo Spotting
The landside viewing options at Gardermoen Airport are limited, so I left the main terminal hall...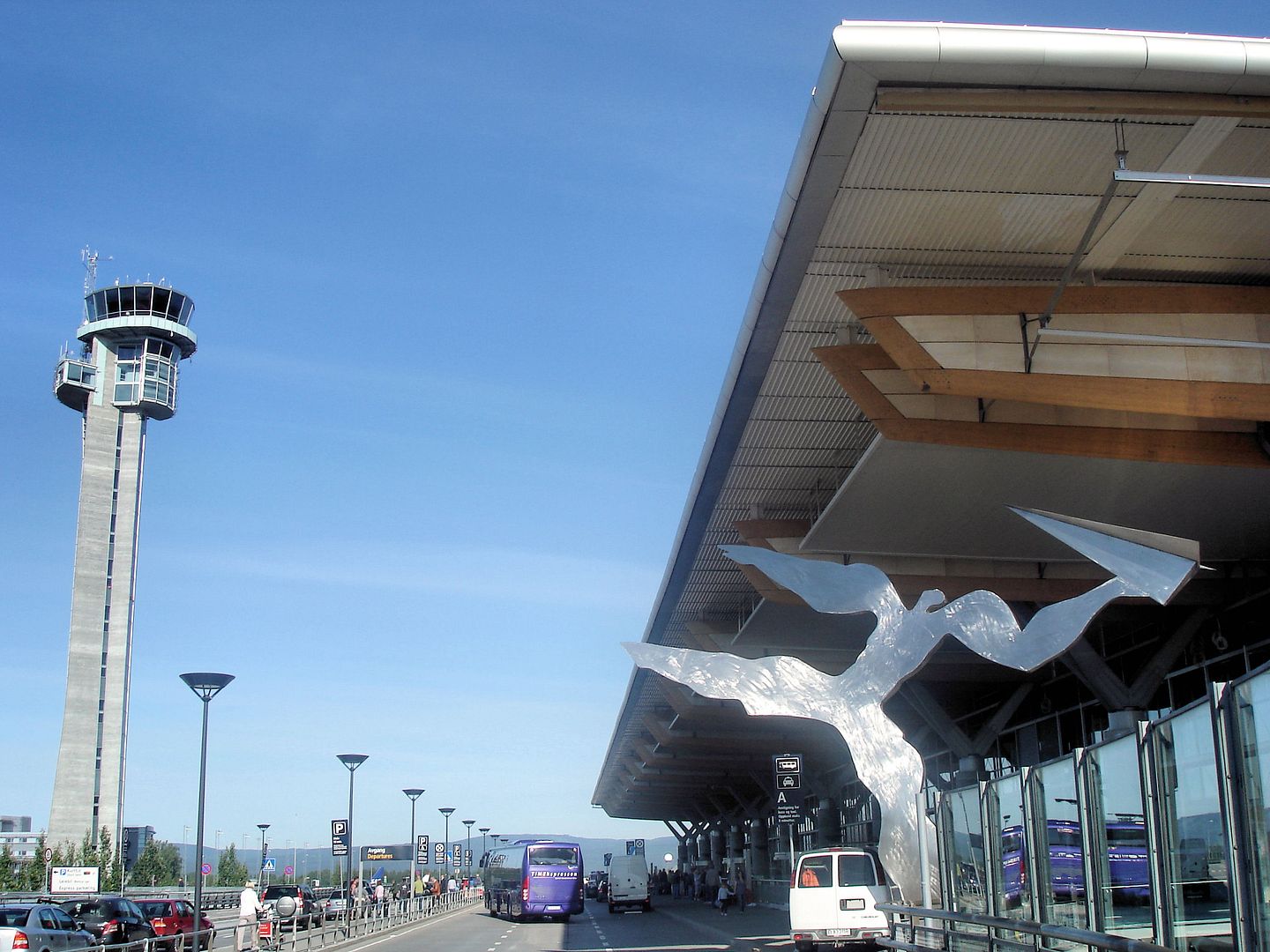 ...and switched back and forth on the pavement in front of the terminal building to see aircraft on the eastern and western side of the airport. It was hard to read registrations of aircraft on the runways, but I could get some while they were taxiing or being parked. Both
LN-BUF
and
LN-KKJ
which had flown me to and from Trondheim were parked next to each other: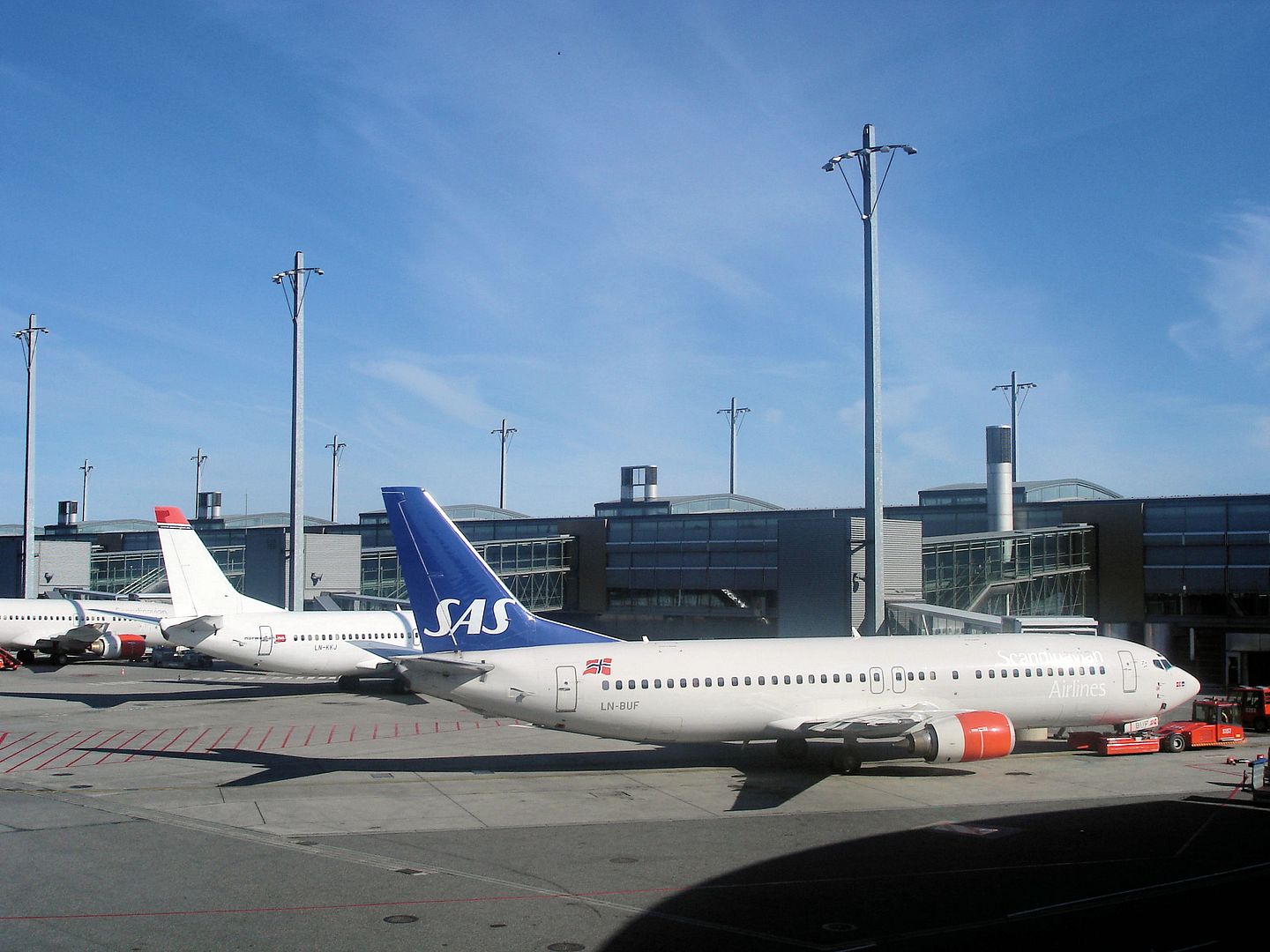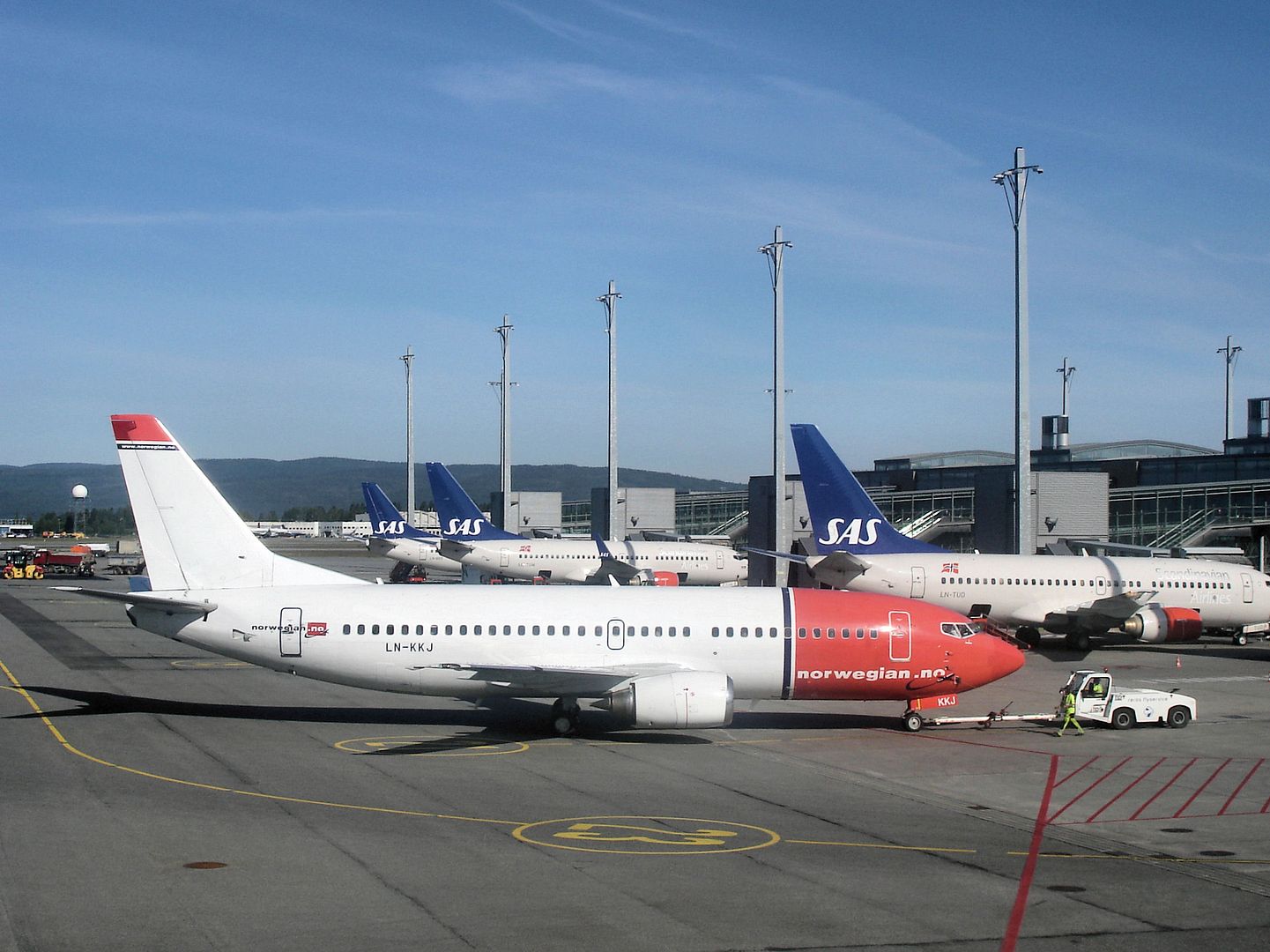 Tuesday, 23 June 2009
Oslo (OSL) - Berlin (TXL)
Air Berlin AB8243
12:50-14:20 (12:56-14:20)
Flying time: 01:14 (hrs)

Airbus A320-214
D-ABDM (MSN 3006)
Delivered in 01/2007

Economy Class
Seat 28A
When I came back to the check-in area many people were already waiting in front of the counters. It wasn't a straight, but a serpentine line and some people weren't sure whether it would end in front of the Air Berlin counters or the adjacent Turkish Airlines counters. Some time later a group of Asian travellers arrived, apparently overlooked the end of the queue and lined up next to the barrier tape directly in front of the left counter. However, the agent noticed that and sent them back to the end of the line. After waiting some 25 minutes it was my turn finally. I got window seats in the rear sections as requested and could finally leave the dreary check-in area.
After spending some more time for spotting outside I went to the gate. The aircraft arrived on time: It was
D-ABDM
, built in 12/2006 and delivered in 01/2007 – meanwhile being operated by Belair as HB-IOU: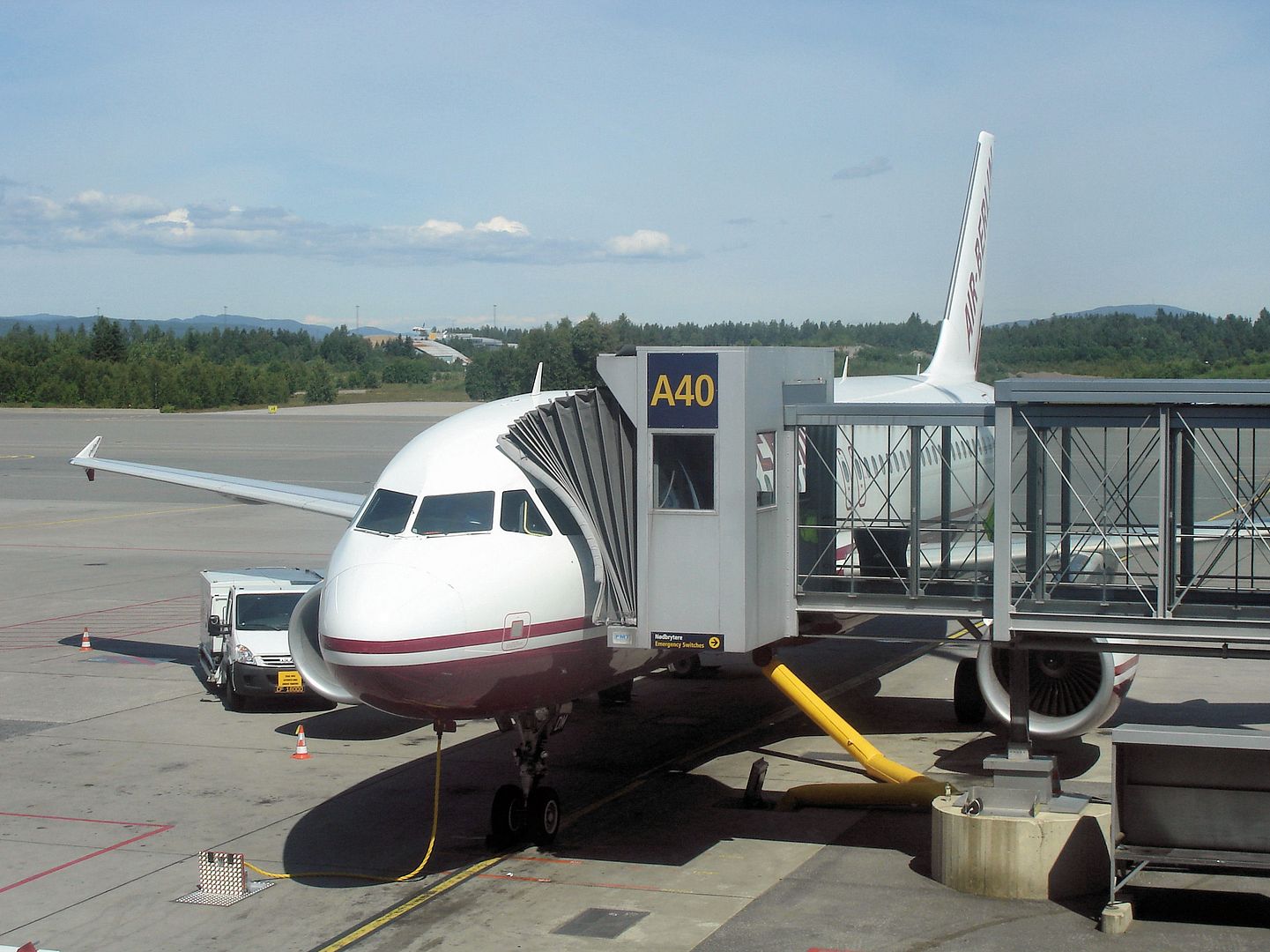 The cabin was equipped with Air Berlin's new-style slimline leather seats: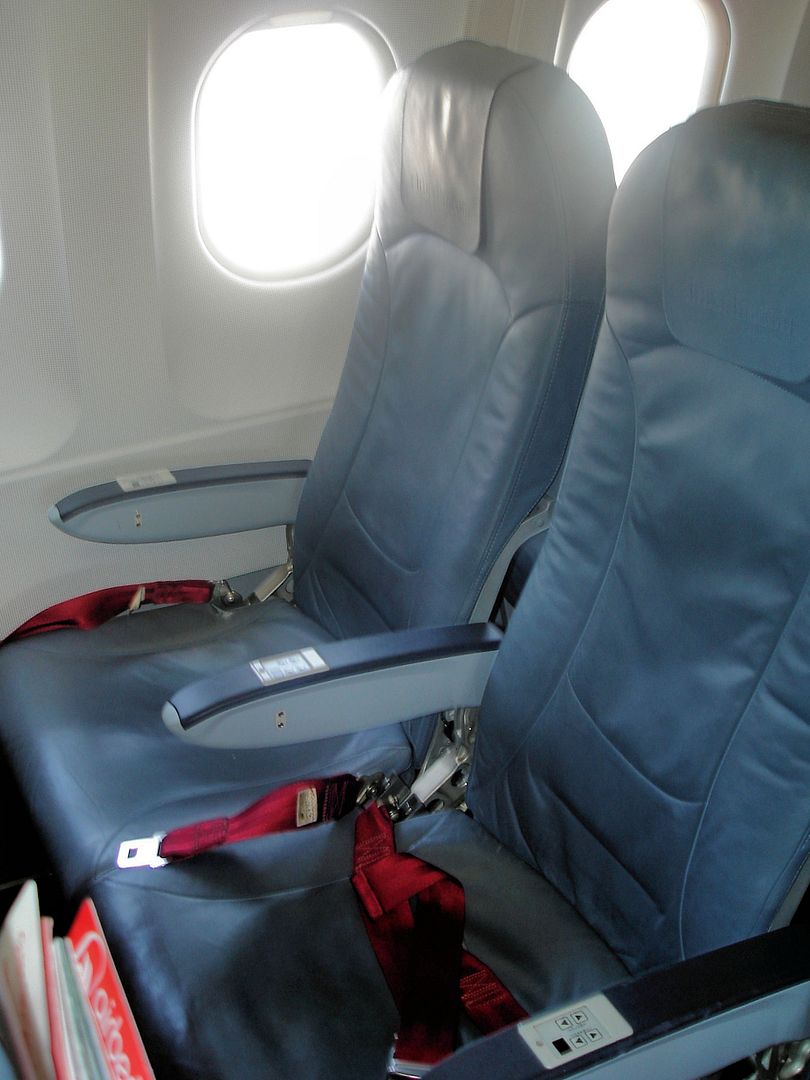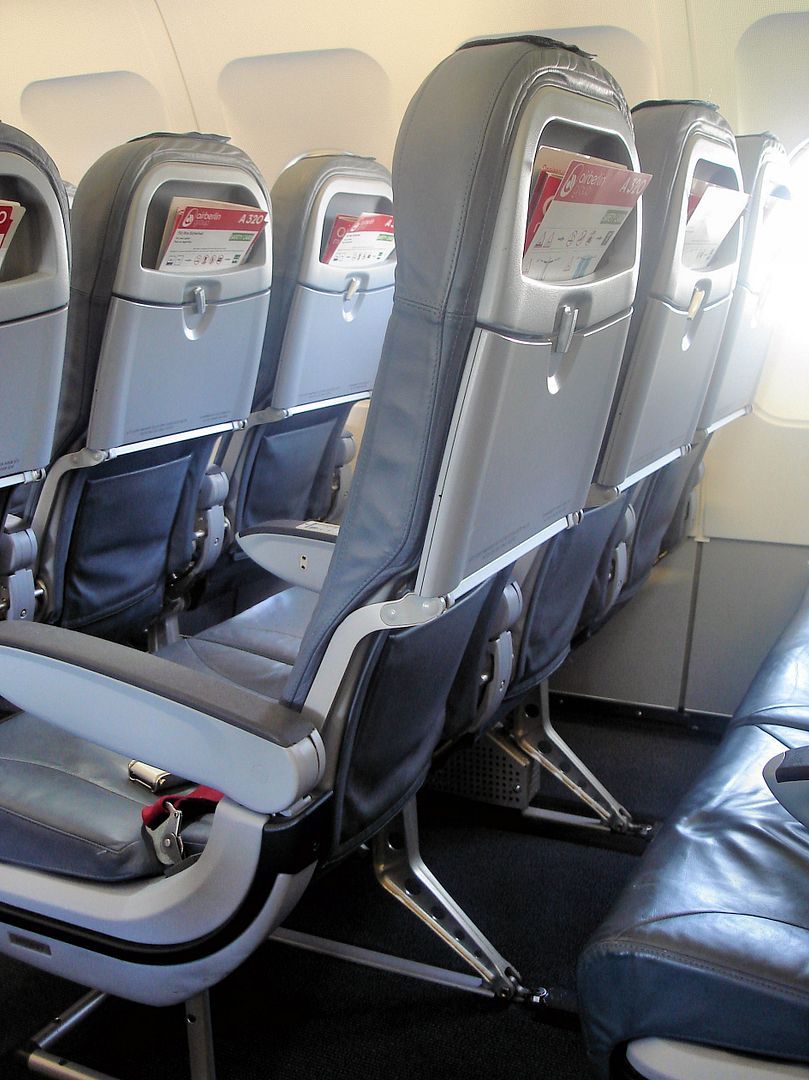 Seat pitch was sufficient: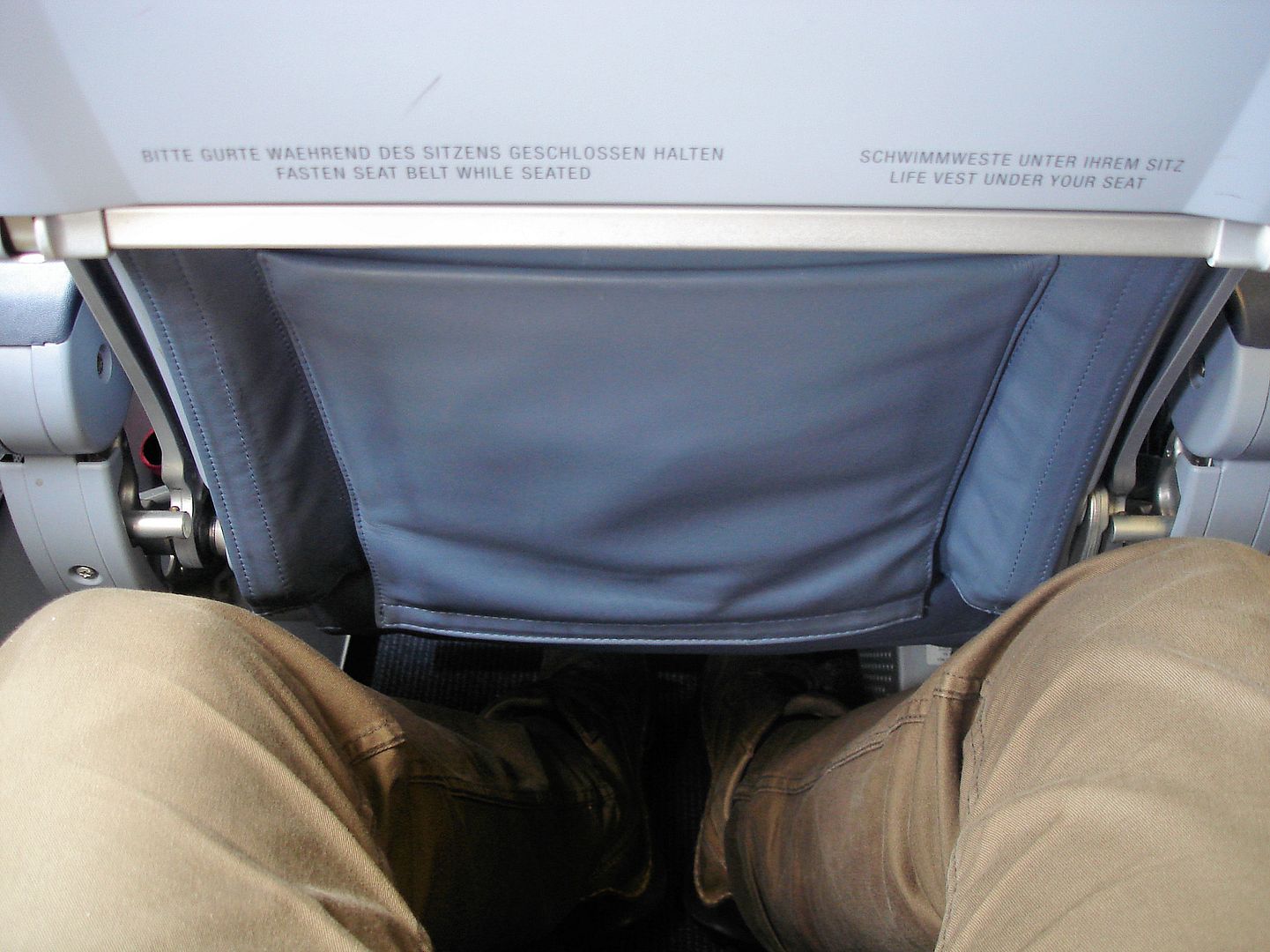 It's always nice to see that the Air Berlin cabins are equipped with fold-out screens - which you don't find on Lufthansa narrow-bodies.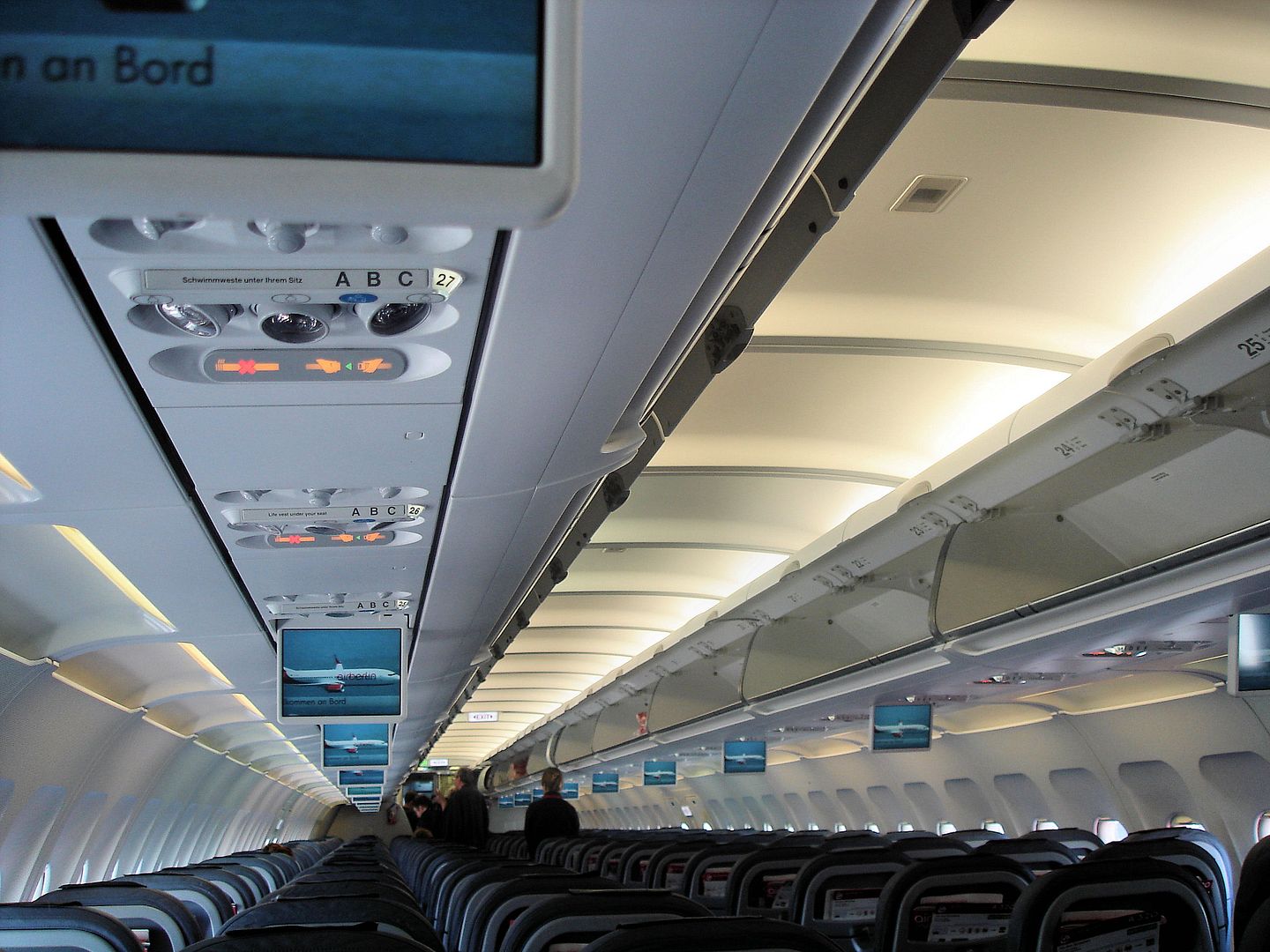 A320 flight, 737NG on the screen - no, it was not the safety video.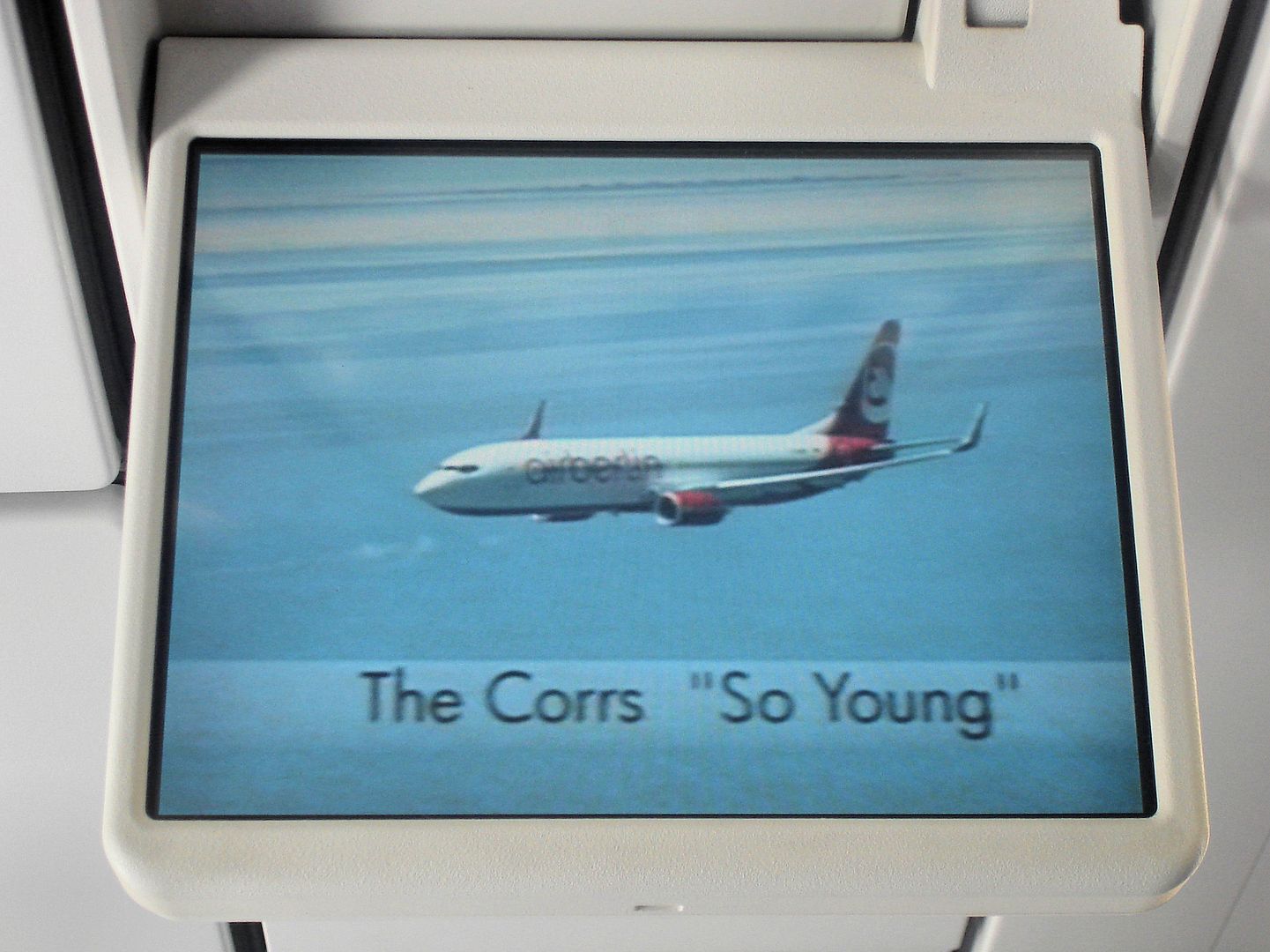 The flight wasn't full this time and the middle seat remained empty. I was surprised to see a Turkish Airlines A330-200 at Oslo: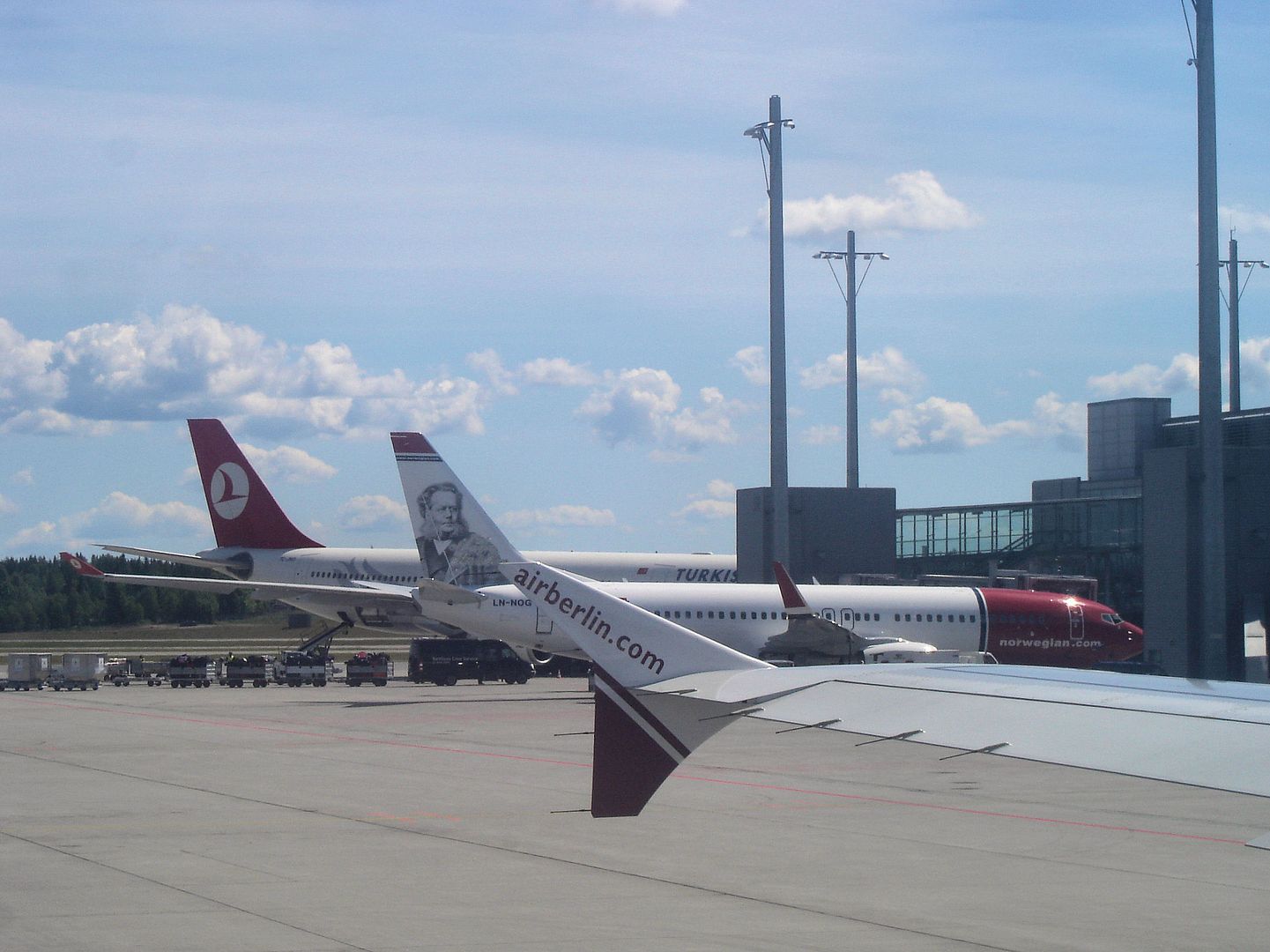 Many gates were occupied in the early afternoon:
We took off seven minutes after pushback...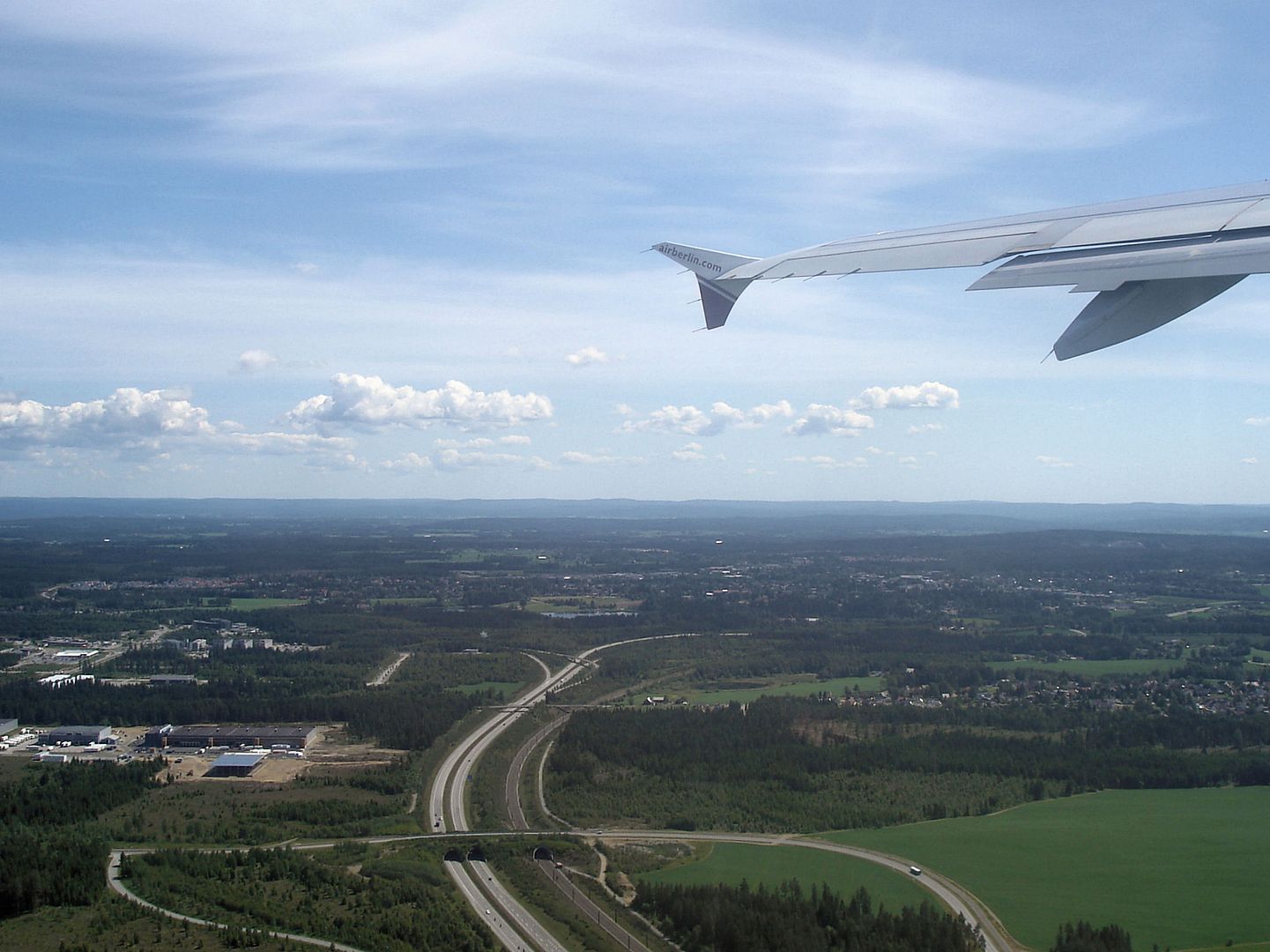 ...and turned left immediately:
Cold and warm drinks as well as tasty ham rolls were served soon by the friendly flight attendants - free of charge, of course. "30 Years" stickers were attached to the napkins – but tell me, Air Berlin managers, where's the "30 Years" logojet?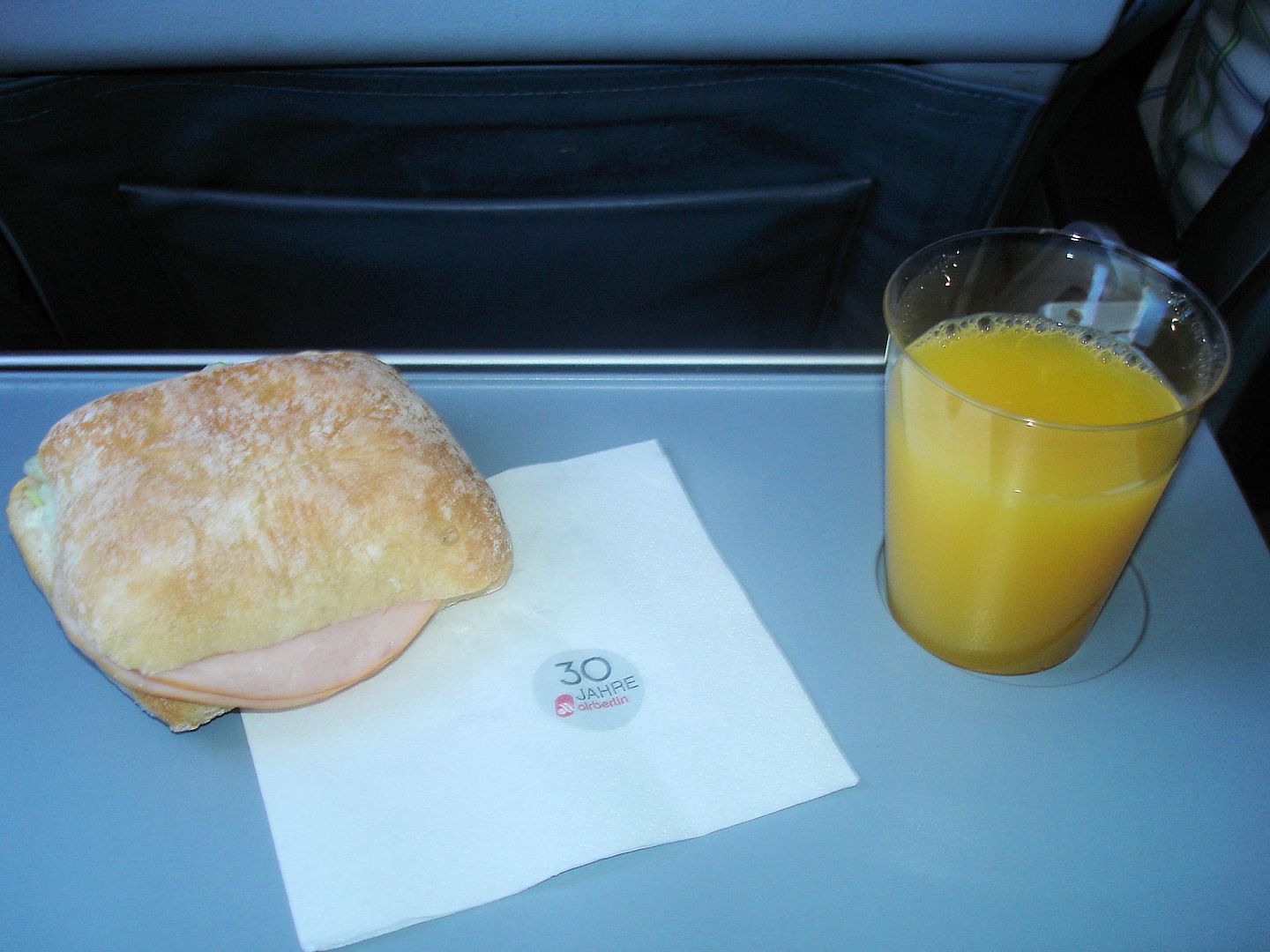 The remaining flight was uneventful - except for the final approach. The wind at Berlin was blowing strongly and the plane was shaking a lot.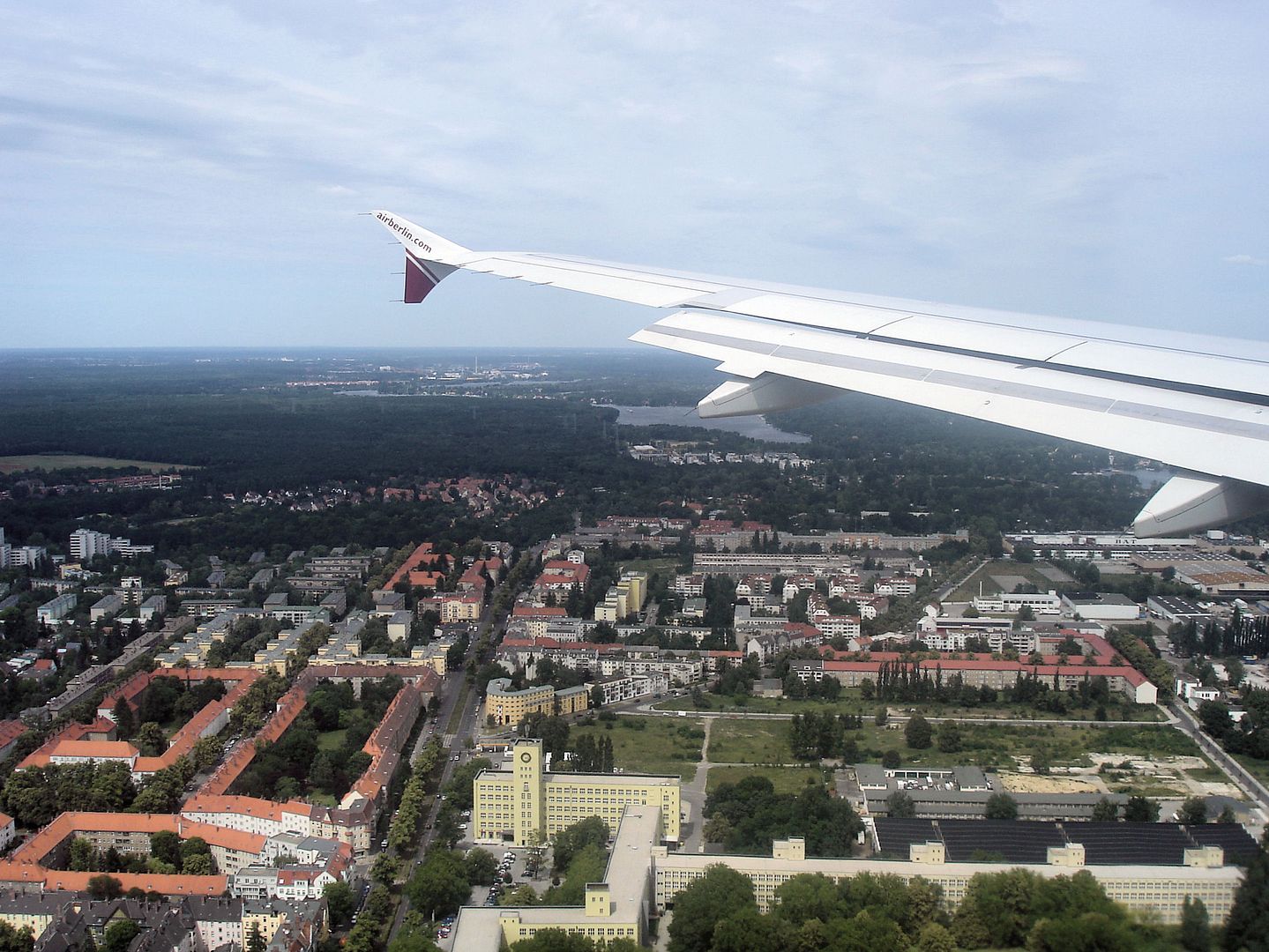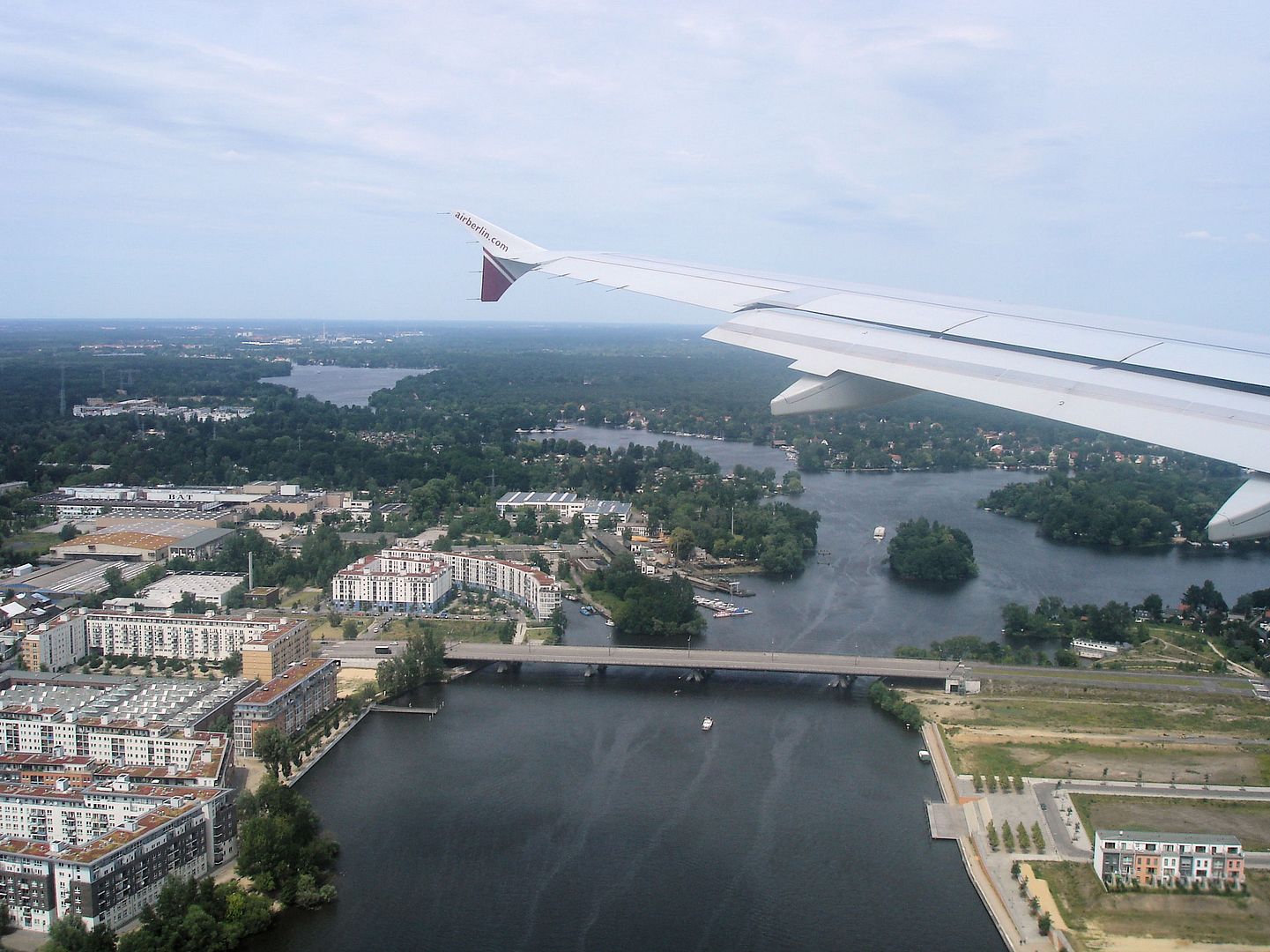 We touched down hard after a flying time of one hour and 14 minutes and soon arrived at a Terminal A gate. Parked next to us was D-ALTF, formerly operating for LTU in own colors, wearing an interim scheme: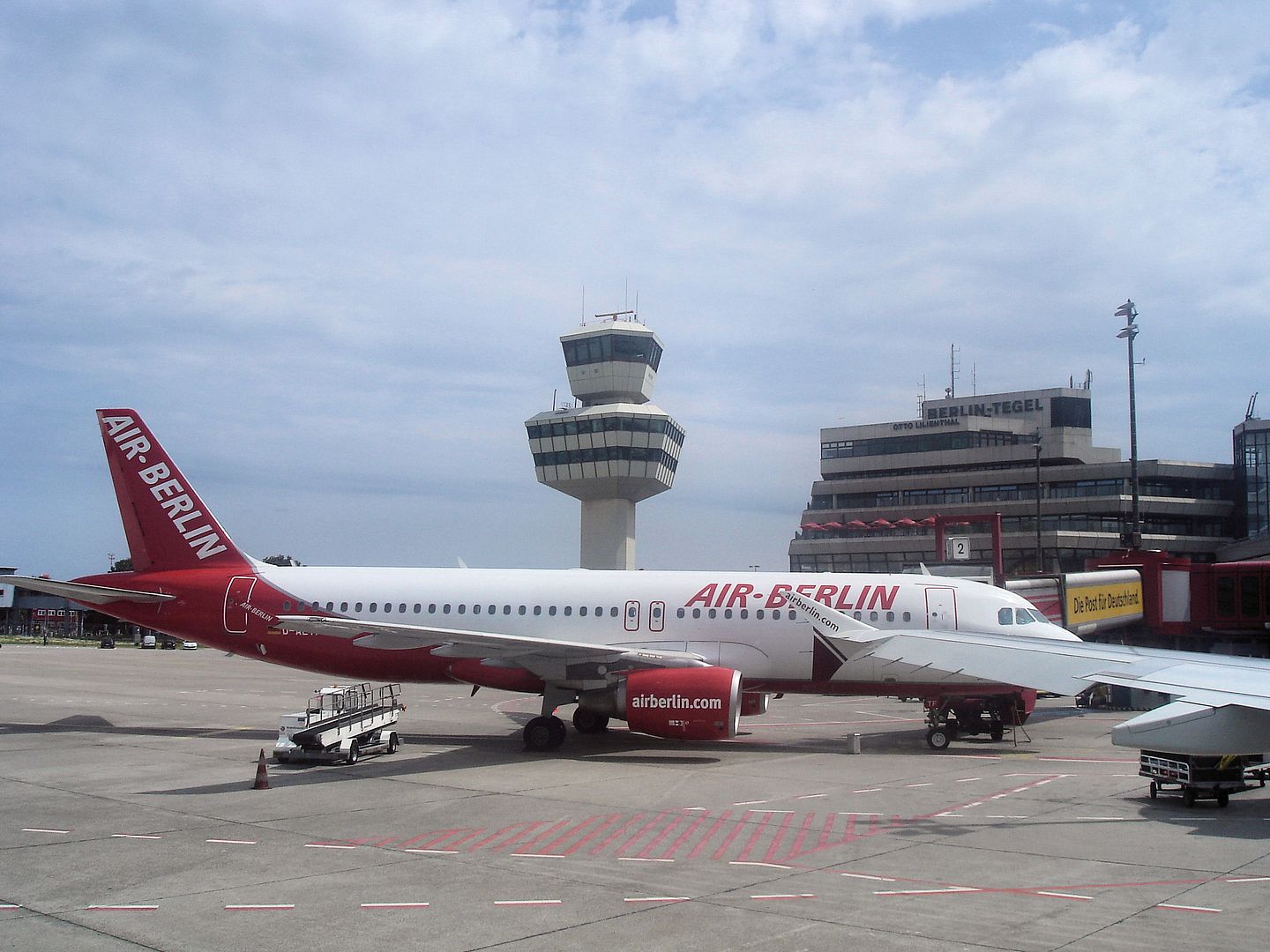 Tuesday, 23 June 2009
Berlin (TXL) - Nuremberg (NUE)
Air Berlin AB6419, operated by LGW - Luftfahrtgesellschaft Walter
16:20-17:30 (16:16-17:20)
Flying time: 00:56 (hrs)

Bombardier DHC-8Q-402
D-ABQG (MSN 4250)
Delivered in 05/2009

Economy Class
Seat 18A
The flight to Nuremberg was scheduled to depart from the relatively new Terminal C, a kind of low-cost terminal which was opened in May 2007 and is mainly used by Air Berlin. It's an interim solution until the completion of Berlin Brandenburg International Airport (BBI). Viewing opportunities aren't good, so spotters should stay at the Terminal A viewing deck if they have enough time.
Several LGW DHC-8-400s were parked on the apron when I arrived at the gate. I was glad that we were directed to
D-ABQG
, one of the newer birds. It had been delivered only a few weeks before in May: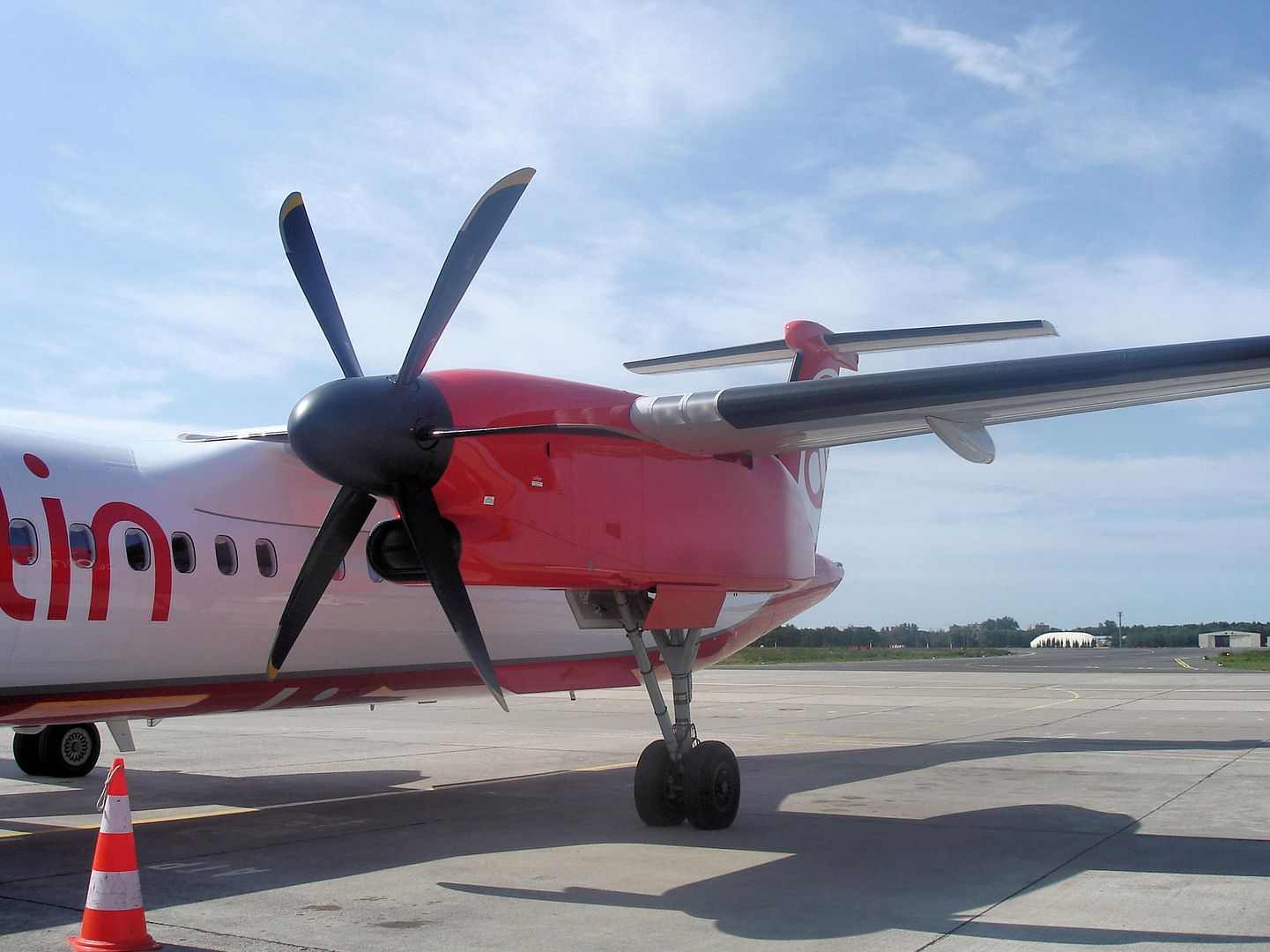 The leather seats were quite comfortable...
...but legroom was limited. The wall curvature was a problem for the left foot in particular:
The position of the gear box is one of the reasons why I'm not a fan of the Dash 8: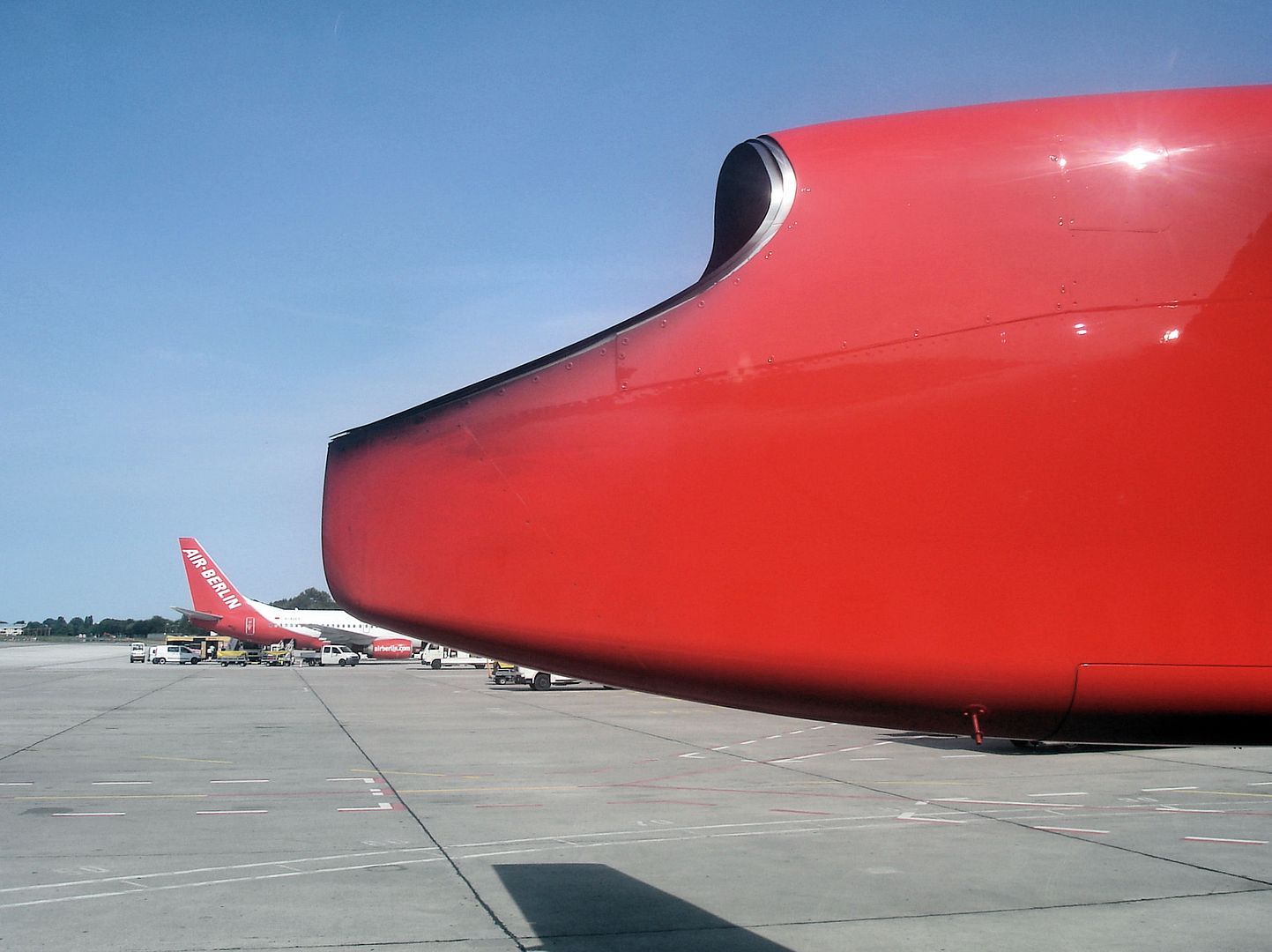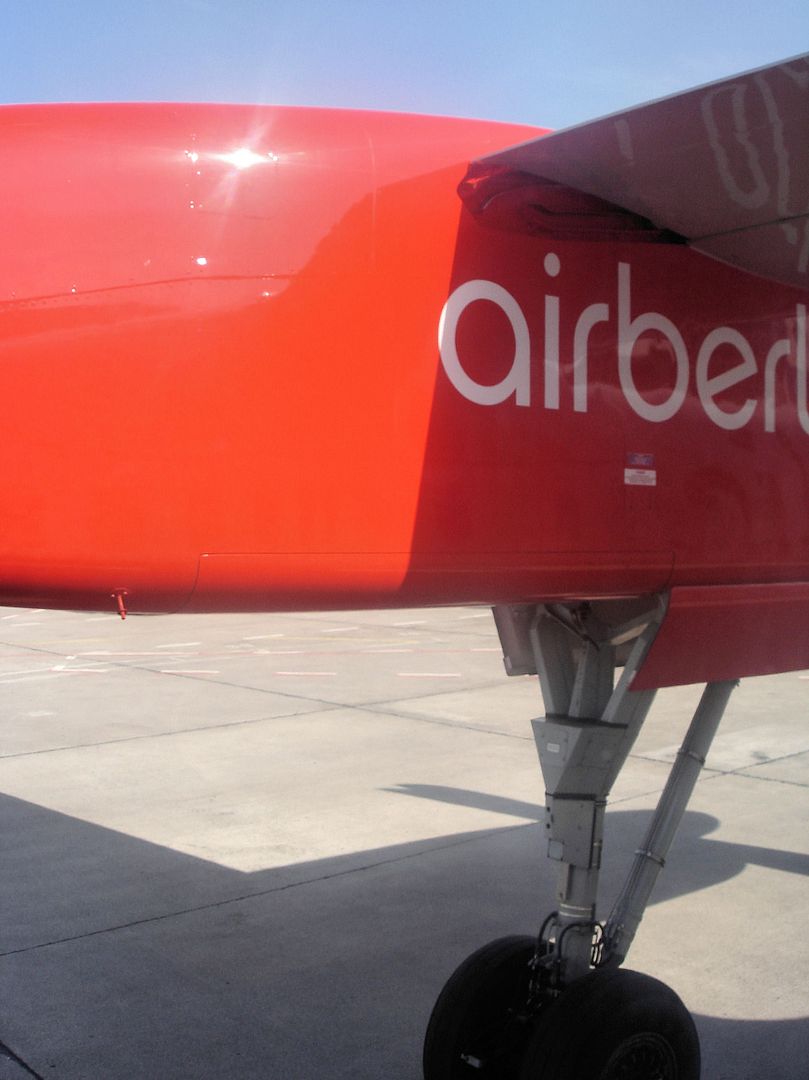 Most seats were taken, including the aisle seat next to me, and I felt a bit cramped. We left the stand early and already took off four minutes later - this time I didn't notice a strongly blowing wind any more.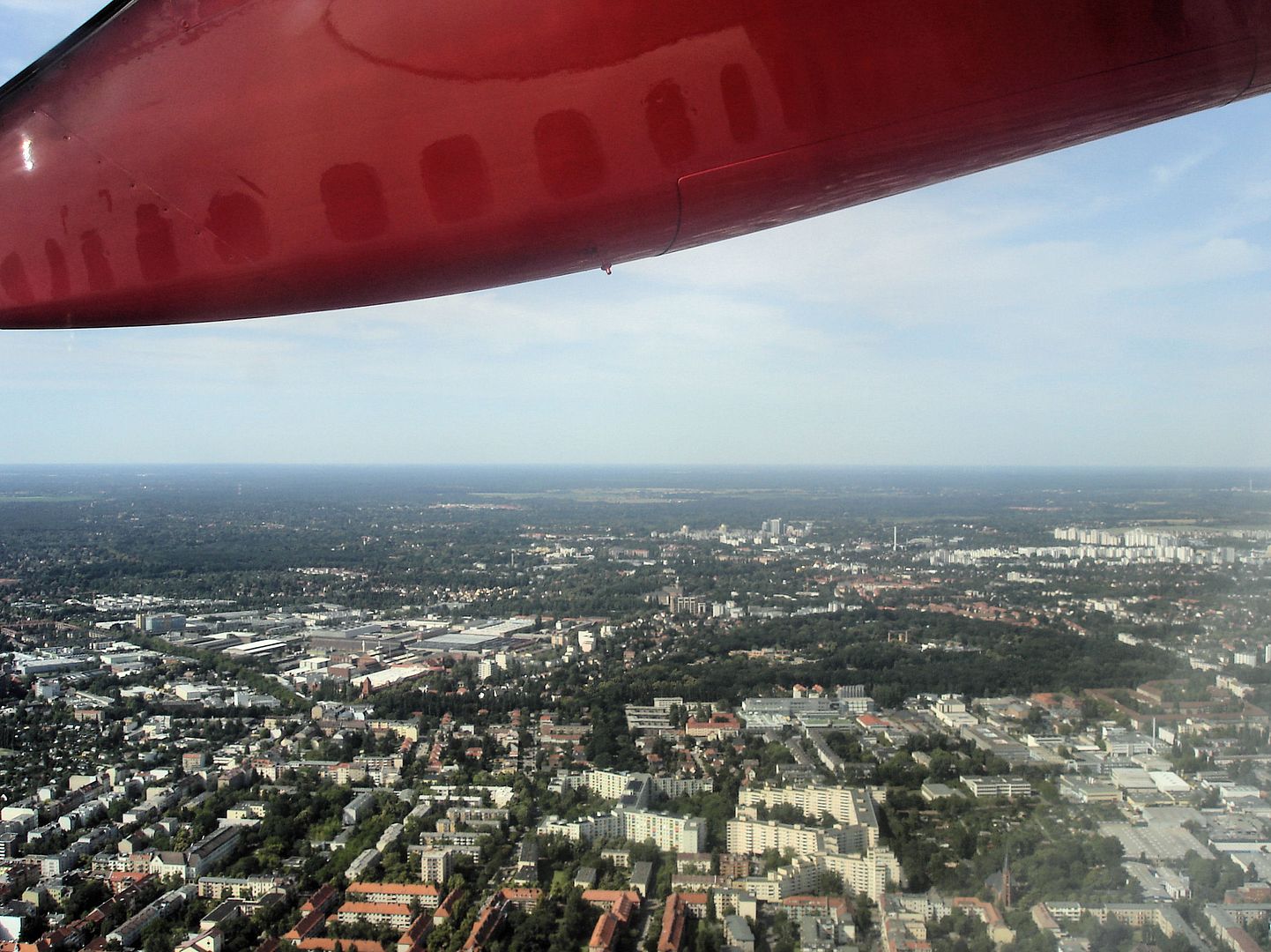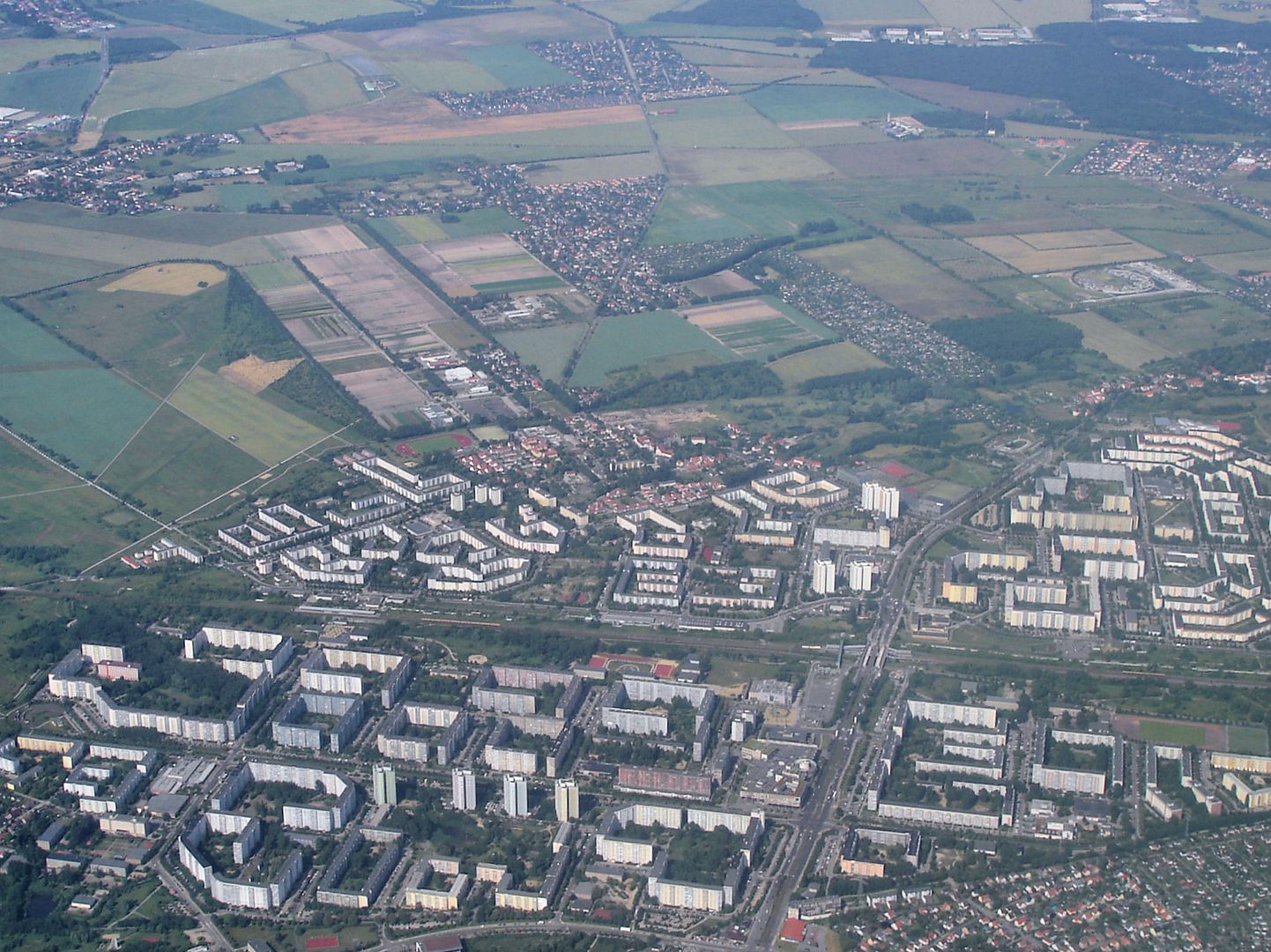 The BBI construction site: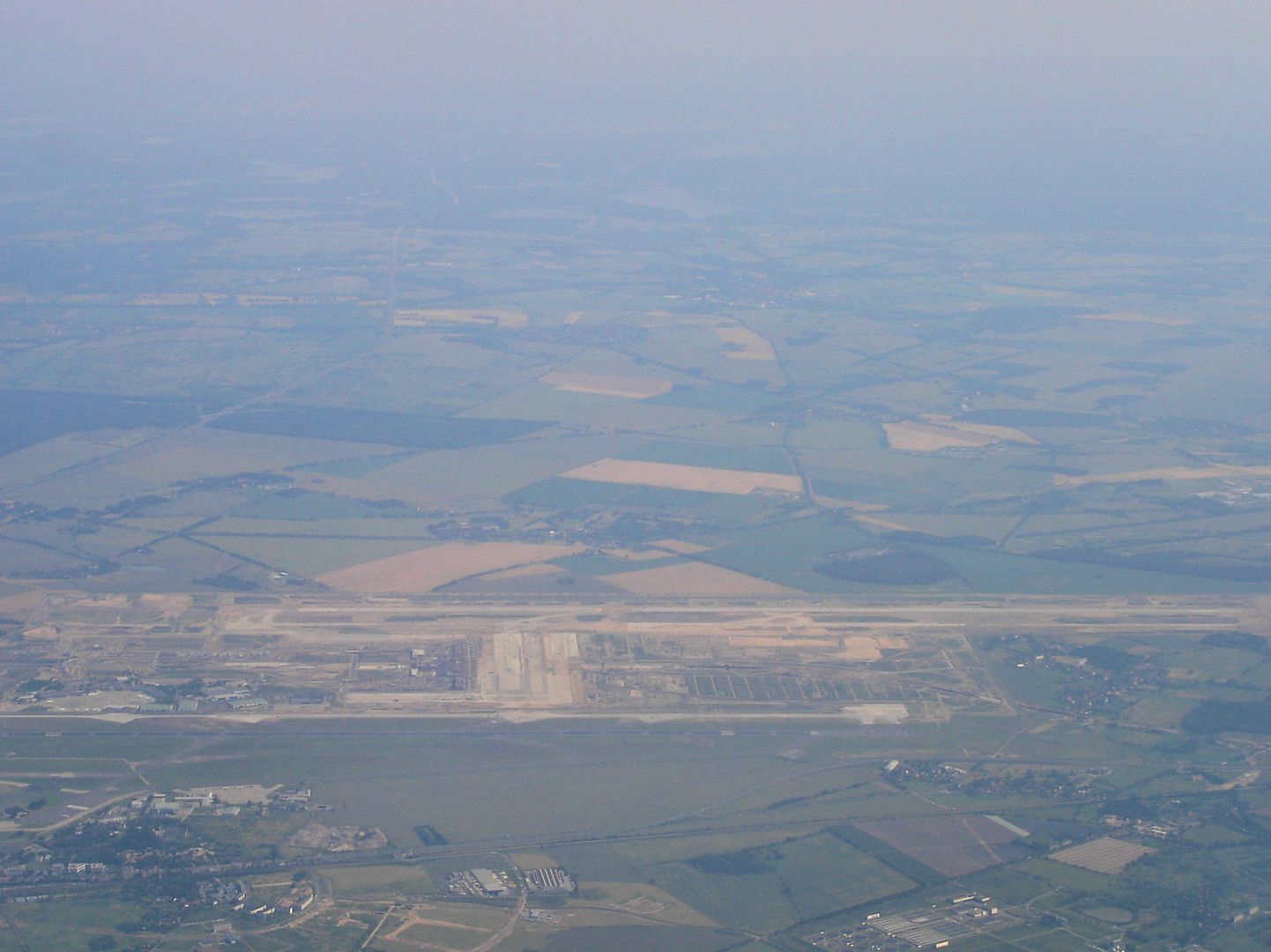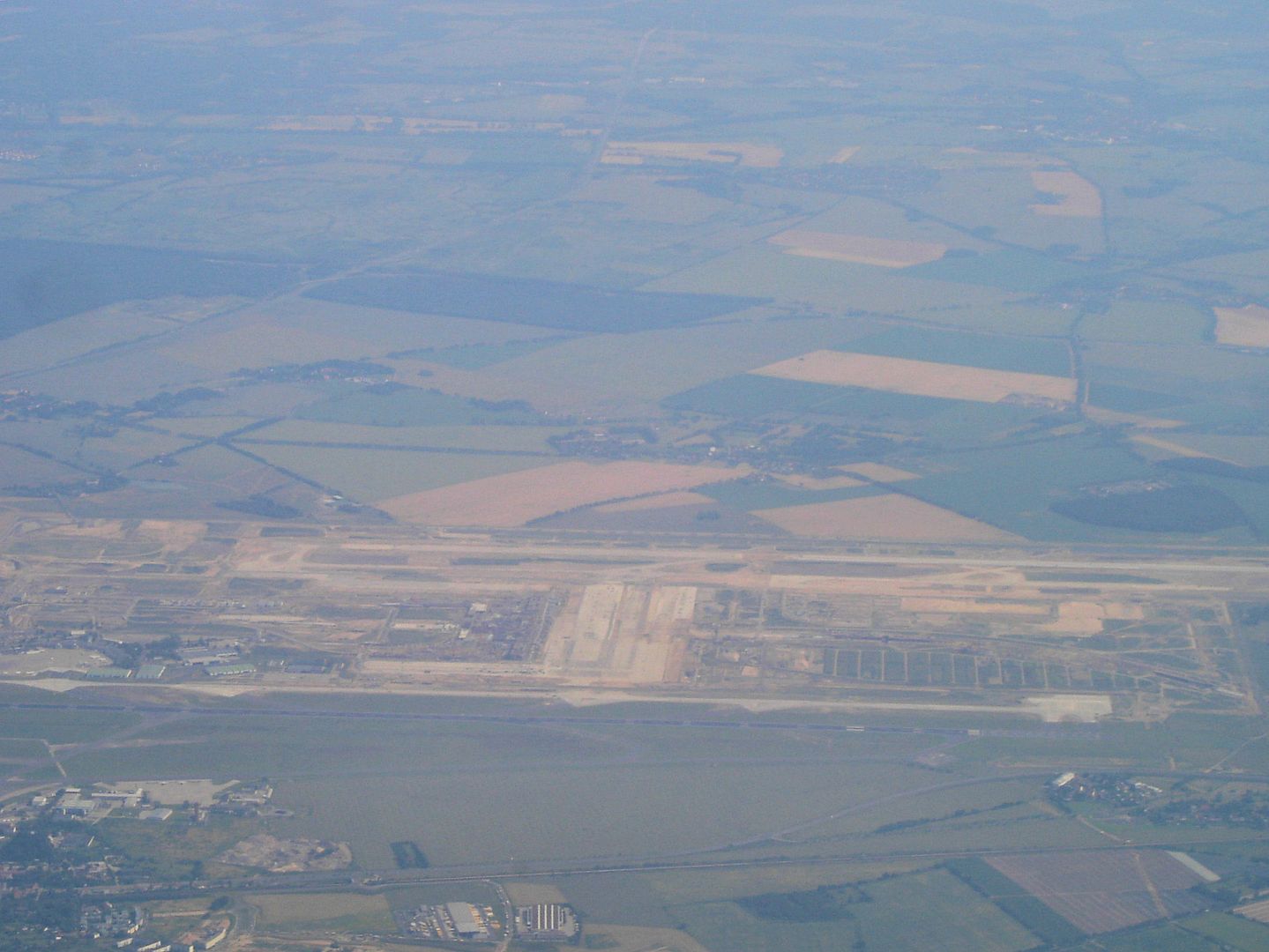 Air Berlin serves small sweet or salty snacks on domestic flights, e.g. cookies with chocolate filling. Both cold and hot drinks were offered, too.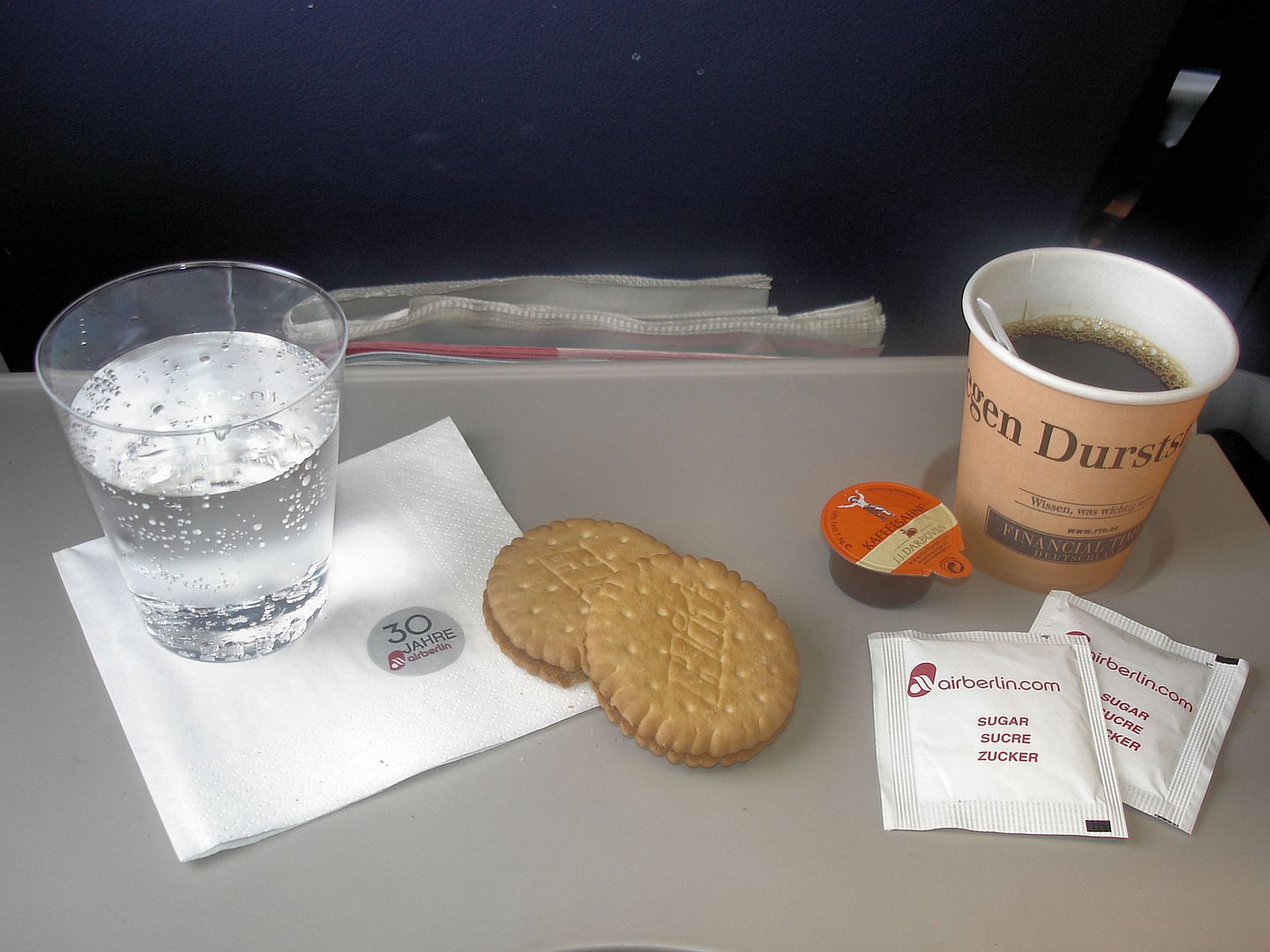 We touched down at Nuremberg after a flying time of 56 minutes and arrived at the stand ten minutes early. During disembarking I grabbed two chocolate hearts which were also decorated with the "30 Years" logo. However, whenever I eat them I have to remember the original dba hearts which simply tasted better...
Conclusion
The domestic flight on
Norwegian
was on time, ground and cabin crew members were friendly, the check-in process was fast and easy, the cabin was clean - I cannot complain about all that. The seating comfort could be better, but that may vary on the (mostly) used 737s with their different interiors. Unfortunately, I couldn't try the buy-on-board offerings.
Flying
Air Berlin
was a pleasure as usual, due to free snacks, friendly staff and clean cabins. However, I prefer Air Berlin's jets over the Dash 8 - the jets are simply more spacious and equipped with video screens.
Best Regards,
PlaneHunter
P.S.: Just in case you missed them - other recent reports:
My Trip To Hell: NUE-CPH-OSL-TRD On Cimber & SAS
SFO-YUL-FRA: Map- & Sleepless On Air Canada's 77W
Sin City Gloss & Virgin America's Chic First Class
Seat Dilemma & Canyon Glamour: FRA To LAX, AC 763
On Par With Air France? DTW-AMS-MUC, KLM A330
Goodbye, Red Tails! DC-9-40/50 & Chicago Tour
Champagne & World Of Coke: Air France A340 To ATL
"Mission A380": Disappointing Legs On BA/BD/EI
Delights Of Doha, 773 & 77W: DOH-DXB-LHR On EK
A380 Really a Step Forward? LHR-DXB-DOH On EK
Quality & Style: HKG-LHR On Air New Zealand 744
Taiwan Trio: TransAsia, UNI Air And The Taipei 101
"The Wings Of Taiwan": EVA Air A332, 744 Combi
SHA-SZX, Shanghai 757: Delayed By The Military
PEK-SHA, China Eastern A330 & Shanghai At Night
Striking Newcomer: Berlin-Beijing On Hainan A330
[Edited 2009-12-13 11:05:22]