Feedback always appreciated.
Trip Report: 085
Flight Category: Y-ILR (See Report End)
Date: 20 Sep-09 (See Report End)
SDT/SAT/Dur/Delay: 2335/0645+1/10:10 hrs
Flight:
Condor DE 5303
, 4691 miles
Routing: SEZ-FRA
Aircraft: 763
Seat: Economy Class, 14A/11A
I > Background:
I spent a week working with an airport client in East Africa and had a weekend before returning to Venezuela. Since I was pretty familiar with the region, I decided to hop on to Seychelles for a long weekend of lazing on the beach. KQ offered a good one-way deal on NBO-SEZ. To route myself back to CCS, I purchased a Condor SEZ-FRA ticket to connect to my regular commuter flight to CCS. I had never flown on Condor before … and a last minute purchase meant that I would ticket myself in Y. Interestingly, while the J seats were going for astronomical sums, Y was very cheap. I also looked at HM … but their one-way pricing for SEZ-FRA was absurd to say the least.
While there have been some excellent trip reports on DE, I believe this is the first on the SEZ-FRA segment, and the first report to feature Seychelles.
II > Pre-Flight:
a) Before Airport:
Condor is a pioneering German charter airline that has been held by Lufthansa since inception. It recently went through several ownership options and will be sole owned by Thomas Cook by 2010 … ending LH's involvement in them. Their business model has also changed as they fly increasingly air only options and go further than they have in the past. Using a fleet of 757's and 767's, they have an interesting network that reaches points where German men roam in their thongs to lesser "main stream" cities such as BAH.
Ticketing for the flight was done through Condor's excellent site at
www.condor.com.
Interestingly, Condor's website is far better than its "mother" Lufthansa's. It is nimble and quick and provides opportunities for up-sell to Y+/J, and the option to buy select "up sell" products such as seat selection and gourmet food. Moreover, one can view and modify their seats if they so desired. Of course, the seat selection function only happens if you buy the seat for 10 Euros. Interestingly, on long haul flights, exit row seats were not allowed to be pre-bought. Strange concept as I'd have paid for these … and not for just securing any seat.
b) At Airport:
Seychelles has a rather pleasant airport very reminiscent of some of the ones in the Pacific islands. It features an open-air check-in and all ground handling is done by Air Seychelles. Although check-in counters opened 5 hours before the flight … and I managed to show-up 5 hours prior (a new record for me), and within 30 minutes there would be a long queue! I was amused that I was one of the only 3 non-German passport holders; the other 2 was an Indo-Israeli couple holding Indian and Israeli passports. How cute. They were going to have an interesting ride on Condor I thought!
I managed to confuse the check-in agent when I opened my travel wallet and all 5 of my passports fell out. She was extremely suspicious and insisted on checking my Liechtenstein passport for 10 minutes and ask absurd (but, cute) questions. After she was reassured that I was able to enter Germany without a visa, she finally decided to check me in. I was surprised when my request for an exit row was turned down as all of them had apparently been taken. She mentioned that it was because "many people pre-buy their seats on Condor". Now, if exit row seats were not sold for long-haul flights, and I was the 3rd to check-in, who took the seats and when?
After check-in, I watched the crowds for a bit before proceeding through quick immigration and security checks. The boarding area is made up of a few gates and actually got quite busy as the HM flight from MRU came in. A lot of the passengers apparently connect on to the HM flight to LHR (via FRA). Interesting two-stop routing and I wonder if HM files cheap fares on MRU-LHR.
Boarding was announced 45 minutes prior and we walked to the aircraft … always a good feeling. Upon embarkation, I was greeted by a group of rather cheery flight attendants as I made my way to my seat. It was good to see them actively help passengers find seats and help with luggage. This is extremely rare in many European carriers and I was pleasantly surprised. Y load was 75%. Since I had a rather "big" man sit next to me, I requested and was able to move from assigned 14A to 11A. Not only was there now no one next to me, I was also convinced that the seat had more legroom.
Airport - External:
(Open air Seychelles airport)
Check-in:
(Check-in)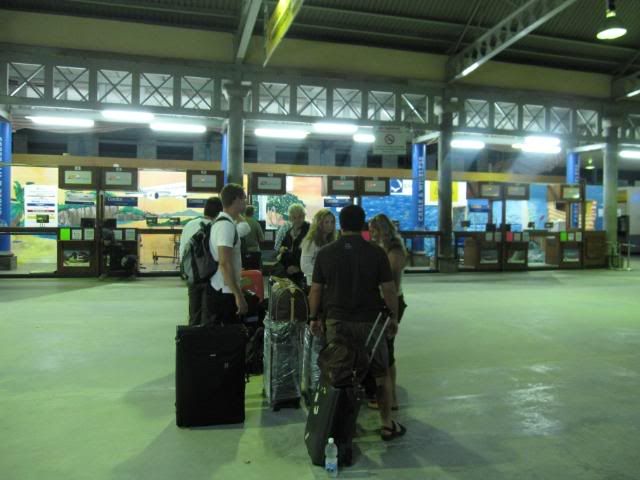 Airport - Internal:
(Internal)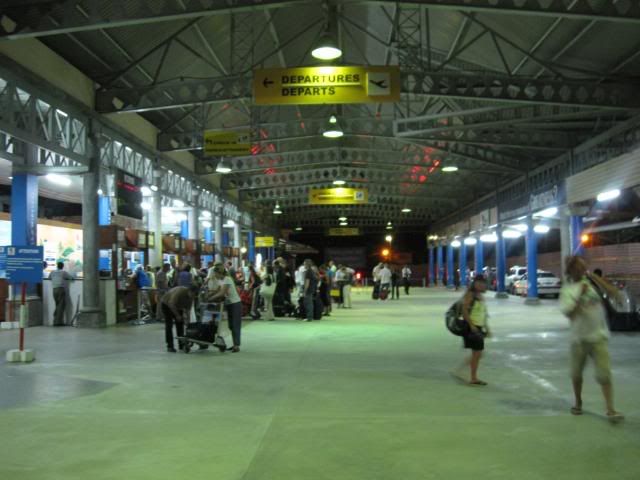 (FIDS)
(Post Security @ SEZ)
Scenes of the tarmac:
(HM arrival from MRU … and onward to FRA-LHR)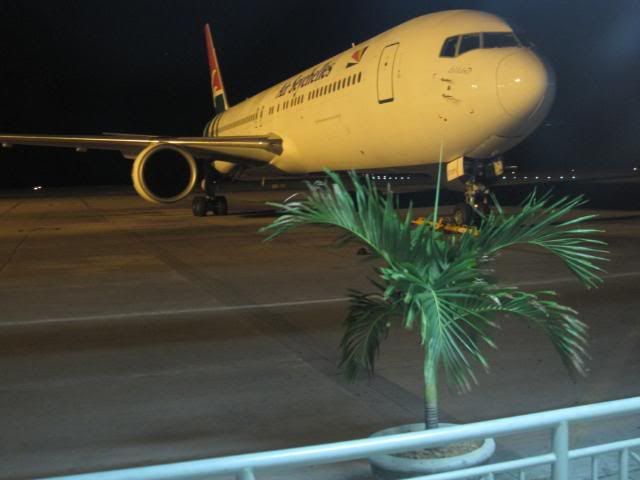 Lounge
NONE
Boarding:
(Boarding gate)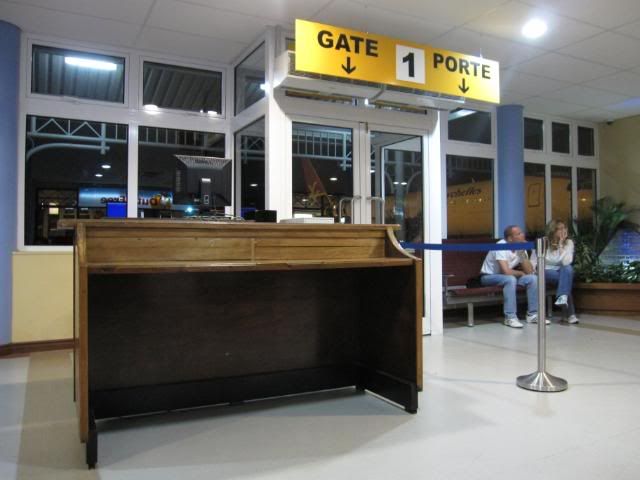 III> In-Flight:
a) Service Schedule + Impressions:
Upon boarding, newspapers and magazines were distributed. All of them were German offerings and I was impressed when my request for English periodicals saw the flight attendant go to the J class section and bring me a "TIME" magazine. Post-take off, beverage and dinner run. Then, duty free and a couple of movies on this rather long flight. Finally, prior to arrival, another meal service.
b) Aircraft + Seats:
Condor used a rather old Boeing 767-300 for this long journey. While clean and well-maintained, she was definitely showing her age. Moreover, the very 1980s lighting and small things like seat controls being duck-taped added to an overall feel of being in a much older jetliner. Sad really, because the seats looked like they were recently fitted.
Ok. Let us talk about the seats. The cloth seats were not really comfortable, but pretty much standard "charter" airline stock. Recline was also very average. Now, the seat pitch was VERY tight in row 14 and relatively better in row 11. I wonder if row 11 is used as Premium Economy during higher loads?
Aircraft:
(763@ SEZ)
Views from Aircraft:
(Taken on arrival at SEZ)
(What is a Privatair 737 doing at SEZ? Any ideas?)
General Seat Views + Seat Legroom
(I could have sworn the seats below had more legroom than the ones above)
(Controls – broken and duck-taped. Not good.)
Seat Recline + Angle View: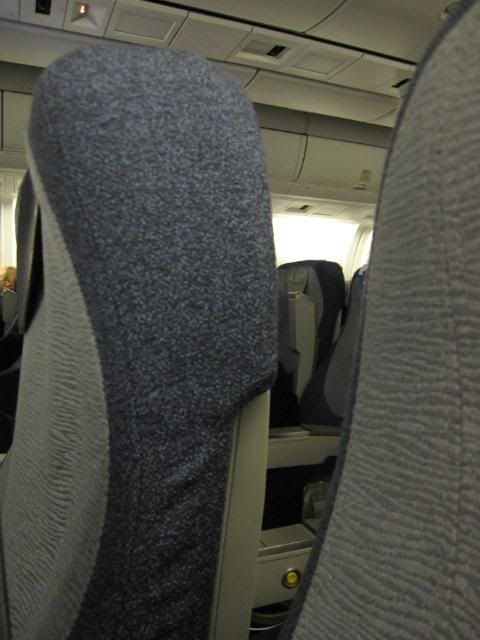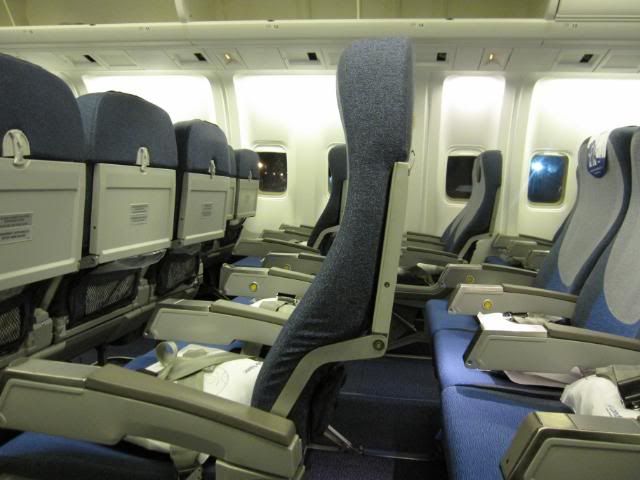 Cabin: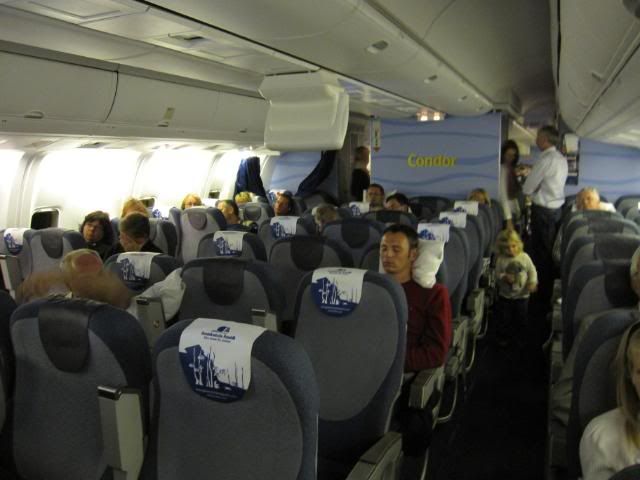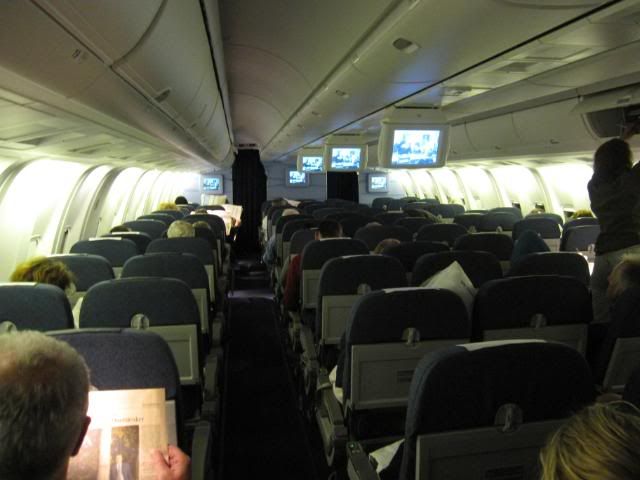 (Bathroom Amenities)
NONE
c) Meal + Beverage:
Soon after take-off, a free dinner service is offered which comes with one bottle of wine or beer. The meal today was a pasta dish with a bland chicken (with cheese sauce) and some rather old carrots. This was accompanied by a piece of VERY hard bread and some nasty old salad. To finish off, there was dessert which was very "Y class" … sugary and without depth of flavor.
This was followed by a breakfast service approximately 75 minutes prior to landing consisting of three slabs of fruit which could definitely have been presented much better, along with some cold cuts and crackers to make your own sandwich. The freshness of the cold cuts definitely compensated for the slabs of fruit. Accompanying breakfast was tea or café.
Overall, Condor's dining option is just about the "Y-average". It is one of those unforgettable meals that I won't remember past this report.
(Dinner)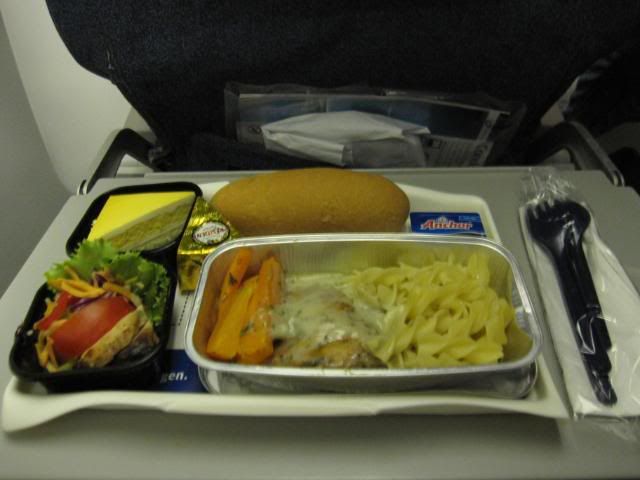 (Breakfast)
d) Inflight Entertainment:
Condor has overhead displays playing flickering German movies without subtitles. For a flight around 10 hours, I wish they had more options. For example, why not have personal video units for rent during the flights? They have so many other ancillary revenue options; why can't this be one of them? I really did feel sorry for the Israeli-Indian couple who were probably perplexed at what they saw for 10 hours. Additionally, their in-flight magazine was nothing spectacular and again was a bit too German focused. Again, I recognize the primary customer base … but, they no longer compete solely as an all-inclusive ex-Germany tour operator.
NONE
("In-flight magazines", Boarding Passes, etc.)
e) Crew:
It seems to me that I have been on a lucky wave. After having an incredible set of crew on the recent Privatair flight from BOM to MUC (rare these days on European airlines), I had an equally nice group of crew on Condor's flight. Actually, I was more than pleasantly surprised! The crew was very active during the boarding process; immediately responded to the call button (elapsed time of less than 5 minutes); did water runs; and, their smile seemed genuine and full of warmth. Recognizing this, I sent a small note to the purser saying how much I had appreciated all the little gestures … including earlier going to J cabin and getting me my "Time" magazine … in return, I got the purser to come and thank me personally for flying Condor … and a Premium Economy amenity kit as a token of appreciation. Aaw!
I sincerely wish Lufthansa's management send their own crews to sister carriers such as Condor and Privatair for some re-training!
IV> Post-Flight:
Landing at FRA was remarkably smooth, and it took a rather impressive (by FRA standards) 34 minutes to be on the kerbside … without baggage.
V> Impressions + Scores:
Condor gets mixed reviews. It is average in terms of seats, food and beverage; below industry in IFE for a 10 hour flight; but completely compensated by an excellent group of cabin crew members. In fact, it was probably one of the best overall Y class cabin crew I have witnessed out of an European carrier for a while. Of course, there were little annoyances (why can't I pre-book an exit-row seat on long-haul), but these are easy fixes.
I will fly Condor again – especially because the crew on this particular SEZ-FRA flight highlighted that European crews can be amongst the best in the world. However, a product is a sum of its parts … and Condor still has tons of areas to improve. One thump up.
VI> Other Trip Reports:
PREMIUM:
8.64:
Turkish Airlines (59): JFK-IST: 11/2008
8.61:
Air Canada (49): YYZ-SCL: 06/2008
8.54:
Turkish Airlines (77): GRU-DKR-IST: 04/2009
8.30:
Jet Airways (74): KWI-BOM: 04/2009
8.23:
United Airlines (72): SFO-SYD: 03/2009
8.11:
Aeroflot (33): MOW-DEL: 09/2007
8.05:
Air India (80): CCU-JFK: 06/2009
8.04:
Korean Air (40): NRT-ICN: 10/2007
8.02:
Delta Airlines (24): JFK-CDG: 08/2007
7.46:
LAN (55): YYZ-JFK: 09/2008
7.82:
Singapore Airlines (06): EWR-SIN: 09/2006
7.23:
Virgin Atlantic (81): BOS-LHR: 07/2009
7.14:
Swiss (52): SCL-GRU: 06/2008
7.11:
Austrian (79): VIE-JFK: 06/2009
7.07:
Privatair (84): BOM-FRA: 08/2009
7.02:
Qatar (68): DOH-JFK: 01/2009
6.96:
Etihad (61): JFK-AUH: 12/2008
6.93:
Delta Airlines (18): SEA-JFK: 11/2006
6.84:
ConViasa (65): CCS-DAM: 01/2009
6.81:
Air Canada (17): ICN-YYZ: 10/2006
6.70:
KLM (32): EBB-AMS: 08/2007
6.36:
Privatair (60): MUC-BOS: 12/2008
6.25:
Korean Air (45): NAN-ICN: 10/2007
6.11:
TAP Portugal (53): GRU-OPO: 06/2008
6.00:
Gulf Air (75): BOM-BAH: 04/2009
5.75:
Singapore Airlines (16): CCU-SIN: 10/2006
5.64:
NorthWest (46): ICN-NRT-SEA: 10/2007
5.46:
Icelandair (83): KEF-BOS: 08/2009
5.39:
LOT (54): WAW-JFK: 06/2008
5.21:
Egypt Air (73): CAI-IST: 02/2009
5.07:
TACA (66): JFK-SAP: 01/2009
4.42:
Air France: CDG-JNB (25): 08/2007
ECONOMY: Long + Medium:
9.26:
Air India (48): JFK-DEL: 02/2008
7.38:
Avianca (01): BOG-LIM: 07/2006
7.07:
Sri Lankan (62): KWI-CMB: 12/2008
6.41:
American Airlines (58): LHR-BOS: 11/2008
6.41:
Avianca (78): JFK-BOG: 05/2009
6.39: Condor (85): SEZ-FRA: 09/2009
6.26:
Jet Blue (21): CUN-JFK: 02/2007
6.06:
Air Canada (04): YYZ-YVR: 09/2006
5.89:
USA 3000 (19): PUJ-BDL: 01/2007
5.85:
Spanair (69): MAD-LPA: 02/2009
5.79:
Air New Zealand (42): RAR-NAN: 10/2007
5.46:
TAP Air Portugal (23): OSL-LIS: 05/2007
5.19:
Air Europa (70): LPA-MAD: 02/2009
5.16:
Iberia (71): MAD-BOS: 02/2009
5.11:
Air China (82): FRA-PEK: 08/2009
ECONOMY: Short
8.56:
Paramount Airways (38): BLR-MAA: 09/2007
8.56:
Kingfisher (64): HYD-CCU: 12/2008
8.24:
Kingfisher (14): IXA-GAU: 10/2006
7.87:
Indian (34): BOM-MAA: 09/2007
7.72:
Alliance Air (13): CCU-IXA: 10/2006
7.57:
Indian Airlines (10): DEL-CCU: 09/2006
7.23:
West Jet (03): YYC-YVR: 09/2006
7.15:
JetLite (37): BOM-GOI: 09/2007
6.70:
Spice Jet (09): CCU-DEL: 09/2006
6.63:
Air Fiji (44): NAN-SUV: 10/2007
6.63:
Jazeera (67): DAM-KWI: 01/2009
6.58:
Air Tran (02): EWR-MDW: 08/2006
6.48:
Air India Express (63): CMB-MAA: 12/2008
6.44:
CO Micronesia (39): ROR-YAP: 10/2007
6.41:
Pacific Sun (43): NAN-SUV: 10/2007
6.37:
Skybus (47): SWF-CMH: 02/2008
6.33:
Kenya Airways (29): NBO-BJM: 08/2007
6.33:
Sky Europe (56): LTN-BTS: 10/2008
6.31:
Indigo (15): GAU-CCU: 10/2006
6.31:
easyJet (57): BUD-LTN: 11/2008
6.22:
Air Link Swazi (28): MTS-JNB: 08/2007
6.22:
Air India (36): HYD-BOM: 09/2007
6.13:
Adam Air (07): SIN-CGK: 09/2006
6.13:
Air Rarotonga (41): RAR-AIT: 10/2007
6.00:
Transairways (27): INH-MPM: 08/2007
5.95:
Air Canada (05): ALB-YYZ: 09/2006
5.85:
SAS Norge (22): OSL-AES: 05/2007
5.81:
LAM Mozambique (26): JNB-MPM: 08/2007
5.69:
Air Deccan (12): IXZ-CCU: 10/2006
5.67:
Rwanda Air Exp (30): KGL-NBO: 08/2007
5.11:
Aero Republica (76): BOG-CCS: 04/2009
5.07:
Go Air (35): MAA-HYD: 09/2007
5.00:
Sky Airline (51): IQQ-SCL: 06/2008
4.96:
Valuair (08): CGK-SIN: 09/2006
4.78:
Air Comet Chile (50): SCL-IQQ: 06/2008
4.74:
Fly 540 (31): MYD-LAU: 08/2007
4.33:
Viva Aerobus (20): ELP-MTY: 02/2007
4.11:
Air Sahara (11): CCU-BOM: 09/2006
(Note on Codes: Y – Economy, J – Business, F – First :: I/D – International/Domestic :: SR/MR/LR – Short/Medium/Long Haul)
(Note on Date: Dates are modified to be +/- 3 days from actual flight date to not reveal actual flight pattern)
VII> Other Pictures:
(Amenity kit – Premium Economy and Comfort Class – the later I bought)