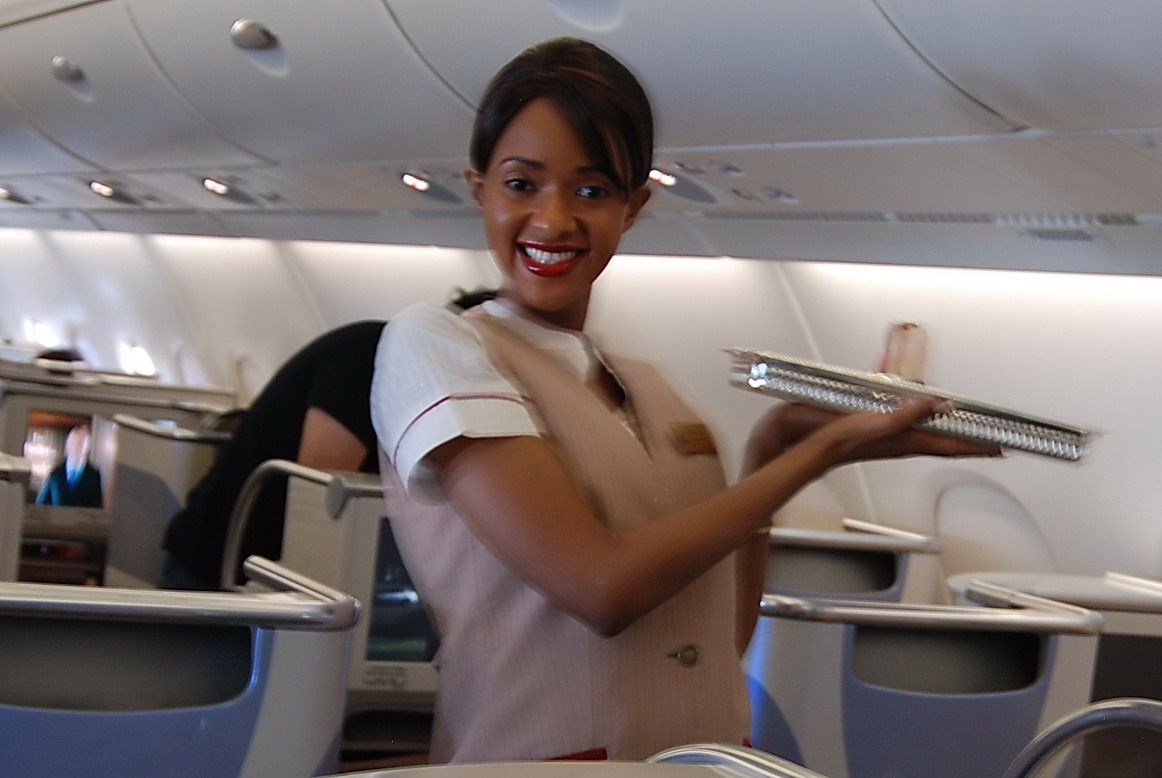 Be forewarned: what you are about to read will either delight or infuriate you.
Some airlines, more than others, evoke strong, emotional responses from members of the A.net family. Let's face it: we're all kinda wacky – it's just degree of wackiness that sets us apart – but certain airlines have that knack of bringing the craziness to a new level. The evidence is liberally sprinkled all over the civil aviation forum, while this forum provides supporters and non-believers alike plenty of fodder to feed their prejudices. Like religious zealots, our unquestioning support needs no rhyme or reason, while hatred, when meted out, overflows with bile aplenty. Sometimes, I think disputes and arguments for no good reason are why we're here.  
And so we come to Emirates. If you're looking for an explosive discussion, a thread starting with
what do you think of Emirates?
has very good prospects of igniting that lethal spark. Not that that's my intention here. But I recognize Emirates is the sort of airline that, on A.net, you either love or hate: there appears to be no comfortable middle ground.
So, in a way, I am on shaky ground from the word go. There may be some airlines I will readily admit to being partial to – and a few I am not so keen on – but I can quite honestly say that with EK, I am almost entirely neutral about. And to be brutally honest, it's an airline I wouldn't prioritize flying given a choice. Don't get me wrong: I think the carrier's growth story and innovations are exciting and impressive, while the scale of these developments is unrivalled by any other airline today. Much like debt-ridden Dubai itself, EK's progress seems to defy conventional logic – a factor that irks a number of A.net members. But EK's very success coupled with its brash expansionary fervor creates little urgency for me to fly EK:
sooner or later, every one of us will have been aboard an Emirates A380
… there's always a more urgent trip to make on another airline. (Still, the ongoing financial crisis engulfing Dubai may well put that assumption to the test these coming months.)
This trip to the emirate in late September therefore came about at an opportune time, and right price – the chance to add to my 'A380s flown' list figured high in the decision – while getting aboard Emirates was an almost by-product. From reading the many previous EK trip reports, I am well prepared for an overload of hardware. I am expecting tons of bling and build high hopes for the airline's ICE system. And of course, flying the A380 is a highlight in itself. Those are what I expect to be the key takeaways from this return flight.
But, as is sometimes the case, what emerged in the end was something completely unexpected. The glitzy hardware was nice enough but unbelievably, it was the software that shone brightest. Please read on, and tell me if you agree.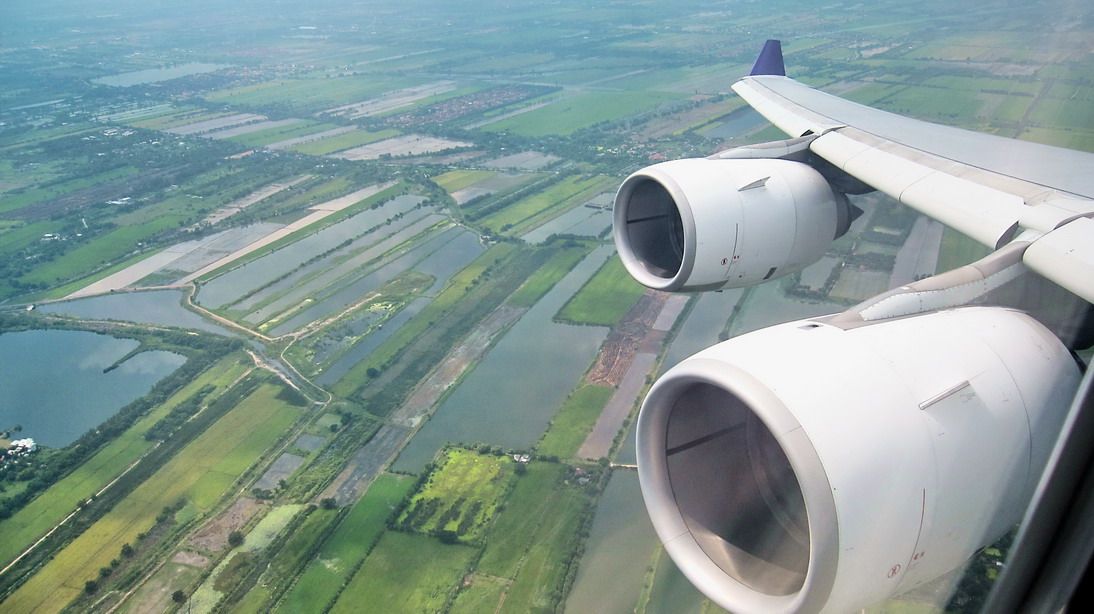 I am joining the Emirates flight from Bangkok. To get there, I make a short connecting hop from Kuala Lumpur on Thai Airways. Thanks to its usual quirky ways, TG flies one of its shortest international sectors with its longest-range jetliner: the Trents above belong to HS-TLC, one of the airline's four gorgeous A340-500s. (This is all I will say about the flight, but you can read
this trip report
from last year – admittedly tad premature as a farewell – to get a feel.) The machine, here minutes from touchdown at Suvarnabhumi, is scheduled later today for the nonstop to LAX.
heading out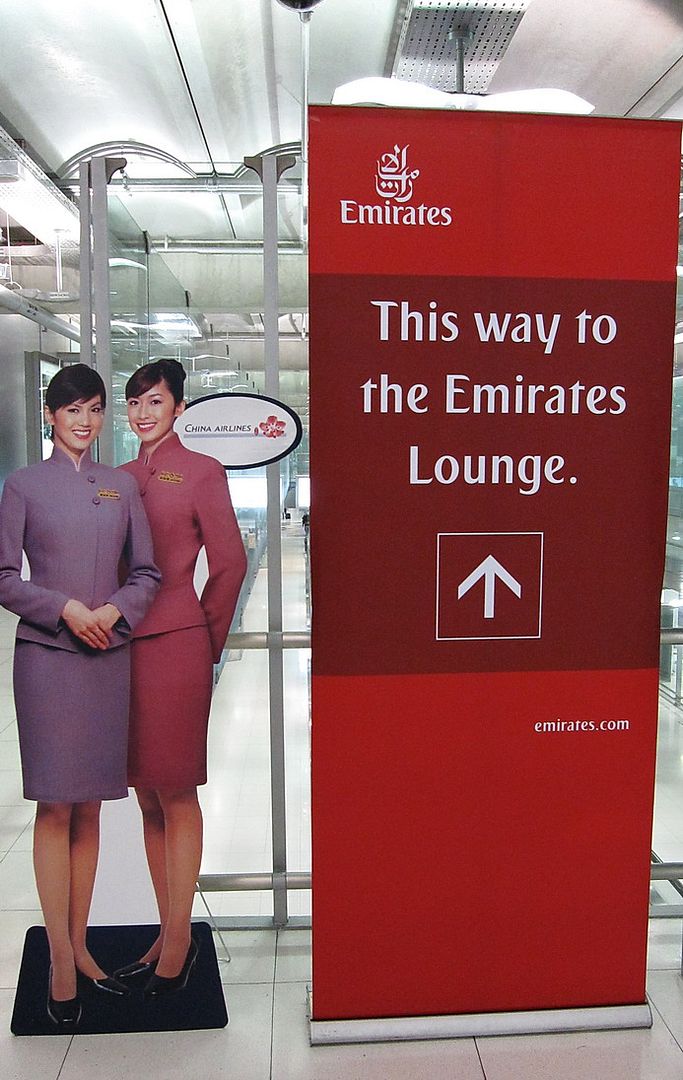 The walk from my arrival gate at C9 to the Emirates gate and lounge at concourse E is a bit of a long haul. I had once rushed across the huge airport barely making a 60 minute connection, but today, it's a leisurely stroll… I have almost seven hours between flights! Perhaps I had been a little bit too prudent in my planning and could have paid some friends a visit in the time, but I really didn't fancy the trek into town today. After all, airports can generally keep me quite happy for many hours  
The Emirates transfer desks are not open so early before the flight, so I take the escalators up one level where prominent banners lead me to the airline's premium lounge.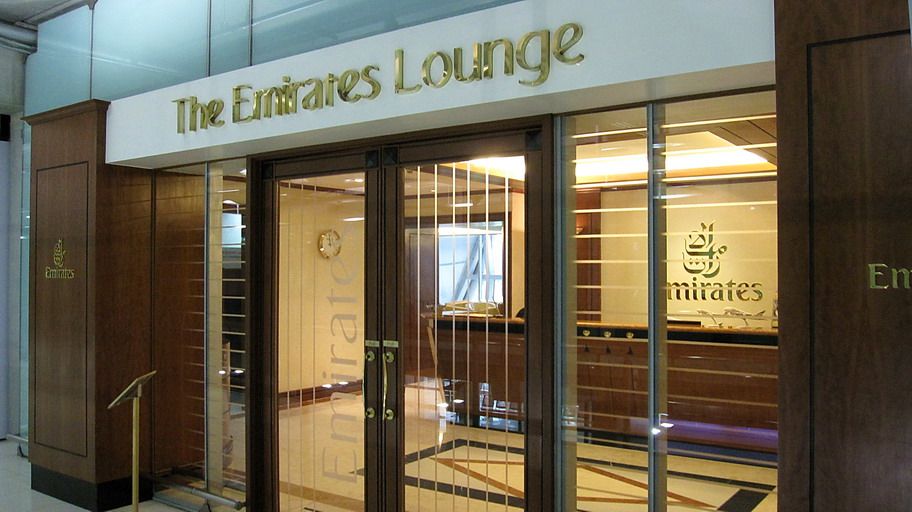 A young cleaner, temporarily manning the reception, looks a little startled when I show up at the door. (She was obviously assured that
absolutely nobody
will show up this early…) On the verge of a small breakdown after seeing me, she smiles uncertainly, lets out a little scream "s'kku na kah," [wait a moment please] and rushes off in a mild panic to get the lounge agent who is on her lunch break. These quintessentially Thai moments are wonderful and make me suddenly yearn for my Bangkok days. A series of polite apologies breaks out among all of us when the agent appears, and I am promptly let into the lounge as its only guest. A few moments later, the Business Class boarding pass for my DXB flight is handed to me – rather too efficiently I feel – and I am sat here wondering what to do for the next six hours…
The main part of the Emirates Lounge is a spacious, open plan place decked out in the airline's signature cream-colored leather chairs and sofas. Full length windows line one side of the room, which is not surprising seeing Southeast Asia's busiest airport is encircled by glass walls, but ironically there's no particularly good view – which, unfortunately, is also not a surprise for Suvarnabhumi. Here we get only a peek into a work-in-progress garden landside, and the main driveway to the terminal behind it but we're on the wrong side of the building for a view of the tarmac.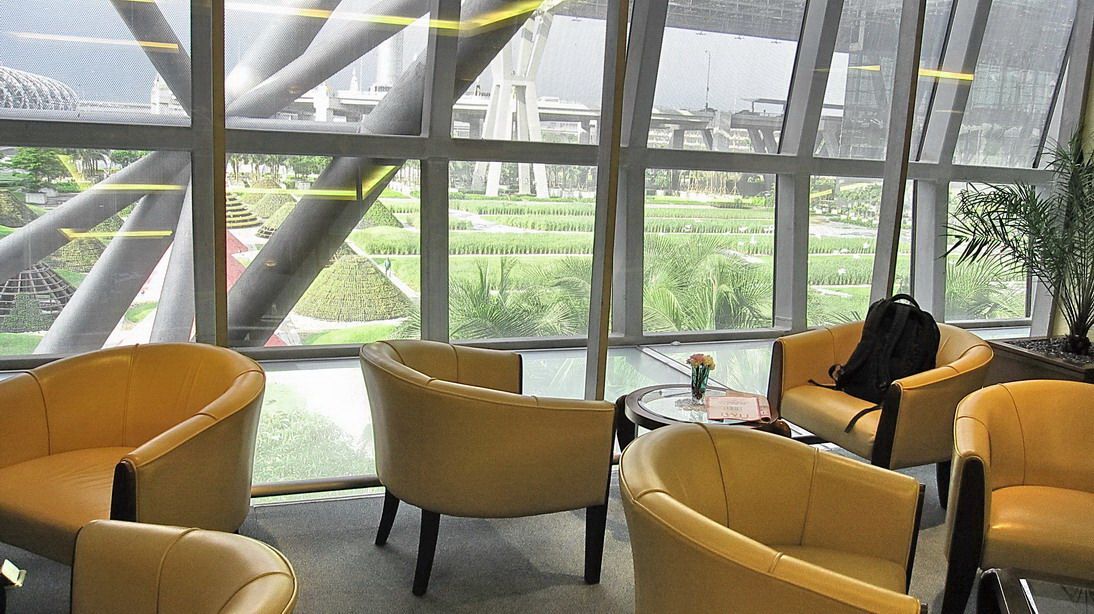 Moving into the inner sanctum of the lounge, you will reach the dining area, separated from the main area by a glassy partition. On first impressions, the place looks a little utilitarian – like the breakfast room of a small tourist class hotel – but based on size (seating for 36 diners) and F&B spread alone, this is certainly one of the more impressive airline facilities I've visited. Like the main lounge itself, there is no one here at 3 p.m. The early afternoon flight to Hong Kong left an hour ago, while the next Emirates departure (to SYD and CHC) is not due until 7.50 p.m.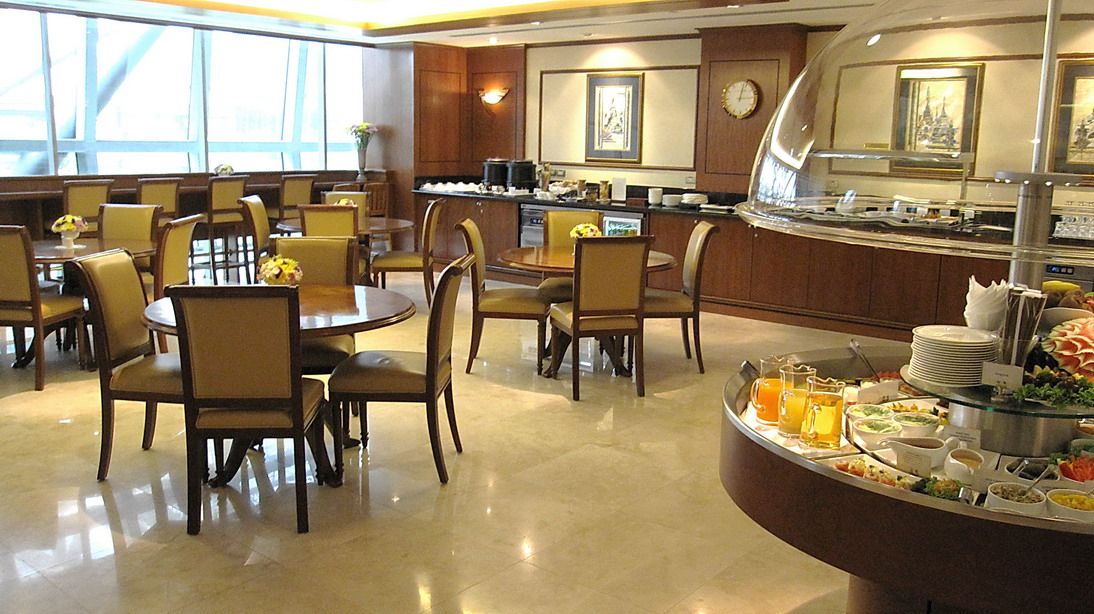 It may be the middle of the afternoon between meals and – apart from one slightly mad guy with his camera – there aren't any passengers around; but this airline certainly doesn't skimp on lounge catering. On display around a central service rotunda is a tempting selection of appetizers, sushi, salad, cheese and desserts, more extensive than most airlines.
The hot dishes include a generous selection of fried finger foods, two soup selections, and two other main courses I can't remember what now. There is also an equally wide selection of bottles-on-demand from the bar that'll keep many pre-flyers quite happy for hours, I'm sure.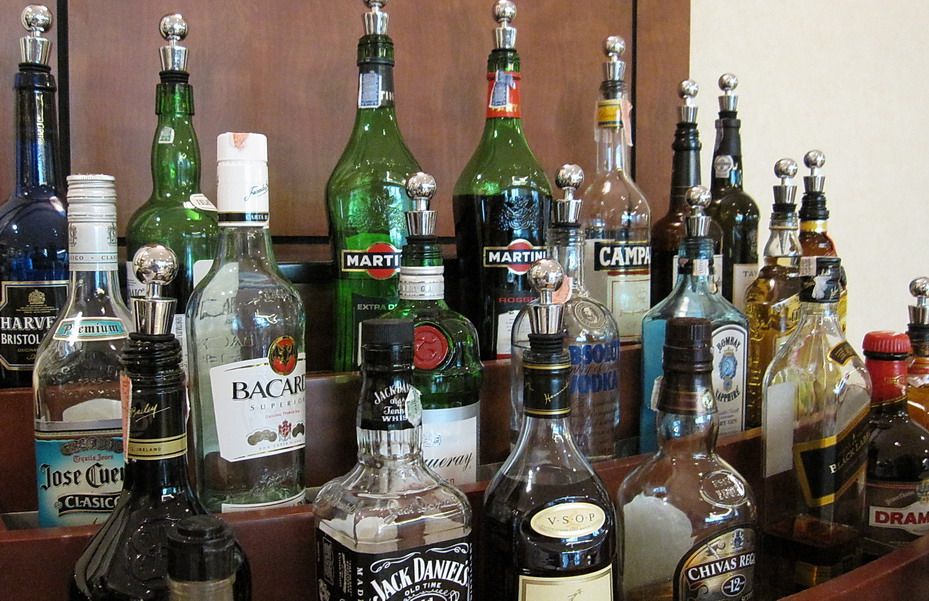 I usually try to restrict photos I post of airline lounges to a minimum as most of us are here for the flying experience. And in any event, most of my lounge visits are mercifully short, and generally deserve little comment. My stay today is however a little different: it is far longer than usual, and the absence of any other passenger – I am the sole customer for over an hour – allows me the luxury of time, space and privacy. And besides, the food selections do look rather nice, no?
With free wifi and a backlog of work, the hours pass easily enough. For the first two hours, the entire lounge doesn't house more than five passengers, so I feel comfortable enough to spread out anywhere. There is a windowless business center with the usual amenities but the restaurant is a far more cheerful and comfortable work space, so that's where I stay most of the time, guarding the food.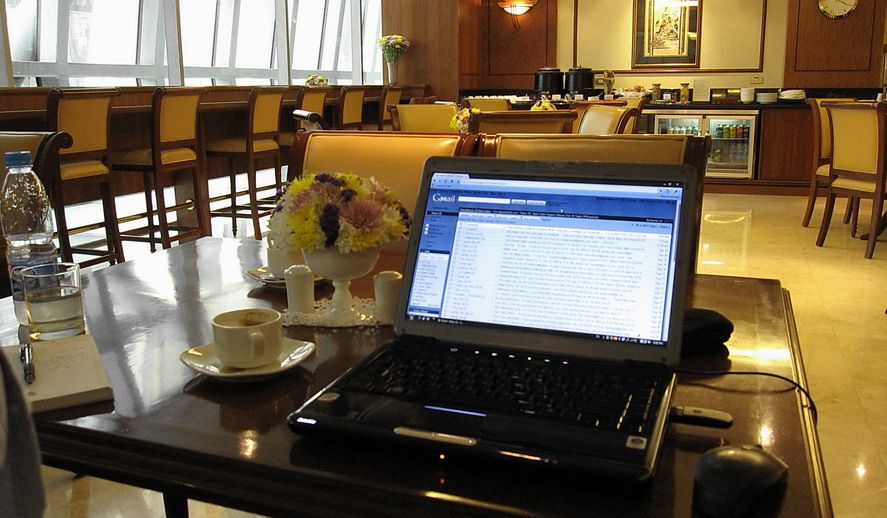 Three hours into my stay at around 6 p.m., the passengers on EK418 bound for Sydney and Christchurch start to trickle in, and then later for the Dubai flight too. The thing I notice about EK's premium passengers (at least those in this lounge) compared with some of the more "traditional" legacy carriers is how less stuffy they are. They're definitely younger and more casual: for instance, a couple of guys in flip flops aren't in fact penny saving backpackers, but First Class passengers on the A380! The place doesn't get crowded by any means, but the luxury of doing anything I want in my "own" space quickly disappears. I decide to stretch my legs a little and escape through the main doors into the airport proper.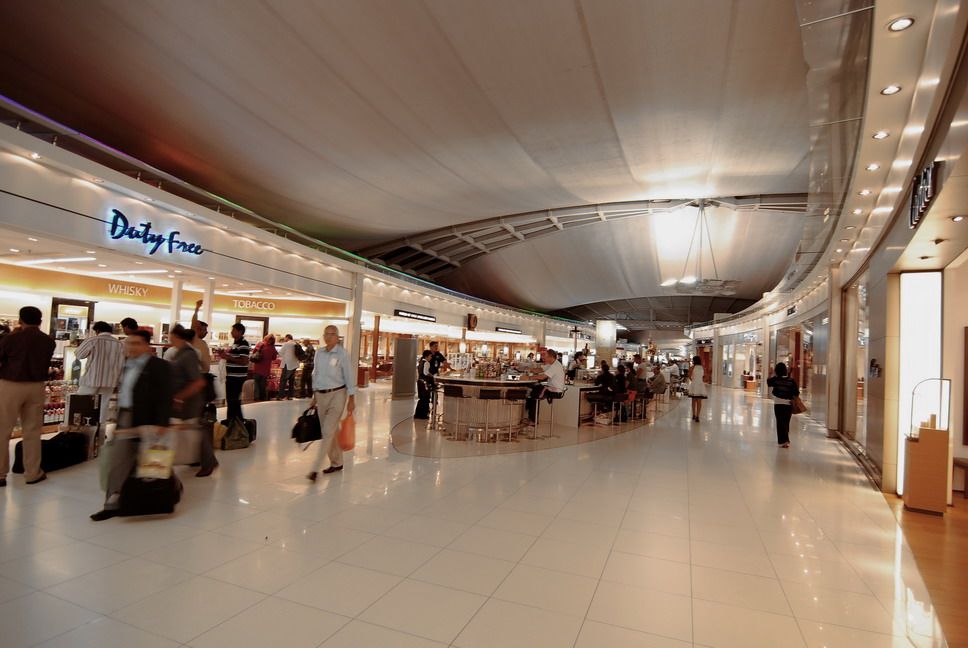 Now, much as I like many things Thai, "Suwanaphoom" is not among them. I have many gripes, but the lack of a decent airfield view – despite this being one of the glassiest airports I know – must top that list. There is little sensation of being at one of Asia's most important aviation hubs as you wander down the central concourse; the excitement of flying has been downgraded to a mere byproduct of duty-free shopping.
(Give me the old, crowded Don Mueang any day!)
Admittedly, there are unique features – some of them rather attractive too – but the experience is marred by designs that don't work particularly well for a busy international airport, like the complex maze of levels between check-in and the gate, windows that are perpetually stained and dirty because they are almost impossible to clean, and "moody" low lighting at places like departure gates that's not practical at all. In fact, practicality in general appears to have been low on the airport architects' list of priorities.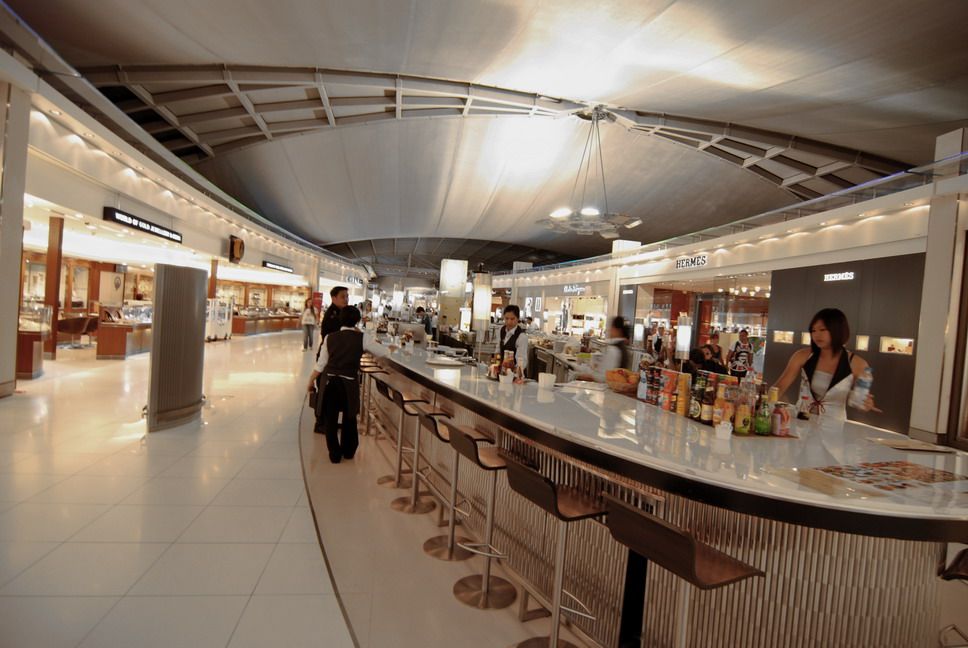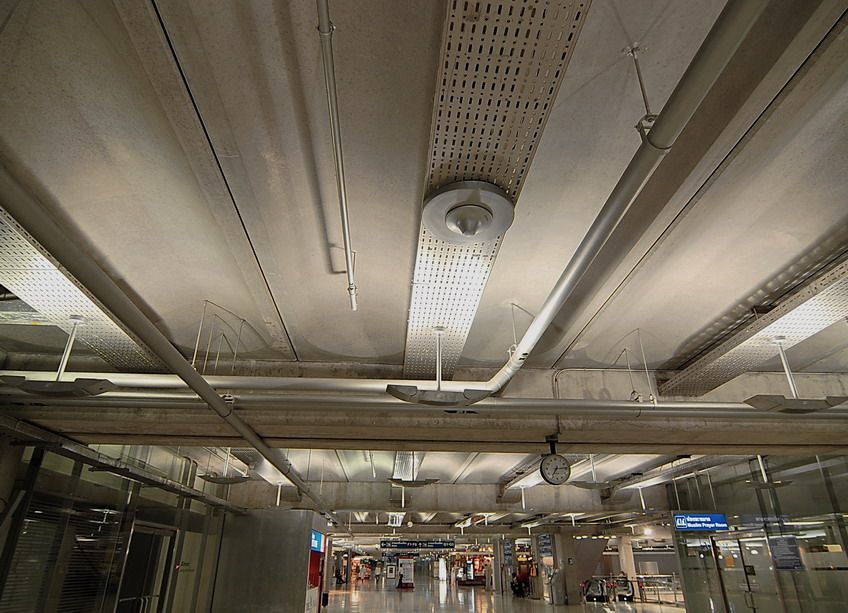 Some parts of the 2006-opened terminal are decked out industrial style with exposed pipes and fittings and bare concrete – but I'm still unsure whether this was by design or a consequence of the construction running seriously late and over-budget.
Still, there's no denying Bangkok's an interesting place to people watch – there are European backpackers sleeping rough along the chilly corridors, stunning Russian models in dangerous stilettos, loud Chinese package tourists on shopping orgies and almost everything else in between – the diversity is simply amazing. I see an army of EK uniforms heading for the gates at about 7 p.m. and guess they're bound for the Sydney flight. But as I tail them to concourse E (okay, just thought I'd clarify here just in case: this is not some weird fetish of mine… just a guy with too much time on his hands!), I realize they're the crews operating my flight to Dubai, already at the gate some 2 hours before departure. Now, that's early!
I get back to the lounge, pack my things and set off leisurely for the gate. By the time I get there (more than an hour before our scheduled 9.25 p.m. departure), almost all Economy passengers have boarded and I am invited to head straight aboard. I so want to catch a picture of my first EK A380, but my attempt is an utter failure: it is pitch black outside and I can just barely make out an outline of the whale jet through the filthy windows. Boy, I really dislike this airport!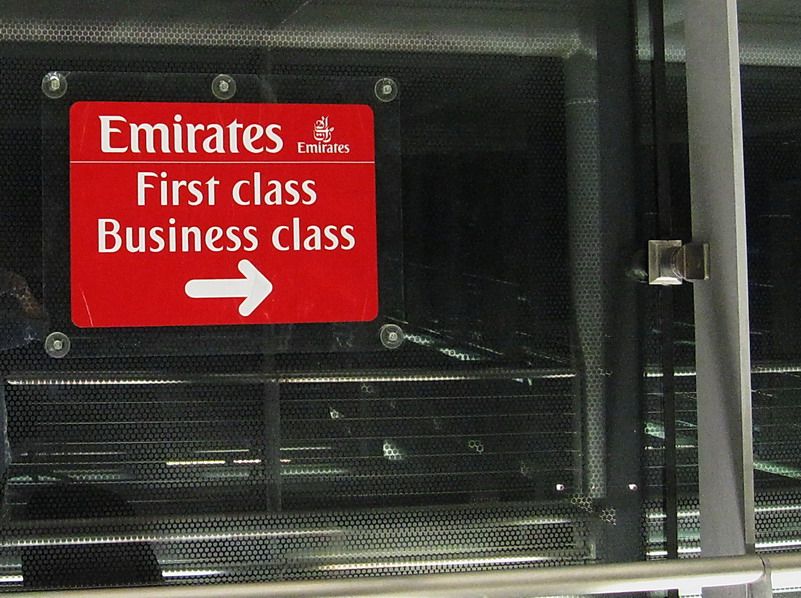 Gate E4 is one of the airport's A380 gates and equipped with three aerobridges, one of which is linked to the upper deck of the plane. The F and J classes are all upstairs, so I follow the signs turning right and up the gentle incline headed for the dedicated premium entrance. As it's still awhile yet to departure, it's eerily quiet as I wander alone towards the giant plane – not what I imagined how it'll be at all when boarding the world's largest passenger jet.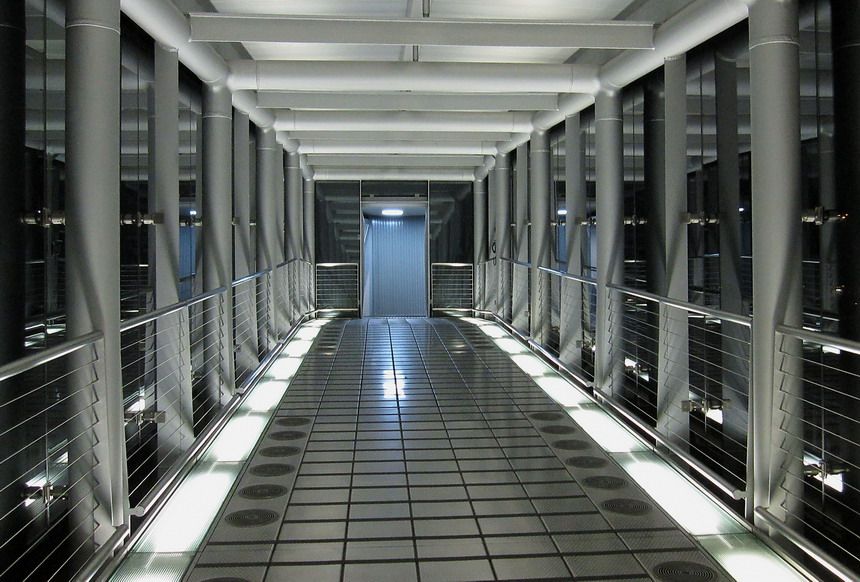 Bangkok to Dubai
Emirates Airline flight 373 in Business Class
Departs 9.29 pm, Arrives 12.34 am (next day, four minutes late)
A380-861 A6-EDE
"So hi there, you're early! Do you know where you're seated?" a steward asks as I step aboard. I reply that my seat 20K must be across the galley, and to the right. "Oh oh, I think we've got Mr. Smarty-pants here… he thinks he knows where to go, and doesn't need our help!" the steward tells a female colleague in jest. I didn't quite know what sort of welcome to expect on Emirates, but that certainly wasn't it.
Mr. Smarty-pants
? Did I hear that right? Talk about risqué greetings in Business Class! I love it.
Heading down the aisle towards my seat, another flight attendant greets me with a chirpy "Good Morning!" Huh? "Ah good, you're awake… I'm just testing the passengers," he says. The good natured – almost too casual – banter is unexpected and so refreshingly unlike the more formal approach adopted by most other airlines in their premium classes that it immediately puts me in a strange but good mood. The style reminds me of the feeling one gets on a very good flight (yes, they do exist…  
  ) aboard a U.S. carrier, but it certainly wasn't what I expected from Emirates.
What I
did
expect is what you see in these photos. There is no doubt about it: Emirates Business Class aboard the A380 is simply an amazing place. There are critics who will pooh-pooh the faux wood for cheapness or dismiss the shiny surfaces as nouveau riche – with some justification, I might add – but surely, no regular reader of this forum will get on this plane and
not
be amazed. That I can guarantee.
I had already read, and re-read, the series of excellent trip reports by a number of A.net members earlier, documenting in detail the Emirates A380 Business Class, but nothing beats seeing and experiencing it yourself. I thought I might keep the cabin pics to a minimum – you all know what it looks like, right? – but that proves impossible to do: I am on a photo-taking frenzy, and what you see here is just a very small portion of the total. So many apologies in advance for the indulgence, also for these poor quality pics in a weird yellowish light – I blame the mood lighting… hehe!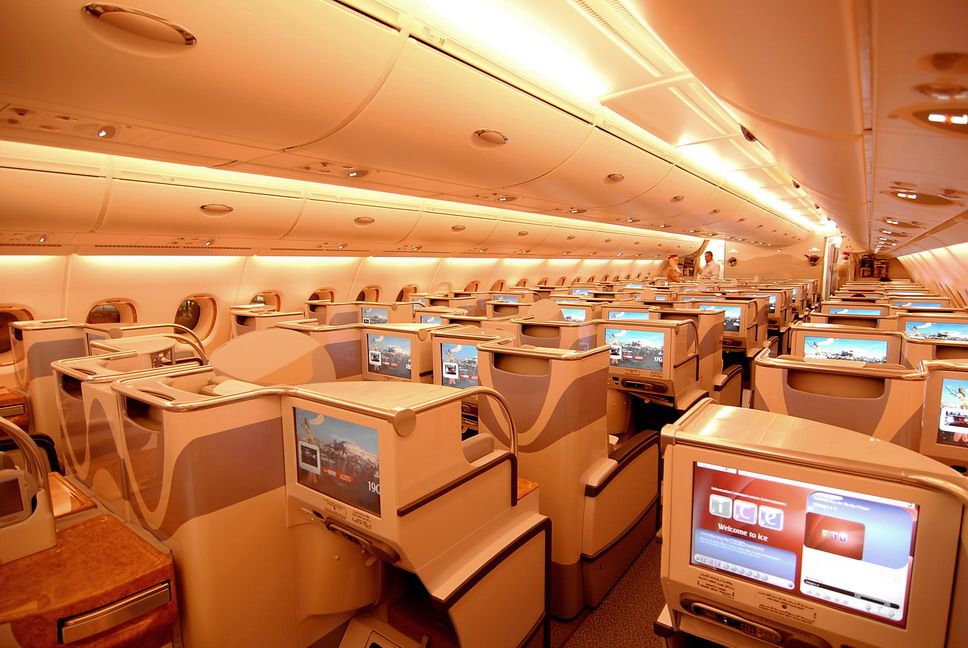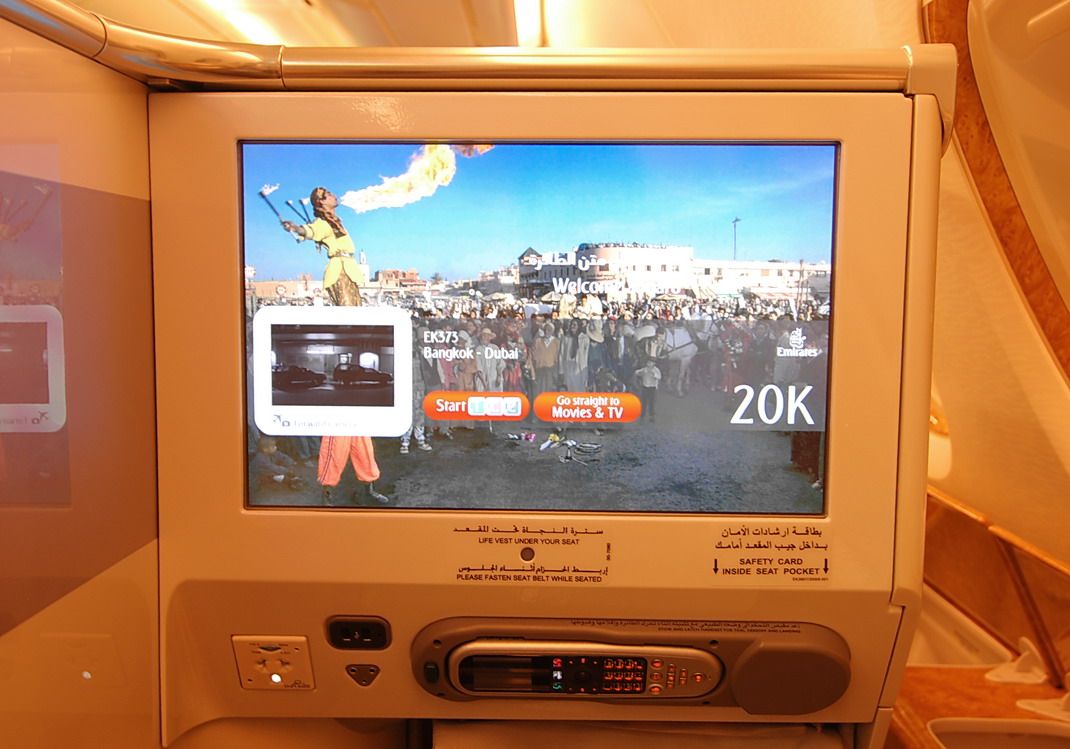 I find my window seat 20K easily: it's the second last row (and last window row) in this vast main cabin that occupies the mid-section of the upper deck. I like the way the PTV (which is quite large enough) shows your seat number. The seats are staggered in such a way that everyone gets privacy and aisle access, which is a big plus point for many passengers. There have been complaints of the seat being on the narrow side but it's a compromise I guess for the airline that's also trying to provide for every J class passenger a flat bed, mini bar and large side table – which I find most useful of all.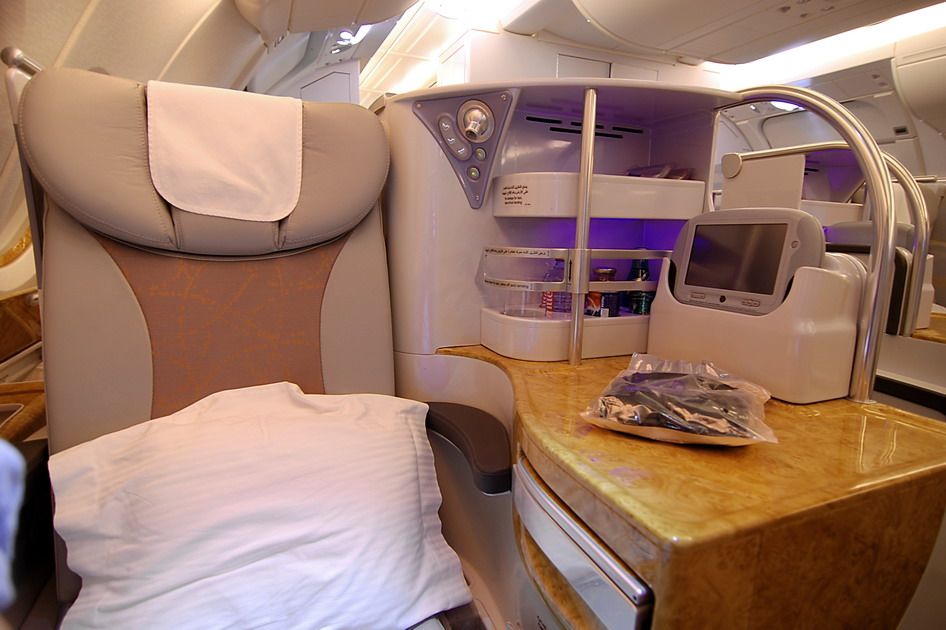 There is already a blanket, pillow, noise-cancelling headphones, couple of soft drink cans, socks and eye-shades at/around each seat. Looking ahead of me, under the PTV is the almost invisible soft pouch that can be described as a seat pocket containing the usual magazines and stuff, and below that, a boxy space to extend your feet into when lying horizontal. The space does look a little ominously terminal from this angle though…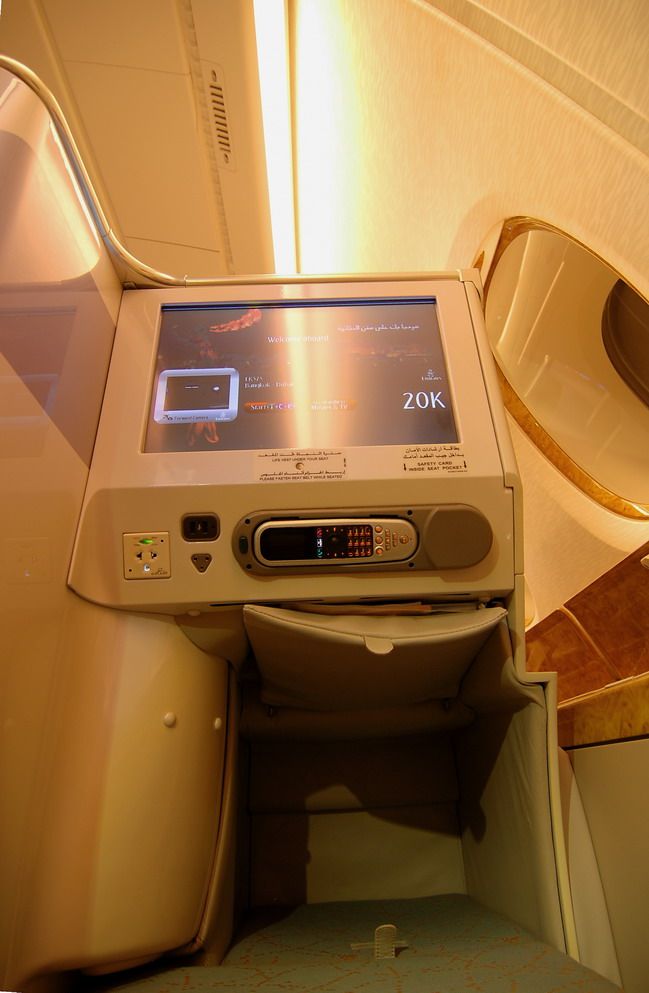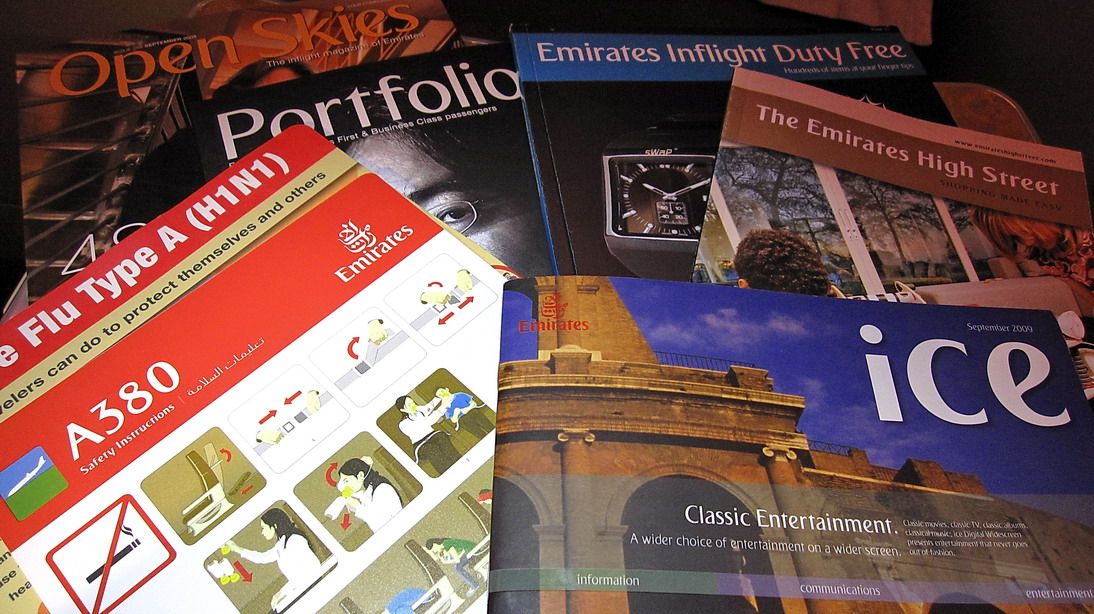 Above are the entire contents of the literature pouch that include two in-flight magazines (Open Skies is the regular publication, Portfolio is for F & J passengers), a couple of shopping catalogs (no plane models for sale), and a thick, glossy guide to the wonders of entertainment system ICE.
The bells and whistles at and around this seat keep me well occupied as I push and pull everything in sight. Especially as other airlines cut frills everywhere, it's truly fun to be in a place so rich in gadgets and so clearly decadent. Below you see the sturdy foldable meal tray that slides out from under the side table. Note also the narrow exit from this seat for the aisle – it could be a tad snug for some!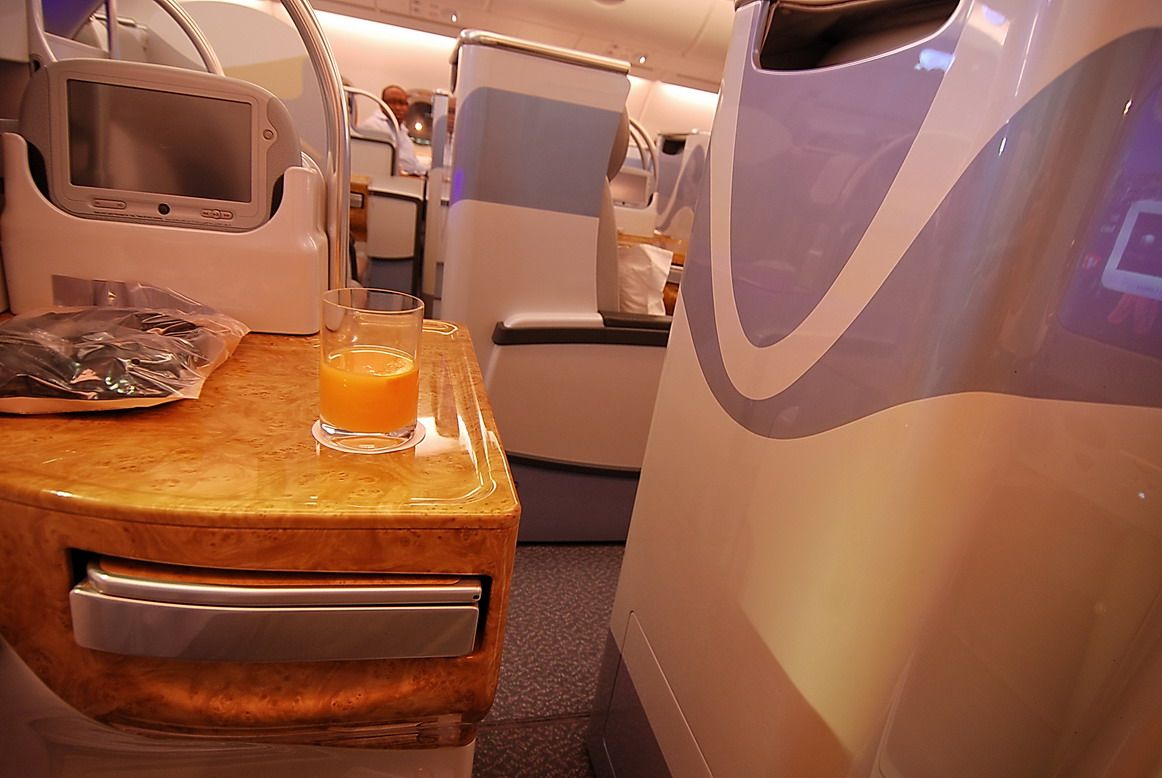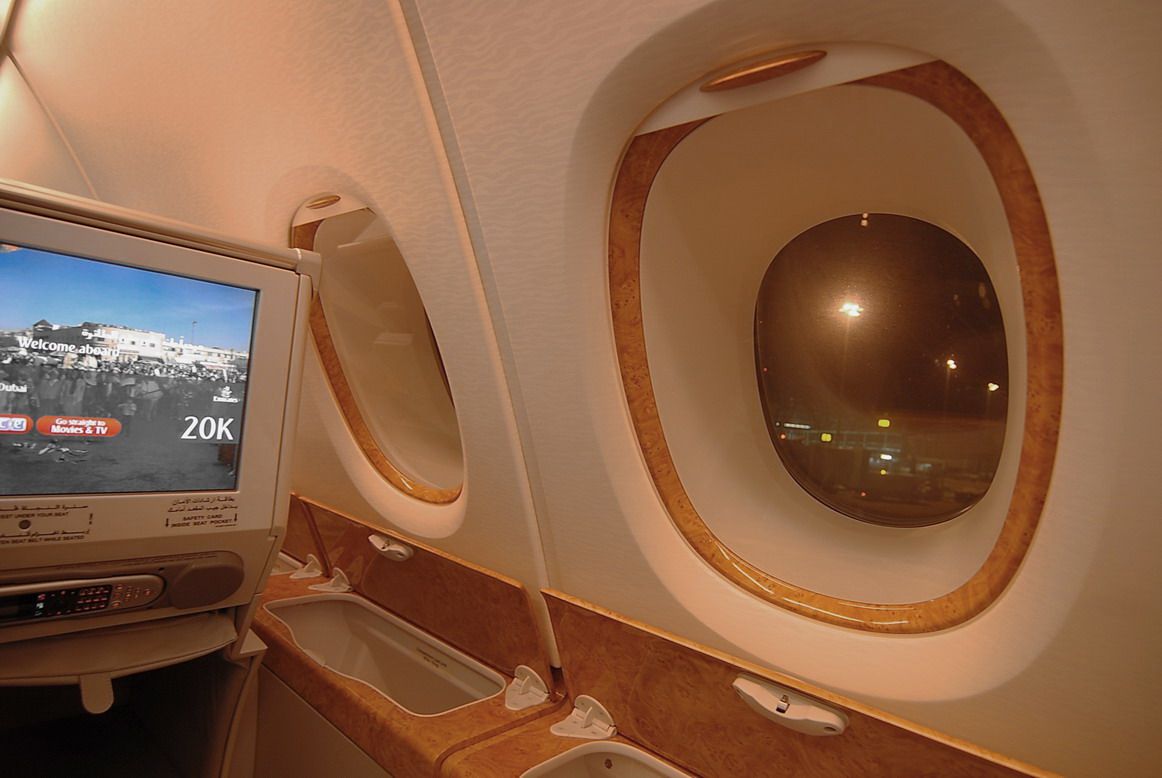 I try to get settled in, but end up as fidgety as a nervous tic. My seat's not the problem: it is actually rather convivial and has a generous set of windows, but I am unable to sit still. Seeing me restless, lovely Mariana comes over to introduce herself, and agrees to call me by my first rather than last name, which is pretty cool. There are 25 cabin crew members aboard, but tonight's light load won't stretch them – and a nice contrast to the totally packed out flight coming over yesterday, she says, with a hint of a French accent.
After Mariana's gone, I'm up on my walkabout with the camera again. My ceaseless photo-taking isn't missed by the crew of course. On many airlines, nut jobs like me might get – at best – a reluctant nod, though often it is more like frowns, disapproving looks, or worse. But not on Emirates: photography seems to be positively encouraged. More than once, I am asked if I'd like my photo taken. Thinking I might be shy because I decline the offer, a stewardess says I'm bound to agree if she gets "a group of my colleagues to join you in the photo." Mariana encourages me to visit the bar at the back of the cabin "you'd get great angles from there"; while another crew member (when I sort of complain, God forbid, about the strange yellowish hue from the mood lighting!) assures me that "we'll make sure the lighting improves during the service." White lie or not, I'll have to say: Wow!
The passengers slowly trickle-in but in this configuration, it's hard to tell which seats are occupied and which are not because the contraptions are so over-powering. As can be seen above, the aisle units allow much easier access than the window seats but according to seatexpert.com, the legroom here is some nine inches less generous than the window or middle seats (70 inches vs. 79 inches in flat bed mode).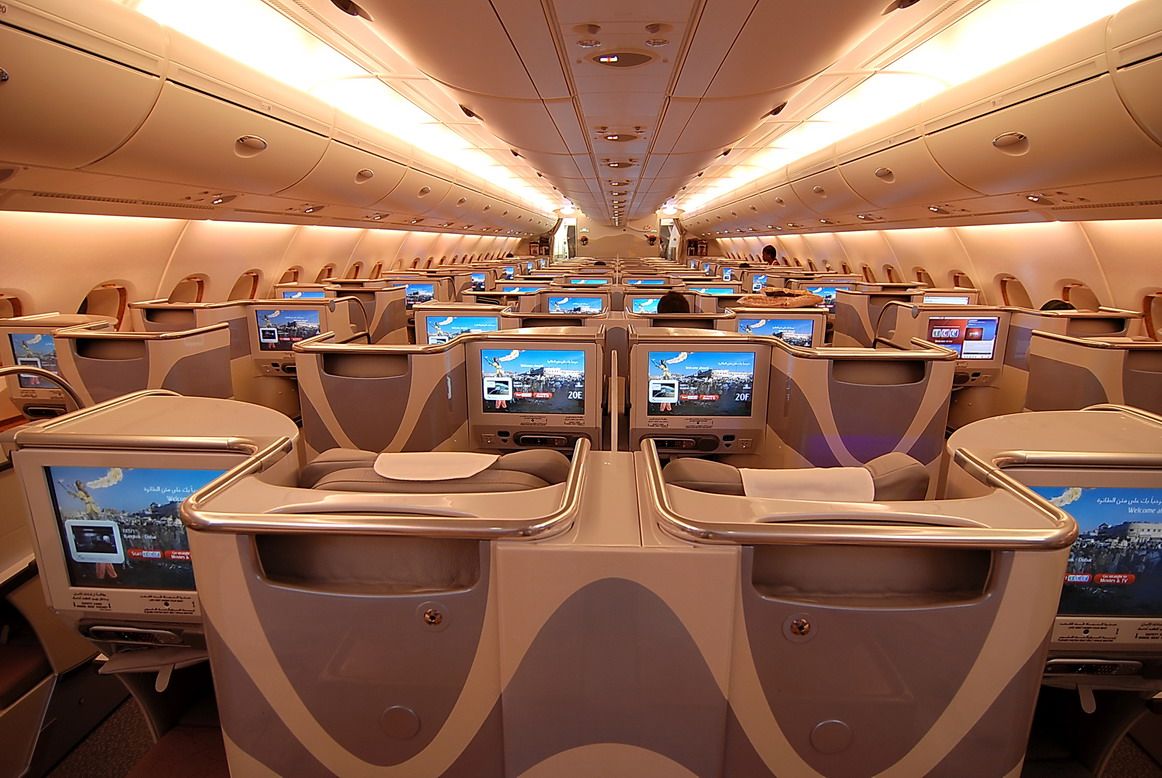 The main J class cabin above seats 58 passengers, while the second cabin below is smaller (but not really cozier), accommodating only 18. The infamous in-flight bar and lounge is located just behind the second cabin as are all the 4 washrooms for Business Class – so it's a trek down two-thirds of the upper deck length to the loo if you're seated right at the front. There's obviously also a lot more traffic and noise at the back end of the plane.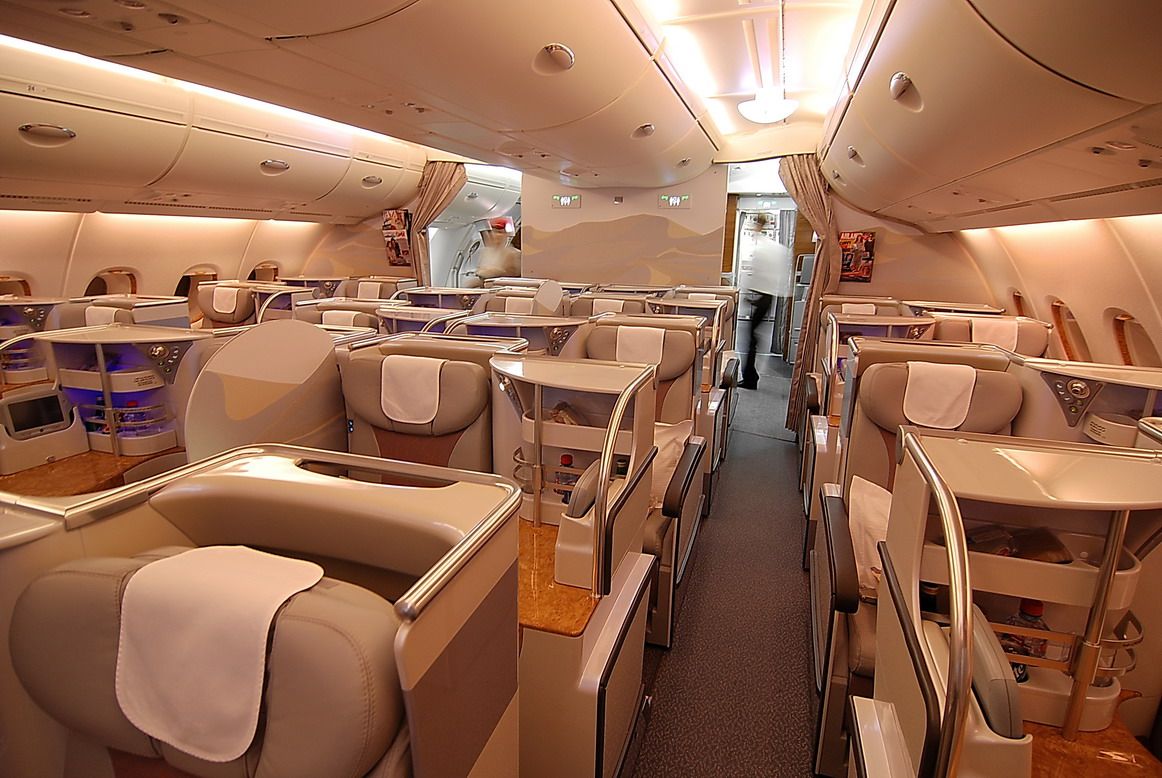 With a relatively light load tonight upstairs, boarding is handled so smoothly that I don't even notice my fellow passengers getting on. I also don't know how full (or empty) the cabins are downstairs and strangely feel no great compulsion to find out. In fact, for large parts of the flight, I am kept so contented that I even forget there's a lower deck filled with dense 10-abreast seating – and I'm sure Emirates are happy to keep it that way.
From the PTV, I can see that we're almost ready for departure as aerobridges disconnect from the mother ship. We push back in absolute silence a couple of minutes behind schedule, and with a distant purr of the GP7200s, we set course for Dubai with an anticipated flight time of 5 hours 30 minutes. This A380, A6-EDE, is the fifth and, at the time, newest whale-jet in the EK fleet. (The sixth registered A6-EDF has just been delivered this week, while the seventh is due before the end of the year.)
The safety video is long, lavishly produced and run in both Arabic and English. All the live announcements on this flight, however, are done in English only. As part of the spiel about what other languages are spoken by the crew, I hear about half a dozen European languages, Mandarin and Tagalog. But no Arabic and no Thai – very strange indeed for an Arab airline that's flying between BKK and DXB!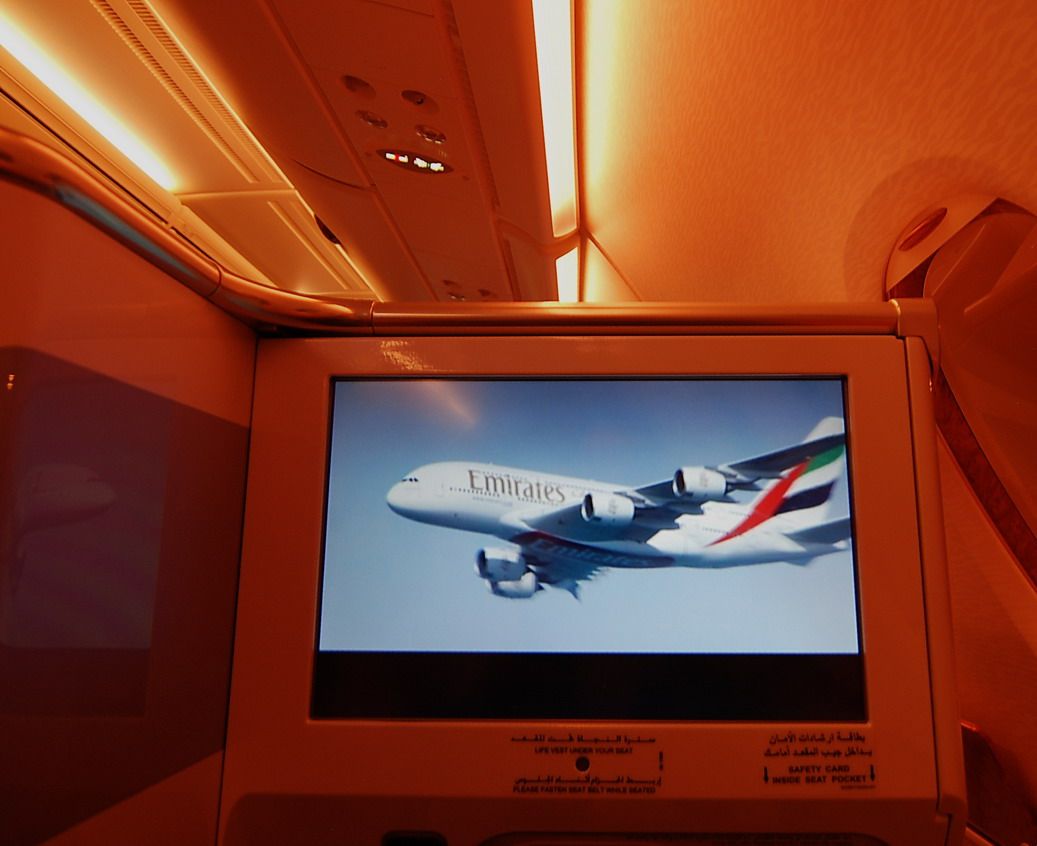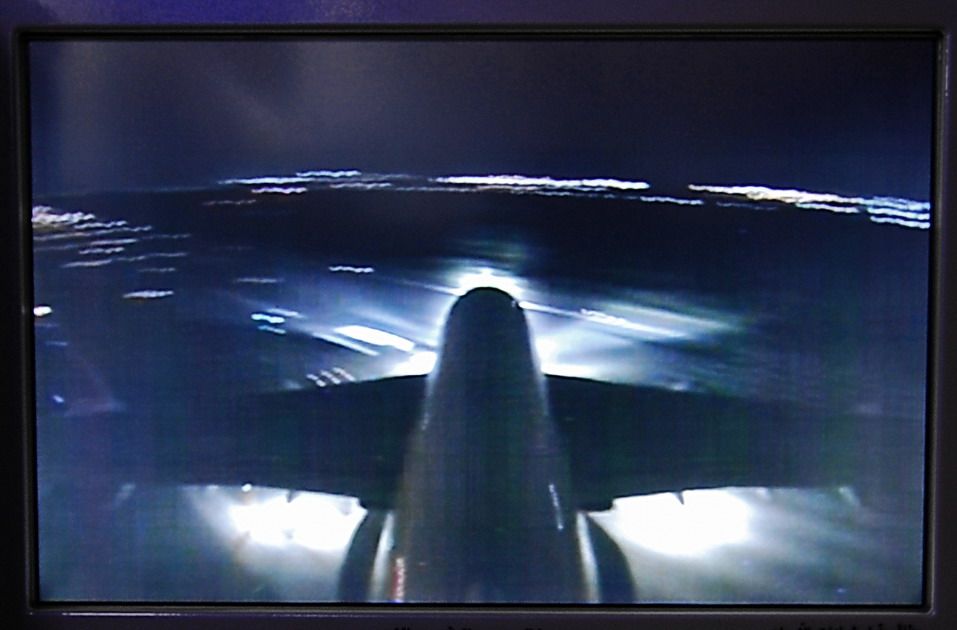 The tail-mounted camera is a fantastic innovation that keeps you riveted right from push back to take off. The airport is not busy this hour for departures, so we pretty much taxi directly onto runway 19R (I think) and set off rapidly. The engines are quiet but they aren't inaudible; still, I think the take off "sensation" is as much the product of my live video feed as the sound of the engines from outside.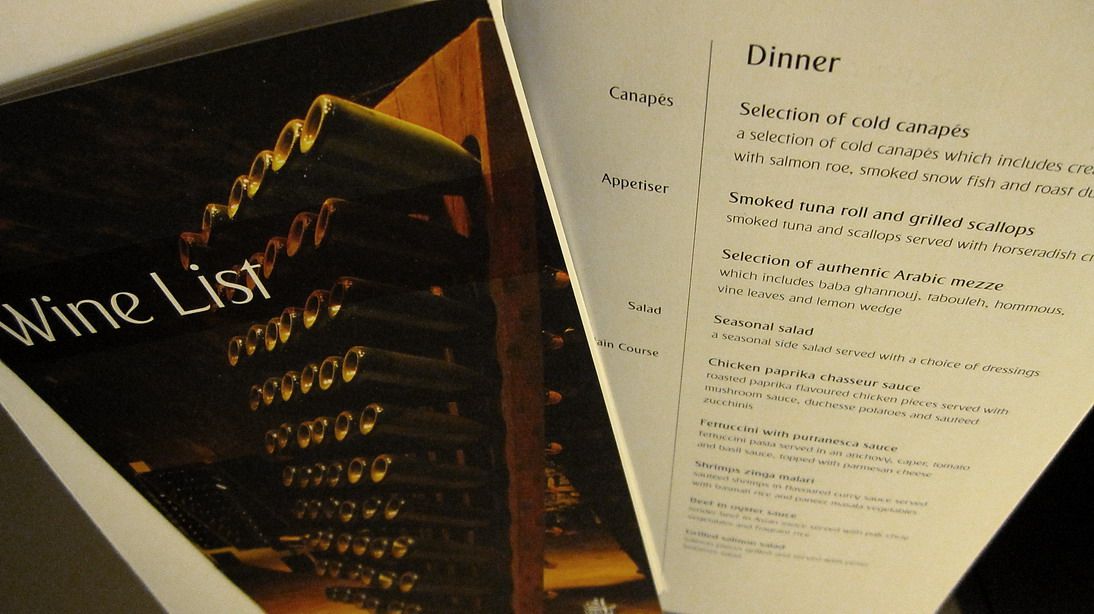 As soon as the seat belt signs come off, Mariana comes round to take meal orders. Menus, which had been distributed earlier, show that dinner is the only meal being served on this sector. I, meanwhile, start to explore ICE which is an indescribably awesome system. To put it another way: there are more movies, TV programs, sports, music and games loaded on this flight than I can ever hope to watch, listen to and play in a decade. No wonder everyone raves about it.
Presented with such a bewildering choice, I am at a loss on where to start. Eventually I see a small plane icon that leads me to safe haven in Airshow, that's easily still my favorite program aloft.
Service tonight starts with a selection of canapés and, for some reason, two drinks from the bar. The blood red glass on the left is ordered to salute my trip reporter friend living in the UAE, whose signature drink this is 
Cheers!
We've now left Thai airspace and are climbing over Burma's southern Tenasserim division with its long Andaman Sea coastline. Many Middle East- and Europe-bound flights from Bangkok head this way, overfly Tavoy on the coast, and then across the Bay of Bengal.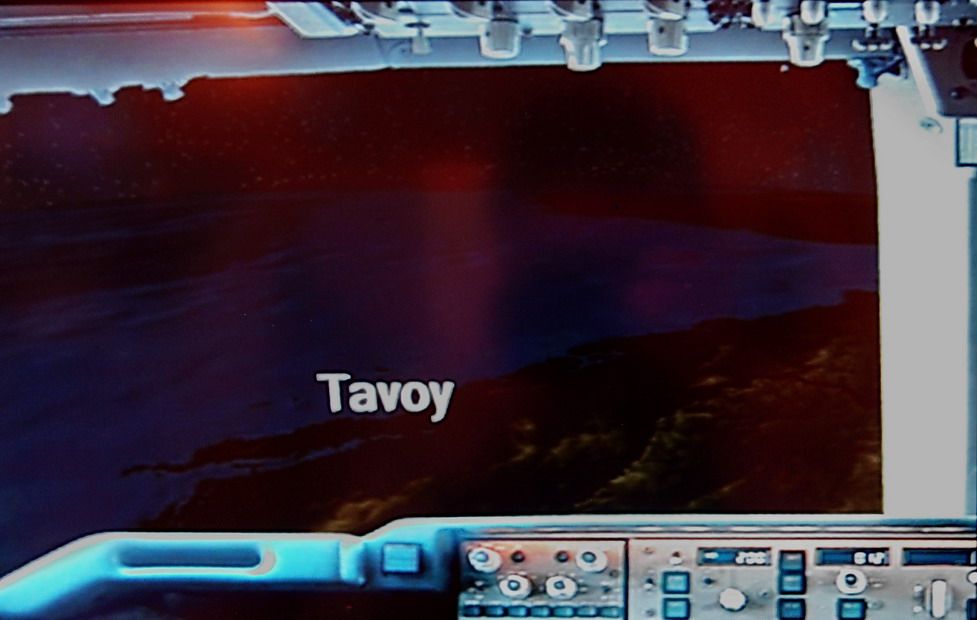 I really do like what's showing on my PTV right now. It doesn't matter if you aren't sat in the cockpit or don't have a window by your side… the Airshow channel aboard this A380 gives you the illusion you have both.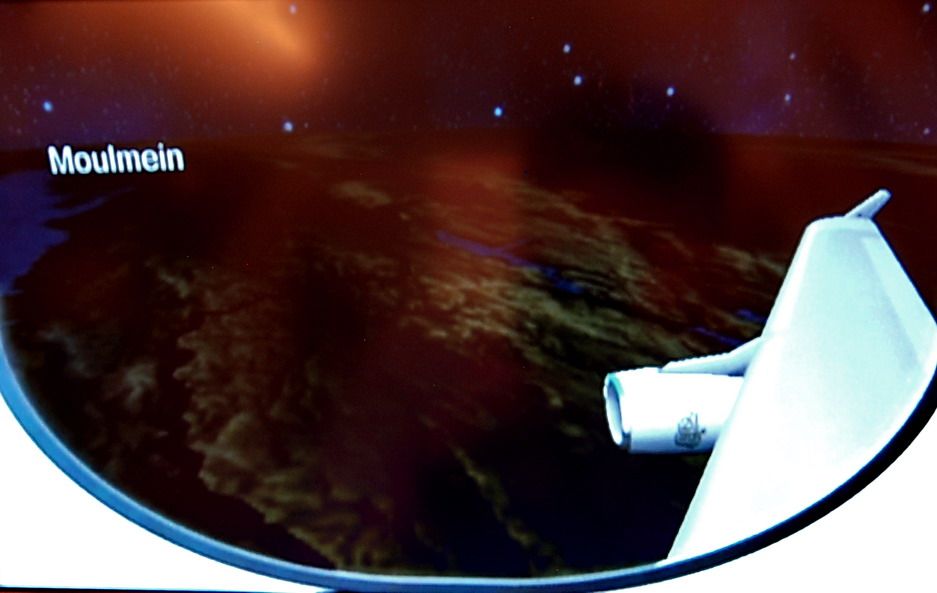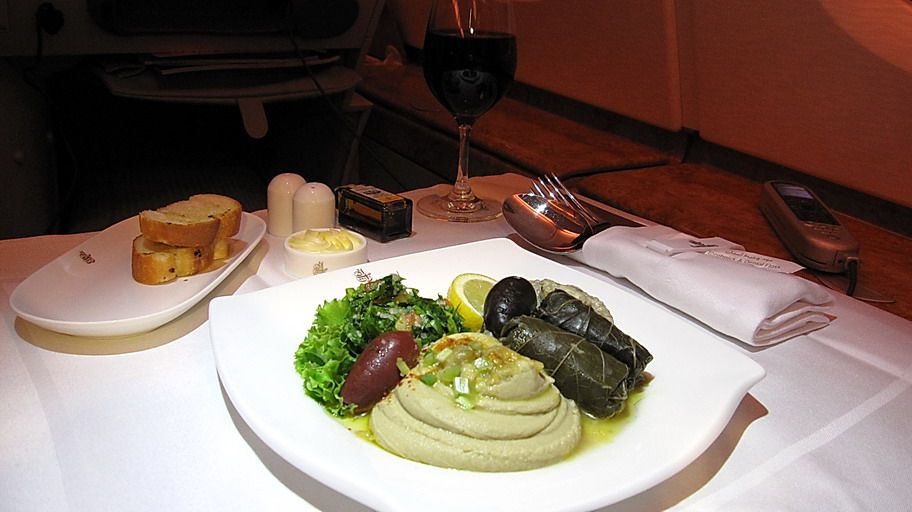 Back to reality, dinner for me starts with the Arabian mezze of tabouleh, stuffed vine leaves and hoummous. This is followed by a safe, but not particularly spectacular, Asian meal choice of beef in oyster sauce (one of 5 selections that include chicken paprika, curry shrimps, a pasta dish and grilled salmon salad).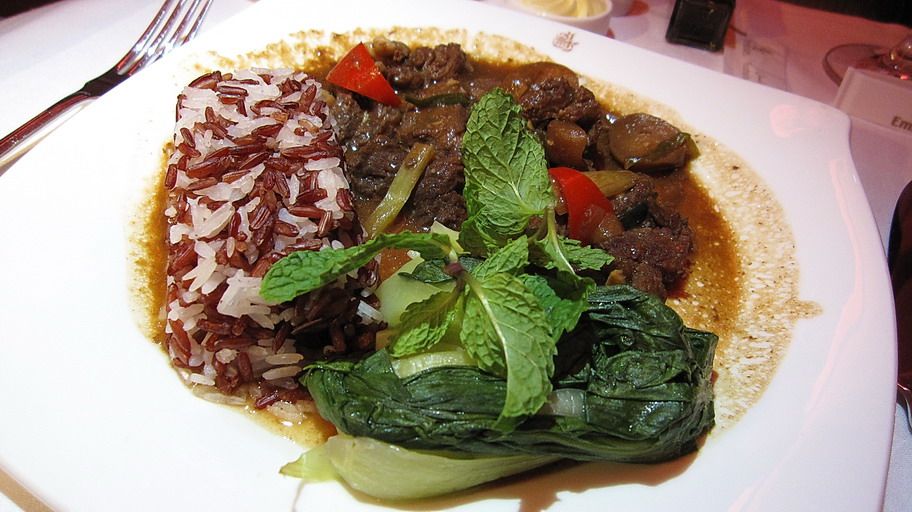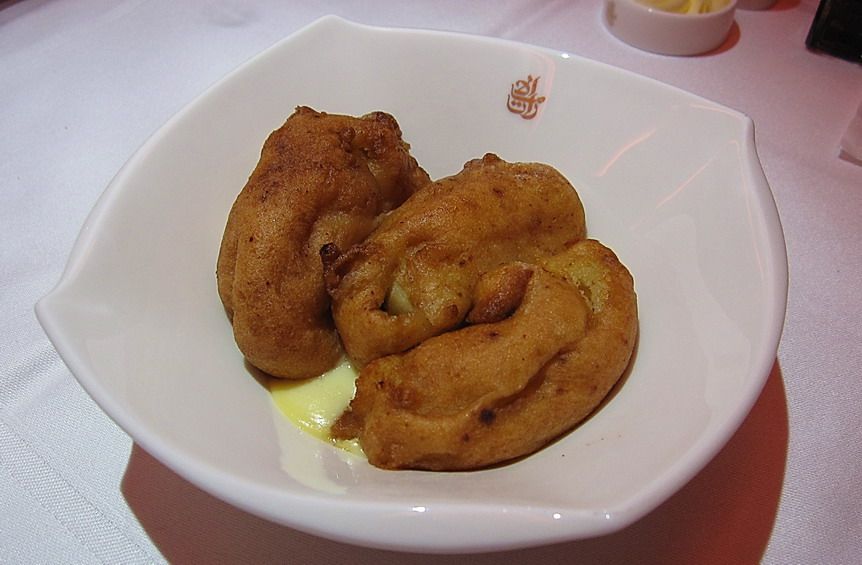 The apple fritters in vanilla sauce – a bit on the dry side – is my dessert, followed by coffee and chocolates, after which I am stuffed and frankly, a little tired. It hadn't been a bad meal at all, though I had somehow expected it to be better.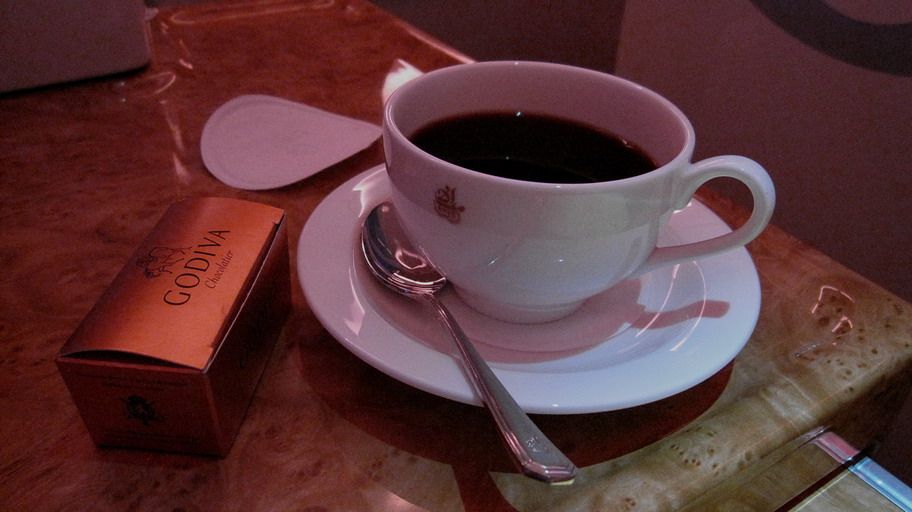 Service has nonetheless remained top notch throughout, with Mariana maintaining the difficult balance of staying friendly, unobtrusive and attentive with amazing ease. With dinner service completed, she brings an underlay for my seat that forms the mattress for my bed, and makes it super comfy even in the upright position. I think about spending a little time at the in-flight bar, but it is occupied tonight by a slightly loud group of passengers who obviously already know each other, so loitering there feels a tad awkward. We are still over the Bay of Bengal, the mood lighting turning a dim peachy pink, when I decide to turn in for the night. I am out like a light.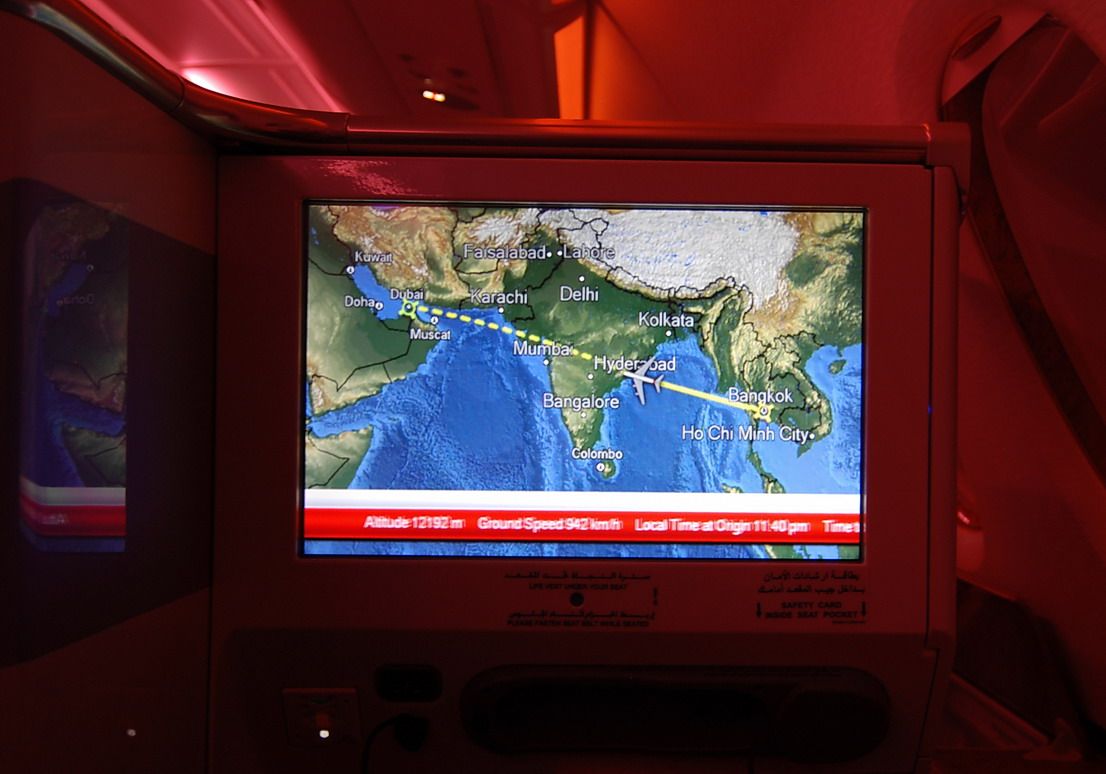 When I am next conscious, the Indian subcontinent is already behind us. I had been in a deep sleep for more than an hour and a half, but wake up suddenly feeling dehydrated, and finally finding some use for the "mini bar". The drinks here may be lukewarm but is good enough if it saves you the hassle of calling for a flight attendant. I take a few gulps of water and soon fall back into slumber again. It is so easy when you have a fully flat bed.  
Birdsong. That's what wakes me up next. Unless I am very much mistaken, there are birds chirping on this A380. The cabin appears to have brightened considerably into a new violet mood, but there is definitely intermittent chirping from invisible birds too. I am assuming that's a gentle reminder that we'll soon be starting our descent into Dubai. And not a sign that I've gone, well, cuckoo.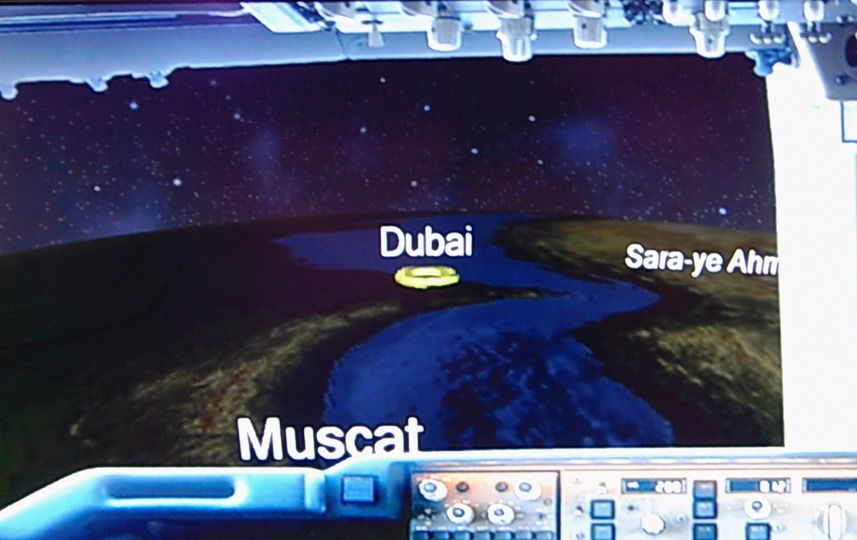 About half an hour to landing, we track the Omani coast heading towards the UAE. The seat belt signs have come on. I hear the noisy group of passengers in the bar – having stayed there for almost the entire flight – make their way back to their seats – in First Class. "Well, Business Class doesn't look too bad…" one of them says as they pass my seat, en route to their luxurious accommodations up front. Such a shame they had chosen to hardly enjoy First Class at all, I think.
As we get closer to Dubai – the city's lights shimmering in the distance – a passing stewardess reminds me to switch on the tail-mounted camera. "Make sure you have it on… it's the best seat in the house," she says. I am not about to disagree: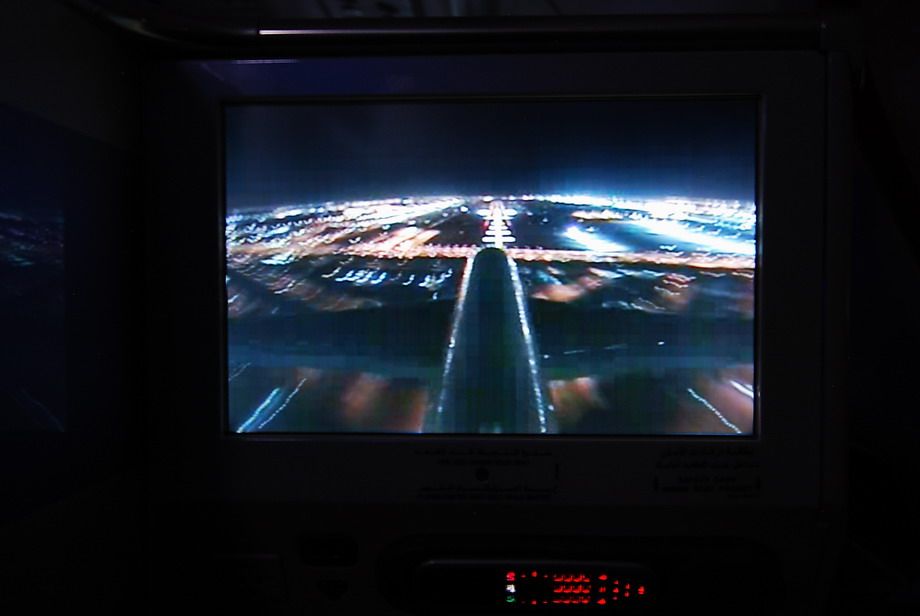 A smooth landing and a relatively short taxi puts us at the stand in new Terminal 3 – Emirates' own – almost on the dot. Like in Bangkok, there are three aerobridges here at gate 231, one of which gets attached to the upper deck. It's been a surprisingly good flight on Emirates – not that I was anticipating a bad one, but I was expecting the shiny hardware to outshine the in-flight service that – based on some reports I'd read – often needs more than a bit of polish. That didn't happen. Instead, on this gadget-rich A380 flight, "service" was clearly up there vying for attention: the youngish crew displayed a friendly, refreshingly casual style of service I really enjoyed, while still maintaining an admirable level of professionalism. There's no doubt the combination of top-class hardware with almost unbeatable in-flight service is a winning one – and I am impressed. But is this the real Emirates, or just a one-off? And surely the light loads have had something to do with it? I'm keen to put EK to the test again on my return flight. In the meantime though, this satisfied customer is off to explore EK's home city.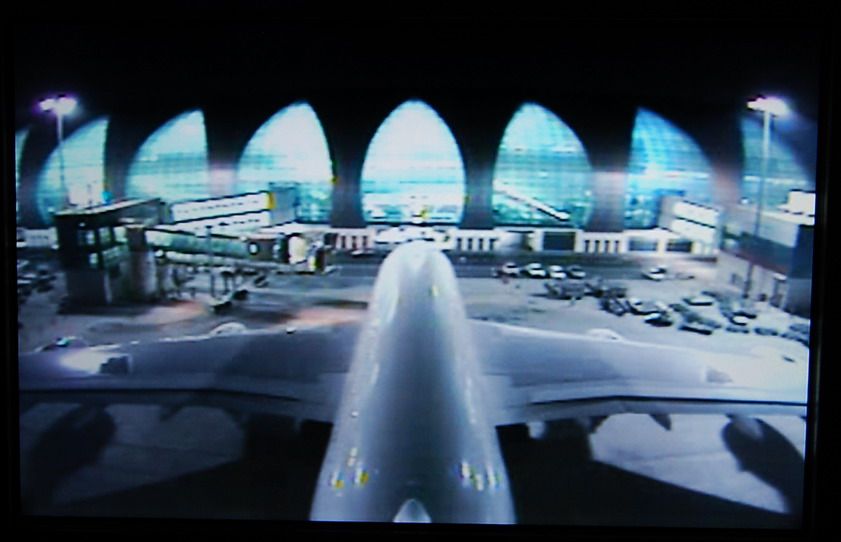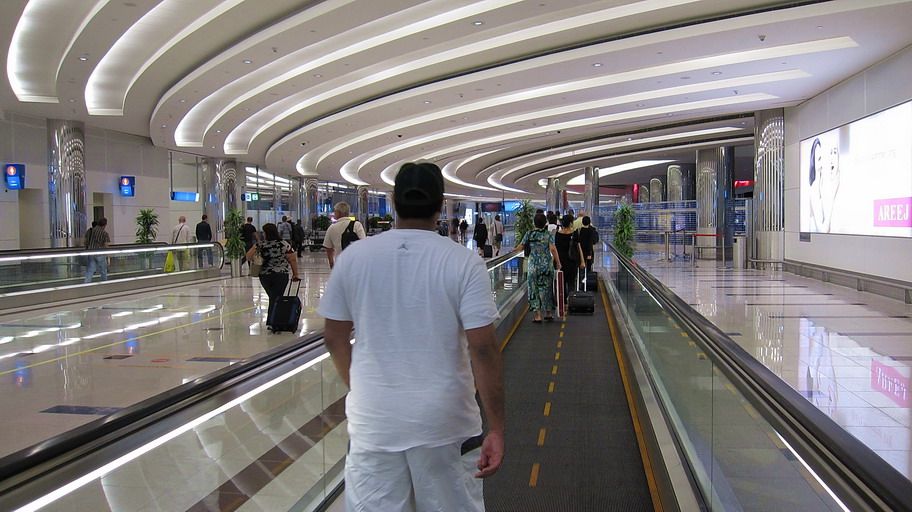 Welcome to Dubai, which starts the moment you step into DXB Terminal 3. This is such a mesmerizingly glitzy place in the wee hours that I am disoriented. I wonder if this is not the Middle East at all but some ostentatious Vegas hotel, but later discover that it's totally in character with this brash and bold city: this
is
the Dubai style.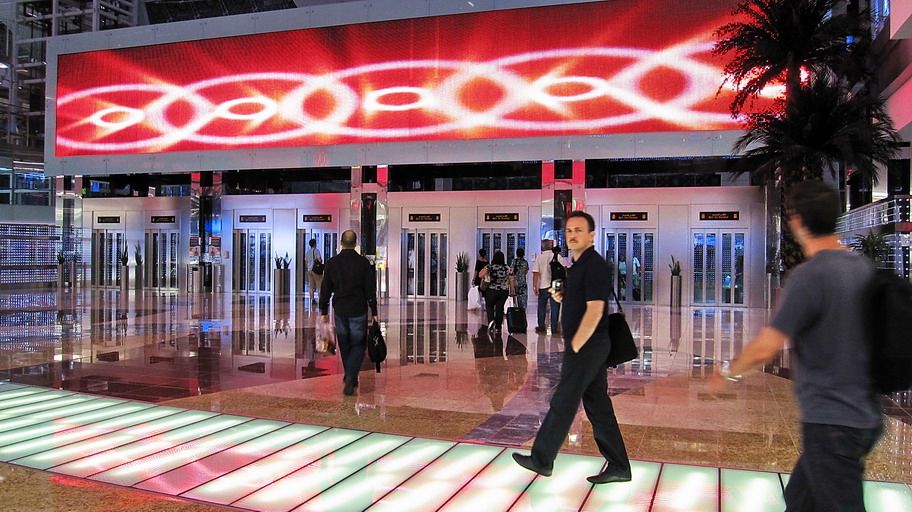 planes, trains & the world's tallest building
And what a city it is. Pick up any recent international news report and you'll probably find it sprinkled with words like megaproject, speculators, excess, bubble, slump, debt, that tell the story of the rise and fall of Dubai. The great unknown beckons for this wonderfully, fantastically over-built metropolis but on the plus side, the city has never had as much publicity as right now, which will do wonders, I am sure, for the tourist trade. So, that's what I will do here: give economics and politics a wide berth, and instead take you on a whirlwind tour along the new Dubai Metro before the flight back.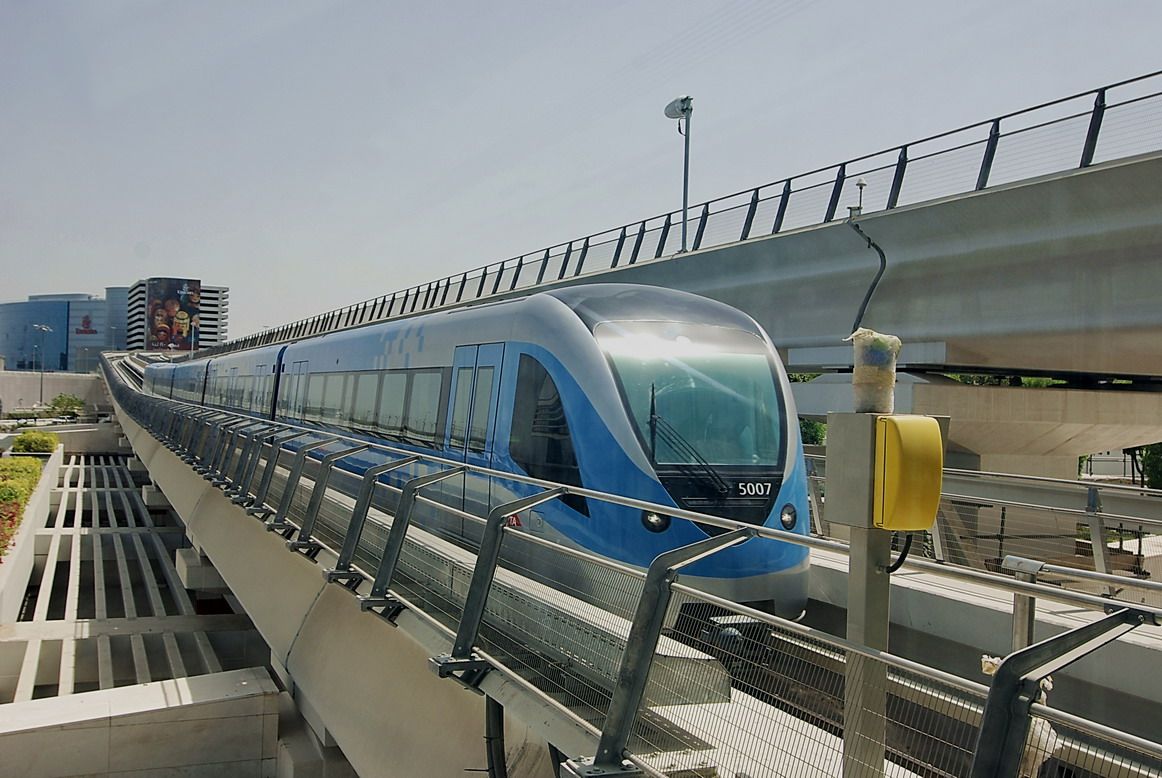 The Dubai Metro, a driverless, fully automated metro network, was declared operational in September. The new 52-km Red Line (with some stations still yet to open) runs pretty much from the airport to the Mall of the Emirates and Jebel Ali, via the old city in a generally east-west direction. For the most part, the train runs on elevated tracks, but goes underground around the creek and old city. Notice the vast amount of infrastructure construction still going on around it.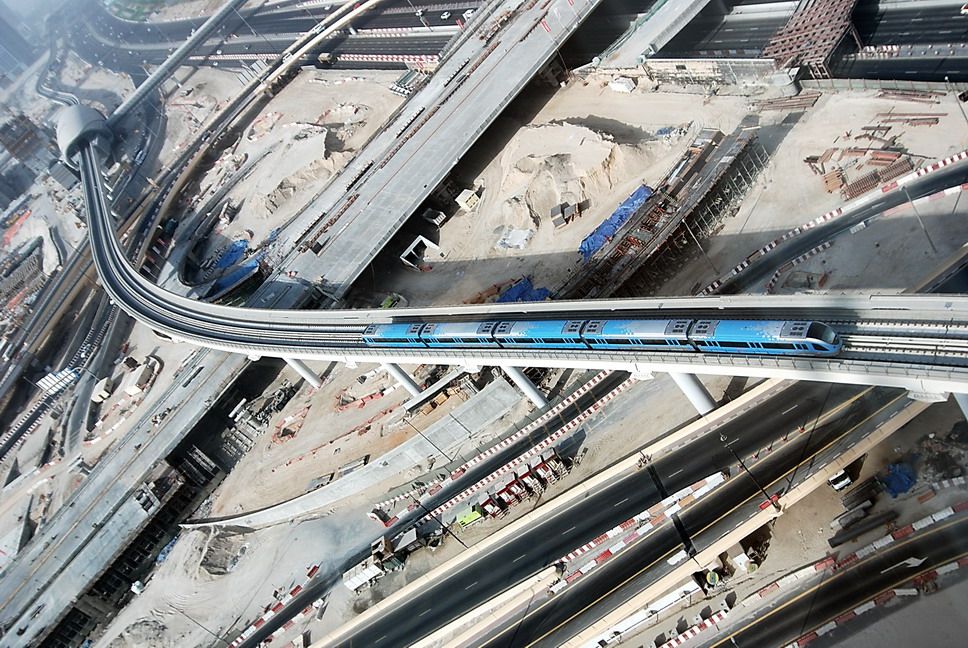 The metro route tracks in part the E11 Sheik Zayed Expressway that goes all the way to Abu Dhabi – less than an hour away from here at the speed the locals drive. Below is a partial view of expat enclave of East Jumeirah, with the rapid transit line and highway heading west from the city.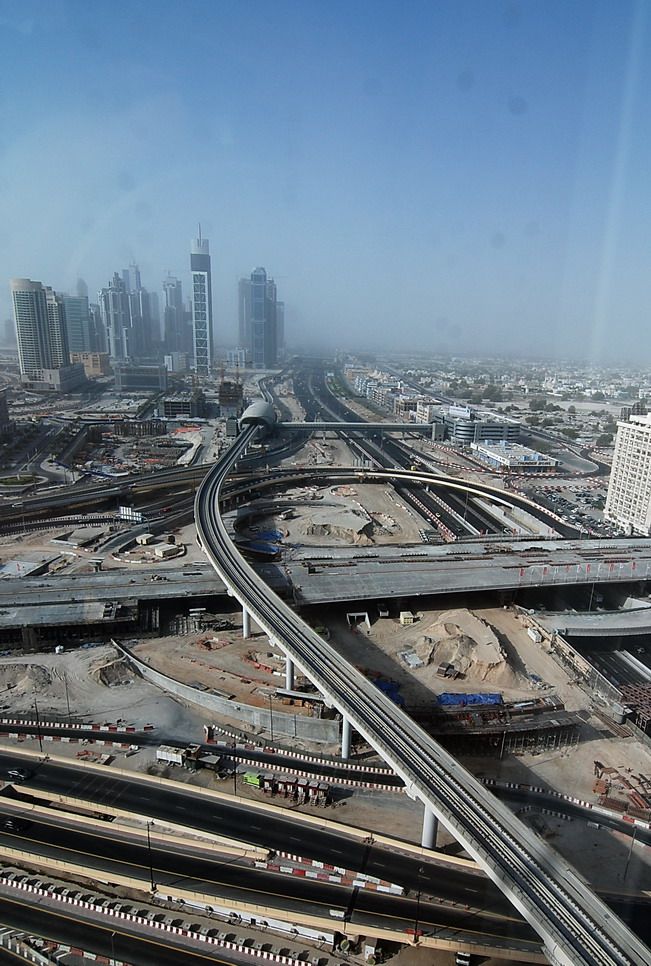 The elevated metro stations look pretty cool I think, a bit like docking stations on some sci-fi experiment. This is the Financial Centre station, a five minute walk from my hotel.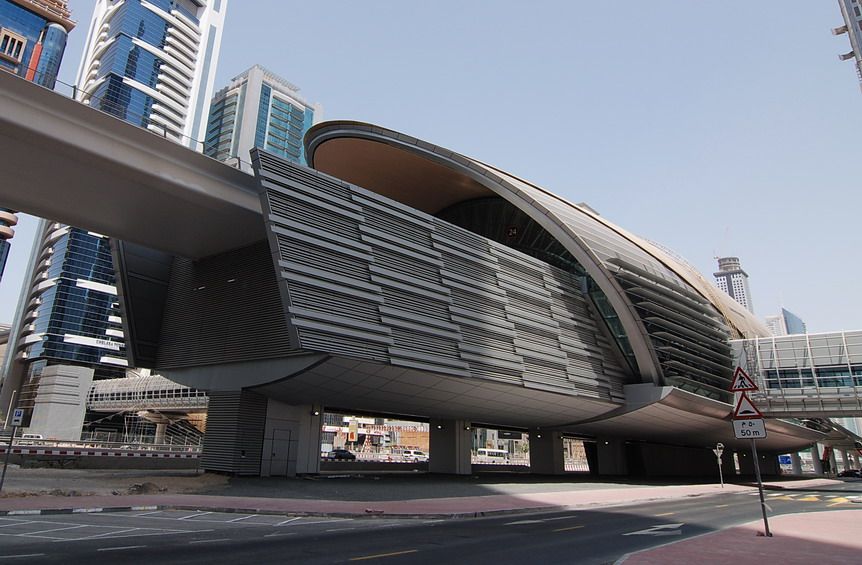 The interior of the Japanese-made trains are like those you find on most other metro systems. They are air-conditioned, practical and occasionally crowded. The key difference appears to be the existence of a premium "Gold" class compartment on the Dubai version – for those who prefer not to share the mass transit with the heaving masses. Wherever you're seated though, the Metro has large clear windows and is a great new way to sightsee, which is what most of the "commuters" here appear to be doing.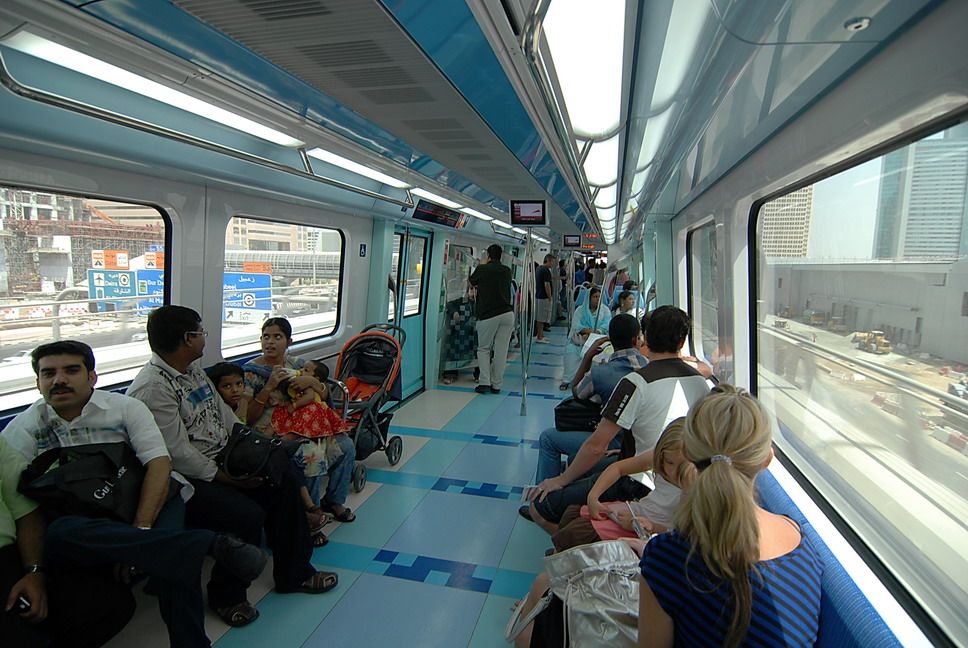 Close to the western end of the metro line is The Mall of the Emirates (below), a massive shopping heaven that used to be the largest mall in the Middle East. In this land of superlatives, it has now been eclipsed by an even bigger Dubai Mall that breaks a series of other records as well. Still, this place is quite big enough for me and even houses a snowy slope to ski down, if you feel so inclined.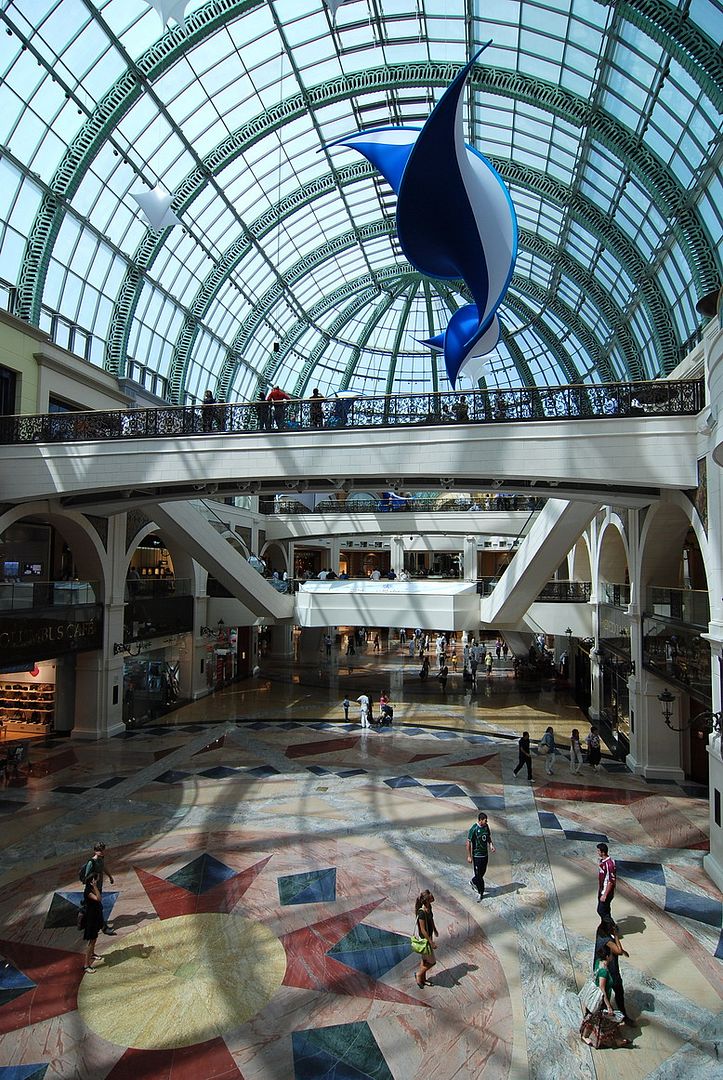 I know I said no economics earlier, but it can't be ignored. Because all over Dubai, there is no escaping the sight of cranes and half-completed buildings or newly completed shiny towers without occupants. I remember vividly a visit 2 years ago when Dubai was booming and fast development all the rage, my taxi driver from Pakistan points at these projects and says rather perceptively: "there are buildings going up every day, but who is going to live in them?"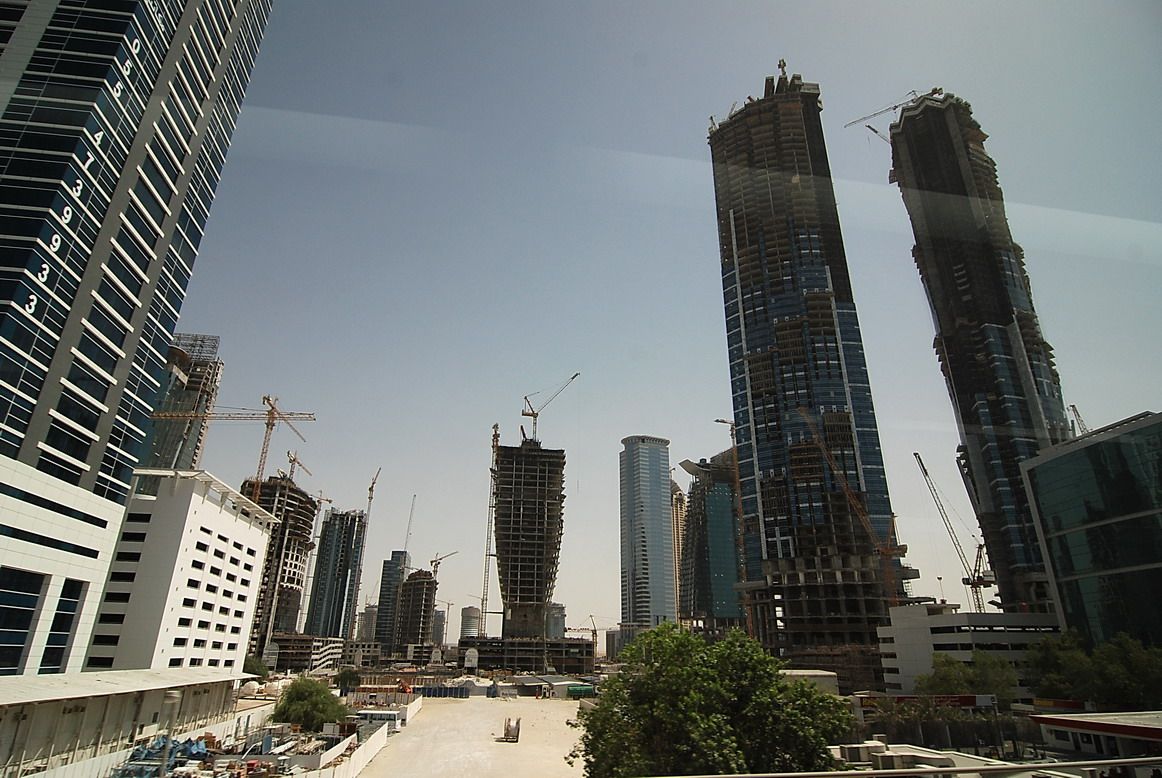 One of the highlights of a tour via metro is the view of Burj Dubai, the world's tallest building, bar none, at 818 meters and 160-storeys. The super-tall structure looks pretty impressive actually. Construction started in September 2004 and on July 21, 2007 overtook Taipei 101 as the world's tallest building. (It is still not the record holder because the building needs to be completed and occupied: that is slated for 2010.)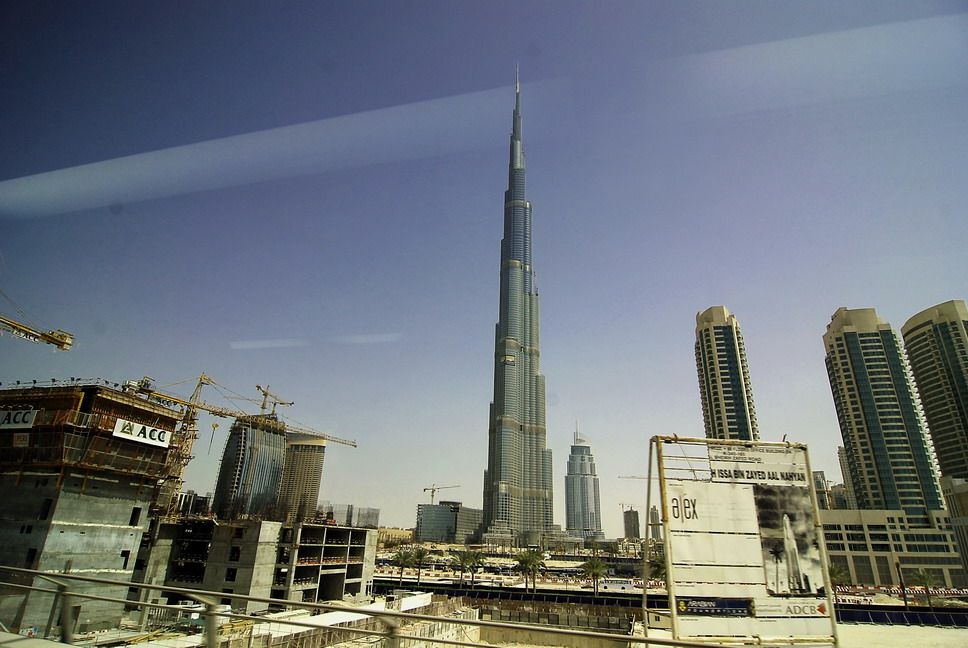 At the eastern end of the Red Line, there is an irresistible stop that must be made. 
The metro runs alongside the building that housed the old Dubai Airport; while in the distance, the large new Terminal 1 and even newer and bigger Terminal 3 are clearly visible. But the buildings, separated by the control tower, are like terrestrial icebergs because a sizable part of the terminals are invisible – hidden underground, beneath the apron.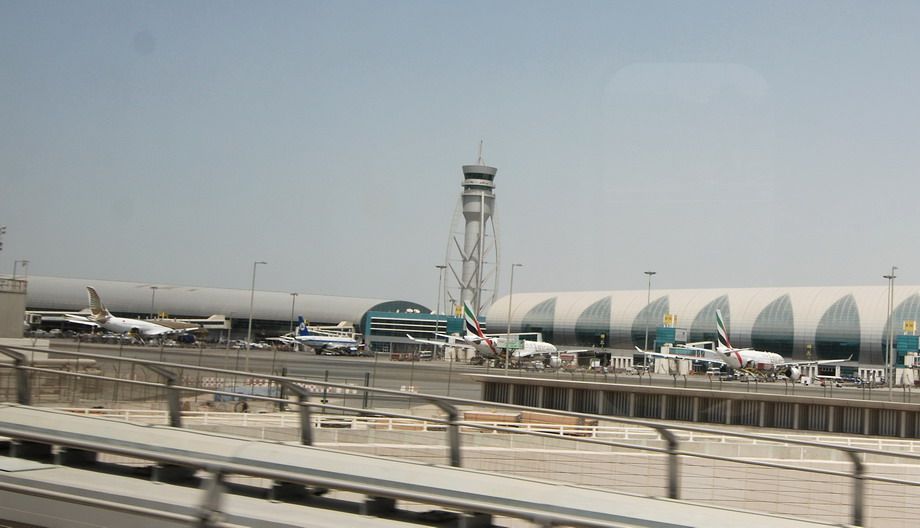 The metro station provides a direct connection to the airport via a futuristic looking metal tube. Terminal 3, opened in October 2008, is used exclusively by Emirates and, in true Dubai style, comes equipped with another superlative: this is the world's largest single airport terminal by floor space.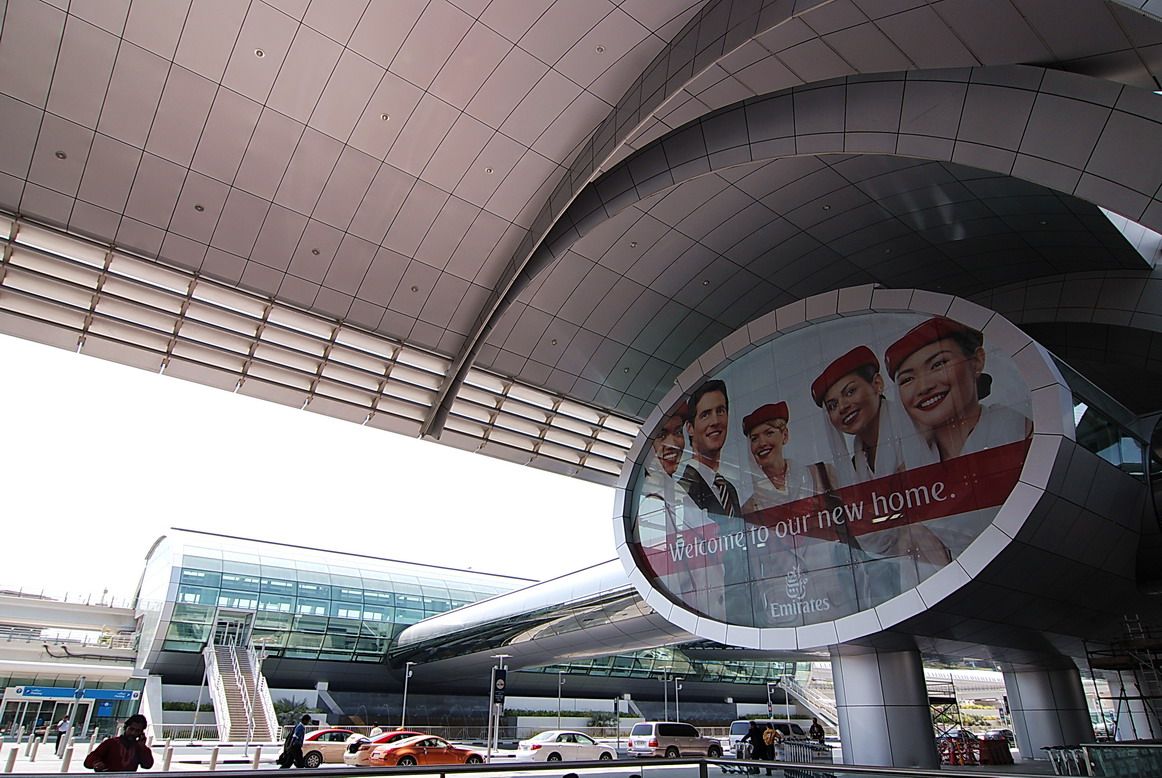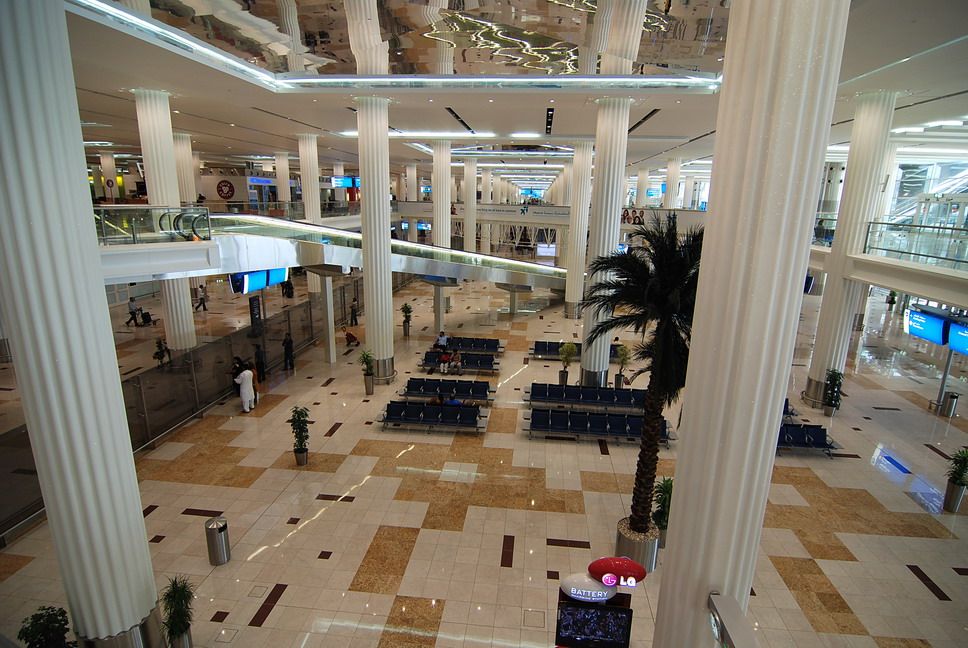 This is the arrivals concourse and greeting hall at Terminal 3. The sheer scale of this multi-level, high-ceilinged building almost makes you forget the amazing fact that all of this is buried under the sands of Arabia. I start looking for a tarmac viewing gallery but silly me: there wouldn't be one now, would there?
Equally impressive is the list of EK flight arrivals. World domination appears to be the objective with daily – or usually multiple daily – flights coming in from almost every destination across five continents. Yeah, I know we all know this, but seeing the destinations together on one board really drives home the point.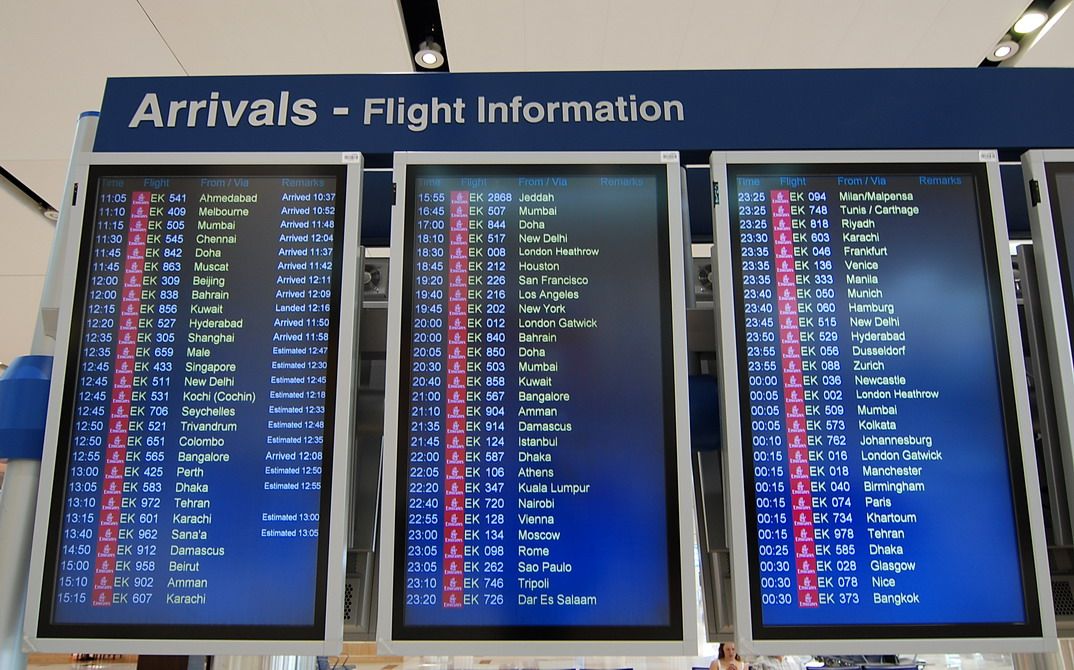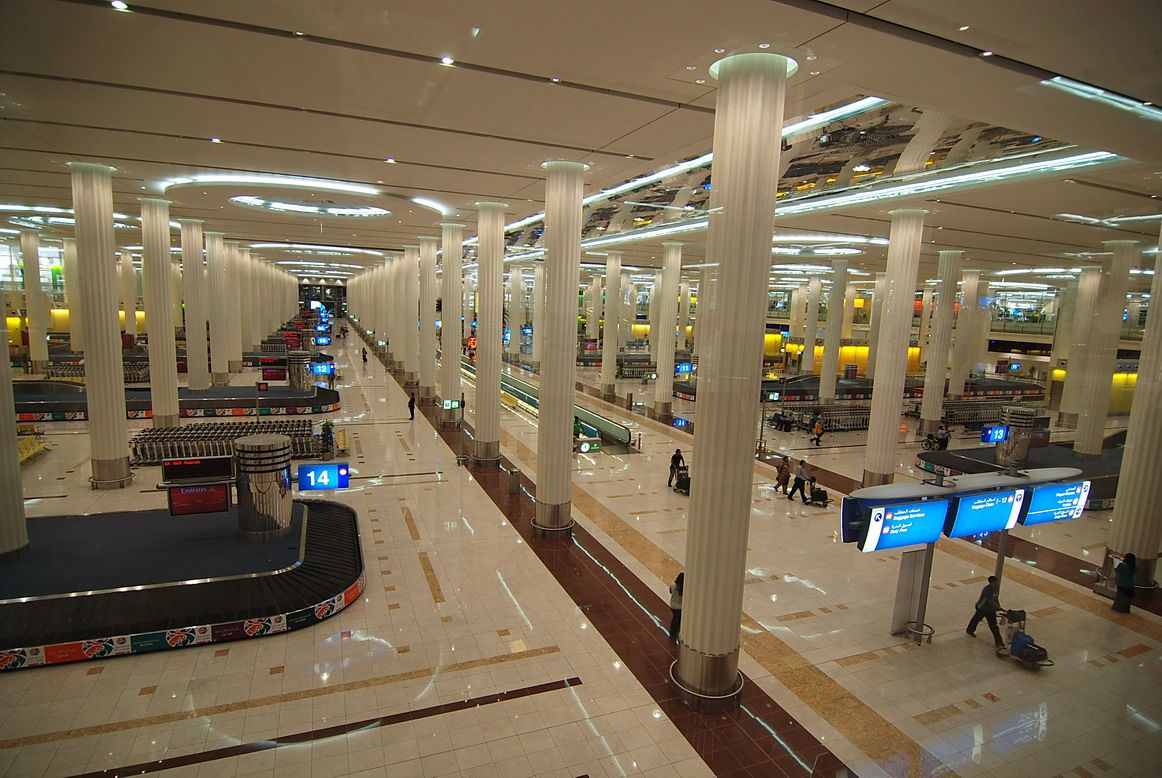 The only "viewing gallery" is one that overlooks the baggage reclaim. Huge expanses of glass allow greeters a rare glimpse into the cavernous baggage hall that passengers pass through coming into Dubai. Roman columns, shiny tiles, reflective glass and resembling the gambling lobby of a Las Vegas hotel, this is like no baggage reclaim I'd ever seen.
Some airports are super sensitive about what we can or cannot do in an area that also houses customs and immigration officials, so I am very surprised to see this level of openness. For a fleeting moment I wonder if photography is even allowed here, but judging from the lack of policing and signs, I don't suppose it's an issue.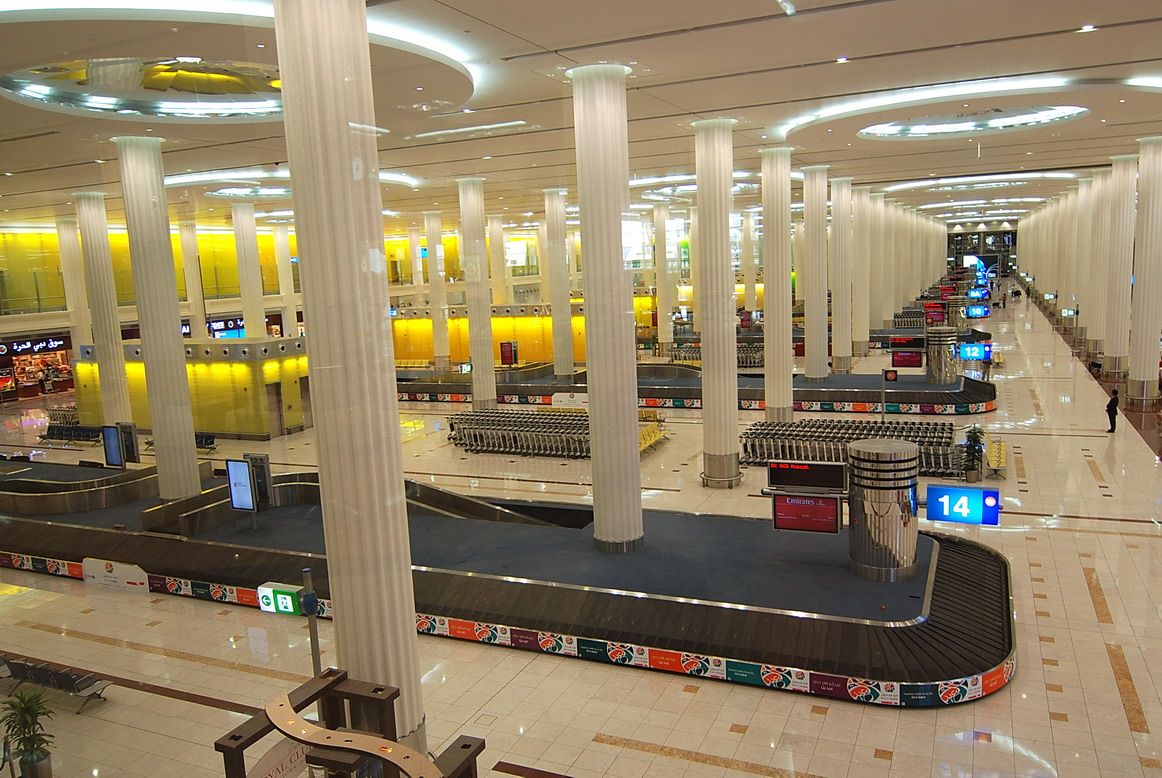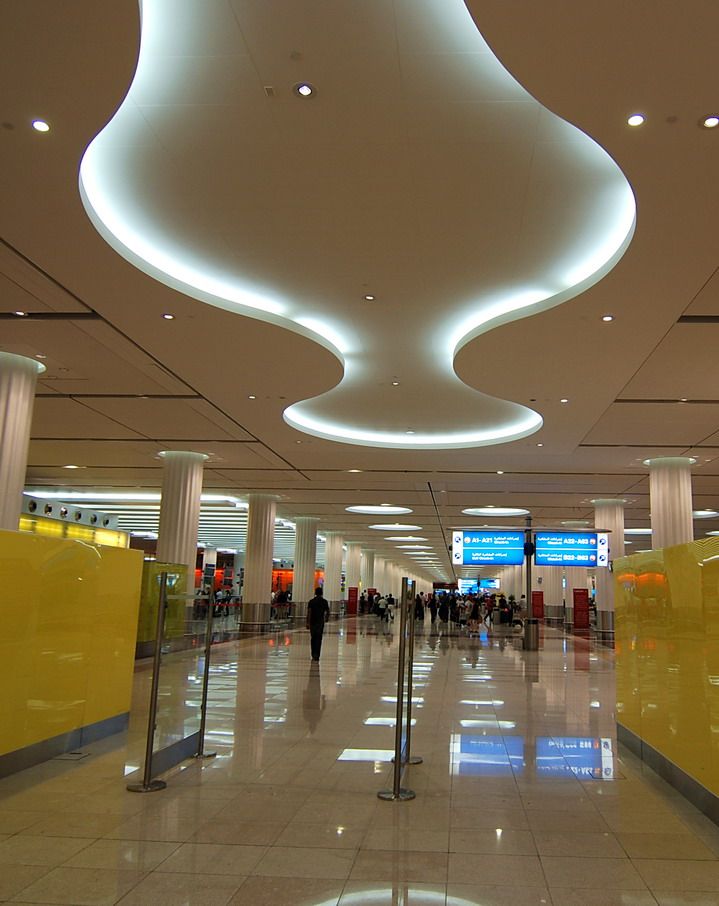 The main departures area is equally spacious, though granted midday is a non-peak time for EK flights leaving DXB. There are wide aisles stretching so far down one can't see the other end, along which are located row upon row of check-in desks – and all handling flights for only one mega global carrier.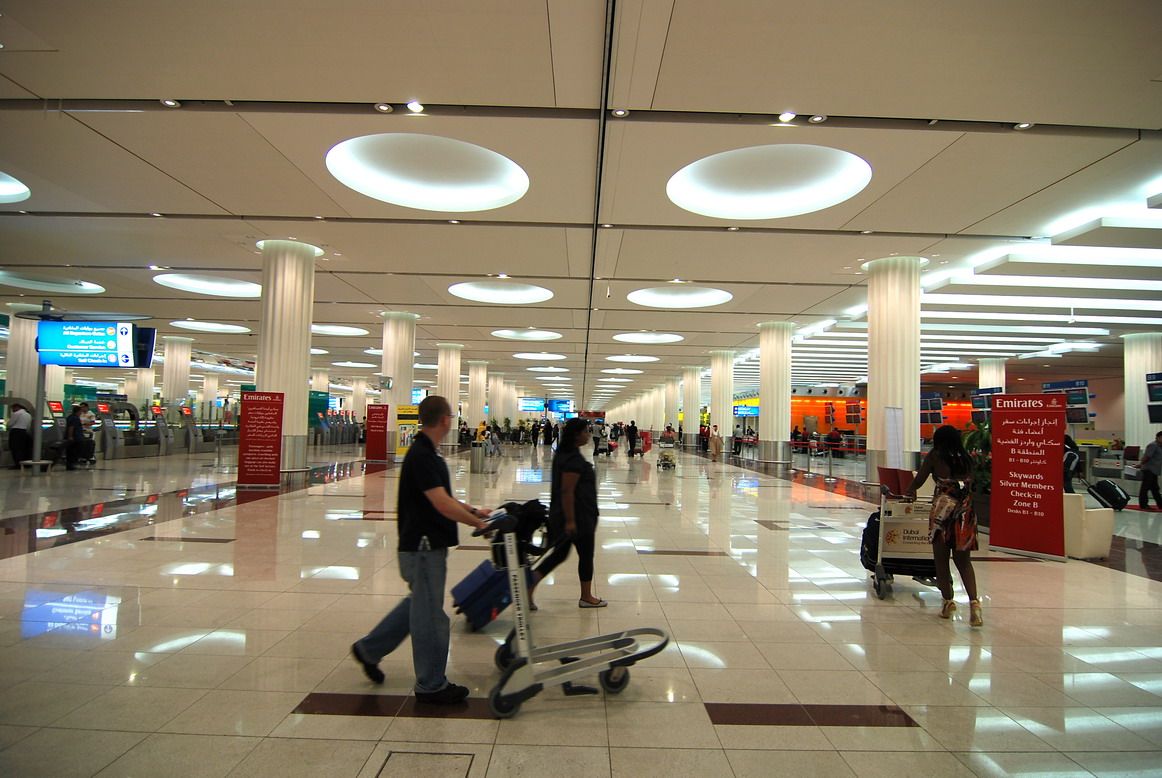 Moving "deeper" into the terminal, as one must as a departing passenger, the vast distances even justify moving walkways. Here is the belly of the terminal, far from the main doors and with no natural light while, I imagine, wide-bodies taxi just above. Just like at arrivals, the departure screens show the prolific explosion of routes out of this airport. But EK code-shares are a rarity – the only one shown here is with PR to Manila.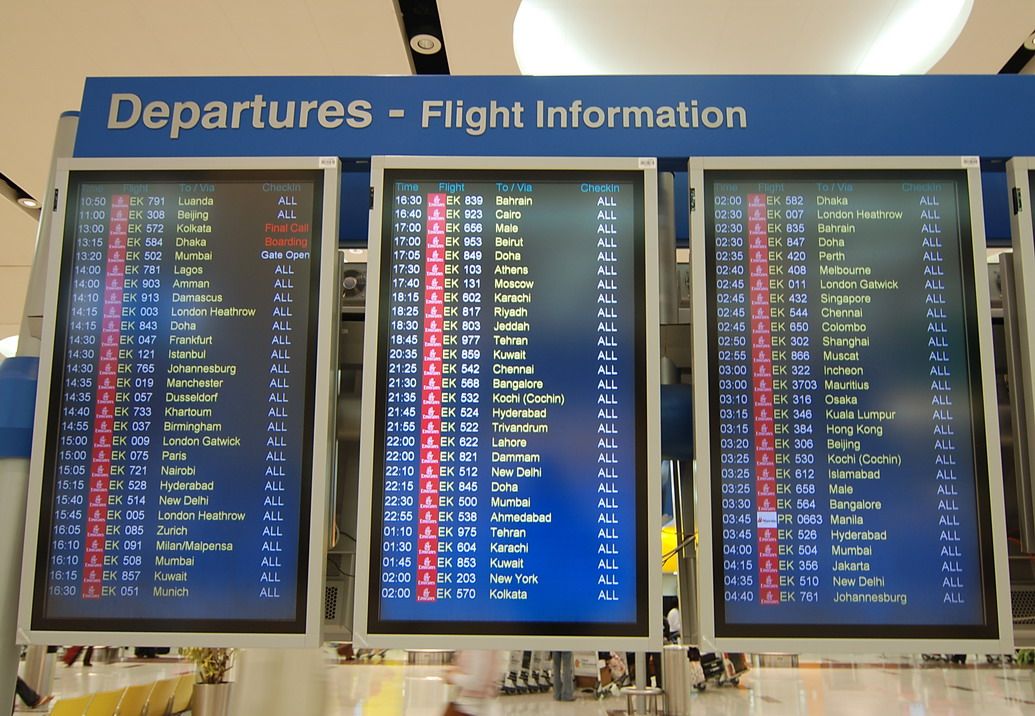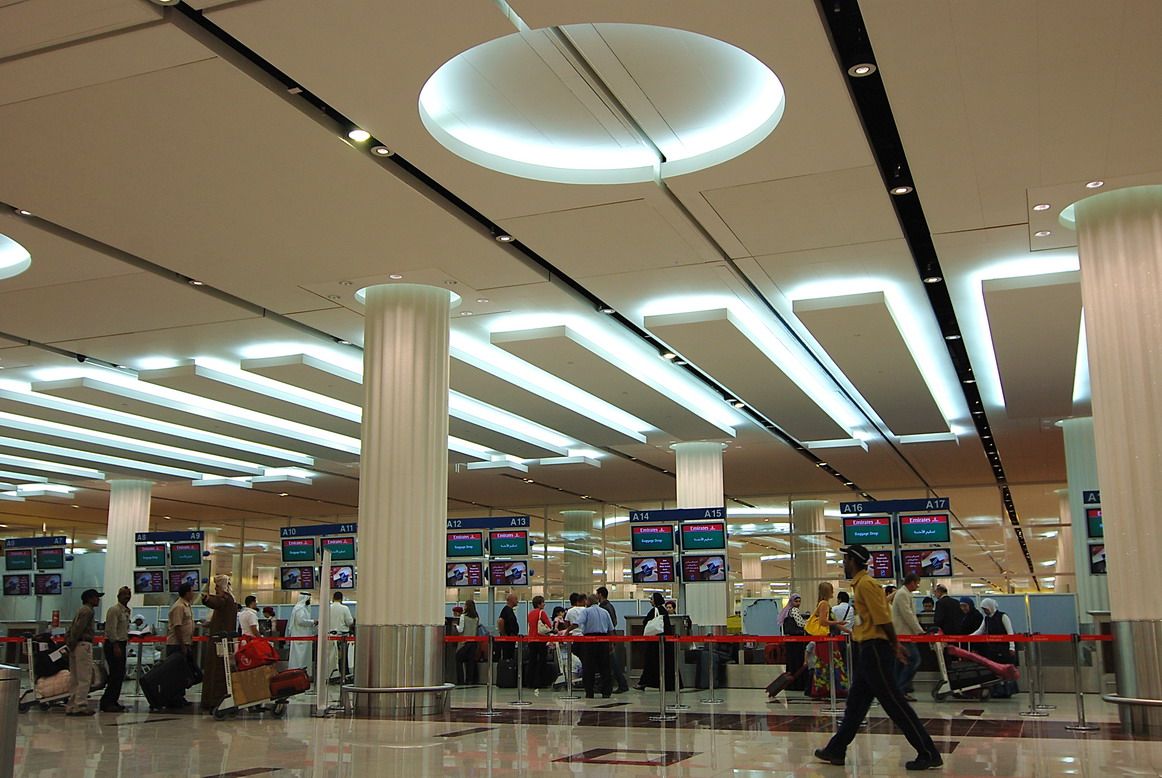 Above are the regular check-in desks, with manageable queues this afternoon. The Middle East strikes me as a place where people-to-people relationships are paramount, so what EK is trying to do at the check-in desks is nothing short of revolutionary. There is more prolific use of technology at this end of the travel experience than I would imagine: all around this vast complex are signs encouraging the use of the self check-in machines.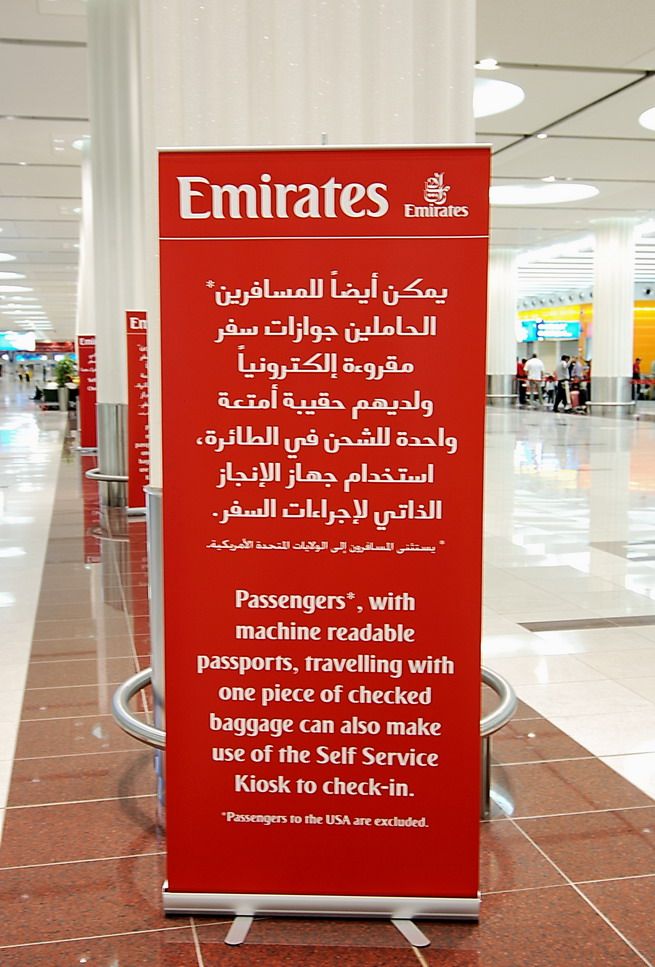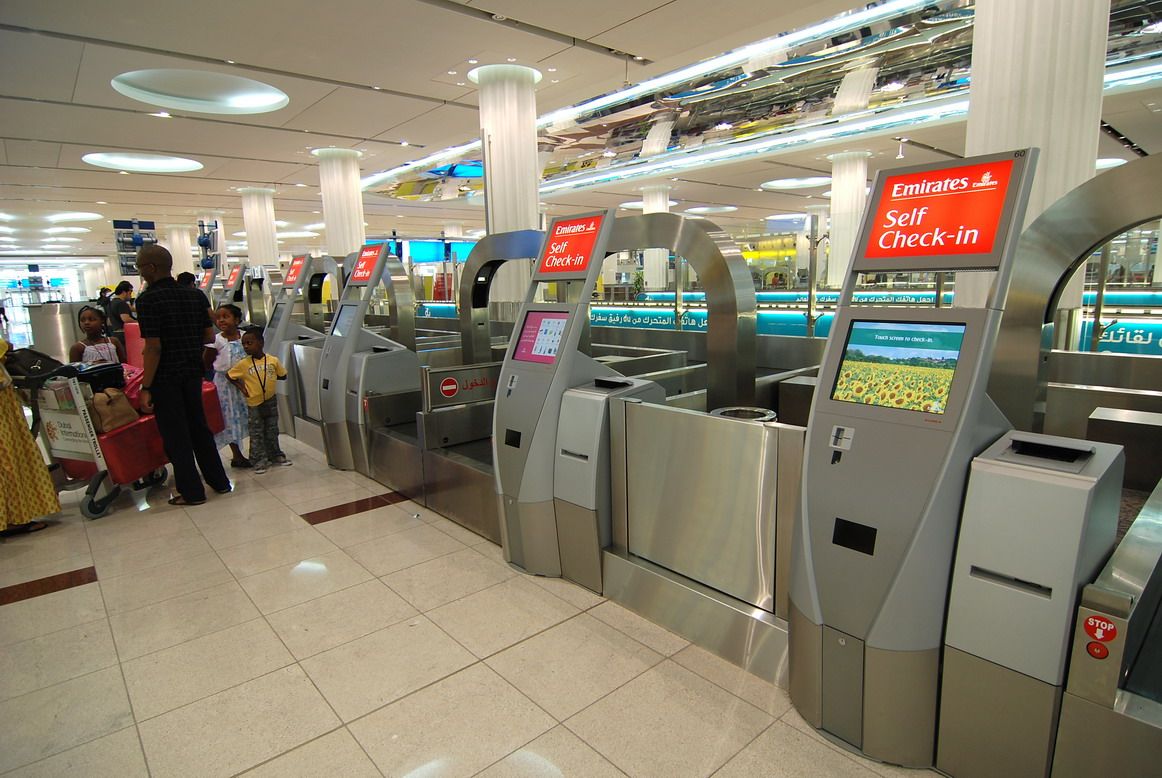 And it's definitely not a half-hearted attempt either. The self check-in counters seem to outnumber the manned counters. EK staffers are around to help passengers with the technology but they are surely being courted to try it out. And it does look like it's catching on.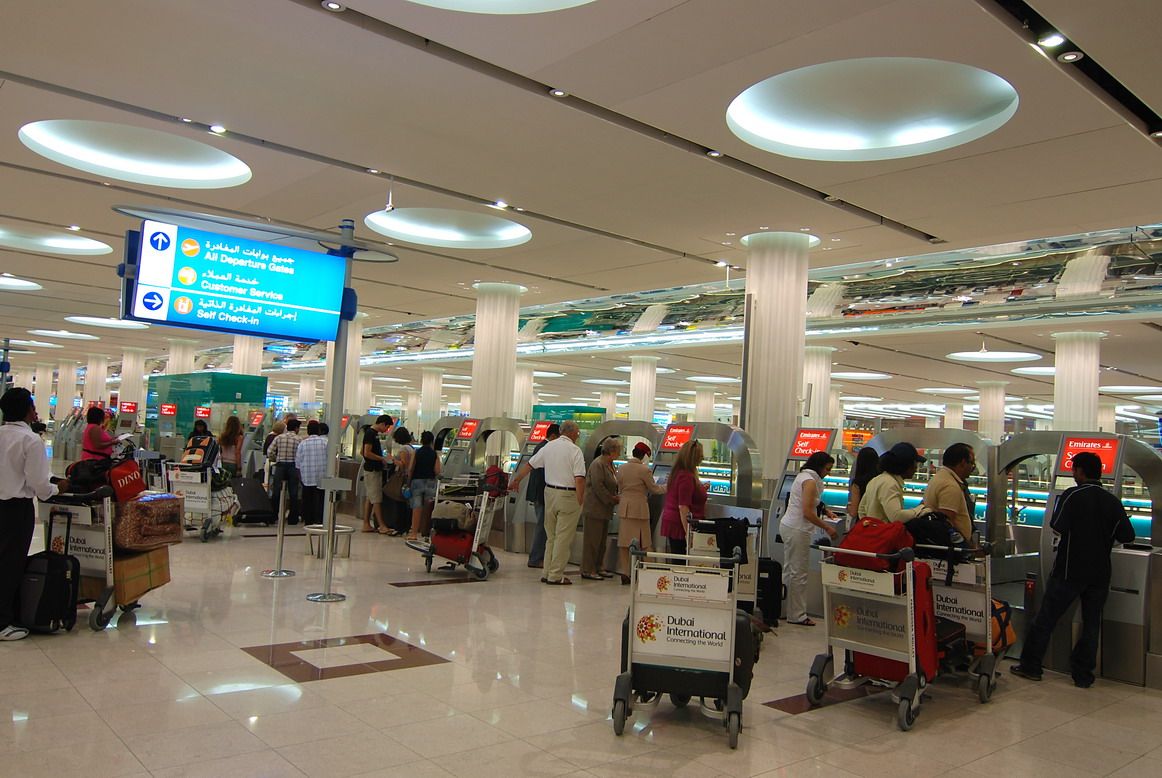 With that, the Dubai excursion via metro comes to an end. Hope you enjoyed the short detour. And I'm back where I start, at my hotel – the rather nice 321-room Dusit Dubai, where service is top notch and the architecture unique. I sleep quite well here too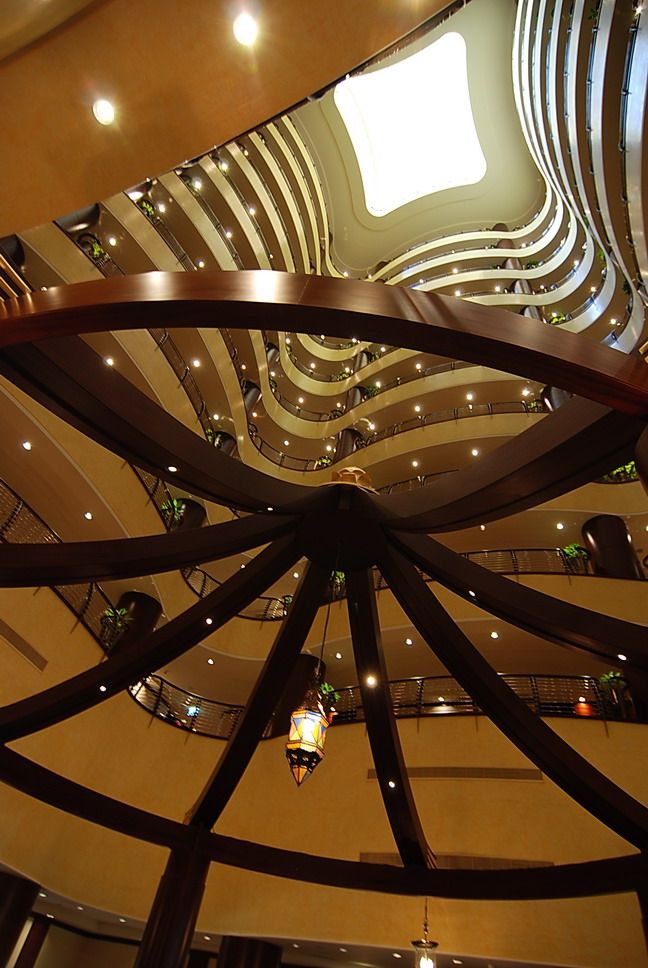 heading back
"Good morning Sir!" A car is at my hotel entrance at 6.10 a.m., three and a half hours before scheduled flight departure. I am headed back to Bangkok today. The airline had called up the evening before to reconfirm the time for the complimentary service and true enough, a "limousine" – more akin to a glorified taxi service from EK's own ground fleet – is there waiting for me. DXB is one of the closest-to-city major airports – nay, it's actually
in
the city – so I get there in no time at all. I am dropped off at the entrance to the First & Business Class check-in, a self-contained channel that runs parallel with the main departures area you've already seen.
Apart from shorter queues, the huge "premium" area looks little different from the main hall, and here too, I see many self check-in desks being promoted. Still, I prefer some human interaction and get it today in the form of an efficient but rather surly agent who tags my bag without a word or a smile.
A couple of moving walkways later and past dedicated immigration counters, I get into one of a set of interesting lifts that bring me back above ground to the departures concourse proper.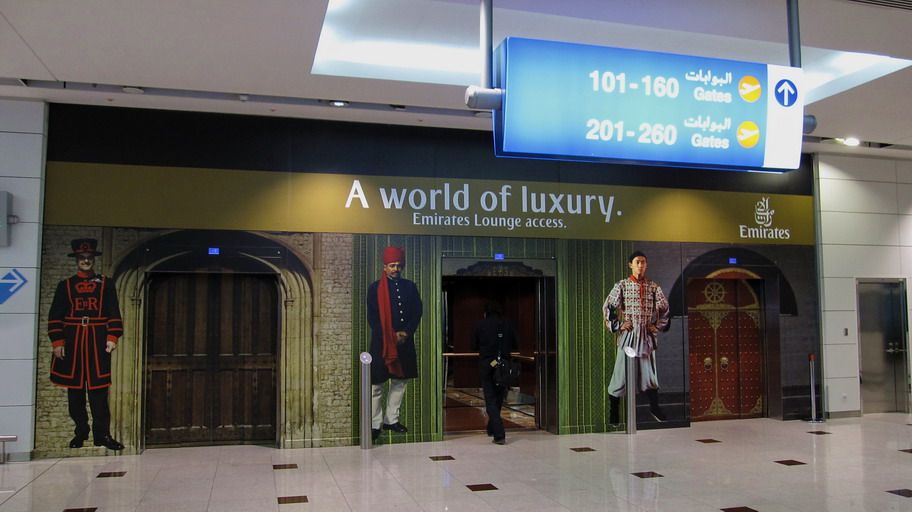 The lift deposits me here, not in "A World of Luxury" but smack bang into the middle of a busy shopping mall during the Sales: I can't think of a place I would like to be less. There are just crowds of bleary-eyed people everywhere browsing aimlessly ahead of their next long flight – and a good opportunity for the airport operator to make a quick dirham from the unsuspecting Mancunian couple headed for Perth to visit their grandson, or the souvenir-hunting Chinese engineer en route home from an oil field in the Sudan. But not, I am quite certain, from the Malaysian plane nut travelling on the A380 to Bangkok.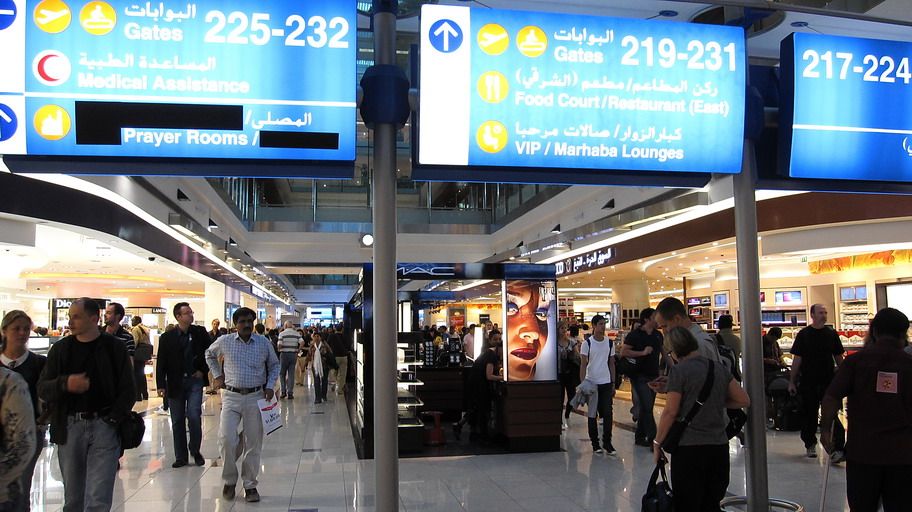 I am not always a fan of airline premium lounges but today, I am glad to be heading upstairs and into the more exclusive enclave of Emirates' Business Class Lounge. Not that it feels all that more exclusive, mind you. There are even queues getting into the main lounge area, and the crowds make the reception area look more like economy check-in than main premium lounge of a home carrier.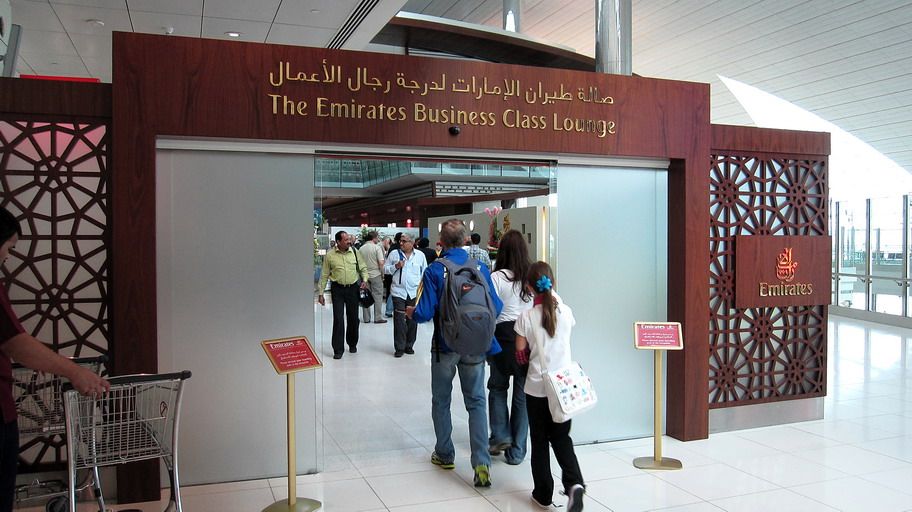 Still, I am "processed" quickly enough and let into the lounge proper. A long, long room: that's the best way to describe this space that stretches along the upper level of almost half the length of the massive concourse. With the size of the crowds at reception, I am not surprised I can't find a place to sit at the living room-style accommodations near the front. These may be different passengers from those downstairs, but everyone here appears to be equally jet-lagged and bleary-eyed while some are sprawled out snoring on the leather sofas. Better I move on deeper.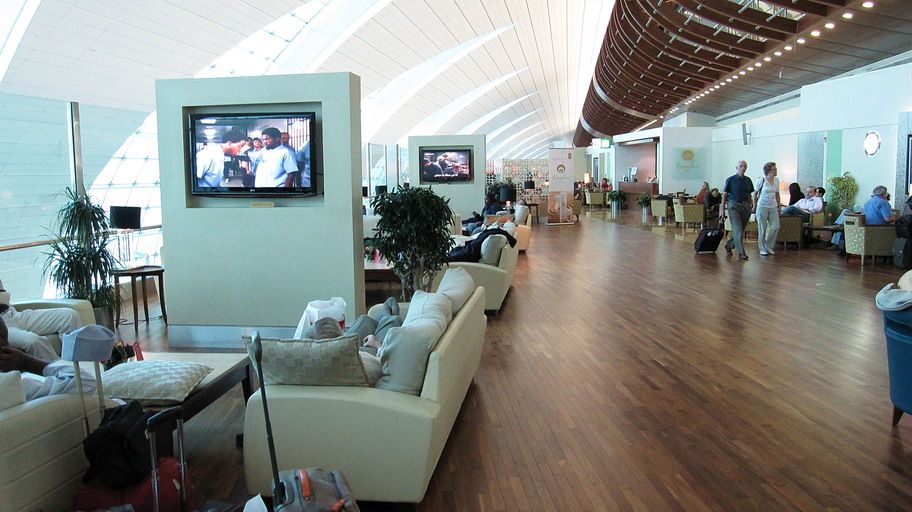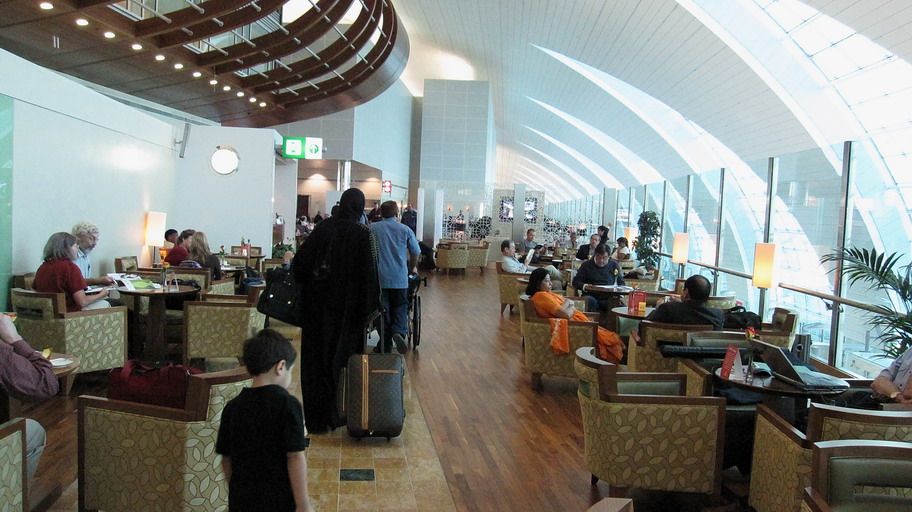 The next area I come across has chairs rather than leather sofas but this is full too, so I push on to the restaurant buffet section where breakfast is being served. The serving counters are long, self-service and hotel-like, dotted with the usual breads, cereals and juices as well as hot dishes like eggs
plus
Indian, Oriental and Middle Eastern choices. It is quite the impressive spread. The tables here are occupied too, so this nomad pushes on.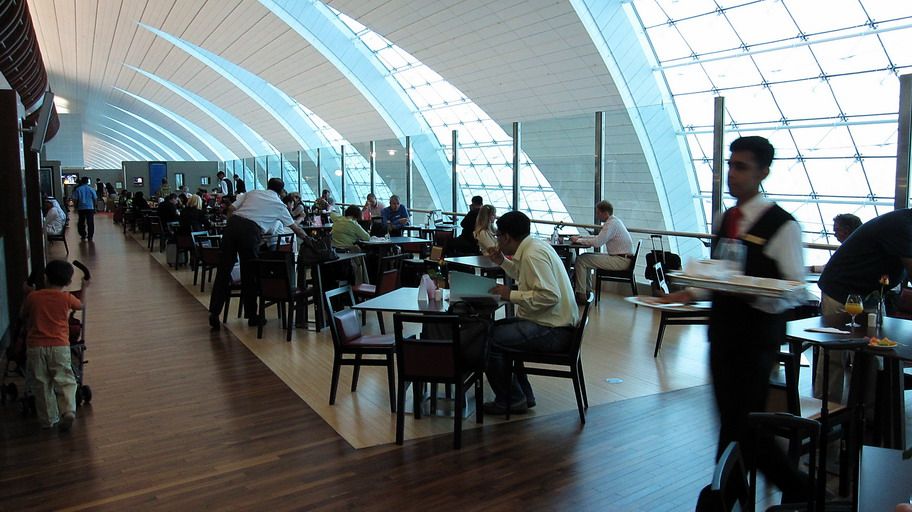 So how big is this place? I am almost certain this lounge (seats 1,500 according to an EK brochure) wins some kind of award for sheer size. But I doubt it will win any for ambience. By the time I get to this point (below), I had already passed two similar living room-style lounge areas, two buffet serving areas and accompanying restaurant catering to hundreds of people. Seating is opening up around here but I am now wandering out of curiosity rather than necessity and thinking: does this place have an end to it?
I have strayed far from the main entrance now. Finding a buffet counter just for kids (fancy that) with pop corn and hot dogs on offer before 7 a.m. is the clearest signal yet that I have come too far – or this place just too massive.
When I finally do decide to sit down, it is in one of the quieter – almost forgotten – seats along a corridor that overlooks the shopping mall in the level below. It is also here in what seems like a back alley of the lounge that other facilities like washrooms, showers, prayer rooms, business centers and children's play area are to be found.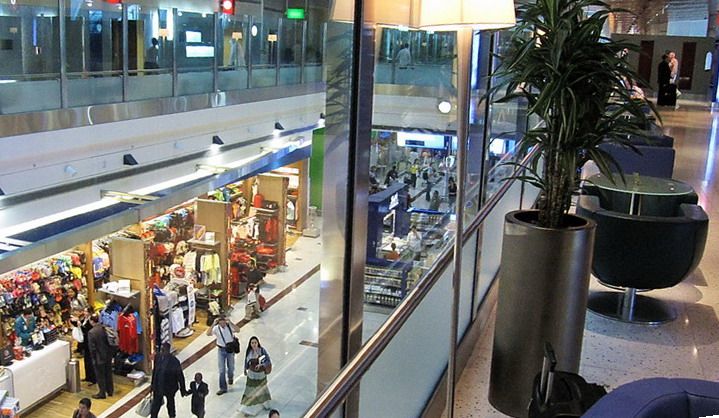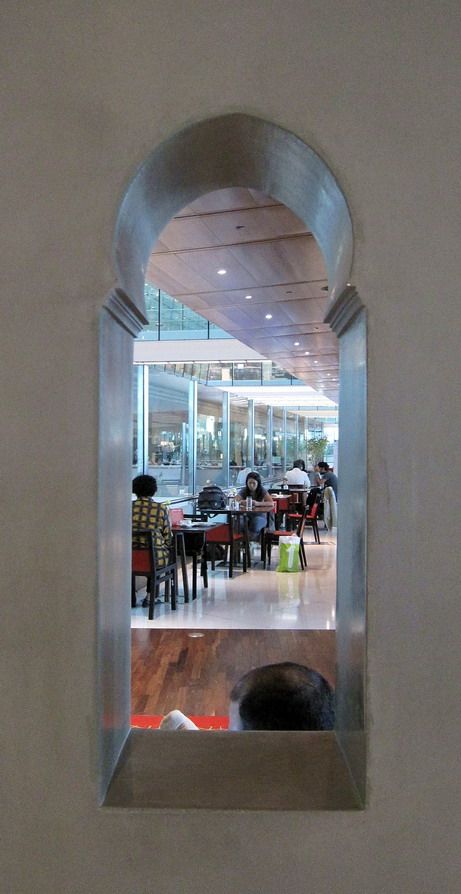 According to an EK brochure, the themes and styles change as you move through the lounge. Apparently, there are "fire", "water", "air" and "earth" themes but I really can't work out which is which. All I do know is that through an ornate window that looks completely out of place, there's yet another dining area that serves a decent Indian breakfast.
Wander long enough and you'll spot things you missed the first time around. Like the hi-tech entertainment area called the E-Zone, close to the entrance, equipped with an impressive Xbox 360 racing simulator, a number of gaming stations and Microsoft Surface computers.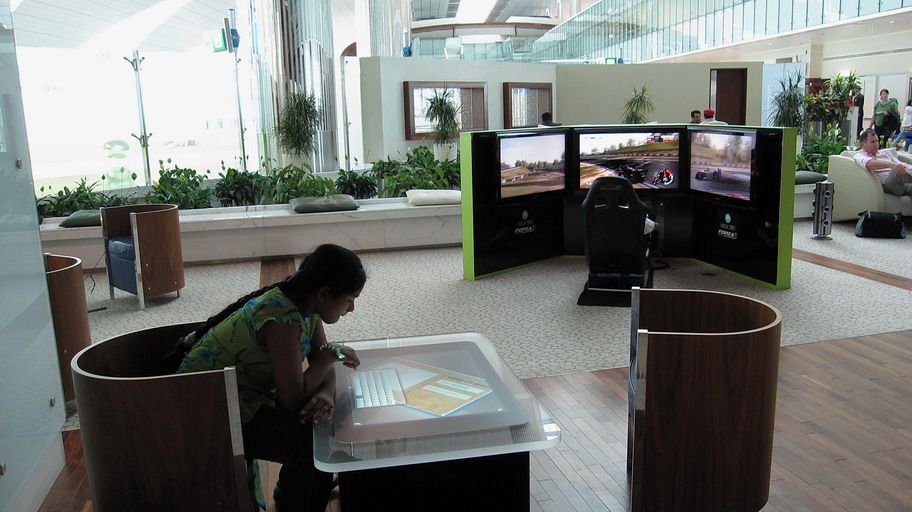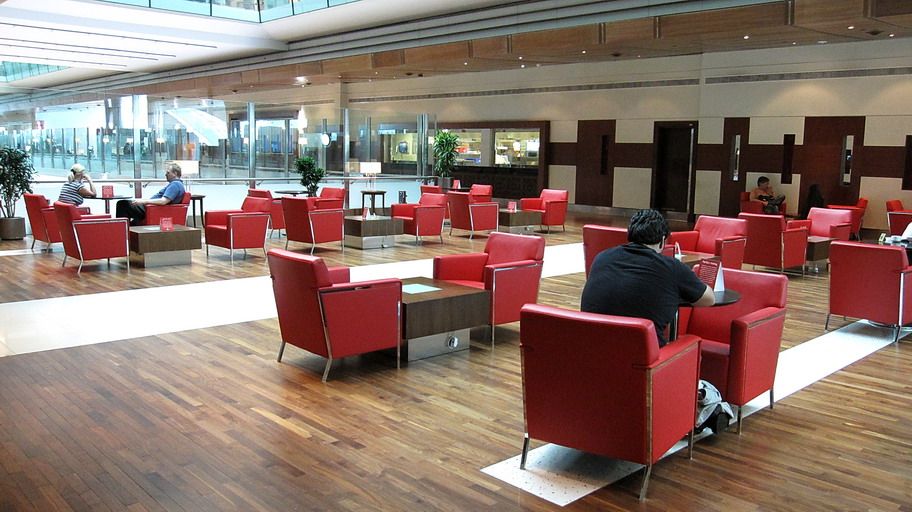 It must be said that most reviewers of this lounge don't sing praises. On the contrary: they (many of them frequent fliers) complain loudly – about how crowded it is, or how noisy it is, or how confusing the layout is, or how lousy the food is, and about how offensive their fellow J class passengers who sleep on the sofas are. Now, there's no doubt there are far more "exclusive" lounges elsewhere, but I (admittedly, not a frequent flier) prefer to see this place for what it represents. And I kinda like what I see.
The passenger mix, for instance, is the most diverse and cosmopolitan I have ever encountered. And the continuous stream of boarding calls for Tunis or Houston or Vienna or Wherever is not "noise" as much as evidence of this airline's vast and ever-growing network. This is also one of the least elitist J class lounges I have been to – reflecting the revolution in fares EK has brought to the world, not just in steerage but up front too. Without EK, how many here would have had to go BA or SQ or AI or AF or JL? It's not an exaggeration to say that every major (and not so major) airline is on the losing end of a competitive tug-of-war with Emirates. Little surprise then the venom spat out at this gulf carrier: a game changer is never liked.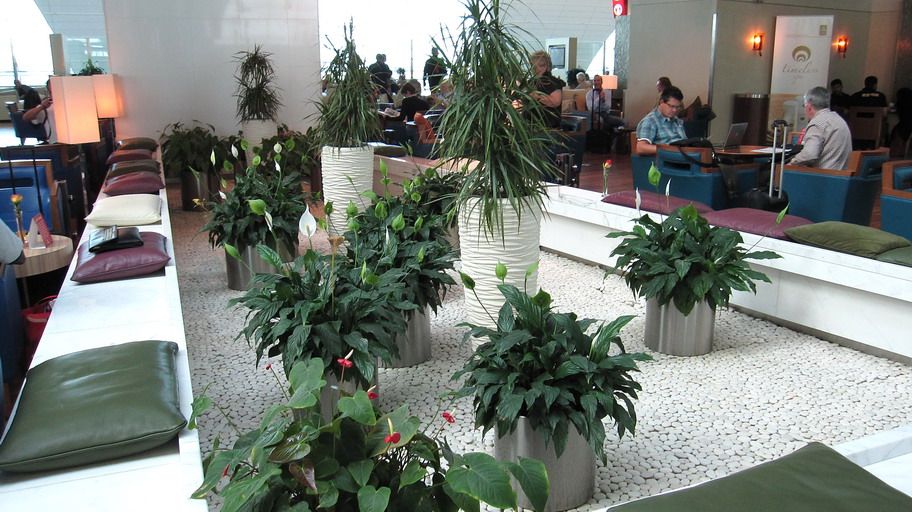 It is 8.15 a.m. – about an hour and a half before scheduled departure – that EK372 to Bangkok is shown as boarding on the screens. Although I know it's probably too early for boarding the premium cabins, I decide to leave the lounge for a wander round. Across the main Business lounge entrance is an almost identical, but quieter, one for First. The lounge can seat 800 pax according to EK and, with the place almost identical in size to the J lounge, it must be a lot more spacious in there.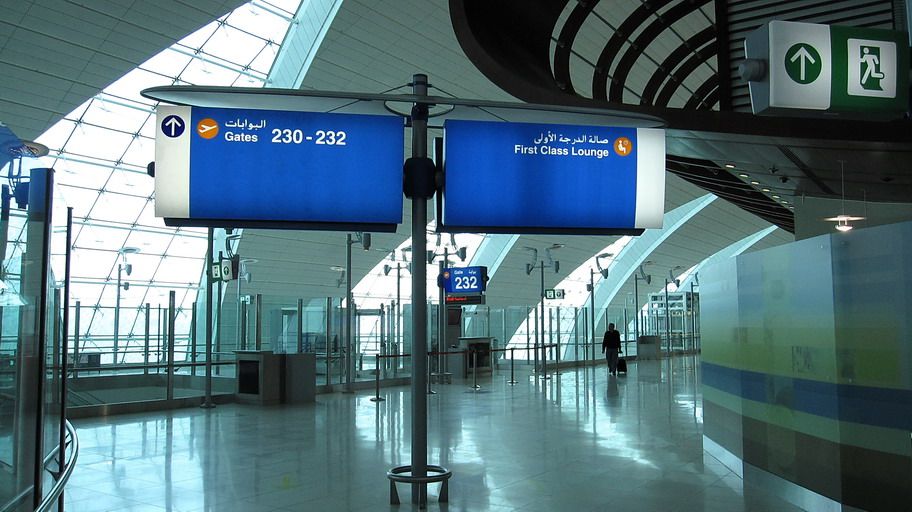 The main boarding gates are down one level from here. But like in a parallel universe, this level of the terminal where the premium lounges are located also has departure gates and boarding access – but only for F & J passengers departing from the five A380-ready stands. Unlike downstairs, this place is pretty deserted. I see my Bangkok-bound A380 being readied outside but the view is mostly obscured by the shield to minimize the glare of a strong Arabian sun.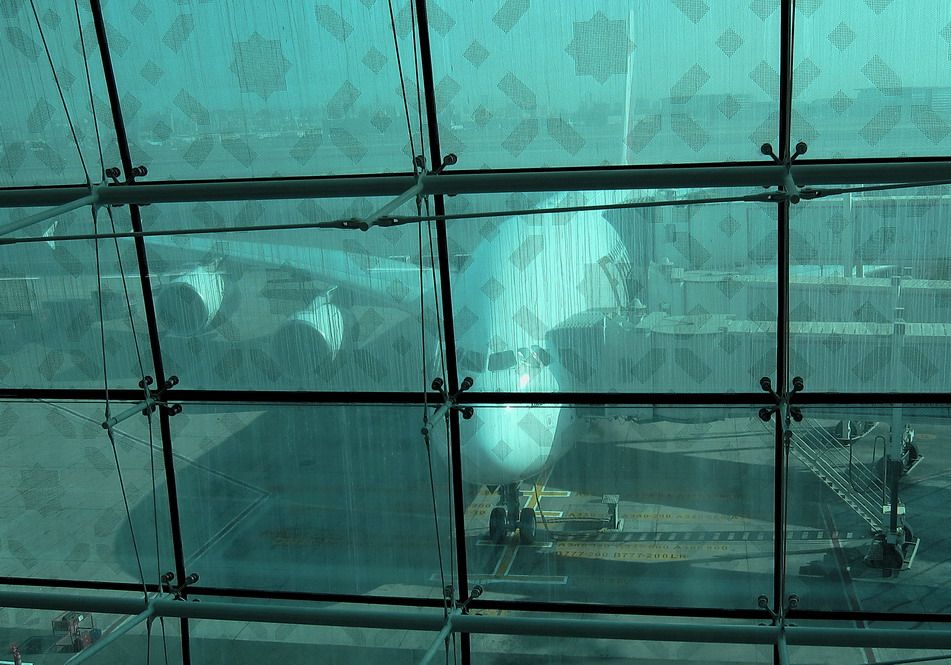 The notice at gate 231 says the flight's boarding, but there aren't any other passengers. The gate agent who has just turned up tells me to come back at about 9 a.m. when they start boarding Business Class. Right next door at 232 is another whalejet departing for Sydney and Auckland as EK412, also leaving soon, but the gate area is similarly devoid of passengers. I guess they're still all in the lounges.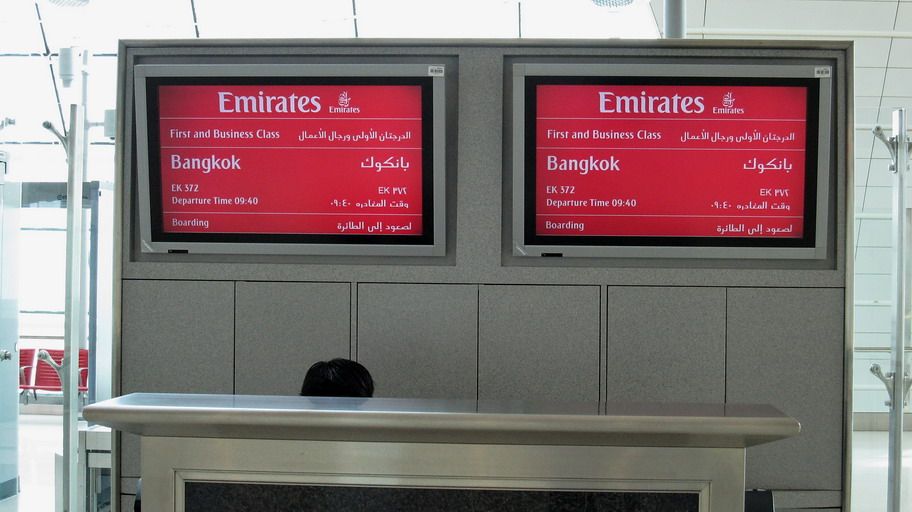 I do my usual walkabout. The picture below is taken from the upper premium level and overlooks the main departures area of this 26-gate Concourse 2. (Concourse 3 – that will eventually handle 18 A380s simultaneously! – is under construction and slated for a 2011 opening.) The lifts you see on the right link this concourse with the multi-basement floors that house the immigration, customs, baggage reclaim and check-in zones.
This is part of gate 231 and some of my Bangkok-bound fellow passengers as seen from the lower level. It seems as if boarding hasn't begun for some of the economy passengers either. The empty upper level is the F & J boarding gate you saw above.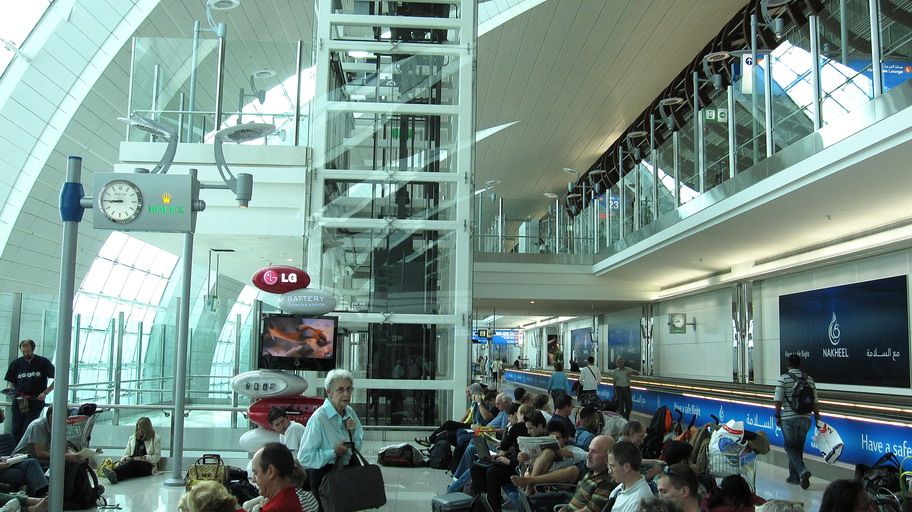 I slowly amble back upstairs. Shortly before 9 a.m., I am let into the boarding area which consists of seats for about a dozen passengers. With the A380 J class capacity for 76 passengers and 14 in F, seating is clearly inadequate, but I guess EK don't intend to have their premium pax waiting around here for long.
In any case, I am one of only two passengers today. Can the loads be so light? I wonder. My fellow traveler is a nice chap, British businessman between flights, who has flown the A380 "oh, many times." I tell a white lie to sheepishly explain away my photo taking and obvious childish excitement: it's my first A380 flight, I say.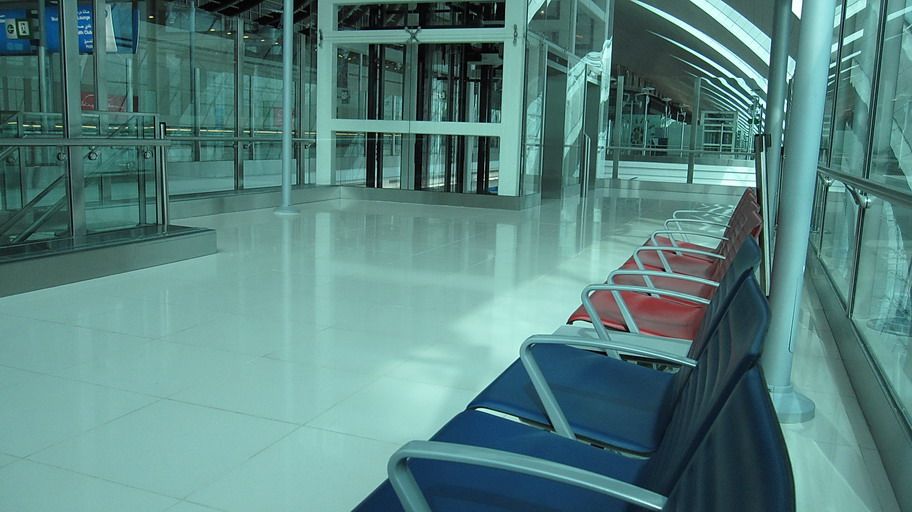 A dedicated lift takes us down two levels to where an aerobridge connects to the upper deck of the plane. I see the plane that's carrying me to Bangkok (A6-EDD, Emirates' fourth whalejet delivered December 2008) clearly for the first time – actually, this is also the first time I am properly seeing an EK A380! And the novelty hasn't worn off yet 
Elder sister A6-EDB is operating the nonstop down to Sydney from next door.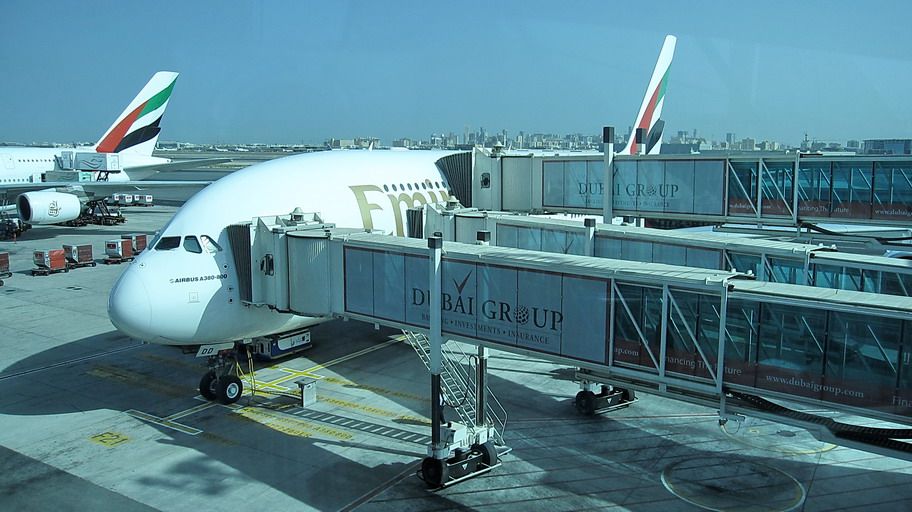 I wish there could have been clearer shots of the plane as I get closer. Anti-glare has today become the anti-spotter too. Still, it doesn't put a damper on my enthusiasm: I remain stuck at that phase of maturity where boarding an A380 continues to excite. Yes indeed, what a great beast!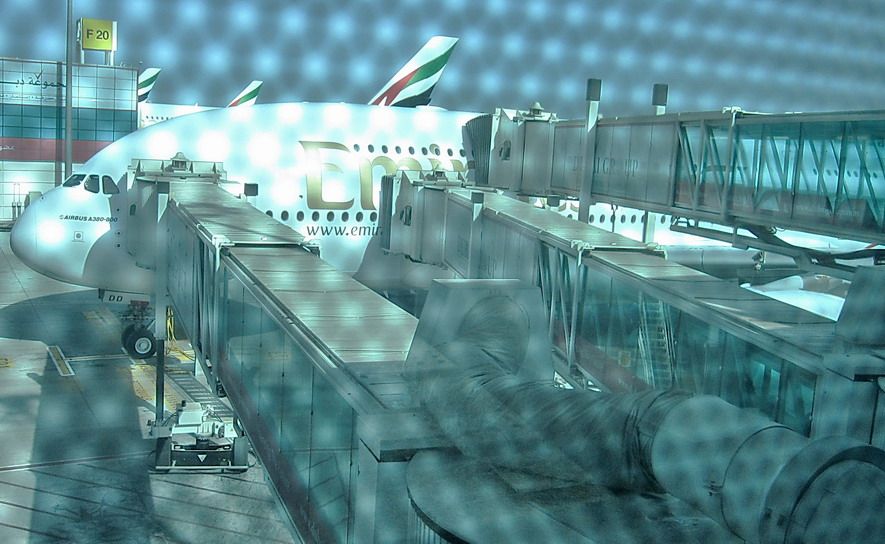 My fellow passenger has gone on ahead, and there are no others following us from behind, so I am pretty much left all alone savoring the moment – as if the only passenger today – walking leisurely towards the giant plane. You can't imagine how strange and wonderful that feels.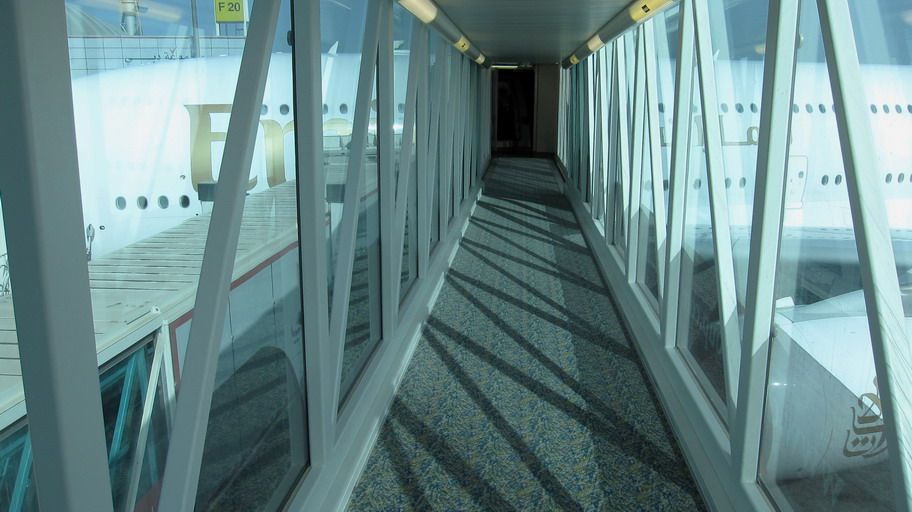 Dubai to Bangkok
Emirates Airline flight 372 in Business Class
Departs 10.18 am, Arrives 7.38 pm (same day, 38 minutes late)
A380-861 A6-EDD
Welcome aboard.
What, no Mr. Smarty pants?
Maybe I'd been half-expecting the type of greeting I got on the flight over, so when it didn't happen, this passenger is a tiny bit disappointed. Damn those expectations. It must be said that the cabin crew on this flight are courteous enough, but the instant warmth dispensed by the mainly American and European crews on the BKK-DXB flight is clearly missing here. Today's bunch, primarily Asian stewardesses in J, look guarded and distant. So much for stereotypes, eh?  
Still, it is nice to be back in this gadget-filled cabin again. And also to see it in natural light for a change; not some strange moody hue. As one of the first to board, I and my camera have full reign of the area without others clogging up the aisles. This, you may recall, is the large mid-section of the upper deck housing most of the Business Class seats – it's about 40 minutes before scheduled departure and the cabin crew awaits more passengers.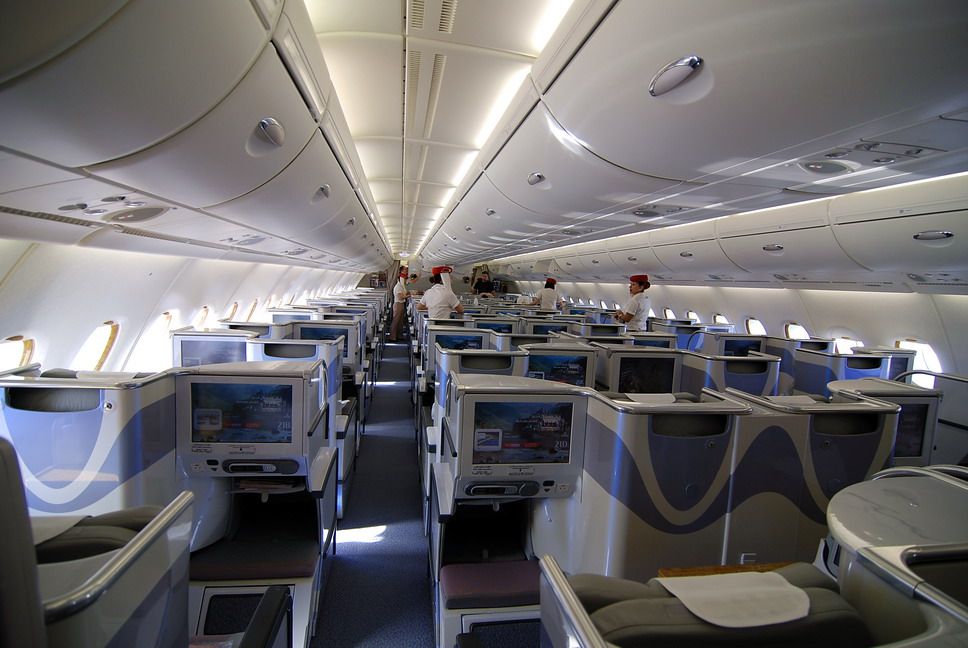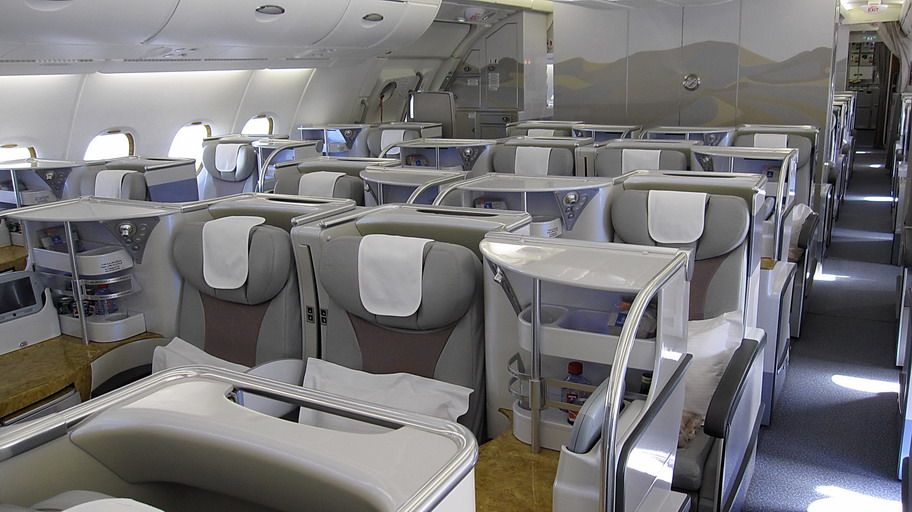 I know all these seats are starting to look the same to you now. But just for the record, the photo above shows the last few rows of the main first J cabin, while the one below is of the smaller second cabin back aft. This is also where I choose to sit today.
My seat 23A is the front window of the second cabin – a "bulkhead" seat of sorts – but in this configuration it isn't really that different from all the other window seats on this plane. The access to the seat may be a tad bit wider than the rest, but only just. A magazine rack is located just ahead.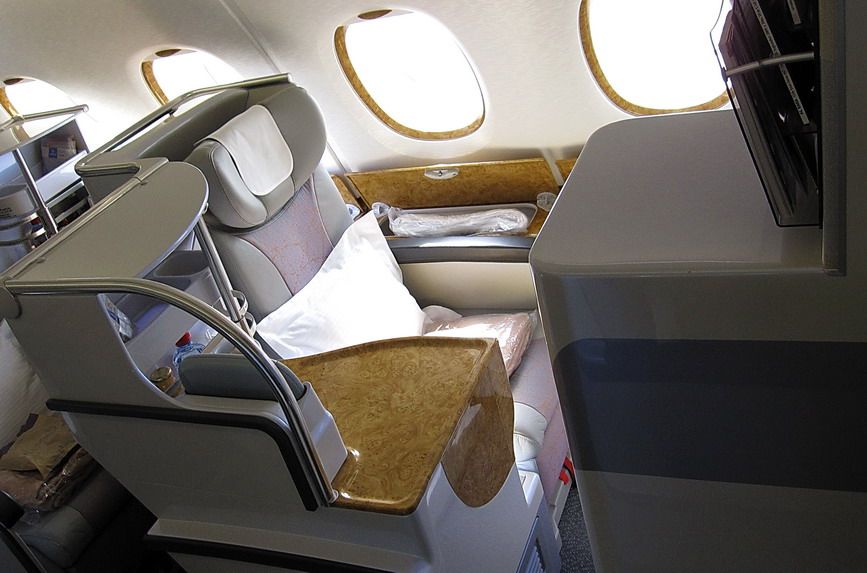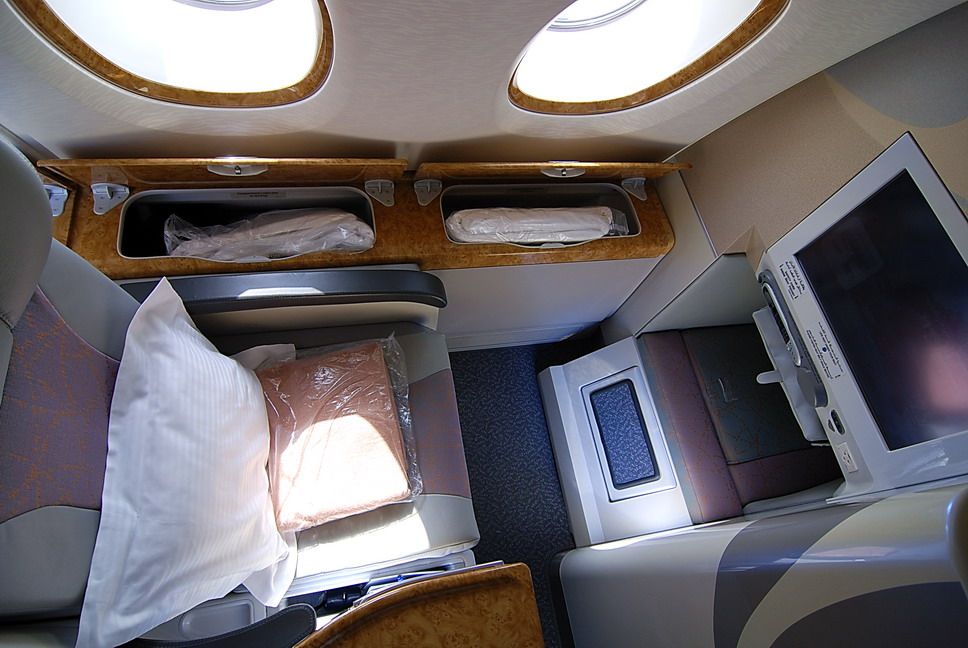 Here are more shots of my seat showing the legroom and surrounding amenities. No more explanations are necessary I think, except to say that it's convivial and private without feeling claustrophobic – easily my favorite configuration in J.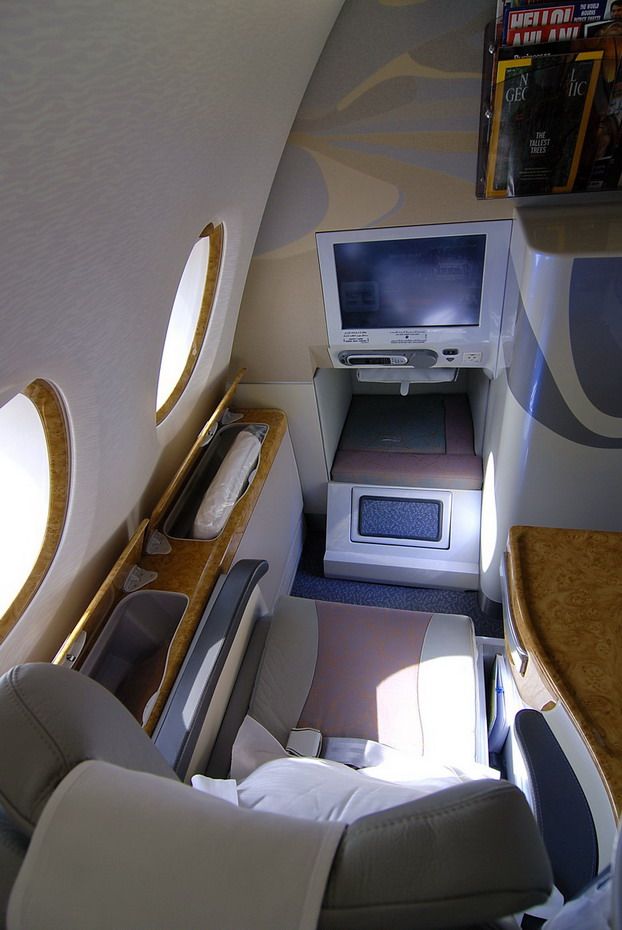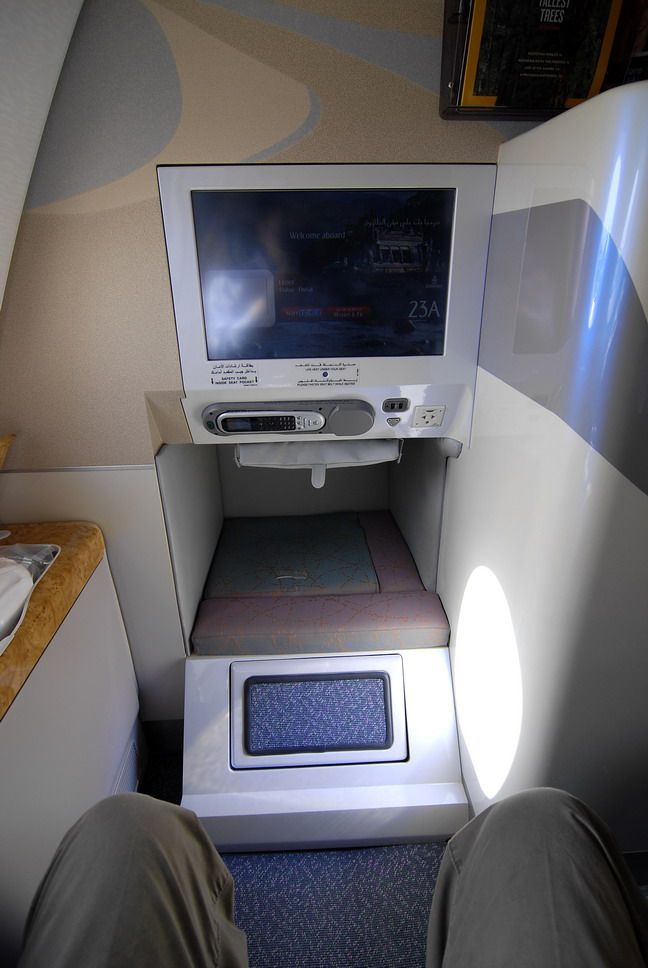 What's a trip report without some knee-exposure? As you can see, there's still plenty of space. Invisible in this photo is the shoe storage compartment located underneath the leg rest cushion. The seat is semi-leather and comfortable, but the wireless touch-screen seat controller (below left) appears to be inoperable and controls nothing today. Luckily there's more than one way to access ICE.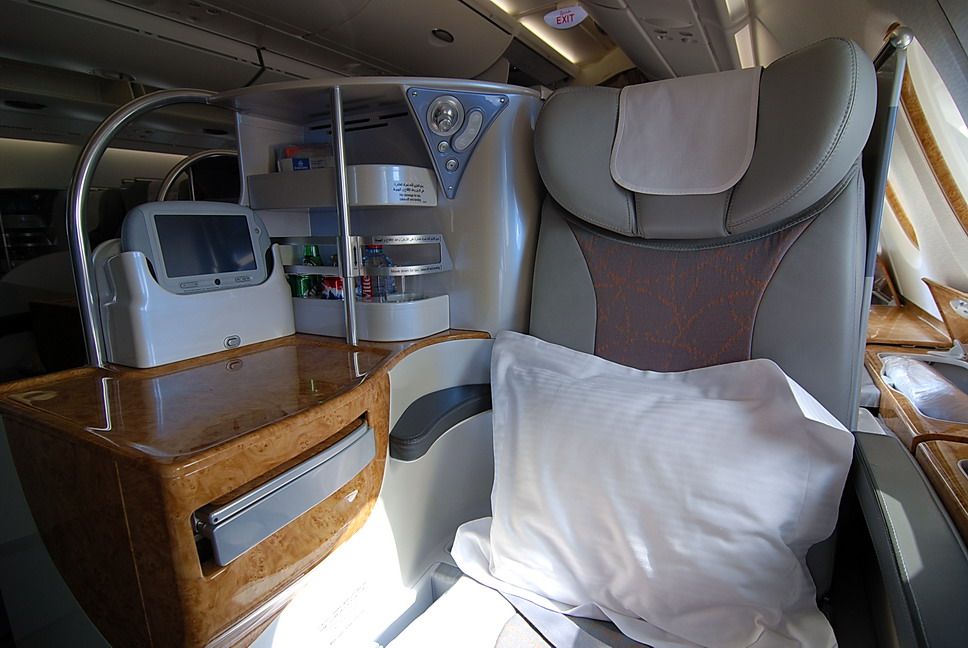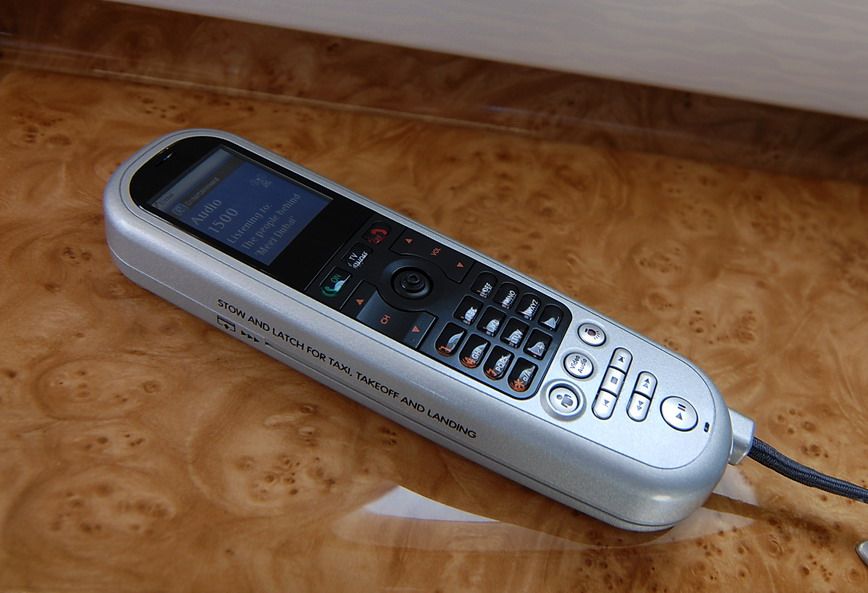 Continues Below
[Edited 2009-12-20 06:25:50 by airpearl]