Introduction
Always interested in trying out new plane types and carriers, I had been eyeing the rather rare Dornier 328 for quite some time now. This is a very interesting plane in many senses - I think it is the only commercial airliner that can be powered by either turboprops (D38) or jet engines (FRJ). Luckily this plane in both variants (although mostly the jet-powered one) is a frequent visitor to my very home airport of HEL - SunAir of Denmark (a BA franchise - the planes are in full BA livery and carry BA flight numbers) flies an almost daily Billund rotation. Fares on this niche route have usually been rather high, so when I found a decent one-way fare of about 125 EUR I started looking if I could build some sort of itinerary around that flight.
A second strike of luck: my favorite airline airBaltic also serves BLL with three weekly flights, and the schedules are rather perfect for catching the SunAir flight down to BLL and still getting back to HEL via RIX the very same night. So I put together a nice itinerary HEL-BLL-RIX-HEL for a Thursday evening a week before Christmas. It wasn't too cheap at around 250 EUR for all the flights, but I decided to call it a Christmas gift for myself to justify the expenses.
17.12.2009
I did OLCI on the BA website at the 24-hour mark, while I was a bit disappointed to read the plane type read "Dornier turboprop", I wasn't too concerned as equipment changes do happen and even the turboprop version would be a new one for me. Besides the seating plans for both versions are identical, so it could just be that they hadn't decided to load two different seat maps.
The next morning around 11.00 I'm at the office, return to my workstation from a meeting to first find an email about my flight being canceled in my inbox and a missed call from a Danish number in my mobile. Bummer - this doesn't look too good, I think, taking a quick look at the booking sites for any alternative itineraries to get me to BLL in time to catch at least the flight back (being separate tickets I had no chance of getting a refund of that one). I find a few acceptable ones, one of which would actually still get me a flight on SunAir via OSL, write down a few details and proceed to call back the Danish number. I'm connected to "BA Denmark" (which turns out to be SunAir), a nice enough agent recognizes me immediately and tells me that they've already rebooked me on AY and QI via CPH to BLL, getting there quite close to my original arrival time. The CPH flight will leave 40 minutes earlier than the BLL one would've. She asks me whether this is acceptable and I have no objections - looks like I'll have to try SunAir some other day. A few minutes later I get the eticket in my inbox and proceed to do OLCI for the AY flight - curiously this also checks me in and produces a boarding pass for the Cimber flight.
I have to leave the office a bit earlier than I planned, so around 13.25 I sneak out, catch a commuter train to my local station at Tikkurila and the airport bus from there, arriving to HEL T2 a bit under an hour later. It's the beginning of the afternoon rush hour and there are quite a few people around, in both the check-in and security queues. Luckily Finnair has just recently introduced a priority security lane for status card holders and business class passengers, and they are just opening it, and I end up the first person using it. Interestingly my AY Silver card is all that is needed, they're not interested at my boarding pass at all (officially one can only use it if traveling on an AY flight number) - I think I will try to sneak my way through here in the future as well
.
Airside I make a beeline to the upstairs Finnair Silver Wings lounge - much more packed than last time but luckily there are still some seats remaining. I ask the girl at the reception whether she knows the reason for the cancellation, but she doesn't - she does offer to make some calls to find out but I'm not that interested so I tell her it's okay. I grab some decent pasta and tuna salad, bread and beer and entertain myself by doing some errands using the free wifi connection.
KF MD-90 in Star Alliance livery: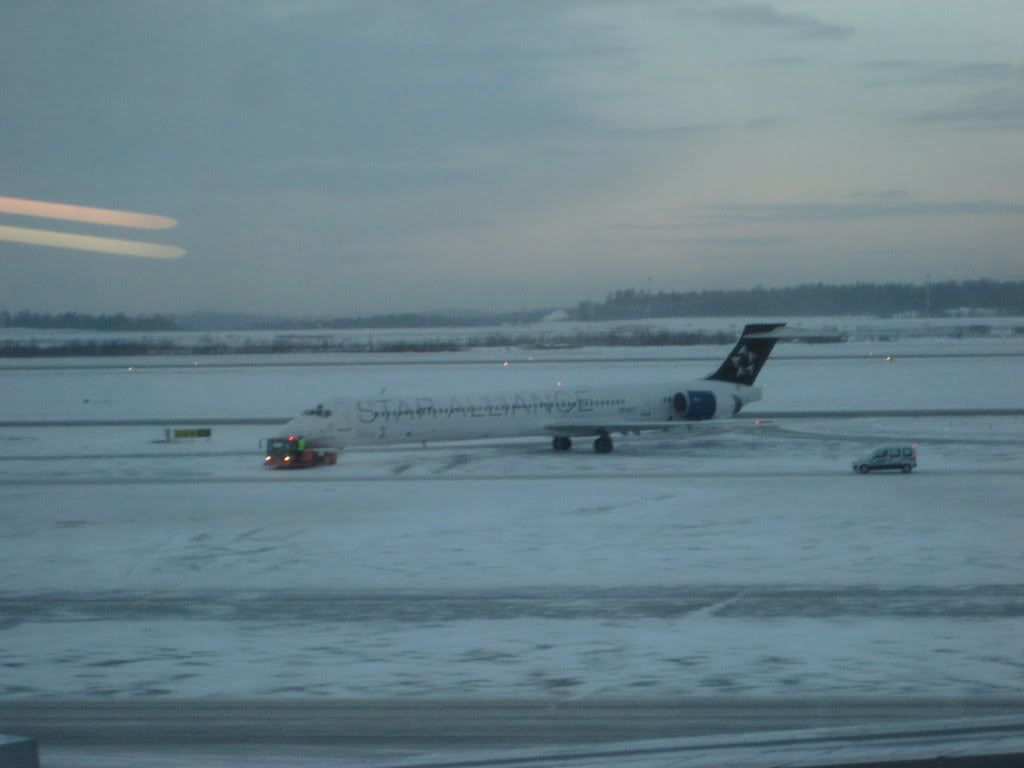 CityHopper ERJ-190: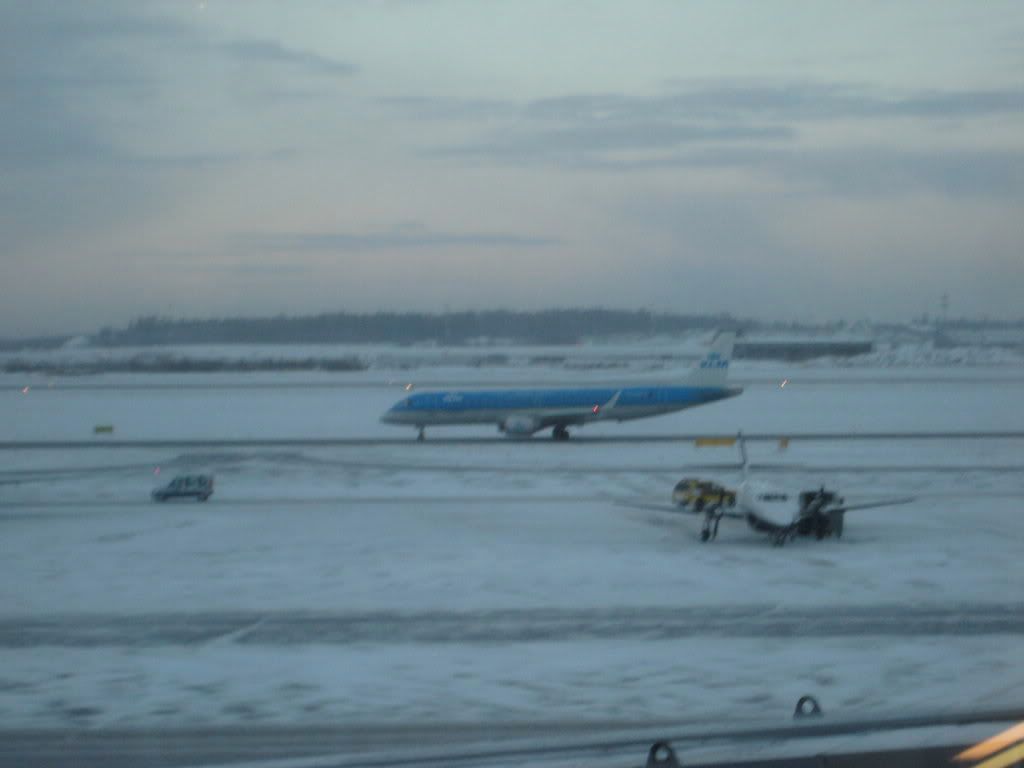 Boarding starts around 15.15 from the bus gate 20A. When I arrive there some five minutes later there are no people in the gate, and the agents tell me that they have just dispatched another bus for me. I feel a bit ashamed for having to do the "walk of shame" down the aisle by myself stared down by passengers already boarded, but luckily a Danish gentleman coming from a delayed AY flight from ICN joins me a few moments later at the downstairs holding pen. We start talking and joking, and soon a third Danish guy comes as well - no private bus for me.
Soon the bus pulls in, we board and start the long drive through the snowfall to a lone, snowy A319 parked in front of the AY maintenance hangars which turns out to be OH-LVD - this will become my fourth flight with this bird.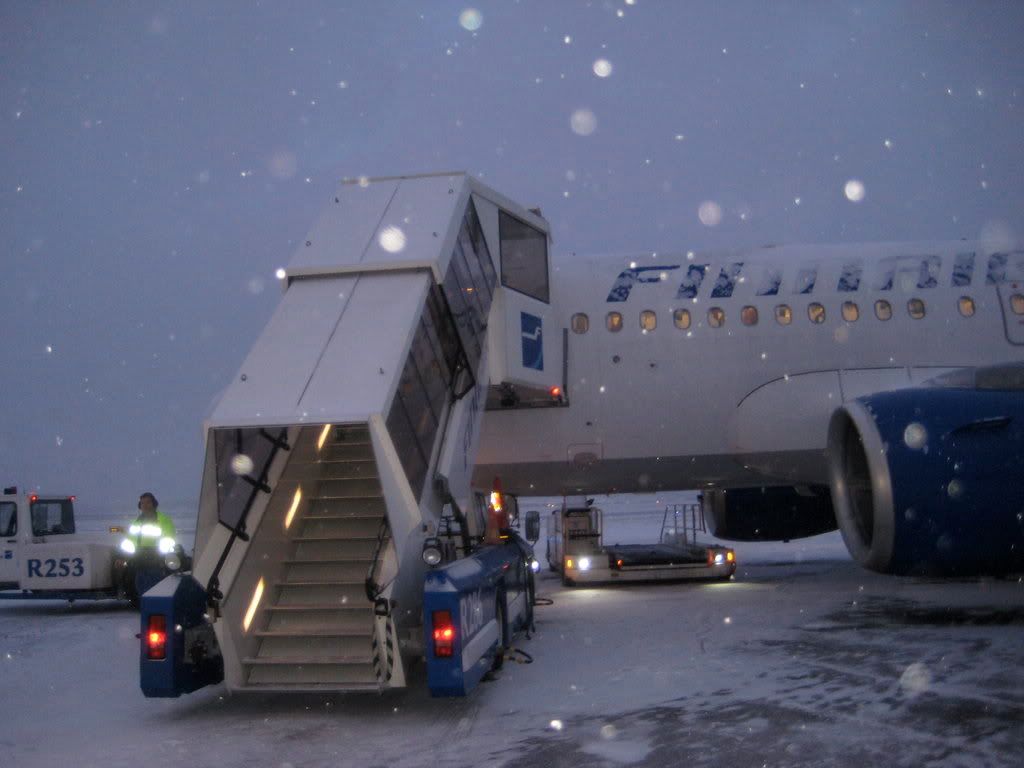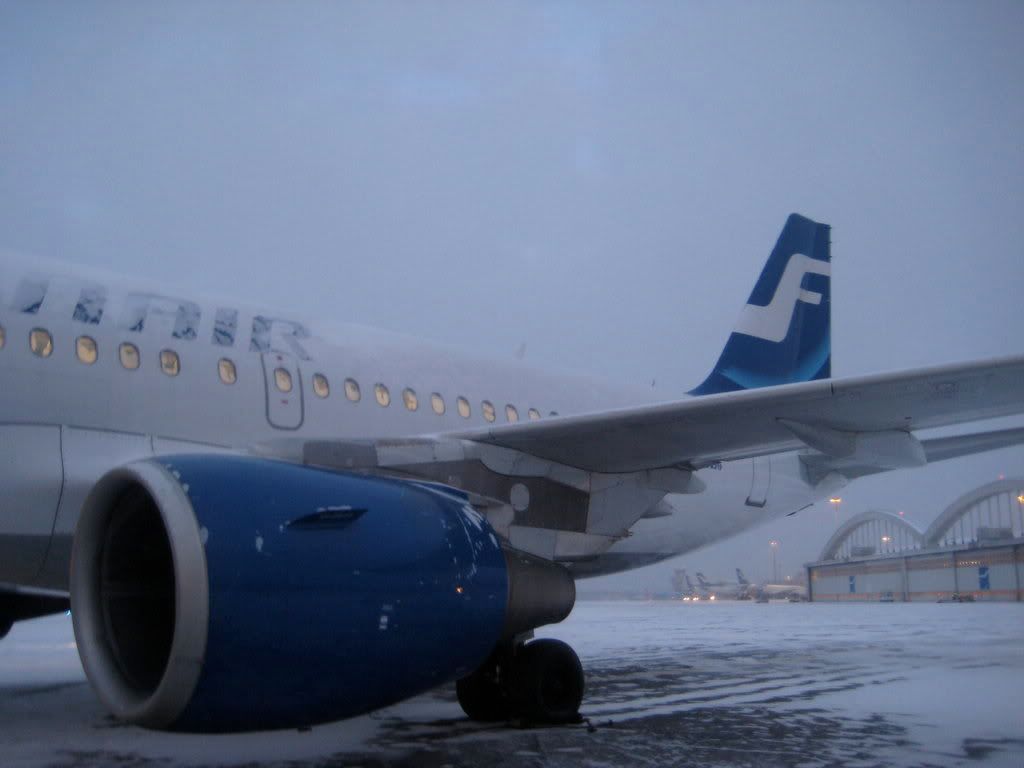 HEL-CPH
AY633
A319 OH-LVD
Seat 8A
15.42 - 16.23
Inside I notice the male purser wearing a red Christmas tie as opposed to the red scarves of the female crew members. I greet him and tell that the scarf would look much nicer on him, which causes the nearby female FA to crack a few jokes about it with a chuckle. I picked the best economy seat on the AY A319s - the front row of economy just after the curtain on the left hand side which is row 8 today. Due to the convertible business class seats this row always has only two seats in the business class configuration - somewhat wider and the middle seat can be used to store your stuff. I put my jacket up in the business class overhead bin, telling my Danish seat mate on the aisle seat "At least my jacket will travel in business class" but he doesn't seem to share the same (twisted) sense of humor as me. Oh well, his loss.
The Finnair A319s have the old thick cloth seats, which are easily the most comfortable economy ones in the whole fleet. Legroom is good as well.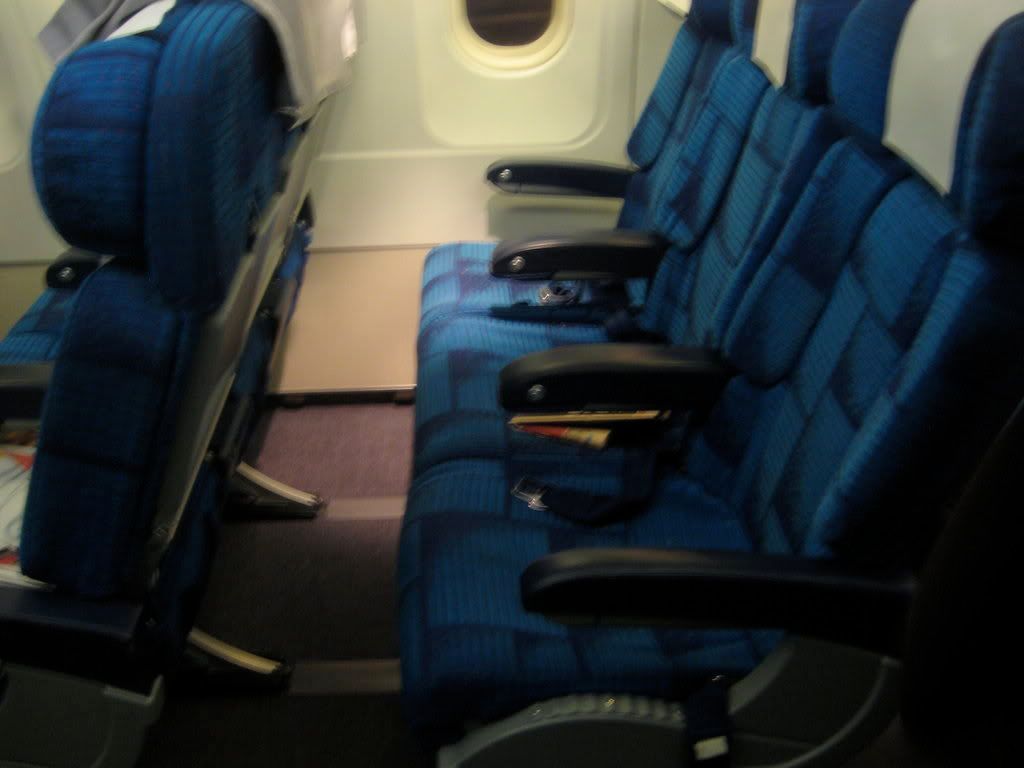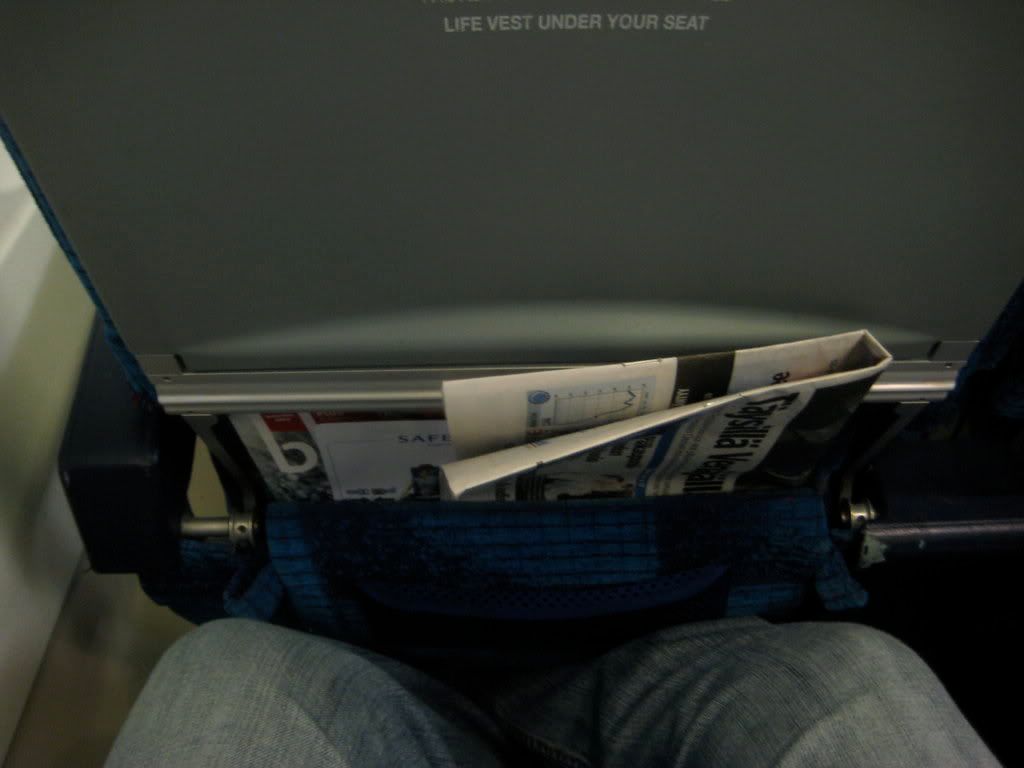 Load is around 50% in business, maybe 65% in the back. Five minutes after the scheduled departure time our captain comes on, welcoming us and advising of a small delay as our plane needs to be removed of snow and deiced. He explains that we need to taxi to the deicing area for the latter procedure, which will take at least 15 minutes. Right when he's repeating himself in English a deicing truck pulls in and a guy proceeds to remove the snow from on top of our wings with something that looks like an industrial caliber broom.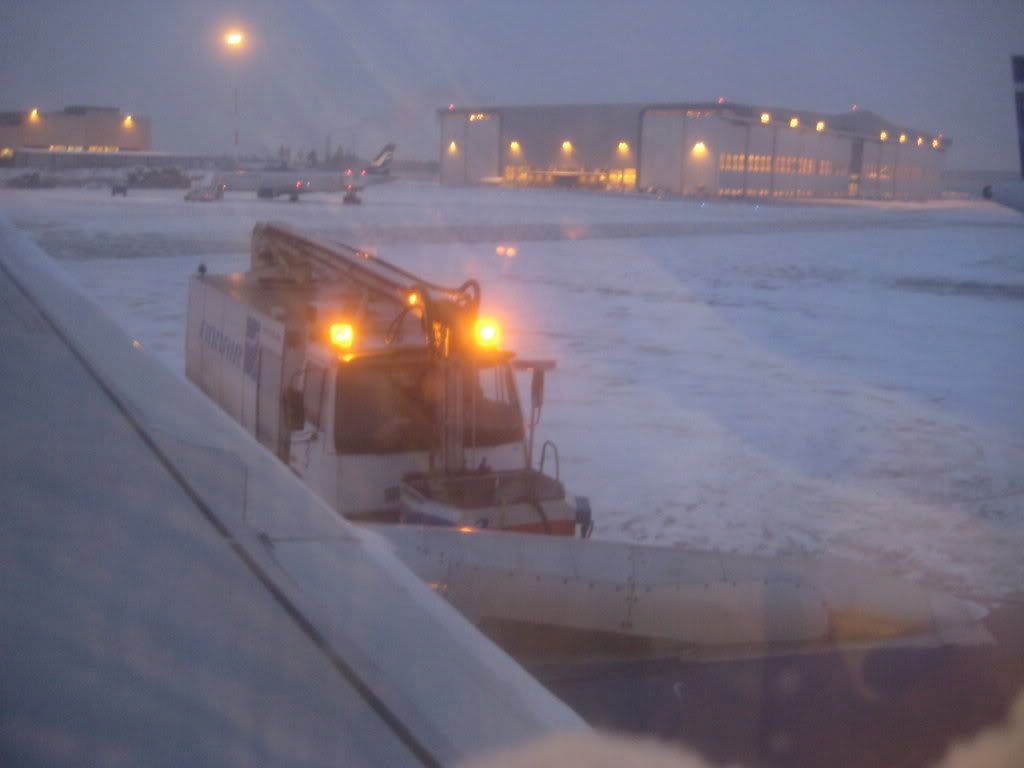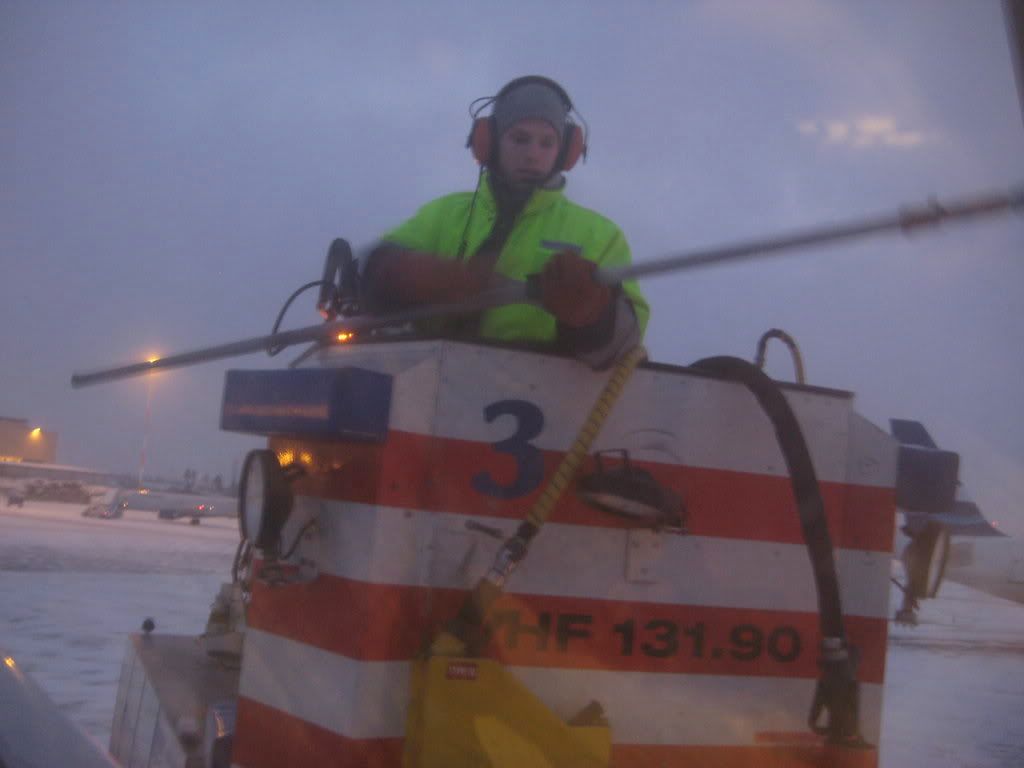 Barely five minutes later the captain is on again explaining that there's no need for deicing as we were just covered in loose snow and it has simply been brushed off. Flight time is announced as 1h25mins. Right away we start our engines, taxiing the short distance to runway 04R where we sit still for a while (maybe waiting for crossing traffic coming from 04L used for landings at the moment) until shooting to the skies.
From darkness to the light: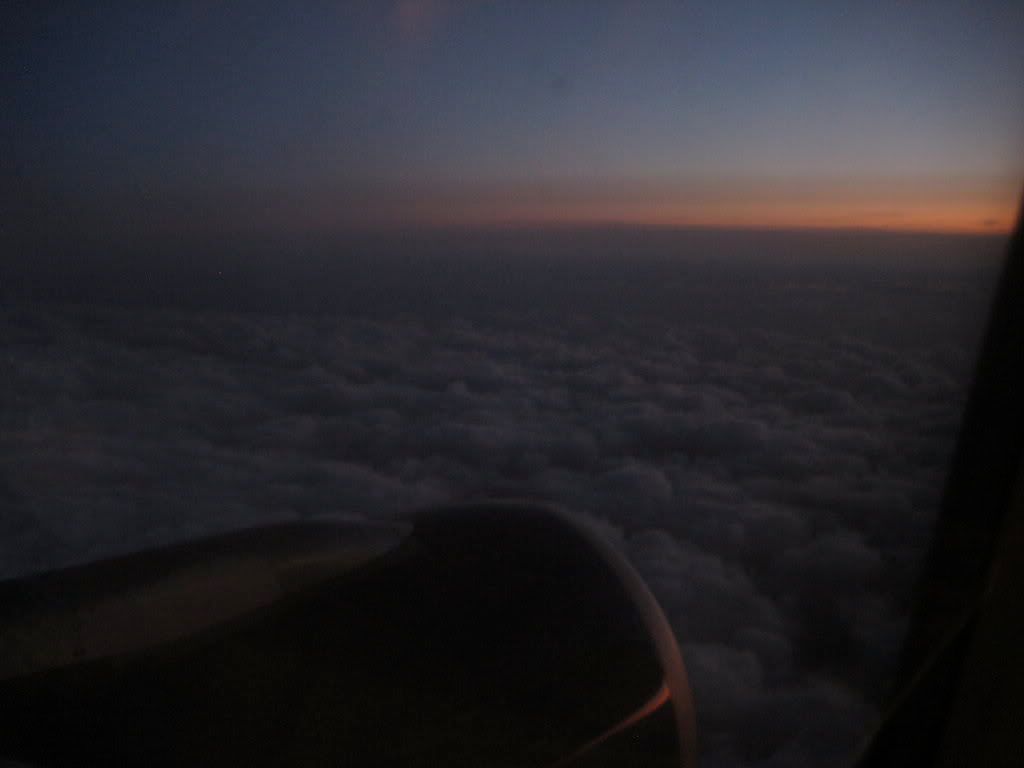 After take off a right turn follows, putting us in a route that is quite a bit more southernly than the normal one on this route. Routing is roughly north of TLL - KDL - east of URE, east of Gulf of Riga, turning more towards the west near VNT on the Latvian west coast, south of VBY and across southern Sweden to MMX and finally CPH.
Lights of Tallinn: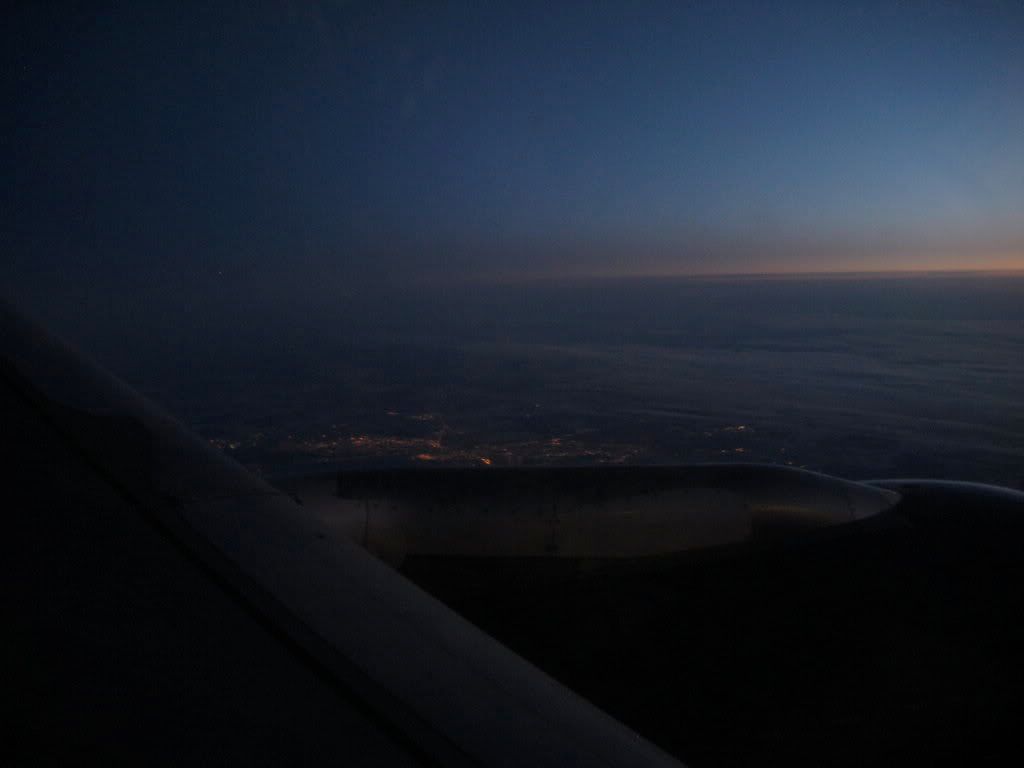 Service is another cheese sandwich, not bad at all and drinks run. I stock up with a couple of bottles of white wine - need to enjoy it while it is still free - AY will start charging for beer and wine as well in January, bummer.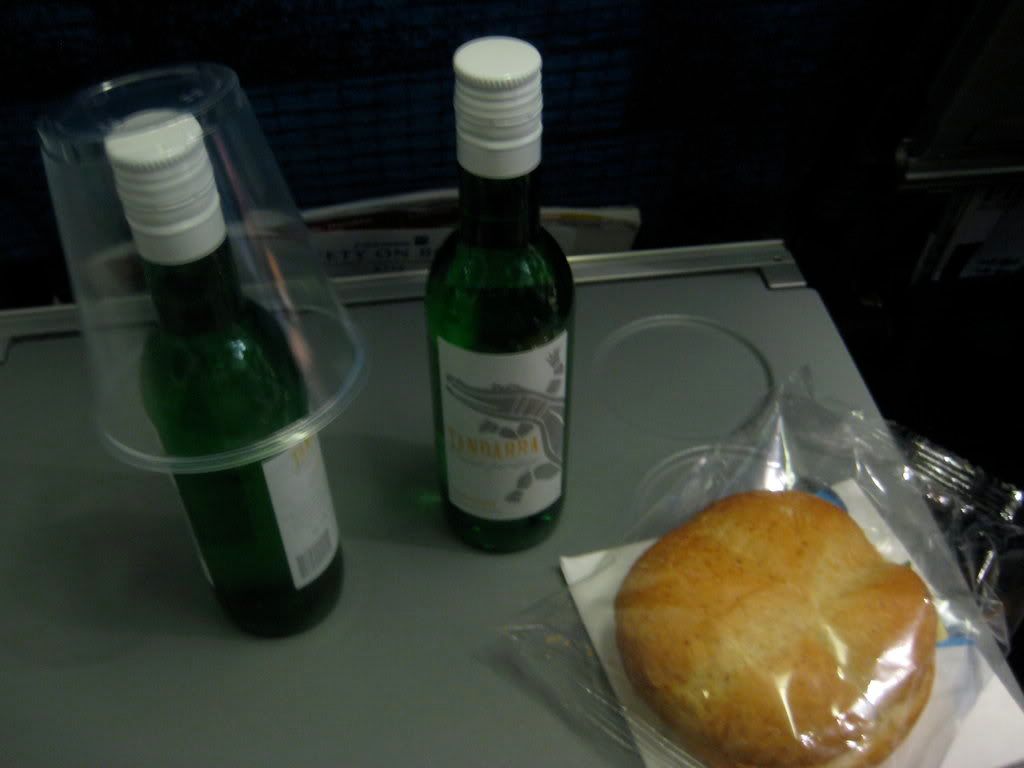 After an hour of flight the captain advices us of another 45 minutes of flight time remaining and that we will arrive at 16.30 at the latest to a chilly (-3 degrees) and snowy Copenhagen. I start worrying about my connection a bit, as it is a bit of a hike to the domestic part of the terminal and the next flight is scheduled to depart at 17.00.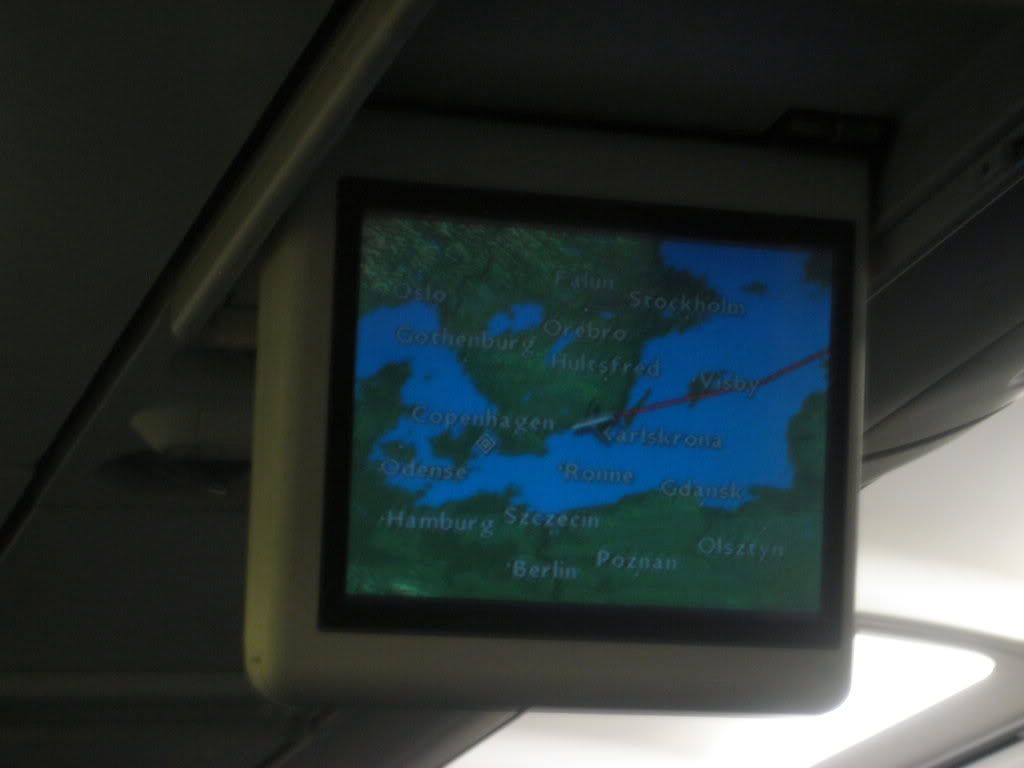 Descent starts at 16.00. From our approach it soon becomes evident that we are landing on one of the 04 runways, and sure enough some 20 minutes later we touch down on runway 04L. It takes another 10 minutes before we are at our gate in what once was the non-Schengen end of the A pier (Murphy acting up again - usually AY uses the gates on the other part of the A pier which are the closest ones to the domestic terminal).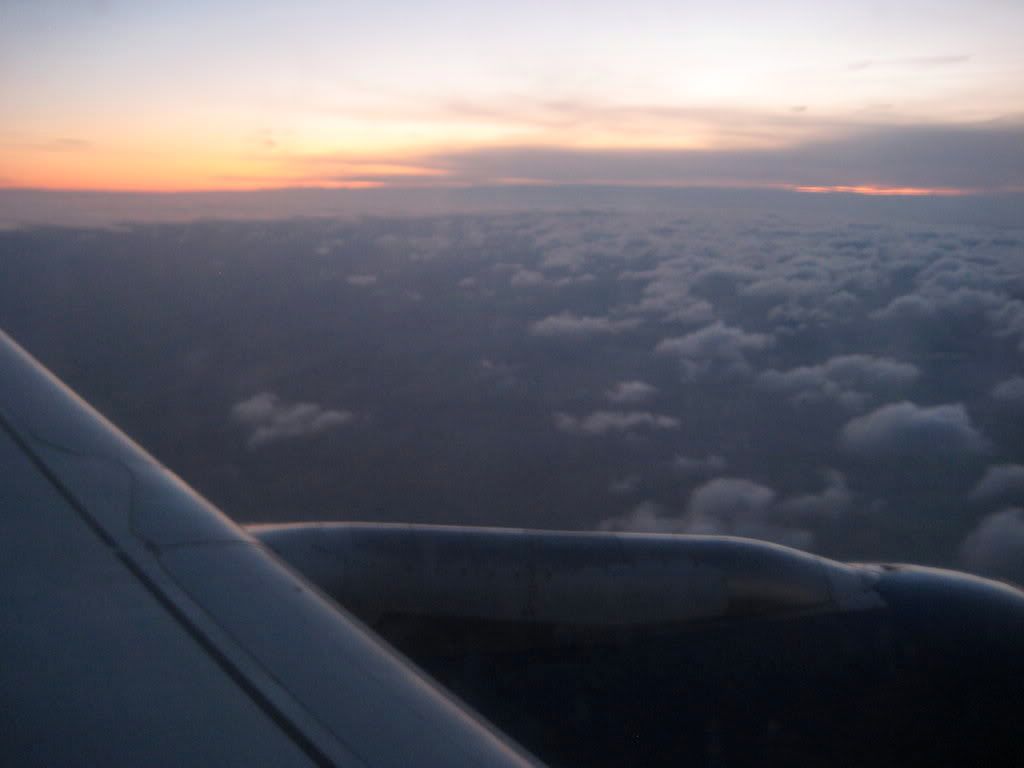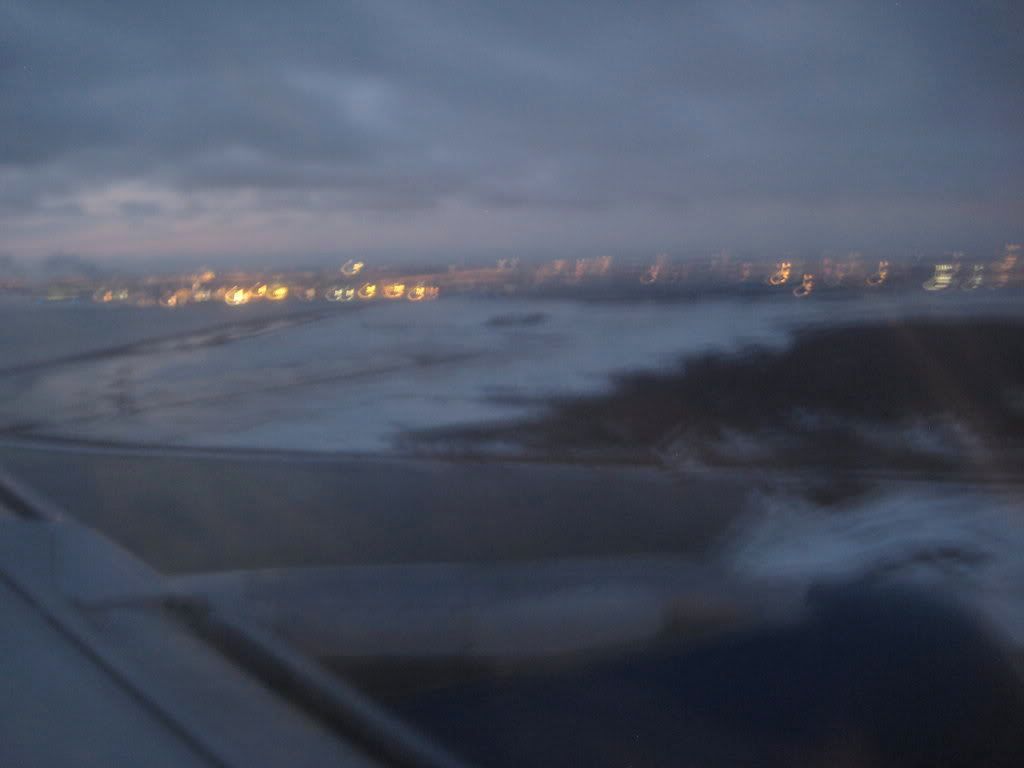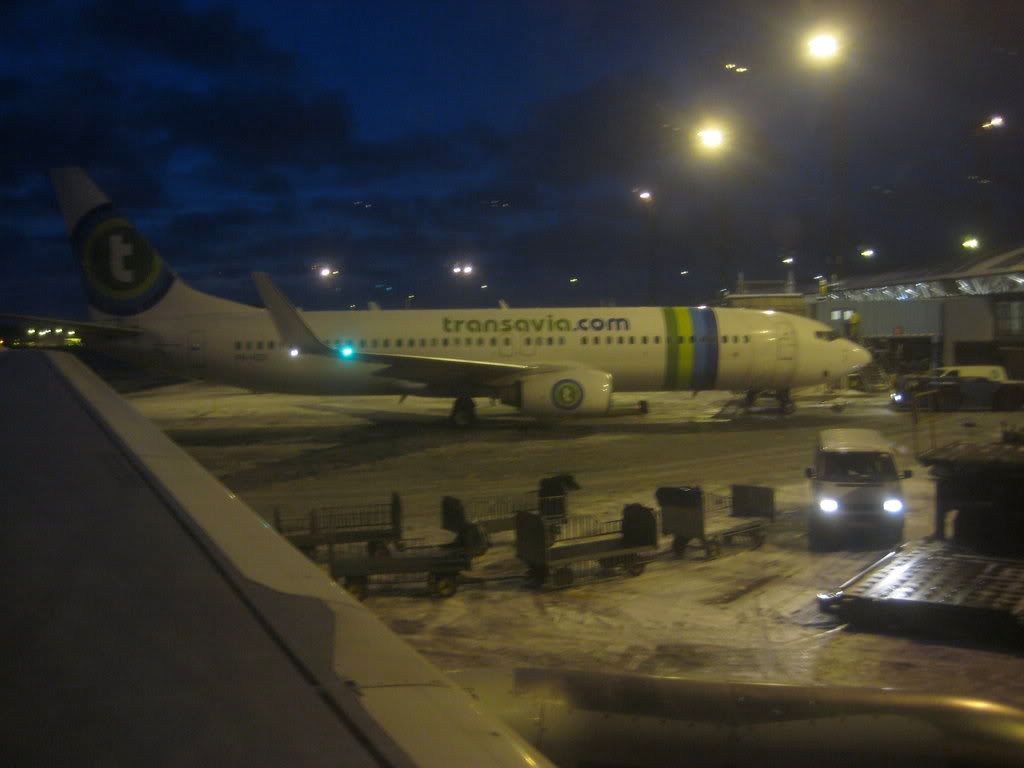 Kastrup Airport
I powerwalk down the A piers, finally reaching the domestic terminal less than fifteen minutes before the scheduled departure time. I've never been down here before (once I was supposed to but a snowstorm in CPH wrecked those plans!) - the space is tiny with a cafeteria, around five gates and insufficient seating, absolutely jam packed with people. Worryingly all the QI domestic flights are showing various degrees of delay - some more than two hours. Ours is the only one that doesn't show a delay, but there are no agents in the gate either. I take a look around if there's a service desk somewhere (no), but while I'm doing so I hear a boarding call for our flight, so all seems to be golden. I notice a few familiar passengers from the Finnair flight in the queue.
This part of the A pier reminds me of something from one of the Star Wars movies: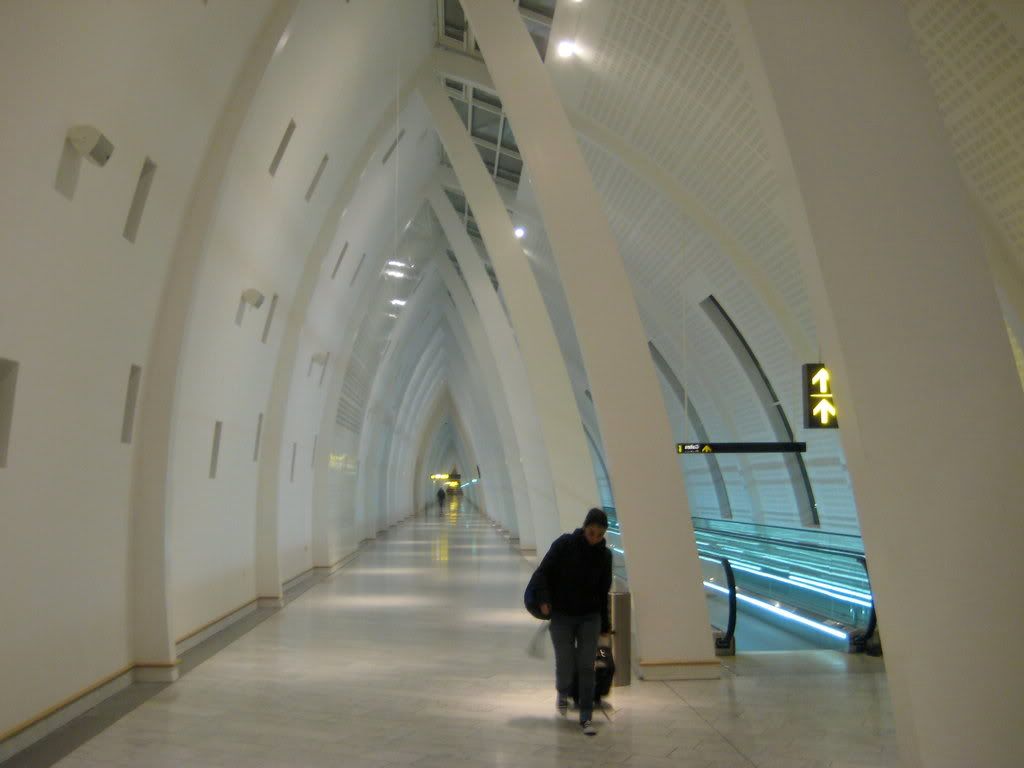 Surprisingly my AY OLCI boarding pass works just fine with the scanner, but the agent couldn't be more unhelpful when I ask her to enter my Eurobonus number in the system (the e-ticket is showing my booking class as "business" so I expect some decent mileage from this short hop), dismissing me with "Can't do it here. Next!". I tell her "Thanks for nothing" and step outside to the snow. No buses here, just a path lined with barrier fences that takes you to the plane.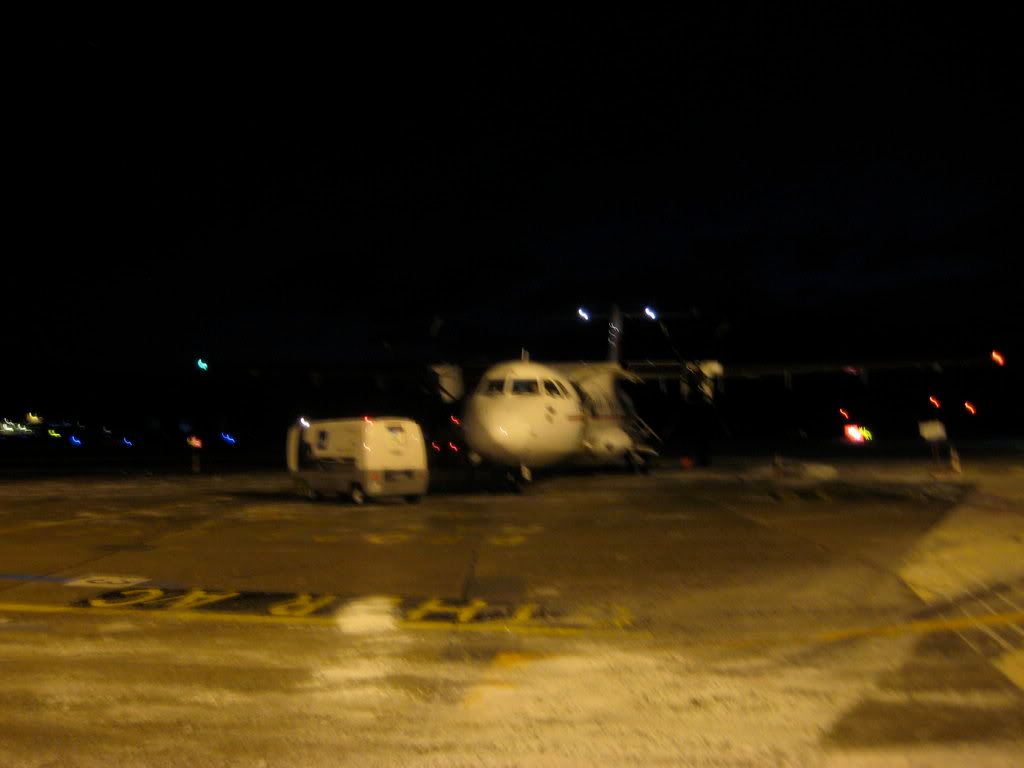 An old friend, OY-CIN is waiting for me. Last and first time I flew with her was way back in 2003 on another short hop CPH-TXL. Inside a rather hot Danish blonde smilingly welcomes me onboard.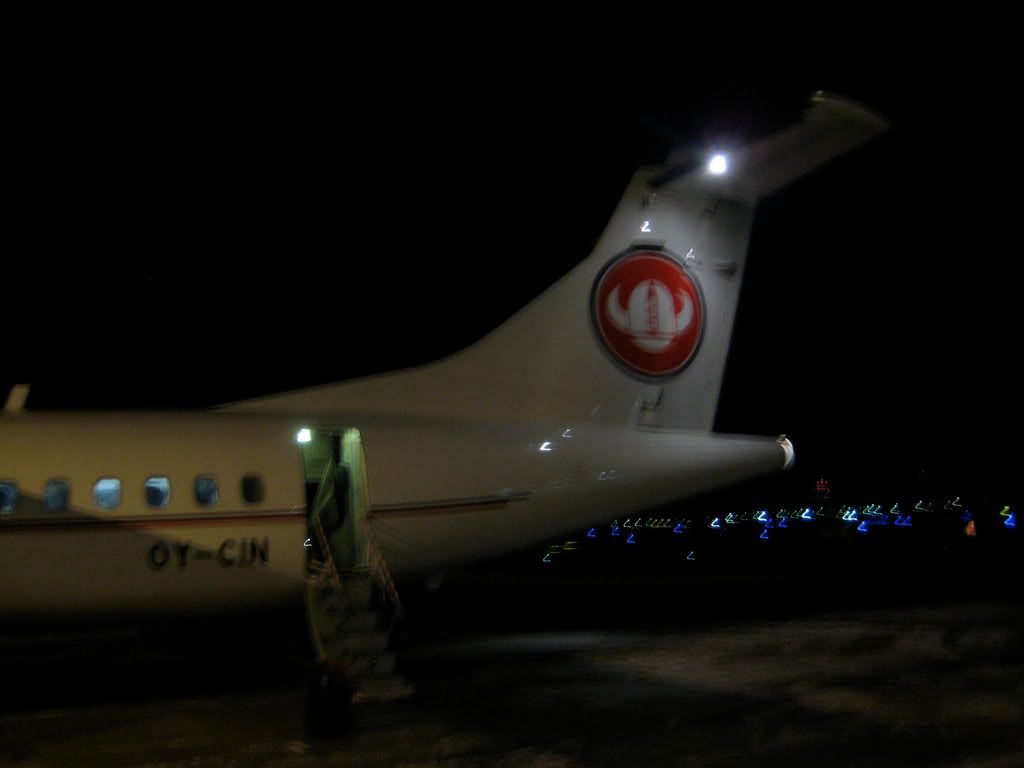 CPH-BLL
QI413
ATR-72 OY-CIN
Seat 12F
17.03 - 17.52
It's free seating, and I settle for a seat on row 12. The seats are old fashioned, thick fake leather ones, rather soft (must be from all the wear and tear) and very comfortable actually.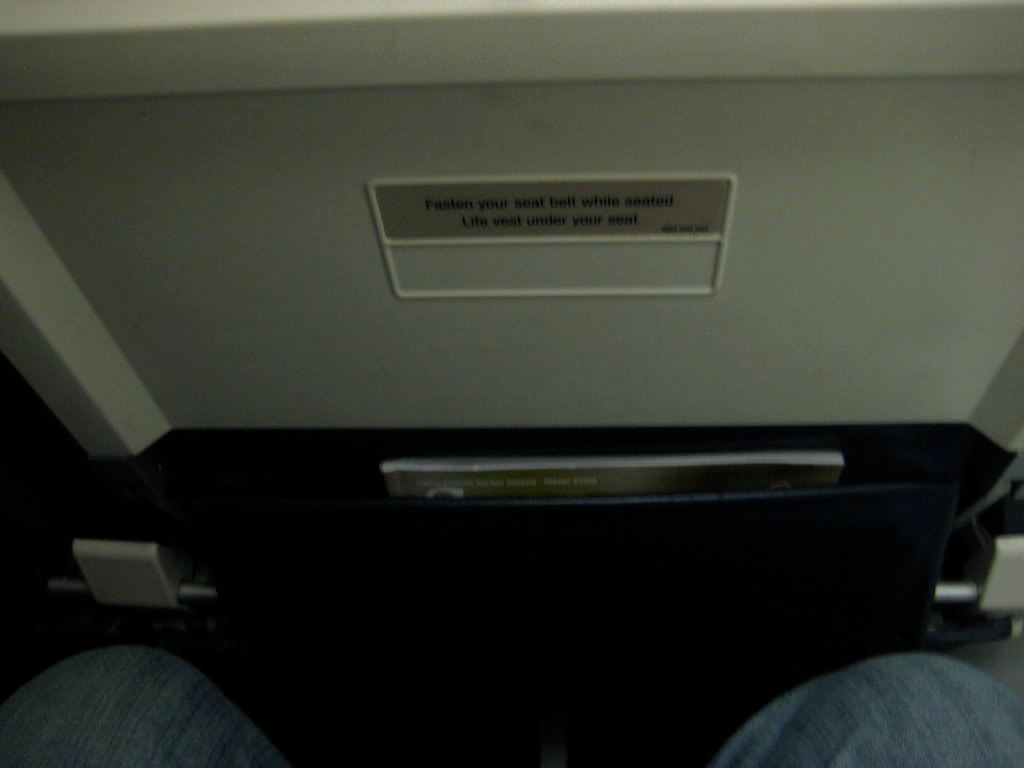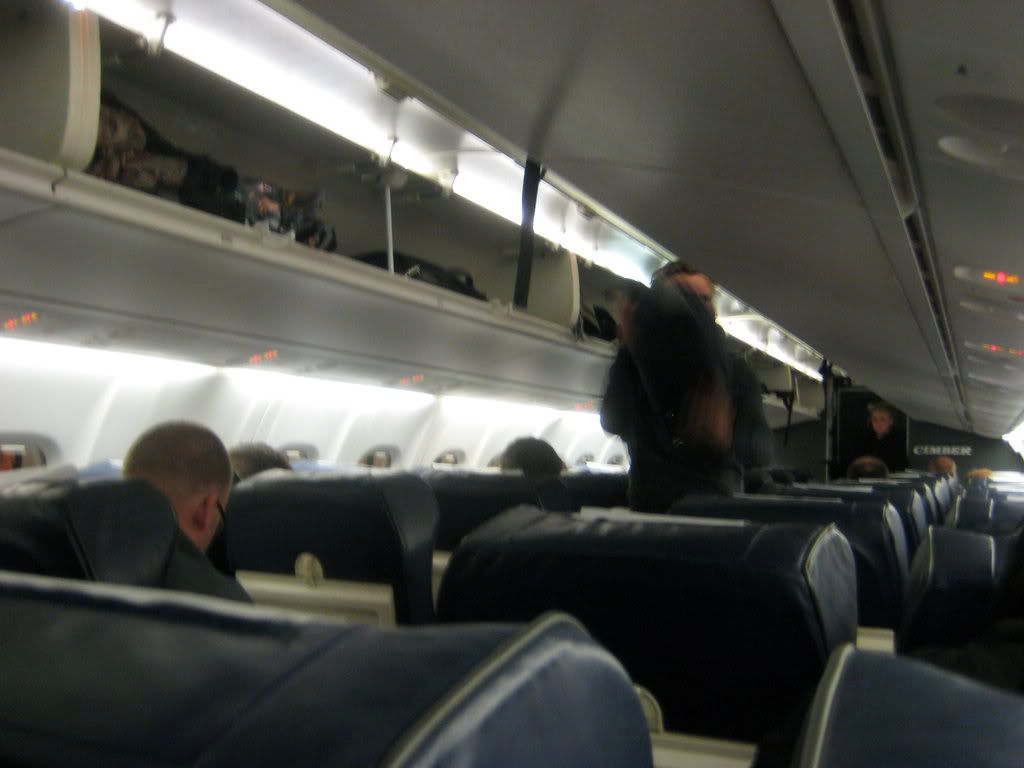 Boarding is very quick, and right at the scheduled departure time the captain welcomes us on board, announcing a flight time of 45 minutes with some winds to be expected closer to Billund. A few minutes later we start our engines, commencing the rather long taxi to the runway 04R for a take off towards the northeast.
CPH cargo apron: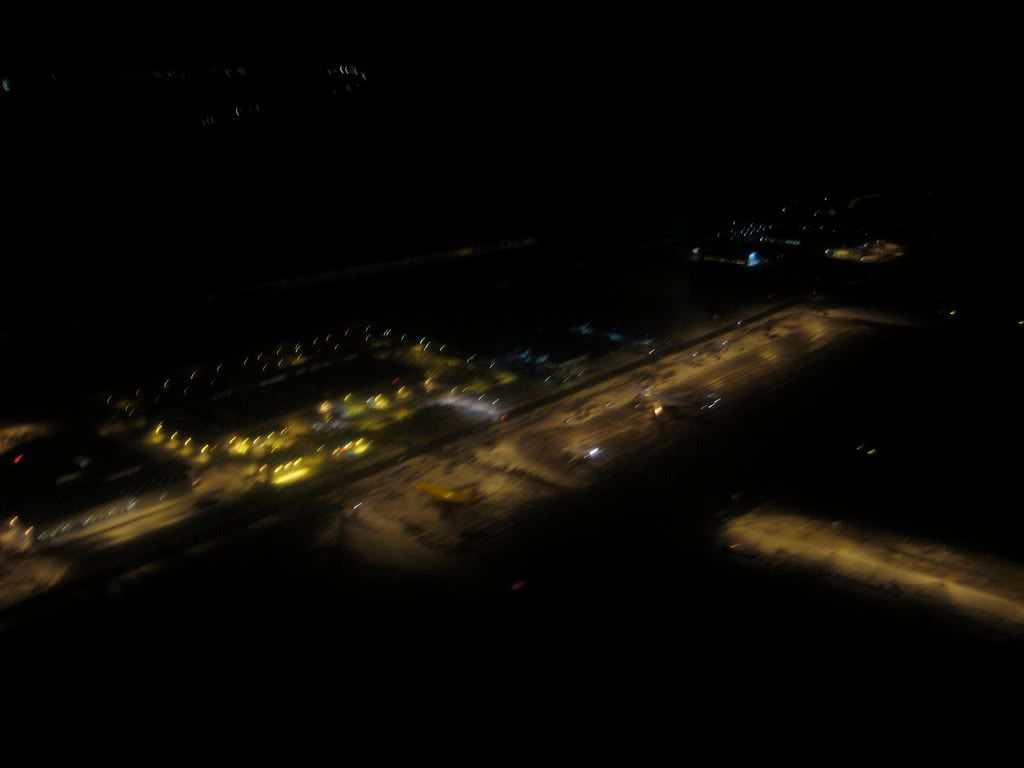 After take off we turn slightly towards the north, flying almost as far as Helsingør before turning towards the west for the quick flight across the islands of Zealand and Funen to the Jutland peninsula. Over densely populated Zealand there are great views of the lights on the ground, but clouds obscure the views of the ground soon.
Service is tea, coffee or water with a tiny piece of chocolate thrown in for good measure.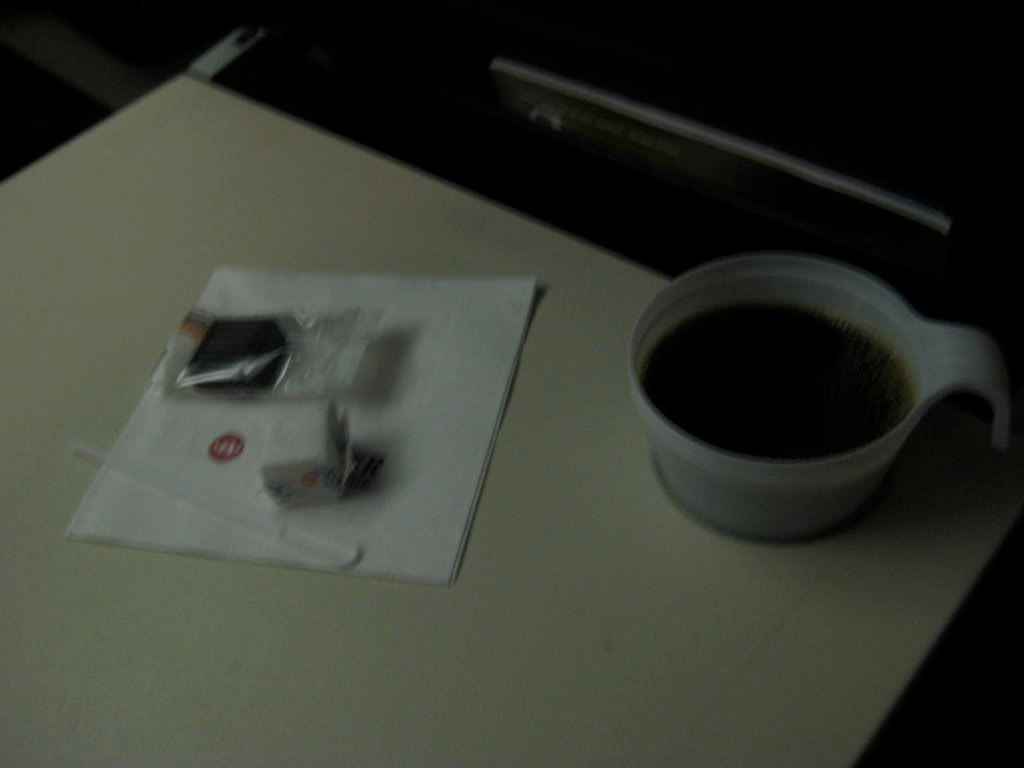 Less than 25 minutes after take off we are already descending, and the captain announces 10 minutes until landing with overcast and freezing (-5 degrees) conditions to be expected on the ground. After 40 minutes of flight we touch down smoothly on runway 09, using up the whole runway before turning to a taxiway at the very end. The terminal is located at the other end of the runway, so taxiing takes a bit of a time, before we finally park in front of the terminal.
There are some interesting planes here, a BAE-146 of Atlantic Airways departing for the Faroe Islands, all kinds of SunAir planes including both versions of the coveted Dornier 328, a couple of QI CRJs and a QI 737-700. Further down the apron there are more exotic ones, there's one sporting large "Romania" titles which looks like a Romanian Air Force VIP transport B707 but can't be really sure. Maybe the CPH apron couldn't fit all the climate summit visitors so they flew some in here as well...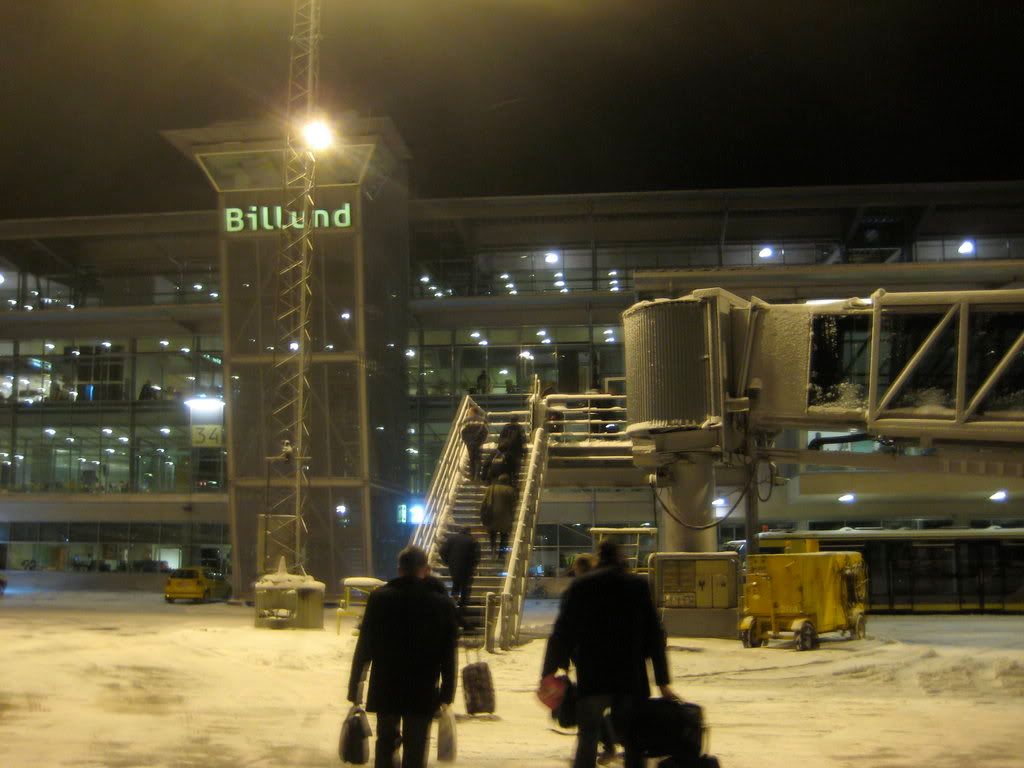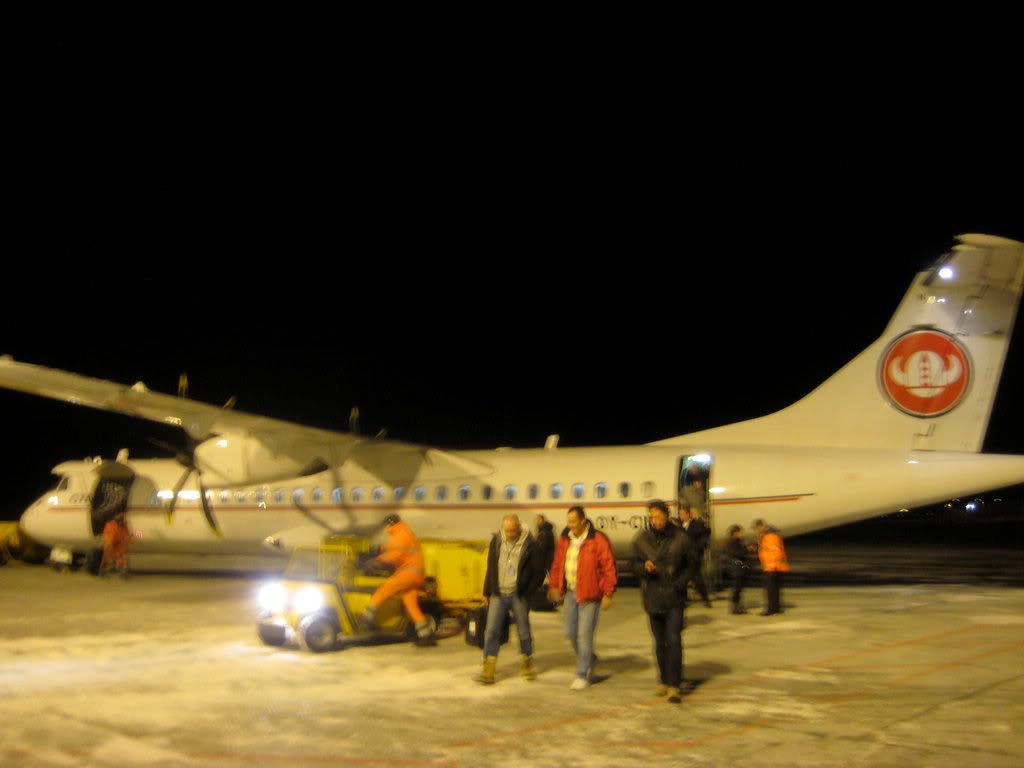 Billund Airport
Billund airport is an interesting one. Located in the town of Billund with around 6000 inhabitants it still manages to be the second busiest airport in Denmark with more than 2.5 million annual passengers. This is mainly explained by two reasons - firstly the town of Billund is the original home of Lego, the company headquarters still being located here. The world's first and largest Legoland theme park is naturally located here, drawing in a lots of tourists from around the world. Secondly the geographical location is very good, located in the middle of the Jutland peninsula it is close to a good number of middle-sized and large towns and cities, with a catchment area of almost three million people.
With a couple of hours at my disposal I take a look around, stepping out of the terminal. The wind is very chilly so I don't really want stay that long there, preferring the warmth inside instead. The terminal looks like rather new, built in the neat Scandinavian style of lots of wood, steel and glass.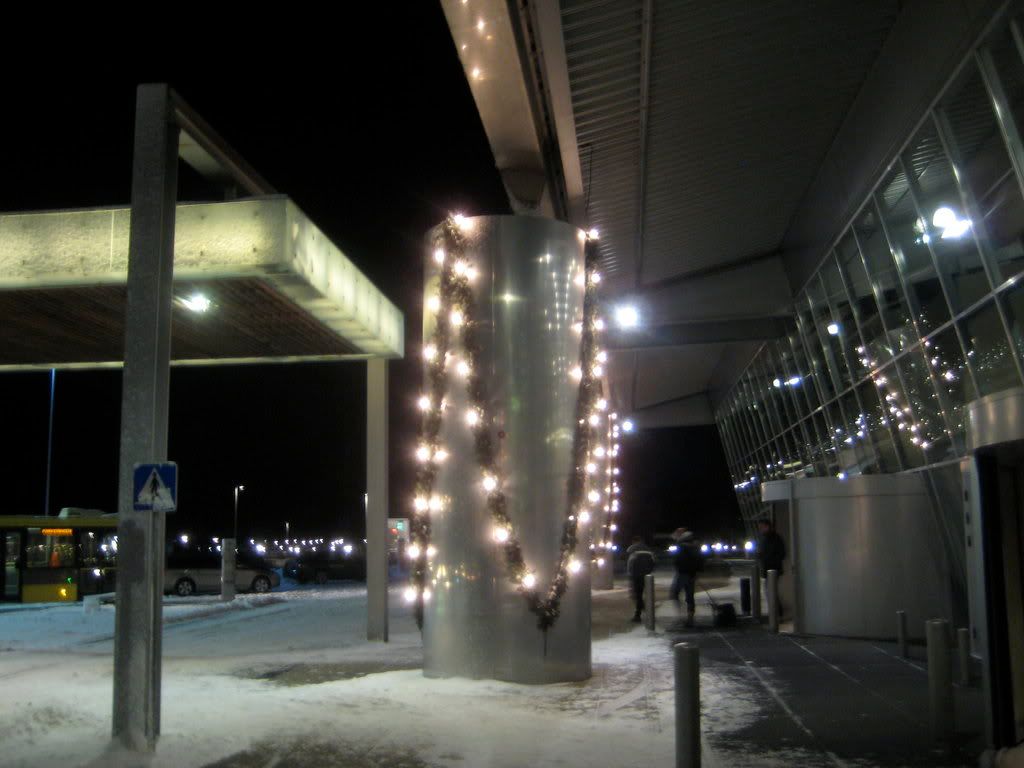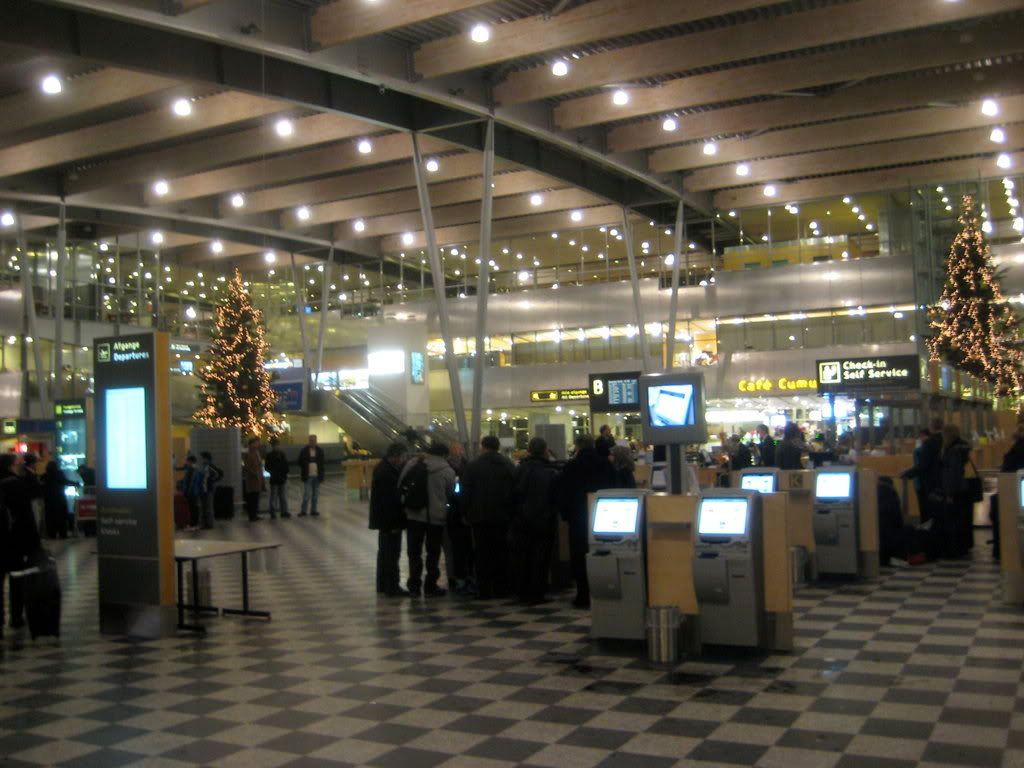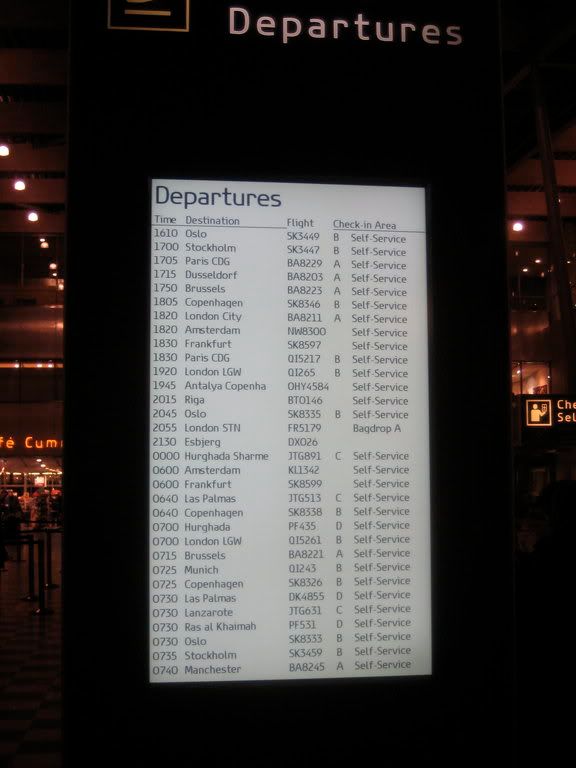 I grab some dinner and a large Carlsberg at the cafeteria next to the check in area and spend the next hour with my laptop. The monitors are showing the incoming flight expected to arrive 10 minutes early, but instead of being a sensible person and heading to the gate area early I leave it to the last minute. As a result of this the security queues are sizeable with lots of Latvians around me and only a single check point out of the four open. Finally getting through the security boarding is called almost right away around half an hour before the scheduled departure time.
What would the Legoland airport be without Legos:
At the gate I spot YL-BBX, a 737-300 looking very smart with its winglets. Luckily a new registration for me, as well. This is quite a young 737 classic, only being delivered to dba in 1999, serving further with Air Berlin before its career with airBaltic from 2008.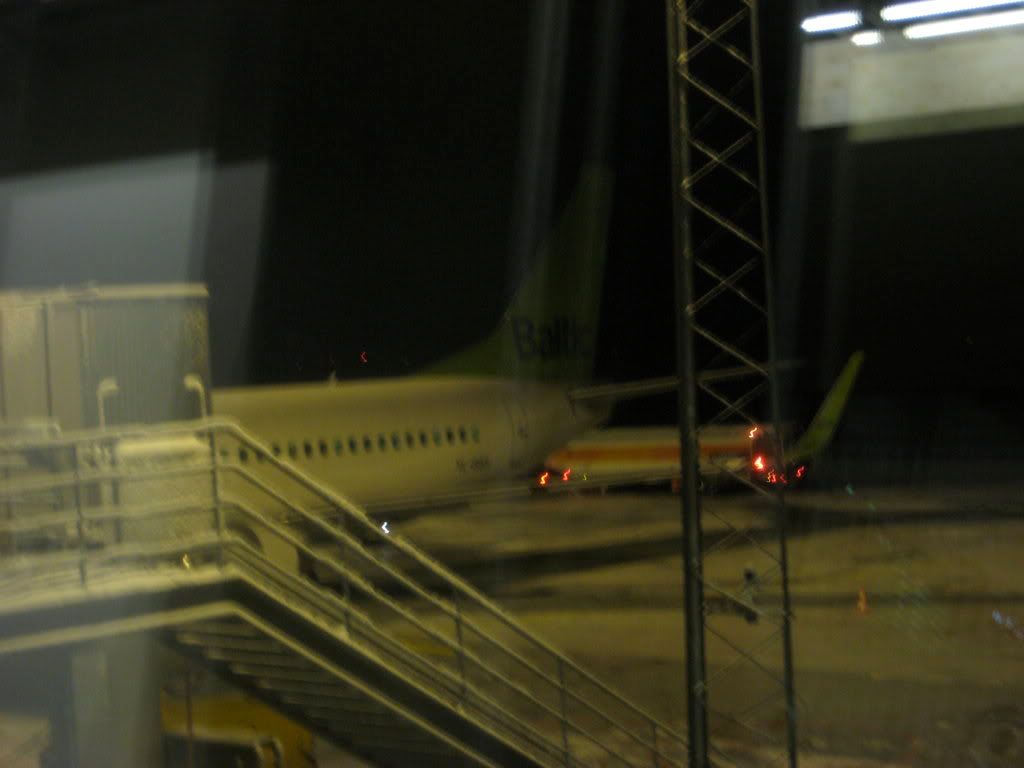 Boarding is through a jetway, my OLCI boarding pass is accepted without any problems.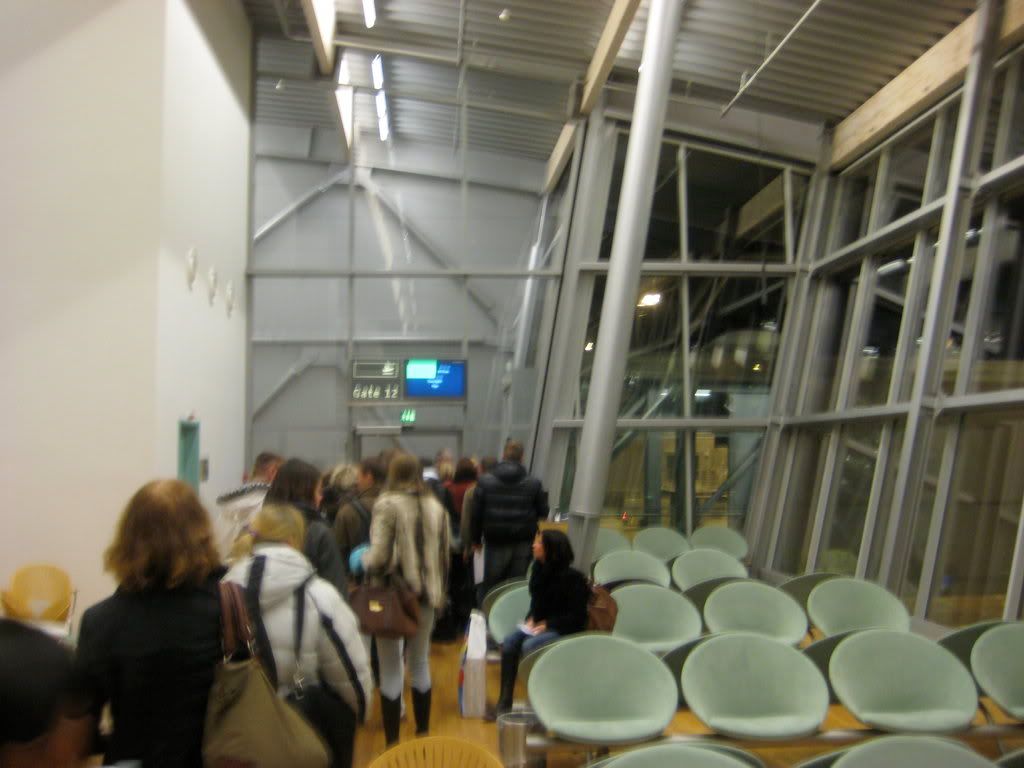 BLL-RIX
BT146
B737-300 YL-BBX
Seat 4F
20.08 - 22.35
The cabin feels rather immaculate with the BT dark blue Recaro seats.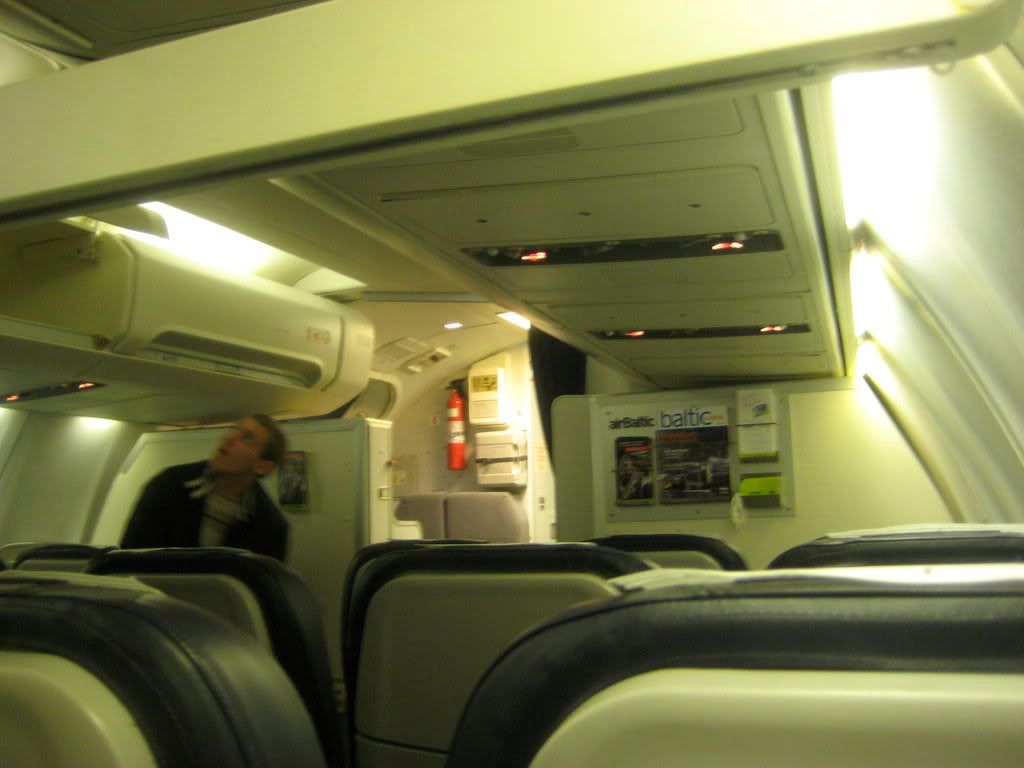 SunAir Jetstream next to us: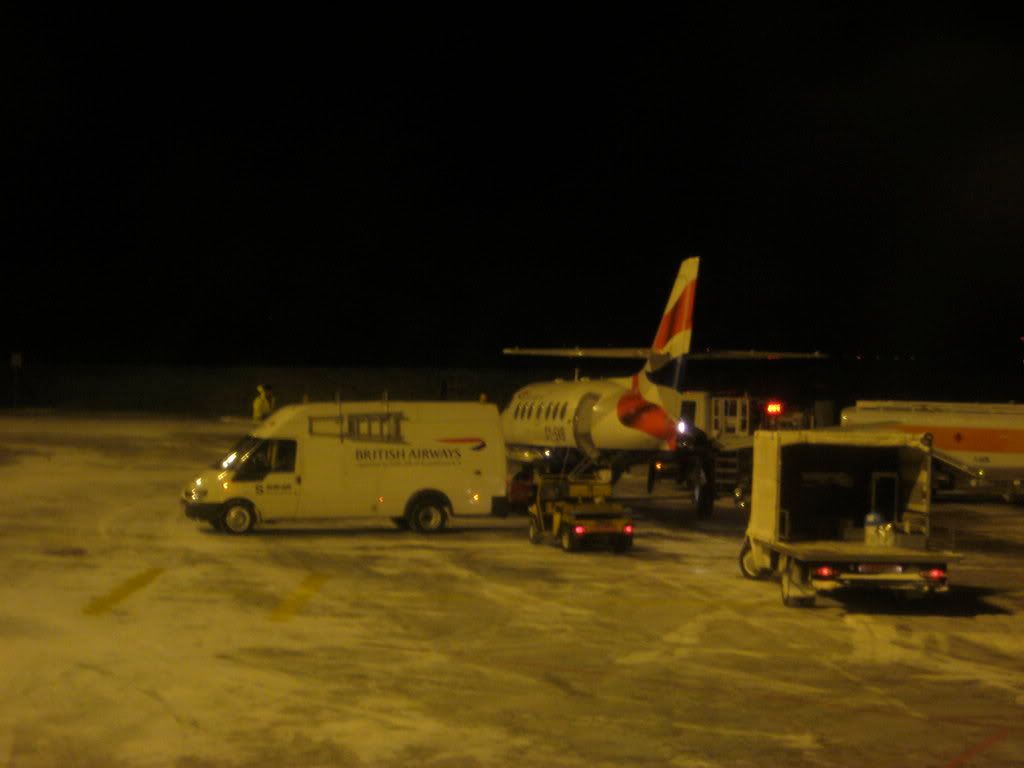 There are three rows of business class with a single passengers, economy looks mostly full with a few empty middle seats, luckily the one next to me being among those. Our flight time is announced as 1h25mins and we push back seven minutes early - good job!
Fast taxi to runway 09, followed by a powerful take off.
Not much to say about this flight, I splurge on a can of beer - they nowadays throw in a free bag of peanuts as well - whee! Otherwise I continue with my laptop until descent.
Approach is great as we fly eastwards along the south coast of the Gulf of Riga, the whole Jurmala area is beautifully lit up in the darkness with the lights reflecting off the water on our right hand side. After passing it we make a sharp right hand turn, landing on runway 18 after 1h20mins in the air.
Luckily we get a jetway so no dealing with the buses in the coldness outside.
Riga Airport
The airport is deserted at this late hour - only a handful of flights are remaining. I pick up another carton of cigarettes for the mother-in-law, find a bar that has power sockets, sit down with a beer and charge my laptop. I head to the assigned gate B10, a bus gate downstairs from the main pier, rather early - there are already a number of people waiting here.
After a while the gate display suddenly changes to "Expected 7.00", which is a bit of a shock. I ask the girls at the gate about this, but they assure that it is just a fluke and not real, concluding with "We sure don't want to be here until the morning!". I answer "Me neither!". They manage to change the display to "Go to gate", and further to "Expected boarding at 23.50" - which is just five minutes before the scheduled departure time.
A number of other gate agents show up and they start conversing in rapid-fire Latvian, the only word I can make out is "Moscow" which seems weird to me.
Finally just before midnight a bus pulls in and boarding is announced. While handing in my OLCI boarding pass I ask "Is it seven o'clock already?" which confuses the other agent but causes the other one to erupt in laughter. I count a total of 13 passengers in the bus. We drive to the southern apron, stopping in front of TF-JMN, the Air Iceland Fokker 50, my fifth flight with her.
RIX-HEL
BT327
Fokker 50 TF-JMN
Seat 9D
00.18 - 01.20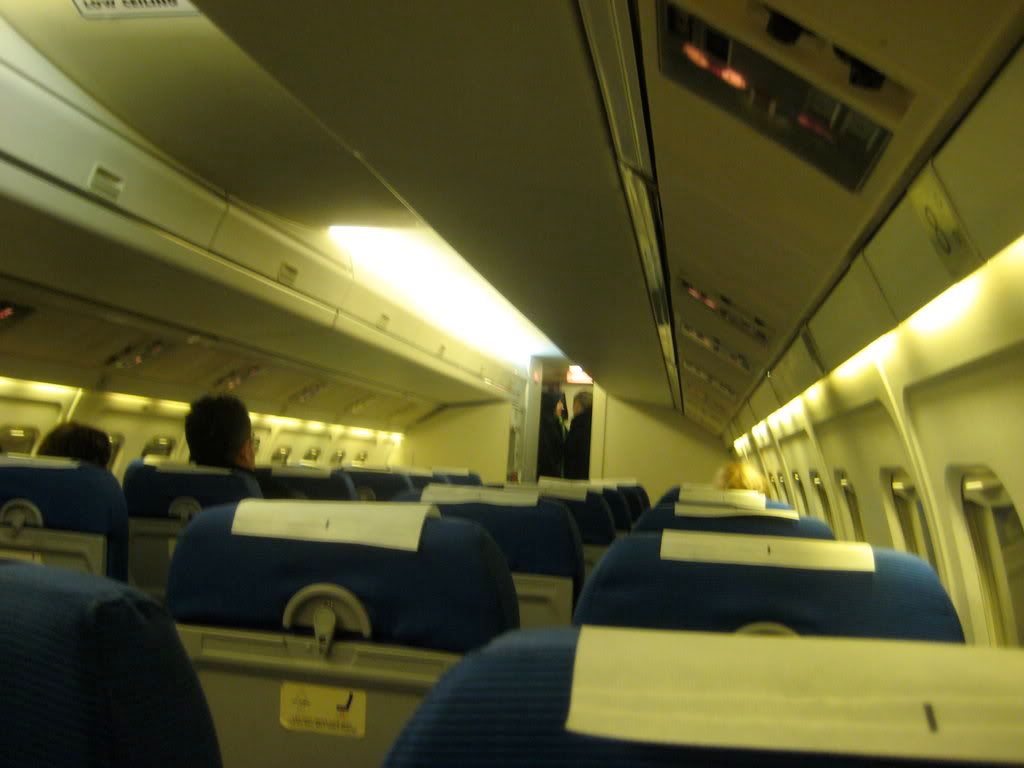 Inside the plane is freezing cold. After everybody's settled the captain welcomes us with a heavily accented English, explaining that we boarded late as we are still waiting for some connecting passengers from the Moscow flight (so that's what the gate agents were talking about!) and we still need to wait for a while. After ten minutes or so another bus finally arrives and four more passengers enter the plane. The flight time is announced as 1h5mins and that it is minus sixteen degrees in Helsinki. Soon we start our engines and the plane finally starts warming up. We take off from runway 36 delayed by around 25 minutes, heading north to Finland.
Being very tired I nod off right away, and the next thing I know is the announcement of descent. On the right side there are great views of the capital region - it is a clear, freezing night and all the lights make the cities below look like lit up maps. We make landfall over Espoo, proceed towards the north past the airport, turn right and soon right again to line up for a runway 15 landing - the usual one for these late arrivals. We land there after less than an hour of in the air, taxi to the main apron and board the bus through the freezing air to take us to the terminal.
Conclusions
I ended up missing the main purpose for this trip, SunAir and the Dornier. Still, I have to give them credit for proactively trying to contact me and easy rebooking to a decent routing. A Danish domestic flight was an interesting experience, as was BLL airport. Looks like I'll have to look harder for a chance to log the Dornier in the future.
Next up is a month's sabbatical from flying due to the holiday season and family stuff (okay, I have a couple of short domestic hops scheduled, but those don't warrant a report). The action starts again in mid-January with a quick trip to Portugal doing HEL-DUS-HAM-PMI-OPO-BRU-RIX-HEL.
Happy contrails and a great Christmas!