I never exactly thought I would get around to making a trip report for this, but I have a little extra time on my hands now that I'm home for the holidays. This trip was from quite a while back in March during my spring break when I was on the Celebrity Summit's Eastern Caribbean cruise. My mom flew down from MKE, then we both flew MCO-SJU on B6, but I've decided the focus of this report to be exclusively my experience at SXM. Time permitting I may in the future make a report covering the flights to/from Puerto Rico and the rest of the cruise.
The cruise began in San Juan, Puerto Rico and the first port of call was St. Maarten. This was my second time to the island, however my first time to the famous Maho Beach. On my past Royal Caribbean cruise we were on an excursion the day we stopped at St. Maarten and were unable to make a visit to SXM. Passing up that opportunity, I knew I had to get back and make every effort to fulfill my spotting dream!  One of the main reasons behind our cruise selection this time around, other than trying out a cruise line we hadn't been on before, was that this particular cruise stopped in St. Maarten on a Sunday which meant we'd be there on one of the busiest days of the week for SXM. I've heard from various sources that there are significantly less flights to SXM during the weekdays so I made sure we didn't choose a cruise that stopped there on one of those less busy days.
Upon docking at the port in Philipsburg, we wasted no time in disembarking the ship for we wanted to maximize the time we would have spotting. We conveniently found a cab right outside the port gates and made our way across the island towards the airport. The only risk in doing this was making sure we got back to the ship at the end of the day. Through excursions you are guaranteed to not be left behind, but taking a cab like we did places that responsibility on us.
It wasn't a problem or anything for us, but we just had to pay attention to time, since we knew we would be driving back to port at a somewhat busier time of the day when traffic might have been backed up.
Driving past the terminal entrance… almost to the beach!
We arrived at Maho Beach around 10AM and at that early time it was pretty much deserted…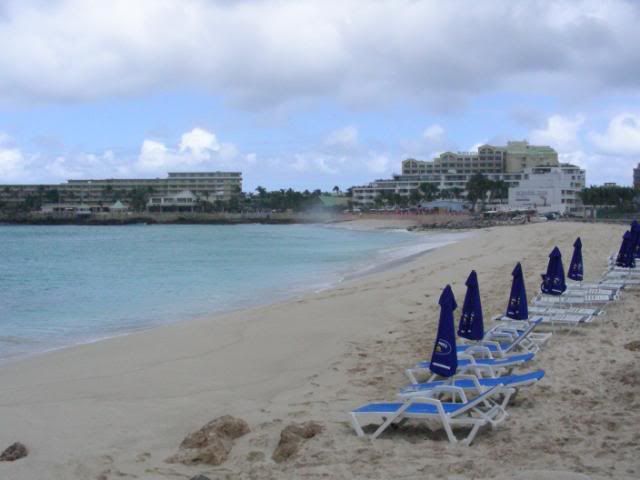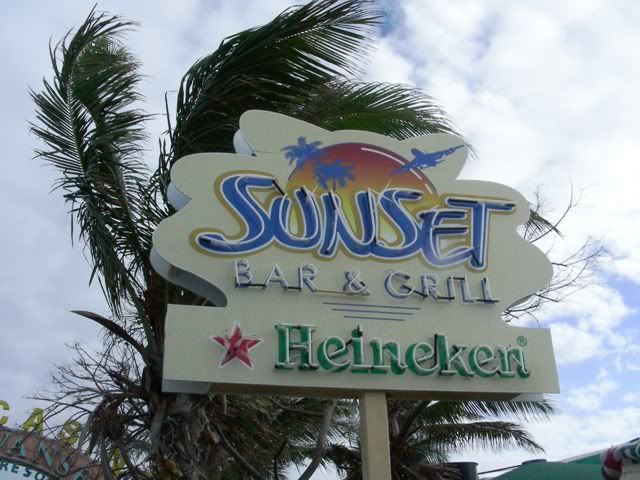 The famous Sunset Bar & Grill where we spent the next 6 hours.
Initially I checked out the area before things would certainly pick up and get crowded before long once more and more people left the ships.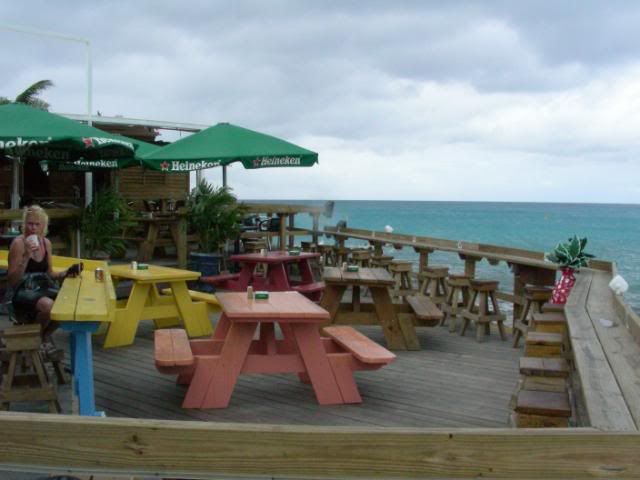 Very quiet, but I knew that would be rather short lived.
Ahh The famous Danger sign… sure wouldn't keep me from getting close to all the action.
I also quickly realized that the weather had changed dramatically since we left port. Skies were rapidly clouding up on the westside of the island, thanks to the strong prevailing easterly flow over the mountains.
Eventually the rain came down, and I mean really came down. Typical tropical soaker for sure! In the meantime my mom and I just mingled with a few other guests at the bar while we waited for the weather to improve. Met some very interesting people during this time, some were regulars to the area and others first-timers like us.
The board where they write all the day's flights. Unfortunately chalk doesn't last long in the rain, and the flights simply vanished before my eyes! I think they were rewritten again later in the afternoon when the rain moved out.
For about the first hour or so I was one of the only crazy persons who actually ran out in the pouring rain to get as close as possible to the arriving/departing aircraft, and let me say, the combination of rain and sand in the jet blast made for an even more painful encounter! The heat from the engines of the departing aircraft felt nice since the cloudy skies and precip kept the temperatures below my tropical expectations at first. Eventually a few other brave souls stepped away from shelter and joined me on the sand. At that point we all hoped the weather would clear up. I did not want my entire SXM visit to be a washout. Even if it was though I knew I would enjoy myself… after all I had finally made it to one of my top destinations.
One of the many private jets that arrived that afternoon
Finally some of the bigger stuff started show up…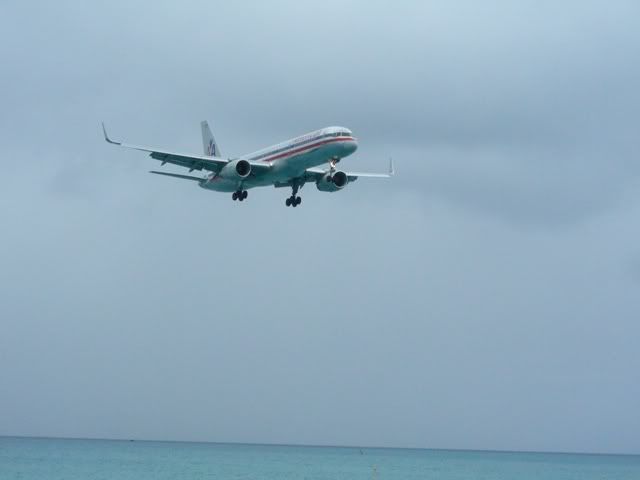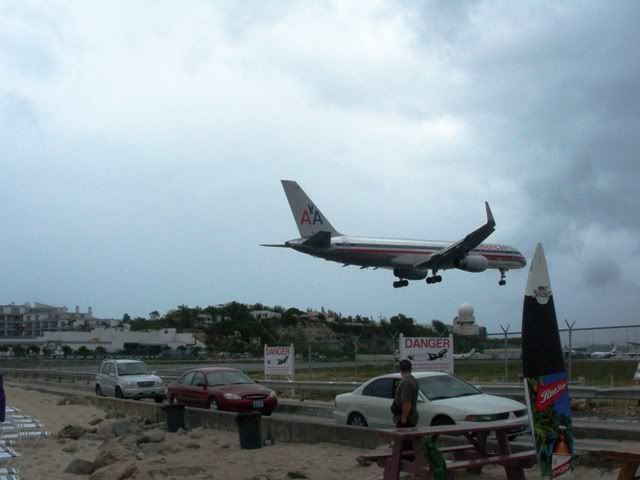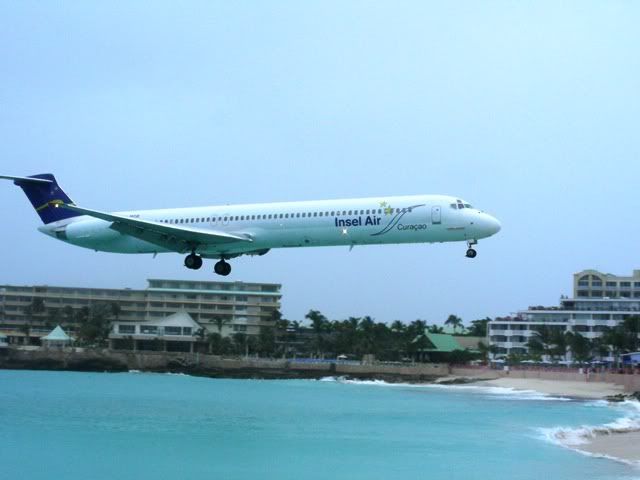 The lowest approach during my stay... at least for jet aircraft.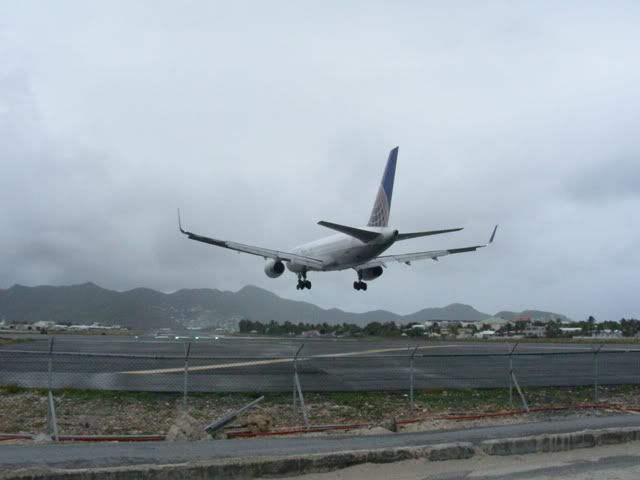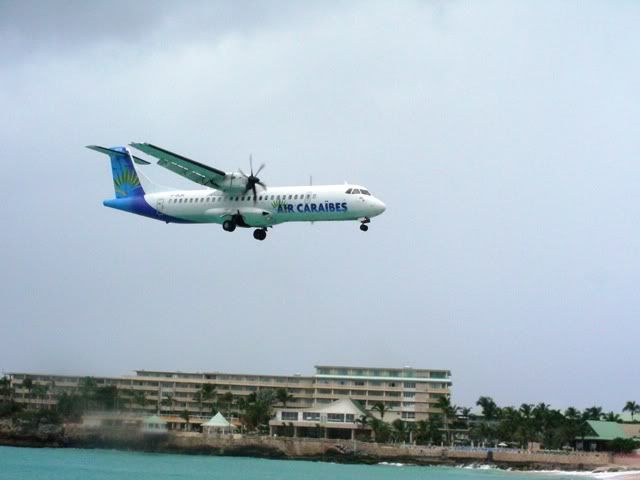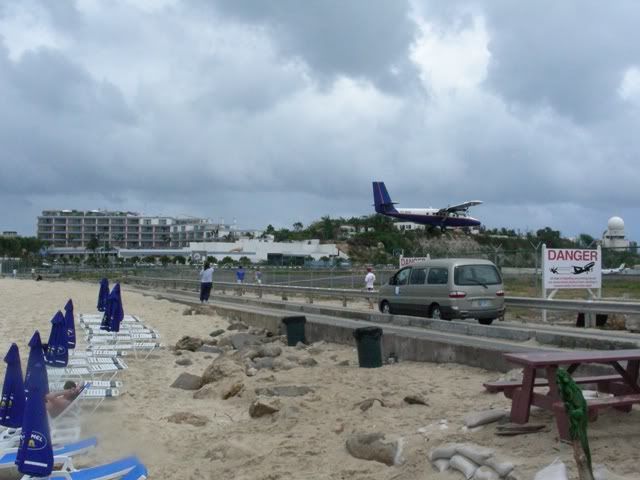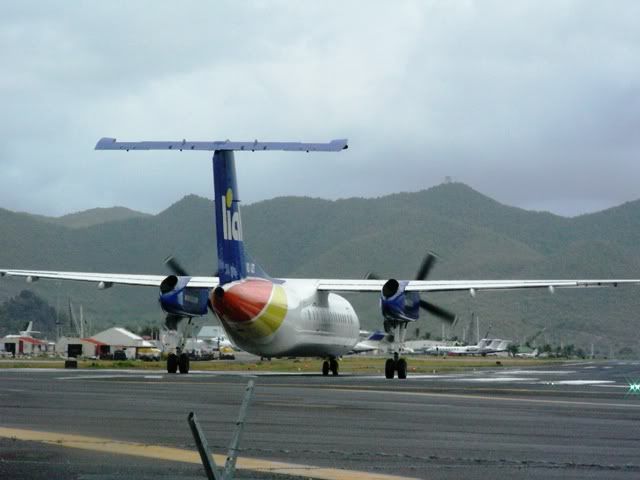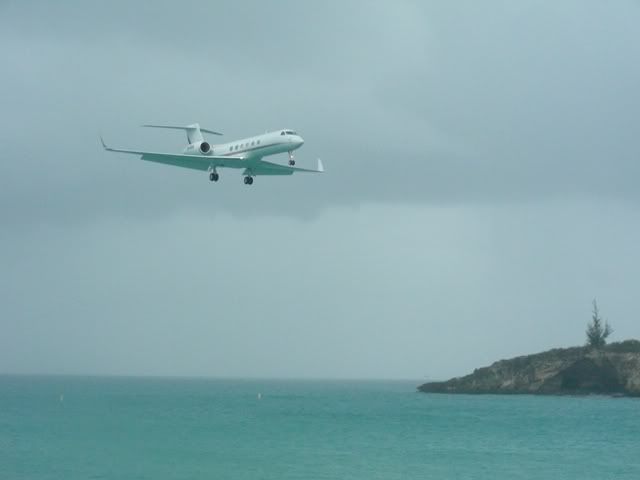 A beauty!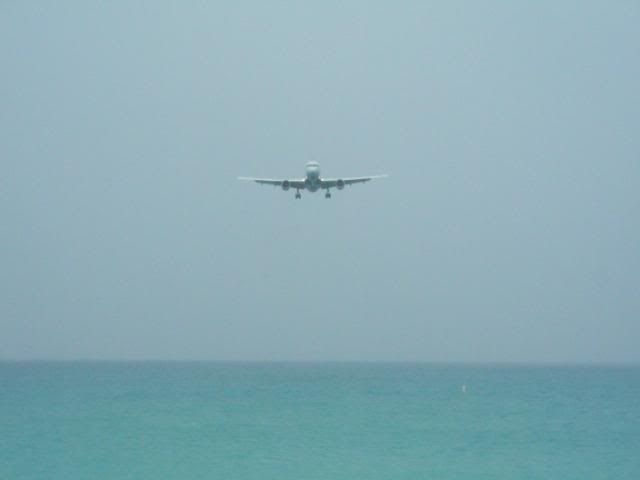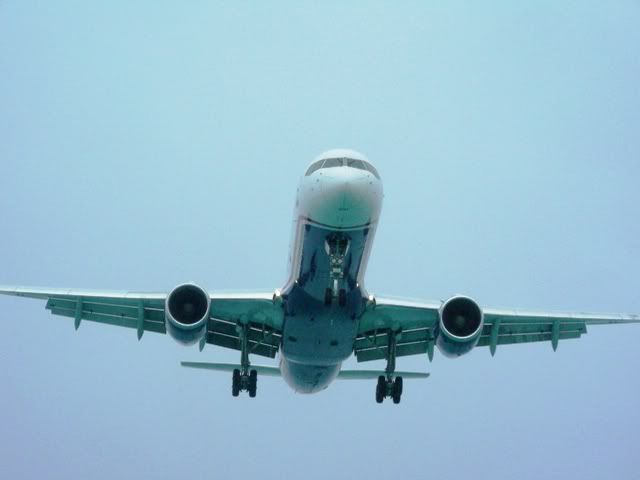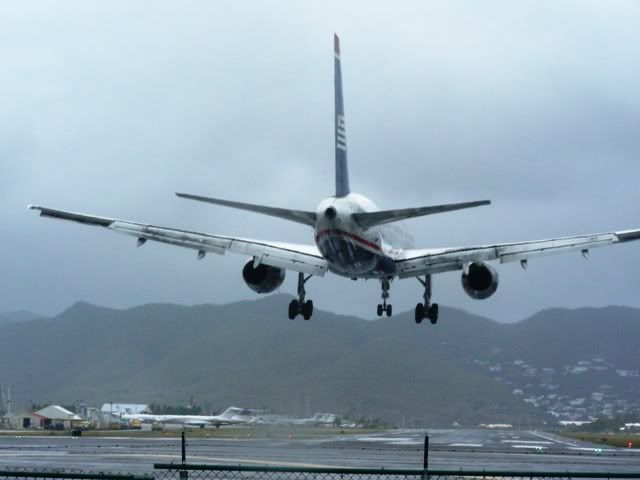 Quick turnaround on this Insel aircraft. I remember the blast from this jet being one of the best.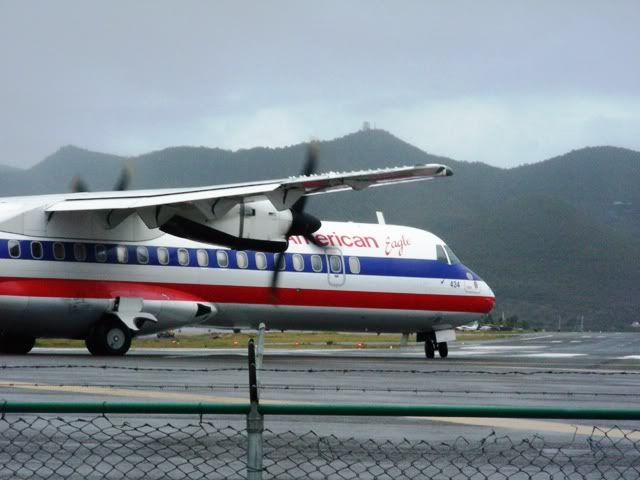 Soo many 757s!
Oh no, where's the winglet?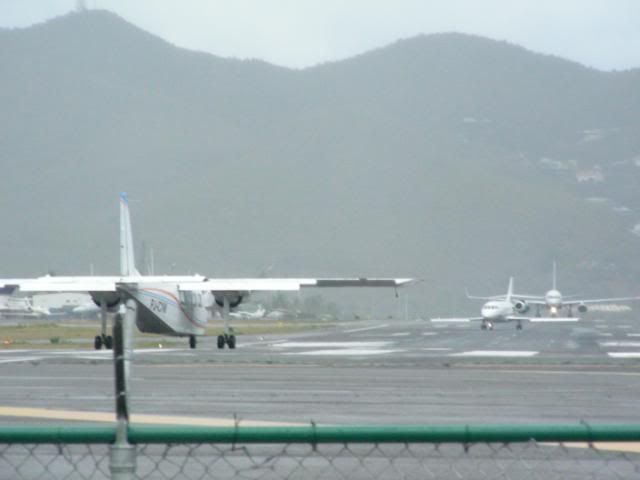 Faceoff! Who's going to win?
I was surprised to see 3 aircraft on an active runway all at once.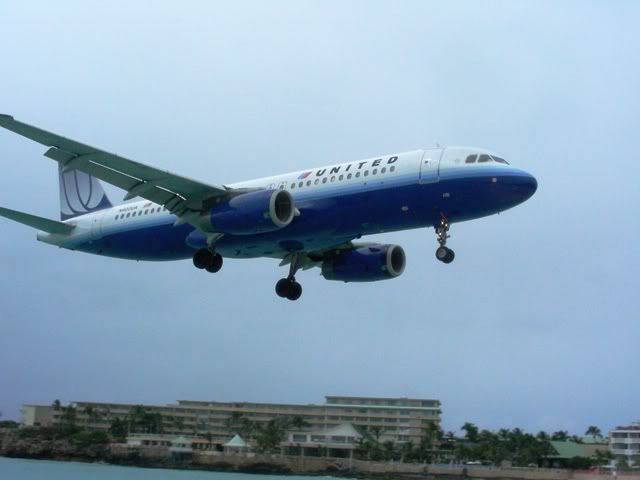 My view of this UA A320
And my mother's view of me taking a picture of the same UA A320 lol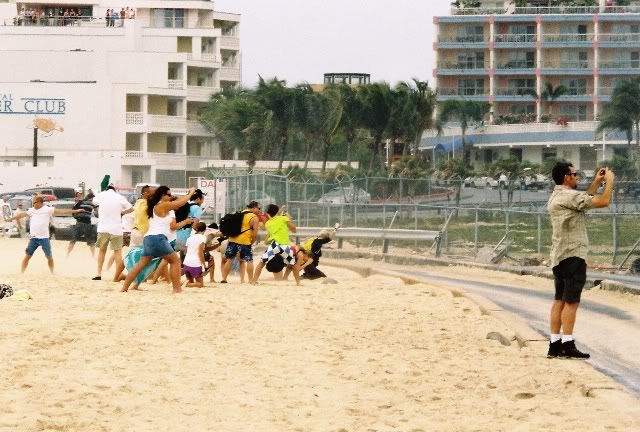 The weather did get better, and the crowds got larger. A group of us onlookers (I'm in the bright green shirt) getting taking on the jetblast from a 757. I find it amusing how there were like equal amounts of people taking pictures of planes as there were taking pictures of those watching the planes close up. Everyone's reactions were hilarious. Some people were soo dramatic but it was all fun. The best was watching everyone's belongings (mostly hats) blow into the water.. as if they didn't know that would happen. The only real danger I saw in all of this was the occasional small rock/stone that would get picked up by the blast and strike your skin.
Me again spotting this Us 757 over the threshold.
Thanks to my mom for capturing these awesome shots of me! I did not know she was even taking them, but I'm glad she did.
By this time, several of the aircraft that I had watched fly directly over my head a short time before were now making their way back to the U.S. Most of the pilots made clearly visible waves. One of the Jetblue pilots thought he was cooler than the traditional wave so he expressed the "rock-on" sign. Lol I just wonder how much fun it has got to be for these pilots to fly in and out of SXM. I mean on landing they nearly skim our heads, then on takeoff they get to intentionally sand blast hundreds of onlookers. What an adrenaline rush!
Standing behind the CO 757 just prior to its takeoff roll down runway 9.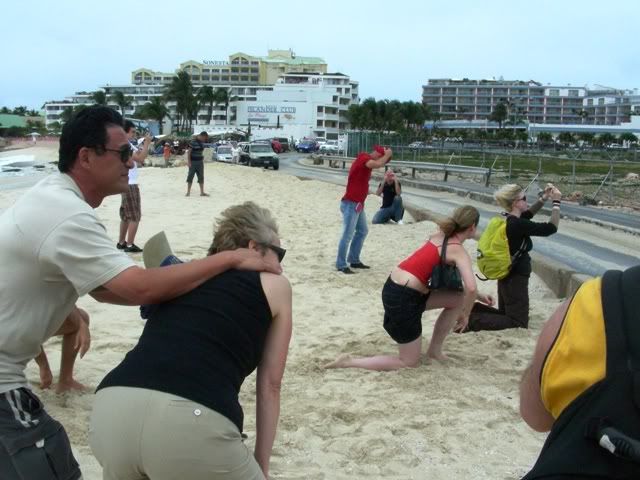 Basically this picture sums up what it's like right in the middle of all the action while getting ready to be struck by the strong winds. The worst part probably has to be all the sand that gets into your eyes, but it's not really that bad. Most of the people at the beach with us that afternoon were from our same cruise ship. Even though it was only about a day into the cruise I still recognized a few of the faces. The cruise lines don't run any of their own excursions to Maho Beach (which surprises me), but by word of mouth, plenty of adventurous people make it there anyways. One would think they could somehow organize busses from the port to Maho, provide a lunch in coordination with the Sunset bar & grill, and make it an official excursion. The demand is certainly there. On the ship that night many people were talking about their experiences at Maho Beach. Celebrity also includes a rather thorough segment of Maho Beach in their trip summary videos available for purchase at the end of the trip.
I made some good conversation with people during the hours spent running all around the beach that day including this guy who's UND shirt caught my eye. Being from ERAU I only thought it was appropriate to make a few comments haha
(don't worry everything was in good humor, I don't intend on upsetting any UND students/alumni on here). A lot of people even eventually began coming to me as a reliable source for information because the word had somehow spread across the beach that I had done some research and brought my own accurate schedule of the day's flights. So when there was a brief lull in the action I informed everyone what to expect next. The attention wasn't expected, but it was nice
Now back to some more photos…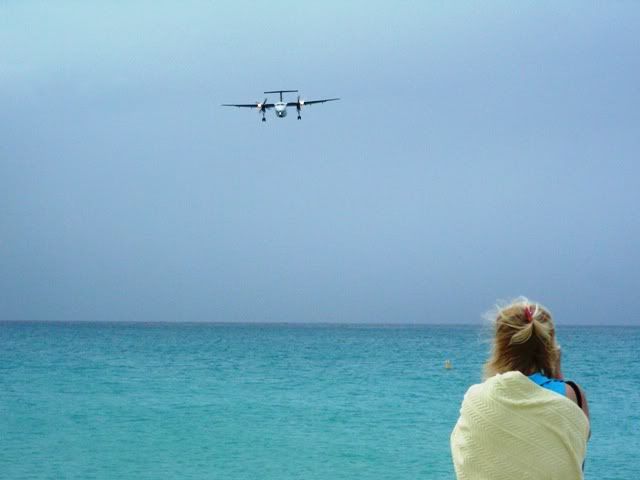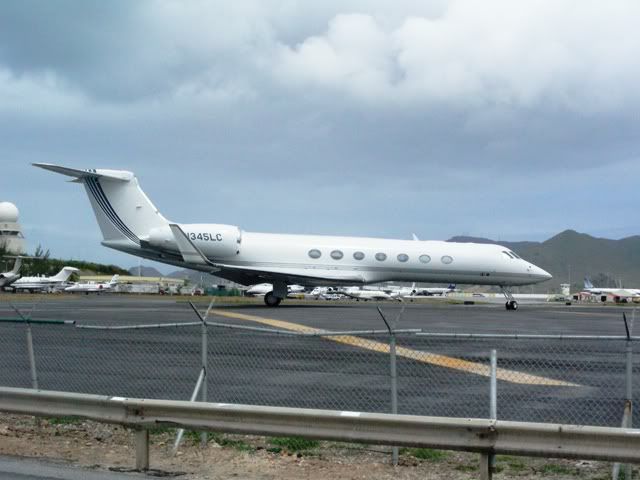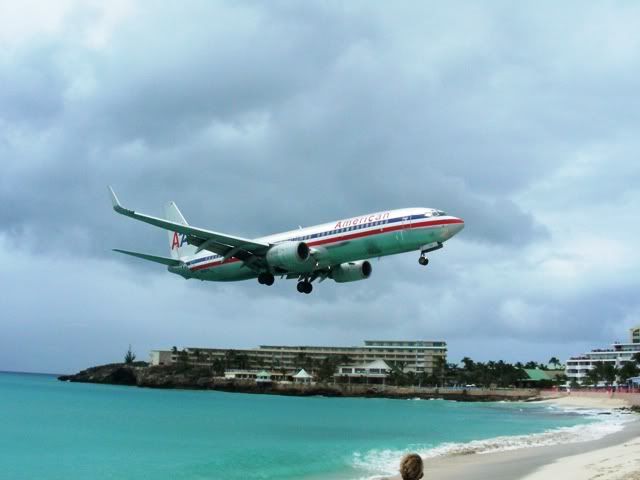 Another fairy low approach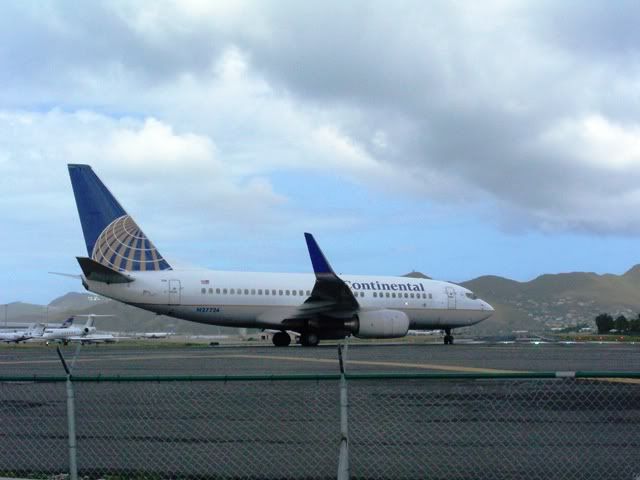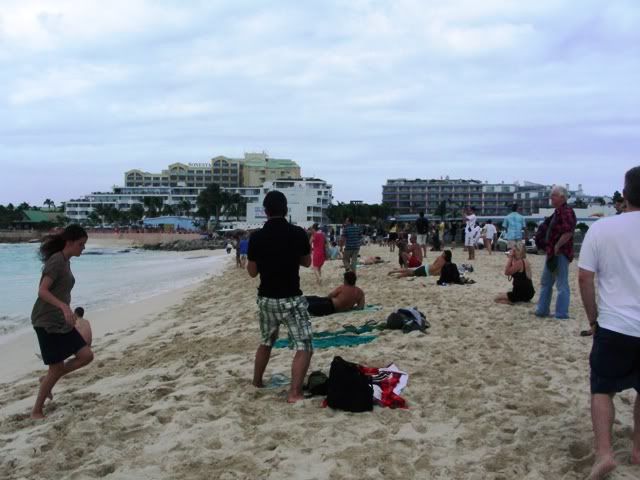 Crowd building shortly before the AF A340 arrival.
Here she is, looking a little dirty I might add…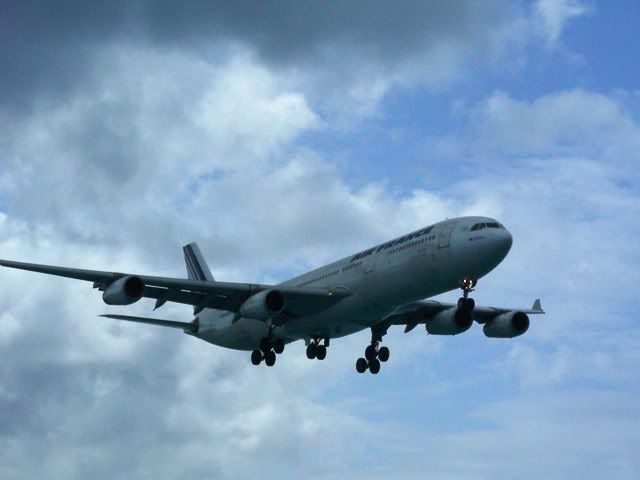 Unfortunately I didn't get many pics because I switched to video.. same was true for the Corsair 747.
ATR vs. A340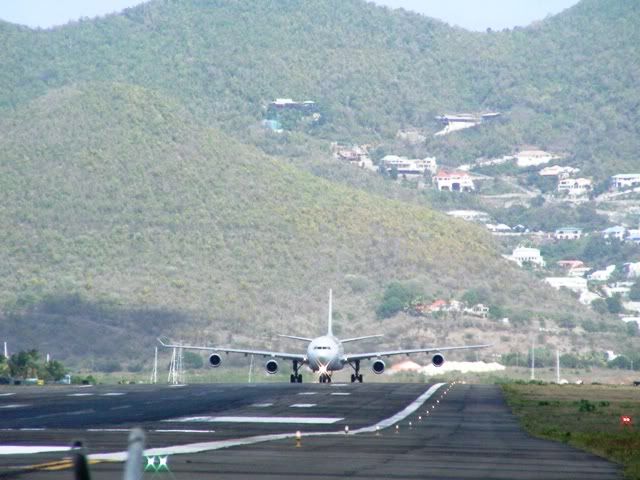 Back taxiing to the terminal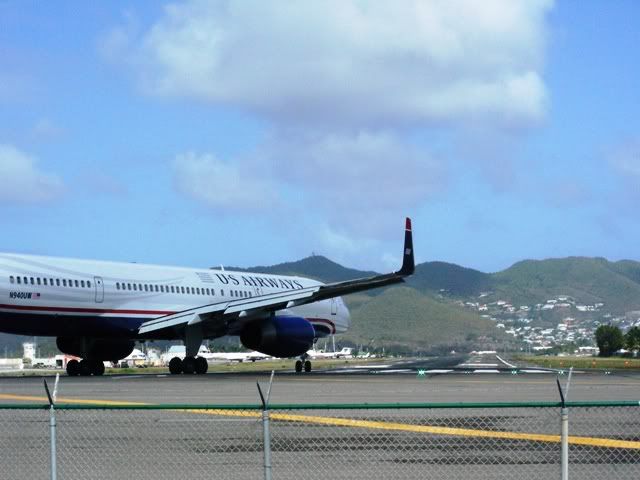 US 757 taking the centerline.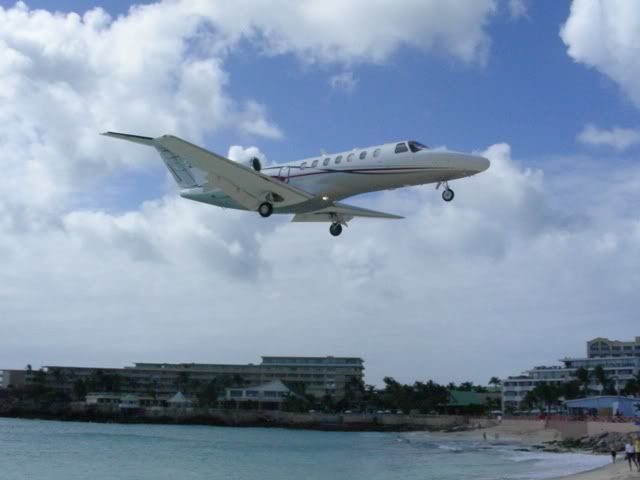 This never got old! These little guys would dive in on short approached one after another. The winds were also gusty the entire day, so that made some of the landings even more interesting to watch.
IIRC this plane had to make a go-around... there just wasn't enough landing distance remaining by the time he turned "final" haha
Burning calories running around for hours straight, having the time of my life only meant that I eventually needed to grab a bite to eat. After struggling to find an open table at Sunset we eventually succeeded and enjoyed some terrific food.
View from our table…
So many distractions while trying to eat. My head was continuously swiveling back and forth from my plate to the airplanes.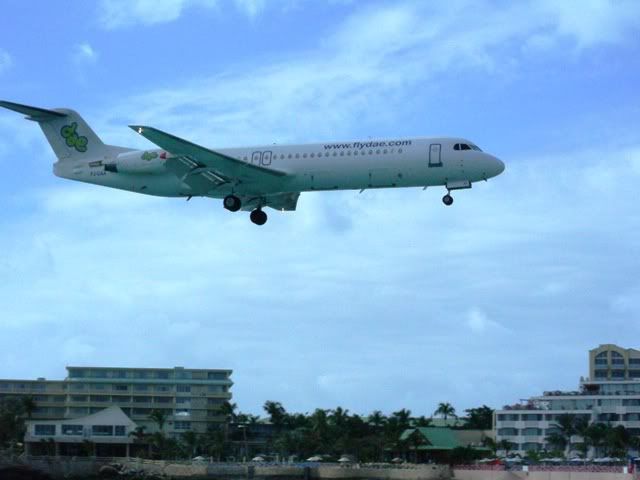 My fake "fence-holding" pose lol
Look at all that metal! Busy busy day at SXM just like I anticipated.
Now around this time I, as well as everyone else, anxiously awaited the arrival of the Corsair 747. It apparently was running a little late, then all of a sudden I caught a glimpse of it to the north turning downwind. The moment had everyone waited for finally had arrived.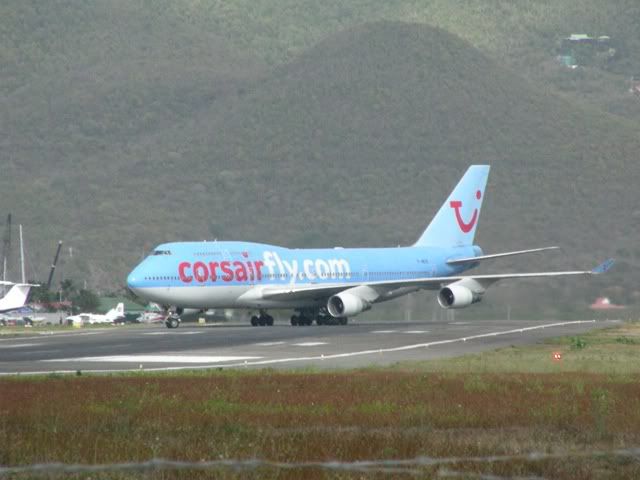 Once that rush was over we lingered for a few more minutes before deciding to call it a day by finding a taxi to return to the port. Our van ride had a delayed start since we were held up in a line of traffic that had to momentarily hold short of the runway for a 757 to takeoff.
Overall, my experience at SXM was absolutely incredible. It was very surreal to actually be there in person and to witness all the excitement close up. I wish I would've been able to stay to watch the heavies depart because I really wanted to experience their powerful jetblast, but they just didn't depart early enough. In total I took around 600-800 photos in about 6 hours and several videos as well. I really hope to go back someday, maybe for a longer stay in the future. Originally we were going to just go to SXM only for a 5 day vacation, but those prices got quite ridiculous so we opted with the cruise. If you have been to SXM already you know how addicting that true aviation enthusiast's paradise really is. If you haven't made a visit yet, I think it goes without saying that I recommend this destination for you future travel plans. You will not be let down!
Thanks for reading,
-Gaston