Hi Everyone! Thanks for reading.
Since moving back to London after a few years living in China, I've been investigating all the holiday options now available to me. After my frequent trips around China and Asia, I was looking forward to some more Westernised holidays. My first trip away was to
Venice on Swiss in Business Class
.
My next target was somewhere a bit further afield – New York. As I started to investigate a long weekend in NY, I decided that it would also be nice to do a day trip to Washington. After looking at the flights, I decided to see if it would be much more to add on a few days in Minnesota (I've got friends there), and it actually got cheaper. So, in early October, I booked my flight, London-Washington-Minneapolis-New York-London all on US Airways. Having researched the airline, I wasn't expecting much in terms of comfort and elegance (compared to most of my recent traveling on Singapore Airlines, Air New Zealand and Swiss), but the fare was good, and so was the mileage accrual! The flight times also suited me very well for the most part.
London Gatwick (LGW) – Charlotte (CLT)
US 733
Scheduled: 1135-1550 (9h15m)
Actual: 1143-1548 (9h05m)
Airbus A333 N275AY *Thanks 71Zulu for helping with the regs!*
Arriving at Gatwick by train was easy enough, and thankfully the US Airways check in was the first one as you can out of the station. There was just one person checking in, and five desks open, so after the pre-check in security screening, check in as very quick. I've just started earning miles on bmi, so put that number into my booking. I also have a Silver Lufthansa card, which lets me check in two bags on each flight. I asked if it was ok not having the LH card in the booking, and the agents said it wasn't a problem at all (more on this later).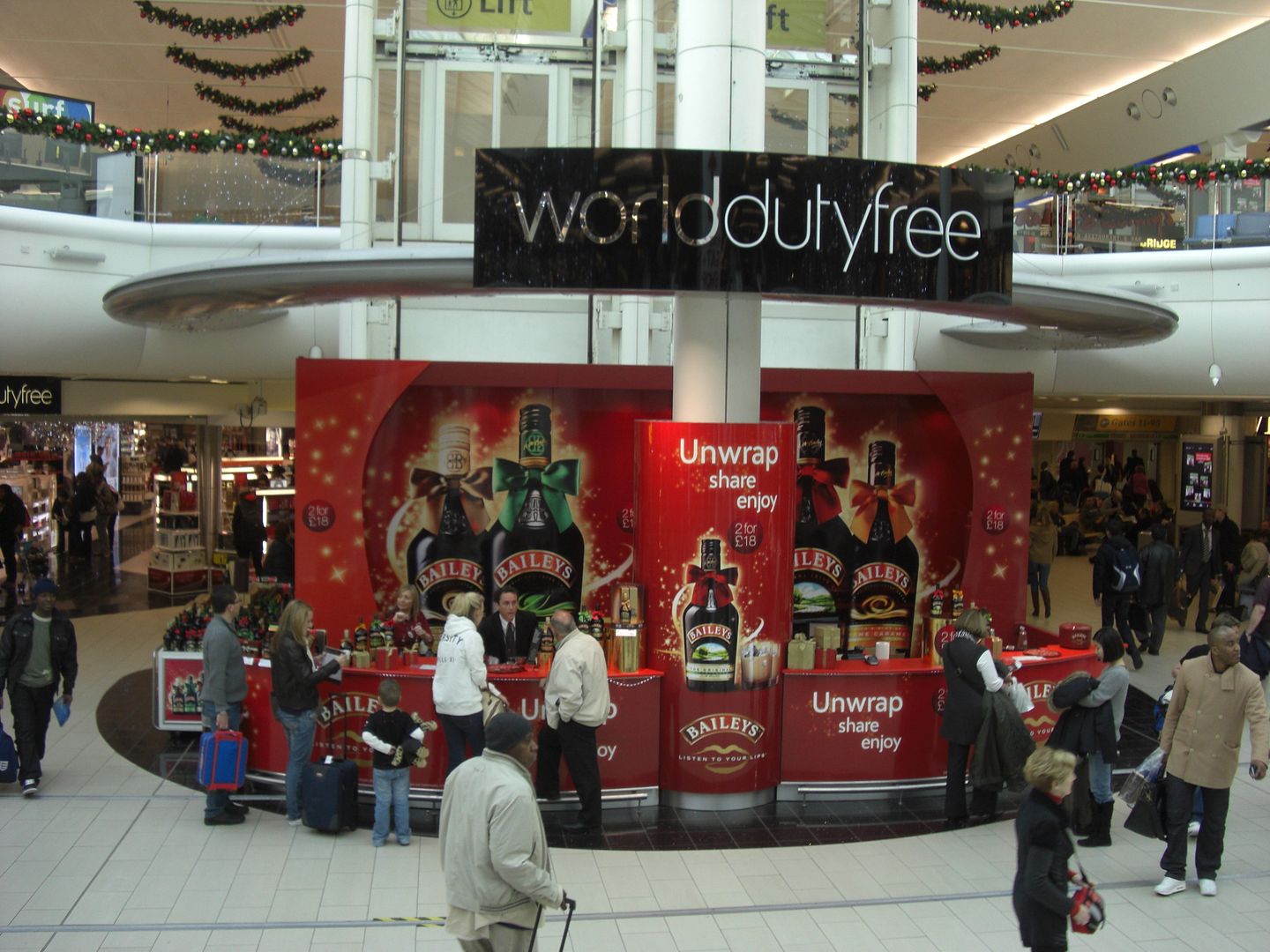 Departure Boards
Security screening was a complete shambles. For some reason just as I arrived, they decided to close the main security area, and directed everyone upstairs to a smaller area. There I got caught third in line behind a young family. The security personnel was completely focused on playing with the children and we were just stood still for about five minutes. The guy in front of the x-ray was doing pretend pat downs on the kids, etc. That's fine if the airport's empty, but when there are hundreds of people trying to get though, it was very unprofessional. Big thumbs down to Gatwick security team.
The departure lounge was quite nice. It's been years since I've flown though Gatwick South, so was nice to see. Our flight was to be leaving from the far end of one of the piers. Next to us was the Ghana International flight to Accra, and an easyJet flight to Toulouse. There was also a Mexicana B767 opposite, but there was no information on the screens.
Mexicana
Ghana Airways operating their daily B757 to Accra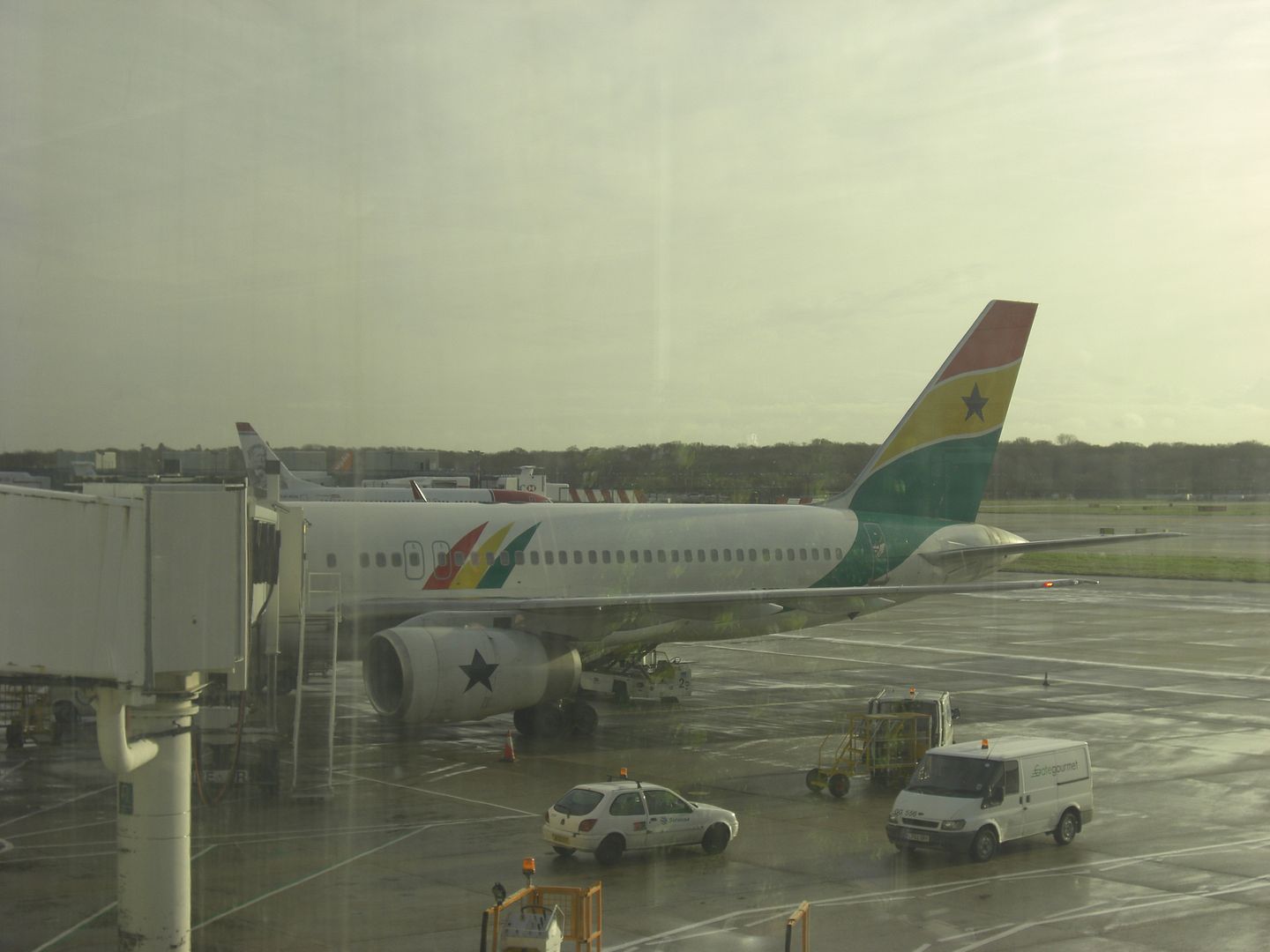 Boarding started about forty minutes before departure. For some reason, US Airways splits boarding into zone. What's strange about that, you may ask. I had a window at the back. Whatever the zone number that happens to relate to, you would surely expect that zone to be boarded first. Wrong! US Airways has decided that those sitting in the hardest to reach seats should board last. Not sure the wisdom behind this – perhaps US know something that no other airline does.
US Airways A330 to Charlotte, NC
After a final security screening (rather incompetently done I may add) I boarded. My first impressions of the cabin were very good. Nicely upholstered leather seats, PTVs (a bit on the small side), and a blanket and pillow on each seat. The staff weren't quite as well turned out as the aircraft, however. It seemed that every staff member had a different uniform on, some of which were very scruffy. From what I observed, a favourite amongst cabin crew on US was a blue cashmere-looking long sleeve top. Without fail, this made every person wearing it look frumpy and untidy. Some people were wearing shirts and ties, and looked very neat, but his jumper look was terrible.
Until just prior to pushback, I noticed that the FA near the door closest to me had left her Starbucks cup on the exit door handle. Is that standard operating procedure on US?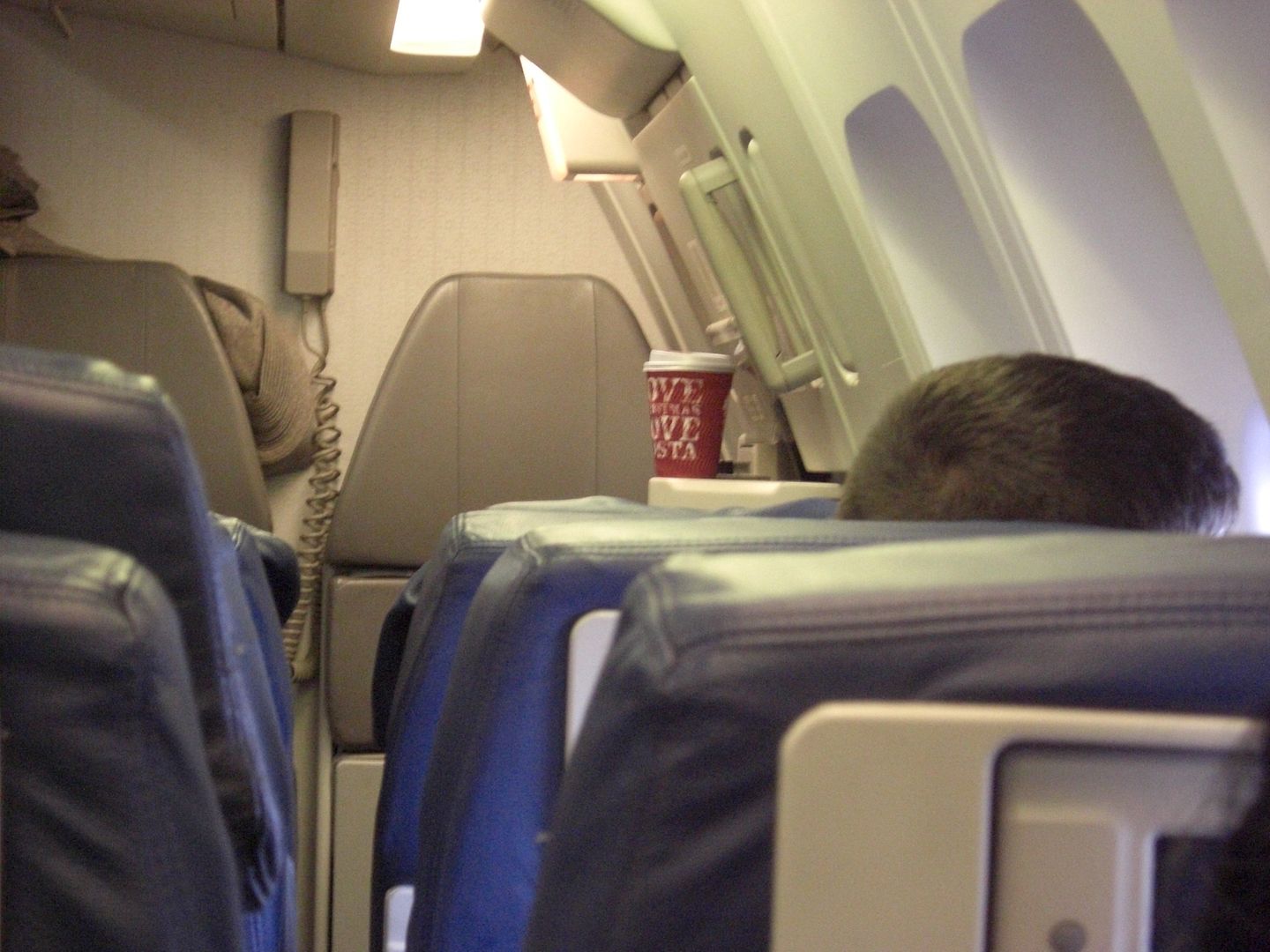 We pushed back relatively early, then sat in the middle of nowhere for a bit, before continuing on to the runway, where wheels up was just a few minutes.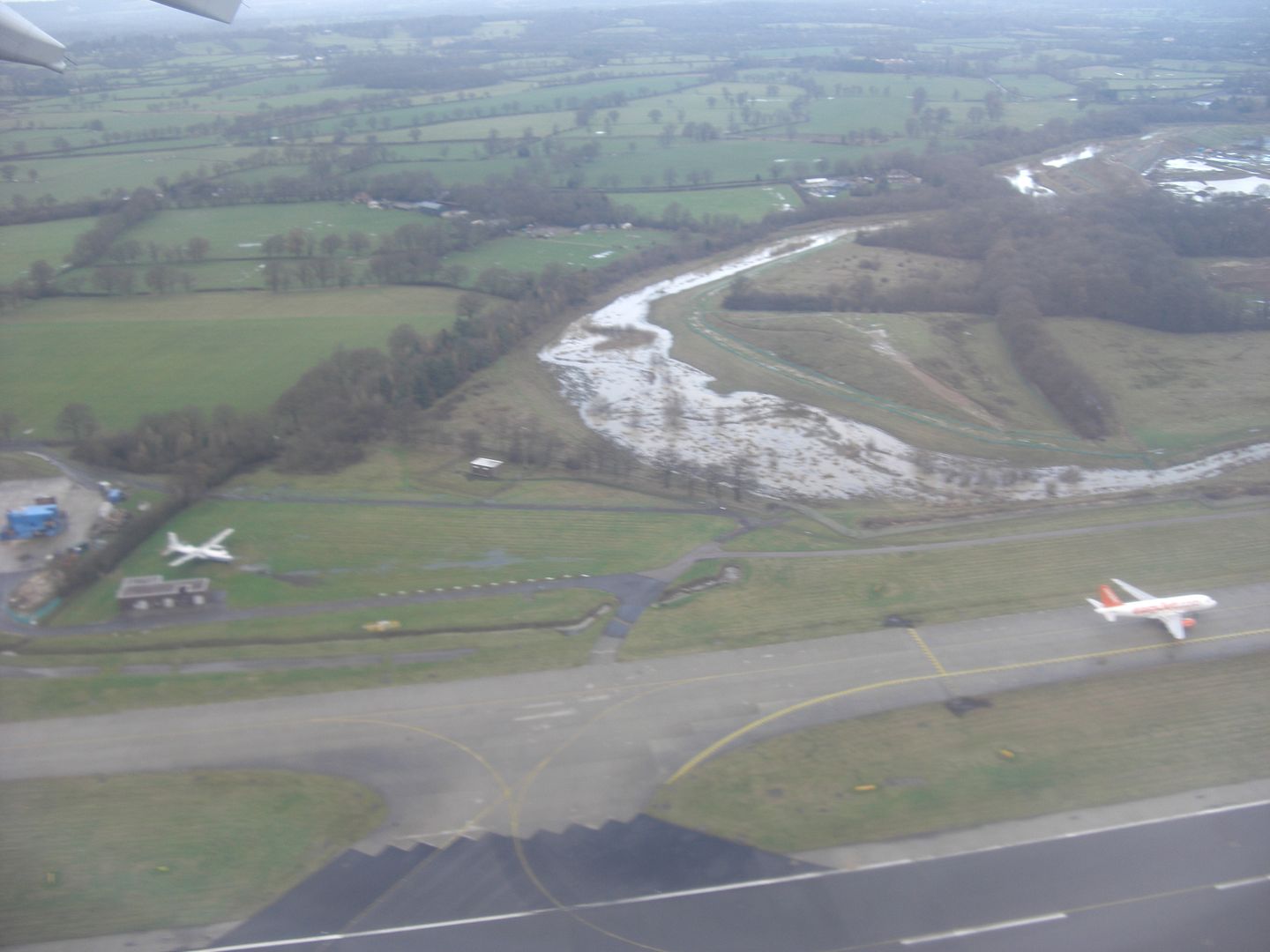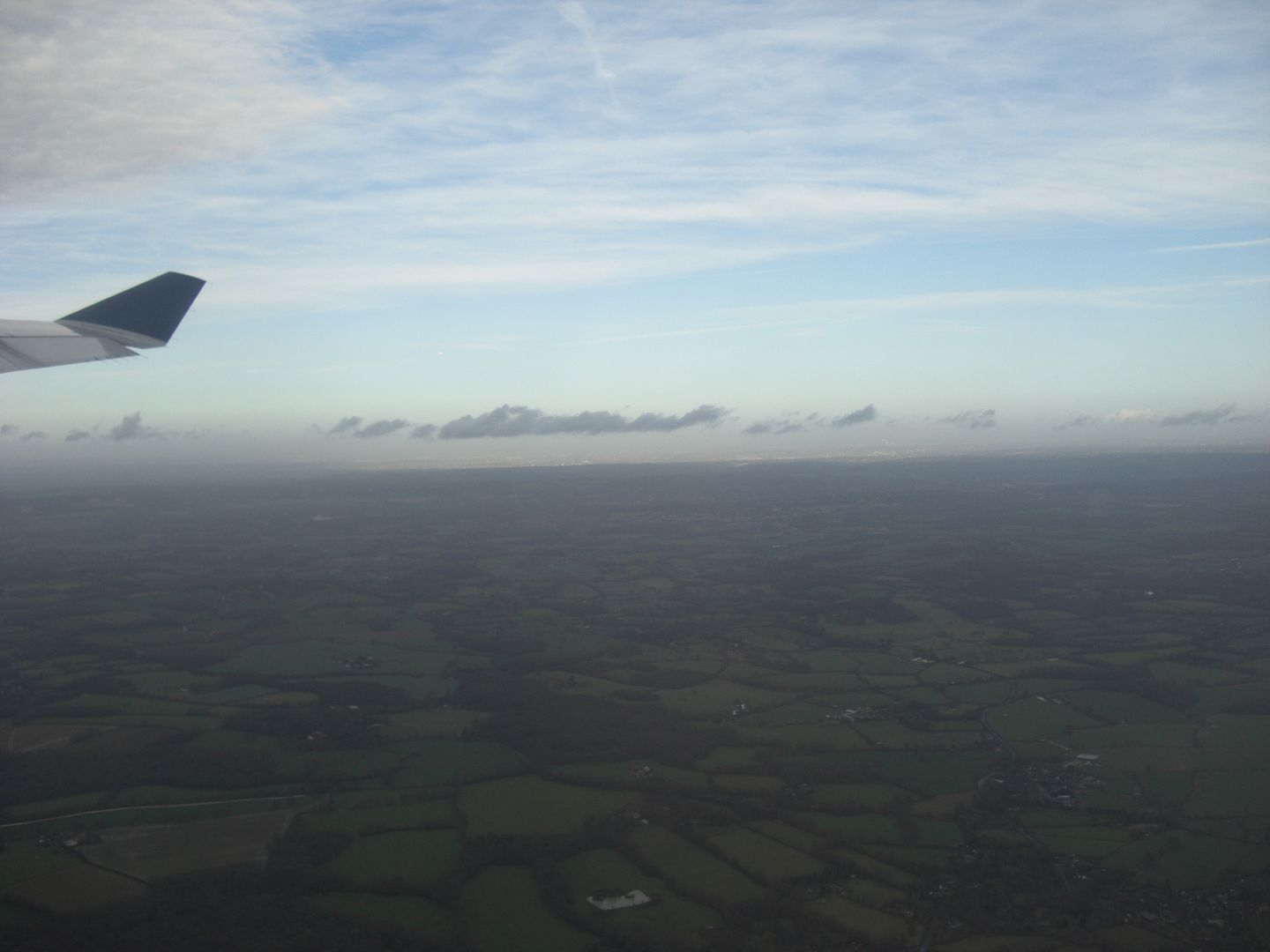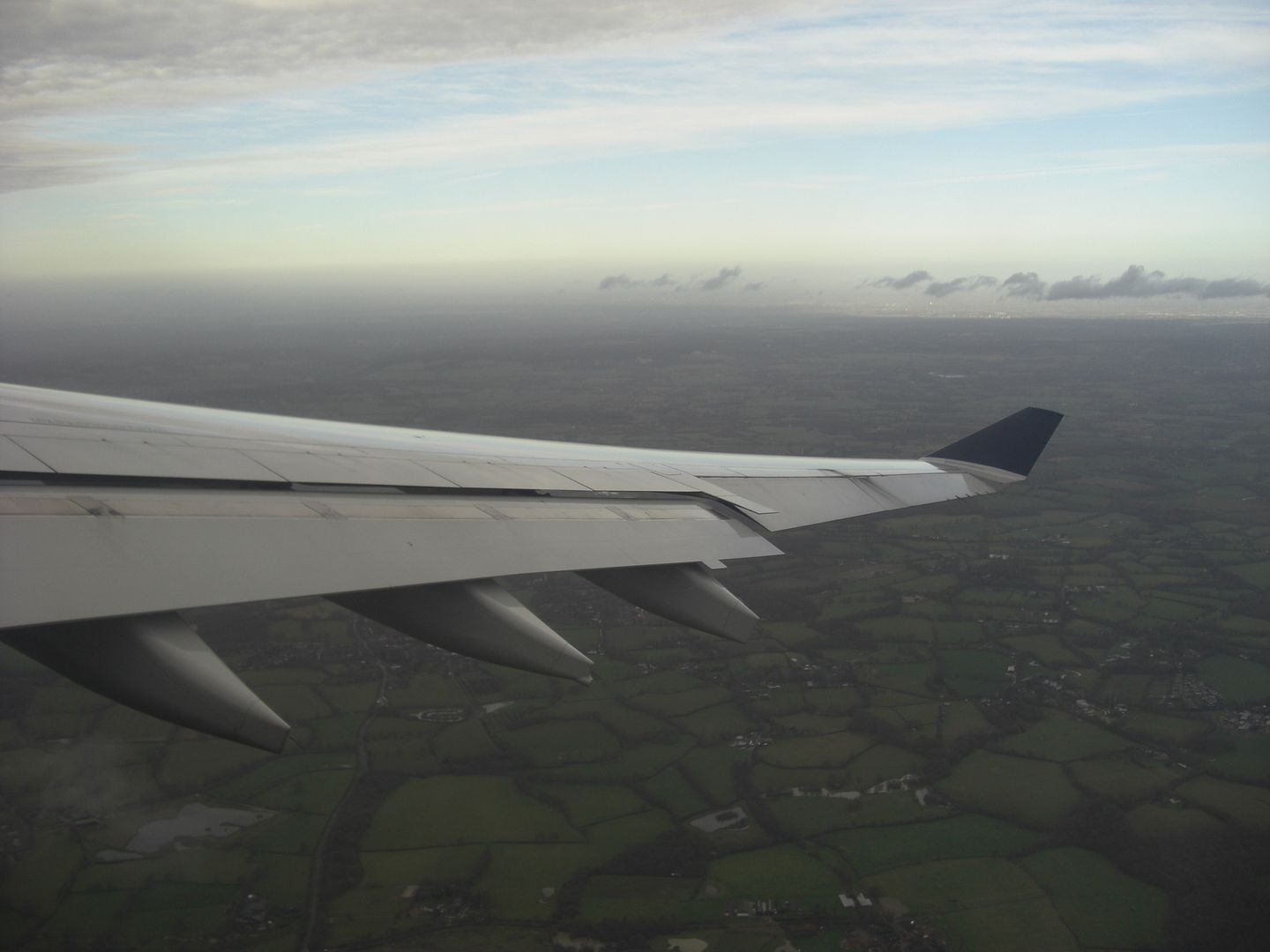 I wasn't excepting much in terms of service onboard. Reviews had lead me to believe that the LGW-CLT routes were seriously deficient mainly due to the lack of competition. I was quite surprised to see that there was a choice of meals for lunch, and the staff happily gave out extra cans of drink when asked. Lunch today was a choice if spicy chicken or vegetarian pasta. I went with the chicken. Despite the fact that everything was shrink wrapped and visually very unappetizing, the food actually tasted ok.
Booze was charged for though, and at $7 for a can of beer, not very good value. I chose the chicken and rice for lunch, which actually tasted quite good. Despite the poor overall presentation, the meal was far better than anticipated.
Overflying London City (LCY)
The IFE was also fairly good, although lacking a moving map (which is quite often the best thing available). Headsets were being sold for £3 (which they probably bought for less than $1, then had the cheek to say you were free to take them with you to enjoy on a future flight). Luckily I'd just invested in a pair of noise canceling headsets (not too dissimilar to the ones currently advertised on the back of the US Airways magazine), so didn't have to buy in a set of theirs.
With lunch done, there was nothing much left to do other than look out fo the window. I tried to get some sleep, and managed an hour, which was pretty good going given that it was only midday.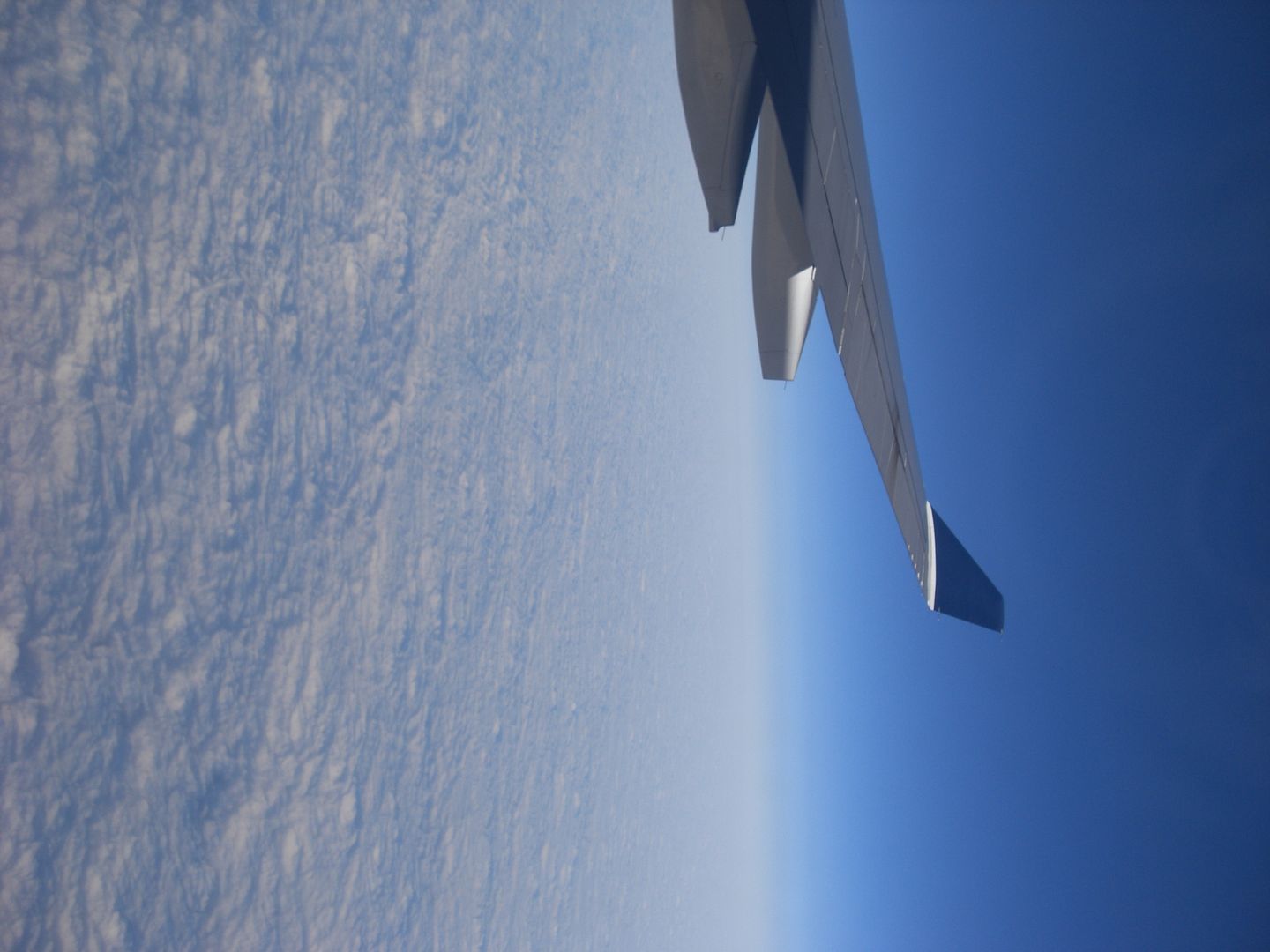 Due to the lack of moving map, I'm not entirely sure where I took these photos, but I'm hoping that they were of Greenland, although the great circle map doesn't show the route going anywhere near, and I think it was too early in the flight to be Canada.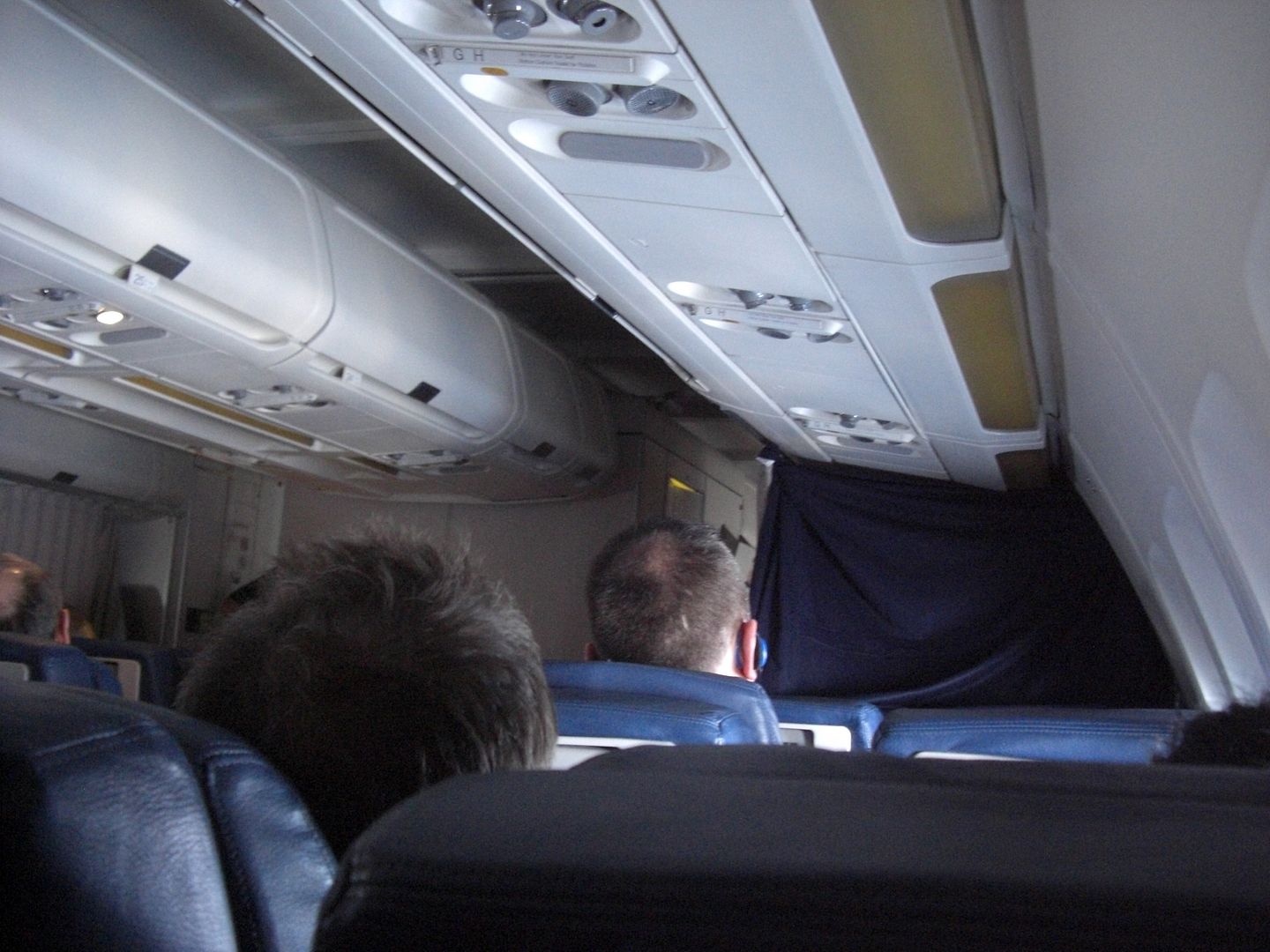 I was impressed to see the crew come around at least twice with orange juice and water during the flight. A few hours before arrival into Charlotte, we were handed out a turkey ham pannini, which was tasty, and just right for that time of the flight.
We touched down a few minutes ahead of schedule and taxied to the International Gates. We docked next to Frankfurt flight. The only other longhaul routes into Charlotte is Lufthansa's Munich flight. Since I visited, however, US have started fling to Rio De Janeiro and Honolulu, although I've heard that the HNL flights often have to stop in LAX to refuel.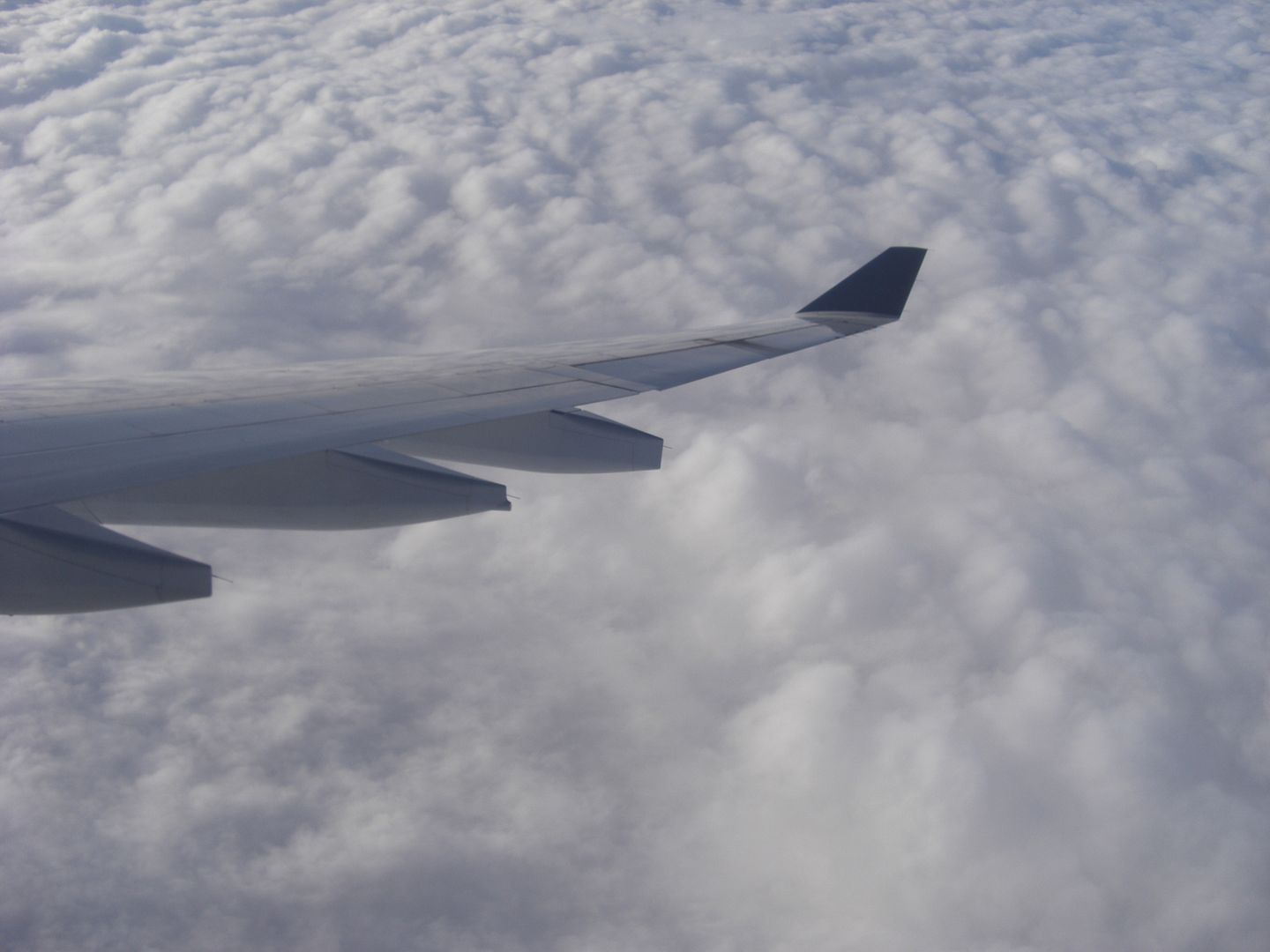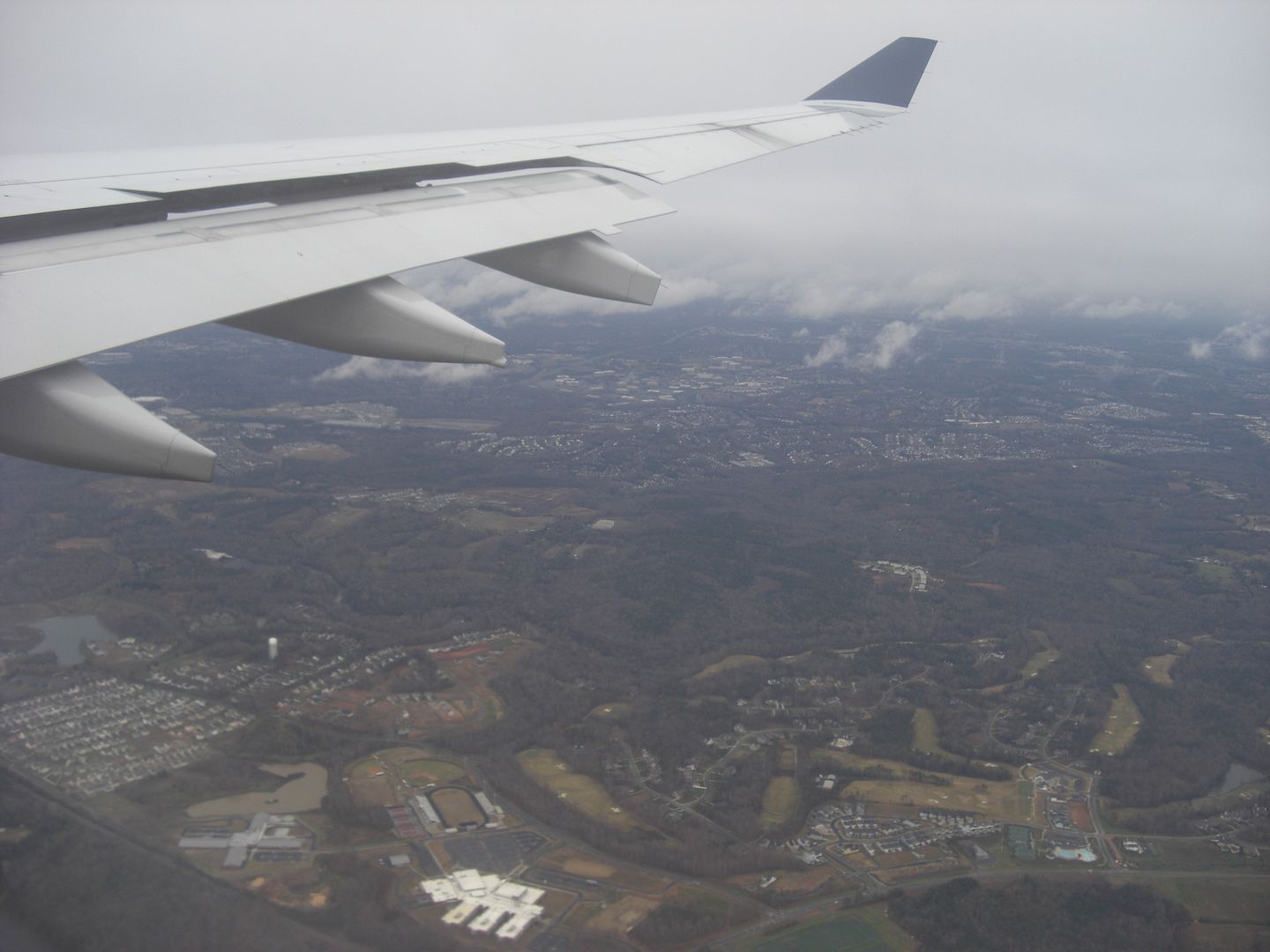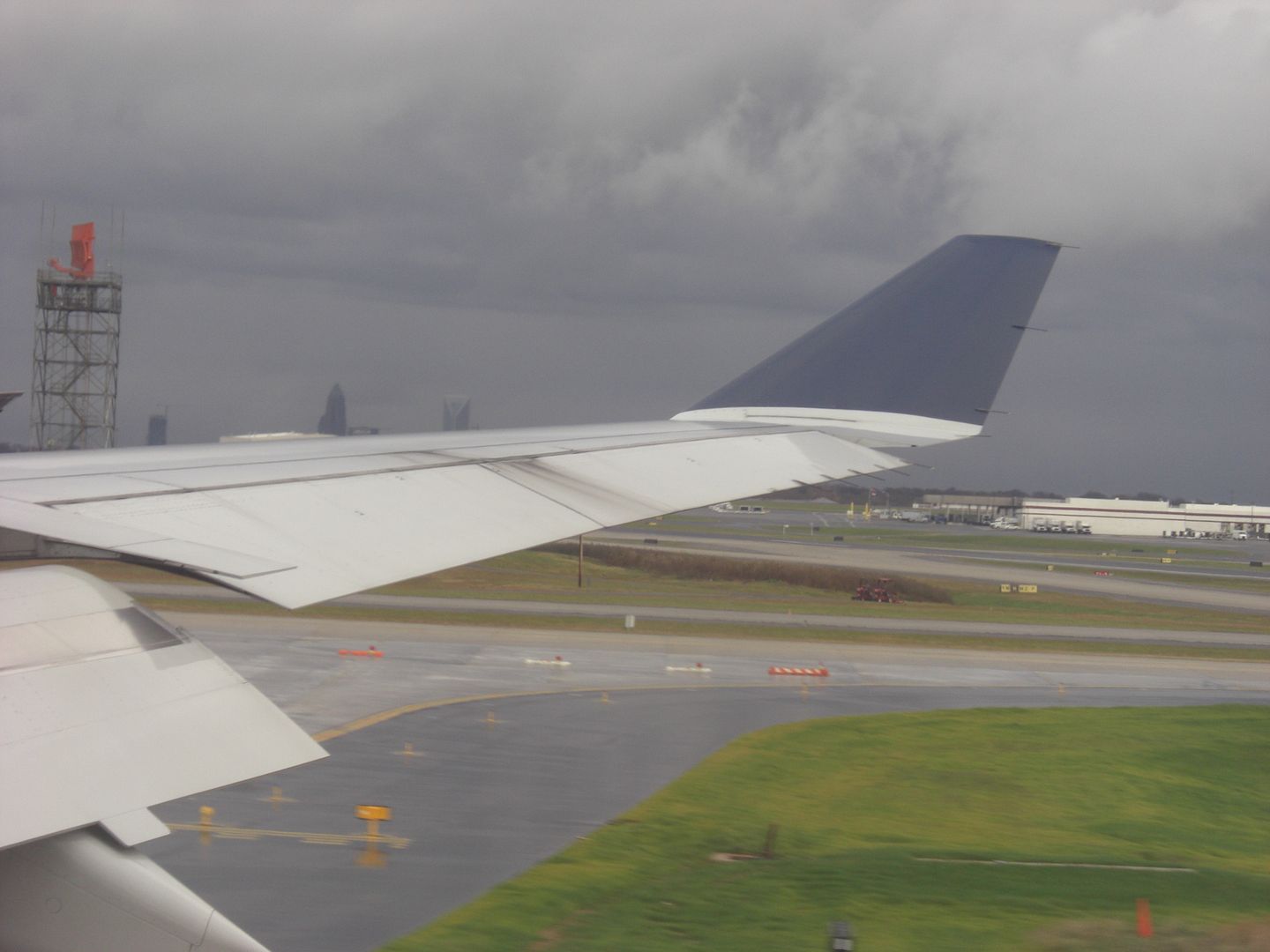 The US Airways flight from FRA next to us
As I was sat near the back, I was one of the last in the queue for immigration. As I have a two hour connection, I was too worried. I had specially booked this flight via Charlotte as apposed to the US flight via Philadelphia as there are far fewer international passengers, hopefully making immigration easier. Whilst waiting queuing for immigration, there were two guys checking everyone's documents. The first guy had a look at my form, and said it was fine. The second guy pointed out a few things I had missed. What was the point of the first guy if he couldn't check if the forms were correctly filled out? When the first guy was looking over my forms, he saw a tissue someone had dropped on the floor; he looked around, then promptly kicked it under one of the queuing barriers. That's a good way to ensure that it moulds away without ever being cleaned. Urgh.
After a few seemingly irrelevant questions at immigration, my passport and customs forms were stamped. Interestingly, even though I had declared some food items on my customs form, no one was interested in asking what they were, unlike when I went into Australia, and the things I had were looked at.
Despite spending over half an hour at immigration, my bag still hadn't arrived at the belt by the time I arrived. Once it did finally show, I took it to the recheck desk, and it was sent onwards.
As I still had a while to go before my connection to Washington, I took a walk outside. It was a lot colder than I thought I would be. I had imagine the Carolinas to be more temperate.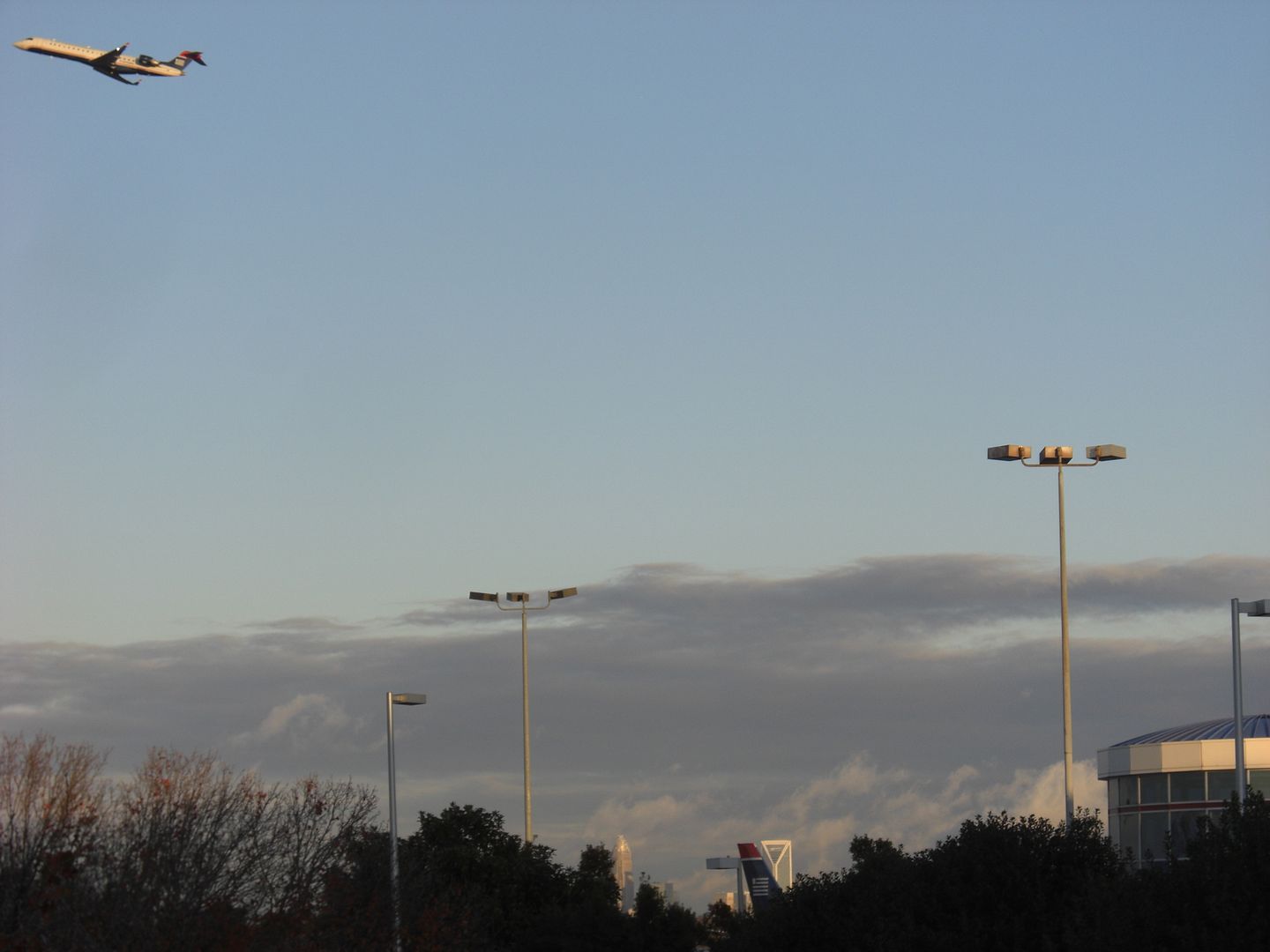 My first TSA experience was ok, staff were unremarkable. The main departures area was quite nice, with a long line of rocking chairs beneath a large model aeroplane with a working propeller (when I was sitting in the rocking chairs, I'd say maybe 5% of people walking along took a photo of that plane). I was quite surprised to see the number of buggies racing up a down delivering people to gates (it seems to be like that in nearly all US airports). It was like they were running a bus service, with special waiting areas by most of the gates.
Charlotte (CLT) – Washington (DCA)
US 3108
Scheduled: 1755-1915 (1h20m)
Actual: 1822-1913 (0h51m)
Embraer 175
This would be my first flights on one of the larger Embraers. My first Embraer flight was earlier this year on an E145 from Guangzhou to Wuhan which impressed me quite a lot. The E175 was also a pleasant surprise. I actively try and avoid travelling on CRJ flights as I find the cabin very crowed, especially on the CR2. The Embraer family is completely different though. I imagine a lot of people would barely be able to tell the difference in size, compared to an A320 or B737, other than the lack of middle seat.
This flight was fully booked, but everyone boarded fairly quickly. As with just about every domestic flight I took, there were problems with the amount of carryons. There were notices everywhere saying that only one piece was allowed per person. Far from being enforced, I say gate agents look at people boarding with three enormous bags, plus coat, and just say, "try and squeeze the third one into the second", even when it was very clear that they couldn't. I've very rarely been worried about being able to have space to but my bag up, but with these flights, I was actively trying to board as soon as I could to get some overhead space, as it was almost always over subscribed. Perhaps they should take a leaf our of Ryanair's book, and get people to go around the departure lounge and charge people to check stuff in or else deny them boarding – that should encourage people to either take less stuff, or check it in.
Onboard services were quick, and the cabin crew dispensing just one cup of drink per person. Despite a late departure, we landed a few minutes early. I was hoping to get some good views of the city on arrival, but we approached from the south and the most exciting thing I saw from the plane was a car park. Never mind. Luggage took an age to come out, and there when it did come, there were no announcements or signs on the monitors. Once I got my bag, I took the shuttle to the Radisson (nice hotel, although the shuttle took half an hour to arrive).
A few photos of Washington
The Metro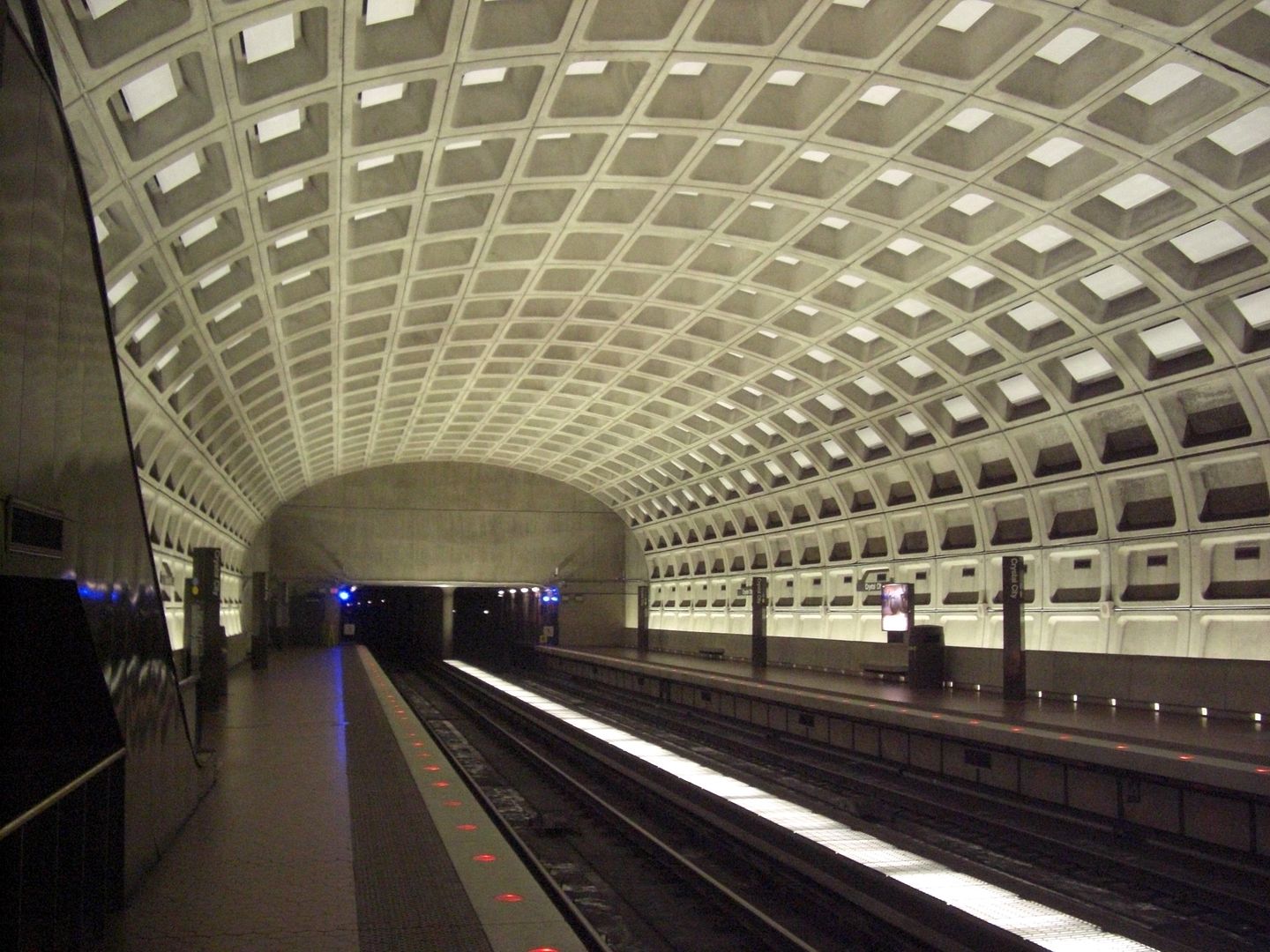 APA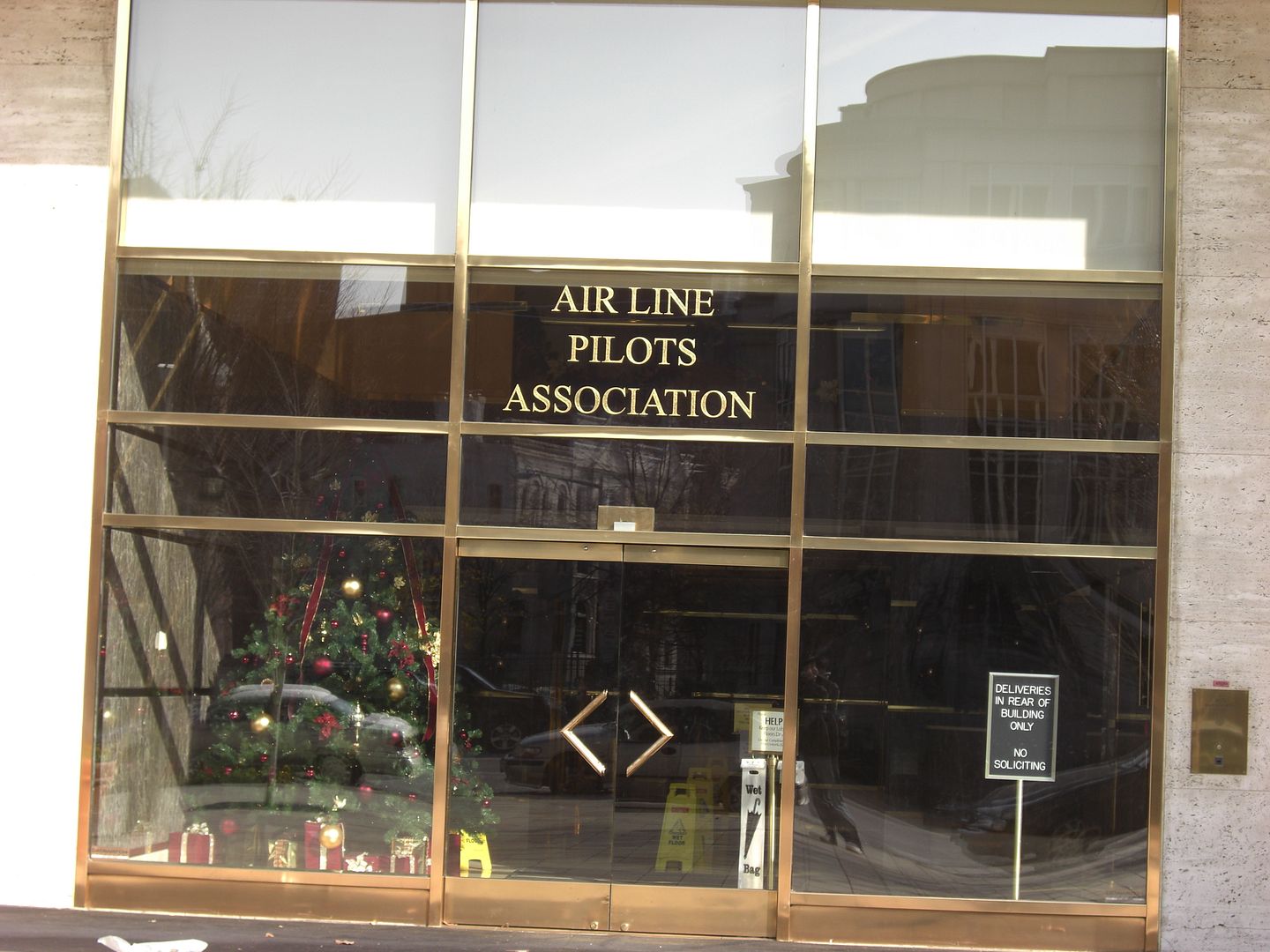 The Newseum
National Christmas Tree
White House
Why are there so many flags in the US? I don't recal having seen a Union Jack in London in months
FBI Headquarters, home of the X-files!
The Smithsonian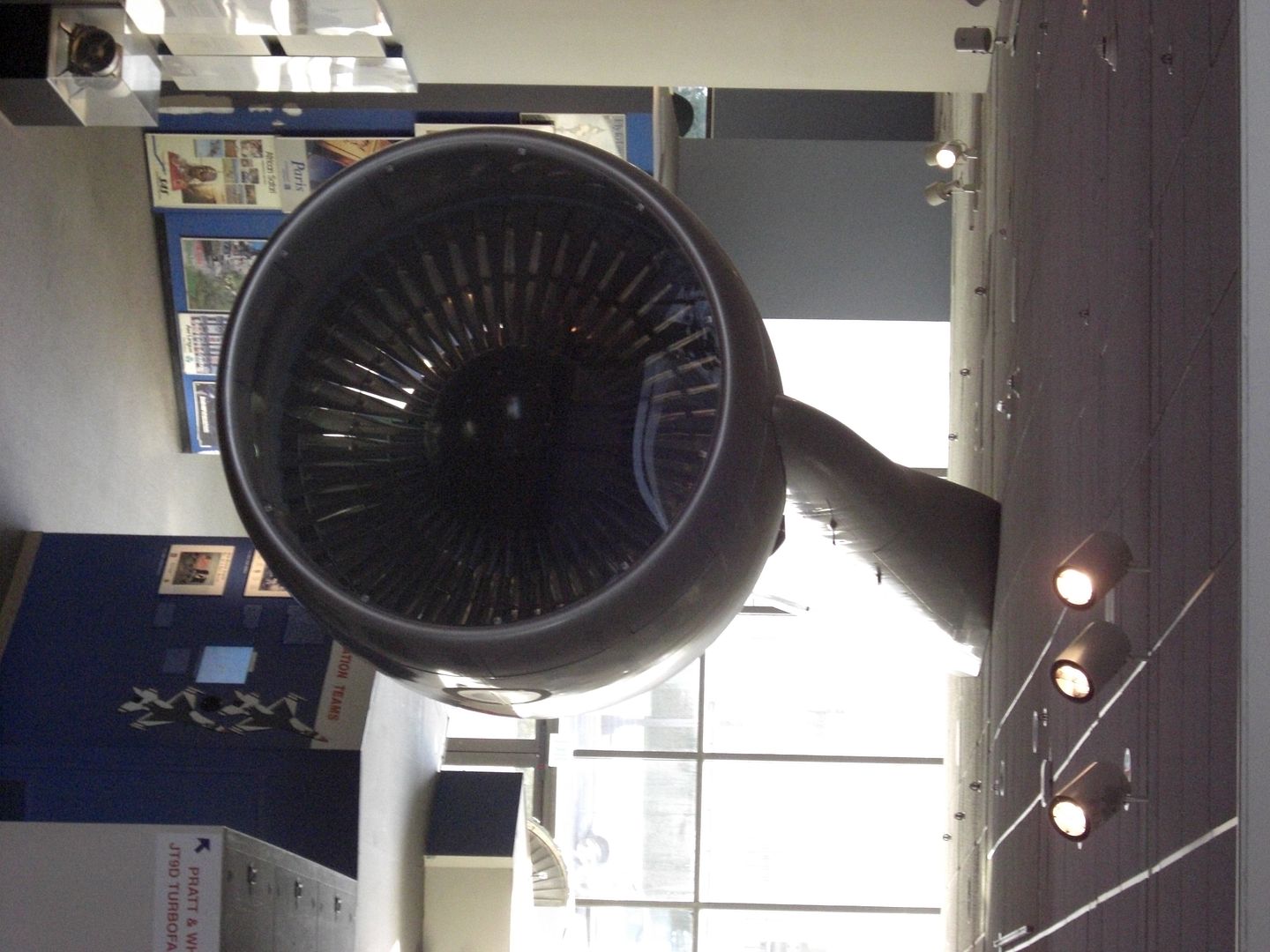 After a few days in Washington, I took another shuttle back to the airport (which was much better timed), for my flight to Minneapolis via Philadelphia. The terminal at DCA was quite impressive, with good views of the tarmac from the check in area, and a nice long terrace running the length of the terminal.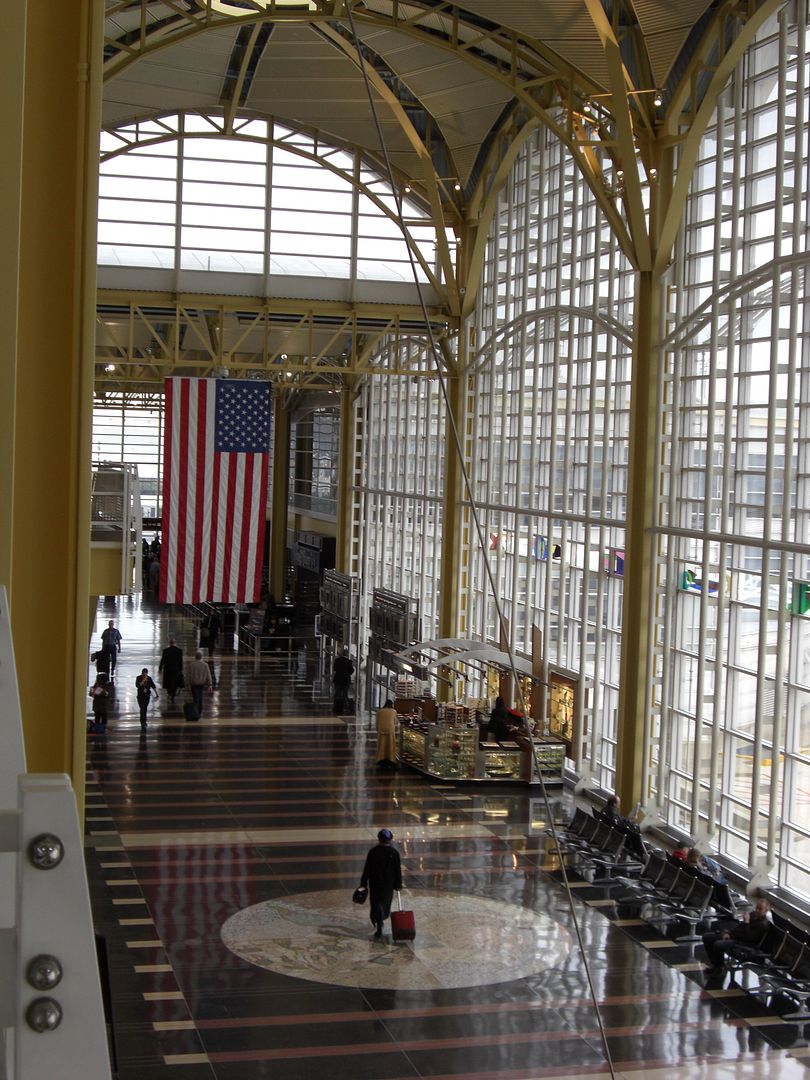 In the US, it seems that all airlines have adopted kiosk check in, instead of actually having someone sitting at a desk. As such, I checked in at a kiosk where it told me that I had to pay £25 for my bag. I was slightly surprised as I assumed that as part of an international ticket that I would be exempt. I asked a member of staff about this and she said I would have to pay. I tried explaining about what the staff at Gatwick said, and that I had a Silver card, but she got very defensive and awkward. After to-ing and fro-ing for a good tens minutes, where they changed their (I asked to see a manager) story a few times ("once a FF number is in, I cannot change it", "we can't comp bags", "the machine already said you had to pay, so now you need to pay regardless"), they eventually changed my no-status BMI card to my Silver LH card. The whole thing was handled very poorly, and that checkin agent really needs to listen to customers before saying something is impossible. Ironically, on the flights from MSP-PHL-LGA, when checking in online I used my LH card (surprise surprise, you can change the FF number), the miles actually posted to my bmi account even though it said my LH number on the boarding cards. Very weird, but exactly what I wanted to happen. Great!
As I had a few hours to go before my flight, I had a burger and beer to chill out after the stress of dealing with check in.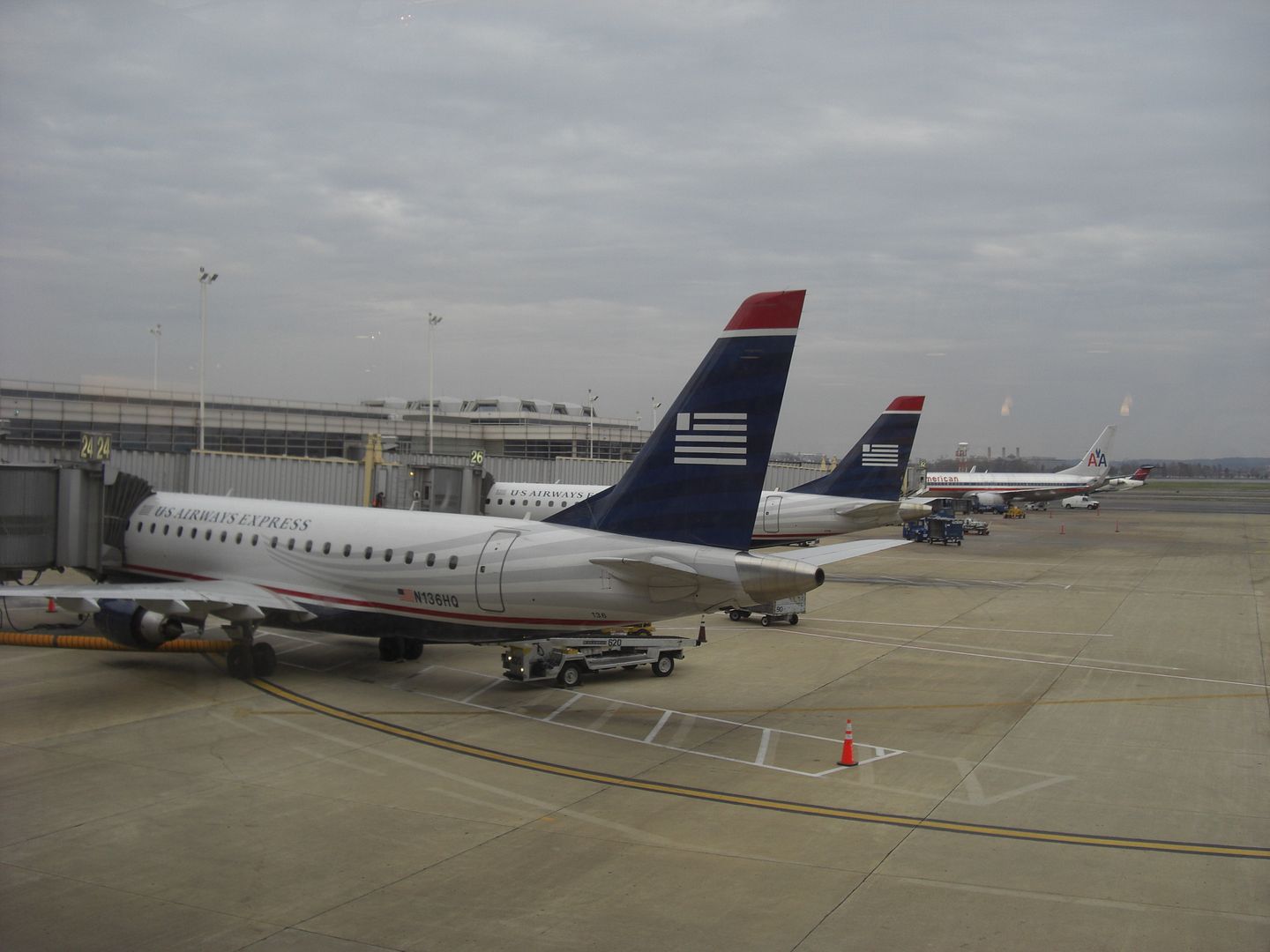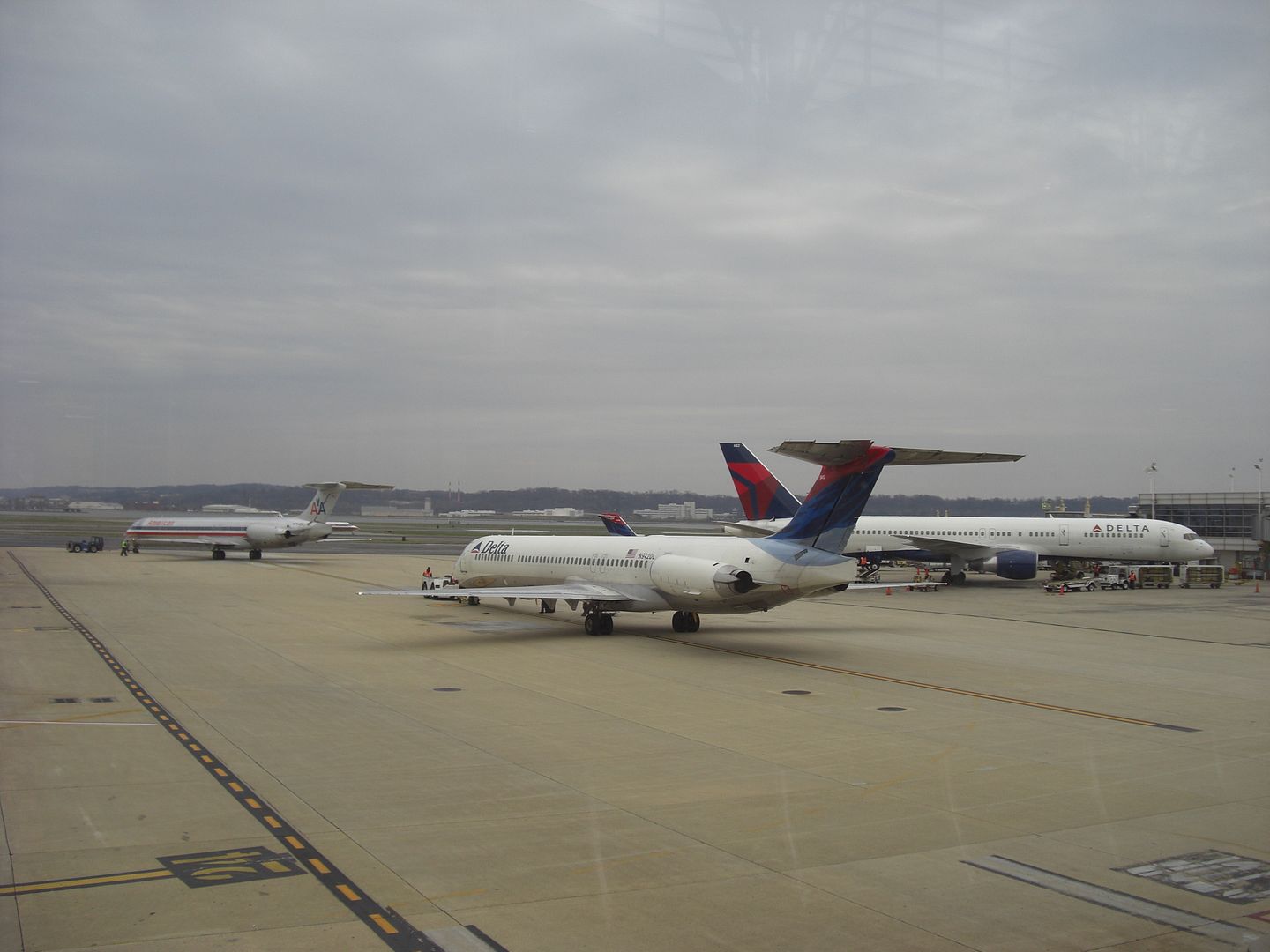 Washington (DCA) – Philadelphia (PHL)
US 750
Scheduled: 1600-1708 (1h08m)
Actual: 1629-1705 (0h36m)
Airbus A319 N750UW
My A320 arriving
TSA personnel were quite brusque in DCA, shouting at nearly everyone, and being very patronising, but I got though without too much hassle. Boarding was called on time, and we taxied towards the runway. I'd been watching closely which direction we'd be departing from, but unfortunately I'd be leaving the same direction that I arrived, so no views of the city. However, just metres from the end of the runway, we stopped, and the captain came on saying we'd be holiday for around half an hour die to traffic in the Philadelphia area. In this time the crew had time to do a drinks service (the flight was very empty), but instead hid in the galleys. Unsurprisingly, once airborne, they said that there wasn't enough time to do a drinks service.
The general mess of the seats upon boarding. In Asia you'd never see the belts not crossed, and the arm rests up.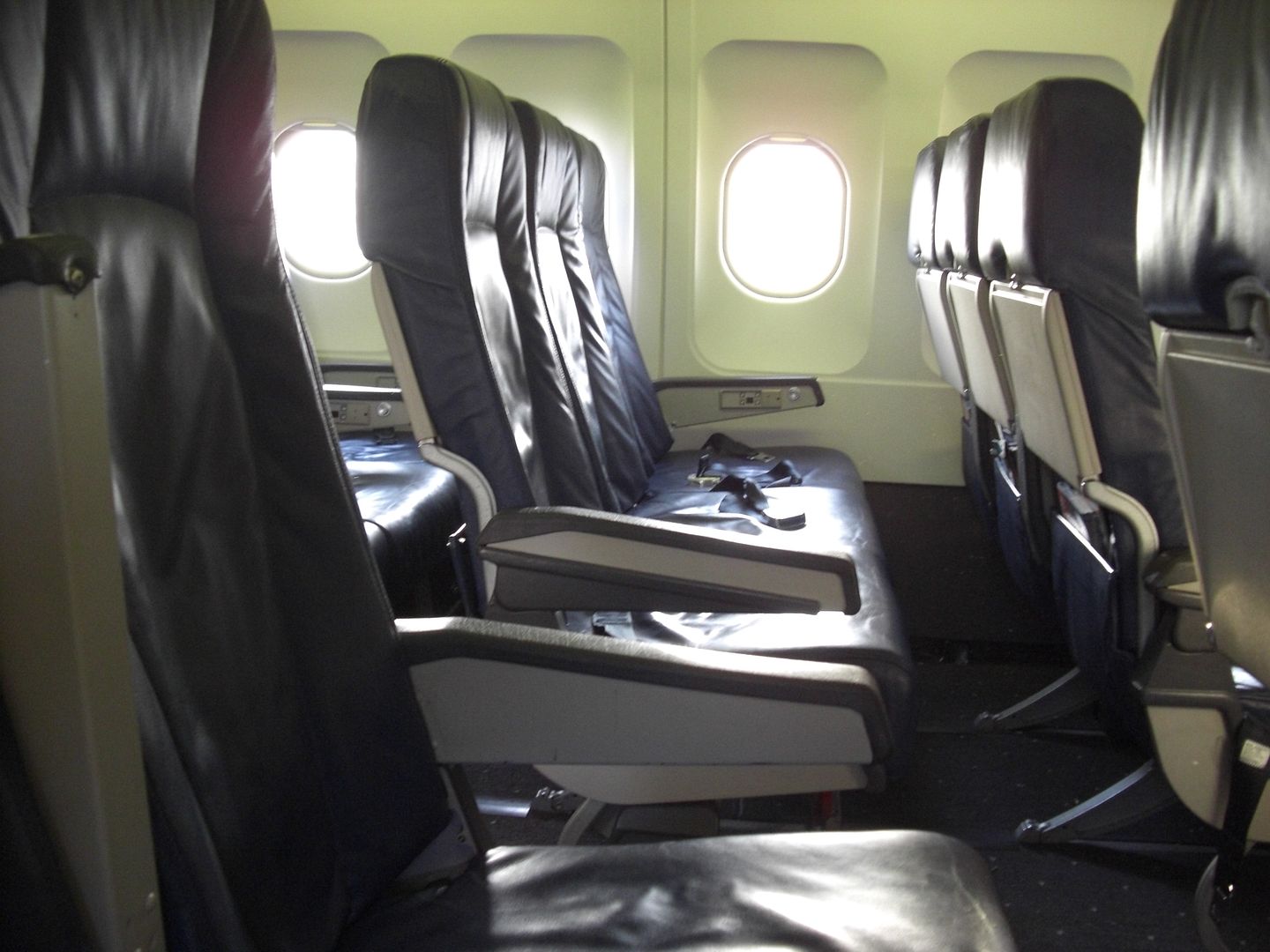 Landing in Philadelphia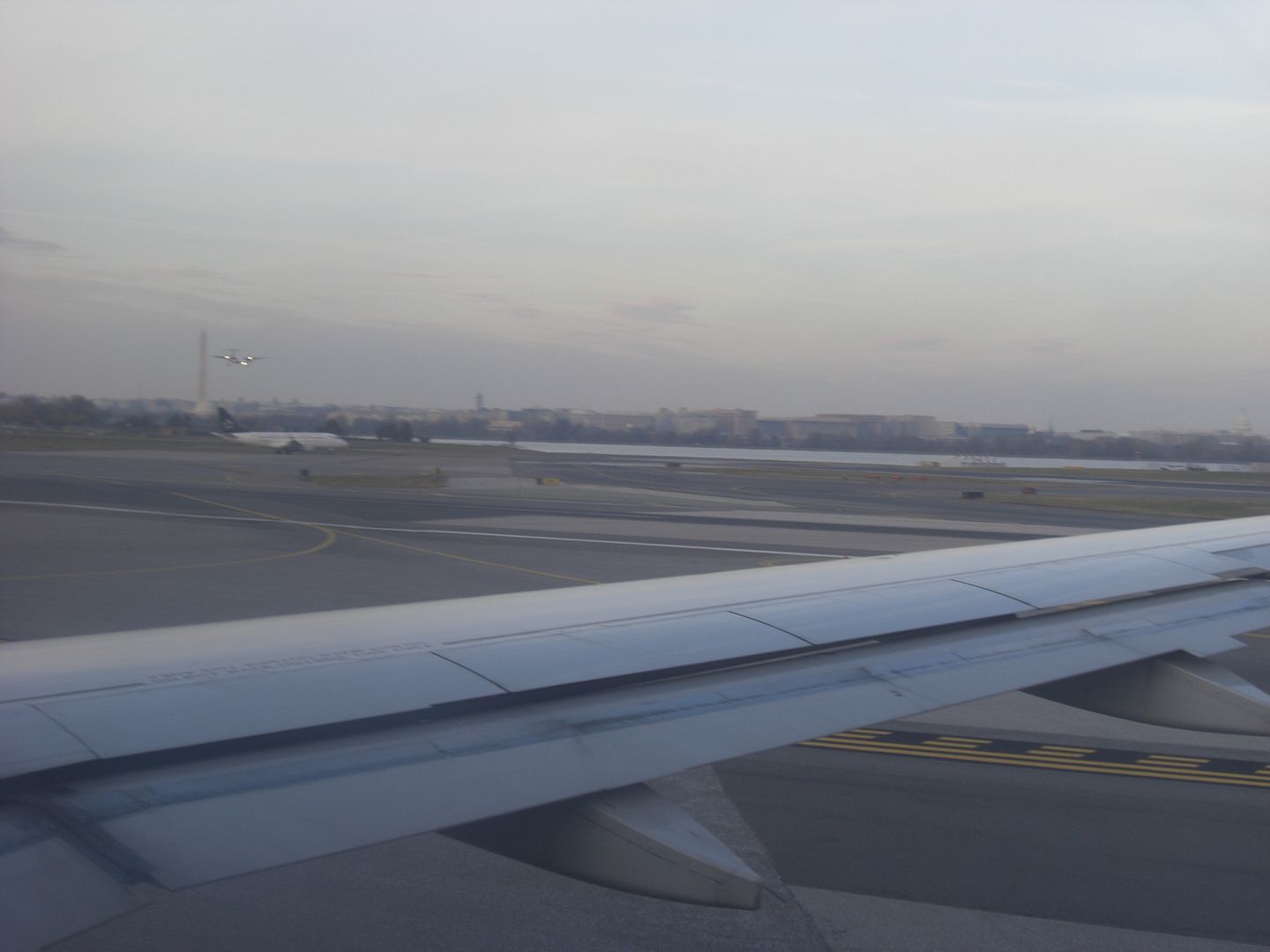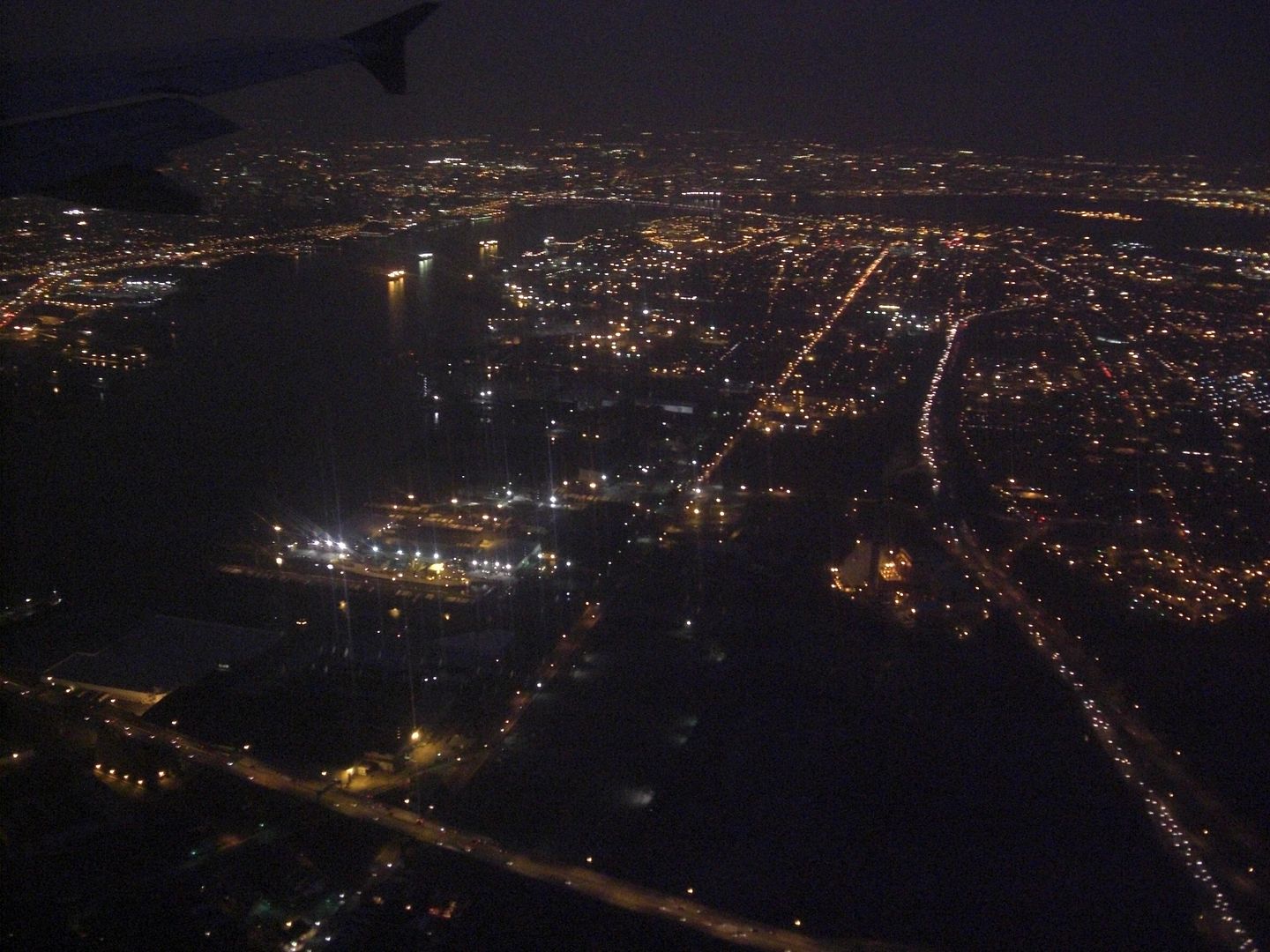 As luck would have it, the same A320 would be continuing to Minneapolis. I took the one hour stopover time to look for something for dinner – what a mess PHL is. Small, low ceilings and very crowded. Thankfully here the passageways are too narrow for the golf buggies to come down (at least I didn't see any).
PHL gate area
Philadelphia (PHL) – Minneapolis (MSP)
US 1847
Scheduled: 1805-2012 (3h07m)
Actual: 1836-2019 (2h43m)
Airbus A319 N750UW
This flight was a little fuller than the previous one, and I was seated next to two Frenchmen, with a German guy behind. There seemed to be quite a few Europeans on this flight, obviously just connection from US's PHL transatlantic services. Due to the heavy traffic, we left over half an hour late, but thanks to the over padded schedule, landed just a few minutes late.
The crew came around once with a beverage service. By now I'd lot accustomed to asking for my drinks without ice, and a) the cans are cold anyway and b) in America they crew seems to fill the ice to the top of the glass meaning you can actually take a sip without getting a face full of ice. The French guy next to me was muttering about this once he saw the state of his glass of coke!
My bag being unloaded in MSP.
Despite being mid-December, Minnesota still hadn't seen much snow, so the drive back to my friends house was fairly easy. During the night, however, the temperatures plummeted, and the heavens opened, so I woke up to a good few inches of the white stuff in the morning – perfect timing!
Over the next few days I went to the Mall of America (America's largest) which not only was empty, but very cheap by European standards. I went into Abercrombie and Fitch and got a pair of jeans for £25 (Euro 30), which is unheard of in London (if you can get into the store). Nice shopping experience. They also had the 'Bodies' exhibition on, so took the opportunity to go and see that.
My friend's neighbourhood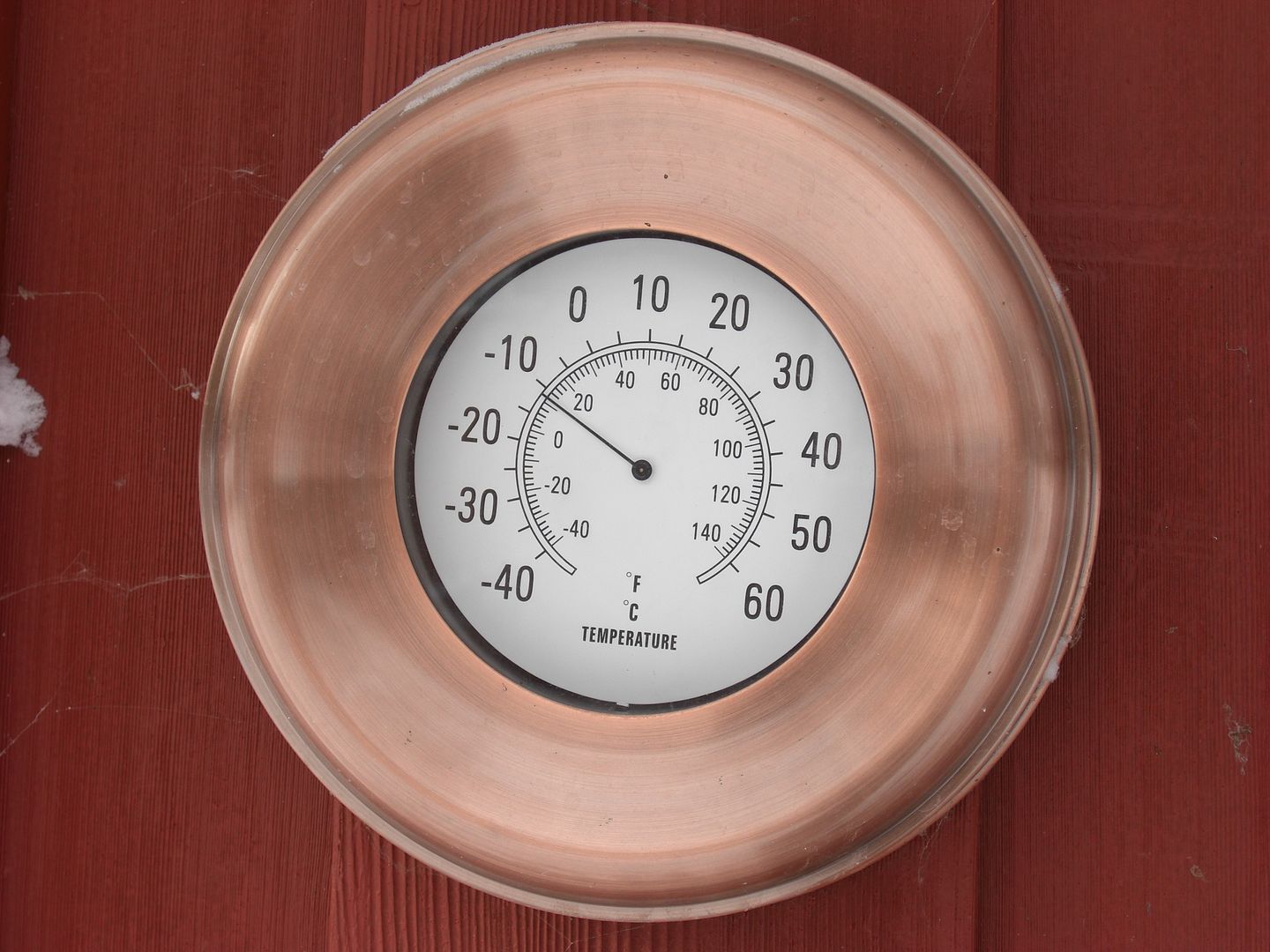 After a few very cold days, it was time to head back to the East coast. Check in in MSP was nearly deserted, and my bag was tagged very quickly by a helpful lady. MSP is overwhelmingly dominated by NWA/Delta, so there were plenty of red planes around the terminals. By chance I found the entrance to the observation deck next to gate D4 (?), which was great. A little glass enclosed room overlooking one of the runways.
The observation room and views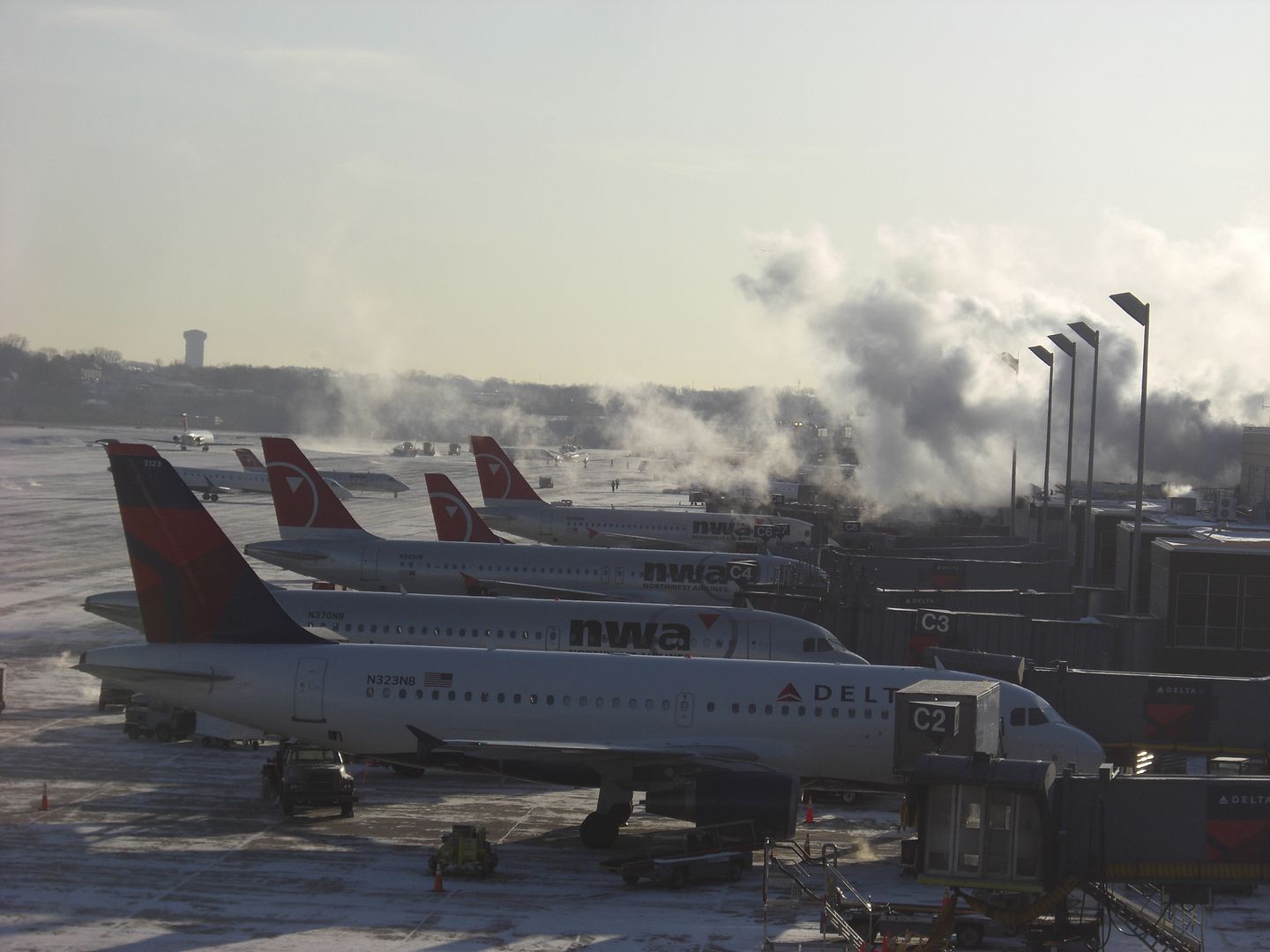 My E190 landing from Charlotte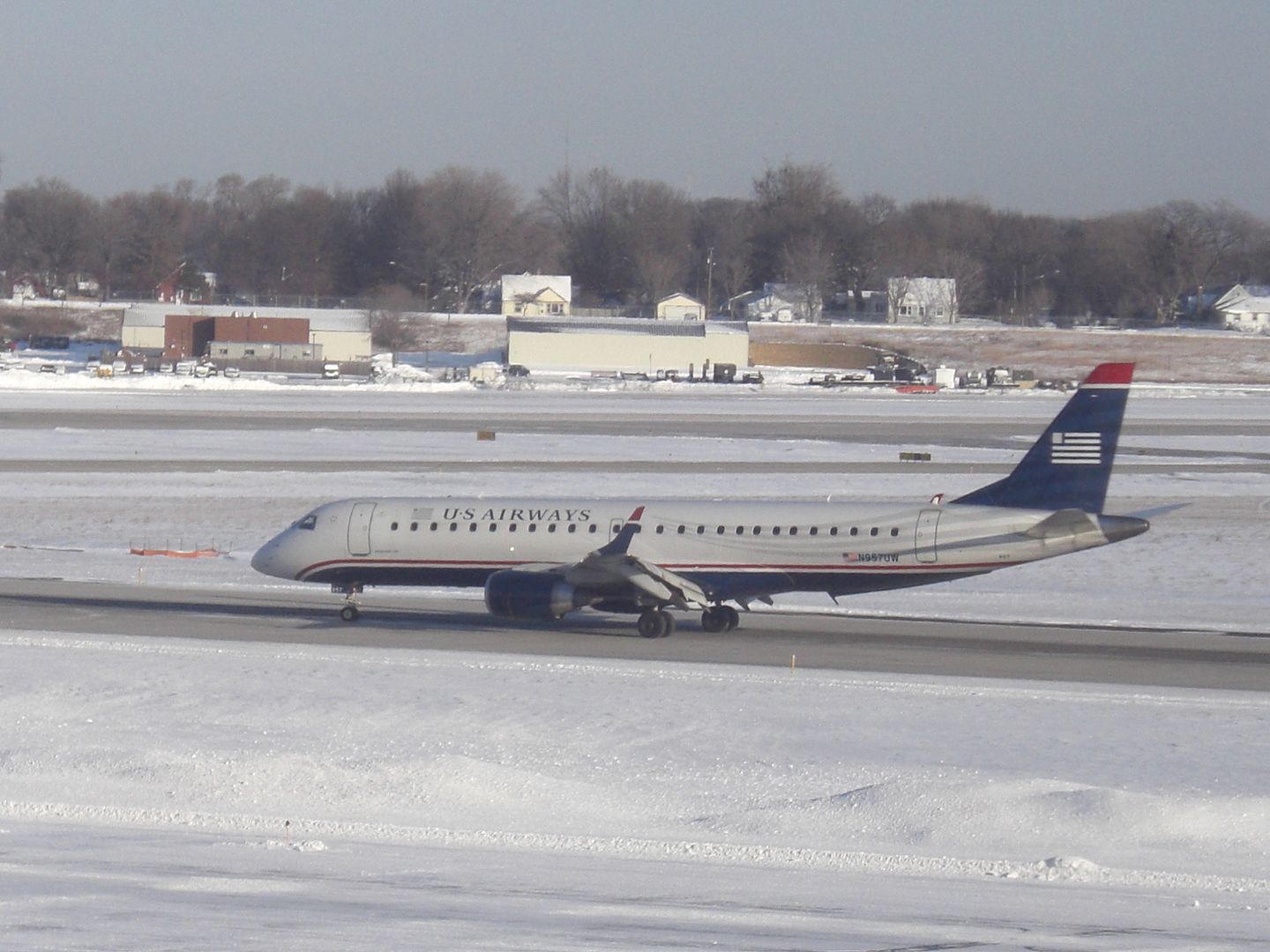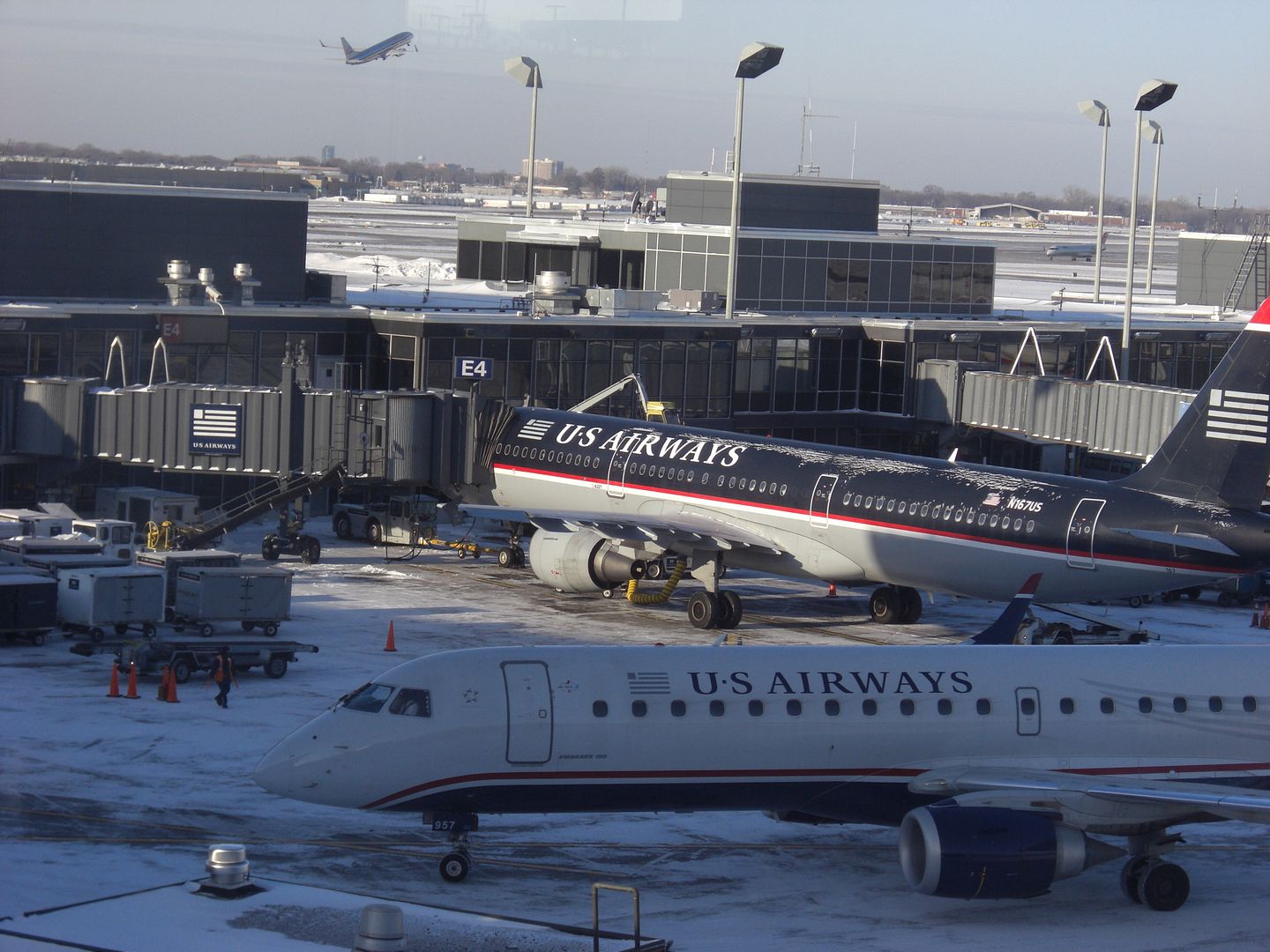 Lots of snow on the gates. There were actually small snow drifts inside the airbridge when we boarded
My new bag bought the day before ($440 down to $131!) being loaded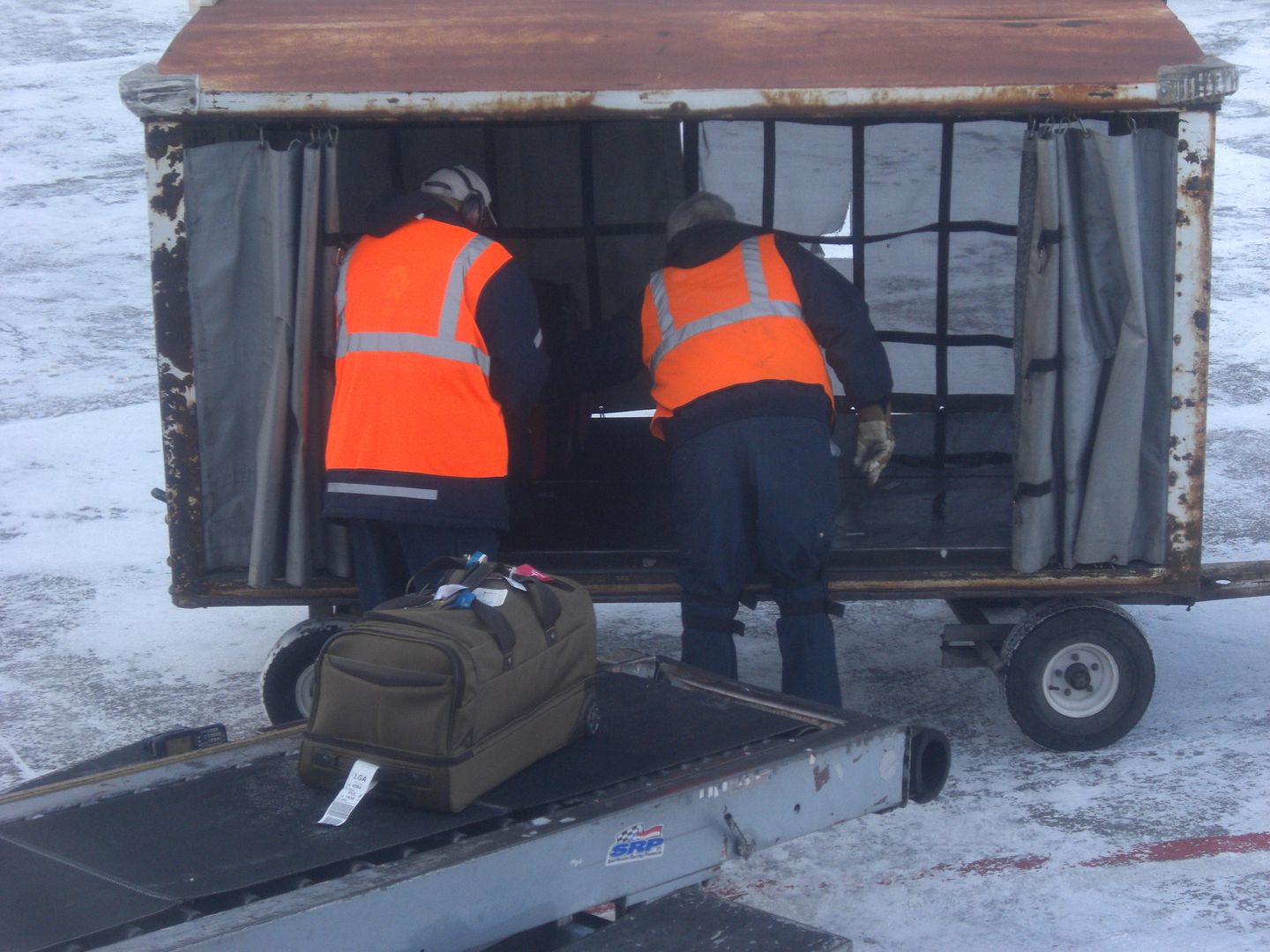 I've never seen a Saab hooked up to an airbridge before, but I guess in a Minnesota winter, it's necessary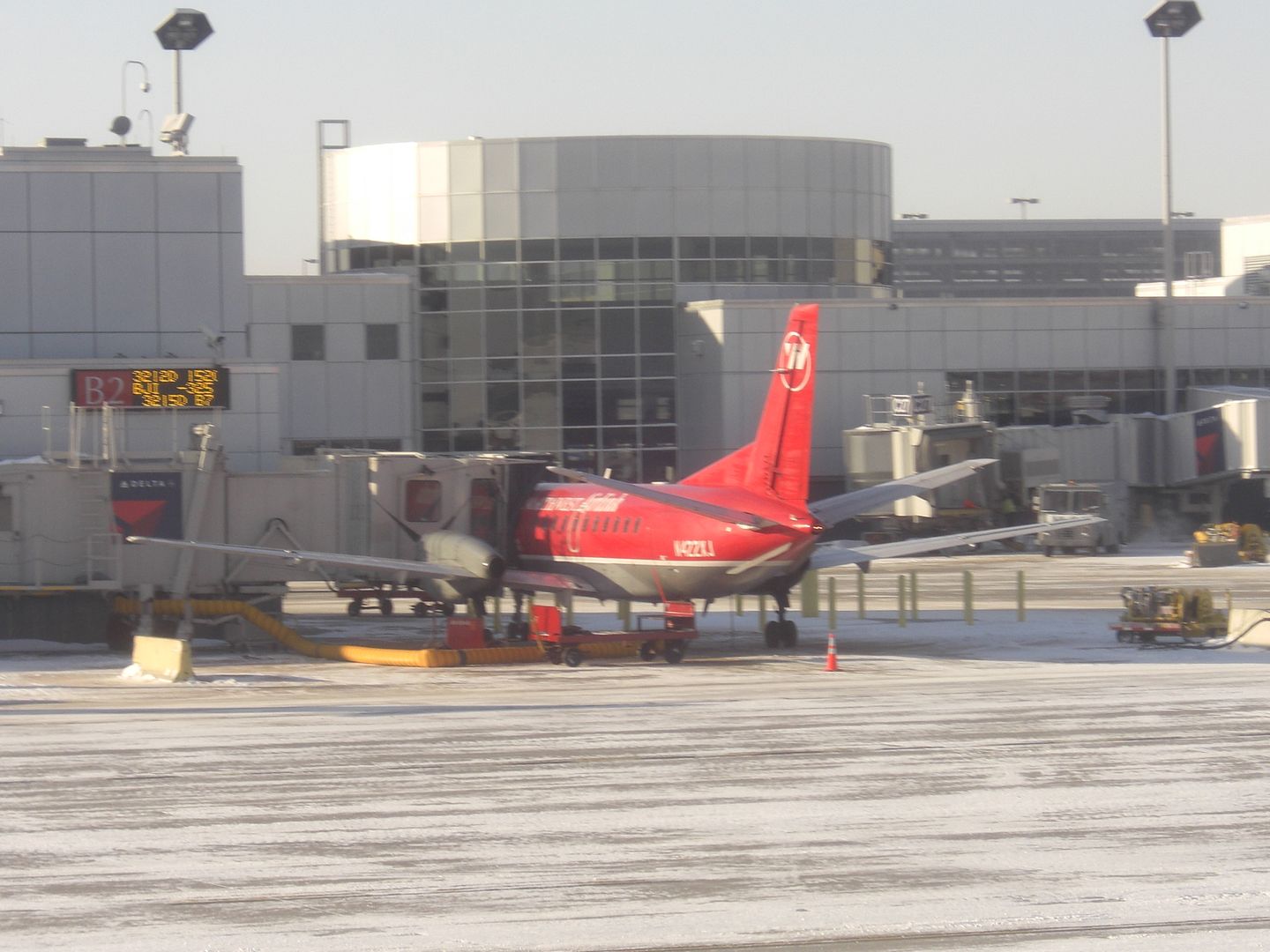 Not the best of pictures, but the environmental difference between the old (DC9) and new (CR9) is quite clear
Minneapolis (MSP) – Philadelphia (PHL)
US 1838
Scheduled: 0951-1325 (2h32m)
Actual: 0956-1251 (1h55m)
Embraer 190 N957UW
The crew on this sector were very cheerful and friendly, possibly because the flight was nearly empty. I think just about everyone had two seats to themselves. Once again, I was very impressed with the interior of the Embraers. Shame US are getting rid of them in favour of keeping the old B737s.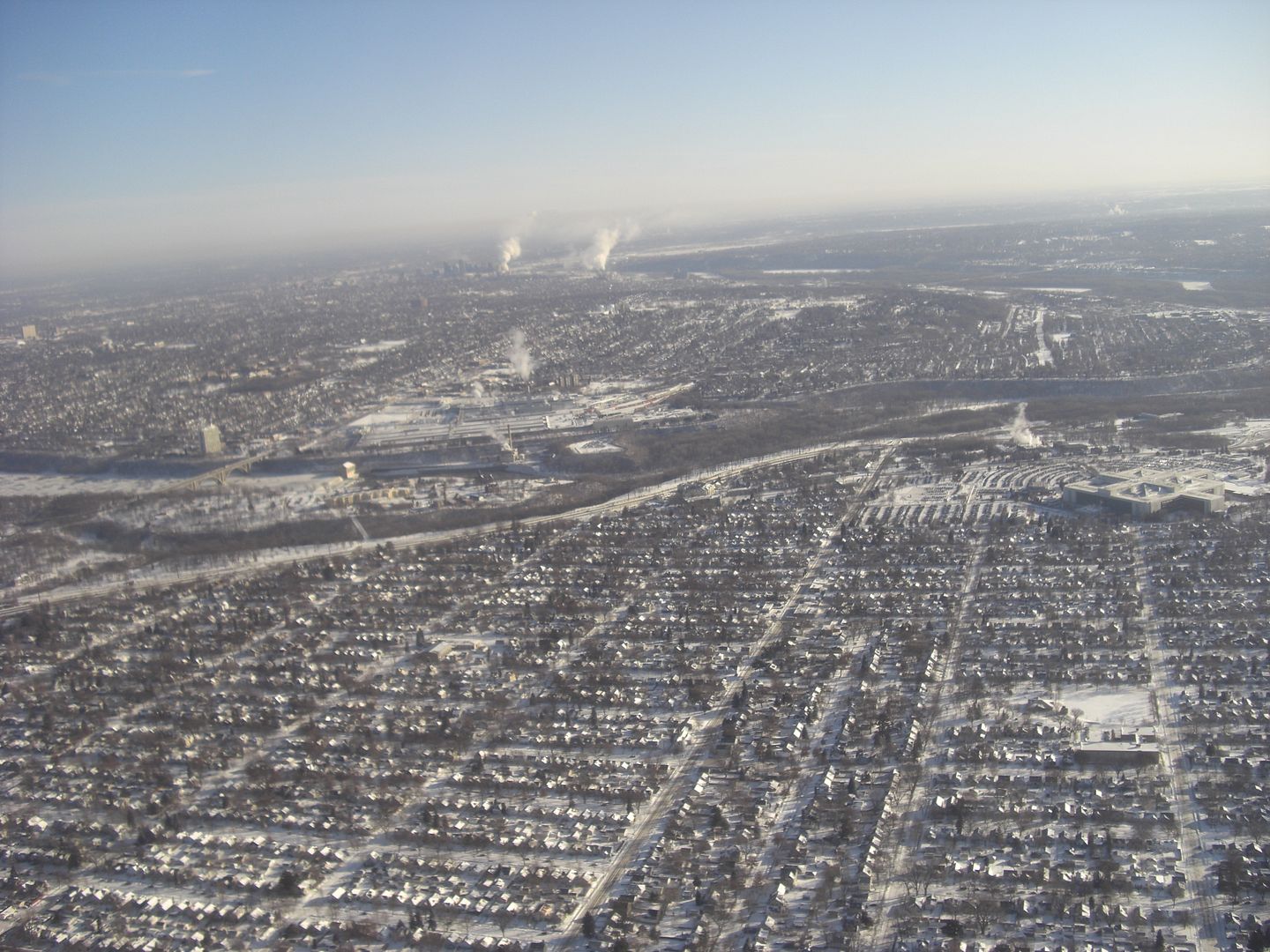 Onboard
Snow fading as we approach Philadelphia
Philadelphia (PHL) – New York La Guardia (LGA)
US 4584
Scheduled: 1515-1612 (0h57m)
Actual: 1615-1654 (0h36m)
Dash DH8 N943HA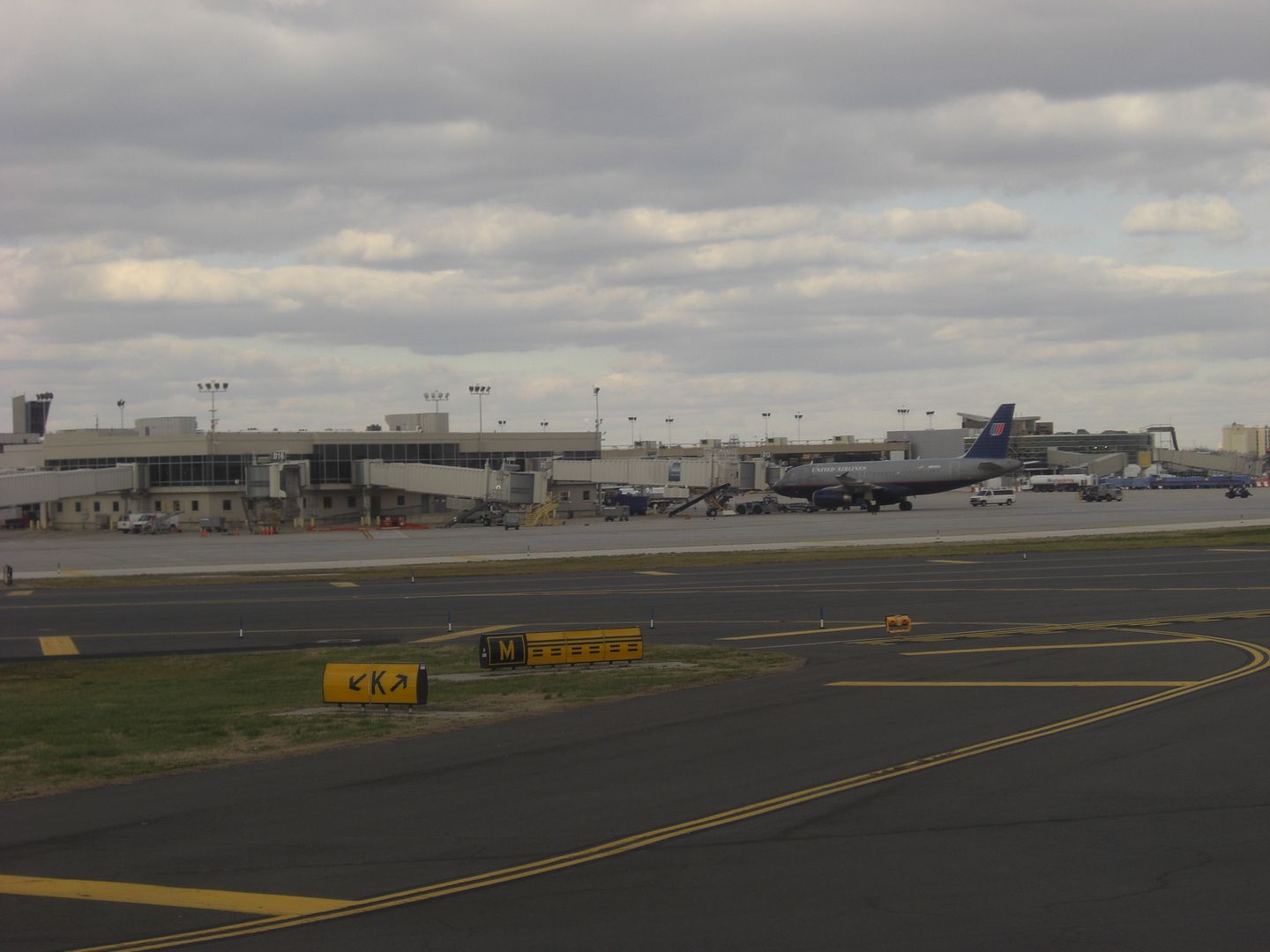 The E190 from MSP at PHL
Unfortunately I had quite a long wait in the very uninteresting commuter terminal. I was scheduled to have just under two hours, but due to an early arrival, and late departure, I was there for over three. Boring! I had plenty of time to watch the coming and goings of all the passengers, and watching interactions between everyone was very interesting. The attitudes of staff seems to be very polarised, with people either being very friendly, or seconds away from calling for security.
Our flight was called to board nearly an hour late. There was a disabled guy on the flight, so the rampers got this very long walk way thing attached to the plane for the wheelchair to go up, which was interesting to see.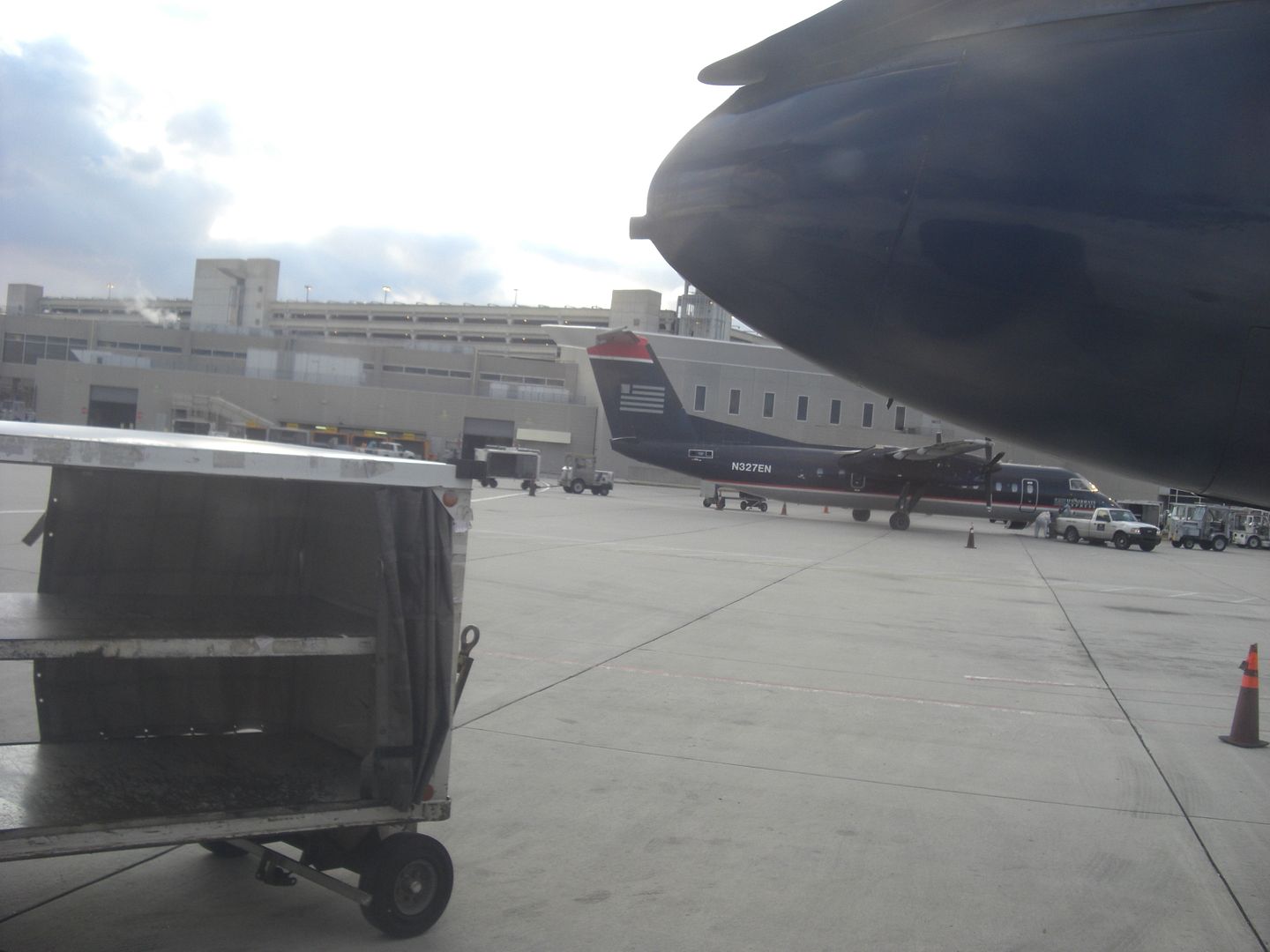 I tried to out my bag in the gate-check trolley, but the guy manning it said that it'd be fine in the cabin. Needless to say, my bag was a bit too big, but with a lot of pushing and shoving, it got it in (getting it out was a nightmare). The one member of cabin crew looked very sulky at first, but once the doors were shut she seems to cheer up immensely, and kept everyone entertained with her various announcements, and chatting as she went up and down the aisles. One thing I noticed was that none of the safety briefing were pre-recorded. I'm sure, especially with a one person cabin crew, not having to read and demonstrate would be very much appreciated?
I was seated in the back row (5 across), which was quite cosy, but luckily despite the flight almost being full, I had the seat next to me empty.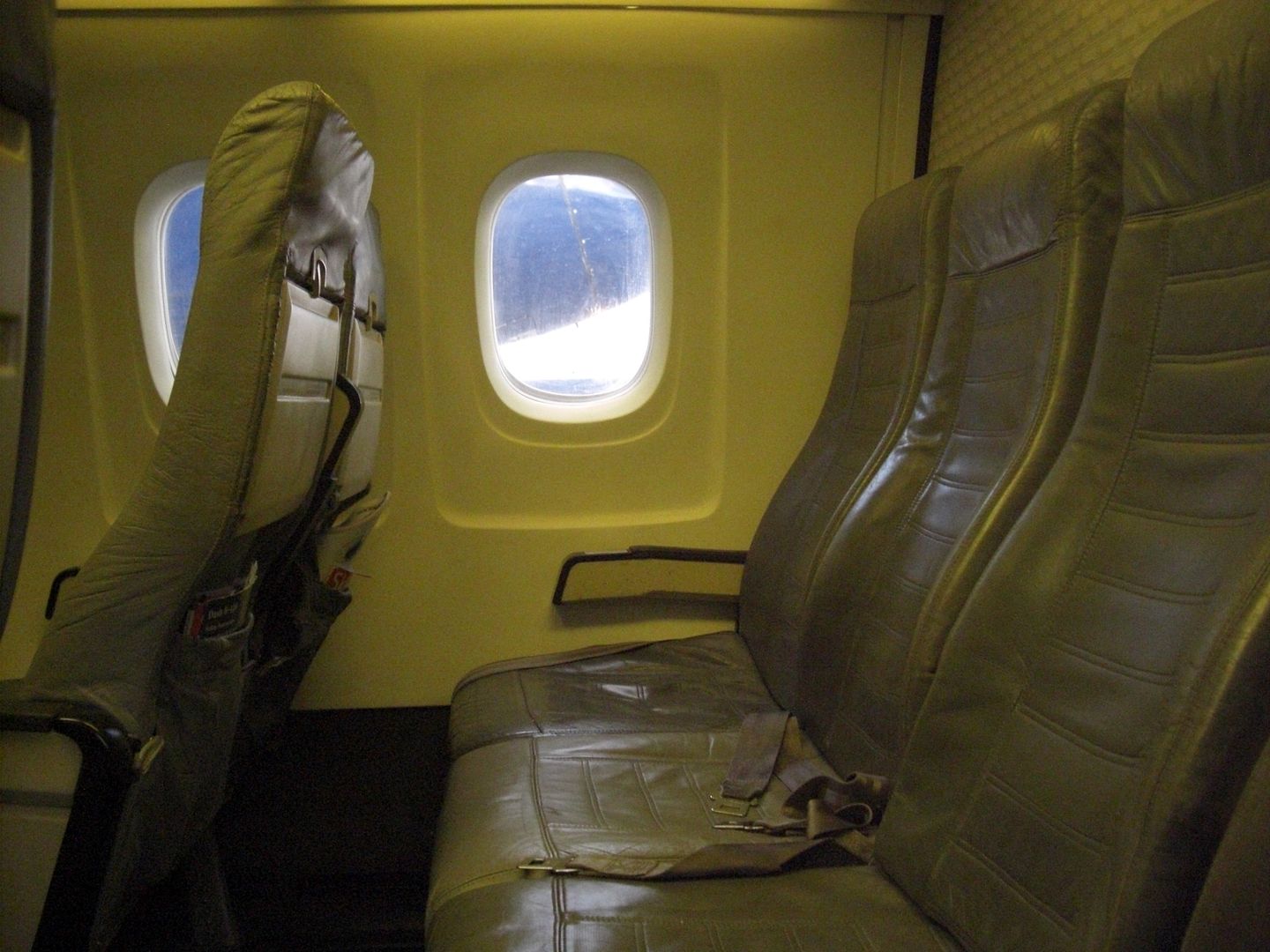 Climb out was fairly bumpy, and most of the way was cloudy.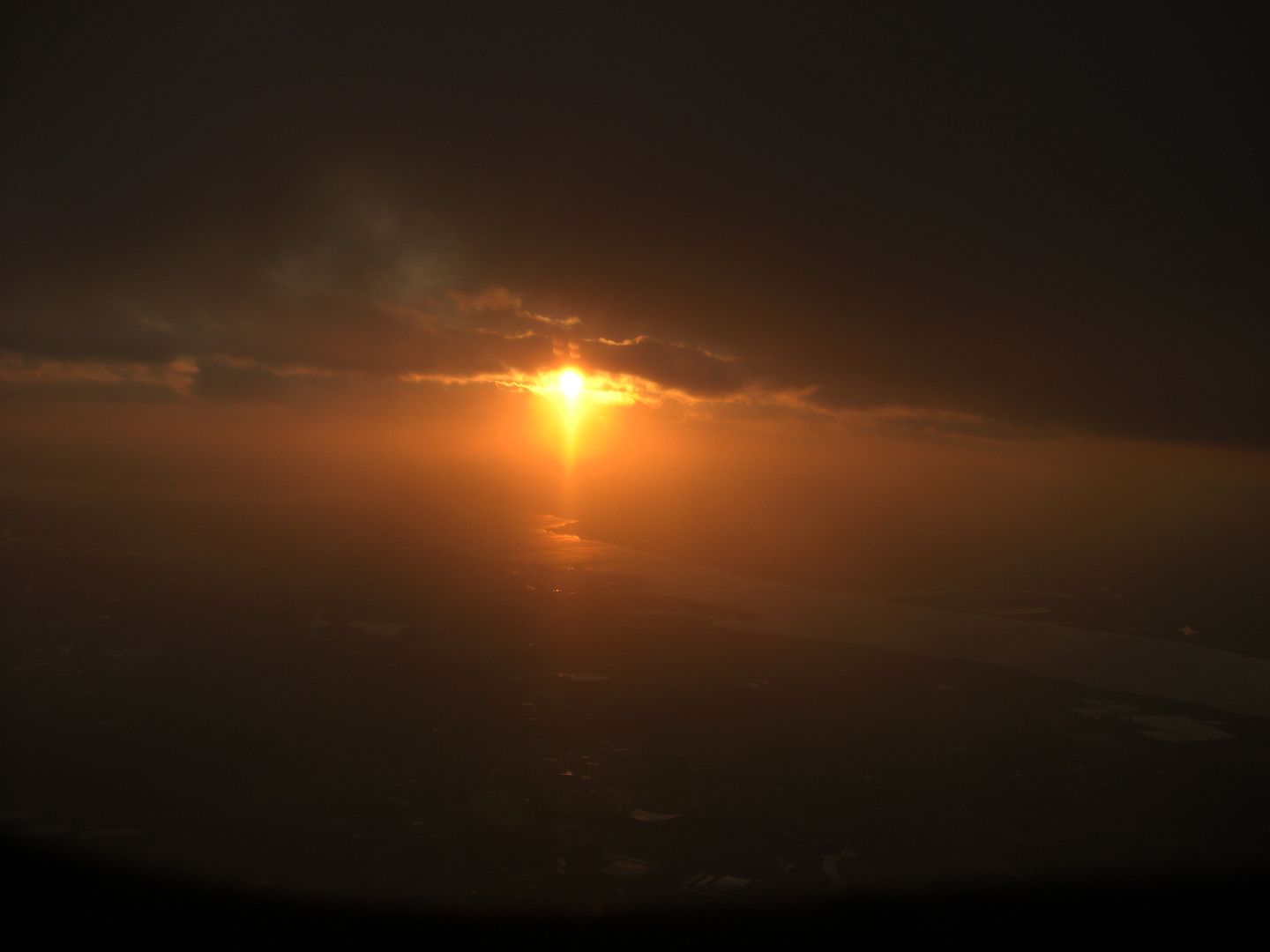 To my delight, I was positioned perfectly to take in the sight of Manhattan on approach.
Sorry, most of the photos are quite blurry.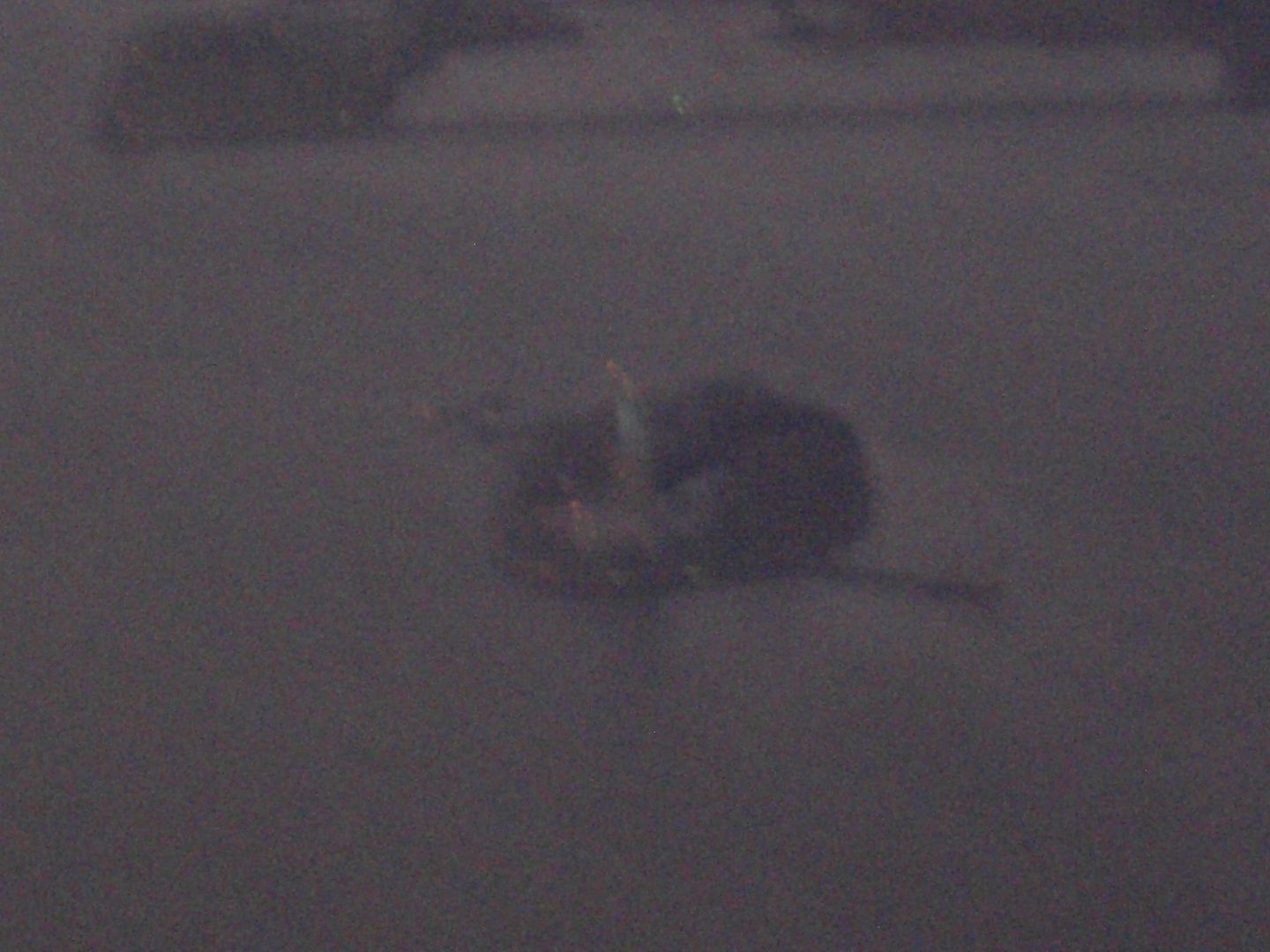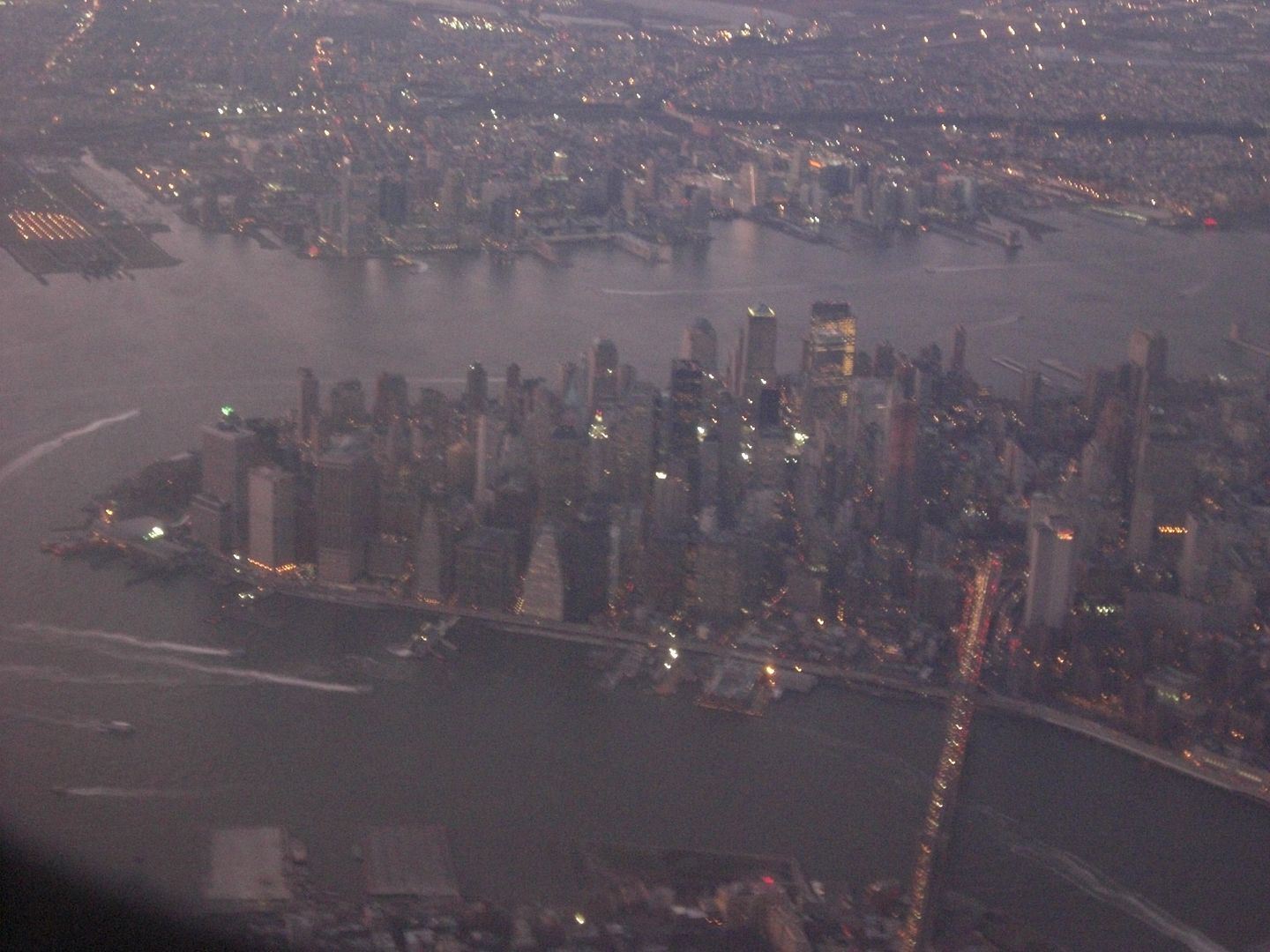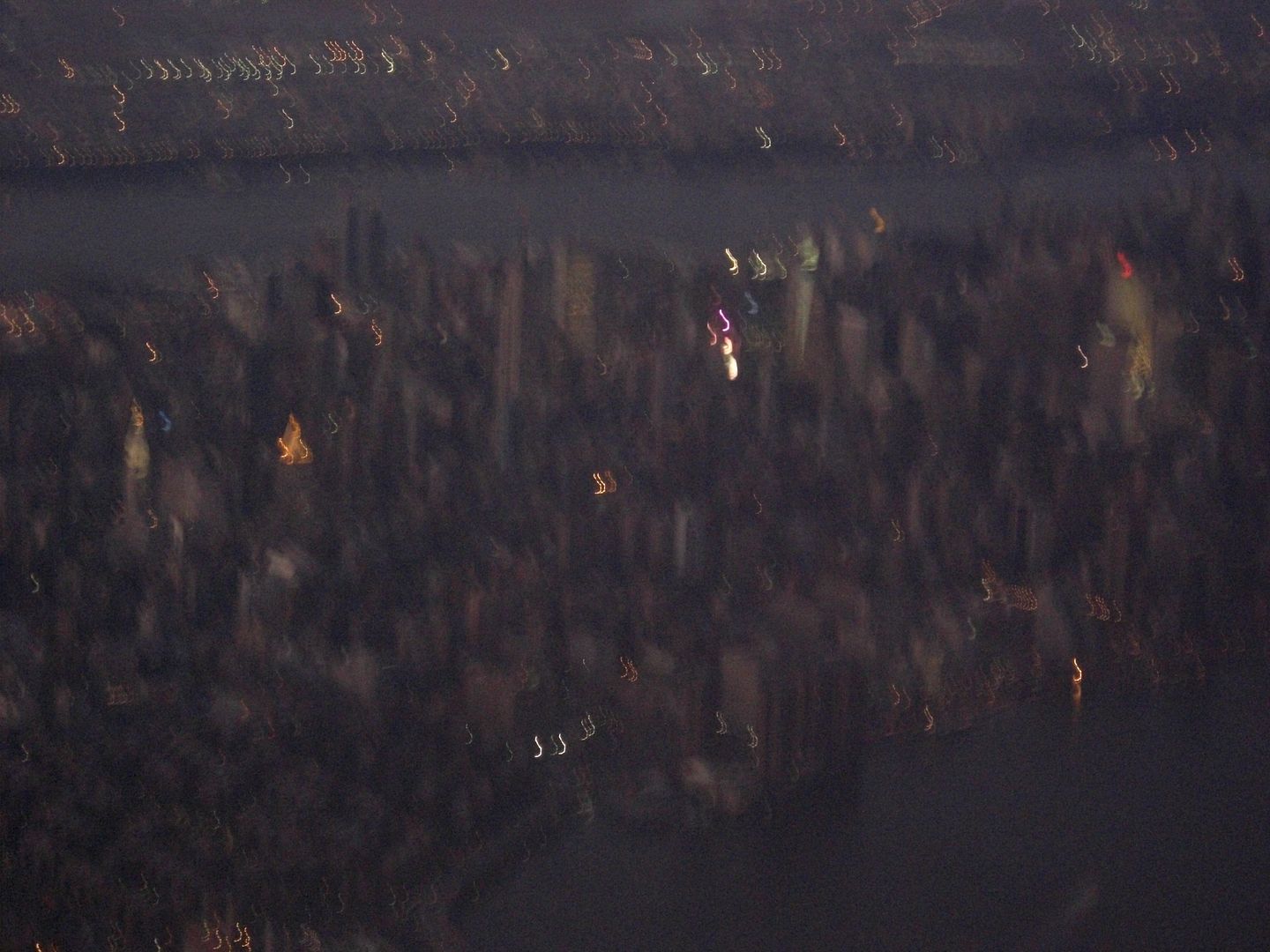 La Guardia
Aprroach
I thought it was ironic arriving in one of the world's largest cities on a 37-seat plane.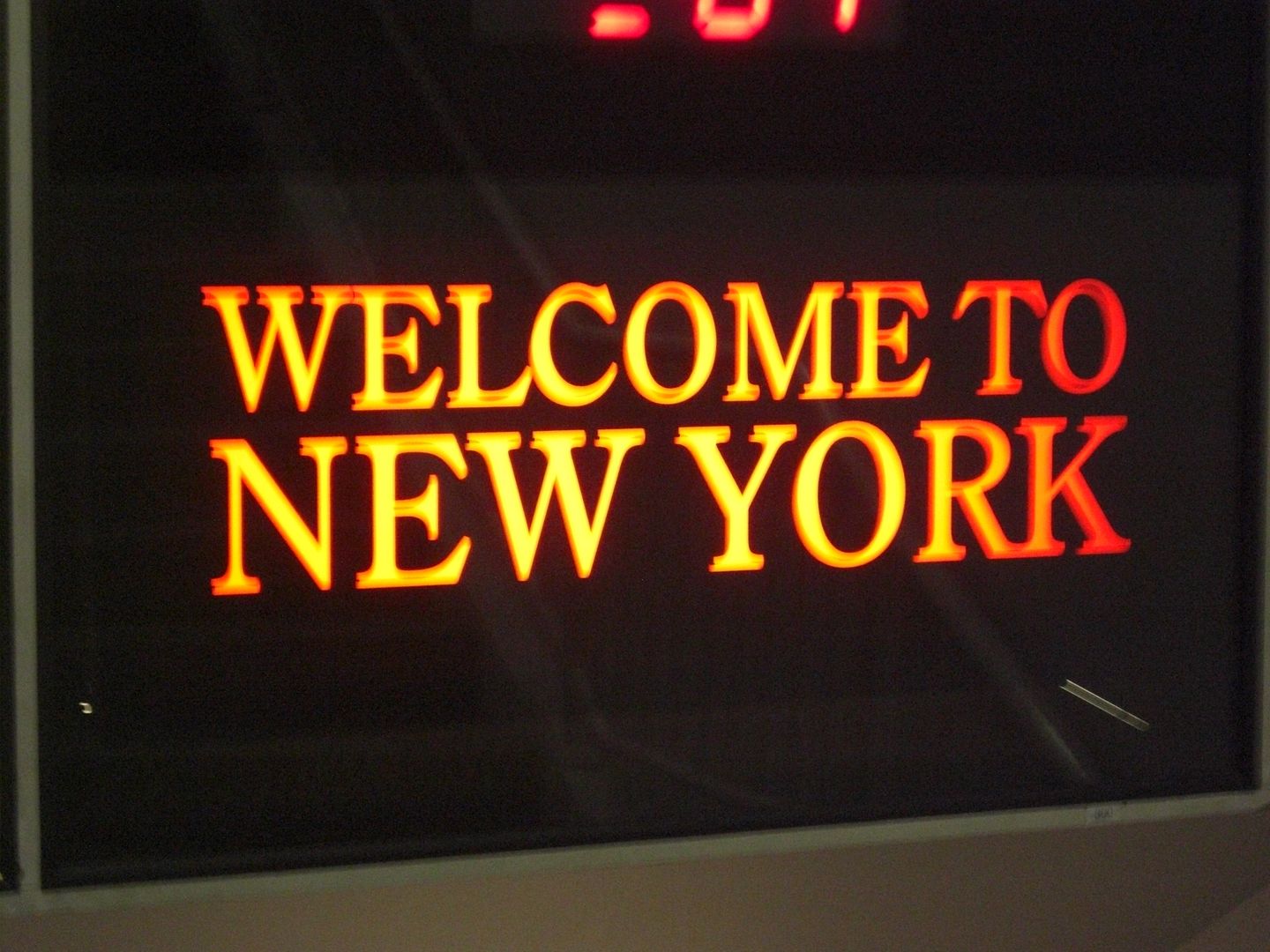 I got the super shuttle to my hotel (The Jane), which took forever, but I did get an ok tour of downtown Manhattan.
My room (size of a double bed, but clean, comfortable and with great views)
Staute of Liverty
Americas oldest Pizzeria
Skating in Central Park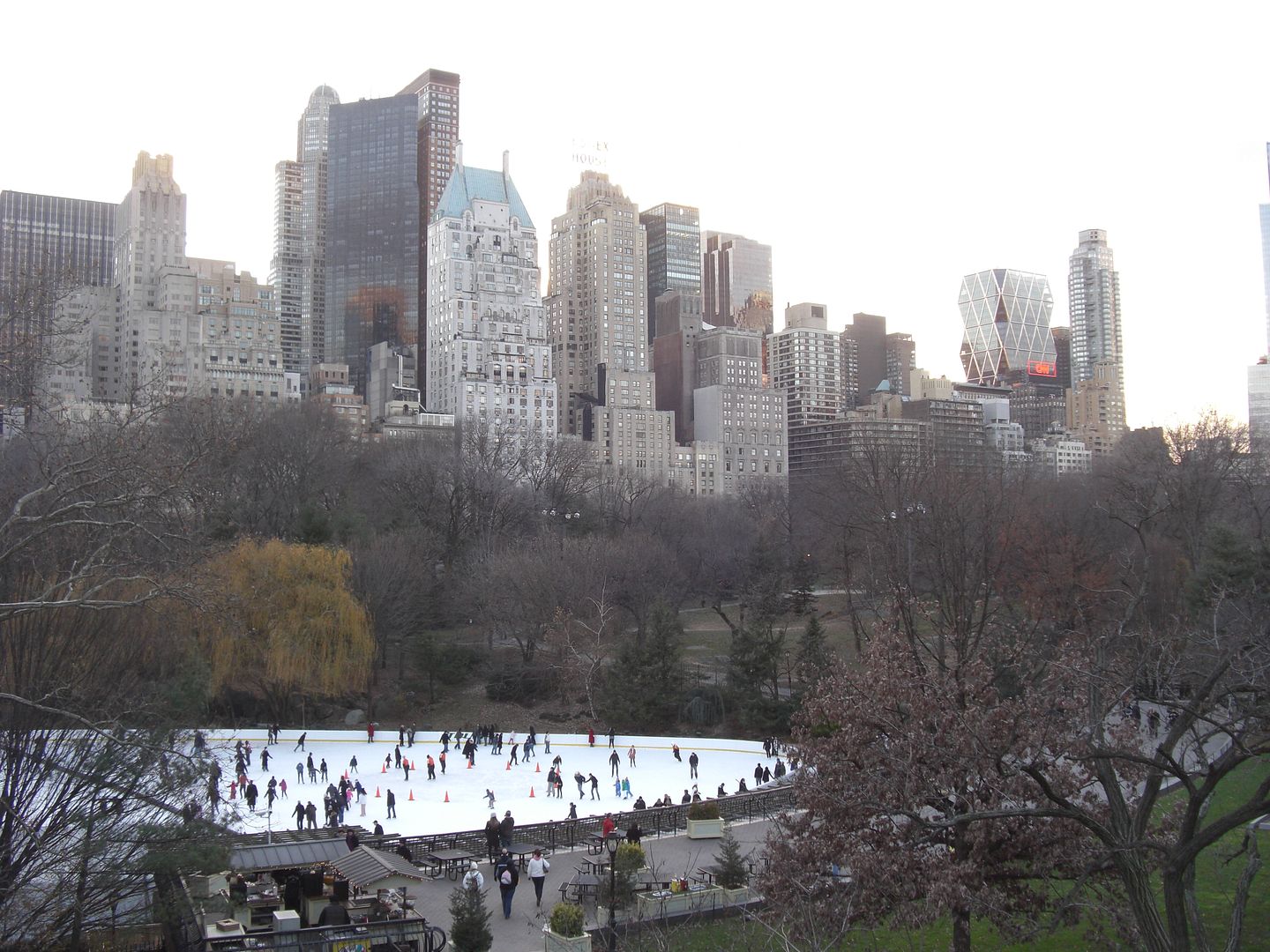 View from 'The Top of the Rock'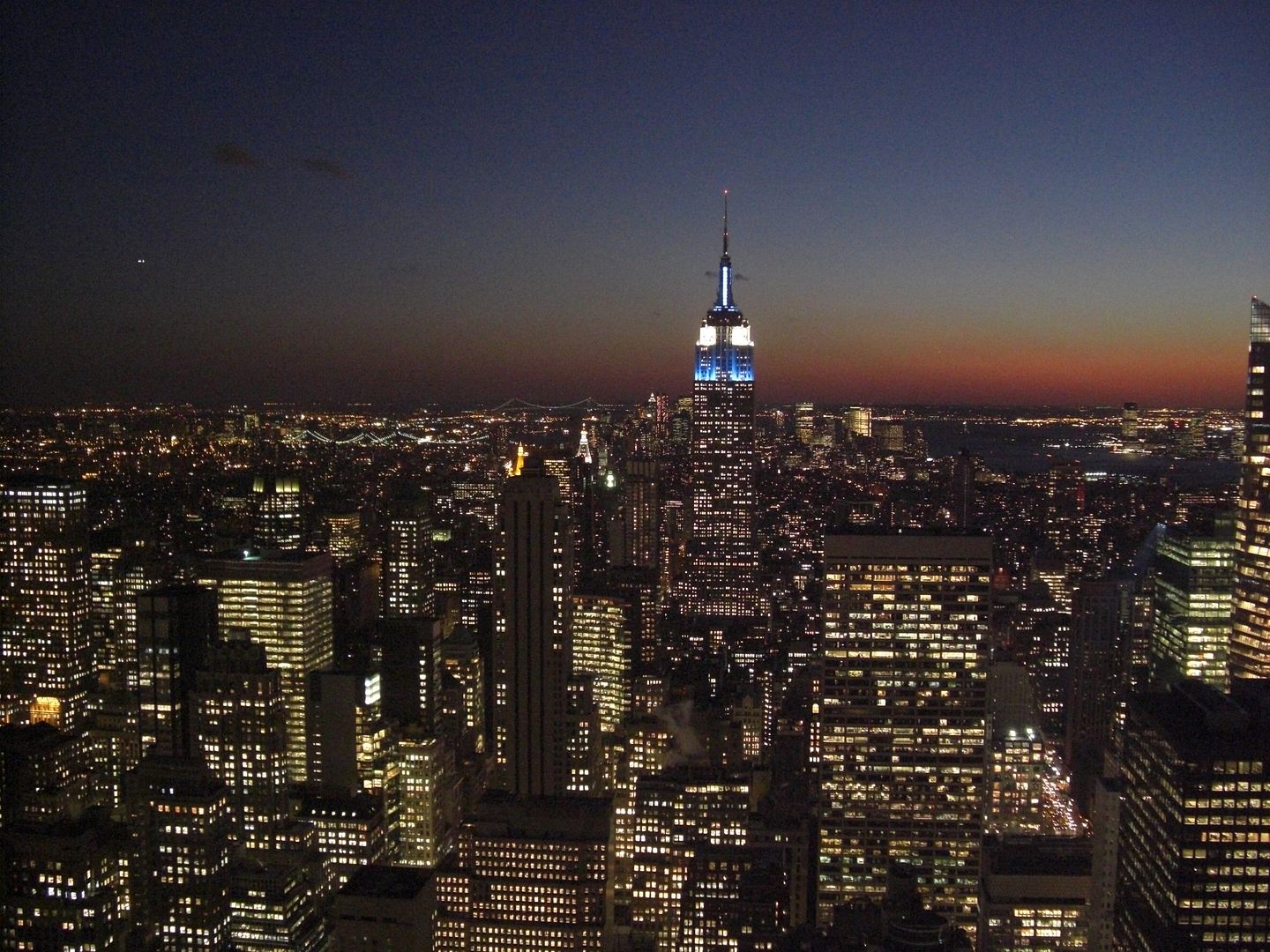 Reflection in the UN building
Some aviation ads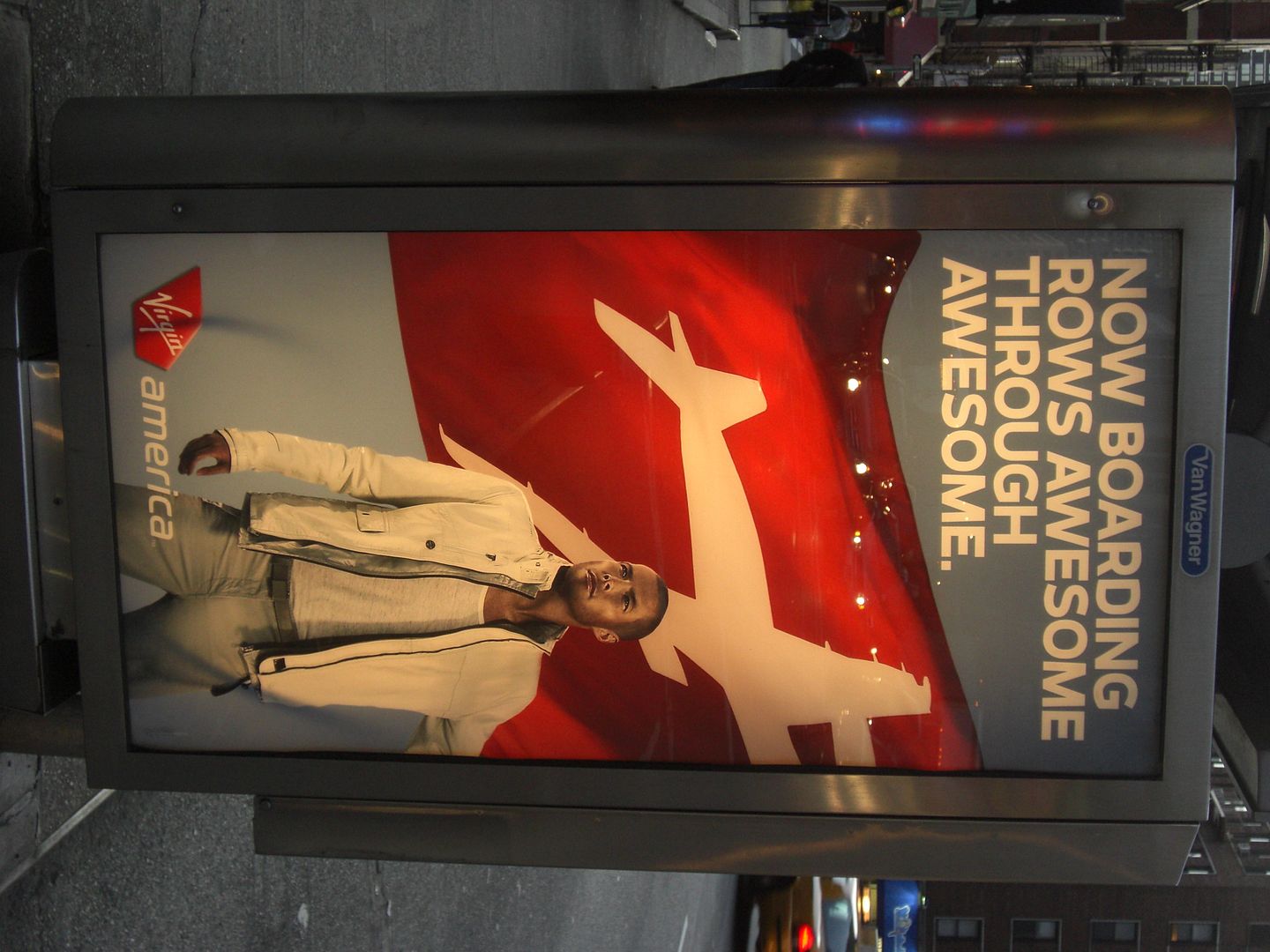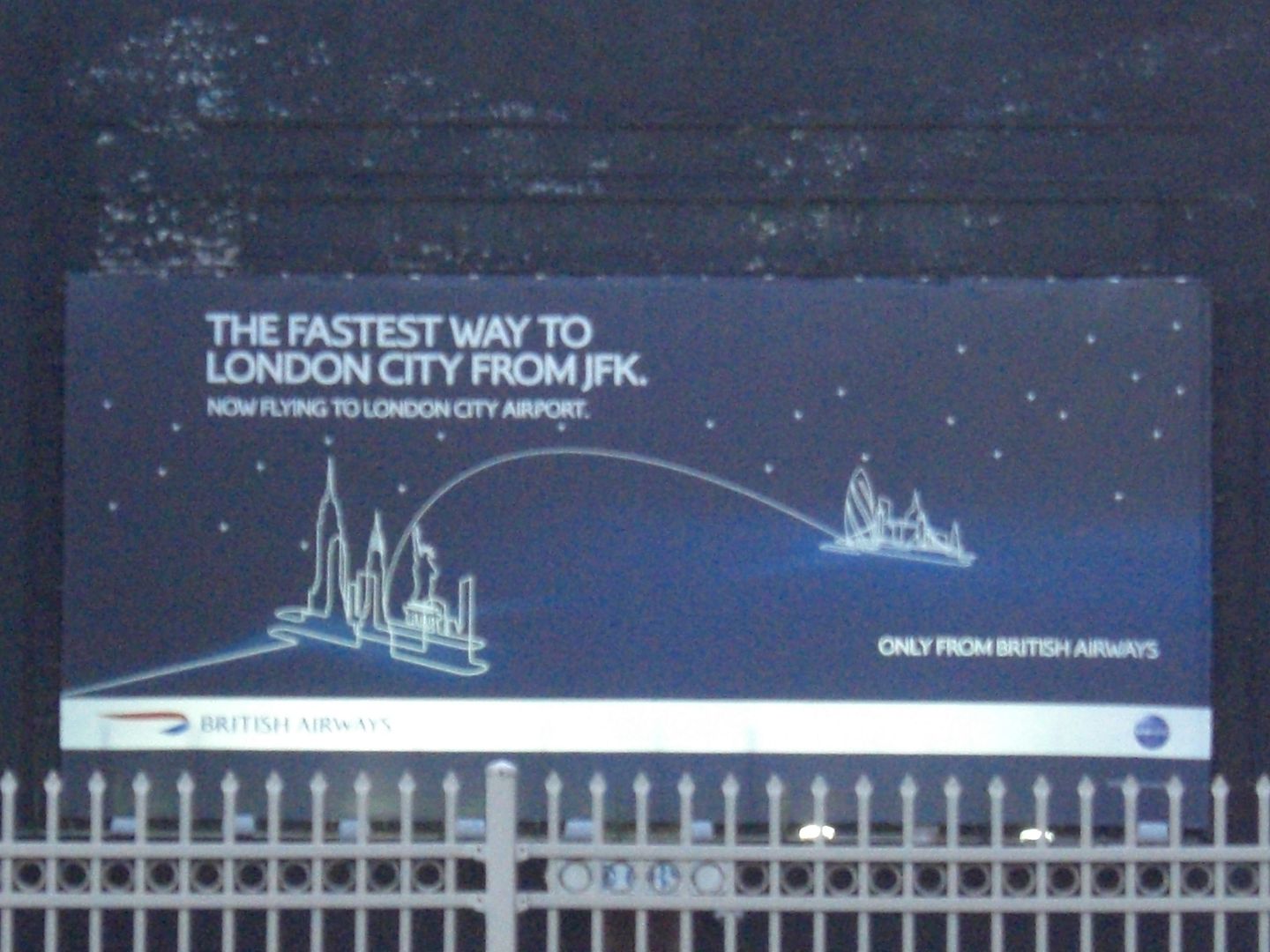 The weather turned from clear and frosty, to cold and very wet the day I was leaving. I got the metro to Queens, then the bus, which was far cheaper and quicker than the super shuttle.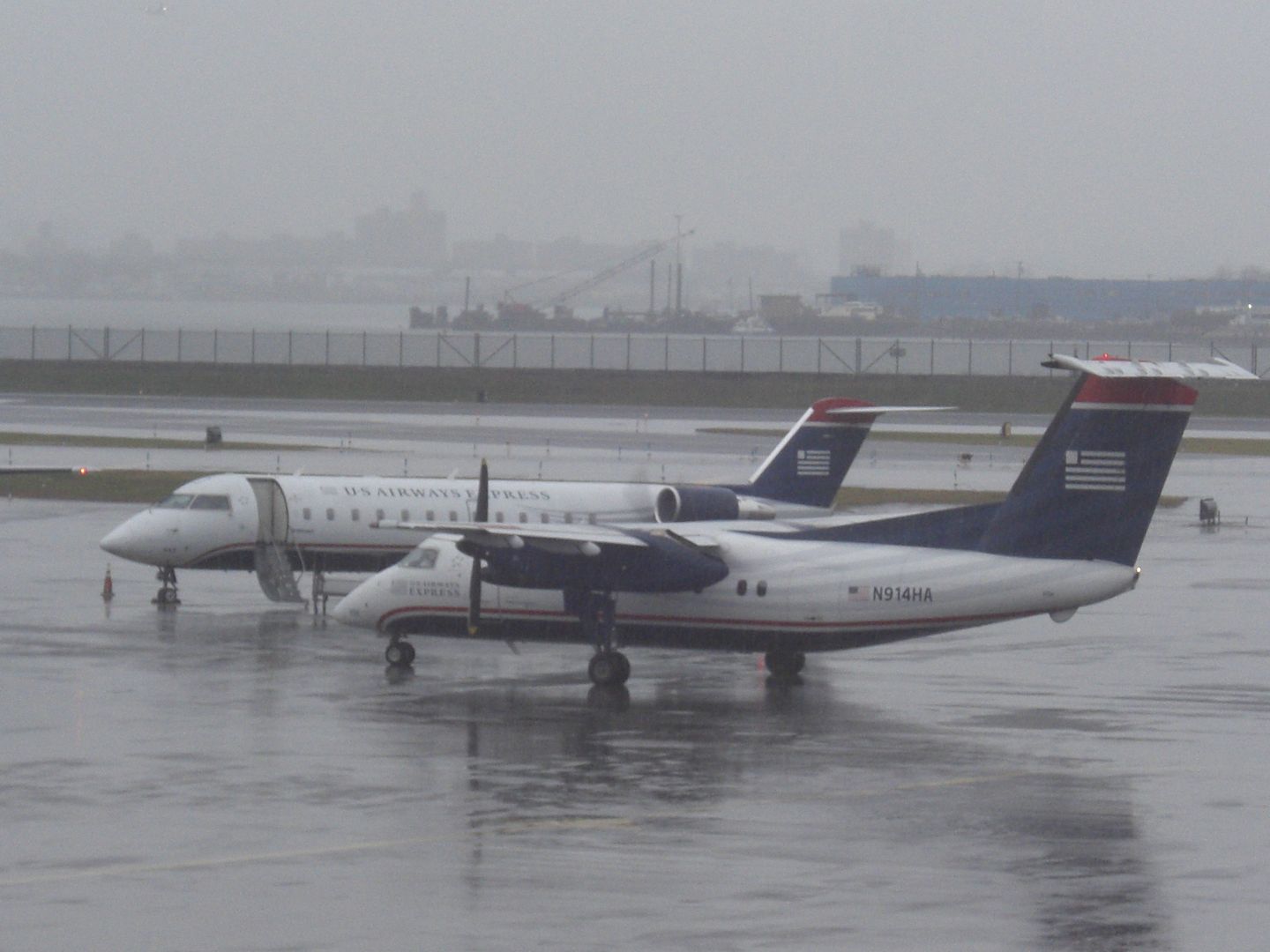 As I was on an international ticket I had to use the desks at the far end of the terminal. Despite there being around five staff having around I was completely ignored for a few minutes, before being directed to a desk ("one moment sir, I'm just finishing up") to be ignored for a few more minutes. Without any words at all, I was checked in, and pointed towards security. What a wonderful experience! Is it against the rules to be nice?
Security took a while, but given the enormous number of passengers, the queue moved quickly. The departure lounge was quite nicely presented, with lots of leather seats and low level lights. Quite a few departures seemed to be delayed, but thankfully the Charlotte flight was on time arriving, and we only got held up on the taxiway.
US departures at LGA
New York La Guardia (LGA) – Charlotte (CLT)
US 947
Scheduled: 1445-1649 (2h04m)
Actual: 1505-1644 (1h39m)
Airbus A321 N177US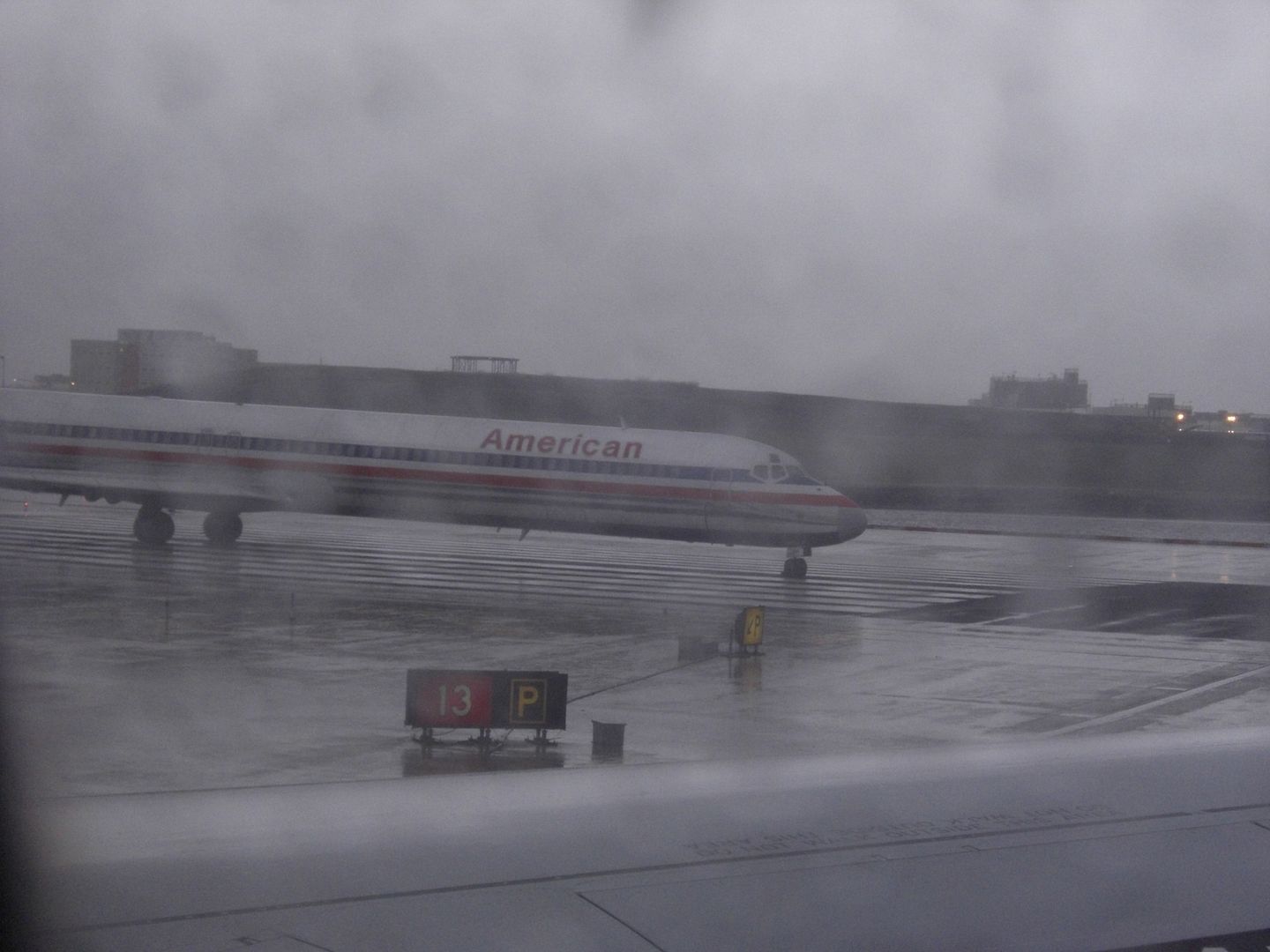 Once above the clouds, it was a beautiful day. The crew who for some reason seemed a bit frazzled, came around with a drinks service. The captain said to except some strong turbulence, but once at cruise the flight was very smooth in general.
Charlotte International departures area
Transferring from domestic to international flights at Charlotte is very easy. At the gate there was a pre-departure document check, before everyone clambered aboard. As Christmas was approached, most of the crew on this sector were wearing adapted uniforms, including one lady who seemed to have ditched her uniform all together, and was wearing a red festive top. It would seem that US missed the point about having a uniform.
This aircraft seemed to have a major issue with the PA system, with the cabin call bells sounding on an off constantly for a good twenty minutes before we departed. This was really annoying (those call bells are really loud), and yet despite the crew noticing (I just not far from the galley, and could hear them yapping away), there was no apology or explanation.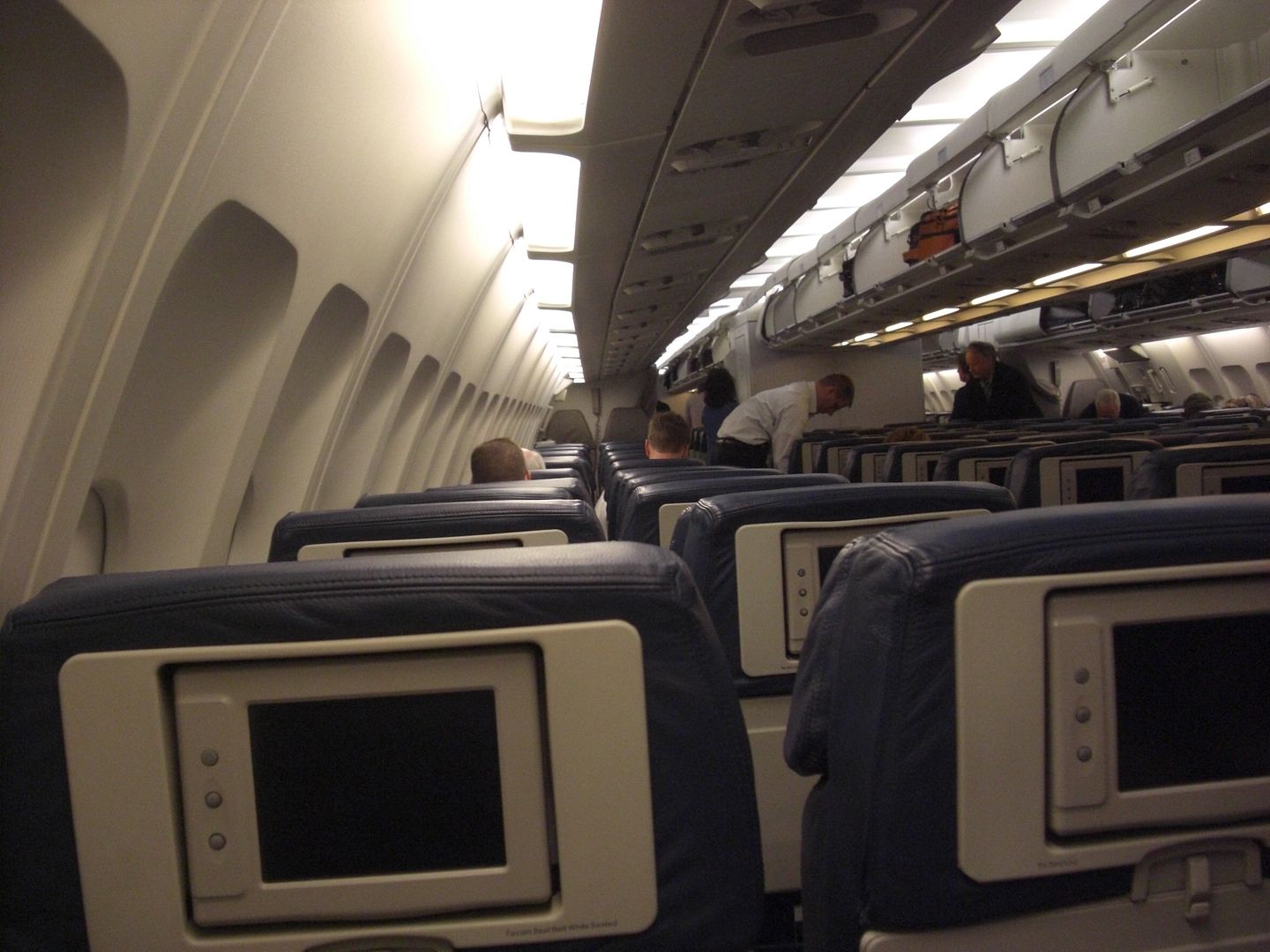 Charlotte (CLT) – London Gatwick (LGW)
US 732
Scheduled: 1815-0710 (7h55m)
Actual: 1833-0703 (7h30m)
Airbus A333 N274AY
Traffic didn't seem too bad tonight, and we were airborne just over fifteen minutes late. There was a very thin low level fog this evening, which meant the clouds were multicoloured just after take off, although my picture aren't very clear.
Dinner was a choice of pasta or chicken (again), and I went with the pasta. Not as good as the outbound meal, but better than nothing.