Feedback always appreciated.
Trip Report: 086
Flight Category: Y-IMR (See Report End)
Date: 3 Oct-09 (See Report End)
SDT/SAT/Dur/Delay: 2021/2349/03:28 hrs
Flight:
Aerolineas Argentinas (op: Austral) AU/AR 2890
, 1479 miles
Routing: USH-AEP
Aircraft: M80
Seat: Economy Class, 22C
I > Background:
After 3 days with a super intense client in Buenos Aires, I decided to make a quick weekend getaway to visit a friend in Ushuaia. He has recently abandoned "material wealth" and moved there to start a yoga school. India really is everywhere . Anyways, since I had not been to Tierra del Fuego, I said "Why not?" and bought myself a weekend round-trip.
There was a magnificent trip report to USH on the multi-stop itinerary by Marambio. You can read more about it here:
To The End Of The World On A Fokker F-28
(by
Marambio
Sep 13 2009 in Trip Reports). Besides that, there is I think one other report on this routing.
II > Pre-Flight:
a) Before Airport:
Aerolíneas Argentinas is the largest domestic and international airline in Argentina and serves as Argentina's flag carrier. With its wholly owned domestic arm Austral, it provides links to several internal points including the majestic Ushuaia … the world's southernmost "city".
Ticketing for the flight was done through Aerolineas Argentina's excellent site at
www.aerolineas.com.
I was actually very impressed with how much the website had improved over the years. Not only was the purchase of the ticket painless, I was also able to choose my preferred seat (as readers know something very important to me.) Moreover, I could also view my itinerary and print my e-ticket at any point. It did not afford the option to make changes to the reservation.
b) At Airport:
Ushuaia is a rather small, albeit modern airport. The check-in line snaked across the terminal and I was surprised it was taking so long to have 6 check-in desks process us. It wasn't like they were working more than one flight! However, when I reached the desk, it was relatively painless and I was issued my boarding pass in a matter of minutes. The agent at check-in was super friendly and we swapped stories about the Ushuaia nightlife. After check-in, I had to follow the snaking line again … first through security, and then through boarding.
To Austral's credit, boarding (announced 30 minutes prior), was relatively quick and they were able to push us back by published departure time. During the boarding, the flight attendants were nowhere to be seen. Y load was 85%.
>Airport - External:
(Beautiful and surreal landscape – Ushuaia Airport)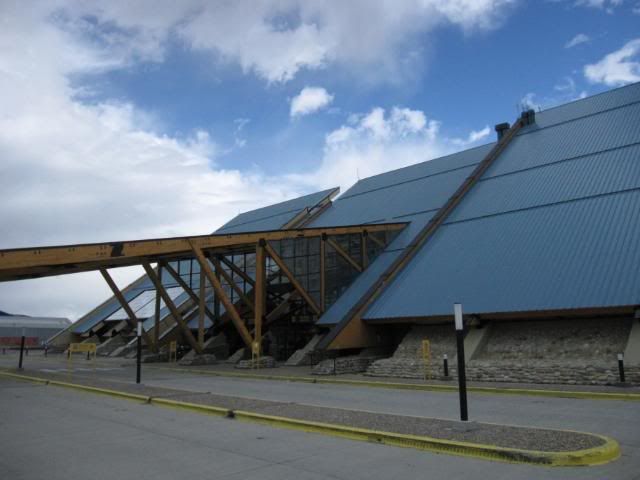 Check-in:
(Check-in – huge lines)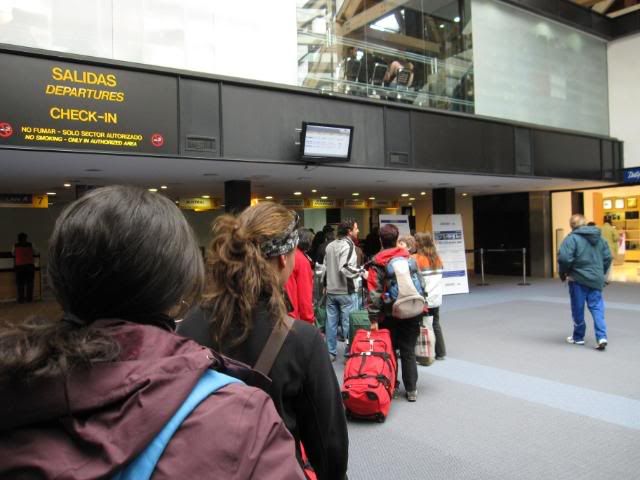 Airport - Internal:
(Internal)
(FIDS)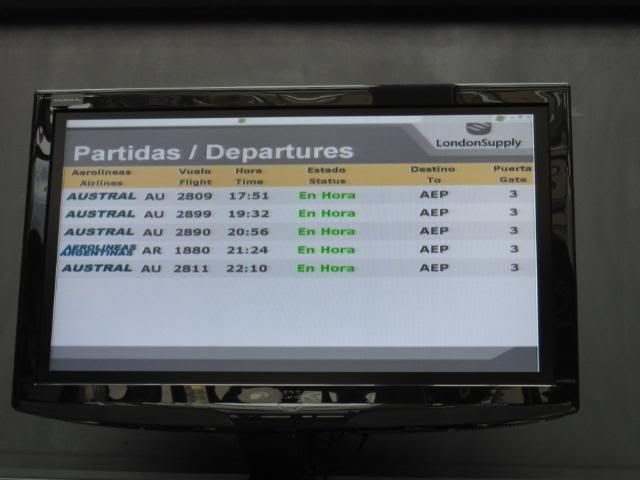 (Post Security @ USH)
NONE
Scenes of the tarmac:
NONE
Lounge
NONE
Boarding:
(Boarding gate – more lines)
III> In-Flight:
a) Service Schedule + Impressions:
An hour after departure a beverage service (including wine and beer) followed by dinner.
b) Aircraft + Seats:
Austral's MD-80 was definitely showing her age. While clean, she belonged to the 1990s with drab lighting and broken controls.
One thing older aircraft usually has going for them is relatively comfortable seats. Austral was no exception to this rule. However, I was surprised at how industry-average their pitch and recline was. For older aircraft, usually these things are much more liberal.
Aircraft:
(M88@ AEP)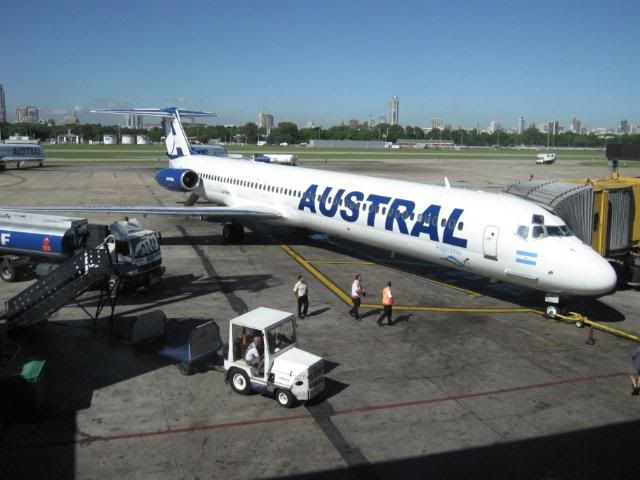 Views from Aircraft:
(Taken on arrival at USH earlier)
(View of airport)
General Seat Views + Seat Legroom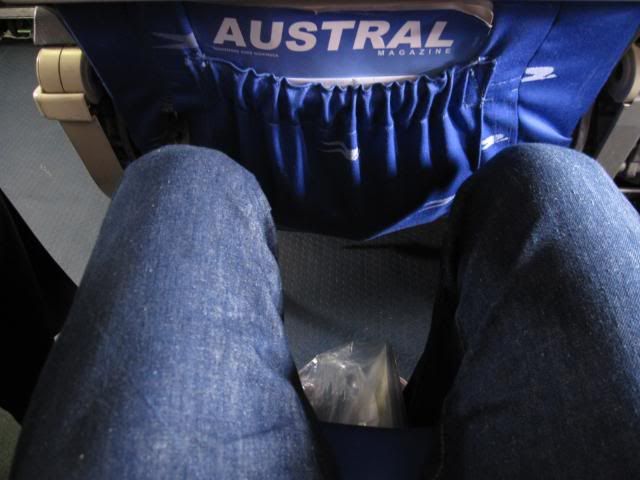 (IFE Unit – doesn't really control anything though)
Seat Recline + Angle View: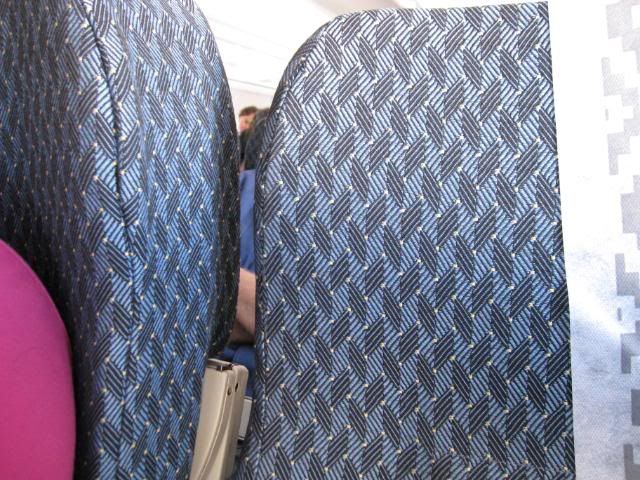 NONE
Cabin:
(Bathroom Amenities)
c) Meal + Beverage:
The beverage service was free and generous. A pretty wide range of non-alcoholic beverages; tea or café; beer, or wine was offered. Not too bad. After that, dinner consisted of an extremely bland rice thrown together with extremely bland and dry chicken pieces. Accompanying this was one of the hardest pieces of bread I have encountered and a face-saving pastry and crackers. Overall, extremely disappointing. While I did appreciate the gesture, meals like this make me wonder if a premium BOB option would be more appreciated.
(Dinner and drinks)
d) Inflight Entertainment:
Aerolinas Argentinas/Austral has no in-flight entertainment on board her MD-80's. Besides a decent in-flight magazine, you basically have nothing to do beyond what you bring by yourself. Rather disappointing given the length of the flight. I wonder what LAN "Argentina" provides during the same routing.
("In-flight magazines", Boarding Passes, etc.)
e) Crew:
Austral's crew were indifferent to service. Besides the rushed beverage and meal service, they were nowhere to be seen ... not during boarding, and certainly not during the flight. Would it hurt to do an occasional water-run? Additionally, my call-button test went unanswered for the entire duration of the flight. Very poor indeed.
IV> Post-Flight:
Landing in AEP was rather smooth ... and since I did not have any checked luggage, I was curbside in 10 minutes ... and given how awesome Aeroparque's location is, at my friend's house within 20 more minutes.
V> Impressions + Scores:
Aerolineas Argentinas is one of Latin America's pioneering airlines. It has been instrumental in connecting the continent with the outside world for a long time. However, Aerolineas (through its operating partner Austral) has had a turbulent recent history, and this flight goes on to demonstrate one reason why they are in the mess they are. The airline is just apathetic to customer service. The meal was poor; there was no IFE; the seats were OK; and the crew was there doing you a favor. Not really anything positive … besides, their website of course and the check-in agent.
A country as magnificent as Argentina deserves a better flag carrier. Aerolineas needs to go beyond nationalistic music on their phone hold (call their number, you'll understand) to really better serve the country. Argentineans are one of my favorite people in the continent; and I love going back. However, I wish there was a better choice of internal carriers. Unless given no choice (unfortunately, several times the case on domestic routes), I would not fly Austral domestically. A thumb down.
VI> Other Trip Reports:
PREMIUM:
8.64:
Turkish Airlines (59): JFK-IST: 11/2008
8.61:
Air Canada (49): YYZ-SCL: 06/2008
8.54:
Turkish Airlines (77): GRU-DKR-IST: 04/2009
8.30:
Jet Airways (74): KWI-BOM: 04/2009
8.23:
United Airlines (72): SFO-SYD: 03/2009
8.11:
Aeroflot (33): MOW-DEL: 09/2007
8.05:
Air India (80): CCU-JFK: 06/2009
8.04:
Korean Air (40): NRT-ICN: 10/2007
8.02:
Delta Airlines (24): JFK-CDG: 08/2007
7.46:
LAN (55): YYZ-JFK: 09/2008
7.82:
Singapore Airlines (06): EWR-SIN: 09/2006
7.23:
Virgin Atlantic (81): BOS-LHR: 07/2009
7.14:
Swiss (52): SCL-GRU: 06/2008
7.11:
Austrian (79): VIE-JFK: 06/2009
7.07:
Privatair (84): BOM-FRA: 08/2009
7.02:
Qatar (68): DOH-JFK: 01/2009
6.96:
Etihad (61): JFK-AUH: 12/2008
6.93:
Delta Airlines (18): SEA-JFK: 11/2006
6.84:
ConViasa (65): CCS-DAM: 01/2009
6.81:
Air Canada (17): ICN-YYZ: 10/2006
6.70:
KLM (32): EBB-AMS: 08/2007
6.36:
Privatair (60): MUC-BOS: 12/2008
6.25:
Korean Air (45): NAN-ICN: 10/2007
6.11:
TAP Portugal (53): GRU-OPO: 06/2008
6.00:
Gulf Air (75): BOM-BAH: 04/2009
5.75:
Singapore Airlines (16): CCU-SIN: 10/2006
5.64:
NorthWest (46): ICN-NRT-SEA: 10/2007
5.46:
Icelandair (83): KEF-BOS: 08/2009
5.39:
LOT (54): WAW-JFK: 06/2008
5.21:
Egypt Air (73): CAI-IST: 02/2009
5.07:
TACA (66): JFK-SAP: 01/2009
4.42:
Air France: CDG-JNB (25): 08/2007
ECONOMY: Long + Medium:
9.26:
Air India (48): JFK-DEL: 02/2008
7.38:
Avianca (01): BOG-LIM: 07/2006
7.07:
Sri Lankan (62): KWI-CMB: 12/2008
6.41:
Avianca (78): JFK-BOG: 05/2009
6.41:
American Airlines (58): LHR-BOS: 11/2008
6.39:
Condor (85): SEZ-FRA: 09/2009
6.26:
Jet Blue (21): CUN-JFK: 02/2007
6.06:
Air Canada (04): YYZ-YVR: 09/2006
5.89:
USA 3000 (19): PUJ-BDL: 01/2007
5.85:
Spanair (69): MAD-LPA: 02/2009
5.79:
Air New Zealand (42): RAR-NAN: 10/2007
5.52: Aerolineas Argentinas (86): USH-AEP: 10/2009
5.46:
TAP Air Portugal (23): OSL-LIS: 05/2007
5.19:
Air Europa (70): LPA-MAD: 02/2009
5.16:
Iberia (71): MAD-BOS: 02/2009
5.11:
Air China (82): FRA-PEK: 08/2009
ECONOMY: Short
8.56:
Paramount Airways (38): BLR-MAA: 09/2007
8.56:
Kingfisher (64): HYD-CCU: 12/2008
8.24:
Kingfisher (14): IXA-GAU: 10/2006
7.87:
Indian (34): BOM-MAA: 09/2007
7.72:
Alliance Air (13): CCU-IXA: 10/2006
7.57:
Indian Airlines (10): DEL-CCU: 09/2006
7.23:
West Jet (03): YYC-YVR: 09/2006
7.15:
JetLite (37): BOM-GOI: 09/2007
6.70:
Spice Jet (09): CCU-DEL: 09/2006
6.63:
Air Fiji (44): NAN-SUV: 10/2007
6.63:
Jazeera (67): DAM-KWI: 01/2009
6.58:
Air Tran (02): EWR-MDW: 08/2006
6.48:
Air India Express (63): CMB-MAA: 12/2008
6.44:
CO Micronesia (39): ROR-YAP: 10/2007
6.41:
Pacific Sun (43): NAN-SUV: 10/2007
6.37:
Skybus (47): SWF-CMH: 02/2008
6.33:
Kenya Airways (29): NBO-BJM: 08/2007
6.33:
Sky Europe (56): LTN-BTS: 10/2008
6.31:
Indigo (15): GAU-CCU: 10/2006
6.31:
easyJet (57): BUD-LTN: 11/2008
6.22:
Air Link Swazi (28): MTS-JNB: 08/2007
6.22:
Air India (36): HYD-BOM: 09/2007
6.13:
Adam Air (07): SIN-CGK: 09/2006
6.13:
Air Rarotonga (41): RAR-AIT: 10/2007
6.00:
Transairways (27): INH-MPM: 08/2007
5.95:
Air Canada (05): ALB-YYZ: 09/2006
5.85:
SAS Norge (22): OSL-AES: 05/2007
5.81:
LAM Mozambique (26): JNB-MPM: 08/2007
5.69:
Air Deccan (12): IXZ-CCU: 10/2006
5.67:
Rwanda Air Exp (30): KGL-NBO: 08/2007
5.11:
Aero Republica (76): BOG-CCS: 04/2009
5.07:
Go Air (35): MAA-HYD: 09/2007
5.00:
Sky Airline (51): IQQ-SCL: 06/2008
4.96:
Valuair (08): CGK-SIN: 09/2006
4.78:
Air Comet Chile (50): SCL-IQQ: 06/2008
4.74:
Fly 540 (31): MYD-LAU: 08/2007
4.33:
Viva Aerobus (20): ELP-MTY: 02/2007
4.11:
Air Sahara (11): CCU-BOM: 09/2006
(Note on Codes: Y – Economy, J – Business, F – First :: I/D – International/Domestic :: SR/MR/LR – Short/Medium/Long Haul)
(Note on Date: Dates are modified to be +/- 3 days from actual flight date to not reveal actual flight pattern)
VII> Other Pictures:
(Tarmac action on departure at AEP)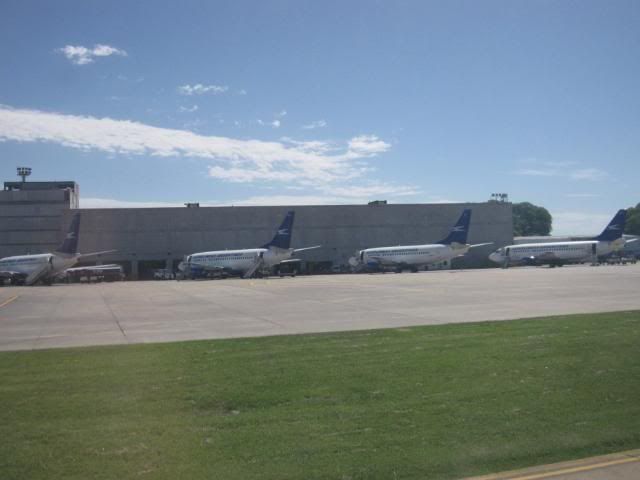 (And beautiful Ushuaia)