NB: once again image quality has been affected due to having resize original images
It is difficult to even comprehend trying to create a trip report outlining my recent trip to Europe, which is why I am going to focus on my overnight trip to the Isle of Barra, Scotland, the destination made famous for its beach arrivals and departures.
A significant amount of time went into planning the trip to Europe, given I wanted to see a variety of destinations and attractions, and also had to appease the concerns of my Sister, who would be travelling by my side over the course of the 5 week holiday. After reading various trip reports, I had long wanted to visit the Isle of Barra and experience a beach landing and departure, and provided there are very small family links to the region, it was not difficult in any way justifying the need to travel there.
My holiday to Europe would encompass a large number of countries, immerse me in a variety of cultures and cuisine, see close family and friends once again and allow me to meet a number of wonderful people who have become good friends. I had the intention of visiting three main places, namely Portugal, Scotland and Germany, given the family links in all three countries. Having lived in Germany (on a school exchange) for three months in 2002, I was eager to return, to see friends and brush up on my German. My Sister and I were fortunate to be afforded 5 weeks annual leave and with this in mind, I tailored an itinerary that would allow us to visit the three main countries I highlighted above with a Tour allowing us to see most of continental Europe. The Holiday was topped off by 3 magical days in London before returning home.
We were fortunate enough to make use of cut-throat airfare war earlier in 2009, whereby Emirates, Singapore Airlines and Qantas were discounting Europe fares significantly. My Sister and I booked an itinerary with Qantas, namely Brisbane-Singapore-London-Singapore-Brisbane, with the former and latter sectors being operated by the A330-300, and the A380-800 and 747-400 operating SIN/LHR and LHR/SIN respectively. Inclusive of the blasted credit card fee, the total itinerary cost AUD$3057 for the two of us, which I would argue to be an absolute bargain. Intra-Europe/UK flying was all with British Airways, given good value fares, Terraces/Galleries Lounge access and Qantas FF points won over. The only non-BA sectors were of course with Flybe to/from the Isle of Barra, which will be the focus of this report.
13 October 2009
Glasgow - Barra
BE6851
Flybe de Havilland Canada DHC-6 Twin Otter (G-BVVK)
4 Passengers including my Sister and I (19 seats with a ~21% LF)
We were dropped off at the Airport and proceeded to check-in. Formalities aside, within minutes we were at the gate ready to board. I was aware that we would be travelling in the off-season and that loads would probably reflect this and it was hardly surprising that when the flight to Barra was called; it was almost instantaneously closed, with just four passengers on the service, including my Sister and I.
We were given a quick safety run-down by the cheery Female FO and before long we were taxiing to the active runway. Given it was the first flight of the day, engine tests were a must, and short of the runway was where they were conducted. Before long we were on the active runway preparing to depart. Given there was next to no one on board, we lifted quickly into the drab and dreary sky. The flight was uneventful, which is why I have included the following pictures: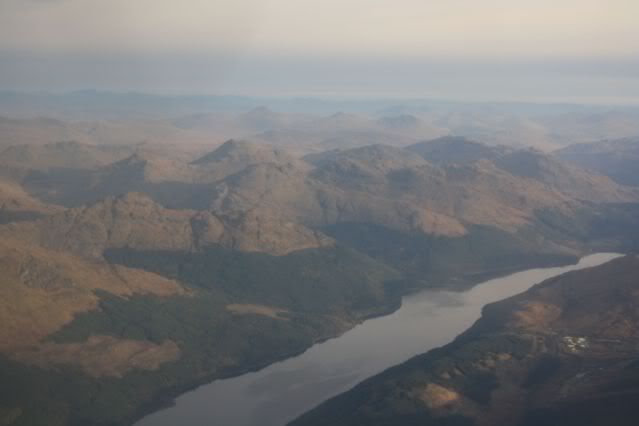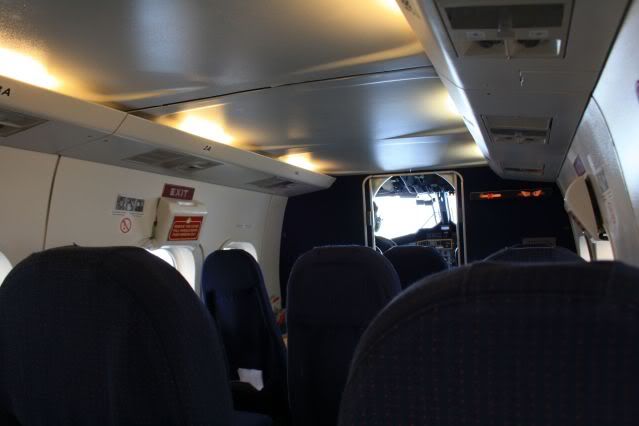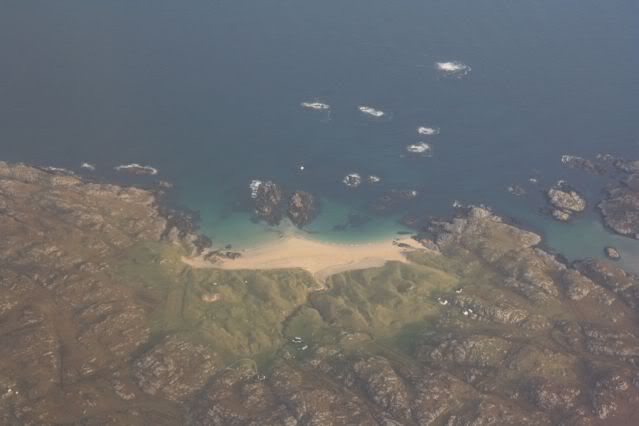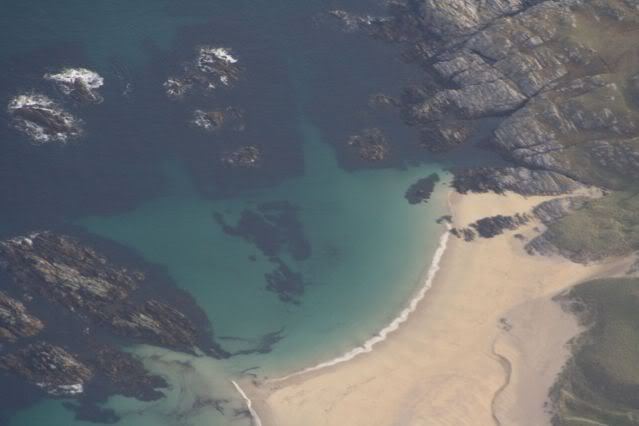 We touched down on the beach and much to my surprise it was smoother than I was expecting, given you could easily see that there were deep patches and no go areas. The crew are obviously very experienced and landing on the beach to them is like a walk in the park. After the engines were shut down, we were allowed to exit and as expected, the camera was out quickly, snapping up the lovely scenery. I took a breath of fresh air and said to myself how lucky I was to be where I was and that after all this time, I had finally made it.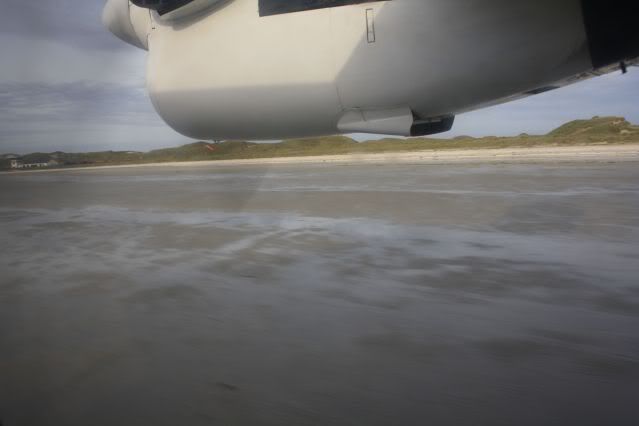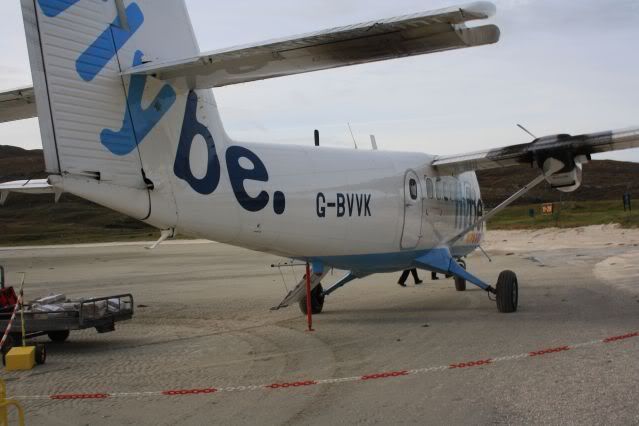 As there was a requirement for a quick turn-around, we were ushered towards the terminal. The facilities were rather good for a regional airport and there was a much better offering than what you'd find in some regional Australian ports (namely Longreach/Barcaldine et al). As we had no checked-baggage (the baggage collection system consists of it being placed on an external belt for you to pick-up) we headed straight to the local bus. After a short period waiting, we were on our way to our Hotel for the night and to the much publicised and main village on the Isle of Barra, Castlebay. We had selected to stay at the Castlebay Hotel and neither my Sister nor I were disappointed. Excellent service and wonderful food were part of the experience and I appreciated being treated like an individual and a real guest, not just another number. The following images are from in and around the Castlebay Village.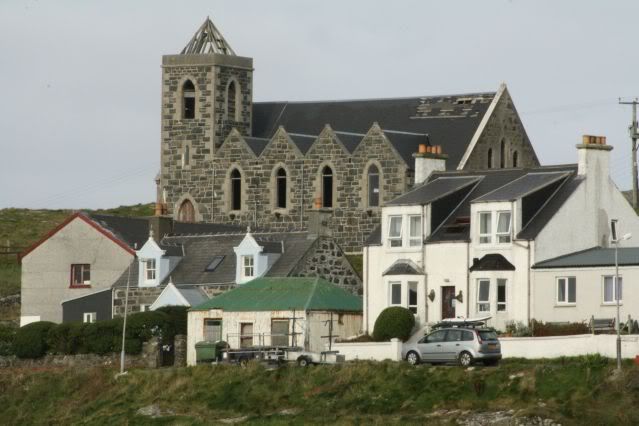 After a massive amount of exploring, a wonderful night's sleep and a hearty Breakfast, it was time to say goodbye and return to Glasgow.
14 October 2009
Barra - Glasgow
BE6852
Flybe de Havilland Canada DHC-6 Twin Otter (G-BZFP)
19 Passengers including my Sister and I (19 seats with a 100% LF)
We arrived at the Airport well before the Aircraft was due to land it was effectively a ghost town. I was thinking that today we'd see a very low passenger load, however as time passed by, the terminal slowly filled with more and more passengers, by then it became apparent that today would see a full flight. The café opened and it did rather well, in terms of the amount of food sold. A number of people were waiting outside, cameras ready, preparing for the arrival of the Aircraft. As I had already checked-in, I too wanted to get some images of the aircraft's arrival and was outside quick smart. The Twin Otter became visible in the murky sky and snap, snap, snap went the cameras, including mine. I was fortunate enough to take enough sequential images to show the aircraft from final approach to engine shut down.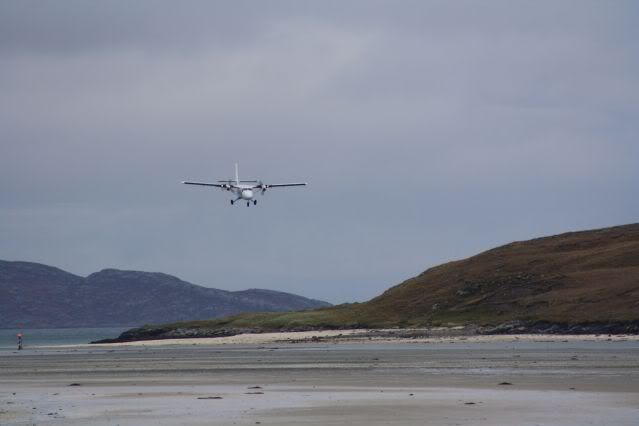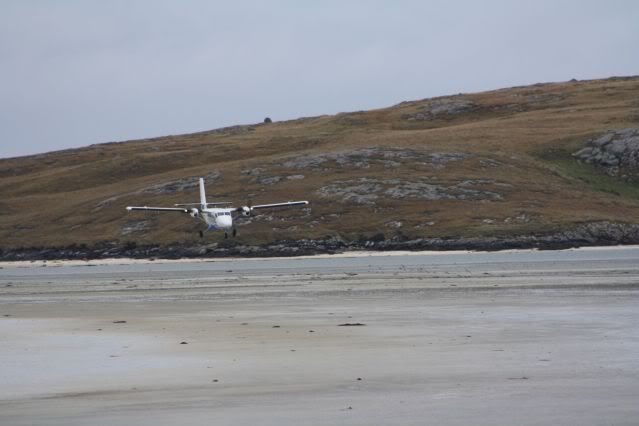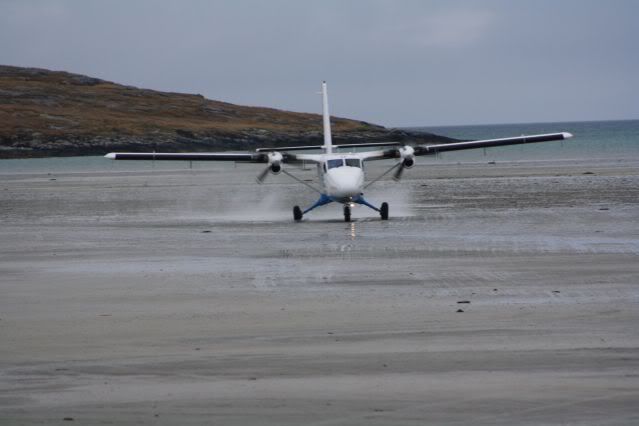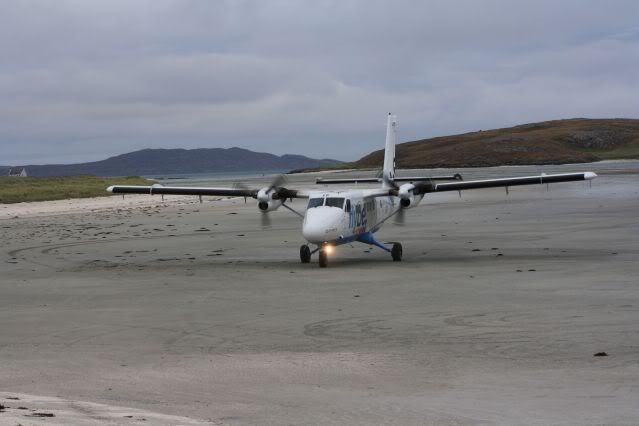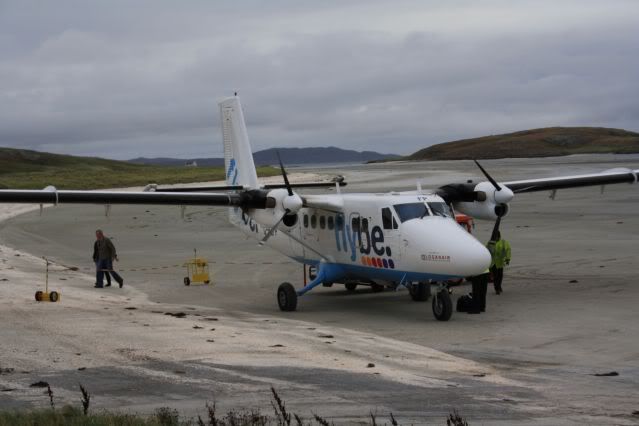 As expected, the ground crew spun into action and began unloading baggage and freight. Barra Airport is akin to its smaller regional counterparts in Australia in that there are no security scanners or technologically advanced screening systems. Before boarding everyone was pat-down and we were asked to present the contents of our hand luggage. Not long after we were onboard where I was pleased once again to see the same Female FO that had flown me to Barra the day prior. I peered into the flight deck and much to my surprise saw a Female CPT. Having only ever had an all-Female tech crew team on a flight from Brisbane to Honiara, it was definitely a pleasant surprise, as I would later find out that they were excellent aviators, resulting in me having one of the smoothest flights ever, even factoring in the inclement weather.
The props were started and within minutes we were taxiing to the active runway for a quick departure that appeared to be to the south west (over the terminal).
The flight was once again uneventful; however I certainly appreciate the space we were afforded on the flight to Barra as it was rather tight with a full passenger compliment. As alluded to earlier, the tech crew need be commended for their excellent and professional flying. We passed through some inclement weather and much to my surprise we did not feel the slightest bump or jolt. Within an hour we touched down in Glasgow and were back with the family friend.
I am very fortunate to have had the opportunity to have travelled to the Isle of Barra, it is a hidden gem. It is disappointing that the weather was so drab, however having seen photos from the summer, I can appreciate that during the Summer months is the best time to travel to the region. The beach landing and departure was much smoother than I expected and the journey to/from the area very picturesque. I am fortunate to have been able to sample flying with Flybe and would definitely like to fly with the carrier again as all staff were consistently friendly, professional and warm. A job well done by the team at Flybe as far as I am concerned.
As alluded to earlier, I was fortunate to visit many wonderful places in Europe while on Holiday. Here are just a few of the close to 3000 images (yes, I went crazy) that I took.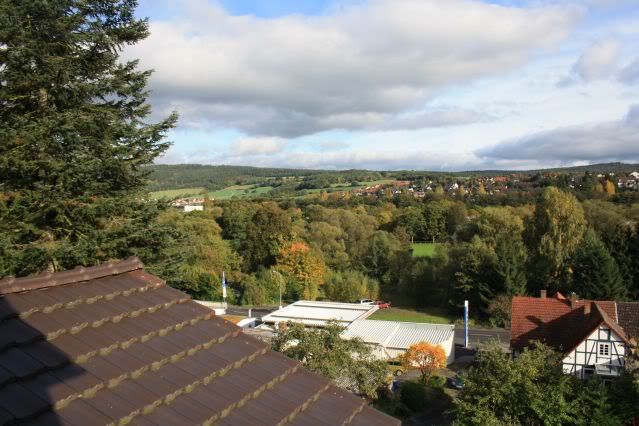 Germany, heaven on Earth.. love the place to bits..
Lisbon, Portugal. Paradise on Earth.. beautiful weather and a stunning City!
Lisbon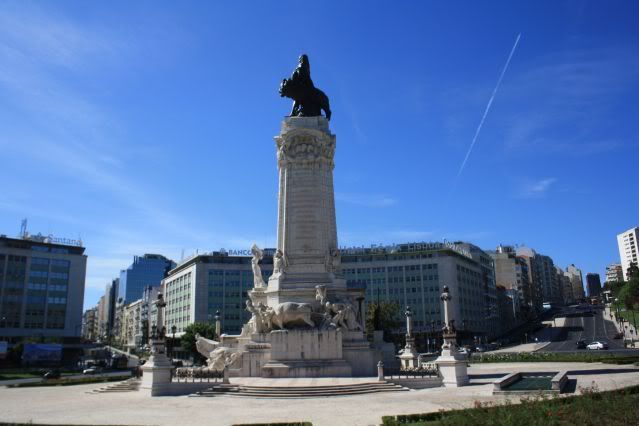 Lisbon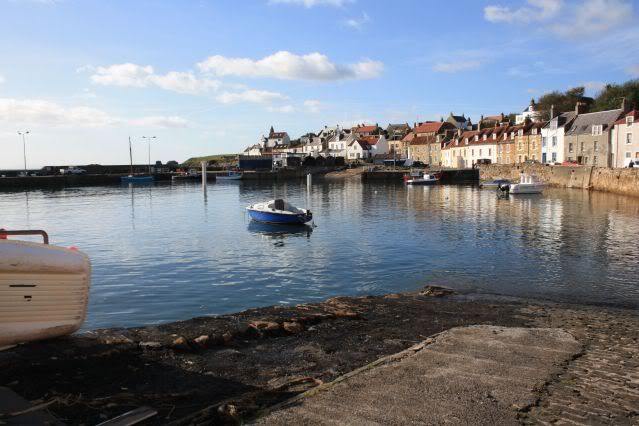 St. Monans, Scotland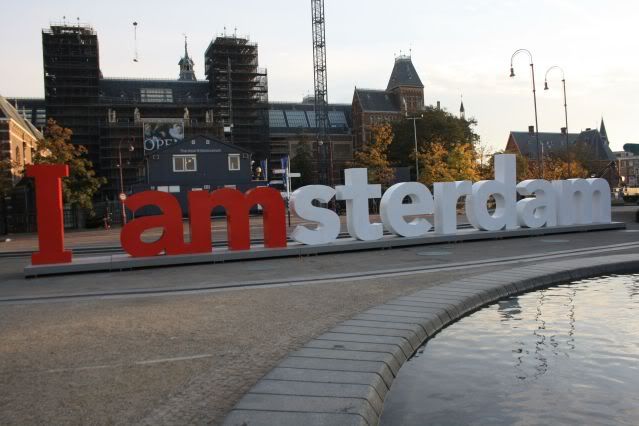 No prizes for guessing where this pic was taken..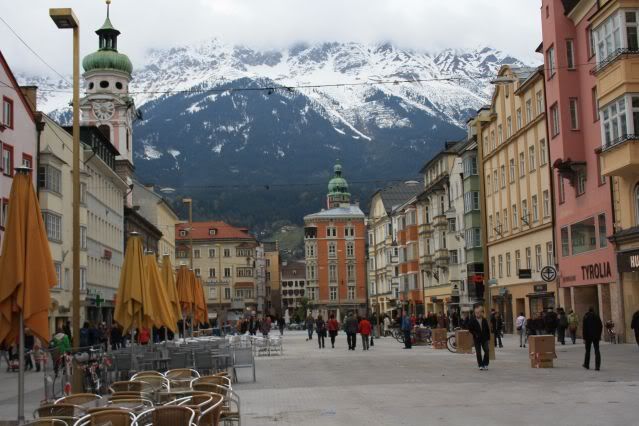 Innsbruck, Austria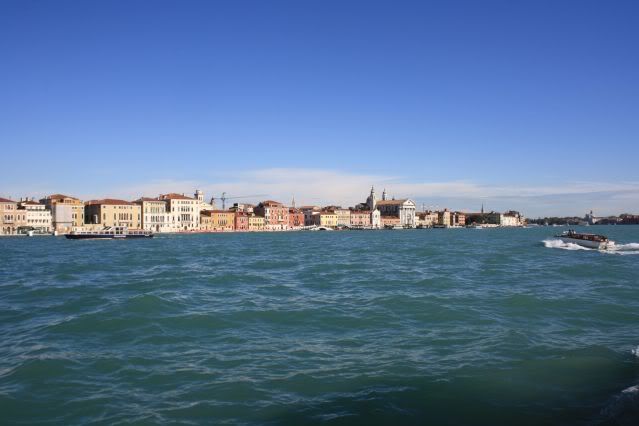 Venice, Italy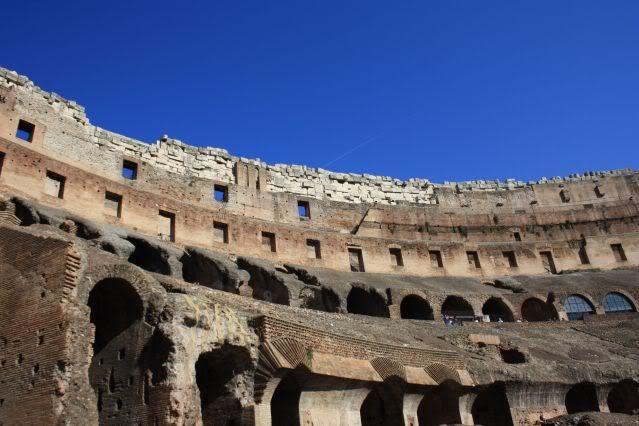 Rome, Italy
Vatican City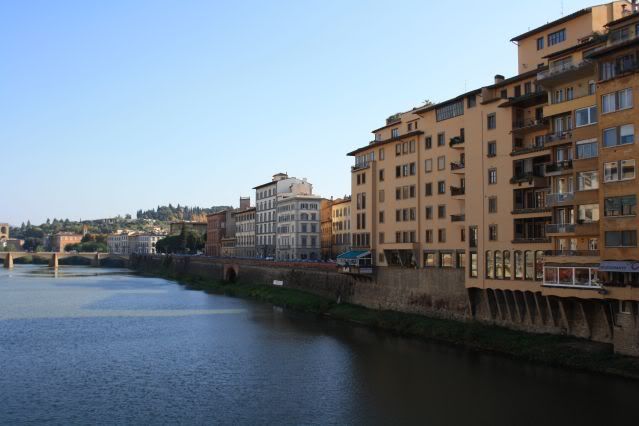 Florence, Italy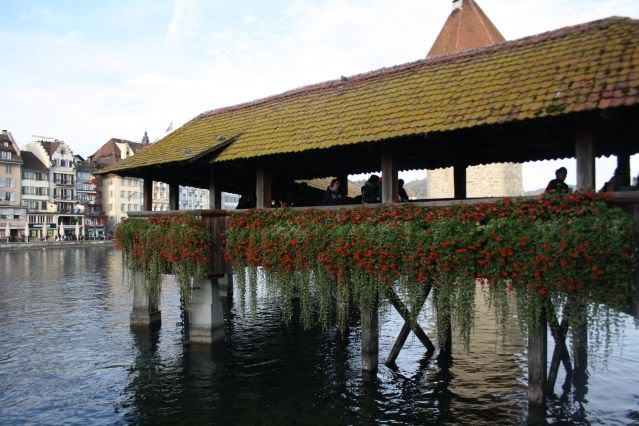 Lucerne, Switzerland
Paris, France
Paris, France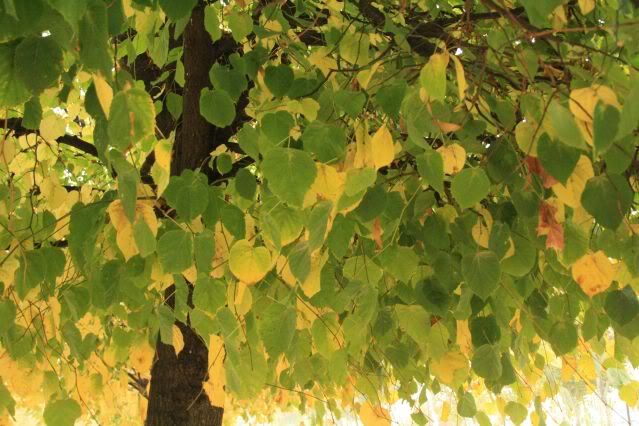 Paris, France
Hotel Indigo London Paddington - beautiful Hotel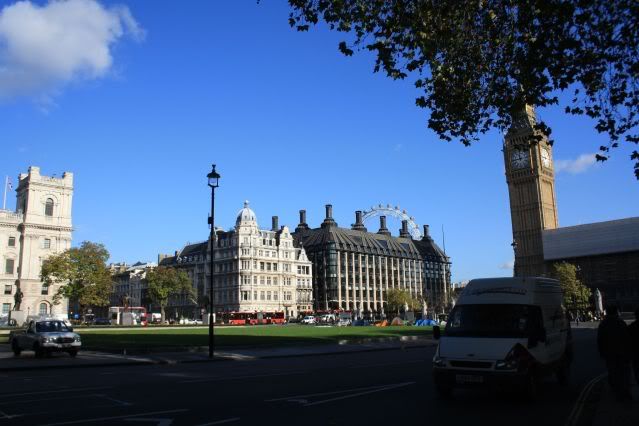 London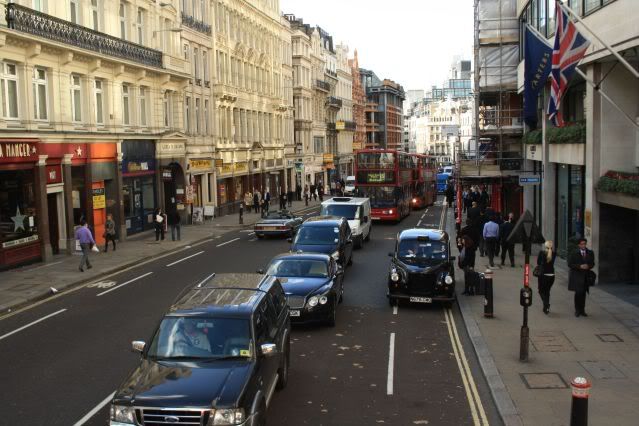 London
Across the five week period, there were many flights as noted below:

I was very impressed with British Airways. Not long after returning I sent a glowing email to the customer relations team outlining the many wonderful flying experiences I had. Alas, I am yet to get any sort of acknowledgment and dearly hope that the crew I mentioned have been congratulated. I found British Airways to be consistently good, with professional, cheery and welcoming crew. They were available at all times and nothing was too difficult for them. While catering was lacking, the excellent service made up for such a shortcoming. All BA-operated Lounges had excellent facilities and kept my Sister and I occupied pre-flight. A job well done once again to all of the team at British Airways, please keep up the good work and I look forward to flying with the Airline again.
Qantas once again looked after us from Australia and back. All crew were consistently professional, welcoming, chatty and were available when required (as in they answered call bells in a timely manner). The Qantas A380 certainly packs a punch and I think it is the only way to fly. I was fortunate to be seated in 80K, one of those prized seats in Economy. There are only two seats at the front and passengers seated in 80K have the opportunity to stretch their legs, without having the slide/door protrude and lessen the amount of space. The aircraft is quiet, the seats are comfortable, the AVOD system wonderful and the catering also very good – especially Qantas' famous Cadbury Hot Chocolate drink. Qantas has an excellent product and crew to match.
Anyway, that is enough from me. Admittedly I have been rather slack with the report as I could have said so much more. However given pictures can tell a thousand words, I thought it would be better to include only the smallest amount of writing (or in my case rambling!).
I hope you enjoy this report and look forward to seeing further reports from those that travel to Barra in the near future.
Cheers and Happy New Year
Other personal trip reports:
Uluru and Kata Tjuta - Australia's beautiful Red Centre
http://www.airliners.net/aviation-fo...ums/trip_reports/read.main/142199/