This is a short TR I was looking forward to write ever since I booked this flight back a month ago.
I had previously tried the products of Olympic Airways, Olympic Air and Aegean between SKG and ATH so I was curious to see what this new airline is all about.
A few words about the carrier. Athens Airways (ZF) started operations about a year ago with a fleet of 4 ERJ145EU, serving a multitude of cities and islands within Greece (24 or so different destinations). As of recent, at least 2 of the aircraft have stopped operating and a leased ATR was recruited to help with the scheduled flights. Despite this, ZF was recently "awarded" (by the Greek Civil Aviation Athority) with 2 international routes, one from Athens to Beirut and one from Athens to Kuwait City. Of course, the Kuwait route was acquired by ZF because allegedly no other Greek airline showed interest for it. Given that one cannot fly comfortably ATH-KWI on an ERJ145, there are some rumors that ZF may be acquring some more aircraft, but there are also rumors that the airline is facing financial troubles and may be bought by Olympic Air.
I found myself in Athens for a day (got there from Thessaloniki on the overnight train as I needed to be there before any early flight could take me) for some personal business and given that I could not go through another train ordeal I decided to fly back. I initially checked A3 and OA but then remembered about the existence of ZF. When I saw that I could make the trip for 49 Euros (1E for the fare and 48E for the taxes) I knew I had a winner. The booking was done through ZF's website, which was fairly easy to use, and within minutes I had the electronic ticket in my e-mail inbox.
In order to get to the airport I decided to use the train (6E) which is a great, quick and reasonably priced option. In fact I arrived there with about 5 hours to spare so I wandered about in order to explore an airport that I had flown to/from before but never had the time to actually see what it had to offer.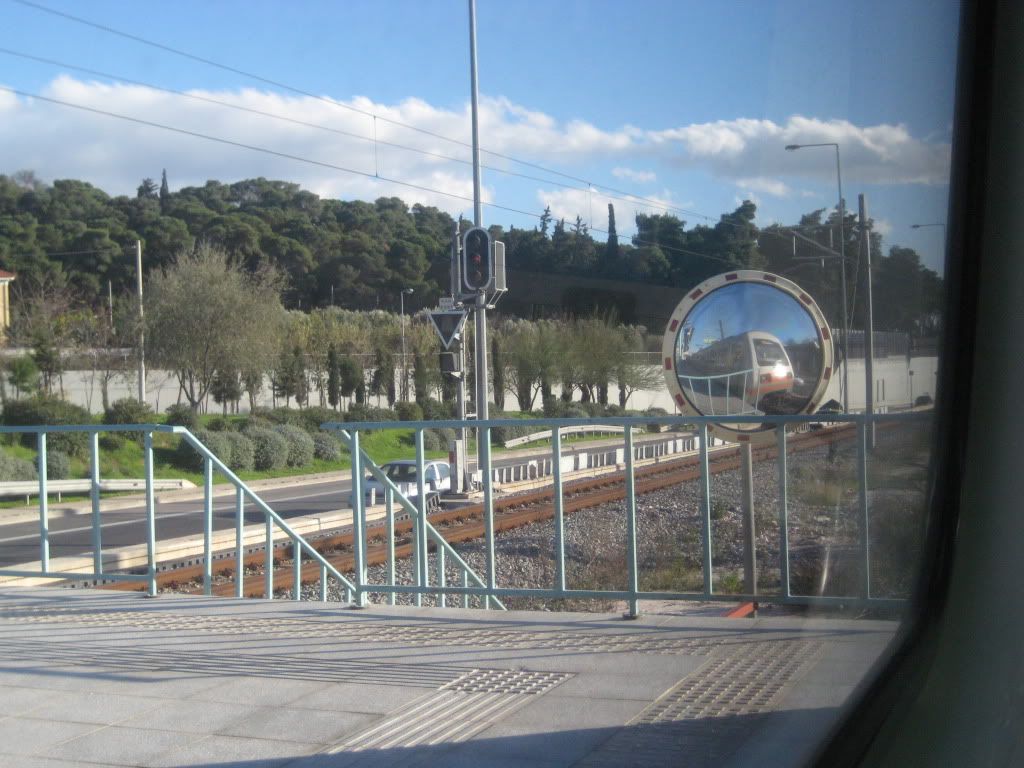 On the train
The airport seen at the distance from inside the train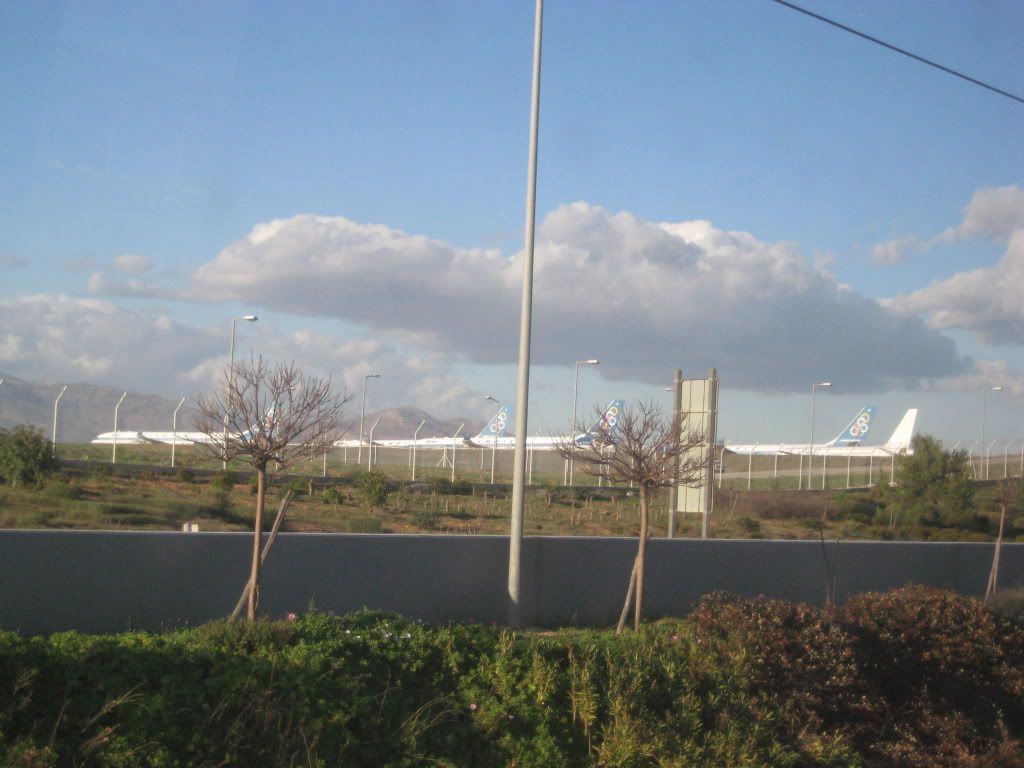 The 4 abandoned A340s of the now defunct Olympic Airways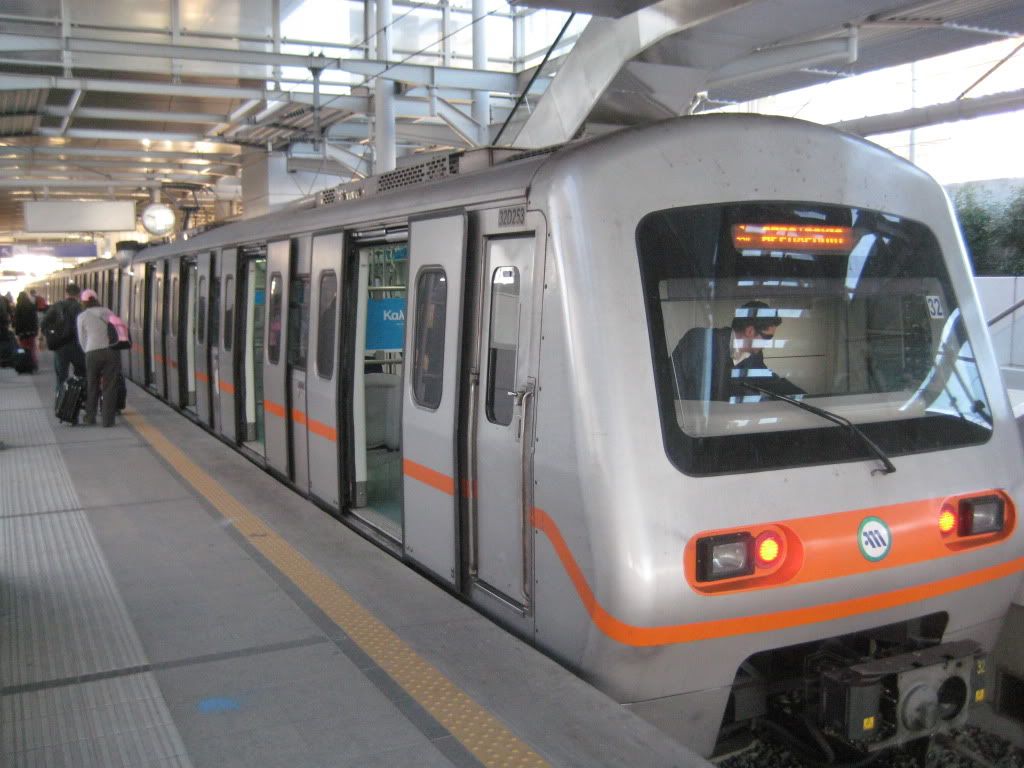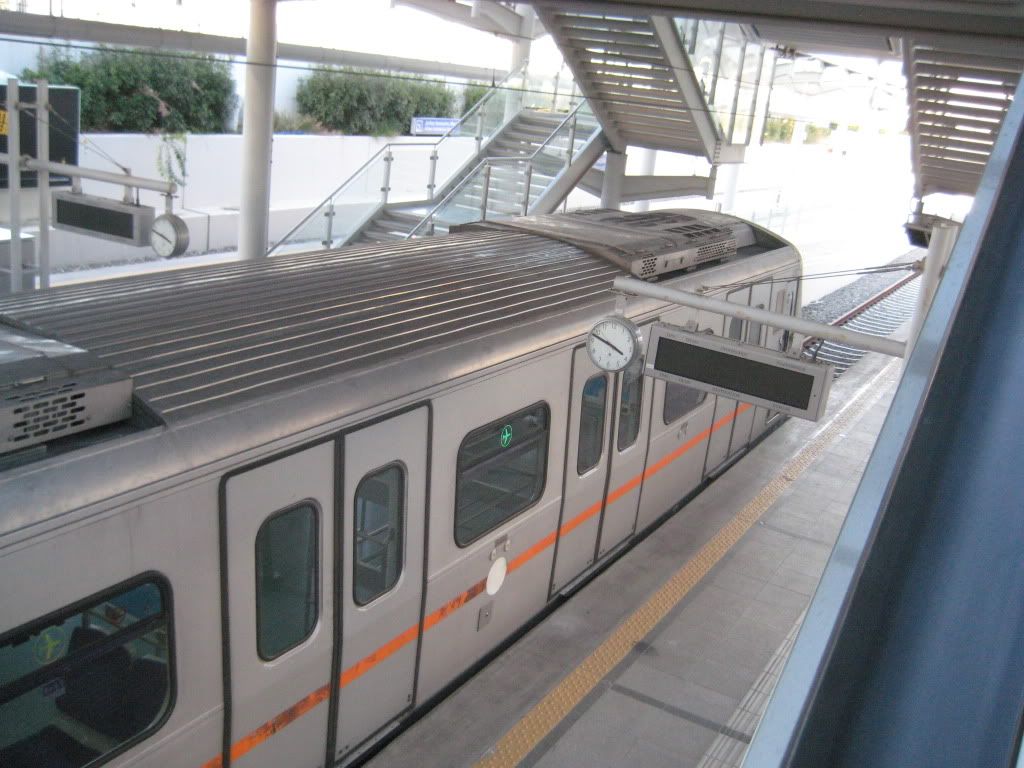 The airport train shuttle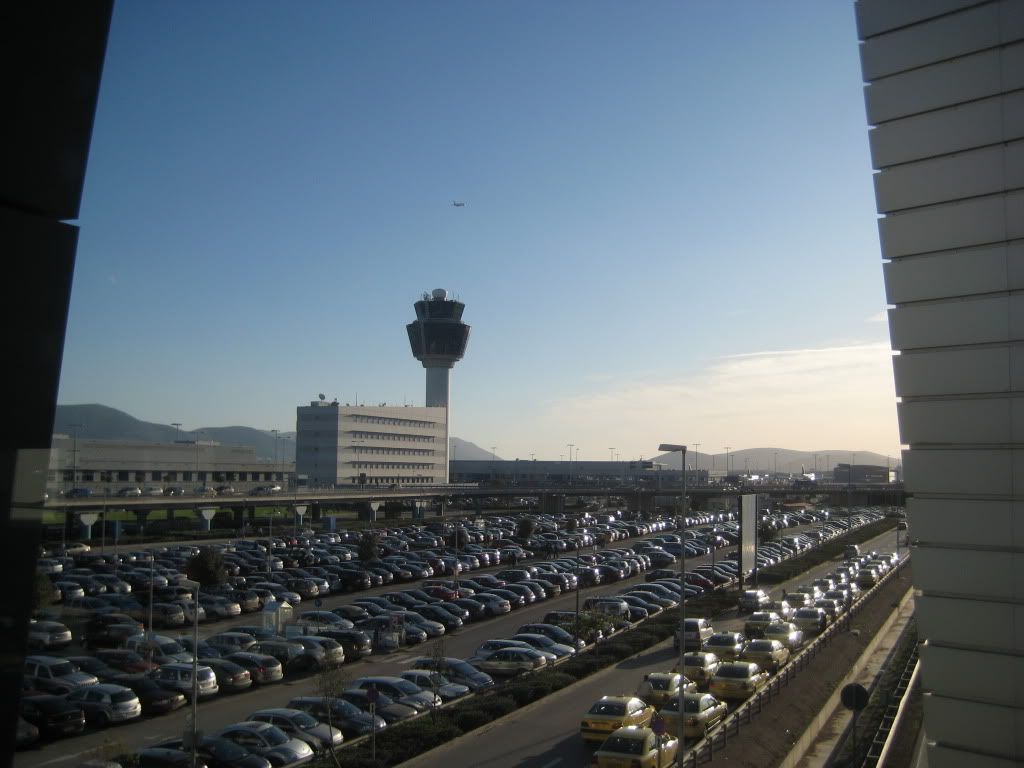 The main building and CT as seen from the train station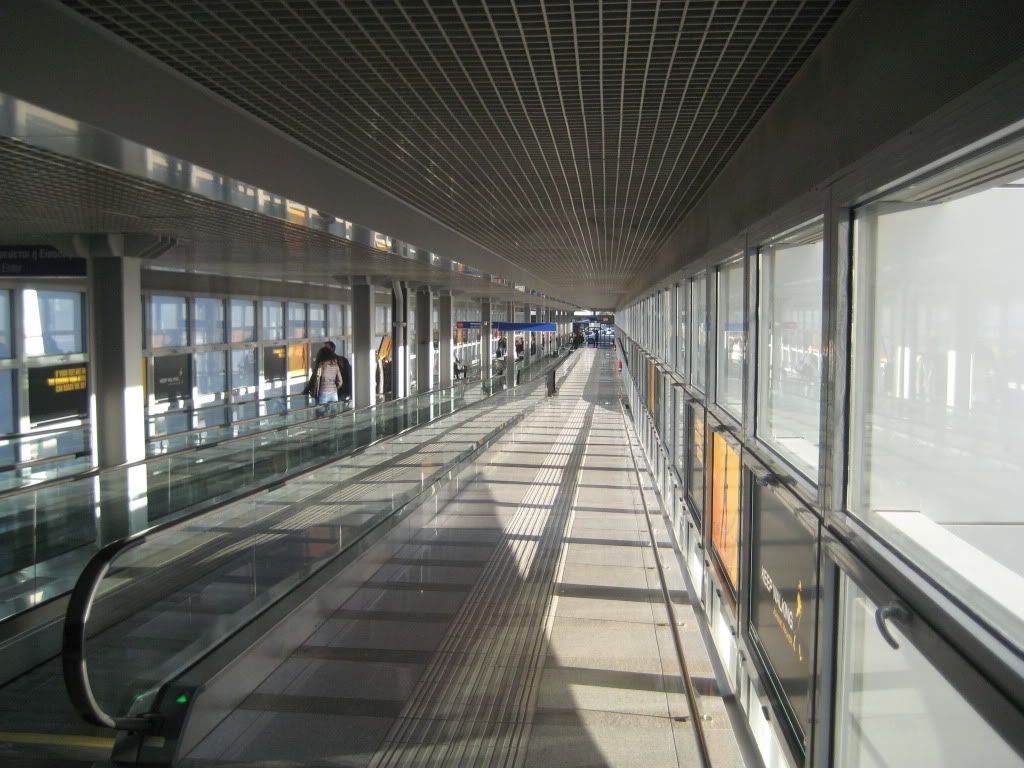 The bridge connecting the train station with the airport terminal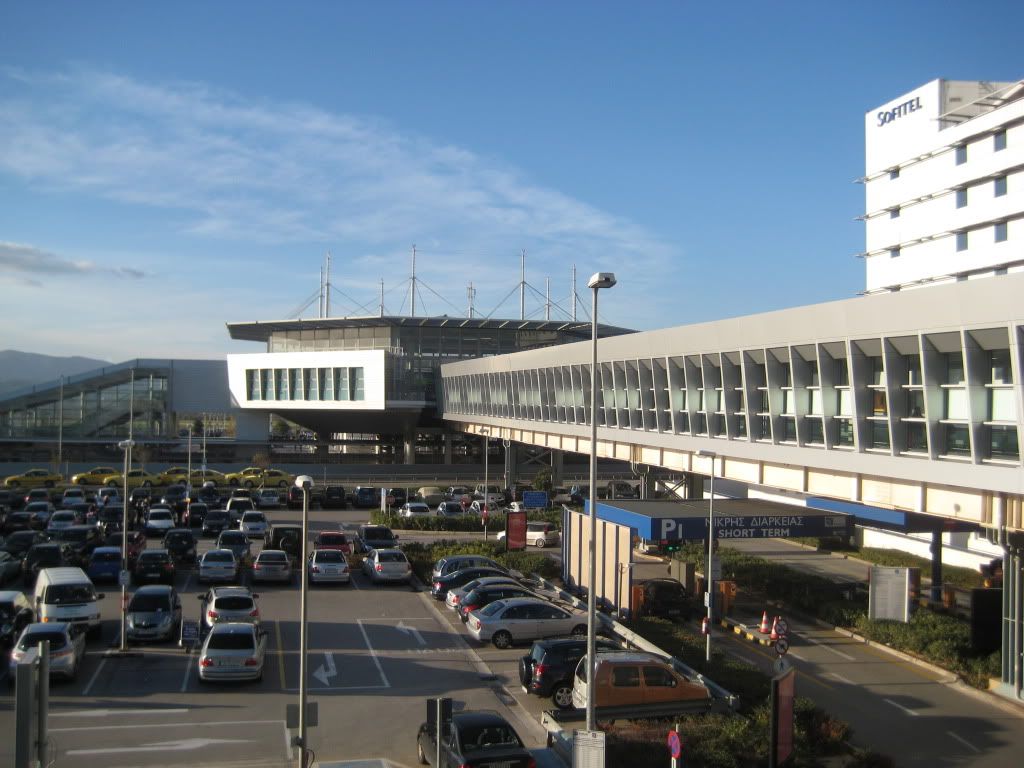 Looking back at the train station and bridge from the terminal
The moon over the terminal building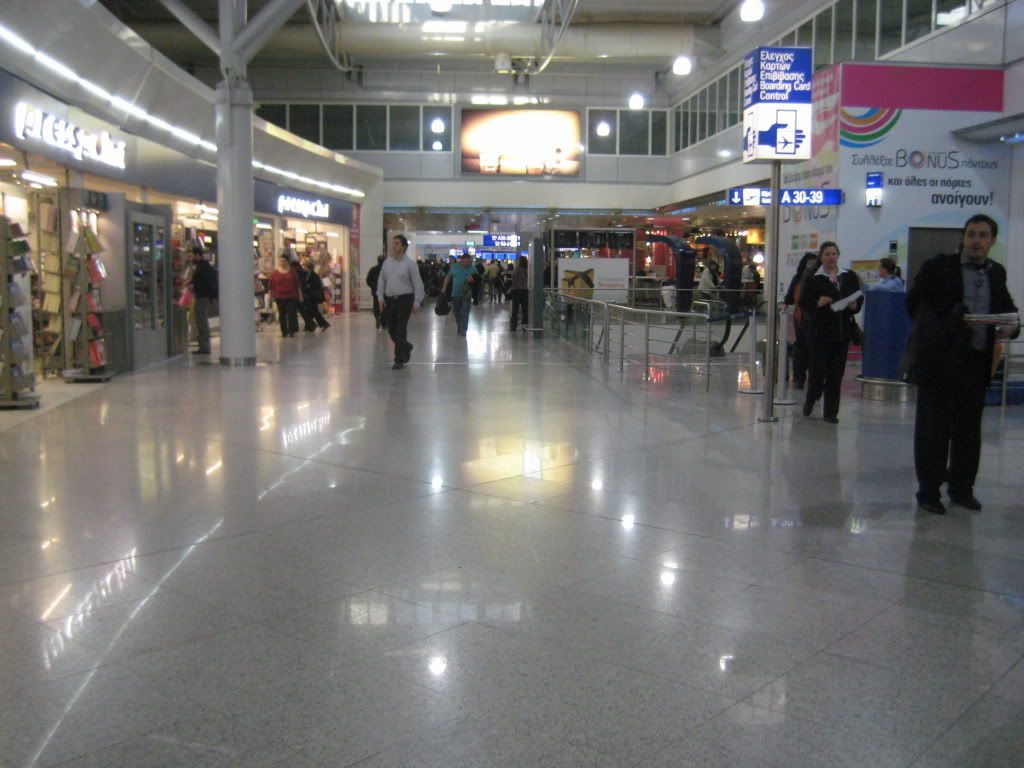 Before security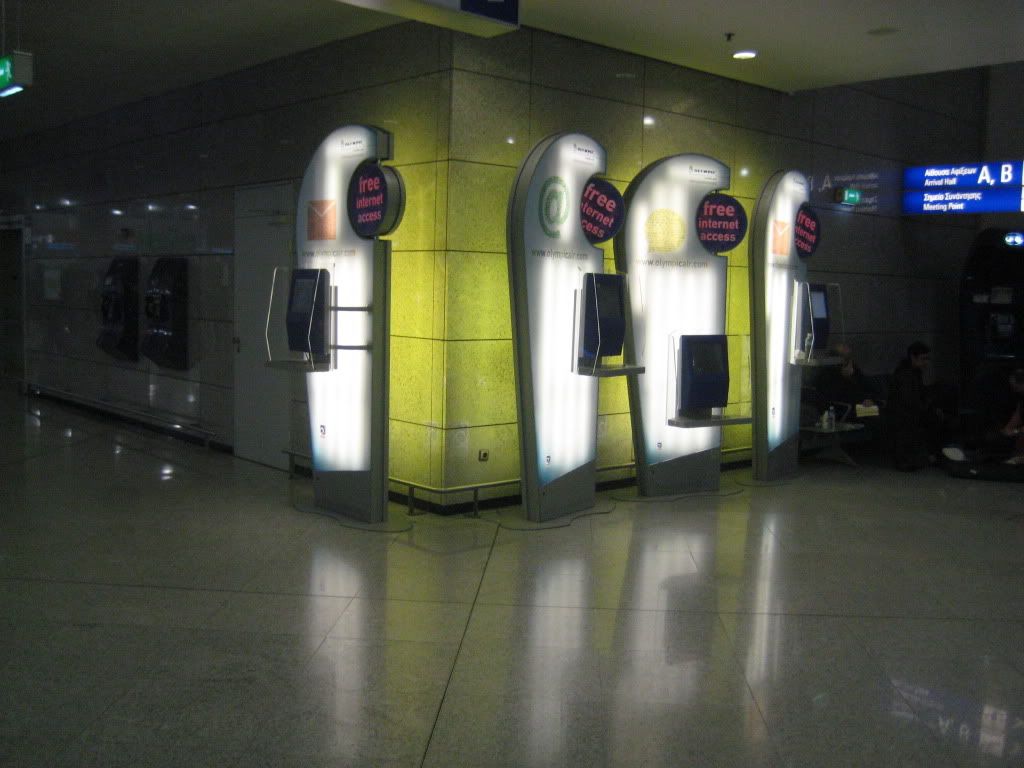 Some of the many free internet kiosks. One could use them for 15 minutes. They were slow and with semi-functioning keyboards but their presence was definitely appreciated!
ZF's ticket sales counter, next to my much... beloved Iberia...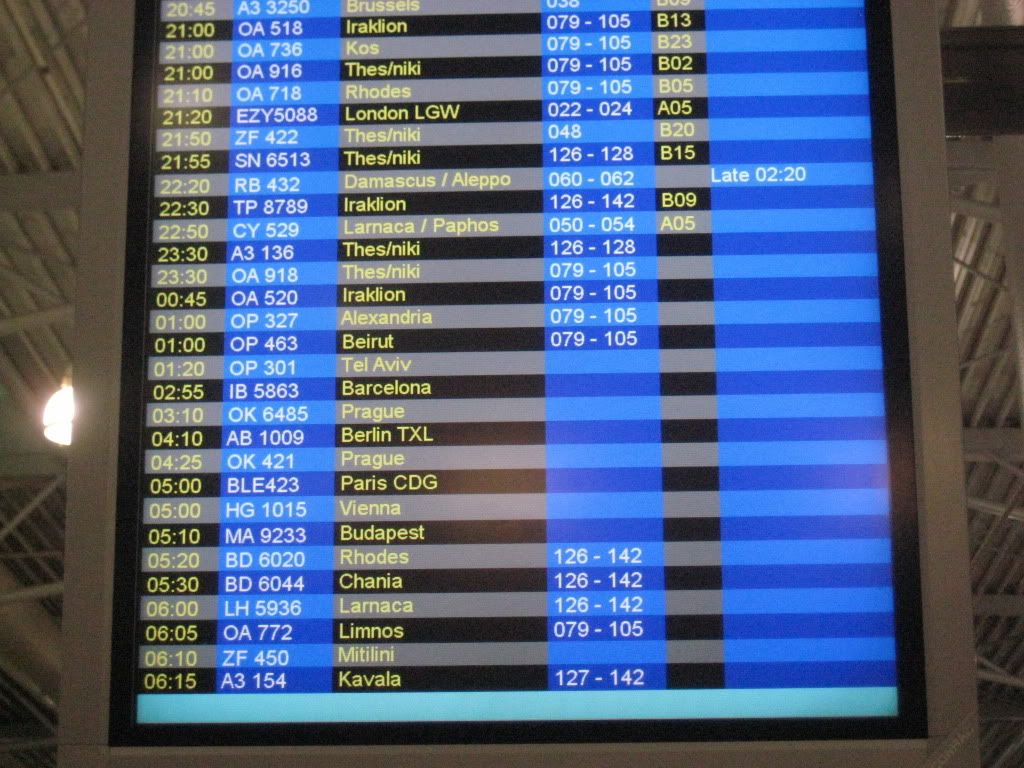 FIDS with my flight
Boarding card at hand

Monday 28 January 2009
Athens Airways flight ZF 422
Athens "Eleftherios Vanizelos" International Airport (ATH) to
Thessaloniki "Macedonia" International Airport (SKG)
ERJ145EU, SX-CMA, "Giannis Gaitis"
The sister aircraft of the one we were about to board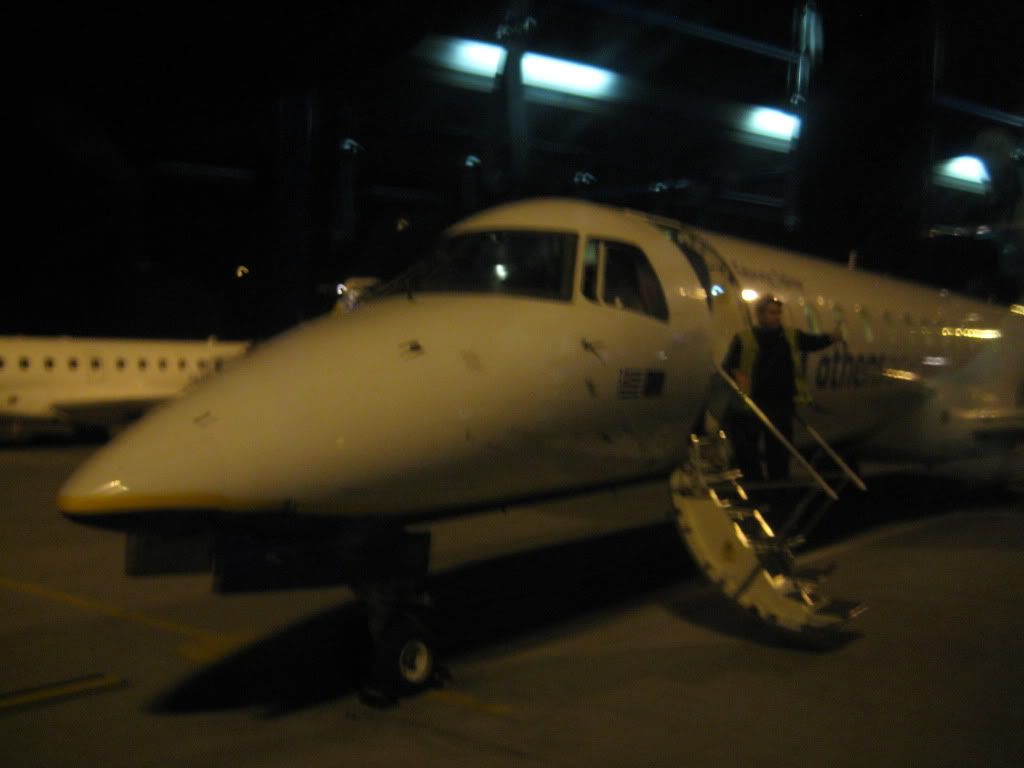 Just before boarding our aircraft.
From what I gathered ZF uses a single check in counter (No48) and at the time of my arrival it was closed, as the flight to KVA ("Alexander the Great" international airport of Kavala, Greece) was about to take off. Shorty after the counter re-opened to check in passenges for a flight to AXD ("Dimokritos" international airport of Alexandroupolis). The line was relatively short so after most of the passengers checked in, I asked whether I could also check in even though my flight was not for another 3 hours (I knew that OA and A3 do allow such early check ins). I was told however that I had to wait until 1.5 hour before my flight to do so. After checking my e-mail in one of the countless free Internet counters and catching some minutes of much needed sleep I went on to check in and go through security, both of which were done in no time. I got seat 10A and the assigned gate was B20. The aircraft was parked at an (extremely) remote location which we reached on a bus. Next to our aircraft (named "Giannis Gaitis") was the only other ERJ145 left on ZF's fleet, named "Nikos Kessanlis". My seat was on the left side which meant that I was going to be sitting by myself. The seat pitch was reasonable for such an aircraft. The seat pockets were equipped with all the necessary, plus ZF's own magazine "Anemos" and a bottle of Zaros mineral water. Not all seats were taken, and I'm guessing we must have been 30-35 people in total. After a relatively long taxiing we took off heading south before turning west and flying over Piraeus. Shortly after take off we were served a small sandwich with cream cheese and ham and also drinks (I got a coke). It wasn't long before it was time to land. Our approach was from the south, which I found to be unusual as I'm used to northernly approaches to SKG even when coming from the south.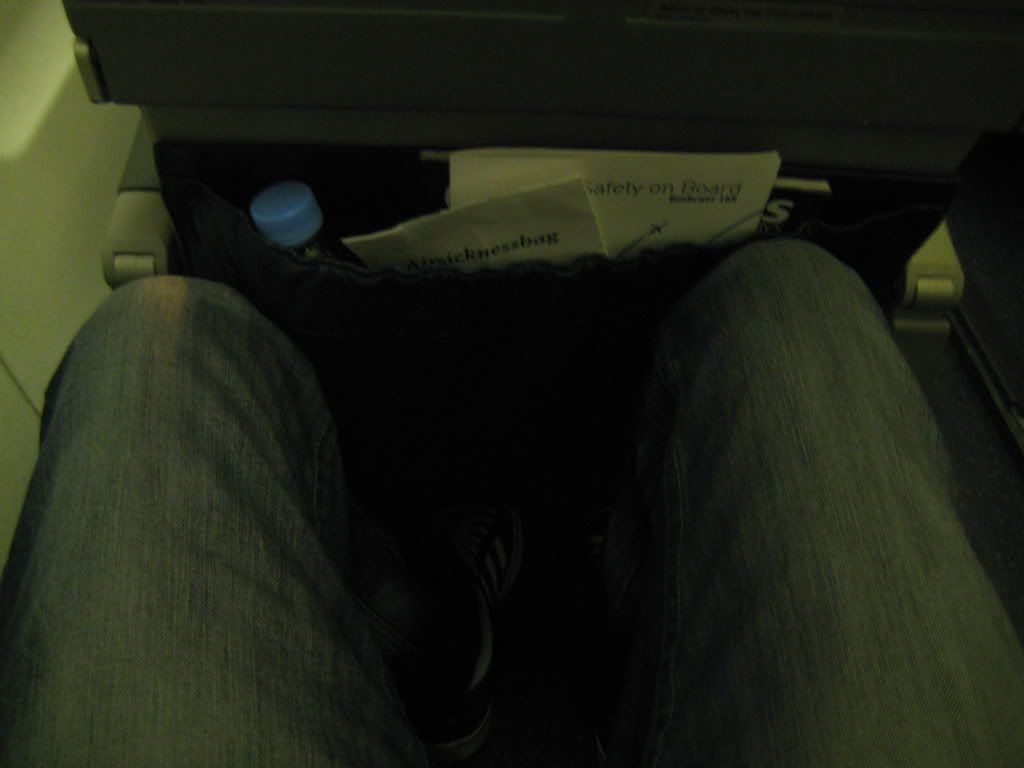 Seat Pitch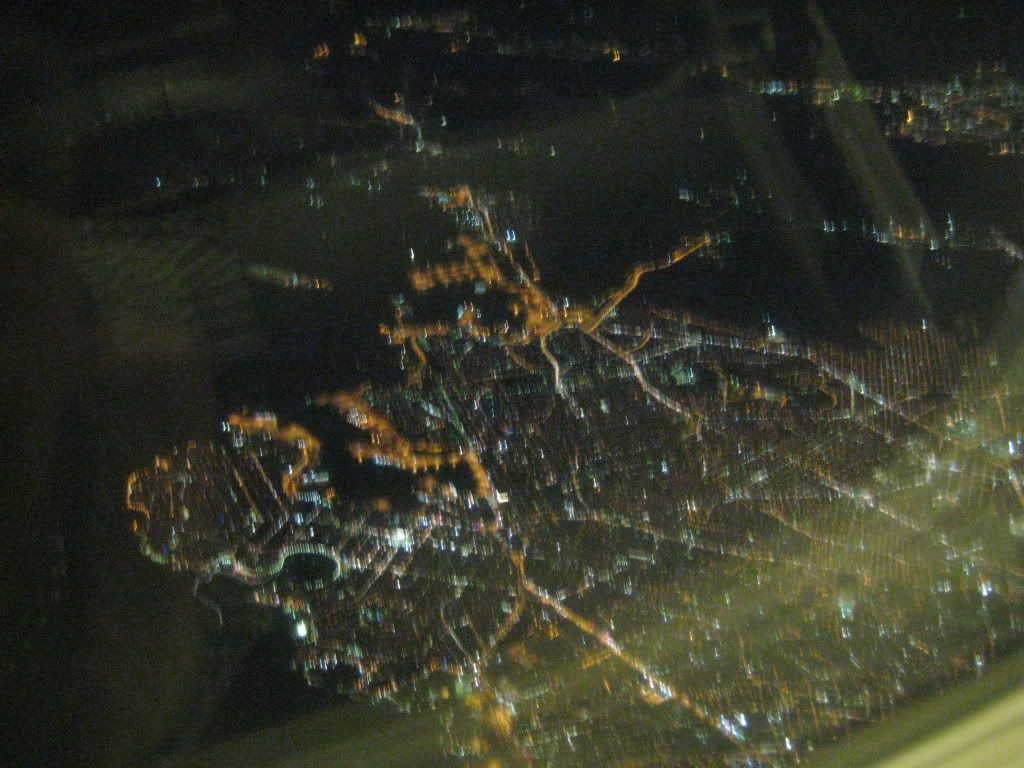 Flying over the port of Piraeus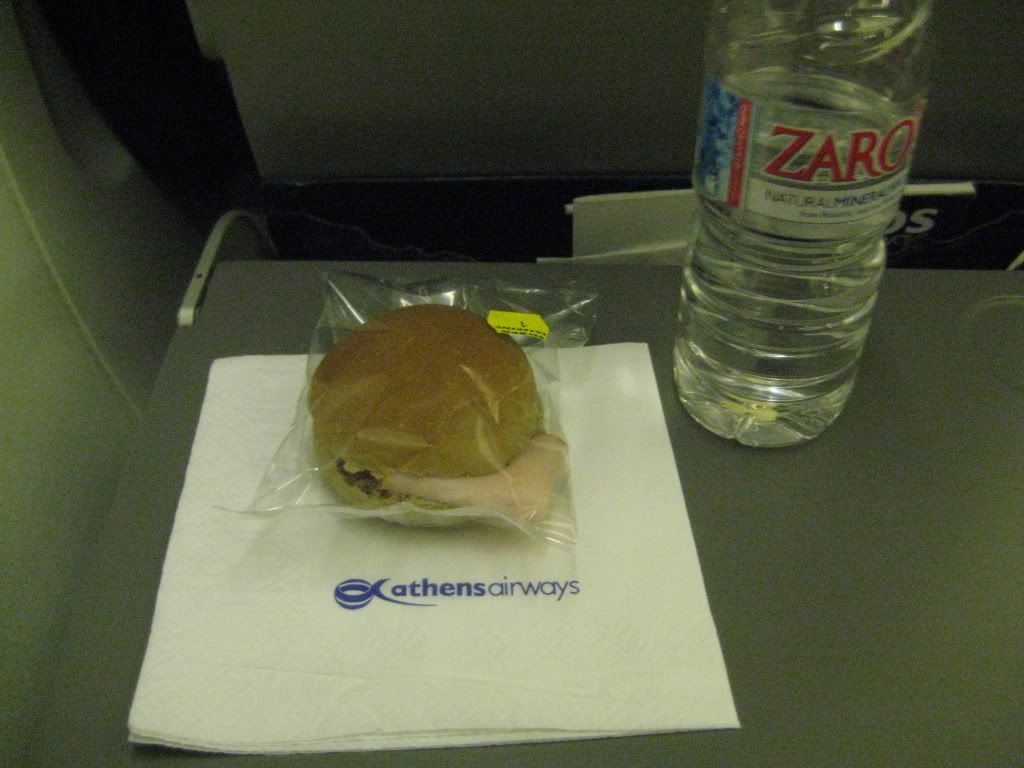 The snack we were served. Drink service followed shortly after.
In the bus at SKG. I find ZF's RJ145s to be very beautiful birds.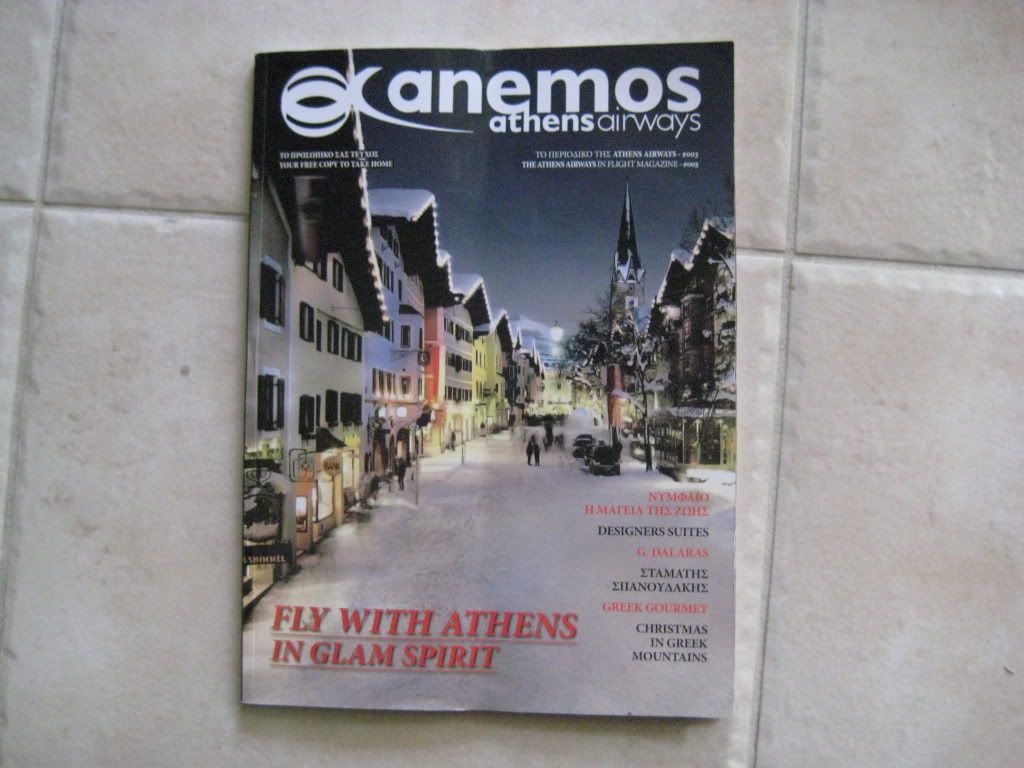 ZF's Anemos Magazine. I had to take it with me to study it in more detail than I could in the 40-minute long flight.
It's hard to commend on such a short flight but I was excited to be trying such an unusual airline. Not even the extremely aweful experience with Iberia a few days earlier (which resulted in reaching my destination 4 days after my departure, without weather being responsible for that) was enough to spoil my excitement for trying ZF and an ERJ145. I hope the company survives or that they at least continue existing through some takeover.
I hope you enjoyed this TR. I also hope that once (and if) ZF starts their international services we'll get to see more of their TRs here.