NonRev BKK-LHR Part I--The Oman Air long-haul experience
The Middle East has long been a crossroads between east and west. Taking advantage of this geographical position, the region's airlines have been expanding rapidly over the last twenty years. Emirates, Qatar Airways, and Etihad Airways have all become household names. Oman Air, however, has been more cautious in regards to long-haul expansion. Starting with a leased A310 flying to London and Bangkok, over the last few months a new fleet of A330s have expanded its formerly modest network to now include Paris, Frankfurt and Munich.
As a self-professed airline geek I've always enjoyed flying and experiencing new airlines. Being an airline employee has made this endeavor a lot easier. When my airline started offering mileage-based ZED fares on Oman Air, I couldn't resist. A trip to Singapore to attend my brother's wedding gave me the perfect excuse to try them out.
At this point you may be thinking to yourself "Oman Air doesn't fly to Singapore." That's correct. After attending my brother's wedding I flew from Singapore to Hong Kong via Manila on Philippine Airlines. I spent two days there with another brother and from there flew to Bangkok on Sri Lankan Airlines. I'm still sorting through my notes on those flights and hopefully I might have enough to do a trip report on these flights.
9 December 2009
Oman Air WY812, Bangkok-Muscat
Economy Class, seat 27J, later moved to 27H. Approximate load 50%
Airbus A330-343X A40-DD
Scheduled departure 6:40am, actual 6:30am
Scheduled arrival 10:25am, actual 9:55am
I arrived at Bangkok's terminal at 4:45am after spending a short night at the Regent
Suvarnabumi Hotel, a decent hotel close to the airport. At this hour the terminal was alive with activity, with several early morning departures.
Check-in at the Oman Air counter was quick and easy. With a light load I was immediately offered a choice of a window or aisle seat. Despite the assistance of an Oman Air supervisor the agent couldn't list me for the MCT-DXB flight, but she reassuringly said that the flight was wide open. Having received my boarding pass I proceeded to passport control. Although there weren't many people waiting, the line moved very slowly. Fortunately we were directed to an empty VIP lane for processing.
After walking through what appeared to be a large shopping mall I finally reached the gate. Boarding started at 6:00am for Business Class followed by Economy Class by row number. Newspapers were offered from a cart on the jetway. With boarding quickly accomplished, the Flight Attendants came through the cabin offering hot towels--real towels, not the disposable towelettes many other carriers use--prior to pushback. With a light load we were able to depart ten minutes early at 6:30.
View Large
View Medium


Photo © T.Laurent
Oman Air A330 Business Class
Oman Air A330 Economy Class
This A330 still had the new airplane smell. The blue/orange/yellow/brown color scheme was very warm and inviting. Every seat had what appeared to be the latest in AVOD technology. It was nice that the IFE handset was mounted in the seatback ahead of you rather than in the armrest, making it less likely that one would lean against the handset and log off the movie one's watching. In addition there was an USB port mounted on the seatback, very handy for recharging an I-Pod and other devices.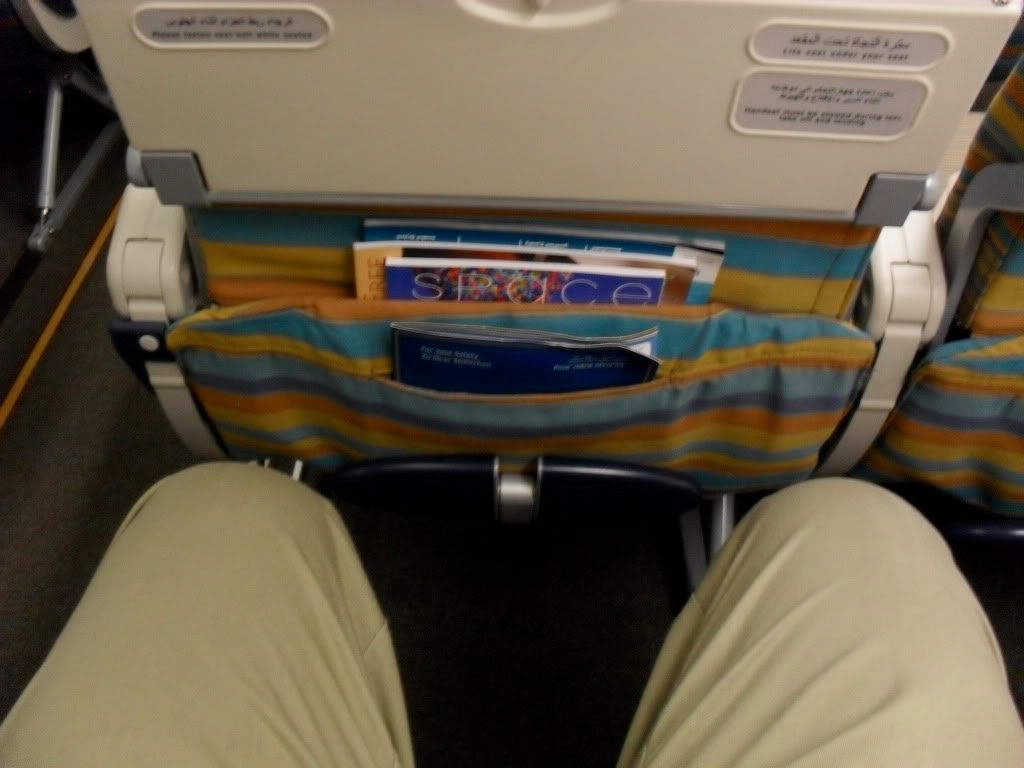 The safety video and announcements were done in Arabic, English and Thai. There were several Thai Flight Attendants among the crew, very useful since there were many Thais aboard heading for work in the Gulf.
Once airborne, headsets were distributed. I noticed this aircraft had a mood lighting system installed, although on this flight it was only used in Business class. A hot breakfast was served an hour after takeoff. There were three main course choices this morning: cheese omelet, scrambled eggs, and a vegetarian option. I chose the omelet, which was served with spinach, a spicy sausage, and chickpeas in tomato sauce (maybe they couldn't find the standard baked beans?) Coffee/tea/orange juice/water was offered from the meal cart. What was surprising was the use of heavy china dishes on the meal tray along with plastic cutlery--perhaps a means of lowering weight without sacrificing quality? The meal was delicious, the portions ample.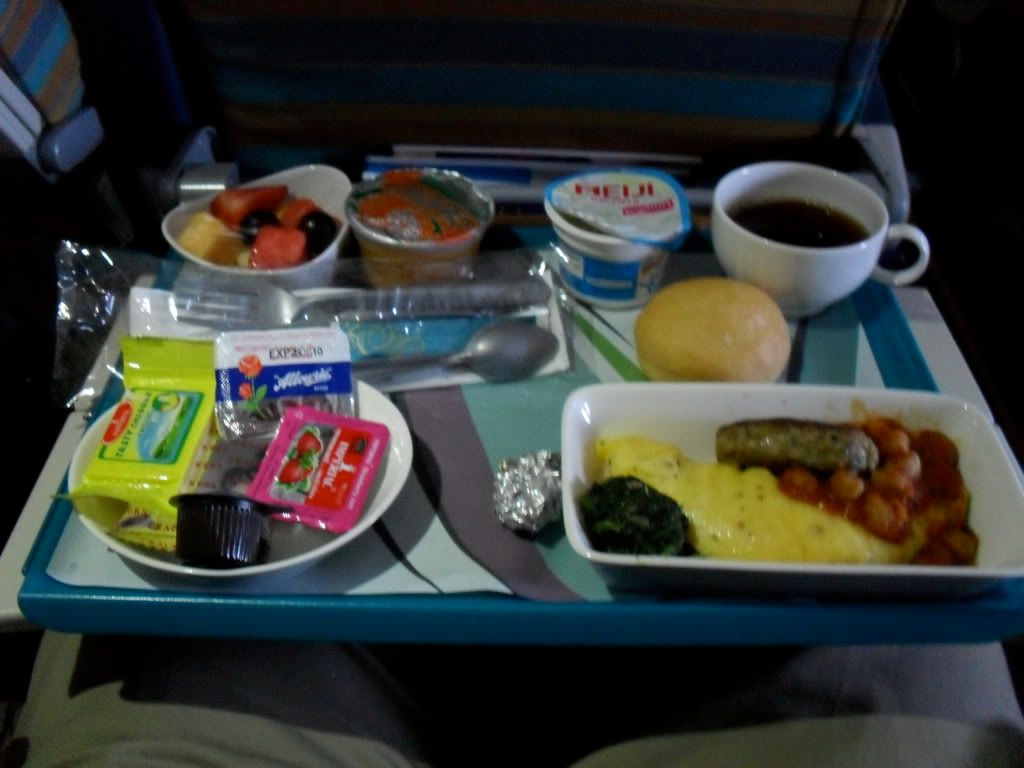 After the breakfast trays were collected it was time to play with the AVOD system. There was a wide array of movies and music. Although the system was easy to use, an instruction card would've been very helpful. While the reliability of AVOD systems have been improving, there were still a few glitches. The short subject movies wouldn't work at my seat but luckily the adjacent seat was vacant so I was able to use the video there.
During the flight the Flight Attendants were observed occasionally walking through the cabin offering water. When I took a walk to the aft galley for a diet coke and snacks the Flight Attendant insisted on delivering it to my seat rather than I taking it myself.
Prior to the second meal service I paid a visit to the washroom. Considering the light load it was still tidy. Surprisingly Oman Air decided to use real towels rather than paper ones--I wonder how much they spend on cloth towels?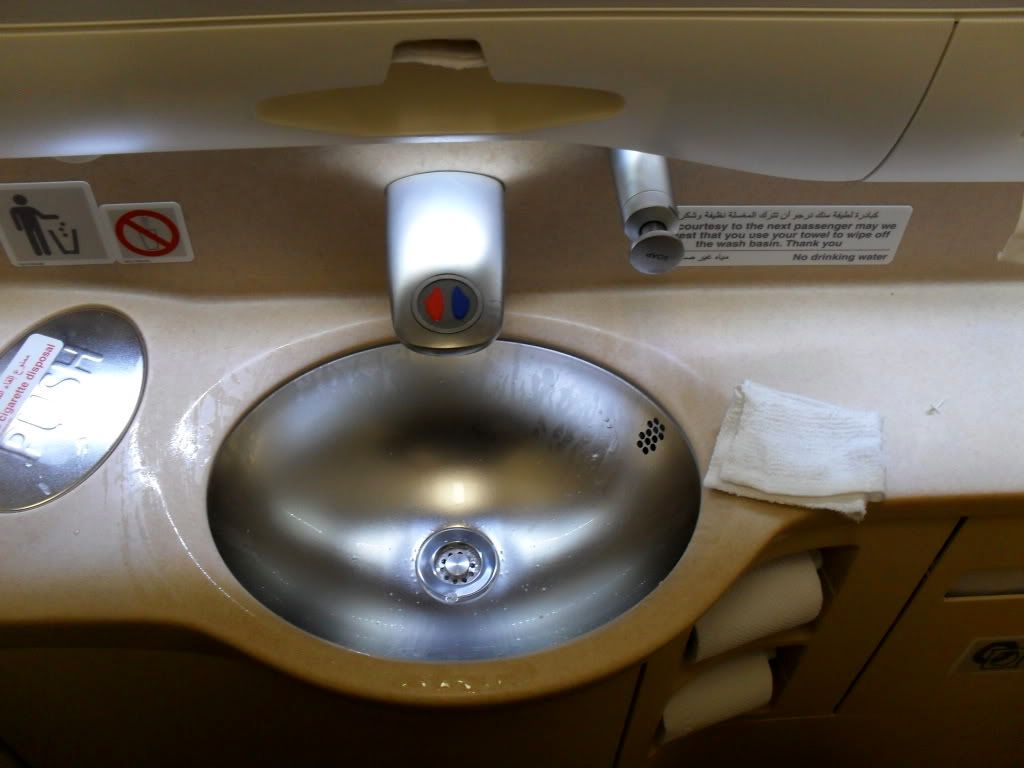 The second meal service was offered about two hours prior to landing. We had a choice of either a chicken or a cheese sandwich served with fruit salad and orange juice. Perfectly fine for a six-hour flight. After the trays were cleared, duty-free merchandise were offered for sale.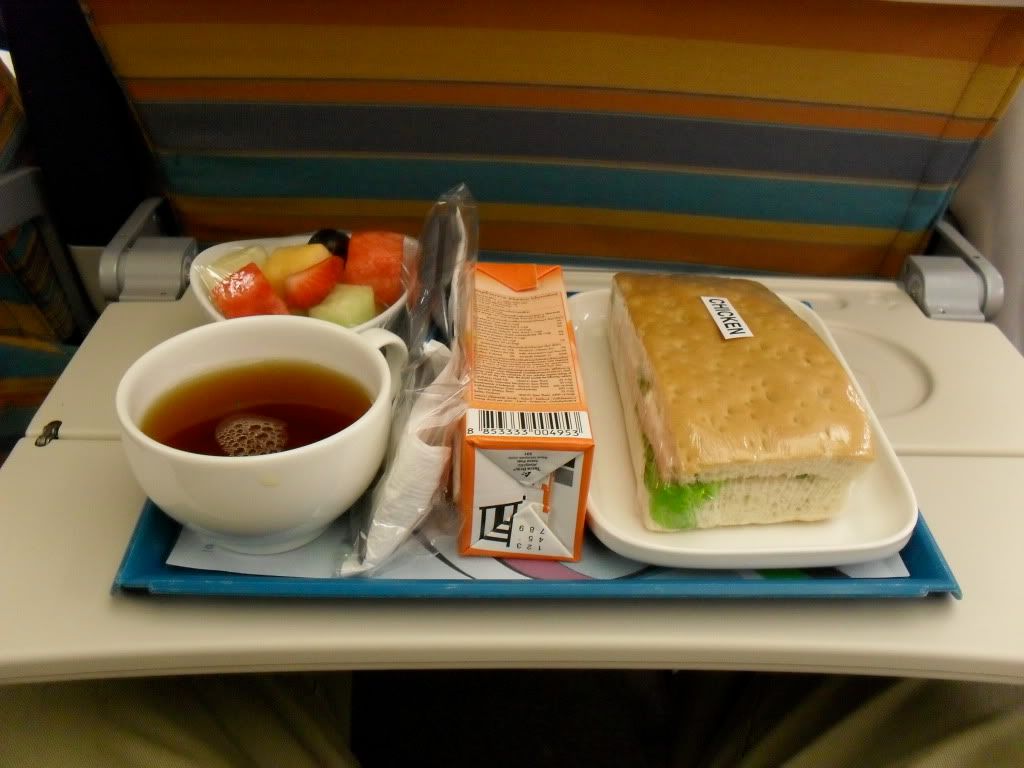 We landed in Muscat 30 minutes early at 9:55am. Since there were no jetways we were bussed to the terminal. Many of my fellow passengers were connecting to Dubai where they simply went through another security check and into the terminal. Since Oman Air's Bangkok staff couldn't list me for the Dubai flight I had to stop at the transfer desk. The friendly Filipino agent was able to immediately clear me since true to the Bangkok agent's word, the flight wasn't full. After showing my company ID he inquired how we were doing. Apparently he has a relative working for us in California--small world! We chatted for a few minutes about Oman and I expressed my interest in returning for a longer visit.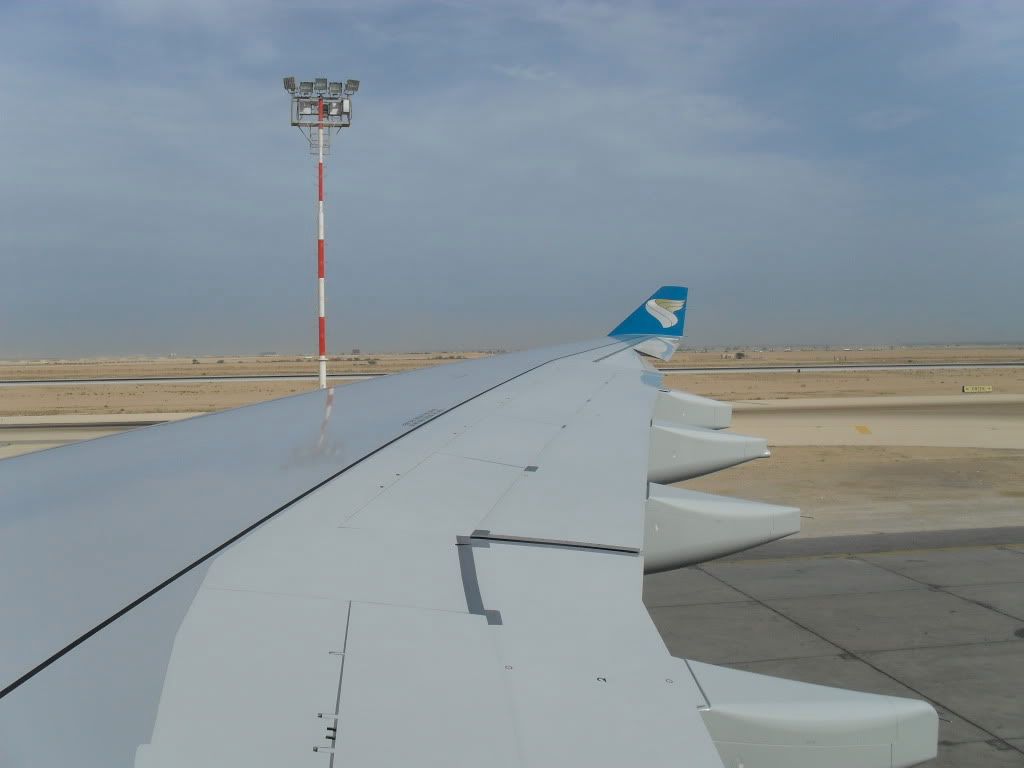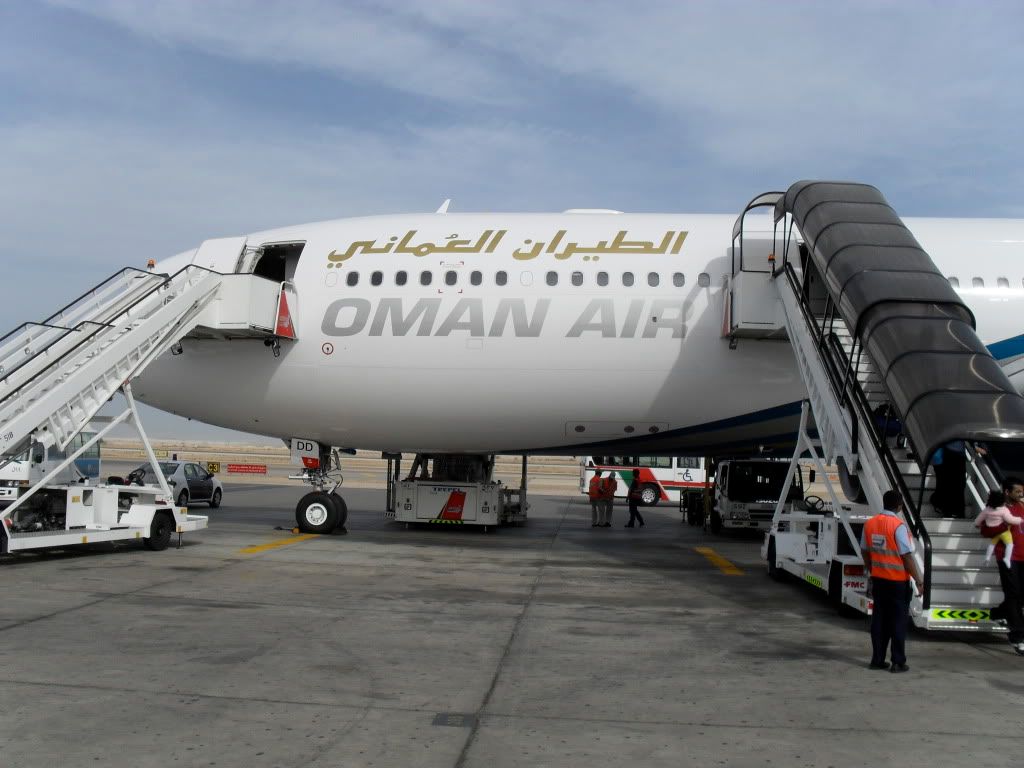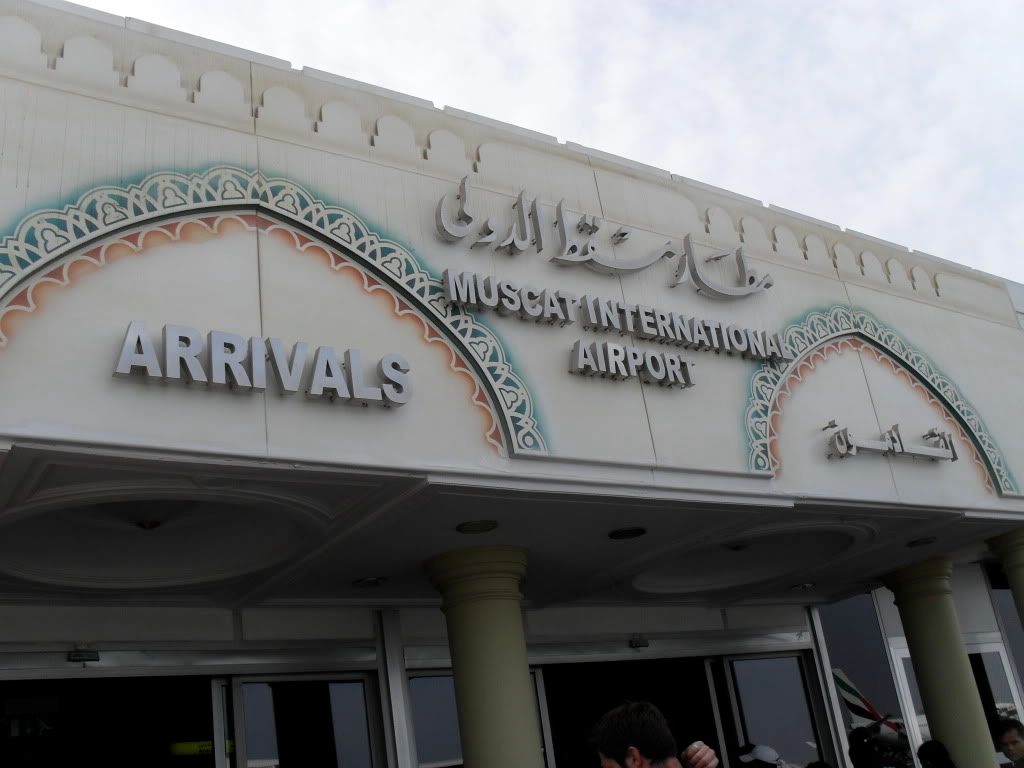 With 3 1/2 hours until the Dubai flight I started exploring the Muscat terminal. With a lack of jetways it's compact. While it isn't as busy as other airports in the area, there is still a nice variety of traffic. The terminal had what appeared to be an open-air balcony, but the doors leading to it were locked. Any photography and spotting had to be through the glass windows or from the bus to or from the aircraft.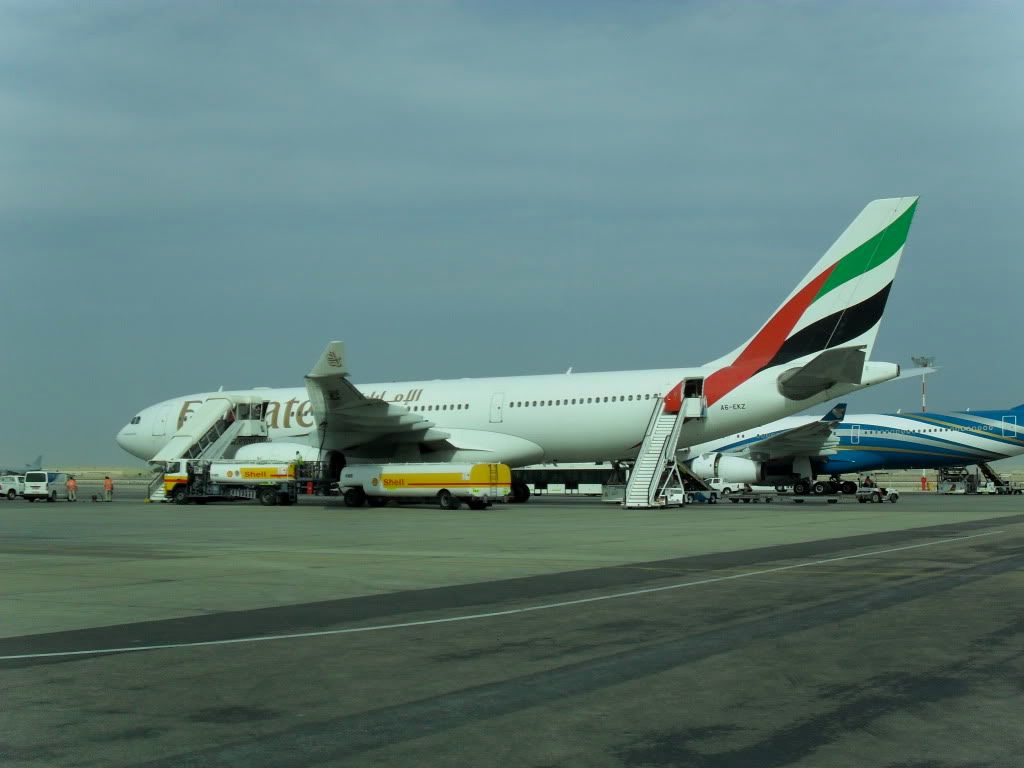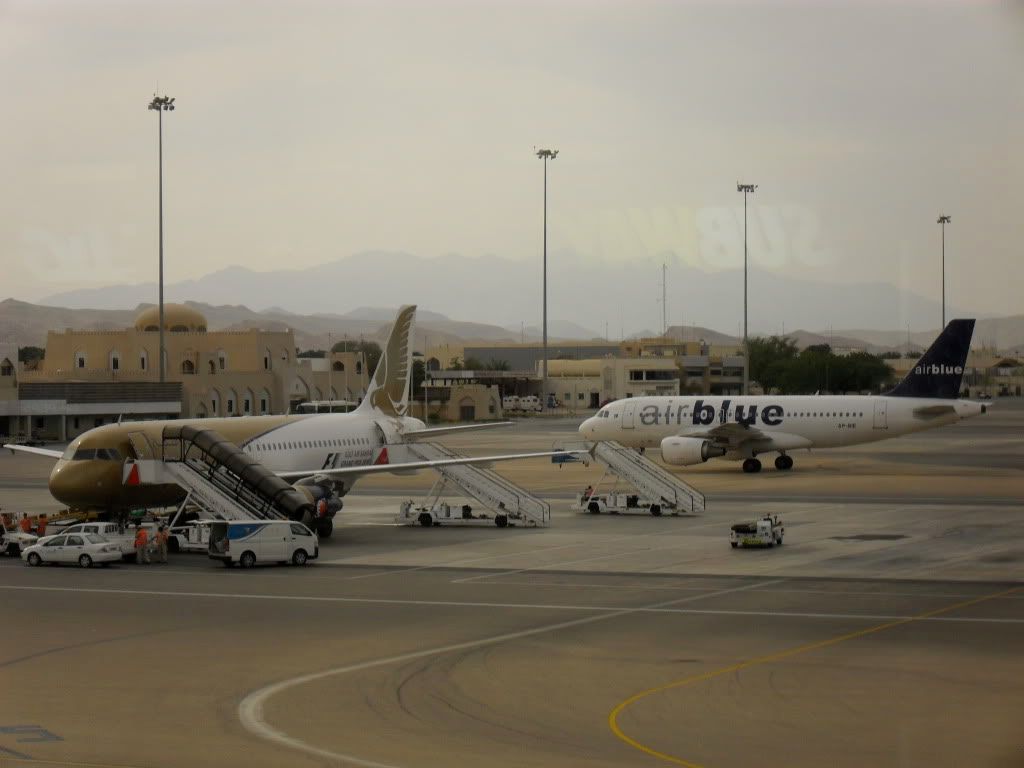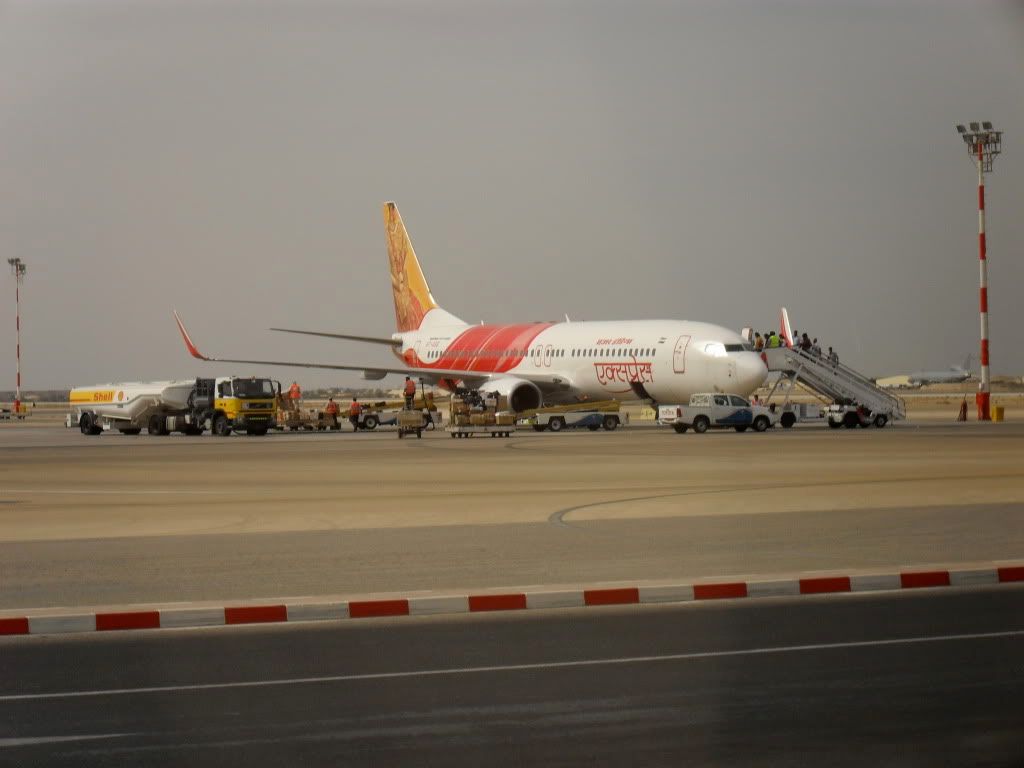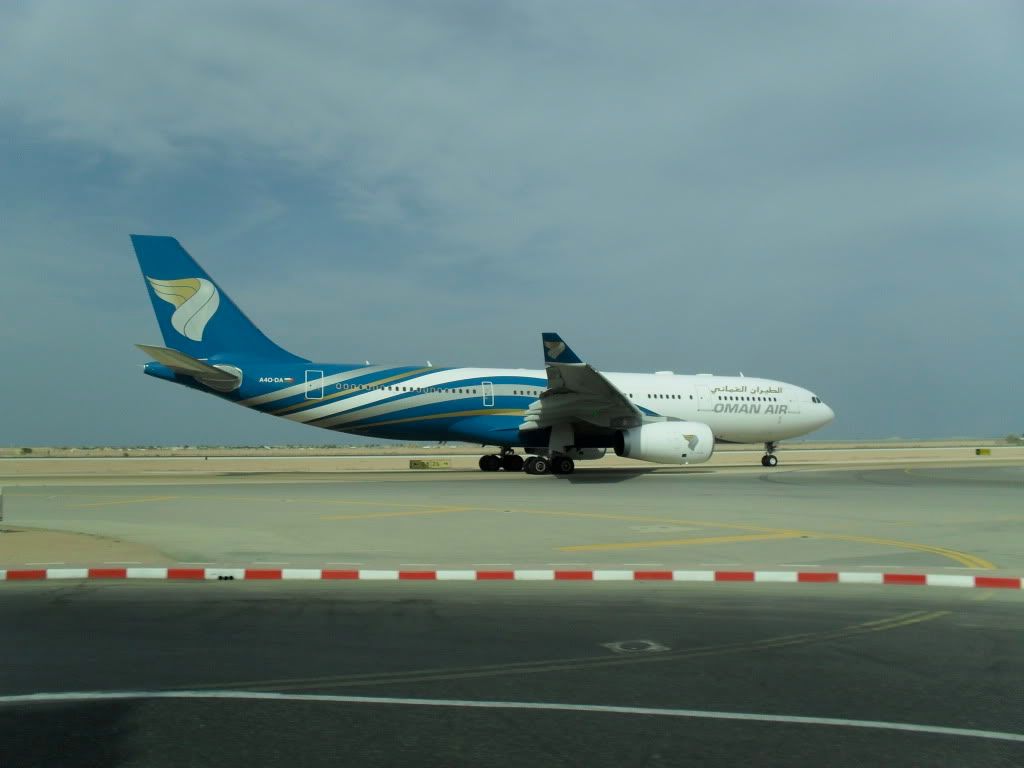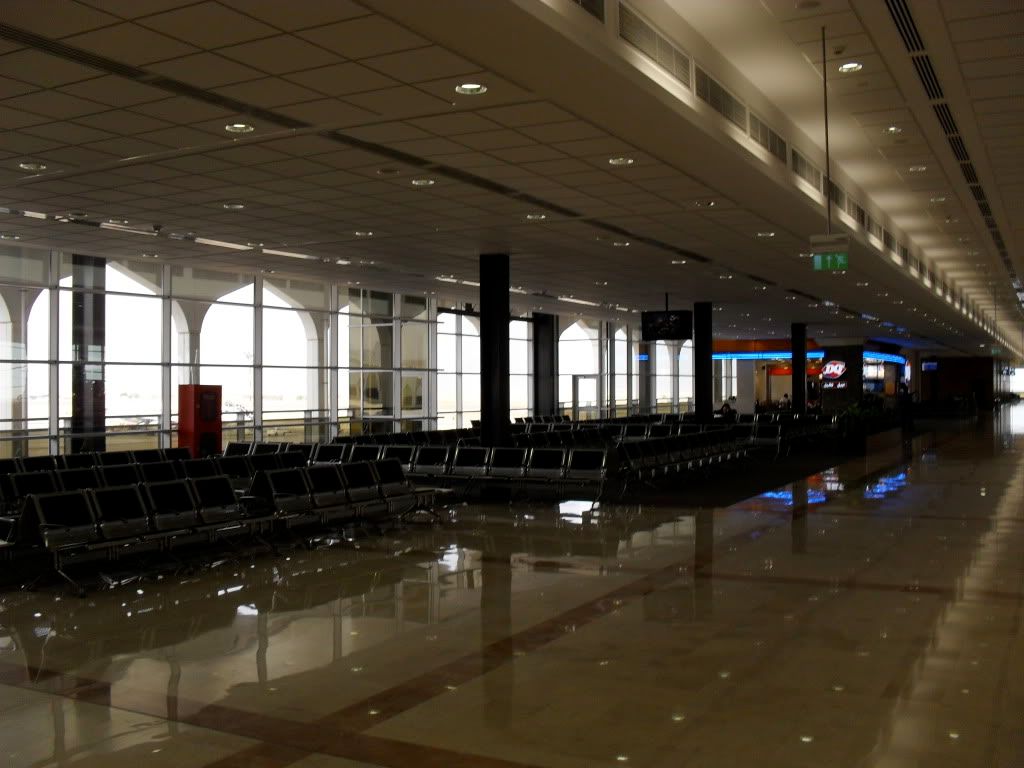 9 December 2009
Oman Air WY607, Muscat-Dubai
Economy Class, seat 24D, approximate load 75%
737-7Q8 (no winglets) A40-BS
Scheduled departure 2:00pm, actual 1:55pm
Scheduled arrival 3:15pm, actual 2:50pm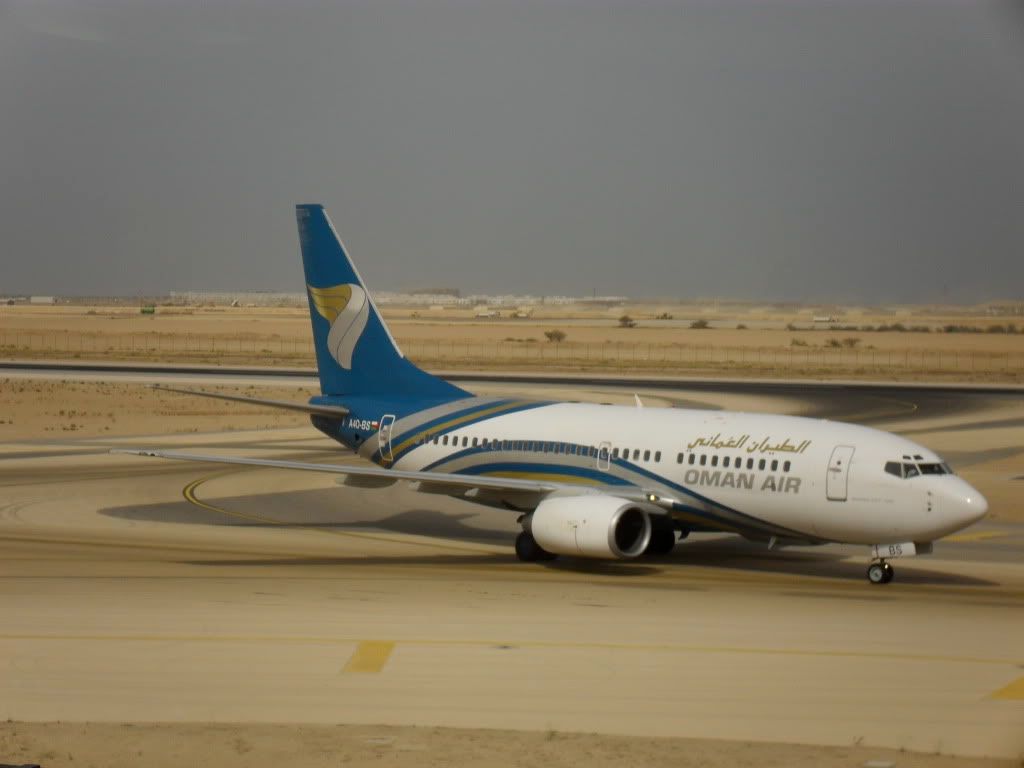 my ride to Dubai
It was finally time to board the Dubai flight. The bus was filled up and we were off to the aircraft. Boarding was through the aft left door where a friendly female Flight Attendant greeted us.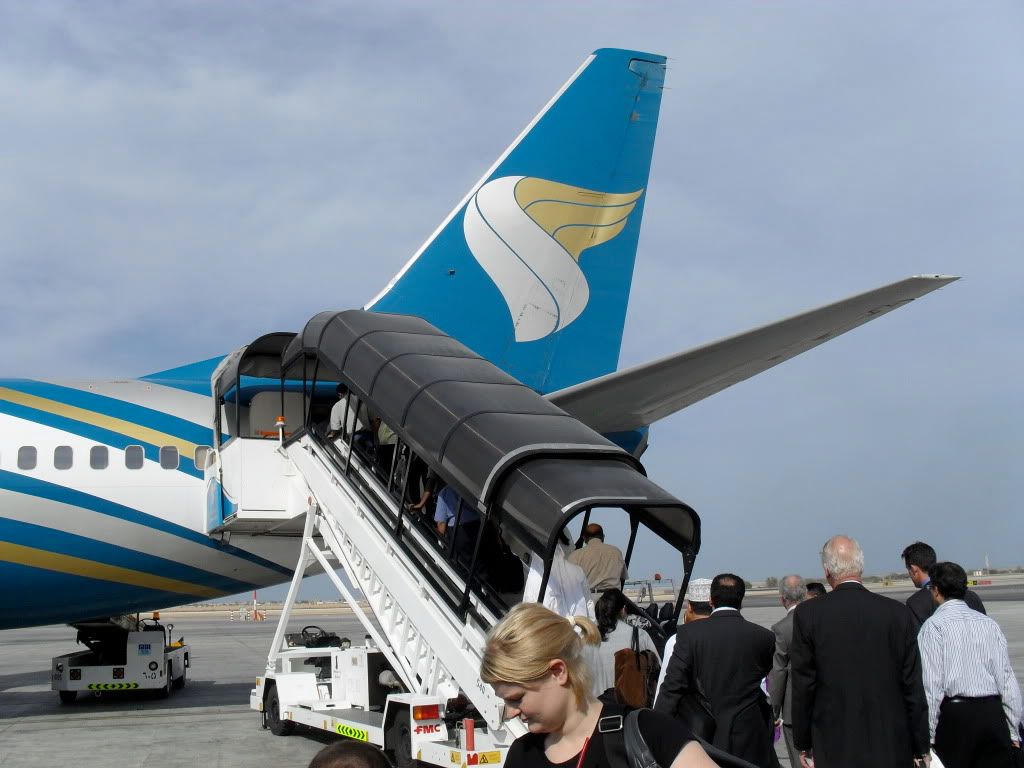 While waiting for the final bus load of passengers the Flight Attendants offered those already aboard small cups of water. After everyone from the final bus stowed their hand luggage and settled in we were on our way. After pushback the safety video was shown on drop-down monitors from the passenger service units, with the Flight Attendants in the aisle pointing to the location of the emergency exits.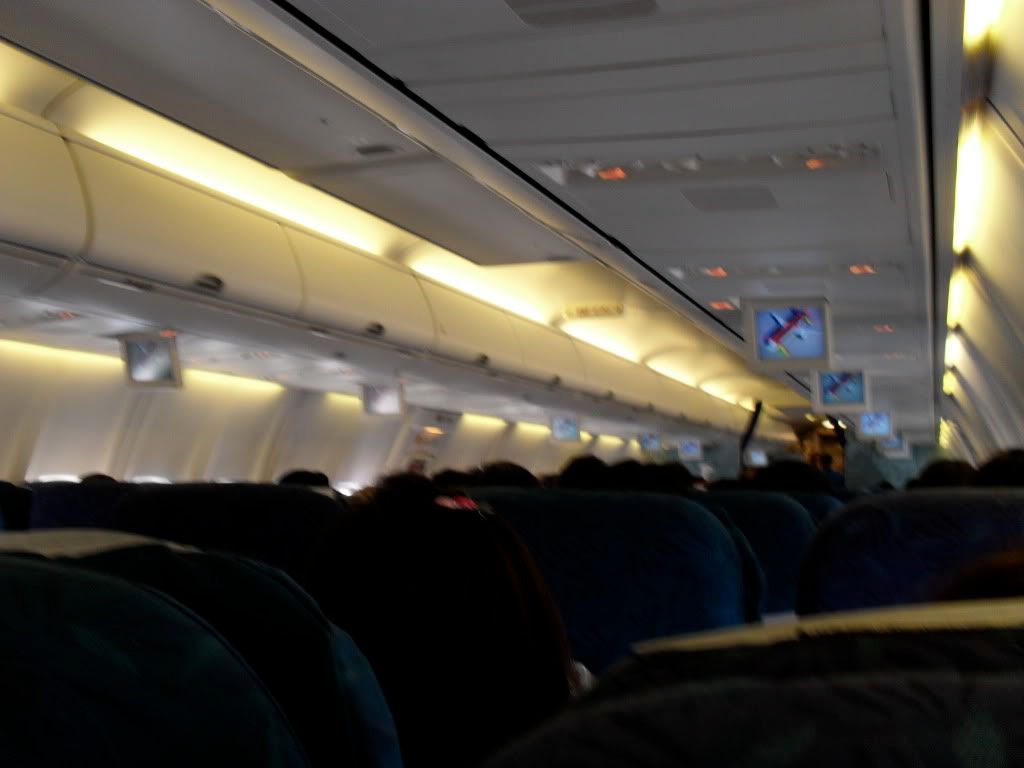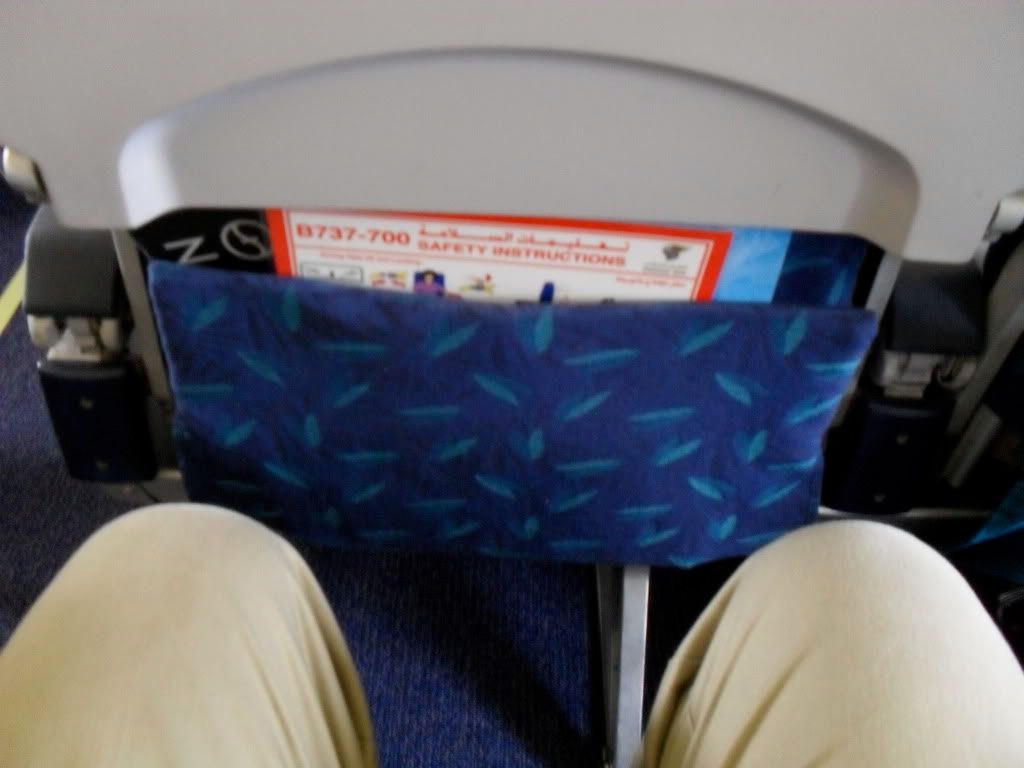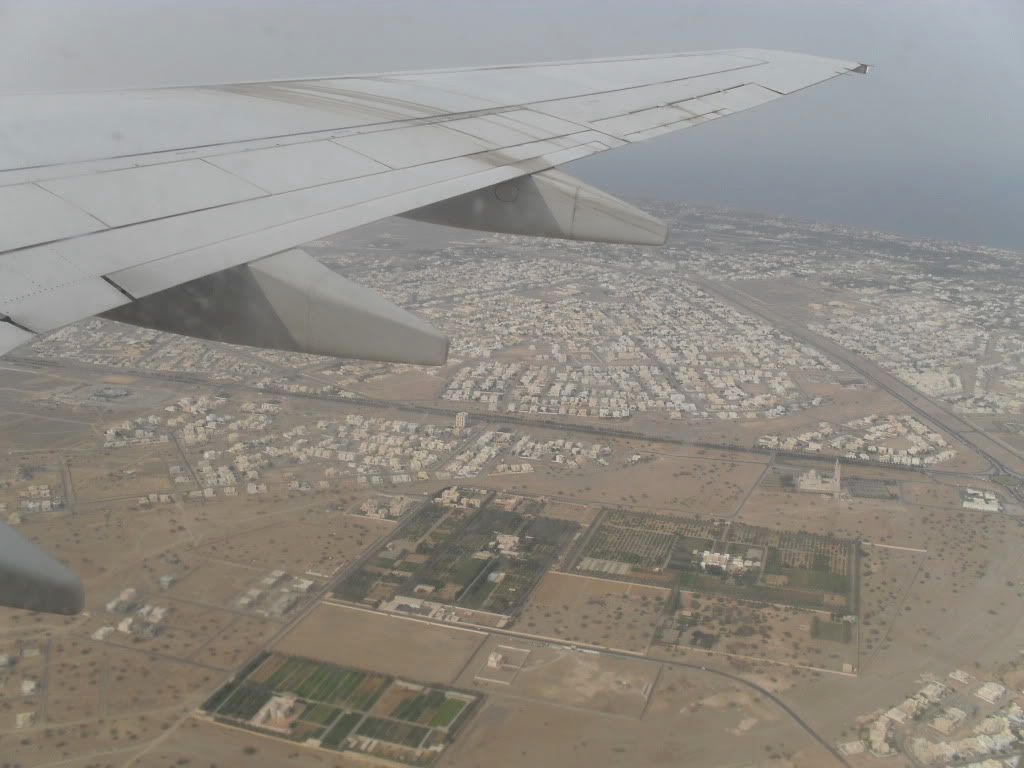 Immediately after takeoff a fast snack consisting of a chicken pate sandwich, chocolate bar, water and juice was offered. Very nice for a short international flight. Although the aircraft was equipped with IFE, it wasn't turned on.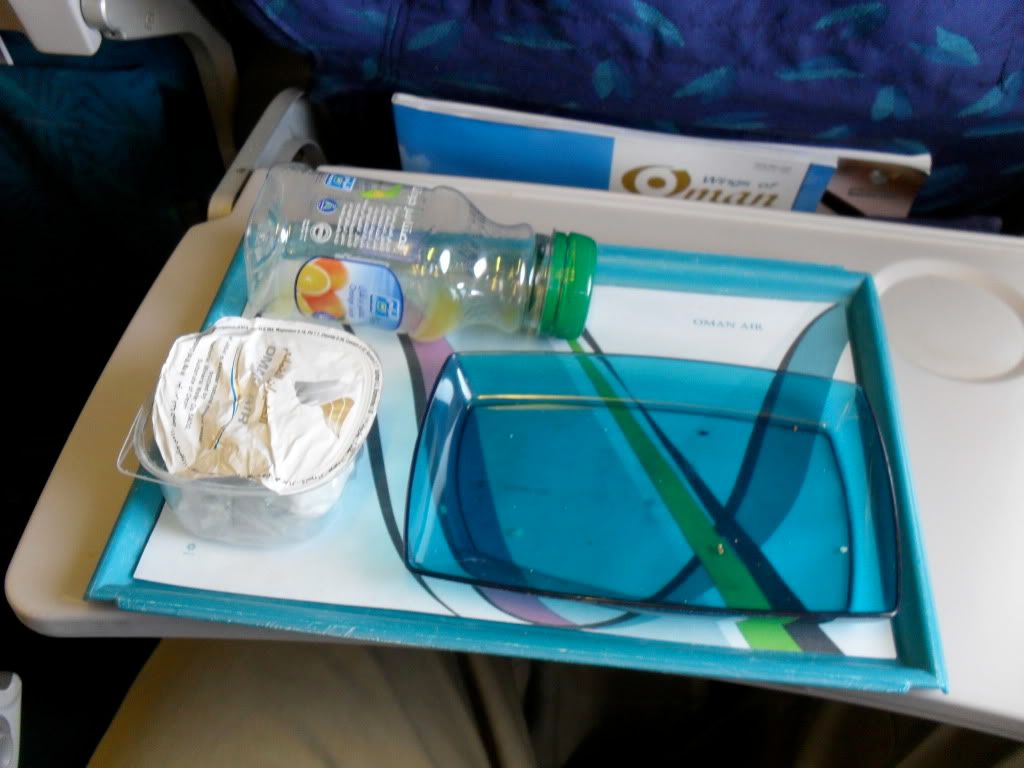 needless to say it was delicious!
Soon enough we were on descent to Dubai, arriving at the gate about 15 minutes early. The original plan was to spend the night in Dubai before embarking on the next part of my journey, taking Gulf Air from Dubai-Bahrain-London. However, as usual when non-reving, things can and will change......to be continued in Part 2.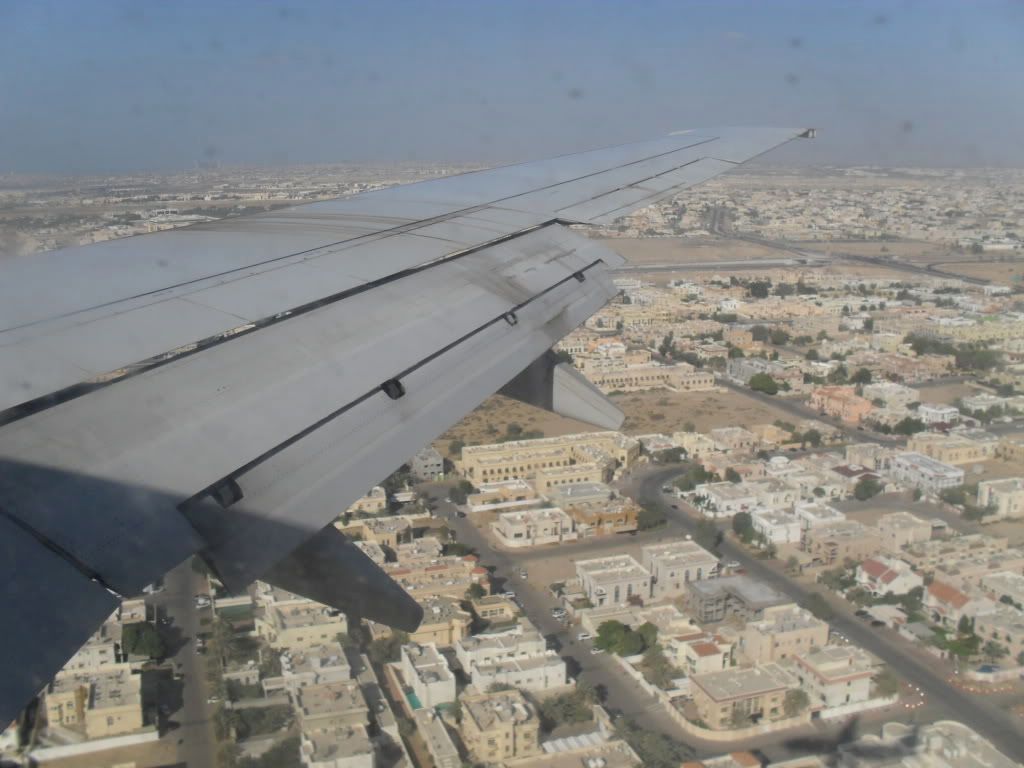 I was very pleased with my experience on Oman Air. While it's a relative newcomer to the international long-haul arena, they do offer a world-class product. With careful planning they should be able to hold their own against much larger rivals in the region.
One note: I apologize for the quality of some of the photos. This was the first time I was using a new Samsung point-and-shoot digital camera rather than the usual Canon Digital Rebel I normally use. Hopefully with I'll get better with more use of it.