Hola nois!
Welcome to my first mileage run or…………..

How to get from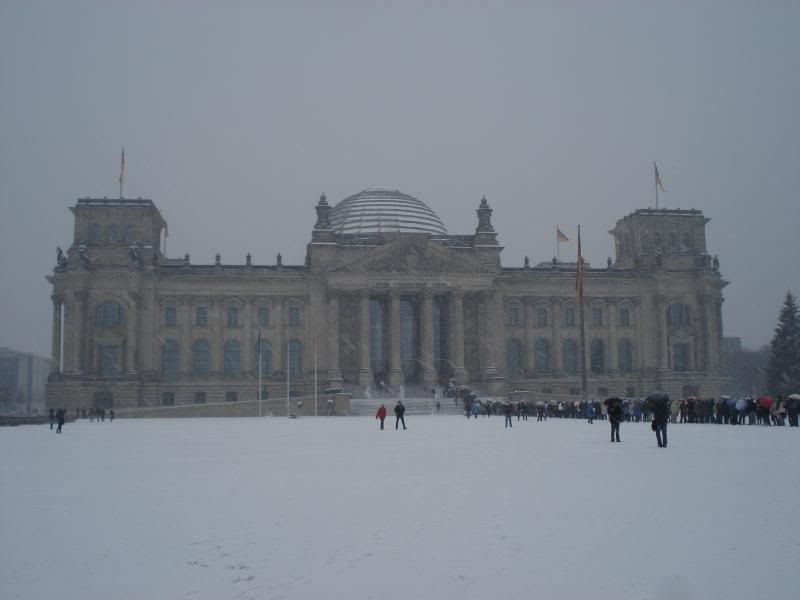 To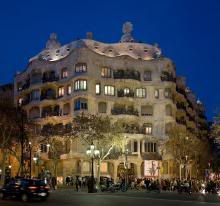 Through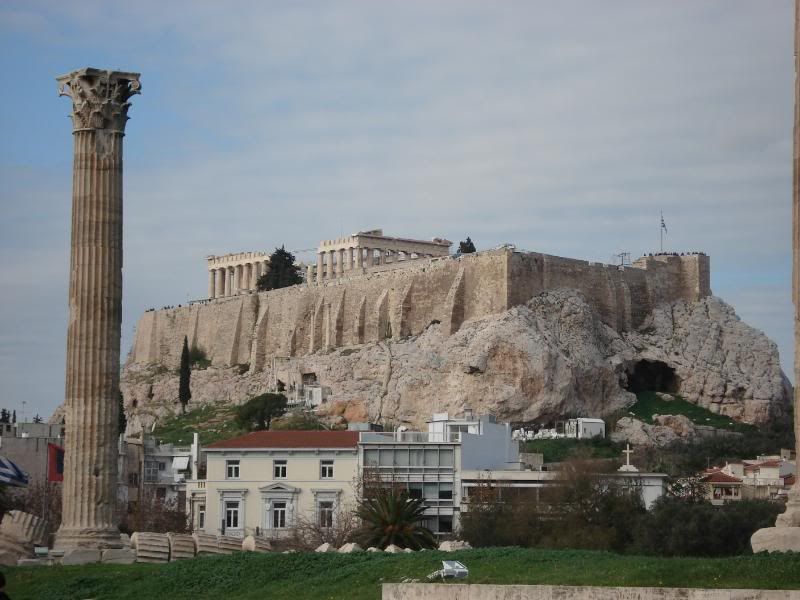 The end of the year was coming and I was 15K miles short to reach SEN so I decided to look for some LX Business upgrade offers to get it, it was too close to forget about it.
At the end of November LX stopped the offer for BCN-ZRH-TXL, my favorite destination in intra-European so I decided to start looking for other destinations, as there are far more cities in Europe that LX flies to apart from Berlin
; finally I settled for Athens: I had never been there
, the price was best option
plus a hot meal was offered on that sector which I had rarely sampled on LX European rides as they only serve them on flights longer than two hours.
Settled then: some days in ATH, then to Berlin for a great farewell to the old year and the great ride back home on the 31st December: TXL-ZRH-ATH-BCN.
The first two sectors BCN-ZRH-ATH / ATH-ZRH-TXL will not be covered in this trip report flown on 26th Dec. and 29th Dec. were excellent LX flights, especially the ATH-ZRH sector where the constant attention from the FA serving the C cabin will be long remembered as an example of professionalism on board. While the ZRH-TXL was an example of lack of coordination and improvisation, more common to Southern Europe than to true Swiss reliability. The other two sectors were just LX standard: 8/10, I'd say.
So, let's get down to the issues.
----------------------------------------------------------------------------------December 31st, 2009
LX963
Avro RJ 100
HB-IYU 'Rot Turm' (StarAlliance livery)
Gate: A06
Seat: 3A
SDT: 06.50 // 07.15 TXL -3ºC snowing
SAT: 08.15 // 08.45 ZRH 6ºC cloudy
As you can imagine for such an early flight I have an early rise, at 5.30 I set off to the airport from Zoologischer Garten. Berlin is covered in snow as it has been snowing during the previous day and all night. A very typical northern image to start off.
The ride to the airport is quite smooth, not many people around, and when I am finally at Tegel I get to the self boarding unit at the entrance and my two boarding passes are printed in no time. The other two had already been printed the afternoon before from the web; there are always issues involving flights from Germany on LX, they let you check for the TXL-ZRH leg but not for the coming one, I think LX needs to fix that as it is very inconvenient when flying with a connection.
Then up to the Lounge, today the SEN lounge is the only one in use; I imagine not many people traveling today so they use this one. There are two people when I get in, four when I leave. So I guess my assumptions about low loads is not that bad.
I get to the gate, A06, and the amount of people is similar to the one at the lounge, about 60 people on board, so pretty comfortable flight. 4 (1crew) / 20 on C.
Our Avro is sitting there on the snow getting ready for today's first flight; boarding is called on time and by 06.40 were all on board ready to go.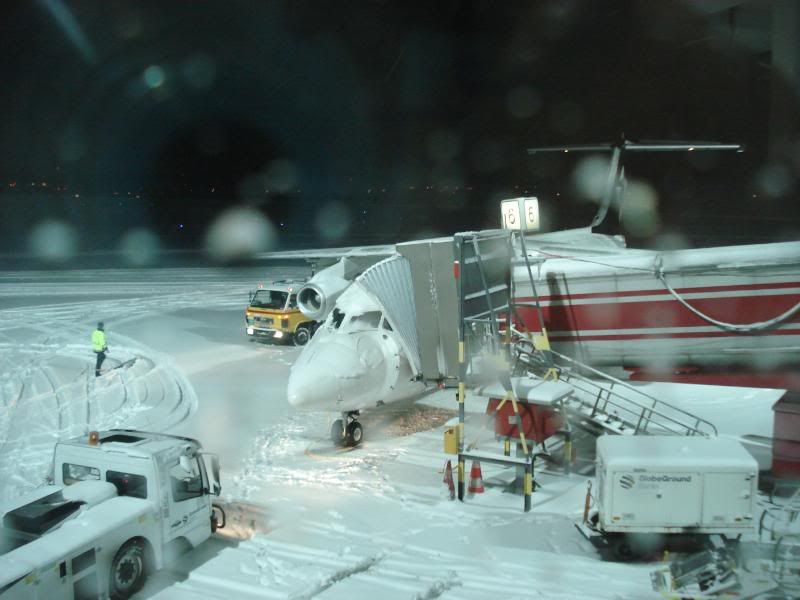 Our ride sitting on the snow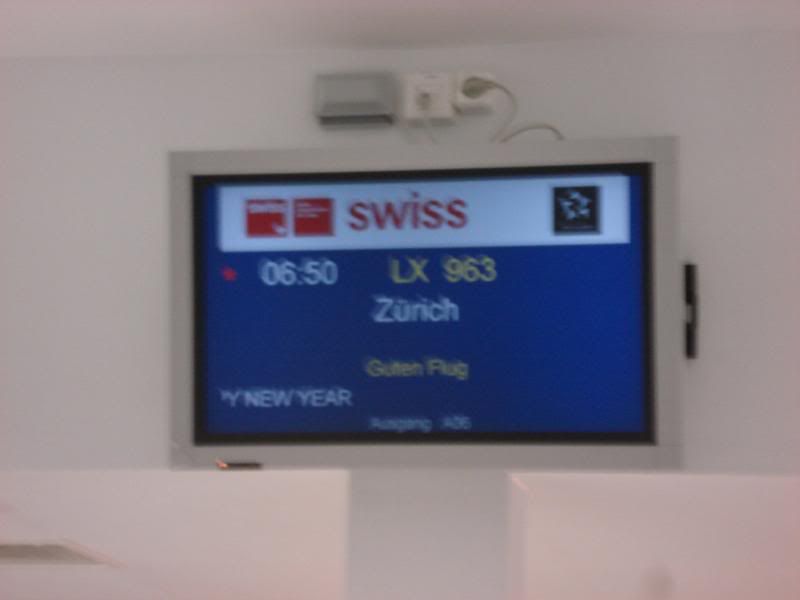 FIDS announcing boarding
We are welcomed by the 'maître-de-cabin' and offered the ritual bottle of water and the wet towel. The safety demonstration is played manually by the crew, the male purser and the lady FA. We push back on time a couple of meters and then sit there for a while, then again pushed again and we are informed by the captain about the deicing process and how it will delay our scheduled take off for about ten minutes.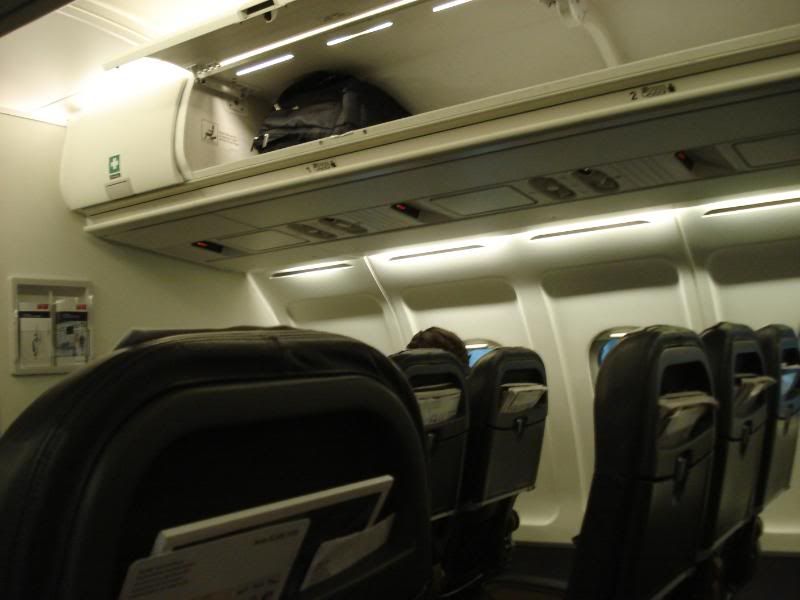 General view of the cabin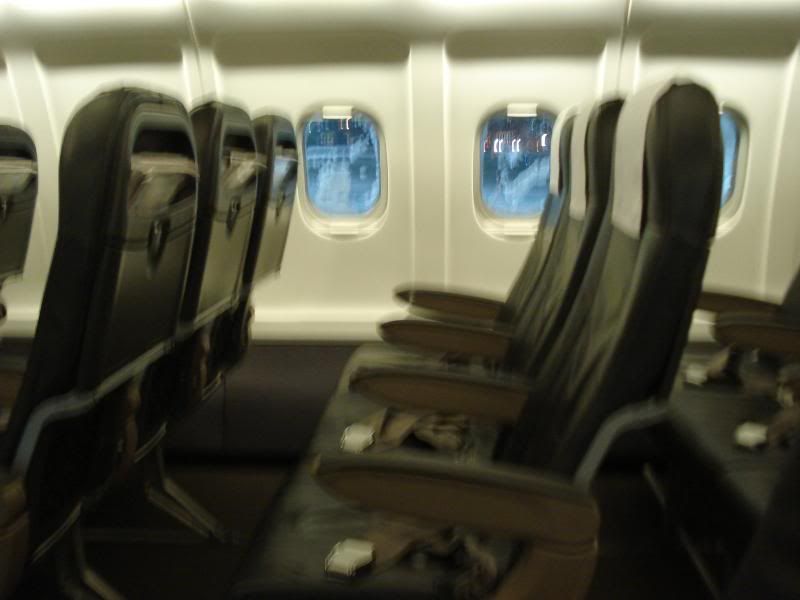 Fs, seats with a view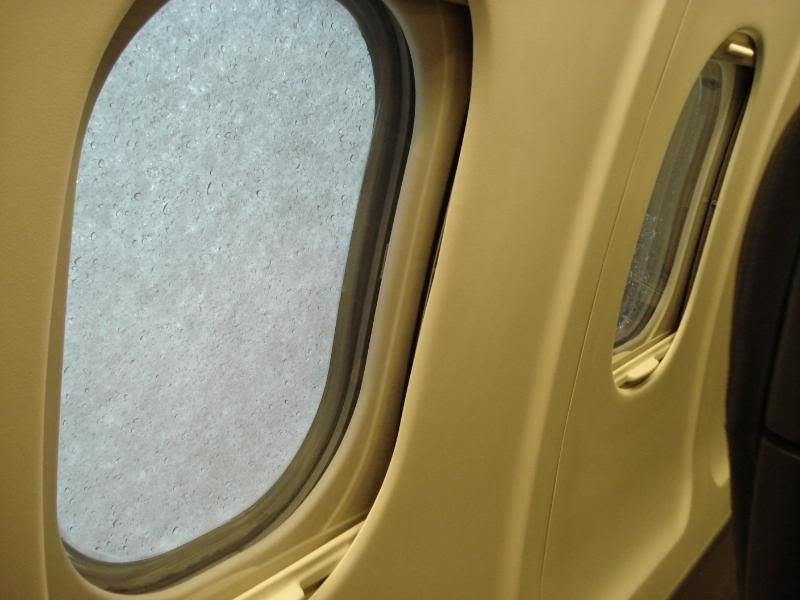 As, seats with no view
We begin taxiing to the deicing position and when we get there two trucks start the deicing process which lasts about ten minutes and then a quick taxi to the closest runaway, 8L.
It is snowing again and I expect a shaky take off, I am mistaken, it is one of the smoothest ones I have ever encountered, you can barely feel we are flying, so smooth, so quiet…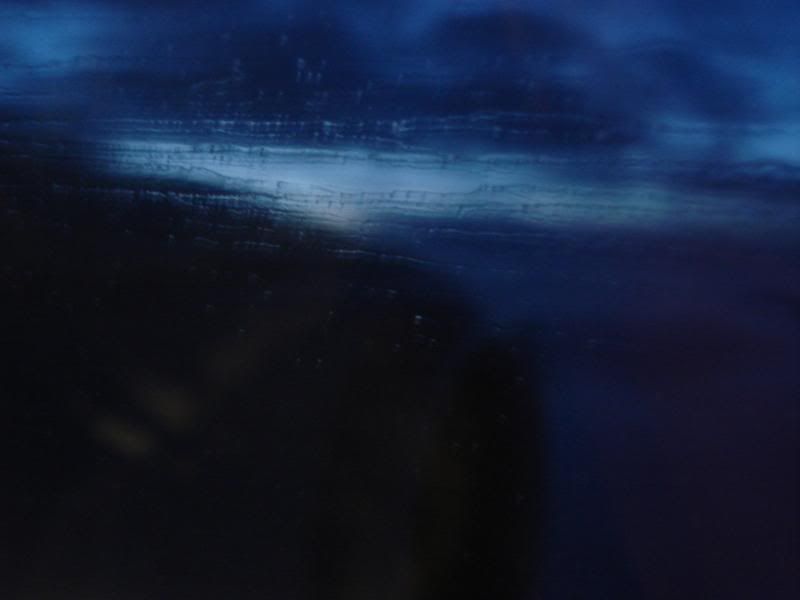 Water and snow still on the window
About five minutes after take off service starts, we are already above the clouds and the first lights of the last day of the year can be guessed on the far East.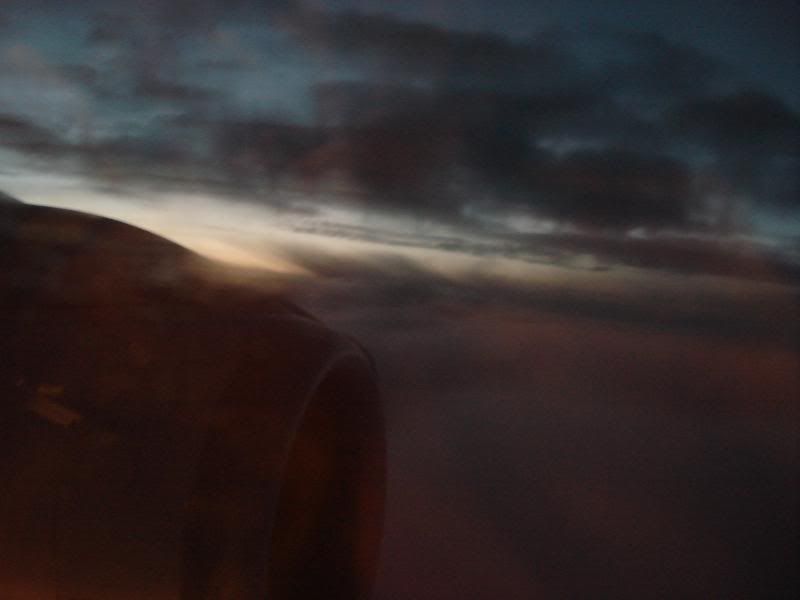 First lights of the last day of the year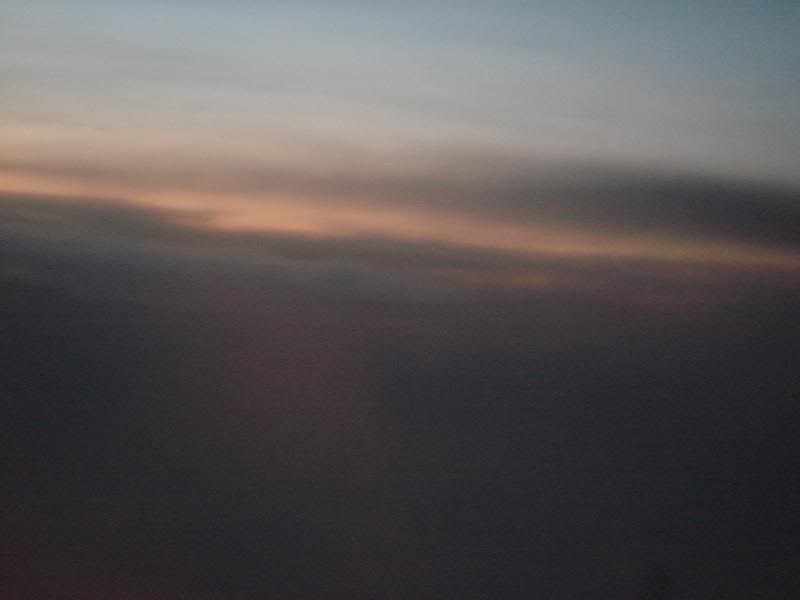 More of the morning lights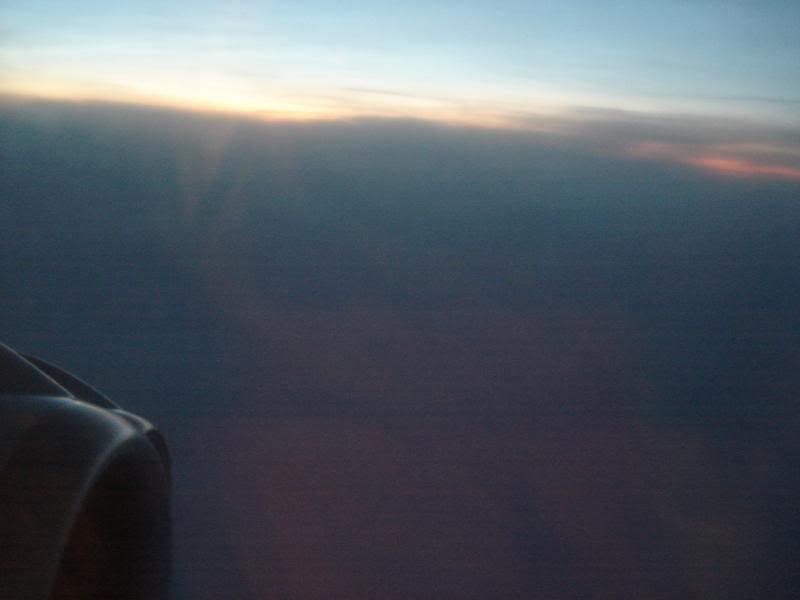 Morning light more visible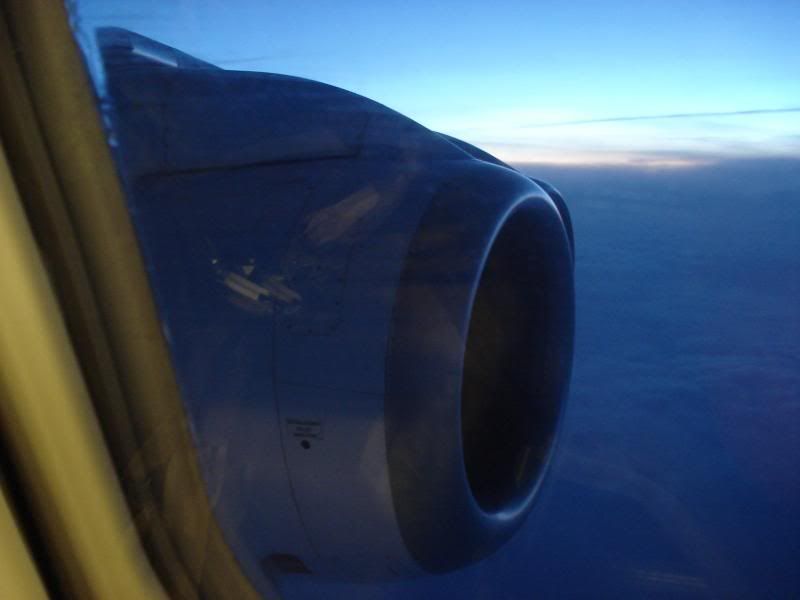 Engines getting hit by morning light
Service is very professional as usual, with lots of smiles and second offerings on bread selection and coffee.
Best thing in the house, sit sideways for a perfect view
Breakfast is quite filling, although no hot food is offered on LX for flights less than two hours.
Breakfast service
Sun about to boost into the sky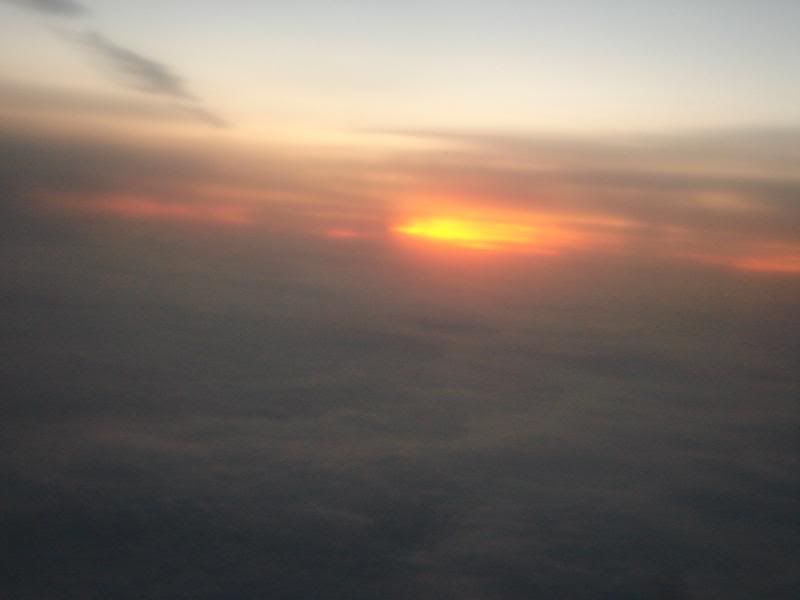 Sequence of the Sun, aka Mr Lorenzo in Spanish, coming out (I)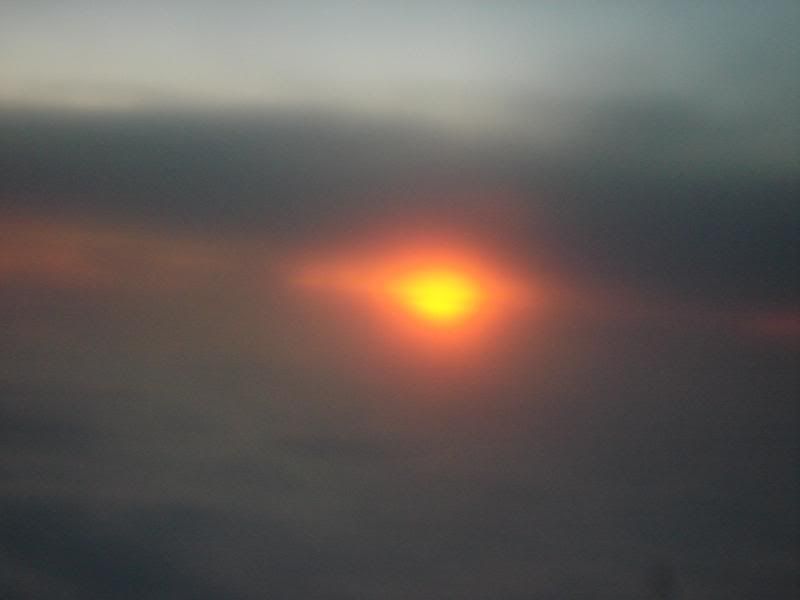 (II)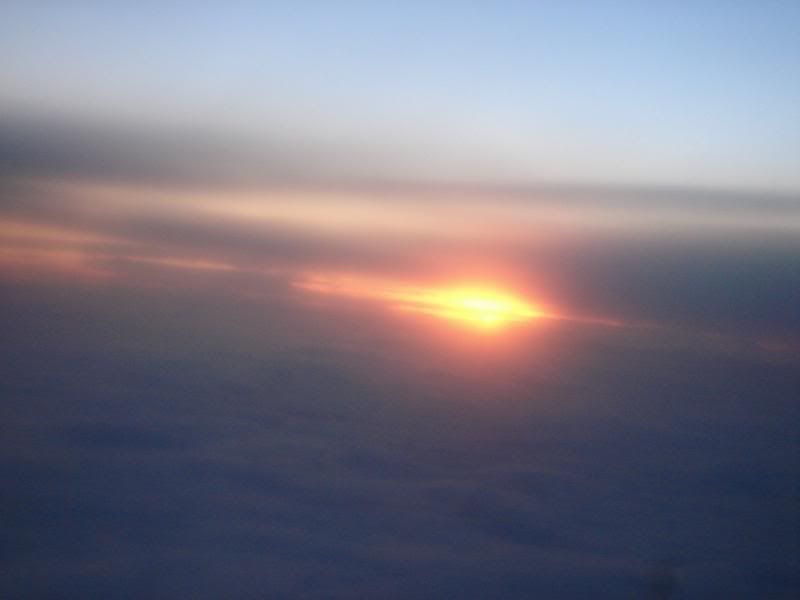 (III)
Right before the descent into ZRH and the captain informs us about the weather conditions: cloudy and rainy at 6ºC and tells about 25 minutes left.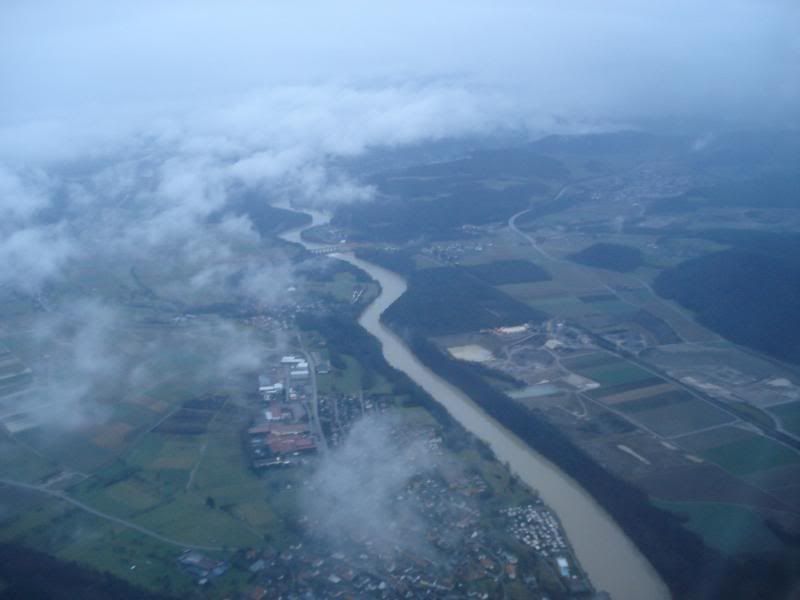 First Switzerland view after the clouds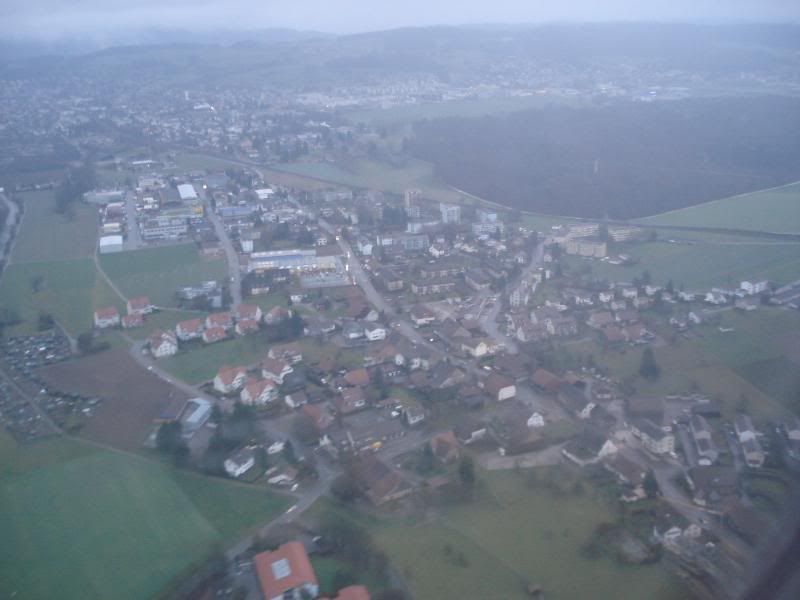 Town before landing
Descent is not as smooth as take off.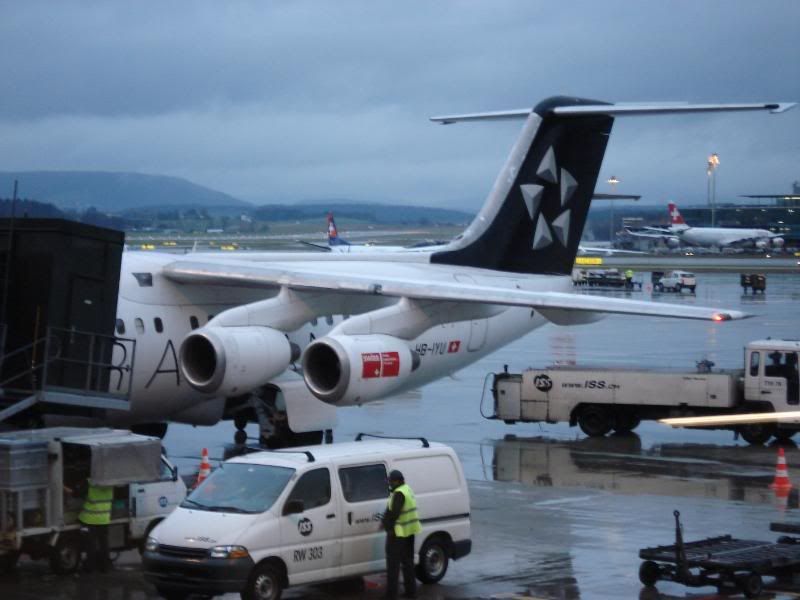 My ride docked at the A pier
A KL Embraer looking for a parking space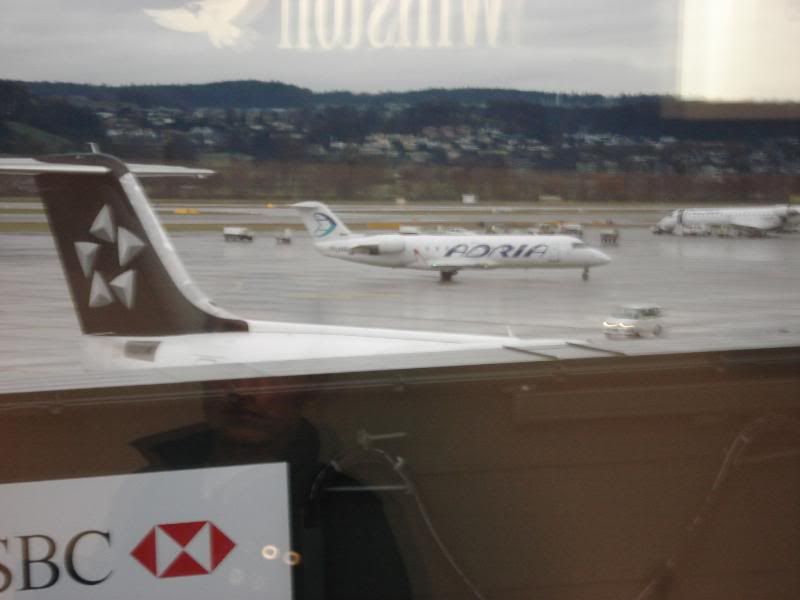 An Adria CRJ arriving from Ljuabljana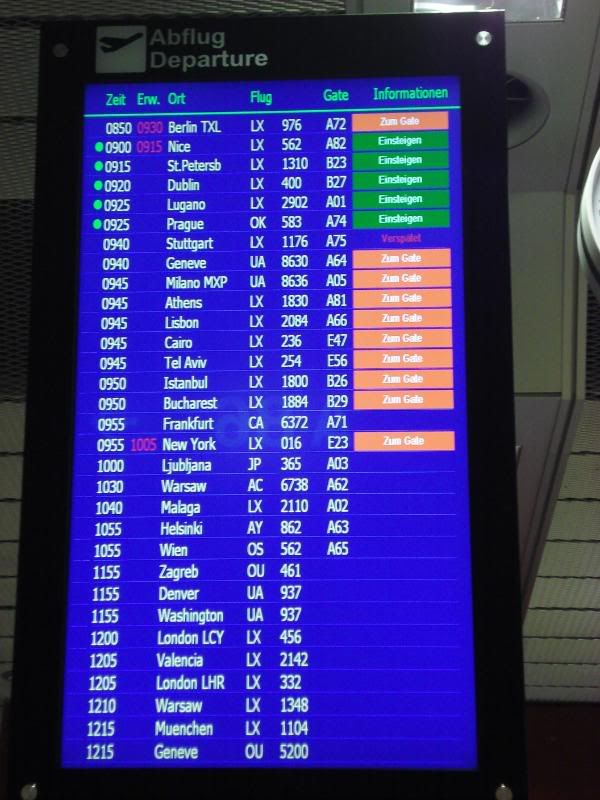 FIDS at Zürich
We finally land and I get directly to the A81 gate to get ready for my next flight.
ZRH-ATH
LX1830
A320-214
HB-IJW 'Bachtel'
Gate: A81
Seat: 3A
SDT: 09.45 // 09.40 ZRH 6ºC cloudy
SAT: 13.20 // 13.00 ATH 17ºC sunny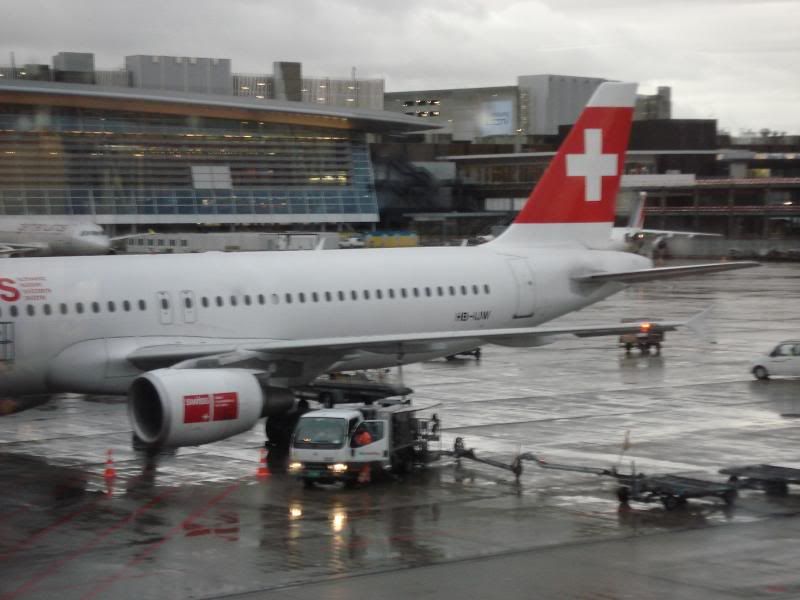 My ride to ATH, docked and ready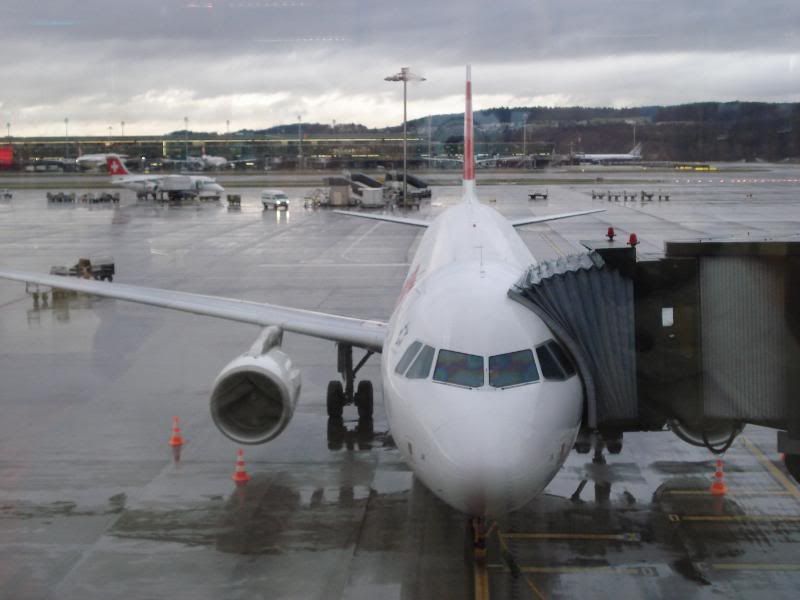 Looking at her in the face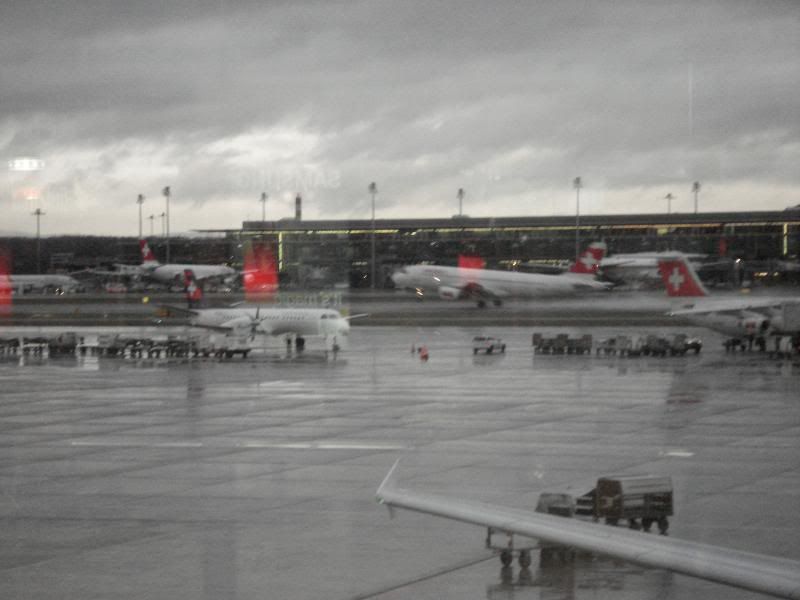 General view of the apron in a rainy morning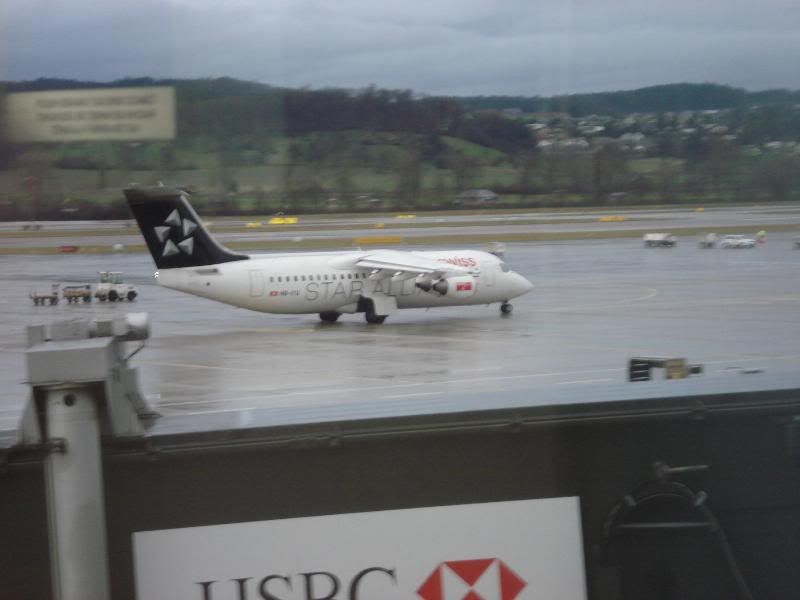 My TXL ride going to NCE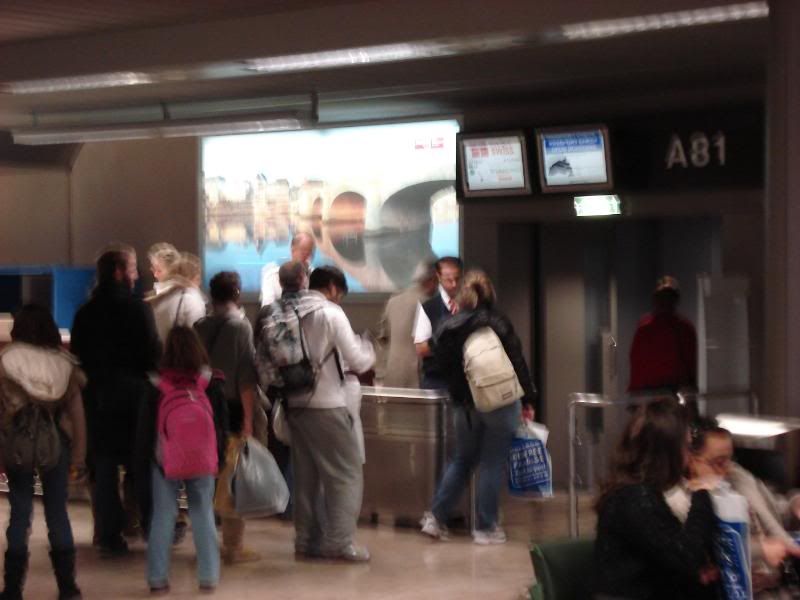 Boarding to ATH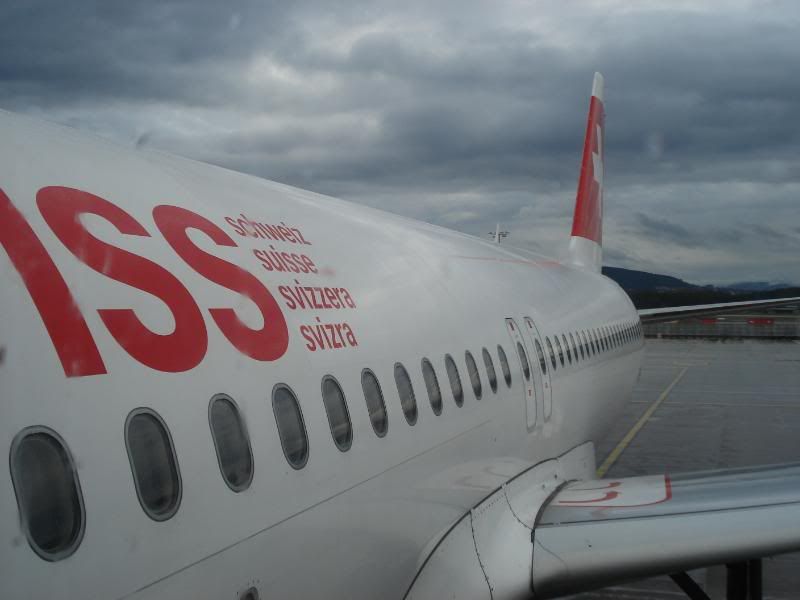 Side view before stepping in
Boarding is called on time and completed by 9.30; after the usual greetings in German and English from the crew the water, towels and press are distributed. A Greek recording is played with some information about basic safety on board.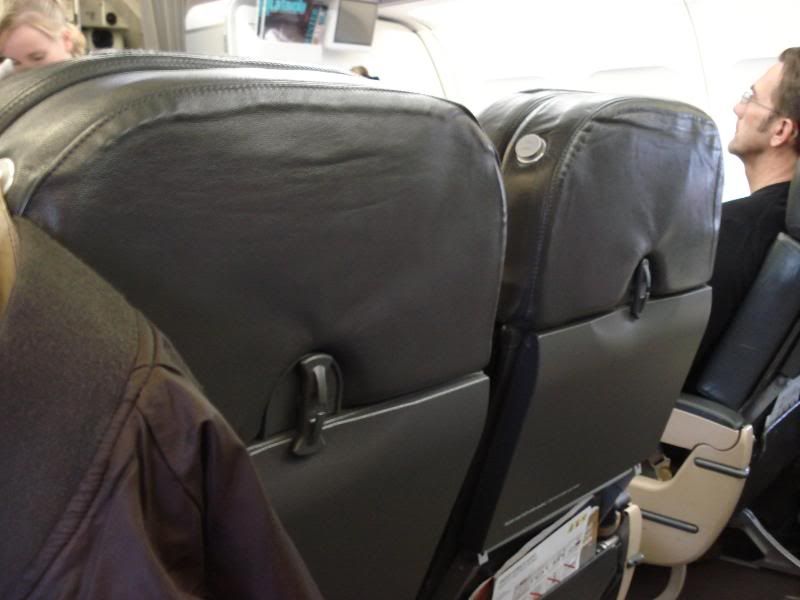 Old seats on this ride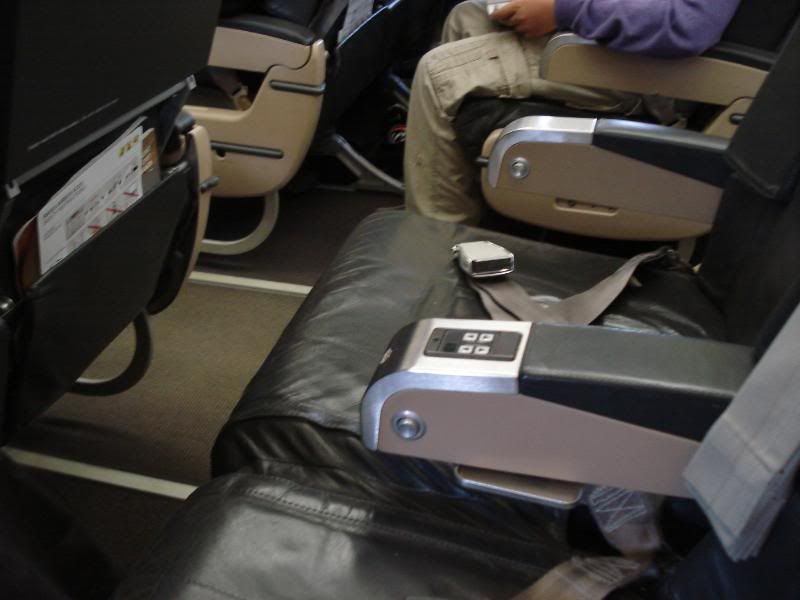 Seat am-rests and legroom view
The first thing that strikes me are the old seats on this plane, not the usual LX Recaro seats, They feel more comfortable as they are padded but the armrests are difficult to move and there is no in-flight map.
The load for today is about 70%, on C 9/12.
We taxi to the runaway, 16 (S-SE) and after a DL B-763 we are ready to go. We sit at the beginning of the runaway for a while until full thrust is applied to the engines and off we go.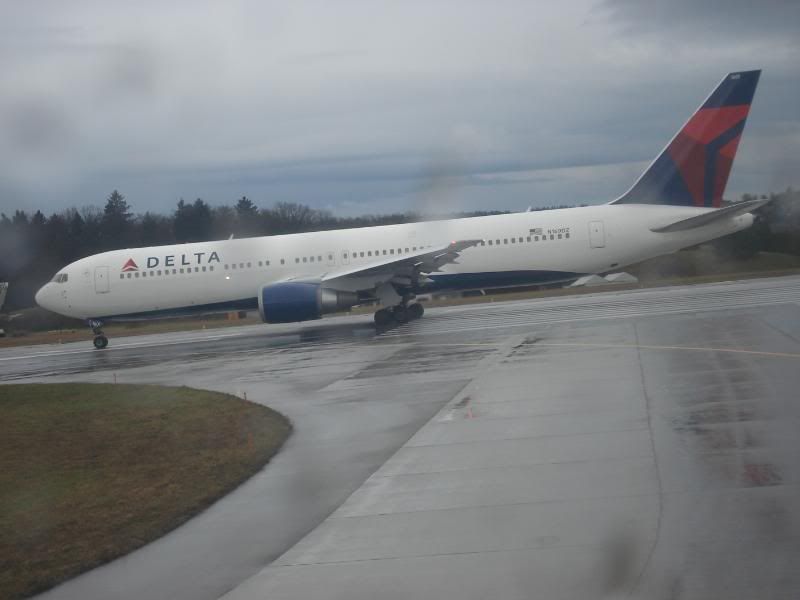 A DL heavy precedes us on the runaway
We take off smoothly and climb quite fast, the seat belt sign is turned at 10,000 ft. sharply although we are still crossing a second layer of clouds to cross and the planes shakes a bit.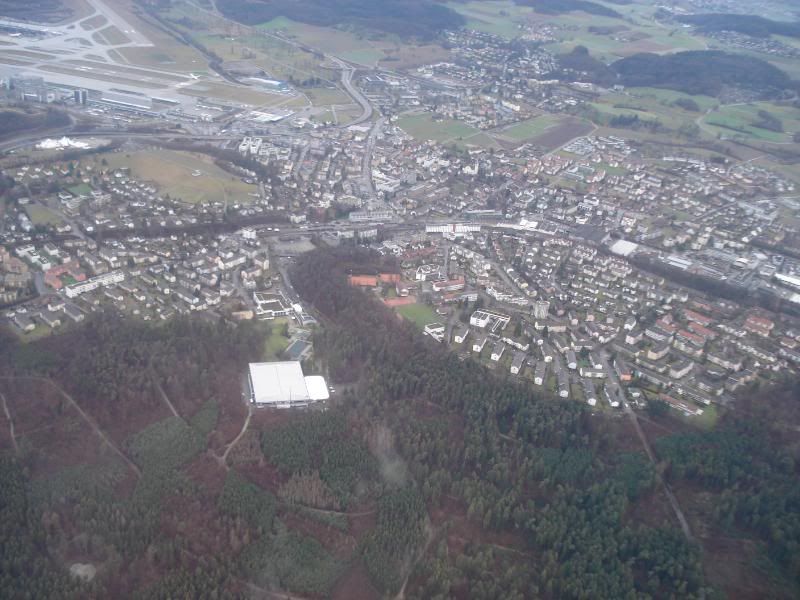 Klotten right after taking off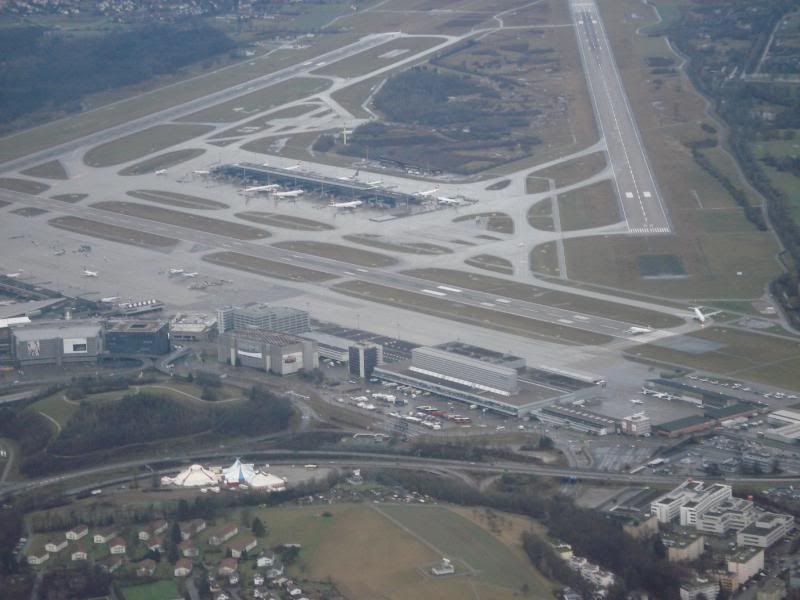 General view of ZRH airport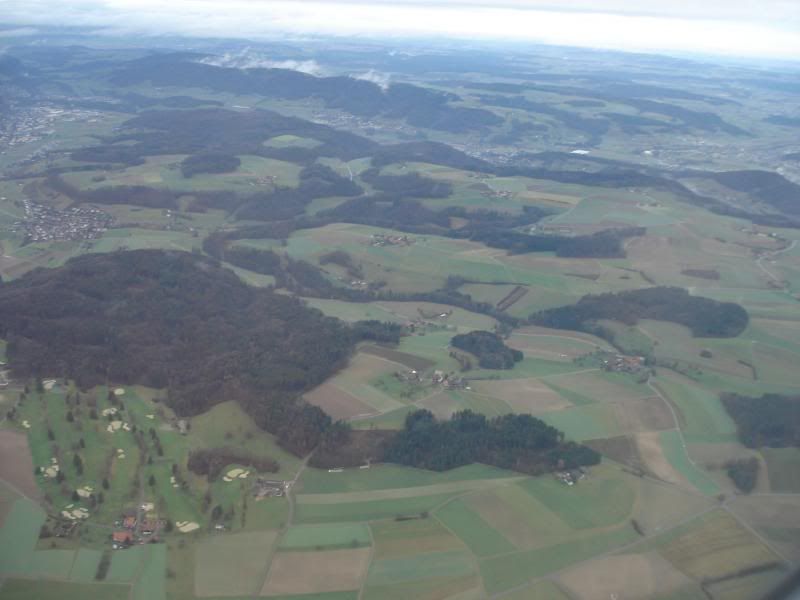 Green Switzerland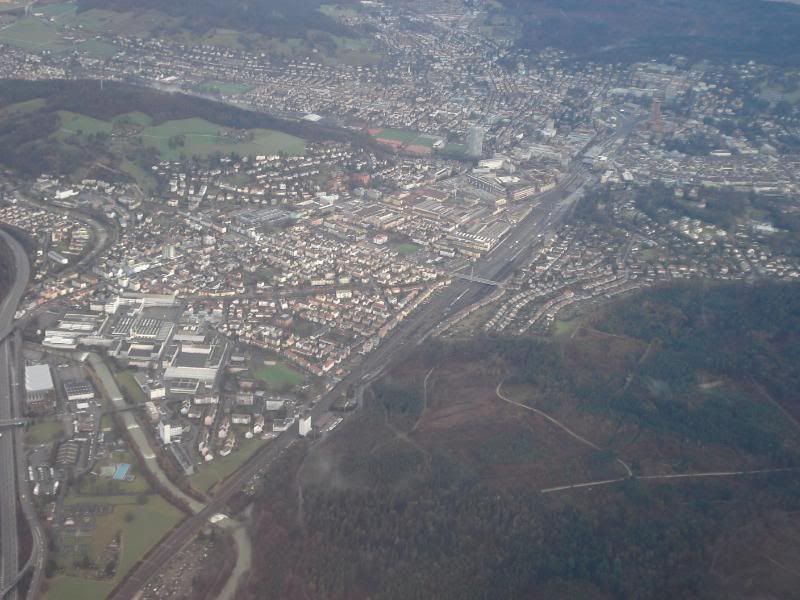 A town in Austria / Germany
Green fields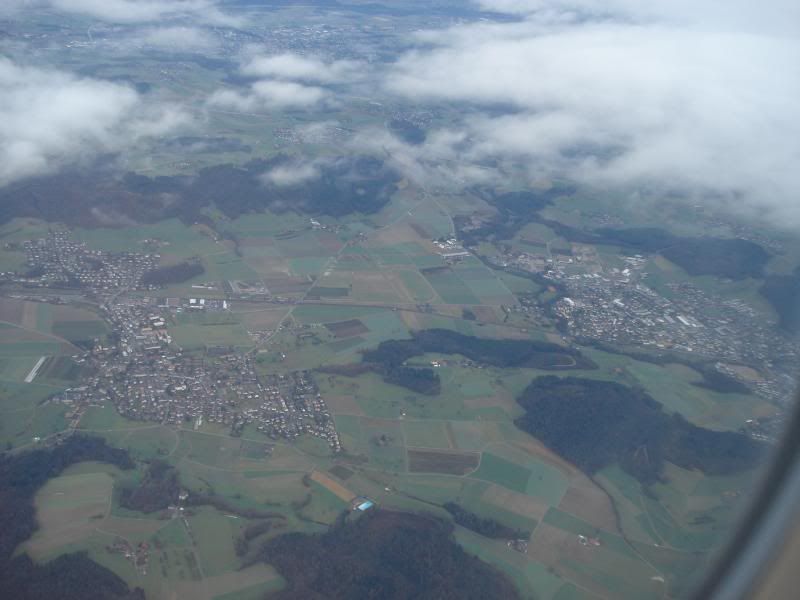 Views before the clouds
Last view before the sea of clouds
We cross a third layer of clouds and we can see that YES! The sun is out there to say hello on the last day of the year.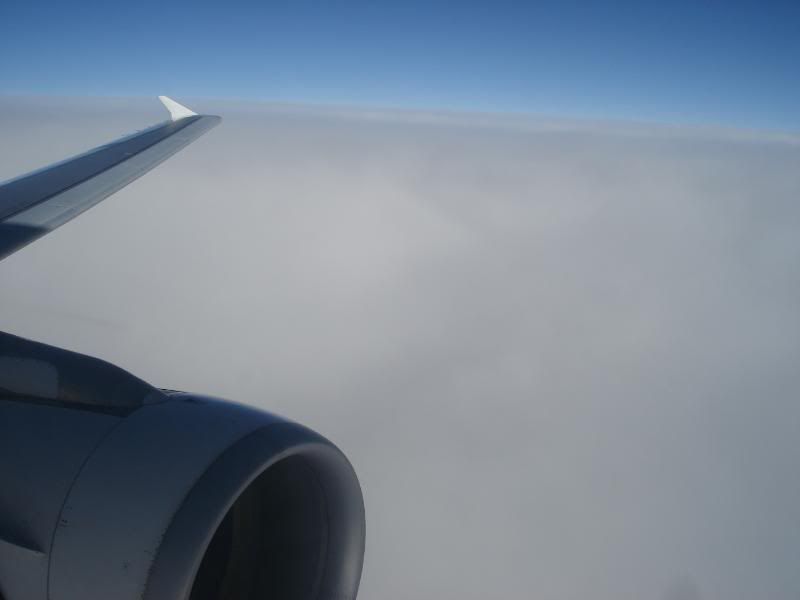 Sea of clouds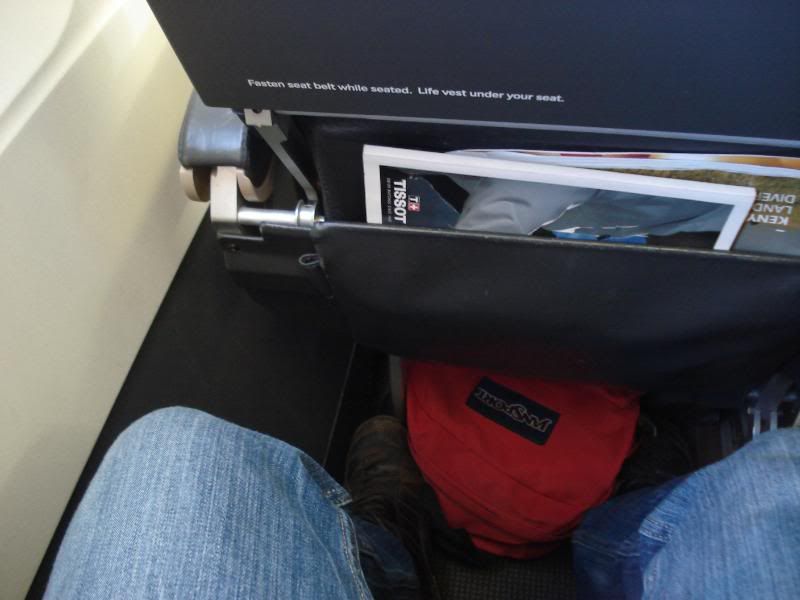 Enough legroom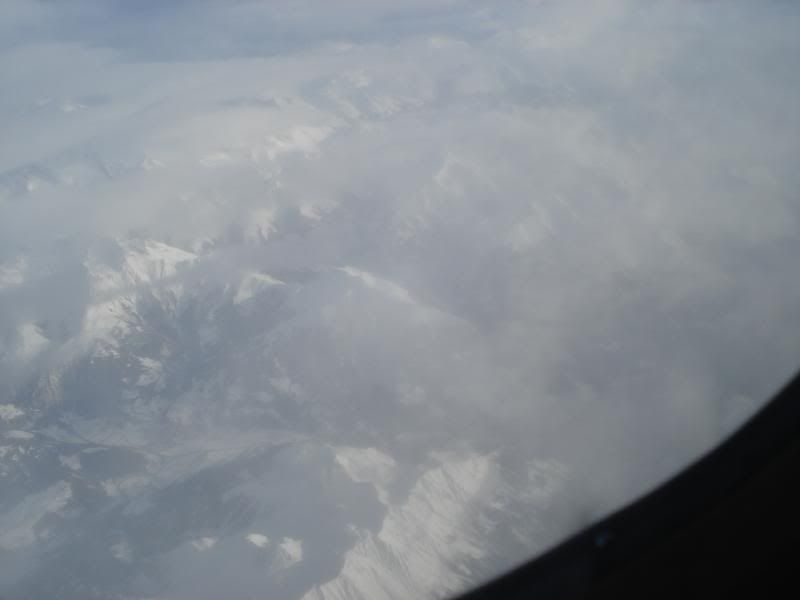 First view of the Austrian Alps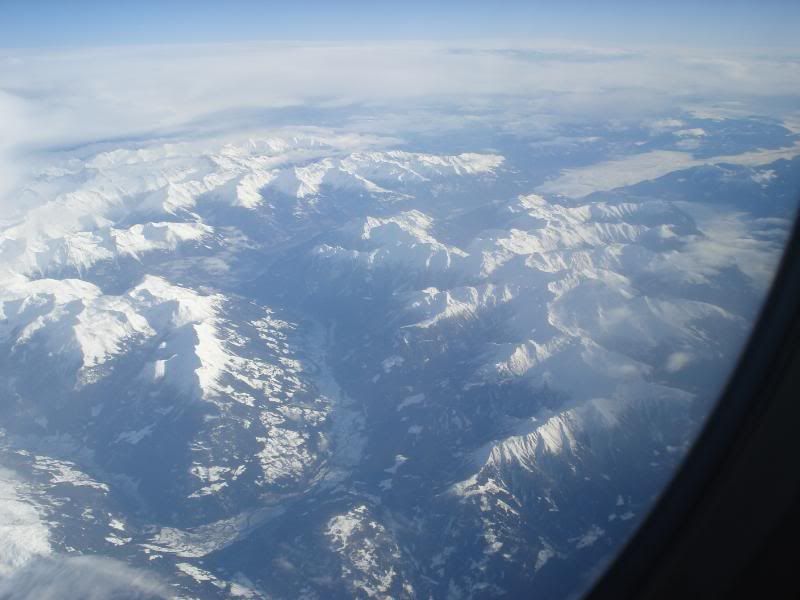 Austrian Alps (ii)
When we reach the open sky drink orders are taken by a smiling and cheerful flight attendant. I go for a red wine and after everybody is served the trays with the meals are distributed: only 3 are taken; the rest of the passengers do not seem to be hungry.
On the first tray: a nice-seized green salad, cheese and dessert are featured. After a while she comes back with the main dish, again, only three are taken, as I am the last one I am presented, the others were just asked for, with the two dishes: Strogonoff ragout and a vegetarian curry. I go for the last and I am pleasantly surprised, it tastes excellent. Glasses are refilled and I go for the champagne this time.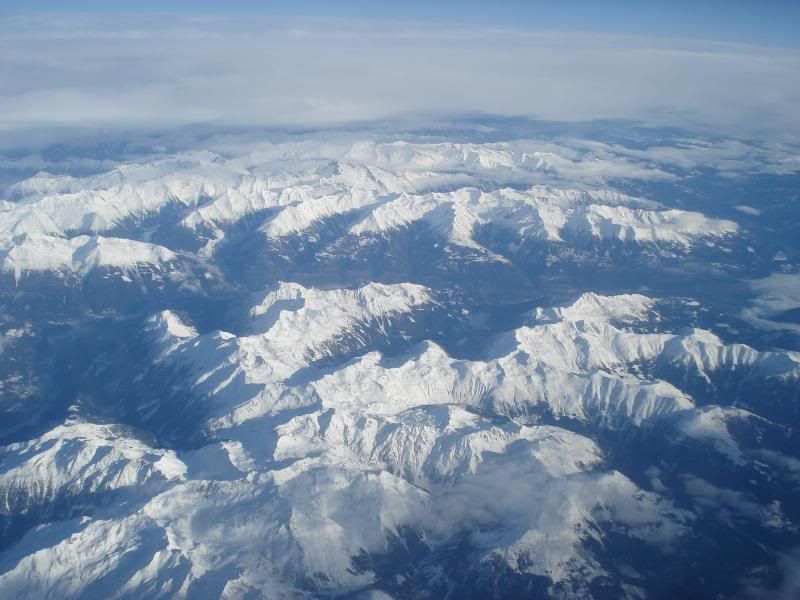 Austrian Alps (iii)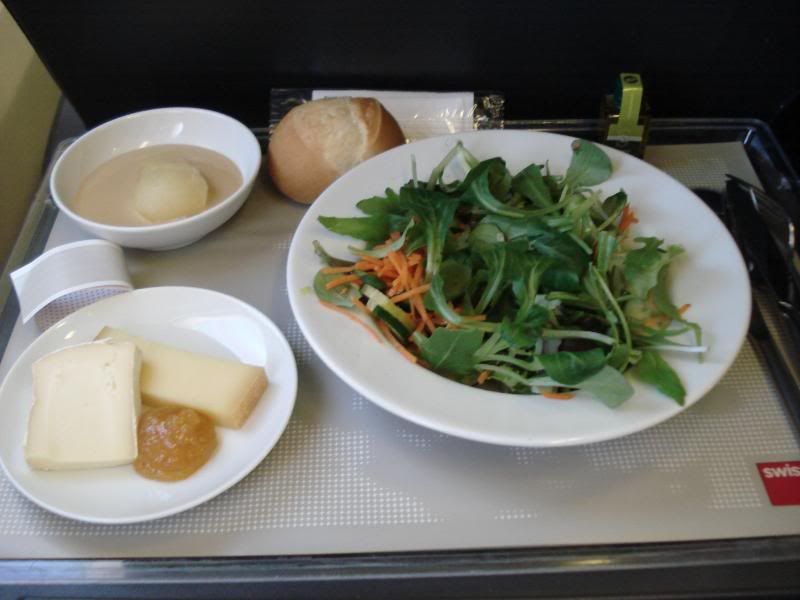 First tray of service, excellent salad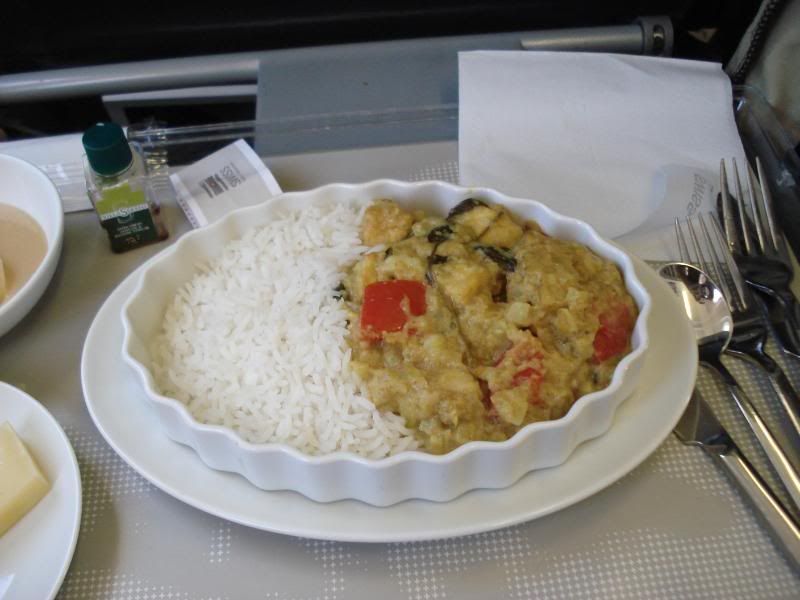 Very tasty vegetarian curry
Do not forget to look out of the window when eating
Eating on a plane and having a nice view, especially if there are no clouds, is something I really enjoy.
Service is very kind as the FA keeps coming back and forth always smiling and seeming to enjoy her job. At least one of the FA and the 'maître-de-cabin' are Italian speaking, not very frequent on LX., from Ticino probably.
The landscape has gone from green Switzerland, to Austrian Alps, to a drier landscape when we are heading South. I do not know the exact route as there is no in-flight map or information from the cockpit until we are half an hour from ATH when we are informed about weather conditions at our destination.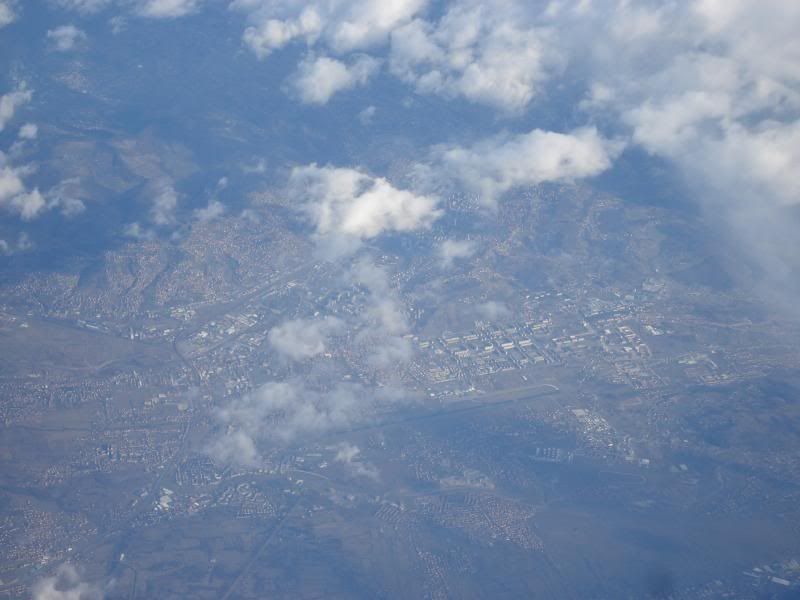 City in the distance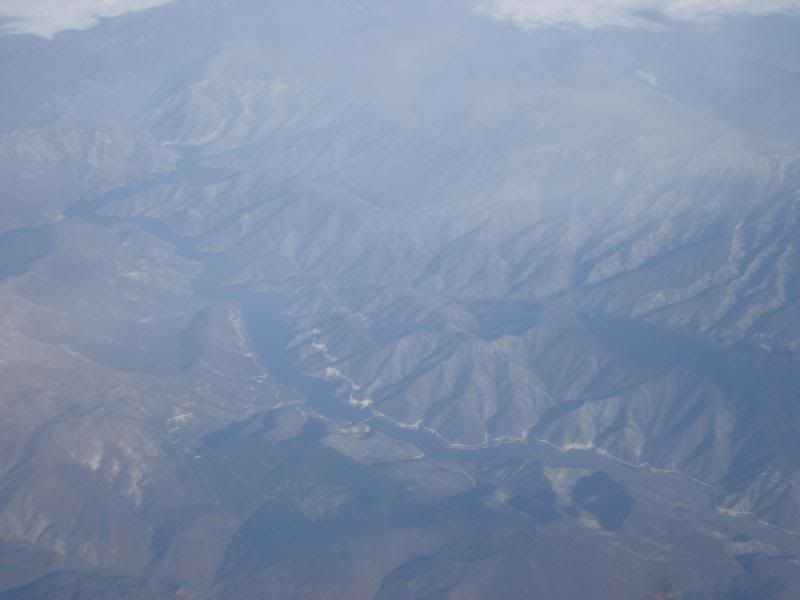 The dry landscape of Southern Europe in sight
First sight of Aegean Sea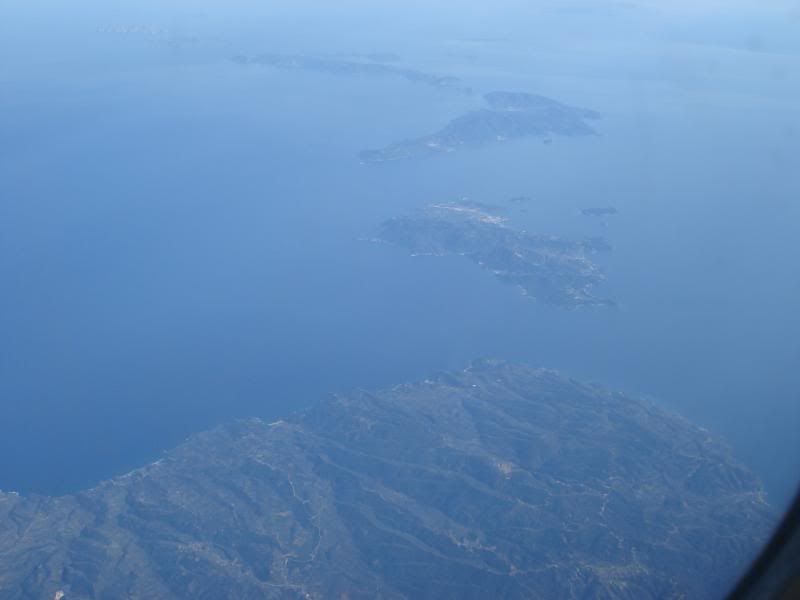 Some Greek islands
The rest of the flight is uneventful until the duty-free trolley is taken out and Mr. 1C decides to buy something and uses his credit card that seems is not working due to a malfunction of the electronic terminal. After a while and trying several times he gets quite upset and starts a verbal discussion that can be heard from my seat. The purser tries to calm him down but he is very up and starts complaining about LX and their service; they finally set down as he throws some money on the trolley from a very stuffed wallet. I really hate this behavior, they were trying their best and it was not really their fault if the electronic device was not working properly.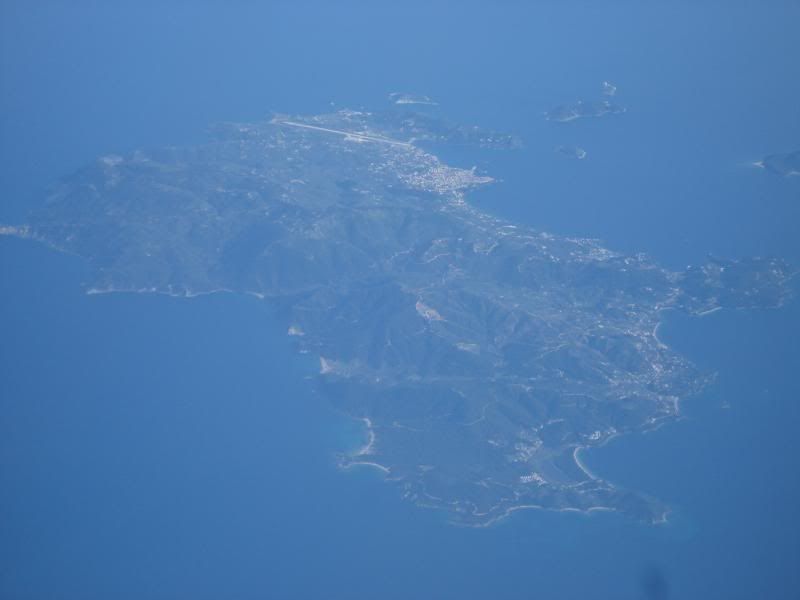 Beautiful Greece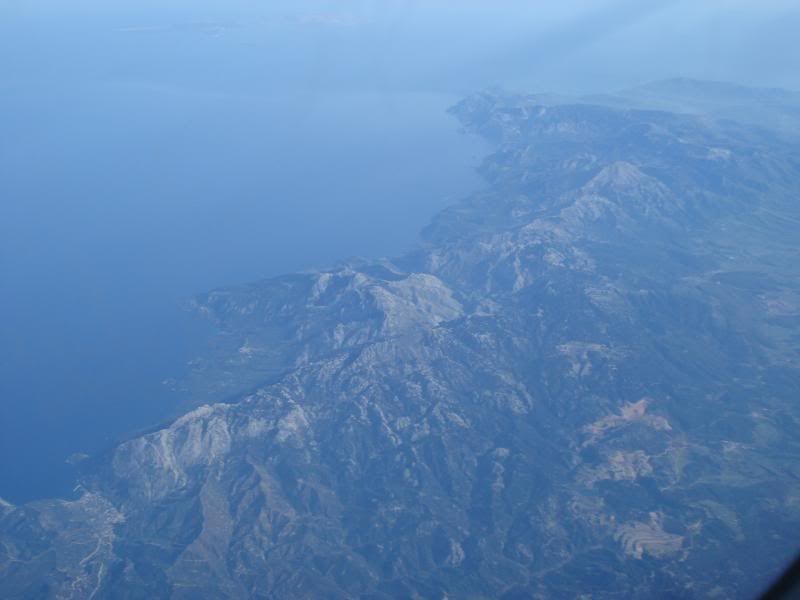 Great views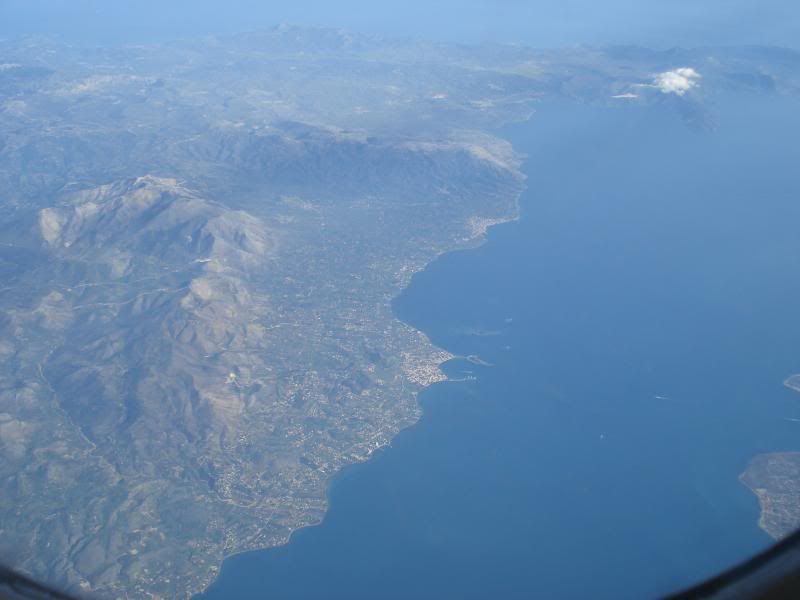 More great views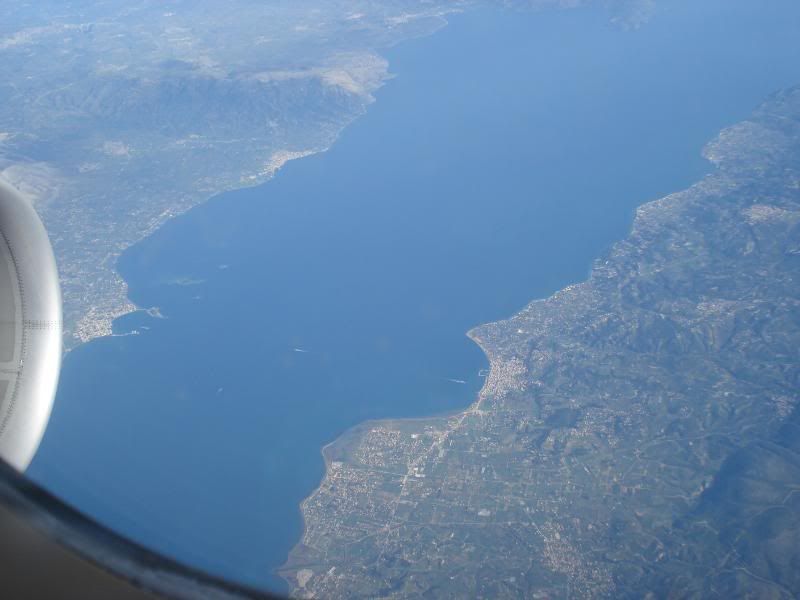 and more
Right before landing and as the purser is storing the curtains I inform her of my plans to come back with them as the service was so wonderful, she is really neat and asks me to bring them something from my ATH visit (laugh).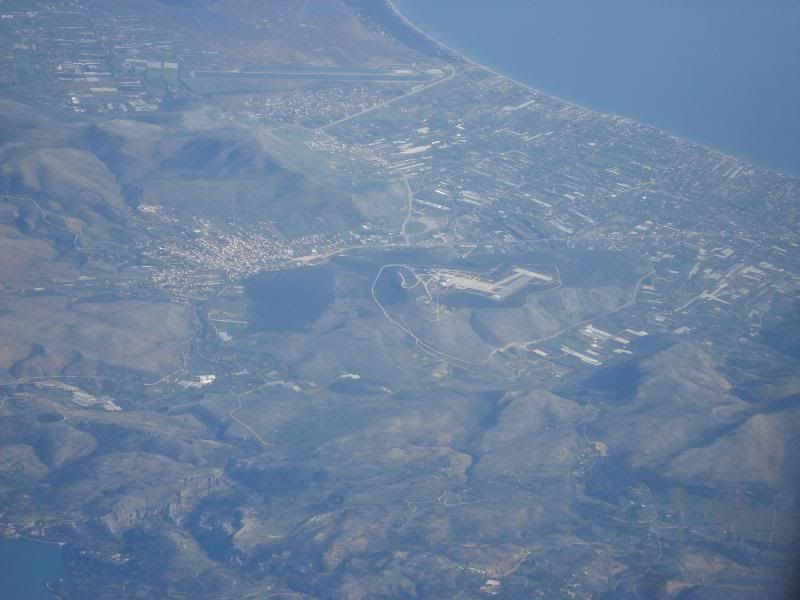 A Greek town on the way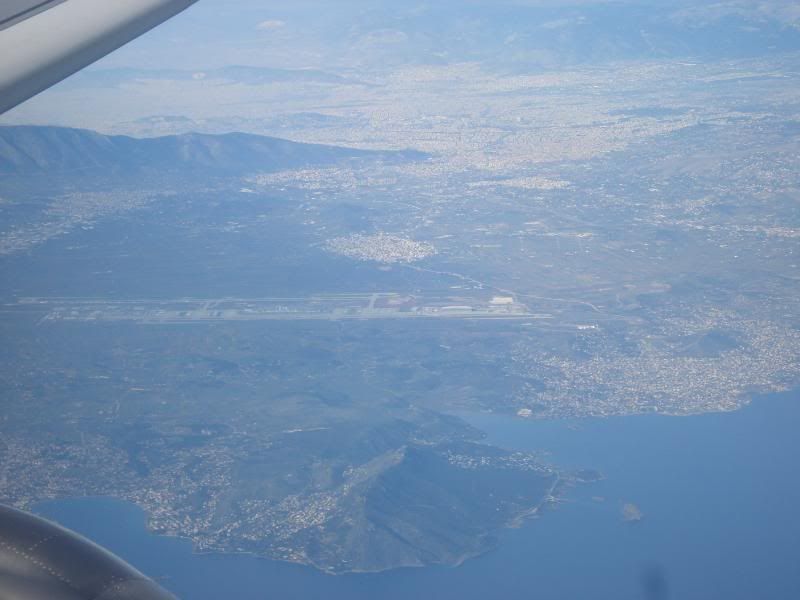 More Greece views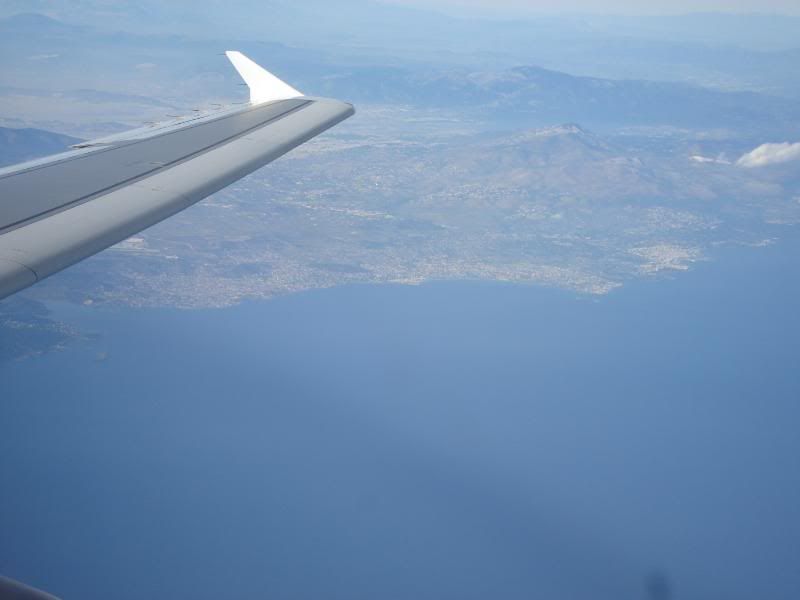 Turning over the sea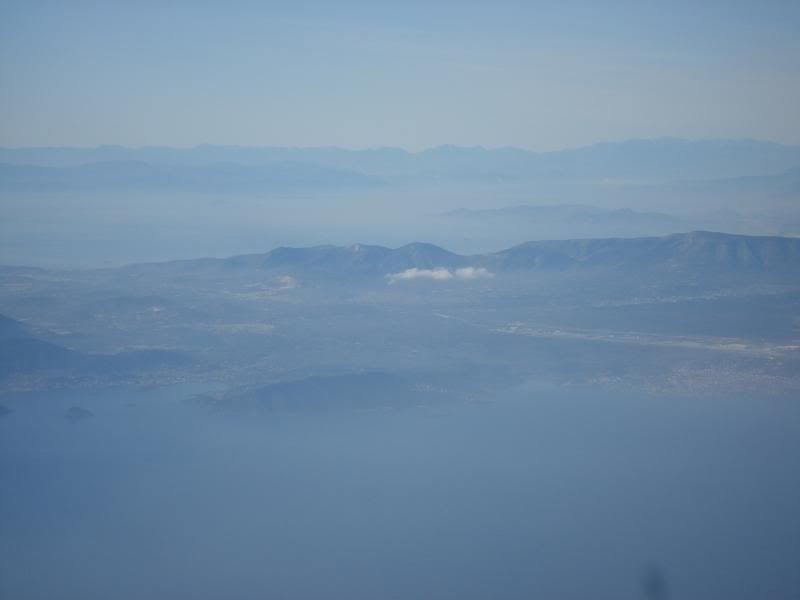 Getting there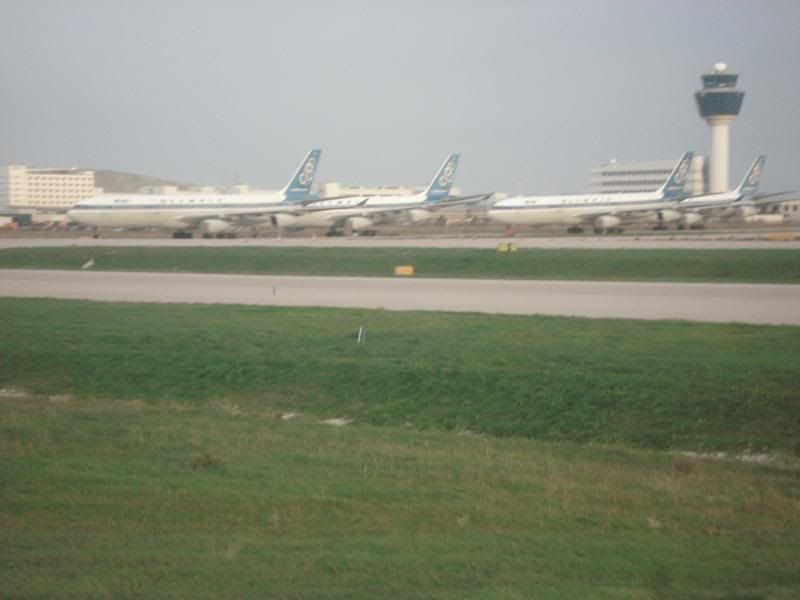 Four A343s Olympic sitting on the apron
We land and taxi to our gate, B3, and I set off to the transit area which is nothing less than walking back up to the arrivals level, in fact you can as well exit the airport this way as once you are on departures level you are free to wander around the departures area. There is a guy sitting on a desk as these stairs give way to some gates on the lower level; he asks to see your boarding pass to exit the area.
ATH-ZRH
LX1831
A320-214
HB-IJW 'Bachtel'
Gate: B03
Seat: 3F
SDT: 14.05 // 14.00 ATH 17ºC sunny
SAT: 15.55 // 16.10 ZRH 6ºC cloudy
As I had checked in for this segment the night before I had already mi boarding card in hand when I went through the first control that gives you access to the one of the shopping areas; be aware that you are able to buy things and then go out of the area again, which I find quite surprising as there are Duty Free items that can be then brought outside again (???).
Anyway I had everything I needed in hand and I went to the gate, in case you want to access the lounge you are directed to the Olympic Air one, which is quite surprising as there is a LH lounge as well, but LX seems to partner with locals here.
To access the door there is a preferred line for Business Class fliers although it proved to be of no use, once I had put my carry-on on the belt I was prevented as there were two elderly people in wheel chairs coming from who knows where. Ç
After about 5 minutes wait it was my turn through the metal detector and I was waived through without much enthusiasm.
Walking back to gate B03 is quite a long walk as you by pass all the other B gates, anyway I got there with plenty of time and then I realized I wouldn't be alone flying this afternoon, the plane was 100% full.
Stepping back on the plane I was greeted by the 'maître-de-cabin' who merrily greeted me again and I said I was sorry for them for the duty-free episode that had taken place just before landing. I promised to buy something and not make that fuss.
I took my seat, 3F, next to a father of two seating on 3C and wife on 3A. They were really calm during the flight except for descending when the toddler began crying, I do not blame her, sometimes I would cry as well when the plane goes down. (red) Two other children were on board seating at 2A & 1A with their parents on 2C & 1C.
Boarding was finished and once everybody was seated we went through the same usual ritual on LX: bottle of water, wet towel, newspapers. Greetings by the crew in English, German and a Greek recording plus safety demonstration on the overhead monitors.
We started taxiing to the long runaway and there we were up on the air. This is almost a straight fly to ZRH, we did not turn until well above our cruising altitude, 37,000ft.
The views are impressive as you get to see all the city of Athens right after take off.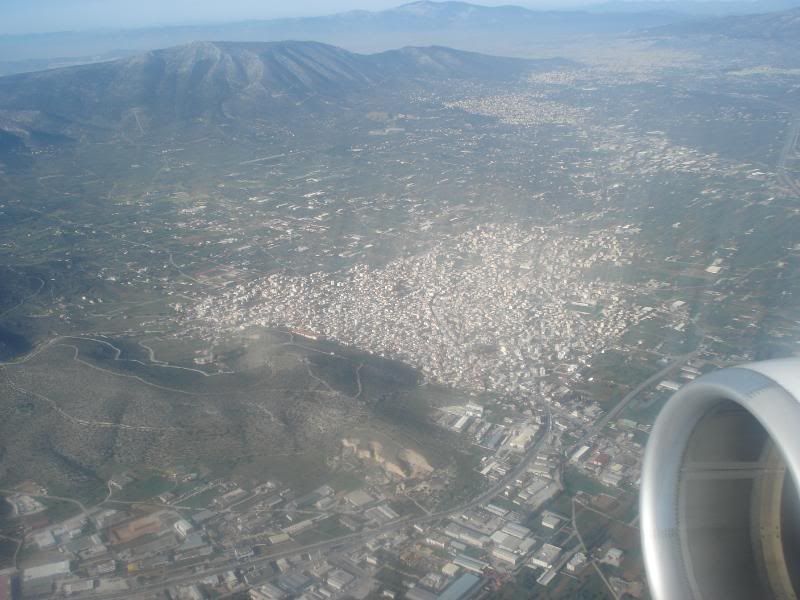 Town of Spata, housing ATH International Airport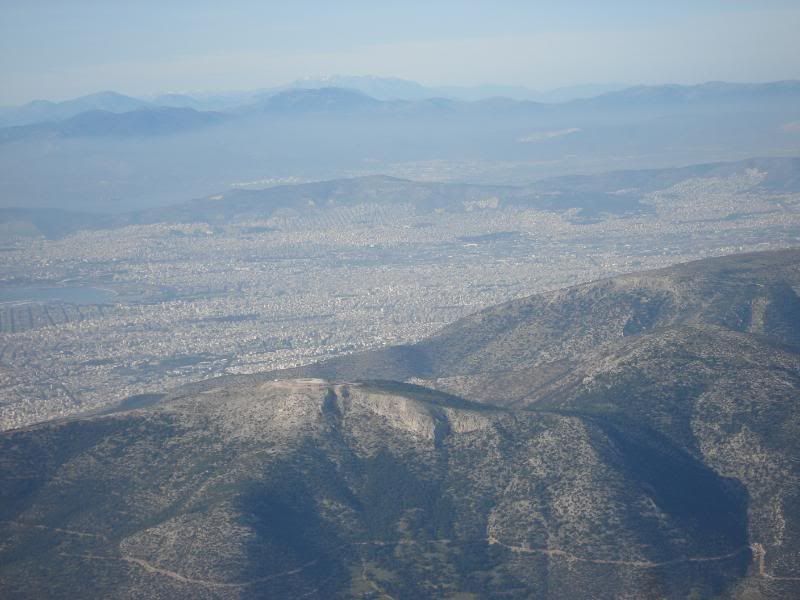 Crossing Mount Imitos, Athens behind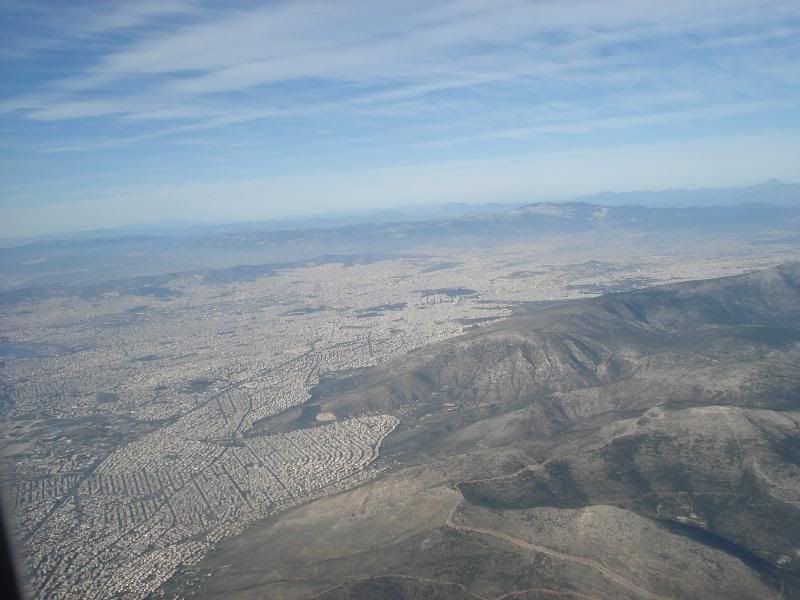 First view of Athens
View of Athens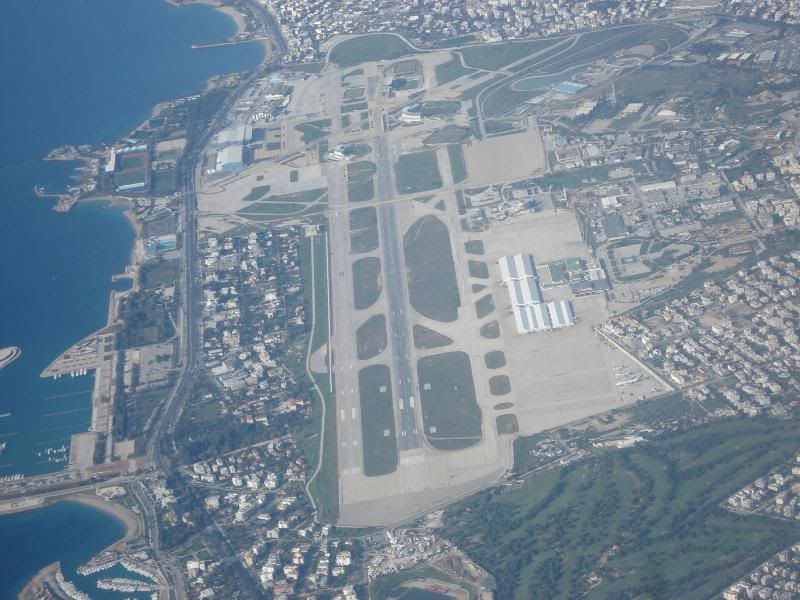 Old ATH airport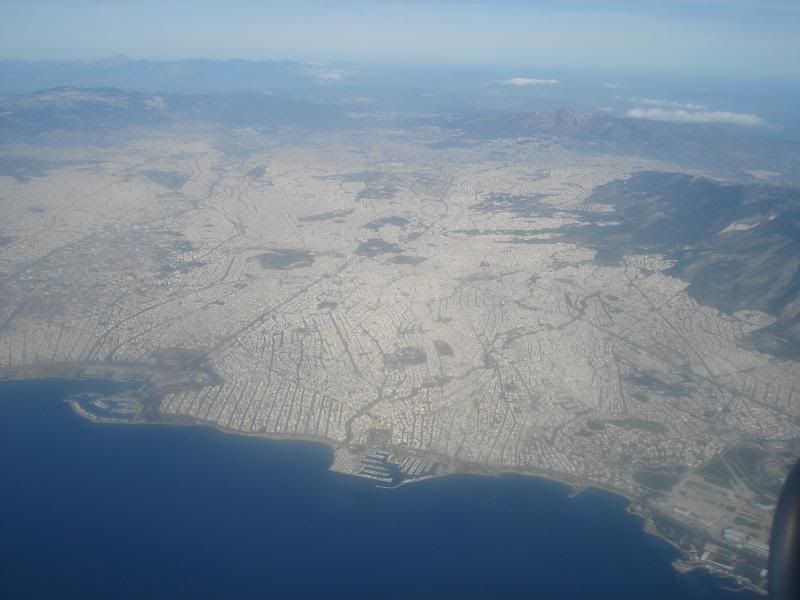 Athens massive spread
Close up of central Athens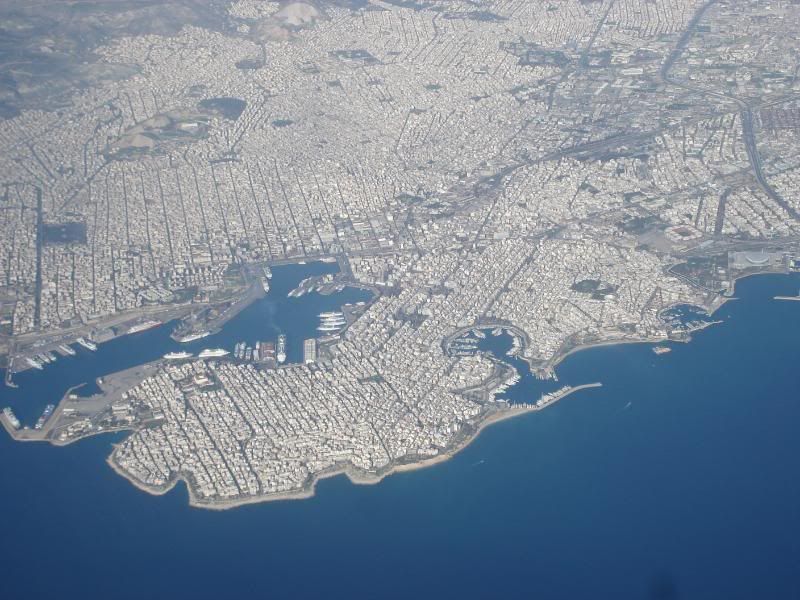 General view of the port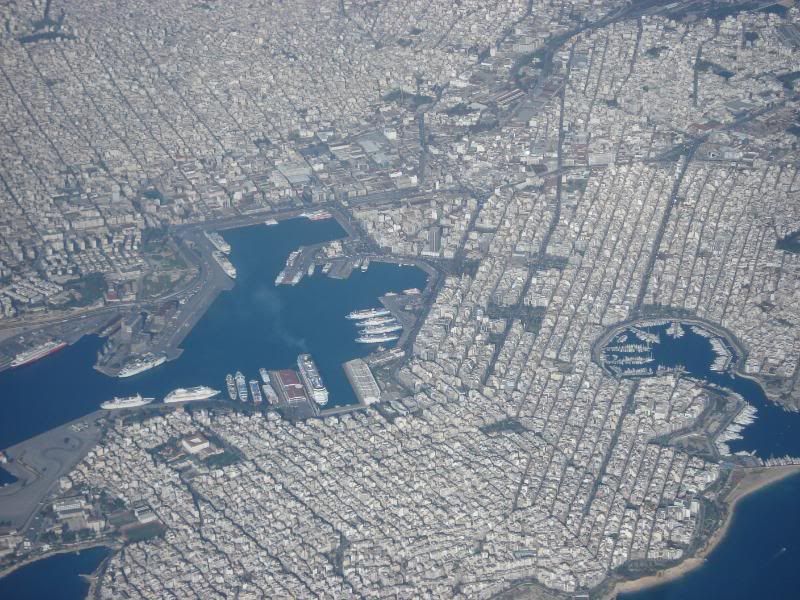 The Piraeus in a closer view
Greek landscape, home to the famous Kalamata olives?
The captain welcomed us on the plane before taking off and once on our cruising altitude he informed us of views on both sides, seating on F I was addressed to watch Mount Olympus… great, Zeus' home on Earth.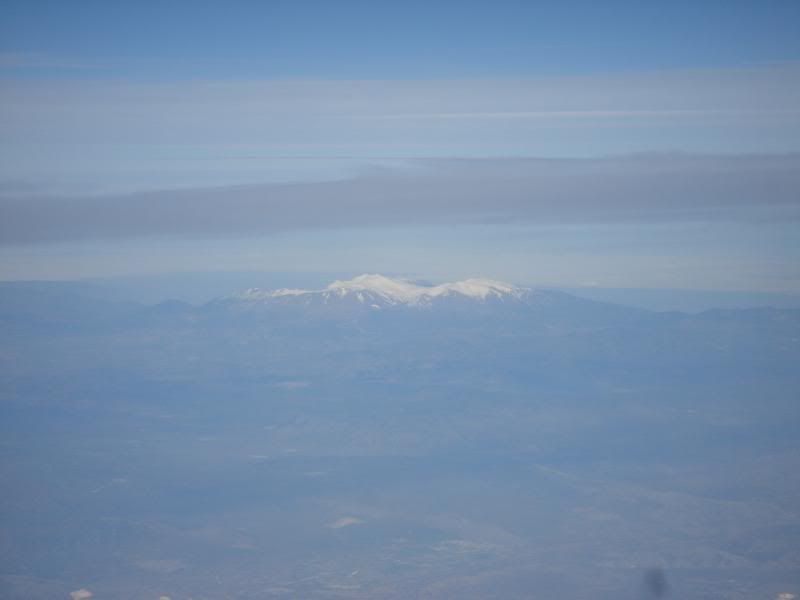 Mount Olympus
Order drinks were taken on the same way as in our incoming flight, the same cheerful FA and the same professionalism and kindness. Despite a full cabin (12) she performed her duty without signs of tiredness, maybe a little bit stressed with four children on board, but very nice.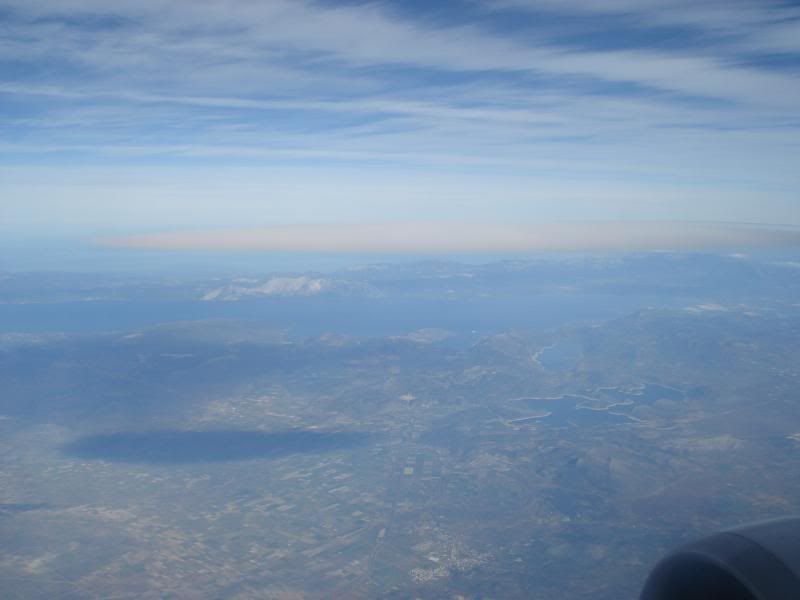 Curious cloud and its shade over Greece
Food was brought first to the children: ravioli, crackers, chocolate bars…. Kept them entertained while adults had their trays prepared and served.
Again the first tray featured the salad, cheese and dessert. Refills for my champagne came before the main dish, a perfectly cooked steak (no choice this time), was served to me and bread offered. More refills came after plus a second serving of bread.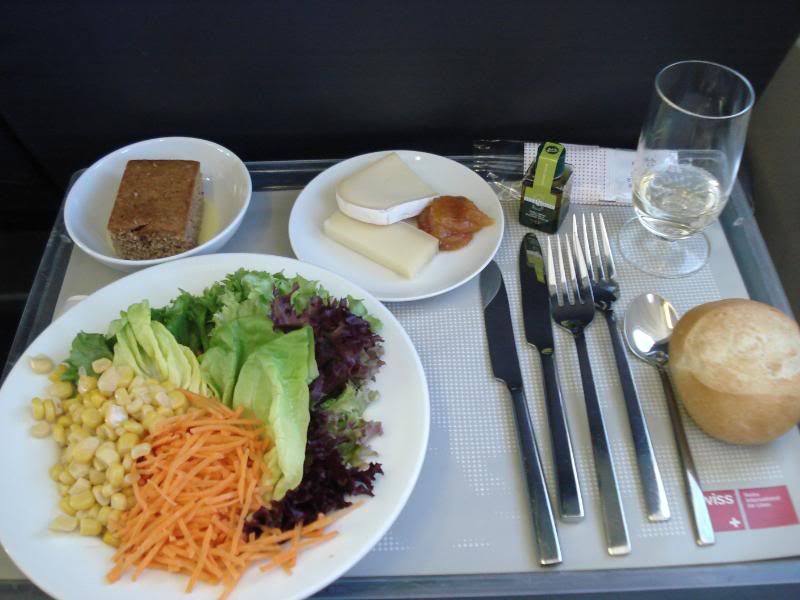 Salad, cheese and dessert service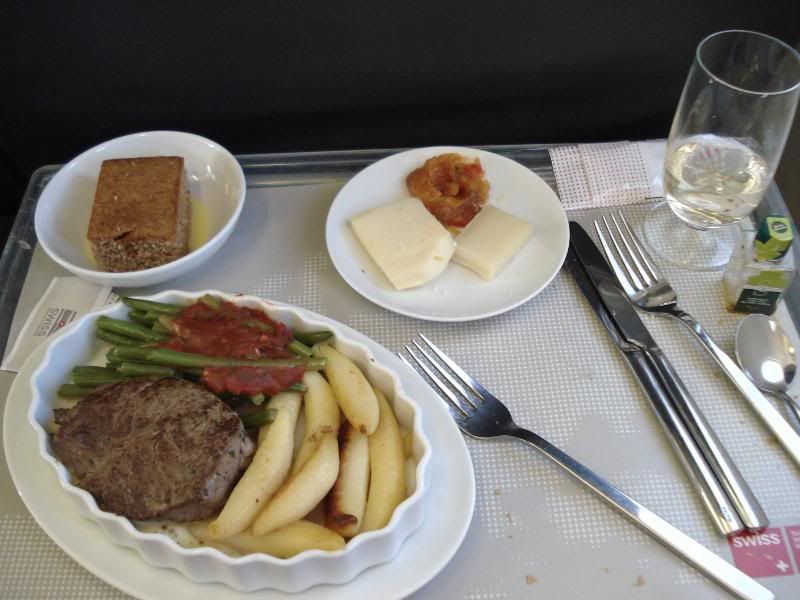 Perfect steak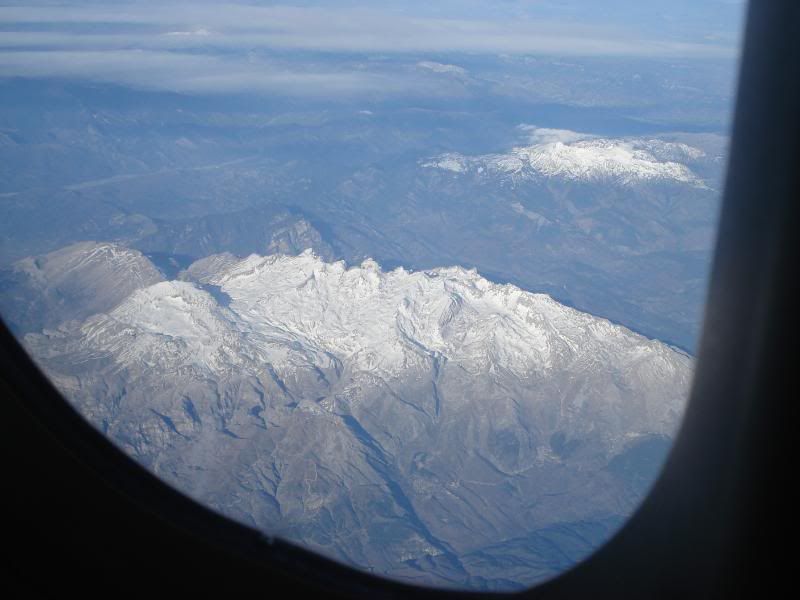 Snowy mountain
Once we were finished: coffee, tea… was offered and I went for a green tea which was promptly brought to me with a smile.
The rest of the flight was uneventful and some nice views could be seen as we traveled above the Dalmatian coast: Tirana - Dubrovnik - Split - Venice - Innsbruck - Zurich as we are informed by the captain.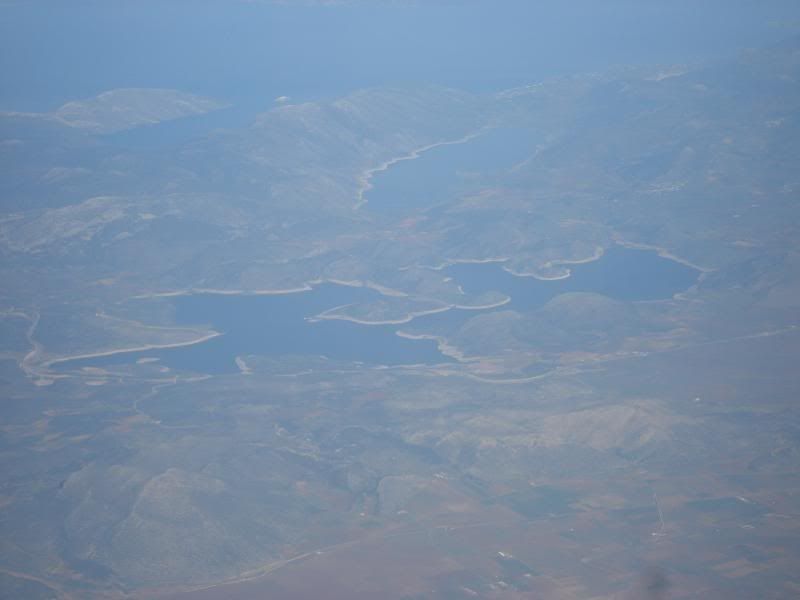 Huge dam
Dalmatian coast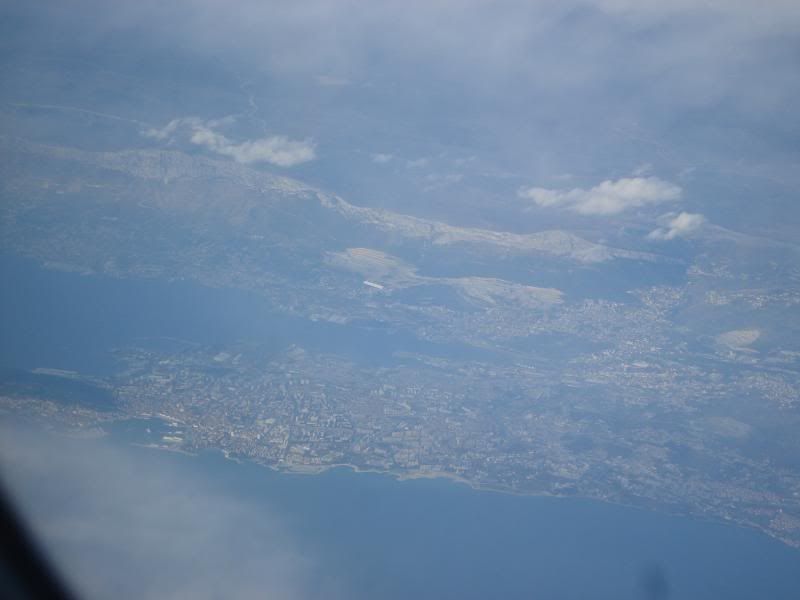 Dalmatian coast (ii)
When we began our descent to ZRH we passed several layers of clouds and we shacked a bit. Landing was on the same runaway we departed, 16, which I though was quite curious.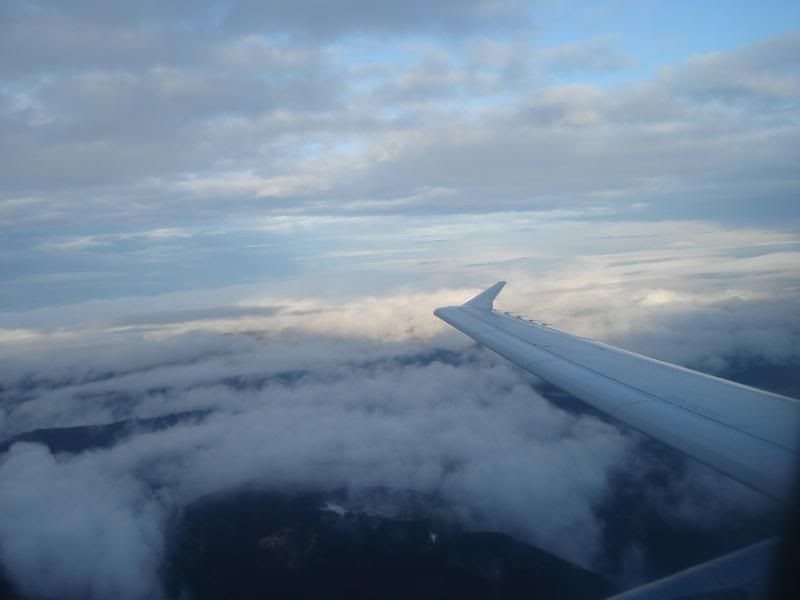 Initial descent into ZRH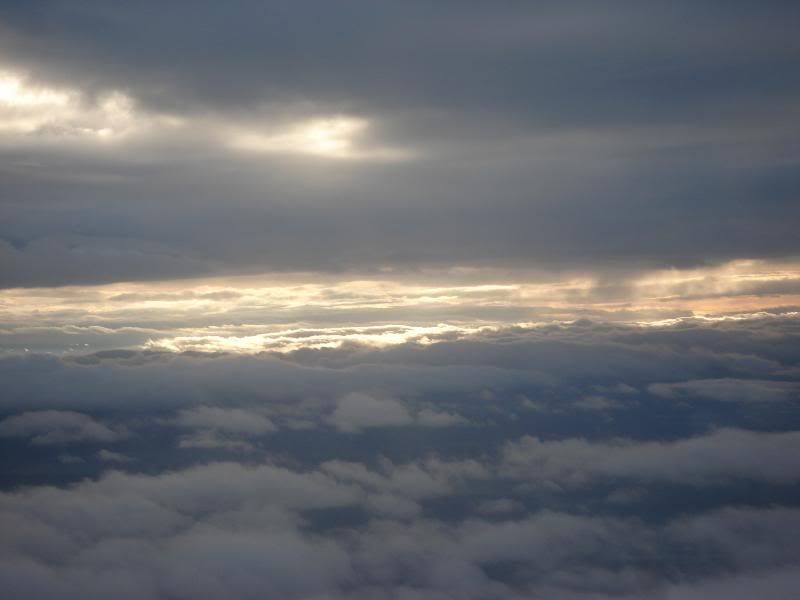 Sun hiding away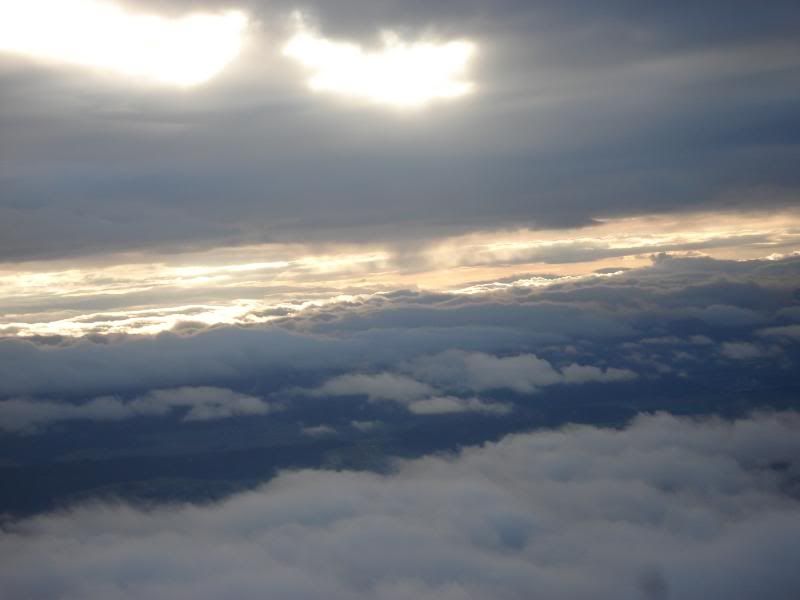 Sun hiding away (ii)
We were parked at a bus gate and descended the plane thanking the crew for these great flights and wishing them a Happy New Year!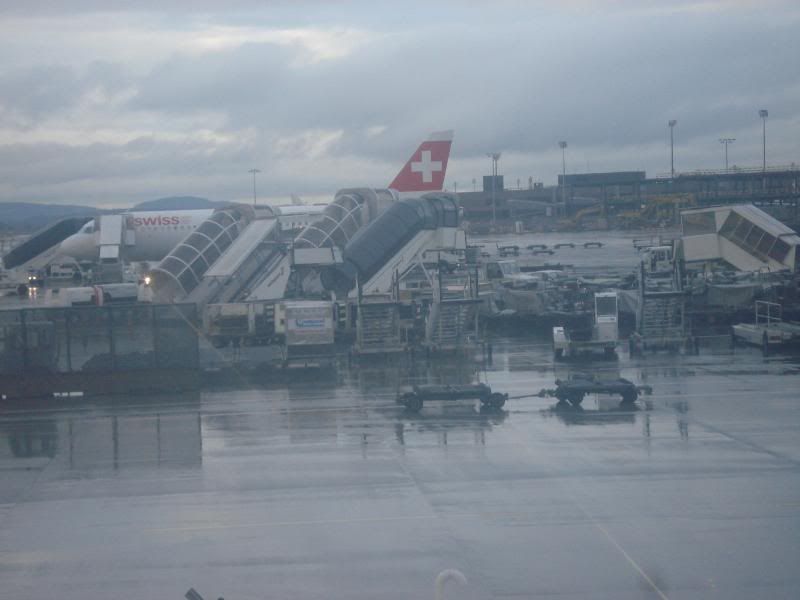 Apron activity in ZRH
Engine view from the bus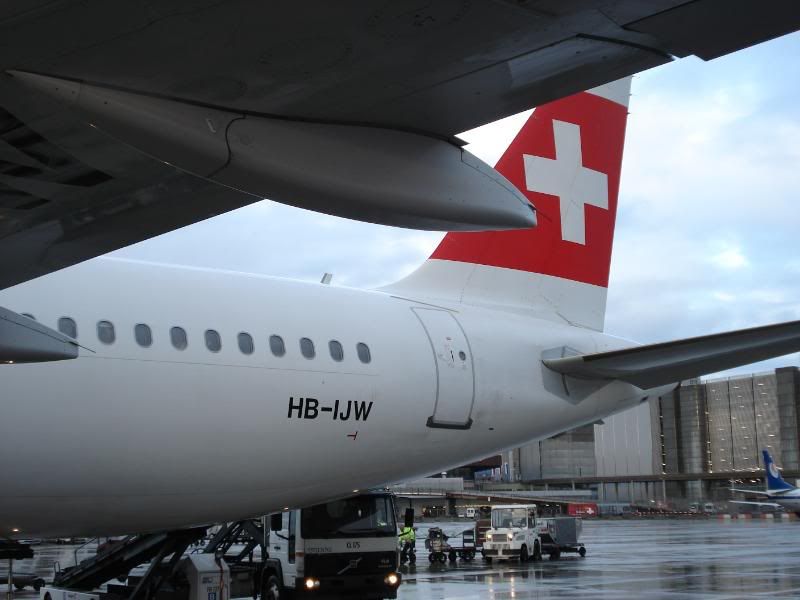 Registration and tail view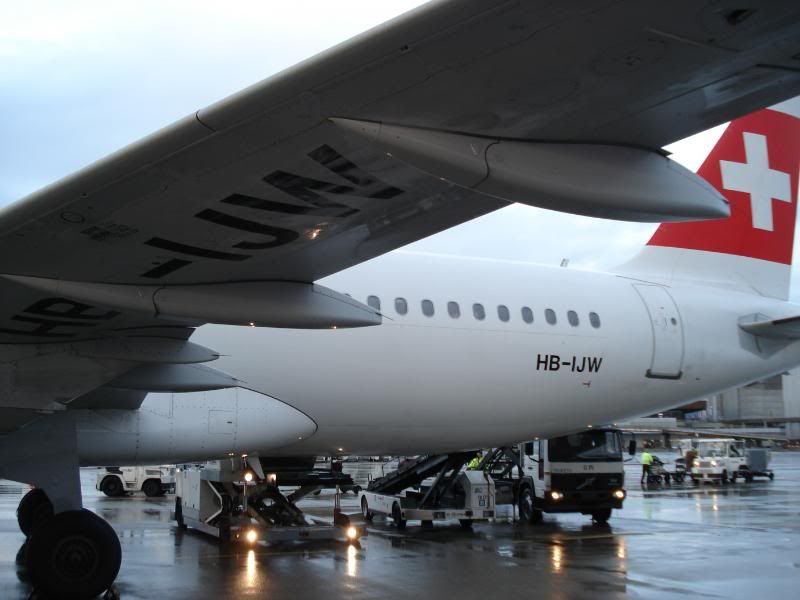 Under the wing
Once inside the terminal I headed for the lounge and up the escalator to the bar, which was quite empty that afternoon. I had my usual Campari and a espresso and watched the beautiful sunset on the last day of the year.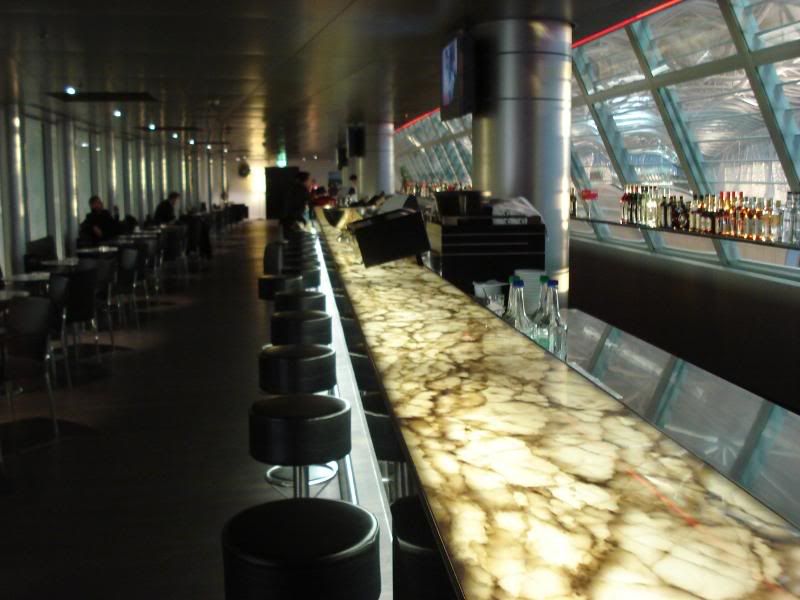 Best place to wait for next flight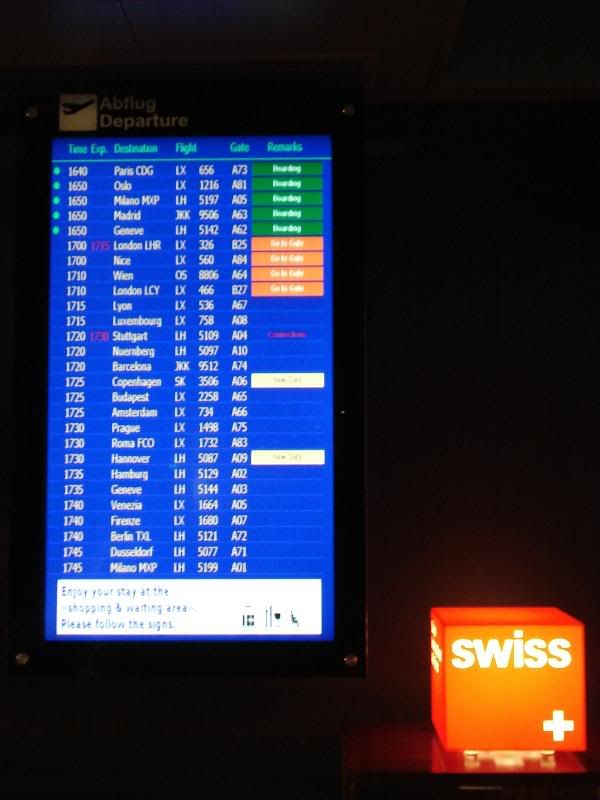 FIDS at the bar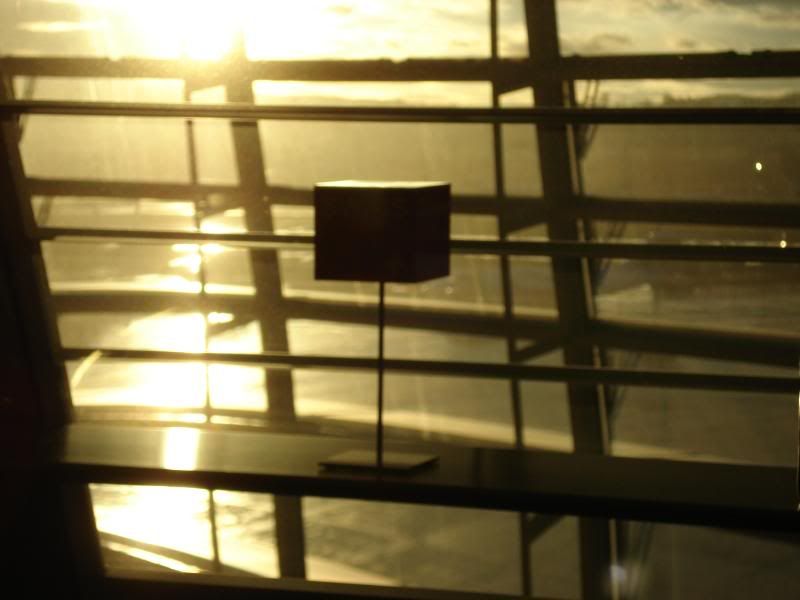 Sun beams coming into the bar
That is, almost home, another leg and I will be home to celebrate New Year's Eve in my friends' home.
So, let's go.
I have to admit that I was a little tired of going up and down planes, basically, I had been doing the same thing since 6.30 that morning.
ZRH-BCN
LX1956
A321-111
HB-IOD
Gate: A74
Seat: 3F
SDT: 17.20 // 17.30 ZRH 6ºC clear
SAT: 19.05 // 19.10 BCN 13ºC clear
Security was a breeze at the area leading to the A gates, the agents were looking forward to closing down and going home. They all wished a Happy New Year as I was moving away trying to put on my belt for one last time that day.
When I got to the gate the plane had already started boarding and one could tell which were the planes heading South; lines were huge to BCN and ROM, the one to HAM or HAJ was fairly empty.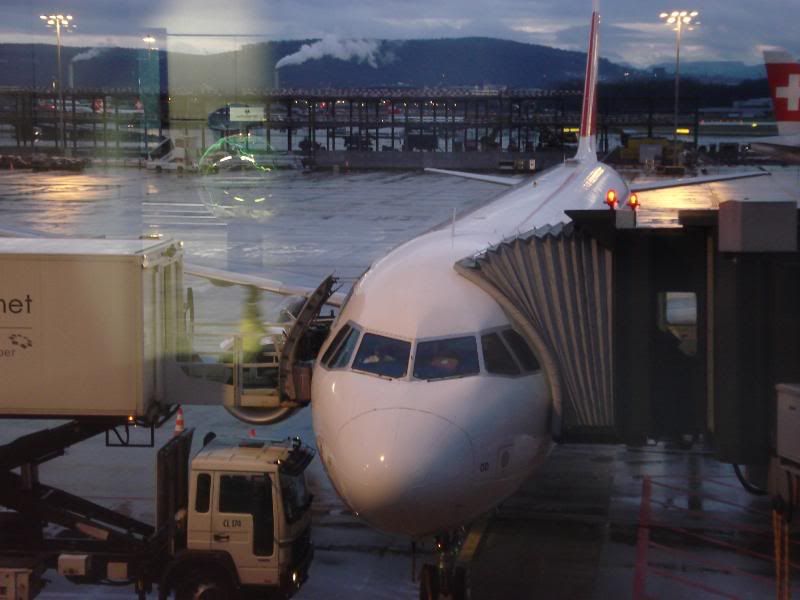 My ride to BCN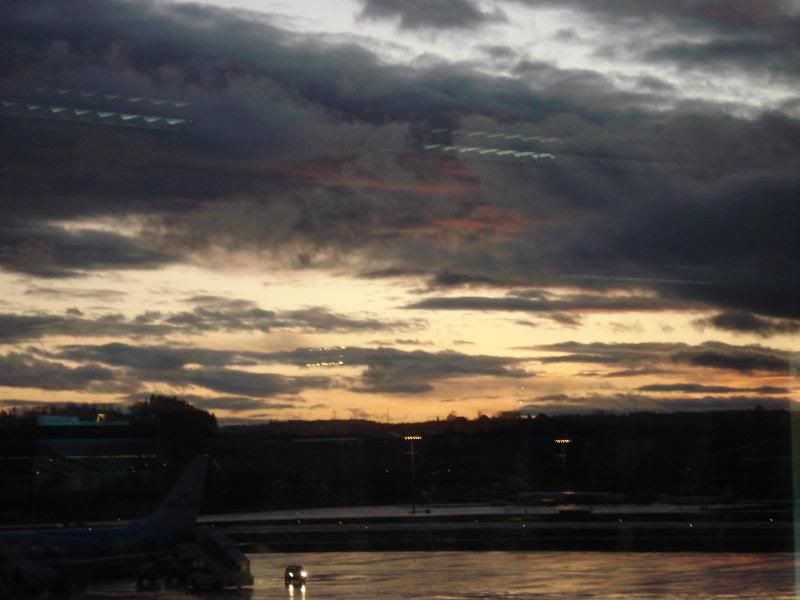 Beautiful sunset
Again a full plane… and a little late departure from ZRH.
After the customary greetings by the crew in English, German and French came a recording in Catalan and Japanese (there were quite a few on board). The Captain informed us about the route and told us that the FO would take care of the flight tonight.
Again we are pushed back and taxied to runaway 16 where we sit for a while waiting for crossing traffic to stop by and then off we go.
Again a smooth take off, I have noticed that A321 do not vibrate as much as A320 when they take off, but nothing as smooth as that Avro departure in the morning.
Once up we start turning South East towards MRS and then straight to Costa Brava and South to BCN.
The crew springs into action once the seat belt sign comes off and they keep onto it until we reach descending time.
This evening we are served a cold Ceasar salad, which is certainly fresh and tastes wonderfully. With some glasses of champagne it goes down very well.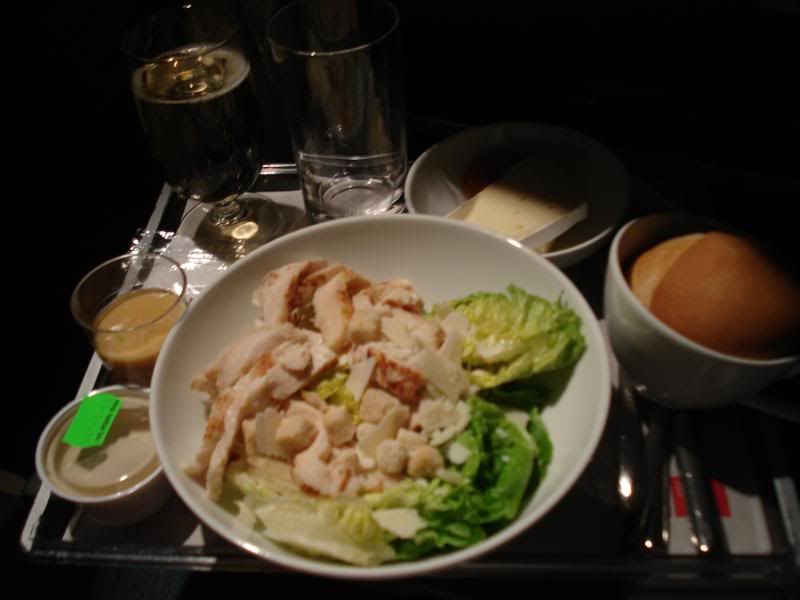 Nice Ceasar salad
Meanwhile I try to take some pictures of the last lights of the day that can be seen in the far West. Not very happy with the results.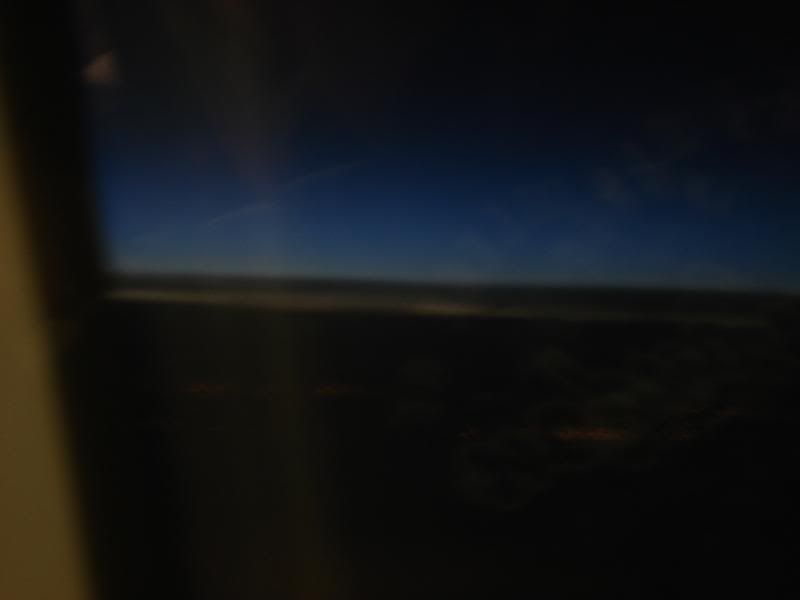 Last light of the last day of the year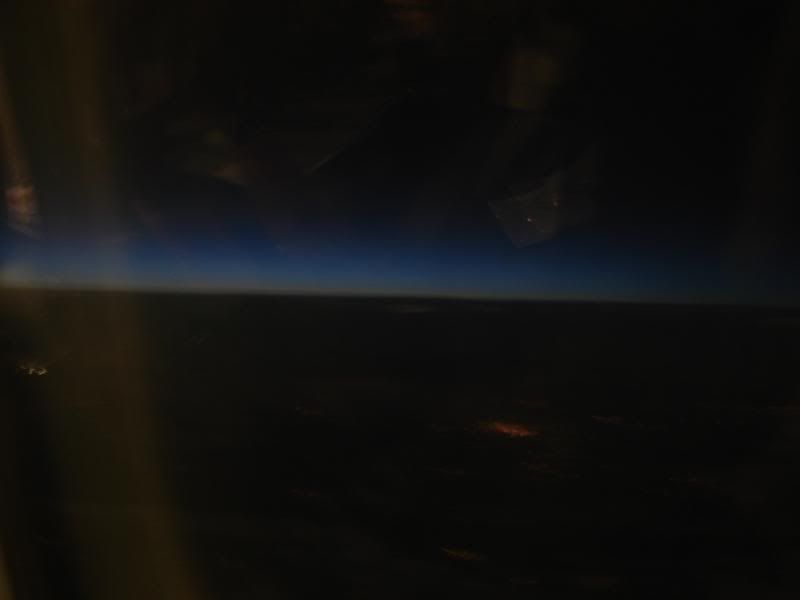 Last light
The flights is really smooth and once the duty-free trolley has done the typical run to the back of the plane we start descending to BCN.
It is nice to see all the coast and all the villages with the lights….
We land a few minutes late and that puts an end to my New Year's Eve mileage run.
BCN swinging airport lights
I hope you have enjoyed reading as much as I did on board the four planes. Please feel free to leave any comments, suggestions….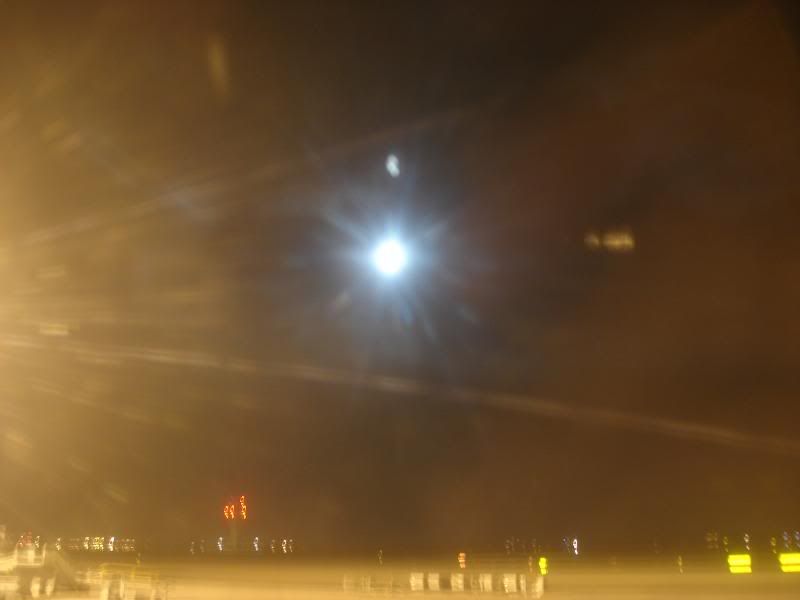 A full moon welcomes New Year's Eve
And That's All Folks!
Millor Any 2010!
Happy New Year!
Ein gutes neues Jahr!
Bonne Anné 2010!
Feliz Año Nuevo!
Buon anno nuovo!
Een Gelukkig Nieuwjaar!
υτυχισμένο το Νέο Ετος!
счастливого нового года!
Urte Berri On!
Erós An Nau!
Roger