This trip report is part of an extensive trip around southeast Asia but this is the first one I've done since I believe it is the most interesting. The trip included stops in Tokyo, Manila, Coron, Bangkok, Yangon, Bagan, Inle Lake, back to Bangkok and then back to Dallas!
Picking up this report when we departed Yangon on an Air Bagan F100 to Bagan with stops in Inle lake and Mandalay. The international terminal in Yangon is very nice and modern, obviously recent construction to meet the standards of other international gateways. The domestic terminal is very old and lacks basic amenities but is functional. Mandalay also has an impressive new airport that is reported to have cost 1.5billion yet in the two times I visited we never saw an aircraft parked at the terminal. Every aircraft used remote gates and bussed passengers.
If anyone has ever debated on visiting Myanmar (Burma) I highly recommend it. It is a beautiful country with great people. The country is untouched by many modern amenities and everyone was so friendly. It is a challenge to be in the country with out spending money in ways that supports the oppressive regime but you can make an effort but staying in guest houses and avoiding air travel. Obviously I couldn't avoid flying! We also flew Air Mandalay on the reverse routing but I didn't grab pictures from that trip because I picked up an intestinal parasite in Bagan.
Tickets
You dont actually use the ticket to board the aircraft, they put a sticker on you that identifies you as a passenger.
Baggage cart!
Couple aircrat shots while boarding. We were bussed to the aircraft from the terminal.
Staying out of the sun!
Take off from Yangon, you can barely see the two AirBagan A310s parked that never seemd to move during the four times we were there.
The flight to Inle Lake was about :50mins yet a meal was served and multiple beverage runs were made with follow on tea and coffee services. Moist towells were also passed out. Very impressive service. The food itself was a chicken sandwich with the smallest piece of chicken I've ever seen. But it was food and the desert was a tasty banana cake.
enroute to Inle Lake
Exit row leg room was good.
After a stop in Inle Lake to pick up more passengers we contunied on a short flight to Mandalay which is where many passengers deplaned and some of us hung out onboard.
The insanly large and underused Mandalay airport.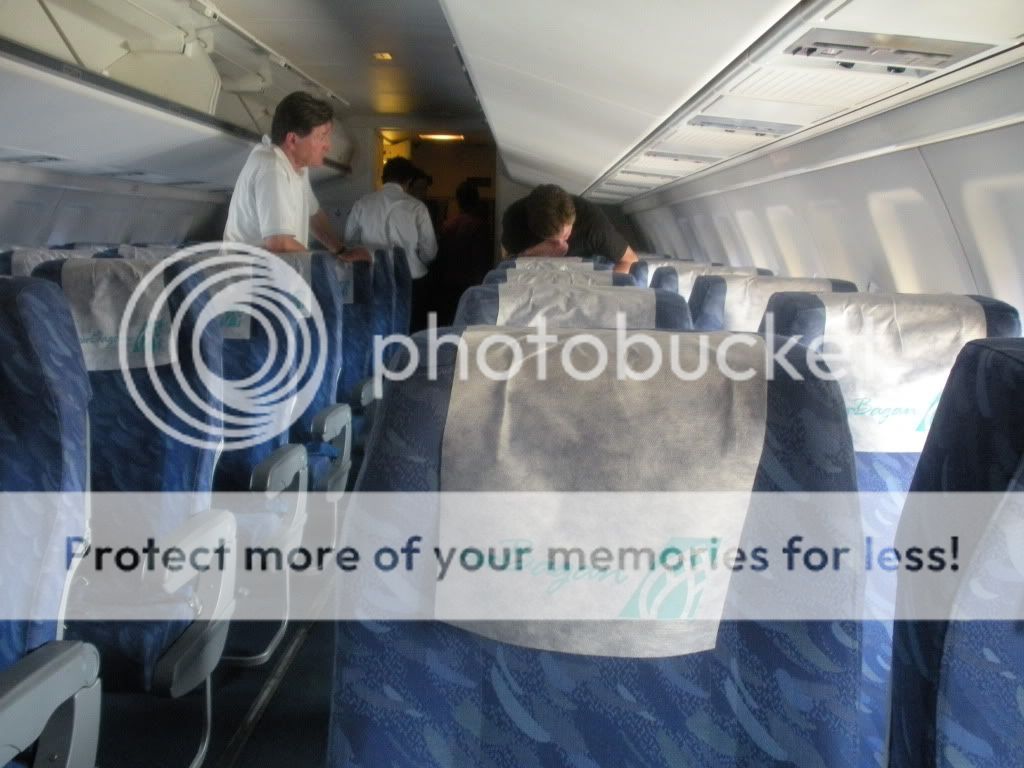 Waiting for other passengers to arrive. I think we were on the ground for :45mins.
I asked the FA if I could get up and walk around and she said sure follow me. She oppened the door to the aircraft and advised that I shouldnt wonder off to far! They just let me walk around on the tarmac while we waited for more passengers. So I took these pictures...
Other passengers boarded and we departed to Bagan which was another short flight but had moist towells, full beverage service, and mints prior to landing.
Bagan control tower.
Arrival in Bagan.
Our ride around bagan. We avoided the few tourist busses as these are government sponsered.
Bagan scenery
Thanks for reading and I hope you will consider a trip to this great country if your in the area!
[Edited 2010-01-04 21:16:04]
[Edited 2010-01-04 21:39:20]