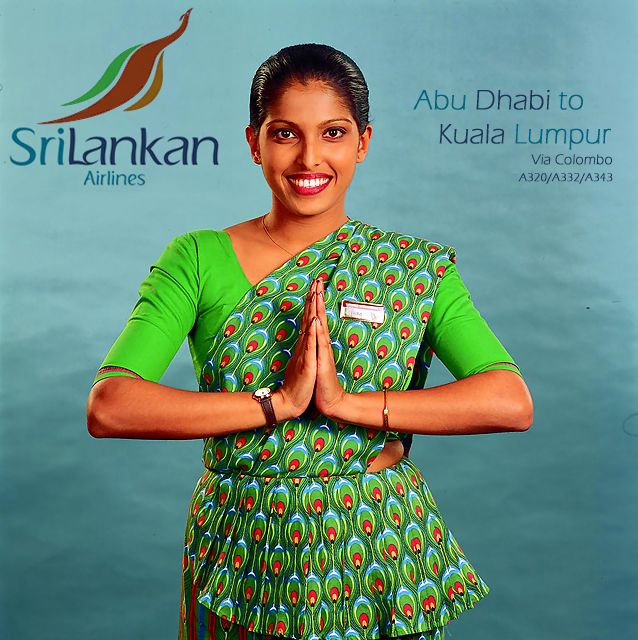 I N T R O D U C T I O N
It is a well known fact that Emirates does not forge solid partnerships with any airline. Many that had formed interline agreements or the like have practically ended up in shambles; as a result, some even walked away from Dubai (and to a neighboring Abu Dhabi). Take it or leave it, plain and simple is what this airline believes in.
The truth is, Emirates doesn't need any partner, but at one point in time, they had SriLankan Airlines. In 1998, Emirates acquired a 40% shareholding in the airline then known as Air Lanka, and that included a 10-year management contract. At the time, the Sri Lankan National Carrier, notorious for its old world delays and bureaucratic inefficiencies, was on the breach of collapse and the Sri Lankan government was in a desperate need for help. Emirates ran to the rescue.
But why bother with SriLankan? What do they have? One thing for sure, SriLankan Airlines has access to lucrative Air Service Agreements and slots at crowded airports, when Emirates was only granted traffic rights to Beijing in 2006, and slots at Narita from 2010 onwards. So it was a double-sided benefit that the two airlines closely integrate their operations to provide network-wide and frequent flier program access to all their passengers. So back then I could have traveled to Narita with an EK ticket and to JFK with an UL ticket for example.
From that point forward, things were moving uphill for the airline. The Air Lanka brand and it's infamous TriStar were done-away with immediately, and replaced with a more modern SriLankan Airlines, an all Airbus fleet, and a proactive Emirates-type of management that adopted a more regional focus. The airline eventually became a profitable entity and the top foreign airline to India. It was also strong enough to weather an attack on Colombo's International Airport by the Tamil Tigers when it lost almost half of its fleet.
However, a decade into this partnership, a political volcano had erupted causing Emirates to drop the ball on SriLankan Airlines. After refusing to bump 35 passengers off an overbooked flight to accommodate a presidential delegation, the CEO of SriLankan Airlines (an EK recuit) had his work permit immediately revoked by the government. As a result, Emirates walked away from the management contract altogether, and that was the name of that tune!
Life after Emirates did not seem too bad for SriLankan however. After all, they did gain 10 years of Emirates know-how, and that must have some benefit to it. Furthermore, the airline has ventured on an initiative to capitalize on redeveloping tourism in Sri Lanka now that the markets are recovering after the end of the civil war. With the aggressive Gulf carriers to its left, the top-class Asians to its right, and the never-to-underestimate premium-driven Indians right above them, SriLankan is definitely the perfect example of how an airline can be competitive in its strategically limited geographical location. Well at least they try!
Nevertheless, many strongly believe that the airline will sell back into the corporate corruption, and governmental bureaucracies that once defined its strategy. The truth is, it remains unclear how SriLankan will manage the longer-run of the aftermath. Today the airline is back at a loss during the first financial year after the Emirates leadership, and tomorrow has yet to come. Will the Sri Lankan government neglect this National Carrier in favor of the new Mihin Lanka? Or will traces of the Emirates past keep SriLankan Airlines on its feet standing strong?
And so, this tells the story of one of the world's most interesting airlines in my eyes…
SriLankan Airlines: The Treasure of Serendib
.
WELCOME TO MY 20th TRIP REPORT
This TR will cover the following flights on my trip to Kuala Lumpur with SriLankan Airlines:


A) Abu Dhabi – Colombo – Abu Dhabi in Business Class (A320)

B) Colombo – Kuala Lumpur – Colombo in Business Class (A343/A332)

B A C K G R O U N D
I was invited by a family friend of mine to spend the 'Eid Al Fitr' holidays in Kuala Lumpur with him and his family. Eid Al Fitr (or Hari Raya Aidilfitri in Malaysia) is a Muslim celebration marking the end of the fasting month of Ramadan. It is obviously very common, if not customary in the UAE, so I am quite aware of the occasion and was interested to experience it from the perspective of a different culture. Why you ask? Because it involved a plane ride to somewhere that requires at least a five hour flight.
Each year, the first day of Eid differs as it depends on the sighting of the moon. In some parts of the world, the holidays are predefined to include all possibilities however, in the UAE an official holiday is announced a week prior at the earliest, and usually only a day or two before. So in choosing my travel dates, I had to leave 16 hours after I arrived from Beijing (as per my most recent Cathay report), and had to pick a random return date, in hopes I could change it later once things materialized.
In terms of flight selection, the usual selection was available, which included Etihad, Emirates, Malaysia Airlines, and Qatar Airways (still not ready to try QR!). A more thorough search on
www.expertflyer.com
revealed an idea that I had overlooked completely; SriLankan Airlines. Out of Abu Dhabi, they offered an excellent connection to and from Kuala Lumpur, with a maximum of two hours transit in Colombo. Out of Dubai an itinerary was available, but the transit time on the return journey would have been almost 20 hours.
Hopping on to the SriLankan Airlines website, which was extremely user-friendly (although it may look a little outdated), I was offered a Business Class fare which was slightly cheaper than Economy Class on all the airlines mentioned above. I even checked on Economy Class fares which resulted in AED 2,000 roundtrip (approximately AED 300 more expensive than a last minute AirAsia X fare by the way). It would have been too stupid not to book these flights! Economy Class was sold out, so SriLankan Business it was! My only concern was that I had to pay a rebooking fee if I wanted to change my dates of travel; but I figured I could pull a few strings at the airport to take care of that.
O U T B O U N D
On the day of travel, I had come to know of the length of my holiday which meant I could stay one extra day in Malaysia. Having a decent relationship with UL's airport staff, a quick phone call to their airport manager resulted in rather confident results. I was waitlisted on my return flights, but was assured it will be confirmed in a few days time. I was also asked to get in contact with the station manager on the evening of my departure.
Arriving at Abu Dhabi International Airport at 8:40pm, I parked my car at the long-term car park, and proceeded towards the terminal for check-in. SriLankan airlines operates from Terminal 1A at AUH. This 'boutique' terminal was initially designed as an extension to Terminal 1 during the Gulf Air era when the airline spawned its regional hybrid-LCC Gulf Traveller to operate high-density routes to the Indian Subcontinent. It was easy enough to transfer between between Gulf Air and Gulf Traveller yet easing congestion from T1 by segregating the large crowds that were to be associated with Gulf Traveller to T1A. Today Air India, Air India Express, AirAsia X, and SriLankan Airlines operate from this terminal.
Terminal 1A at Abu Dhabi International Airport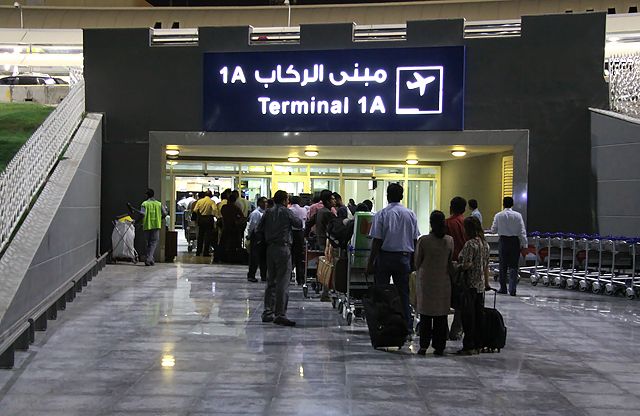 The visit to T1A was only for the sake of the picture above as premium passengers, regardless of what airline they are flying, can check-in from the premium area at T1 (unless otherwise requested by the airline i.e. BA, KL, LH, SQ etc).
Common-Use Premium Check-in Area at AUH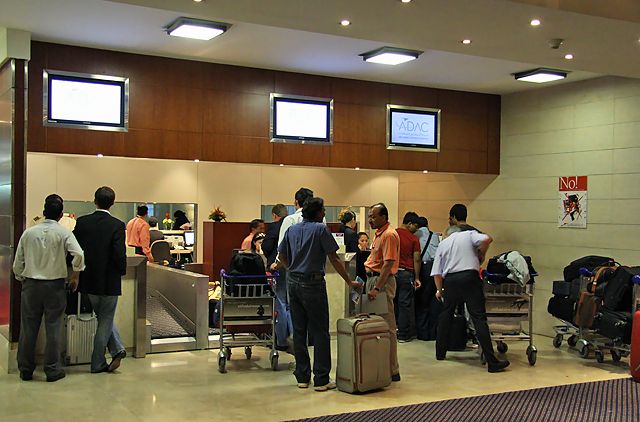 Approaching the counter at 9pm, I handed my documents to the agent, placed my suitcase on the belt, and requested to be seated in aisle seats for both sectors. The agent slammed me with a look like she wanted to cast a spell on me when she got off her shift that would curse me for the rest of my life. Given her attitude, I did not trust that she even paid attention to my request, but I was coldly assured of aisle seat availability when I asked again.
A few minutes later my suitcase was tagged, and my boarding passes and lounge card were dumped in front of me. Taking a look at my boarding passes, I was seated in 'A' seats on both sectors.
"Excuse me, I asked for aisle seats on both sectors please"
"Yes I gave you aisle seat"
"No you didn't. 'A' seats are window seats"
After a bit of huffing and puffing, and a few loud finger slaps on the keyboard, my boarding passes (to CMB and to KUL) were re-printed and I was good to go.
Boarding Pass to Colombo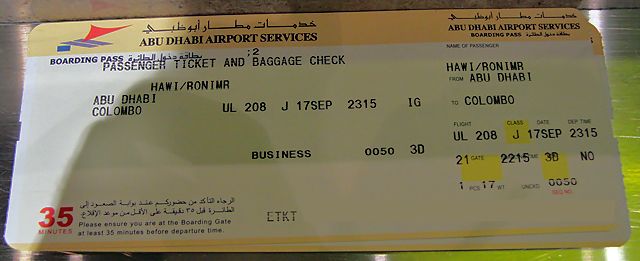 Lounge Card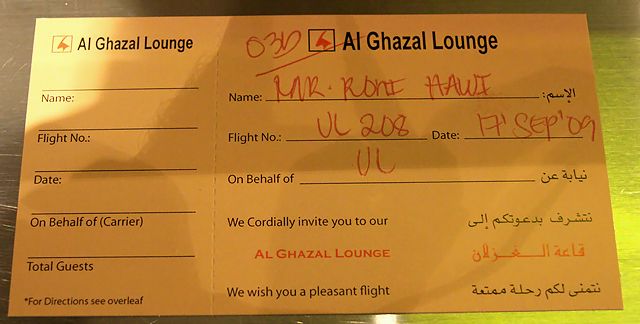 The check-in area on that night was absolutely congested as everyone wanted to travel back home to spend Eid with their families. Queues at check-in, immigration, and security were a nightmare. Luckily I had an e-gate card and was able to skip the immigration lines and be airside by 9:30pm.
Being a UL passenger, I was entitled to use the Al Ghazal Premium lounge, one of three lounges at T1. The lounge offered nothing special so I skipped on that idea in favor of stroll around the bustle until it was time for boarding. A sit at Costa's for a slice of carrot cake was also an enticing thought.
On My Way to the Satellite
FIDS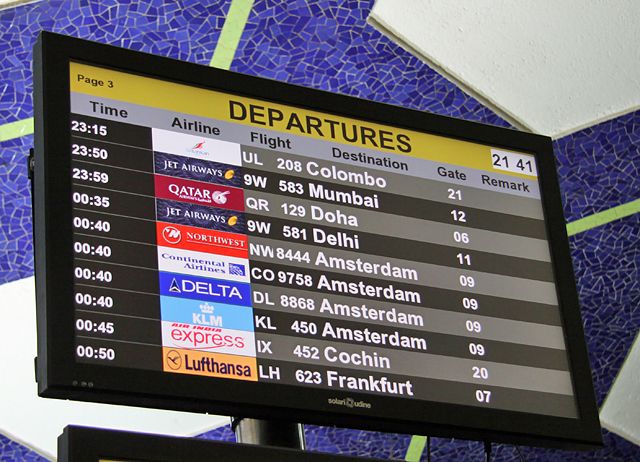 The Main Satellite Terminal 1 at AUH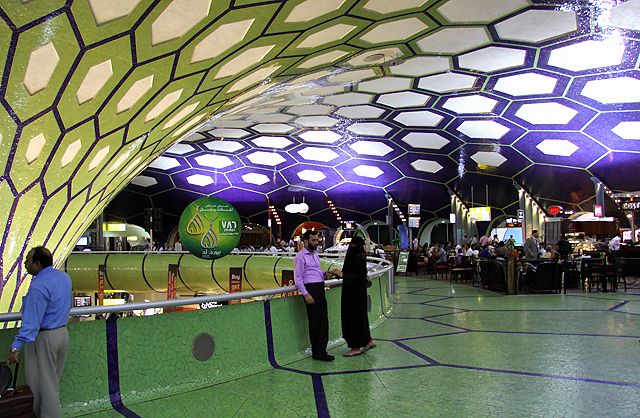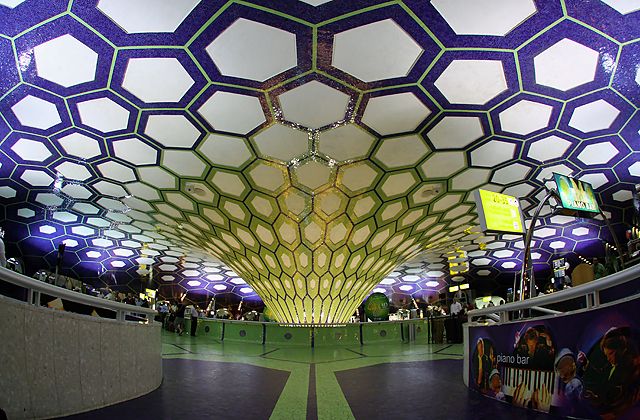 Upper-Level Shops & Duty Free
The Main Duty Free Located on the Lower Level
A Nice Sit-down at Costa for a Slice of Carrot Cake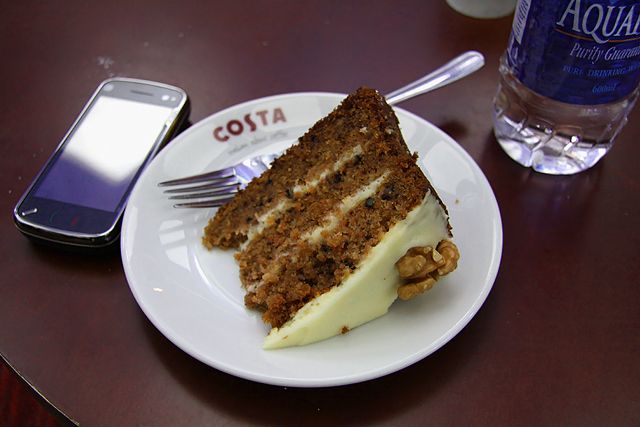 Followed By a Smoke at the Smoking Lounge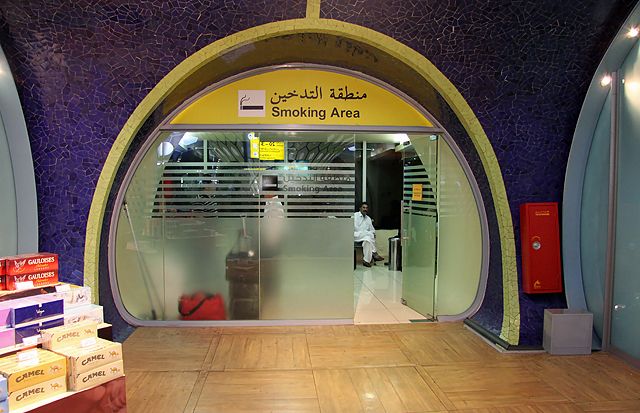 By 10:10pm I left the satellite and headed back to the main building towards T1A. Gates 20 to 22 are T1A gates, all of which are non-contact gates with one common holding area located one level below the main floor.
Walking Towards T1A
Passing through security, I was inside the holding area at 10:15pm.
T1A Common Holding Area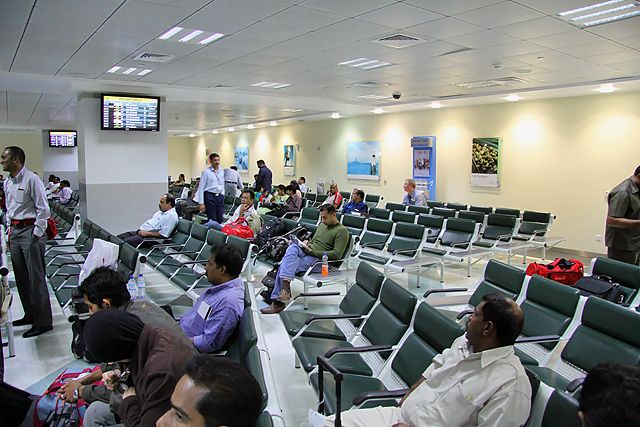 Gate 21 Has Been Assigned for UL Tonight
A Rather Orderly Queue for an Air India Express Flight
The station manager was at the gate, and had informed me that my requested date change has already been confirmed for the return flight, and I would not have to pay any penalty fee. Thank you Mr. Station Manager!! While this was just a favor resulting from an existing airline-airport relationship, this efficiency can best describe how SriLankan Airlines tends to deal with work-related matters in general; at least in Abu Dhabi. In my opinion, they can outdo a countless number of other airlines, which I will not mention here.
Boarding commenced at 10:20pm without any announcement. Because passengers were to be transported to the aircraft by buses, a separate Business Class bus was available, but only after the first two Economy Class passenger buses were loaded first.
Passengers in Queue for Boarding
At 10:45pm, premium passengers were ushered to queue for boarding, and by 10:50pm I was inside the bus. A few minutes later, and after all premiums had hopped on, the bus was on its way to the aircraft.
Arriving at the aircraft, I proceeded up the steps and arrived at Door 1L of the aircraft, where I was greeted by Austin, the purser for tonight's flight alongside Thilanka, dressed in her green peacock-style sari with her palms clasped together at chin level. "Ayubowan" she said, greeting all passengers as they boarded the aircraft, while Austin directed the passengers to their seats.
"Welcome Mr. Hawi. A pleasure to have you on board"
It was a purely cultured and captivating sight in my opinion. This was perhaps one of the nicest boarding welcomes I have seen. It was even nicer when two females were at the door, replacing the male, as I had experienced on my KUL-CMB flight.
By 10:55pm I was on board.
CONTINUED BELOW