Background
For the past few years, I've usually always travelled somewhere around New Year. This year was going to be no different; I just need to escape the cold if staying in Finland. So, in July, I booked tickets to the Philippines on Turkish Airlines and Cebu Pacific as usual. The latter cost almost double the usual fare, but it was still a great deal given the Christmas rush from HKG to the Philippines.
Christmas weather was extremely cold in Finland and we got plenty of snow – so I was very glad to step onboard the horribly overpriced train to Helsinki. Add the equivalent of a 100km bus fare in the Philippines, and a local bus will take you to the airport from Tikkurila station. Helsinki-Vantaa badly needs that train connection now under construction.

26 December 2009
Helsinki Vantaa (HEL/EFHK) – Istanbul Ataturk International (IST/LTBA)
Turkish Airlines TK/THY 1756
Boeing 737-8F2
TC-JGL "Karaman"
1520-1840 – Delayed (1600-1915)
Business Class, Seat 2D

156th B737 flight, 27th flight on B737-800, first on TC-JGL
What happens with Turkish Airlines on the ground is something one should never even try to understand. It's simply said a complete mess, especially at Ataturk airport. Today, me and my friend used the self service kiosk – It worked but his frequent flyer number was not in despite booking through the same channel and both reservations had the FQTV info. Last time, the kiosk blatantly refused to check me in and the agent remarked "It doesn't work for Turkish".
We then headed to the business class desk to take care of the FQTV, drop off his bag (I refuse to check in any) and get the lounge invitation as it's a contract lounge. The friendly Servisair lady told me the flight is totally full and that I should get an upgrade later with my TK Elite card.
Security was a breeze, but I just can't stand taking out the laptop and liquids, but one way or other you'll have to at HEL so I always do it beforehand. Turkish now uses the new Via Lounge (well any SSP lounge if you want), a Finnair product but of course this being Finland, outsourced to SSP. I had read mixed reviews, so was looking forward to try it out.
Via Lounge, Helsinki Vantaa
Excellent first impression at the entrance, but of course the check-in agent hadn't written "+1 guest" on the invitation card, so it caused some confusion. Common sense prevailed and the lounge agent just wrote it there herself.
The lounge is rather large compared to the old pathetic offering, but is a mixed space for all while the old one had a separate better longhaul business side. The furniture is all very nice, and there are also nice looking relaxing chairs overlooking the tarmac. The food and drink area is very nicely set up and the Iittala tableware is equally nice. On offer were two kinds of salads and reindeer soup – delicious!
Now where the lounge fails miserably is the drinks selection. Wine, beer and sparkling wine on tap as well as a soda fountain is all there is for free. The tap wine was disgusting junk. There is a pay bar with extraorbitant prices – 18.50eur for Hennessy XO or 16eur for a glass a glass of NV champagne. If you fancy Krug, that will set you back 37eur. But no worries, you can use Finnair Plus points – a 4cl shot of cognac costs as much as a HEL-LHR upgrade on AY. And if you don't fancy that sparkling water from the tap, they'll happily sell you a bottle. Whoever thought of all this, must regard their passengers as complete donkeys. Not surprising since that has been Finnair's attitude lately. Even American offers drink coupons in their lounges!
Access to the Spa is only free for Finnair Platinum and includes no treatments. Entrance for everybody else is 45eur, with 10-minute treatments costing around 40euros. A great concept executed horribly wrong.
It's very white in the lounge, sorry for the blurry pics.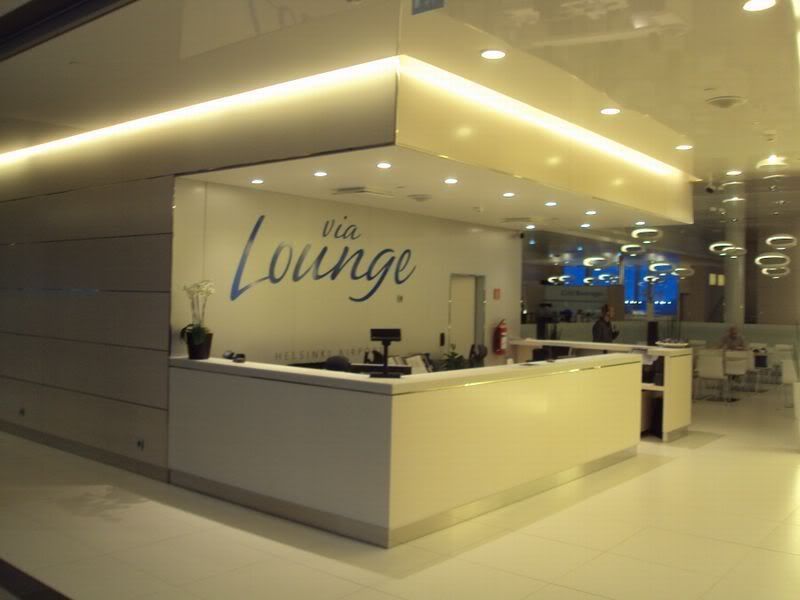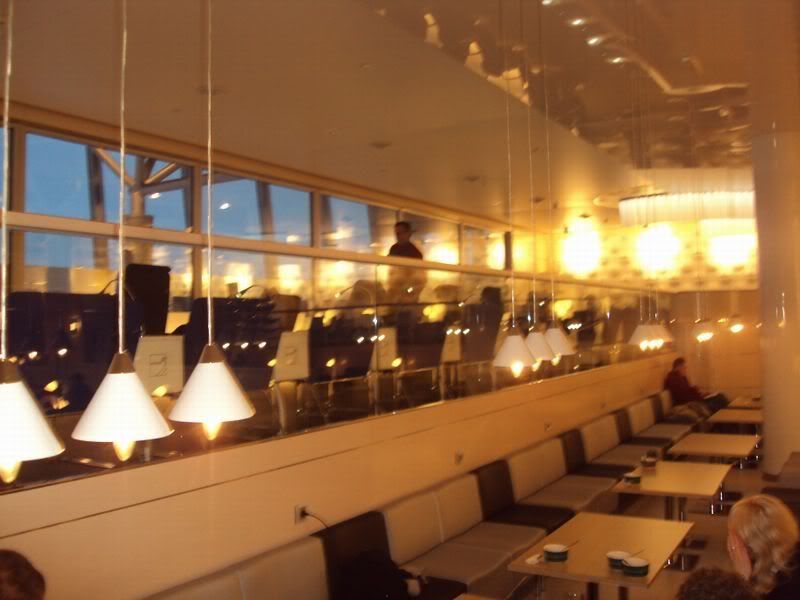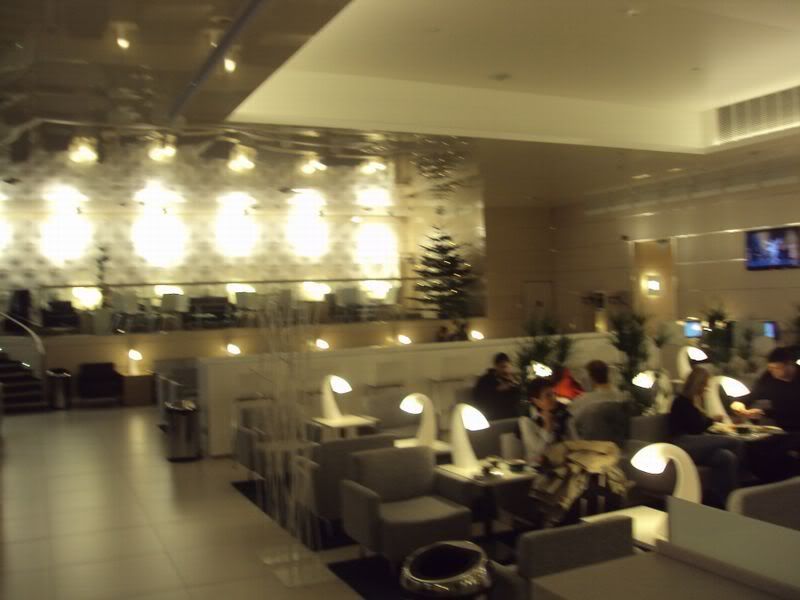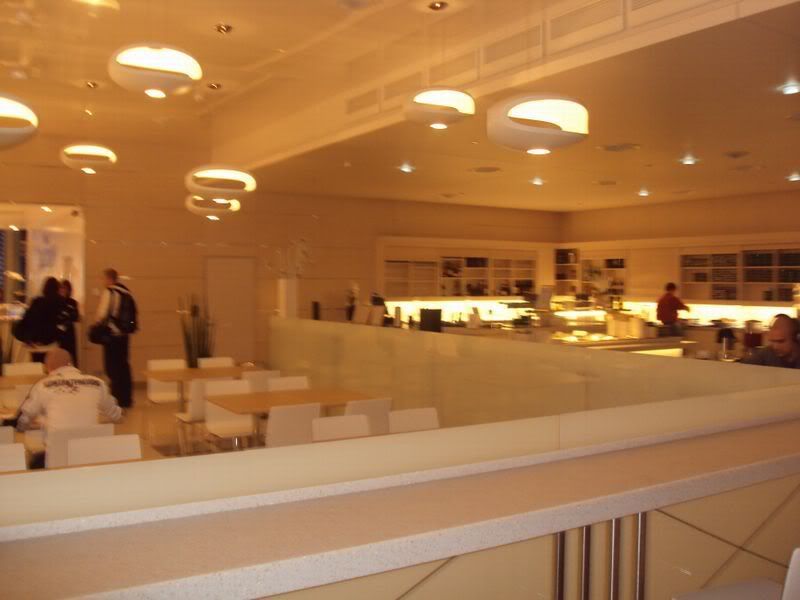 I was soon paged to the TK gate, so we left the lounge about 10 minutes too early.
Kevin Costner greeting us on the wall right in front of AY longhaul gates – I think only EK has more aggressive marketing than TK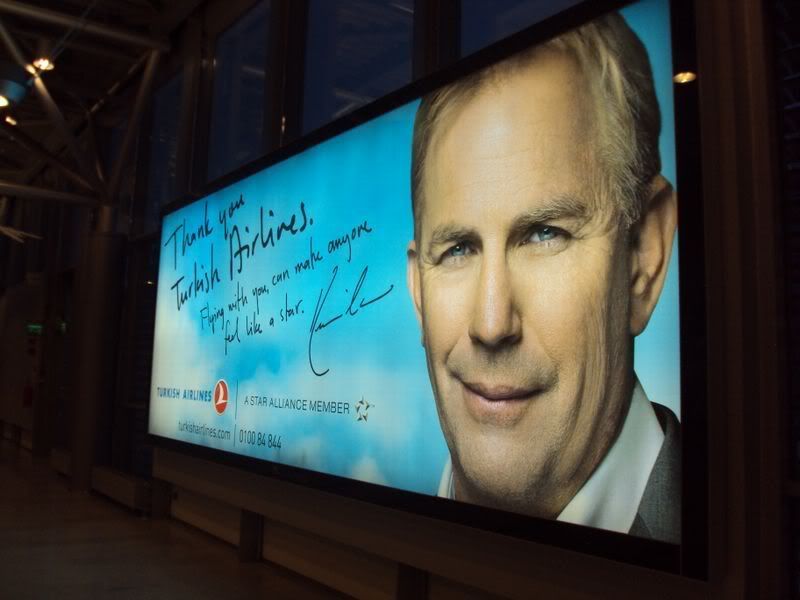 Got my new boarding pass at the gate as expected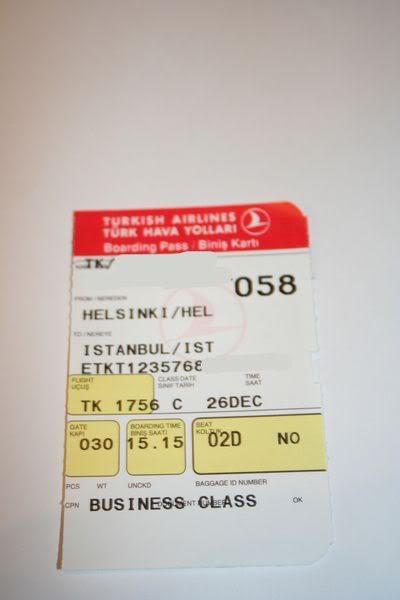 TC-JGL was waiting at the gate, having arrived late from congested Istanbul Ataturk like many times before. TK has three different configurations on the 737-800 – two different kinds of seats where the middle is blocked in business and a proper two class version with 20 J seats. Obviously due to the full flight, JGL would be one with a movable divider.
Boarding started 10 minutes after scheduled departure, and I was amongst the first board. A greeting at the door, and I made my way to seat 2D with very generous 35" legroom. The window seat stayed empty, I was almost tempted ask them if they could move my friend from his middle seat to there. It just sometimes works on TK…
Pre-departure drinks were served – champagne and water for me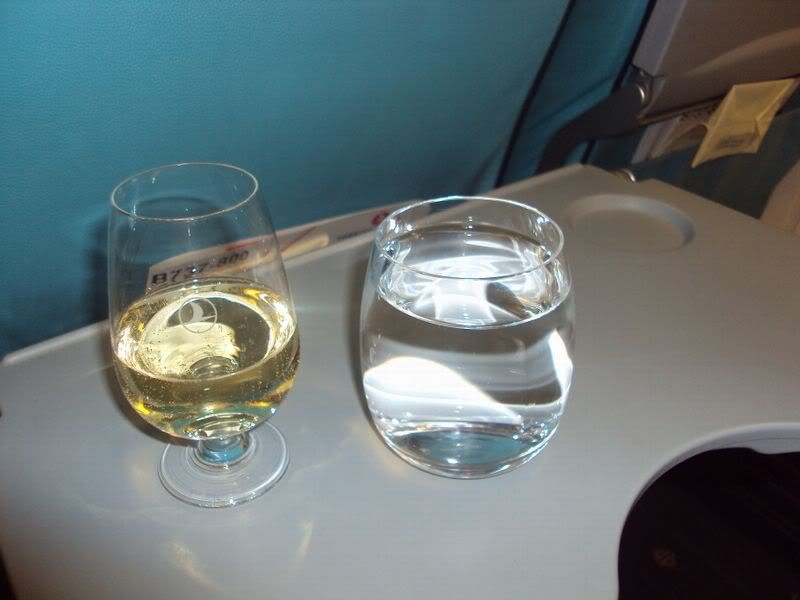 Doors closed and de-icing done, we pushed back at around 4pm, 40 minutes behind schedule. A rather long taxi while safety demo was playing on the drop-down screens, and the 737 soon thundered down the runway and off to the dark winter sky.
I've flown TK business within Europe before, so I knew what to expect service wise. It's simply the best J product in Europe in my experience (AF/AY/BA/KL/LH/SK flown). Proper hot towels were passed out first, followed by menus and headphones (they also have a movie on this route).
Menu cover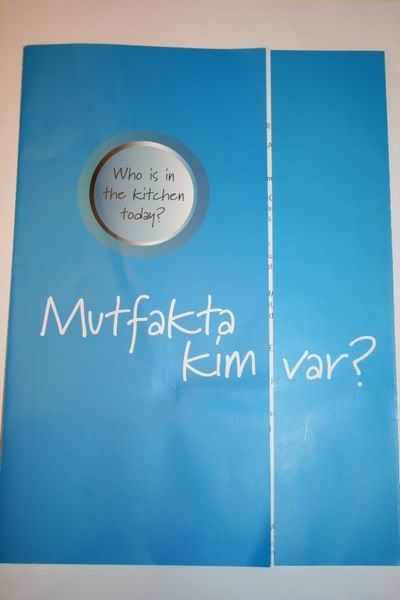 Welcome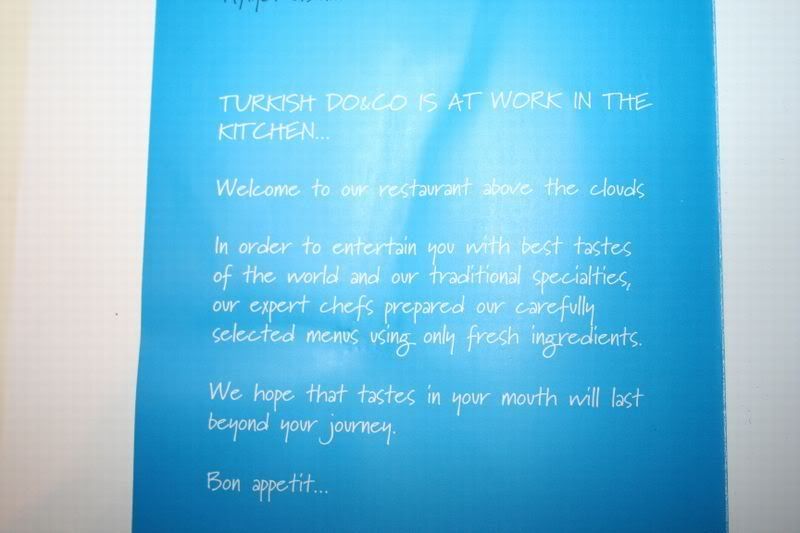 Dinner menu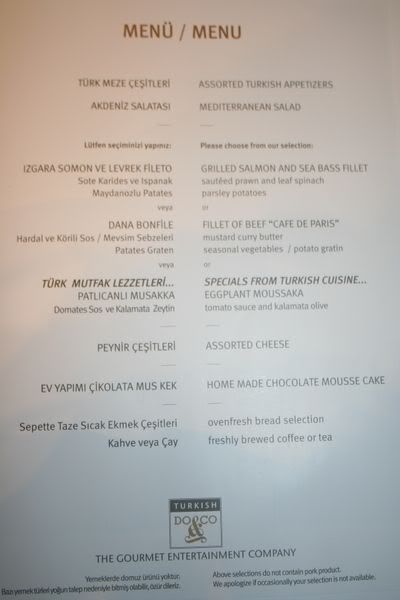 Drinks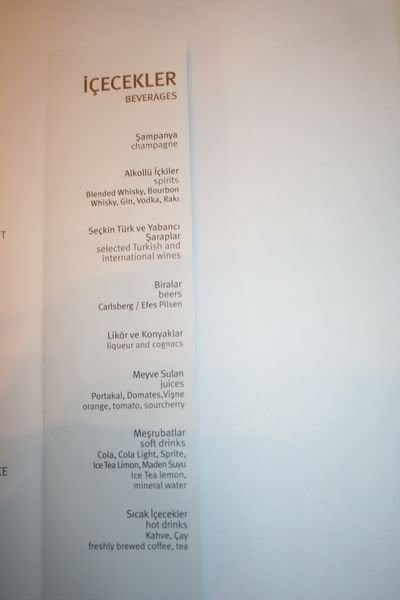 Service started soon after the seatbelt sign went off. Tablecloths were laid out and starters distributed, followed by the main course. Frequent drink and bread refills were offered by the friendly purser.
Nice setup and appetizers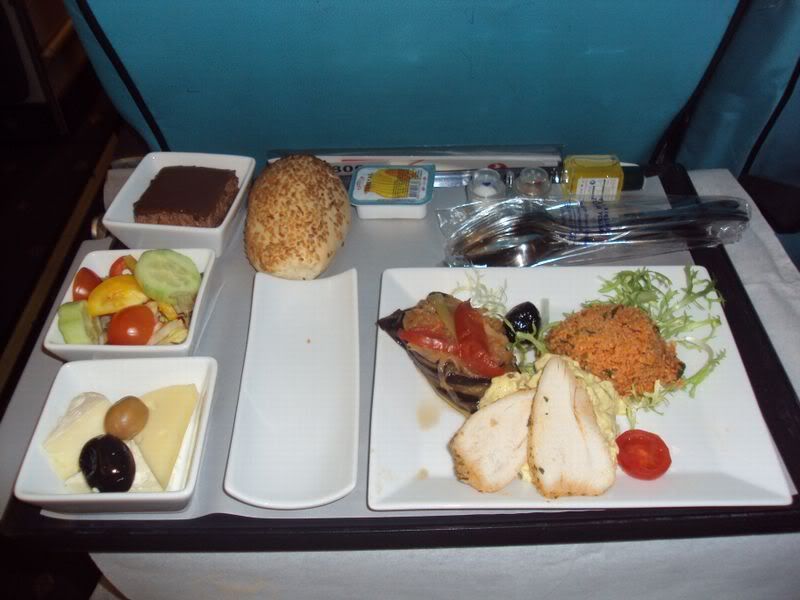 Pretty good steak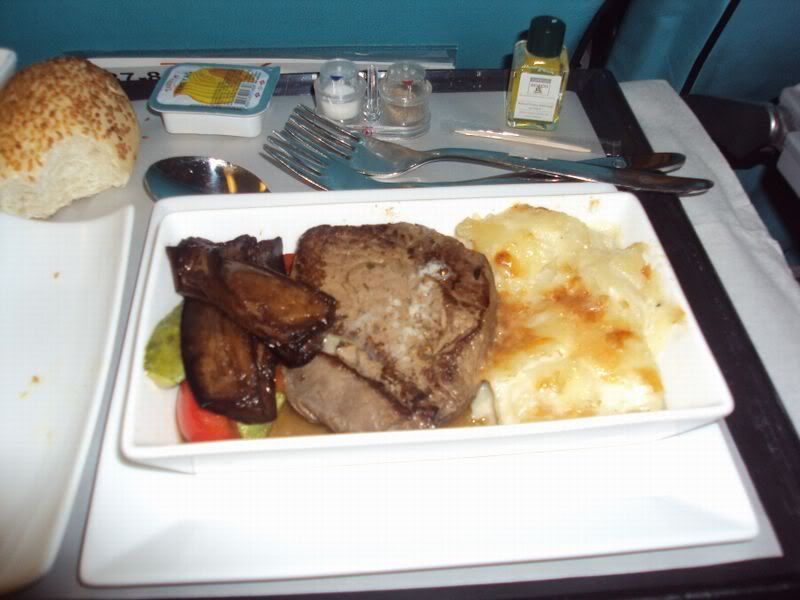 Another great meal on Turkish, the likes of Cathay Pacific should be ashamed of themselves serving the absolute junk they nowadays do. A recent CX menu in business AMS-HKG is just shocking reading for premium longhaul J.
I was deadly tired so just slept until we started our descent into Ataturk. Landing was of course still late, and a remote position used as usual for the B737s.
THY Lounge, Istanbul Ataturk
We then headed to the lounge, a fair distance from the transfer desk where you enter the sterile area. TK badly needs another lounge at the other end of the concourse, not only because of the location but also because the current one is often way too overcrowded.
For once, the agent was very friendly, joked how I'm in the last row (2-seater with my friend), and handed me a new boarding pass for 11K. He stayed in 61A. I could get used to such lounge welcomes.
The lounge is rather palatial, has comfortable seating, lots of food and a decent drink selection. There is also a business center, children's area and a prayer room. Two shower stalls are provided next to each other with no privacy at all, and the disposable towel is a total joke. The shower situation would be my only real complaint along with the lounge not having nearly enough power sockets for laptops etc. Also loud boarding calls for every flight should be stopped.
Entrance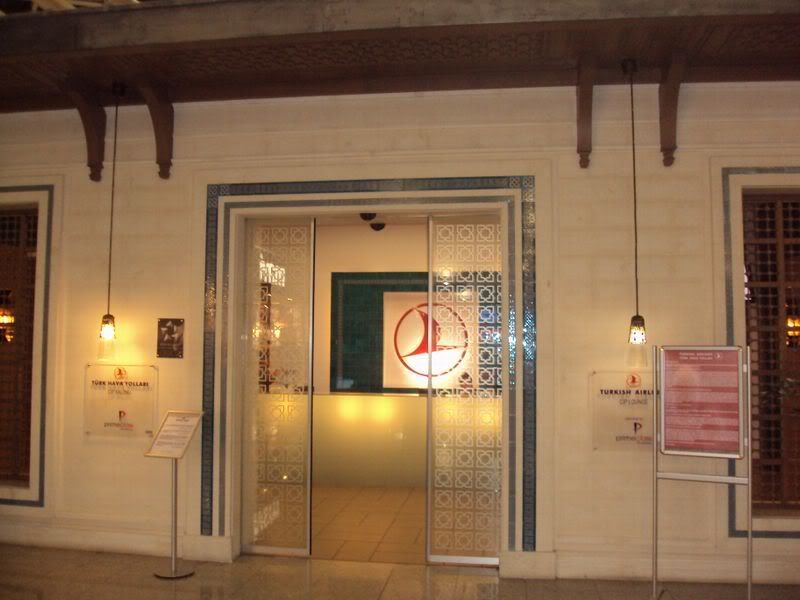 Hallway to the main area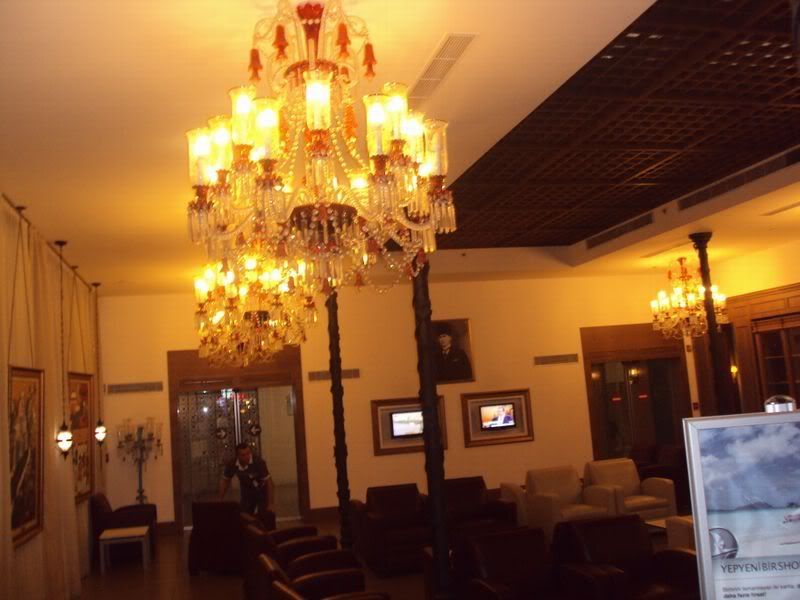 Buffet
Drinks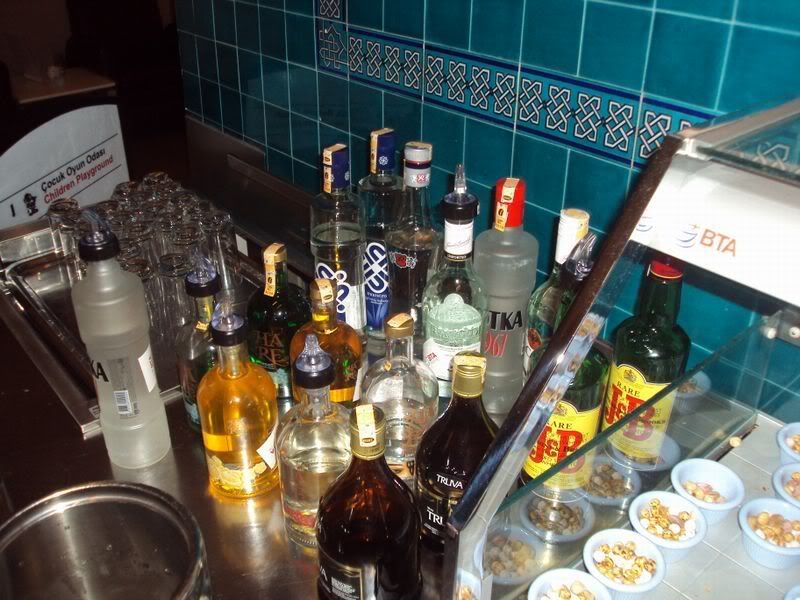 General views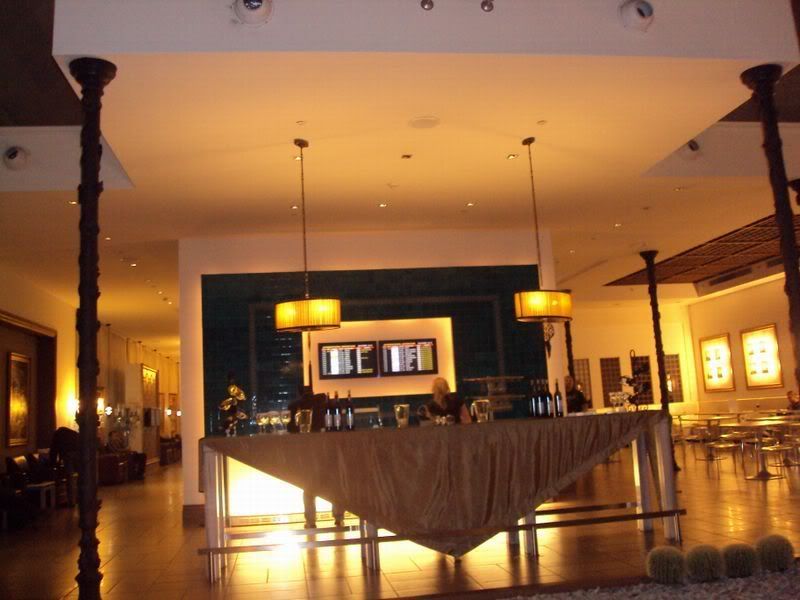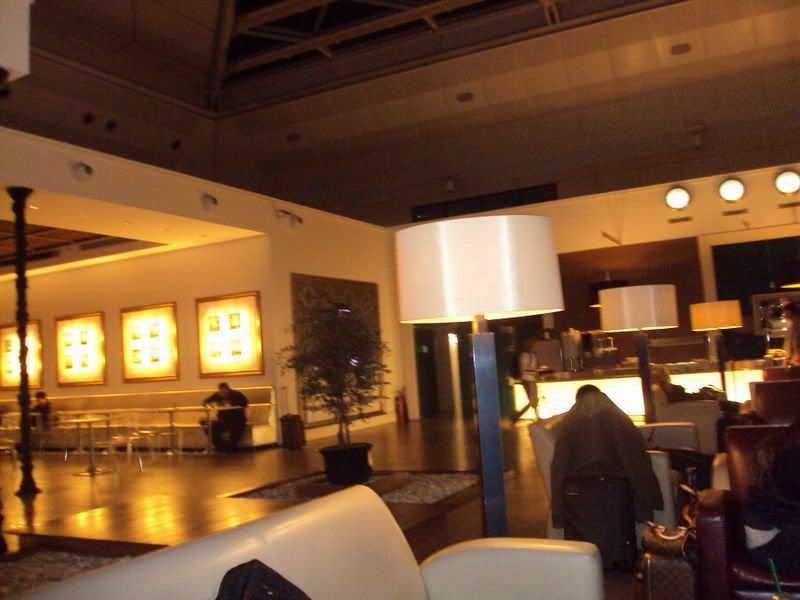 FIDS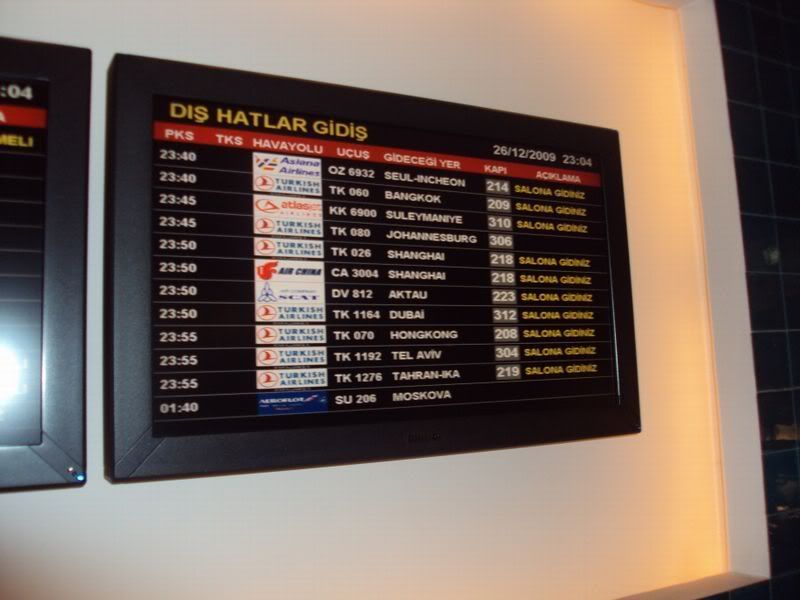 We left the lounge a bit early due to previous very unpleasant experiences at gate at IST.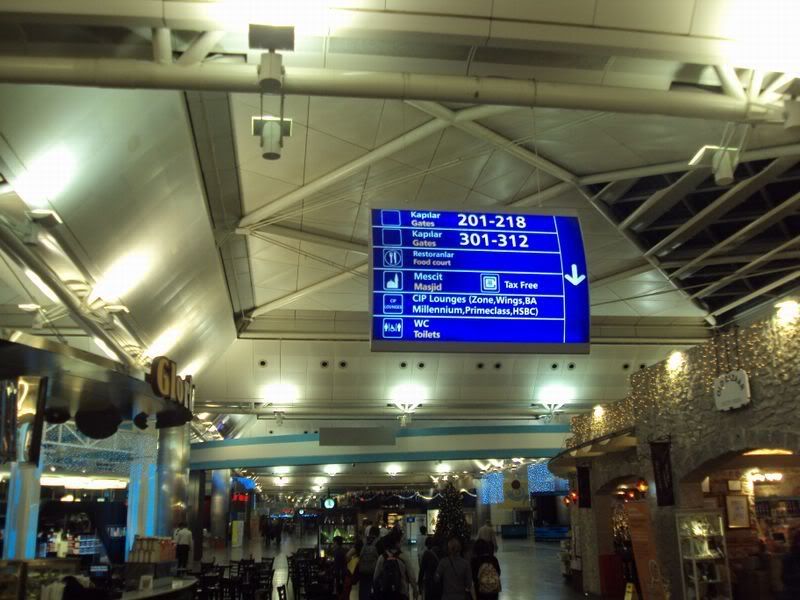 Everybody loves duty free
A very chaotic scene at the gate, the security was simply closed and nobody was giving any information. People were asking each other what's going on. After about 15 minutes, a very grumpy TK agent bothered to start processing the last 30 or so passengers. No wonder everything is always late. This airline just has to get their ground services in order, they're bordering ridiculous from reservations process to rudeness.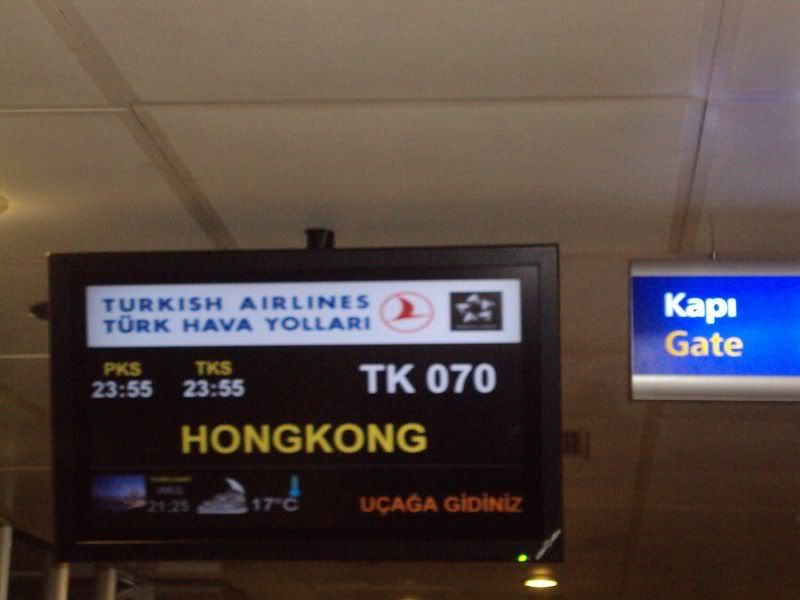 Continued below