Welcome to my latest TR, covering my recent round the world trip.
In this, part one, i'll cover the first three days as i traveled from Denver to Dublin via Houston, San Juan, Newark, Chicago, Houston again, San Francisco, and back to Newark, before finally heading across the pond, in all i flew a total of eight sectors and 13,500 miles on CO over those three days.
Enjoy and as always, feel free to comment.
One: Denver-Houston Continental 34 757-224 N17105
This was my Forty Third 757-200 overall and my Second 757-224.
My second round the world trip began at 745 a.m. at the Boulder Bus station smoking my wake up cigarettes and watching as Coach 1971, the newest of RTD's 71 MCI D4500s, new being relative as these buses are ten years old, rolls to a stop in front of me. Once boarding began mom and I took the shotgun seats, my favorite seats as they allow me to look out the voluminous upward sloping front windows and watch the road ahead. The hour and a half trip to the airport was uneventful as we made our way through Boulder then darted in and out of the various park and rides along US 36 taking on passengers until we were fairly full as we finally headed for the airport. Mom and I talked about all the places I'd go and the airports I'd see and she pretty much looked like she had a headache as she pondered the size and scope of the trip, 28 sectors covering almost 40,000 miles over 15 days. Visiting new airports, flying on new airlines and new aircraft types, or just filling in gaps in my Continental Fleet List. Mom couldn't imagine going somewhere and not being able to see the sights, experience the local food and culture and spend more than eight hours. I do it of course because I love to fly.
Once I got to the airport I was officially on my own. Unlike my first round the world trip, in 2006, my departure this time wasn't a big event. It was just me seeing myself off after I put mom back on the bus to Boulder. Having already checked in online I dropped my bag at the Continental bag drop then went over the bridge to Concourse A and my gate. First, of course, I had to stop at the A concourse smoking bar to get one last fix before I started the long trip to San Juan. Once that was done I headed down to the gate, where my chariot to Houston was just coming in.
Having worked until two thirty a.m. and having awakened at six thirty, energy was not on my side. I don't do well on four hours of sleep. Thus, I mostly hung around the gate area.
N17105, the 632nd 757 off the line and a 1994 build, arrives from Houston on an overcast November morning. In the past three days, as I tracked the plane via the internet, she showed the amazing versatility of the 757 as she went from Newark to Stockholm and back then Newark to Houston and lastly Houston to Denver. After less than an hour on the ground, she'd turn and fly Denver back to Houston and then on to San Jose, Costa Rica where she'd spend the night.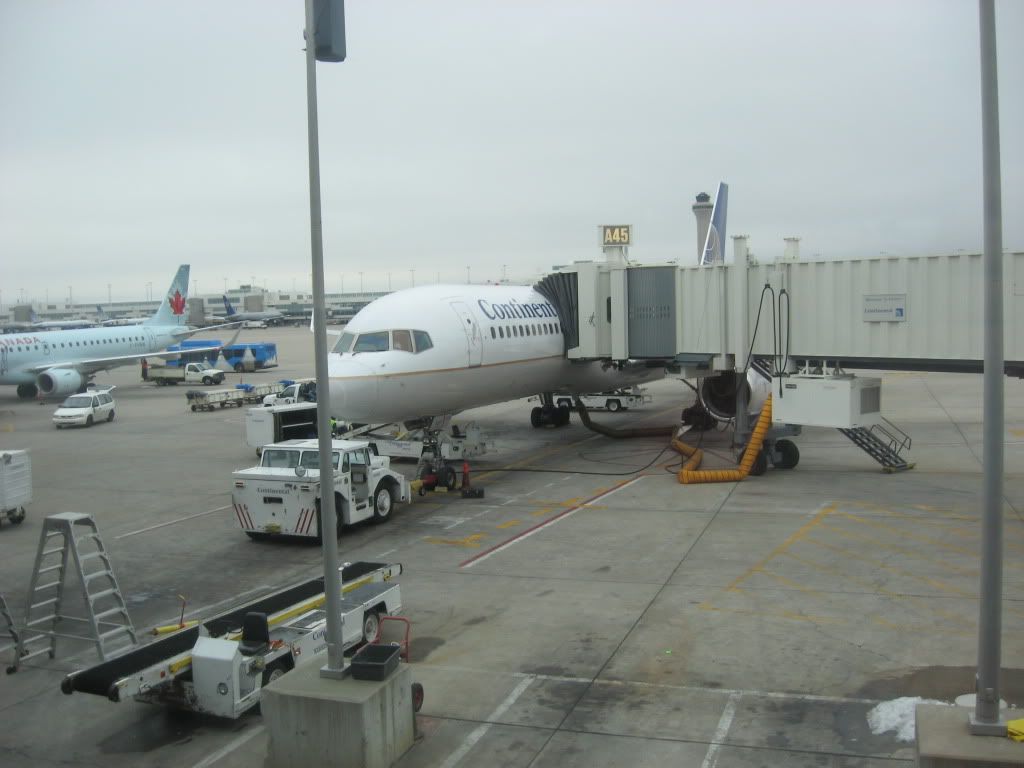 N17105 awaits her Houston bound passengers. Next door at A-43, a gate that's blocked when the LH A340-600 is parked at A-41, an Air Canada E190 awaits her Montreal bound passengers.
An empty A-47 awaits her arrival just before our departure. Interestingly, the plane it was waiting for would take me from San Juan to Newark tomorrow.
Departure was on time despite a nearly full load of 174 passengers and as we pushed back, the screens lit up and we were treated to the pithy welcome aboard message from Larry and then the safety demonstration video. I know Larry is considered to be a great leader and inspiration at the post Lorenzo Continental, but I look at the man's face and my thoughts ricochet between "Used Car Salesman" and "Droopy the Dog's human Doppleganger." Whatever he is, he clearly runs a good airline, and that's the most important thing. With the safety briefing over, the screens suck to black, the engines power up and we make our way to the concrete strip and blast off. I was committed, there was no going back now. Not that I wanted to go back. In a completely insane way I was looking forward to this trip.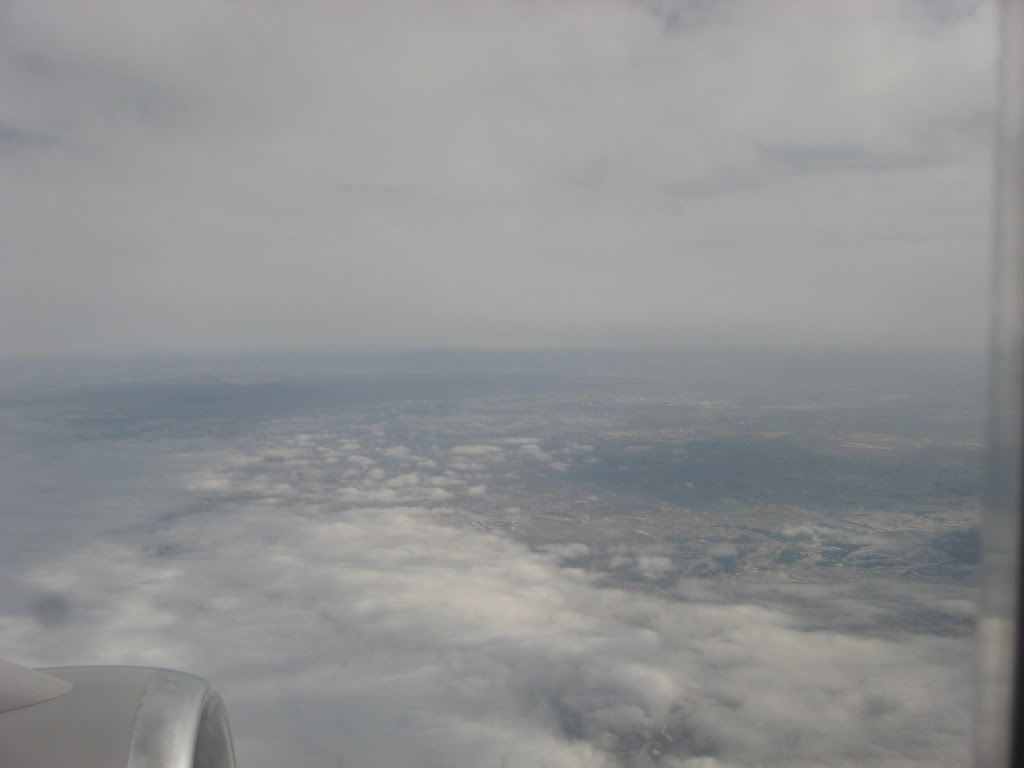 Climbing away from DIA under overcast skies.
Breaching the cloud layer, "here comes the sun."
A sea of whispy white blankets Denver.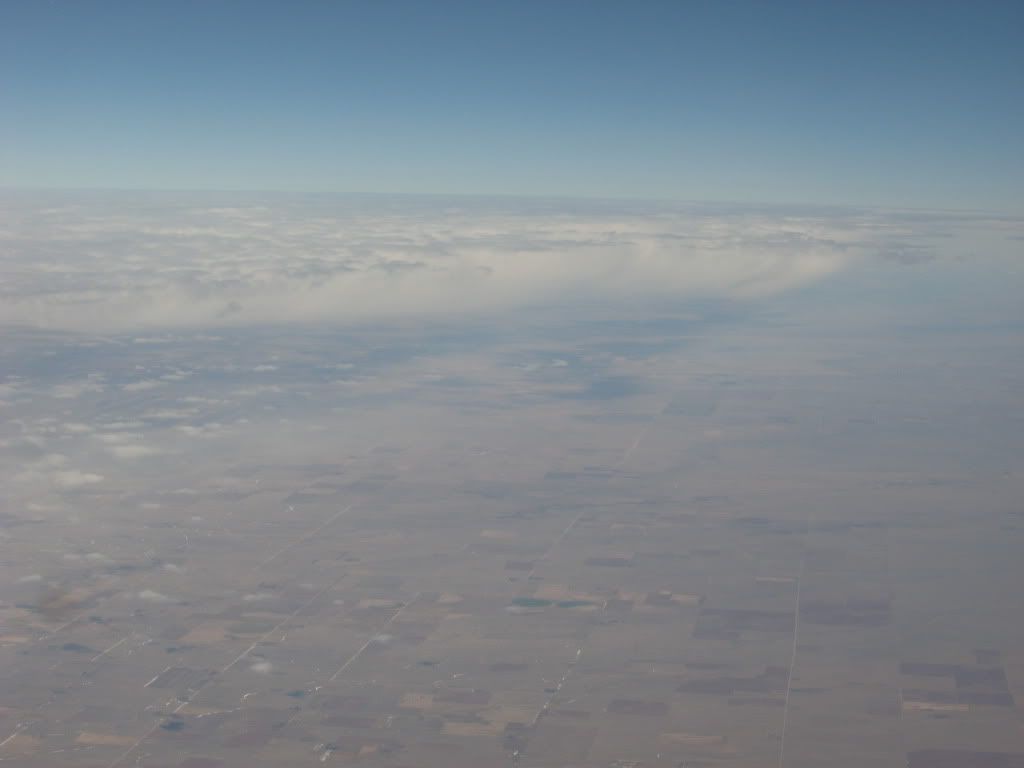 The clouds clear away revealing a very brown southeast Colorado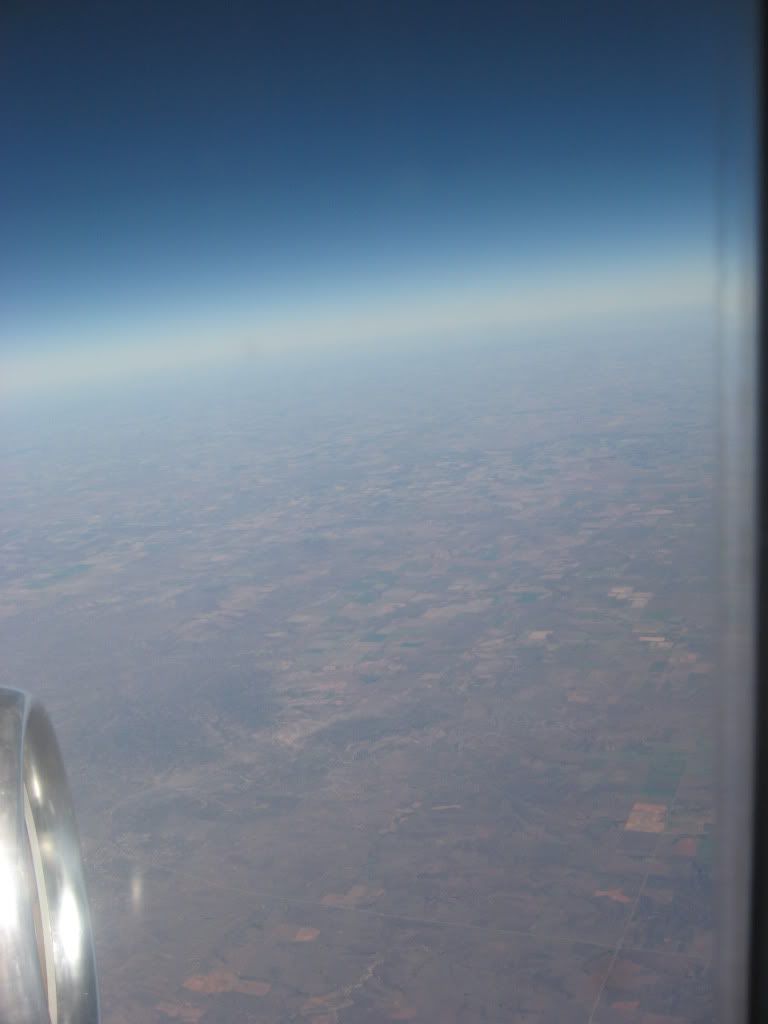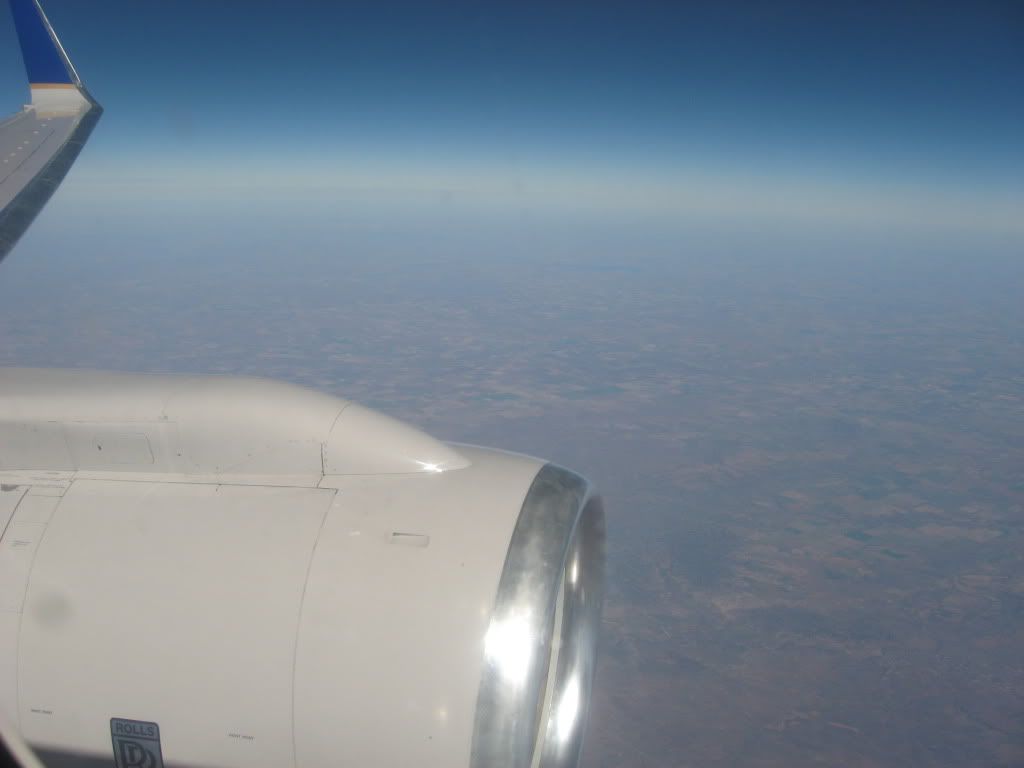 This is as close as I'll ever get to a Rolls Royce. 43,000 pounds of Rolls Royce Power as provided by the latest generation of the venerable RB211, an engine that began life four decades ago powering the L1011 and an engine that nearly bankrupted Rolls Royce in the process not to mention setting the production and first flight of the L1011 back by months compared to the competing DC-10. Had the L1011 flown on time, who knows, maybe she wouldn't have been the "BetaMax" of airplanes.
With just over two hours in the air, I decided I could resist the novelty of Avod as there wasn't enough time to watch a movie from start to end and the tv offerings didn't strike my fancy.
The Sprawl of North Central Texas.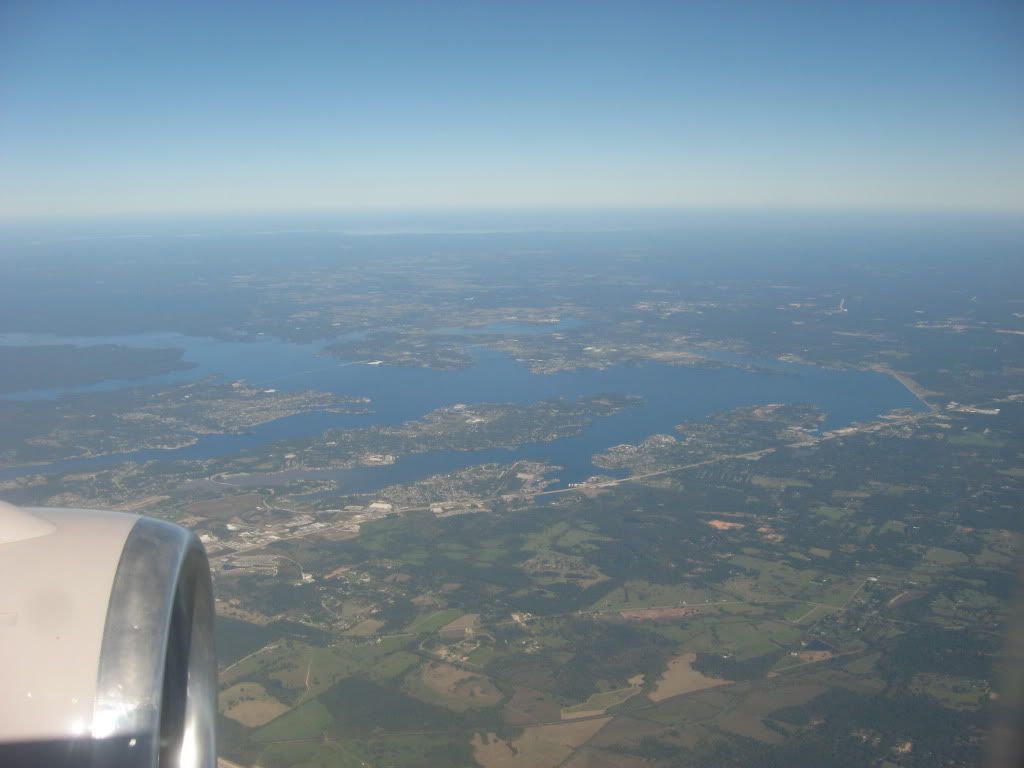 An unidentified lake on the way to Houston
As soon as we passed that lake, we began our descent, so the camera went away.
We've snuck past N78002 to arrive at E-8 in Houston. The second oldest 777 in Continental's fleet is getting ready to go to London later.
After an uneventful 2 hour and 26 minute flight, we arrived into Houston, and with just an hour in Houston, no smoking lounges, and not enough time to leave security, I did the next best thing, I walked around and took pictures.
Terminal E, where we arrived and from where my connection would depart, is a complete departure from the rest of the Houston airport and a bit disappointing, IMO. While I like the square horse shoe shape of the building, with it's black glass façade and architecturally interesting combination of half circles, squares and triangles, the interior, with it's dark flooring and plain silver siding on the walls seemed to be a marriage of art deco and Bauhaus, or maybe Kris and Adam, dull and flashy at the same time. What really stood out was the starkness of it. Of course, like every other international airport I'd go to on this trip, it was packed with shops, bars and restaurants.
The first thing I like to do when I arrive at my connecting airport is check the view from the gate and see if my connecting aircraft is in yet. In the case of E-10 it was "What view?" There was no view. There was a window, but the sideways slanting jetway pretty much blocked it. So, I went in search of a view of my plane.
Maybe my disappointment with Terminal E comes from having seen terminal D, with its huge windows, lush carpeting and wide open spaces. Too bad Continental couldn't have followed that example when designing terminal E.
Two: Houston-San Juan Continental 1753 737-924ER N75426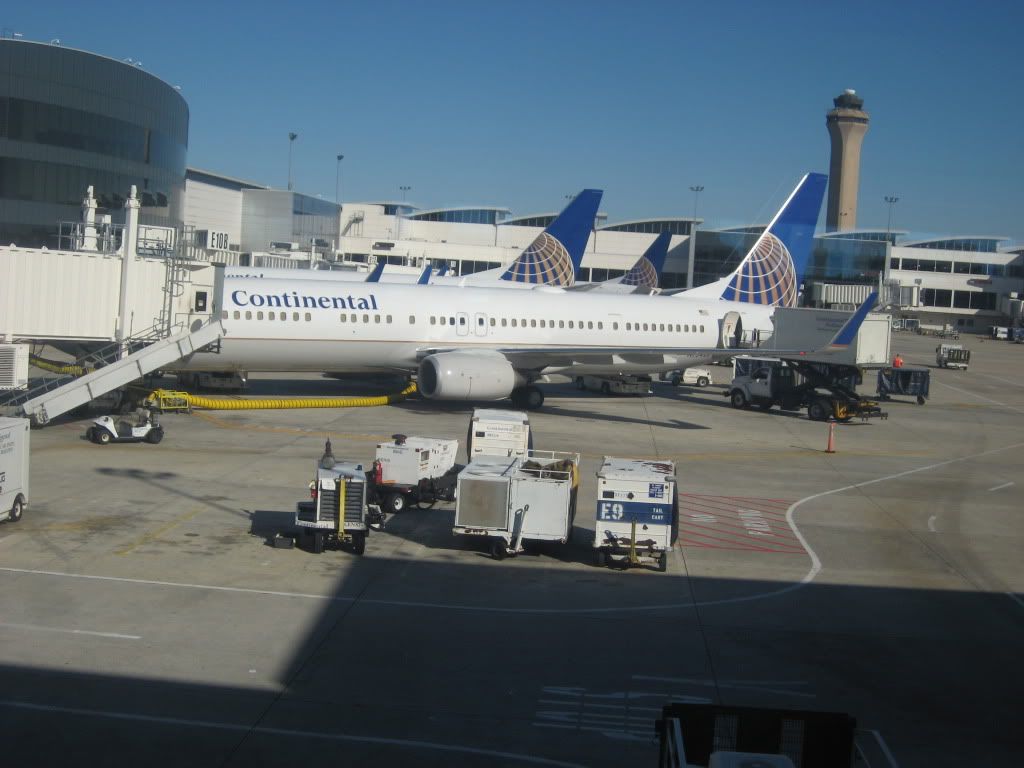 N75426 waits for her passengers at E-10. She's just arrived from Chicago.
This was my second 737-900 overall, my first 737-900ER and my first 737-924.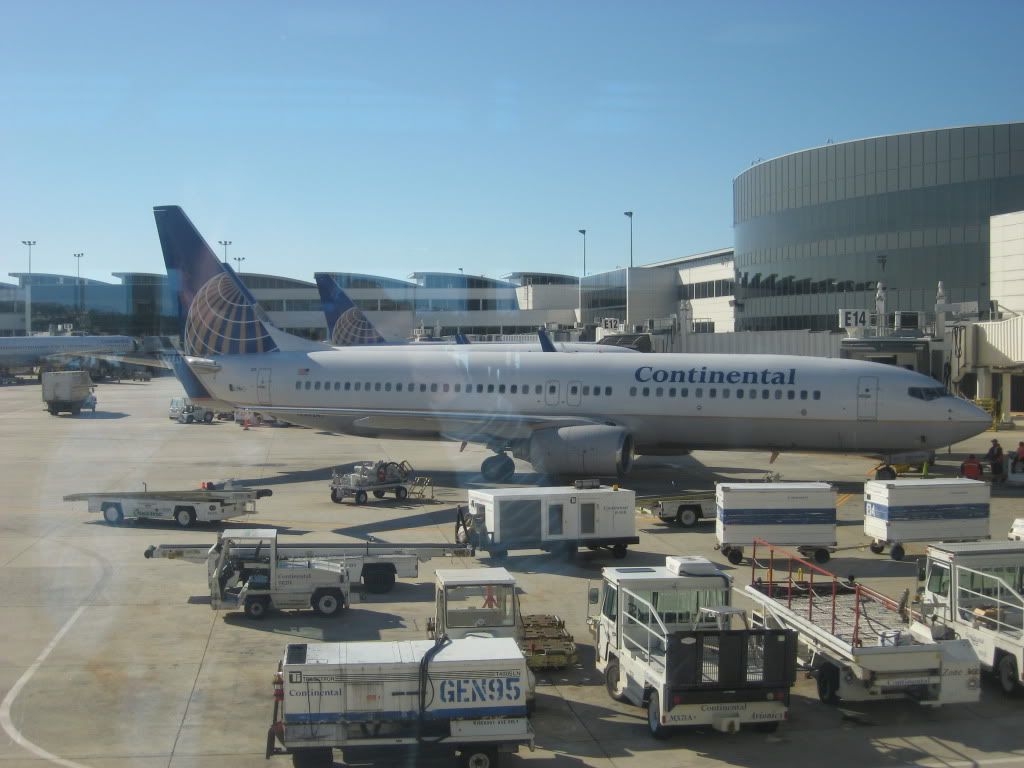 My first sighting of a Continental 737-800. Ship 241 sits at E-14. Interestingly ship 240 and 242 are both based in Guam.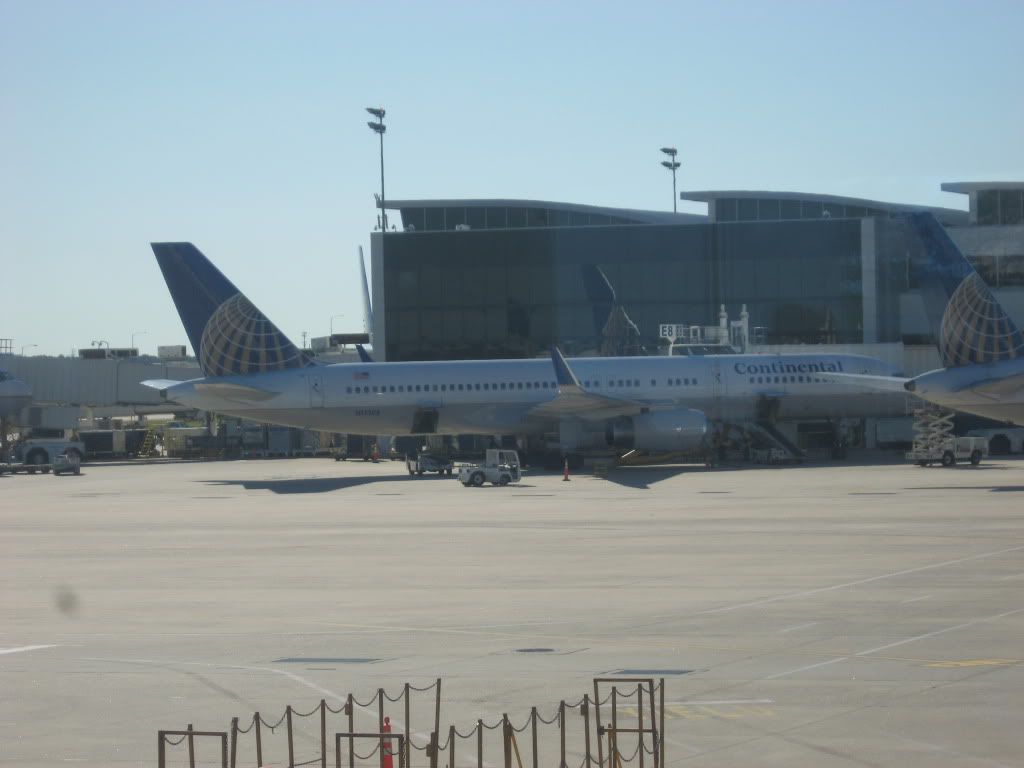 N17105 sits at E-8 waiting for her next load of passengers. The 757 has been described as being the most beautiful airplane built by Boeing since the 707, I cannot disagree.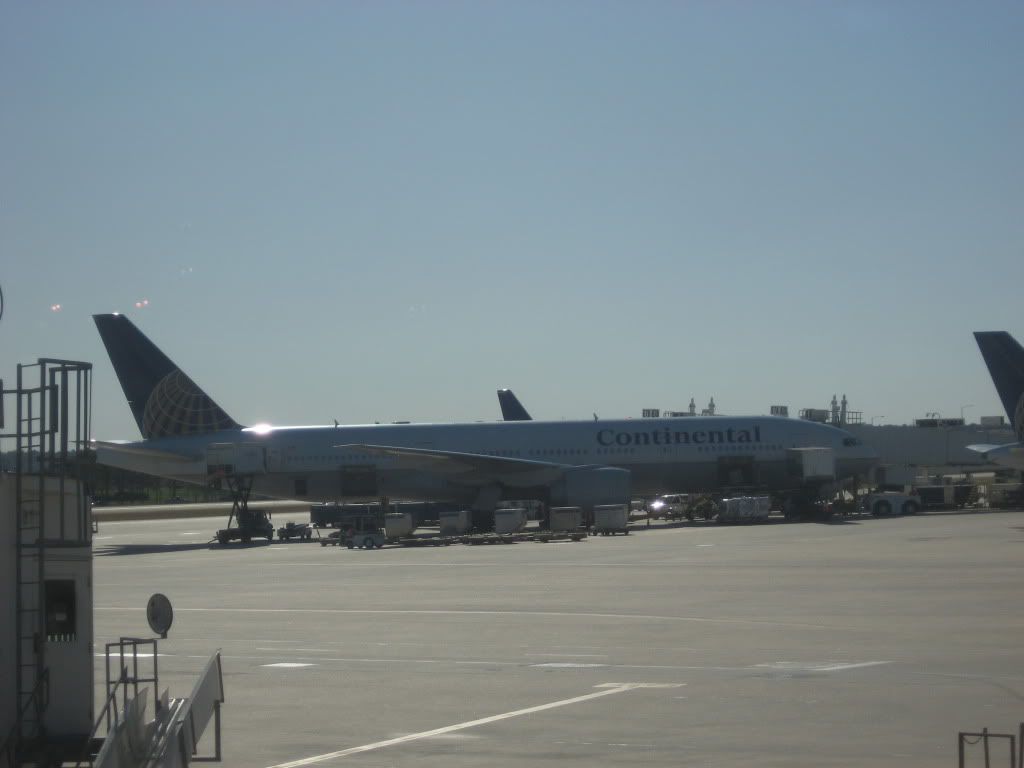 N78002 sits at E-7. The admittedly minimalist Continental paint scheme really does the 777 justice, illustrating her sleek lines in a nice way.
Time was marching on as I walked back to the almost windowless E-10. Boarding was called and when my group of rows was announced, I walked down and onboard 737-900 number two. Once again I was greeted by a PTV as I slid into my seat. This one would cost me six dollars, but, with a four and a half hour flight ahead, I decided it was worth the expense. Too bad I hadn't brought my noise canceling headset with me to get the most out of the experience. I had to rely on Continental's "New and Devolved" earbuds.
The view from my seat. It must have been warm out as when I took my seat the window shade was down. I couldn't help but notice the words "Clear The Zone" painted on the tarmac, what's that all about?
Oddly, for the newest, most modern type in the Continental fleet, the safety demos on the 739ERs are done manually. It makes sense when one realizes that there are no overhead pop down screens and the content on the ptvs is exclusively Direct Tv.
With a fairly full load once again, we pushed back from our position in the middle of the horseshoe and wended out way past our bigger brothers and ultimately to the runway. Our route of flight took us east along the gulf coast then south across the gulf of Mexico, across Florida and ultimately to San Juan.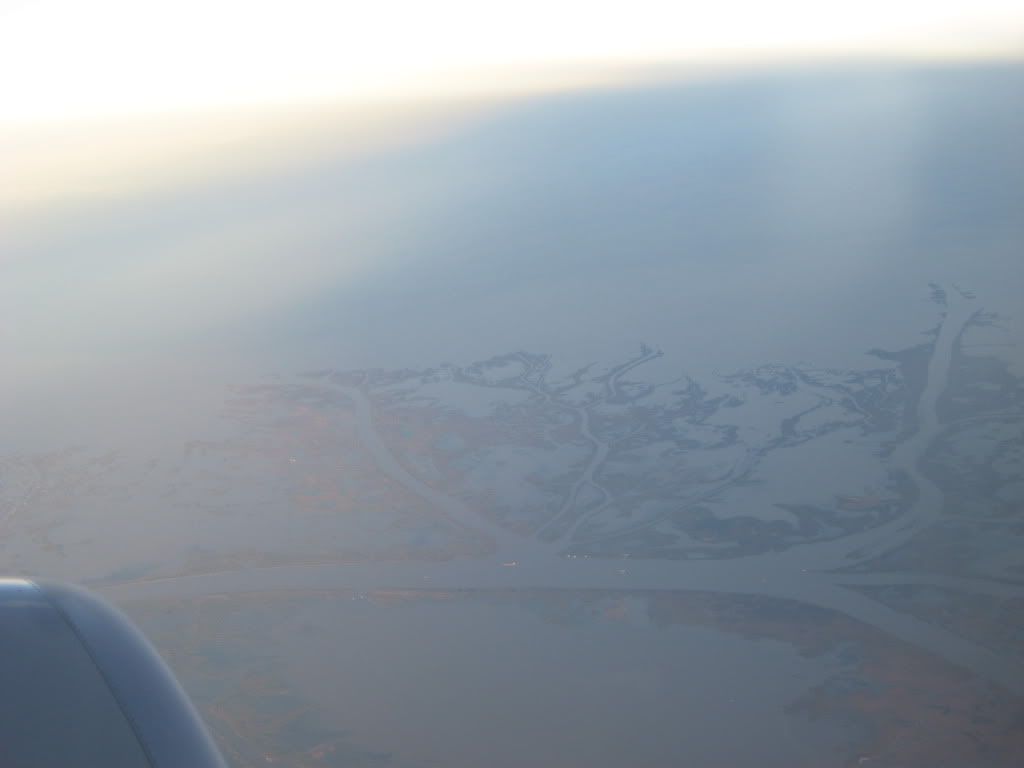 Muddy Waters. I'm guessing we're at the mouth of the Houston ship channel.
Bad Moon Rising over the gulf coast.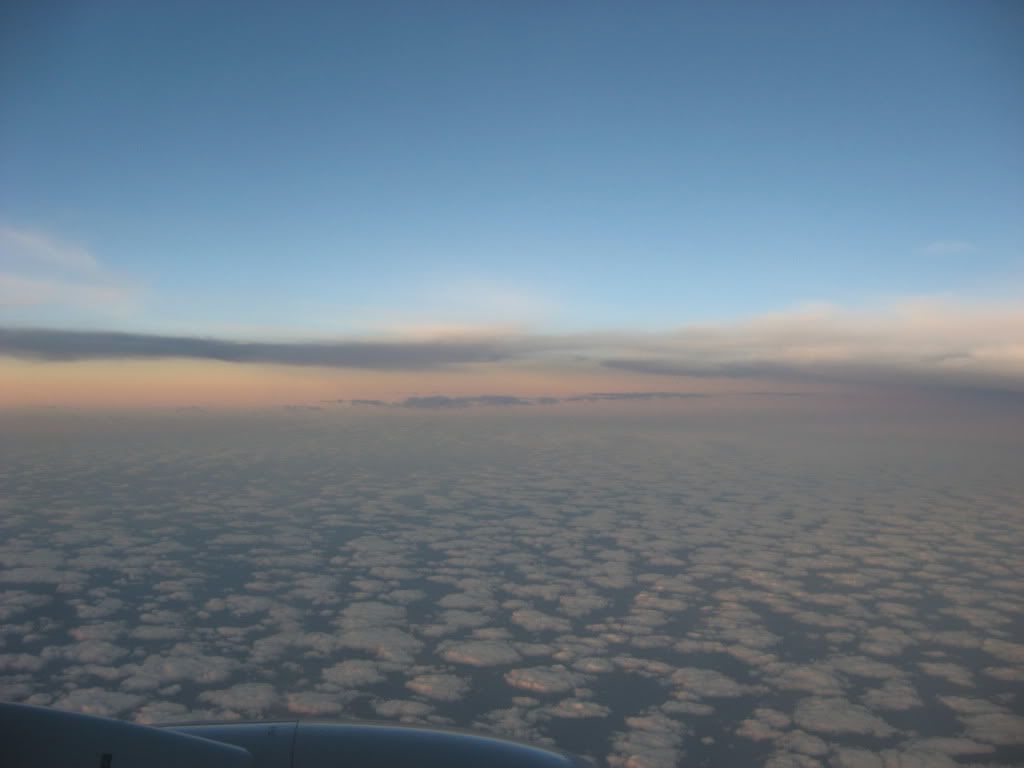 Twilight
Flying into the murk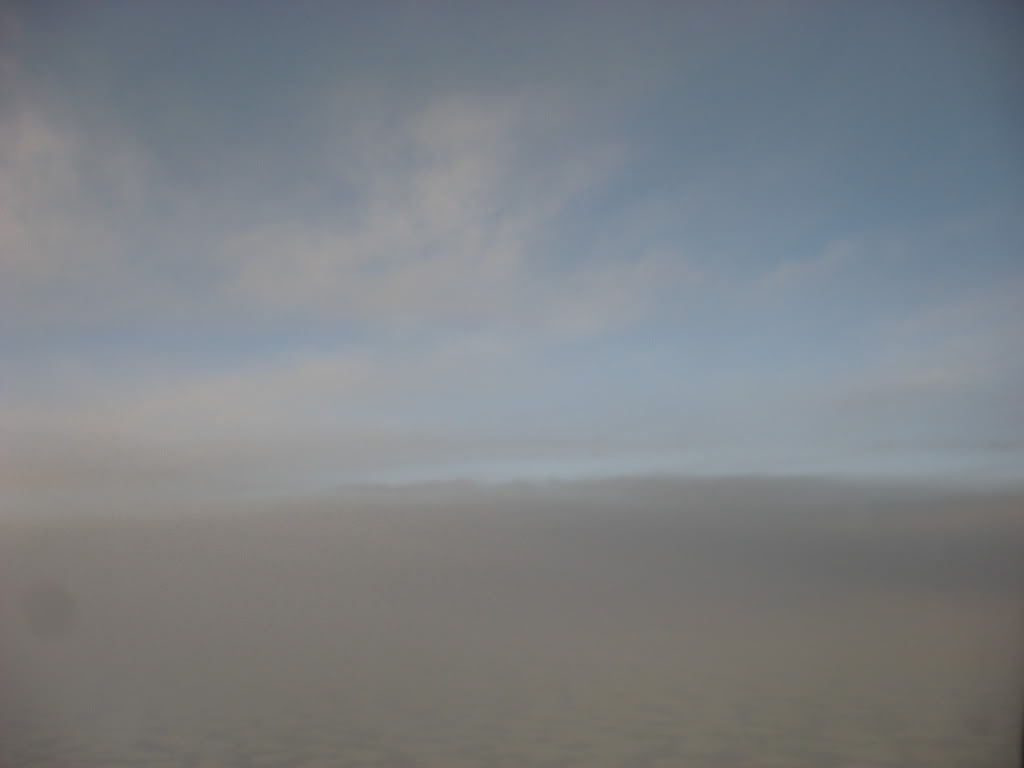 The flight was generally smooth, but, as announced by the flight crew, we ran into a few bumps along the gulf coast. Once we cleared the gulf coast, things smoothed out. While the flight attendants alternated between passenger service and taking their seats, I can't say as the turbulence was that bad.
Dinner consisted of the standard chicken or beef, I think I had the chicken, typically for Continental, it was good. For entertainment, once the darkness set in, I watched direct tv.
By the time we landed it was around ten o'clock in the evening, by the time I got my bag and headed outside it was ten thirty. Knowing I was on a flight at seven the next morning I had booked myself at the Best Western San Juan airport Hotel. Well, finding the hotel could have been a challenge in the amazing race.
Going by the understanding that the hotel was across from the American Airlines terminal, I started looking for obvious signs of a hotel, or at least directional signs, something with Best Western on it to guide me, even a logo on the side of a building would have helped. Finding nothing obvious, and having no clue where this hotel was, I crossed the street and went into the airport McDonalds to ask. The friendly staff pointed me across the street and a more knowledgeable person gave me specific directions to walk down the sidewalk and take the first staircase on the right. I did that, seeing a sign that said "Hotel" as I took to the stairs. Figuring that even if it wasn't the best western it was a place to stay, I climbed the stairs to find a small lobby entrance, poorly marked. On one side was the hotel lobby, the other side was the entrance to a casino.
So, I finally got checked in and headed to my room ready to call it a night. Having worked until two thirty a.m. and not having slept well thanks to the excitement of the trip, I had a few cigarettes outside then crashed into bed. Tomorrow was going to be a long day.
November Third
Three: San Juan-Newark CO 483 737-824W N13248
I awoke with a start and a curse at 530 a.m. Having sworn I had requested a 445am wake up call, I have to hustle. I didn't even have time to take a shower as I got dressed and descended to the lobby where I dropped off my key and headed outside. I now had a dilemma as I walked towards Continental, admiring the classic sixties architecture of San Juan Airport. Did I want to try and make the Continental flight at 7 or did I want to skip that and wait for the 915am American flight I had booked on a separate reservation?
The American flight, or, more realistically, the American/Delta/Alaska flights via Miami, Orlando, Atlanta and Los Angeles (my final destination today being San Francisco) had been my original plan but as the months passed I became more and more nervous because the connections were getting tighter and tighter. Specifically, my concern was the change of airlines from American to Delta at Orlando, which meant I've have to exit and re-clear security in Orlando as AA and DL have their gates on two separate ends of the airport, an airport which doesn't have central security screening to allow easy passage from one terminal to the next. With this trip consisting entirely of one way separately booked tickets, I knew that if I had any kind of glitch, I'd be dead in the water. With just one hour and fifteen minutes, I wasn't as concerned about me making it as about my luggage. Knowing I was leaving the country the next day, and knowing that I didn't want the kind of trouble that I was sure would await me if I showed up at a foreign airport with no luggage, I had booked the Continental as a backup. The routing of San Juan-Newark-Chicago-Houston-San Francisco having been decided upon when I discovered Continental was operating the 737-700 between Chicago and Houston.
Now, with little more than an hour prior to departure, I had to decide if I wanted to stay with Continental to risk my chances on American. It was a quick decision as I continued to walk towards Continental, ultimately deciding that I'd use the American as a fall back in the event that I missed the Continental.
The first step was passing agricultural inspection to get into the terminal. Easy enough. Having checked in before I left home, I dropped my bag off, went through security and made my way to the gate.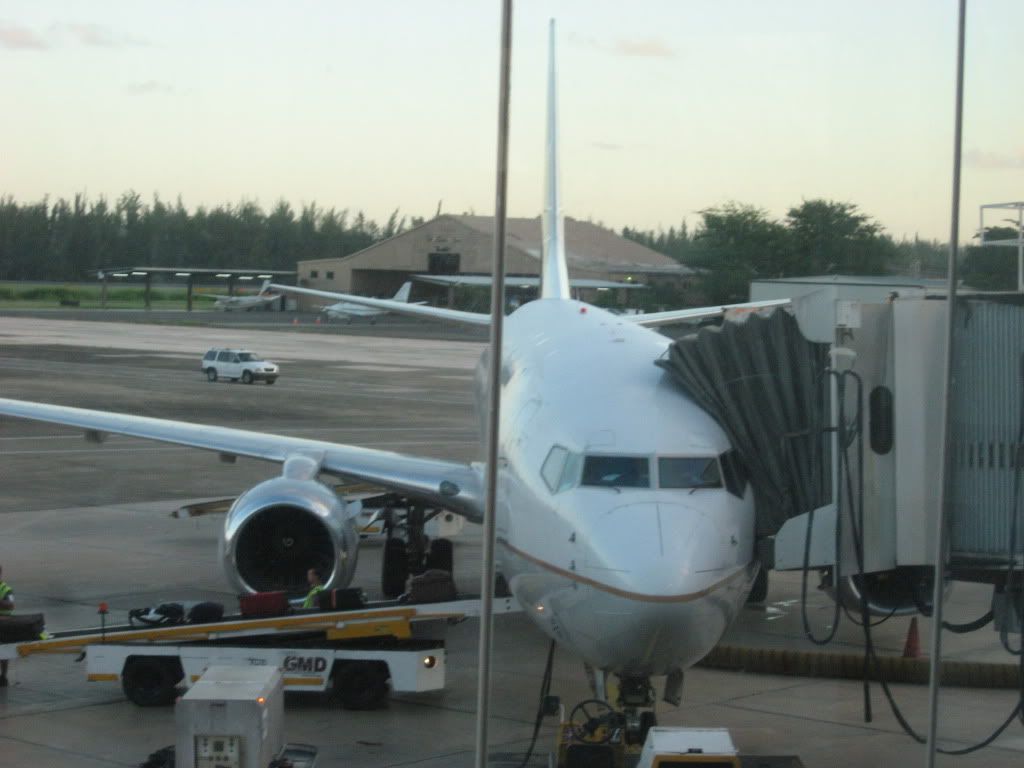 N13248 waits for her Newark bound passengers at gate 27. A couple of small Island Hopper planes sit at a hangar behind us. This was my thirteenth 737-800 overall and my first 737-824.
With no danger of missing the flight, as security at this hour of the morning turned out to be a breeze, I took some time to wander around the terminal. There really wasn't much going on at 6 in the morning.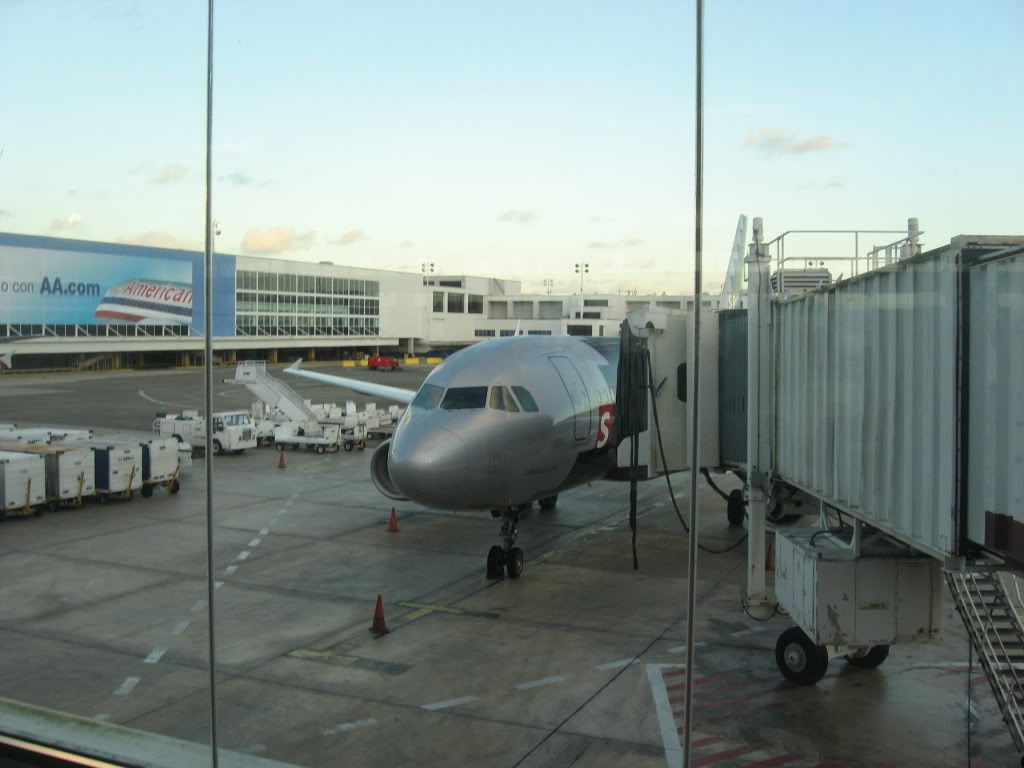 N510NK, a Spirit A319 RONing at San Juan.
Another view of N510NK, an IAE powered A319
With nothing else to see I migrated back to my gate to play the waiting game until my row was called. Sitting in row 6 this time meant I boarded in the last group, or "All Passengers." Unlike almost all of their competitors, Continental has elected to continue the time honored tradition of row by row boarding, a concept I grew up with, the only addendum being pre-boarding for Star Alliance gold, silver, platinum, mega platinum, giga platinum, and anyone else who think their dooky don't stink. It's not even that I don't like frequent flyer programs, rather, I dislike mileage snobs, people who think that just because they've accumulated more miles than they can ever spend in their lifetimes that they're superior to the rest of us, throwing fits when they don't get their upgrades (god forbid someone should have to spend an hour and a half in coach!) and pushing and shoving people out of the way to board first, and for what reason? To spend an extra three minutes on the plane?
With everyone onboard, we pushed back and made the short taxi to the concrete strip, quickly becoming airborne.
Takeoff gave me a good view of terminal D, the rather funky American terminal, leaving me wondering if the Breast Cancer Awareness plane I saw would have been mine, had I taken American.
Entertainment was via "Turkeyvision," so called by me for the way it forces everyone to look up, otherwise known as piped in tv. The movie they played, I hate Valentines Day, a sitcomish romantic comedy, didn't particularly interest me and neither did the endless I Hate Chris reruns they played after the movie, so, I turned my attention to the scenery instead.
Climbing away from San Juan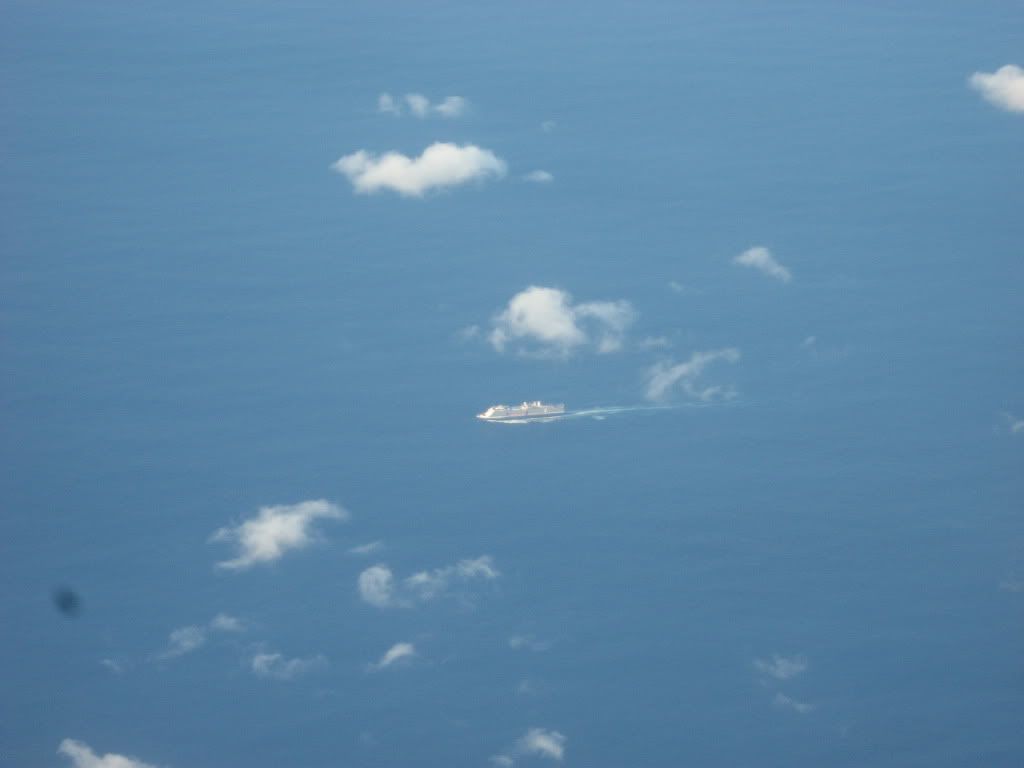 A cruise ship makes her way towards San Juan.
As would often be the case on this trip, the main attraction outside the windows were the various and sundry cloud formations.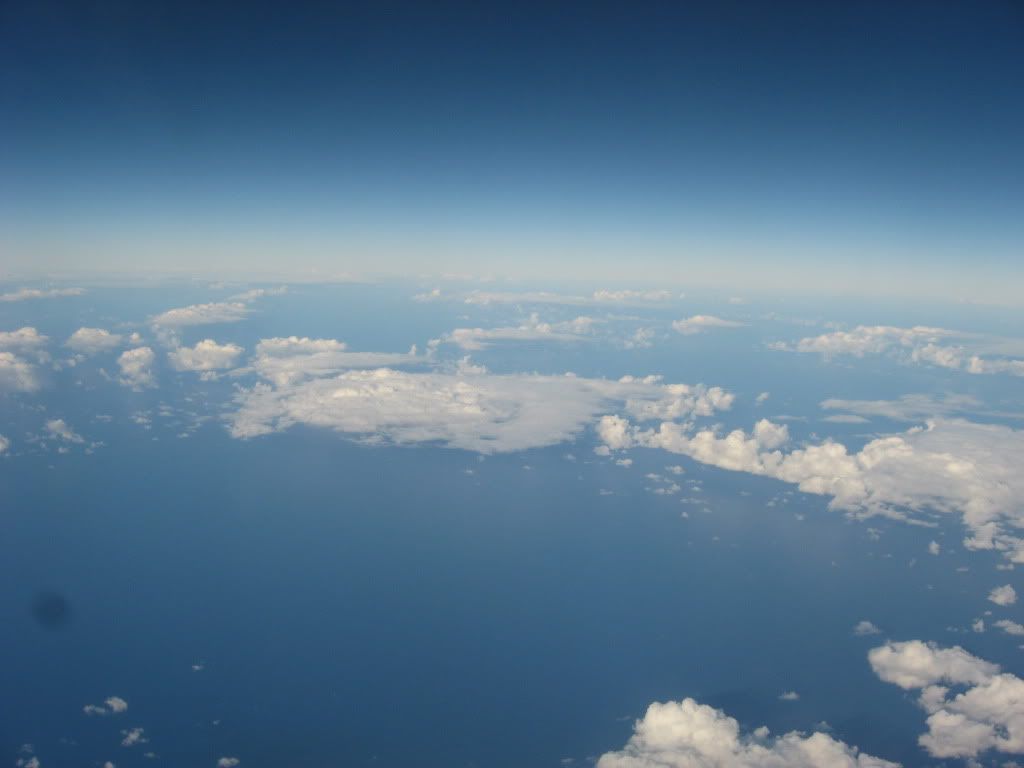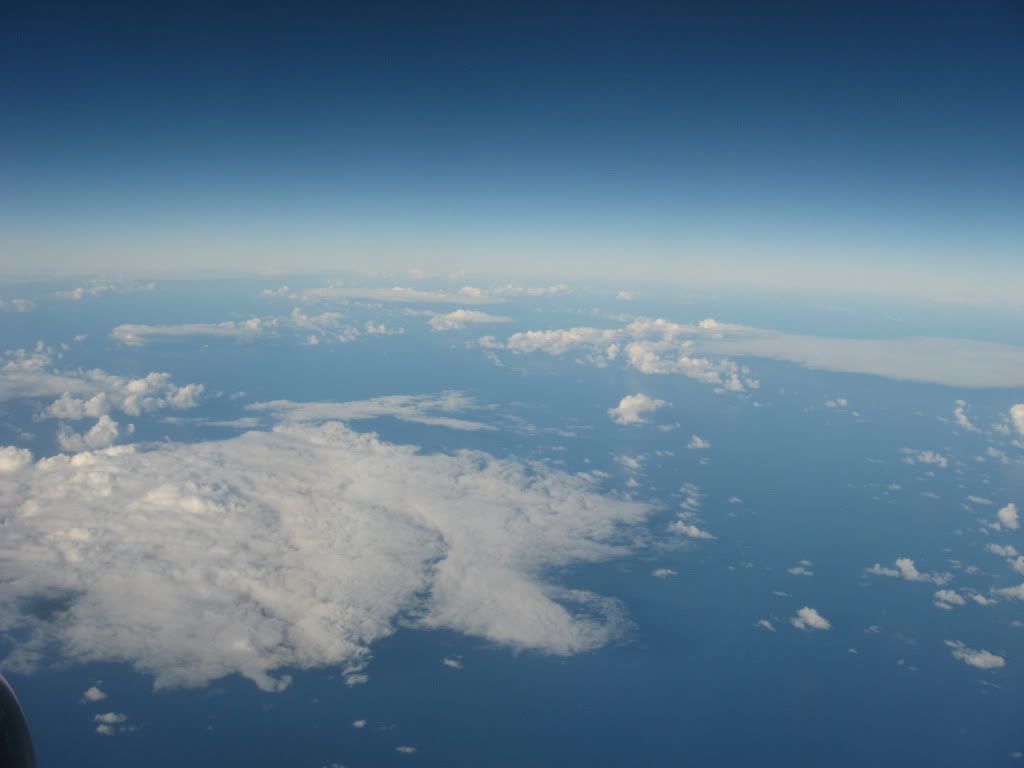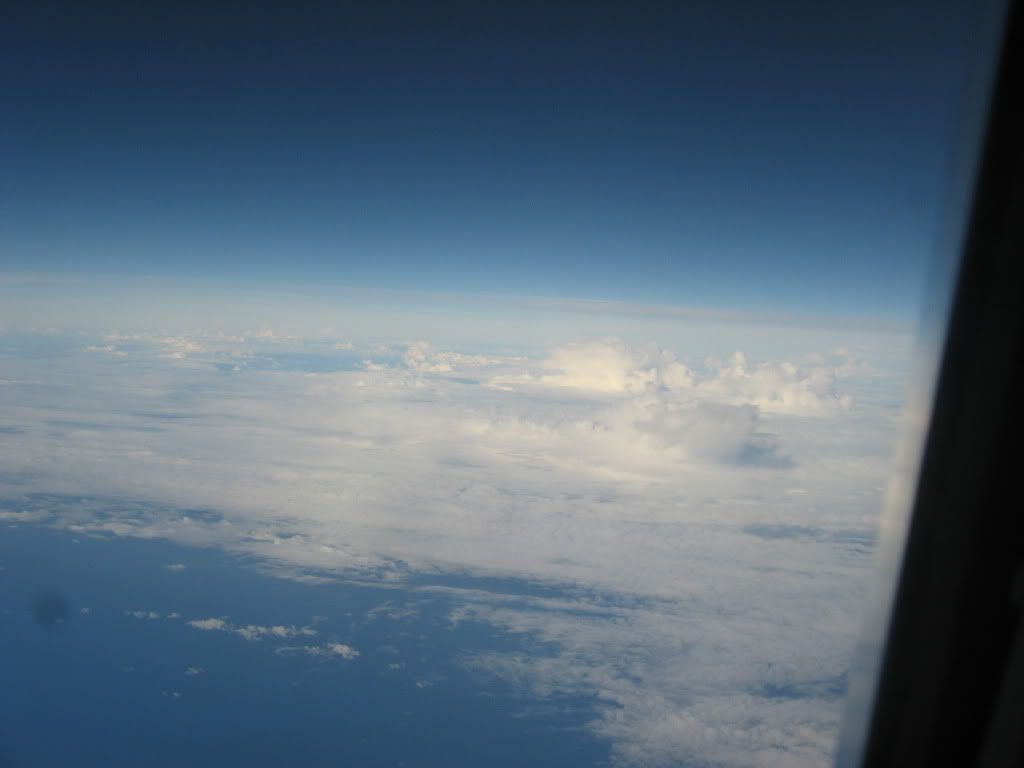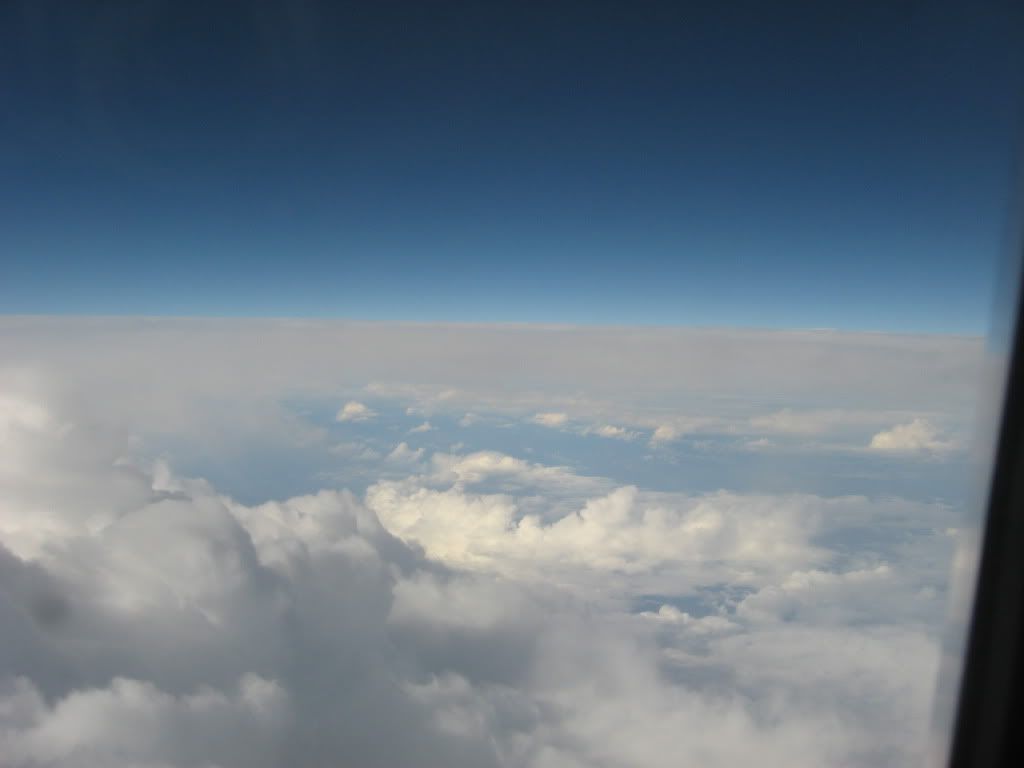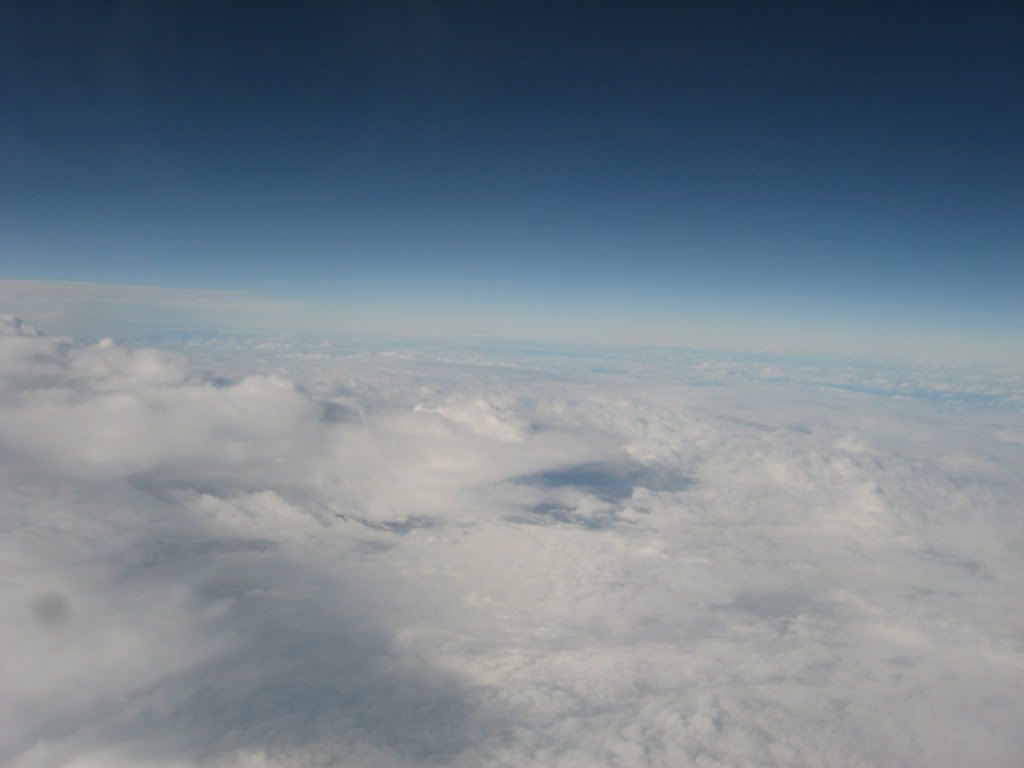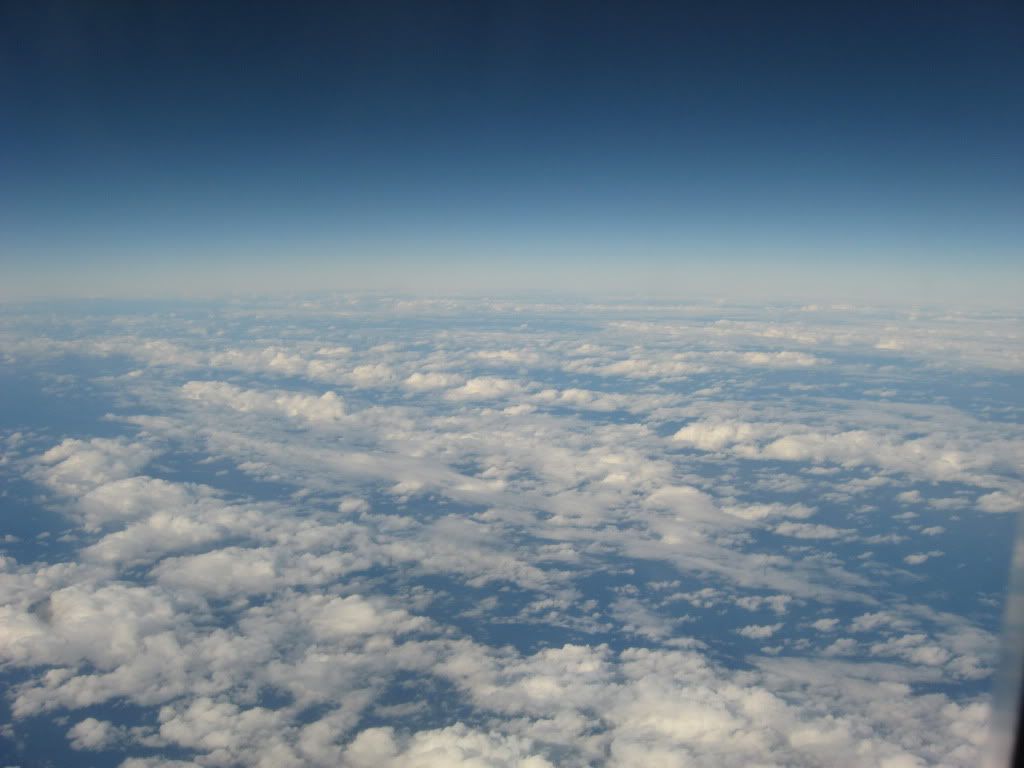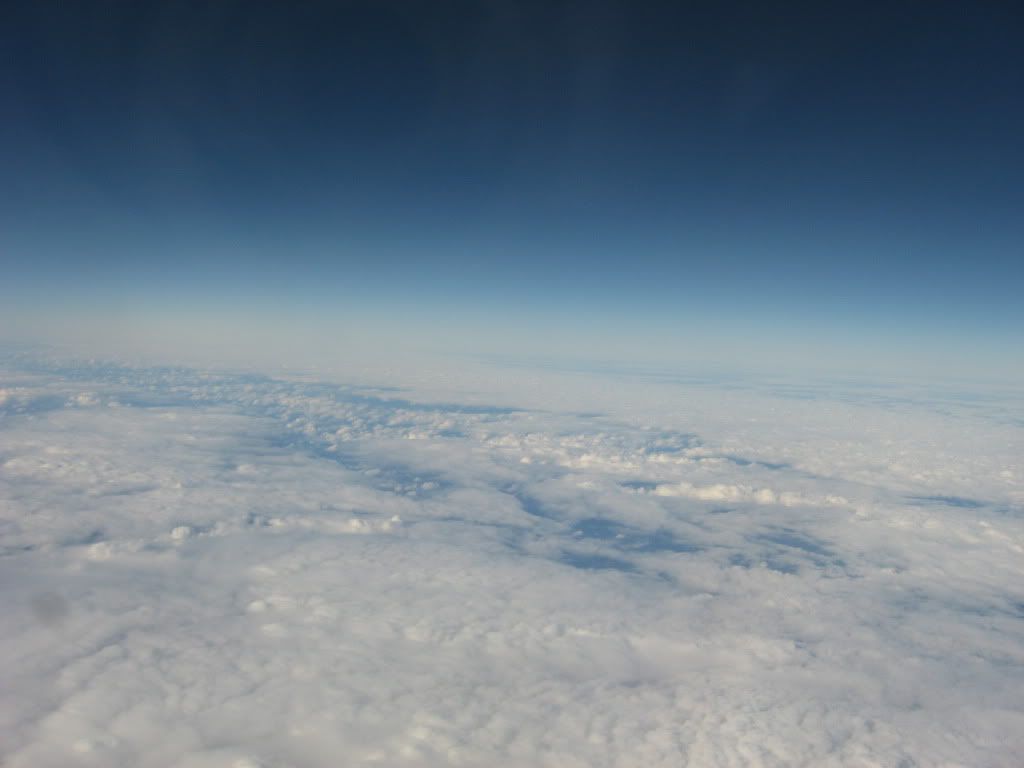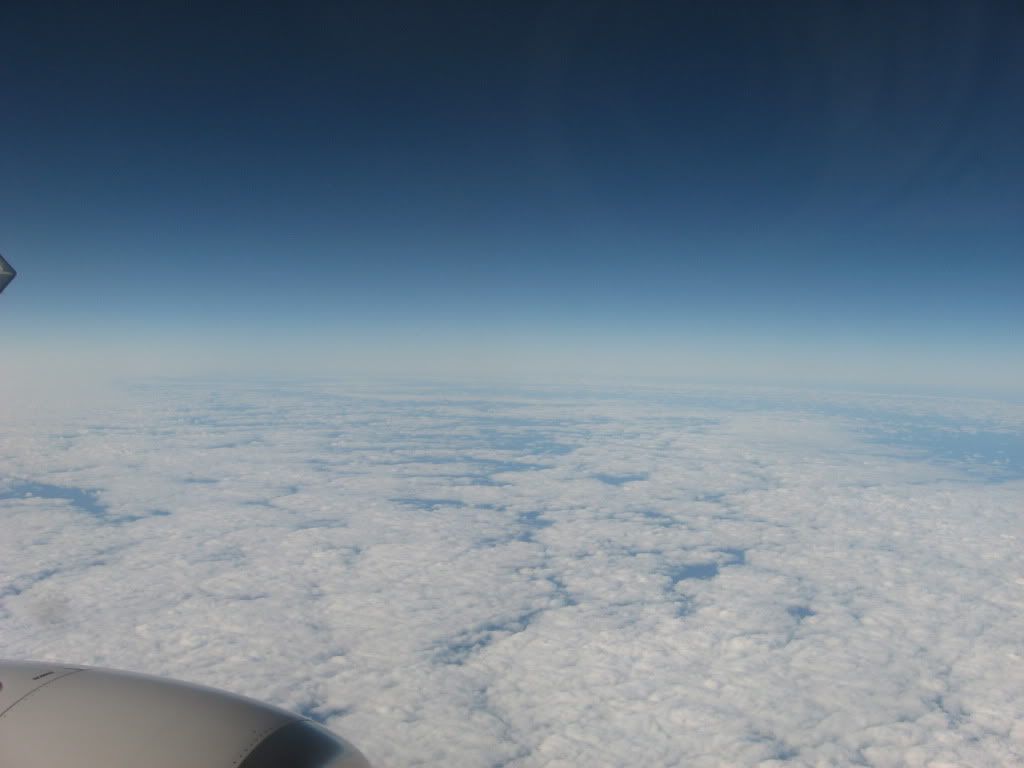 As we spent almost the entire trip over water, there really was nothing else to look at other than the thankfully interesting cloud formations along the way.
Shortly after takeoff we were served breakfast, I think it was some type of egg-muffin sandwich, I ate the muffin and left the egg to fend for itself.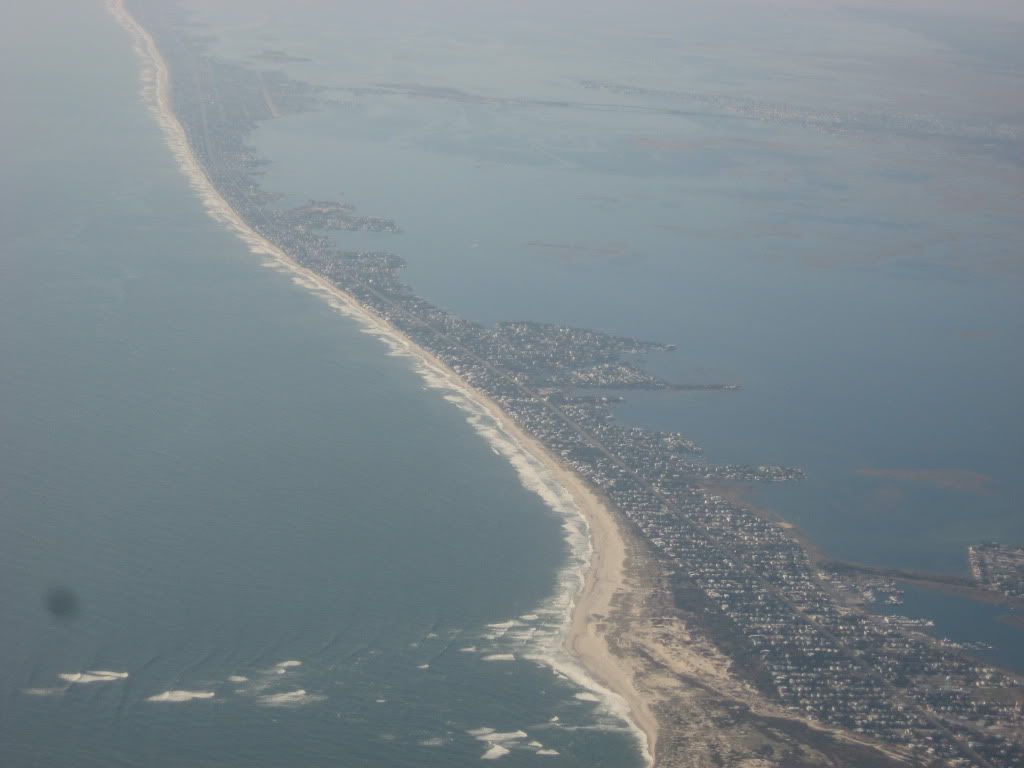 We're getting close to Newark, I think this is the Jersey shoreline. Soon after this the camera went away. As much as I cripe about the airlines and their security measures, I generally follow the rules, and it probably doesn't hurt that I wouldn't enjoy a fellow passenger beating the crap out of me because they think I'm doing something suspicious.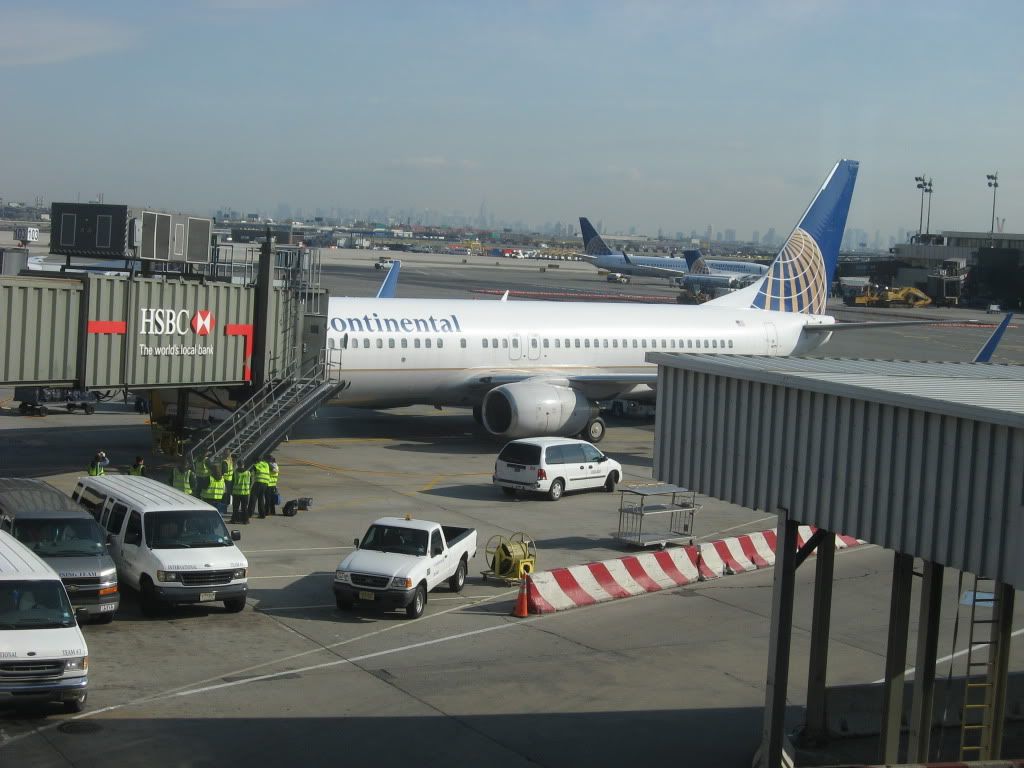 Ship 248 sits at C-101 after our arrival from San Juan. I think next she was going to Florida.
With two hours to kill, I decide I need a cigarette so I make my way outside, finding a large outdoor smoking area adjacent to the C-1 entrance. I burn a few cigs as I admire a 757 sitting at C-72 or alternately the large Newark Airport bus terminal located adjacent to terminal C-1 and one level below. The population in the smoker's pit is sparse at the moment and mostly comprising of airline employees, making me wonder if I'm even supposed to be in this area. No one challenges me and alarms aren't going off, so I figure it's all cool.
An hour prior to departure I head back inside to be confronted by a daunting line for C-1 security. I begin to wonder, as I progress through the line if leaving security was a mistake. I can envision myself spending an hour in line then having to explain how I missed my Chicago flight because I needed a nicotine fix. I don't think the airline would be sympathetic. In the end, the only thing I missed was my driver's license, having dropped it near the security entrance, it was quickly found and returned to me as someone called out my first and middle name and I put my hand up. Lucky for me, the line moves quickly and soon I'm airside again and heading for my next gate C-90.
Four: Newark-Chicago CO 1163 737-524 N11651
N11651, my ride to Chicago has just arrived from Atlanta. This was my seventh 737-524 and my twelfth 737-500 in general.
Our departure gate was C-90, a gate that I think in times past could accommodate a 747.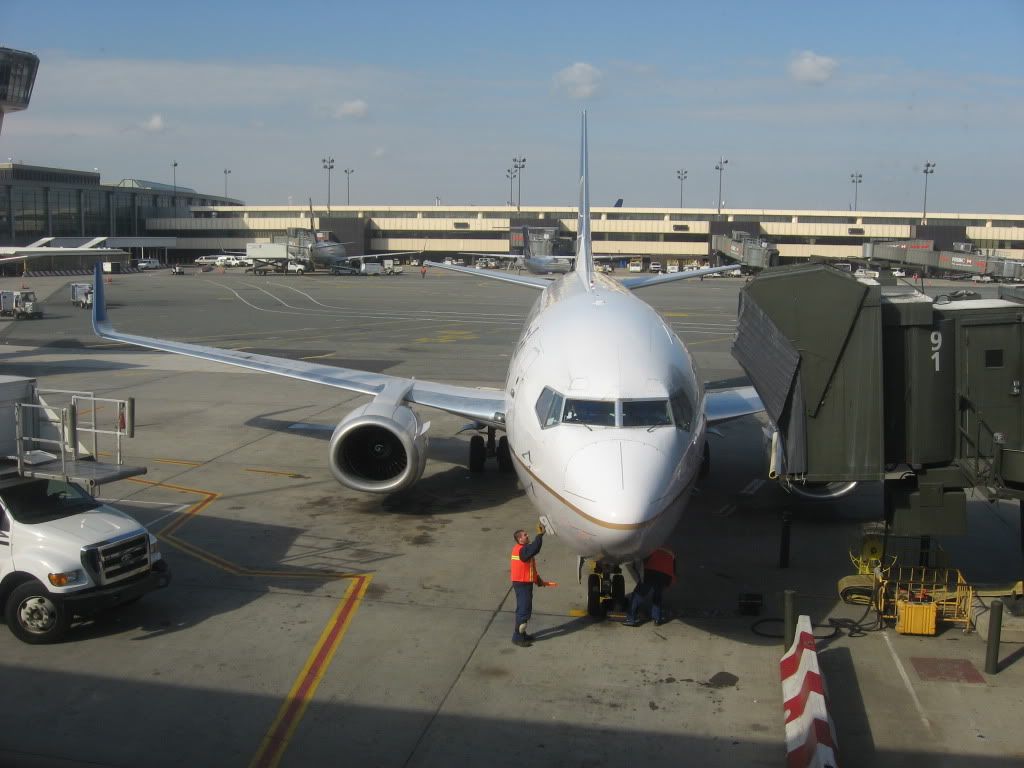 A 737-500 arrives into C-91, one of the few remaining original jetways on the C concourse.
With a very light load, boarding was pretty much "All aboard."
Service consisted of a beverage service. Entertainment was provided by mother nature, this is a 737-500 after all, the baby of the fleet. Does anyone remember when Continental used to outfit their 737-500s with crude PTVs? You could actually play video games on them.
The light load made for a nice flight, with the flight attendants giving everyone whole cans of coke and extra helpings of biscoff cookies.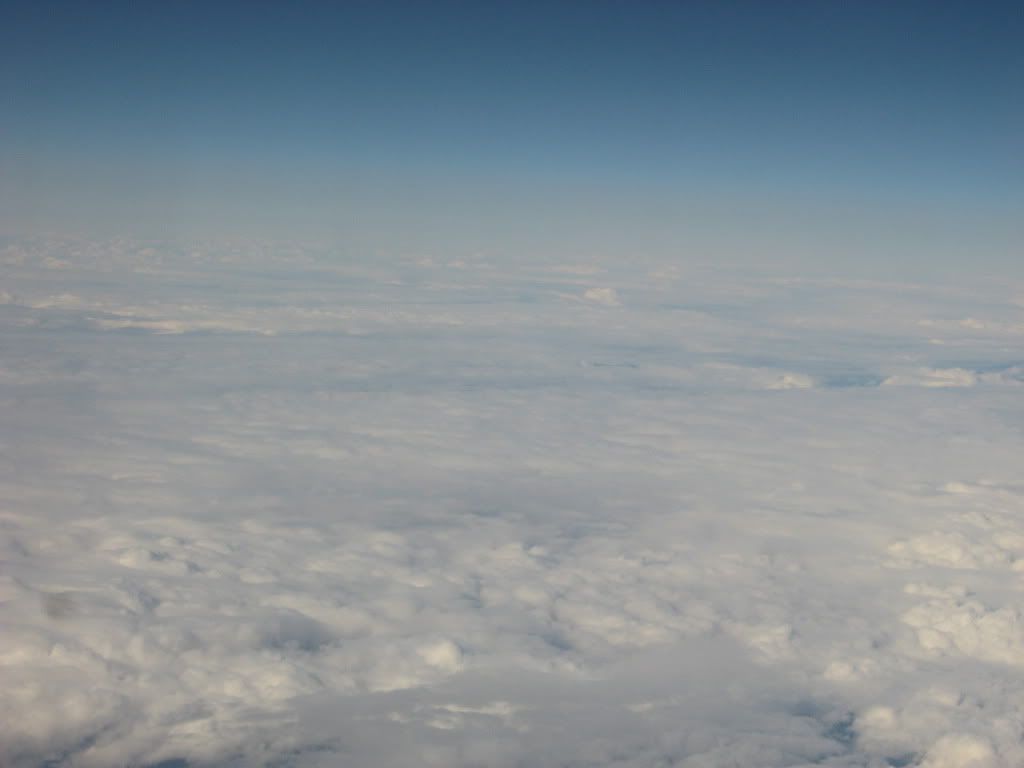 The eastern seaboard is blanketed by clouds.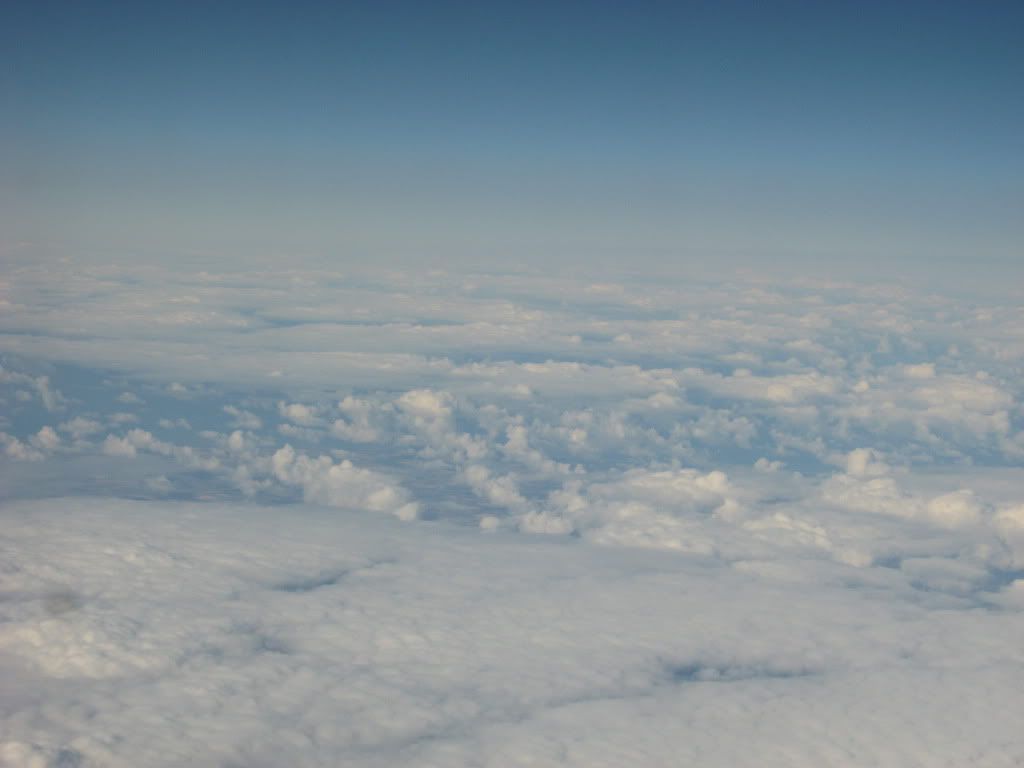 A jumble of clouds
One lucky town is basking in sunshine.
A patch work in the sky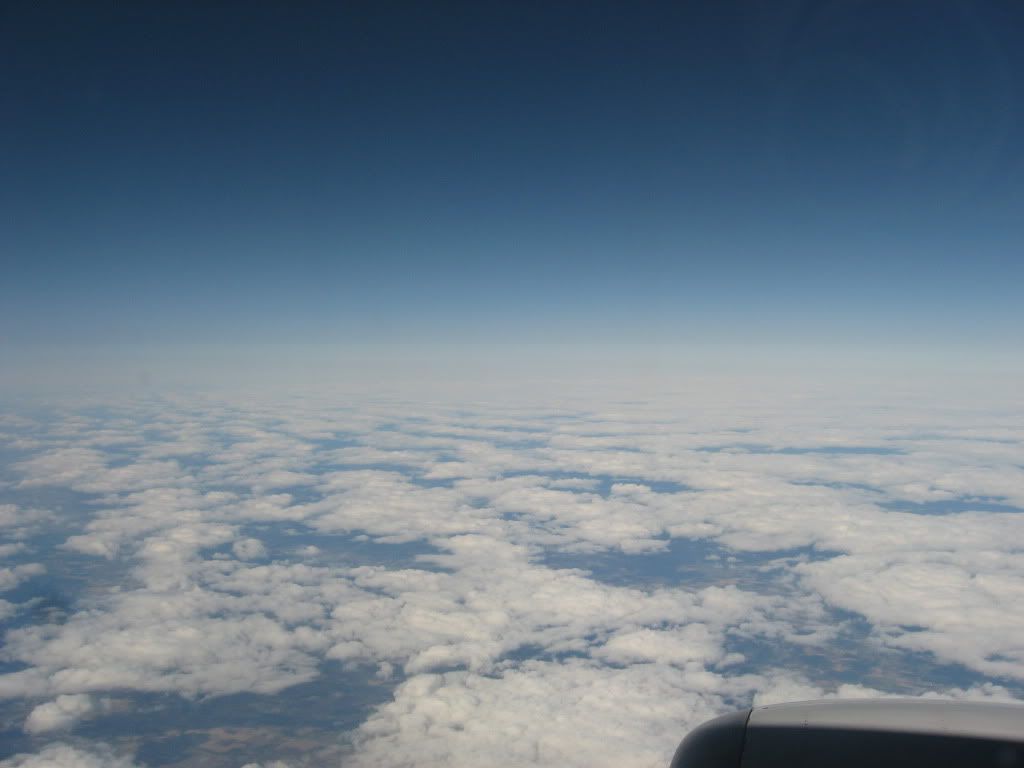 Going……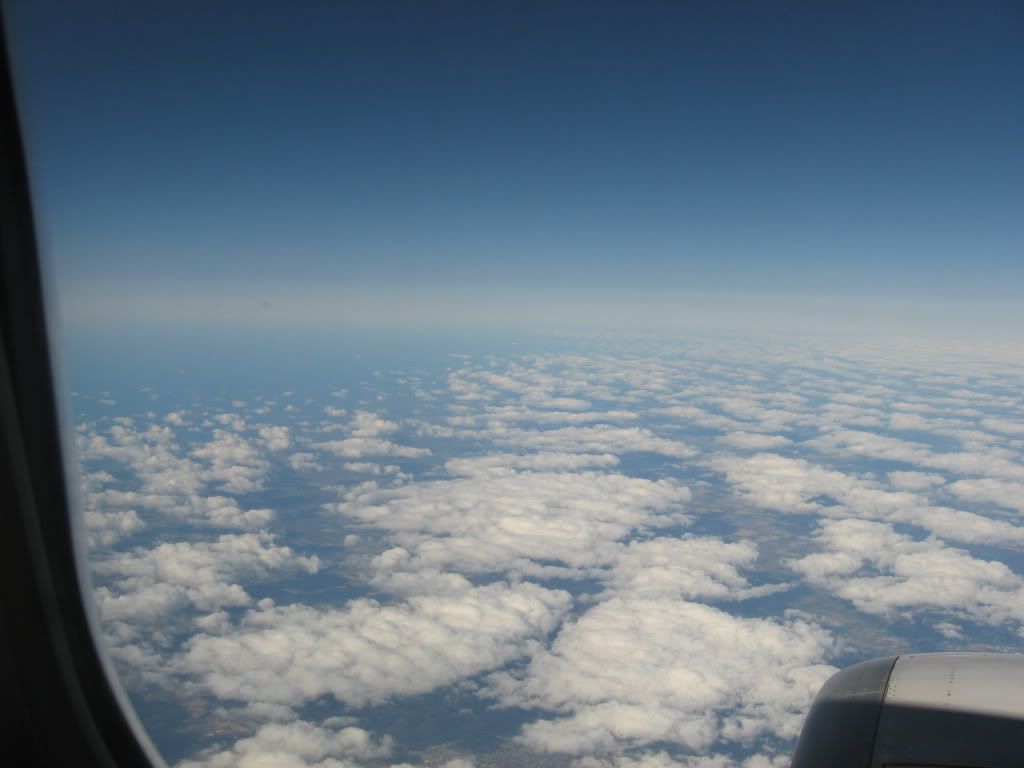 Going…..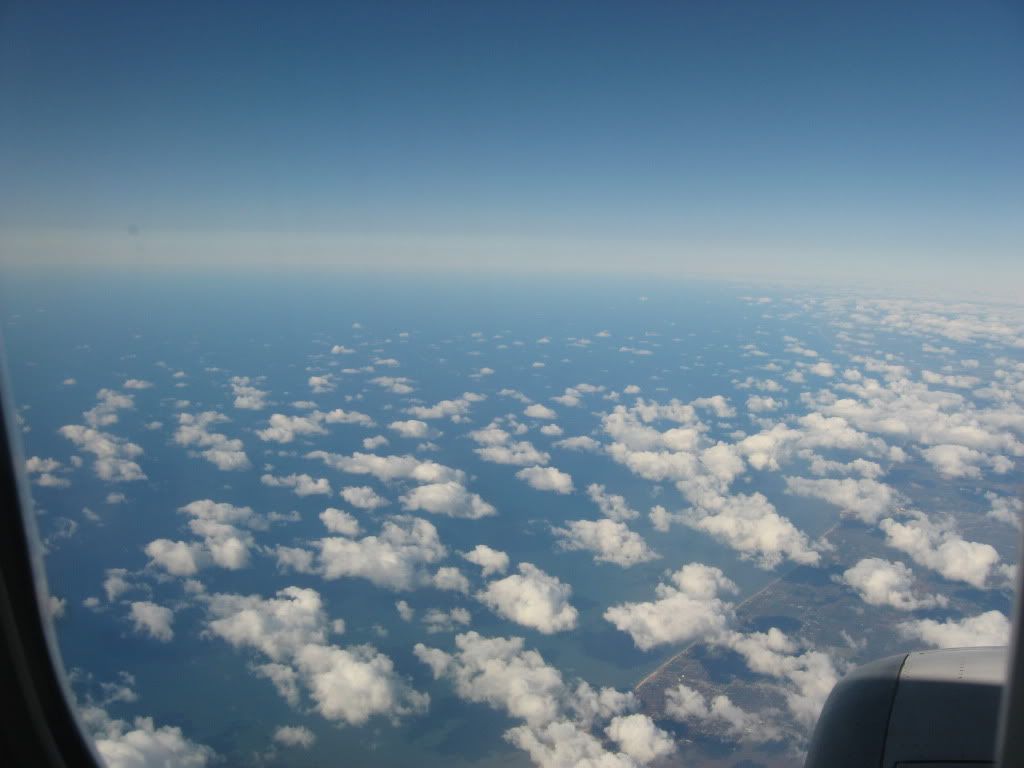 Going…..
Almost gone
Landing at Chicago meant parking at the mini hub Continental has established at the base of United's B concourse. They have four gates all to themselves.
Hop Five: Chicago-O'Hare Houston CO 547 737-724 N22722
A short thirty minute ground time gives me just enough time to stretch my legs. When we arrive at B-3 my connecting aircraft is already in at the gate next door. Hidden behind these two 737s is a Cleveland bound E145 going from B-1. Looking at the indentation in the terminal where B-1 sits once we pushed back made me wonder of B-1 could accommodate a DC-10 once upon a time? I know B-2 could accommodate the DC-8 Stretch, as I came into B-2 on one eons ago, so I guess it's not far flung to think UA could put a DC-10 at B-1, there looked to be enough room.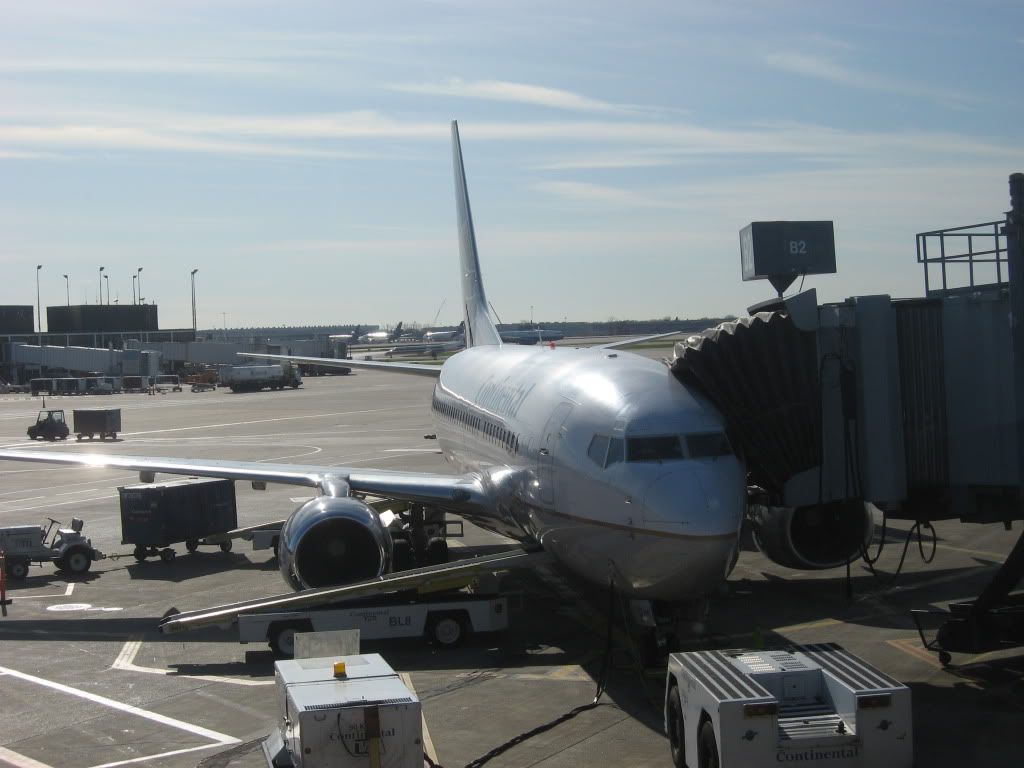 N27722 sits at B-2. This was my tenth 737-700 and first 737-724, with this aircraft I've now flown on at least one of every narrowbody Continental flies. The only remaining gaps are the 767-200 and 767-400. Those gaps would not be filled on this trip.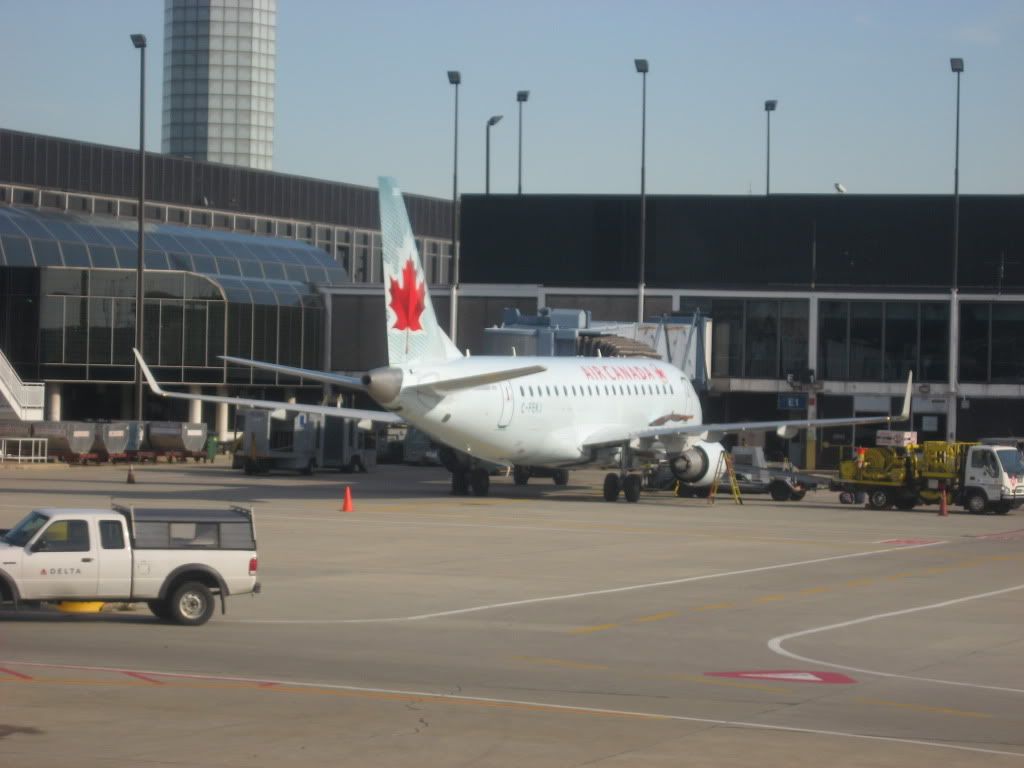 An Air Canada E175 sits at E-1.
Soon we were off and running again for the two hour trip south to Houston.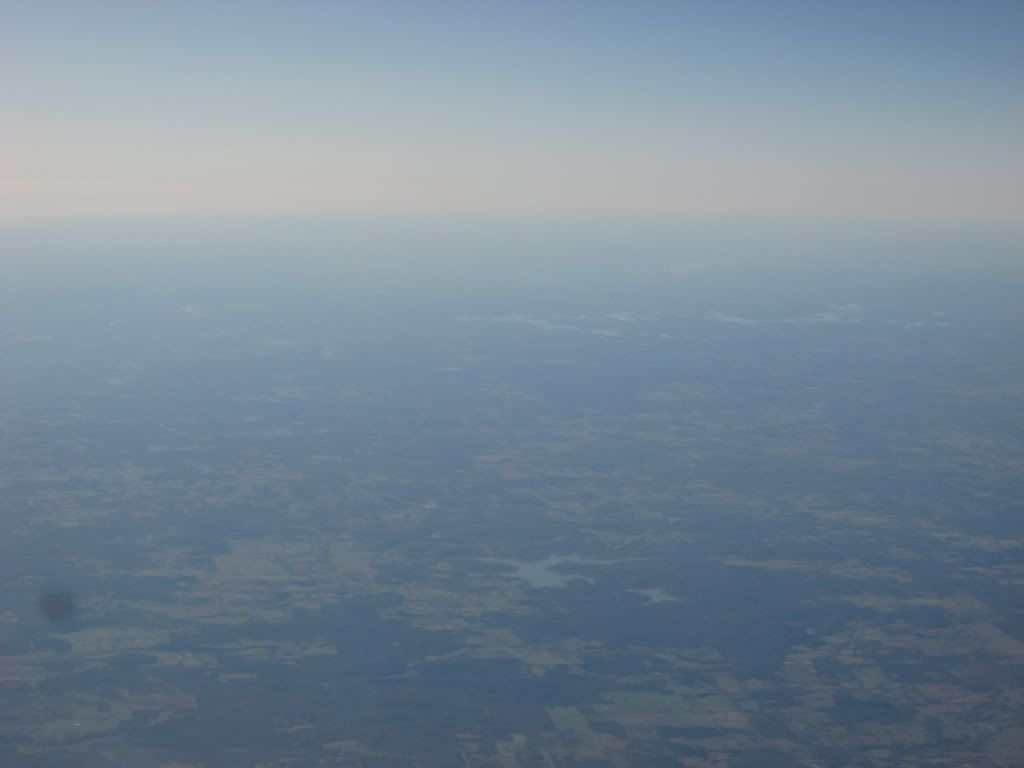 The Flat Green-ness of the Midwest.
Two large lakes with a small fire burning nearby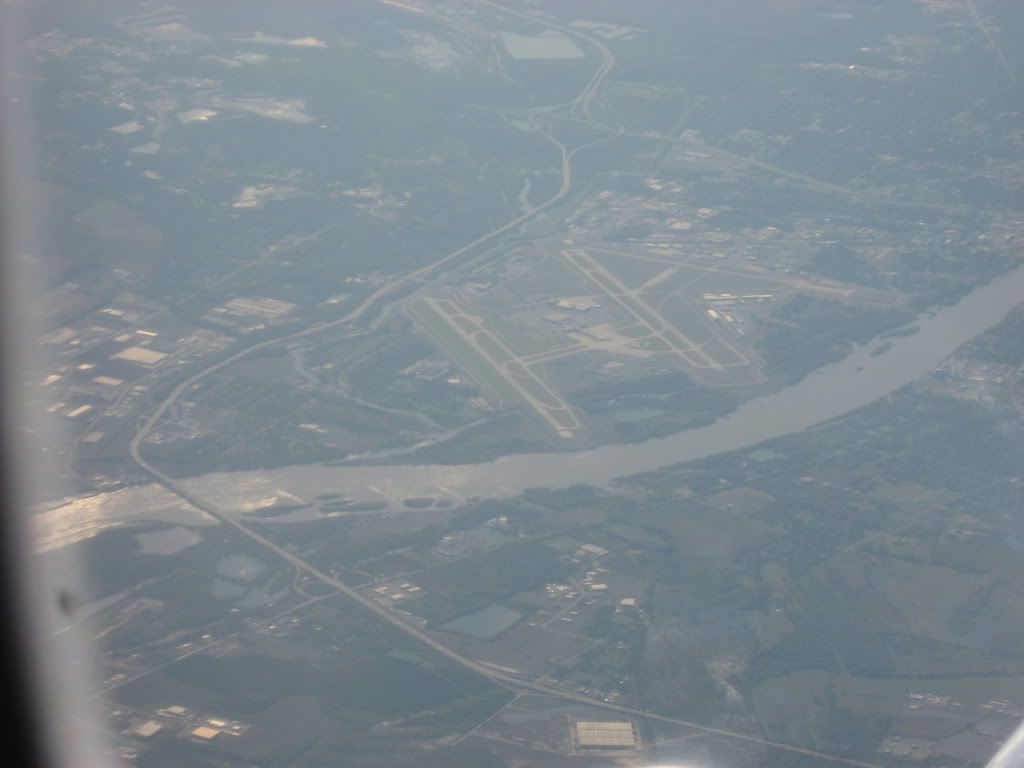 A small commercial airport somewhere between Chicago and Houston. Interesting runway configuration, does this mean two CRJs can land at the same time?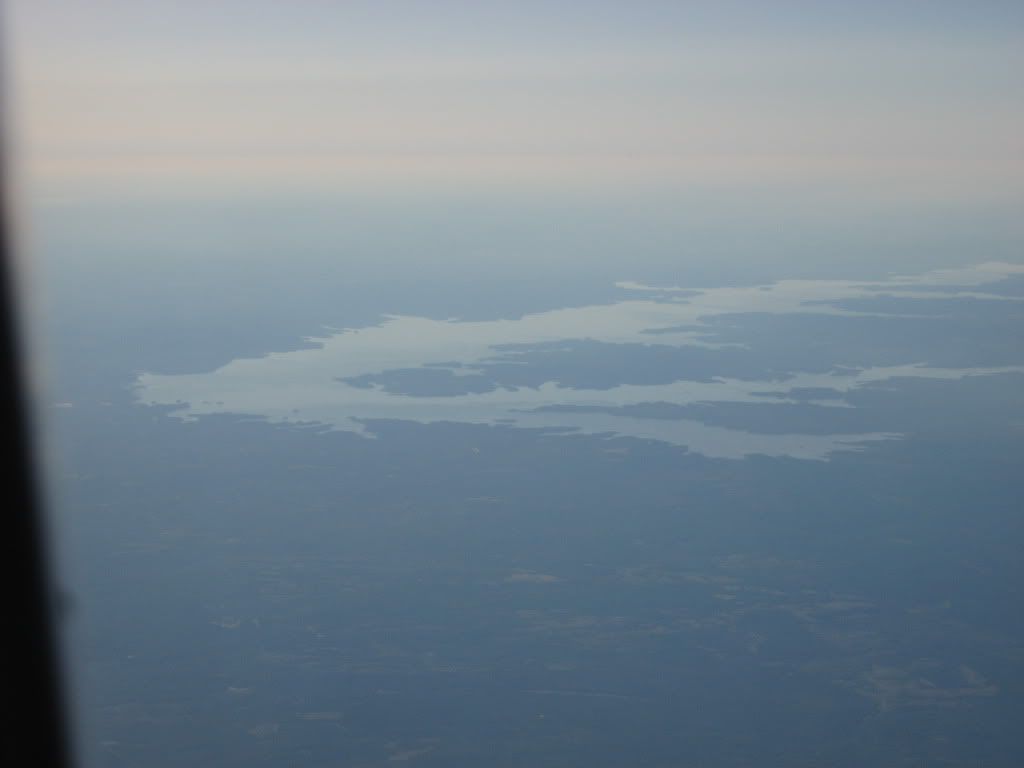 Lake Déjà vu, when have I seen this before?
Arrival back into Houston put us into E-24. With my connection going from C-34, I couldn't dawdle much.
Hop Six: Houston-San Francisco CO 307 737-924 N75410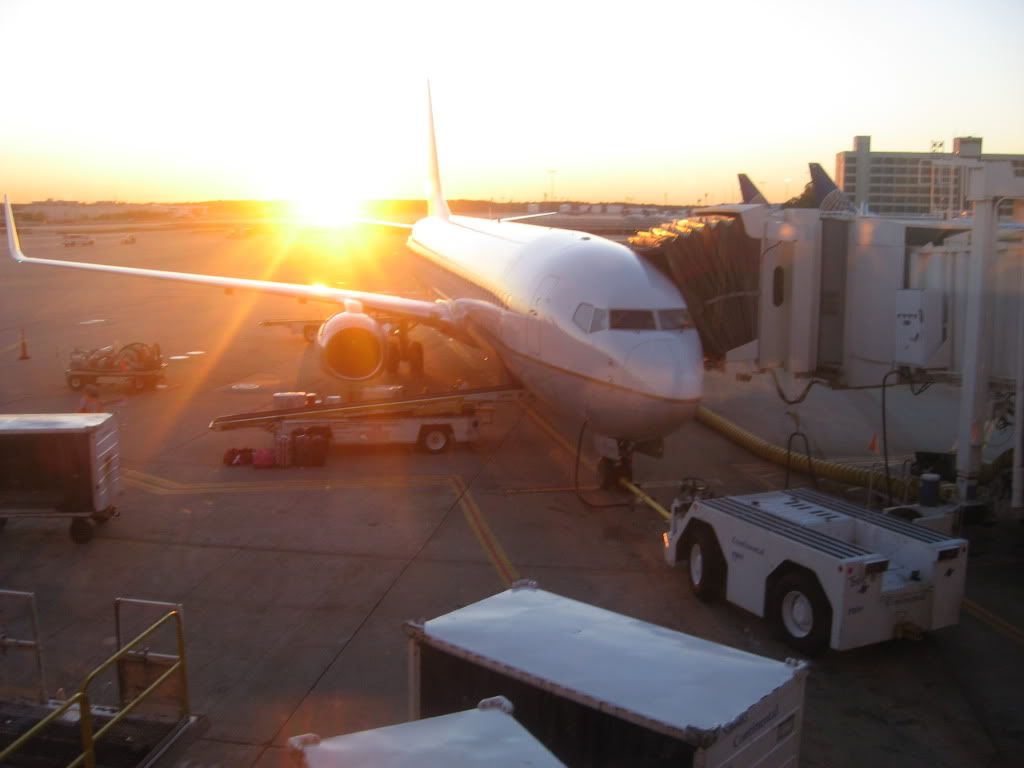 N75410 enjoying the sunset at C-34. This was my second 737-924 and third 737-900 overall.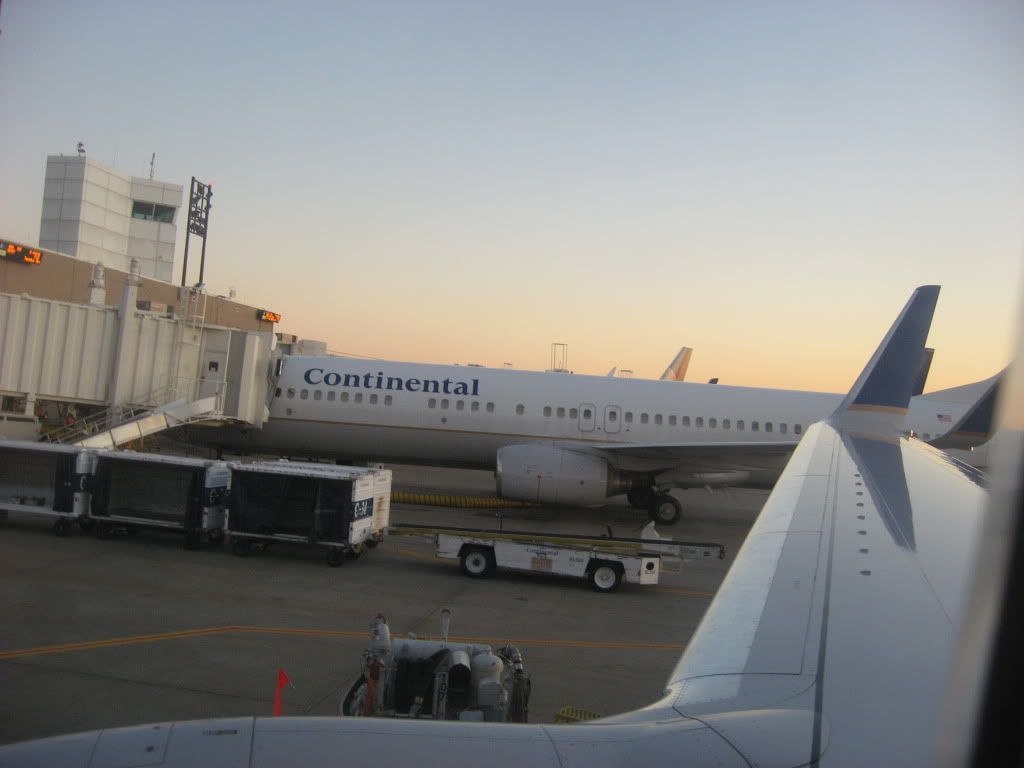 Ship 401, Continental's oldest 737-900 sits at C-35.
By the time we left Houston, the darkness was setting in which made for limited photo opportunities. The location of my seat, right at the trailing edge of the wing, didn't help in the photography department either. I put away the overworked camera and just tried to relax. Entertainment was once again via Turkeyvision. With nothing better to do, I plugged in and watched whatever was on offer, Julie and Julia I think. Not to mention more I Hate Chris reruns.
Arrival into San Francisco was pretty much a blur, as I was going on about five hours of sleep. Once I collected my baggage I made my way to the Clarion Hotel, which could just as easily have been called the Clarion Dungeon. The interior was drab, with chocolate brown carpeting running up against stark concrete walls. With yet another 730am departure in the morning, I didn't pay much attention to the hotel, I pretty much crashed, having been up since six a.m. San Juan time, or two a.m. San Francisco time, making for a rather long sixteen hour day in the air.
November Fourth and Fifth
Seven: San Francisco-Newark CO 349 737-924 N75441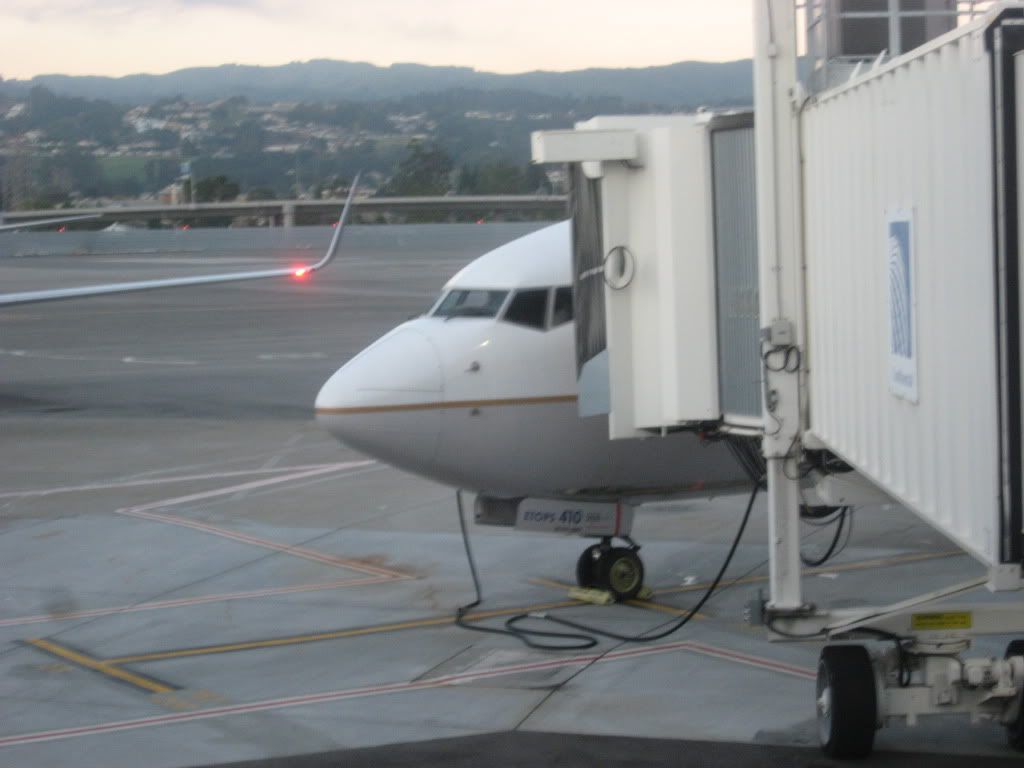 Ship 410, the plane that brought me in from Houston last night. My biggest concern when I learned that the Houston-San Francisco and San Fransisco to Newark flights were both 737-900s was that I'd be on the same 737-900 for both legs. With a limited fleet of 737-900s I just assumed logic would dictate that kind of routing. Thankfully, this was not the case. Six hours would be a long time without a PTV in front of me. And I ask myself how spoiled I've become that I can't spend even six hours without some form of personal video entertainment? How soon I forget the hours I've spent on the 767-300, 747, and DC-10 crossing various bodies of water with just the overhead screens to entertain me.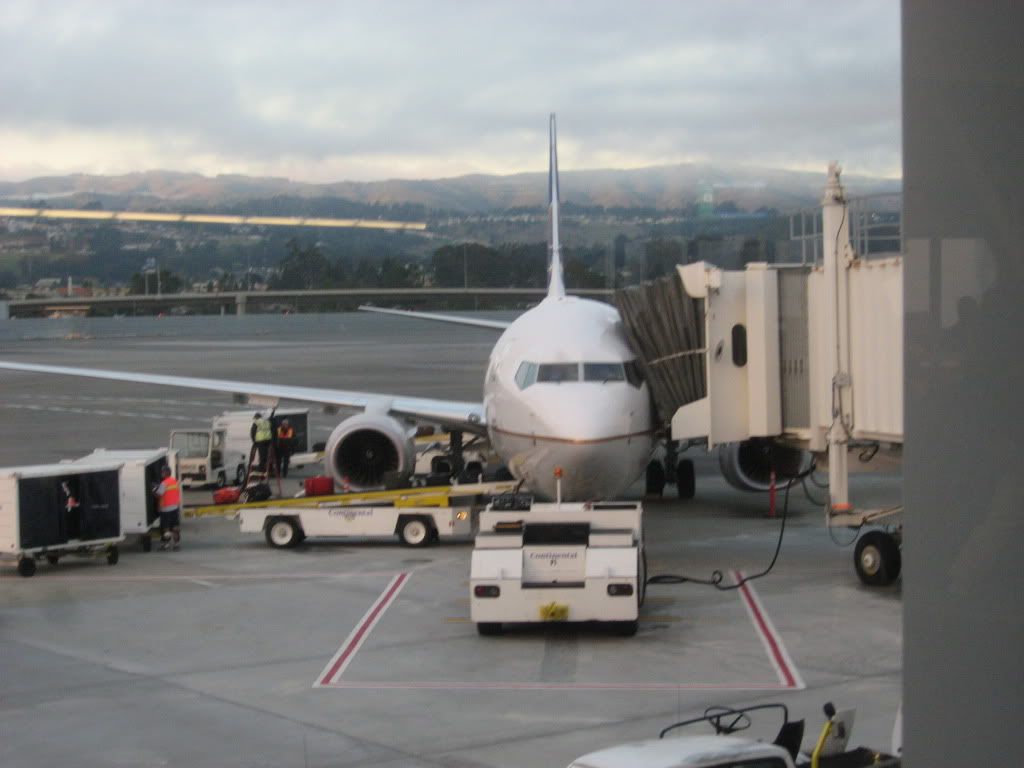 N75441 one of Continental's newest 737-900s sits at gate 34. This was my ride to Newark. This was also my fourth 737-900 and my third 737-924.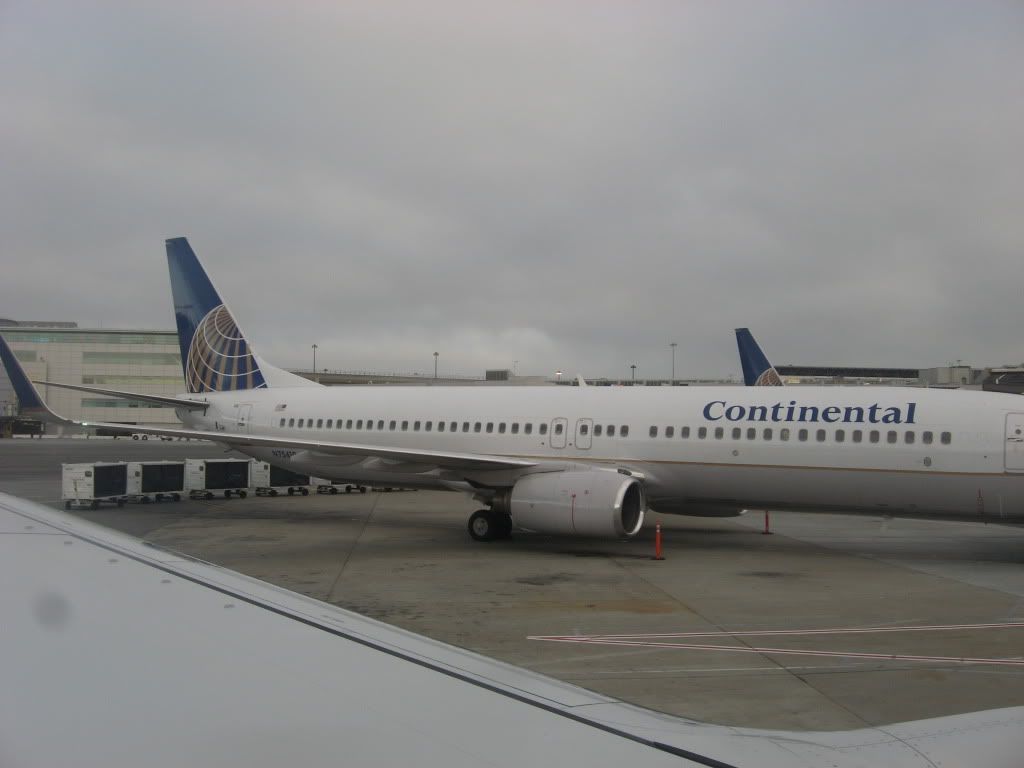 A better view of ship 410.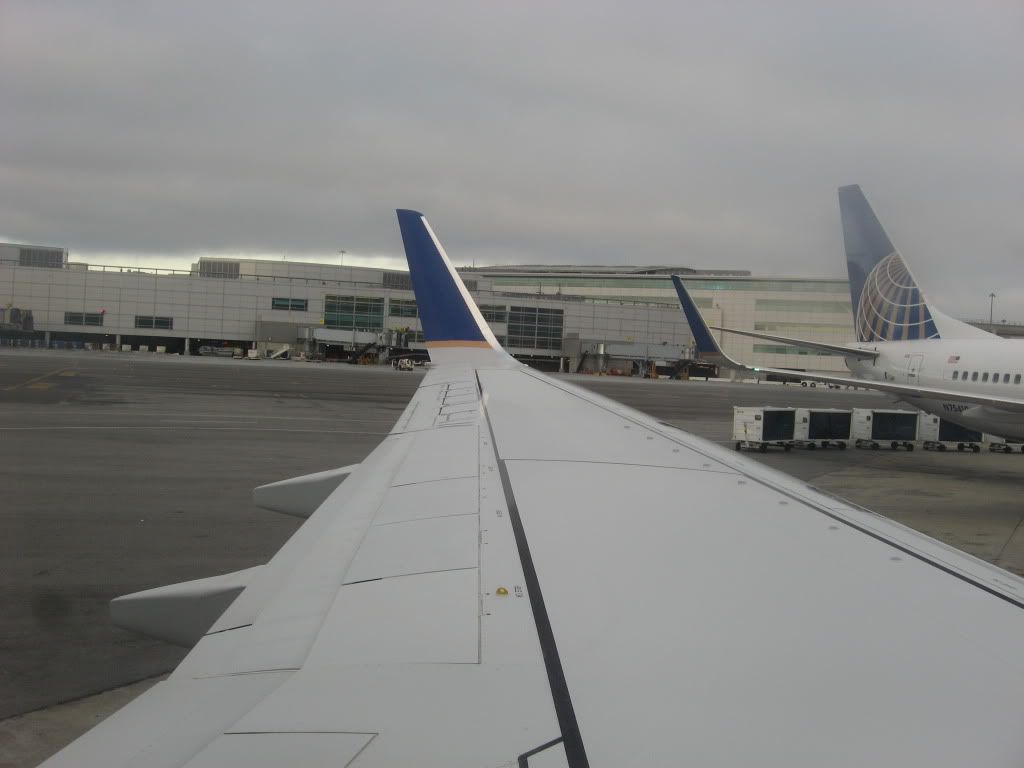 The monolithic A concourse in the background. There seems to be a distinct lack of windows, that can't make spotters happy. Compared to the size of the building the Virgin America A319s I saw flitting about over there looked tiny.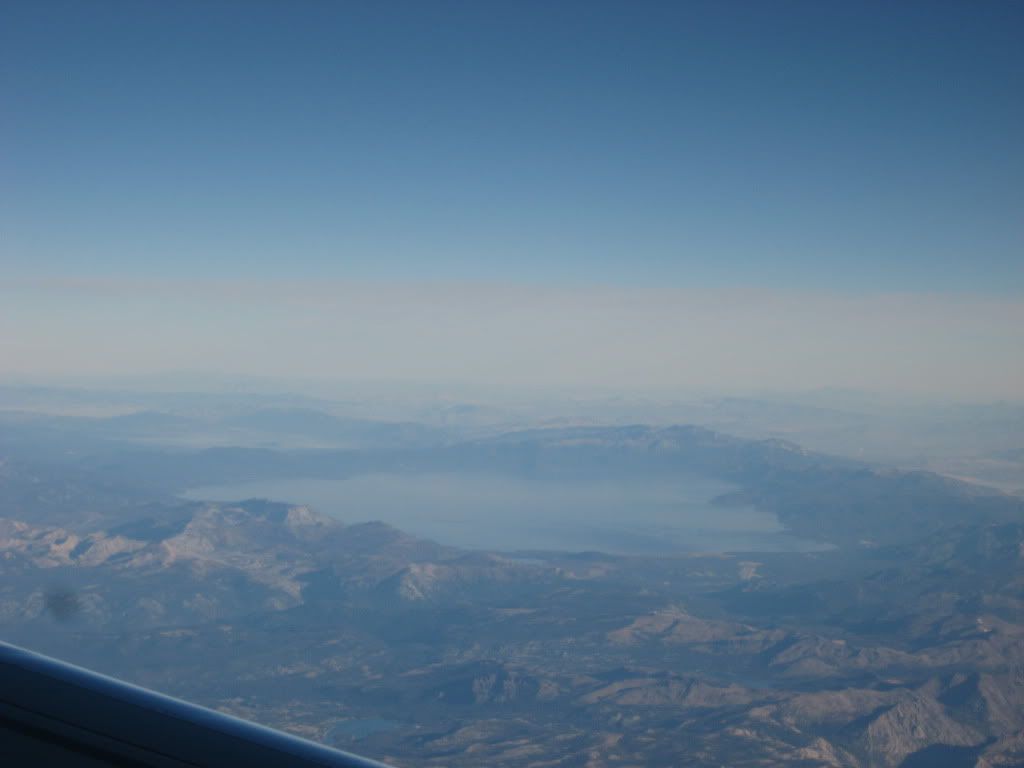 Lake Tahoe. We're underway for Newark crossing the Sierra Nevadas into Nevada.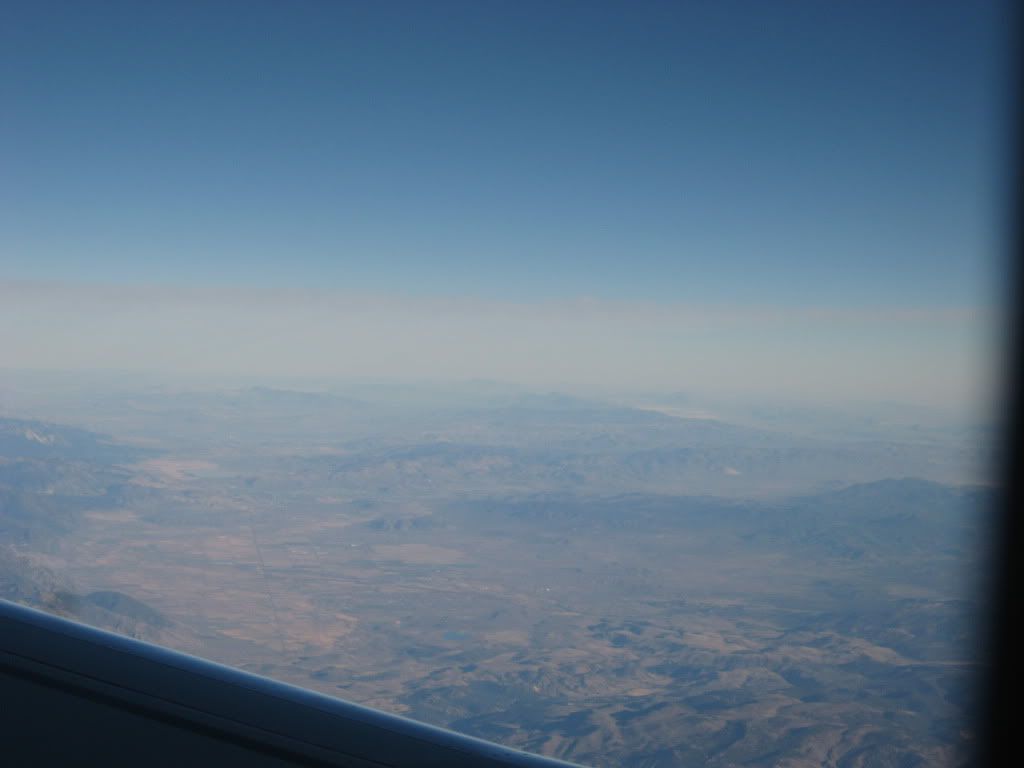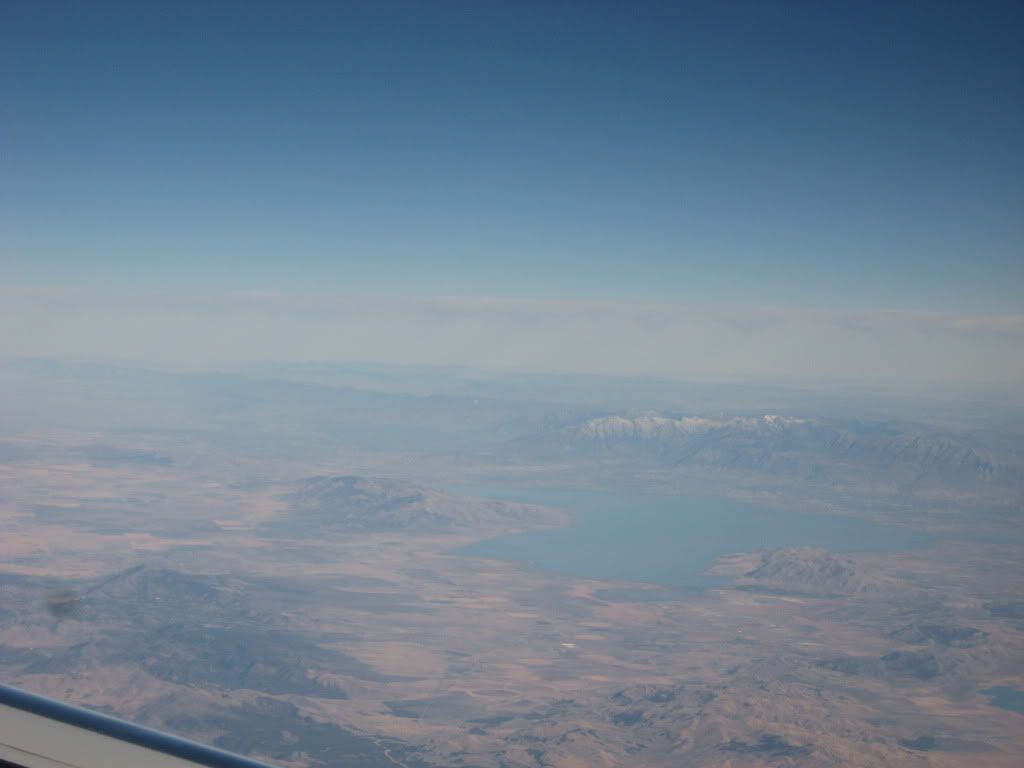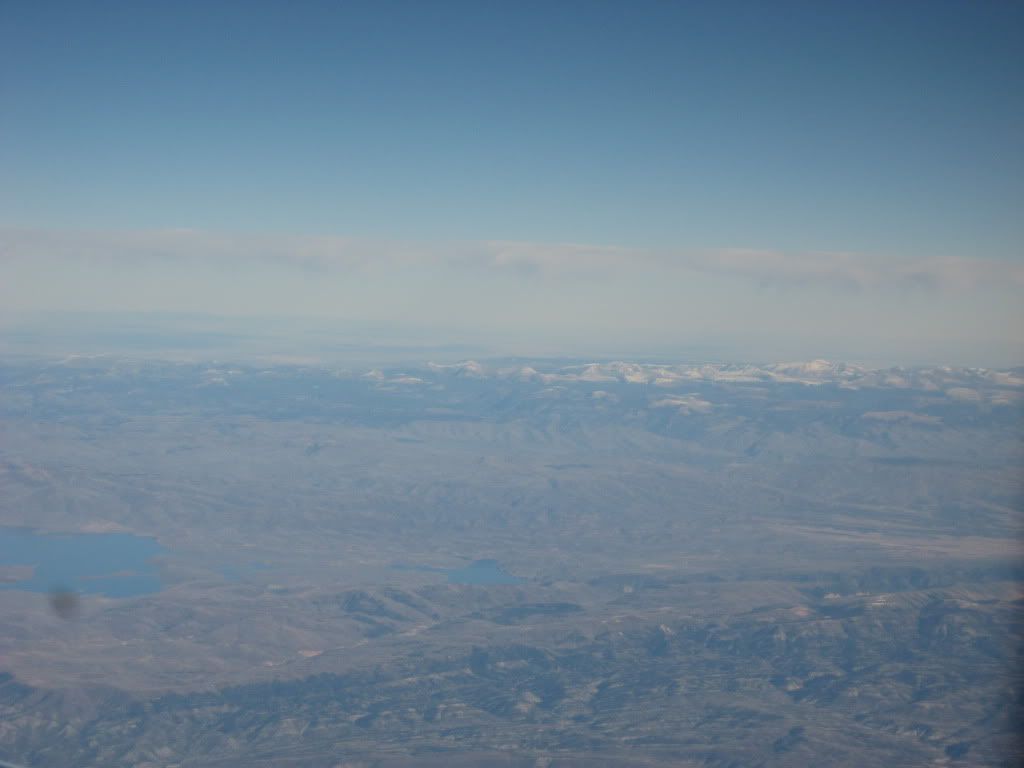 With no chance to move further forward, the photo opportunities were limited once we got beyond the Sierra Nevadas. I put away the camera and paid another six dollars to enjoy direct tv. Meal service was unremarkable.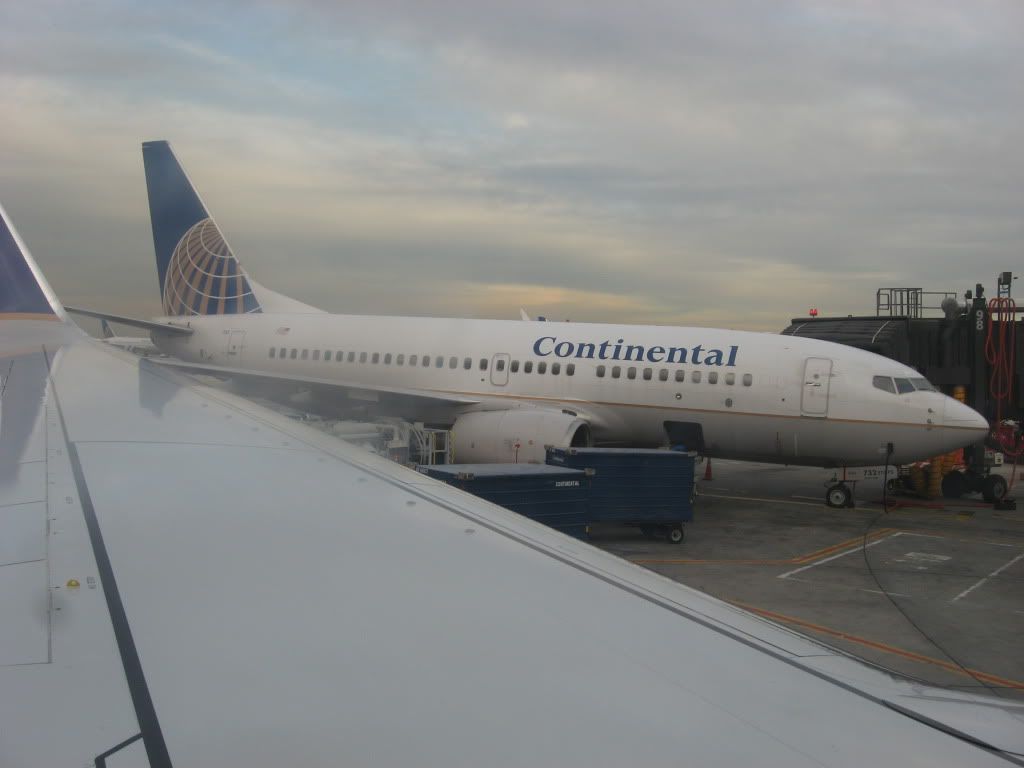 Arrival into Newark brought us into C-96, one of those almost derelict looking sixties era jetways.
Eight: Newark Dublin CO 22 757-224 N14120
As I accept delivery of my 44th 757-200 and third 757-224, I was doing something that until recently, I'd have considered unthinkable, I was flying the 757 across the pond. I was doing it because I had an unused ticket on Continental that I didn't want to go to waste and like the cheap bastard I am, the fare was good, 316 dollars one way to go from San Francisco to Dublin.
Maybe I was also doing it because I had to break the ice sometime. Now that I've done it, I have to admit, it wasn't bad. I might even do it again (Perish the thought).
With three hours to kill at Newark I headed straight outside after arrival to get my nicotine fix. It was nice to stand outside, watching the comings and goings of people, including a large group going to Ireland. I kept an eye on that group as I got my nicotine fix, the last thing I wanted was to get stuck behind them, but, then again, there were enough of them that I probably didn't need to worry about missing the plane. I passed the time people watching, carrying on conversation with a friendly Continental flight attendant also standing outside and getting her nic fix before going to work.
Having finally satisfied my nicotine craving I returned inside and headed for security. Of course with this being the peak time for international departures, the line for C-3 was enormous, but I got a bit of good fortune when a second line was suddenly opened up and I was ushered in along with a few other passengers, basically jumping the queue. It dawned on me as the lady checked my boarding pass and waved me through that I probably didn't belong in this line, but, was I complaining? No. With the time I saved not having to spend an hour in line I was able to wander around the new terminal C-3, which has to be the nicest terminal in the Continental hub system. Of course, I was immediately drawn to the 777 going to Mumbai sitting at C-123. Wishing it weren't dark out, so I could take some good close up pictures of that beast, I stood and just watched the beautiful machine, ship 20 I think, get ready for her very long haul to India.
Having gotten my 777 fix, I began migrating towards my gate, C-126, to discover it was one of those dreaded windowless gates tucked into the corner of the building at the very end of the concourse. In any other situation, I'd probably be in hell, but Continental, in a nod to Aerogeeks like me, displays the ship number on the gate monitors. Of course before it came up, I had asked the gate agent, who, after a moment of confusion as to why I wanted the information, finally said "120." Being that I have a bit of distrust for the information I get from the gate agents, always wondering if they're giving me the actual ship number or just one off the top of their head as if they think I won't know the difference, I was relieved when the gate screen did show that I was on ship 120.
With boarding still a ways off, I wandered around the terminal some more, taking in a 757 going to Stockholm and the empty gate 138 where the 777 to Tel Aviv had gone from. It was interesting to note that prior to its departure, barriers had been set up on both sides of gate 138 to control access into the gate area.
The 767-200 at 125 caught my interest for a moment, as did the 767-400 at 128. A certain degree of confusion revolving around gate 128 also made me realize that whomever updates the departure screens is human, not a computer. I always assumed that the departure monitors were somehow connected directly into the airline's ops computer system, allowing real time gate information. I guess not. The confusion came in because both the Heathrow flight and my Dublin flight, showed as going from gate 128. My boarding pass showed C-73, which left me a bit concerned. The last thing I needed was to have to run clear to the other side of the airport an hour before flight time as I discovered I was at the wrong gate. As for how I knew I was going from 126, another departure screen before I went through security, showed my gate as being 126.
Tucked in between all of these long haulers was a 737 at 127.
Shortly after six, boarding finally began for our packed 757 and with my seat this time in row 25, I was in the second boarding group. With no view of the aircraft from the terminal, I didn't realize I'd be in for a surprise. Getting to the aircraft required a bit of a serpentine walk ultimately leading us to door one left. and, I couldn't believe it, right there on the forward fuselage was a large black "S." We were on the Star Alliance Logo Ship! This is only my second Star Alliance Logo Ship and I couldn' t help but wonder what this thing was with the Star Alliance and the number 20. My first star alliance logo ship, another 757 flown three years ago on USAir between Orlando and Charlotte, was N620AU.
I slid into my seat behind the wing, admiring the classy black winglet with the lit Star Alliance logo on it.
We pushed off the gate right on time at 710pm, taxied a short distance and basically parked, to wait as a long line of airplanes passed in front of us. The flight crew informed us that we were number fourteen for departure and that we could expect to wait approximately 20 minutes. ATC finally let us in just in front of an AA MD-80 and we made our way to the runway. Sitting on the right hand side gave me a good view of the runway as planes roared off into the night. the highlight was seeing the LOT 767-300 thunder into the night.
Never mind our relatively full load, takeoff, as usual for the 757 was powerful and we powered into the night joining the almost endless line of east coast departures heading to just about everywhere in Europe.
Our route of flight took us up the eastern seaboard then into Canada, then across the atlantic, slipping past Greenland and Iceland and down into Dublin before the sun rose. With five and one half hours, a far cry from the 6 hours and 50 minutes shown in my GDS, I had a chance to really play with AVOD, watching three movies, UP, the rather dumb Ratatouille and Ice Age: Dawn of the Dinosaurs. Along the way we got dinner. All in all the five hours sped by thanks to AVOD and I think I changed my opinion of the 757 as a trans atlantic chariot. Of course, it didn't hurt that the flight was generally smooth. I've been thrown around a lot crossing the Atlantic, something which has led me to believe that more metal is better. All things considered, I will admit, I'll take a 757 with AVOD for a short transatlantic crossing.
Service on the short Newark to Dublin flight was rather intensive, with a beverage service, then a dinner service, followed by duty free, which was followed by a light breakfast two hours before landing. In the meantime, the cabin lights were dimmed to allow people to either sleep or watch movies.
After a short, action packed five hour crossing, we descended upon Dublin, landing in the pre-dawn twilight and parking at gate 38, as announced by the flight crew, who did a good job pointing out the sights to those who could see them, mainly those on the left side of the airplane.
If I wasn't awake coming off the plane, the bright red Vodaphone ad that ran the length of the jetway, on the inside no less, sure woke me up. Leaving the jetway brought us into the cozy lower level departure area for the North America flights, where I took a last look at ship 120, still shrouded in darkness, before heading to customs. With an eight hour layover, I had decided to get a day room at an airport hotel. My last hurdle was customs. It was no hurdle at all, the really friendly customs agent noted that I was in transit and asked me where I was going, as I listed my destinations his eyes seemed to go wide with disbelief. Finally, as he stamped my entry into Ireland, he said, "You must really like Aeroplanes."
I admitted I did and he wished me a good day.
Okay, customs wasn't my last hurdle. My last hurdle was figuring out where to go to catch the bus to the hotel, but once again, a friendly airport police officer directed me to the right exit and I was officially in Ireland, even if it was only for eight hours. I emerged outside into overcast, freezing, and windy conditions. I then had to walk to the car park across the road from the terminal descend one level, and walk through a tunnel before finally emerging at the bus parking lot, where I walked across to a small, pretty much useless shelter and waited in the cold.
When the bus showed up, I jumped on, not realizing that the driver wasn't ready to pick up passengers yet. He let me stay on as he did his turn around and eventually I got to the hotel. Even though I didn't fall asleep, because I knew I'd never wake up, I enjoyed a few hours of relaxation before heading to London, my next overnight stop. Overall, my time in Dublin was highly enjoyable. I spent the whole time sitting around my hotel room, watching tv and smoking cigarettes before going back to the airport at one o'clock to check in for my BMI flight to London and do some spotting at Dublin Airport.
Stay tuned for part two, detailing my travels around Europe.