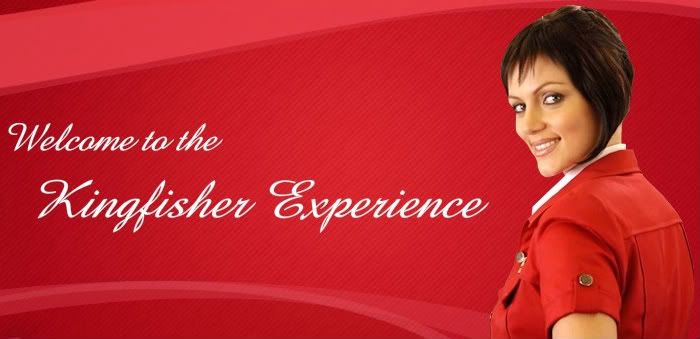 The skies over India have seen a lot of new metal within the last decade. Long gone are the days of the monopolistic government run carriers Air India and Indian Airlines. In the past, when one traveled to India, an Indian carrier was a last resort. Today things are very different as numerous domestic airlines fight for a piece of the Indian market. Competition has started to heat up and a mere glance at this picture shows the extent of said competition.
(hint read bottom to top)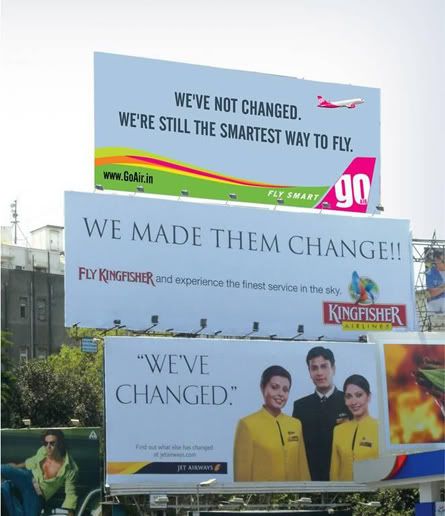 Back in 2007, I wrote a trip report comparing
Jet Airways and Kingfisher's domestic products.
Since then, Jet Airways has expanded their international operations and Kingfisher has joined them on the international scene with flights to London. As part of the current economic environment these two airlines now struggle to fill their planes during a worldwide recession, and an oversaturated market at home. This has resulted in the occasional cheap airfare for consumers, of which I decided to take advantage of. Initially I wanted to try Kingfisher on their London Heathrow flight- which was selling for a stunningly low $700 one way in Business Class. Sadly, due to circumstances beyond my control, I had to switch my destination to Hong Kong (which was launched in October along with service to Singapore) and priced out more expensive than London! Higher price aside, it was still a bargain when compared to Cathay Pacific or even Jet Airways's prices on the same route.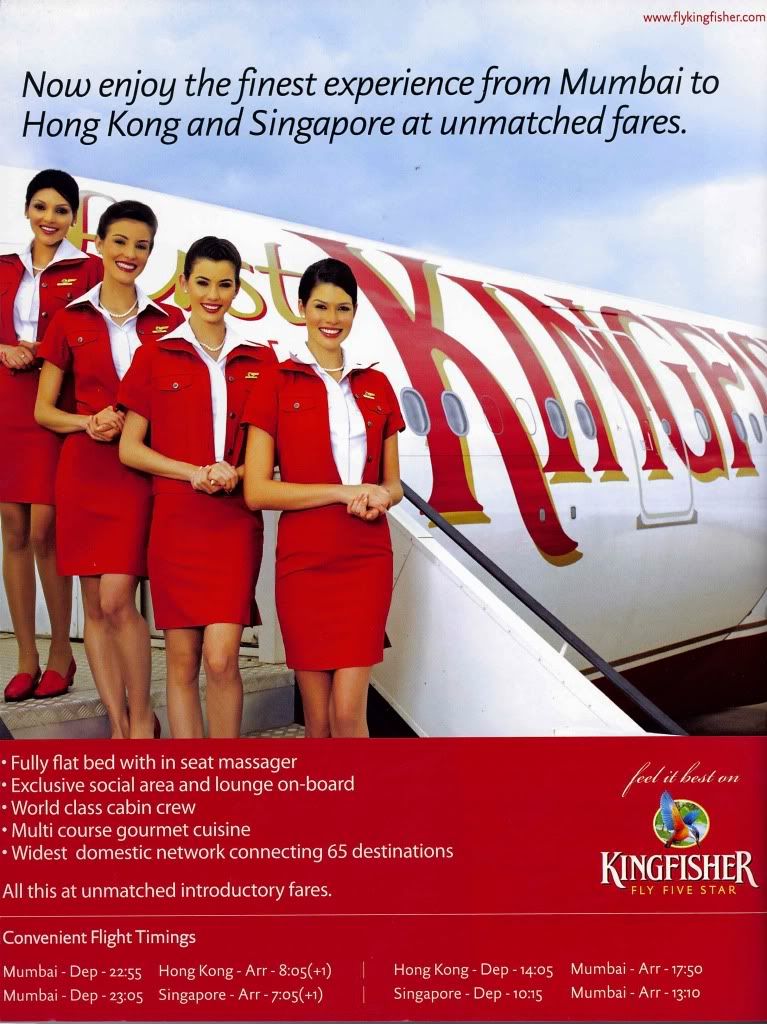 Kingfisher markets itself as a "five star" airline due to their Skytrax rating. To be ranked in the same league as heavy weights Cathay Pacific, Singapore Airlines, and Qatar is quite a feat for such an airline that has yet to celebrate its fifth birthday. Domestically the airline proved to me that they were in a league of their own, however it was time to put their international business class product to the test. Would it be as good as advertised or would it fall short of the mark.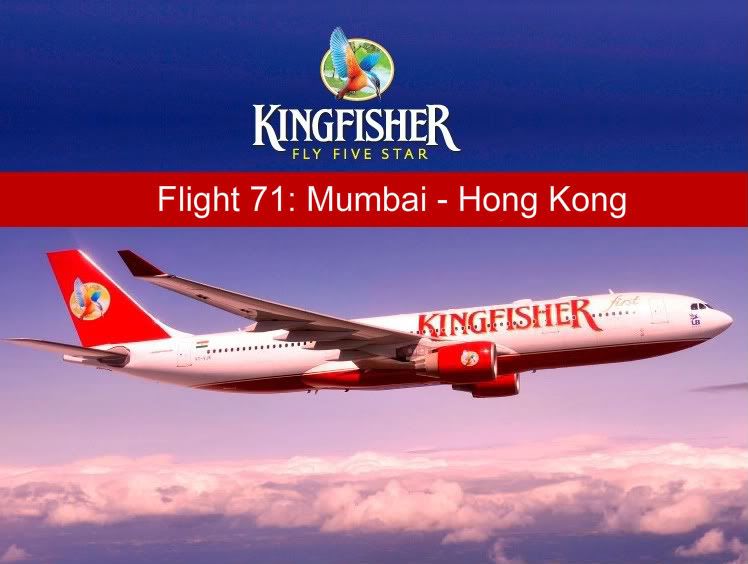 Kingfisher Airlines 71
Mumbai – Hong Kong
Airbus A330-223 (VT-VJP)
Seat: 1K
Scheduled Departure Time: 22:55
Actual Departure Time: 22:50
Scheduled Arrival Time: 8:05
Actual Arrival Time: 6:25
Check In:
I reached the airport shortly after 8pm to find a number of Kingfisher red coat porters waiting by the entrance. As I only had a carry on, I did not avail myself to this unique luxury. I wished my parents goodbye and made my way to the check in counters, which were virtually deserted. I walked up to the security podium in front of the Kingfisher First (Kingfisher's marketing name for Business Class) counters and handed my documents to the security agent (ironically dressed in black and not the airlines signature red).
"Good evening sir, where are you traveling to today?"
"Hong Kong"
"What is the purpose of your visit to Hong Kong?"
"I am just changing planes on my way to the US."
"Why are you going to the US?"
"I work there."
This went on for a little bit and it led to him asking to see my company ID badge, and asking probing questions on why I was not flying directly to the US on Air India, Continental, Delta or Jet Airways. I could not tell if he was bored and was trying to amuse himself or wanted a career change. He even took all my documents to his supervisor to double check. After playing what seemed like a game of "50 questions " he finally allowed me through.
I was greeted at the counter by one of the gorgeous Kingfisher girls in her distinctive red dress.
"Good evening sir, welcome to Kingfisher. Where are you flying to today?"
"I am heading to Hong Kong."
"I see you have reserved seat 2K, is that still all right for you?"
"By chance, is there someone sitting next to me?"
"I am sorry sir, there is. Do you prefer a window or aisle seat sir?"
"A window if possible."
"Absolutely sir, is 1K all right with you? There is no one in 1H."
"That's perfect, thank you."
"You are very welcome sir. Here is your boarding pass and an invitation to the Clipper Lounge which is across from gate 14. Boarding will begin at 21:55 at gate 14 as well. Have a pleasant flight sir."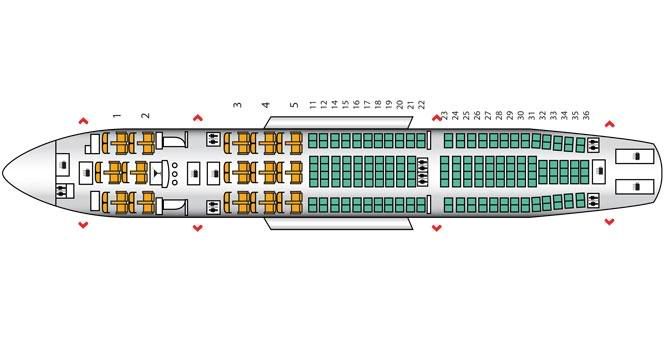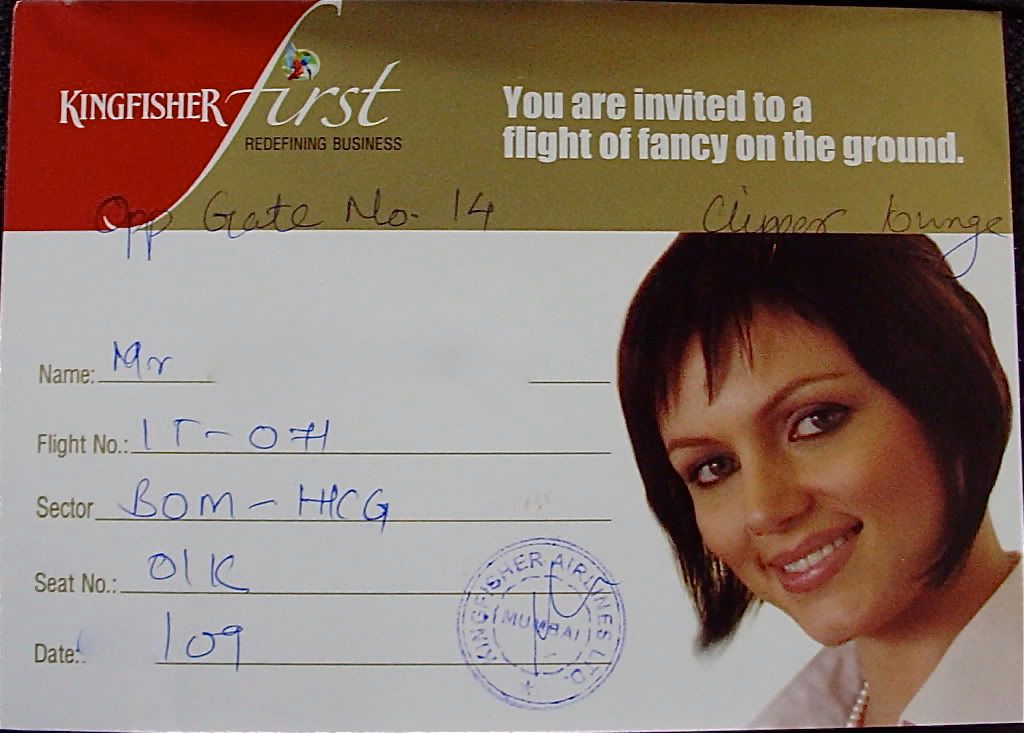 I walked off to immigration in absolute amazement as to what Mumbai airport has become. This modern and well appointed facility is a far cry from what I was using here not even ten years ago. There was even a separate immigration line for First and Business Class passengers, something I never thought I would see. Immigration took no more than two minutes, however the security check that followed took a good 20 minutes. Once my bags were x-rayed and my boarding pass sufficiently ruined with ugly rubber stamps, I was on my way to the Clipper Lounge. On my way I passed by the newly constructed Lufthansa, Emirates, and British Airways lounges along with numerous shops. Overall, I was impressed with the renovations. Jet Airways and Kingfisher can finally claim to have an excellent Indian airport at their disposal.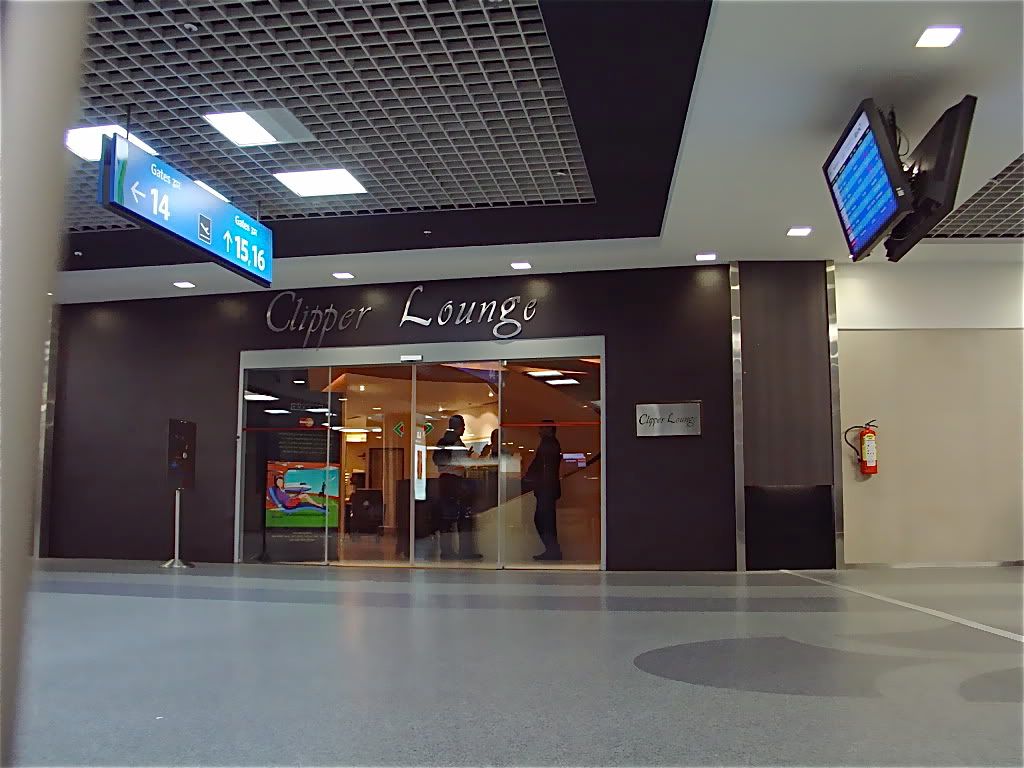 Lounge:
I was greeted by a lounge attendant who showed me in and I found a nice quiet corner to sit down and sort out my paperwork. Around me there was an array of drinks and snacks to pick from despite me settling on just a Fanta. The wireless was not working in the lounge that day and many passengers voiced their displeasure to the manager. I personally can live without being connected to the World Wide Web and to be honest, it's a good excuse to get out of the office. As time went on the lounge started to get crowded, I think it is time for Jet Airways and Kingfisher to consider opening up their own lounges.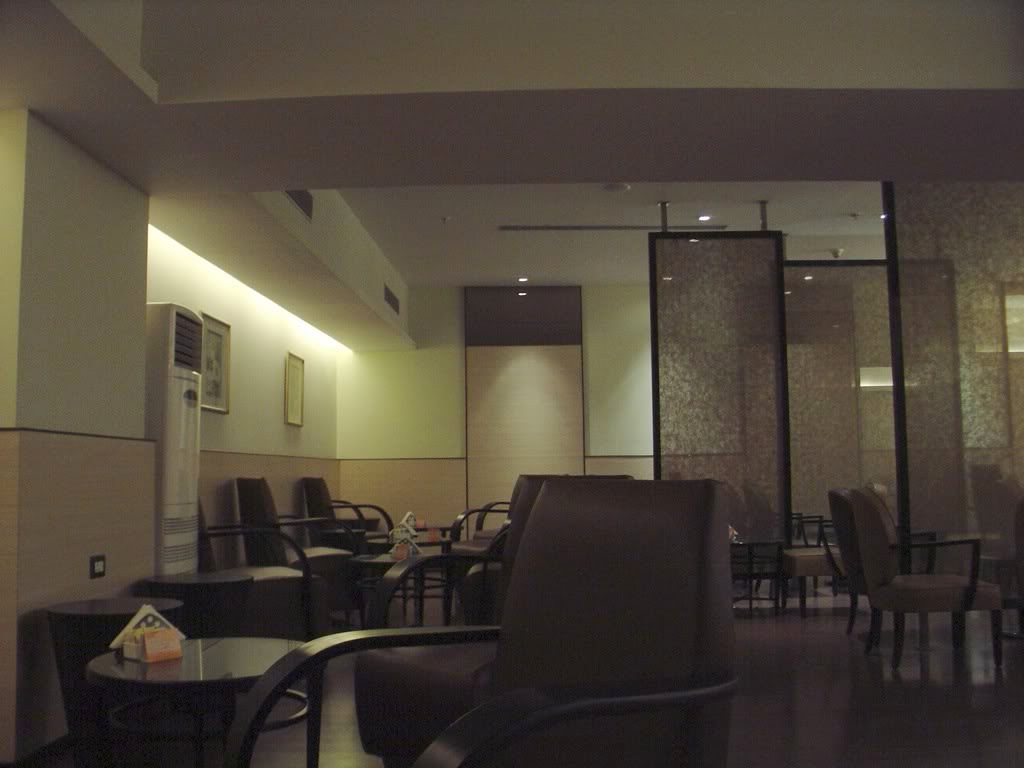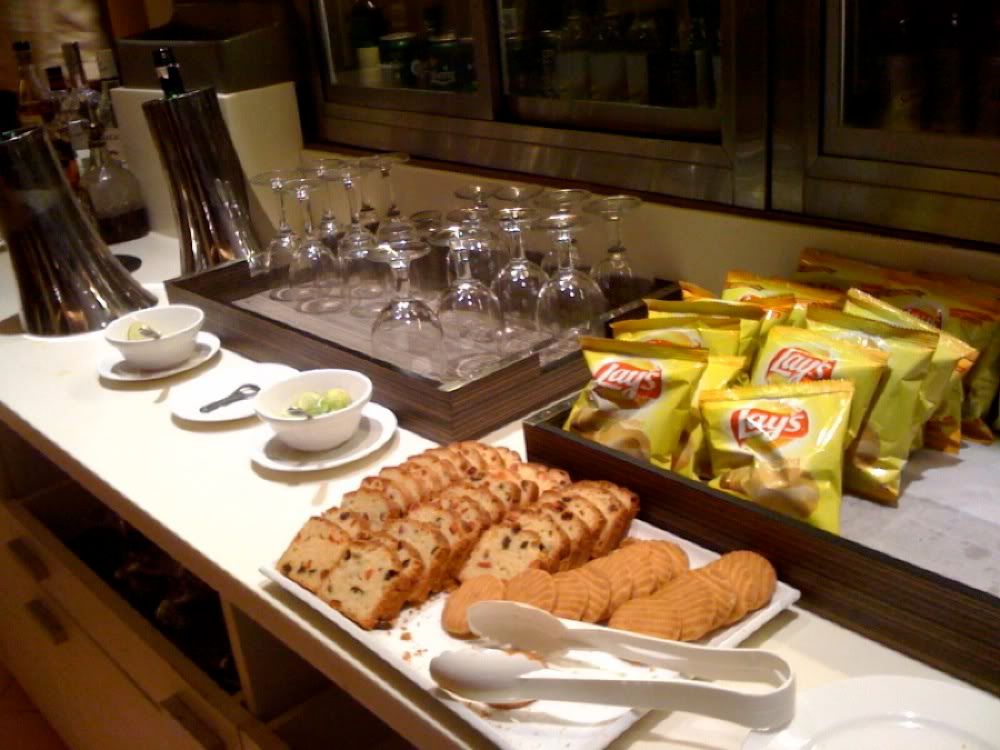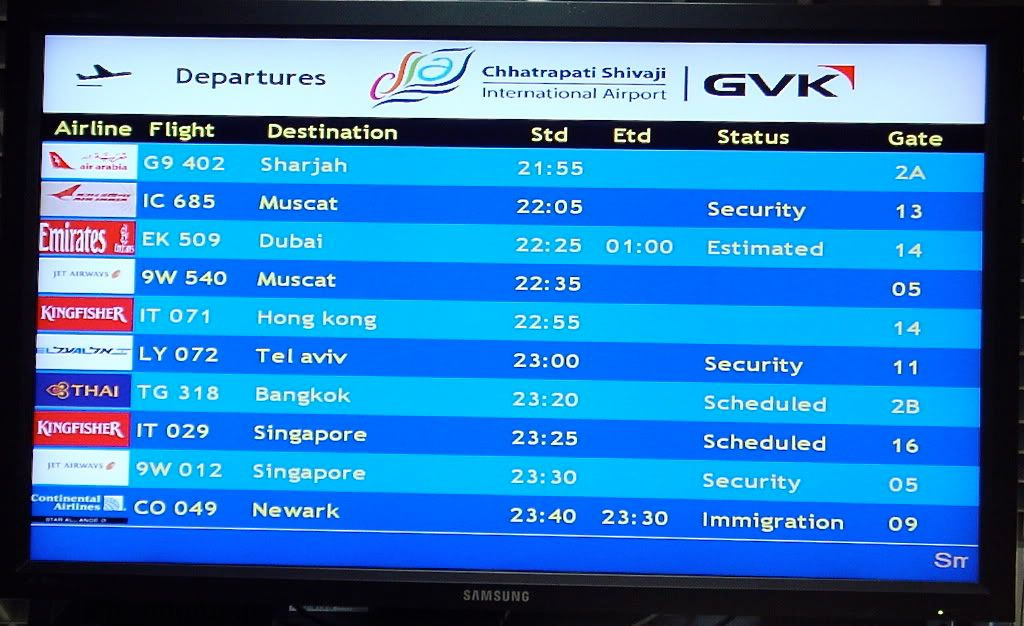 Boarding:
I left the lounge at 10pm and walked to the gate which luckily was a mere 20 feet away. There was somewhat of a crowd, but as soon as one of the red Kingfisher agents saw my gold bordered boarding pass, she pulled one of the side ropes aside with a, "sir please come through here." Allowing me to bypass the line and walk straight onto the bridge where my boarding pass was ripped and I was ushered onto the jetway with a "have a pleasant flight."
As soon as I reached the cabin door, a gorgeous flight attendant in her red mini skirt greeted me.
"Hello sir, welcome onboard. Let me show you to your seat."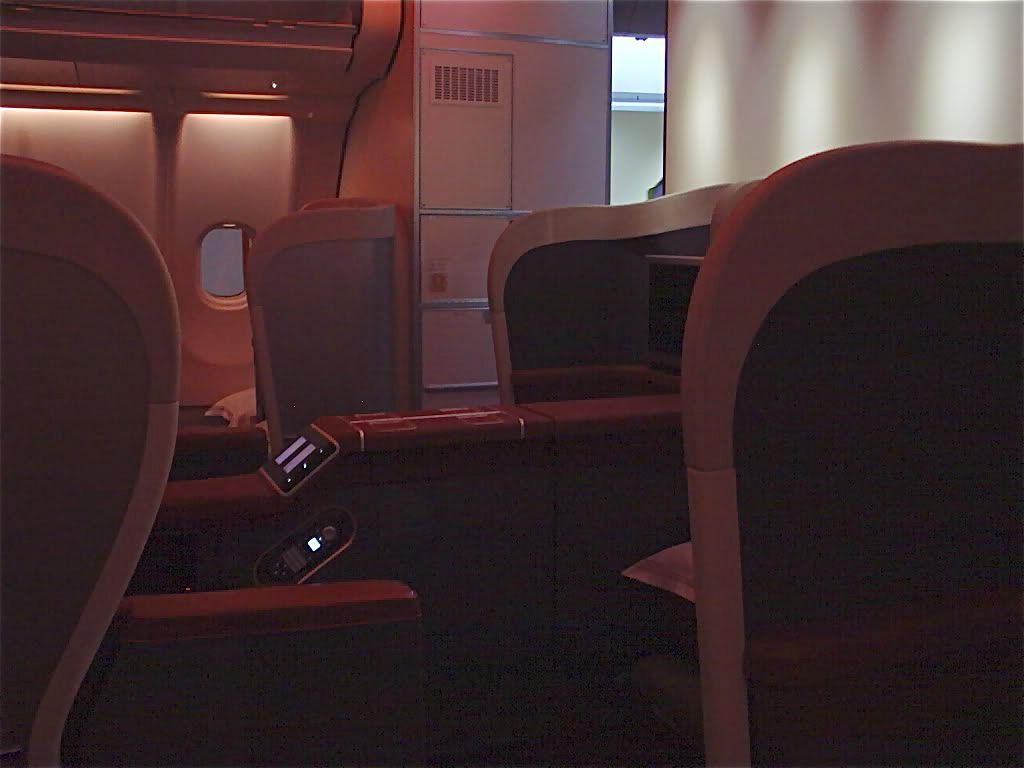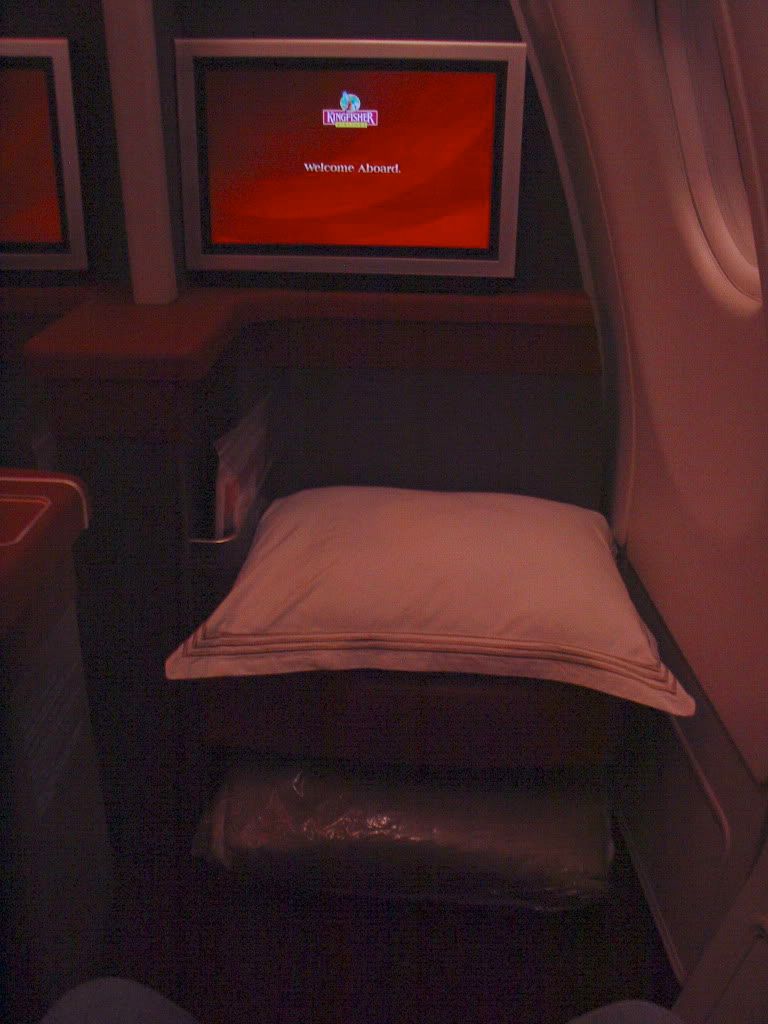 As I sat down, I noticed the enormous amount of space these seats provided. I am normally not a fan of leather, but I have finally found a leather airplane seat that I love! It was soft, plush, and did not make an obscene sound every time I moved. Despite the layout being 2-2-2, I did not feel cramped. I also really like how the seat controls are on a small square digital touch screen on the armrest, which created a very futuristic look. There was a massage feature for various parts of the seat along with an electronic side panel in case your neighbor has a bad case of onion breath.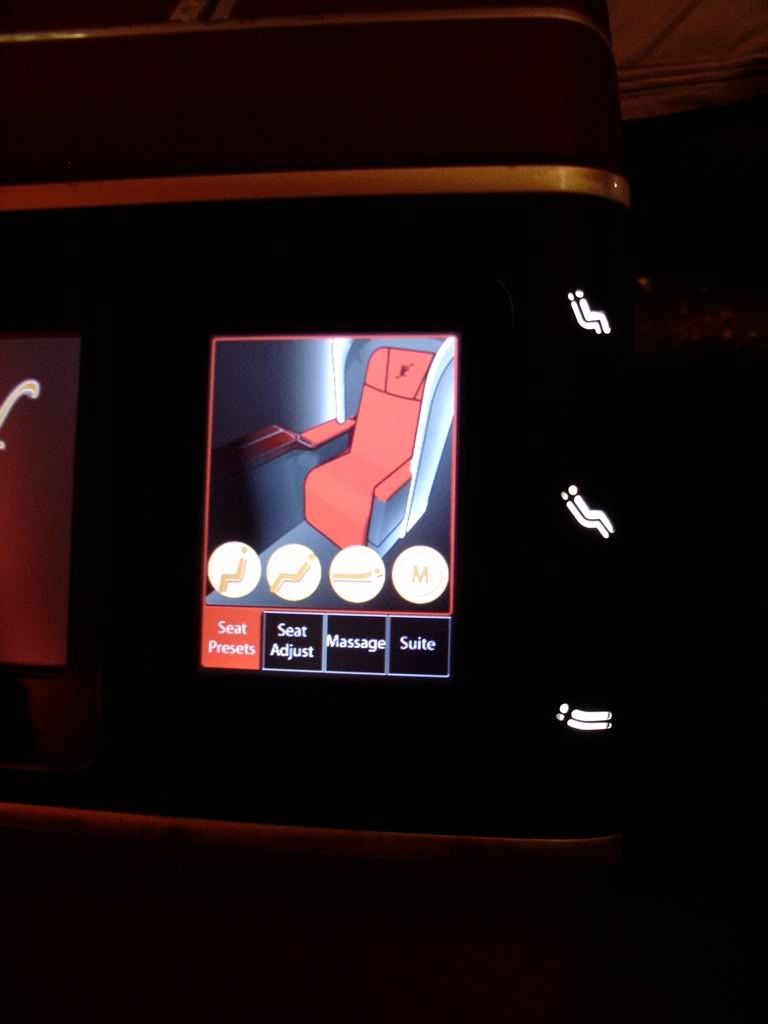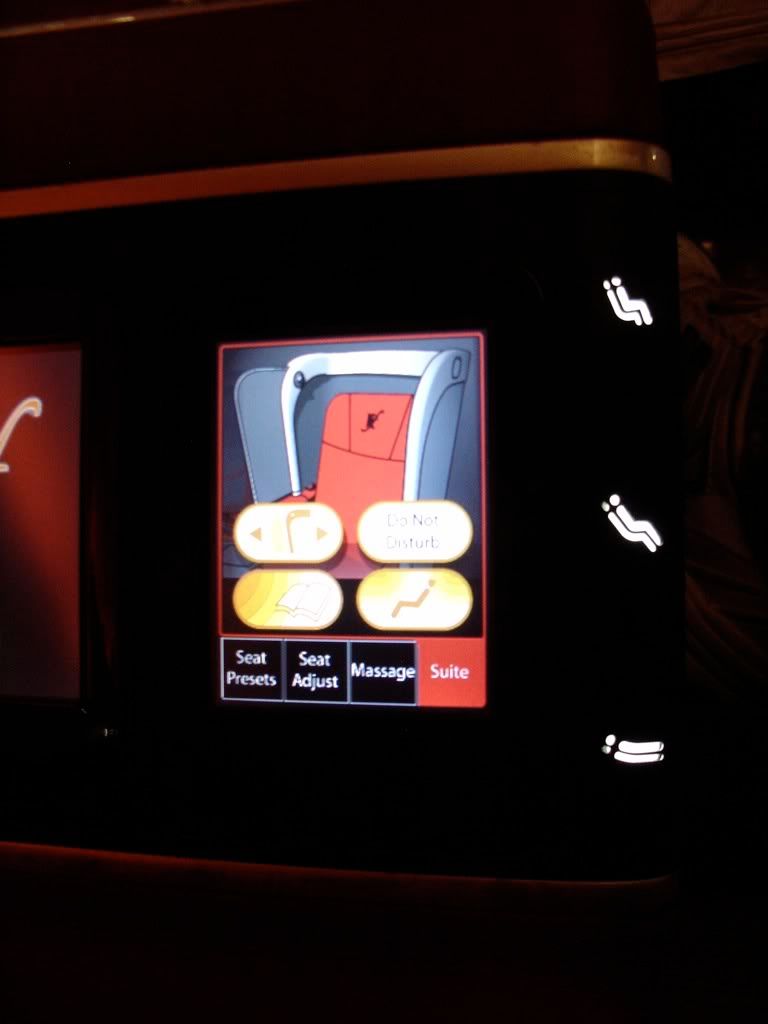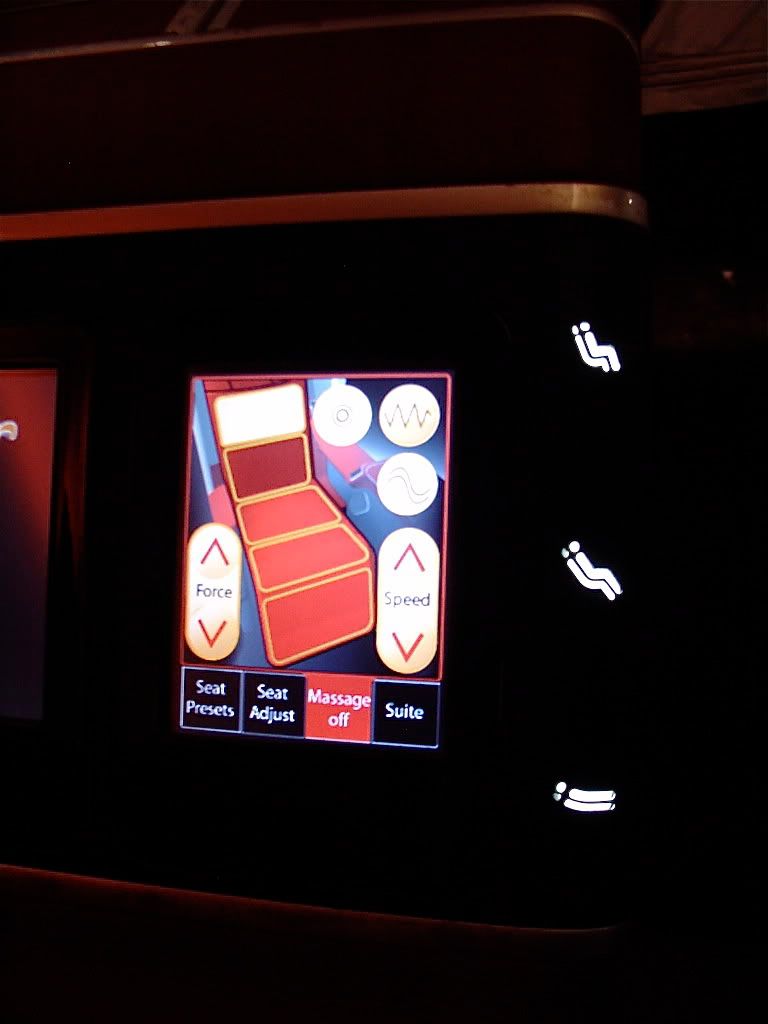 A young and very good looking flight attendant walked up to me and intoned:
"Hello sir, my name is Ashwarya and I will be one of your flight attendants today. Welcome aboard Kingfisher. Here is a menu for you to look through."
Shortly thereafter another equally striking flight attendant (Sushmitta) handed out bottles of Kingfisher water along with a little plastic pouch containing socks, eyeshades, and slippers.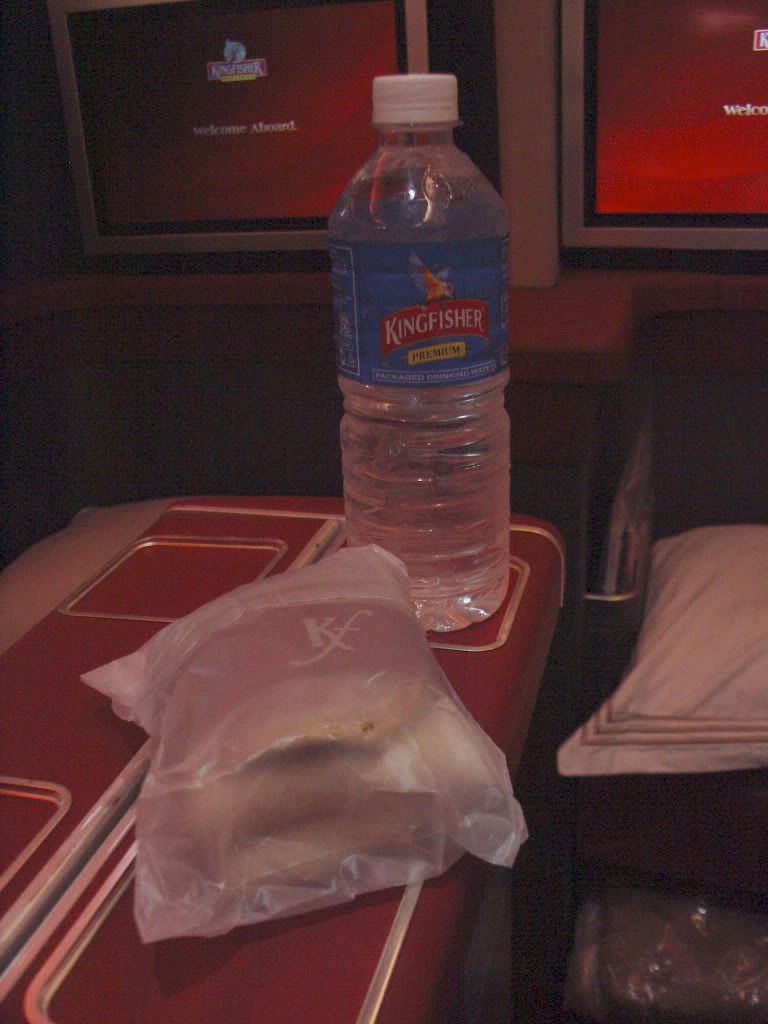 Sushmitta made a third trip down the aisle, this time with BOSE noise canceling QC2 headsets. Before I could take picture of them in the Bose packet, Ashwarya came by, took them out of the pouch, and placed them on the headset hanger by my head, "this will be more convenient for you."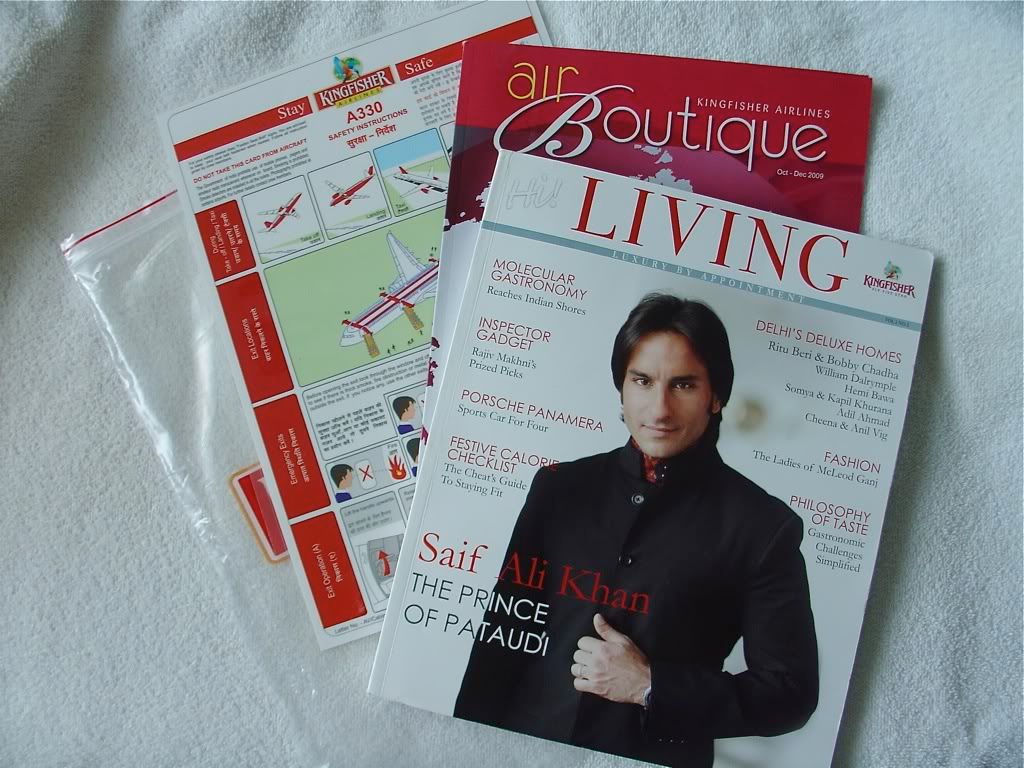 As I was flipping through the in-flight magazine, a male steward named Vivek approached me with a tray of drinks -since when does Kingfisher hire male flight attendant? Maybe he was the bartender?.
"Sir would you like some sweet lime juice, coconut water, or something else from the bar?"
"Sweet lime juice is just fine, thank you."
The juice was a nice change from the standard orange juice and water I am used to on most carriers. Sushmitta appeared by my side as I was sipping the juice,
"Mr. SR 103, can I offer you a hot or cold towel?"
"A cold one please"
The cabin doors were still open at this point and the cabin was not getting any cooler, the cold towel hit the proverbial spot. Meanwhile, our Indian captain introduced himself and informed us that our flying time today would be a quick five hours. The cabin doors were closed at 22:45 and the lead flight attendant that had been by the door during boarding started walking around the cabin.
"Hello Mr. SR 103, my name is Nina and I am the in flight purser today. Welcome onboard Kingfisher. If there is anything you need, please let me or one of my fellow colleagues know.'
A few minutes later Vivek came by to collect my empty glass.
"I hope you enjoyed the drink sir. Would you like another one?"
I declined as I did not want to fill myself up unnecessarily. Sushmitta approached me after to say:
"Mr. SR 103, have you decided what you would like for dinner?"
"Sure, can I start off with the Citrus Sky High cocktail?"
"Certainly sir. Would you like to have it at the bar or at your seat?"
"Here please."
"Certainly. How about your meal, what would you like?"
"The prawns please."
"I am so sorry Mr. SR 103, I am out of the prawns. Can I invite you to try the Shahi Thali?"
"Sure, no problem."
"I am so sorry for the inconvenience."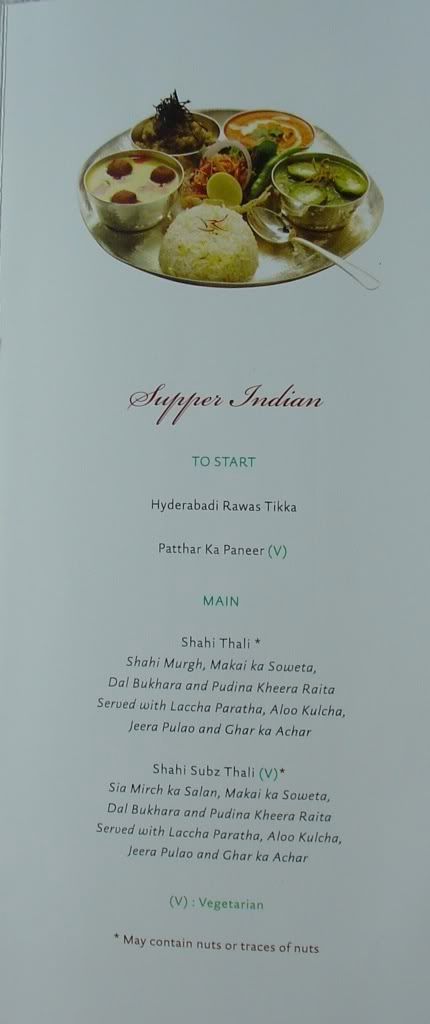 Shortly before pushback, a video was played with a special message from Dr. V J Mallay, the CEO of the Kingfisher Group.
This was followed by a safety video first played in Hindi followed by English.
Cabin lights were dimmed and we taxied to the runway, which took minimal time as there was virtually no movement this early in the night. I decided to take advantage of the BOSE QC2's and selected the dance/club mix channel. There is nothing more relaxing than taxing in the dark around an airport while listening to some of your favorite music.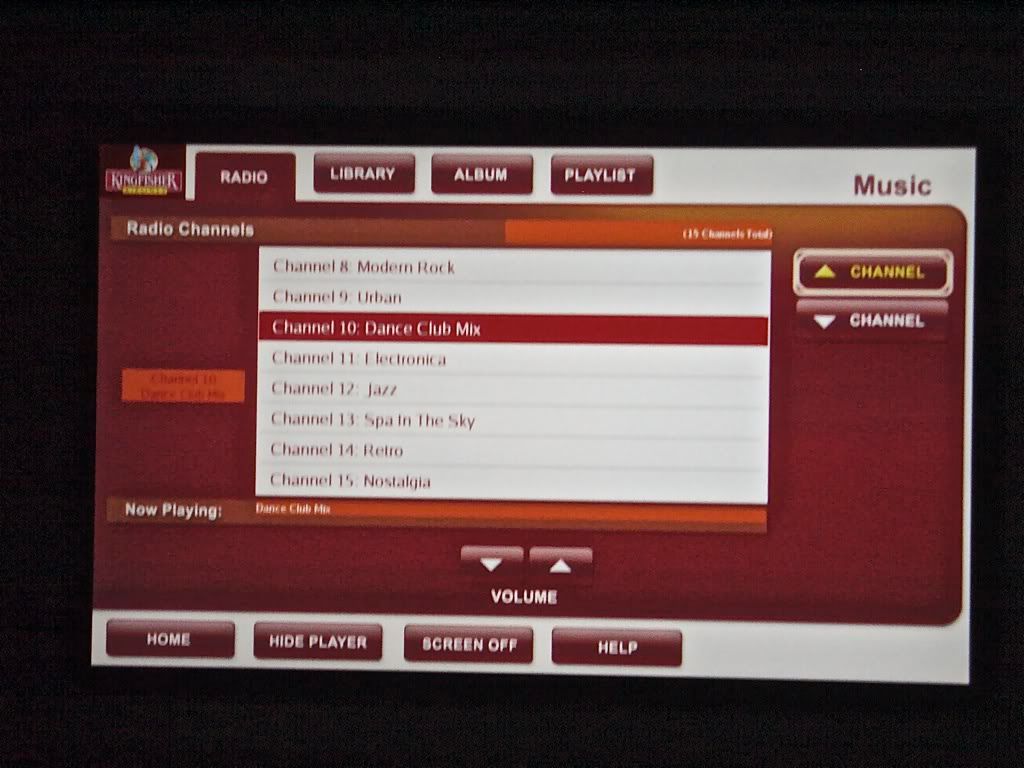 Aside from the large number of aircraft arrivals at this hour, there was no wait for take off. Almost instantly we were lined up on runway 27 and the Pratt & Whitney engines were spooling up for the rather short flight to Hong Kong.
The Flight:
As we began to climb, I started playing with the Kingfisher entertainment system. The system was quick to the touch and very easy to navigate through. There were numerous sections with outside camera views (rather useless on a night flight) and some informational stuff on Kingfisher as an airline.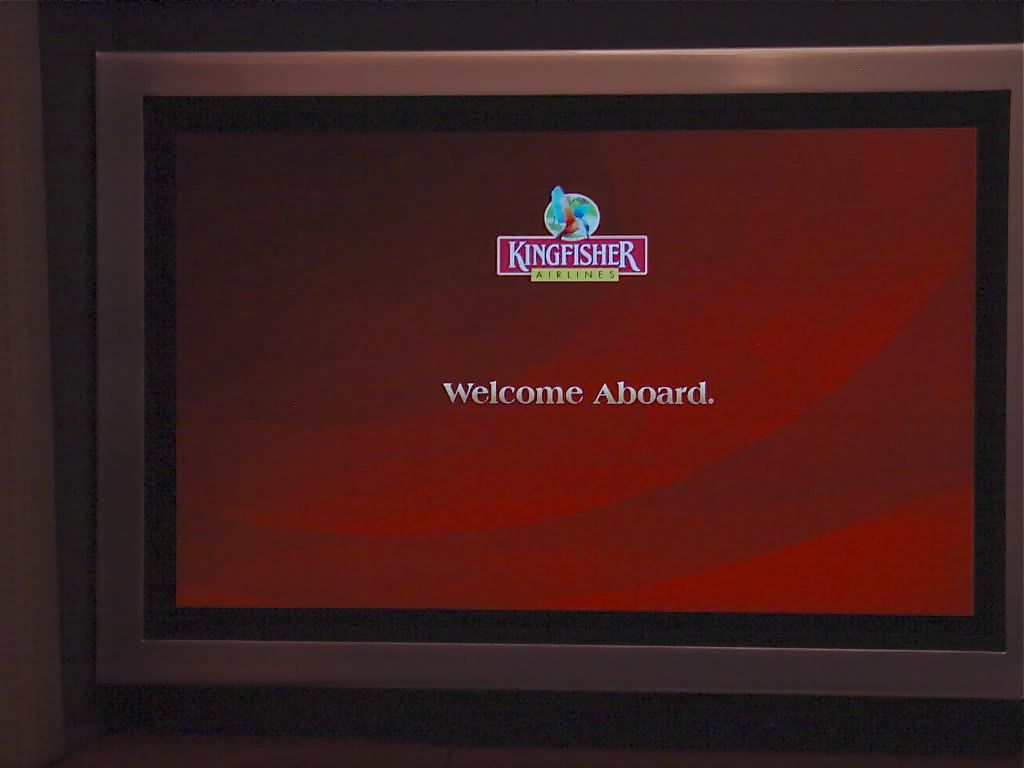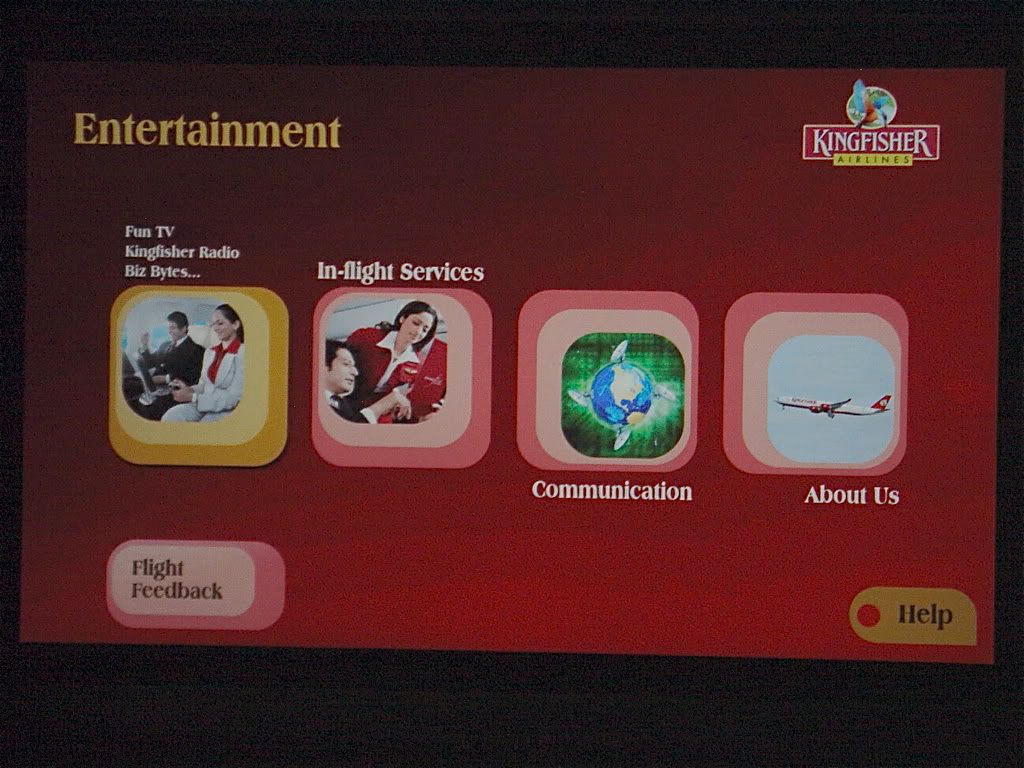 However disappointment set in here, there were a mere twelve movies to choose from, and only six of those in my preferred language of English. However I have to give credit where it is due, as they were recent Hollywood movies. I decided to settle on "Bride Wars" as my accompaniment to dinner tonight.
A few minutes into the movie Nina came out of the galley with a bunch of white table cloths draped over her hand.
"Mr. SR 103, may I set your table for dinner please?"
As Nina was placing the white table cloth down, Ashwarya appeared behind her with my cocktail and a small bowl of mixed nuts.
"Here is your Citrus Sky High sir. Please enjoy."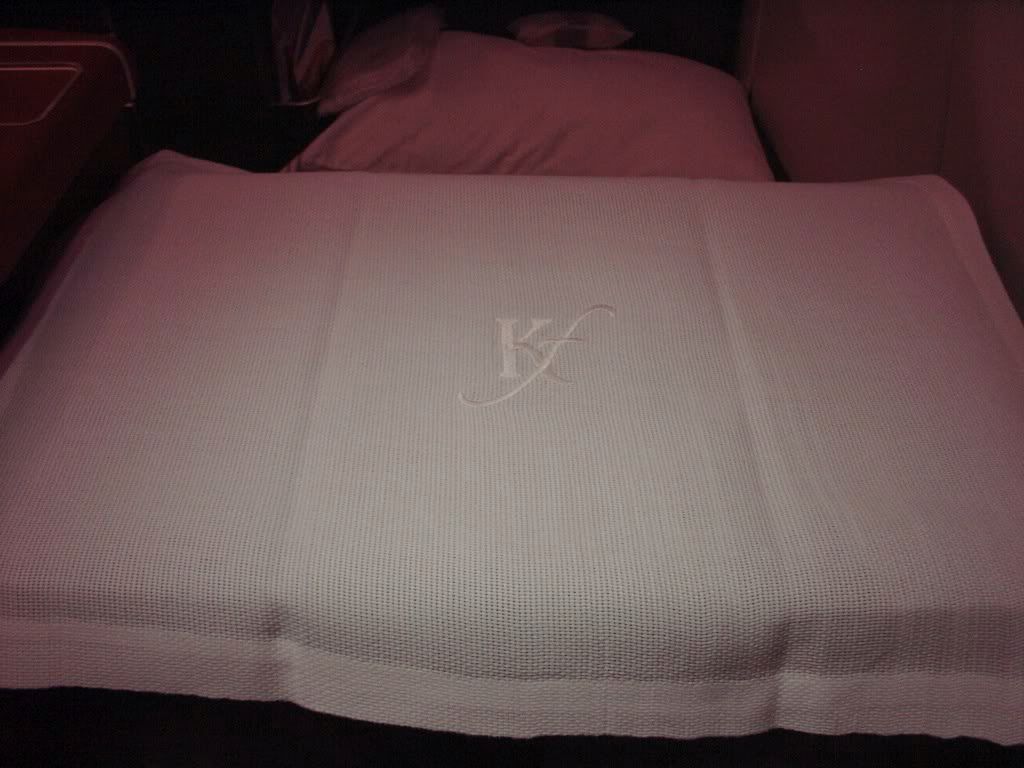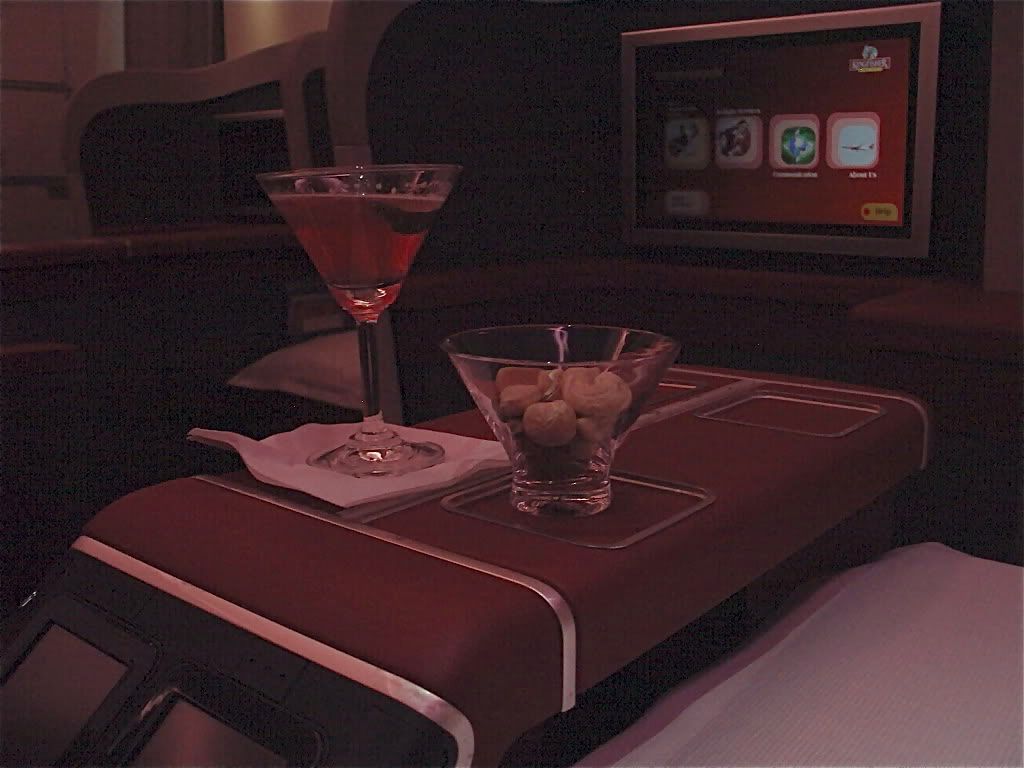 The cocktail was actually quite nice. I was a bit apprehensive about the Basil as I was not sure how it would taste, but surprisingly it was rather mild. While the mixed nuts were not warmed, they were lightly salted and not stale which accompanied the drink very nicely. Just as I polished off the nuts and cocktail, Sushmita approached me.
'Sir would like to like to have dinner now?"
I nodded with a "yes please."
She disappeared behind the red curtain, after which Nina appeared,
"Mr. SR 103, here is your Shai Thali. Can I get you another cocktail or perhaps some wine?"
"Actually could I just get a Diet Coke please?"
"Certainly sir."
Sushmita was behind her once again with a bread basket,
"Which kind of bread would you like sir?"
"The garlic bread please"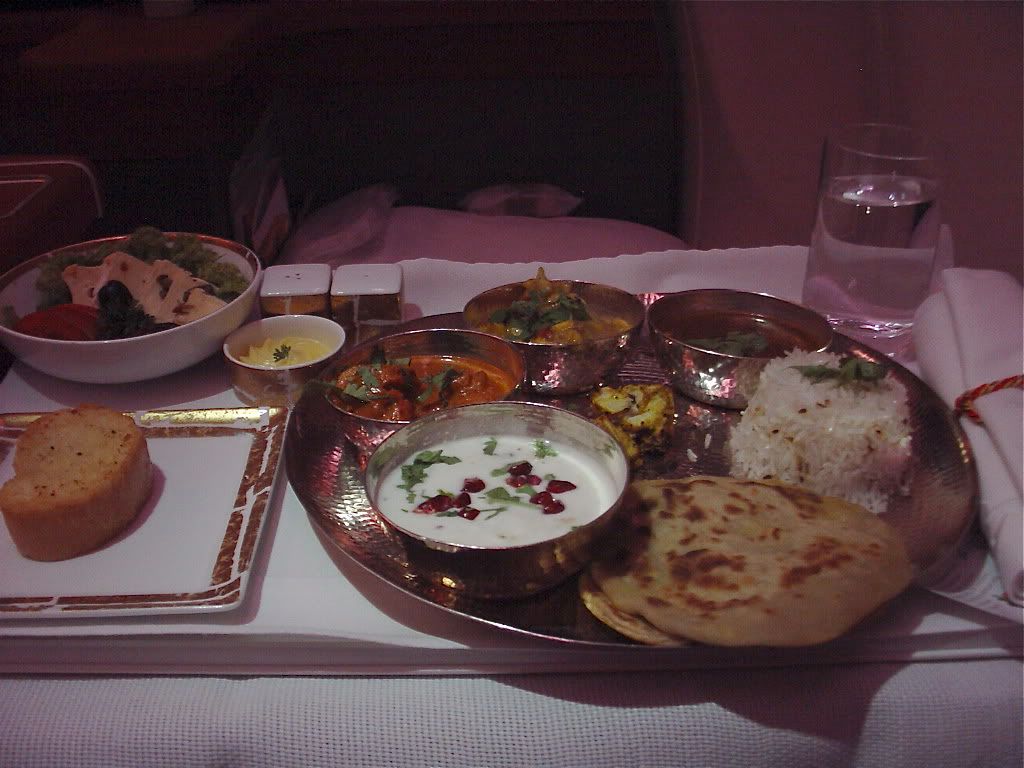 Now I know I am Indian, but I would be lying to you if I told you I knew exactly what I was eating. Also, I am not a very large fan of India food so it was with a bit of trepidation that I started tasting everything. This is where the crew could have simplified things by explaining what was on the thali. If a Korean Air F/A can take the time to explain how to eat bimp bap, a Kingfisher F/A should be able to quickly explain the offerings. It is the small touches like this that show the difference between a well-seasoned crew and an inexperienced one in my opinion.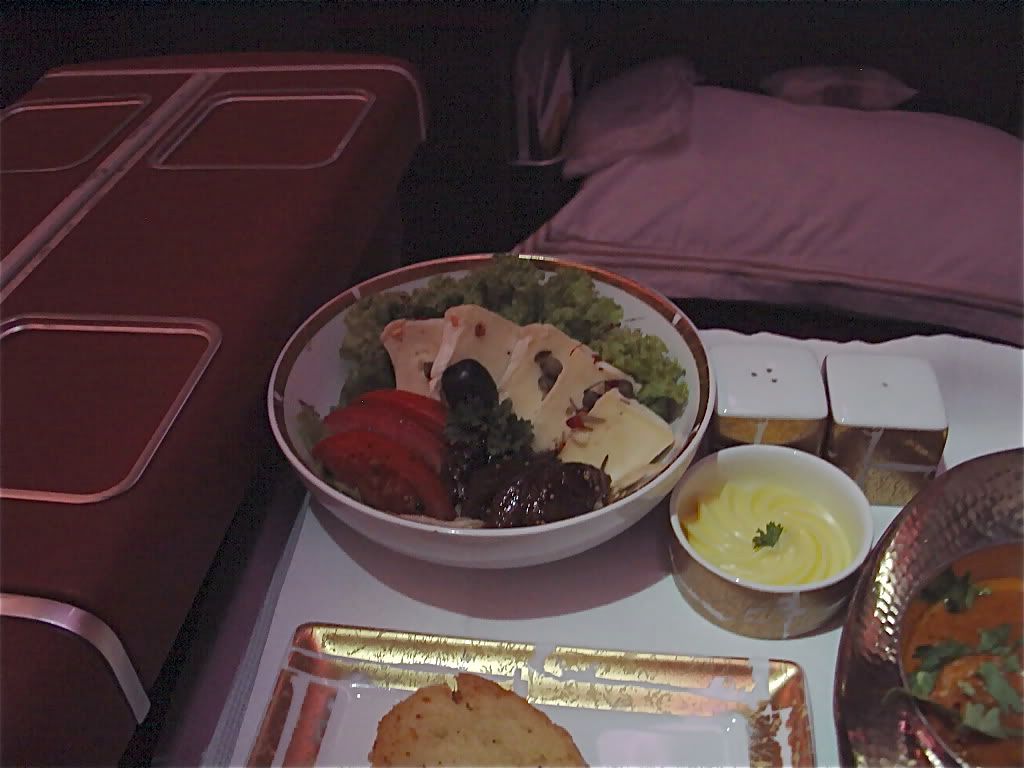 I started off by taking a bite of the garlic bread; big mistake! I nearly chipped a tooth off as it had the consistency of a brick. I tried cutting it with my knife to no avail, and I decided it was not worth the struggle and started with the appetizer. For some reason I think I had been given the Western appetizer of brie rather than the rawa. It was a bit on the sweet side and the fig jam next to it did not make it taste much better. Overall it was not to my liking. Personally I feel that a simple slice of salmon or chicken would have been much better as an appetizer.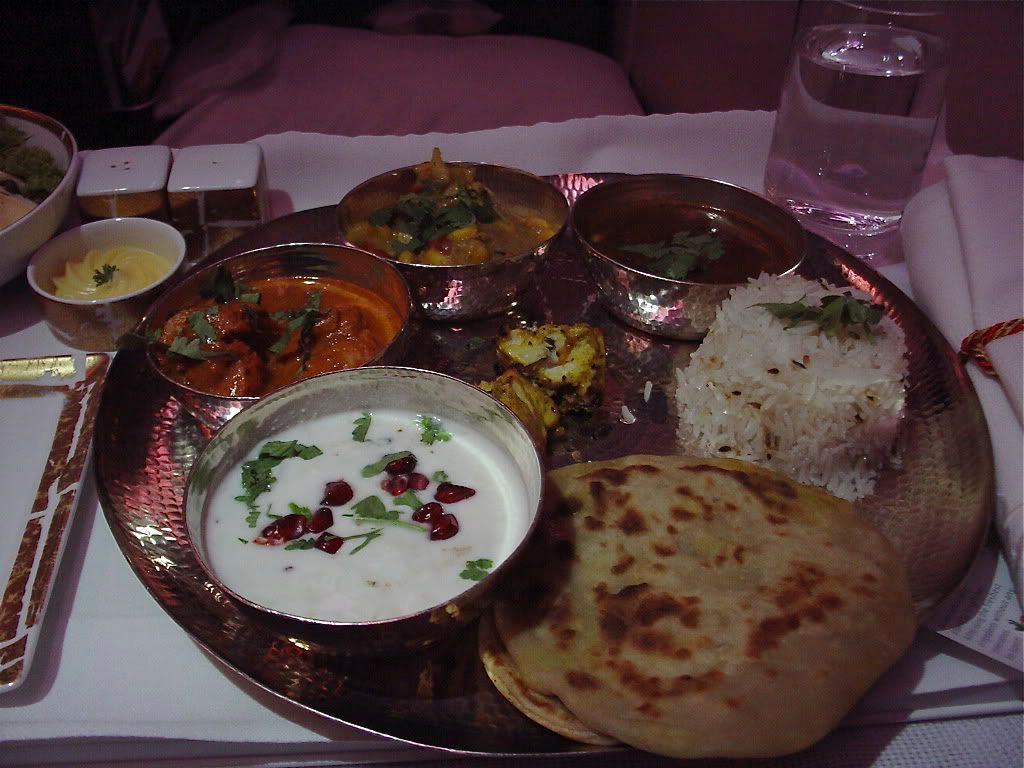 Luckily, the main course was much better as the pieces of grilled fish in the middle were well seasoned and perfectly cooked. The jeera pulao, or in English cumin rice was fluffy despite its molded shape. The laccha parathas were soft, hot, and went very well with the dal. The shahi murgh, which was like a curried butter chicken, was very flavorful and definitely something I would be happy to order in an Indian restaurant. Even though this was served on one tray, it was a lot of food. I ended the meal feeling stuffed and did not even finish everything!
Nina came by as I stopped eating and collected my tray.
"Would you like some dessert Mr. SR 103?"
"Absolutely."
"Today we have crème brulee, kesar malai, and fruits."
"Can I have the crème brulee please?"
"Certainly sir."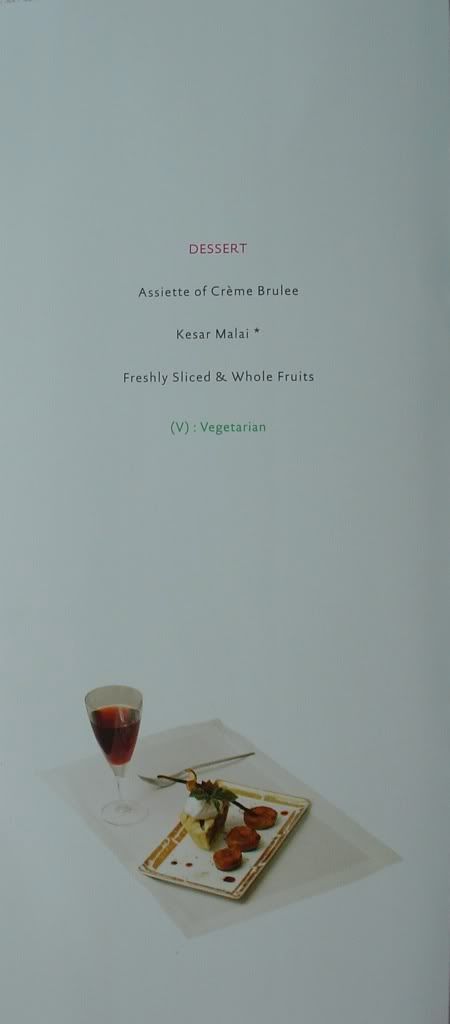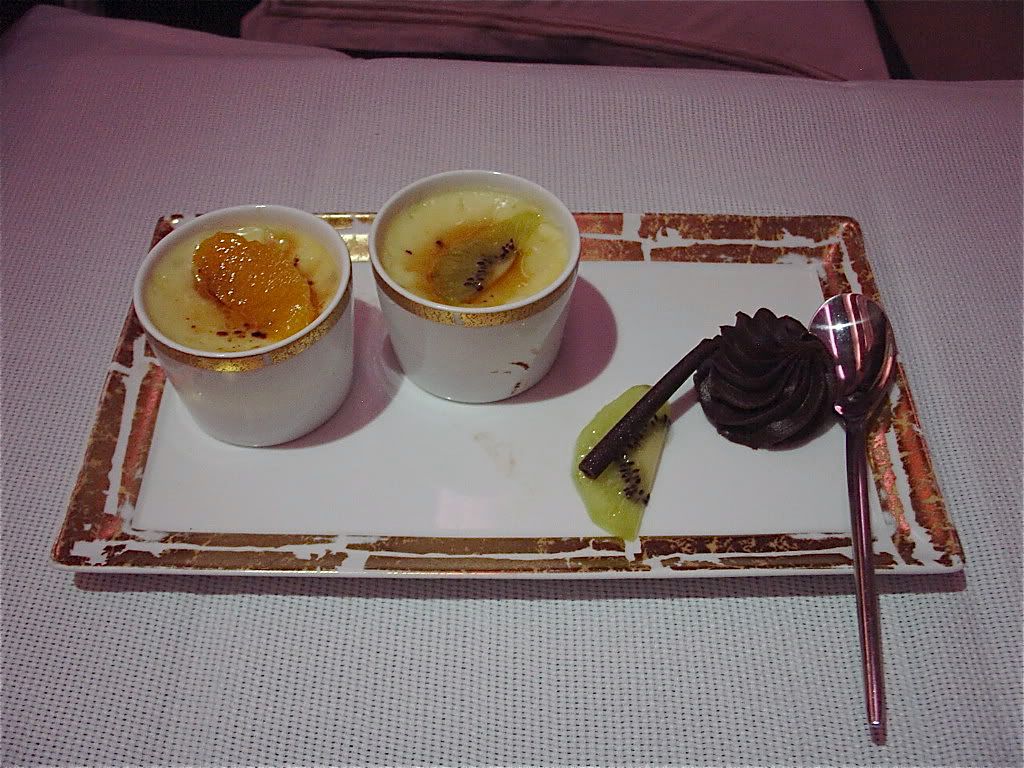 Now this was one of the best desserts I have had the pleasure of having while on a plane. The crème brulee with the orange slice on top had a raspberry filling, while the one with a kiwi slice had a chocolate filling. Both were excellent and the little side of chocolate gonache was absolutely fantastic. This easily has to be my second favorite airline dessert after Air France's sorbet, cookies and cakes. Once my plate was licked clean, Sushmitta was by my side once again:
"I hope you enjoyed your dessert sir. Can I get you anything else, coffee, tea?"
"Could I actually get a cup of the masala chai please?"
"Sure sir, I will be right back with it."
True to her word, she came back five minutes later with my gold rimmed cup of chai and a small creamer.
"Sir, I am going to pour some milk into your cup, please let me know when you would like me to stop."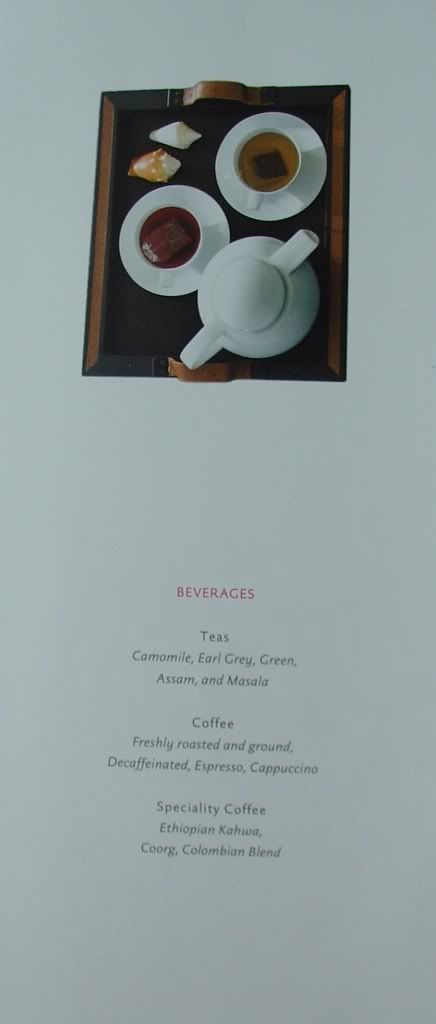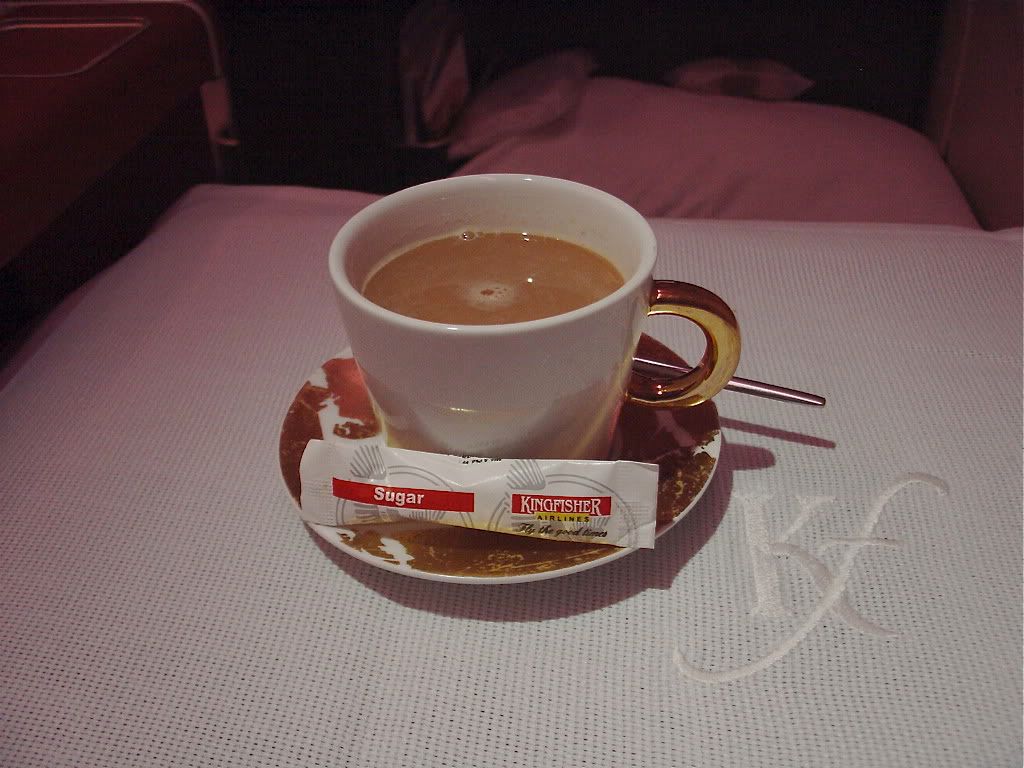 As one would expect on an Indian carrier, it was nice and strong but it was nothing more than a masala spiced Tetley tea bag that one can find in any grocery store. My tray was cleared as we neared Kolkata, the lights had already been dimmed in the cabin illuminating the stars on the ceiling. I was still not tired at this point despite it being very late and decided a visit to the lavatory was in order.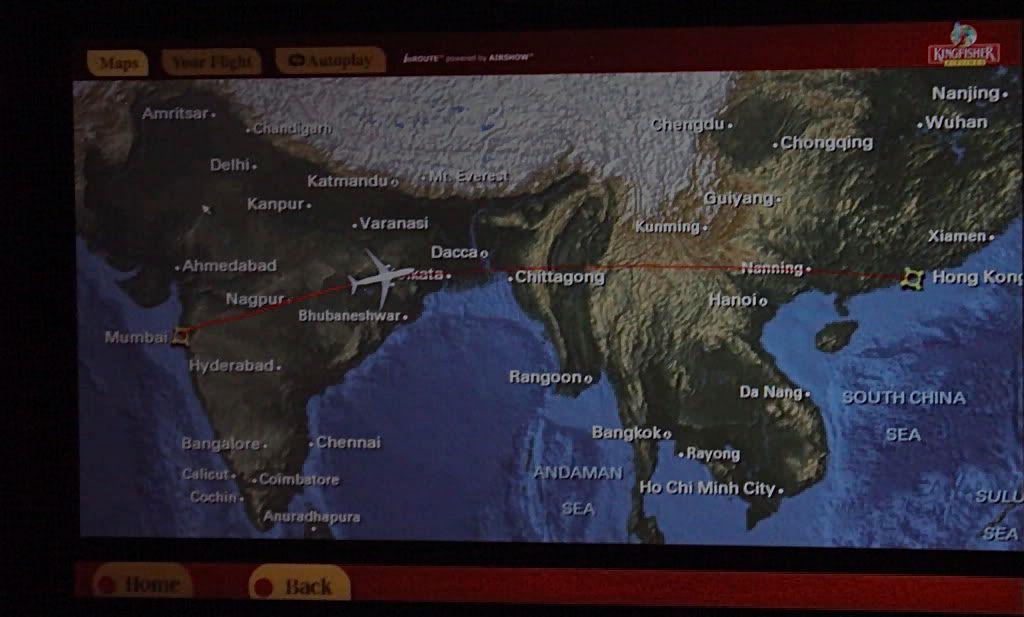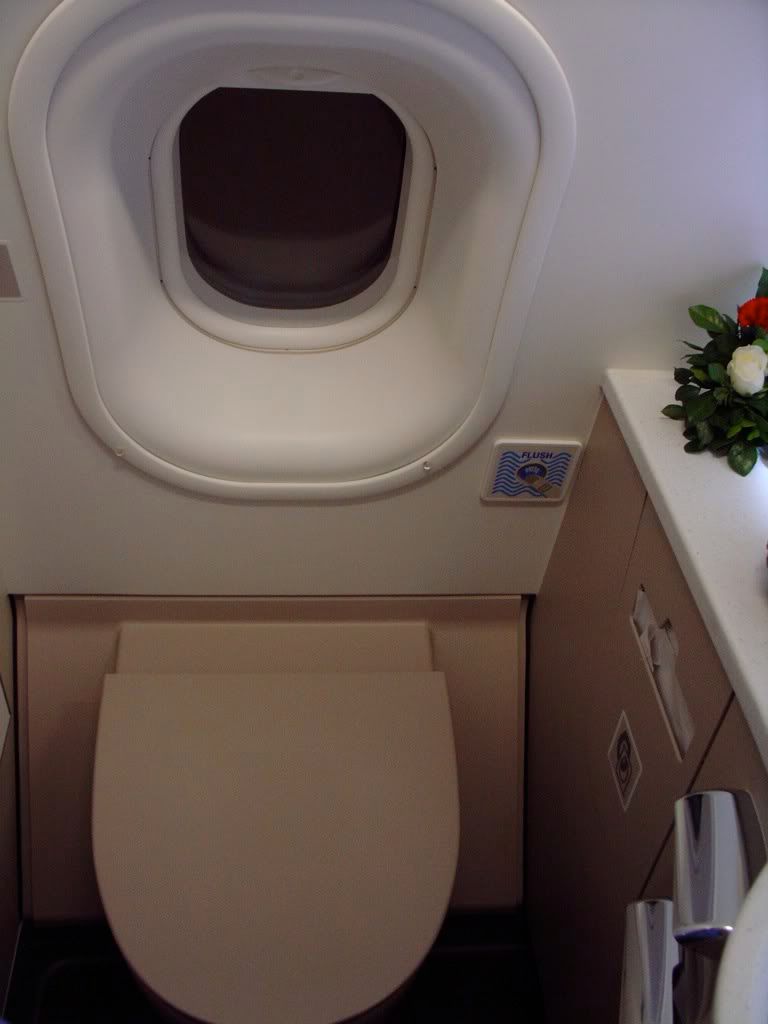 There was nothing extraordinary about the lavatory as it contained a window and all the standard facilities. However I was very happy to see that Kingfisher had a little basket with toothbrush/toothpaste packets. With the lack of an amenity kit, these things are needed on overnight flights such as this.
When I reached my seat I noticed that a pair of arrival forms had been placed on my armrest. I put on my reading light and started filling them out. As I was half way through the forms, Ashwarya came by with a tray of items:
"Sir, would you like to join Kingfisher's King Club? Its our frequent flyer program."
Despite the ever so gracious offer, I had to decline. I was accumulating miles on one of Kingfisher's US partner airlines.
"What about a survey sir? Would you be willing to tell us about your experience today?"
"Absolutely."
"Thank you sir. Here is a pen for you which you may keep. Thank you again sir."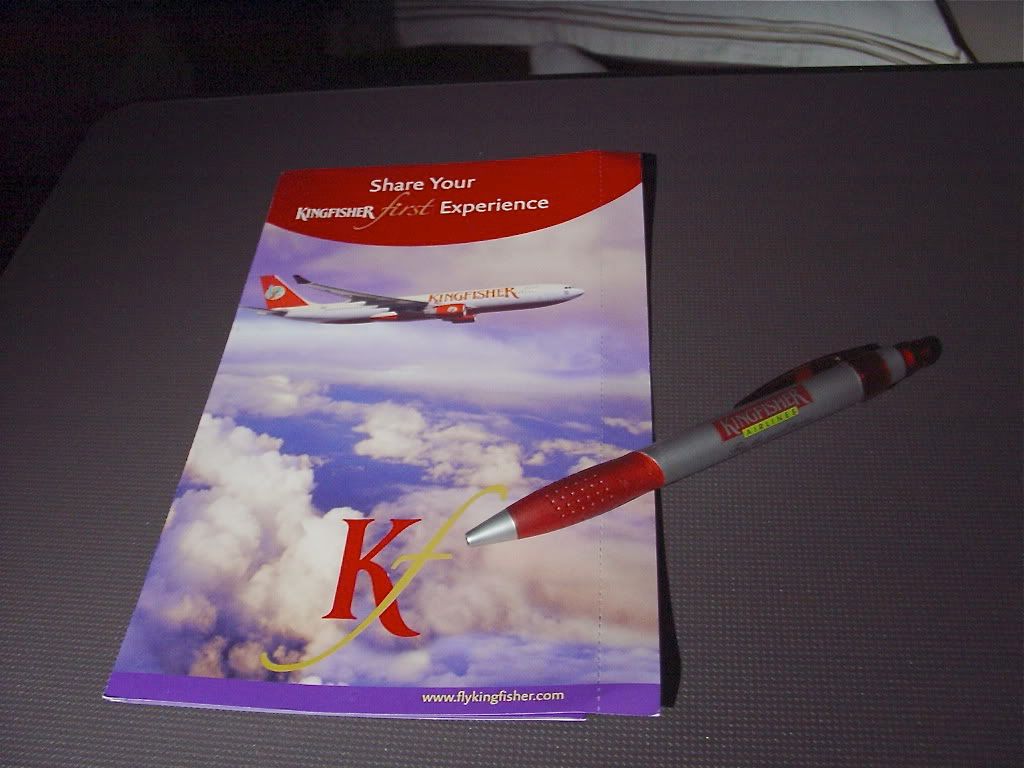 As I put all the paperwork away, I approached the galley to hand the finished survey to Ashwarya, who once again thanked me profusely for taking the time to fill it in. As I sat back down in my seat, Nina came up to check on me:
"Mr. SR 103, can I make your bed?"
"I don't think its necessary, I am not tired and I doubt I will sleep. Thank you though."
"Certainly. Please don't hesitate to call me if you want the bed to be made. Can I at least open the comforter for you so you can cover yourself while you watch your movie?"
A few seconds later my seat was in a semi reclined position with a big white pillow behind my head and a comforter on top of me. I selected "Bolt" as my second movie and had I known how boring it was going to be, I would have taken Nina up on her offer as I started drifting away a quarter way through it.
Nevertheless I woke up after a good 45 minutes. Even without the seat being made into a bed by the crew, it was a very comfortable nap. These seats are one of the best I have ever had the chance to try.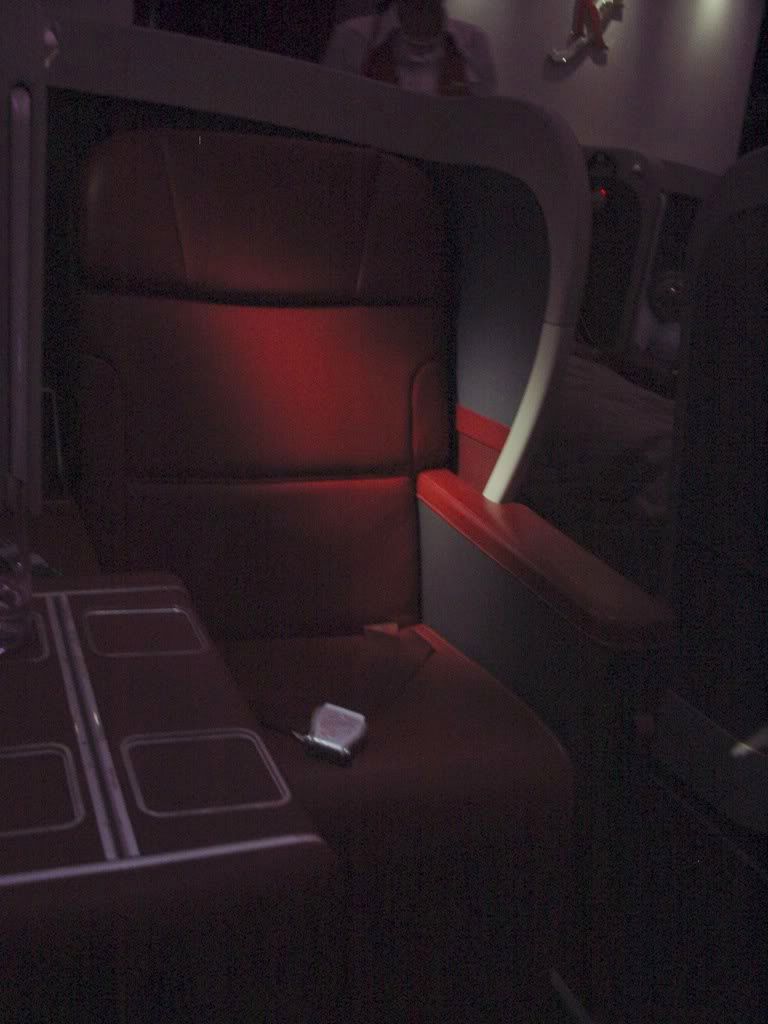 I played around with the IFE a little more looking at what was on offer, but there was not much else. Sushmita saw that I was up and came by to check on me:
"Your not sleepy sir?"
"No not really. Not much time left to really to have a good nights sleep. I think I'll just sleep when I get into Hong Kong."
"That is a good idea. Can I get you anything, some juice or water?"
"Some water would be great, thank you."
My water was delivered and we started chatting about our lives. She mentioned she had only recently started working international and this was her second trip outside India as crew. She was quite surprised to hear that I work in the industry as well and commented about my picture taking. We had a nice little chat for a few minutes before one of the other passengers woke up and quite rudely tapped Sushmitta on the shoulder with a "get me a cup of tea!"
She excused herself and started to make a cup of tea for him. By this point the cabin was beginning to wake up slowly and the captain came on the PA to announce that we were about to begin our descent into Hong Kong.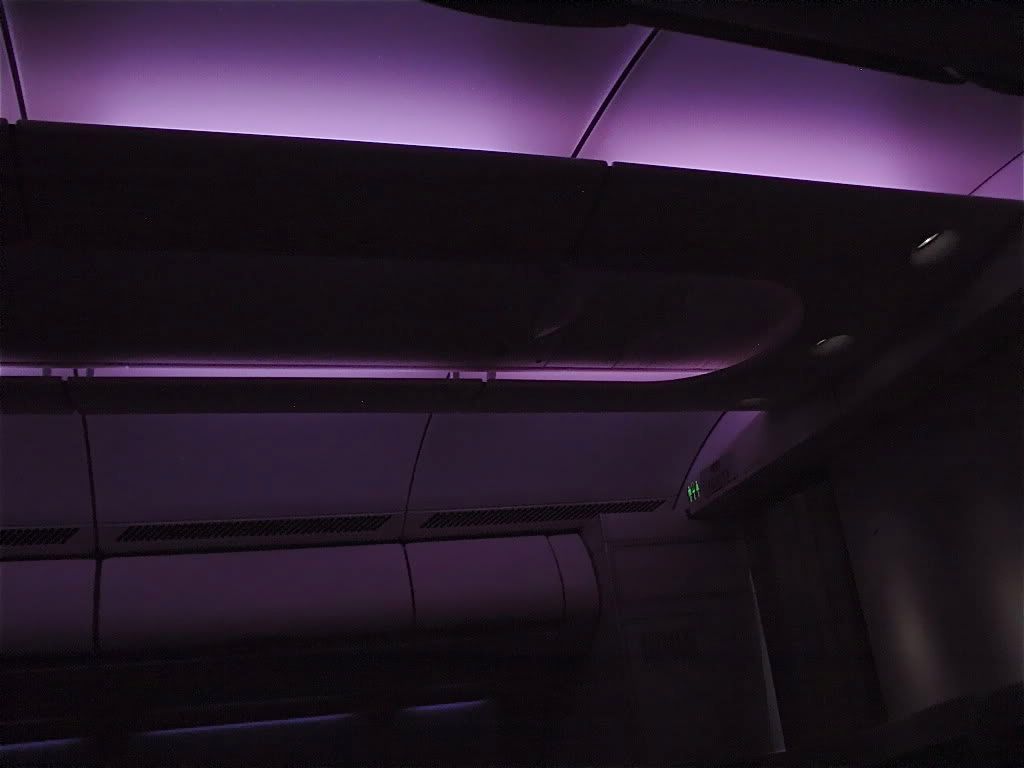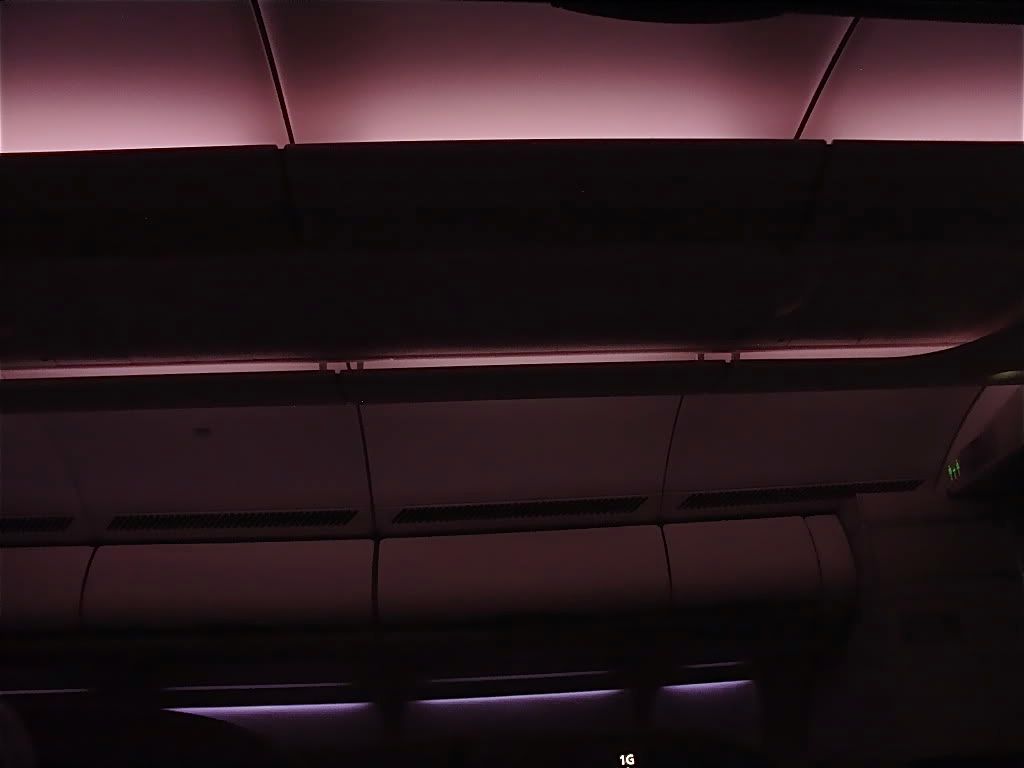 Nina came around the cabin with a tray full of orange juice and apple juice. Ashwarya followed with some hot towels which were a welcome sight and were very much needed by me. I quickly made a trip to the lavatory to brush my teeth and freshen up before arrival. Thankfully, they had not run out of toothbrushes but I imagine the stock would dry up pretty quickly on a full flight.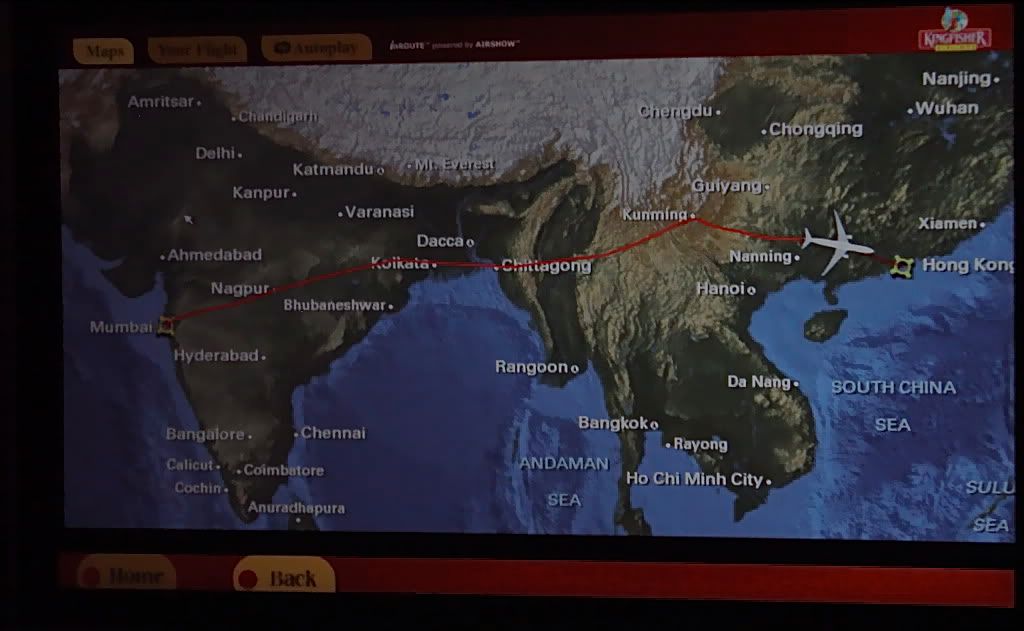 As I got back to my seat, Sushmitta was by my side again:
"Mr. SR 103, we have turned the lights on in the bar area for you. Please feel free to take as many pictures as you like." To say I was impressed would be an understatement, as I never asked her to do this. As I was at the bar taking pictures,
another video was played, one explaining how to prepare for landing.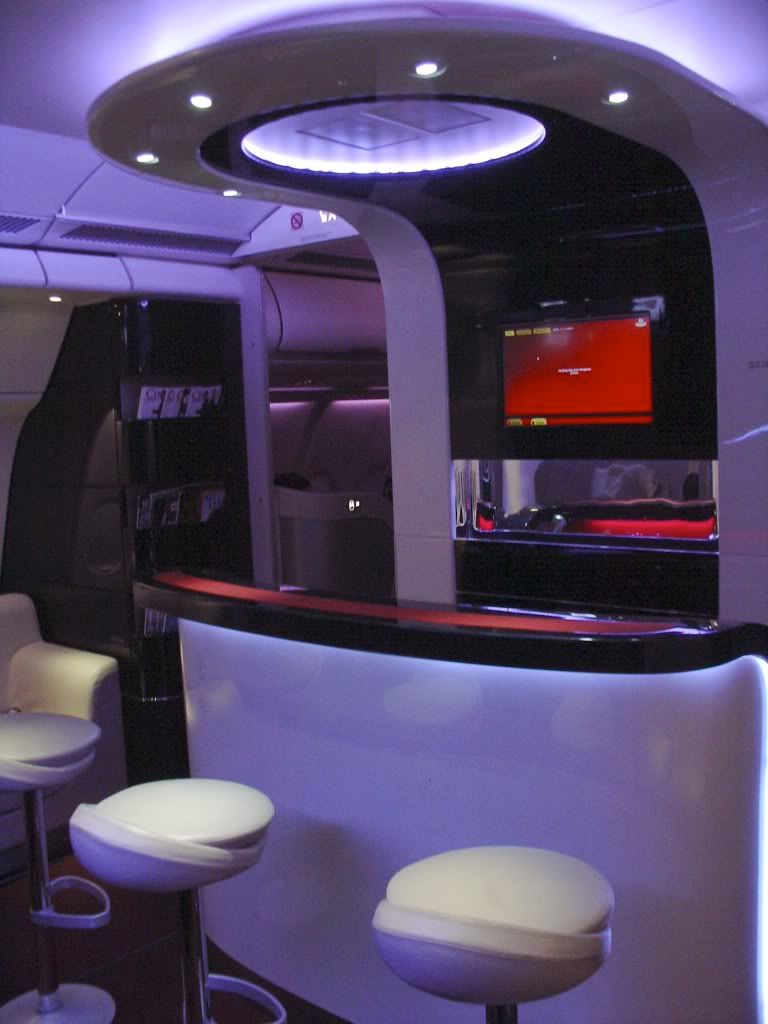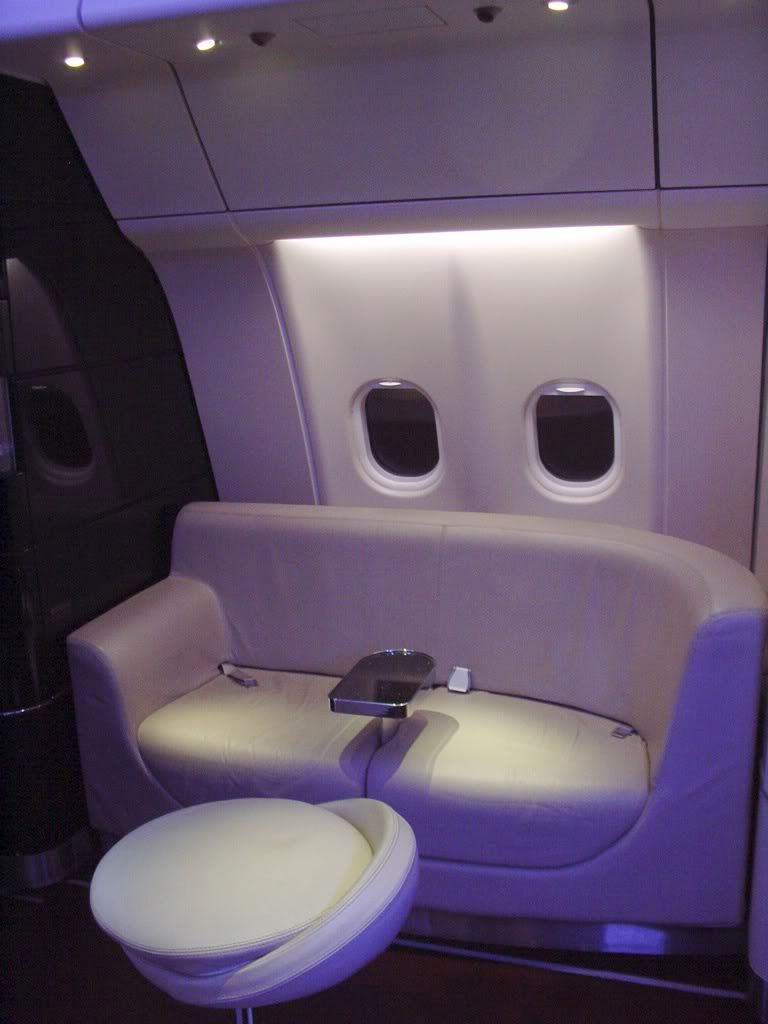 By this point we were halfway through the descent and you could hear clanging and banging in the galley as the crew prepared for arrival. Sushmitta approached me:
"Mr. SR 103, it was a pleasure having you onboard. It was nice chatting with you earlier. Hopefully we get to meet again in future. Please come back and see us."
I thought that was a nice touch on her part. She went on to thank everyone in the cabin as well once she was done with me.
Despite all the commotion in the galley, Nina stopped by my seat as well,
"Mr. SR 103, thank you for flying with Kingfisher. I hope you had a great flight with us today."
The banging and clanging continued and Ashwarya came by to collect the BOSE headsets, however she seemed to have skipped over me. I just walked to the galley and handed them to her. She seemed very embarrassed about the oversight, but genuinely thankful that I did not try to pilfer them.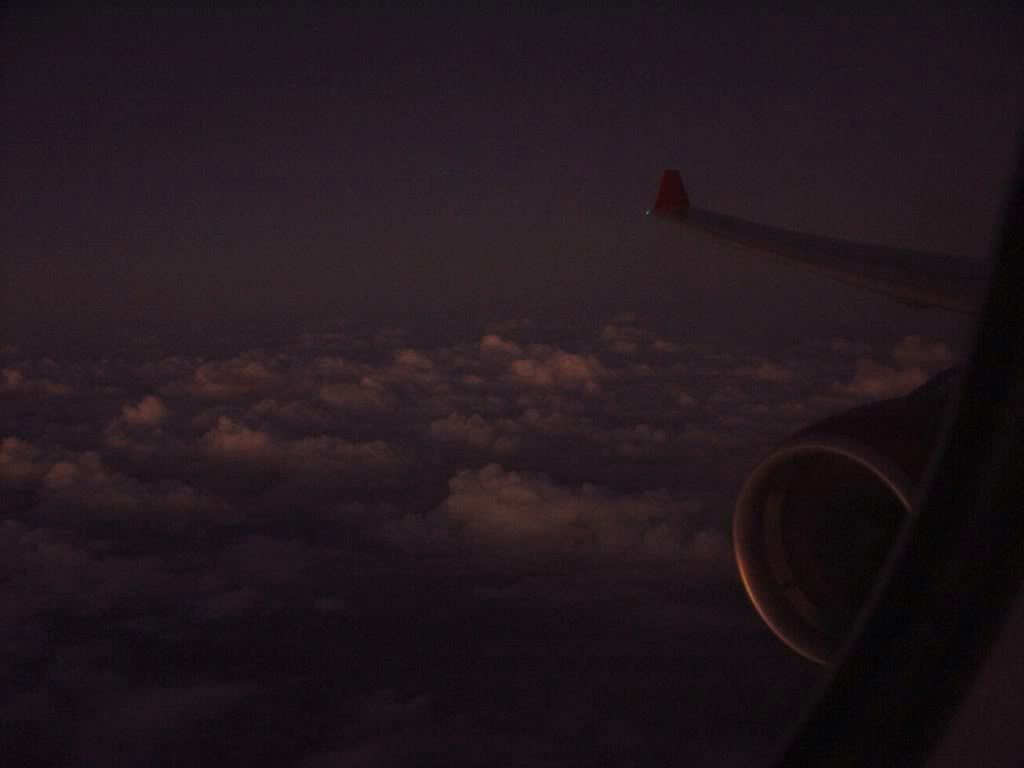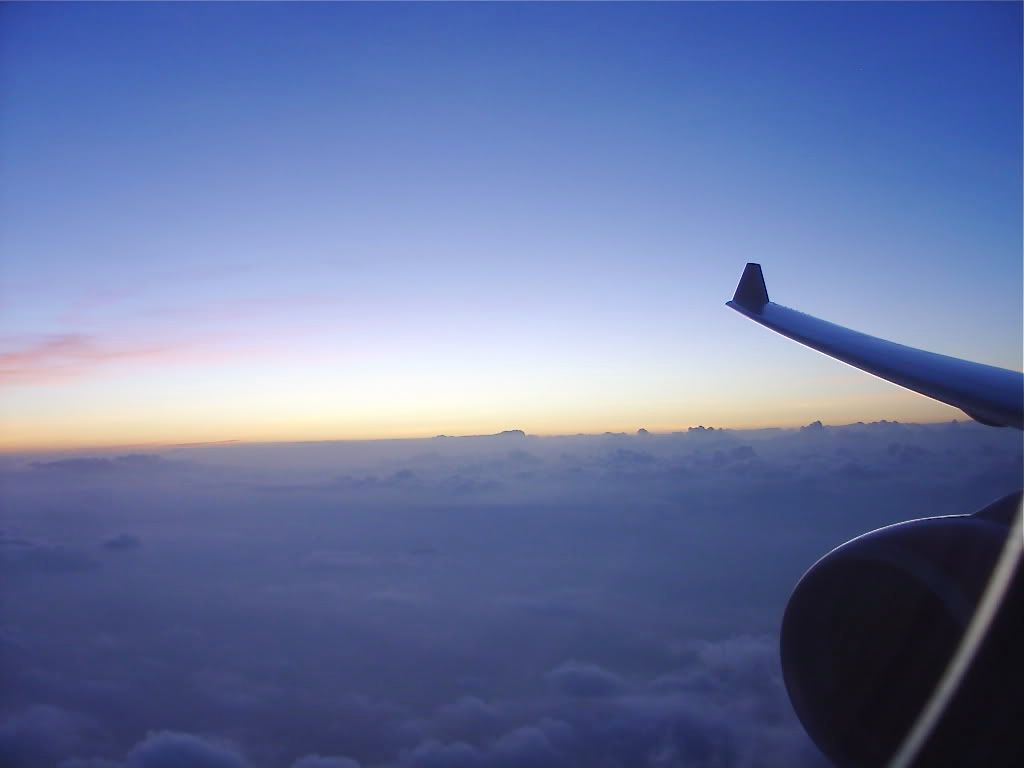 Arrival:
Things started to settle down as we got closer to the ground and the aircraft made a few turns before making its way through a layer of clouds revealing a very dark and misty morning in Hong Kong.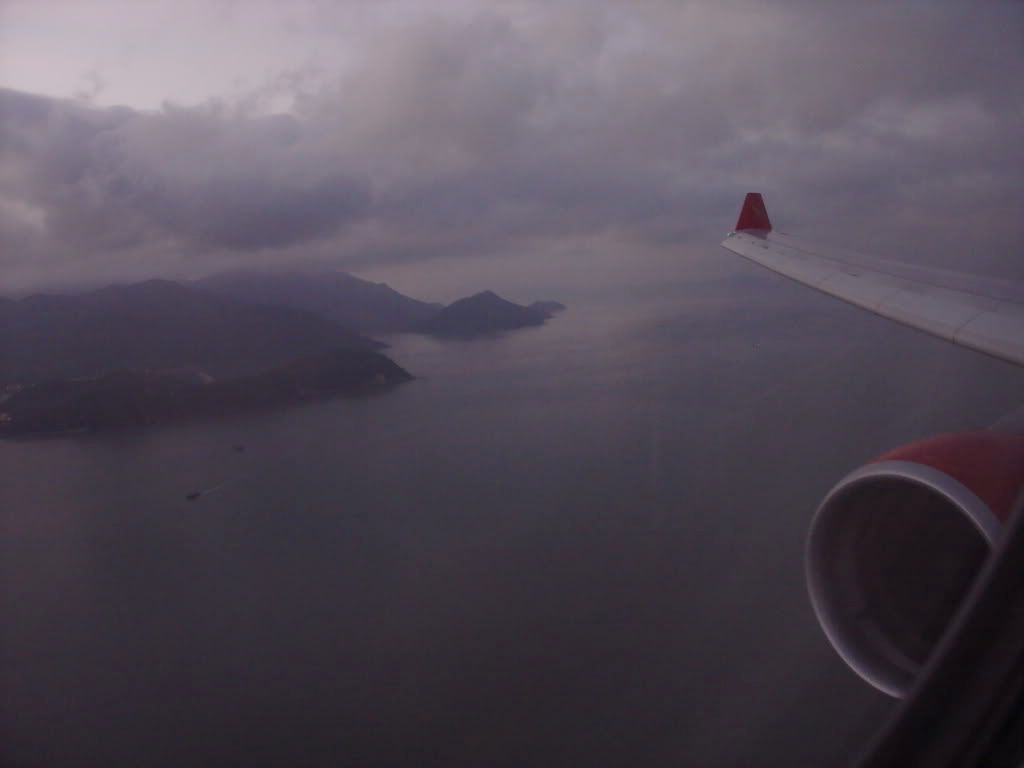 After a less than smooth touchdown, we taxied towards a very quiet terminal and finally parked at gate 33 next to an Air New Zealand 777 making an intermediate stop on its way to London from Auckland.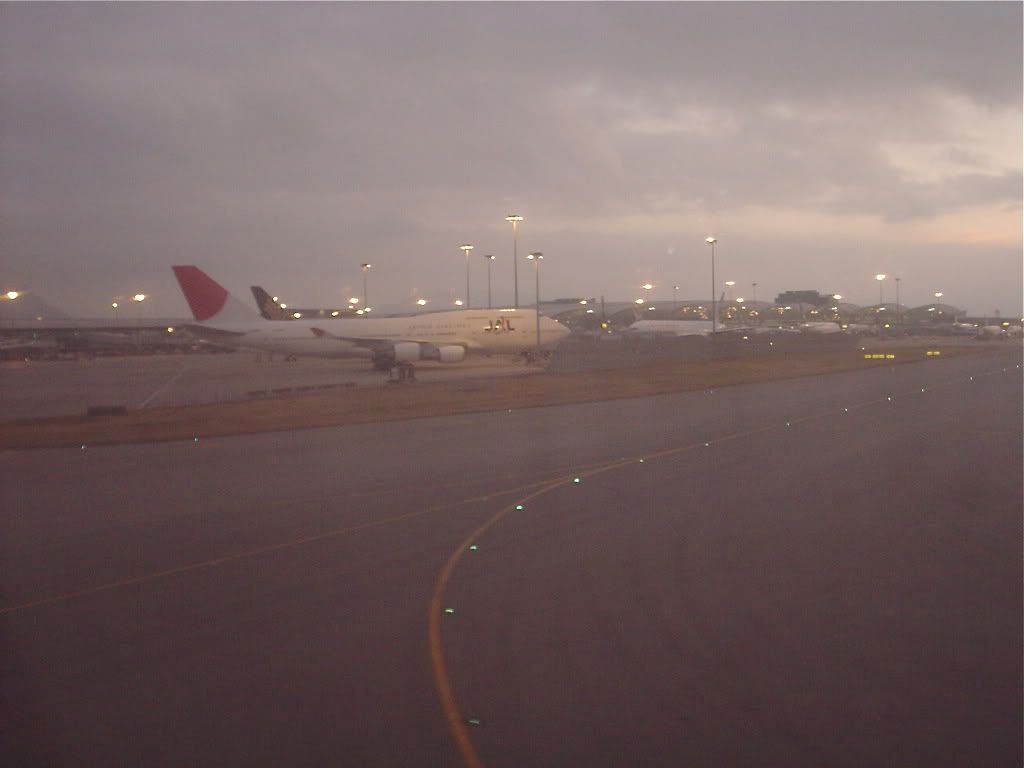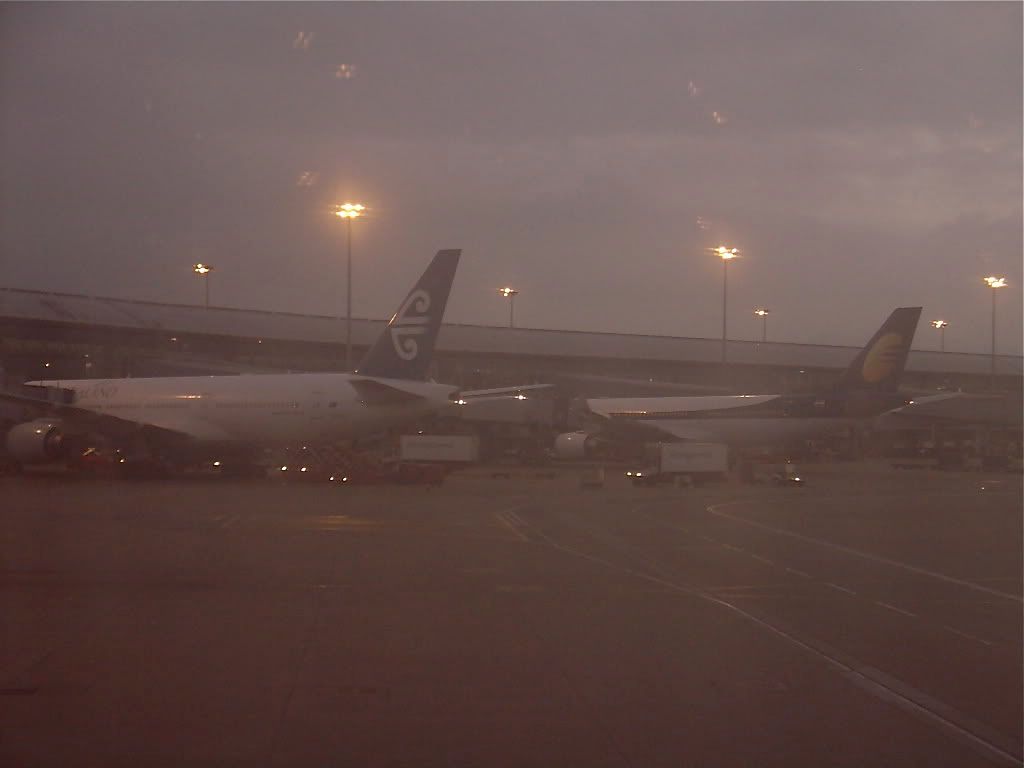 We docked at the gate a few minutes before 6:30 and the cabin door was opened. As I passed through the galley on my way out, I thanked the crew for an excellent flight:
"Thanks again for a great flight."
"You are very welcome sir, please come back and see us again."
"I most definitely will."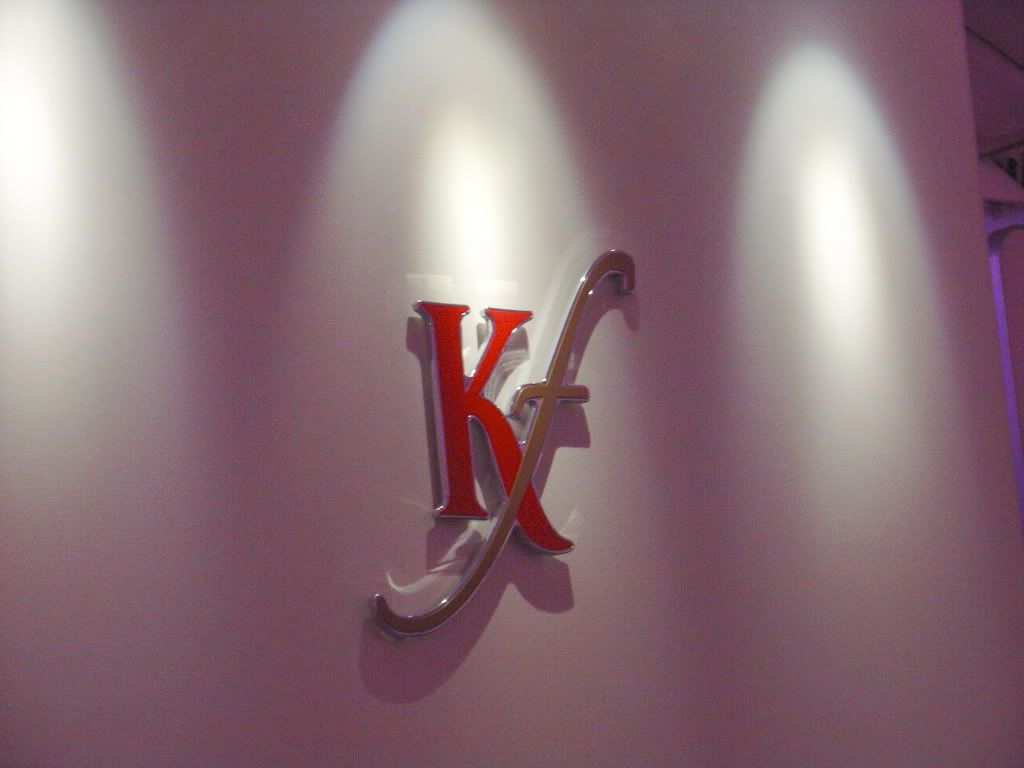 The airport was deserted and we seemed to be the only ones in the terminal at this early hour. I followed the signs for arrival which led me to an underground train. A minute later I reached the health check area right before the immigration counters. Both took very little time and with no checked bags, I walked out into Hong Kong fifteen minutes after stepping off the aircraft.
Verdict:
Its been a long time since I have flown anything other than a U.S. airline, so maybe my expectations have dropped, but I thoroughly enjoyed my quick flight on this unique airline. Overall Kingfisher was a great experience, but there are a few things that the airline still needs to work on before they can play with the big boys in my honest opinion.
The most glaring problem is the IFE. Twelve movies is a joke when you consider what other five star airlines such as Singapore and Qatar Airways have. If Kingfisher had gone ahead with their planned Bangalore-San Francisco flight, would six English movies have been adequate for such a marathon of a flight? These days having AVOD is not enough, an airline needs a sufficient film library to go with it. The US airline I used to fly back to the United States from Hong Kong not only had AVOD, but they had close to 200 movies along with numerous sitcoms and shows. However, credit has to be given to the fact that Kingfisher handed out BOSE headsets for their passengers to use.
The in-flight catering was also a bit of a mixed bag. Parts of the meal, such as the main course and dessert, shined while the appetizer and bread disappointed. Overlooking the fact that my first choice was not available in a cabin that was barely 25% full, it was an average meal at best.
I was further disappointed in the fact that I did not receive a complete amenity kit. I understand that cost cutting may be in place and it is easier to leave everything in the bathroom, but I think it is a must on overnight flights. Kingfisher previously used to hand out a small amenity kit in economy on their domestic flights, which is why there is no excuse not to have one in Business Class on an international flight. However, this may have been a way for the airline to stop some of the cash hemorrhaging. Hopefully, they are handed out on the longer London flights as they still advertise a Ferragamo amenity on their website.

The cabin crew on this flight were one of the highlights of my experience onboard Kingfisher. Even so, the service seemed a bit disorganized and rough around the edges; the crew's lack of experience can explain, though not entirely forgive, that impression. However, they were all young, friendly, enthusiastic, and willing to go above and beyond to please their passengers. Such enthusiasm is pretty rare- as is genuine hospitality rather than the cliché robotic perfection that some of their Asian counterparts exude. If Kingfisher can keep this standard up, there is no doubt in my mind that they will become one of the finest airlines in the world.
Finally I'll address the Kingfisher First seat. While it is shockingly red, it is phenomenal and is one of the best seats I have ever used in either Business or First Class. Kingfisher does not need a First Class as this seat can easily compete with what is out there. It was very comfortable no matter what position it was in, and while I did not take advantage of having my bed made, it was great in a fully flat position. My only regret was that I was not flying from Mumbai to the United States in it.
To any of you who may have apprehensions about flying Kingfisher over Jet Airways (or any other airline), I say put your inhibitions aside and try this fantastic airline. I have not yet had the chance to use Jet Airways internationally, but all I can say is that Kingfisher has set the bar quite high.
Check In:
9 (Minus the overzealous security agent, pretty much flawless)
Lounge:
8 (Much improved from the old version of the Clipper Lounge)
Boarding:
10 (As perfect as it can get in Mumbai)
Seat:
10 (For a business class seat, just amazing!)
Service:
9 (A little rough around the edges, but very genuine and caring service)
Entertainment:
6 (twelve movies is a joke for a five star airline, but the picture quality was crisp and clear)
Food:
6 (Not bad, but I think some quality control may be in order.)
Aircraft:
10 (Relatively new aircraft in flawless shape)
Arrival:
10 (No complaints, jetway to curb in around fifteen minutes)
78/90 = .866 = 87%
[Edited 2010-01-13 20:43:20]