Introduction
New year - time to start traveling afresh again! This trip started as the cheapest 29 EUR one way ticket on Air Berlin HEL-HAM, booked for a random Saturday afternoon in January 2010 way back in August 2009. I hadn't really given much thought on what to build around it (was thinking of going to Kiel or Sylt, though, but probably not a good idea in the middle of the winter...) when AB sent me an email about the Saturday flights being canceled for the winter schedule. I was subsequently rerouted to HAM via DUS, which had the nice side effect of getting me another flight on an AB Dash 8, always nice, but more importantly getting me there almost five hours earlier than originally planned. This of course opened up many more possibilities, and after figuring out that I had enough time to catch one of the AB shuttles down to the PMI hub I started looking for suitable destinations to connect from there. Subsequently I found out the the whole HEL-HAM route is now completely gone - a shame but at least I flew it twice last year.
In the end I narrowed it down to two possibilities: either OPO or VLC - both places that are on my "to visit" list and both offered decent fares at around 70-90 EUR from HAM. I settled for OPO, mainly because it offered some interesting possibilities for the trip home the following day. For that journey, I really wanted to fly TAP as I've never flown on them before - they were offering great fares on a number of routes that have LCC competition like LGW, AMS, BCN and MXP. However there was an even more attractive opportunity: Portugalia (NI) is operating a number of routes ex-OPO on their Embraer 145s after being taken over by TP some years ago - I booked OPO-BRU for less than 60 EUR since it was conveniently timed at early afternoon and getting home to HEL from BRU should be rather easy.
Oh well, that's at least what I thought. I had planned on catching the Sunday evening AY flight home as that is pretty conveniently timed and one that I've taken a number of times, but AY did something weird and pretty much withdrew all of their discounted one way fares - the direct flight would've cost an absurd amount of money ticketed in fully flexible Y... (BTW this is still the situation today, no decent one way fares at all!). SK via ARN or CPH was an option but a bit pricey, but good old airBaltic came to the rescue - so I booked the late night BRU-RIX-HEL connection for around 80 EUR. It will get me home a bit too late for my liking, but beggars can't be choosers.
16.01.2010
A 6.30 departure means waking up at OMG o'clock and catching a way too early bus to the airport, where I am already around 5.30. Too early, but buses aren't exactly frequent this time on a Saturday morning. Not too many people around, so security is quick and effortless. Time to grab some caffeine and a sandwich for breakfast at the cafe - interestingly the girl asks for my AY Plus card, apparently they are now partners since the beginning of the year. I wonder how many miles I will get for my 10 EUR purchase...
Today's gate is 23, right next to the coffeeshop, where boarding starts around 6.00. Not too many people at the gate area. A middle-aged Russian lady in front of me gets a scalding from the gate agent for leaving her passport in her checked luggage but is allowed to board anyway. The ride is D-ABBT, luckily a new one for me.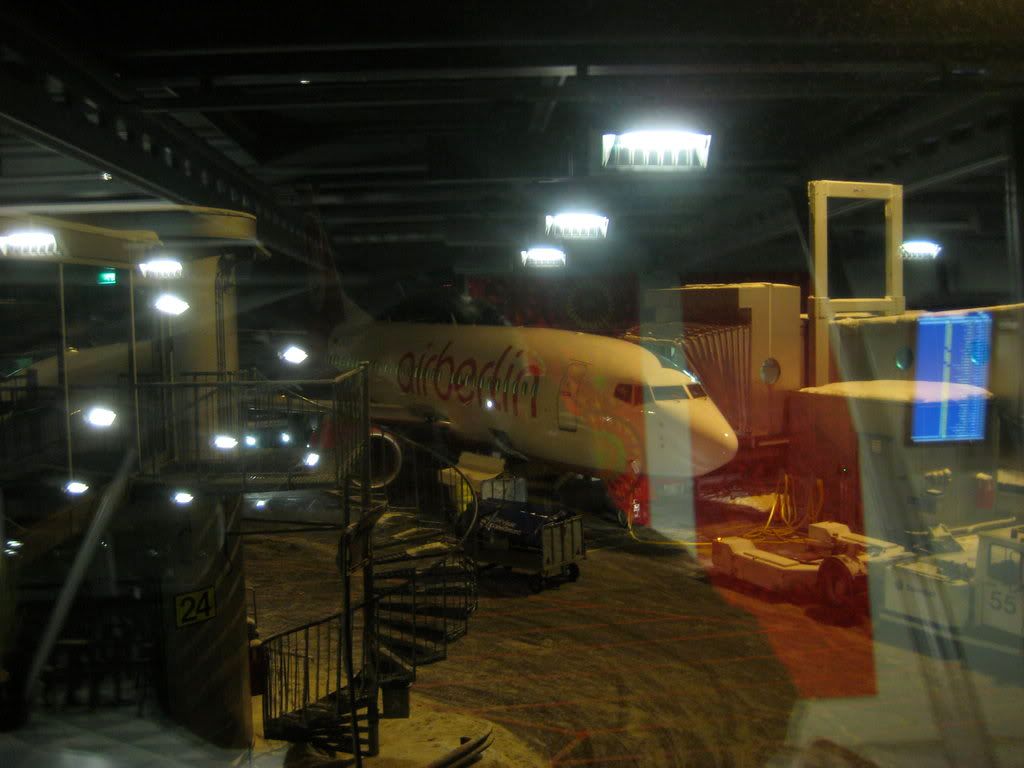 HEL-DUS
AB8925
B737-700 D-ABBT
Seat 1F
6.34 - 7.47
I had been a bit worried about my tight connection in DUS as HEL had been experiencing some delays earlier in the week, so I picked the bulkhead seat 1F when doing OLCI to be one of the first ones out of the plane in DUS. The bulkhead offers good legroom, but due to the curvature of the wall the window seat is rather narrow and not that comfortable. Oh well, at least the two seats next to me stay empty, allowing me to spread out.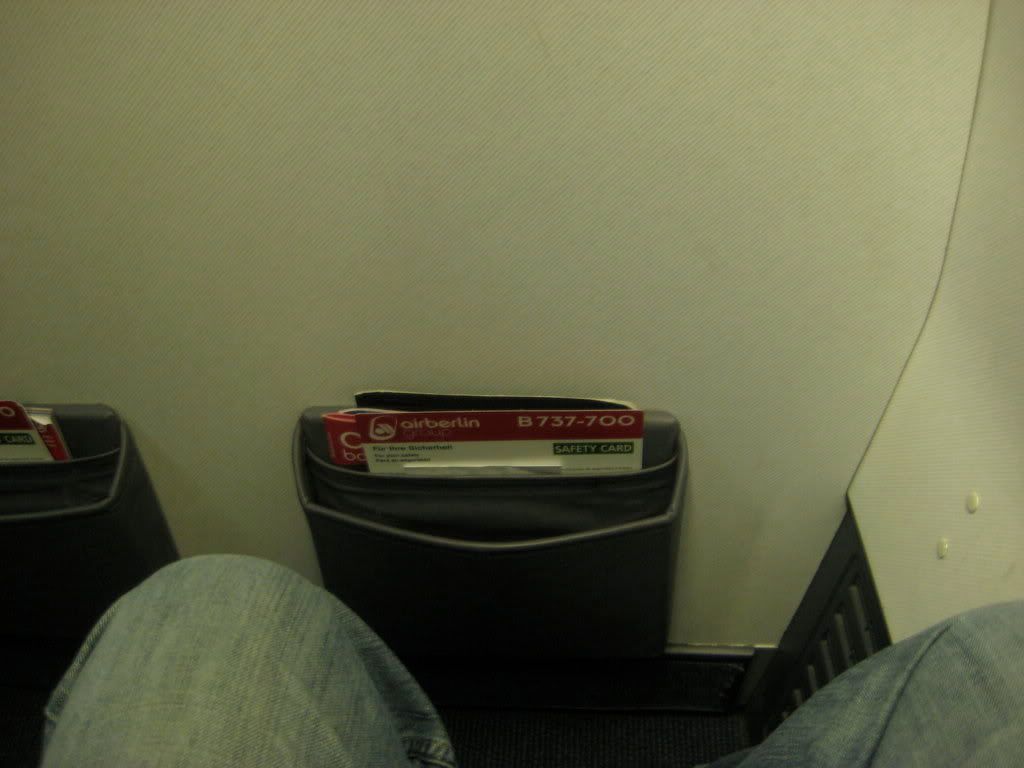 Boarding doesn't take too long and confirms what I observed at the gate area - load is somewhere around 50% today. At 6.15 the captain welcomes everyone onboard, explaining that we are ready go as soon as the plane has been deiced. A flight time of 2h5mins is expected, with departure from the far runway 22R. Not all of this information is repeated in the English announcement, though. Luckily I understand enough Deutsch to pick up the details.
The bane of winter flying in the Nordics (and this year Central Europe as well):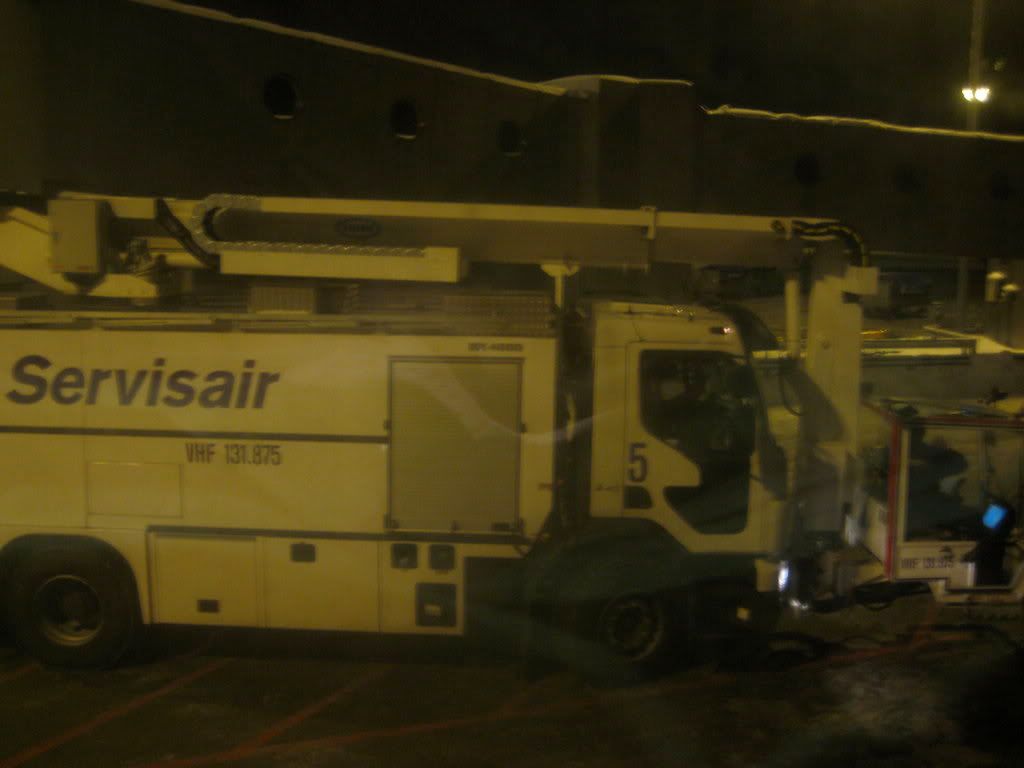 They still haven't fixed the airshow, I wonder if Tallinn should be called Atlantis instead: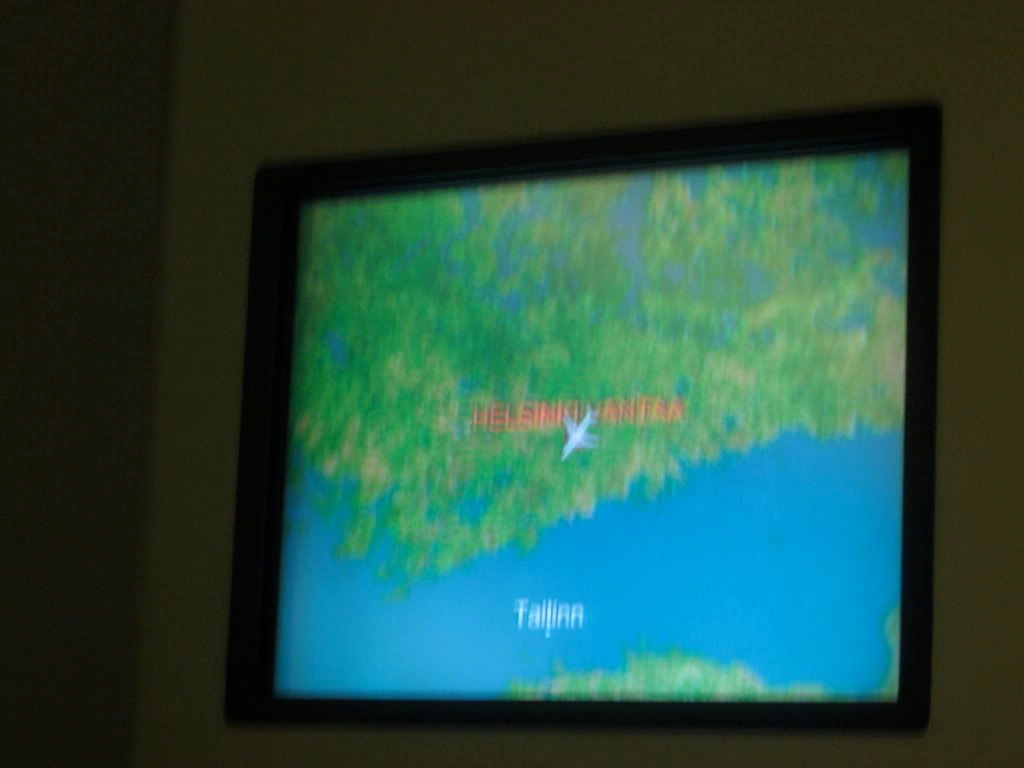 Deicing takes around 15 minutes, and we push back four minutes after the scheduled departure time, followed by five or so minutes of taxi to 22R and a powerful take off. Right after the seat belt sign is switched off the FAs start the service - the standard AB cheese or ham sandwich and a couple of drink runs.
Sandwich and apple juice: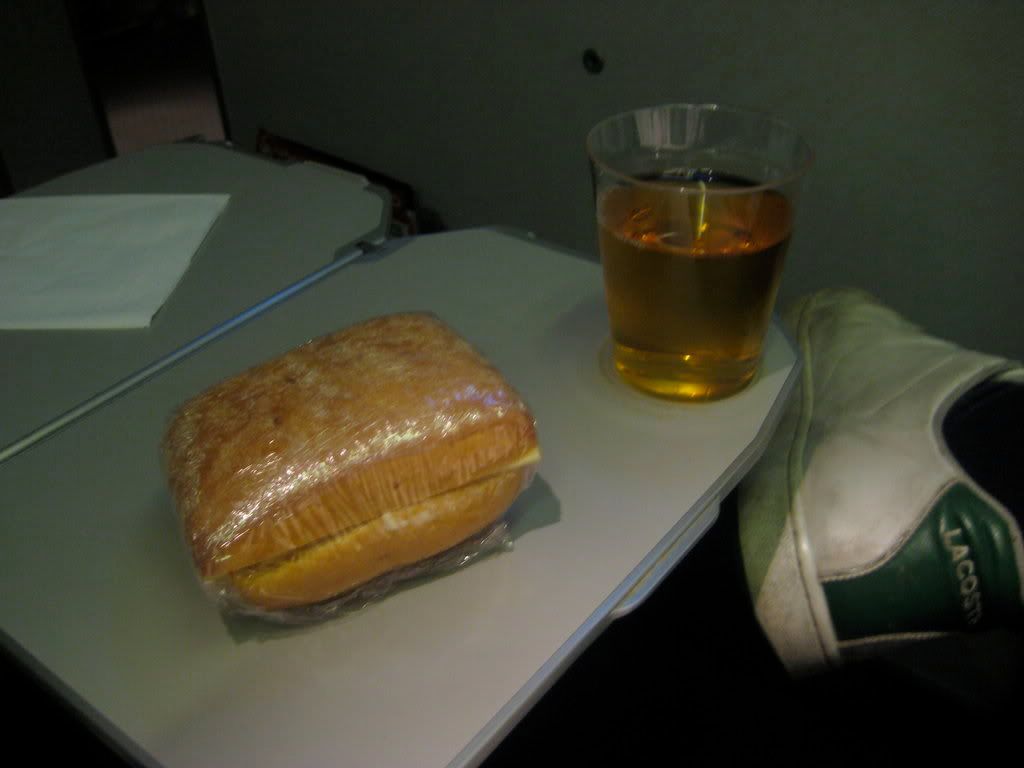 After 30 minutes of flight the captain comes on again with detailed route information (again more detailed in German) explaining our route as "HEL to TLL, across the Baltic Sea to CPH, HAM and finally DUS, landing towards the southwest (I assume this means runway 23 then)". No views until final approach as the skies are completely overcast, and the screens are mostly playing some TV shows instead of the preferred airshow.
Hallo Germany: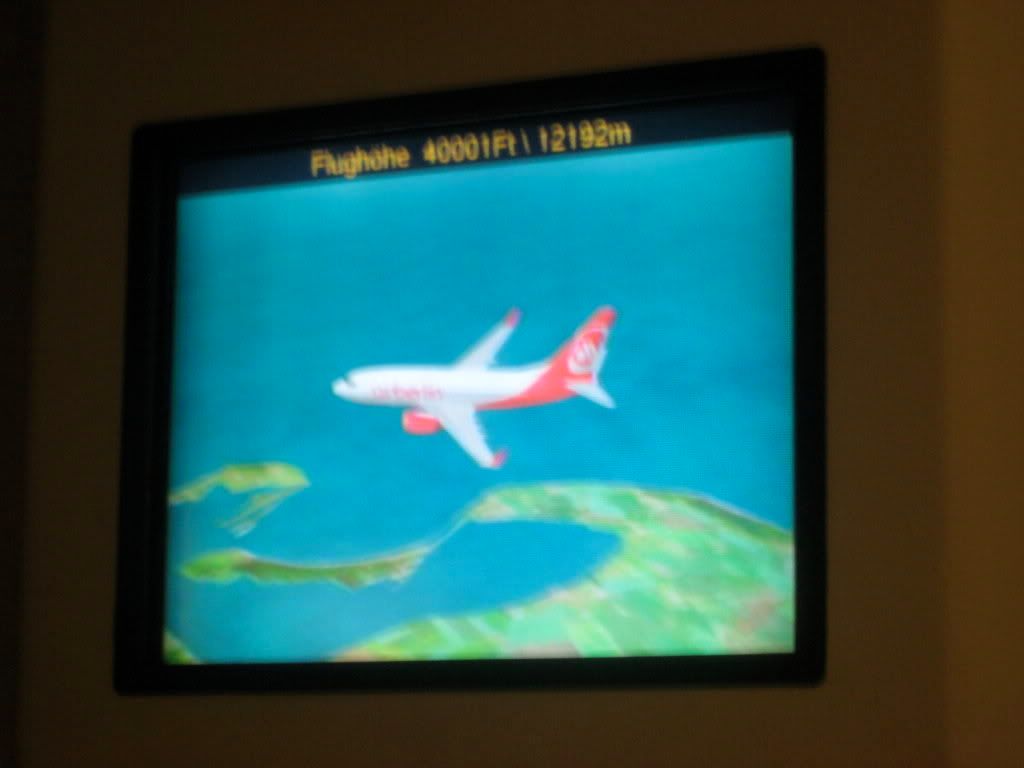 I spend most of the flight reading my newspaper, finishing it just when our descent starts around 1h45mins into the flight. I realize that I'm sitting on the wrong side of the plane as the A side facing east is presented a very beautiful sunrise while our side is still in complete darkness. During final approach the toddler on the other side of the aisle tries to scream his lungs out - until he suddenly falls asleep just as we touch down on runway 23L after a bit over 2 hours of flight. I've always wondered how kids manage to do that - would be a great skill to have even as a grown up! The instant falling asleep, I mean, not the screaming.
Quick taxi to a jetway in the B pier next to a Condor 757-300 (what is it doing here? I thought it would be at the LH pier A) and I'm one of the first ones to deboard.
D-ABBT at the gate: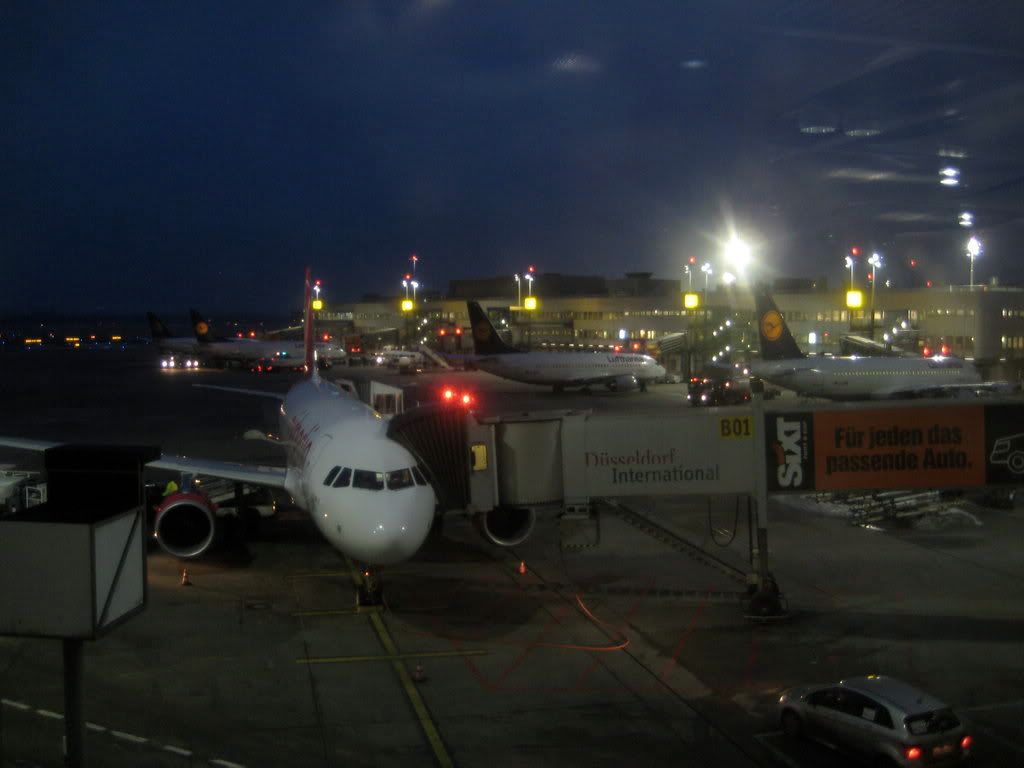 Düsseldorf Airport
The Hamburg flight is departing from two gates over, so no worries about tight connections. I ask the gate agent for a gate check tag for my rollaboard as it is too large to comfortably fit into the small bins on the Dash. Boarding is scheduled to start in ten minutes or so, so I decide to hang at the gate area, and soon enough we are let into the waiting bus. We wait five minutes for some stragglers in the freezing bus (oh, how I hate bus boardings for this reason) until someone finally shows up and the bus sets off. I can see a pair of AB Dashes parked on the apron in front of the C pier, but instead of driving straight there we make quite a detour around the apron. It gets us close to some nice planes, including a DL 767, OK ATR-42 and a bunch of TUIfly 738s so I'm not complaining.
Finally we pull off in front of AB/LGW's first Dash-8, D-ABQA. Just my luck - they have ten examples in the fleet, I've only flown on one previously and of course it is this very same bird. Oh well, things happen.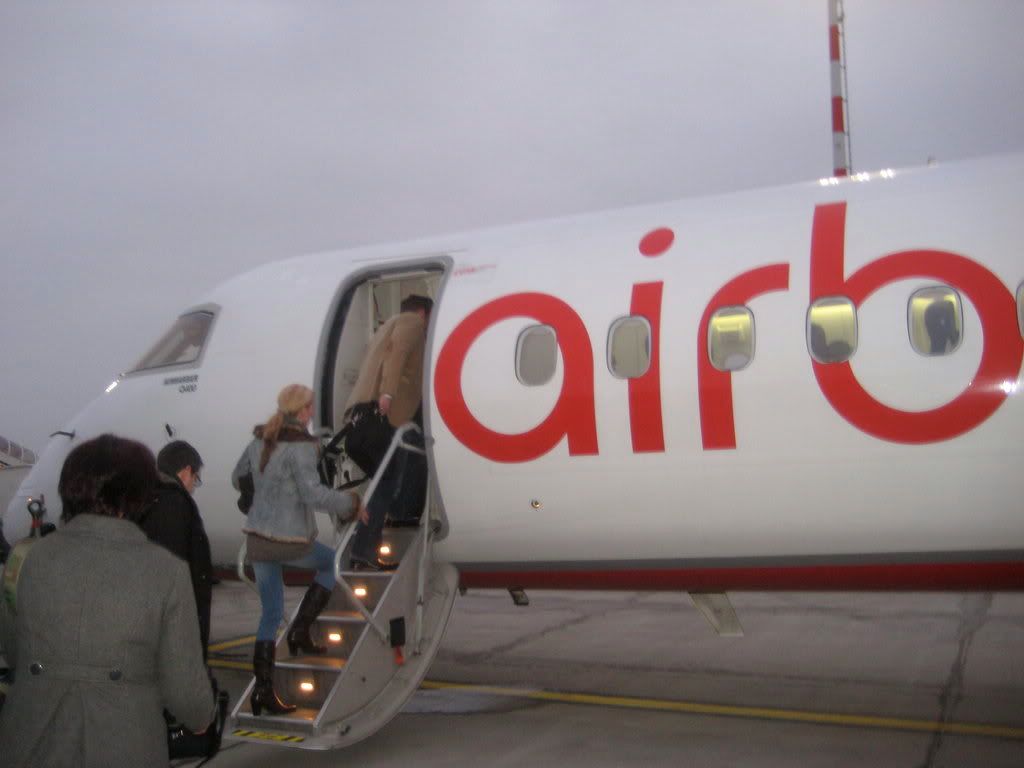 I drop my rollaboard on the cart and board. There are two young male FAs on this flight, rather friendly.
DUS-HAM
AB6748
Dash-8 Q 400 D-ABQA
Seat 6A
8.38 - 9.42
Lots of German newspapers and magazines are offered in the overhead bins over the first few rows - nothing in English (or Finnish) though so I decide to skip. Most of the other pax seem to be interested, so boarding takes a bit of time as people are searching for their favorite reads, some people are hogging five or six different papers! The plane is around half full, so plenty of room to spread out, including the seat next to me.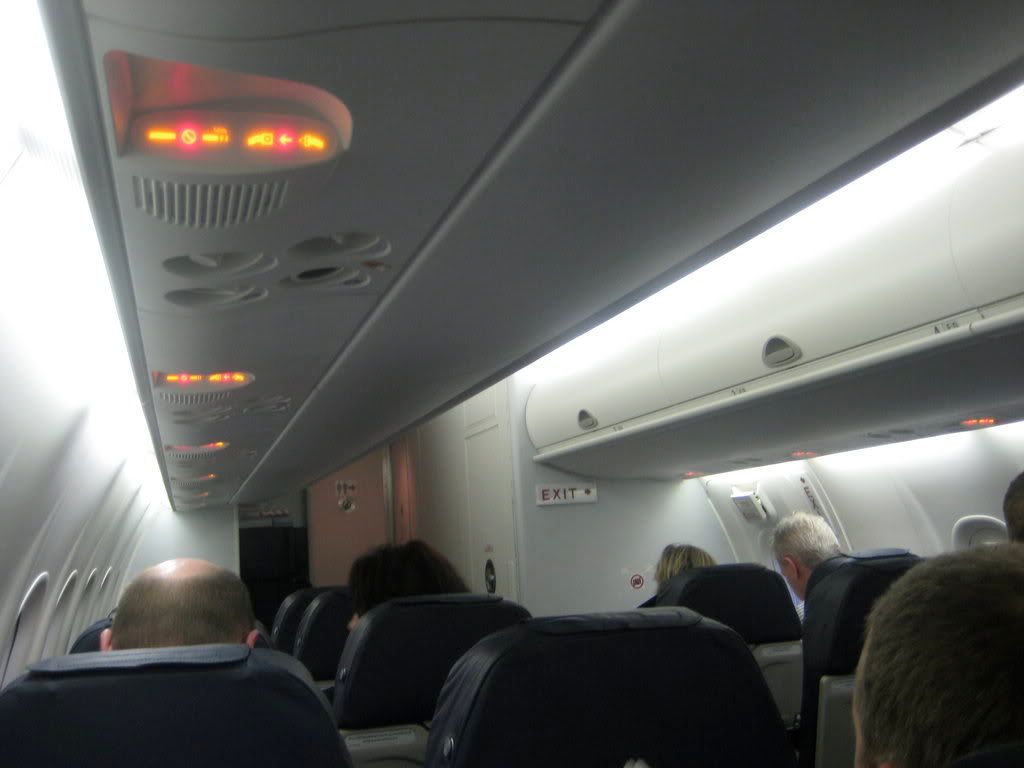 Impressive prop: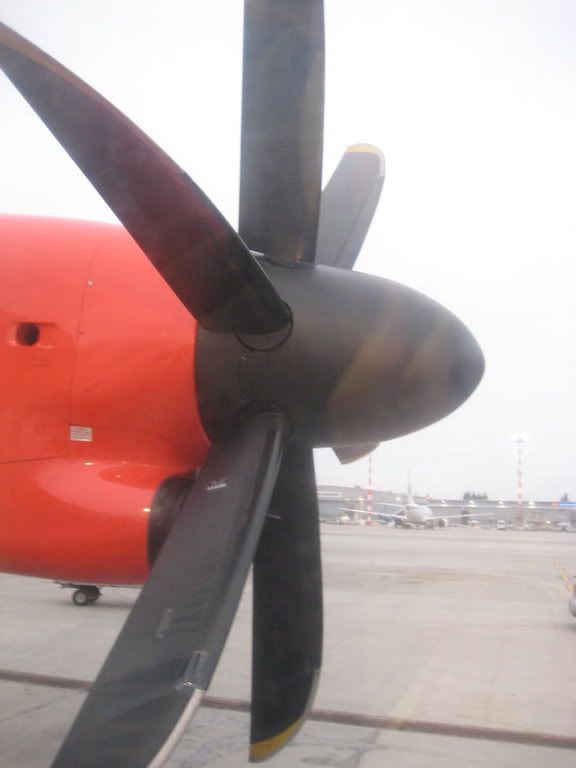 There's an announcement about the expected flight time, but I can't really make it out - I think it is 45 minutes or so. We push back a couple of minutes early, but this advantage is eaten up by the long and slow taxi to 23L, where we spend some time on the holding point waiting for landing (including AB A330 and AY E170) and departing (the plane from my previous flight takes off in front of us) planes. I wonder why - as there are two parallel runways wouldn't it be better to use them both for more efficient operations? A number of planes are obviously given priority as they pass our position in the queue. Finally after over 20 minutes we enter the active. The take off run is very impressive - the acceleration and feeling of power is great and we hardly use a third of the runway before rotating and shooting to the skies with a very steep and fast climb. These Dashes are very nippy indeed and the light load of course helps as well.
Nice lineup of tails: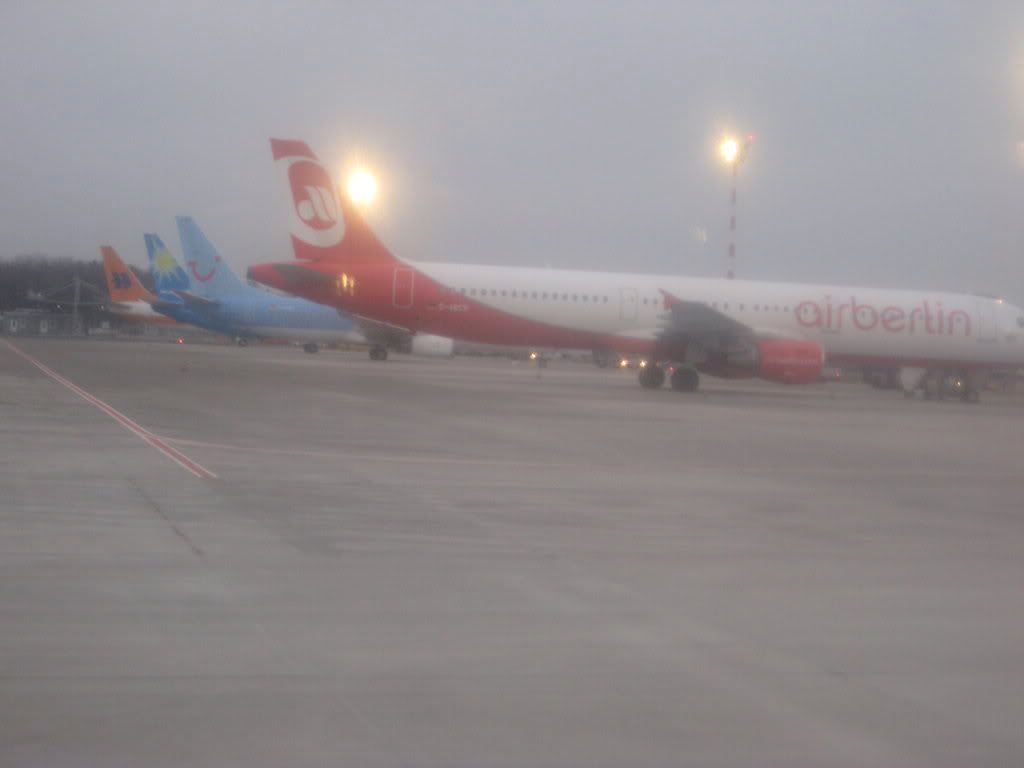 Why an earth are they towing this bird across the active:
AB heavy: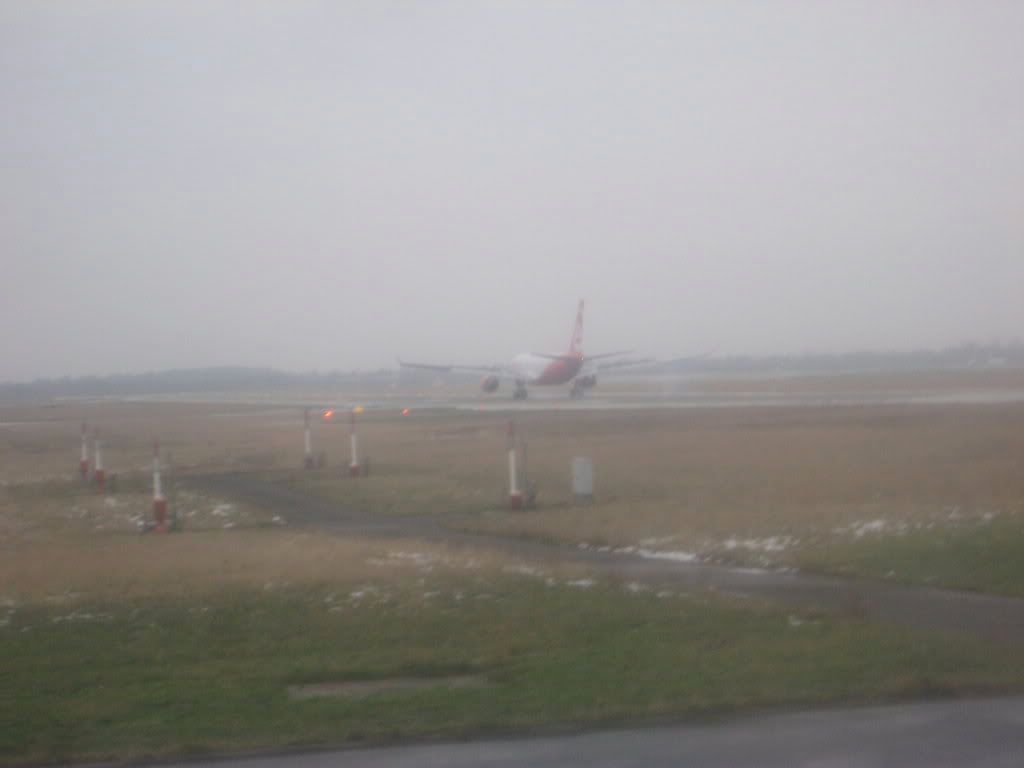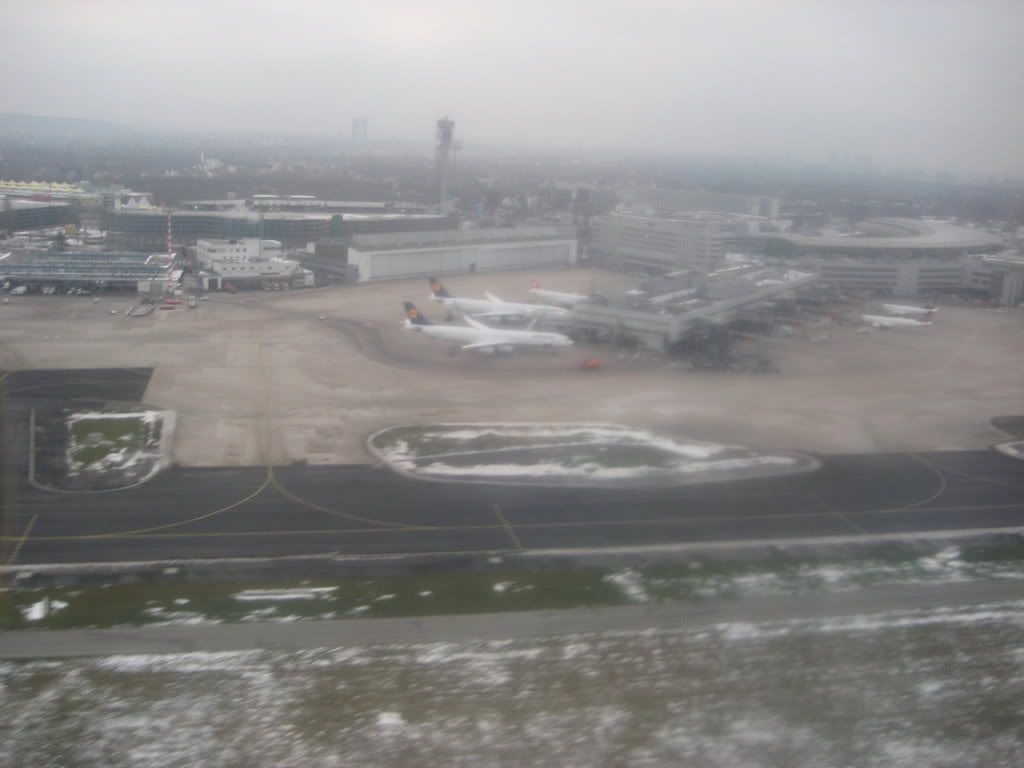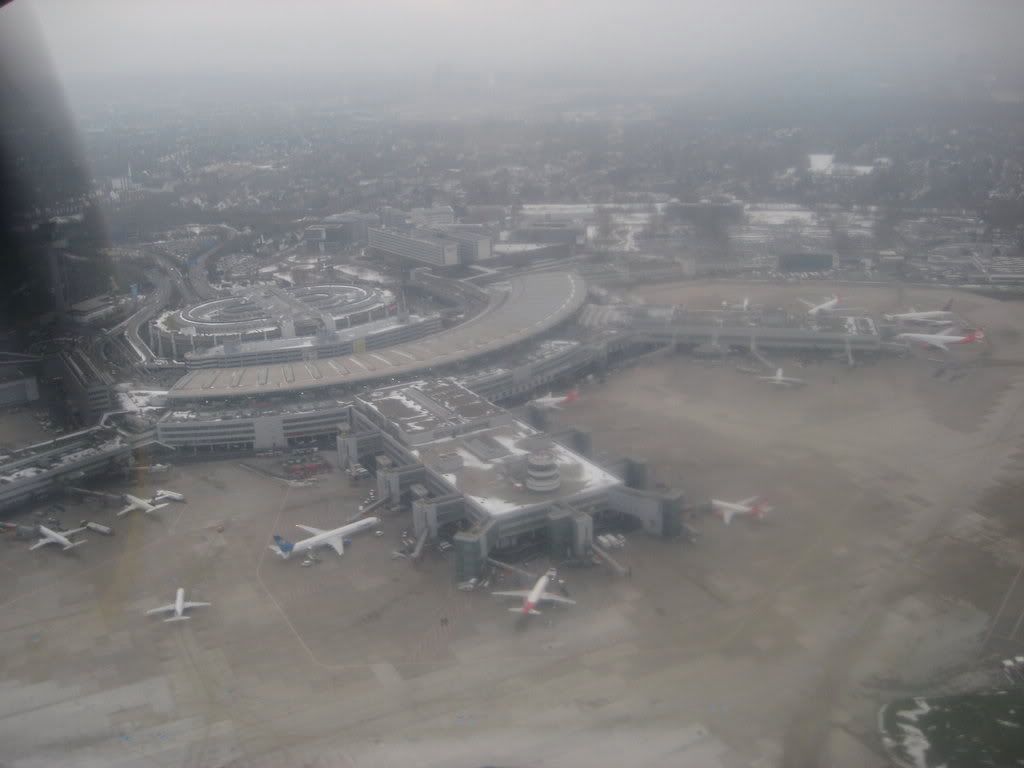 Low clouds, so in no time at all the ground disappears from view. Right after departure we make quite a steep right hand turn to point us towards the northeast. Service is a croissant and drinks. The croissant is very good - fresh and soft, but the coffee is nasty powdered stuff.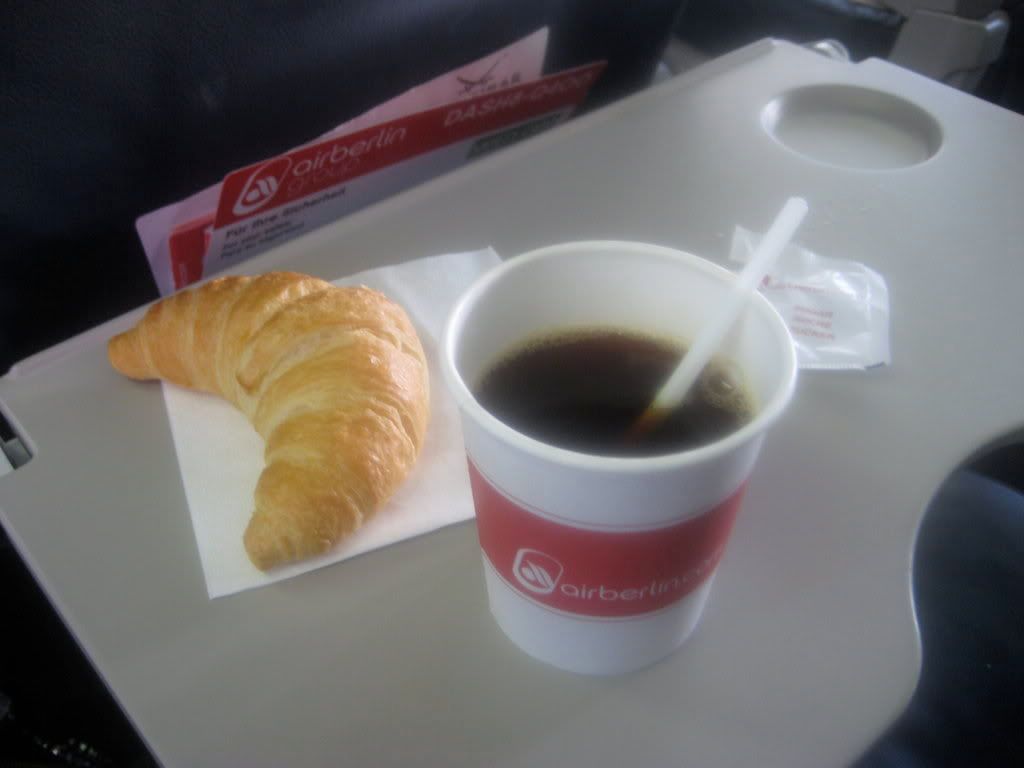 It's a quick and uneventful flight with just clouds and the occasional plane to see out of the window. I read through the AB inflight magazine during the flight. Less than half an hour after take off a gentle descent starts, some time later the seat belt sign is switched on and we land into snowy Hamburg on runway 15 after around 45 minutes of flight.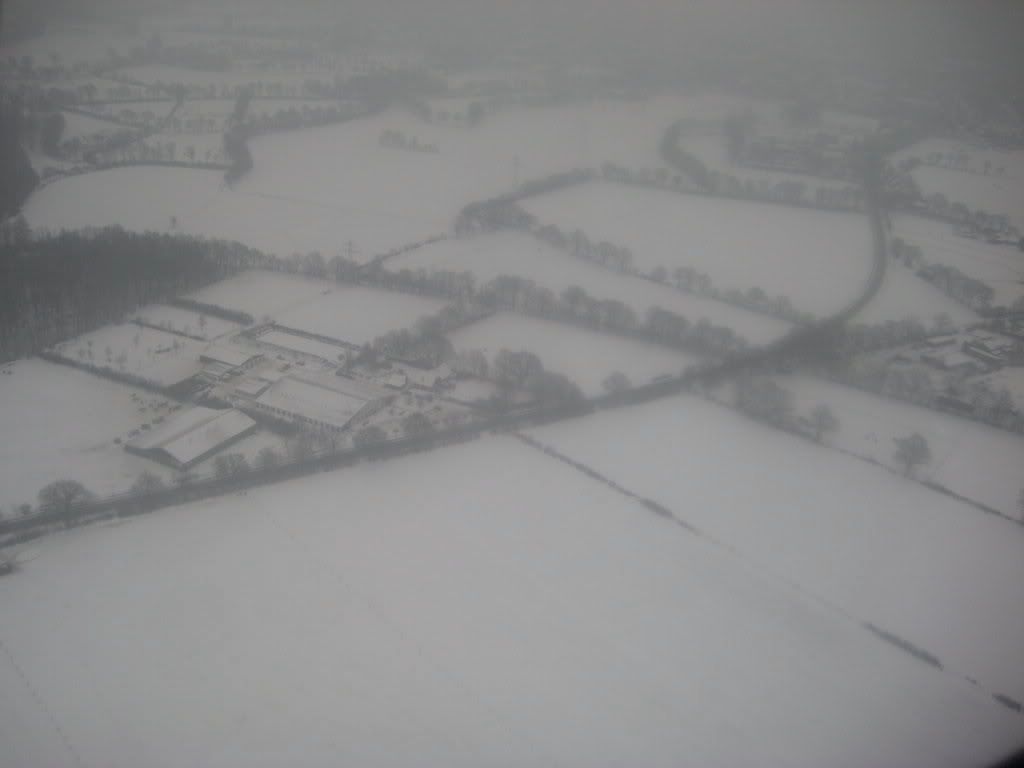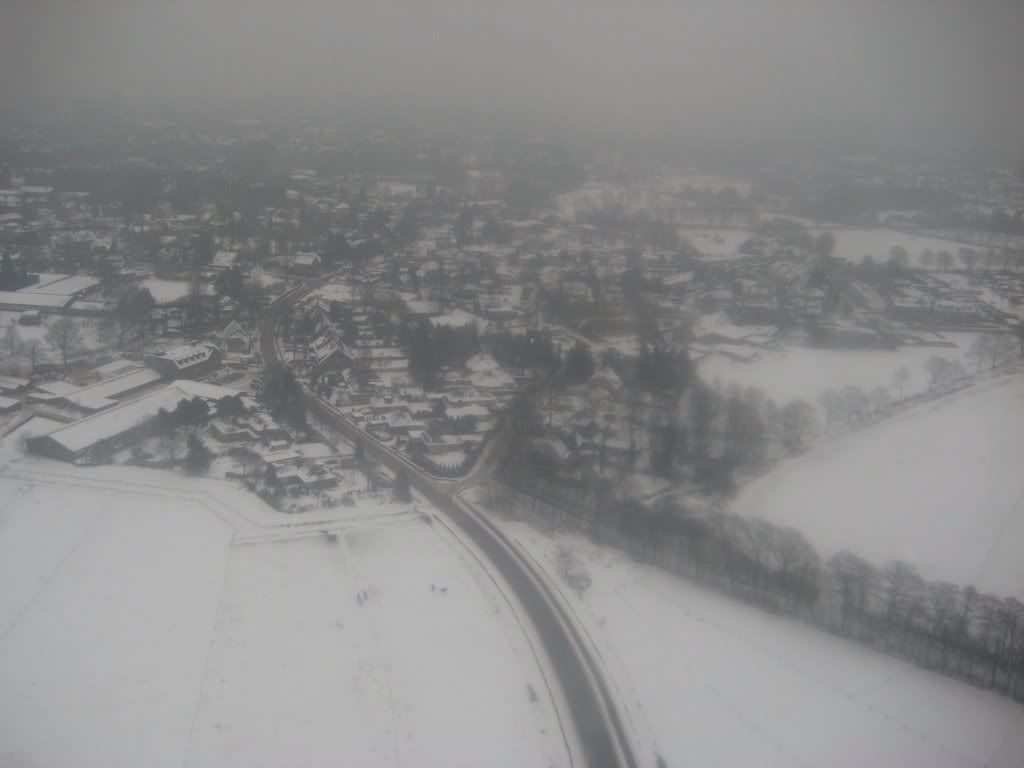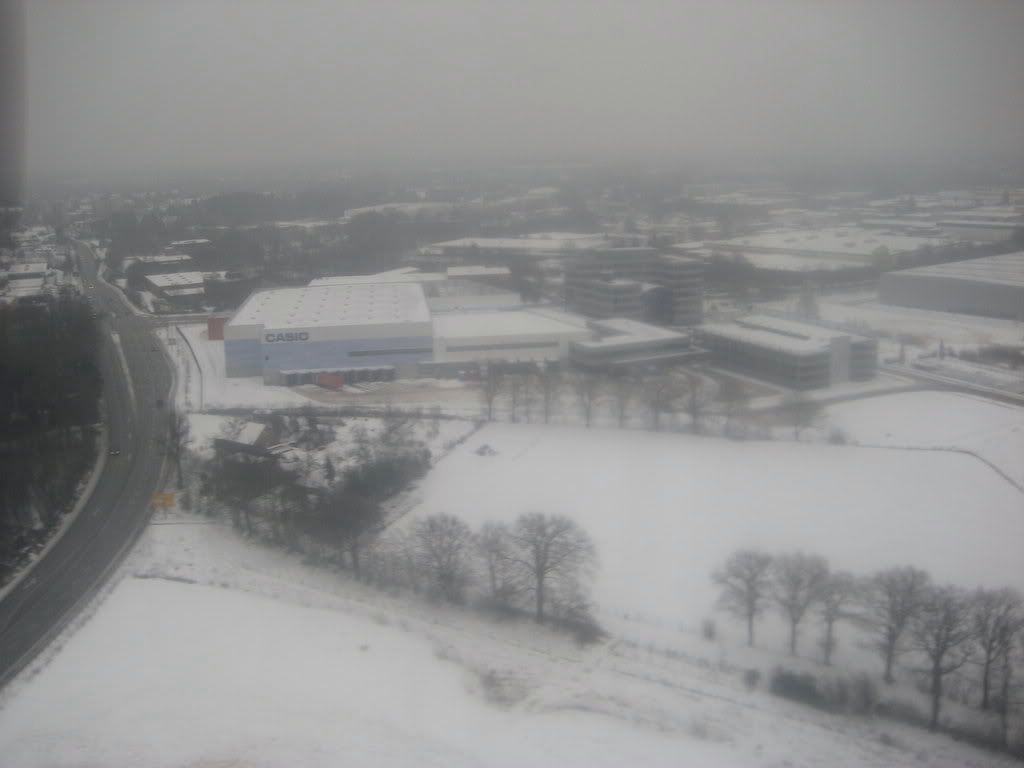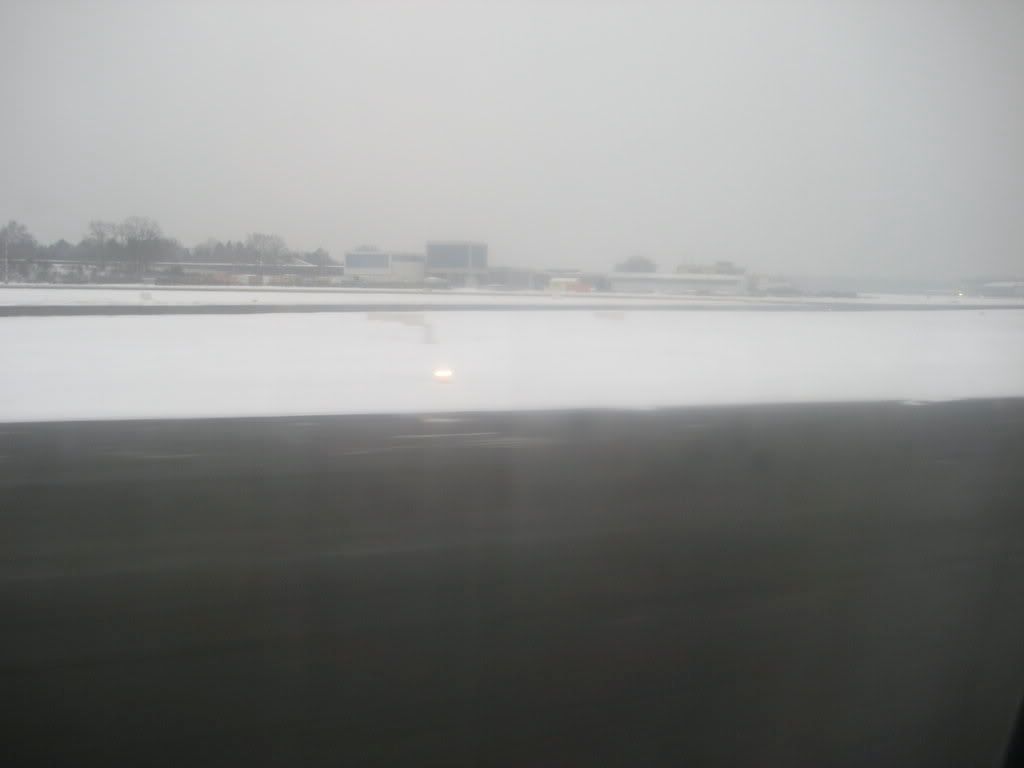 We wait for a while at our apron parking position next to a Hamburg International A319 before the doors are opened and we are ushered to the waiting bus (argh). The AB chocolate hearts are handed out during deboarding.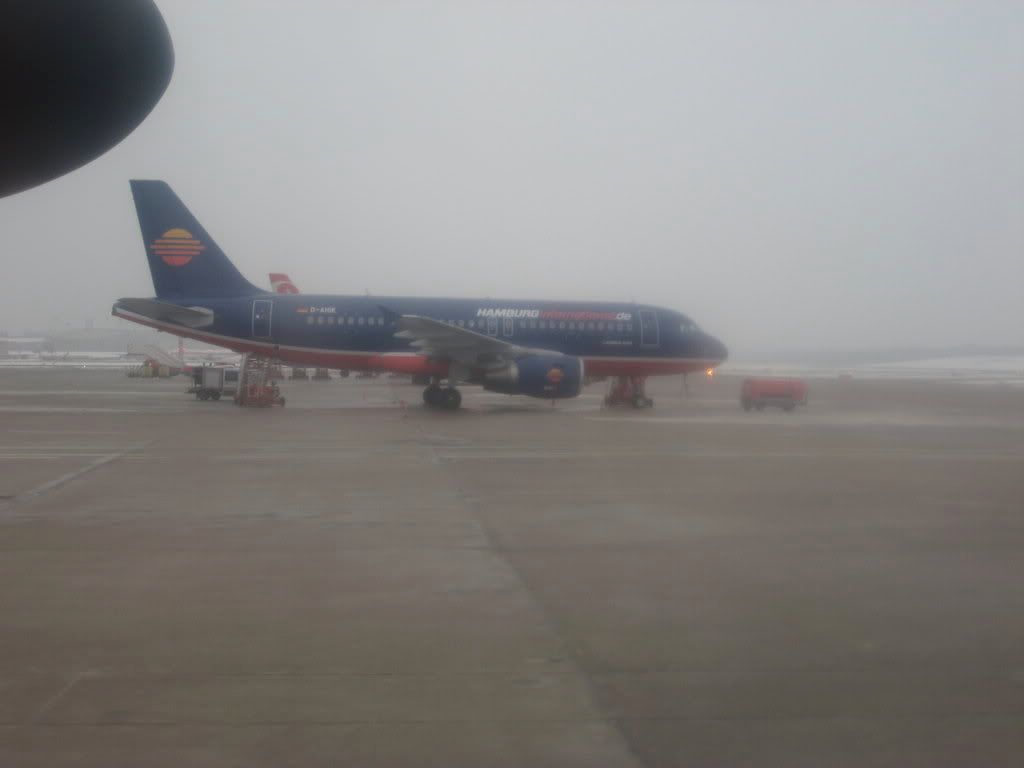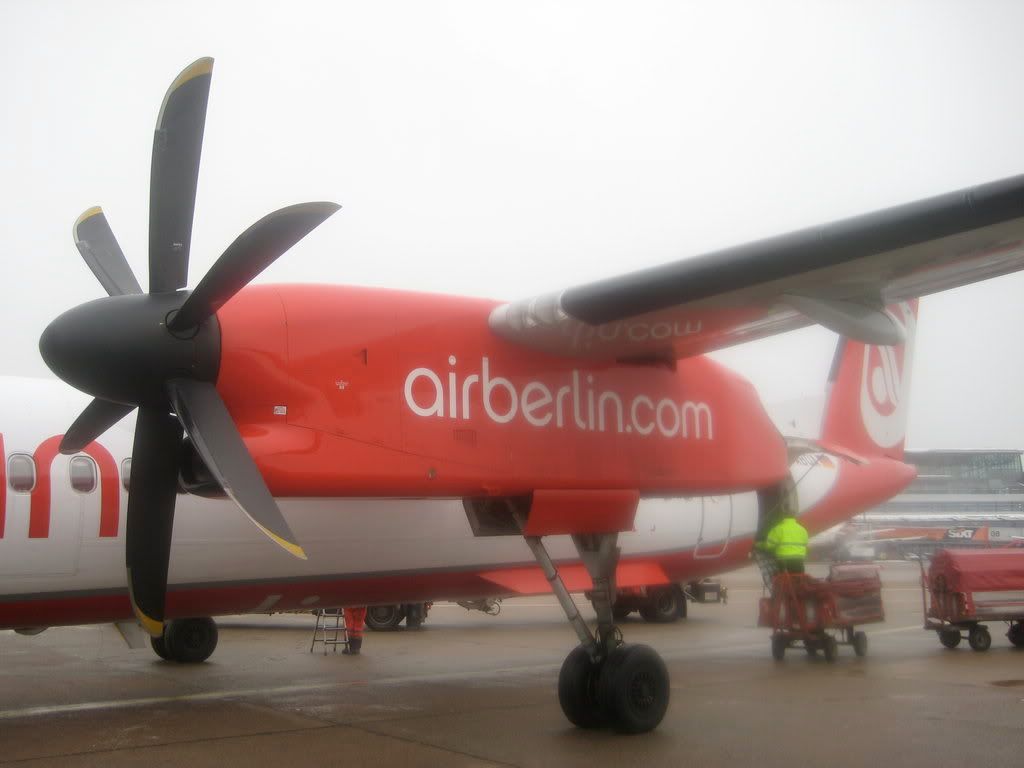 I almost forget to grab my rollaboard but luckily a fellow passenger waiting for his reminds me of this and I go back to pick it up. The bus ride to the terminal takes again an annoying detour before depositing us to the arrivals entrance. I seem to be the only person heading up the stairs for connecting flights, all the others make a beeline for arrivals.
Hamburg Airport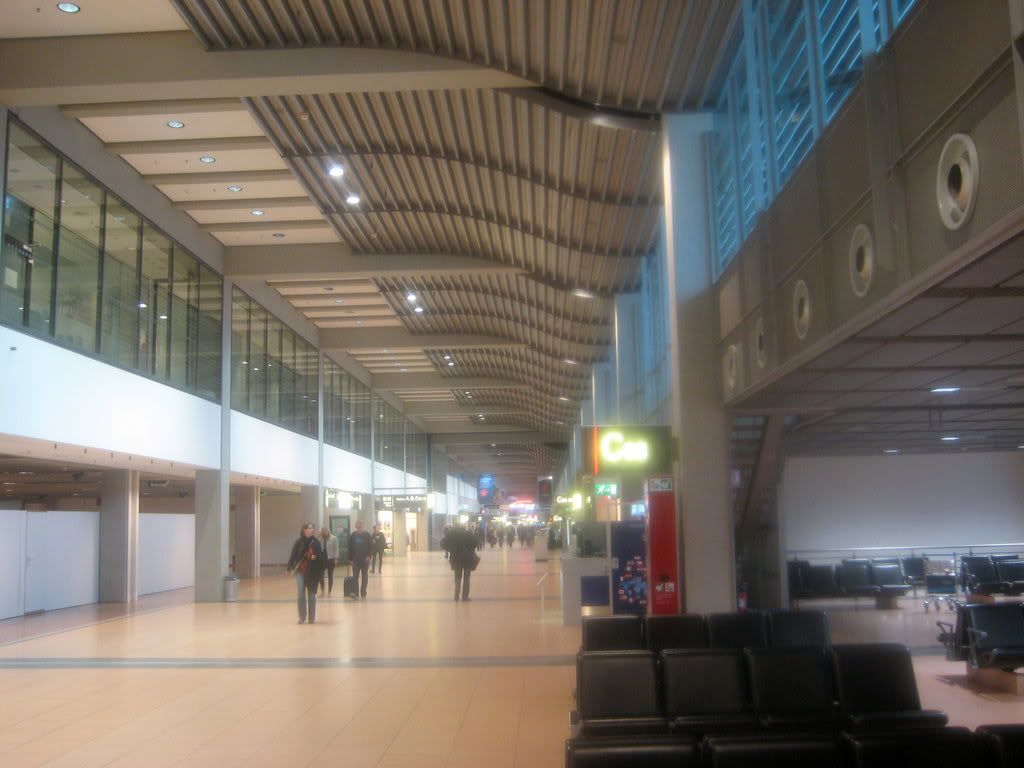 The Hamburg airport has seen some renovations during the last years and is now looking rather neat. Especially the shopping area and the centralized security checkpoint next to it have been much improved. With 45 minutes until the next flight boards I buy a soft drink and find an empty area in front of the window to watch the traffic.
CO to EWR: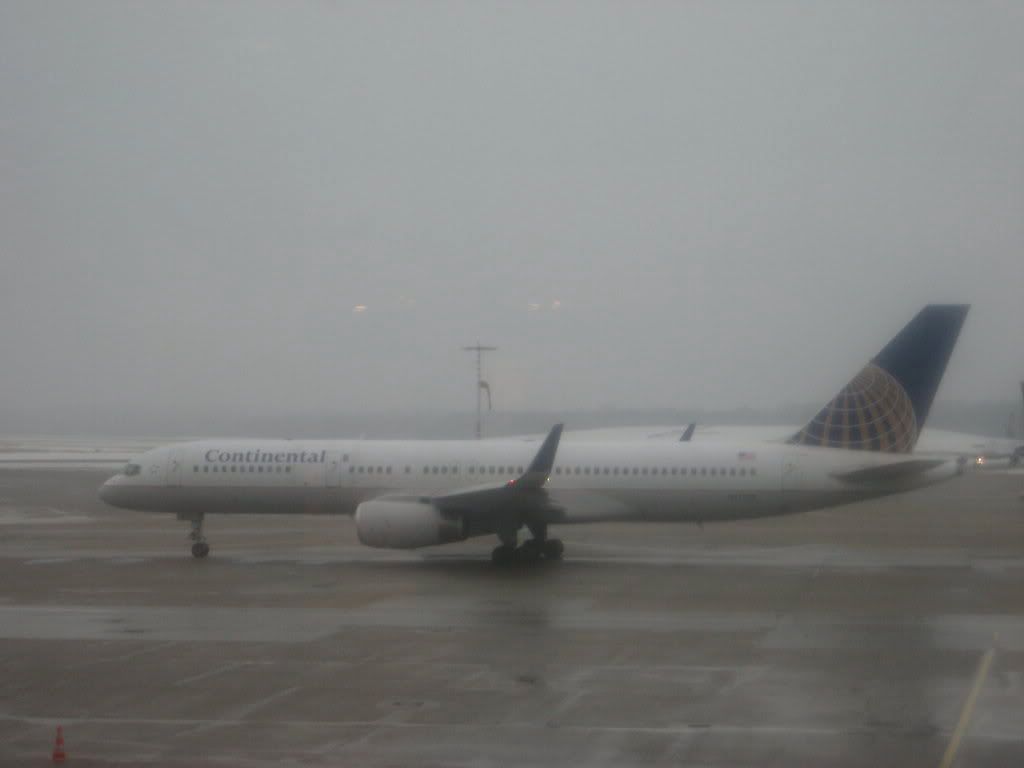 AF babybus: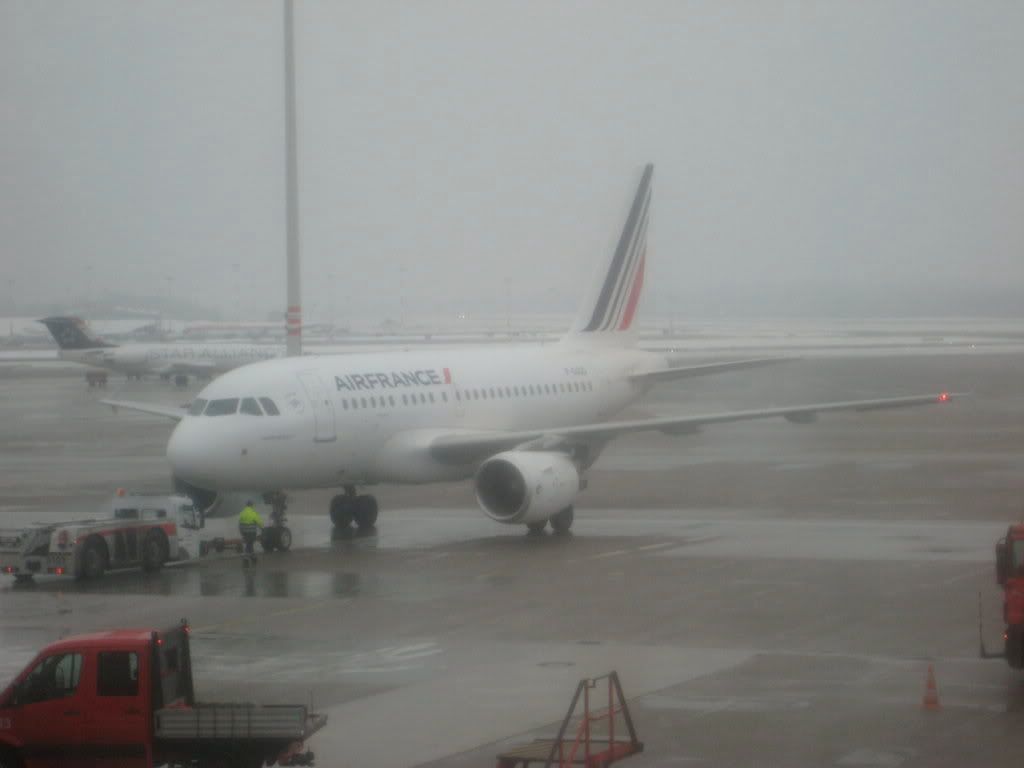 This is for all you Turkish fans: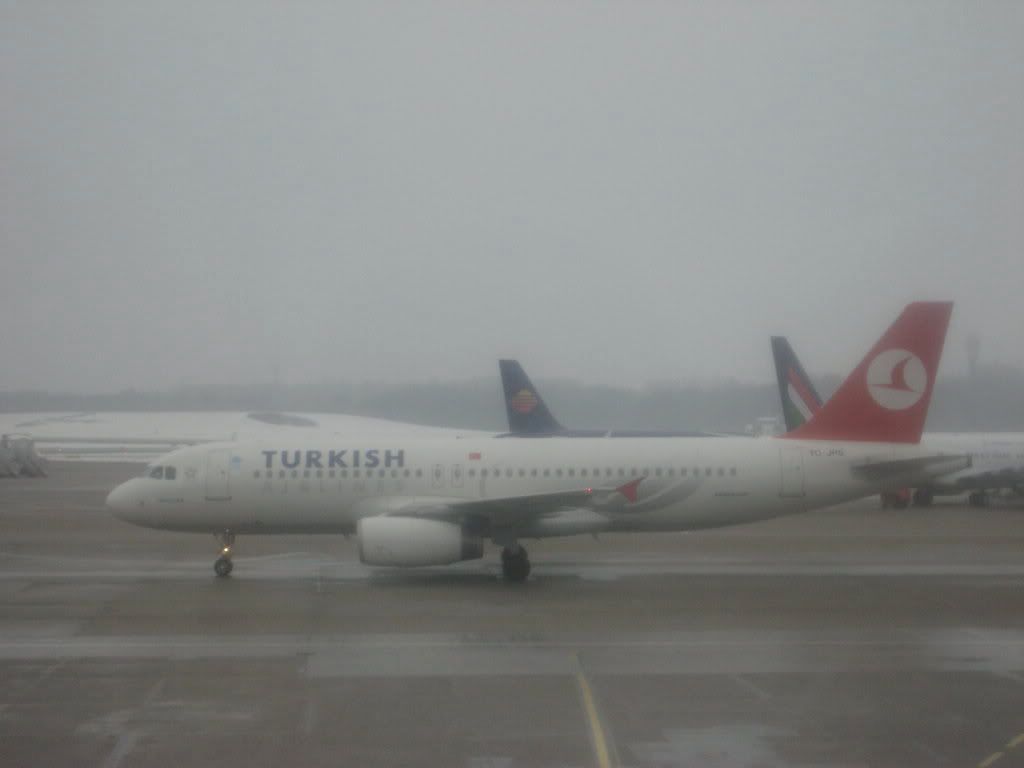 CO taking off: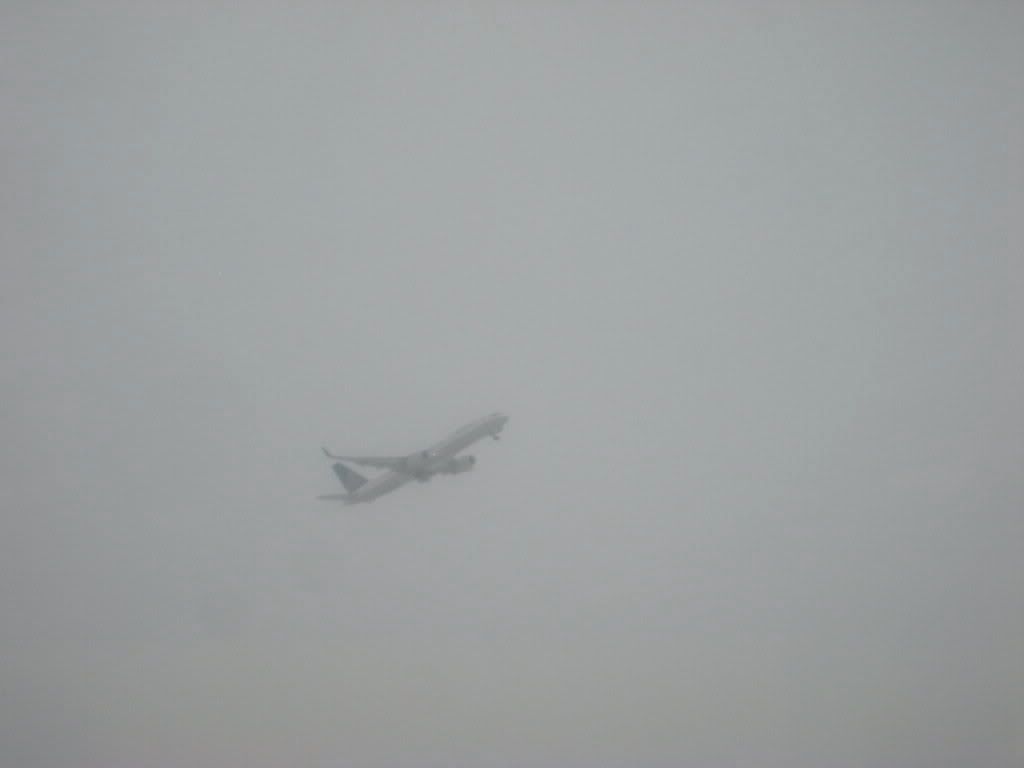 After half an hour I make my way to our gate, which is already packed with people. No "Ballermann" types are to be seen - I guess this is not really the season for that. As expected lots of older people - at least half of all the passengers seem to be over 60. Mostly German pax, but some Spanish as well.
This flight was scheduled on an A321 - and I was looking forward to flying an AB example as I've yet to fly one. OLCI for this flight was showing an A319 seatmap, but I wasn't too worried as it wouldn't be the first time the AB OLCI is acting up (I once had a seat on a non-existent row on a 737-700 and the back galley FA didn't let me sit on her lap on the back jumpseat, bummer!). This time my fears are confirmed - looking out of the window I see an A319 instead, damn. At least it is a new registration for me.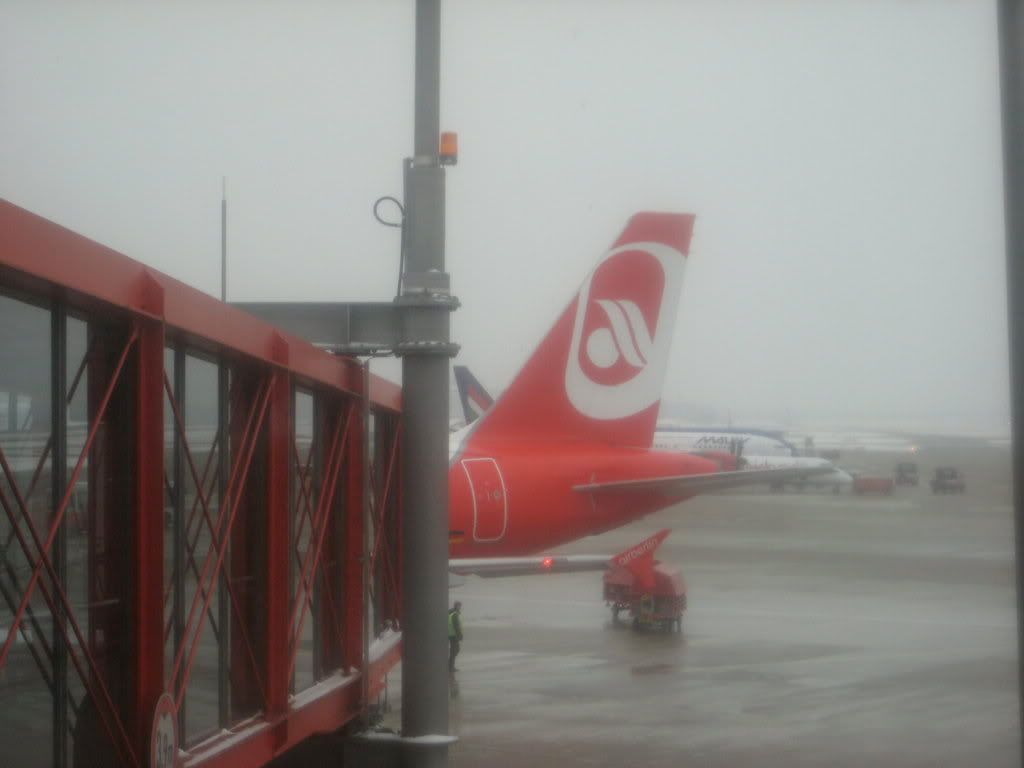 HAM-PMI
AB9332
A319 D-ABGS
Seat 24F
11.02 - 13.30
Boarding starts around 10.40. The agents announce boarding by row numbers, but it is not really enforced and the few obedient people who are waiting for their turn completely block the gate by standing in front of it so it's a bit of a struggle getting through, especially with my rollaboard in tow. The whole operation is quite shambles, if you ask me. My seat on the second to last row allows me to board among the first group.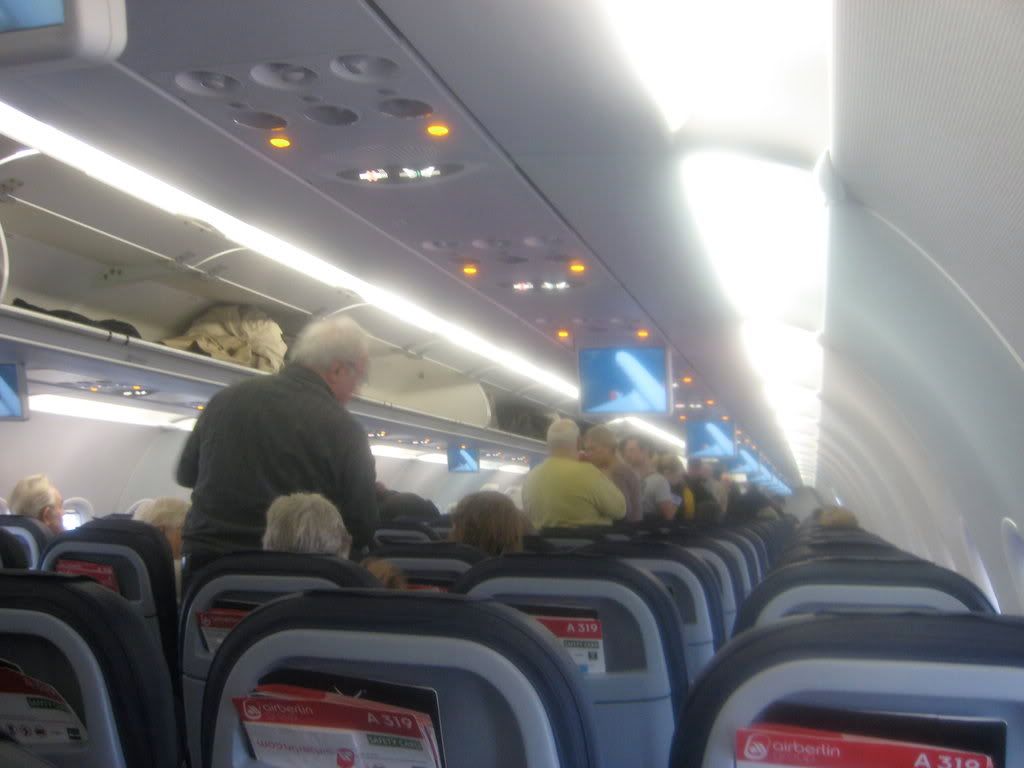 Boarding takes a long time as some of the older folks are quite confused by the seat assignments and in no hurry to settle down with their belongings, blocking the aisle. It also looks like a completely full flight, I see no empty seats anywhere.
These Cityhopper E-jets look great: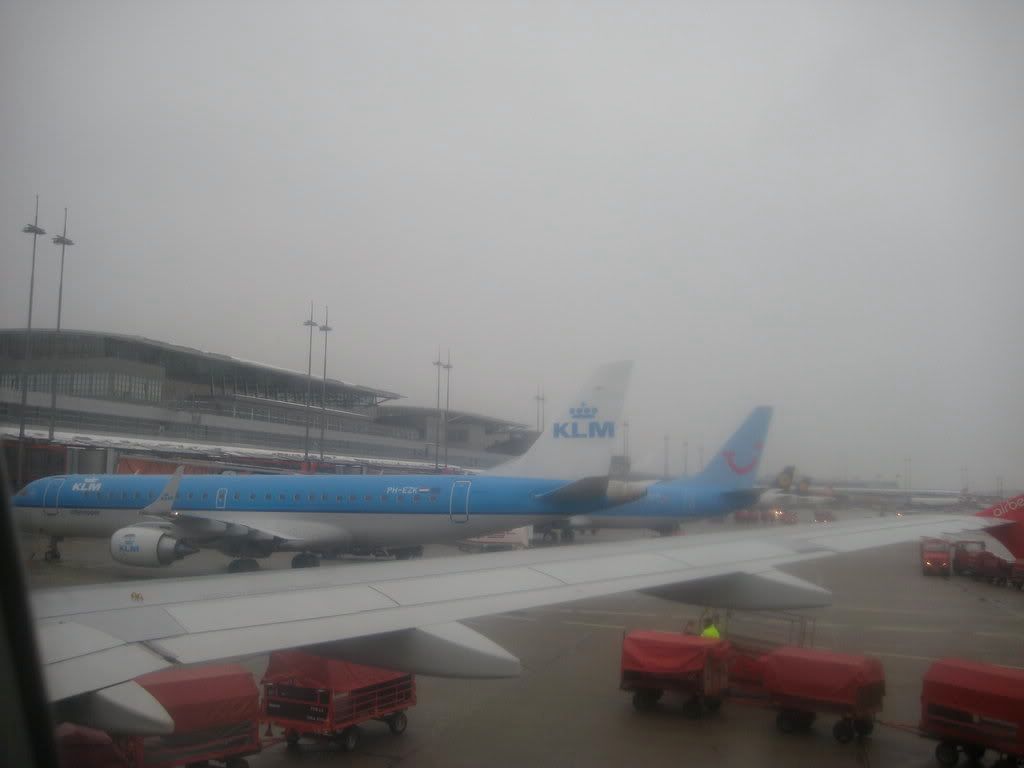 Despite the boarding hassle we still manage to push back three minutes before schedule for an announced flight time of 2h10mins. A longish taxi to runway 05 is
followed by a long take off run, I guess we have quite a bit of weight with the full load and lots of luggage.
The building in the background that looks a bit like the famous restaurant at LAX is the Lufthansa Technik hangar: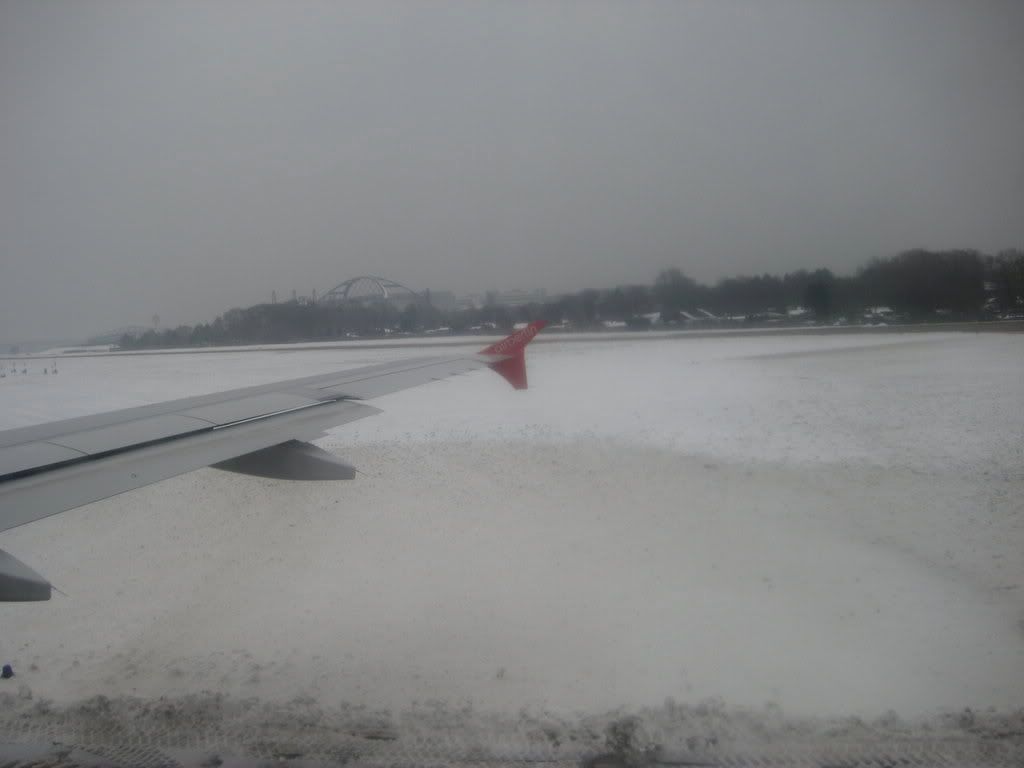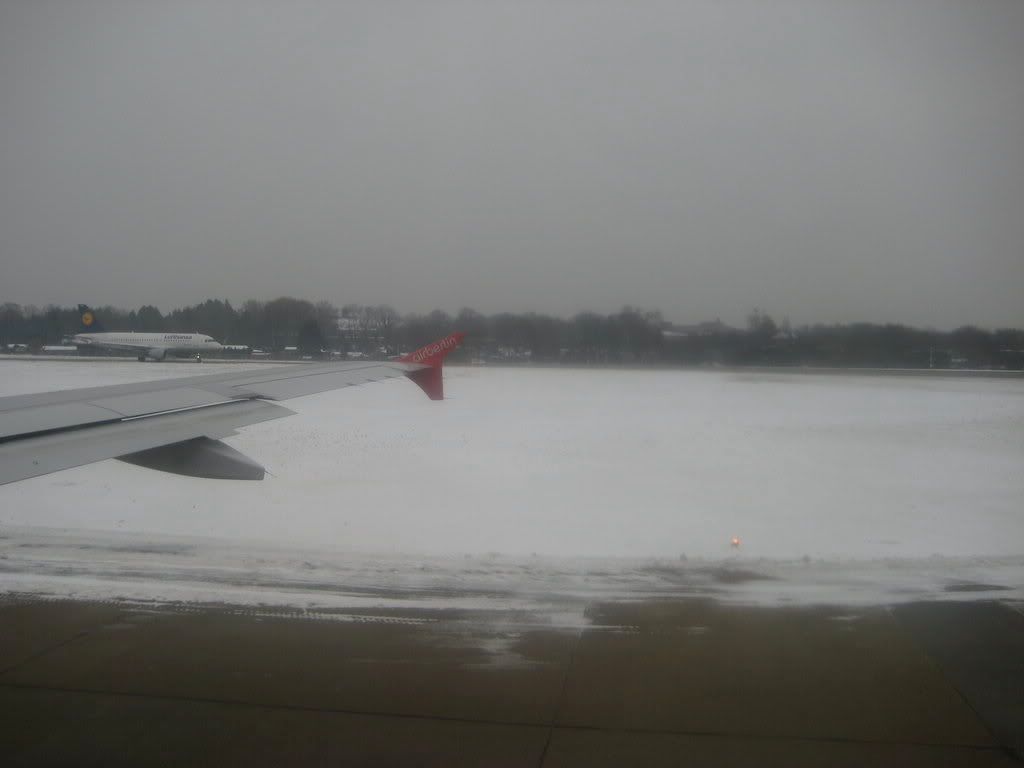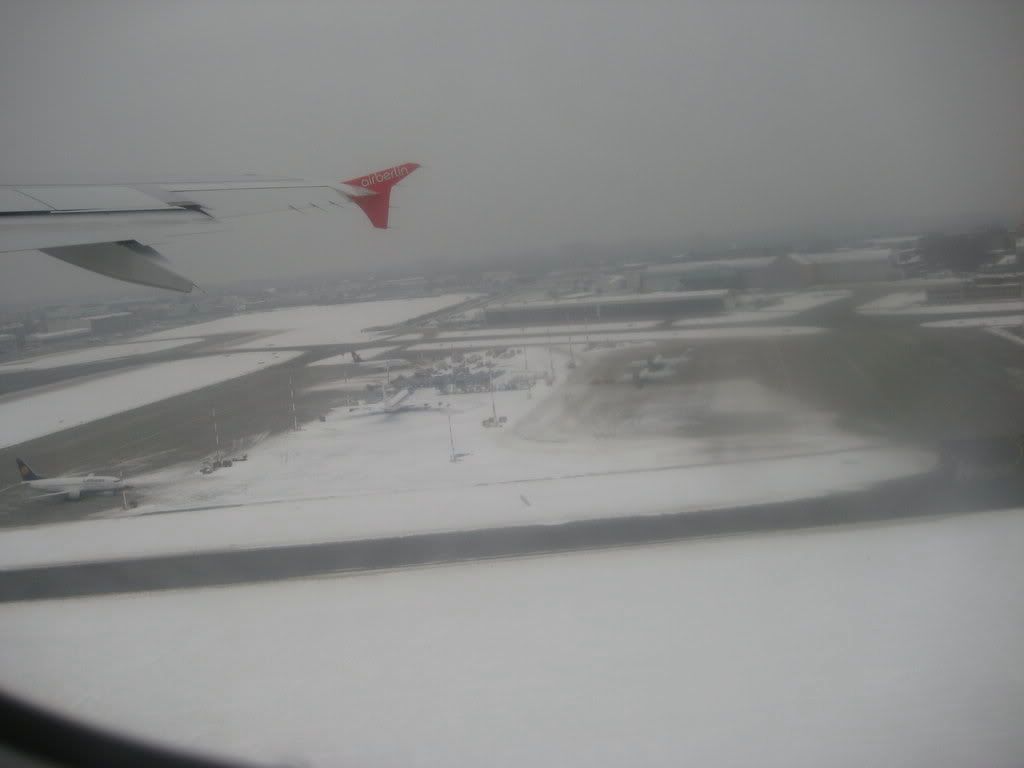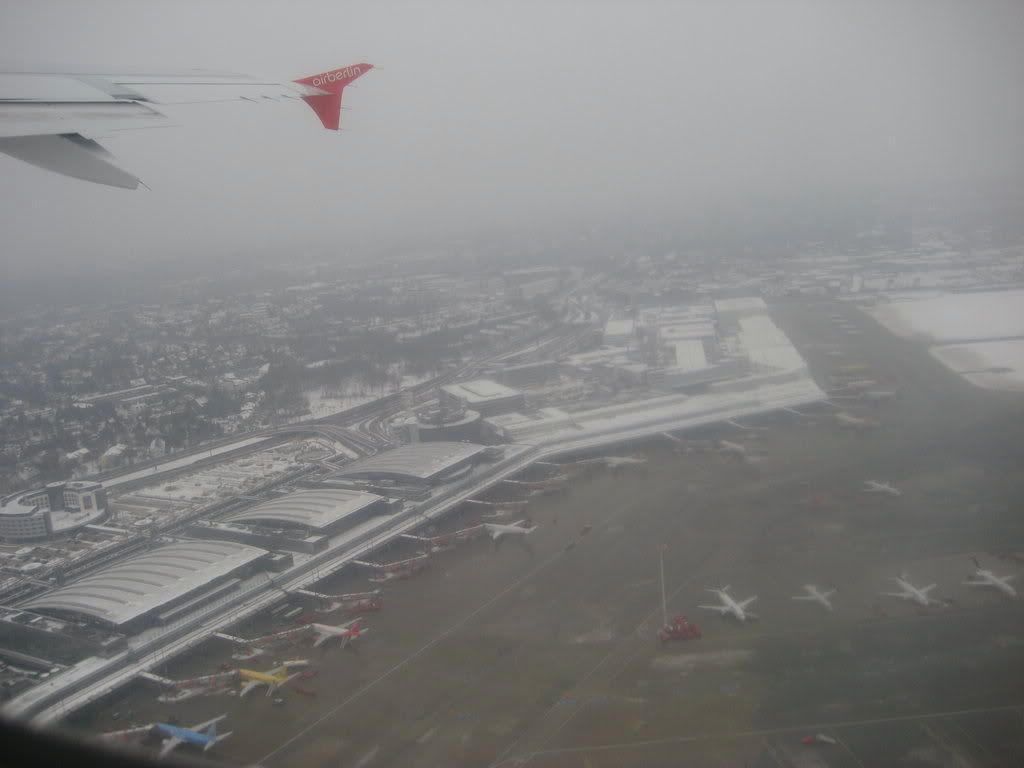 Air Berlin offers hot meals developed by the famous Sansibar restaurant in Sylt for purchase on the longer flights. I decide to try the German institution currywurst and it is actually very good. Though there's no wooden fork (something that you'd get in any Imbiss with your wurst - part of the experience) as described in the menu - the plastic one just doesn't feel the same! I decline on the offered sandwich (cheese or turkey this time) as the sausage is quite enough.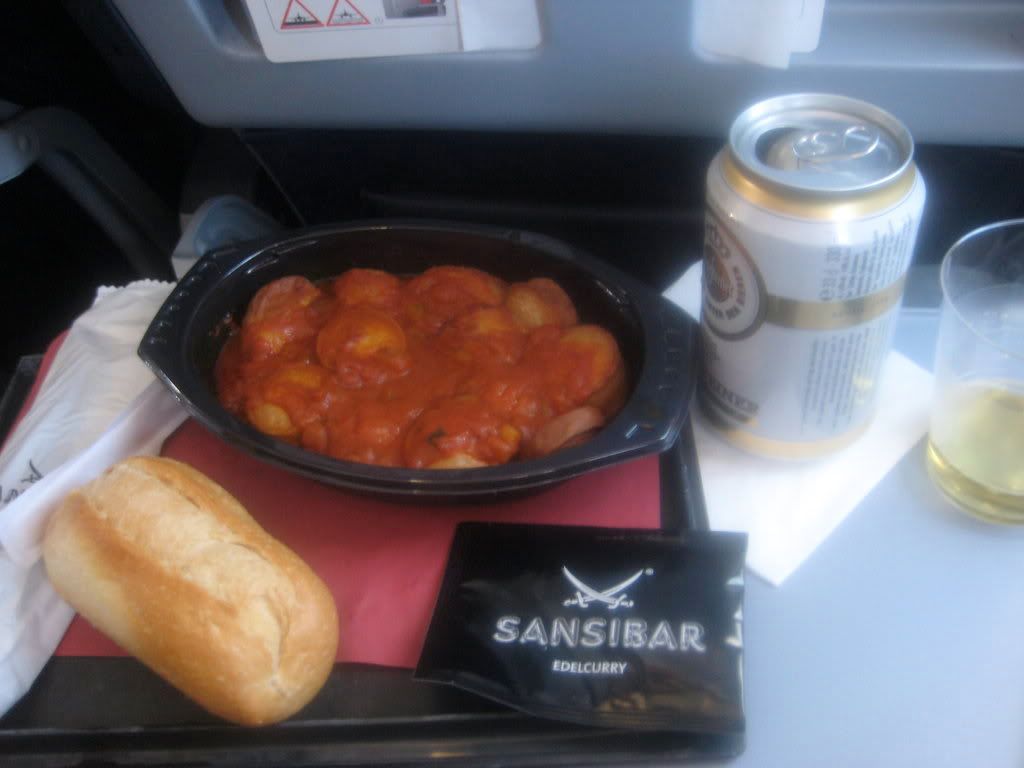 Half an hour into the flight our captain announces that we are just passing FRA, having overflown HAJ previously. From here we will continue to FKB, BSL, GVA, MRS and across the Mediterranean to PMI. There's quite a bit of traffic in the skies around FRA and Southern Germany.
Another flight that is mostly overcast, somewhere south of FRA there are a few openings in the clouds - this is Karlsruhe: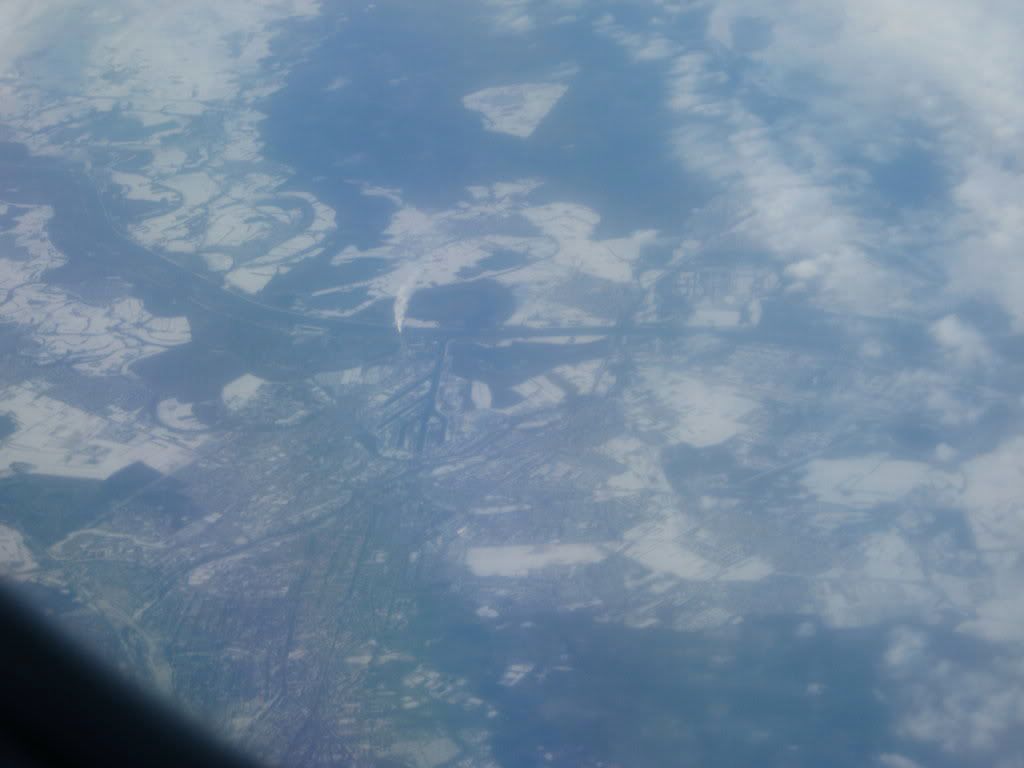 Mountains in the Schwarzwald: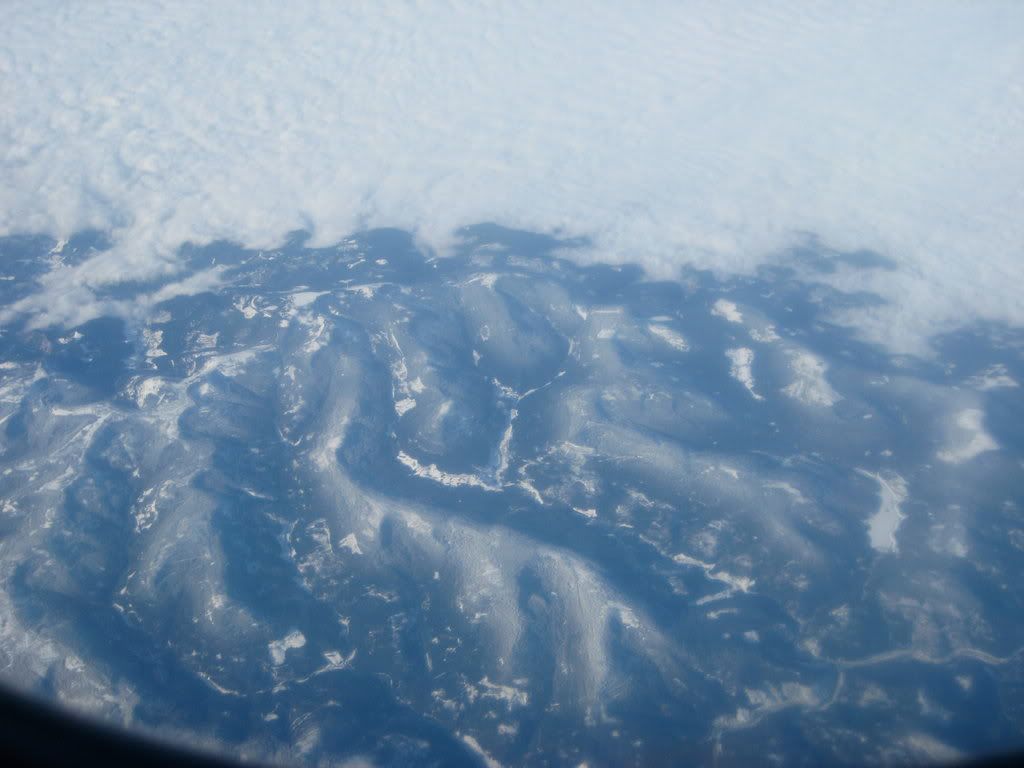 A hazy shot of BSL: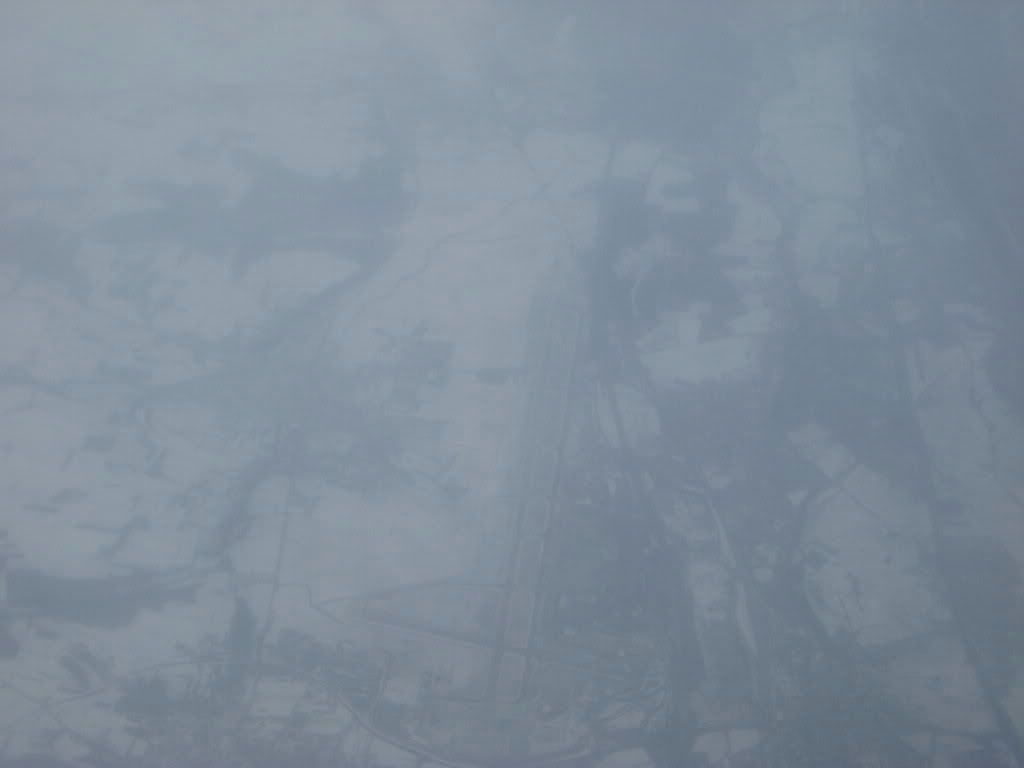 I spend the flight watching a movie on my Ipod, not having enough time to finish it. Over the Med the clouds clear up - not that there's anything else to see than water, though! After around two hours our captain announces descent and landing at 13.30. A bit bumpy on descent, but it settles after we reach the northern coast of Mallorca. There are some great views of the island and its mountains - sure beats the snow and coldness we left behind!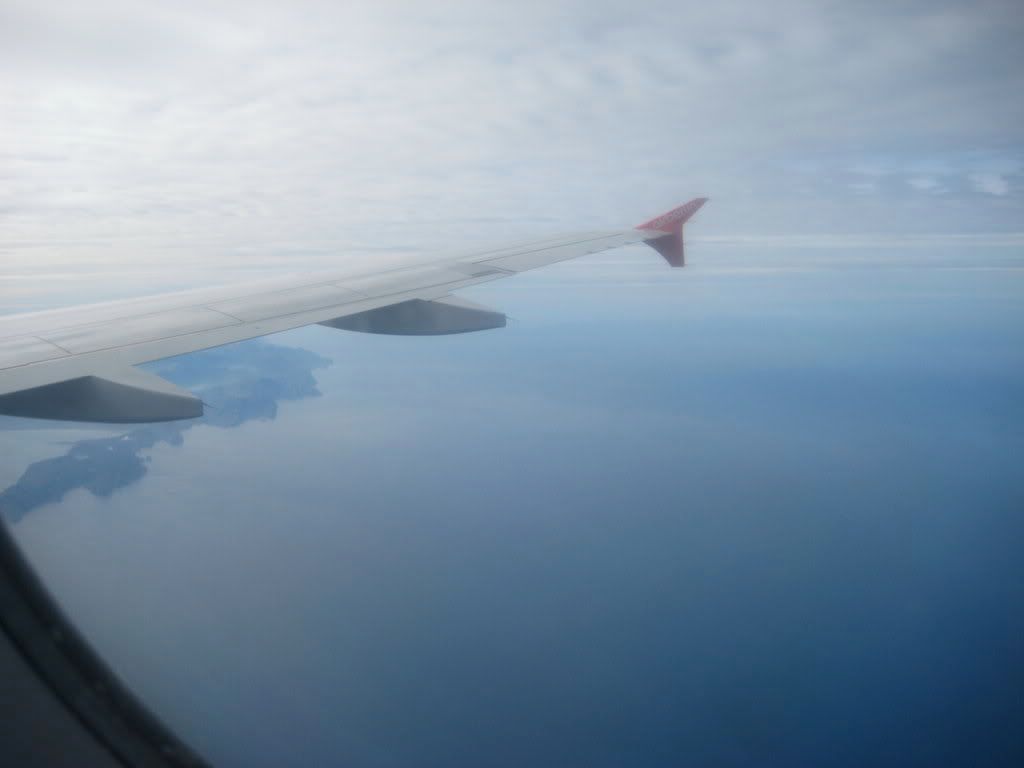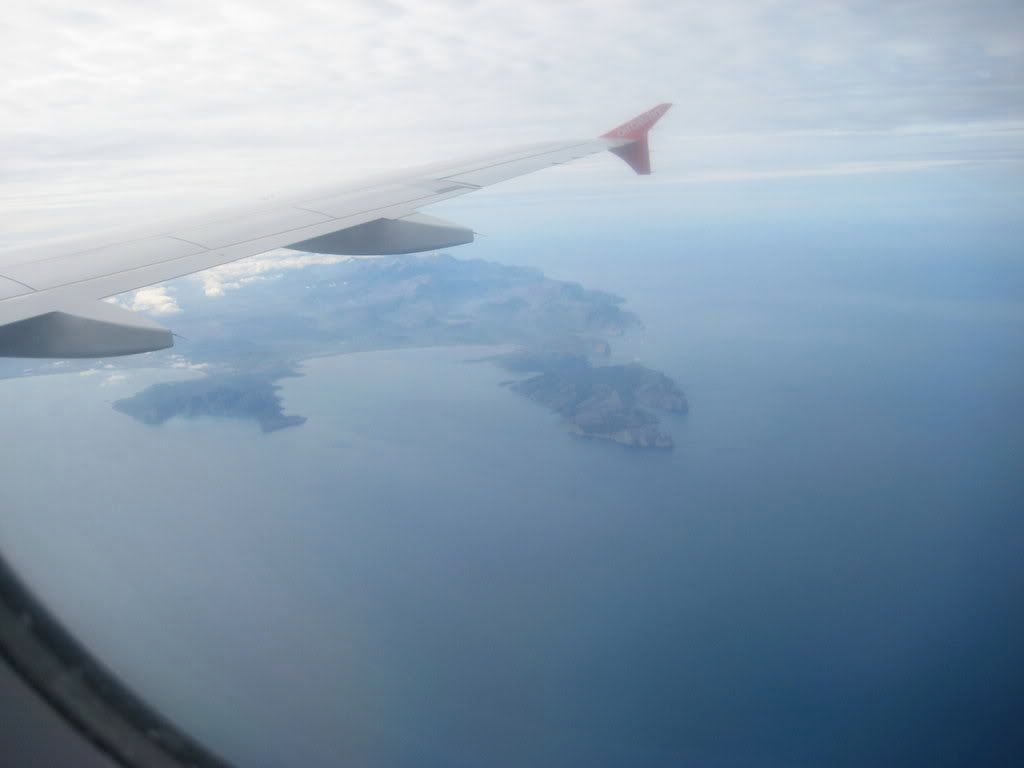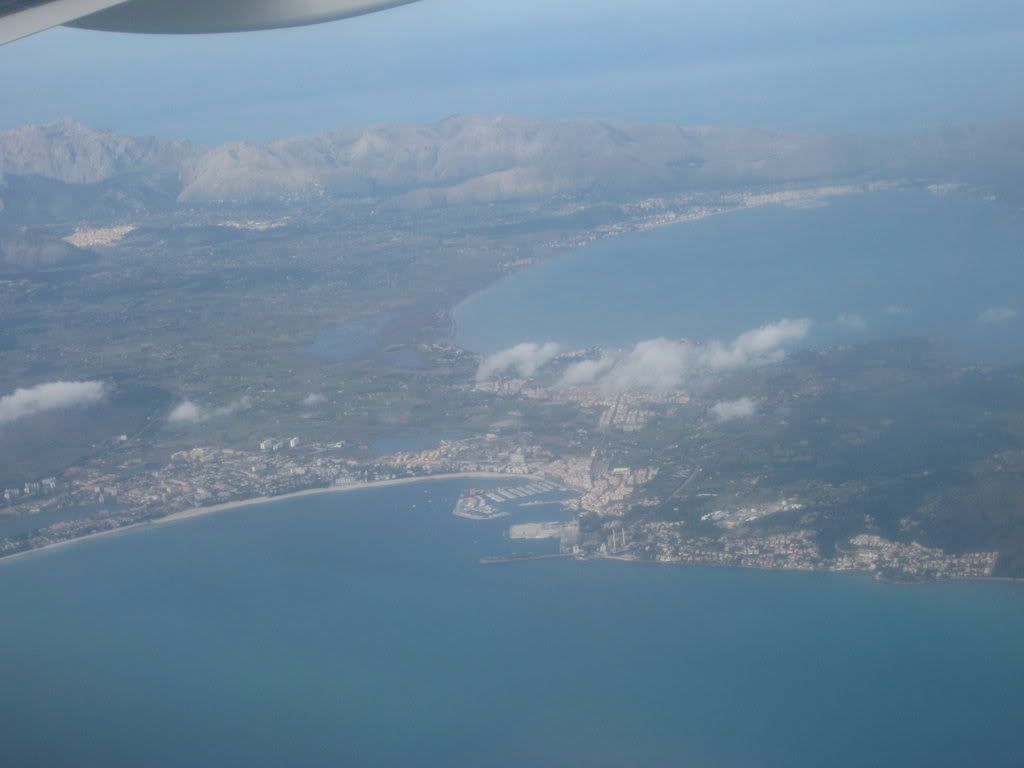 We fly an S-shaped pattern with tight curves over the coastline, I guess to fit into our place among the arrivals stream. The great views continue during our final approach: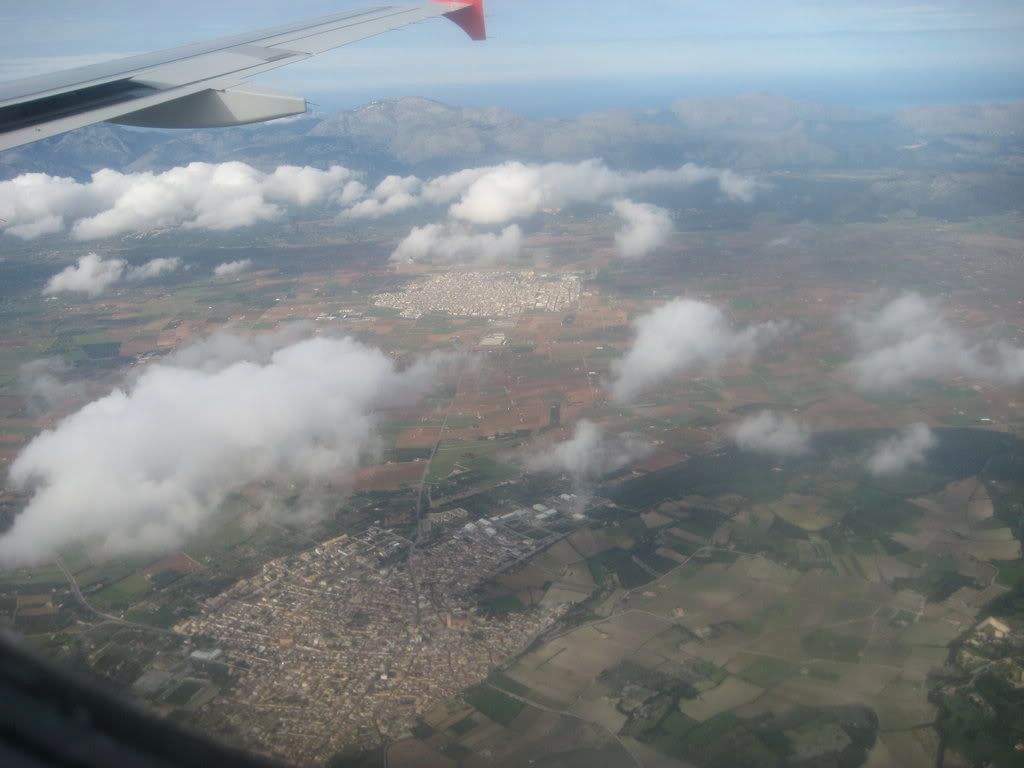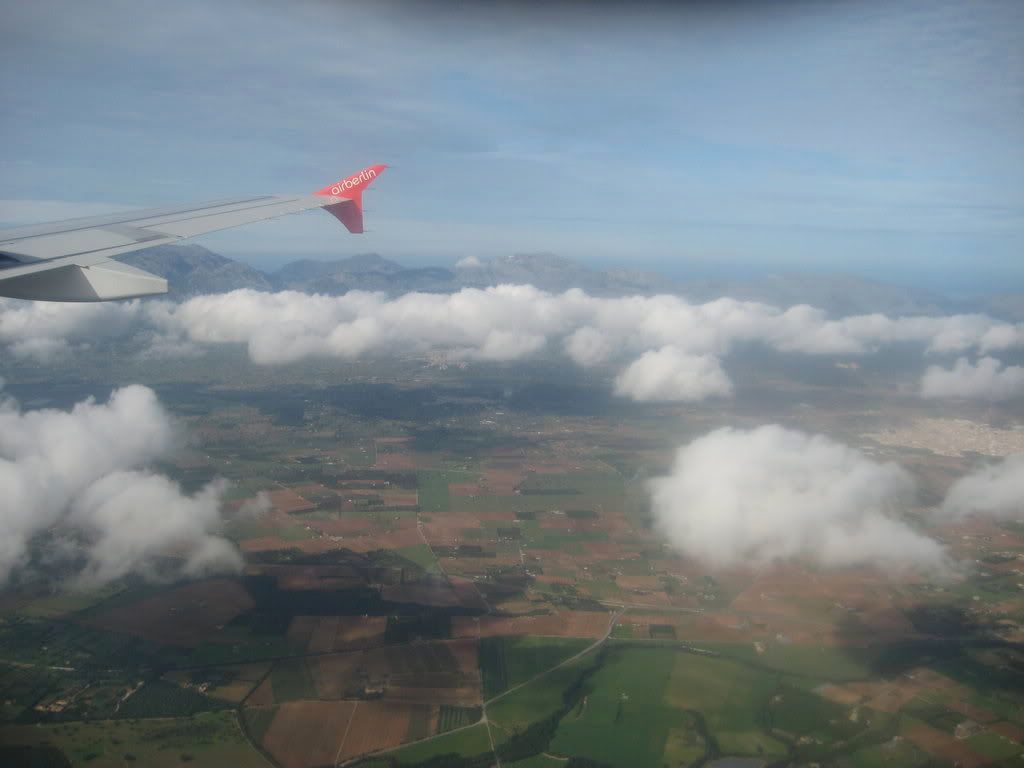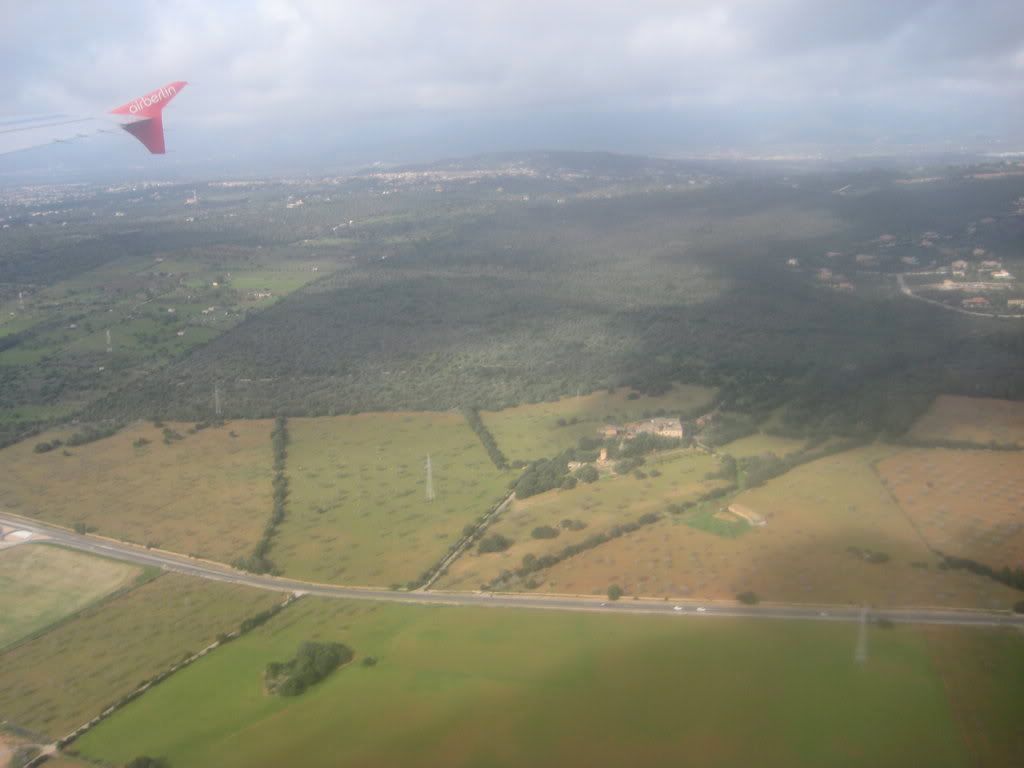 Looks rather wet: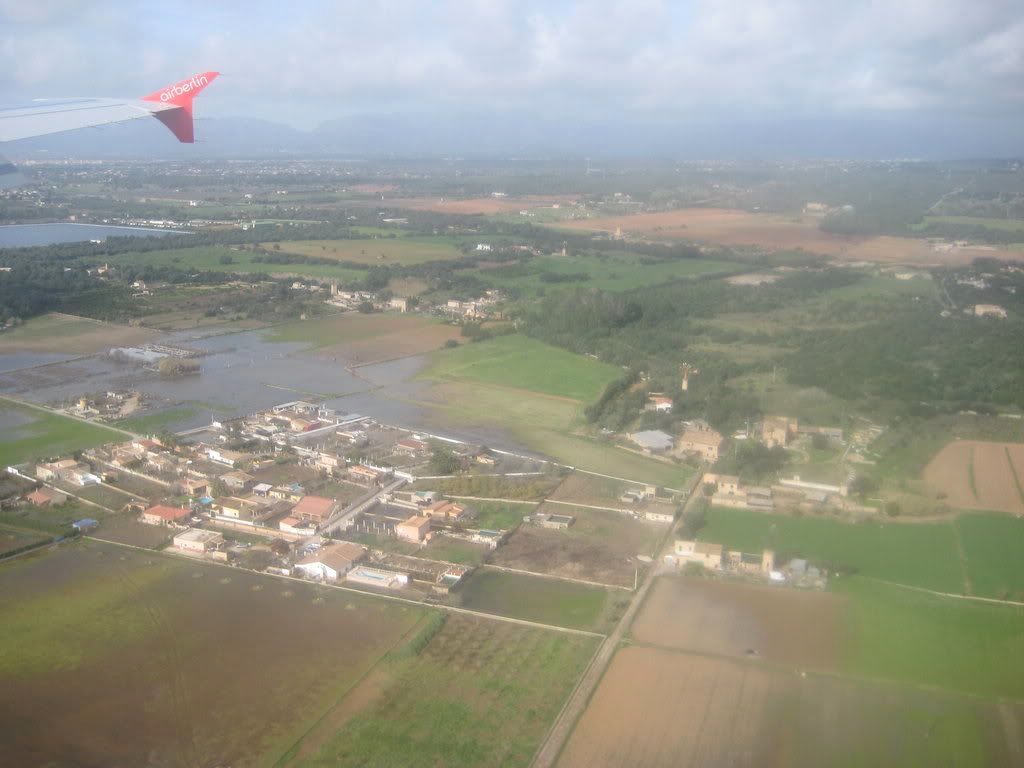 We land quite hard on runway 24R after 2h20mins in the air. It's wet at the airport as well: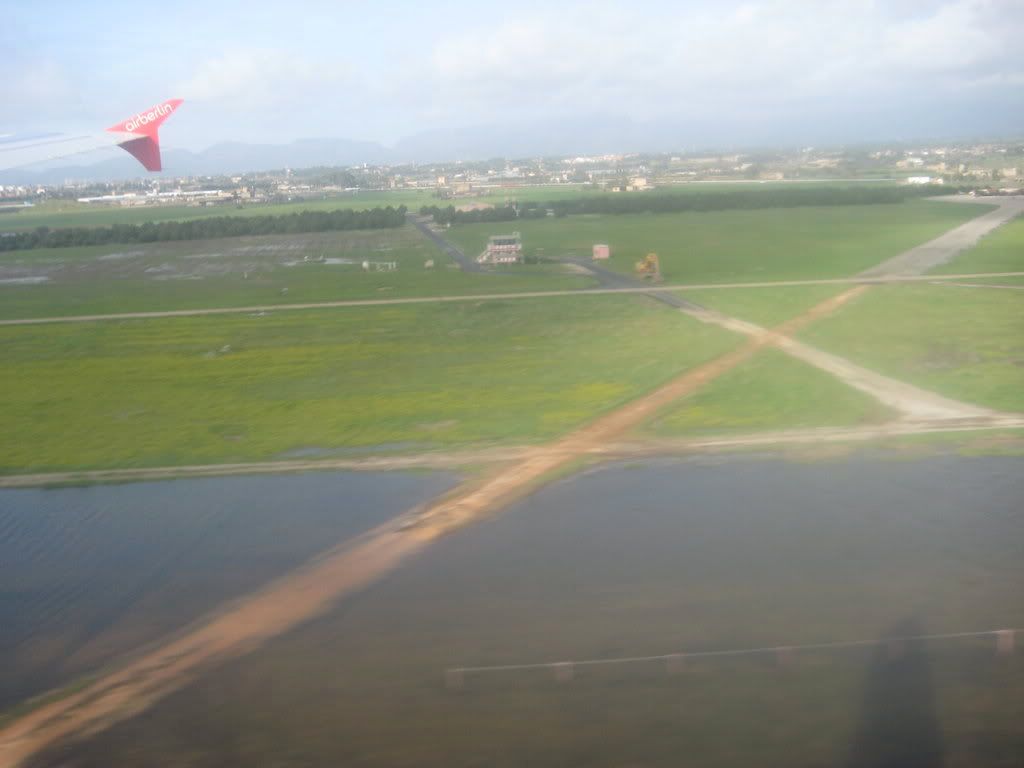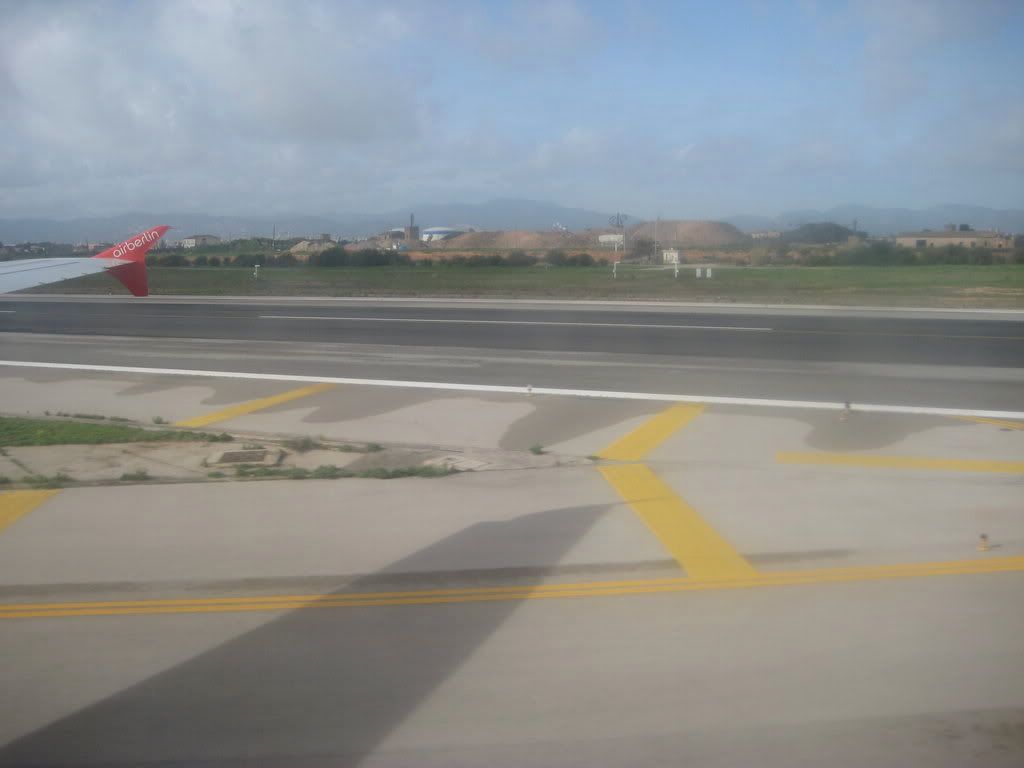 There are lots and lots of Air Berlin planes around, I count at least twelve and more keep on arriving. The AB hub operation in PMI is very impressive indeed. Last time I was here was 20 years ago and the airport sure has grown a lot ever since.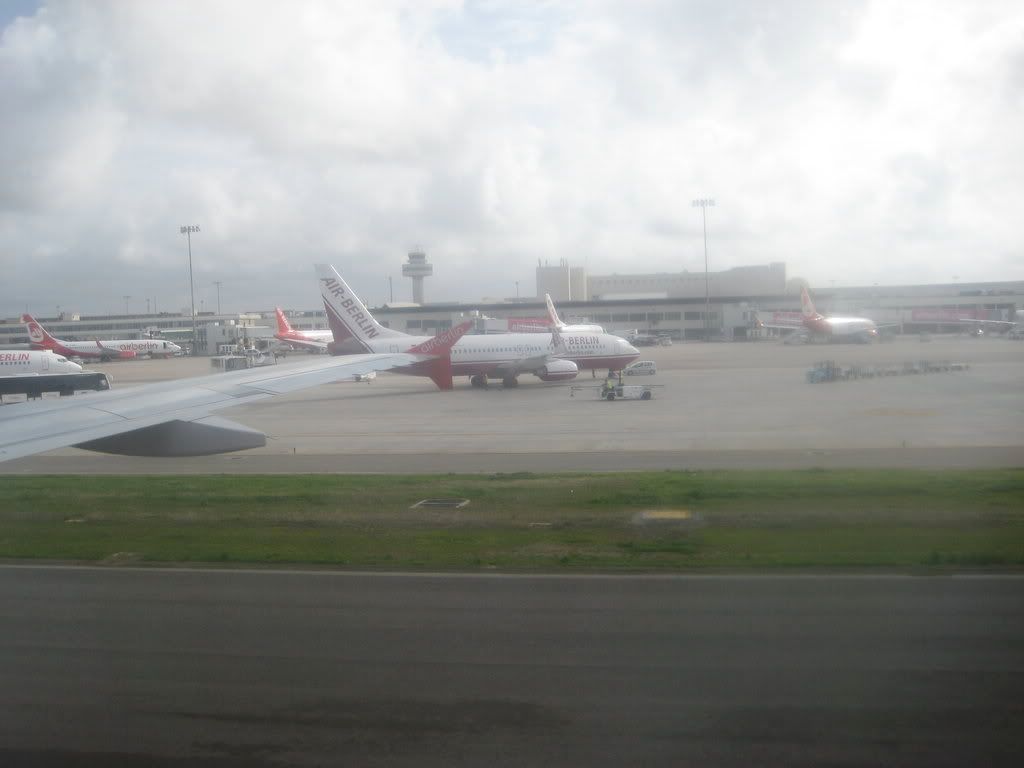 Short taxi to an apron parking position and deboarding to two waiting buses. The warm air, sun and nice smell of spring (in January!) feel very good (I'm not a big fan of winter nor coldness, despite being a Finn!) so I stand outside for a while before boarding the packed bus. Another interesting drive to arrivals - we drive a long time in the wrong direction before turning around and driving back to arrivals. Nice setup.
Palma de Mallorca Airport
Up the stairs to connecting flights where two AB agents are assisting people with connections (speaking German). I ignore them and check the monitors instead - a bus gate nearby is scheduled for my Porto flight with boarding in 25 minutes or so. I barely have time to answer nature's call and think about having a quick beer at a nearby Cervezeria when a boarding call is made, 15 minutes before the boarding time indicated on the monitors. I abandon the idea of beer and make my way downstairs to the gate instead, where boarding is indeed commencing.
The next flights: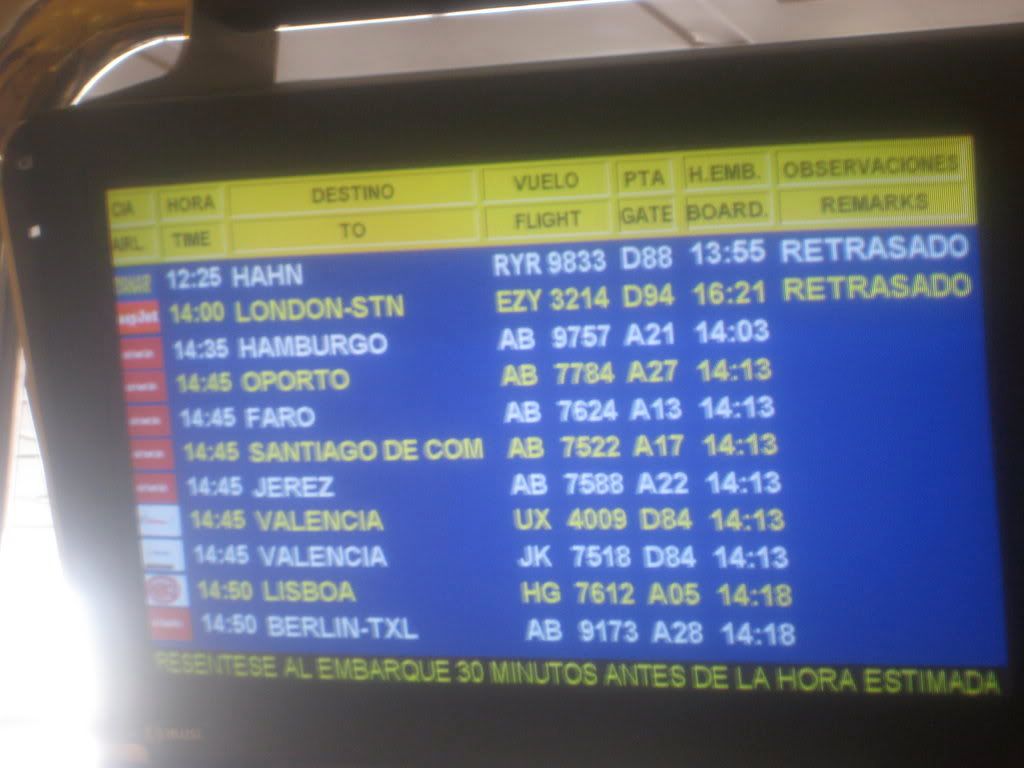 Another bus, another long wait for all the passengers (have I ever mentioned how I hate bus boarding?) to arrive. Most of the people seem to be Spanish or Portuguese, with only a handful of Germans. After ten minutes everybody seems to be onboard - 50 people or so - and we drive the short way to an A320 in the old AB colors. Luckily another new registration for me.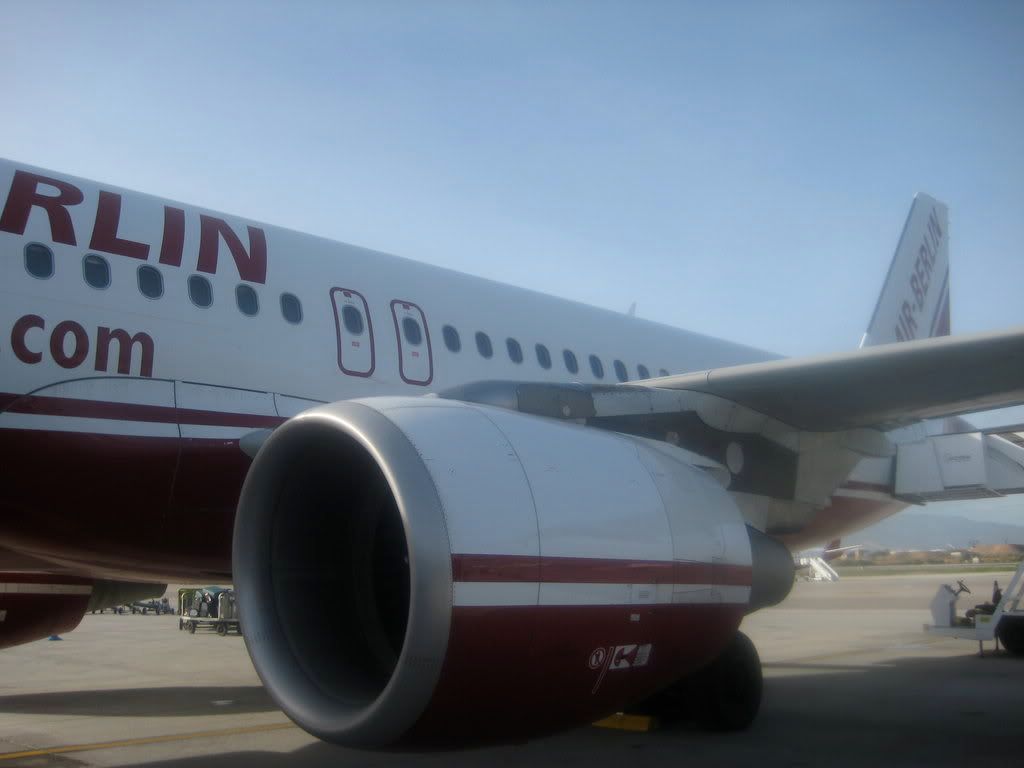 Niki next to us - I love the livery: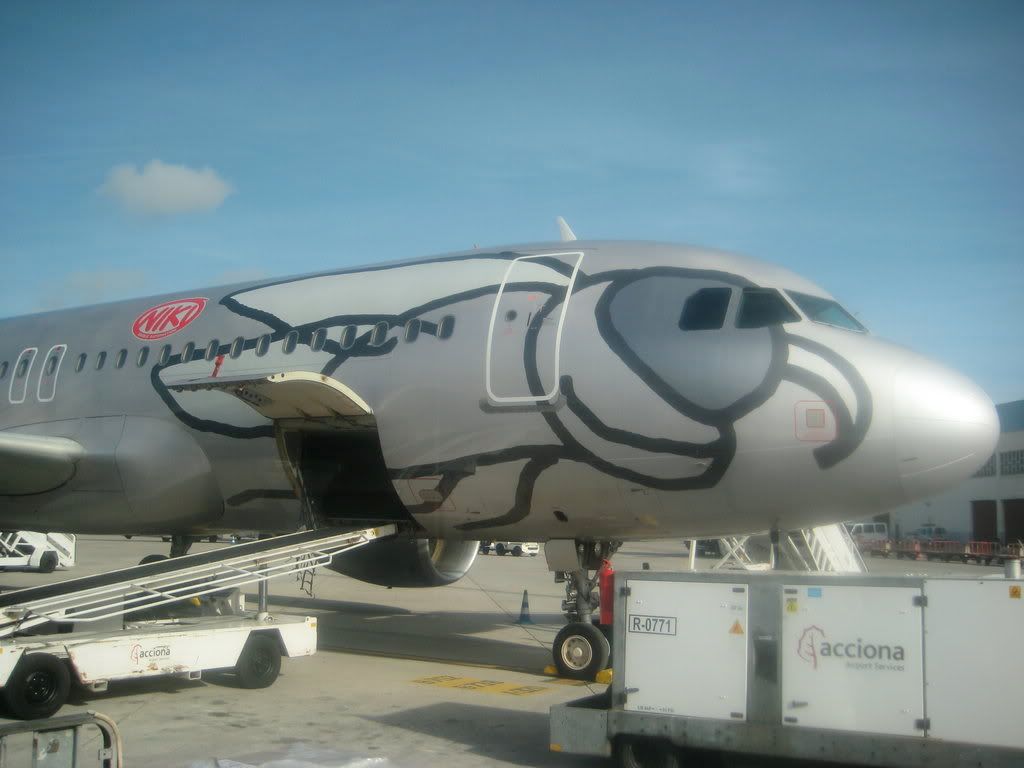 PMI-OPO
AB7784
A320 D-ABDD
Seat 4F
14.55 - 15.41
Up the stairs where a very disinterested young FA stares into the ceiling instead of greeting passengers. Welcome onboard, indeed. As mentioned, a light load so lots of room for everybody, including a whole block of 3 seats for me. 14.30, 15 minutes before the captain comes on, explaining that we are ready to go but are still waiting for one missing passenger (at least that's what I think I heard). Well, 15 minutes of waiting and the lost sheep finally shows up - except that it isn't a passenger but a young Spanish male FA instead! He gets a bit of a scalding in Spanish from the flight dispatcher who's standing next to the 1L door. Right afterwards the ground staff leaves and we close the doors, pushing back ten minutes after schedule for the 1h40mins flight across the Iberian peninsula.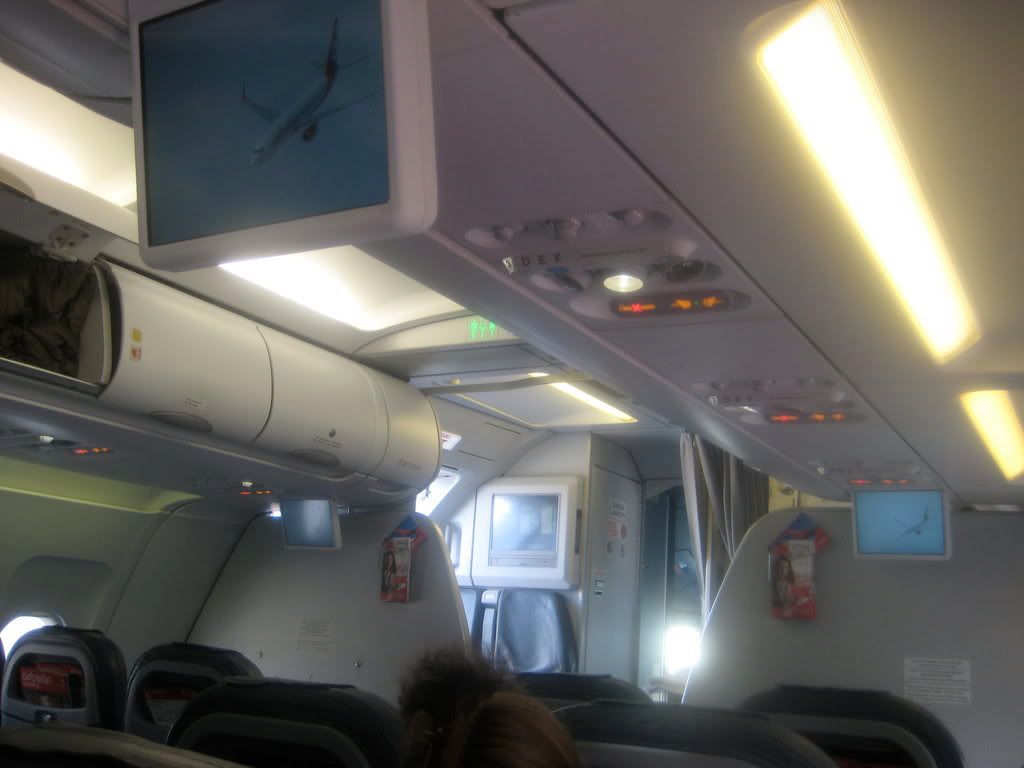 See, it's not all Air Berlin: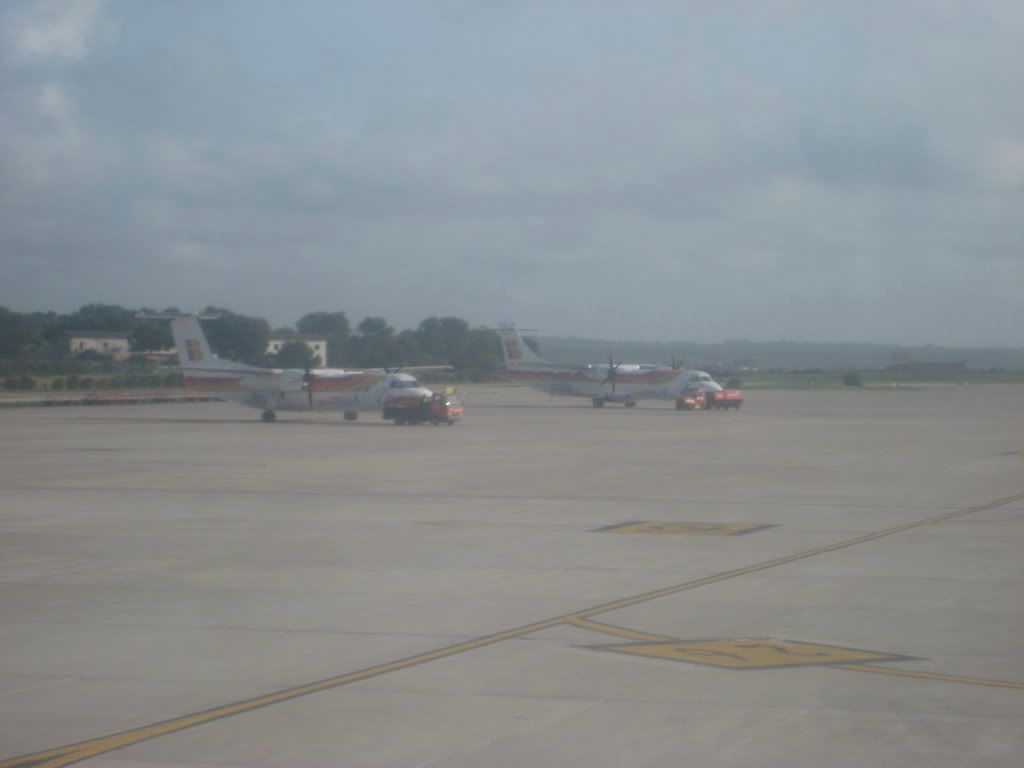 There's a bit of departing and arriving traffic, including a few company planes before we enter runway 24R and promptly take off.
Who is it: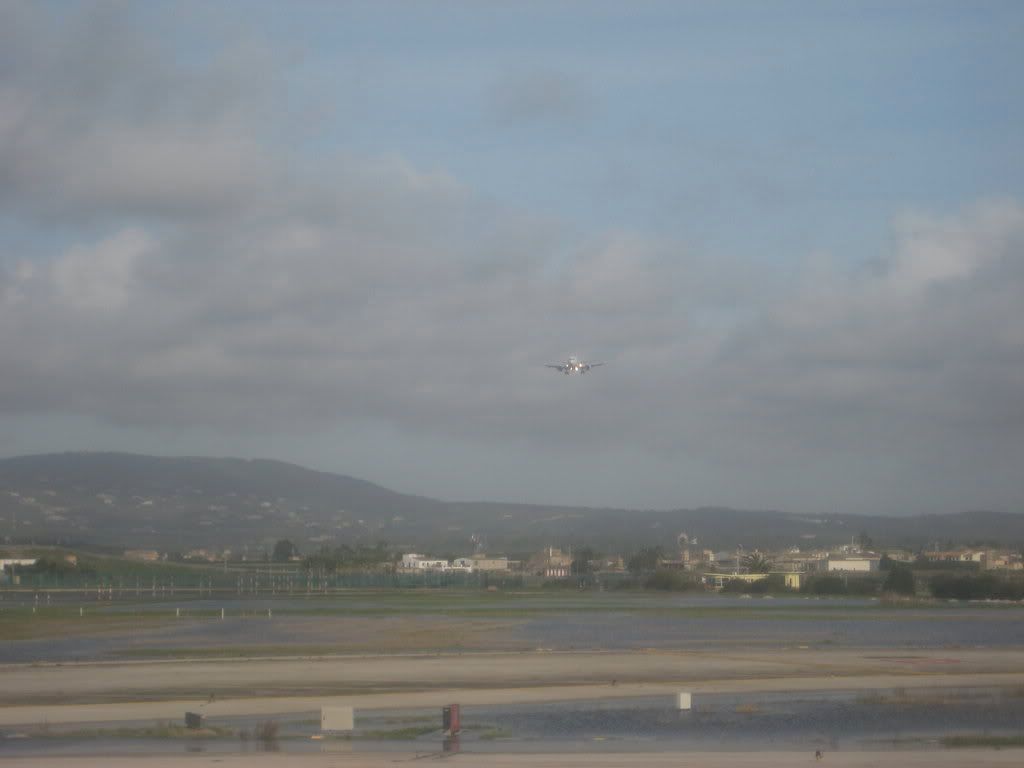 Getting closer: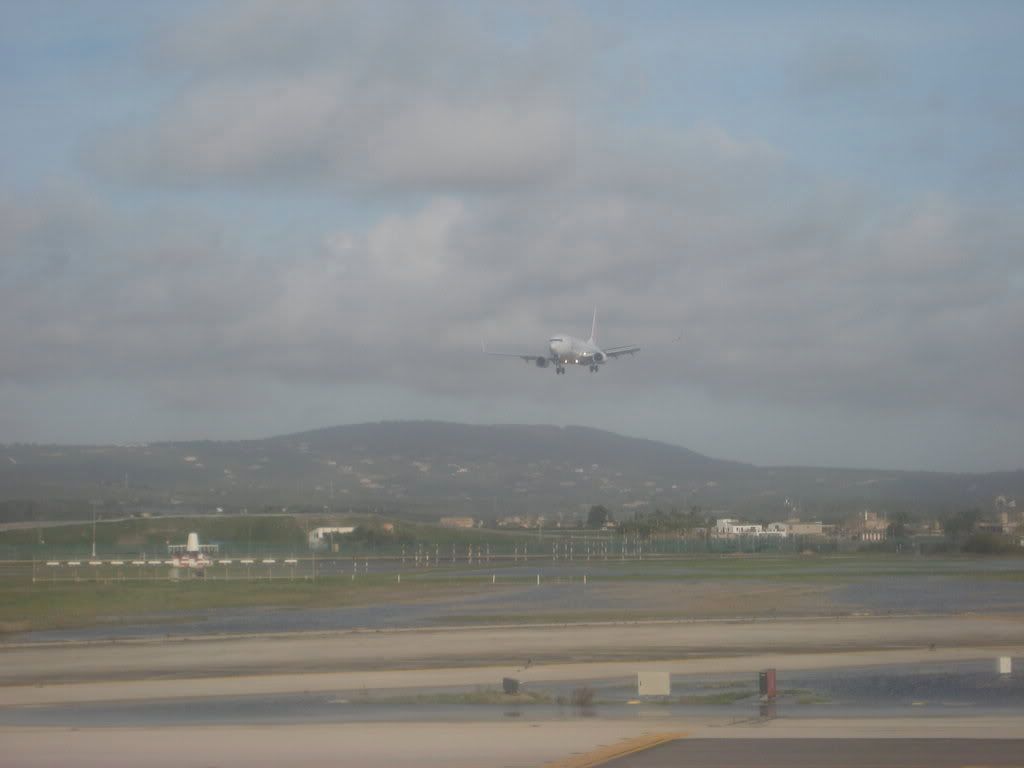 Ahh, now I see: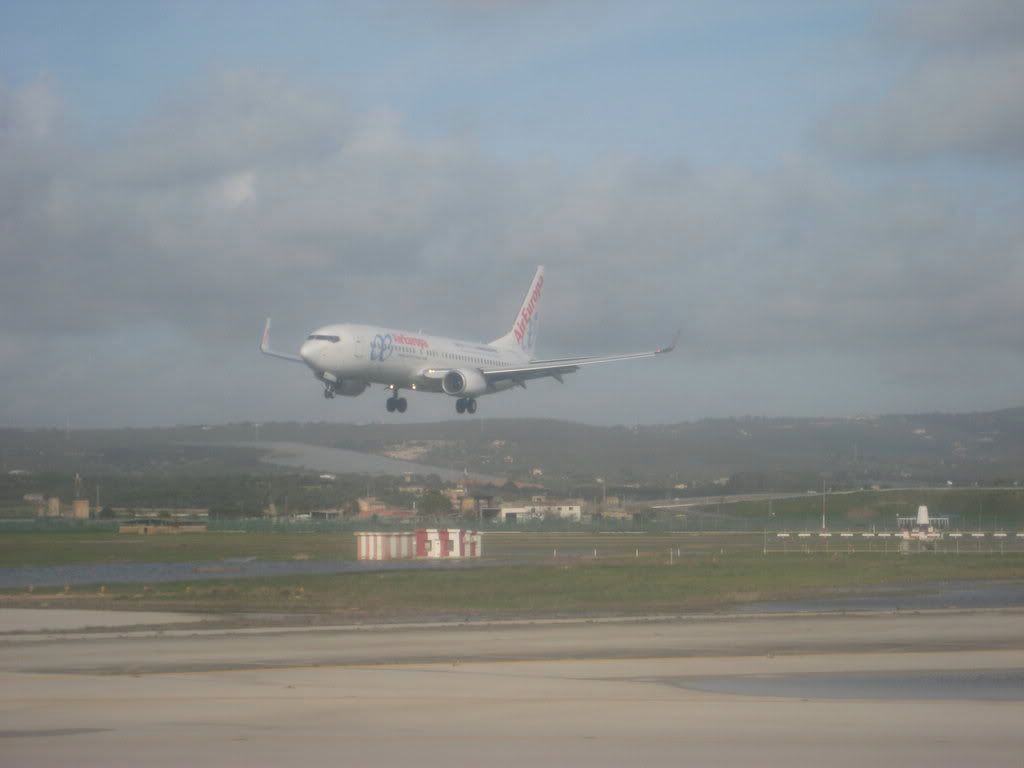 Some nice views of Palma city and the southwestern part of the island as we turn right towards mainland Spain.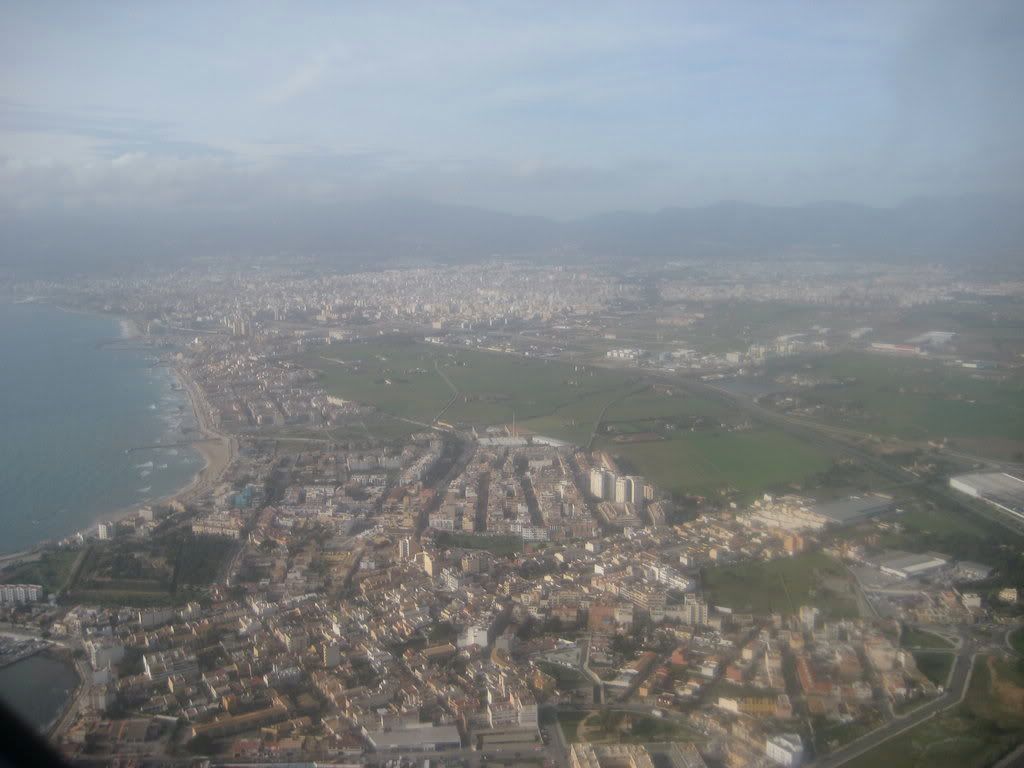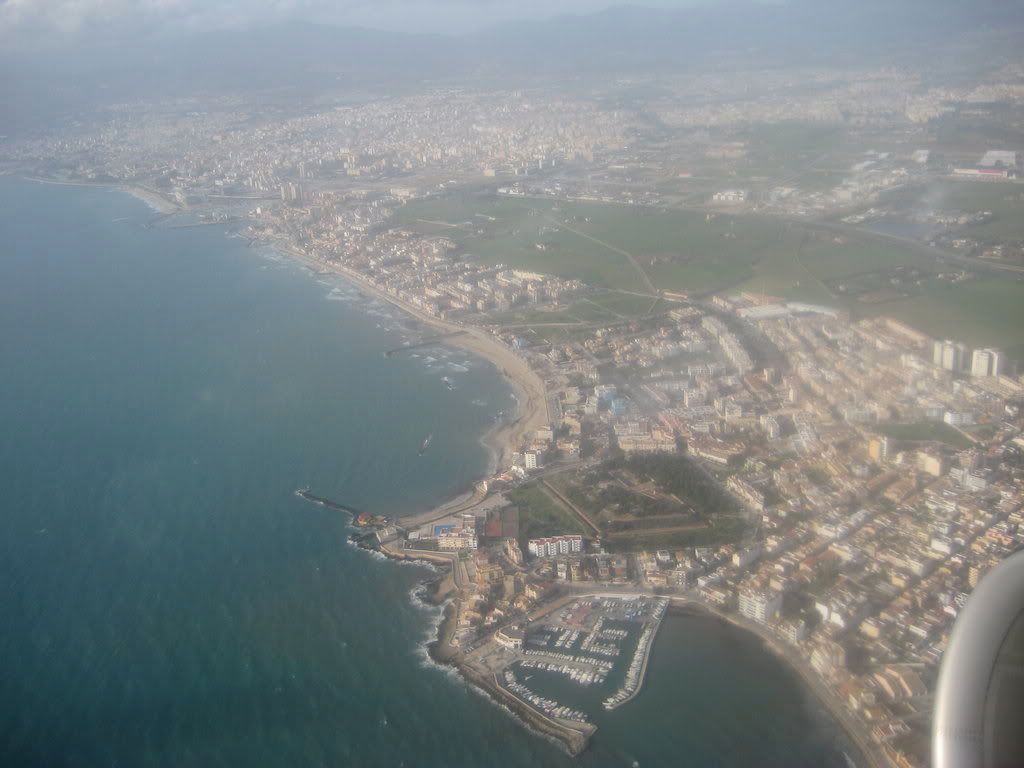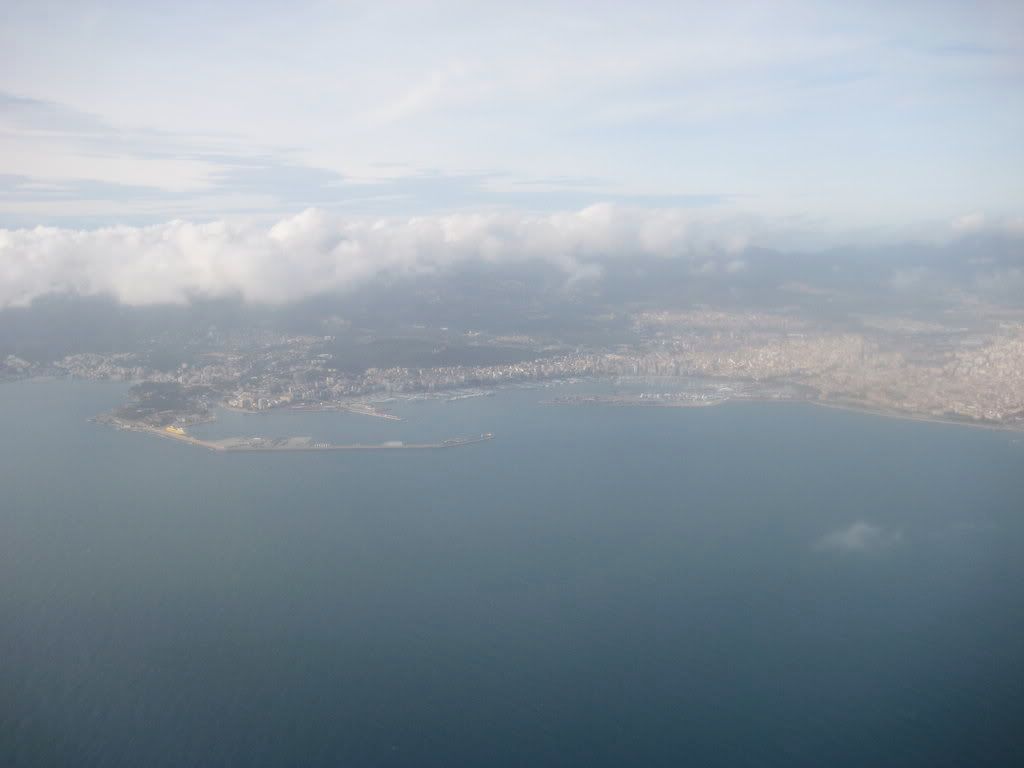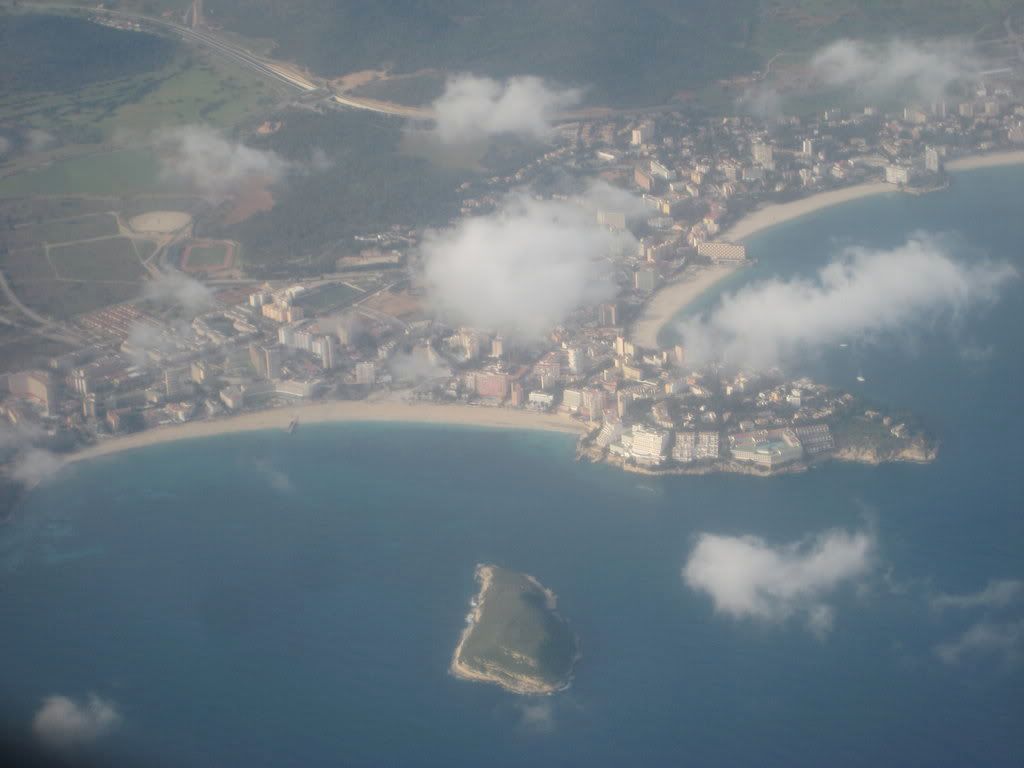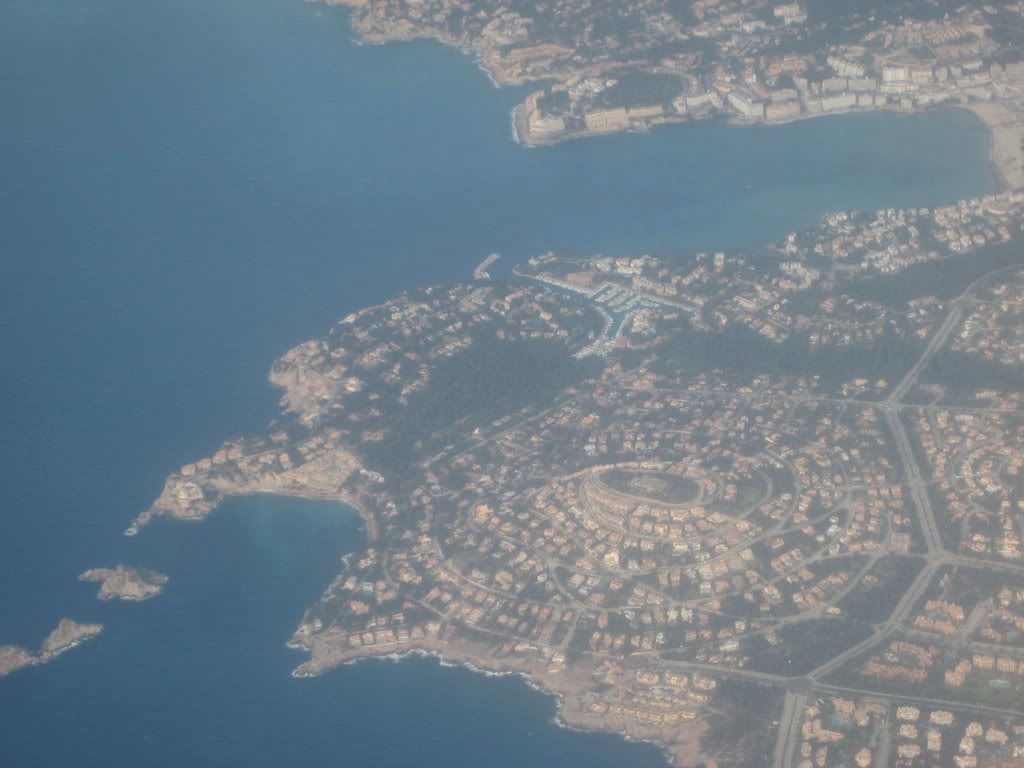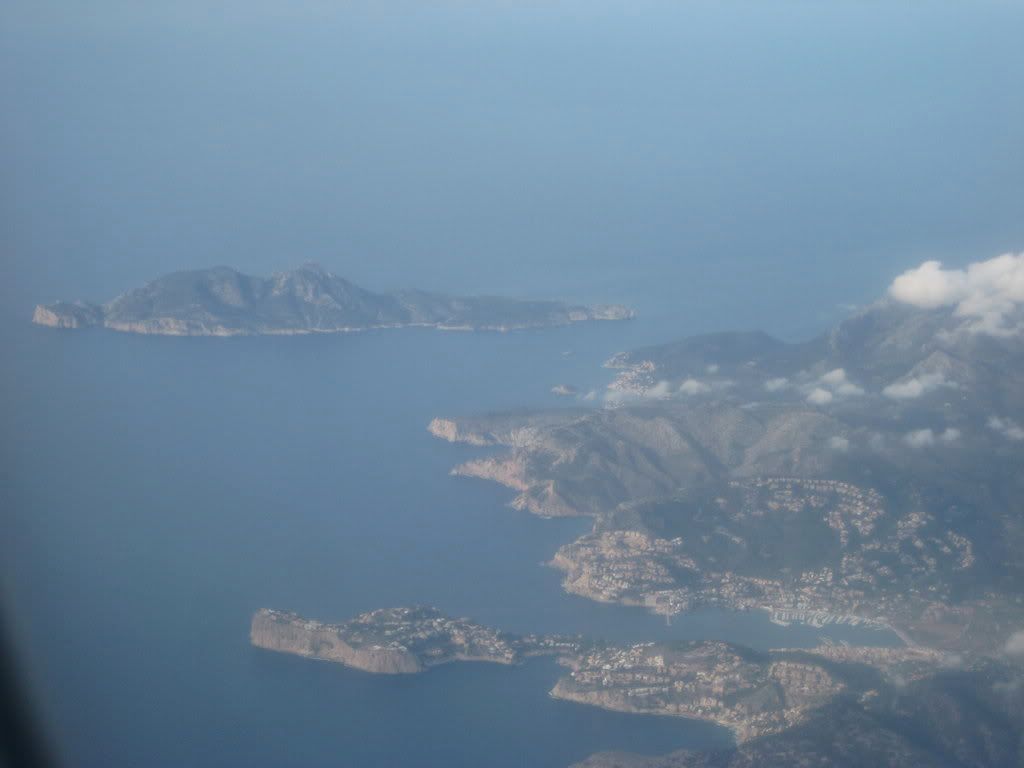 Service is a drinks run and a snack basket with either sweet (some kind of cake roll) or salty (crackers) snacks. I decide to have the malted beverages I missed on the ground.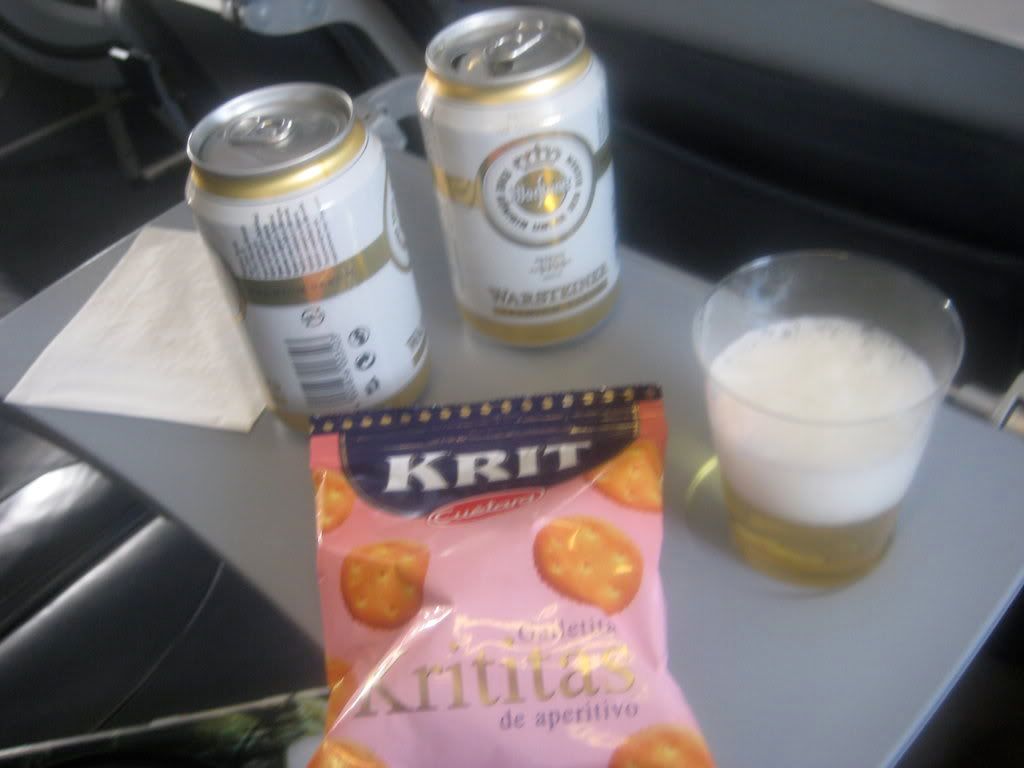 Once we reach the mainland over VLC it becomes cloudy, staying so for the remainder of the flight. The captain explains our route as "PMI to VLC and straight to OPO" and the Porto weather as 15 degrees with light showers and low clouds. I finish my movie and spend the rest of the flight dozing and listening to music.
While descending it becomes clear that it indeed is rather wet in Porto, with rain all around us and the ground looking rather miserable. We seem to be landing on runway 17 as we follow the Atlantic coast southwards, touching down on the expected runway at 15.41 local time. A couple of minutes later we dock to a jetway at the impressive looking modern terminal and are allowed to deboard.
A not very hospitable looking Atlantic: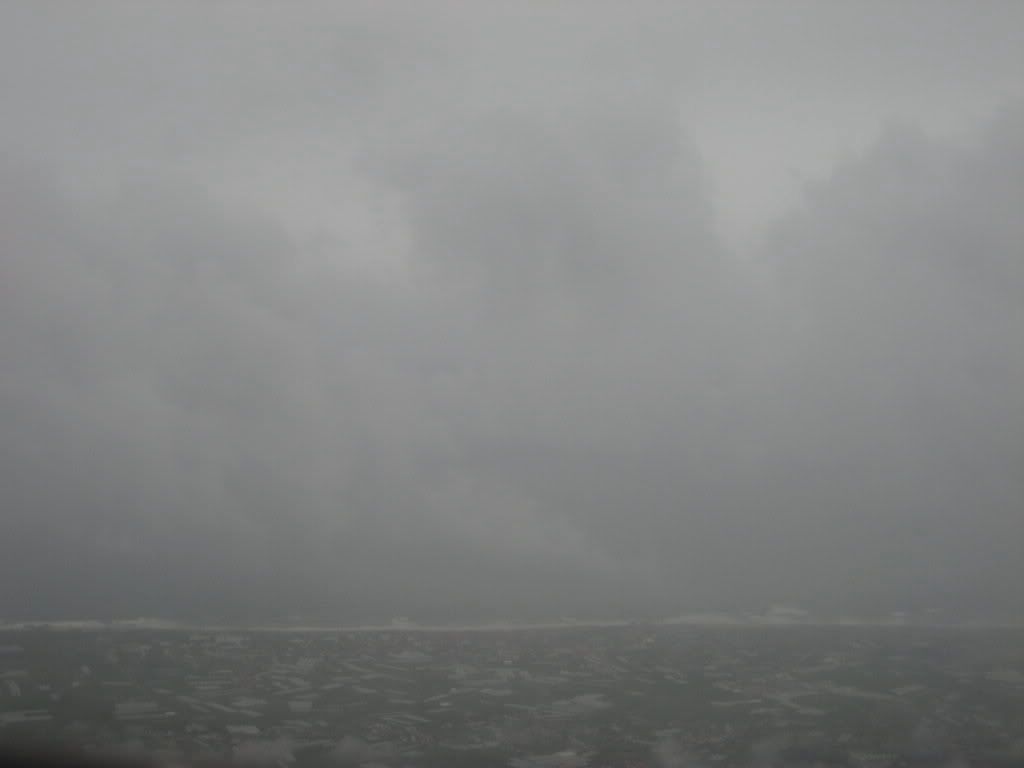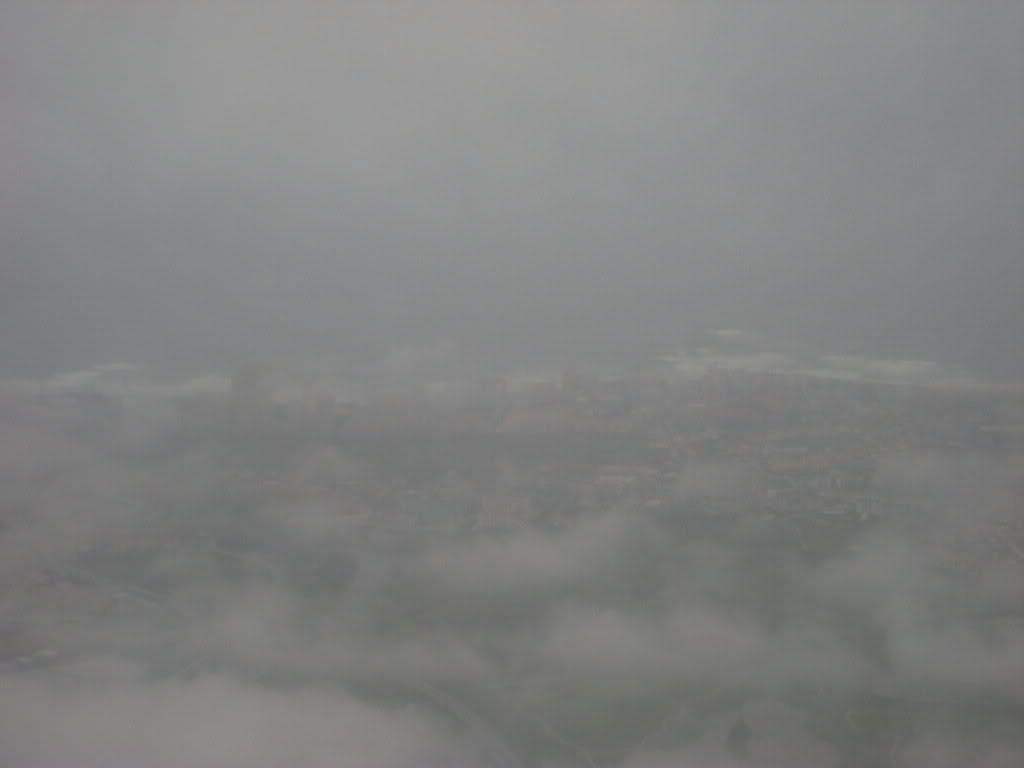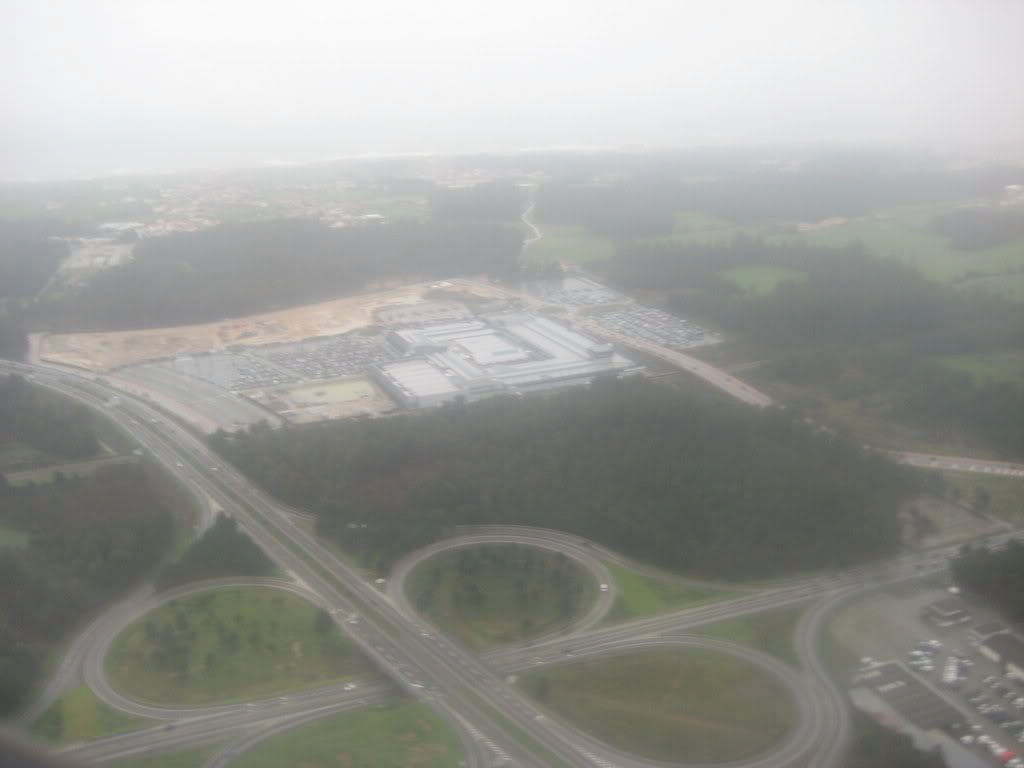 Quite wet here as well: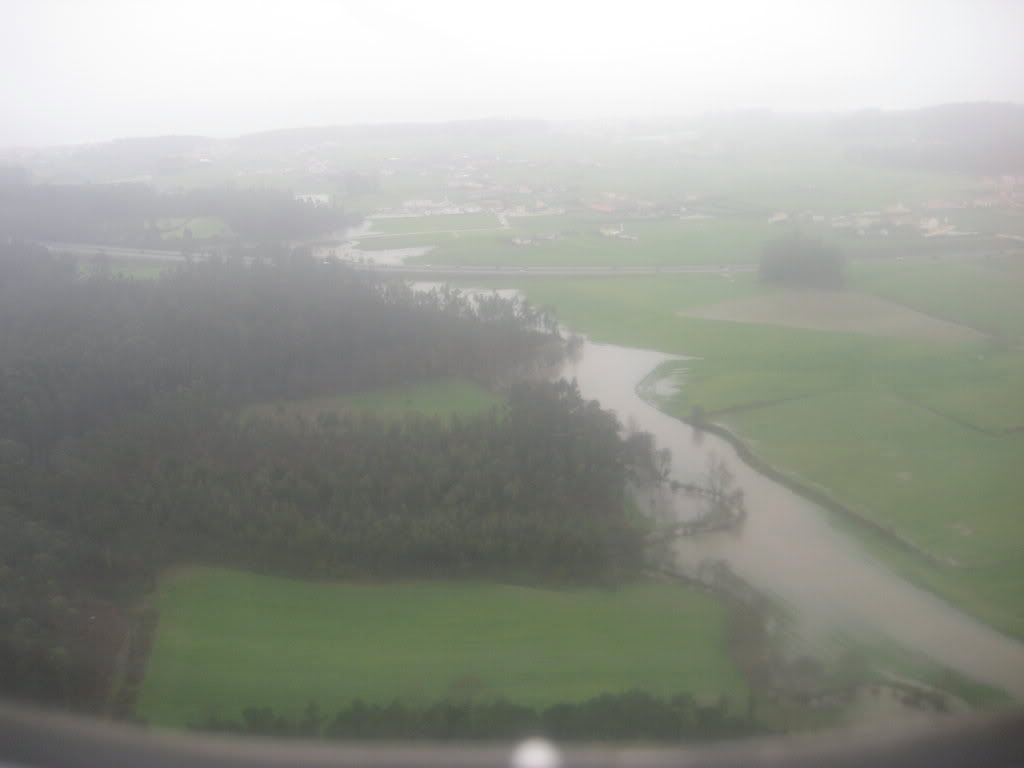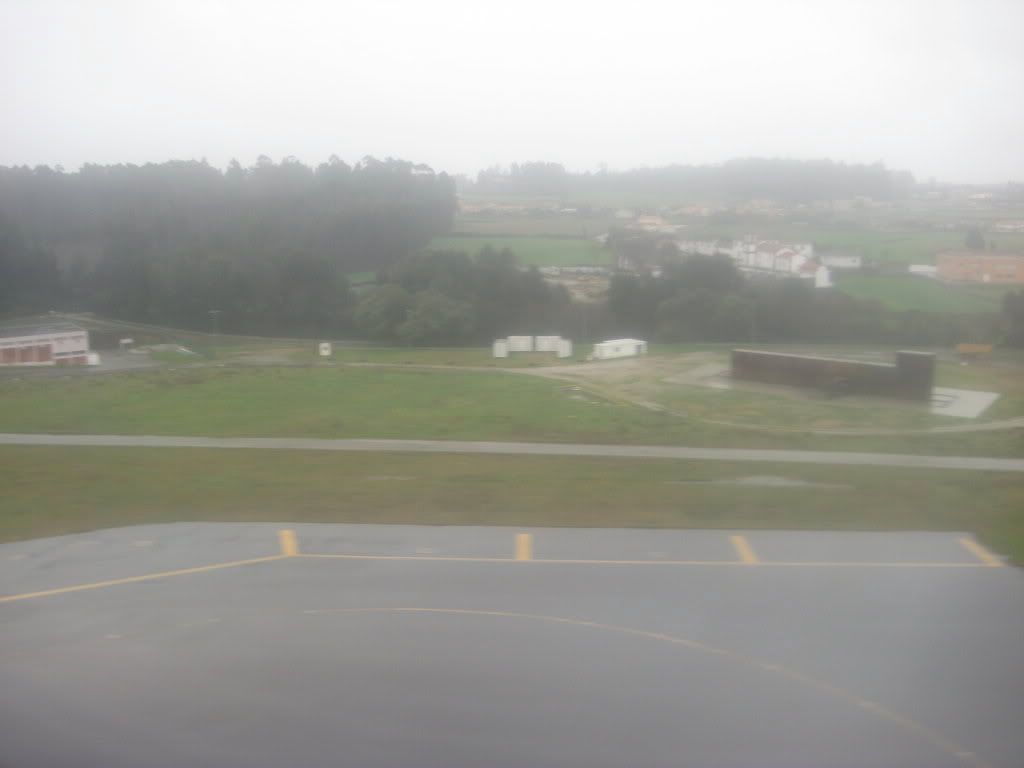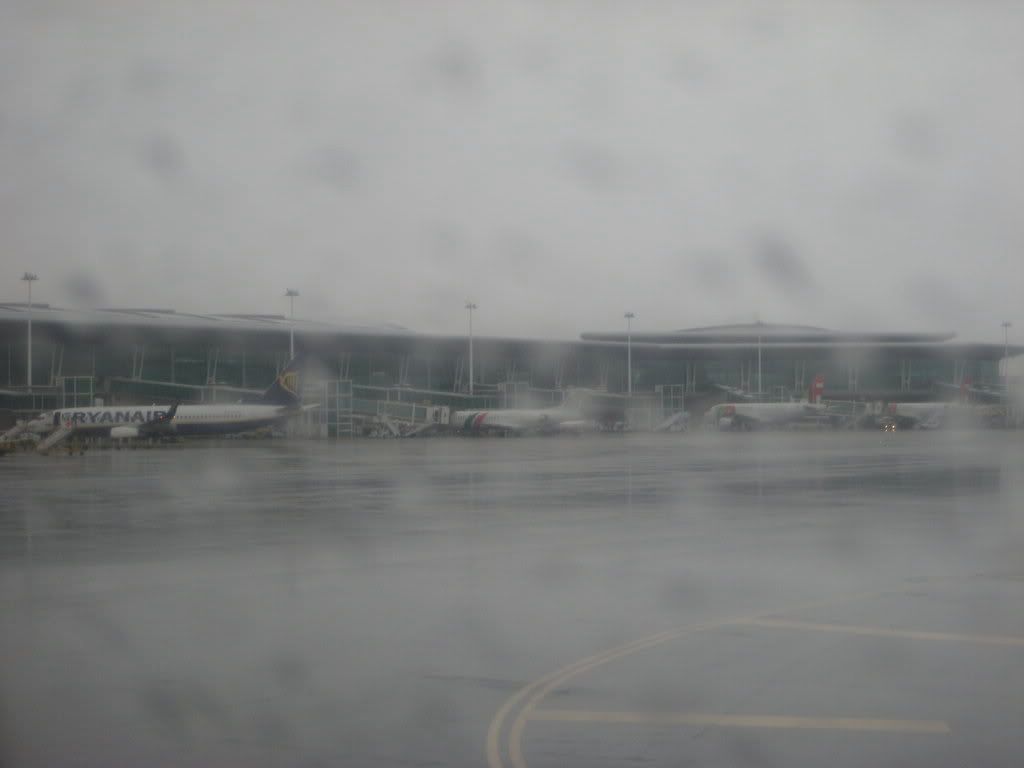 PGA Fokker 100 next to us: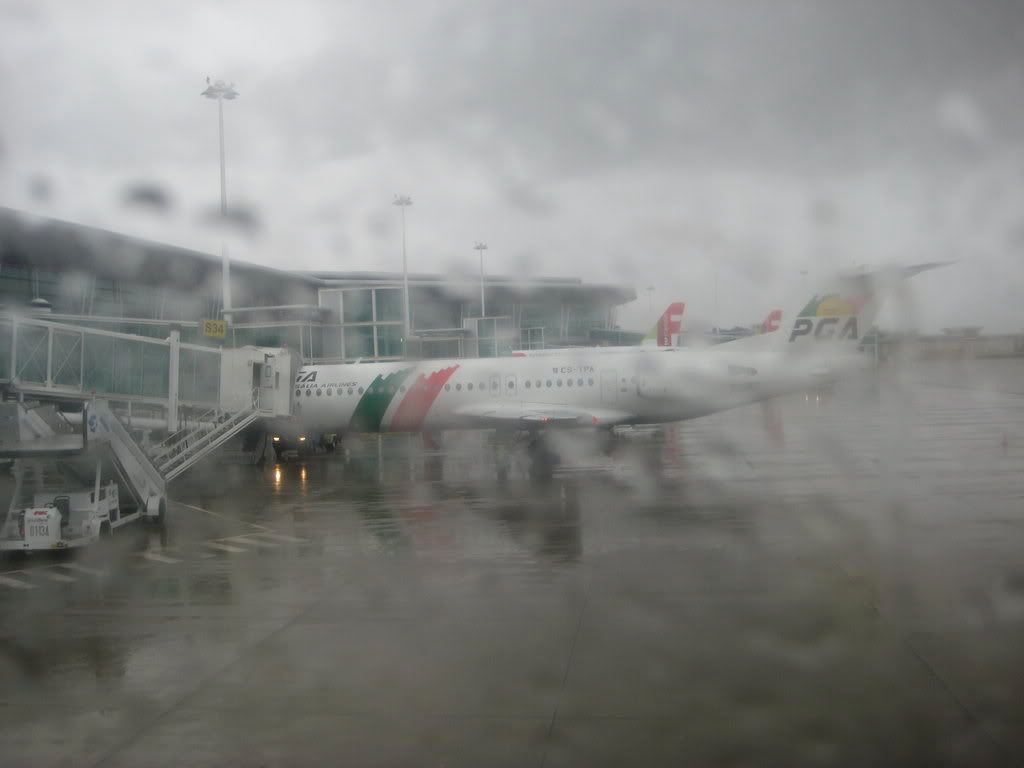 Porto
The airport is connected to the city with a modern, if a bit slow light rail connection they call the Metro. I buy a 24 hour ticket from the vending machine for 5.60 EUR, a decent deal as it will also cover my trip back to the airport the next day and all the rides inbetween. The journey to the Trindade station takes over half an hour, mostly because the stops are quite frequent. There I change into another line for two stops, spend a few confusing moments looking for my hotel and finally arrive there a bit over an hour after landing.
I'm staying at Tryp Porto Centro - a chain that I've used a couple of times in Spain and found to be quite good and excellent value for money. My double room is a bit on the small side, but is clean and offers all the amenities one could want, including free Wifi. Not a bad deal for 55 EUR for the night, although breakfast is an extra 9.50.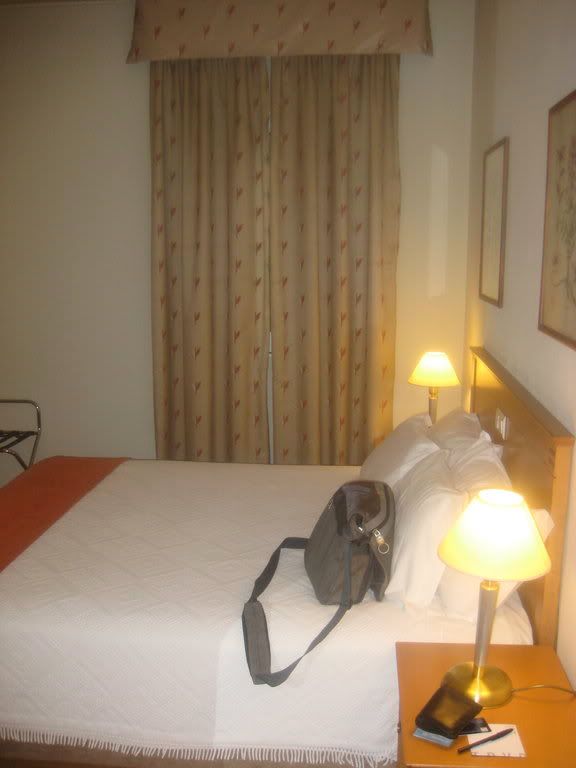 Interesting view from my window: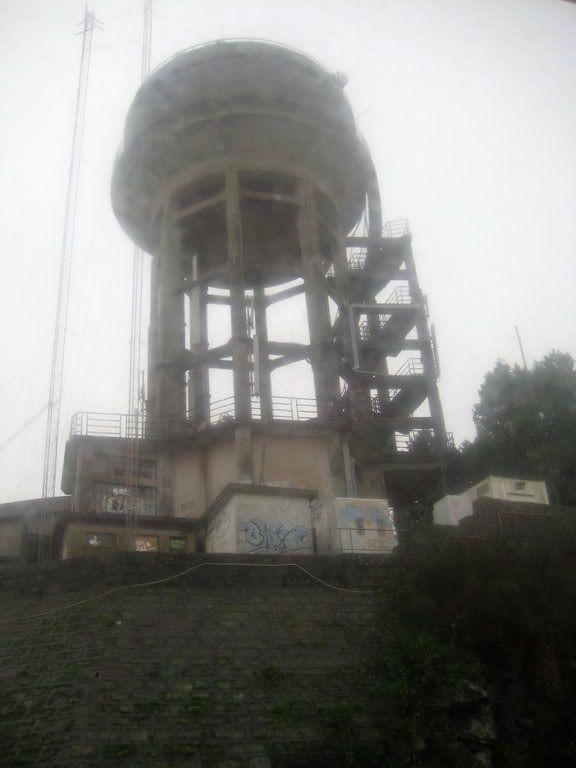 Here are some pictures of Porto: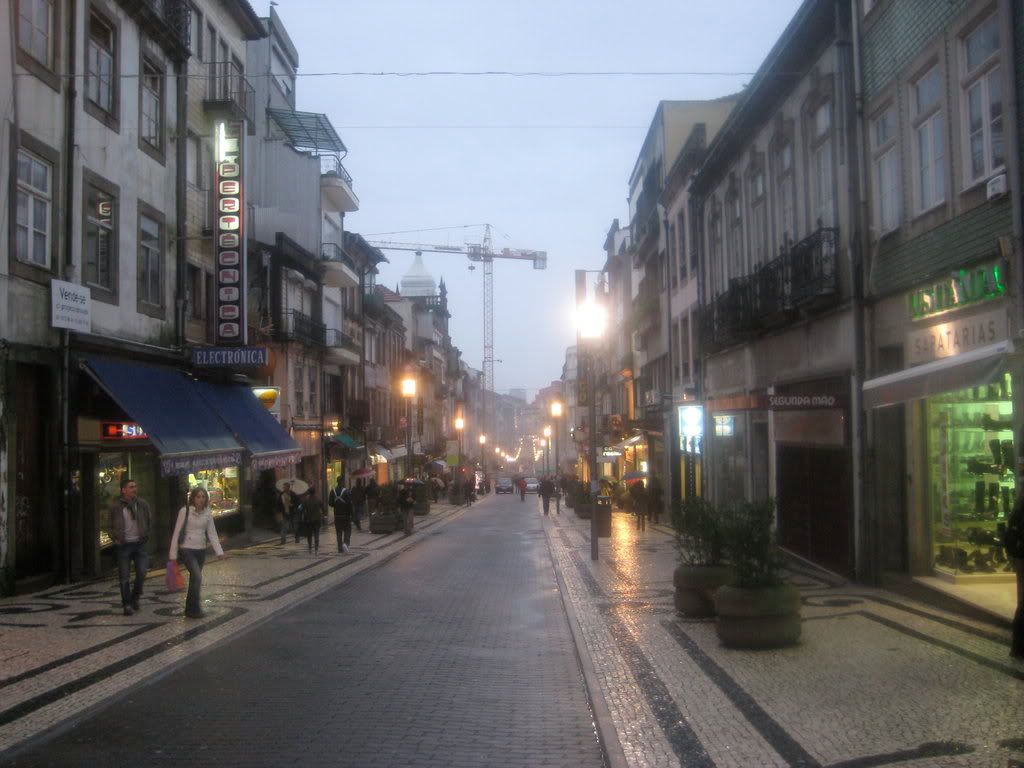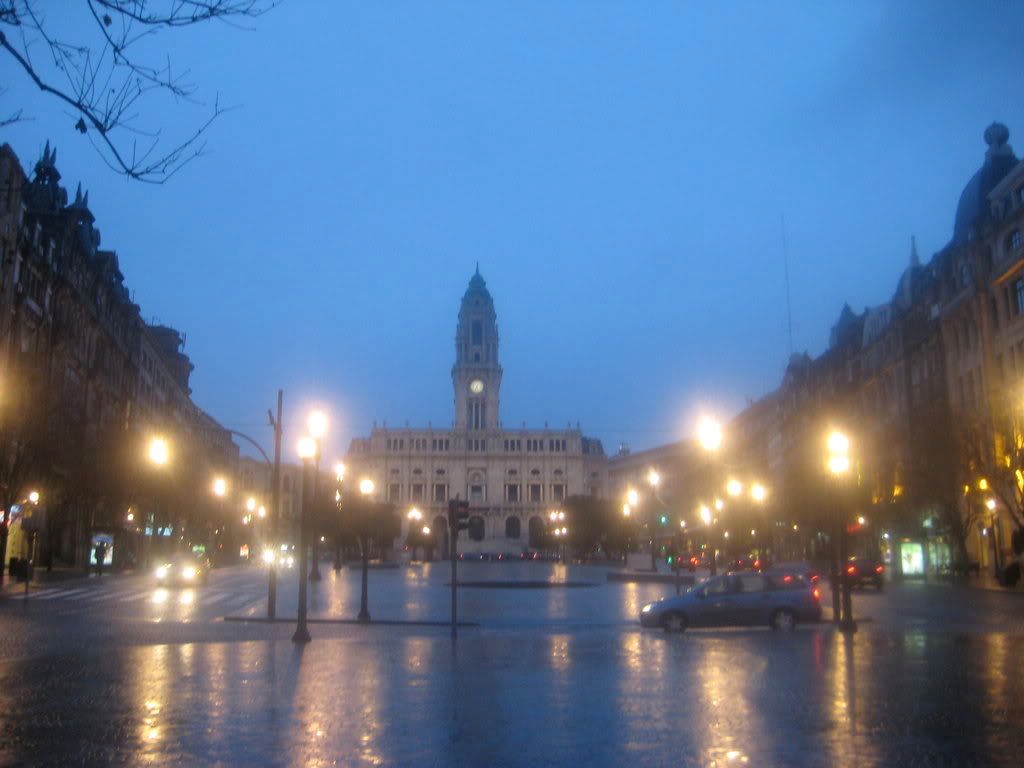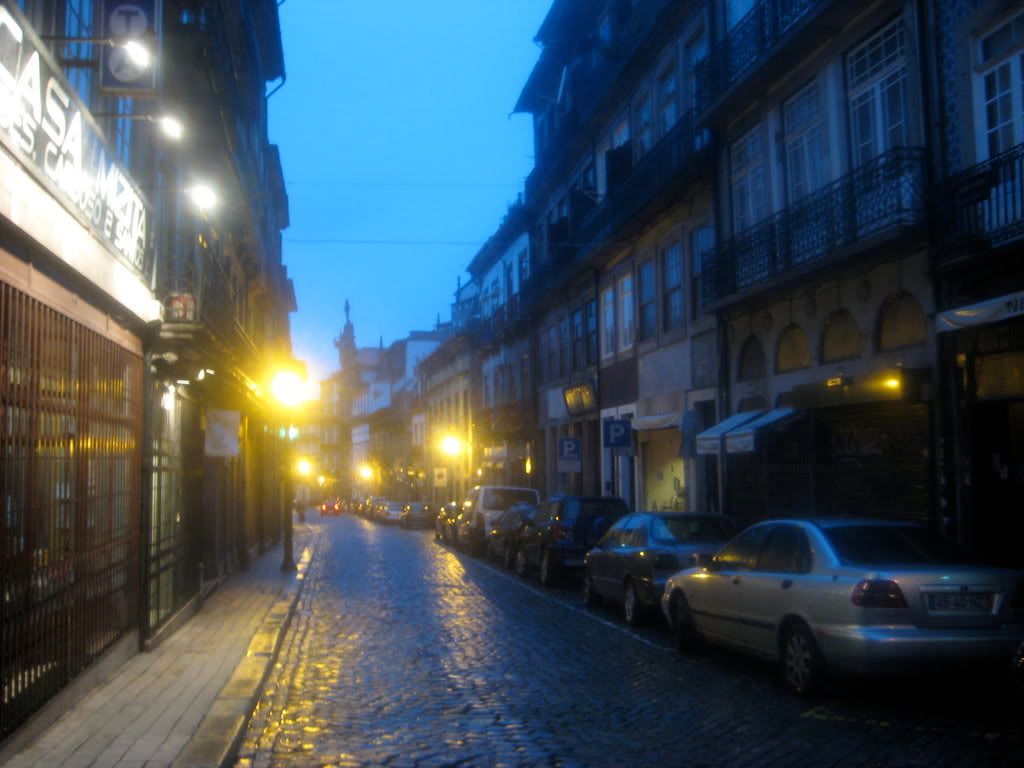 How many different Port wine brands can you spot: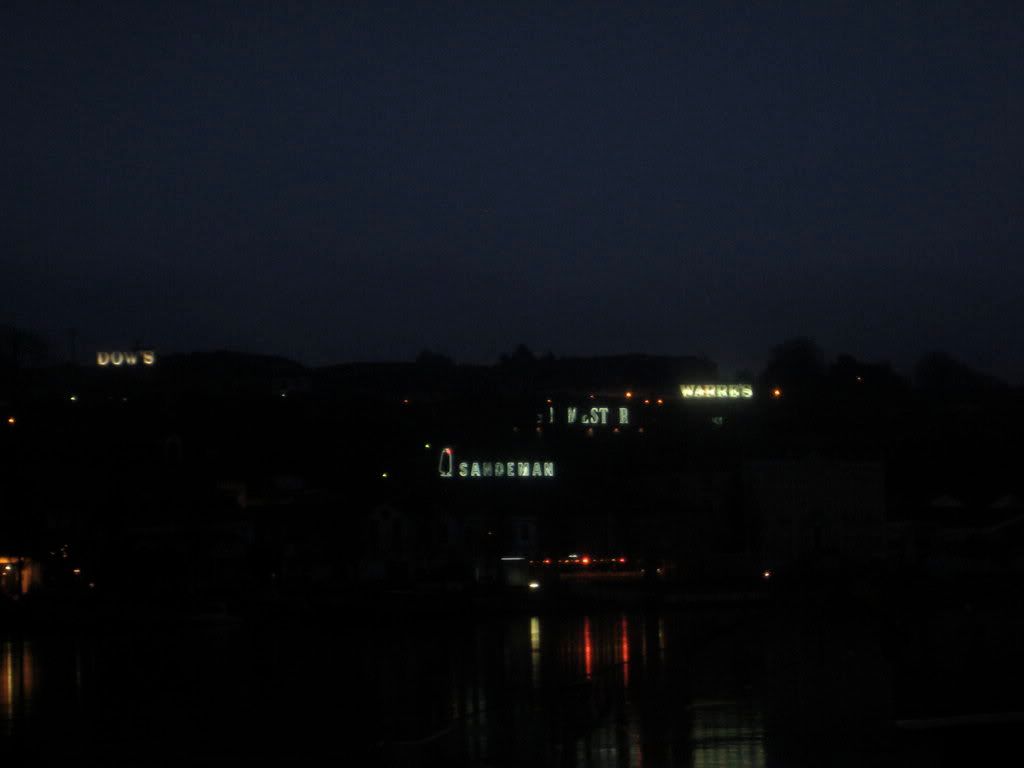 The same view in daylight: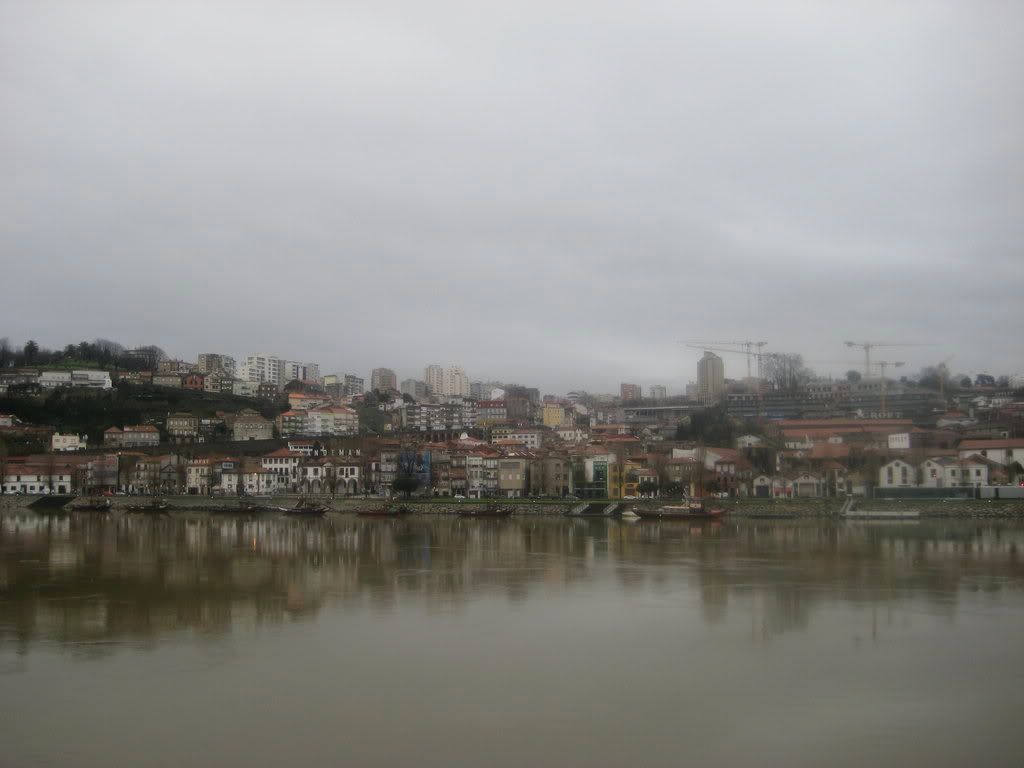 The impressive bridge over the Douro river at night: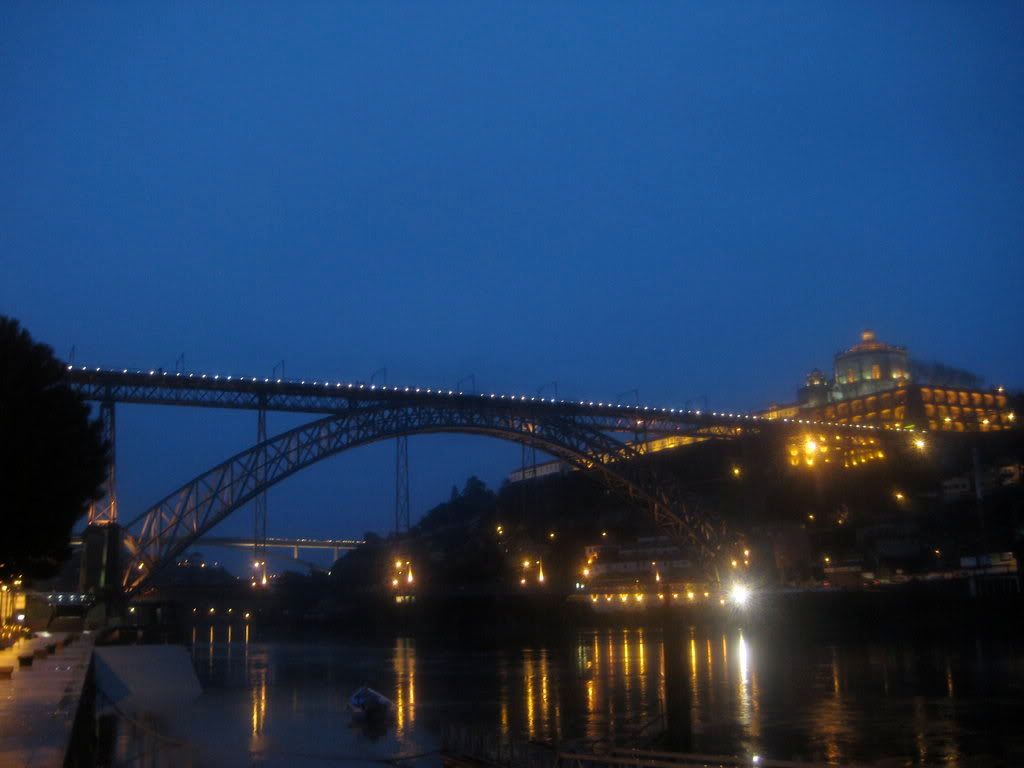 And again in daylight: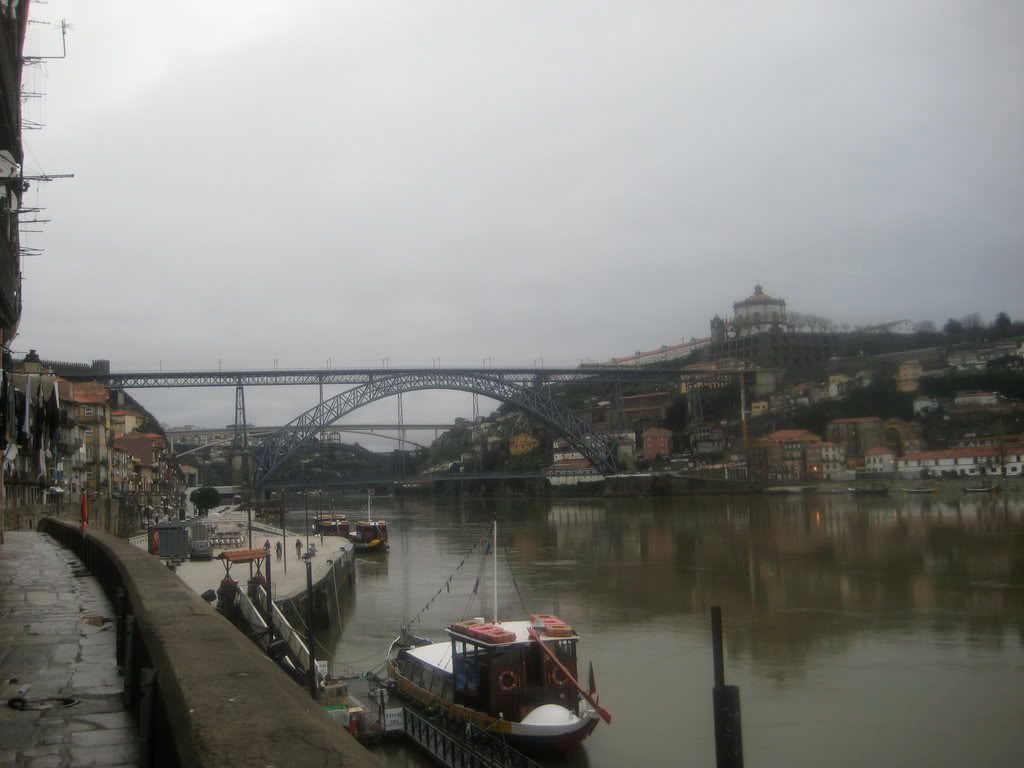 The Portuguese sure love their ceramic tiles:
Here as well: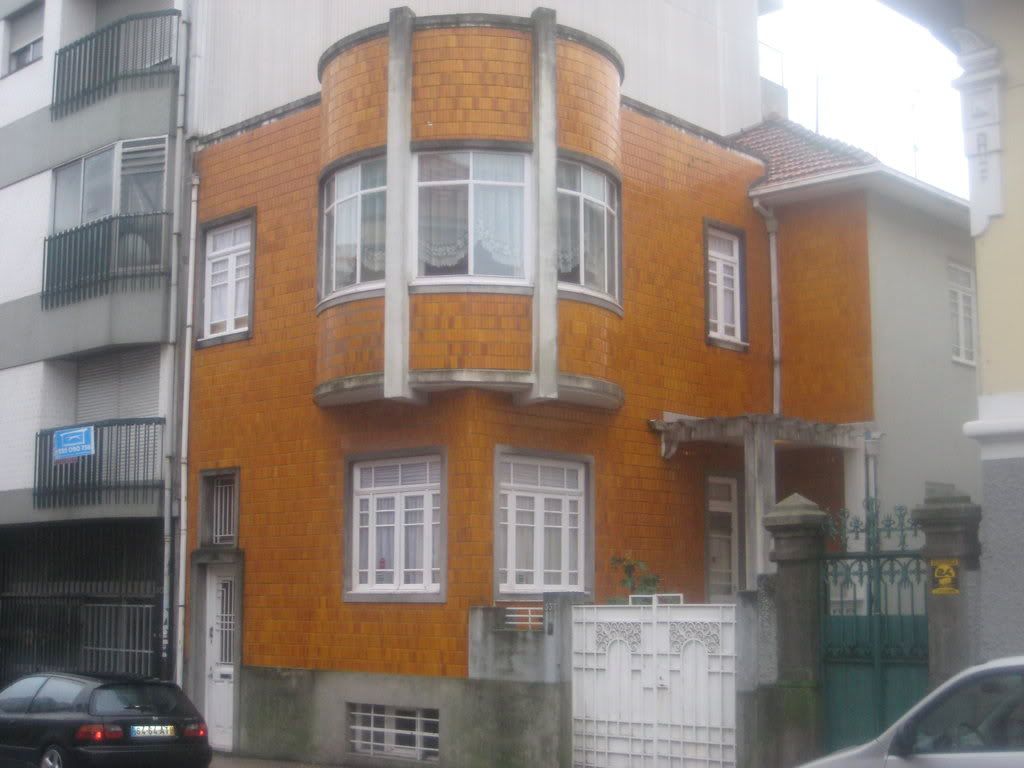 It's a bit hilly near the river: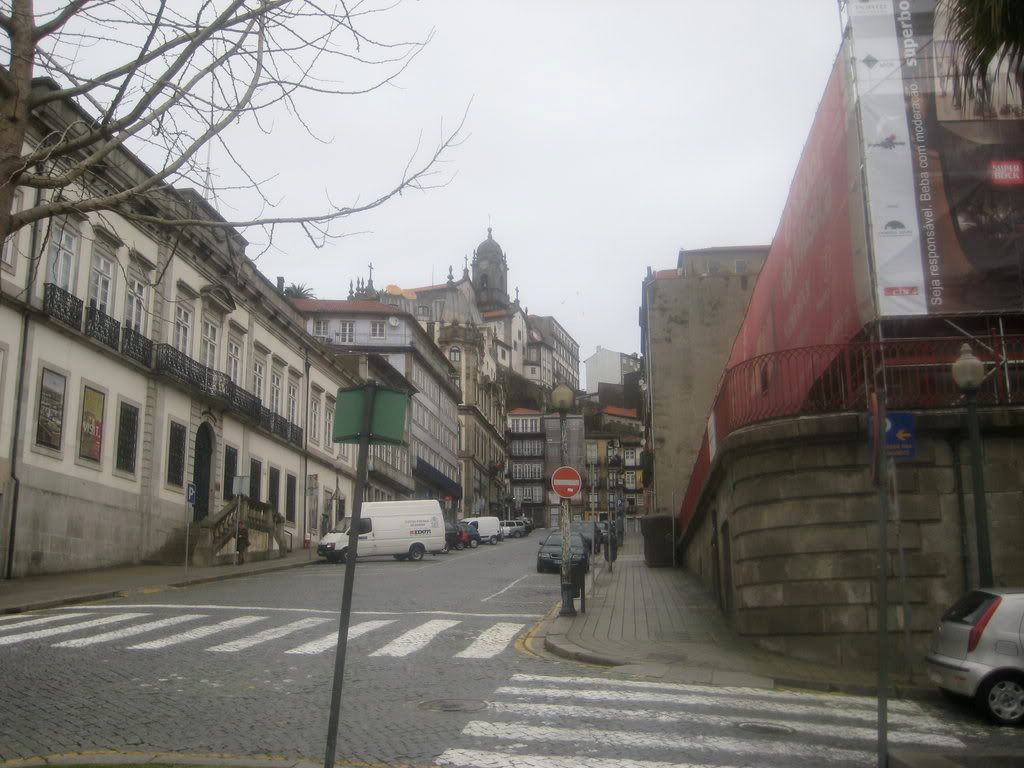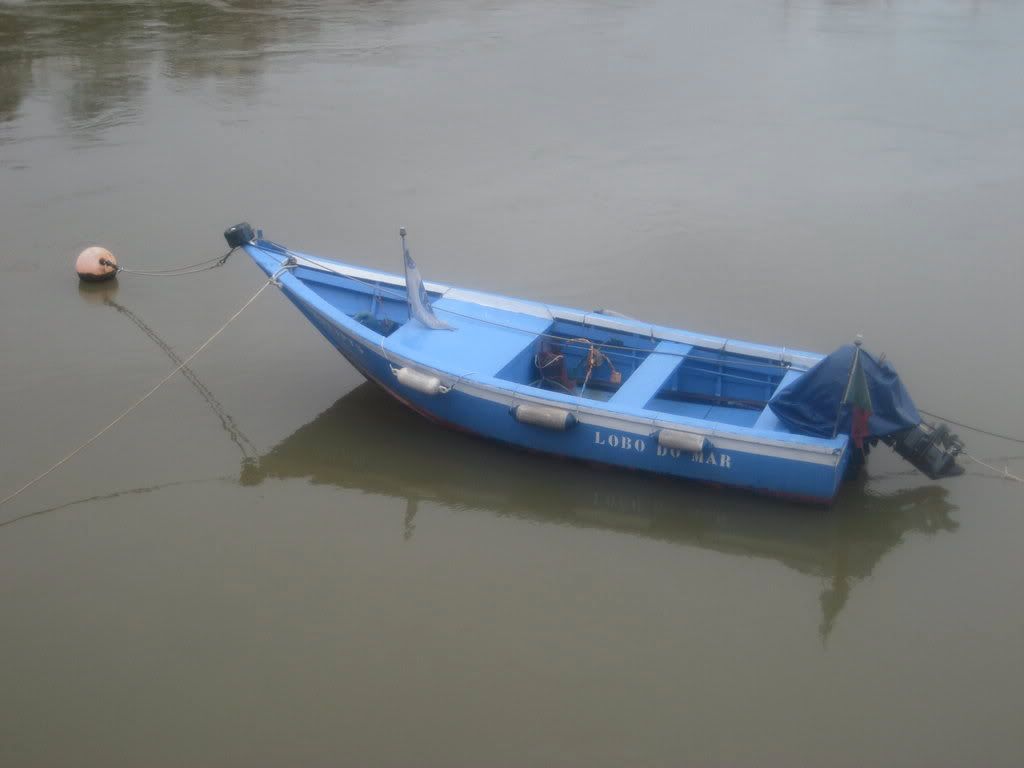 To get up from the river, one could take these stairs: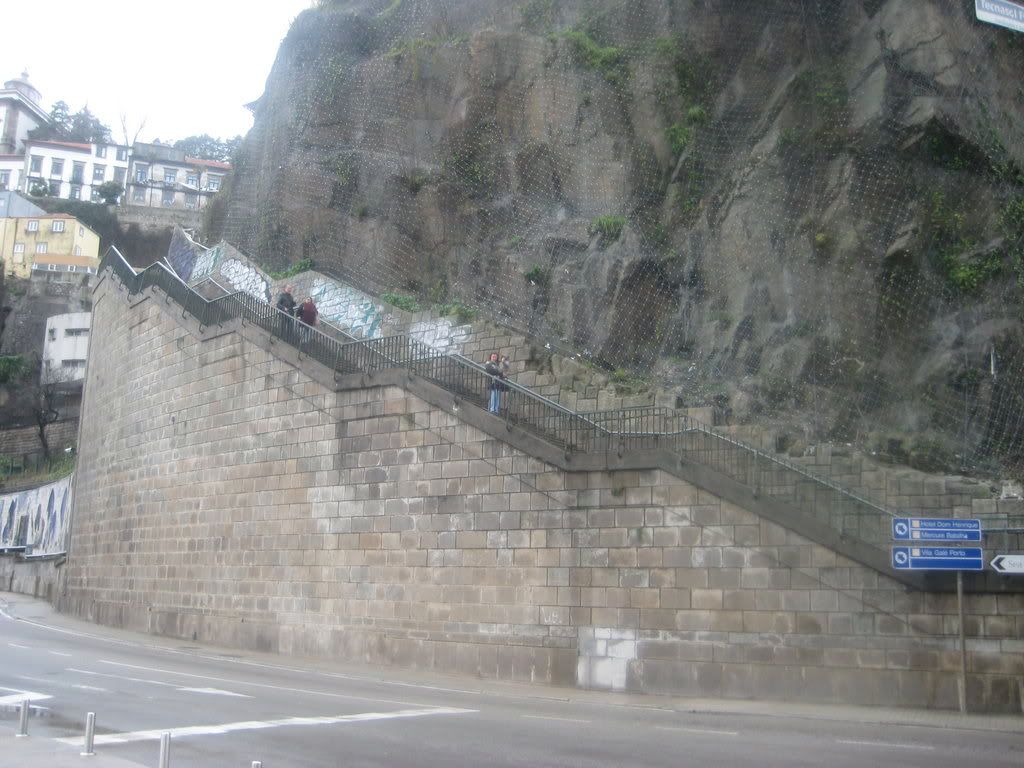 Or be lazy and use the funicular: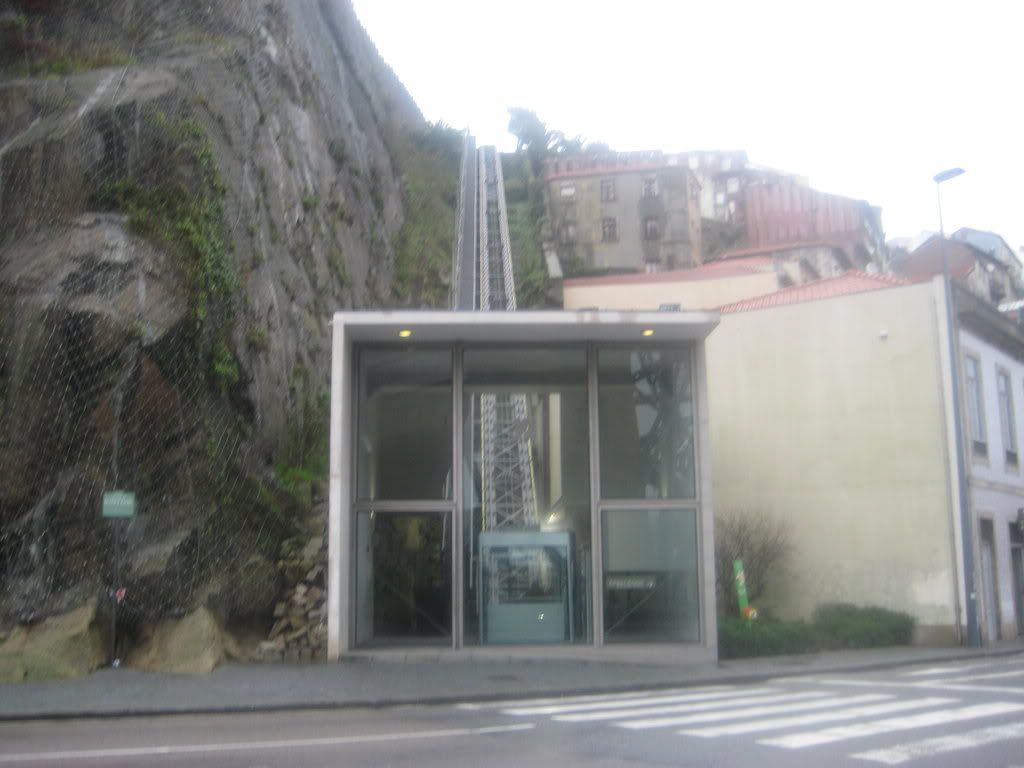 This is what I did: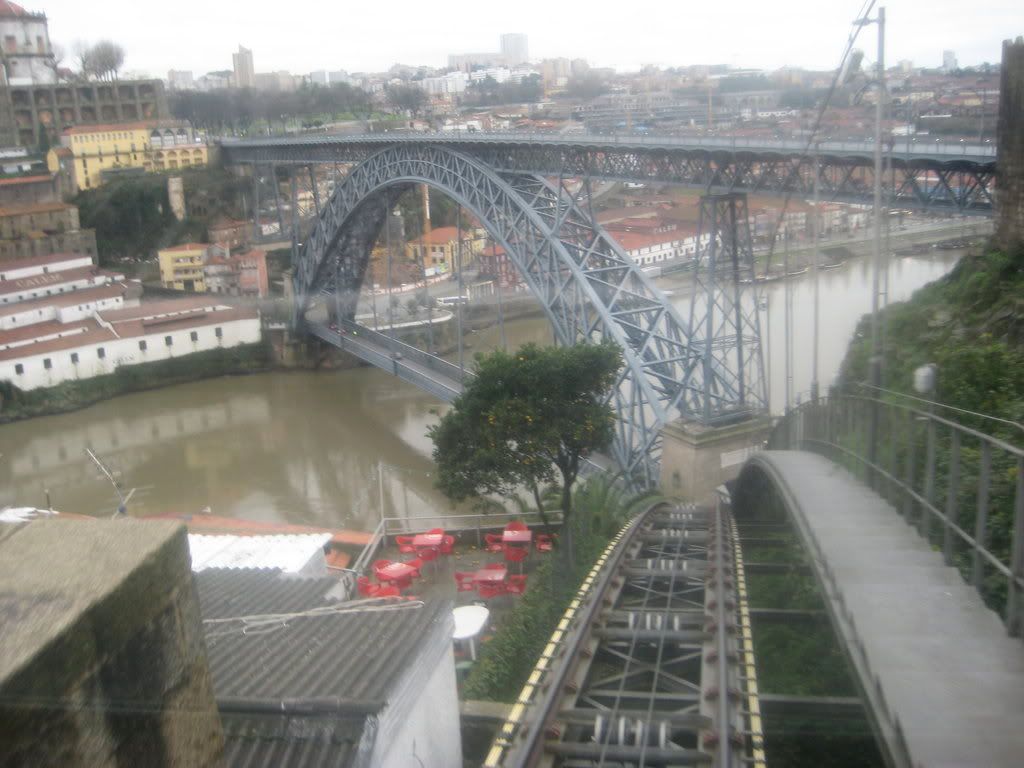 17.1.2010
Sunday morning I take another walk through the Ribeira district near the waterfront to see it in daylight as well, before heading back to the hotel, packing up and catching a taxi for the quick ride to the Trindade metro station. The metro schedules on Sundays are not too frequent, so I figure this is the best way instead of waiting for connections. The taxi driver tries hard to get me to change my mind and ride the whole way to the airport with him, but I refuse - after all the metro ride doesn't cost anything with my day ticket. The train to the airport takes a while to arrive, and another half an hour later I'm back at the airport, around one and half hours before departure.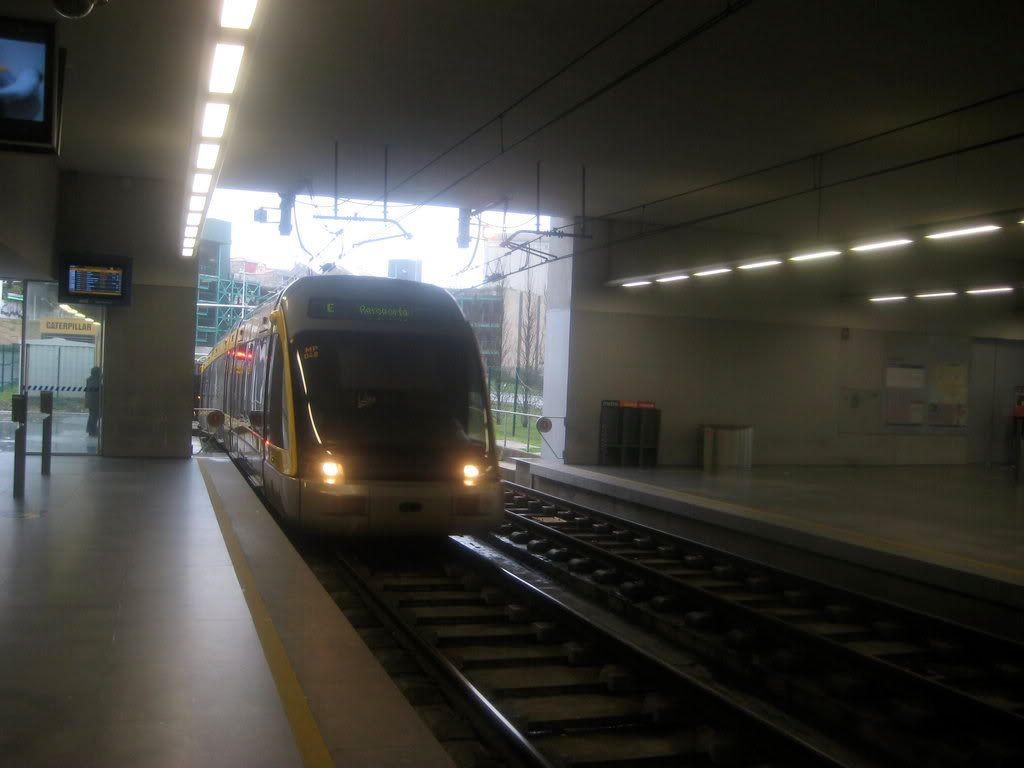 I did OLCI the previous night at the hotel, but didn't have access to a printer so need a boarding pass. I try first the self service machines, who will have none of me and direct me to a counter instead. No queue to the counters and a pleasant enough girl prints me a boarding pass and hands me a gate check tag for my rollaboard after I request one.
Modern and impressive architecture: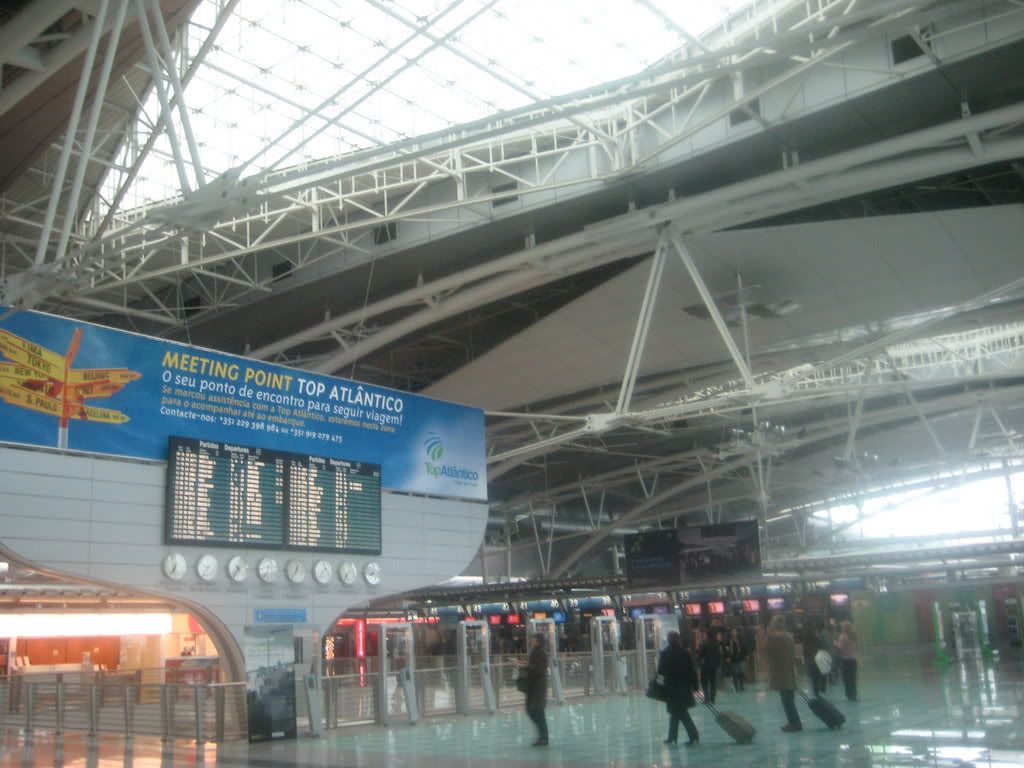 Security is bit confusing as there's a counter in front of the checkpoints where I assume they go through your liquids but instead the two agents there are just helping people to pack them properly, handing out plastic bags for everyone who needs them. After I figure this out I pass the choke point, and am through in no time as all as there are many lanes open but not too many passengers.
Airside I buy a few bottles of wine and Port, I guess you can't leave Porto without the namesake drink! I'm not sure of the onboard offerings so I fortify myself with a snack at one of the many restaurants - I'm delighted to find that the prices at this airport are very reasonable - not the inflated airport prices one often sees in many places.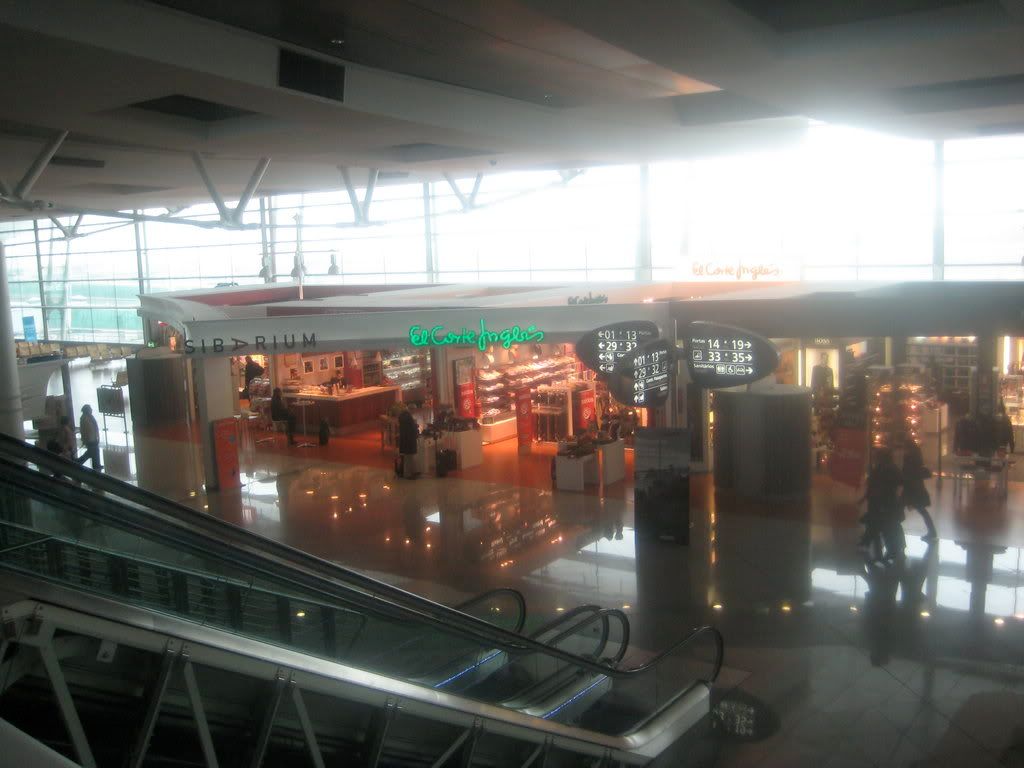 A case of bad weather in Madrid perhaps - the morning IB/Air Nostrum service was delayed by three hours, with subsequent delays on the TP services as well: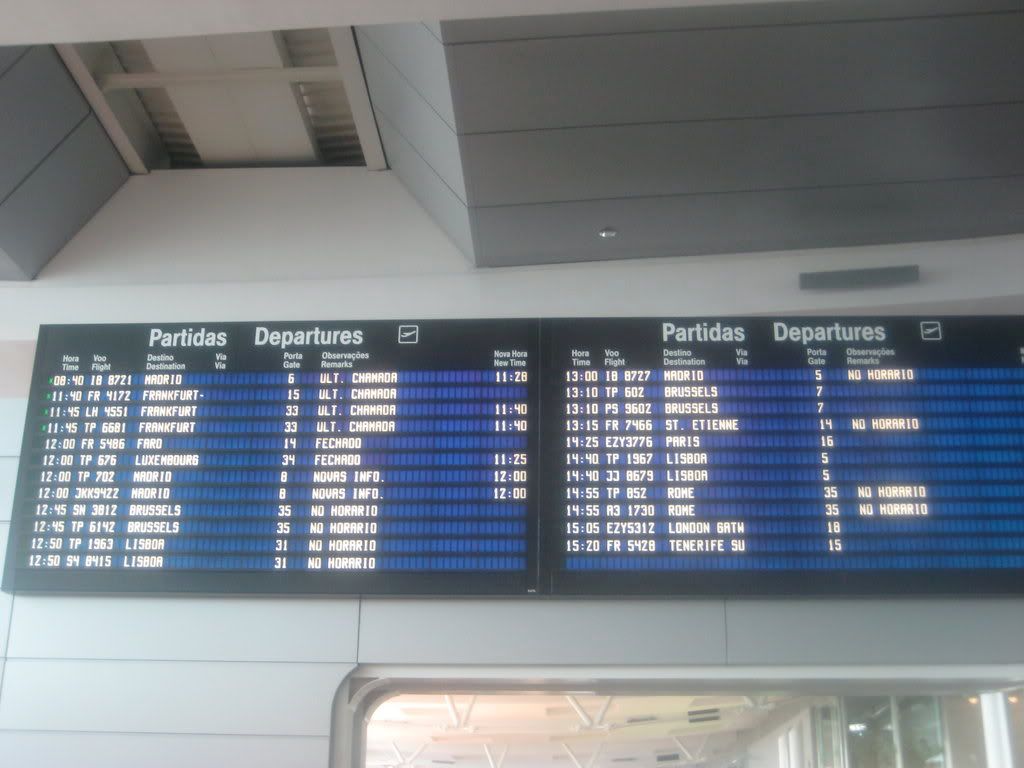 This SN Boeing departs for BRU 25 minutes before us. Interesting that both this and our flight carry both SN and TP flight numbers. Couldn't they coordinate the flight times a bit better: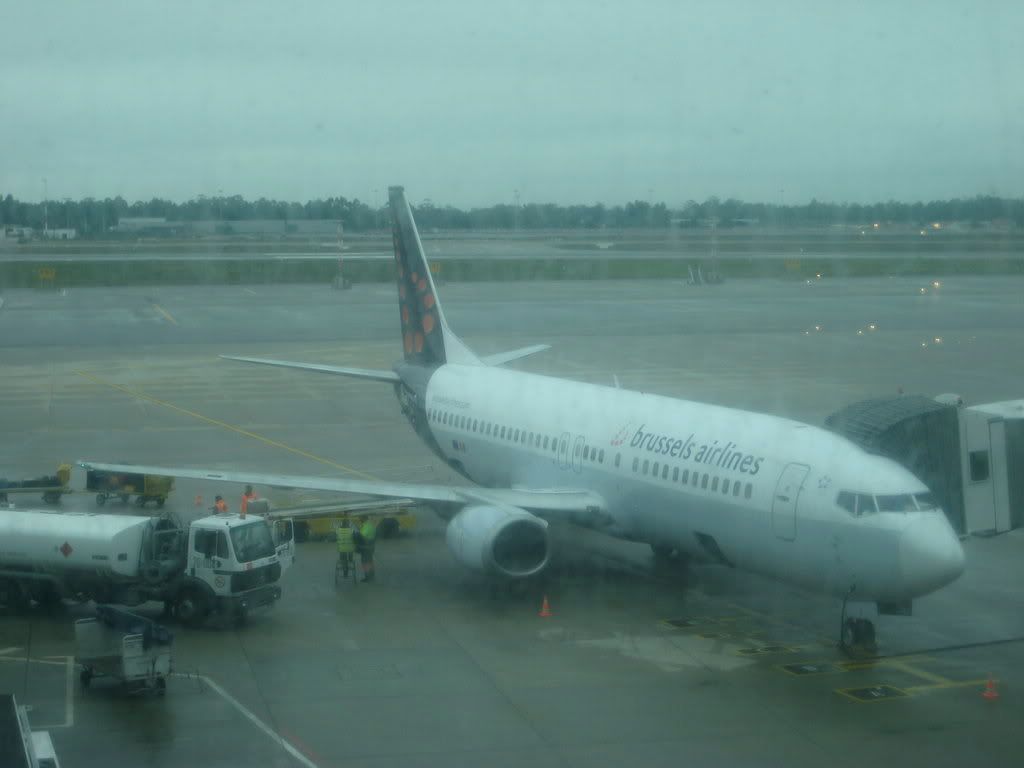 Boarding time printed on the boarding pass is 12.10, a good one hour before departure which I doubt will happen. The boarding pass also reads DISCOUNT in large letters - I know I paid a very small amount for my ticket but do you really have to rub it in my face? So closer to 12.30 I make my way towards our assigned gate 7, which is downstairs in a very nice looking bus boarding area: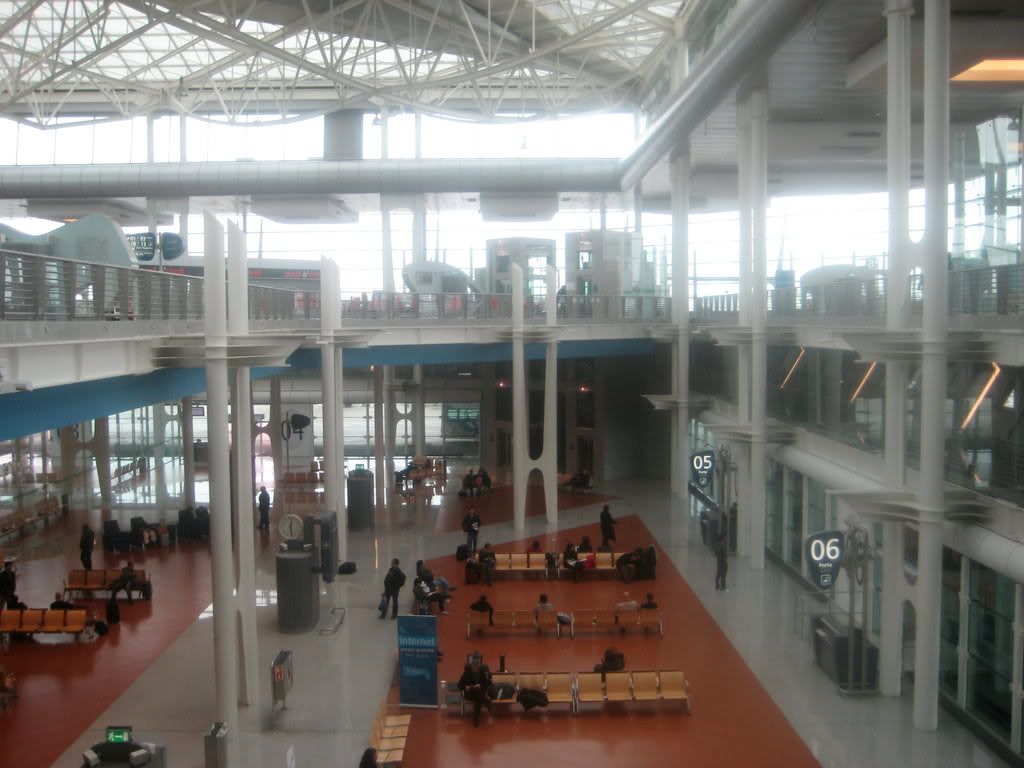 Boarding starts around 12.35, is another bus job where we wait the requisite 10 minutes for all passengers (have I mentioned... oh, never mind).
Short drive to our Embraer CS-TPN, obviously a new reg for me, parked next to a FR 738. I leave my bag in the cart and head inside.
OPO-BRU
TP602 Operated by PGA Portugalia Airlines
ERJ-145 CS-TPN "Brigão"
Seat 10A
12.59 - 16.10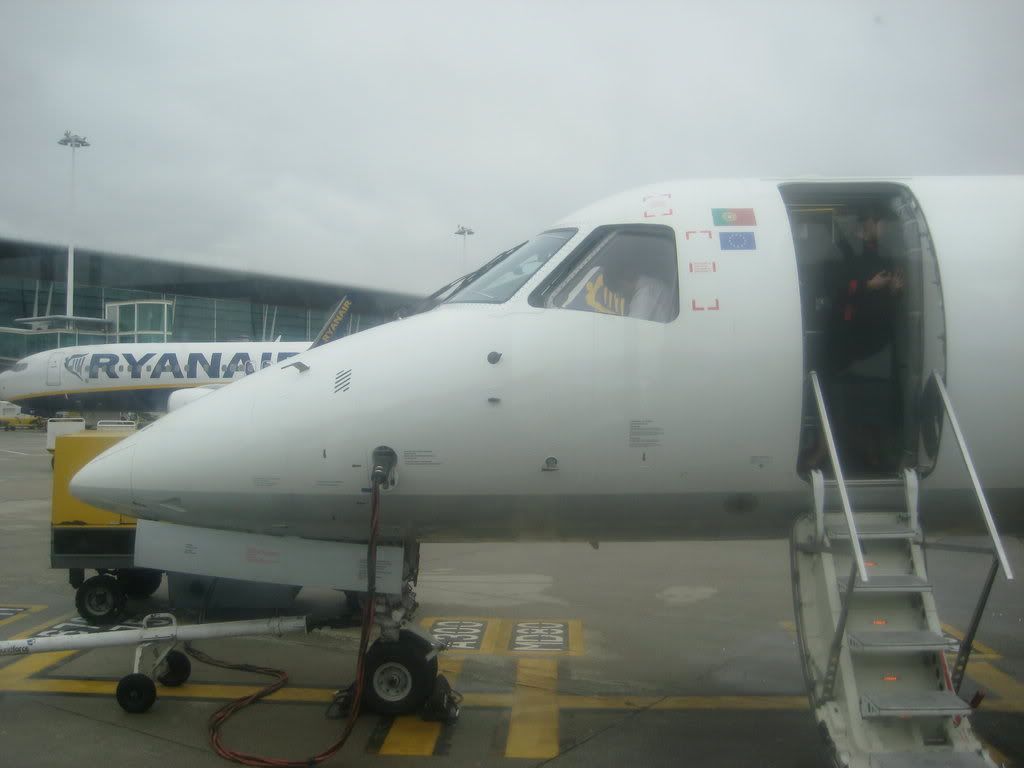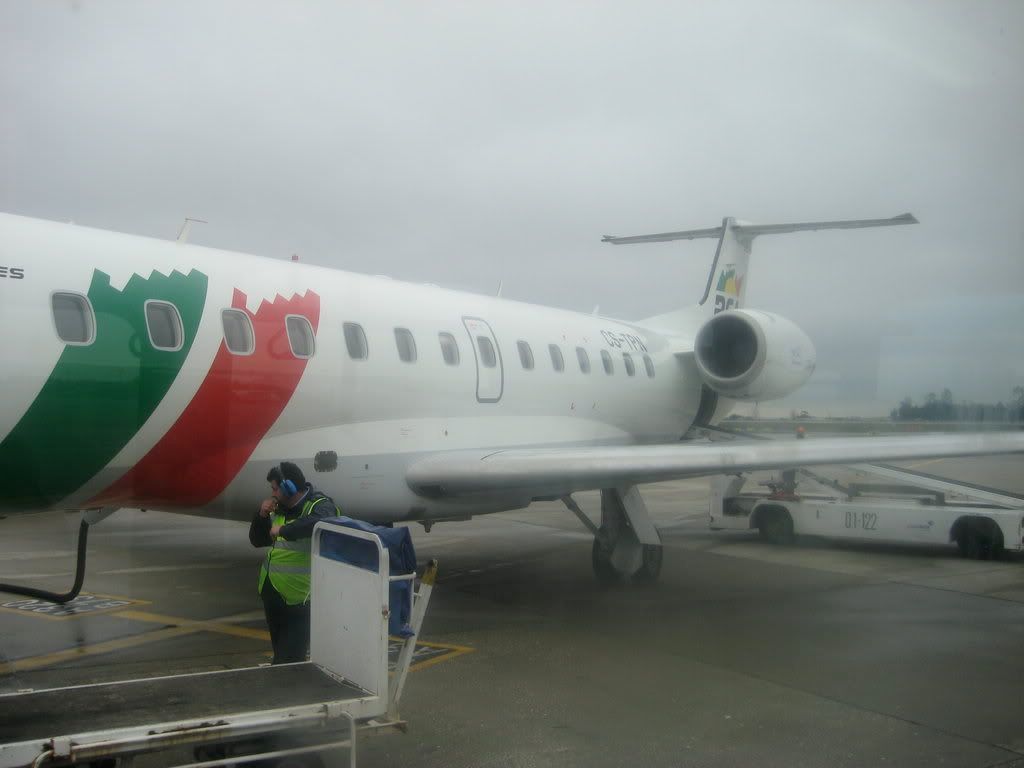 Two youngish female FAs, both dressed in red PGA uniforms welcome us onboard. The cabin features light blue leather seats, with some rows having grey seats instead. The leather is well worn and torn in places, but very soft and comfortable to sit. The A seats on the Embraers are my favorites, all the benefits of aisle and window seats and none of the disadvantages! Load is rather good, estimated around 80% in eco. Three rows of business today, one or two pax there.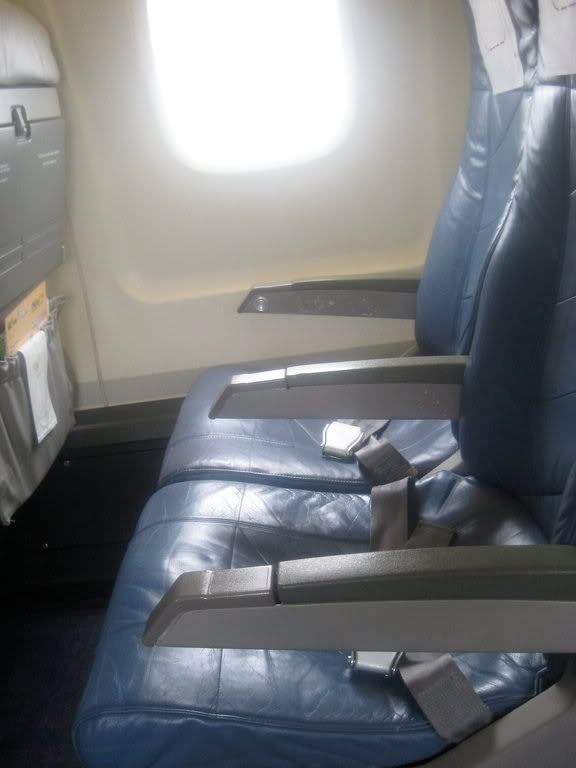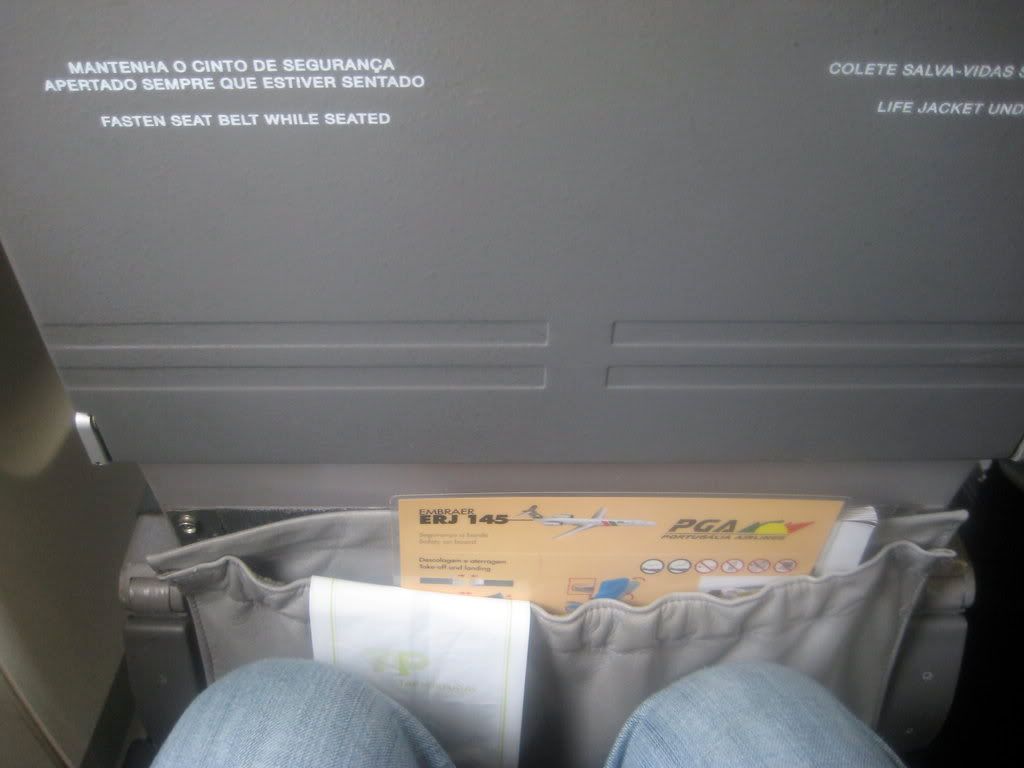 The safety card still has the PGA logo in it: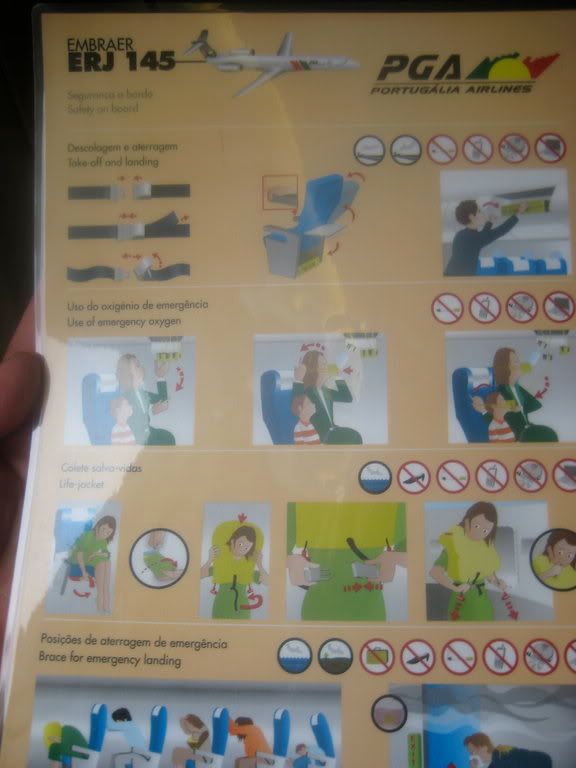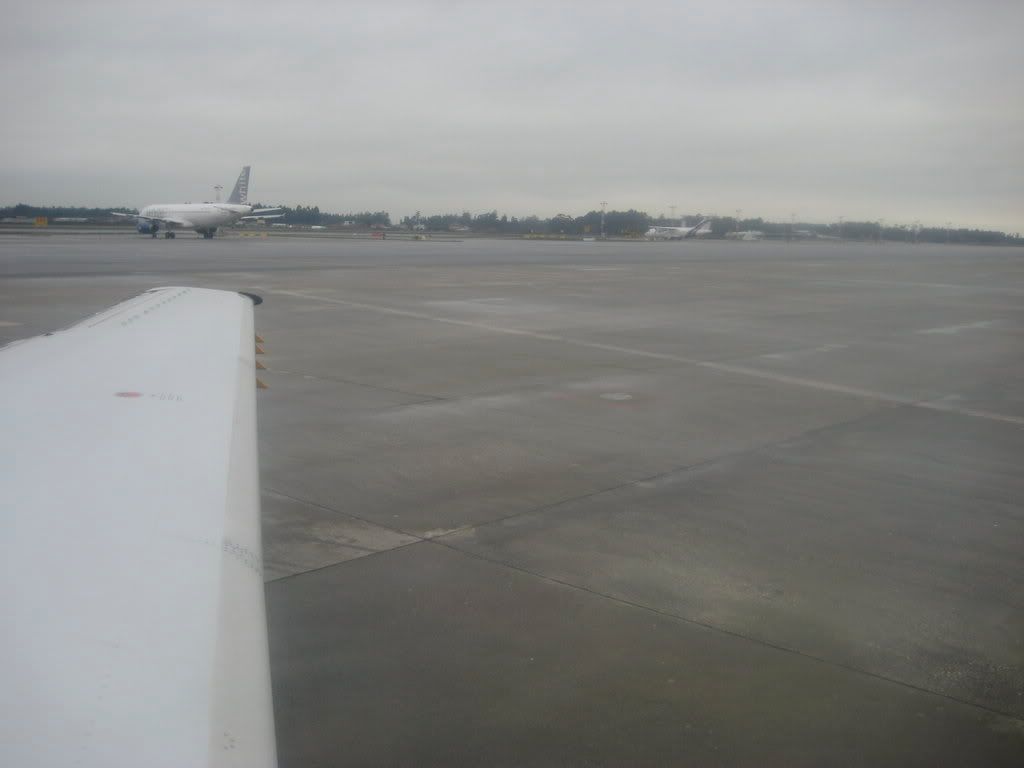 Top