I made my annual trip to DFW at Christmas. Since I am living in BKK now it was a little bit longer. It started with a 4AM wakeup to go to Suvarnabhumi Airport and get on standby for the morning flight to Tokyo on Japan Airlines. I might add, this is the first time I have taken this flight. Usually I take the overnight flight. I was using a ZED ticket on JL and NH and my D1/D2 on AA.
JO 708, operated by JAL BKK-NRT
21 December 2009
8:15AM-4:30PM
Boeing 747-400
Seat 58K Economy class
After a short wait at the check in counter the agent printed out a boarding pass which I noticed was a middle seat. Oh well, at least I got on the flight. A minute later she asked me if I wanted a window or aisle seat to which I was assigned a window. This aircraft was supposed to be 777-200 but a 747-400 was being substituted. There was a sign up by the check in counters apologizing for changes in seat assignment. I did ask at the gate if there were any windows on the upper deck but they said it was business class.
Here are some pics of the 747-400 at the gate in BKK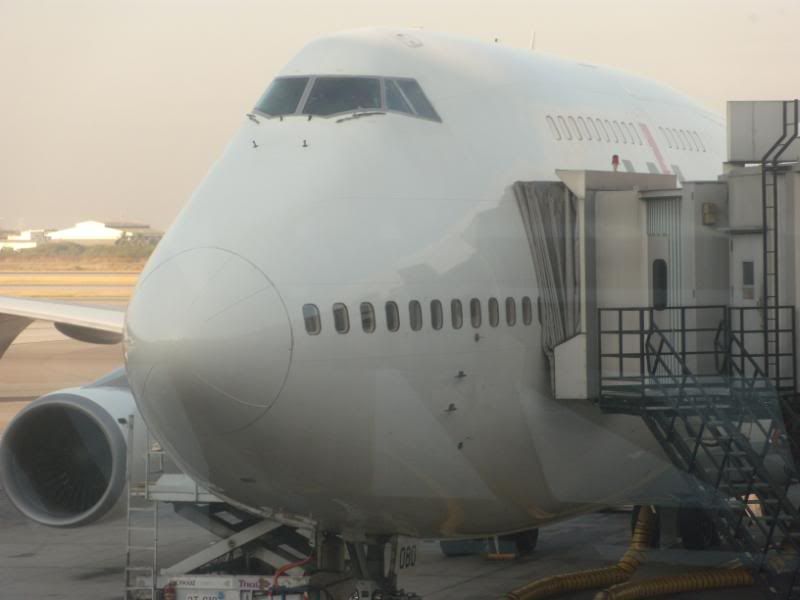 I took a picture passing through business class but was shortly after asked by a flight attendant not to take any pictures until after takeoff.
On Japan Airlines and ANA I like their feature when they turn on the nosewheel camera so we can watch takeoff. Actually it goes on at pushback. This is the closest we'll come to watching the takeoff from the cockpit.
We took off to the north and were served a meal shortly after. There's not much to say about the flight except the service on Japan Airlines is very good. The only negative side is that on their 747-400's the seating is a bit old and the legroom is not the best. Also the entertainment system could be updated to one of the newer versions. I know also JAL is starting to use their 777-300ER's on the longer flights, and these are much nicer. So maybe the 747-400's are being relegated to shorter flights.
Here is a view of the winglet in flight
We arrived in NRT about 30 minutes early on 34L and I knew there would be a long taxi to terminal 2. Instead we parked at a remote stand and were bussed to the terminal. I liked this as it gave us a close up view of the airplane we normally don't get from the jetbridges.
Economy class on Japan Airlines. OK for 6 hour flight, but not for 13 hour flight. Legroom was a little tight. Fortunately the middle seat wasn't taken.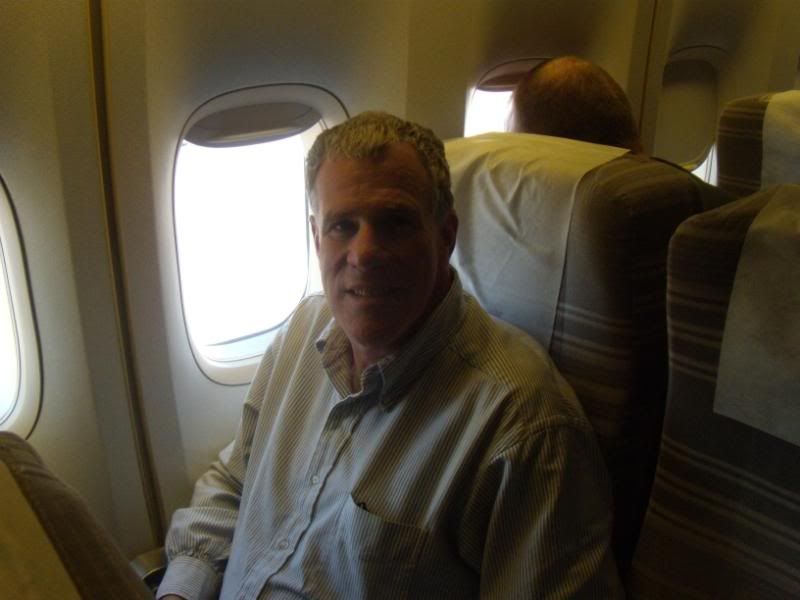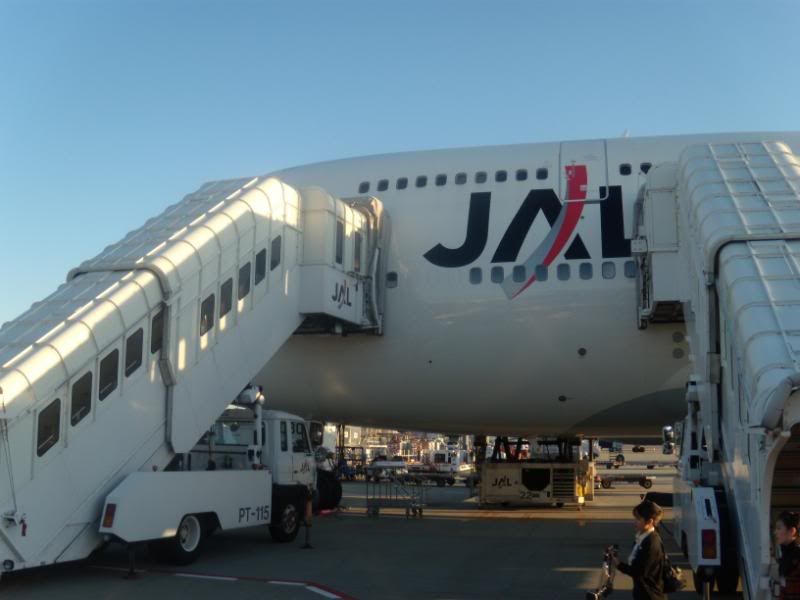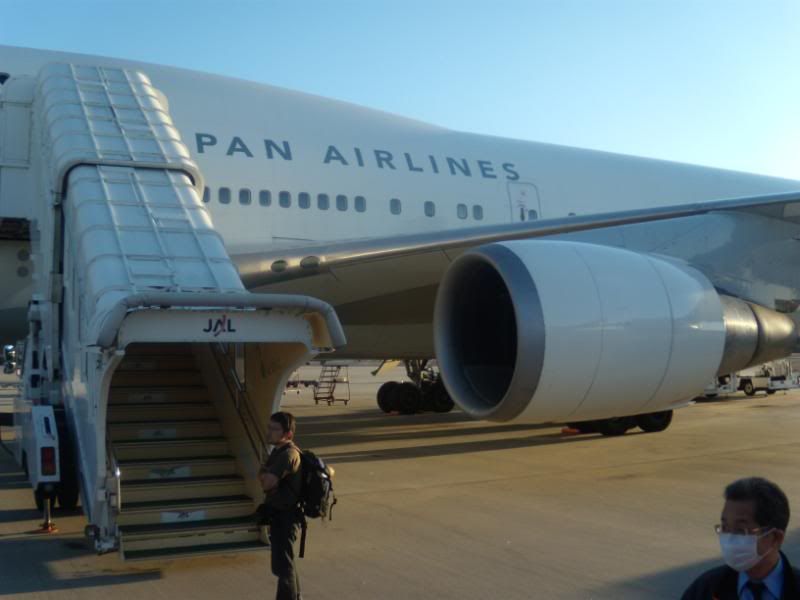 Fortunately, since we were in the same terminal and there was an AA transfer desk, I could go there instead of having to clear customs and immigration in NRT. Being able to travel as a non rev is a blessing and a privilege to me, but I admit I am still spoiled and I only want to travel first class on these ultra long hauls. This is one of the reasons I only take a carry on suitcase plus my computer when I travel so I can take another flight if the one I want is not available. When asked if business or economy class was OK, I told the agent I really wanted first and I could take the New York flight if necessary. They told me I would be OK on the DFW flight. (Later, when checking the standby list online I saw I had already been assigned a first class seat on the flight. It's good that I got the DFW flight or I would have spent a couple days trying to fly out of New York.
AA 60 NRT-DFW
21 December 2009
7:00PM-3:00PM (same day)
Boeing 777-200ER
N798AA 7BG
flying time 10:18
Seat 2J First class
I walked around NRT a little bit. There is a Yahoo internet cafe that allows free use of internet. It overlooks the terminal and I often go there.
At the gate I used my own computer to get online and on checking our employee website for the standby list on this flight, I saw I had already been assigned a seat in first class. On AA first and business class, along with our premium members are given priority boarding. So we could board when they first opened boarding. I boarded, was shown to my seat and offered the customary, champagn, orange juice or water.
Because I know a lot of crew members as I fly this route so often, and I know what a 777 cockpit looks like, I still like to go up and say hello to the pilots. It is usually not a problem when we are at the gate.
Here is my first class Flagship Suite, my home for the next 11 hours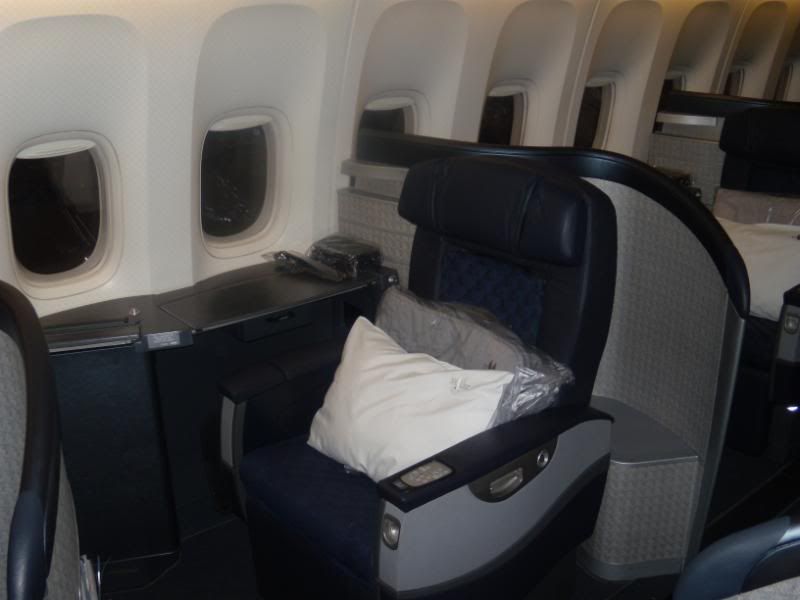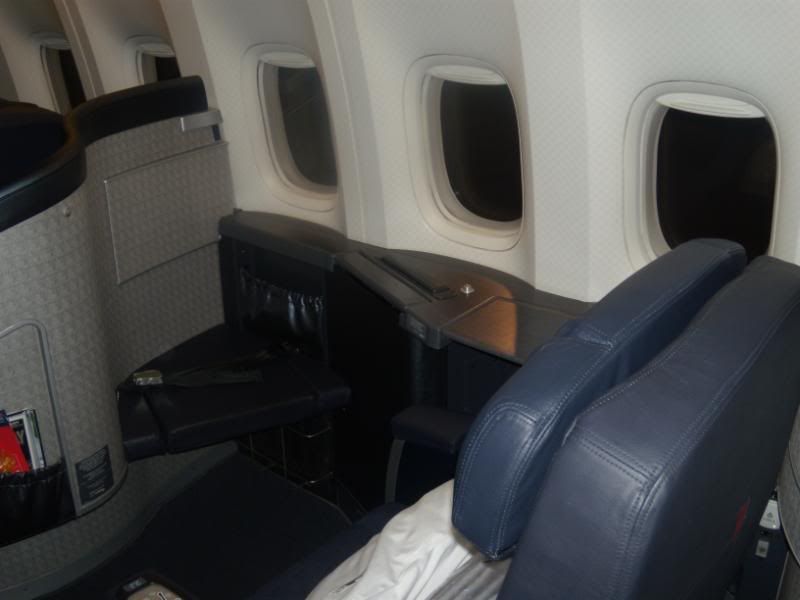 We taxied out and had a little bit of a wait before getting our takeoff clearance. Once we got it we were off fast. I'll post my video of takeoff and landing once I get them uploaded on Youtube.
I've made this flight many times on AA and the service is always very good. I just read another report on ANA business class on an ORD-NRT-ORD and I'd love to see how the 2 airlines compare.
The inflight service consists of dinner after takeoff, a midnight snack of soba or pizza and breakfast before we land. We usually have a choice of American or Japanese meals on the dinner flight. Everything is usually done right at your seat with the flight attendants setting your place, making the salads, bringing your entre to you on a tray and making an ice cream sundae at your seat. It is so nice and I wouldn't want to fly any other way.
Midnight snack with soba.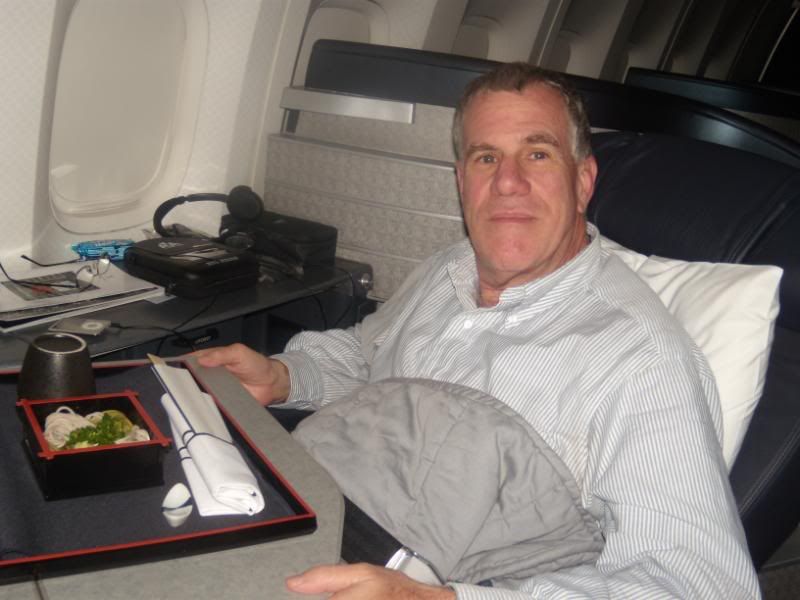 Because we were flying west to east the sun came up while over the Pacific. I'll include some inflight pics for you.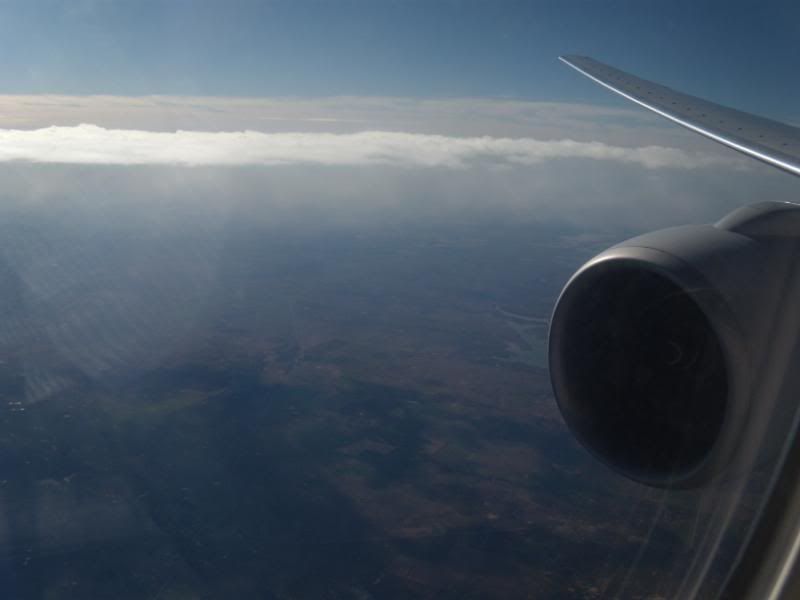 We landed in DFW a bit early and had a wait for the gate because of another 777 getting ready to depart.
At DFW all international flights use Terminal D. It is a very nice, spacious terminal, but if there are several international flights coming in at the same time, customs might be a little bit crowded. There was a very long line in customs, but I think they were holding it up to process a flight of incoming soldiers from Afghanistan. I've noticed quite a difference between how they treat the men and women in uniform compared to when I was in the Navy from 1971-1975.
One of the places I always enjoy visiting near DFW Airport is the CR Smith Museum, in honor of our former President and CEO. There is a DC-3 which was housed outside, but later this hangar was buildt, covering the same spot. I'll show you some pics, inside and outside of the DC-3.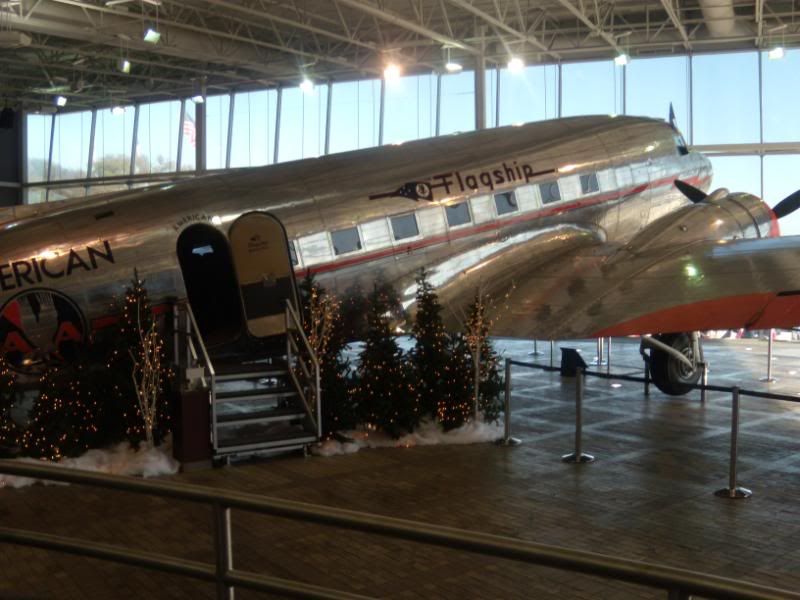 Welcome aboard!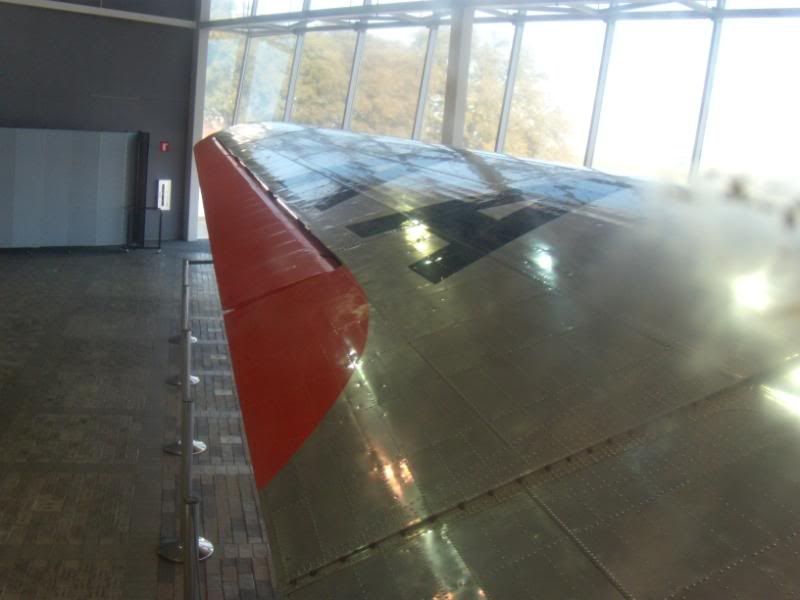 DC-3 cockpit...maybe not as sophisticated as the 777, but we're talking about a very reliable airplane that has seen over 70 years of service all over the world.
All good things must come to an end, so I had to return to BKK. I had however extended my stay in DFW one more day to spend time with my sisters. We lost our mother 10 years ago just before Christmas so I thought it was important.
AA 175 DFW-NRT
27 December 2009
10:10AM-2:30PM (next day)
Flying time 12:27
Boeing 777-200ER
N754AA 7BN
First class seat 1D (moved to 4A)
AA has 2 flights DFW-NRT. I usually take the later one, but I needed to get the earlier one this time, because I had to connect and change terminals in NRT for my flight to BKK. I was concerned because there were about 15 non revs listed for first class and I had already used my higher priority passes. There were plenty of seats in business class if first was full but I was really hoping for first. As I said earlier, I always take a carry on suitcase plus my computer if I need to change, but in going through security I had a jar of Cheeze Whiz I was bringing back to BKK for a friend which got confiscated because it exceeded the amount of gels. I told the TSA officer he can have it or give it to someone else, but he said he would just throw it away or I could check my bags. I really didn't want to have to go back outside and check my bag so I let him have the Cheeze Whiz. (Sorry Leony).
One of the things I like at DFW is the Skylink which is a monorail connecting the terminals at DFW. It is on the secure side and you always have a nice view of the ramp. I'll include some pics from the Skylink. I always like to ride it around the airport.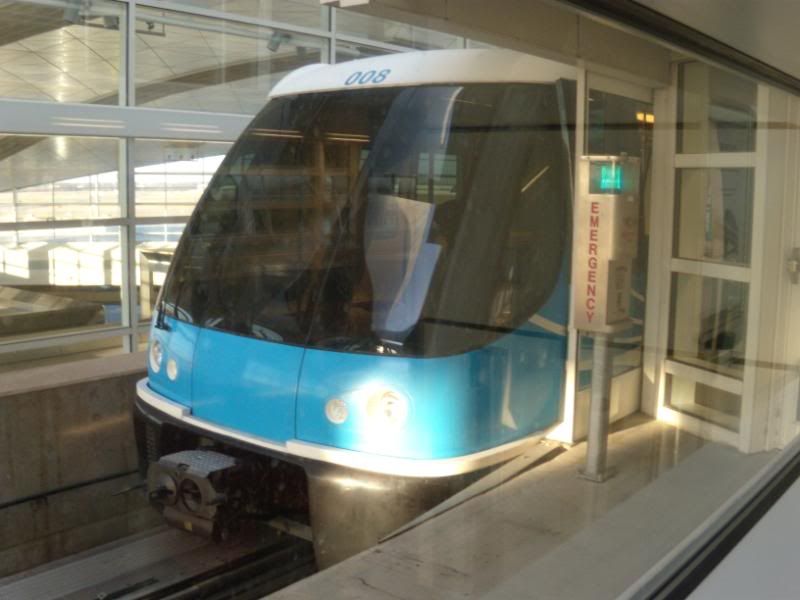 Super-80, the workhorse of AA (compare with the DC3 back in the 30's, 40's and 50's.
Boeing 767-300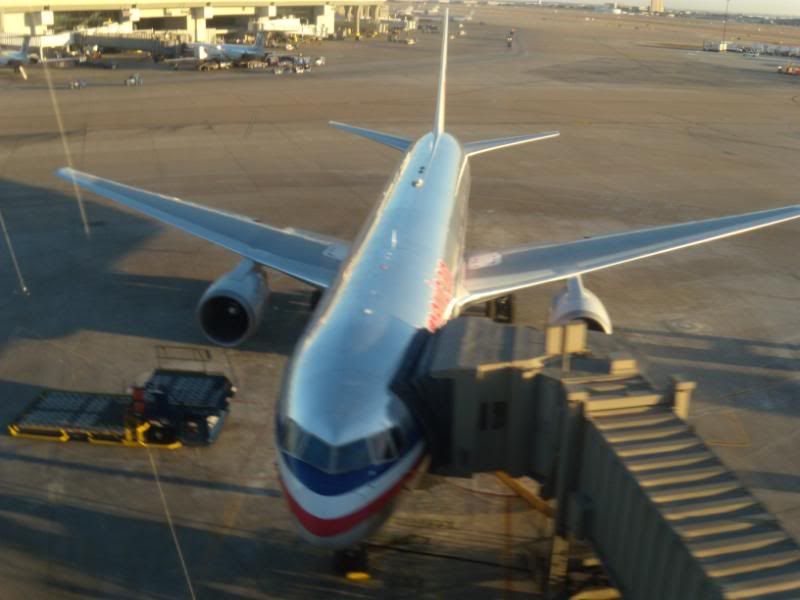 This is the area between Terminals A and C with the ramp control tower which controls all ramp movements. I have had the opportunity to go up there on a couple of occasions.
I was able to attend the chapel service in Terminal D which was an added blessing. After the chapel service I checked the standby list and saw that I got a seat in first class.
We boarded, I went up to the cockpit and I asked if I could move to 4A as it looked vacant. Row 4 is the last row in first class and the window seats A and J are considered undesirable because they are very close to the business class galley. So you have the lights in the galley and the flight attendants working in there. I like that seat because you are nice and close to that RR Trent engine. Before 11 September the divider curtains were closed between the cabins but now they have been removed, I guess for security reasons.
The inflight service consists of lunch after takeoff, with a midflight snack of soba or pizza and dinner before landing in NRT.
Usually after lunch the flight attendants come by and close the window shades just so people can sleep. They didn't bother me with mine and the gentleman in seat 3A and I were enjoying the scenery of the Canadian Rockies. I might add that much of the US had been hit by snowstorms, and it snowed while I was in Dallas, so I enjoyed what I would not be seeing when I got back to BKK.
Because we were flying east to west, it was daylight the whole flight.
After we finished flying over the Canadian Rockies, I closed my window and slept for a bit. On AA there is the Airshow map, but because of the incident on a NW flight a couple days before, the Airshow map was not turned on. As a matter of fact our selection of inflight movies was very limited for this flight. The purser told me that we couldn't turn on the Airshow because of new TSA rules.
I'll include a few pics of the meal service.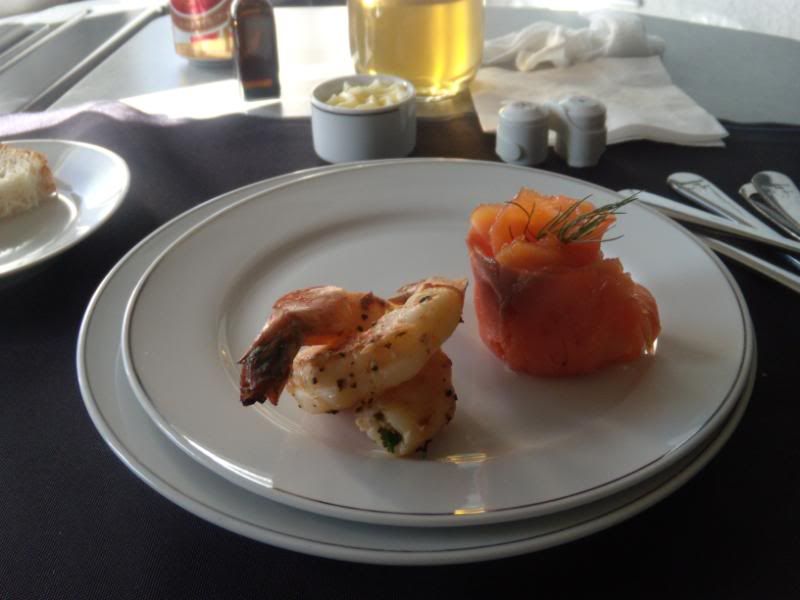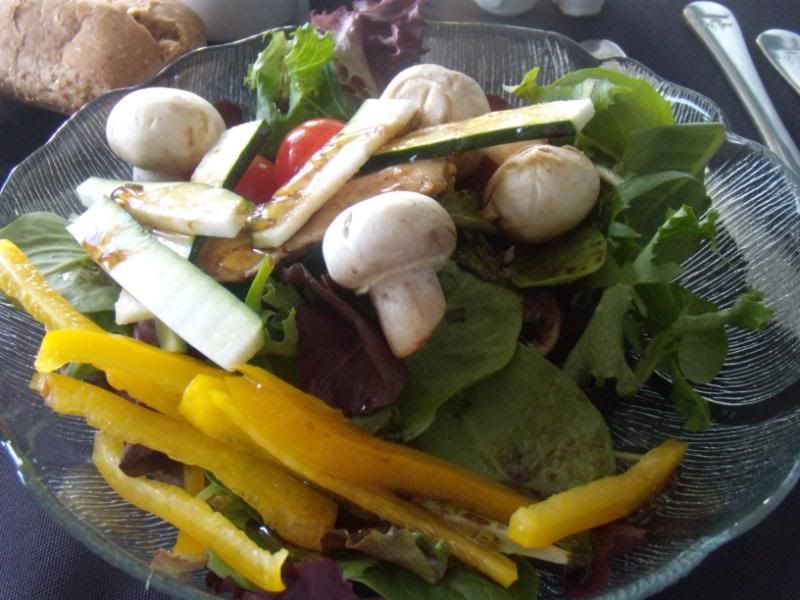 At one point, a flight attendant from business class came and brought me this tray of fruit and soba. I hadn't even asked for it and I thought it was very nice of her.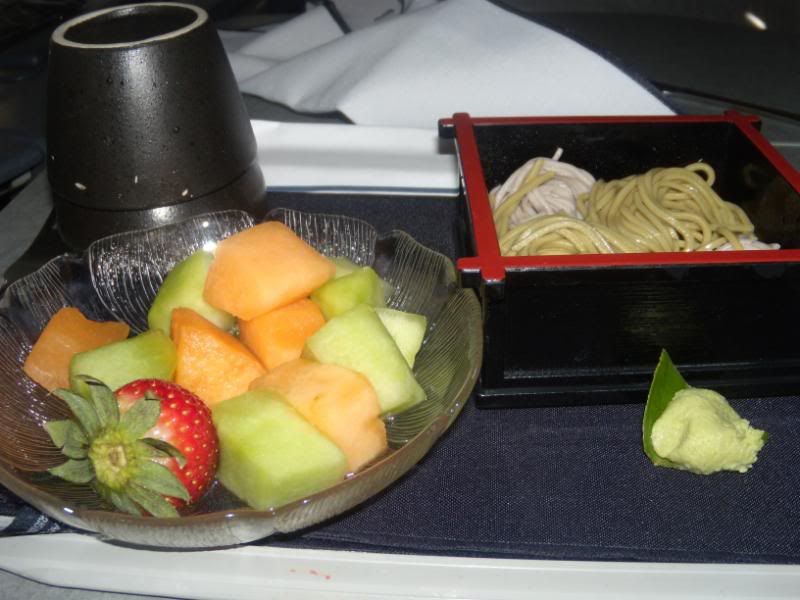 Later a flight attendant in first class asked me if I wanted soba or pizza, so since I already had soba, I asked for pizza. Everything seemed OK, until she came back and asked me why didn't I tell her I already ate something. The pizza's are limited. I went up to the galley and told her that the flight attendant from business class brought me that snack and I didn't even ask her for it. She had thought I did, so she said not to worry about it.
We landed at NRT on time. Normally I fly JAL between NRT and BKK but I wanted to take the ANA flight this time, which necessitated changing terminals. I asked the ground staff if I could use the transfer desk in Terminal 2 or if I'd need to clear immigration and go to the check in counter at Terminal 1. She told me I needed to go through immigration. It was nice to be back in Japan if only for a short time.
NH 915 NRT-BKK
28 December 2009
5:30PM-1030PM
Boeing 767-300ER
Economy class seat 23G
I took the bus to Terminal 1 and checked in at NH and was given my choice of window or aisle seats. I still prefer window seats whenever I get a choice. I was then told the flight is almost full, but apparently I was OK. I had some time to kill so I went to 5th floor at Terminal 1. There is an aviation gift shop which as books, magazines, DVD's and model airplanes I always like to go to. Plus the observation desk in this terminal overlooks Rwy 16R-34L which is where the long haul 747's 777's and Airbus 340/380's take off from. While the 777 is my all time favorite, I'll admit I love watching a fully loaded 747-400 takeoff. It uses most of the runway and you notice the wing flex immediately when they lift off the ground.
On the ANA flight once seated I got in a discussion with the gentleman seated behind me. He was on a mission trip to Thailand and because I am in Thailand we talked about it and also my time as a missionary in Japan. A few minutes later the man next to me tapped me. There were 2 flight attendants in the aisle looking at me. They thought I was talking to the window!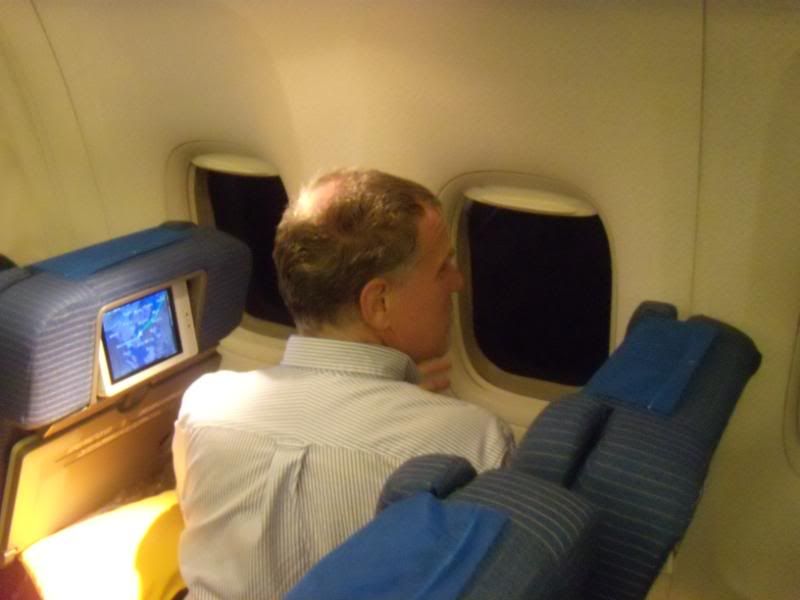 The inflight service on ANA was very nice. The interior of their 767's have been updated and the inflight entertainment system was AVOD. I especially liked the updated version of the Airshow map.
These made for some very nice flights and a very nice trip to the US, but also some very long days. I was glad to get to bed around 1AM!
I've posted several TR's on my AA 777's, and they are pretty much the same. If any of you fly on an AA 777 please post your TR, I'd love to see it. Thx for reading!