Feedback always appreciated.
Trip Report: 088
Flight Category: J-IMR (See Report End)
Date: 03 Nov-09 (See Report End)
SDT/SAT/Dur/Delay: 1800/0750/07:50 hrs
Flight:
Jet Airways 225
, 3667 miles
Routing: JFK-BRU
Aircraft: 332
Seat: Business "Premiere" Class, 1A
I > Background:
Those who work in consulting can appreciate how frustrating it can be to get data from a client. This particular client was being difficult and my project in New York had been stuck for a while. To "escape" this deadlock, I decided to take advantage of 9W's excellent J-class fares and escape NYC to visit a friend in BRU and then combine with some marketing in AMS.
Interestingly, it does not seem that anyone has done a report on 9W's trans-Atlantic J class. If I am mistaken, please let me know. Weird I think as it has been around for a while.
II > Pre-Flight:
a) Before Airport:
Jet Airways is India's pioneering airline based in Bombay. It is India's second largest airline and has an extensive network in India, with international operations to the Americas, Europe, and Asia. It is well known for excellent customer service. However, it has struggled of late in a difficult macroeconomic environment.
Jet Airways' website at
www.jetairways.com
is visually clean and the perfect way to make a reservation. It is crisp and within a few minutes I was able to use my credit card to buy my ticket. I was particularly impressed by the use of colors (especially in the "fare families" stage). Furthermore, unlike in the past where Indian carriers have struggled with a Liechtenstein issued credit card, I was able to book my ticket seamlessly. In a matter of minutes, a smart looking PDF e-ticket was delivered to my inbox. Now, the website gives you plenty of opportunities to view/modify bookings. However, it has no functionality for seat selection for any class of travel. This is a pet peeve of mine and I wish 9W changes this in the near future. I was able to get a seat assigned calling the excellent call center.
b) At Airport:
Jet Airways is handled by American at JFK and uses T8. When I got to the counter, a wonderful American Airlines agent greeted me and was prompt at checking me in. She quickly complied with my seat request, tagged my bags, and gave me my lounge invitation. The entire painless procedure took 4 minutes; it was extremely efficient, and the way check-in should be. After she wished me well, boarding card and lounge card in hand, I made it past security to the rather nice T8 air-side. On this particular occasion, 9W used gate 47 which was mid-field and involved crossing under the terminal. Prior to boarding, I used AA's "Admirals lounge" which left much to be admired. I was disappointed that 9W could not enter into a commercial agreement whereby its passengers could get complimentary beverages. Moreover, internet (and most other things) were for pay. I recognize that the "concept" of lounges in the U.S. is different … but that does not make it "right".
Boarding was called on time and I made it to the gate. It was interesting to see the passenger mix. Almost 50% of the passengers were Indian diaspora; the rest were an eclectic mix of Europeans (a lot connecting to Spain), Americans, and "others". I was impressed at the orderly boarding which included strict respect for premium flyers. The same agent who checked me in was at the gate and I was happy to have her acknowledge me, and wish me a pleasant trip again with a genuine smile.
Jet's "Premier" Class is their herringbone shaped J product. On-board, I met the most pro-active crew I have encountered in a while. While they were very engaged in helping everyone settle down (I don't recall the last time crew members said things like: "please let me help you with your bag"), I was particularly impressed by the interaction between a crew member and the lady in seat 2A. Ms. 2A was the head of UNICEF at a certain African country and had embraced the African way of traveling with excess baggage. This rather large woman had run to her flight with her kitchen sink and was sweating profusely and looked much disoriented. The extremely classy crew member brought her a glass of water (without asking), helped her with severely heavy bags (with my help), and then in classic good Asian airline style, kneeled down for eye contact and said:
"don't worry ma'am. You're now with us. Please relax and feel at home. Can I get you something more to drink?"
This extremely classy gesture would set the tone for the rest of the flight. J load was 80%; Y load was 95%.
Airport - External:
(JFK T8)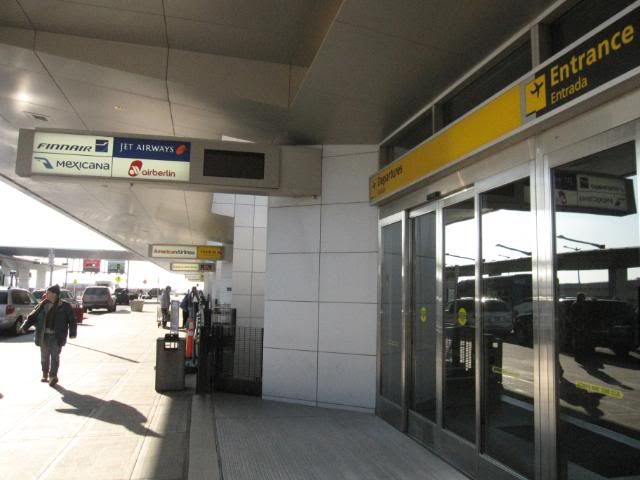 Check-in:
(Check-in)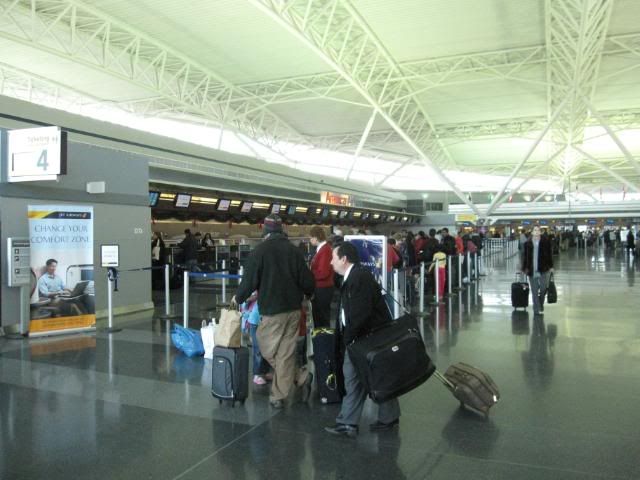 Airport - Internal:
(Internal)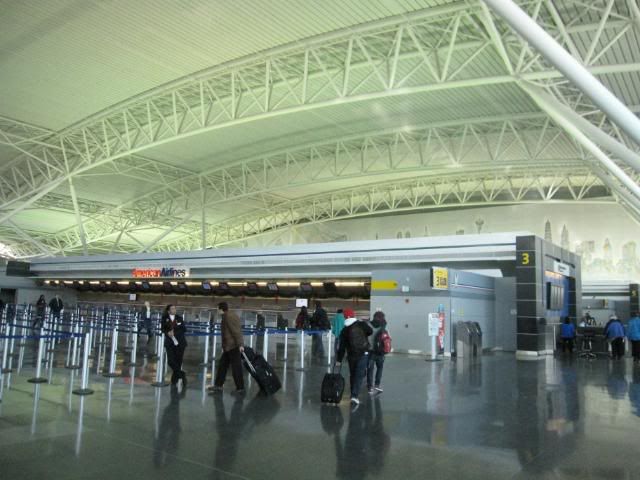 (FIDS)
(Post Security @ JFK)
Scenes of the tarmac:
(AA from lounge)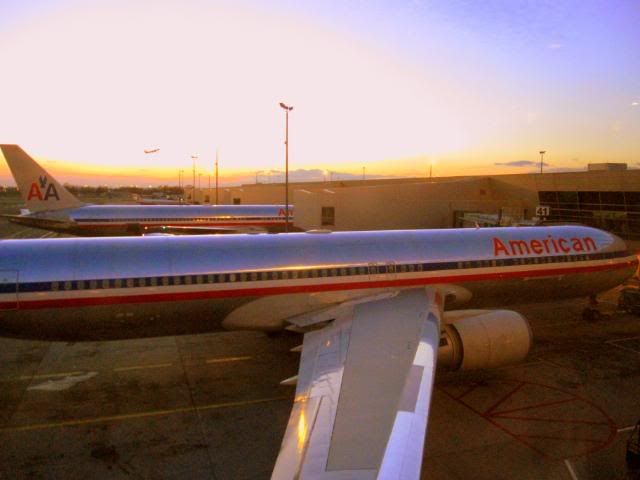 Lounge
(AAmirals Club @ JFK)
(My cube)
Boarding:
(Gate area)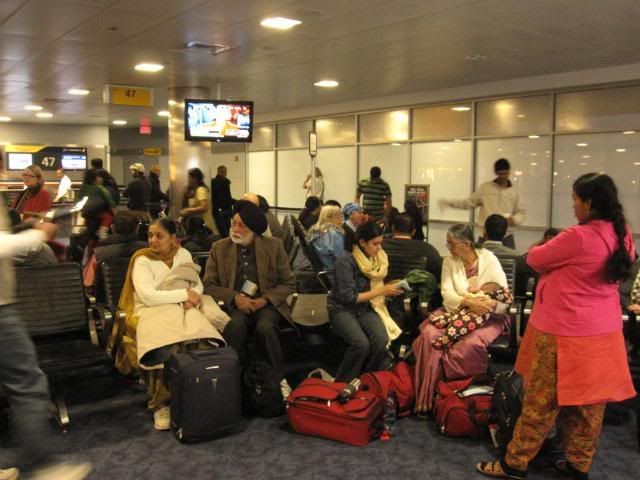 (Organized boarding)
III> In-Flight:
a) Service Schedule + Impressions:
While on the ground, a beverage service was conducted involving water and a large array of juices. Following this, hot towels (nice thick and scented) distributed, then trolley with amenity kit, newspapers, magazines, and sleeper suits (very few airlines give this out in J class and I think a GREAT touch). BTW, the entire trolley certainly added class. Finally, meal orders were taken.
Upon take-off, drinks and nuts. This was followed by full dinner service and subsequently 9W's turn-down service (again, very few airlines do this in J class). Prior to landing, breakfast was served … but I skipped it.
b) Aircraft + Seats:
Jet Airways smart looking 332's were in immaculate condition. Externally, I really like their bright livery and the twist from Indian dresses at the front. The interior is spotless and well-maintained and the blue hue was extremely pleasant to the eye. The bathrooms were well stocked throughout the flight and were clean even at the very end of the flight.
9W's J class configuration for their 332 include the herringbone 1-1-1 staggered layout. The seats are 180 degrees lie flat, have a 50" pitch, with 21" width. Perhaps it is my perception, but I found the 9W seats to have more little storage spaces than the almost identical AC seats.
As mentioned, I was not a big fan of the seat material. However, it is extremely comfortable, and I did appreciate all the pre-set postures. Additionally, seat is extremely comfortable in lie flat situation and I was able to snooze off for over 6+ hours. Another thing enhancing the seat is 9W's "turn-down" service which ensures that some of the small seat folds/breaks are smooth and you really do get a great bed feel.
What is super weird about the staggered layout is when the aircraft taxis and makes turns, you can really feel the entire fuselage turning as you face side-ways. Does this make sense? It also feels weird facing side-ways when taking off and landing. While looking at the bins, you kinda feel the whole aircraft moving and taking off … all very earthy. Unlike some other reviewers of the herring-bone configuration, I personally did not think that you had to really tilt too much to look out of the window.
Oh, and I did like how the blue lights for the seat controls auto-turned on and off based on what position you were in.
Aircraft:
(332@ SIN)
(A.Net photo from Andrew Hunt)
Views from Aircraft:
(AF 380)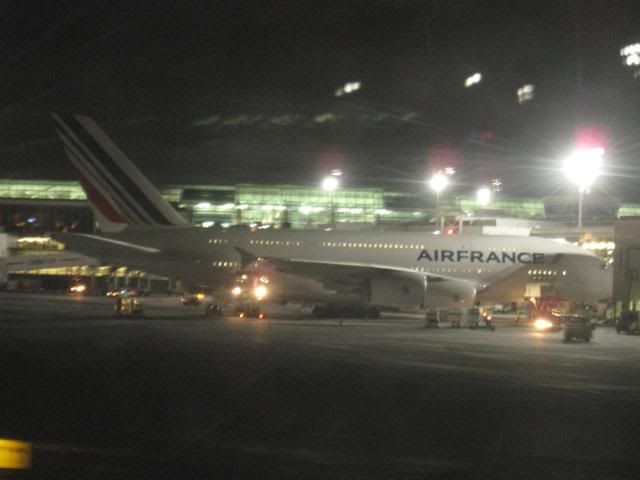 General Seat Views + Seat Legroom
(Seat controls)
(Great legroom)
(Huge table)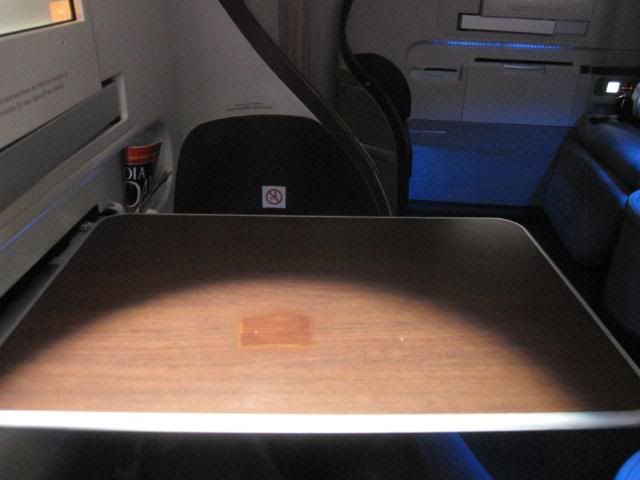 Seat Recline + Angle View:
(9W Turn-Down Service)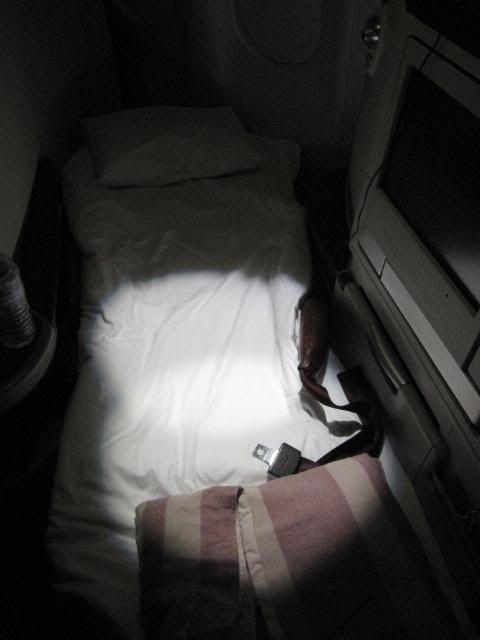 Cabin:
(Bathroom Amenities)
c) Meal + Beverage:
Given that it was a night flight, dinner service was a mixture of direct galley and trolley service. It started with some mimosa and nuts (here, disappointed at 9W's choice of champagne; and, nuts could be warm and more flavorful.) Immediately following the nuts, dinner service commenced with a wide variety of breads (some really yummy Indian options), and a nice mushroom soup. For the main, I chose the lamb chops which were served with some Indian daal, and a variety of Indian condiments. Finally, I chose the excellent Indian desert of RASMALAI which was really good.
Overall, the catering was top notch and I was particularly impressed by the beautiful crockery accompanying it. The bread was fresh; the soup tasty; and, the lambs succulent. However, I think 9W could do with some menu changes as it seems that this was the same food offered on similar routings for a month.
While I did not have any breakfast, it seemed to be a decent collection of items one finds on a trans-Atlantic red-eye.
Finally, the drinks menu was pretty good, and the self-service J class bar was always stocked with alcohol, beverages, and food.
(Menu)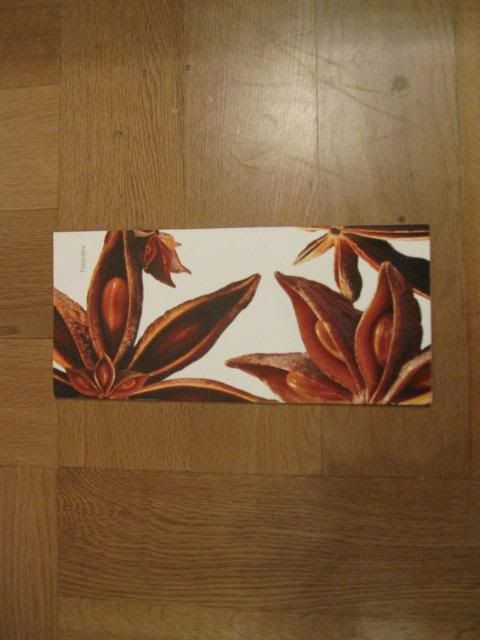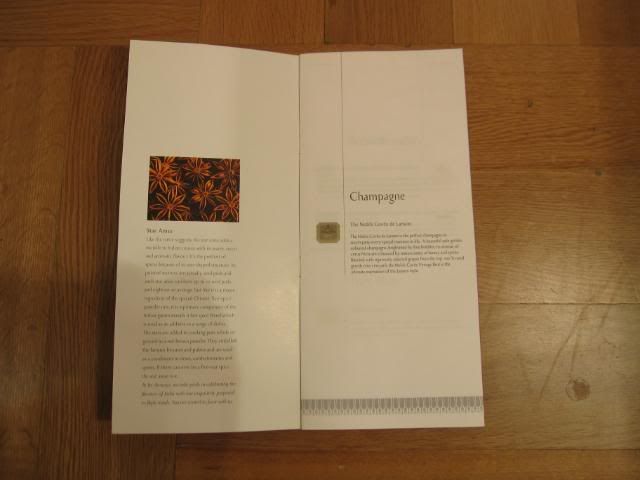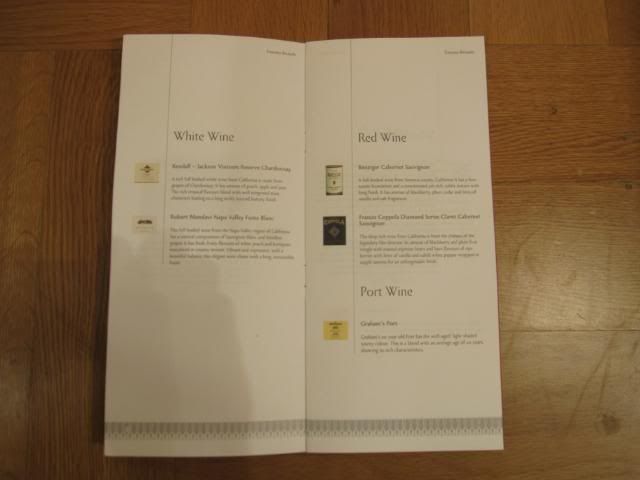 (Snacks & Mimosa)
(Soup)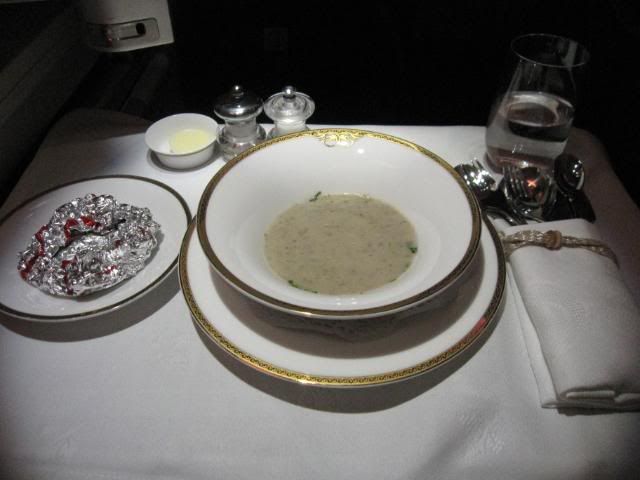 (Well presented main – look at the crockery!)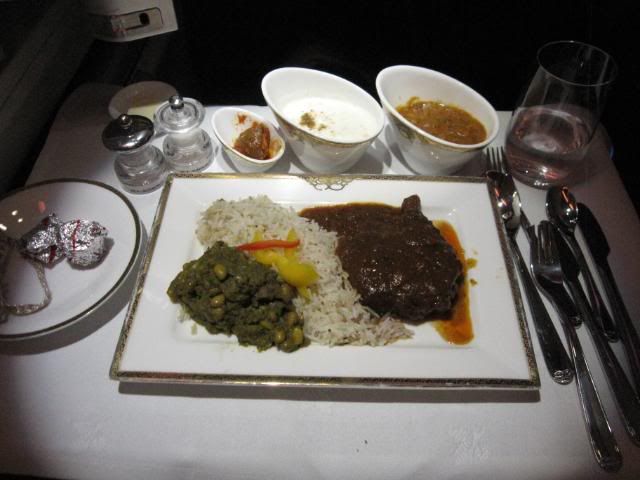 (Dessert)
(Snack bar)
(Coffee)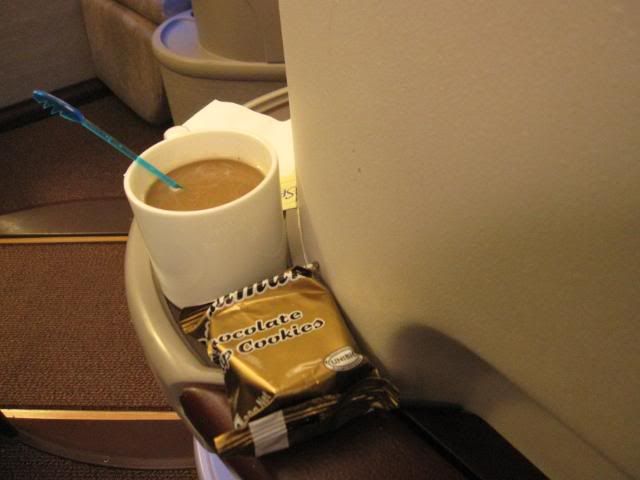 (Tea – again, note the crockery)
(Indian Breakfast from a different flight)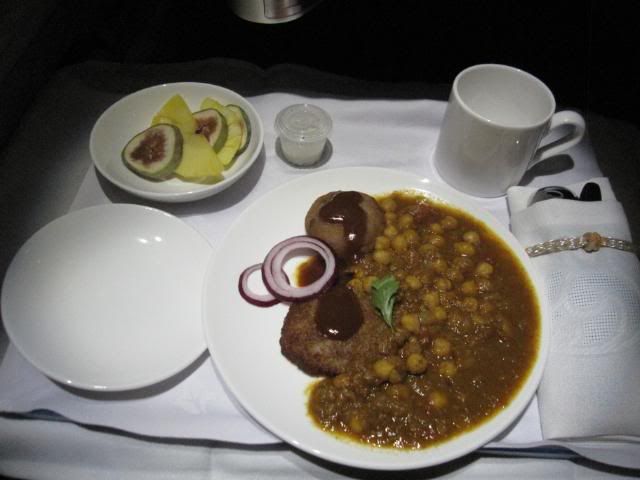 d) Inflight Entertainment:
The first thing one notes about 9W's IFE are the huge personal screens in J. I don't know rankings, but it must be one of the biggest in the industry! While not top of the line, 9W's AVOD kept me entertained throughout the flight as I caught up on a rather odd Chinese movie. I guess my biggest complaint with their system is that it changes only every 2 months and some movies have been on the offering for 6 months or more! The screens have the best touch-screen response I have seen on a plane. Quality is also crisp and clear and the noise-canceling headsets make sure that you hear the sound well. The in-flight magazine is good and you have a nicely stocked selection of magazines and newspapers to keep you more than happy for 4 hours.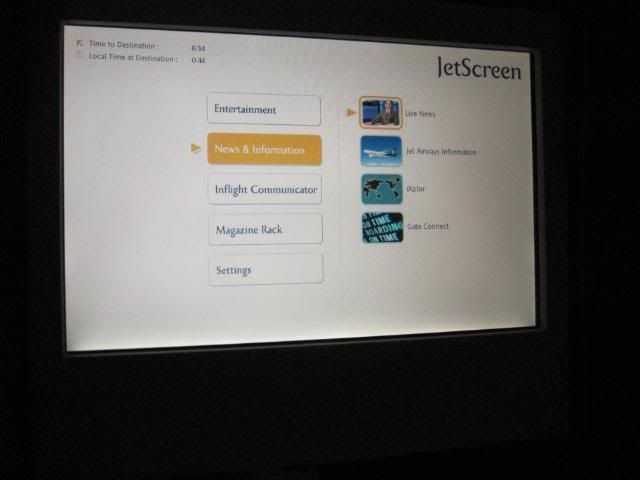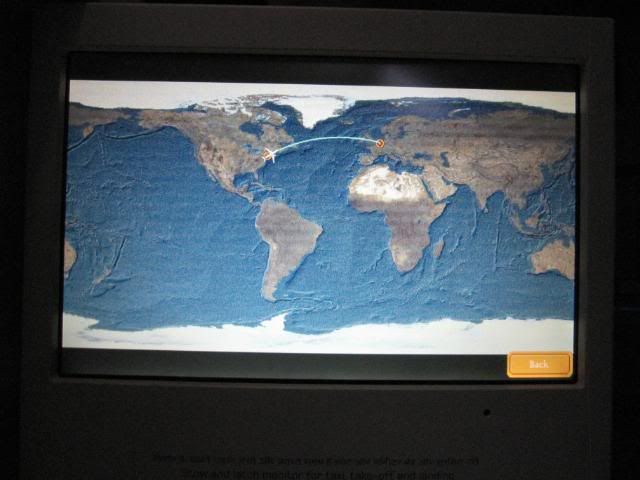 ("In-flight magazines", Boarding Passes, etc.)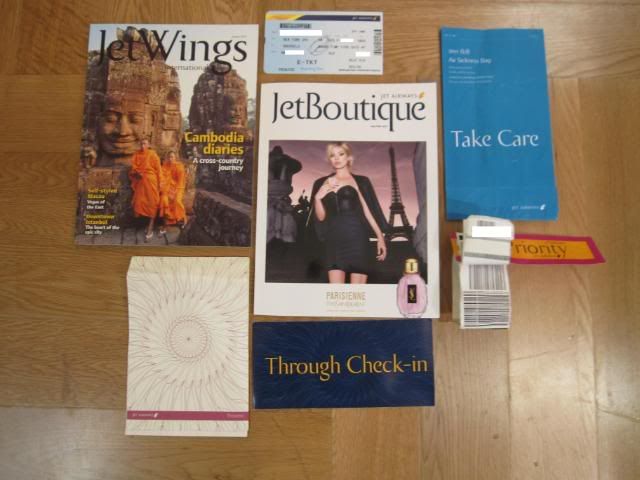 e) Crew:
WOW! WOW! WOW! Another data point to support my theory that best cabin crew come from India and Sri Lanka . 9W's crew on this flight was again flawless. On Indian carriers, I have usually preferred the genuine warmth of AI and IC, and thought 9W and IT were trying too hard with the "hot women" lacking a level of genuine smile that would melt your heart away. However, I have consistently got really good 9W crews and this was no exception. Moreover, it was great to see good crew on the trans-Atlantic sector where I have had some indifferent service around 2 years back.
Throughout the flight, they displayed genuine-ness which comes from experience. Upon boarding, help with the bags and greetings by name. Here what sets out an Asian airline from most of their European and American counterparts is that they had learnt the names and were not reading from the flight manifest in front of you! I loved the lead FA who was at ease with her duties and her interactions with me upon boarding.
Throughout the flight, you could see them walk along the aisle checking on passengers, topping drinks and carrying bottles of water for those who needed it. All with polite, "Would you like some more?" and "Can I top it off?". As usual, a great set of crew is made up of memorable experiences that you remember well after the flight. These are small anecdotes that remain in your mind amongst all the flying hours you clock. The 9W crew demonstrated all of it. Here are my 3 favorite ones that made flying with these women a true pleasure:
1/ During taxi out, the cabin lights were dimmed. One of the crew members walking to her secure position saw me read the in-flight magazine. She immediately came to me and turned the reading light that I did not notice the J seat to have. 2 minutes later, she came and offered me her little reading-light keychain.
2/ The interaction with Ms. UNICEF (see the boarding section).
3/ One of the crew members went to a lady (white woman) sitting in row 2 and complimented her on the rather ornate saree she was wearing. The white woman told her she was going to an Indian wedding, and they embarked on a rather long discussion on the wedding process in India. The white woman was nervous about social mores and so this crew member took the time to voluntarily write down a list of small things she could do to get brownie points at the wedding. The white woman was very impressed. So was I!
Finally, at disembarkation, the crew said something memorable:
"For those passengers disembarking in Brussels, have some of the excellent chocolate for us. For those continuing onwards to other flights, have a safe onward journey. For those foreigners continuing on to India, let us be the first to welcome you to our country. And, for those fellow Indians returning home, an early welcome back home".
Aaw.
Great cabin crew anticipates your needs. Very few airlines have mastered this concept. While I have almost always had extremely pleasant service from 9W crew, this particular set of women completely blew me away. They reminded me the value of genuine warmth and demonstrated that in 7 hours I would be reminded once again why I love flying.
IV> Post-Flight:
Brussels is a hassle-free airport by European standards and I was soon out with my bag in 20 minutes.
V> Impressions + Scores:
Jet Airways was a joy to fly. It is undoubtedly one of the best carriers out there with an in-flight experience far superior than many of its cohorts. Airlines are made up of people and the crew on board was just fantastic. Also contributing towards a pleasant flight were a good IFE, good food, good beverage, and great seating. Small touches such as the pyjama and turn-down service are much appreciated in J class. Of course, there are rooms of improvement ... their good IFE can easily be made to a great IFE.
I think 9W has been a wonderful addition to the trans-Atlantic market and am convinced it will be able to regain its momentum soon.
I do hope 9W continues to tweak its performance and improve its financial standing. A strong 9W is important for the consumer as it provides a far superior service than other many of the established bigger fishes. I would go out of my way to fly 9W and am willing to pay a price premium. Two thumps way up!
VI> Other Trip Reports:
PREMIUM:
8.64:
Turkish Airlines (59): JFK-IST: 11/2008
8.63: Jet Airways (88): JFK-BRU: 10/2009
8.61:
Air Canada (49): YYZ-SCL: 06/2008
8.54:
Turkish Airlines (77): GRU-DKR-IST: 04/2009
8.30:
Jet Airways (74): KWI-BOM: 04/2009
8.23:
United Airlines (72): SFO-SYD: 03/2009
8.11:
Aeroflot (33): MOW-DEL: 09/2007
8.05:
Air India (80): CCU-JFK: 06/2009
8.04:
Korean Air (40): NRT-ICN: 10/2007
8.02:
Delta Airlines (24): JFK-CDG: 08/2007
7.46:
LAN (55): YYZ-JFK: 09/2008
7.82:
Singapore Airlines (06): EWR-SIN: 09/2006
7.23:
Virgin Atlantic (81): BOS-LHR: 07/2009
7.14:
Swiss (52): SCL-GRU: 06/2008
7.11:
Austrian (79): VIE-JFK: 06/2009
7.07:
Privatair (84): BOM-FRA: 08/2009
7.02:
Qatar (68): DOH-JFK: 01/2009
6.96:
Etihad (61): JFK-AUH: 12/2008
6.93:
Delta Airlines (18): SEA-JFK: 11/2006
6.84:
ConViasa (65): CCS-DAM: 01/2009
6.81:
Air Canada (17): ICN-YYZ: 10/2006
6.70:
KLM (32): EBB-AMS: 08/2007
6.36:
Privatair (60): MUC-BOS: 12/2008
6.25:
Korean Air (45): NAN-ICN: 10/2007
6.21:
Iberia (87): BOS-MAD: 10/2009
6.11:
TAP Portugal (53): GRU-OPO: 06/2008
6.00:
Gulf Air (75): BOM-BAH: 04/2009
5.75:
Singapore Airlines (16): CCU-SIN: 10/2006
5.64:
NorthWest (46): ICN-NRT-SEA: 10/2007
5.46:
Icelandair (83): KEF-BOS: 08/2009
5.39:
LOT (54): WAW-JFK: 06/2008
5.21:
Egypt Air (73): CAI-IST: 02/2009
5.07:
TACA (66): JFK-SAP: 01/2009
4.42:
Air France: CDG-JNB (25): 08/2007
ECONOMY: Long + Medium:
9.26:
Air India (48): JFK-DEL: 02/2008
7.38:
Avianca (01): BOG-LIM: 07/2006
7.07:
Sri Lankan (62): KWI-CMB: 12/2008
6.41:
Avianca (78): JFK-BOG: 05/2009
6.41:
American Airlines (58): LHR-BOS: 11/2008
6.39:
Condor (85): SEZ-FRA: 09/2009
6.26:
Jet Blue (21): CUN-JFK: 02/2007
6.06:
Air Canada (04): YYZ-YVR: 09/2006
5.89:
USA 3000 (19): PUJ-BDL: 01/2007
5.85:
Spanair (69): MAD-LPA: 02/2009
5.79:
Air New Zealand (42): RAR-NAN: 10/2007
5.52:
Aerolineas (86): USH-AEP: 10/2009
5.46:
TAP Air Portugal (23): OSL-LIS: 05/2007
5.19:
Air Europa (70): LPA-MAD: 02/2009
5.16:
Iberia (71): MAD-BOS: 02/2009
5.11:
Air China (82): FRA-PEK: 08/2009
ECONOMY: Short
8.56:
Paramount Airways (38): BLR-MAA: 09/2007
8.56:
Kingfisher (64): HYD-CCU: 12/2008
8.24:
Kingfisher (14): IXA-GAU: 10/2006
7.87:
Indian (34): BOM-MAA: 09/2007
7.72:
Alliance Air (13): CCU-IXA: 10/2006
7.57:
Indian Airlines (10): DEL-CCU: 09/2006
7.23:
West Jet (03): YYC-YVR: 09/2006
7.15:
JetLite (37): BOM-GOI: 09/2007
6.70:
Spice Jet (09): CCU-DEL: 09/2006
6.63:
Air Fiji (44): NAN-SUV: 10/2007
6.63:
Jazeera (67): DAM-KWI: 01/2009
6.58:
Air Tran (02): EWR-MDW: 08/2006
6.48:
Air India Express (63): CMB-MAA: 12/2008
6.44:
CO Micronesia (39): ROR-YAP: 10/2007
6.41:
Pacific Sun (43): NAN-SUV: 10/2007
6.37:
Skybus (47): SWF-CMH: 02/2008
6.33:
Kenya Airways (29): NBO-BJM: 08/2007
6.33:
Sky Europe (56): LTN-BTS: 10/2008
6.31:
Indigo (15): GAU-CCU: 10/2006
6.31:
easyJet (57): BUD-LTN: 11/2008
6.22:
Air Link Swazi (28): MTS-JNB: 08/2007
6.22:
Air India (36): HYD-BOM: 09/2007
6.13:
Adam Air (07): SIN-CGK: 09/2006
6.13:
Air Rarotonga (41): RAR-AIT: 10/2007
6.00:
Transairways (27): INH-MPM: 08/2007
5.95:
Air Canada (05): ALB-YYZ: 09/2006
5.85:
SAS Norge (22): OSL-AES: 05/2007
5.81:
LAM Mozambique (26): JNB-MPM: 08/2007
5.69:
Air Deccan (12): IXZ-CCU: 10/2006
5.67:
Rwanda Air Exp (30): KGL-NBO: 08/2007
5.11:
Aero Republica (76): BOG-CCS: 04/2009
5.07:
Go Air (35): MAA-HYD: 09/2007
5.00:
Sky Airline (51): IQQ-SCL: 06/2008
4.96:
Valuair (08): CGK-SIN: 09/2006
4.78:
Air Comet Chile (50): SCL-IQQ: 06/2008
4.74:
Fly 540 (31): MYD-LAU: 08/2007
4.33:
Viva Aerobus (20): ELP-MTY: 02/2007
4.11:
Air Sahara (11): CCU-BOM: 09/2006
(Note on Codes: Y – Economy, J – Business, F – First :: I/D – International/Domestic :: SR/MR/LR – Short/Medium/Long Haul)
(Note on Date: Dates are modified to be +/- 3 days from actual flight date to not reveal actual flight pattern)
VII> Other Pictures:
(Pretty good amenity kit from Bvlgari)
*Eye shades missing
(YAY – PYJAMAs in J class!)