Introduction
Every time I've passed through Riga in the last year and half or so I've usually seen one or both of the two ex-Iberia 757s airBaltic acquired mainly for their medium haul flights. These really beautiful, feline beasts have always caught my attention and I regard them as among most beautiful planes ever produced. I've been trying to get on one of these for quite some time now - but BT's tendency to play switcharoo with flight equipment at short notice hasn't made it very easy. On European routes BCN and LGW seem to get the 757 most often, so I put together a nice daytrip to Gatwick on a day when the 757 was scheduled and the lowest fares were available. Booked three months in advance, the HEL-RIX-LGW connection came to 75 EUR. The schedule was perfect to connect to Ezy's LGW-HEL flight, so that was quickly booked for less than 30 quid to get me home at a decent time for a change.
I kept monitoring the flight details, and up to a week before departure the scheduled equipment was still showing the desired 757. Unfortunately with a week to go it suddenly changed to 737-300, which was of course a major disappointment for me. Well, nothing really I could do about it except to hope that there would be another last minute equipment switch (known to happen with BT every now and then) and brace myself for the worst.
28.1.2010
Due to the annoying airBaltic check in situation at Helsinki I take an early bus and find myself @ T1 already around 7.15 - somewhat early for my 8.45 flight. As expected there are a number of people queuing for the three open SK/KF/BT/OS/LH check in desks, but luckily no real problem passengers today. A good number of people are seemingly hit with the BT luggage fees and directed to the ticket office to pay them, but this doesn't slow things down too much - after a reasonable 15 minutes I am checked in and facing yet another queue at security. This one is smooth as well, and in ten minutes I am through.
I take a walk around the terminals to see if any interesting visitors are in town, but see nothing terribly exciting, so I retreat back to T1 and grab some desperately needed caffeine at the coffee shop there. Around the indicated boarding time of 8.20 I head to the nearby bus gate 13A only to find boarding almost completed already. I join the queue and with a streak of luck I am the last passenger allowed for the first packed bus which leaves right after I board. We drive to the snowy southern apron and stop in front of YL-BBI, a 737-300 looking very smart with the blended winglets. I wonder if she used to be registered YL-SXF previously... Anyway second time for me flying with her, previous was HAM-RIX last May.
There's a bit of a wait as a wheelchair bound passenger is helped aboard, but soon the bus doors open and we are allowed to board.
HEL-RIX
BT330
B737-300 YL-BBI
Seat 24A
9.00 - 10.11
At the door I answer "Cold Morning" to the young male FA's "Good Morning" (well, it is almost minus twenty degrees outside!) which gets me a confused smile. I requested seats at the back of the cabin for both of my BT flights today to increase the changes for an empty seat next to me. Row 24 is the second to last row, and my trick seems to have worked - despite a good load of over 80% in eco (not sure if there's anybody in the 3-row business class section) I get the whole block of three seats for myself. Towards the front of the cabin it looks rather packed, but in the back at least all the middle seats are free.
There's something about these blended winglets that's so cool: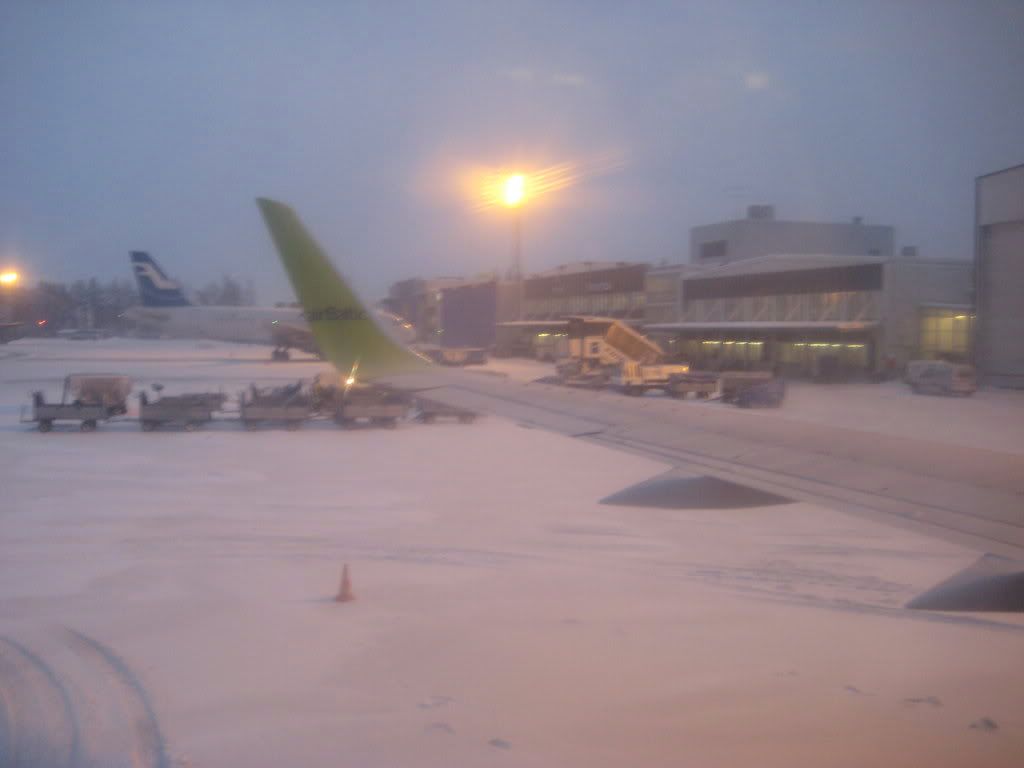 Boarding is completed right at our scheduled departure time of 8.45, but nothing seems to be happening. A bit later our captain welcomes us onboard, announcing a flight time of 50 minutes and concluding with "we are just waiting for some paperwork and ATC clearance to leave our parking position for deicing.". Finally the engines are started (the left one gives a mighty puff of smoke with quite impressive sounds sending a nasty wave of resonance all throughout the hull - I guess it must've been frozen pretty tight during the overnight stay!) and we are pushed back just barely achieving an "on-time departure" for the statistics.
The deicing crane reminds me of a praying mantis for some strange reason: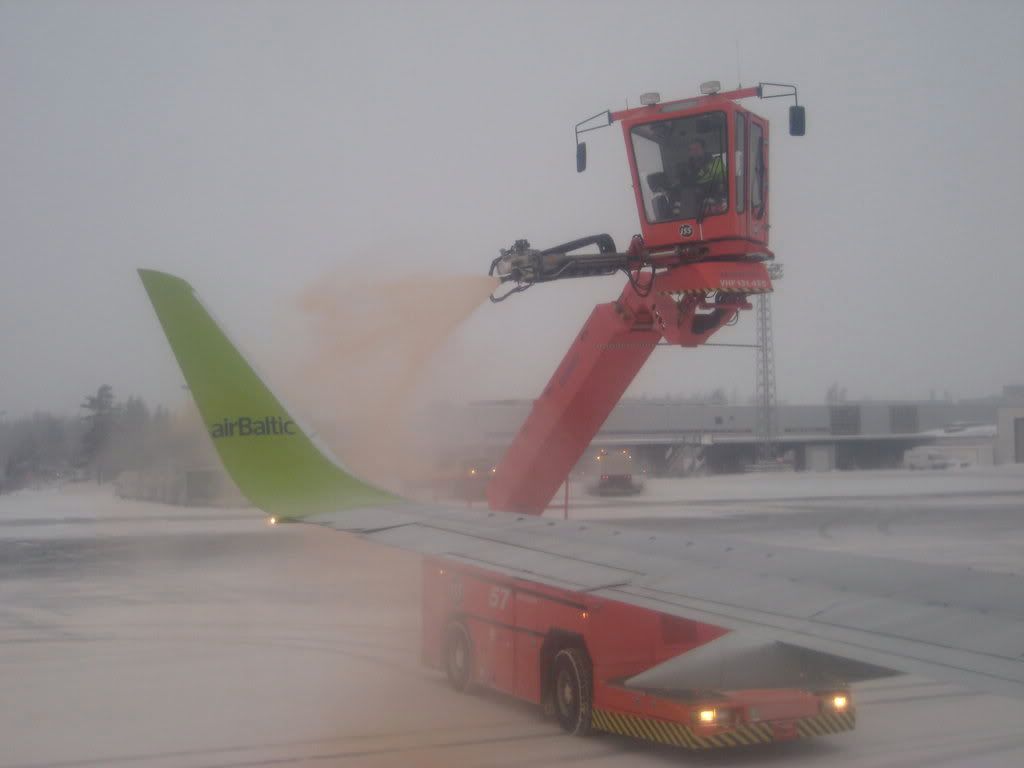 Deicing takes a long time, and it's not until 9.20 that the process is completed. Taxi to 04R takes another 10 minutes so it is already 9.30 or 20 minutes before our scheduled arrival time that we start our take off run. The acceleration is very powerful and we spring to the air with a very impressive climb rate using barely a third of the available runway - these wingletted -300s lightly loaded for such a short hop sure are quite powerful beasts!
Sorry, the window was wet with water and deicing fluid: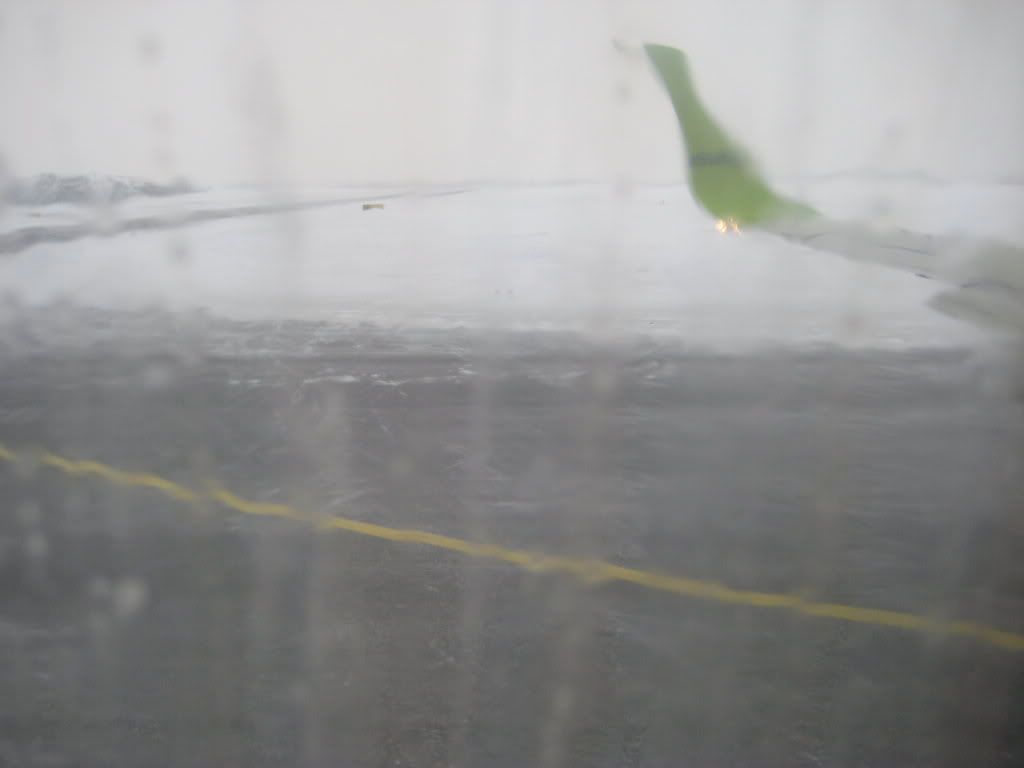 The captain seems to be determined to make up as much of the delay as he can and barely 20 minutes into the flight we are already descending, with the seat belt sign switched on 25 minutes after take off. The cabin crew doing BOB service is down two thirds of the cabin by this point and quickly pack up the cart - not that I'd wanted anything anyway!
The skies are completely clouded over, so no views of anything until well into our descent.
There's quite heavy crosswind on finals and it looks like that to compensate we are coming down rather fast, touching down on runway 18 after 41 minutes of flight. While taxiing to a jetway in the terminal we pass both of the 757s in the apron - at this point I'm still having my hopes up!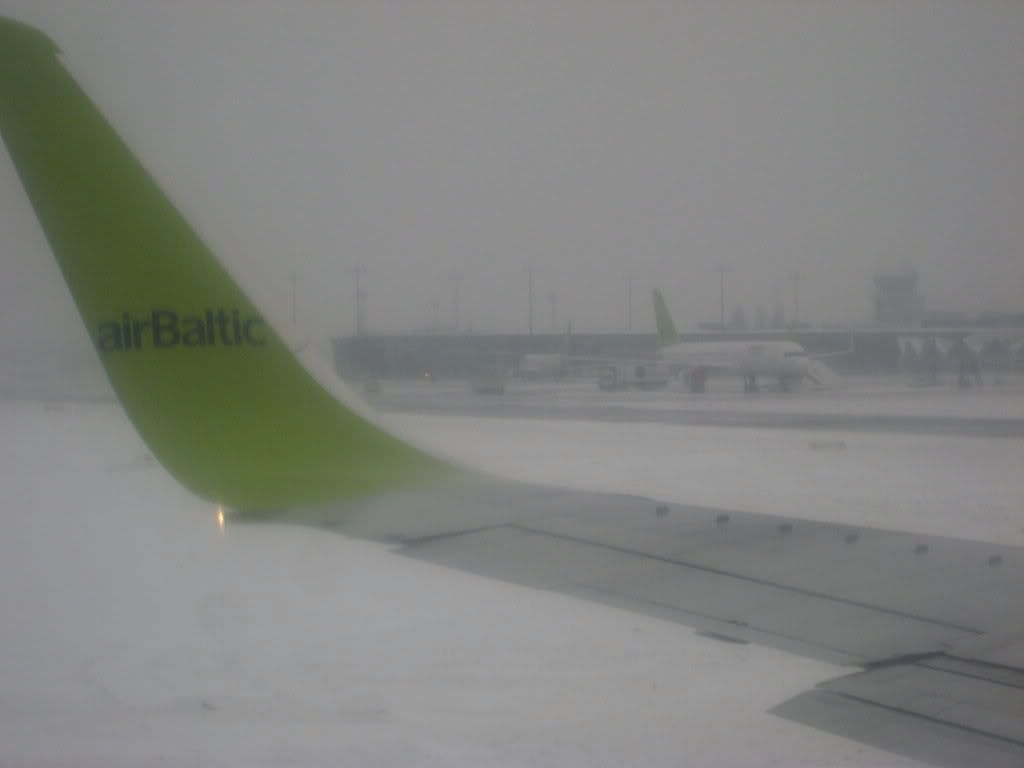 Deboarding takes a while - there are some young lads up ahead who seem to have trouble understanding that blocking the aisle while they sort through their kit at a snail's pace is not a very polite thing to do - especially when some of the passengers have tight connections due to the delay!
Riga Airport
Finally entering the terminal I do a quick bit of shopping (the obligatory carton of fags for my mother-in-law) and head through passport control to the non-Schengen C-gates area. In the way I notice that a number of the stores have been closed since the last time - a testament to the economic hardships, no doubt.
A Ryanair flight to STN leaving ten minutes before us is leaving from the next gate to ours and as the gate area for the two gates downstairs here is rather small the queue stretches all the way up the stairs and into the main C waiting area. Rather hilarious actually - considering that people are queuing already 45 minutes before departure when the inbound plane hasn't even landed yet! I grab a can of beer from the shop here and settle on a bench overlooking the apron to do a bit of reading and plane watching.
This photo pretty much sums up the traffic at RIX - heavily dominated by BT, quite a few FR planes and anything else is rare:
Unknown to me at the time the plane in the front will become my ride to Gatwick.
After the FR flight is closed our flight to Gatwick is showing "go to gate" so I head downstairs - a lot of people here so it looks like a rather good load today. Even though this is a bus gate we don't board using a bus - instead we walk to the plane that is parked a short distance away at the Schengen B gates.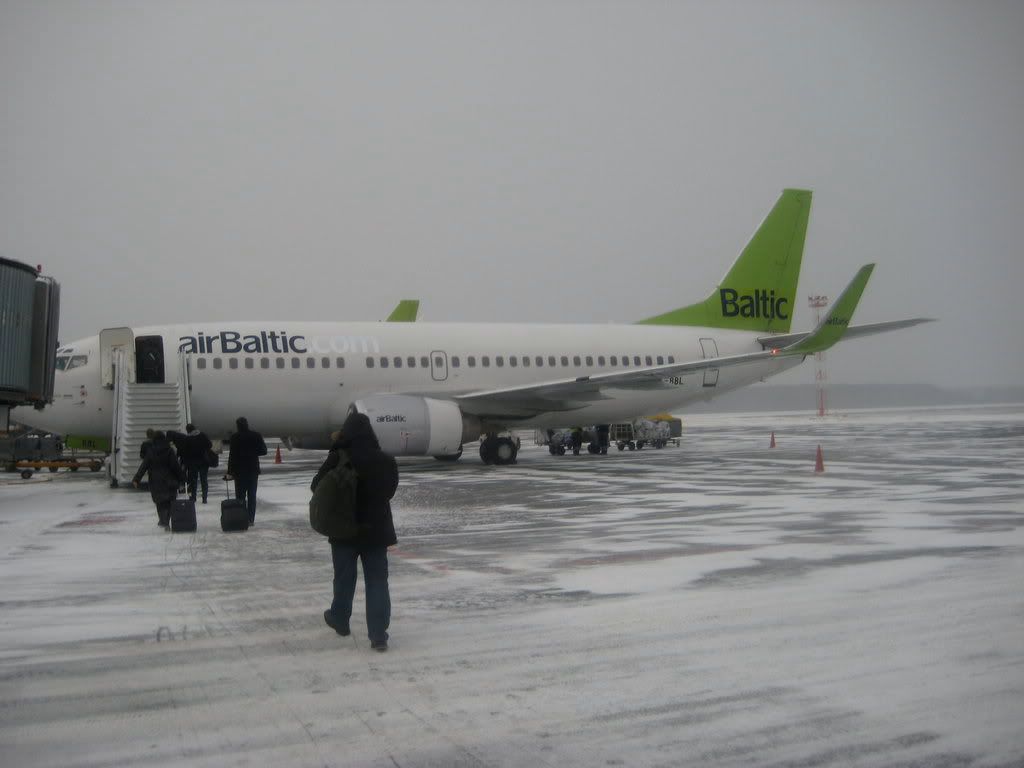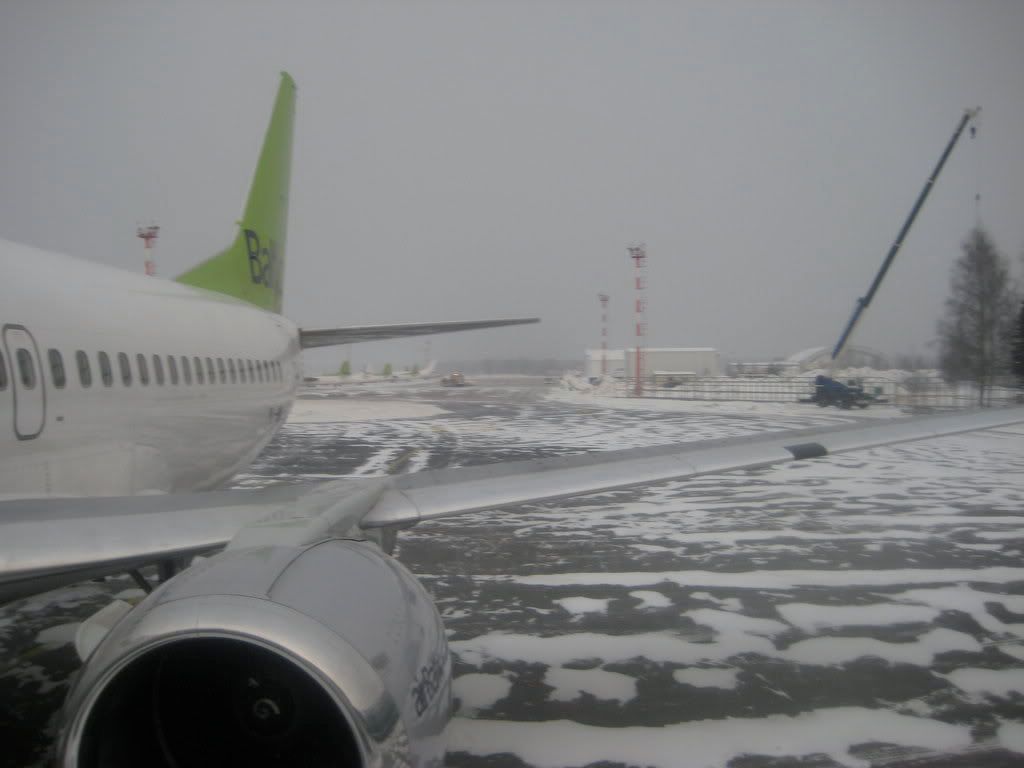 Oh, and the ride is YL-BBL, a 737-300 - even though the load is good it is not good enough to justify a 757. Bummer, I'm rather disappointed by this. At least it is a new reg for me. This is a rather young 737 classic - having been delivered to EasyJet in December 1998.
RIX-LGW
BT651
B737-300 YL-BBL
Seat 21F
11.39 - 12.07
As mentioned the load is very good, I'd estimate around 90%. A few empty middle seats here and there, luckily including the one next to me. All-male flight crew today. We pushback a few minutes late for an estimated flight time of 2h25mins. Take off from runway 18 is quite a bit less powerful than on the previous flight - I guess we are a lot heavier this time.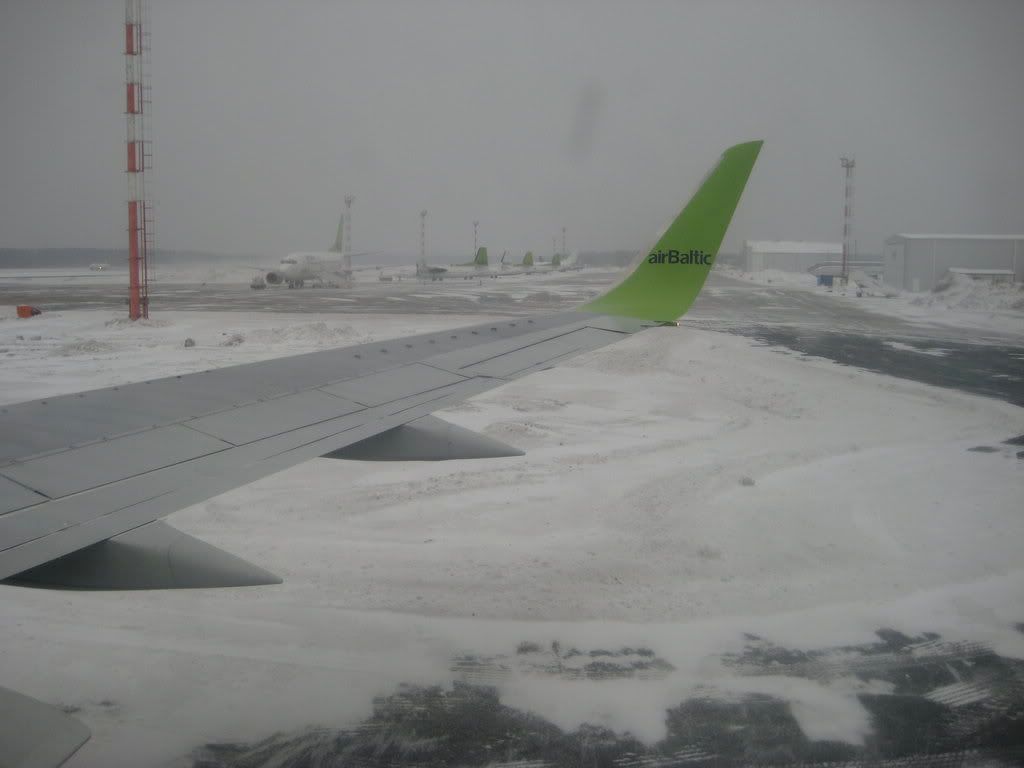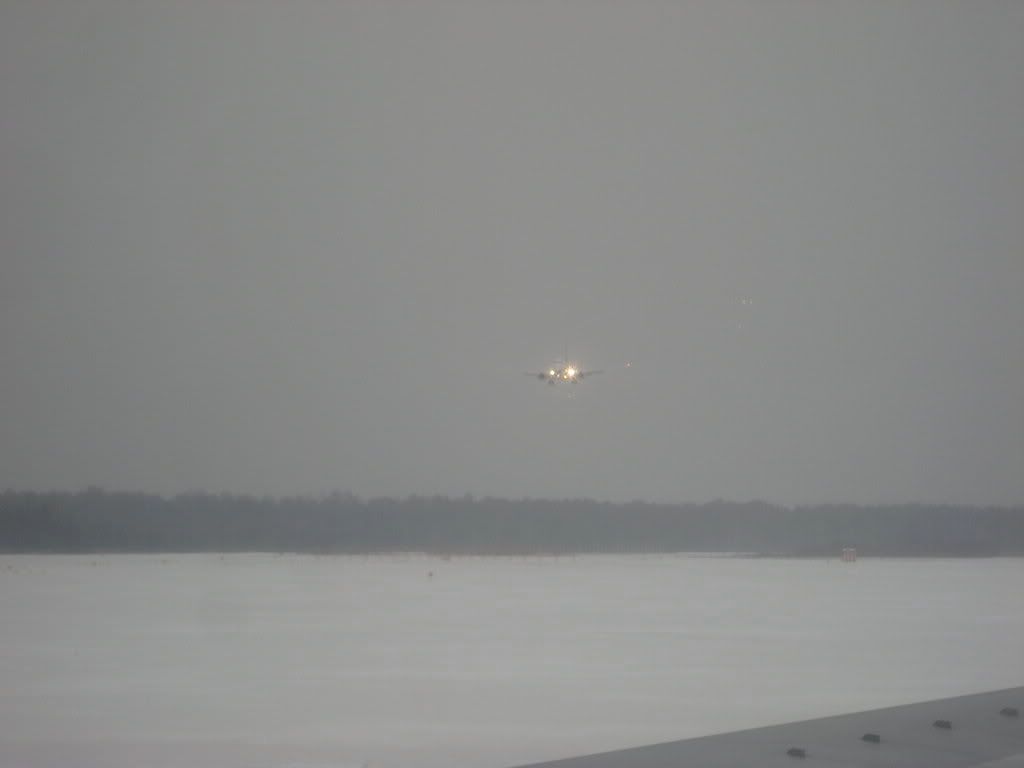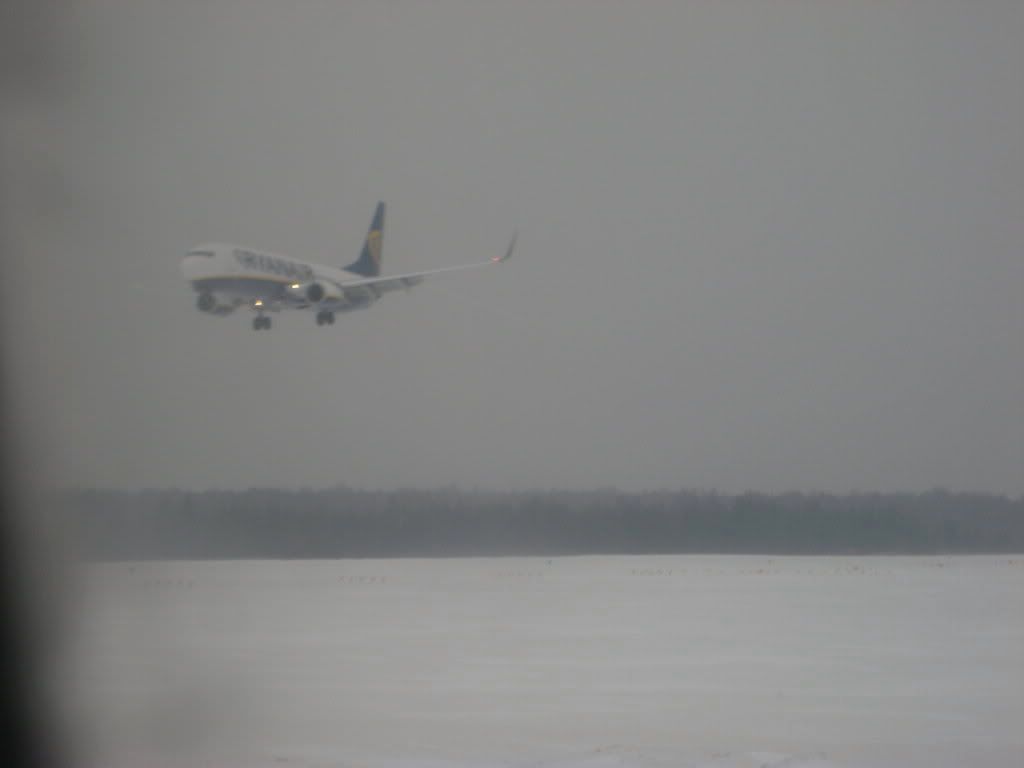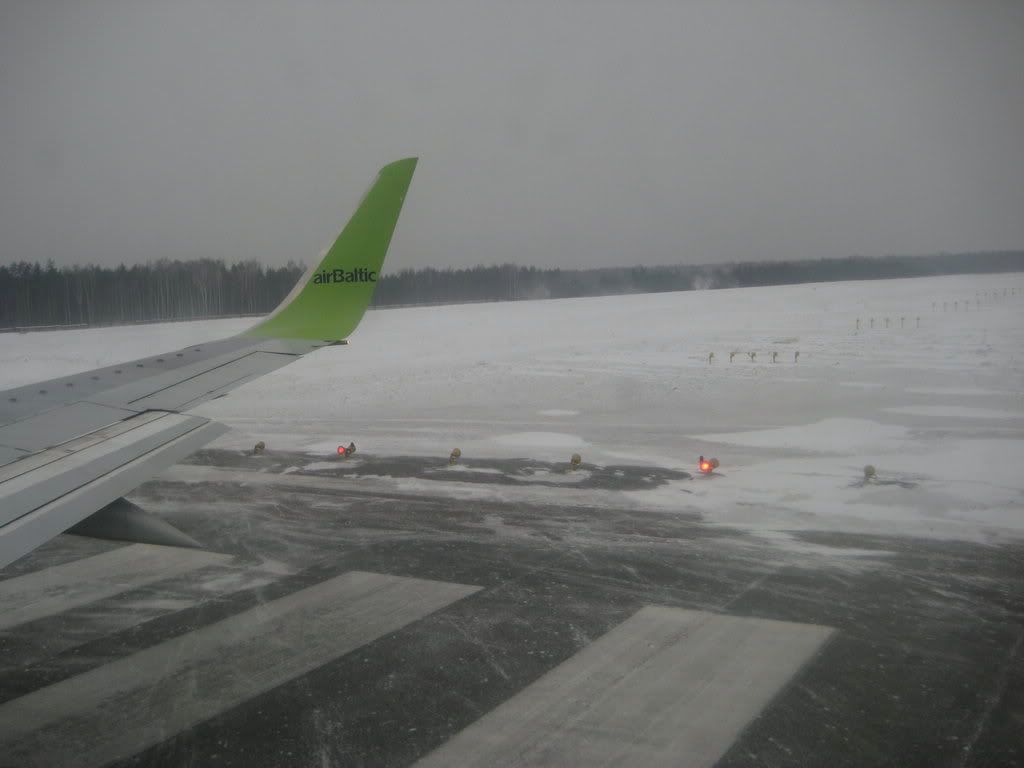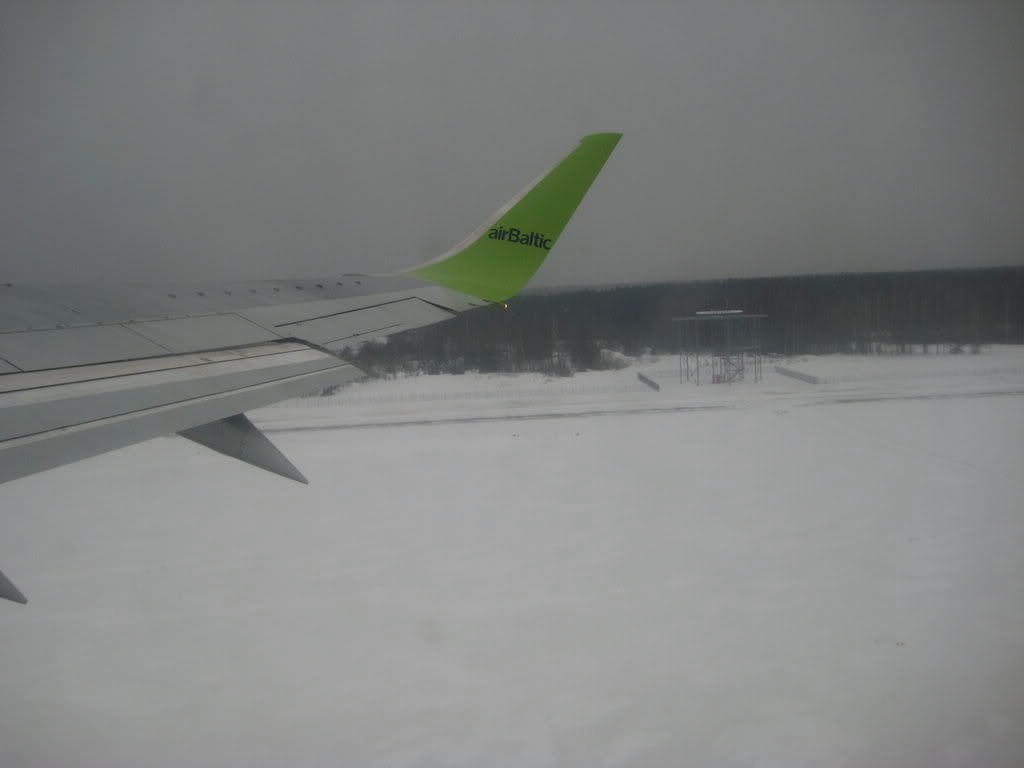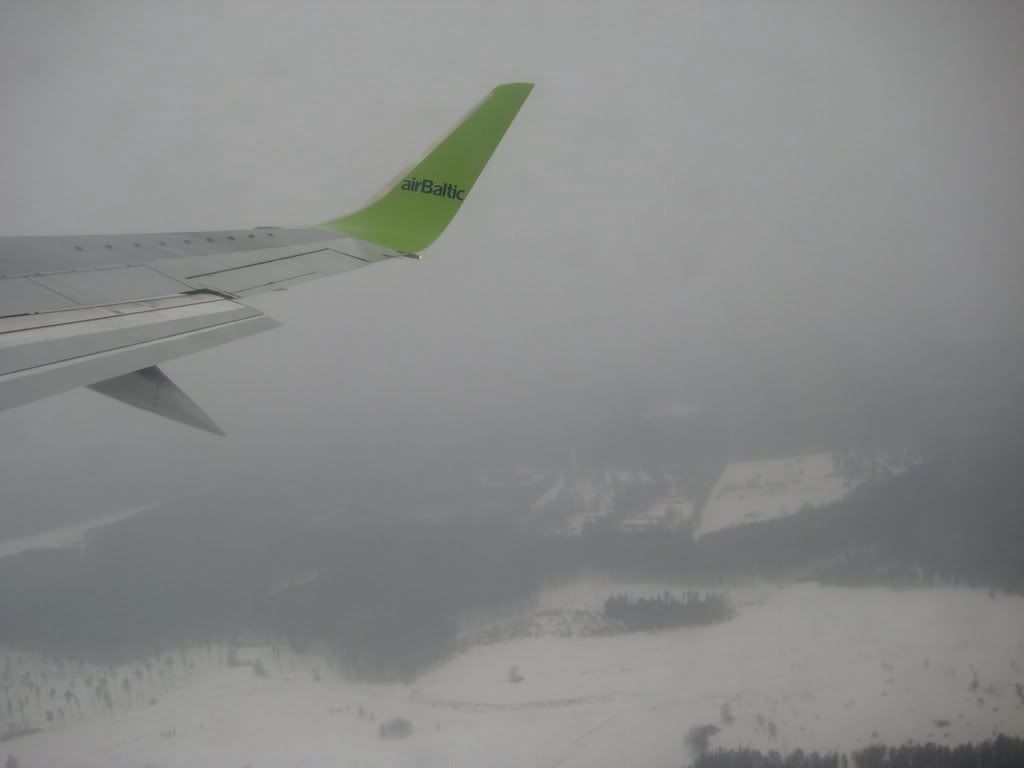 The weather stays overcast until we reach the southern coast of Sweden where there are some great views over the Øresund region. This is Ystad (I love the name, translates to "Ytown"):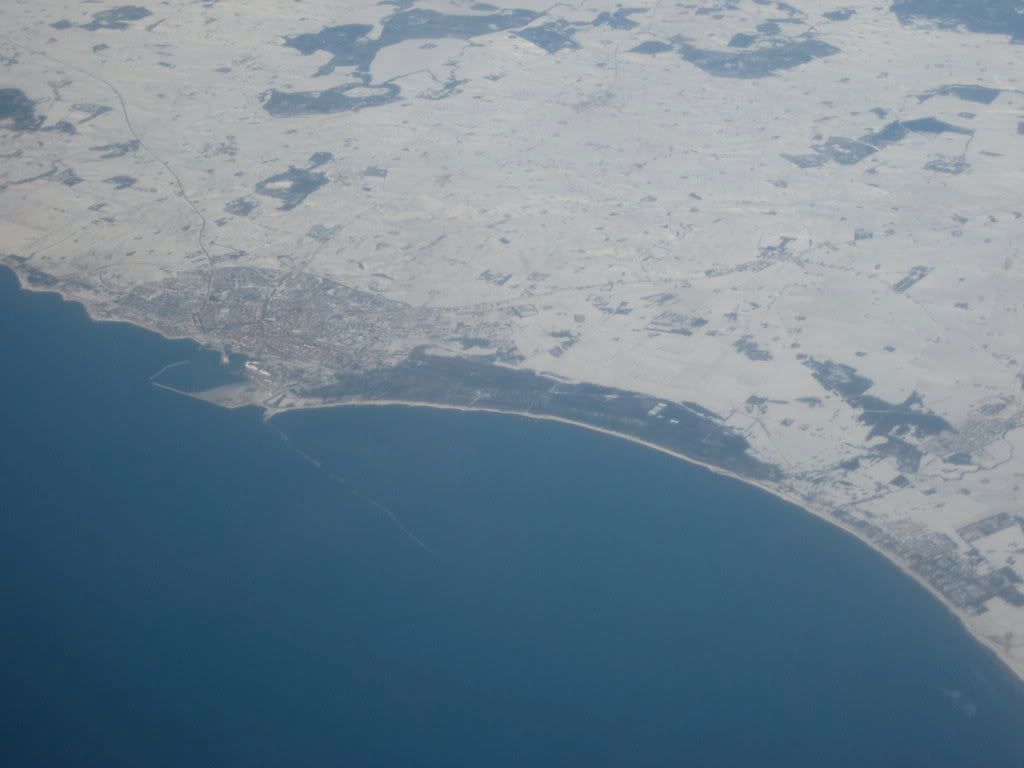 Malmö with the phallic shape of the famous "Turning Torso" highrise visible:
Sweden, Denmark and the bridge in-between. CPH airport is on the left side of the picture: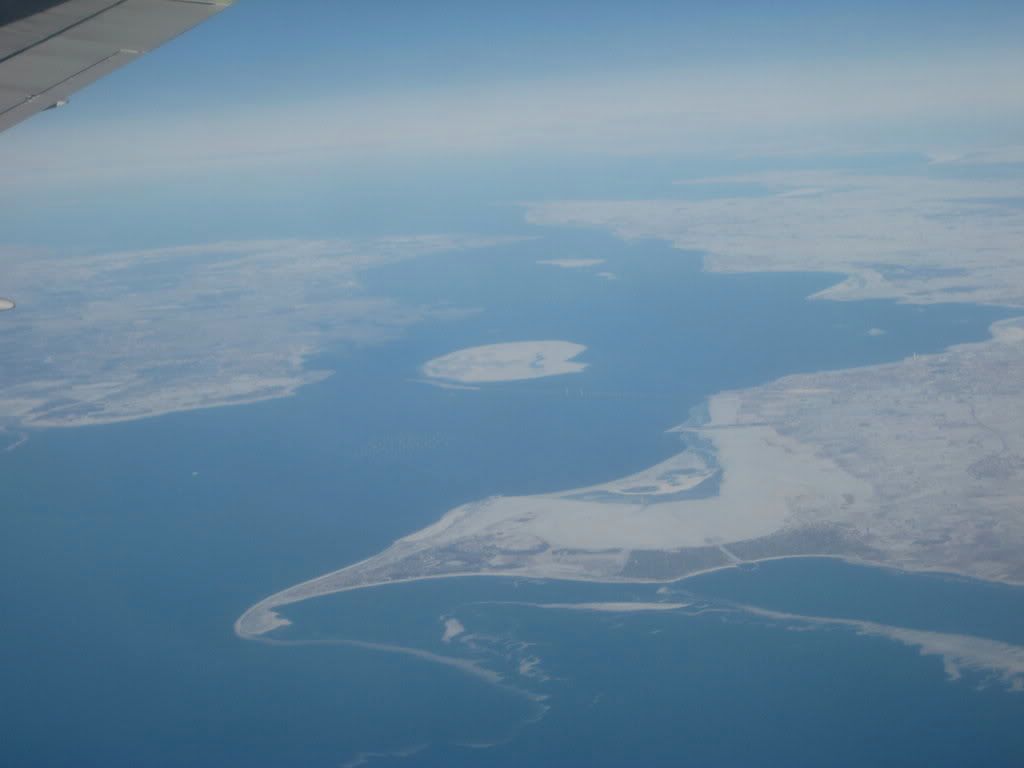 On the longer Boeing services airBaltic offers hot meals for purchase - needing some lunch I decide to give it a try. The Parma ham wrapped turkey fillet with lemon sauce and boiled potatoes comes with a slice of dark rye bread, a bottle of red wine and a very tasty Italian-style lemon pastry for dessert. A rather nice deal for 9.75 EUR minus a ten percent discount coupon I had from an earlier flight: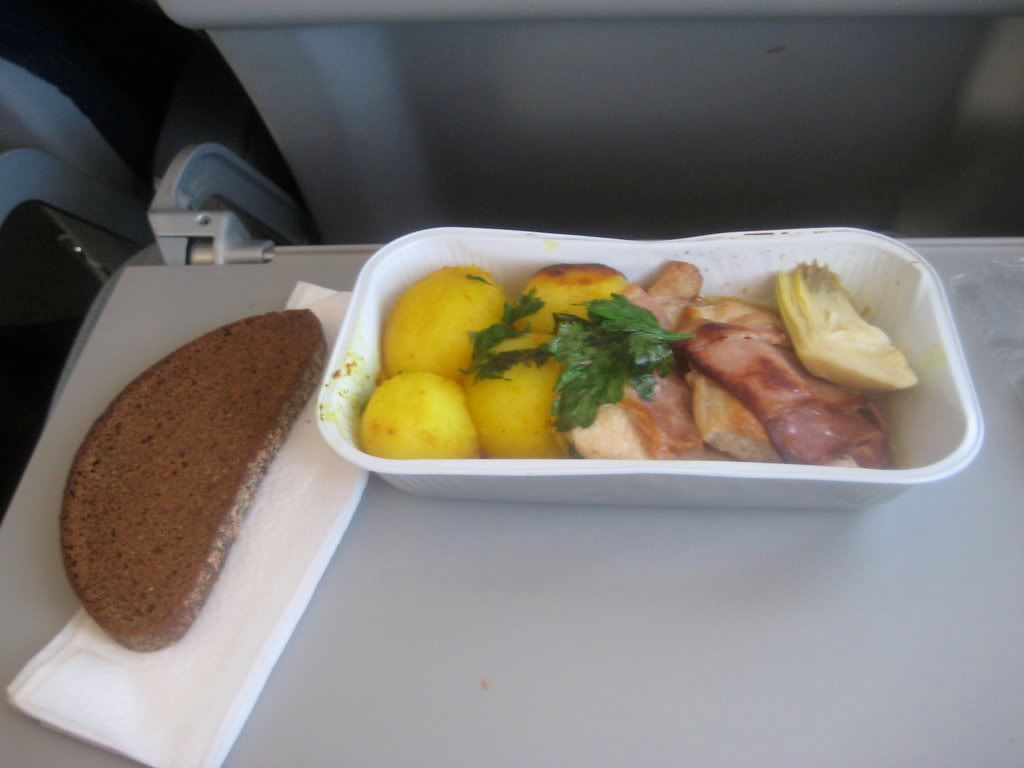 The food is very tasty, sure beats any dry sandwich normally offered (not to mention the rip-off Ryanair "New York"-style hot dogs etc.).
My seat mate at the aisle seat is weird - the young guy just stares in front of him for the whole flight. Doesn't read anything, doesn't buy anything from the BOB service, no Ipod or any other form of entertainment. I don't see him sleeping either. Oh, his loss - I alternate between watching a movie on my Ipod and watching the scenery outside.
After passing south of Denmark we head towards Germany, passing directly over Kiel: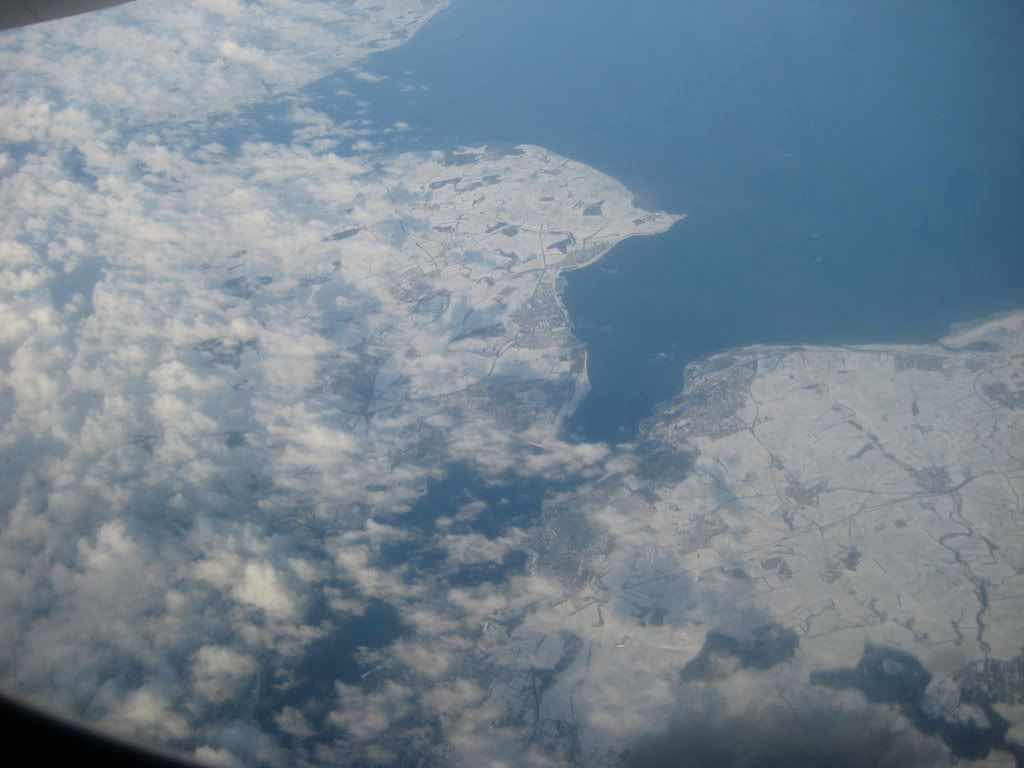 Crossing the state of Schleswig-Holstein to the North Sea. That's the Kiel ship channel in the picture: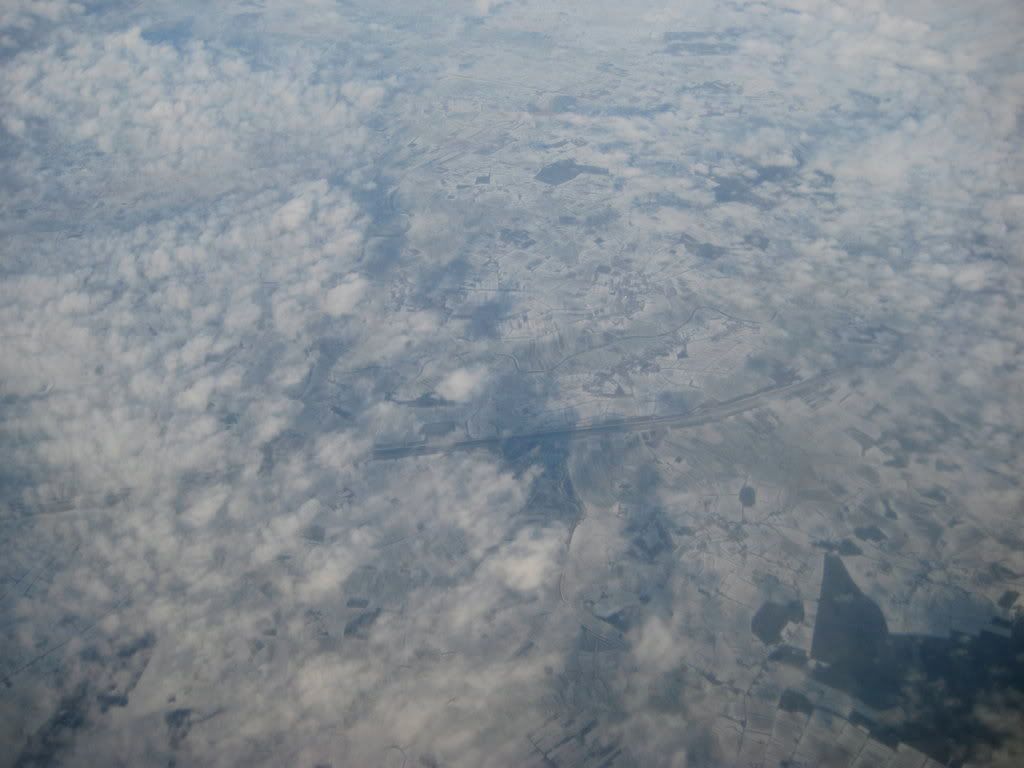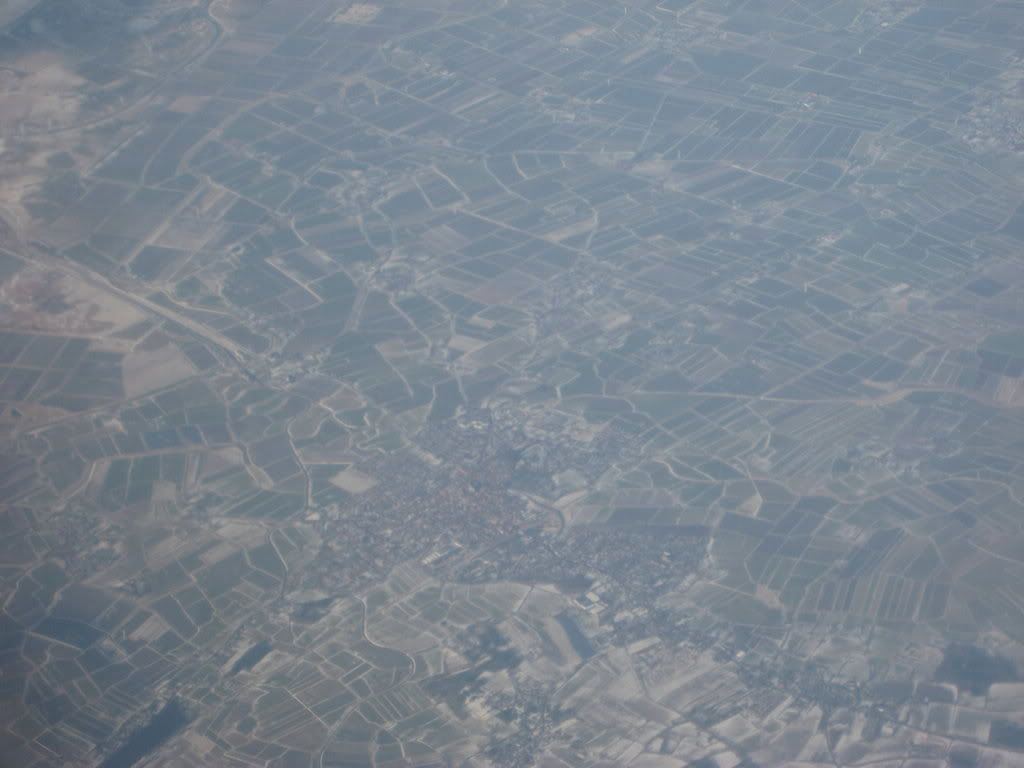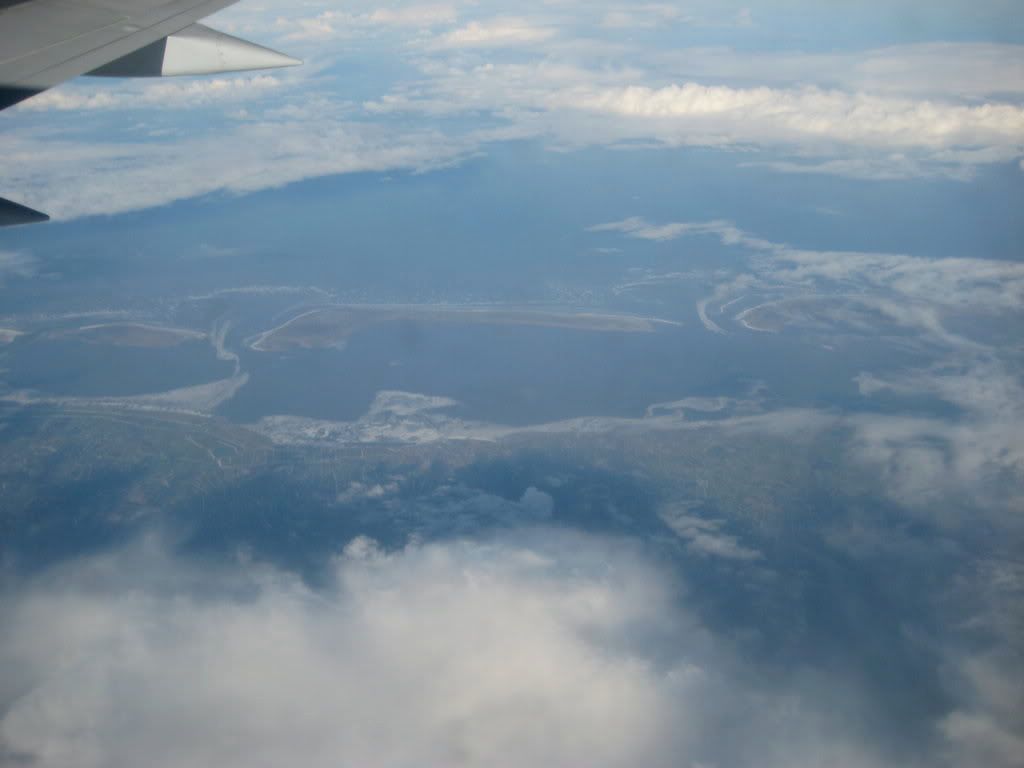 Skimming the northern coast of the Netherlands near Groeningen, crossing the IJsselmeer
and leaving the Netherlands a bit north of IJMuiden: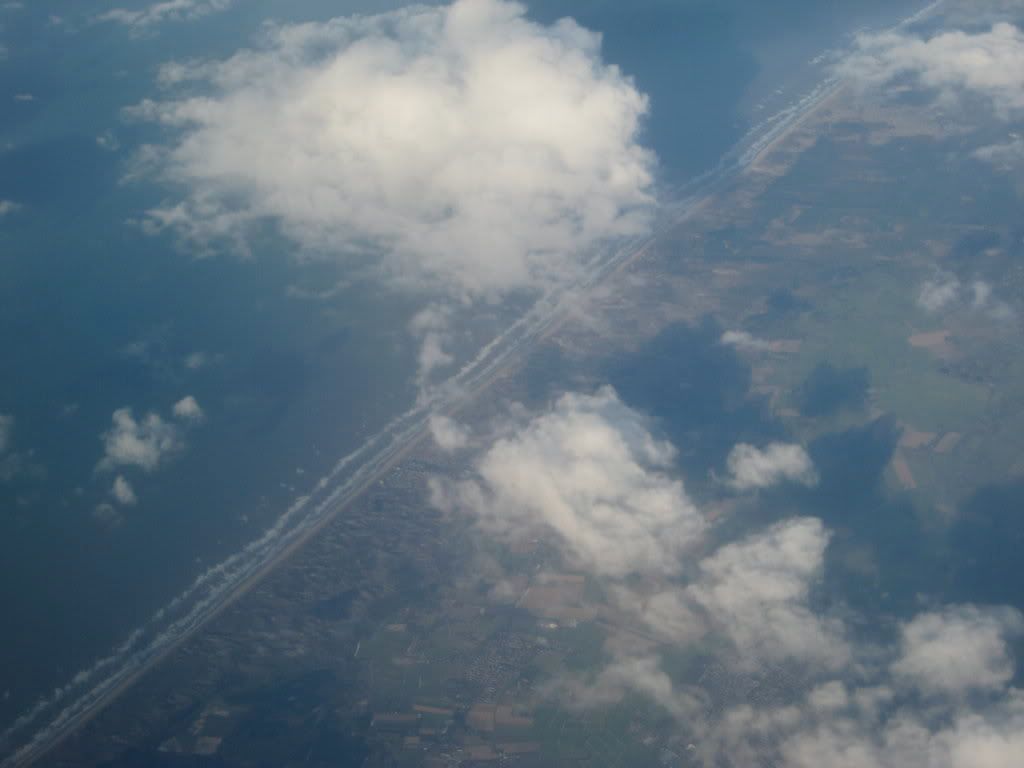 Gentle descent starts somewhere in the middle of the North Sea stretch, around 2 hours after departure, with the seat belt sign switched off soon afterwards and "15 minutes until landing" announced.
No snow in the UK anymore: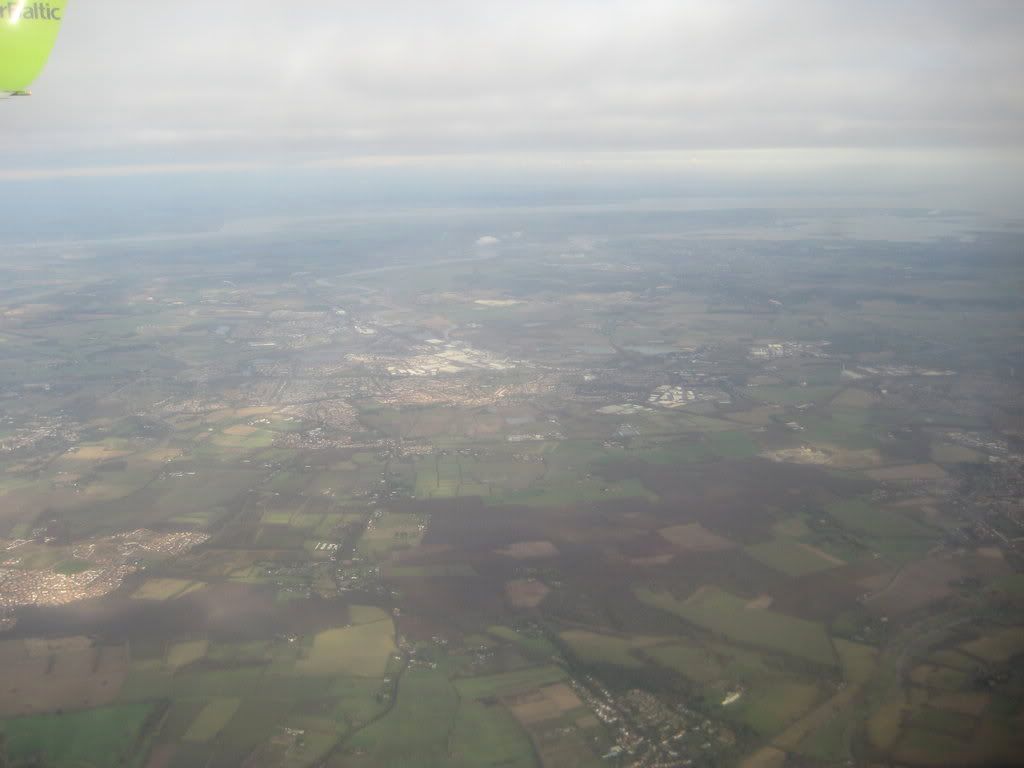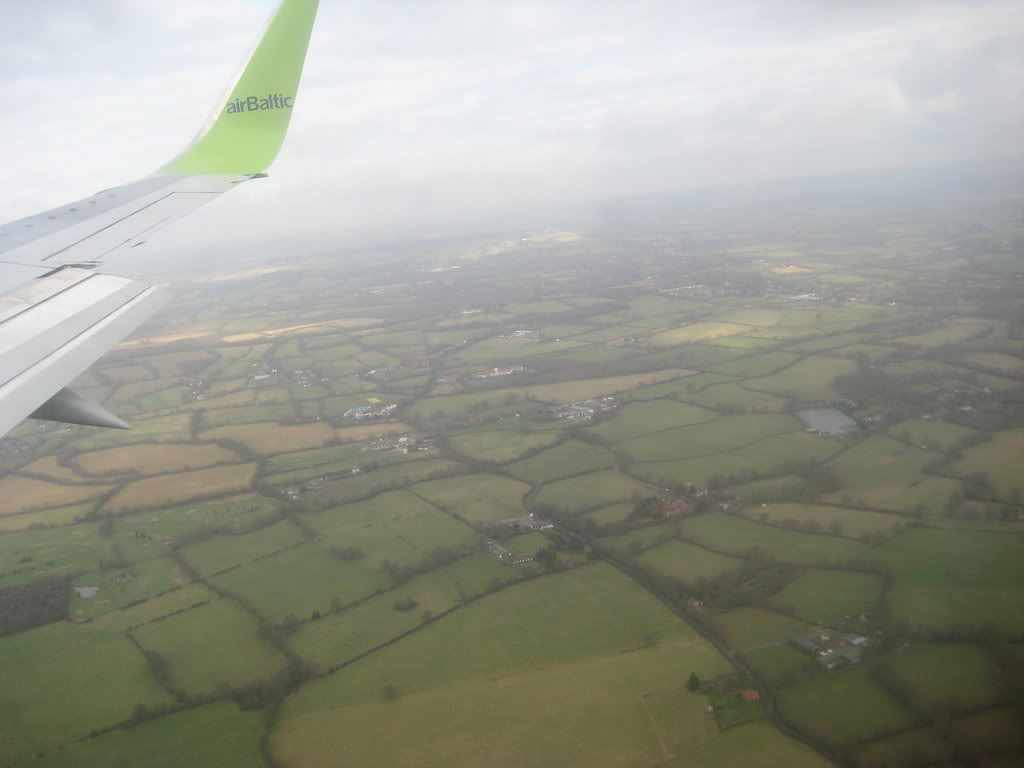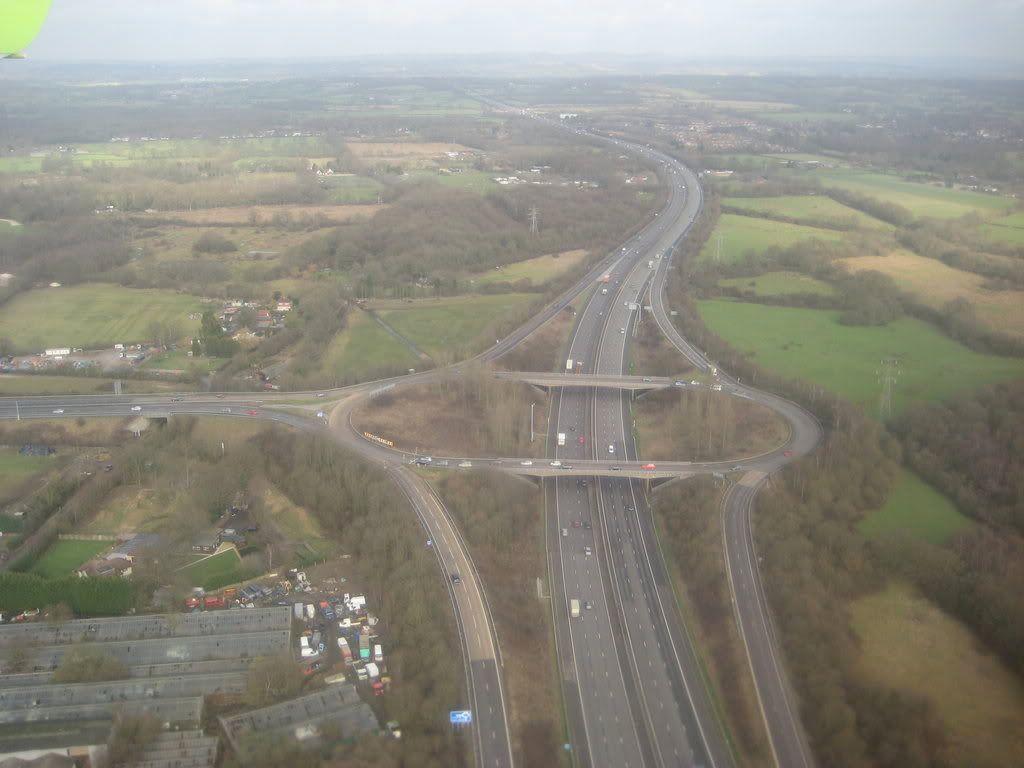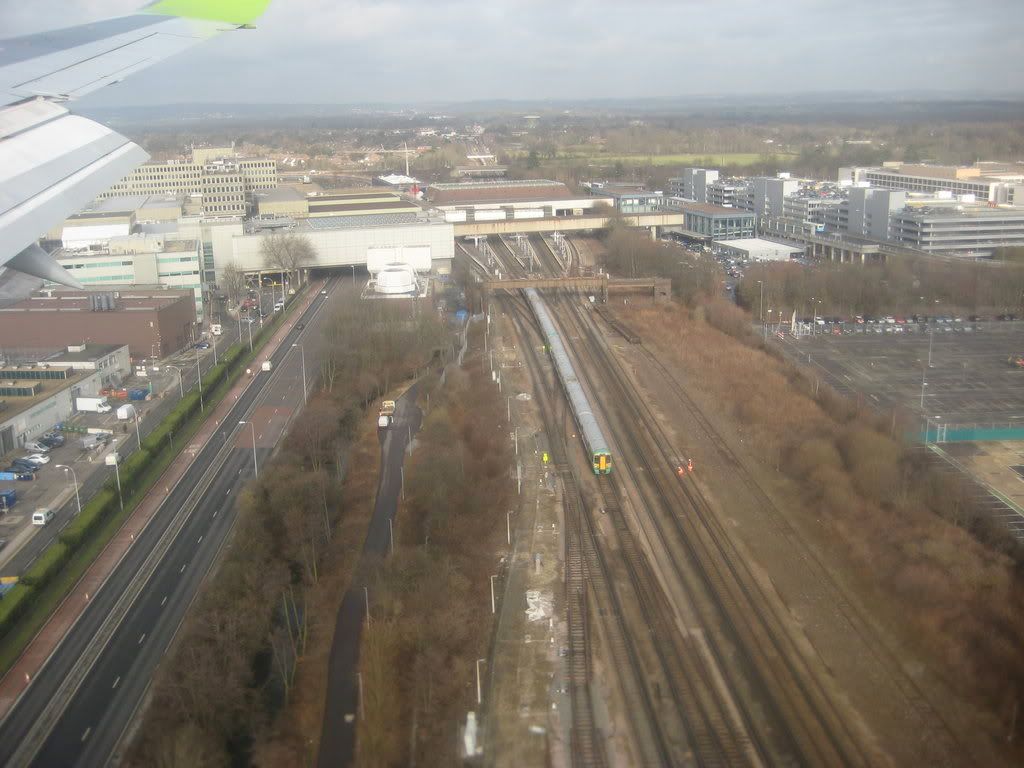 We land on runway 26L after around 2h20mins in the air and taxi to the round satellite building at the South Terminal.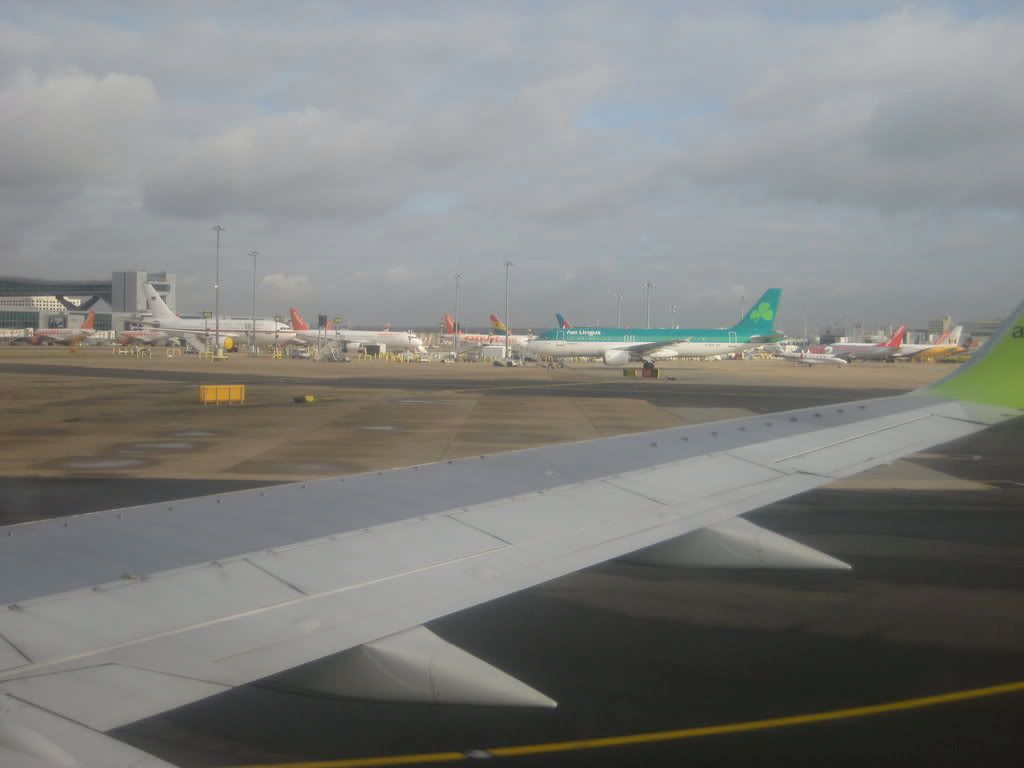 Interesting visitor from Germany: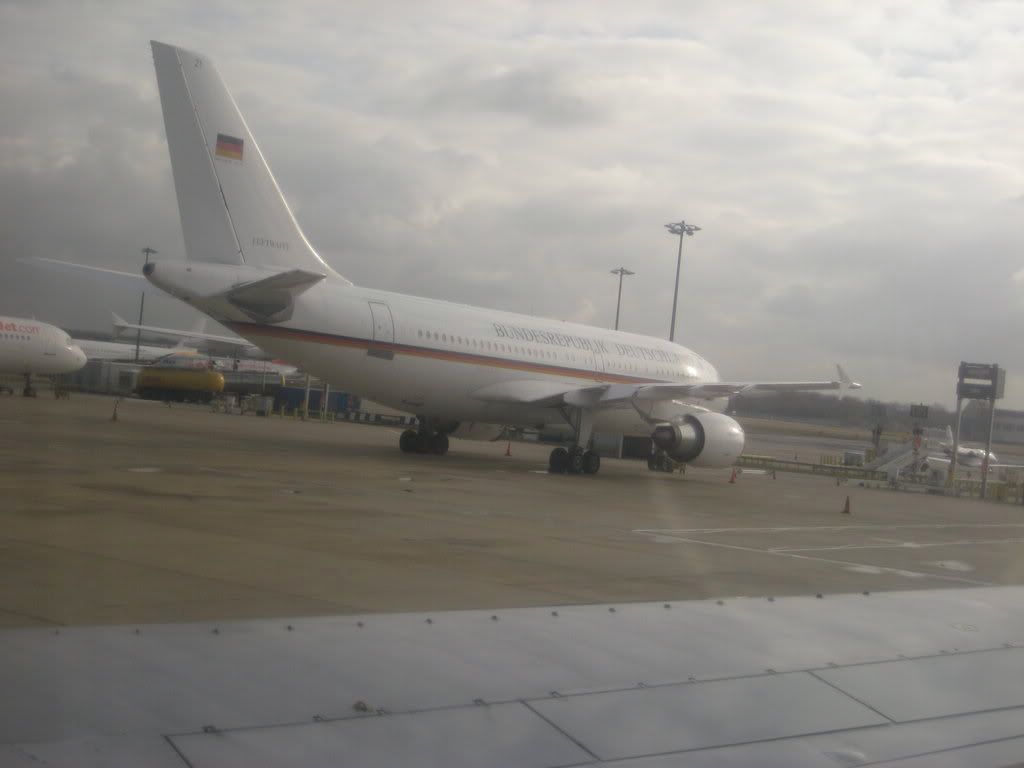 Afriqiyah A330 - I like the tail logo: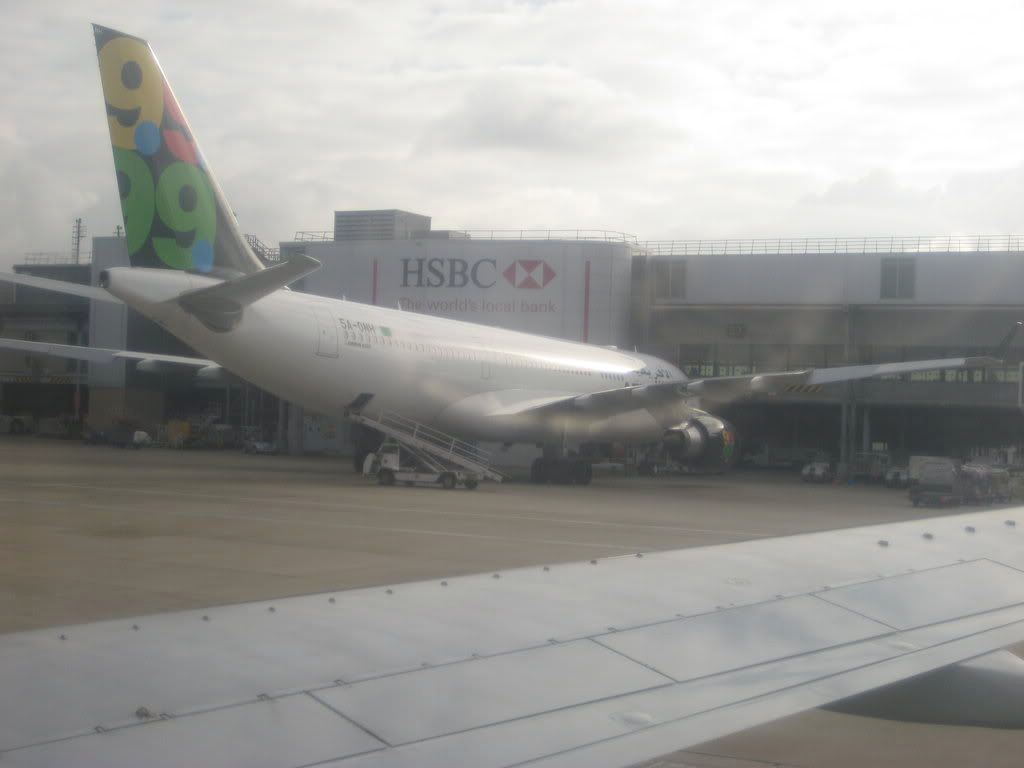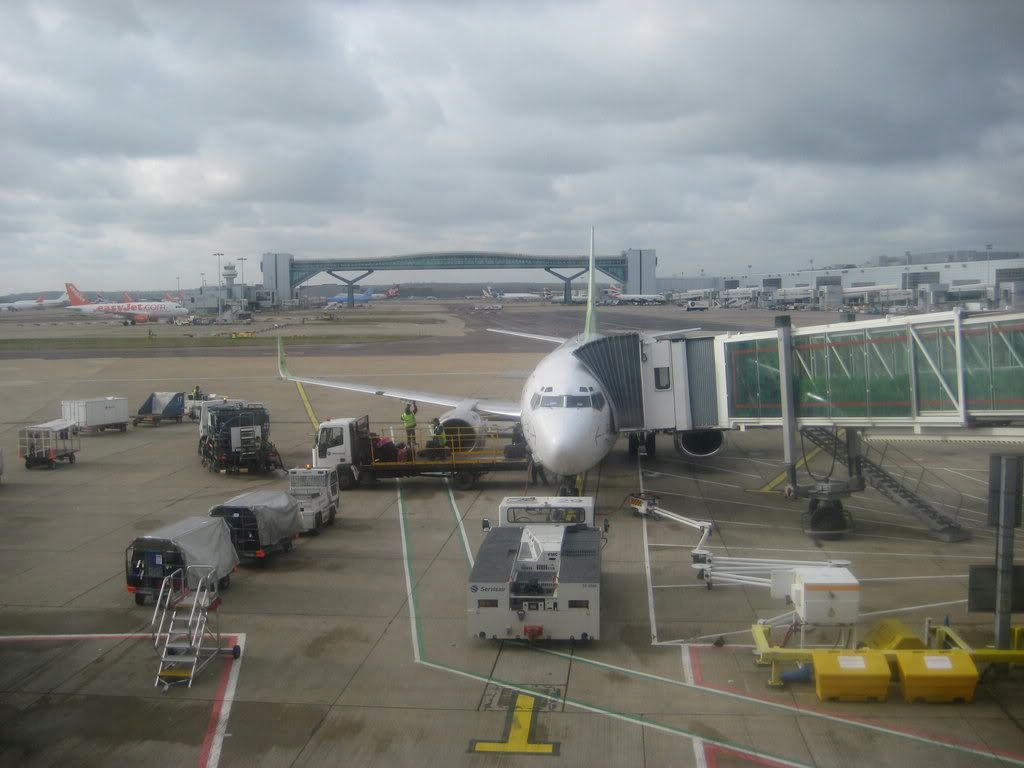 Gatwick Airport
The EasyJet flight is leaving from the North Terminal. I'm not quite sure whether I should use the Flight Connections facility to make an airside connection or properly enter the UK and do the transfer landside. I decide to try the second option as I've got around three hours to play with - the UK immigration is rather smooth today for EU citizens even though the South Terminal immigration hall is just one huge construction zone - a great welcome to the country for sure!
After the immigration officer decides that I apparently do not represent any imminent threat to his country I stop by an ATM to get some Sterling and head outside for the shuttle bus to the North Terminal - the automated people mover thingy is still closed for maintenance for another half a year. The plus five degrees outside sure feels almost like summer after the coldness that I left behind this morning!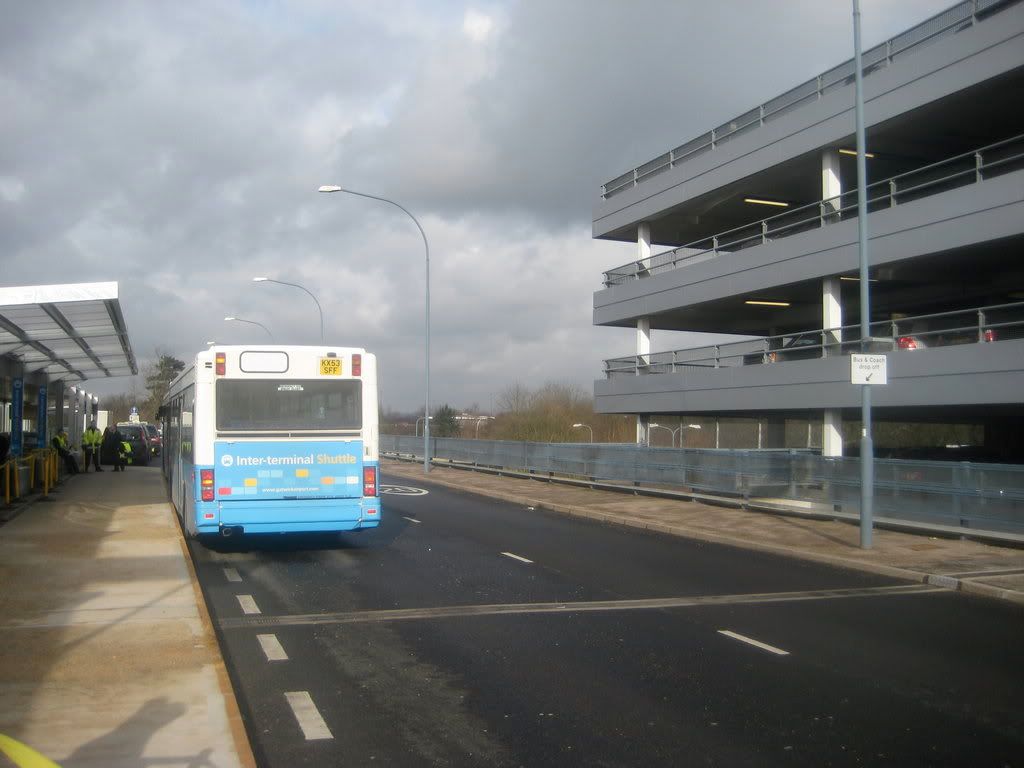 At the North Terminal security seems to be deserted so I decide to head through right away - but it turns out that the document check point's scanner doesn't like my OLCI boarding pass at all. The friendly woman there says that it has been happening a lot lately and sends me back to get a proper boarding pass at the Ezy check in counters. The whole operation there is a bit shambles - there are two counters open but the other one is used for last minute passengers for imminent departures and the other one is blocked by some people arguing about luggage fees for their huge ski packs. Luckily a new agent soon arrives and opens shop so the whole ordeal is over in 15 minutes.
My new, disgustingly orange boarding pass scans nicely and I head to the security check point with the shortest queue. On the other side of the point a security officer is going through the hand bag of a chavette-looking girl that contains an absurd amount of contraband liquids - in all fairness she seems to have a liquid bag as well but it is completely stuffed and the rest of her perfumes, hair spray and whatnot are spread on the table. I roll my eyes to the guy in front of me, commenting that "That gal has enough liquids to last me for a lifetime" which he agrees with.
Airside I fortify myself with some more food upstairs at Garfunkel's - talking about a restaurant with my kind of view: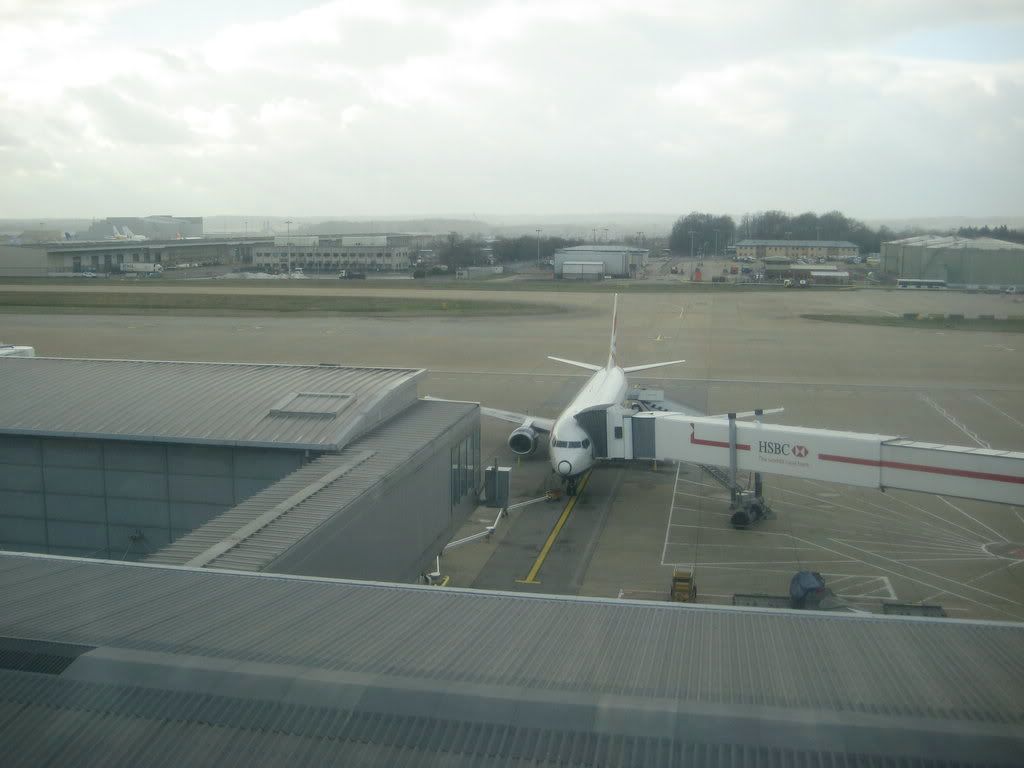 Afterwards I still have time for another pint (gee, are there any pubs at any UK airports that are NOT run by Wetherspoons?!) and some shopping before heading to the satellite building on the other side of that famous bridge where Ezy's South Terminal gates are.
Where have all the planes gone: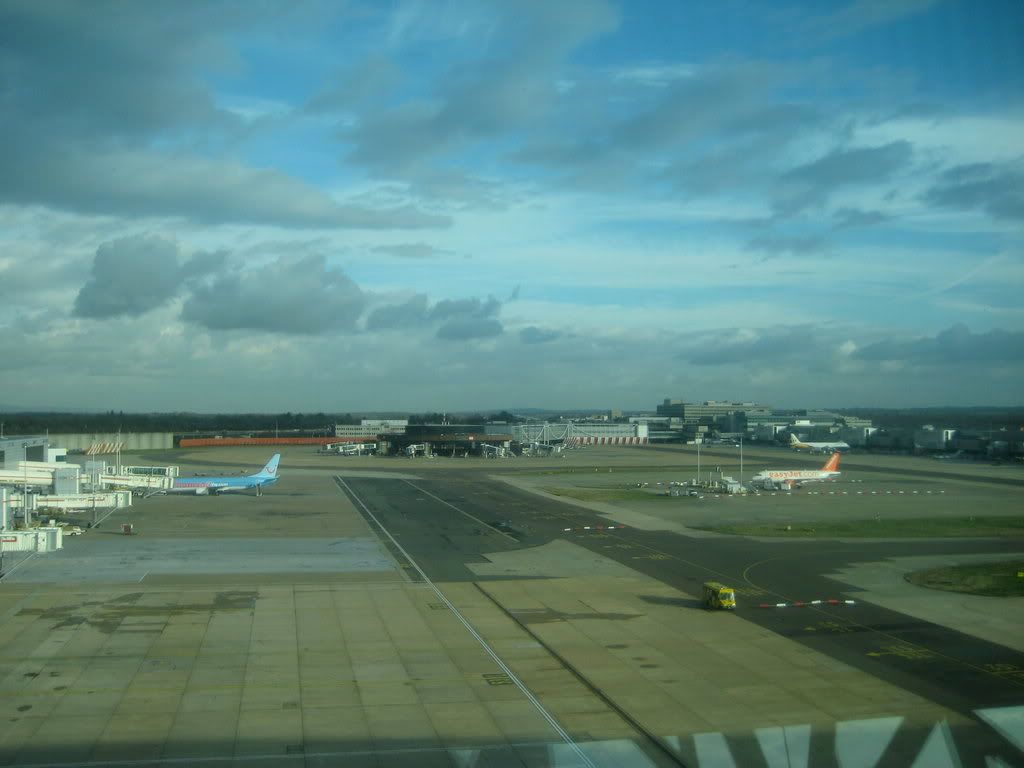 At the gate there's a bit of a scrum as people are lining up for boarding way too much in advance. I ask the girl at the counter how long til boarding and she tells me it should be another 15 minutes. I also manage to spy the load from her computer - 137 checked in passengers and 6 no-shows.
Here's our ride, G-EZIO, a new one for me: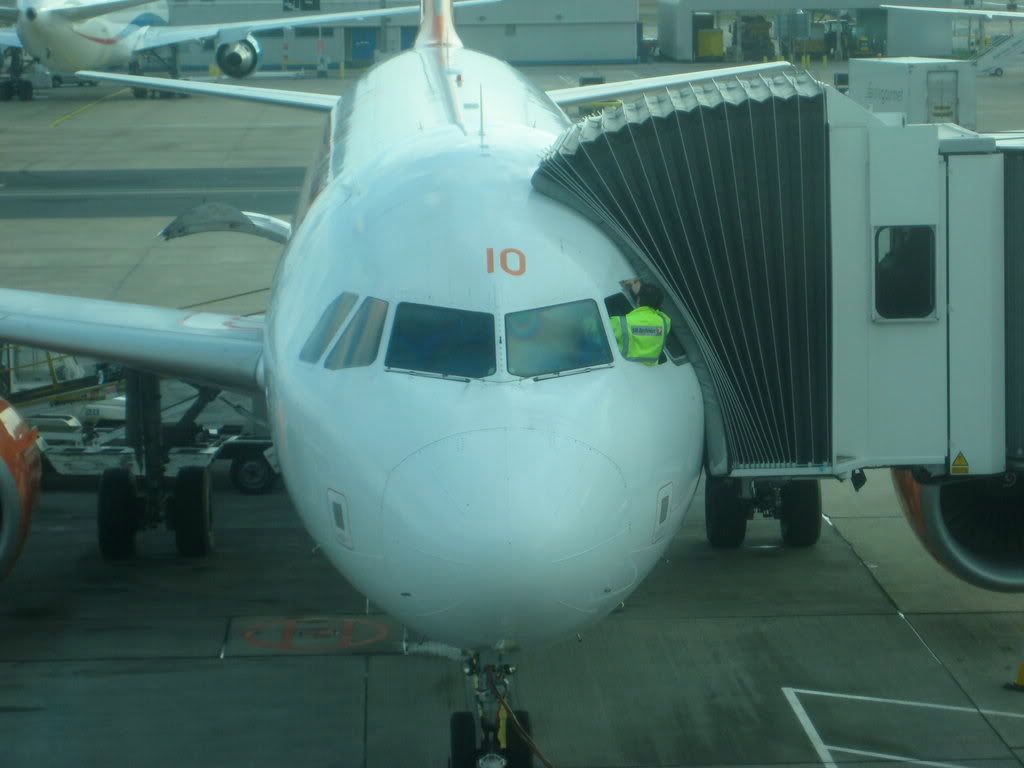 After the promised 15 minutes another announcement is made that we are still missing a cabin crew, and that boarding will start as soon as they show up. I head for a pit stop and after coming back they have apparently been found as boarding is just starting. Looks like Ezy has changed the boarding procedures somewhat since the last time - now there is only a single boarding group after the priority and special assistance groups. I join the long queue at the end, having almost resigned the idea of an exit row window seat. But whatdoyouknow, after finally getting onboard I still spot a single vacant exit row seat and quickly grab that one.
LGW-HEL
U28967
A319 G-EZIO
Seat 11A
15.25 - 20.16
The seat next to me stays empty. Soon the captain welcomes us onboard, in true British fashion giving some detailed flight information along the lines of: "Flight time of 2h45mins today, departure towards the west, right turn to pass north of Gatwick, then towards Dover initially and finally turning left towards the northeast. Very chilly in Helsinki, temperature of -17 degrees with some snowfall."
There's a small hole in the inner wall near the window next to me, filled with something that looks like orange duct tape or piece of plastic: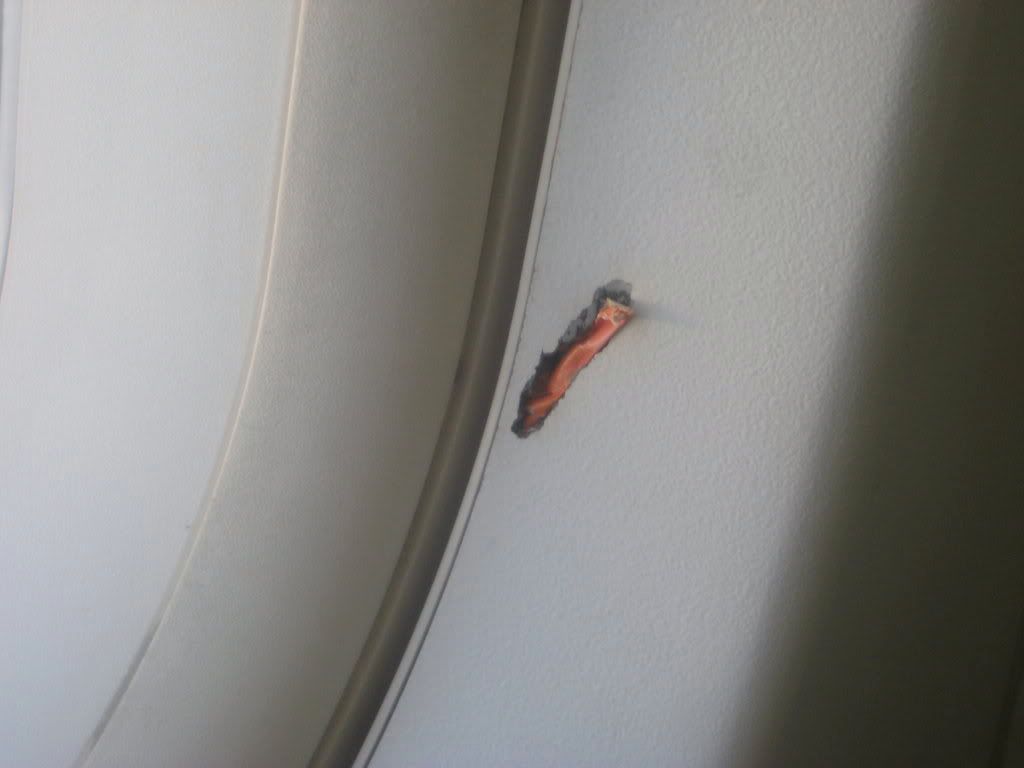 Push back is ten minutes late, fast taxi to runway 26L where we are allowed to overtake a company plane and perform a rolling take off. The captains words were true, we do exactly as he told us after take off.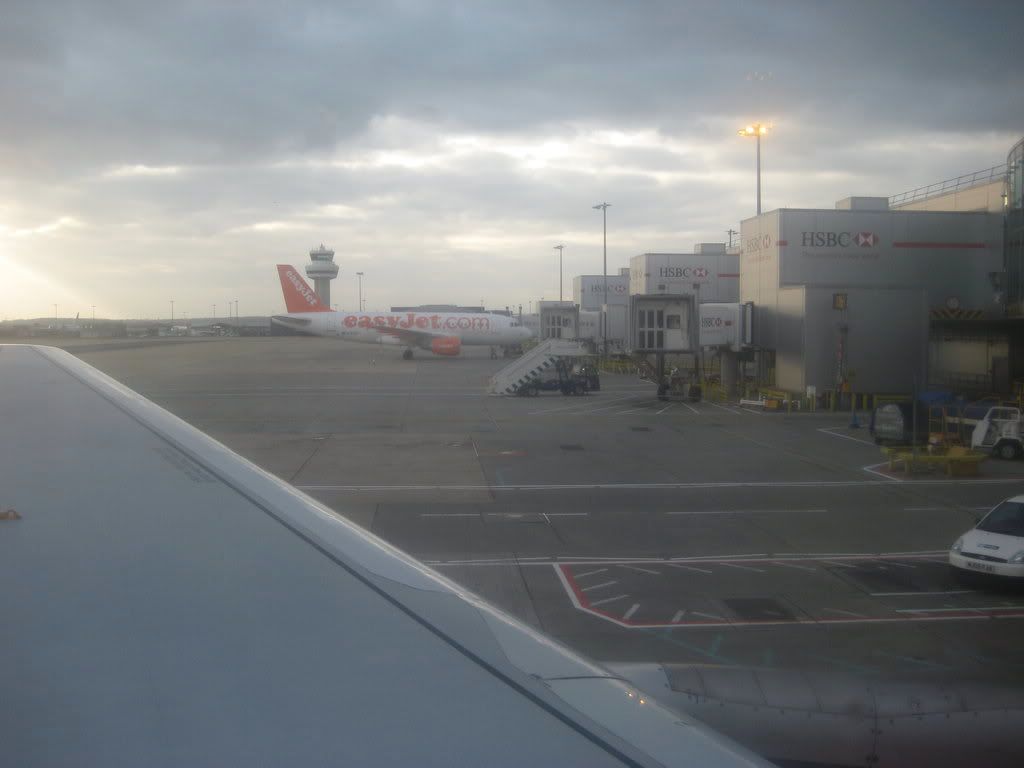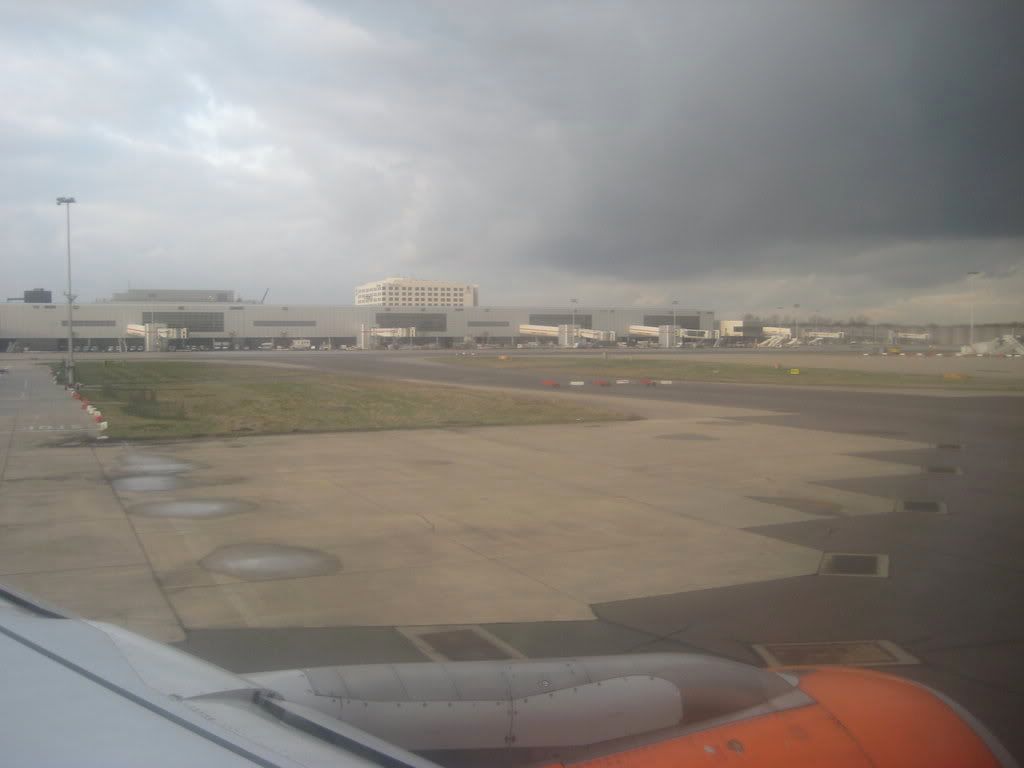 The colorful tail belongs to Air Zimbabwe 767-200ER - sure a bird you don't see every day: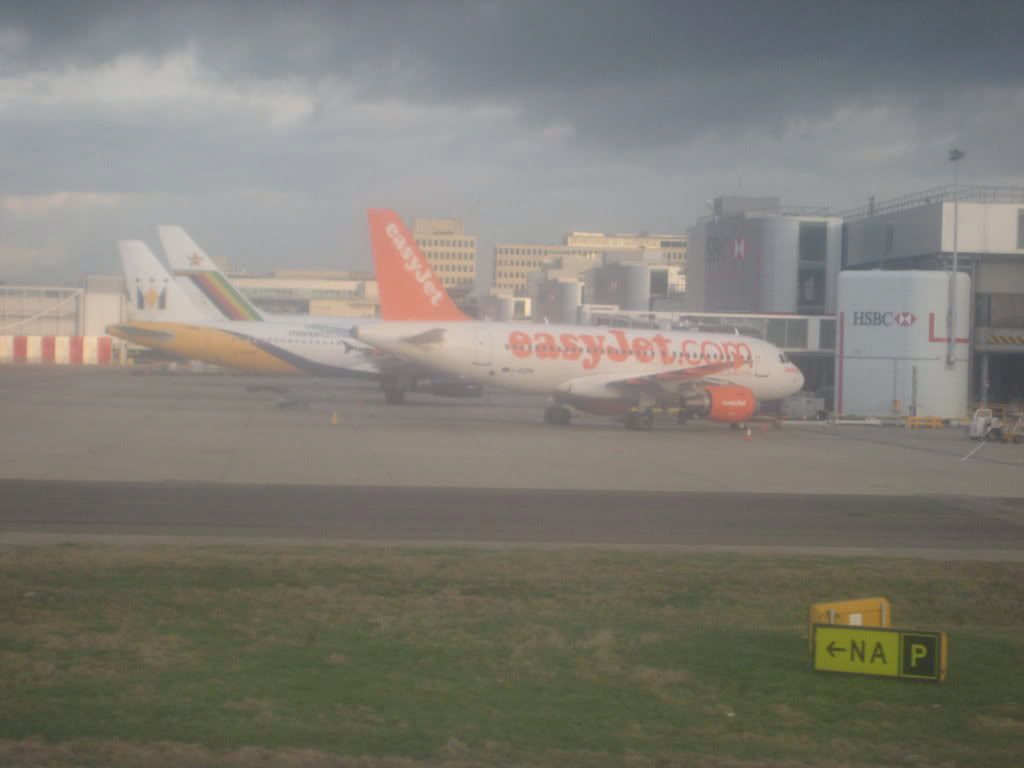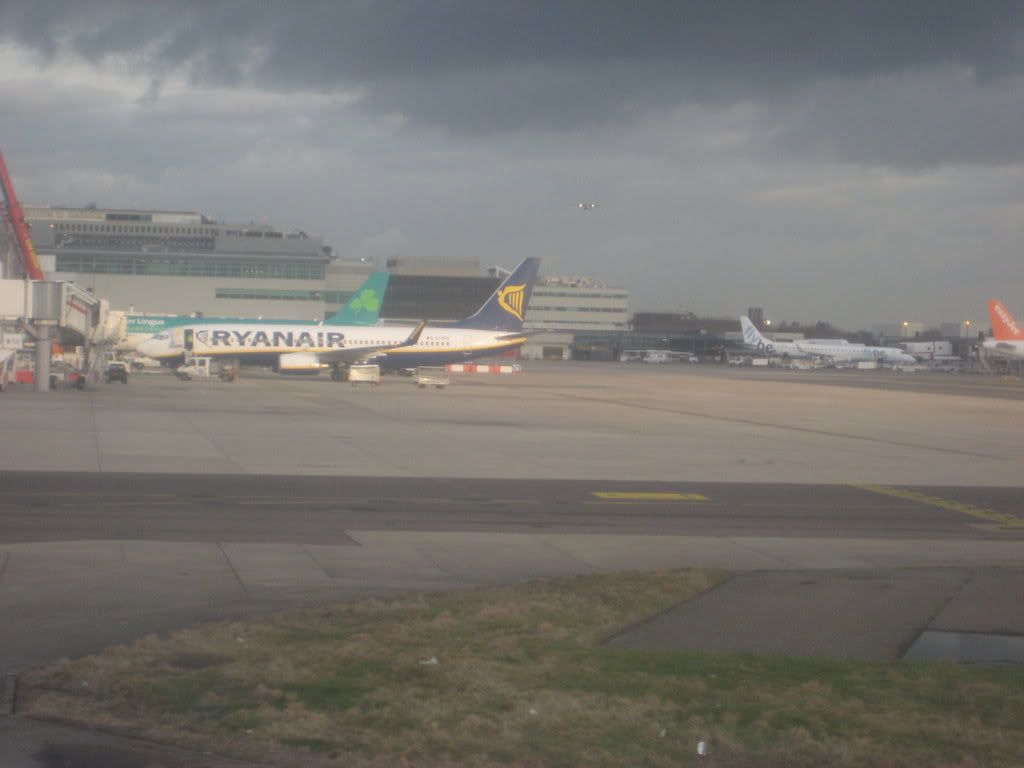 It looks like the carriages from the people mover are parked in this parking lot while the maintenance work is carried out. I wonder how much it will end up costing - considering the rip-off parking prices at most of the major airports: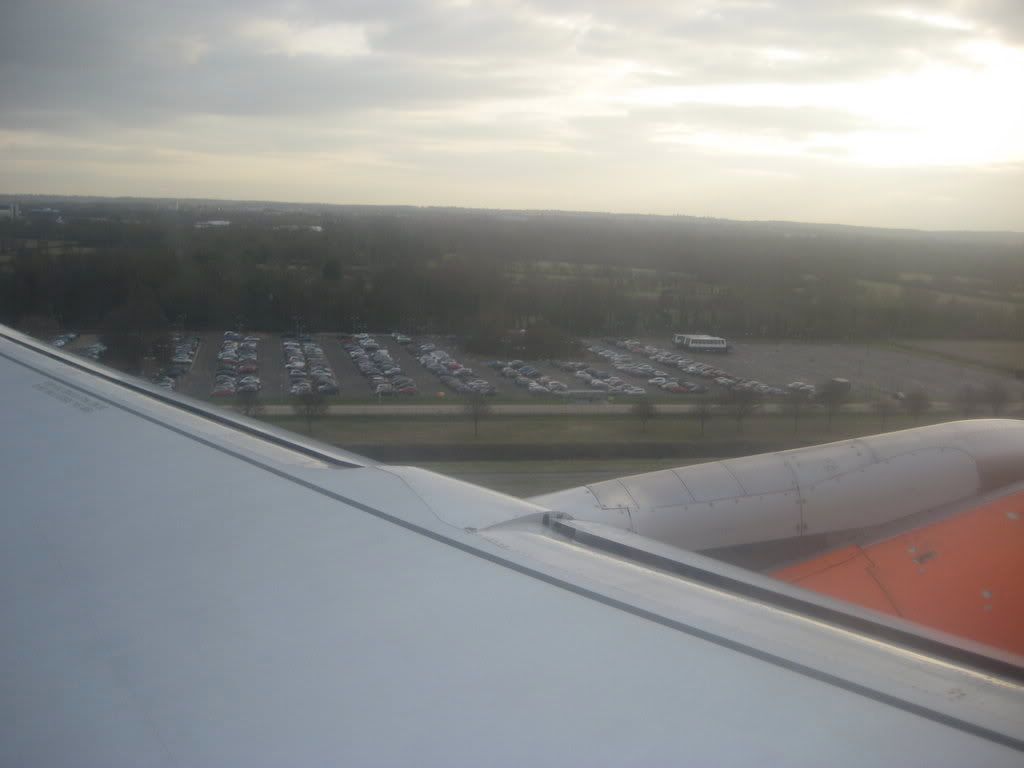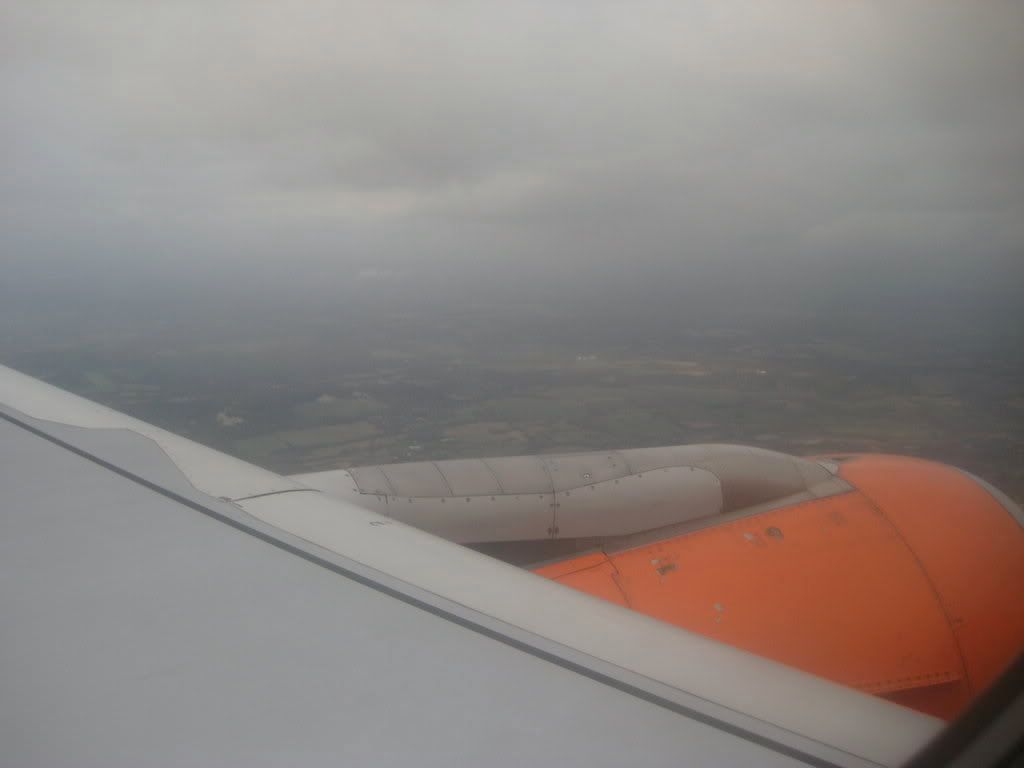 After reaching our cruising altitude somewhere over the North Sea the captain comes on again, explaining that we are at flight level 37 nearing the Dutch coast just north of Amsterdam and will continue our way towards the north over the North Sea skimming first the Dutch and further the Danish coast up to AAL, where we head towards GOT, overflying Sweden to ARN and finally to HEL with 2h10mins of flight time remaining.
EasyJet's been serving Starbuck's coffee for a while now - I decide to try the Italian Roast with a delicious and large chocolate muffin:
The coffee is not really that good that they advertise it to be, but hits the spot nicely.
Heading towards the darkness: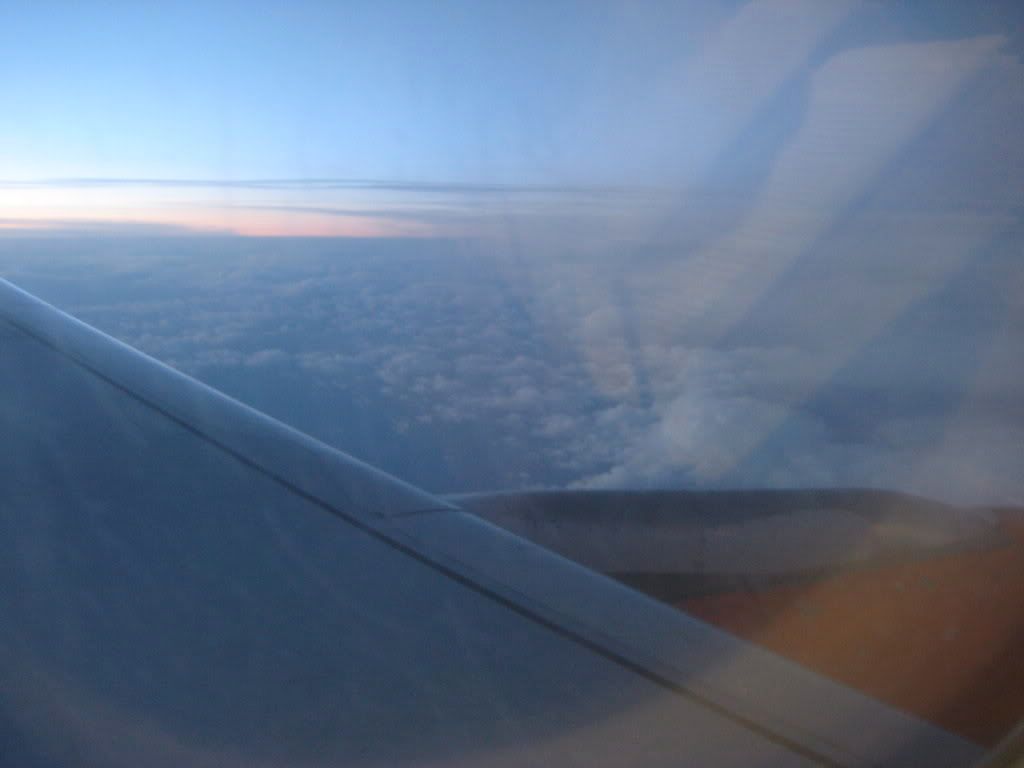 I spend the first one and half hours of the flight finishing my book, then getting very tired I doze off for some light sleep up until descent is announced around half an hour before landing.
We land on runway 04L, which is the furthest one from the terminal, so taxiing there takes almost ten minutes after we stop to allow some departing traffic on 04R to pass. We get a gate at the new extension of the non-Schengen terminal next to this beauty:
That's OH-LGG, the last ever passenger MD-11 built and probably the one that will operate AY's final flight with the type in a few weeks.
It's a bit of a hike towards immigration, and luckily my bus home is leaving right away so I don't have to wait in the bitter coldness for too long. Once a while it is nice to get home at a decent time instead of those very late night flights I usually seem to frequent.
Conclusions
A nice day of flying, for sure. Obviously I did miss the main point of this trip which is a letdown, but at least got two new registrations and a new route. The 757 would've been great, but I guess I will just have to book more flights to increase my chances. At least I'm scheduled to fly on another company's 757 on my next trip.
My next trip is HEL-ARN-FCO-CTA-BLQ-LGW-ARN-HEL in a week's time, featuring a number of new carriers, including a couple of more exotic ones.
Happy contrails!