Pacific Coast Jaunt: PDX-SEA-SJC-LAX on
Skywest EMB 120, Alaska 737-800 & American Eagle ERJ 140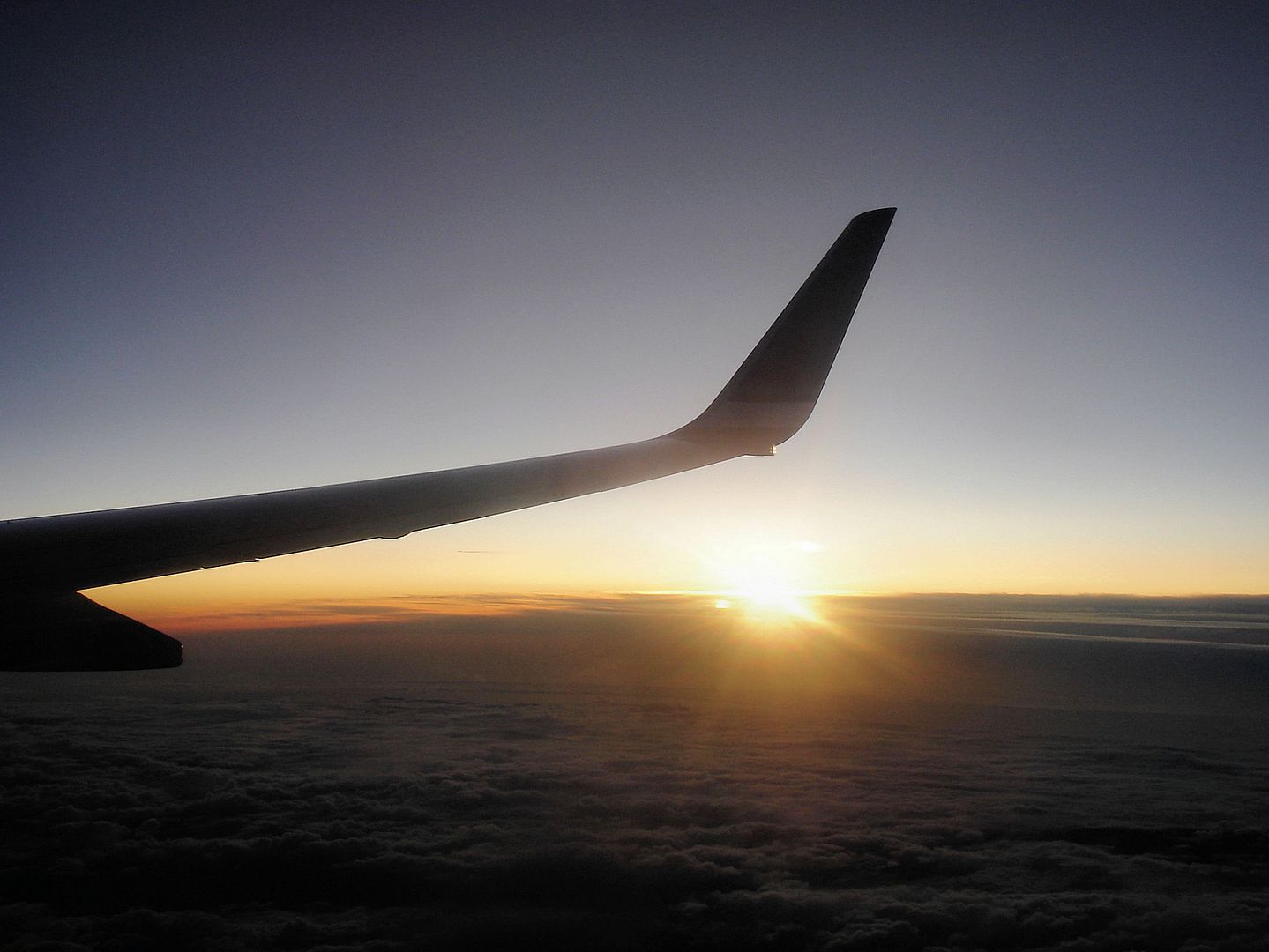 Intro
A three-airline journey along the US Pacific coast is featured in Part 2 of my latest trip report series. The hops between Portland, Seattle, San Jose and Los Angeles were operated by
Skywest Airlines' Embraer EMB 120 (United Express)
,
Alaska Airlines' Boeing 737-800
and
American Eagle's ERJ 140
.
After booking my flights to Portland and from Los Angeles in September I started searching intensively for interesting connections between both cities. Flights on the desired Alaska Airlines 737-900 were either badly timed or too expensive, so I had to find satisfying alternatives. I knew that the US West Coast is the perfect area to get the Embraer EMB 120 and the rare ERJ 140 - and after a few hours of searching I was successful. I chose a connection offered by orbitz.com, consisting of PDX-SEA on Skywest's EMB 120 and SEA-SJC on Alaska's 737-800. Then I went to aa.com and added a SJC-LAX flight on American Eagle's ERJ 140. Now all I still needed was a hotel at SJC - which was not hard to find.
All those who have missed Part 1 simply need to click here:
The Ultimate 737: LHR-IAH-PDX On CO 777 & 739ER
Background
In early September 2009 it was time to book another enthusiast trip. Flights to the United States were quite cheap in mid-October so I started searching for interesting combos. My plan was to get as many new airlines and aircraft types as possible on a five- or six-day trip. The destinations did not matter really much, I only tried to include LAX in order to meet my friend The777Man again. Some days later, after spending countless hours on airline and travel websites, my itinerary was complete:

Munich (MUC) - London (LHR) on British Airways
London (LHR) - Houston (IAH) on Continental
Houston (IAH) - Portland (PDX) on Continental
Portland (PDX) - Seattle (SEA) on United Express, operated by Skywest Airlines
Seattle (SEA) - San Jose (SJC) on Alaska Airlines
San Jose (SJC) - Los Angeles (LAX) on American Eagle
Los Angeles (LAX) - Atlanta (ATL) on Delta
Atlanta (ATL) - Houston (IAH) on Continental Express, operated by ExpressJet
Houston (IAH) - Newark (EWR) on Continental
Newark (EWR) - Frankfurt (FRA) on Continental
Frankfurt (FRA) - Munich (MUC) on Lufthansa

I booked all Continental flights together on the carrier's website - connections on both British Airways and Lufthansa were included in the combo. After that I separately added the flights on United Express, Alaska Airlines, American Eagle and Delta. The itinerary included five new airlines, five new aircraft types and four new airports - I was quite satisfied in the end after getting all the confirmation emails.

Saturday, 17 October 2009
Portland (PDX) - Seattle (SEA)
United Express UA5757, operated by Skywest Airlines
13:51-14:40 (13:48-14:38)
Flying time: 00:34 (hrs)
Economy Class, Seat 10A

Embraer EMB 120ER Brasilia
N223SW (s/n 291)
Delivered in 03/1995

1st flight on N223SW
1st EMB 120 flight
83rd airline






About four hours prior to departure I took the Rodeway Inn shuttle to the airport and entered my data into a check-in kiosk. I had already reserved my seats at the time of booking so there wasn't much to do. However, I had to pay United's baggage fee of USD 20 - at least it was valid for both the Skywest and the Alaska flight. As expected, the United machine didn't print a boarding pass for the Alaska flight, but I would have enough time to pick that up at Seattle. Due to long queues it took about 25 minutes to pass security.
My flight was scheduled to depart from concourse E, but viewing opportunities were better at concourse C on the opposite side of the airport. The weather was quite bad and traffic was rather low, so I only got 14 new registrations in about two hours. About 45 minutes prior to departure I went back to my gate E7. Several Skywest EMB 120s were parked on the apron, but my plane hadn't arrived yet: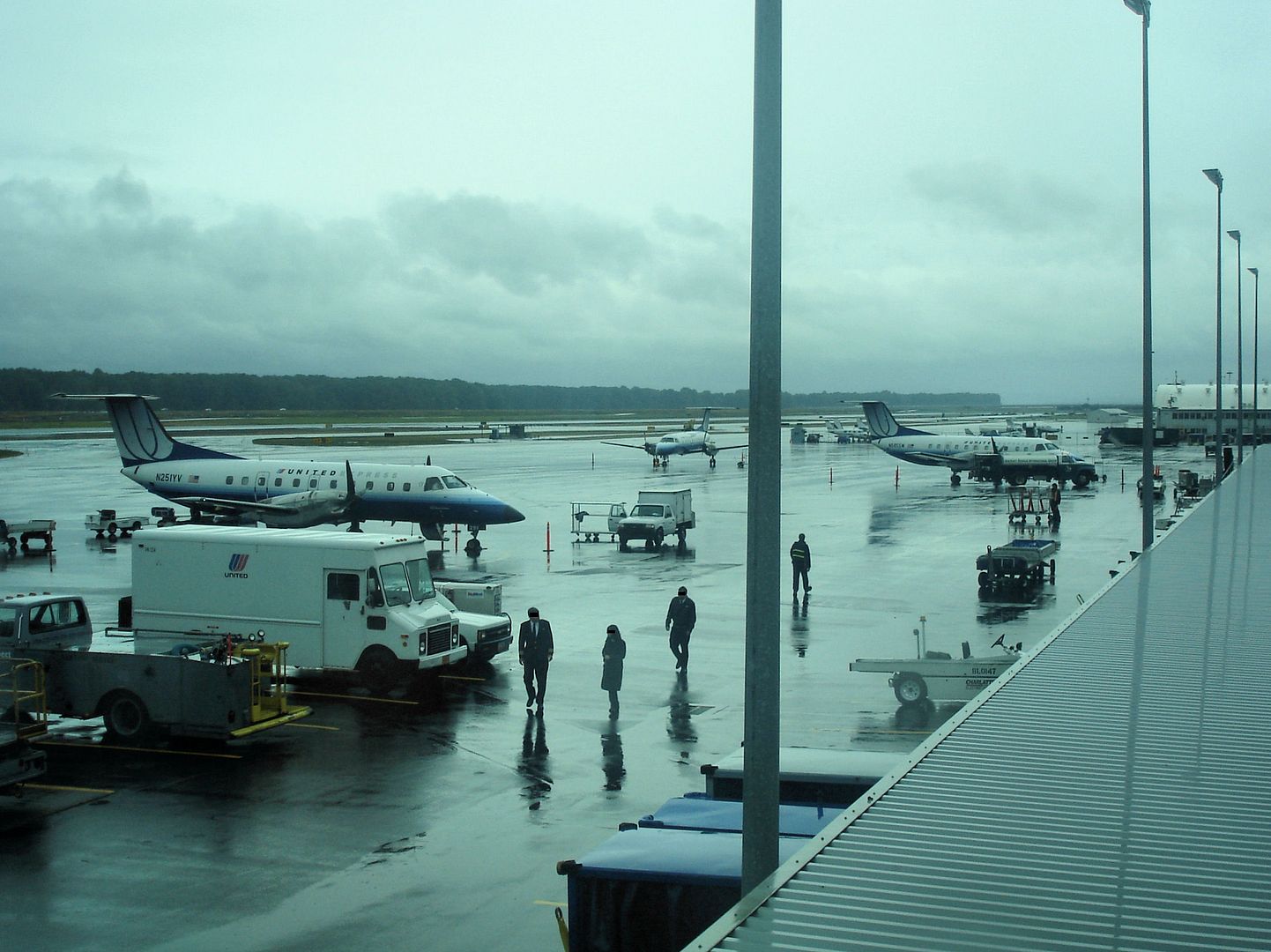 Boarding was started about 20 minutes prior to departure and I had to walk through the rain. The plane turned out to be N223SW, delivered in March 1995 and still painted in United's former dark gray scheme: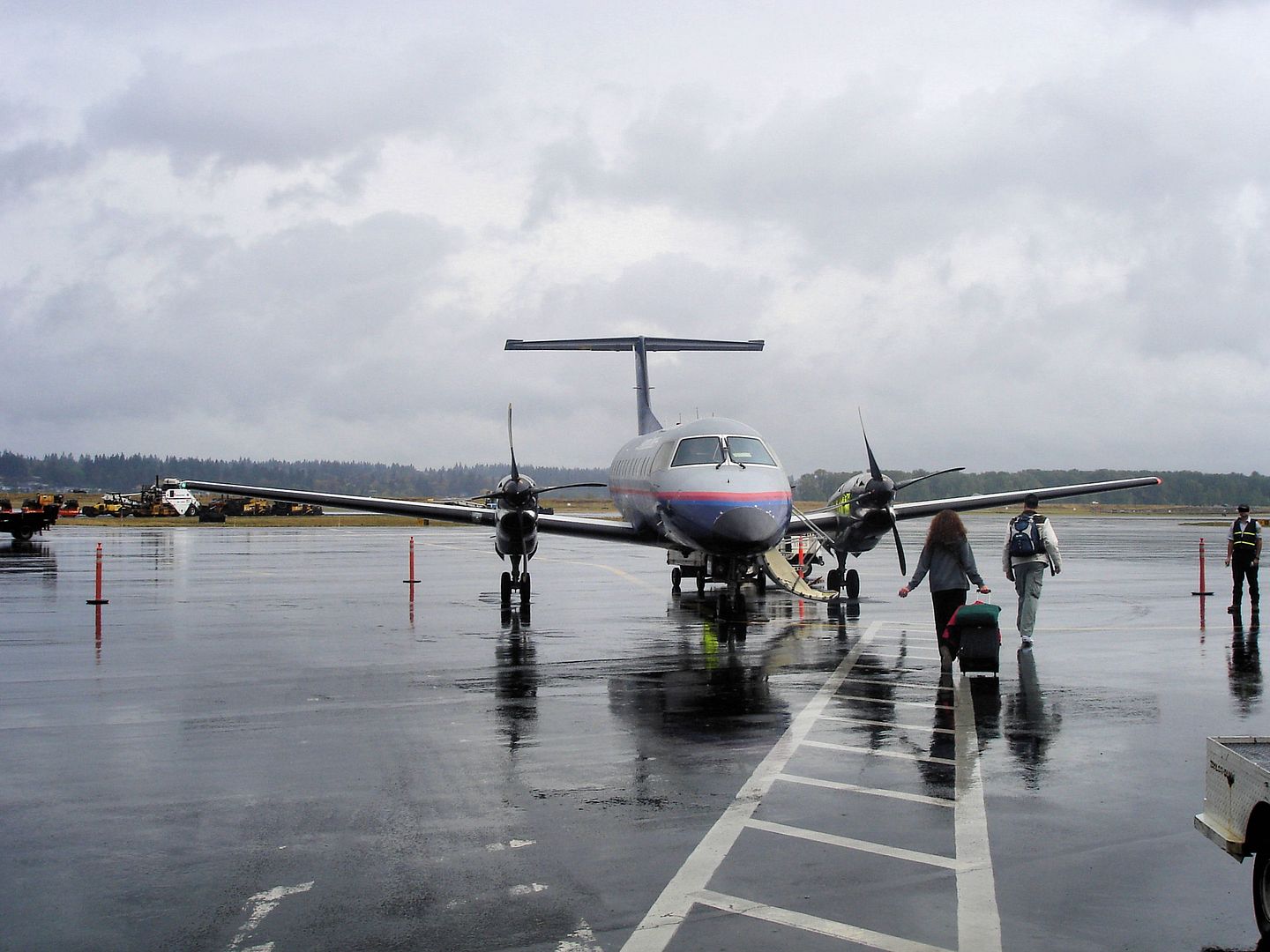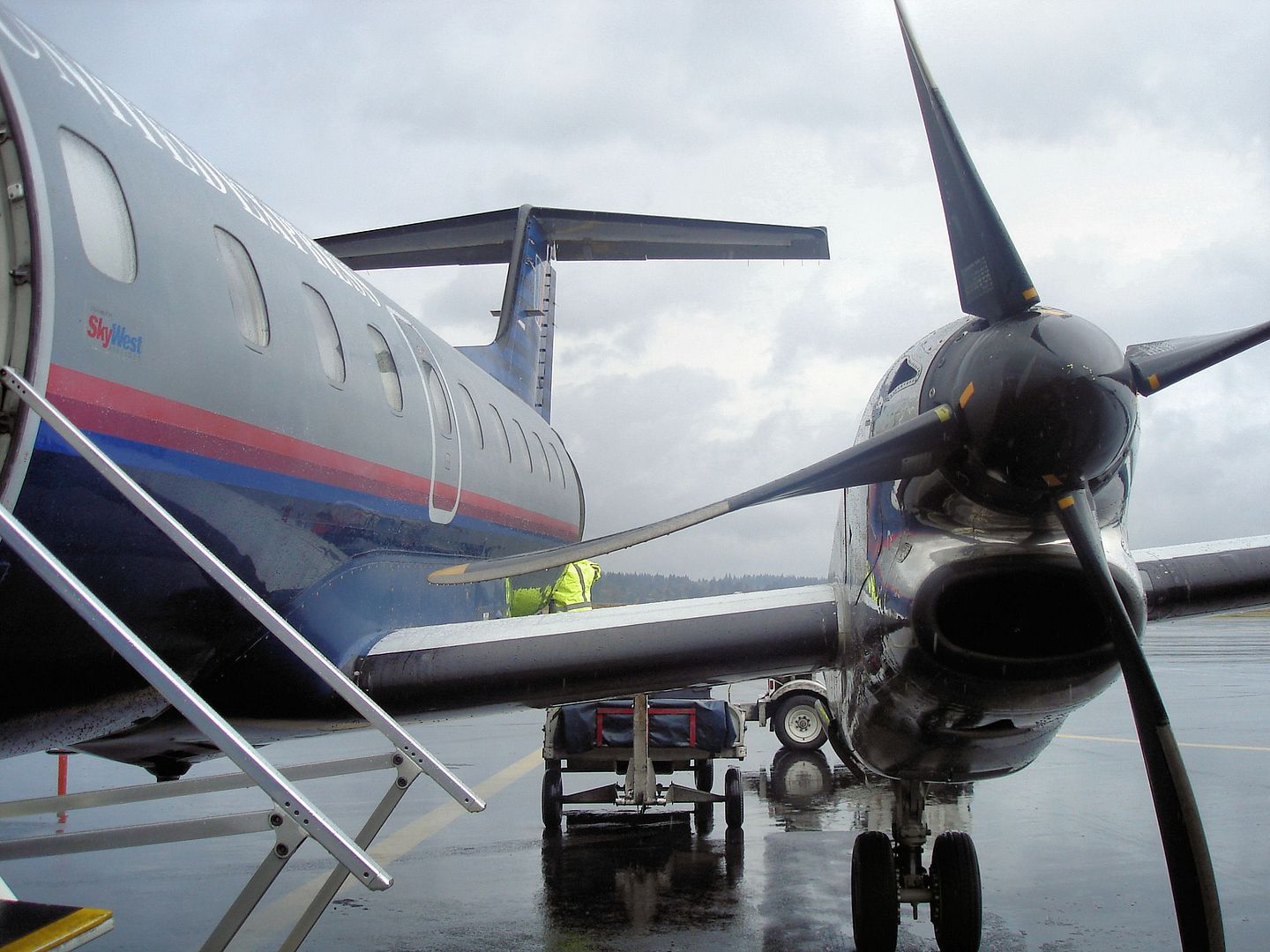 A cheerful middle-aged female flight attendant welcomed me on board and I walked down to my seat 10A. The cabin was in good shape and absolutely clean. Interesting layout: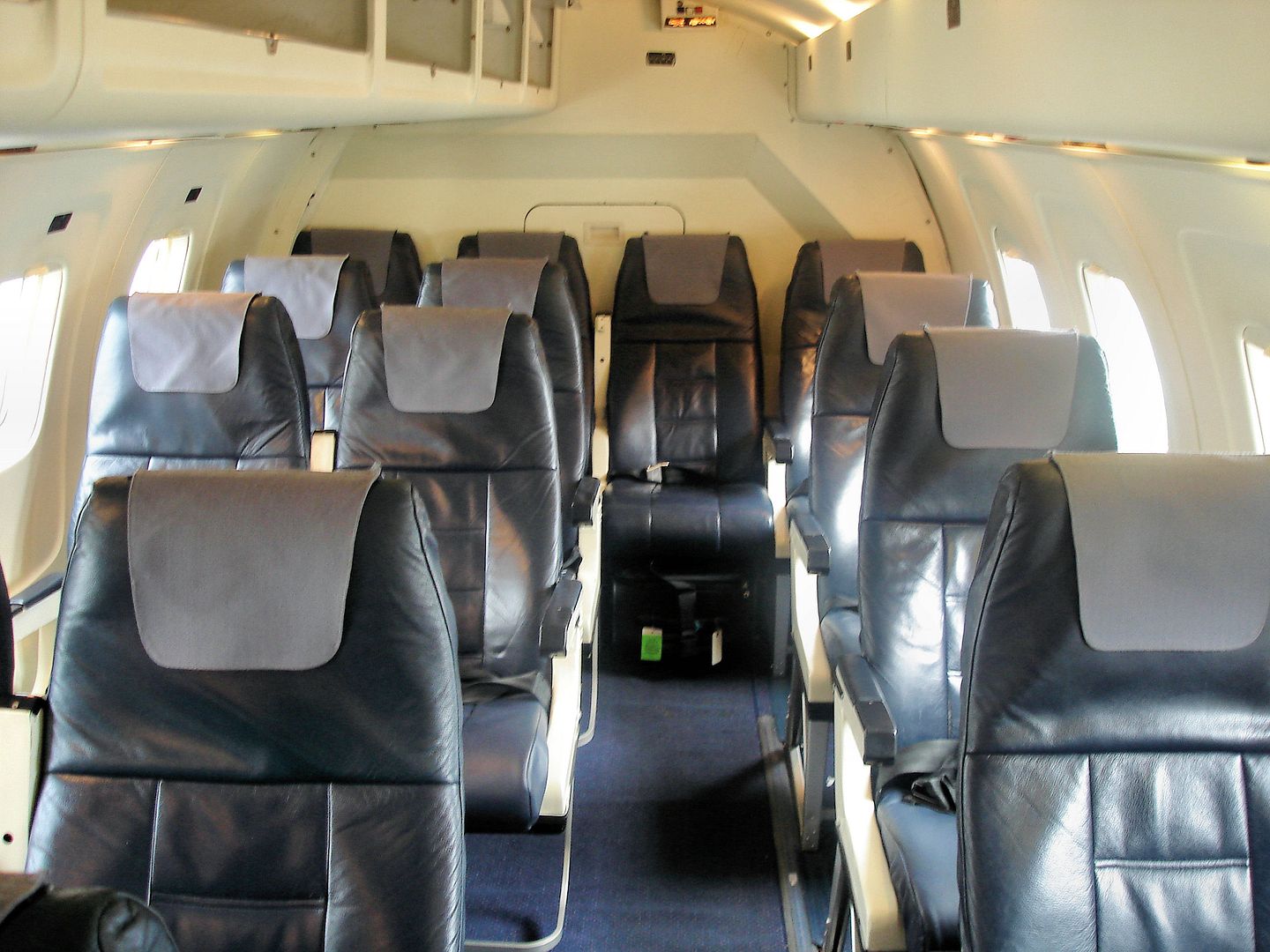 The old-style leather seats were quite comfortable...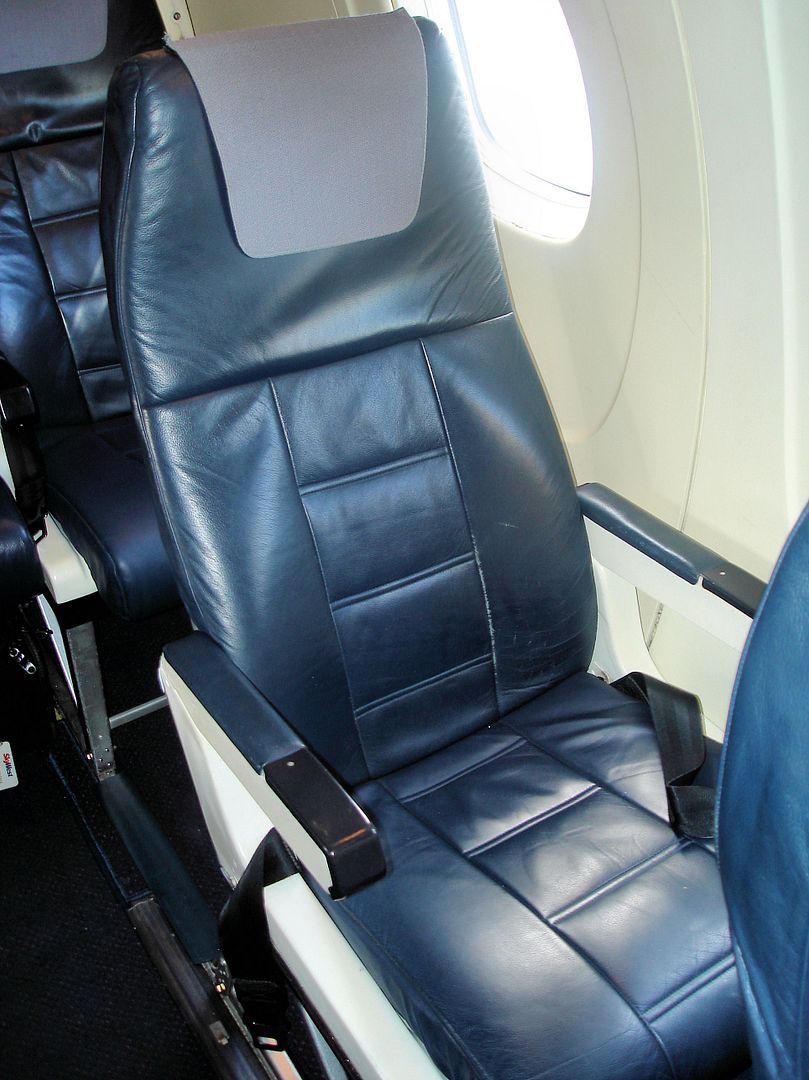 ...and legroom was sufficient, too: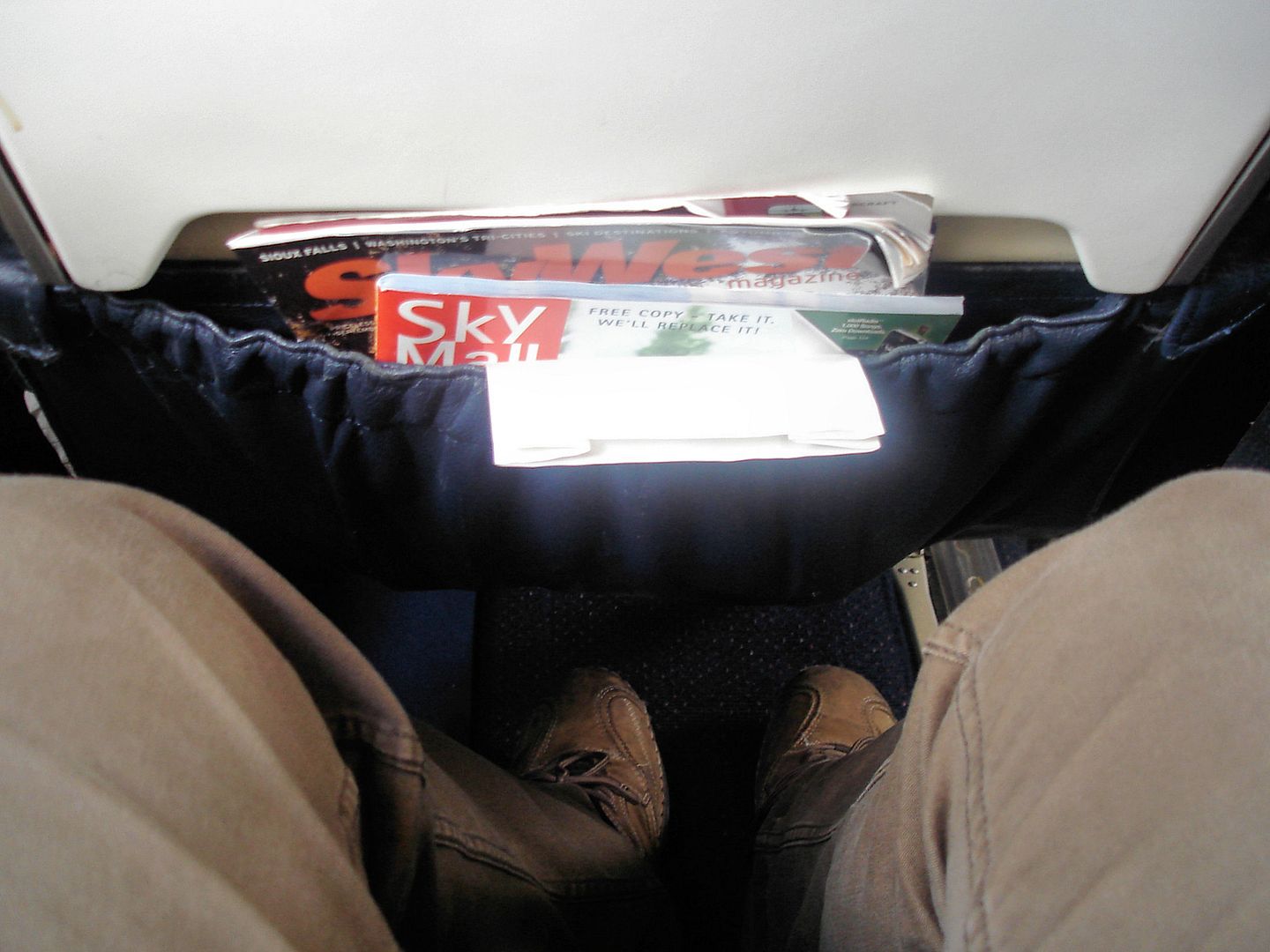 Very generous exit row seat pitch: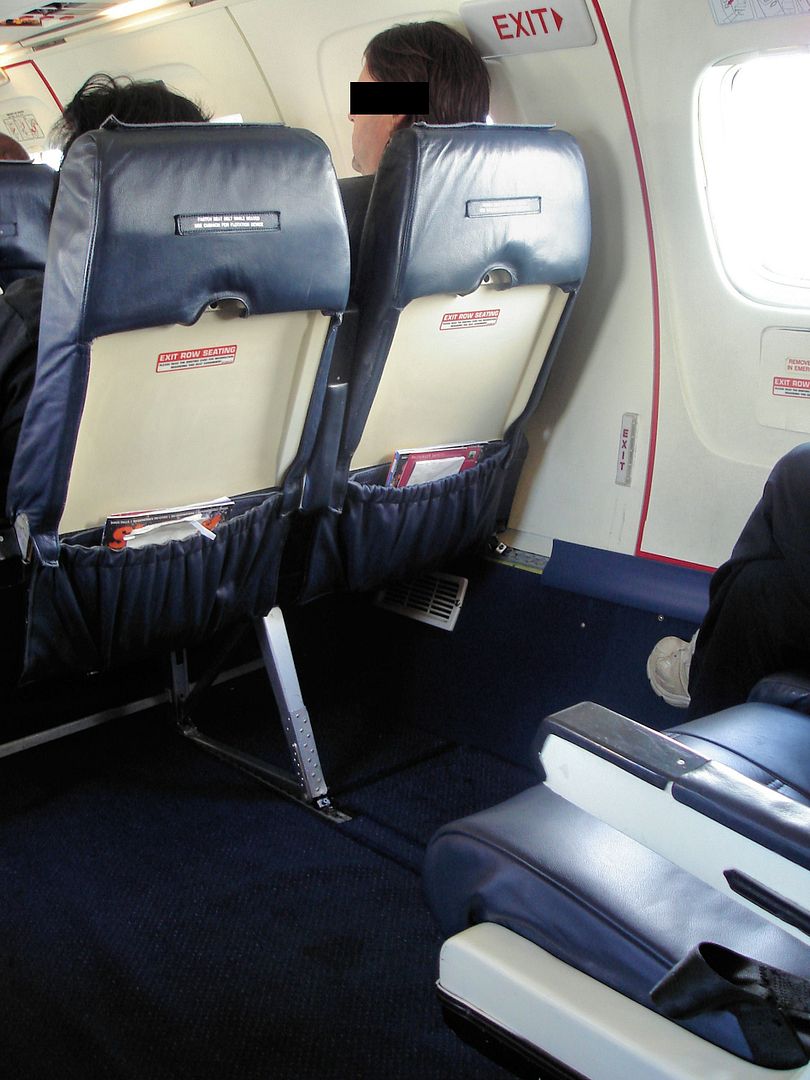 Cabin view from my seat: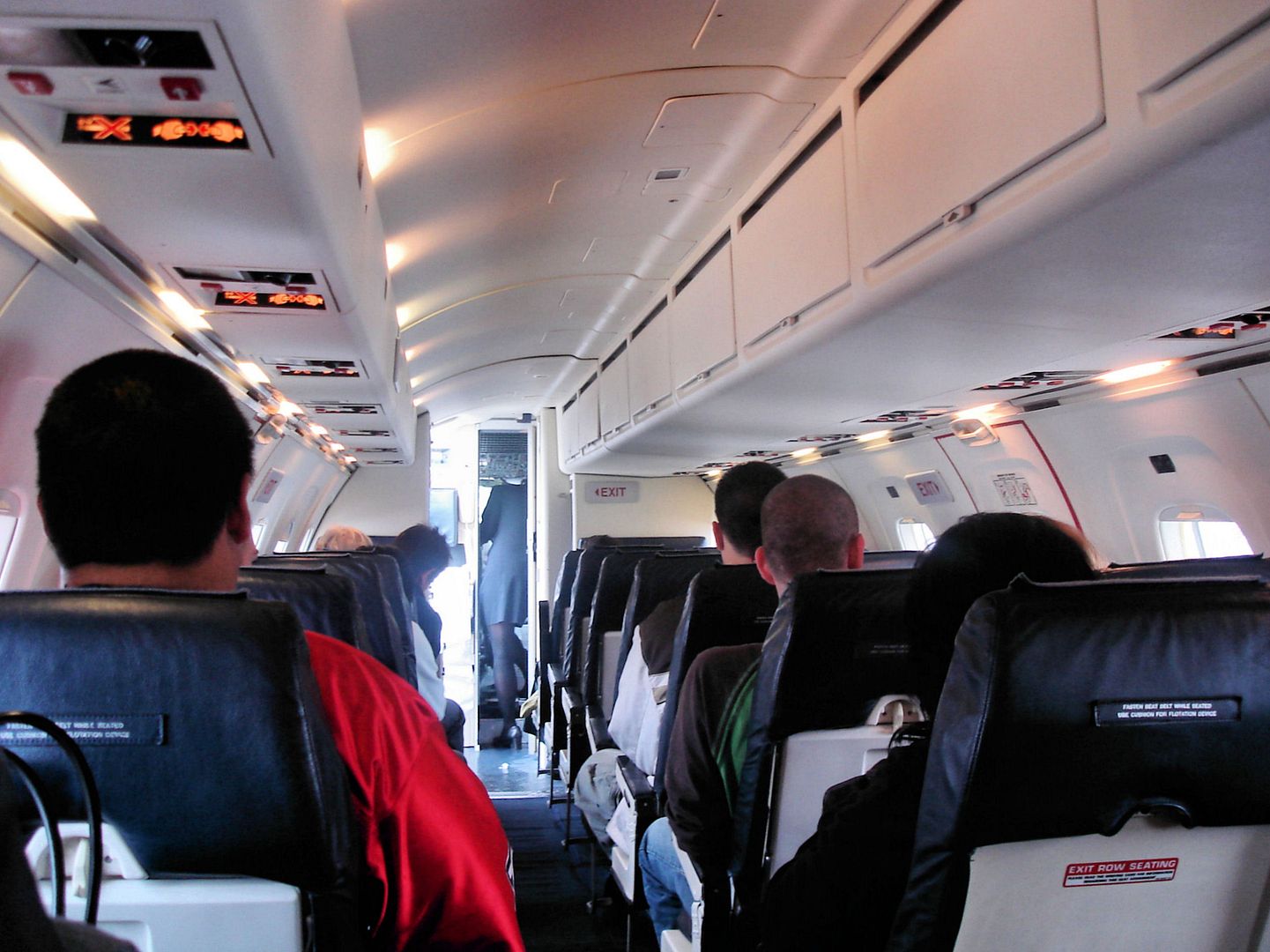 Nice EMB 120 logo overhead: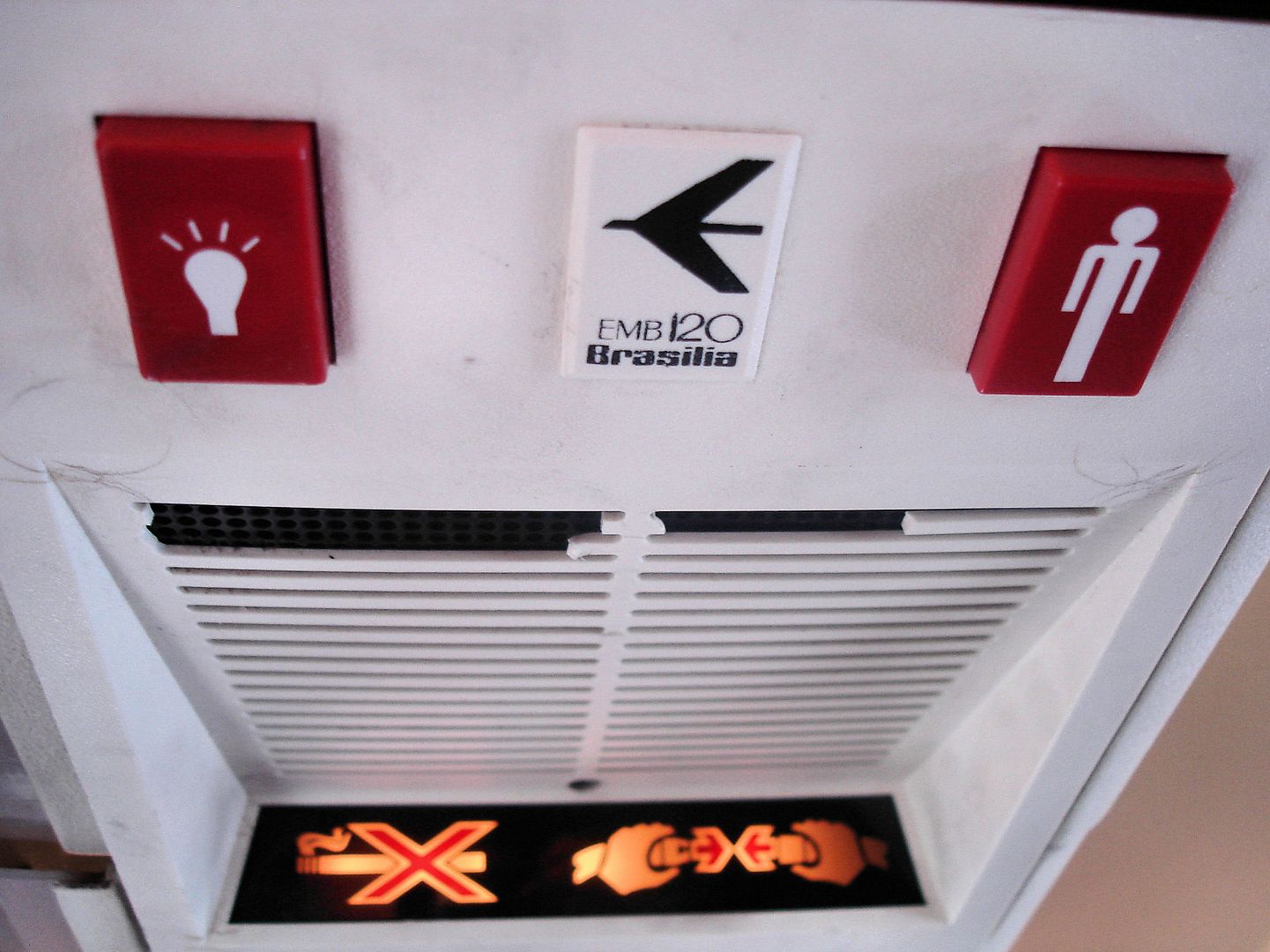 After engine start-up I was surprised about the lower-than-expected noise and vibration level - I really started to like that small turboprop aircraft. We left the gate early and passed a United 757 and a jetBlue Embraer 190: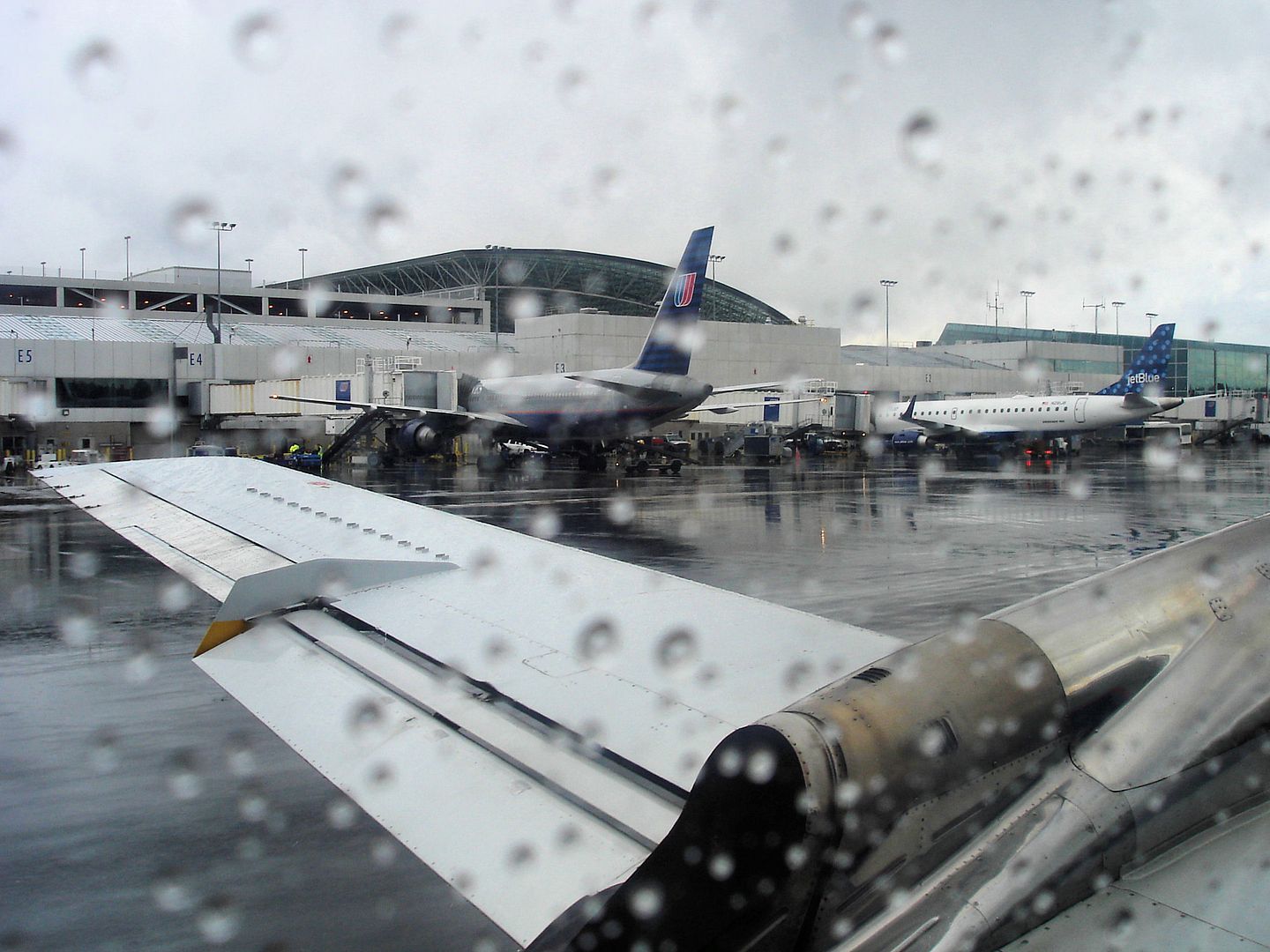 It wasn't very busy in the early afternoon so the plane could directly roll onto the runway and accelerate. Again, the noise level was lower than expected:




Horizon CRJ 700s - very common aircraft at PDX: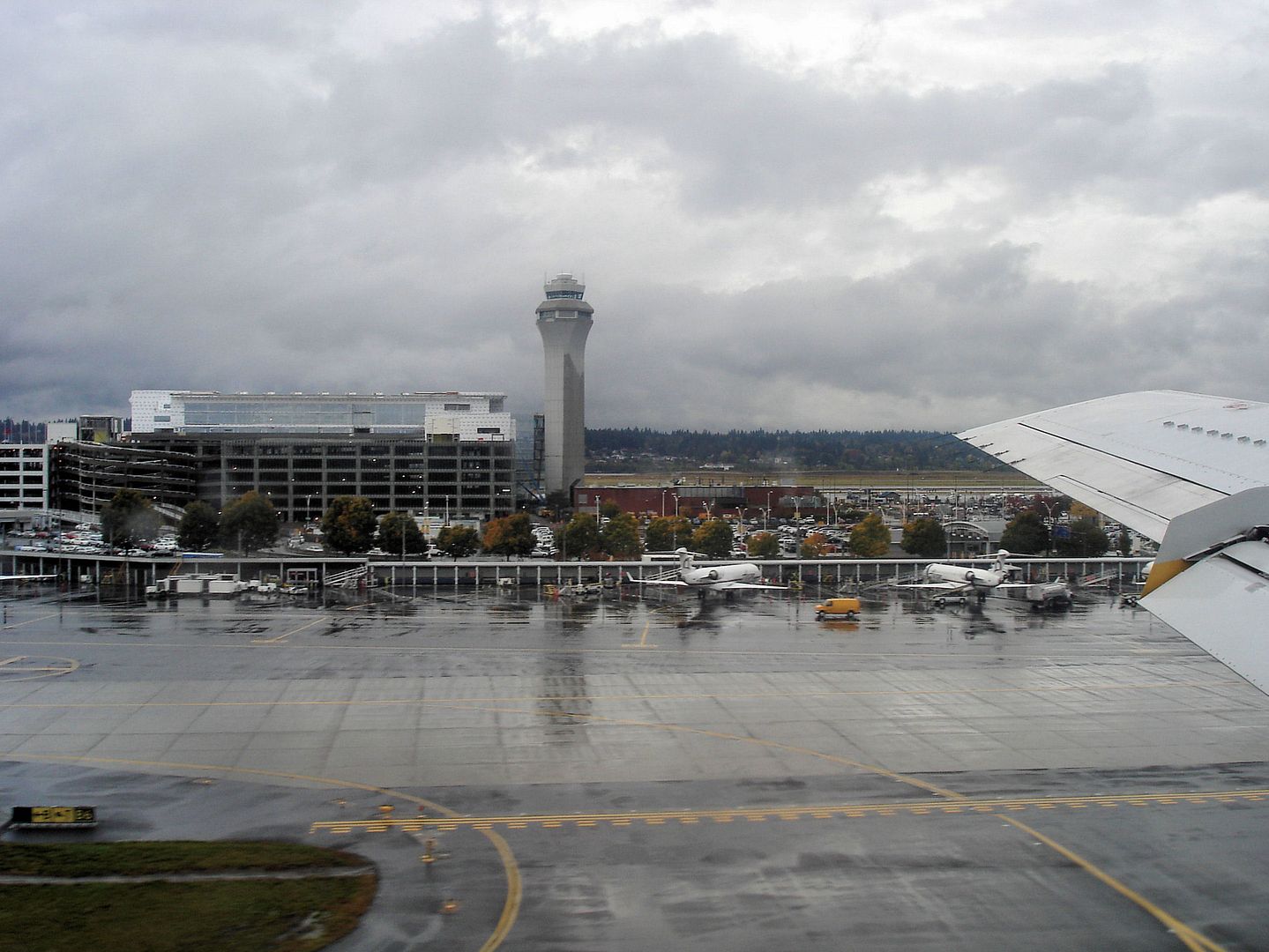 A new 737NG waiting to get painted at Boeing's Portland painting facility: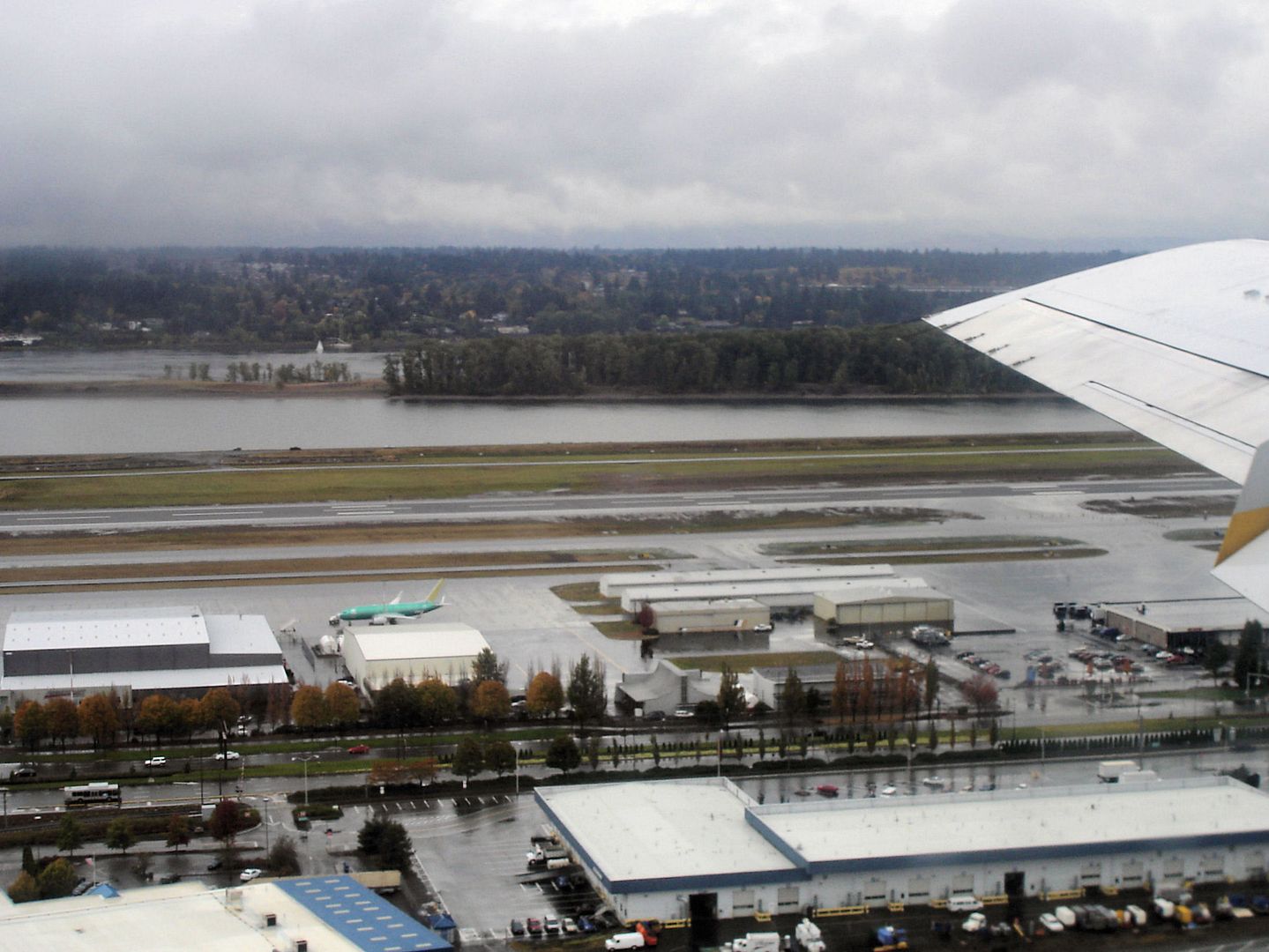 The Glenn L. Jackson Memorial Bridge: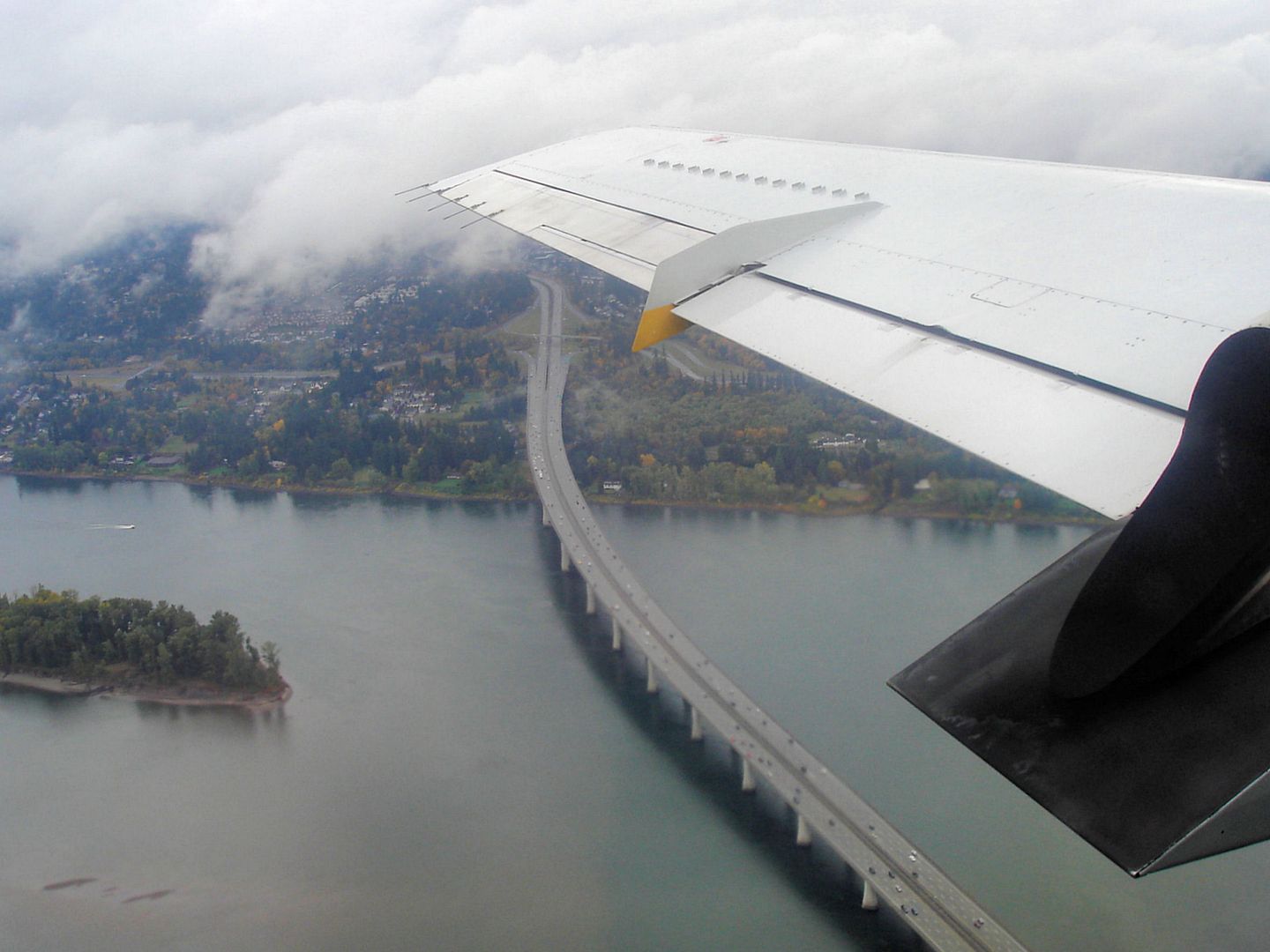 Climb through thick clouds: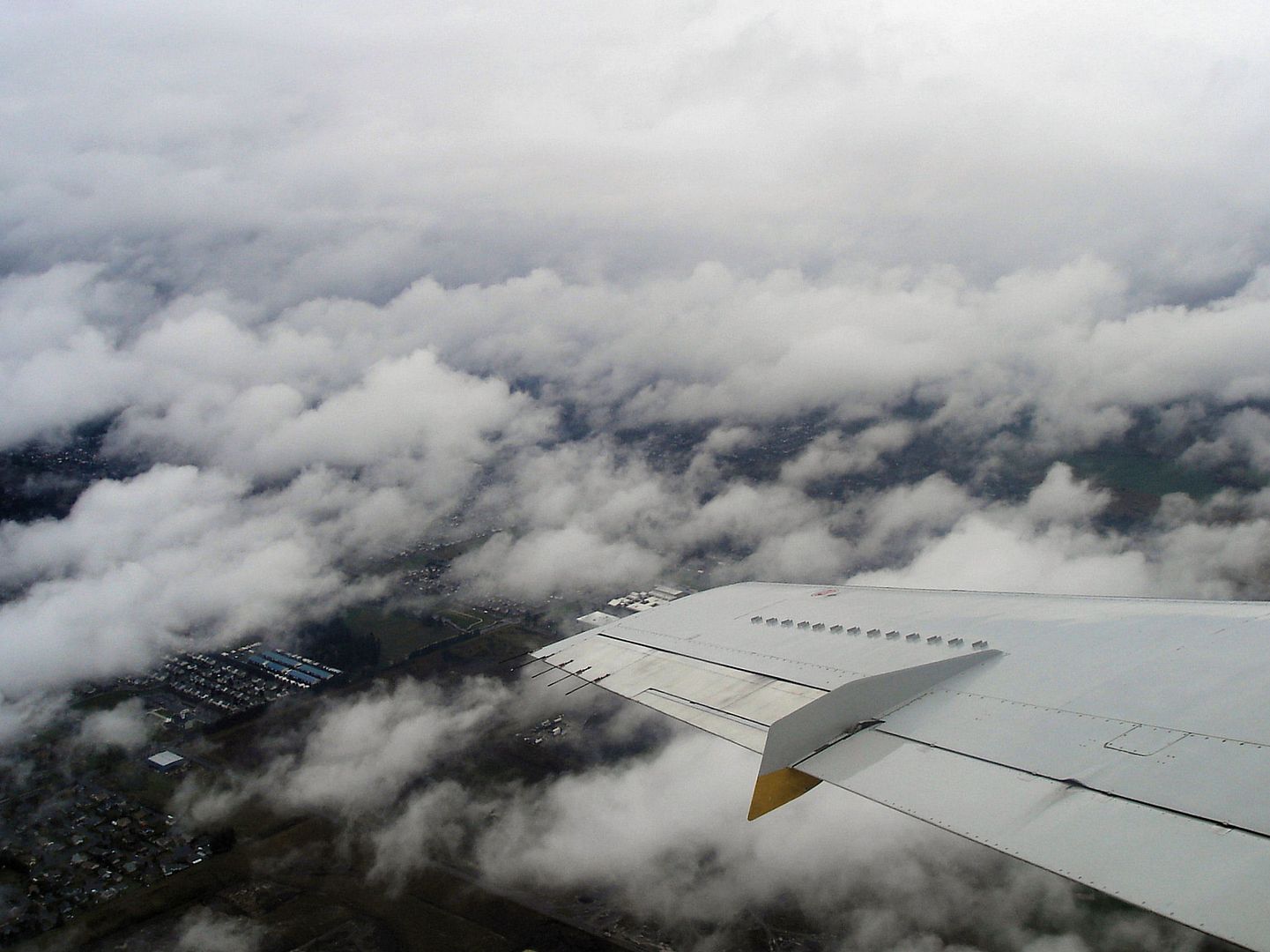 About ten minutes after takeoff the flight attendant passed through the cabin and took drink orders. I was surprised to hear that not just water and juice were available, but also coffee and soft drinks - as well as alcoholic drinks for USD 6. Of course I ordered ginger ale - what else?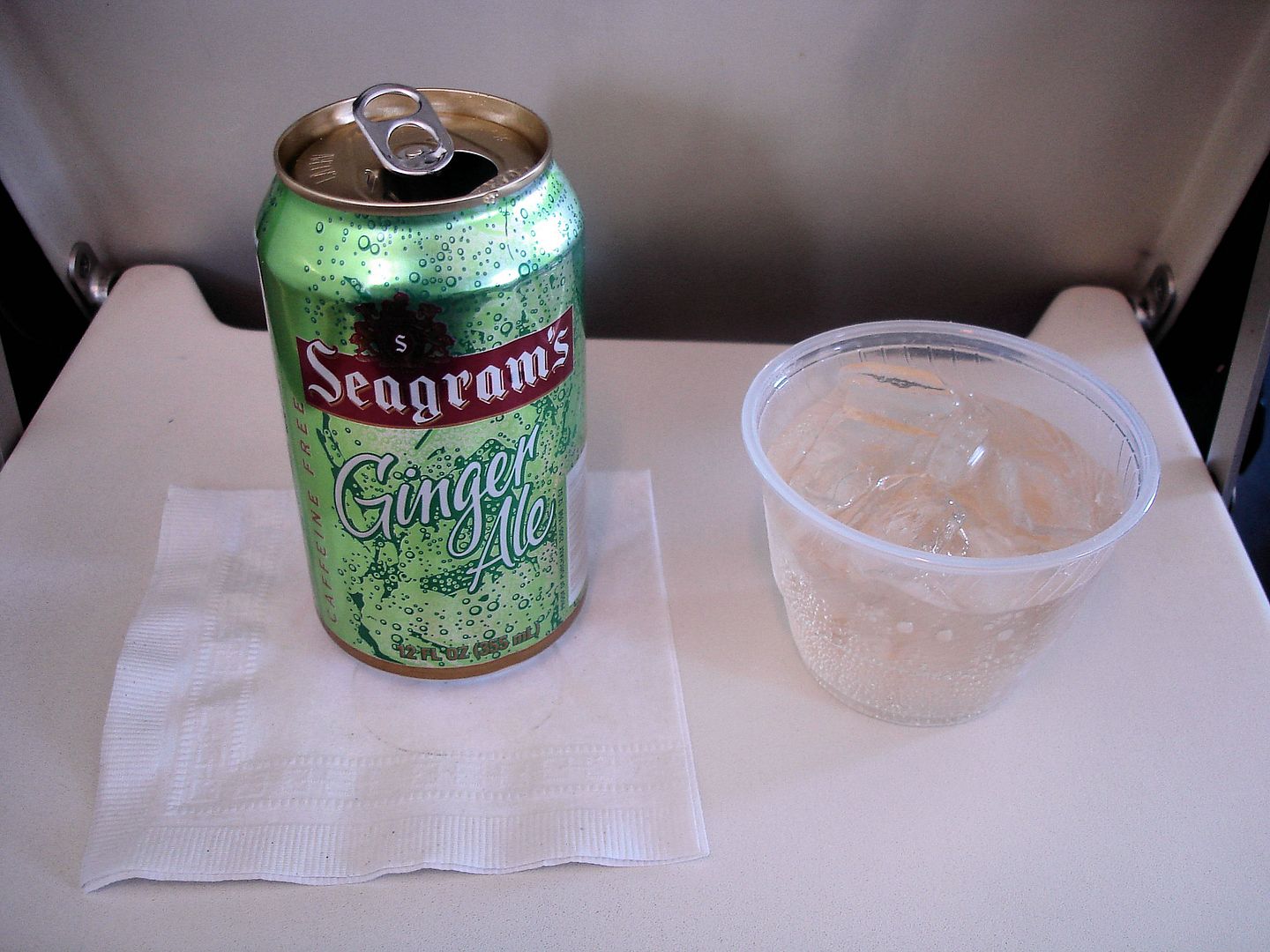 Just after the drink had arrived we already started descending and it became very bumpy on the way through thick clouds. I quickly finished my drink and was hoping that other passengers would be able to keep the coffee cups in their hands...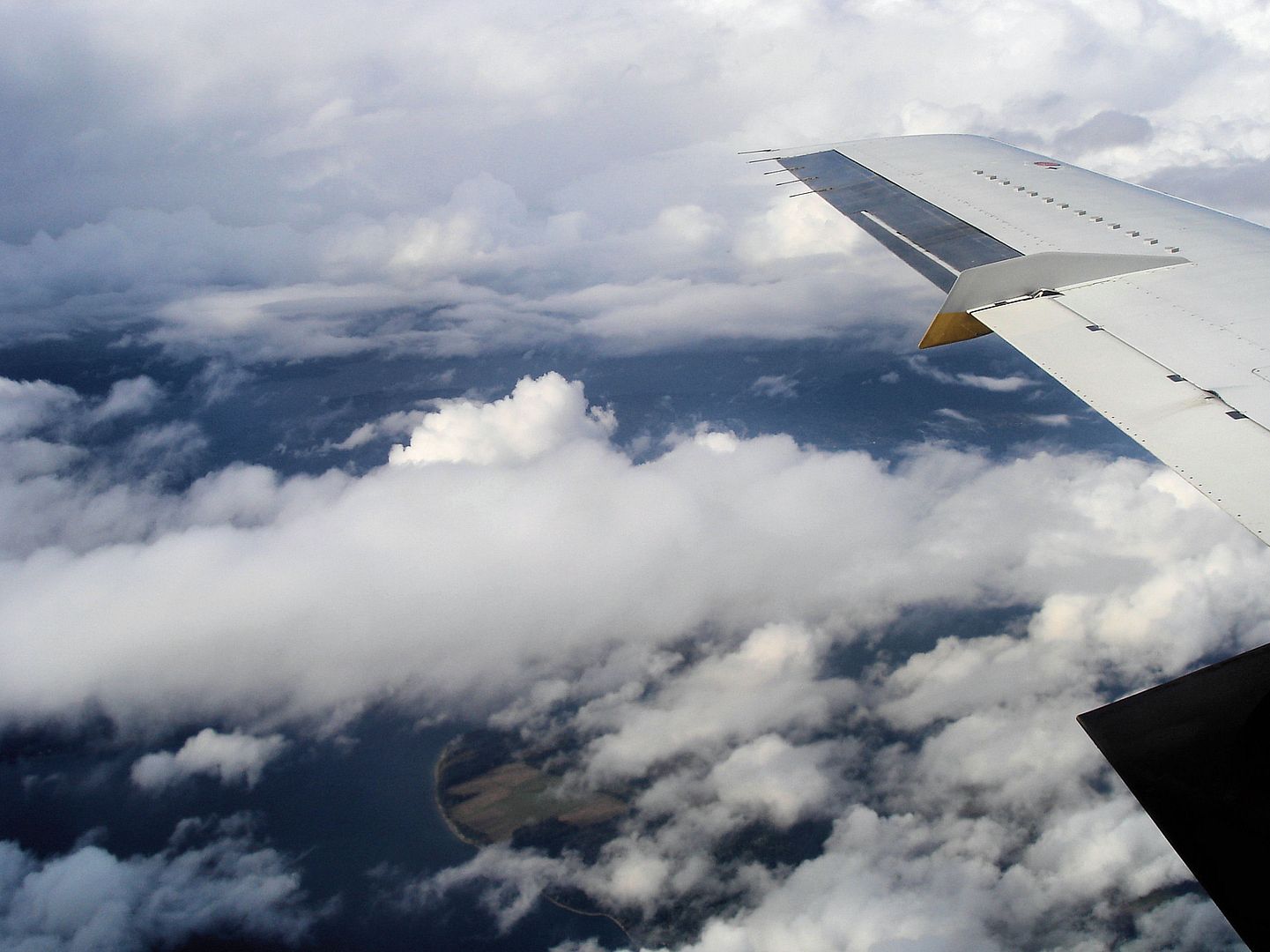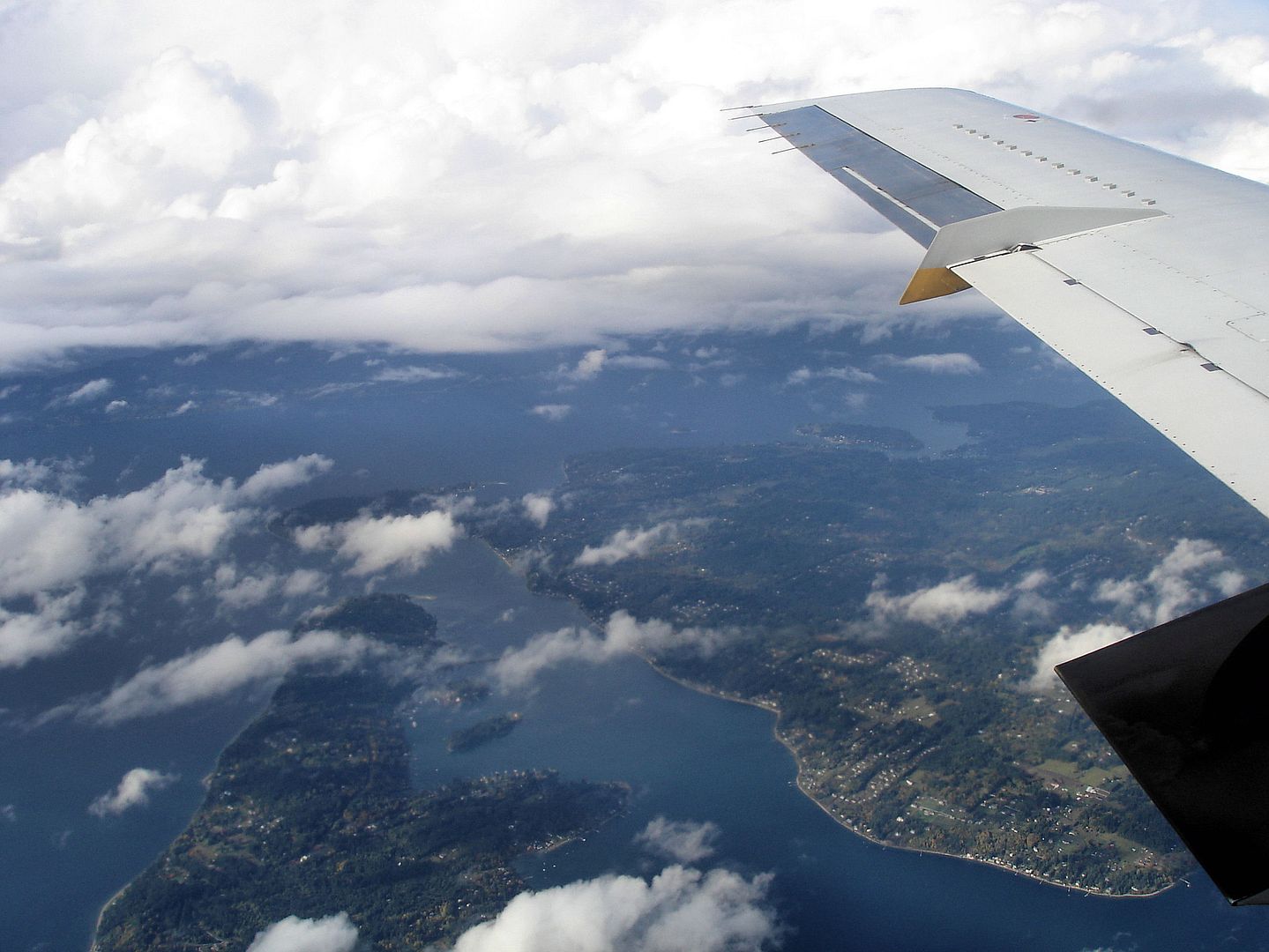 Tacoma Narrows Airport: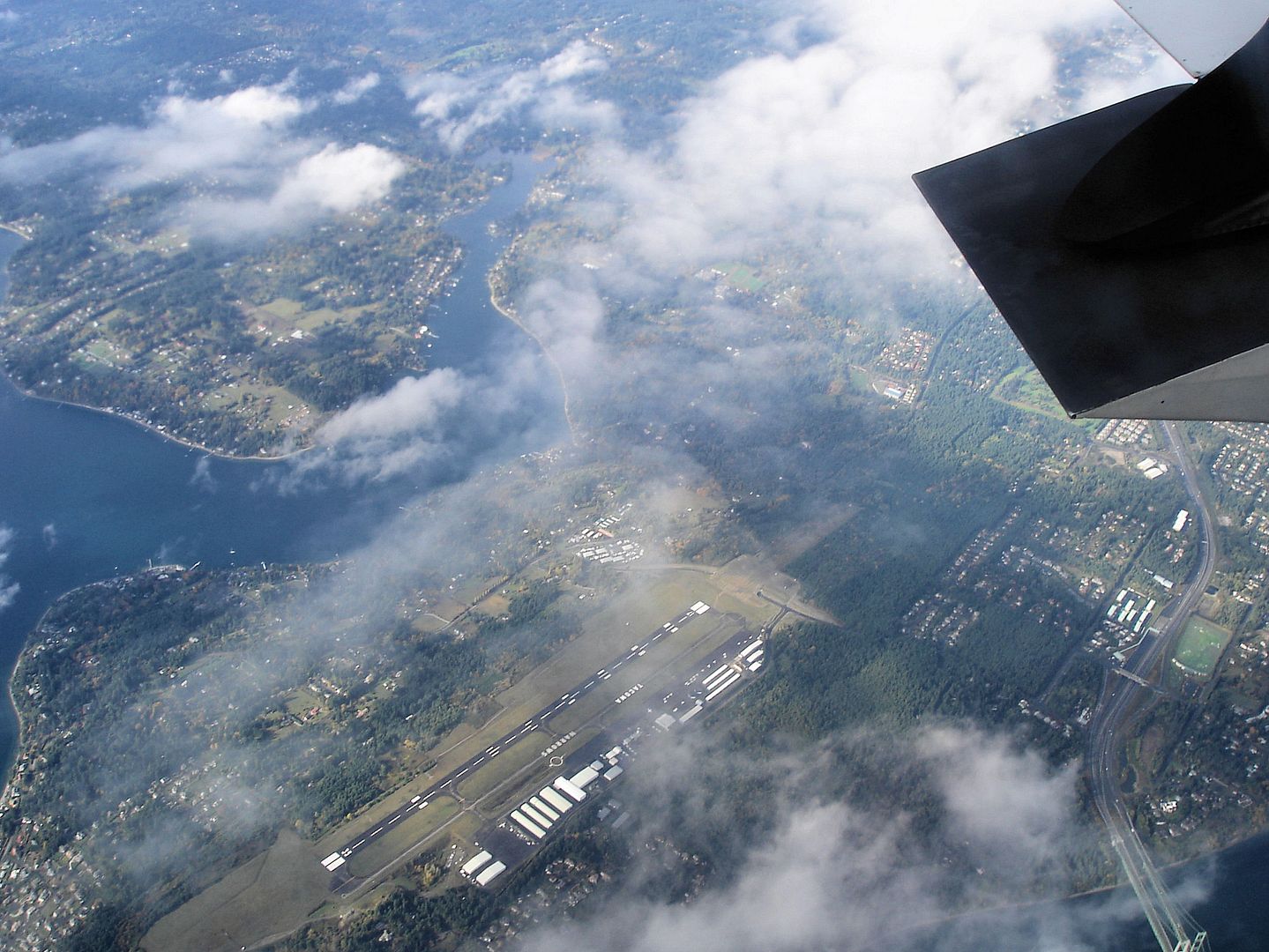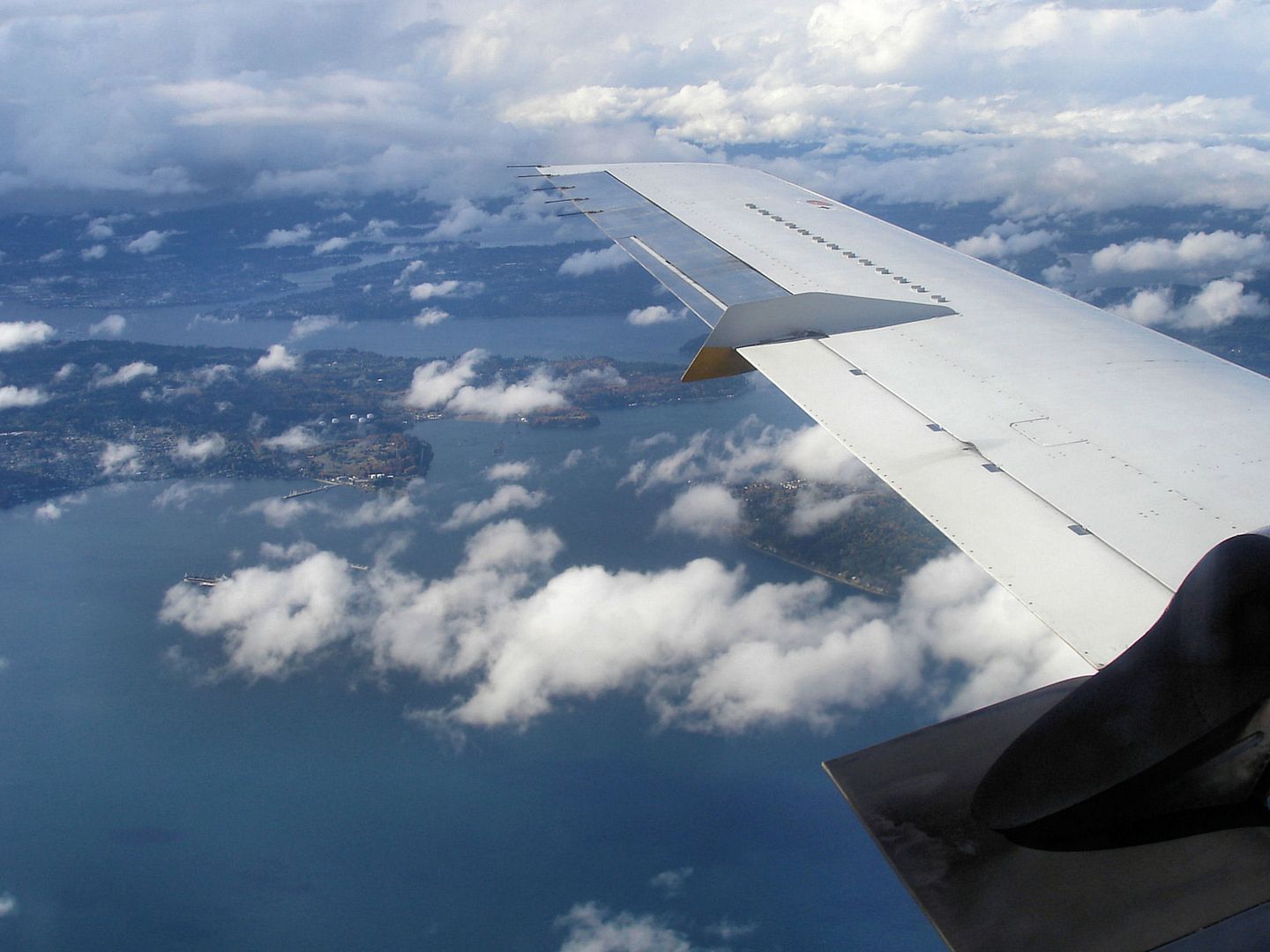 Wide right turn for final approach from the north: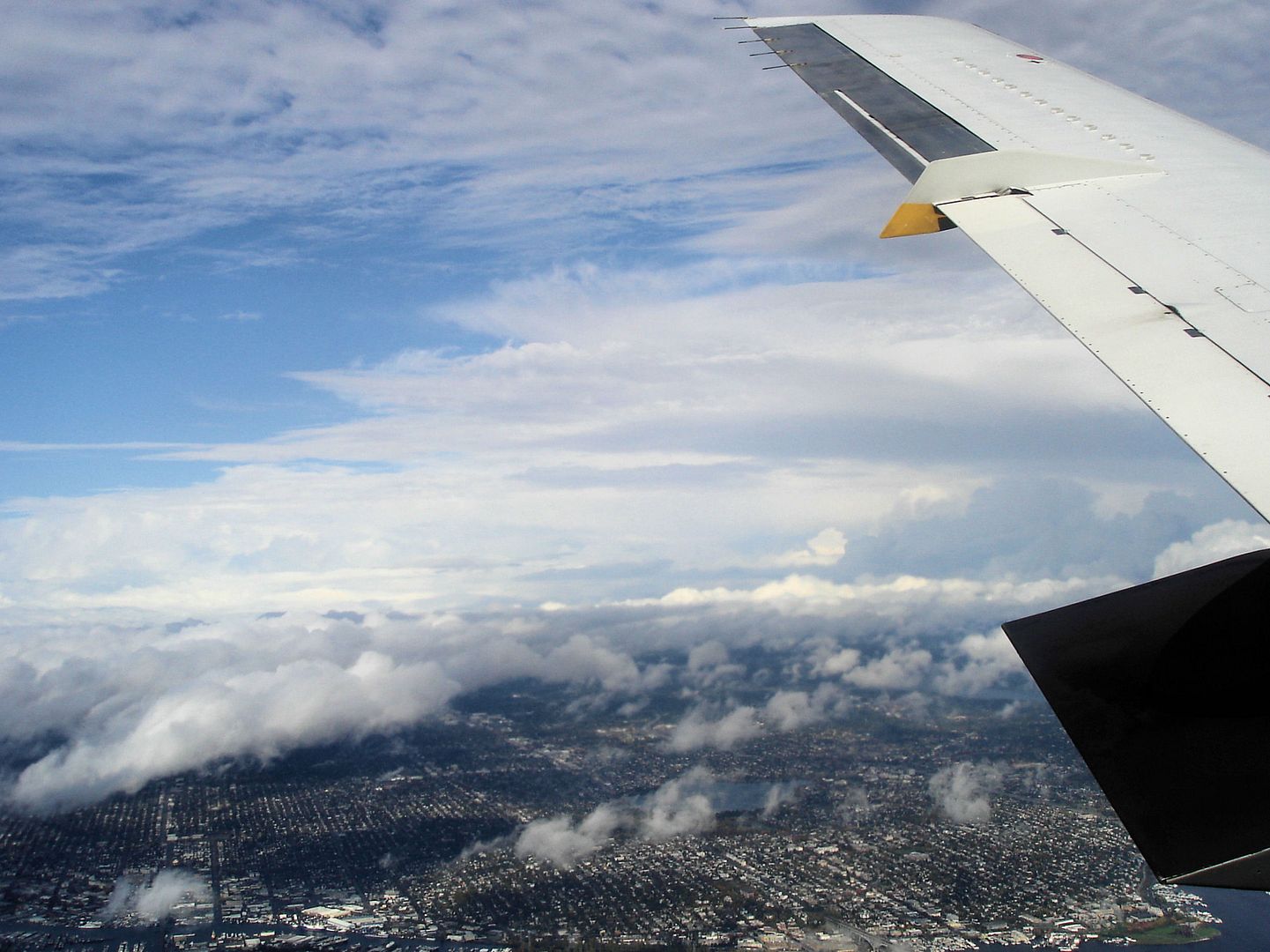 Parts of Downtown Seattle: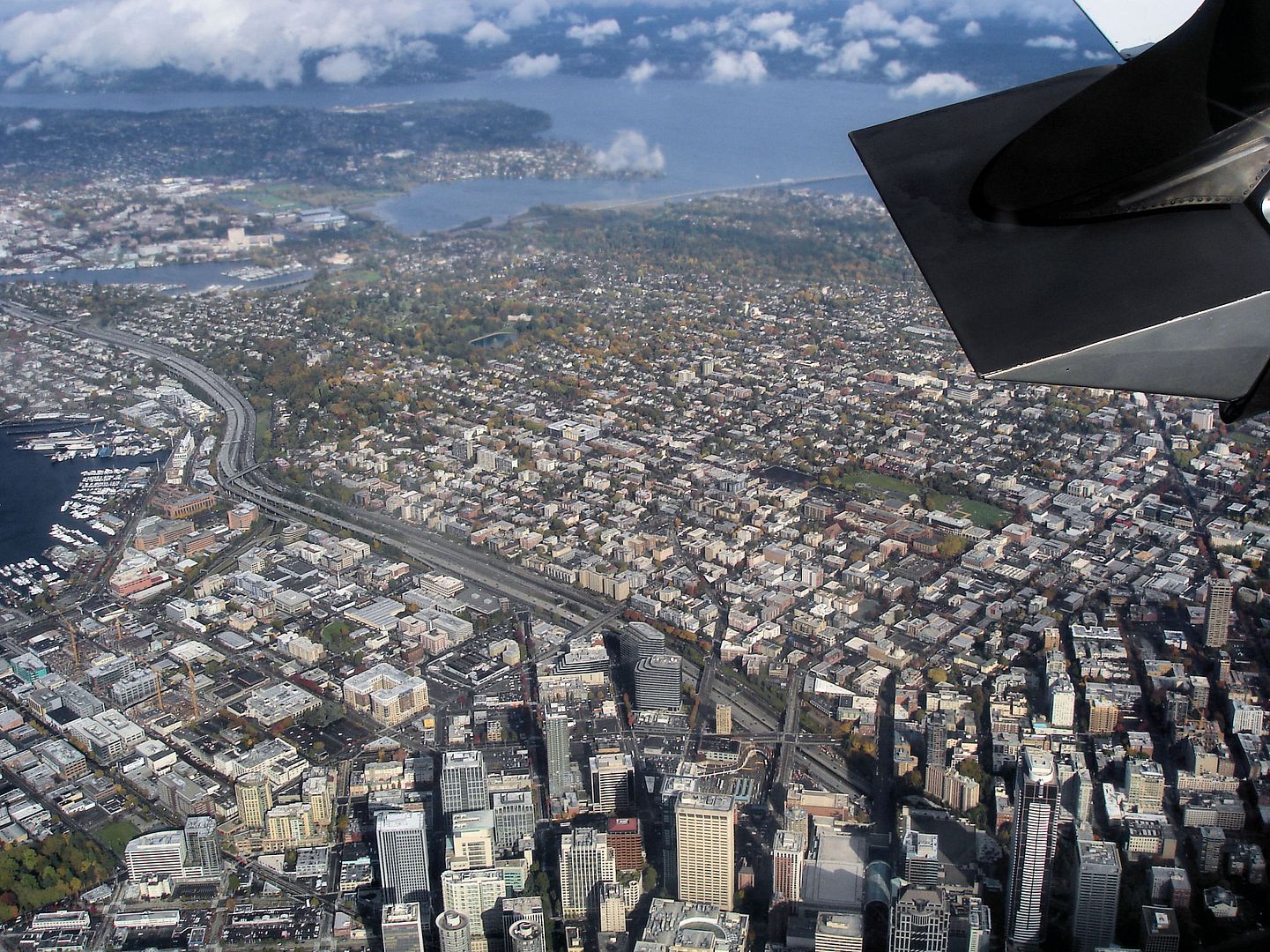 The Lacey V. Murrow Memorial Bridge and the Homer M. Hadley Memorial Bridge: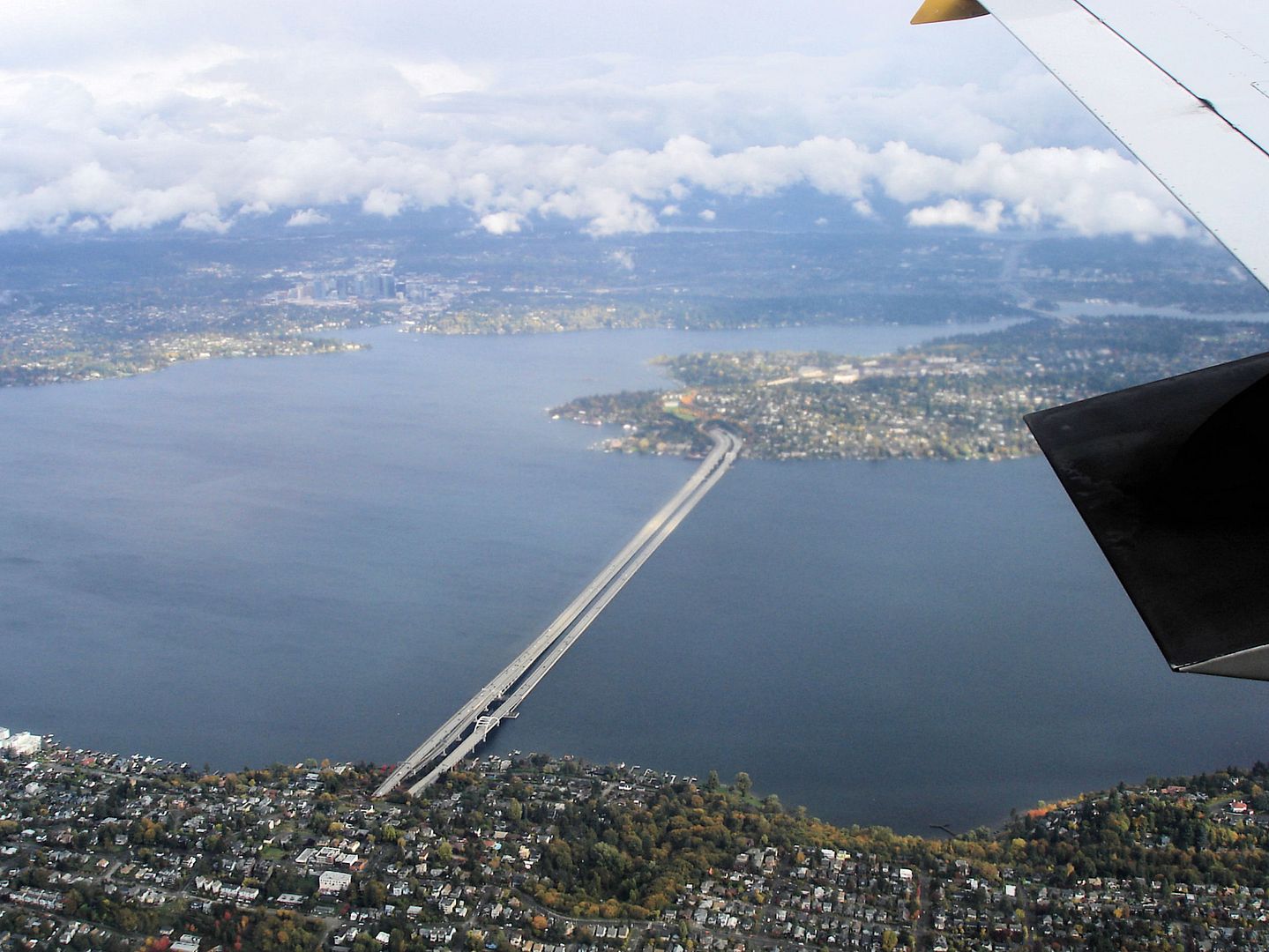 Gear out over Boeing Field: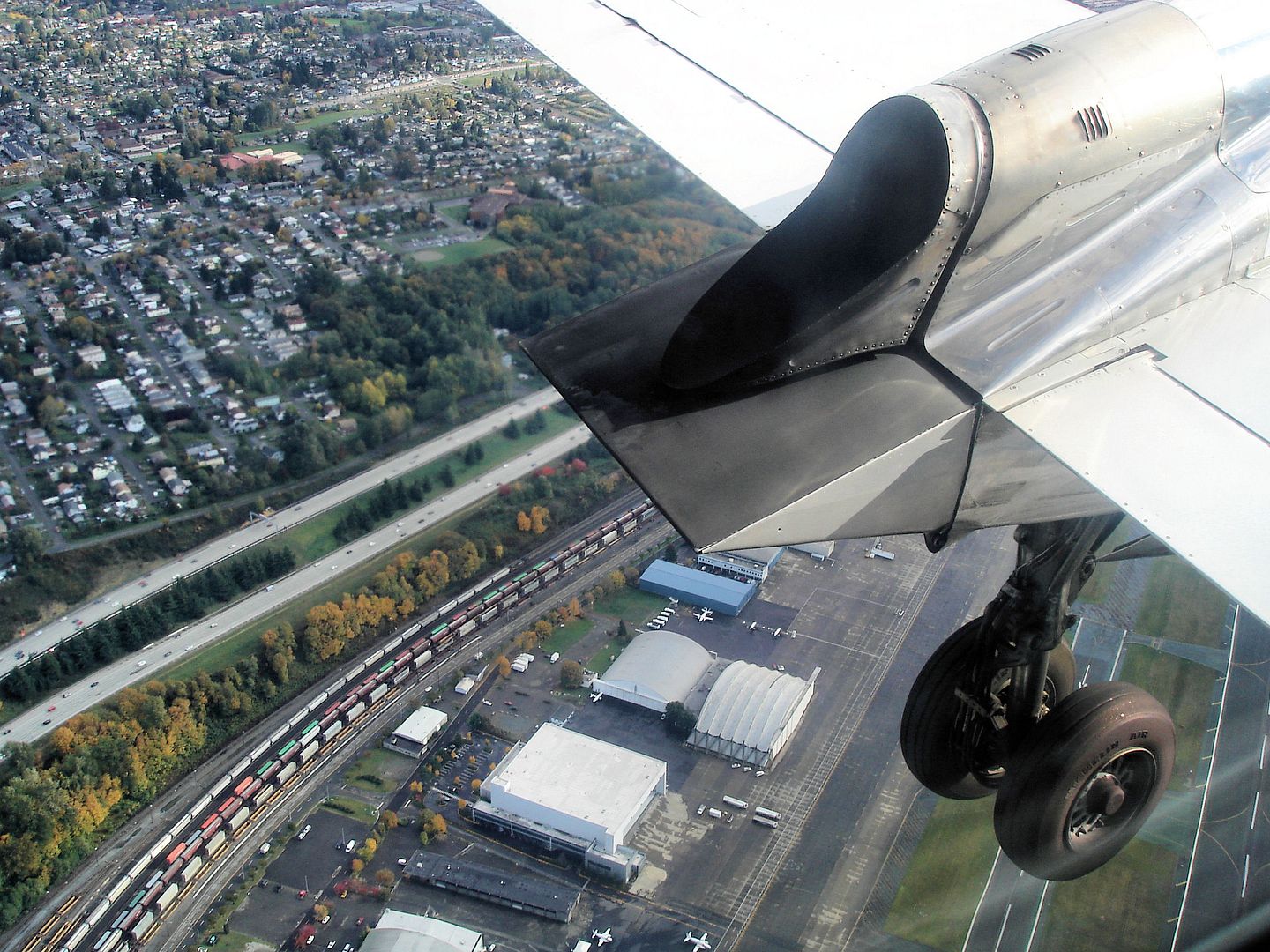 The Museum of Flight...



...with the famous Boeing 747-121 N7470 "City of Everett" and Concorde G-BOAG: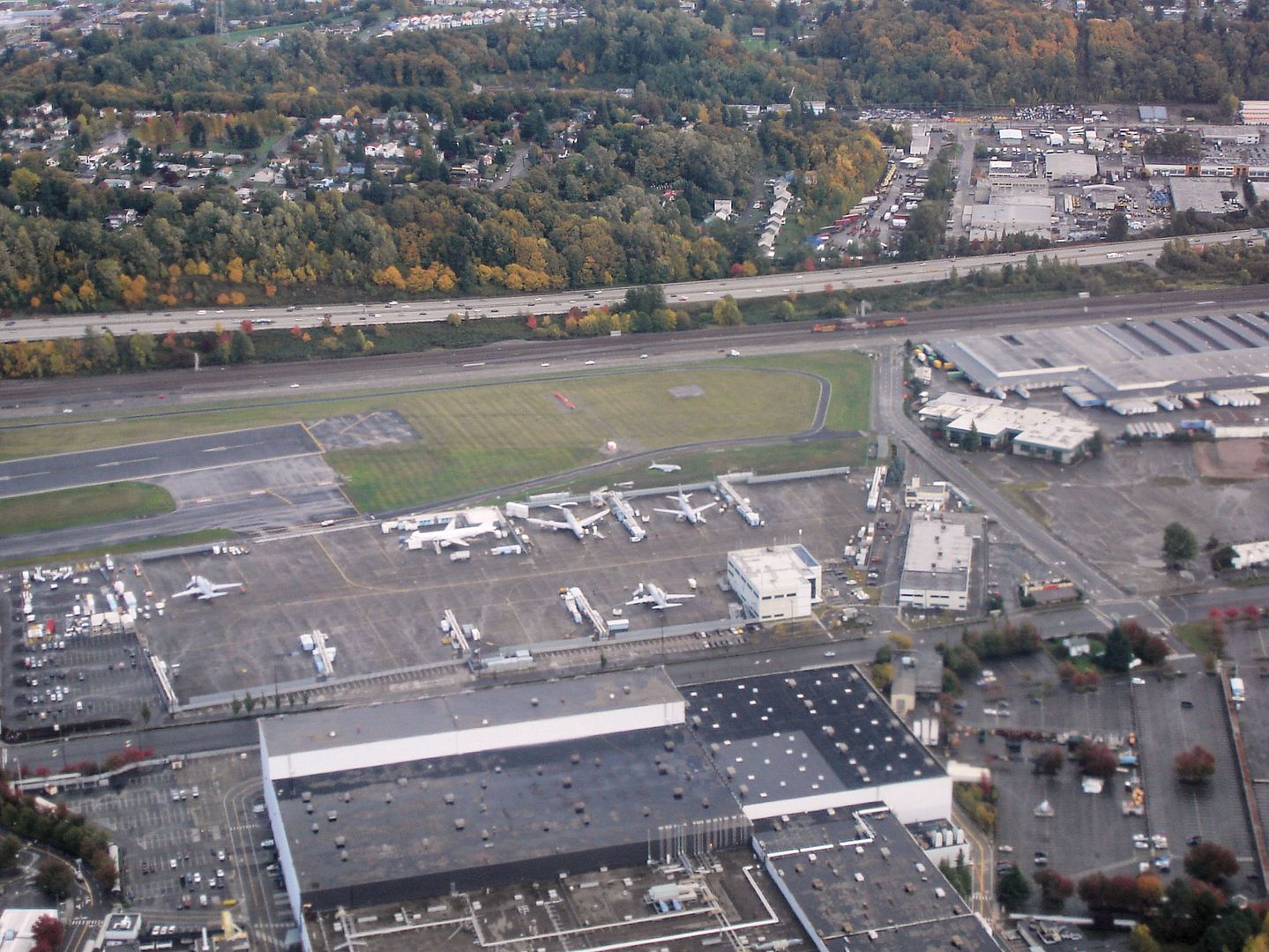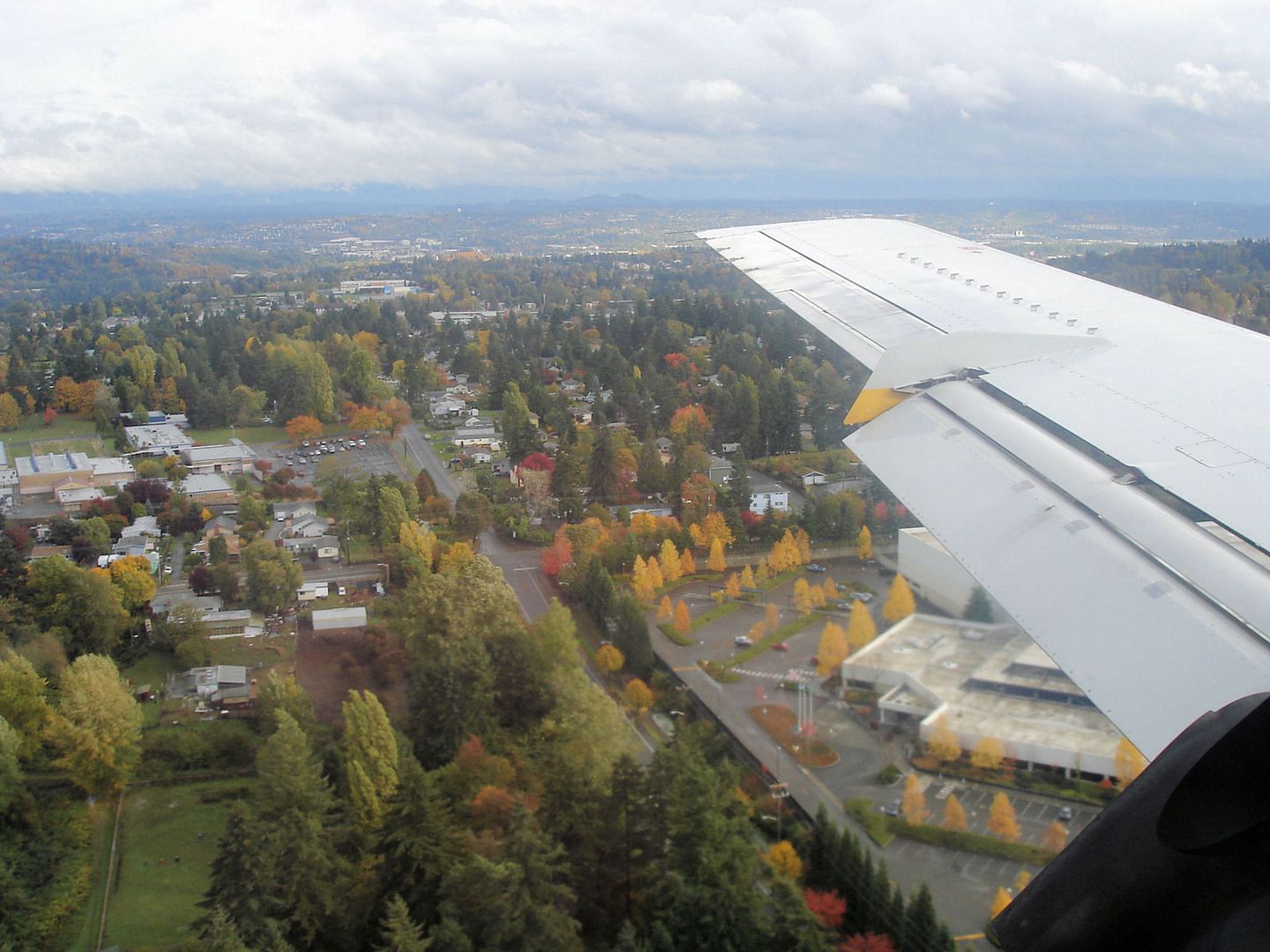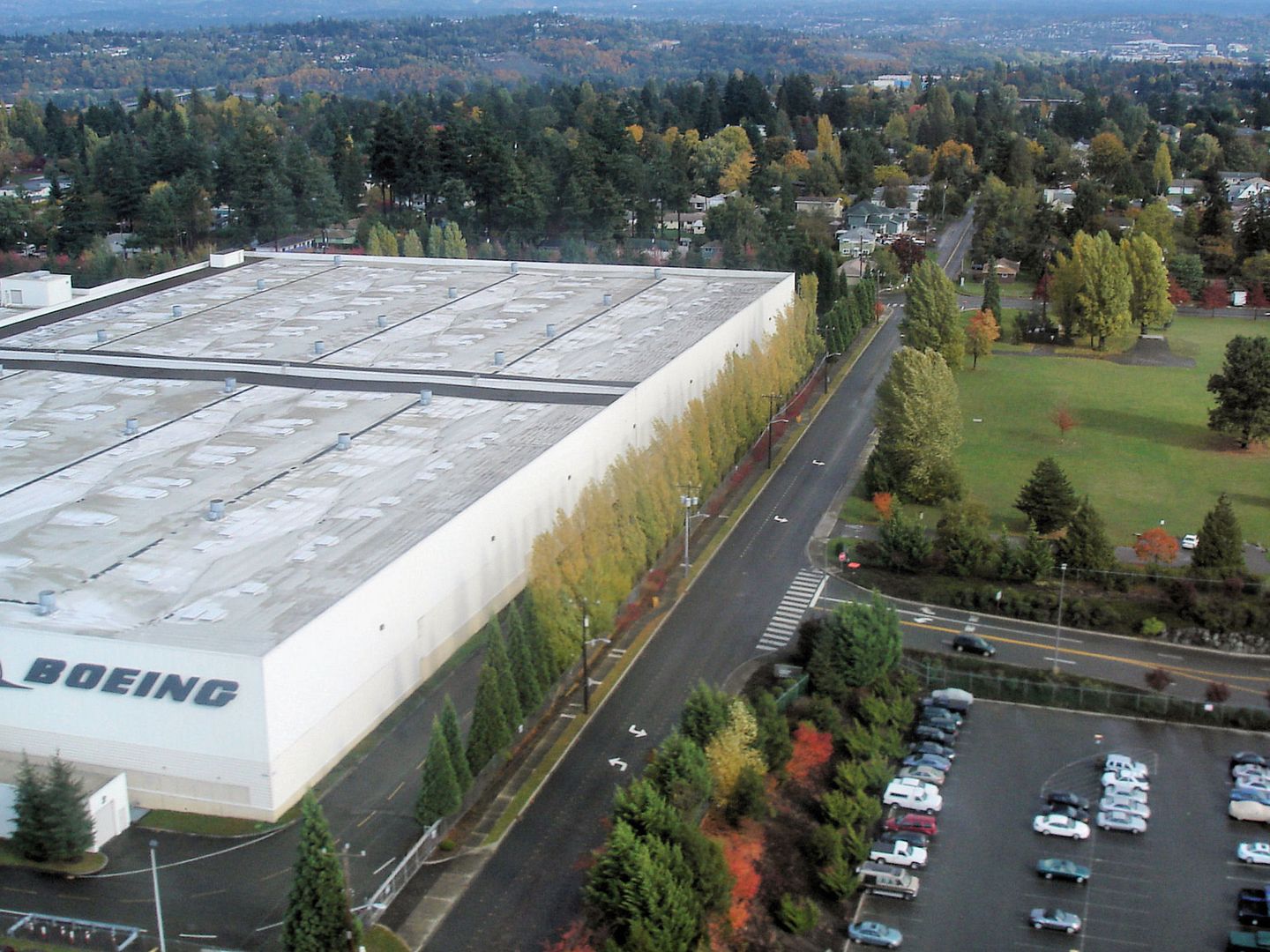 Horizon Dash 8-400 and Hainan Airlines A330-200 ready for takeoff: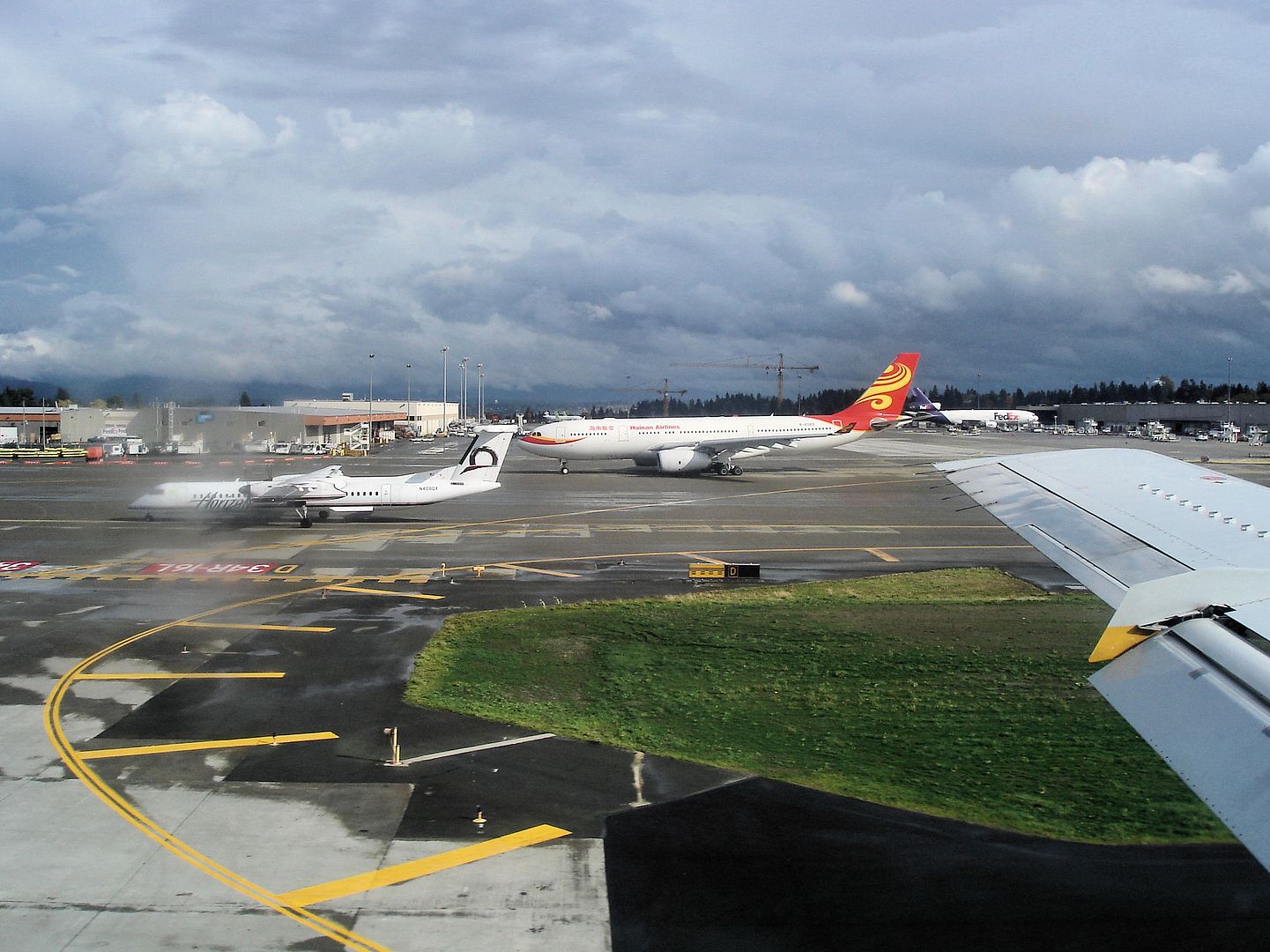 We touched down 34 minutes after takeoff and rolled to a remote stand belonging to SEA's North Satellite. It wasn't raining so I took some more pictures of that fine little aircraft: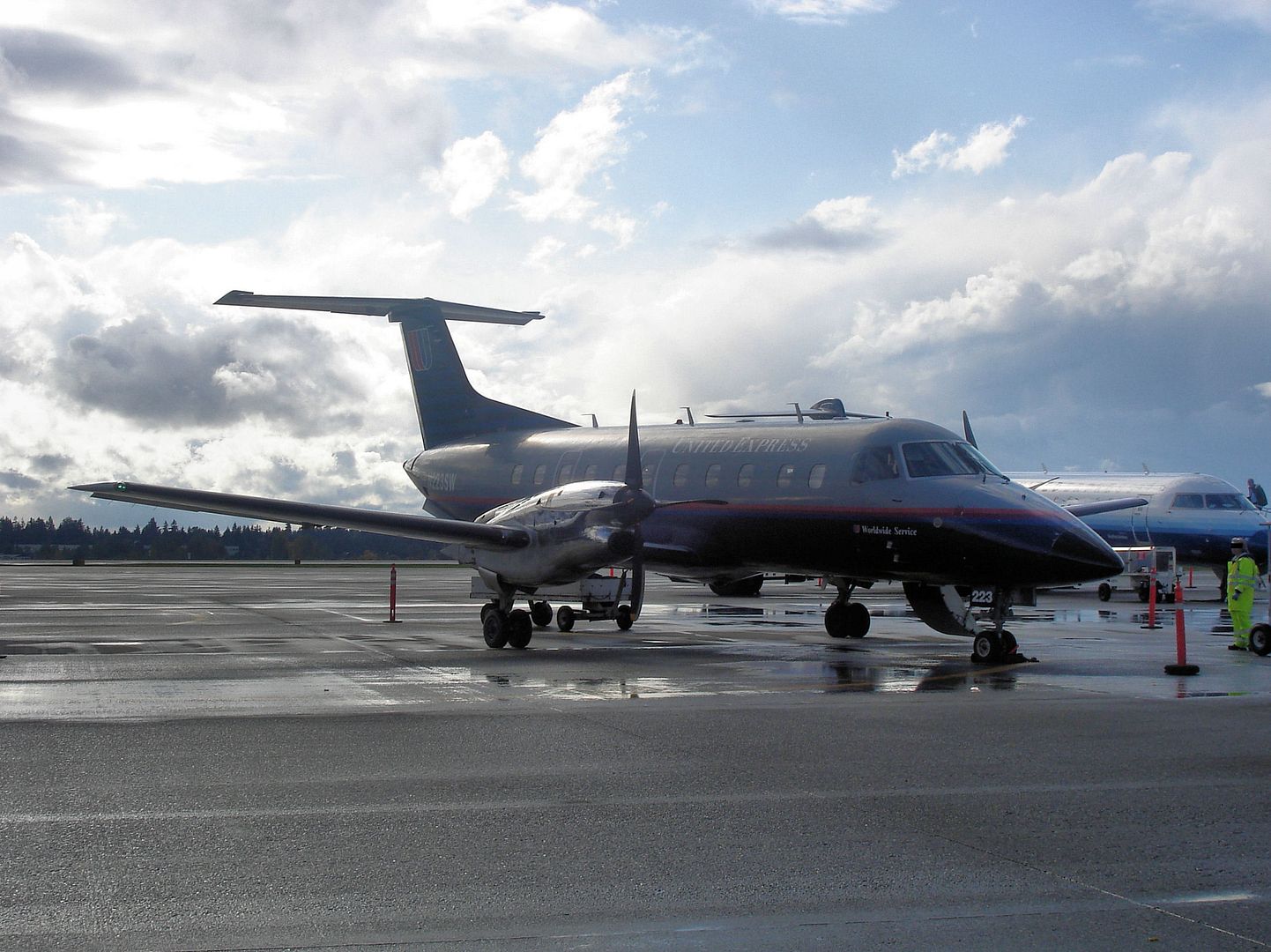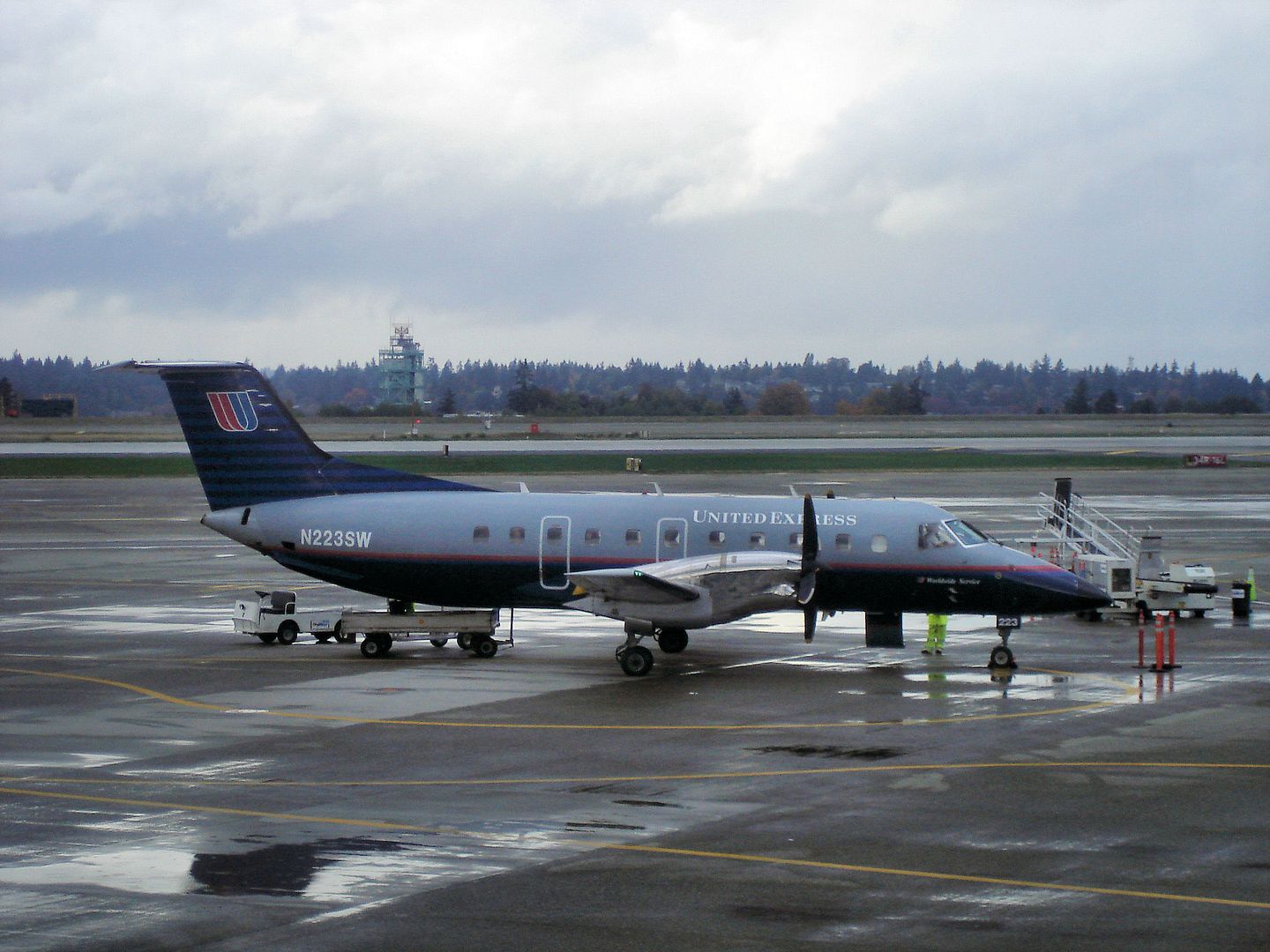 Transfer at Seattle
I had almost 2,5 hours for the transfer so there was no reason to hurry. First of all I wanted to pick up the boarding pass for the flight to San Jose. I couldn't find an Alaska Airlines transfer desk in the North Satellite so I took the train to the main terminal building. While waiting for the next train I noticed water dropping from the ceiling - not a very positive impression. Ten minutes later an Alaska Airlines agent handed out the boarding pass to me and I found out that AS330 would also depart from an N gate. Viewing options are good there so I took the next train back to the North Satellite. It started raining again, but spotting was still possible. Within 1,5 hours I got 26 new registrations, mostly Alaska and Horizon planes.





Saturday, 17 October 2009
Seattle (SEA) - San Jose (SJC)
Alaska Airlines AS330
17:05-19:12 (17:18-19:24)
Flying time: 01:53 (hrs)
Economy Class, Seat 28F

Boeing 737-890
N506AS (s/n 2627)
Delivered in 06/2008

1st flight on N506AS
14th 737-800 flight
24th 737NG flight
47th 737 flight
84th airline






About 45 minutes prior to departure N506AS arrived at gate N2 - a 737-800 delivered in June 2008. Like most other aircraft in the fleet, N506AS wears the "Proudly All Boeing" lettering below the cockpit windows.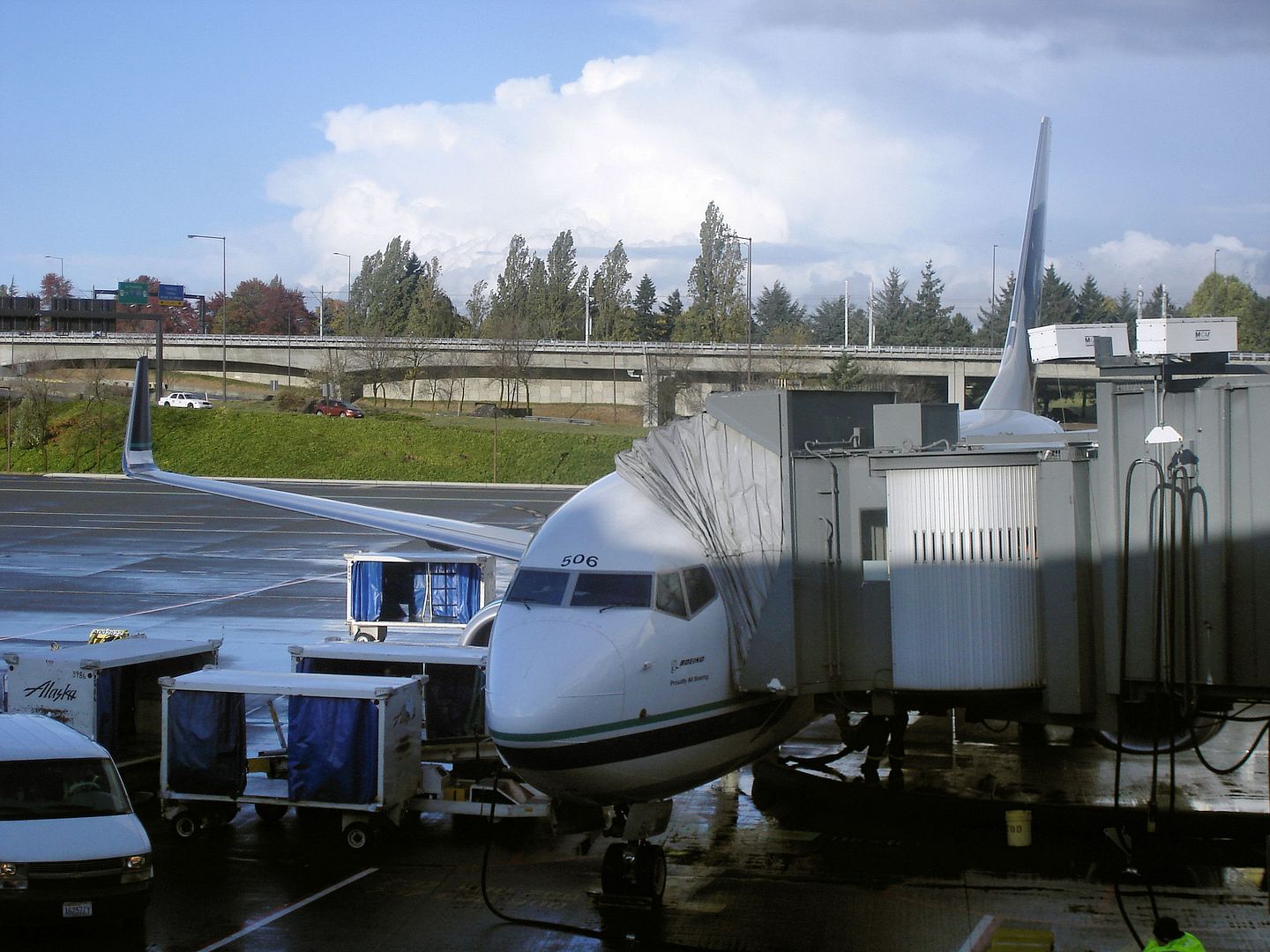 When I stepped on board I noticed that most flight attendants were quite old, but they were very friendly which was a nice surprise. The plane was equipped with comfortable leather seats and I also liked the carpet design and the bulkhead decoration.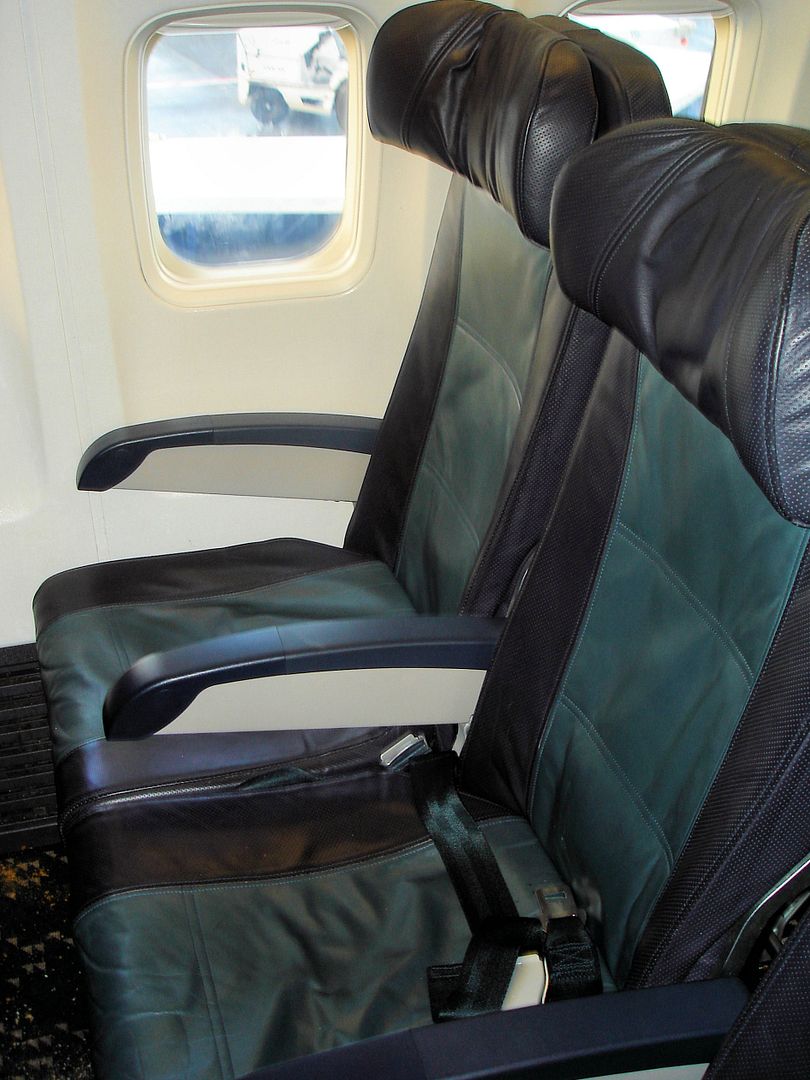 Legroom was absolutely sufficient, too: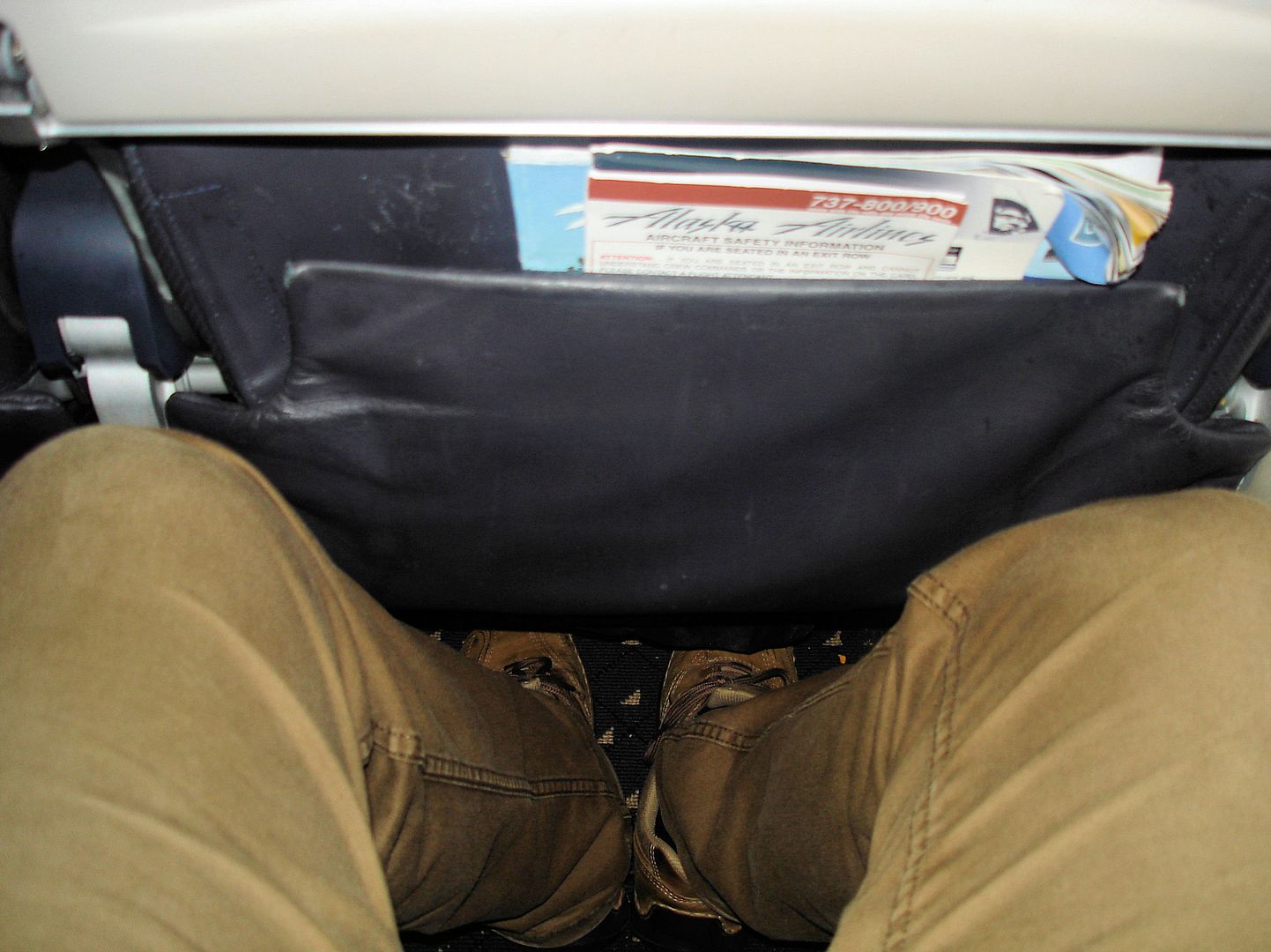 However, the aircraft hadn't been cleaned properly. A real genius had apparently disposed of some chips on the floor:



Just as the next flight attendant passed I pointed at the floor and told her: "I didn't do that." She was quite surprised by the mess and immediately apologized: "Oh, we would have cleaned it if we had seen it." I told her it would be ok because the stuff was dry. "Are you sure?", she asked and I confirmed.

While boarding was continuing I watched the movements outside. Parked next to us was another Alaska 737-800 – one of the few aircraft with a Hawaiian lei added to the tail - that was introduced when the company started flying to Hawaii.




Usually I'm not very interested in the (often boring) standard announcements during boarding but this time I noticed a difference - the (older) male purser spoke with clear voice, added a personal touch and some humor, he sounded very motivated. Well done!

Some minutes later, after boarding had been completed, that very purser stopped some meters in front of my row and startled me as he loudly addressed a male passenger: "You are off this airplane!" The man replied something and the purser added: "Your behavior is not tolerable!"

I couldn't hear every word, but I guess that guy had used foul language against another flight attendant or a passenger. After a short discussion the purser finally said: "Will you promise to be a gentleman for the rest of this flight?" Apparently the guy agreed and the plane was finally ready for departure. Even though the flight was quite full, the seat next to me remained empty, so I could stretch out.

We left the gate 13 minutes late, passed the cargo ramp...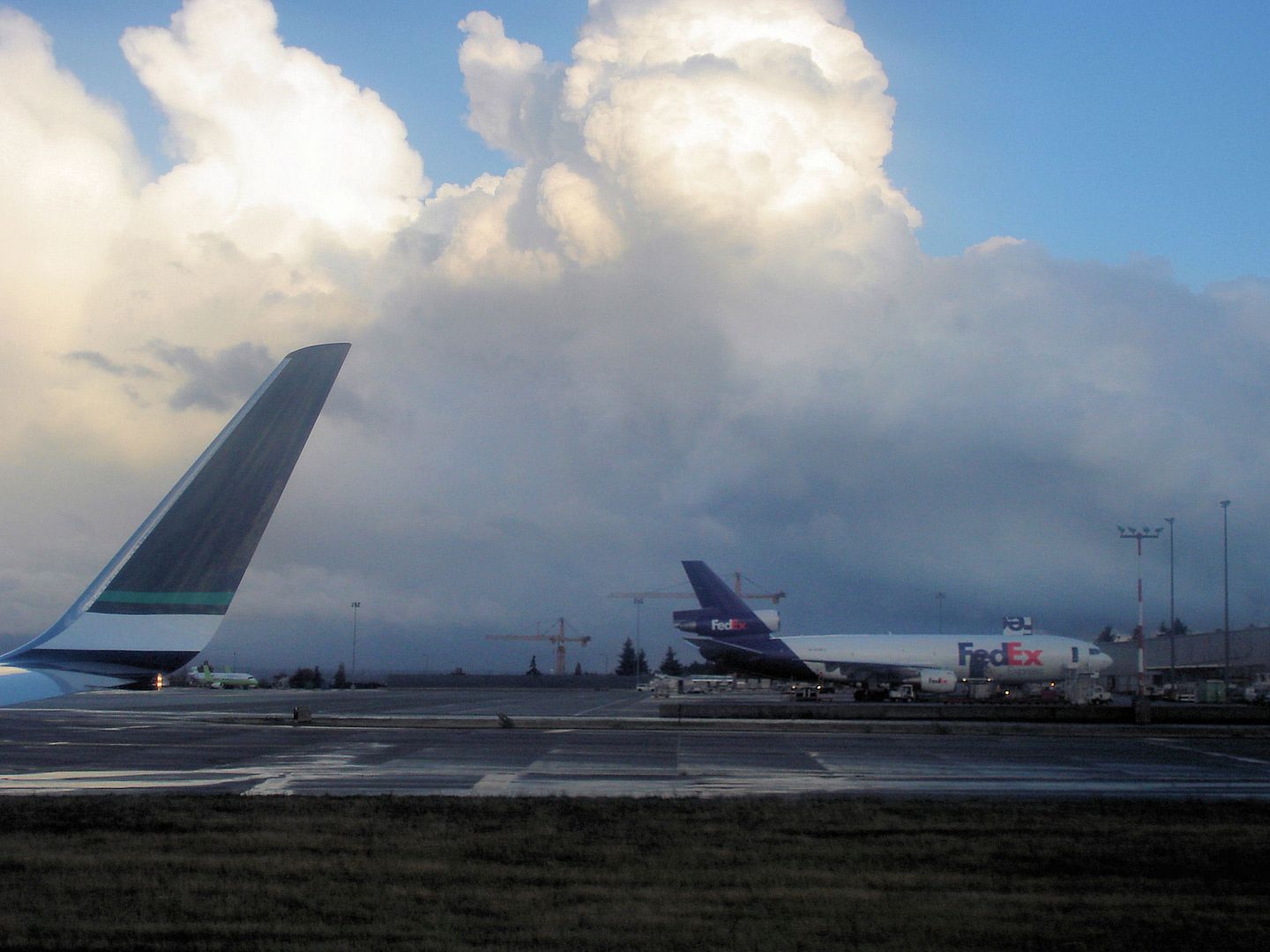 ...and climbed out after a powerful takeoff roll. Nice light effects: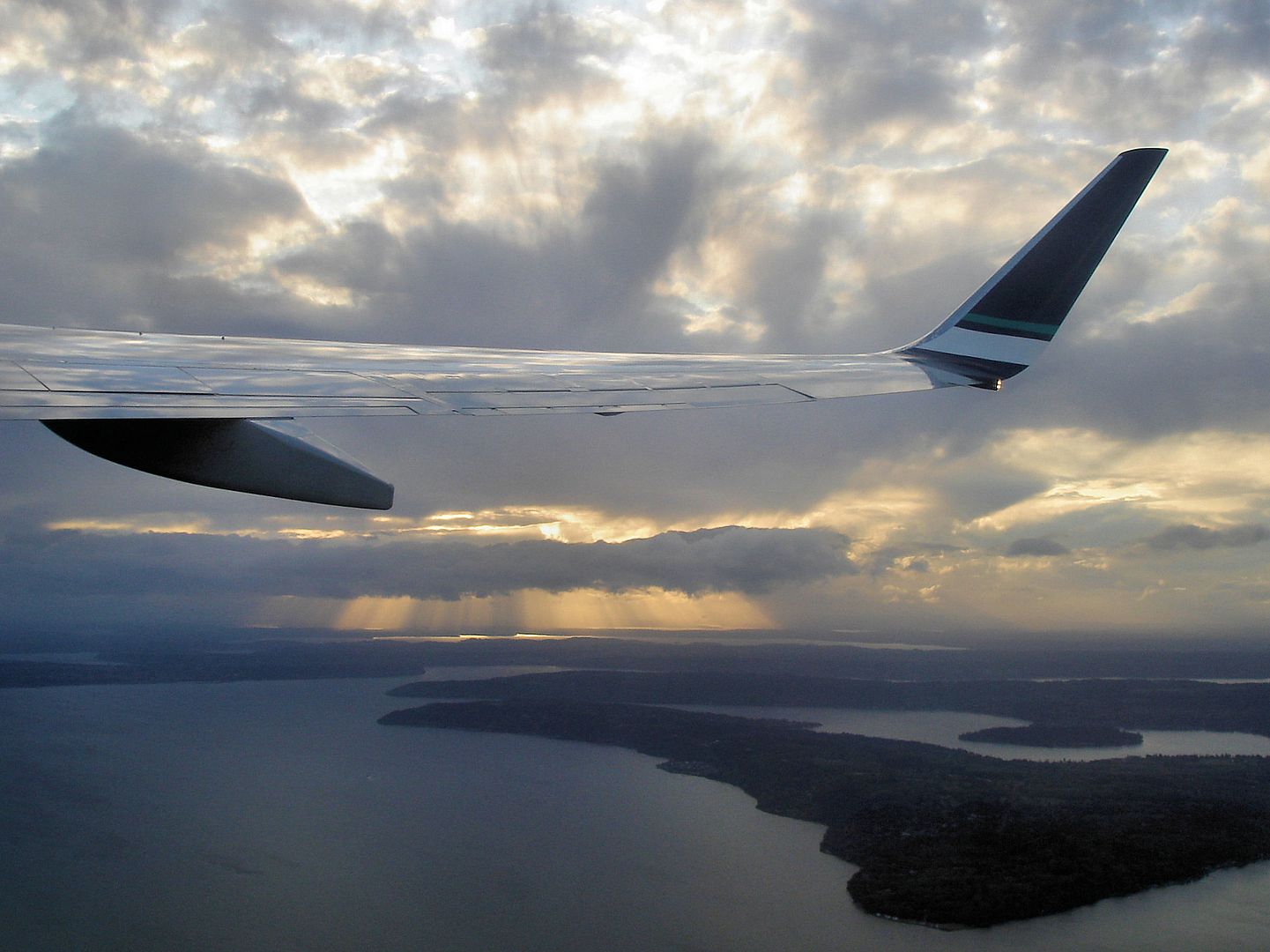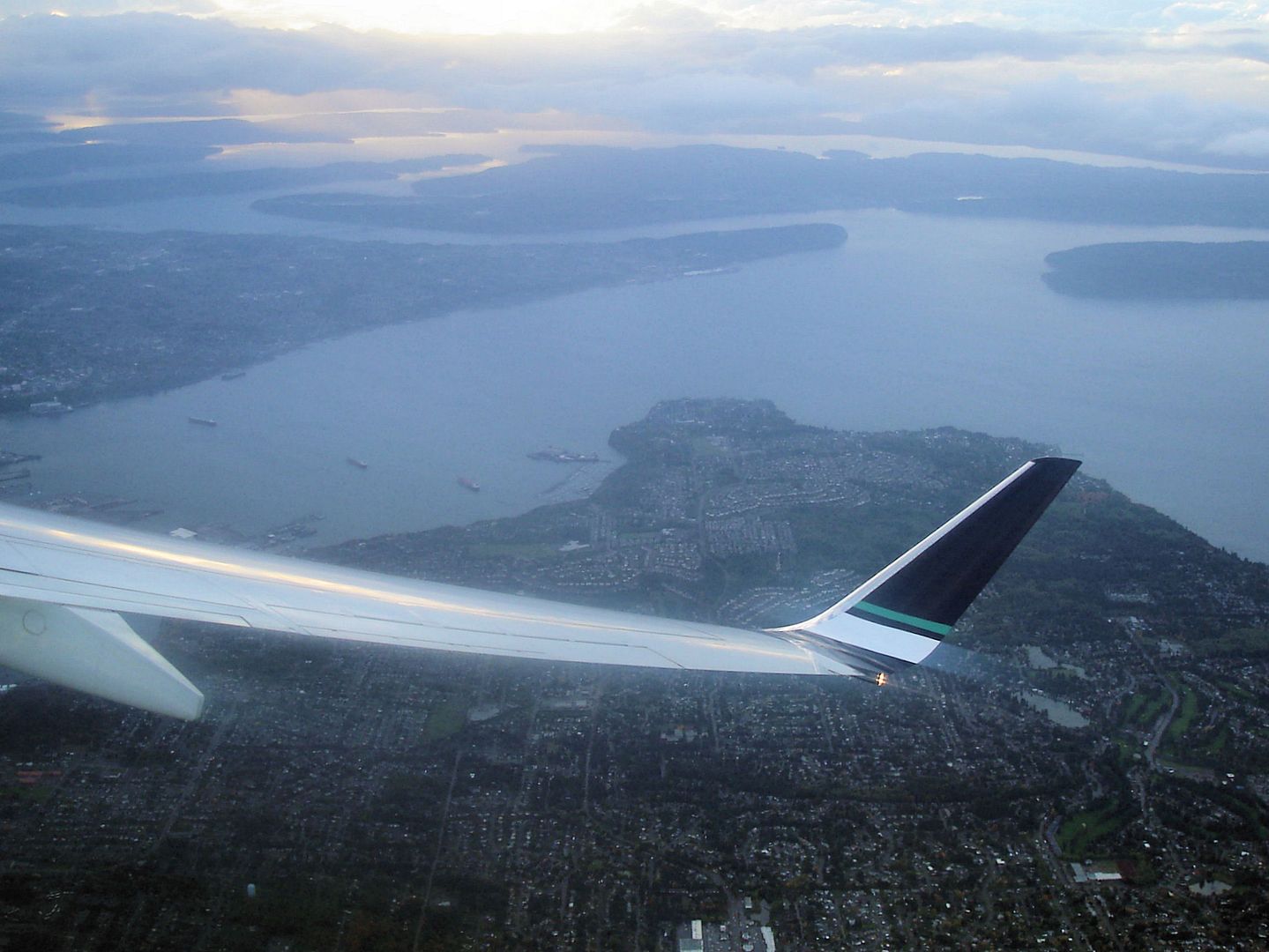 Goodbye, Seattle/Tacoma Airport, hope to see you again soon!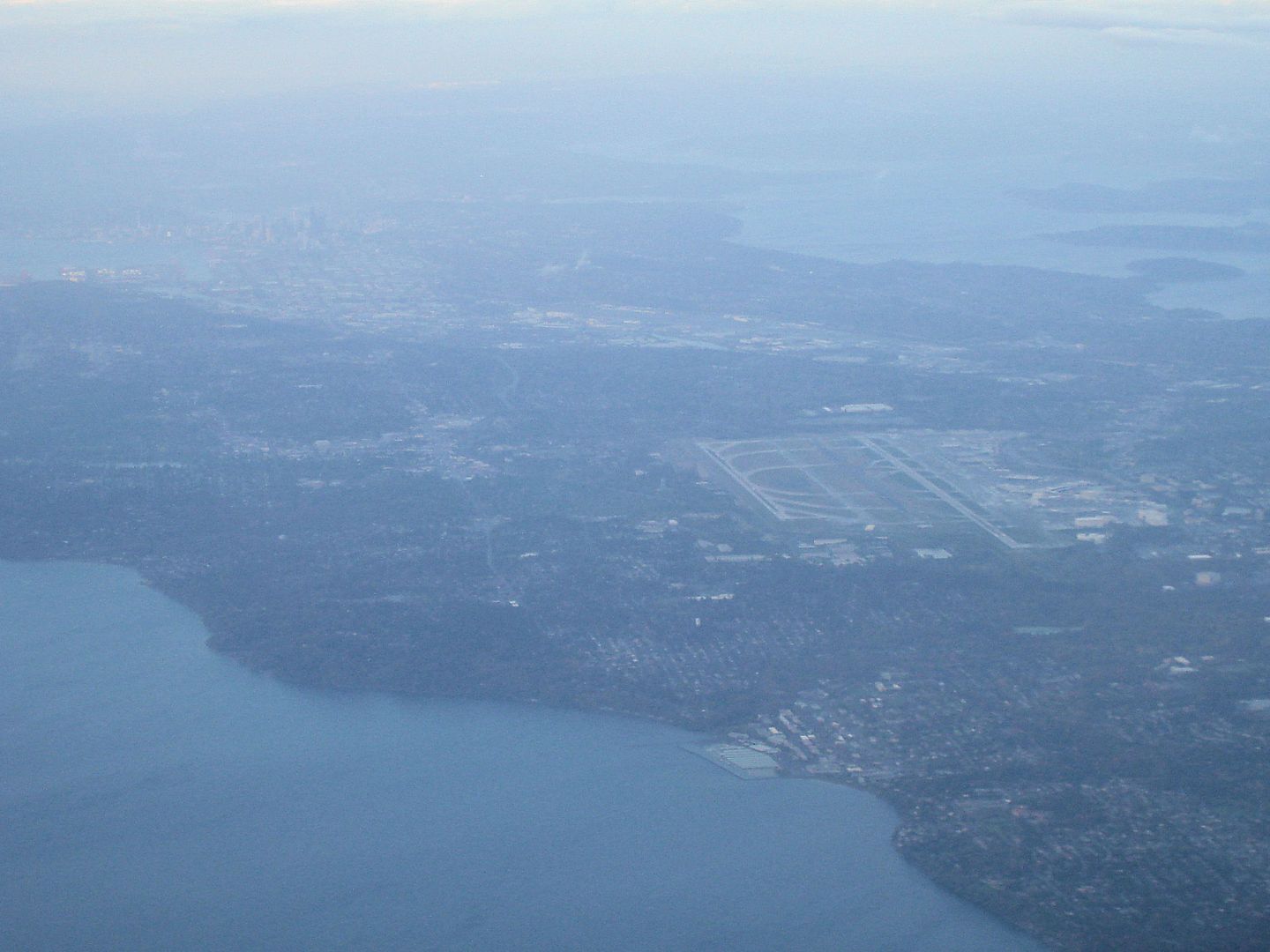 Half an hour after takeoff the friendly flight attendants handed out pretzel bags and offered free drinks (alcoholic drinks available for USD 6). So what did I order? Ginger ale, of course: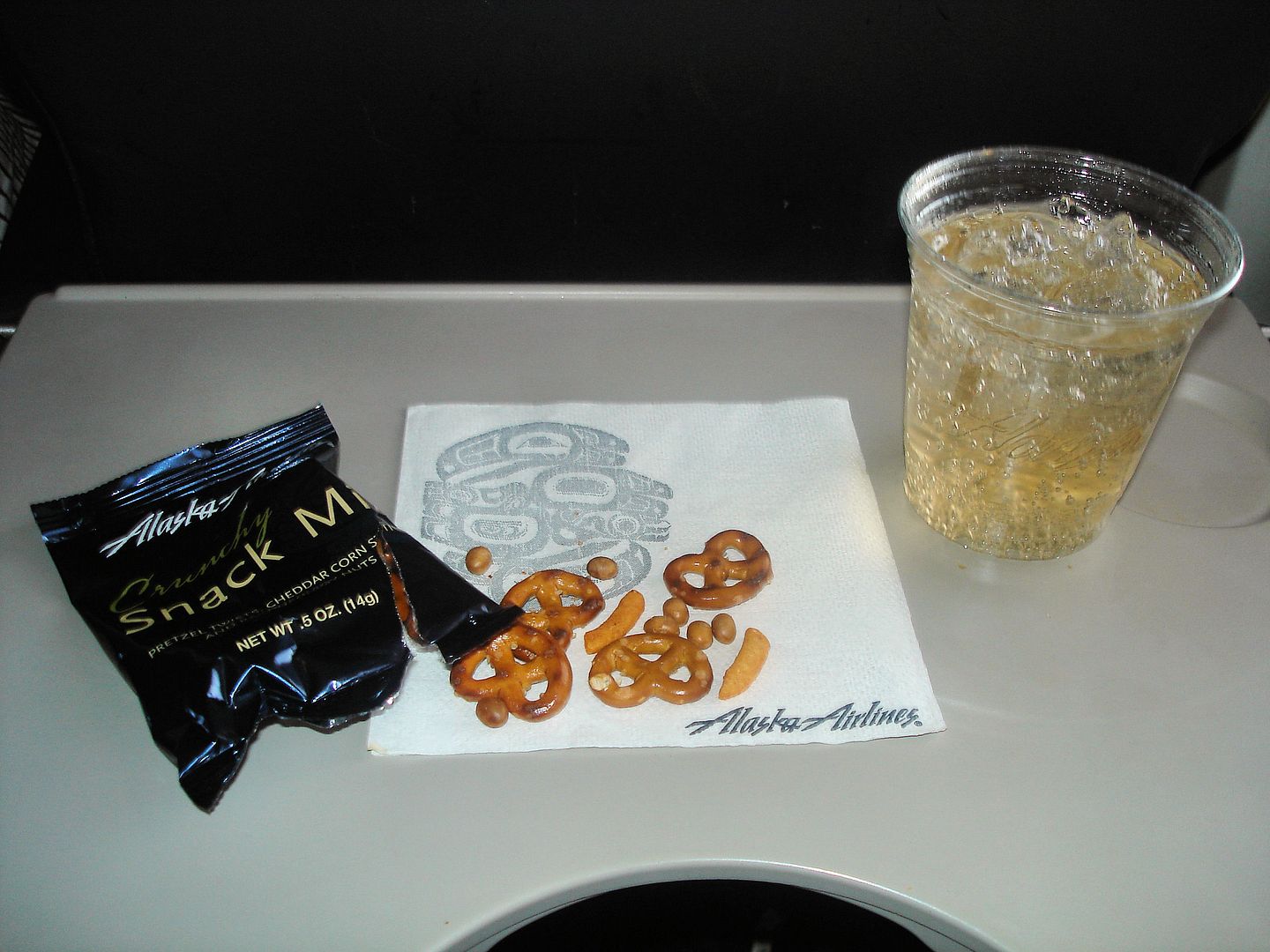 I wasn't hungry, but curious about Alaska's Northern Bites Anytime Picnic Packs offered for USD 6. The regular snack pack contained salami and applesauce (allergy) which didn't attract me, so I ordered the vegetarian version. I got chips, hummus dip, cheese, a fruit & nuts and a snack mix, chocolate and candy - not a culinary delight, but definitely an interesting combo: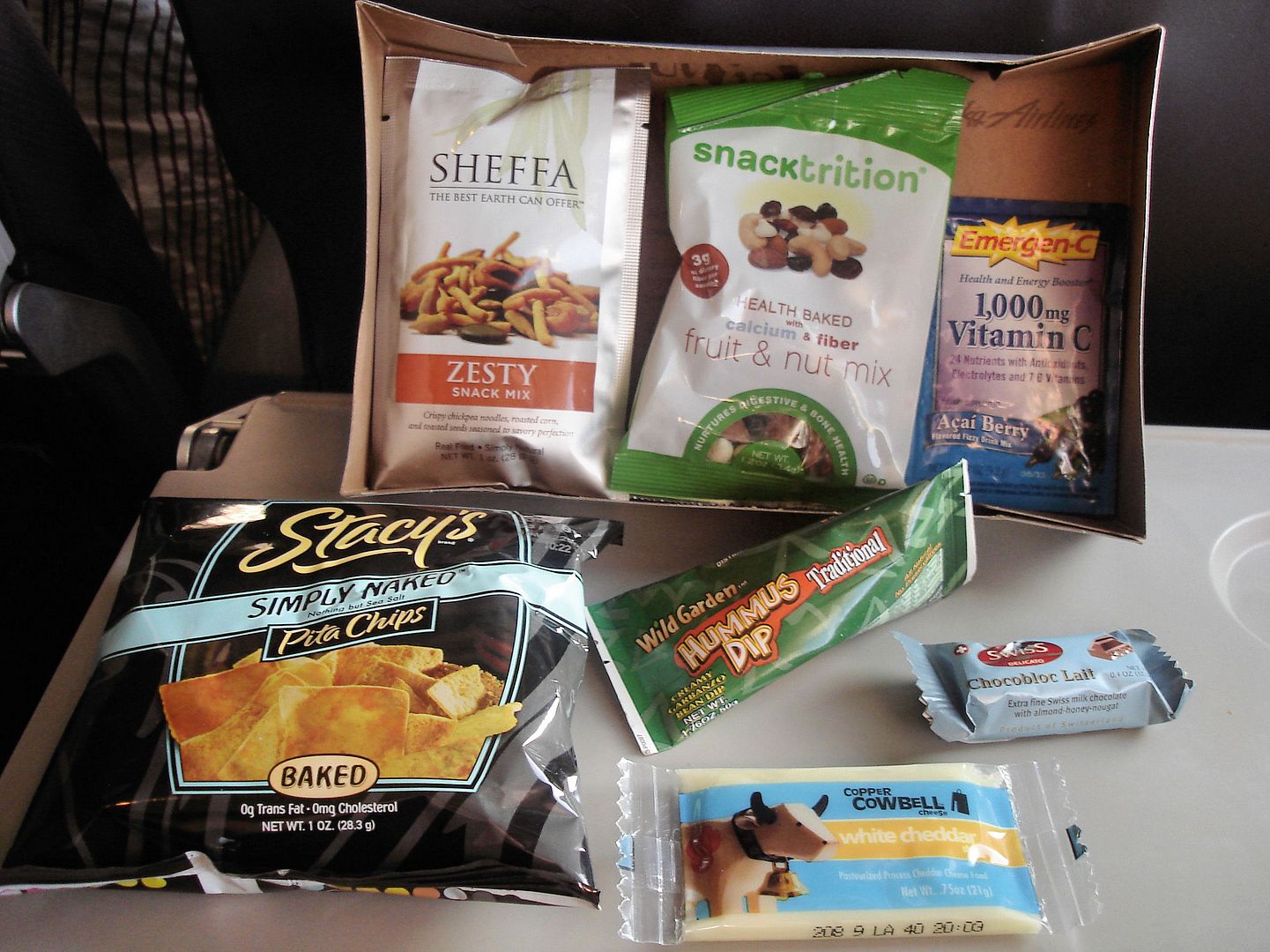 The sun was slowly sinking into the Pacific Ocean and I enjoyed the beautiful light effects: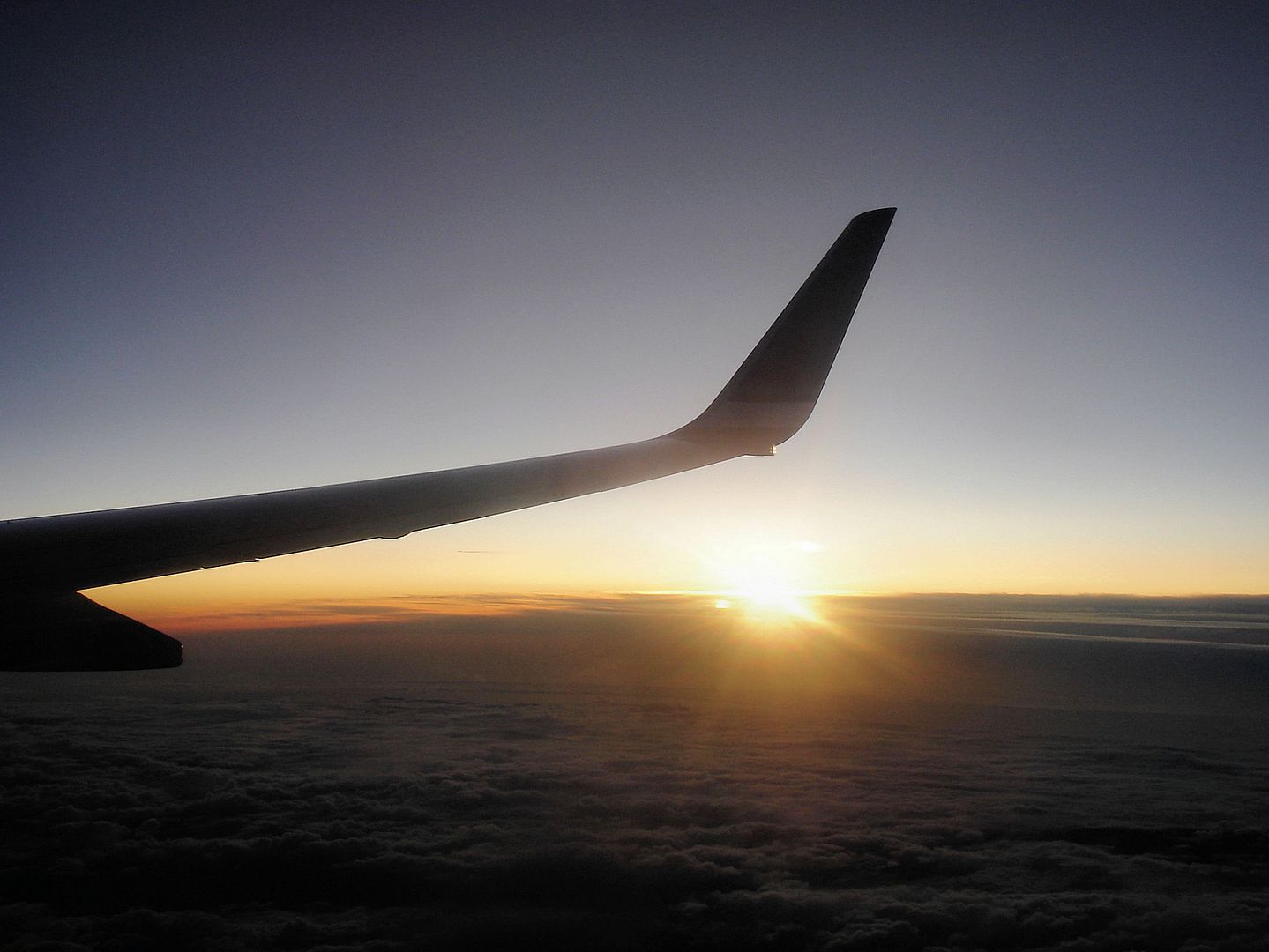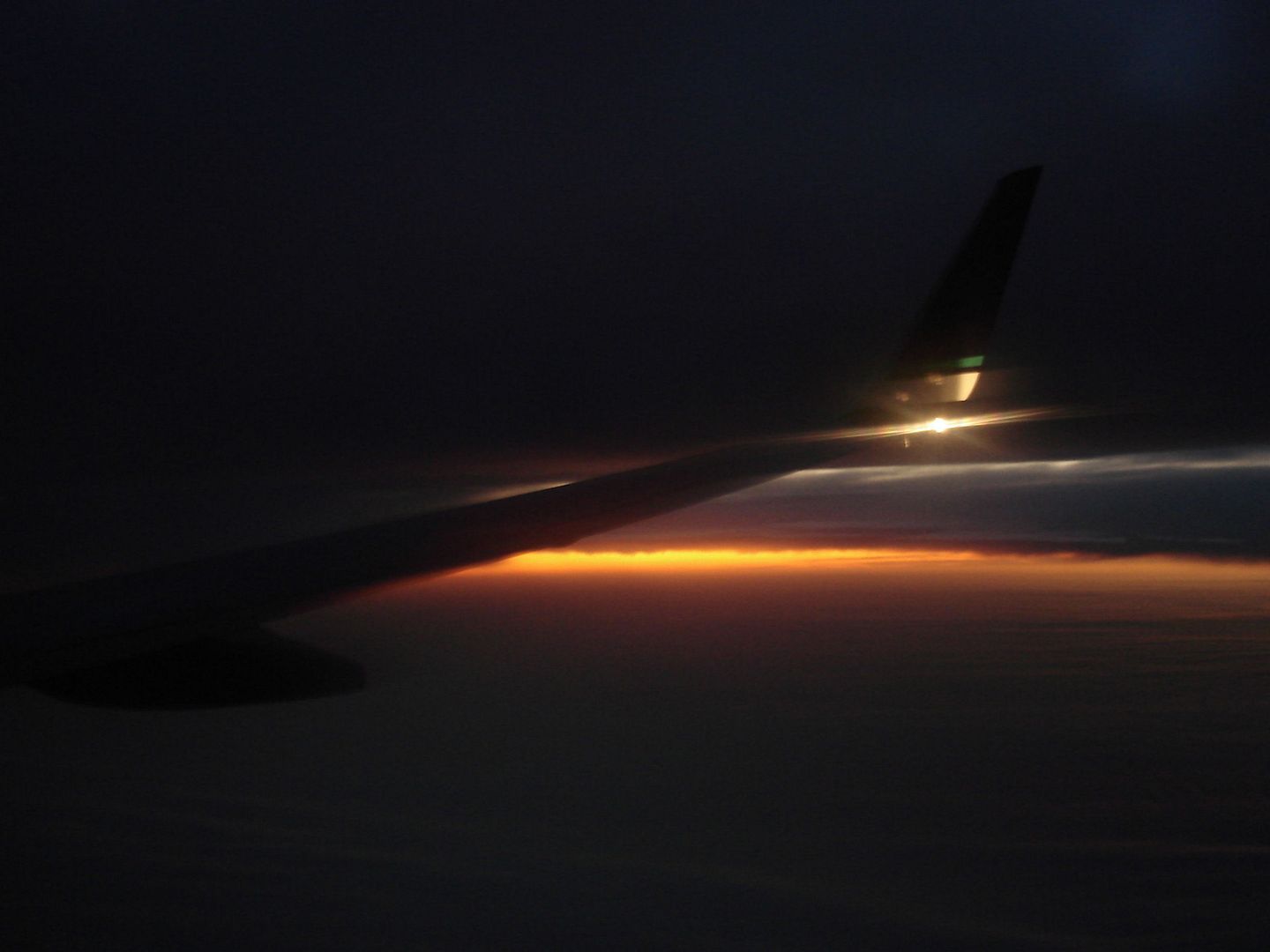 After we started the approach to San Jose the purser made some more nice announcements. He didn't just express the usual "Please turn off your electronic devices now." but chose to say "Please turn off your electronic devices for landing. But one more song would be ok." Nice!


We touched down at San Jose Airport after a flying time of 1 hour and 53 minutes and arrived at a remote stand 12 minutes behind schedule. After leaving the aircraft via stairs I asked a ground crew member whether it's ok to take a picture of the aircraft. He confirmed and even offered to take a picture of me together with the aircraft's nose. Another nice surprise!





Sunday, 18 October 2009
San Jose (SJC) - Los Angeles (LAX)
American Eagle AA3175
08:20-09:30 (08:20-10:03)
Flying time: 00:55 (hrs)
Economy Class, Seat 14C

Embraer ERJ 140LR
N831AE (s/n 616)
Delivered in 07/2002

1st flight on N831AE
1st ERJ 140 flight
3rd ERJ flight
85th airline






After spending the night at the nearby Fairfield Inn I returned to the airport early in the next morning. Checking in at a kiosk was a matter of two minutes, but I still had to pay the usual USD 20 fee for my checked luggage. Then I joined a long queue at security - and I noticed that the airport is not just outdated, but also lacks space.
My gate was still deserted, so I kept reading until the desired ERJ 140 arrived from Los Angeles. The aircraft was N831AE, delivered in July 2002:




An announced boarding delay due to a "computer problem at the gate" lasted only a few minutes and I could soon enter the aircraft. In contrast to the cheerful crews on Skywest and Alaska an unlikeable middle-aged female flight attendant served on this American Eagle aircraft. She wouldn't show a single smile throughout the whole flight and appeared to be quite indifferent about her job.


The cabin was equipped with hard leather seats...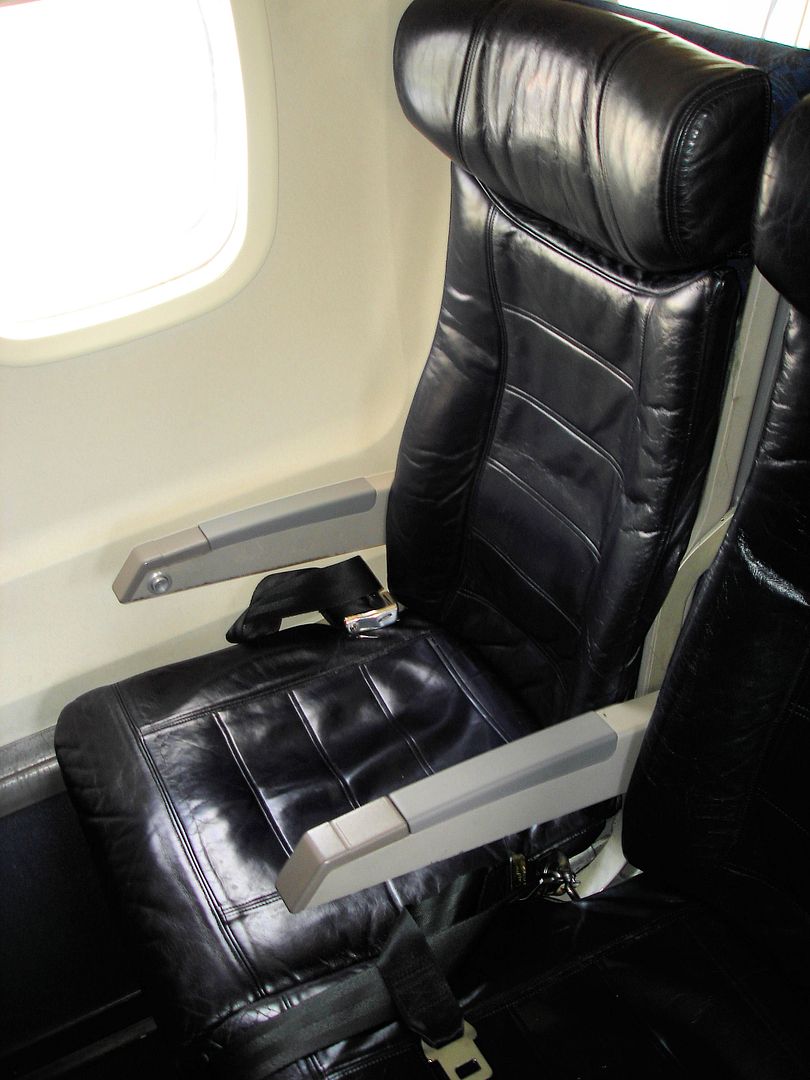 ...and legroom was tight:



The flight was full and my seat neighbor was not only tall - reducing my personal space on that cramped ERJ even more - but also grumpy. I was glad that this flight would be short - at least that's what I thought at this point of time.

Parked next to us was American MD-83 N9617R - and I noticed that the fog around us was becoming more dense:




Despite the short boarding delay we left the gate exactly on time and started taxiing into the fog:



However, after a few minutes the plane stopped and the engines were shut down. A few moments later the captain explained the situation: "We need a visibility of 1600 feet which we don't have. If it doesn't get better within 30 minutes we will return to the gate. Yesterday it took until 10."
Wow, being stuck in that cramped seat was quite frustrating - at least I didn't have to get a connecting flight. I was hoping the delay wouldn't last too long and I sent a text message to The777Man who would pick me up at LAX.

After 15 minutes the captain informed us that visibility had improved from 1200 to 1400 feet. Luckily, another 15 minutes later, we were cleared for takeoff. We broke through the fog shortly after liftoff...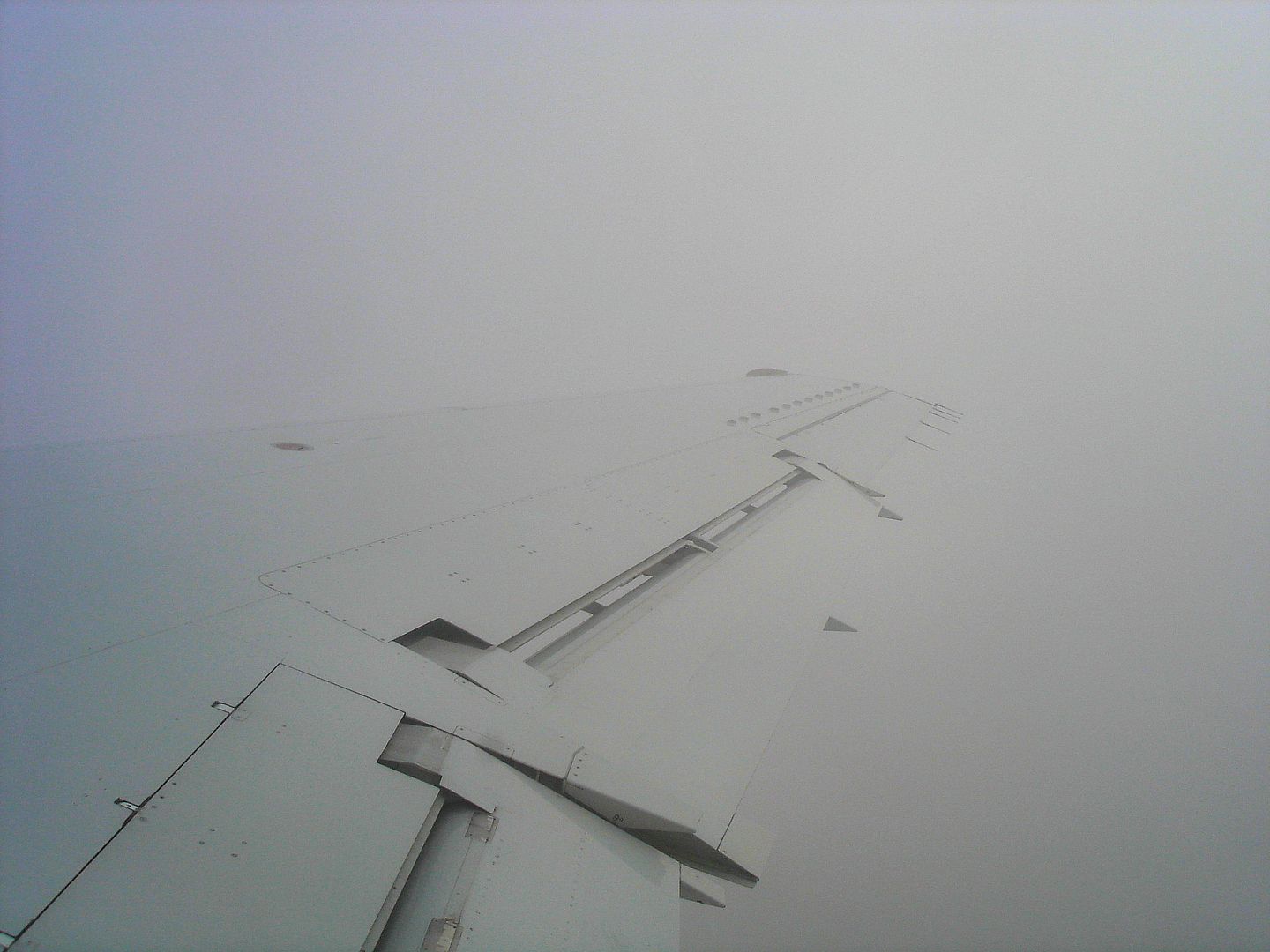 ...and I could enjoy great views: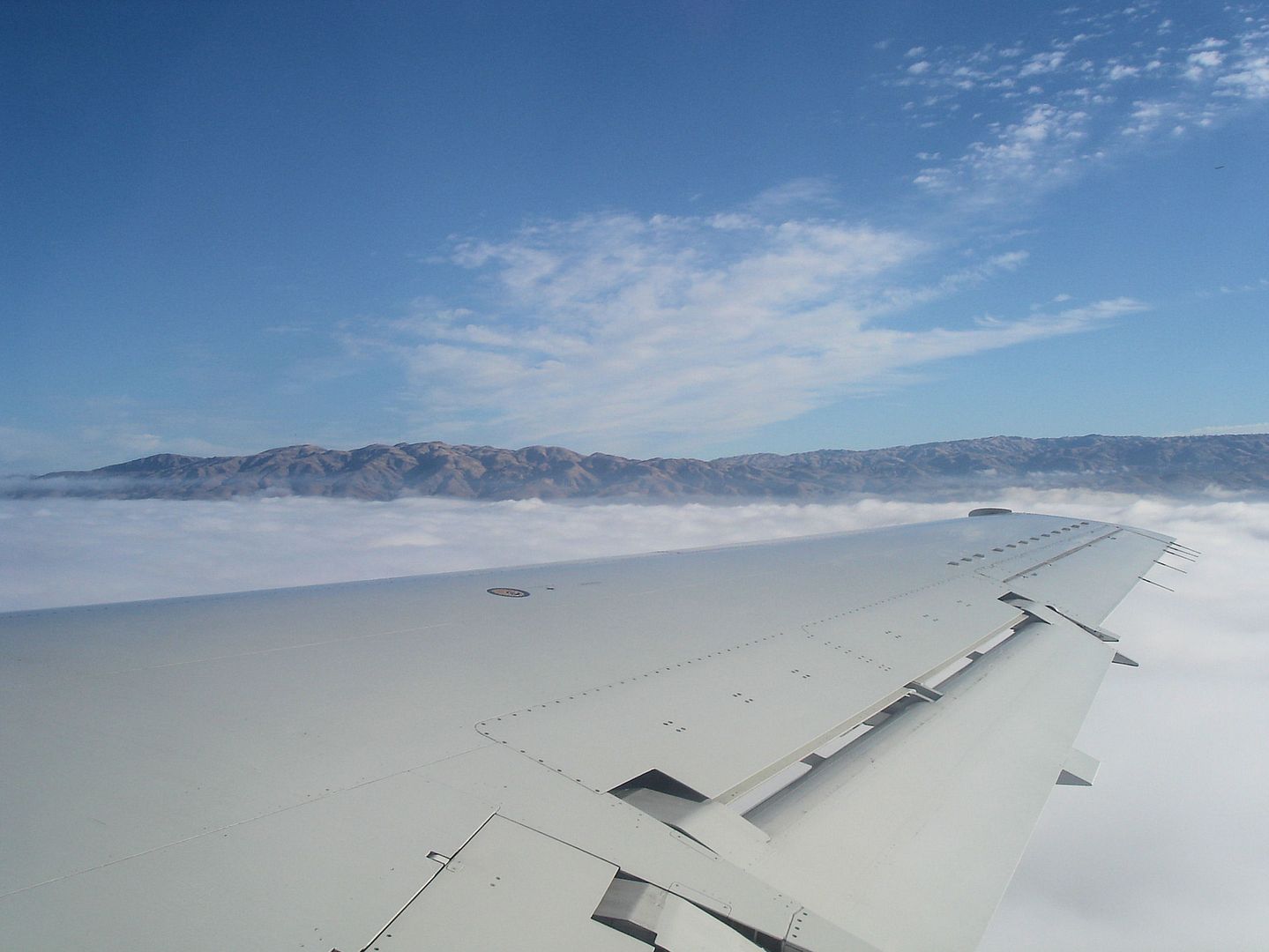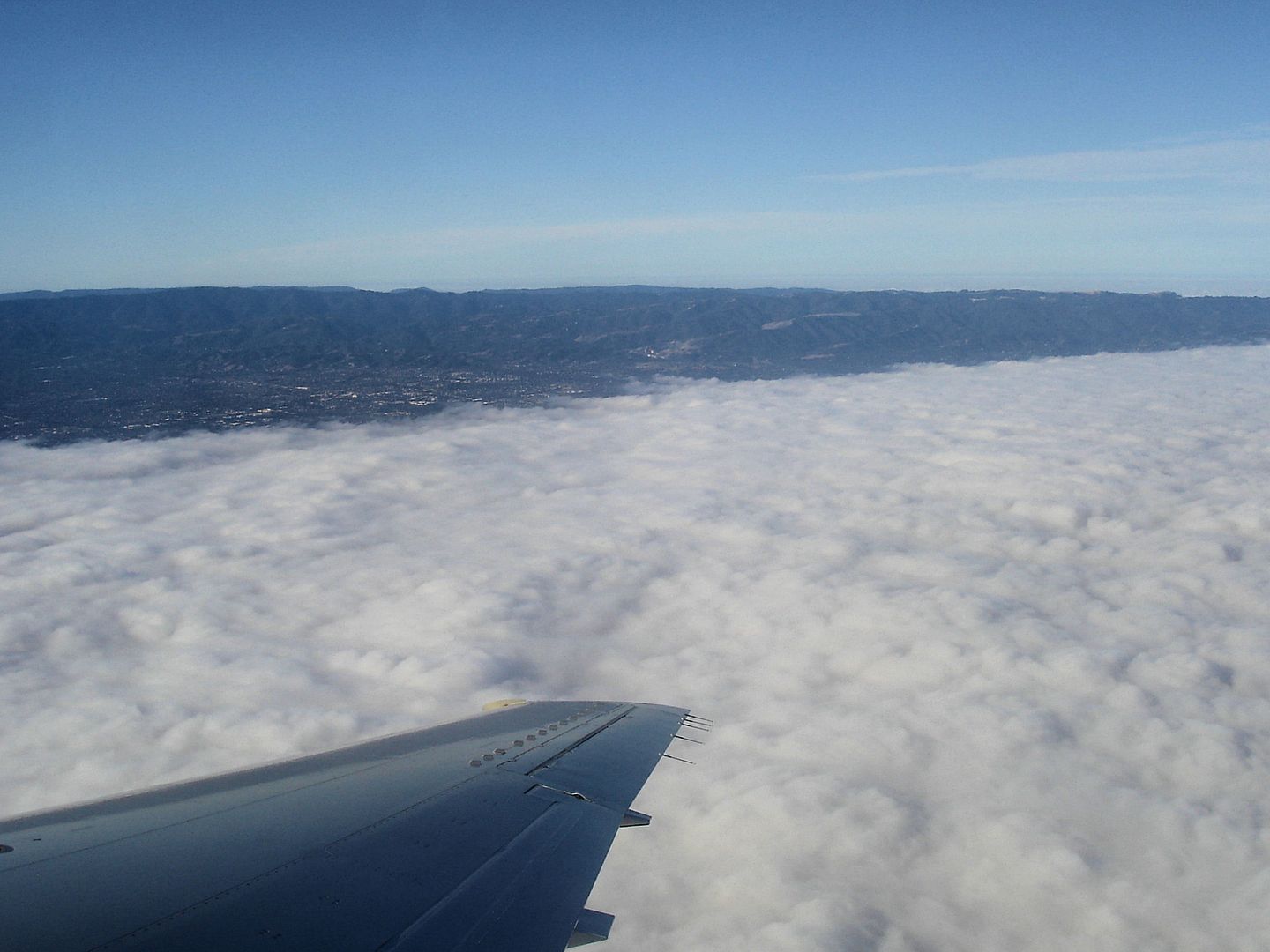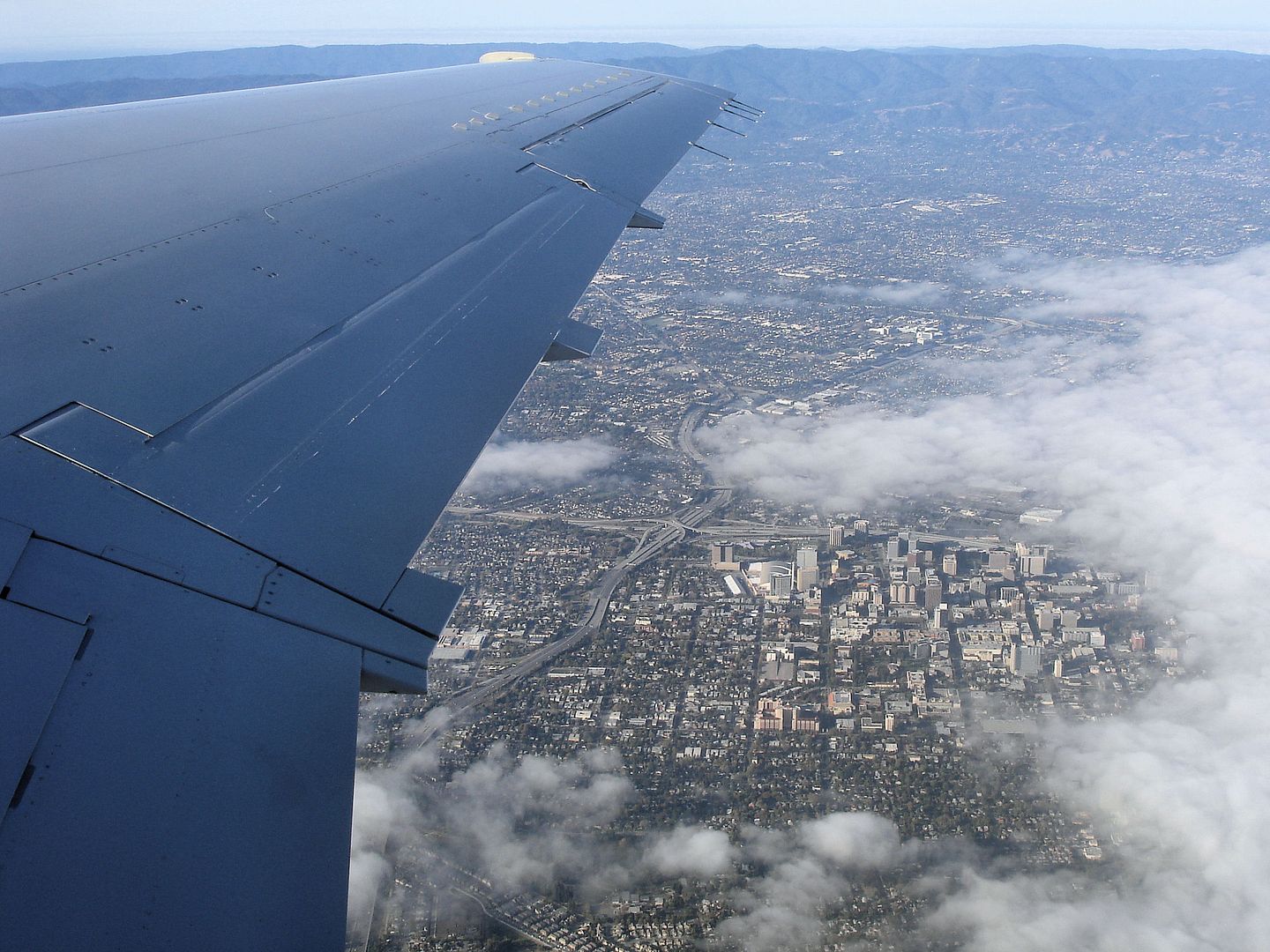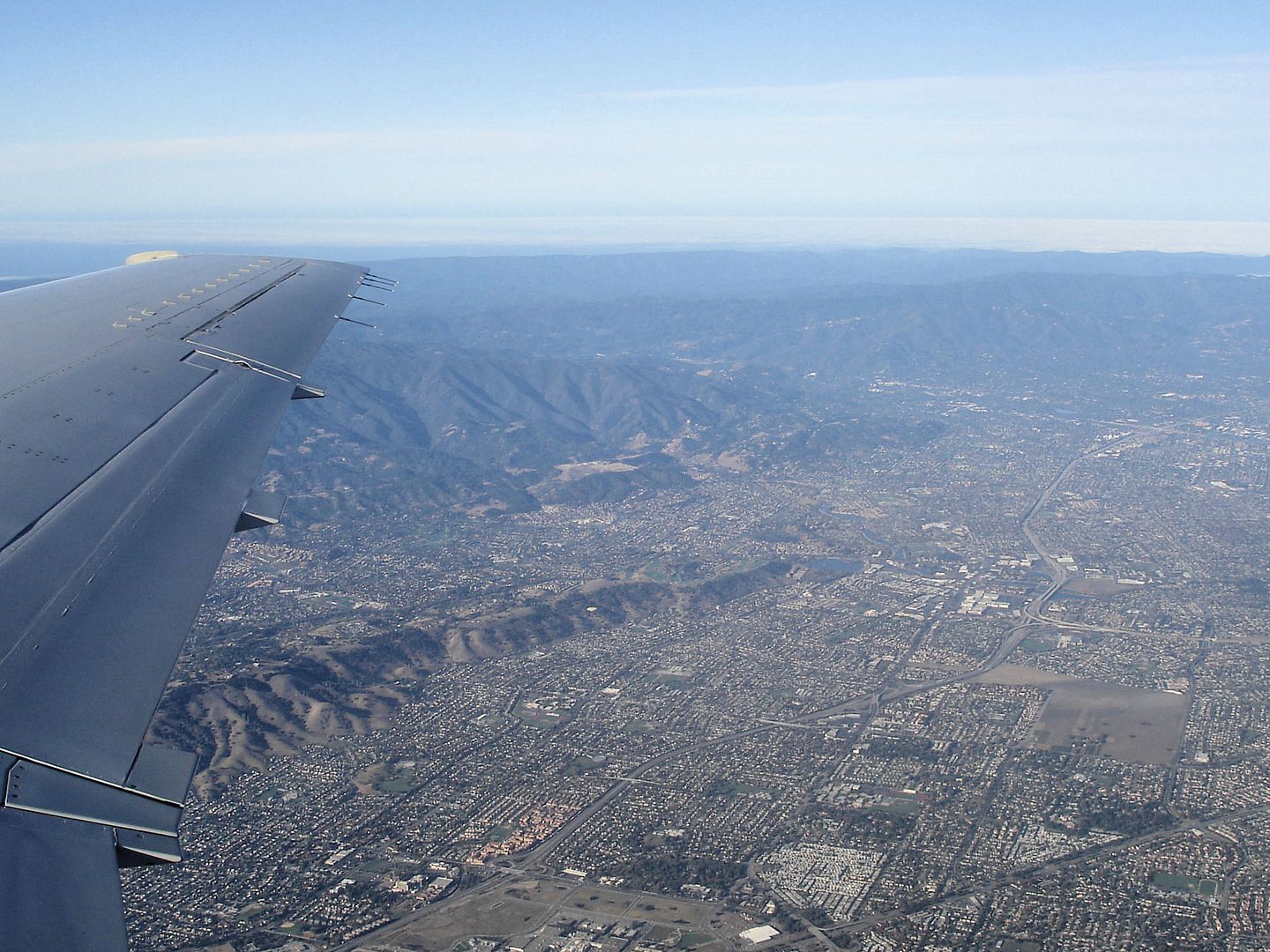 The grumpy flight attendant offered drinks and I ordered ginger ale, as usual: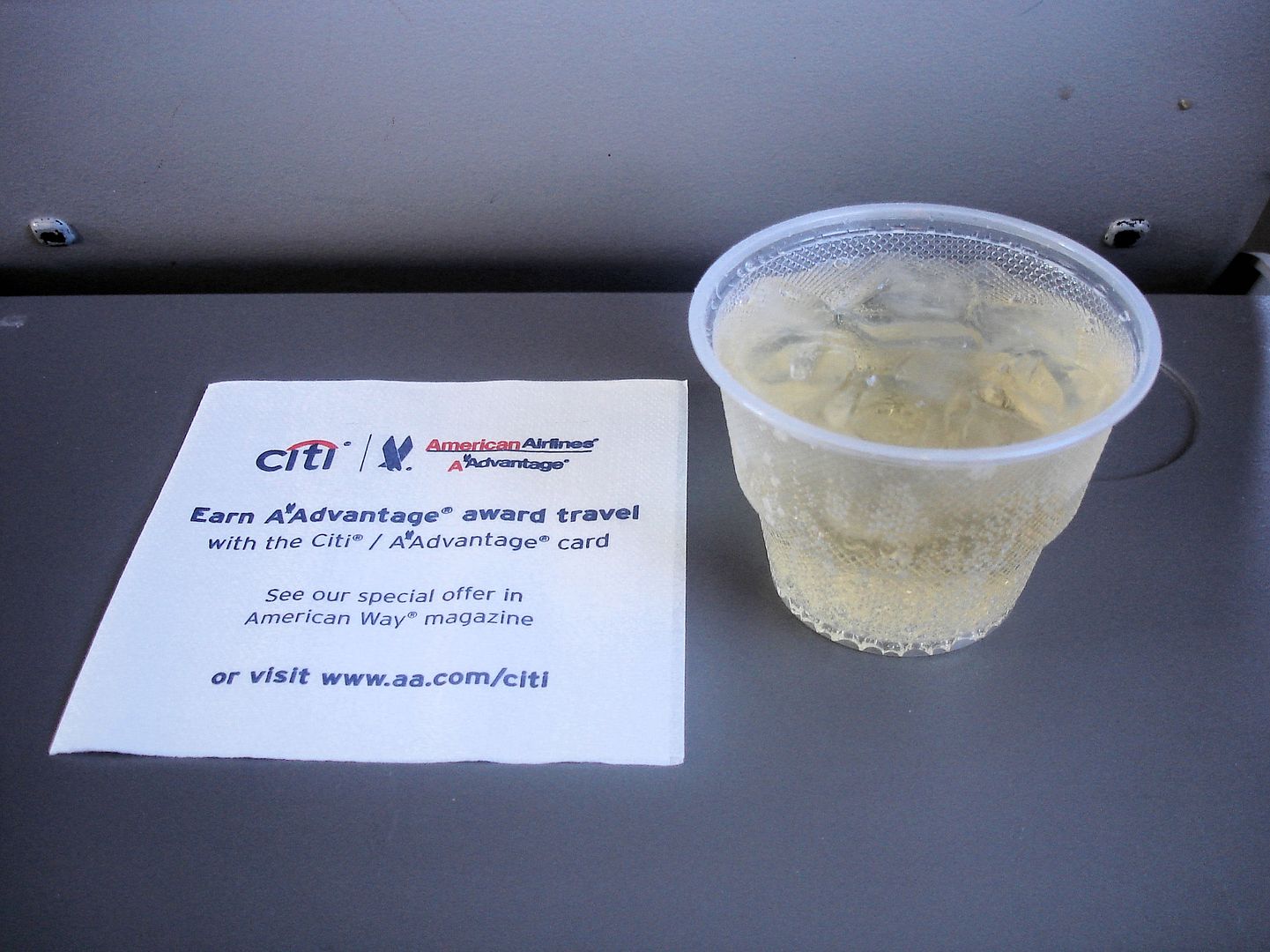 Time passed quickly and we soon started approaching LAX - which is always a special pleasure for me.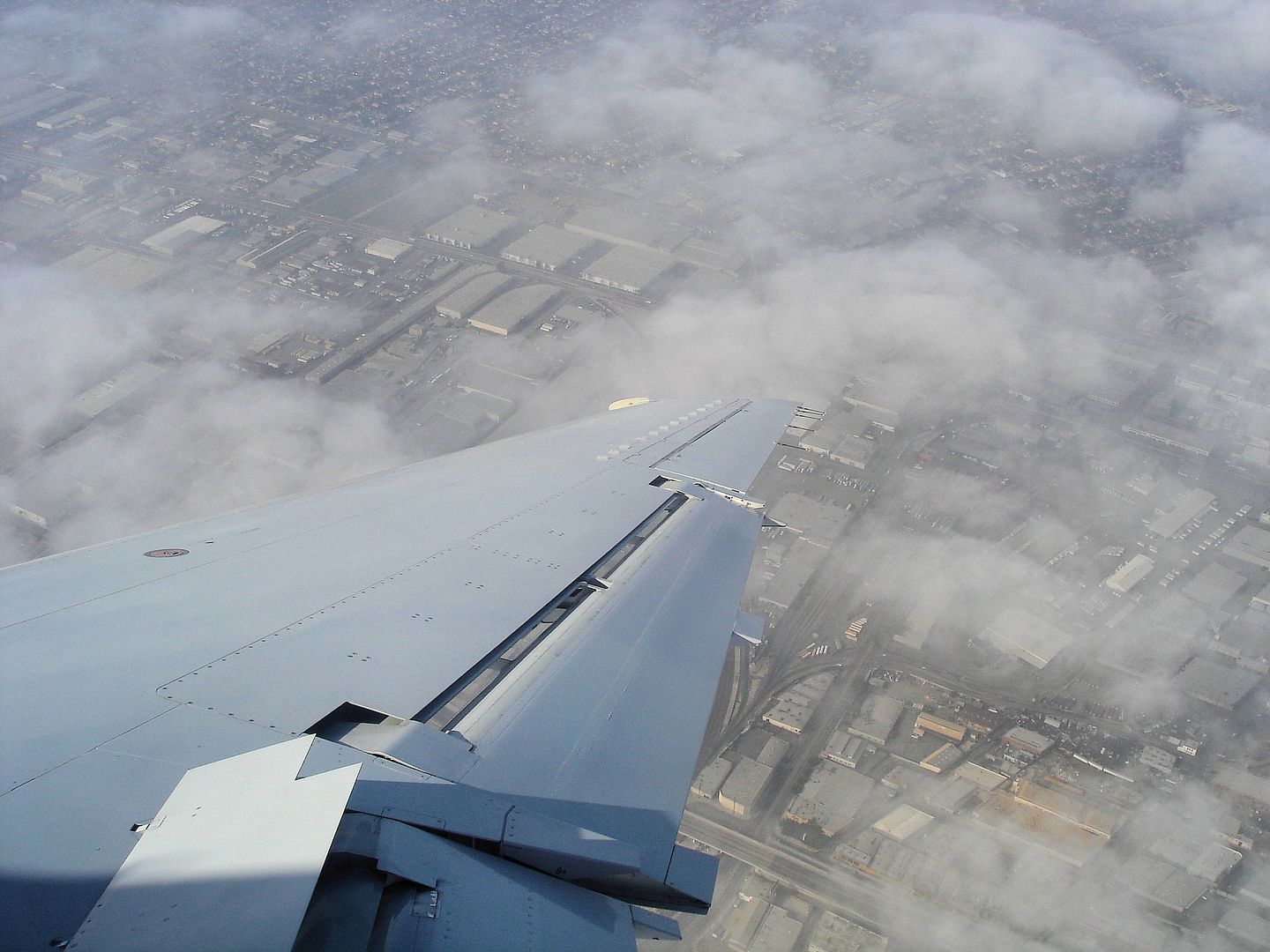 Countless warehouses: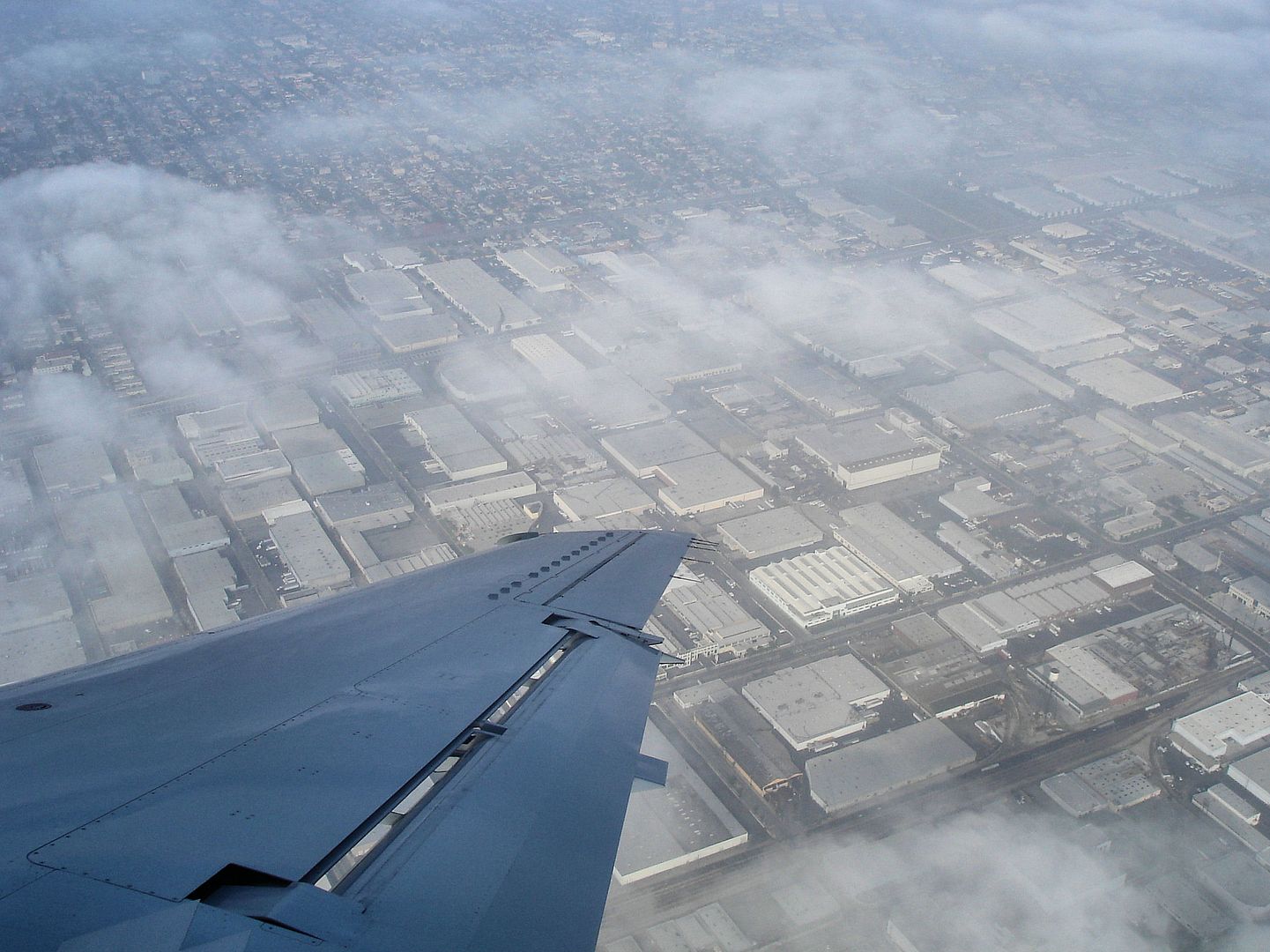 The Los Angeles skyline partly covered by clouds (at the far right):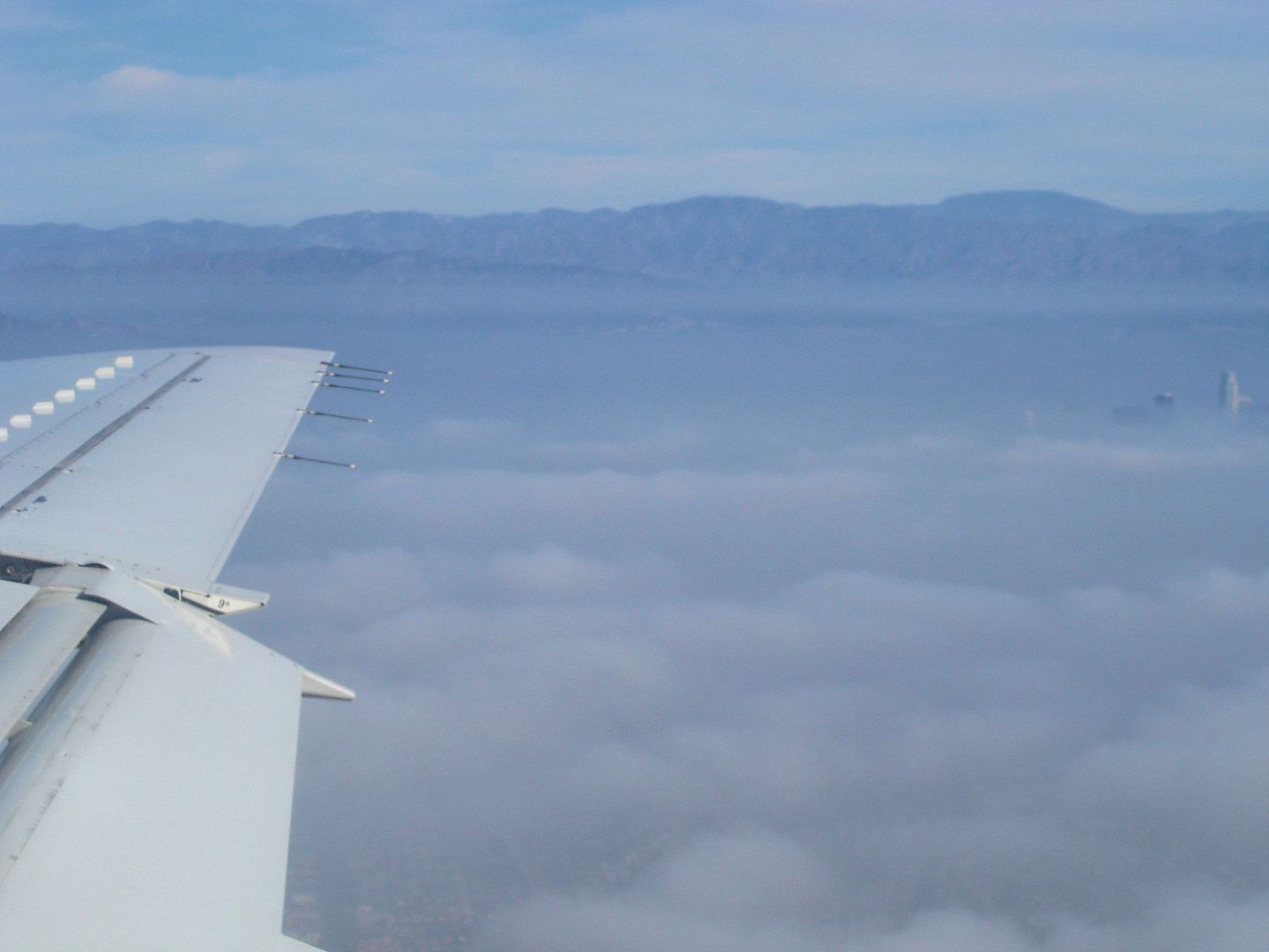 Only a few more moments to go: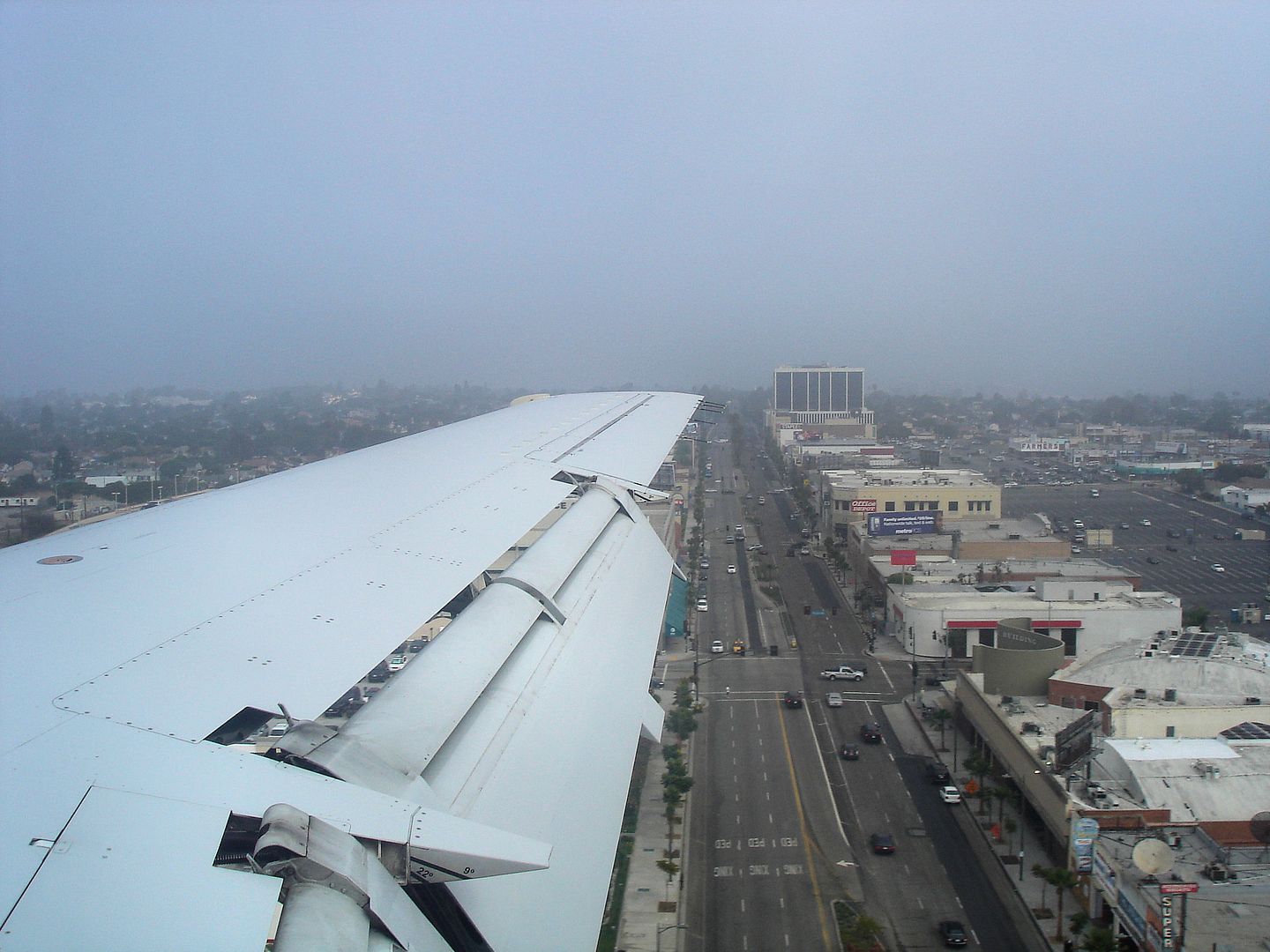 We touched down after a flying time of 55 minutes and arrived at the remote American Eagle satellite terminal 33 minutes behind schedule. One more shot of N831AE: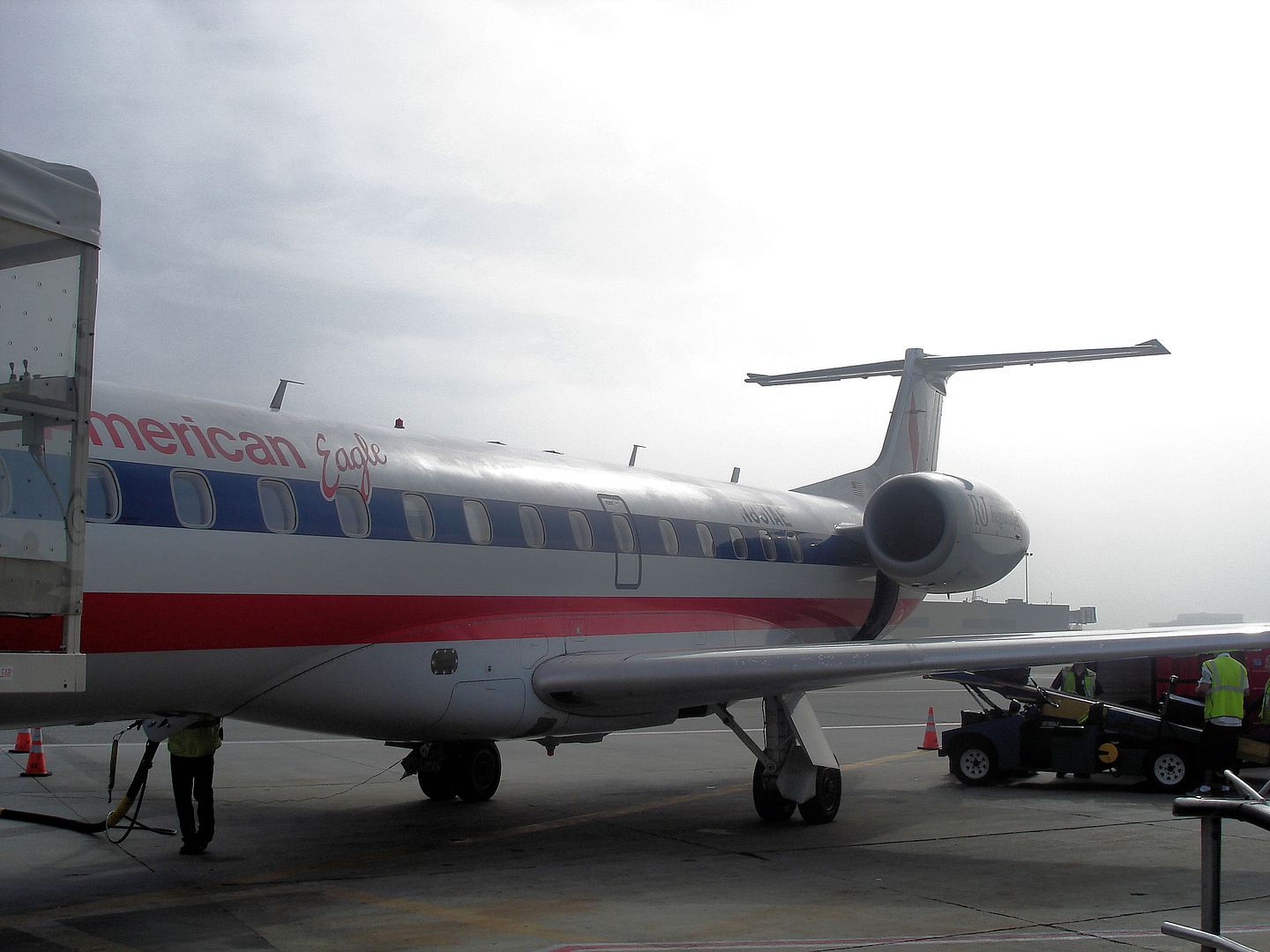 I took the next shuttle to Terminal 4, grabbed my luggage and called The777Man who showed up only a few minutes later.


Spotting at LAX
The777Man and I went straight to the famous spotting spot at the In-N-Out restaurant. Two hours later we moved on to the spot at Imperial Hill where I took a few pictures: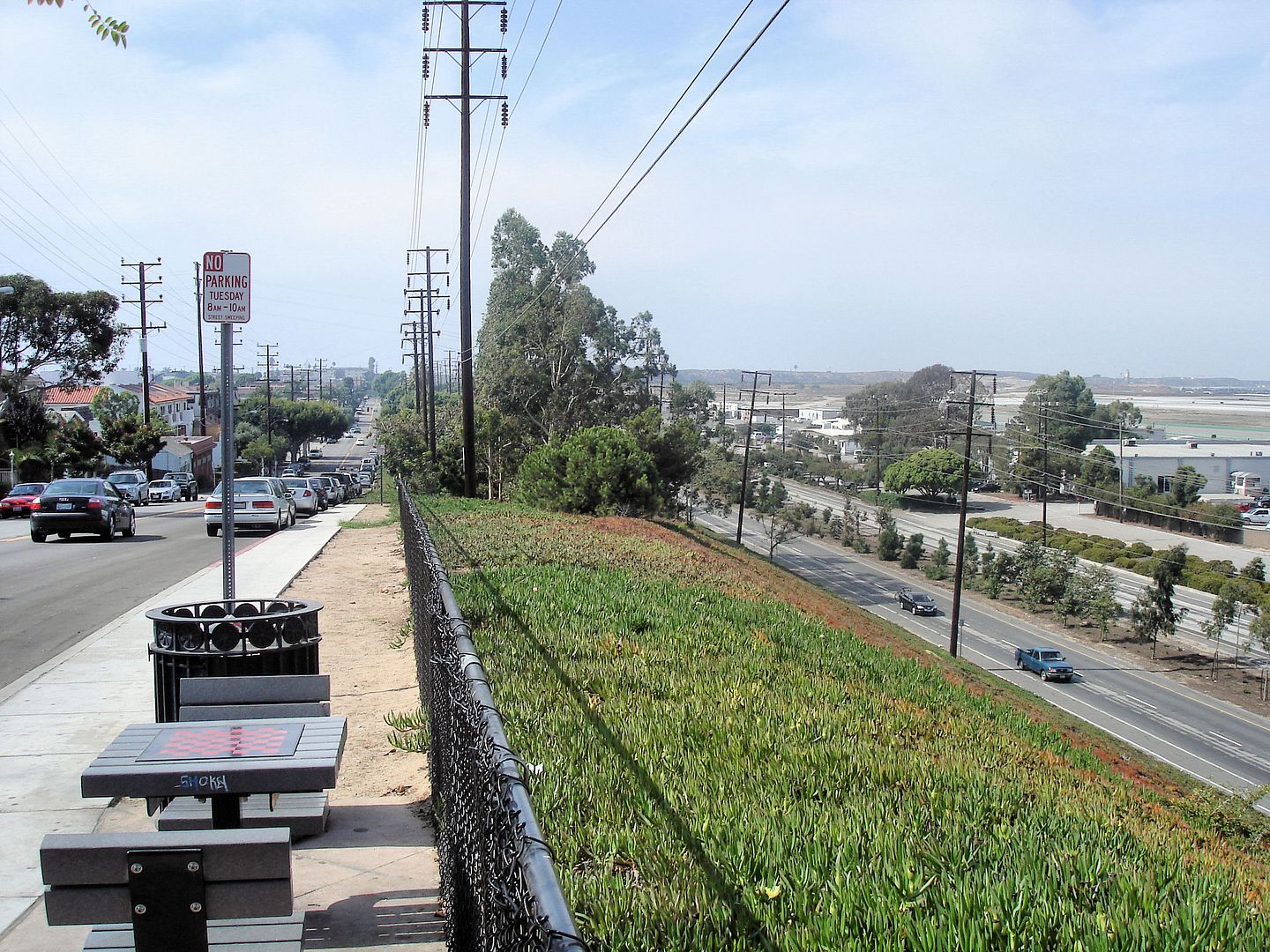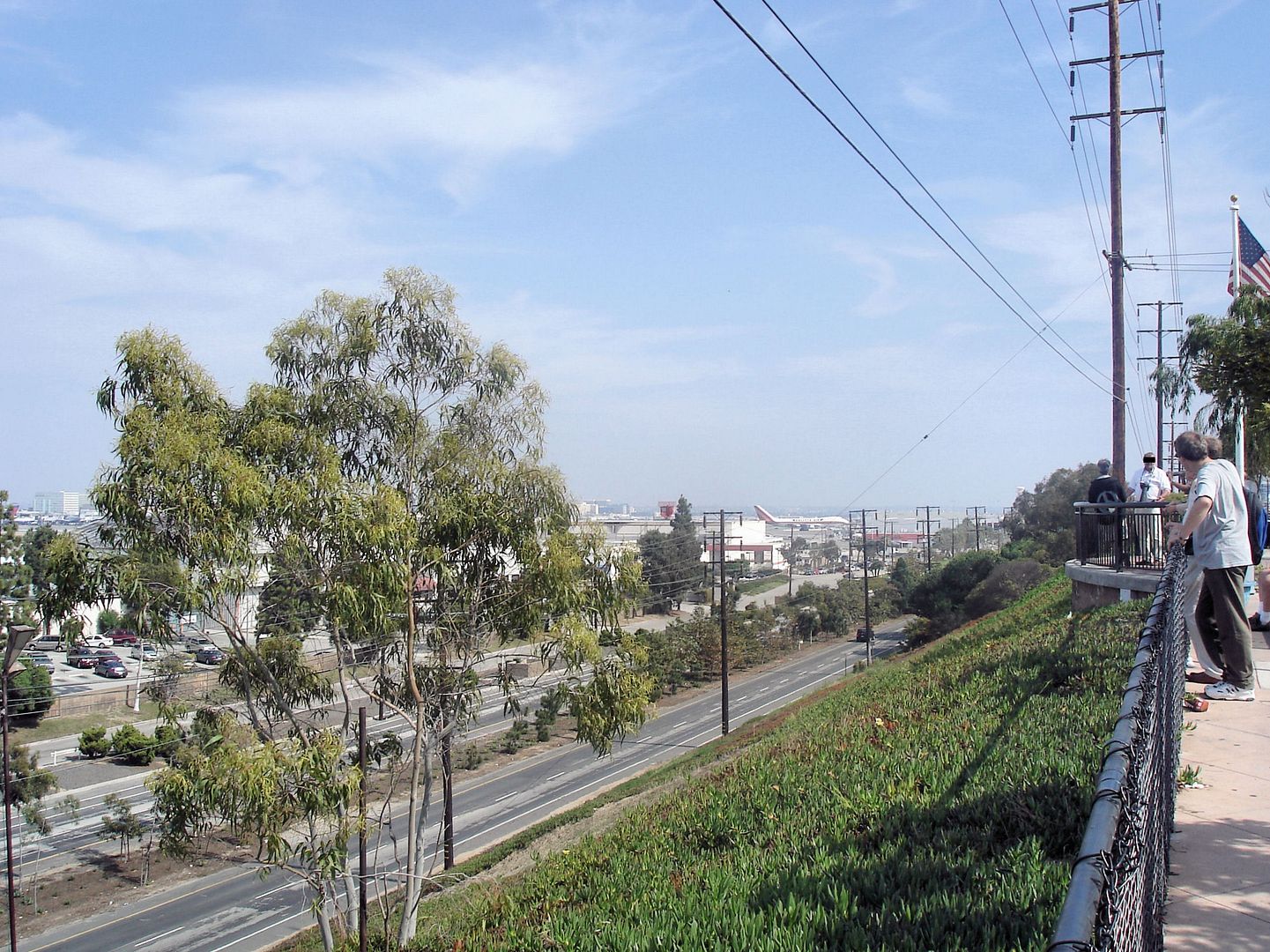 One of the highlights for us 777 fans was Emirates Boeing 777-21HLR A6-EWC arriving from Dubai: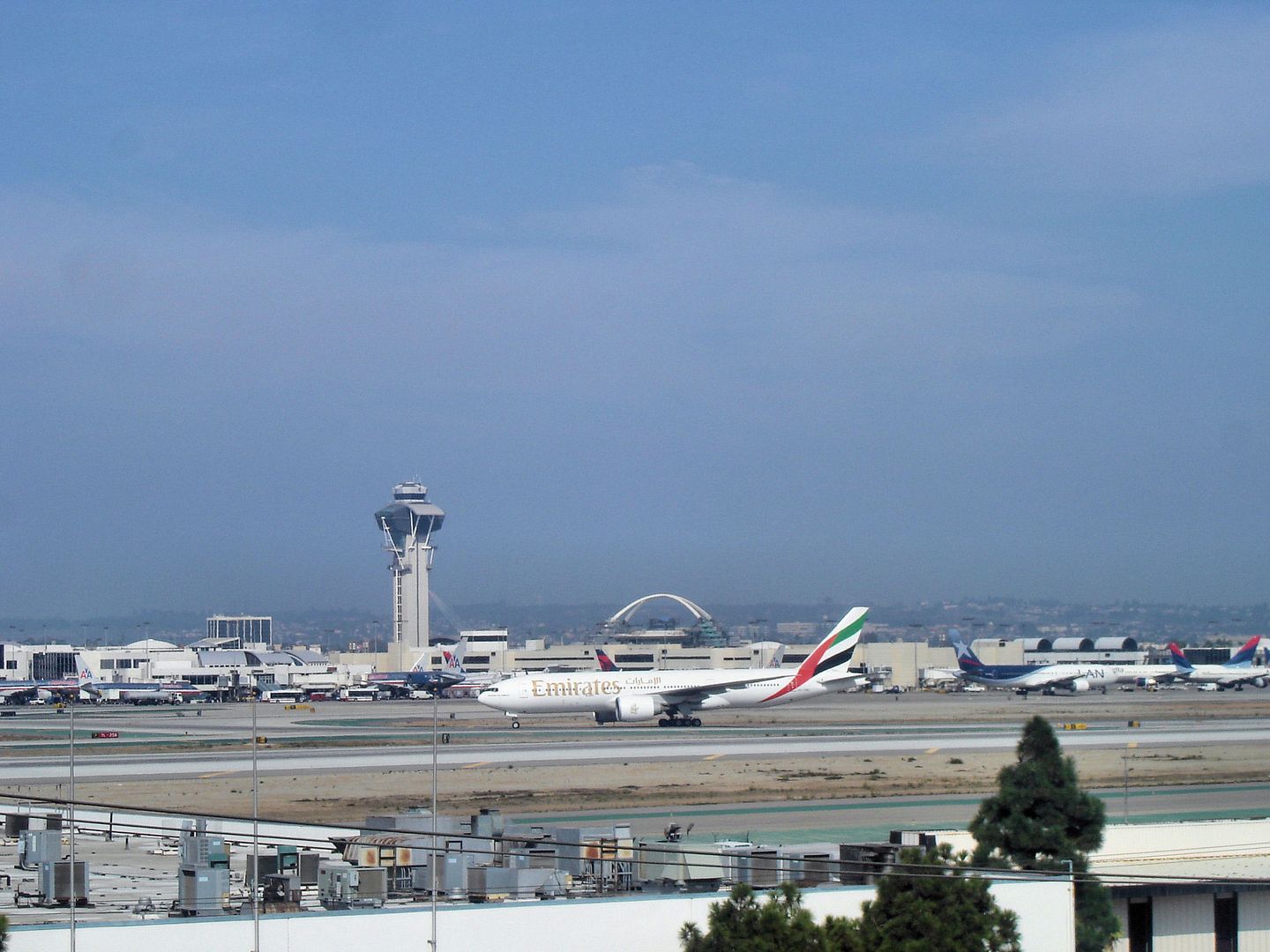 Later in the afternoon we went back to the In-N-Out spot again and made another visit to Imperial Hill in the evening. I got a total of 71 new registrations at LAX which was a real success. It was a great day - and I cannot wait to go back to LAX for another spotter meeting with The777Man.



Conclusion
Three new aircraft, two new types, three new airlines and two new airports for my flight log as well as 113 new registrations - days two and three had been excellent from an enthusiast's point of view. Flying Skywest Airlines was a real pleasure due to friendly staff and a (surprisingly) comfortable ride on the EMB 120. I was also impressed by the cheerful crew and the comfortable seating on Alaska Airlines. The lack of IFE wasn't a problem at all on my short hop, but it may be missed on longer flights, especially on services to Hawaii. In contrast, I was disappointed by American Eagle - the seating on the ERJ was tight and the flight attendant's attitude was unacceptable. Is there a good argument for flying American Eagle again? Well, the carrier's ERJ 135 fleet…


Next report: LAX-ATL on Delta


Best Regards,
PlaneHunter



P.S.: Just in case you missed them - other more or less recent reports:
The Ultimate 737: LHR-IAH-PDX On CO 777 & 739ER
Bye Bye, Hell! TRD-OSL-TXL-NUE - DY/AB/HE DH4
My Trip To Hell: NUE-CPH-OSL-TRD On Cimber & SAS
SFO-YUL-FRA: Map- & Sleepless On Air Canada's 77W
Sin City Gloss & Virgin America's Chic First Class
Seat Dilemma & Canyon Glamour: FRA To LAX, AC 763
On Par With Air France? DTW-AMS-MUC, KLM A330
Goodbye, Red Tails! DC-9-40/50 & Chicago Tour
Champagne & World Of Coke: Air France A340 To ATL
"Mission A380": Disappointing Legs On BA/BD/EI
Delights Of Doha, 773 & 77W: DOH-DXB-LHR On EK
A380 Really a Step Forward? LHR-DXB-DOH On EK
Quality & Style: HKG-LHR On Air New Zealand 744
Taiwan Trio: TransAsia, UNI Air And The Taipei 101
"The Wings Of Taiwan": EVA Air A332, 744 Combi
SHA-SZX, Shanghai 757: Delayed By The Military
PEK-SHA, China Eastern A330 & Shanghai At Night
Striking Newcomer: Berlin-Beijing On Hainan A330

[Edited 2010-01-30 08:12:20]