Ever since Etihad airways started their service from Chicago, I wanted to try them out. Plus, all my friends and co-workers who flew with Etihad, spoke positively about their service. In the past I flew with Emirates mainly from either New York or Houston. Since I live in the Chicago suburb, a one stop service to my native country seemed very desirable to me. However, there was a 14 hours layover in AUH for which I was provided meals and hotel accommodation at the airport. I will cover that part as I move along.
For my flight I left work a little early, around 2:45 pm. I got home around 3:15 pm. My brother showed up around that time and we left home around 4 pm. I got to the terminal around 5 pm. Once I got inside, I found a long line with people having large suitcases. I had large suitcases with me as well.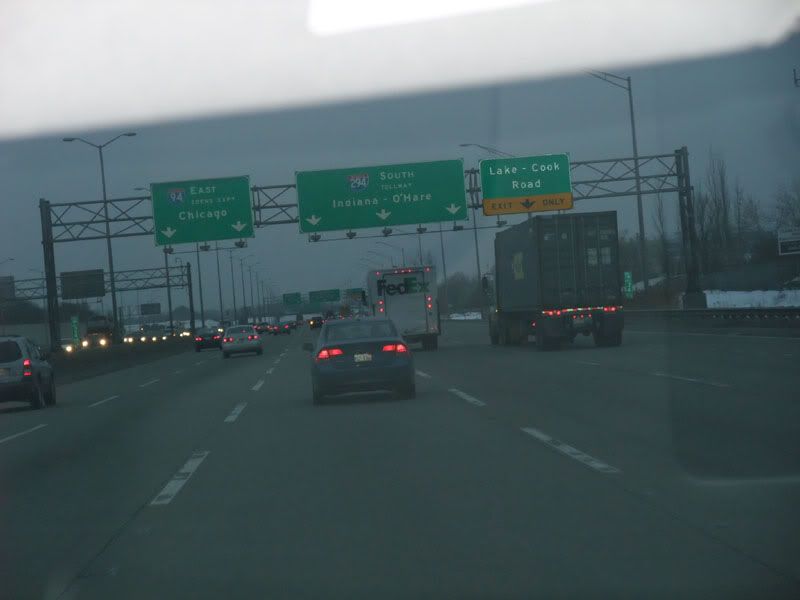 Going to ord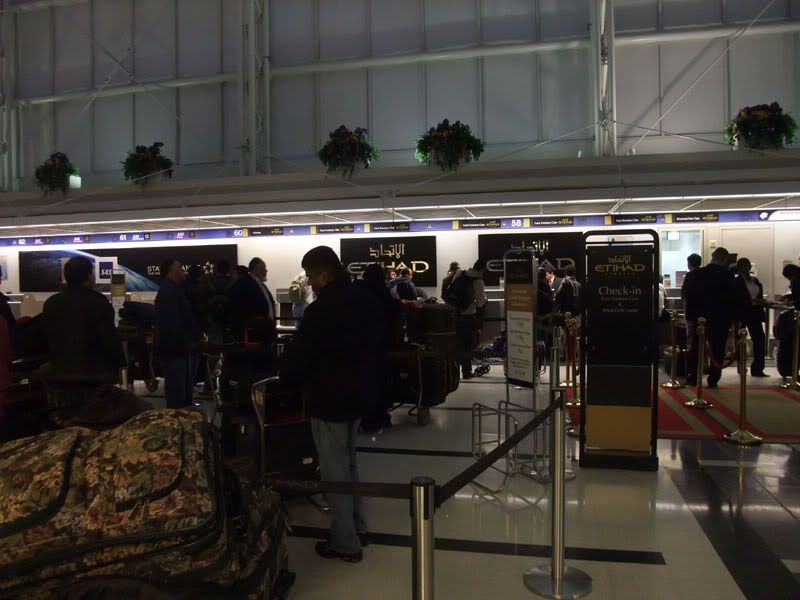 Queue at etihad counter.
I got to the ticket agent around 5:25 pm. The agent mentioned that it was his second day at work and was in training, so another person was helping him out. Once my luggage was tagged, he encountered some issue with printing my boarding pass. He said that the system would require the same credit card used to purchase the ticket. But unfortunately I didn't bring that card with me as I use different card internationally. So, the station manager was called, he showed up and told me that someone need to fax the credit card to his office before they can print my boarding pass. When I tried to call my brother using my ATT cell, call wouldn't go through because of network busy issue. Then I asked for a cell phone, the station manager let me use his phone which worked fine with T Mobile service. Anyway, my brother faxed the credit card around 6:45 pm. By that time another agent was working at that counter. When she tried to print the boarding pass, it wouldn't print. So, the station manager and the agent both tried in vain. Then the agent called someone and got some instruction as to how to print. It worked, and the station manager seemed puzzled as to how she managed to print the boarding pass. She said she had to totally offload me from the system and load me back again. Anyway, once boarding pass was printed, she went inside the office and didn't show up for 10 minutes. It was getting close to 7:15 pm and I was getting nervous as there was no other passenger besides me waiting around the counter. Anyway, the station manager came out and handed me my boarding pass and passport and jokingly said, 'you've been offloaded'. Of course, at that time the joke didn't sound funny to me. I was escorted by a Eithad agent to the gate bypassing the queue at the security screening area and was onboard around 7:25 PM. So, I encountered a huge hassle even before my journey started.
January 15, 2010-01-17
EY 150
A340-500
8:05 pm air borne.
Flight time: 13 hours.
Doors were closed around 7:40 PM and pushback started. The captain cam on the PA and mentioned that the flight time would be 13 hours. There were only few planes ahead of us so takeoff roll started shortly. I was impressed with the noise level compared to 777-300ER and -200LR that I previously taken. I was seated right behind the wing on 26K. The aircraft took off a little slow but with relative ease. Soon after that cabin crews started to distribute water and refreshing towels. We were given the menu. Soon after that pre dinner snacks were served which consisted of small biscuit packet and drinks. I opted for diet coke.
Waiting at the gate at ORD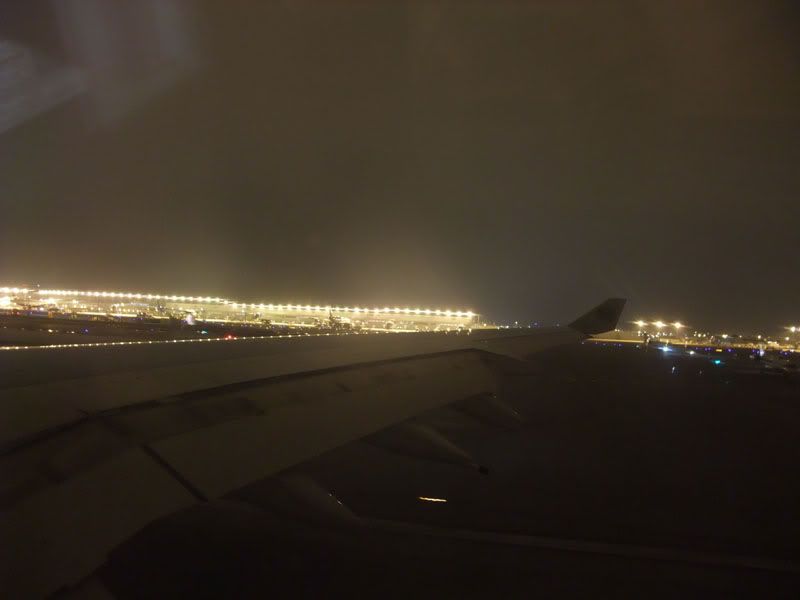 Take off roll at ORD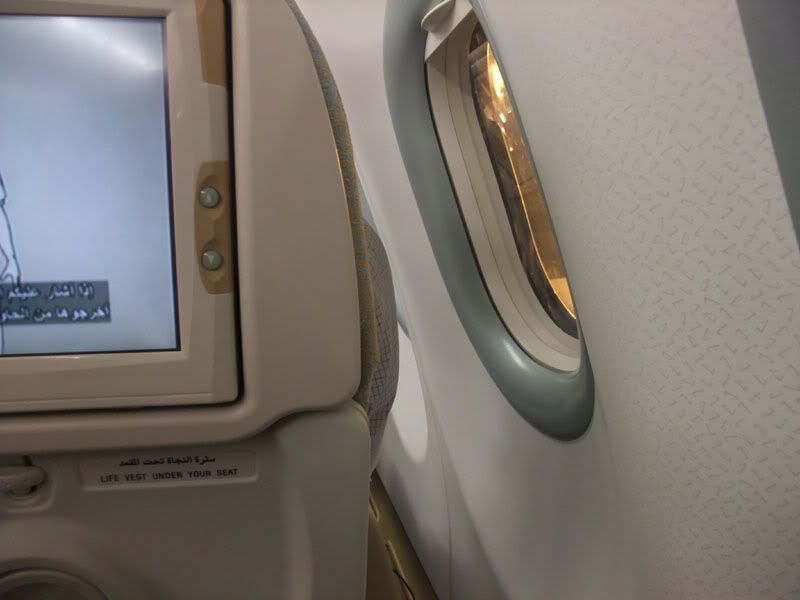 Space between the seat and window on A340-500
I started to play around with the entertainment systems and found that it had lot less option compared to Emirates. There were 24 movies in the 'new release' section. However, it was easy to browse through all the options. I watched 'Public Enemies', which was a good movie in my view. Within two hours of the flight dinner was served. Out of the two options, I chose 'Lamb Kofta with rice', which tasted good. We received the next snack 4-5 hours later. There were two options for that, tuna or vegetable sandwich and cold drinks. I chose tuna sandwich which tasted ok. Between dinner and snack, cabin crews made several rounds offering juice and water. In addition, there were fruit/candy baskets in the back of the aircraft.
Route
Refreshing towel
Movie selection
Pre-dinner snacks
Menu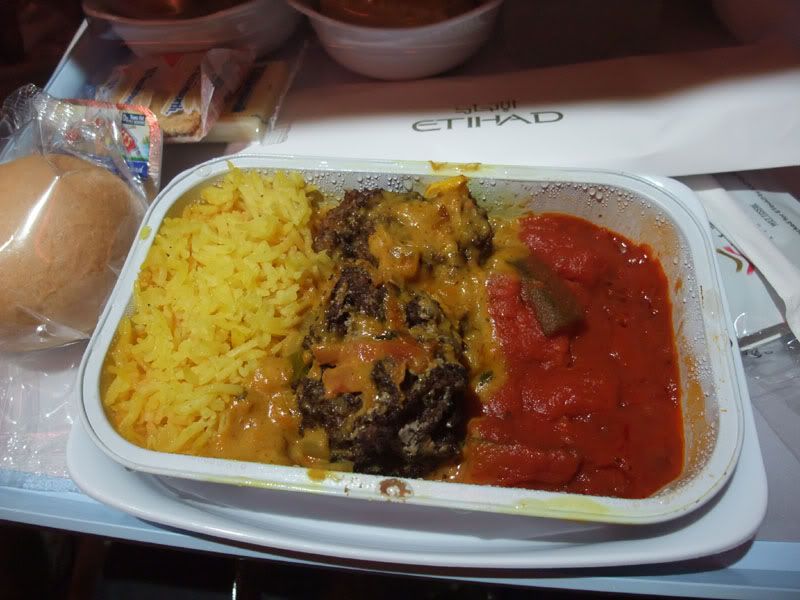 Lamb Kofta
In flight to AUH
I made three trips to the lavatory during the flight. The second time I walked to the back of the aircraft and found that the lavatory was flooded and was out of service.
Lavatory with window
The last meal service was offered about 2 hours before landing and consisted of two options, fish biriyani and turkey pasta. I opted for turkey pasta as I am used to eating meat biriyani and not familiar with fish biriyani. I didn't find any turkey in the pasta and it didn't taste good at all. So, I didn't like the last meal.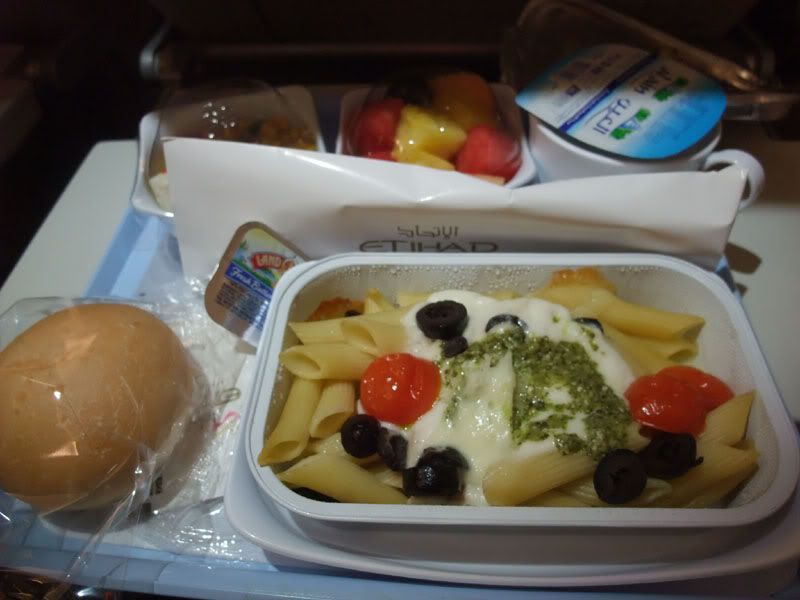 Turkey pasta with no turkey!
We landed at AUH around 7:10 pm. Landing was very smooth and thrust reverses were barely used.
Landing at AUH
I deplaned into what looked like a new and modern terminal. I've been to AUH before but in the dome shaped terminal. This was different. Anyway, I went straight to the airport hotel lobby only to be told to go to Etihad transfer desk first. I exited the hotel and went to the service desk close by which was located in the dome shaped terminal building. I was handed a voucher and was back in the hotel soon afterwards. I was given a room and told to eat dinner and breakfast. I was confused about the dinner and breakfast part as I was not handed any coupons or vouchers as Emirates does. After leaving my carryon in the tiny room, I went back to the reception area which hosted a buffet and a restaurant. I was wondering around the buffet area when one employee approached me and inquired whether I was a guest or business class passenger. Once I told that I was a Etihad guest, I was led into the restaurant. Out of the menu I ordered butter chicken curry, which tasted good. I was told that both dinner and breakfast would be free for me. But cold drinks such as coke would cost $3.
I was told that the hotel had only 40 rooms and most of the time totally full. The room I stayed didn't have any windows so it felt like a box.
De-planing through the bridge.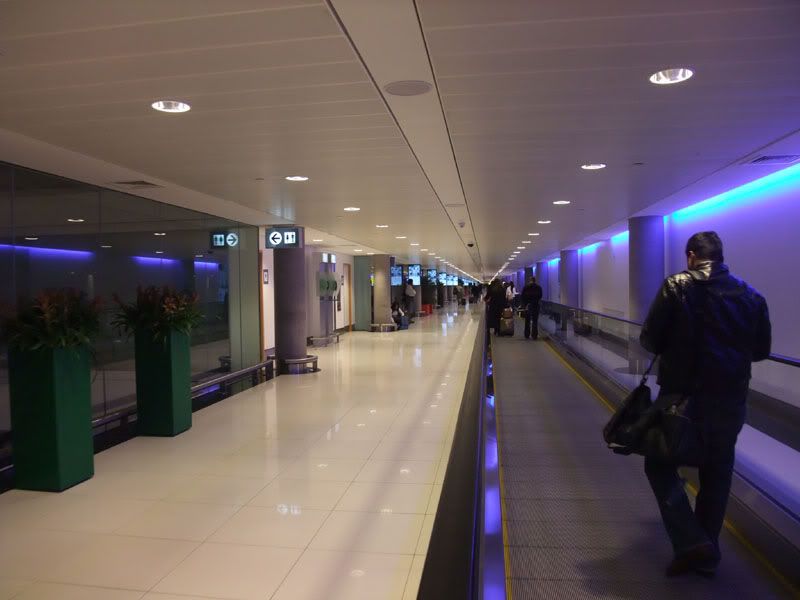 AUH new terminal.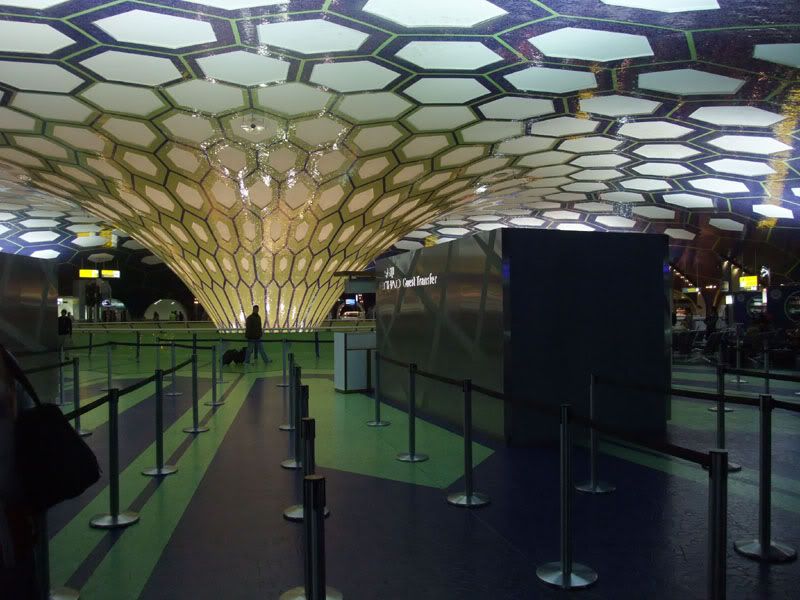 AUH old terminal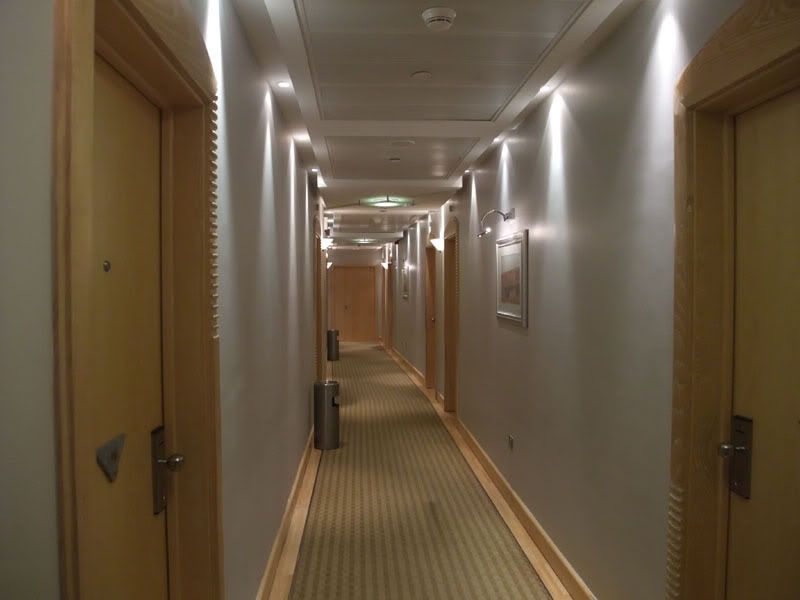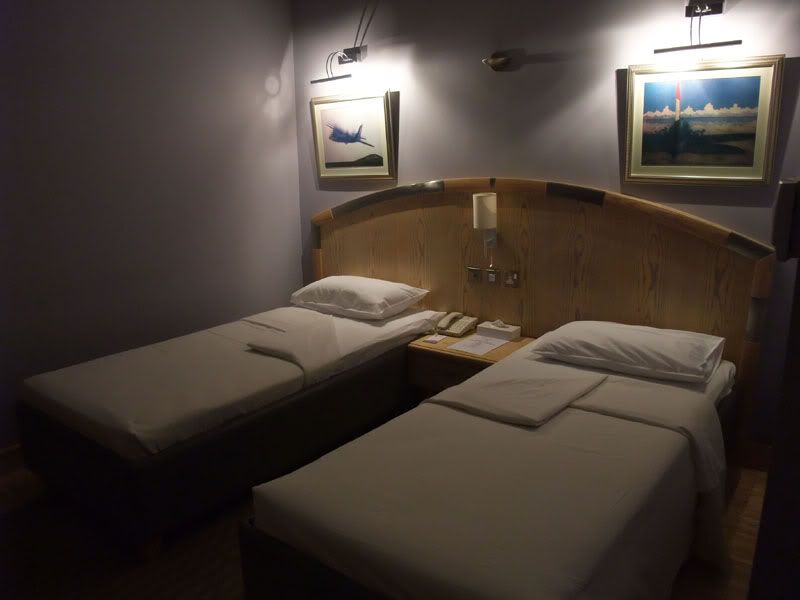 AUH Airport Hotel
Anyway, because of time difference I couldn't sleep after 5am local time and came out to use the business center to type part of this report.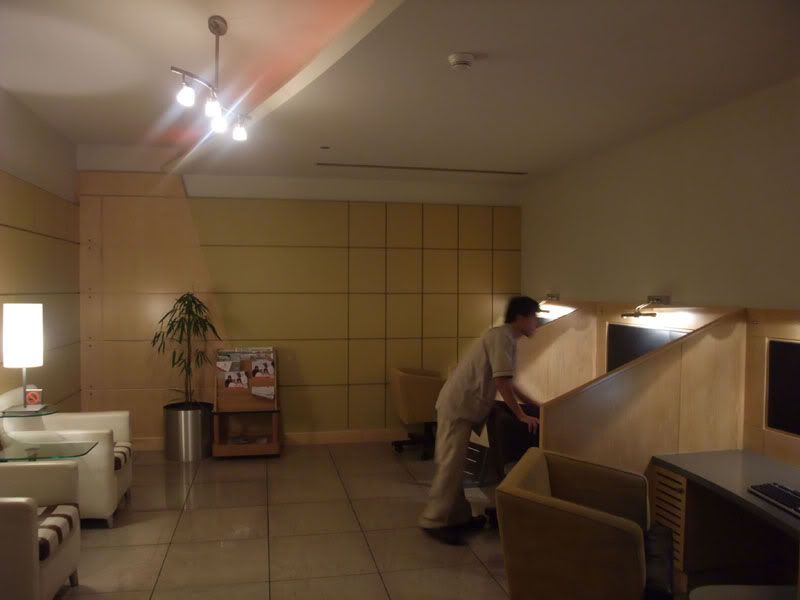 AUH Airport Hotel Business center
Hotel Lobby
At around 7:10 am the next morning I went to the restaurant to have breakfast which wasn't too bad. I checked out of the hotel at 8:15 am and headed to the departure gate #2. Around 9 am I saw a line forming at gate 2. I waited 15-20 minutes before joining the queue.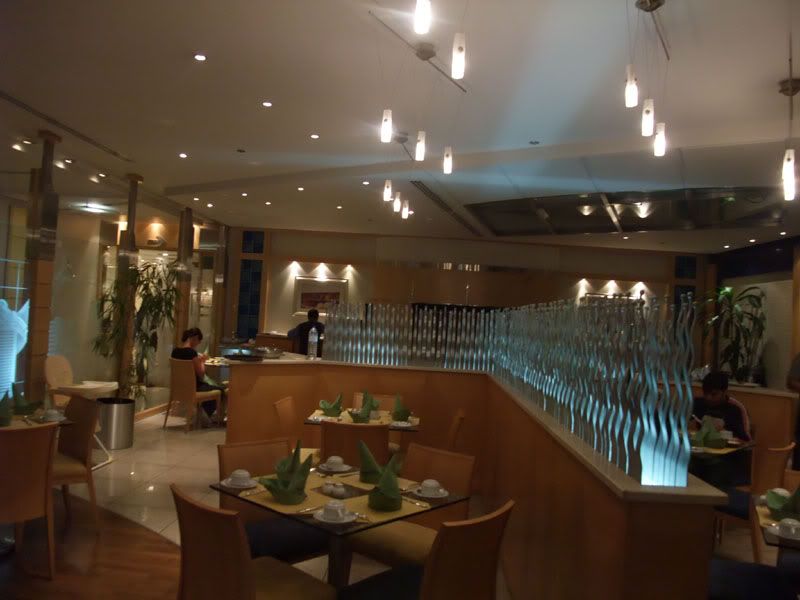 Hotel Restaurant
Breakfast at Hotel restaurant
January 16, 2010-01-17
EY 255
A330-243
Flight time: 5 hours.
Boarding started around 9:30 am. The first thing I noticed after boarding was that seat pitch wasn't as generous as that of the previous flight. Seats were more congested.
In this flight there were large number of passengers from Middle eastern and far eastern countries going to Bangladesh for annual Tabligue Ijtema (Religious gathering).
Once airborne, the usual service started with water and refreshment towels. Two hours into the flight lunch was served. I opted for 'Murgh Makhani' which was tasty. The rest of the flight was pretty uneventful. We landed in DAC right on time at 4:30 pm. There were several other flights from middle eastern countries landed in DAC right around that time. So, there were huge queues at the passport control. Once I got to the desk, it took about a minute to complete the formalities as I had travelled earlier with the same passport and the officer was able to retrieve my passport details in his computer pretty fast. After that I picked up luggage quickly as they were there when I got to the conveyer belt.
Menu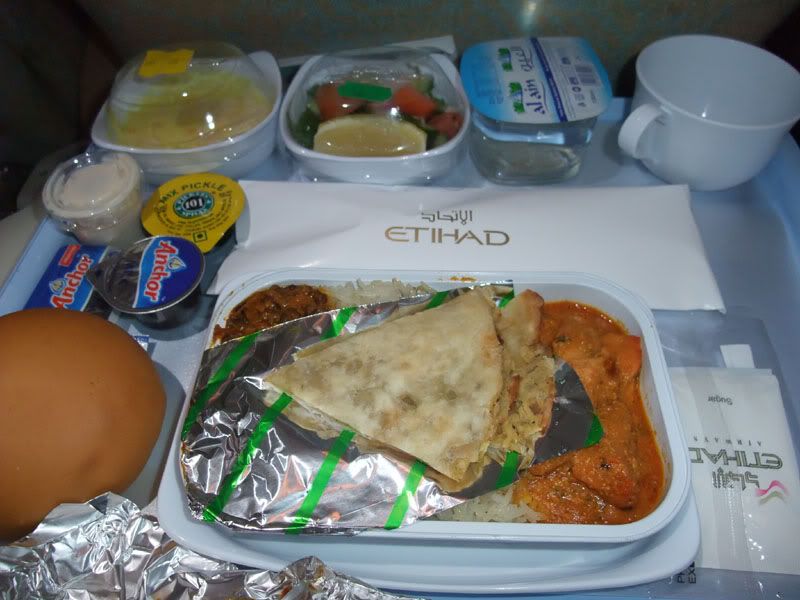 Murgh Makhani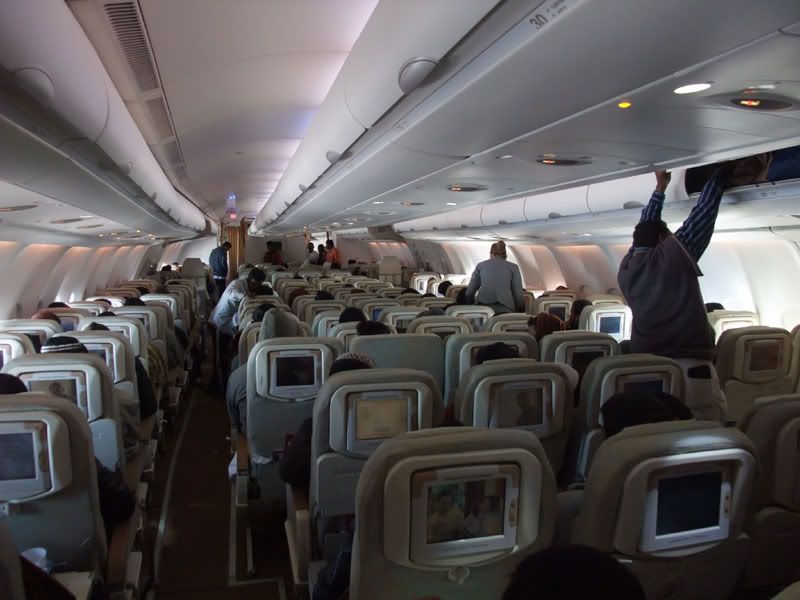 In flight to DAC
Passport control at ZIA.
Overall, experience with Etihad would have been better had I not encountered the credit card issue at ORD. Regardless, I will probably fly with them again