LX ZRH-STR cancelled or how to extend a 40 minutes flight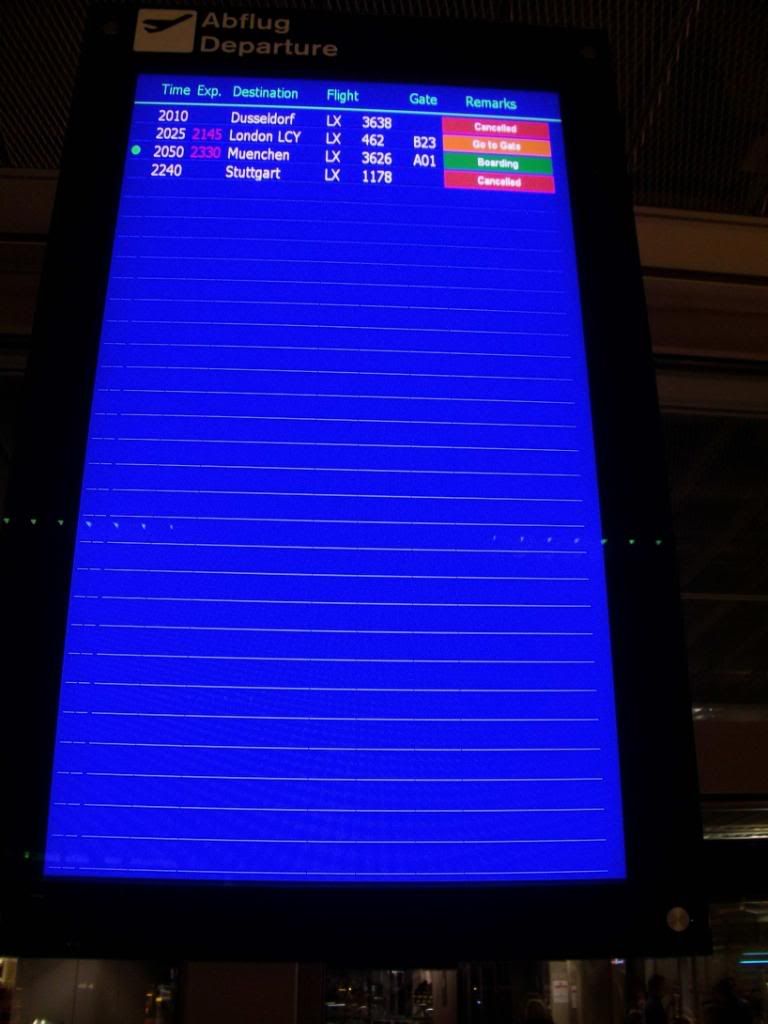 Ciao, dear readers,
well, that was the last of four scheduled legs, I will tell more about it later.
At first the link to my last 2009 story:
Istanbul Sabiha´s New Terminal And Pegasus
(by
FLIEGER67
Dec 7 2009 in Trip Reports)
Planned start for my flying year 2010 was some three weeks ago with an
weekender trip to Tunisia on Tunisair and the Alitalia MD80.
Planned but not succesful, Miss Daisy, better known as the winterstorm forced me to stop that ride.
Chaos all around at the airports during that weekend.
Now, thats long ago, lets go for another try to start 2010.
These trip will show me one new airport, two new routes and a view inside a nearly defunct, but now recovered airline.
Bookings done by two ticket dealers with good fares, all four legs cheaper than on the airline websites itself.
Friday, 29.01.2010




"Falcone-Borsellino"


Service airberlin AB 8998 operated by Tuifly
Scheduled: 07.20 // 09.35 = 2 hours, 15 minutes, announced 1 hour, 40 minutes
Actual: 07.20 // 09.20 = 2 hours
Out of my bed at 4.15 am, a first view through the window shows me white all around at -1 degrees.
Daisy II today for me?.
Hopefully not. Roads snow covered, but acceptable, no problems and at the airport at around 06.30 am.
Security at T2 was painless, no time to wait.
As usual, a first view at the information screens.
No AB plane inbound fitted to my departure. So it seems one of the three nightstoppers will be my ride.
According to Acars, two new regs and one three times logged. At least a good 30% chance to catch something new.
No delays at all on the screen, beside that cancelled LH service from FRA, so STR seems well prepared for the winter weather today.
We saw something special today here, Volga-Dnjepr operates some Haiti relief flights with an Iljushin 76, parked on the cargo ramp
overnight in the far back of these snowy apron picture.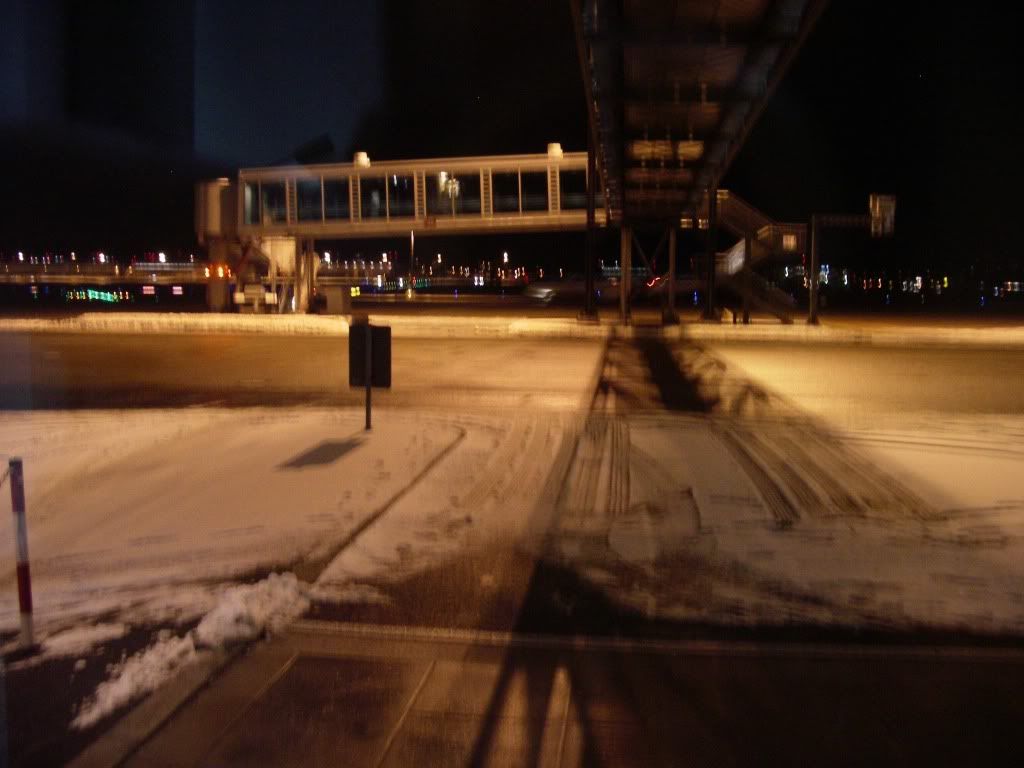 My home printed boarding pass showed gate 314, that means terminal 3, but no finger, bus boarding today.
Seat 25F secured not long after ab opened OLCI for my flight.
Last row window, as ususal.
Boarding started with a good crowd of pax around the gate, it seems thats a typical VFR route.
Fare´s going usually high, so 65,48 EUR was acceptable.
I´ve joined the second bus as one of the last pax and immediatelly thereafter the doors closed and me, in good hope for a new reg,
shuttled above the apron.
That seems not that bad, two planes parked side by side and the bus goes in direction XI, but no way, it drives around that machine,
turned and stopped at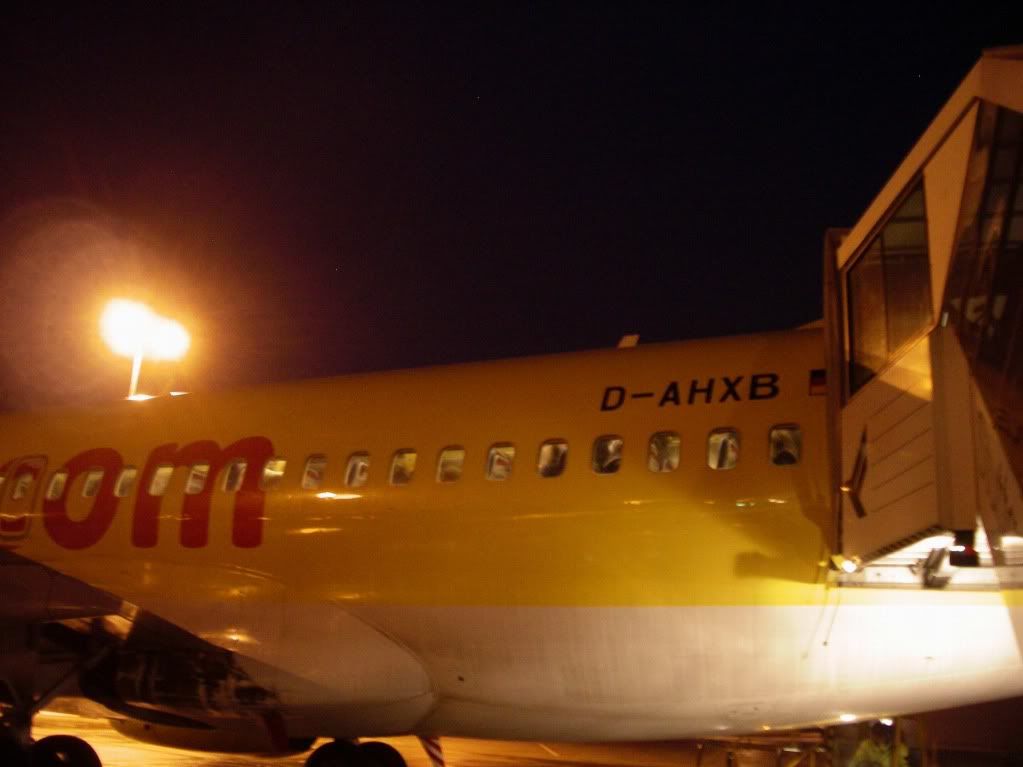 , the scheduled 737-700, delivered at 05.04.2007 to Tuifly and since 25.10.2009 in service for ab.
This plane is named after one of TUI´s vacation clubs "Robinson Club Playa Granada".
And, well, looking forward, no complaints, its flying for fun, isnt it?. Leg no. 25 on the 737-700 and number four on this example.
Up the stairs, welcomed by a male FA, together with 2 females in service, not especially friendly but ok.
The plane was deiced on stand, that means a quick taxi and departure from the 3345 meters runway 25.
Service started not that long later.
Coffee ok, but the breadroll was not my choice that early in the morning.
Only limited views through my deiced window when the sun reached the winglet.
The last row rule worked fine this time, all three seats for me alone.
Not bad with a 90% load, isnt it?.
Time now for a view at the safety card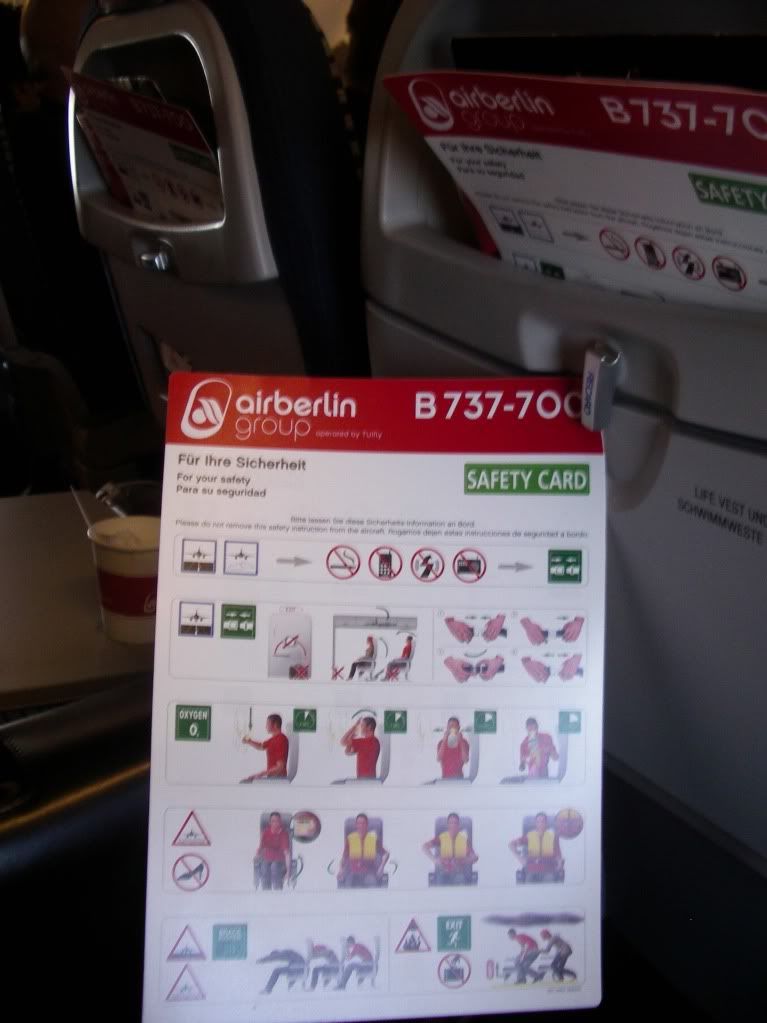 and the clean cabin, fitted with slimline Recaro fabric seats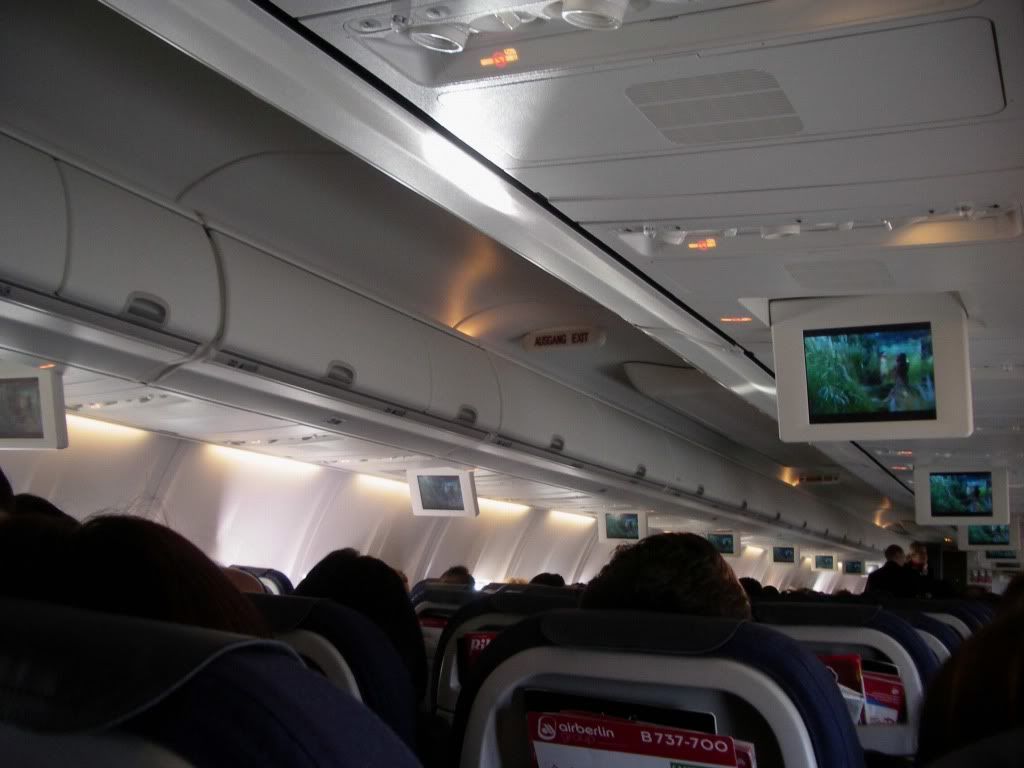 Legroom was ok.
Clouds all the way above ZRH-Milano-Genua and the Tyrrhenian sea, but calm, perfect to read my book.
The german cockpit crew seems not that motivated today, only weather informations and a very short bye-bye in german and english
during approach above the stormy sea
into PMO.
The weather forecast shows gusting winds up to 80 km/h, but the approach was nothing special at all.
Touchdown ahead of schedule at the 3326 meters runway 25 in light rain and 12 degrees.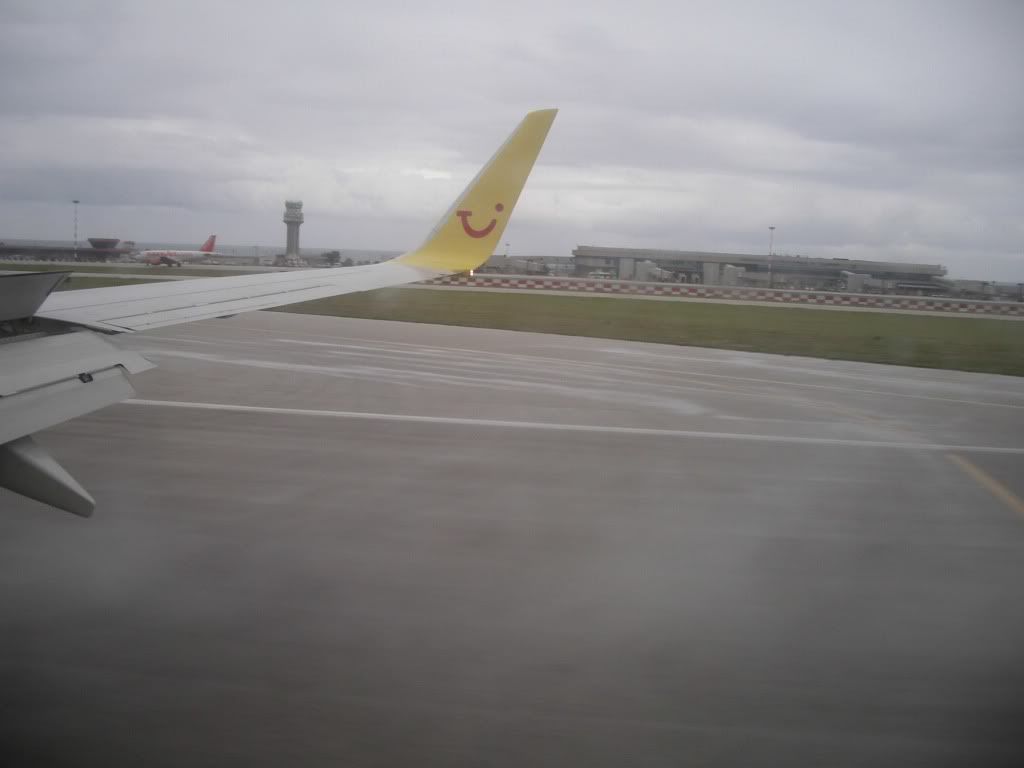 Its amazing to see that huge mountain so close to the runway here
Finger deboarding was warm welcomed
Into the terminal for another view around my plane
Some two hours now till boarding for the next leg.
Friday, 29.01.2010




"Falcone-Borsellino"





"Guglielmo Marconi"



Service AZ 1333 operated by Alitalia
Scheduled: 12.00 // 13.35 = 1 hour, 35 minutes, announced 1 hour, 10 minutes
Actual: 12.00 // 13.20 = 1 hour, 20 minutes
PMO is a spotter friendly place, at least in comparison to other italian airports.
Good views to the apron from the gates and also a free viewing area beside the terminal.
Also a well designed counter here.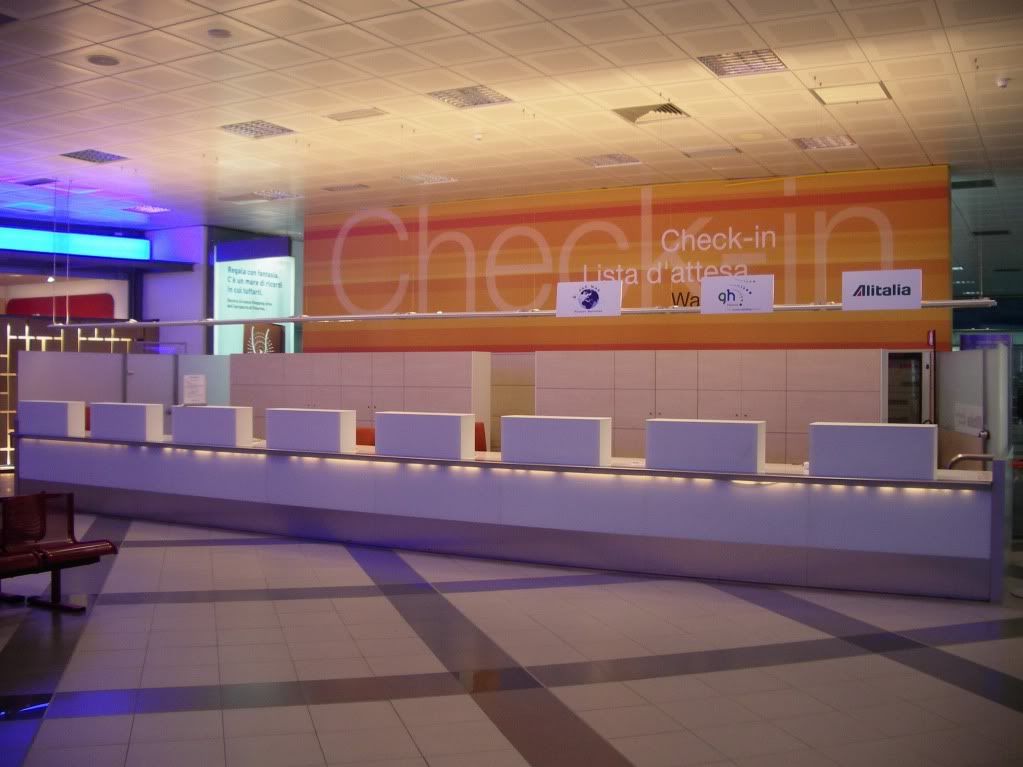 Looking for an information screen was the thing to do immediatelly after I was in the pax area.
Interesting destinations here, it seems I should go some day to "Stoccarda"!.
No information around my plane inbound from BLQ and also for my departure.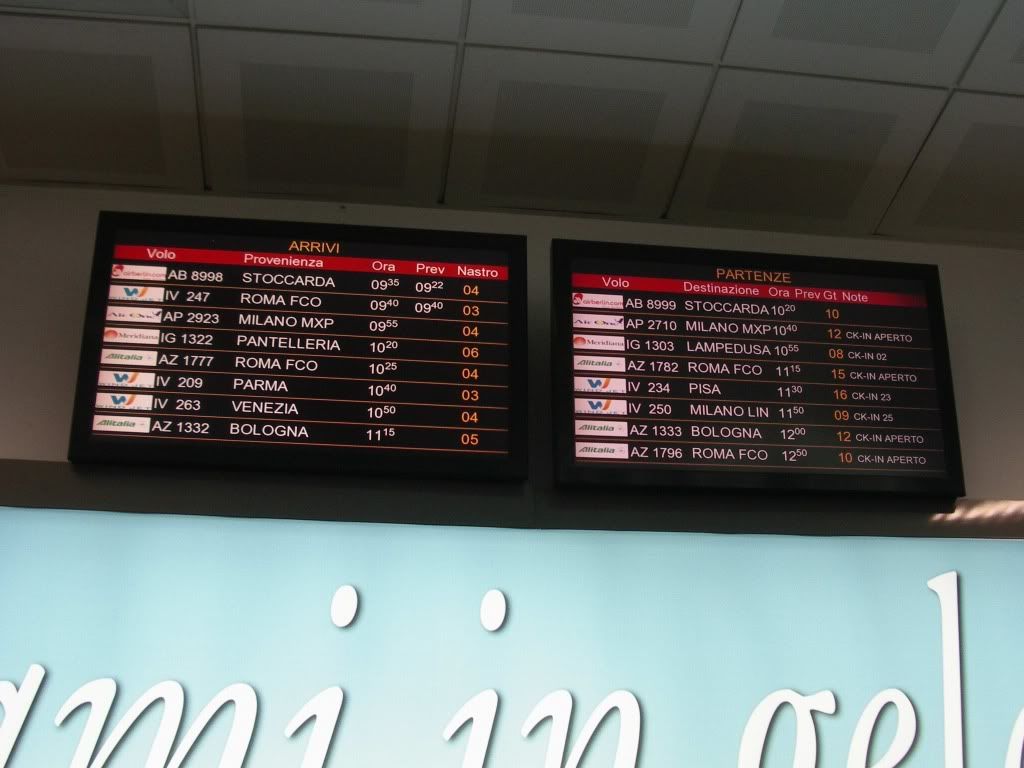 One of AZ´s oldcoloured A321´s arrived from Roma-Fiumicino.
Followed by AirOne´s A320 from Milano-Malpensa.
My plane heads back to STR and whats that company just arrived in the background?.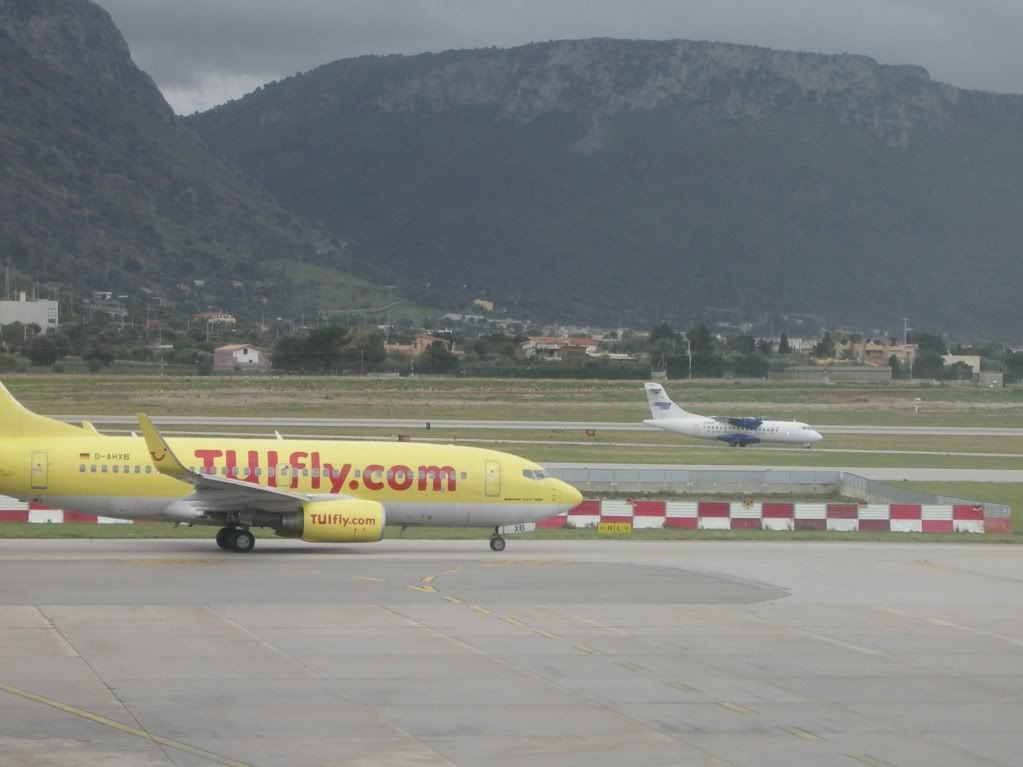 Remember that view on the screen?.
German Avanti Air operates for Meridiana on the flights from Pantelleria and further on to Lampedusa,
small islands between Sicily and Tunisia and well known for its huge african refugee camps.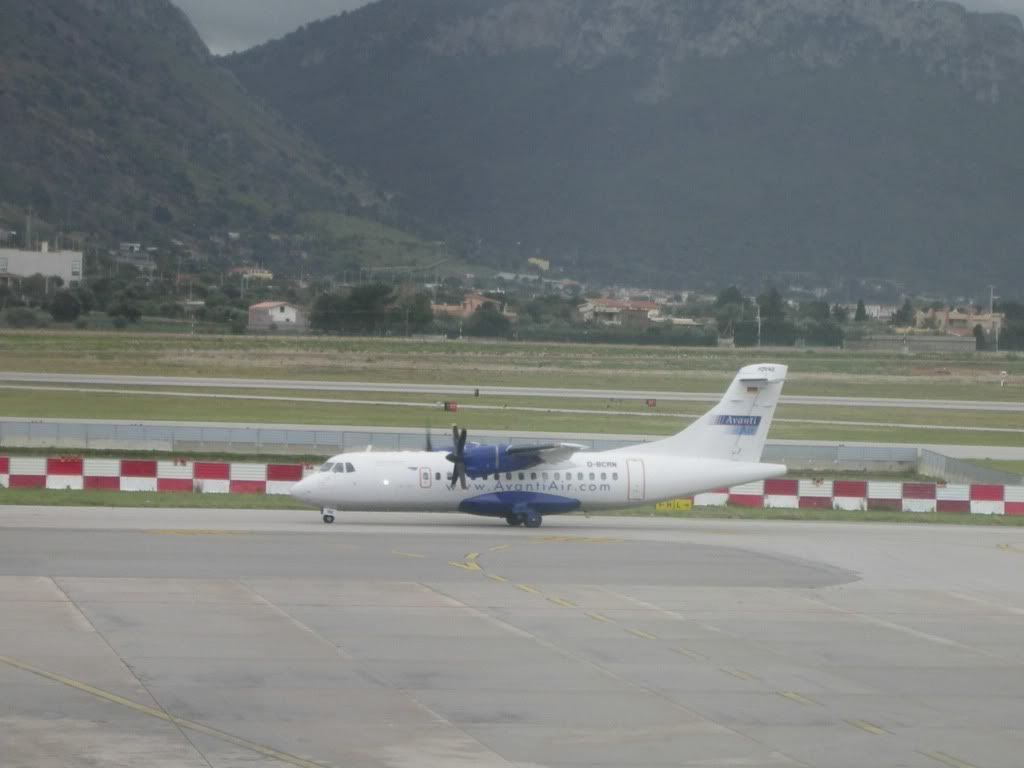 Windjet has also a couple of flights here.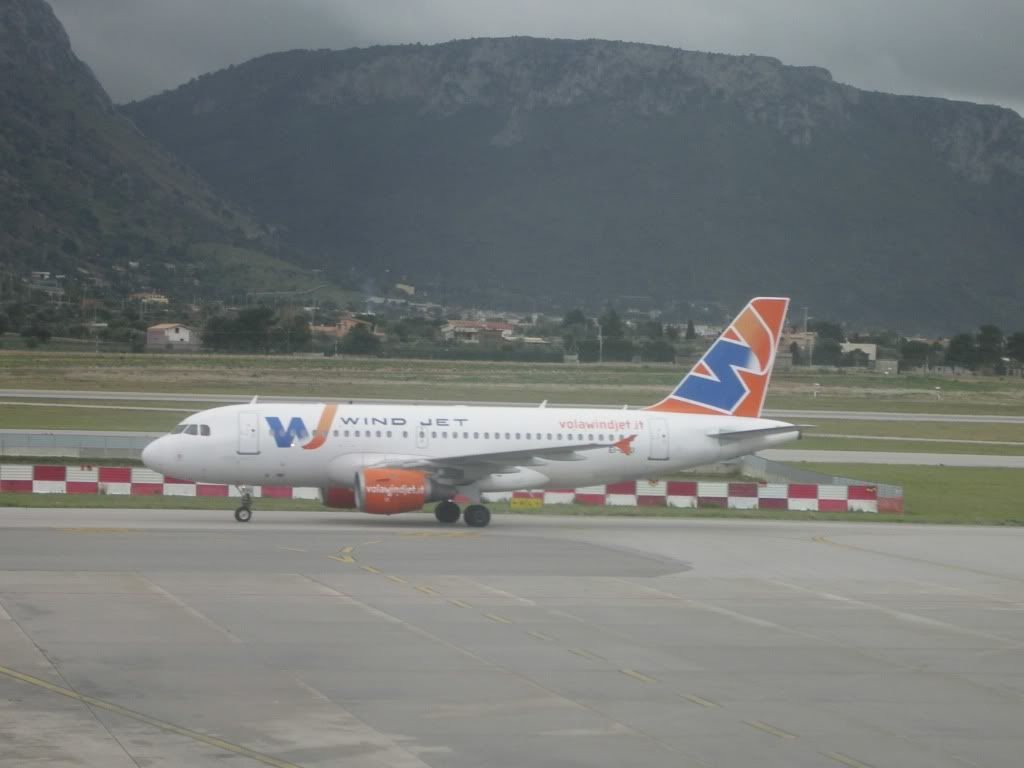 Bus boarding for my flight was called well ontime.
Gate 3 was on the ground level, absolutely not that well designed like on the upper level.
The female gate agent was somewhat surprised to see my OLCI Boarding Pass printed in german language,
possible at AZ´s german website, but no problem at all.
AZ stated the plane type online as 32S, that means its not possible to check ahead which subtype operates the flight.
The apron spot was not visible from the terminal, so I was intered what shows up.
A shiny new A320, delivered only some four months ago at 26.09.2009 to AZ.
Leg no. 52 for me on type.
The cabin spotless clean.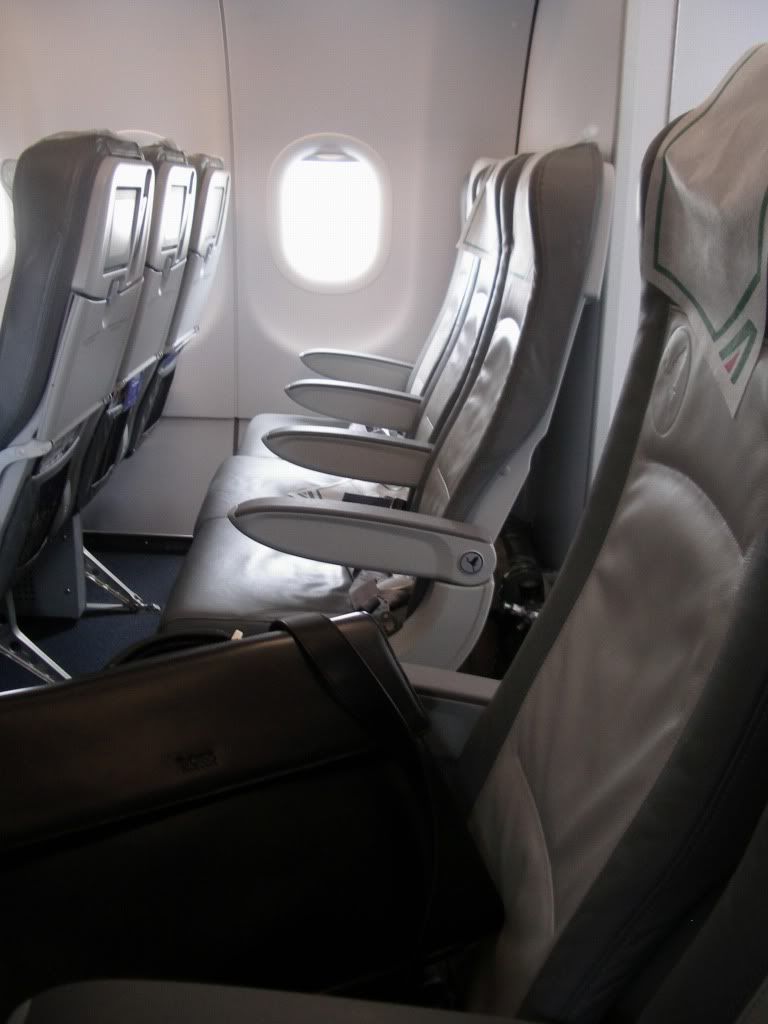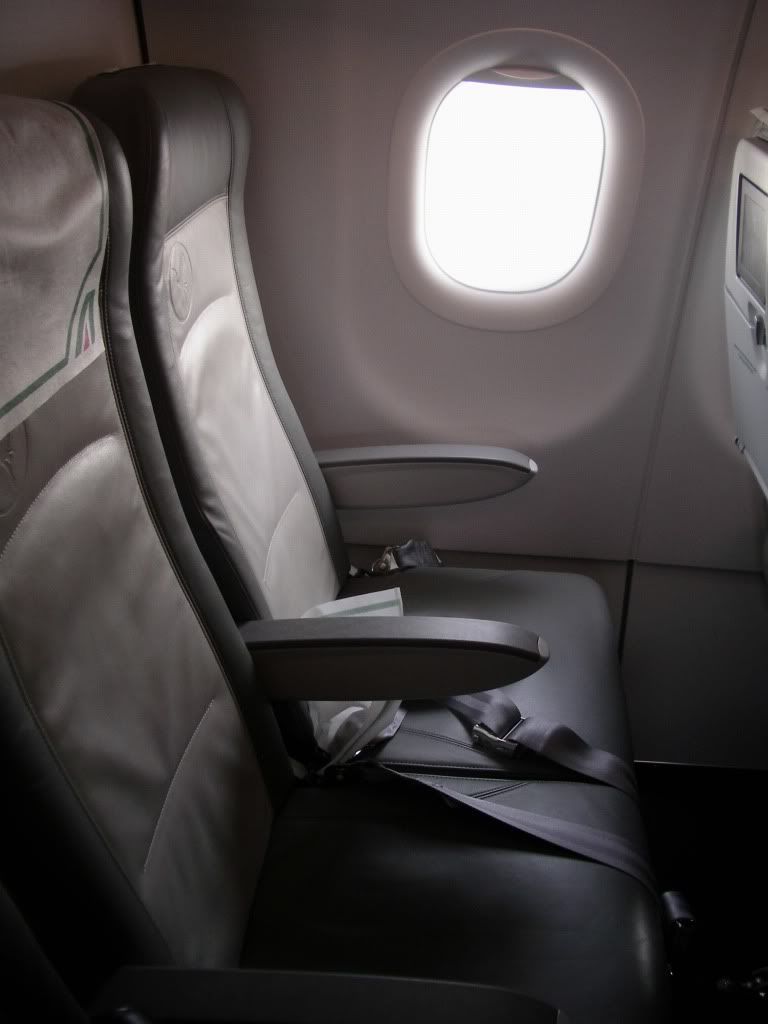 and good looking with inseat screens.
Seat 30A for me, the last row rule worked again fine.
Load was around 60% with mixed biz and other pax.
The fare 58,35 EUR also real good from my point of view.
Three female F s and a senior male purser on that flight, friendly and attentive at all.
The italian captain welcomed us during taxi.
Takeoff during light rain and 12 degrees from runway 25 again.
And with that low load it seems only some meters needed till liftoff.
Nice views along the coastline.
Service commenced shortly after departure, exactly my style this time.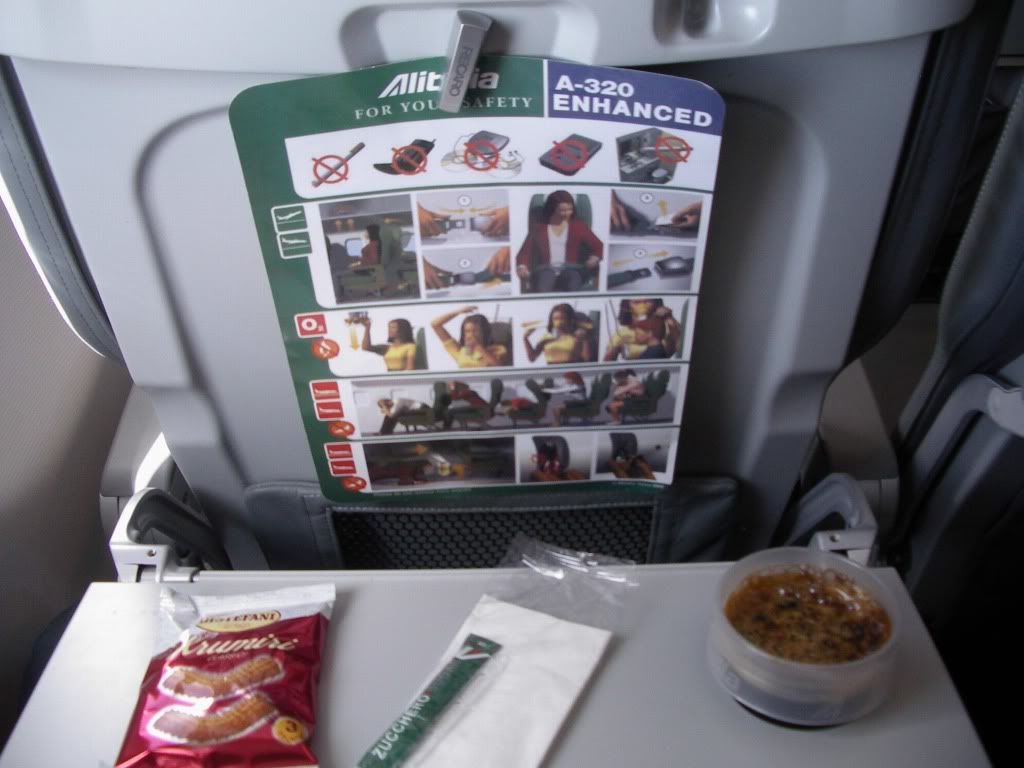 Only low clouds above central italy.
Well, looks like at home.
Some more informations from the captain during approach.
We passed that FR plane.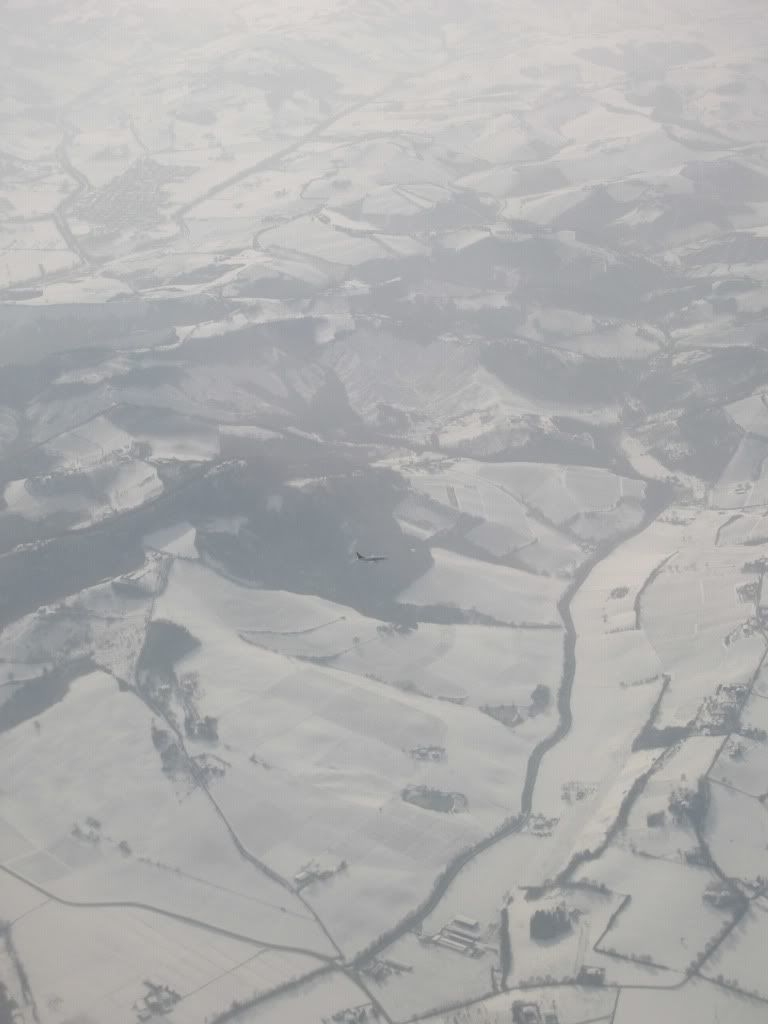 And followed the shadow closely.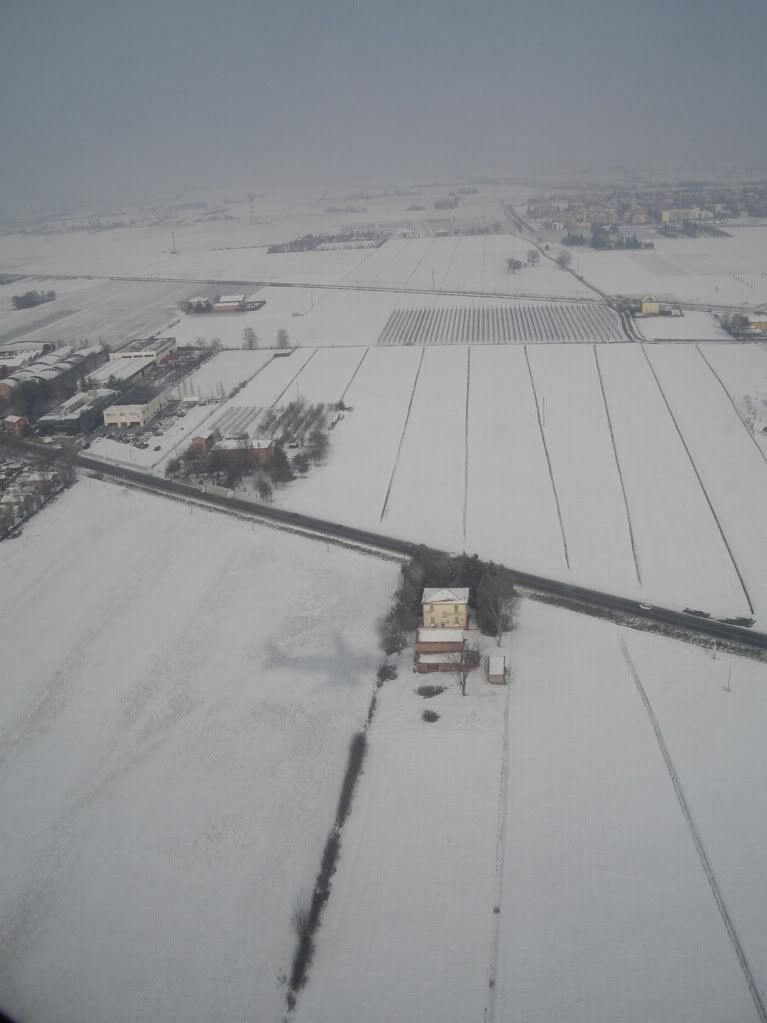 Finally touchdown on the 2800 meters runway 12 and parked in front of the terminal.
Temperature 0 degrees centigrade and light couds but at least dry.
In typical loco style further by feet to the terminal entrance with nice views to my good looking plane on the apron.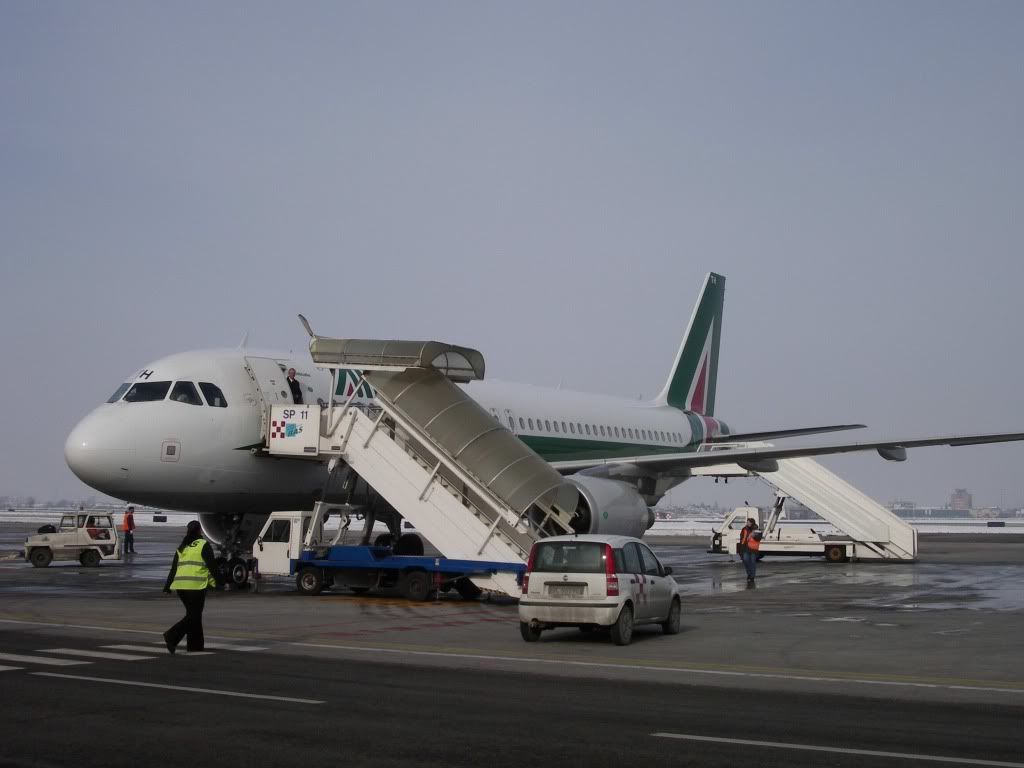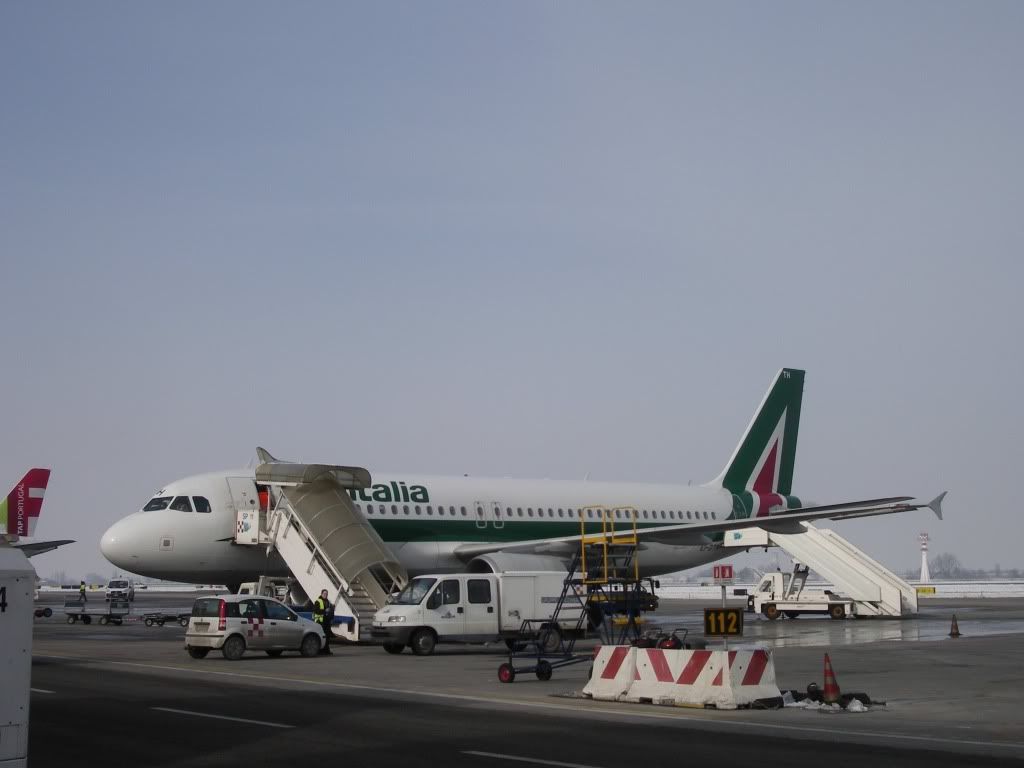 BLQ arrivals looks spacious and well designed, a good first impression so far.
One and a half hour now to reach the city and catch my next ride.
ATC Bologna operated the Aerobus, single one way 5 Euros directly with only very limited stops to Bologna Centrale, the main train station.
Not that time to walk around with that cold weather, but Bologna seems a nice and interesting city.
Like Deutsche Bahn and its ICE also Trenitalia operated more and more highspeed trains nowadays.
Eurostar Italia or the new Frecciargento train was my ride to Roma-Termini, fare 58.00 Euros with fixed comfortable seating.
The train does only one stop at Firenze on that route.
I dont spot a single open seat, good biz here by Trenitalia and surprisingly ontime departed from BLQ and some minutes ahead to schedule at Roma-Termini.
Pictures from Termini.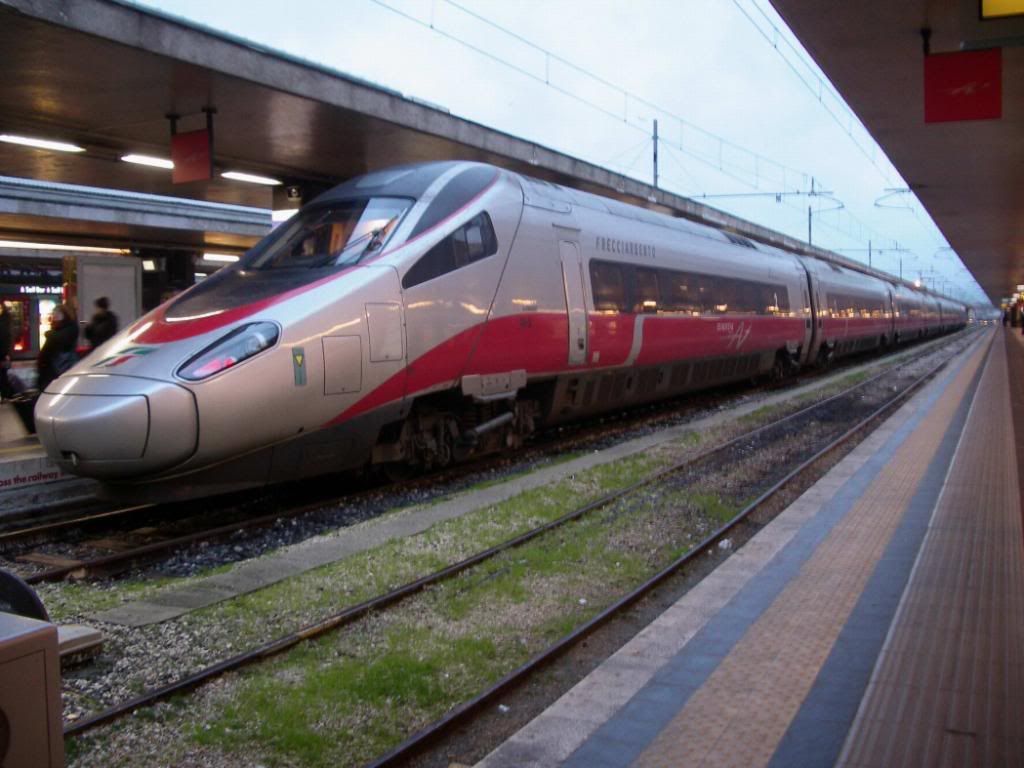 Two and a half hour to go for Fiumicino and my next flight.
Some tracks further and perfectly fitted to my early arrival waited the Leonardo Express,
lost 12.-- Euros at the cashier and arrived at Fiumicino around 6 pm.
Friday, 29.01.2010




"Fiumicino-Leonardo da Vinci"





"Zurich-Kloten"


Service LX 1733 operated by Swiss
Scheduled: 19.50 // 21.30 = 1 hour, 40 minutes, announced 1 hour, 05 minutes
Actual: 20.20 // 22.10 = 1 hour, 50 minutes
Lots of pax around, but thankfully only some minutes to wait at security till I was in the pax area.
OLCI was also done here the day before, quick and efficient at LX´s website.
My flight will go from sector D.
If there is any voting for the less spotter friendliest airport around, FCO is high on my list, at least the D area.
Dirty and scratched windows, no direct views to the apron, dirty and worn out seating, closed shops.
The only place with a view is upstairs beside the lounge, but is also only limited.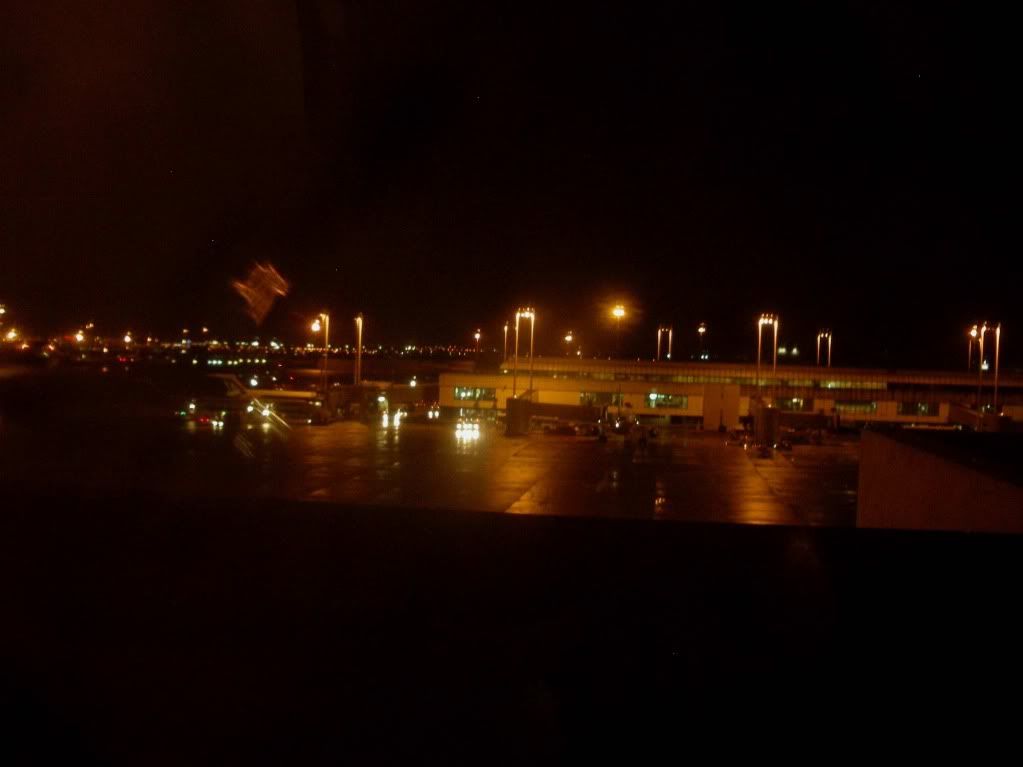 The screen shows some 25 minutes delay, due to the late arrival of the aircraft was the announcement,
thanx for that really detailed information here.
And it shows also two flights, ZRH and VIE from the same gate within 15 minutes.
Now thats what I call efficient airport work.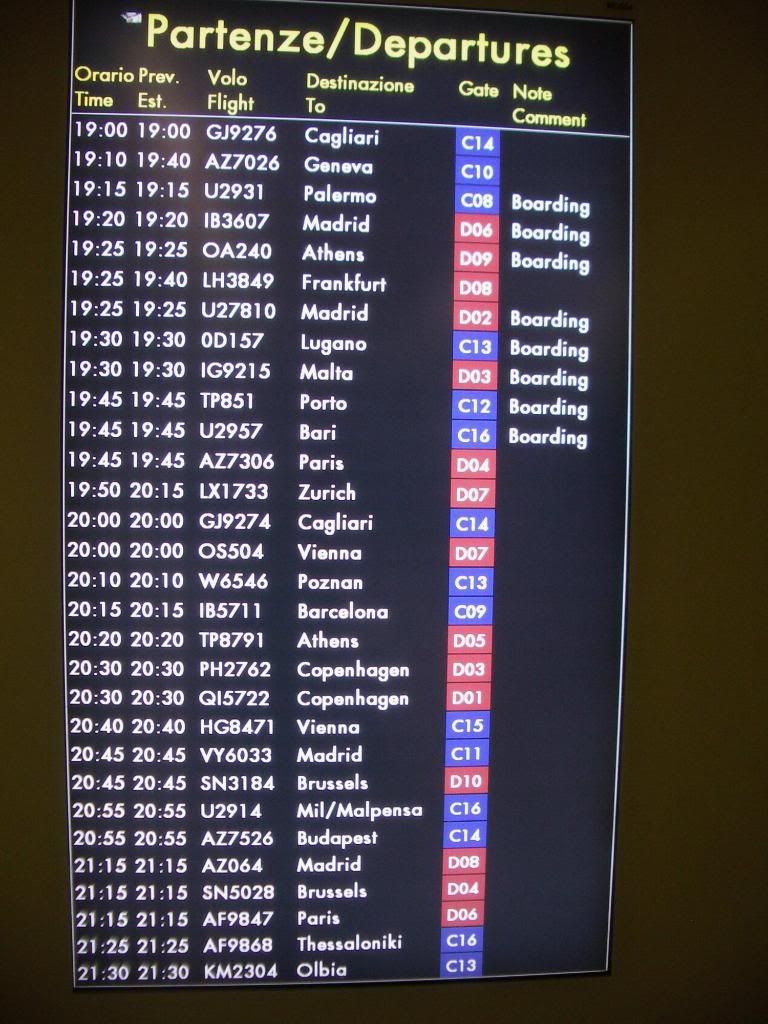 Not at all, some minutes later my gate changed to D6.
My plane arrived from ZRH around the scheduled departure time.
The tail was visible from above.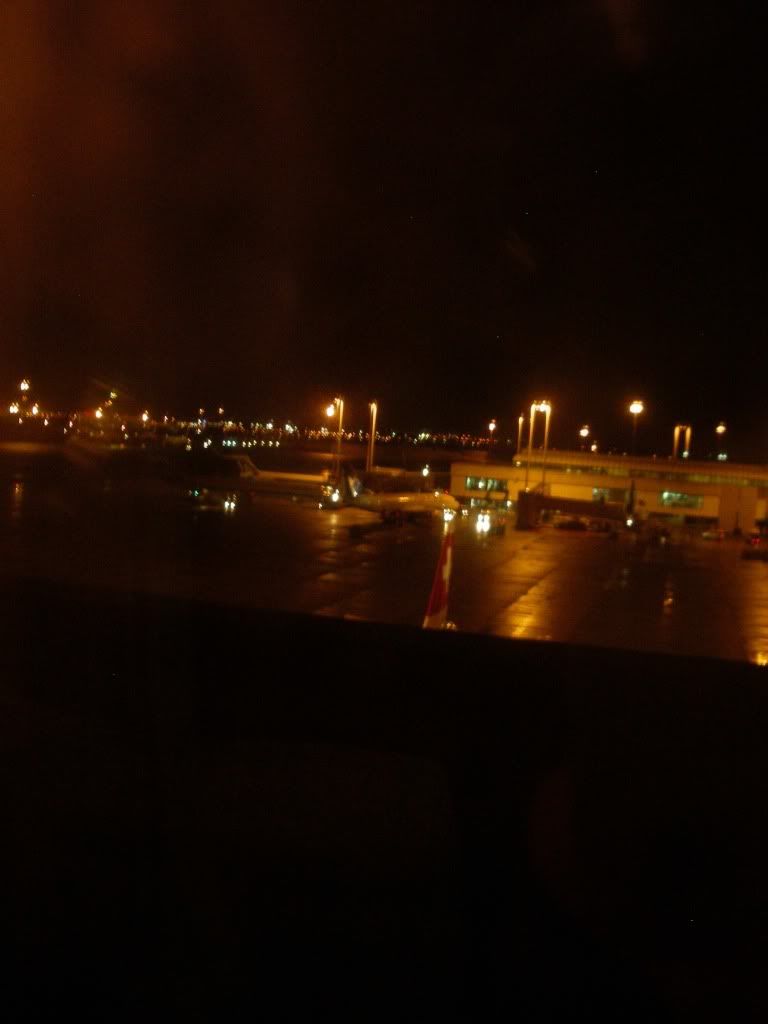 Secured the reg during boarding.
HB-IPV, an A319 and a new registration for me, delivered at 25.04.1996 to Swissair and since 31.03.2002 in service with Swiss, named "Castelegns".
Leg no. 46 for me on type.
Staff was real friendly here at Swiss, three ladies in the cabin, the captain greeted us pax at the door during boarding.
He informed us later during taxi in a nice style that we´re heading for runway 25 ( 3309 meters) and while we´re no. 8 to departure that will last some ten minutes more.
Weather was rainy with temperature around 10 degrees.
We´re going above the Tyrrhenian and Ligurian sea to Milano and further to Lugano at 34000 feet.
A view to the dark cabin from my seat, 36A and also here the last row rule worked perfectly, three seats for me alone.
Load was some 60% mixed with biz and leisure travellers.
Booked in combination with a return from STR to FCO in March calms the fare per leg down to less than 50.-- Euros,
real good in comparison to some so called low costers.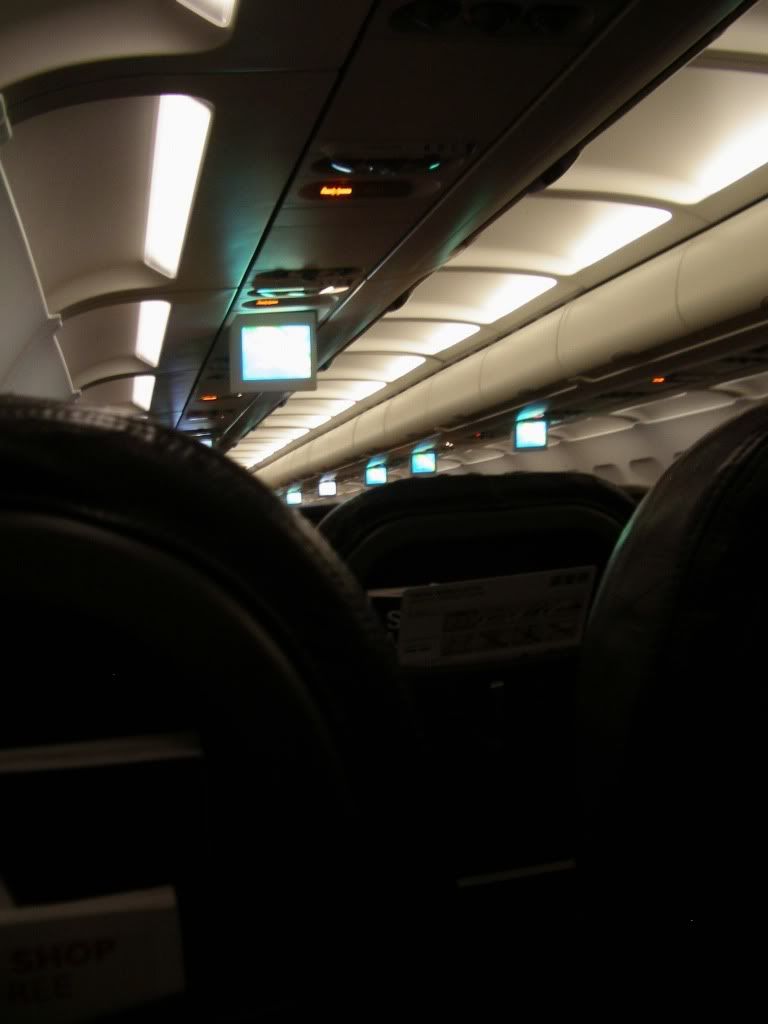 The dark grey Recaro leather seats looking well used, but clean and good legroom.
The free service was absolutely ok for me here at LX.
The captain was once more to hear with weather and arrivals informations, also the connecting gates on the screens, well done LX.
Freezing and some snow earlier in the day was also the reason for our late departure to ZRH.
Some shaking around during approach and finally touchdown at the 3700 meters runway 34 with a cloudy sky and a temerature around + 1 degrees.
Arrived and docked at the A area.
I´ve had a nice chat with the FA in the rear cabin during the waiting to disembark.
She was also from Germany and switched to LX recently.
We joked around my nightflight to STR and with the plane also needed for the very early flight 5.50 am to ZRH Saturday morning it seems impossible that the flight
will be cancelled.
Well, dont talk about such things to early.
A good walk to the main hall from the last gate position where I was exactly at the boarding time for the next flight.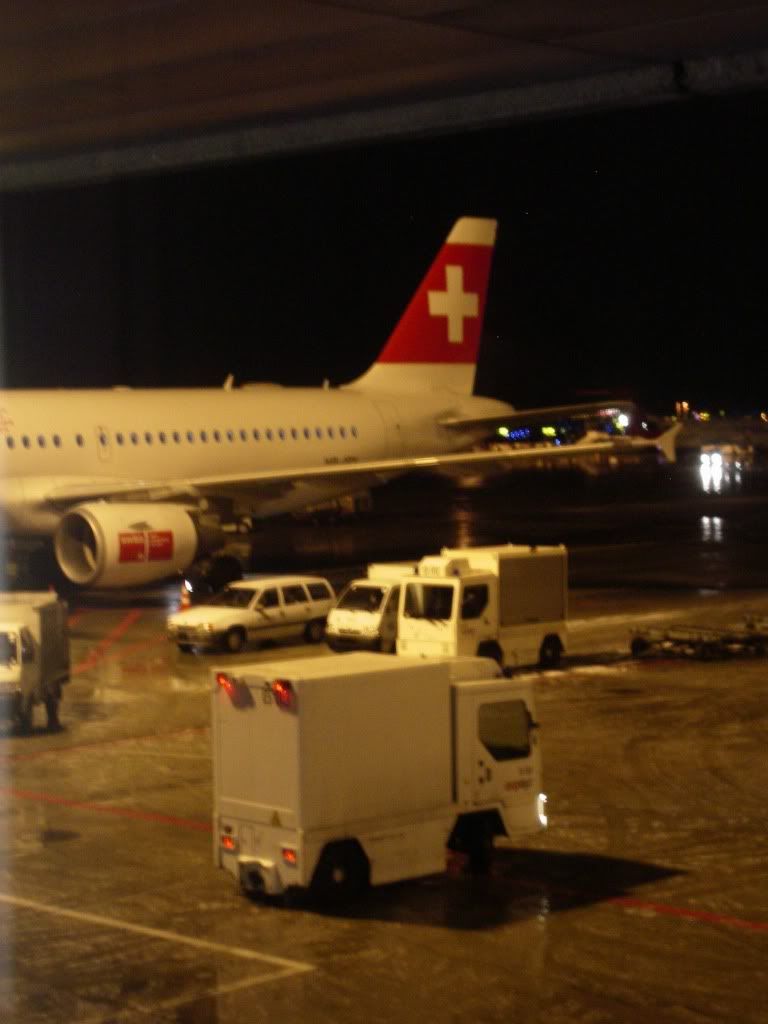 Well, the next flight shows delay without an exactly time, from my previous experiences in such cases not the best news.
Once again security screening, but here at ZRH with much more staff than pax at this late afternoon.
The gate screen shows next info at 10.40 pm, the original departure time.
Some wandering around, but it was dark and no action out there, so some more reading at the gate was the thing to do.
Next info jumped to 11.00 pm.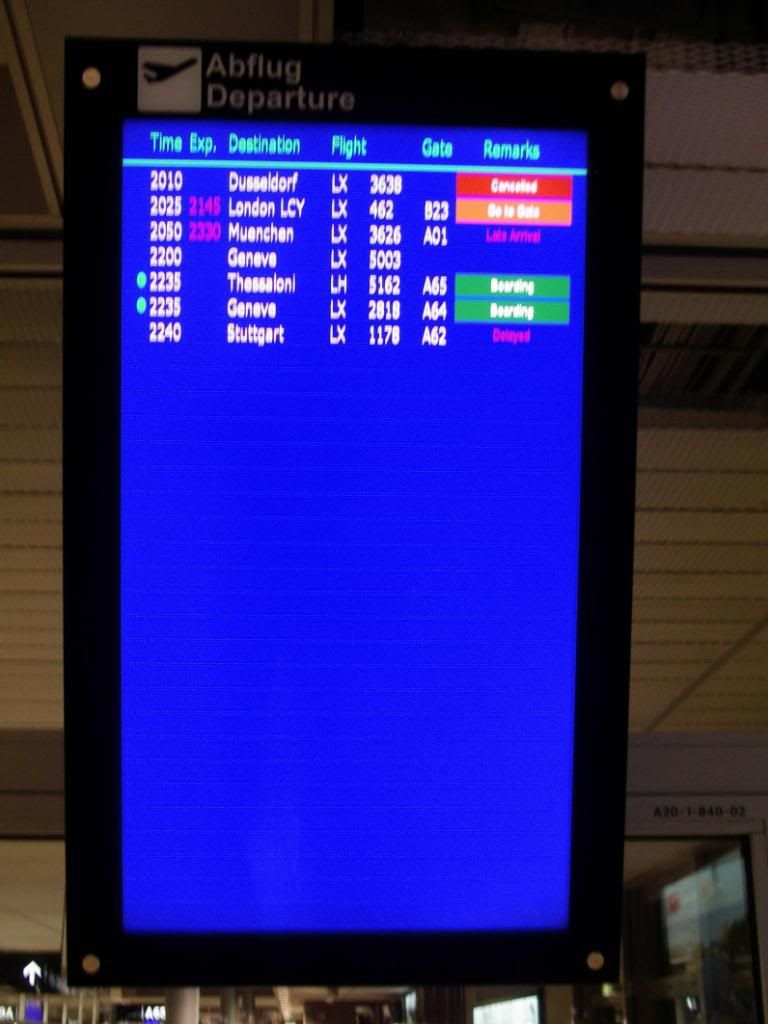 And finally short to 11.00 pm the sign switched to cancelled.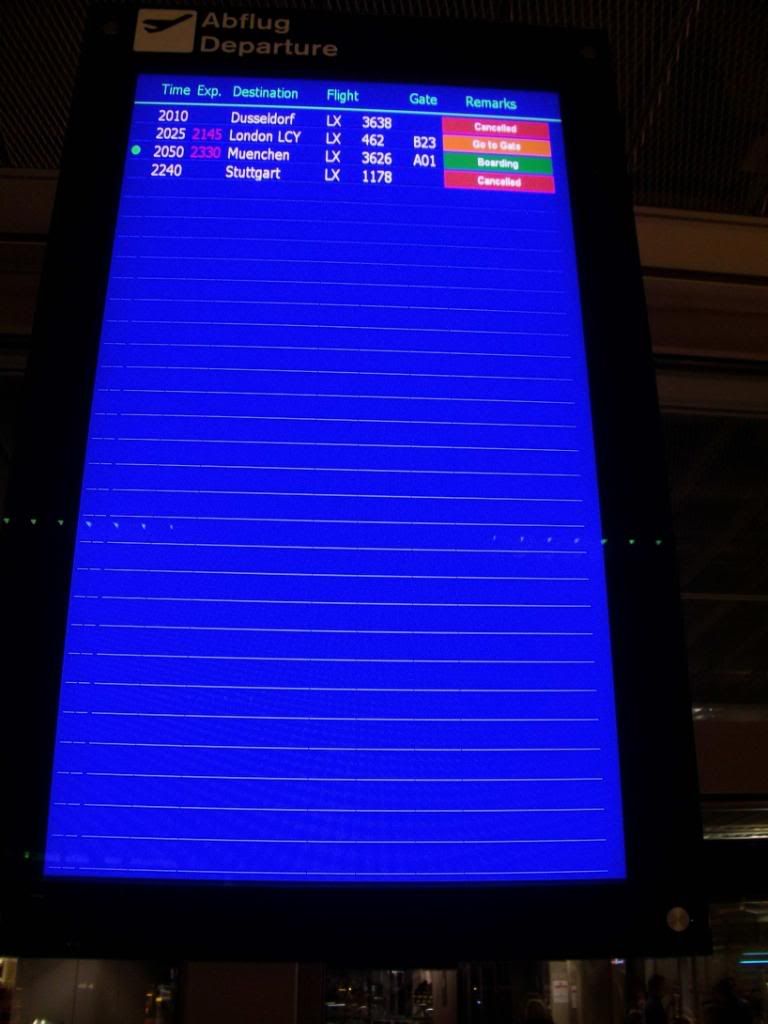 Not the best news during this time of the day.
Staff arrived and informed us that the Contact F100 hasn´t arrived at ZRH from is earlier leg
and with the night closure at STR, it wasn´t possible to fly that section.
What to do now?.
Maybe a hotel room and an early flight the next day. But with the very long queue at the LX counters around the corner from the gate
and a couple more earlier cancelled flights possible?.
Sleeping at the airport wasn´t exactly my choice.
No, they offered us a bus transfer, which will need some four to five hours according to the road situation.
By bus, well, I was not amused, by far the last transport option from my preference list.
The behaviour of some biz suits wasn´t acceptable at all.
They shouted around and as far as I´ve noticed they dont want to go with the cheapo eco pax by bus, no, they claimed taxi point to point service.
After some ten minutes more discussion they calmed down, we´re directed to the arrivals area where the bags waited.
And after some more minutes we´re guided out to two waiting busses.
Let me say, the staff was correct, explained the situation and talked with the pax in a calm style.
That was my ride, pictured later at STR.
The bus was comfortable, catering was onboard, the same breadrolls like on the plane. The driver does some jokes in his swiss-german language, like:
"So, that´s life nowadays, if you want to do some rants, I didn´t hear it, I´am not from the airline".
He´s doing a good job riding to STR with that snow covered motorways where we arrived around 3.20 am, nearly exact four hours later than the scheduled plane arrival time.
Picked up my car, another hour on the snowy roads and well ontime back home to catch the morning newspaper!.
And now, with that F100 mission failed, no question, staying in contact with the F100 in about one and a half week.
What´s coming up?.
These are the countries to visit in order to my schedule:
Germany
Egypt
Morocco
Italy
Tunisia
Italy
with a total of 26 legs secured till now.
Scheduled equipment raises from the E135, F70, E90, F100, MD80 up to the A306, A332 till the A346, hopefully no changes!.
Comments welcome,
Markus (FLIEGER67)