Hey friends. I've decided to write my trip report, and only because I've enjoyed reading the other posts so much! I'm a true airline fan and I hope you'll enjoy this.
So, it was one week before the summer vacations yet I found cheap tickets and decided to go on those days. My mum bought tickets for just £90 return which was very good for 2 people.
We were supposed to go from EMA, because we usually go from there or LPL, but as I wanted to go from somewhere new I made a little white lie.
It was 11th July '09, and as we had a significantly late departure we took the train from our town to Manchester Airport, before train we've been running around town rather madly as we had some problems but it's irrelevant. At 3:15 PM, we we're on the train to MAN, and less than 2 hours after we were there. I was more than excited (that happens when I am to fly)
Manchester airport is - fantastic. As Ryanair serves Terminal 1 that's the only one I visited though. The collidoor was fantastic, I loved it, it actually gave the airport amazing feel.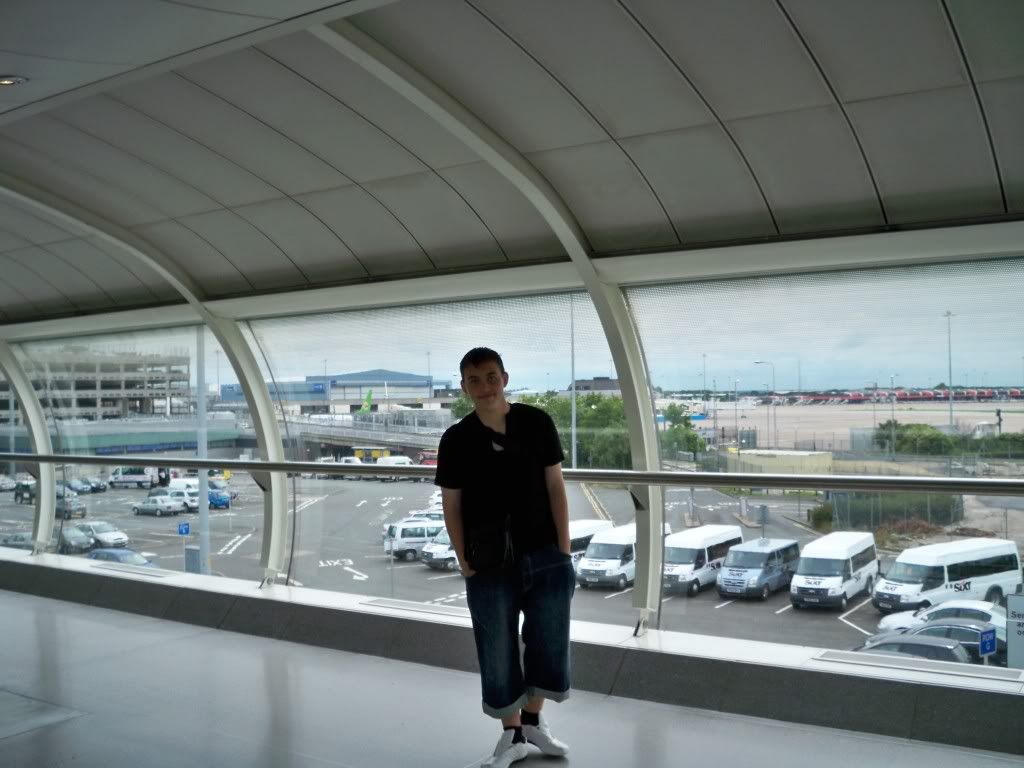 As Ryanair is check-in-online airline and we didn't have any luggage we went straight to the airside. The check-in hall was rather dull, and there were quiet many people. The security scans we're no problem at all, it was effortless as it all moved quick and smooth. I loved the ticket scanning devices and overall it was great.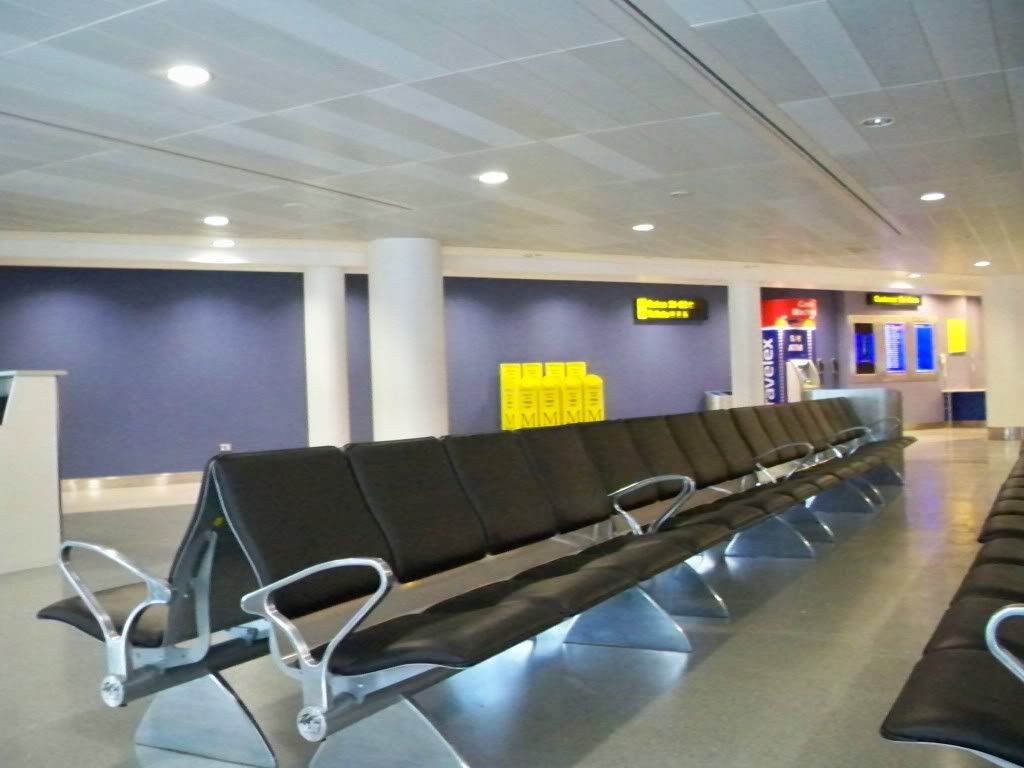 As it was first time in Manchester airport, I didn't know what will be in the airside, yet when I went in it, I was rather shocked. It felt as if I'm in a big shopping mall, so many products, sadly, I didn't buy anything. We spent around 30 minutes walking around it though-it got on my nerves to be honest so I made us go to see some aircraft.
As we went I fell in love with the airport. The windows were big, seats amazing (and soft). Before doing anything though we went to have a snack, it was rather cheap I must say, for a cup of tea and hot chocolate with 4 buns (Danish style, nom nom), then we had over 1 hour to spare and we went to look for aircraft.
So, less of my boring talk, here come the pictures.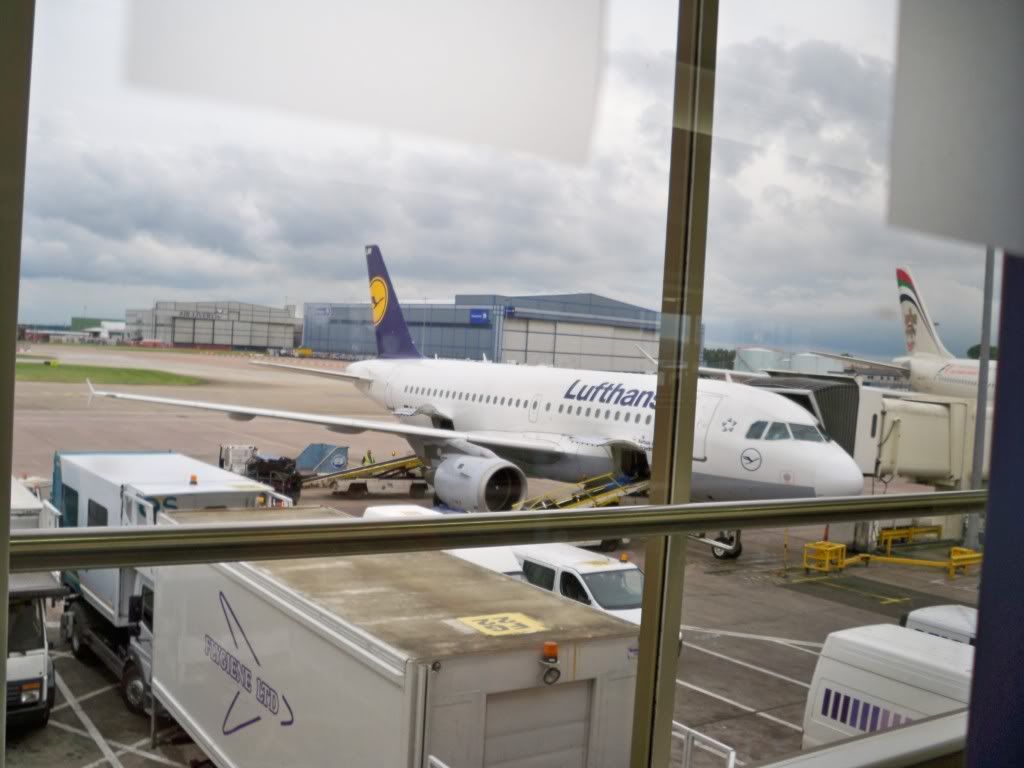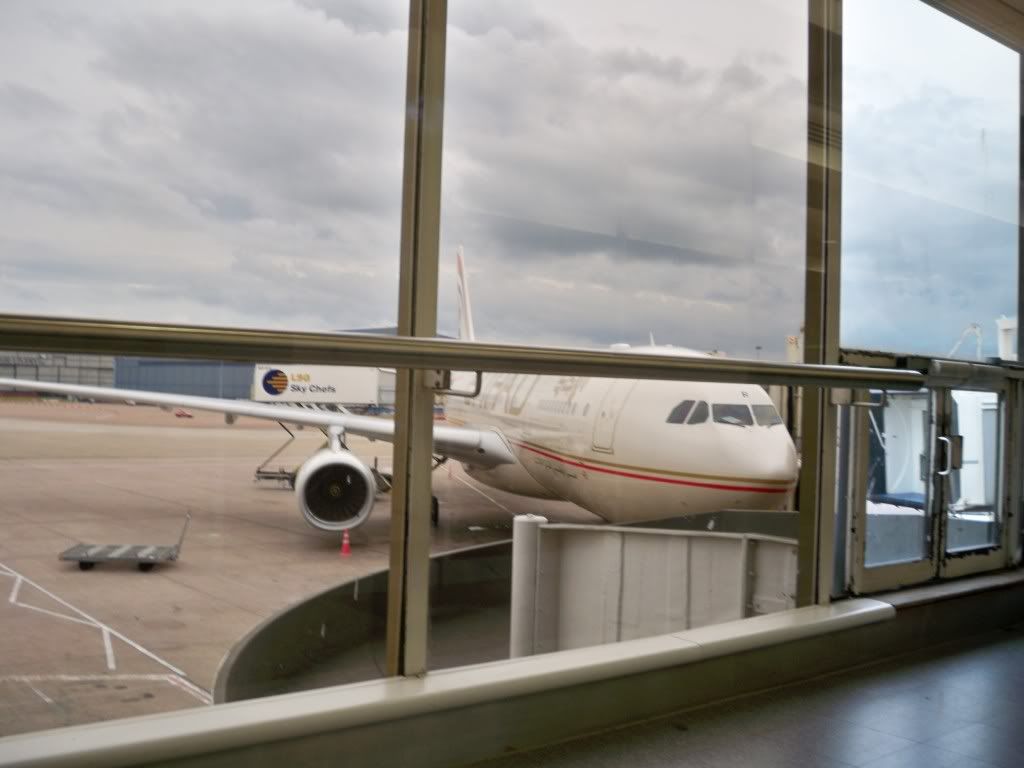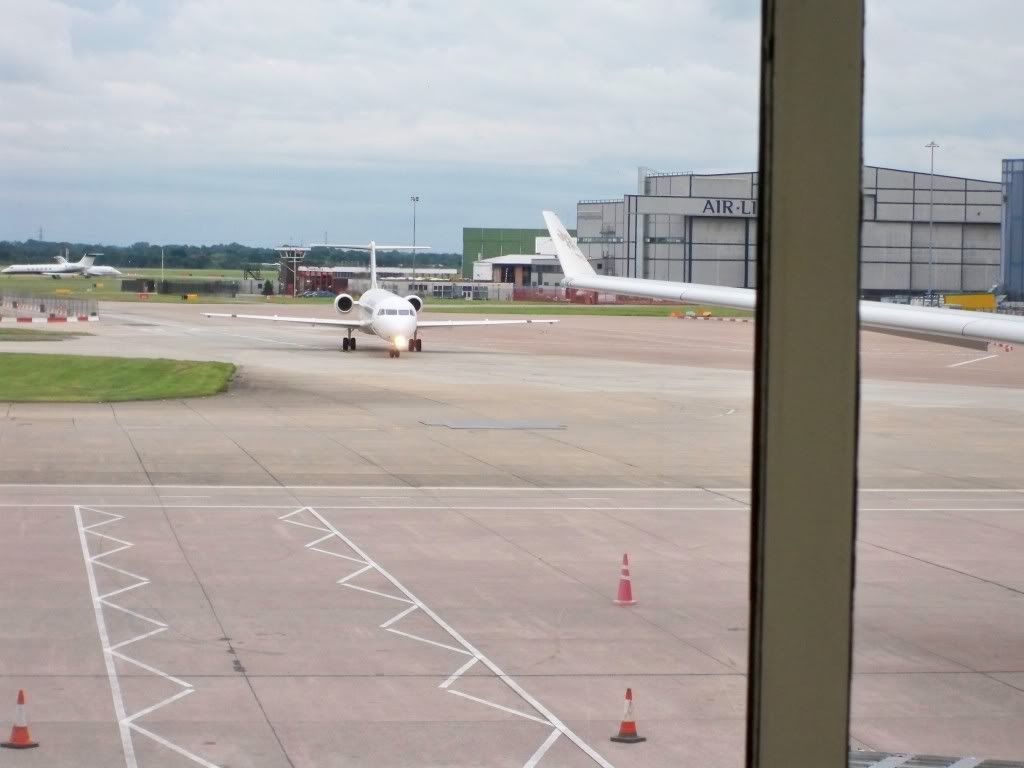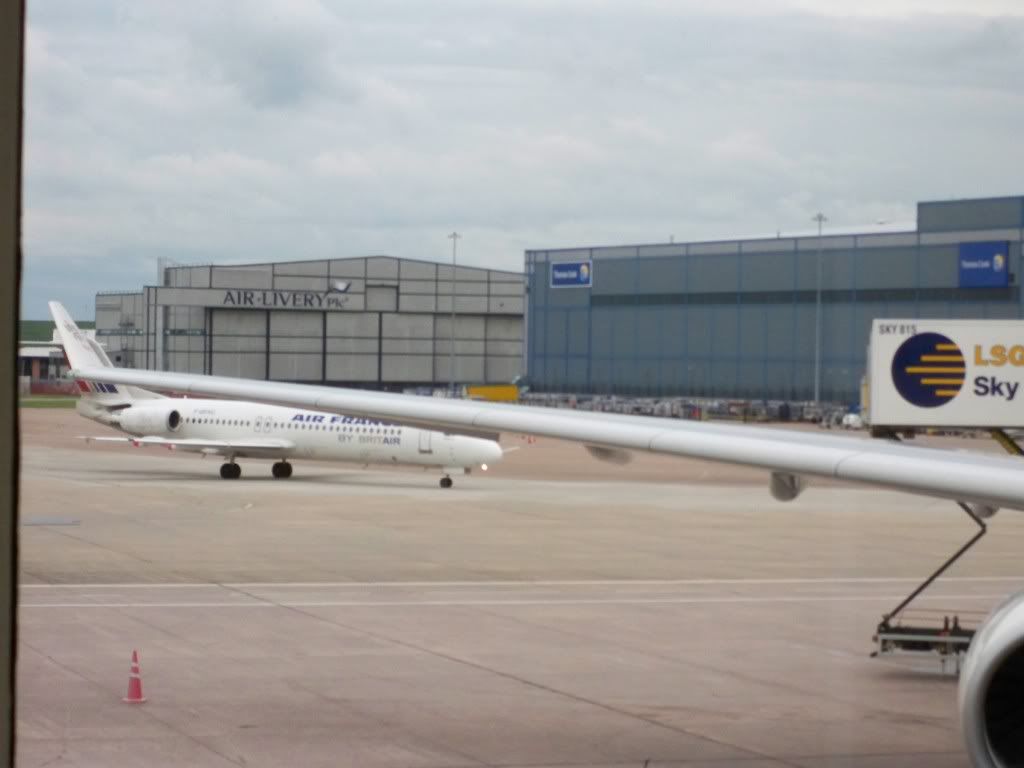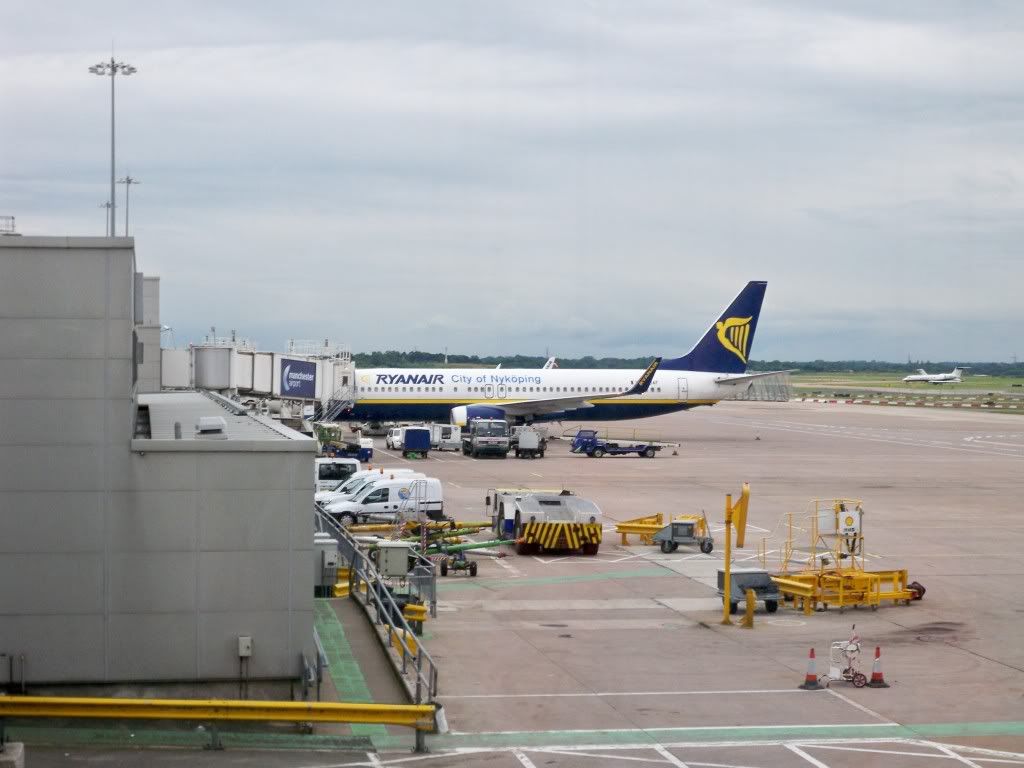 Ryanair
Manchester- Brussels Charleroi
July 11th 2009
At about 6:50 PM, the boarding was announced, as we came to the gate (7) if I remember correct there were not many people there, we heard some Latvian people (so taking same route as us) with small kids, and about 5 bags each, now that's economical travel, Roma for the win!
I didn't have PriorityQ boarding card therefore had to wait, but there were no more than 10 passengers using it. We boarded quickly and got the first window seat available. I am sorry but I can't remember the seat row.
Everyone boarded quickly, and announcements were made in French and English. We took off about 5 minutes after the scheduled departure time. After they served some food to which we refused as we were full from cafe in airport, and the rip off prices. We didn't climb very high, because we were between 2 layers of clouds all the way though. Even though, I got some pictures of the beautiful scenery! I just selected few pics as most of them really had nothing, I forgot to picture the take off.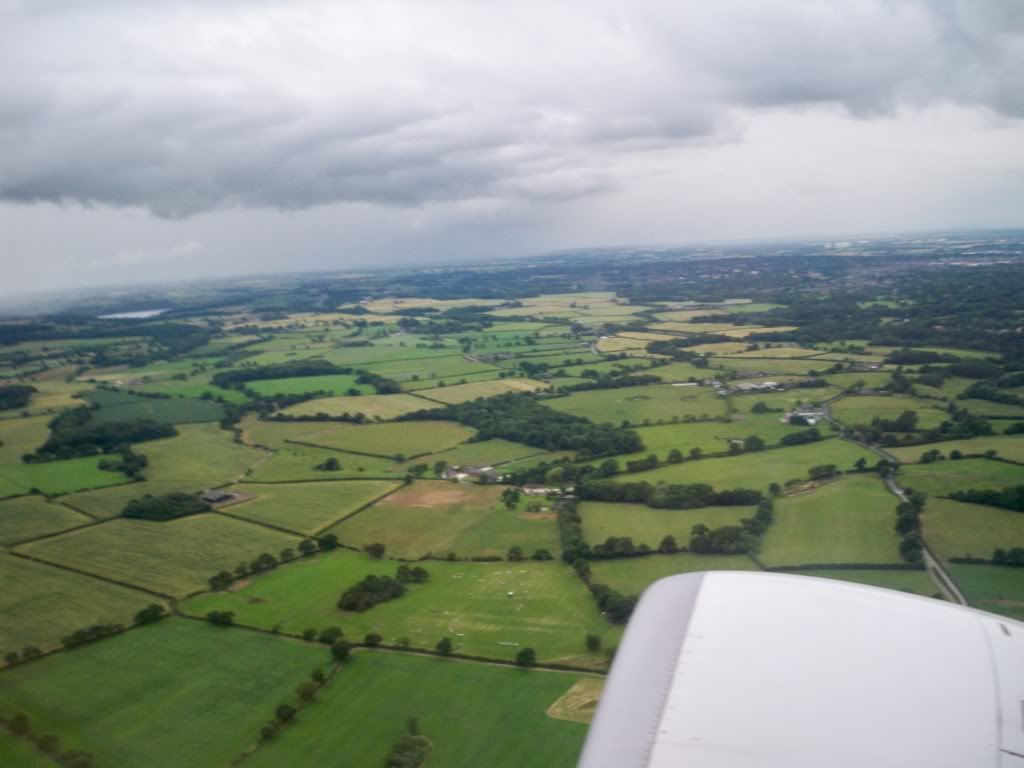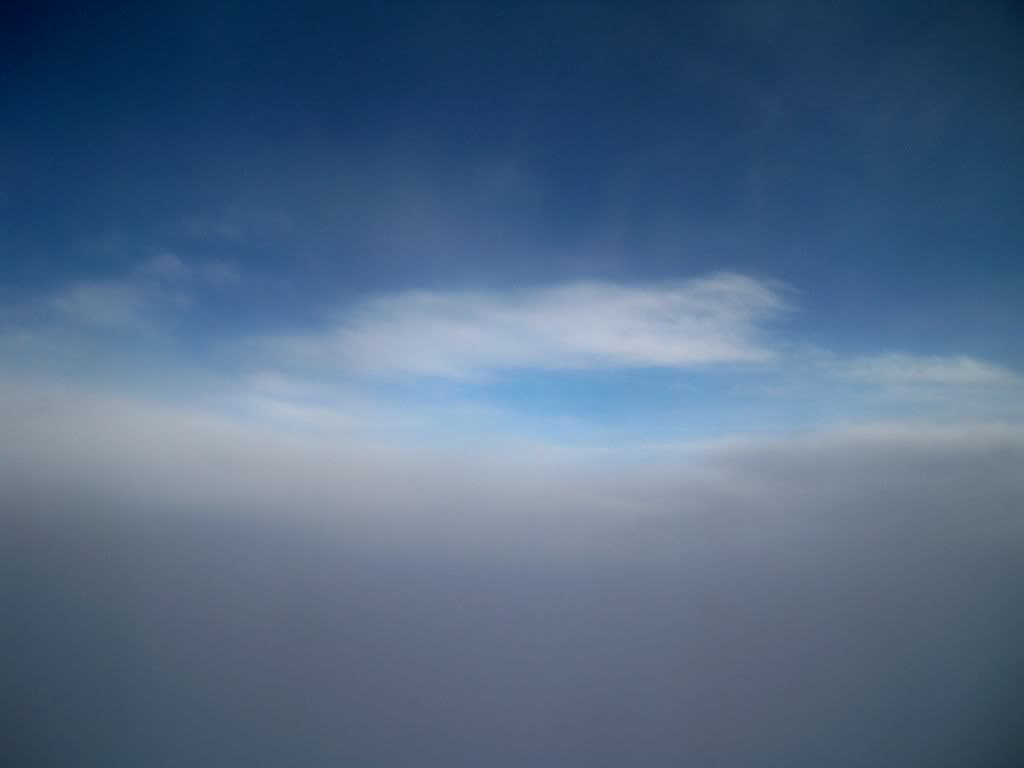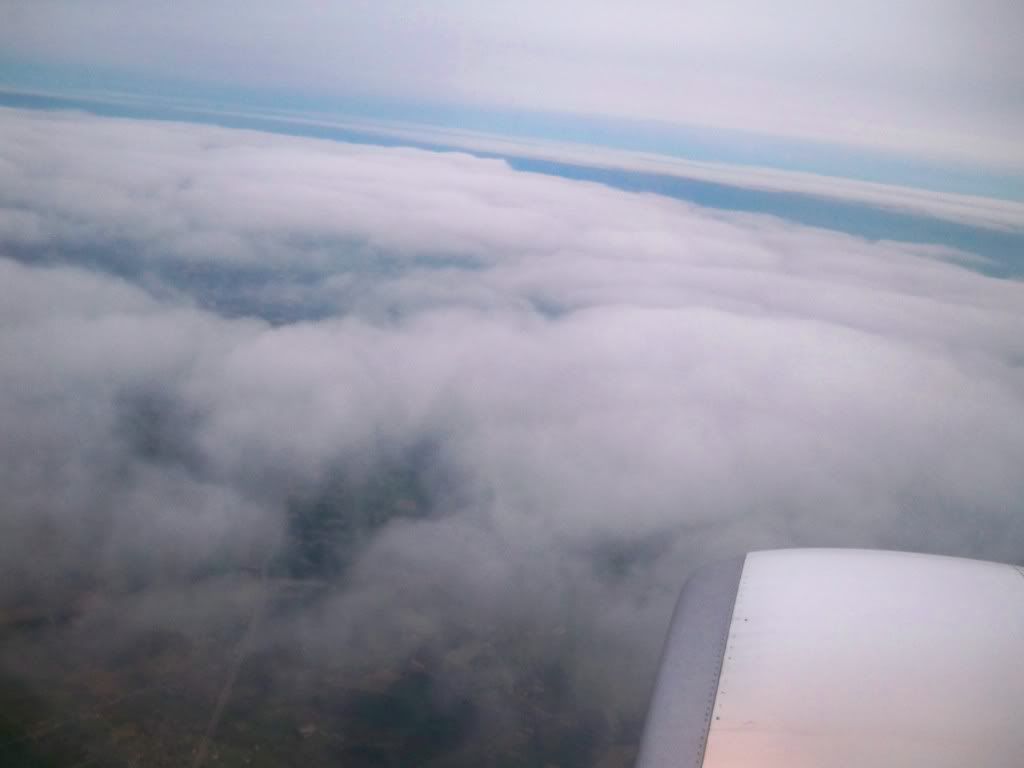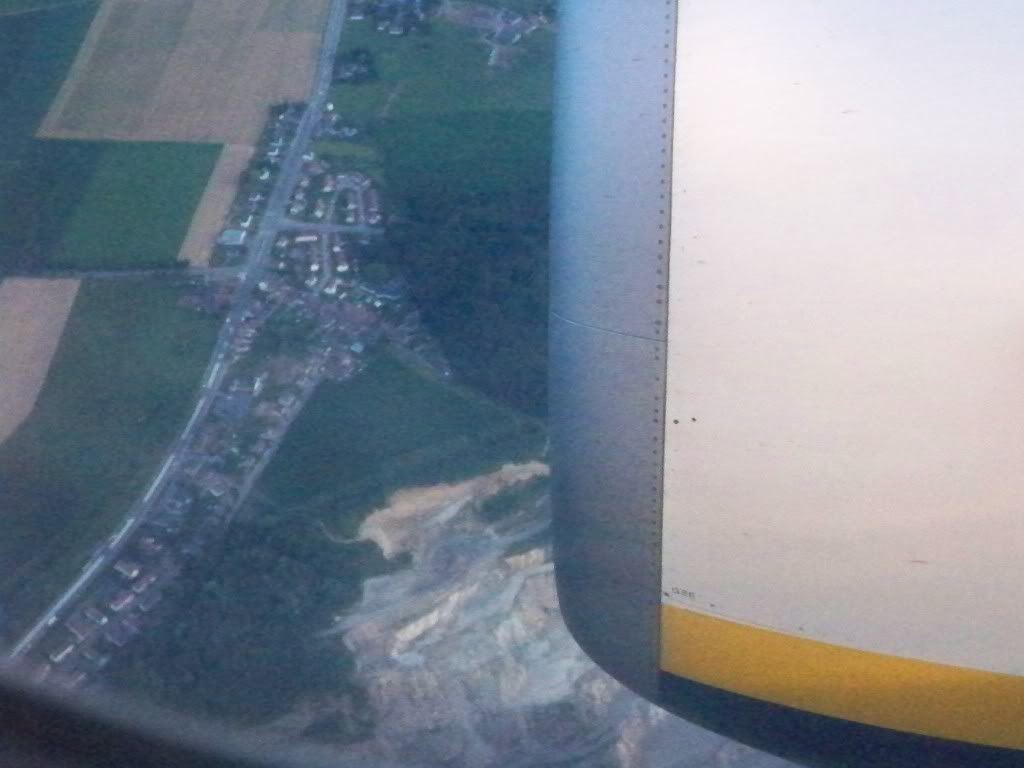 Overall the flight was boring, and that made me fall asleep which is unusual for a guy like me. The touchdown was fantastic, I didn't even feel it! As you arrive at the airport, it's very nice, welcoming, and to get in the main building it took us less than 5 minutes, because i was the closest person to the doors which later on opened (but stepped out last) but as you go into the main concourse it changed. It looks very cheap, but I liked it. It was around 8:58 PM when we went out of the airport to breath some fresh air. The surroundings were nice.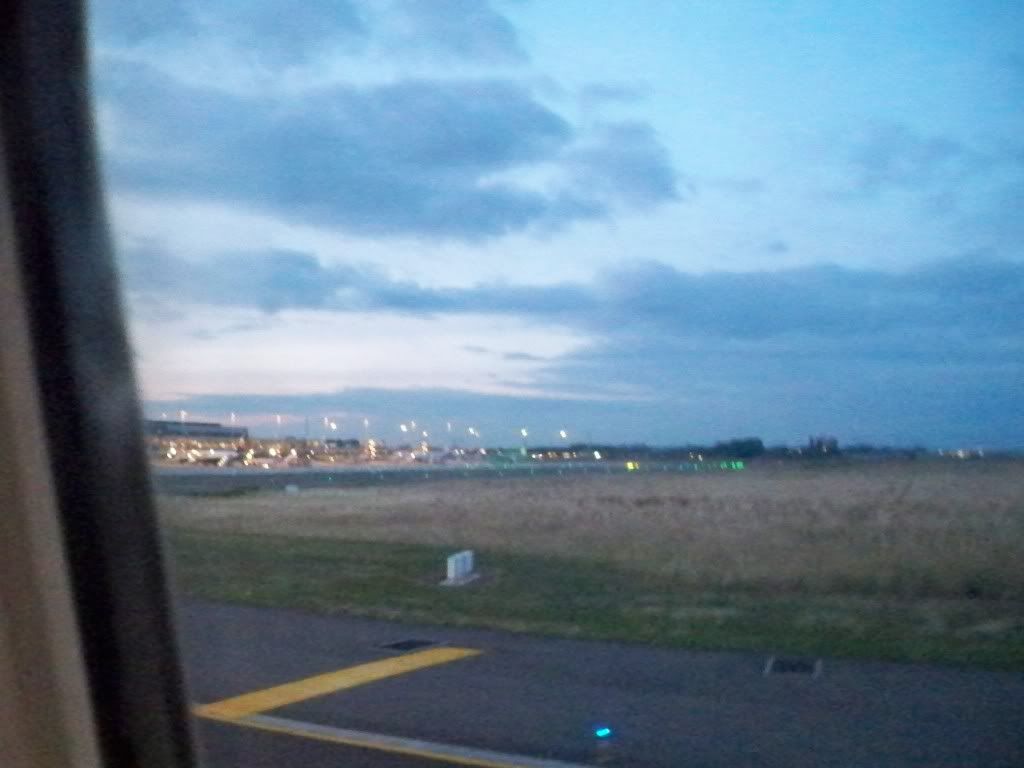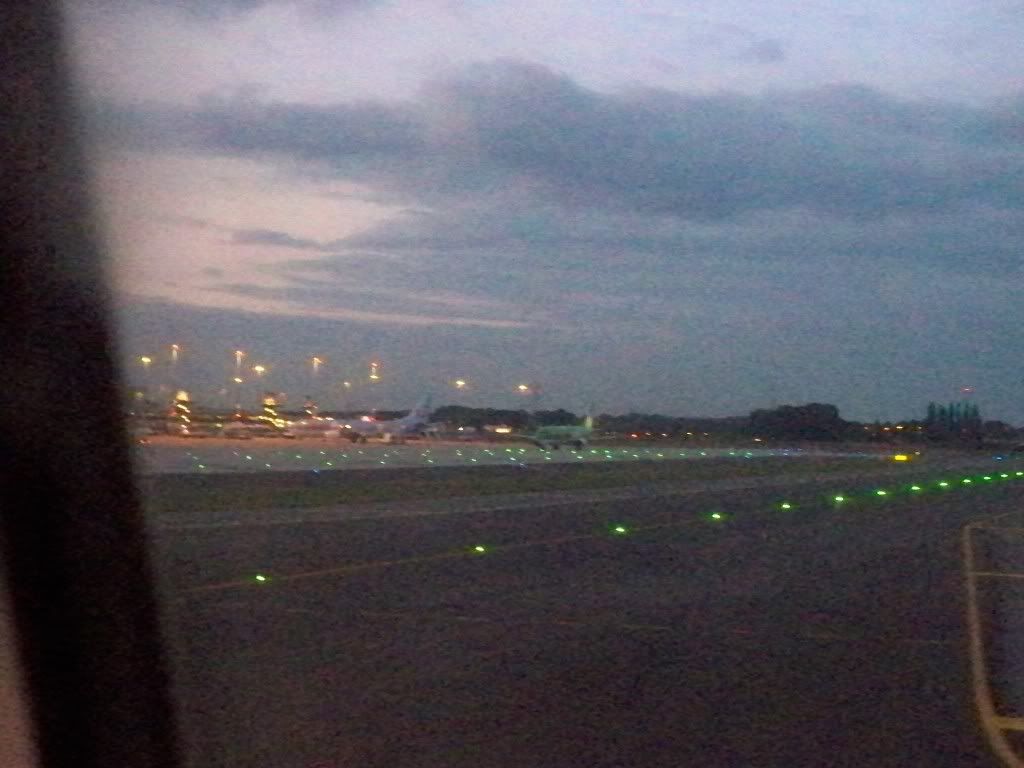 As we had the early morning flight, we decided to stay the night at the airport therefore saving the money but I must say- do it only when it's the dead end. Sleeping at the airport was a nightmare. The loud announcement in 3 languages wakes you up but it stopped at 2 or 2:30 in the morning. However no one bothers about you. Me and my mum took the huge table and laid on it. I even slept on the check in belt for a moment because I was really bored. Night dragged. Children cried. I got mad. I didn't have any Euro coins. I couldn't get the drink. And there it was, 5:30 when we decided to go to the airside. Security checks were awful. The people seemed to be nice but, "hey you work at an international airport so SPEAK English, please". Luckily I have basic French knowledge and I understood it very well. As the flight was supposed to depart at 7:15 AM, we had a little walk around the airside, and I must admit the facilities here we're good, many chairs (could have slept better) but never mind. I was eager to try out my French skills at the cafe and ordered some coffee with buns- wow, the nice lady understood me! It was expensive though, about 13 Euros. I had a little nap for about 20 minutes and somehow the line for the plane had already started about 40 minutes before boarding time...pointless. I- being dramatic person made me and my mum to be in the front of the line! Woo! As we started boarding, and came downstairs to the door just to find out that they're closed and waiting for another 30 minutes for them to open, with many people who seemed to be drunk, it was just awful.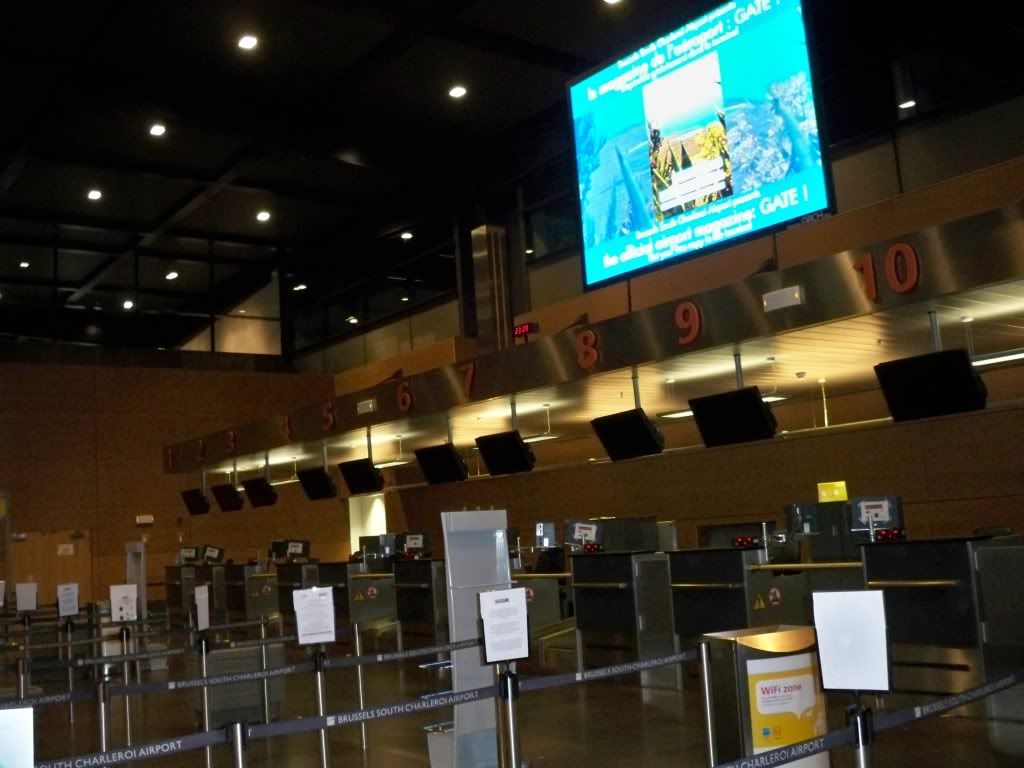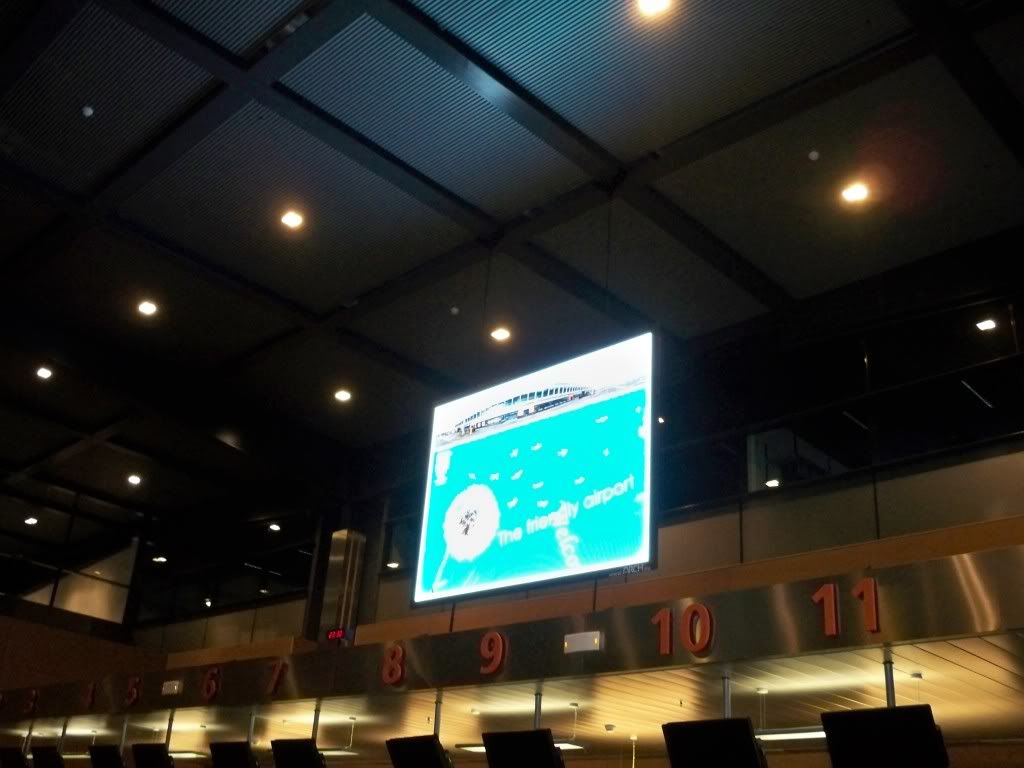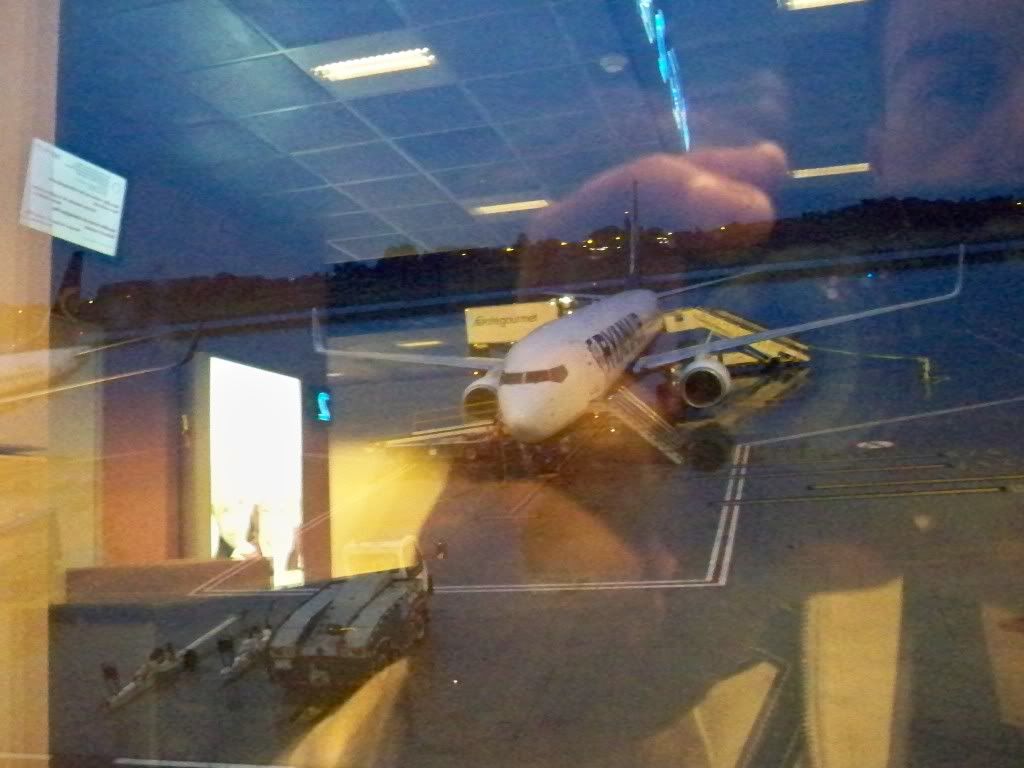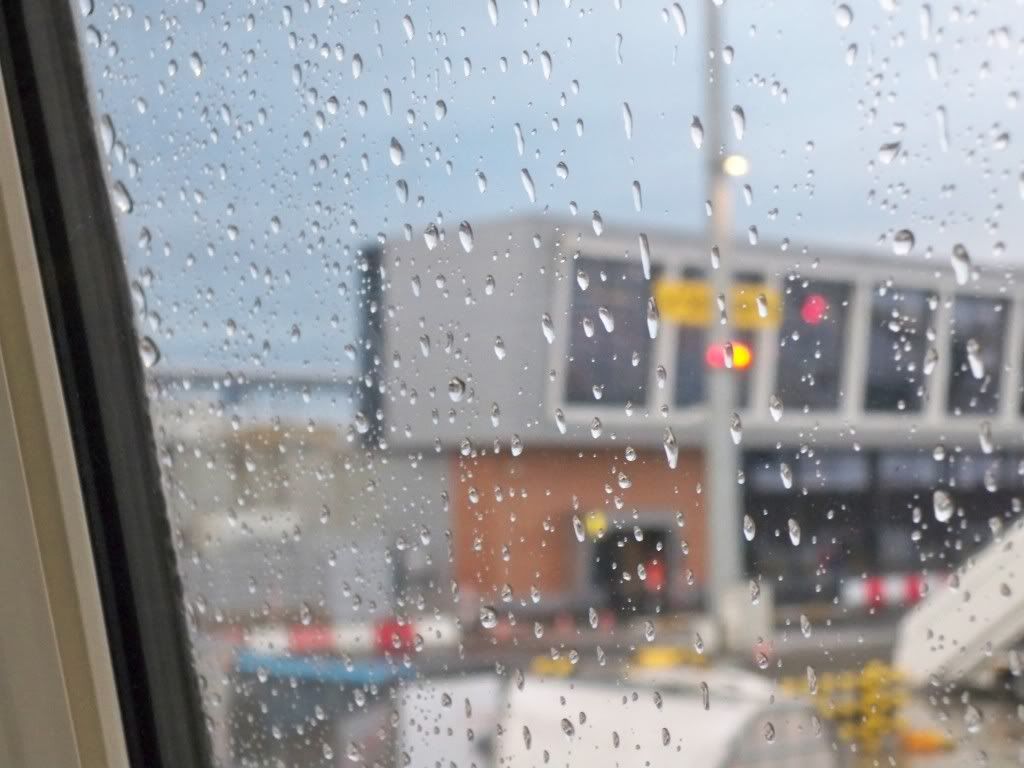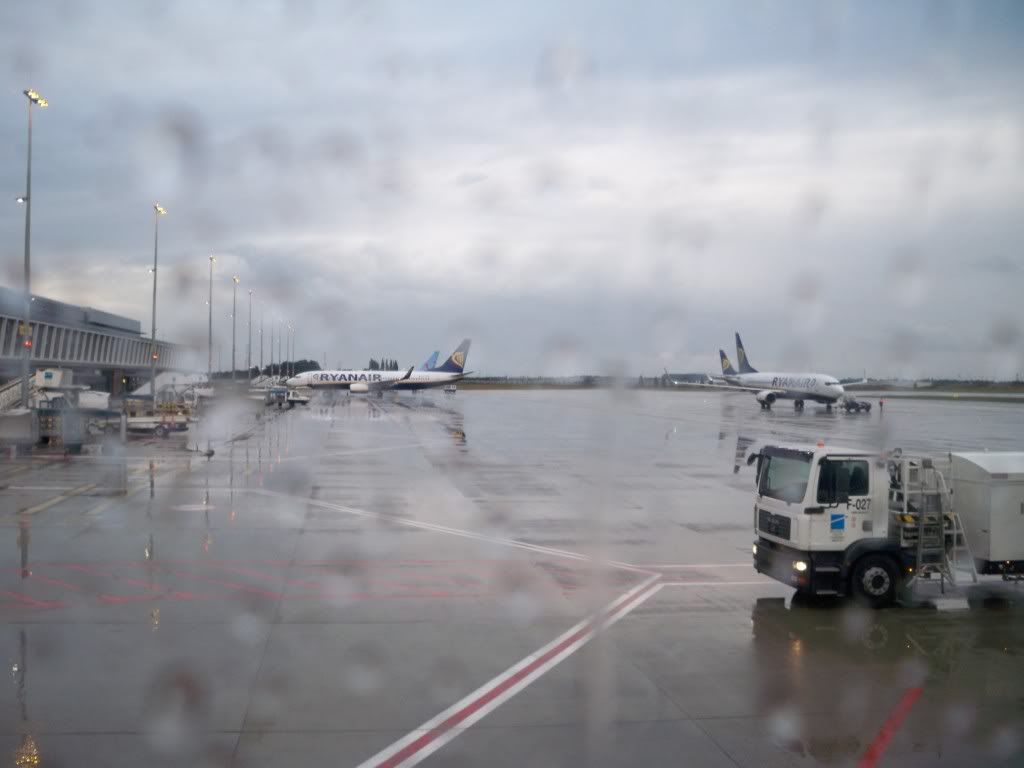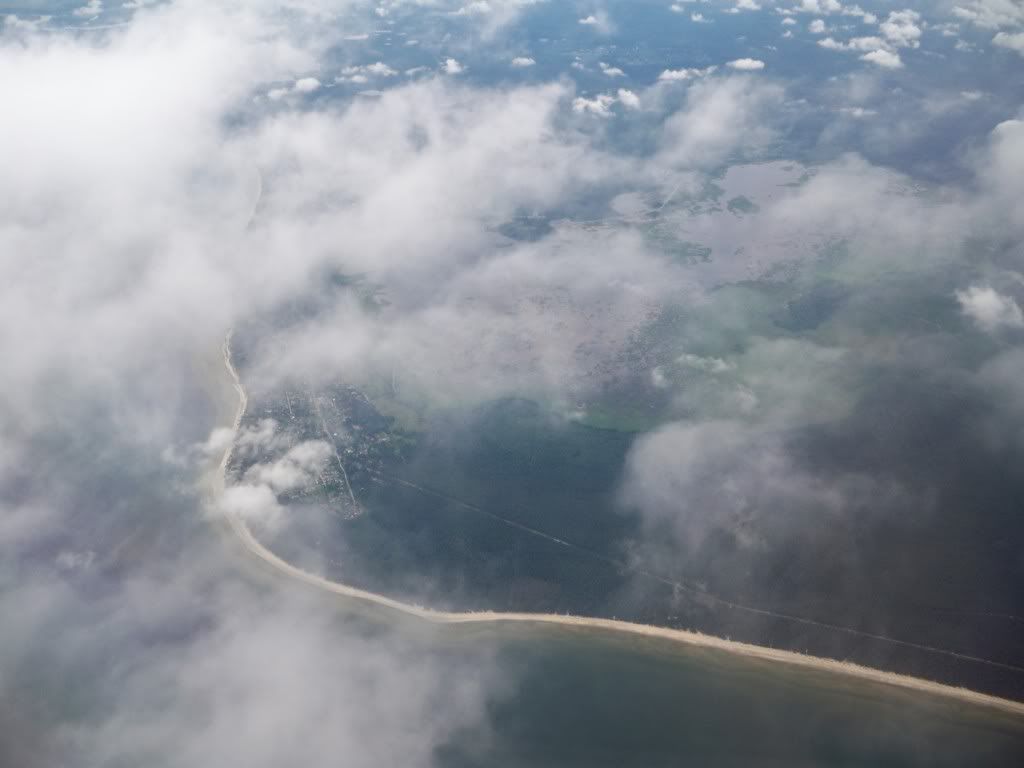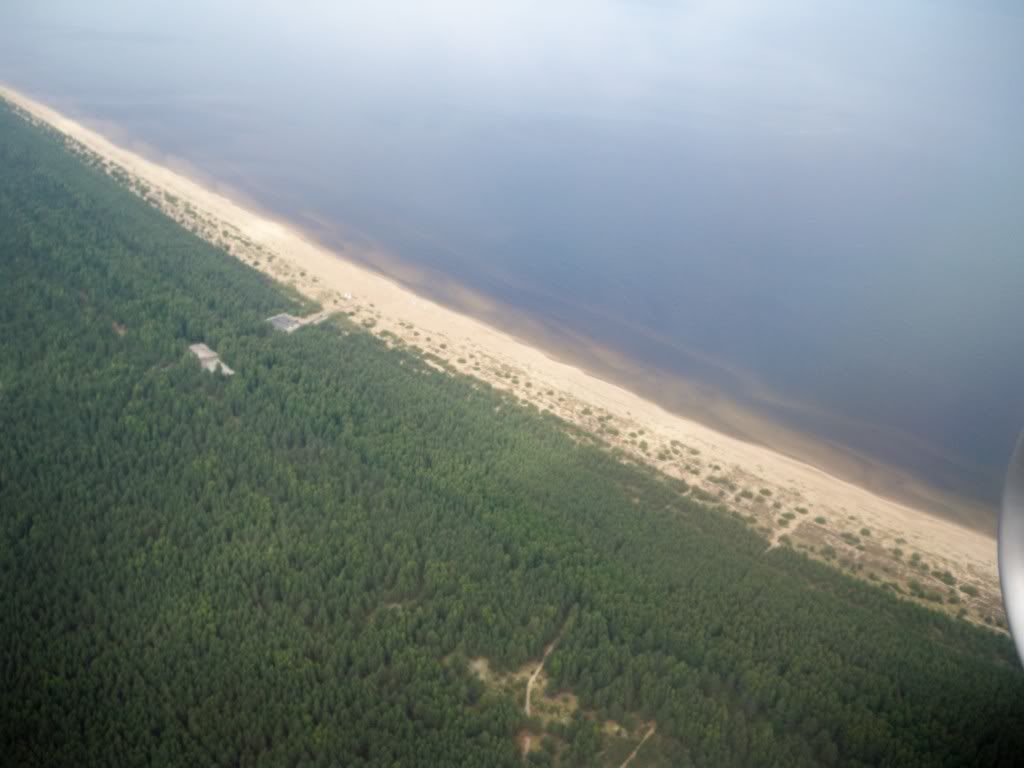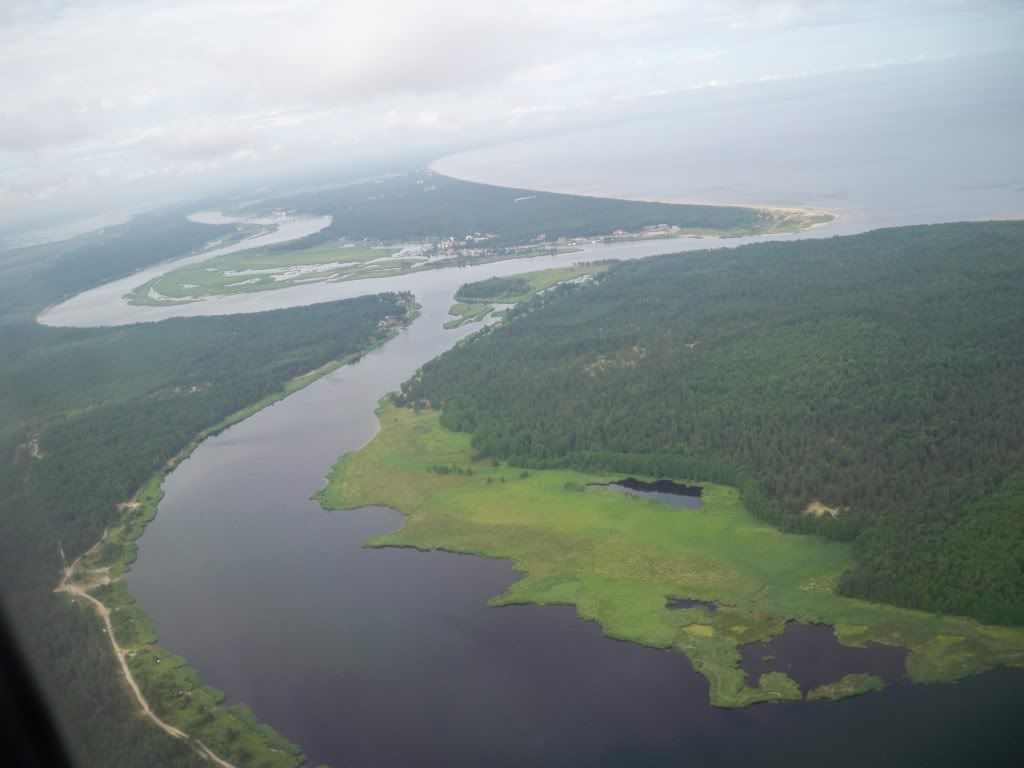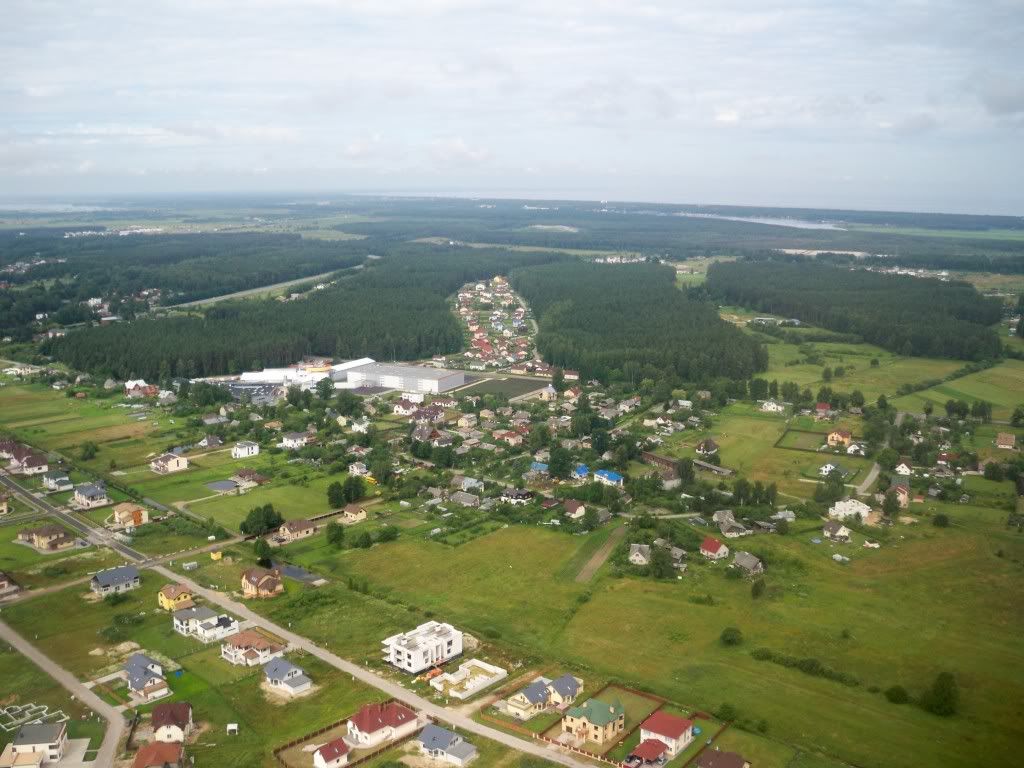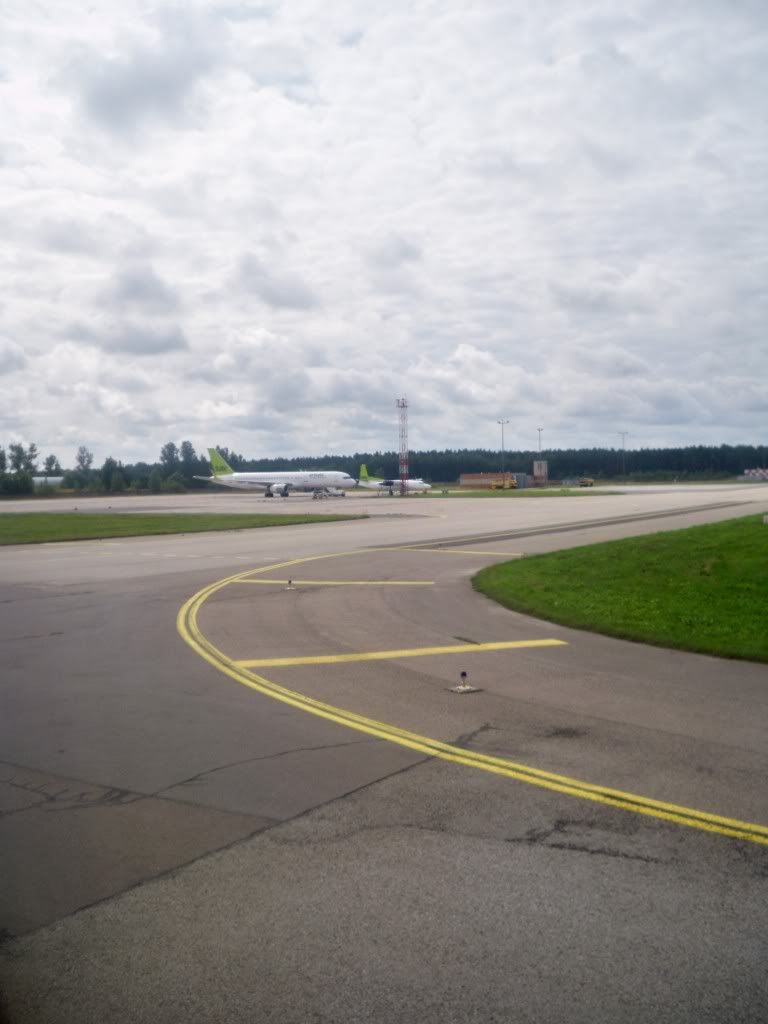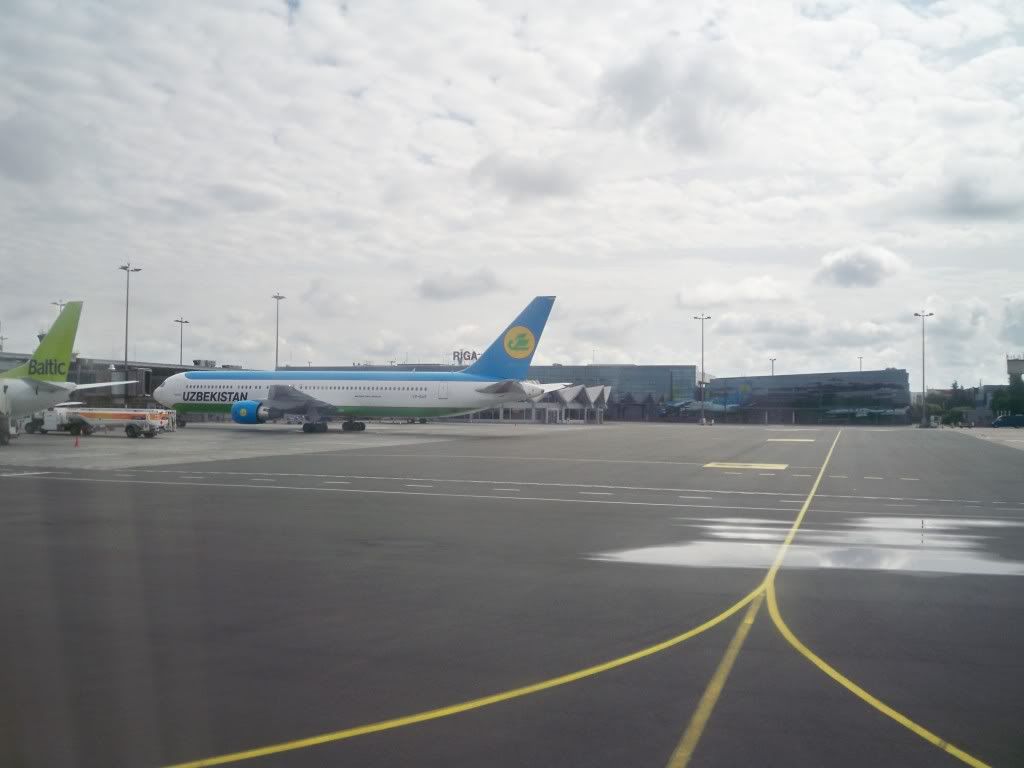 We finally boarded the plane. It was a bit chilly, but over all nice, I am probably the only person from the 67 travelling people who use Ryanair who actually likes the "ugly" interior. The stewards were welcoming (and OMG, male's we're freaking hot-sorry for giving detail) so, I love Ryanair staff. We sat down, and outside it was pouring rain, was tiring. About 20 minutes after boarding the engines were turned off, so was the lights and so on, I somehow fell asleep. One hour later I wake up and ask "Mum, how long we've been flying" when we were still on ground but engines were already started and I forgot to look out of window. That got me really annoyed. About 5 minutes after we already had taken off. Most of the flight was cloudy but near the end it was partly clouded and I took some pictures. We arrived at the airport only 20 minutes late, but as we came from Schengen zone we didn't need to display passports. It was quick.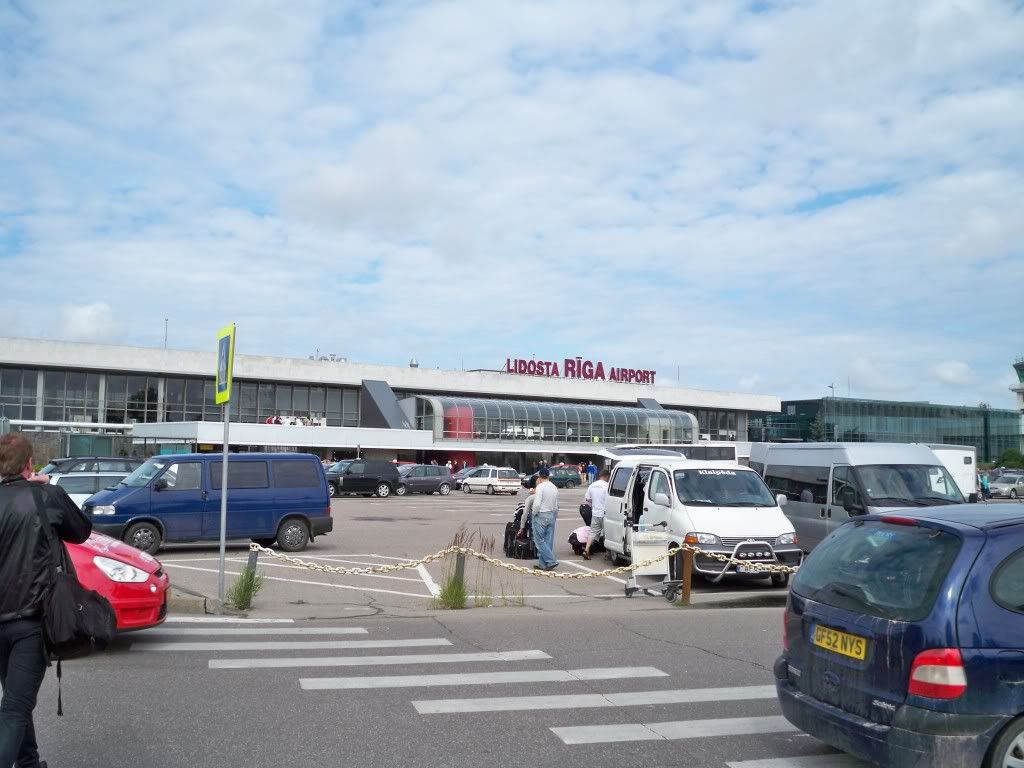 On the journey back, after one week of hot weather and amazing rest I was back in Riga airport, but before that I had to travel with bus from my town to Riga centre for about 3 hours, and I had an awful incident at the bus as the driver hit me in face. My camera broke down, unfortunately, and the flight back was missed. However, the flight to Brussels from Riga was alright, it was smooth and nothing eventful so therefore it was forgettable. The airport was rather packed when we arrived at the Brussels Charleroi. I and my mother directly went to the airside and had some snack- was delicious.
Flight to Manchester was delayed because someone on the aircraft told to the hosts that someone had a bomb on the plane and therefore we had to identify our bags. Was annoying. The flight went quickly and was pleasant. As we arrived in Manchester, it was raining and we had to spend another 15 minutes in the aircraft because of Aer Lingus disembarking. The walk to the customs was really long and boring. As we left the terminal building and missed our train by 1 minute it was frustrating because of the cold weather. After one hour we got on the next train to Doncaster and at about 19 o'clock we were home.
I really enjoyed this, visited 2 new airports (and probably 4 new aircraft). I hope this was a good report as it was my first one, I would be pleased if you'd tell me how I could improve it. Thank you!
Manchester Airport
Is an amazing airport, I expected something worse after reading reviews but I must say it jumped straight to my number 1 airport. The airprot is welcoming and feels like home (weird).
The views can be limited at places but overall the number of planes and the view from cafe is amazing. I liked it! Queues were small (well big but as I was in front it was small). Perfect airport.
Brussels Charleroi Airport
As it's new I guess it's still unfinished. Not really nice airoport. Too many and too long announcements. Unpleasant staff. Nice shopping area and cafe tho. The airside view towards planes is amazing. Oh, and when you step out of airport and see whats there it's amazing as you can see the runway. Lovely.
Riga International
An amazing airport. Like it a lot. Everything is nice about it, apart from the huge incident which happened in Sep 2007.
Otherways, love it.
Have a pleasant flight. I'll be back in about week, as tomorrow, I'm going on my 25th Flight. I will write a review about it because I haven't seen EMA-RIX reviewed.